College Basketball Nation:

Will Walker
January, 30, 2010
1/30/10
5:09
PM ET
ROSEMONT, Ill. -- Asking Jim Boeheim to describe Wes Johnson's dunk in the second-half of
Syracuse's nail-biting 59-57 win over DePaul Saturday
is a little like asking a fisherman to describe the ocean. Where do you start?
"It tied the game," Boeheim said, deadpan. "So yeah, it was big."
[+] Enlarge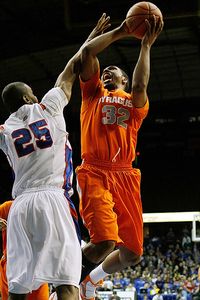 Jonathan Daniel/Getty ImagesKris Joseph scored 15 points off the bench in Syracuse's comeback win against DePaul.
The dunk wasn't just important -- although it did give Syracuse its first tie with the scrappy Blue Demons, who had led the entire game to that point -- it was immense in its beauty, limitless in its execution. Johnson took off from the wing and glided to the rim in the way so few players can, and just when it looked like a DePaul defender might get a hand in Johnson's path, the Syracuse forward lifted another notch, extended his arm, and slammed the ball through the rim.
So, yeah. It was big.
But Boeheim's right: The dunk will be remembered for the way it finally pulled Syracuse even with a DePaul team that had seemed to discover the the anti-Orange formula. The Blue Demons built an early 33-15 lead with hot shooting and then went into preservation mode, slowing the game down to a crawl and picking offensive spots carefully.
That strategy managed to keep a very cold Syracuse team at bay. The Cuse were 24-for-57 from the field, good for 42.1 percent, a percentage that wasn't helped by the mere nine offensive rebounds.
"Usually we rebound some of that stuff a little bit better," Boeheim said. "Usually we make more shots. But you know you're going to have games like this on the road where you need to gut it out, and we did that."
Boeheim and company almost didn't: Even after a furious Syracuse comeback, and with no timeouts in the last seven minutes, DePaul hung tough, chipping Syracuse's late lead down to two and setting itself for a final shot. That shot went to senior
Will Walker
, whose hot shooting (5-for-12 from 3) buoyed DePaul early. Walker had a wide-open look on a high screen and roll, but the ball didn't fall, and DePaul couldn't get a shot up before the final buzzer sounded.
It was, to put it lightly, a disappointing loss for DePaul and interim head coach Tracy Webster. Webster deserves some credit for a gameplan -- slow the game down, find open spots in the zone, guard Andy Rautins closely and hope Syracuse misses a few shots -- that countered Syracuse's zone perfectly. The Demons burned through timeouts far too quickly (DePaul had no answer for Syracuse's traps, hence the frequent timeouts). Overall, though, it was an impressive tactical display by Webster, who has his team playing its best basketball of the season.
The more interesting takeaway is what this says about Syracuse. The Orange coasted against a lesser opponent Saturday, and instead of storming back and taking control after the half, let that opponent stick around and narrowly miss a drastic upset. That happens to every team, but in a weekend where Cuse is competing with Kansas, Villanova, and several others for a spot atop Monday's AP poll, it was a discouraging performance.
"DePaul came out and was aggressive and really showed tremendous effort," Boeheim said. "And we didn't do that. We played about two good minutes of basketball. Usually, when you do that, you lose."
The Cuse didn't lose Saturday. They can thank Wes Johnson's transcendent hops,
Arinze Onuaku
's girth, and a dash of good luck for that. It was enough today. For a while, though, all the way up to and even after Johnson's game-tying dunk, a loss was more than possible.
So, yeah, it was big. Next time, though, the Cuse will have to be even bigger.
January, 30, 2010
1/30/10
2:59
PM ET
ROSEMONT, Ill. -- Those of you who thought Syracuse would roll to an easy victory in the Chicago suburbs today (yours truly included) -- well, you may still be right. But DePaul's doing their absolute best to prove us wrong. So far, they've succeeded.
DePaul holds a 35-31 lead at halftime
, but it could have been far wider. The Blue Demons streaked to a 33-15 lead on the strength of some hot shooting by guard
Will Walker
and some typically impressive interior offense by
Mac Koshwal
. Meanwhile, Syracuse looked lifeless, shooting just 12-26 from the field and giving the ball away eight times.
Wes Johnson
and company barely seemed interested.
Of course that wasn't true, and much as in its come-from-behind blowout win over Georgetown on Monday, the Cuse closed the lead before the half. The formula was simple: Syracuse extended its zone and shifted toward Walker, while using a full-court trap press to unsettle DePaul's young guards. It worked. Walker stopped nailing long treys. The Blue Demons weren't able to slow the game down or make open shots against the zone. And the lead gradually evaporated.
It feels like this game could go one of two ways in the second half. The first: Syracuse comes out of the locker room having solved its shooting woes and proceeds to methodically demolish a plucky but clearly inferior DePaul squad. The second: DePaul hangs around, makes a few key buckets, keeps the Cuse at bay on defense, and gives us a potential upset down the stretch. Obviously the first is more likely. But after that first 20 minutes, would you bet against the second?