College Basketball Nation:

Will Yeguete
October, 17, 2013
Oct 17
5:15
PM ET
BIRMINGHAM, Ala. --
I like my team.
That's the first line of any coach's typical media day script. On Thursday, Florida coach
Billy Donovan
tossed that script into the shredder.
It's not that Donovan went rogue. Nor was he particularly negative. On Day 2 of the SEC's media days, Donovan merely acknowledged reality: His 2013-14 Gators team, though undoubtedly talented, is so beset by injuries and personnel issues that there isn't much of a team for Donovan to like in the first place.
[+] Enlarge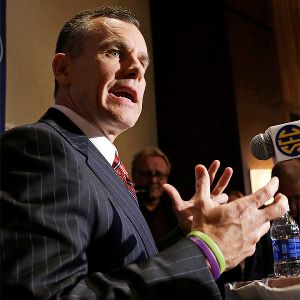 AP Photo/Dave MartinBetween injuries and off-court issues, Florida coach Billy Donovan has been running practices with only seven scholarship players.
To wit:
Eli Carter
and
Will Yeguete
are both recovering from injuries suffered in the spring.
Michael Frazier II
is being tested for mononucleosis. Point guard Scottie Wilbekin is still serving an indefinite suspension.
Damontre Harris
is working through a hamstring issue. And star freshman forward
Chris Walker
is still working to attain his academic eligibility and join the Gators in December.
As a result, Donovan -- a two-time national champion and perennially successful recruiter -- has found himself running practices with just seven scholarship players. He admits he has no idea what to expect.
"We have a lot of unknowns," Donovan said, "with our injuries, not having a full complement of players. ... I'd tell you today, if we had [all our players available] and we could start Oct. 11 fully healthy, then I'd tell you we have a chance to be really good. Hopefully we can get there as the season goes on. But we're not there right now."
That adversity has led Florida's players to adopt an incongruous new slogan for the 2013-14 season: "S.W.A.G." But it's not just about confidence or flash (or slightly outdated tween lingo).
"It means 'Strengthen When Adversity Grows,'" senior forward
Patric Young
said. "We need to strengthen as adversity gets more and more in our face. We need to stay together and be connected."
Donovan was willing to praise his team on that front. He said his players were forming a "different bond and different connected-ness."
For now, it seems, chemistry is the least of the Gators' numerous worries.
Other notes from SEC media days:
When coaches weren't being asked about Kentucky's loaded incoming class, they were answering questions about the SEC's overall strength (or lack thereof). Uncertainty reigns. Even Kentucky, the surest bargain in the bunch, has earned that status despite most of its players never having played a collegiate game. "As soon as they play a real top team," Young said, "they're going to see it's not just a walk in the park. One-and-done is not for everybody."
There was at least one thing every SEC coach could agree on: The NCAA's new rules, designed to eliminate handchecks, arm bars and shaky charge calls, are good for the game -- with one caveat. The referees must remain consistent.
Not all teams will be affected equally by the new contact rules. Teams that thrive on physical, lane-clogging defense or that lead with a press will have to adjust their style this season. Case in point: Last season, Arkansas forced opponents into turnovers at one of the highest rates in the country. It also ranked No. 316 in the country in opponent free throw rate. "I've got a task on my hands," Arkansas coach Mike Anderson said.
South Carolina coach Frank Martin would like to clarify one thing: He's not as scary as you think. "There might 30 10-second snippets of me in a foul mood," Martin said. "I can promise you, that's [the only] 300 seconds out of a whole year that I'm in a foul mood. I love people. I love to laugh. I love to make people laugh. And if you asked anyone who knows me, they'd say you can't find anyone in the world more loyal than I am. ... So I'm not the big grizzly bear I'm always made out to be." Martin did not disclose whether he does, or does not, dance like no one's watching.
June, 3, 2013
Jun 3
3:00
PM ET
Earlier this offseason,
we got to see former Kentucky forward
Nerlens Noel
and his friend, a 7-year-old leukemia sufferer named Kelly Melton, swag it out at the Kentucky Derby. Today, we have a similar story, this time from Florida, where rising senior forwards
Patric Young
and
Will Yeguete
have formed a deep bond with a 3-year-old kid who sounds about a thousand times more courageous than anyone I know.

The Florida Times-Union's
Hays Carlyon
has the story
. Since he was just 10 months old, when a doctor's initial diagnosis of mumps turned out to be acute lymphoblastic leukemia, Kaedyn Ballew has been in an off-again, on-again battle with cancer. During his first trip to Shands Hospital in Gainesville, as Carlyon writes, a responding oncologist told Ballew's mother, Shelsie Ballew, that her son likely wouldn't survive the weekend. He left the hospital five months later, in August, but returned in December when his mother noticed deep bruises on his legs and back, a sign that the cancer had returned.
Ballew was checked into Shands for another four unimaginable months. That was when he met Yeguete and Young, during one of the Florida players' trips to the children's ward at the hospital:
"The first time Will and I went to visit him, it was one of the best hospital visits I've ever had," Young said. "The kid was going through leukemia for the second time. He just brightened up the room. He made me smile many times. I had great interaction with him. He has such a good imagination. It was a great experience. He's an awesome kid to be around."

That imagination was evident early. Kaedyn told Young and Yeguete how he had scared away a monster by flexing his muscles at him. "If he comes back," Kaedyn said. "I'll show him my muscles again."
Young and Yeguete have checked in since, following up when it was time for Kaedyn to come home from the hospital and helping the family move their things out of their grim second home. It's a truly great story made complete by a photo of Kaedyn in Yeguete's game-worn shoes, which might weigh more than the little guy's entire frame.
There is good news at the end of the story here, but it's not universally positive. Kaedyn's home from the hospital now, Carlyon writes, but he is still receiving treatment and is still experiencing brutal side effects. Doctors give him a 50 percent chance of full recovery; if he doesn't relapse by March of 2018, he'll be considered cured. In the meantime, the Gators and Kaedyn's mother are hoping he is soon healthy enough to attend a home game:
"He would love it," Shelsie said. "He says he can't wait to eat nachos with lots of cheese and watch Patric and Will play. I hope he'll be able to. That would be really special."
March, 1, 2013
Mar 1
9:30
AM ET
My latest attempt to rank the SEC ...
1. Florida.
Still No. 1 to me. I'm not going to drop the Gators for a loss to a hungry Tennessee team this week. Billy Donovan's squad was short-handed. But
Will Yeguete
and
Michael Frazier II
will be available for Saturday's matchup against Alabama. The Gators have followed the trend within the SEC and nationally by struggling on the road. Every squad on this list, however, has encountered the same off-campus struggles. But no team in this conference possesses Florida's talent, skills and résumé.

2. Missouri.
Frank Haith's program has improved. The Tigers are finally fulfilling their potential. Perhaps it took three, four months for this group to achieve the chemistry necessary to make it happen. Injuries to
Keion Bell
and
Laurence Bowers
did not help. But they're jelling now. Sure, it's just a win over South Carolina but the Tigers topped 80 points in their second consecutive road game with that 90-68 victory Thursday night. Also,
Phil Pressey
did not attempt a field goal in the game, but he finished with nine assists. His recent performances prove he realizes Mizzou needs him to be a better distributor.
3. Tennessee.
Cuonzo Martin is cooking something in Knoxville. The Vols are sitting on the NCAA tournament bubble after six consecutive wins, a streak that includes victories over Kentucky and Florida. Tuesday night's win over the Gators was crucial for Martin's squad. The Vols have certainly dealt with a variety of obstacles this year. Jeronne Maymon has been sidelined all year with a knee injury. The Vols lost four of their first five SEC games. But they're playing great basketball right now.
Jarnell Stokes
is more assertive now.
Trae Golden
is leading.
Jordan McRae
is balling. This could be a very dangerous squad if it cracks the field in the NCAA tournament.
4. Kentucky.
Kudos to John Calipari's team. It's not easy for a veteran squad to move forward after losing its best player. This crew is making a push with freshmen. The Wildcats have won three of four without star
Nerlens Noel
. The 30-point loss they suffered at Tennessee in their first full game without the freshman standout projected trouble for the young crew. But the Wildcats are fighting for an at-large bid.
Alex Poythress
is a matchup problem for any team in America when he wants to be. And his recent efforts prove he recognizes his significance to this team's postseason, especially with Noel sidelined. He scored 16 points in Wednesday's 85-55 victory at Mississippi State, and he dropped 21 points in Saturday's 90-83 overtime win against Missouri.
5. Alabama.
Bama has won four of its past five games. But the Crimson Tide didn't achieve that success against the league's best -- and the Tide suffered a triple-overtime road loss to LSU over the weekend. Their next two matchups, road games against Florida and Ole Miss, however, will give Anthony Grant's team a chance to prove it's a top-tier team in this league and one that should be feared in the conference tournament.
Trevor Releford
can lead Bama in this final stretch, but he'll need other scorers to step up consistently to avoid a late collapse (61.7 PPG in SEC play, ninth in the league).
6. LSU.
Johnny Jones' squad has won four of five. The Tigers are not in the NCAA tournament conversation. But if you're looking for a team that could rally in the SEC tournament, check out the Tigers. They play fast (41st in adjusted tempo per Ken Pomeroy). They defend the 3-point line (SEC squads are shooting just 28.9 percent from the arc against the Tigers). And sophomore
Johnny O'Bryant III
(13.6 PPG, 8.7 RPG) is a young star.
7. Arkansas.
It's the same story with the Razorbacks. They can contend with America's best when they're home. The road is a completely different tale for this squad. They've secured double-digit home wins against Tennessee and Florida. They have a win over Missouri, too. They've lost to South Carolina and Vandy on the road. The Razorbacks would be in the mix for the conference title if they had avoided those road losses to subpar SEC squads.
8. Ole Miss.
It's getting hot for Andy Kennedy and his program. The Rebels have tumbled in the standings after losing five of their past nine games. The good news? They've actually won three of four and they can win the last three SEC games on their slate. The bad news? Their at-large hopes have been jeopardized by their recent fall. They're the league's best offensive team (75.9 PPG) and one of its worst defensive squads (70.3 PPG allowed). That's a formula for chaos.
9. and 10. Texas A&M/Vandy.
Both are 6-9 in the SEC, and that's surprising for different reasons. Texas A&M has wins over Kentucky and Missouri but the Aggies have had far more lows than highs. Kevin Stallings' young squad has won four of its past six games. That's a finish that his program can build on for next season.
11. Georgia.
Mark Fox's program had amassed momentum during a five-game winning streak. Since then? The Bulldogs have lost four of their past five.
12.-14. South Carolina/Mississippi State/Auburn.
It's difficult to separate these three teams. The good news for all three? It's March. This will end soon.
February, 24, 2013
Feb 24
1:10
AM ET
A few observations from another intriguing Saturday night of college basketball…


Kentucky stepped up in the most important game of its season.
Prior to Saturday's Missouri-Kentucky matchup, the SEC had already completed multiple exciting games earlier in the day. LSU beat Alabama in triple overtime. Georgia defeated South Carolina in overtime. And Tennessee outplayed Texas A&M in quadruple overtime. But Kentucky and Missouri delivered in the conference's most significant matchup. After losing
Nerlens Noel
to a season-ending knee injury, the Wildcats lost to Tennessee by 30 points. Season over, right? I mean, that team competed like a team that just wanted the season to end. Kentucky didn't do anything that a squad should do when it's trying to convince the selection committee that it's worthy of an NCAA tournament bid. I had no faith in this group. The Wildcats, however, silenced some of their critics with their overtime win against Missouri at Rupp Arena on Saturday. The
90-83 victory
might help UK get into the field of 68 -- and the Cats might have changed the trajectory of their entire season with the gutsy win.
Julius Mays
led the Wildcats (four reached double figures) with 24 points. By the end of the game, he could barely walk. Kentucky had earned that exhaustion. Missouri, meanwhile, earned criticism. More criticism. Once again, the Tigers collapsed on the road. They were up by 13 points in the first half, and then they unraveled. They always do outside Columbia, it seems.
Phil Pressey
's costly turnover with 48 seconds remaining in overtime summed up Mizzou's entire season: talent marred by mistakes and chemistry issues. In the end, a Tigers team comprised of veterans lost to a group of raw youngsters which graduated from high school a year ago. Give Kentucky credit. Doubt the Tigers.


Health will be Florida's top concern in March.
The Gators proved that they're still a high-powered team when they bullied Arkansas
71-54
on Saturday. Florida's loss to Missouri -- and an earlier loss at Arkansas -- sparked questions about Billy Donovan's program, but the Gators have been one of the nation's most dominant teams all season. And their successes outweigh their stumbles. In March, they're not going to run into many teams that can handle their backcourt and
Patric Young
(14 points, 7 rebounds and a block on Saturday). What about their health?
Michael Frazier II
suffered a concussion in the victory over the Razorbacks.
Erik Murphy
tweaked an ankle this week.
Will Yeguete
is out with a knee injury. Donovan's program hasn't been 100 percent in a long time. That's a concern now and as March Madness approaches. A healthy Gators team can contend with any program in the country. There will be less certainty, however, if Florida enters the NCAA tournament at anything less than 100 percent.
[+] Enlarge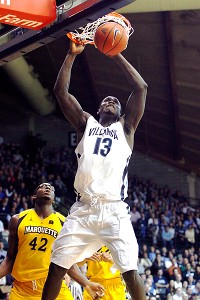 P Photo/H. Rumph JrMouphtaou Yarou throws down a pair of his 10 points in Nova's upset of Marquette.
I don't understand Villanova, but I like its style.
Check Villanova's résumé. Confused? You should be. The Wildcats have been swept by Providence. They have a nonconference loss to Columbia. Alabama beat them by 22 points in the first half of the season. But the Wildcats also have recent victories over Louisville and Syracuse. They're 7-9 against the RPI top 100 but 3-1 against its top 25. Still, the Wildcats had zero guarantees entering Saturday's matchup with a Marquette team that was locked in a three-way tie for first place in the Big East, and they played like a team that recognized its predicament. And I dig that. I mean, don't expect a bid. Take one. And that's what Villanova may have done with Saturday's victory.
Mouphtaou Yarou
finished with 10 points, 7 rebounds, 2 steals and an assist in his final game at The Pavilion. Yarou and his teammates (
Darrun Hilliard
led all scorers with 22 points) fought. Marquette (19 turnovers) made a late push, but it couldn't overcome the Wildcats' lead. Villanova's résumé is not perfect, but you can't tell me that the Wildcats aren't playing like a tourney team right now.


Saint Mary's is doing what it can.
The Gaels entered their home game against Creighton in a bubble situation. Their one problem all year? Gonzaga. The Zags are five steps beyond the rest of the league, and the West Coast Conference doesn't offer any other true quality opponents (BYU is OK, I guess). So Saturday's home game against a Creighton team that looked like a lock for the tourney was crucial for the Gaels. Saint Mary's toyed with the Bluejays in a
74-66 win
. That's what a team in SMC's situation should do. The Gaels can't enhance the WCC in the coming weeks, but they can win convincingly in their toughest remaining matchups. Saturday was a good start. It also proves that the Missouri Valley Conference is not as good as many expected it to be. A few weeks ago, Wichita State's Gregg Marshall told me that the Valley was like a "mini-Big Ten," and I agreed with him. At the time, Indiana State, Creighton, and Wichita State were all tourney teams. Not today. Creighton has struggled on the road in MVC play. The Bluejays could lose to Bradley next week and then stumble in the conference tourney. And now a mid-major conference that appeared to possess three bids could enter Selection Sunday with one lock (Wichita State) and a Creighton team sitting on the bubble.
I believe in Trae Golden and Jarnell Stokes. The duo has fueled Tennessee's five-game winning streak. On Saturday, Golden (32 points) and Stokes (20 points, 16 rebounds) -- along with Jordan McRae (23 points) -- led the Vols to a 93-85 four-overtime road win over Texas A&M. The SEC is a very lukewarm league. Most teams have suffered surprising road losses. Few have compiled impressive runs. But Tennessee is playing its best basketball right now. There are no guarantees in the SEC tourney. The Vols aren't in the dance right now, but they could be in a few weeks.

What a week for Cal. The Bears held off Oregon State for a 60-59 win on Saturday. On Thursday, Justin Cobbs hit a shot in the final seconds to seal his team's two-point victory over Oregon. Cal has won five in row. With three games left, the Bears still in the mix for the Pac-12 title.
February, 12, 2013
Feb 12
9:10
PM ET
GAINESVILLE, Fla. -- A quick look at No. 7 Florida's
69-52 victory
over No. 25 Kentucky on Tuesday night at the O'Connell Center:


Overview:
Florida got off to a slow start, but quickly recovered and rolled past Kentucky to snap a five-game losing streak to the Wildcats -- and secure first place in the Southeastern Conference at the same time.
UF missed its first five shots, fell behind 4-0, and
Patric Young
wen to the bench with an early foul in the game's first three minutes. An 8-0 run -- started by an
Erik Murphy
3-pointer -- erased that deficit and the Gators (20-3, 10-1 SEC) never trailed.
The 17-point margin is tied for the second-biggest margin of victory for Florida in the series. Five UF players scored in double figures.
Florida now has a two-game lead over Kentucky (17-7, 8-3) in the SEC standings.
Turning point:
Kentucky was in position to cut Florida's lead to less than 10 points with eight minutes remaining in the game, but an injury to Wildcats forward
Nerlens Noel
sapped UK's momentum. Noel, who had posted double-doubles in his last previous games, smashed his knee on the basketball support after blocking
Mike Rosario
's attempted layup. Florida was leading 57-45 at the time of Noel's injury. Noel finished with eight points and six rebounds.
Key player:
Florida G/F
Casey Prather
gave the Gators great minutes off the bench, especially in the first half. The 6-foot-6 Prather has been pressed into playing power forward because of the loss of
Will Yeguete
, and he responded with 8 points, 1 rebound, 1 block and 1 assist in the first 20 minutes. He also drew a pair of charges.
Key stat:
As usual, the Gators feasted on turnovers. UF scored 20 points off 17 Kentucky turnovers.
Miscellaneous:
UF coach Billy Donovan is now 2-7 against Kentucky under John Calipari. … The 25 points Kentucky scored in the first half was tied for the fewest the Wildcats have scored in a first half this season. … Florida improved to 12-0 at home this season.
Next game:
Florida plays at Auburn on Saturday; Kentucky plays at Tennessee the same day.
February, 5, 2013
Feb 5
10:15
PM ET
Yep. That just happened.
Florida, No. 2 in the polls, just lost at Arkansas. By a thousand points. OK, the real score was
80-69
. But it felt like there was a million-point gap between the teams for most of the game, right? The Razorbacks shot 53 percent from the field and took a 23-point lead in the first half, while the Gators managed an uncharacteristically low 29 percent clip before halftime.
Game over.
So what does this mean? I'm not sure. But I'll try to explain …

For Arkansas fans:
Look what happens when the Razorbacks play D. It's amazing, right? I mean, the same squad that just upset the Gators gave up 75 at South Carolina. Arkansas is ranked 93rd in adjusted defensive efficiency per Ken Pomeroy and 11th in the SEC in defending the 3-point line (conference schools were shooting 35.2 percent from beyond the arc against the Hogs prior to Tuesday's win).
But they'd averaged 77.0 points per game this season, No. 22 in America, prior to the upset.
BJ Young
and
Marshawn Powell
comprise one of the most talented offensive duos in America. And when Arkansas' offense flows, the Razorbacks can put up points by the boatload. See: Tuesday.
Yet, Arkansas has only played well at home (5-0 in the SEC in Fayetteville, 0-4 on the road) since the start of conference play. The Razorbacks have lost to Texas A&M, South Carolina, Alabama and Ole Miss on the road. Tuesday's victory will certainly boost this team's résumé (77 BPI entering the matchup), but securing additional quality wins in a league as weak as the SEC will be a difficult task. They'll go to Gainesville for the rematch Feb. 23 and they have two remaining matchups against No. 21 Missouri.
So it's conceivable -- especially if the real Arkansas stood up Tuesday evening -- that the Razorbacks could make a case for an at-large bid in the coming weeks.
And they could also lose to Vanderbilt in Nashville on Saturday. No guarantees with a team that's demonstrated such a different swagger on the road.
But the Hogs can build on Tuesday's win, that's for sure.

For Florida fans:
First, the numbers. The Gators had defeated their first eight SEC opponents by an average of more than 26 points a game. Steamrolling would be putting it nicely to those eight opponents.
Courtesy of the geniuses at ESPN Stats & Information: If the Gators had defeated Arkansas by 14 points or more Tuesday, they would have been just the third team in college basketball history to win nine consecutive conference games by that margin (UNLV in 1990-91, Arizona in 1988-89).
We talkin' 'bout history. Florida was not just the most dominant team in the SEC, the Gators were enjoying one of the most dominant regular-season stretches in recent college basketball history.
So it was shocking to see that team get crushed the way it did against Arkansas. The Razorbacks scored 43 points in the first half. Three teams failed to score 43 points in matchups against the Gators this season. Billy Donovan's program hadn't given up more than 67 points in one game this season. Arkansas scored 80.
I think it will be easy for doubters to point to Florida's schedule and league affiliation and question its impressive performances. The Gators have suffered their three losses (Arizona, Kansas State and Arkansas) outside Gainesville. They play in a weak conference. They've defeated two teams all season that are currently ranked in the Associated Press poll (No. 21 Missouri and No. 24 Marquette).
Overrated? Slow down.
I say Florida is still a very good team. The Gators are balanced, proven by the fact that they were the only team in the country that was ranked top five in both defensive and offensive efficiency prior to Tuesday's loss.
Look, they had a really bad night against a team that had a great one. Still, I don't think the game was a major statement for either team. A beating is a beating. The Gators took one. They were down by 27 points in the second half and committed 16 turnovers. What can Donovan really take from that?
The Gators will move on, regroup, potentially get healthy (
Will Yeguete
missed a chunk of the game with a knee injury) and push toward the SEC crown.
The bottom line is that Arkansas did things in this game that it had failed to do throughout the season. And Florida made mistakes that it had not made in previous SEC games.
Maybe it'll spur the Hogs on to an incredible run and be the first sign of a fraudulent Florida team. But I doubt it.
In the words of Public Enemy, "don't believe the hype" about the Gators or the Razorbacks after a lopsided matchup that could prove to be an anomaly for both squads.
January, 11, 2013
Jan 11
9:30
AM ET
Just when we thought we understood the enigma known as the SEC -- just when I'd felt comfortable with my weekly rankings -- SEC play began. And the madness continued. We'll get through this together.
1.
Florida
-- The Gators have the most complete team in the SEC right now. They opened up SEC play with a 33-point win against Georgia on Wednesday night. They're balanced, experienced and talented. Few teams in this league can say that. Their losses (Arizona, Kansas State) weren't bad losses. And I still think that this team is growing.
Kenny Boynton
,
Mike Rosario
and
Patric Young
anchor Florida's core, but they're also assisted by talented reserves such as
Will Yeguete
.

2.
Missouri
-- The Tigers were more efficient in their Tuesday victory against Alabama than they were in a nail-biter against Bucknell over the weekend. But they lost
Laurence Bowers
to a knee injury in that game. That's clearly a concern as they prepare for an Ole Miss team that is more than capable of pulling off the upset, especially at home. I still think that the Tigers rely on
Phil Pressey
too much, and that's going to cost them at times this season, possibly as soon as Saturday when they face the Rebels without Bowers.
3.
Ole Miss
-- The Rebels had such a poor nonconference strength of schedule (No. 241 per ESPN.com's RPI rankings) that their impressive stats (top 40 in Ken Pomeroy's offensive and defensive efficiency ratings) have been difficult to trust. But Ole Miss opened up SEC play with a dominant win at Tennessee. No, the Vols aren't the crème de la crème of the conference. But they're definitely better than Mississippi Valley State and East Tennessee State, two teams the Rebels faced during their nonconference slate.
4.
Kentucky
-- As I watched the Wildcats on Thursday night, I realized that I'd given the hype more credit than it deserved. Yes, I still believe Kentucky could be the best team in the conference by the end of the season. But what evidence do I really have to assume that the Wildcats will come anywhere close to their potential? They blew a 47-31 lead at Vanderbilt, a team that lost to Marist by 17 points. So I'm still waiting for Kentucky to prove that it's more than a bunch of NBA prospects that can't play together.
5.
Tennessee
-- Tennessee's offense has been a concern all season. But in its past two games, its defense has been the issue. The Vols gave up 85 points to Memphis and 92 points to Ole Miss in back-to-back losses. I still think Tennessee is one of those squads that could give any team in the conference trouble. But the Vols haven't put together a run that has showcased their potential. This pattern will lead to an average finish in the SEC if Cuonzo Martin can't find a way to reverse it.
6.
Auburn
–- So, I'm surprised, too. But I think Auburn deserves a slot in the top half of the league. Why not? Tony Barbee's program knocked off LSU in its SEC opener Wednesday night, even though leading scorer
Frankie Sullivan
(17.2 ppg) fouled out after scoring 10 points. Junior
Allen Payne
has played well during a stretch that's featured five wins in seven games (the Tigers suffered a two-point loss at Illinois on Dec. 29).
7.
Texas A&M
–
Elston Turner
(15.5 ppg) and Co. have won three in a row since a 53-51 home loss to … Southern on Dec. 22. The Aggies crushed Arkansas 69-51 in their SEC opener Wednesday night. So perhaps that loss to Southern won't define their season. The Aggies have held their opponents to 58.6 ppg, second in the conference. But like so many teams in this league, they amassed that sexy stat against a lukewarm nonconference slate. Their dominance Wednesday night, however, suggests that they might be one of the best average teams in the conference. A road win against Kentucky on Saturday would send a message to the league.
8.
Alabama
-- I was searching for signs of progress on Tuesday night. I mean, Bama has to do something. Fast. And the Crimson Tide had their chance in Columbia. The team was down 40-36 at halftime. And then, Bama arrived. Anthony Grant's squad was outscored 44-32 in the second half. Alabama finished with 16 turnovers and shot 5-for-17 from the 3-point line. This isn't an issue with injuries. This is just a team that apparently can't complete games. They're talented enough to play with any team in the conference in stretches. Winning, however, is still a problem.
9.
LSU
-- Johnny Jones' squad didn't commence SEC play with a bang. Instead, the Tigers lost on the road to Auburn. They didn't accrue any meaningful wins during a weak nonconference slate. So I never believed the 9-2 record that they took into that game. I figured if they couldn't handle the ball against McNeese State (19 turnovers) and Houston Baptist (15 turnovers), then they'd probably have trouble in the SEC. Their 12 turnovers in the Auburn loss were costly. They missed 6 of 10 free throws. LSU's inflated nonconference record might have been debunked in the SEC opener.
10.
Arkansas
-- The Razorbacks average 80.6 ppg, ranked 11
th
nationally. That offense is their only ticket to any respectable finish in the SEC.
BJ Young
and
Marshawn Powell
average 31.4 ppg for Mike Anderson. So how did Arkansas end up with 51 points at Texas A&M? Well, Powell's foul trouble and zero points certainly didn't help. This squad had won five in a row against a lackluster assembly of nonconference opponents entering the game. Meaningless. They barely cracked 50 points against a midlevel SEC squad. It's not the end of the world for the Razorbacks. But Anderson has to figure out what's up with Powell (17 points combined in past three games) going forward.
11.
Mississippi State
-- Speaking of effort, how about the Bulldogs winning their SEC opener against South Carolina 56-54? After the win, Mississippi State head coach Rick Ray tweeted, "Thank you to the Bulldog fan base for all of the congratulatory tweets. I appreciate it. Prepping for Georgia now. Grindin' for my State!" He should be pumped for his program, which has struggled all season. The Bulldogs have won three of four.
12.
Vanderbilt
-- Kudos to Kevin Stallings' squad for nearly knocking off Kentucky at home Thursday night. The Commodores overcame a 16-point deficit and put themselves in a position to pull off the upset. But they fell short. Now, it should be noted that the finish was corrupted by an obvious shot-clock violation on a
Nerlens Noel
bucket with 17.3 seconds to go. But the true moral of the story is that you should always avoid a 16-point deficit when possible. Vandy's effort in the second half was commendable. But the SEC standings don't have an "effort" column.
13.
South Carolina
-- Frank Martin, this is your team. The Gamecocks, like most of the league, grabbed 10 nonconference wins against a poor schedule. So they entered SEC play as a mystery. They hadn't proven anything. What did they do in their first conference test? They committed 24 turnovers. The Gamecocks have been fumbling all season against lesser programs. And that weakness affected the outcome in their conference opener. Check the box scores. Turnovers have plagued this program all season. And it will be its biggest issue in SEC play.
14.
Georgia
-- Mark Fox has a really, really good player named
Kentavious Caldwell-Pope
(17.0 ppg). He's a star. But he doesn't have much to put around him. So the Bulldogs are averaging just 59.4 ppg, No. 321 in Division I. In their 33-point loss to Florida on Wednesday night, Caldwell-Pope (11 points) was the only player who cracked double figures. Now, the loss did stop a four-game winning streak. But it's just difficult to see how Fox's program will avoid the league's basement if it expects one player to carry the load every night.
December, 14, 2012
12/14/12
9:30
AM ET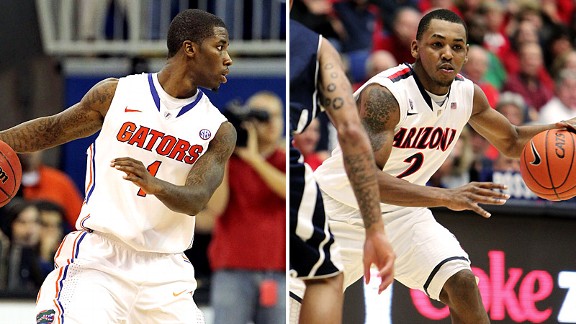 USA TODAY Sports, Icon SMIDon't be surprised to see Kenny Boynton, left, and Mark Lyons take crucial shots on Saturday night.
Editor's note: Each Friday morning, Jay Bilas will break down the weekend's top game. This week it's No. 5 Florida (7-0) at No. 8 Arizona (7-0) at 10 p.m. ET Saturday on ESPN.

Gators outlook:
The difference for Florida this season is defense. Last season, UF gave up 40 percent shooting from 3-point range and got hurt by being overextended. This season, the Gators are staying home more and packing it in. Instead of playing out in passing lanes and denying, they are playing off more, not playing as far up the line, and showing their chests to the ball and building a wall to protect the lane and the rim. That has meant fewer help rotations and better defensive rebounding, limiting opponents to one challenged shot (outrebounding opponents by 10.7 per game). The results are obvious. Florida has a top-five defense, and has done it with both man-to-man and zone. The Gators still press, speed the game and make you play at a speed you don't practice. And they have done a great job of not just forcing turnovers, but converting off turnovers. Florida has scored more than twice as many points off turnovers as its opponents (21.3 to 9.9).
On the offensive end, UF is a ball-screen team that can really stretch out a defense, and really attacks and gets to the free throw line. Florida has made more free throws than its opponents have attempted. Four Gators average between 14.4 points and 10.3 points per game. This is a team that scored 74 points against Wisconsin, a team that gave up only 53 points per game last season, and blasted Marquette and Florida State.
Florida has good, experienced guards in
Kenny Boynton
,
Mike Rosario
and
Scottie Wilbekin
, a strong presence in
Patric Young
(an interior player who, when he keeps it simple, can be really effective), and an elite and versatile defender in
Will Yeguete
, who can defend multiple spots, get offensive rebounds and affect the game without scoring.
Wildcats outlook:
Last season, Arizona was not a great shooting team, but could not compensate for it with second-shot opportunities or post-ups because Sean Miller did not have the personnel. This season, he has the personnel. The Wildcats have great size up front and very good depth. (But don't listen to those who suggest that having big-guy depth gives you extra fouls to waste, which is silly. You don't waste fouls, which puts your opponent at the free throw line for common fouls and leads to losses.) With freshmen
Kaleb Tarczewski
and
Grant Jerrett
, Miller has two big men who can affect the game. Tarczewski is a traditional low-post banger who seeks out contact and can score around the goal, and is the team's top rebounder. Jerrett is a long-armed big man who can step away and knock in an open 3-point shot.
Arizona has good guards, good size and good balance. Another frontcourt player to watch is
Brandon Ashley
, a freshman who has a terrific understanding of the game, can really hit the glass and can go off the bounce. Ashley has been up and down, but he put up 20 points and 10 rebounds against Long Beach State, and just had nine points and six rebounds at Clemson. With Xavier transfer
Mark Lyons
, Miller has an experienced, big-game guard who is unafraid of anything but takes some criticism for being loose with the ball. Lyons has more turnovers than assists, but he is hardly a turnover machine. He can attack pressure and score or get fouled, and that will be an asset against Florida.
Nick Johnson
is leading the Wildcats in scoring, assists and steals, and is a tremendous athlete with explosiveness, transition ability and the ability to defend. Johnson can shoot it and can get to the rim and finish. He has been the Wildcats' best player in the first month and a half. A key player against Florida will be
Solomon Hill
, a versatile and skilled wing who can see the floor and handle the ball. He will be vital in the press offense. Hill has not shot the ball well this season and is coming off a 2-for-16 night at Clemson, but he is UA's most versatile and most valuable player.
Gators go-to:
Kenny Boynton.
An outstanding defender who has been doing a very good job getting into the lane and getting to the free throw line, Boynton is one of the best senior guards in the country. He is averaging 14.4 points and 4.1 rebounds per game, and is shooting 90 percent from the free throw line. He can get hot in a hurry and is rarely rattled. Boynton needs to play well for Florida to win on the road.
Wildcats wonder:
Lyons. He is an attack guard who can really score and is willing to take on any challenge. Lyons is averaging 13 points per game, yet is third on the team in shots taken, and is coming off a 20-point game against Clemson. Against the full-court pressure of Florida, expect Lyons to be on the attack and to look to score against pressure.
Gators X-factor:
Erik Murphy
. The most impressive individual performance I have seen all season was Murphy's 24-point perfect game against Wisconsin in which he did not miss a single shot. Murphy can really shoot it and is a terrific pick-and-pop big man. He is skilled and can score in the post or step away. He will provide a tough matchup for any Arizona big man, but I expect Hill to take him on, which will be a great matchup. Hill is an underrated defender, and he was terrific this summer at the Nike Skills Academies.
Wildcats X-factor:
Kevin Parrom
. This strong senior wing has been through a lot in his career and has come through stronger. He originally signed with Xavier, was the victim of a gunshot wound in his own home in New York, yet has been an efficient offensive player who excels in transition, can drive the ball, hit open 3s and find the open man. Parrom also is a willing defender. In a high-level game with young teammates, his toughness and ability can make a big difference.
Key stats:
Three-point field goal defense and points off turnovers. Florida feeds off turnovers and can turn a mistake or a bad shot into a layup or opportunistic 3 on the other end. And the Gators are not shy about pulling the trigger on a 3 in transition. The Wildcats cannot turn the ball over and expect to win. Turnovers take away a shot opportunity but also take away a chance for an offensive rebound or foul while putting your defense at a disadvantage. Arizona does not defend the 3-point line as well as the rim, and Florida will involve the young big men in ball screens high and flat and on the sides. How the Cats guard those screens and rotate will be a key factor in the game.
Who wins:
Arizona has to get out in front of Florida early and stay in front. The Gators have trailed only twice this season and have not trailed a single second after the first five minutes of any game. This game will be about making decisions and completing plays. The Wildcats have to guard ball screens with a plan, handle pressure in full-court situations, and then handle both man and zone with both aggressiveness and patience. Florida is the better team, but this is the toughest environment the Gators have faced this season. I favor the Gators in this one, but not by much. Florida wins 76-72.
February, 22, 2012
2/22/12
5:00
AM ET
1. Colorado State's win over New Mexico may get the Mountain West Conference four bids in March. The Rams have already knocked off San Diego State. The Rams do have a victory over Colorado as their signature nonconference win. Playing Stanford, Southern Miss and Duke may help the power rating, but not the win total résumé. The Rams are a decent watch, make free throws and don't play mistake-prone basketball. But if they make the field, it would speak volumes to the strength of the MWC, considering the Rams had already lost at Wyoming, TCU and Boise State.
2. Florida suffered a tough blow Tuesday when forward
Will Yeguete
was diagnosed with a broken left foot and is out indefinitely. The season is nearly over, so speculating that he's done isn't a reach. Replacing Yeguete's rebounding and defense won't be easy. Yeguete can guard all five positions.
3. Missouri Southern coach Robert Corn is reaching out to Alabama for an exhibition game in Tuscaloosa in an attempt to link two tornado-ravaged communities. Joplin and Tuscaloosa were devastated by separate tornadoes in 2011. Corn said he's hoping that the game would draw attention to the rebuild in Alabama like the Missouri Southern-Missouri and Missouri-Southern-Missouri State games did for Joplin in November.
March, 26, 2011
3/26/11
6:40
AM ET
NEW ORLEANS -- Breaking down the Southeast Regional final:
No. 8 seed Butler (26-9) vs. No. 2 seed Florida (29-7), 4:30 p.m. ET (CBS)
What's at stake:
Butler is attempting to go back to the Final Four for the second consecutive season. The last time a team from a mid-major conference went to back-to-back Final Fours was in 1990 and '91 when UNLV pulled it off.
Florida is looking for its fifth Final Four appearance. The Gators are 4-0 in regional finals, winning in 1994 (when Lon Kruger was the head coach), 2000, 2006 and 2007, the final two times resulting in national titles.


Rich history:
Florida and Butler have met twice before in the Big Dance, and the Gators won both. In 2000, 5th-seeded Florida beat 12th-seeded Butler on a Mike Miller overtime buzzer-beater in the first round, en route to finishing as national runner-up to Michigan State. In 2007, the top-seeded Gators beat 5-seed Butler by eight in the Sweet 16. That matched UF's smallest margin of victory in the tournament, as the Gators won their second straight national title.
Hot streak:
After a humbling loss to Youngstown State on Feb. 3, Butler hasn't lost since, winning 12 straight. The Gators have won 13 of their last 15.
Path to the Elite Eight:
Butler beat Old Dominion (60-58) and Pitt (71-70) on last possessions before opening up a 20-point lead on Wisconsin and the holding on for the 61-54 win. Florida coasted past UC Santa Barbara (79-51), outlasted UCLA (73-65) and then beat BYU in overtime (83-74).
Experience:
Florida returned all five starters from last season's NCAA tournament team, which lost in the first round to BYU. Butler has four players who played significant minutes on the national runner-up team last season.
Remarkable stat:
Florida hasn't had a player foul out this season -- the only Division I team that can make that claim in 2010-11.
Tough matchups:
Butler junior guard
Ronald Nored
will have to take on Florida's
Erving Walker
after guarding Wisconsin's
Jordan Taylor
.
"Erving Walker is definitely a lot smaller than Jordan Taylor, but he's so quick,'' Nored said. "He can get by you and finish over you at his size. He can shoot the ball really well. In some ways, they're similar but their sizes are a little different, so you can guard Erving with a hand in the face and make him shoot quicker.''
Chandler Parsons
will be part of a committee with
Vernon Macklin
and
Alex Tyus
that will have to defend Butler's
Matt Howard
.
"He's very difficult to guard,'' Parsons said. "He's one of the most physical players in the country and he plays smart and just relentless and he doesn't stop and he's got a really good motor. So a guy like him, he just battles for 40 minutes and you're not going to get anything easy with him just because his effort is off the charts.''
Injury update:
Butler center
Andrew Smith
writhed in pain, clutching his left knee late in the Bulldogs' win over Wisconsin. He said after the game that his left knee was swollen, but he would play Saturday. But on Friday, the Bulldogs said it was his ankle, not his knee. Regardless, he was held out of Friday's practices and Butler will assess his status for Saturday's game prior to the tip. But he's planning on playing in some form.
X-factor:
Of course, Butler's
Shelvin Mack
and Howard have to score and board, Nored must defend on the perimeter and Smith will need to do the little things up front. But the difference could end up being
Khyle Marshall
, the freshman forward off the bench. He scored seven points and grabbed seven rebounds, blocked a shot and came up with a steal in 18 minutes against the Badgers. Marshall's length and athleticism will be needed against the Gators' frontline. UF has scored 100 points in the paint in three tournament games, while Butler has yielded just 52 points inside.
The Gators will get the requisite production out of their starting five. But keep an eye on the production from two reserve forwards. Newcomers
Patric Young
and
Will Yeguete
will be significant factors in this game if they can get key offensive putbacks and defend Howard inside. They offer up a combined 10 fouls to offset Macklin and Tyus, and Young is probably the strongest of the group that can handle the scrappy Howard.
Reality check:
For everyone constantly wanting to put the Bulldogs in this tidy little box and say how cute and cuddly it is that they are about to reach the Final Four again, just think about the experience in this moment for both teams.
"Butler has been here before and this is our first time here overall,'' Florida guard
Kenny Boynton
said. "They are a physical team and I think it's going to come down to the wire. We have to play hard for the full 40 minutes.''
Added Walker, "This is a dream, but you can't get caught in it. You have to be awake. Butler is a great team we have to come out and play our game. We don't expect it to be easy and it should be a tough challenge.''
And from the Butler side:
"This is business,'' Mack said. "You want to get back to that stage and try to enjoy it.''
"Last year was more of a whirlwind because we hadn't done it before,'' Howard said. "Having been there before, at least to this point, you learn how to manage it and deal with it.''