College Basketball Nation:

Wright State Raiders
March, 13, 2013
3/13/13
12:09
AM ET
By
ESPN.com staff
| ESPN.com
Erik Buggs
' 22 points led Valparaiso to a
62-54 victory
over Wright State in the final of the Horizon League tournament, giving the Crusaders their first NCAA berth since 2004.
March, 9, 2013
3/09/13
8:14
PM ET
By
ESPN.com staff
| ESPN.com
Miles Dixon
's last-second shot gave Wright State a
56-54 victory
over Detroit in the semifinals of the Horizon League tournament.
January, 17, 2013
1/17/13
2:15
PM ET
Reggie Arceneaux
searches for a man who may not exist.
The Wright State sophomore point guard seeks the hero who guided his stranded family to a bus as they, like thousands of families in New Orleans, fled Hurricane Katrina in 2005. Arceneaux shuffled to the vehicle with cousins, uncles, siblings, his mother and his grandmother.
The bus carried them to Charlotte, N.C., where they ultimately settled with relatives. They'd retrieved little from their damaged dwellings prior to the journey.
[+] Enlarge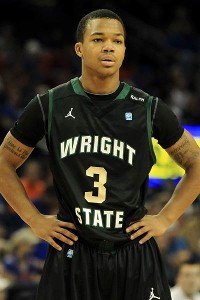 Kim Klement/USA TODAY SportsWright State enters weekend play with a 13-4 overall record, thanks in large part to sophomore guard Reggie Arceneaux.
As Arceneaux walked toward the bus, he turned to admire the individual who'd directed his family to surprising solace in that American tragedy.
"At times, I thought it was my time to go, it was our time to go. Just not knowing how you're going to escape, how you're going to get out," he told ESPN.com.
"It had to be God because we were in the middle of the street, and this guy we haven't seen in our life came up to us and told my grandmother to walk in a certain direction because 'there'd be a bus waiting for you.' That's what we did. About five seconds later, I turned around. I don't know where that man went. I've never seen him since."
Surviving Hurricane Katrina molded the sophomore who's become the soul of a Wright State program that needed one following last season's 13-19 campaign (7-11 Horizon League). Last week, the Raiders won their 13th game in 2012-13, matching last season's win total.
Arceneaux (96. 2 offensive rating, 10.8 ppg, 3.1 apg) scored a career-high 29 points and connected on the game-winning shot in that
62-61 victory over Loyola
(Illinois) on Friday night.
The Raiders are 4-0 in the Horizon League. They'll face Valparaiso on Saturday and Detroit on Monday in road games that could establish the Raiders as the undisputed favorites in the conference.
Arceneaux's leadership, coaches and teammates agree, fueled this turnaround.
"I think he always tries to keep everybody else happy and tries to uplift everybody else's spirits," said junior
A.J. Pacher
, Arceneaux's roommate on road trips. "I think he's done a really good job of that."
Arceneaux said he remained confident through last season's challenges because true struggles for the 5-foot-9 talent have entailed life-altering events.
Once his family reached Charlotte after the hurricane, "a parade of" neighbors in the new community brought clothes and supplies. And, although it took some time, Arceneaux linked up with a high school program and continued his athletic career.
It wasn't easy to adjust. But missed shots and tough losses are much easier to overcome now.
"I always tell my teammates through a rough practice, through a rough time, this is still just basketball," he said. "It's not life-threatening things. I figure if I can make it through [Hurricane Katrina], basketball should be easy, life should be easy. … Little stuff should just be a piece of cake for me. Leading the team should be a piece of cake also."
The Raiders embrace that attitude.
They were picked to finish last in the Horizon League's preseason poll. But they ignored the doubters and pushed forward. They've exceeded expectations thus far via one of the nation's top defenses (14th in turnover rate, 61st in adjusted defensive efficiency per Ken Pomeroy).
But their upcoming stretch (three consecutive road games) will determine their true status in the league. "We'll find out how we stack up," head coach Billy Donlon said.
Donlon found Arceneaux midway through his senior season at Olympic High School (Charlotte) on a tip from a coaching colleague. At the time, Arceneaux hadn't received any Division I offers. But Donlon was impressed by his vigor and potential.
"He has an incredible will to win. And he's defiant in a good way," Donlon said. "You can't tell that young man that somebody's better than him. You can't. He ain't believing you. And that carries over to your locker room."
Arceneaux will chastise teammates when necessary. But he'll accept correction, too.
And that's why he's drawn so much respect within the program.
Arceneaux's passion for basketball began when he was an infant, he said. He'd cry whenever his mother changed the channel from whatever NBA game he was watching at the time.
That early connection eventually led him to Dayton, Ohio, where he's helped the Raiders surpass preseason projections about the program.
The chaos of Hurricane Katrina. The peace of a fresh start. He understands both.
For Arceneaux, a significant portion of his story began with that mysterious man in New Orleans who led his family to that bus.
"If I ever do see him, I don't know what I'll do," he said.
There's another man, however, who's also participated in his -- this -- dream.
"I don't want to let [Donlon] down also," he said. "I don't want to let my teammates down, friends and family also. I just try to lead the team and think positively all the time."
October, 26, 2012
10/26/12
5:15
PM ET
By
ESPN.com staff
| ESPN.com
Before we get to the Blue Ribbon team-by-team previews for the Horizon League, here is Eamonn Brennan's quick wind sprint through the league:
Blue Ribbon's in-depth previews of all nine Horizon teams:

Cleveland State
Detroit
Green Bay
Illinois-Chicago
Loyola (Ill.)
Milwaukee
Valparaiso
Wright State

Youngstown State
February, 13, 2012
2/13/12
6:25
AM ET
By
ESPN Stats & Information
| ESPN.com
A scan of the college basketball box scores each night guarantees all kinds of statistical oddities and standout performances. Here are some we found from Sunday:

Iona 83, Marist 74
Iona's
Scott Machado
recorded his first career triple-double (10 points, 11 rebounds, 10 assists) and the 10th in Division I this season. Nakiea Miller (March 5, 2000) is the only other player in Iona history to accomplish the feat.
LIU-Brooklyn 81, Saint Francis (NY) 78
LIU's
Jamal Olasewere
made all 11 of his field goal attempts in the win, tying Vermont's
Luke Apfeld
(Dec. 23 vs. Towson) for the most made field goals without a miss in a game this season.
Wright State 70, Milwaukee 46
Wright State collected just one offensive rebound, becoming the sixth team this season to win a game with one or fewer offensive boards. The Raiders are the only team to win such a game as well as lose to a team with a one or fewer offensive rebounds (Feb. 4 at Valparaiso).
Missouri State 64, Bradley 53
Bradley's
Taylor Brown
missed all 11 of his field goal attempts in the loss, tying him for the third-most misses without a make in a game this season.
January, 26, 2012
1/26/12
12:05
PM ET
By
Jeremy Lundblad, ESPN Stats & Info
| ESPN.com
Player of the Night -- Le'Bryan Nash

Nash scored 13 points during a pivotal 17-4 run late in the second half, as
Oklahoma State
knocked off No. 2
Missouri
,
79-72
. The freshman finished with a career-high 27 points. Nash came into this one shooting just 37.8 percent from the field, but hit 12 of 18 shots in the best shooting night of his career. It was the first time since 1957 that an unranked Oklahoma State team defeated the No. 2 team in the nation.
Board Monster -- Mike Moser

One of the best rebounders in the nation had the best rebounding game of his career. Moser pulled down 21 rebounds to go with 18 points as
UNLV
topped
Boise State
77-72 in overtime
. Moser is the only player with multiple 20-rebound games this season. He fell five shy of Jimmie Baker's school record set in 1973. Moser's 11.7 RPG would be the highest for an UNLV player since Sidney Green's 11.9 in 1982-83.
Youth Is Served -- St. John's

In
Wednesday's 78-62
win over
West Virginia
,
St. John's
featured a starting lineup consisting of five freshmen. It's believed to be the first time the school has done that since 1927-28. The Red Storm were led by 23 points and 13 rebounds from
Moe Harkless
, the fourth-leading freshman scorer in the nation. According to
kenpom.com
, St. John's has the least experienced roster in the nation, averaging just 0.56 years.
Free Throw Focus -- Julius Mays

Mays went 19-20 from the free throw line in
Wright State's
69-63 win
over
UIC
, setting a school record for free throws made in a game. It's the second-most free throws made in a game this season behind 20 from
Oregon State's
Jared Cunningham
. Mays, a transfer from
NC State
, finished with a career-high 33 points.
Ugly Stat Line of the Night -- Herb Pope

Pope went 2-for-16 from the field in
Seton Hall's
ugly
55-42 home loss
to
Notre Dame
. It was the fewest points Seton Hall has scored at home since 2005. Even without Pope's bad night, the rest of the Pirates still shot just 31.7 percent. Pope missed his first six shots and was 1-12 going into halftime. Of his 14 misses, seven were listed as layups in the box score, and one was a dunk.
January, 26, 2012
1/26/12
2:46
AM ET
By
ESPN Stats & Information
| ESPN.com
A scan of the college basketball box scores each night guarantees all kinds of statistical oddities and standout performances. Here are a few we found from Wednesday:
Kent State 90, Northern Illinois 56
Northern Illinois' starting lineup combined to shoot 2-of-18 from the field; the two made field goals are the fewest by any team's starting lineup this season, and the field goal percentage of 11.1 is also the lowest by a starting lineup this season. No team's starters had shot a lower percentage since Dec. 6, 2009, when San Diego's starters combined to shoot 2-of-27 (7.4 percent) in a loss to Fresno State. Three of NIU's starters did not score, something Texas Tech did later in the night. Entering Wednesday, a team had seen three of its starters go scoreless only 10 times all season.
UTSA 115, Jarvis Christian 49
Jordan Sims
of UTSA scored 26 points, making all seven of his 3-point attempts, in 18 minutes off the bench. The 26 points match the most by any player this season in fewer than 20 minutes and the seven 3-pointers without a miss also match the most by anyone this season.
Notre Dame 55, Seton Hall 42
Notre Dame made just 13 baskets in the victory. Only two teams this season have made fewer field goals in a victory. One of them was fellow Big East team Georgetown, which had 12 in Saturday's win over Rutgers.
Wright State 69, UIC 63
Wright State's
Julius Mays
hit 19 of 20 free-throw attempts in his team's win. Mays' 19 made free throws are the second-most by any player this season and his free-throw percentage of 95.0 is the highest percentage (minimum 20 free throws) since North Texas' Tristan Thompson made all 20 of his free throw attempts on March 6 of last season.
January, 16, 2012
1/16/12
11:30
AM ET
Player of the Weekend – Deividas Dulkys

Dulkys poured in a career-high 32 points in
Florida State's
90-57 blowout
of
North Carolina
on Saturday, the Tar Heels' worst loss of the Roy Williams era. Just how unexpected was Dulkys's performance? His previous season-high was just 16 points, and he'd scored 32 points in his previous nine games combined. Dulkys went 12-14 from the field, including 8-10 from 3-point range.
Filling Up the Stat Sheet – Maalik Wayns

Cincinnati
outlasted
Villanova
despite a memorable game from Wayns. The junior guard finished with a career-high 39 points to go with 13 rebounds and six assists. It's the first 39-13 game by a Big East player since
Marquette's
Steve Novak in 2006. The only other major conference player with a 39-13-5 game in the past 15 seasons was Luke Jackson in 2004.
Bench Hero – Pierre Jackson
Baylor
walked all over
Oklahoma State
with a
106-65 win
to improve to 17-0 entering tonight's matchup with
Kansas
. Once again, Jackson provided a huge boost off the bench, finishing with 18 points and eight assists. Jackson is one of only eight major-conference players averaging 12 PPG, five APG and three RPG. And he hasn't started a game all season. In fact, his 12.3 PPG ranks second among power six conference players who haven't started a game. Only
Syracuse's
Dion Waiters
(12.9 PPG) ranks higher.
Block Party – Alec Brown

Brown blocked more shots on Saturday than 276 teams. The
Green Bay
sophomore blocked 11 shots in a
57-56 comeback win
over
Wright State
. It's the most blocks in a game this season. The Phoenix went on a 20-3 run in the second half during which Brown had four of his blocks. The 11 blocks set a school record, as well as a Horizon League record.
Ugly Stat Line of the Weekend – John Henson

Henson went 0-for-7 from the free throw line in
North Carolina's
loss to
Florida State
. That's the most free throw attempts without a make this season. He's the only ACC player in at least the past 15 seasons to attempt that many free throws without connecting on one. The last major conference player with a worse game at the line?
Tennessee's
Ramar Smith, who went 0-12 in a game in 2007.
December, 14, 2011
12/14/11
11:16
PM ET
DAYTON, Ohio -- Cincinnati coach Mick Cronin was on the court during Wednesday's shootaround at Wright State's Nutter Center, directing his players to spots that they hadn't been in prior to the season.
But late in the first half, anyone watching in the crowd or on ESPN2 would have never guessed the Bearcats were new to a four-guard, spread-out offense.
In its first game since Saturday's infamous brawl with rival Xavier, Cincinnati ran out to a 23-point lead on the youthful Raiders, making nine 3-pointers in the first half, moving the basketball, taking chances and locking down on WSU in the halfcourt to the tune of nine first-half turnovers.
"The best thing about a four-guard offense is that you'll get a good shot every time,'' said Cronin after the Bearcats'
78-58 victory over Wright State
. "I wanted to let these guys play. When you have those big guys, the floor shrinks and these guys have to have room to operate.''
The big guys that weren't on the floor for the Bearcats were starting center
Yancy Gates
and forward
Cheikh Mbodj
and reserve forward
Octavius Ellis
. All three were suspended for six games for their roles in the fight. Reserve guard
Ge'Lawn Guyn
was suspended for one game.
The only big guy of note playing for the Bearcats on Wednesday was
Justin Jackson
, who more than held his own with 11 points and eight rebounds, despite fouling out.
Sean Kilpatrick
moved to a more of a power guard position, and he lit up the Raiders with 20 points and had a season-high six 3s.
Jaquon Parker
got a start at guard and scored 14 points after having come in averaging just 4 a game.
"We fed off the energy of our teammates,'' Kilpatrick said. "
Cashmere [Wright]
was in my ear to keep shooting and keep shooting. We had a lineup with everybody rebounding and looking for the extra pass.''
The new-look Bearcats will be the norm for UC going forward.
Cincinnati's offense had stagnated in the first eight games, last in the Big East in scoring. The preseason No. 22 team, the Bearcats had already lost a stunning game at home to Presbyterian and then in overtime to a legit C-USA contender in Marshall. Then by 23 to the Musketeers.
So Cincinnati couldn't afford to fall flat against Wright State and certainly has to win upcoming home games against Radford, Arkansas-Pine Bluff and Chicago State, as well as Oklahoma on Dec. 29 at U.S. Bank Arena in downtown Cincinnati before the Big East opener at Pittsburgh on Jan. 1.
[+] Enlarge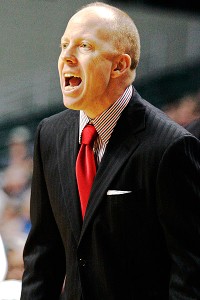 AP Photo/Skip Peterson"This was good for us to play," coach Mick Cronin said of Cincinnati's first post-brawl game. "It was good to take a road trip."
If the three players suspended for six games adhere to Cronin's four-step reinstatement process -- apologizing publicly (which was done Monday), anger-management counseling (which started Wednesday), community service and an apology to the UC student body -- then the full roster will be back for the Big East home opener against Notre Dame on Jan. 4.
Wright State coach Billy Donlon said he could tell the Bearcats were playing with a purpose the moment they stepped on the court.
That passion to just play the game and do it with class and sportsmanship was a must Wednesday — and has to continue, since the sport will be watching this team going forward.
"I think everyone was waiting for us to explode and have a mental breakdown,'' Wright said. "But we just came ready to play.''
Xavier, which will play Sunday against Oral Roberts without four players (
Tu Holloway
, suspended one game;
Mark Lyons
, two games;
Dez Wells
and
Landen Amos
, out for four), didn't have the luxury of getting back on the court so soon after the fight to repair its image.
"This was good for us to play,'' Cronin said. "It was good to take a road trip. Sometimes we've come up on game day like we did at Miami of Ohio. But I'm glad I made the decision to come up [Tuesday night], so we could spend time together and get these guys to laugh."
As for this Saturday's home game against Radford?
"I love our fans and I think it will be nice to be home,'' Cronin said. "I think our fans will rally around us. I think we'll see that Saturday.''
January, 31, 2011
1/31/11
7:06
PM ET
By
ESPN.com staff
| ESPN.com
The matchups are in for the ninth annual BracketBusters. See below for the televised games and check back in later for Andy Katz's early analysis of the event. For a complete list of the non-televised games,
click here
.
Friday, Feb. 18
(all times ET)
7 p.m. - VCU at Wichita State (ESPN2/ESPN3.com)
9 p.m. - Kent State at Drexel (ESPNU)
Saturday, Feb. 19
11 a.m. - Hofstra at Wright State (ESPNU)
1 p.m. - Austin Peay at Fairfield (ESPNU)
3 p.m. – Iona at Liberty (ESPNU)
5 p.m. – Missouri State at Valparaiso (ESPN2/ESPN3.com)
5 p.m. – Vermont at Charleston (ESPNU)
7 p.m. – George Mason at Northern Iowa (ESPN2/ESPN3.com)
9 p.m. – Utah State at Saint Mary's (ESPN2/ESPN3.com)
11 p.m. – Montana at Long Beach State (ESPN2/ESPN3.com)
Sunday, Feb. 20
1 p.m. - Cleveland State at Old Dominion (ESPN or ESPN2)
Of the 15 conferences involved in BracketBusters, 13 are included in the television schedule:
BracketBusters national TV appearances, by conference
5 - CAA
3 - Horizon, Missouri Valley
2 - MAAC
1 - America East, Big Sky, Big South, Big West, MAC, Ohio Valley, Southern, WCC, WAC
0 - MEAC, Summit, Independents (Seattle)
November, 3, 2010
11/03/10
3:05
PM ET
When the late Maryann Donlon was asked whether she thought her son, Billy, was destined to be a coach, she always had a simple retort.
'He was in the womb blowing the whistle,' she'd say.
Not without reason. To be a Donlon was to be breathe the game of basketball.
Bill Donlon spent 12 years on the college sidelines, serving as assistant to Rick Pitino at Providence during the Friars' Final Four run, and then moving on to Northwestern.
Older sister, Heather, played at Fordham and remains the NCAA record-holder for 3-point field goal percentage in a single season (she swished 57 percent in 1990). Even Maryann got involved, serving on the board of directors for a Chicago hoops-based after-school program run by Vince Carter.
But it is one thing to be immersed in basketball and another to be handed its keys.
That day came for Billy Donlon on April 14.
One day after his boss and mentor, Brad Brownell, jumped to Clemson, Wright State athletic director Bob Grant called Donlon in for a breakfast meeting. Not sure what to expect, Donlon brought a notebook and paper, figuring he'd help sketch out the Raiders' immediate future.
[+] Enlarge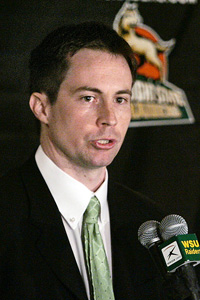 AP Photo/The Dayton Daily News, Ron AlveyAt 33, Donlon is one of the youngest head coaches in DI.
"Bob took my phone and called my dad and said, 'We're naming your son the next head coach,''' Donlon recalled.
And while the keys Grant handed him aren't exactly Carolina Cadillac, they are pretty sweet. Wright State has spun together four consecutive 20-win seasons, going 80-45 in the process.
When the 33-year-old Donlon coaches his first game, the youngest coach in the Horizon League (yes, there is someone younger than Brad Stevens) will welcome four seniors to the floor from a team that finished 20-12 last season. Among them is
Vaughn Duggins
, the Raiders' leading scorer.
And those four in particular are rather anxious to play. The one catch in all of those 20-win seasons is that all that winning has only resulted in just one postseason berth, an NCAA bid in 2007.
The Raiders' roadblock the past two seasons came in the form of a juggernaut by the name of Butler. The Bulldogs beat Wright State in last season's Horizon League title game and in the semifinals the season before.
"There's no doubt our seniors want to go,'' Donlon said. "I really believe the hardest thing, not just at the non-BCS level but everywhere, is to get into the NCAA tournament. It's easier to win once you're in it. Getting there has to be the focus.''
And getting there, of course, means getting by Butler. Or at least until the Horizon League is afforded more respect from the Selection Committee.
Donlon, like most everyone else in his conference, hopes that Butler's success not only challenges other teams to get better but also opens outsider's eyes to the quality of the competition.
"The thing is, the BCS schools are never going to play us here,'' Donlon said. "That's not going to change, so what has to change is the Selection Committee has to say we're going to take a 23-9 Horizon League team instead of a fifth-place BCS finisher. Do I think they should take a closer look? Yeah, I do.''
But heeding the sage advice of his father, Donlon also is sticking to the old adage: control what you can.
Sage advice from his dad, in fact, is a constant in Donlon's life. Bill Donlon always has led his son down the right path, even when the right path looked dicey. Growing up, he challenged his son to play on the tougher playgrounds, where the games were harder but the results truer.
"My dad always said that basketball transcends everything and it's so true,'' Donlon said. "If you could prove you could play, you commanded respect. That's what I've always appreciated about the game. If you play hard, play unselfish, people respect you.''
It's that lesson that Donlon is bringing to his players. He admits that growing up knee deep in the game has perhaps robbed him of some patience. He knows how things ought to be done and doesn't have a lot of tolerance when they aren't done that way.
"I try to be a little more understanding of what my players are going through in terms of the totality of the college experience -- school, social life, all of that,'' he said. "But I have little patience for a lack of worth ethic. You can make mistakes. You can dribble the ball off your foot, but you have to compete and work hard.''
That's the way it was if you were a Donlon.