College Basketball Nation:

Xavier Henry
August, 20, 2010
8/20/10
2:50
PM ET
I have to admit: I find the prospective college hoops career of
C.J. Henry
to be thoroughly fascinating.
Most of that has to do with Henry's age. Thanks to a brief stint with the New York Yankees and an even briefer stay at Memphis, Henry was a redshirt freshman at Kansas last season (where his younger brother, Xavier, started and starred), but he was a 23-year-old redshirt freshman. Henry would have been old if he were a senior. Basically, he's the Chris Weinke of college basketball.
[+] Enlarge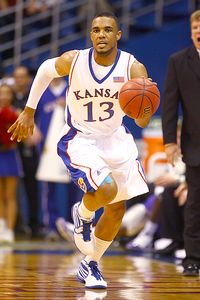 Jamie Squire/Getty ImagesC.J. Henry averaged 3.1 points and 5.6 minutes per game during the 2009/10 season.
There is a main difference though: In his mid-20s, Weinke dominated. As Henry approaches that mark, he's yet to do anything of the sort.
Henry (along with fellow Kansas walk-on
Chase Buford
)
is leaving the Jayhawks this summer
. He plans to pursue his career elsewhere. It's hard to gauge interest in Henry's services, but he was a touted high school point guard in 2005 before he was drafted by the Yankees in the first round of the MLB draft.
After injuries derailed Henry's baseball career, the guard decided to pursue basketball, and he did so with something of a golden ticket in his pocket. A clause in Henry's Yankees contract mandates that the Yankees must pay for his college education. That means Henry can classify as a walk-on and play college hoops without costing his team one of its ever-valuable scholarships. He did so at Memphis, where he redshirted in 2008-09, and he did so again after his transfer to Kansas, where he battled through injuries in 13 appearances in 2009-10.
This creates an intriguing and unique recruiting calculus. Henry is almost in the adult prime of his career. He doesn't cost a scholarship. He has talent. Whatever the other concerns about his ability -- injuries, I suppose -- you'd think schools would jump at the chance to use one of its walk-on spots on a potential starter. After all, what's the risk?
In the meantime, it's worth keeping an eye on Henry, if only to be prepared for the guard's potential emergence as one of college hoops' oldest, most well-traveled veterans. Old college players are never not fun.
Ken Mink knows what I'm talking about
.
March, 13, 2010
3/13/10
8:55
PM ET
KANSAS CITY, Mo. – Kansas took its most significant step toward winning a second NCAA title in three seasons with a Big 12 tournament championship after winning the top-rated conference by four full games during the regular season.


This was a coronation for the Big 12. Now it's on to the NCAA tournament, where Kansas will likely be the top seed overall, protected in Oklahoma City for the opening rounds before heading to St. Louis for the regional finals.
Some quick thoughts here courtside at the Sprint Center where Kansas fans have once again gobbled up the tickets faster and in more numbers than probably any other team in the country save Kentucky.
Kansas' Sherron Collins is arguably the best closer heading into the tournament. If you want a big shot then you can take your pick of Kentucky's John Wall, West Virginia's Da'Sean Butler or Ohio State's Evan Turner. But Collins is the one that tends to take over the game. He was sensational down the stretch in the 72-64 win over Kansas State. He played the role of Lucy from Peanuts, constantly pulling that football from Charlie Brown Saturday night. Every time Kansas State had this feeling that it could get close, Collins was there to yank KU back in front. Collins finished with 12 points, seven assists and two turnovers in 36 minutes.
The Morris twins may be the most underrated role players in the country. Marcus and Markieff each have a significant role on this squad in winning the national title. Marcus Morris seems to finish plays, especially broken ones, with 18 points while Markieff was able to get to the free-throw line for five free throws and grab six boards.
A sleeper contributor that doesn't get much play is Tyrel Reed. Reed was 7-of-9 from the free-throw line. He could prove vital in a late-game situation in the NCAAs. While Xavier Henry came up with quality 3s in the semifinal win over Texas A&M on Friday, he struggled to make his mark Saturday going 1-of-7. Henry could be a difference maker for the Jayhawks, but it's clear they can win without him being the most significant second option.
Kansas State did show it's more than just Jacob Pullen and Denis Clemente, as Curtis Kelly made a few key plays, including a blocked shot, and Jamar Samuels proved he can be a big-time player when asked to do so. Samuels scored 27 points in the quarterfinal win over Oklahoma State off the bench and then made four 3s in a reserve role against Kansas.
The Wildcats should be fine once they're rid of Kansas and the rest of the Big 12 teams. K-State's toughness should prove valuable once the Wildcats get into the NCAAs.
This week did wonders for the K-State nation. The Wildcats can feel like they've closed the gap with the rest of the Big 12 to a second or third position (with Baylor and Texas A&M right there with them, and of course Texas can never be dismissed). But until the Wildcats knock off Kansas they will still be treated as if they are a step below.
January, 21, 2010
1/21/10
10:19
AM ET
The Morning after is our semi-daily recap post. Try not to make it awkward.
All together now (
all together now!
): That was one wild Wednesday night. For the short version of last night's unlikely events,
check Brett's late-night roundup
. For the long, rambling, wordy version, simply keep reading.
UTEP 72, Memphis 67
: Well, I guess a share of the all-time conference wins record will have to do. Yes,
after much sturm und drang
leading up to Wednesday night's match up with the Miners, Memphis fell flat, dropping a game to a good-but-not-great UTEP squad in Memphis. This is no doubt disappointing; Memphis players and coach
Josh Pastner couldn't stop talking
about owning that all-time, 65-game streak. As a Tigers fan, you have two choices: You can lament the loss and tie it into John Calipari's untimely departure this offseason, and you can worry for the program's future under a younger, less experienced coach. Or you can take a minute, collect yourself, and realize that there are seniors on this current Memphis team that
just lost their first conference game ever
. Vacated wins or not, that is remarkable.
No. 3 Kansas 81, Baylor 75
: I'll keep this one brief, since it was the one game that actually made sense last night, but it almost wasn't. Despite a raucous crowd fired up from Baylor's decision to leave the court during Kansas' pregame video session and
Sherron Collins
' intent from the tip-off to get his teammates as many open dunks as possible, Baylor hung around all game and made a late comeback to tie Kansas at 65 with 3:34 left in the second half.
LaceDarius Dunn
turned in a monster performance on the road: 27 points, nine rebounds, and four steals, while Collins led the way for the Jayhawks with 28 points and
Xavier Henry
came up with seven steals of his own. And late in the second half, Kansas escaped with the win, providing some small measure of sanity in an otherwise insane college basketball world.
NC State 88, No. 6 Duke 74
: You've already read that this was the first time Duke and UNC have lost on the same night in seven years. That's a pretty incredible stat. But I'd wager it's less incredible than Duke losing to a hapless North Carolina State team, and less incredible than that Duke team surrendering 88 points on 70 possessions (or 1.25 points per possession) to an NC State team averaging just over a point per trip. What happened to Duke's defense? Last year the Blue Devils were quietly one of the best defensive teams in the country, and they carried that pattern through to the beginning of the 2009-10 season. But after last night's matador act (and to be fair, the Wolfpack shot an insane percentage) the Blue Devils have fallen all the way to
No. 18 in the country in defensive efficiency
. Oh, and more importantly, Duke has yet to win a true road game; last night's loss dropped them to 0-3 in that department. I'm guessing this is something Coach K will want to spend some time on.
No. 14 Georgetown 74, No. 11 Pittsburgh 66
: Pitt is an awfully good team, but a Big East-leading one? Questionable. So after a 5-0 league start, the Panthers were probably due for some sort of natural, universal correction, some force bringing them back down to Earth, lest they go all Icarus on us and burn up Jamie Dixon's well-tailored suits. That force's name: Georgetown. The Hoyas waltzed into what the AP described as a home-court where students were "stomping their floor-level seats so passionately it caused the grandstands to ripple like a wave." If that's true, Pitt should probably get that fixed. But you get the idea. Georgetown didn't seem to mind:
Chris Wright
scored 27 points as Georgetown turned in a solid all-around performance. The Hoyas went to the line on 37 percent of their possessions; they rebounded 31.2 percent of their misses; they rarely committed turnovers; and they posted a 52.7 effective field goal percentage in a slow, 63-possession game. That is the statistical profile of a winner, folks, and no number of rippling bleachers and pounded seats could deny it.
Oh, and to continue with the streak-busting theme, this was Pitt's first home loss in two years. Seriously, weird stuff happened last night.
Wake Forest 82, No. 23* North Carolina 69
: Speaking of weird, is it weirder that Roy Williams just lost his third game in a row ... or that Roy Williams has never lost three games in a row at North Carolina before? That, like Memphis' streak, is pretty remarkable, a sign of just how much Roy and the Tar Heels have dominated since his arrival from Kansas in 2003. But they are not dominating in 2009-10, and rather than getting better with experience the Heels, if anything, seem to be regressing. Anyway, this week will test the
durability of the media's love for UNC
; if they're still in the AP poll on Monday, I will drink an entire jug of milk on video and post that video on this blog. I'm not even kidding. It will almost be like a protest. A delicious, milky protest.
Everywhere else
: So much to get to. DePaul busted its own ignominious streak Wednesday night,
topping Marquette by one
at the Allstate Arena and winning its first Big East game in 24 tries, a streak that spanned almost two years ... Iowa deserves credit for playing Michigan State tough in East Lansing,
but the Hawks eventually ceded
to a far superior Spartans team ...
Villanova had no problems with Rutgers
in New Jersey, which, man, poor Rutgers fans. That thing is
bad ...
West Virginia didn't get an easy one at its rare January nonconference date with Marshall, either,
needing free throws to build a late margin
against the Thundering Herd ...
Temple edged Xavier in Philly
; read
Dana's recap from the scene last night
... and UConn found a
forgiving home date with St. John's was just the thing
to snap a three-game losing streak (
and get a win without head coach Jim Calhoun
on the bench).
January, 13, 2010
1/13/10
12:44
PM ET
January, 2, 2010
1/02/10
9:09
PM ET
PHILADELPHIA -- College basketball is currently playing a little game Agatha Christie would appreciate. The murder mystery author penned, "And Then There Were None," a perfect time for the start of the hoops New Year, as the undefeateds are whittled down to the nub.
Purdue booted West Virginia from the exclusive club on Friday and Syracuse took its unceremonious exit on Saturday at the hands of Pitt, leaving just four with a goose egg in the loss column.
[+] Enlarge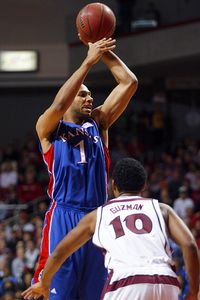 AP Photo/H. Rumph JrKansas freshman Xavier Henry led all scorers with 15 points.
Three of the four played on Saturday – Kentucky, Texas and Kansas – and
Sherron Collins
knew most prognosticators figured Kansas would be the most likely to get dumped.
"We all knew we were on the losing radar all day,'' Collins said.
Instead, while the Wildcats won brutally ugly against Louisville and the Longhorns barely survived Texas A&M-Corpus Christi, No. 1 Kansas emerged with the loudest statement of the new year, routing 19
th
-ranked Temple,
84-52
.
It was the worst loss for the Owls since 1996, when Tim Duncan and Wake Forest took home a 106-69 thumper, and easily the most decisive win for Kansas this season.
The Jayhawks have won bigger, but they haven't won better. With everyone looking for a chink in the armor, and some already thinking they've found it -- this week marked the first time this season the Jayhawks weren't a unanimous No. 1 in the ESPN/USA Today poll -- Kansas proved once more why it deserves its ranking: The team is ridiculously deep; ridiculously talented; and, when it plays defense, impossible to stop.
"This was the first time this season where it didn't matter who was out there,'' an elated Bill Self said. "Everyone contributed and produced.''
A game Self figured would be a grinder, instead turned into a laugher. Temple came into the game leading the nation in scoring defense, giving up just 54.2 points per game. Kansas had 56 with 12 minutes left to play.
The Jayhawks shot 55 percent from the floor, exploiting their size and strength inside to the tune of a 42-16 advantage in points in the paint.
Cole Aldrich
posted a double-double with 10 and 10,
Marcus Morris
made his Philly homecoming by scoring 13 points, and
Xavier Henry
had 15. And when the inside was closed, KU simply went outside. Collins and
Tyshawn Taylor
played a near perfect backcourt game. Collins had 14 points and four rebounds and Taylor had eight points to go with five boards.
But more than the Jayhawks' offense, it was how they played defense that ought to send a large dose of "Hello!" to the rest of college hoopdom.
Temple shot 25 percent for the game, connecting on only 16 field goals all day.
The Jayhawks were longer, and they were everywhere, swarming sharpshooter
Juan Fernandez
(3-for-16) and rendering all but impotent a Temple team that isn't exactly overpowering offensively.
"They made shots and they were relentless on the defensive end,'' Temple coach Fran Dunphy said. "They're talented and they're deep. That's a tough combination.''
Self came to Philadelphia searching for answers. He thought his team hadn't been tested, didn't think it really had an identity and worried that maybe it even had a false sense of self, convinced it could merely outscore everyone.
No coach ever leaves entirely satisfied and Self is no exception. He pointed out that the Jayhawks did allow Temple to take 29 3-pointers, which means they had too many open attempts in his mind, but even he knew he was nitpicking for errors.
"That's the most in-tune we've been defensively all year,'' he said. "Our guys knew our season started today.''
And started with a bang.
December, 12, 2009
12/12/09
7:24
PM ET
A few quick hitters on Saturday's slate:
UCLA is officially toast. The Bruins have no shot to get in the NCAA tournament unless they win the Pac-10 tournament. Seriously, even if the Bruins were to win the Pac-10, the question will be what have they done? It's early but it's not too soon to announce this after the Bruins were rocked once again in the city of Anaheim, this time in a different venue (Honda Center) and by another team (Mississippi State) by double figures (72-54). The Bruins are now 0-4 in Anaheim.
Mississippi State's Ravern Johnson scored 29 in the convincing win for the Bulldogs. John Riek gets eligible for the Bulldogs next week to add depth to the frontcourt. No one knows if Renardo Sidney will ever play for Mississippi State. Even without him the Bulldogs should be 1-2 in some order with Ole Miss for the SEC West title.
Saint Mary's had a major road win, beating Oregon by five in Eugene, a day after learning guard Wayne Hunter was done for the season with a torn ACL. Hunter had started the first seven games and averaged 11.6 points a game. Omar Samhan scored 22 and, despite a love affair here with Portland and San Diego early, the Gaels look like they may be the real challenger to Gonzaga in the WCC.
The Pac-10 continues to be dreadful out of conference as Washington lost to Georgetown in Anaheim, and the aforementioned UCLA and Oregon losses, make the league look even worse. Seriously, there is a power five this season and then the sixth-best conference will either be the A-10 or the MWC. Deal with it. The Pac-10 may be looking at a best-case scenario of two NCAA bids. And the committee may discuss expanding the tournament? To get more mediocrity in the field? No thanks.
Georgetown's Greg Monroe had a super week with 25 points and 15 boards in a win over Butler and then followed that up with 15 points, eight boards and six assists in the win over the Bruins. Monroe's mate Julian Vaughn showed he can score too with a career-high 18. The Hoyas will be a contender for the Big East title.
Kansas blew out La Salle and freshman Xavier Henry scored 31 points with four rebounds and two assists. Can you imagine what Memphis would have been like with Henry, John Wall, DeMarcus Cousins, Eric Bledsoe, Roburt Sallie, Willie Kemp and possibly Duke transfer Elliot Williams? It would have happened had John Calipari stayed put instead of going to Kentucky.
Butler got a desperately needed win by holding off Ohio State by eight at home. Matt Howard fouled out again though and the Bulldogs have to find a way to stop the insanity of him getting into foul trouble.
Ohio State played its first game without Evan Turner and was expectedly erratic. William Buford proved to be the scorer, though, with 20 points.
George Mason beat Creighton, easily one of the more disappointing teams in the country now at 3-5. Creighton coach Dana Altman got a technical in the final 18 seconds, which didn't help. It was Altman's first technical since 2007.
Portland and Pitt got much-needed wins after rough weeks of late.
Chris Warren of Ole Miss is showing no signs of his ACL bothering him as he scored 20 against McNeese State and is averaging 17.5 on the season.
Western Carolina, picked to win the Southern Conference with the College of Charleston, shocked Louisville 91-83 at Freedom Hall. The Cardinals can't use the excuse of not having Preston Knowles, Jerry Smith and Peyton Siva when they didn't have them for the loss to Charlotte. Louisville goes through early-season funks every year under Rick Pitino, but this one seems deeper and their road game on Jan. 2 in Kentucky seems awfully daunting.
Kentucky ran away from Indiana in Bloomington, 90-73, behind Eric Bledsoe's 23. John Wall had "only" 11 points, but had eight assists and only one turnover. Kentucky coach John Calipari said he couldn't be more thrilled for how his players handled their first true road game. Meanwhile, Indiana may have found a big-time scorer as freshman Maurice Creek went for 31.
Wisconsin needed a win after losing at UW Green Bay and the 72-63 victory against rival Marquette will do well for this team's ego and confidence going forward.
Columbia's Noruwa Agho continues to be one of the best-kept secrets in the country as he made a pair of threes and scored 23 points in a win at Bryant. Agho is shooting over 64 percent on 3s (27 of 42) so far this season.
The box score of the day came out of Seton Hall-VMI. The Keydets make teams play uptempo and the Pirates obliged with a 134-107 win. Jeremy Hazell scored 33 while Jamel Jackson scored 40, making 12 of 15 3-pointers. The 134 is the most points scored by the Hall in its 105-year history as was the 241-points combined. Jackson broke the Hall single-game record with 12 3s. By the way, he comes off the bench and was averaging seven points a game entering the day.
Oklahoma finally awoke in a game against a significant opponent as Willie Warren went for 27 points in an overtime win at Utah, which had just beaten Michigan at the Huntsman Center earlier in the week.