College Basketball Nation:

Xavier Muskeeters
August, 21, 2012
8/21/12
6:25
PM ET
For years, sun-kissed would have been the perfect way to describe the Xavier men's basketball team. Coaches came and coaches went on to bigger jobs and yet the Musketeers remained a model of consistency, growing into a March dynamo that failed to make the NCAA tournament just once since 2000.
In the last year, Xavier has been a whole lot more thunderstruck than sun-kissed. From silly (Chris Mack injured his knee dunking in practice) to serious (the brawl with Cincinnati), the one-time paragon of stability has been rocked with bad news.
The latest came on Tuesday afternoon with news that sophomore Dez Wells, who would have been X's leading returning scorer this season, has been expelled by the university.
That leaves Mack without his top five scorers from last season:
Tu Holloway
,
Kenny Frease
and
Andre Walker
all graduated and
Mark Lyons
decided to transfer in April, landing at Arizona.
So there are points to find -- lots of them, in fact -- and no one necessarily to score them for one of the most consistent winners in the Atlantic 10. The top returning scorers now (
Travis Taylor
,
Jeff Robinson
,
Justin Martin
and
Brad Redford
) combined to average 14.2 points per game last season -- or 3.3 less than Holloway and 0.9 less than Lyons.
That would be a hard hill to climb in any season in the A-10. Lucky Chris Mack. He gets to retool his entire roster in the same year that the league decides to invite VCU and Butler to the fold.
In a cruel twist of irony, Xavier just might miss the NCAA field for the first time since 2005 in the same year that its athletic director, Mike Bobinski, serves as selection committee chair.
What's going to be interesting here is to see how X regroups. This is a program accustomed to winning and winning big fairly easily. Just how these players, who have done nothing yet but were recruited on the gravy train of success, responds will be telling.
The only glimmer of light? The Musketeers did it last season. Xavier was ranked as high as No. 8 in the country early last year and then watched its entire season disappear under the weight and embarrassment of the fight with Cincinnati. Holloway, their team leader, was a shadow of himself and the Muskies reeled with five losses in six games after the brawl.
I watched an Xavier practice last season in the midst of that downward spiral. The body language was awful and at times, the real language was even worse.
But I came away impressed with how Mack was dealing with it all. He pushed, screamed and cajoled, depending on the circumstance and the player, and meted out punishment instead of accepting backtalk.
Slowly if not always surely, Xavier righted what looked like a lost season, gaining steam in the Atlantic 10 tournament and then rolling to its fourth Sweet 16 appearance in five years.
That group of players, senior-laden and experienced, was able to turn thunderstruck into sun-kissed.
But can these Musketeers do the same?
That's the big question now.
December, 11, 2011
12/11/11
1:18
AM ET
Editor's Note: To read Katz's most up-to-date news story on the Cincinnati-Xavier brawl and its potential consequences, click here.
On Saturday night, Cincinnati coach Mick Cronin decompressed for a few hours with his 5-year-old daughter to get away from the stress of the day -- an ugly day that few in the Queen City will ever forget as UC and Xavier took part in one of the nastiest bench-clearing brawls the sport has ever seen.
"My raw reaction [after watching the video] was embarrassing and sad,'' Cronin told ESPN.com late Saturday night. "It makes kids look bad. Less than a month ago,
Yancy Gates
was visiting kids with cancer in the hospital but now look at his image. Everyone has to have consequences, but we'll see what it's going to be.''
[+] Enlarge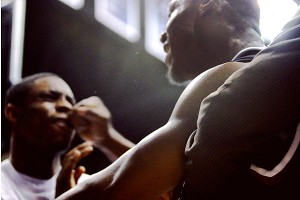 AP Photo/Al Behrman"Less than a month ago, Yancy Gates was visiting kids with cancer in the hospital," Cincinnati coach Mick Cronin said of his forward, seen here punching Xavier's Landen Amos, "but now look at his image."
Cronin suspended Gates for one game last season, against Pitt on Feb. 5, for a violation of team rules.
"I've had no issues with him at all,'' Cronin said of Gates' behavior this season. "I don't know what happened between him and [Xavier center
Kenny] Frease
in that game. But there was something two years ago when Frease head-butted him. It was a bad scene [this year]. The whole thing is a bad scene."
Cronin said he talked to his team all week about not retaliating to any instigation.
"In my program, we're going to respect the scholarship and the university,'' Cronin said. "You're fortunate to be on scholarship. I'm not na´ve. Kids are going to make mistakes. But we're about to learn that there are consequences for those mistakes. At our school, no matter if they are taunting you the whole game, we're going to be above that and not react to that. We're not going to lose our composure and not throw punches at anybody.''
He said the squawking that was going on from both sides has been brewing for the past three years in the rivalry. Cronin was also upset that the officials working the game didn't stop the trash-talking. He said implored the officials to do something. He made a point of saying that the only technical given was to Xavier coach Chris Mack. The crew working the game was not a collection of household names in college basketball officiating.
"If guys run their mouth, there should be technicals,'' Cronin said. "I was begging guys to call Ts. They never did. That was a problem.''
The first half ended with Xavier's
Mark Lyons
jawing with Cincinnati's bench as players exited toward the other end.
"This has been a two-to-three-year happening,'' Cronin said. "My message to [the Bearcats] was that these kids have to realize it's a privilege to be on scholarship.''
The Bearcats visit Wright State on Wednesday (ESPN2, 7 ET) and Cronin has no idea who will be allowed to play in that game.
The loss to the Musketeers was the third of the season for the Bearcats. Cincinnati, which had already lost at home to Presbyterian and Marshall, was projected as a Big East contender and ranked No. 22 in the preseason.
"From a basketball standpoint, once we find out what is going on with the suspensions then we'll have to get a couple of practices in and figure out how to win Wednesday, and when we get certain guys back, we'll have to stay together and weather the storm,'' Cronin said. "How it all works out, I don't know.''
It took a while, but Cronin resurrected the program last season and picked up an NCAA tournament victory over Missouri before receiving a three-year contract extension in April. But this has been unquestionably a dark start to the 2011-12 season.
"This is no fun,'' Cronin said of this latest challenge. "Anybody can steer a ship through calm waters. We'll have to find a way to deal with adversity. Whether it takes a week or a season, we'll come out better for it at the end of the day.''
February, 2, 2011
2/02/11
11:30
AM ET
For more on Steve Fisher, Rick Barnes and Jim Calhoun, check out the rest of our Coach of the Year debate in the Nation blog. For now, here are 10 other coaches who deserve praise for a job well-done this season:

Rick Pitino, Louisville:
This was supposed to be a gap year for the Cardinals and gap years aren't traditionally pretty in the Big East. Instead, Louisville -- picked to finish eighth in the league -- is tied with equally surprising Notre Dame (see below) for second. Pitino has reinvigorated his team by going back to his roots, playing a more uptempo offense and solid defense. His buddy and associate head coach Ralph Willard has said this is Pitino's best coaching job. Hard to disagree.

Chris Mack, Xavier:
His best shooter,
Brad Redford
, blew out his ACL in October. His top reserve,
Jay Canty
, hurt his knee at the end of December. His best recruit,
Justin Martin
, was ruled academically ineligible. So what does Mack do with nine scholarship players? The same thing Xavier always does… win. The Musketeers are 7-0 and tied atop the Atlantic 10 standings. They ditched preseason favorite Temple and just roasted Richmond on the road. The beat goes on.

Dave Rose, BYU:
Yes he has The Jimmer, but Fredette isn't the only reason BYU is rolling. Lost in the Fredette Frenzy is the fact that the Cougars are solid defensively, have surrounded their superstar with great talent, are playing unselfish basketball and have hit the boards hard. That's coaching. Mix in the fact that Rose is the guy managing The Jimmer mania, helping to keep his player and his team from soaring too high in the crowd, and you've got a maestro coaching performance to go with a maestro player.

Thad Matta, Ohio State:
OK, some might argue: How hard it is to coach a team loaded with so much talent? Well remember, the Buckeyes lost a lot of talent too, in the form of national player of the year Evan Turner. Yet Matta has Ohio State atop the rankings as the nation's only unbeaten team, exploiting opponents with its balanced offensive attack and solid defense. Is there plenty of talent on hand? Sure. But give credit where credit is due.

Randy Bennett, Saint Mary's:
A season after Saint Mary's surprising Sweet 16 run and after losing Omar Samhan to graduation, Bennett has the Gaels right back in the thick of things. Saint Mary's won the first showdown with rival Gonzaga on the road -- its first victory in Spokane since 1995 -- and is in position to score an at-large bid even without a conference tourney title.

Matt Painter, Purdue:
For a team that had such high expectations in the preseason, the heartbreaking, season-ending ACL injury to Robbie Hummel on the first full day of practice was absolutely devastating. Many counted out Purdue right then and there. And while it's true the Boilermakers can't be considered a true national-title contender at the moment, it's also true that they've hung in there quite fine, thank you. With Painter steadying the ship, Purdue is in second place in the Big Ten and 18-5 overall.

Ron Everhart, Duquesne:
Threatening for years in the Atlantic 10, Duquesne appears to have finally arrived. Seasoned by a tough nonleague schedule (aside from a loss to Robert Morris, none of the Dukes' defeats are bad ones), Duquesne is rolling through the A-10 at 7-0. Standout players
Bill Clark
and
Damian Saunders
have been joined by the missing piece to Everhart's puzzle, a savvy, scoring point guard in the form of freshman
T.J. McConnell
. The unselfish Dukes lead the nation in assists, averaging 19.2 per game.

Mark Turgeon, Texas A&M:
Like his team, Turgeon constantly flies under the radar. Texas A&M isn't flashy, doesn't have a turn-the-head superstar and their coach isn't going out and stumping for attention. It's possible you haven't heard of any of their players, but the Aggies are as reliable as an old slipper. They will play lockdown defense, will be in the top 25 and will be in the NCAA tournament.

Mike Brey, Notre Dame:
All Brey has done this season is reinvent how Notre Dame plays. Successfully. Reliant on Luke Harangody for four years, the Irish now have gone to the perimeter, relying on the hot-shooting of
Ben Hansbrough
and
Tim Abromaitis
to lead them to a surprising 17-4 start. Brey may have found a secret to his team's success at the end of last season when he was forced to slow things down while Harangody was injured. This team is now comfortable going up and down the court (80-75 win against Marquette) or forcing the tempo toward a snail's pace (56-51 win at Pittsburgh).

Cliff Ellis, Coastal Carolina:
Looking for a mid-major to rally around for the NCAA tournament? Why not a Coastal Carolina team that hasn't been to the Big Dance in 18 years. Last season, Ellis -- the former longtime coach at Auburn and Clemson -- took the Chanticleers to unprecedented heights, winning the Big South regular-season title and a school-record 28 games. What's changed this year? Not much. Despite losing three seniors and despite having to dismiss star transfer
Mike Holmes
a month ago, the Chanticleers haven't lost since Nov. 18, reeling off 18 consecutive victories to improve to 20-2.