College Basketball Nation:

Yale Bulldogs
April, 23, 2014
Apr 23
9:54
AM ET
Harvard is no longer a one-year wonder, a trendy upset pick or a unique story in college basketball.
The Crimson have arrived as a regular.
[+] Enlarge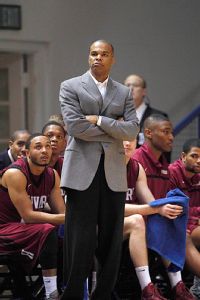 Andrew Richardson/USA TODAY SportsTommy Amaker turned down jobs from power conferences to stay at Harvard.
Nothing can be taken for granted in the sport, but the Crimson are suddenly expected to produce winning teams that compete for the Ivy League title, get to the NCAA tournament and, yes, actually win a game once they get there.
The Crimson have won the automatic berth three years in a row, winning a tournament game the past two seasons as a 14-seed and a 12-seed, beating New Mexico and Cincinnati, respectively.
Harvard coach Tommy Amaker is in the renaissance of his career. He has transformed the sport on campus. He has made it cool to come to the games, to follow the team and alumni are relishing being able to travel to NCAA tournament games.
Amaker could have left for Boston College. Cal too, if he wanted the job. But the Crimson are working on a new contract and trying to take care of him. Harvard works at a glacial pace at this sort of thing, because it's not used to competing for coaches the way in which it does for faculty. The commitment, however, is there. There are even plans to upgrade facilities.
And being the coach who put Harvard into the NCAA tournament for the first time since 1946 and kept it there has enchanted Amaker enough to stay in Cambridge for the foreseeable future.
The normalcy of being a double-digit seed that wins has even been overshadowed.
"People forget we were a 14- and a 12-seed," Amaker said. "And it was the first time in 30 years that a team had won games in the NCAA tournament from the Ivy in back-to-back years. I was stunned when I saw that."
But breaking down barriers for Harvard is nothing new on campus and now in the Ivy.
This is the new normal. And Harvard will be the favorite again.
What we saw this season:
The Ivy League had its best postseason run in its 58-year history. Five teams went to the postseason with Harvard (NCAA), Princeton (CBI) and Brown, Columbia and Yale (CIT), and the league had eight postseason wins.
Putting multiple teams in the postseason occurred for the fourth time in five years.
The last team to win consecutive NCAA tournament games was Princeton in 1983 and '84.
Harvard won a school-record 27 games and a school-high 13 games in the Ivy League as well as the first undefeated road record in the Ivy in the school's history.
Yale made it to the CIT title game before losing to Murray State. It was the first time an Ivy League team played for a postseason title since 1975, when Princeton played for the NIT title.
These tournaments might not resonate nationally, especially the CIT, but the results matter. The Ivy League is showing dramatic improvement, and the stronger it gets, the more its champ gets challenged, giving it a legitimate shot to advance in the NCAAs.
"We're trying to be a top-10 league next year," Columbia coach Kyle Smith said. "Watch out WCC, Missouri Valley and Horizon.
"We had five postseason teams, an 8-5 postseason record, Kenpom had us as the 13th-best league, Columbia had a buzzer-beater at Valpo, Harvard and Columbia played a double-overtime game at Columbia which was the best game in 2014 and only 3,200 people witnessed."
[+] Enlarge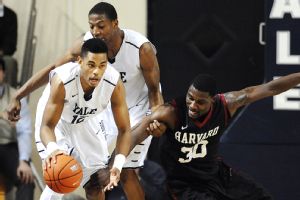 AP Photo/Jessica HillWith Armani Cotton, left, returning, Yale could challenge Harvard for the Ivy League crown.
What to expect next season:
Yale coach James Jones said next season could be the best the entire league has ever been. He said five teams could reach 20 wins.
Harvard will be picked as the favorite, even with the departure of
Brandyn Curry
,
Kyle Casey
and
Laurent Rivard
.
The Crimson return a strong core of
Wesley Saunders
,
Siyani Chambers
and
Steve Moundou-Missi
, with the likely emergence of
Zena Edosomwan
, Corbin Miller,
Agunwa Okolie
,
Jonah Travis
and a healthy
Kenyatta Smith
.
"Their inside game will be very formidable," Smith said of the Crimson. Chambers should be the top guard in the league, too.
Yale will likely be the No. 2 pick behind Harvard with the return of
Justin Sears
,
Javier Duren
,
Armani Cotton
,
Brandon Sherrod
,
Nick Victor
,
Matt Townsend
and
Jack Montague
.
Dismissing Princeton would be a mistake. Tigers coach Mitch Henderson said this team has something to prove, and seven returners, a strong finish to the season and a commitment to defense mean this team has a real shot to be a contender.
Smith said he envisions a bunched-up group in the middle of the pack with any number of teams emerging. Columbia and Brown are the most likely teams to pop out of this group with
Alex Rosenberg
,
Maodo Lo
, Cory Osetkowski, Steve Frankoski and
Grant Mullins
leading the Lions, while
Cedric Kuakumensah
and
Rafael Maia
should be the focus for Brown.
Dartmouth, Penn and Cornell are unknowns at this point, but the Quakers rarely stay down for long. The Ivy doesn't have a postseason tournament, but Amaker has said it's a 14-game tournament with every game counting as much as the next. The chances of getting multiple bids in the NCAA tournament -- which has never happened -- rests solely on whether a second team can win quality nonconference games and push the Crimson to a playoff. It's not crazy to consider.
"Our league will be incredibly balanced and strong next year," Amaker said. "Our league will be very underrated."
March, 8, 2014
Mar 8
1:37
AM ET
By
Jack McCluskey
| ESPN.com
NEW HAVEN, Conn. -- A few minutes before tipoff, the floor of play still empty but the stands quickly filling up, Tommy Amaker stole a glance through a side door.
It was a familiar sight for the veteran coach. Cheerleaders warming up. The band playing. Fans settling into seats, clad in their team colors.
[+] Enlarge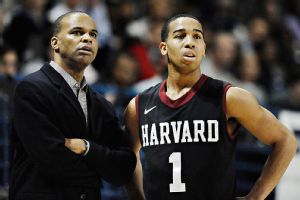 AP Photo/Jessica HillTommy Amaker talks with PG Siyani Chambers in the first half of Harvard's 70-58 Ivy-clinching win.
But this court was painted in blue, rather than the familiar crimson, and instead of an H at midcourt there was a cartoon bulldog. And if all went well in the next 120-odd minutes, Amaker's Crimson would make more history in a building and a rivalry already steeped in it.
This was Friday night in the Ivy League in March. This was Harvard-Yale at John J. Lee Amphitheater with an NCAA berth on the line.
For any team playing its oldest, bitterest rival in unkind country, some display of nerves is understandable.
The Crimson displayed none. With a raucous, mostly blue-clad crowd bearing down on them, the visitors scored the game's first nine points and sprinted out to leads of 16-2, 20-7 and 36-23 in the first half.
"We talked about how important it was gonna be to get off to a good start here on the road," Amaker said. "We knew how challenging it was gonna be."
Justin Sears
led all scorers with 28, but Harvard had three players in double digits and led by as many as 18 in the second half on its way to postseason play for the third straight season. With the 70-58 win, the Crimson claimed the Ivy League title outright and earned the automatic bid to the NCAA tournament.
"For us to win the outright title, and I guess we've been told we're the first team that's officially in the NCAA tournament," Amaker said, "it means a great deal. And for the right reasons. For us to represent a great conference, for us to represent our institution and the way these guys have played and put their heart and souls on the line all season.
"I think we've shown that we've been the best team in our league. And that's saying something because we know how tough this league is night in and night out."
Harvard has indeed been the Ivy League's best all season long. Coming into Friday's game, the only blemish on the Crimson's Ancient Eight résumé was a home loss to these same Bulldogs.
So while Harvard-Yale typically doesn't require extra fuel for the competitive fire, the Crimson said that loss added some.
"We were very disappointed in what led to that weekend for us," Amaker said. "And we talked about it, our preparation and our work in practice. I thought we made a concerted effort to regroup and respond. And we've been on a mission since then to prepare the right way.
"We talk about a lot of people want to win, but how many people are gonna really prepare to win. I think we have embraced that, and ran with it."
[+] Enlarge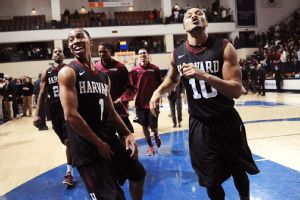 AP Photo/Jessica HillSiyani Chambers and Brandyn Curry celebrate after locking up the Crimson program's third straight NCAA tournament appearance.
After the loss to the Bulldogs on Feb. 8, the Crimson have ripped off seven straight wins and six straight by double digits. In four of those games, the Crimson held their opponent to 47 or fewer points.
"We had been talking about 'We have gotta seize the moment, because it's right there,'"
Brandyn Curry
said. "It was in our control and the only thing we had to do was just keep being us. Just don't be impostors or anything like that. Just play our game, and that starts with defense."
Both teams had forgettable nights in some facets, with Harvard going 14-for-32 (43.8 percent) on free throws and Yale going 0-for-14 on 3-pointers.
But from the floor, things were much more memorable for the Crimson. The visitors shot 56.8 percent for the night, while holding the hosts to just 36.0 percent.
"My message to the team before the game was 'Don't let the moment be too big, do your job and play within the lines,'" Yale coach James Jones said. "We did a poor job of that."
For Curry, the Ivy title and NCAA berth meant a little something extra this season. The senior co-captain sat out the 2012-13 season after being one of more than 100 Harvard students implicated in an academic cheating scandal. So he wasn't around for the historic upset of New Mexico in the Big Dance.
When asked what the win Friday night meant to him, Curry got a little choked up.
"It -- " he started, then stopped. "It means a lot. After going through everything last year, if you could ask us if this is how you wanted to win it, you couldn't ask for much better.
"Especially since three years ago we lost to Princeton here [in the Ivy League tiebreaker game] on the Doug Davis buzzer-beater with 2.8 seconds. So that was the toughest loss. That was the last time we were here playing for a championship. And we lost. So it definitely means a lot to come back and win here."
November, 11, 2013
11/11/13
6:55
PM ET
By
ESPN.com staff
| ESPN.com
November, 2, 2012
11/02/12
8:30
AM ET
By
ESPN.com staff
| ESPN.com
August, 16, 2012
8/16/12
5:00
AM ET
1. UConn coach Jim Calhoun endorsed the hiring of Mike Aresco to be Big East commissioner. The main reason is that Aresco knows the television industry. "They made the hire they needed to make,'' said Calhoun of the conference. "He has to negotiate money for the football teams. If we can get ourselves 11 or 12 or 13 million per school. He's from Connecticut. He knows the Big East. But most importantly, he knows negotiations and markets.'' Aresco, a former executive at CBS and ESPN, said Thursday that his No. 1 priority is to secure a new television deal with the Big East's negotiating window beginning next month. Calhoun also stressed that Aresco has the strong personality for a job that needs a presence at a time in college athletics where the passive can get over run.
2. One of Aresco's most important hires will be to replace Dan Gavitt. Gavitt left the Big East to run the NCAA tournament from the Indianapolis headquarters. Gavitt was in charge of the daily operations of Big East basketball. He was an integral liaison from the players to the league office and officials. The call to Gavitt was the first many of the coaches would make -- instead of complaining or challenging elsewhere. The Big East needs another person like him to handle the calls and massage the egos within the conference, and with 18 basketball-playing members this will be a must.
3. Yale coach James Jones credited a Yale administrator who once worked at Florida as well as Gators head coach Billy Donovan for securing a rare Florida visit to New England. The Gators will play at Yale on Jan. 6 in the middle game of a two-for-one series. Yale played at Florida last season, losing 90-70. Donovan, who played at Providence and is from New York, isn't adverse to playing home games for players in odd places. He once played at UNH for New Hampshire native Matt Bonner. This game is a "home" game for Rhode Island native
Erik Murphy
. The Bulldogs have had three other power six schools play on campus under Jones: Stanford, Wake Forest and Penn State.
March, 2, 2012
3/02/12
8:00
AM ET
Editor's note: Eamonn Brennan breaks down North Carolina-Duke in today's Weekend Watch. Andy Katz offers a dozen more games to keep an eye on this weekend.
Saturday


West Virginia at South Florida (Noon ET, ESPN3):
Tell me again why West Virginia is a lock for the NCAA tournament? The Mountaineers are sliding toward the Big East tournament, losing seven of their past 10 games. Meanwhile, South Florida has won seven of nine and picked up its most important victory of the season by beating Louisville at the KFC Yum! Center on Wednesday. Winning 12 in the Big East didn't put the Bulls in by itself, but which school got the Bulls to 12 probably did the trick.


Georgetown at Marquette (2 ET, ESPN3):
Georgetown humbled Notre Dame and beat down Villanova in its final two home games. The Hoyas can draw even with Marquette in second place with a win in Milwaukee. The Golden Eagles should be good to go at home, but which squad will show? Marquette looked like an Elite Eight team in last week's second-half comeback at West Virginia. But its performance at Cincinnati on Wednesday was more worthy of a first-round exit. Regardless, this could be a preview of a Big East tourney semifinal.

Ohio Valley title game (2 ET, ESPN2):
The Ohio Valley could be the first bid thief of Championship Week. Murray State enters the OVC tournament with one loss and is playing for a high NCAA seed. Coach Steve Prohm is hopeful that an OVC win will equate to a top-four seed to protect the Racers. Putting Murray in Nashville might not be as much of a reach if it wins.


Washington at UCLA (2 ET, CBS):
The Huskies have emerged as the class of the Pac-12. UCLA is trying to ensure that it still has class. The Bruins need some sort of momentum going into the Pac-12 tournament in Los Angeles. Washington has a chance to improve its NCAA seeding with a strong performance in L.A. and then next week at the Staples Center.


Louisville at Syracuse (4 ET, CBS):
The Orange are the Big East No. 1 seed and a lock for a No. 1 NCAA seed. The question in this game is whether Louisville can find its offensive flow after a disheartening performance against South Florida. The Cardinals won't get healthy at Syracuse but need to find an offensive identity before the Big East tournament.


Baylor at Iowa State (7 ET, ESPN3):
Iowa State had Missouri on the ropes in Columbia earlier in the week; Baylor is finally starting to find its mojo at the right time of the season. Forgive the Bears if they drop this game in Ames — this is much more about Iowa State. The Cyclones are going to make the NCAA tournament and could be a spoiler in the Big 12 tourney. Don't dismiss this team's chances stealing the Big 12 tournament.


Yale at Penn (7 ET):
Penn has to sweep Brown and Yale to set up a possible showdown with Princeton that could hand the Ivy League title to Harvard with a Quakers loss (assuming Harvard wins at Columbia and Cornell) or set up a possible playoff game with the Crimson for the Ivy automatic bid.


Texas at Kansas (9 ET, ESPN):
Texas passes a number of eye tests — except that the Longhorns haven't taken down one of the Big 12's big three this season in Kansas, Missouri and Baylor. The Longhorns probably won't get this one, but the game might be more about their ability to be competitive going into the Big 12 tournament.
Sunday


Kentucky at Florida (Noon ET, CBS):
Kentucky is hoping to lock up an undefeated SEC season and ensure itself the No. 1 overall seed ahead of Syracuse. The Gators, meanwhile, have been a bit of an enigma. Florida needs some momentum going into the SEC tournament. The Gators will need to make 3s and
Patric Young
must stay on the court to be an effective post player.

Missouri Valley title game (2 ET, CBS):
The OVC is the first bid thief possibility. Sunday's MVC title game could be the second of the weekend. If Creighton and Wichita State are in this game, there isn't a problem. But if a third team sneaks in there and wins, suddenly the MVC will get three bids. If it's a Creighton-Wichita final Sunday, expect a great atmosphere and a highly competitive affair yet again.


Ohio State at Michigan State (4 ET, CBS):
The Spartans are vying to win the Big Ten title outright, something that seemed like a bit of a reach when they started 0-2 and then Ohio State destroyed Duke. But the Spartans' Feb. 11 victory at Ohio State might go down as one of the most significant in a conference this season. It shifted the power and put the Spartans in position possibly to get a No. 1 seed. Look for the Spartans to win on
Draymond Green's
senior night, capping off a great career that should end with him grabbing a Big Ten player-of-the-year trophy over
Jared Sullinger
.


Purdue at Indiana (6 ET, BTN):
The Hoosiers have been one of the best home-court teams in the country. But they rocked the Boilermakers in Mackey Arena by 17. Purdue doesn't forget. This is a great chance for payback by Purdue, which has been on a high of late. These two teams are both going to be in the NCAA tournament, with legit chances to win a game.
February, 19, 2012
2/19/12
1:45
AM ET
This Saturday was always going to be a bit more underwhelming than recent weeks, but boy, did it end well. Once it ended, that is. Creighton students rushed the court before the game was officially over. Their reverse storm, in which they calmly walked off the court, was one of the most surprisingly orderly things I've ever seen. Bravo, Bluejays fans. Bravo.
Read up on Long Beach State-Creighton, Michigan-Ohio State and the rest of Saturday night's action here. If you missed our afternoon recap,
catch up now
.


No. 19 Michigan 56, No. 6 Ohio State 51
: Here's something I learned Saturday -- Michigan hasn't won a Big Ten title since 1986. As Dan Shulman said on the broadcast, that's kind of hard to believe. Here's something else we learned Saturday: The Wolverines have a legitimate chance to break that streak this season.
The race for the Big Ten title is officially a three-way affair. How did Michigan get there? By taking care of business at home. Saturday's win was the Wolverines' 16th consecutive victory in Ann Arbor. For much of the past 10 years, under Tommy Amaker and then John Beilein, Crisler was usually a cold, detached, almost lifeless place. On Saturday, it was rocking in Minute 1 and Minute 40 and constantly in between.
Of course, a home atmosphere is nice, but it doesn't mean much if your team can't play. And Michigan most certainly can play. Point guard
Trey Burke
continued his impressive freshman campaign against the Buckeyes, scoring 17 points -- including a flurry of much-needed late buckets, one of which he took straight at former grade-school teammate
Jared Sullinger
-- and dishing five dimes against the best perimeter defender in the country, Ohio State guard
Aaron Craft
.
Tim Hardaway Jr.
added efficient perimeter scoring, while forward
Jordan Morgan
scored 11 points and 11 rebounds against Sullinger. Those matchups -- point guard and forward -- should be Michigan's weaknesses, particularly against OSU. In this one, Burke and Morgan turned them into strengths.
That said, Michigan won the game on the defensive end, where it held the Buckeyes to .91 points per trip, and in some part it has the Buckeyes to thank. Shooting guard
William Buford
struggled yet again, going 3-of-12 and continuing his senior slump. Credit the Wolverines for forcing the Bucks into perimeter jump shots, but also blame Ohio State, which often settled for those jumpers without first attempting to get Sully into an iso situation on the low block. When Sullinger did touch the ball, the Buckeyes usually got a score. They figured this out eventually, which is what got them back into the game in the second half. But it was too little, too late. You wouldn't think you'd need to "figure out" that you should probably give the ball to Sullinger because, you know,
he's really good
.
Look, Ohio State remains a very good defensive team. After all, holding Michigan to 56 points on its own floor is no easy task. But the Buckeyes' offense, particularly its perimeter shooting (or lack thereof), looks like a serious liability. It lurched helplessly against Michigan State's defense last Saturday, and it played right into Michigan's hands tonight. As a result, OSU allowed its sworn rival to tie it in the league standings, a game behind MSU in the loss column. If the Buckeyes can't fix these problems, their March ceiling -- once as limitless as any team's in the country -- will suffer accordingly.


No. 14 Murray State 65, No. 16 Saint Mary's 51
: How much fun is Murray, Ky., having right now? With a rare national audience and
Dickie V in the house
, the Racers played as well as they have all season, as their fans -- an intense, buoyant bunch -- gleefully soaked it all in. Judging by Vitale's rave reviews of the small burgh, I'd say Murray might be one of the best places in the country to spend this exact Saturday night. I kind of wish I was there. (My colleague Jason King is and
had this to say
about the game.)
In any case, the nation got a chance to see what this Murray State team was all about, and the timing couldn't have been better. After its loss to Tennessee State two weeks ago, the tone of the discussion around the Racers changed from "Whoa, this team could go undefeated!" to "Well, that was fun, but check out that at-large profile -- Murray State could miss the tournament!" I think we can put that debate to rest. The Racers might not be a national title contender, but with
Isaiah Canaan
leading the way (he had 23 points, 4 assists, 3 rebounds, 1 steal, a 5-for-8 mark beyond the arc and at least two or three downright crossovers that made this viewer yelp in enjoyment), they are certainly one of the better mid-major teams in the country and one that can give plenty of outfits issues in the NCAA tournament. Sure, some of the wins were shaky, and sure, the Ohio Valley Conference is bad, but when you win your first 23 games, guess what? You're pretty good.
Saint Mary's was far less convincing. The Gaels' offense was hobbled by
Matthew Dellavedova
's rolled ankle and
Rob Jones
' early foul trouble, but those weren't the primary causes -- and the road atmosphere and tough Murray defense don't explain it all, either. In reality, the Gaels, who have lost three of their past four (all by double digits), are just flat-out struggling. Over the course of the WCC season, the Gaels have posted about 1.17 points per possession (adjusted), best in the league. In their three recent losses, Dellavedova & Co. have failed to exceed a point per trip. Much like Creighton, this team's defense isn't nearly good enough to get the job done when the offense struggles. Much like Creighton, if the Gaels don't throw points in at something near their usual rate, they're going to lose. It's really just that simple.


Creighton 81, Long Beach State 79
: Speaking of fun, how much fun was this? The finish --
Antoine Young
's brilliant left-handed, last-second game winner -- was merely the icing on the cake. The 40 minutes that preceded that shot were chock full of high-octane mid-major awesomeness. LBSU's
Casper Ware
,
T.J. Robinson
and
Larry Anderson
trading deep 3s and inside moves with Young and
Doug McDermott
? Yes, please.
We couldn't have predicted the ending, but we should have seen the entertainment value coming. These teams both excel most at one thing: scoring the basketball. That's what Creighton does. When the Bluejays don't put the ball in at a high rate, they lose, as they did in their recent three-game losing streak, culminating with a home blowout at the hands of Wichita State last weekend. The defense simply isn't good enough to save Creighton from an off night.
Fortunately, Creighton has Doug McDermott. McDermott has been great all season, though he's struggled of late, and it's no coincidence his team had lost three of its past four in that span. But on Saturday night, he was amazing. Not "amazing" in a "wow, this sesame chicken is amazing" sort of way; McDermott was actually, literally amazing. He scored 36 points on 14-of-20 shooting and added 11 rebounds, six of which on the offensive end. The most impressive came late in the second half, when McDermott flew to the hoop and somehow tipped in a wayward shot arcing halfway over his head. Once it was clear McDermott was on, LBSU coach Dan Monson ordered his charges to begin aggressively double-teaming the opposing coach's son. But McDermott's eager passing and ability to make plays without the ball in his hands -- see the aforementioned tip-in -- neutralized that strategy. He was just so good. And at the perfect time, too.
As entertaining as this game was, as memorably as McDermott performed, the good news for Long Beach is that a loss at Creighton hardly hurts its at-large profile. Chances are, this team will continue its blistering Big West pace and get to the NCAA tournament in academic, auto-bid fashion. But if something goes awry in the conference tournament, LBSU's crazy nonconference schedule -- the toughest in the country by, like, a lot -- should be more than worthy of the committee's respect. Whatever happens, we'll always have Saturday night in Omaha. What a game, man. What a game.
Other observations from the night that was:
February, 18, 2012
2/18/12
9:52
AM ET
By
ESPN Stats & Info
| ESPN.com
A scan of the college basketball box scores each night guarantees all kinds of statistical oddities and standout performances. Here are some we found from Friday:

Harvard 69, Brown 42
Brown attempted just two free throws the entire game. Seventeen teams have attempted two or fewer free throws, but Brown is the only team to do so this season while also attempting less than double-digit three pointers. Every other team to do so attempted at least 14 threes.
In addition, Brown became the first team this season to attempt nine or fewer threes and two or fewer free throws. Every other team that attempted nine or fewer threes took at least five free throws.
Yale 70, Dartmouth 61
Yale (30-33 from the foul line) became the first Ivy League team this season and eighth team overall to make 30 or more free throws while shooting at least 90 percent from the line. Of those eight teams, the Bulldogs' 70 points are the fewest scored.
Stetson 86, Florida Gulf Coast 80
Florida Gulf Coast attempted 40 three pointers, the ninth team to attempt 40 or more threes this season.
February, 17, 2012
2/17/12
8:30
AM ET
Editor's note: Jay Bilas breaks down Saint Mary's-Murray State in today's Weekend Watch. Myron Medcalf offers a dozen more games to keep an eye on this weekend.
Friday


Northern Iowa at VCU (7 ET, ESPN2):
VCU reached last season's Final Four. Northern Iowa reached the Sweet 16 two seasons ago. But both squads enter this BracketBusters game in need of some late-season momentum and probably a conference tournament title to guarantee a berth. With both squads coming off losses -- the Rams lost to George Mason on a buzzer-beater Tuesday; the Panthers have lost two of three -- this could be the game that starts that late-season push. UNI is out of the at-large running, but VCU still clings to hope -- and this is a must-win.
Saturday


Marquette at Connecticut (12 ET, ESPN):
If there's any hope left for UConn, it has to kick in nowish. Despite the Huskies' tumultuous season, it's hard to ignore last year's finish. Few had expected much from the program before it reeled off a run that ultimately led to a national title. The Golden Eagles are playing for seeding in the NCAA and Big East tourneys. And they're still in the Big East title conversation. They have an easy stretch that includes just one nationally-ranked squad (Georgetown) in their final five regular-season games. But late stumbles, especially with three more road games, could alter their postseason position.


Wichita State at Davidson (12 ET, ESPN2):
Both teams have something to prove in this BracketBusters matchup. Davidson has a chance to show that its December victory over Kansas wasn't a fluke. The Shockers are clearly one of the top 20 teams in America in my opinion. But their omission from this week's ESPN/USA Today Coaches' poll suggests that some still doubt the Missouri Valley leader. The Shockers are in the NCAA tournament. On the road at Davidson, however, they can prove that they're capable of a run.


Florida State at NC State (1 ET, ESPN3):
The Wolfpack (No. 49 RPI) could use a signature victory to enhance their résumé, especially after blowing a 20-point lead against Duke on Thursday night. NC State faces Florida State and North Carolina, both at home, in their next two outings, crucial games for its NCAA at-large hopes. The Seminoles are still in contention for the ACC title. But their loss at Boston College last week and a shaky win against Virginia Tech on Thursday didn't exactly make Leonard Hamilton's squad look the part. There's a three-way logjam at the top of the league and the Seminoles have struggled on the road. They have to keep winning to stay in the mix, which is why Saturday's game is so significant.


UNLV at New Mexico (1 ET, CBS):
Most figured that UNLV would enter mid-February as the top team in the Mountain West. Guess again. New Mexico's win over San Diego State elevated Steve Alford's squad to the top of the conference. But Saturday wins by UNLV and San Diego State (at Air Force) would create a three-way tie between SDSU, UNLV and New Mexico entering the final four games of the year. The Pit will be an absolute madhouse for this one. Should be a lot of fun.


Arizona at Washington (3 ET, FSN):
Who knows what to expect in the final weeks of the Pac-12 season, but Arizona and Washington are fighting for the Pac-12 title (the Wildcats are 10-4 and the Huskies are 11-3). And they're also trying to boost their thin at-large résumés. Joe Lunardi has both teams in his latest bracket, but not exactly by a wide margin (UW is the last team in). A strong finish by either could solidify an at-large slot. And in the weak Pac-12, a string of losses could lead to an NIT invitation.


Seton Hall at Cincinnati (4 ET, ESPN3):
Losing skids interrupted the at-large hopes of both. The Bearcats have lost four of their past seven. Prior to their current three-game winning streak, the Pirates had lost six in a row. Lunardi projected both programs as double-digit-seeds in the Big Dance, so they can't feel secure entering their final stretch of the regular season. They're out of the Big East title conversation, but a Saturday victory could go a long way toward impressing the selection committee.


Florida at Arkansas (6 ET, ESPN):
The Razorbacks aren't in the field right now. But Arkansas can sneak in with three remaining games against top-50 schools and the SEC tourney ahead. They've struggled on the road, but have found success at home. The Razorbacks could change their postseason prospects with a Saturday win. After losing to Tennessee last week, the Gators beat Alabama in their next game. Any momentum would be beneficial as their March 4 matchup against No. 1 Kentucky approaches.


Yale at Harvard (7 ET):
Tommy Amaker's squad leads the Ivy League with a 7-1 record entering Friday's matchup against Brown. Saturday's matchup against 6-2 Yale (the Bulldogs play Dartmouth Friday), however, could change that. The Crimson were expected to run away with the Ivy League. And their 30-point win over Yale last month suggests that they'll stay on top of the conference. Harvard, however, has found itself in an unexpected fight for the Ivy League's title and automatic bid.


Ohio State at Michigan (9 ET, ESPN):
Big Ten title implications here. If the Buckeyes win this game, then they'll stay on top of the Big Ten with an 11-3 record, one that Michigan State could match with a win at Purdue on Sunday. A loss, however, would allow Michigan to tie the Buckeyes and give the Spartans a chance to grab sole possession of first place. With only a handful of games remaining, the Big Ten is still tight at the top. Big game for the Big Ten.


Long Beach State at Creighton (10 ET, ESPN2):
Long Beach State (No. 44 RPI) hopes to avoid the drama from the past two years. The 49ers missed the NCAA tournament following consecutive losses in the Big West tourney title game. A road victory over Creighton could help the 49ers grab an at-large bid, but a loss could put them in the same scenario they've found themselves in the past two years. Creighton looks like a lock for the Big Dance, despite a recent three-game losing skid. A loss here, however, could jeopardize that position and lead to more questions about Greg McDermott's squad.
Sunday


Michigan State at Purdue (1 ET, CBS):
If Ohio State loses to Michigan on Saturday, the Spartans can seize first place -- alone -- with a road win over the Boilermakers. But Purdue nearly knocked off the Buckeyes in Columbus. They have won two in a row and they know that a victory over a Spartans squad that might earn a No. 1 seed would be a huge boost for their at-large résumé. Expect a battle in West Lafayette.
January, 9, 2012
1/09/12
2:42
PM ET
McDermott fever taking over Omaha
Doug McDermott
scored a career-high 44 points in
Creighton's
92-83 win
against
Bradley
on Saturday. It's the sixth-most points in a game in school history, and the most since Benoit Benjamin's 45 in January 1985. It passed
IUPUI's
Alex Young
and his 43-point effort against
Western Kentucky
for the most points in a game this season. He's one of only four players to top 40 points this season.
McDermott, who had 31 in the second half alone, went 18-for-23 from the field. That 78.3 field goal percentage is the highest for a player who attempted at least 20 shots since Reggie Williams (86.4) for
VMI
in January 2008.
Lillard leads the nation
Overshadowed by McDermott's big game, the nation's leading scorer also exploded on Saturday.
Damian Lillard
scored 38 points in
Weber State's
88-81 win
against
Portland State
. He also added five rebounds and five assists. He's the first player to reach all three of those totals in a game since Norris Cole's epic 41-20-9 game last February. Lillard leads the nation at 26.3 PPG, and has topped 30 points on five occasions.
Royce White's Triple-Double

Royce White
recorded the fourth triple-double in
Iowa State
history in Saturday's
74-50 win
against
Texas A&M
. He joins Curtis Stinson (2006), Jamaal Tinsley (2000) and Marc Urquhart (1989). White finished with 10 points, 10 assists and 18 rebounds.
Since the Big 12 was formed in 1996-97, there have been five triple-doubles in conference play. Three of those were by Cyclones. The 18 rebounds are the most in a triple-double since Cole Aldrich had 20 in the 2009 NCAA Tournament.
A Chris Dudley comparison
There's no better compliment for a
Yale
big man than to be compared to Chris Dudley (unless it's regarding free throws). On Sunday,
Greg Mangano
had the most rebounds by a Yale player since Dudley in 1987. Mangano finished with 35 points and 22 rebounds in a 101-86 win against St. Joseph's of Long Island. He joins
Jeronne Maymon
and
Thomas Robinson
as the only D-I players with a 30-20 game this season.
Four OT classic in Corvallis


Stanford
needed four overtimes to beat
Oregon State
, 103-101, on Saturday. It marked the longest game in both schools' histories. Oregon State had its highest scoring total in a conference game since 1994. The teams combined for 171 field goal attempts and 108 rebounds during three hours and eight minutes. Chasson Randle's bucket with 37 seconds left in overtime proved pivotal. He led all scorers with 24 points despite having only two at halftime.
October, 18, 2011
10/18/11
10:45
AM ET
By
ESPN.com staff
| ESPN.com
Before we get to the Blue Ribbon team-by-team previews for the Ivy League, here is Diamond Leung's one-minute wind sprint through the league:
Blue Ribbon breakdowns of all eight teams in the Ivy:
Brown
Columbia
Cornell
Dartmouth
Harvard
Pennsylvania

Princeton
Yale
More Ivy League content
: