College Basketball Nation:

Zach Auguste
March, 25, 2015
Mar 25
5:03
PM ET
CLEVELAND -- In 2014-15, a native son of Akron, having spent four years taking his basketball talents to the wider world, returned to northeast Ohio to play in Quicken Loans Arena in front of his hometown friends, family and fans.
That player's name, of course, is Darius Carter, and -- wait, you thought we were talking about someone else?
[+] Enlarge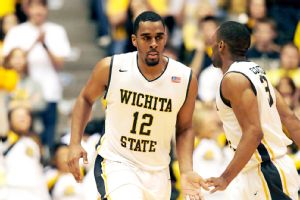 Gary Rohman/USA TODAY SportsDarius Carter is the lesser-known inside presence for Wichita State, and his rebounding could be a key against Notre Dame.
It's an understandable mistake. Cleveland Cavaliers uberstar LeBron James looms over basketball in this part of the country -- and most parts of the country, frankly -- like a colossus. He is the first thing one thinks of when one hears the words "Cleveland" and "basketball" in the same sentence. But the mentions of James at Thursday's NCAA tournament Midwest Regional news conference weren't gratuitous. Instead, they were the product of Carter's connection to the best NBA player of the past 20 years -- a connection more direct than even geography.
Yes, Carter is an Akron native. One reporter even asked what his go-to order is from Swenson's, a local burger spot -- Carter said he'd "take a Galley Boy, probably some Potato Teezers." But the Wichita State forward is also the second cousin of Maverick Carter, James' childhood friend-turned-business manager, a man at least partially responsible for both "The Decision" and the subtle marketing coup of Beats by Dre headphones. Maverick Carter -- Shockers coach Gregg Marshall referred to him Wednesday as "Mav" -- has occasionally taken in Wichita State home games. Darius Carter has played with and against James in pickup games and individual workouts and, when he was still a junior college forward at Vincennes (Indiana) University, even visited James' home in Miami.
"I know LeBron pretty well," Carter said. "He's influenced me just from seeing how hard he works, you know, showing that good things can come out of Akron, Ohio. He's just a role model."
Fittingly, LeBron's friend-of-a-friend might be the most important player in Marshall's lineup Thursday. While Wichita State's trio of veteran guards -- Fred VanVleet, Ron Baker, and Tekele Cotton -- will lead the way, Carter represents what may be the Shockers' best advantage against No. 3 seed Notre Dame: rebounding.
The Irish don't place much stock on offensive rebounding as a rule. Coach Mike Brey prefers his team get back on defense to prevent fast breaks, and in any case his team shoots the ball so well -- a nation's-best 58.1 percent from 2 and a top-20 38.9 percent from 3 -- it doesn't much need second chances. But defensive rebounds are always a must. And although the Irish improved on the defensive end late in the season, they still allow opponents to grab 32 percent of available offensive rebounds, more than any other Sweet 16 team.
On a team that lacks the size of previous incarnations, Carter is by far the Shockers' best and most consistent interior presence. He grabs more than 10 percent of offensive rebounds while in the game, and more than 20 percent on the defensive end. And his interior scoring -- Carter averages nearly 29 percent of his team's shots on the court, highest on the team -- has come to balance Wichita State's guard-heavy attack.
Carter's four-year path back to northeast Ohio may have taken him to Vincennes and Wichita, not Miami and London, and he lacks the marketing juice of his second cousin's extremely famous friend. But the Shockers forward has a chance to make his own memorable return Thursday -- to show once more what good things can come out of Akron, Ohio.
January, 28, 2015
Jan 28
11:58
PM ET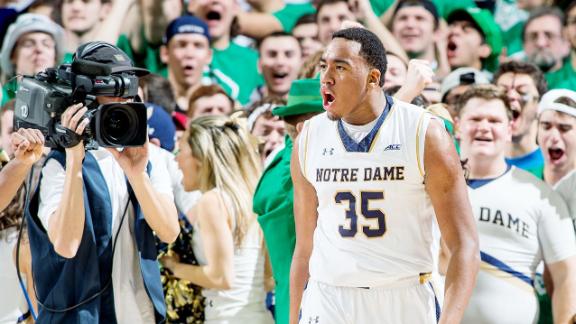 SOUTH BEND, Ind. -- The statement home wins against ranked opponents aren't new to Notre Dame. Neither are the take-control seniors or the big comebacks.
It's the combination of qualities that could propel the Fighting Irish to unchartered ground in two months. They have a nationally elite player in guard
Jerian Grant
-- "such a bright lights, big-stage guy," coach Mike Brey said after Grant's latest star turn. They have respected, reliable senior leaders in Grant and
Pat Connaughton
. They continue to make Purcell Pavilion the nation's least talked about hostile building for talented visitors (Notre Dame is now 6-1 in its past seven home games against top 10 foes and 14-7 overall under Brey).
But there's one quality Notre Dame has displayed throughout January that could pay off in March, when promising Brey teams typically crack under the brightest lights, on the biggest stages. If the Irish find themselves down big in the NCAA tournament, regardless of the opponent, they will not flinch.
"We should never panic when we're down now 'cause it's happened a bunch and we've come back," Brey said. "We'll be able to handle just about anything."
[+] Enlarge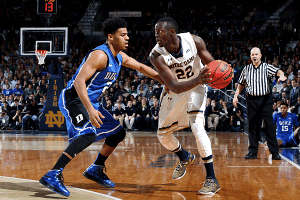 Brian Spurlock/USA TODAY SportsFor Jerian Grant and Notre Dame, rallying from double-digit deficits has been the norm in ACC play.
The Irish showed Wednesday they could handle No. 4 Duke, despite a 10-point deficit with 11:28 left. Notre Dame rallied for a
77-73
victory, its fourth comeback from a double-digit hole in the past five games. The eighth-ranked Irish have five double-digit comebacks in ACC play this month alone.
Most 20-2 teams don't endure such frequent adversity. Perhaps that's a knock on Notre Dame, which will continue to be critiqued for its defense and lack of size. But it's also a trait that could carry the team past the first weekend in the NCAA tournament -- a program bugaboo under Brey.
"It's developing that winning mentality," Connaughton said. "The biggest part about the regular season, the league play, all that, is you've got to develop a winning mentality so that you have confidence when you can win when the later parts come."
No Irish player reflects the mentality and confidence like Grant, who delivered a premier performance (23 points, 12 assists, six rebounds), especially on two critical possessions, that won't soon be forgotten around here. Notre Dame followed a familiar crunch-time plan: set a flat ball screen for Grant, let him read it and take over.
On the first play, with Notre Dame up 71-70 and just more than a minute left, Grant tried to shake Duke's
Tyus Jones
, but Jones stood firm. Grant wanted to step back and drive past Jones but lost the ball, only to recover and sink a wild heave to beat the shot clock.
"God, he loves the moment," Brey said.
After Duke once again cut its deficit to a point, Grant isolated himself, preparing to drive, but just as the clock wound down, he fired a pass to
Steve Vasturia
, alone behind the arc but 0-for-4 on the night.
"I was going to shoot a little fadeaway over the smaller defender," Grant said. "But when I got up there, I saw everybody crash the boards and Steve had his hands ready, spotted up in the corner."
Stay ready. That's what Grant had told the struggling Vasturia during a timeout minutes earlier. The message from Notre Dame's top scorer to its least likely option paid off.
"It has a huge effect," Vasturia said, "when the best player on the court has the confidence in you to shoot the ball."
Notre Dame beat Duke here last year, too, but Grant wasn't part of it, sidelined because of academic troubles. He has propelled Notre Dame into ACC title contention, and on a night when NBA scouts flocked to see Duke's
Jahlil Okafor
, Grant stole the show.
"When I look back, I do think about [the absence]," Grant said. "I'm excited we're back here, we're winning together."
Notre Dame needed Grant's best performance to beat Duke, and it also needed lifts from others like freshman
Bonzie Colson
, who contributed on both ends against Okafor while filling in for the foul-plagued
Zach Auguste
. Colson gained valuable experience when Auguste missed a Jan. 14 game against Georgia Tech.
The Irish now have another option for their thin front line.
"He just played with a lot of heart," said Okafor, who finished with 22 points and 17 rebounds but missed several attempts around the rim and five free throws, including three down the stretch. "He had a huge part in his team winning."
Okafor and the Blue Devils should be there late in March. They have the offensive firepower and depth to make a deep run, despite their third loss in six games.
Notre Dame, meanwhile, must prove its staying power. It showed it belonged in the Big East. It's showing it belongs in the ACC.
But the Irish have just one Sweet 16 appearance in Brey's 14 previous seasons.
Brey isn't ready to throw out superlatives just yet. He could Saturday at Pittsburgh.
"We would have every reason to be a little flat, a little under-energized," Brey said. "I said, 'If you get the one in Pittsburgh, I'll start to refer to you as having special qualities.'"
Those qualities were on display Wednesday night in familiar surroundings. Notre Dame needs them to show up in unfamiliar settings in March.
January, 10, 2015
Jan 10
11:15
PM ET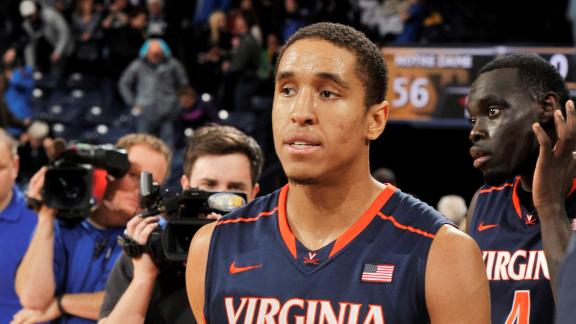 SOUTH BEND, Ind. -- The most endearing marks of
Virginia
basketball come at the expense of others. Look no further than the long face of
Jerian Grant
on Saturday.
The
Notre Dame
guard, scoreless early in the second half, was met at the rim by a wall of three Cavaliers players as his fourth shot of the game clanked off the iron and out of bounds, leading to a media timeout. He clapped a hard clap and yelled at himself before retreating to the bench.
Four minutes later, a still-scoreless Grant drew contact on a drive to the rim, the official's whistle offering a moment of relief. Except the call was an off-ball foul on teammate
Zach Auguste
, with Grant looking up at the scoreboard on the way back down the court, trying to figure out just how things went wrong this time with the ball in his hands.
[+] Enlarge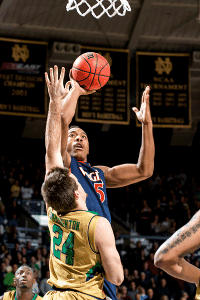 Matt Cashore/USA TODAY SportsDarion Atkins used his size inside to help Virginia remain undefeated.
Two minutes later, and here was Grant again, this time frozen near the top of the key after being called for a travel. He threw down a hard dribble to himself out of exasperation before delivering a soft punch pass back to the official.
"When you can frustrate a guy like that and play good defense against him, you can see it in their face," said
Malcolm Brogdon
, the man primarily responsible for those moments of frustration. "Stuff is just a little bit tougher tonight for him, and that gives you energy."
As beauty pageants go, No. 3 Virginia's
62-56
win at No. 13 Notre Dame was a tractor pull, a hide-the-children, cover-your-eyes affair that only the purest of hoops faithful could find prettiness in. It was Virginia basketball at its best and Virginia basketball at its worst.
It was, well, Virginia basketball in a nutshell.
It was Grant, the upstart Irish's leading scorer, going 30-plus minutes without a point and finishing 2-of-8 shooting on a night when just a touch more offensively could have delivered the visitors a knockout blow.
It was Brogdon, Virginia's do-everything, fourth-year guard, chasing Grant down left and right, making him work on each possession while calmly pouring in 13 points on 4-of-8 shooting.
"Nothing more exciting," Hoos coach Tony Bennett said of Brogdon's defense. "I remember playing for my dad, [him] saying, 'You just spread out, get in a stance and make people work.'"
It was, most of all, another win for the Cavaliers, now 15-0 and 3-0 in ACC play. They passed one of their toughest tests, and the league schedule now offers somewhat of a reprieve over the next three weeks.
Not that these guys would be caught looking ahead.
"Oh no," guard
Justin Anderson
said, when asked if this team talks about goals.
"See, I think that's what makes this team different. We don't talk about individual accolades. We don't talk about the future. We take it one game at a time."
That's a philosophy that should bode well for an outfit that faces four highly winnable games between now and the meat of the conference schedule, which starts with a Jan. 31 showdown against No. 2
Duke
.
A 19-0 start is very much in play. Is more on the horizon?
Escaping games like Saturday's sure offers some promise. Virginia's offense withstood several cold spells at Purcell Pavilion, watching an early 10-point lead go to waste thanks to a stretch of seven straight missed shots that led to a 13-0 Notre Dame run.
Whereas Grant was struggling, others, such as
Pat Connaughton
(21 points) and
V.J. Beachem
(12), were heating up beyond the arc, keeping a sold-out crowd abuzz as an Irish team riding a nine-game winning streak went up by as many as eight early in the second half.
No matter to the guests, who adjusted on the perimeter defensively and just knew that their errant shots would eventually fall, so long as their defense stopped the bleeding.
If they come up short, their coach always asks, "How will you respond? Will you trust the system?"
"Absolutely," said Anderson, who had 11 points. "Our defense is what stands, as we say. We rely on our defense for sure. We want to make sure we're a defensive-minded team and we set the tempo on defense, so our offense we know will come down the line in the game. But if we just continue to serve ourselves, serve each other on defense, it will continue over on the offensive side."
Sure enough, the immovable object outlasted the unstoppable force down the stretch, with Notre Dame failing to score in the game's final four minutes, save for a meaningless
Demetrius Jackson
3 on the final possession.
All this while Virginia shook out of its offensive rut by connecting on seven of its final 10 shots in the last eight minutes.
"It's huge," Brogdon said of the finish. "And the thing about us, our [7-for-10], it didn't come from one person. It came from a variety of people, and that gives confidence to everybody. Anybody can step up and make a big shot at any time. I think it shows the versatility of our team."
It was Brogdon, Anderson and
Marial Shayok
hitting from downtown. It was 6-foot-8
Darion Atkins
using his size in the paint. It was another day without a defeat for Virginia basketball, something this program hasn't tasted since that bitter Sweet 16 loss to
Michigan State
some 10 months ago.
"Part of it [is] they miss shots, they break down, but it's just, 'Who's going to break down less?'" Bennett said, laughing. "It kind of comes down to that, especially in college."
It's back home for game No. 16 Tuesday against another faceless opponent that had to watch and just scratch its head at what Virginia did to the ACC's third-leading scorer.
"I just found out that we play
Clemson
next," Anderson said. "I think that's accurate, right? I just found out we play Clemson next.
"And that just shows: It's not about one individual thing. It's not about what's going on in the future. It's just about winning today."
January, 3, 2014
1/03/14
10:30
AM ET
The ACC is showing no favoritism toward Duke to start conference play.
The Blue Devils open up Saturday at Notre Dame (4 p.m. ET, CBS), one of three new members to the league, and a program desperate to show it belongs in the ACC.


Students are gone on break, but the game is a sellout and Irish head coach Mike Brey expects the crowd to be even crazier than the norm for a big-time game in South Bend, Ind.
"What a way to start the ACC," Brey said on Thursday's ESPNU college basketball podcast. "It will be great, really loud. People who don't normally get tickets will fill that lower bowl seats. They're wacky and it's a good atmosphere when they're here. We don't beat Canisius without them."
Brey said he has had to remind fans and the players that there are 17 more ACC games after the Duke game. He likened the lead-up to the opener to the perception of the Notre Dame-USC football game as the game to circle during the regular season.
"But to have Duke coming in really warms up our fans [to the ACC]," said Brey.
The Irish are starting anew after Jerian Grant, the team's leading scorer, became academically ineligible on Dec. 23 after a heartbreaking late-possession loss to Ohio State at Madison Square Garden. The Irish had to reinvent themselves against the Golden Griffins, notably Grant's backcourt mate,
Eric Atkins
. Atkins scored 10 points and took six shots, including one 3-pointer, against Ohio State. He scored 30 against Canisius, taking 14 shots and eight 3s. He'll have to have a similar game dodging
Quinn Cook
to beat Duke Saturday.
"We were searching throughout the game," Brey said of trying to find lineups against Canisius. "We had lineups we never would have imagined back in August.
"We're almost like in a new season."
The Irish won't have time to figure out whom to play with Duke looming. But it is no secret Atkins has to score,
Steve Vasturia
and
V.J. Beachem
-- two freshmen who are suddenly getting significant time -- will have to defend, and the Irish will have to exploit Duke's deficiencies inside by having
Garrick Sherman
,
Tom Knight
and
Zach Auguste
be effective inside.
"We're going to have to change defenses and be aware of the arc, take away their shooters and use our big guys," Brey said. "We have the front-line guys with Sherman and Auguste trending up and Tom Knight has delivered for us. We've got to throw the ball in the post and use our big guys. We've got to change the tempo. Since we lost Grant, we've got nothing to lose the rest of the way."
And it starts by playing with house money against one of the two ACC title contenders -- especially at home. Notre Dame doesn't have to return the game to Duke in the unbalanced ACC schedule this season. Beat Duke and suddenly Notre Dame's profile changes since the selection committee will judge the Irish more by their post-Grant games than by how they played before the suspension. That doesn't mean the Irish don't get points for knocking off Indiana in Indianapolis or shouldn't be penalized for losing to Iowa, Ohio State and Indiana State. Still, this is the Irish team to evaluate.
And to beat Duke the Irish will have to deal with
Jabari Parker
, arguably one of the top three players in the country.
"He has the poise and demeanor of a 22-year-old senior," Brey said. "You have to be aware of him. He'll be tough to deal with one-on-one. We'll have to play zone as well."
Notre Dame doesn't have the history of playing Duke or any of the ACC schools, save the fellow former Big East members Pitt and Syracuse. But the older ACC schools don't have the knowledge of playing at Notre Dame or going against the Irish.
Duke has had one bad half since losing late to Arizona at the NIT Season Tip-Off on Nov. 29 at MSG. That was against UCLA on Dec. 19 at the Garden, and a tie game with the Bruins turned into a 17-point Blue Devils rout.
This has been a difficult week for Duke coach Mike Krzyzewski, whose 71-year old brother, William, a former Chicago firefighter captain, passed away on Dec. 26. Coach K said Thursday that William "was my hero." Coach K has been in Chicago with his family this week and will join the team for the game Saturday. He'll rejoin the Blue Devils in time for what should be one of their tougher road assignments this season in their first true road game in 2013-14.
But this game is not about Duke. The Blue Devils will be fine, regardless of the result of this road game. Nope, this is all about the Irish -- about who they are now, and what they may become this season.
February, 1, 2013
2/01/13
8:30
AM ET
To death and taxes, I add Marquette. The Golden Eagles are the one thing you can count on annually. A year after losing the Big East's player of the year and league's leading scorer (and they were two different people) Buzz Williams' team is back again, tied atop the leaderboard with Syracuse. Despite seven consecutive trips to the NCAA tournament, Marquette still somehow manages to sneak up on people.
Maybe we ought to start paying closer attention.

1. Syracuse.
That the Orange lost to Villanova in overtime isn't the biggest worry right now. Even their bad shooting isn't a big concern. Here's the problem: Four of Syracuse's starters played 41 minutes or more in that game. Without
James Southerland
(eligibility issue) and now
DaJuan Coleman
(injury), the rotation is minuscule for the Orange as they head into the home stretch.
2. Marquette.
The Golden Eagles have won eight of nine to quietly slide into a first-place tie with Syracuse atop the standings. For those thinking Williams needs a steady scorer,
Vander Blue
might be the guy -- he had 30 against South Florida. But there's a big test for both Blue and Marquette this weekend, at Louisville.
3. Louisville.
The Cardinals ended their losing streak by beating Pittsburgh despite playing without
Wayne Blackshear
(shoulder injury) and
Kevin Ware
(suspension). Here's the catch: Louisville is averaging just 61.8 points over its past four games. As good as the Cards' defense is, their offense has to make life a little more bearable.
4. Georgetown.
Without
Greg Whittington
, the Hoyas don't have much room for error. Their bench is perilously short, so short that John Thompson III had to go to a walk-on against Seton Hall. But Georgetown is winning steadily after a sloppy start, three in a row and five of its past six.
5. Cincinnati.
The Bearcats' propensity for slow starts nearly cost them dearly at Rutgers.
Sean Kilpatrick
bailed them out then and has continued to be a backbone, especially with
Cashmere Wright
still getting over a balky knee. Cincinnati has winnable games in the coming week -- at Seton Hall and Providence -- but can ill afford to back into things again.
6. Notre Dame.
The great tinkerer, Mike Brey, retooled his team practically overnight, debuting a bigger, tougher and stronger version of the Irish against red-hot Villanova. It worked. The Irish not only won, but got contributions from previously untapped resources such as senior
Tom Knight
and freshmen
Cam Biedscheid
and
Zach Auguste
.
7. St. John's.
The Red Storm could catapult up these rankings in a week. St. John's has won five in a row, showing a streak of consistency few in this league can match. The catch? The Red Storm have feasted on the bottom of the standings (with the exception of Notre Dame) to get out on that run. I want to see how St. John's does in upcoming games against Georgetown and Connecticut.
8. Pittsburgh.
The Panthers' four-game win streak came to an end at Louisville, but in the loss Pitt showed it could hang with the conference elite. And now the Panthers' reward: They get to try to do it all over again when they host Syracuse on Saturday.
9. Villanova.
That the Wildcats' week of happy mayhem ended at South Bend did little to disprove that Villanova is arguably one of the most improved teams in the league. The Cats hung with Notre Dame despite a woeful 3-point shooting night. The next challenge: beating teams they are now expected to beat, including Providence and DePaul, next on the docket.
10. Connecticut.
Nothing is easy for the Huskies these days, but at least they are finding a way to gut it out, beating Providence in overtime Thursday for their second victory in a row. For once, at least, UConn got some scoring from someone other than its backcourt, with
Omar Calhoun
and
DeAndre Daniels
hitting double figures. That needs to happen more often.
11. Seton Hall.
We have now entered that portion of the rankings where you are debating among the least awful of the awful. So kudos to the Pirates, who at least have lost just two in a row, both on the road and to two decent teams in Georgetown and St. John's. Not that the schedule gets any kinder, with a visit from Cincinnati and a trip to Pittsburgh in the coming week.
12. Providence.
The Friars are oh-so-close to putting something together and oh-so-far-away from seeing the results. Providence lost to Pitt by four, to Marquette by 10 and to UConn in overtime. Can the Friars finally break through Sunday at Villanova?
13. Rutgers.
If "almost" counted, the Scarlet Knights would be right there. They've lost four in a row, but were in the games against Notre Dame, Connecticut and Cincinnati. Alas, this is neither horseshoes nor hand grenades, and as Rutgers preps for a midweek visit from Louisville, it has won just once since Jan. 10.
14. South Florida.
The Bulls' skid is at three, but in their defense, it is against two quality teams -- Notre Dame and Marquette. But like Rutgers, USF's quality losses don't mean much, not when it has but one league victory to show for it.
15. DePaul.
I've run out of ways to describe the Blue Demons' doom and gloom, so just use the numbers: DePaul has lost five in a row and seven of its past eight.