College Basketball Nation:

Zach Hahn
April, 4, 2011
4/04/11
8:42
AM ET
HOUSTON -- Before two magical runs to the national title game, before Brad Stevens became a star, before the sports world knew Butler as the best story in college hoops, and before
Matt Howard
's droopy socks became nearly as famous as Blue II, the school's ubiquitous mascot -- before Butler became the Butler we know today -- three high school seniors had a decision to make.
In 2007, with then-coach Todd Lickliter leaving to become the newest head coach at Iowa and a young, unproven assistant taking over the reigns, did Howard, as well as guards
Zach Hahn
and
Shawn Vanzant
, still want to come to Butler?
That's when the three did something that would come to define their class, their team, and the philosophy of Stevens' program. They acted together.
"We got on a three-way phone call," Hahn said. "And we all were asking, you know, 'Are we going here?' And I told them, 'Whatever we're doing, we're doing it together.'"
On that very same call, a decision was reached: Howard, Hahn and Vanzant would give Stevens a shot. They would play together at Butler.
"We've never looked back." Hahn said. "We've only grown and improved since. And we've been best friends the whole time."
[+] Enlarge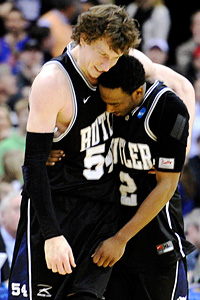 AP Photo/Nick WassMatt Howard (left) and Shawn Vanzant joined Zach Hahn when the trio decided four years ago to play for Brad Stevens.
If it was impossible for the three to realize the bond they would form in Hinkle Fieldhouse, they could never have predicted the success that was to come. Four years later, Howard, Hahn and Vanzant have won four Horizon League titles, three Horizon League tournament titles and 117 total games. With a win Monday night, the trio -- along with unsung career reserves
Alex Anglin
and
Grant Leiendecker
-- will tie the class of 2010 as the winningest in Butler history.
Of course, a win Monday night would accomplish something far greater: It would make the
Butler Bulldogs
, 2010 national runners-up, the first non-major conference national champion in more than two decades and one of the most unlikely underdog stories in the history of the sport.
Not bad for three guys on a conference call.
"Those guys mean a lot to me," Howard said. "We've been through a lot together. This whole thing has been a lot of fun to do with them."
Howard has become the de facto star of the class, which wasn't hard to predict. The Connersville, Ind., native was a three-star recruit -- practically a blue-chip prospect by Butler standards -- and even received interest from Indiana and Wake Forest, among others.
Vanzant and Hahn were more typical Butler recruits: two-star guys recruited by Stevens and the other members of Lickliter's staff as much for their intangibles as their pure ability.
Before their commitments, Hahn and Howard shared similar backgrounds. For one, both are Indiana natives borne of the big-gym basketball culture that still thrives throughout the state, even in small towns and struggling post-industrial exurbs. Hahn's hometown of New Castle, Ind., is home to the largest high school basketball gym in the world, Chrysler High School's New Castle Fieldhouse. (The gym seats 9,325 high school -- yes, high school -- basketball fans. And in case you wanted another classic Indiana-loves-its-hoops statistic: Nine of the nation's 11 largest high school basketball gyms reside in the Hoosier State.) The two played with and against each other in high school, and knew each other before deciding on their Butler futures.
Vanzant, on the other hand, grew up in Tampa, Fla., miles away from small-town Indiana -- both geographically and emotionally. Vanzant's mother passed away before he was 2. His father encountered medical and financial difficulties and his brother was imprisoned for seven felonies, including the sale of cocaine. After the arrest of his brother, the guard was close to moving to Cleveland to live with relatives when a mother of Vanzant's high school teammate took him in.
Since then, Vanzant -- who has since settled on a post-hoops career of counseling troubled youths and is eager to deflect pity about his childhood -- has formed a special bond with his coach and his classmates.
"Coach and I have a special bond," Vanzant said. "In a lot of ways I feel like he's part of the senior club, too, because that was his first year as coach and he's been here four years now. He's been there for me through a lot of family issues, and he's someone I'll talk to long after he stops being my coach."
Hahn said Butler was, in so many words, a family -- not only for Vanzant but for all of its players.
"I think it's that way for everyone, whether you've had hardships in your life or the most perfect childhood imaginable growing up," Hahn said. "This is a well-grounded team, and a team that you can really rely on, and that's been important not only for him, but for everybody."
Though Howard, a former Horizon League Player of the Year, has been the most important piece in Butler's run, Hahn and Vanzant have played key roles throughout these two dream seasons. That was the case Saturday night, when Hahn -- who scored nine combined points in the Bulldogs' first four NCAA tournament games -- hit two 3-pointers and made a gorgeous reverse layup in quick succession to give his team a one-point lead with less than 15 minutes to play.
Meanwhile, Vanzant hit arguably the biggest bucket of the game -- a corner 3-pointer that gave Butler a seven-point lead with three minutes to play. VCU never closed the gap again.
Thanks in part to those plays, Stevens' first freshman class has a chance to make history Monday night. Frankly, with back-to-back Final Four runs under their belts, not to mention an unprecedented growth in the stature of Butler basketball, they already have.
And whether Monday ends in a victory or not, this class will always share a unique, common bond: underdogs, heroes, teammates, best friends, brothers.
"You think about [the end of your career] a little bit," Hahn said. "You'll see your guys in the morning after a game, or on the bus and in the locker room. But we're not done yet."
April, 5, 2010
4/05/10
10:19
PM ET
INDIANAPOLIS -- Quick thoughts at the half.
Tremendous. Loved it. I was hoping we would have a first half just like that.
What I loved was seeing players like Avery Jukes that weren't supposed to shine, come out of nowhere to be a major factor. Who had Jukes making two 3s? Jukes led the Bulldogs with 10 points. No way did anyone have that on the early scorecard.
Zach Hahn played sensational off the bench as he distributed, came up with a deflection and had great stage presence.
Duke's big three had their moments as expected, with Kyle Singler scoring nine points by making big buckets at the right times. Nolan Smith, as he has all season, bailed out a few possessions, and Jon Scheyer scored in the mid-range.
The Bulldogs were down one at the half and Gordon Hayward scored only four points and was 2-of-7. He did have seven rebounds, though.
No one had Butler getting 12 offensive rebounds with Duke having only three and outrebounding Duke 24-17.
The crowd has been sensational so far. Just hope they can stay in the game and we get a final-possession-type affair.
Butler has to believe now it can win.
April, 5, 2010
4/05/10
9:56
PM ET
INDIANAPOLIS -- Quick thoughts from the first half of Duke-Butler.
Butler held a 20-18 lead with 7:54 left in the first half.
The crowd is pro-Butler, much more so than Saturday night. So far I'd give this an A for atmosphere. It has lived up to the hype of having a homecourt advantage.
Both teams are playing defense at a high level. You can't fault the defense when Kyle Singler and Zach Hahn make deep 3-pointers.
Love how aggressive Matt Howard was in trying to score, draw fouls and get rebounds. But he really struggled to finish at the hoop and at the free-throw line.
Shelvin Mack is one of the elite guards in the country. We should have all seen that when he played for a gold medal last summer for the Under-19 USA team. Mack took over the game for a few possessions to rescue Butler from getting too far behind.
Lance Thomas got into early foul trouble with two. That's OK since Duke's depth inside is its best.
We can only hope it stays close for the final 32 minutes.
February, 27, 2010
2/27/10
12:16
AM ET
VALPARAISO, Ind. -- Valparaiso coach Homer Drew has seen plenty of Butler teams in his 30 years of coaching -- much more so since Valpo made the switch from the Mid-Continent Conference to Horizon League in 2007 -- and his diagnosis of the
2009-10 Bulldogs
after
Butler's 74-69 win over Valparaiso Friday night
was straightforward, simple, and full of gravitas. Oh, and it was accurate.
"They're the best Butler team I've seen," Drew said.
Bingo. But let's go one further: This Butler team isn't just the best in the history of the program. It's the best in the history of the Horizon League.
Those are the kind of accolades you can realistically bestow on a team that sealed an undefeated conference season Friday, and has the nation's longest win streak at 18. And they managed to do it without their best player and leading scorer,
Gordon Hayward
.
Hayward was sidelined by back spasms Friday night -- his condition is day-to-day, according to Butler coach Brad Stevens -- and Butler felt his loss. The Bulldogs trailed by one at halftime, the product of a feisty Valpo offense and an inability to get anything going with their own offense. For lack of a better cliche, Hayward is the straw that stirs Butler's rather rich offensive milkshake. Without him, Butler's offense loses its edge.
Then again, the Bulldogs managed to get to 17-0 in the Horizon League before Friday night for reasons other than their star player, and those reasons were evident at the Athletics Recreation Center Friday night. Forward
Willie Veasley
's outside shooting keyed the stretch that put the Crusaders away in the second half. Forward
Matt Howard
-- oh, by the way, the 2008-09 Horizon League player of the year -- towers over most Horizon League forwards and can score from either side of the bucket.
Shelvin Mack
is strong, controlled and effcicient.
Ronald Nored
is a lockdown defender.
Zach Hahn
is a pure shooter.
OK, you get the point. Which is this: Stevens has built a very deep, very talented team, a team that managed to go an entire stretch of 18 league games without losing a single one -- the first Horizon League team to ever go 18-for-18 (the fourth to go undefeated). No off nights. Not one upset. And from day one all the way back in January, very little hope for the rest of the league.
Butler's teams are always better than their conference opponents, but rarely are they
this
much better. After three years at the helm, Stevens deserves much of the credit.
"He's one of the bright young coaches in Division I," Drew said. "He's done a wonderful job."
Again, bingo. At just 32 -- and yes, the man looks even younger -- Stevens hasn't just built an elite program. He's also put himself atop the nation's list of hot young coaching prospects. He's officially a "name" -- a name you should prepare to hear every time a new coaching position becomes available, which is to say, all the time. (That sound you hear is Butler fans putting their fingers in their ears and singing "la la la can't hear you la la la." Who can blame them?) For tonight, though, Stevens and his team can pocket the future for a moment and instead spend some time reflecting on their truly impressive accomplishment: an undefeated conference season.
No upsets here. Butler is your Horizon League champ. Next stop, NCAA tournament. Now things get
really
interesting.