College Basketball Nation:

Zach McCabe
January, 28, 2014
1/28/14
11:52
PM ET
They just have something that's difficult to explain. These incomplete, oft-injured, Big Ten-contending, won't-go-away-even-on-the-road No. 7
Michigan State Spartans
.
Somehow, they knocked off No. 15 Iowa in Iowa City on Tuesday during a brutal Big Ten game that even the purists would call foul. There was nothing pretty about the 71-69 Michigan State overtime win.
There were mostly mistakes.
Officials made the bulk of them -- so many missed calls, confusing whistles and inconsistency.
Early in the second half,
Keith Appling
triple-jumped to the bucket and scored. It apparently wasn't a travel. Fran McCaffery drew a technical after he protested -- and that wasn't the worst call of the night.
The officials were joined in folly by the two teams competing against one another for a meaningful Big Ten win.
You could have watched "Titanic" twice during Iowa's lengthy stretch without a field goal (in reality, it a 14:50 period that started in the second half, bled into overtime and felt like forever). There were 63 combined free throws (43 attempts by Iowa, 20 by Michigan State).
Roy Devyn Marble
scored 21 points on a 7-for-15 night. Iowa's other starters? Just 6-for-19. Michigan State committed 29 fouls and made just 11 of 20 free throws.
[+] Enlarge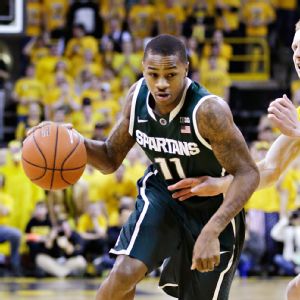 AP Photo/Charlie NeibergallKeith Appling led Michigan State with 16 points as the shorthanded Spartans pulled out an overtime win at No. 15 Iowa.
In the end, however, Michigan State snatched the win from an Iowa team that should watch this game film for the rest of the season until it captures the grit that the Spartans boast.
Matt Costello's late tip-in and Russell Byrd's crippling 3-pointer with 33 seconds remaining in the extra period that gave the Spartans a six-point edge were examples of that grit.
They held a bigger Iowa team to just 10 points in the paint during the final 25 minutes of the game, per ESPN Stats & Information.
The Spartans were missing two key starters --
Adreian Payne
(foot) and
Branden Dawson
(broken hand) -- on the road against an Iowa team that usually employs 10 guys with minimal drop-off and yet Michigan State still won.
It wasn't all offense. Appling,
Denzel Valentine
,
Gary Harris
, Byrd and Costello were all significant playmakers for Michigan State throughout the night. The team hit clutch shots down the stretch that the Hawkeyes couldn't match.
And it wasn't all defense. Michigan State was tough on Iowa but some of the shots were mysteriously awry for McCaffery's program. Nothing would fall.
The Spartans keep fighting, despite their limitations. They haven't been healthy all season, but they're still legitimate candidates for the Big Ten title. Payne and Dawson will eventually return. But they don't have any plans to accept mediocrity until they're available.
Every team abides by a similar motto when star players are lost for a chunk or all of the season. They all say the same thing.
We just have to go out there and focus on the guys we have on the floor.
It's always some variation of that. And it's nonsense.
In practice it's never easy to adjust to life without the guy or guys who do things that only they can do for a program. Costello is no Payne. The latter is a unique inside-outside threat who is a young man birthed from the athletic, Euro-hybrid breed.
Yes, they miss Dawson, too. Not just because of what he brings on paper, but because he embodies the brashness that Tom Izzo's programs have historically embraced.
And yet, there they were in Iowa City throwing punches, ignoring what they didn't have and focusing on the guys on the floor. They were deliberate, relentless and nasty.
You need that edginess to win conference titles and to survive in the postseason.
Iowa doesn't have that yet.
That was apparent right after the opening tipoff. The Hawkeyes were walking while Michigan State was running. The Spartans seized a 10-3 lead that set the tone for the night.
You should be worried, not us.
That was their message.
And that bravado, expressed by a team that probably shouldn't have it given its circumstances, can confuse teams.
The Hawkeyes were at home but looked like a frustrated road team for a portion of the evening. They eventually returned fire and even took a significant lead in the final minutes of regulation. But they couldn't hold onto it, and the near 15-minute stretch without a field goal didn't help.
But in a game like that, when everything seems to be going wrong for everyone and neither team is playing to its potential, a moment or two can dictate the outcome.
Melsahn Basabe's late misses. Zach McCabe's would-be layup that became a turnover when he got blocked a foot from the basket. Byrd's 3-pointer in the corner in the final seconds of overtime.
Last season, Iowa would have been given credit just for pushing the Spartans. But not this one. The Hawkeyes are too talented for passes and excuses. They have to win games against contenders if they want to be a serious factor in the NCAA tournament.
On Tuesday, they looked like a team that was waiting for something. Waiting for Marble to make something happen. Waiting for a lucky bounce. Waiting for Michigan State to miss.
And that was the difference in the end.
The Spartans just took it.
December, 14, 2013
12/14/13
2:14
AM ET
Iowa State's 85-82 victory over Iowa on Friday night was many things.
It was a seminal moment, a truly great game, and a line of demarcation for two basketball programs that haven't had a truly marquee rivalry game since 1987, in a state that really does love basketball -- if you give it a little nudge.
Iowa State 85, Iowa 82 was also a thrilling, high-speed affair. It was 40 minutes of sheer, evenly matched entertainment. It was a clear indication that, in their twin streaks to national prominence, both the Cyclones and the Hawkeyes have not only become good but somehow become have done so at exactly the same time. It was a gigantic vibrating cardinal-and-gold love-in, or a high-decibel world-record attempt, or both.
It was, more than anything, a great win for Iowa State and coach Fred Hoiberg, which is starting to become a habit.
And it was a brutal, heartbreaking, kick-in-the-teeth kind of loss for Iowa -- a glaring, gobstopping missed opportunity for a team that was sure it kicked that tic in 2012-13.
Perhaps the most frustrating part for Iowa fans is the inability to direct frustration. Viewed from a more remote, detached perspective, Friday night's loss was less a breakdown than a very good 40-minute effort in a difficult road environment that came down to 13 seconds and two statistically advantageous circumstances, all of which went Iowa State's way.
[+] Enlarge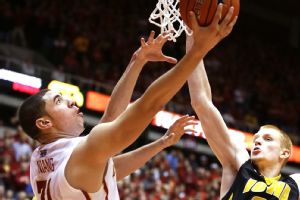 AP Photo/Charlie NeibergallGeorges Niang scored 24 points as Iowa State pulled out a tense 85-82 win over in-state rival Iowa on Friday.
The first, with 13 seconds left, is sure to live in Cy-Hawk lore for years to come. After Iowa State's
Georges Niang
made a baseline reverse layup (one of his apparently endless supply of post moves) to put the Cyclones up a point, Iowa point guard
Mike Gesell
pushed the right side of Iowa State's defense and got a shockingly quick foul call to put him on the line. It was a heady play, and a mental error by the Cyclones; it put an 80 percent free throw shooter on the line with a chance to reclaim the lead.
Instead, Gesell -- facing a storm of noise at Hilton Coliseum; "You could feel the vibrations in the building again," Hoiberg said -- missed the first. He rimmed out the second.
Iowa still had a chance. After the Cyclones' Dustin Hogue made two foul shots to put the Cyclones up by three, Gesell advanced again. The Hawkeyes ran a pretty simple wing-screen set and got a shockingly open look for guard Zach McCabe. Down three, with overtime on the line, it was the kind of look college basketball teams never, ever get. Iowa got it, and got it for one of the best shooters in the country to date this season -- a 48.5 percent 3-point shooter. McCabe was lined up. He was square. His shot rimmed out, too.
How do you even get mad about that? Where do you direct your anger? The gulf between process and outcome can be vast. Even with Iowa's issues down the stretch in the second half, it got the shots it needed to get to win the game. They didn't go in. What are you going to do?
All of which takes nothing away from Iowa State. The Cyclones trailed for longer during the game than Iowa did, but not by much; in any case, you knew the run would come. That is the chief strength of Hoiberg's program: The Cyclones have become so skilled and versatile on the offensive end that no gap seems too large for them to close before the end of regulation. The ensemble setup also allows them to cover for sudden productivity dips.
Friday was a perfect example. Guard DeAndre Kane, Iowa State's best player to date, shot just 1-of-6 (albeit with nine assists). But Niang and Melvin Ejim combined for 46 points, 7 assists and 9 rebounds. No worries, right? Meanwhile, Hogue -- a junior college transfer grabbing 26.4 percent of available defensive rebounds, and shooting 67 percent inside the arc -- added 16 boards and 12 points. And while all of the Cylcones have slightly different strengths, they are thrillingly non-traditional: Kane is a big, versatile ballhandler who can hold his own in the lane; Ejim is an undersized forward who uses his quickness to his advantage; Hogue might be one of the best rebounders in the country at 6-foot-6; and Niang is one of the quirkiest and most unclassifiable stretch-point-forward players in recent college hoops memory.
The combination works. With a road win at BYU and a home win over Michigan under its belt, Iowa State's win over the Hawkeyes was its third genuinely impressive victory of the season.
Iowa, despite all available evidence of its quality, can not say the same.
Friday night's three-point loss is unlikely to hurt this Iowa team the same way last season's series of close losses did down the stretch. The Hawkeyes were much younger and on the bubble then, fighting a desperate uphill battle against their own soft RPI. This year's team is older, deeper, stronger, and more balanced, especially with the addition of Wisconsin transfer Jarrod Uthoff. Iowa should be fine.
Even so: Iowa's two best chances for nonconference plaudits this season were an overtime loss to Villanova, 88-83, in the Bahamas, and Friday night. The Hawkeyes played good basketball; they are good. But they still missed on both.
So you can excuse Iowa fans if they don't quite feel up to the spirit of the occasion. Iowa State 85, Iowa 82 was a lot of things Friday night, from the basketball to the atmosphere to the symbolism of both programs' recent history. But for Iowa fans, it was another missed opportunity -- another instance of a bad habit everyone involved would be more than happy to correct.
March, 16, 2013
3/16/13
1:50
AM ET
CHICAGO -- Whenever Michigan State is involved in a scrap, its opponent usually leaves the arena with a black eye and bloodied lip. The Spartans, under Tom Izzo, tend to win the war of physicality regardless of the final score.
That's their trademark, their badge.
But in their
59-56 win
over Iowa in the quarterfinals of the Big Ten tournament Friday at the United Center, they ran into a squad that delivered the first blow.
"You know, they just came out with a little more energy. It's as simple as that," said
Keith Appling
, who finished with 13 points in a win over an Iowa team that led by double digits at the break.
[+] Enlarge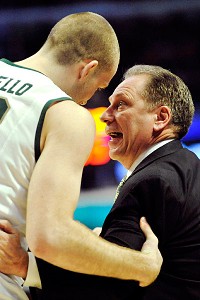 David Banks/USA TODAY SportsTom Izzo's Michigan State squad held off a late Iowa comeback to advance to the Big Ten semifinals.
The Hawkeyes tussled as if their postseason depended on it because it did. They entered the game desperate for quality wins. And a loss against the Spartans, they clearly realized, would decrease their already slim chance of securing an at-large berth.
So they swarmed Appling. They put a body on
Derrick Nix
, who was so frustrated by the pressure at one point in the game that he drew a technical foul.
Gary Harris
, a potential lottery pick competing in front of multiple NBA scouts, seemed timid in the first half.
The Spartans went 8-for-30 and missed every 3-pointer they took (eight attempts) before halftime. Iowa entered the break up 30-20 after shooting 50 percent from the field.
The Hawkeyes' damage on Michigan State's collective psyche was equally significant. The Spartans were on the canvas, mentally bruised and nearly defeated.
At halftime, however, Izzo didn't throw a chair. He didn't kick lockers or threaten to make players run until they puked. He just asked them whether they still had the desire to win.
"I just said, 'Where are we going to go?' So I just leaned up the wall and asked whoever wanted to talk, and that's when [Branden] Dawson said some things, and that's when Keith said some things and Nix said a few things," Izzo said. "It was kind of an emotional, not a rah-rah or yelling emotional, just a down emotional thing."
In that moment, Dawson thought about the last Big Ten tournament, in Indianapolis in 2012. The one he could only watch from a hospital bed as he recovered from surgery to repair a season-ending knee injury.
He had worked too hard to get healthy to leave Chicago -- his first conference tourney -- after just one game. His team had pushed itself too far in the course of six months to leave the United Center embarrassed.
"When we first got in [the locker room at halftime], a lot of guys were feeling sorry for themselves," Dawson said. "Couple of guys had their heads down. Couple of the freshmen, couple of the other guys. ... I just told the guys we just need to pick it up, and we [weren't] losing this game. I know they didn't want to go home, and I definitely didn't want to go home."
Their renewed spirit emerged only in spurts in the first 10 minutes of the second half. Appling darted down the middle of the lane and elevated.
Melsahn Basabe
jumped and extended his arm.
But Appling kept climbing and completed one of the greatest dunks of the year with 16:59 to play. The dazzling slam cut Iowa's lead to seven.
With 10:24 to go, however, the Hawkeyes had restored order after a
Zach McCabe
layup gave the them a 47-35 edge.
Izzo had already charged his team to dictate its own fate when he talked to it at halftime. So he observed as much as he coached when Iowa tried to extend its lead. He wanted to see whether the Spartans would fulfill their daily theme and "show up."
"We rallied around each other, and we were able to pull it [off]," Nix said.
In a blur, the Spartans had responded to that halftime call. Although it took them 10 minutes, it wasn't too late.
A 15-2 spurt turned their disappointing effort into an impressive rally that gave them a 50-49 lead with 4:10 to play. They extended the advantage to eight points with 1:54 on the game clock.
The Hawkeyes refused to concede, though. After a pair of free throws by McCabe, a 3-pointer by
Aaron White
and a Basabe layup -- Michigan State committed two turnovers in that stretch, too -- the Hawkeyes were down by only one point.
But Harris drew a foul and hit his two free throws.
There were still 29 seconds remaining. Iowa had time to overcome Michigan State's 59-56 edge. But the Spartans forced the Hawkeyes into a pair of tough 3-pointers in the final seconds.
Payne (18 points, 10 rebounds, 2 blocks and 1 steal) grabbed the rebound after
Roy Devyn Marble'
s turnaround 3-pointer on Iowa's final possession clanged off the rim.
The Spartans' victory secured a third meeting with Ohio State (1-1 in their two matchups this season) in Saturday's semifinals.
After Friday's win, Izzo said he hadn't earned his salary that day. His team was lethargic and undisciplined. He blamed himself for that. He even admitted that he didn't have any solutions for its challenges. But he trusted his players enough to let them solve their own problems.
"It was interesting for me because I had done that once in 2000 with [Mateen] Cleaves and [Morris] Peterson, and it was one of the better things I had done," Izzo said. "Embarrassed to say I didn't have any answers at halftime, but I'm proud to say that I let them make the decision and maybe they grew up a little bit."
March, 15, 2013
3/15/13
11:01
PM ET
CHICAGO – A quick recap of Michigan State's
59-56 win
over Iowa in the quarterfinals of the Big Ten tournament at the United Center on Friday.


Overview
: The Hawkeyes entered the day with a suspect résumé for a team hoping to be included in the NCAA tournament field. But they were still on the bubble.
Kentucky, Tennessee and other squads trying to impress the selection committee this weekend had already exited their respective tournaments when Iowa took the floor. But the Hawkeyes had more to prove than most. Their lackluster nonconference accomplishments and 70-plus RPI weren't exactly solid footing for a convincing at-large argument.
But the Hawkeyes played with the heart and determination one would expect from a team in their position. They punched the Spartans in the mouth early and led 30-20 at halftime. They controlled the momentum and the pace.
Michigan State features multiple veterans. But the Spartans were unraveling. And coach Tom Izzo knew it.
In the second half, he called a timeout and blasted his players.
By then, they'd been down by as many as 12 (Iowa led 47-35 on
Zach McCabe
's layup with 10:26 to go). But something changed with the Spartans down the stretch.
Perhaps it was
Keith Appling
's "SportsCenter" top-10-worthy dunk a few minutes into the second half. Perhaps it was
Derrick Nix
settling down and leading again.
Adreian Payne
found his swagger. Maybe it was just shot selection.
But the Spartans bounced back and recovered with a 15-2 run that stunned the Hawkeyes and put the Spartans up by a point, 50-49, on a
Gary Harris
3-pointer with 4:11 to play.
Iowa, however, kept fighting.
Aaron White
's 3-pointer with 1:32 to go closed the gap to 57-54. Then Michigan State committed a costly turnover.
Melsahn Basabe
scored on a putback layup on his team's next possession. One-point game.
But White fouled Harris on the other end and Harris made both free throws to extend his team's lead back to three.
With nine seconds to play, after Basabe missed a 3-pointer and Appling couldn't corral the rebound, Iowa was down 59-56 in one of the most exciting games of the day.
Roy Devyn Marble
missed a turnaround 3-pointer in the final seconds and Payne retrieved it. Game over.
Turning point
: Michigan State (25-7) was playing really undisciplined basketball prior to its 15-2 run in the second half. It snatched the momentum in the United Center with that come-from-behind rally.
Key player
: Payne scored 18 points, grabbed 10 rebounds and blocked two shots.
Key stat
: How did Michigan State end up in that early hole? Well, its 13 turnovers didn't help. How did Iowa (21-12) squander that lead? Well, its 17 turnovers didn't help.
Next game
: Michigan State will face Ohio State in Saturday's semifinal. Iowa will wait to hear its fate on Selection Sunday. NIT is the likely destination.
Miscellaneous
: Appling's dunk three minutes into the second half might have been the greatest of 2012-13. That's all. Find the clip. Now.