College Basketball Nation:

Zack Novak
February, 12, 2013
2/12/13
11:12
PM ET
EAST LANSING, Mich. -- Some thoughts after No. 8 Michigan State's
75-52 pulverizing
of No. 4 Michigan on Tuesday night at the Breslin Center.


Overview:
As
Adreian Payne
lifted his arms toward the home crowd, trying to get it louder with 7 minutes remaining in a game no longer in doubt, the Spartans forward looked like he wanted more.
All of Michigan State appeared to want more. Meanwhile, Michigan looked like it just wanted to travel the one hour southeast back to Ann Arbor as fast as possible. The Wolverines had already gone deeper than usual into their bench to play guard
Eso Akunne
and by then it didn't matter, because nothing John Beilein's team was doing worked.
Michigan State dominated, almost from tip to final whistle.
Yes, it is tough to win on the road in the Big Ten, but for a program touted as a national-title contender all season, this was Michigan's last chance to win a significant road game in the Big Ten. And it failed. Miserably.
The second-half comebacks Michigan had at Indiana and Ohio State didn't show up, either, mostly due to Michigan State's ability to control the paint and body up the Wolverines' big men.
It all led to Michigan State's first 20-plus-point victory over Michigan in over a decade, when the Spartans beat the Wolverines 71-44 on Jan. 30, 2002.
Turning point:
Michigan State guard
Keith Appling
made three consecutive jumpers, including a 3-pointer in transition with 16:32 left, to give Michigan State a 48-29 lead and whipped the already-hyper Breslin student section into a loud, jumping, delirious frenzy of white shirts going nuts at every possible opportunity.
Key player:
Spartans senior
Derrick Nix
punished Michigan's four-headed big-man rotation inside in the first half and helped to open up everything else for the Spartans. Nix finished with 16 points, 5 rebounds and 3 assists on 7-of-10 shooting.
Key stat:
Zero first-half points for
Tim Hardaway Jr.
After scoring 18, 23 and 18 points in the previous three games, respectively, Hardaway couldn't find anything in the first half. He missed all six of his shots, including four 3-pointers. This from a player who brought Michigan back a week earlier against Ohio State by making six 3-pointers, then followed it up by making what was almost the game-winner at Wisconsin on Saturday. Without Hardaway's production, Michigan struggled to shoot 27.3 percent from the 3-point line in the first half. Hardaway would finish with two points.
Miscellaneous:
Michigan football coach Brady Hoke, defensive coordinator Greg Mattison, former coach Lloyd Carr and former Michigan basketball player Zack Novak all watched the game from behind the Wolverines' bench. Hoke and Michigan State counterpart Mark Dantonio had a brief chat before the game right behind the benches. … After not scoring in double figures for almost a month, Nix now had back-to-back games with 10 points or more.… This ends a rough four-game stretch for Michigan, which started the sequence as the No. 1 team in the nation. After a 1-3 swing with games at Indiana, Michigan State and Wisconsin and a home game against Ohio State, the Wolverines have some major regrouping to do.
Next game:
Both teams receive something of a breather in the Big Ten. Michigan State travels to Nebraska for a game Saturday; Michigan has a home game against Penn State on Sunday.
September, 20, 2012
9/20/12
10:45
AM ET
Editor's Note: In the buildup to Midnight Madness, we are taking an in-depth look at Joe Lunardi's top five seeds in a series called Countdown To Madness. In addition to the Insider stories, Eamonn Brennan will offer Three Big Things about each team and we'll have Five Questions with a player or coach from each squad.
For
Tim Hardaway Jr.
, the scenario is becoming routine. Every single day on the Michigan campus -- whether he's eating lunch with a teammate, sitting in class or walking to practice -- someone stops him to talk about Wolverines basketball.
"We could be out and about, and a group of fans will just walk up to us," Hardaway said. "They'll wish us luck and say, 'Oh, we're so excited for the season.'"
The buzz in Ann Arbor is certainly understandable.
One season after claiming a share of the Big Ten title, the Wolverines are expected to contend to reach the Final Four thanks to a mix of talented returnees, such as Hardaway and
Trey Burke
and highly touted newcomers
Mitch McGary
and
Glenn Robinson III
.
"There's a lot of hype," Hardaway said, "but I think we're doing a good job of just making sure that everyone settles down. The season hasn't even started yet. We're all just preparing to play anyone in the country. Everyone is excited about the season. Everyone is trying to make it seem like we're back. But we have a long way to go."
Hardaway, who averaged 14.6 points as a sophomore last season, spoke with ESPN.com earlier this week.
[+] Enlarge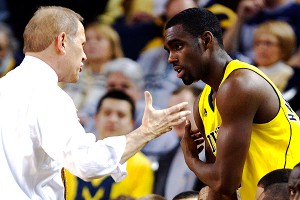 Rick Osentoski/US PresswireTim Hardaway Jr. said Michigan coach John Beilein, left, puts great trust in his guards.
What's the most encouraging thing you've seen from your teammates thus far?
Tim Hardaway Jr.:
Just the mindset of everyone coming in, with everyone having the same intensity and passion about playing Michigan basketball. Everyone sees that and we're all trying to fulfill our dreams and get back to where we were last year and win a Big Ten championship.
Who will be the "surprise player" on this year's squad?
TH:
Everyone has been making a lot of improvement.
Jon Horford
is coming off an injury and has been playing really well in the summer.
Matt Vogrich
has been shooting the ball really well.
Blake McLimans
is getting better.
Jordan Morgan
-- just everyone in general. Everyone has added little pieces to their game to make them more successful and help the team out any way they can.
Even though you had a great season overall, you went into a major shooting slump and made just 35 percent of your shots in February. How were you able to snap out of it and finish so strong?
TH:
It was a team effort. We had a lot of guys coming into the locker room with me and having conversations about what I needed to work on. During the Nebraska game,
Zack Novak
talked to me at halftime before we walked onto the court. He said, "Hey, you can help the team out in different ways than scoring." Once I heard that, I think I just snapped out of it from then on. That's what helped me out the most.
What did you do in the offseason to better prepare yourself for your junior year?
TH:
I feel like I'll be playing a lot more at my normal position [combo guard] instead of being at the 3-spot. We lost two of our main guards, Zack Novak and
Stu Douglass
, from last year. So I'm working on my ball-handling, guarding the point guard and guarding the shooting guard. I'm just trying to have fun and play Michigan basketball. Wherever Coach Beilein wants me to play, I'll play. I'm not a picky guy. I just want to be out there on the floor and have fun and help my team in whatever way I can.
What's the best part about part about playing for John Beilein, and what goals has this team set for itself?
TH:
[Beilein] is an excellent coach. He lets us play. He lets the quarterback, the point guard, call out the plays. He has the utmost confidence in his guards to make the right decisions out there.
As far as goals, the first thing is to get better every day. We've been saying that since the first day of the fall semester. We're not focused on national championships or Big Ten championships. We'll worry about those later in the season. Right now we just want to do everything we can to get better as a team, build our chemistry up with these new freshmen and get better every single day.
July, 20, 2012
7/20/12
1:33
PM ET
As part of our Summer Shootaround series, here are the best- and worst-case scenarios for the Big Ten:
Illinois
Best-case
: No one's expecting much from Illinois in 2012-13, and the reasons are obvious: With zero in the way of fresh blood entering the program this season, this is essentially the same team that lost 12 of its final 14 games last season (necessitating the firing of coach Bruce Weber) only without its best player, center
Meyers Leonard
. I get it. But there hasn't been a mass exodus at the program.
Brandon Paul
and
D.J. Richardson
will be senior guards capable of blowing up at any time (Paul especially). The supporting cast has its holes, but harnessed correctly that's a backcourt that could give plenty of Big Ten teams trouble -- at the very least.
Worst-case
: What happens when you add a dearth of young talent, experienced players who pretty much gave up on their last leader and a new coach asked to bring it all together? There is no one answer. Frankly, anything is possible, and while that includes the aforementioned revival from Paul and Richardson, it could just as easily lead to Paul looking around, deciding he's the best player on his team by a lot (not that he would be wrong) and posting yet another incredibly inefficient, borderline-greedy offensive season. I don't think Illinois will totally bottom out this season, but that's only if coach John Groce can convince everyone, Paul included, that's no way to spend a year on the hardwood. If he doesn't, this could get ugly in a hurry.
Indiana
Best-case
: Don't look now, Indiana fans, but I'm going to do it: IU's best-case scenario is the NCAA collegiate men's basketball national championship. I know. Crazy, right? What's even crazier is that it doesn't require a huge stretch of the imagination. After all, Indiana will feature the best returning player in college basketball in
Cody Zeller
, who was dominant as a freshman and (according to every dispatch out of Bloomington this summer) is only beginning to showcase his newfound core strength, defense and versatility. The Hoosiers have a coterie of scorers around Zeller: stretchy wing
Christian Watford
, rim-attacking guard
Victor Oladipo
, sharpshooting floor general
Jordan Hulls
and do-everything
Will Sheehey
, not to mention a recruiting class that features at least one sure-fire immediate rotation player in point guard
Yogi Ferrell
. This team is deep and well-rounded and scores like crazy, and it's going to be a lot of fun to see where Zeller & Co. can go.
Worst-case
: To go where they really want to be, the Hoosiers are going to have to play better defense. It's just that simple. Indiana improved some last season, but where it really excelled was offense: Tom Crean's team ranked fourth in the country in adjusted offensive efficiency but just 64th on the defensive end (IU's 102-90 tournament loss to Kentucky was thrilling evidence of this disparity). Hulls' size disadvantage makes him unreliable at the point of attack; Zeller and Watford must become better rim protectors; and in general Indiana must find some trait to sustain itself on that end of the floor. At some point in the tournament, everybody goes cold. Eventually, your D has to carry you through.
Iowa
Best-case
: It's Year 3 of coach Fran McCaffery's rebuilding cycle, and everything seems to be going according to plan. Iowa has made strides in each of his first two seasons. Now with two talented freshmen from the Iowa-Nebraska border (center
Adam Woodbury
and point guard
Mike Gesell
), this could be the year the Hawkeyes officially emerge from their post-Todd Lickliter morass. Other than the freshmen, the keys are rising sophomores
Aaron White
and
Josh Oglesby
and junior
Melsahn Basabe
, who took the Big Ten by storm as a freshmen but fell off a bit last season. If there is a collective step forward and the freshmen prove productive in a hurry, this is an NCAA tournament team waiting to happen. Right on schedule.
Worst-case
: Let's not forget, of course, that senior guard
Matt Gatens
was by far this team's most efficient scorer, not to mention its senior leader -- the guy who almost
single-handedly shot Iowa into the tournament last season
. His loss is a crucial one. Just as crucial is defensive improvement. In 2011-12, the Hawkeyes were a top-35 offensive team but ranked No. 180 in defensive efficiency and No. 278 in opponents' effective field-goal percentage (eFG%). There is plenty of reason for optimism here, but if Iowa doesn't guard someone, it won't be dancing yet.
Michigan
Best-case
: Just last week, Big Ten Co-Freshman of the Year
Trey Burke
told the media he saw his team as a national title contender. That's a very optimistic best-case scenario, sure, but in such a wide-open hoops landscape, I'm inclined to agree. Burke is one of the nation's best lead guards, and he's complemented well by
Tim Hardaway Jr.
's outside-in game. The Wolverines also have a pair of top 25-ranked freshman to fawn over. Like Hardaway,
Glenn Robinson III
comes equipped with NBA genes, while just last summer forward
Mitch McGary
was once considered one of the best five prospects in the class of 2012. This is unquestionably the most talented Michigan team in a decade, and if the freshmen excel early, Burke's opinion won't seem farfetched.
Worst-case
: It's hard to see this team, which is indisputably more talented and almost certain to be more dynamic, somehow
not
being in Big Ten title contention by the end of next February. But if somehow the Wolverines are merely above average in 2012-13, it could be because they carry over last season's just-OK defensive effort (No. 60 in adjusted defensive efficiency). Or because they lack the breadth of reliable 3-point shooters (
Evan Smotrycz
transferred, while
Zack Novak
and
Stu Douglass
graduated) who have come to define coach John Beilein's two-guard front offense, which relies on 3-point shooting to stretch the floor. I think Beilein will make it work, and I think Michigan will be very tough to beat. But increased success is far from guaranteed.
Michigan State
Best-case
: As good as Michigan's backcourt is, could Michigan State's actually be better? If
Gary Harris
, the No. 2-ranked shooting guard (and No. 11-ranked player overall) in the Class of 2012 lives up to his considerable hype, it's a distinct possibility. But for seniors
Draymond Green
and
Austin Thornton
(and one-year graduate rental
Brandon Wood
), the Spartans return everybody from last year's 29-8 redeem team, including big-bodied forward
Derrick Nix
, still-blossoming athletic freak
Adreian Payne
and impressive freshman
Branden Dawson
, who should recovery from an ACL tear in time to join the team for the Big Ten season. But the key to it all is point guard
Keith Appling
. If Appling is a star -- and I would bet he will be -- the Spartans will be right back near the top of the Big Ten, same as usual.
Worst-case
: I brushed over Green's departure casually in the above paragraph, but there's really no way to overstate just how important Green was to Michigan State in 2011-12. Not only was he the team's tireless vocal leader, he was its best scorer, rebounder
and
passer. Without Green to solidify everything the team did, it's not unfathomable to see Michigan State take a step back into respectable but not great territory.
Editor's note: ESPN.com's Summer Shootaround series is catching up on the offseason storylines for each conference. For the rest of the best- and worst-case scenarios for the Big Ten, click here.
March, 16, 2012
3/16/12
9:56
PM ET
NASHVILLE, Tenn. – Breaking down No. 13 seed Ohio University's
65-60 victory
over No. 4 seed Michigan in the second round of the Midwest Regional at Bridgestone Arena:


Overview:
Other than the early minutes of the game, Ohio led the whole way in pulling off its second upset of a top-4 seed in the past three NCAA tournaments. The Bobcats knocked off No. 3 Georgetown in 2010.
There wasn't a lot of mystery to this one. Ohio shot 51.2 percent from the field and held Michigan scoreless in the game's final four minutes. The Bobcats were able to get good looks at the basket most of the game, and Michigan didn't have anybody who could stay in front of Ohio junior guard
D.J. Cooper
.
Ohio led by nine points with eight minutes to play, but Michigan made a run and cut the deficit to 63-60 with a little more than four minutes to play on Trey Burke's 3-pointer. The Wolverines had several chances to tie the game, but couldn't make shots down the stretch.
Turning point:
After Michigan had pulled within 63-60 on Burke's 3-pointer, Cooper missed from 3-point range on the other end. But Ohio's
Reggie Keely
chased down the long rebound. It was that kind of game. Ohio made the plays when it counted, and Michigan didn't.
Key player:
Cooper was unstoppable for the Bobcats. The Wolverines tried several different defenders on him and did their best to shadow him with two players at times. But when Cooper wanted to penetrate, he usually did. He was also 3-of-6 from 3-point land and finished with a game-high 21 points and five assists.
Key stat:
Cooper was 7-of-11 from the field. The Bobcats improved to 7-0 when he shoots at least 50 percent from the field.
Miscellaneous:
It was the second consecutive shaky outing for Michigan point guard Burke, the Big Ten's Freshman of the Year. He was 5-of-15 from the field and 2-of-9 from 3-point range. In the Wolverines' Big Ten tournament loss to Ohio State, he was 1-of-11 from the field and 0-of-7 from behind the arc. …
Evan Smotrycz
came off the bench to score 15 points for Michigan. It was only his fourth double-digit outing since Jan. 1. … Smotrycz's turnover when he lost the ball off the dribble with 6.8 seconds left was the final blow for the Wolverines (24-10). ... Michigan's two senior guards,
Zack Novak
and
Stu Douglass
, were a combined 1-of-7 from the field.
What's next:
Ohio (28-7) will move into the third round on Sunday and face the winner of the Temple-South Florida game. Those two teams play the late game Friday in Nashville.
March, 9, 2012
3/09/12
10:50
PM ET
INDIANAPOLIS -- Michigan did not expect the test it encountered against Minnesota in the quarterfinals of the Big Ten tournament Friday.
But the Gophers weren't prepared for
Trey Burke
, either. The Big Ten freshman of the year scored 30 points in a
73-69 win over Minnesota
to advance to a Saturday matchup against the winner of Friday's game between Ohio State and Purdue. Burke did whatever he wanted when he wanted to do it against the Gophers.
[+] Enlarge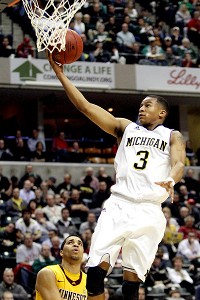 AP Photo/Kiichiro SatoMichigan freshman Trey Burke scored a career-best 30 points against Minnesota.
"Well, the coaches just tell me to take whatever the defense gave me. We [saw] that in the first half. They had a little trouble guarding the pick-and-roll action, so the top of the key was kind of open for an 8-foot jump shot," Burke said after the game. "Towards the second half, they were kind of making me not use the screen, so it allowed us to be able to get down in the lane and shoot lay-ups. And a couple times they had pinched in, and that's when I hit the shooters on the wing. Like we say, we knocked down big shots when it mattered."
The Gophers, a 10-seed, took a nine-point lead on a
Rodney Williams'
dunk with 4:33 to go. An upset was brewing at Bankers Life Fieldhouse.
But Michigan clicked in the final minutes and sent the game into overtime -- Minnesota is the only team that's ever played in two overtime games in a single Big Ten tournament -- after
Evan Smotrycz
hit a 3-pointer with 19 seconds to play. The Wolverines proved to be too tough in overtime.
Burke scored six points in the final 32 seconds (a layup and four free throws) to seal the win.
For Michigan, Friday's game was a challenge that could help it prepare for the NCAA tournament.
"Sometimes you like to see your team go through … a little trouble like that to see how they're going to respond and see how tough we are. I think we passed the test today," said
Zack Novak
. "We played a team that was fighting for their lives. They came to play and they played very well. And for us, we didn't do some of the things that we typically do. To be able to come out of this game with a win is huge, and that's what you gotta do at this time of the year."
November, 23, 2011
11/23/11
10:54
PM ET
Overview
: The Wolverines were fluid from the field, shooting 61.7 percent in their
79-63
victory over UCLA in the third-place game of the Maui Invitational. After amassing a double-digit lead early, the Wolverines held off every UCLA spurt. Midway through the second half, they were coasting against a Bruins squad that is off to a disastrous 1-4 start.
Tim Hardaway Jr.
scored 20 points and
Zack Novak
led all scorers with 22.


Turning point
: Down 8-6 early in the game, the Wolverines dazed UCLA with a 13-0 run. The Bruins couldn't afford an early deficit, but midway through the first half found themselves down by double-digits. This was a turning point on the scoreboard, but it was also a psychological transition. The Wolverines had already beaten the wounded Bruins mentally with their early rally. The Bruins' body language suggested that they'd already envisioned the outcome: another loss.
Why Michigan won
: The Wolverines took advantage of UCLA's size by running the floor and scoring in transition off 12 turnovers against a slower Bruins team. The Wolverines got an unexpected contribution from sophomore big man
Jon Horford
, who had a career-high 12 points (all in the first half). His success inside spread the floor far more than UCLA anticipated. The result: Michigan hit 7 of its 14 3-point attempts, many uncontested. The Wolverines kept the Bruins guessing on defense.
Why UCLA lost
: The Bruins couldn't close the gap against the Wolverines because they couldn't find a consistent offensive attack against Michigan's 1-3-1 and man-to-man schemes. UCLA's starters were 2-for-13 from beyond the arc.
Joshua Smith
scored 12 points, but committed 6 turnovers and he couldn't get up the floor when UCLA needed him. Michigan took a 7-point halftime lead, one that wasn't insurmountable. But the Wolverines did a great job of doubling down whenever the Bruins got the ball inside. The Wolverines were comfortable putting pressure inside and letting UCLA's shooters scrape the rims with errant shots (41.8 percent from the field overall). UCLA struggled to get buckets whenever the ball wasn't in the paint. Bottom line.
Star of the game
: Novak was 4-for-5 from beyond the arc on his way to 22 points, a career high. The Bruins simply didn't have a way to guard him.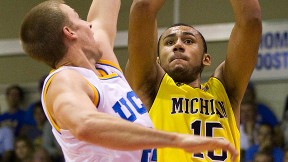 AP Photo/Eugene TannerSophomore forward Jon Horford scored a career-high 12 points for Michigan off the bench.
What it means for Michigan
: The Wolverines learned a lot about themselves in Maui. There were major concerns about their point-guard situation entering the tournament. But freshman
Trey Burke
proved to be an impressive floor leader. The Wolverines also solidified their standing as Big Ten contenders. Right now, Hardaway is as good as any player in the league that's not named Sullinger. Michigan spread teams out with its 3-point shooting. This team is often undersized, but outplayed Memphis and UCLA, two teams with talented big men inside. Michigan's biggest concern going forward will be avoiding overconfidence. Iowa State, Virginia and Oakland are ahead. They're not Duke, Memphis or UCLA, but the Wolverines have to approach those games with the same intensity to avoid upsets.
What it means for UCLA
: It just continues to get worse for Ben Howland's group. The Bruins can't score. They're very big inside but they're slow, so teams can hit shots outside and score in transition against them. They settle for bad shots and just seem so dejected right now. Howland's future with the program is going to the subject of a lot of barbershop banter. This is a Bruins squad that entered the year with a preseason national ranking. Now, they're 1-4 and declining. They have off-court issues, too, with
Reeves Nelson
's challenges. They're off to a bad start. Utter disaster might be around the corner.
More observations
: I think the Wolverines will be in trouble when they face more balanced teams. They had problems with Smith and
Travis Wear
inside. The fact that they're double-teaming in the paint so often makes me wonder what they'll do against a team that can actually hit shots from outside and hold its own in the paint. The Big Ten features a number of beefy forwards who could have their way with the Wolverines (
Jared Sullinger
,
Trevor Mbakwe
,
Draymond Green
). … How about Horford? How he scored his 12 points was just as important as the career-high total. He hit a turnaround jump shot. He had easy layups. He was active offensively. He could be an X-factor down the stretch … Wear showed off his range, hitting both of his 3-point attempts, but UCLA needed him to play inside more in the first half. … UCLA had opportunities to even the score, but the Bruins didn't seem to have the mental juice to pull it off. Winning is contagious. So is losing. Bad news for the Bruins.
What's next
: Michigan has warranted legitimate Big Ten title contender talk, especially with Burke's debut. Now the Wolverines have to get through the rest of their nonconference slate. Their first real test in Big Ten play won't come until a Jan. 8 meeting with 11th-ranked Wisconsin. UCLA, meanwhile, must make the offensive adjustments necessary to score consistently. On defense, the Bruins have to find a way to guard the entire floor. And that's probably going to mean less Smith, even though he can be an offensive asset. They can't afford the defensive liability.
September, 7, 2011
9/07/11
9:30
AM ET
Ah, new facilities. They're all the rage these days, aren't they? It seems that every offseason, four or five schools -- and that's probably underestimating things a bit -- find themselves building massive practice gyms and all-access weight rooms in the hopes of outpacing the competition for the attention of of talented recruits. Not everyone has T. Boone Pickens flow, and
so not everyone can have a $4 million basketball locker room
. But everyone does the best they can.
Michigan is no different. Crisler Arena has long needed a major facelift to improve the gym's drab, cavernous interior. It got a portion of said facelift this offseason. The
early renovations included what Michigan's release
called the "highest priority infrastructure needs such as repairs to the roof, electrical, plumbing and air handling systems." Which is good, because you can't have a leaky roof when you're trying to play basketball. But fans are more likely to notice the new seats in Crisler's lower bowl and the arena's new high-definition video scoreboards, which replaced the old school Jumbotron
you'll see here
. Oh, and there's also a new court, too. Not too shabby.
On Tuesday, John Beilein's team got its first tour of the new gym. If Beilein and senior forward
Zack Novak
are to be believed, the arena improvements won't just be aesthetically pleasing -- they'll also be advantageous:
"It just seems like more of a home-court advantage," Beilein said. "It looks like the fans are really on us. I love the look of it. The floor looks tremendous. I love the feel right now and I can tell by looking at the players faces that they feel the same way."

"I think is it going to be a much better experience for the fans," Novak said. "I think they're going to be much more engaged in the game, especially the students because we've got them sitting right on top of the court now.
Of course, the final judgement on any renovation must come from the fans. But if Novak and Beilein are right, then Michigan deserves some serious credit. It's easy for a renovation to focus on the superficial -- glittering scoreboards, cushy seat covers, a shiny floor, a place to dock your iPad. (OK, maybe not that last one. But give it a few years. We'll get there.)
But if a renovation can actually make the fan experience better by getting fans, especially students, closer to the floor, then that's a win-win for everyone. When Michigan opens its new practice facility called the Player Development Center this fall and finally finishes its Phase Two renovations next year, it will be well on its way to catching up with those pesky facilities Joneses. In the meantime, hey, better seats! Like I said: not too shabby.
(Hat tip: UMHoops)
March, 18, 2011
3/18/11
2:59
PM ET
CHARLOTTE, N.C. -- If this was the last game for Tennessee head coach Bruce Pearl then it was not representative of his career with the Vols.
Tennessee under Pearl has been a consistently disruptive team that put opponents on the defensive and was usually the aggressor.


But the Vols were completely outmatched against Michigan in the second half as the Wolverines ran away with a
75-45 win
. The early fire that the Vols showed off the opening tip soon evaporated as Michigan ran its sets, was the disruptive defensive team and finished well on the break as well as making 3s.
Michigan looked like a team that enjoys playing together and had a purpose for each possession. Tennessee did not. The Vols weren't sulking or displaying poor body language but there just seemed to be a lack of overall fight with the crew. There were a few moments later in the second half after the lead grew to 20-plus. But it was too late.
Key stat
: The Wolverines were shooting over 50 percent and seemed to be an offensive machine throughout most of the latter stages of the first half and into the second. Michigan is starting to resemble the offensive squad that West Virginia had toward the last few seasons under John Beilein. This team went through growing pains last season under Beilein when it missed the tournament. This season it just took some time to get used to the system and once they grasped the concepts the Wolverines were a tough out.
Turning point
: I could go with the start of the second half when the Vols came out flat but I'd say it may have been when AD Mike Hamilton signaled the end of the Pearl era with his comments earlier this week on a Knoxville radio station. The Vols said the right things during the Thursday news conference but it was obvious that they saw the end was near for the staff. The staff couldn't hide its frustration, either.
The good
: Michigan has quite a youth brigade in Tim Hardaway Jr. and
Darius Morris
, two players who fully grasp the Beilein system and are excelling in it at this stage in the season. The role play from
Zack Novak
,
Evan Smotrycz
and
Matt Vogrich
was solid throughout and the Vols couldn't hang with supposedly higher level talent.
The bad
: Tennessee is usually one of the better traveling teams. It was clear that the Vols' fan base was done with this team considering the turnout. Tennessee gave the Vols' fans reason to stay home. If they had driven here then there would have been a reason for reimbursements.
Goodbye
: The end will likely come for Pearl sometime next week and the entire Vols' staff and probably for heralded freshman wing
Tobias Harris
, who is a talent that is probably ready to try the NBA draft.
What's next
: Michigan moves on to the third round to likely play top-seeded Duke, which plays Hampton later Friday afternoon. Duke and Michigan had a regular rivalry going for a spell but that has since been discontinued. Michigan has accomplished plenty so far this season and has nothing to lose going into a game against Duke.
November, 4, 2010
11/04/10
3:30
PM ET
Michigan junior
Zack Novak
should probably never have been playing forward, at least not in college hoops. A really skilled, 6-foot-4 forward might be a godsend in the high school game, but in college? Not so much. In the Big Ten, which is defined by its oftentimes plodding, interior style? Definitely not.
But that's what Novak did in his first two years at Michigan. This year, with athletic two-guard Manny Harris in the NBA, Novak is moving out onto the perimeter, and
he's making with the funny in discussing his former position
:
"I remember my freshman year someone kept complaining to the refs about what I was doing," Novak said, shaking his head. "I said: 'Bro, I'm like 6-2. What are you complaining about? You should score on me every time. What's going on?' "
This goes for pickup basketball, too. There's always that guy at the gym who's like 6-foot-7, and by default (because pickup games tend to not have many players taller than 6-foot-2) that guy gets matched up with me. My strategy, being about 6-foot-2, is to push and elbow and sometimes plain shove this player away from the hoop at all times. After this player catches the ball, I will play good, hard defense, and this player is probably getting fouled. Sorry, but that's the way it is.
Of course, this player always complains. But guess what, guy: Deal with it. Don't whine. If you can't deal with contact, that's your problem. Pickup rule No. 4,508: Don't complain if you're six inches taller than everyone else on the floor. It's lame.
This rule should be applied to the college game, too. Fortunately for Novak, his days of dealing with the whiners are over. He's moving to the two, where he can get plenty of looks from the perimeter (and add bonuses in the rebounding and toughness department, rather than being counted on as a rule). Michigan might not have its best team of all-time in 2009-10, but that transition is a positive one.
(Hat tip: UMHoops. Be sure to stop by for a photo of Novak that looks rather like an American Apparel ad.)
July, 1, 2010
7/01/10
2:47
PM ET
It hasn't been the best of offseasons for Michigan coach John Beilein. First the Wolverines lost their two leading scorers in
Manny Harris
and
DeShawn Sims
. Sims was a senior, but Harris' decision to enter the NBA draft especially hurt. Despite his apparent differences with Beilein, Harris was Michigan's most productive player, and his decision to go to the draft was unrewarded when Harris wasn't selected in either round last Thursday night.
[+] Enlarge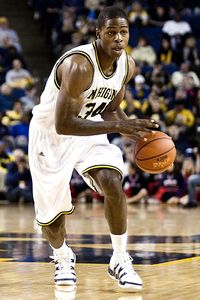 Icon SMIDeShawn Sims averaged 16.8 points and 7.6 rebounds per game last season for the Wolverines, but opted to enter the NBA draft.
Then Beilein lost a huge chunk of his coaching staff. Assistants
Jerry Dunn and Jeff Mahoney left after the season
. Graduate manager Patrick Beilein left for Dartmouth. And
fifth-year assistant Mike Jackson left to take an assistant's position at Purdue
.
Now there's more bad news to deal with:
Laval Lucas-Perry
, a redshirt junior expected to compete for Michigan's starting point guard spot, was bounced from the team thanks to a "violation of team standards," according to a Michigan press release. According to AnnArbor.com, Perry had the team standards "made clear to him on several occasions" and apparently didn't get the picture.
The move comes at a transparently bad time for Beilein and the Wolverines. Perry played in 32 games in 2009-10, starting 22 of them; his loss adds to the stark turnover throughout Michigan's program. That turnover will require Beilein to shift some personnel,
probably resulting in more time
at the shooting guard spot for either sharpshooter
Zack Novak
and
Stu Douglass
.
Fortunately, Beilein does have a pair of top 100 recruits on the way in 2010 --
power forward Evan Smotrycz
and
shooting guard Tim Hardaway Jr
. -- but the recruiting class isn't nearly good enough to make up for Michigan's losses this offseason. If Beilein had the college coach's classic three-year rebuild in mind when he took over at Michigan in 2007, that plan is decidedly behind schedule.
March, 12, 2010
3/12/10
12:49
PM ET
INDIANAPOLIS -- Michigan dictated the tempo early before Ohio State snapped out of its funk with ferocious defense and took total control in the final eight minutes.
Quick thoughts at the
halftime break
:
Early on, Ohio State looked like a team that hasn't played since March 2. The Buckeyes were sloppy with the ball and seemed content to launch uncharacteristic 3-point attempts. How did they turn things around? Great defense, especially on Michigan forward DeShawn Sims, who scored the first eight points for his team before slowing down a bit. The Buckeyes recorded back-to-back steals on a 25-6 run to close the half. Michigan committed nine turnovers, most of them during the major slide.
Michigan appeared more comfortable playing up-tempo in the first 12 minutes, as Sims found his shooting touch and guard Zack Novak attacked the basket with aggression. Sims swished three turnaround jumpers before Ohio State put Evan Turner on him. Manny Harris really needs to get more involved for the Wolverines.
Turner was his typical brilliant self with nine points, but he really got his teammates involved as the half went on. The National Player of the Year front-runner fed Jon Diebler (eight points), David Lighty (seven points) and William Buford (five points), and Ohio State piled up 25 points in the final nine minutes. Turner recorded six assists and is well on his way to another double-double (at least).
March, 12, 2010
3/12/10
10:15
AM ET
INDIANAPOLIS -- Four quarterfinal matchups in the Big Ten tournament are on tap today.
Let's take a quick look at each one.


No. 1 seed Ohio State vs. No. 8 seed Michigan (ESPN, noon ET)
Records:
Ohio State (24-7), Michigan (15-16)
Season series:
The teams split two matchups, with Michigan winning 73-64 in Ann Arbor and Ohio State prevailing 66-55 in Columbus on Feb. 27.
Advancement:
Winner faces Wisconsin or Illinois in Saturday's first semifinal (CBS, 1:40 p.m. ET)
What to watch for Ohio State:
National Player of the Year front-runner
Evan Turner
makes his first appearance in the Big Ten tournament, as Ohio State eyes a possible No. 1 seed in next week's NCAA tournament. The Buckeyes could sneak in to the top line, but only if they win the Big Ten tournament. Turner had 18 points, 11 rebounds and seven assists in the teams' last meeting after sitting out a Jan. 3 game at Michigan with a broken back. Ohio State ranks second in the Big Ten in scoring defense (60.4 ppg) and will try to contain Michigan star forward
DeShawn Sims
with
Dallas Lauderdale
.
What to watch for Michigan:
The Wolverines need a complete performance to beat the surging Buckeyes, and they'll look for big things from guard
Manny Harris
, who looked good in Thursday's first-round win against Iowa (22 points, 9 rebounds). Michigan played stifling defense for most of the Iowa win and needs a similar effort against Turner,
David Lighty
and
William Buford
. The good news is U-M seems to match up decently with Ohio State this year. "We beat them for a whole game, beat them for a half," Wolverines forward
Zack Novak
said Thursday. "They got us for one half this year, so we're confident going in."


No. 4 seed Wisconsin vs. No. 5 seed Illinois (ESPN, 25 minutes after Michigan-Ohio State)
Records:
Wisconsin (23-7), Illinois (18-13)
Season series:
The teams split two meetings, with each squad winning on the other's home floor. Illinois stunned Madison at the Kohl Center on Feb. 9, but Wisconsin surged to a 72-57 rout Sunday in Champaign.
Advancement:
Winner plays Ohio State or Michigan in Saturday's first semifinal.
What to watch for Wisconsin:
The Badgers might be the hottest team in this tournament, having won four consecutive games. It's no secret the surge has coincided with the healthy return of forward
Jon Leuer
, who won Big Ten Player of the Week honors last week. Leuer (14.9 ppg, 5.7 rpg) and forward
Keaton Nankivil
(8.7 ppg, 4.7 rpg) really balance out Wisconsin's offense and will put pressure on Illinois bigs
Mike Tisdale
and
Mike Davis
. The Badgers flustered Illinois star
Demetri McCamey
in Sunday's win and need a similar defensive effort from
Jordan Taylor
.
What to watch for Illinois:
McCamey's sideline confrontation with head coach Bruce Weber generated plenty of national attention, and it will be interesting to see how the mercurial star responds today. Illinois needs its best player to be at his best against a jelling Badgers team. The Illini are only 1-5 since their win in Madison and need to find other ways to score if the outside shots aren't falling. They also must rebound better after Wisconsin crashed the offensive glass well in Sunday's game.


No. 2 seed Purdue vs. No. 7 seed Northwestern (Big Ten Network, 6:30 p.m. ET)
Records:
Purdue (26-4), Northwestern (20-12)
Season series:
Northwestern won the teams' only meeting, 72-64, on Jan. 16, which marked Purdue's last loss with a healthy
Robbie Hummel
.
Advancement:
Winner faces Michigan State or Minnesota in Saturday's second semifinal (CBS, 25 minutes after first semifinal).
What to watch for Purdue:
After a rough start in its first game without Hummel, Purdue rallied last week for two wins. The Boilers need a strong effort today from center
JaJuan Johnson
, who was a nonfactor before fouling out against Northwestern the last time the teams met. Senior guard
Chris Kramer
also had a rough outing in Evanston and needs to be a bigger factor on both ends of the floor. Purdue's suffocating man-to-man defense could be the difference tonight. "Instead of someone picking you up at 21 feet, they pick you up at 90 feet," Northwestern coach Bill Carmody said.
What to watch for Northwestern:
The Wildcats actually match up well against Purdue. They have won two of the teams' last three meetings and choked away a big lead in the only defeat. Standout freshman wing
Drew Crawford
is very banged-up -- he had at least three ice packs on his body after Thursday's win -- so Northwestern needs production from other spots. Point guard
Michael Thompson
stepped up big against Indiana (16 points), but senior guard
Jeremy Nash
and sophomore center
Luka Mirkovic
need stronger performances today.


No. 3 seed Michigan State vs. No. 6 seed Minnesota (Big Ten Network, 25 minutes after Purdue-Northwestern game)
Records:
Michigan State (24-7), Minnesota (19-12)
Season series:
Michigan State won both meetings, but only by a combined eight points. After a 60-53 win in East Lansing, the Spartans needed a huge shot from
Kalin Lucas
to outlast Minnesota, 65-64, on Jan. 23 at Williams Arena.
Advancement:
Winner faces Purdue or Northwestern in Saturday's second semifinal.
What to watch for Michigan State:
The Spartans come off of a strong showing against Michigan on Sunday but will be without junior guard
Chris Allen
, who is suspended for the game. Allen ranks fourth on the team in scoring (9.1 ppg), and his absence will put a bigger burden on starting shooting guard
Durrell Summers
. Michigan State's front line has played better as of late and needs a strong performance against Minnesota bigs
Damian Johnson
,
Ralph Sampson III
and
Colton Iverson
. The Spartans haven't been great defensively this year, but they have held their last six opponents to just 57.2 points per game.
What to watch for Minnesota:
After two blowout wins against bottom feeders, the Gophers can really boost their NCAA tournament hopes with a win today. They paced Michigan State in both games and endured one of several heartbreaking losses in the meeting at The Barn. If seniors Johnson and
Lawrence Westbrook
continue to answer the bell like they did Thursday, and if
Devoe Joseph
builds on a strong performance, Minnesota will be tough to beat. "Last time we played Michigan State we lost by one point," Joseph said, "and we made a lot of mistakes in the last four minutes, so I definitely think we can pull off the upset."
March, 11, 2010
3/11/10
4:26
PM ET
INDIANAPOLIS -- After a scare early in the second half and in the closing minutes, Michigan held off
Cully Payne
and Iowa,
59-52
, to advance to the Big Ten tournament quarterfinals. The Wolverines will face top seed Ohio State on Friday (ESPN, noon ET).
[+] Enlarge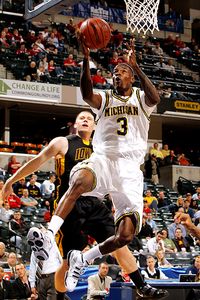 Jonathan Daniel/Getty ImagesManny Harris heads to the hoop for two of his 22 points Thursday.
Michigan got what it needed from its star players, particularly junior guard
Manny Harris
, who played a lot like he did early in the season. Harris was very aggressive on both ends of the court and finished with 22 points, nine rebounds and two assists. Wolverines senior forward
DeShawn Sims
continued to be a load in the low post, racking up 14 points.
Iowa never quit today, which is more than I can say for the Hawkeyes' last two outings -- historically bad losses to rivals Wisconsin (67-40) and Minnesota (88-53). The Hawkeyes carried over the momentum they built late in the first half, thanks to Payne, who scored a career-high 25 points. Iowa cut Michigan's lead to four points before a Sims block led to a
Zack Novak
3-pointer. The Hawkeyes also took advantage of Michigan's sloppiness down the stretch, cutting the lead to five with a chance to get closer.
Payne surpassed his previous career best of 18 early in the second half. But other than promising forward
Aaron Fuller
(10 points, 13 rebounds), Payne didn't get much help from his Iowa teammates.
The Hawkeyes struggled to hang onto the ball, committing 14 turnovers in the loss.
There's a lot of buzz here at Conseco about the future of Iowa third-year head coach Todd Lickliter, which could be addressed in a matter of moments. Lickliter has four years remaining on his contract but owns a 38-58 record at Iowa.
Stay tuned ...