College Basketball Nation:

Zack Rosen
February, 29, 2012
2/29/12
5:00
AM ET
1. Murray State has only one loss heading into the Ohio Valley Conference tournament in Nashville, Tenn., needing only to win two games for the automatic NCAA berth. "Our guys' sense of urgency is very high,'' Murray State coach Steve Prohm said. "They are a resilient group. The biggest thing I told them is that we have an opportunity to win another championship, which is special in its own right.'' Prohm said he told the team that winning the OVC could solidify a top-four seed.
2. Doc Sadler did his own deal at Nebraska last year, adding two years to his contract to take him through 2016 and ensuring a buyout of $3.4 million. The Huskers host Iowa on Wednesday in an attempt to get to five Big Ten wins in their first season in the conference. Nebraska doesn't have any kind of glorious NCAA tournament resume. The decision athletic director Tom Osborne faces in the short term is if Sadler is the coach long-term to turn the Huskers into a top-half Big Ten team, and if it's worth shelling out for a major buyout so soon after giving him an extension. Sadler didn't finish higher than seventh in his first five seasons in the Big 12. He'll finish near the bottom in the Big Ten in year one. If he will have time to show improvement in a new league is an unknown.
3. Columbia coach Kyle Smith is raving about the strength of the Ivy League as he prepares to host Harvard on Friday night. The former Saint Mary's assistant said that the Ivy League is better than the West Coast Conference was in some of the years he was in the league. He also compared Penn guard
Zack Rosen
to, gulp, Steve Nash. "He's smaller but tougher than Nash in college in my memory,'' Smith said.
February, 26, 2012
2/26/12
1:20
AM ET
Click here
to read our afternoon recap. Now back to the lecture at hand, which comes in three parts:
The Rivalry


No. 2 Syracuse 71, Connecticut 69
: One of the many things to love about this Syracuse team -- besides its great zone defense and incredible depth and talent and length and pretty much everything besides defensive rebounding -- is how well it handles close games. Since the Jan. 21 loss at Notre Dame, Syracuse has taken respective best shots from Cincinnati, West Virginia, Georgetown, Louisville, South Florida and now at UConn, and each time the Orange have either pulled away late or made the key stop down the stretch to preserve the narrow win. It's a real skill, and it isn't entirely intangible; when you have a defense this good, you tend to get a lot of stops, and there's no reason why that wouldn't be true in the final minutes of any given game, too. But however you quantify it, the Orange win close games. Such traits tend to come in handy in March.
As for Connecticut? While the Huskies didn't get the win, they appear to be rounding into form, or at least starting to figure a few things out. UConn had its fair share of issues with Syracuse's zone, and there were plenty of bad shots to be had, but the Huskies were much more balanced (four players finished in double figures, while
Ryan Boatright
and
Shabazz Napier
combined for 13 assists) and competent on both ends of the floor in the second half. Unless it suddenly begins shooting the ball from outside at a much higher clip, this team probably has a ceiling. But there are plenty of realistic improvements to be made. Even better, many of them appear to be in progress. Let's not bury this team just yet.
The Upsets


Purdue 75, No. 13 Michigan 61
: When Purdue guard
Ryne Smith
was asked what he thought about guard Kelsey Barlow's dismissal from the team last week, he was direct, even curt: "Addition by subtraction," Smith said. Apparently he was right. Whatever the reason, Purdue played its best game of the season Saturday at the most important time, containing Michigan's outside shooters and slowly stretching a second-half lead thanks to the heady play of point guard
Lewis Jackson
, forward
Robbie Hummel
and, most importantly, guard
Terone Johnson
, who scored a career-high 22 points and made a handful of key plays down the stretch, including two big and-1 finishes around the rim. Purdue is an unconventional team with no true post presence; the Boilermakers rely on Hummel's outside-in versatility and an extended, guard-oriented style. This makes them a great matchup for Michigan, and, in their own way, a dangerous team.
In any case, Purdue can now feel entirely safe about its at-large NCAA tournament chances. Beating Michigan at home -- the Wolverines' first home loss of the season -- is most definitely a signature victory. And it couldn't have come at a better time.


TCU 83, No. 21 New Mexico 64
: Let's hear it for TCU! A round of applause is most definitely in order. At this time in 2011, the Horned Frogs were in the midst of a season-ending 13-game losing streak, en route to an 11-22 finish. This season is an entirely different story: TCU is playing its best basketball down the stretch, having won four of its past five (and eight in a row at home) and toppling ranked UNLV and New Mexico and a good Colorado State squad in the process. The key: great 3-point shooting. The Horned Frogs lead the league in long-range makes in conference play, and they're undefeated at home as a result. What a difference a year makes.
In the meantime ... um, what happened to New Mexico? Last Saturday, we watched in near-awe as the Lobos thoroughly dominated UNLV, which came just a few days after a 10-point win at San Diego State. Steve Alford's team, once a relatively unheralded efficiency darling with few good wins to show for it, looked set to run away with the Mountain West and make a deep run into March. Since then, the Lobos are 0-2 and are now in a three-way tie. A loss at Colorado State makes some sense; we know the Rams are tough, particularly at home. And this is not to take away from TCU, which (as you just read above) is giving everyone more than they bargained for in February, particularly in their own building. But a 19-point blowout loss? Isn't this the team that just rolled UNLV in the Pit and moved to 8-2 in the league? It's kind of weird, right?


Georgia 76, No. 11 Florida 62
: This is an upset, of course, but I'm not sure we should be all that surprised. Frankly, I'm not sure if a Florida loss should ever truly catch us off guard. Don't get me wrong: The Gators are good. But they're a specific kind of good. When their steady diet of 3s are falling, they can shoot opponents off the floor before said opponents even have a chance to catch their breath. But if the shots aren't going down, Florida has no Plan B.
Patric Young
is the only true post presence, and his offensive game is still a work in progress (and he's still underutilized as a scoring threat to boot). The Gators' defense -- which ranks fifth in opponents' points per possession in SEC play, No. 10 in opponents' 3-point field goal percentage and No. 10 in block rate -- still isn't good enough to hold opponents in check when the shots clanging off the iron and the opponents start turning long rebounds into secondary breaks and easy buckets. Florida might yet get there on the defensive end, but it isn't yet. If this UF team has a lower ceiling than it should, well, that's why.
The Bubble Specials


Alabama 67, Mississippi State 50
: It was instinctively easy to write off the Crimson Tide when coach Anthony Grant suspended
Tony Mitchell
and
JaMychal Green
; it was easy to predict a late collapse, even a fall off the bubble, for a team whose two leading scorers would be missing such important games down the stretch. Instead, the Crimson Tide keep, well, rolling. They've now won three in a row and prevented any hint of a collapse. Mississippi State, on the other hand, appears to be doing exactly that: The Bulldogs are collapsing. This is the Bulldogs' fifth consecutive defeat, a stretch that has included some good basketball (in the near-miss vs. Kentucky this week) but also some baffling losses (the loss at Auburn especially). It's no stretch to say Mississippi State -- which for much of the season looked like a tourney near-lock -- could wind up missing the tournament after all. The Bulldogs are, after all, 6-8 and tied with rival Ole Miss in the SEC standings. Ouch.
[+] Enlarge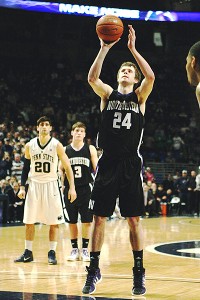 Rob Christy/US PresswireJohn Shurna's free throws pushed Northwestern past Penn State -- and kept an NCAA bid in sight.
Northwestern 67, Penn State 66
: Breathe a big ol' sigh of relief, Northwestern fans: In the chase for their first NCAA tournament appearance in school history, the Wildcats remain very much alive. Senior forward
John Shurna
made the game-winning free throws with just 2.6 seconds remaining, giving Bill Carmody his first win in State College since 2002. Big challenges still lie ahead: Ohio State comes to town on Wednesday, followed by next weekend's season-ender at Iowa, a team that just knocked off Indiana and Wisconsin in Carver-Hawkeye Arena. But for now, some minor rejoicing is in order. Northwestern's tourney hopes are still very real.
Rutgers 77, Seton Hall 72 (OT)
: Let's not take Seton Hall off the bubble just yet, eh? The Pirates got a great win over Georgetown this week, one that could have firmed up a previously shaky at-large profile. All Seton Hall needed to do the rest of the way was avoid bad losses. Well, losing to a young, 13-16 Rutgers team at home is just that. Next weekend, the Hall travels to DePaul. If the Pirates lose there, all the good vibes from the emphatic Georgetown victory will have almost entirely faded from the picture.


VCU 89, George Mason 77
: First things first: Thanks to Drexel's one-point win at Old Dominion on Saturday afternoon, VCU's win over George Mason won't give them a share of the CAA title this season. Bummer, sure, but the Rams would surely settle for a spot in the NCAA tournament, something to which they're at least a little closer after this victory today. As a league, the Colonial's top teams (Drexel, VCU and GMU) didn't get quality nonconference wins (VCU's best came against South Florida, for example), so any at-large consideration will have to come from separation at the top and perhaps a pair of deep runs for both Drexel and VCU in the CAA tournament. A win here was a must, and Shaka Smart's team got it, behind Bradford Burgess' career-high 31 points.


Dayton 76, UMass 43
: A home loss to UMass can't be called "bad," but for a team like Dayton -- which is desperately scrapping for a spot in the NCAA tournament -- it could have been disastrous. Instead, the opposite happened: UD won, and won big, looking very much like one of the A-10's best teams and a squad worthy of a tourney bid in the process. We'll see how the Flyers finish up, but if they're one of the last four in, they might just be one of the play-in game candidates, which are held in -- you guessed it -- Dayton!


Saint Joseph's 82, No. 22 Temple 72
: Speaking of somewhat fringe Atlantic 10 tournament hopefuls, the A-10 can't offer a bubble team a better shot at a marquee win than Temple on its own floor late in the season, but the Hawks still had to overcome Fran Dunphy's typically peerless bunch, which had won its previous 11 games and 13 in the 15-game stretch beginning with its Jan. 4 victory over Duke. Phil Martelli's team is now 9-6 in the league and 19-11 overall, and it added the one thing it desperately needed to its profile: A legitimate top-25 RPI win. Temple is most definitely that.


Penn 55, Harvard 54
: Just when you think it's time to plan a long-awaited Harvard hoops coronation, Penn's
Zack Rosen
comes along, scores 20 points, makes a huge jumper down the stretch and ices two game-winning free throws in the final 30 seconds. And all of a sudden the Ivy League race is legitimately up for grabs with both of these teams having two losses. (Another one-game playoff for the Crimson? Oh boy.) As an at-large entity, Harvard is still in decent shape, but its profile isn't so strong that it can afford to lose at either Columbia or Cornell in its final two games, lose out on the Ivy auto-bid, and still feel safe about being picked to join the group of 37 at-large teams. Big days ahead for Tommy Amaker's team.


Washington 59, Washington State 55
: For the first 10 or so minutes of the first half, it looked like Wazzu was going to hand its in-state opponent the type of loss that would severely damage Washington's at-large chances. But the Huskies fought back and, as the AP report notes, won the game's most important battle -- at the charity stripe: "Ultimately, the game came down to free throws. WSU (14-14, 6-10) went 11 of 12 to keep the game tied at 28-all despite shooting 27 percent in the first half. In the second half, the Cougars shot 6 of 20 from the free throw line, while the Huskies, who only went 2 of 5 in the first half, finished 17 of 24." The win keeps Washington on the right side of the bubble for now, but UW's marginal profile might not be able to survive a loss at either USC or UCLA going away.

Xavier 65, Richmond 57
:
Kenny Frease
's season highs in both points (19) and rebounds (14) helped carry Xavier to an ugly but ultimately victorious Saturday. A loss here would have kicked Xavier off the bubble for good and almost certainly, barring an upset in the A-10 tournament, ended Chris Mack's 100 percent NCAA tournament hit rate in his XU tenure. Instead, the Musketeers live to fight another day.


No. 21 San Diego State 74, Colorado State 66
: The Rams pass at least two NCAA tournament bubble tests: The RPI/SOS numbers are great, and they sure do look like a tournament team. But will that be enough? A win in Viejas Arena would have provided a tidy bookend to this week's huge victory over New Mexico, but the loss isn't a huge deal. Colorado State, which is undefeated at home in Mountain West play, hosts UNLV in Fort Collins in just three days' time. Win that one and the Rams are probably set.
June, 1, 2011
6/01/11
5:27
PM ET
By
Dau Jok
and
Zack Rosen, ESPN.com
| ESPN.com
Editor's Note: During their trip to Rwanda, Penn teammates Dau Jok and Zack Rosen provided a series of blog updates. For more on the tragic, yet inspiring reasons, behind Dau's mission to start up the Dut Yok Youth Foundation in his native South Sudan, read Dana O'Neil's story here. Also make sure to check out previous entries in Dau and Zack's blog journal.
From Zack:
KIGALI, Rwanda -- Spending time at the Agahozo-Shalom Youth Village in Rwanda has been an enlightening and overwhelmingly unbelievable experience. My heart is connected to this place and that feeling will consume me until my days are through. I have learned more than I can describe and I have grown as an individual. I would like to leave you all with some final thoughts and impressions from East Africa.
Before departing, the group gathered under the mango tree in the center of the village. One of the leaders of the village who has been here since its inception shared with us that the worst thing in the world is to go through life as a taker. He commended us for being givers and asserted that the world could use more givers. When you really give of yourself it is so rewarding and people appreciate it deeply.
[+] Enlarge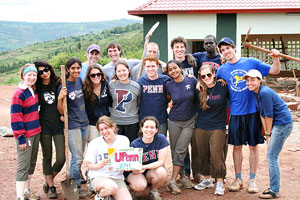 Dau JokPenn's presence was certainly felt at ASYV.
As we were nearing our time to leave, the people around the place got sad, but they sincerely thanked us from the bottom of their hearts. From the staff, to the kids, to the workers, to the administrators, they saw what we had built and they appreciated the time and effort that we invested in helping them. Seeing another person smile and get emotional and knowing that you are the cause of that response is quite possibly the greatest feeling in the world. Taking is easy; giving is difficult. Choose the hard path.
After the Holocaust, the world pledged "never again." This vow didn't just apply to the Jews, but somewhere, somehow, it wasn't understood. The world obviously hasn't fulfilled its pledge. Since the Holocaust, many other genocides have been planned and executed, including the terrible Tutsi genocide that happened right here in Rwanda, which is the reason why this group is even here in the first place.
Massacres are occurring right now as you're reading this, despite the lack of awareness and the fact that it hasn't been given the title of genocide (look up the situation in the Congo). Will humanity ever learn its lesson? What can we do to prevent this from happening?
The Tutsi genocide will never be forgotten and because of it, the county of Rwanda will constantly have to battle an image of danger and hostility. Perception is different from reality. One of the counselors in the village (when reading this, he will know who he is) sat me down and asked, "What will you do when you get back to America?" Concerned about the impression of Rwanda, he proceeded to implore me to share what I've seen in this country and to express the images to the people in America.
So here goes: Rwanda is a beautiful, recovering, developing, SAFE place! Rwanda is characterized by beautiful landscapes, friendly people, community and faith (not to mention an abundance of President Obama clothing). It is a country that foreigners shouldn't fear traveling to and visiting. We must learn from what happened here and no better way than to go and actually see it. The hope is that the country will one day be developed and thriving. ASYV promises to play a crucial role in the realization of that hope.
Lastly, I would like to talk about the people here and the village as a whole. Sitting in Newark International Airport on May 18, I expected to go to Rwanda and inspire the kids at ASYV to do better than they thought possible. I was gearing up all of my inspirational juices and planning ways to motivate. So much for expectations.
As I sit at the gate here in Kigali International Airport waiting to board a plane back to America, I am the one who has been inspired and it's all because of the kids at Agahozo-Shalom. I am beyond inspired. The youth here are unbelievable: They are intelligent, talented, loving, caring, energetic and they work excruciatingly hard with curiosity and without complaints. This isn't just one kid or even a small portion of kids; it's the majority.
They wake up at about 5:45 a.m. every day and are in school by 7:15. They are in class for about seven hours straight, operating on whatever small amount of bread and porridge they ate for breakfast. Lunch is at 2 and after lunch (which one of the girls at Table 7 sometimes skips to stay at school and learn some more), the kids are usually involved in some kind of activity -- be it EPs (enrichment programs like art, music, carpentry, etc.), clubs, sports, tikkun olam, or career skills. When they aren't participating in their activity, you can find them studying inquisitively.
The dining hall is packed at 8 for dinner and the meal is followed by family time and more studying (sometimes music and dancing). The youth then rest their heads on their pillows and dream about the opportunities that await them tomorrow. The morning alarm sounds and the process is repeated.
[+] Enlarge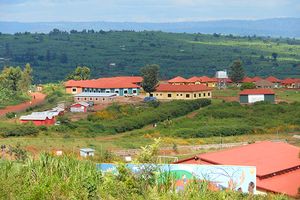 Courtesy Dau JokThe Agahozo-Shalom Youth Village continues to educate and enrich the lives of Rwandan youth.
The youth here are filled with love and belief. They genuinely attack each day with energy and excitement and this is something we all should strive to do in our daily lives. Because of their approach and the example that they have set, I am energized and inspired to do more.
I am aware that these blog posts are being printed out and shared with everyone in the village, so I just want to say thanks to all of you.
You have inspired me and I don't think a day will pass from here on out that I will not think of you and my time in your home. Merakoze! (that's "thank you" in Kinyarwanda)
I would also like to personally thank Anne Heyman. Without her vision and courage, none of this would be possible. Special shout-out to Rachel and Ariela for planning this trip and treating us like family. Additionally, my sincere gratitude to the members of this group -- you are responsible for the success of the trip and I am grateful your efforts and camaraderie. Much love.
The concept of time has characterized a lot of our group conversations here. Walter Bond, the prominent motivational speaker, says that time is not something that you spend; it is something that must be invested as your most valuable asset. Our time here was undoubtedly a great investment and I feel beyond blessed to have had this opportunity. I would encourage each and every one of you to seek out similar opportunities to serve and to invest your time in a worthwhile cause.
As the saying/song/dance goes here on the basketball court in the Village, "Dunbugu, Dunbugu, Du, SESSA!" (That's it!)
From Dau:
Although I am frustrated and disappointed I did not continue my journey on to South Sudan, I am also glad and blessed that I enjoyed every minute in Rwanda. Coach Dan Leibovitz challenged me to give the village youth my best and I did exactly that. They are a special brand of people who have created a memorable chapter in my life.
I want to thank Penn, Fox Leadership, Penn Hillel, and everyone who made the trip possible. I would like to specially thank Rabbi Mike Uram of Penn Hillel, Rachel, Agahozo-Shalom Youth Village, Ariela, Anne Heyman (for having the guts to create this monument that will change Rwanda, Africa and the world), my fellow classmates on this trip, the village youth and staff, and everyone associated with the trip.
Another shout-out should go to Brett, Dana, Coach Leibovitz, Zack (Z-Ro), Lee Rosen (no offense) and everyone at ESPN.com for making the blog possible. I am very thankful for the opportunity and this space has provided a platform to share another side of the world people might not necessary be exposed to.
Also a special thank you as well to those helping me with the Dut Jok Youth Foundation, from the youth (Penn team of Zack King, Brandon Bell, Haywood Perry III, Triston Francis, Lucas Isakowitz and everyone else) to the NGOs to people like Bruce and Margie. I am just as confident today as I was when we started that the foundation will change many lives.
My body is currently fueled with gratitude and appreciation and I would like to thank God and ask him for world peace. We can all be soldiers of peace, love, respect, responsibility, accountability, change, passion, success, wisdom, and doing the "impossible."
Thanks to all for following along on our journey!
"Act as if what you do makes a difference. It does." -- William James
Peace and Love,
Dau and Zack
May, 30, 2011
5/30/11
5:37
PM ET
By
Dau Jok
and
Zack Rosen
| ESPN.com
Editor's Note: In this space, Penn teammates Dau Jok and Zack Rosen will provide a series of blog updates on their trip to Africa and Dau's work to start up the Dut Jok Youth Foundation to help his native Sudan. For more on the tragic, yet inspiring reasons, behind Dau's mission, read Dana O'Neil's story here. Also make sure to check out previous entries in Dau and Zack's blog journal.
From Zack:
AGAHOZO-SHALOM YOUTH VILLAGE, Rwanda -- I eat meals at the same table, table 7, every day. I have formed terrific bonds with the bright group that spends meal time at this table. The intelligence of these young kids is astounding. Can you imagine? They have overcome everything and are speaking English, conducting calculus and executing experiments.
[+] Enlarge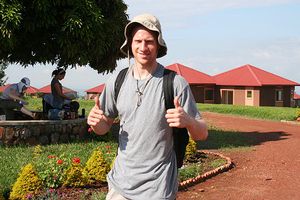 Dau JokZack bids farewell to the Agahozo-Shalom Youth Village and his friends at Table 7.
One of the girls wants to be a computer engineer. Another aspires to be a lawyer. A young man dreams of becoming a scientist. They love to study and they recognize that education will scab wounds and lead to a better life, a better Rwanda. We share great conversation and an abundance of laughter and it gives me so much pleasure to eat in the dining hall at the top of the hill every day, spending time learning, sharing and smiling. Today, some of us exchanged Facebook names and email addresses and I look forward to my Gmail inbox being overloaded with updates from Table 7.
Agahozo-Shalom draws young people from every region of Rwanda and this is intentional. The vision is that in their time here in the Village, the kids can learn the necessary skills to one day go back to their district and begin the work to repair their respective territories. With people from all over the country equipped with the capability to heal, the hope is that one day every district will be transformed and the transformation will occur because of its own inhabitants.
From Dau:
Today was a very strange day for me in the youth Village. Every Saturday the students here come together at 6 in the morning and do the famous "Muchaka Muchaka," an exercise of military origins which the kids turn into fun. I woke up at 5:45 in order to participate, and as we ran from the Village gate down towards the neighboring village of Rubona, we chanted, sang, clapped and maintained ranks in lines of four.
I had done Muchaka Muchaka before, on our second day in the Village. But this one felt a lot more natural; I knew many of the chants this time, so I could sing along. These chants are mostly single phrases sung and repeated in call and response. They speak of hope, love, brotherhood, sisterhood, strength, courage, praise and optimism.
After running and singing for about 45 minutes, we returned to the Village. After the run, I had an amazing time sipping porridge and eating a bun for breakfast with the kids before joining the Penn group for a meeting. We soon met up with the kids for the national monthly day of service, Umuganda. We weeded the banana plantation next to the school for two hours. It was hard work, but it was a far cry from the volunteer work that the kids do in the broader community during the week.
Two of the main principles of Agahozo-Shalom Youth Village are tikkun halev (repair the heart) and tikkun olam (repair the world). In their first year, students focus on tikkun halev by looking inward to focus on themselves and their own healing through their new families and slowly developing a community.
After their first year, they move on to tikkun olam. Second-year students leave the village every Tuesday afternoon to go to the local clinic to help out, teach at the school or help "cultivate" (clear large swaths of land) for local farmers. This is a wonderful opportunity for the kids to give back to their extended community and teach them the value of giving. After all, everyone has something to give. But that was Tuesday and this was Saturday. After our farming stint, the Penn group spent a few hours relaxing at our guest house, chewing sugarcane, cracking jokes and generally having a great time.
Lunch was very difficult because today was originally meant to be my last day at the Village. I was scheduled to depart at 4 p.m. local time for Kigali, and I spent the lunch hour saying goodbye to the kids, especially the two houses with whom I feel closest. Each kid lives with 15 brothers (or sisters) his age in a house. These houses are headed by a House Mother and a Counselor who acts as a big brother or big sister. Five nights a week they hold an hour-long "family time" at which they reflect about their day and talk about how they feel about what they're learning, relationships they're building or anything else on their mind.
[+] Enlarge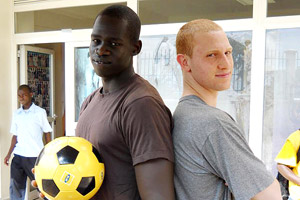 Dau JokDau and Zack will now return home from Rwanda.
But the house Ben and I visited this Tuesday spent the hour in a bit more of an upbeat mood. Instead of sitting down and reflecting as most families do, we were dancing, singing, rapping, joking, doing magic tricks, arm wrestling and competing in push-up contests. We were able to interact as peers and friends rather than get stuck in a visitor-host relationship.
After lunch today, the Penn group (along with a group from Tufts University that just arrived) were sent off on a scavenger hunt. At this point (an hour before I was to depart for Kigali), Rabbi Mike pulled me aside. He told me that the University of Pennsylvania and those associated with this trip were concerned about my visit to South Sudan. Recent developments in South Sudan have made it a dangerous place to travel according to Homeland Security and other international sources.
South Sudan has set July 9 as the day it is to be recognized as an independent nation, and in the meantime the North is doing all it can to instigate another civil war and derail the South's march toward statehood. Northern elements have taken over Abyei, the disputed oil region on the North-South Sudanese border.
The risk was too big for everyone associated with the trip, and after a series of phone conversations with my mother, she agreed that I should not fight Rabbi Mike's request not to go. In my culture it is a bad omen when many people say no, and it is thought that at a certain point it is wise to do what the many say, despite your own desire to defy them.
All things point to another war instigated by the North. Last night an Antonov, a Russian-made missile plane, hovered over cities in South Sudan. Further, tribal wars within South Sudan have intensified. Zack and I also read that Eritrea is forming forces so that they can fight South Sudan and then use "peace" as a tool to broker an agreement with the new country. Eritrea has a history of such political stunts and will likely try to establish a base in South Sudan to fight Ethiopia.
In my view, war is inevitable. The question is merely when and whether the international community will be willing to intervene given the atrocities likely to occur if the last civil war, which left nearly two million dead, is any indicator.
Although the fact that I will not be going back home is disappointing, my family and friends feel it is the safest move. This is not because I am in any more danger than anyone else in South Sudan, but because my family has seen the wrong side of a bad omen with my father. We went to America to
escape the violence and gain an education
so that we could come back and build up South Sudan by teaching the youth empowerment.
But as Bruce Koeppl puts it, "You can't change anything dead ... there is no foundation without you, your dreams and aspirations for your people vanish when you vanish." I still believe that if something is going to happen to me, it will happen regardless of where I happen to be.
Nevertheless, despite this setback, the plans for the foundation are still in motion. For now I will kneel and pray to God that the world intervenes before it is too late. Because if they do not, I fear that families will be torn apart or lost completely and my homeland will have to relive the horror of the 1990s.
Peace and Love from ASYV,
Dau and Zack
May, 27, 2011
5/27/11
9:52
PM ET
By
Dau Jok
and
Zack Rosen, Special to ESPN.com
| ESPN.com
Editor's Note: In this space, Penn teammates Dau Jok and Zack Rosen will provide a series of blog updates on their trip to Africa and Dau's work to start up the Dut Jok Youth Foundation to help his native Sudan. For more on the tragic, yet inspiring reasons, behind Dau's mission, read Dana O'Neil's story here. Also make sure to check out previous entries in Dau and Zack's blog journal.
From Dau:
AGAHOZO-SHALOM YOUTH VILLAGE, Rwanda -- Our service project is landscape work outside of the new canteen in the youth village. Every week the kids have the opportunity to buy items from the canteen, which they operate themselves. The youth receive an allowance of 1,000 Rwandan Franks each month and the canteen is their store, their one opportunity at business interaction.
The construction overseer gave us free reign over the design of the outside of the new canteen. We decided to build three tables in the front of the canteen and three benches in the back with a fire pit in the middle. The group was responsible for digging the holes (half-meter deep and 3 meters long) for the foundations of the tables and benches. With help from the construction workers (more on them in a bit), we finished the holes and turned up the soil around them so it became soft and manageable.
[+] Enlarge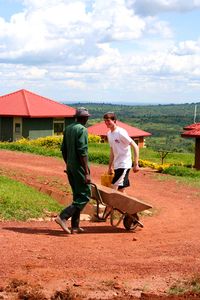 Courtesy Dau JokThe construction workers and Penn students worked side by side.
We then brought big stones by the truck-full to fill the holes to establish their foundations. Some of the group spent time working on the fire pit, some spent time mixing the cement, and others supplied the water in big jerry cans or lugged dry cement and sand in wheel barrows. Rabbi Mike and others spent time laying bricks to create a path around the village's center circle. All the while the construction workers took more control as the labor became more and more skilled, but for the most part we worked alongside the construction workers very well given the language barrier. They controlled the engineering aspect of the project as we continued to provide man power.
On the second day, we started laying the grass. Carrying each patch of grass was a challenge -- you'd be surprised at how heavy a block of transplanted grass can be. To date, the outside of the canteen is coming along well, but it is mostly due to the efforts of the construction workers. We are humbled to be just a little piece of the vision that founder Anne Heyman came up with for ASYV.
The construction workers arrive here every morning at 6:30 a.m. by foot or bike. Some live outside the village gate while others live two hills (at least an hour walk each way) from the village. Men and women, they all endure the heat until 3 p.m. without eating lunch. Almost all of them eat only one meal a day. The village actually pays them far above the average salary in Rwanda, an estimated $1.50 a day.
Some of the workers are old, some very young, some wounded, but they all have the drive to get the job done. In my estimation, the average weight of one of these workers is 150 pounds, yet their lean bodies are as tough as steel. Can you imagine showing up without complaint day after day, not worrying about the stain on your shirt or about how wrinkled it is? Or whether you got your favorite latte that day? There are so many excuses that these men and women might turn to in order to do less and complain more, but they handle their jobs with professionalism and profound pride. They are, to me, the definition of what it means to earn everything that you get in life.
Perhaps the proudest moment we felt as a group was when we were given the opportunity to teach the workers English. It was amazing watching people of all ages and genders help each other struggle through the challenges of learning English. We taught them the basic greetings and words like up, down, in, out, sing, dance and all of the colors. They were so eager for an opportunity to learn that it made me think of what the United States could be capable of if most young people had the same thirst for an education.
[+] Enlarge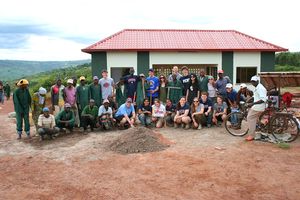 Courtesy Dau JokThe students became teachers when it came to teaching basic English to the locals.
The group has two more days to contribute as much as we can to the project. We hope our small efforts made some difference because, after all, it is small acts that make dreams come true. We will wake up early tomorrow morning and greet the ever enthusiastic workers at the site. The village has provided these people opportunities and they are taking advantage of them -- one brick at a time.
A special thank you to Bruce Koeppl, and a shout-out to the group on this service project and to Rabbi Mike -- an amazing group of people.
From Zack:
The day before we left for our service, there was an article in the Newark Star-Ledger about Luol Deng, the ironman of the Chicago Bulls. The writer offered that the preeminent historian David McCullough likes to say that you can't know someone until you grasp specifically what they've experienced in life. You cannot fully understand an individual, a people, a family, a town, or a country until you know the precise events that governed their motives and the spirit of those involved.
This is what we have been trying to do here in Rwanda: Trying to understand what these people and this country have been through after experiencing the horror of war and genocide. While we will never ever truly understand and fully experience what happened here, today drew us one step closer.
Rabbi Mike shared with the group that he considers a holy experience to be something that peels back a layer of your skin and causes you to dig deep and examine. Today we visited the Nyamata Church. At this place of worship, 6,000 Tutsis were murdered in the genocide (some of the bodies were identified because their ID cards were still there, but most of the skulls and bones remain unidentified).
The place reveals reality, as the way it looks today is very similar to way it looked after the killing took place. It's all there. The outside of the Church is drenched with bullet holes. The clothes of the victims lie on the Church benches. The scene is exactly as it was some 17 years ago. In the back of the Church, mass graves contain the skulls and bones of those who were slaughtered. You can view them.
The experience of seeing this and looking straight into the eyes of the murdered caused an emotional response. As I walked up the steps from the graves, I simply broke down. I couldn't handle it. I couldn't believe what I had just seen. It's different when the remnants of human bodies are right there in front of you. My stomach knotted and my eyes shed tears.
When we returned to the village, I ran into one the young men here with whom I have grown close. Typically, we exchange greetings and ask each other how our day went. He asked me what my day was like and what I had done. When I informed him that I had been to Nyamata, he immediately questioned me. What did you learn? What did you see? Difficult as it was, I told him of my experience. After some brief conversation, he informed me that his grandparents were murdered at Nyamata. Any collection of skulls and bones that I had been staring at just hours ago could've been those of this boy's grandparents. Unreal.
On this day, my faith was challenged. My belief that people are good and that they have the intention of doing the right thing, my optimism, took a major hit. Seeing all of this was different, and for me, it made the genocide real. How could this happen? How could humanity initiate and execute such horror?
Rwandans believe in a better future and they have faith in people, even after all that they've been through. They continue pushing forward. They smile.
As Dau often reminds me after all that he has been through in his life, you just have to believe. You have to pray and you have to believe. You can't lose faith and you can't give up. Those are not options. Rather, you have to do the things on a daily basis that move humanity in the right direction. Change doesn't happen overnight, and to me, it is not a one-hit wonder. It is a process and it requires courage, will, and work.
Greatness is the accumulation of little actions done well, over and over and over again. You can only control what you can control and it is our responsibility as humans to do everything in our power, every single day, to effect change. Be a role model, set the example. At some point in our world, we must cause good to outweigh evil.
I was listening to Dau's iPod on the ride back to the village from Nyamata. One of the songs was about love. The artist posed the question: How would we treat each other if we knew that love had no color?
Thank you all!
Peace and Love from ASYV,
Dau and Zack
May, 25, 2011
5/25/11
5:34
PM ET
By
Zack Rosen
and
Dau Jok, Special to ESPN.com
| ESPN.com
Editor's Note: In this space, Penn teammates Dau Jok and Zack Rosen will provide a series of blog updates on their trip to Africa and Dau's work to start up the Dut Jok Youth Foundation to help his native Sudan. For more on the tragic yet inspiring reasons behind Dau's mission, read Dana O'Neil's story here. Also make sure to check out previous entries in Dau and Zack's blog journal.
From Zack:
AGAHOZO-SHALOM YOUTH VILLAGE, Rwanda -- The language of basketball is international. While we might not know how to speak Kinyarwanda and they might not be able to communicate in English fluently, we all speak the language of basketball. The team here trains outside on a concrete court with rims that have no nets. Rain or shine, they practice. The coach is phenomenal and the kids really love the game.
On Saturday, Dau and I coached the team here at ASYV and the kids thoroughly enjoyed it. We taught them defense, from 1-on-1 up to 5-on-5. We showed them the proper principles and the correct positioning for a solid man-to-man defense and they were greatly appreciative. "You teach us things we do not know. Thank you," said one of the youth.
On Sunday, they divided up into two teams. Dau and I coached, and two other volunteers -- Max and Brian -- jumped in as we scrimmaged for about two hours. There are some kids here that can really, really play. While they don't keep score, the match was competitive and both sides were really eager to learn. When I substituted my big guy out of the game, he came right up to me and questioned, "Coach, what can I correct?"
Thus far, basketball has been the easiest way for us to connect with the people here. When the language barrier is problematic, we can communicate by physically showing what we mean and they really understand. They are thankful that we are helping them and their eagerness to learn the game and be shown different aspects of basketball is both impressive and refreshing. I'm grateful for the springboard that basketball has been able to provide in the effort to connect.
As the slogan goes:
I love this game
.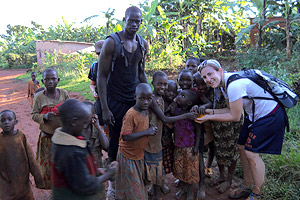 Courtesy of Dau JokDau has a special connection to the African children.
From Dau:
I have felt right at home in the Village, however, I am struggling with the idea of getting closer to the kids because I know that in less than a week, I will be leaving. Connecting with these people takes no effort for me because I feel as though I am one of them and they feel the same.
Yet the reality is that I am leaving and I worry that if I become emotionally attached to them it will add to the sense of betrayal with which they have so much experience. One of them asked me the following question: "When the group leaves, are you staying?" I had no answer for him.
I love the company of these kids; they are extremely bright young people. The most exciting part of my experience thus far was when I asked one of the boys to sit with me in a place he normally would not sit. He was uncomfortable at first, but we ended up having a blast. I made him realize that to be a leader means to meet different kinds of people and be exposed to all sorts of environments. Diversity and exploration are key elements of leadership and this was the way I was able to teach them.
I believe being around these kids with so much joy, love, aspirations, hope, humbleness and respect has changed me for the better, and I think it will do the same for the group.
On Sunday, we took a seven-mile hike to Lake Mugesara, at the bottom of the valley where the magnificent ASYV stands. It started raining minutes after departure and Narsis, one of the youth Village's guards and our hike guide, politely kept waiting for whoever was falling behind. As we walked, the kids from the local villages stared and waved, fascinated by the "muzungus" (white person in Swahili and Kinyarwanda).
The villages these kids live in around ASYV are exceptional in their own rights. Farming is the main occupation of the locals and the staple crops are banana, sweet potato, sugarcane, sorghum, and various fruits. Unlike Southern Sudan where I lived, Rwanda is very hilly and the walk down was slippery, but relatively quiet because it was raining. The walk back, however, drew more and more kids, especially since many members of the group held digital cameras. For me, the hike was emotional, peaceful, reflective, quiet and full of memories.
[+] Enlarge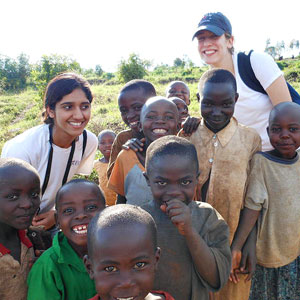 Dau JokKids from surrounding villages flocked to the "muzungus" from America.
The houses and farms reminded me of my childhood and it was as if I was reliving a part of my old life. The sounds of birds, cows and goats was refreshing. Kids were playing with balloon soccer balls or cars made out of wood. There were little kids everywhere and Zack, Brian, Elisheva, Erica and Max were awesome with them. Bikes transported people, bananas, water and banana beer from place to place. Pushing a bike uphill is probably one of the harder physical exercises I have ever performed.
On the way back I first got to help push a bike with two cases of banana beer on each side. Then I surprised two guys and helped them push a bike loaded with bananas up a very steep hill (they didn't think I could do it, but I did!). Later, I ran into a shirtless young boy and thought of coach Allen (Penn's Jerome Allen). Coach had given his hooded sweatshirt to a man at a homeless shelter we visited during the season. As soon as I saw the boy, I immediately took off my shirt and handed it to him. The smile on his face was indescribable. Thanks, Coach.
And thank you again to Brett Edgerton, Dana O'Neil and Coach Leibovitz. Special shout-out to everyone following the blog and all those who have sent their well-wishes. They are very much appreciated. Thank you all!
Peace and Love from ASYV,
Zack and Dau
May, 24, 2011
5/24/11
11:51
AM ET
By
Zack Rosen
and
Dau Jok, Special to ESPN.com
| ESPN.com
Editor's Note: In this space, Penn teammates Dau Jok and Zack Rosen will provide a series of blog updates on their trip to Africa and Dau's work to start up the Dut Jok Youth Foundation to help his native Sudan. For more on the tragic yet inspiring reasons behind Dau's mission, read Dana O'Neil's story here. Also make sure to check out the first and second entry in the blog journal.
From Zack:
AGAHOZO-SHALOM YOUTH VILLAGE, Rwanda -- After the heavy
visit to the memorial
, we finally got on the road to our destination, the Agahozo-Shalom Youth Village. ASYV is a remarkable place. The Village spreads out over 144 acres here in the rural countryside and was designed to be a home for youth orphaned during and after the genocide of the mid-1990s. The place takes orphans from each of the districts of the country and the people here are one big family.
[+] Enlarge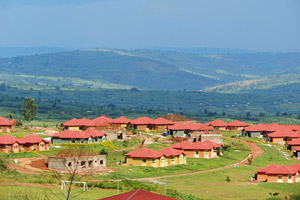 Courtesy of Dau JokASYV is a place of hope for Rwandan orphans.
When asked, the kids will refer to each other as "brothers" and "sisters" and they are proud to say that this is their home. The family aspect is huge for ASYV and the place is intended to be something that the people here can call their own. I am amazed at the level of education that the kids have -- most of them are bilingual or even trilingual. Across the Village it seems that the favorite activity is studying. The kids' eyes just light up when you ask them what they are studying and what they want to do after their time here at the village.
The most amazing, powerful thing that I came across from my first day here at ASYV was the attitude. Sitting in the dining hall for dinner, eating the rice, beans and potatoes with five students here, I got into a serious conversation with one of the girls. We covered the basics, shared some laughs, and then she asked me what has been the most memorable part of my trip so far. I was hesitant, but I had to be honest and I told her about our visit to the Genocide Memorial. To my surprise she was open to the conversation. She told me that she had lost both of her parents and that she recognized the horror, but her tone was extremely positive as she expressed that she now has a family here at ASYV.
She proudly pointed around the room and told me that "these are my brothers and sisters" and she told me that she believes in the people and the future of Rwanda. She recognized that the transformation is a slow process, but she has faith that one day her country will thrive. She kept saying, "I just believe... I just believe it will get better." Again, choices. This is the popular attitude around here and to me it's extremely potent. These people choose to believe. They choose to have faith. After what has happened, they have chosen to work together and to believe that with small steps and gradual improvement, their country will prosper.
[+] Enlarge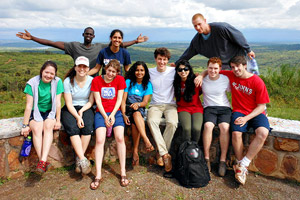 Dau JokJok (back left) and Rosen (back right) are among a group of Penn students helping out at ASYV.
From Dau:
We recently started group discussions on issues like serving third-world countries. Every day there are two student leaders who pick an intention of the day. Thus far we have had discussions on "go," "intention" and "consideration." I am amazed as to why foreigners -- myself included -- feel the need to think about their privileges while comparing their lives to the third-world countries. We think the Rwandans who live on under-one-dollar-a-day conditions are less privileged and we feel sorry for them. In reality, I think the local African is content and a pretty happy, family-based human being when he or she has the basic needs.
In our society, we are caught up in the materials because that is how worth is measured by many. The type of house, car, clothes and other materials are used to place the individual in the hierarchy of society. Here it seems they are happy about life, nature, family, each other, and every little thing we take for granted such as water and restrooms. It is hard to avoid feeling the love of the local population when they display so much affection for one another regardless of gender or age. I think the affection is the result of close proximity to nature. No matter where you go here, you are always somehow exposed to nature physically.
We will have more in this blog as our conversations get deeper and deeper! The Agahozo Shalom Youth Village is phenomenal, from the design to the details of everything they do here. I can't wait to share more with you in the coming days. For now,
click here
to read more on the work being done at ASYV.
Thank you all!
Love and Peace from Africa,
Zack and Dau
May, 22, 2011
5/22/11
5:08
PM ET
By
Dau Jok
and
Zack Rosen, Special to ESPN.com
| ESPN.com
Editor's Note: In this space, Penn teammates Dau Jok and Zack Rosen will provide a series of blog updates on their trip to Africa and Dau's work to start up the Dut Jok Youth Foundation to help his native Sudan. For more on the tragic yet inspiring reasons behind Dau's mission, read Dana O'Neil's story here. Also make sure to check out the first entry in the blog journal.
From Dau:
KIGALI, Rwanda -- The country of Rwanda is in no way, shape or form what we as Americans and foreigners who have never been here imagine it to be. Kigali is a very impressive city -- from its well-maintained roads to the development of neighborhoods to the placement of armed police on large intersections. Almost 100 percent of the men around Kigali and most of Rwanda wear long pants. In the city, women wear mainly skirts while the more rural people wear local clothing. There were women sweeping the roads as we navigated through the city.
[+] Enlarge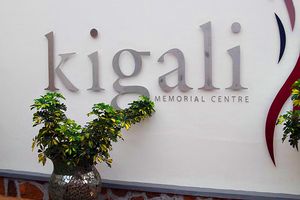 Courtesy of Dau JokThe Kigali Genocide Memorial Museum was established a decade ago and serves as a reminder of the horror Rwanda suffered through in the 1990s.
One highlight of the trip thus far was the visit to the genocide memorial. The Kigali Genocide Memorial Museum came as the result of a resolution by the Kigali City Council in 1999, and the first victims' burial took place in 2001. The memorial's four main objectives are to restore dignity of the dead, to inform people about the Rwandan genocide and the consequences, to serve as a form of documentation, and to be a support system for the orphans and widows. It is divided into several sections, including an exterior tour of mostly gardens and the interior which has videos, slideshows, boards, sculptures, remains of victims, belongings of the victims, and rooms on the Balkans, Holocaust, Cambodia, Armenia and Namibia genocides.
The hardest part of the museum for me was the videos of the genocide in which bodies were piled up. There were images of kids with their skulls cut open, men without fingers, people with mutilated parts, etc. I broke down because I physically felt and accepted what humans are capable of and I felt part of the problem. The world is so fascinated with learning about genocides and invests so much in looking into the past that we forget about the present. We are not doing anything to stop genocides right now. Our time should be spent doing what we can to stop human suffering rather than spend so much time looking into the past.
From Zack:
Hey everyone. I would like to build on what Dau has shared thus far and offer some of my own impressions and thoughts. Rwanda is an unbelievably gorgeous country. The land is pure, the air is clean and some of the pictures are simply surreal. What people did to each other on this beautiful land around 17 years ago, though, is as ugly as it gets and it cannot be ignored. The Kigali Genocide Memorial captures and documents this horror of human capability powerfully and the message is clear: The genocide could have been prevented if the international community simply opened its ears, digested the signs and took action to ensure that the hostility came to an end. Instead, the world did nothing and nearly 1 million people were killed within three months.
[+] Enlarge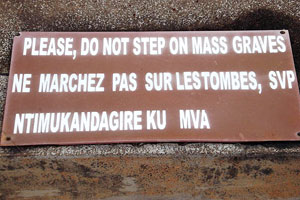 Courtesy of Dau JokReality quite often stares you right in the face here.
The message that hit me the hardest from the memorial was the reality that in every situation, we as people have choices to make. In the Rwandan Genocide, some people decided to step up in the face of danger and save the persecuted. They made the choice to stand up and not stand idly by. These heroes elected to save life instead of choosing to perpetuate death and for that they must be remembered, commemorated and learned from. As humans we must recognize that we have the option to stop corruption. With this recognition, we must take action. We have the ability to take the necessary steps to ensure that peace is maintained or restored. When these situations present themselves, our ears must not be deaf. Or, as history tells us, human disaster will strike.
Thanks you all for reading and for all the well-wishes.
Peace and love from Africa,
Dau and Zack
May, 20, 2011
5/20/11
11:30
AM ET
By
Dau Jok, Special to ESPN.com
| ESPN.com
Editor's Note: In this space, Penn teammates Dau Jok and Zack Rosen will provide a series of blog updates on their trip to Africa and Dau's work to start up the Dut Jok Youth Foundation. For more on the tragic yet inspiring reasons behind Dau's mission, read Dana O'Neil's story here.
RUBONA, Rwanda -- Hey everybody! This is Dau Jok, men's basketball player at the University of Pennsylvania, giving it to you exactly as I see it from Africa. Along with my role model and teammate Zack Rosen (he will chirp in and share with ya'll also) and 12 other Penn students, we are here in Rwanda to provide our help and resources to people in need. After our service is done in Rwanda, most of the group will return to the United States while I will continue my journey back to my old stomping grounds of South Sudan, where I will blog further.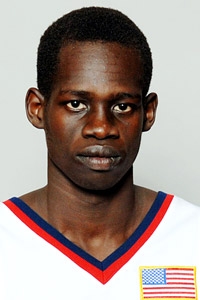 Courtesy of Penn AthleticsJok just completed his freshman year at Penn, where he appeared in 12 games for the Quakers.
The goal of the trip is to create a forum for interfaith and inter-ethnic service learning that will bring together Penn students to explore the dynamics of cultural and ethnic violence and strategies for their elimination. The mission of this program is to create a greater sense of community and understanding between students from different religious and ethnic groups in order to foster future leaders who will help build a more just, tolerant and peaceful society. We will spend most our time here at the
Agahozo Shalom Youth Village
and the surrounding community of Rubona. It is our duty to connect, teach and learn from the people here.
This trip was made possible by Penn Hillel at the University of Pennsylvania under the direction of Rabbi Michael Uram. He, along with Rachel Kaplan, have been great in preparing us and taking care of the logistics of the trip. The gentlemen (at least I think we are) are clearly outnumbered on this trip. The young women are Humna Bhoiani, Lisa Doi, Elisheva Goldberg, Kayla Kapito, Sindhuri (Sindhu) Nandhakumar, Erica Sachse, Claire Shimberg, and Guminrat (Nimu) Sindhu. The young men are Max Cohen, Benjamin Notkin, John Plaisted, Brian Powers, Zack Rosen, and me, Dau Jok.
The members of the group were picked after a round of interviews with Rabbi Mike. We are pretty diverse in terms of race and religion and are officially known as Facing Change Fellows.
On May 29, I will depart from the group before their safari. The destination of my trip is Southern Sudan, where I hope to meet a lot of people in the NGO sector, as well as high power individuals. I will also assess the state of things because I would like to implement the Dut Jok Youth Foundation. The goal of the foundation is to harness the potential of Southern Sudanese youth by funneling resources and providing opportunities through education and sports to offset the post-war disenfranchisement of the current generation. After months and months of meetings, heartaches, headaches, phone calls, emails, excitement, frustrations and encouragement, we are finally going to see the plan in action. We managed to ship soccer balls, basketballs, some basketball nets and pumps over to the region before our arrival.
I would like to thank Dr. Hariet with Upenn CURF, Cheryl Shipman with CURF, Daina and Dr Karlene at Makuu, Rev. Howard, Coach Allen, Kathryn Davis Foundation, fellow students, Bruce Koeppl, Longar, Dau, Upenn Team, and everyone who has helped progress the idea into what it is today. We have a lot of work ahead but I believe we are on the right path. I would also like to thank Mark Crandle of Hoops4Hope, Steve Bauman of Starfinder, SudanSunrise, Greg Larson of Valentino Deng Achak Foundation, and ABO. These individuals/organization were very helpful in my adventure of research and learning about non-profits. They were great resources and most gave me a ton of confidence to pursue the mission.
Finally, a special thank you to coach Dan Leibovitz, Dana O'Neil and Brett Edgerton for making this blog possible. The goal is to give everyone an inside look at a pair of college basketball players and students who are trying to make a lasting difference in the lives of others.
Thank you all!
Peace and Love from Africa,
Dau and Zack
February, 13, 2010
2/13/10
12:34
AM ET
Friday night usually only matters twice a year in college basketball:
1) The first weekend of the season, when schools are generally trying to avoid Saturday conflicts with football.
2) The postseason, when conference and NCAA tournament games are being played.
[+] Enlarge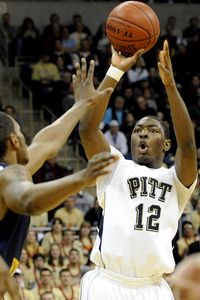 AP Photo/Don Wright Pitt's Ashton Gibbs scored 24 points in a triple-OT victory over No. 4 West Virginia on Friday.
Not so this year. We have just completed the freakiest February Friday ever, with notable upsets in triplicate. It demands some attention and analysis, and perhaps some smelling salts.
We had a Friday in which a 3-15 team (Penn)
laid a 15-point smackdown on a ranked 20-3 team
(Cornell) that was favored by 17 points. That's certainly the biggest league upset of the year nationwide. Might be the biggest upset, period.
We had a Friday in which a struggling team in the lower half of the Metro Atlantic Athletic Conference (Niagara)
rose up and took down the 14-0 big dog of the league
(Siena) by 13 points. That reverses an 18-point loss last month.
And to top it off, we had two ranked rivals from the Big East exchanging huge shots and huge mistakes through three dramatic overtimes (
Pittsburgh 98, West Virginia 95
).
Earlier this week,
I wrote about
the eight teams trying to get through conference play unbeaten. That number already is down to six after the losses by the Big Red and the Saints – teams I thought were among the most likely to run the league table.
The upsets derailed the considerable momentum of both Cornell (eight-game winning streak shot) and Siena (15-game winning streak, longest in the nation, done). It also cast doubt upon both the Big Red and the Saints as potential NCAA at-large teams. Neither team has a victory over an RPI top-50 opponent and now each has a fresh loss that will hurt their own RPI numbers.
Both can still earn automatic bids, of course – Siena by winning the MAAC tourney at home and Cornell by winning the Ivy regular season. But the Saints, who struggled to beat Fairfield at home earlier this week, might now seem mortal to their league brethren. And the Big Red now sits in second place in the Ivy behind 5-0 Princeton – though the two still meet twice.
But instead of solely examining the damage to the losers, we should take a moment to appreciate what the winners did.
Penn threw a 15-0 haymaker at Cornell to open the second half and pull away. Niagara put a 24-3 run on Siena during a five-minute stretch of the second half to do the same.
At Penn, school president Amy Gutmann went into the postgame locker room to congratulate the team. This might have been the victory that gives interim coach and former Quaker hero Jerome Allen a solid chance at the job on a full-time basis.
Allen was elevated from assistant when the school surprisingly fired Glen Miller after a 0-7 start. The record got to 0-10 before the Quakers finally got in the win column – but now they've won three of their last four, including this absolute stunner, rallying around a guy who had zero coaching experience before joining the staff in September.
Allen and his staff had a smart, slow-the-tempo plan that included doubling Cornell star center
Jeff Foote
every time he caught the ball.
"This was a 54-possession game," Penn assistant John Gallagher said. "For us to win any game, it's got to be played between 54 and 65 possessions. Anything over that, we will not win. We ended up controlling tempo."
They also ended up shooting the lights out. A team that entered the game shooting 39 percent from the field, 29 percent from 3-point range and 74 percent from the foul line went 56 percent, 52 percent and 82 percent, respectively.
Among the heroes for the Quakers was guard
Zack Rosen
, who had 22 points, five assists and three steals. The previous two games, Penn's leading scorer had two assists and 13 turnovers. This bounce-back performance illustrated the sophomore's character.
"He's a great leader," Allen said. "He wins every sprint. Whatever you ask him to do, he does it. I think every coach in America would love to have a guy like that on their team."
Problem is, there is literally no time to celebrate in the Ivy League. Teams play back-to-back games on Friday and Saturday, and the Quakers went quickly Friday night into a meeting to preview their game against Columbia.
"I told them, 'You guys got about 30 minutes to enjoy the victory,' " Allen said. "I really wanted them to stay in the moment, because it is a big deal. But my job doesn't allow that."
Niagara at least has a day between games to savor beating Siena. The two have had a lively rivalry in recent years as the premier programs in the MAAC, but the Purple Eagles have dipped below .500 in league play this season and were no match for the Saints on the road last month.
But Joe Mihalich's team rose to the occasion at home, in a game I targeted Tuesday as Siena's biggest threat to running the MAAC table.
For a long time, it looked as if the upsets in the Ivy and the MAAC were the dominant Friday storylines. Then Pitt and West Virginia played a game that conjured memories of the Syracuse-Connecticut six-OT game from last year's Big East tournament.
Neither team gave up – which was wise, because neither team would shut the door on the other.
Pitt was down seven points with 45 seconds left in regulation, but WVU all but quit playing and allowed the Panthers to hit enough shots to force overtime. Then Pitt gave
Truck Bryant
an open 3 in the final three seconds of the first overtime while up three. (Choosing not to foul in those situations never fails to amaze.) And the Panthers compounded that in the second OT by fouling
Da'Sean Butler
on a 3 while leading by three in the final 25 seconds.
That's how you get to triple OT. Once there, Pitt finally stopped the madness – though not before giving West Virginia another shot at a tying 3 in the final seconds. But the fatigued basketball gods spoke: "No, send that shot off the rim and let's save a little something for Saturday."
A day that has a hard act to follow.