College Basketball Nation:

Zaire Taylor
March, 19, 2010
3/19/10
6:43
PM ET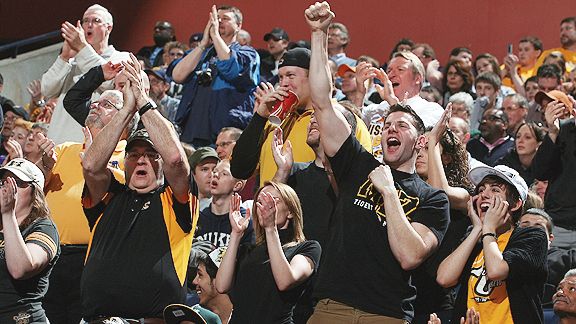 Rick Stewart/Getty ImagesMissouri fans cheer as the their Tigers beat No. 7-seeded Clemson.
BUFFALO -- Between the humbling loss to Nebraska in the Big 12 Tournament and the first-round game against Clemson, Mike Anderson dug deep into his bag of torture treatments.
He pulled out the defensive slide drills and the full-court 1-on-1, 2-on-2 exercises of misery. The calendar said March but the revert to the basics read October.
The message to Mizzou was clear: That team that was run out by the Cornhuskers in Kansas City? Those were Paper Tigers.
The real Tigers showed up in Buffalo. Missouri showed a Clemson team that prides itself on playing uptempo what uptempo really looks like.
It looks like 15 steals and 20 forced turnovers.
It looks like an eye-popping 20 points off turnovers and an even more amazing, 22-2 edge in fast-break points.
It looks like an
86-78 win
.
"We haven't played that way in a long time,''
Keith Ramsey
said.
The (Gold) Tigers picked a perfect time to rediscover themselves. They will face West Virginia in the second round, a team that is far more content playing in the half court than running up and down and a team whose best point guard,
Joe Mazzulla
, is playing with one bad wing.
And Anderson, who has made a career out of turning under-recruited talent into overachieving success, could be itching to add another chapter to his bio.
"Our teams typically start playing some of their better basketball right around late February, March,'' said Anderson, whose Tigers last year streaked to the Elite Eight. "I guess we really turned up the intensity and I think it was reflective today. I think you build your team up until you get to this point because to me, this is what you work towards.''
Oliver Purnell will have to take his word for it. The Clemson coach remains the Susan Lucci of college basketball -- six trips to the NCAA Tournament, three schools, zero wins.
Not even the orange blazer could work its magic.
"There will be a perception among some people (that Clemson can't win in the tourney). I certainly don't subscribe to that,'' Purnell said. "I wouldn't say we play extremely well but we competed, we were ready, they wanted it and it just didn't happen for us.''
It didn't happen because the (Gold) Tigers turned the tables on what the (Orange) Tigers were supposed to do.
Laurence Bowers
and his injured wrist and Keith Ramsey weren't supposed to be able to handle monstrous
Trevor Booker
.
Individually they probably couldn't.
But together? Together the two made like a Venus flytrap, double-teaming Booker every time he touched the ball.
The result, just 12 points from Booker and a win for Missouri.
"We hear that all the time, what we can't do,'' Bowers said. "We hear it when we go up against
Cole Aldrich
,
Ekpe Udoh
. We have a lot of experience handling talented big men.''
And the other little pointed-out fact: Ramsey and Bowers are talented big men in their own right. Ramsey had a season-high 20 points and eight rebounds while Bowers, who was thrilled to shave the splint on his injured wrist enough to expose his whole palm, had 15.
But with Mizzou it is never about offense it's always about defense. They swarm and swat and pester and annoy teams yet never seem to foul up themselves. Missouri, the second best team in the nation in turnover margin, lived up to its billing with only nine miscues in a frenetically paced game.
"Our pressure is constant,'' assistant coach Matt Zimmerman said. "Coach is always big on wear and tear.''
And the (Gold) Tigers, seasoned by a re-introduction to the hellacious basics that make them special, wore and tore the (Orange) Tigers apart.
"This is who we are,'' Taylor said. "The question is, will we play like this the rest of the tournament? I think we're capable, but can we do it. We'll see.''
March, 3, 2010
3/03/10
8:47
AM ET
The Morning After is our semi-daily recap of the night's best action. Try not to make it awkward.
No. 7 Ohio State 73, Illinois 57
: There were zero upsets to speak of last night, and Illinois' bid for a tournament-securing win at Ohio State was no different. Instead, the night was a feel-good Buckeye festival. Thad Matta's team secured a share of the Big Ten title.
Evan Turner
got a national spotlight, not that he needed it (more on this below). And
Mark Titus
, the by-now-famous
purveyor of Club Trillion
, made the most of his senior night,
notching one final trillion
in front of hundreds of Club Trillion t-shirt-clad OSU fans --
not to mention raising a whole bunch of cash for sick children
. Really, things couldn't have gone much better.
The most notable performance of the night -- other than Titus', obviously -- probably came from Ohio State sharpshooter
Jon Diebler
, whose seven 3-pointers for 21 points (this scoreline math is refreshingly simple) helped bury the Illini in the second half. After the game, though, the only national topic was Turner. More specifically, the topic was "Is Evan Turner the player of the year?" Every analyst ESPN had to offer on Sportscenter proclaimed it to be true. The only dissenters? America. In a SportsNation poll, 37 percent of the country voted for
John Wall
as the player of the year; Turner notched 33 percent of the vote. Which means one thing, America: You're on notice. I know Wall might be the most familiar name, but it's March now. There's no excuse for this. Inform thyself. Wall is a great player, but Turner has had a better season, and he deserves the award. I thought we Turner advocates had settled this issue already -- seriously, you have no idea how good it felt to see the unanimous pundit praise for Turner Tuesday night -- but apparently not. We have more work to do. Turner bandwagon team ...
assemble!
No. 19 Vanderbilt 64, Florida 60
: Again, no upsets here: Florida, like Illinois, could have sealed an at-large NCAA tournament spot with a win over the sturdy Commodores on Tuesday night. It didn't happen. Still, the Gators acquitted themselves nicely in the loss; Florida held a typically efficient Vanderbilt offense to a mere 64 points on 60 possessions. Billy Donovan's team was undone by its poor shooting, though, hitting 21-of-50 2-point shots and just 2-of-13 from 3 for a paltry 31.8 effective field goal percentage. Even in a solid defensive effort, that's not going to get the job done.
The Associated Press wrap of the game seems to think that Florida significantly hurt its tournament chances with the loss, but that seems slightly overstated. Sure, Florida didn't help itself, but losing by four to Vanderbilt at home isn't the worst result in the world, is it? Florida might have more work to do -- but no more work than before Tuesday, right?
Everywhere else
: Cincinnati likewise needed a big win to keep itself in the at-large conversation. They almost got it,
but insert the old koan about horseshoes and hand grenades here
...
UTEP clinched the outright Conference USA title with a hard-fought win at Marshall
... Missouri's
Zaire Taylor
almost perfectly recreated
Tyus Edney's famous game-winner in a
thrilling overtime win at Iowa State
...
North Carolina became the second team in the history of college basketball to get to 2,000 wins
; one wonders if the current players felt strange holding that 2,000-win plaque, given this season's ugliness ...
Syracuse had no problems with St. John's on senior night
...
Baylor won at Texas Tech
, handing Pat Knight's team its sixth straight loss ...
Minnesota suffered a major letdown at Michigan
, one which officially puts the final nail in the the already almost-entirely-assembled Gophers' coffin ...
Trevor Booker
did manly things in
Clemson's win over Georgia Tech
... and
Marquette shredded Louisville's zone in a 21-point win in Milwaukee
.
January, 9, 2010
1/09/10
4:42
PM ET
Yes, Missouri is tough at home, as a 30-game home win streak will attest.
But the Tigers are also just flat-out tough. Mike Anderson's "fastest 40 minutes" stepchild of Nolan Richardson is every bit as demonic and game-altering as Richardson's hell.
Just ask Frank Martin.
Tenth-ranked Kansas State just fell to the Tigers,
74-68
, in a game that was textbook Anderson. Missouri created offense with its defense, but more than that created havoc. The Wildcats were whistled for 32 fouls and coughed the ball up 20 times. I'm frankly surprised that the tightly wound, hypercompetitive Martin didn't actually self-combust during the game.
I'm not sure that this Missouri team, minus DeMarre Carroll and Leo Lyons, has enough talent to get to the Elite Eight like last year's squad. But with
J.T. Tiller
establishing the Tigers' attitude and
Zaire Taylor
continuing to live up to his Mr. Big Shot nickname -- he drained a 3 in the waning seconds that ultimately led to Missouri's win -- anyone interested in counting Mizzou out does so at his or her own risk.