College Basketball Nation:

Zay Jackson
October, 10, 2013
10/10/13
9:00
AM ET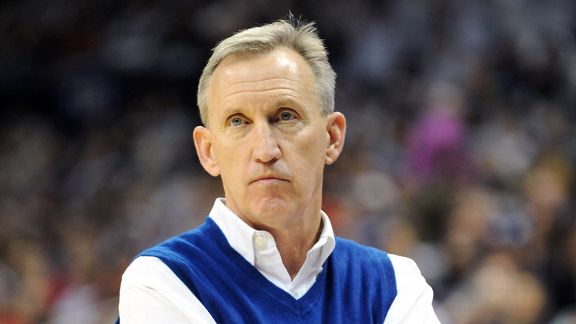 Mitchell Layton/Getty ImagesBelmont and coach Rick Byrd could be the preseason favorite in the Ohio Valley Conference.
It's college basketball preview season, and you know what that means: tons of preseason info to get you primed for 2013-14. But what do you really need to know? Each day for the next month, we'll highlight the most important, interesting or just plain amusing thing each conference has to offer this season — from great teams to thrilling players to wild fans and anything in between. Up next: You do know about Belmont, don't you?
There was some rather major news out of the Ohio Valley this week: Murray State point guard
Zay Jackson
will
miss the entire 2013-14 season with a torn ACL
. Not only was the diagnosis a blow to the Racers' chances of getting back to the NCAA tournament this season -- Jackson would have been coach Steve Prohm's best
and
most important player -- but it was a blow to the comeback Jackson had worked so hard to stage. (Last October, Jackson pleaded guilty to charges of wanton endangerment, and spent 46 days in jail, after police arrested him for
this flabbergasting incident in a Wal-Mart parking lot
.)
But that would have been too easy, not to mention dishonest by way of omission. In other words: It wouldn't have focused on Belmont, and if you know nothing else about the Ohio Valley Conference right now, Belmont is the takeaway.
That sounds too general; what about Belmont, right? Sorry, but no. I meant it the way it was written. Belmont
in general
. Belmont writ large. Belmont's continued and relatively unheralded success under coach Rick Byrd -- that's the story here. Belmont itself is the story.
How so? Over the last three seasons, two of them in the Atlantic Sun and the last one, 2012-13, as a member of the Ohio Valley, Belmont's year-end adjusted efficiency rankings go like this: No. 19 (2010-11), No. 23 (2011-12), No. 49 (2012-13). That lofty year-in-year-out performance would be impressive had it been accomplished by a school with 10 times the resources Belmont has at its disposal; when you factor in the conference competition and financial disadvantages of playing in a "low-major" league (at least relative to the teams you usually see finish among the nation's most efficient) it becomes almost unbelievable. And yet, outside of the die-hards, who even knows what a Belmont is?
Casual fans haven't gotten the memo, and the reason is obvious: The Bruins went 0-3 in the NCAA tournament.
Now comes the transition: In March, when the Bruins fell in the opening round of the tournament for the third straight season, they also waved farewell to the best player in program history, guard Ian Clark. OVC tournament savior Keron Johnson also graduated, alongside forward Trevor Noack. Byrd still has two very viable options in
J.J. Mann
and
Blake Jenkins
, and, with Murray State hobbled, little in the way of an obvious OVC challenger.
Time was, you had to be a hermit to know these kinds of things about the Ohio Valley Conference, or sneaky-good mid-majors in general. Now there's nowhere to hide. And yet the gap between Belmont's run of success and its profile illustrates the be-all-end-all importance of the NCAA tournament to the sport's wider consciousness. Given all that, it will be fascinating to see where Byrd takes his program next.
But for now? Just be aware that they exist: The
Belmont Bruins
, last of the unsung.
May, 20, 2013
5/20/13
5:00
AM ET
1. Arizona State's
Jahii Carson
would have been one of the top point guards at the NBA pre-draft combine in Chicago last week. Instead, Carson, who is a second-year freshman after being ineligible in his first season, is returning to school and will be one of a handful of preseason candidates for Pac-12 player of the year. The Sun Devils are already thinking of ways to push the tempo and prepare Carson for a jump to the league. Newly named associate head coach Eric Musselman said the Sun Devils have already been practicing with a 24-second shot clock and put only one 3-point line down on the court -- the NBA distance. "We're going to play faster next season,'' said Musselman. He added the NBA 3-point line is to get the players comfortable with the deep distance. The Sun Devils, though, have some holes with the abrupt departure of shooting guard
Evan Gordon
, who transferred to Indiana, and the known exit of senior forward
Carrick Felix
. The Sun Devils finished 9-9 in the Pac-12 but went to the NIT. ASU is trying to be innovative and certainly more interesting next season as a possible NCAA team that shoots with confidence from range and plays at a quick clip to get more possessions.
2. Murray State coach Steve Prohm was in Chicago at the pre-draft combine to watch
Isaiah Canaan
, his veteran point guard who is sure to be a first-round lock and has the potential to be the next Damian Lillard -- a lower-profile school gem who stars in the league. But Prohm said he has a replacement set -- Zay Jackson. The suspended guard is cleared to join the Racers and be the starting point guard next season. Jackson served 49 days in jail after hitting a man with his car in a Walmart parking lot on Sept. 10. Prohm said Jackson practiced with the team once he was released from jail. He said there wasn't a judicial review board and that the decision for Jackson to come back was made by the athletic department. Prohm said Jackson had a 2.75 grade-point average and has not been an issue since he returned. The Racers will have depth at the position with the eligibility in December of Clemson transfer T.J. Sapp. Prohm isn't pushing the schedule in this transition year and will simply play 29 games without a tournament.
3. Missouri has another solid schedule to sell with nonconference games against Illinois (St. Louis), UCLA, at NC State, West Virginia in the SEC-Big 12 Challenge and Long Beach State. They are also in a tournament in Las Vegas where Missouri has been promised, according to Haith, since it wouldn't face UCLA because the Bruins and Tigers are already scheduled. The other two teams are Nevada and Northwestern. If this were the case then the Las Vegas Invitational can easily manage this by having UCLA and Missouri play Northwestern and Nevada, just alternating.
October, 25, 2012
10/25/12
5:00
AM ET
1. Murray State had no choice. The Racers had to suspend point guard
Zay Jackson
for the season after surveillance footage showed him hitting two pedestrians with his car in a Wal-Mart parking lot in September, an offense that resulted in a 30-day jail sentence. Murray State athletic director Allen Ward issued a statement announcing the suspension Wednesday. Now we'll see how committed Jackson is to the university and the program. He has to pay the consequences for his actions through the legal system. And he should now try to prove to the university, the program and the community that he deserves a second chance. This isn't about basketball. This is more about Jackson trying to recover from a horrific mistake that could have proven tragic. The Racers will be hurt by his absence on the court, but they could not afford the distraction that would have come with Jackson playing this season. Murray State coach Steve Prohm has an All-America in
Isaiah Canaan
and has run a program built on excellence in his brief tenure. He couldn't take a step back with Jackson playing later in the season.
2. Michigan State and Connecticut are both going to try to stay on East Coast time while in Germany Nov. 7-10. The Spartans and Huskies won't get up (at least per their schedules) until after noon, and have practice and dinner set for late into the night. The tip for the Nov. 9 game at Ramstein Air Base is midnight local so that it can be televised in prime time on the East Coast.
3. I have to credit UCLA for its constant open policy of updating every injury from practice, even a shoulder injury to
Shabazz Muhammad
. The highly touted freshman forward hasn't been cleared by the NCAA for competition yet -- meaning the Bruins can't update that status since they don't know. But they weren't hiding the news that Muhammad was to have an MRI on the injured right shoulder Wednesday evening. The 6-foot-6 Muhammad has a shot to be a first-team All-America if he is eligible. He's currently in a 45-day window where he can practice (but not play) while the NCAA investigates his eligibility. The Bruins have always been quick to update any injury under Ben Howland, a practice that would be helpful if other teams followed it, too.
October, 15, 2012
10/15/12
3:15
PM ET
In September,
Murray State guard
Zay Jackson
was charged with two counts of first-degree assault
after an altercation in which he allegedly hit two people with his white Monte Carlo in the parking lot of a Murray, Ky., Walmart. He was suspended indefinitely by Murray State. On Friday, Jackson pleaded guilty to charges of wanton endangerment and was sentenced to 30 days in jail, part of a plea agreement that includes community service and completion of an anger management course.
After the sentencing, Murray State athletic director Allen Ward reiterated
the school's punishment to the Murray Ledger & Times
, saying that while Jackson "made a mistake," the guard was "still a very big part of this program." On Monday afternoon, Murray State coach Steve Prohm confirmed this stance to ESPN.com's Dana O'Neil, saying via text message, "There is no change [in Zay Jackson's status]. As of right now, he is still suspended indefinitely.''
That stance almost certainly has to change.
After Jackson completed his plea agreement Friday and began his 30-day sentence, Murray police released surveillance footage of Jackson's altercation with Jason and Alia Clement. WPSD6 has the video,
which you can watch here
. Word of warning: It isn't pretty.
Through a variety of angles, the silent video shows Jackson push a shopping cart into the accusing couple's car. The Clements then confront Jackson, appearing to take a photo of his rear license plate, when Jackson bumps Jason Clement with his rear bumper twice. The Murray State player then quickly wheels around to place the couple at the front of his car, and accelerates rapidly -- knocking one to the side while carrying the other on his hood for another 100-plus feet -- before braking suddenly and speeding out of the lot. The video is clear: Jackson's use of his automobile is violent, scary, and entirely unjustifiable,
no matter what words were exchanged
.
The horrifying footage is sure to go viral, if it hasn't already. It is also sure to place an immense amount of pressure on Murray State to change their stance on Jackson's status.
Jackson is a promising backcourt player, a likely counterpart alongside probable preseason All-American
Isaiah Canaan
, and a piece the Racers would no doubt like to have on their roster. But this incident, no matter Jackson's import or previous record of good behavior, goes above and beyond any desire to provide a troubled player a second chance. It will be difficult for Murray State fans to reconcile the fact that Jackson is earning a scholarship to play basketball at their school, knowing he showed such willful disregard for another person's life. And it will be almost impossible for Murray State to justify a mere suspension, indefinite or otherwise, now that the video is out.
It is never fun to call for a collegiate player to be dismissed. It almost never feels right. This is an exception to that rule. Whatever Murray State chooses, the entire situation is already a shame -- a shame Jackson will have fully brought on himself.
July, 19, 2012
7/19/12
5:00
AM ET
1. New Mexico coach Steve Alford won gold at the 1984 Olympics, when he was a player at Indiana. That gold medal was eight years before the 1992 Dream Team. The debate about whether to send amateurs and professionals has arisen again, with NBA commissioner David Stern broaching the subject of a 23-and-under cutoff for the Olympics going forward. Alford isn't a fan. "That ship has sailed,'' said Alford. "We have to send our pros. Everyone else is doing it. The international game has grown and it has grown because we've helped it grow. We have sent players over there for decades, doing clinics and everything else. We've had as much to do with the international game growing by sending our best. We have to send our pros.''
2. Murray State's
Isaiah Canaan
has been all over the summer scene. Canaan was at the Chris Paul, Deron Williams and LeBron James camp. He has been in and out of Murray, Ky., taking classes, and according to coach Steve Prohm has taken another step up in being a leader. But the Racers can't equal last season's NCAA tournament run to the third round on Canaan alone. Prohm said
Ed Daniel
has been sensational in following a similar path to the Amare and LeBron camps. The key may be rising sophomore
Zay Jackson
, who has been a hit in workouts and can complement Canaan on the perimeter. Prohm is banking on Daniel's defense and rebounding as a staple, but he's learning to finish with more consistency. Daniel's scoring in the paint is a must in the absence of
Ivan Aska
.
3. Valparaiso should be picked over Detroit for the Horizon League title now that Butler is out. Valparaiso won the regular season a year ago but lost to Detroit at home by 20 in the conference tournament title game. Crusaders coach Bryce Drew is attempting to enhance the nonconference schedule in the oft-chance the Crusaders can't win the conference/tournament. Drew said he has scheduled games against Nebraska, New Mexico, Murray State, Kent State, Missouri State and Oakland. The games against Murray and UNM are quality RPI games and both will return in 2013. Drew is still trying to get Pitt to agree to a game. Drew would also like to get a home-and-home series with the return game being at the United Center in Chicago in his attempt to be creative for a strong series. Meanwhile, the Crusaders will be more formidable if Cal transfer 6-6
Alex Rossi
gets a waiver to play immediately. Rossi, who played sparingly at Cal in three games, came home for family reasons. The Crusaders are already adding 6-1 South Florida transfer LaVonte Dority at semester. Dority played in nine games last season, playing 15 minutes a game.