December, 18, 2014
12/18/14
1:00
AM ET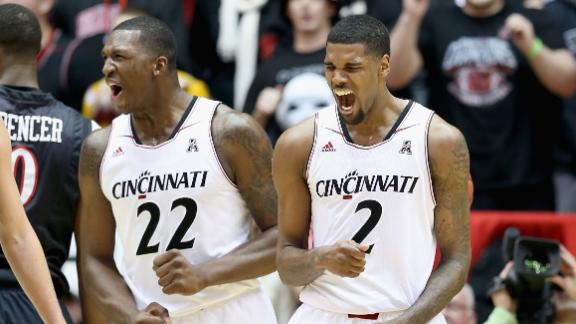 Here's a question: What happens when you mix two teams that average 29 percent shooting from 3 and 46 percent shooting from 2 on offense, both of which play some of the sport's best and most physical defense, both of which rank among the 20 slowest teams in the country?
Wednesday night, we got something like the best-case scenario -- and an optimistic sign for Cincinnati moving forward.
The Bearcats'
71-62 overtime win
against San Diego State was never going to be an aesthetic marvel, not with these two teams. It was always going to be decided by defense, by strength, by weak-side rotations and boxouts and long-armed players doing athletic things around the rim.
And so it was: San Diego State shot 5-of-25 from 3, and was 2-of-17 before a late, ahem, flurry. Cincinnati went 4-of-11 from long range. Both teams were held well under a point per possession for much of the game; it wasn't until overtime, and a parade of free throws (another flurry!) that the Aztecs inched over the efficiency benchmark. Together, on 49 made field goals, the two squads combined for just 21 assists. Fluid offense, this was not.
Much of this would have been true last season, too, when the Bearcats had Sean Kilpatrick and the Aztecs had Xavier Thames, two of the best and most important guards in the country. This time around, both teams are again playing masterful, ball-killing defense. But both have huge holes where a capable perimeter leader -- a scorer with range and the passing to make teammates better -- so recently stood.
[+] Enlarge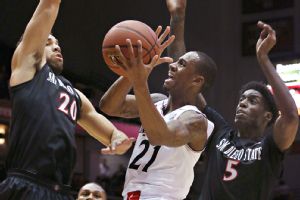 AP Photo/Tom UhlmanIn a game dominated by defense, Farad Cobb managed to score all 12 of his points after halftime to lead the Bearcats past San Diego State.
Still, there was reason to be bullish on the Bearcats.
First was the demonstration of the known. Cincinnati went toe-to-toe with a team that is in some ways its mirror image on the defensive end, trailed at various points throughout a tight second half, and pulled in front just enough at the end to require a minor miracle from SDSU.
That late 3-pointer flurry from the Aztecs? That came as they were chasing Cincinnati in the closing minutes, desperately cutting two-possession leads and hoping for missed free throws on the other end. The penultimate play of the game, the one that forced overtime, was courtesy of help from the officials: With three seconds left,
Winston Shepard
's drive to the left baseline ended in a flail that seemed due less to any contact than Shepard's own lack of control. But the officials whistled it, and Shepard made both free throws. Cincinnati coach Mick Cronin went ballistic all the way through his own team's final attempt. He had his reasons. That his team pulled it together so comprehensively in an overtime it probably didn't deserve to deal with was itself a testament to its toughness.
Defense, toughness -- those are the knowns. There were also some hints at the unknown. Coming into Wednesday, just two members of Cincinnati's rotation could be said to be playing efficient offensive basketball. One was freshman
Gary Clark
, who finished with 10 hard-earned points and five equally hard-earned rebounds. The second was
Farad Cobb
. Cobb, a junior, is the closest thing Cronin has to a 3-point specialist -- he's shot 37 3s this season (at a 35 percent clip) to just 17 attempts inside the arc. In the first half against San Diego State, he was 0-for-3 with zero points. In the second, he contributed all 12 of his points. His ball handling -- and one especially big shot down the stretch -- were major keys in overcoming one of the nation's least forgiving defenses.
These were not overwhelming statements of purpose. Just hints. But they did point to a reasonably bright immediate future for a Cincinnati team ostensibly decimated by departures -- a team no one talked about as a possible American Athletic Conference title contender this season.
The American looks different now than it did in October. Memphis has fallen flat. SMU is missing
Markus Kennedy
. UConn lost three games in a row in recent weeks, including a home loss to Yale. Tulsa, a sleeper contender, saw the Huskies' defeat to Yale and raised them a home loss to the Southeast Oklahoma State Savage Storm, which is a (totally real!) Division II program.
But Cincinnati looks different, too. Before Wednesday, it already had a stout defense and a brutal home-court atmosphere, and those might have been enough to push to the top of the American alone. But on Wednesday night, it flashed maturity, toughness, and just enough offensive acumen to look truly intriguing going forward. Is it the prettiest team in America? Not even close. But it might just be the best team in the American.