College Basketball Nation:

Dorenzo Hudson
March, 9, 2012
3/09/12
10:12
AM ET
ATLANTA -- There was no intense fanfare awaiting Virginia Tech when the Hokies set foot in Atlanta for the ACC tournament earlier this week. The excitement surrounding the tournament's No. 10 seed paled in comparison with that of a North Carolina, Duke or even Florida State.
But for a team that entered with just 15 wins and an unsatisfactory 4-12 conference record in the regular season, the Hokies sure do feel confident entering the second round of the ACC tournament.


"We've been talking about it for the two days that we've been here. We're like, 'Unpack your bags, we're going to be here a while,'" senior guard Dorenzo Hudson said after Virginia Tech's thrilling 68-63 win over Clemson in the first round. "We're trying to advance in the tournament."
The Hokies advanced after outrunning No. 7 seed Clemson in Thursday's track meet. There were 11 lead changes and 10 ties, but clutch free throws and solid defense kept the Hokies afloat.
What might have been even more impressive was that Virginia Tech had only seven healthy scholarship players available, with freshman guard Marquis Rankin sitting out the game because of a knee injury he suffered in a ball-screen drill in Tuesday's practice.
The lack of manpower didn't stop the Hokies, and, as they prepare for Friday's bout with No. 2-seeded Duke, they aren't ready to quit.
Guard Erick Green, who had a game-high 24 points in 34 minutes Thursday, said he's fatigued but will get over it.
"I'm tired," he said, "but I'll be ready to go."
It's not hard for this team with nothing to lose to get pumped for Friday's game. This is the same Duke team that squeaked by the Hokies less than two weeks ago in a 70-65 overtime win. And this is the same Virginia Tech team that had 10 more points in the paint, two more second-chance points, four more points off turnovers and three players with 16 points the last time these two hooked up.
Late-game sloppiness and getting beat on the boards cost the Hokies. Virginia Tech coach Seth Greenberg said it comes down to finishing on offense and defending the post on defense. Nixing those pesky spread ball screens would help, too.
"If we can do all that," Green said, "we can win."
Marshall going for greatness


North Carolina is in Atlanta to claim the title as the ACC's best (again) and grab a No. 1 seed in the NCAA tournament. But before any of that can happen, the Heels might have to deal with a little bit of history -- good history.
Sophomore point guard Kendall Marshall needs just five assists to break Craig Neal's ACC season record of 303. He'll get his chance early, as UNC takes on Maryland in the opening game of the second round Friday.
Marshall registered 24 assists in two contests against the Terps, including tying a season high of 16 the first time around.
Miami looks to frustrate FSU



The Hurricanes went from awful to awfully good against Georgia Tech on Thursday, but now have to stay in the awfully good category if they want a chance at defeating archrival Florida State. These teams split the regular-season series, and each enters on a two-game winning streak.
This is a pretty even match on paper, but what the Miami players are concerned about is FSU's height. Freshman guard Shane Larkin described it like this: The guards stand 6-foot-4, and everyone just gets bigger from there. Miami loses in the size department, but it might win in speed and decision-making. In the first two games, FSU recorded 33 turnovers, allowing Miami to score 34 points off of them. Miami forced 20 Georgia Tech turnovers Thursday.
Thin Cavaliers could end NC State's season



Virginia sat back and watched as NC State manhandled Boston College on Thursday. It was good rest for a team that is down to seven scholarship players. The bad news is that the Wolfpack are on a mission to get into the NCAA tournament, and the Cavs are in the way.
If not for that one-point Virginia victory back in January, these teams would be swapped in the bidding process. Virginia, which won 22 games and spent time in the Top 25, appears to be a tournament lock, but NC State's chances are still up in the air.
The key for NC State is to stop forward Mike Scott. He's averaging 17.9 points and 8.3 rebounds per game and dropped 18 points on the Wolfpack in January.
For Virginia, it's all about containing and contesting shooter Scott Wood, who is shooting 42 percent on 3-pointers and has hit 13 of 26 3s in his past three games.
"For us, the answer is to continue to win, and I don't know if that's one game, two games, three games," Wolfpack coach Mark Gottfried said. "I know if we win this tournament, we get to go. And our guys have come over here, and that's our goal -- to win the tournament."
March, 8, 2012
3/08/12
10:42
PM ET
By
ESPN.com staff
| ESPN.com
After Virginia Tech's
68-63 victory
over Clemson, Edward Aschoff caught up with Hokies senior
Dorenzo Hudson
, who scored 19 points against the Tigers.
February, 27, 2012
2/27/12
8:00
AM ET
One key player was ruled ineligible. At least one key team likely saw its at-large NCAA tournament hopes snuffed. And once again, it looks as if the ACC regular-season title will come down to the final Duke-North Carolina game, next weekend. This week's attempt at the ACC power rankings:

1. Duke:
The Blue Devils -- who already lost to Miami and Florida State at home this season -- had another close call at Cameron Indoor Stadium, needing overtime to beat Virginia Tech. But their win at FSU last week keeps them right where they want to be: in the hunt for No. 1 seeds in the NCAA and ACC tournaments.
2. North Carolina:
ESPN bracketologist Joe Lunardi said last week the Tar Heels would need to win out to make a case for a
top seed in the NCAA tournament
. That push continues this week with their home finale against Maryland and a trip to Duke. When will point guard
Kendall Marshall
set the school record for assists in a season? Stay tuned.
3. Florida State:
It was a rough week for the Seminoles. First they lost at home to Duke -- and likely lost their chance at the regular-season ACC title. Then they fell at Miami on Sunday. They'll try to stop their slide at Virginia next.
4. Virginia:
Saturday's loss to the Tar Heels stung -- not just because of the physical game, myriad of whistles against the Cavs' big guys or forward
Mike Scott
's ACC season-low six points. But also because Virginia has now lost three of its last five games.
5. Miami:
The Hurricanes beat Florida State on Sunday without center
Reggie Johnson
, who was declared ineligible by the school after an investigation revealed members of his family took impermissible travel benefits from the former coaching staff. The victory enhanced the Hurricanes' NCAA résumé, but they're going to need Johnson back to make a stronger push (and case).
6. Clemson:
Andre Young
's game-winning 3-pointer in overtime against NC State means the Tigers are now 2-8 in games decided by five or fewer points this season. They have now won four out of five games and pushed themselves to .500 in league play. But that still hasn't made much of a dent in their triple-digit RPI.
7. NC State:
Saturday's overtime loss at Clemson was just the latest defeat to rip at the Wolfpack's NCAA tournament hopes. An ACC tournament title would give them an automatic bid, but that now is probably the only way they get there after four straight defeats (Duke, Florida State, UNC and Clemson).
8. Maryland:
After beating Miami at home last week, the Terps went on the road against a struggling Georgia Tech team and promptly lost. Coach Mark Turgeon summed up his team's performance at Georgia Tech this way: "I thought we were growing up, but today showed we haven't grown up all the way," he said, according to The Washington Post. "We weren't ready to play."
9. Virginia Tech:
"One or two more rolls went different this year, we'd be a whole different team," senior guard
Dorenzo Hudson
told
The Washington Post
on Saturday after the Hokies lost another close one -- this time at Duke. Enough said.
10. Wake Forest:
After Duke comes to town on Tuesday, the Deacs will finish the regular season with a winnable game in Atlanta. After prevailing in two of their last three games, they'd like to continue on a high note.
11. Georgia Tech:
After managing only 37 points in a loss to Clemson, the Yellow Jackets beat Maryland by a bucket. "We're real happy,'' guard
Mfon Udofia
said, according to The Associated Press. "I always tell the guys, 'Something's going to shake.'"
12. Boston College
: The Eagles have now lost 10 of 11 games. The positive: All of those freshmen will be sophomores next season.
Follow Robbi Pickeral on Twitter at @bylinerp.
January, 20, 2012
1/20/12
1:20
AM ET
BLACKSBURG, Va. -- The intensity was there. You could hear it in the way North Carolina senior
Tyler Zeller
growled at the roof when he didn't make a layup after being fouled Thursday night. You could see it in the way forward
John Henson
pulled down rebound after rebound (16 in all). You could sense it in the way sophomore
Harrison Barnes
scored 21 of his 27 points in the second half, pushing his team back into the lead, and beyond.
You could even feel it in the way defensive stopper
Dexter Strickland
, obviously hurting after his right knee buckled on a drive to the basket, nonetheless joined his teammates in second-half huddles before limping back his ice pack at the end of the bench.
The eighth-ranked Tar Heels know they can't erase last Saturday's 33-point embarrassment at Florida State. But by beating Virginia Tech
82-68
at Cassell Coliseum -- and snapping a three-game losing streak away from the Smith Center -- they hope they showed they have learned from it.
"You're only as good as your last game, so if you lay an egg the next game, there won't be much benefit from it,'' UNC coach Roy Williams said after his team held Virginia Tech to 33.3 percent shooting in the second half, and outrebounded the Hokies 47-25 for the game.
"But I think we found out that we can't be successful at any level playing the way we played last Saturday. I think we were rewarded for working extremely hard in practice the last couple of days, and it carried over to the game. And I hope they understand that that's the way we'll have to continue working."
UNC's practices following the FSU loss have been described as everything from "brutal" to "not fun." In an effort to increase effort (which was sorely lacking in Tallahassee), every drill was a competition, every expectation (as well as some voices) raised.
[+] Enlarge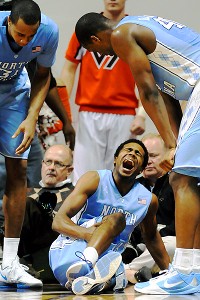 AP Photo/Don PetersenDexter Strickland missed most of the second half after his right knee buckled on a drive.
Point guard
Kendall Marshall
(nine points, eight assists) said that he got to meet the "real Roy Williams." (And probably not the one that says
dad-gum
and
shucks
.)
"He's a lot of smiles with you-all, and that's how he is as a person, but you don't want to get on his bad side,'' Marshall said.
Zeller, who's been through some pretty hard post-loss workouts during his four seasons in Chapel Hill, said he thought that this week marked the most intense practices he's ever been a part of.
"There were times during my sophomore year [when UNC lost 17 games and failed to make the NCAA tournament] when we'd scrimmage for 30 minutes, and that was extremely tough,'' said the 7-footer, who recorded 14 points and 11 rebounds Thursday.
"But this week, it was about perfecting things. Defensively, we wanted every possession perfect. Offensively, we wanted every screen set in the right spot. … The running at the end was tough, the toughest running I've ever done at the end of practice.
"But was great for us, though, because tonight we played with a different edge."
Indeed, UNC trailed 39-34 at halftime, as Hokies senior
Dorenzo Hudson
, who hadn't made a 3-pointer in three straight games, was a perfect 5-for-5 (with four 3-pointers) for 16 points.
But Williams wouldn't let his team hang its collective head in the locker room, reminding his players to focus, to play with effort, to get a closer hand in each shooter's face.
And the Tar Heels (16-3, 3-1 ACC) complied.
With UNC trailing 44-36 early in the second half, Barnes scored the first six points of a 26-2 breakaway that lasted more than nine minutes and saw Tech bury zero field goals. The sophomore was 6-for-6 in the second half, connecting on drives and jumpers and a 3-pointer.
"Barnes made some ridiculous shots,'' said Hokies coach Seth Greenberg. "The guy makes hard shots look easy. … He made one fade, like, he'll be getting paid $3 million a year for that shot next year."
Tech, meanwhile, struggled offensively; by the time it halted UNC's run on a
Robert Brown
3-pointer, UNC had a 16-point lead. In the end,
Erick Green
led Tech (11-7, 0-4 ACC) with 17 points, while Hudson didn't make a shot after halftime. It marks the fourth straight game the Hokies have shot worse than 40 percent.
"I thought it was totally, totally, totally our defense in the second half,'' Williams said.
He added: "For me ... our effort and our intensity and our activity the whole second half was better than it's been in any game this year."
The only downside for the Tar Heels: With 16:44 left, Strickland's right knee buckled when he was driving to the basket. He lay on the baseline in obvious pain before being helped to the bench.
He was walking around the locker room without help after the game, and will be re-evaluated by team doctors on Friday.
Even with their top perimeter defender sidelined for most of the second half, Marshall said UNC's performance shows that it learned from Saturday's loss to the Seminoles, that it can play with the effort and intensity it takes to keep winning.
"Obviously, we wanted to play better,'' Marshall said. "But at the same time, people started making these outrageous predictions, how we're not that good now, how we're not the team everybody thought we were. There are a lot of three-loss teams out there. Ohio State's a great team -- three losses. Indiana's a great team -- three losses. So I think we should just take it as a learning experience, and try not to revert back to the habits from that [FSU] game.
"… We want to get better, and I doubt we'll ever run into that [lack of effort/intensity] again. I know this team, I know the personalities on this team. We're all winners, and like I said, we're focused on the here and now."
Robbi Pickeral can be reached at bylinerp@gmail.com. Twitter: @bylinerp.
January, 19, 2012
1/19/12
11:09
PM ET
BLACKSBURG, Va. -- A quick look at No. 8 North Carolina's
82-68 victory
over Virginia Tech at Cassell Coliseum on Thursday:


What it means for UNC:
A key, effort-filled bounce-back win after its 33-point blowout defeat at Florida State on Saturday – but a possible loss to its starting lineup.
Early in the second half, junior shooting guard
Dexter Strickland
– the best perimeter defender on the team – had his right knee buckle as he was driving to the basket. He lay on the baseline in obvious pain until he was helped to the bench. He stayed there with his knee iced, then wrapped, for rest of the game, and there was no immediate update on his status.
What it means for Virginia Tech:
More frustration. After losing their first three ACC games by a combined nine points, the Hokies fall to 0-4 in ACC play for the first time since 2005-06, when they started 0-6.
How it happened:
UNC led 15-9 early when Hokies guard
Dorenzo Hudson
– 0-for-8 from 3-point-land his previous three outings – connected on a corner 3. He added two more 3s and two free throws to give his team its first lead of the game (20-17). In fact, Hudson didn't miss all half, making all four of his 3-pointers, a 2-pointer and two free throws for 16 points.
Tech, which made half of its 3-pointers in the first 20 minutes, led 44-36 early in the second half on an
Erick Green
3-pointer – but then the Hokies went cold. And UNC got hot.
Tar Heels sophomore
Harrison Barnes
scored the first six points in a 26-2 Tar Heels runaway. The Hokies went more than nine minutes without a field goal, and by the time
Robert Brown
scored on a 3-pointer, there was no slowing the Tar Heels.
Not with Barnes scoring 21 of his 27 points in the second half.
Tyler Zeller
added 14 points and 11 rebounds, and
John Henson
recorded 16 points and 16 rebounds.
Green led the Hokies -- who shot worse than 40 percent for the fourth consecutive game -- with 17 points.
Injury report:
Besides Strickland (see above): Virginia Tech starting point guard Green, who sprained his left knee last week and missed the Boston College game, started. UNC reserve guard
Desmond Hubert
, who sprained his ankle last week and didn't play against FSU, was in uniform but didn't play.
Number to know:
UNC forwards Zeller (9.2 rebounds per game) and Henson (9.7) began the game averaging better than 9 rebounds apice. The last time UNC finished a season with two players averaging 9 or more rebounds? 1966-67, when Rusty Clark averaged 10.3 and Larry Miller averaged 9.3.
What's next:
UNC has a week off before it plays N.C. State at home next Thursday. Meanwhile, Virginia Tech will play at No. 17 Virginia on Sunday.
Follow Robbi Pickeral on Twitter at @bylinerp.
November, 23, 2011
11/23/11
1:00
PM ET
NEW YORK -- The NIT Season Tip-Off had a rather pedestrian look to it when the four host schools were announced last year.
Syracuse was the class of the event, while the other three hosts were hardly locks to even reach New York. Seeing Virginia Tech upset by George Mason, Stanford by Colorado State and Oklahoma State by Texas-San Antonio wouldn't have been far-fetched possibilities.
Tech never faced Mason as Florida International took down the Patriots before falling to the injury-riddled Hokies. The Cardinal got past the Rams and is one of the few Pac-12 teams feeling quite good about itself two weeks into the season. And the Cowboys made a remarkable comeback against UTSA (down 11 late) at home, winning in overtime to reach New York.
The difference with the NIT Season Tip-Off and the rest of these early-season tournaments is that the four hosts are not guaranteed a spot in the semifinals.
"You have to earn your way here,'' said Stanford coach Johnny Dawkins.
Two schools will be playing in the backdrop of difficult news stories. Oklahoma State's men's team, especially head coach Travis Ford, is coaching and playing against Stanford with a heavy heart after the tragic plane crash claimed four lives, including head women's basketball coach Kurt Budke and assistant Miranda Serna. The team and staff feel a bit awkward not being in Stillwater helping the women's team through their grief. Instead, they will face Stanford Wednesday night (ESPN2, 7 ET).
Syracuse's players may not be distracted or affected, but the coaching staff has been slammed by the news that Bernie Fine is on administrative leave for allegations that he molested two ball boys two decades ago while on the staff. That move prompted Syracuse coach Jim Boeheim to move favored alumnus Gerry McNamara to a coaching/recruiting role on the bench where he'll be for Wednesday night's matchup against the Hokies (ESPNU, 9:30 ET).
On the court, here are the questions heading into Wednesday's games:
How good is Syracuse?

Boeheim said the Orange hasn't been seriously tested yet. Syracuse will be the home team in Madison Square Garden, but the bigger question is will it be pushed? The Orange big men are still a work in progress. But
C.J. Fair
,
Fab Melo
and
Rakeem Christmas
have been more than serviceable. They are rebounding well enough and can continue to show progress in this tournament. Virginia Tech is depleted inside so this is a chance for any of those three players to shine.
The Orange is playing essentially 11 players, but could easily trim that down to a more manageable seven in crunch time. The perimeter of
James Southerland
,
Dion Waiters
,
Kris Joseph
,
Brandon Triche
and
Scoop Jardine
are the core of this group and should continue to lead it throughout the season.
Melo is in much better condition, and that's helping his game. Waiters has excelled as a defensive player. But, as Boeheim said Tuesday, this team hasn't faced adversity yet so he's not sure what will occur.
"We haven't been tested at all yet,'' Boeheim said.
Syracuse may get pushed this week in New York. But if it doesn't happen here, it will happen against Florida on Dec. 2 in the SEC/Big East Challenge, possibly against Marshall at the Carrie Dome (Dec. 6) or on Dec. 17 at NC State.
How much will Oklahoma State's freshmen excel in this environment?

The Cowboys haven't received publicity yet. But they have two of the more intriguing freshmen in the country. Six-foot guard
Cezar Guerrero
is a mini version of Ford.
Guerrero has the green light to shoot 3-pointers, and was 8-of-17 from long range against UTSA. The Cowboys took 38 3-point shots against the Roadrunners, making 14 of them. Guerrero hit a combined 2-for-6 3s in the two previous games against Arkansas-Pine Bluff and Texas A&M-Corpus Christi. He finished with 29 points in the win over UTSA and is averaging 15 points a game. Guerrero may have to do even more with
Keiton Page
still nursing a turf toe on his right foot. Page was in a walking boot Tuesday but said he expects to play against Stanford.
The third-leading scorer is the freshmen with the hype:
Le'Bryan Nash
. Nash has been averaging 12 points and 6.3 rebounds per game, but has been a bit subdued. He is certainly capable of putting up even more impressive numbers.
Stanford will have its hands full trying to check both of these players. But this is also the first time the Cowboys have been on this stage. Oklahoma State scheduled well and will return to MSG to play Pitt on Dec. 10.
How much momentum does Stanford have?

Plenty. The Cardinal took a major hit when Jeremy Green decided to stay in the NBA draft, despite not being drafted. But the team hasn't made any excuses. Sophomore
Aaron Bright
has led this squad with important contributions from senior
Josh Owens
and freshman
Chasson Randle
.
The Cardinal beat rebuilding Fresno State and gritty Colorado State to get to New York. Dawkins said he's looking to change the expectation of winning at Stanford. The program had a rich history under Mike Montgomery, and Trent Johnson was able to continue it with the Lopez twins. But Stanford went through a major rebuilding stretch, which meant it has missed the NCAA tournament during Dawkins' tenure.
Dawkins is from Duke, so he's obviously set a high bar.
"We want to have a standard of excellence,'' Dawkins said. "I want to have the vision that we had at Duke.''
If there ever was a year to move up in the Pac-12, it might be this one. So far this season, the most consistent teams in the league have been Arizona, Oregon State and, until the Golden Bears' blowout loss Tuesday night to Mizzou, Cal. Stanford can join that company with a strong showing in New York.
Will Virginia Tech emerge as a legitimate candidate and compete for a top-four finish in the ACC?

That spot is open behind North Carolina, Duke and Florida State. Virginia had the inside track -- and may still be the one -- but it struggled a bit in the Paradise Jam in the Virgin Islands. NC State has the talent to be the fourth-best team. The Wolfpack nearly beat Vanderbilt before an impressive 18-point comeback win over Texas in the Legends Classic consolation game. Miami is depleted inside. Clemson had the look of a top-four team, but then lost to Coastal Carolina at home.
Now it's Virginia Tech's turn to see what it can do in late November.
The Hokies are playing without big man
J.T. Thompson
, who tore his ACL for the second-straight season. But that injury has opened up more time for freshman big man
Dorian Finney-Smith
, who is averaging a team-high 11 boards and dishing out a team-best 4.3 assists a game.
But it doesn't help that junior guard
Erick Green
is nursing a strained Achilles. He didn't play in the opener against East Tennessee State, but did see action against Monmouth and Florida International, scoring in double figures in both games. While Green heals, the Hokies are leaning even more on
Dorenzo Hudson
to score. Hudson, who was limited to only nine games last season due to injury, is the go-to player without Malcolm Delaney. He was a perfect 12-for-12 from the line and scored 31 points in the win over FIU.
"We've got young guys up front and experienced guards,'' said Va. Tech coach Seth Greenberg. "We're understanding who we are.''
And that's a defensive-minded team. The Hokies have limited their opponents to 7 of 50 shooting so far. That's just 14 percent.
"This is a very unselfish team that shares the ball,'' Greenberg said.
Expectation:
Syracuse has the most talent and is the only ranked team. The Orange should win both games. But whoever gets out of here with a split will have strong momentum going into December. And all three -- Oklahoma State, Stanford and Virginia Tech -- have higher ceilings this season than originally projected.
November, 29, 2010
11/29/10
7:24
PM ET
By
ESPN.com staff
| ESPN.com
The ACC/Big Ten Challenge will be the dominant storyline in college basketball over the next few nights, so might as well put our writers and contributors on the spot with predictions, right?
For what it's worth, the group consensus for each game adds up to a 6-5 Big Ten victory over the ACC. But it's actually even closer than that. In the highly anticipated Iowa-Wake Forest matchup, our panel took the Hawkeyes by a 5-4 margin. If one of those five had picked the Deacons, we'd be projecting an ACC overall victory.
Sounds to us like an event worth tuning in to …
MONDAY
VIRGINIA AT MINNESOTA (ESPN2, 7 ET)
Jay Bilas:
Minnesota -- Tubby Smith has depth and guard play, and Tony Bennett doesn't.


Eamonn Brennan:
Minnesota – The Gophers are a complete and balanced team, even if
Al Nolen
and
Rodney Williams
miss the game due to injury; Tony Bennett's rebounding Virginia squad is, well, not.

Fran Fraschilla:
Minnesota -- The Gophers are one of the country's early-season surprises and they are at home in the friendly confines of Williams Arena. This will be ugly.

Doug Gottlieb:
Minnesota -- Despite not having Al Nolen, Minnesota is still loaded.
Maverick Ahanmisi
was a late signee who is a year older than most freshmen, and that maturity will come in handy.

Andy Katz:
Minnesota – The Gophers are depleted with injuries, but likely get
Devoe Joseph
back and are too strong, too tall and too deep for rebuilding Virginia.

Diamond Leung:
Minnesota -- Minnesota might be banged up, but
Blake Hoffarber
and
Trevor Mbakwe
should be able to dominate.

Joe Lunardi:
Minnesota -- The shorthanded Gophers are still too much for the Cavs at this point.

Dana O'Neil:
Minnesota -- Even without Al Nolen and Rodney Williams, the red-hot Gophers are too talented for the still struggling Cavaliers.

Jay Williams:
Minnesota -- Even though they won't have starters Al Nolen and Rodney Williams due to injuries, I expect Blake Hoffarber, Trevor Mbakwe and
Ralph Sampson III
to dominate.
TUESDAY
GEORGIA TECH AT NORTHWESTERN (ESPN2, 7 ET)
Bilas:
Northwestern -- The Wildcats will spread the Jackets out and keep them on a string between open 3s and backdoor cuts.


Brennan:
Northwestern -- Facing its first real "test" of the season, Northwestern's matchup zone and tricky Princeton offense will give Georgia Tech fits.

Fraschilla:
Northwestern -- Sadly, even a win over the Yellow Jackets won't mean much in March. Too much
John Shurna
in this one.

Gottlieb:
Northwestern -- Tech played well this weekend, but the travel and
Juice Thompson
will be too much.

Katz:
Northwestern -- If we're going to take the Wildcats seriously, they have to win a game like this at home against the inferior Yellow Jackets.

Leung:
Northwestern -- The Wildcats should stay undefeated playing on their home court and with John Shurna playing well.
Lunardi:
Northwestern -- A solid win over Creighton sets the Wildcats up nicely for another victory.
O'Neil:
Northwestern -- John Shurna has been terrific all season for a Wildcat team dreaming of -- gasp! -- an NCAA bid.
Williams:
Northwestern -- This is the year Northwestern makes the NCAA tournament because of Shurna and Thompson.
IOWA AT WAKE FOREST (ESPNU, 7 ET)
Bilas:
Iowa -- Wake Forest will have a hard time beating anyone this season.


Brennan:
Iowa -- Because as bad as Iowa is, Wake Forest is -- somehow -- worse.
Fraschilla:
Wake Forest -- Someone has to win, right?
Gottlieb:
Iowa -- Hawkeyes are coming off a win. Fran McCaffery will dial up something.
Katz:
Wake Forest -- I can't see the Demon Deacons losing four home games before Dec. 1.
Leung:
Iowa -- Between the two, Iowa has shown a few more signs of life.
Lunardi:
Wake Forest -- Neither team has played a true road game, so you have to go with Wake at home.
O'Neil:
Wake Forest -- Because as bad as the Demon Deacons have looked early, the Hawkeyes have looked worse.
Williams:
Iowa -- After watching Wake lose to Stetson, VCU and Winthrop, I give the edge to Iowa on the road.
OHIO STATE AT FLORIDA STATE (ESPN, 7:30 ET)
Bilas:
Ohio State -- Florida State can really guard, but scoring efficiently is a problem the Seminoles have and the Buckeyes don't.


Brennan:
Ohio State – FSU's defense will keep this one close, but the interior offensive rebounding of
Jared Sullinger
and
Dallas Lauderdale
will be too much for the Noles to manage.
Fraschilla:
Ohio State – The Leon County Civic Center is not the home court the Seminoles deserve.
Gottlieb:
FSU's
Chris Singleton
has put up insane numbers with two triple-doubles, but OSU has the athletes to guard him and his compadres.
Katz:
Ohio State -- The Buckeyes won at Florida and have a better inside game than Florida State, although FSU's Chris Singleton will likely put up the best numbers.
Leung:
Ohio State -- Despite the all-around talents of FSU's Chris Singleton, Ohio State has too many weapons, including Jared Sullinger in the middle.
Lunardi:
Ohio State -- Buckeyes complete the Sunshine State sweep in Tallahassee.
O'Neil:
Ohio State -- Tough follow for the Seminoles after an emotional, disappointing loss to the Gators. Plus, Jared Sullinger is the why to all questions about the Buckeyes.
Williams:
Florida State -- Yes, I call the upset here.
Xavier Gibson
and
Bernard James
will give Mr. Sullinger a lot to deal with down low.
MICHIGAN AT CLEMSON (ESPN2, 9 ET)
Bilas:
Clemson -- The Tigers are at home, and Michigan hasn't won away from home.


Brennan:
Clemson -- Michigan might not be as bad as we thought, but it is not good enough to beat a capable Clemson team, whose only loss was a one-point neutral-court defeat to ODU.
Fraschilla:
Clemson -- Early returns about new coach Brad Brownell are positive.
Gottlieb:
Michigan -- Searching for an upset here, the 1-3-1 proves tough to tame. The Wolverines appear a bit better than expected, though they will suffer in conference.
Katz:
Clemson -- The Tigers, regardless of coach, are too tough at home against similar-level teams.
Leung:
Clemson -- Tigers coach Brad Brownell is fitting right in and has enough weapons to win this one.
Lunardi:
Clemson -- The Wolverines are a long way from being able to win at Littlejohn.
O'Neil:
Clemson -- The Wolverines have done little to prove they're over what ailed them last season.
Williams:
Clemson -- After losses to both Syracuse and UTEP, I don't see the Wolverines bouncing back at Littlejohn Coliseum.
NORTH CAROLINA AT ILLINOIS (ESPN, 9:30 ET)
Bilas:
Illinois -- North Carolina doesn't push the ball and get easy baskets, and Illinois is at home.


Brennan:
Illinois -- The Illini have home-court advantage, but they also have the benefit of a veteran team that can match up with the athletic -- and as yet thoroughly disappointing -- Tar Heels.
Fraschilla:
Illinois -- Are the Heels losing their mystique?
Gottlieb:
Illinois -- Better guards, at home, and though Illinois does not have great strength inside, neither does UNC. Illini by more than 10.
Katz:
Illinois -- The Tar Heels are still searching for a leader and the Illini need this game too much to prove their relevance.
Leung:
Illinois -- It appears that catching the Tar Heels early is the way to go, and an Illini team with size can play with anyone.
Lunardi:
Illinois -- What once looked like a toss-up should be a comfortable win for the Illini.
O'Neil:
Illinois -- The Illini play with grit and determination, traits sorely lacking so far this season for the Tar Heels.
Williams:
Illinois -- UNC does not have the poise or experience to win this one on the road.
WEDNESDAY
NC STATE AT WISCONSIN (ESPN2, 7:15 ET)
Bilas:
Wisconsin -- The game is at the Kohl Center, isn't it? Next question.


Brennan:
Wisconsin -- Besides the immense advantage provided by the Kohl Center, the Badgers are, for all their early-season warts, one of the better rebounding teams in the nation. The Wolfpack without senior forward
Tracy Smith
are one of the worst.
Fraschilla:
Wisconsin -- Anywhere but the Kohl Center, I'd give the Wolfpack an even chance to win.
Gottlieb:
Wisconsin -- NC State has better talent, but Wisconsin will use
Jordan Taylor
off ball screens and
Jon Leuer
is a great fit for what Wisconsin does and Bo Ryan is great at what he does. Frankly, the Wolfpack might become bored with the tedious pace of the Badgers.
Katz:
Wisconsin -- The Wolfpack are without Tracy Smith and to beat the Badgers at the Kohl Center you have to be full strength.
Leung:
Wisconsin -- Jon Leuer is just too much to handle, and the Badgers are playing at home.
Lunardi:
Wisconsin -- The Badgers figure to be extra cranky after losing the Old Spice title game.
O'Neil:
Wisconsin -- I'm guessing practice hasn't been fun for the Badgers since their uncharacteristic slide against Notre Dame. Someone will feel the brunt of that frustration.
Williams:
Wisconsin -- The Badgers have compiled a 138-11 (.926) home record under coach Bo Ryan heading into the season. Enough said.
INDIANA AT BOSTON COLLEGE (ESPNU, 7:15 ET)
Bilas:
Boston College – The Eagles are at home and
Reggie Jackson
can really score.


Brennan:
Boston College -- Boston College has one awful loss (to Yale) and one solid win (over Texas A&M), so let's give it a slight advantage over an Indiana team that has yet to leave Assembly Hall -- or play a non-cupcake opponent.
Fraschilla:
Boston College -- Reggie Jackson hits it out of the park in the Eagles' win.
Gottlieb:
Boston College -- Reggie Jackson is the best player on the floor. The Eagles use the lessons learned in giving away leads in Orlando to help them beat IU.
Katz:
Indiana -- The Eagles own more talent but lack focus in finishing games, something the Hoosiers seem to have now.
Leung:
Boston College -- The easy part of Indiana's schedule is over.
Lunardi:
Boston College -- BC is coming off a very good showing at the Old Spice and should win at home.
O'Neil:
Indiana -- The recruiting good news for the Hoosiers spurs a much-needed good win on the court.
Williams:
Boston College -- When Reggie Jackson is allowed to probe with the dribble and is on his game, BC is a tough team.
PURDUE AT VIRGINIA TECH (ESPN, 7:30 ET)
Bilas:
Virginia Tech -- Purdue is not only missing
Robbie Hummel
, but really missing Chris Kramer.


Brennan:
Purdue -- Both teams have played solid defense and both have had their struggles offensively, but
JaJuan Johnson
should provide too many matchup problems for a shallow Va. Tech front line.
Fraschilla:
Virginia Tech -- Hokies are desperate for a quality nonconference win.
Gottlieb:
Virginia Tech -- Virginia Tech struggles with pressure defense (see Purdue). Purdue struggles to score against legit defenses without Robbie Hummel. Hokies in a great game.
Katz:
Virginia Tech -- The Boilermakers are still a formidable bunch, but winning in Blacksburg is hardly an easy task, especially when the Hokies are a top-three ACC team.
Leung:
Virginia Tech -- The Boilers are showing they're not the same team without Robbie Hummel, and they'll have their hands full containing
Malcolm Delaney
.
Lunardi:
Virginia Tech -- The Hokies want to stockpile every nonconference scalp they can get.
O'Neil:
Virginia Tech -- Neither team has exactly been lighting it up offensively, but the Hokies have Malcolm Delaney, who can score, and the home court.
Williams:
Virginia Tech -- Purdue simply doesn't have the same scoring punch like the Hokies' Malcolm Delaney,
Dorenzo Hudson
and
Jeff Allen
.
MARYLAND AT PENN STATE (ESPN2, 9:15 ET)
Bilas:
Maryland -- Although a road game, the Terps have more talent.


Brennan:
Maryland -- Maryland forward
Jordan Williams
is a budding star, and unless
Talor Battle
can sprout about 10 inches by Wednesday night, the Nittany Lions won't be able to stop him.
Fraschilla:
Maryland -- The Terps should grind out a road win in State College.
Gottlieb:
Maryland -- The Terps are better inside with Jordan Williams and though Talor Battle can win a game on his own, Maryland's size and pressure in the backcourt should hurt his percentages.
Katz:
Maryland -- Penn State is having a hard time being relevant while the Terps continue to play tougher, no matter the venue.
Leung:
Maryland -- The Terrapins' only losses are single-digit ones to Pitt and Illinois, so Penn State should be no problem.
Lunardi:
Maryland -- Penn State isn't the most athletic bunch and was already exposed by Ole Miss.
O'Neil:
Maryland -- The Nittany Lions would need to borrow one of JoePa's linebackers to have a player to contend with Jordan Williams.
Williams:
Maryland -- The Nittany Lions will have no answer inside for the Terps' Jordan Williams.
MICHIGAN STATE AT DUKE (ESPN, 9:30 ET)
Bilas:
Duke -- Michigan State is turning it over too much right now, and Duke's defensive pressure should capitalize.


Brennan:
Duke -- After Duke's dominant win over Kansas State and Michigan State's sluggish start in Maui, the Blue Devils look miles ahead of the field. This early in the season, the Spartans won't be able to close the gap in Cameron.
Fraschilla:
Duke -- Tough place for ANYONE to win.
Gottlieb:
Duke --
Derrick Nix
is back and he should help with the depth of Michigan State inside, but MSU struggled with the quickness of Washington and UConn. Duke's pressure and athleticism are similar.
Katz:
Duke -- The Spartans aren't in March form yet, while the Blue Devils look like they've already made plans for Houston.
Leung:
Duke -- In case you missed the CBE Classic, the Blue Devils are just better than everyone else right now.
Lunardi:
Duke -- Won't make the same mistake of picking against Duke this week.
O'Neil:
Michigan State -- I'll admit I'm not 100 percent in on this pick, especially with Duke playing at home. But after a few humbling visits to the other part of Tobacco Road in recent years, a disappointing loss to UConn and a tongue-lashing after a lackluster effort against Tennessee Tech, I think the Spartans are due for a show-me win.
Williams:
Duke -- Duke is hands-down the best team in the country and the energy within Cameron will be too much for Michigan State to handle.
March, 6, 2010
3/06/10
9:04
PM ET
ATLANTA -- Virginia Tech coach Seth Greenberg doesn't care that the Hokies played most of the ACC's better opponents only once this season.


And he doesn't care that the Hokies' RPI rating is worse than each of the six other ACC teams in contention to play in the NCAA tournament, either.
The only thing that matters to Greenberg is that Virginia Tech finished 10-6 in ACC play this season after
beating Georgia Tech 88-82
at Alexander Memorial Coliseum on Saturday.
"To win 10 games in the ACC is really hard," Greenberg said Saturday, shortly after the Hokies improved to 23-7 overall and earned a first-round bye in next week's ACC tournament in Greensboro, N.C. "I don't care what schedule you played. We played the schedule we were given. It's tough to win 10 games."
Ask Georgia Tech coach Paul Hewitt how hard it is to win 10 games in the ACC.
Even during a season in which defending national champion North Carolina limped through one of its worst seasons in history, his team only won seven ACC games during the regular season.
The Yellow Jackets, despite having potential NBA lottery picks
Derrick Favors
and
Gani Lawal
playing in their front court, find themselves firmly on the NCAA tournament bubble heading into next week's ACC tournament. And by finishing 7-9 against ACC opponents, Georgia Tech just gave the NCAA selection committee an excuse to leave it out of the NCAA field.
"I still feel we have a very good shot," Hewitt said, after his team lost for the fifth time in its past seven games. "We have to go to Greensboro and get a couple of wins and see where it falls from there. Thankfully we have a chance to improve it. They're not handing out bids tomorrow, and that's how we have to look at it."
If Selection Sunday were tomorrow, there's a good chance the Yellow Jackets would be excluded. They won only one ACC road game in eight chances, beating North Carolina 73-71 on Zach Peacock's go-ahead shot with 25.7 seconds left after nearly blowing a 20-point lead.
The Yellow Jackets lost at Virginia and Miami, two of the ACC's worst teams. Against NC State, the league's other cellar dwellar, they nearly blew a 16-point lead in the final five minutes before winning by a 73-71 score at home.
Since beating Clemson and Wake Forest in consecutive home games in late January, the Yellow Jackets haven't beaten anybody of consequence. They've beaten four opponents since Jan. 29 and each of them at home: Division II Kennesaw State, NC State, North Carolina and Boston College.
That's hardly the resume of an NCAA-worthy team.
"We're just focusing on getting us back together mentally and physically," Hewitt said.
Hewitt might want to focus on his team's lack of defense. In their past two games, the Yellow Jackets surrendered 91 points in an 11-point loss at Clemson on Tuesday night, and then 88 points to a Hokies that played without junior guard
Dorenzo Hudson
, their second-leading scorer.
Virginia Tech came into the game ranked last in the ACC in 3-point shooting, but went 9-for-17 beyond the 3-point arch against the Yellow Jackets.
"We did not do a great job of defending, but at the same time give Virginia Tech credit," Hewitt said. "They made some big shots."
Junior guard
Malcolm Delaney
made many of them, matching his season-high with 32 points. Tech's defense allowed the Hokies to spread the floor whenever they wanted to, and Delaney worked his magic from there.
"Delaney does a good job of penetrating," Hewitt said. "He did a good job of getting into the paint. He does a great job of drawing fouls. You've got to put good pressure on him and deny him when he gives it up."
Now the pressure is on the Yellow Jackets as they head to Greensboro.
The Hokies are probably in pretty good shape, but Greenberg isn't taking any chances.
"I said before the season we'll win as many games as we can and see what happens," Greenberg said. "We've had the same mindset all season, even when we lost three games in a row. That's been our focus all season -- control what we can control."
March, 6, 2010
3/06/10
6:17
PM ET
ATLANTA -- Can you leave a team out a team which finished 10-6 in ACC play?
Can you take a team which finished 7-9?


Those are the questions the NCAA selection committee will face next weekend, after Virginia Tech defeated Georgia Tech 88-80 at Alexander Memorial Coliseum on Saturday.
The victory was enormous for Virginia Tech, which won the game despite not having guard
Dorenzo Hudson
, its second-leading scorer, who sat out with a bruised bone in his right foot. The Hokies finished 10-6 in ACC play, three games better than the Yellow Jackets.
If the Hokies had lost at Georgia Tech, the NCAA selection committee might have been tempted to take the Yellow Jackets over them because of the head-to-head meeting. Georgia Tech also had a better RPI rating and strength-of-schedule ranking coming into the game.
Malcolm Delaney
scored 32 points, his fifth 30-point performance of the season. Junior forward
Jeff Allen
added 17 points, and junior forward
Terrell Bell
had a season-high 14 points. Bell is from nearby Stone Mountain, Ga.
The Hokies led by as many as 16 points in the second half.
Freshman
Derrick Favors
had 18 points and nine rebounds for the Yellow Jackets, who might need to win two games in next week's ACC tournament in Greensboro, N.C., to feel even remotely confident on Selection Sunday.
March, 6, 2010
3/06/10
3:56
PM ET
ATLANTA -- Welcome to Georgia Tech's Alexander Memorial Coliseum, the site of maybe the biggest NCAA bubble game in the country on Saturday.
The winner of today's game between Georgia Tech and Virginia Tech is probably in good shape for an NCAA at-large bid, but the loser might have to do some work in next week's ACC tournament in Greensboro, N.C.
Just received word that the Hokies will be without junior guard
Dorenzo Hudson
, their second leading scorer, because of a bone bruise in his right foot. The Charlotte native averages 16.7 points and 3.3 rebounds against ACC foes.
Junior forward
Jeff Allen
, who has been inconsistent all season, will have to pick up the slack for the Hokies.
Virginia Tech entered Saturday tied with Clemson and Florida State for third place in the ACC standings with a 9-6 record in league play. The Hokies will have to beat the Yellow Jackets to maintain pace with the Seminoles, who were a 61-60 winner at Miami earlier today.
Georgia Tech entered the day in seventh place in the ACC with a 7-8 record. But the Yellow Jackets have a better RPI ranking than the Hokies and played a much more difficult schedule.