August, 27, 2014
Aug 27
7:28
PM ET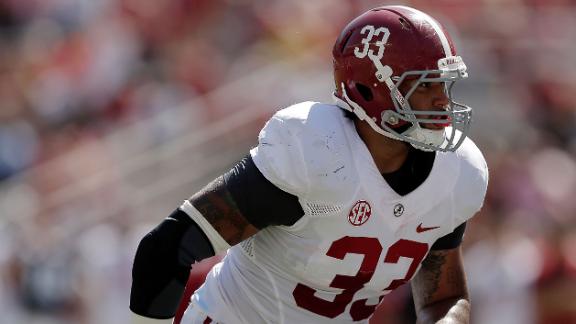 Alabama will begin the season against West Virginia on Saturday without starting inside linebacker Trey DePriest due to an undisclosed NCAA infraction, coach Nick Saban announced.
DePriest, a senior who has started 26 games the past two seasons, is expected to return Week 2 against Florida Atlantic, Saban told reporters in Tuscaloosa, Ala., on Wednesday.
Saban pointed out that since DePriest, a preseason All-SEC selection by both the media and coaches, was limited for much of fall camp with an injury, his backups were able to get plenty of reps.
"Even though this wasn't something we anticipated, it was something we were able to prepare for," he said.
Reuben Foster and Reggie Ragland will fill in for DePriest against West Virginia, Saban said. Dillon Lee and Shaun Dion Hamilton will be next in line.
Saban doesn't expect DePriest's absence to have a noticeable impact on the game plan because West Virginia likes to go with multiple-receiver sets on offense that require fewer linebackers on the field.
"We'll probably be in nickel or dime in this game 70 percent or more," Saban said, "so there won't be a lot of regular [base defenses]."
Alabama and West Virginia are set to kick off on Saturday at 3:30 p.m. ET in Atlanta.
August, 26, 2014
Aug 26
11:10
PM ET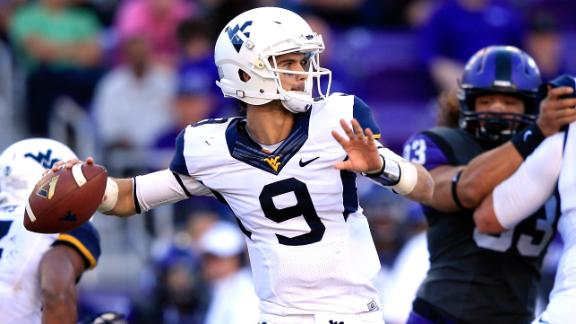 West Virginia starting quarterback Clint Trickett has known Alabama head coach Nick Saban for a long time.
But Trickett apparently had a relationship with another Saban, as well.
"His daughter (Kristen) was my first kiss back in the day," Trickett said, according to the Pittsburgh Post-Gazette.
That revelation could turn into a bit of bulletin-board fodder as Trickett's Mountaineers open against Saban's Crimson Tide in the Chick-fil-A Kickoff Game in Atlanta on Saturday.
"So yeah ... I don't know if I should have said that," Trickett said. "She's actually engaged now."
Trickett quickly added: "For clarification, we were like 6 years old! Just so everyone knows that."
Trickett has a long history with the Sabans. His father, Rick, who is currently the offensive line coach at Florida State, coached under Saban at LSU in 2000.
Trickett's brother, Travis, who is now at Samford, was a graduate assistant for Saban at Alabama in 2007.
"Coach Nick is one of the greatest there is," Trickett said. "We've known him for years; family friends and just one of the best coaches out there."
August, 26, 2014
Aug 26
11:00
PM ET
The Early Offer is RecruitingNation's regular feature, giving you a daily dose of recruiting news across the country. Today's offerings: Notre Dame has the
No. 15 class in the country
, but the Irish could quickly climb into the top 10 with a monster recruiting weekend on the horizon. Plus, after Georgia landed star junior quarterback
Jacob Eason
, the Dawgs have been on a recruiting run at receiver, and we continue our tour of the top recruiting happenings on social media.
August, 26, 2014
Aug 26
8:18
PM ET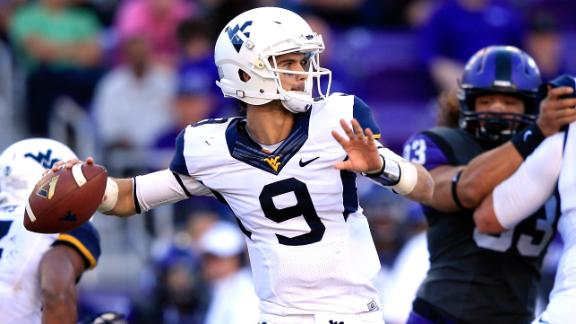 West Virginia's opener with Alabama this weekend took an interesting turn Tuesday when Mountaineers quarterback
Clint Trickett
was asked after practice about his relationship with Alabama coach Nick Saban.
Trickett's father, Rick, who is currently Florida State's offensive line coach, worked at LSU under Saban in 2000.
Trickett, however, apparently had a relationship with another Saban, as well.
According to the
Pittsburgh Post-Gazette
:
Trickett, when prompted that he probably knows Saban well: "His daughter was my first kiss back in the day. So yeah... I don't know if I should have said that [laughs]. She's actually engaged now. Coach Nick is one of the greatest there is. My brother (Travis Trickett) worked for him. He was a GA for him when he first got to Alabama. And we've known him for years, family friends and just one of the best coaches out there."
Trickett cut off the next question to add one more tidbit: "For clarification, we were like six years old! Just so everyone knows that."
It's unclear at the moment whether this news will affect how many blitzes Saban dials up on Saturday.
August, 26, 2014
Aug 26
5:59
PM ET
By
ESPN.com staff
| ESPN.com
ESPN's college football experts offer their predictions for the 2014 conference winners, which four teams will make the final four and which team will win the first College Football Playoff.
Alabama is the most popular pick to win the SEC crown, with Georgia, South Carolina and Auburn also receiving support. The Crimson Tide are the only conference team picked to win it all, although only two of the panel's 23 experts picked Nick Saban's crew to win it all.
Click here
for the full list of predictions.
And make sure to check out our
comprehensive betting guide

from Phil Steele and Will Harris.
August, 26, 2014
Aug 26
3:00
PM ET
TUSCALOOSA, Ala. -- It wasn't that long ago that a fresh-faced
Landon Collins
committed to Alabama in one of the strangest announcements ever recorded on national television.
[+] Enlarge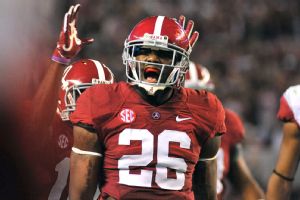 Ryan A. Miller/Icon SMIAlabama's defense will lean heavily on junior defensive back Landon Collins this season.
You know how it went: The five-star safety from Louisiana says, "Roll Tide Roll!" and pulls on a pair of Alabama gloves while his mother, April Justin, looks on in disappointment. Every one of Collins' 15 friends and family on stage -- that is, all but Justin -- applaud. And in the few weeks until national signing day, everyone wonders whether he'll flip to LSU. But he doesn't. He enrolls at Alabama and for the next year or so we catch only glimpses of the athlete who ignited such a firestorm of emotion.
That Landon Collins seems long gone now. His body has filled out. His hair has grown some, too. His mustache and chin-strap beard aren't trimmed up neatly like before. The talented special teams gunner fighting for reps is suddenly a veteran in a secondary hoping to return to its former glory. The drama of the past, the questions about his mother and LSU and his very public commitment, are now anecdotes in a larger story about one of the best safeties in the country, a First Team Preseason Coaches All-SEC selection and future NFL draft pick.
"Me and my dad sat down and talked about it before I ever signed to come here," Collins said. "He said by my junior year I'd be starting. I was like, 'No, I'll be playing my freshman year and get my starting job as a sophomore.' We didn't know the outcome, but by God's grace that's what we did.
"I just took it and ran with it."
In a way, both father and son were right. Collins played on special teams as a freshman and was expected to come off the bench as a sophomore. Ha Ha Clinton-Dix and Vinnie Sunseri, two upperclassmen, were entrenched at safety. But Clinton-Dix missed time sorting out an issue with the NCAA, and right as he returned, Sunseri tore his ACL. Collins stepped in, started nine games and filled up the stat sheet, finishing second on the team in tackles, first in passes defended and tied for second in interceptions and forced fumbles.
With Clinton-Dix and Sunseri off to the NFL and former starting cornerback
Deion Belue
gone as well, Collins is now the most recognizable face of Alabama's secondary. In fact, he might be the most indispensable player on Alabama's entire defense.
"He's been probably a key guy in a leadership role, defensively for this team in terms of how he's embraced that role and done a really good job," said coach Nick Saban. "The guy practices hard every day, works hard every day."
"I see a guy who's really hungry for this season, a guy who goes out and gets better and better every day" said fellow safety
Jarrick Williams
, who lauded Collins' speed and ability to tackle. "There's no slacking with him, it's full every day."
Amari Cooper
, Alabama's star receiver, said you have to keep an eye on him.
"He's a fast guy getting to the ball," he said. "Like on a reverse, he's coming down really fast. He's always near the ball, so you have to be very aware of him."
Instead of answering questions about his infamous commitment, Collins is now answering for a defense expected to be one the best in the country, despite losing more than half of its starters from last season. On Monday, he talked up rookies, praised the defensive line and assessed the play of another hotly contested recruit, linebacker
Reuben Foster
. He even answered the tough questions like whether the defense has anything to prove after struggling against hurry-up, no-huddle offenses last season.
His response: "Definitely."
"We've always been known as a defense that's unstoppable [sic]," he said. "You can't run the ball or throw the ball on us. That's how we want to portray our defense like we did in previous years."
We'll know right away whether Collins and Alabama can paint that familiar picture.
The Crimson Tide's opponent to open the season, West Virginia, may have won only four games last season, but coach Dana Holgorsen's offense is potent, having averaged 26.3 points and 410.8 yards per game. It likes to push the tempo, too, as last season it averaged 22.8 seconds of possession per play, 26th quickest in the country.
Collins' leadership, as much as his talent, will be critical to Alabama's success. How he handles Saturday's fast-paced environment will be an indicator of how the defense will fair in the weeks to come.
But talking to Collins, you don't sense any pressure. After having gone through so much already, he's excited about what's ahead.
"Having these guys look up to me and the expectations I have for myself, I think it's going to be a great year," he said.
August, 26, 2014
Aug 26
12:32
PM ET
August, 26, 2014
Aug 26
10:00
AM ET
Believe it or not, we are two days away from SEC football officially kicking off the 2014 season. And
you
thought we'd never get here!
Each season we make perfect prediction after perfect prediction. From weekly game picks to preseason teams, we think we've got this whole prognostication thing down to a science!
It's become a tradition here on the SEC blog to release our fearless predictions for the season ahead. I'm riding solo on them this year, but they shouldn't be any less correct this time around.
Here are my 10 fearless predictions for the SEC in 2014:
1. The SEC champion will have two losses ... but still make the playoff:
With the talent gap between the teams at the top and the middle of the pack growing tighter, the SEC might be in store for the most exciting divisional races we've seen in a long time. No team is perfect. I've said this since the end of last season: No team will go undefeated in the SEC and no team will leave Atlanta with fewer than two losses. But with how strong the conference is this year, there's no way the SEC champ will be left out of the inaugural College Football Playoff.
[+] Enlarge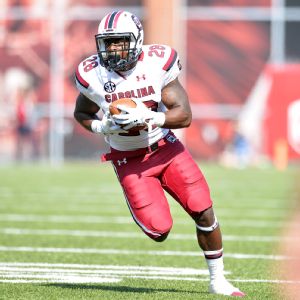 Scott Clarke/ESPN ImagesMike Davis rushed for 1,183 yards on 203 carries and 11 scores in 2013.
2. Mike Davis will lead the conference in rushing:
He can steamroll over you or just run by you. Davis has everything you'd want in a back and even though he's dealing with a rib injury, he'll lead the SEC in rushing yards this season. It won't hurt that he has arguably the nation's best offensive line in front of him. Georgia's
Todd Gurley
has yet to make it through an entire season healthy, while
T.J. Yeldon
will undoubtedly have his carries eaten into by
Derrick Henry
. With what should be a solid passing game taking some pressure off him, Davis will blow by the 1,183 yards he had last year.
3. The SEC will have 12 bowl-eligible teams:
Last year, the SEC saw 10 teams go bowling. This year, Florida and Tennessee will reach at least six wins this fall and join the teams that made bowl games last year. Yes, a Tennessee team with brand-new offensive and defensive lines will go bowling, and yes, Florida's offense
will
be much better.
4. Will Muschamp will finally beat Georgia:
After going 0-3 against his alma mater, Muschamp will finally get a win at the World's Largest Outdoor, eh, Party. It's a rebound year in Gainesville with a better offense. Of course, the game will be close, but quarterback
Jeff Driskel
will engineer a game-winning drive in the fourth quarter to end the bleeding the Bulldogs have caused the Gators the past three years. That means the SEC East title will come down to the Gators' home game with South Carolina on Nov. 15.
5. Arkansas will have two 1,000-yard rushers:
The Razorbacks came close last year after
Alex Collins
and
Jonathan Williams
combined to rush for 1,926 yards. With so many unknowns still lurking in the passing game, coach Bret Bielema will have no problem handing the ball off to his duo as much as possible. Williams might even lead the Hogs in rushing this year after an impressive offseason. Stacking the box won't stop this duo.
6. The Mississippi schools will reach nine wins:
It seems like whenever Mississippi State and Ole Miss have higher expectations, they fail to live up to the hype. Well, that ain't happening this season. With two very manageable seasons, and a host of talent returning, both of these schools will reach at least nine wins this season. Ole Miss gets Alabama, Auburn and Mississippi State at home and should sweep nonconference play. Mississippi State has an extremely soft nonconference slate and gets Auburn and Texas A&M at home. Both Mississippi teams will pull a big upset on their way to nine wins.
7. Leonard Floyd will lead the SEC in sacks:
Last year, Floyd led the Bulldogs with 6.5 sacks. This year, Georgia's best pass-rusher will push for All-American status by reaching double-digit sacks and leading the league. He's fast, strong and terrifying off the edge. Floyd had a great offseason and will be a nightmare for quarterbacks.
8. Vanderbilt will make it four bowl trips in a row:
No James Franklin? No problem. What Franklin didn't take was the talented core of players the Commodores have. The Commodores return a strong offensive line and a deep, talented group of running backs. New coach Derek Mason also likes what he has defensively. The new 3-4 scheme will make the Dores faster off the edge with
Kyle Woestmann
and
Caleb Azubike
moving to outside linebacker. Vandy should win its four nonconference games and will find two more wins to make it back to the postseason.
9. The SEC won't win the national championship:
Look at prediction No. 1. While I think the SEC is stronger than ever as a whole, the winner of this league (I'm predicting Alabama) will be pretty beat-up come playoff time -- monthlong break and all. But it isn't just that. I think the country has a great set of teams at the top this year, and I don't see one SEC team really sticking out like seasons past. The seven straight titles were good for the league, but the conference will hit a two-year snag.
10. Ohio State will lose to another SEC team:
The loss of quarterback
Braxton Miller
might have spoiled the Buckeyes' playoff hopes, but they'll find a way to meet an SEC team during the postseason and continue their time-honored tradition of losing to the SEC. Come January, the Buckeyes will be 0-11 against the SEC in bowl games.
Trey DePriest Won't Play In Opener
SEC SCOREBOARD
Thursday, 8/28
Saturday, 8/30
Sunday, 8/31