November, 23, 2014
Nov 23
2:16
PM ET
Associated Press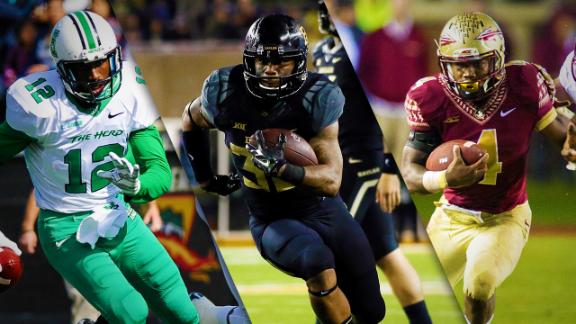 Florida State is No. 1 in The Associated Press college football poll, followed by Alabama, Oregon and Mississippi State. The top four teams were unchanged for the first time since late September.
The gap between the Seminoles and the Crimson Tide narrowed after another close call by Florida State, which beat Boston College 20-17 on a field goal in the waning seconds.
Florida State received 37 first-place votes and 1,458 points, down six first-place votes and 18 points from last week. Alabama has 21 first-place votes 1,445 points. No. 3 Oregon received two first-place votes, one more than last week.
Mississippi State is fourth, followed by Baylor and TCU. Baylor and TCU swapped places. Ohio State remained No. 7.
November, 23, 2014
Nov 23
2:00
PM ET
By
ESPN.com staff
| ESPN.com
Will Arkansas ever give up another point? For the second consecutive week, the surging Razorbacks shut out a Top 25 team, as they continue to move up the SEC Power Rankings. Outside of that, the day mostly held true to form, as most squads got ready for rivalry week by hosting FCS teams.

Edward Aschoff, David Ching, Sam Khan Jr., Greg Ostendorf and Alex Scarborough contributed to these rankings.
November, 23, 2014
Nov 23
12:00
AM ET
On what was largely a ho-hum Saturday, many of the country's top teams didn't dominate their games against what were supposed to be overmatched opponents.
No. 1 Alabama led FCS opponent Western Carolina 17-14 early in the second quarter of a 48-14 victory.
No. 3 Florida State needed a field goal with three seconds left to beat Boston College 20-17 in the rain at home.
No. 6 Ohio State trailed Indiana deep into the third quarter of a 42-27 win.
And No. 8 Ole Miss was blown out by Arkansas in an ugly 30-0 loss.
At this point, with only two weeks left in the regular season, does it really matter how good a team looks while winning? Isn't it all about just winning?
Defending national champion Florida State has made its living by winning ugly this season. The Seminoles' victory over Boston College was their sixth this season in which they trailed or were tied in the second half. According to ESPN Stats & Information, only Northern Illinois in 2013 won more such games (seven) among the 30 FBS teams that started 11-0 in the past 10 seasons.
So will FSU's latest closer-than-expected victory bolster its playoff résumé?
"Why wouldn't it?" FSU coach Jimbo Fisher said. "We're undefeated. We're undefeated. We finish every game. Everybody else in the country has not finished at least one game. We've finished every one of them. Isn't that the object?"
It used to be. But now the object seems to be more about how you look in winning. The Seminoles dropped from No. 2 to No. 3 in the rankings over the past couple of weeks, and they haven't even been ranked No. 1 by the selection committee, despite being the only remaining unbeaten team from a Power 5 conference and having won a school-record 27 consecutive games.
"Well, you know, we were downgraded every time we blew someone out last year, so think of the irony of that," FSU quarterback Jameis Winston
November, 23, 2014
Nov 23
12:00
AM ET
By
Chris Morris
| ESPN.com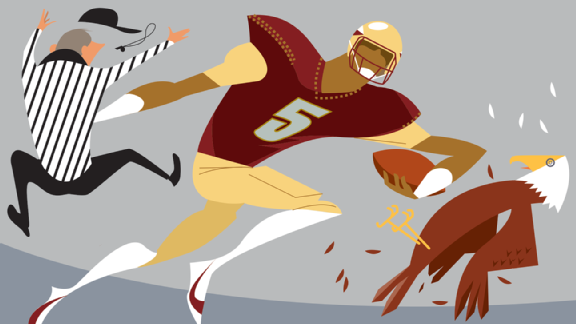 Chris Morris for ESPN
Each Sunday during the season, ESPN.com will highlight four storylines that had an impact on the College Football Playoff race.
Jameis Winston moved an official and, eventually, the Eagles out of the way, driving the Seminoles 66 yards to put Roberto Aguayo in position for a 26-yard game-winning field goal with three seconds remaining.
---
Baylor, Ohio State, UCLA look to impress
Three teams sitting just outside the top four vamped for the selection committee: No. 7 Baylor eased past Oklahoma State 49-28, No. 6 Ohio State clinched the Big Ten's East Division title with a 42-27 win over Indiana and No. 9 UCLA defeated No. 19 USC 38-20.
---
Three of top four cruise
November, 22, 2014
Nov 22
11:35
PM ET
It was a relatively weak slate for the SEC, but we still learned a few things about the league as we head into the final week of the regular season:
[+] Enlarge

Beth Hall/USA TODAY SportsTrey Flowers and the Arkansas defense have been downright nasty the past two weeks, when they shut out LSU and Ole Miss, respectively.

If you thought Arkansas was improving ...: Just wait until next season with the Razorbacks. Bret Bielema's team went from one of the nation's most snake-bitten teams to topping LSU and Ole Miss -- both ranked at the time -- by a combined score of 47-0 in back-to-back weeks, including today's 30-0 win over the Rebels. This team isn't flashy, by any means, but that tough, beat-you-down effort is getting better and better for the Hogs. They'll be even better next season, with nine potential starters coming back on offense, including running backs Alex Collins and Jonathan Williams. The defense will lose seniors Trey Flowers and Tevin Mitchel, but that younger group of defenders has grown up as the season has gone on and played out of its mind when its back was against its own end zone. That's a great way to tell how much a defense has matured. Bo Wallace helped it out, but forcing two turnovers in the end zone was crucial Saturday. Arkansas' quarterback situation has to improve, but this team is going to have a ton of momentum going into next season, as it is headed to a bowl game this season.

Florida's football team is still playing for Muschamp: Yes, it was only Eastern Kentucky, but it was a perfect opportunity for a Florida team led by a lame duck head coach to simply go through the motions. But the Gators were all business and pounded the Colonels 52-3 on Senior Day in Will Muschamp's final game in the Swamp as Florida's head coach. It was a feel-good win for a program that is now bowl-eligible and will be under new management next season. The Gators rolled up 430 yards of offense and watched embattled quarterback Jeff Driskel throw for 164 yards and three touchdowns in relief of an injured Treon Harris. The playbook opened up when Driskel got in, and the Gators watched receivers Demarcus Robinson and Quinton Dunbar combine for seven catches for 244 yards and four touchdowns. This team might not beat Florida State next week, but it won't lie down with its coach out the door.

Bo Wallace needs Laquon Treadwell: With his safety net done for the season, Ole Miss' quarterback just doesn't have enough help right now. Yes, Wallace made some bad decisions in the 30-0 loss to Arkansas, but with no consistent running game to rely on, Ole Miss' offense couldn't get anything going without a game-changer at wide receiver. Wallace forced throws at critical moments, but some of that had to do with his not having Treadwell to go to when things got hairy. Wallace threw for 235 yards, but when the Rebels' offense needed a clutch play from its quarterback, he couldn't deliver. Treadwell had always been there to provide the big play, but without him, the Rebels don't have a major playmaker to keep drives alive. It's obvious the lack of a power running game is keeping this offense from evolving with Treadwell out. You better believe Mississippi State will have no problem dialing up the pressure as much as possible next week against Ole Miss.

Alabama and Mississippi take center stage: The final weekend of the regular season will bring all SEC eyes on the states of Alabama and Mississippi. Alabama and Mississippi State cruised on Saturday, which means the SEC West champion will officially be decided next weekend. Alabama hosts Auburn, while Mississippi State travels to Ole Miss. The Bulldogs play earlier in the day, so they will be on pins and needles on their way back to Starkville while awaiting the outcome in Tuscaloosa. For the Bulldogs to make it to Atlanta, they need a win and an Alabama loss. Alabama just needs to win. But there's more to next weekend than just the SEC West. If both Alabama and Mississippi State win, the playoff argument for Mississippi State will increase. The Bulldogs' lone loss would be to the No. 1 team in the country, so it's going to be tough to keep the Bulldogs out of the College Football Playoff, regardless of what happens in Atlanta. If Alabama and Mississippi State head into the final day of the College Football Playoff rankings with one loss, could we see two SEC teams in the playoff?

Missouri is one win from an improbable East championship ... again: Here the Missouri Tigers are, inconsistent offense and all. But you know what? It doesn't matter. The defense has been outstanding in SEC play, and though the offense is light-years behind last year's, this team can grind out wins. It is mentally tough and find ways to make plays at clutch times. You might not like how Missouri wins, but the Tigers have taken care of business after embarrassing home losses to Indiana and Georgia. Going undefeated on the road helps tremendously. With the 29-21 win over Tennessee, the Tigers head home to play a red-hot Arkansas team. With a win, Missouri, which is in its third year in the SEC, will be back in the SEC title game in Atlanta. Hats off to coach Gary Pinkel, who has done a tremendous job this season. How do you think those Georgia players, coaches and fans feel? You beat Mizzou by 34 on the road, but because of your loss to South Carolina, the fate of your SEC East hopes rest on Arkansas when at Mizzou. That has to hurt.
November, 22, 2014
Nov 22
7:36
PM ET
Associated Press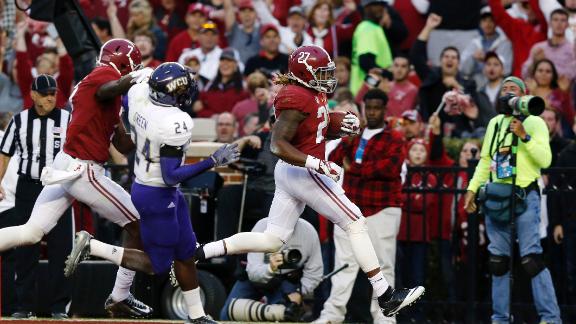 TUSCALOOSA, Ala. -- Derrick Henry rushed for two touchdowns and scored a third on a catch, all in the first half, to lead No. 2 Alabama to a 48-14 victory over Western Carolina on Saturday.
The Crimson Tide (10-1) recovered from a slow start to score the final 31 points in its first game since rising to No. 1 in the College Football Playoff rankings. FCS member Western Carolina (7-5) trailed just 17-14 early in the second quarter.
Blake Sims was 17 of 25 passing for 222 yards and two touchdowns, while throwing an interception in the end zone. Henry had touchdown runs of 10 and 23 yards and a 9-yard scoring reception.
Neither played in the second half.
The Tide can clinch a spot in the SEC championship game with a victory next weekend over No. 16 Auburn.
Alabama held out injured tailback T.J. Yeldon (ankle), wide receiver DeAndrew White (hamstring) and placekicker Adam Griffith, whose injury hasn't been specified.
Saturday's top plays in the SEC