January, 27, 2015
Jan 27
3:00
PM ET
What he brings:
CeCe Jefferson
possesses a nice blend of size and athleticism that can allow him to be a disruptive and versatile front-seven defender. This is a prospect with very good height, bulk, and strength at this stage, and coupled with his first-step quickness and range he can create problems as both a run defender and pass-rusher. A physical player, he has the size and strength to set the edge when he stays low, and is also quick enough to shoot gaps and disrupt plays in the backfield at times. He needs to continue to develop, but has the tools to be a handful coming after the quarterback, with the ability overpower blockers or quickly work around them. When he keeps his 'foot on the gas pedal' he can be a factor in pursuit with very good redirect skills and range for his size. Jefferson moved around defensively quite a bit in high school, and a more singular focus should help aid his development in the little things, though he will likely continue to be aligned differently some at the college level to take advantage of his athleticism and create mismatches. The five-star did miss most of his senior season with a shoulder injury, but it shouldn't take long for him to shake off any rust. Once healthy and with full maximization of his ability, Jefferson can be a disruptive defensive playmaker at the college level.
January, 27, 2015
Jan 27
10:30
AM ET
You learn pretty quickly in the realm of college football to never say never.
So I won't go that far, but with the first College Football Playoff in our rear-view mirror, I will say that I have a hard time seeing two teams from the same conference ever getting in, at least as long as it remains a four-team format.
And that's bad news for the SEC.
When it became obvious that a playoff was coming, the initial thought in SEC locales was that the league would be strong enough to merit two teams in a lot of years.
[+] Enlarge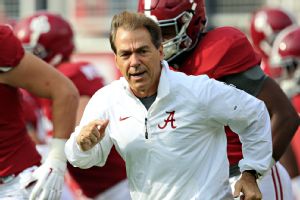 Marvin Gentry/USA TODAY SportsNick Saban and Alabama had to survive a challenging SEC schedule to earn a playoff berth.
After all, this was the big, bad SEC, which had won seven straight BCS national championships (with four different teams) and had played in eight straight BCS title games.
But the College Football Playoff is a different animal, and those of us who thought the SEC might get two seats at the table every couple of years were dead wrong.
The most iron-clad unwritten rule going is that conference champions will get first dibs every time, and I'm not necessarily saying that's a bad thing.
Ohio State was the fourth team in this season and earned its spot by destroying Wisconsin in the Big Ten championship game. I'd say the Buckeyes were a worthy participant with the way they mowed down Alabama and Oregon in a span of 12 days.
Once given the stage, they proved they were the best team in the country and did so with a team that many thought was a year away.
Now, could they have navigated their way through the SEC with just one loss and even been in position to make the playoff?
That's a story for a different day, but it brings into perspective the dilemma the SEC faces in the playoff era.
The grind of the league is what makes it so treacherous. As we saw this bowl season, particularly with regard to the Western Division teams, all bets are off in a one-game season. The West went a very humbling 2-5 and lost every one of its high-profile bowl games.
The SEC West had been hailed all season as the deepest division in the country, and some in the league speculated that it might have been the toughest division in college football history.
At the end of the day, the SEC didn't have any dominant teams this season. It did have a handful of teams capable of winning a national championship, but most of those teams beat up on each other.
Let's not forget that Alabama had to survive by one point at Arkansas, pulled out an improbable overtime win at LSU and beat Auburn at home in the regular-season finale despite giving up 630 total yards.
What you saw this season in the SEC is going to be much more indicative of what you're going to see in the league going forward. That doesn't mean Alabama is going anywhere, and it also doesn't mean that Mississippi State is going to win 10 games every year.
What it does mean is that the SEC is going to continue to cannibalize itself, and that's not good for business in a four-team playoff system.
The East is going to bounce back at some point, and maybe its 5-0 record in bowl games this season is a sign that it may occur sooner rather than later. When it does, the pathway to a national championship will become an even steeper mountain to climb for the SEC.
With that kind of balance on both sides, simply making it through the regular season in the SEC will be harrowing enough. Then comes the SEC championship game and two playoff games.
I remember vividly coaches in the league grumbling when the SEC championship game was created in 1992. A lot of them said then that having to win an extra game would severely hurt their chances of winning a national championship.
They were proved wrong. From 1992 to 2013, the SEC won 11 of the 22 national titles.
Maybe this will be a similar deal, and if (or when) the playoff moves to eight teams in the coming years, the landscape is sure to change again.
The mere fact that a national championship game was played this year without an SEC representative was surreal. And yes, refreshing, too, for all those coaches, players and fans who grew weary over the last decade of hearing about the SEC's perceived dominance.
Georgia Tech coach Paul Johnson might as well have been speaking for everybody outside the SEC's footprint when he chortled, "At least we don't have to hear about the SEC for a while," following the Yellow Jackets' win over Mississippi State in the Orange Bowl.
Nobody's suggesting that the SEC's party is over. It's still the best conference in college football, and privately, those who've coached in the SEC in the past and moved elsewhere will confirm as much.
But now that we've had a taste of the playoff, seen how it works and processed it all, it's not necessarily a party the SEC is going to host every year.
And in some years, the SEC (gasp) might not even get an invite.
January, 27, 2015
Jan 27
10:00
AM ET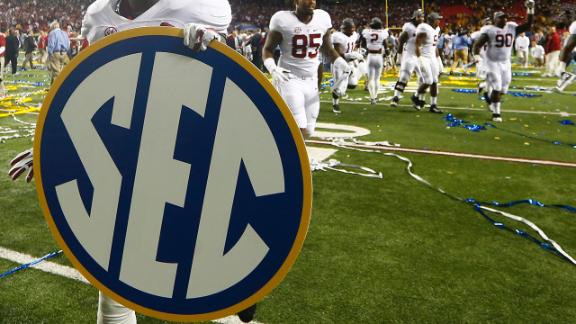 This was one of two remaining weekends for recruits to take visits until national signing day. The weekend was full of news including over 10 commitments in the SEC. Here's a closer look at some of the top news from around the conference this weekend.
To continue reading this article you must be an Insider
January, 27, 2015
Jan 27
9:00
AM ET
1. There will be six new offensive coordinators in the SEC next season. Five have already been hired while Tennessee is still looking to find a replacement for Mike Bajakian. So far, it's a diverse group -- different ages, different backgrounds, etc. Brian Schottenheimer (Georgia) came from the NFL; Dan Enos (Arkansas) was a college head coach; and the others took the more traditional route, moving up and accepting the same position at their new school. The AJC
breaks down the five new coordinators
and gives you a chance to vote on which one you think was the best hire. To me, Schottenheimer is the easy choice given his background, but I also think the Enos hire was an underrated one for Bret Bielema and the Razorbacks. He brings
expertise at the quarterback position
and could do wonders for Brandon Allen.
2. Speaking of coaching changes, Alabama announced two new hires to the defensive staff on Monday. First, Tosh Lupoi was promoted from within to
become the new outside linebackers coach
, filling the void left by Lance Thompson. The former Pac-12 assistant coach spent last season as an analyst for the Crimson Tide. Then, maybe two hours later, multiple reports indicated that former
Chicago Bears
defensive coordinator Mel Tucker would
join Alabama's staff as the defensive backs coach
. The addition of Tucker, who has spent the last 10 seasons in the NFL, means that defensive coordinator Kirby Smart will go back to coaching the inside linebackers. Both new coaches should provide a boost on the recruiting trail.
3. The other big coaching news in the SEC on Monday wasn't who was leaving, but rather who was staying. Late Sunday night, it looked like Missouri defensive line coach Craig Kuligowski was leaving for Illinois. On Monday,
he had a change of heart
. That's significant news for the Tigers considering the success of their defensive line in recent years. The players like to call it "D-Line Zou," but with names like
Aldon Smith
,
Sheldon Richardson
, Michael Sam and this year's stars
Shane Ray
and
Markus Golden
,
the more appropriate name is "D-Line U."
The news of Kuligowski staying should also help Missouri's chances with five-star defensive end
Terry Beckner Jr
., who is scheduled to visit Columbia this weekend.
Around the SEC
Tweet of the day
Had two great visits with future #Hogs in Arkansas & Oklahoma Sunday, then flew to Florida last night. Last week to #WoooPig in recruiting!

— Bret Bielema (@BretBielema) January 26, 2015
January, 26, 2015
Jan 26
11:00
AM ET
Alabama's overall defensive numbers this past season weren't shabby. The Crimson Tide finished sixth nationally in scoring defense (18.4 points per game) and 12th nationally in total defense (328.4 yards per game).
But where they struggled was defending the pass. Opposing receivers made a habit of getting behind Alabama's defensive backs and racking up far more big plays in the passing game than Nick Saban's defenses have given up in the past. The Crimson Tide finished 11th in the SEC in passing defense. They allowed an average of 226 passing yards per game, the most they've surrendered in the Saban era, and their 19 touchdown passes allowed were the most since Saban's first season in 2007.
Position to improve:
Cornerback
Why it was a problem:
Alabama was vulnerable to the deep ball, whether it was opposing receivers simply running past the Tide cornerbacks or outmaneuvering them to make big plays down the field. Go back to the Auburn game. The Tigers had receivers getting behind Alabama's coverage all game and finished with 456 passing yards. In their final three games alone, the Crimson Tide gave up 15 completions of 20 yards or longer, including seven of 40 yards or longer. Opposing teams knew they could attack the Tide down the field.
How it can be fixed:
It all works together on defense, and giving up big plays in the passing game is usually a two-way street of not getting enough pressure up front and not getting tight enough coverage on the back end. Alabama dialed up its pass rush this past season and finished fifth in the league with 31 sacks. It could still help itself, though, with even more edge pressure. Ultimately, it comes down to covering better at the cornerback positions, playing the ball better in the air and keeping the busted assignments to a minimum. This is not a new problem for the Tide, who've battled inexperience and inconsistency at cornerback each of the past two seasons. The good news is that everybody is back for 2015 and should be a year better. You can bet there will be some serious competition at the cornerback spot all spring and preseason. On all three of Alabama's national championship teams under Saban, the Tide had elite cornerbacks. That wasn't the case either of the past two seasons, and the jury's still out for this coming season.
Early 2015 outlook:
The development of true sophomore
Tony Brown
and redshirt freshman
Marlon Humphrey
will be key for the Tide. Both were highly rated players and have the skills to be the kind of cornerbacks Alabama is accustomed to having with some added experience. Rising senior
Cyrus Jones
was the most consistent of the bunch last season, and there's some new blood coming in the 2015 class. Commitments
Kendall Sheffield
and
Minkah Fitzpatrick
are two of the top four cornerback prospects in the country, according to ESPN. Cornerback needs to be one of the most improved positions on the team next season, particularly with the Tide losing their top three safeties.
January, 26, 2015
Jan 26
9:00
AM ET
1. Let's start with the big news this weekend. Lane Kiffin is
staying on as offensive coordinator at Alabama
. Despite interest from the NFL, specifically the San Francisco 49ers, Kiffin will return to Tuscaloosa for a second season. That's
good news for everybody
at Alabama -- Nick Saban, the quarterbacks battling to replace Blake Sims and of course, the fans. College football fans in general should be excited to see Kiffin go up against new Auburn defensive coordinator Will Muschamp in next year's Iron Bowl. It will probably only happen once, so get your popcorn ready. The question now will be whether Kiffin parlays another year with the Crimson Tide into a head coaching gig at the college level. Nothing would surprise me at this point.
2. Speaking of Sims, he was among the SEC contingent in Saturday's Senior Bowl. And no, he didn't have his best day through the air, going 4-of-11 for 50 yards, but he did show off his athleticism with 23 yards on three carries. It begs the question;
does Sims have a future in the NFL as a quarterback?
Fellow SEC signal caller Nick Marshall has already moved on from the idea of playing quarterback at the next level. The former Auburn star played cornerback all week and
finished with five tackles
in Saturday's game. The transition didn't come without some hiccups along the way, but many expect Marshall to be playing on Sundays next fall. After all, he did begin his career as a defensive back at Georgia.
3. Who says Missouri can't recruit? The Tigers saw an uptick in that department when they joined the SEC and now they're reaping the benefits from playing in back-to-back conference championship games. Over the weekend, Missouri hosted a handful of official visitors and
landed two commitments
, one from ESPN 300 wide receiver Brandon Martin and the other from three-star defensive tackle Tyrell Martin. The Tigers have now landed six pledges in the last six weeks and
with 19 commitments in all
, their class ranks just outside the top 25 on ESPN. The big name still on the board is five-star defensive end Terry Beckner Jr., who is scheduled to visit Missouri next weekend. A commitment from him could give the Tigers a top 20 class.
Around the SEC
Leonard Fournette's younger brother, Lanard, will
join him at LSU
next fall.
Best pitch ever?
Ole Miss makes jersey cakes for visiting recruits over the weekend.
Steve Spurrier promises a faster, tougher South Carolina team.
"We're going to do better."
Butch Jones: Vols to
"enhance," not "overhaul" offense
with new coordinator.
Tweet of the day
ICYMI, more TDs to be signalled. Kiffin returning as Alabama's OC. http://t.co/Bf3XFtvyqR pic.twitter.com/PNZL2YvS78

— SEC Network (@SECNetwork) January 25, 2015
January, 25, 2015
Jan 25
10:30
AM ET
This is the second to last weekend before signing day and there was a ton of big visitors around the Southeastern Conference. Here is a closer look at some of the top social media posts by prospects who visited SEC schools over the weekend.
Three-star defensive tackle
Tyrell Jacobs
gave his verbal commitment to Missouri over the weekend. He tweeted out a few photos of himself posing in a Missouri game jersey.
You think they ready ? <╚=¬ pic.twitter.com/O4bLhtuul9

— Tyrell Jacobs (@tyrelljacobs98) January 25, 2015
Georgia safety
Rashad Roundtree
posted a photo of himself and Georgia head coach Mark Richt during his visit to Athens over the weekend.
Future Coach pic.twitter.com/G5cs2yX6Ve

— Tree (@Rashad_Tr33) January 25, 2015
Five-star defensive end
CeCe Jefferson
and ESPN 300 outside linebacker
Jeffery Holland
took a visit to Ole Miss over the weekend and tweeted out a photo.
Me and @holland_jeffery @hollwalking through! pic.twitter.com/EQ2gUIaQnr

— January 29th (@cecejeferson7) January 24, 2015
ESPN 300 wide receiver
DaMarkus Lodge
tweeted out a photo of one of the most impressive cakes you will ever see. Lodge took a visit to Ole Miss and had this impressive culinary masterpiece waiting for him upon his arrival.
January 24, 2015
Auburn linebacker commit
Richard McBryde
posted a photo of himself with head coach Gus Malzhan and another two photos of himself with new defensive coordinator Will Muschamp.
=== pic.twitter.com/aQNZjR7pUI

— RICHARD MCBRYDE (@R_Mcbryde15) January 25, 2015
Georgia athlete commit
Terry Godwin
posed a for a picture with his family during his Alabama visit.
@TerryGodwin_4 and family on Bama official. pic.twitter.com/clsTHulN4g

— olivia (@libby141) January 25, 2015
Miami running back commit
Jordan Scarlett
and uncommitted running back Jordan Cronkite both visited Florida this weekend and posed together for a photo in Florida's locker room.
January 25, 2015
Five-star defensive back
Iman Marshall
tweeted a photo of himself and LSU defensive line coach Ed Orgeron during his visit to LSU over the weekend.
LEGENDARY =/ pic.twitter.com/eYpTEDBzbm

— Biggie (@iman_marshall8) January 25, 2015
South Carolina commit
Jalen Christian
tweeted a photo of himself and head coach Steve Spurrier during his visit to Columbia.
HBC and I ===L=» pic.twitter.com/rhDxAe0uVk

— Jalen Christian4Ń (@Thatblasiankidd) January 24, 2015
ESPN 300 wide receiver
Brandon Martin
confused some people on Saturday when he tweeted that he was not committed to Missouri despite several reports. He quickly corrected the tweet and meant to say "I am now committed to Missouri." The error gave Missouri fans a scare for a few minutes.
I'm not committed to the university of Missouri #Tigersfamily #MizzouMade #Mizzoufootball

— Brandon Martin (@5_go_live_5) January 24, 2015
I meant now I'm now committed

— Brandon Martin (@5_go_live_5) January 24, 2015
Miami running back commit
Mark Walton
had maybe the most interesting wardrobe on his weekend visit to Georgia.
Georgia Life Chilling =6=6=6 Dawg pic.twitter.com/Ec26lTisGQ

— Mark Deuce Walton Jr (@F5_DEUCE) January 22, 2015
January, 25, 2015
Jan 25
9:00
AM ET
In the 100 days leading up to signing day 2015, RecruitingNation will be looking back at our ESPN recruiting rankings from 2006 to the present and count down the best player of the past 10 years at each ranking position, No. 100 to No. 1.
D.J. Fluker, No. 12 in 2009 class
Fluker was born in New Orleans, but graduated from Foley High in Alabama. He committed to Alabama in November of 2007, but did give LSU and Florida long looks throughout the process even into his senior season. Fluker was a member of the Crimson Tide's top-ranked 2009 class that included Chance Warmack, James Carpenter, Dre Kirkpatrick, Eddie Lacy, A.J. McCarron, Trent Richardson, Quinton Dial, Nico Johnson, Kevin Norwood, Anthony Steen and others.
After redshirting in 2009, Fluker started at right tackle in 2010. He made nine starts, missing three games due to injury.
It was as a third-year sophomore in 2011 that Fluker began to show that he would be a high NFL draft choice. He started 13 games for the Crimson Tide at right tackle as part of a dominant offensive line that was key in leading Alabama to the BCS National Championship.
The 2012 season would be Fluker's best in Tuscaloosa. He started 14 games helping lead the Crimson Tide to back-to-back BCS National Championships. Following the season, he was named All-SEC first team and first-team All-America by numerous media outlets.
Fluker decided to forgo his final year of eligibility following the 2012 season. He left Alabama with three national championship rings, as well as starting all 36 games he appeared in.
Fluker was selected No. 11 overall by the San Diego Chargers in the 2013 NFL draft, and has started every game he has appeared in.
Honorable mention
: Ryan Mallett, No. 12 in 2007 class. Mallett signed with Michigan, but transferred to Arkansas where he earned all-conference honors as a quarterback with superior arm talent. He was selected in the third round, No. 74 overall, by the New England Patriots in 2011. He is currently a member of the Houston Texans. ...
Malcom Brown
, No. 12 in 2012 class. Brown earned All-American honors this season for the Texas Longhorns, and has entered the 2015 NFL draft where he is expected to be selected in the first round. ...
Su'a Cravens
, No. 12 in 2013. The USC star has quickly become one of college football's top defensive players as a playmaking safety with linebacker physicality. He is expected to be a first-round NFL draft selection in either 2016 or 2017.
January, 24, 2015
Jan 24
3:42
PM ET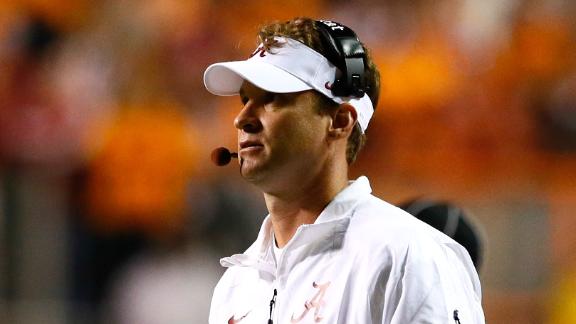 Lane Kiffin will return to Alabama next season and remain the team's offensive coordinator, the Crimson Tide announced Saturday.
Kiffin had been a front-runner for the San Francisco 49ers' offensive coordinator job, sources told ESPN's Adam Schefter last Sunday.
"We're very pleased and happy that Lane is going to be staying here at the University of Alabama with us," coach Nick Saban said in a statement released on Twitter. "He's done a fabulous job and is one of the finest offensive coaches in the country. He is going to have plenty of opportunities in the future and we want to continue to help him develop as a coach so when he leaves here, he'll be in a very good situation. Our offense was extremely productive last season and we look forward to building on some of the good things we did on that side of the ball with this year's team."
Under Kiffin, first-year starting quarterback Blake Sims completed 64.5 percent of his passes for 3,487 yards and 28 touchdowns this past season. Wide receiver Amari Cooper became a Heisman Trophy finalist, catching 124 passes (an SEC single-season record) for 1,727 yards and 16 scores.
As a team, the Crimson Tide were 16th in points per game (36.9).
"I made a comment at the [Allstate] Sugar Bowl that I would be back this fall at Alabama and that is definitely the plan," Kiffin said. "This time of year, there are lots of things out there regarding other coaching opportunities, but I want to reaffirm my commitment to the University of Alabama, coach Saban, and our team.
January, 24, 2015
Jan 24
3:40
PM ET
Take "front-runner" Lane Kiffin off the San Francisco 49ers' short list of offensive coordinator candidates.
Kiffin, the former head coach of the
Oakland Raiders
,
Tennessee Volunteers
and
USC Trojans
and current offensive coordinator at Alabama, confirmed Saturday he would be staying in college rather than returning to the NFL, via the Alabama football team's official Twitter feed.
Offensive Coordinator Lane Kiffin Confirms Return To Alabama. #RollTide #BuiltByBama

— Alabama Football (@AlabamaFTBL) January 24, 2015
Last week,
ESPN NFL Insider Adam Schefter reported Kiffin was the "front-runner" to land the gig
on new Niners coach Jim Tomsula's staff. But with Kiffin staying in Tuscaloosa, Alabama, to where will the 49ers shift their focus?
Indianapolis Colts
special offensive assistant Rob Chudzinski, a former head coach of the
Cleveland Browns
, has also been a target of the 49ers, but they, as well as the
St. Louis Rams
, have reportedly been denied permission to interview Chudzinski.
"I'm not going to get into specifics, but it's ultimately my job to make sure that good people stay in this building and don't just walk right now," Colts general manager Ryan Grigson said Friday. "So we'll address that and do our best to keep good people here."
Reports, though, have Chudzinski's contract expiring next week.
The Niners have also been linked to Mike Shanahan for the offensive coordinator opening, and the two-time Super Bowl-winning coach of the
Denver Broncos
was the team's play-caller the last time the 49ers won the Super Bowl, 20 years ago.
Niners quarterbacks coach Geep Chryst also could be considered an option.
January, 23, 2015
Jan 23
2:40
PM ET
Alabama improved its No. 1 class Friday with the addition of ESPN 300 offensive tackle
Isaiah Prince
. Read on to see how Prince's time in Tuscaloosa could play out:
To continue reading this article you must be an Insider
January, 23, 2015
Jan 23
11:00
AM ET
Picking the best 25 players in the SEC wasn't easy.
Once you get past the top 5 and the top 10, things become muddied. You start comparing first halves of seasons versus second halves and the value of play during conference games against overall numbers.
Inevitably, someone deserving is going to be left out.
To help remedy the inherent shortcomings of such lists, here's a look at who might have been worthy of the next five in:
Cody Prewitt, S, Ole Miss

A first-team coaches All-SEC selection, Prewitt was the heartbeat of the Ole Miss defense. Though he didn't come up with nearly as many interceptions as last season, his three picks and 59 total tackles were impressive for a safety.
Josh Robinson, RB, Mississippi State

Though his numbers dipped late in the season, it's hard to deny the way Robinson produced. The self-described "bowling ball" was the perfect compliment to quarterback
Dak Prescott
, bouncing between the tackles and catching passes on the outside on his way to 1,500 total yards and 12 touchdowns.
JK Scott, P, Alabama

Punters generally don't make top-25 lists. But they don't generally have as big of an impact on games as Scott, who led the country in yards per punt (48.0) and tied for first in the SEC in punts downed inside the red zone (30) -- albeit on 25 fewer attempts than the man he was tied with.
Dylan Thompson, QB, South Carolina

Prescott didn't lead the league in yards passing. Neither did
Blake Sims
,
Bo Wallace
or
Nick Marshall
. No, it was Dylan Thompson, whose 3,564 yards passing and 30 total touchdowns were overshadowed by his team's poor win-loss record.
Duke Williams, WR, Auburn

He missed three games, but Williams still managed to amass 730 yards and five touchdowns. But the most impressive trait that defined the former juco transfer was his ability to show up in big games, whether it was 154 yards in his debut against Arkansas, 110 yards on the road at Kansas State, or 121 yards in the Iron Bowl against Alabama.
CFP Firm On Dates