October, 31, 2014
Oct 31
11:00
AM ET
Gather round, ravenous SEC fans, for today marks the last day before the league devours itself. It's only fitting that the eve of what could be a gruesome month of southern cannibalization falls on Halloween.
All the playoff love could all come crashing down in the next few weeks, as the SEC feeds on itself. By the 30th of next month, the league could look like a horde of pesky zombies from "The Walking Dead."
It's a scary good time in the SEC, but if you can't stand the sight of carnage, maybe you should cover your eyes and turn on the lights before your dreams are haunted with carcasses of elephants, tigers and bears.
In honor of teeth gnashing into flesh, here's how you celebrate Halloween -- and NICK SABAN'S BIRTHDAY!! -- in the SEC:
[+] Enlarge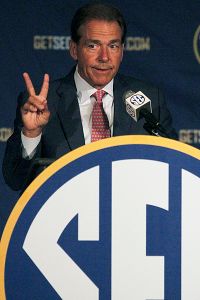 AP Photo/Butch DillThere are two holidays in some sectors of SEC country on Oct. 31: Halloween and Nick Saban's birthday.
Godzilla:
Not a horror movie icon, but he's easily the greatest, most destructive monster ever. Kinda reminds me of the way Mississippi State quarterback
Dak Prescott
manhandles defenses. Like Godzilla, he's been virtually unstoppable this season. Prescott is undefeated, has 2,393 yards of offense and 26 touchdowns, and is the Heisman Trophy front-runner.
"Jaws":
Aptly named the "Landsharks," Ole Miss' defense has been terrifyingly good this season. It's barely allowing 300 yards of offense a game and gives up an SEC-low 4.35 yards per play. This group also tops the SEC and ranks second nationally with 24 takeaways.
"A Nightmare on Elm Street":
Will the Gators ever wake up from this grisly nightmare? Things were supposed to be better with a fresh start after last year's injury-plagued season, but Florida is 3-3, has an offense in reverse and is in danger of missing out on a second straight bowl appearance. Will Muschamp is also coaching for his job, and faces Georgia next ...
"Children of the Corn":
Like the twisted youngsters that resided in Gatlin, Nebraska, the
LSU Tigers
should be feared. One of the youngest teams around, its's scary how freakishly good these guys look when they put everything together. They aren't perfect, but they beat No. 3 Ole Miss and are getting better and maturing. A night in Baton Rouge truly is terrifying for intruders.
Cujo:
These
Georgia Bulldogs
really do have bite. You might even say they're possessed, they're playing so well. Since that ugly loss to South Carolina, the Dawgs have reeled off five straight wins, most of them in convincing fashion. The defense is playing out of its mind, and the offense is clicking even without
Todd Gurley
.
Pinhead:
Don't let the name full you; he's one of the most sinister horror movie villains around. The bone-chilling star of the "Hellraiser" movies is kinda like Les Miles in the way he tortures his victims. Woeful opponents venture into a stadium looking to challenge Miles, only to be be sucked into a wicked realm of pain and confusion. He's diabolical, yet very intriguing and extremely dangerous.
"Night of the Living Dead:"
What happened to Vanderbilt? The Commodores used to be so vibrant and exciting. Now, they're lifeless and stumbling around the bottom of the SEC under new coach Derek Mason, with no bowl hopes in sight. After back-to-back nine-win seasons under James Franklin, Vandy is 2-6 and owns the SEC's worst offense. George A. Romero would be proud.
"Jeepers Creepers":
It's becoming harder and harder to watch Missouri's offense and the downward spiral of
Maty Mauk
's play, but the Tigers keep winning. Like the Creeper lurking rural back roads, the Tigers are dangerous but rough on the eyes. Even at 6-2 and a game out of first place in the SEC East, the Tigers are last in the league in total offense in conference games (232.8) and 11th in scoring (21.8). Mauk is averaging 97 passing yards and has five interceptions to two touchdowns in league play.
Michael Myers:
No one terrorizes opposing backfields -- as Myers did the hapless folks of Haddonfield, Illinois -- better than Missouri defensive end
Shane Ray
. While he doesn't stalk his prey with slow, stealthy movements, Ray is even more dangerous because of how fast he gets to quarterbacks. He leads the SEC with 8.5 sacks and 14 tackles for loss.
Jason Voorhees:
Alabama just won't go away. This team certainly isn't the same as past championship contenders, but it's threatening and is still on the playoff/SEC path. Jason had sloppy moments, too, but you could never count him out for a valiant return.
Trick:
Remember when we thought South Carolina would win the SEC East? Well, the Gamecocks are all but out of race with four losses, and the defense's numbers have been gruesome in conference play. South Carolina allows 457.5 yards per game and nearly 40 points a contest.
Treat:
The state of Mississippi has lost just once, has two teams ranked in the top four and could find its way into the first College Football Playoff. Kentucky has five wins and is on the verge of making a bowl game for the first time since 2010.
Bama DB Landon Collins in the Film Room