July, 23, 2014
Jul 23
9:00
AM ET
Whether you believe him or not, Alabama coach Nick Saban is playing his quarterback battle close to the vest.
You, me and everyone in between has former Florida State backup Jacob Coker taking the starting job in Tuscaloosa, Alabama, but Saban isn't going to make it that easy. What Saban doesn't want is an overly confident quarterback walking into his program and screwing things up, so Saban's language makes sense.
Still, we're all pretty sure that Coker will leave fall practice ahead of
Blake Sims
and those youngsters who duked it out during spring practice.
While
we
might have it all figured out for the Crimson Tide, competition will take place next month to see who starts the opener against West Virginia on Aug. 30. And that's not the only QB battle that we'll be diving into in the coming weeks. Other teams are trying to sort things out under center heading into fall camp:
KENTUCKY
Patrick Towles vs. Drew Barker vs. Reese Phillips vs. Maxwell Smith:
Coming out of spring, Towles, a redshirt sophomore, had a slight lead over everyone. He's an impressive athlete and has matured considerably since his arrival on campus. Phillips and Barker have yet to take snaps with the Wildcats in a real game, but that won't stop the coaches from throwing them in on Day 1 of the season. Barker arrived with a ton of hype and is clearly the future of the position. Smith, the quarterback with the most experience on the roster, is finally throwing again after undergoing extensive shoulder surgery before the spring. If he's healthy, he'll compete, but it looks like this really is a three-horse race right now.
Advantage: Towles
LSU
Anthony Jennings vs. Brandon Harris:
Jennings ended last season with mixed reviews after replacing an injured
Zach Mettenberger
. And his spring got even tougher with the emergence of Harris, a true freshman. Both are incredibly inexperienced, but have that dual-threat quality that will help either this fall, as they try to run this offense. Harris really impressed his coaches and teammates this spring, and many think he might have a slight advantage. Coach Les Miles raved about him at SEC media days and praised his throwing ability, something Jennings has to work more on going forward.
Advantage: Harris
TENNESSEE
Justin Worley vs. Josh Dobbs vs. Nathan Peterman:
Worley is the old soul around the football complex. The senior had an up-and-down 2013 season that included thumb surgery, but left spring with a bit more confidence. Dobbs has the athleticism and upside to be a stud, but he has to get more comfortable in the pocket and mature as a passer. Peterman had limited reps this spring, causing some to think he would transfer, but he'll compete this fall for the starting job. Honestly, it's a murky situation at quarterback, but a complete overhaul of the offensive line might make it tough for any quarterback to succeed in 2014.
Advantage: Worley
TEXAS A&M
Kenny Hill vs. Kyle Allen:
Hill's arrest during the spring perked a lot of ears in the Allen camp, but this race is far from over. While Hill is still looking to regain trust, he has more experience than Allen, a true freshman, and knows the Aggies' offense better to this point. Both are athletic guys, but you'll see a little more running out of Hill. Allen has the potential to be a star with his throwing ability and awareness in the pocket, and might be little more polished than Hill in that category. Sumlin isn't the kind of coach who wants to shuffle his quarterbacks, a la Steve Spurrier, but he won't be afraid to play both guys this fall if he has to.
Advantage: Push
VANDERBILT
Patton Robinette vs. Johnny McCrary vs. Stephen Rivers vs. Wade Freebeck:
During the spring, we thought this was going to come down to Robinette and McCrary. Robinette has the only game experience on the roster at quarterback, but McCrary is a big, physical player who can make plays with his arm and legs. He might be the most athletic of the bunch and is viewed as an exciting up-and-comer. But when Rivers transferred from LSU, things changed. He only has one year to compete, and his coaches are raving about him. Coach Derek Mason also likes that he's gotten bigger since his arrival. As for Freebeck, Mason calls him "phenomenal" and is intrigued by his size. He's grown two inches (6-foot-5 now) and is up to 217 pounds.
Advantage: Push
July, 23, 2014
Jul 23
5:30
AM ET
The Early Offer is RecruitingNation's regular feature, giving you a dose of recruiting in the mornings. Today's offerings: ESPN.com conducted a survey of the top 300 2015 football recruits, and throughout the week it's been exploring the results. This includes a look at how recruits are
open to playing with gay teammates
and how they would
support unionization, stipends and an expanded College Football Playoff
.
So which schools scored with recruits for the best food, top facilities, greatest campus atmosphere and coolest uniforms?
July, 22, 2014
Jul 22
4:02
PM ET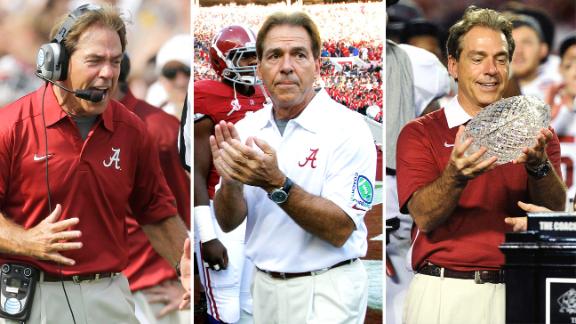 HOOVER, Ala. -- For better or worse, Nick Saban has a reputation. And after four decades of coaching, it's not likely to change.
He's gruff. He's demanding. He's hard-nosed, unrelenting and oftentimes furious.
He is, according to a survey conducted by ESPN, the most-intimidating coach in college football. Of the 58 recruits who responded to a survey, 22 selected Saban as the most intimidating coach they've spoken with. The next-highest on the list was Urban Meyer, who was selected only seven times.
What's maybe more telling: Among the 66 recruits who answered the question, "Of all the head coaches you've spoken with, who was the easiest to talk with?" none said Saban.
Amari Cooper gets it. He was once a highly sought-after recruit from South Florida, a Miami Hurricanes fan with no particular ties to the SEC or Alabama. He looked at Saban from afar and didn't know what to think of him. He'd heard secondhand stories and assumed that the man he'd meet in Tuscaloosa, Alabama, would live up to his unflattering reputation.
Then one day the promising young receiver went to camp at Alabama and made a name for himself. It was hot, Cooper recalled, but he was doing everything he could to show the coaching staff what he was capable of.
"[Saban] saw me run a route against a DB in one-on-ones and he looked to be surprised," he said. "He came up to me and shook my hand, started smiling and after that I went up to his office and talked to him and he offered me a scholarship."
Cooper accepted. Now he's a junior All-SEC receiver for the Crimson Tide. Now he understands the perception of Saban and how it doesn't quite match reality.
July, 22, 2014
Jul 22
9:00
AM ET
Whether a Georgia or Mississippi State fan, it was a great weekend to be a Bulldog. The two schools combined to land 11 verbal commitments over the weekend. With the season quickly approaching, teams are racing to finish the summer strong in recruiting before fall camp opens in just a few short weeks. Here's a look at some of the top headlines from the weekend:
To continue reading this article you must be an Insider
July, 21, 2014
Jul 21
12:00
PM ET
Seven SEC coaches, including Auburn's Gus Malzahn and LSU's Les Miles, will go through ESPN's "Car Wash" on Monday, appearing on "Sportscenter," "College Football Live," "First Take" and more. Stay tuned throughout the day.
In the meantime, be sure to read Monday's lunch links to get your SEC fix.
July, 18, 2014
Jul 18
6:00
PM ET
Happy Friday. Welcome to the mailbag.
You can follow me on Twitter here
.
To the notes.
Michael from Anniston, Alabama, writes:
You credit the CF playoff for the Bama-USC match-up? Hogwash. Bama has been scheduling such opening games ever since Nick Saban became head coach.
Ted Miller
: You make a fair point. Unlike a lot of SEC teams, Alabama (and LSU) have not been cowards with their nonconference scheduling.
While the
Alabama Crimson Tide
's matchup with West Virginia to open the 2014 season hardly scintillates, the Mountaineers are a "name" opponent. And the Tide's list of nonconference foes since Saban took over is impressive: Virginia Tech (2013 and 2009), Michigan (2012), Penn State (2010-11), Clemson (2008) and Florida State (2007).
That's a strong list, no doubt. But USC is different. Trust me.
Of that group, only one team finished with fewer than four defeats -- 10-3 Virginia Tech in 2009, which finished ranked 10th. Despite five defeats, Michigan finished ranked 24th in 2012, and the Wolverines are the only other team on that list that finished the season ranked. Three of those seven teams finished with six losses.
You need to know that, just as in everything else in big-time FBS football, there's strategy involved in scheduling, and that includes nonconference games. There's scouting. There's projecting forward. There's seeking out a "name" foe that seems manageable.
What do I mean? Well, remember in Rocky III when Rocky gets worked up over Clubber Lang ruining the ceremony dedicating a statue of himself in front of the Philadelphia Museum of Art. But of course you do. Afterwards, Mickey tries to explain to Rocky that he shouldn't schedule USC/Clubber Lang. He should continue to schedule Virginia Tech. Rocky really wants to fight USC/Clubber Lang, though.
Mickey: No, he ain't just another fighter! This guy is a wrecking machine! And he's hungry! Hell, you ain't been hungry since you won that belt.

Rocky Balboa: What are you talkin' about? I had ten title defenses.

Mickey: That was easy.

Rocky Balboa: What you mean, "easy"?

Mickey: They was hand-picked!

Rocky Balboa: Setups?

Mickey: Nah, they wasn't setups. They was good fighters, but they wasn't killers like this guy. He'll knock you to tomorrow, Rock!
Now, we're not saying the
USC Trojans
are going to knock Alabama into tomorrow in 2016. In fact, I'd guess the Trojans are likely to be underdogs on a neutral field. But I'd also project that the Trojans will start and finish the 2016 season with a national ranking closer to No. 10 than No. 25. This is not a hand-picked game for the Crimson Tide. Or for USC, for that matter.
My prediction for the game? Pain.
---
Michael from Moscow writes:
Dear Ted, on behalf of the American expat community in Moscow i wanted to thank you for the terrific insight into a game we left behind when we moved to the ice fields of Russia. With the exception of a few games (kick-off often at 4am local time here), we rely on the internet for information about CF. Finally, my observation and question: it seems that every day i check ESPN another player is: 1) transferring to another school; 2) has been dismissed for a crime or disciplinary infraction or 3) has been declared academically ineligible. Is it me, or is this an evolving epidemic?
Ted Miller
: You are addressing two different issues.
First, discipline and academic problems. As for news stories about that, I hear you. It does seem like almost a daily issue somewhere, but I don't think it's an epidemic. My feeling is the number of these sorts of incidents and problems has been pretty consistent over the 17 or so years I've covered college football.
You have 5,440 scholarship football players, plus or minus, on Big Five conference teams. With that many male 18-to-23-year-olds, you're going to have guys getting into trouble. I'd bet the "trouble" rate for football players isn't much higher than the trouble rate for the average 18-to-23-year-old males nationwide, whether that's about discipline or poor academics.
Should we be outraged by bad behavior, particularly violence? Absolutely. But my perception of college football players is more positive than negative. For every Dorial Green-Beckham, you have a handful of Marcus Mariotas or an Obum Gwachams --
see here on the latter
.
As for transfers, I support that: If a guy wants to leave, he should be able to. While you could score a valid point about finishing what you started and redoubling the competitive effort, such talk often sounds better as a coaching cliche than as practical advice for a young man with dreams of playing time and, perhaps, a shot at the NFL.
There are plenty of stories about transfers making good. And there are plenty of stories about guys sticking around -- like Arizona State quarterback Mike Bercovici. I don't think there is anything wrong with transferring. When Alabama opens against West Virginia, both starting quarterbacks will be Florida State transfers who didn't want to sit behind
Jameis Winston
. That seems like a perfectly reasonable decision to me, one that is obviously paying off.
---
Bill from Denver writes:
Ted... which PAC-12 power is most susceptible to a CU upset? (It's going to happen this year!)
Ted Miller
: If I were to guess two Pac-12 games when the
Colorado Buffaloes
could pull a surprising upset, I'd go with a pair of home dates in the first half of the season: Sept. 13 versus the
Arizona State Sun Devils
and Oct. 4 versus the
Oregon State Beavers
.
The Sun Devils are going to be tough to stop on offense, but their defense might still be finding its footing in Week 3. As for the Beavers visit, you start with the not unreasonable projection that the Buffs could be 4-1 at that point and feeling pretty confident. Further, Oregon State will be coming off what is sure to be a challenging road date at USC. This game has the classic "overlook" feel to it.
Am I picking Colorado to beat either team? Not at this point. But I wouldn't be shocked if they got an upset in one or the other.
---
Asa from Eugene writes:
Ted, I need a good read. You have great taste in books, so what am I reading next?
Ted Miller
: I just finished "Fourth of July Creek" from Smith Henderson. It's not particularly uplifting, but the writing is consistently engaging. Henderson is a major young talent.
And he's a Portland guy
. I might stalk him when I'm next up there.
If you like BIG BOOKS! I'd recommend Donna Tartt's "The Goldfinch." Not exactly an obscure novel, seeing it won the Pulizter, but it's emersion fiction in a Dickens vein from one of our finest writers.
Both are dark, but both also allow readers to distill a message on why we, despite everything, choose to endure, which I appreciated.
And, as always, I recommend that everyone read everything from Daniel Woodrell. He's just so... good.
---
Blake from Phoenix writes:
As I was stopped at a red light on my way to work this morning, I looked at the car next to me and I could have sworn that it was non other that Pac-12 blogger Ted Miller. While being next to Mr. Miller would seem exiting enough, what put it over the top was seeing that he was driving a little red convertible, likely from the late 90s. Alas as I stared more at the man driving I realized that it wasn't Mr. Miller. However, I was left pondering for the rest of my drive to work, what type of car would the Pac-12 Blogger drive? Whatever it is, I hope it's as good as a little red convertible.
Ted Miller
: While I certainly appreciate red convertibles,
I don't need one
.
July, 18, 2014
Jul 18
4:00
PM ET
Nine SEC players were among the 50 from across the nation included on Friday's watch list for the Walter Camp Award, which goes to the player of the year in college football.
Texas A&M's
Johnny Manziel
and Alabama's
AJ McCarron
were among the five finalists last season, with the award eventually going to Florida State quarterback
Jameis Winston
.
This year's list of SEC watch list members include multiple players from Alabama and Georgia. Here's the full SEC list:
DB
Landon Collins
, Alabama
WR
Amari Cooper
, Alabama
RB
Mike Davis
, South Carolina
RB
Todd Gurley
, Georgia
DB
Vernon Hargreaves III
, Florida
QB
Nick Marshall
, Auburn
DB
Cody Prewitt
, Ole Miss
LB
Ramik Wilson
, Georgia
RB
T.J. Yeldon
, Alabama
July, 18, 2014
Jul 18
1:39
PM ET
Alabama strengthened its grasp on the nation's No. 1 class on Friday with the addition of ESPN 300 OG
Brandon Kennedy
. Read on for more about the latest Under Armour All-American to pick the Tide:
To continue reading this article you must be an Insider
July, 18, 2014
Jul 18
11:00
AM ET
Now that you've seen the
media's preseason All-SEC team
, and
Chris' ballot
, it's time to see what I cooked up after a week of fun in Hoover, Ala.:
OFFENSE
QB:
Nick Marshall
, Auburn
RB:
Todd Gurley
, Georgia
RB:
Derrick Henry
, Alabama
WR:
Amari Cooper
, Alabama
WR:
Laquon Treadwell
, Ole Miss
TE:
O.J. Howard
, Alabama
OL:
Cedric Ogbuehi
, Texas A&M
OL:
La'el Collins
, LSU
OL:
Laremy Tunsil
, Ole Miss
OL:
Corey Robinson
, South Carolina
C:
Reese Dismukes
, Auburn
DEFENSE
DL:
Dante Fowler Jr.
, Florida
DL: A'
Shawn Robinson
, Alabama
DL:
Chris Jones
, Mississippi State
DL:
Robert Nkemdiche
, Ole Miss
LB:
Benardrick McKinney
, Mississippi State
LB:
Leonard Floyd
, Georgia
LB:
Curt Maggitt
, Tennessee
DB:
Vernon Hargreaves III
, Florida
DB:
Tre'Davious White
, LSU
DB:
Cody Prewitt
, Ole Miss
DB:
Landon Collins
, Alabama
SPECIALISTS
PK:
Marshall Morgan
, Georgia
P:
Drew Kaser
, Texas A&M
RS:
Andre Debose
, Florida
AP:
Christion Jones
, Alabama
East

1. South Carolina
2. Florida
3. Georgia
4. Missouri
5. Tennessee
6. Vanderbilt
7. Kentucky
West

1. Alabama
2. Auburn
3. Ole Miss
4. Mississippi State
5. LSU
6. Texas A&M
7. Arkansas
SEC Champion

Alabama
July, 18, 2014
Jul 18
10:28
AM ET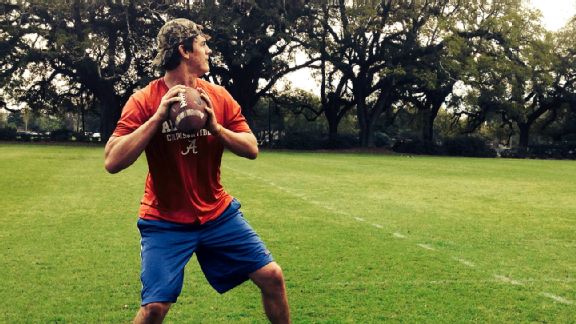 Courtesy of David MorrisThere are high expectations for Jake Coker once he steps on the field for Alabama.
As we count down 50 days until the start of the 2014 college football season, ESPN Insider Travis Haney is answering at least one big question a day until South Carolina and Texas A&M's kickoff on Aug. 28.
Heisman contenders, breakout freshmen, conference winners -- it will all be covered as part of
Insider's Ultimate Season Preview
.
Today's question: Which of the SEC's new starting QBs will have the best season?
What I notice first is that, with the possible exception of Missouri's
Maty Mauk
, each first-year starting QB in the SEC is inheriting great talent around him.
When in doubt, go to the program with the most talent, and even though he feels like a college football tall tale at this point, Alabama's Jake Coker absolutely has the best chance to excel.
Even with what little we have seen of him, Coker is already on Mel Kiper Jr.'s radar (tied for fifth among
underclassmen QBs for the 2015 NFL draft
). The fact that he is 6-foot-5 and 235 pounds does not hurt. Neither will the situation he is entering.
In fact, based on what I hear about his arm strength and knowing the skill around him, it is not that bold of a prediction that this could be his first and only season with the Tide before bolting for the NFL.
Alabama, named Thursday the SEC favorite by media members, is smarting after consecutive losses to end last season. The last time it was doubted to this degree, the Tide responded with consecutive national titles in 2011 and '12.
But it was obviously more settled then at QB. If anything, Nick Saban overplayed the position as a question mark when he addressed reporters at this week's SEC Media Days.
To continue reading this article you must be an Insider
July, 18, 2014
Jul 18
10:00
AM ET
The extended version of SEC media days is behind us, and we've seen the way the media voted in terms of picking the champion and the preseason All-SEC selections.
Alabama was the pick, which given our track record, might not be the best news for the Crimson Tide. As Nick Saban so willingly reminded everybody, it's not like the media has had a crystal ball lately when it comes to picking the SEC champ. Only four times in the last 22 years have the media correctly picked the SEC champion at the SEC's preseason shindig.
Maybe this is the year we start the kind of streak John Wooden would be proud of. Here's a look at the
selections from SEC media days this year
.
Below is my own ballot, and Edward will unveil his later today after he finishes breaking down tape from all of the World Cup matches (or are they games?).
OFFENSE
QB:
Nick Marshall
, Auburn
RB:
Todd Gurley
, Georgia
RB:
Mike Davis
, South Carolina
WR:
Amari Cooper
, Alabama
WR:
Malcolm Mitchell
, Georgia
TE:
Hunter Henry
, Arkansas
OL:
Cedric Ogbuehi
, Texas A&M
OL:
Laremy Tunsil
, Ole Miss
OL:
La'el Collins
, LSU
OL:
A.J. Cann
, South Carolina
C:
Reese Dismukes
, Auburn
DEFENSE
DL: Dante Fowler, Jr., Florida
DL:
Chris Jones
, Mississippi State
DL:
A'Shawn Robinson
, Alabama
DL:
Robert Nkemdiche
, Ole Miss
LB:
Benardrick McKinney
, Mississippi State
LB:
Leonard Floyd
, Georgia
LB:
Trey DePriest
, Alabama
DB:
Vernon Hargreaves III
, Florida
DB:
Taveze Calhoun
, Mississippi State
DB:
Landon Collins
, Alabama
DB:
Cody Prewitt
, Ole Miss
SPECIALISTS
PK:
Marshall Morgan
, Georgia
P:
Drew Kaser
, Texas A&M
RS:
Marcus Murphy
, Missouri
AP:
Christion Jones
, Alabama
EAST
1. South Carolina
2. Georgia
3. Florida
4. Tennessee
5. Missouri
6. Vanderbilt
7. Kentucky
WEST
1. Alabama
2. Auburn
3. Mississippi State
4. LSU
5. Ole Miss
6. Texas A&M
7 Arkansas
SEC CHAMPION
Alabama
July, 18, 2014
Jul 18
9:00
AM ET
HOOVER, Ala. -- It's like SEC media days just started.
Well, not really. Four days of a nonstop influx of SEC information could knock Todd Gurley off his feet. It was a fun week, but now it's over, and it's time to shift our attention to fall practice. It's just a couple of weeks away!
As we inch closer to the regular season, let's take one last look at the week that was with five takeaways from what went down in Hoover:
1. Alabama has something to prove:
Buried in
some Texas-sized talk
you'll find something else that gets under Nick Saban's skin: The way his team finished last season. After being picked by just about everyone to win the BCS title, the
Alabama Crimson Tide
lost its last two games of the season, including getting run out of New Orleans in a Sugar Bowl loss to Oklahoma. So while Alabama was picked to win the West, this team is still hurting after how last season ended. "We have to reestablish our identity as a team at Alabama," Saban said. "It's going to take every player to have a tremendous amount of buy-in for us to be able to do that." The team has to do that for an entire season. It has to listen, and it sounds like that's happening so far. A Saban-coached team filled with five-star talents is hungry and upset? That bodes well for the rest of the league ...
2. Will Muschamp doesn't feel the heat:
Months after coaching one of the worst seasons in
Florida Gators
history, Muschamp is ignoring the toxicity surrounding his program. When you go 4-8 at a school like Florida, your seat will be engulfed in flames, but Muschamp is keeping his cool and focusing on his team during a critical season for the program. "I think you combat the hot-seat talk with having a good team and winning games," Muschamp said. "Control the controllable is always what I've said. ... That's coaching our football team, developing our football team. There was never any time in my mind that I didn't think I would be retained." Muschamp, whose team is breaking in a new spread offense and getting healthier, added that he expects his team to have "an outstanding year."
3. Vandy and Kentucky don't lack confidence:
The
Vanderbilt Commodores
are breaking in a new coach and the
Kentucky Wildcats
are looking to build for the long term in Year 2 with Mark Stoops. Both teams have a ton of questions entering the year, but representatives from both programs oozed confidence and even some bravado. "Our team is a team of probably no-name young men who have a chance to do something great," first-year Vandy coach Derek Mason said. "It's talented across the board. I think our opportunity to compete for an SEC East title is now."
James Franklin
who?
For Stoops, he isn't dwelling on the past because he's pretty amped about the present, and possibly the future. "I'm excited about this team," Stoops said. "This team has worked extremely hard. They've done everything we've asked them to do. ... Our players have put in the time. Our training staff has done a great job getting them prepared. We're physically better. Hopefully that will translate to more wins." Stoops isn't ready to say he has a bowl team, but he promises it doesn't lack any heart or fight.
4. Richt and Spurrier like their teams:
While Saban scolded the media about its decision to pick his team to win the SEC,
Georgia Bulldogs
coach Mark Richt wasn't thrilled about being ranked second in the SEC East. "Obviously, what's important is what happens at the end of the year. Earlier I got asked that question. I said, 'I'm not happy to be named No. 2. I'm not going to start cheering that 'We're No. 2.' I think in the end it's going to be Georgia."
And he wasn't kidding. He
really
likes returning an offense that averaged nearly 500 yards and 36.7 points per game that could only get better with some healthier components returning, and he thinks his defense will play smarter. The addition of new defensive coordinator Jeremy Pruitt has Richt excited. And when Steve Spurrier comes out and praises his team within the first minute of his introductory news conference, that means he likes the guys he's coaching. South Carolina's offense is loaded, but the defense has questions in the secondary. Spurrier doesn't seem too concerned, though.
5. The future is now in Baton Rouge:
One of the most talked-about players of the week wasn't even in the building. Heck, he hasn't even played a snap of college ball. But LSU freshman running back
Leonard Fournette
was compared to Michael Jordan and was said to have the talent to be the best player to ever play at LSU. Those are quite the compliments to pay a freshman, but
Tigers
coach Les Miles and Fournette's teammates believe he can live up to the hype. "He has been compared to
Adrian Peterson
," LSU running back
Terrence Magee
said. "To be honest, I think it's the only guy that's playing the running back position right now that you can compare [Fournette] to." He wasn't the No. 1 recruit in the 2014 class for nothing, and Fournette should make an immediate impact in an offense looking for a bellcow back to replace
Jeremy Hill
.
July, 17, 2014
Jul 17
6:26
PM ET
HOOVER, Ala. -- "We're 0-2,"
Amari Cooper
said.
After last season's loss to Auburn and the blowout defeat to Oklahoma that followed, Alabama and its star receiver are looking at the start of the 2014 season in a different way: two games in the hole.
Cooper remembered the 99-yard touchdown he scored against Auburn last November. The pass from
AJ McCarron
to Cooper in the fourth quarter silenced the crowd at Jordan-Hare Stadium that night. McCarron had his "Heisman moment" and Cooper showed the world just how dangerous he can be. Auburn rocked on its heels, and Alabama had a trip to the SEC championship game all but reserved.
[+] Enlarge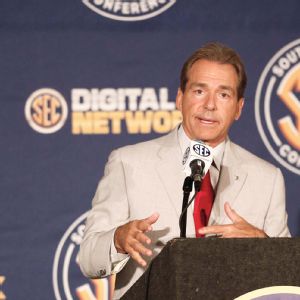 Marvin Gentry/USA TODAY Sports"We're a team that has a ton of questions," Alabama coach Nick Saban said at SEC media days.
But Cooper doesn't remember the long touchdown against his rival fondly. There's too much pain attached to the moments that followed the play: Auburn's furious comeback, Chris Davis' last-second, 106-yard return for the game-winning score. Auburn went on to Atlanta. Alabama went home, settled for the Sugar Bowl and lost back-to-back games for the first time since 2008.
"I remember it ... but I really wish we would have won that game," Cooper said.
Alabama coach Nick Saban didn't spend much time talking about 2013 on Thursday. This year's trip to SEC media days was all about hitting the reset button.
No more AJ McCarron. No more C.J. Mosley. No more aura of invincibility for the Tide.
Alabama was picked by the media to win the SEC again this season -- garnering more points than all other teams combined -- but the cloud of inevitability was more transparent than in years past.
"Our situation as a team is a lot different this year than it's been the last couple years, when we were coming off of successful seasons, championship seasons," Saban said in his opening comments to the media inside the Hyatt's packed ballroom. "The challenges were so much different in terms of trying to deal with success and complacency.
"Having lost our last two games last year, I think it's a little bit different mindset with our players."
Half an hour earlier, in a more private setting, Saban acknowledged the amount of hurdles facing his team. With the opening of fall camp only weeks away, there are more than a handful of starting jobs still up for grabs.
"We're basically an unproven team in some areas," he said, "and in some cases it's at critical positions."
"We're a team that has a ton of questions," he continued later.
The question du jour (Will the Tide settle on transfer QB Jacob Coker?) will linger into the foreseeable future, as Saban insisted that no decision, no matter the outside perception, has been made about who will start under center.
"We really can't make that decision or prediction as to what's going to happen at that position," Saban said, "but the development of that position, regardless of who the player is, is going to be critical to the success of our team."
The good news for Saban is that he's not devoid of talent. With Cooper, tight end
O.J. Howard
and the two-headed monster of
T.J. Yeldon
and
Derrick Henry
at tailback, there's plenty of firepower on offense. As South Carolina coach Steve Spurrier said earlier in the week, "They've got the greatest collection of football players ever assembled for a college team."
The bad news, though, is that the talent coming in is unproven at several other key spots. There's the potential for a true freshman to play at left tackle, and three-quarters of the starters in the secondary are gone.
Landon Collins
was a preseason first-team All-SEC choice for a reason, but he can't do it alone at strong safety.
"The young guys are looking at me to show them the ropes," Collins said.
Two of those youngsters are true freshmen: Tony Brown and Marlon Humphrey, both five-star prospects, have the potential to take significant reps at cornerback.
"They have impressed me," Collins said. "They're going to be phenomenal when it's their time. When it's time to showboat and do their thing, they're going to show you what they've been doing since high school."
The question is when their time will come.
Last season, Alabama relied heavily on a slew of inexperienced corners (
Eddie Jackson
,
Maurice Smith
,
Cyrus Jones
,
Bradley Sylve
) and the defense paid the price. Auburn was able to get a few big plays through the air, and then Oklahoma took it a step further when
Trevor Knight
transformed from an enigma into Peyton Manning in New Orleans, completing 32 of 44 passes for 348 yards and four touchdowns.
Alabama wasn't Alabama those final two games last season. The offense became inconsistent, the defense struggled and special teams came up just short.
Until the 2014 season kicks off, there's a big 0-2 record hanging around the team's collective neck.
Until Alabama gets back to playing Alabama football, players feel as if they're in the hole.
"I think it's a little bit of a different mindset with our players," Saban said.
For Cooper, it's almost a welcomed change. Winning championships inevitably breeds complacency. Losing back-to-back games and then having to answer all the questions that follow is simply fuel for the fire.
"When you have people doubting you, you're automatically hungry," he said. "You want to work hard just to prove them wrong."
Nick Saban Talks Recruiting
SEC SCOREBOARD
Thursday, 8/28
Saturday, 8/30
Sunday, 8/31