July, 30, 2014
Jul 30
4:55
PM ET
For all those people fretting that a playoff in college football would somehow water down the regular season, I offer up the blockbuster weekend of Sept. 3. 2016.
Yes, it's still a couple of years away and we're supposed to be focusing on what's right in front of us. But, geez, that Saturday to open the 2016 season could very well provide the most attractive lineup of nonconference games on one day that we've ever seen.
For that, at least in large part, we all have the College Football Playoff to thank.
Some of the matchups were already set or in the process of being set. But the real impetus in beefing up all these nonconference schedules was that a playoff was coming.
And, now, with a selection committee holding the keys to those coveted four playoff spots, we're going to be in store for some terrific nonconference showdowns in the regular season for years to come. Simply, teams that don't play and win those types of games are going to be on the outside looking in, which makes the regular season as important as ever.
My only knock on that weekend to kick off the 2016 season is that there are too many good games. I want to watch them all.
We've all been clamoring for an
Alabama
-
USC
matchup. Well, we're finally going to get it in Arlington, Texas to open that season.
And if you like your football Southern style,
Clemson
at
Auburn
has a nice ring to it. Lewis Grizzard, the late Southern humorist, once said that Clemson was Auburn with a lake. In a lot of ways, they're virtual clones of each other right down to their break-neck style of offense. Even more enticing, this is a home-and-home series with Auburn traveling to Clemson the next year.
There won't be a more unique game that weekend than
LSU
facing
Wisconsin
in historic Lambeau Field. Perhaps we'll get to see Les Miles perform the "Lambeau Leap" if the Tigers win.
Have the remote control ready because we also get
UCLA
at Texas A&M,
Notre Dame
at
Texas
and BYU Cougars at
Arizona
(in Glendale, Ariz.).
That's just the first weekend, too.
A week later,
Tennessee
and
Virginia Tech
will "trade paint" at Bristol Motor Speedway. And two weeks later,
Ohio State
travels to Oklahoma and
Oregon
visits Nebraska.
So much for opening the college football season with a tune-up … or two.
July, 30, 2014
Jul 30
2:13
PM ET
In a way, this seems to be about taking the pressure off of Jacob Coker. To give into the public narrative and anoint him
Alabama
's next starting quarterback this early would go against Nick Saban's instincts. He'd be putting the weight of the world on Coker's shoulders, giving him nowhere to go but down. After all, it's a lot less stressful to compete for a job than to defend one.
So Saban went to SEC media days and said things like, "I don't want to minimize the other quarterbacks," and insisted that, "This is an open competition, no doubt."
"Everyone knows that," he added for emphasis.
Except Coker is the clear favorite. He fits the system best, has the most talent and may be the most mature after three years of ups and downs at Florida State. He may not be as popular among teammates as incumbent
Blake Sims
, but he's ingratiating himself quickly if you take the word of wideouts
Christion Jones
and
Amari Cooper
, who described him as laid-back off the field and take charge between the lines.
"He looks great," Cooper said. "Strong arm, takes command in the huddle, which I think is very important. You can tell he's experienced. I'm ready to see how he progresses in fall camp."
"Jacob's doing a great job since he arrived in May," Jones said. "He's done an awesome job with our wide receivers, with our coaches, learning and doing all the little things right trying to become the quarterback we want him to be.
"But it's a competitive job for him as well, and he understands that, because we have three or four other guys that can help us win."
Really, though, it's not three or four guys competing for the starting job. It's Coker vs. Sims, to be sure. And if you believe Saban, it might be both.
"It's not something that I would hope would happen," Saban said. "Is it something that I can totally rule out? Not really because I think the skill set of Blake Sims can create problems for a defense. If we wanted to utilize him to do that in some kind of way, I guess you could say that we could possibly have a two-quarterback system."
That's right, folks, a two-quarterback system. Brace yourselves.
But to say that Sims' skill set is so different from Coker's isn't exactly true. Coker does have the tools of a prototypical pocket passer in that he's 6-foot-5 and 230 pounds with above average arm strength. He's also an athlete, though. The former All-Metro basketball player at St. Paul's High School has speed and agility, and knows how to run the read-option having played quarterback in a wing-T offense as a prep.
"He's a different type of quarterback than Alabama has had," Jones explained. "I see no similarities with him or AJ [McCarron] or any other QB that's been here. He's a different type of release. He's bigger in size. He can move faster and quicker than most guys his size. He brings a lot to the table."
He brings
the most
to the table, which is why he will be Alabama's next starting quarterback.
Sims will push him. So will
Alec Morris
,
Cooper Bateman
and
David Cornwell
. But it's Coker's job to lose, whether Saban wants to come out and say it or not.
It may be a lot of pressure for a quarterback with zero career starts to handle, but at least one person thinks he can take it. It just so happens to be the one person who continues to try and keep the focus off of him.
"Let me just say this: Whoever the quarterback is at Alabama, they need to be able to manage external factors because there are lots of them," Saban said. "The clutter outside -- what people say, what people think -- you have to be able to stay focused on the process of things you need to do to play well and not worry about that stuff.
"So I would say that if you are putting too much pressure on him, that's his fault, and he needs to learn how to deal with it.
"He's never complained about it. I don't see him pressing. I like his disposition with the other players, how he engages with the other players. He just has to get comfortable with the offense. He's in a competitive situation with some other good players. It will just take a while for it to sort itself out."
How long, though, remains to be seen. Until then, prepare yourselves for plenty of coachspeak and very little talk of where each quarterback stands. We may believe it's Coker's job to lose, but don't hold your breath waiting for confirmation. Saban isn't going to tip his hand or handicap the race anytime soon.
It's an open competition, remember? Everyone knows that.
July, 30, 2014
Jul 30
12:00
PM ET
July, 30, 2014
Jul 30
9:30
AM ET
July, 29, 2014
Jul 29
9:30
AM ET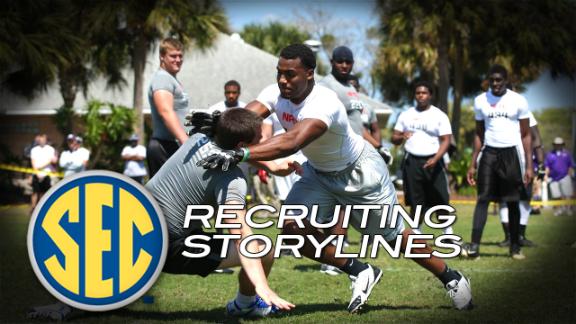 The SEC has 77 committed prospects in the
updated ESPN 300 rankings
. The league continues to dominate on the recruiting front and there are no signs of the momentum slowing down. Here's a closer look at five things to know in the SEC from the new recruiting rankings.
To continue reading this article you must be an Insider
July, 29, 2014
Jul 29
9:00
AM ET
Edward kicked off our countdown
of the SEC's best 25 players with selections 25-21 on Monday.
Keep in mind there's always some projection in these lists after reaching out to coaches, scouts and other media members for their input. The goal is to pinpoint who we think will be the 25 best players for the 2014 season, meaning it's not merely a list of the 25 returning players who've been the best players in the league to this point.
Today, we look at selections 20-16:
20. Laquon Treadwell, WR, Ole Miss:
All Treadwell did as a freshman was lead Ole Miss with 72 catches and earn SEC Freshman of the Year honors from the coaches. He's added 15 pounds of muscle this offseason, and at 6-foot-2 and 230 pounds, will be even tougher to defend with his physicality, sure hands and run-after-the-catch ability. With Donte Moncrief leaving early for the NFL, Treadwell is moving from slot receiver to the Rebels' outside receiver spot and will get plenty of chances for big plays.
19: Markus Golden, DE, Missouri:
The Michael Sam-Kony Ealy tandem at defensive end last season was ultra-productive, but go back and look at the havoc the 6-3, 260-pound Golden caused despite playing only 40 percent of the snaps. He had 13 tackles for loss, including 6.5 sacks, and steps up this season as a senior as the Tigers' top finisher off the edge. Missouri has produced its share of talented defensive linemen under Gary Pinkel, and Golden is poised to join that fraternity.
18. Robert Nkemdiche, DT, Ole Miss:
Ole Miss coach Hugh Freeze said Nkemdiche is a tackle all the way for the Rebels, although he's certainly athletic enough to play outside in certain situations. He plans to play at 285 pounds this season after playing closer to 300 as a freshman. He's also healthy after racking up eight tackles for loss last season and eager to prove that he can be as dominant as any interior defensive lineman in this league and maybe the country.
17. Mike Davis, RB, South Carolina:
Some of the best news for the 5-9, 223-pound Davis is that the Gamecocks are deep at running back, so they'll be able to keep him fresh. He was a dynamo last season in his first full season as a starter and finished with 1,183 rushing yards and 11 touchdowns. Davis is also an excellent receiver out of the backfield and caught 34 passes a year ago. He turns missed tackles into touchdowns and had two scoring runs of more than 50 yards last season.
16. T.J. Yeldon, RB, Alabama:
Even though
Derrick Henry
has generated plenty of buzz over the way he played in the bowl game last season, the 6-2, 218-pound Yeldon is still the Crimson Tide's feature back. He'll be gunning for his third straight 1,000-yard season in 2014 and has averaged at least 6 yards per carry in each of his first two seasons. Yeldon led the SEC in rushing in league games last season with an average of 123.5 yards per game. He's as adept at running over you as he is at running by you.
July, 28, 2014
Jul 28
3:50
PM ET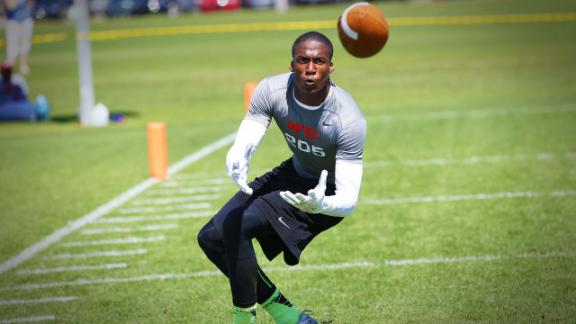 Five-star athlete
George Campbell
, a former Michigan recruit, has seen his recruitment skyrocket after backing off his pledge to the Wolverines back in December. Now, the No. 10-ranked prospect has decided to narrow his choices of colleges to 10.
To continue reading this article you must be an Insider
July, 28, 2014
Jul 28
12:00
PM ET
July, 26, 2014
Jul 26
11:00
AM ET
GAINESVILLE, Fla. -- Though not as heavy on star-studded talent as in years past, there was still plenty of news at Florida's Friday Night Lights camp. The day started with the Gators receiving a commitment from three-star offensive tackle
George Brown Jr.
, and ended with some of the top prospects from the Southeast attending the one night camp. Here is a closer look at the top story lines from Friday evening.
ESPN 300 athlete set to decide
The 11th-ranked athlete and the No. 155-ranked player overall in the ESPN 300,
Ray Ray McCloud III
, will announce his college decision on Monday night.
McCloud didn't participate at Friday Night Lights but did have a chance to spend some time with current Florida player and pre-season All-SEC selection Vernon Hargreaves III, who like McCloud is also a Tampa native.
"Vernon knows I'm coming from the same place he was a few years ago," McCloud said. "He just told me to always keep my options open until signing day because you never know what could happen as far as coaching changes. He said to just take my time with the process."
McCloud will choose between Florida, UCLA, Clemson and Maryland on Monday but his father, Ray McCloud Jr., also added that USF has recently made an impression on his son.
Florida head coach Will Muschamp had one last chance to speak with McCloud before he makes his big decision on Monday and his message was simple.
"He said he wants me to do what I do in my home state," McCloud said. "He wants me to be a Gator."
Four-star running back remains committed to Miami
Despite Miami signing
Joseph Yearby
, the No. 4-ranked running back in the country last year, and having three running backs committed this year, ESPN 300 running back
Dexter Williams
said he remains strong in his commitment to the Hurricanes.
"It would be a good feeling to be in the backfield with them because all of them are great backs and they can do great things," Williams said. "Wherever you go, there's competition. You've got to beat out your competitor."
The Florida coaching staff was hoping to changes Williams' mind on Friday but to no avail.
"They're just saying you can get on the field here," Williams said. "We're only going to take two [running backs]. They're taking four. Just think about it."
Williams admits his own father pushes him to switch his commitment to the Gators.
"He has loved the Gators since he was little, and he wants me to be a Gator a lot," Williams laughed. "So he tells me every morning, 'Be a Gator.' When I told him I was still thinking about it, he said, 'That's the way. That's where I want you to go.'"
Coney has leader, will decide soon
Four-star linebacker
Te'Von Coney
sent out a tweet recently that said he would be attending the same school as his friend George Brown Jr. On Friday, Brown committed to the Gators and Coney admitted that their packaged deal will likely still happen.
"It was, like, 85 percent true," Coney said of his tweet. "Florida is my leader right now but I'm still checking out Auburn, Tennessee, Miami and other programs but Florida is still my leader. I'll probably make my decision soon, like within the next month or so."
Coney admitted his visit to Gainesville strengthened the Gators chances of landing him.
"I just think Florida's a great school," he said. "It's the Harvard of the South. I can get a great education, they have a great business and engineering school which are two majors I'm thinking about majoring in.
"I think they have a great program and they need linebackers right now to come in and step up and I think Will Muschamp is a great defensive coach and they are always going to have a top defense and that's what I want to play in."
Prince likes four
ESPN 300 offensive tackle
Isaiah Prince
was one of the most impressive linemen to attend FNL and received plenty of attention from the Florida coaching staff.
After the event concluded Prince said there are four schools that are standing out right now but he's likely to add other schools as his recruitment continues.
"Right now, the schools that really stick out to me is Maryland, Alabama, Florida and Ohio State, but I'll probably have more schools in the mix as I take more visits," he said.
Though he has no set dates in mind, Prince knows of three schools he would like to visit in the fall.
"This visit helped Florida out a whole lot," Prince said. "It's a really nice campus, I want to study sports management and that building is right next to the stadium. I'll most likely be back for a game in the fall as well as games at Alabama and Ohio State."



To continue reading this article you must be an Insider
July, 25, 2014
Jul 25
6:00
PM ET
ENNIS, Texas -- Texas A&M's red-hot recruiting streak continued Friday with the addition of an ESPN 300 player at an always-needed position.
James Lockhart
IV announced in front of family, classmates and educators at Ennis High School that he was going to College Station and joining Kevin Sumlin's growing 2015 class. Lockhart, the top-ranked defensive end in Texas, chose the Texas A&M Aggies over the
Alabama Crimson Tide
.



To continue reading this article you must be an Insider
July, 25, 2014
Jul 25
3:45
PM ET
Another week, another off-field incident. That is the way it has been this offseason in the SEC, and this past week was no different.
Texas A&M suspended cornerback
Victor Davis
after he was arrested and charged with shoplifting, and defensive end Gavin Stansbury, who was arrested in April, left the team for personal reasons.
At Georgia, Mark Richt dismissed yet another player a day after defensive lineman Jonathan Taylor was arrested for aggravated assault.
These incidents are just the latest in what has been a troubling offseason for the SEC. With media days behind us and fall camps about to begin, we want to know which team's offseason issues will present the greatest on-field questions for this season.

In Tuscaloosa, the media's pick to win the SEC has had its fair share of off-field incidents.
Dillon Lee
and
Jarran Reed
were both arrested for driving under the influence,
Altee Tenpenny
was caught with marijuana, and
Kenyan Drake
was arrested for disobeying a police officer. None of the players involved has been dismissed, but this is becoming both a problem and a distraction for Alabama.
Across the state, Auburn is still trying to figure out what to do with quarterback
Nick Marshall
. The potential Heisman Trophy contender was given a citation for possession of marijuana this month, but will he miss any time as punishment? To make matters worse, teammate
Jonathon Mincy
was arrested for the same thing, possession of marijuana, just two weeks prior.
The school that has been in the news the most this offseason is Georgia. Four players were arrested in March for theft by deception. Two of those four, Taylor and
Tray Matthews
, were later dismissed for separate incidents. A third,
Uriah LeMay
, opted to transfer. Back in February, safety
Josh Harvey-Clemons
also was dismissed from the program following multiple violations of team rules.
At Missouri, it was three strikes and you're out for star wide receiver
Dorial Green-Beckham
. The sophomore was arrested for the second time on drug-related charges in January, and after being involved in an altercation with his girlfriend in April, he was dismissed from the team. Green-Beckham has since joined Oklahoma.
Lastly, there is Texas A&M, which has not seen any decline in off-field distractions since quarterback Johnny Manziel left. Quarterback
Kenny Hill
was arrested in March for public intoxication. Two months later, head coach Kevin Sumlin dismissed a pair of key defenders -- Darian Claiborne and Isaiah Golden -- after they were arrested and charged with aggravated robbery. Then the news broke this week with Stansbury's departure and the suspension of Davis.
July, 25, 2014
Jul 25
12:00
PM ET
Blue Chip Battles: ESPN 300 Update
SEC SCOREBOARD
Thursday, 8/28
Saturday, 8/30
Sunday, 8/31