February, 1, 2015
Feb 1
10:30
AM ET
It is down to the final weekend before national signing day, and there were some very important visitors over the weekend. Some were official visits, some were unofficial, and some were from top juniors around the country. Recruits from all over the SEC shared there thoughts on social media through tweets or Instagram photos. Here's a look at the best social media posts from the weekend.
Five-star defensive end
CeCe Jefferson
posted an Instagram video of Mike the Tiger while on his official visit to LSU this weekend. Jefferson is set to make his decision on Wednesday and it's down to LSU, Florida, Alabama, Auburn, Ole Miss and FSU.
Welcome to Louisiana pic.twitter.com/WP2wGfEmC9

— 7 (@cecejeferson7) Jan. 31, 2015
Arizona State athlete commit
Jaason Lewis
posed for a photo while on his official visit to Ole Miss this weekend.
=4=5 pic.twitter.com/s2QIVTdzVV

— J Lew (@jaason_lewis) Feb. 1, 2015
Four-star offensive guard
Quarvez Boulware
posted three photos while on his Florida visit this weekend. One of the photos included all of the official visitors Florida brought in over the weekend.
#GatorGang #GatorNation #GatorBait =$=¯==3 pic.twitter.com/5FaznDWcu9

— Quarvez Boulware (@Truth__55) Feb. 1, 2015
Mississippi State safety commit
Jamal Peters
posed for a photo with one of the top quarterbacks in the SEC this past season,
Dak Prescott
. There were rumors Peters might visit LSU this weekend, which had Mississippi State fans worried. But the No 2-ranked safety visited the team he has been committed to for a while, and it appears he will stick with his pledge on signing day.
This 2015 season going to be a One to Remember =6<È= #Best Duo in the SEC pic.twitter.com/29PcGMOsyP

— Jamal Peters 2 (@JamalPeters21) Feb. 1, 2015
ESPN 300 offensive tackle and Ole Miss commit
Drew Richmond
posted this photo when he arrived for his scheduled official visit to Tennessee this weekend. The Rebels are obviously hoping to hold on to the four-star prospect commitment, while the Vols are doing everything they can to flip the talented lineman.
I'm here ! pic.twitter.com/yFC3Mwu9Xd

— Drew Richmond (@TheDream_75) Jan. 31, 2015
Two ESPN Junior 300 prospects
Derrick Brown
and
Kaden Smith
posed for a photo during Alabama's big junior day on Saturday.
How we look? @TheKadenSmith pic.twitter.com/scbV9lsAPq

— Derrick Brown9ã0ã (@DerrickBrown90) Jan. 31, 2015
Florida had commitment visits on Saturday from three-star offensive linemen
Richerd Desir-Jones
and
Fredrick Johnson
.
Feb. 1, 2015
UF COMMIT!!!!! #THESWAMP #ChompChompx2

— Fredrick Johnson (@Climax_14) Feb. 1, 2015
Recent Iowa State defensive tackle commit
Josh Coleman
took an official visit to Missouri this weekend.
Feb. 1, 2015
ESPN Junior 300 running back
C.J. Freeman
and 2016 wide receiver
Tyrek Tisdale
pose for a photo while on an unofficial visit to South Carolina for the Gamecocks junior day.
@WhoThat_CJ Junior Day @ South Carolina 7ã & 3ã ==¯ pic.twitter.com/0w0exjgsN8

— Tyrek Tisdale (@TyrekTisdale) Jan. 31, 2015
January, 30, 2015
Jan 30
2:00
PM ET
Even at Alabama, where it's become national championship or bust, SEC championships are nothing to sneeze at. The Crimson Tide won their third SEC championship under Nick Saban in 2014, and winning an SEC title always constitutes a successful season.
The ride wasn't always smooth, and there were some glitches in all three phases of the game, ending with the disappointing loss to Ohio State in the College Football Playoff semifinals. This wasn't a dominant Alabama team, but still one good enough to win 12 games.
Offense: B-plus
. The patches of inconsistency are what keep this grade from being an A. Alabama was lights out offensively at times (see Auburn, Florida, Missouri and Texas A&M) and not so hot in other games (see Arkansas, LSU, Mississippi State and Ole Miss).
Amari Cooper
was the best receiver in college football and led the SEC with 16 touchdown catches. He was the Tide's go-to guy all season, and fifth-year senior quarterback
Blake Sims
was one of the better stories in the country with his school-record 3,487 passing yards, not to mention his 28 touchdown passes. The running game blew hot and cold, and the Tide also turned the ball over 22 times. They were a much different team offensively on the road. They were held to 17 points or fewer in regulation in three of their four true road games. At the end of the day, they tied for second in the SEC in scoring offense, averaging 36.9 points per game, and lost in the playoff semifinal despite putting up 35 points.
Defense: B
. The back end was again a problem for Alabama, particularly at cornerback, where the Crimson Tide had trouble eliminating the big plays. The pass rush did improve some, although the Tide are still looking for the kind of explosive finishers off the edge they had during their national championship seasons in 2009, 2011, and 2012. Alabama's defensive standards have been set so high under Kirby Smart that anything other than a suffocating defense is persona non grata in Tuscaloosa. The Crimson Tide were plenty good on D in 2014, allowing just 18.5 points per game in nine SEC contests, but gave up the most passing yards per game (226) in the Nick Saban era. They allowed seven pass completions of 40 yards or longer in their last three games, and that doesn't even count the 85-yard touchdown run Ohio State's
Ezekiel Elliott
broke off in the fourth quarter to seal Alabama's fate in that game. The big plays are the reason this grade is a little bit lower than it usually is for the Tide on defense.
Special teams: C-plus
. We'll start with the good. True freshman punter
JK Scott
was exceptional. He led the country in punting with a 48-yard average and had 31 of his 55 punts downed inside the 20-yard line. The Tide finished first nationally in net punting (44.7 yards), and Scott was the difference in a couple of close Alabama wins. Alabama was shaky just about everywhere else. The Tide were 14 of 22 on field goals, and are just 17 of 42 the last two seasons.
Adam Griffith
gets a little bit of a pass because he kicked through lower back pain for much of the season. Fielding punts and kickoffs were also problematic. A fourth-quarter fumble on a kickoff return against Ole Miss led to the Rebels' game-winning touchdown, and Alabama gave up a 100-yard kickoff return for a touchdown against West Virginia in the opener. Thank goodness for Scott, or this grade would be a lot worse.
Coaching: B-plus
. Offensive coordinator Lane Kiffin did an exemplary job with Sims, who really developed under Kiffin's tutelage and played better than anybody probably envisioned. Kiffin also opened up the Alabama offense, spread it out and played faster. He was a master at finding ways to get the ball to Cooper. Obviously, the play Kiffin would love to have back is that late interception against Ohio State when Alabama was trying to hit the tight end for a touchdown. The defense being torched the way it was against Auburn and then Ohio State (1,167 combined total yards) was disappointing for Saban and Smart, but to get 12 wins and an SEC title out of this group when there were several pressing questions coming into this season was still a solid coaching effort.
Overall: B-plus
. Saban has created a monster at Alabama. How else do you explain the Crimson Tide winning 12 games, beating rivals Auburn and LSU, winning an SEC title and the fans still being bummed at season's end? That's what happens when you win three national championships in a span of four years, and suddenly, two seasons pass and you don't even play in the big game. Alabama is always going to be ranked in the top 10 (probably the top 5) in the preseason poll as long as Saban is there, so those are enormous expectations to live up to. But even by Alabama's dizzying standards, this was a very good season. Had the Tide been able to hold onto an early two-touchdown lead against Ohio State, it could have been another great year.
January, 30, 2015
Jan 30
8:00
AM ET
1. With less than a week remaining until national signing day, the recruiting drama is hot and heavy. Some of the potential signing day drama involving one SEC team was removed late Thursday night when ESPN 300 quarterback
Kyler Murray
affirmed
his commitment to Texas A&M
. Murray, a five-star quarterback prospect who is the No. 1 dual-threat quarterback in the country and the 13th-ranked player overall, originally committed to the Aggies in May but flirted with Texas recently, taking a visit to Austin last week. That sparked some intrigue and uncertainty about the strength of his pledge to the Aggies, who are thin at quarterback with freshman
Kyle Allen
and former walk-on
Conner McQueen
being the only scholarship quarterbacks on the current roster. Texas A&M coach Kevin Sumlin and Jake Spavital made an in-home visit to Murray on Thursday, who assured the Aggies that he'll sign with them on Wednesday and
canceled his scheduled in-home visit with Texas' Charlie Strong on Friday
. There was so much buzz around Murray not only because of how highly rated he is but how accomplished a quarterback he is, recording a 43-0 record as a starter and leading Allen High School to three consecutive state championships in Texas high school football's highest classification.
2. The biggest news of the day came out of Missouri, where athletic director Mike Alden
announced that he will step down from his post effective Aug. 31
. Alden, Mizzou's athletic director since 1998, said "it's time for a change" and he'll be joining the school's College of Education as an instructor.
The Tigers accomplished quite a bit under his watch
and he oversaw the move to the SEC, where Missouri has won two SEC East titles in football. There were renovations to Faurot Field and a new football complex is scheduled for construction. Mizzou Arena was also among the facilities built under Alden's watch. Football success is usually tied to an AD's legacy and because of that,
chances are Alden's will be thought of favorably.
Around the SEC
Tweet of the day
Following my heart... #GigEm

— Kyler Murray (@TheKylerMurray) January 30, 2015
January, 29, 2015
Jan 29
8:00
AM ET
1. Tennessee's search for an offensive coordinator continues. Head coach
Butch Jones said the search is going "exceptionally well."
Jones is looking for a replacement for Mike Bajakian, who left to become the Tampa Bay Buccaneers' quarterbacks coach. Jones said a hire could be expected soon after national signing day. Whoever gets the job will have some nice talent to work with, like quarterback
Joshua Dobbs
and running back
Jalen Hurd
. Michigan's Mike DeBord is among those who have been reportedly linked to the job.
2. One of the most compelling quarterback situations to watch this offseason and heading into next season is at LSU.
Anthony Jennings
started 12 of 13 games this season while
Brandon Harris
started just one while appearing in eight games. Harris was a highly touted recruit who arrived in Baton Rouge with much anticipation but it was Jennings who maintained a grip on the starting job after Harris' lone start in a loss to Auburn. Harris' high school coach at Parkway High in Bossier City, Louisiana,
said he tried to talk Harris into transferring to a junior college for a season but that Harris is "all in" for staying
and wants to "compete." It'll be interesting to see what results.
Around the SEC
January 29, 2015
January, 28, 2015
Jan 28
11:00
PM ET
Despite making a commitment to Alabama last week, ESPN 300 offensive tackle
Isaiah Prince
said Wednesday he's visiting Maryland and will give the Terps a solid look.
January, 28, 2015
Jan 28
1:30
PM ET
Here's a look at how programs in the SEC are faring on the recruiting trail heading into national signing day on Feb. 4.

Commitments: 26
ESPN 300 commitments: 19
Who they have: The Crimson Tide are working on a four-peat atop the class rankings, and they continue to build a big lead with 20 ESPN 300 prospects, headlined by five-star CB Kendall Sheffield. Calvin Ridley, the No. 1- ranked receiver in the ESPN 300, leads an offensive group that includes five-star quarterback Blake Barnett and four-stars such as running back Damien Harris, tight end Hale Hentges, guards Lester Cotton, Brandon Kennedy and Richie Petitbon, and center Dallas Warmack. The first tackle in the class committed Dec. 14 when three-star Matt Womack flipped from LSU. Alabama also snagged running back DeSherrius Flowers. Da'Ron Payne is a massive defensive tackle in the defensive class, which includes linebackers Adonis Thomas, Mekhi Brown and Joshua McMillon. In the secondary, Deionte Thompson and Shawn Burgess-Becker join No. 27 overall Minkah Fitzpatrick.
Who they want: With 27 commitments already, Alabama's class is almost full. There are, however, a few remaining targets. Former Arkansas wide receiver commit K.J. Hill took an official visit to Alabama recently, and Holton Hill will take a visit this upcoming weekend. Former commit Daylon Charlot is still in play, but the Crimson Tide will have to battle with LSU for his services.

To continue reading this article you must be an Insider
January, 28, 2015
Jan 28
10:30
AM ET
This week, I asked a few coaches what constituted a good playcaller. Balance was one consistent element, both in terms of run and pass calls as well as taking shots downfield. Creating and leveraging mismatches, finding space for playmakers, was another.
Another characteristic -- confidence -- was a bit more abstract. Coaches said a proper playcaller has to take control of a game rather than allowing a defensive coordinator to get the upper hand.
It's a chess game in the gladiator arena, and one coach said "bravado" is required.
"Always be on the attack," he said, "regardless of down, distance, score or time of the game."
Here are 10 playcallers -- coordinators and head coaches -- who most embody those elements.
1. Gus Malzahn, Auburn head coach
Even though the Auburn offense is built on the same few basic run plays, Malzahn continues to frustrate defensive coordinators.
To continue reading this article you must be an Insider
January, 28, 2015
Jan 28
10:00
AM ET
HOOVER, Ala. – It started with a dream, the dream to play Division I football. Next Wednesday, four high school teammates will become one step closer to turning that goal into a reality when they sign with their respective schools.
The only catch? The quartet from Hoover High School will be choosing four different colleges.
"It was kind of a dream that we'd play together," ESPN 300 linebacker
Darrell Williams
said. "I still think that would be cool if we could all four go to the same school, but at the end of the day, you've got to do what you've got to do. You've got to go where's best for you."
In four years at Hoover, they won three state championships and finished with a record of 42-3. But now Williams (Auburn),
Christian Bell
(Alabama),
Bradrick Shaw
(Wisconsin) and
Justin Johnson
(Mississippi State) are on to the next chapter, and each is paving his own way.
[+] Enlarge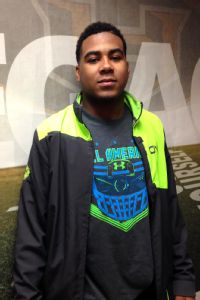 Greg Ostendorf/ESPNDarrell Williams grew up an Alabama fan, but Auburn turned out to be a better fit for him.
The pretty boy
Off the field, that's what teammates call Williams -- he's always fixing his hair, he's the last to leave the locker room after the game, you get the idea -- but on the field, it's a different story. He still likes to look good, but he likes to look good making plays.
At 6-foot-3, 226 pounds, Williams has a rare combination of size and speed, and the scary part is he's not done filling out his frame.
"He can cover a lot of grass," Hoover coach Josh Niblett said. "He's a great blitzer, but he's a great dropper. He can play inside or outside. But he brings something to the table with length and athleticism that you don't normally see out of a lot of kids."
Williams grew up an Alabama fan. He always wanted to play for the Crimson Tide. But when it came time to make his college decision, Alabama wasn't ready to accept his commitment. The coaches wanted to see him in camp first. That didn't sit well with Williams, especially after seeing one of his teammates commit in April, around the same time he was ready to make a decision.
Two weeks later, Williams gave his verbal pledge to Auburn.
He developed a bond with the Auburn coaches that got stronger with every visit. Though the last two months have been a whirlwind with all the coaching changes, he remains firm to Gus Malzahn and the Tigers.
Finally, he can say he's 100 percent committed.
"It feels good," Williams said recently after his official visit to Auburn. "It's kind of a relief because this whole process has been kind of stressful."
The freak
Bell is the type of player quarterbacks have nightmares about. He's 6-foot-4, 216 pounds, has a quick first step and when he gets around the edge, look out.
He's also the teammate who committed to Alabama in April when the staff told Williams to hold off. It doesn't necessarily mean Bell is more talented, but maybe he's a better fit for Nick Saban's defense. Or maybe the coaches saw a certain edge about him, an attitude that leads to his intense and aggressive demeanor on the field.
His teammates, who have been with him since middle school, still have trouble describing him.
"Christian is Christian," one said.
"I don't know what word can describe Christian," another said.
Shaw probably said it best.
"He's the freak," Shaw said. "In practice, he'll give the offensive lineman a move and just do whatever he wants. He manhandles people."
Surprisingly, Alabama wasn't always the choice for Bell. He, too, weighed his options before making his commitment and admits that Mississippi State and UCLA were very much in the mix at that time. Both schools offered a better chance at early playing time.
But that's not what Bell was interested in. He understands he's just another name in Alabama's star-studded recruiting class, and that's the way he likes it.
"We haven't really talked about playing time because if they say I'm going to start, I don't really want to know that," Bell said. "I want to just go in there and work."
The quiet one
[+] Enlarge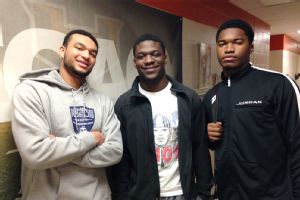 Greg Ostendorf/ESPNChristian Bell (Alabama), Bradrick Shaw (Wisconsin), and Justin Johnson (Mississippi State) will join Darrell Williams as Hoover (Ala.) players headed to FBS schools.
A week ago, Shaw was the only uncommitted member of the Hoover quartet. The four-star running back didn't have the luxury of staying in state with both Alabama and Auburn loaded at his position.
"They're in state, but I guess they got the players who they wanted," Shaw said. "I can't do anything about it."
Instead, his choice came down to Vanderbilt and Wisconsin. Many predicted that he would sign with the Commodores given the proximity to home and the opportunity to play in the SEC. But it wasn't meant to be. Shaw chose the road less traveled.
"I'm OK to go out of the SEC," he said. "The Big Ten is nice, too. They produce great running backs every year. Of course, Ohio State won this year. It's elite talent just competing. SEC is one of the best conferences, but the Big Ten is pretty nice, too."
It fits his personality. Go to a school where nobody knows you, keep your head down, work hard, and maybe become the next
Melvin Gordon
.
It's the same attitude that helped Shaw get on the field at Hoover as a freshman. It's what made him better every season and what ultimately turned him into a star. But you would never hear that from him.
"I'm not quiet," Shaw said. "But I'm kind of like the most normal guy. All the other guys are crazy."
The underdog
There was a time when Johnson didn't know if he'd be part of the group. He didn't know if he'd have the same opportunity as the others. They all had received Division I scholarship offers by the beginning of last year, but he was still waiting on his.
"It was pretty tough," Johnson said. "Thinking about it really does upset me sometimes, but you get over it. You don't realize it, but it makes you go harder."
"Of course everybody wants to be ranked high and stuff like that. That's every kid's dream. Sometimes things just don't work out as you expect they would. I'm not upset about it or anything. It's just one of those things that sticks in the back of your head and drives you."
Eventually, the offers came. The three-star wide receiver was offered by Kentucky, Mississippi State, and a handful of smaller schools.
When it was time to make a decision, the choice was easy. Johnson committed to Mississippi State because it's a program that reflects his attitude. Since Dan Mullen arrived, they have exceeded expectations just like he has done throughout his career at Hoover and just like he plans to do when he arrives in Starkville.
"I see that underdog mentality," he said. "You never know what to expect."
Dak Prescott
was a three-star recruit and
Josh Robinson
a two-star prospect who both became stars with the Bulldogs. Johnson is hoping to become the latest in that line of under-the-radar stars.
January, 28, 2015
Jan 28
9:00
AM ET
1. I hate to start the day off with this, but it needs to be addressed.
Two ex-Vanderbilt football players were convicted of rape
Wednesday, and two more are still awaiting trial. It's a black eye for the school, for the conference and for college football. The verdict likely gave some closure to the victim, but
this is not going away anytime soon
for the Commodores football program. Is it fair for head coach Derek Mason who took over after the incident occurred? No, but he's the one who will have to deal with the consequences. One can only hope that the culture has changed under Mason's watch. And maybe all this will send a message to other student-athletes. Here's to not having to address these types of issues as often in college football.
2. On a different note, we are officially one week from national signing day. Who's ready? ESPNU will have
wall-to-wall coverage
next Wednesday with more than 15 live commitments and reporters on different college campuses across the country. There's plenty of intrigue with six of the top 10 players in the ESPN 300 still uncommitted, and some believe
Auburn, Florida and USC will make the most noise
on signing day. The biggest name to watch will be five-star quarterback Kyler Murray, who is in the middle of
a Lone Star recruiting battle for the ages
. Will he stick with his current Texas A&M commitment or will he flip to the Longhorns and go play for head coach Charlie Strong? We'll have to wait and see.
Around the SEC
Tweet of the day
I love recruiting FLORIDA! 8 more days! #HottyToddy

— Chris Kiffin (@Chris_Kiffin) January 27, 2015
ESPN 300 Recruits on Negative Recruiting