October, 22, 2014
Oct 22
10:15
AM ET
Oregon didn't see Arizona coming. Baylor was blindsided by West Virginia. Now those teams' playoff hopes are damaged, if not totaled.
It's often the surprising losses -- the trap games -- that derail promising seasons. Just ask Oklahoma State (Iowa State) in 2011 or USC (Oregon State) in 2008.
As for 2014, here are the most perilous traps remaining down the stretch for the top six in the AP poll. That includes Mississippi State, FSU and Ole Miss, the three remaining undefeated Power 5 teams.
1. Ole Miss
Trap game:
at Arkansas (Nov. 22)
When they go to Fayetteville, the Rebels will essentially be coming off two open dates (they play Presbyterian on Nov. 8). But Arkansas still presents a classic look-ahead scenario, because Ole Miss has the Egg Bowl against Mississippi State the following week. The "biggest Egg Bowl ever" chatter is buzzing now; just imagine what it will be like a week before the game. If the Rebels' focus is waning, Arkansas is good enough to punish them for it. Mark it down: The Razorbacks are going to end their 16-game SEC losing streak this season, and it wouldn't surprise me if it happened in an impactful game. Mississippi State (Nov. 1) also should be on high alert. Arkansas will slow down the game. Even if Ole Miss isn't running as much up-tempo this season, pace is still something the Rebs want to dictate. The timing and matchup are as dangerous as it gets.
October, 22, 2014
Oct 22
8:00
AM ET
1. On Tuesday, my colleague Greg Ostendorf wrote about how Auburn freshman
Roc Thomas
is
primed for a big second half
to the season. Watching Thomas from afar, I'd have to agree. While he's not as fast as
Corey Grant
or as powerful as
Cameron Artis-Payne
, he's probably Gus Malzahn's most explosive running back when it comes to consistently picking up large chunks of yards. But Ostendorf's piece got me thinking: Who are some other potential second-half stars in the SEC? Here are four that come to mind:
2. The Head Ball Coach took the Florida question in stride. Steve Spurrier says he's not leaving South Carolina for The Swamp to replace Will Muschamp. "No,"
Spurrier told reporters on Tuesday
. "I tell everybody my next move is going to be to Crescent Beach, Fla." It was fun to imagine Spurrier roaming the Florida sideline again, but at 69 years old you knew it wasn't likely, if not altogether impossible. He's comfortable at South Carolina. Things might not be perfect there right now, but the work pales in comparison to what must be done at Florida. The Gators, should they choose to part ways with Muschamp, need a long-term solution, not a splashy stop-gap they'd have to replace sooner than later.
3. Texas A&M is going back to the drawing board. Even the QB position is up for grabs,
said coordinator Jake Spavital
. But that's not what caught my attention on Tuesday. What piqued my interest was coach Kevin Sumlin's comments about how Saturday's loss at Alabama was an "eye-opener." He said, "
This program was founded on three things -- play hard, play smart, be physical." Texas A&M has done none of those things recently. It started with Mississippi State and Ole Miss, but it ended with Alabama breaking its will. There was no aggressiveness from the Aggies' sideline, no fire to show in the second half they're better than the score indicated. They gave up. They wanted to go home. And if you're a coach, that's the worst possible thing you can see. What we're seeing from A&M is that you can't survive in this league on talent alone. You have to have those three things Sumlin discussed, but you have to have them in more than name only.
Tweet of the day
How unpopular is Lane Kiffin in Tennessee? Take a peek inside the race for the State House: http://t.co/51tJwekqD9 pic.twitter.com/xnPbzunPzw

— College GameDay (@CollegeGameDay) October 21, 2014
October, 21, 2014
Oct 21
2:00
PM ET
TUSCALOOSA, Ala. --
Reggie Ragland
was a four-star prospect. He was 6-foot-3, 245 pounds and ran the 40-yard dash in less than 4.7 seconds. SEC coaches fell over themselves chasing after him. He was the No. 2-rated inside linebacker in the country, according to ESPN, and was invited to the Under Armour All-Star Game where he stood out just as much as future teammates
T.J. Yeldon
,
Amari Cooper
and
Landon Collins
.
When Ragland set foot on Alabama's practice field for the first time, he continued to impress. He didn't look like a freshman, his legs as thick as tree trunks. Considering his background, his build and his athleticism, he was someone you circled on the roster to watch.
That was three years ago.
[+] Enlarge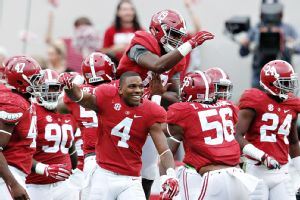 Marvin Gentry/USA TODAY SportsAlabama's Reggie Ragland, top, is congratulated by teammates after his interception vs. Texas A&M.
When Ragland had "former blue-chip prospect" in front of his name, everything changed. Reality set in. The rigors of the college game caught up with him, as they have so many. Nick Saban's defensive system wasn't a quick study. He was buried on the depth chart by Nico Johnson, C.J. Mosley and
Trey DePriest
. He looked the same physically, but he wasn't noticeable any longer. Eleven of his 17 tackles as a sophomore came on special teams.
There were glimpses of Ragland's potential during those first two years on campus, but concrete evidence was hard to come by. While Yeldon, Cooper and Collins emerged as stars, Ragland wondered whether he would ever regain the confidence he possessed as one of the most sought after high school athletes in the country.
Turning to Collins this season, he expressed doubt. Johnson and Mosley were gone and a starting job was all but guaranteed to him, but all he could feel was uncertainty.
"I've been out for years," he told Collins.
"Brother, just ball," the All-SEC safety responded. "You've been doing it for how many years? All you have to do is go out there, play your game and just ball."
It wasn't a quick process, but Ragland eventually found his footing. The anxiety he felt dissipated, and he started playing in a way that lived up to his high billing as a freshman: fast, physical, aggressive.
Through seven games, he trails only Collins for the team lead in tackles. He has made five stops behind the line of scrimmage, defended three passes and recovered two fumbles. Against Texas A&M on Saturday, he made one of the plays of the game, leaping high into the air for his first career interception.
"The first game for me I overthought everything," Ragland said. "Because I hadn't played in a couple of years, everything was fast. But as the weeks went on, everything started slowing down for me and I could see it."
He no longer needs the safeties to tell him what to do, he said. Reading the line of scrimmage and the quarterback's eyes, he is seeing things before they happen.
Playing fast and confident again, he is a big reason Alabama's defense ranks third in the nation, giving up 262.1 yards per game.
"Reggie has gotten better and better with every game," Saban said prior to Alabama's 14-13 win against Arkansas two weeks ago. "I think he's another one of those guys that didn't have a whole lot of experience before, so as you play and as you gain experience, you realize what it takes to play well.
"You've got to prepare what you've got to look at, how you've got to understand your game plan. You understand that every mental error you make has a consequence in the game. You really focus on paying attention to detail, doing the little things right. You become a lot better, more efficient player and Reggie has certainly done that."
Living by Saban's words -- "Relax, let loose and have fun" -- Ragland has become a rising star in the SEC.
If the rest of Alabama's former four- and five-star athletes learn to play the same way, watch out.
"If everybody can get together, the sky's the limit for us," Ragland said.
He should know.
October, 21, 2014
Oct 21
1:00
PM ET
There's no denying that with his team's No. 1 ranking, undefeated record, wins against Top 25 teams and his own performance, Mississippi State's
Dak Prescott
is still the top contender
for the Heisman Trophy
from the SEC and, so it seems, he is the national favorite at the moment, depending on where you look (Oregon's
Marcus Mariota
is getting some love as well, lately).
[+] Enlarge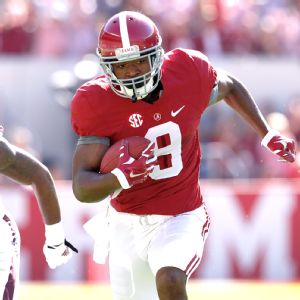 Marvin Gentry/USA TODAY SportsAmari Cooper caught eight passes for 140 yards and two touchdowns against Texas A&M.
But when it comes to SEC candidates, Prescott, the league's best quarterback on what is currently the league's best team, is the front-runner. Perhaps we should be paying some attention, however, to the league's best receiver: Alabama's
Amari Cooper
.
We've had this conversation before. Earlier this season, particularly after his 10-catch, 201-yard, three-touchdown performance against Florida, Cooper's name began to emerge as one deserving of Heisman Trophy candidacy.
Well, in case you forgot about Cooper after two less productive weeks (one in which he was hampered by an injury), he reminded us all on Saturday why he is the standard in the league at his position.
Cooper was dominant in Alabama's
59-0 win
against Texas A&M: eight catches, 140 yards, two touchdowns. The Aggies had no answers for Cooper, whom quarterback
Blake Sims
looked toward early and often in the game. He's big, fast, physical and extremely productive. He has been outstanding this season, with five games of at least 130 receiving yards and 908 receiving yards total, which ranks fourth in the country.
So while Prescott (whose team was off last weekend) remains the league's premier option currently and we continue to await word on what will happen with suspended Georgia running back
Todd Gurley
, perhaps we should keep a closer eye on Cooper moving forward.
Here are three other players to keep an eye on:
Bo Wallace, QB, Ole Miss: Wallace wasn't pristine this week (13-of-28, 199 yards), but he was still turnover-free and threw two touchdowns to guide the Rebels to a win over Tennessee. He is averaging 290.7 offensive yards per game in SEC play, while throwing nine touchdowns and zero interceptions in Ole Miss' four conference wins. He is third in the league in passer rating (163.0) and second in passing yards (1,899) and touchdown passes (17).
Josh Robinson, RB, Mississippi State: The Bulldogs were off this week but Robinson has no doubt been an excellent weapon to pair with Prescott this season. He's second in the SEC with 689 rushing yards and yards per carry (7.0) and tied for second with eight rushing touchdowns.
Todd Gurley, RB, Georgia: We don't know when Gurley will come back as he has missed the last two games, suspended by Georgia while it investigates allegation whether he profited from signing autographs. Even though he sat the last two games, he still leads the SEC in rushing yards (773), yards per carry (8.2) and is tied for second in rushing touchdowns (eight). The longer he's out, the more his chances are hindered, but for now, we'll keep him in the watch.
October, 21, 2014
Oct 21
12:43
PM ET
By
Brett Edgerton
| ESPN.com
In case you hadn't heard, Lane Kiffin is not a very popular man in state of Tennessee.
Even five years later, his one-and-done tenure with the Vols still irks UT fans, who have suffered through a horrific 7-28 SEC stretch since Kiffin's bravado and high hopes left for Los Angeles. And does it help that their hated former coach is now the offensive coordinator at UT's most ancient rival, Alabama? No. No, it doesn't.
So with Kiffin's Crimson Tide coming to Knoxville this weekend in his first appearance back at Neyland Stadium, you knew things were going to get a little zany. And so far, we have not been disappointed.
Let's start with the Tennessee State House race pitting incumbent Gloria Johnson against challenger Eddie Smith. Kiffin is so unpopular in this East Tennessee district that he's being used in a direct mail ad that compares him to Johnson.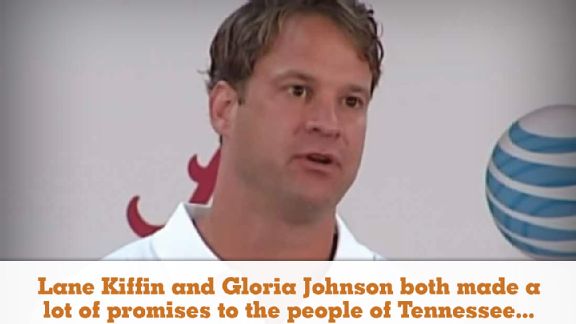 Tennessee Federation for Children PAC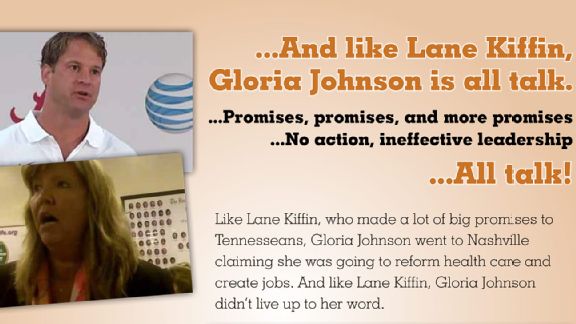 Tennessee Federation for Children PAC
Surely you didn't expect Rep. Johnson, a UT grad, to let such treachery go by without a response. So she did what any self-respecting politician in this Vol-crazy area would do -- got a much more popular former Tennessee coach to give her an endorsement. Enter Vols legend Johnny Majors, who finished runner-up for the 1956 Heisman Trophy and was head coach of his alma mater from 1977-92.
Oh, but that's not all. As Kiffin gets set to return to Knoxville, he's also facing an accusation that he skipped town in January 2010 before paying a $14 haircut debt.
That's according to the owner of the Western Plaza Barber Shop, Rusty Manis, who isn't seriously seeking payment from Alabama's offensive coordinator -- but is nevertheless having some fun with it with this week. Check out this
dramatized report from the local NBC affiliate
.
October, 21, 2014
Oct 21
10:00
AM ET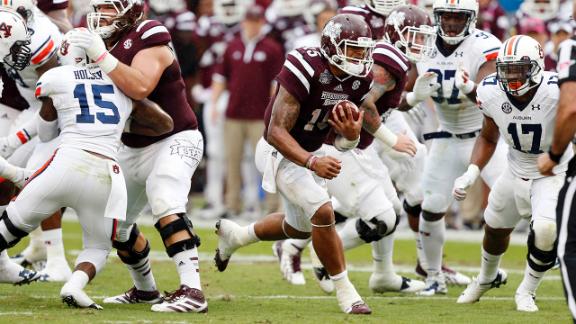 There once again was a lot of big recruiting news from around the Southeastern Conference over the weekend. There was a big commitment, key visits and several new offers. Here's a closer look at the top recruiting news from around the conference.
To continue reading this article you must be an Insider
October, 20, 2014
Oct 20
11:11
PM ET
October, 20, 2014
Oct 20
11:00
PM ET
A lot of talent has already come off the board, but there's still quality at the top of the ESPN 300 that could give at least 10 teams a shot at the second-best class. Plus, Penn State's James Franklin continues to be the most talked about coach in the Washington D.C. metro area.
To continue reading this article you must be an Insider
October, 20, 2014
Oct 20
8:06
PM ET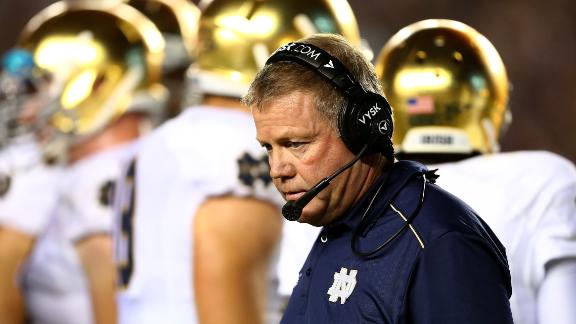 The glare of the Golden Dome can be blinding, even from SEC locales.
So we'll get this out there from the top: I'm not blinded, just realistic.
Notre Dame has the most compelling case to bump a one-loss SEC team that doesn't win the league title when the College Football Playoff selection committee unveils its final picks on Dec. 7.
And the way the Irish played Saturday night in a down-to-the-wire (err, down-to-the-official's-call) 31-27 loss on the road to Florida State, they should be a serious threat.
Notre Dame still has some work to do to make this more than just lively conversation, but it's clear that Brian Kelly's club is for real.
I know what's coming next from SEC junkies: The last time Notre Dame tangled with an SEC foe, it had all the drama of Mariano Rivera coming in to pitch the final inning of the Little League World Series.
Alabama obliterated Notre Dame 42-14 two years ago in the BCS National Championship. That Notre Dame team, too, had navigated its way unscathed through a schedule full of big names before stepping in over its head against the Crimson Tide.
That was then, though, and this is now. All that's supposed to matter is a team's body of work this season.
But we're entering a brand-new world with a selection committee, and that element could be a game-changer. Computers aren't making these decisions. Humans are.
SEC Weekend Wrap: Oct. 21