December, 12, 2013
Dec 12
12:00
PM ET
December, 12, 2013
Dec 12
11:35
AM ET
Alabama kicker
Cade Foster
missed three field goals in the Crimson Tide's dramatic 34-28 loss to Auburn in the Iron Bowl. Two just missed, and another was blocked.
It wasn't a good night at all for Foster, who watched from the sideline as teammate
Adam Griffith
's 57-yard field goal try was returned 109 yards by
Chris Davis
for an Auburn win that created an avalanche of hate hurled his way.
[+] Enlarge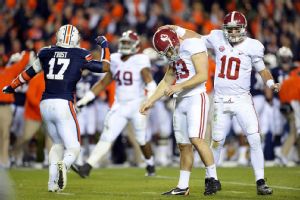 John David Mercer/USA TODAY SportsCade Foster's rough Iron Bowl led to a letter of support from another No. 43.
No perfect season. No SEC championship. No national championship.
But while Foster had to wade through embarrassing garbage that social media cowards launched at him following Alabama's loss, he received a
pretty neat letter of support
from someone with much better credentials than any of those Internet tough guys.
On Wednesday, Foster tweeted a picture of a handwritten letter sent to him from former President George W. Bush that was dated Dec. 3.
Here's what the letter said:
"Dear Cade (#43), Life has its setbacks. I know! However, you will be a stronger human with time. I wish you all the best."
It was signed: "Sincerely -- another 43."
No matter your opinion of the former president, your political stance or your team affiliation, this is pretty cool. It's something Foster should treasure for the rest of his life. It should wipe away all of the crud dished out to him after his off night on the Plains.
It had to feel really good to get a message like that from someone who has dealt with far worse criticism under a much bigger microscope. It also showed him that there's more to life than three missed field goals. That night was a low point for Foster, but it wasn't the end for him. Foster has plenty of good days ahead, and this should be only a minor bump in his road.
"Like I said, football is just a game. It's not life," Alabama quarterback
AJ McCarron
said. "Times like this people need to realize the sun is going to rise tomorrow."
It's true. Just wake up and look outside.
December, 12, 2013
Dec 12
10:47
AM ET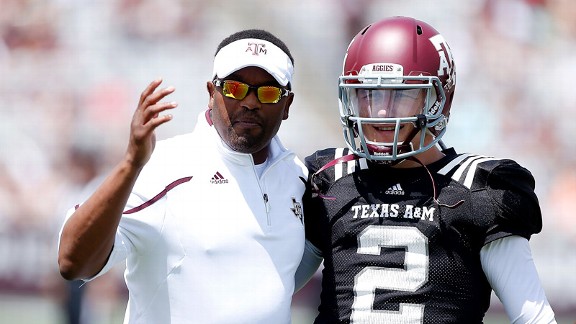 Scott Halleran/Getty ImagesWhat options does Kevin Sumlin have at QB following the likely departure of Johnny Manziel?
Including two of the six Heisman finalists, Alabama's
AJ McCarron
and Texas A&M's
Johnny Manziel
, the SEC quarterback landscape will look dramatically different in 2014. About half of the league will be breaking in new quarterbacks, and some of them might not even be on campus yet.
It isn't just the SEC. The depth of the outgoing QB class means several other high-end programs, including Clemson and Texas, could have first-time starters next season.
UCLA could lose
Brett Hundley
, if he decides to go pro, but we'll exclude him for now. Our draft analysts have told me he would be better off returning to school, like Oregon's
Marcus Mariota
. But the top of the QB list is weak enough that if the 6-foot-4, 225-pound Hundley has designs on going early, it could be the right time.
Here are the top 10 QB transitions and the succession plans for those teams.

Out:
Johnny Manziel
In:
Kenny Hill
or
Kyle Allen
Manziel has not made an announcement about next season, but I've been given zero indication that he is even considering a return to school. So how do you go about replacing (this year's bowl notwithstanding) about 10,000 yards and 88 touchdowns in two seasons? In short, you don't. Texas A&M's confidence heading into next year is based on how it has and continues to recruit all positions -- including quarterback.
To continue reading this article you must be an Insider
December, 12, 2013
Dec 12
10:10
AM ET
Once again, the SEC is involved in double-digit postseason games. Ten bowl games mean more SEC fun for your viewing pleasure.
On Tuesday, ESPN colleague Mark Schlabach took a look at all 35 bowl games and
ranked them
. Soon after, we took a look at where all
10 bowl games involving the SEC rank
on Schlabach's list.
Now, it's time for a little ranking of our own. And by "our," of course I mean "mine."
Here's how I ranked the SEC's 10 bowl games this season:
[+] Enlarge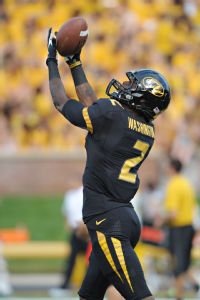 Denny Medley/USA TODAY SportsSenior L'Damian Washington is part of a WR corps that will be a handful in the Cotton Bowl.
1. Auburn-Florida State in the VIZIO BCS National Championship Game:
Well, there was no way that I wasn't going to have the national championship as the SEC's top game. This game features a high-flying Florida State passing attack against an equally high-powered Auburn running game. It's a chance to bring an eighth straight BCS title back to the SEC to close out the BCS era. What a Cinderella story on the Plains.
2. Missouri-Oklahoma State in the AT&T Cotton Bowl:
If you like points then you've come to the right place. These teams are averaging 39 points per game. Mizzou ranks 16th nationally in total offense (492.9 yards per game), while Oklahoma State ranks 41st (440.5). If last Saturday was any indication, defense could be off the table in Jerry's World. The Tigers might have missed out on a BCS bowl, but they get to end a great season in a major bowl against an old Big 12 mate.
3. South Carolina-Wisconsin in the Capital One Bowl:
Don't you dare overlook this game. It might not have the pizazz of a BCS affair, but you get two teams that want to grind it out and punch you in the mouth on offense. Plus, the last time we saw
Jadeveon Clowney
in a bowl game, he startled the college football world with "The Hit."
4. Alabama-Oklahoma in the Allstate Sugar Bowl:
OK, so this one is a top-tier game by name, and you get the fun of Bob Stoops vs. the SEC. But I just have a feeling that a frustrated Alabama team won't have much of a problem with an Oklahoma team that has been inconsistent on offense all year. Let's see how Stoops does against the "propaganda machine."
5. Ole Miss-Georgia Tech in the Franklin American Mortgage Music City Bowl:
This is a game that features two fun offenses and is in a city that just loves some Southern football. Rebels fans know how to travel, and you better believe they will clog up Nashville. Ole Miss ranks 21st nationally in total offense (473) but faces an improved Yellow Jackets defense that is allowing more than a 100 yards a game below that.
6. LSU-Iowa in the Outback Bowl:
Just about everyone from both fan bases remembers Drew Tate's game-winning Hail Mary to beat LSU in the 2005 Capital One Bowl. Funny, the Tigers ended this year's regular season on a last-minute 49-yard touchdown pass to beat Arkansas. Coincidence?
Zach Mettenberger
might not be in this one, but we get to see
Anthony Jennings
take another step in his transition as the future at quarterback for LSU.
7. Texas A&M-Duke in the Chick-fil-A Bowl:
Johnny Manziel
and the Peach Drop? Yeah, I could be down for that. The Aggies didn't finish the season strong (two straight losses), but they get to ring in the New Year in Hotlanta with one of the best stories in college football. Duke might not have the athletes to keep Manziel in check, but being in a bowl like this should serve as plenty of motivation in a game that could be Johnny Football's last in a college uniform.
8. Mississippi State-Rice in the AutoZone Liberty Bowl:
Somehow, the Bulldogs leapfrogged their way into this game. Winning two straight to end the season, including an overtime victory over rival Ole Miss, made Mississippi State a very attractive team for the city of Memphis. Dan Mullen was on the hot seat; now he's getting his team ready for the postseason.
9. Vanderbilt-Houston in the BBVA Compass Bowl:
Despite going 4-0 in November and beating Florida, Georgia and Tennessee all in the same year, the Commodores were picked last in the SEC bowl pecking order.
James Franklin
wants Dores fans to pack Birmingham to show that they have no problem with traveling. I wonder if this team will have a bigger chip on its shoulder.
10. Georgia-Nebraska in the TaxSlayer.com Gator Bowl:
On paper, this is a pretty good game. Take the names away and you see one red team that can usually throw and run at will and another red team that just runs, runs, runs. But we've seen this one before. This was last year's Capital One Bowl, a game the Bulldogs won 45-31. This isn't fresh or new.
December, 12, 2013
Dec 12
5:30
AM ET
1. The Heisman Trust dictated that when we voted this year, we pledge not to reveal it to the media or our spouses or our bartenders. To which I say, control freak who? All right, have it your way. I read the police report regarding Florida State quarterback
Jameis Winston
, and I didn't like what I read about him. But I sighed, held my nose and cast my vote, and the guy I voted for is going to win. Whoever that might be.
2. The secrecy pledge is a study in chutzpah, asking media members that do nothing but beat the drum for the Heisman 12 months a year not to talk about their individual vote. The Heisman people also just shoved the pledge under the voter's nose as he/she cast the electronic ballot: sign this or else, pal. That's what bullies do. Oh yeah, my second-place vote went to a tattooed quarterback who didn't win a third national championship this year. And if you led the FBS in rushing, I might have voted you third.
3. I have tried very hard not to get sucked into the Nick-Saban-to-Texas vortex, because I think it's a case of Texas people saying what they want to hear, combined with Saban's agent, Jimmy Sexton, roiling the waters on behalf of his client. And did Texas really say that they want to hire a head coach who has won a Super Bowl or a BCS title? If nothing else, that shows a lack of imagination. How many coaches who have won either had done so before that team/school hired them? One: Saban.
December, 11, 2013
Dec 11
7:49
PM ET
TUSCALOOSA, Ala. -- The road to the interstate hasn't yet been blocked. Flights still leave the airport daily. Gas stations regularly pump unleaded for around $3 a gallon. And the grocery stores here remained stocked with canned goods and water.
If a disaster is about to occur at the University of Alabama -- and Nick Saban leaving for Texas would qualify -- you wouldn't know it in the sober expression of the town the school inhabits.
The campus is quiet. The most noticeable buzz comes from libraries and coffeehouses, where a growing number of students twitch and hurriedly whisper to one another with a book in one hand and caffeine in another. The only audible plea for an extension is directed at professors as finals are being administered here this week.
Make no mistake, if Saban left, the school and the city of Tuscaloosa would be devastated. He's the largest and most important figure here, without question. His meaning to the community cannot be understated.
It goes beyond coaching a handful of games each fall. This is a town that has always identified with coaches. Paul W. Bryant Drive cuts through the center of UA's campus and runs alongside Paul W. Bryant Museum, and a street over you'll find a statue of Paul W. Bryant standing only a few yards from a bronzed statue of Nicholas L. Saban.
There hasn't yet been a real threat to the statue and the promise it holds. Saban's feet remained entrenched at Alabama amid the swirl of rumors and speculation. As Bill Battle, the school's athletic director, said on Wednesday, "It's business as usual," as the recruiting season kicks into high gear and bowl practice remains a week or so away.
But
until Saban signs an extension to stay at Alabama
, the level of anxiety will grow here and abroad. The more days that pass until a deal is reached, the more frenzied the rumor mill will become.
The fact remains that Tuscaloosa has been Saban's longest stop as a head coach, and even after seven years, there are many who wonder what kind of loyalty to Alabama exists in him. Would a 62-year-old man -- a man who's "too damn old" by his own estimation -- embark on a rebuilding project at Texas? Would he leave a finely tuned dynasty he's built in Tuscaloosa for a giant question mark in Austin?
Until everything is said and done, there's no way of knowing. There are those here who scoff at the idea that an extension would do anything to stamp out the Saban-to-Texas speculation. Until the Longhorns have a replacement for Mack Brown, the talk will likely continue.
But the truth is this is nothing new. People here are used to Saban's name coming up for coaching jobs, whether it's in college or pros. It was only some eight months ago that he signed an extension through 2020, and even then it wasn't enough to keep his name out of coaching searches.
Frankly, what's happening now is the price of doing business in college football. Alabama and its fans understand that. There won't be any mad dash for supplies around Tuscaloosa between now and the end of this saga. There hasn't been a single bonfire or couch burned in protest.
This is the rumor mill at work, and until it's over we'll all find a way to survive.
December, 11, 2013
Dec 11
6:58
PM ET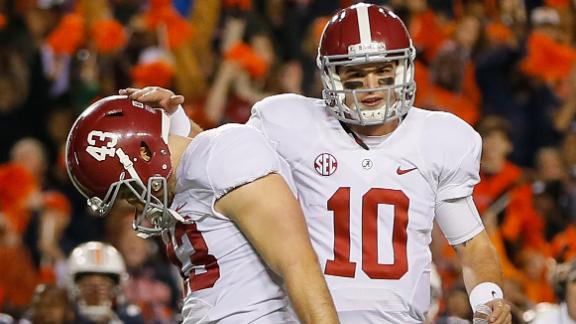 TUSCALOOSA, Ala. -- Alabama kicker Cade Foster endured more than his fair share of criticism after missing two field goals and having a third blocked during a last-second loss to Auburn on Nov. 30.
The 34-28 defeat, blamed largely by the public on Foster's faulty leg, ended the then-No. 1 Crimson Tide's undefeated season and knocked them out of the SEC and BCS championship hunts.
Foster's teammates have since stuck up for him and many on social media have joined in supporting the senior from Texas.
But no text, tweet or Facebook message may compare to the letter Foster received from former President George W. Bush. On Wednesday, Foster tweeted a picture of the hand-written letter dated Dec. 3, 2013.
It began, "Dear Cade (#43), Life has its setbacks. I know! However, you will be a stronger human with time. I wish you all the best."
It was signed, "Sincerely -- another 43" referring to Bush being the 43rd President of the United States.
Dear Cade (#43), life has it's setbacks. I know! However, you will be stronger with time..Sincerely- George Bush pic.twitter.com/jesykfKpDx

— Cade Foster (@Foster_43) December 11, 2013
Foster, who wrote "Framing this" along with the picture of the note, tweeted a few days after the Auburn loss reflecting on the insults and threats he received.
December, 11, 2013
Dec 11
6:27
PM ET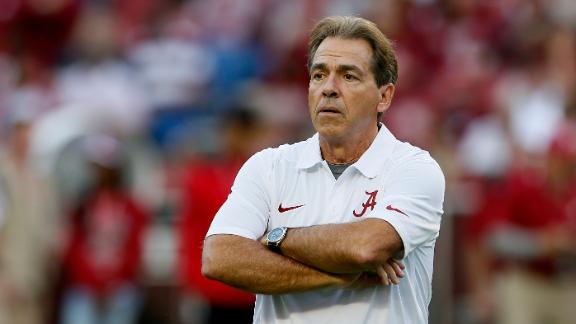 The Nick Saban-to-Texas circus makes for some high-flying entertainment while we wait for actual games to resume in college football.
Saban is one of the biggest names in coaching, and the Texas job -- assuming Mack Brown does indeed retire as multiple reports say he will -- is one of the biggest jobs in coaching.
As the saying goes, they do everything a little bigger in Texas.
So what is Saban doing while reports, speculation and rumors run rampant that he's headed to Texas?
He's doing one of the things he does best -- recruit. And that's all he's doing.
His focus right now is seeing as many recruits in a day as he can possibly see. He's not thinking about the Texas job, and he's not thinking about an extension at Alabama.
Saban practices what he preaches, and that's living in a 3-foot prism right in front of him.
Having talked to multiple people close to Saban and close to this situation, nobody I trust expects him to leave for Texas.
Those same people absolutely expect Texas to throw some crazy money at Saban, but there's a reason there are ongoing discussions right now between Saban's representatives and Alabama officials.
Alabama's not going to sit idly by and let Saban walk, not with everything he's meant to that university.
Besides, the only possible way that Saban would leave is if Alabama royally screwed up this process, or if by some chance, there were major administrative changes at the top of the university that adversely affected the way Saban wants to run his program.
Don't look for either to happen.
Alabama knows what a commodity it has in Saban, and the guy who hired him, Robert Witt, is now the chancellor of the University of Alabama three-campus system. They've maintained a close relationship and have a mutual respect for each other.
December, 11, 2013
Dec 11
4:30
PM ET
The SEC
awards for 2013 were announced
on Wednesday, and Auburn running back
Tre Mason
was named the league's Offensive Player of the Year.

The awards were voted on by the league's 14 head coaches, and they weren't allowed to vote for their own players.
In a league that houses
Johnny Manziel
,
AJ McCarron
and
Aaron Murray
, Mason stood above the rest after his record-setting, MVP performance in Auburn's SEC title game win over Missouri. Mason, a junior, ran for a title game-record 304 yards and four touchdowns in Auburn's 59-42 victory over Mizzou.
But that wasn't all Mason did this season. He led the SEC with 1,621 yards and a league-high 22 rushing touchdowns. He averaged 5.7 yards per carry and rushed for 100-plus yards eight times.
Alabama linebacker
C.J. Mosley
and Missouri defensive end
Michael Sam
were named Co-Defensive Players of the Year. Mosley leads Alabama and is tied for fourth in the SEC with 102 total tackles, including 56 solo stops. He averaged 8.5 total tackles per game and had a team-high nine tackles for loss and eight quarterback hurries.
Sam leads the SEC with 10.5 sacks and 18 tackles for loss. He also leads the SEC in sacks per game (0.81) and tackles for loss per game (1.38).
Auburn coach Gus Malzahn also won Coach of the Year after going 12-1 (7-1 SEC) in his first season as the Tigers' head coach. Auburn bounced back from a 3-9 season to beat rival Alabama, claim the SEC and a spot in the VIZIO BCS National Championship Game against No. 1 Florida State.
Here are all the awards given out:
OFFENSIVE PLAYER OF THE YEAR
Tre Mason, Auburn
CO-DEFENSIVE PLAYERS OF THE YEAR
C.J. Mosley, Alabama
Michael Sam, Missouri
SPECIAL TEAMS PLAYER OF THE YEAR
Christion Jones
, Alabama
FRESHMAN OF THE YEAR
Laquon Treadwell
, Ole Miss
SCHOLAR-ATHLETE OF THE YEAR
Aaron Murray, Georgia
JACOBS BLOCKING TROPHY
Jake Matthews
, Texas A&M
COACH OF THE YEAR
Gus Malzahn, Auburn
December, 11, 2013
Dec 11
2:30
PM ET
Nick Saban's name is sure to come up in every high-profile coaching job that opens until he decides to retire.
That's just the nature of the business when you've had the kind of success Saban has had with four national championships in the last 11 years.
[+] Enlarge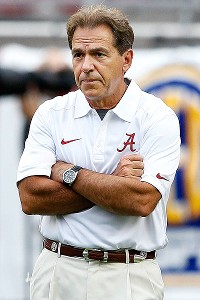 Kevin C. Cox/Getty ImagesAlabama coach Nick Saban has several protégés who are now head coaches, including Florida State's Jimbo Fisher, Florida's Will Muschamp and Michigan State's Mark Dantonio.
He won't be playing for a national title this season, but one of his protégés will -- Florida State's Jimbo Fisher.
In fact, it's been an eventful season all the way around for the Saban coaching tree.
Since we're all into power rankings this time of year, let's roll out the power rankings for the Saban coaching tree coming out of this season. In other words, those guys who have coached under Saban at some point in the college ranks and have gone on to be head coaches either in major college football or the NFL.
1. Jimbo Fisher, Florida State head coach:
We'll go with Fisher at No. 1 on this list since he has the No. 1 Seminoles unbeaten and headed to the VIZIO BCS National Championship game to face Auburn. It's their first trip to the national title game since the 2000 season. Fisher is a finalist for the Eddie Robinson Coach of the Year Award. His Seminoles have been dominant this season. They've won all 13 of their games by 14 or more points and 12 of their 13 games by 27 or more points. Fisher was Saban's offensive coordinator at LSU from 2000-04.
2. Mark Dantonio, Michigan State head coach:
Another finalist for the Eddie Robinson Coach of the Year Award, Dantonio has Michigan State in the Rose Bowl for the first time since the 1988 season and led the Spartans to a school-record 12 wins this season. This will be their seventh straight bowl appearance. Dantonio was Saban's secondary coach at Michigan State from 1995-99.
3. Jim McElwain, Colorado State head coach:
In his second season at Colorado State, McElwain has the Rams in a bowl game for the first time since the 2008 season. They will face Washington State in the New Mexico Bowl. McElwain was a part of two national championship teams at Alabama under Saban as the Crimson Tide's offensive coordinator from 2008-11.
4. Pat Shurmur, Philadelphia Eagles offensive coordinator:
Now in his first season with the Eagles, Shurmur was the Cleveland Browns head coach from 2011-12. He coached under Saban at Michigan State from 1995-97 as the Spartans' tight ends coach.
5. Josh McDaniels, New England Patriots offensive coordinator:
This is McDaniels' second season as the Patriots' offensive coordinator. He was the Denver Broncos' head coach from 2009-10 and was a graduate assistant under Saban at Michigan State in 1999.
6. Will Muschamp, Florida head coach:
After a breakthrough second season at Florida and a trip to the Sugar Bowl, Muschamp's Gators suffered through a dismal 4-8 season this year that was marred by a litany of injuries. It was Florida's first losing season since 1979. The Gators lost their last seven games, including a home loss to Georgia Southern. It goes without saying that Year No. 4 will be a critical one for Muschamp, whose Gators have struggled on offense. Muschamp coached under Saban at LSU as the linebackers coach in 2001 and defensive coordinator from 2002-04. He was also Saban's assistant head coach with the Miami Dolphins in 2005.
7. Derek Dooley, Dallas Cowboys receivers coach:
Now in his first season with the Cowboys, Dooley was the head coach at Tennessee from 2010-12. The Vols suffered through losing seasons all three years and managed just five SEC wins, leading to Dooley's firing. Dooley was the head coach at Louisiana Tech for three years prior to his stint at Tennessee. He coached under Saban at LSU from 2000-04 as tight ends coach and then running backs coach. From there, he went with Saban to the Miami Dolphins and coached tight ends before getting the Louisiana Tech head job in 2007.
December, 11, 2013
Dec 11
12:57
PM ET
By
Alok Pattani
| ESPN.com
Getty ImagesWhat teams would join Florida State and Auburn if there were a playoff this year?
If there were a four-team playoff this year, the current version of the
Championship Drive Ratings
would suggest that the four most deserving teams on résumé alone are
Stanford
,
Florida State
,
Auburn
and
Michigan State
.
Stanford is the highest-rated team in the current version of the Championship Drive Ratings on account of putting together a great performance against a top-five schedule. In the 10 years for which we have play-by-play data, no team with a schedule rated in the top five has done as well -- taking into account wins and average win probability -- as Stanford this year. An average FBS team would have won less than four games against Stanford's schedule and would have had an average in-game win probability well below the Cardinal's 72 percent.
If we are specifically interested in rating top teams' résumés (and we generally are), one potential modification to this method would be to look at things from a top-team perspective rather than an average-team viewpoint. So instead of looking at how an average team would do against these teams' schedules, how would a team at the 90th percentile -- such as
Clemson
this season -- do? The below chart helps answer this question.
The expectations rise against each of these team's schedules, obviously, but now Auburn's and Florida State's results look more impressive relative to schedule than Stanford's résumé. At the same time, going 11-2 against Stanford's schedule would have been harder even for a top team than going 12-1 against
Michigan State's
schedule or 11-1 against
Alabama's
slate.
If you want to go beyond pure résumé and look at how strong the teams actually are, take a look at the
Football Power Index
top five: Florida State,
Oregon
, Alabama, Stanford and
Baylor
. Auburn is eighth, and Michigan State is quite a bit lower.
There is no exact answer here, but if you combine the numbers above with the stated goals of the College Football Playoff committee to value strength of schedule and conference champions, it's pretty clear that Florida State, Auburn and Stanford -- yes, even with two losses -- should each earn a spot in the playoff. Each of those teams has a very solid résumé from either a top team or an average team perspective, and all three are rated strongly by FPI.
The fourth spot gets a bit trickier. From either the average team or top team perspective, Michigan State's résumé of wins and losses alone is about as impressive as Alabama's, and the Spartans have a conference championship that the Tide don't. On the other hand, FPI shows that Alabama is quite clearly the stronger team, so if you put the résumé criteria aside at that point and just pick the better team, Alabama would be the choice.
December, 11, 2013
Dec 11
12:10
PM ET
December, 11, 2013
Dec 11
11:40
AM ET
There's one thing the Allstate Sugar Bowl has in spades: tradition.
Alabama and Oklahoma are members of college football's aristocracy with a history of winning that goes back decades. From Paul Bryant to Bud Wilkinson, dusty images come to mind with these two schools. And it's only fitting that they'll meet in New Orleans, which holds its own storied place in history.
But what about the game itself? It's still a few weeks away, but let's break down some of the aspects that might make Tide-Sooners an interesting event to watch on Jan. 2.
Key storylines
[+] Enlarge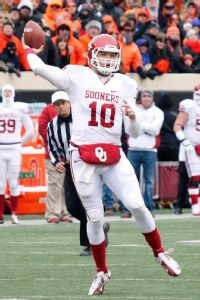 J.P. Wilson/Icon SMIAfter leading Oklahoma to a Bedlam win, will Blake Bell get the call against Alabama?
Letdown factor:
Both Alabama and Oklahoma came into this season with eyes on Pasadena, Calif., and the VIZIO BCS National Championship Game, but neither wound up in a position to make the long trip to the West Coast. How will that play a factor when the two teams meet in New Orleans? Is there any kind of unfinished business both programs feel? For Alabama, at least there's the idea that coming out and winning big might show the country that despite a last-second loss to Auburn, the Tide is the better team. A convincing win won't vault it to No. 1 in the rankings again, but a No. 2 finish could be cause enough to show up in New Orleans ready to compete.
Who starts at QB?:
Oklahoma will begin bowl practice soon, but who starts under center is still a significant question mark. As Sooners offensive coordinator Josh Heupel explained, he'll go with, "Whoever it takes." Redshirt freshman
Trevor Knight
is nursing an injured non-throwing arm, though it's unclear the severity of the injury. Meanwhile, junior
Blake Bell
, who came on in relief of Knight against Oklahoma State and led the Sooners on a game-winning drive in the fourth quarter, seems like the hot hand. But he entered the game third on the depth chart behind
Kendal Thompson
so making any assumptions here seems futile.
Stoops vs. the SEC:
Some folks just don't like to dredge up the past. But after what Oklahoma coach Bob Stoops has said about the SEC in the past year or so, it's hard to forget. Stoops has called the league with seven straight BCS champions overrated, top-heavy and overstated in terms of its defensive prowess. It's all propaganda, he claims. A veteran of the Big 12, he's been mostly alone in his criticism of the SEC, which has made him a favorite target of college football fans in the South who like to chide other conferences already. But Stoops will have his chance to answer their criticism and state the case for his own. A win over the Tide might spell vindication.
Players to watch
Oklahoma DB Aaron Colvin:
He's a big, physical corner who might be able to give
Amari Cooper
trouble. At 6-foot and 192 pounds, he's an aggressive type that doesn't intercept the ball a lot -- he has just one this season -- but does draw his fair share of flags. He's fifth on the team in tackles (49) and tied for sixth in passes defended (4).
Alabama LB Adrian Hubbard:
We saw it play out last season where Hubbard came from nowhere to close the season strong (three sacks in the final games) and flirt with the NFL as a redshirt sophomore. He ultimately stayed for his junior season, but we could see a repeat of last year as Hubbard has racked up three sacks and 11 tackles in the Tide's past four games.
Oklahoma DL Charles Tapper:
The Sooners have struggled some on offense this season, but their youth on defense is cause for hope. Trapper, a big 6-foot-4, 261-pound defensive end, is one of those bright spots. As a sophomore, he leads the team with nine tackles for loss and 5.5 sacks.
Alabama QB AJ McCarron:
It's ironic to consider that McCarron's final game at UA will come against a team he nearly signed with as a player coming out of high school. The night before he was set to decide, he said he was thinking he'd go with Oklahoma. Why? He liked their program and Sam Bradford. But as he said, when you're a teenager, "Your mind changes about 20 times a day." In the end, it's safe to say McCarron made the right decision as a win over Oklahoma would be the cherry on top of a career that's seen him win two national championships as a starter and earned him a trip to New York for the Heisman Trophy ceremony.
Stats to keep an eye on
2:
Oklahoma has a history of being a talent-rich program on offense, but this season's been different as the Sooners placed just two such players on the first- and second-team AP All-Big 12 Team. And those two selections -- center
Gabe Ikard
and kicker
Mike Hunnicutt
-- aren't what you'd call impact players.
18:
The Sooners have flipped the script after being known as a passing team under former quarterbacks Sam Bradford and Landry Jones. This season Oklahoma's relied heavily on the run, ranking 18th in the country with 235.8 rushing yards per game.
20:
Alabama's still shaking off the reputation of a slow and plodding offense. And while it may be true the Tide doesn't huddle, it does get big plays. In fact, UA ranks 28th in the country with 68 plays of 20 or more yards. Meanwhile, Oklahoma ranks 86th with only 48 such plays.
Alabama Kicker Given Letter Of Support By Bush