March, 17, 2014
Mar 17
12:00
PM ET
Yes, it's that time of year where the talk is centered on the hardwood and brackets, but don't forget, spring football and pro days are in full swing, so there is still much to talk about on the gridiron. A sampling of news, notes and nuggets from around the SEC today:
March, 17, 2014
Mar 17
9:00
AM ET
By
ESPN.com staff
| ESPN.com
It's already that time of year, folks. Spring practices are sprouting up all over the country and we'll be there covering it all.
Our ESPN College Football Spring Tour continues in T-Town, where Alabama reporter Alex Scarborough will be bringing you the sights and sounds from campus today. Keep this page open starting at 10 a.m. ET as Alex provides insight, interviews, pictures and videos from Crimson Tide camp.
March, 17, 2014
Mar 17
8:00
AM ET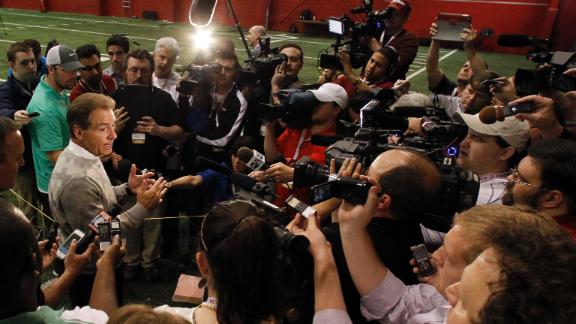 TUSCALOOSA, Ala. -- Whether he's beginning the process of defending a national championship or rebounding from a disappointing season, Nick Saban remains the same.
[+] Enlarge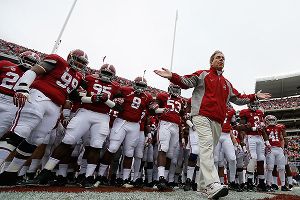 Kevin C. Cox/Getty ImagesDespite some new faces at Alabama, Nick Saban is a creature of habit whose goals remain the same.
After five decades coaching college football, he's become a creature of habit. Every time he opens practice at the University of Alabama, it looks the same. There's an order to it. Each position group is where it's supposed to be. Every player's actions are accounted for. It's like clockwork. There are no wasted movements. Every moment goes according to his plan.
And, as it turns out, Saban's process boils all the way down to what he puts on in the morning. Whether it's been by design or not, the notoriously meticulous head coach has worn the same exact outfit for the first day of spring practice ever since 2008. This year was no different.
A new group of players and coaches walked onto the Thomas-Drew Practice Field for the first time on Saturday afternoon.
AJ McCarron
was gone from under center,
C.J. Mosley
was no longer captaining the defense and a number of other familiar faces were noticeably absent. But Saban remained. He put on the same red sweater, khaki pants and nondescript sneakers he's worn for the first day of spring practice the past seven years. He donned the same straw hat he's used every year since then, too, with the exception of a rainy day in 2009 that forced his team indoors.
Anyone looking for Alabama to change after ending last season with two losses will be disappointed. Saban may have a new roster, a new coaching staff and a new set of challenges, but his demeanor is exactly the same. His goals haven't fluctuated: create incremental improvement and focus on what he calls "consistency in performance," which is his process, in a nutshell.
"The first practice is always a sort of work in progress for everybody. [It's] new players learning where to go, old players trying to get back into the swing of things," Saban said.
He used the phrase "work in progress" three times during a hurried seven-minute news conference. He was in a rush, one of his staffers said, because there were a number of recruits he needed to visit with. He went through the motions, answered three questions and was off. With the exception of one position change (
ArDarius Stewart
at safety) and a few roster moves (
Harrison Jones
,
Chad Lindsay
and
Jai Miller
are gone), it was business as usual.
Saban said he was pleased with the way his team responded to the offseason conditioning program and was eager to see how spring practice would play out. Re-establishing the fundamentals will be the focus for the first few days, he explained, and then they'll get into the playbook. He made no mention of last season, the last-second loss at Auburn or the poor showing against Oklahoma in the Allstate Sugar Bowl. It has weighed heavily into the national conversation, but it's clear Saban has moved on.
"Players have to develop the discipline to sustain so we finish practice, finish games, finish quarters, finish halves like we really want to," he said.
Trey DePriest
, however, is using last season as inspiration. He was on the field when the Sooners embarrassed his defense in New Orleans, racking up 45 points and 429 yards. He was on the sidelines a month earlier when
Chris Davis
went 109 yards to steal an Iron Bowl win and an undefeated season away from the Tide. The last time Auburn dealt Alabama such a blow, a motivational poster was made as a reminder. "Never Again," it read, along with a grinning picture of
Cam Newton
. The next year Alabama destroyed Auburn, went 12-1 and won a national championship.
"Guys are just a lot more hungry," DePriest said. "We didn't finish the season like we wanted to. Guys knew that and they just took a different approach to it, and [we] are trying to get back to the standard to how we do stuff."
Amari Cooper
wasn't around when Alabama was dealt a similar setback in 2010, losing three games after being ranked preseason No. 1. But the standout junior receiver has noticed a different motivation from his teammates this spring. The leaders are stepping up more, he said. What Saban is asking them to do -- "stay focused and finish" -- isn't different from years past, but Cooper has seen a better focus from everyone.
[+] Enlarge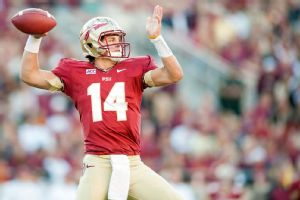 Jeff Gammons/Getty ImagesExpect the Crimson Tide's QB competition to heat up in May when Jacob Coker arrives.
What remains to be seen is how that sustains itself and translates into results. Cooper doesn't have McCarron throwing him the football anymore. Doug Nussmeier is no longer his offensive coordinator. He now has five unknown candidates at quarterback, a sixth on the way and a coordinator with a somewhat checkered past. So far, Cooper said, he's enjoyed the change, noting how Lane Kiffin has simplified the offense and made it more "player-friendly."
As far as the quarterback battle, he thinks that will be fine, too.
"It's not weird," he said. "It's just a quarterback competition. I think schools have that every year."
But Alabama isn't any school. Not when you win three of the past five national championships. Not when your head coach is Nick Saban and losing two games is a disappointment.
The quarterback competition may be simmering on the back burner now, but it's going to heat up when Florida State transfer
Jacob Coker
arrives in May. As far as Saban is concerned, he'd like to keep that on the periphery. He's going to be asked 1,000 times about it, and 1,000 times he's going to give the same answer: "We're going to wait and see."
If you're looking for Saban to give into the pressure of naming a starter before he's ready, you'll be disappointed. As with everything else he's done as a head coach, he's doing this on his own terms. His process is set, his plan is laid out, and after five decades of coaching, there's no changing it. When a man wears the same thing for seven years in a row, you have to expect some consistency from him.
March, 16, 2014
Mar 16
12:02
AM ET
Associated Press
TUSCALOOSA, Ala. -- Alabama began its quest to find a new starting quarterback with five candidates on campus and a big-name position coach in Lane Kiffin.
The Crimson Tide opened spring practice Saturday on an idyllic, sunny afternoon in what likely amounts to Phase 1 of the search for AJ McCarron's successor as the offensive leader. Alabama, winner of three of the past five national titles, hopes it also starts the team on a path toward redemption after losing its final two games.
Florida State transfer quarterback Jake Coker won't arrive until this summer after graduating but is already the presumed front-runner for the starting job.
"I think all of you know that the quarterback competition this spring is going to be something that a lot of people are going to get a lot of opportunity at," Saban told reporters. "Jacob is not going to be here in the spring, but he's certainly going to get an opportunity when he gets here as well.
"That's going to be the goal to develop each of our quarterbacks and see which one we feel would have the best opportunity to be successful next year."
The five spring contenders include freshman David Cornwell, who underwent knee surgery during his senior season in high school, and last year's backup, Blake Sims.
Saban said the mobile Sims is still working on becoming a more consistent passer. Kiffin, a former Tennessee and Southern California head coach, replaced Doug Nussmeier as the Tide's new offensive coordinator and quarterbacks coach.
March, 14, 2014
Mar 14
12:00
PM ET
It's Friday! That means some much deserved time off, the continuation of the SEC hoops tournament in Atlanta and the opening of a few more spring football practices around the SEC. Alabama gets going on Saturday, and Arkansas kicks off on Sunday. To get you ready, here's some reading material that should get you through Friday and on into the weekend.
March, 14, 2014
Mar 14
11:00
AM ET
Editor's note: This is final part in a weeklong series predicting what changes are ahead for Alabama this spring.
TUSCALOOSA, Ala. -- There's a lot that stands to happen during spring practice at Alabama, but naming a starting quarterback isn't one of them. Nick Saban has made it clear he and his staff are in no rush to find AJ McCarron's replacement under center, adding that it would only be fair to give every quarterback a shot at winning the job. That, of course, comes as a nod to the only quarterback not yet on campus, soon-to-be Florida State transfer
Jacob Coker
, who should finish his degree and get to campus in May.
[+] Enlarge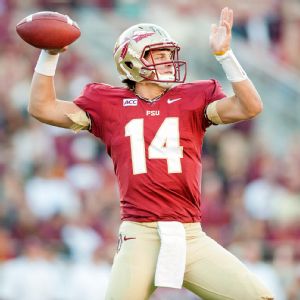 Jeff Gammons/Getty ImagesJacob Coker, despite the fact he won't be on campus in time for spring practice, looks like the favorite in the race to replace AJ McCarron.
"We're not going to be in any hurry to decide who the quarterback is," Saban told reporters last week. "We're going to give everybody a lot of opportunity to compete. You guys are going to ask me at least 1,000 times between now and the first game who's the first-team quarterback, and I'm telling you right now you're probably going to get a 1,000 'We're going to wait and sees.' "
If Coker wasn't the frontrunner to land the job, why wait? Why not have the quarterback competition begin in earnest now and let the chips fall where they may? Is it really fair to make those already on campus wait? If one of them looks like the starter this spring, would it be right to hold off on making that decision? Wouldn't some continuity benefit everyone involved?
The inevitable answer to nearly every question surrounding Alabama's quarterback competition is that Coker -- barring someone coming out of nowhere -- will remain the favorite through spring practice and on into fall camp. From everything that's been reported, he might be the most talented option on the roster. And after three years at a very similar offensive system at Florida State, he might be the most experienced option on the roster, too.
But all that is not to say that someone can't make a name for himself this spring. The quarterbacks currently in camp aren't chopped liver, remember. They are all talented and eager and have the benefit of a head start. Should someone perform well and catch the eye of the coaching staff during these next 15 practices, he very well could get a leg up on Coker and the rest of the competition heading into the fall.
So who is best equipped to do that? Let's handicap the race, ranking the quarterbacks from most likely to succeed to least.
1. Cooper Bateman:
Long time, no see. You came to Alabama early in 2013 as a highly regarded prospect, the No. 3 pocket passer in the ESPN 300. Since then, we haven't heard much from you. Of the two guys ESPN ranked above you -- USC's
Max Browne
and Penn State's
Christian Hackenberg
-- one has already won a starting job and the other is competing for one this spring. Can you do the same? You redshirted last season, which is normal for first-year quarterbacks, but what did you learn in that time? Did it mean anything to you when Alabama went and signed another blue-chip quarterback,
David Cornwell
? Did you think anything of Alabama then going out and getting Coker from Florida State? There has already been one highly thought of quarterback like you come to Tuscaloosa, fall behind and transfer (former No. 1 QB prospect Phillip Sims). Will you do the same? Or will you show us what made you a top recruit only a year ago?
2. Alec Morris:
What are we to think of you, Alec? On the one hand, you look the part. You're a big dude at 6-foot-3 and 230 pounds, bigger than any Alabama quarterback on campus last year. And when you rear back to throw the football, it has some zip on it. Redshirting your first year on campus didn't hurt you, but your lack of pass attempts last season -- as in, zero -- doesn't bode well. If
Blake Sims
really isn't the guy for the job this season, why didn't you play ahead of him? You got into one game all season, while he got into eight and threw the ball 29 times. None of those passes was meaningful, the game always being well in hand by the time he stepped on the field, so why not give those valuable reps to you and get you ready for 2014? The hope for you is that last year was no indication of future success, but that's a tough thesis to subscribe to.
3. Parker McLeod:
We don't know much about you, Parker, except that you're supposedly very smart, very tall and have red hair. None of that's going to hurt you. Heck, Greg McElroy had the same hue of hair. But on a more serious note, you weren't as highly regarded as your fellow Class of 2013 quarterback. You were a three-star prospect and the fifth-best quarterback in the state of Georgia, according to ESPN. Still, you're a wild card after redshirting your first year on campus. We didn't see much of you. You have good size (6-3, 193 pounds) and you do have that red hair going for you. Now build on that.
4. Blake Sims:
Sorry, Blake. It's understood that you're the most experienced man for the job. With 18 games under your belt at quarterback and all of last season as McCarron's top backup, you probably understand the offense better than most. You're definitely the most athletic.You're dangerous when you run the read-option and get the ball into open space. The problem is we don't know what you can do throwing the football, especially from the confines of the pocket. Until we see that, it's hard to say you're the man for the job -- not for a coaching staff that values balance on offense.
5. David Cornwell:
You're talented, sure. Big, strong, a cannon for an arm; you have the look of an SEC quarterback down the road. But right now you're too young. You just got on campus in January and, on top of that, you missed much of your senior season in high school with a knee injury. You say your rehab has gone well and you're ready to compete, but that's asking a lot. The good news for you is that everyone will be starting from scratch under new offensive coordinator Lane Kiffin. The question is whether you can pick up your first college playbook faster than those that have been doing it longer than you.
March, 14, 2014
Mar 14
9:00
AM ET
Schedule:
The Crimson Tide will open spring practice on Saturday in Tuscaloosa, Ala. All practices are closed and only the A-Day scrimmage at 2 p.m. ET on April 19 will be open to the public.
What's new:
The coaching staff has gone under some serious reconstruction. In fact, it looks a lot like Nick Saban's staffs of old with Kevin Steele as the linebackers coach and Bo Davis as the defensive line coach. Defensive coordinator Kirby Smart moved back to coaching the secondary to allow for Steele's return. And let's not forget the one new face on the staff, offensive coordinator Lane Kiffin. You might have heard of him.
On the move:
When Saban last spoke to the media a week ago, he said there was "no news on who's playing what position and who the quarterback is." But there will be movement. Look for some tweaking in the defensive backfield this spring. Much like last year,when Saban asked offensive players
Dee Hart
,
Christion Jones
and
Cyrus Jones
to try their hand at cornerback, he might ask someone like
ArDarius Stewart
to see if a return to defense is in order. Considering the lack of depth at cornerback and the departure of safeties
Ha Ha Clinton-Dix
and
Vinnie Sunseri
, the coaching staff might need to plug some holes in the secondary with some surprise players.
[+] Enlarge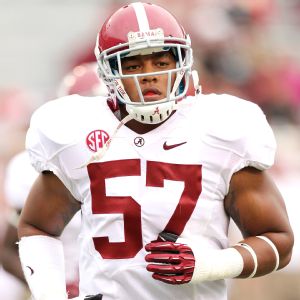 Nelson Chenault/USA TODAY SportsD.J. Pettway is back and will attempt to earn a shot at playing time at Alabama.
On the mend:
One of those defensive backs coming back is
Nick Perry
. The safety started four games in 2012 and appeared in two more games in 2013 before suffering a season-ending injury. Though he might not be the most talented option at the position, he's clearly the most experienced, with 30 games under his belt. And that counts for something with Saban, who needs to trust whoever starts opposite
Landon Collins
.
New faces:
Aside from the handful of early enrollees fresh out of high school, there are four junior college transfers to watch, including the return of former Alabama defensive end
D.J. Pettway
. There's also tight end
Ty Flournoy-Smith
, who was at Georgia once upon a time and could add to the passing game behind
O.J. Howard
; defensive tackle
Jarran Reed
, who could help plug the middle at 315 pounds; and offensive tackle
Dominick Jackson
, who was ranked as the No. 1 player at his position and could challenge to replace
Cyrus Kouandjio
.
Question marks:
We've detailed the problems in the secondary and hinted at the battle at left tackle, leaving a major unanswered question as to who replaces
C.J. Mosley
on defense. The former All-American linebacker was the heart and soul of the unit. We know
Trey DePriest
wants to take on the role, but is he ready? And who will play alongside him at inside linebacker?
Reuben Foster
was an immensely talented linebacker coming out of high school -- with a dramatic recruitment, no less -- but he played mostly on special teams as a freshman. He'll have a lot of competition for playing time, with
Dillon Lee
and
Reggie Ragland
hoping to emerge.
Key battle:
Unfortunately, this one won't be solved until the fall. But that makes the battle no less important. Alabama needs to find a starting quarterback to replace
AJ McCarron
, and until that's resolved, it's priority No. 1.
Jacob Coker
, the Florida State transfer, won't arrive on campus until May. So that leaves a bevy of unproven options under center.
Blake Sims
will get his shot after backing up McCarron last year, but it remains to be seen how the run-first athlete will do as a pocket passer. Beyond Sims, there's rising sophomore
Alec Morris
and a pair of redshirt freshmen,
Cooper Bateman
and
Parker McLeod
. If one stands out this spring, he'll surely have the upper hand come fall and could challenge the presumed frontrunner, Coker.
Breaking out:
It was a process started at the Sugar Bowl that many Alabama fans hope will continue right on into his sophomore season.
Derrick Henry
didn't do much during the regular season, carrying the ball a total of 28 times. But all you'll remember is the bowl game and his eight carries and one reception against Oklahoma, accounting for 161 yards and two touchdowns. He's big (try 6-3 and 238 pounds) and he's deceptively fast. With dreadlocks that stick out from under his helmet, picture a stretched out Trent Richardson. After losing a large chunk of practice last spring to a broken leg, he'll have the benefit of a full offseason to climb the depth chart and nip at the heels of incumbent starter
T.J. Yeldon
.
Don't forget about:
Don't sleep on Yeldon. He's pretty darn good, with back-to-back 1,000-yard rushing seasons to start his career. But don't forget Alabama's depth at wide receiver. Whoever starts at quarterback will have plenty of receivers to throw to.
Amari Cooper
, who is among the best in the SEC when healthy, is just the tip of the iceberg.
DeAndrew White
and Christion Jones are two veteran pieces, and tight end O.J. Howard has the potential to be one of the disruptive offensive weapons in the league if he reaches his potential. Given the way Alabama has recruited of late, look for one or two blue-chip prospects to emerge.
Chris Black
has been waiting patiently, and
Robert Foster
seems poised to step up with a year of experience under his belt.
All eyes on:
There's going to be a quarterback competition, position battles and several new players will emerge. But keep an eye on Alabama's attitude. Saban's dynasty in Tuscaloosa was shaken but not entirely derailed last season. Losing the final two games, to Auburn and Oklahoma, in such unspectacular fashion hurts. The question is how Alabama will respond. It worked out well after the 2010 season, but this isn't the same team. There are quite a few leaders in need of replacing, and there might be something to McCarron's criticism that a five-star sense of entitlement crept into the program. Righting the ship won't be easy for Saban and his staff, but he will have the luxury of putting a gigantic chip on his players' shoulders this offseason. How they respond is up to them.
March, 13, 2014
Mar 13
4:00
PM ET
We took an expansive look earlier on Thursday on the SEC blog at the coaching changes in the league.

Vanderbilt had the most, including the only head-coaching change with Derek Mason coming over from Stanford. Georgia was second, as the Bulldogs have an entirely new defensive staff.
Who was the most significant assistant coach addition in the SEC for the 2014 season? We'll let you tell us by going to our SportsNation poll and voting.
Interestingly enough, the guys on the Big Ten blog conducted a similar poll, and three of their five choices are moving over from the SEC -- Doug Nussmeier from Alabama to Michigan, Taver Johnson from Arkansas to Purdue and Chris Ash from Arkansas to Ohio State.
Four of the five candidates we've come up with in the SEC are coordinators. Go cast your vote, and we'll go over the results in the coming days.
Here's a quick look at the five candidates (listed alphabetically):
Jeff Grimes, offensive line coach, LSU:
Grimes spent last season at Virginia Tech as the Hokies' offensive line coach, but he's no stranger to the SEC. He was Auburn's offensive line coach from 2009-12 under Gene Chizik and a part of the Tigers' 2010 national championship staff. Grimes, a 20-year coaching veteran, will also assume the role of running game coordinator at LSU. The Tigers return four starters in the offensive line.
Lane Kiffin, offensive coordinator/quarterbacks, Alabama:
Kiffin and Nick Saban may seem like an odd pairing to most, but Saban has long respected Kiffin's mind for the game and his feel for calling plays. He's also a proven recruiter. Kiffin returns to the coordinator ranks after three head-coaching stints. He spent the past three-plus seasons at USC before being fired and was at Tennessee for a season (2009) before that. Kiffin was also the head coach of the Oakland Raiders for the entire 2007 season and part of the 2008 season before being fired.
Jeremy Pruitt, defensive coordinator/secondary, Georgia:
Pruitt is back in the SEC after spending last season as Florida State's defensive coordinator. His FSU defense led the country in scoring defense in helping the Seminoles to the national championship. Pruitt, a finalist for the Broyles Award last season as the nation's top assistant coach, was the defensive backs coach at Alabama for three seasons (2010-12) and has been a part of three straight national championship staffs.
Kurt Roper, offensive coordinator/quarterbacks, Florida:
After a long association with David Cutcliffe, Roper moves back to the SEC to try and pump some life into a Florida offense that has struggled under head coach Will Muschamp. The Gators have never finished higher than 10th in the SEC in total offense under Muschamp. Roper spent the past six seasons as Duke's offensive coordinator. The Blue Devils set a school record with 54 total touchdowns last season. Prior to going to Duke with Cutcliffe, Roper spent all of his time in the SEC with stops at Tennessee, Kentucky and Ole Miss.
Robb Smith, defensive coordinator/secondary, Arkansas:
Smith spent last season in the NFL as the Tampa Bay Buccaneers' linebackers coach, but his previous 14 seasons were spent in the collegiate ranks. He was at Rutgers for four seasons and promoted to defensive coordinator in 2012. His defense that season was ranked fourth nationally in points allowed (14.2). Smith was the defensive coordinator at Maine before joining the Rutgers staff. He inherits an Arkansas defense that finished 12th in the SEC in scoring defense in 2013, allowing an average of 30.8 points per game.
March, 13, 2014
Mar 13
12:30
PM ET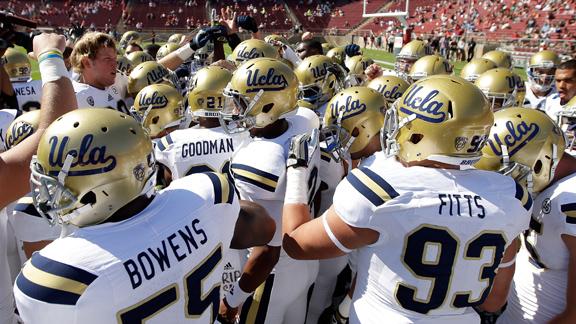 The new College Football Playoff is supposed to encourage schools to schedule better nonconference games, as teams try to beef up their schedule strength to earn one of the playoff's coveted four spots at season's end.
On Thursday, Texas A&M and UCLA
announced that they'll play each other
during the 2016 and 2017 seasons.
Other schools have announced future marquee nonconference opponents, including Texas A&M vs. USC, Notre Dame vs. Texas, Alabama vs. Michigan State and LSU vs. Oklahoma.
Here are five other nonconference games I'd like to see in the future:
[+] Enlarge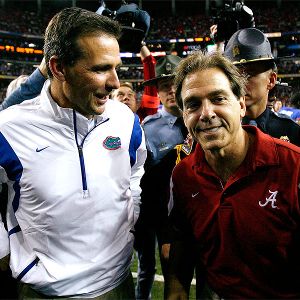 Kevin C. Cox/Getty ImagesUrban Meyer and Nick Saban have faced off for SEC titles, but their current teams, Ohio State and Alabama, have played only three times in history.
1. Alabama vs. Ohio State
: Alabama's Nick Saban and OSU's Urban Meyer dominated the SEC when Meyer was coaching at Florida, combining to win five BCS national championships from 2006 to 2012.
When Meyer was still coaching at Florida, the Crimson Tide and Gators played in two of the most anticipated SEC championship games. The No. 2 Gators beat the No. 1 Tide 31-20 in 2008, and then the Tide turned the tables on No. 1 UF with a 32-13 win in 2009.
Alabama and Ohio State have played only three times in history, with the Tide winning each time, most recently in a 24-17 victory in the 1995 Citrus Bowl.
2. Texas vs. Texas A&M
: Perhaps the biggest casualty in conference realignment, Texas and Texas A&M haven't played each other since the Aggies bolted the Big 12 for the SEC after the 2011 season. Sadly, there are no plans for the in-state rivals to play again in future regular seasons.
The Aggies and Longhorns played each other 118 times from 1894 to 2011, with their annual meeting traditionally being played on Thanksgiving Day. UT won nearly twice as many games as the Aggies (76-37-5), including nine of the last 12 meetings.
With former Louisville coach Charlie Strong taking over at Texas, and Kevin Sumlin building the Aggies into an SEC powerhouse, the game would also pit two of the sport's best African-American coaches against each other.
3. Oregon vs. Baylor
: Two of the game's most explosive offenses -- and two of its best-dressed teams -- would undoubtedly light up the scoreboard if they ever played. In fact, the contest would probably look more like a track meet.
Under coach Art Briles, the Bears have become the Ducks of the Southwest, with their hurry-up, spread offense and myriad flashy uniforms closely resembling what Chip Kelly and then Mark Helfrich built at Oregon. The Bears and Ducks follow the same blueprint on offense: play fast and score fast.
We hoped to see this matchup in the Tostitos Fiesta Bowl last season, but alas, it didn't happen. Oregon and Baylor have never met on the gridiron.
4. Michigan vs. USC
: Two of the sport's traditional heavyweights have faced each other eight times in the Rose Bowl Game Presented by Vizio, but only twice during the regular season -- in 1957 and 1958.
The Trojans won the last three meetings in the Rose Bowl, 32-18 in 2007, 28-14 in 2004 and 17-10 in 1990. USC has won six of the past seven meetings overall and holds a 6-4 advantage all-time.
We might have seen this matchup during the regular season if a Big Ten/Pac-12 scheduling partnership hadn't fallen apart in 2012.
5. Georgia vs. Florida State
: UGA coach Mark Richt was a longtime assistant under legendary FSU coach Bobby Bowden before taking over the Bulldogs, and he recently poached defensive coordinator Jeremy Pruitt off the Seminoles' staff.
The Bulldogs and Seminoles go head-to-head for a lot of recruits every year, and Florida State coach Jimbo Fisher upgraded his roster by effectively recruiting South Georgia and Atlanta.
The Bulldogs and Seminoles have played 11 times and only once since 1984 -- UGA defeated FSU 26-13 in the 2003 Sugar Bowl. Georgia leads the all-time series, 6-4-1.
March, 13, 2014
Mar 13
12:00
PM ET
LSU, Missouri, Ole Miss, South Carolina, Tennessee and Vanderbilt have all opened spring practice. Forget one day closer to the weekend, we're one day closer to more teams around the SEC starting camp. Alabama gets going on Saturday and Arkansas will follow suit on Sunday.
March, 13, 2014
Mar 13
11:00
AM ET
The only head-coaching change in the SEC following this past season was at Vanderbilt, where Derek Mason took over for James Franklin.
That's down from four head-coaching changes the previous year. In fact, Mason will be the 38th different head coach to coach in a game for one of the current SEC schools since the start of the 2004 season.
Even in the volatile world of the SEC, that's a ton. But change is a part of this league's fabric. With 11 of the 14 head coaches making $3 million or more per year, there is no such thing as a five-year plan anymore. Some would argue there's not even a four-year plan.
[+] Enlarge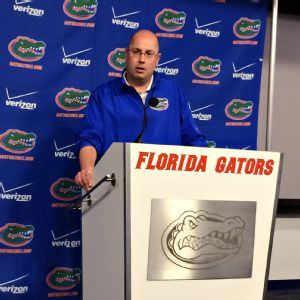 Jeff Barlis/ESPNFlorida hopes new offensive coordinator Kurt Roper will help improve its anemic offense in 2014.
Since the end of last season, we've also seen several changes in the assistant-coaching ranks in the SEC. The five coaching staffs that will return intact next season are Auburn, Missouri, Ole Miss, South Carolina and Tennessee.
One assistant, Arkansas defensive line coach Charlie Partridge, left for a head-coaching gig at Florida Atlantic. His former colleague with the Hogs, Chris Ash, left his post as co-defensive coordinator for the same job at Ohio State.
Georgia's entire defensive staff has a new look, triggered largely by Todd Grantham's move to Louisville as defensive coordinator. Former Florida State defensive coordinator Jeremy Pruitt replaces Grantham along with three other new defensive assistants.
Alabama coach Nick Saban has his fourth different offensive coordinator since coming to Tuscaloosa in 2007. Lane Kiffin, who's no stranger to the SEC after his turbulent 14 months as Tennessee's head coach in 2009, will call the Tide's plays in 2014.
One of the most critical hires was at Florida, where offensive coordinator Kurt Roper comes over from Duke with the mission of resurrecting the Gators' offense.
Here's a rundown of the coaching changes (head coaches and position coaches only; number of new coaches in parentheses):
ALABAMA (2)
Who's in?
Lane Kiffin, offensive coordinator/quarterbacks
Bo Davis, defensive line
Who's out?
Doug Nussmeier, offensive coordinator/quarterbacks
Chris Rumph, defensive line coach
Greg Brown, secondary
Other moves
Kevin Steele moves onto the field as inside linebackers coach and will serve as special assistant to the head coach. He was the Tide's player personnel director last season.

Defensive coordinator Kirby Smart will coach the secondary after coaching linebackers last season.
ARKANSAS (3)
Who's in?
Robb Smith, defensive coordinator/secondary
Clay Jennings, secondary
Rory Segrest, defensive line/specialists
Who's out?
Chris Ash, defensive coordinator
Charlie Partridge, defensive line
Taver Johnson, secondary
Other moves
Randy Shannon was promoted to senior associate head coach.
FLORIDA (3)
Who's in?
Kurt Roper, offensive coordinator/quarterbacks
Mike Summers, offensive line
Coleman Hutzler, special teams coordinator
Who's out?
Brent Pease, offensive coordinator/quarterbacks
Tim Davis, offensive line
Jeff Choate, special teams/outside linebackers
GEORGIA (4)
Who's in?
Jeremy Pruitt, defensive coordinator/secondary
Tracy Rocker, defensive line/weak-side linebackers
Mike Ekeler, inside linebackers/special teams
Kevin Sherrer, strong-side linebackers/nickel backs
Who's out?
Todd Grantham, defensive coordinator
Chris Wilson, defensive line
Kirk Olivadotti, inside linebackers
Scott Lakatos, secondary
KENTUCKY (1)
Who's in?
Craig Naivar, special teams/safeties
Who's out?
Bradley Dale Peveto, special teams/safeties
LSU (2)
Who's in?
Jeff Grimes, offensive line/running game coordinator
Bradley Dale Peveto, special teams coordinator
Who's out?
Greg Studrawa, offensive line
Thomas McGaughey, special teams coordinator
MISSISSIPPI STATE (1)
Who's in?
Brian Johnson, quarterbacks
Who's out?
Les Koenning, offensive coordinator/quarterbacks
TEXAS A&M (1)
Who's in?
Terry Joseph, secondary
Who's out?
Marcel Yates, co-defensive coordinator/secondary
Other moves
Jake Spavital will call plays in 2014 as offensive coordinator. He was the co-offensive coordinator and quarterbacks coach last season.

Clarence McKinney moves back to running backs after calling the plays last season as offensive coordinator.
VANDERBILT (9)
Who's in?
Derek Mason, head coach
Karl Dorrell, offensive line/quarterbacks
David Kotulski, defensive coordinator/inside linebackers
Marc Lubick, receivers
Keven Lightner, offensive line
Gerry Gdowski, tight ends
Brett Maxie, secondary
Kenwick Thompson, outside linebackers
Frank Maile, defensive line
Who's out?
James Franklin, head coach
John Donovan, offensive coordinator/running backs
Bob Shoop, defensive coordinator/safeties
Ricky Rahne, quarterbacks
Herb Hand, offensive line
Josh Gattis, receivers
Brent Pry, co-defensive coordinator/linebackers
Sean Spencer, defensive line
George Barlow, secondary
March, 13, 2014
Mar 13
11:00
AM ET
Editor's note: This is Part IV in a weeklong series predicting what changes are ahead for Alabama this spring.
TUSCALOOSA, Ala. -- If you've watched Alabama football these past few years, then you know what
Trey DePriest
looks like in uniform. The No. 33 emblazoned on his chest, he's a thickly built linebacker with a low center of gravity. He's a complete player; good in tight quarters against the run and solid in space against the pass. He doesn't shy away from contact, but he hasn't always been at the center of it either since signing with Alabama in 2011. Instead, that honor belongs to All-American
C.J. Mosley
, who racked up 100 or more tackles in each of the past two seasons.
But with Mosley off to a career in the NFL, expect to see a new Trey DePriest on the field this spring. The 6-foot-2, 245-pound senior doesn't figure to change much physically; he doesn't need to. Between the ears, however, he should make significant strides. A vacuum in leadership has moved him to the forefront of Nick Saban's defense, demanding that he be both productive and vocal in 2014. Looking good in uniform and showing flashes of promise won't cut it anymore. DePriest must transform himself these next few weeks and months if Alabama's defense is to live up to the lofty standards of seasons past.
[+] Enlarge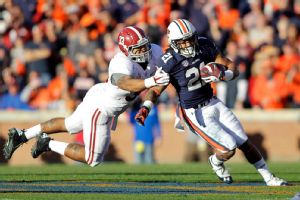 John Reed/USA TODAY SportsTrey DePriest says he's ready to assume the leadership role on the field and in the locker room left open by the departure of C.J. Mosley.
The good news for Alabama fans is that DePriest does have all the tools to succeed. His size and speed are ideal. He isn't quite as fast as Mosley, but then again few in the college game have ever been.
Still, he has been consistently productive in somewhat of a lesser role. He stood out early as a playmaker on special teams with 25 tackles in 13 games as a freshman. In each of the past two seasons he's ranked in the top three on the team in tackles: 59 as a sophomore and 65 as a junior. Mosley, by means of comparison, went from 37 tackles as a sophomore to 107 tackles as a junior. Both could have entered the NFL draft as underclassmen, but both decided to stay for their senior seasons. For Mosley, it paid off to the tune of another 100-tackle season and an even more inflated draft stock. The hope for DePriest is he does the same.
"He knows the defense just like I do," Mosley told reporters prior the Allstate Sugar Bowl. "If he comes back like I did, he'll evolve into that every-down linebacker role so people will be able to see his true talents. They'll see he can control the defense and be the only linebacker on the field and make all the calls."
When it comes to the matter of leadership, Mosley sees that capability in DePriest, too.
"If he stays, it will be him," Mosley said when asked who the leaders will be when he leaves. "He doesn't get a lot of credit, but he's a pretty good linebacker."
Said DePriest: "I'm definitely going to be ready to take on that job. Like I said earlier, I'm going to have to. Him and the other guys leaving like that, it's going to be something that I have to do."
The linebacker corps will be young next season. Sam linebacker
Adrian Hubbard
is off to the NFL and Jack linebacker
Xzavier Dickson
was suspended for the Sugar Bowl, though Saban said he'll be back for spring practice. None of the three contenders to replace Mosley at inside linebacker --
Reuben Foster
,
Dillon Lee
and
Reggie Ragland
-- has ever started a game and together they combined for all of 45 tackles last season.
DePriest, more than ever, will be leaned on by the coaching staff. He has had the luxury of working with defensive coordinator Kirby Smart one-on-one in the past as his position coach, but now that responsibility falls to Kevin Steele, who was a defensive coordinator at Clemson (2009-12) before returning to Tuscaloosa last year as director of player personnel.
Maybe a new challenge and a new coach will be just what the doctor ordered for DePriest as he takes on the biggest test of his career at Alabama. As spring practice kicks off on campus this week, look for the senior to look the same but play like a new man.
Saban: We Lost Respect For Winning
SEC SCOREBOARD
Saturday, 12/21
Monday, 12/23
Tuesday, 12/24
Thursday, 12/26
Friday, 12/27
Saturday, 12/28
Monday, 12/30
Tuesday, 12/31
Wednesday, 1/1
Thursday, 1/2
Friday, 1/3
Saturday, 1/4
Sunday, 1/5
Monday, 1/6