November, 26, 2014
Nov 26
3:00
PM ET
TUSCALOOSA, Ala. -- There were plenty of times when
Blake Sims
could have packed it in, said enough was enough and resigned himself to not playing quarterback for the University of Alabama.
Way back in the spring, he could have thrown in the towel. He'd just tossed two interceptions during the final practice of camp, and
Jake Coker
, the strong-armed transfer from Florida State, was expected to waltz into Tuscaloosa and take over.
But Sims surged ahead of Coker during fall camp, won the job and started the season off on a tear, throwing eight touchdowns and two interceptions during the first four games.
It was great. Until it wasn't.
Alabama, ranked No. 1 in the coaches' poll, then lost on the road at Ole Miss. Sims was ineffective, completing 19 of 31 passes with no touchdowns and one interception. He looked ordinary again. He looked uncomfortable, like someone who was still learning to play quarterback, not someone who could lead an offense to a national championship.
For three quarters of the following game, those suspicions were on the verge of being confirmed. Sims couldn't get anything going and Alabama fell behind on the road against an unranked Arkansas team that hadn't won a conference game in two years. The only thing at stake was everything, the entire season. Back-to-back losses would have meant the end of Alabama's playoff hopes.
[+] Enlarge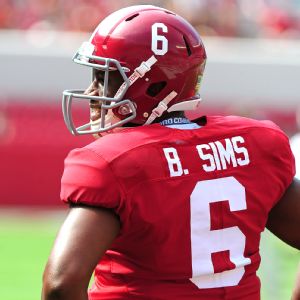 Scott Cunningham/Getty ImagesBlake Sims waited a long time for his turn, and he's made the most of it. He has 12 touchdowns and one interception since an Oct. 4 loss at Ole Miss.
It was then that Sims came into his own. With the season hanging in the balance, he proved to be the quarterback Alabama needed.
Whatever happens on Saturday against No. 15 Auburn, Sims' comeback is complete. Whether you take the long view of the spring until now or dive deeper into three game-clinching drives, you'll see a quarterback who matured into the leader of a team fighting for playoff contention.
Oct. 11: Fayetteville, Arkansas
It would prove to be his first comeback.
Down 13-7 on the road, Sims got the ball with 36 seconds left in the third quarter.
Seven plays and 50 yards later, Sims faced a pivotal third-and-3 inside the red zone.
Sims took the snap, scrambled to his right and slung his arm across his body.
DeAndrew White
, in the middle of the end zone, came down with the pass.
"When we had to score, he became a real vocal guy," said running back
T.J. Yeldon
. "He was firing us up and getting us motivated to go and score a touchdown."
Nov. 8: Baton Rouge, Louisiana
Every Alabama quarterback has to survive Death Valley.
AJ McCarron did it two years ago when he orchestrated a game-winning drive late in the fourth quarter. His TD pass to Yeldon saved the season and sent Alabama to the national championship.
Sims, who is close friends with McCarron, got the same opportunity.
Down 13-10 with less than a minute left in regulation, Sims had to act. On third-and-4, he scrambled for the first down. After an uncharacteristic drop by
Amari Cooper
, Sims took the next snap, darted to his right and found
Christion Jones
for 16 yards.
Sims killed the clock with 12 seconds left, went to the sideline and watched the game-tying field goal split the uprights.
"Blake kind of said, 'This is where we have to do it right here,'" said offensive tackle
Austin Shepherd
. "We all kind of said, 'Let's go.' Kind of a surreal experience. We knew we could do it."
In overtime, Sims screamed out an audible on second-and-goal. He took the shotgun snap, shuffled his feet and threw a perfect fade to the corner of the end zone for a game-winning touchdown to White.
Nov. 15: Tuscaloosa, Alabama
Nick Saban called it, "Probably one of the greatest drives in Alabama history."
Keep in mind that the longtime head coach is not one for hyperbole.
But the 15-play, 76-yard drive Sims led against then-No. 1 Mississippi State was one for the ages. Sims, who couldn't seem to make a play in the second half, suddenly clicked into gear after Mississippi State made it a six-point game.
Sims was so calm, so effective. On a pair of third-and-longs, he went through his progressions, saw nothing and scrambled for first downs.
On second-and-goal, he handed the ball off to Yeldon for a touchdown. Alabama went ahead by two scores and ate six minutes off the clock.
"I'm just happy that he's doing other teams like that, because he does that to us every day at practice during two-minute drill," said safety
Nick Perry
. "He's always with a black jersey, so when we're going up to try to tackle him, we have to tag him. He'll always get back in the locker room, 'Oh, you didn't touch me. You couldn't tackle me in a game.' So when I see him make a play like that [against Mississippi State], I'm like, 'Oh, well, maybe I wouldn't tackle him.'"
Saturday: The Iron Bowl
Sims now understands what to expect of these types of games.
"It's that one play, those 2-3 plays, that determines how the game plays out," he said.
With Sims' hands on the ball, Alabama fans should be confident. After leading three pivotal drives already this season, he feels like he's done it before.
"It gives me a lot of confidence," Sims said. "It lets my team know that I'm ready to play."
As a senior, this will be Sims' only shot starting against Auburn. So what's at stake isn't just the season. In many ways, it's his legacy.
"It's a great feeling," Sims said, forever downplaying his emotions. "I'm glad that I got the opportunity to play here at the University of Alabama and I'm trying not to pressure myself too much and think of it like that.
"I'm just trying to go out and have fun with my teammates, and pretty much be in the backyard and have fun and play catch with my wide receivers."
In other words, Sims is determined to play his game.
"I make my body language look confident so they can go out and play with ease knowing that I'm ready to play," he said, giving away one of his secrets: deception. Like everyone else, he's eager to play Auburn. "I know the team is ready to play by how we're walking around the locker room right now. Everybody is excited and ready to play on Saturday."
Week 14 Picks: Auburn-Alabama
SEC SCOREBOARD
Thursday, 11/27
Friday, 11/28
Saturday, 11/29