April, 23, 2014
Apr 23
4:00
PM ET
ESPN's Mel Kiper Jr. predicts nine players from the SEC will go in the first round in his
latest mock draft

.

That would be down from the 12 first-round picks the SEC produced a year ago, which tied the record for first-rounders set by the ACC in 2006.
Kiper's No. 1 pick overall is South Carolina defensive end
Jadeveon Clowney
going to the Houston Texans. Six of the first 10 picks in the draft will be SEC players, according to Kiper. He has Auburn offensive tackle
Greg Robinson
going No. 2, Texas A&M quarterback
Johnny Manziel
going No. 4, Texas A&M receiver
Mike Evans
going No. 7, Texas A&M offensive tackle
Jake Matthews
going No. 9 and Alabama safety
Ha Ha Clinton-Dix
going No. 10.
If all three Texas A&M players end up going in the top 10, it would be the first time that's happened in the SEC since the 2005 draft when Auburn produced three top-10 picks -- running backs Ronnie Brown and Carnell Williams and cornerback Carlos Rogers.
Kiper has a total of 17 SEC players going in his first two rounds. He doesn't have Alabama quarterback
AJ McCarron
going in the top two rounds, but does have LSU quarterback
Zach Mettenberger
going No. 42 overall to the Tennessee Titans.
April, 23, 2014
Apr 23
1:00
PM ET
With all due respect to my esteemed colleague Alex Scarborough,
Derrick Henry
will eventually end up being the guy at running back for
Alabama
.
[+] Enlarge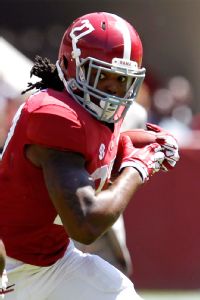 AP Photo/Butch DillAs a freshman, Alabama tailback Derrick Henry had just 36 rushing attempts. Expect many more in 2014.
And by "eventually," I mean this fall.
T.J. Yeldon
has had a tremendous two-year career with Alabama. He has the stats to back it up, as Alex so
thoroughly laid out in his column
earlier today, and he was a high-prized recruit coming out of high school. I think he's an excellent player. I even picked him to
lead the Crimson Tide in total offense in 2012
.
But there's something special about Henry, who broke Ken Hall's 51-year-old national high school rushing record with 12,124 yards, after rushing for 4,261 yards as a senior at Yulee High in Florida in 2012. He somehow finds time to fit size, power, speed and elusiveness in his 6-foot-3, 238-pound frame.
Alex is right when he talks about Yeldon's body of work compared to Henry's. As a freshman last season, Henry only ran for 382 yards (10.6 yards per carry, though) and three touchdowns. He wasn't much of a factor in the running game for most of the season. But remember, he was the team's third-leading rusher during last spring's scrimmages before fracturing his leg in mid-April. He didn't make it back until fall camp, so just imagine if he had more time to work with guys over the summer and more time to adjust his body to the college game.
I'm not saying he would have started last season, but we would have seen more production from him.
And we will this fall. Henry is just too good to keep off of the field, and we saw that during the Tide's loss to Oklahoma in the Allstate Sugar Bowl. He might not have pushed Alabama to a victory inside the Mercedes-Benz Superdome, but he was easily the best offensive player on the field for Alabama that night. He showed off his sick moves and had 161 total yards of offense and two touchdowns on just nine touches.
He showed off his agility and speed on a
smooth, 43-yard touchdown
run in third quarter in which he powered his way through both his own and Oklahoma's line and sprinted to the end zone with relative ease. A quarter later, he was at it again with a
nifty, 61-yard catch-and-run
for another touchdown that put Alabama right back in the game late.
Feel free to watch those videos again because they were pure poetry in motion.
We've barely even scratched the surface with Henry, who is built to grind. I don't want to say he has
Godzilla-like strength
, but it might not be a stretch. He won't have an issue driving through the trenches before showing off his leg strength and shiftiness to grab even more yards. He's an every-down back who will push his way to more and more carries this fall.
And while I really like what Yeldon can do, he has an almost chronic fumbling issue that actually led to more of Henry in the Sugar Bowl. Do you think Nick Saban is going to allow his bell cow running back be a liability with the football again? Not with a guy like Henry breathing down Yeldon's neck.
This competition is only going to heat up during fall camp, and it's going to make both of them even better. Yeldon is the running back of the present, but Henry is the future, and the future could come sooner than later in Tuscaloosa.
April, 23, 2014
Apr 23
12:00
PM ET
The Washington Wizards lead the Chicago Bulls 2-0 in the NBA playoffs. Never in my life thought did I think this day would come.
April, 23, 2014
Apr 23
9:00
AM ET
TUSCALOOSA, Ala. -- Four touchdowns versus 14.
Three hundred and eighty-two yards versus 1,235.
Thirty-five carries versus 207.
[+] Enlarge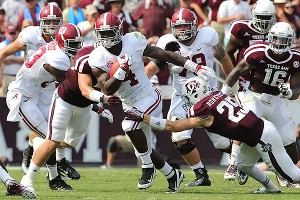 Matthew Emmons/USA TODAY SportsAlabama tailback T.J. Yeldon wants to improve his acceleration this offseason.
Two 100-yard games versus six.
If it weren't
Derrick Henry
, we wouldn't be making the comparison. His freshman season was promising with 382 rushing yards and four total touchdowns. But if he weren't Derrick Henry and this wasn't
Alabama
, how important would he really be?
It's not Henry's fault. He didn't fuel the hype of his arrival in Tuscaloosa. He never once compared himself to
T.J. Yeldon
. The fans and the media did that for him.
Thanks to his potential and one breakout game -- not two or three or four to create, you know, a trend -- he went from a project at running back into a contender not only to beat out Yeldon for the starting job, but someone to watch in the Heisman Trophy race. Or so that's how the story goes. Bovada, a sports gambling website, bought in, giving Henry 28-to-1 odds to hoist the bronze award.
Talk about a runaway hype train. Check your sense of reality at the gate.
Well, consider this your derailment. Or, on a slightly more positive note, consider this an appreciation of all that T.J. Yeldon is as a running back.
Those numbers listed earlier -- 1,235 yards, 14 touchdowns, 207 carries -- they were all Yeldon's in 2013. In what has become a symptom of the greater Alabama fan, overlooking established starters for the next big thing, Yeldon's accomplishments were lost in the shuffle. Never mind that he was named first-team All-SEC by the league's coaches. Never mind that he followed up the best season of a freshman running back in school history by improving his production in every important category. Never mind that he's only now a junior and could very well make the leap to the NFL after this coming season.
Henry will be around for a while longer. His turn will come. Yeldon's time is now.
Yeldon's sophomore campaign was viewed as underwhelming by some ridiculous accounts, even though his 102.9 yards per game trailed only
Tre Mason
and
Jeremy Hill
in the SEC. Yeldon was said to be not enough of an explosive tailback, even though his 34 rushes for 10 or more yards ranked 30th nationally, ahead of the likes of
Todd Gurley
,
Devonta Freeman
and
Duke Johnson
.
You think Yeldon didn't hear all the chatter? He certainly played like he did on Saturday, doing his part to remind fans how only three other running backs in the country will enter the 2014 season with more career rushing yards than his 2,343.
For the second A-Day in his career, Yeldon won the Dixie Howell Award for the game's most valuable player. In a scrimmage in which he touched the ball just 12 times, he totaled 104 all-purpose yards. He had one touchdown and the longest run of the day -- 36 yards. Meanwhile, Henry accounted for 22 yards rushing on eight carries and -2 yards on one reception. The 73,000-plus fans who came to Bryant-Denny Stadium on Saturday to see Henry cash in on the hype instead saw Yeldon show once again why he's the starting tailback at Alabama.
"You've seen T.J. get the MVP, so you can't overlook him," linebacker
Reggie Ragland
said after the game. "He's going to do what he needs to do on the field and make plays."
Yeldon, meanwhile, was his usual understated self. Shy when it comes to speaking with the media, it was his first turn in front of the cameras all spring. And in typical Yeldon fashion, he'd rather let his play do the talking.
When asked whether it was a big deal to win the A-Day MVP, he said, "Not really," adding that he believed a defensive player would take home the award. When asked about the competition among the running backs, he said it fueled him.
[+] Enlarge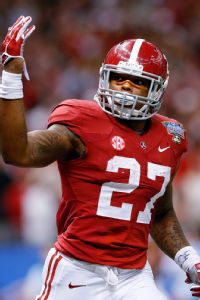 Kevin C. Cox/Getty ImagesAlabama's Derrick Henry had a breakout game in the Allstate Sugar Bowl loss to Oklahoma with 161 yards and two touchdowns on just nine touches.
"It's really competitive," he said. "We've got
Altee [Tenpenny]
,
Tyren [Jones]
. We can all play. We're all helping each other get better, I think."
Entering the spring, Yeldon said his mindset was "like trying to take over a game" and despite the incessant talk of his backups, he did just that.
Now, as spring gives way to the offseason, Yeldon's focus is on getting himself better. He said he wants to get stronger and faster, spending more time in the weight room. One specific area he said he'd like to improve is his acceleration.
A bigger, quicker Yeldon might be the last thing SEC defenses are hoping for. And with Henry coming up the rear, Alabama could have a formidable one-two punch.
But make no mistake who's first in that scenario.
Henry is surely coming into his own. After simply taking the handoff and running in high school, he's learning how to do the little things, like pass protection and pass catching.
Just remember that Yeldon already knows how to do all those things and more. Under new offensive coordinator Lane Kiffin, he could become even more dangerous catching the ball out of the backfield.
Henry will be special in time, but Yeldon is special right now. He might not have the following or the hype of Henry, but he has the thing that matters most of all: production. And until the numbers change, it's Yeldon first and Henry second.
April, 22, 2014
Apr 22
3:30
PM ET
Former Alabama offensive lineman Chad Lindsay is expected to join Ohio State for the 2014 season, according to a source with knowledge of the situation.
Lindsay, who started four games for the Crimson Tide last season, will be eligible to play immediately because he graduated from Alabama. Ohio State, which lost four starting offensive linemen from the 2013 season, likely will use Lindsay at center this fall.
CBSsports.com first reported Lindsay's move to Ohio State. Lindsay told the website in a text message, "It's done. Go Buckeyes!"
Lindsay, a native of The Woodlands, Texas, also considered Michigan, Louisville, Cal and Oklahoma. He played as a reserve for Alabama in 2011 and 2012 before moving into the starting lineup midway through last season.
April, 22, 2014
Apr 22
12:15
PM ET
April, 22, 2014
Apr 22
10:56
AM ET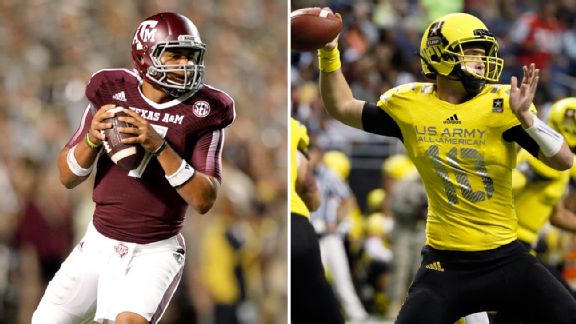 Icon SMI/USA TODAY SportsKenny Hill and Kyle Allen are both competing for Texas A&M's starting QB spot.
Quarterback battles do not always resolve themselves in the spring -- in fact, it's somewhat rare -- but this cycle provided some news and emerging figures from notable programs across the country.
Starting with an open-but-refined race to replace
Johnny Manziel
at Texas A&M, here are some of those QB battle updates and what they might mean for the 2014 season.
Texas A&M Aggies
Contenders:
Kenny Hill
,
Kyle Allen
In the space of three weeks at A&M recently, Hill, a sophomore, had been suspended for a minor arrest, and veteran Matt Joeckel let his coaches know that he intended to transfer. Hill will eventually be reinstated, but for now that leaves Allen, a freshman, as the only true eligible option to replace Manziel.
Jake Spavital, approaching his first full season as the Aggies' playcaller, tells me that the message for the two young quarterbacks is very different. And it remains to be seen how each receives that summer counsel and where Allen and Hill land by preseason camp in August.
For Allen, now four months into his time in college, it's clearly a matter of education. But the staff saw enough mental and physical aptitude to know Allen is a legitimate candidate to start from day one.
"He came pretty far [during the spring]," Spavital told me Monday. "I'm telling you, he's very mature for being 18 years old. I threw the entire offense at him. . . . We threw him in and tried to see how he learns."
For Hill -- suspended for allegedly passing out in a flower bed outside a bar in College Station -- it's a matter of growing up.
"Kenny's been through it all," Spavital said. "He's just got to mature and be a leader. He has the tools to do it, but he has to show to the entire team that he can do it."
Unlike Allen, Hill does at least have some experience. He played in four games last season, completing 16 of 22 passes for 183 yards and a score. Only one of the games featured an SEC opponent (Vanderbilt), and all of his snaps came in blowouts.
Still, it's something. And Spavital said Hill has shown strides in terms of comprehension.
"He knows how to operate the whole entire [offense]," he said. "He knows what's right and wrong. He doesn't make as many rookie mistakes as Kyle.
"It comes down to a leadership standpoint with Kenny. Is he capable of leading the team?"
To continue reading this article you must be an Insider
April, 22, 2014
Apr 22
10:30
AM ET
TUSCALOOSA, Ala. -- A-Day might not have featured the finest quarterback play. It might not have been the introductory moment offensive coordinator Lane Kiffin was hoping for, either.
One thing did, however, go over incredibly well for Alabama on Saturday. The defensive line answered this spring's most hard-to-pin-down question with a resounding yes.
[+] Enlarge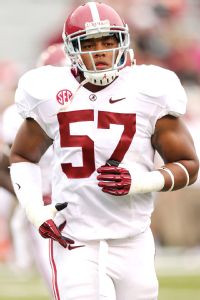 Nelson Chenault/USA TODAY SportsD.J. Pettway was a big part of Alabama's resurgent pass rush this spring.
Yes, Alabama has excellent depth up front on defense. And, yes, the line seems ready to get after the quarterback more than it has in seasons past. All you had to do was watch Kiffin's passing game fold under pressure time and time again to see that.
The ultimate point of pride for defensive line coach Bo Davis and his players had to be the first touchdown of the game: Defensive end
D.J. Pettway
snags a screen pass from
Blake Sims
, finds the open field and races 29 yards to pay dirt. After holding the offenses scoreless for 45 minutes, it was the defense that found a way to score.
But as much fun as it was to watch a big man rumble into the end zone, what really had the faithful at Bryant-Denny Stadium giddy was Alabama's resurgent pass rush. We'd heard all spring how Davis had infused enthusiasm and energy into the defensive line. How he was full of energy. How he was asking his players to read less, react more and get after the quarterback. And unlike the unfulfilled promise of Alabama's quarterbacks, its defensive linemen delivered, to the tune of seven sacks and 19 tackles for loss.
(For comparison sake, Alabama totaled two sacks and five tackles for loss at last year's spring game.)
Even coach Nick Saban, who
fought speculation about the quality of the defensive line
early on this spring, had to concede that he had a talented group of players to work with. In fact, he had to widen his praise to most of the defensive front seven.
"We have a lot of experienced players," Saban said after the White beat Crimson, 17-13, in a game where the score is meaningless, though White was led by the first-team defense. "[D.J.] Pettway and [Jarran] Reed add a lot of depth and athleticism to that group.
A'Shawn Robinson
and
Jonathan Allen
were both freshman last year, and I always say that you make the most improvement between your freshman and sophomore year. Those guys got to play a lot last year; they've both had great springs.
"We had three inside linebackers that I thought played really well.
Trey DePriest
had a really good spring.
Reggie Ragland
and
Reuben Foster
[did] as well. We also had three guys that played really well at outside linebacker.
Denzel Devall
,
Xzavier Dickson
, and
Dillon Lee
, those guys all had really good springs.
Tim Williams
and
Ryan Anderson
both contributed and improved."
Pettway and Williams played so well on A-Day that they were named co-winners of the Dwight Stephenson Lineman of the Game award. Allen, who had six tackles and two sacks, also blocked a field goal.
"From the front seven stand point, I feel a lot further along," Saban said.
Trey DePriest
, Alabama's leader on defense at middle linebacker, said the defensive line showed at A-Day what it was capable of.
"My defensive line is great," he said. "They put their hands on guys, they strike them, they push them back and let me and Reggie hit the holes and run."
Ragland, for his part, agreed -- though it came with a caveat. How good is the defensive line? "You'll see coming up," he said.
"We still have a lot more to prove. We didn't get to do half the stunts we wanted to."
April, 21, 2014
Apr 21
5:22
PM ET
Associated Press
ENGLEWOOD, Colo. -- Peyton Manning wants to clear up a couple of things about his recent visit to Tuscaloosa, Ala., that raised eyebrows at NFL headquarters and the hackles of some Tennessee fans.
The five-time MVP said he's always been driven to improve, a quality that's even more essential at age 38, and that's why he met with Alabama coach Nick Saban a couple of weeks ago.
Saban shared defensive tips with Manning, who gave him pointers on the hurry-up offense that has befuddled the Crimson Tide.
Saban said Denver offensive coordinator Adam Gase also visited his staff that week. NFL rules prohibit players and their coaches from meeting before the start of offseason workout programs, and that's why the NFL said it would look into the matter.
Following the Broncos' first organized workout Monday, however, Manning insisted that he and Gase didn't break any rules because they didn't meet with each other in Tuscaloosa.
"Yeah, that didn't happen. We know what the rules were. Like I said, I was there on an independent project, and Adam was as well," Manning said.
Saban has also said that Manning and Gase didn't meet with his coaches at the same time.
Gase and Saban go way back: Gase got his start in coaching under Saban in the 1990s at Michigan State and followed him to LSU as a graduate assistant.
As for fans from the quarterback's alma mater who might be upset that he met with a rival coach from another SEC team, Manning said he still bleeds orange.
April, 21, 2014
Apr 21
10:00
AM ET
TUSCALOOSA, Ala. -- It made sense for Nick Saban to begin his post A-Day spring game news conference with a caveat. After what everyone had seen that Saturday afternoon, a reasoned voice was needed, and Saban stepped to the podium to deliver his own sense of perspective.
"Nobody ever has a bad spring game," Alabama's head coach told reporters. "Let's start with that."
Fourteen practices behind closed doors led to a great deal of expectation surrounding A-Day, where the biggest question was, of course, at quarterback. Everything uttered about
Blake Sims
had been positive heading into the weekend. He'd improved his mechanics, they said. He'd made progress at becoming a better pocket passer, they added. Saban praised Sims for his command of the offense, his accuracy and his consistency. Throw in some pretty remarkable statistics provided by the school -- 515 yards, five touchdowns and no interceptions in two scrimmages -- and it amounted to the kind of credentials that would lead anyone to believe that Sims had really turned the corner, that he was indeed the front-runner to replace
AJ McCarron
.
[+] Enlarge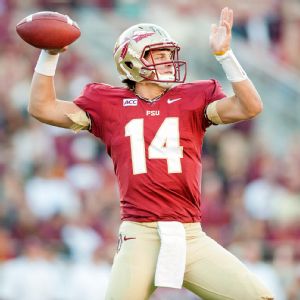 Jeff Gammons/Getty ImagesAs Alabama's quarterbacks struggled in the spring game, the spotlight on incoming transfer Jacob Coker becomes even brighter.
Then practice No. 15 arrived.
Much of the controlled environment from earlier practices and scrimmages was removed on Saturday. Saban, for instance, wore a tan suit and played the role of commissioner. A television audience and more than 73,000 fans looked on. Sure, it was a far cry from the usual 100,000-plus fans and the buzz that accompanies a regular-season game, but A-Day offers its own brand of pressure. If you mess up on that stage, not only is it a very public experience, but you'll also have to dwell on for the months to come.
And given the way Sims and the rest of the quarterbacks closed out the spring, they enter the offseason with a sour taste in their mouths.
Sims was a shell of himself, completing 13 of 30 passes for 178 yards, one touchdown and two interceptions. A first-half pass over the middle should have been turnover No. 3, if
Landon Collins
hadn't dropped it. And the other quarterbacks?
Cooper Bateman
,
Alec Morris
,
Parker McLeod
and
David Cornwell
went 14-for-33 for 165 yards, one touchdown and two interceptions. Alabama's combined effort equaled an 86.37 passing efficiency rating -- lower than any of the top 104 quarterbacks in the FBS last season.
Saban did his best to downplay the significance of A-Day after the game ended, but it did little to erase what everyone saw. In fact, when put up against his comments only a few days earlier, his plea for reason came off as hollow.
"It's an opportunity for them to go out and play a game-like circumstance, a game-like situation," Saban said Thursday about the A-Day game. "It's really your first opportunity as an individual, as a unit or as a team, to really create an identity for who you are and how you play."
By that standard, his quarterbacks failed miserably.
"Blake had a really good spring, and he did a really good job in the scrimmages," Saban said when asked to measure the performance of his quarterbacks, again attempting to weigh a poor spring game against a previously solid spring. "I thought in the game he was trying to speed everything up a bit. ... It's like when a baseball pitcher tries to throw the ball a little harder and all of a sudden he can't throw a strike."
In other words, the pressure got to Sims. Though Saban would raise some valid points about how the setup of A-Day robbed Sims of some of what made him an effective quarterback, the bottom line was unavoidable. Sure, wearing a no-contact jersey kept Sims from taking full advantage of his athleticism to escape the pocket and buy time. But, to be fair, it also removed the pressure of facing a threatening pass rush.
"There's a lot of things [Sims] could do to be an effective quarterback that he didn't do in this game today," Saban explained before changing directions. "We recruited a guy. Blake knows this and Blake embraced the guy before the game. They're going to compete through the summer and through fall camp."
Ah,
Jacob Coker
.
If there was a bright spot amid the sloppy offense Saturday, it was the 6-foot-5 quarterback on the sideline wearing a crimson polo and camouflage hat. Coker, who backed up Heisman Trophy winner
Jameis Winston
at Florida State, is due to graduate from FSU and enroll at Alabama later this spring, when he'll immediately join the race to earn the starting job.
"It was awesome," Coker said of his visit to Tuscaloosa. "Excited about getting there."
In a way, Coker went to A-Day with the possibility of seeing just how far the other quarterbacks had come. He might have been worried that if someone stood out, they could carry a lead into the offseason that would be hard for him to overcome.
But Coker had to leave A-Day feeling good about his chances. Nothing he saw there should have scared him. Hearing Saban mention him afterward in regard to the quarterback competition should have only reaffirmed his standing as a favorite to replace McCarron.
While it's true that you can't win or lose anything during a spring game, you can take a step back. There's always ground to lose. And Sims & Co. did just that on Saturday, yielding momentum to Coker. Whatever standing they built through 14 practices seemed to vanish with each errant pass and interception.
The perspective Saban pushed so hard for in his postgame news conference was hard to swallow considering the sour taste the passing game left behind. A-Day isn't everything, but it was the last thing this spring, and it wasn't the note any quarterback would have wanted to go out on.
April, 20, 2014
Apr 20
12:19
PM ET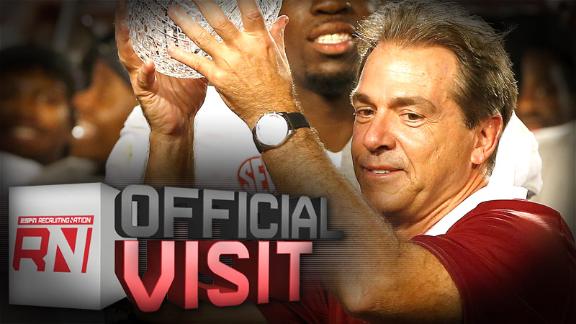 Alabama has finished atop the Recruiting Nation class rankings the past three years, and if Saturday's monster haul is any indication, a four-peat is more probable than possible.
Headed into Alabama's A-Day game on Saturday, which drew over 73,000 fans, the Crimson Tide sat atop the initial
2015 class rankings
released earlier in the week.
A class that already featured nine ESPN 300 pledges quickly jumped to 13.
To continue reading this article you must be an Insider
April, 19, 2014
Apr 19
9:41
PM ET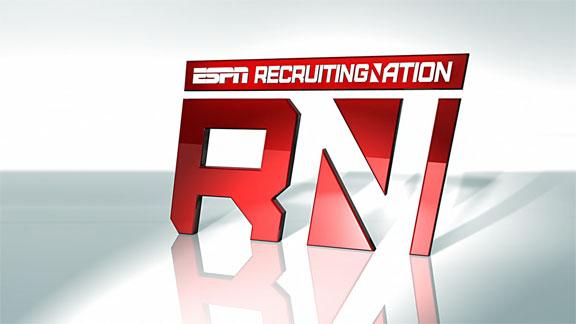 Alabama has a new top recruit for the 2015 class in Under Armour All-American cornerback
Minkah Fitzpatrick
. Read below to see our analysis of the Crimson Tide's big pickup:
What he brings
: The No. 4 corner in the country has an impressive blend of size, speed and athleticism as well as great instincts and football intelligence. Fitzpatrick can play both man and zone schemes effectively and wins most one-on-one battles out on the perimeter with his length, recovery speed and awareness when the ball is in the air. He anticipates and closes as fast as any in this class, and his savvy and overall understanding of the position was likely a trait Alabama coveted.
How he fits
: The Tide like big corners with speed, and they landed one in Fitzpatrick. Nick Saban and Co. also value perimeter defenders who know the nuances of the position and are proficient in varied alignments and coverages, and Fitzpatrick excels with the mental aspect of the game.
Prediction for performance
: It's not easy to step right in and play corner for the Tide with their sophisticated coverage system, but we expect Fitzpatrick to play sooner rather than later as he is entering Tuscaloosa ahead of the curve when it comes to an understanding of coverages. Physically, he should be ready as well.
Who he reminds us off
:
Champ Bailey
, New Orleans Saints. Bailey is a future Hall of Famer due to great physical tools but also with what he brings to game above the shoulders. Fitzpatrick has size, speed and range to match up with prototypical receivers one-on-one but also a savvy understanding of where to position himself on the field to make plays.
How the class is shaping up
: The Tide have controlled the class rankings since Saban's arrival, and it looks like 2015 will be no different. Alabama is looking to capture its fourth straight top national ranking with a great start to this class. The Tide claimed the top class in our first rankings released last week and solidified it with a big day that saw commitments from two top-50 overall defensive players in linebacker
Leo Lewis
and Fitzpatrick.
April, 19, 2014
Apr 19
5:54
PM ET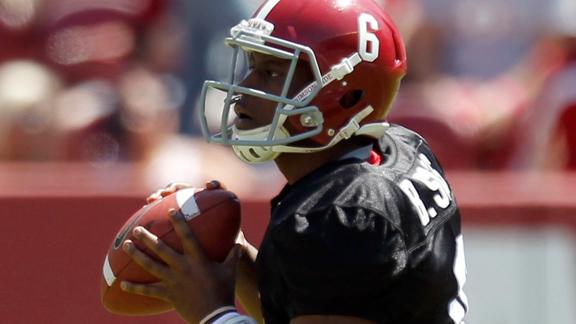 TUSCALOOSA, Ala. -- Alec Morris may have had the biggest impact of any Alabama quarterback during the Crimson Tide's spring game Saturday. The problem, however, is that he stood out most as a punter, booming 15 kicks for an average of 38.4 yards.
In a game that was built up as a quarterback showcase, the defense ultimately stole the show while the passing game went missing in action.
AJ McCarron was on hand for A-Day in Tuscaloosa, but only to be inducted into the Walk of Fame. His potential replacements under center, meanwhile, looked far away from fulfilling his legacy as a starter.
Blake Sims, McCarron's backup a year ago and the early leader in the quarterback race this spring, threw for an underwhelming 178 yards, one touchdown and two interceptions on 13-of-30 passing. A 55-yard touchdown pass to Chris Black late in the fourth quarter helped salvage some of his day as the "Crimson" team starter, but it was a far cry from his reported 515 yards, five touchdowns and no interceptions in two earlier scrimmages this spring, both of which were closed to the media.
"Blake had a really good spring and did a really good job in the scrimmages," Alabama coach Nick Saban said. "I thought ... the game speeded up today and he tried to speed up with it, rather than just staying in his rhythm."
Spring Game Wrap-Up: April 19
SEC SCOREBOARD
Thursday, 8/28
Saturday, 8/30
Sunday, 8/31