October, 1, 2014
Oct 1
8:30
AM ET
By
ESPN.com staff
| ESPN.com
Join ESPN.com reporters Edward Aschoff, David Ching and Chris Low at 3 p.m. ET as they preview a monster week of SEC action. They'll break down Alabama-Ole Miss, Mississippi State-Texas A&M and LSU-Auburn, while also talking Todd Gurley's Heisman chances and answering your questions.
September, 30, 2014
Sep 30
2:41
PM ET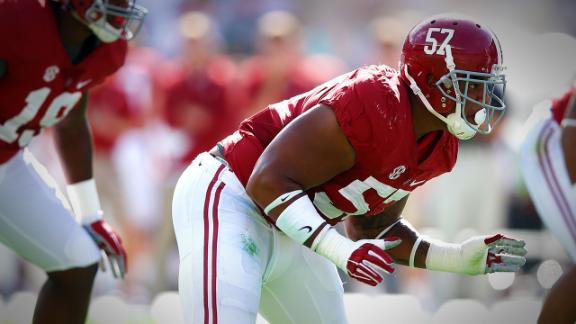 "It felt like a Salvador Dali painting," said Samuel Jergens, then an underclassman at the University of Alabama, recalling that late winter night in 2013.
Laid out on the sidewalk, he stared into the sky. Everything felt dizzy.
Then, nothing. Total darkness.
On his feet, he thought he saw Blount Hall. Wobbly, he gathered himself and moved toward the dormitory.
Then, again, someone turned out the lights.
He woke up, slumped against a glass door. Looking down, he noticed he was holding a cup filled with his own blood. He couldn't feel half of his face. His glasses were broken. He was unable to see out of his left eye. In a state of confusion, he turned and saw his friends staring back at him.
"They were looking at me like something horrible happened," he said. "Then the police came and asked what happened. I'm like, 'I don't know.'"
The moments before the attack would come back to him later, after he was taken to the hospital. He'd sustained a concussion, beaten so badly that one of his attackers thought they'd accidentally killed him. They kicked him just to make sure he was alive. Then they left, taking his backpack and the computer inside it.
Talking with police officers, something felt off to Jergens.
Driving with his father the following morning, he understood why.
"We were listening to sports radio and they were talking like, 'And news is coming in: Four Alabama players have been arrested of an apparent assault,'" he said.
Tyler Hayes, D.J. Pettway and Eddie Williams were all taken into custody and charged with the second-degree robbery of Jergens and another University of Alabama student. A fourth player, Brent Calloway, was charged with fraudulent use of a credit card.
September, 30, 2014
Sep 30
1:00
PM ET
Well,
Todd Gurley
isn't exactly slowing down these days.
The Georgia running back just keeps chugging along, leaving defenders shamed along the way. On Saturday, Gurley ran for a career-high 208 yards, had two touchdowns and averaged 7.4 yards per carry against Tennessee. Not bad. No wonder he now has 16 career 100-yard rushing games.
On the season, Gurley has 610 rushing yards and six touchdowns. He's averaging an SEC-high 8.8 yards per carry.
Again, we know how good Gurley is and he should be at the top over everyone's Heisman ballot, at least for the SEC. He should be at the top of it nationally, but some folks are hung up on that Mariota guy.
[+] Enlarge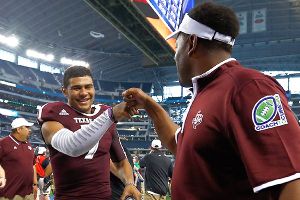 Tom Pennington/Getty ImagesKenny Hill showed his moxie against Arkansas, propelling Kevin Sumlin and the Aggies to 5-0.
But let's take some time to talk about Texas A&M quarterback
Kenny Hill
-- the trillest of them all.
We've been impressed with how he has terrorized defenses through the first part of the season, but I think he had his best performance this past Saturday against Arkansas. First, he had to bring his team back from a 14-point deficit in the second half. Then, he had to win in overtime. All he did was throw touchdowns of 86 and 59 yards to tie the game in the fourth. In overtime, he needed just one play, finding
Malcome Kennedy
, who was somehow behind
three
Arkansas defenders, for a 25-yard game-winning touchdown.
Kenny Trill's gutty performance showed us that he's more than just a kid tossing the ball around in a pass-friendly system. He had to bring his team back from the edge and then win the game. He did both without really breaking a sweat, throwing for 386 yards with four touchdowns and one interception.
On the season, Hill leads the SEC with 1,745 passing yards and 17 touchdowns. No SEC quarterback is on his level right now.
Here are four others to keep an eye on in the SEC:
September, 30, 2014
Sep 30
11:30
AM ET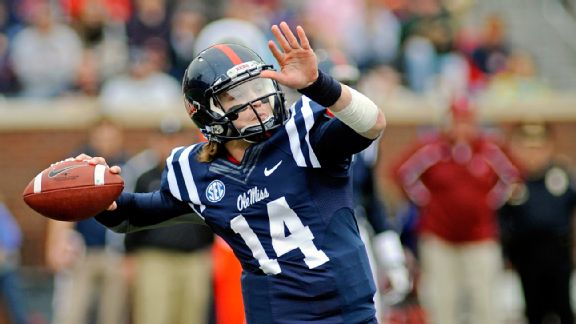 Thomas Graning/AP ImagesBo Wallace's impressive QBR numbers suggest he could lead the Rebels to a win at home.
Ole Miss
could be embarking on one of the most successful seasons in the program's history.
The Rebels are 4-0 for the first time since 1970 and have a top-10 ranking in the Associated Press poll for only the second time
in the past 44 years
. To top it off, ESPN's "College GameDay" crew is headed to the Grove for the
first time in the pregame show's histor
y, as the Rebels host
Alabama
in one of the most important games ever played in Oxford.
Since Alabama has won the past five meetings between these teams by a combined score of 155-34, many may be writing this game off as one of those early season tests the Tide tends to pass with ease.
Anyone with that mindset would do well to reconsider.
September, 30, 2014
Sep 30
10:00
AM ET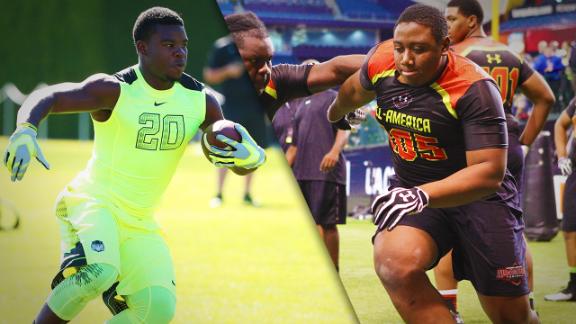 There was a ton of big recruiting news from around the Southeastern Conference this weekend. Several top prospects made their verbal commitments, Georgia flipped an FSU commit, and Missouri -- despite its big win against South Carolina on Saturday -- lost a commitment. Here is a closer look at the top recruiting news from around the conference.
To continue reading this article you must be an Insider
September, 30, 2014
Sep 30
9:30
AM ET
Claim your spot on the couch now. Reserve your table at your favorite sports bar. Buy another TV. Do whatever you gotta do to make sure you don't miss a snap Saturday because this is going to be a good one.
College football has been a well-kept secret so far, as it has been hiding the true identities of teams. Not this week. It's time to play or go home. There are six games between ranked teams. Of the 17 undefeated teams remaining, eight play against each other this week. It's the most relevant weekend the sport has had in regard to the new College Football Playoff.
Here are the games you can't miss, ranked from
least
to most likely to affect the playoff:
No. 14 Stanford at No. 9 Notre Dame
-- Stanford already has one loss, and this is the second straight road trip for the Cardinal. If Stanford loses again, its playoff hopes will be in serious jeopardy but not over, given that it could still win the conference. This game should reveal more about Notre Dame's place in the playoff, as it will be the first ranked opponent for the Irish.
No. 4 Oklahoma at No. 25 TCU
-- ESPN's Football Power Index gives Oklahoma a 64 percent chance to win and predicts this to be Oklahoma's hardest remaining game -- slightly more difficult than Nov. 8 against Baylor. If the Sooners can't handle TCU, they'll be on the outside looking in.
No. 15 LSU at No. 5 Auburn
-- LSU gave Auburn its only regular-season loss the past year, but LSU has already lost to Mississippi State, which put the Tigers behind in the SEC West race. Considering the rest of LSU's schedule -- and the hole it's already in -- this is a must-win. For Auburn, this is a chance to erase some doubts and make a push from the bubble into the top four.
No. 6 Texas A&M at No. 12 Mississippi State
-- Two terrific quarterbacks will be on display in the Aggies'
Kenny Hill
and the Bulldogs'
Dak Prescott
, who both rank in the top 10 in total QBR. A&M's stock dropped a bit this past week after it needed overtime to beat Arkansas, but it could be a top-four team if it can survive the state of Mississippi the next two weeks.
No. 3 Alabama at No. 11 Ole Miss
-- This is the most interesting matchup of the day. Alabama ranks third in offensive efficiency, and Ole Miss ranks second in defensive efficiency. Neither team has played a ranked opponent, so there is still some margin for error, but the Tide have a chance to separate from the crowded West.
No. 19 Nebraska at No. 10 Michigan State
-- Surprise. The game with the biggest playoff implications is not in the SEC West. This Big Ten matchup could knock Sparty out of the playoff entirely. It's one thing to lose to Oregon; it's another to try to make the four-team playoff with two losses and your best win coming over Nebraska in the Big Ten title game. Conversely, a win in East Lansing could vault the Huskers into the playoff conversation. They're the only undefeated team left in the Big Ten, and the toughest game left on their schedule is against No. 17 Wisconsin. If Nebraska pulls off the upset, it's time to take it seriously as a playoff team.
September, 30, 2014
Sep 30
8:00
AM ET
1. Alabama's players wouldn't bite. When asked about Ole Miss safety Cody Prewitt's comments -- "
We don't really think Bama is as good as they have been
" -- none of the four Crimson Tide players interviewed Monday said
anything noteworthy in response
. After all, what did you expect? This is Alabama we're talking about. Landon Collins had fans forward him a link to the bulletin board material, but he wasn't about to lob any shots in return. "
We're definitely going to give them our best game and see who comes out with the W," Alabama's star safety explained. If he had gone any further, Nick Saban would have had his head. And, frankly, there was no reason to fan the flames. Neither team is what it has been. Blake Sims has played well, but he's no AJ McCarron. C.J. Mosley ain't walking through that door. This isn't your daddy's Ole Miss, either. Prewitt and that secondary are tenacious. The front seven can get after it. As Saban said, "This is the best team we've played all year." If anything, Prewitt's slight jab was just what we needed to set the week off right.
2. I'll admit it: we were a little myopic on the SEC Blog Monday. In a
roundtable discussion
, our writers were asked to pick their game of the week. The options: Alabama-Ole Miss, Texas A&M-Mississippi State and LSU-Auburn. The reason? Well, it's obvious, seeing as all three games have College Football Playoff implications. But to make sure we cover all our bases, it felt like we ought to make note of the other games on the SEC slate. No, Vanderbilt-Georgia doesn't hold much intrigue. We can skip that. But you could argue that Florida-Tennessee and South Carolina-Kentucky mean something. For the Gators, this feels like a must win. Jeff Driskel needs to crawl out of the hole he's dug for himself, and his coach, Will Muschamp, needs a W to keep his job. The Vols, meanwhile, have to say enough is enough with moral victories and finally close out a big game. And in the case of South Carolina-Kentucky, you're looking at two teams heading in opposite directions. The Gamecocks fell all over themselves yet again Saturday, blowing a late lead against Missouri. Kentucky, on the other hand, broke its winless streak in the SEC by beating Vandy. The Wildcats may be young, but they're dangerous. With a deep group of tailbacks, Bud Dupree and Za'Darious Smith rushing off the edge, and A.J. Stamps making plays in the secondary, South Carolina and the rest of the East better watch out.
3. Not to end our morning jaunt on a sour note, but I was struck by news Monday of the
Indianapolis Colts releasing Da'Rick Rogers
. I shouldn't be surprised, I know. This is par for the course with Rogers, after all. But once again I was reminded of what a waste of potential the former Tennessee receiver was. To this day I remember seeing him play at Calhoun High in Georgia. He's the best high school player I've ever witnessed in person. Sadly, on the list of all-time SEC talents that never amounted to much, Rogers is right up there with names like Ryan Perrilloux, Mitch Mustain and B.J. Scott. Rogers was everything you wanted in a receiver: tall, physical, explosive. Even in the NFL he flashed All-Pro talent. But something never clicked for him. Maybe there's still time, but not likely. If anything, his story is a cautionary tale for any four- or five-star prospect who thinks talent alone can get the job done.
September, 30, 2014
Sep 30
12:00
AM ET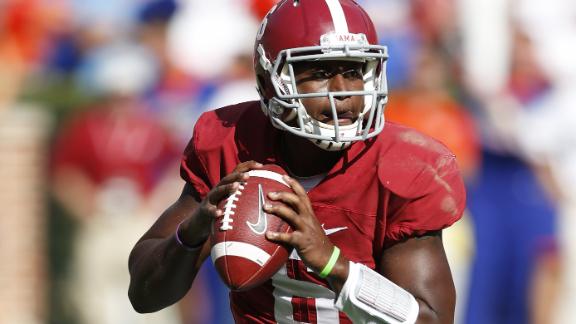 GAINESVILLE, Ga. -- When Alabama senior Blake Sims reported to the Mastrole Passing Academy in South Florida this past spring, quarterback guru Ken Mastrole saw an unpolished passer with a lot of natural ability but little refinement.
"He was kind of raw," said Mastrole, a former Maryland quarterback who played in NFL Europe and the Arena Football League and recently tutored NFL quarterbacks EJ Manuel and Teddy Bridgewater. "It was about like taking a raw piece of clay and trying to mold him physically and mentally."
It doesn't take very long to figure out that many people had a hand in molding Sims, who will lead No. 3 Alabama into Saturday's SEC West showdown against No. 11 Ole Miss at Vaught-Hemingway Stadium in Oxford, Mississippi.
Along the way, he was told he wouldn't make the grades to be a college football player, was told during recruiting by a rival coach, Tennessee's Lane Kiffin, that he'd never start at quarterback for Alabama after he committed there. Then, after arriving in Tuscaloosa, he patiently waited his turn for a shot at the starting job.
But he always leaned on his network of support. At his parents' house in Gainesville earlier this week, there were 11 people waiting to share their stories about him.
There is Sonny Sims, his jovial father, who worked the graveyard shift at a steel plant and slept on gym mats between taxiing his son to football workouts and basketball practices. There is Toni Sims, his mother, who seems to have documented every one of her son's accomplishments in scrapbooks and photographs, going all the way back to the first time he struck the Heisman Trophy pose in the driveway of their suburban Atlanta home when he was only 5 or 6 years old.
September, 29, 2014
Sep 29
10:08
PM ET
College Football Live Extra: Tuesday