December, 29, 2014
Dec 29
9:00
AM ET
Amari Cooper
was supposed to end up at Louisville. At least that was Billy Rolle's plan.
Rolle, who coached Cooper at Miami [Fla.] Northwestern High School, thought he'd send his budding receiver 1,000 miles north to learn under Charlie Strong, then the head coach of the Cardinals. There, he would rejoin former prep teammates
Teddy Bridgewater
, Michaelee Harris and Eli Rogers.
[+] Enlarge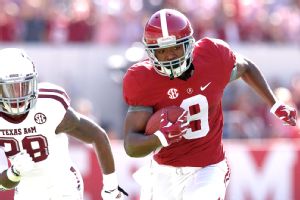 Marvin Gentry/USA TODAY SportsThose who know Amari Cooper say that the Alabama receiver hasn't just relied on talent to become a star.
"In my mind, I was going to package him up with the Louisville deal," Rolle explained. "Those guys were only a year ahead of him. Coach Strong was right back at the school trying to get Amari.
"But Amari didn't want to follow a bunch of guys he'd already been playing with. He kind of wanted to make a name for himself."
Such is the way of Amari Cooper: quiet, confident and supremely determined. It's what led him to Alabama and later to the Heisman Trophy presentation in New York City. He didn't win the famous bronze statue earlier this month, but he did walk away with the Biletnikoff Award as the nation's most outstanding receiver.
"It's the typical story, five or six brothers in a two-bedroom home in a projects situation," said Rolle, who is distant cousins with Cooper's mother. "He grew up in Coconut Grove, and we have a few project homes in the Grove and he grew up in one of them."
But maybe more important than how he lived was where he was situated. Rolle estimated that Cooper's neighborhood park was roughly 100 yards from his front door -- a football field away.
You couldn't drag Cooper to the mall or to the pool, Rolle said, but you had no trouble getting him to practice.
"He's just determined," he said.
At the park and in his backyard, Cooper would hone his craft, developing the sneaky-fast speed and precise route-running he has become known for.
His teammates at Alabama would later marvel at his skills, saying how it was impossible to look at his feet and know where he was going. It was too "confusing," said safety
Landon Collins
, an All-American in his own right.
"That's an instinct now," Cooper said, recalling the beginnings of his nifty footwork on the playground. "That's where I picked up good footwork and that ability to read defenders' leverage to know which way to go."
Many thought he'd go to Louisville or nearby Miami, but Cooper went another direction, to the SEC and powerhouse Alabama. He ignored suggestions that the Tide's run-first mentality would bury his talents. Now he's a sure-fire bet to enter the NFL draft as a junior where he's projected to go in the first half of the first round.
Three years, 29 touchdowns and 3,392 yards later, he could cap off his career with another national championship, starting on Jan. 1 when he and the Crimson Tide face Ohio State in the Allstate Sugar Bowl, a College Football Playoff semifinal.
"I've always kept in mind, team first," Cooper said upon arrival in New Orleans this past weekend. "You have one goal, and you want to win a national championship."
December, 29, 2014
Dec 29
8:00
AM ET
1. Everyone loves a comeback story, so it's nice to hear that Auburn defensive back
Jermaine Whitehead
is turning things around on the Plains. After a verbal altercation led to a lengthy suspension for one of Auburn's best players, Whitehead is back and his attitude isn't a problem. After missing six games, being relegated to special teams and losing his jersey number, Whitehead has returned as one of the Tigers' top players. He's second on the team with four interceptions and interim defensive coordinator Charlie Harbison told members of the media over the weekend
that he's proud of the progress Whitehead has made
since his return to the defense on Nov. 9. Speaking of Harbison, he
hasn't spoken with new defensive coordinator Will Muschamp
, who is lying low until after Auburn takes on Wisconsin in the Outback Bowl on Thursday. Harbison, who coached Auburn's safeties this season, is calling the defensive plays for the Tigers in the bowl game, but along with the other defensive coaches, his future with the Tigers is unknown.
2. If Ole Miss is going to go toe to toe with TCU in Wednesday's Chick-Fil-A Peach Bowl showdown, the Rebels
will have to get a lot of production from guys
not named
Laquon Treadwell
. OK, that's incredibly obvious, but with their best offensive weapon out, the Rebels are a little limited in what they can do when they get the ball. Quarterback
Bo Wallace
has made quite the connection with tight end
Evan Engram
, but he can't do it all. The Rebels will have to run it better than they have -- outside of that masterful performance against Mississippi State -- and they'll need receivers Cody Core,
Quincy Adeboyejo
and
Markell Pack
to step up with
Vince Sanders
out with an ACL injury. TCU owns one of the nation's most explosive offenses, and while the Rebels aren't devoid of talent to keep up, they'll need to get help from all over against a team
that believes it has something to prove
in Atlanta.
3. While the future seems bright in Knoxville, and fans are indeed very excited about what 2015 could bring Tennessee's football program, the Vols
are very much focused on Friday's Taxslayer Bowl
. The
Iowa Hawkeyes
mean more to this team than anything that could happen after Friday. And that's good because a victory could be a nice uptick for the Vols heading into the spring. It might even help with recruiting. Yes, the prospects for 2015 look good with most of the team's key players returning, but the Vols want a winning season. They want to enter a season that will be full of expectations the right way. I like the direction of this Tennessee program, even though I picked Iowa to win in Jacksonville. ...
Around the SEC
December, 28, 2014
Dec 28
10:30
PM ET
NEW ORLEANS – The first thing that Tom Herman noticed about Alabama's defensive line wasn't its talent, although the Crimson Tide certainly have plenty of that.
It wasn't the players' size, either, although Alabama's starters along the front line average 6-foot-4 and 302 pounds per man. Nor was it the depth within a group that runs 10 deep.
What made Ohio State's offensive coordinator shake his head while reviewing Alabama film was how much Alabama had of all three attributes.
[+] Enlarge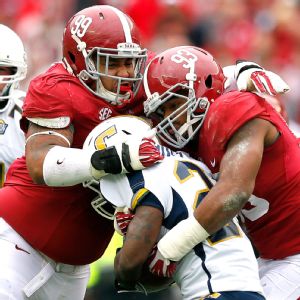 Kevin C. Cox/Getty ImagesBrandon Ivory (left), Jonathan Allen and Alabama's defensive line can swallow up an opposing offense.
"What stood out to me was not only the size of them, but then the fact that they have backups that were just as big and good and they have backups to the backups that were just as big and as good, and they played," said Herman, whose offense faces Alabama in the College Football Playoff semifinal on Jan. 1. "And they didn't really miss a beat when those backups were in."
That's hardly a surprise for a program that has earned a reputation as the most effective recruiting machine in college football. In its past three recruiting classes, Alabama has signed 13 defensive linemen whom ESPN's recruiting analysts awarded with either a four-star or five-star grade.
That volume of talent up front has helped the Crimson Tide typically shut down opposing offenses – they rank 11th nationally in total defense (312.4 yards per game) – with sheer brute force.
"We've had some of this kind of depth before, but we usually lose a guy in the season, have a guy hurt," Alabama defensive coordinator Kirby Smart said. "… Lost guys on the defensive line in years past. This year, haven't really lost guys. Been able to rotate guys and play a lot of guys. That helps us.
"Anytime you've got depth at that position, allows you to play more guys. That's what we like to do is play a bunch of guys."
They've certainly done that. Defensive end
Jonathan Allen
was a first-team All-SEC pick after registering 9.5 tackles for loss and 4.5 sacks. Fellow end
Jarran Reed
and nose guard
A'Shawn Robinson
each earned honorable mention. But every player on the line's two-deep depth chart – a group that also includes ends
Dalvin Tomlinson
and
D.J. Pettway
and nose
Brandon Ivory
– has double-digit tackles, and most have multiple sacks and tackles for loss.
"They're really, really big up front. I mean really big," Herman said. "They've got defensive ends who are 280, 290 pounds. They've got defensive tackles that are 320, 330 pounds and they don't just have one group of them. They play about nine or 10 defensive linemen in what you would call competitive situations."
That will certainly create a challenge for Ohio State's youthful offensive line that has improved since Virginia Tech's defense embarrassed the group in a 35-21 loss on Sept. 6. Herman said Alabama's defense is somewhat reminiscent of the Michigan State defense the Buckeyes faced in a 49-37 victory on Nov. 8, but it's safe to say Herman's team hasn't faced anything quite like what it will see on New Year's Day.
Then again, the Buckeyes have come so far up front since the Virginia Tech game that it's hard to even compare the line's current state to where it was in the second game of the season.
"I watched a little bit of film earlier in the season, but that's not who they are now. So we really can't focus on who they were back then," Allen said. "We're going to look in terms of the most recent games and, like I said, they're a good group, a lot of experience. They work well together."
That is clearly the case, since Ohio State ranks fifth nationally in scoring at 45.2 points per game despite having to play three different quarterbacks because of injuries. But the Buckeyes are going to have difficulty getting anywhere near those kind of numbers on Thursday if they have difficulty moving Alabama's oversized line out of the way.
"We have an idea of what they're going to do," Allen said. "We've got to do what we've been doing all year. It's a little bit challenging because we didn't have a lot of film on them, but I think we'll be able to handle it."
December, 28, 2014
Dec 28
7:29
PM ET
NEW ORLEANS --
Evan Spencer
generated headlines last season with strongly worded comments about how his Ohio State team would fare against Alabama and Florida State.
A year later, he and the Buckeyes will get a chance to prove that they can actually "wipe the floor" with the top-ranked Crimson Tide -- and they might even get a shot at both of them.
"I was confident in my team then and confident in them now, and I'm really glad that we get to play them," said Spencer, whose team will face Alabama on Jan. 1 in a College Football Playoff semifinal. "Obviously being a competitor and the type of guy that I am, I want to play the best team in the country, I want to play the best athletes in the country and I want to play the best-coached teams in the country.
"And the fact that we're in the playoffs gave me a chance to play, hypothetically, the best teams in the country. Every athlete, that's all they can wish for. I'm confident in my guys and I think that we'll do well."
Spencer was joking with reporters when he made those comments last November, but the situation blew up in his face a bit. Buckeyes coach Urban Meyer publicly rebuked the receiver and temporarily banned him from speaking to the media.
Spencer later tweeted an apology for showing what Meyer deemed a lack of sportsmanship.
I did not mean to disrespect any FB team today. I am confident in my team, and as is evident in the video, I was having fun ...

— Evan Spencer (@E_Spencer6) November 12, 2013
...with the media answering their questions. I should have chosen my words more wisely. There was no intent to disrespect any other team.

— Evan Spencer (@E_Spencer6) November 12, 2013
"I just felt that it was necessary," Spencer said Sunday. "Maybe some people were taking it differently than the intentions that I meant it. I solely meant it in the purpose of just showing my confidence in the guys that we had and none other than that."
Spencer said he thought back on the controversy over his comments when he learned that the Buckeyes would face Alabama in the playoff. But he has bigger concerns than validating his comments from a year ago -- namely getting a win on New Year's Day in order to play the Florida State-Oregon winner on Jan. 12 with a national title at stake.
"[I thought about it] little bit, but I was more thinking about the fact that we get to play the No. 1 team in the country and we get to show how good a team when we are," Spencer said.
Of course, the Buckeyes never got a shot at Alabama or Florida State last season. They were undefeated at the time of Spencer's comments and riding a winning streak that would stretch to a school-record 24 games before Michigan State upset them in the Big Ten championship game.
Auburn, which knocked Alabama out of the mix with its own upset win, went on to play Florida State in the BCS title game instead. The Buckeyes would close the season with another loss, this time to Clemson in the Orange Bowl, and Spencer learned a valuable lesson in humility.
"We did a lot of great things in that season," Spencer said. "Granted, we didn't finish it the way we needed to and wanted to, but I felt that last year was definitely a really great learning experience for me personally and us as a team."
December, 28, 2014
Dec 28
6:47
PM ET
December, 28, 2014
Dec 28
11:30
AM ET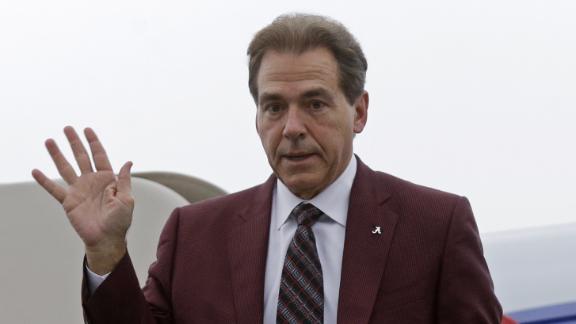 While the Allstate Sugar Bowl (Jan. 1, 8:30 p.m. ET, ESPN) will bring an exciting and much-anticipated coaching matchup between Alabama's Nick Saban and Ohio State's Urban Meyer, it also brings us an intriguing player vs. coaches matchup.
That would be Ohio State quarterback
Cardale Jones
facing a pair of defensive gurus in Saban and his coordinating partner in crime, Kirby Smart. On paper, you have a redshirt sophomore, third-string-quarterback-turned-starter taking on two guys who eat, sleep and breathe defense and preparedness. What you have is Jones making his second start, following a fantastic showing in the Big Ten title game against Wisconsin, battling two brilliant football minds who got nearly a month to prepare for their relatively inexperienced opponent.
But you also have those two X's and O's brainiacs taking on a lumbering yet deceptively agile gunslinger who went from being defined by an infamous tweet to piling up 257 passing yards and three touchdowns in the Buckeyes'
59-0 pounding of Wisconsin
a couple of weeks ago.
While Ohio State trying to perfect the ideal game plan for a new quarterback -- for the second time this season -- against a tag team that feasts off inexperience and relishes the notion of extra time to think and scheme sounds daunting, Alabama has to be ready for a 6-foot-5, 250-pound quarterback who coaches and players really don't know a ton about. The factor of the relative unknown complicates things a little for Alabama as well.
"This guy is very, very capable," Saban said of Jones. "He's a very good passer. Big strong, athletic guy who can do all the things the other guy (
J.T. Barrett
) could do in terms of the quarterback runs. It's just a little different style, that's all. We did see him play almost a game and a half. And he pretty must did what the other guy did. The one thing he did really well was pass the ball. He made some really good throws in the Wisconsin game, big plays down the field. Which the other guy did, too, so we have a tremendous amount of respect what this guy can do."
Saban and Smart have kind of been down this path before. They adjusted on the fly in-game to Garrett Gilbert in the BCS title win over Texas in 2009 and prepared for a completely different quarterback -- and scheme -- against Jordan Jefferson and LSU in their 2011 national championship win.
So for the moment, this battle is a little bit of a chess match. While Saban and Smart, who watched their defense rank third in the SEC (312.4 yards allowed per game) and have combined to win four of their last five bowl games together, pose the threat of unleashing some new and threatening exotic looks to confuse Ohio State's green QB, Jones and his coaches have limited film and a plethora of offensive knowledge working in their favor as well.
See, while Jones is one obstacle Alabama's defensive brain trust must overcome, there's also the issue of preparing for any potential wrinkles from Meyer and Ohio State offensive coordinator Tom Herman, who won this year's Broyles Award as the nation's top assistant. The Buckeyes have been down this path before. After star quarterback
Braxton Miller
was lost for the season with a shoulder injury, Herman helped develop Barrett into one of the nation's elite players.
In his first season of work, Barrett threw for 2,834 yards (more than Miller has in a single season) and a school-record 34 touchdowns while rushing for another 938 yards and 11 more scores. This was all before a season-ending ankle injury in the season finale against Michigan gave way to Jones.
Whether it was Barrett for so long or Jones for so little, Ohio State hasn't had to change much to help its quarterbacks.
"Most of their quarterbacks are kind of similar," Alabama safety
Landon Collins
said. "They run the same scheme offense. We're just gonna have to watch film on what they do because, I mean, they're not gonna change the whole offense for one player."
Ohio State isn't, and it doesn't have to. The Buckeyes arrived in New Orleans leading the Big Ten in total offense (507.6 yards per game) and scoring (45.2) and ranking third in passing (246.8 yards per game). That's all without Miller and mostly thanks to some masterful play calling by Herman to put Barrett in the right situations. Now, it's time for Herman to use a little bit of that magic on Jones to thwart Alabama's suffocating defense.
"We feel philosophically, they are going to run their offense," Saban said. "It's just what part of it they might feature a little different. That's the part we are not sure about."
December, 27, 2014
Dec 27
10:00
AM ET
TUSCALOOSA, Ala. -- From seventh grade to now, Biff Poggi has gotten to know
Cyrus Jones
well. So you'll have to pardon the long-time coach at Gilman High School in Baltimore if he wants to brag on his former player in ways you're not accustomed to.
"He's a very sweet kid," Poggi said. "He's a sensitive kid."
Never mind that Jones once ran a 40-yard dash in 4.46 seconds and leapt 33 inches from a standstill position. Forget the fact that he was once ESPN's No. 20 overall prospect or that he fielded offers from dozens of Division I universities.
Jones played quarterback, running back, wide receiver, cornerback and safety for Poggi. He even punted, kicked off and served as the team's leading return specialist. But Poggi thinks of Jones in different terms.
[+] Enlarge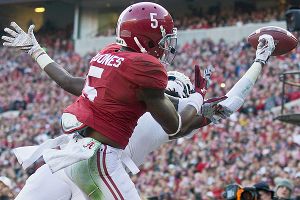 Brynn Anderson/Associated PressAfter struggling last season, junior cornerback Cyrus Jones has been a stabilizing presence in Alabama's secondary.
"He's a kid with empathy," he said. "He has a high emotional IQ."
That is a build-up, of course. Poggi can talk about the kid for only so long before his voice drops ever so slightly and he begins talking about the athlete Jones grew up to be, the "freak" with "un-be-lieveable" hand-eye coordination that "could have eas-il-y been a Division I basketball player."
"He was ridiculous," he said, finally abandoning the emphasis of sounding out each syllable.
But what drives him? What makes Jones so good?
It isn't being sweet or sensitive. It's more raw than that.
"He does not want to fail," Poggi said. "As a matter of fact, failing is just an unacceptable option for that kid."
Take for instance, Oct. 7, 2011. Jones was a senior with his feet planted on the 35-yard line against Calvert Hall.
"We were losing a game we should have been winning," Poggi recalled. "There were 3 minutes left to go, and he was not happy.
"The kid we were playing punted the ball to us -- which is maybe the dumbest thing you could do."
But it was the best punt of the punter's life, Poggi said, and it sailed way over Jones' head. The ball rolled all the way to the 1-yard line before Jones did the unthinkable and scooped it up.
"Time is running off the clock," Poggi said. "He fields the ball after being told strictly to never field the ball inside the 10 ... and runs 99 and a half yards for a touchdown -- and I fired our special teams coach right after the game."
And afterward Jones had a reason why.
"In our joy, he knew that he had to have an explanation, even though it was a touchdown because it was outside of our process," Poggi said. "And he said, 'There wasn't enough time on the clock, our two-minute offense has struggled and our best chance for us to win as a team was the punt return.
"That's the intellect, the competitiveness, the desire. Most kids would have said, 'Hey, screw it, that ball's on the half-yard line.' Not Jones. Not Jones."
------
Jones could have said, "Screw it" after his sophomore season at Alabama.
His move from receiver to cornerback had not paid immediate dividends. The kid who never accepted failure had been beaten time and time again.
"I was just thinking too much," Jones said. "I wasn't really all that comfortable."
Opposing teams noticed. In his worry not to mess up, he was picked on. The worst moment of which came against Auburn when he abandoned wideout
Sammie Coates
on what looked like a sure-fire run by QB
Nick Marshall
. Pulling up abruptly at the line of scrimmage, Marshall found a wide-open Coates, Auburn scored the game-tying TD, and Alabama lost out on a trip to the BCS National Championship.
"Last year, everything happened so fast," he said.
But instead of throwing in the towel, Jones stayed the course. He started paying more attention, said safety
Landon Collins
.
"He got as much film as we can," he said.
With that came confidence.
"Sometimes you don't have your safety," Collins said. "You have to have that confidence that that's your island, that's your spot and nobody is going to mess with you."
After starting five games as a sophomore, Jones hasn't missed a start as a junior. He's gone from 25 tackles to 44, from seven passes defended to 11, and in doing so he's become what Crimson Tide coach Nick Saban described as the team's "most consistent corner."
Without Jones anchoring the secondary, it's difficult to imagine where Alabama would be. After all, the cornerback spot opposite him has been a turnstile with
Eddie Jackson
,
Bradley Sylve
and
Tony Brown
all taking turns on the wheel. If Jones hadn't been so steady, the whole unit might have cracked.
"I just matured a lot as a player, as a person," Jones said. "I just approached it, I think, the right way this year. I did a lot of growing up."
After seeing the ball sail over his head early in his career, Jones has recovered.
And this time it wasn't by abandoning the playbook and doing it all on his own.
"Instead of panicking and all that nonsense and thinking about himself, he did what his coach asked him to do," Poggi said. "He has taken the next steps forward. He's not where he wants to be. He's not where he should be. But he's in the natural progression of that."
The next step: Ohio State and the Allstate Sugar Bowl on Jan. 1.
December, 27, 2014
Dec 27
12:30
AM ET
[+] Enlarge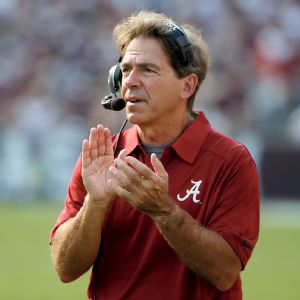 Scott Halleran/Getty ImagesAlabama coach Nick Saban notes that it's still important to be able to stop people at key times, despite the emergence of high-scoring offenses across college football.
A week into the 2014 season, one that would prove memorable on a multitude of fronts, Alabama coach Nick Saban mused that college football had changed more in these past couple of years than he could ever remember since he started coaching.
It was his way of saying the offensive revolution had taken hold of the sport like never before, which was only magnified by 55 FBS teams averaging more than 30 points per game, and hurry-up, spread offenses spitting out the kind of numbers that would make even the most rabid Xbox gamers blush.
Look around. It's an offensive world right now in college football. Even Saban's Crimson Tide spread it out some this season under first-year offensive coordinator Lane Kiffin and dared to join the "fastball" ranks, as Saban was fond of calling the hurry-up offenses in the past.
The four teams in the first-ever College Football Playoff all average more than 34 points per game. Oregon has won eight straight games and scored more than 40 points in all eight contests. Ohio State exploded for 59 points in its 59-0 destruction of Wisconsin in the Big Ten championship game, and like Oregon, is in the top five nationally in scoring offense. Both are averaging more than 45 points per game.
December, 24, 2014
Dec 24
6:14
PM ET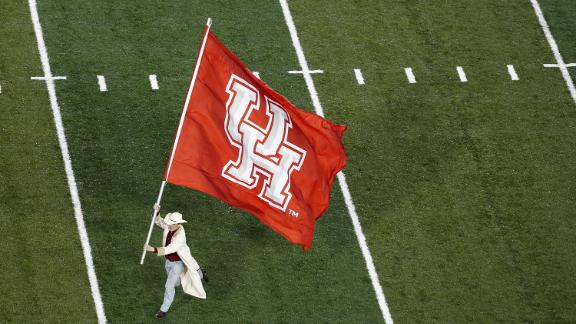 We all do it, if we're being honest.
With the passage of each decade, each time our ages have a zero on the end -- or even begin to creep closer to it -- we take stock.
Where are we? What have we done? Where are we going? Are we where we want to be?
Often, it's a simultaneously rewarding and harrowing exercise. Even in the celebration of accomplishment, there's recognition that the climb is never complete. The mountain continues to rise, and rise, in front of us.
With that in mind, the magic number for the upcoming College Football Playoff is 39.
That's the age of four of the coordinators coaching in the semifinals: Alabama's Lane Kiffin and Kirby Smart, Oregon's Scott Frost and Ohio State's Tom Herman.
Kiffin, Smart, Frost and Herman will turn the Big 4-0 in 2015, and each man finds himself in a different phase of the wild, weird coaching life.
Their varied career stages illustrate hiring trends and the fact that most coordinators, including these four, have thought often of becoming a head coach.
One has already experienced it. And failed.
Kiffin
Clearly, Kiffin has a different perspective than the others, already having been a head coach in the NFL, the SEC and at his "dream job" -- USC.
Prior to 2014, the "stock" taken was that Kiffin won 40 and lost 36 games in those three jobs. He left Tennessee after one season, chapping fans in the process. He was fired in the middle of his second season with the Oakland Raiders and the middle of his fourth season at USC.
Even at four games over .500, arrogance and failure are words often used in coaching circles to describe those Kiffin tenures.
The silver lining: The guy knows offense. Nick Saban was aware of that, telling then-coordinator Doug Nussmeier to seek other employment so that he could open up a spot for Kiffin.
December, 24, 2014
Dec 24
11:00
AM ET
The big guys battling up front mamight y be the ones with the most influence over the Allstate Sugar Bowl, but that's certainly not the only matchup worth watching. And what happens when the ball is in the air could be every bit as crucial in determining which team moves on to play for a national title.
Obviously
Amari Cooper
is going to have something to say about who is advancing in the College Football Playoff. And the Big Ten's most opportunistic secondary is going to have a chance to prove it's really capable of delivering on the game's biggest stage.
When the roles are reversed, can Ohio State's athletic targets get the better of a secondary that has had some issues at times but traditionally ranks as one of the better units in the nation for Nick Saban's program?
So, who has the edge in the passing game? Big Ten reporter Austin Ward and SEC reporter Alex Scarborough take a look at those matchups as the Allstate Sugar Bowl creeps ever closer.
Alabama targets:
The Crimson Tide have the best receiver in college football. Cooper, for those who have been asleep at the wheel all season, is the real deal. Whether you play off coverage or press him at the line of scrimmage, he finds a way to get open. But the bigger story for Alabama might be everyone else. Outside of finding No. 9, quarterback
Blake Sims
has struggled to incorporate the rest of his passing targets. Wide receivers
Christion Jones
and
DeAndrew White
have gotten the ball more in recent weeks, but overall their production has been lacking. The same goes for tight end
O.J. Howard
, who is a freakish athlete but can't seem to generate any consistency as a playmaker. -- Scarborough
Ohio State secondary:
A new co-defensive coordinator, a more aggressive scheme and the maturation of a pair of talented young safeties have combined to turn Ohio State's defensive backs into one of the most improved units in the nation.
Vonn Bell
and
Tyvis Powell
have combined for eight interceptions as they've grown more comfortable and confident at safety, and with
Doran Grant
locking down receivers at cornerback and chipping in five picks of his own, it's becoming a dangerous proposition to throw on the Buckeyes. Only three defenses in the nation nabbed more passes than Ohio State did this season under Chris Ash, and he'll be expecting more of the same against the Crimson Tide. -- Ward
Advantage:
Starting with one of the best players in the entire country regardless of position is a good way to gain an edge, and Cooper should push Alabama slightly ahead in this matchup. But it's closer than might be expected considering how much talent the Buckeyes have in the secondary and how well coached they've been under Ash and defensive coordinator Luke Fickell.
Alabama secondary:
Outside of
Landon Collins
, there wasn't much expected of Alabama's secondary entering the season. Neither cornerback spot was settled and the second safety position opposite Collins was up in the air, too. But thanks to the steady play of
Nick Perry
and the emergence of
Cyrus Jones
, the unit has held its own. That doesn't mean it's without faults, mind you. Against Auburn, every flaw was exposed as
Nick Marshall
threw for 456 yards. The most concerning issue was the way the Tigers picked on cornerback
Eddie Jackson
, who was helpless against
Duke Williams
. The next week against Missouri, it wasn't much better as
Jimmie Hunt
racked up 169 yards on six catches. Whether it's Jackson,
Bradley Sylve
or freshman
Tony Brown
, Alabama needs someone to step up and round out the secondary at cornerback. -- Scarborough
Ohio State targets:
Urban Meyer needed a couple seasons to acquire the kind of talent he needed to balance his spread offense with a consistent passing attack, but he certainly has all the tools in place now.
Michael Thomas
bounced back from a surprising redshirt season as a sophomore to become Ohio State's most complete receiver, leading the team with 43 receptions and becoming a reliable option to move the chains with his sharp routes and strong hands.
Devin Smith
had already proven more than capable of burning secondaries deep as the home-run threat for the Buckeyes, but he has taken his game to a higher level as a senior and is averaging nearly 27 yards per catch. Throw in a wildcard such as
Jalin Marshall
as a hybrid weapon and a future NFL tight end in
Jeff Heuerman
, and Ohio State makes it impossible now to focus too much on stopping its powerful ground game. -- Ward
Advantage:
The Buckeyes have enough weapons to keep even the best secondaries in the country busy, and this year the Crimson Tide aren't quite living up to the high standard the program has established against the pass. Ohio State should have the edge.
December, 24, 2014
Dec 24
10:12
AM ET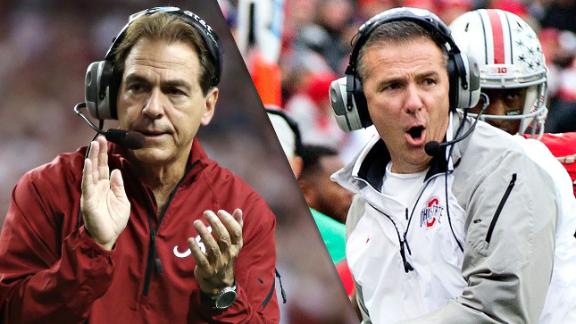 As the inaugural College Football Playoff looms, it's time to start the overanalysis ... er, I mean, analysis ... of the four combatants. Time to begin the process of measuring the four would-be national champions, head-to-head-to-head-to-head.
Exactly what factors rank most important when it comes to these comparisons is up to the person who is doing the comparing. Some might want to talk straight X's and O's. Others might want to talk game control and QBR. But when our eyes glaze over during that, it might cause us to refocus elsewhere, to the nooks and crannies of each program that will eventually add up to create the true advantages to win a team's final two games of the season.
What am I talking about? I'm not entirely sure. I'm writing this with one hand on the keyboard and the other hand on a ladle of eggnog. But as with eggnog, no one is entirely sure what will add up to the correct mixture of a College Football Playoff champion.
Here's our best guess in a too-early CFP Tale of the Tape.
Offense

Anyone who paid any attention to Alabama over the last two seasons knows that its ability to move the football received a supercharge this season, as the Tide averaged 490.5 YPG, good for a 1.3-yard advantage over high-powered archrival Auburn. Ohio State averaged an even more impressive 507.6 YPG and was one of four FBS schools to average 7-plus yards per play with 7.04. By comparison, Florida State posted 434.7 YPG, ranked 40th in the nation. So ... where's Oregon? Out ahead like the Road Runner leaving Wile E. Coyote, averaging 546.2 YPG (third in FBS), 46.3 points per game (third in FBS), and scoring 80 touchdowns (first in FBS). In fairness, Ohio State ranks just behind the Ducks in those two last categories, but Oregon's complete body of offensive work is undeniable.
Advantage: Oregon
The Unknown Of Cardale Jones
SEC SCOREBOARD
Saturday, 12/20
Monday, 12/22
Tuesday, 12/23
Wednesday, 12/24
Friday, 12/26
Saturday, 12/27
Monday, 12/29
Tuesday, 12/30
Wednesday, 12/31
Thursday, 1/1
Friday, 1/2
Saturday, 1/3
Sunday, 1/4
Monday, 1/12