March, 3, 2015
Mar 3
3:00
PM ET
Naples High has enjoyed tremendous success under head coach Bill Kramer. With two state titles and numerous deep playoff runs, the Southwest Florida 6A power has become a must stop for college coaches having produced a number of national recruited prospects over the past decade.
In the 2016 class, there are a trio of prospects who rank among the best in the area, state and country.
Fils-aime hot on the trail despite injury in 2014
Headed into the 2014 season, ESPNJr300 running back
Carlin Fils-aime
was a name known to college coaches, and had a handful of offers. After injuring his ankle in Game 4 caused him to miss the rest of the season, the quick and powerful back was unsure what would come of his recruitment.
That question was answered in February with offers from Ohio State, Alabama, Auburn, and Florida.
"After I got injured, I didn't really expect to get any more offers," Said Fils-aime. "When those schools offered me I was pretty shocked because of my injury."
The Gators are one of several schools the 5-foot-10, 175-pounder plans to visit in the coming weeks.
"For now, we are trying to go up to Florida during spring break, but if not will get up there in the summer. We also want to visit Georgia, North Carolina, N.C. State if we can this summer. I'll probably fly up to Ohio State, too. I was just at Miami, and had a great time. I was impressed with how they rotated their backs in practice, and the basketball game against North Carolina was fun."
If there is one program yet to offer that could be a game-changer in the physical back's recruitment, it would be Stanford.
"I'm a big Stanford fan. I have always liked them because they have a great law program, and if football doesn't work out for me, I want to go into law. That is one of the schools that I do love."
Naples High head coach Bill Kramer has had some really good backs through the years, including former Ohio State star Carlos Hyde. In Fils-aime, Kramer has a talented athlete who brings a lunch-pail mentality.
"I love his competitive DNA," Said Kramer. "He works in the classroom, and is already qualified. He's a guy that you can count on, and it matters to him every day. Our defensive players say hitting him is like hitting a light pole. He's can make plays in really small spaces, understands leverage, and is really explosive."
Byrd one of the nation's best
The Miami Hurricanes' 2016 class is the best in the nation in the early going. One of the 10 ESPNJr 300 verbals is former Florida pledge
Tyler Byrd
. The 5-foot-11, 195-pound versatile prospect is blessed with rare talent according to Kramer.
"I think he's a Top 50 wide receiver and Top 10 corner. He's really strong physically, he's almost 6-feet even, you are not going to outleap him, and if he gets his hands on you, you are negated. He'll do something about every day that is just spectacular."
Though Byrd is solid with his commitment to the Hurricanes due to the love that Al Golden and staff showed throughout the entire process, programs such as Florida, Georgia, Michigan, and others remain under consideration. On Monday, Byrd said he planned to make all five of his official visits.
Riley the best on defense at Naples High
While Fils-aime and Byrd are names known both regionally and nationally on the recruiting radar, Naples High is home to one of the top sleepers in the Sunshine State in safety
Chris Riley
.
According to Kramer, the 6-foot-3, 180-pound talented all-around athlete is the team's best defensive player, which is saying something considering Byrd is on that same unit.
"Our best defensive player, and that's saying something because we have some really good players. He was Southwest Florida Defensive Player of the Year for good reason. He has tremendous length, he's physical, knows all of his run fits, and is a great tackler. We can't count how many one-on-one tackles he's made in space against really good players. He can also cover man, is terrific in zone, and understands how it all works and fits together."
Riley is receiving interest from North Carolina, Boston College, and a growing list of others.
"I've heard from North Carolina, Boston College, Purdue, Georgia Tech, Harvard and Yale," Said Riley. "North Carolina and Boston College are two I really want [offers]."
Riley had 103 tackles and two interceptions as a junior, taking home area Defensive Player of the Year honors, as well as being an all-area punter. Riley's father, Chris Riley, played quarterback at Connecticut.
Defensive tackle Colton Strickland and kicker Jerry Nunez are also expected to receive offers in the 2016 class.
March, 3, 2015
Mar 3
10:00
AM ET
College football players across the country enter spring practice with the mentality that they have something to prove. But there are some cases in which that mindset makes more sense than others.
Here are 10 situations in the SEC in which players need to send a message, loudly and clearly:
Quarterback Chad Kelly, Ole Miss:
Kelly is a classic "something to prove" prospect this spring. Talent is not the question with Kelly, who transferred from East Mississippi Community College in January. The problem is volatility. Kelly left Clemson last year under horrible terms, and then was arrested in December in Buffalo, New York, and faced multiple charges including assault and resisting arrest. Ole Miss has a vacancy at quarterback after Bo Wallace's departure, and Kelly will compete for the job with
DeVante Kincade
and
Ryan Buchanan
. Kelly passed for 3,906 yards, 47 touchdowns and eight interceptions last fall. Now we'll see whether he can keep his act together after Rebels coach Hugh Freeze gave him second and third chances.
Running back Keith Marshall, Georgia:
Marshall was the more highly regarded prospect when he and
Todd Gurley
signed with the Bulldogs in 2012, and they formed a dangerous duo that fall. Marshall ran for 759 yards and eight touchdowns as a freshman but has barely played since suffering a knee injury five games into the 2013 season. Gurley's gone to the NFL, but Georgia has
Nick Chubb
and
Sony Michel
at the top of the running back depth chart now. Where does Marshall fit in? He's been out of the picture for so long, it's tough to say at this point.
[+] Enlarge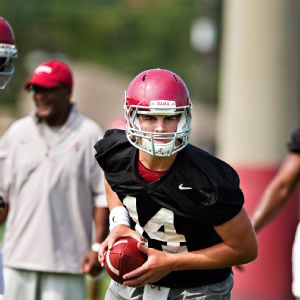 AP Photo/Brynn AndersonJake Coker has the opportunity now to regain the starting job at Alabama.
Quarterback Jacob Coker, Alabama:
Most thought Coker would take over as Alabama's starting quarterback last year when he transferred from Florida State. Instead, it was
Blake Sims
who grabbed the job and never gave it up. Sims is gone now, though, clearing the way for Coker to claim the position in 2015. Can he get the job done?
Wide receiver Ricky Seals-Jones, Texas A&M:
Aggies fans expected superstardom when Kevin Sumlin's staff signed Seals-Jones in 2013, but he missed almost all of his freshman season with a knee injury. Seals-Jones played in all 13 games last season, finishing with 465 yards and four touchdowns on 49 receptions. Those are fine numbers but nothing close to what A&M fans envisioned when he signed two years ago. He has plenty of time to develop into a star, however. Maybe he'll take a step toward that level of production this year.
Gerald Dixon and South Carolina's entire defensive line:
No sense singling out Dixon here. South Carolina's defensive front was horrible in 2014. The line's ineffective play was the key reason why the Gamecocks tumbled from a spot as one of the SEC's best defenses to one of the worst. Dixon and his fellow starters are on notice as the Gamecocks open spring practice. If they don't play better, South Carolina's coaches will have to give somebody else a chance. Last season wasn't nearly good enough.
WR Nate Brown, Missouri:
Missouri has to replace its top three receivers from last year,
Bud Sasser
,
Jimmie Hunt
and
Darius White
, all of whom were seniors. The Tigers will turn to a new collection of wideouts this year, led by Brown. The sophomore made just five catches for 45 yards a season ago, but his size/speed combination makes him the safest bet to make an impact this fall.
LSU's quarterbacks:
Last season was a mess at the quarterback position for LSU. Somebody -- either junior
Anthony Jennings
or sophomore
Brandon Harris
-- needs to take this job and run with it. Jennings completed just 48.9 percent of his passes while starting 12 of 13 games, but Harris' lone start at Auburn was a complete dud. He's a talented player, but Harris has to prove to Les Miles and his staff that he won't make catastrophic errors if they put him on the field. He hasn't convinced them yet.
Running back Alvin Kamara, Tennessee:
Kamara was one of the nation's most highly recruited running backs when he signed with Alabama in 2013, but he disappeared on the Crimson Tide's depth chart and was twice suspended during his year in Tuscaloosa. Kamara transferred to Hutchinson Community College last season and rushed for 1,211 yards and 18 touchdowns in nine games. Now he has a second chance to prove that he's an SEC-caliber back, forming what could be a dangerous one-two punch with
Jalen Hurd
at Tennessee. If Kamara can keep his head on straight, he has an excellent opportunity to make an impact with the Volunteers.
Quarterback Maty Mauk, Missouri:
Mauk wasn't the quarterback in 2014 that many expected after an impressive freshman season. He was inconsistent and prone to poor decision making at times. He passed for 2,648 yards, 25 touchdowns and 13 interceptions, which is not horrible, and helped the Tigers claim their second straight SEC East title. But Mizzou desperately needs its quarterback to improve upon his 53.4 completion percentage and become a more consistent performer as a junior.
Texas A&M's defense:
Texas A&M hopes John Chavis is the key piece that was missing over the past two years, when the Aggies featured one of the SEC's worst defenses. The former LSU and Tennessee defensive coordinator has gotten results wherever he's been, but Chavis has his work cut out at A&M. The Aggies were 102nd nationally (450.8 ypg) in total defense and tied for 75th in scoring defense (28.1 ppg). Considering how effectively the Aggies typically score, trotting out a defense that is simply better than awful might help them become more competitive in the tough SEC West.
March, 3, 2015
Mar 3
9:00
AM ET
Many of the West region's best seven-on-seven teams were in Las Vegas over the weekend, joined by a few additional national squads for the Pylon Elite Las Vegas 7v7. When the dust settled, Ground Zero, a team made up of California's Inland Empire prospects, took home the trophy after beating 702 Elite, which featured Las Vegas Bishop Gorman standouts.


March, 2, 2015
Mar 2
10:06
PM ET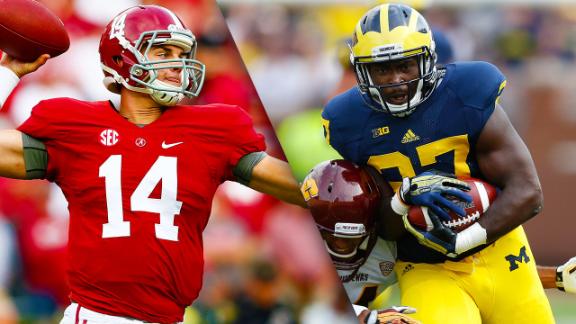 It's hard to dive head-first into this whole idea of spring when a lot of us are still digging out from under the snow. But, alas, spring football practice is here.
That means the countdown to the 2015 college football season has officially begun.
New stars will emerge. Coaches will land on the hot seat, and somebody's going to swear they're getting the cold shoulder from the College Football Playoff selection committee.
Which players have the most to prove this spring and heading into the 2015 season? Some might be coming off injuries. Others weren't as productive or consistent last season, and a few are taking on even bigger roles or getting fresh starts. The players are listed alphabetically:
WR Bralon Addison, Oregon

Oregon was without its three best receivers in the title game loss to Ohio State last season. Of course, one of those had been out all season. Addison tore his ACL last spring, and just like that, the Ducks' leading returning receiver from the 2013 team was gone. But he's back and eager to re-establish himself in a receiving corps that should be as dangerous as ever. There was some talk before the title game in January that he might play, and he even suited up during warm-ups. The Ducks, though, weren't going to use an entire year of eligibility for just one game. Addison is electric in the open field, whether he's catching passes, taking off on jet sweeps or returning punts. If everybody is healthy, Oregon should have the fastest group of receivers in the country. Addison gets to prove he's as good as new.
March, 2, 2015
Mar 2
10:30
AM ET
e SEC lost some playmakers at linebacker this past year, but the position still looks strong heading into 2015 thanks to a handful of players that turned down the NFL to return to school. The league also signed five of the top 10 linebackers in the 2015 recruiting class.
It's only March and spring practice has yet to begin for the majority of the SEC, but here's an early look at how the teams stacks up at linebacker as part of our
pre-spring rankings
:
1. Georgia:
Despite losing their two leading tacklers, the Bulldogs still take the top spot heading into 2015. That's because they return
Leonard Floyd
,
Jordan Jenkins
and
Lorenzo Carter
, three dynamic pass-rushers on the outside who all have a future in the NFL. In the middle,
Tim Kimbrough
should emerge given more opportunity, and
Jake Ganus
comes over from UAB where he led the Blazers with 70 tackles and 16.5 tackles for loss.
2. Alabama:
The Crimson Tide also lost a couple key names from last year, but there's still plenty of talent to go around. The star is
Reggie Ragland
, an All-SEC selection who flirted with the NFL before opting to come back for his senior year. He heads a group that lacks in experience but not in talent.
Denzel Devall
should be healthy;
Ryan Anderson
is primed for a breakout season; and
Reuben Foster
might finally become more than just a special teams ace.
3. Missouri:
We might need to change the name from "D-Line Zou" to "Linebacker Zou" in 2015. That's not to take anything away from Missouri's defensive line. It's simply a testament to the linebackers. The Tigers return two of the SEC's leading tacklers from a year ago in
Kentrell Brothers
(122) and
Michael Scherer
(114), and when you throw in the likes of
Donavin Newsom
,
Eric Beisel
and
Clarence Green
, it's also one of the deeper groups in the conference.
4. Auburn:
The defense was bad last year, but let's not blame the linebackers.
Cassanova McKinzy
and
Kris Frost
actually played well for most of the season and both are returning this fall. They should benefit from the arrival of new defensive coordinator Will Muschamp whose new scheme will also provide more opportunities for sophomore-to-be Tre Williams and the quartet of ESPN 300 linebackers that signed in February.

5. Tennessee:
Losing
A.J. Johnson
hurts, but the Volunteers played without him the final three games last year and didn't miss a beat. They return leading tackler
Jalen Reeves-Maybin
, as well as
Curt Maggitt
, an All-SEC selection who bounced back after missing all of 2013 due to injury. Sophomore-to-be
Jakob Johnson
filled in admirably for A.J. Johnson down the stretch, but he's no lock to win the job. Incoming freshman Darren Kirkland Jr. will be in the mix once healthy.

6. LSU:
This could've been a top-3 group had
Kwon Alexander
not left early, but don't be fooled by the lack of household names. It's still a solid unit.
Kendell Beckwith
is back. He was second on the team in tackles (77) and tackles for loss (7.5).
Lamar Louis
and
Deion Jones
both have game experience. And look for
Clifton Garrett
to play an expanded role as a sophomore.
7. Vanderbilt:
Too high considering Vanderbilt's record last year? If anything, it's too low. Derek Mason is building his defense around the linebackers, and it shows. Between
Stephen Weatherly
,
Nigel Bowden
and
Zach Cunningham
, this has the potential to be one of the better units in the SEC. The addition of junior college transfer Nehemiah Mitchell only makes it better.
8. South Carolina:
Skai Moore
and
Jonathan Walton
form one of the better linebacker tandems in the SEC. They finished among the team leaders in tackles a year ago, and are primed to take another step in 2015. Moore and Walton highlight a deep group that got even deeper in January when the Gamecocks added three early enrollees at the linebacker spot.
9. Mississippi State:
Richie Brown
became best known for his beard last year, but he quietly put together a solid season on the field. And to think, he's not even the best Brown in the group. That title goes to
Beniquez Brown
, the team's second-leading tackler. The Bulldogs will miss
Benardrick McKinney
, but the addition of ESPN 300 star Leo Lewis will help ease the pain.
10. Florida:
The Gators are one of the SEC's bigger unknowns when it comes to linebackers. We don't know how healthy
Antonio Morrison
will be after his injury in the bowl game. When healthy, he's one of the league's best. We don't know who the new coaching staff will favor, but
Jarrad Davis
and
Daniel McMillian
are both candidates for increased playing time.
11. Kentucky:
Alvin "Bud" Dupree was the star of this defense a year ago, but linebacker
Josh Forrest
quietly shined with 110 tackles, fifth most in the SEC. He's back along with
Ryan Flannigan
, a junior college transfer who eventually took over the job at weakside linebacker. The Wildcats are hoping Nebraska transfer
Courtney Love
is eligible to play right away.
12. Arkansas:
Gone is
Martrell Spaight
, a first-team All-SEC player who led the conference with 128 tackles last year. Who is going to step up and replace that production for the Razorbacks this fall? The most likely candidate is
Brooks Ellis
. The junior-to-be finished second on the team in tackles and will be asked to take on more of a leadership role this coming season.
13. Ole Miss:
The only linebacker with any experience returning is
Denzel Nkemdiche
, and he's still not 100 percent after breaking his leg in the fall, though the videos of him running recently bode well for the Rebels going forward.
Christian Russell
, who got his feet wet last year, is the early favorite to take over in the middle.
14. Texas A&M:
This was the Achilles' heel for a defense that struggled mightily last year. Will the unit improve? It can't get much worse, but don't expect a huge turnaround overnight. There's still work to be done. The key will be rising sophomore Otaro Alaka who has the potential to become a star in the SEC.
March, 2, 2015
Mar 2
10:00
AM ET
As we get closer and closer to spring practices popping up all around the country, it's time to dive a little deeper into the substance of the 2015 season. That substance talk really starts right after the season, grows after national signing day and then starts to snowball during spring practice.
We'll dive into the season with 10 burning questions in the SEC this spring:
1. Who will stand out in all these quarterback battles?

OK, so the SEC is littered with quarterback battles this year:
Alabama

Florida

Georgia

LSU

Ole Miss

South Carolina

Vanderbilt
So who will stand out this spring and propel themselves into a true starting role this fall? At Alabama, you have
Jake Coker
, who was supposed to be the starter last year but wasn't, and a trio of former high school standouts in
Cooper Bateman
,
David Cornwell
and Blake Barnett. Florida has a new coaching staff, and Jim McElwain will be very involved in the grooming of sophomore
Treon Harris
, who took over as the starter last November, and redshirt freshman
Will Grier
. Georgia has a three-man battle among
Brice Ramsey
-- the presumed favorite --
Faton Bauta
, and redshirt freshman
Jacob Park
, who could slide by both. Can
Anthony Jennings
really grow this spring at LSU? Or will
Brandon Harris
finally look like the top prospect he was coming out of high school? Mercurial junior college transfer Chad Kelly is the favorite to start at Ole Miss, but sophomores
DeVante Kincade
and
Ryan Buchanan
actually have some real SEC experience.
Connor Mitch
is another favorite at South Carolina, but there's a thick field of competitors gunning for that spot. And Vandy has to figure out one quarterback and keep it that way.
Johnny McCrary
,
Patton Robinette
and
Wade Freebeck
all played last year, but incoming freshman Kyle Shurmur should join the fray this fall.
2. Which early enrollees are primed to make a splash?

The SEC welcomed 81 early enrollees this year, so someone is sure to stand out. Keep an eye on junior college running back Jovon Robinson at Auburn, who has a chance to make an immediate impact on the Plains and possibly take the starting job this spring. Georgia needs a lot of help along its defensive line, and freshman Jonathan Ledbetter could be a key addition up front. There's an opening at cornerback at LSU and Kevin Toliver II has a real chance to step into that spot right away. Arkansas needs to replace
Darius Philon
, and juco Jeremiah Ledbetter could be that person.
[+] Enlarge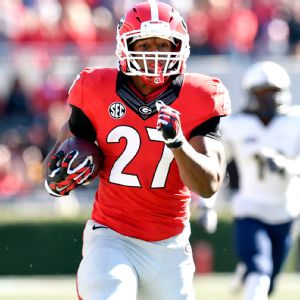 Dale Zanine/USA TODAY SportsGeorgia will look to running back Nick Chubb to carry the offensive load in 2015.
3. Will Auburn, South Carolina and Texas A&M see significant defensive improvements?

All three ranked in the bottom half of the league in total defense and scoring, but all got what appear to be upgrades in the coaching department. Will Muschamp took his superb defensive mind to Auburn after being fired as Florida's head coach, longtime LSU DC John Chavis moved to College Station, and Jon Hoke left the NFL to help the Gamecocks out. Muschamp and Chavis had better be good immediately because they are both well into the seven-figure salary club.
4. Can Florida find an identity on offense?

I feel like I've read this sentence before: The Gators haven't ranked higher than 93rd nationally in total offense the past four seasons, have had myriad quarterback issues and failed to have any sort of real consistency at receiver. First, Muschamp's Gators couldn't perfect ground-and-pound, then a failed spread offense experiment ultimately cost him his job. Now, McElwain and offensive coordinator Doug Nussmeier have the tall task of resurrecting Florida's offense. The defense should be fine, but this team isn't going anywhere (again) without an offense. It needs a quarterback, some help for playmaking receiver
Demarcus Robinson
and a pulse.
5. Who will step up at wide receiver for Alabama?

Now that
Amari Cooper
is gone, Alabama needs a go-to receiver, especially with a new quarterback taking over. The problem is Alabama is without its top three receivers from last year, and no one on this roster is proven. But that doesn't mean there isn't talent. Junior
Chris Black
and redshirt sophomore
Robert Foster
will get every opportunity to showcase their skills, but keep an eye on sophomore
Cam Sims
, who could be a special player.
6. Is Tennessee equipped to make a move in the SEC?

The recruiting classes have been great (back-to-back No. 5 finishes), a lot of perceived talent returns and the excitement level is through the roof in Knoxville. But it's time to put up, Vols. You have your quarterback in Josh Dobbs, sophomore running back
Jalen Hurd
has All-SEC written all over him, the receiving corps is loaded, both lines return a lot of valuable pieces -- including monster pass-rusher
Derek Barnett
-- and there are gems at linebacker and in the secondary. Now, the wins have to come, and that starts with a strong spring.
7. Can Missouri make it three in a row in the East despite losing so many key players?

Well, these Tigers sure haven't been afraid of the big, bad SEC. Three years in, and Mizzou has two SEC East titles. But Year 4 brings plenty of questions. Stud defensive ends
Shane Ray
and
Markus Golden
are gone, and their replacements aren't on the same level. The receiving corps is unproven, there's no left tackle and quarterback
Maty Mauk
has to be much better. The Tigers proved everyone wrong the Past two years, but you can't blame anyone for doubting this team now. There are, however, some key pieces returning, such as center
Evan Boehm
and running back
Russell Hansbrough
.
8. Are any teams in the SEC really pegged for a national championship run?

The SEC has a handful of contenders, but none of them are polished to this point. Two favorites to watch? How about Auburn and Georgia? The Bulldogs still need to find a quarterback but might be the most complete SEC otherwise. Running back
Nick Chubb
seems willing to carry the offense, while the defense should fill its current holes nicely this spring. Auburn lost
Nick Marshall
at quarterback, but
Jeremy Johnson
should be fine, and this might be an even more dangerous offense with more of a passing identity. Muschamp's return can only mean good things for the defense, right? Don't sleep on Alabama, and take notice of Ole Miss and its 2013 class that probably has one final shot.
9. Can Brandon Allen finally take the next step at Arkansas?

We all know Arkansas can run the ball, but if the Hogs are going to contend in the West, they have to be able to throw. Bret Bielema knows that and so does Allen, whose 56 percent pass completions from last season has to improve. Allen wasn't consistent enough, averaging just 175.8 yards per game. He doesn't need to be Peyton Manning, but he has to take the next step in his development or Arkansas won't be able to take that next step under Bielema.
10. Can the Mississippi schools keep the momentum going?

Last year was historic for Mississippi State and Ole Miss. At one point, both were ranked third nationally, and the Bulldogs spent time at No. 1. Ole Miss is finally starting to get the depth it needs to be a contender, and the meat of that 2013 class appears to be in its final act. Mississippi State returns the league's top quarterback in
Dak Prescott
, and has a good foundation on both sides, even if some leaders from last year are gone. Still, Ole Miss needs a QB and Mississippi State has a few holes that need plugging. It's always an uphill battle for these two schools, but in order to really be taken seriously, they have to
really
compete year in and year out.
March, 1, 2015
Mar 1
10:49
PM ET
[+] Enlarge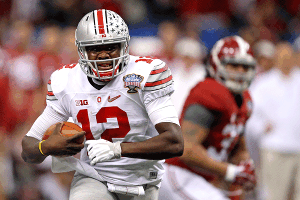 Chuck Cook/USA TODAY SportsCan Cardale Jones parlay last season's run into the full-time starting QB job at Ohio State?
Defending national champion Ohio State might have too many quarterbacks.
Traditional heavyweights such as Florida, Michigan and Texas might not have enough.
As spring football practice opens around the country, many of the sport's best teams will start to sort out quarterback questions. Six of the teams that finished in the top 10 of the final Associated Press top 25 poll in 2014 -- Oregon, Alabama, Florida State, Baylor, Georgia and UCLA -- will have new quarterbacks this coming season.
March, 1, 2015
Mar 1
4:15
PM ET
KISSIMMEE, Fla. -- Despite being overcast and rainy, the Orlando Nike regional camp had an incredible turnout of some of the top prospects in the ESPN Junior 300.
The impressive list of prospects in attendance was led by the 30th-ranked player in the ESPN Junior 300, No. 30
Isaac Nauta
, No. 32 Feliepe Franks, No. 42
Demetris Robertson
, No. 66
Rahshaun Smith
and No. 92 Shaq Quarterman. The 10th-ranked player in the country, Nate Craig-Myers, was also in attendance but did not participate due to an injury.
While Saturday's camp in Miami showcased many defensive top defensive back prospects, the offensive line was dominant on Sunday in Orlando.
To continue reading this article you must be an Insider
February, 28, 2015
Feb 28
7:30
PM ET
PLANTATION, Fla. -- The Nike Opening Regional at Miami always brings out some of the top skill prospects in the country, with Broward and Dade counties being the most talented neighboring counties in the country. On Saturday, the event at American Heritage High School brought out more than the future stars of college football, but also some of the area's most popular former stars such as Edgerrin James and Chad Johnson, as well as Luther Campbell of 2 Live Crew fame.
Here are some of the best sights and sounds from the talent-laden Miami Regional.
To continue reading this article you must be an Insider
February, 28, 2015
Feb 28
6:07
PM ET
PLANTATION, Fla. -- The Nike football camp in Miami is generally regarded as one of the top camps, talent-wise, in the country every year and this year's camp held at American Heritage School didn't disappoint.
To continue reading this article you must be an Insider
February, 27, 2015
Feb 27
10:30
AM ET
It all starts up front. So if you're looking ahead to project which teams will have the best defenses in the SEC next season, look no further than the defensive line. Because if they're on, the linebackers and secondary will be better off for it.
It's early, granted, and things could change drastically between now and the start of the season, but in the meantime here are our
pre-spring rankings
at the position:
1. Alabama:
The knock on Nick Saban's defense has long been that its linemen don't get to the quarterback enough, but last season that changed as they had 10 more sacks than the year before. Though they may lack a true star, the line is strong across the board with future NFL tackles
A'Shawn Robinson
and
Jarran Reed
in the middle, along with talented edge-rushers in
Jonathan Allen
,
Da'Shawn Hand
and
Dalvin Tomlinson
.
2. Ole Miss:
You could really have the Rebs as co-No. 1, but the issue of depth separated these two units. Nonetheless, coach Hugh Freeze has an embarrassment of riches at the position with future first-round draft pick
Robert Nkemdiche
as the centerpiece. Mix in ends
C.J. Johnson
and
Marquis Haynes
, and you're looking at a defense that could live in opponents' backfields.

3. Tennessee:
In
Derek Barnett
and
Curt Maggitt
, you're looking at two of the league's top five pass-rushers last season. So it's safe to say that the Vols are pretty well set up front. If the 2015 signing class pays off and
Kahlil McKenzie
and
Shy Tuttle
make an impact, even better for coach Butch Jones.
4. Florida:
Losing
Dante Fowler Jr.
hurts, but getting
Jon Bullard
to return to school eased that pain, somewhat.
Caleb Brantley
,
Bryan Cox Jr.
,
Joey Ivie
and
Alex McCalister
are all back as well. If
CeCe Jefferson
can make an impact as a true freshman and
Thomas Holley
is indeed 100 percent after redshirting last season, they could push the line over the top.
5. Auburn:
The Tigers' D-line struggled last season, but it wasn't helped any by the season-long absence of
Carl Lawson
. Now that Lawson is back and Will Muschamp is leading the defense, things are poised to change. With
Montravius Adams
anchoring the line at tackle,
DaVonte Lambert
opposite Lawson at end and No. 1 prospect
Byron Cowart
entering into the fold, the pieces are there to make a significant improvement.
6. Missouri:
Markus Golden
and
Shane Ray
are gone, but after so many years producing top D-line prospects, coach Gary Pinkel and his staff get the benefit of the doubt. Plus, they return a nice nucleus in tackles
Harold Brantley
and
Josh Augusta
.
Charles Harris
is poised to come into his own at end and it's only a matter of time until five-star freshman
Terry Beckner Jr.
starts making plays.
7. Mississippi State:
Three starters are gone (
P.J. Jones
,
Kaleb Eulls
,
Preston Smith
), but experience isn't a huge concern for Mississippi State because of the way it rotated in so many players at the position last year. New coordinator Manny Diaz will have to develop some talent this offseason, to be sure, but he'll have the luxury of building around
Chris Jones
, who is one of the league's most talented linemen, as well as
Ryan Brown
and
A.J. Jefferson
.
8. Georgia:
The Bulldogs' linebackers get most of the love, and rightfully so when you're talking about
Lorenzo Carter
,
Leonard Floyd
and
Jordan Jenkins
. But the linemen shouldn't be neglected considering the mix of experience and depth at the position. Seniors
Sterling Bailey
and
Chris Mayes
will provide stability, with five-star freshman
Trent Thompson
potentially working his way into the rotation early.

9. LSU:
Ed Orgeron will have his hands full with this group, but what it lacks in depth it has in potential.
Christian LaCouture
and
Davon Godchaux
are back at tackle, but with
Jermauria Rasco
and
Danielle Hunter
gone, that leaves seldom-used
Tashawn Bower
,
Deondre Clark
and
Sione Teuhema
as the lone incumbents at defensive end.
10. Texas A&M:
With John Chavis now leading the Aggie defense, it's time to see what all that talent is really made of. Sack master
Myles Garrett
should only get better with experience and incoming five-star freshman
Daylon Mack
could provide a disruptive force in the middle of the line.
11. Arkansas:
With guys like
Taiwan Johnson
and
JaMichael Winston
, the talent is there to rebuild on the line. But with
Trey Flowers
and
Darius Philon
off to the NFL, there are more questions than answers entering spring practice.
12. South Carolina:
The Gamecocks' D-line was a huge letdown last season with the fewest sacks in the SEC, and there's not a lot returning to campus that says that will change anytime soon. So, coach Steve Spurrier is betting heavily on some new blood in the form of new co-defensive coordinator Jon Hoke and a handful of mature recruits. The headliner is defensive tackle
Dexter Wideman
, who spent last year at a military academy getting his grades in order, and ESPN's No. 2 and No. 3 juco defensive ends,
Marquavius Lewis
and
Dante Sawyer
.
13. Kentucky:
The Bud Dupree-Za'Darius Smith era is officially over, and now we get to see what Mark Stoops and his staff accomplished on the recruiting trail these past few years. Coveted tackle
Matt Elam
is now a sophomore, as is four-star end Denzel Ware. If they live up to their high billing and veterans like
Jason Hatcher
and
Jabari Johnson
step up, the Wildcats will be in good shape.
14. Vanderbilt:
Outside of nose guard
Vince Taylor
, the Commodores don't lose much from last year's defensive line. But outside of
Caleb Azubike
and
Adam Butler
, there's not a lot of production coming back.
February, 27, 2015
Feb 27
9:00
AM ET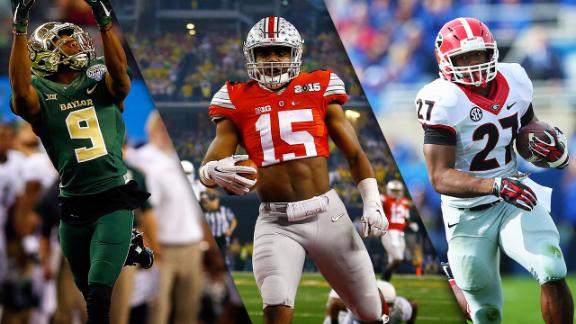 If you asked Mike Leach, odds are he'd probably tell you his job at Washington State is a wee bit more difficult than he might have expected when he was first hired. And it won't be long before Wake Forest fans start to realize just how remarkable Jim Grobe's tenure was in Winston-Salem.
For a variety of reasons -- namely money, scheduling, academics, facilities and recruiting -- the path to the College Football Playoff is simply easier for some Power 5 coaches and nearly impossible for others. Here's a look at the top-10 easiest coaching paths to the playoff, starting with the easiest, and the 10 most difficult coaching jobs:
EASIEST COACHING PATHS TO THE PLAYOFF
1. Texas
One of the wealthiest, most visible brand-name programs in the country wants for nothing -- and unlike Florida State, it doesn't have to navigate through a conference title game. Right now it's in a catch-22 situation. Texas has to win to own the state in recruiting again, but it has to get the recruits to win.
2. Florida State
The Noles can own and have owned the ACC, with Clemson being their most difficult hurdle. The combination of first-class facilities, in-state recruiting and available salary money makes this one of the most desirable jobs for a coach aspiring to reach the playoff.
3. Ohio State
The East Division isn't easy, but it's manageable, and the Big 33 recruiting turf and financial security -- along with the incredible support and facilities -- puts this brand-name program on the fast track to the playoff. It's easy to sell the program that has been the flagship of the conference for more than a decade.
4. Oklahoma
With no conference title game to trip over, the Sooners have one of the easiest paths to the playoff, not to mention the facilities and financial resources to recruit players and pay coaches.
5. Clemson
It's on par with the SEC as far as recruiting and facilities, but has an easier league to navigate. The program has the resources and salaries needed to recruit and coach a top-four team.
6. USC
When this storied program is at full strength -- without scholarship limitations and postseason penalties -- there's nothing in the way of a top-four ranking. Its pipeline of players to the NFL is proof.
7. Notre Dame
The Irish control their strength of schedule and can now sell an ACC bowl lineup to recruits.
8. Georgia
The Bulldogs have owned the state, and while Florida has to contend with FSU (and dreadful facilities), Georgia has had the upper hand in the series against Georgia Tech. Everything is in place for a title run.
9. Alabama
The program oozes money and tradition, luring the best players in the country. It's ranked low because of a grueling SEC West schedule and conference title game to navigate through.

10. LSU
Much like Alabama, the Tigers are the epitome of SEC success, able to cherry-pick recruits and pay for the best coaches in the country. The biggest obstacle is LSU's own conference schedule.
MOST DIFFICULT COACHING PATHS TO THE PLAYOFF
1. Vanderbilt
There's no school in the country with more of an uphill battle to the playoff than Vandy. The stringent academic requirements are a big reason the program can't recruit the elite athletes necessary to compete with the top teams in the league -- which is why it never will.
2. Wake Forest
The smallest school in the BCS had one historic Orange Bowl run, but that was an anomaly, not the trend. It's not the best program in the state, let alone the Atlantic Division.

3. Washington State
The Cougs are the Pac-12's most isolated, rural program, making recruiting difficult -- the heart of Wazzu's troubles over the past 11 straight losing seasons. It also doesn't help to be looking up at Oregon in the North Division.
4. Colorado
After nine straight losing seasons, the Buffs have faded into irrelevance, and they're competing in a South Division that's on the upswing, led by USC and Arizona. The coaching turnover, subpar recruiting and lack of investment in facilities have made the past decade a disaster.
5. Indiana
The Hoosiers have been stuck in a rut of mediocrity and are outpaced when it comes to facilities and coaching hires. Equally as problematic is IU's place in the East Division, alongside heavyweights Ohio State and Michigan State.
6. Kansas
The program has always been overshadowed by its hoops counterpart and hasn't been relevant in football since its 2007 Orange Bowl appearance.
7. Purdue
The fans have lost interest -- and apparently so have the recruits -- but the program also hasn't had the financial backing it needs to stay on pace with the rest of the conference.
8. Iowa State
Not only is there not much in-state talent, but the Cyclones have to share it with rival Iowa.
9. Kentucky
The program has made a renewed financial commitment recently and has demonstrated that bowl eligibility is a reality, but Kentucky has to win the SEC East before it can be taken seriously as a playoff contender.
10. Syracuse
There's a sense of apathy surrounding the program, which is stuck in the ACC's stronger Atlantic Division with FSU, Clemson and Louisville. There's not enough depth on Syracuse's roster to overcome injuries -- or the schedule.
February, 27, 2015
Feb 27
9:00
AM ET
1. Dan Mullen is finally getting paid. After leading Mississippi State to its first 10-win season in school history and a New Year's Six bowl game,
Mullen received an extension
Thursday that runs through the 2018 season and comes with a nice pay raise. The new deal will start out at $4 million in 2015 and escalate in the years to come. That puts him along the same pay grade as fellow SEC coaches Mark Richt (Georgia), Les Miles (LSU) and Hugh Freeze (Ole Miss). Who could've ever guessed that both Mississippi State and Ole Miss would be willing to pay over $4 million to keep their coaches around? Let's not forget that it's been less than a decade since Nick Saban became the first college football coach to make $4 million annually when he signed with Alabama in 2007. Now all seven coaches in the SEC West make at least that much.
2. The financial aid agreements signed by recruits before signing day seem like a good idea in principle. But there's always a catch, and it looks as if LSU found that out the hard way. The Tigers are getting
slapped with recruiting sanctions
all because a recruit backed out of his commitment. No big deal, right? In this case it is. That recruit, offensive lineman Matt Womack, signed a financial agreement with LSU which gave the school unlimited contact with him. The only problem is he didn't sign his letter of intent with LSU. He signed it with Alabama. That made the unlimited contact with the recruit illegal, and the NCAA is making them pay. So who's at fault here? LSU couldn't have seen this coming. But can you blame the kid for changing his mind? That happens. Ultimately, I think the rule has to change.
Around the SEC
Tweet of the day
THOSE LLAMAS AIN'T BEAT BAMA PAWWWWWWWL @finebaum

— ESPNU (@ESPNU) February 26, 2015
Which Players Have The Most To Prove In 2015?
SEC SCOREBOARD
Thursday, 9/3
Saturday, 9/5