August, 30, 2014
Aug 30
9:04
PM ET
ATLANTA -- We got a little bit of a shootout inside the Georgia Dome on Saturday, but No. 2 Alabama prevailed with a
33-23 win
over West Virginia in the Chick-fil-A Kickoff. Season openers can be tricky -- and sometimes ugly -- and Alabama, which is a favorite to make the College Football Playoff, had a relatively up-and-down performance in the ATL, but will head back to Tuscaloosa 1-0.
New starting quarterback
Blake Sims
had some rough moments against West Virginia, but regrouped well and made some big plays throughout the game with his arm and legs. Finding All-SEC receiver
Amari Cooper
was smart (12 catches for 130 yards), but handing the ball off to his running backs really paid off, especially when he gave the rock to
Derrick Henry
halfway through the third quarter.
1. Hustling Henry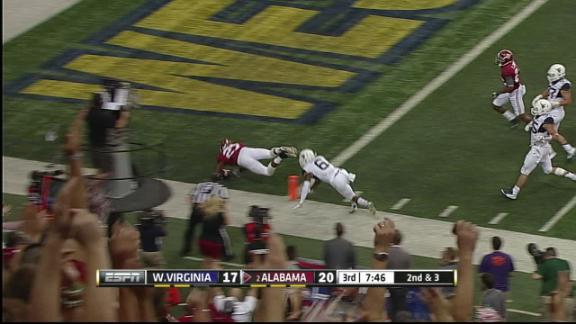 Let's face it, the third quarter of this game started off a little stale. After seeing 37 points and 500 yards of offense in the first half, we got a failed fourth-down attempt and a missed field goal. Then, things started clicking for the Crimson Tide on their second drive. With Alabama moving at will against the Mountaineers' defense, Sims handed the ball off to the super sophomore, who immediately cut to his left. As a hole opened up, Henry put on the jets and flew through both lines before pushing off one last defender and leaping into the end zone to put Alabama up 27-17 with 7:44 remaining in the third quarter. Alabama only managed two more field goals after Henry's score. It proved to be the biggest score of the game for the Crimson Tide, as they fought off a valiant comeback effort from the Mountaineers.
Henry:
"It was the outside zone play and the tight end made the block and I just read it. I hit the hole and [went] right into the end zone."
Defensive lineman Jonathan Allen:
"It gave us more energy and more focus because once we make a big play, we want to capitalize on it and try to keep that momentum going. It really got the momentum in our favor when Derrick scored."
Right tackle Austin Shepherd:
"I think we were going 'Speed Ball' or something and we were just trying to wear West Virginia down so we were just going fast. I guess the hole opened and he got out there and made it work. We were just trying to attack and we did. ... We were trying to punish them, man. Every chance you got, drive them into the ground, get in their hand and they'll start thinking about it and finally they'll wear down."
2. Slippery snap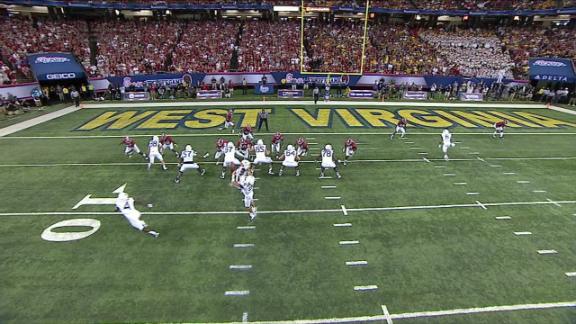 Henry's play didn't officially put the game away for Alabama, but a bad snap from West Virginia center
Tyler Orlosky
severely hurt the Mountaineers' chances of pulling of a major upset Saturday. With Alabama clinging to a 30-20 lead with 14:25 remaining in the fourth quarter, the Mountaineers closed in on what should have been another touchdown drive. Quarterback
Clint Trickett
had already marched his offense down to Alabama's 5-yard line and after two tough incomplete passes that took two touchdowns off the board, Trickett lined up in the shotgun, only to have Orlosky send the snap soaring over his head and outstretched arms. The ball hit the ground and rolled a bit before Trickett landed on it 19 yards behind the line of scrimmage. The play took the Mountaineers out of touchdown range and forced them to kick a field goal. West Virginia coach Dana Holgorsen could barely stand to look at the field after Trickett collapsed on the ball. It swallowed up all the momentum the Mountaineers had and clearly sapped some of the offense's energy. Only a couple plays later, West Virginia got the ball back by way of a Sims interception, but went three plays and punted.
Linebacker Denzel Devall:
"We just use things like that to keep boosting us up. No matter how bad things may seem or go, we just keep fighting. That's the main thing. Once we saw that happen, we just knew we were doing something good [next]."
August, 30, 2014
Aug 30
8:36
PM ET
By
ESPN Stats & Information
| ESPN.com
Kevin C. Cox/Getty ImagesAlabama rushed for 158 yards in the second half
Alabama won its season-opener on the strength of its running game and a smart passing game plan. However, its defense left something to be desired. Here's a look at what you need to know about the Tide's opening game.
Second-half rushing surge
Alabama returned to its bread and butter in the second half, pounding the ball up the middle with T.J. Yeldon and Derrick Henry, who combined for 152 yards in the final 30 minutes. Alabama rushed for 109 yards between the tackles in the second half against West Virginia, slightly better than the 106 yards per game the school averaged on such rushes last season.
Yeldon and Henry each rushed for over 100 yards in this game, the first time those two rushed for 100 yards in the same game. Alabama only had two games last year in which it had two rushers crack the century mark.
Sims keeps it simple
Blake Sims completed 73 percent of his passes in his first career start for Alabama. Offensive coordinator Lane Kiffin kept the game plan simple, with just four of Sims' 33 pass attempts traveling 15 or more yards downfield.
Sims also relied heavily on Amari Cooper. He was 12 of 15 for 130 yards when targeting Amari Cooper and 12 of 18 for 120 yards when targeting everyone else.
Unlikely defensive struggles for Alabama
West Virginia's Clint Trickett threw for 365 yards against Alabama, the third-most passing yards allowed by the Tide in the Nick Saban era and over double what it allowed per game last season (180.3 yards). The only quarterback to throw for more yards against a Nick Saban-coached Alabama team was Texas A&M's
Johnny Manziel
, who threw for 464 yards against the Tide last season. Big plays also hurt Alabama as the Mountaineers had 17 completions of 10 yards or more, the most the Tide allowed since the 2009 Sugar Bowl.
August, 30, 2014
Aug 30
8:36
PM ET
By
ESPN.com staff
| ESPN.com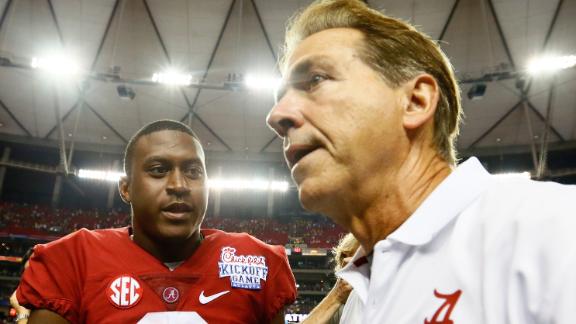 Nick Saban saw plenty of positives and negatives for his team in
Alabama's win over West Virginia
.
August, 30, 2014
Aug 30
8:27
PM ET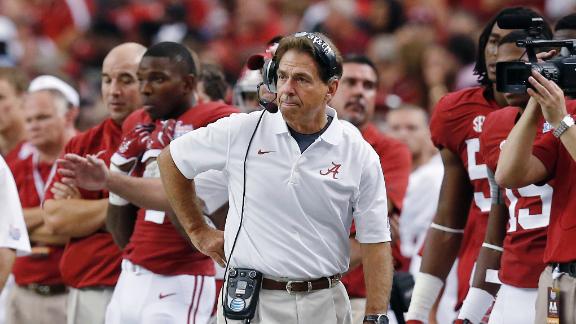 The Crimson Tide rushed for 288 yards and three touchdowns to
beat West Virginia, 33-23.
August, 30, 2014
Aug 30
7:18
PM ET
Associated Press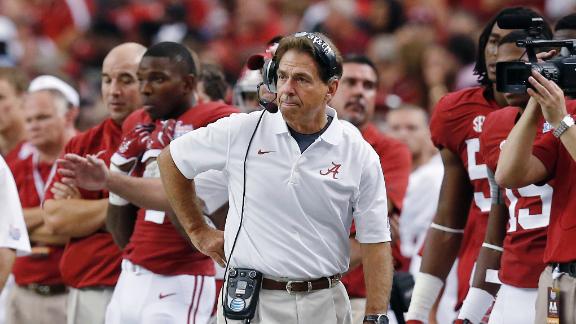 ATLANTA -- Blake Sims was good enough to finish his first start at quarterback for Alabama, getting plenty of help from Amari Cooper, T.J. Yeldon and Derrick Henry, and the second-ranked Crimson Tide held off West Virginia 33-23 Saturday.
Sims was 24-for-33 for 250 yards and added 42 running, playing the entire game. The fifth-year senior beat out Florida State transfer Jake Coker for the start. Tide coach Nick Saban had suggested both quarterbacks would play, but Sims never came out.
Yeldon (126 yards rushing and two touchdowns), Henry (113 yards rushing and a score) and Cooper (12 catches for 130 yards) provided plenty of support. Alabama needed all the offense it could get because West Virginia found plenty of soft spots in the Tide's D.
The Mountaineers' up-tempo spread gave Clint Trickett his pick of open receivers, and he took advantage with 365 yards passing.
August, 30, 2014
Aug 30
6:37
PM ET
Ups And Downs For Nick Saban In Opener
SEC SCOREBOARD
Saturday, 8/30
Thursday, 8/28
Sunday, 8/31