July, 25, 2014
Jul 25
6:00
PM ET
ENNIS, Texas -- Texas A&M's red-hot recruiting streak continued Friday with the addition of an ESPN 300 player at an always-needed position.
James Lockhart
IV announced in front of family, classmates and educators at Ennis High School that he was going to College Station and joining Kevin Sumlin's growing 2015 class. Lockhart, the top-ranked defensive end in Texas, chose the Texas A&M Aggies over the
Alabama Crimson Tide
.
July, 25, 2014
Jul 25
3:45
PM ET
Another week, another off-field incident. That is the way it has been this offseason in the SEC, and this past week was no different.
Texas A&M suspended cornerback
Victor Davis
after he was arrested and charged with shoplifting, and defensive end Gavin Stansbury, who was arrested in April, left the team for personal reasons.
At Georgia, Mark Richt dismissed yet another player a day after defensive lineman Jonathan Taylor was arrested for aggravated assault.
These incidents are just the latest in what has been a troubling offseason for the SEC. With media days behind us and fall camps about to begin, we want to know which team's offseason issues will present the greatest on-field questions for this season.

In Tuscaloosa, the media's pick to win the SEC has had its fair share of off-field incidents.
Dillon Lee
and
Jarran Reed
were both arrested for driving under the influence,
Altee Tenpenny
was caught with marijuana, and
Kenyan Drake
was arrested for disobeying a police officer. None of the players involved has been dismissed, but this is becoming both a problem and a distraction for Alabama.
Across the state, Auburn is still trying to figure out what to do with quarterback
Nick Marshall
. The potential Heisman Trophy contender was given a citation for possession of marijuana this month, but will he miss any time as punishment? To make matters worse, teammate
Jonathon Mincy
was arrested for the same thing, possession of marijuana, just two weeks prior.
The school that has been in the news the most this offseason is Georgia. Four players were arrested in March for theft by deception. Two of those four, Taylor and
Tray Matthews
, were later dismissed for separate incidents. A third,
Uriah LeMay
, opted to transfer. Back in February, safety
Josh Harvey-Clemons
also was dismissed from the program following multiple violations of team rules.
At Missouri, it was three strikes and you're out for star wide receiver
Dorial Green-Beckham
. The sophomore was arrested for the second time on drug-related charges in January, and after being involved in an altercation with his girlfriend in April, he was dismissed from the team. Green-Beckham has since joined Oklahoma.
Lastly, there is Texas A&M, which has not seen any decline in off-field distractions since quarterback Johnny Manziel left. Quarterback
Kenny Hill
was arrested in March for public intoxication. Two months later, head coach Kevin Sumlin dismissed a pair of key defenders -- Darian Claiborne and Isaiah Golden -- after they were arrested and charged with aggravated robbery. Then the news broke this week with Stansbury's departure and the suspension of Davis.
July, 25, 2014
Jul 25
12:00
PM ET
July, 25, 2014
Jul 25
11:40
AM ET
By
Brett Edgerton
| ESPN.com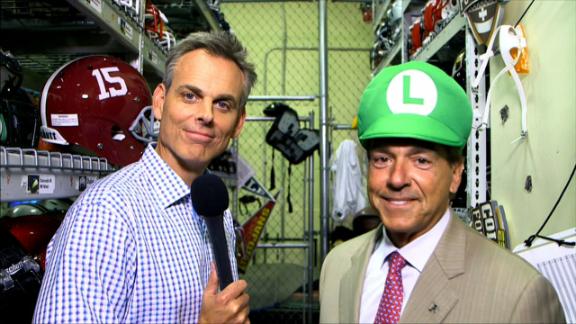 Nick Saban is the
most feared man in college football recruiting
, but what does the legendary
Alabama Crimson Tide
football coach fear?
Well, as a kid, it was none other than Santa Claus.
In the latest edition of Cage Confessionals on "Colin's New Football Show," Saban admits his childhood fear of Santa, takes a selfie with the host and wears a Luigi hat. Yes, a Luigi hat. You have to see it to believe it.
July, 25, 2014
Jul 25
9:30
AM ET
Editor's note: We're taking steps to get you ready for every one of Alabama's regular season opponents. Every Friday we'll go through each week of the schedule, starting with the season-opener against West Virginia and closing with the finale against Auburn.
The rundown
2013 overall record:
12-2
2013 SEC record:
7-1, first in the Western Division
Record all time against Alabama:
35-42-1
Last meeting:
Won 34-28 in 2013
Starters returning

Offense: 8; Defense: 7; Kicker/punter: 0
Top returners

QB
Nick Marshall
, RB
Corey Grant
, WR
Sammie Coates
, OL
Reese Dismukes
, DL
Gabe Wright
, DB
Jonathon Mincy
Key losses

RB Tre Mason, OL Greg Robinson, DB Chris Davis, DL Dee Ford
2013 statistical leaders (* returners)
Rushing:
Tre Mason (1,816 yards)
Passing:
Nick Marshall* (1,976, 14 TD, 6 INT)
Receiving:
Sammie Coates* (902 yards)
Tackles:
Cassanova McKinzy
* (75)
Sacks:
Dee Ford (10.5)
Interceptions:
Robenson Therezie
(4)
What they're saying:
"Up until last Friday, Nick [Marshall] has been a model student, teammate, and citizen. Nick made a mistake and he'll have to deal with the consequences. I'm not ready to say what those consequences are at this time, but he will deal with it. I know he's regretful and he feels very bad about it," said Auburn coach Gus Malzahn.
Three things to watch:
1. Marshall isn't the only story:
Lost in the aftermath of Nick Marshall's arrest and absence from SEC media days was the fact that his ordeal wasn't the biggest news to come out of Hoover, Alabama, last week. Instead, it was Gus Malzahn telling reporters that defensive end
Carl Lawson
had ACL surgery and is working to come back "toward the end of this year." Lawson is a huge loss. With a so-so secondary, the pass rush was going to be vital for Auburn. Losing Dee Ford hurt, but Lawson was a worthy replacement. Now it's up to
LaDarius Owens
and
Elijah Daniel
. If those two can't get to the quarterback, the back end of the defense could be exposed.
2. But Marshall's improvement is key:
Marshall took off like a rocket last season, improving his passing numbers each week. But for Auburn's offense to take the next step and become more balanced, he'll have to take his game to the next level, specifically his work in the pocket. There's no doubt Marshall can run the football and execute the read option. The real question is what happens when all the running lanes are clogged and he has to go through his second, third or fourth read in the passing game. Can he sit in the pocket and diagnose a defense? Can he improve his accuracy and get the ball to the open receiver? His Hail Mary pass against Georgia was spectacular, but it was a mistake throwing to
Ricardo Louis
. He was triple-covered while Sammie Coates was wide open in the middle of the field. Sure, it worked out, but is it really better to be lucky than good? For Marshall to be great, he'll need to make better decisions in 2014.
3. A tougher road:
Auburn didn't breeze through the regular season to reach the SEC Championship Game last season. Going on the road at LSU and Texas A&M was a lot to handle. But if you think 2013 was hard, wait for what's ahead. If you're comparing Auburn's schedule to Alabama's (and of course you are), there's really no comparison. Where Alabama has a flaky nonconference slate (West Virginia, Florida Atlantic, Southern Miss, Western Carolina) and a pair of so-so crossover games (Florida, Tennessee), Auburn has a much tougher road to hoe with a Georgia and South Carolina from the East and a primetime matchup at Kansas State in mid-September. If the Iron Bowl is going to be another battle of top-5 teams, it's going to be much more difficult for Auburn to reach the game unscathed than it is for Alabama.
July, 24, 2014
Jul 24
12:00
PM ET
This day in sports will be forever remembered for the pine-tar home run hit by Kansas City Royals third baseman George Brett. Who can forget Brett running out of the dugout, throwing his hat down and arguing the call after the umpire ruled him out for using an illegal bat with too much pine tar?
31 Years Ago Today, George Brett produced one of the most famous plays ever. "The Pine Tar Game." #PineTar pic.twitter.com/q5Y0hCYf4c

— Baseball Photos (@Baseball_Photos) July 24, 2014
Now let's get back to football and Thursday's lunch links.
July, 23, 2014
Jul 23
4:55
PM ET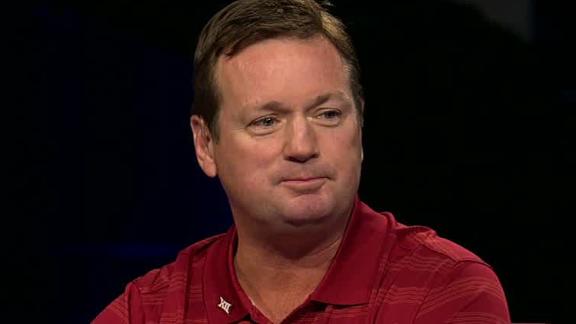 BRISTOL, Conn. -- Bob Stoops responded to Alabama coach Nick Saban's comments about the Sugar Bowl being a "consolation game" as quickly and decisively as the Sooners did in last season's 45-31 upset of the Tide.
"They didn't look like it was a consolation game on that first drive when they scored a touchdown and everyone thought they were going to rout us," the Oklahoma coach said. "I've been in plenty of those [non-national title games]. We've played in a bunch of national championship games, right? ... That's a good one.
"So that means I've got a built-in excuse the next time we don't play for a national championship?"
Stoops was in Bristol Wednesday for a round of interviews.
On Tuesday, Saban, who was in Bristol, talked about the challenge of getting his team to play Oklahoma as to "try to play in a consolation game."
Stoops also discussed critics that suggest the Big 12 should add a conference title game. The Big 12 is the only Power 5 conference that doesn't have a league championship game.
"Think about it: mathematically we play everybody, they [the SEC] don't play everybody," Stoops said. "For instance Texas A&M. They play eight conference games.
"They have Lamar, Rice, SMU and Louisiana Monroe. Boy those are all a bunch of toughies, right? We have nine conference games. So if [Texas A&M] was fortunate enough to be in the SEC championship game, they would play nine conference games at the end of the day and they have all those four 'toughies' to go with it.
July, 23, 2014
Jul 23
9:00
AM ET
Whether you believe him or not, Alabama coach Nick Saban is playing his quarterback battle close to the vest.
You, me and everyone in between has former Florida State backup Jacob Coker taking the starting job in Tuscaloosa, Alabama, but Saban isn't going to make it that easy. What Saban doesn't want is an overly confident quarterback walking into his program and screwing things up, so Saban's language makes sense.
Still, we're all pretty sure that Coker will leave fall practice ahead of
Blake Sims
and those youngsters who duked it out during spring practice.
While
we
might have it all figured out for the Crimson Tide, competition will take place next month to see who starts the opener against West Virginia on Aug. 30. And that's not the only QB battle that we'll be diving into in the coming weeks. Other teams are trying to sort things out under center heading into fall camp:
KENTUCKY
Patrick Towles vs. Drew Barker vs. Reese Phillips vs. Maxwell Smith:
Coming out of spring, Towles, a redshirt sophomore, had a slight lead over everyone. He's an impressive athlete and has matured considerably since his arrival on campus. Phillips and Barker have yet to take snaps with the Wildcats in a real game, but that won't stop the coaches from throwing them in on Day 1 of the season. Barker arrived with a ton of hype and is clearly the future of the position. Smith, the quarterback with the most experience on the roster, is finally throwing again after undergoing extensive shoulder surgery before the spring. If he's healthy, he'll compete, but it looks like this really is a three-horse race right now.
Advantage: Towles
LSU
Anthony Jennings vs. Brandon Harris:
Jennings ended last season with mixed reviews after replacing an injured
Zach Mettenberger
. And his spring got even tougher with the emergence of Harris, a true freshman. Both are incredibly inexperienced, but have that dual-threat quality that will help either this fall, as they try to run this offense. Harris really impressed his coaches and teammates this spring, and many think he might have a slight advantage. Coach Les Miles raved about him at SEC media days and praised his throwing ability, something Jennings has to work more on going forward.
Advantage: Harris
TENNESSEE
Justin Worley vs. Josh Dobbs vs. Nathan Peterman:
Worley is the old soul around the football complex. The senior had an up-and-down 2013 season that included thumb surgery, but left spring with a bit more confidence. Dobbs has the athleticism and upside to be a stud, but he has to get more comfortable in the pocket and mature as a passer. Peterman had limited reps this spring, causing some to think he would transfer, but he'll compete this fall for the starting job. Honestly, it's a murky situation at quarterback, but a complete overhaul of the offensive line might make it tough for any quarterback to succeed in 2014.
Advantage: Worley
TEXAS A&M
Kenny Hill vs. Kyle Allen:
Hill's arrest during the spring perked a lot of ears in the Allen camp, but this race is far from over. While Hill is still looking to regain trust, he has more experience than Allen, a true freshman, and knows the Aggies' offense better to this point. Both are athletic guys, but you'll see a little more running out of Hill. Allen has the potential to be a star with his throwing ability and awareness in the pocket, and might be little more polished than Hill in that category. Sumlin isn't the kind of coach who wants to shuffle his quarterbacks, a la Steve Spurrier, but he won't be afraid to play both guys this fall if he has to.
Advantage: Push
VANDERBILT
Patton Robinette vs. Johnny McCrary vs. Stephen Rivers vs. Wade Freebeck:
During the spring, we thought this was going to come down to Robinette and McCrary. Robinette has the only game experience on the roster at quarterback, but McCrary is a big, physical player who can make plays with his arm and legs. He might be the most athletic of the bunch and is viewed as an exciting up-and-comer. But when Rivers transferred from LSU, things changed. He only has one year to compete, and his coaches are raving about him. Coach Derek Mason also likes that he's gotten bigger since his arrival. As for Freebeck, Mason calls him "phenomenal" and is intrigued by his size. He's grown two inches (6-foot-5 now) and is up to 217 pounds.
Advantage: Push
July, 23, 2014
Jul 23
5:30
AM ET
July, 22, 2014
Jul 22
4:01
PM ET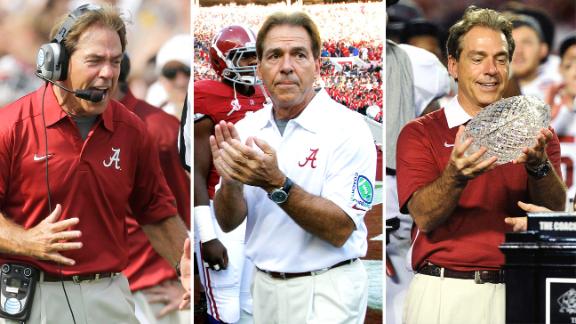 HOOVER, Ala. -- For better or worse, Nick Saban has a reputation. And after four decades of coaching, it's not likely to change.
He's gruff. He's demanding. He's hard-nosed, unrelenting and oftentimes furious.
He is, according to a survey conducted by ESPN, the most-intimidating coach in college football. Of the 58 recruits who responded to a survey, 22 selected Saban as the most intimidating coach they've spoken with. The next-highest on the list was Urban Meyer, who was selected only seven times.
What's maybe more telling: Among the 66 recruits who answered the question, "Of all the head coaches you've spoken with, who was the easiest to talk with?" none said Saban.
Amari Cooper gets it. He was once a highly sought-after recruit from South Florida, a Miami Hurricanes fan with no particular ties to the SEC or Alabama. He looked at Saban from afar and didn't know what to think of him. He'd heard secondhand stories and assumed that the man he'd meet in Tuscaloosa, Alabama, would live up to his unflattering reputation.
Then one day the promising young receiver went to camp at Alabama and made a name for himself. It was hot, Cooper recalled, but he was doing everything he could to show the coaching staff what he was capable of.
"[Saban] saw me run a route against a DB in one-on-ones and he looked to be surprised," he said. "He came up to me and shook my hand, started smiling and after that I went up to his office and talked to him and he offered me a scholarship."
Cooper accepted. Now he's a junior All-SEC receiver for the Crimson Tide. Now he understands the perception of Saban and how it doesn't quite match reality.
July, 22, 2014
Jul 22
9:00
AM ET
Whether a Georgia or Mississippi State fan, it was a great weekend to be a Bulldog. The two schools combined to land 11 verbal commitments over the weekend. With the season quickly approaching, teams are racing to finish the summer strong in recruiting before fall camp opens in just a few short weeks. Here's a look at some of the top headlines from the weekend:
To continue reading this article you must be an Insider
July, 21, 2014
Jul 21
12:00
PM ET
Seven SEC coaches, including Auburn's Gus Malzahn and LSU's Les Miles, will go through ESPN's "Car Wash" on Monday, appearing on "Sportscenter," "College Football Live," "First Take" and more. Stay tuned throughout the day.
In the meantime, be sure to read Monday's lunch links to get your SEC fix.
Stoops Talks Sugar Bowl Win
SEC SCOREBOARD
Thursday, 8/28
Saturday, 8/30
Sunday, 8/31