September, 19, 2014
Sep 19
12:00
PM ET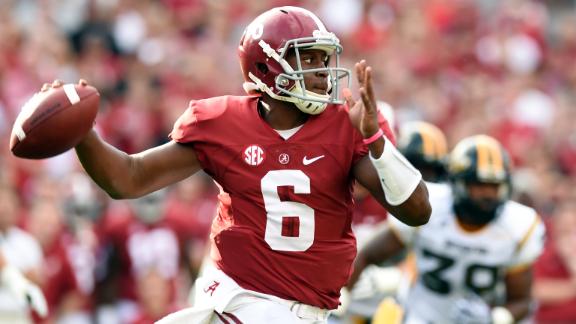 Finally, the game is almost here.
For both Alabama and Florida, it's been a long time coming. The Crimson Tide breezed through the nonconference portion of their schedule to get here. The Gators missed their season-opener, gassed Eastern Michigan and survived Kentucky to reach its trip to Tuscaloosa undefeated and eager to prove that last season was a fluke.
What do we know about both teams so far? Not a lot. But that's what Saturday is for.
To get you prepared, we had SEC writers Jeff Barlis and Alex Scarborough assess the matchup.
Scarborough:
Let's start with the pretty boys.
I could tell you
Blake Sims
is a changed man. I could tell you he's transformed overnight into a quarterback capable of carrying an offense against a good defense like Florida's. But I might be stretching the truth.
[+] Enlarge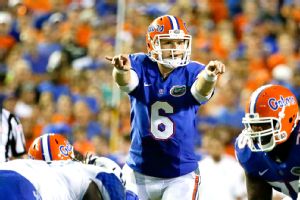 AP Photo/John RaouxThe challenge for Florida will be to keep Alabama's defensive line off Jeff Driskel.
Sims' numbers are impeccable -- 75 percent completion percentage, 215 passing yards per game, six total touchdowns, one interception -- but that's just the top layer. Dig deeper and you'll see that of Sims' 646 total yards passing, 454 of which has gone to one receiver. And that one receiver,
Amari Cooper
, has racked up 245 of those yards after the catch.
So what happens when Vernon Hargreaves III takes away those quick passes that have been so effective? What happens when Dante Fowler rushes off the edge? What happens when Sims gets in the weeds?
Frankly, I don't know.
But I do know this: I trust him more than I do
Jeff Driskel
.
Barlis:
There's no doubt Driskel's performance against Kentucky undermined some of the optimism that had grown for him and for the Gators. He failed to recognize obvious blitzers, didn't run the ball when he needed to, didn't give his receivers a chance at catching the deep ball, and hesitated to hit an open
Demarcus Robinson
for a touchdown on what could have been a crushing mistake in overtime.
Driskel's numbers -- 25-of-43 passing for 295 yards, three touchdowns and an interception -- weren't bad, though, and he deserves credit for some key plays that helped Florida stave off a colossal upset.
I don't think anyone is expecting Driskel to brilliantly engineer an upset of his own this Saturday, but he can't afford the kind of big mistakes that have plagued him in the past. He just needs to be efficient, manage the game and give his team a chance.
It's not all on Driskel's shoulders. I think one of the biggest matchups of this game will be in the trenches when Florida has the ball. The Gators' offensive line has been a sore spot, particularly in pass protection, for the last couple of years.
Starting left tackle
D.J. Humphries
(ankle) is out, and while senior right tackle
Chaz Green
is a capable fill-in, his understudy is
Roderick Johnson
, a redshirt freshman making his second start in the third game of his career. He's never seen anything like the No. 3 Tide and it's stable of defensive linemen.
Scarborough:
That's an interesting point. Alabama's D-line has been solid so far, but hasn't lived up to the preseason hype yet.
A'Shawn Robinson
, the All-SEC tackle/end, has no sacks and only half a tackle for loss. He's got help rushing the passer with
Ryan Anderson
, Xavier Dickson and
Jonathan Allen
, but that group can't allow Driskel time in the pocket.
If that happens, watch out for Alabama's secondary.
Nick Perry
will miss the first half after being ejected for targeting, and
Jarrick Williams
isn't likely to play after fracturing his foot a few weeks ago. Those are two of the Tide's most veteran DBs.
Landon Collins
is as solid as they come at safety, but he'll need help.
Eddie Jackson
's return has been a boon, but pay attention to rookie
Tony Brown
, whom Nick Saban said will play a lot on Saturday.
Still, my biggest question mark for Alabama isn't on defense. Setting aside Sims' play at quarterback, who is going to step up besides Cooper?
O.J. Howard
hasn't caught a pass all season and
Christion Jones
has dropped a few passes himself.
While there are a lot of talented tailbacks to turn to, I'll be interested to see how Alabama's receivers and Florida's defensive backs match up.
Barlis:
I will, too. These are two of the best run defenses in the SEC if not the country. Although both teams are inexperienced in the defensive backfield, neither passing game has more than one scary playmaker -- Cooper for the Tide, and Robinson for the Gators.
It appears both defenses will be in a similar situation -- apply consistent pressure on the quarterback or else a vulnerable secondary could be exposed. Florida's D-line was strong in the first half against UK but fatigued in the second when
Patrick Towles
went off. That made the mistakes by young DBs even more glaring.
I say the matchup the matters most on Saturday is Florida's defensive line against Alabama's offensive line. The Gators desperately need someone other than Dante Fowler Jr. to emerge, but I'm not sure this is the game for that to happen. Bama has an outstanding line that has keyed a deadly efficient offense. The Tide have just two three-and-outs in 32 possessions this season.
The bottom line in what could very well be a defensive struggle is that both teams prefer to run the ball but probably won't be able to dominate the game that way. It'll be up to the passing attacks.
I'm not sure Florida is quite ready to play with enough tempo to affect Alabama's defense. So whichever line keeps its quarterback the cleanest will win this game, and it will be closer than many folks think.
September, 19, 2014
Sep 19
10:00
AM ET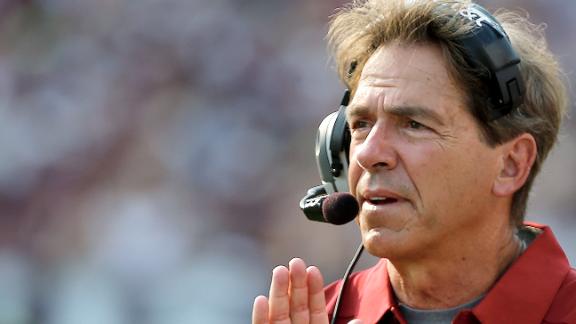 There are once again some big games around the SEC this weekend. The Florida at Alabama game should draw many top recruits, as will the LSU-Mississippi State game. There will be many recruits taking unofficial visits and even a few taking official visits. Here is a closer look at some top expected visitors.
September, 19, 2014
Sep 19
8:55
AM ET
JEFFERSON CITY, Mo. -- ESPN 300 tight end and Alabama commitment
Hale Hentges
said receiving his Under Armour All-America jersey on Thursday wasn't an individual honor. He believed it was an honor for everybody in the Helias High School community who pushed him to get to this point.
"It feels amazing to spend this moment with my friends, family and everybody here at this school because they've done so much for me," Hentges, the nation's second-ranked tight end and No. 2 player in Missouri, said. "It's great to give something back to them. It's a blessing.
"Helias is very different than other high schools. It is so much more tight-knit. It is really a community. Our teachers and coaches expect so much more from us, and they expect greatness from us every day. They've really challenged us, and I wouldn't have gotten to this point without everybody at this school urging me on every day."
Hentges is one of two Missouri players selected to play in the Under Armour Game, and while the Show Me State doesn't have the same reputation for top-end talent like California, Florida or Texas, he and good friend
Alex Ofodile
of Columbia Rock Bridge plan on showing everybody there is top talent in the middle of the country.
Hey #Bama fans, @HaHentges has a message for you after his @AllAmericaGame jersey presentation. https://t.co/abYBgztf4S

— Jeremy Crabtree (@jeremycrabtree) September 18, 2014
"Missouri always gets overlooked, even with some of the great players in Kansas City and St. Louis, it's not known as a football state," Hentges said. "For us to get down there to the Under Armour Game and showcase our talent and hopefully open some eyes would be great. Maybe something like this helps get some recruits some exposure and coaches will say 'Hey, there are good kids in Missouri, let's go look there.'"
Coaches from all over the country did discover Hengtes, though. He was one of the nation's most heavily-courted prospects -- receiving more than 30 scholarships from schools coast-to-coast -- before he committed to Alabama in late May. While Hentges admitted there was a lot of pressure to stay close to home and play for Missouri, the school down the road, he knew when he got the offer from the Crimson Tide, it was going to be tough to turn down.
"I was talking to Coach [Nick] Saban on the phone, and I couldn't believe it," Hentges said. "Here I was talking to Coach Saban. He's the closest thing to God and Alabama, and here he is talking to me on the phone. He offered me a scholarship. I was in shock the rest of the day."
Once he did visit Tuscaloosa, Hentges knew it was the right place for him, and he wanted to become a part of what is being called one of the best recruiting classes in the last decade.
"Coach Saban expects a lot out of you," Hentges said. "He's very business-like. I think everybody can see that on the field, but the amount of love and care that he gives to his players, people do not see that. I see that. Off the field, he'll tell you 'Whatever is wrong, come and talk to me about it.' Things like that are not shown by the media. He really is a father to his players. He holds them accountable, which I think is the greatest love. It really clicks with what I'm used to here at Helias."
When did you know you were going to be a good football player?

"I thought I always wanted to play basketball. When I got to high school, I opened up some eyes going into the summer before my freshman year. I was able to make it on summer. We had a defensive line coach, Lorenzo Williams, [who] played at Mizzou and Brandon Coleman, who was a backup quarterback at MU. They said 'Hey, this kid is really good.' They knew what it took because they played in college. They said 'We have to give this kid exposure.' We just started sending my tape out, and schools like it. That made me realize maybe this football thing is for me."
What type of tight end are you?

"I can stretch the field really well, and with my basketball background, I feel like I can high point the ball really well. Rebdounds. Boxout. I still want to be as tenacious as possible in the run game. I want to be a threat in the passing game, but then again be a glorified tackle.
Is there a player you really pattern your game after?

"I really like
Jason Witten
. I feel like he just does everything right. He gets it done in the running game. He gets it done in the passing game. He doesn't have blazing speed, but he gets the job done. I feel like I'm really comparable to him."
Was the recruiting process overwhelming?

"It did get a little overwhelming. The spring of my junior year before I made the decision, I was getting 10 or 12 calls every day. That was so daunting. It was like 'Oh, man, I'm finally home, but I have three hours of phone calls to do now.' That was extremely daunting. Fortunately, we were able to hit the road and finally figure out what I wanted to do. Once that part was over with, it calmed down a whole lot."
September, 19, 2014
Sep 19
8:00
AM ET
1. A lot has been made of the matchup of
Amari Cooper
and Vernon Hargreaves III, and rightfully so. But there's a piece to the puzzle that seems to have gone overlooked in the buildup to Alabama-Florida this week: the play of the offensive line. This is the SEC after all, and there's a good chance the game comes down to who controls the line of scrimmage best. If
Blake Sims
and
Jeff Driskel
aren't protected, it won't matter how well they throw the football. Florida center
Max Garcia
said the line plans to combat Alabama's defensive front, "
with heart
." Though the Gator o-line lacks depth, it's full of experience with all five starters being upperclassmen. On the other side is Alabama, which has a true freshman starting at left tackle in
Cam Robinson
. He could be the key to the game. Though the former five-star prospect has played well this season, he hasn't played in a game of this magnitude yet, and he hasn't seen a group of edge rushers like Dante Fowler and
Jonathan Bullard
yet. If there was ever a game not to make a rookie mistake, it will be Saturday in Tuscaloosa, Alabama.
2.
Jalen Hurd
got a nice pick-me-up after Tennessee lost on the road at Oklahoma. The former four-star recruit turned promising freshman tailback checked his phone after the 34-10 loss and saw a notification on Twitter. And look at who it was. No, Faux Pelini didn't strike again. Instead, it was former Ohio State and NFL star Eddie George showing Hurd some love on the twittersphere. George, like a lot of us, saw in Hurd a potential star. Time will tell how Hurd's career turns out, but for now he can revel in the praise of an idol. "
That just makes me happy
," Hurd said.
Jalen Hurd @Vol_Football will be a SuperStar!!! #beast

— Eddie George (@EddieGeorge2727) September 14, 2014
3. For the first time in a long time, South Carolina doesn't have a two-quarterback system to worry about. In fact, we might not even know who
Dylan Thompson
's backup is at this point.
It might be
Pharoh Cooper, if you look at the number snaps taken in games. On the depth chart,
Connor Mitch
and
Perry Orth
are both listed as No. 2. It's a matter of semantics, of course, but the larger point might be the fact that there isn't even a whiff of a QB controversy in Columbia. When's the last time we could say that? Spurrier hasn't been the least bit tempted to pull Thompson from the game, and it's a testament to how well the veteran quarterback has played. So far, Thompson has made his four-year wait worth it. The redshirt senior has thrown eight touchdowns and three interceptions, and is averaging just over 300 yards passing per game. If he keeps this up, he might soon be in the conversation of the SEC's best quarterbacks. His 82.1 QBR rating ranks fourth in the league.
September, 18, 2014
Sep 18
11:00
PM ET
Arkansas needs all the talent it can get at defensive tackle, and the Hogs landed a key defender Thursday. Chris Petersen continues to uncover sleepers at Washington, but can he attract enough talent to win in the Pac-12?
To continue reading this article you must be an Insider
September, 18, 2014
Sep 18
3:00
PM ET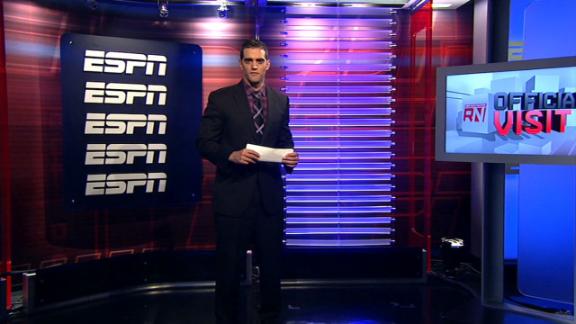 When
Alabama
and
Florida
square off on Saturday (3:30 p.m. ET, CBS), the two teams will display some of the top talent in the country. In fact, according to the expected two-deep depth charts, Alabama and Florida will showcase 56 players that were ranked in the ESPN 300 (changed from ESPN 150 to ESPN 300 in 2013) and the ESPN JC 300 coming out of high school or junior college.
To continue reading this article you must be an Insider
September, 18, 2014
Sep 18
2:15
PM ET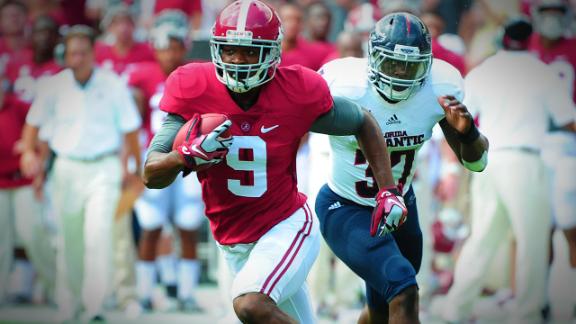 In advance of the All-American battle between Alabama wide receiver Amari Cooper and Florida cornerback Vernon Hargreaves III, we're breaking down what makes each player special. Click here for Edward Aschoff's take on Florida's star cornerback.
TUSCALOOSA, Ala. -- Amari Cooper is sizing you up. He might not say much, but Alabama's star receiver is seeing exactly where you stand.
Could you have envisioned the start you've had?
"Yeah," he said, not caring to elaborate.
You talked in the spring about Lane Kiffin and how you'd seen Marqise Lee and you were looking forward to that. Is that why you anticipated this?
"Yeah, that's the exact reason," he said, again letting you fill in the blanks.
It's not cockiness. It's not arrogance. It's just who he is.
Cooper isn't one to make bold statements. His former high school coach in Miami, Billy Rolle, drove him to and from school. "The three years I had him," Rolle said. "I haven't heard 50 words out of the kid."
Cooper lets his play do the talking. Through three games, the junior leads the nation in receptions (33) and yards after catch (245).
So if he isn't going to open up, we allowed those who know him best to break down what makes him arguably the best receiver in the country.
At 6-foot-1, he's not the tallest. At 210 pounds, he's not the most physically imposing, either. And while he does possess good speed, almost every defensive back in the SEC runs well.
Instead, it's the little things that set Cooper apart: his footwork, his ability to read defenses and his tireless work ethic.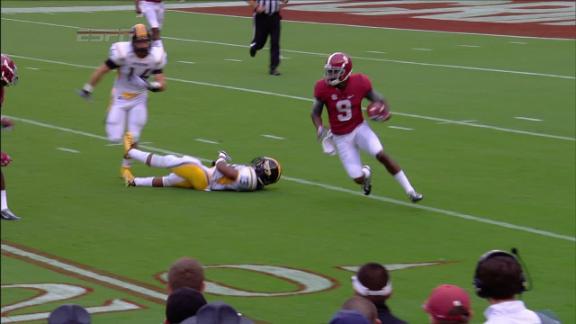 FOOTWORK
Alabama safety
Landon Collins
is still trying to figure him out.
Collins likes to read a receiver's steps, guess the route and make a play on the football. But with Cooper, the guessing game doesn't work. The All-SEC defensive back is helpless.
Collins: "His footwork is confusing. If you look at his feet and try to stick him at the line, you'll get lost."
Jarrick Williams
, Alabama cornerback: "His footwork, how quick he gets around you, how explosive he is. He's amazing."
Cooper: "It's definitely something I pride myself on. Playing as much backyard football as I did as a kid, it's something that's instinct now."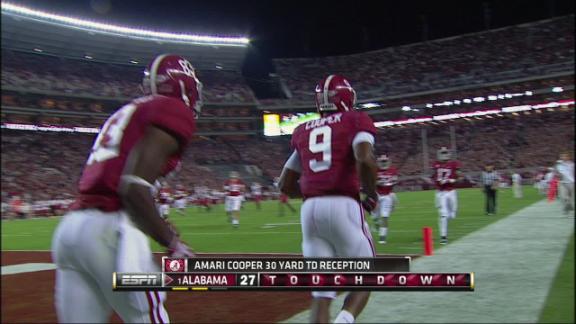 READING THE DEFENSE
Take, for instance, the SEC championship game in 2012. It was late in the fourth quarter and Alabama was trailing Georgia 28-25. The play called for Cooper to go inside on his release, but he saw the defender shading that way.
Collins: "He was too far inside, so I jumped outside instinctively."
To his credit, Georgia cornerback
Damian Swann
didn't bite on the play-action fake. Instead, he fell for Cooper's move toward the middle of the field. Cooper swung his hips back toward the sideline. Swann was caught flat-footed and completely turned around. Cooper was so wide open, he stopped running. He sped up just in time to catch the 45-yard game-winning touchdown that sent Alabama to the BCS National Championship Game.
Cooper: "It's a thing you can sense. As soon as you start releasing off the line, you can feel he's leaning toward one way and then you go the other way. It's a very unique thing."
But that wasn't Cooper's favorite instance of toying with a defensive back. It also took place in the 2012 season, against Ole Miss.
Cooper: "It was third down and I had a slant route. I'd been watching film of this guy because he's from Miami and I knew him personally. He was really quick. But I was watching film and I noticed he's really patient at the line. So I used one of my better releases to get open."
Rolle: "He thrives on reading defenses and knowing how to get open and not just running by people. He liked to run the slant pattern, the hookups, the outs. He was even more dangerous if he got the ball right away and in open space."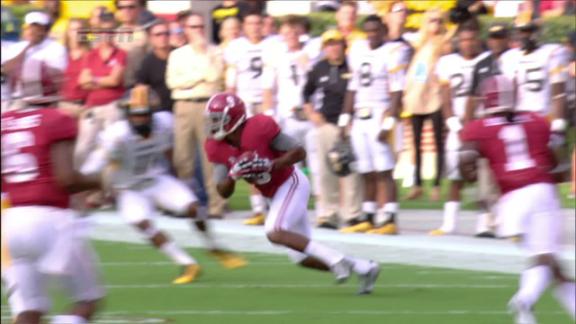 WORK ETHIC
Former USC coach Lane Kiffin marveled at Cooper's practice habits, too. When he became Alabama's offensive coordinator in January, he quickly noticed how much work Cooper puts into his craft.
Kiffin: "Amari sometimes would work out two hours before the workout started. I thought it was a really hard workout we were doing -- the Fourth Quarter program that we do here -- but he worked out two hours before that."
Christion Jones
, Alabama receiver: "Have you seen him? It's nothing fake. He goes hard every day, every practice. No matter what it is, he's going to go full tilt."
Cyrus Jones
, Alabama cornerback: "His potential has been evident since the first time he stepped on the campus and on the field. You progress each year as a player and you can definitely say he's reached another level this year."
September, 18, 2014
Sep 18
2:00
PM ET
COLUMBIA, S.C. -- South Carolina coach Steve Spurrier beamed when he sprang into his postgame press conference room Saturday evening. He had just watched his Gamecocks shock No. 6 Georgia -- the team picked by many to represent the SEC in the College Football Playoff after just one game -- 38-35 with a gutsy, yet controversial, call to go for it on fourth-and-inches.
[+] Enlarge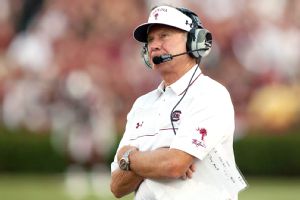 Jeremy Brevard/USA TODAY SportsSteve Spurrier again got the best of Georgia and showed that South Carolina will make noise in the SEC Eastern Division.
The Head Ball Coach, who was labeled "done" by some after an unconvincing 1-1 start that featured an epic beat down from Texas A&M, was smiling once again after besting his favorite SEC pinata -- Georgia.
Spurrier got his 16th win over Georgia -- the most by any coach over the Dawgs -- and his fourth out of the last five meetings. He and his team also showed that what we thought of South Carolina heading into last weekend wasn't exactly true. There are still issues with the Gamecocks, especially on defense, but we were quick to write off the very team picked in the preseason to win the SEC Eastern Division.
"This is a good one," Spurrier said of Saturday's win. "I knew we had a good chance to beat them when I heard [ESPN radio host Paul] Finebaum picked them [Georgia] to win by about 25 points. He picked Alabama to beat Oklahoma by 25 [in last season's Allstate Sugar Bowl] too. I said, 'We gotta chance tonight then.'"
Yeah, all that negativity we showed the Gamecocks last week didn't go unnoticed in Columbia.
"I'm not going to lie and tell you that I wasn't watching TV, seeing people say that Georgia was the No. 1 team, have them winning the playoff," South Carolina running back
Mike Davis
said. "Watching GameDay and seeing all those guys pick UGA, and having [ESPN college football analyst] Kirk [Herbstreit] being the only one who said we were going to win. This is a big confidence booster for our team."
So South Carolina isn't dead, and it's clear that the SEC East is still very much wide open.
What else were we quick to assume about the SEC?
1. Jake Coker isn't ready:
We all thought Coker would be Alabama's starting quarterback. Well, it's Florida week and veteran
Blake Sims
is very much the guy and has a big lead on Coker. Unlike Coker, Sims is limited with his arm, but he's done nothing to lose the starting job, while Coker has done nothing to take it.
2. Arkansas isn't the pushover it has been:
We figured it'd be another ho-hum year for the Razorbacks. Then they challenged Auburn in the first half of their opener and literally ran over Nicholls State and Texas Tech with 933 rushing yards and 13 touchdowns on the ground. Arkansas looks like it can run on
anyone
.
3. Vanderbilt is in trouble:
We thought the talent was still there for Vanderbilt to make another quality run under Derek Mason in his first year with the Commodores. Well, we aren't sure what's up, but the Commodores are lucky to be 1-2 at this point. After getting outscored 78-10 against Temple and Ole Miss, the Dores needed a last-second missed field goal to escape the UMass game.
4. Florida's defense has to climb back to elite status:
We questioned Florida's offense, which still has concerns, but we didn't press the defense. Well, it turns out that there are actually real concerns with this younger unit. Coverage breakdowns fueled 369 Kentucky passing yards and three touchdowns. Also, can anyone besides
Dante Fowler Jr
. rush the passer?
5. Mississippi State's secondary has questions:
It's early, but the Bulldogs have had issues in the back end of their defense. Through three games, the Bulldogs have allowed an average of 311.7 passing yards per game. Corner
Taveze Calhoun
, who garnered tons of preseason praise, and the guys around him at corner and safety have really underperformed to start the season.
6. Texas A&M is still pretty good:
Wasn't this team supposed to take a few steps back without
Johnny Manziel
? Well, the Aggies didn't get the memo. Texas A&M upset South Carolina 52-28 to start the year, the defense looks better and quarterback
Kenny Hill
leads the SEC with 1,094 yards and has 11 touchdowns. I can't believe someone didn't think an A&M quarterback would throw for
3,000 yards this season
...
7. Kentucky can upset someone:
If you watched any part of Florida's triple-overtime win over Kentucky, you'd know the Wildcats are better than they have been in years.
Patrick Towles
threw for almost 400 yards on the Gators with a handful of playmakers to use that this team hasn't had in a while. Also, that defense is much better with
Bud Dupree
and
Za'Darius Smith
battling for the top defensive end duo in the SEC.
8. Tennessee doesn't have a quarterback issue:
We thought there was too much uncertainty surrounding Tennessee's quarterbacks. Well, we were wrong, as
Justin Worley
has been solid, making tremendous throws through the first two games. He struggled against Oklahoma but is averaging 240 yards per game and has six touchdown passes.
9. Missouri isn't ready to take a step back:
We thought there were a lot of questions for Mizzou on both sides of the ball, and there still might be, but this team isn't ready to bow out in the SEC. The competition hasn't been great, but Mizzou has done exactly what's been asked, outscoring teams 125-52.
10. Leonard Fournette isn't Michael Jordan ... yet:
We thought Fournette would have
at least
1,000 rushing yards and, like, 20 touchdowns at this point. What a disappointment! It's a long season folks, but Fournette is still learning and has just 162 yards and two touchdowns. He'll be great, but we actually have to be patient with him.
Bama and UF offenses could be biggest key
SEC SCOREBOARD
Thursday, 9/18
Saturday, 9/20