October, 1, 2014
Oct 1
2:45
PM ET
By
ESPN.com staff
| ESPN.com
Join ESPN.com reporters Edward Aschoff, David Ching and Chris Low at 3 p.m. ET as they preview a monster week of SEC action. They'll break down Alabama-Ole Miss, Mississippi State-Texas A&M and LSU-Auburn, while also talking Todd Gurley's Heisman chances and answering your questions.
October, 1, 2014
Oct 1
2:00
PM ET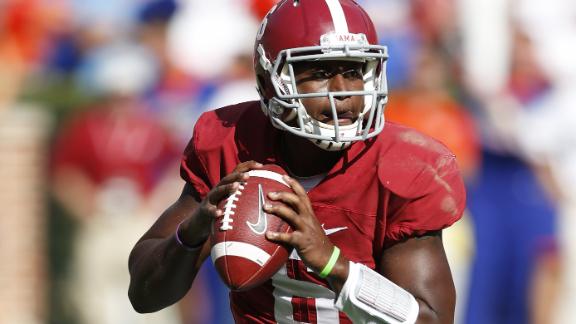 "We can put points on them. I think we can put points on anybody."
Those were the words of Ole Miss quarterback
Bo Wallace
prior to last year's Alabama game. The only problem was the Rebels didn't score any points, not a one. They were shut out by the Crimson Tide to the tune of 25-0.
[+] Enlarge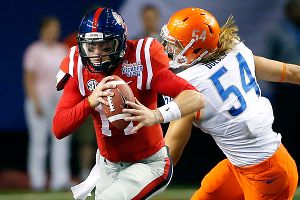 AP Photo/John BazemoreBo Wallace has been locked in this season since a rough first half against Boise State, leading Ole Miss to a No. 11 ranking.
It wasn't all on Wallace, who finished 17 of 31 for 159 yards with no touchdowns and no interceptions. Ole Miss failed to convert twice on fourth down in Alabama's red zone, and then there was the lack of a rushing attack. The Rebels only rushed for 46 yards, mustering a measly 1.8 yards per carry.
But none of that mattered after the game. The loss and the shutout came back on Wallace because of the "guarantee" he made beforehand. He took a lot of heat, and it didn't help that the Rebels proceeded to lose their next two games to Auburn and Texas A&M. It was a difficult stretch for Ole Miss and Wallace.
The senior quarterback has grown up since then. He's a different player, both on and off the field, as he heads into Saturday's rematch with No. 3 Alabama.
"I've come a­­­ long ways," Wallace said. "I never felt great at all last year, and this year I feel good. Obviously I made a bad decision last week, but other than that, I feel good. I'm confident going into this game. I'm confident in our guys, and we know it's going to be a big test for us."
The proof is in the numbers through the first four games. Since a first half against Boise State he'd rather forget, Wallace has thrown for 1,123 yards, 11 touchdowns and three interceptions. He's completing 71 percent of his passes, and he's third in the SEC in passing yards.
Impressive stats, but Ole Miss hasn't played anybody nearly as talented as Alabama. How will Wallace fare against the team that shut down him just a year ago?
"Honestly, I'm just going into it like any other week," he said. "I've been here for two years. I've played against top-10 teams -- never with the opportunity that we have right now and being undefeated -- but I can't think about that too much, especially being the quarterback. I have to be the one that's even-keeled the whole time and when guys get riled up, settle them down."
That's the new-found maturity talking. Instead of running his mouth about how many points Ole Miss is going to score Saturday, Wallace is more concerned with keeping his team focused.
A big part of that comes with experience. The former junior college transfer is now in his third season with the Rebels, and he's made more starts than any other quarterback in the SEC. He'll be starting his 31
st
game this weekend, whereas his counterpart,
Blake Sims
, will be making only his fifth start for Alabama.
"I just think the experience is something that you can't instill," UA coach Nick Saban said when asked about Wallace this week. "It's something that you have to go through and learn, and it's a tremendous advantage."
Wallace has accomplished a lot in his time at Ole Miss. He's led the Rebels to back-to-back bowl games. He's won the Egg Bowl against rival Mississippi State. He's knocked off a top-10 team. But there's one thing he's yet to do, and that's beat Alabama.
The last Ole Miss quarterback to accomplish that feat was
Eli Manning
in 2003, but Wallace is hoping to join that list this Saturday. It's a chance to put last year's game behind him.
"Those that know Bo, his mindset really never changes," Ole Miss coach Hugh Freeze said. "He'll be as confident as any kid on the field entering Saturday's game. He's always that way. It's a really good quality about him. He's very resilient. He'll be looking forward to this game."
October, 1, 2014
Oct 1
12:00
PM ET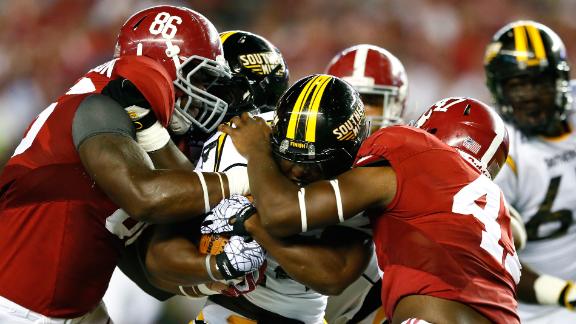 TUSCALOOSA, Ala. -- It's a familiar storyline by now, Alabama attempting to defend the hurry-up, no-huddle.
You know, Nick Saban's supposed Achilles' heel?
Texas A&M started the talk with
Johnny Manziel
running laps around the Tide. Then Auburn got on board, punctuated by its last-second miracle on the Plains. Finally, Oklahoma pushed the tempo and won last season's Sugar Bowl, racking up 429 yards of offense. And if you thought it would get better with another offseason to prepare, then the season-opener wasn't for you. All West Virginia did was march up and down the field in Atlanta, barely missing out on 400 yards of offense thanks to a handful of untimely drops.
[+] Enlarge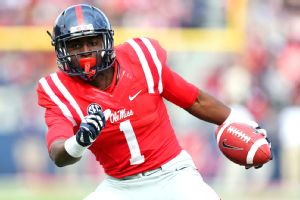 Spruce Derden/USA TODAY SportsOle Miss receiver Laquon Treadwell presents a difficult matchup for the Alabama defense.
Saban has defended himself against the less-than-flattering narrative, albeit with mixed results. Because until we see Alabama's defense actually stop an above-average offense that employs the HUNH (sorry, Florida), we can't say with any certainty that the riddle has been solved.
That's what makes this week so important. Against Ole Miss, Alabama will either put the talk to bed or add further fuel to the fire.
The No. 11-ranked Rebels are an up-tempo program, through and through. Hugh Freeze and Gus Malzahn are buddies, former high school coaches who both believe time spent is time wasted.
Bo Wallace
, Freeze's senior quarterback, is in his third year running the HUNH system. With so much familiarity, he can throttle the offense high and low at will. And with the talent surrounding him, there's no question that Ole Miss' offense is as dynamic as any Alabama will face this season.
Running back
Jaylen Walton
is tough to get a hand on, as evidenced by his 6.9 yards per carry coming into this weekend.
Tight end
Evan Engram
is a matchup nightmare with the size to overpower defensive backs and the speed to run past linebackers.
All wide receiver
Cody Core
seems to do is catch touchdowns.
Then there's
Laquon Treadwell
, arguably one of the top-five receivers in the country. He alone can wreck a secondary.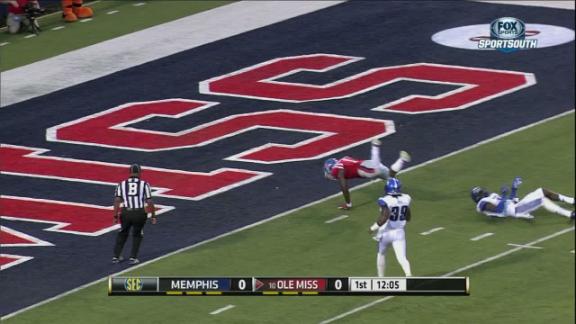 "He's, obviously to me, an outstanding player," Saban said of the much-heralded sophomore on Monday. "He's got really good size. He's a really good athlete. He's got a big catch radius. He can get in and out of breaks. He plays with a lot of toughness, very physical blocker. So he's the complete package."
Said Alabama safety
Landon Collins
: "He's a very quick receiver, explosive. You get the ball in his hands and he can do basically anything with it. We have a lot of respect for him and we're definitely going to look to him and not turn our backs to him because he can be a game-changer."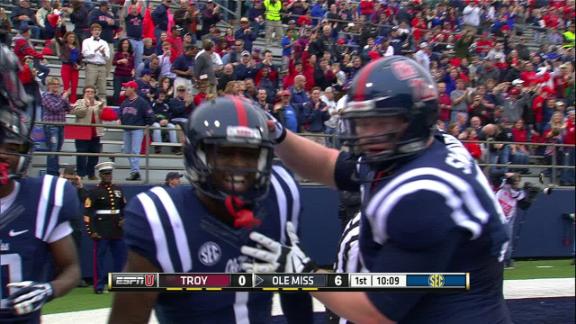 But does Alabama have anyone who can actually cover him? That's the real question.
Cyrus Jones
might be up for the task, but he gives up four inches and 25 pounds.
Eddie Jackson
is the more physical option, but his health is a concern. Then there's
Tony Brown
, who is a five-star talent but lacks experience as a true freshman.
To make matters worse, given the way Ole Miss goes without huddling, Alabama doesn't have the option to put one man on him.
"We went through this last year in a couple of games when we tried to put a guy on a guy in a game of no-huddle and it really is difficult for the corners to get lined up, so you really can't," Saban explained. "I think whoever is on him is going to have to study him and play him and play him well and keep him cut off. ... He's an outstanding player and that's a difficult task."
Whether it's the unenviable job of stopping Treadwell or the much-talked-about issues with the hurry-up, no-huddle, Alabama is used to a challenge. After so many wins and so many national titles, doubters come with the territory.
According to Collins, it's just motivation.
"Everybody is going to doubt how we play or how we come out or any aspect of our game," he said. "We're always going to have that. That's Alabama. We just take that into consideration and use that to push us and motivate us moving forward."
October, 1, 2014
Oct 1
11:00
AM ET
All week, we're discussing Saturday's terrific slate of games in the SEC West. We looked at which games we'd
pay the most to see
. We debated which team
has the most to prove
. Now it's time to talk about the quarterbacks.
The question is simple. With the game on the line, which quarterback would you want leading your team? The answer? Not so easy, but our SEC writers take a stab at it anyway.
[+] Enlarge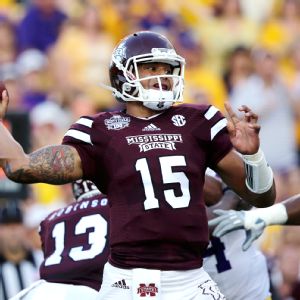 AP Photo/Gerald HerbertIf the Bulldogs were to find themselves behind in a game, QB Dak Prescott is the player many would prefer to see leading the charge.
Edward Aschoff:
I'm taking Mississippi State's
Dak Prescott
. If I need plays made late in the game, I'm going with someone who can not only fire the ball around but can take off and get plenty of yards with his feet. I'm so new-school in that respect. Give me a mobile quarterback any day over a statue pocket passer. Look at what Prescott did against LSU, in Baton Rouge no less. You're telling me I can have someone who strutted into the intimidating confines of Tiger Stadium and got a win with 373 total yards and three touchdowns? Yeah, sure. Sign me up.
David Ching:
There are some good choices here, but I'll take Mississippi State's Prescott.
Kenny Hill
is an impressive talent with a bunch of weapons at his disposal at Texas A&M.
Nick Marshall
makes some incredible plays while leading Auburn's prolific offense.
Blake Sims
and
Bo Wallace
aren't bad, either. Give me Prescott. I had a front-row seat to watch his improvisational skills occasionally embarrass LSU's defense two weekends ago and came away impressed. He's got his work cut out on Saturday to keep up with Hill and Texas A&M's high-scoring offense, but I'll take my chances with Prescott any time.
Alex Scarborough:
What if I say Sims and have him throw screen after screen to
Amari Cooper
-- the equivalent of an extended handoff? No? That's cheating, you say? OK, fine. If I'm forced to choose, give me Prescott. Something about his intangibles tells me he can win a close game for me. He's a better pure passer than Marshall, he's a more explosive and physical runner than Hill, and he's less Dr. Jekyll and Mr. Hyde than Wallace when it comes to turning over the football. Sims, on the other hand, has never played a meaningful snap on the road, and that gives me pause.
Jeff Barlis:
Hands down, Auburn's Marshall is the best clutch quarterback in the SEC. Coach Gus Malzahn said it himself last week: "If you compare him to all the other quarterbacks around the country when the game's on the line, we've got the best guy." Marshall proved it time and time again during the Tigers' miracle run last season, but that was done mostly with his legs. This season, he's shown improvement as a passer as evidenced by the Tigers'
huge road win
at Kansas State when he started 5-of-13 passing for 56 yards and closed out the game by going 12-of-18 for 175. Marshall will have to come through one more time for Auburn to beat LSU.
Greg Ostendorf:
Don't sleep on Wallace. He's much better at home. I was at the LSU game last season when he went 8-of-11 for 71 yards on the final drive to set up Ole Miss for the game-winning field goal. With that said, I'm going to have side with Jeff on this one. Marshall isn't the best quarterback in the SEC. He might not even be in the top three. But when the game is on the line, nobody is better. He orchestrated game-winning drives against both Mississippi State and Texas A&M last season; he threw the touchdown to
Sammie Coates
that made the kick-six possible in the Iron Bowl; and more recently, he made the clutch third-down throw to put away Kansas State on the road. The kid is as cool as the other side of the pillow.
Sam Khan:
I don't think there are very many wrong choices here. I like Prescott and Marshall a lot. Heck, I even like LSU freshman
Brandon Harris
, though he'll need some more experience before I can fully trust him in that situation. Today, give me Hill. He's as cool a customer as they come and that's what you need with the game on the line -- someone who is poised. Hill showed those characteristics last week, with his team down by 14 points in the fourth quarter. After struggling through three quarters, Hill made every throw he had to make and compiled 204 passing yards and three touchdowns in the fourth quarter and overtime, including a perfectly-thrown dart for the game-winner to
Malcome Kennedy
in OT. He has come up big in A&M's two biggest games so far. You have to be darn good to earn the tag of "Trill" in Texas.
October, 1, 2014
Oct 1
10:30
AM ET
October has arrived and most teams have played a third of their regular-season schedule. One team has fallen off our playoff tracker (South Carolina) but the rest remain from last week. Let's dive in and see where the College Football Playoff contenders from the SEC stand as of today:
Alabama Crimson Tide
Record:
4-0
AP rank:
No. 3
Next big obstacle:
Oct. 4 at Ole Miss
Reason for optimism:
The bye week came at the right time for Alabama. It needed
Blake Sims
,
Jarrick Williams
and
DeAndrew White
healthy for Ole Miss on Saturday. And if it needed any extra motivation, Rebs safety
Cody Prewitt
delivered, telling reporters that, "We don't think Bama has really been as good as they have been."
Cause for concern:
Survive Ole Miss and things don't get any easier. You thought that Oct. 11 trip to Arkansas would be a cake walk? Ha! You thought Texas A&M would be an easier out without
Johnny Manziel
? That's a good one. That schedule you thought was littered with SEC cupcakes like Tennessee now looks more like a minefield.
Who they'll be rooting for this week:
Mississippi State over Texas A&M. If the Bulldogs can upset Texas A&M and Auburn the next two weeks, the West might loosen up some.
--Alex Scarborough
Auburn Tigers
Record:
4-0
AP rank:
No. 5
Next big obstacle:
Oct. 4 vs. LSU
Reason for optimism:
Nick Marshall
continues to look more and more like his old self. On Saturday, he passed for 166 yards and three touchdowns, and he also rushed for 105 yards. His new favorite target? OK, it's still
D'haquille Williams
, but fellow wide receiver
Quan Bray
has emerged as a playmaker on both offense and special teams for the Tigers.
Cause for concern:
There are a lot of question marks as to who's going to play this Saturday against LSU. Linebackers
Cassanova McKinzy
and
Kris Frost
are day-to-day with injuries, and starting right tackle
Patrick Miller
is questionable with an ankle injury. It also looks like Auburn will be without safety
Jermaine Whitehead
for the third straight game.
Who they'll be rooting for this week:
Ole Miss over Alabama
--Greg Ostendorf
Texas A&M Aggies
Record:
5-0
AP rank:
No. 6
Next big obstacle:
Oct. 4 at Mississippi State
Reason for optimism:
The Aggies passed a big test by showing that their run defense -- while still having a lot of room for improvement -- can do just enough to help them win after being tested thoroughly against Arkansas, the best rushing team in the SEC. The offense also showed it can win when it's not at its best and
Kenny Hill
responded to adversity emphatically, showing poise in fourth quarter and overtime. Health-wise, the Aggies are in relatively good shape, which is critical considering what lies ahead.
Cause for concern:
The schedule gets only tougher in the next few weeks. This weekend it's a trip to Starkville to meet undefeated Mississippi State. They return home the following week to host Ole Miss. Then on Oct. 18 they go to Tuscaloosa for a showdown with Alabama. These are all teams and places the Aggies have won before, but now they're doing it with a team that has a lot of young players in key positions, like quarterback, free safety, defensive end and receiver. This three-week stretch is a monumental test for Texas A&M.
Who they'll be rooting for this week:
LSU over Auburn. (This would help the Aggies jump Auburn in the national rankings and gain an advantage in the standings)
--Sam Khan Jr.
Ole Miss Rebels
Record:
4-0
AP rank:
No. 11
Next big obstacle:
Oct. 4 vs. Alabama
Reason for optimism:
The defense ranks first in the SEC and fourth nationally, allowing 248 yards per game and has 11 takeaways on the season. QB
Bo Wallace
is also spreading his passes around very nicely. Even with depth an issue at receiver, the Rebels already have five players with double-digit receptions.
Cause for concern:
The West is easily the toughest division in college football. There really isn't a major weak link when it comes to teams on this side of the division, and Ole Miss still has to go through everyone. We'll find out if Ole Miss has the depth needed to make a real SEC run.
Who they're rooting for this week:
LSU over Auburn
--Edward Aschoff
Mississippi State Bulldogs
Record:
4-0
AP rank:
12
Next big obstacle:
Oct. 4 vs. Texas A&M
Reason for optimism:
With an open date between their dismantling of LSU and this Saturday's showdown with Texas A&M, the Bulldogs have had time to rest and scheme to face perhaps the best opponent they've played to date. It had to help their confidence to see A&M struggle against Arkansas the way it did, too.
Cause for concern:
Mississippi State's secondary has been one of the team's few weaknesses, and that's a bad weakness to have against a high-flying offense like Texas A&M's. It also doesn't help that veteran center
Dillon Day
will miss the A&M game while serving a one-game suspension for unsportsmanlike play against LSU.
Who they'll be rooting for this week:
Alabama over Ole Miss (because why not?) --
David Ching
Georgia Bulldogs
Record:
3-1
AP rank:
No. 13
Next big obstacle:
Oct. 11 vs. Missouri
Reason for optimism:
The SEC East is still a mess, and South Carolina's loss to Missouri means the Bulldogs once again control their own destiny in the division. Just win, baby, and the Dawgs are headed back to Atlanta. Also,
Todd Gurley
seems like he's getting better and better with each week.
Cause for concern:
Passing, whether it's by the Bulldogs or against them.
Hutson Mason
admitted Saturday that the chemistry between himself and his receivers isn't where it should be, especially when it comes to throwing the deep ball. Right now, Georgia's defense can't stop any sort of passing over the middle of the field.
Who they're rooting for this week:
Tennessee over Florida
--Edward Aschoff
LSU Tigers
Record:
4-1
AP rank:
15
Next big obstacle:
Oct. 4 at Auburn
Reason for optimism:
It seems unlikely that anyone in the SEC West will finish undefeated, so the Tigers can stick around in this race if they start winning. A win in Saturday's game at Auburn could potentially jump-start LSU's chances, especially if
Brandon Harris
goes off as the new starting quarterback.
Cause for concern:
Auburn's running game has to scare LSU defensive coordinator John Chavis a bit after Mississippi State had so much success against the Tigers two Saturdays ago. LSU might be able to stick around in the SEC West race with two division losses, but a playoff bid would almost be out of the question if the Tigers fall again.
Who they'll be rooting for this week:
Texas A&M over Mississippi State --
David Ching
September, 30, 2014
Sep 30
4:55
PM ET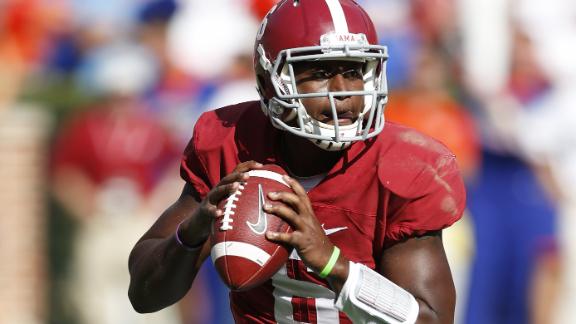 GAINESVILLE, Ga. -- When Alabama senior Blake Sims reported to the Mastrole Passing Academy in South Florida this past spring, quarterback guru Ken Mastrole saw an unpolished passer with a lot of natural ability but little refinement.
"He was kind of raw," said Mastrole, a former Maryland quarterback who played in NFL Europe and the Arena Football League and recently tutored NFL quarterbacks EJ Manuel and Teddy Bridgewater. "It was about like taking a raw piece of clay and trying to mold him physically and mentally."
It doesn't take very long to figure out that many people had a hand in molding Sims, who will lead No. 3 Alabama into Saturday's SEC West showdown against No. 11 Ole Miss at Vaught-Hemingway Stadium in Oxford, Mississippi.
Along the way, he was told he wouldn't make the grades to be a college football player, was told during recruiting by a rival coach, Tennessee's Lane Kiffin, that he'd have a better shot at starting for the Volunteers. Then, after arriving in Tuscaloosa, he patiently waited his turn for a shot at the starting job.
But he always leaned on his network of support. At his parents' house in Gainesville earlier this week, there were 11 people waiting to share their stories about him.
There is Sonny Sims, his jovial father, who worked the graveyard shift at a steel plant and slept on gym mats between taxiing his son to football workouts and basketball practices. There is Toni Sims, his stepmother, who seems to have documented every one of her son's accomplishments in scrapbooks and photographs, going all the way back to the first time he struck the Heisman Trophy pose in the driveway of their suburban Atlanta home when he was only 5 or 6 years old. Sims is still very close to his biological mother, Bernice Dorsey, as well.
September, 30, 2014
Sep 30
1:00
PM ET
Well,
Todd Gurley
isn't exactly slowing down these days.
The Georgia running back just keeps chugging along, leaving defenders shamed along the way. On Saturday, Gurley ran for a career-high 208 yards, had two touchdowns and averaged 7.4 yards per carry against Tennessee. Not bad. No wonder he now has 16 career 100-yard rushing games.
On the season, Gurley has 610 rushing yards and six touchdowns. He's averaging an SEC-high 8.8 yards per carry.
Again, we know how good Gurley is and he should be at the top over everyone's Heisman ballot, at least for the SEC. He should be at the top of it nationally, but some folks are hung up on that Mariota guy.
[+] Enlarge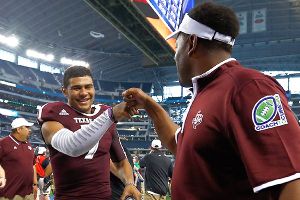 Tom Pennington/Getty ImagesKenny Hill showed his moxie against Arkansas, propelling Kevin Sumlin and the Aggies to 5-0.
But let's take some time to talk about Texas A&M quarterback
Kenny Hill
-- the trillest of them all.
We've been impressed with how he has terrorized defenses through the first part of the season, but I think he had his best performance this past Saturday against Arkansas. First, he had to bring his team back from a 14-point deficit in the second half. Then, he had to win in overtime. All he did was throw touchdowns of 86 and 59 yards to tie the game in the fourth. In overtime, he needed just one play, finding
Malcome Kennedy
, who was somehow behind
three
Arkansas defenders, for a 25-yard game-winning touchdown.
Kenny Trill's gutty performance showed us that he's more than just a kid tossing the ball around in a pass-friendly system. He had to bring his team back from the edge and then win the game. He did both without really breaking a sweat, throwing for 386 yards with four touchdowns and one interception.
On the season, Hill leads the SEC with 1,745 passing yards and 17 touchdowns. No SEC quarterback is on his level right now.
Here are four others to keep an eye on in the SEC:
Week 6 Picks