December, 13, 2013
Dec 13
12:00
PM ET
For the first time since August, we've reached a Friday with no SEC football on tap tomorrow. That's the bad news. The good news is that bowl play starts a week from tomorrow, with the first SEC bowl game set to kick off in barely more than two weeks.
We've still got plenty to discuss in SEC country, however. Here's a sampling of what's going on around the league:
December, 13, 2013
Dec 13
11:40
AM ET
Now that the regular season is over, we're starting to see awards, all-conference teams and All-America teams. On Thursday, the
Walter Camp All-America team was announced
, and six players from the SEC made the first team.

A few obvious choices were Texas A&M offensive lineman
Jake Matthews
and receiver
Mike Evans
, along with Alabama linebacker
C.J. Mosley
and Missouri defensive end
Michael Sam
.
Alabama quarterback
AJ McCarron
was also listed as a first-team member, as was Alabama left tackle
Cyrus Kouandjio
. Even with Florida State quarterback
Jameis Winston
winning the Walter Camp Award and being the overwhelming favorite to win the Heisman Trophy, he was listed as a second-team member behind McCarron.
As for the second team, Mississippi State offensive lineman
Gabe Jackson
and South Carolina defensive end
Jadeveon Clowney
both made the cut.
Interestingly enough, Auburn running back
Tre Mason
, who rushed for more than 1,600 yards and had 23 total touchdowns didn't make either team, despite being a Heisman finalist.
December, 13, 2013
Dec 13
10:31
AM ET
By
ESPN Stats & Information
| ESPN.com
Melina Vastola/USA TODAY SportsFlorida State fans have made their pick, but Jameis Winston is just one of six Heisman finalists.
Six Heisman Trophy finalists will head to New York for Saturday's ceremony, the most that have received invites to the ceremony since 1994, when there were also six. The last time there were more was in 1988, with eight.
Although the favorite entering the ceremony is
Florida State
QB
Jameis Winston
, all six have made a solid case for why they are the best player in the country this season.
QB Jordan Lynch, Northern Illinois

Although Northern Illinois' bid to be a BCS buster was ended in the MAC championship game, Lynch's dual-threat ability kept the Huskies in it all season. He had 321 rushing yards against Western Michigan, the most by a quarterback in FBS history, breaking his own record of 316 set earlier in the year against Central Michigan.
Lynch ended the season with 1,881 rushing yards, also an FBS record for a quarterback.
QB Johnny Manziel, Texas A&M
Manziel's bid to join Archie Griffin as the only other multiple Heisman winner saw a transformation of his game. While his 2012 season was built more on his legs, his 2013 campaign saw him develop as a passer.
Manziel added a yard to his yards per attempt (from 8.5 in 2012 to 9.5 in 2013). His touchdown percentage also increased from 6.0 percent in 2012 to 8.4 percent this year. Also in 2013, 63 percent of his completions this season have gone for a first down or a touchdown, compared to 57.6 percent last year.
RB Tre Mason, Auburn
Even after a 1,000-yard rushing season last year, Mason wasn't on the short list of Heisman contenders until he finished the season with five straight 100-yard rushing games, including 304 against Missouri in the SEC championship game, the fifth-highest total all-time in an SEC game.
Mason's 2,137 all-purpose yards this season broke the Auburn school record, previously held by Bo Jackson. Mason's 22 rushing TDs this season also set a school record.
QB AJ McCarron, Alabama
This is McCarron's third season as Alabama's starting quarterback, and he's improved every season. His opponent-adjusted QBR was 76.7 in 2011, 81.5 in 2012 and 83.5 this season.
He was even better against SEC competition. In conference games, McCarron had an 86.4 opponent-adjusted QBR, tied for the best in the conference. Fellow Heisman candidate Manziel was third (85.5).
RB Andre Williams, Boston College

This season, Williams became just the 16th player in FBS history to run for at least 2,000 yards in a season, and the first since Donald Brown did so for Connecticut in 2008.
Williams also showed big-play ability. He had 26 runs of at least 20 yards, the most by an FBS player since Kevin Smith had 26 in 2007. His 11 touchdowns on such runs are the most for any player in the last 10 seasons.
QB Jameis Winston, Florida State
Winston is the clubhouse leader for the Heisman, and as the FBS leader in opponent-adjusted QBR (90.9), he has good reason to be. The leader in opponent-adjusted QBR in three of the last six seasons went on to win the Heisman, including Manziel last year.
Winston has also showed a clutch presence on the field throughout the year. On third downs, Winston has a 98.9 Total QBR, leading all FBS quarterbacks. Over the last 10 seasons, the highest third-down Total QBR in a completed season was also 98.9, by Andrew Luck in 2010.
December, 13, 2013
Dec 13
10:00
AM ET
Not every player has the profile to earn an invite to New York for the Heisman Trophy ceremonies. Like any famous party, it's reserved for the select few, the guest list limited to only well-known names like McCarron, Mason and Manziel.
But even in a top conference like the SEC, players get lost in the shuffle. Most don't get the recognition they deserve.
That's where we come in. The following are some of the unheralded players of the SEC. Some you might know. Others you might be only tangentially aware of. But their contributions are worth noting.
South Carolina QB Connor Shaw:
Ignore the stats. They're not bad, but they're not important. Shaw isn't arguably the most underrated player in the whole of the SEC because he threw for 2,135 yards, 21 touchdowns and just one interception. Instead, think about where the Gamecocks would be without him. They most certainly wouldn't be in the Capital One Bowl. Shaw was gutsy leading South Carolina, coming back from injury time and time again. He's one of the best quarterbacks in school history and an all-time great competitor in the SEC.
[+] Enlarge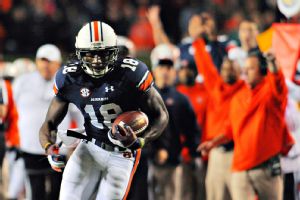 Shanna Lockwood/USA TODAY SportsWR Sammie Coates keeps defenses a little bit honest when facing the powerful Auburn run game.
Auburn WR Sammie Coates:
Gus Malzahn makes no secret he wants to run the football with
Nick Marshall
,
Tre Mason
and Co., but without someone to stretch the field the running lanes becomes much tighter. That's where Coates comes in. His 38 receptions aren't a league high -- the offense isn't tailored for him -- but when he gets the football, he makes the most of it. Defenses are forced to keep a safety back to cover him as he leads the SEC and ranks second nationally with 22.1 yards per catch. He didn't fumble the ball once this season and caught seven touchdowns to go along with 841 yards.
Missouri DL Markus Golden:
By now we're all aware of the beast known as
Michael Sam
. He's the best pass rusher in the league and one of the best in all of college football. But his teammate at Missouri isn't half bad either. Golden has been as productive and balanced as they come in the trenches this season with 6.5 sacks and 13 tackles for loss, good enough to rank him eighth and fourth in the SEC, respectively.
Alabama RB Kenyan Drake:
Like Golden, Drake has been a bit overshadowed by a teammate. Granted
T.J. Yeldon
is the primary back in Alabama's offense, but Drake isn't far behind. In fact, there's not much of a noticeable drop-off, and Drake is actually the more dynamic and speedy of the two runners. Drake's 7.5 yards per carry is first in the SEC and seventh nationally (minimum 80 carries). He finished the regular season with a healthy 694 yards and eight touchdowns.
Georgia ILB Amarlo Herrera:
He's not flashy and his talent might not wow you, but if production is the name of the game then you ought to know Herrera. One hundred tackles should get you noticed. And yet Herrera is nowhere to be found on the first- or second-team AP All-SEC lineups despite finishing with more tackles than a linebacker many consider to be the best in the country in Alabama's
C.J. Mosley
.
Kentucky LB Avery Williamson and DE Alvin Dupree:
Chances are you didn't hear or see much of the Wildcats this season. Mark Stoops' first season in Lexington was a struggle as UK won no conference games. But it wasn't all bad. The Cats defense featured two of the better producers in the SEC in Williamson and Dupree. Williamson finished with 100-plus tackles for the second consecutive season, and Dupree ranked sixth in the SEC with seven sacks.
December, 13, 2013
Dec 13
9:30
AM ET
TUSCALOOSA, Ala. -- As
AJ McCarron
sat and answered questions about his Heisman Trophy candidacy this week, there was a sense of calm in his voice. He smiled, leaned back and relaxed as he laid his case bare.
It was strange. He wasn't agitated to be there. He wasn't itching to leave. A senior who has built a reputation as being gruff with the media, McCarron seemed genuinely happy and almost giddy to be talking about his upcoming trip to New York City for the award ceremony.
[+] Enlarge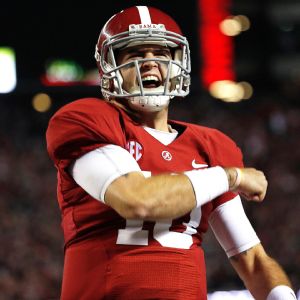 AP Photo/Dave MartinWith his collegiate career coming to a close, AJ McCarron has been uncharacteristically reflective.
McCarron said he never would have traveled to New York unless he was nominated for the Heisman Trophy or invited to attend the NFL draft. Now one of those two dreams is about to become a reality.
"I just can't wait," he said. "I'm really looking forward to it, and being able just to see everything and going through the process is just a dream come true. It's going to be cool."
There was no talk of the Iron Bowl and Alabama's crushing defeat at the hands of Auburn. It has been less than two weeks since that game knocked McCarron and the Tide out of the championship picture, but it seemed like a distant memory as he spoke comfortably about what's next.
And true to his word, McCarron -- who said after the loss that football is just a game, it's not life -- seems to have moved on from the game.
"You've got to move on, live life and be happy," he said. "Because life's way too short to sit back and think about what you should have done and be mad about it."
Recently, McCarron has found time away from football. He has continued to work out and run with the team, but he hasn't thrown a football since the end of the regular season. Instead, he's letting some of the younger guys take reps during practice.
"My old self is taking a break for a minute," he said.
Last Saturday, McCarron turned off the SEC championship game at halftime so he could go Christmas shopping with his girlfriend, Katherine Webb. This week, he and his family are making the rounds at various awards shows and ceremonies.
He was in Orlando on Thursday for the Home Depot College Football Awards Show. He will be presented with the Johnny Unitas Golden Arm Award in Baltimore on Friday. And he'll wrap up the tour in New York City for the Heisman Trophy presentation on Saturday night.
McCarron never has been one for awards and individual recognition, but his teammates believe he's more than deserving of college football's most prestigious honor.
"For a quarterback to come in, [run] Alabama's system under Nick Saban and go out and do the things he's done, help this team win two national championships -- he has less interceptions than anybody -- but for him not to get the recognition he needs, it's ridiculous," said Tide wideout
Kevin Norwood
.
His resume is pretty impressive. During three years as Alabama's starting quarterback, McCarron has led the Tide to two national championships and a record of 36-3. As a senior, he has thrown for 2,676 yards, 26 touchdowns and just five interceptions, and he played his best games against the likes of Texas A&M, LSU and Auburn.
"If you look at my play over three years, I feel like no quarterback in the SEC or the country has played as consistent as I have," McCarron said in a rare moment of self-reflection. "I think the numbers do the talking. When you look at my stats against top-10-ranked teams, I don't think anybody's stats compare to mine.
"I just let my stats and play do the talking and sit by the side, I guess."
December, 13, 2013
Dec 13
9:00
AM ET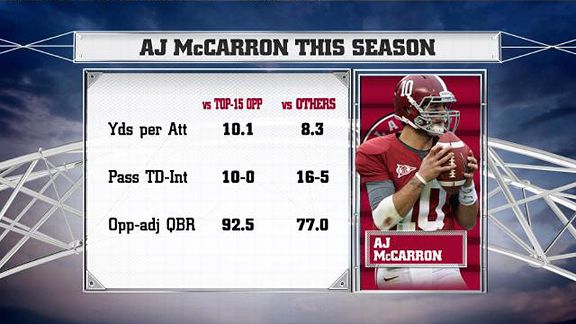 ESPN Stats & InformationThis season, Alabama QB AJ McCarron was at his best while playing the best.
AJ McCarron, QB, Alabama
Key stats:
2,676 yards, 26 TDs and 5 INTs on 67.6 percent passing
Why he made it to NYC:
Was it a nod toward career achievement that McCarron was invited to the Big Apple? Considering many of his key numbers are nearly identical to a season ago, it's hard to argue his 36-3 record and two national championship rings as a starter didn't sway voters. "If you look at my play over three years, I feel like no quarterback in the SEC or the country has played as consistent as I have," McCarron said on his own behalf. "I think the numbers do the talking." And they do. Because of the system, he's not going to throw the ball most downs, but he's still eighth in the country in QBR and fourth in touchdown percentage this season.
Heisman Moment:
Can a Heisman type of moment come in a loss? When Alabama was backed up against its own goal line on the road at Auburn and the game was tied at 21, McCarron reared back and threw a 99-yard touchdown pass to put the Tide ahead by seven in the fourth quarter. Looking back, it had all the earmarks of a Heisman moment. But then the Tigers' miracle comeback got underway and McCarron's play was lost in the shuffle of orange and blue. Instead, Heisman voters might go way back to the first third of the season and Alabama's trip to College Station, Texas, to find a time when McCarron shined brightest in victory. After falling behind early to the Aggies, McCarron led a furious comeback in which he threw for four touchdowns and 334 yards as Alabama won a shootout 49-42.
December, 13, 2013
Dec 13
5:00
AM ET
1.
AJ McCarron
of Alabama expressed amazement Thursday night when
he won the 2013 Maxwell Award
, but perhaps he wasn't aware of the award's recent history. Heisman winners don't win the Maxwell. Since Drew Brees of Purdue won the Maxwell in 2000 instead of Chris Weinke of Florida State, only two players have won both awards: Tim Tebow of Florida in 2007 and Cam Newton of Auburn in 2010.
2. Bob Diaco will be a good salesman for UConn. He is a good-looking, well-spoken, energetic coach. He has the football chops as well, having served a long apprentice for Brian Kelly. UConn athletic director Warde Manuel hired a sparkling candidate. Now Diaco must face the reality of UConn football: Will UConn provide Diaco with the budget to hire a good staff? Can Diaco do what Randy Edsall did at UConn, supplant the state's meager homegrown talent with players from the northeast and Florida? Is there room for national success in the American? Diaco bit off a lot. We'll see how well he can chew it.
3. Alabama didn't finish No. 1 in the BCS ratings, but the Crimson Tide finished No. 1 in the TV ratings, playing in the season's three most-watched games. LSU at Alabama, played in prime time, drew a 6.9 rating. The Iron Bowl pulled an 8.2. The most-watched game of the season, played way back in Week 3, had been promoted for nine months: Alabama and Texas A&M did an 8.5. Ohio State at Michigan came in a distant fourth at 5.8. The most-watched Pac-12 game, Oregon at Stanford, drew a 3.6 on a Thursday night.
December, 13, 2013
Dec 13
3:00
AM ET
[+] Enlarge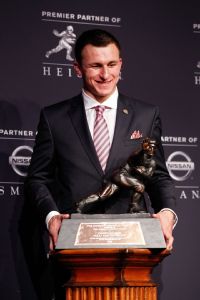 Mike Stobe/Getty ImagesJohnny Manziel brought home the 2012 Heisman Trophy, but will likely be watching the second straight freshman winner.
There is little intrigue leading into the 2013 Heisman Trophy ceremony Saturday in the Best Buy Theater in New York. Florida State quarterback Jameis Winston is the overwhelming favorite to take home the coveted bronze statue.
He's the best player on the nation's top-ranked team and the highest-rated quarterback, according to the NCAA's efficiency rating and ESPN.com's Total Quarterback Rating.
But, as with this college football season as a whole, Winston's candidacy was not without detours and complications. The redshirt freshman's often brilliant and refreshingly exuberant play on the field was offset to some degree by an off-field incident that cast a dark cloud over him and the Seminoles for weeks. He was accused of but not charged with sexual assault, and the media storm surrounding the incident, as well as the curious way the case was handled by police, still has lingering and discomfiting fumes.
How discomfiting those fumes are to voters across the country will be revealed by how wide Winston's winning margin is among the 928 total ballots cast by 870 media members, 57 previous winners and one vote from the general public.
December, 12, 2013
Dec 12
9:26
PM ET
It is harder than ever for college football teams to play good defense. That's been apparent the last few years, as up-tempo and spread offenses have become commonplace, and some are among the most successful in the sport. (We're looking at you, Auburn and Baylor.)
Yes, up-tempo and spread offensive attacks have made some pretty good defenses look silly, in part because defenses are now on the field for a lot more plays each game. The FBS average is 71.9 plays per game, up from 67.7 per game five years ago. The NFL average is 65.
We (current and former defensive players) could complain about rule changes that give offenses a huge advantage (i.e., the frenzied pace that doesn't allow defenses to get set, or allowing offensive linemen to block downfield on screens and pass plays), but we don't make excuses. No, what we defenders must do is adapt -- and in turn, we analysts must change the way we evaluate defenses.
It is no longer good enough to look simply at points allowed (this never accounted for scores allowed by the offense or special teams) and yards allowed (this never accounted for yards allowed in a blowout game) to determine good defensive teams.
When I evaluate defenses, the objective factors I rely on most are points allowed per drive (FBS average is 1.97) and yards allowed per play (FBS average is 5.74). These statistics give a better view of how defenses are performing -- regardless of the number of plays they are on the field.
Almost all of my top 10 teams excel in these two areas, and I also factor in my own analysis, after covering games live and breaking down tape, to create this ranking. This subjective part of the ranking tells me which teams are disciplined, and which teams have difference-makers -- things you can't get from the statistics alone.
With those factors in mind, here is my ranking of the top 10 defenses of the 2013 season:
This was the top defense in the country by any measurement. Sparty had the No. 1 defense in yards allowed per play (3.94) and was third in points allowed per drive (0.93) -- and if you prefer the old-school stats, MSU dominated those, too. Additionally, Michigan State's D allowed the fewest rushing yards per game (80.5), fewest yards per rush (2.7) and fewest 10-yard runs (30) in the FBS.
To continue reading this article you must be an Insider
December, 12, 2013
Dec 12
6:35
PM ET
ESPN.com news services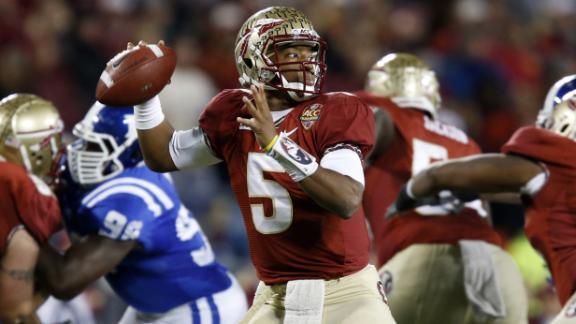 Florida State quarterback Jameis Winston was selected as the Walter Camp player of the year on Thursday, saying he was "overwhelmed" by the honor before later praising his team for the support it gave him during a trying month.
Winston had faced felony charges after being accused of sexually assaulting a female FSU student at an off-campus apartment on Dec. 7, 2012. But last week, state attorney Willie Meggs decided not to charge the Heisman Trophy favorite.
"I know I did nothing wrong," Winston said from the 23rd Home Depot College Football Awards in Lake Buena Vista, Fla.
"People just got to realize that my family, and the coaches, and Coach (Jimbo) Fisher, they just supported me through this whole process, and I just feel so loved by that -- you just don't understand just how much that means to me."
The redshirt freshman is the second player from Florida State to win the Walter Camp award, joining quarterback Charlie Ward in 1993. Former Notre Dame linebacker Manti Te'o won the Walter Camp last year.
The other finalists were Texas A&M quarterback Johnny Manziel, Northern Illinois quarterback Jordan Lynch, Alabama quarterback AJ McCarron and Boston College running back Andre Williams.
McCarron didn't go home empty-handed, beating out Manziel and Winston for the Maxwell Award as the nation's most outstanding player.
December, 12, 2013
Dec 12
5:31
PM ET
Every SEC team has representation on
the SEC All-Freshman team
, which was released on Thursday.
The team was selected by the league's coaches, and coaches could not vote for players on their own team. Arkansas, Ole Miss and South Carolina led the way with four players each on the squad. Here it is in its entirety:
Offense:
TE:
Hunter Henry, Arkansas
OL:
Laremy Tunsil, Ole Miss
OL:
Andrew Jelks, Vanderbilt
OL:
Alex Kozan, Auburn
OL:
Denver Kirkland, Arkansas
C:
Jon Toth, Kentucky
WR:
Laquon Treadwell, Ole Miss
WR:
Marquez North, Tennessee
QB:
Maty Mauk, Missouri
RB:
Alex Collins, Arkansas
RB:
Kelvin Taylor, Florida
AP:
Pharoh Cooper, South Carolina
Defense:
DL:
Chris Jones, Mississippi State
DL:
A'Shawn Robinson, Alabama
DL:
Robert Nkemdiche, Ole Miss
DL:
Darius Philon, Arkansas
LB:
Darian Claiborne, Texas A&M
LB:
Leonard Floyd, Georgia
LB:
Skai Moore, South Carolina
DB:
Vernon Hargreaves, Florida
DB:
Tony Conner, Ole Miss
DB:
Tre'Davious White, LSU
DB:
Cameron Sutton, Tennessee
Special teams:
PK:
Elliott Fry, South Carolina
P:
Johnny Townsend, Florida
RS:
Pharoh Cooper, South Carolina
December, 12, 2013
Dec 12
2:21
PM ET
Another wild week of recruiting in the SEC is in the rearview mirror. Today, the Florida Gators take center stage with all eyes on Alabama heading into the weekend of official visits before the dead period begins Dec. 16.
Gators nab one of the nation's best
No. 18
David Sharpe
(Jacksonville, Fla./Providence School) seemed to be a Florida lean for more than a year. After trips to Georgia twice during the season and official visits to Tennessee and Florida in November, the 6-foot-6, 288-pound four-star offensive tackle made it official Thursday,
committing to the Gators
.
Sharpe becomes the 17th commitment for head coach Will Muschamp and his staff, including the 10th ESPN 300 prospect to select the Gators.
Speaking of Florida, the final decision of No. 20-ranked
Dalvin Cook
(Miami/Central) likely will come following the Rockets' state title game this weekend. Florida is fighting Florida State and Miami to keep the explosive playmaker.
Make it two for Thursday
To continue reading this article you must be an Insider
December, 12, 2013
Dec 12
1:46
PM ET
ESPN.com news services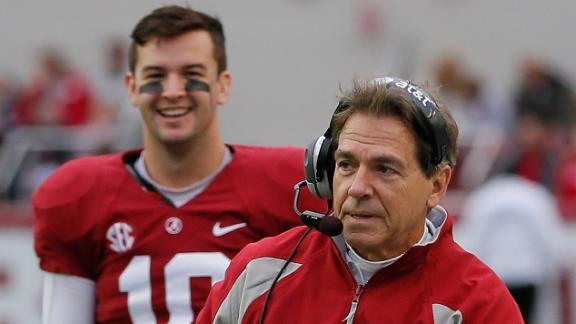 Not only does Alabama quarterback AJ McCarron believe Nick Saban is not leaving, he said Thursday that the coach told him he's staying in Tuscaloosa.
"I messed with Coach, [saying] he's getting too old to start up again somewhere else," McCarron said on ESPN's "College Football Daily" from Walt Disney World. "He told me he's not leaving. And I know Miss Terry [Saban's wife] well enough; she runs that house. And she's not allowing Coach to leave either. I think he'll be at the University of Alabama for a little while."
Speculation has been rampant after multiple media outlets reported that Texas coach Mack Brown may soon step down. Since Texas reportedly had reached out to Saban's representatives in the past, he became the top candidate to take over in Austin.
ESPN reported Wednesday that Alabama had readied an "offer of commitment" to make Saban the highest-paid coach in college football.
He signed an extension in March that pays him $5.62 million a year and runs through 2020.
Alabama athletic director Bill Battle would not address Saban's contract situation when contacted by ESPN on Wednesday.
"Coach Saban is spending his time recruiting and getting ready for a bowl game," Battle said from the Intercollegiate Athletics Forum in New York. "It's business as usual, and that's what we're getting ready for. We have a great recruiting class lined up. We have 14 prospects coming in this weekend, and [we're] looking forward to having them and looking forward to playing Oklahoma in the Sugar Bowl."
Battle was asked if he was concerned that Texas would target Saban.
McCarron Wins Maxwell Award