December, 6, 2013
Dec 6
9:00
AM ET
TUSCALOOSA, Ala. -- A dynasty toppled by destiny.
That's how it ended for the previously invincible
Alabama Crimson Tide
last Saturday, falling to those charmed
Auburn Tigers
who stayed alive in the SEC West thanks to not one, but two last-second miracles.
Chris Davis
' fateful sprint to the end zone led to
AJ McCarron
's unceremonious jog to the locker room, one vaulting his team to the conference title game while another was sent silently away to ponder a future absent another championship ring.
[+] Enlarge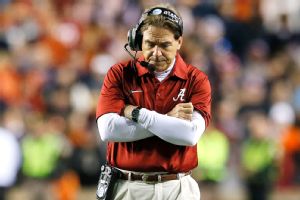 Kevin C. Cox/Getty ImagesTo the surprise of many, Nick Saban's Crimson Tide won't be competing for the national title.
This weekend won't be easy for Nick Saban, his coaching staff and his players. Watching the SEC championship game on TV wasn't part of their plans when they began the season ranked No. 1 and stayed that way through 14 weeks. Alabama, instead, won't fulfill its reservations in Atlanta, McCarron won't make a last-ditch effort to win the Heisman Trophy and any hope of a return trip to the BCS national championship game seems all but lost.
It's still hard to fathom that Alabama's run to Pasadena, Calif., was thrown off course so quickly. One second a game-winning field goal was within reach, the next Davis was racing out of Alabama's grasp and toward history. A sea of Auburn fans flooded the field at Jordan-Hare Stadium and moments later Alabama's players exited the visitor's locker room stunned, shocked that their dreams were dashed in such an unlikely fashion.
The look in their eyes: How could it have been?
Alabama had everything lined up to make history of its own this season. The quarterback was in place, the defense was unstoppable, and the coach was pulling all the right strings.
Hurdling Texas A&M in College Station and LSU at home in Tuscaloosa wasn't easy, but the Tide found a way. McCarron, with 26 touchdowns and just five interceptions, led the offense back on both occasions.
C.J. Mosley
, who completed a second consecutive 100-tackle season, led the defense to stops when it needed them most. And Saban, despite being without some of the key parts from previous championship teams, guided the ship with a steady hand.
With some of the top talent in college football, would Alabama have beaten No. 1-ranked Florida State in the VIZIO BCS National Championship? Saban might think so. He said after Saturday's loss that, "I still think we have one of the best teams in the country." Most Vegas oddsmakers agree, even today having the Tide as favorites over the Seminoles in a hypothetical matchup.
Alabama athletic director Bill Battle penned a blog on the school's website this week that began, "It's hard to win 12 games!" He later wrote, "There was never a time during the game that I didn't feel confident Alabama would win -- until we lost!"
In most instances, you'd call Battle's use of exclamation marks over the top. But in this case, it was well deserved. Battle, like the rest of the program, is still reeling from the collapse, the hard fall from championship hopes to longing for a shot at redemption that's at best a year away. He had the coach. He had the team. He just didn't have fate on its side. It's unclear whether any of those components will be on his side come 2014.
As Battle would write toward the end of his essay, "We're all counting on you to show up 'loud and proud' for our next game" -- whatever that game may be. It could be the Discover Orange Bowl, the Allstate Sugar Bowl or some other well-slotted bowl game, but it won't be the BCS title game.
Auburn and Missouri are now the SEC's best hope at reaching Pasadena and the chance of an eighth straight national champion from the conference. And even so, their résumés may not be enough to unseat Florida State or Ohio State. Alabama, for its part, would have had no such problem had it survived the final seconds in Jordan-Hare Stadium.
So while Saban and the Tide may watch Saturday's title game thinking, "what if?" the rest of the SEC might be thinking the same thing on Sunday when the bowl pairings are revealed.
If only Auburn -- and seemingly destiny -- hadn't interfered.
December, 6, 2013
Dec 6
7:54
AM ET
ESPN.com news services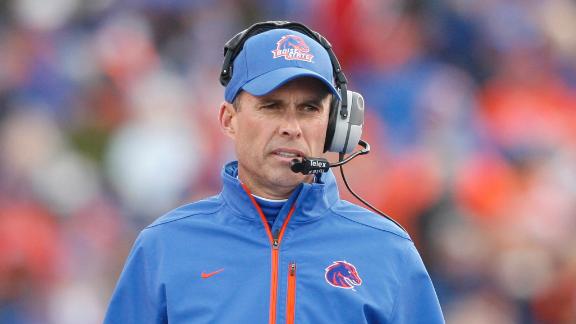 Boise State coach Chris Petersen is expected to be named head coach of the Washington Huskies on Friday, sources have told ESPN.
Petersen will be one of the highest paid coaches in the Pac-12 with the deal, according to a source.
Petersen, who has turned down other job offers, is ready for a new challenge, the source said.
Petersen met Thursday night with Washington AD Scott Woodward and senior associate athletic director Jennifer Cohen in Boise and signed an agreement on terms, sources said.
Petersen felt ready to leave because the timing was right for professional and family reasons and because he felt Washington was the right fit, according to a source.
Petersen has been connected to various openings over the last few years including USC, UCLA and Stanford but felt this was the best match. Petersen is a California native who has also worked in Idaho and Oregon and recruited all those states as well as Washington.
The Huskies zeroed in on Petersen from the outset.
Once Woodward set quarterback coach Marques Tuiasosopo in place as the Huskies' interim coach, he turned his attention toward Petersen. One representative of Petersen said the meeting Thursday night in Boise was "not an interview.
"Representatives from both sides spent all day Thursday working out the agreement," the source said.
Petersen pursued the USC job and met with athletic director Pat Haden in Boise on Sunday morning. But Haden decided to hire Washington coach Steve Sarkisian, which set in motion Petersen's move to Seattle.
Petersen won five conference titles and two BCS games at Boise State, where he won 89 percent of games (92-12) over eight years.
December, 5, 2013
Dec 5
9:49
PM ET
ESPN.com news services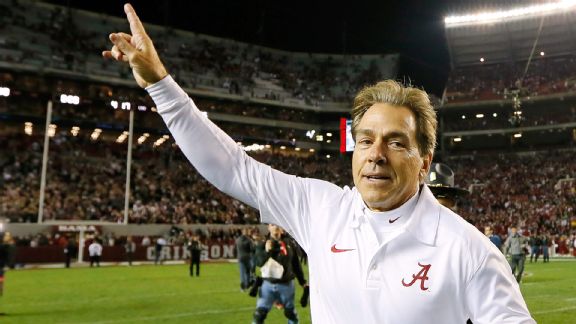 nullTBD by Editor
University of Texas president Bill Powers denied Thursday that the Longhorns are looking to hire Alabama coach Nick Saban to replace Mack Brown.
"I've never met Nick Saban. I've never talked to Nick Saban. We have not hired Nick Saban," Powers told the Austin American-Statesman. "Mack's our coach, and I can say flatly that the rumors we have hired or come to an agreement with Nick Saban or even talked to him are false."
In October, The Associated Press reported that regent Wallace Hall, one of Powers' top critics, and former regent Tom Hicks spoke with Saban's agent in January about the possibility of Saban coaching at Texas. Tom Hicks is the brother of current regent Steve Hicks, one of the board's two athletic liaisons and a key Powers ally. That conversation took place just a few days after Alabama won the national championship and Texas had wrapped up a 9-4 season that included a bowl victory under Brown.
Powers on Thursday acknowledged that meeting to the American-Statesman.
"There was an outreach to his agent, and I exempt that from this discussion," he told the newspaper. "Whatever happened then happened. We don't have any plans one way or the other (to replace Brown). And we don't have an opening."
According to the newspaper, Tom Hicks spoke with Brown after that meeting about Saban potentially being his replacement, and Brown said he did not plan on resigning, so the conversation with Saban's camp ended.
Brown came under fire early this season as the Longhorns lost two of their first three games. However, they then won six straight before falling to No. 6 Oklahoma State, and they remain in contention for the Big 12 title as they prepare to face No. 9 Baylor on Saturday.
December, 5, 2013
Dec 5
5:43
PM ET
Washington was set to interview Alabama offensive coordinator Doug Nussmeier on Thursday and is scheduled to meet Friday with Boise State coach Chris Petersen about its head coach opening, according to a source.
The Huskies are seeking a replacement for Steve Sarkisian, who left for USC.
Nussmeier was the offensive coordinator at Washington under Sarkisian from 2009 to 2011 before being lured away by Nick Saban. In Nussmeier's two seasons at Alabama, the Crimson Tide have averaged almost 39 points a game.
Petersen, who is 92-12 at Boise State since 2006, was a candidate for the Huskies job in 2009 before Washington hired Sarkisian. He also had been linked to openings at USC and UCLA.
Boise State slipped to an 8-4 mark this season, including a loss to Washington.
Earlier Thursday, Missouri coach Gary Pinkel withdrew his name from consideration. The former Washington assistant told "Mike and Mike" on ESPN Radio, "I'm a Missouri Tiger, and I'm going to stay a Missouri Tiger."
Ted Miller of ESPN.com contributed to this report.
December, 5, 2013
Dec 5
4:25
PM ET
We should have known the Bowl Championship Series was bound to deliver at least a little shot of drama on its way out the door.
To continue reading this article you must be an Insider
December, 5, 2013
Dec 5
3:13
PM ET
The seventh annual Under Armour All-America Game is less than a month away. The 2014 game, which is set for 4 p.m. ET Jan. 2 at Tropicana Field in St. Petersburg, Fla. on ESPN, features 90 of the top high school football prospects in the country. Practices begin Dec. 29.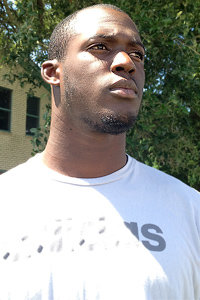 Alex Scarborough/ESPNNo. 1 Leonard Fournette is one of several five-star prospects who haven't made a commitment.
As is usually the case, the SEC will be well represented. Here are some of the storylines:
Year of dominance:
The top 15 prospects in the ESPN 300 are all scheduled to take part. That means that all 13 five-star prospects in the class will be competing, including No. 1
Leonard Fournette
(New Orleans/Saint Augustine). All told, 28 of the top 30 prospects in the ESPN 300 are on an UA All-America roster.
SE
C leads the way:
It comes without surprise that the SEC has the most committed prospects taking part, with 34. The Big Ten and ACC have 13 each, the Big 12 has three and the Pac-12 has two. Notre Dame has five commits in the game.
The SEC West alone has 25.
To continue reading this article you must be an Insider
December, 5, 2013
Dec 5
12:00
PM ET
Conference championship Saturday is almost upon us. Catch the fever!
December, 5, 2013
Dec 5
5:30
AM ET
The Early Offer is RecruitingNation's regular feature, giving you a daily dose of recruiting in the mornings. Today's offerings: Butch Jones is producing the recruiting story of the year with his efforts in Knoxville; Alabama continues to add to its prize recruiting class with another blue-chip defender; the signing period for mid-term junior college recruits is two weeks away and the push to land the undecided will be fierce.
UT adds 11th ESPN 300 prospect
To continue reading this article you must be an Insider
December, 4, 2013
Dec 4
2:00
PM ET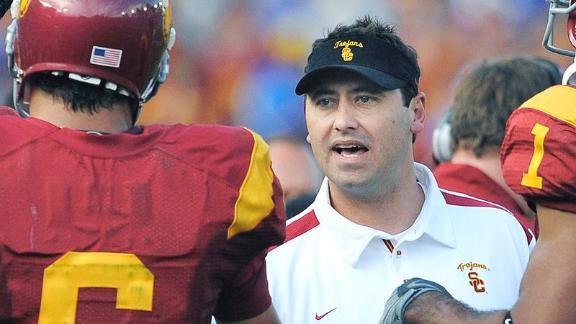 The latest update to the
RecruitingNation class rankings
features a number of moves due in large part to the release of the
ESPN Junior College 50 rankings
. Within the conference, Alabama still has a strong grasp on the top spot with all 14 schools in the top 35 classes nationally. Here's a look at the
conference's rankings

.

Trending up:
Both Texas A&M and Auburn are trending up thanks to the release of the ESPN JC 50. The Aggies jumped from No. 5 to No. 4 and into the top 3 in the conference rankings with junior college offensive linemen
Avery Gennesy
(Southhaven, Miss./East Mississippi Community College) and
Jermaine Eluemunor
(Rockaway, N.J./Lackawanna College) coming in at No. 13 and 15 in the ESPN JC 50. Auburn junior college commitment
D'haquille Williams
(Reserve, La./Mississippi Gulf Coast Community College) and
Dalvon Stuckey
(De Funiak Springs, Fla./Pearl River Community College) came in at No. 1 and 9 in the JC 50. Auburn jumped from No. 14 nationally to No. 12, and the Tigers are in striking position on several other highly-ranked prospects.
To continue reading this article you must be an Insider
December, 4, 2013
Dec 4
1:00
PM ET
TUSCALOOSA, Ala. -- It's time to face facts, Alabama.
It's been a few days since the debacle on The Plains and nothing is going to take the sting away from watching
Chris Davis
outrun the field goal team for the game-winning touchdown as time expired. The shock is still wearing off. Auburn is moving on to the SEC Championship Game and you're probably still questioning whether Nick Saban should have tried that long field goal from
Adam Griffith
, or better yet, whether he should have kicked it on fourth-and-one a few drives earlier. Maybe you're still reeling over
Amari Cooper
's dropped touchdown or the false start that negated what would have been a made field goal from
Cade Foster
.
[+] Enlarge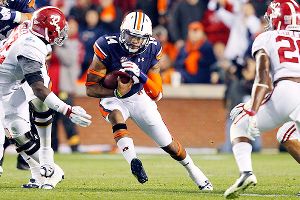 AP Photo/Butch DillNick Marshall had a big day for Auburn against the Alabama defense.
Agonize over the what-ifs all you want. That's what these times are for. It will be a while until we know what bowl game Alabama will go to, and even then we'll come back to Saturday's Iron Bowl as
the
turning point in the season. But recognize that the most disturbing thing about Alabama's 34-28 loss to Auburn wasn't the coaching decisions, missed field goals or dropped passes. Those can be remedied. Those lessons can be learned.
Instead, what's most troubling was how Saban and Kirby Smart's defense once again failed to stop a spread, uptempo offense.
Tre Mason
ran inside and outside the tackles at will and
Nick Marshall
was able to evade the pass rush too easily. After that and what we saw earlier this season from Texas A&M, isn't it time to come to grips with the fact that Alabama needs to do something to slow down these types of attacks?
Gus Malzahn might indeed be the best offensive play-caller in the country. And, yes,
Johnny Manziel
is a freak of nature and arguably worthy of a second straight Heisman Trophy. Sometimes these things can't be helped. But the body of evidence is growing to suggest that Alabama has a real problem on its hands.
It's not like Saban and Smart didn't know what they were getting into. We heard all during the offseason how they were working to slow down Johnny Football and adjust to the tempo of no-huddle schemes. Alabama is nothing if not familiar with the work of Malzahn. There was more than enough tape from his time at Auburn and Arkansas State to know the zone-read was going to be a focal point of the game. Nothing they saw from either Auburn or Texas A&M was unfamiliar, except maybe the remarkable production their offenses gained on what's supposedly the best defense in college football.
"Their running game has had a lot of success against everybody all year long," Saban said after the loss at Auburn. "They have a very difficult offense to defend. Like I said, it takes a lot of discipline."
But discipline is what Saban's defenses have been known for all along. They don't go for the sack or the big play. Players are told to maintain their gaps and let the scheme work its magic. More often than not it does. Not against Auburn, though, which rushed for 296 yards, the most Alabama has given up since 2011. Auburn averaged 4.2 yards before contact on designed rushes, according to ESPN Stats & Info. Alabama entered Saturday averaging an SEC-best 1.5 yards before contact per rush.
[+] Enlarge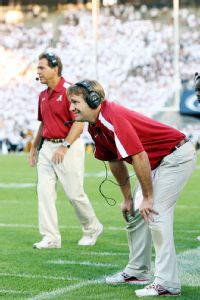 Ned Dishman/Getty ImagesNick Saban and Kirby Smart have watched the Tide struggle with uptempo offenses.
"There were times when we did not defend the plays properly," Saban explained. "… We did not close and do the things we were supposed to do and they hit us for a couple of big runs.
"You certainly have to stop the run a little better than we did today to have a chance to beat a team like this."
Mason's 164 yards rushing was the third most of any player against Alabama in the last decade. Marshall's 99 yards on the ground was the most allowed by a quarterback in the Saban era. The zone-read Mason and Marshall ran accounted for 270 yards on 38 attempts. That 7.1 yards per carry average was nearly double what Alabama entered the game allowing on zone-read plays (3.4).
Said veteran linebacker
C.J. Mosley
: "On some plays we messed up on our technique and [Marshall] made us pay, and some plays he made on his own."
In short, Alabama didn't have an answer for Auburn, just as it didn't against Texas A&M earlier this season.
Lost in the Alabama's sprint toward an undefeated season was how the defense gave up a school-record 628 yards of offense that day in September. Manziel threw for 464 yards, many of which came on plays where he scrambled to buy time for his receivers. He ran for 98 more yards of his own.
Mike Evans
abused Alabama's cornerbacks to the tune of 279 yards receiving, the most in Texas A&M's history and the most the Tide had allowed since 2001. When the Aggies got on a roll, they couldn't be stopped.
Making sense of what Texas A&M and Auburn did to Alabama's defense won't be easy, but it's a job that must be done. If not, repeat performances will come next year and the year after that.
If Alabama wants to retain the mantle of the best defense in college football, it has work to do. Saban and Smart have shown they're some of the top minds in the game, but now maybe more than ever they have to prove it.
December, 4, 2013
Dec 4
12:06
PM ET
The nation's
top-ranked class
continues to separate from the competition. After securing a commitment from
Laurence Jones
(Monroe, La./Neville), the No. 22-ranked player in the ESPN 300 on Monday, Nick Saban and staff struck gold again Wednesday.
ESPN JC 50 defensive tackle
Jarran Reed
(Goldsboro, N.C./East Mississippi Community College) committed to the Crimson Tide following an unofficial visit to Tuscaloosa last week.
"I committed to Alabama," Reed said via text message. "The relationship with the coaches, and the opportunity to join a great team. It's a great way to become a better person and player."
Reed, who ranks No. 30 in the
recently released ESPN JC 50
, made official visits to Kentucky on Oct. 11, Tennessee on Oct. 18, Ole Miss on Nov. 10 and Mississippi State on Nov. 15.
The 6-foot-4, 310-pound Reed has been a nationally recruited prospect for the better part of three years. He signed with Florida last year after his freshman season at East Mississippi Community College, but failed to meet entrance requirements. He returned to EMCC, and this season and has continued to be a force in the middle for the Lions, who will play for the NJCAA National Championship Dec. 8 in Biloxi, Miss. Reed is on schedule to graduate in December and plans to enroll at Alabama in January.
Reed is a teammate of former Alabama defensive end
D.J. Pettway
(Pensacola, Fla./East Mississippi Community College), who was dismissed after being charged with second-degree robbery. Pettway was on campus in Tuscaloosa with Reed last week, and could possibly return to the Crimson Tide.
Reed is Alabama's 24th commitment, including 18 ESPN 300 prospects. The class is headlined by No. 3-overall
Cameron Robinson
(Monroe, La./West Monroe) and No. 6
Da'Shawn Hand
(Woodbridge, Va./Woodbridge), both five-star prospects.
Alabama remains in the running for No. 1-ranked
Leonard Fournette
(New Orleans/Saint Augustine), No. 9
Marlon Humphrey
(Hoover, Ala./Hoover), No. 11
Tony Brown
(Beaumont, Texas/Ozen), No. 12
Raekwon McMillan
(Hinesville, Ga./Liberty County) and No. 13
Lorenzo Carter
(Norcross, Ga./Norcross), among others.
December, 4, 2013
Dec 4
12:00
PM ET
Like Georgia QB Aaron Murray before him, it's tough to see a senior like LSU's
Zach Mettenberger get hurt
before he has a chance to play his final bowl game and ride off into the sunset. Here's to good health in the NFL.
Raekwon McMillan discusses recruitment