December, 27, 2014
Dec 27
10:00
AM ET
TUSCALOOSA, Ala. -- From seventh grade to now, Biff Poggi has gotten to know
Cyrus Jones
well. So you'll have to pardon the long-time coach at Gilman High School in Baltimore if he wants to brag on his former player in ways you're not accustomed to.
"He's a very sweet kid," Poggi said. "He's a sensitive kid."
Never mind that Jones once ran a 40-yard dash in 4.46 seconds and leapt 33 inches from a standstill position. Forget the fact that he was once ESPN's No. 20 overall prospect or that he fielded offers from dozens of Division I universities.
Jones played quarterback, running back, wide receiver, cornerback and safety for Poggi. He even punted, kicked off and served as the team's leading return specialist. But Poggi thinks of Jones in different terms.
[+] Enlarge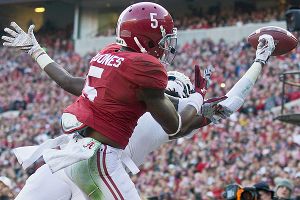 Brynn Anderson/Associated PressAfter struggling last season, junior cornerback Cyrus Jones has been a stabilizing presence in Alabama's secondary.
"He's a kid with empathy," he said. "He has a high emotional IQ."
That is a build-up, of course. Poggi can talk about the kid for only so long before his voice drops ever so slightly and he begins talking about the athlete Jones grew up to be, the "freak" with "un-be-lieveable" hand-eye coordination that "could have eas-il-y been a Division I basketball player."
"He was ridiculous," he said, finally abandoning the emphasis of sounding out each syllable.
But what drives him? What makes Jones so good?
It isn't being sweet or sensitive. It's more raw than that.
"He does not want to fail," Poggi said. "As a matter of fact, failing is just an unacceptable option for that kid."
Take for instance, Oct. 7, 2011. Jones was a senior with his feet planted on the 35-yard line against Calvert Hall.
"We were losing a game we should have been winning," Poggi recalled. "There were 3 minutes left to go, and he was not happy.
"The kid we were playing punted the ball to us -- which is maybe the dumbest thing you could do."
But it was the best punt of the punter's life, Poggi said, and it sailed way over Jones' head. The ball rolled all the way to the 1-yard line before Jones did the unthinkable and scooped it up.
"Time is running off the clock," Poggi said. "He fields the ball after being told strictly to never field the ball inside the 10 ... and runs 99 and a half yards for a touchdown -- and I fired our special teams coach right after the game."
And afterward Jones had a reason why.
"In our joy, he knew that he had to have an explanation, even though it was a touchdown because it was outside of our process," Poggi said. "And he said, 'There wasn't enough time on the clock, our two-minute offense has struggled and our best chance for us to win as a team was the punt return.
"That's the intellect, the competitiveness, the desire. Most kids would have said, 'Hey, screw it, that ball's on the half-yard line.' Not Jones. Not Jones."
------
Jones could have said, "Screw it" after his sophomore season at Alabama.
His move from receiver to cornerback had not paid immediate dividends. The kid who never accepted failure had been beaten time and time again.
"I was just thinking too much," Jones said. "I wasn't really all that comfortable."
Opposing teams noticed. In his worry not to mess up, he was picked on. The worst moment of which came against Auburn when he abandoned wideout
Sammie Coates
on what looked like a sure-fire run by QB
Nick Marshall
. Pulling up abruptly at the line of scrimmage, Marshall found a wide-open Coates, Auburn scored the game-tying TD, and Alabama lost out on a trip to the BCS National Championship.
"Last year, everything happened so fast," he said.
But instead of throwing in the towel, Jones stayed the course. He started paying more attention, said safety
Landon Collins
.
"He got as much film as we can," he said.
With that came confidence.
"Sometimes you don't have your safety," Collins said. "You have to have that confidence that that's your island, that's your spot and nobody is going to mess with you."
After starting five games as a sophomore, Jones hasn't missed a start as a junior. He's gone from 25 tackles to 44, from seven passes defended to 11, and in doing so he's become what Crimson Tide coach Nick Saban described as the team's "most consistent corner."
Without Jones anchoring the secondary, it's difficult to imagine where Alabama would be. After all, the cornerback spot opposite him has been a turnstile with
Eddie Jackson
,
Bradley Sylve
and
Tony Brown
all taking turns on the wheel. If Jones hadn't been so steady, the whole unit might have cracked.
"I just matured a lot as a player, as a person," Jones said. "I just approached it, I think, the right way this year. I did a lot of growing up."
After seeing the ball sail over his head early in his career, Jones has recovered.
And this time it wasn't by abandoning the playbook and doing it all on his own.
"Instead of panicking and all that nonsense and thinking about himself, he did what his coach asked him to do," Poggi said. "He has taken the next steps forward. He's not where he wants to be. He's not where he should be. But he's in the natural progression of that."
The next step: Ohio State and the Allstate Sugar Bowl on Jan. 1.
Saban Impressed By Ohio State
SEC SCOREBOARD
Saturday, 12/27
Saturday, 12/20
Monday, 12/22
Tuesday, 12/23
Wednesday, 12/24
Friday, 12/26
Monday, 12/29
Tuesday, 12/30
Wednesday, 12/31
Thursday, 1/1
Friday, 1/2
Saturday, 1/3
Sunday, 1/4
Monday, 1/12