October, 23, 2014
Oct 23
6:17
PM ET
October, 23, 2014
Oct 23
6:11
PM ET
October, 23, 2014
Oct 23
9:00
AM ET
By
ESPN.com staff
| ESPN.com
There's not much disagreement among our reporters this week. OK, there's not
any
disagreement among our reporters. But they don't necessarily agree on how competitive those games will be. And as everyone knows, the weeks that look boring are always anything but. Let's get on with the picks:
Why Mississippi State wins big:
Kentucky's defense has already surrendered 282 rushing yards to South Carolina and 303 to LSU last week. That doesn't bode well for Saturday's game, when Mississippi State will bring the SEC's top offense (and No. 2 rushing offense at 264.3 yards per game) to Lexington. The Wildcats are improving, but they don't have the firepower to hang around in this one.
Mississippi State 42, Kentucky 17
-- David Ching
Why Kentucky keeps it close:
Mississippi State should be rested after having last week off, while Kentucky is still smarting from its 41-3 loss at LSU. The Bulldogs should roll, but it won't be easy. The Wildcats have been a different team at home and have the firepower at defensive end to keep
Dak Prescott
on his toes. Mark Stoops has instilled the right kind of pride in his team, which means the Wildcats will bounce back and make this a second-half game.
Mississippi State 31, Kentucky 27
-- Chris Low
Why Ole Miss wins big:
Anthony Jennings
has struggled enough throwing the football for LSU, and he'll find it even more difficult against Ole Miss' vaunted secondary. If Jennings turns the ball over and makes Cam Cameron's game plan too one-dimensional, the Rebels will feast.
Ole Miss 31, LSU 17
-- Alex Scarborough
Why LSU keeps it close:
Ever since getting blown out by Auburn, the Tigers have steadily improved. From barely surviving a trip to Florida to handling upstart Kentucky, LSU's offense and defense have gotten better. Ole Miss' defense presents a supreme challenge, but with senior
Terrence Magee
and true freshman
Leonard Fournette
, LSU has the backs to establish a running game and battle the Rebels to the end.
Ole Miss 23, LSU 20
-- Jeff Barlis
Why Alabama wins big:
This game screams blowout. Alabama's defense is on fire and the offense just exploded, hanging nearly 60 on Texas A&M. Tennessee hasn't hit 400 yards since the end of September. Hey, Lane Kiffin is back in Knoxville, so I can only imagine what he has cooked up for Tennessee's defense -- and those Vols fans. I bet there are more anti-Kiffin signs than Tennessee points in Knoxville on Saturday.
Alabama 41, Tennessee 10
-- Edward Aschoff
Why Tennessee keeps it close:
Lane Kiffin would love nothing more than to put up a big number on his former team, but this Alabama offense has struggled on the road this season. In their two road games, the Tide have failed to break 20 points. They might reach that number Saturday, but it won't be easy against a Vols defense that looked inspired in the first half last week.
Alabama 24, Tennessee 14
-- Greg Ostendorf
More unanimous picks:
Auburn over South Carolina:
Auburn is 12-0 at home under Gus Malzahn and won those by an average of more than 23 points per game. Interesting side note: South Carolina hasn't beaten Auburn since 1933 (though the teams didn't play each other again until 1996); Auburn is 7-0 since then.
Auburn 42, South Carolina 21
-- Sam Khan Jr.
Arkansas over UAB:
UAB can move the ball (had 548 yards against Mississippi State and kept it close at the half), but slowing down the Razorbacks' elite rushing attack is a tall task.
Arkansas 45, UAB 20
-- Sam Khan Jr.
Missouri over Vanderbilt:
Mizzou has actually been better on the road than at home, but Vanderbilt has yet to win away from home or an SEC game, period. The Tigers' defense and special teams are coming off great performances at Florida. The offense will join in on the fun Saturday.
Missouri 41, Vanderbilt 10
-- Sam Khan Jr.
Standings:
Edward Aschoff: 59-10
Greg Ostendorf: 59-10
Jeff Barlis: 58-11
Chris Low: 58-11
David Ching: 57-12
Alex Scarborough: 56-13
Sam Khan Jr.: 52-17
October, 22, 2014
Oct 22
3:10
PM ET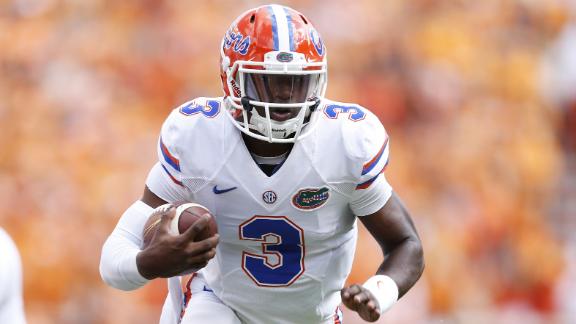 GAINESVILLE, Fla. -- Too little, too late?
Florida coach Will Muschamp is fighting for his job and faces the gargantuan task of getting his Gators back on track before what could be a career-deciding game against Georgia on Nov. 1 in Jacksonville.
Muschamp announced Wednesday that true freshman
Treon Harris
will
start at quarterback
, replacing junior
Jeff Driskel
. It's an obvious move because there is little else this team can do to reverse the tailspin that dates back to the 4-8 season of 2013.
The discord has only grown this season, as Florida (3-3, 2-3 in the SEC) is looking at another dysfunctional offense and another poor record.
[+] Enlarge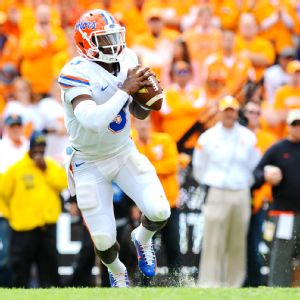 Randy Sartin/USA TODAY SportsFlorida freshman Treon Harris, who will replace Jeff Driskel at quarterback, is 12-of-18 passing for 263 yards and three touchdowns this season.
Even legendary Florida quarterback Tim Tebow, as positive a voice as can be found in his role as an analyst for the SEC Network,
criticized his alma mater's lack of heart and lack of identity
on offense.
Muschamp agreed and said his players are circling the wagons.
"We've just tried to control the controllables. We repeat that to our players a lot," he said. "The things that we can control -- we need to play better, that's the bottom line. We need to coach better. So those are the things we need to focus on -- improving ourselves and finding an identity offensively in what we can do and what we can do well.
"And block out as much as you can. You're going to hear it. That's part of it playing at a place like the University of Florida."
Irate fans booed Driskel and chanted "Fire Muschamp" during Florida's
42-13 homecoming loss to Missouri
on Saturday. Their frustrations boiled over as the Gators committed six turnovers after having three in each of the previous three games.
Muschamp said he didn't hear the chants but seems to understand what caused them, calling the game "an embarrassing performance, coaching-wise and playing-wise."
Under Muschamp's direction, Florida's offense has consistently ranked among the worst in the FBS: 105th in 2011 (averaging 328.69 yards per game), 103rd in 2012 (334.38 YPG), 115th in 2013 (316.7 YPG) and 101st through six games this season (368.0 YPG).
Florida's offense has been going in the wrong direction this season, averaging 462.3 yards per game in the first three contests and 273.7 YPG in the last three.
"Fifteen turnovers in the last four games has been a killer for us," Muschamp said. "We can't afford to turn the ball over. We've lacked production and explosive plays at the quarterback position. I think couple all those things together, we've struggled."
Hence the move from Driskel, who has completed 53.0 percent of his passes, to Harris, who has a completion percentage of 66.7.
The offense has rallied around Harris before. In fact, the 19-year-old led Florida to its only points against Tennessee and Missouri.
Now Florida players must rally to save their season, to save their coaches' jobs, and to save Florida's image.
"[Athletic director Jeremy] Foley said earlier that [Muschamp] is here and he's staying here," senior center
Max Garcia
said after the Missouri game. "We're going to play that way.
"We're not going to give up on him. We're not going to give up on the team. We don't have any quitters on this team."
Foley
reiterated his support
on Monday, saying he will continue to "evaluate the season as it plays out."
Muschamp, whose team has lost 10 of its last 13 and eight of its last 10 SEC games, said he appreciated the gesture and hopes team pride will turn things around.
"I think Jeremy sees a lot of the things that are going on in our program, and certainly a huge part of that is winning games, and that's not what we've done," Muschamp said. "But academically, socially, all the things we've done within our program in changing the culture have been outstanding."
Without positive results, will it be too little and too late for Muschamp?
October, 22, 2014
Oct 22
12:03
PM ET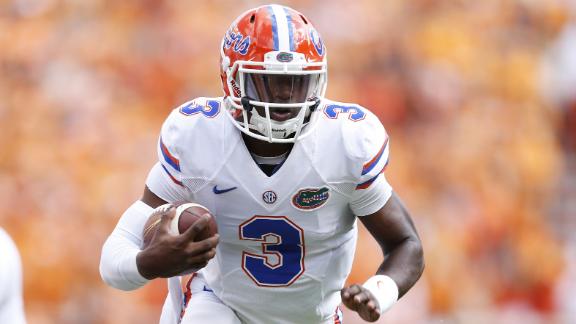 GAINESVILLE, Fla. -- Embattled coach Will Muschamp on Wednesday named true freshman Treon Harris the starter at quarterback for the Florida Gators.
Harris replaces fourth-year junior Jeff Driskel, who has struggled mightily in the Gators' last four games.
"[Harris] is getting all the reps right now," Muschamp said, "and Jeff is certainly going to have a role in that game."
Florida has a bye week before facing No. 9 Georgia (6-1, 4-1 SEC) on Nov. 1 in Jacksonville, Florida.
The Gators (3-3, 2-3 SEC) are coming off two straight home losses, including an ugly 42-13 homecoming defeat to Missouri on Saturday that saw fans boo Driskel and chant "Fire Muschamp" before flocking to the exits in the third quarter.
Driskel has had 12 turnovers in his last 14 quarters, while Harris has sparked the offense with extended playing time in the fourth quarters of the Tennessee and Missouri games.
Harris was suspended the week after leading Florida to a come-from-behind 10-9 victory at Tennessee after police investigated an accusation of sexual battery from another UF student. Harris was reinstated five days later when the accuser withdrew her complaint.
After sitting in the coaches' booth for the LSU game on Oct. 11, Harris returned to the field against Missouri and was 8-of-12 passing for 98 yards with a touchdown and an interception. He also ran for a touchdown and lost a fumble on a first-quarter sack.
October, 22, 2014
Oct 22
10:45
AM ET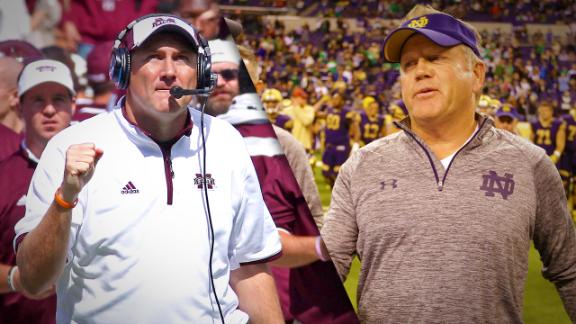 The SEC has an impressive 89 committed prospects in the
updated ESPN 300 rankings
. While the SEC West has been dominant on the field, 13 of the 14 SEC schools are ranked in the top 40 of the RecruitingNation class rankings. Here's a closer look at five things to know in the SEC from the new recruiting rankings.
October, 22, 2014
Oct 22
10:00
AM ET
Although Georgia's
Nick Chubb
is the headliner for a second straight week after another ridiculous performance, this week's SEC freshman tracker is heavy on defense -- including a couple of defensive linemen who have already emerged as breakout performers.
Here are five SEC true freshmen who stood out last Saturday (and five more worth mentioning):
RB Nick Chubb, Georgia

What he did:
Chubb continued to give
Todd Gurley
the Wally Pipp treatment by carrying 30 times for 202 yards and two touchdowns in the Bulldogs' 45-32 win at Arkansas. He also caught a pass for an 8-yard gain. In the last two games, Chubb has run 68 times for 345 yards, and the Bulldogs have blasted Missouri and Arkansas on the road.
What it means:
If and when Gurley returns to the lineup, he will obviously resume carrying the Bulldogs' running game. But with the one-time Heisman Trophy frontrunner suspended and
Sony Michel
and
Keith Marshall
out with injuries, Georgia desperately needed Chubb to produce, and he has exceeded every reasonable expectation.
DE Derek Barnett, Tennessee

What he did:
Barnett logged his first game with double-digit tackles, recording 10 in a loss to Ole Miss, and also notched four tackles for loss and two sacks. The game wasn't particularly competitive -- Ole Miss won 34-3 -- but Barnett clearly ranked among the Volunteers' top defensive performers.
What it means:
He hasn't been getting the same kind of attention as Texas A&M freshman
Myles Garrett
, but Barnett might catch up soon. All of a sudden he's second in the SEC with 9.5 tackles for loss, along with 38 tackles and three sacks.
DE Marquis Haynes, Ole Miss

What he did:
In the Rebels' win against Tennessee, Haynes finished with five tackles, 2.5 sacks and his first career fumble recovery. That continued a dominant recent run in which he has totaled 4.5 sacks in the last two games.
What it means:
Haynes leads arguably the SEC's top defense with 7.5 tackles for loss and 6.5 sacks. He also leads the SEC with three forced fumbles. The Rebels already have a star-studded defense, and Haynes is quickly adding another name to the list of players to watch.
S Jamal Adams, LSU

What he did:
The Tigers' highest-rated defensive signee in a well-regarded 2014 recruiting class, Adams had his best game yet in a win against Kentucky. He finished with a career-high eight tackles, 1.5 tackles for loss and a sack, plus he delivered the key block that sprung
Tre'Davious White
for a 67-yard punt return for a touchdown.
What it means:
Simply put, the energetic Adams is showing why those around the LSU program believe he is the next
Eric Reid
at safety. He is the Tigers' leading tackler on special teams and is already a leader on their nickel and dime defensive groupings.
S Dominick Sanders, Georgia

What he did:
Sanders started at safety for the seventh straight game and scored for the first time in his college career when he picked up a
Brandon Allen
fumble and returned it 54 yards for a touchdown. Sanders' touchdown just before halftime gave Georgia a 38-6 halftime lead.
What it means:
Sanders, who also made four tackles against Arkansas, has been one of the more reliable performers in Georgia's depth-deprived secondary. The Bulldogs still have plenty to clean up on pass defense, but the overall defense continues to make progress under first-year coordinator Jeremy Pruitt.
Other notables:
WR Kendrick Edwards, Arkansas:
Caught a 4-yard touchdown pass in the fourth quarter as the Razorbacks attempted a late rally against Georgia.
QB Treon Harris, Florida:
Rotated at quarterback with
Jeff Driskel
and finished 8-for-12 for 98 yards, one touchdown and one interception, and also rushed eight times for 26 yards.
RB Jalen Hurd, Tennessee:
Ran 13 times for 40 yards and caught two passes for 19 yards in a loss to Ole Miss.
WR Josh Malone, Tennessee:
Caught five passes for 75 yards in a loss to Ole Miss.
WR Speedy Noil, Texas A&M:
Caught four passes for 32 yards and returned six kickoffs for 106 yards in a loss to Alabama.
October, 22, 2014
Oct 22
8:00
AM ET
1. On Tuesday, my colleague Greg Ostendorf wrote about how Auburn freshman
Roc Thomas
is
primed for a big second half
to the season. Watching Thomas from afar, I'd have to agree. While he's not as fast as
Corey Grant
or as powerful as
Cameron Artis-Payne
, he's probably Gus Malzahn's most explosive running back when it comes to consistently picking up large chunks of yards. But Ostendorf's piece got me thinking: Who are some other potential second-half stars in the SEC? Here are four that come to mind:
2. The Head Ball Coach took the Florida question in stride. Steve Spurrier says he's not leaving South Carolina for The Swamp to replace Will Muschamp. "No,"
Spurrier told reporters on Tuesday
. "I tell everybody my next move is going to be to Crescent Beach, Fla." It was fun to imagine Spurrier roaming the Florida sideline again, but at 69 years old you knew it wasn't likely, if not altogether impossible. He's comfortable at South Carolina. Things might not be perfect there right now, but the work pales in comparison to what must be done at Florida. The Gators, should they choose to part ways with Muschamp, need a long-term solution, not a splashy stop-gap they'd have to replace sooner than later.
3. Texas A&M is going back to the drawing board. Even the QB position is up for grabs,
said coordinator Jake Spavital
. But that's not what caught my attention on Tuesday. What piqued my interest was coach Kevin Sumlin's comments about how Saturday's loss at Alabama was an "eye-opener." He said, "
This program was founded on three things -- play hard, play smart, be physical." Texas A&M has done none of those things recently. It started with Mississippi State and Ole Miss, but it ended with Alabama breaking its will. There was no aggressiveness from the Aggies' sideline, no fire to show in the second half they're better than the score indicated. They gave up. They wanted to go home. And if you're a coach, that's the worst possible thing you can see. What we're seeing from A&M is that you can't survive in this league on talent alone. You have to have those three things Sumlin discussed, but you have to have them in more than name only.
Tweet of the day
How unpopular is Lane Kiffin in Tennessee? Take a peek inside the race for the State House: http://t.co/51tJwekqD9 pic.twitter.com/xnPbzunPzw

— College GameDay (@CollegeGameDay) October 21, 2014
October, 21, 2014
Oct 21
2:21
PM ET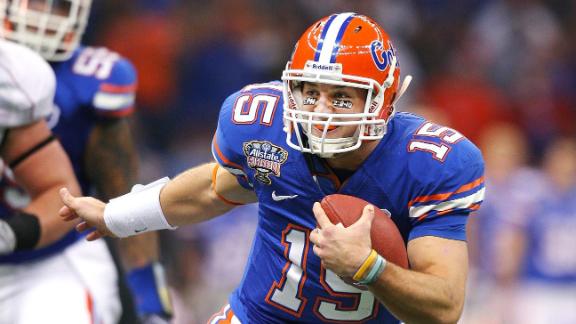 GAINESVILLE, Fla. -- The pressure is mounting on Florida coach Will Muschamp and his slumping Gators.
The latest salvo came Tuesday morning from within the UF family, as former Heisman Trophy winner and current SEC Network analyst Tim Tebow delivered a pointed critique.
"I don't think the offense has an identity right now, and I don't think that they know what they want their identity to be," the former Florida quarterback said on Jacksonville sports radio station 1010 XL. "One of the biggest problems on the offense is leadership."
Florida (3-3, 2-3 in the SEC) has a bye this weekend after getting embarrassed in a 42-13 homecoming rout against Missouri. Fans chanted "Fire Muschamp" and booed both the offense and quarterback Jeff Driskel before leaving in large numbers during the third quarter.
"[The Missouri loss] was tough to watch," Tebow said. "If you're a Gator fan, it was not easy to watch. They just didn't play with the heart that I'm used to watching Florida Gators play with."
Tebow, who was raised a staunch Gator fan in nearby Ponte Vedra Beach, had been a strong supporter of Muschamp. Now he's just another sharply critical voice in the case against Muschamp, who has a 25-19 record at UF and has lost 10 of his last 13 games.
Florida athletic director Jeremy Foley on Monday said he is continuing to "evaluate the season as it plays out."
October, 21, 2014
Oct 21
10:00
AM ET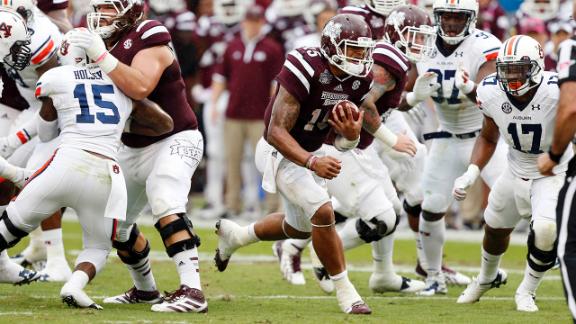 There once again was a lot of big recruiting news from around the Southeastern Conference over the weekend. There was a big commitment, key visits and several new offers. Here's a closer look at the top recruiting news from around the conference.
To continue reading this article you must be an Insider
No. 7 OLB Jerome Baker Flips To Ohio St.