September, 2, 2014
Sep 2
5:00
PM ET
It didn't take long for the bowl projections to see a major shake-up with South Carolina's loss to Texas A&M on opening night. There's also a new SEC team headed to the College Football Playoff in the latest forecast after Georgia had what many are calling the most impressive win from Week 1. We still believe it's unlikely the league gets two teams in the playoff, though.
At this point, we have 11 SEC teams in all making the postseason, but there is still plenty of football left to be played. The projections will fluctuate throughout the season, but here's our best guess after Week 1.
College Football Playoff semifinal (Rose Bowl):
Georgia
Orange Bowl:
Alabama
Chick-fil-A Peach Bowl:
Auburn
Capital One Bowl:
Texas A&M
TaxSlayer Bowl:
LSU
Outback Bowl:
South Carolina
Franklin American Mortgage Music City Bowl:
Mississippi State
Belk Bowl:
Florida
AdvoCare V100 Texas Bowl:
Missouri
AutoZone Liberty Bowl:
Ole Miss
Birmingham Bowl:
Tennessee
September, 2, 2014
Sep 2
4:00
PM ET
GAINESVILLE, Fla. -- Florida coach Will Muschamp was in an exceptionally good mood for his weekly news conference on Monday. He was working the crowd, cracking jokes.
There wasn't much football to discuss after
an epic storm suspended the season opener
. But on the bright side, it wasn't raining and his Gators still have an unblemished record.
"[We] watched all the plays from
Saturday
night," he joked. "Took a long time."
[+] Enlarge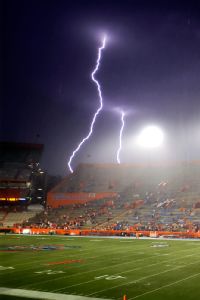 AP Photo/Phil SandlinThe Swamp became just that on Saturday night, canceling Florida's opener.
After enduring a nearly three-hour delay because of lightning, the Gators and Vandals took the field before an appreciative but soaked crowd.
Maybe he had lightning strikes on his mind, but Muschamp used the word "electric" when asked to describe the atmosphere. He used it again, describing the Gator locker room before the players emerged.
"
It was electric," he said. "The guys were jacked."
Unfortunately the storm only let up enough for the teams to run exactly one play.
It was, at least, a satisfying play for Florida and its football-starved fans. The appropriately named Valdez Showers took the opening kickoff 64 yards to the Idaho 14 before another lightning strike sent everyone off the field and into the belly of the stadium.
Safe to say it would be the most analyzed single play from Week 1 by any college football team in America.
"Jarrad Davis got the hard-hat award -- he did," Muschamp said on Monday, trying to convince reporters the team had actually given out an award. "He had a great block on the kickoff return.
"A great job by Marcel Harris sealing the edge, Valdez bouncing it. Andre Debose put a devastating block on their kicker, and we were able to get the ball down the sideline. So, very well executed."
Showers said he might have scored had the field not been so slippery.
"I was definitely looking to cut back," he said. "But I knew there was a chance I would slip, so I was just trying to get as much yardage as I could."
Showers, the fourth-year junior receiver who said he's played in worse conditions growing up in the ice and snow of fall football in Michigan, wasn't on the field when Florida lined up for its first play. When the referees signaled another stoppage, his first thought -- and that of everyone in the stadium -- was "not again."
The Gators spent most of the night in limbo, as NCAA rules stipulate a 30-minute delay for every lightning strike within eight miles of the field.
"To put things in perspective for everything, between the hours of 5
o'clock
that afternoon and 11, we had 1,100 strikes of lightning within a six- to eight mile radius of our stadium," Muschamp said. "We had two-and-a-half inches of rain between 5 and
11 o'clock,
and the last strike of lightning within six miles of the stadium was at
12:38 [a.m.]
.
"It was an issue, not just of the playing conditions of the field -- it was awful -- but we had lightning all over the place. It was going to be very difficult to be able to get the game in."
Muschamp checked the forecast over and over, while the team stayed prepared by going over plays.
"They had a book that thick they were reading through," the coach said of the game and team officials. "And I was just watching the radar."
Outside, the field was being punished by rain, wind and lightning.
The Gators mostly sat around and waited. Late at night, a second team meal was ordered and delivered by a nearby sandwich shop.
The electric atmosphere as well as the rain and lightning eventually died down. Florida is still waiting to start its 2014 season.
"I've never been a part of anything like it," Muschamp said. "We're all disappointed."
September, 2, 2014
Sep 2
2:00
PM ET
By
ESPN.com staff
| ESPN.com
The first week of games brought about a big shake-up in the SEC power rankings. From the dominance of Texas A&M and Georgia to the struggles of Alabama, it was a wild week that should set the stage for a wide-open season. But remember, it's only the first week.
.
Edward Aschoff, Jeff Barlis, David Ching, Sam Khan Jr., Chris Low, Greg Ostendorf and Alex Scarborough contributed to these rankings.
September, 2, 2014
Sep 2
8:00
AM ET
1. So while
Blake Sims
earned the right to start for Alabama in the season opener against West Virginia, his 250-yard performance in the Crimson Tide's 33-23 win wasn't enough to cement him as the starter going forward. He'll likely be the guy who walks out with the starters against Florida Atlantic on Saturday, but expect to see him share snaps with
Jake Coker
. As Nick Saban puts it, there's
still a quarterback competition going on in Tuscaloosa
. The good news is that the Tide doesn't
really
need a true starter until the week of the Florida game, which isn't until Sept. 20. Don't have a starter set then? Well, that certainly isn't ideal. Speaking of quarterbacks, it didn't matter who Auburn threw out under center,
Arkansas' defense just couldn't stop either of them
.
Nick Marshall
and
Jeremy Johnson
combined to throw for nearly 300 yards, with Johnson throwing for 243 yards and two touchdowns. Now, here's the problem for Arkansas: Expect a lot more of that read-option because that's what the majority of the SEC West will be running this fall.
2. You guys have to feel bad for the Gators, right? I mean put your college colors aside for a second and think about the fact that a program looking to rebound from a disaster of a season was
soooooo
ready to get back on the field and debut its new offense only to be washed away by a swamp inside the Swamp. So instead of joining all the fun with everyone else in the country, Florida and Idaho huddled inside Ben Hill Griffin Stadium for hours while it poured and lightening bolts shot through the skies. Florida coach Will Muschamp, who is very much coaching for his job this year, said he
supported the officials' decision to suspend the game
due to weather and unsafe field conditions. Whether or not that game will be played at a future date is unknown at this point. They both have a bye week on Oct. 25, which just so happens to be the week before Florida's crucial game with Georgia. Yeah, you try convincing Muschamp and athletic director Jeremy Foley to play a game
during the open week before Georgia
. No,
seriously
. ... Well, the good news for the Gators is that when their season officially opens this Saturday against Eastern Michigan
they'll have three suspended players back
. Now, before you bash Mushcamp, remember that Texas A&M coach Kevin Sumlin
did something similar in 2012
with the postponed Louisiana Tech game.
3. Georgia coach Mark Richt thinks the running back group that he has now
is the best he's ever had
. Yeah, I'd agree with that when you consider that the Bulldogs had 328 rushing yards and averaged 8 yards per carry against Clemson.
Todd Gurley
, who I think is the nation's best player, got 198 of those yards and had three rushing touchdowns. Chubb had 70 yards and a touchdown on four carries and
Sony Michel
had 33 yards on six carries. By the way, those two are true freshmen. And
Keith Marshall
will only get better as he comes back from his knee injury.
More from around the league
Tweet of the day
Tyson Clabo's workout w/Cards went well enough that they were interested in signing him, but both sides couldn't come to an agreement.

— Adam Caplan (@caplannfl) June 9, 2014
September, 1, 2014
Sep 1
4:16
PM ET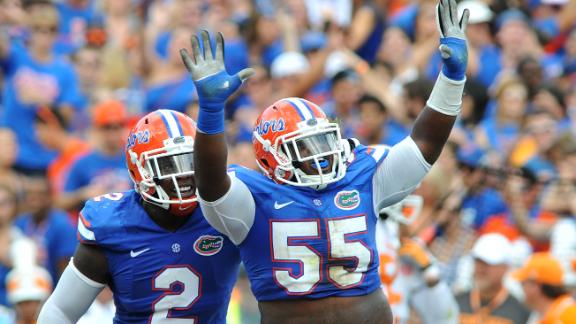 GAINESVILLE, Fla. -- Florida's season opener was suspended on Saturday, but it turns out one long night of rain, lightning and delays was punishment enough for three Gators players who had been suspended.
Coach Will Muschamp announced on Monday that starting defensive tackle Darious Cummings, wide receiver Demarcus Robinson and defensive tackle Jay-nard Bostwick will play this Saturday against Eastern Michigan.
Cummings, a senior, and Bostwick, a redshirt freshman, had been suspended for a violation of team rules, while Robinson was being disciplined for what Muschamp called a university sanction.
"They will be back this week with us," Muschamp said. "Not just as far as the suspension of a game, but they've handled a lot of other things for me, as well as Demarcus Robinson, who had a university sanction that's been resolved."
Muschamp had announced the suspensions just hours before the opener against Idaho.
Then the skies opened. After a nearly three-hour delay, Florida fielded the opening kick and lined up for its first play when another lightning strike forced the teams back inside. They would not return.
The game was ultimately suspended due to lightning and unplayable field conditions.
A decision to reschedule or cancel the game has not been reached, and Florida athletic director Jeremy Foley had little to say Monday other than reiterating that he hopes to announce a decision in the next day or two.
September, 1, 2014
Sep 1
4:00
PM ET
GAINESVILLE, Fla. -- Steve Spurrier knew what he was doing when he nicknamed Ben Hill Griffin Stadium "The Swamp."
On Saturday night, Florida's season opener against Idaho was
delayed and ultimately suspended
by lightning, hours of heavy rain and unplayable field conditions.
It looked like this for much of the night:
Looking real swampy now...#Gators pic.twitter.com/dIrbGji0QW

— Scott Carter (@GatorZoneScott) August 31, 2014
Anyone who has spent a summer in Florida can testify to the amount of rain that typically falls, and the Gators are used to playing their share of bad weather games. Here are the top five rain-soaked contests in recent UF history.
1. At Tennessee, Sept. 19, 1992:
The first season after the SEC was split into two divisions saw Florida and Tennessee become annual foes and permanent rivals. A 45-minute monsoon struck Knoxville in the second half of a game that went from a 17-7 Volunteers' lead to a 31-7 rout. The downpour turned the artificial turf at Neyland Stadium into a giant slip n' slide, giving the Gators' pass-happy offense no chance at a comeback. Tennessee took full advantage of the conditions with a running game that featured James "Little Man" Stewart and Charlie Garner. On the other side of the ball, UF quarterback Shane Matthews was relentlessly pounded by Vols DE Todd Kelly and LB Ben Talley. Beating the No. 4 Gators, 31-14, was a huge upset for No. 14 UT, and it went a long way in helping interim coach Phil Fulmer get hired as Johnny Majors' replacement.
2. Georgia, Oct. 30, 1993:
The city of Jacksonville, Florida, was in contention for an NFL expansion franchise but didn't put its best foot forward when heavy rains left the area surrounding the downtown stadium under about a foot of standing water. The field was not in much better shape, as No. 10 Florida went back and forth with unranked Georgia. Unable to grip the ball in the unrelenting rain, Florida quarterback Danny Wuerffel was replaced by Terry Dean, who led the Gators to a 33-26 lead. In the final two minutes of the game, quarterback Eric Zeier marched Georgia down the field and threw what appeared to be the game-tying touchdown. But officials said UF cornerback Anthone Lott had called timeout and nullified the play. Florida withstood two more pass attempts by Zeier and hung on for the win.
3. Tennessee, Sept. 16, 1995:
By the mid-90s, the UF-UT rivalry had become an annual early season glamour game. This one was no exception, matching Wuerffel and the No. 4 Gators against
Peyton Manning
and his No. 8 Vols. Tennessee had two 16-point leads in the first half, thanks to Manning and receivers Marcus Nash and Joey Kent. The Gators swung momentum in their favor and took the lead in the second half. Then skies opened up, as most of the fourth quarter was played in a non-stop deluge. When it was over, Florida had scored 48 straight points in a 62-37 win, and Wuerffel had thrown an SEC-record six TD passes.
4. Western Kentucky, Sept. 1, 2007:
Before Saturday night, the last game in Florida football history that was rained out was the season opener after the Gators won the 2006 BCS national championship game. Taking over as UF's starting quarterback, Tim Tebow made a statement with 300 yards and three touchdowns passing and one rushing TD in Florida's easy 49-3 victory. The Gators' final play before lightning halted the game in the fourth quarter was a 4-yard touchdown run by a backup quarterback named
Cam Newton
with 8:23 remaining.
5. At Florida State, Nov. 29, 2008:
It had rained all day in Tallahassee, Florida, leaving the field a wet, slippery mess with pools of water in both end zones. The indelible image from this game was of Florida quarterback Tim Tebow covered in the Seminoles' garnet paint after diving into the end zone for a 4-yard touchdown run in the second quarter. When Tebow got up and celebrated, his white jersey and face were stained with what looked like blood. The No. 2 Gators won 45-15 on their way to a second national championship in three seasons.
September, 1, 2014
Sep 1
10:00
AM ET
The
Alabama Crimson Tide
couldn't handle the hurry-up.
Clint Trickett
might as well have blown kisses to Nick Saban the way he paraded West Virginia's offense up and down the field.
The
Auburn Tigers
struggled with the power running game. The same
Arkansas Razorbacks
' offense that ranked last in the SEC a year ago manhandled the Tigers' front seven, posting 21 points by halftime.
The
South Carolina Gamecocks
just didn't show up. Steve Spurrier's defense laid down for the
Texas A&M Aggies
. His star running back,
Mike Davis
, shouldn't have bothered dressing out.
[+] Enlarge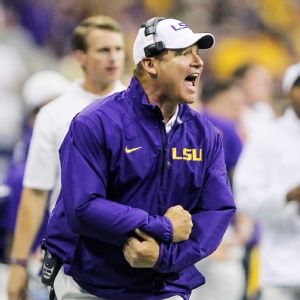 Troy Taormina/USA TODAY SportsLes Miles and LSU joined several SEC teams who won their openers, but looked flawed in the process.
They all entered their season-openers with hopes of competing for a spot in the College Football Playoff, but the SEC's three highest-ranked teams showed significant flaws in Week 1. The Gamecocks had their doors blown off. The Tide and Tigers won, but it wasn't pretty. Even the
LSU Tigers
, a popular dark horse pick to reach the final four, had to be bailed out by a bit of Les Miles magic and the Wisconsin's' abrupt aversion to the running game.
By the time Monday rolled around, the dust settled and the big picture of the SEC became clear, it wasn't what anyone expected. Somehow it was the
Georgia Bulldogs
and Texas A&M left standing as seemingly the league's best hope of reaching the playoff.
But with all due respect to Todd Gurley's inhuman exploits and Kenny Hill's inspired performance, should we be sold? For that matter, should we be ready to call anyone the class of the SEC?
Right now there are far more questions than answers. Everyone, it seems, has flaws.
The East is a toss-up. Georgia certainly holds promise, but quarterback
Hutson Mason
still needs to show he can carry an offense, Gurley has to stay healthy and the secondary must continue improving despite missing so many starters from a season ago. South Carolina, meanwhile, has to do a complete 180 or it will lose to Georgia in two weeks and find itself in an insurmountable hole. Then there are the
Florida Gators
, who are a complete unknown given Mother Nature's refusal to let them finally turn the page on 2013.
The West is even more convoluted. Texas A&M might be the real deal, but its offense is so young and it is still too early to say whether Mark Snyder has orchestrated the most impressive turnaround in history with that defense. Alabama has serious questions on defense, too, and at quarterback we might be jumping the gun a bit in proclaiming
Blake Sims
the answer. LSU could very well settle on
Anthony Jennings
under center, but he has the potential to be a reboot of Jordan Jefferson, which isn't a good thing. Then there is Auburn, stuck with too many quarterbacks and not enough defenders, not to mention its brutal schedule.
If you're looking for one of the favorites to run away with it, don't hold your breath. In fact, if Week 1 showed us anything, it's that while there are a bunch of good teams in the SEC, there is no one dominant team like in years past.
The
Missouri Tigers
won handily, the
Ole Miss Rebels
turned it on in the second half and the
Mississippi State Bulldogs
cruised to victory. All three should feel good about their dreams of reaching Atlanta.
Arkansas looked improved. So did the
Kentucky Wildcats
and
Tennessee Volunteers
. Though none of the them should go booking trips for the postseason, they could play the role of spoilers.
The only real slouches are the
Vanderbilt Commodores
.
When it comes time for playoff jockeying and the "my conference vs. your conference" disputes, parity will be the SEC's No. 1 point of emphasis. But it will also be the reason it doesn't yield an undefeated or even a one-loss team.
Alabama will get better. So will LSU and Auburn. Even South Carolina should improve with time. It is, in fact, only Week 1 we're talking about.
But first impressions do mean something, and the first look we had of the SEC revealed a pack of teams loaded with potential but saddled with problems.
Until we find out who is ready to take a step forward and lead, it will continue to be a wide open race.
August, 31, 2014
Aug 31
12:57
PM ET
No decision will be made today whether to reschedule Saturday's suspended Idaho at Florida game, a UF official told ESPN's Brett McMurphy.

"No decisions will be made today and we are working through the scenarios regarding the finances of the game," UF spokesperson Steve McClain said.

Saturday night's kick off was delayed nearly three hours because of lightning and weather conditions. Florida actually returned the opening kick off but the game was suspended for good around late Saturday night.

Idaho was to receive $975,000 to visit the Gators.

Both teams have the same open dates on Oct. 25, but it's unknown if the Gators would want to play on that date since they face rival Georgia on Nov.1 in Jacksonville.

August, 30, 2014
Aug 30
10:10
PM ET
Associated Press
GAINESVILLE, Fla. -- The Idaho-Florida game started after a nearly three-hour weather delay -- and then stopped after 10 seconds.
The latest lightning strike within 8 miles of Florida Field sent players back to the locker room just seconds after the opening kickoff.
The teams have to wait at least 30 minutes before resuming play.
Florida's Valdez Showers electrified the rain-soaked crowd with a 64-yard kickoff return, giving the Gators great field position. But then lightning was detected.
The season opener for both teams was scheduled to start at 7:02 p.m., but it was delayed repeatedly.
Players were summoned back to the field at 9:30 p.m., for a brief warmup before kickoff.
Coming of its worst season since 1979, Florida is hoping to end a seven-game losing against the seemingly overmatched Vandals.
August, 30, 2014
Aug 30
5:55
PM ET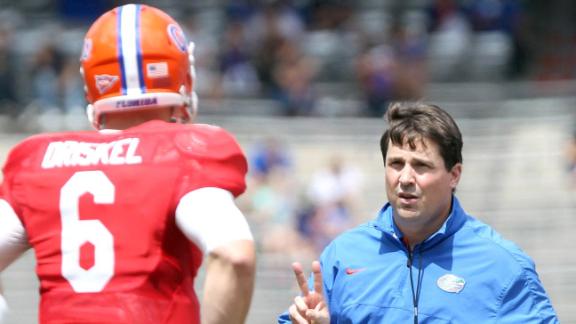 GAINESVILLE, Fla. -- Florida coach Will Muschamp suspended three players, including starting defensive tackle Darious Cummings, prior to the Gators' opener against Idaho, which was later suspended because of unsafe field conditions Saturday.
Sophomore wide receiver Demarcus Robinson, who is expected to play a big role in Florida's new spread offense, and backup DT Jay-nard Bostwick were also suspended.
A school official said after the game was called that a determination on whether the trio's suspension would carry over to the Gators' next game would not be made Saturday night. Muschamp said before the game that he had expected all three players to return next week.
Cummings, a senior, had 15 tackles with one sack and an interception last season. Robinson, who had five catches last season, will miss his fourth game due to suspension since arriving at UF.
Muschamp said Bostwick and Cummings both violated team rules, and Robinson is out because of "a university sanction that is now resolved."
"I support the university sanction," Muschamp said before the game. "We have rules here that we have to follow -- team, athletic department and university rules -- and when you don't follow them there are consequences."
No makeup date was scheduled for the season opener, which was delayed twice by heavy rain. The season opener for both teams started after a nearly three-hour lightning delay -- and then stopped after 10 seconds, before ultimately being called off.
Information from The Associated Press was used in this report.
August, 30, 2014
Aug 30
1:12
PM ET
By
ESPN.com staff
| ESPN.com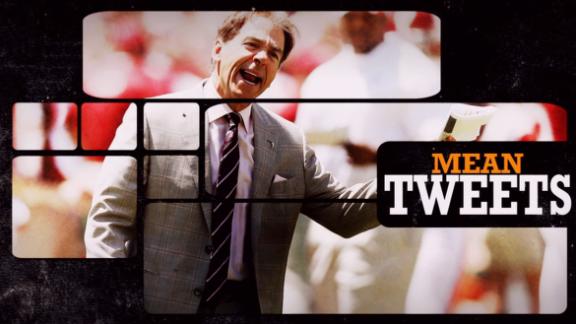 Alabama Crimson Tide
coach Nick Saban,
Michigan Wolverines
coach Brady Hoke,
Florida Gators
coach Will Muschamp and
Mississippi State Bulldogs
coach Dan Mullen read mean tweets about themselves for "College Gameday."
August, 30, 2014
Aug 30
8:00
AM ET
Noon ET
Tennessee-Martin at Kentucky, SEC Network
Mark Stoops enters his second season at Kentucky, and he has a new starting quarterback,
Patrick Towles
. The third-year sophomore won the position battle in preseason training camp, and the Wildcats are looking for him to get off to a positive start. Establishing confidence early will be key, and against an FCS foe like Tennessee-Martin, that should be feasible. Stoops says Towles is "not on a short leash," and that he has confidence in his new signal-caller. Just setting a positive tone with a convincing win would be good for the Wildcats as they continue to try to build depth, increase talent level and work their way up from the SEC cellar.
3:30 p.m. ET
[+] Enlarge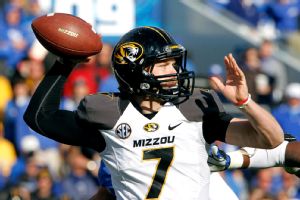 Mark Zerof/USA TODAY SportsMaty Mauk will open the season as Missouri's quarterback against South Dakota State.
South Dakota State at No. 24 Missouri, ESPNU
The
Maty Mauk
era begins at quarterback for Missouri. The Tigers are 13-1 in season openers under Gary Pinkel with 13 consecutive wins, and they're 13-0 all time against FCS teams. The Tigers don't have Kony Ealy and Michael Sam but still return several standout defenders such as defensive ends
Markus Golden
and
Shane Ray
, who aim to continue the Tigers' defensive line success. Missouri also has the nation's longest active turnover streak at 44 games.
West Virginia vs. No. 2 Alabama, ABC/ESPN2
The Crimson Tide open as heavy favorites against the Mountaineers, who were 4-8 a year ago. It sounds like
Blake Sims
will be Alabama's starting quarterback today, but expect
Jake Coker
to play also. It appears this quarterback battle will continue for the time being.
Clint Trickett
is West Virginia's starter after eight appearances and five starts last season. The Mountaineers play a pace that Nick Saban isn't a fan of, so it will be interesting to see if that gives the Crimson Tide any trouble or if they simply impose their well at the line of scrimmage -- on both sides of the ball.
4 p.m. ET
Arkansas at No. 6 Auburn, SEC Network
A meeting of two coaches who are quite fond of each other, Bret Bielema and Gus Malzahn. All kidding aside, this is a contrast of styles (smashmouth football versus hurry-up no-huddle) and a matchup of two teams on the opposite ends of the spectrum last season, with Arkansas last in the SEC West and Auburn winning the SEC. The Tigers are looking to take the division title again while the Razorbacks hope for improvement. This is the start to a tough schedule for Arkansas (the nation's toughest, according to the NCAA).
Jeremy Johnson
will start at quarterback for Auburn, but
Nick Marshall
will eventually see the field. When is unknown, as Malzahn has kept that to himself.
5:30 p.m. ET
No. 16 Clemson at No. 12 Georgia, ESPN
This was an entertaining affair last season, one that Clemson won 38-35. It should be another compelling game this time. After South Carolina's thrashing at the hands of Texas A&M on Thursday, this would be a good opportunity for Georgia to flex its muscle, since many might now look toward the Bulldogs as the SEC East favorite. Both teams have quarterbacks with big shoes to fill (
Cole Stoudt
for Clemson;
Hutson Mason
for Georgia), and this could also be a chance to make an early Heisman statement for Georgia running back
Todd Gurley
.
7 p.m. ET
Idaho at Florida, ESPNU
Florida trots out its new offense under new coordinator Kurt Roper, and quarterback
Jeff Driskel
makes his return to the lineup for the first time since a season-ending leg injury suffered against Tennessee last season. The Gators are eagerly looking to start this season and put the past behind them; last season's disastrous 4-8 campaign was unacceptable. Idaho is coming off a 1-11 year in 2013, so this is a game Florida should look to dominate early and build confidence.
7:30 p.m. ET
Southern Miss at Mississippi State, SEC Network
Mississippi State is looking to take a big step forward this season and returns 83 percent of its letter-winners from 2013 (57 total), which is the third-highest percentage in the nation. That includes quarterback
Dak Prescott
, linebacker
Benardrick McKinney
and defensive lineman
Chris Jones
, all of whom are poised for big seasons. Southern Miss is coming off a 1-11 season, and Mississippi State is looking for its 12th straight home win against a non-SEC team.
9 p.m. ET
No. 14 Wisconsin at No. 13 LSU, ESPN
This is a huge early-season battle between two squads that are strikingly similar. Both have experienced offensive lines and good running games going against inexperienced defensive fronts, and both have been mostly mum on their quarterback situations (though reports have
Tanner McEvoy
starting for Wisconsin, and Les Miles admitted both
Brandon Harris
and
Anthony Jennings
will play for LSU). The running backs will probably be the focus, though. Wisconsin's
Melvin Gordon
is getting early Heisman publicity, and LSU true freshman
Leonard Fournette
, the No. 1 player in the 2014 class, is someone everyone is waiting to see.
Sunday, 7 p.m. ET
Utah State at Tennessee, SEC Network
This is one of the most intriguing games of the week, even though it doesn't involved a ranked team. Tennessee begins Butch Jones' second season, and there will be plenty of fresh faces on the field. Jones said Wednesday that between 28-30 freshmen could play on Sunday night. This Utah State team is a good one led by a dynamite quarterback,
Chuckie Keeton
, who threw for 18 touchdowns before a knee injury robbed him of his final eight games. Tennessee's starter,
Justin Worley
, earned the job this month and has 10 career starts. The Vols are hoping he can take a step forward, and he has some talented weapons around him to use.
Top Week 1 stories:
August, 29, 2014
Aug 29
10:34
AM ET
College football teams will pay their opponents at least $12.9 million this weekend.
Big Ten teams will pony up the most money in the so-called "guarantee" games, which compensate smaller budget opponents for playing at the bigger opponent's stadium without returning to play at their stadium.
Michigan will pay $1 million to Appalachian State, the school that shocked the Wolverines in 2007. Nebraska will also pay $1 million to its opponent, FAU.
Florida, which paid Georgia Southern $550,000 last season and lost to it, will pay Idaho $975,000 for Saturday's game at "The Swamp."
Big 12 heavyweights Texas and Oklahoma will also be paying their opponents a pretty penny. Texas is writing North Texas a $875,000 check, while the Sooners will give Louisiana Tech $975,000 just for showing up in Norman.
FBS teams that pay for FCS opponents often wind up on top, although some teams have presented more trouble than others. One of those teams is North Dakota State, who has been paid and then subsequently knocked off Colorado State, Minnesota, Kansas and Kansas State in recent years. Iowa State is paying the Bison $350,000 this week to play it in Ames.
Suspensions Over For Florida Players After Halted Opener