July, 28, 2014
Jul 28
5:30
AM ET
Early Offer: 2016 targets come off board

The Early Offer is RecruitingNation's regular feature, giving you a dose of recruiting in the mornings. Today's offerings: It's been said recruits are committing sooner than ever before and the recent run of pledges in the 2016 class proves to some that an early signing period is needed now more than ever. Plus, if you want to know how competitive it is to recruit in the Southeast, just check out the up-and-down two weeks the
Florida Gators
have had on the recruiting trail.
It's never too early

Signing day for the Class of 2016 isn't for another 555 days, but that hasn't stopped a high number of
ESPN Junior 300
prospects from making early decisions. In the last eight days alone, seven of the best players in next year's class committed, and overall 47 of the top 300 prospects have made their decisions.
July, 26, 2014
Jul 26
11:00
AM ET
GAINESVILLE, Fla. -- Though not as heavy on star-studded talent as in years past, there was still plenty of news at Florida's Friday Night Lights camp. The day started with the Gators receiving a commitment from three-star offensive tackle
George Brown Jr.
, and ended with some of the top prospects from the Southeast attending the one night camp. Here is a closer look at the top story lines from Friday evening.
ESPN 300 athlete set to decide
The 11th-ranked athlete and the No. 155-ranked player overall in the ESPN 300,
Ray Ray McCloud III
, will announce his college decision on Monday night.
McCloud didn't participate at Friday Night Lights but did have a chance to spend some time with current Florida player and pre-season All-SEC selection Vernon Hargreaves III, who like McCloud is also a Tampa native.
"Vernon knows I'm coming from the same place he was a few years ago," McCloud said. "He just told me to always keep my options open until signing day because you never know what could happen as far as coaching changes. He said to just take my time with the process."
McCloud will choose between Florida, UCLA, Clemson and Maryland on Monday but his father, Ray McCloud Jr., also added that USF has recently made an impression on his son.
Florida head coach Will Muschamp had one last chance to speak with McCloud before he makes his big decision on Monday and his message was simple.
"He said he wants me to do what I do in my home state," McCloud said. "He wants me to be a Gator."
Four-star running back remains committed to Miami
Despite Miami signing
Joseph Yearby
, the No. 4-ranked running back in the country last year, and having three running backs committed this year, ESPN 300 running back
Dexter Williams
said he remains strong in his commitment to the Hurricanes.
"It would be a good feeling to be in the backfield with them because all of them are great backs and they can do great things," Williams said. "Wherever you go, there's competition. You've got to beat out your competitor."
The Florida coaching staff was hoping to changes Williams' mind on Friday but to no avail.
"They're just saying you can get on the field here," Williams said. "We're only going to take two [running backs]. They're taking four. Just think about it."
Williams admits his own father pushes him to switch his commitment to the Gators.
"He has loved the Gators since he was little, and he wants me to be a Gator a lot," Williams laughed. "So he tells me every morning, 'Be a Gator.' When I told him I was still thinking about it, he said, 'That's the way. That's where I want you to go.'"
Coney has leader, will decide soon
Four-star linebacker
Te'Von Coney
sent out a tweet recently that said he would be attending the same school as his friend George Brown Jr. On Friday, Brown committed to the Gators and Coney admitted that their packaged deal will likely still happen.
"It was, like, 85 percent true," Coney said of his tweet. "Florida is my leader right now but I'm still checking out Auburn, Tennessee, Miami and other programs but Florida is still my leader. I'll probably make my decision soon, like within the next month or so."
Coney admitted his visit to Gainesville strengthened the Gators chances of landing him.
"I just think Florida's a great school," he said. "It's the Harvard of the South. I can get a great education, they have a great business and engineering school which are two majors I'm thinking about majoring in.
"I think they have a great program and they need linebackers right now to come in and step up and I think Will Muschamp is a great defensive coach and they are always going to have a top defense and that's what I want to play in."
Prince likes four
ESPN 300 offensive tackle
Isaiah Prince
was one of the most impressive linemen to attend FNL and received plenty of attention from the Florida coaching staff.
After the event concluded Prince said there are four schools that are standing out right now but he's likely to add other schools as his recruitment continues.
"Right now, the schools that really stick out to me is Maryland, Alabama, Florida and Ohio State, but I'll probably have more schools in the mix as I take more visits," he said.
Though he has no set dates in mind, Prince knows of three schools he would like to visit in the fall.
"This visit helped Florida out a whole lot," Prince said. "It's a really nice campus, I want to study sports management and that building is right next to the stadium. I'll most likely be back for a game in the fall as well as games at Alabama and Ohio State."



To continue reading this article you must be an Insider
July, 25, 2014
Jul 25
4:50
PM ET
The Florida Gators received a commitment from three-star offensive tackle
George Brown Jr.
on Friday afternoon -- but it was
how
he made that commitment that has made waves nationally.
Brown announced his decision by pulling out what everyone -- including almost all of Twitter -- thought was a baby gator.
Only one small problem: It is illegal to possess a gator in Brown's home state of Ohio. So what was thought to have been a baby gator was actually a dwarf caiman.
The small caiman is possessed by a company called
Coolcrittersoutreach.com
, which is an outreach program that displays wild animals to children for various events.
Congrats to @MADDAWG_G and best of luck with the Florida Gators! #babygatorswag #unstoppable pic.twitter.com/Jpnmdj5AjN

— CoolCrittersOutreach (@CoolCritters) July 25, 2014
July, 25, 2014
Jul 25
3:45
PM ET
Another week, another off-field incident. That is the way it has been this offseason in the SEC, and this past week was no different.
Texas A&M suspended cornerback
Victor Davis
after he was arrested and charged with shoplifting, and defensive end Gavin Stansbury, who was arrested in April, left the team for personal reasons.
At Georgia, Mark Richt dismissed yet another player a day after defensive lineman Jonathan Taylor was arrested for aggravated assault.
These incidents are just the latest in what has been a troubling offseason for the SEC. With media days behind us and fall camps about to begin, we want to know which team's offseason issues will present the greatest on-field questions for this season.

In Tuscaloosa, the media's pick to win the SEC has had its fair share of off-field incidents.
Dillon Lee
and
Jarran Reed
were both arrested for driving under the influence,
Altee Tenpenny
was caught with marijuana, and
Kenyan Drake
was arrested for disobeying a police officer. None of the players involved has been dismissed, but this is becoming both a problem and a distraction for Alabama.
Across the state, Auburn is still trying to figure out what to do with quarterback
Nick Marshall
. The potential Heisman Trophy contender was given a citation for possession of marijuana this month, but will he miss any time as punishment? To make matters worse, teammate
Jonathon Mincy
was arrested for the same thing, possession of marijuana, just two weeks prior.
The school that has been in the news the most this offseason is Georgia. Four players were arrested in March for theft by deception. Two of those four, Taylor and
Tray Matthews
, were later dismissed for separate incidents. A third,
Uriah LeMay
, opted to transfer. Back in February, safety
Josh Harvey-Clemons
also was dismissed from the program following multiple violations of team rules.
At Missouri, it was three strikes and you're out for star wide receiver
Dorial Green-Beckham
. The sophomore was arrested for the second time on drug-related charges in January, and after being involved in an altercation with his girlfriend in April, he was dismissed from the team. Green-Beckham has since joined Oklahoma.
Lastly, there is Texas A&M, which has not seen any decline in off-field distractions since quarterback Johnny Manziel left. Quarterback
Kenny Hill
was arrested in March for public intoxication. Two months later, head coach Kevin Sumlin dismissed a pair of key defenders -- Darian Claiborne and Isaiah Golden -- after they were arrested and charged with aggravated robbery. Then the news broke this week with Stansbury's departure and the suspension of Davis.
July, 25, 2014
Jul 25
12:00
PM ET
July, 24, 2014
Jul 24
12:00
PM ET
This day in sports will be forever remembered for the pine-tar home run hit by Kansas City Royals third baseman George Brett. Who can forget Brett running out of the dugout, throwing his hat down and arguing the call after the umpire ruled him out for using an illegal bat with too much pine tar?
31 Years Ago Today, George Brett produced one of the most famous plays ever. "The Pine Tar Game." #PineTar pic.twitter.com/q5Y0hCYf4c

— Baseball Photos (@Baseball_Photos) July 24, 2014
Now let's get back to football and Thursday's lunch links.
July, 23, 2014
Jul 23
11:52
AM ET
July, 23, 2014
Jul 23
5:30
AM ET
July, 22, 2014
Jul 22
3:00
PM ET
By
ESPN.com staff
| ESPN.com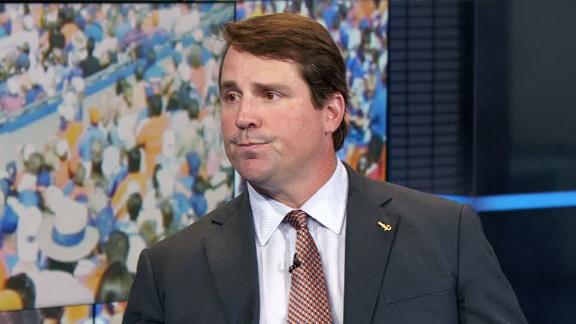 Florida Gators
coach Will Muschamp breaks down quarterback
Jeff Driskel
's maturation and what can be expected from the Gators' offense and defense this season.
July, 22, 2014
Jul 22
9:00
AM ET
Whether a Georgia or Mississippi State fan, it was a great weekend to be a Bulldog. The two schools combined to land 11 verbal commitments over the weekend. With the season quickly approaching, teams are racing to finish the summer strong in recruiting before fall camp opens in just a few short weeks. Here's a look at some of the top headlines from the weekend:
To continue reading this article you must be an Insider
July, 21, 2014
Jul 21
12:00
PM ET
Seven SEC coaches, including Auburn's Gus Malzahn and LSU's Les Miles, will go through ESPN's "Car Wash" on Monday, appearing on "Sportscenter," "College Football Live," "First Take" and more. Stay tuned throughout the day.
In the meantime, be sure to read Monday's lunch links to get your SEC fix.
July, 18, 2014
Jul 18
4:00
PM ET
Nine SEC players were among the 50 from across the nation included on Friday's watch list for the Walter Camp Award, which goes to the player of the year in college football.
Texas A&M's
Johnny Manziel
and Alabama's
AJ McCarron
were among the five finalists last season, with the award eventually going to Florida State quarterback
Jameis Winston
.
This year's list of SEC watch list members include multiple players from Alabama and Georgia. Here's the full SEC list:
DB
Landon Collins
, Alabama
WR
Amari Cooper
, Alabama
RB
Mike Davis
, South Carolina
RB
Todd Gurley
, Georgia
DB
Vernon Hargreaves III
, Florida
QB
Nick Marshall
, Auburn
DB
Cody Prewitt
, Ole Miss
LB
Ramik Wilson
, Georgia
RB
T.J. Yeldon
, Alabama
July, 18, 2014
Jul 18
3:00
PM ET
SEC legends Steve Spurrier, Bo Jackson, Charles Barkley, Frank Thomas and Chucky Mullins are among the subjects of upcoming "SEC Storied" documentaries that will air on the SEC Network.
Four new documentaries will debut in a three-week period between the new network's launch on Aug. 14 and Sept. 4. The films and schedule were revealed this week at SEC media days.
Here's a quick rundown. Click the movie titles to view the trailers:
"The Stars Are Aligned"
Directed by Andy Billman
Thursday, Aug. 14, 9 p.m. ET
On the first day of the new network, a group of 14 famous figures each representing a different SEC college -- including actress Ashley Judd, musician Darius Rucker, political consultant James Carville and Governor Rick Perry -- explain how they live and die with their respective SEC schools. Some other celebrities included in the documentary are Shepard Smith, Emmitt Smith, Jonathan Papelbon, Melissa Joan Hart, Charlie Daniels, Amy Robach and Ralphie May.
"Bo, Barkley and The Big Hurt"
Directed by Larry Weitzman
Thursday, Aug. 21, 8 p.m. ET
Told through their reunion at the 2013 Iron Bowl, this documentary recounts how future Hall of Famers Charles Barkley, Bo Jackson and Frank Thomas arrived at Auburn in the 1980s and brought their teams to national relevance. It started with oversized, wisecracking basketball player Barkley's arrival on the Plains, followed by multi-sport star Jackson picking the Tigers over Alabama and continued with Thomas, who will be inducted into the National Baseball Hall of Fame on July 27, initially coming to Auburn to play football when no MLB club drafted him.
"The Believer"
Co-directed by Kenny Chesney and Shaun Silva
Wednesday, Aug. 27, 8 p.m. ET
Country music star Kenny Chesney co-directed this story about South Carolina coach Steve Spurrier's long history within the conference -- growing up as a Tennessee fan, winning a Heisman Trophy at Florida and later leading the Gators to a national championship, and now as the coach who has built the Gamecocks into a national power. It will air on Aug. 27, the day before the Gamecocks host Texas A&M in the first football game on the SEC Network.
"It's Time"
Directed by Fritz Mitchell
Thursday, Sept. 4, 8 p.m. ET
Inspired by an unlikely friendship born out of tragedy, "It's Time" explains what happened after a 1989 play when Ole Miss defensive back Chucky Mullins suffered a broken neck while hitting Vanderbilt running back Brad Gaines -- a play that did not injure Gaines but left Mullins as a quadriplegic. The two became close friends over the next two years until Mullins died of a blood clot in a Memphis hospital room, with Gaines by his side.
Gators Lose Two ESPN 300 Commits
SEC SCOREBOARD
Thursday, 8/28
Saturday, 8/30
Sunday, 8/31