March, 27, 2015
Mar 27
2:00
PM ET
Geoff Collins isn't a "swag stealer," he says. When he left Mississippi State to become Florida's defensive coordinator, he left the so-called Psycho Defense behind. That was their brand, he said, and in Gainesville under new head coach Jim McElwain, he's out to create a new identity with the help of creatures that may or may not live in a black lagoon.
One such example: The Cryptid, an award Collins and his staff hand out from time to time.
If there's one thing Florida fans need to know about Collins, who turns 44 in a few weeks, it's that he's not afraid to think outside the box. In order to connect with a younger generation, he hands out daily awards following each practice such as the "Apex Predator Award" for the most enthusiastic player or the "Swamp Beast Award" for the player who showed relentless effort. Unlike a lot of buttoned-up programs, he wants players to "play wild and fly around like crazy." He even encourages celebrating after big plays -- as long as it's not a me-first display.
[+] Enlarge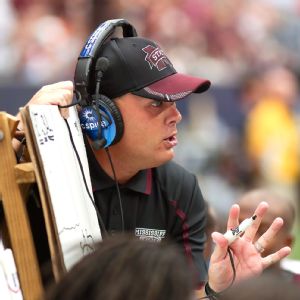 Leslie Plaza Johnson/Icon SMINew Florida defensive coordinator Geoff Collins says he will encourage celebrating big plays on defense, as long as it's a team-first mentality.
At Mississippi State, that confident, aggressive attitude translated to the football field last season, when the Bulldogs finished second in the SEC in sacks (37) and tied for third in interceptions (13). Playing a bend-but-don't-break style, they finished third in the conference in third-down percentage (35.0) and red-zone touchdown efficiency (43.2 percent).
During Collins' first conversation with the entire Florida defense, he said players already knew of his reputation.
"They knew I had been a part of the great run that we had at Mississippi State, probably the best season in school history, a top-10 scoring defense and all those other things," he said. "So they knew what we'd done on defense at places I'd been before, and one of the big things I stressed to them was that even though they had played really good defense in the past, there was room for improvement.
"We talked about that 10 percent and working together to find that 10 percent improvement, whether it be tackling, situational football, improvements in the red-zone defense, improvements in third-down defense, points after turnovers, things that I thought we'd done really well at Mississippi State and bringing that and adding to how well they'd played in years past."
Eyeing a roster he says is deeper than any he's ever coached, Collins isn't out to make wholesale changes to the defensive schemes developed by former coach Will Muschamp. It's a lesson he learned years earlier when he left Georgia Tech to become defensive coordinator at his alma mater, Western Carolina.
Returning to his old stomping grounds a bit overzealous back in 2002, he attempted to install an entirely new defense without once looking at the previous defense or the terminology players had become accustomed to. Like a lot of young coaches, he had to come to grips with that "four- and three-deep is four- and three-deep regardless of where you go." Only the buzzwords are different.
So rather than dumping a new playbook on everyone's locker at Florida, he took the studying upon himself.
"I spent a lot of time during December and January learning what they called everything," he said. "I've been doing this long enough to know that it's easier for one person to learn a lot of words than for 33 18-to-22-year-olds to learn a lot of new words. I try to put the hard stuff on me."
Outside of acclimating himself to a new environment, though, there's not a lot of hard stuff Collins has had to encounter with a solid system and a solid roster already in place. He inherited one of the most promising secondaries in the country, whether it's starters Vernon Hargreaves III and Brian Poole or a reserve such as redshirt freshman J.C. Jackson, whom Collins says is "one of the most athletic kids I've ever been fortunate to be around." And where there's maybe not a lot of depth, Collins said there's certainly talent, whether it's Daniel McMillian and Alex Anzalone at linebacker or Alex McAlister on the defensive line.
It's a good situation all the way around, Collins says.
"I'm excited. We've got a lot of really good players. They're hungry. They're excited. They're competitive kids. Everything that Coach McElwain and the rest of the staff they've thrown at them, they're run with."
McElwain discusses new Florida football
SEC SCOREBOARD
Thursday, 9/3
Saturday, 9/5