November, 26, 2014
Nov 26
10:00
AM ET
Compared to two weekends ago, when the SEC's true freshmen collectively had their best Saturday of the season, last weekend was relatively quiet for the group. Still, several of the rookies had big games on Saturday.
Here are five who stood out and six more notables:
DE Derek Barnett, Tennessee
What he did:
In the Volunteers' loss to Missouri, Barnett finished second on the team with eight tackles, plus he posted half a tackle for loss and two quarterback hurries.
What it means:
The freshman continues to be one of the SEC's most consistent pass-rushers, increasing his total of tackles for loss to 18.5 against Mizzou. He is second in the SEC in TFLs and his nine sacks are tied for third with teammate
Curt Maggitt
.
KOR Evan Berry, Tennessee
What he did:
The little brother of Volunteers legend Eric Berry, Evan returned four kickoffs for 121 yards (30.3 yards per return) against Missouri, including a 58-yard runback in the second quarter that set up a field goal.
What it means:
The freshman speedster took over the kickoff return duties around midseason and has handled the job extremely well. In 13 returns, Berry is averaging 30.9 yards per return with a long of 68 yards against Chattanooga. He has a return of at least 33 yards in each of the six games where he has returned a kick.
RB Nick Chubb, Georgia
What he did:
Chubb's string of games with at least 140 rushing yards ended at five, but only because the Bulldogs didn't need to use Chubb after the earlygoing against Charleston Southern. He accumulated 113 rushing yards on just nine carries and scored on touchdown runs of 83 and 8 yards.
What it means:
He piled up all of that yardage in the first half alone, so it's not like Chubb's production dropped off at all in the blowout win. In fact, the 83-yard touchdown run in the first quarter was Georgia's longest since 1985 and the eighth-longest in school history. Entering this weekend's game against Georgia Tech, Chubb has 1,152 rushing yards and 11 touchdowns and is a full-fledged star who no longer sits in
Todd Gurley
's shadow.
QB Treon Harris, Florida
What he did:
Harris suffered a knee injury in the second quarter of Florida's blowout win against Eastern Kentucky and sat out most of the second half of the 52-3 victory. To that point, he was 4-for-12 passing for 162 yards and two touchdowns, plus he had run five times for 8 yards.
What it means:
The good news is that Harris' knee contusion will not keep him out of this week's game against Florida State. Harris has helped the Gators' offense become more effective since he entered the starting lineup four games ago -- a stretch where Florida is 3-1.
DL Gerald Willis, Florida
What he did:
Willis recovered a fumble that set up a touchdown and also recorded five tackles and a quarterback hurry in Florida's blowout win against Eastern Kentucky.
What it means:
Willis was a huge recruit for the Gators, but has had a quiet first season for the most part. He has just 10 tackles in six games this fall. Willis and several youngsters on the defensive line had good games on Saturday, showing that the future should be bright along the line of scrimmage in 2015 and beyond.
Other notables:
DB Todd Kelly Jr., Tennessee:
Recorded a career-high six tackles against Missouri.
PK Aaron Medley, Tennessee:
Made field goals of 38 and 39 yards and hit his only PAT try against Missouri.
DB Malkom Parrish, Georgia:
Recorded four tackles and a tackle for loss against Charleston Southern.
PK Gunnar Raborn, Alabama:
Made field goals of 20 and 28 yards and went 6-for-6 on PATs in a 48-14 win against Western Carolina.
WR Cam Sims, Alabama:
Caught a 4-yard touchdown pass for Alabama's first score and finished with three receptions for 33 yards against Western Carolina.
RB Roc Thomas, Auburn:
Ran five times for 26 yards against Samford and scored on a 1-yard run, plus he made two receptions for 2 yards.
November, 26, 2014
Nov 26
8:30
AM ET
OK, so who's it gonna be -- Mississippi State or Ohio State?

Honestly, the suspense is killing me, and we haven't even gotten to the games this weekend. See, here's the issue that these teams are facing: Who will have the best résumé after championship Saturday?

Mississippi State might not go to Atlanta for the SEC championship game, but if the Bulldogs beat Ole Miss on Saturday, they'll be in position for that fourth spot (assuming the top three win out). But if No. 6 Ohio State wins out, the Buckeyes will be Big Ten champions. Say what you will about the strength of the Big Ten, the Buckeyes would have a conference championship and the fourth-ranked Bulldogs would not. Both would only have one loss.
November, 26, 2014
Nov 26
8:00
AM ET
1. The new
College Football Playoff rankings
were released Tuesday, and there were very few changes at the top. Alabama remained No. 1; Mississippi State held strong at No. 4 (but for how long?); and Georgia is still clinging to hope, up one spot to No. 9. ESPN's Heather Dinich broke down
every playoff scenario
for all nine remaining contenders. She says that Mississippi State has the "most precarious" position of the top four teams as the Bulldogs need the Big Ten and/or the Big 12 to stumble if they hope to stay in the playoff. I tend to agree. When the committee chairman talks about
the importance of conference championships
and how they will be weighed heavily on selection weekend, that doesn't bode well for MSU.
2. Tired of the "kick-six" yet? I promise this will be the last link. But if you haven't already, I suggest you go and read
Jon Solomon's piece
on how the effects of one of the wildest finishes in college football history are still being felt. It will be worth your time. The Iron Bowl rivalry itself is known for the passion and animosity felt between the two fan bases, but it's not always that way. Earlier this season, I wrote a story on Alabama quarterback
Blake Sims
and how
he wore a bracelet
in support of Kayla Perry, an Auburn student with a rare form of pediatric cancer. Well now, Perry and an Alabama student who has a similar condition will attend Saturday's game thanks to Kristi Malzahn, wife of Auburn coach Gus Malzahn. Kristi surprised the two girls by inviting them to attend the game with her.
Watch their story here
.
3. Arkansas and Missouri might be cross-division foes that will meet every season unless the SEC changes its schedule. They might have a huge game this Friday with SEC title hopes on the line. But they're not rivals,
not yet at least
. The two sides haven't played in the regular season since 1963, and they have only met five times ever. Give it time, though. It's already catching on with some of the players. "Arkansas, they have the word Kansas in it, so it's got to be a rival," said Missouri center
Evan Boehm
. One team who will be directed by Friday's game is Georgia. If Missouri loses, the Bulldogs are headed to Atlanta for the SEC championship. However, Mark Richt is
not planning any Arkansas-Missouri viewing parties
for his team.
Around the SEC
Tweet of the day
Congrats to @15_DakP on being named a finalist for the Maxwell and Davey O'Brien awards. Couldn't have happened to a better young man!

— Brian Johnson (@BDJohnson3) November 26, 2014
November, 25, 2014
Nov 25
8:00
PM ET
After taking care of business against teams they were favored against, Alabama and Mississippi State hung on to their No. 1 and No. 4 spots, respectively, in the latest College Football Playoff rankings.
And the SEC got another team bowl eligible, as Arkansas earned its sixth win with a 30-0 victory over Ole Miss. So that's 11 bowl-eligible teams and counting in the SEC, including the entire SEC West.
As we head into the final week of regular-season play ahead of the SEC championship game, two teams have a shot at claiming bowl eligibility that haven't already: Kentucky and Tennessee. Kentucky's task is tough, going to No. 22 Louisville, Tennessee's is considerably more feasible, as the Volunteers travel to Vanderbilt.
Georgia, if it wins this weekend against Georgia Tech, looks to be in good position for a New Year's Six bid. There's still much to be decided, with the Egg Bowl and the Iron Bowl on deck. Alabama and Mississippi State must win to maintain their spots, if they don't, chaos will ensue.
But assuming the Crimson Tide and the Bulldogs prevail, here's how we think it'll pan out as of today, with 12 SEC bowl-eligible teams projected:
College Football Playoff semifinal (Allstate Sugar Bowl):
Alabama
College Football Playoff semifinal (Sugar Bowl):
Mississippi State
Capital One Orange Bowl:
Georgia
Chick-fil-A Peach Bowl:
Auburn
Buffalo Wild Wings Citrus Bowl:
Ole Miss
TaxSlayer Bowl:
Florida
Outback Bowl:
Missouri
AdvoCare 100 Texas Bowl:
Texas A&M
Franklin American Mortgage Music City Bowl:
Tennessee
AutoZone Liberty Bowl:
LSU
Belk Bowl:
South Carolina
Birmingham Bowl:
Arkansas
November, 25, 2014
Nov 25
3:40
PM ET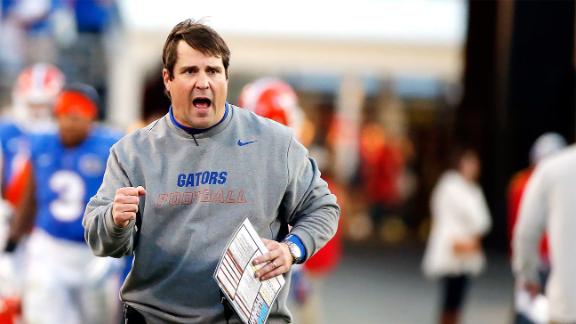 Florida carried Ron Zook off the field
in his final game
, an upset that remains so memorable, people continue to point to that win 10 years later.
Especially this week.
Because everybody wants to know: Can the Gators win one for Champ, the way they won one for the Zooker?
The similarities between Zook's last triumph over Florida State and the 2014 Gators headed into the Florida State game on Saturday are too similar to ignore.
Both Florida teams 6-4. Both heavy underdogs. Both playing for an outgoing coach.
"We were in the same position those guys are in this year," said former Florida running back Ciatrick Fason, a captain on the 2004 team. "Our coach got fired. We hadn't beaten them in Tallahassee in a very long time, so it made us want to go out there and play for Coach Zook but also win at Doak. It happened to be on the same day they were naming the field for coach (Bobby) Bowden, so we wanted to go up there and upset every celebration they had."
In the days leading up to the game, nobody gave down-and-out Florida much of a chance against the No. 10 Seminoles. Florida State had one of the best defenses in the country and had shut down just about every running back that came its way.
But Florida believed it had nothing to lose. To the Gators, all the pressure belonged to Florida State.
"Nobody expected us to win, and that just mentally makes you feel like, 'We can go out here and cut it loose. Don't worry about mistakes. We can go for it on fourth-and-2 or fourth-and-3 because we've got nothing to lose and Florida State has everything to lose,'" Fason said. "As a Gator, we know we're trying to keep them from get a national championship, and it being a rival game with nothing to lose that works to our advantage."
Fason also believes the way Florida played in 2004 caught Florida State off guard. He ended up with 100 yards rushing in the game and was a big reason why the Gators won, saying the Seminoles were not prepared for their smash-mouth style.
After Florida took a 10-3 lead into halftime, Fason told his teammates he wanted them to carry Zook off the field if they ended up winning. They assembled around him in the final minute, a 20-13 win theirs to celebrate.
"As soon as that final tick went off the clock, everybody picked up Coach Zook," Fason said. "It was the best moment of my life."
And it still remains one of the top moments not only in Gators football history, but in Zook's career. Mike Degory, the starting center on the 2004 team, later coached with Zook at Illinois. Even there, Zook talked about the way the Gators won his final game there.
"He always used to say how much it meant to him, and how much he felt the commitment from the players was there," Degory recalled. "Everybody knows after this week, Coach Muschamp is going to be looking for another job, but the players feel a lot of commitment to that coach. We wanted to send Coach Zook out a winner. What we had 10 years ago was a connection with Coach Zook. Deep down in my heart, that is the guy that I wanted to play for and we wanted to echo that by giving him that victory."
Muschamp was even asked about it during his press conference earlier this week in Gainesville.
"That isn't going to help us win the game. I can assure you of that," he said. "So we'll prepare well and we'll go up there and play well. That's what we need to do."
Florida has a history of doing that under Muschamp. It was two years ago Florida went into Doak Campbell Stadium and forced five turnovers in a
37-26 win
. Florida was a much better team then -- ranked higher than Florida State, in fact. But it also happens to be the last time the Seminoles lost.
Since then, Florida has not come close to another 11-win season, while Jimbo Fisher has won two ACC championships, one national championship and 27 straight games. But this season, Florida State has played in so many close games, the expectation is this will be another close one.
Especially if the Gators play as emotionally as they did for Zook in 2004.
"Emotion always counts, but I think at the end of the day, execution wins," Fisher said. "Hopefully, we'll be emotional. To play Florida, our kids will be high. Our kids will be excited. I think you'll see two teams that are emotionally and physically ready to play, and then who can go out and execute and win the battles in the physical and mental execution will be the team that wins."
November, 25, 2014
Nov 25
3:00
PM ET
Whether recruits are attending games this holiday weekend or watching on television, all eyes around the recruiting world will be focused on several rivalry games. From the Iron Bowl to the Egg Bowl there will be recruiting implications throughout the conference this weekend. Here's a closer look at how these game might affect the top remaining recruits.
To continue reading this article you must be an Insider
November, 25, 2014
Nov 25
11:57
AM ET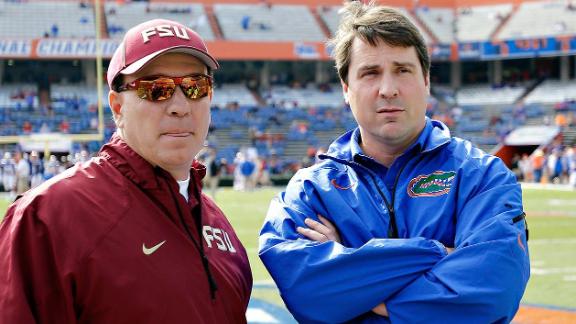 Don't let the record book fool you. The 80,210 seated in Doak Campbell Stadium on Nov. 26, 1994, and the millions more watching from home will tell you the 31-31 tie between No.4 Florida and No. 7 Florida State belies the reality on the field that afternoon.
In one of the greatest installments of the longtime Florida-Florida State rivalry, the stakes were once again high as both teams were situated in the top 10 at kickoff -- just like the 13 other times from 1990-2000. The Gators, ranked No. 4, were also hoping to match FSU's first national title in '93 with their own in '94.
Florida coach Steve Spurrier, never one to shy away from offering a punch line at the expense of a rival school or coach, stoked the fire earlier in the year when he called FSU "Free Shoes University," referring to a report that agents picked up a $6,000 tab that Seminoles players rang up at a Foot Locker near FSU.
"You respect [Spurrier], but he's like a crazy uncle," Andre Wadsworth, a defensive end on that '94 Noles team, said. "I never did like Florida. Growing up in Miami, I only respected the Canes and FSU. The Gators didn't play [Miami]. I don't care about the excuse of being in the SEC and all that nonsense."
Spurrier has always been good at getting opponents' blood boiling, but up until that point, he had not beaten his cross-state rival in Tallahassee and was 1-3 overall against Bobby Bowden.
"We were aware at that point that Steve had not won in Doak Campbell, and, I don't know if that meant anything to the players, but it meant something to the coaches," said Mickey Andrews, FSU' defensive coordinator from 1984-2010. "Steve, part of his deal, was trying to get under the skin of another coach. Everybody thinks some things, but Steve thinks out loud. I'm sure some of the stuff bothered Coach Bowden."
November, 25, 2014
Nov 25
11:00
AM ET
The defending National Champion Florida State Seminoles will play host to arch rival Florida Gators Saturday with some of 2015 and 2016's top prospects in the Sunshine State and beyond in attendance.
When looking at the Seminoles, and some of the very key battles Florida State beat Florida on in recent years, it's a clear indication of how impactful difference-maker skill players can be, and how much the 2013 4-8 season for the Gators was a crushing blow to the current Florida offense.
Here are five battles that Florida State won, all of whom will be key players Saturday.
To continue reading this article you must be an Insider
November, 25, 2014
Nov 25
10:00
AM ET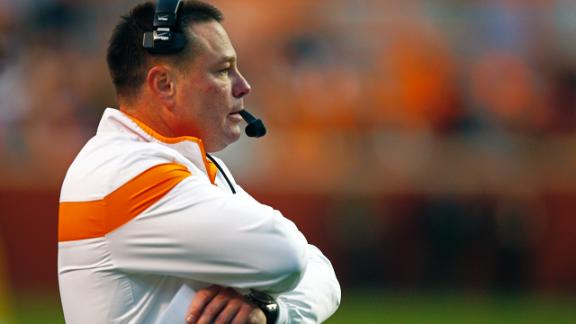 As always there was a ton of recruiting news from around the Southeastern Conference. There was a big commitment, there were key visits and new offers over the weekend. Here's a closer look at the top recruiting news from around the conference.
To continue reading this article you must be an Insider
November, 24, 2014
Nov 24
3:00
PM ET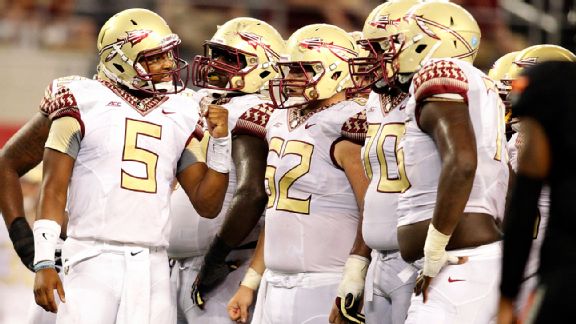 Tim Heitman/USA TODAY SportsLosing to Florida would surely knock the Seminoles out of the College Football Playoff conversation.
The story line gets regurgitated the last weekend in November, every single season. At this point, does it really need to be said just how badly the ACC has to beat its SEC rivals come Saturday?
Well, yes. Because the results carry even more significance now that we are in in the College Football Playoff era. Just look at the way the ACC has been dismissed as a conference. Unbeaten Florida State is ranked behind two one-loss teams in the only rankings that matter -- as much an indictment about the Seminoles' close wins as it is about the perception of the ACC as a whole.
While it has been convenient for many to dismiss what Florida State has accomplished, it has been just as convenient to dismiss the accomplishments of No. 18 Georgia Tech, No. 22 Louisville and No. 24 Clemson. But it may be less difficult to do so if all four teams come through and all win this weekend.
The last time Florida State, Georgia Tech and Clemson swept their SEC rivals was in 2000. The last time they posted a winning record against them was in 2008, when Georgia Tech and Clemson came out victorious. That also happens to be the last time both teams won their SEC rivalry game.
This might be their best shot at a sweep in years. With Kentucky-Louisville now added into the mix, the Cards, Florida State and Clemson are favored to win. All three are at home; all three are the only teams ranked in the matchup. Georgia Tech is the only underdog, though the Jackets go into their game off a bye, with a four-game winning streak under their belts.
To take it one step further, the FPI game projections show:
Florida State with a predicted 73 percent win percentage over Florida.

Louisville with a predicted 77 percent win percentage over Kentucky.

Clemson with a predicted 62.5 percent win percentage over South Carolina.

Georgia with a predicted 80 percent win percentage over Georgia Tech.
"Winning would help the league a lot but it's going to be how does the media portray it?" Georgia Tech coach Paul Johnson said. "When I was here in '08, my first year, we beat Georgia and Clemson beat South Carolina … but nobody said much about it. It was like, 'Oh.' Now the next year when they beat us, it was a big deal so would it help the league? Sure. Anytime we can go head to head with the SEC and win a game it helps the league."
Johnson brings up an excellent point. Will a potential sweep be diminished in value because they are all against SEC East teams? Georgia is the only ranked SEC squad in the group. Florida and South Carolina have been disappointments; Kentucky is not bowl eligible. Georgia is the only school among the four with a winning record in SEC play.
So the East is not even close to its counterparts in the West, creating a no-win situation. If the ACC does well in these games, people may not dish out as much credit as they should. If the ACC winds up with a losing record, get ready for more finger pointing and laughter.
If we are looking a little closer at the matchups, there are two teams that cannot afford to lose: Florida State and Clemson. If Florida pulls the upset, Florida State will be out of the College Football Playoff, the worst result imaginable for a league that only has the Noles in the mix.
The stakes are high for Dabo Swinney and Clemson, too. After beating South Carolina as interim coach in 2008, he has gone 0-5. For the first time since 2009, Clemson will be the only ranked team in the matchup. Clemson has the No. 1 defense in the nation; South Carolina has the No. 87 defense in the nation. While Deshaun Watson's status remains up in the air, the feeling is that Clemson simply cannot afford to lose this game again, not when it has so many obvious advantages.
"The last five years, we've had 15 turnovers and they've had three," Swinney said. "That affects everything. That affects your plays per game, it affects your time of possession, it affects the way things are called, field position, on and on and on and on. That's definitely something we have to get changed for us to have a chance to win the game. There's no doubt about it."
Georgia Tech also has lost five straight to Georgia, and 12 of the last 13. Last season, the Jackets blew an early 20-0 lead and lost 41-34 in double overtime.
Todd Gurley
scored both overtime touchdowns for the Bulldogs. He won't play Saturday.
While Georgia Tech has a Top 25 ranking and spot in the ACC championship game, a win over Georgia would only add to an already stellar season.
"The atmosphere is different about this week because it's a must-win game," Georgia Tech safety
Jamal Golden
said. "You don't want to give them bragging rights for the next 365 days. You just have to hear it over and over again that you can't beat them. It's one of those games you look forward to playing."
It's one of those games that has to fall in the ACC win column this year.
Rivalry Week: Florida-Florida State
SEC SCOREBOARD
Thursday, 11/27
Friday, 11/28
Saturday, 11/29