September, 26, 2014
Sep 26
2:00
PM ET
Two of college football's proudest programs are scraping close to rock bottom this year. Combined, Michigan and Florida have lost 15 of their last 20 games. Which program is in a worse spot at the moment? Edward Aschoff and Dan Murphy debate:
Edward Aschoff:
In the what-have-you-done-for-me-lately realm that college football resides in, Florida and Michigan haven't exactly done a lot for their respective fan bases in the last couple of years.
But which team is in the most troubling situation? Well, here's why Florida has to get things back on track faster than Michigan: Look at how strong the SEC is right now compared to the Big Ten? The talent gap in the SEC between the top of the conference and the middle of the pack is tightening, while the bottom is getting better ... even if Vanderbilt has fallen off since James Franklin left.
Florida's 42-21 loss at Alabama this past weekend did coach Will Muschamp no favors with Florida's fan base. The defense, which is Muschamp's specialty, surrendered 645 yards, the most allowed in school history. And the offense looked as anemic as it did last season, even when Alabama's defense gave it plenty of early opportunities to make some big plays.
And while things got a little more discouraging for fans in Gainesville, things are looking good for other teams around the league. Georgia and South Carolina haven't exactly looked like world-beaters this year, but would anyone pick the Gators to beat either right now? What about Missouri? Kentucky took Florida to three overtimes, and you have to think that Tennessee will be favored next week at home against the Gators.
Arkansas already looks much better than it did last year, and both of the Mississippi schools are ranked inside the top 15. Do I need to say anything about Alabama, Auburn, LSU and Texas A&M when it comes to the national spotlight?
The fact of the matter is that we still don't know what kind of team Florida is. The offense went from looking good to regressing. The defense is younger and needs a lot of work. Against arguably the best team on its schedule, Florida was blown away and was barely competitive. Remember, Florida fans were looking for a moral victory heading into this game. No way that's the new standard, right?
Recruits are on the fence about the Gators, and we just don't know in which direction this program is going inside a league that's more competitive from top to bottom than we've seen in a long time.
Things could turn around after that bad Alabama loss, but if they don't, Florida's program could be playing a really dangerous game of catch up in the nation's toughest conference.
Dan Murphy:
The same things creating a sense of urgency for the Gators -- recruiting and the power of the SEC that Edward mentioned -- are what ultimately put them in a better position than Michigan to pull out of their current rough spot. The road to recovery for the Wolverines looks longer and more painful than for their counterparts at Florida.
[+] Enlarge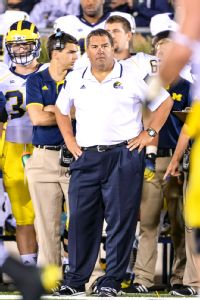 Robin Alam/Icon SportswireBrady Hoke and the Wolverines are at recruiting disadvantage with SEC schools like Florida.
Even the most institutional college football powers go through their ebbs and flows. It wasn't that long ago that people questioned if Alabama could ever return to its Bear Bryant-era glory days. The two proven ways to pull out of that cycle are to catch lightning in a bottle with a special player (Look at what
Johnny Manziel
has done to bring Texas A&M back to the upper echelon) or to scrap everything and start fresh, like the Crimson Tide did by hiring Nick Saban in 2007.
In either case, Florida has an innate advantage to get back on track faster.
The recruiting grounds around Gainesville are far more fertile than in the Midwest. The SEC's reputation as "big boy football" has top players from outside that corner of the country clamoring for a chance to play against the best. Florida has finished higher than Michigan in recruiting ranks every year since 2010, when it had the No. 1 class in the nation. Lightning is unpredictable, but the odds of a special, program-changing athlete choosing the Gators are higher.
Michigan can't compete with those natural resources. Other resources (facilities and bank account) at Michigan are on par with just about any athletic department in the country. The available talent and regional passion, though, make the SEC a more popular choice among rising coaching stars just like for the prospects. Both programs have the means to make a big-splash hire if they decide to part ways with their current coaching staffs, but the Gators are probably picking from a bigger pool of candidates.
Finally, the questions and complaints around Michigan's program don't stop with head coach Brady Hoke. Everyone from the backup quarterback (whoever that might be this week) to Hoke to athletic director Dave Brandon has come under fire during a lackluster 2-2 start to the season.
Brandon's future in Ann Arbor is as much in doubt as Hoke's. Jeremy Foley has been Florida's athletic director for more than 20 years and worked in the department since 1981. He at least provides a solid foundation for a smoother changing of the guard if that time should come.
QB Driskel will make Gator nation proud