August, 28, 2014
Aug 28
9:00
AM ET
By
ESPN.com staff
| ESPN.com
Football season is finally here. When South Carolina and Texas A&M kick it off tonight (6 ET, SEC Network), the SEC will be back in full swing.

With that in mind, it's time to make some game picks. Each week during the season, our SEC reporters will pick each game on the slate, and we'll highlight the biggest battles and the ones that generated the most disagreement.

Why South Carolina will win:
The Gamecocks have a lot of firepower and experience coming back on offense, while the Aggies still have a lot of questions on defense. Texas A&M should put some points up with its own potent group of playmakers, but South Carolina's defense will force QB
Kenny Hill
into some late mistakes. Feeding RB
Mike Davis
the ball in the fourth should help put this one away.
-- Edward Aschoff
Why Alabama will win:
Despite the attention on Alabama's quarterbacks, nearly the only thing that makes this one interesting is how the Crimson Tide's retooled pass rush and secondary will fare against QB
Clint Trickett
and the West Virginia offense. Whether it's
Jake Coker
or
Blake Sims
under center for Alabama, expect him to hand it off plenty and for the Tide to have their way against a Mountaineers defense that finished 101st nationally in total defense last season by allowing 455 yards per game.
-- David Ching
Why Georgia will win:
Hey, the Bulldogs might make fans nervous with their defense, especially with that incredibly unproven secondary, but the offense shouldn't miss much of a beat with QB
Hutson Mason
taking over. Clemson's defense has improved, but there are just too many good working parts on Georgia's offense. I have a feeling that some pounding from RB
Todd Gurley
and a major play from LB
Leonard Floyd
will get the job done for Georgia on Saturday.
-- Edward Aschoff
Why LSU will win:
The Tigers are 9-0 in season openers under coach Les Miles, including four games against ranked opponents and six away from Tiger Stadium. Wisconsin is good in season openers, too (16 straight to LSU's 11), but Houston's proximity to Louisiana and the large number of Tigers fans expected at NRG Stadium should give LSU a slight boost. These teams are similar, but LSU's experienced offensive line against Wisconsin's inexperienced defensive front gives the Tigers a slight edge.
-- Sam Khan Jr.
Why Wisconsin will win:
If this game were in November, LSU would be in better position. But given that the Tigers lost every key piece on offense (QB, RB, both WRs), it may be too much to ask them to go on the road this early against a top-25 team. Wisconsin may not have experience at QB, but it has one of the best tailbacks in the country in
Melvin Gordon
and an offensive line that could be special with four returning starters.
-- Alex Scarborough
Why Tennessee will win:
Utah State quarterback
Chuckie Keeton
can't beat the Vols by himself, can he? Even with UT linebackers
A.J. Johnson
spying and
Curt Maggitt
providing some pass rush, Keeton won't be stopped, but he will be contained. Coach Butch Jones says the Volunteers will play as many as 30 freshmen in this one, so there are sure to be mistakes. Tennessee has just enough talent to win a squeaker at home.
-- Jeff Barlis
Why Utah State will win:
This isn't your typical mid-major opponent. The Aggies won nine games last season despite not having Keeton for the second half of the season. Keeton is back, and this is the perfect game to jump-start his Heisman campaign. Tennessee is still a program on the rise, but with no returning starters up front and up to 30 freshmen expected to play, there are just too many question marks.
-- Greg Ostendorf
More consensus picks:
Ole Miss
over Boise State,
Vanderbilt
over Temple,
Florida
over Idaho,
Auburn
over Arkansas,
Kentucky
over UT Martin,
Missouri
over South Dakota State,
Mississippi State
over Southern Miss.
August, 27, 2014
Aug 27
12:45
PM ET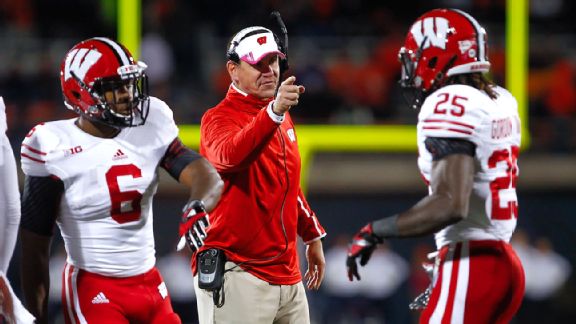 Michael Hickey/Getty ImagesThe Badgers could very well be playing a playoff contention knockout game in Week 1.
With the countdown to college football's kickoff now measured in hours, we thought we would revise a
feature from 2013
called "Pivot Points." As a refresher, it's cause-and-effect: "If X happens, then Y will happen."
Here's one take for each Power Five conference:
If Wisconsin can get past LSU this week, then the Badgers will be in the playoff.
I'll quickly lay out why the Badgers will at minimum gain momentum if they win this week.
Up next: Western Illinois, Bowling Green, South Florida, Northwestern, Illinois, Maryland, Rutgers and Purdue. That takes you to the middle of November, when they close with Nebraska, Minnesota and Iowa.
So even with some front-seven question marks and a first-time starter at QB, Wisconsin is 100 percent a playoff threat. But the Badgers will likely have to go undefeated to make it, which means knocking out a wild-card LSU team this weekend.
In fact, there's a shot this could be a playoff contention knockout game. Both teams are on the fringe, and this is a win that both could very well need to woo the committee.
August, 27, 2014
Aug 27
11:00
AM ET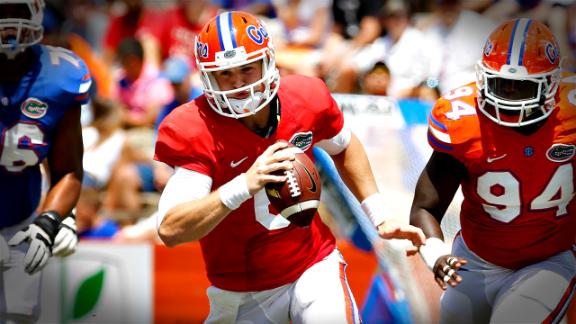 GAINESVILLE, Fla. -- If you ask Kurt Roper the coach to go back in time and evaluate Kurt Roper the quarterback, you'll get a belly laugh as he describes himself essentially as a recruiting whiff.
"Not good enough!" he chortles. "A miss!"
It's easy for Roper, now the offensive coordinator of the
Florida Gators
, to wax nostalgic about his all-too-brief career as a college quarterback since he's carved out a reputation as something of a quarterback whisperer more than two decades later.
A winning quarterback at Ardmore (Okla.) High School, Roper was good enough to earn a scholarship to play quarterback for the
Rice Owls
. His first meeting with his offensive coordinator, the late Mike Heimerdinger, brought a sense of inadequacy that offense was something far more complex than what he was used to.
[+] Enlarge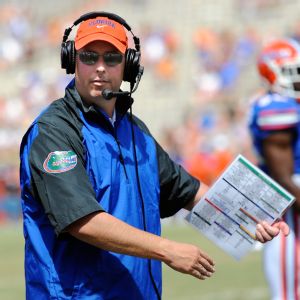 AP Photo/Phil Sandlin"He's always a positive guy, and we need that around here," Jeff Driskel said of new offensive coordinator Kurt Roper.
"We're having a meeting the night before the first practice and he starts talking to me about defenses," Roper says. "And I had never even
thought
about defenses. I'm sitting there going, 'Hey wait a second, what play are we running? Tell me the play.'
"And he's talking to me about how a defense is going to be manipulated by this formation and it's going to remove this guy. And I'm already looking out the window and I see the other guys going to eat dinner. I'm thinking, 'What am I doing? What's going on here?' "
A week later Roper was moved to defensive back.
The irony that he is now known for being a coordinator, QB coach and play caller is not lost on Roper. His vivid recollection of that first meeting illustrates how far he's come.
"It was all eye opening," Roper said last week. "I don't really know that I start getting a huge understanding of [offense] until I really started coaching it and Coach Cut started teaching me how to coach it."
Coach Cut is David Cutcliffe, a graybeard of Southern football who's been head coach at Duke since 2008.
Cutcliffe became a mentor to Roper, and the two worked side by side at Ole Miss, Tennessee and Duke. Their long partnership came to an end when Roper was hired in December to fix Florida's ailing offense.
"When I called Coach Cutcliffe about Kurt, he wasn't happy I was calling about Kurt," said Florida coach Will Muschamp, Roper's new boss. "But he certainly endorsed him as a football coach and a man."
Roper gives plenty of credit to Cutcliffe for the no-huddle spread offense he is installing at UF. But there were other key influences that have shaped his approach to coaching.
His father, Bobby Roper, brought intensity to his son's football upbringing.
"He was a defensive coordinator," Kurt said. "He was really a no-nonsense guy. He was really intense and tough to grow up around if things weren't necessarily going well all the time on the football field."
Roper also counts two of his position coaches at Ole Miss -- offensive line coach John Latina and running backs coach Rich Bisaccia -- as influences. Latina showed Roper how a sound offensive system helps make a sound line. Bisaccia helped foster Roper's ability to connect in his relationships with players and head coaches.
Joker Phillips, under whom Roper worked as the QBs coach at Kentucky in 2005, added the uptempo element Roper brought to Duke and now Florida.
The amalgamation of his past and the present opportunity to redefine and revive an offense that floundered for the previous three years are what make Roper the Gators' most important offseason addition.
After what Duke accomplished last season, Roper's presence commanded immediate respect. His personality brought a sense of calm and instilled confidence in his new players.
"He's always a positive guy, and we needed that around here," said starting quarterback
Jeff Driskel
, a fourth-year junior who has witnessed most of Florida's recent struggles from under center.
To a man, Florida's offensive players beam when they speak about their relationships with Roper. They say he's fun and funny and always has a story to tell from his football past.
"He's like a player out there," receiver
Valdez Showers
said. "He loves the game. He's always got energy. There's not one day where he comes out there down. You feed off his energy.
"He's always uptempo, so you want to be uptempo. That's the way the offense goes."
On the verge of a crucial season, the Gators' offensive players are exuding the kind of attitude that hasn't been seen at UF since Tim Tebow's days.
They say they owe it to Roper and his offense. It's made them believers from early in spring practice when installation began to more recently in preseason camp and into their preparation for the fall.
"We've made a lot of big plays against a really good defense," Driskel said of facing Florida's vaunted D. " When that happens, you start to feel a little bit more excited and a little bit more confident. ...
"We had a really great, great camp. We protected the ball and made big plays. When you put those two things together, you're going to be looking at a pretty good offense."
And a pretty good offensive mind behind it.
August, 26, 2014
Aug 26
2:00
PM ET
GAINESVILLE, Fla. -- The true measure of any recruiting class' worth isn't fully realized until a couple of years down the road. Regardless of the hype and golden stars racked up before signing day, getting the most out of a class takes time.
[+] Enlarge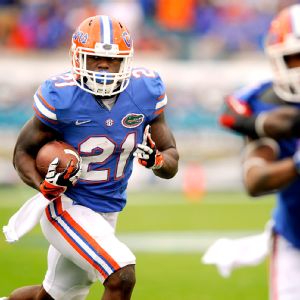 AP Photo/Stephen MortonRunning back Kelvin Taylor and the rest of the Florida Gators' underclassmen are looking to rebound from a 4-8 season in 2013.
For Florida, that time might have to be now for its 2013 class following last season's 4-8 debacle. It's a class that ESPN's RecruitingNation ranked second nationally with its 30 signees and 16 ESPN 300 members and held the nation's best high school cornerback --
Vernon Hargreaves III
-- and running back --
Kelvin Taylor
. It grabbed a potential game-changing receiver in
Demarcus Robinson
and 12 players who ranked within the top 10 at their respective positions.
The Gators will certainly need a lot from their upperclassmen, but the 2013 class could hold the key to Florida's present -- not just its future -- especially after a handful of its members were thrown into the SEC fire last season.
"We knew we wanted to come in and make an impact," said sophomore receiver
Ahmad Fulwood
, who caught 16 of his 17 passes in the final seven games of last season. "Not necessarily take someone's position or anything out of the ordinary, but we knew we had to come in and make an impact as a class and that's pretty much what we did."
For the most part, this class was mainly constructed of a group of contributors last season, with Hargreaves and Taylor being the headliners. Hargreaves was a third-team All-American member and ended up being one of the nation's best corners, leading the Gators with three interceptions and ranking third in the SEC with 14 passes defended. Taylor was a freshman All-SEC selection after rushing for 508 yards and four touchdowns.
Eleven members of the class lettered last season and collected 22 combined starts. With the majority of the class redshirting, even more is expected from this group, but players don't feel any added pressure. They don't mind the added responsibility.
"I feel like the guys who the coaches are looking at will definitely be able to step up," sophomore linebacker
Jarrad Davis
said. "They know what to do and they know they're talented."
"These guys are ready to take on that role."
And it isn't just the talent and potential this class contains that has teammates and coaches trusting it. Once players saw injuries piling up, Taylor said the freshmen realized they were going to be counted on more so they started to buckle down with their preparation.
In a year in which this group could have resisted and pushed away from the core group, it grew closer and began to see older players looking up to them. Not even a year removed from high school, and this group was being relied on to help carry the team through some very dark weeks in 2013.
"You were a freshman, but they were depending on you to win games," Taylor said.
The wins didn't come, but resiliency did, redshirt senior linebacker
Michael Taylor
said. What impressed him the most was how this group continued to work through an exhausting seven-game losing streak.
"When you face adversity that you'll see in a 4-8 season, those guys kept fighting through all of it -- through the injuries, through the losses," Taylor said. "That's what shows that they have what it takes to take ownership of the team and lead us."
Moving forward, the contributions from this class will only grow.
Keanu Neal
,
Marcell Harris
and
Nick Washington
could be staples in Florida's secondary this year. Following a suspension-filled first year, Robinson has been one of the Gators' best offensive players during the offseason, and Fulwood has been even more consistent and could be a real vertical threat for the offense this fall.
Roderick Johnson
is the next tackle in line after vets
D.J. Humphries
and
Chaz Green
, while linebacker
Alex Anzalone
has a chance to see time in Florida's linebacker rotation.
Davis was pegged as an early leader for the Gators last season and is right in the thick of a battle for a starting spot.
Joey Ivie
and
Jay-nard Bostwick
are in the early rotation along the defensive line, and
Caleb Brantley
has the chance to play his way in to as well.
This group has barely scratched the surface, but Taylor said guys are playing faster and thinking less. Last year this class was asked to learn, now, Taylor believes it will lead. Then, well, Taylor expects big things ... soon.
"Our whole mindset was that we were going to come here together and try to win a national title," he said.
"Now that we're so close, like brothers, it's going to be special in the future. We're looking forward to it."
August, 26, 2014
Aug 26
12:32
PM ET
August, 26, 2014
Aug 26
11:00
AM ET
GAINESVILLE, Fla. -- Sitting in a freshman humanities class, Florida cornerback
Vernon Hargreaves III
learned the harsh reality of losing in a Gators uniform.
The class was "What is the Good Life?" -- a required course for freshmen -- and students were asked to list their short-term life goals. With three football players -- Hargreaves, linebacker
Matt Rolin
and defensive back
Nick Washington
-- present, a student said she'd like to attend a Florida football game and actually see the Gators win.
Her words and eyes pierced through the players, shooting a humbling feeling through their bodies.
[+] Enlarge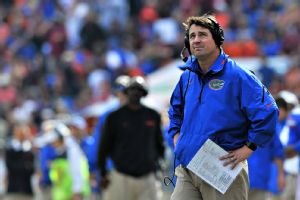 Steve Mitchell/USA TODAY Sports"It's a humbling experience to go 4-8 at the University of Florida," Will Muschamp said.
"We really couldn't say anything because we didn't win so she was basically telling the truth," Hargreaves said.
It was an uncomfortable reminder of one of the worst seasons in Florida football history. A rash of injuries and loss of leadership resulted in a disastrous 4-8 year, the first losing season for the Gators since 1979 and a missed a bowl for the first time since 1990.
"People are going to bash Coach [Will] Muschamp, they're going to bash us, even around campus," Hargreaves said. "… If you don't win at Florida they're going to talk about you, and they're going to talk about you right to your face."
As the Gators enter Year 4 of the Muschamp era, they'll do so with the program at a critical crossroads. Rebounding could throw a program six years removed from its third national championship back on its intended track. Another let down could send Florida into a tailspin.
There is no Urban Meyer for athletic director Jeremy Foley to hire if Muschamp doesn't work out. Florida can't afford to fall any further behind Eastern Division rivals Georgia and South Carolina, and the gap between instate rival Florida State is already wide enough. Not to mention, Miami, which beat Florida and won nine games last year, and Tennessee are having recruiting resurgences.
Florida's own recruiting has been successful, but coaching turnover could cut into that, leaving unknowns for the future.
There's panic and unrest in the Gator Nation, as Florida finds itself in a make-or-break situation in 2014.
Muschamp isn't blind to that reality. While he refuses to publicly acknowledge any sort of talk surrounding his job, which he's very much coaching for this fall, he understands how important this season is for a program that won 11 games two years ago. There's a reason he decided to completely change his offensive philosophy and hire former Duke offensive coordinator Kurt Roper, who will run an uptempo, spread offense.
So far, Muschamp has liked the progress made during practices. The offense is moving more smoothly and the defense still has the patented Muschamp bite to it.
"I feel like everything is headed in the right direction, personally," said Muschamp, who is 22-16 at Florida. "Every year is a pivotal year. I don't put any more pressure on myself, I don't work any harder than I worked last year. I worked hard last year so it's not like I have renewed energy. ... I was energized last year."
"I'm excited about this football team and moving forward."
What this team -- and Muschamp -- has to show is significant improvement. That will start with an offense that finished last year's regular season ranked 112th in total offense, but end with more victories than losses.
How many wins? That's yet to be seen, and athletic director Jeremy Foley has even come out recently and said that he has no requirement for Muschamp, he just wants progress.
That means a competitive offense, a team in the postseason and some sort of run toward an Eastern Division title. Winning the East probably isn't a must for Muschamp, but being in the race late in the season could be.
Florida has a certain standard it should be living up to, and losing to the top teams on its schedule -- even by the smallest of margins -- isn't good enough. This is a program used to winning, not settling for close losses.
"This is the best team chemistry I've been around ever since I started playing football," defensive end/linebacker
Dante Fowler Jr.
said. "I feel good about this year. I think this year's going to be special.
"We have a lot of hungry guys, a lot of guys with bad tastes in their mouths and they're just ready to get it out."
After a year that featured an embarrassing home loss to Georgia Southern, any sort of positive news out of a camp comes with cautious optimism for fans. For a program that achieved wild success in the 1990s and won two national titles under its last coach, Florida hit a wall last season.
Now we find out which direction this team will propel the program in.
"It's a humbling experience to go 4-8 at the University of Florida," Muschamp said. "You get your ass kicked enough and you get tired of it and you decide to do something about it. That's what this team has done."
August, 26, 2014
Aug 26
10:00
AM ET
Believe it or not, we are two days away from SEC football officially kicking off the 2014 season. And
you
thought we'd never get here!
Each season we make perfect prediction after perfect prediction. From weekly game picks to preseason teams, we think we've got this whole prognostication thing down to a science!
It's become a tradition here on the SEC blog to release our fearless predictions for the season ahead. I'm riding solo on them this year, but they shouldn't be any less correct this time around.
Here are my 10 fearless predictions for the SEC in 2014:
1. The SEC champion will have two losses ... but still make the playoff:
With the talent gap between the teams at the top and the middle of the pack growing tighter, the SEC might be in store for the most exciting divisional races we've seen in a long time. No team is perfect. I've said this since the end of last season: No team will go undefeated in the SEC and no team will leave Atlanta with fewer than two losses. But with how strong the conference is this year, there's no way the SEC champ will be left out of the inaugural College Football Playoff.
[+] Enlarge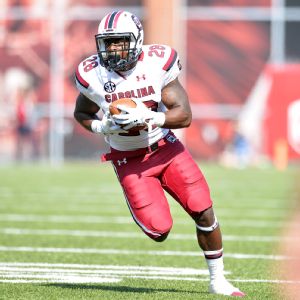 Scott Clarke/ESPN ImagesMike Davis rushed for 1,183 yards on 203 carries and 11 scores in 2013.
2. Mike Davis will lead the conference in rushing:
He can steamroll over you or just run by you. Davis has everything you'd want in a back and even though he's dealing with a rib injury, he'll lead the SEC in rushing yards this season. It won't hurt that he has arguably the nation's best offensive line in front of him. Georgia's
Todd Gurley
has yet to make it through an entire season healthy, while
T.J. Yeldon
will undoubtedly have his carries eaten into by
Derrick Henry
. With what should be a solid passing game taking some pressure off him, Davis will blow by the 1,183 yards he had last year.
3. The SEC will have 12 bowl-eligible teams:
Last year, the SEC saw 10 teams go bowling. This year, Florida and Tennessee will reach at least six wins this fall and join the teams that made bowl games last year. Yes, a Tennessee team with brand-new offensive and defensive lines will go bowling, and yes, Florida's offense
will
be much better.
4. Will Muschamp will finally beat Georgia:
After going 0-3 against his alma mater, Muschamp will finally get a win at the World's Largest Outdoor, eh, Party. It's a rebound year in Gainesville with a better offense. Of course, the game will be close, but quarterback
Jeff Driskel
will engineer a game-winning drive in the fourth quarter to end the bleeding the Bulldogs have caused the Gators the past three years. That means the SEC East title will come down to the Gators' home game with South Carolina on Nov. 15.
5. Arkansas will have two 1,000-yard rushers:
The Razorbacks came close last year after
Alex Collins
and
Jonathan Williams
combined to rush for 1,926 yards. With so many unknowns still lurking in the passing game, coach Bret Bielema will have no problem handing the ball off to his duo as much as possible. Williams might even lead the Hogs in rushing this year after an impressive offseason. Stacking the box won't stop this duo.
6. The Mississippi schools will reach nine wins:
It seems like whenever Mississippi State and Ole Miss have higher expectations, they fail to live up to the hype. Well, that ain't happening this season. With two very manageable seasons, and a host of talent returning, both of these schools will reach at least nine wins this season. Ole Miss gets Alabama, Auburn and Mississippi State at home and should sweep nonconference play. Mississippi State has an extremely soft nonconference slate and gets Auburn and Texas A&M at home. Both Mississippi teams will pull a big upset on their way to nine wins.
7. Leonard Floyd will lead the SEC in sacks:
Last year, Floyd led the Bulldogs with 6.5 sacks. This year, Georgia's best pass-rusher will push for All-American status by reaching double-digit sacks and leading the league. He's fast, strong and terrifying off the edge. Floyd had a great offseason and will be a nightmare for quarterbacks.
8. Vanderbilt will make it four bowl trips in a row:
No James Franklin? No problem. What Franklin didn't take was the talented core of players the Commodores have. The Commodores return a strong offensive line and a deep, talented group of running backs. New coach Derek Mason also likes what he has defensively. The new 3-4 scheme will make the Dores faster off the edge with
Kyle Woestmann
and
Caleb Azubike
moving to outside linebacker. Vandy should win its four nonconference games and will find two more wins to make it back to the postseason.
9. The SEC won't win the national championship:
Look at prediction No. 1. While I think the SEC is stronger than ever as a whole, the winner of this league (I'm predicting Alabama) will be pretty beat-up come playoff time -- monthlong break and all. But it isn't just that. I think the country has a great set of teams at the top this year, and I don't see one SEC team really sticking out like seasons past. The seven straight titles were good for the league, but the conference will hit a two-year snag.
10. Ohio State will lose to another SEC team:
The loss of quarterback
Braxton Miller
might have spoiled the Buckeyes' playoff hopes, but they'll find a way to meet an SEC team during the postseason and continue their time-honored tradition of losing to the SEC. Come January, the Buckeyes will be 0-11 against the SEC in bowl games.
August, 26, 2014
Aug 26
8:00
AM ET
1. A number of SEC schools
released their depth charts
Monday, giving the media and fans alike something to talk about. But do they really matter? At Alabama,
we learned nothing about the quarterback position
as Blake Sims and Jacob Coker are listed on the same line atop the depth chart. At Mississippi State, Chris Jones is currently
a backup at defensive tackle
. Even if Jones doesn't start the season opener, you can't tell me he won't play the majority of the game. I agree that depth charts are interesting and it's a chance to see who won some of the position battles in fall camp, but at the end of the day, I don't think they matter. Coaches are going to do what they want to do regardless of what they put out on a depth chart. But for those of you keeping track at home, Auburn and Florida will release their depth charts Tuesday.
2. Speaking of Florida, Pat Dooley and Robbie Andreu of the Gainesville Sun debated
five hot topics about the upcoming college football season
on Monday. For example, will the SEC get shut out of first ever College Football Playoff? Or is Jameis Winston a lock to win the Heisman Trophy? The two writers differ on their responses on these and the others. In my opinion, I can't see the SEC getting shut out of the playoff, but I also don't see the league getting two teams in. And no, I don't think Winston is a lock for the Heisman. There's a kid named Marcus Mariota who is getting a lot of hype out in Eugene, Oregon. However,
the SEC's chances of winning are shaky at best
, writes Christopher Smith of Saturday Down South, and I tend to agree. The most likely candidates are Auburn's Nick Marshall and Georgia's Todd Gurley, but it won't be easy for either of them to beat out Mariota or unseat Winston.
3. If you haven't seen Gene Wojciechowski's
"Big Man on Campus" column
from Monday, I encourage you to go give it a read. It's an expansive preview of the upcoming college football season in which he gives his predictions for conference standings, the Heisman Trophy and the first-ever playoff. What caught my eye was a look at who could be this season's Auburn. He mentions Auburn (doing it again), Mississippi State and Florida from the SEC, but to accomplish what the Tigers did a year ago, a team would have to rise up from the bottom of the conference. That leaves Arkansas and Kentucky, which goes to show how improbable Auburn's turnaround really was. I can't see either the Razorbacks or the Wildcats winning the SEC this year, but don't be shocked if Florida turns it around and win the East.
Around the SEC
Tweet of the day
Today is Monday. First Football game is Sunday. The Vol Navy has already started to show up. #VolNation #bestFans pic.twitter.com/dNyJbz1nHt

— Vol Photos (@Vol_Photos) August 25, 2014
August, 25, 2014
Aug 25
11:00
PM ET
The Early Offer is RecruitingNation's regular feature, giving you a daily dose of recruiting news across the country. Today's offerings: Five-star defensive end
Byron Cowart
is closing ranks and instead of focusing on the more than 50 schools that have offered him scholarships, he's zeroing in on four schools leading up to his late September decision. Plus, Oregon fans can rest a little easier knowing the Ducks' star running back recruit didn't suffer major damage in his first game of the season, and we continue our tour of the top recruiting happenings on social media.
To continue reading this article you must be an Insider
August, 25, 2014
Aug 25
3:00
PM ET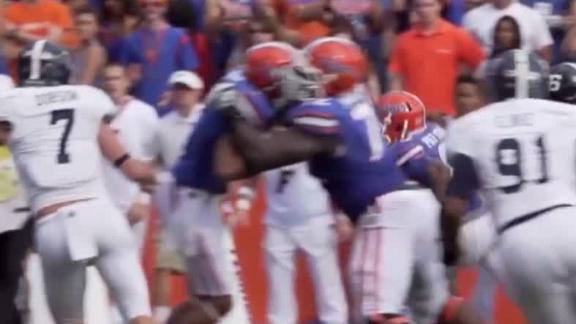 GAINESVILLE, Fla. -- It started with some innocent ribbing when Florida players watched their game tape after losing to Georgia Southern in late November of last season.
The play that caught everyone's eyes and tickled their funny bones revealed Gator wide receiver
Quinton Dunbar
and center Jonotthan Harrison accidentally blocking each other.
Within days the
media got hold of the story
and it went viral.
"I looked down and I've got text messages from friends joking," Dunbar recalls, "and then it blew up from there."
The Gator-on-Gator block became a symbol for everything that went wrong for Florida during its 4-8 season in 2013. It was the insult piled on top of a heap of injuries.
But the notoriety was just getting started. For weeks, the play held the top spot in SportsCenter's "Not Top 10" list, as voted on by viewers. It lived in infamy well into the spring.
"Yeah, it was everywhere," Dunbar said. "It was crazy because I remembered that play, but I didn't expect it to get that big."
It was hard to miss. Even Florida offensive coordinator Kurt Roper, who coached at Duke last year, had to laugh when asked recently if he had seen it.
"Aw yeah, I've seen it," he said, looking to soften the blow. "Things like that happen.
"So last year we were 10-2, a pretty good team. We're playing North Carolina to win the Coastal [Division] outright. We're down 25-24. We've got the ball on the 6-yard line. We've got second-and-goal, so a touchdown's big, a field goal puts us ahead. We're running down about three minutes to go in the game. I call a play and both our guards pull. One of them was supposed to pull and the other one wasn't. Well, they messed up. Both guards pulled and ran right into each other. That doesn't get mentioned because we went 10-2 in the regular season. Nobody sees it.
"How many times do defensive linemen run twist games up front and they run right into each other? I think it's just a product of the season, because you could watch any game and see those type things all the time."
Several months later Dunbar flashes a smile and laughs easily at the memory.
"I was going down to crack the safety and when I looked up I happened to be latched on with Harrison," he said. "I don't know what happened, but that's football."
Harrison didn't find much humor in the situation last year. Teammates say he was bothered every time "his play" popped up on TV. He refused to talk about it publicly.
Now fighting for a roster spot with the
Indianapolis Colts
, Harrison admits he was frustrated. It's clear the normally jovial lineman still bristles at the thought of it.
"I don't want to dwell on it to be honest," Harrison said. "I'm just over it."
So is Dunbar, who is on the verge of a fresh, new season -- his last in the Gators' orange and blue uniform.
"I'm just glad [the play's run on SportsCenter] is over," he said. "I'm ready to move on."
August, 25, 2014
Aug 25
8:00
AM ET
1. Game week is here. We are just three days away from South Carolina and Texas A&M.
Steve Spurrier is ready
. But there are still some question marks around the SEC, specifically at quarterback. Who does LSU go with against Wisconsin? Will Alabama ever name a starter before its first game? And how much will Nick Marshall play in Auburn's season opener? The latter is yet to be determined, but Auburn offensive coordinator Rhett Lashlee said Sunday that both Marshall and backup Jeremy Johnson
know what to expect
as the Arkansas game approaches. If you're like me, you're just ready for all three schools to name a starter so we can stop talking about it.
2. For those hoping to see the SEC's next Jared Lorenzen, it might be awhile. There was talk that Jeremy Liggins, who stands at 6-foot-3, 296 pounds, would take some reps as the Wildcat quarterback for Ole Miss this season, but
that's not going to happen
. Instead, it will be Anthony Alford, a Southern Miss transfer who also plays baseball in the
Toronto Blue Jays
farm system. Alford was taken in the third round of the 2012 MLB draft. Don't sleep on Liggins, though. Rebels' coach Hugh Freeze says there are multiple packages where the former high school quarterback will line up at tight end. And since we brought up Lorenzen, I encourage you read
this piece on the former Kentucky gunslinger
and his lifelong battle with weight.
3. We at the SEC blog looked at the most important game for every SEC team in 2014. Along those same lines, David Climer of The Tennessean put out his 14 for '14 –
the defining game of 2014 for every SEC team
. Some are more obvious like Georgia going to South Carolina early in the season or Alabama making the trip to Death Valley to take on LSU. But I was surprised to see that Tennessee's "defining game" is the season opener against Utah State. Don't get me wrong. Utah State has one of the nation's most productive quarterbacks in Chuckie Keeton, and the Vols can't afford to lose that game. But the defining game? I'd make a case for the Florida game or maybe Vanderbilt at the end of the season. The Commodores have taken the last two in the rivalry. What do UT fans think?
Around the SEC
Tweet of the day
I feel like somebody crossed the streams and we ended up with an 85' Stay-Puft Spurrier come to crush us all. pic.twitter.com/ky58wJoVT3

— Josh Kendall (@JoshatTheState) August 24, 2014
August, 24, 2014
Aug 24
7:07
PM ET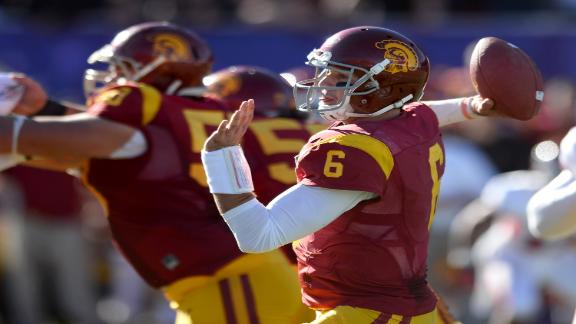 1. Florida will return to the land of the living.
Athletic director Jeremy Foley has spoken forcefully in support of head coach Will Muschamp. That's not necessarily unusual, Foley speaks forcefully about what he had for breakfast. But it is significant, a sign that Foley believes the problems that led to a 4-8 record last season have been resolved. Florida is healthy again (problem 1); the offense has been retooled with the hiring of coordinator Kurt Roper (problem 2); and Florida is healthy again (it should be restated, because when 17 guys get hurt, including eight starters, that's a lot).
2. Baylor will not make the College Football Playoff.
The Bears' nonconference schedule includes SMU, Northwestern State and Buffalo. Was Incarnate Word not available? No other team in the Big 12 has a nonconference schedule without an opponent from the other big conferences. Baylor, like every other Big 12 team, has to fight the perception that comes with not having a conference championship game. If the Bears go 12-0, sure, they're in. But at 11-1, they will get squeezed out. And just so you know, Baylor plays Incarnate Word in 2019.
3. The surprise contender in the Pac-12 South will be Arizona.
Questions answered after week 1
SEC SCOREBOARD
Thursday, 8/28
Saturday, 8/30
Sunday, 8/31