Florida Gators:

Jake McGee
June, 27, 2014
6/27/14
11:00
AM ET
By
ESPN.com staff
| ESPN.com
ESPN.com writer Jeff Barlis looks at senior transfer tight end
Jake McGee
and how he could be Florida's X factor this season.
June, 12, 2014
6/12/14
10:00
AM ET
Editor's note: We're breaking down the Gators' two-deep depth chart every day for the next two weeks. We'll cover every position as well as offer a glimpse into the future. You can read the whole series here.
B-POSITION
The starter:
Senior tight end
Jake McGee
The backup:
Senior tight end
Tevin Westbrook
The rest:
Senior tight end
Clay Burton
, senior fullback
Hunter Joyer
, senior fullback
Gideon Ajagbe
, true freshmen tight ends
DeAndre Goolsby
and
C'yontai Lewis
, and true freshman h-back
Moral Stephens
[+] Enlarge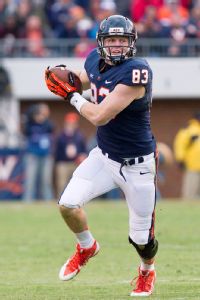 Lee Coleman/Icon SMITransfer Jake McGee led Virginia last season with 43 receptions for 395 yards.
The lowdown:
First, an explanation that in Kurt Roper's spread offense the B-position is a combination of the tight end, h-back and fullback positions. You'll see them on the line, in the backfield, in the slot, split out wide and often in motion. Considering the definite lack of involvement in the passing game from those positions in the previous offense, the Gators were expecting a rough transition for the B-position in 2014. That was until they found a perfect fit in transfer Jake McGee, a 6-foot-6, 255-pound tight end who led Virginia in receiving last season. McGee, now on campus and rooming with
Jeff Driskel
, looks to be the quarterback's best friend. Driskel hasn't had one of those since 2012, when tight end
Jordan Reed
led Florida in receiving. If he can adapt quickly, McGee could be a major x-factor in reviving Florida's offense this fall. He hasn't played in Roper's scheme before, but the offensive coordinator recruited him in high school so there is familiarity. With McGee, the Gators won't have to force the ball to any of their other seniors who were rarely asked to do more than block in years past. Florida fullbacks Joyer and Ajagbe, however, showed in spring that they have some potential to contribute in the passing game.
The future:
The Gators have had some bad luck in recruiting tight ends. Will Muschamp's second class in 2012 featured two of the nation's top four TE prospects in
Colin Thompson
and
Kent Taylor
. But Thompson's career appears over due to a foot injury, and Taylor did little before transferring to Kansas. Muschamp began to restock in the last recruiting cycle with Goolsby, Lewis and Stephens, and Roper believes they are good fits for his scheme. Goolsby is the most advanced after enrolling in January. He has had more time to add bulk and strength to his 6-4, 230-pound frame and got the benefit of a lot of reps in spring practice. Thanks to the presence of McGee, Florida likely will have the luxury of redshirting Lewis and Stephens to allow them time to learn and grow. Roper has said his offense affords a lot of opportunities for tweeners, which is why UF doesn't necessarily have to sign a prototypical tight end moving forward. The 2015 class already has a commit from
Camrin Knight
, a 6-4, 213-pound prospect with loads of athletic ability, potential to grow and willingness to learn.
June, 11, 2014
6/11/14
4:30
PM ET
We started the day by ranking all 14 teams based on their receivers and tight ends. Next, we looked at the top 10 wide receivers in the SEC. Now it's time to look at the top 10 tight ends.
[+] Enlarge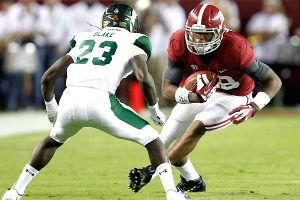 AP Photo/Butch DillO.J. Howard figures to play a bigger role in Alabama's offense in 2014.
1. O.J. Howard, So., Alabama:
He's big, he's strong and boy is he athletic. There were times last season when Howard looked unstoppable. Linebackers were too slow to keep up with him and cornerbacks were too small to cover him one on one. But he was underutilized as a freshman, failing to catch a pass in five games. With Lane Kiffin now running the offense and a new quarterback under center, Howard won't go unnoticed as a sophomore.
2. Hunter Henry, So., Arkansas:
Even without any consistency at quarterback, Henry emerged as one of the most promising young tight ends in the country as a true freshman last year, a pass-catcher who wasn't afraid to go over the middle. He finished with 28 catches for 409 yards and four touchdowns, and this year coaches are expecting even more.
3. Evan Engram, So., Ole Miss:
Injuries clouded an otherwise eye-opening rookie campaign. He started last season on a tear with 20 catches and four touchdowns through seven games and then missed the final five games of the regular season. If he has a clean bill of health, he's the type of hybrid receiver-tight end who can flourish in Hugh Freeze's offense and complement
Laquon Treadwell
on the outside.
4. Jake McGee, Sr., Florida:
The Gators' outlook at tight end went from bleak to rosy in one stroke when McGee transferred from Virginia, where he was the Cavs' leading receiver last season. At 6-6, 255, he gives quarterback
Jeff Driskel
a veteran safety net he can turn to in a pinch. Last season at UVA, McGee got a first down or touchdown on 26 of his 43 receptions.
5. Malcolm Johnson, Sr., Mississippi State:
When he arrived in Starkville, Johnson was a three-star wide receiver who weighed only 200 pounds. Now, four years later, he's 231 pounds and considered one of the better tight ends in the conference. He not only has evolved into a tight end, he ha become more productive every year. He had his best season yet last year with 30 catches for 391 yards and two touchdowns.
6. Rory Anderson, Sr., South Carolina:
The only question with Anderson is his health. He tore his triceps during spring practice, but the Gamecocks are optimistic that he will be ready for the season. He's a big-play target at tight end who has averaged 17.8 yards per catch during his career and had five touchdowns as a sophomore.
[+] Enlarge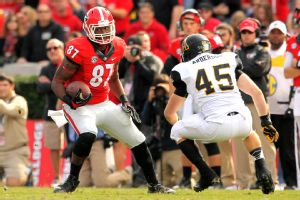 Todd Kirkland/Icon SMIGeorgia's Jay Rome, who was the top-ranked tight end in the Class of 2011, has 20 career catches for the Bulldogs.
7. Jay Rome, Jr., Georgia:
Everybody is excited about incoming freshman
Jeb Blazevich
, but don't sleep on Rome. He only had nine catches last year, but he played behind
Arthur Lynch
and missed the final four games with an injury. At 6-foot-6, 254 pounds, Rome will provide a big target for quarterback
Hutson Mason
, and be an asset in the rushing game.
8. Cameron Clear, Sr., Texas A&M:
Kevin Sumlin's wide-open up-tempo offense doesn't have an extensive history of using tight ends but he hasn't always had the kind of premier player at the position to utilize. Clear, a massive 6-6, 274-pounder who can move well for his size, gives the Aggies a matchup advantage at the position. He wasn't used often in his first year on campus, but look for his role to expand this fall under new offensive coordinator Jake Spavital.
9. Jerell Adams, Jr., South Carolina:
With three touchdown catches in 22 career games, Adams is one of those players who could explode this season. He's got great size (6-6, 247) and more than enough speed to get open and make plays down the field.
10. C.J. Uzomah, Sr., Auburn:
He might not be the most productive tight end in the SEC, but he's one of the most clutch. Uzomah had the game-winning touchdown grab against Mississippi State, and he caught another touchdown in the Iron Bowl. As quarterback
Nick Marshall
evolves as a passer, Uzomah could see his stock rise.
May, 16, 2014
5/16/14
11:00
AM ET
GAINESVILLE, Fla. -- For a team that was desperate for playmakers on offense last season, the
Florida Gators
have growing hopes for 2014.
Enthusiasm has been building since spring football ended, and it's not just because starting quarterback
Jeff Driskel
is healthy or the young receivers and running backs have another year of experience and maturity.
[+] Enlarge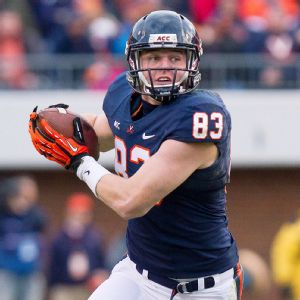 Lee Coleman/Icon SMIJake McGee's 45 catches last season at Virginia were 41 more than Florida's entire tight end corps had.
It's the tight end position, and one player in particular.
Fifth-year senior
Jake McGee
, the former Virginia standout who
announced his transfer to Florida
last week, gives the Gators a dynamic threat that defenses will have to account for.
"I'm very excited," head coach Will Muschamp said to a gathering of media on Tuesday in Orlando, Fla. "He's a guy that has tremendous ball skills, very good athlete at 6-5, 245 pounds and runs extremely well. I think he's a good addition to our team, and he'll certainly compete well."
The Gators haven't had a pass-catching tight end since 2012, when
Jordan Reed
led the team with 45 catches for 559 yards and three touchdowns. He was Driskel's safety net and go-to target. Not coincidentally, the Gators had their best season under Muschamp, winning 11 games.
"I think it was a very offensive position when Jordan Reed was here," Muschamp said.
Last year, it was just plain offensive.
It won't be hard for Florida to improve on the production it got out of the tight end position last season -- a
total
of four catches.
Florida returns seniors
Tevin Westbrook
(three catches in 2013) and
Clay Burton
(one catch), who have been used primarily as blockers. The Gators also are building depth at the position with three true freshmen.
DeAndre Goolsby
enrolled in January and made a good first impression in the spring, while
C'yontai Lewis
and
Moral Stephens
are due to arrive in June.
With McGee on board, however, the freshmen won't need to be rushed into early playing time.
The focus throughout the spring was for the tight ends to learn the no-huddle spread offense brought from Duke by new coordinator Kurt Roper. His B position uses the tight ends and fullbacks in a variety of roles and disguises -- from motioning and blocking out of the backfield to inline blocking, lining up in the slot, or splitting out wide.
In every one of those wrinkles, Roper expects his players to be pass-catching threats.
"It's going to be an important position," he said during spring, "and it's going to be a playmaking position for us, so we're counting on them. ...
"I think I've seen growth. Those guys haven't done a whole lot of [receiving]. I think they enjoy doing it. I think they enjoy being part of the pass game. Because of that they go out and work hard and get better at it."
It's a work very much in progress. Now with McGee, suddenly the Gators have a more polished, vastly more experienced puzzle piece. He comes to UF with plenty of accolades.
McGee was Virginia's leading receiver last season with 43 catches for 395 yards and two touchdowns despite a lingering shoulder injury. With his speed and athleticism, the Florida coaching staff is also excited about what he brings on special teams.
McGee was drawn to Florida by Muschamp who recruited him in high school, and Roper, who led Duke's offense against Virginia while McGee took note.
"Their offense, being on the other side, was sort of fun to watch," McGee said to Scott Carter of Gatorzone.com, Florida's official athletics website. "They did a lot of cool things and really did a lot with the tight end position that excites me as a player. There's a lot of versatility with the position to create mismatches and be allowed to do all sorts of different things."
Those feelings of eagerness and optimism are very much mutual, as both parties anticipate a sudden impact. UF coaches know they very well might have recruited a game-changer in McGee, whose graduation from UVA last month enabled him to transfer without having to sit out a year.
"To be able to have a guy that defenses know they have to account for in terms of is he a receiver, is he a tight end, can he create a three-man blocking surface?" Muschamp gushed. "That changes things in the run game. It changes things in protection and how people will attack you. ...
"We feel like he's a very talented player and a great addition for our team."
May, 14, 2014
5/14/14
11:00
AM ET
GAINESVILLE, Fla. -- The
NFL draft
is over, so it's time to talk about the next wave of Gators.
Florida had four players selected last weekend with just one from the offensive side of the ball.
On Tuesday we looked at the defensive replacements. Here's a look at who will replace the Gators on offense who were drafted or signed as undrafted free agents.
OG Jon Halapio
Sixth-round pick, New England Patriots
A three-year starter, Halapio battled through some injuries and was a rock at right guard. He was better as a run blocker than in pass protection, but the same could be said for most of Florida's offensive linemen. By the end of spring practice, Florida's starting guards were junior
Tyler Moore
and senior
Trenton Brown
, each of whom spent time last season at tackle. Brown is a behemoth at 6-foot-8 and 348 pounds who forced his way into the starting lineup by improving his footwork, pad level and consistency throughout the spring. Moore, no slouch at 6-5, 320, is still dealing with the linger effects of a broken elbow but seems better suited as an interior lineman. Both guards have the potential to upgrade Florida's line in run and pass blocking.
[+] Enlarge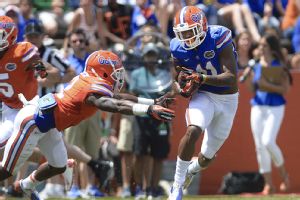 AP Photo/Phil SandlinDemarcus Robinson, who caught five passes as a freshman in 2013, will be one of the Gators' playmakers next season.
WR Solomon Patton
Undrafted free agent, Tampa Bay Buccaneers
After a quiet first three years at UF, Patton became an indispensable contributor as a slot receiver, deep threat and kick returner. Patton's elite speed is something the Gators will be sorely lacking, but there are some emerging players on the horizon. Sophomore
Demarcus Robinson
was the Gators' best playmaker in the passing game throughout spring practice. He's not nearly as fast at Patton, but he's got some magic after the catch. Another sophomore,
Chris Thompson
, has the speed to be a deep threat and will be counted on to stretch the field. In the slot, the Gators' expectations are a bit lower as they look to juniors
Latroy Pittman
and
Valdez Showers
to be solid route-runners and reliable targets.
H-back Trey Burton
Undrafted free agent, Philadelphia Eagles
In his unique career at Florida, Burton played every offensive skill position and finished his senior season as a wide receiver. In the pros he'll get a shot to be an H-back, which is where the Gators would have loved to have had him back. Under new coordinator Kurt Roper, UF's offense is perfectly suited for tight ends, tweeners and oversized wide receivers to play in the slot or release off the line. Florida's returning tight ends -- seniors
Tevin Westbrook
and
Clay Burton
(Trey's brother) -- combined for four catches in 2013. While Westbrook, Burton and senior fullbacks
Hunter Joyer
and
Gideon Ajagbe
showed flashes of pass-catching ability in spring ball, the Gators won't have to rely on any of the four veterans to do more than he is capable of. That's because former Virginia tight end
Jake McGee
transferred to Florida after graduating from UVA last month. His experience as the Cavaliers' leading receiver in 2013 could be a game-changer for Florida's offense, which was severely lacking in proven playmakers.
C Jonotthan Harrison
Undrafted free agent, Indianapolis Colts
Another three-year starter, Harrison anchored Florida's O-line and was a respected leader on and off the field. His replacement is a very similar player in senior
Max Garcia
, who was Florida's best and most consistent lineman last season. Garcia played much of 2013 at left guard but also has on his résumé a full season as a starter at left tackle for Maryland in 2011. Just like Harrison once did, Garcia is having some issues learning how to master the shotgun snap, but his coaches aren't worried and routinely praised him in spring practice despite some errant snaps. If he can fix that and also get comfortable calling out protections for his teammates on the line, Garcia could upgrade the position by being a little stronger as a run blocker.
OL Kyle Koehne
Tryout contract, Atlanta Falcons
Koehne became a key reserve on UF's line, as he backed up several positions and was able to step in as a starter for half the season with little drop-off. The Gators' starting O-line is set with all five players having starting experience. Where things get dicey is on the second unit. Florida's OL coach, Mike Summers, has his hands full trying to develop the next Koehne. His top reserve after spring practice was
Trip Thurman
, a junior who got a long look on the first unit and has played just about every position. Thurman will likely be Florida's top backup at all three interior spots. At guard, the Gators also have junior college transfer
Drew Sarvary
, who started 10 of 11 games as a freshman at Florida A&M in 2012 and has the requisite size at 6-6, 318. Options are even more limited with reserve tackles, where Florida has freshman early enrollee
Kavaris Harkless
, injured redshirt freshman
Roderick Johnson
, and soon-to-enroll freshman
David Sharpe
.
May, 12, 2014
5/12/14
4:00
PM ET
GAINESVILLE, Fla. -- With four players selected in last weekend's NFL draft, the
Florida Gators
have now had a total of 322 players picked by current NFL franchises.
UF has long been one of the most talent-rich pipelines to the pros but didn't make a huge splash in this year's draft. That wasn't a big surprise after a 4-8 season in 2013.
With a bounce-back season this fall, could the Gators similarly rebound in next spring's draft?
Florida has a 16-man senior class. Here's an early look at next year's potential draftees:
(*denotes underclassman)
[+] Enlarge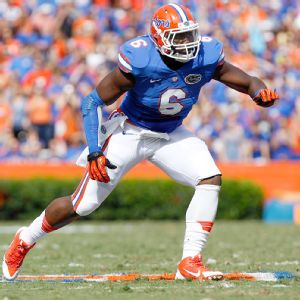 Kim Klement/USA TODAY SportsIf Dante Fowler Jr. can overcome some inconsistency he could work his way into the first round of next year's draft.
DE/LB Dante Fowler Jr.*
6-foot-3, 266 pounds
After seeing junior cornerbacks
Marcus Roberson
and
Loucheiz Purifoy
go undrafted, Florida's underclassmen are likely to be more cautious next year. The one junior who won't need to hesitate if he has a big year is Fowler, who might be UF's best player. Fowler led the team with 10.5 tackles for loss in 2013, and his 50 tackles led all defensive linemen. His monster game against Tennessee last season -- one sack among three tackles for loss, two forced fumbles and a fumble recovery -- put him firmly on the NFL's radar, and Fowler is already listed among the top prospects in a few way-too-early 2015 mock drafts. He'll need to shake the inconsistency he's shown in his first two seasons, where he would dominate in one game and then disappear in another, but Fowler has the requisite talent and drive. If spring ball was any indication, he's in for a breakthrough season in 2014.
Projected rounds: 1-3
TE Jake McGee, 6-6, 250
The newest Gator will enroll in graduate-school classes on Monday after transferring from Virginia, where he finished his undergraduate studies last month. McGee was the Cavaliers' leading receiver last season and had 71 catches for 769 yards and seven touchdowns in his last two years at UVa. Last fall, he was ranked among the top tight end prospects for the 2014 draft by ESPN guru Mel Kiper. The Gators have no other proven pass-catchers at tight end and really no proven playmakers in the passing game, so McGee could very well be a featured target.
Projected rounds: 3-5
C Max Garcia, 6-4, 311
Garcia went through some growing pains in spring practice working at center for the first time, but UF coaches expect him to be their starter this fall. The move could pay big dividends with his draft stock, as Garcia has already proven to be a capable guard and even started 12 games at left tackle for Maryland before transferring to UF. Tough and durable, Garcia was Florida's only O-lineman to start all 12 games in 2013.
Projected rounds: 3-6
OT Chaz Green, 6-5, 300
One of Florida's best linemen before he tore his labrum in preseason camp last August, Green is expected to anchor the line at right tackle. He's started 19 of his 20 career games at right tackle and is solid in run and pass blocking. Green could still pursue a medical redshirt for the 2013 season and return for the 2015 season if he isn't happy with where he looks to land in the draft.
Projected rounds: 4-6
DT Leon Orr, 6-5, 302
Orr has great size but so far hasn't turned it into consistent production. Coming off a broken wrist that cost him all of spring practice, he is nevertheless a likely starter in his final year. If he adds strength in the weight room and does a better job of stuffing the run and collapsing the pocket, he could command the attention of NFL scouts.
Projected rounds: 5-7
WR Quinton Dunbar, 6-1, 194
Florida's leader on and off the field among wide receivers, Dunbar has improved with every season. He won't wow you with speed, but he's made himself into a solid possession receiver and has started 25 of his 38 career games.
Projected rounds: 5-7
[+] Enlarge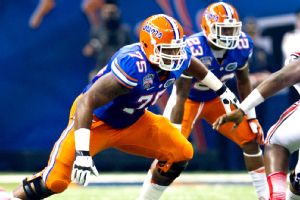 John Korduner/Icon SMIRight tackle Chaz Green must overcome some injury issue before deciding on a potential NFL future.
LB Neiron Ball, 6-3, 235
Like former Florida linebacker
Ronald Powell
, who was picked in Saturday's fifth round by the New Orleans Saints, Ball is a great athlete whose production has been marred by injuries. After starting seven of 12 games last season and more than doubling his career tackles, Ball is looking to stay healthy in 2014 and take the next step in his development as an impact player.
Projected rounds: 5-7
LB Michael Taylor, 6-0, 233
Undersized but quick, Taylor broke through as a starter in 2013 and also became a team leader. He has issues dropping into coverage but is instinctive against the run and led Florida with 62 tackles last season.
Projected rounds: 6-7
OL Trenton Brown, 6-8, 338
Scouts drool over linemen with Brown's size, but the big fella's footwork, pad level, awareness and technique will be heavily scrutinized. He started five of 12 games at right tackle in 2013 and is penciled in as UF's starting right guard this fall.
Projected rounds: 6-7
Other late-round possibilities:
Hunter Joyer
will be ranked among the best fullbacks available in the 2015 draft, but unfortunately for him it's a position that doesn't often get drafted. ... Ditto for punter
Kyle Christy
, who dazzled in his sophomore season with a school-record 45.8-yard average. ... He may be undersized at 5-10, 184, but
Jabari Gorman
is Florida's most reliable safety. It's become a glamour position in Will Muschamp's defense, so a strong senior season could draw NFL attention. ... Defensive tackle
Darious Cummings
has a good shot at a starting job in his final year thanks to the improvement he showed in spring practice. ... After suffering a torn ACL last August, wide receiver
Andre Debose
is back for a sixth year at Florida. He's never lacked talent but has also never become a consistent option in the passing game. Debose has speed, athleticism and terrific vision after the catch -- all qualities that also made him an elite kickoff returner in his UF career.
May, 9, 2014
5/09/14
4:45
PM ET
With former Virginia tight end
Jake McGee
transferring to Florida
, the Gators got a major upgrade to their group of pass-catchers.
And this is an immediate upgrade because McGee has already graduated from Virginia and will attend grad school at Florida. Yep, McGee can start playing right away this fall, and it sounds like the Gators plan to use him a lot in the passing game this fall as another weapon for quarterback
Jeff Driskel
to throw to.

With plenty of questions at the tight end spot this spring, McGee not only brings the talent to stretch the field and be more of a playmaking tight end for the Gators, he has plenty of experience. McGee caught 71 passes for 769 yards and seven touchdowns in his last two years with the Cavs. Last season, he caught a team-high 43 passes for 395 yards. He also had two touchdowns. Returning tight ends
Tevin Westbrook
and
Clay Burton
, both seniors, have combined to catch six career passes for 54 yards and zero touchdowns.
McGee's arrival will give the Gators a much-need receiving threat for a team that hopes to generate more consistency in the passing game. Florida is still looking for its go-to receiver, and McGee is expected to be used as a flexed tight end, meaning he'll do a lot more than block in Florida's offense. McGee was moved to receiver this spring because of his athleticism, and Florida's coaching staff plans to take full advantage of his athletic ability.
Florida's Ability To Close 2015 Recruiting