December, 13, 2013
Dec 13
1:00
PM ET
Jameis Winston
was on a recruiting trip to Alabama during his junior year of high school. He watched practice alongside his Hueytown High coach,
Matt Scott
, and toured facilities. Eventually, they came across the Heisman Trophy, won a year earlier by Crimson Tide running back Mark Ingram.
Winston studied the trophy and considered his future. Without a hint of doubt, he turned to his coach and made a promise: "I'm going to be the next one at Alabama to win this," Winston said.
Of course, that's not exactly how things played out. Winston didn't end up at Alabama, but he will be in New York this weekend, the heavy favorite to win this year's Heisman Trophy for Florida State.
In the buildup to the trophy presentation, there will be ample discussion of "Heisman moments" — those images that define a player's march toward the award. For Winston, this was his. Once he decided he wanted to win it, it was an inevitability.
"When he says things like that, people don't understand -- he's not kidding," Scott said. "He believes it."
Since Winston arrived in Tallahassee, he's been busy convincing everyone else, too.
From the outset, teammates noticed Winston's outgoing personality -- dancing and joking during practice -- but also his competitiveness.
"He has an edge that you don't see often," left tackle
Cameron Erving
said. "He's one of the most competitive individuals I've ever met.
Erving served as a mentor to Winston during his redshirt season, and he worried that the quarterback's goofball persona might undermine his leadership skills. He was quickly proven wrong.
During one summer practice, Erving pulled Winston aside. He needed to take the drills more seriously, Erving told him, and Winston understood. What shocked Erving wasn't Winston's response, but that once the freshman changed his demeanor, so did everyone else around him. He was a natural leader.
"I haven't seen that type of leadership ability in anybody I've been around," Erving said.
Winston's skill with the football only solidified his stature. Winston ran scout team in 2012, and
Lamarcus Joyner
marveled at what the freshman could do surrounded by a group of walk-ons.
"EJ [Manuel] wasn't making throws like that," Joyner said. "And I said to myself, this guy's going to be special."
It should've come as no surprise then that, in this year's spring game, Winston's first career throw in front of Florida State fans was a long pass over Joyner's head to the waiting hands of a walk-on receiver for a touchdown.
Winston's impressive spring game didn't immediately secure him the starting job, but it felt inevitable. What was less certain was how he'd handle his first career start — a road game against Pitt on a Monday night, a debut in front of a national TV audience in a hostile environment.
[+] Enlarge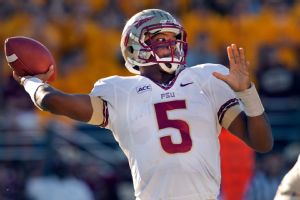 Lane Turner/The Boston Globe/Getty ImagesJameis Winston's touchdown pass to end the first half at Boston College opened many eyes.
"We'd seen flashes of him in practice," safety
Terrence Brooks
said. "But it's in the game you can really tell when someone turns it on. Seeing that Pitt game, we knew."
Winston was nearly flawless. He completed 25 of 27 passes for 356 yards and accounted for five touchdowns. The first 11 passes of his career were completions. The bright smile that has become his trademark never left his face.
"I saw him making those tremendous plays and I was like, 'He's got it,'" running back
Devonta Freeman
said. "He's got the look, making great plays, big smile on his face — that's what a Heisman candidate is supposed to have."
Pittsburgh was only the start, though.
Winston racked up a dizzying array of highlights in the next few weeks, dodging defenders to make big throws downfield. Against Bethune-Cookman, Winston shrugged off two sack attempts to find a baffled
Kelvin Benjamin
in the end zone.
"I thought it was a sack and I was jogging," Benjamin said. "He got rid of the first one and rolled it, and I sped up. We made eye contact, and I knew he was going to throw it."
Of course, that was nothing compared with Winston's long pass against Boston College in the final seconds of the half. The BC game was the only time this season when Florida State's perfect record seemed in danger, but Winston's 55-yard touchdown to
Kenny Shaw
as time expired on the first half alleviated any doubts.
"The stadium was turned up, every play was loud, and they really thought they had a shot," Shaw said. "Then you get the touchdown, and you could hear a pin drop."
A replay of that touchdown was shown on the big screen during the ACC championship game. A handful of Florida State players stopped to watch. It still amazes them.
"He wiggled out of the sack and throws it, a 50-yard strike to Kenny down the field. I was like, 'Wow, I've never seen a freshman make a play like that,'"
Christian Jones
said. "We'd seen him make throws like that last year on scout team. We had no doubt what he could do, but the records and all that, it's crazy."
The early season was for highlights. The Clemson game was what solidified Winston as a winner.
Before the game, Winston rallied his team with a speech caught on camera and broadcast during the game. "Put a smile on your faces," Winston said. He then led the Seminoles to a blowout victory over a team that was ranked No. 3 in the country.
"You don't expect a guy, especially that young, to be that confident," Erving said. "Especially going into an environment that was so hostile. When he's confident, it's a trickle-down effect. Everybody else feeds off of him."
Winston's Heisman Trophy campaign only grew from there. He set the school record for touchdowns, then the ACC mark, then the record for all FBS freshmen. For nearly a month straight, he spent the latter halves of games on the bench thanks to blowout margins. He wrapped up the regular season by torching Florida's No. 2-ranked passing defense, then headed to Charlotte, N.C., to secure Florida State an ACC title and a berth in the national championship game. Even with the dark cloud of a sexual-assault investigation hanging over his head, Winston played superbly, and he said the adversity actually made him — and his team — better.
"I learn from my mistakes," Winston said. "I've got to keep getting better."
Winston has been exceptional all season, and now he's poised to accept that trophy he promised to win four years ago. He has learned from mistakes, Joyner said, and he has gotten better. But he hasn't changed, and that's what his teammates will remember most.
"It's very rare in this culture to have someone that's genuine at heart like that, so we respect it," Joyner said. "Guys walk around all serious, and you see Jameis all goofy before a big-time game. It's like, 'OK, let's do this.' "
December, 13, 2013
Dec 13
12:00
PM ET
December, 13, 2013
Dec 13
11:17
AM ET
By
Alok Pattani
| ESPN.com
Heading into Saturday's 2013 Heisman Trophy ceremony, it's seemingly a foregone conclusion that Florida State quarterback
Jameis Winston
will take home the award. The advanced metrics support Winston as a winner, and recent precedent based on these metrics shows it should be pretty lopsided.
College football Total QBR data goes back to 2004 (as far back as we have play-by-play data), and there have been seven Heisman-winning quarterbacks since that year. All of those ranked in the Top-8 in opponent-adjusted QBR prior to the Heisman ceremony (i.e. not including the bowl games), with each of the last five quarterbacks winners ranked in the Top 3.
But there's actually another QBR-related statistic that correlates more strongly with winning the Heisman in that span – points above average (QB PAA, or just PAA).
While QBR is designed to measure per-play efficiency, PAA – which is calculated from QBR – measures total production above an average quarterback (QBR of 50), taking into account both efficiency and overall usage.
The relationship between PAA and QBR is similar to that between yards and yards per attempt, where one is a cumulative total and the other is on a per-play basis.
To simplify, QBR measures how efficient a quarterback is, while PAA measures how productive a quarterback is relative to an average quarterback with the same amount of action. It makes sense that the more productive players, in terms of points added, should get preference for end-of-season awards based on the total value provided to the team over the course of the year.
A quarterback with a lower QBR than someone else but more action plays could have contributed more points above average than his counterpart because he was involved in more of the offense. For example,
Johnny Manziel
ranks sixth this year in opponent-adjusted QBR, but moves to third in opponent-adjusted PAA because he had many more action plays than three of the guys ranked above him in QBR.
Of those seven Heisman-winning quarterbacks since 2004, each ranked in the top seven in Opp Adj PAA entering the bowl season, with four of the last five winners being tops in that category.
The only exception was Robert Griffin III, who trailed Russell Wilson in PAA prior to the Heisman ceremony in 2011.
Winston ranks No. 1 in FBS with +102.9 Opp Adj PAA to go along with his top ranking in opponent-adjusted QBR.
The three previous quarterbacks to rate as both the "most efficient" and "most productive" quarterback going into the Heisman ceremony since 2004 all won the trophy by a fairly wide margin, so it's reasonable to think Winston will do the same.
December, 13, 2013
Dec 13
11:00
AM ET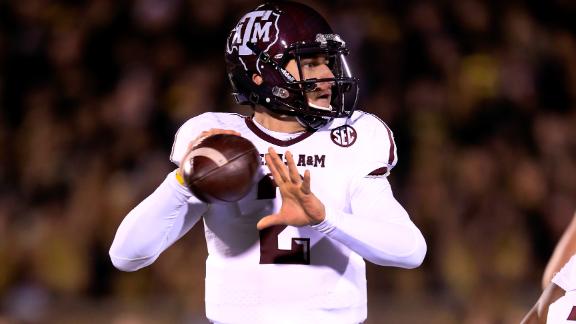 After Texas A&M's
Johnny Manziel
became the first freshman to win the Heisman a year ago, it appears another freshman, Florida State's
Jameis Winston
is poised to take the trophy. But which quarterback had the better freshman campaign?
David Hale and Sam Khan Jr. take the debate to the Interwebs for your reading pleasure:
Take 1: Hale: Winston was consistent, even in biggest games
No matter what Winston accomplishes this season, there's one thing Manziel will always have over him. Only one player can be the first freshman to win a Heisman, and that was Manziel. He was, to be sure, a worthy winner.
But beyond the history, the debate on which quarterback had the better freshman campaign is easy. It's Winston.
[+] Enlarge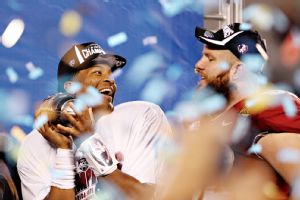 Streeter Lecka/Getty ImagesIf winning matters, Jameis Winston has won a conference title and has his team in the national championship game: two things Manziel has not done.
Compare passing numbers through 13 games and Winston comes out well ahead. He threw for a freshman-record 38 touchdowns, compared with 26 for Manziel. Winston threw for more yards, averaged significantly more yards per attempt (10.9 to 8.5 for Manziel) and had a quarterback rating (190.1) that dwarfs Manziel's (155.3). Winston had seven 300-yard games; Manziel four. Winston accounted for four or more touchdowns six times.
And before anyone makes the strength-of-schedule argument, remember that Winston had a slightly higher adjusted QBR -- which takes into account myriad factors, including competition.
Sure, Manziel came out of nowhere to become a Heisman winner. But wasn't there a lot more pressure on the much-hyped Winston to live up to those immense expectations?
Then let's look at how each player fared in his biggest games.
Manziel played six games against ranked teams, and he won four. He completed 67 percent of his throws -- same as Winston -- but the rest of his stats were utterly pedestrian. He averaged just 7.5 yards per attempt, threw for seven TDs and had five interceptions.
Winston, on the other hand, won all four of his games against ranked teams handily. He averaged 11.8 yards per attempt and threw for 12 touchdowns with five INTs.
Winston wasn't only at his best in big games, he simply never had a bad game. Manziel struggled mightily against Florida and LSU.
And Winston has the edge in the most important statistic: wins. The Seminoles are 13-0 and playing for the BCS national championship next month. Manziel's season was great and the Aggies were a surprising 11-2 last year, but they didn't even get to a BCS bowl. Their season ended in the AT&T Cotton Bowl.
OK, so now we get to the obvious check mark in Manziel's corner: his legs.
Admittedly, there's no comparison here, and Manziel's ability to run is the great equalizer in this debate. But it's hardly fair to penalize Winston for looking to throw before he looks to run.
Winston put together a highlight reel of big throws that followed miraculous escape acts. His numbers when under pressure were by far the best in the nation. He managed to extend plays, completing an absurd 16 of 21 with four touchdowns and 15 first downs on third-and-10 or longer.
Does that make up for Manziel's 21 rushing TDs and 1,400 rushing yards? Probably not, but the primary jobs of a quarterback is to make throws and win games. Winston was head and shoulders ahead of Manziel in both areas.
Take 2: Khan: Manziel did it all, against tougher teams
Winston has lived up to the hype and that's hard to do. In my opinion, he has been college football's most outstanding player in 2013. In every big game, he delivered and led his team to the BCS title game.
But there's no debate here. As terrific as Winston has been this season, Johnny Manziel's freshman campaign was better.
[+] Enlarge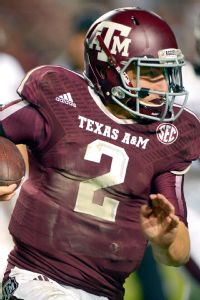 Thomas Campbell/USA TODAY SportsJohnny Manziel is clearly the superior runner.
Manziel was statistically better, had to carry his team more and did it against a tougher schedule. Oh, and as David mentioned, Manziel was the first freshman to do it. Can't beat that.
Yes, Winston's passing numbers are better. However, what Johnny Football did with his legs in 2012 is what set him apart, and it's what made him the toughest player to defend in college football. Winston hasn't run nearly as much because they don't need him to (77 carries for 193 yards and four touchdowns), but that was a signature part of Manziel's game. He was a true dual threat. Manziel exploded for 1,410 yards and 21 touchdowns and led the SEC in rushing a year ago.
Not the leading rusher among quarterbacks. The leading rusher, period.
A&M needed that. Without that element of Manziel's game, they might not have beaten Louisiana Tech. They might not have beaten Alabama. The season would have been different.
Manziel broke Cam Newton's SEC single-season record for total offensive yards in a season, finishing with a whopping 5,116. And while Winston had more touchdown passes, Manziel had more total touchdowns with 47. Winston still has a chance to catch that total if he accounts for five touchdowns against Auburn in January.
And let's not forget A&M's schedule last year. A&M finished third in the country in the NCAA's "toughest schedule" rankings. The Sagarin ratings had the Aggies with the sixth-toughest schedule last year. The NCAA's schedule rankings are unavailable for this season but for comparison's sake, Florida State's schedule is currently ranked 63rd in the Sagarin ratings. That's a huge difference.
Winston didn't have to face an LSU team that put five players from its front seven alone in the NFL draft. And even with that, Manziel and the Aggies still could have won that game (they lost 24-19). The best defenses Winston has faced were Florida (10th) and Clemson (23rd). Manziel faced three that finished in last year's top eight (Alabama, Florida, LSU).
And the best win -- at least to this point in time -- belongs to Manziel. Texas A&M's upset over then-No. 1 and eventual champ Alabama in Tuscaloosa was the epitome of Manziel's freshman campaign. He was virtually unstoppable. He threw for 253 yards and two touchdowns and ran for 92. Gaining 345 yards individually against a Nick Saban-coached defense? Simply amazing.
Winston has a chance at the crystal football. Manziel can't top that and there's no denying it. But that's more of a team accomplishment and there's not a ton Manziel can do about it.
If you were picking a team to go win a football game and both supporting casts were the same, which QB would you pick: 2012 Johnny Manziel or 2013 Jameis Winston? My guess is you're taking Johnny Football. He's done things on a football field that seemingly nobody else can.
December, 13, 2013
Dec 13
10:40
AM ET
It was a big night for the ACC at the Home Depot College Football Awards show.
Five different players
picked up awards
on Thursday night, putting an exclamation point on some of the most outstanding seasons in college football for 2013. Here is a look at the winners:
Roberto Aguayo, Florida State.
Aguayo took home the Lou Groza Award as the top kicker in the nation, becoming the third Seminoles player to win the award. Aguayo made 19 of 20 field goal attempts for the Seminoles and all 90 extra point attempts.
Aaron Donald, Pitt.
Donald cemented his standing as the top defensive player in college football with two more awards: the Outland Trophy as the nation's most outstanding interior lineman and the Chuck Bednarik Award as defensive player of the year. Earlier in the week, Donald also picked up the Lombardi and Nagurski Trophy. Donald becomes the first Panthers player to win four major awards in one season.
Bryan Stork, Florida State.
Stork won the Rimington Award as the top center in college football. Stork is the first Rimington Trophy winner from Florida State and first winner from the ACC.
Andre Williams, Boston College.
Williams became the first player in Boston College history to win the Doak Walker Award as the top running back in the nation. He ran for 2,102 yards and 17 touchdowns, becoming the first player to hit the 2,000-yard mark since Donald Brown in 2008. Williams will join
Jameis Winston
in New York this weekend as the second Heisman finalist in BC history.
Jameis Winston, Florida State.
Winston took home the Walter Camp Player of the Year Award and the Davey O'Brien Award as the top quarterback in the nation. Winston, also a Heisman Trophy finalist, set FBS freshman records for passing yards with 3,820 and touchdown passes with 38, and said afterward he was
"overwhelmed" with his honors.
Also on Thursday night, the
Walter Camp All-America team
was announced. Williams, Donald, Aguayo, Clemson defensive end
Vic Beasley
, and Florida State cornerback
Lamarcus Joyner
made the first team. Winston, Stork, Clemson receiver
Sammy Watkins
, North Carolina tight end
Eric Ebron
, Florida State offensive tackle
Cameron Erving
, Virginia safety
Anthony Harris
, Virginia Tech cornerback
Kyle Fuller
and Duke kick returner
DeVon Edwards
made the second team.
December, 13, 2013
Dec 13
10:33
AM ET
ESPN.com news services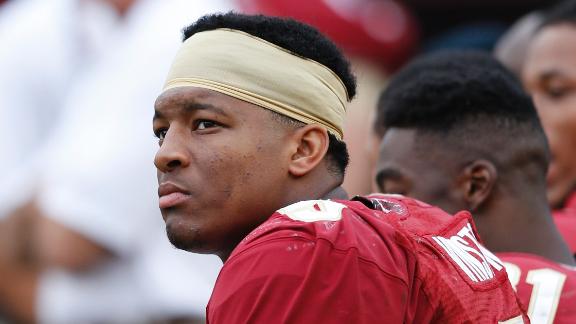 ZEPHYRHILLS, Fla. -- The lawyer for the woman who accused Florida State quarterback Jameis Winston of sexual assault says key information in documents released to the press that related to the investigation was redacted.
Attorney Patricia Carroll said Friday that the information was fundamental to proving a sexual assault took place. Dramatically holding up two pieces of paper, she said a medical report included in a 248-page packet released to the media last week by the state attorney does not match what appears to be the same medical report given to her client's family.
She said injuries suffered by the accuser, the fact the woman was given painkillers and the signature of the person who prepared the document were redacted. Injuries are a key component in the state deciding to pursue charges.
"We see that as a problem that warrants further investigation," Carroll said.
"There is no other choice than to call upon the attorney general of the state of Florida to conduct an independent investigation into this case and the Tallahassee Police Department," she added.
The accuser is not looking at filing a civil lawsuit right now against Winston, Carroll said.
"Premature," she said.
Assistant state attorney Georgia Cappleman reviewed Carroll's allegations.
"Based on what Mrs. Carroll presented in the news conference, I didn't note anything that was news to me," Cappleman said.
Carroll cited several inconsistencies in police reports that described the suspect as 5-foot-9 to 5-11. She said the accuser described her attacker as being 6-2. FSU lists Winston as 6-4.
December, 13, 2013
Dec 13
10:31
AM ET
By
ESPN Stats & Information
| ESPN.com
Melina Vastola/USA TODAY SportsFlorida State fans have made their pick, but Jameis Winston is just one of six Heisman finalists.
Six Heisman Trophy finalists will head to New York for Saturday's ceremony, the most that have received invites to the ceremony since 1994, when there were also six. The last time there were more was in 1988, with eight.
Although the favorite entering the ceremony is
Florida State
QB
Jameis Winston
, all six have made a solid case for why they are the best player in the country this season.
QB Jordan Lynch, Northern Illinois

Although Northern Illinois' bid to be a BCS buster was ended in the MAC championship game, Lynch's dual-threat ability kept the Huskies in it all season. He had 321 rushing yards against Western Michigan, the most by a quarterback in FBS history, breaking his own record of 316 set earlier in the year against Central Michigan.
Lynch ended the season with 1,881 rushing yards, also an FBS record for a quarterback.
QB Johnny Manziel, Texas A&M
Manziel's bid to join Archie Griffin as the only other multiple Heisman winner saw a transformation of his game. While his 2012 season was built more on his legs, his 2013 campaign saw him develop as a passer.
Manziel added a yard to his yards per attempt (from 8.5 in 2012 to 9.5 in 2013). His touchdown percentage also increased from 6.0 percent in 2012 to 8.4 percent this year. Also in 2013, 63 percent of his completions this season have gone for a first down or a touchdown, compared to 57.6 percent last year.
RB Tre Mason, Auburn
Even after a 1,000-yard rushing season last year, Mason wasn't on the short list of Heisman contenders until he finished the season with five straight 100-yard rushing games, including 304 against Missouri in the SEC championship game, the fifth-highest total all-time in an SEC game.
Mason's 2,137 all-purpose yards this season broke the Auburn school record, previously held by Bo Jackson. Mason's 22 rushing TDs this season also set a school record.
QB AJ McCarron, Alabama
This is McCarron's third season as Alabama's starting quarterback, and he's improved every season. His opponent-adjusted QBR was 76.7 in 2011, 81.5 in 2012 and 83.5 this season.
He was even better against SEC competition. In conference games, McCarron had an 86.4 opponent-adjusted QBR, tied for the best in the conference. Fellow Heisman candidate Manziel was third (85.5).
RB Andre Williams, Boston College

This season, Williams became just the 16th player in FBS history to run for at least 2,000 yards in a season, and the first since Donald Brown did so for Connecticut in 2008.
Williams also showed big-play ability. He had 26 runs of at least 20 yards, the most by an FBS player since Kevin Smith had 26 in 2007. His 11 touchdowns on such runs are the most for any player in the last 10 seasons.
QB Jameis Winston, Florida State
Winston is the clubhouse leader for the Heisman, and as the FBS leader in opponent-adjusted QBR (90.9), he has good reason to be. The leader in opponent-adjusted QBR in three of the last six seasons went on to win the Heisman, including Manziel last year.
Winston has also showed a clutch presence on the field throughout the year. On third downs, Winston has a 98.9 Total QBR, leading all FBS quarterbacks. Over the last 10 seasons, the highest third-down Total QBR in a completed season was also 98.9, by Andrew Luck in 2010.
December, 13, 2013
Dec 13
9:00
AM ET
Jameis Winston, QB, Florida State
Key stats:
68 percent completions, 38 touchdown passes, 90.9 adjusted QBR
Why he made it to NYC:
Four months ago, Winston was a renowned recruit who had yet to win the starting job at Florida State. Now, he's on the brink of a national championship. The Seminoles' offense is talented, but former first-round draft pick EJ Manuel didn't find nearly the same success Winston has as a redshirt freshman. Winston set a school record with 38 touchdown passes, while adding four more on the ground. He leads the nation in adjusted QBR (90.9), yards per attempt (10.9) and rating (190.06). In his 13 career games, Winston has thrown for 300 yards seven times and accounted for at least four touchdowns six times. His totals are diminished some because he played every snap in just three of Florida State's games thanks to a bevy of blowout wins. Winston set the record for touchdowns and passing yards for both ACC quarterbacks and FBS freshman this season, and he has three receivers all within 75 yards of 1,000 on the year.
Heisman moment:
There's a wealth of options to choose from for Winston, so picking one isn't easy. He announced himself as a contender for the award in his debut, completing 25 of 27 passes against Pitt, accounting for five touchdowns. He unleashed a series of highlight-reel plays in the opening weeks of the season,
capped by a 55-yard touchdown pass
to
Kenny Shaw
while under pressure as time expired in the first half against Boston College. Winston played perhaps his best game on his biggest stage, throwing for 444 yards in a blowout of then No. 3 Clemson. And he wrapped up his season -- and the Seminoles' berth in the VIZIO BCS National Championship Game -- by throwing for 330 yards and racking up four touchdowns in a win over Duke in the ACC title game.
December, 13, 2013
Dec 13
5:30
AM ET
The Early Offer is RecruitingNation's regular feature, giving you a daily dose of recruiting in the mornings. Today's offerings: After a few days off, the Early Offer is back with news on Florida adding one of the best offensive linemen in the country; a road trip that takes fans inside the world of coaches on the road; and an avalanche of commitments from junior college prospects is coming in the next week.
Gators get their guy
It took a little bit longer than anticipated, but
Florida landed
highly coveted offensive lineman
David Sharpe
(Jacksonville, Fla./Providence) on Thursday. Sharpe, the No. 18 player in the country and second-ranked offensive tackle, pushed back a scheduled decision before Thanksgiving to Thursday, but in the end it was worth the wait for Florida fans.
To continue reading this article you must be an Insider
December, 13, 2013
Dec 13
3:00
AM ET
[+] Enlarge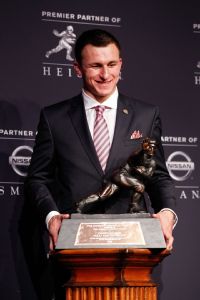 Mike Stobe/Getty ImagesJohnny Manziel brought home the 2012 Heisman Trophy, but will likely be watching the second straight freshman winner.
There is little intrigue leading into the 2013 Heisman Trophy ceremony Saturday in the Best Buy Theater in New York. Florida State quarterback Jameis Winston is the overwhelming favorite to take home the coveted bronze statue.
He's the best player on the nation's top-ranked team and the highest-rated quarterback, according to the NCAA's efficiency rating and ESPN.com's Total Quarterback Rating.
But, as with this college football season as a whole, Winston's candidacy was not without detours and complications. The redshirt freshman's often brilliant and refreshingly exuberant play on the field was offset to some degree by an off-field incident that cast a dark cloud over him and the Seminoles for weeks. He was accused of but not charged with sexual assault, and the media storm surrounding the incident, as well as the curious way the case was handled by police, still has lingering and discomfiting fumes.
How discomfiting those fumes are to voters across the country will be revealed by how wide Winston's winning margin is among the 928 total ballots cast by 870 media members, 57 previous winners and one vote from the general public.
December, 12, 2013
Dec 12
9:26
PM ET
It is harder than ever for college football teams to play good defense. That's been apparent the last few years, as up-tempo and spread offenses have become commonplace, and some are among the most successful in the sport. (We're looking at you, Auburn and Baylor.)
Yes, up-tempo and spread offensive attacks have made some pretty good defenses look silly, in part because defenses are now on the field for a lot more plays each game. The FBS average is 71.9 plays per game, up from 67.7 per game five years ago. The NFL average is 65.
We (current and former defensive players) could complain about rule changes that give offenses a huge advantage (i.e., the frenzied pace that doesn't allow defenses to get set, or allowing offensive linemen to block downfield on screens and pass plays), but we don't make excuses. No, what we defenders must do is adapt -- and in turn, we analysts must change the way we evaluate defenses.
It is no longer good enough to look simply at points allowed (this never accounted for scores allowed by the offense or special teams) and yards allowed (this never accounted for yards allowed in a blowout game) to determine good defensive teams.
When I evaluate defenses, the objective factors I rely on most are points allowed per drive (FBS average is 1.97) and yards allowed per play (FBS average is 5.74). These statistics give a better view of how defenses are performing -- regardless of the number of plays they are on the field.
Almost all of my top 10 teams excel in these two areas, and I also factor in my own analysis, after covering games live and breaking down tape, to create this ranking. This subjective part of the ranking tells me which teams are disciplined, and which teams have difference-makers -- things you can't get from the statistics alone.
With those factors in mind, here is my ranking of the top 10 defenses of the 2013 season:
This was the top defense in the country by any measurement. Sparty had the No. 1 defense in yards allowed per play (3.94) and was third in points allowed per drive (0.93) -- and if you prefer the old-school stats, MSU dominated those, too. Additionally, Michigan State's D allowed the fewest rushing yards per game (80.5), fewest yards per rush (2.7) and fewest 10-yard runs (30) in the FBS.
To continue reading this article you must be an Insider
December, 12, 2013
Dec 12
6:35
PM ET
ESPN.com news services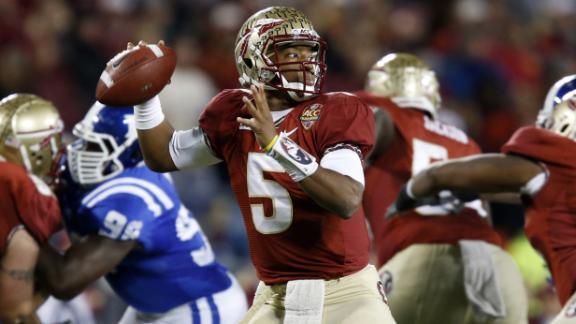 Florida State quarterback Jameis Winston was selected as the Walter Camp player of the year on Thursday, saying he was "overwhelmed" by the honor before later praising his team for the support it gave him during a trying month.
Winston had faced felony charges after being accused of sexually assaulting a female FSU student at an off-campus apartment on Dec. 7, 2012. But last week, state attorney Willie Meggs decided not to charge the Heisman Trophy favorite.
"I know I did nothing wrong," Winston said from the 23rd Home Depot College Football Awards in Lake Buena Vista, Fla.
"People just got to realize that my family, and the coaches, and Coach (Jimbo) Fisher, they just supported me through this whole process, and I just feel so loved by that -- you just don't understand just how much that means to me."
The redshirt freshman is the second player from Florida State to win the Walter Camp award, joining quarterback Charlie Ward in 1993. Former Notre Dame linebacker Manti Te'o won the Walter Camp last year.
The other finalists were Texas A&M quarterback Johnny Manziel, Northern Illinois quarterback Jordan Lynch, Alabama quarterback AJ McCarron and Boston College running back Andre Williams.
McCarron didn't go home empty-handed, beating out Manziel and Winston for the Maxwell Award as the nation's most outstanding player.
Independent Investigation Highly Unlikely