November, 22, 2014
Nov 22
8:56
PM ET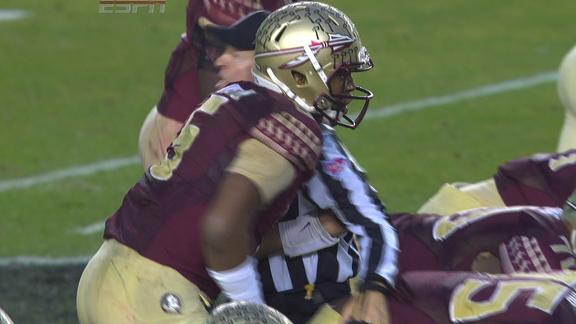 TALLAHASSEE, Fla. -- Florida State coach Jimbo Fisher and quarterback Jameis Winston said there was nothing malicious about the contact between the reigning Heisman Trophy winner and an official in the third quarter of the Seminoles' 20-17 win against Boston College on Saturday.
With the scored tied at 17-17 and 5:20 left in the third quarter, an official stood between Winston and center Cam Erving to prevent the Seminoles (No. 3 CFP, No. 1 AP) from running their next play. An umpire is instructed to stand over the ball to prevent the offense from snapping it until the defense has sufficient time to match the offense's substitutions. The umpire was not standing over the football, however, and Erving was already set with his hand on the ball.
Winston tried moving the official with his hand and arm before the umpire retreated to his normal position on the field.
"He was just holding me because he said we had a substitution," Winston said of the official. "It was actually a fast-tempo play, so I was trying to get up under there and let it ride."
Fisher said the play call was for Winston to snap the ball quickly after the previous play, but the umpire ruled Florida State made a substitution at running back, the coach said the officials told him.
"I don't think [Winston] realized it. He was caught up in the excitement of the moment," Fisher said. "Hey, you get emotional. He didn't realize. He thought he could snap the ball. ... He knew that was his job -- get out there and set and snap the ball."
November, 22, 2014
Nov 22
8:33
PM ET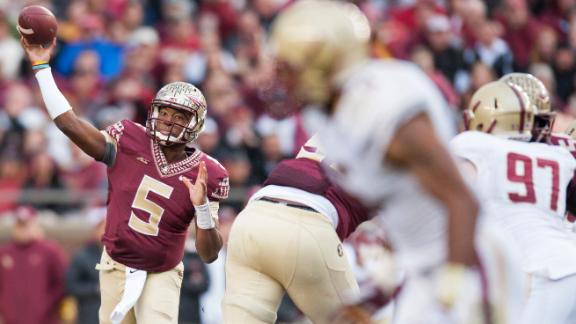 TALLAHASSEE, Fla. -- Following Florida State's narrow 20-17 victory over Boston College on Saturday night, redshirt junior defensive tackle Derrick Mitchell Jr. talked about his first-hand experience of this week's on-campus shooting.
Mitchell was working on a project for a sports management class and he and his group members submitted their work around midnight, minutes before the shooting near the lobby and entrance. Mitchell planned on leaving right after sending in the project, because he had arrived at the library four hours earlier and had practice Thursday afternoon.
Shortly after midnight Thursday, gunman and Florida State graduate Myron May opened fire outside Strozier Library. May injured three -- two students and a library staff member -- before he was killed in a shootout with police.
Mitchell said he believes he would have been in the shooting's immediate area if not for deciding to stay an extra few minutes.
"I was actually about to leave and something told me to turn around, wait on the other group members and we can all walk out together," Mitchell said. "So I turned around and I waited and thank God I waited those extra minutes because I would have been right there."
Initially, Mitchell was unaware the banging noises he heard were gunshots and mistook them for a bookcase falling. As Mitchell and his group neared the exit, he saw one of the victims walk back into the library and call the police.
"I was probably 10 feet away from the guy where he laid down on," Mitchell said.
Mitchell said it will probably be some time before he is comfortable going back to the library, which reopened Friday.
November, 22, 2014
Nov 22
7:10
PM ET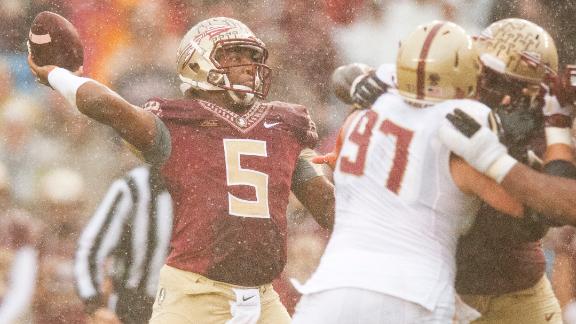 Another week, another close win for Florida State. The Seminoles booted a field goal in the final seconds of the game to upend Boston College
20-17
and keep their playoff hopes alive.
How the game was won:
Florida State's final drive was all about the two sure things on offense --
Jameis Winston
and
Rashad Greene
-- along with emerging star tailback
Dalvin Cook
. Winston connected with Greene twice for 26 yards -- the latter made Greene FSU's all-time leading receiver -- and Cook handled the rest. He had six touches for 29 yards to eat up clock and push the ball to the BC 13.
Roberto Aguayo
finished things off with a 26-yard field goal to secure the win.
Game ball goes to:
Winston. It was hardly his finest game. In fact, it's the first time in his career as a starter Florida State failed to score 30. But Winston was better than his numbers showed, with several drops and misplays negating potential big gains, and a tip leading to his lone interception. Overall, Winston finished 22-of-32 for 281 yards and a touchdown, but most importantly, he won yet again.
What it means:
Florida State survives yet again. For the fourth time in the past five games, FSU was on the brink of a loss late, but the Seminoles rallied to get the win. The buzzword of the week was "game control" after committee chair Jeff Long cited that metric in the rankings, but opponents at this point can never feel safe playing Florida State.
Playoff implication:
As long as FSU keeps winning, it'll be in the playoff. And now the Seminoles have just two more to go to assure that happens. The close call against Boston College certainly won't have fans feeling overly confident the rest of the way, but it's been two full years since the Seminoles lost a game, so it's hard to envision a scenario they won't get it done.
Best play:
Winston's lone TD was a 30-yarder to
Nick O'Leary
that gave FSU a 17-10 lead late in the third quarter.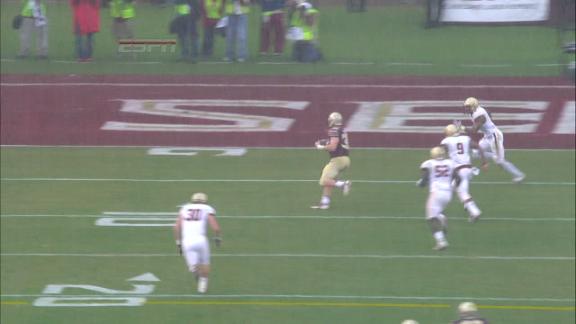 What's next:
For Boston College, the Eagles wrap up the regular season against Syracuse with a chance to ensure they finish above .500. For FSU, rival Florida is up next, and it'll be Will Muschamp's last game as the Gators' coach. That doesn't mean Florida is going to roll over. If all these close calls have taught the Seminoles anything, it's that they can't take any team lightly.
November, 22, 2014
Nov 22
6:54
PM ET
Associated Press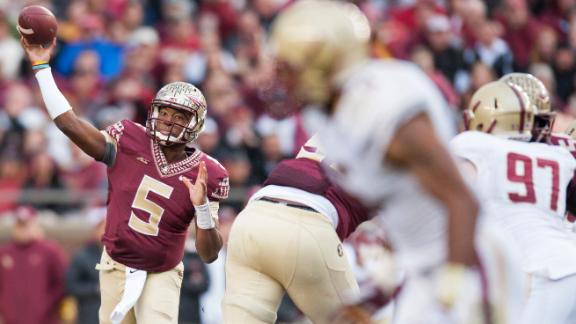 TALLAHASSEE, Fla. -- Quarterback Jameis Winston led top-ranked Florida State 66 yards to put Roberto Aguayo in position for a 26-yard game-winning field goal with three seconds remaining and the Seminoles remained perfect with a 20-17 victory over Boston College on Saturday.
Florida State (11-0, 8-0 ACC, No. 3 CFP) had been plagued by slow starts throughout the season and the Seminoles went into the fourth quarter tied 17-17 with the Eagles. But with less than five minutes left, Winston helped engineer another game-winning drive.
Winston finished with 281 yards passing with a touchdown and an interception.
The Eagles (6-5, 3-4) stuck with their run-first philosophy throughout and finished with 240 yards on the ground. Quarterback Tyler Murphy bounced a read-option around the left end for a 21-yard score midway through the third quarter to tie the game at 17. Joey Launceford missed a 43-yard field goal with 4:37 left that would have given Boston College the lead.
Florida State Wins Another Close Game
ACC SCOREBOARD
Saturday, 11/22
Thursday, 11/20