September, 21, 2014
Sep 21
10:00
AM ET
That was it.
That was the best the ACC has to give against No. 1-ranked Florida State: a Clemson team that was in the red zone seven times and scored on just three of those drives. It was the most meaningful game the Noles will play during the regular season, and they won it with their Heisman-winning quarterback suspended for the entire game and their best defensive player sidelined for the second half with a concussion.
If Florida State somehow found a way to win
that
one, you better believe the odds are in the Noles' favor to find their way into the inaugural College Football Playoff -- with or without
Jameis Winston
.
With the win, Florida State took the lead in the ACC's Atlantic Division race and should be on cruise control to win the ACC. Notre Dame is the only ranked opponent remaining on the schedule, and ESPN's FPI still gives the Noles a 73.2 percent chance of winning -- their lowest predicted percentage on the schedule. That Thursday night game at Louisville no longer looks so daunting, and as for Florida?
[+] Enlarge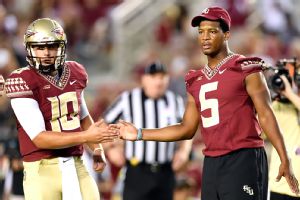 John David Mercer/USA TODAY SportsFlorida State beat Clemson with backup quarterback Sean Maguire, while Heisman Trophy winner Jameis Winston watched from the sideline.
Boston College might put up a better fight.
Even with backup
Sean Maguire
leading the way, Florida State racked up more yards (318) against Clemson than rival Florida did (200) against Alabama with starter
Jeff Driskel
running the show. Maguire, making his first career start, had a better QBR than Driskel, and they both threw two picks. In spite of Winston's shocking suspension, Florida State remains right on track to be an undefeated ACC champ heading to the playoff.
The question is whether Winston wants to be part of it.
HOW THE WEST WILL BE WON
There are five undefeated teams remaining in the SEC -- and they're all in the West Division.
Welcome to the club, Mississippi State.
The Bulldogs' win over No. 8 LSU legitimized their hopes not only as a contender in the West Division, but also as a darkhorse candidate for the playoff. Any team that has a chance to win the SEC has a chance to earn a playoff bid. In what should be considered the toughest division in the sport, the winner of the SEC West should wow the committee with its strength of schedule. Five teams entered the week ranked in the top 10.
LSU was the first to be reminded how quickly that can change. This is where a two-loss team might cause some debates.
Nobody has clearly separated from the pack, but it's still early.
CHEST BUMPS FOR THE BIG TEN
It took four weeks, but the Big Ten finally had a good day.
Everyone but Michigan, that is.
For the first time this season, the Big Ten came out on top, highlighted by Indiana's shocking upset of No. 18 Missouri and Nebraska's win over Miami -- part of a 3-0 sweep of the ACC. Wisconsin also pummeled Bowling Green, as if each touchdown further distanced the Badgers from the rest of the league's MAC woes.
No. 11 Michigan State, still the Big Ten's best hope of a playoff representative, scored 73 points against Eastern Michigan, even though coach Mark Dantonio downplayed the idea of scoring style points.
The Big Ten was in desperate need of a weekend like this to boost its image. Whoever thought the Hoosiers would trump a Nebraska win over Miami as the league's marquee win? The Big Ten's playoff hopes aren't over yet.
DON'T FORGET BYU
There was no bigger story than Florida State this week, and there is no deeper league than the SEC, but BYU still has the best chance of any team in the country to go undefeated, according to ESPN's FPI.
The Cougars' 41-33 win over a much-improved Virginia team is nothing to be scoffed at, but the Cavaliers -- like every other team on BYU's schedule -- aren't ranked. BYU would likely have to win out and look good in the process in order to have a chance at displacing a team from a Power 5 conference in the playoff.
September, 21, 2014
Sep 21
9:15
AM ET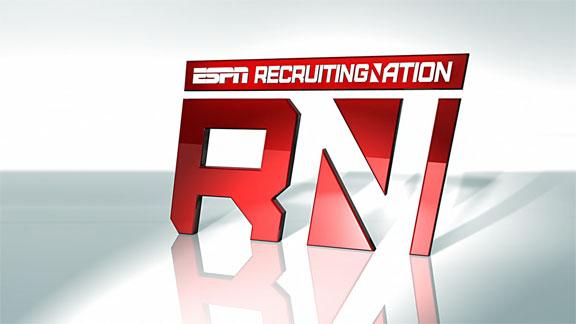 Not only did
Florida State
get a huge victory in overtime against Clemson Saturday night, the Seminoles also scored big on the recruiting trail by picking up one of the top defensive line prospects in the 2016 class. Following the win featuring an electric atmosphere, defensive end
Janarius Robinson
became the third member of the ESPN Junior 300 to commit to Jimbo Fisher.
September, 21, 2014
Sep 21
9:00
AM ET
That's a wrap on Week 4 in the ACC. Who stood out the most? Glad you asked ...
Duke safety Jeremy Cash:
There were a handful of players to choose from on a Blue Devils defense that turned in an excellent performance in Saturday's
47-13 win
over Tulane, but Cash gets the nod here. The redshirt junior tied for the team-high with 11 tackles, 1.5 for loss, and had the first of four Duke interceptions on the day, and the fifth of his career. Duke is 4-0 for the first time since 1994, when it started 7-0, and it has looked sharp on both sides of the ball as it readies for conference play next week at Miami.

Pitt running back James Conner:
At this point we'll call it a ho-hum day for the bruising sophomore back: 29 carries, 155 yards and two touchdowns. (He had one catch for 9 yards as well.) Those early-season Heisman prospects likely go out the door with a
24-20 loss
to Iowa, given Pitt's underwhelming schedule, but a fifth straight 150-yard rushing outing is nothing to overlook. Conner is at 699 yards and nine touchdowns on the season, a school-record to start a season, crushing Tony Dorsett's 564 yards through four games during his 1973 freshman season.
Florida State wide receiver Rashad Greene:
There may not be a player in the country who is more important to his team than Greene. The senior delivered again Saturday night in FSU's
23-17 overtime win
over Clemson. He had nine catches for 135 yards and a touchdown, in addition to a 28-yard punt return. He came up huge on a night the Seminoles needed him to, proving to be a huge help to first-time starter
Sean Maguire
.
Boston College quarterback Tyler Murphy:
Stop the presses: Murphy failed to rush for 100 yards. He did net 99, though, along with two rushing touchdowns, including a 71-yarder in the first quarter. And he completed 11 of 18 throws for 130 yards with a touchdown and an interception. Murphy has proven to be an invaluable addition to the Eagles, as he stretches the field and makes them so much less predictable. BC rushed for 413 yards in its
40-10 win
over Maine, eclipsing the 400-yard rushing mark for the second straight game and eclipsing the 300-yard mark for the third time in four games. The Eagles' 549 yards of total offense marked the third time they eclipsed that mark this year as well. So much of that comes back to the man under center.
Georgia Tech quarterback Justin Thomas:
Thomas' numbers will not jump off the page as a passer: He completed 7 of 18 throws for 125 yards and a touchdown during the Yellow Jackets'
27-24 win
over Virginia Tech. His rushing numbers were much better: 22 carries for 165 yards and another touchdown. But Thomas made plays when it mattered most, leading yet another game-winning drive and helping the Yellow Jackets snap a four-game losing streak against Virginia Tech. Thomas bounced back from a rough start throwing (he lost a fumble as well) and completed 4 of his final 7 passes, relying heavily down the stretch on
DeAndre Smelter
(5 catches, 101 yards, TD), who himself deserves plenty of recognition in this space now. For all of its troubles, Georgia Tech is now 4-0 and in great position in the Coastal race, having fended off the Hokies on the road. (Special recognition in this game also goes to Virginia Tech linebacker Chase Thomas, who had the insane line of 17 tackles, 2.5 tackles for loss and two quarterback hurries.)
September, 21, 2014
Sep 21
2:51
AM ET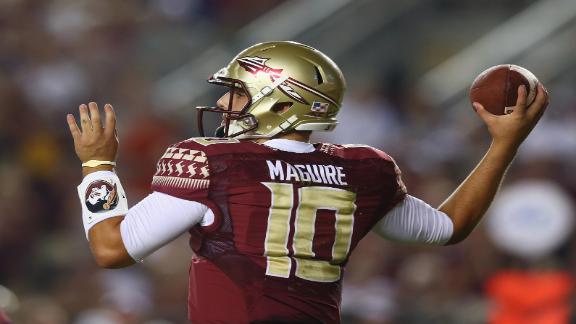 TALLAHASSEE, Fla. -- The spotlight was going to be on
Jameis Winston
regardless. The reigning Heisman Trophy winner, engulfed in controversy for the better part of a year, was suspended for the full game less than 24 hours before No. 1 Florida State's matchup with No. 22 Clemson.
As the game approached, though, the attention was supposed to turn to redshirt sophomore
Sean Maguire
, the other quarterback -- the starting quarterback, if only for three hours.
Except Winston invited the cameras and microscope with his pregame antics, appearing from the locker room in full pads and taking practice snaps with the rest of the quarterbacks.
[+] Enlarge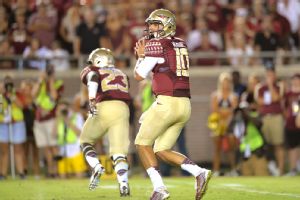 Scott Clarke/ESPN ImagesAfter a rocky first half, Florida State backup quarterback Sean Maguire came through with some big second-half throws to help defeat Clemson.
It was supposed to be Maguire's moment, and it was being taken away from him before he even took the first snap. The latest distraction was another viral video relapse, creating another issue that ate at the Seminoles' focus.
Then it carried over into the game. The spotlight was not on the Seminoles until the ball was finally kicked off at 8:23, but for the first 30 minutes the team played like it was a secondary story: Breakdowns on the offensive line, a negative rushing total and a defense that allowed 249 first-half yards to Clemson.
For the most loyal Winston supporter, this was the perfect scenario as late as Friday evening. The offense was sputtering and in need of a spark as it entered halftime trailing 10-3. But now Winston was relegated to the bench for the second half, too, and it was time for Maguire to earn the spotlight he hadn't received since being named the starter Wednesday.
So Jimbo Fisher was left with Maguire, and if the Seminoles were going to win, he was going to have to take them there. He did, tossing a 74-yard touchdown to
Rashad Greene
with 6:04 left to tie the game, which Florida State eventually won 23-17 in overtime.
"I felt a lot of pressure was on him," cornerback
Ronald Darby
said. "… We put him in bad situations, but he pulled out the win."
Maguire learned he'd play the entire game not long before he went to sleep Friday. There weren't any dreams of big touchdown passes or improbable overtime wins. But he lived it Saturday.
"I can't put into words," Maguire said. "It's the greatest feeling in my life so far that's for sure."
Maguire played nervous early while teammates played distracted. In the first half, Maguire played like a quarterback who only saw the field in mop-up duty previously, completing only 6 of 17 passes in the first half.
In the second half, Fisher took the training wheels off. There were shotgun and first-down passes and no-huddle offenses to start the second half. The game was going to be in Maguire's hands, which most honest Florida State fans did not trust leading into the game.
In the second half, he was 15-of-22 passing and finished with 305 yards.
"We got him in a rhythm and got him some confidence," Fisher said.
Would Maguire have been confident enough to throw that deep fourth-quarter pass to Greene in the first quarter?
"Probably not," Fisher said. "And it comes after he takes a sack he shouldn't have taken. But that's what I loved about him tonight -- he just kept playing the next play, and that takes a lot for a first-time starter."
The narrative nearly turned for Maguire in the final three minutes of the game. Maguire took a chance over the middle and threw an interception. Clemson had the ball at the Seminoles' 26-yard line and was killing the clock to set up a game-winning field goal attempt.
That is when Maguire's teammates secured the backup quarterback's moment in the spotlight, no matter how fleeting it was destined to be, by forcing a fumble.
"Oh my God, we got the ball back," Maguire said.
And Maguire finally got his limelight.
September, 21, 2014
Sep 21
2:25
AM ET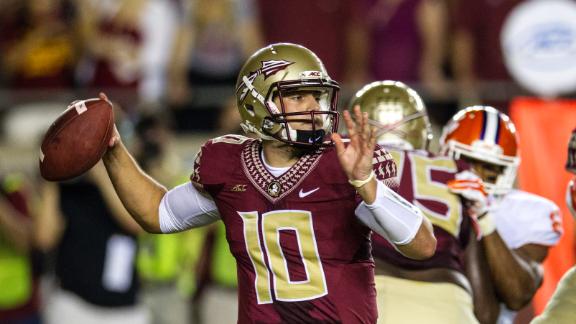 TALLAHASSEE, Fla. -- With two minutes to go in regulation Saturday night, the end seemed near -- for both the ACC and Florida State.
Jameis Winston
stood in track pants on the sideline, his suspension threatening to shred national championship hopes. His backup,
Sean Maguire
, had just thrown a bad pass that Clemson safety
Jadar Johnson
easily intercepted, putting the Tigers in prime position to win.
On second-and-2 from the Florida State 18,
C.J. Davidson
took the ball. All the Tigers had to do was get a few more yards to set up for a game-winning field goal. Florida State defensive tackle
Eddie Goldman
converged, and got his hand on the ball. It squirted out.
Hearts sank on the Clemson sideline. The nation had seen Clemson fumble opportunities before, mistakes that have turned its school name into a verb that has come to symbolize what it means to give away games.
[+] Enlarge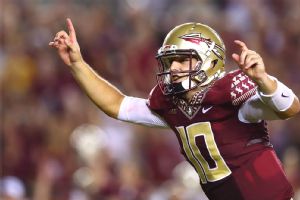 Ronald Martinez/Getty ImagesSean Maguire and No. 1 Florida State overcame early struggles to rally past No. 22 Clemson on Saturday.
But this fumbled opportunity became a golden gift for the Seminoles, and, in turn, the ACC. Momentum shifted in an instant. There was no way Florida State would lose this game now, not with its suddenly rejuvenated defense leading the way. Overtime arrived, and the Seminoles' defense made another huge play, stopping Clemson on fourth-and-short.
All that was left was victory.
Karlos Williams
, ineffective all night, knew what he had to do. He would not let his teammates down. His 12-yard touchdown run gave No. 1 Florida State a
23-17
win, preserving its championship hopes and saving face for the ACC.
"It just shows we have great players on this football team besides Jameis Winston," Williams said. "Although he's our captain, he's our leader, he's the best player in college football, we showed tonight we also have great players on this football team --
Rashad Greene
, Bobo Wilson. Sean Maguire is a great quarterback. I believe that we proved we're Florida State and we're on the right track."
With all due respect to Clemson, the ACC needed Florida State to pull out the win. Saturday was the worst weekend of the year for the ACC, as the league went 3-5 in nonconference play against FBS opponents, including an ugly 0-3 against the Big Ten.
Had Clemson won, the ACC would have gone from front-runner to outsider praying for a shot in the College Football Playoff.
Watching Florida State win the national title last year helped get the ACC some major respect. Watching Florida State go down at home in September to a team it has owned the past two seasons would not make a compelling case for inclusion. While it is true a one-loss Florida State team may not have been completely eliminated from contention, the ACC strength of schedule is simply not going to hold up this season against the SEC, Big 12 and Pac-12. Not with the Week 4 results as an example.
So to guarantee staying alive for another week, Florida State had to win. It looked bleak in the early going, with the Clemson defensive line dominating and Clemson freshman quarterback
Deshaun Watson
taking a star turn of his own.
While Clemson played better for large parts of the game, it left points all over the field -- unacceptable for a team with its own championship hopes.
Cole Stoudt
, who started the game at quarterback, missed a shot at a sure touchdown in the first quarter when he threw the ball at his receiver's feet. Clemson missed a field goal.
In the third quarter, Clemson had first-and-goal on the 1. A bad snap sailed over Watson's head on second down. Clemson ended up missing another field goal. All the while Maguire started playing better, and so did his offensive line. It helped that Greene and
Nick O'Leary
were more involved, a big reason why the Noles stayed in the game.
But the biggest play of all belonged to Goldman, who matter-of-factly described his crucial forced fumble late in the fourth quarter.
"I knew it came loose," he said. "When you're in the heat of the moment, you're not really thinking."
Was there ever a moment of doubt when his teammates took the field, with the clock winding down and Clemson in prime position to win the game?
"You can't think of losing," Goldman said. "One thing that Jimbo Fisher tells us is that you're never out of the fight until it's over. That's the mentality."
Winston will be back at practice Monday. He will be under center next Saturday, when Florida State continues its playoff quest at NC State. The Seminoles proved they can win with Winston, and they can win without Winston.
Now they need to prove they can keep on winning. Because once again, the Noles are left alone carrying the banner for themselves.
And the banner for the ACC.
September, 21, 2014
Sep 21
1:43
AM ET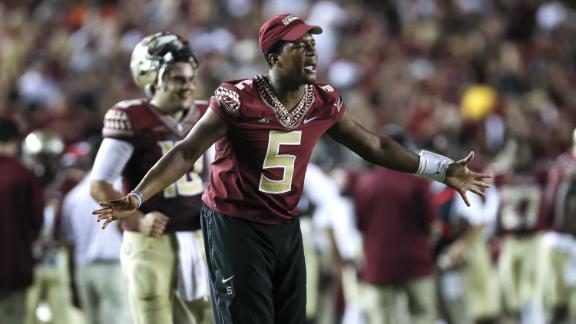 TALLAHASSEE, Fla. -- Jameis Winston will be back as Florida State's No. 1 quarterback Monday after being suspended for the Seminoles' 23-17 win over No. 22 Clemson, coach Jimbo Fisher said Saturday night.
"He'll be back at practice Monday and be our quarterback on Monday," Fisher said in his postgame opening comments, which lasted five minutes.
After initially being suspended for the game's first half for making profane and sexually explicit comments, Winston was ruled out for the entire game by Florida State interim president Garnett S. Stokes and athletic director Stan Wilcox.
Fisher declined to elaborate on why the university changed its mind or when. Sources confirmed to ESPN that the school extended the suspension after determining that Winston had mislead the administration about his actions regarding Tuesday's incident.
Wilcox declined comment to ESPN.com before Saturday's game. Through a university spokeswoman, Stokes also declined comment.
Fisher said he believes this will be a learning experience for Winston, who has been involved in several off-field incidents and has been criticized for his questionable behavior despite previous transgressions.
The reigning Heisman Trophy winner was investigated last year for sexual assault. But Willie Meggs, the state attorney for the Second Judicial Circuit, chose not to charge Winston in December. Florida State is still following the case through with its Title IX investigation into the matter.
September, 21, 2014
Sep 21
12:54
AM ET
Well, that was a bad Saturday for the ACC. Bad losses, high-profile suspensions, a Group of 5 team hanging 70 on a supposed Coastal contender. Yeah, it might be another long year in the ACC, but the rough day did offer a few lessons.
[+] Enlarge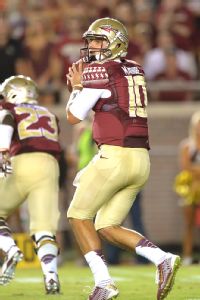 Scott Clarke/ESPN ImagesFlorida State QB Sean Maguire had a gutty performance, but the Seminoles' offense missed Jameis Winston on Saturday.
Clemson found its QB, and the Seminoles didn't need theirs.
Two things should be mentioned here that weren't necessarily reflected in the final score of Florida State's win over Clemson. First, if
Jameis Winston
had played, there's a good chance all the late drama wouldn't have been necessary. While
Sean Maguire
certainly showed guts to stay in there and atone for some mistakes, FSU's struggles on offense also showed just how much Winston brings to the table. At the same time, while the Seminoles survived, Clemson outplayed them at virtually every turn, but coming up empty in three trips to the red zone makes it tough to win. But the good news for both teams is that they'll have much better QB situations moving forward. Winston will return, and FSU's title hopes remain. Clemson's season won't end with a playoff berth, but
Deshaun Watson
's emergence means there's still a lot for Tigers fans to be excited about.
The ACC didn't have bragging rights for long.
Remember when the Big Ten was a laughingstock and the ACC was comfortably in the No. 4 spot in the conference power rankings? Well, that didn't last long. The ACC went 0-3 against the upstart Big Ten on Saturday, including home losses by Pitt (to Iowa) and Syracuse (to Maryland). The Pitt loss is particularly galling, as the Panthers were on the brink of hitting the Top 25 and might have established themselves as a Coastal favorite with a win. Now? It's tough to see a team that's going to gain any national respect in this conference beyond FSU.
North Carolina isn't a contender.
The Tar Heels rolled over for ECU a year ago in an ugly loss. They saw the Pirates upset Virginia Tech last week. They had an extra week to prepare for
Shane Carden
and Co. before Saturday's showdown. The result? A brutal 70-41 loss that offered a long, long list of embarrassments. The 789 yards of offense by ECU is the most against an ACC team in at least a decade, and the most any team has racked up so far this season. The 70 points is the most scored against an ACC team since Clemson's Orange Bowl loss to West Virginia in 2012. Carden's 438 passing yards were the second most against UNC in the last decade. After three games, UNC hasn't looked ready to stop anyone on defense, which certainly doesn't bode well for the ACC slate to come. Up next? Clemson.
Jacoby Brissett took care of the little guys.
No one will mistake NC State's early-season schedule for a murderer's row of talent, so it's way too early to buy in on the Wolfpack's ACC chances. But the bottom line is that they're 4-0, need just two more wins to become bowl eligible, and a year after enduring chaos at the quarterback position, Brissett has appeared to have all the answers. Through four games, he's completing 70 percent of his throws and has tossed 10 touchdowns with just one pick -- and that came early in the opener. He's now thrown 108 straight passes without an interception. Of course, the task gets tougher in Week 5, when Florida State comes to town.
We were high on the wrong Tech.
OK, it was tough to hype Georgia Tech too much. The Yellow Jackets have trailed in each of their four games thus far, and even against Virginia Tech on Saturday, they were outgained (424 to 375), had fewer first downs (24 to 19) and converted just 4-of-12 third downs. But the Georgia Tech D made plays when it had to, and the offense cashed in with 17 points off turnovers. So maybe instead of nitpicking the Jackets' flaws thus far, we should've been noting how well they'd overcome them.
Justin Thomas
has Georgia Tech at 4-0, and with home dates against Miami and Duke, there's a perfect opportunity for the Jackets to take command of the Coastal.
QBs of the future took a step forward.
OK, so Miami lost, Clemson lost and Wake Forest barely escaped Army. That's not ideal, but fans have to at least be excited about how the freshman QBs performed. We already mentioned Watson, who has immense talent, and Miami's
Brad Kaaya
looked markedly better than he did in his Week 1 performance against Louisville, and
John Wolford
continues to improve in spite of very little help from the rest of the Deacons' offense. Overall, the three true freshmen combined to complete 69 percent of their throws, averaged 8.2 yards per attempt, tossed five touchdowns and ran for a sixth while largely limiting any killer mistakes. On a brutal weekend in the ACC, the kids at least offered a reasonable silver lining.
September, 21, 2014
Sep 21
12:17
AM ET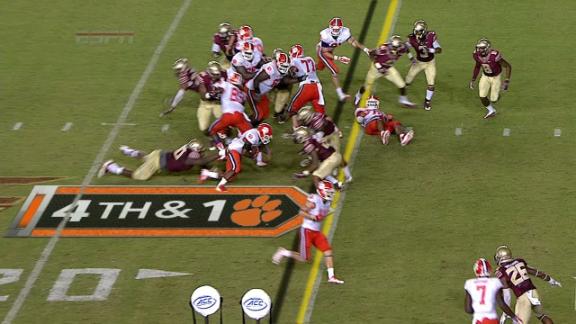 Mario Edwards Jr
., Florida State's best defensive player, didn't play a down in the second half after suffering a concussion. His backup,
Chris Casher
, a headache most of his career in Tallahassee, was asked to replace him.
He did so admirably, coming up with the biggest play of the game in overtime. On a fourth-and-inches that Clemson head coach Dabo Swinney had little choice but to go for, it was Casher who awaited Clemson running back
Adam Choice
. It was destined for a head-on, man-against-man collision, and Casher gave no ground. He held Choice until
Reggie Northrup
cleaned it up to force the turnover on downs.
Two plays later, Florida State running back
Karlos Williams
waltzed into the end zone to keep the No. 1-ranked Seminoles undefeated.
Casher was asked to do what few players in the country can do in replacing Edwards, who has a rare mix of size, power and speed. Casher made play after play throughout the second half as the Tigers wanted to test the backup. Casher answered the bell every single time.
It is a career-defining moment for Casher, who was injured early in his career and has been engulfed in controversy since. During the summer, FSU had placed Casher on probation for one year for two violations of the university's student code of conduct stemming from the sexual assault investigation into quarterback
Jameis Winston
. And in 2012, police briefly detained Casher and Winston after a person reported two men were carrying a gun on campus, which turned out to be a pellet gun. He was also part of a BB gun incident that damaged an apartment complex's property.
Whether Edwards returns in time next week, Casher might have done enough to earn a starting job back with his clutch performance. He lost his spot to sophomore
DeMarcus Walker
, but Casher gave Seminoles coaches something to consider with his performance.
Issues Continue For Winston, FSU