December, 22, 2014
Dec 22
3:45
PM ET
December, 22, 2014
Dec 22
3:31
PM ET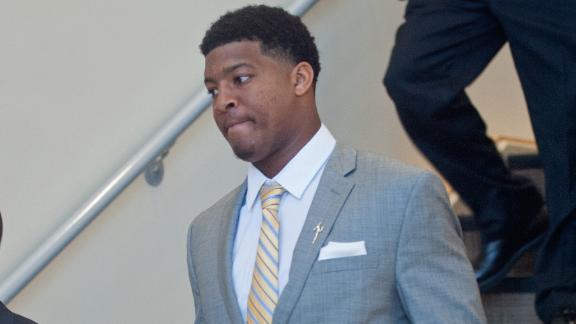 According to a transcript obtained Monday by ESPN, Jameis Winston did answer questions from the retired judge overseeing the Florida State quarterback's student code of conduct hearing for an alleged sexual assault in 2012.
After initially declining to answer questions from retired Florida State Supreme Court chief justice Major Harding and his accuser, Winston gave brief answers to one question and two follow-up queries from Harding, according to a transcript of the two-day hearing.
Winston said he thought his accuser gave consent both "verbally and physically" during the encounter at his off-campus apartment on Dec. 7, 2012. Winston was charged with four violations of FSU's student conduct code, two related to sexual misconduct and two related to endangerment.
Under FSU's student conduct rules, Winston wasn't required to answer any or all questions during the Dec. 2-3 hearing. Instead, Winston read from a prepared five-page statement as his opening statement, and then referred to it again when questioned by Harding on the second day. Winston then cited the rule that permitted him not to answer questions: "From the Rule 6C2R-3.004(6)(d) of the Florida State Student Code of Conduct I'm not going to answer."
Harding then asked him: "And so you're not going to answer any additional questions?"
"Yes, Your Honor," Winston responded.
Harding then asked the woman if she wished to ask Winston any questions.
"Yes, we do," the woman said.
After Winston's attorney, David Cornwell, reminded Harding that the woman wasn't allowed to directly ask Winston questions during the hearing, the judge asked the woman if she wanted to submit written questions for him to ask. Her attorney, Baine Kerr, asked Winston if he intended to answer the questions before they took the time to email the questions to the judge.
"He has already answered by invoking the Rule," Cornwell said. "He does not."
Winston also said he was not going to answer.
Following a break that lasted more than one hour, the accuser's attorney entered emailed questions into the record. Harding then asked Winston one question of his own, even though Winston previously indicated he wouldn't answer.
"All right," Harding said. "I think it would be helpful, and I understand you have exercised your right, and you may continue to do so; but, from the purpose of helping the decision maker to understand, the Complainant has indicated that she continually resisted by saying no to your sexual overtures, and you have indicated that she gave consent. And I would like to know in what manner, verbally or physically, that she gave consent. And I ask that with the understanding that you have previously given."
After Winston initially hesitated to answer the question, Cornwell advised him that it was OK to answer, according to people who were in the room.
"Both, Your Honor, verbally and physically," Winston said.
"And what did she say and what did she do?" Harding asked.
"Moaning is mostly physically," Winston said. "Well, moaning is physically. And verbally at that time, Your Honor."
"Well, that was during the sexual encounter?" Harding asked.
"Yes, Your Honor," Winston said.
At that point, witness testimony ended, according to the transcript.
December, 22, 2014
Dec 22
3:10
PM ET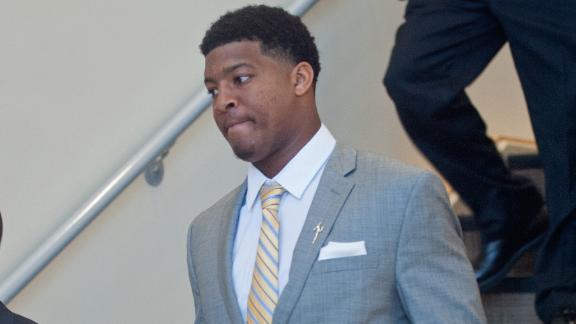 When Florida State practice wrapped up Monday afternoon, coach Jimbo Fisher faced the inevitable questions about his star quarterback and the code of conduct hearing that is
now in the past
.
Fisher did not offer much insight into what
Jameis Winston
is thinking now that he has been cleared, other than, "It is a relief. ...He's focused on the team like he always is. ...There was a lot of scrutiny on it. But I'm glad it's over with and move on."
Even when Fisher delivered one little nugget, he quickly added a clarifier. Fisher was asked how Winston looked Monday during practice -- the last one the Seminoles will hold until Saturday in California, when they begin final preparations for the College Football Playoff semifinal against Oregon.
"He was really good today," Fisher said. "He had a bounce in his step."
Extra bounce because Winston got the resolution he wanted from the hearing?
Here comes the qualifier.
"But I think they're excited about going home for Christmas," Fisher added. "But he had a really good one today."
Fisher typically saves his most effusive commentary about his players and about his team when he is standing behind a podium, not in a brief post-practice interview. His answers were to be expected. Relief would be the best noun to use to describe Winston's situation.
So without a larger window into their reaction Sunday night, one can draw a few conclusions based on the answers Fisher gave.
The relief Winston is feeling could very well mean a newly focused, newly motivated quarterback once the Rose Bowl rolls around. Former Florida Supreme Court Justice Major Harding, who cleared Winston of any student conduct code of violations, ruled the evidence was "insufficient to satisfy the burden of proof."
There may still be ramifications down the road, if the accuser chooses to appeal the ruling or file a civil lawsuit. But for now, there are no game ramifications. Winston does not have to worry about whether he will get to play Oregon on Jan. 1, or in the national championship game should the Seminoles win.
Fisher said Winston was focused on the team "like he always is" but one is left to wonder how much of that focus was on his legal matters during the course of a season in which he looked un-Winston-like in many moments.
All we can do is take what Fisher says, then wait to see whether an unburdened Jameis Winston takes the field in Pasadena.
December, 22, 2014
Dec 22
12:00
AM ET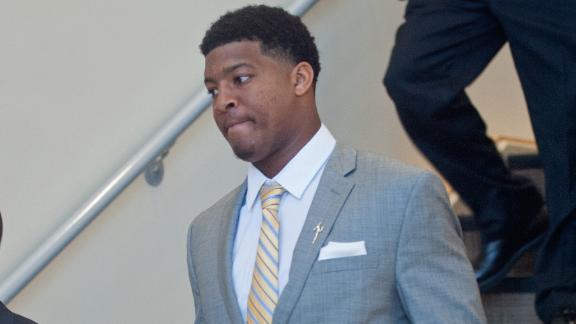 Former Florida State coach Bobby Bowden, late in his storied career, would publicly long for the days when a phone conversation with the chief of police would clean up any mess his players might have made. If a semblance of those old-school ways remains alive in Tallahassee, we see the price that the university and its most famous athlete are paying for it.
The sexual assault accusation against Florida State quarterback Jameis Winston is not going to become a narrative with a beginning, a middle and an end. It's not the next "Serial" podcast. It will not stay within the parameters of a television script, with the corners neatly tied together by the end of the last commercial.
It is real life, and it is messy, and it is not going away.
In his ruling in the FSU disciplinary hearing, Justice Major Harding said: "In light of all of the circumstances, I do not find the credibility of one story substantially stronger than that of the other."
He said/she said stories aren't swept aside easily, not as long as the party that feels wronged has another forum in which to be heard.
That's why the reluctance of police to investigate the case did Florida State and Winston no favors. Other than Seminoles fans, Winston is seen as a young man whose status as a star quarterback kept him from being prosecuted. The perception of shoddy police work has left Winston having to defend himself against the belief that he remains untouched because of who he is, not because of what actually happened.
December, 21, 2014
Dec 21
9:12
PM ET
By
ESPN.com staff
| ESPN.com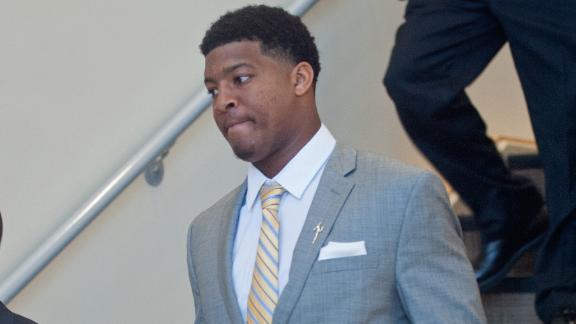 TALLAHASSEE, Fla. -- Florida State quarterback
Jameis Winston
was cleared Sunday of the accusations he faced at a student code of conduct hearing involving an alleged sexual assault two years ago.
Former Florida Supreme Court Justice Major Harding wrote in a letter to Winston that the evidence was "insufficient to satisfy the burden of proof." Prosecutor Willie Meggs made a similar decision a year ago when he decided not to criminally charge Winston, citing a lack of evidence.
Read
more from this story
.
December, 21, 2014
Dec 21
5:08
PM ET
ESPN.com news services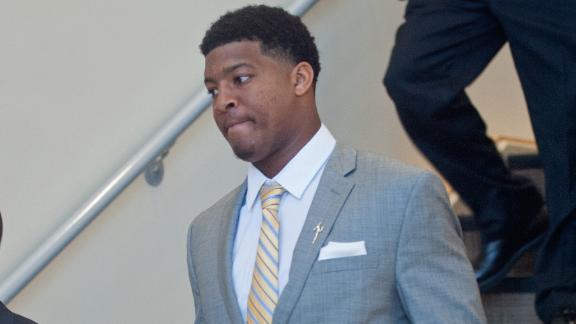 TALLAHASSEE, Fla. -- Florida State quarterback Jameis Winston was cleared Sunday of the accusations he faced at a student code of conduct hearing involving an alleged sexual assault two years ago.
Former Florida Supreme Court Justice Major Harding wrote in a letter to Winston that the evidence was "insufficient to satisfy the burden of proof." Prosecutor Willie Meggs made a similar decision a year ago when he decided not to criminally charge Winston, citing a lack of evidence.
This month, a two-day hearing was held to determine whether Winston violated four sections of the code of conduct -- two for sexual misconduct and two for endangerment.
The ramifications for Winston ranged from a reprimand to expulsion from school.
The woman can request an appeal within five days.
"We will consider an appeal, but right now we feel a little duped," Baine Kerr, one of the woman's lawyers, said in an emailed statement. "At some point we have to recognize that Florida State is never going to hold [Jameis] Winston responsible."
AP is not identifying the woman because it does not identify people who say they are victims of sexual abuse.
"Somehow Jameis Winston still wins," Kerr said. "The order doesn't even follow the Student Conduct Code, and it ignores the bulk of the evidence."
Kerr said that between his client, Winston, and two teammates who were at the off-campus apartment -- Chris Casher and Ronald Darby -- only the woman would answer questions about what happened.
Winston did submit a lengthy statement
December, 20, 2014
Dec 20
11:00
AM ET
ESPN.com news services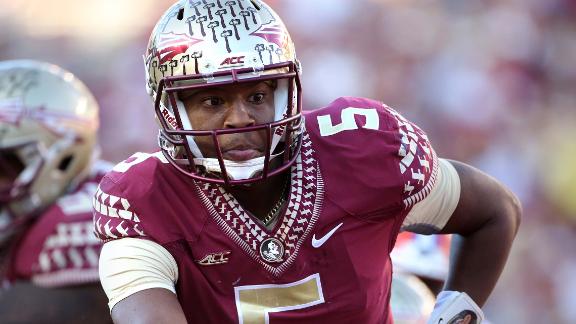 Once considered one of the NFL's biggest stars, New York Jets quarterback Michael Vick says he thinks Florida State quarterback Jameis Winston could be the league's next big one.
"I think he's the future of the NFL," Vick said of last year's Heisman Trophy winner, according to NJ.com.
"I've been around so long, I appreciate guys coming out of college. I look forward to watching him. I have high expectations for him."
Vick, 34, broke into the league as an athletic wonder with the Atlanta Falcons before being sent to federal prison for his involvement in a dog-fighting ring that cost him nearly two years of his life and three seasons in the NFL.
With that history, Vick can somewhat relate to the off-field concerns surrounding Winston.
"I think he, over time, has made some poor decisions," Vick said of Winston. "Have I been there to know exactly what happened? No.
"But I do know one thing: He may make some poor decisions, but he gets on that football field and he plays his ass off. Yeah, he can mature. He'll mature. I see him maturing as time goes on. Like, this year hasn't been as bad of a year as the first year was for Jameis. I think the kid will continue to improve."
December, 20, 2014
Dec 20
10:00
AM ET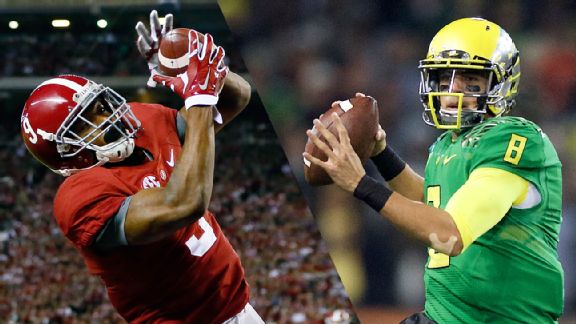 Getty Images, AP PhotoRoughly two-thirds of the coaches in the country believe Amari Cooper and Alabama will meet Marcus Mariota and Oregon in the championship game.
No. 1 Alabama was the overwhelming favorite to win the College Football Playoff in ESPN's weekly poll of the FBS head coaches, #1QFor128.
Also, nearly one-third of the coaches who voted believed the selection committee did not pick the best four teams for the inaugural playoff.
Of the 128 FBS head coaches, 107 participated in the poll, conducted by ESPN's Brett McMurphy.
Alabama was picked by 60 percent of the coaches to win the playoff, followed by No. 2 Oregon (28 percent). No. 3 Florida State and No. 4 Ohio State each received 6 percent of the votes to win the national title.
In the semifinal matchups, Alabama was chosen over Ohio State by a 90-10 percent margin in the Sugar Bowl, while Oregon was selected over Florida State by 73-27 percent margin.
Of the possible title matchups in Arlington, Texas, on Jan. 12, Alabama-Oregon was picked by 67 percent of the coaches, followed by Alabama-Florida State (24 percent), Oregon-Ohio State (5 percent) and Florida State-Ohio State (4 percent).
The coaches who voted believed the selection committee correctly picked the best four teams (69 percent yes, 31 percent no).
The voting among the coaches from the Power 5 and Group of 5 conferences were fairly similar for the most part.
Despite Big 12 co-champion TCU falling from No. 3 to No. 6 in the final ranking, a higher percentage of Power 5 coaches believed the selection committee picked the correct four teams (72 percent yes, 28 percent no) compared to the Group of 5 coaches (67 percent yes, 33 percent no).
The biggest discrepancy was picking the Oregon-Florida State semifinal winner. Only 67 percent of the coaches from the Power 5 conferences (ACC, Big 12, Big Ten, SEC and Pac-12) who voted chose Oregon to beat FSU, compared to 77 percent of the coaches from the Group of 5 conferences (American, Conference USA, Mid-American, Mountain West, Sun Belt).
Another significant difference between the Power 5 and Group of 5 coaches was picking the national champion. Alabama was picked to win by more of the Group of 5 coaches (62 percent) than the Power 5 coaches (58 percent). Oregon had a higher percentage of Power 5 coaches (32 percent) picking the Ducks than the Group of 5 coaches (24 percent).
Also among the Group of 5 coaches, No. 4 Ohio State (8 percent) actually received more votes to win the title than No. 3 Florida State (6 percent). Of the Power 5 coaches, 7 percent picked Ohio State to win the title and 3 percent Florida State.
Vote breakdown
Did the selection committee pick the best four teams?
Yes: 69 percent
No: 31 percent
How the Power 5 coaches voted:
Yes: 72 percent
No: 28 percent
How the Group of 5 coaches voted:
Yes: 67 percent
No: 33 percent
Who will win the College Football Playoff?
Alabama: 60 percent
Oregon: 28 percent
Florida State: 6 percent
Ohio State: 6 percent
How the Power 5 coaches voted:
Alabama: 58 percent
Oregon: 32 percent
Florida State: 7 percent
Ohio State: 3 percent
How the Group of 5 coaches voted:
Alabama: 62 percent
Oregon: 24 percent
Ohio State: 8 percent
Florida State: 6 percent
Who will win the Rose Bowl semifinal?
Oregon: 73 percent
Florida State: 27 percent
How the Power 5 coaches voted:
Oregon: 67 percent
Florida State: 33 percent
How the Group of 5 coaches voted:
Oregon: 77 percent
Florida State: 23 percent
Who will win the Sugar Bowl semifinal?
Alabama: 90 percent
Ohio State: 10 percent
How the Power 5 coaches voted:
Alabama: 91 percent
Ohio State: 9 percent
How the Group of 5 coaches voted:
Alabama: 89 percent
Ohio State: 11 percent
Who will meet in the College Football Playoff final?
Alabama-Oregon: 67 percent
Alabama-Florida State: 24 percent
Oregon-Ohio State: 5 percent
Ohio State-Florida State: 4 percent
December, 19, 2014
Dec 19
4:00
PM ET
Only a few more days until the bowls begin!
Eric from Atlanta writes:
Jimbo Fisher made a huge mistake in not snagging Will Muschamp as defensive coordinator, not only by failing to upgrade Florida State's defense but by letting him go 200 miles up the road to Auburn to pair up with Gus Malzahn's offense. This will haunt FSU in both recruiting and performance. Agree/disagree?
Jared Shanker writes:
I would disagree. There are few defensive coordinators out there better than Muschamp, but Charles Kelly has not even finished his first season as the Seminoles' defensive coordinator. Did I miss something or is Florida State not 30th in scoring and 52nd in total defense? Obviously, the defensive numbers aren't as good as recent seasons, but there also isn't the same amount of talent and depth as recent years. Kelly's defenses have struggled at times, especially in early games, but they have answered the bell in crucial moments.
Kelly has earned praise from previous coaches he has worked under for his recruiting ability, too. It's not as if the Seminoles are struggling on the recruiting trail either.
Also, the Seminoles are in the middle of a playoff race. It's probably not the best idea to start making or planning personnel changes with the Rose Bowl Game Presented By Northwestern Mutual a few weeks away.
Last, all of this is contingent on Muschamp even wanting to come to Tallahassee over the number of SEC schools that courted him.
Chris from Atlanta writes:
I think it is kind of funny how everyone is making a big deal about the controversy this year. Let's go ahead and imagine what would have happened this year if we still had the BCS system. You have a one-loss SEC team who you have to assume would make it in. Then you have a one-loss Oregon team and an undefeated Florida State team. There IS NOT a correct choice. If they pick Florida State the country erupts in one giant roar about how a team that barely beat Boston College and Florida was in the championship game. If they pick Oregon (I don't think it would happen) then you're leaving out an undefeated team over two 1-loss teams. That would cause even more chaos. I think fans should be grateful that we got to see the four best teams in football all make the playoffs.
Shanker:
If this was the BCS system, Florida State would likely be No. 1. I understand the projected BCS rankings have the Seminoles second, but I think the College Football Playoff has influenced the pollsters and the Seminoles aren't earning as many first-place votes as they would have under the old polling system. There would be a little controversy, in my opinion, about who would go between Alabama and Oregon, but I'd believe Alabama would get the nod and there wouldn't be a huge uproar about it since the Ducks lost at home. I agree with your overall statement that this system -- at least the part where four teams play it out on the field -- is better than the old and we're set up for a wild ride beginning on New Year's Day.
Eric from Fort Lauderdale, Florida, writes:
I'm just wondering what makes Oregon so great? All I hear from the media to fans to Vegas is that Oregon is going to dominate FSU. The general consensus is that FSU is the team that all the other teams wanted to play as that would be the easiest game. FSU is faster and outweighs the toughest defense that Oregon has played all season. That weight and speed disparity never gets mentioned. FSU has played many defenses similar to Oregon's and beat far tougher. People talk about the schedule that Oregon played, but I don't see it. FSU has overcome far greater injuries that cost Oregon in the loss column. If FSU had lost a game because of those injuries they would not be afforded excuses that Oregon gets. Tell me what makes Oregon better than FSU?
Shanker:
I don't expect Oregon to dominate Florida State, and if I was a betting man taking Florida State and the nine points would look pretty good. I did pick Oregon to win the game but think it will be very close. Stanford has one of the country's best defenses and, although the Cardinal struggled this season, they are a better defense than Florida State's. I also think Florida State's schedule is much better than some people give it credit for. Florida, Notre Dame and Oklahoma State were not as strong as they normally are, but the Seminoles still had three Power 5 teams on their nonconference schedule and those teams are capable of combining for 30 wins in any given season. I don't know if Florida State has overcome more significant injuries than the Ducks have, but the Noles would not get the luxury of a pass if they lost partially because of an injury. Ultimately, I think Oregon wins because the Ducks will have success running the football and it will continue into the second half. I think Florida State's slow starts will finally catch up to them. But I make that pick knowing full well there's a really good chance the Seminoles will make me look foolish.
December, 19, 2014
Dec 19
1:00
PM ET
Rose Bowl Game Presented By Northwestern Mutual:
No. 3 Florida State (13-0) vs. No. 2 Oregon (12-1)
Jan. 1, 5 p.m. ET, Rose Bowl, Pasadena, California (ESPN)
Key matchup:
Oregon RB
Royce Freeman
vs. Florida State RB
Dalvin Cook
Why it matters:
The battle between the two most recent Heisman Trophy winners will generate the most headlines, but one of the defining factors of this game will be which freshman running back has a better afternoon. Both first-year players are hitting their stride at the perfect time; it's imperative for teams to run the football well late in the season. Freeman has toppled the 100-yard mark in six of his last eight games, and he ran for 98 and 99 in those other two performances. Cook has ran for 321 yards over his last two games and was named the MVP of the ACC championship game for his 31-carry, 177-yard effort. Adding to the intrigue of this matchup is the difference in running styles. Freeman tips the scales at 229 pounds and sends would-be tacklers tumbling backward. Cook runs through tackles, too, but he also embarrasses defenders with his nifty footwork.
Who wins:
The winner of this matchup could determine the winner of the game. It would not be a shock to see both teams light up the scoreboard in the first half, but eventually the running games will need to take control for Oregon or Florida State to win. Florida State (60th nationally) and Oregon (50th) are essentially equally average against the run, so it's not as if one running back will have a significantly easier afternoon against a porous defense. What could help Freeman is the running threat of
Marcus Mariota
on option plays. The Ducks will look to put pressure on the Seminoles' defensive line with the read option, forcing it to make a decision to take away either Marcus Mariota or Freeman. IF the unit makes the wrong decision it could lead to big gains for the Ducks. Freeman will have a productive day and cross the 100-yard threshold in a 35-34 Oregon win.
December, 19, 2014
Dec 19
10:44
AM ET
ESPN.com news services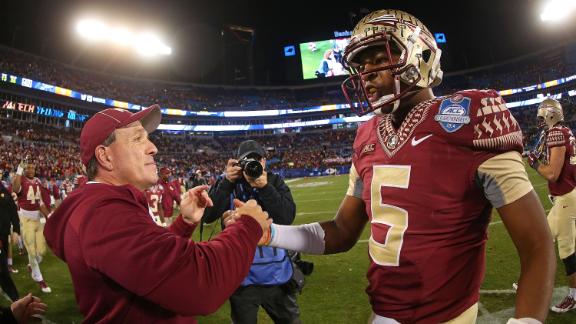 Florida State coach Jimbo Fisher said Friday that whatever decision star quarterback Jameis Winston makes -- turn pro or remain with the program for a third season -- would not surprise him.
"Jameis loves college football, but I think he's going to be one of the top two players drafted," Fisher said in an interview on "Mike and Mike." "He's got to make a choice. He's got to see what he wants to do. But it would not shock me either way."
Fisher said, at this time, that he doesn't know what Winston will choose to do.
"I understand if he wants to go, when a guy's that high and you're doing what you do," the coach said. "But remember, he's a very, very good student. He's very smart. He loves baseball. He loves his time in college. He loves all the interaction of this, believe it or not. So it would not shock me either way.
"We'll have the discussion here pretty soon."
In the interim, Winston is preparing for the Seminoles' College Football Playoff semifinal on New Year's Day against Oregon. While he does that, he is waiting for a judge to issue his decision in Winston's university code of conduct hearing, which took place over two days in early December. A woman has accused him of sexually assaulting her in December 2012. Winston's punishment could range from nothing to expulsion. The judge's decision is expected before the end of the year.
December, 19, 2014
Dec 19
9:00
AM ET
Quick Lane Bowl
Hale:
Who knows what to make of the Jekyll-and-Hyde Tar Heels? Their defense isn't good, but neither is Rutgers'. The offense looked stagnant in its last outing, but Larry Fedora will have had a month of prep time to fix any flaws. UNC at least beat some quality opponents (Georgia Tech, Duke), while Rutgers was 2-5 against teams that finished .500 or better, allowing 457 yards and 36 points per game.
North Carolina 38, Rutgers 28.
Fortuna:
Fans of defense will have to close their eyes and look away in horror. Though
Marquise Williams
has been phenomenal for much of the season, the Rutgers' offense is riding high off its comeback win at Maryland. With the chance at an eight-win season in its inaugural Big Ten campaign.
Leonte Carroo
will be a handful for a UNC defense that has already seen its coordinator get fired.
Rutgers 38, UNC 31
Bitcoin St. Petersburg Bowl
Adelson:
The Wolfpack ended the season on a high note after a total domination of in-state rival North Carolina. The defense has started to gain momentum and play a little more aggressively, while the run game has started to find some footing, too.
Jacoby Brissett
and
Shadrach Thornton
each had 100 yards rushing against the Tar Heels. Look for that combination to be the difference.
NC State 28, UCF 27.
Shanker:
UCF has their own Jacoby to combat NC State's Brissett. The Knights'
Jacoby Glenn
was the AAC's defensive player of the year. UCF will keep NC State offense in check and score just enough points.
UCF 24, NC State 17
Military Bowl presented By Northrop Grumman
Adelson:
The Hokies have not been consistently reliable this season, but they did show signs of life offensively last time out against Virginia.
J.C. Coleman
ran hard -- and that run game will be a big key against a Cincinnati run D that ranks No. 80 in the nation. Here is betting Virginia Tech will get its run game going to make the difference.
Virginia Tech 24, Cincinnati 21.
Shanker:
This should be an interesting battle of strength vs. strength and weakness vs. weakness. Cincinnati's offense and Virginia Tech's defense are among the country's best. Each team's other unit is among the worst. The Bearcats will have more motivation in this game, though.
Cincinnati 20, Virginia Tech 17
Duck Commander Independence Bowl
Shanker:
It was an ugly finish for Miami, but South Carolina couldn't beat a Clemson team that had a one-legged
Deshaun Watson
at quarterback.
Miami 23, South Carolina 14
Adelson:
In a game that presents such even matchups, this one might come down to coaching. That is where South Carolina has the edge. Miami has lost four straight bowl games; South Carolina has won three straight. The Hurricanes have shown no motivation to play; Spurrier will find one for the Gamecocks.
South Carolina 27, Miami 24.
New Era Pinstripe Bowl
Fortuna:
Points will be hard to come by at Yankee Stadium. Penn State might have the nation's No. 1 rushing defense, but it struggled the one time it faced a mobile quarterback in
J.T. Barrett
, as Ohio State rushed for 219 yards.
Tyler Murphy
is an even bigger threat with his legs, and he'll be able to make a few big plays that will ultimately prove to be the difference for an Eagles team that just keeps getting better.
BC 17, Penn State 13
Hale:
OK, Penn State's offense isn't much to rave about, but what has been lost in the Nittany Lions' season is that the defense has been exceptional. Penn State allowed just 85 yards per game on the ground -- tops in the country -- which could negate BC's top offensive threats. Expect a low-scoring game, with the Lions having a slight edge.
Penn State 17, BC 14
Russell Athletic Bowl
Adelson:
It is hard to forget how different Clemson looks offensively with
Cole Stoudt
behind center, so all the attention in this one will be squarely focused on the Tigers' No. 1-ranked defense. Oklahoma expects
Samaje Perine
to play, but he will not have much running room against
Vic Beasley
& Co.
Clemson 20, Oklahoma 17
Hale:
Since their respective regular-season finales, Oklahoma has gotten healthier and Clemson has learned it will be without star QB Deshaun Watson. The Tigers' D is terrific, and perhaps that will be enough to secure a win, but odds are the offense is going to have to muster at least a few sustained drives, and Cole Stoudt is averaging just 5.6 yards-per-attempt since Oct. 1 with four TDs and eight interceptions.
Oklahoma 17, Clemson 13
Hyundai Sun Bowl
Adelson:
Duke has improved defensively this season, but the Blue Devils have not faced many teams as explosive as Arizona State. Plus, they beat only one team with a winning record. Both teams struggled down the stretch, but Arizona State has a better body of work and offense, so expect a Sun Devils victory.
Arizona State 35, Duke 28.
Fortuna:
These types of games usually come down to who has more to play for, and in this case it is certainly Duke. The Blue Devils are aiming for their second straight 10-win season and for their first bowl win in 53 years after falling just short against Johnny Football last year. Expect a clean offensive performance and just enough stops on defense to escape victorious.
Duke 34, ASU 27
Franklin American Mortgage Music City Bowl
Hale:
The Fighting Irish have lost five of six and didn't beat a team with better than a 7-5 record this season. LSU's offense might not be stellar, but the Tigers took Alabama to overtime, fell five points shy of beating Mississippi State and have wins over Wisconsin and Ole Miss. We'll take the LSU defense, with just enough help from
Leonard Fournette
, to get the job done.
LSU 24, Notre Dame 20.
Belk Bowl
Fortuna:
Cardinals defensive coordinator Todd Grantham will have his work cut out for him in trying to stop a Bulldogs offense that's No. 8 nationally in scoring (41.7 ppg), but his defensive unit has been among the nation's best as well. If quarterback
Reggie Bonnafon
is at full health, he and the Louisville run game should be able to open things up for
DeVante Parker
and the passing attack.
Louisville 31, Georgia 24
Shanker:
Louisville's sixth-ranked defense is allowing 364 yards per game against teams with winning records. Behind
Nick Chubb
, Georgia will be able to score.
Georgia 30, Louisville 24
Capital One Orange Bowl
Hale:
The bottom line for the Yellow Jackets is that the D has to do a much better job against
Dak Prescott
than it did against
Jameis Winston
in the ACC Championship Game. If Prescott gets time to move in the pocket and make throws downfield, it will be hard to corral Mississippi State. If Tech's D can limit his big plays and force a couple turnovers, the offense will do more than enough to get the win. We're betting on the latter.
Georgia Tech 41, Mississippi State 38
Fortuna:
The Bulldogs' rush defense has been solid (No. 31 nationally), which should improve with nearly a month to prepare for Georgia Tech's triple-option attack. MSU also has a really good quarterback in Dak Prescott, who was near the top of the Heisman discussion before losing at Alabama. The Yellow Jackets need to force several Prescott turnovers to give their offense a chance to have its desired effect, and that might be a tall order.
Mississippi State 35, Georgia Tech 30
Rose Bowl Game Presented By Northwestern Mutual
Adelson:
The Seminoles are in a different position -- playing as the underdog. There is little doubt that will serve as motivation. But beyond the intangibles, Florida State will find a way to win behind Jameis Winston and
Dalvin Cook
, who has emerged to make the Seminoles more balanced and effective.
Florida State 35, Oregon 31
Shanker:
It was tough to pull the trigger on Oregon after going with Florida State all season. The rash of injuries are continuing for Oregon, but I think they will be able to run the ball effectively against the Seminoles. The Ducks will blow an early lead but put together a game-winning drive in the fourth quarter.
Oregon 35, Florida State 34
Lockheed Martin Armed Forces Bowl
Shanker:
Both teams lost their coach, so it will be interesting to see how each team responds. The talent is clearly in the Panthers' favor as they have
James Conner
and
Tyler Boyd
on offense.
Pitt 31, Houston 13
Drive Through: One-On-One With O'Leary
ACC SCOREBOARD
Monday, 12/22
Saturday, 12/20
Tuesday, 12/23
Wednesday, 12/24
Friday, 12/26
Saturday, 12/27
Monday, 12/29
Tuesday, 12/30
Wednesday, 12/31
Thursday, 1/1
Friday, 1/2
Saturday, 1/3
Sunday, 1/4
Monday, 1/12