October, 30, 2014
Oct 30
8:00
AM ET
The game plan for Clemson's offense with
Cole Stoudt
has been conservative to say the least.
As The Post & Courier writes, Stoudt
isn't looking downfield often
. Of his 35 attempts last week against Syracuse, 21 were thrown to targets behind the line of scrimmage. Ten were thrown downfield at least 15 yards, and he completed just two. And that's a big reason for the lack of real productivity for the Tigers.
As we noted in
our weekly By the Numbers post
, of the 93 quarterbacks with at least 150 pass attempts vs. FBS competition, Stoudt ranks 92nd in yards-per-completion at just 9.0.
Add to the lack of a downfield threat the fact that Clemson's running game has been stagnant — just 3.5 yards-per-rush on non-sack plays, the worst among Power 5 teams save Wake Forest — and you've got a real problem.
The end result is that Clemson is averaging just 4.73 yards-per-play in the month of October, which ranks 105th nationally. Who would've thought we'd ever be saying that about a Chad Morris offense?
The good news is that
Deshaun Watson
continues to make progress from his broken finger, and while it's unlikely he's back for Wake Forest in a week's time, the Georgia Tech game on Nov. 15 seems like a legitimate possibility. Meanwhile,
Wayne Gallman
ran for 101 yards on 28 carries last week against Syracuse, which marked the first 100-yard game by a Clemson tailback this season.
A few more links for your Thursday reading pleasure:
The Orlando Sentinel takes a look at
what makes Louisville's defense so dominant
.
DeVante Parker
should
be an interesting challenge
for Florida State's secondary, writes the Tallahassee Democrat.
Karlos Williams
will
play against Louisville
, according to Jimbo Fisher, but he's the
subject of a university inquiry,
as Yahoo notes.
Tonight will be
a major recruiting night
for Louisville as it hosts the defending champs, writes The Courier-Journal.
Anthony Harris
hasn't racked up the interceptions for Virginia as he did a year ago, but he's still
playing at a high level
, writes the Daily Progress.
Miami will be
missing a key contributor
on the offensive line against North Carolina, writes the Sun-Sentinel.
If
AJ Long
is going to turn things around from last week's struggles vs. Clemson, NC State
looks like the right defense
to do it against, writes Syracuse.com.
Duke
isn't getting distracted
by its Top 25 ranking, writes the Associated Press.
In spite of Virginia Tech's struggles, Steve Addazio knows Lane Stadium is
no easy place to win
, writes BC Interruption.
October, 29, 2014
Oct 29
8:47
PM ET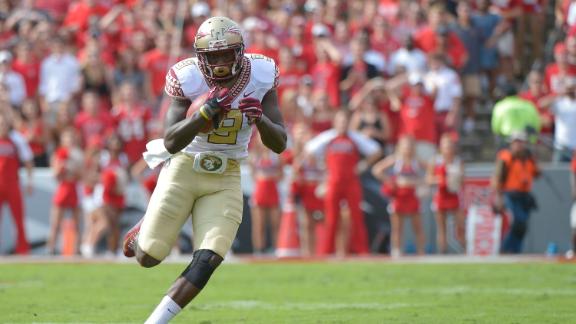 Tallahassee Police Department officials intend to continue their domestic assault investigation of Florida State running back Karlos Williams, according to The Associated Press, and Williams might face a Title IX investigation by the school even if police drop the case.
Williams, the No. 2 Seminoles' leading rusher, was accused of physically assaulting his ex-girlfriend, who is the mother of his infant son and pregnant with their second child. On Wednesday, the woman formally requested that Tallahassee police terminate their investigation and asked that Williams not be charged.
"It is my desire that this matter be resolved expeditiously without Mr. Williams being arrested, charged, or prosecuted for any criminal offense," the woman wrote in an affidavit, which was sent to Tallahassee police by her attorney. "Please exercise your discretion properly by respecting my privacy and my family's privacy in this matter."
Williams, a senior from Davenport, Florida, also could face a Title IX investigation by FSU's Office of Student Rights and Responsibilities, which could lead to findings of violations of the school's student conduct code.
FSU spokeswoman Browning Brooks said in a statement Wednesday: "While each set of facts and circumstances is different, as a general matter notice of Title IX-related issues would prompt an investigation."
Florida State would not confirm whether it would investigate Williams, citing privacy policies, according to the AP. Federal policy dictates that universities must investigate possible Title IX violations if they are aware.
October, 29, 2014
Oct 29
4:49
PM ET
The lawsuit against Florida State defensive end Chris Casher that was opened by the attorney who defended him in his school code of conduct hearing has been voluntarily dismissed.
A source told ESPN.com that Casher has paid restitution to attorney Adam Ellis, and the status of the case is now listed as closed after the Leon County court received a notice of voluntary dismissal on Oct. 28 from the plaintiff.
A pretrial hearing had been set for Nov. 4.
Casher was named as a defendant in a civil suit filed Oct. 1 for "small claims more than $500 but not more than $2,500." Earlier this month, The Tallahassee (Florida) Democrat reported the suit was for $2,500 in legal fees.
Last May, Casher faced a student code of conduct hearing for his role in the 2012 alleged sexual assault involving teammate Jameis Winston and another Florida State student. In an interview with police, Casher said he witnessed and videotaped parts of the encounter but deleted the video and no longer had the cell phone.
Winston has maintained his innocence through his attorney, saying the sexual encounter was consensual. He was not charged criminally but still faces a school conduct code hearing as part of the university's continuing Title IX inquiry.
In June, Casher, a redshirt sophomore, received one year of probation after being found responsible for two violations of the school's conduct code: acts that invade the privacy of another person and the recording of images without consent, The Wall Street Journal reported.
October, 29, 2014
Oct 29
11:00
AM ET
TALLAHASSEE, Fla. -- A week before Florida State's preseason camp opened,
Lorenzo Featherston
put his sunglasses on at night and danced in front of a car atop a parking garage as part of a parody music video that rivals the 1980s Seminole Rap in infamy. As a 220-pound freshman playing defensive line, there was a sense that was the most recognition Featherston would receive in 2014.
[+] Enlarge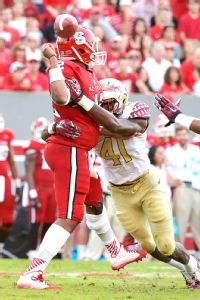 Grant Halverson/Getty ImagesFreshman Lorenzo Featherston has been an impact player for Florida State in the past month.
"Honestly when I first saw him, I was like, 'Man he's a little skinny to play end,'" said junior defensive end
Mario Edwards Jr
., who's listed at 294 pounds. "But when those pads came on [in camp] and I saw how quick and fast he was and how he can use his hands and slip through blocks, I knew he would be great.
"And when he puts on 30 or 40 more pounds, he's going to definitely be a dangerous guy. ... That's
the guy
."
Featherston already has proved to be a valuable asset as a freshman for the No. 2 Seminoles (7-0, 4-0 ACC), who play Louisville (6-2, 4-2) and its shaky offensive line Thursday night (7:30 ET ESPN). Over the past four games, three of which he started, Featherston has a sack, five tackles for loss and forced a fumble that helped give FSU its first lead against NC State late in the third quarter.
While Featherston seems undersized for defensive end at 220 pounds, Seminoles coach Jimbo Fisher said Featherston is deceptively strong. Standing 6-foot-7, his weight is distributed throughout his lengthy frame, but Fisher said he's capable of holding his own with most offensive linemen the Seminoles will play this season.
Likewise, his height could have the potential to handicap him as a defensive lineman, too, but Featherston is uniquely athletic.
"If he couldn't bend it could be a hindrance, but this guy can bend," Fisher said. "It is just three more inches of greatness. They would all like to have it. If you can keep the same ability you have at 6-foot-3 and go 6-foot-7, you definitely would take it."
Featherston, the fifth-ranked defensive end and No. 33 in the 2014 ESPN 300, is still going through his growing pains like any freshman, but what Fisher loves about his budding star is he usually can correctly identify what his mistake was on a play. It is often getting pinned inside on running plays and losing contain, but the vast benefits far outweigh the minor negatives. There could be a lot of big plays awaiting Featherston in Louisville, where the Cardinals rank 122nd of 128 FBS teams in sacks allowed with 27.
"Lorenzo is an amazing player," quarterback
Jameis Winston
said. "He's like a little spider out there -- quick, explosive and strong. He's a young guy, true freshman, played a very important role in our win [against NC State], and I think he'll continue to play that role."
October, 29, 2014
Oct 29
10:15
AM ET
By
ESPN.com staff
| ESPN.com
Join ESPN.com ACC reporters Andrea Adelson, Matt Fortuna, David Hale and Jared Shanker as they discuss the inclusion of four ACC teams in the College Football Playoff Committee's initial rankings, No. 2 Florida State's big road test and answer your questions live on screen.
October, 29, 2014
Oct 29
9:00
AM ET
The first round of rankings from the College Football Playoff committee are here, and while it was top-heavy for the SEC, Florida State's place at No. 2 bodes well for the ACC. It helps, too, that while Louisville and Clemson are all but eliminated from the playoff picture, they both found their way into the Top 25 -- adding some overall value to the conference.
Plenty will change in the coming weeks as those SEC teams knock one another down the rankings, so the key for both of the ACC's remaining contenders is simple: Just keep winning.
Florida State Seminoles
Record:
7-0 (4-0 ACC)
Rank:
No. 2
Next big obstacle:
Thursday night's game at Louisville
Reason for optimism:
Florida State is undefeated, and that's something only two other teams in the nation can say. That alone is the biggest check mark in FSU's column, and the Seminoles' position at No. 2 in the first playoff committee rankings -- as, it's worth noting, the only non-SEC team in the top four -- puts them squarely in control of their own destiny. Aside from Thursday's showdown in Louisville against the Cardinals' tough D, the worst of FSU's schedule is behind it, and coach Jimbo Fisher has said from the outset of the season, this was a team that would get stronger as the year progressed.
Cause for concern:
Start with this week's game. Louisville is getting healthy at just the right time on offense, and the Cardinals' defense is clearly one of the best units in the nation. FSU, meanwhile, is dealing with a new round of off-field controversy and coming off a win that was both emotionally and physically draining. Yes, FSU's No. 2 ranking is a good place to be at the moment, but the question still remains: Can the Seminoles withstand a loss?
Who they'll be rooting for this week:
Obviously, the Seminoles will be rooting for themselves on Thursday. That's the biggest issue of the week. Beyond that, the SEC promises to feast on itself a bit more this weekend, which should clarify a top six that's crowded with four SEC teams. And just in case Florida State is saddled with a loss somewhere along the way, it would be a big boost if Clemson and Notre Dame could keep winning to help solidify the Seminoles' overall profile. But none would be bigger than an Oklahoma State win over Kansas State that would both knock off another top contender and add some cache to FSU's nonconference schedule.
Duke Blue Devils
Record:
6-1 (2-1 ACC)
Rank:
No. 24
Next big obstacle:
Duke is a four-point underdog on the road against Pitt this week, so the Blue Devils should worry about taking care of immediate business before looking too far ahead.
Reason for optimism:
David Cutcliffe has made a habit of shrugging off the prognosticators and focusing his team on simply winning the next game. The preseason rankings meant nothing to Duke, and so he'll no doubt have the Blue Devils primed for this week's matchup, regardless of their standing in the first playoff committee rankings. And while Duke does remain a long shot at No. 24, it can also afford to sit back and watch the other conferences beat up on one another at the top, while it wouldn't have to face another ranked team until the ACC title game. It's a clear path to an 11-1 season, and with a win over FSU in the ACC championship game, Duke could be one of the few one-loss teams with a conference title to its credit.
Cause for concern:
That relatively easy path to the ACC championship game is both a blessing and a curse for Duke. It might make the final record look impressive, but the committee is clearly examining schedules in search of big wins, and Duke simply won't have them. The nonconference slate was brutal, and the ACC's pedigree -- particularly in the Coastal -- won't help. In essence, even if everything falls perfectly into place for Duke, it would reach decision time for the committee with a win over FSU as its only impressive victory.
Whom they'll be rooting for this week:
The better the Coastal performs, the better things are for Duke, but there's only so much rebuilding to be done there. What the Blue Devils really have to hope for is utter chaos around them, and that starts with some serious upsets. Wins for Arkansas, Stanford, Illinois and, particularly, Kansas, a team Duke thumped in September, would all set the dominoes falling.
October, 29, 2014
Oct 29
8:30
AM ET
Now that we have had time to digest the
first Top 25
from the College Football Playoff Committee, it is pretty obvious the group delivered on the promises it made before the process began.
Strength of schedule matters.
Quality wins matter
.
The AP and coaches poll do not.
One glance at the College Football Playoff Top 25 and the other rankings clearly illustrates the committee truly started with a clean slate.
There are several discrepancies that illustrate this point:
October, 28, 2014
Oct 28
8:32
PM ET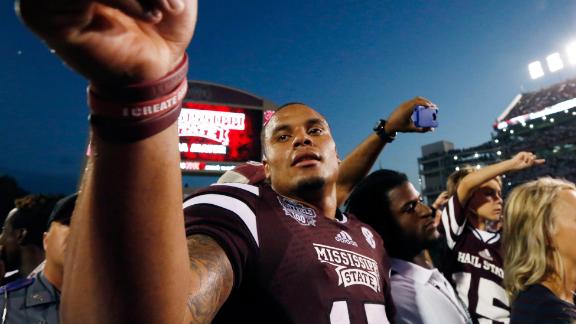 GRAPEVINE, Texas -- The suspense is over.
In what was a historic day for college football, the 12 members of the College Football Playoff's selection committee have determined that three SEC West teams are among the top four in the country, along with undefeated defending national champ Florida State.
The committee's top four was: 1. Mississippi State, 2. Florida State, 3. Auburn, 4. Ole Miss.
[+] Enlarge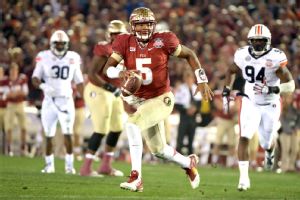 Kirby Lee/USA TODAY SportsFlorida State and Auburn in Pasadena worked pretty well last season, why not do it again in the College Football Playoff?
Here is what the College Football Playoff would look like right now if the season ended today:
Semifinal:
Mississippi State vs. Ole Miss (Allstate Sugar Bowl)
Semifinal:
Florida State vs. Auburn (Rose Bowl Game Presented By Northwestern Mutual)
That's right, the committee just delivered Egg Bowl II and a rematch of the 2013 national championship. The Sugar Bowl looks like the perfect spot for the state championship, and why not have FSU and Auburn return to the scene of what was an instant classic to end the BCS era?
The displaced conference champions that aren't playing in the semifinals are guaranteed spots in the other New Year's Six bowls. Based on the committee's rankings, ESPN.com is projecting No. 5 Oregon to win the Pac-12, No. 7 TCU to win the Big 12, and No. 8 Michigan State to win the Big Ten.
The Capital One Orange Bowl lost the ACC champion (FSU) so it gets the next highest-ranked ACC team, No. 21 Clemson. Then the Orange selects the next highest-ranked team from the Big Ten, SEC or Notre Dame. That would pit Clemson against No. 6 Alabama.
Now here's the rest, including the highest-ranked conference champion from the Group of 5, which would be No. 23 East Carolina:
Fiesta:
No. 5 Oregon vs. No. 9 Kansas State
Cotton:
No. 7 TCU vs. No. 8 Michigan State
Chick-fil-A Peach Bowl:
No. 10 Notre Dame vs. No. 23 East Carolina
Here's the final look:
Dec. 31
12:30 p.m. ET – Peach Bowl – No. 10 Notre Dame vs. No. 23 East Carolina
4 p.m. ET - Fiesta Bowl – No. 5 Oregon vs. No. 9 Kansas State
8 p.m. ET - Orange Bowl – No. 21 Clemson vs. No. 6 Alabama
Jan. 1
12:30 p.m. ET – Cotton Bowl – No. 7 TCU vs. No. 8 Michigan State
5 p.m. ET – Rose Bowl – No. 2 Florida State vs. No. 3 Auburn (Semi No. 1)
8:30 p.m. ET – Sugar Bowl – No. 1 Mississippi State vs. No. 4 Ole Miss (Semi No. 2)
Of the 18 one-loss teams left in the country, the committee decided Auburn was the best, and it showed it valued head-to-head competition by ranking Ole Miss ahead of Alabama, Auburn ahead of K-State, and Oregon over Michigan State. The Ducks were also ahead of Arizona, though, even though they lost to the Wildcats on their home turf. No. 7 TCU was also ranked ahead of No. 13 Baylor in spite of the loss to the Bears.
"Head-to-head is important," committee chair Jeff Long said, "but it's not the only factor, obviously."
No. 10 Notre Dame had the biggest difference between the Associated Press rank, where it was No. 6, and the committee's. Louisville was the only team not in the Associated Press Top 25 that was in the committee's, replacing undefeated Marshall. That showed that the committee valued No. 23 East Carolina's strength of schedule ahead of Marshall's undefeated season.
Williams Subject To Title IX Review
ACC SCOREBOARD
Thursday, 10/30
Saturday, 11/1