November, 23, 2014
Nov 23
4:19
PM ET
November, 23, 2014
Nov 23
2:13
PM ET
Associated Press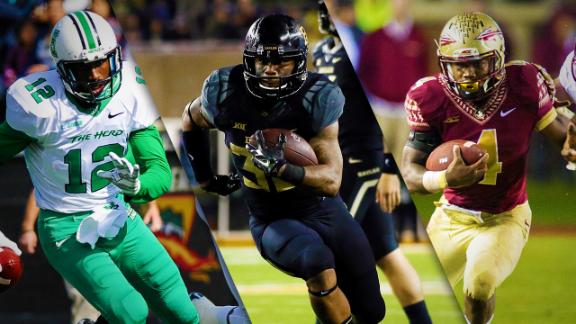 Florida State is No. 1 in The Associated Press college football poll, followed by Alabama, Oregon and Mississippi State. The top four teams were unchanged for the first time since late September.
The gap between the Seminoles and the Crimson Tide narrowed after another close call by Florida State, which beat Boston College 20-17 on a field goal in the waning seconds.
Florida State received 37 first-place votes and 1,458 points, down six first-place votes and 18 points from last week. Alabama has 21 first-place votes 1,445 points. No. 3 Oregon received two first-place votes, one more than last week.
Mississippi State is fourth, followed by Baylor and TCU. Baylor and TCU swapped places. Ohio State remained No. 7.
November, 23, 2014
Nov 23
2:00
PM ET
November, 23, 2014
Nov 23
9:00
AM ET
Here are the men whose play stood out above all others during another wild weekend in the ACC:

North Carolina quarterback Marquise Williams:
Williams turned in another outstanding game, keying a
45-20
rout of favored rival Duke on Thursday. He completed 18 of 27 passes for 276 yards and two touchdowns, adding 98 rushing yards and two more scores on 21 carries. His 374 total yards gave Williams 3,499 total yards on the season, breaking Bryn Renner's single-season UNC record (3,394). Williams also has 32 touchdowns he has been responsible for this season, which also breaks Renner's single-season record (29 in 2012).
Florida State wide receiver Rashad Greene:
Greene hauled in eight passes for 106 yards, and FSU needed every single one of them to extend its winning streak to 27 games and keep its repeat national title hopes alive. The Seminoles beat Boston College,
20-17
, and Greene etched his name into the school record books Saturday, as his final catch helped him break Ron Sellers' FSU record for career receiving yards. Greene now has 3,613 career receiving yards, and the senior now has a personal-best 75 catches on the season. He still has at least three games left in his Noles career, too.
Wake Forest linebacker Marquel Lee:
When you engineer a defensive effort that holds a team scoreless in regulation -- one that ends with your first league win of the season, no less -- you get recognition here. Lee, a sophomore, had a game-high 12 total tackles, including three for loss (2.5 sacks) and one forced fumble. The Demon Deacons shocked Virginia Tech in double overtime, winning
6-3
.
Louisville running back Brandon Radcliff:
Radcliff ran wild in the second half, carrying the ball 15 times for 129 yards and a touchdown in Louisville's
31-28
win over Notre Dame. He finished the day with 17 carries for 136 yards and a touchdown, the leader of a Cardinals rushing attack that set the tone for the day, finishing with 229 yards on the ground.
Clemson defense:
There are too many people to name here, so the Tigers' defense will have to share this award. Yes, it was against Georgia State, but Clemson had nine different players record a tackle for loss, and three different players record an interception in the
28-0
win. The Tigers held Georgia State to 155 total yards of offense, the fifth different opponent they have held under 200 yards this season. This was also Clemson's second shutout of the season, marking its first multi-shutout season since 1998.
November, 23, 2014
Nov 23
12:39
AM ET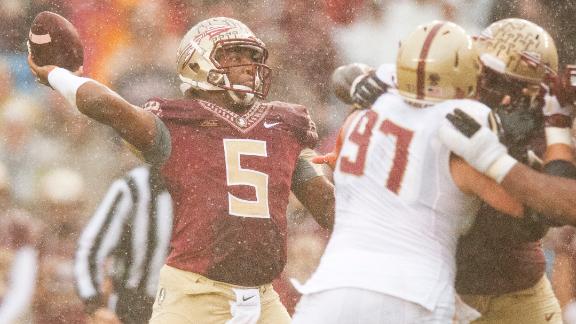 Following Florida State's narrow 20-17 win over Boston College on Saturday and yet another frenzied fourth quarter in a season defined by them, coach Jimbo Fisher said it doesn't matter how the Seminoles win -- only that they continue to find a way to get it done.
"Let me ask you this: How about the way everybody else hasn't finished?" Fisher told ESPN.com. "Our team has never not finished. The game is 60 minutes. This team hasn't lost in over two years. Everybody says 'game control.' That's something made up. As a coach, you talk about one thing: Finish. Get it done. This team wins in every way, shape and form you can win. Everybody else has failed at least once, no matter what you look at, and some of those teams have lost when they were over 20-point favorites."
Oregon was a 24-point favorite when it lost at home Oct. 2 to Arizona. In Week 12, the College Football Playoff's 12-member selection committee ranked the Ducks No. 2 and dropped Florida State, the only undefeated Power 5 team remaining, to No. 3. This past week, Alabama jumped Florida State on its way to No. 1.
The Noles have been constantly criticized this season for how vulnerable they have looked while winning. Florida State was tied at 17 with Boston College late in the fourth quarter Saturday, but escaped thanks to a game-winning 26-yard field goal by Roberto Aguayo with 3 seconds remaining. It was the Noles' sixth win this season in a game in which they trailed or were tied in the second half.
"What I'm proud of is how they finished," Fisher said. "That's what this team does. What people think of us is none of my business. That's not our concern. We just play."
November, 23, 2014
Nov 23
12:00
AM ET
By
Chris Morris
| ESPN.com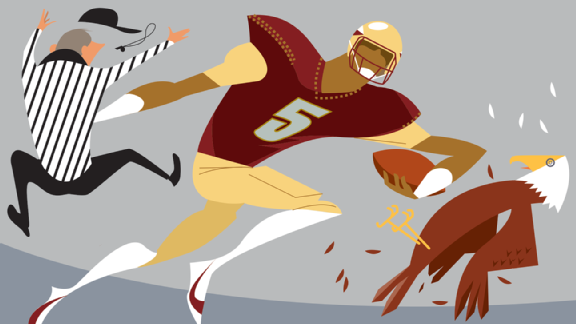 Chris Morris for ESPN
Each Sunday during the season, ESPN.com will highlight four storylines that had an impact on the College Football Playoff race.
Jameis Winston moved an official and, eventually, the Eagles out of the way, driving the Seminoles 66 yards to put Roberto Aguayo in position for a 26-yard game-winning field goal with three seconds remaining.
---
Baylor, Ohio State, UCLA look to impress
Three teams sitting just outside the top four vamped for the selection committee: No. 7 Baylor eased past Oklahoma State 49-28, No. 6 Ohio State clinched the Big Ten's East Division title with a 42-27 win over Indiana and No. 9 UCLA defeated No. 19 USC 38-20.
---
Three of top four cruise
November, 22, 2014
Nov 22
10:51
PM ET
On what was largely a ho-hum Saturday, many of the country's top teams didn't dominate their games against what were supposed to be overmatched opponents.
No. 1 Alabama led FCS opponent Western Carolina 17-14 early in the second quarter of a 48-14 victory.
No. 3 Florida State needed a field goal with three seconds left to beat Boston College 20-17 in the rain at home.
No. 6 Ohio State trailed Indiana deep into the third quarter of a 42-27 win.
And No. 8 Ole Miss was blown out by Arkansas in an ugly 30-0 loss.
At this point, with only two weeks left in the regular season, does it really matter how good a team looks while winning? Isn't it all about just winning?
Defending national champion Florida State has made its living by winning ugly this season. The Seminoles' victory over Boston College was their sixth this season in which they trailed or were tied in the second half. According to ESPN Stats & Info, only Northern Illinois in 2013 won more such games (seven) among the 30 FBS teams that started 11-0 in the last 10 seasons.
So will FSU's latest closer-than-expected victory bolster its playoff resume?
"Why wouldn't it?" FSU coach Jimbo Fisher said. "We're undefeated. We're undefeated. We finish every game. Everybody else in the country has not finished at least one game. We've finished every one of them. Isn't that the object?"
It used to be. But now the object seems to be more about how you look in winning. The Seminoles dropped from No. 2 to No. 3 in the rankings over the past couple of weeks, and they haven't even been ranked No. 1 by the selection committee, despite being the only remaining unbeaten team from a Power 5 conference and having won a school-record 27 consecutive games.
"Well, you know, we were downgraded every time we blew someone out last year, so think of the irony of that," FSU quarterback Jameis Winston
November, 22, 2014
Nov 22
10:48
PM ET
Thirteen weeks into the season, and we got some surprises (Wake Forest wins!) and some not-so-surprising results (Florida State narrowly escapes!). Here's what we learned from the penultimate week of the regular season.
North Carolina is going bowling:
No, the Tar Heels haven't lived up to expectations this season, but just as they did a season ago, they've proven to be one of the most resilient teams in the nation.
Marquise Williams
turned in another phenomenal performance against Duke on Thursday, accounting for four touchdowns in a
45-20
win that eliminated the Blue Devils from the Coastal Division race, returned the Victory Bell to Chapel Hill, and officially made UNC bowl eligible for the second straight season.
[+] Enlarge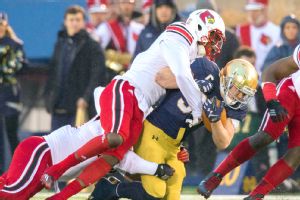 Matt Cashore/USA TODAY SportsLouisville's victory over Notre Dame on Saturday kept the Cardinals alive for a New Year's Six bowl appearance.
Georgia Tech wins the Coastal:
From rumblings about Paul Johnson's job security in August to a division title in November, it's been a stellar season for Georgia Tech. The Yellow Jackets actually had Week 13 off in preparation for another rivalry showdown against Georgia, but thanks to Duke's Thursday night loss to North Carolina, Johnson's crew officially wrapped up the Coastal and a trip to Charlotte to face Florida State in the ACC Championship game. Tech's players are, of course, clearly focused on upending Georgia for just the second time since 2000, but the matchup for the conference title promises to be as intriguing as, perhaps, any in ACC championship game history.
The battle for the Orange Bowl is heating up:
Sure, there's no longer any drama about who'll make it to Charlotte, and FSU is the league's only chance at the playoff, but the question of which ACC team will take its turn in the Orange Bowl on New Year's Day is awfully interesting. First off, FSU needs to make the playoff -- and after another close call against Boston College, that's certainly not etched in stone. But if the Seminoles go to the playoff, then the three-team battle between Georgia Tech, Louisville and Clemson for a trip to South Florida could be awfully tight. Tech is currently the highest ranked of the group, but it's got two games against top-10 teams remaining. Clemson currently would be next up, but it's been a long time since the Tigers have beaten South Carolina -- their Week 14 foe. And then there's Louisville, still alive for a shot after narrowly knocking off Notre Dame
31-28
. The highest-ranked team after the ACC title game gets its ticket punched.
Wake Forest doesn't roll over:
It's been a brutal season in Winston-Salem. Wake's offense isn't just bad, but historically so. It would've been easy for the team to have cashed it in -- particularly the veterans who won't be around to see the fruits of this rebuilding project. But it's a huge credit to Dave Clawson's motivational tactics and the pride of the players on the roster that they continue to fight. The Demon Deacons couldn't muster much offense again Saturday, but their stout D overwhelmed Virginia Tech and they prevailed
6-3
in double overtime. Wake certainly hasn't been a great team this season, but four of its six conference losses were by 14 points or less and it's played every game tough. That bodes well for the future for Clawson and Co.
Bowl bids on the line in Week 14:
With Virginia's dominant 30-13 win over Miami, Virginia Tech's loss to Wake and Pittsburgh's
30-7
drubbing of Syracuse, there will be three ACC teams playing for bowl eligibility in the final week of the season. Pitt gets its shot against reeling Miami, while UVA and Virginia Tech face off in their annual rivalry game, with one gaining that crucial sixth win and the other facing a long, ugly offseason. With a win, Mike London could secure another year on the sideline for the Cavaliers. With a loss, Frank Beamer's future is going to move from debatable topic to outright controversy.
November, 22, 2014
Nov 22
8:55
PM ET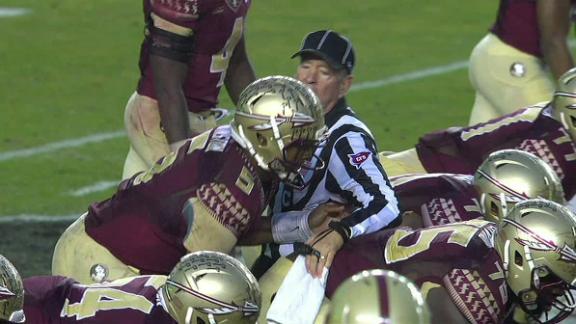 TALLAHASSEE, Fla. -- Florida State coach Jimbo Fisher and quarterback Jameis Winston said there was nothing malicious about the contact between the reigning Heisman Trophy winner and an official in the third quarter of the Seminoles' 20-17 win against Boston College on Saturday.
With the scored tied at 17-17 and 5:20 left in the third quarter, an official stood between Winston and center Cam Erving to prevent the Seminoles (No. 3 CFP, No. 1 AP) from running their next play. An official is instructed to stand over the ball to prevent the offense from snapping it until the defense has sufficient time to match the offense's substitutions. The center judge was not standing over the football, however, and Erving was already set with his hand on the ball.
Winston tried moving the official with his hand and arm before the center judge retreated to his normal position on the field.
"He was just holding me because he said we had a substitution," Winston said of the official. "It was actually a fast-tempo play, so I was trying to get up under there and let it ride."
Fisher said the play call was for Winston to snap the ball quickly after the previous play, but the official ruled Florida State made a substitution at running back, the coach said he was told.
"I don't think [Winston] realized it. He was caught up in the excitement of the moment," Fisher said. "Hey, you get emotional. He didn't realize. He thought he could snap the ball. ... He knew that was his job -- get out there and set and snap the ball."
November, 22, 2014
Nov 22
8:36
PM ET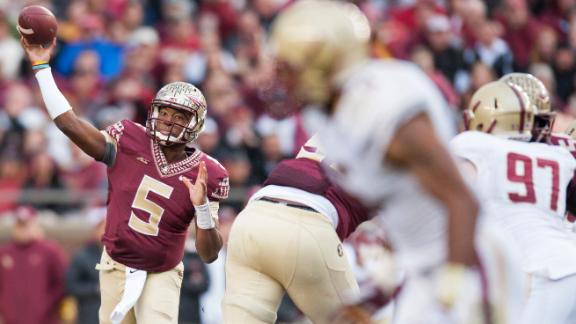 TALLAHASSEE, Fla. -- Following Florida State's narrow 20-17 victory over Boston College on Saturday night, redshirt junior defensive tackle Derrick Mitchell Jr. talked about his firsthand experience of this week's on-campus shooting.
Mitchell was working on a project for a sports management class and he and his group members submitted their work around midnight, minutes before the shooting near the lobby and entrance. Mitchell planned on leaving right after sending in the project, because he had arrived at the library four hours earlier and had practice Thursday afternoon.
Shortly after midnight Thursday, gunman and Florida State graduate Myron May opened fire outside Strozier Library. May injured three -- two students and a library staff member -- before he was killed in a shootout with police.
Mitchell said he believes he would have been in the shooting's immediate area if not for deciding to stay an extra few minutes.
"I was actually about to leave and something told me to turn around, wait on the other group members and we can all walk out together," Mitchell said. "So I turned around and I waited and thank God I waited those extra minutes because I would have been right there."
Initially, Mitchell was unaware the banging noises he heard were gunshots and mistook them for a bookcase falling. As Mitchell and his group neared the exit, he saw one of the victims walk back into the library and call the police.
"I was probably 10 feet away from the guy where he laid down on," Mitchell said.
Mitchell said it will probably be some time before he is comfortable going back to the library, which reopened Friday.
November, 22, 2014
Nov 22
7:10
PM ET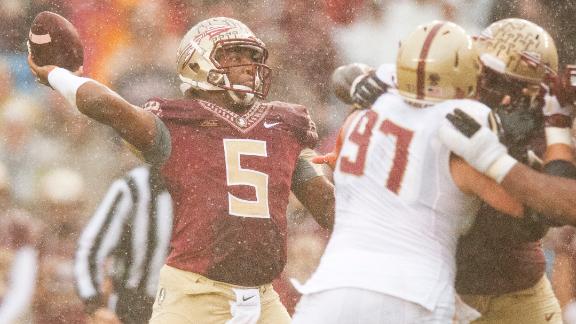 Another week, another close win for Florida State. The Seminoles booted a field goal in the final seconds of the game to upend Boston College
20-17
and keep their playoff hopes alive.
How the game was won:
Florida State's final drive was all about the two sure things on offense --
Jameis Winston
and
Rashad Greene
-- along with emerging star tailback
Dalvin Cook
. Winston connected with Greene twice for 26 yards -- the latter made Greene FSU's all-time leading receiver -- and Cook handled the rest. He had six touches for 29 yards to eat up clock and push the ball to the BC 13.
Roberto Aguayo
finished things off with a 26-yard field goal to secure the win.
Game ball goes to:
Winston. It was hardly his finest game. In fact, it's the first time in his career as a starter Florida State failed to score 30. But Winston was better than his numbers showed, with several drops and misplays negating potential big gains, and a tip leading to his lone interception. Overall, Winston finished 22-of-32 for 281 yards and a touchdown, but most importantly, he won yet again.
What it means:
Florida State survives yet again. For the fourth time in the past five games, FSU was on the brink of a loss late, but the Seminoles rallied to get the win. The buzzword of the week was "game control" after committee chair Jeff Long cited that metric in the rankings, but opponents at this point can never feel safe playing Florida State.
Playoff implication:
As long as FSU keeps winning, it'll be in the playoff. And now the Seminoles have just two more to go to assure that happens. The close call against Boston College certainly won't have fans feeling overly confident the rest of the way, but it's been two full years since the Seminoles lost a game, so it's hard to envision a scenario they won't get it done.
Best play:
Winston's lone TD was a 30-yarder to
Nick O'Leary
that gave FSU a 17-10 lead late in the third quarter.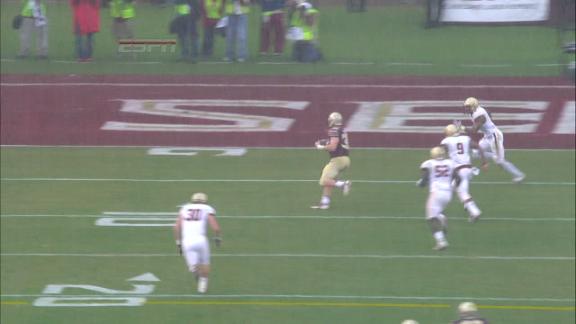 What's next:
For Boston College, the Eagles wrap up the regular season against Syracuse with a chance to ensure they finish above .500. For FSU, rival Florida is up next, and it'll be Will Muschamp's last game as the Gators' coach. That doesn't mean Florida is going to roll over. If all these close calls have taught the Seminoles anything, it's that they can't take any team lightly.
Baylor Hops TCU In AP Top 25
ACC SCOREBOARD
Thursday, 11/20
Saturday, 11/22