October, 31, 2014
Oct 31
4:00
PM ET
Boo! Mailbag time.
Before I get to your comments, Allan in Honolulu and Wes in Atlanta pointed out a mistake I made in upset watch.
Tyler Murphy
did not run for 100 yards against both USC and Clemson. Thanks for keeping me accountable!
---
Robert Kelley in Midlothian writes:
Thank you! This is the
absolute best article
that I have read about the Seminoles all year. I have followed the Seminoles since 1977. Last night in bed after the game, I was reflecting on the psychology of this team ... and the reaction of the media and opposing fans to it. We have become the antagonist or Darth Vader in a very unique college football season. In many ways we are Muhammad Ali. Playing rope-a-dope and looking like we are down and then coming alive to crush our opponent into submission. Almost saying, we are just toying with you. Anyway, keep up the great work! And I will say ... the ACC Atlantic with the future of Clemson and their quarterback and how Louisville played will be the new SEC West.
Andrea Adelson writes:
It is pretty remarkable how different this team is compared to last year. These Seminoles thrive on adversity. They seem to welcome it, relish it and enjoy their new role as the team everybody loves to hate.
---
Kenneth Whitfield in Tallahassee, Florida, writes:
"This Florida State team is not the 2013 Florida State team." But then, who is?
Jameis Winston
struggled with the worst half of his college career. His team was down 21-0 just before halftime. In this game he threw three interceptions, overthrew receivers and made questionable throws into coverage. He only had 401 yards passing.
Adelson writes:
This is what Winston does best. He shakes off his mistakes and makes the big plays when it counts most. He has an intangible to succeed under pressure many players simply do not possess.
---
Robert Gastinger in Clarksville writes:
Read your whole column this morning and not one tip of the hat from any of the FSU players toward Louisville. All about them and how courageous they are and what character they have. Their lack of humility and grace combined with their penchant for criminality is why no likes them.
Adelson writes:
That is actually not true, Robert. I focused my column on how Florida State came back, so I did not have room to get in every quote from the Florida State players. Jameis Winston was highly complimentary of the Louisville defense, reiterating many times how well the group played Thursday night. Jimbo Fisher did as well. "They're a very good team," Fisher said. "They're coached well in all phases, they got very good skill players, big guys, and they've got big D-linemen. You saw that battle out there; that was a heck of a football game."
---
Mike D. in Hamilton, Ontario writes:
Hey Andrea, I know you're not sold on Miami's D, but I'm curious to hear your thoughts on
David Hale's article
.
Adelson writes:
David is our resident stat guru -- he breaks down numbers like nobody's business. What they show is Miami's defense is better. I wholeheartedly agree there. But better does not translate into elite. Maybe that expectation is too high, given the talent on the unit right now. I think what gnaws at people is the performance against Nebraska and Georgia Tech. Just because everybody else struggles to stop those teams should not give Miami a free pass. The Georgia Tech game probably is the most maddening example, because not only was that a very important conference game, it was a contest Miami had every chance to win -- and needed to win. The offense definitely shares in the blame for its mistakes and inability to convert on third down. But the defense could not make critical stops, either. There still really isn't much of a pass rush, and that remains a concern -- especially with the quarterbacks the Hurricanes are facing in the next few games.
---
Geoff in Madison, Alabama, writes:
Hi, Andrea. Count me as one Hokie who loves your commentary! So I wrote you last year, pointing out the slow and steady five-year (and arguably longer) decline of the Hokies under Coach (Frank) Beamer. Earlier this year, I was astonished to read a quote from coach Beamer on how he didn't think (Bryan) Stinespring was really a problem but decided to switch offensive coordinators to make the fans happy. When he finally pulls the trigger, he gets the offensive coordinator from one of the worst offenses in all of FBS football. A team whose offense propelled them to the national championship with virtually the same cast the year following his departure! A very troubling sign, to say the least. And it appears that our offense is nowhere Auburn's was before he departed. I watched the Auburn/Mississippi State game live with two of my college-aged kids and saw some great football. Watching my Hokies play Pitt and Miami after that. ... it's like watching a high school football team. Our team lacks discipline and attention to detail; its play calling is far behind the times. Additionally, our coaches constantly build up expectations for players that either turn out to be marginal, or play marginally for us and go on to be solid in the NFL. These would all seem to point to poor coaching. All this leads me to my questions: 1) Does Coach Beamer realize how badly behind this coaching staff is? 2) Our AD inexplicably gave him a vote of confidence earlier this year. Has he changed his mind? 3) How much longer will VT allow coach Beamer to run our football program into the ground before they make a switch? 4) With an AD who couldn't see Beamer's flaws last year, do we Hokies fans have any reasonable hope that our AD can identify and hire a good coach? Thanks!
Adelson writes:
Wow, Geoff -- we have a lot to cover here! First, thanks for reading. Always a treat to hear from loyal readers. I know Virginia Tech fans are disappointed with where the program stands right now, but I think fans also understand how tough this situation will be to handle because of what Beamer not only means to the program, but to the university and Blacksburg community. When I was in town last week for the Miami game, I ran across fans that are truly torn about what athletic director Whit Babcock should do moving forward. They seem ready for a change, but how does that change come about when you have to say good bye to the best football coach in school history? As for your questions: 1) Scot Loeffler was not Beamer's first choice, and clearly he was not the best choice. Nobody can say this offense has gotten better in two years. Maybe Logan Thomas will get let off the hook a little bit for last season because not much has changed without him. Does he realize the staff is behind? If he does, he won't say anything publicly. But I do agree many of the mistakes we have seen, and the inability for offensive players in particular to make marked improvements, falls on the staff. 2) Babcock has not changed his mind -- yet. 3) I think Beamer will get 2015 as his final "prove it" season unless things go off the rails and the Hokies finish 4-8. 4) I think Babcock does see the flaws. But I don't necessarily think he would have had the backing of the entire alumni/fan/donor base if he had kicked Beamer to the curb a few months into the job. Babcock has taken the right approach. He knows people are looking to see how he will handle such a delicate situation. Babcock is not somebody who will make a rash decision, and has the right temperament to make sure this process is handled as delicately as possible. PS -- He did hire Tommy Tuberville at Cincinnati, for whatever that's worth.
October, 31, 2014
Oct 31
12:15
PM ET
By
Matt Hinton
| ESPN.com
No play encapsulates Jameis Winston's season, or his team's, more fully than the interception he served up Thursday night against Louisville on the first play of the second half, which he subsequently managed to turn into a Florida State first down. On the front end, the reigning Heisman winner uncorked a howler of a pick, his third of the night, directly into the hands of Louisville safety Gerod Holliman, who had already recorded an interception in the second quarter to set up a Cardinals touchdown. On the back end, though, Winston caught up to Holliman as the defender attempted to juke his way to a few extra yards on the return, punching the ball free; FSU pounced on the fumble for a de facto gain of 16 yards and resumed possession with a fresh set of downs.
That was the night in a nutshell. As ever, Winston was both the cause of and the solution to virtually all the no. 2 Seminoles' problems in their 42-31 win over no. 25 Louisville.
Besides serving as a heavy-handed metaphor, the reciprocal giveaways were also a turning point. In the first half, Winston had completed just 10 of 22 passes with two interceptions and no touchdowns, yielding a dismal 74.2 efficiency rating; meanwhile, Florida State had been shut out for 29 minutes and 27 seconds, its longest scoring drought of the past two seasons, before punching in a touchdown just before halftime to trail 21-7. In the second half — following the would-be turnover out of the chute — Winston completed 15 of 25 passes for 278 yards and a sky-high efficiency rating of 193.0; FSU hit paydirt on five of its last seven full possessions, with three of those scores coming courtesy of Winston's right arm as he hobbled around on a visibly injured ankle. "Pain is temporary," he said after the game, and his team's 24-game winning streak is living proof.
To read the rest of Matt Hinton's story,
click here
.
October, 31, 2014
Oct 31
11:53
AM ET
Florida State picked up its second top-50 overall prospect in less than a week following the commitment of ESPN 300 cornerback
Tarvarus McFadden
. Below, see how he'll contribute in Tallahassee:
October, 31, 2014
Oct 31
10:30
AM ET
Here are five things I learned in college football this week:
1. Florida State doesn't look like the team that won a BCS national championship last season. It looks more like the Auburn team that lost to the Seminoles in the last BCS National Championship Game.
To win a national title in the past, or to now reach the four-team College Football Playoff, a team is going to need more than a few good breaks along the way. FSU seems to be getting them every week, just like Auburn did last season.
The Seminoles beat Clemson 23-17 in overtime on Sept. 20 because the Tigers fumbled the ball -- and a golden opportunity for an upset -- at FSU's 14-yard line in the final two minutes of regulation.
[+] Enlarge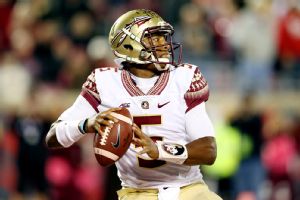 Andy Lyons/Getty ImagesJameis Winston and Florida State are getting the breaks needed to reach the College Football Playoff.
On Oct. 18, FSU defeated Notre Dame 31-27 because the Irish were penalized for offensive pass interference on a pick play, wiping out a go-ahead touchdown pass from
Everett Golson
to
Corey Robinson
in the final moments.
Then on Thursday night, the No. 2 Seminoles trailed No. 25 Louisville 21-0 in the final minutes of the first half on the road. FSU tailback
Karlos Williams
fumbled near the goal line, but tight end
Nick O'Leary
recovered the ball in the end zone for a touchdown, giving the Seminoles a manageable 21-7 deficit heading into the locker room.
On the first play from scrimmage in the second half, Louisville safety
Gerod Holliman
intercepted
Jameis Winston
's pass. But Winston chased down Holliman, knocked the ball loose and FSU's
Travis Rudolph
recovered the fumble.
The Seminoles scored three touchdowns in the fourth quarter to pull away for a 42-31 win, their 24th victory in a row.
"We've been there before," Winston said. "Being down is nothing when you've got heart and you persevere. Personally, we play better when we're down, honestly."
2. Georgia fans have every right to be upset that the NCAA didn't reduce star tailback
Todd Gurley
's four-game suspension, which will keep him sidelined for Saturday's game against Florida in Jacksonville, Florida, and next week's road trip to Kentucky.
But Georgia fans shouldn't be upset at the NCAA or the UGA administration. Gurley knew he was breaking NCAA rules when he accepted $3,000 to autograph helmets, footballs and other memorabilia. And it wasn't a momentary lapse of judgment. According to the NCAA, Gurley was paid to autograph memorabilia for multiple dealers over the past two years.
Sure, the NCAA rules that prohibit players from receiving money for their autographs and likeness are out of date and need to be repealed. But Gurley knew the rules, and Georgia officials constantly educate their players about what they can and can't do.
I have sympathy for Gurley, who grew up in a mobile home park in Tarboro, North Carolina. His mother struggled to make ends meet while raising Gurley and his siblings, and his family still doesn't have much when it comes to material possessions. It doesn't make much sense that Georgia and the NCAA can profit from his name, image and likeness, while he will have to sit four games for profiting from his own name.
At the end of the day, Gurley's biggest flaw might have been his honesty about breaking the NCAA rules.
3. Don't think the timing of Oklahoma freshman tailback Joe Mixon's guilty plea to avoid going to trial on charges that he punched a woman in the face in a bar on July 25 was coincidental.
By entering an Alford plea, which allows Mixon to continue asserting his innocence, his attorneys avoided making the videotape that showed Mixon punching a woman available to the media and public through state open records laws.
On Saturday, a new Oklahoma law, Senate Bill 2676, takes effect that would have required police to release the surveillance video from the bar where the incident took place. But since Mixon reached a deal with prosecutors before the law goes into effect, police in Norman, Oklahoma, are refusing to release the video to media.
Police allowed members of the media to view the tape but wouldn't let them make copies. The original tape was returned to the bar owners on Thursday night and was destroyed, according to media reports.
Attorneys for the city of Norman say they still have a copy, after they were threatened with a lawsuit, but contend that that copy is not subject to release under transparency laws.
Oklahoma Sen. David Holt, who wrote the new law, told KOKH-TV in Oklahoma City that his intent was to increase transparency.
"I don't even know that we need to say that, I thought that the intention of that was clear. That if you can look at it, you can copy it, especially in the day and age where we all have iPhones, we're just one click away from copying a document," Holt said.
4. Winston threw a career-high three interceptions in Florida State's win at Louisville, and his chances of repeating as the Heisman Trophy winner seem all but dead.
According to a Heismanology poll conducted by ESPN's Joe Tessitore, Winston received only 4.5 percent of the available points in this week's balloting -- and that was before he tossed three interceptions against the Cardinals.
After nine weeks of the season, it seems to be a two-man race between Mississippi State's
Dak Prescott
and Oregon's
Marcus Mariota
. According to Tessitore, they received 95 percent of the first- and second-place votes.
But there is still a lot of football to be played, and Tessitore notes that the last time two players received such a high percentage of the first- and second-place votes was 2012, when Kansas State quarterback Collin Klein and Oregon tailback Kenjon Barner were leading the voting. Of course, Texas A&M quarterback Johnny Manziel ended up becoming the first freshman to win.
5. And, finally, the stat of the week from ESPN Stats & Info: Mississippi State is averaging a Power 5-high 188.6 rush yards per game inside the tackles. Prescott and
Josh Robinson
are two of four Power 5 players who have run for at least 500 yards and seven touchdowns inside the tackles.
October, 31, 2014
Oct 31
9:00
AM ET
Virginia Tech is the place to be this weekend in the ACC. The Hokies will have perhaps their second most important weekend in the 2015 cycle with a number of top targets on campus led by ESPN 300 defensive end
Jalen Dalton
. In Atlanta, Georgia Tech has an in-state ESPN Junior 300 running back on campus for the second time this year, and a Yellow Jackets top defensive target will be in Big Ten country for a third straight week.
To continue reading this article you must be an Insider
October, 31, 2014
Oct 31
8:30
AM ET
Thursday night's game
provided several reminders about Florida State.
1. This team, unlike its predecessor, is at times more lucky than good.
2. The Seminoles are still pretty darn good, even with all their injuries.
3.
Jameis Winston
is an excellent crunch-time quarterback.
4. FSU likely has too many warts to repeat as national champion.
5. Jimbo Fisher is an unquestionably brilliant coach.
Let's focus on the last item. Fisher's coaching acumen often gets overlooked, often because of what Fisher says and does away from the sideline.
He out-coached Louisville's Bobby Petrino in the second half Thursday, pushing the right buttons, especially on a
third-and-6 from Louisville's 35-yard line
late in the fourth quarter. Winston found a wide-open
Freddie Stevenson
, who scooted in for an easy, euthanizing touchdown. It's another reminder that Fisher is at the top of his game.
Fisher's clout as a recruiter also showed up as three freshmen, led by running back
Dalvin Cook
, reached the end zone. And his Seminoles team, despite myriad mistakes and continuing controversy, won its 24th straight game.
So why is it so hard to celebrate Fisher? Because of the other stuff.
To continue reading this article you must be an Insider
October, 31, 2014
Oct 31
8:00
AM ET
There is cautiously optimistic good news on Clemson's quarterback front, as
Deshaun Watson
is back throwing a football again.
The freshman signal caller broke a bone in his finger on his right hand Oct. 11 against Louisville and had surgery two days later. The initial diagnosis was that Watson would need a month of recovery time, and that very well may still be the case.
The Tigers have a bye this weekend before traveling to Wake Forest on Thursday. They close their ACC schedule the following Saturday at 6-2 Georgia Tech, which would probably make more sense for a return.
"I think it's still too early to tell that right now. Probably doubtful [at Wake]," Clemson offensive coordinator Chad Morris said,
according to the (Charleston) Post and Courier's Aaron Brenner
. "Obviously you don't want to rush someone back. He looks good throwing the ball right now, he's gaining the strength back in his hand, but he hasn't been tackled either. When the training and medical staffs feel confident enough, they'll let us know."
Watson led the nation in Total QBR before his injury. Clemson has struggled offensively without him, totaling just 33 points in its last two games, a pair of close wins over Boston College and Syracuse.
Here are the rest of your ACC links:
October, 31, 2014
Oct 31
12:30
AM ET
LOUISVILLE, Ky. -- Florida State is eight games into this season, and its identity is fairly clear. The Seminoles thrive when the situation appears bleakest.
They have dealt with so many distractions off the field, it almost feels as if they want distractions on the field, a strange psychology that has actually worked for them. Because once again, the Seminoles overcame a second-half deficit to save their season, this time in a 42-31 win over Louisville on Thursday night.
Four times this season, Florida State has needed second-half comebacks to win. But it faced its largest deficit against the Cardinals, down 21-0 in the second quarter against the No. 1 rated defense in America. Momentum shifted to the home Cards, but Florida State just shrugged.
"Been there before," quarterback Jameis Winston said.
Florida State scored just before halftime. Coach Jimbo Fisher remained calm in the locker room. Halftime adjustments worked before; they would work again. The Noles had rallied before; they would rally again.
So they did, blitzing Louisville for 35 second-half points behind Winston and the talented freshman trio of Dalvin Cook, Ermon Lane and Travis Rudolph. Florida State trailed 31-28 with 9:20 remaining, then scored the final two touchdowns of the game. There should never be any doubt, not with Winston calling the shots.
October, 30, 2014
Oct 30
11:24
PM ET
Associated Press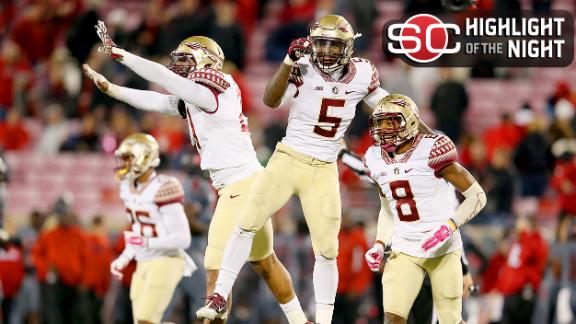 LOUISVILLE, Ky. -- Jameis Winston threw three touchdowns to offset a three-interception start and Dalvin Cook had two long scoring runs to help second-ranked Florida State rally for a 42-31 victory over Louisville on Thursday night.
Florida State overcame a 21-0 deficit for its 24th straight victory, with Cook giving the Seminoles the lead with a 38-yard run with 3:46 remaining.
Out of sorts and on the verge of having its College Football Playoff prospects damaged, the Seminoles (8-0, 5-0 Atlantic Coast Conference, No. 2 CFP) recovered behind their Heisman Trophy quarterback and Cook, who had a 40-yard touchdown run in the third quarterback.
All of Winston's TD passes were big. He hit Travis Rudolph for 68 yards, Ermon Lane for 47, and Freddie Stevenson for the 35-yard clincher with 26 seconds.
Winston was 25 of 48 for 401 yards to beat Louisville (6-3, 4-3, No. 25 CFP).
October, 30, 2014
Oct 30
11:24
PM ET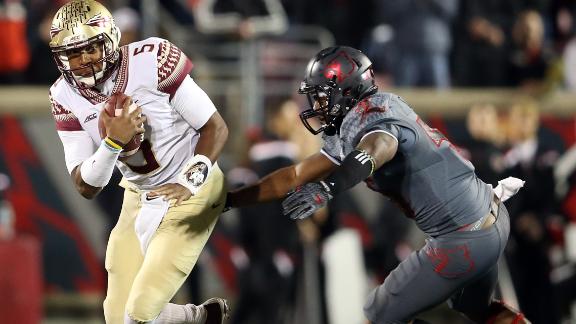 LOUISVILLE, Ky. -- In a game that ended just before the start of Halloween, the No. 2 team in the country got a major scare on the road.
But Florida State isn't easily spooked -- and it's even harder to kill. The Seminoles bounced back from a 21-point deficit at No. 25 Louisville to win
42-31
and keep their College Football Playoff hopes very much alive.
Here's a quick look at how it went down:
How the game was won:
After falling behind 21-0 in the first half and trailing 24-7 in the third quarter, the Seminoles' offense finally got going. But Florida State really showed its true championship mettle on the downs that mattered most. Louisville finished 1-for-11 on third downs, missing on its first 10, and was 0-for-2 on a pair of fourth downs -- the first on the FSU goal line during the game's first series; the second on a dropped pass with the game on the line. Meanwhile, the Seminoles went 9-for-16 on third down, and those conversions included three long touchdowns.
Game ball goes to:
While Florida State running back
Karlos Williams
was in the news all week for the wrong reasons, his backup -- true freshman
Dalvin Cook
-- made the headlines Thursday night. He gave the Seminoles a spark in the third quarter, catching balls out of the backfield and scoring on a 40-yard run. Then he provided the game-winning score on a 38-yard run down the right sideline, one play after Florida State forced a Louisville three-and-out. Cook finished with 110 rushing yards on just nine carries and added four receptions for 40 yards.
What it means:
Florida State won its 24th straight game and further strengthened its playoff position. This looked like the Seminoles' toughest remaining game, as they finish the regular season with Virginia, at Miami, Boston College and Florida before a likely ACC championship game appearance. It now will take a major upset to keep Jimbo Fisher's team from going undefeated for a second straight season.
Playoff implication:
Several teams from other conferences were pulling for Louisville, including those from the Big Ten, Big 12 and Pac-12. But now the Seminoles have three quality wins (Clemson, Notre Dame and Louisville) and will be a heavy favorite to claim one of the four playoff spots.
Best play:
While Florida State got plenty of big plays from true freshmen on Thursday, Cook's second touchdown run was the biggest. Right after the Seminoles forced Louisville into a three-and-out deep in Cardinals territory, the freshman running back sprinted off tackle to the right and streaked to the end zone to put FSU up for good with 3:46 left.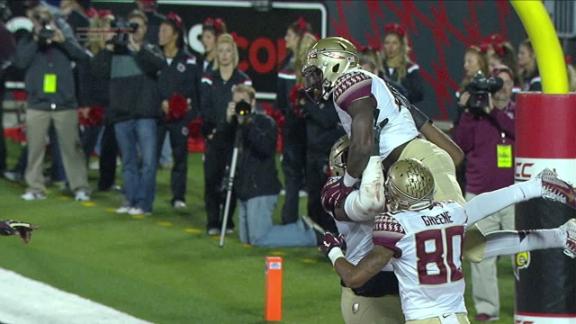 What's next:
The Seminoles host Virginia next Saturday, while Louisville heads to Boston College.
NFL Teams Evaluating Jameis Winston
ACC SCOREBOARD
Thursday, 10/30
Saturday, 11/1