December, 28, 2014
Dec 28
5:30
PM ET
ORLANDO, Fla. -- ESPN 300 quarterback commit
Deondre Francois
is one of three Florida State quarterback commits playing in the 2015 Under Armour All-America game -- even though
Kai Locksley
will be in the game as a wide receiver. The logjam at quarterback has another in-state program trying to sneak in and possibly steal away a quarterback at the last minute.
December, 28, 2014
Dec 28
2:22
PM ET
December, 28, 2014
Dec 28
12:00
PM ET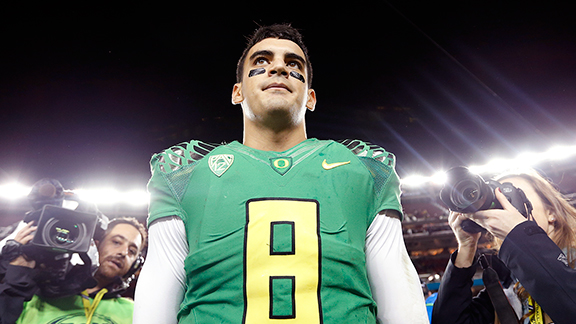 Jed Jacobsohn for ESPNMarcus Mariota will lead Oregon in its semifinal matchup against Florida State in the Rose Bowl.
EUGENE, Ore. -- It all started in the fall of 2010 when Mark Helfrich, then Oregon's offensive coordinator, found himself curiously captivated by game film of the backup quarterback for the Saint Louis School in Honolulu. He had been scouting starter Jeremy Higgins, but it was a corner route from the skinny, nameless substitute that most arched his evaluative eyebrow.
That pass -- "A rope," Helfrich effused -- was impressive, and Helfrich liked the way the guy moved around. Reminded him of Jake Plummer. So Helfrich called then-Ducks receivers coach Scott Frost into his office and asked him to watch the small handful of plays they had of this youngster. Helfrich wanted a second opinion because junior backup quarterbacks aren't typically pursued by Oregon. Frost confirmed to Helfrich that no, he wasn't crazy. The skinny kid looked as if he could run around and hurl the rock.
So a few months later, as the 2010 recruiting season seamlessly turned into the 2011 recruiting season, Helfrich found himself standing in the shadow of Diamond Head, Hawaii's iconic volcano, watching that skinny quarterback named Marcus Mariota, a nonentity among recruiting services, in spring practices. He was the fastest guy on the field, and the ball flew from his hand in that lively way that makes QB coaches swoon.
"I remember it like yesterday," said Helfrich, savoring a favorite and often-told story that doesn't seem to get old to him. "It was like a movie ...
December, 27, 2014
Dec 27
12:33
AM ET
[+] Enlarge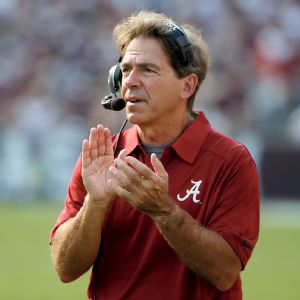 Scott Halleran/Getty ImagesAlabama coach Nick Saban notes that it's still important to be able to stop people at key times, despite the emergence of high-scoring offenses across college football.
A week into the 2014 season, one that would prove memorable on a multitude of fronts, Alabama coach Nick Saban mused that college football had changed more in these past couple of years than he could ever remember since he started coaching.
It was his way of saying the offensive revolution had taken hold of the sport like never before, which was only magnified by 55 FBS teams averaging more than 30 points per game, and hurry-up, spread offenses spitting out the kind of numbers that would make even the most rabid Xbox gamers blush.
Look around. It's an offensive world right now in college football. Even Saban's Crimson Tide spread it out some this season under first-year offensive coordinator Lane Kiffin and dared to join the "fastball" ranks, as Saban was fond of calling the hurry-up offenses in the past.
The four teams in the first-ever College Football Playoff all average more than 34 points per game. Oregon has won eight straight games and scored more than 40 points in all eight contests. Ohio State exploded for 59 points in its 59-0 destruction of Wisconsin in the Big Ten championship game, and like Oregon, is in the top five nationally in scoring offense. Both are averaging more than 45 points per game.
December, 24, 2014
Dec 24
4:38
PM ET
[+] Enlarge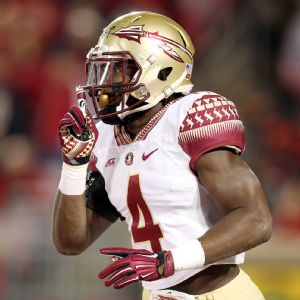 Andy Lyons/Getty ImagesIt is not known if Dalvin Cook, Florida State's leading rusher, is involved in an alleged aggravated assault, police said.
Florida State tailback Dalvin Cook, the third-ranked Seminoles' leading rusher this season, has been named as an associate in an ongoing investigation of an alleged aggravated assault, according to a news release issued by the Tallahassee Police Department on Wednesday.
Tallahassee police are investigating whether two men brandished a firearm at a neighbor on July 17, according to the release. Cook's involvement, if any, in the alleged incident isn't known. He was not named as a suspect in the report, according to Tallahassee police.
The details of the investigation including Cook's name was part of a news release regarding a Freedom of Information request sent to Tallahassee police by ESPN's "Outside The Lines". Police sent that report to ESPN, but had redacted all details, including his name. ESPN did not know that Cook's name was part of the report until police issued the statement Wednesday.
Cook, a freshman from Miami, leads the Seminoles with 905 yards and eight touchdowns this season. He is expected to play when FSU faces No. 2 Oregon in the Rose Bowl Game Presented by Northwestern Mutual on New Year's Day, one of the two semifinals games of the inaugural College Football Playoff.
December, 24, 2014
Dec 24
1:00
PM ET
Much of the focus leading up to the Rose Bowl will be on the two most recent Heisman Trophy winners,
Marcus Mariota
and
Jameis Winston
. However, those two aren't ever going to be competing head-to-head on the field at the same time.
Both No. 2 Oregon and No. 3 Florida State made it this far because of the talent littered throughout the rosters. While Mariota and Winston have both shown they have the ability to win games on their own, the Rose Bowl could be decided by a player who has been flying a bit under the radar but is poised to make a big splash on Jan. 1.
Here are a few players that haven't been discussed much that could have a big impact on the game.
Defensive players
Oregon:
Chris Seisay
. First and foremost, he's going to surpass expectations simply because so much more will be asked of him this game than has ever been asked of him. He'll be stepping into the spot vacated by Jim Thorpe Award finalist
Ifo Ekpre-Olomu
, who suffered a career ending injury last week. Seisay, a redshirt freshman, has only accounted for 20 tackles this season due to the fact that he just really hasn't seen the field a ton. Because of this, Jameis Winston and the Florida State offense are certainly going to throw at him quite a bit more. The rest of the secondary is pretty solid --
Troy Hill
,
Erick Dargan
,
Reggie Daniels
-- so why not take shots at the youngest, most inexperienced guy?
But that's where I think it'll get interesting. I feel like Seisay could have a huge game for the Ducks. Because he'll be targeted more, he'll have a chance to make some big plays (though, he'll also have chances to make some big mistakes), but I think he's going to pull through for the Ducks. Last week, Oregon defensive coordinator Don Pellum said that the game plan wouldn't change for the Ducks. "We lost a great leader, great player, great spiritual leader and everyone has got to -- it's like a hit -- everyone's got to pick it up a little more," Pellum said. I think Seisay picks up a lot more.
Florida State:
Nile Lawrence-Stample
. He likely won't receive a ton of snaps, but any contribution from the defensive tackle could prove major for the Seminoles. Florida State coach Jimbo Fisher felt the senior lineman was poised for a big season before tearing a pectoral muscle against Clemson in September. He played through the injury during the game, but the tear was bad enough that Fisher said Lawrence-Stample would miss the remainder of the season. So it was a bit of a surprise when Fisher said last week that Lawrence-Stample was ready to practice and should play against the Ducks. Florida State has been thin at defensive tackle all season, and the loss of Lawrence-Stample was a tough blow. Fisher said Oregon's tempo wouldn't give Lawrence-Stample any trouble as he works back into game shape, but the 6-foot-1, 314-pound tackle is likely not going to be able to play a significant number of snaps. Still, even 20 snaps in a reserve role could be pivotal for a defensive line that will need fresh legs deep into the fourth quarter if the Seminoles plan to pull off the upset.
Offensive player
Oregon:
Royce Freeman
. Yes, I know he's already a player that so many people know. But I think he's going to exceed expectations by having his best game of the season. The Seminoles haven't faced a rushing attack quite like Oregon's. Not only do they have to worry about the rushing attack out of the tailback (Freeman), they have to worry about it out of the quarterback (Mariota) and a slot receiver (
Byron Marshall
, former running back). There's so much to focus on that I think Freeman might get lost in the shuffle just enough times to really crank off some huge runs.
Florida State has given up 3.9 yards per rush this season, but the Seminoles have also given up 69 rushes of 10 or more yards -- that's one in every seven or eight rushes. And they've shown out when they needed to. FSU held Miami's
Duke Johnson
to right around his season average in rushing yards per game, while keeping him to just one touchdown run and two rushes of 10 or more yards. But Johnson doesn't have the weapons around him like Freeman has. Freeman is playing his best football right now and has averaged 6.1 yards per rush over the past four games. With each game and practice he, along with Mariota and a constantly reshuffling offensive line, are finding better ways to collectively attack defensive fronts and I think with the extra two weeks of practice we're going to see a huge performance -- his biggest of the year -- out of Freeman. Put me down for it: 180 rushing yards, two rushing touchdowns (and one receiving touchdown) at 6.0 yards per carry.
Florida State:
Travis Rudolph
. The freshman receiver has been brilliant at times this season, dazzling with his footwork and speed. He's also made a few rookie mistakes that have led to Florida State turnovers. Rudolph's talent is undeniable, and the Florida State offense has often looked its best when Rudolph is having a productive game. The Seminoles could use a secondary receiving threat on the outside to complement
Rashad Greene
, who defensive backs target before every play. Florida State's young receivers have been inconsistent providing help for the senior Greene, who is the most productive receiver in school history. With Greene on the outside and
Nick O'Leary
on the inside at tight end, there will not be any shortage of opportunities for Rudolph to make a play. Winston has shown he isn't afraid to throw the ball in Rudolph's direction and is not lacking confidence in the freshman. With Oregon's top cornerback out, Rudolph isn't going to have the same caliber of defender standing opposite him either. Even a few catches for 60 or so yards would be a strong contribution from Rudolph and enough to shift some attention from Greene and O'Leary.
December, 24, 2014
Dec 24
10:13
AM ET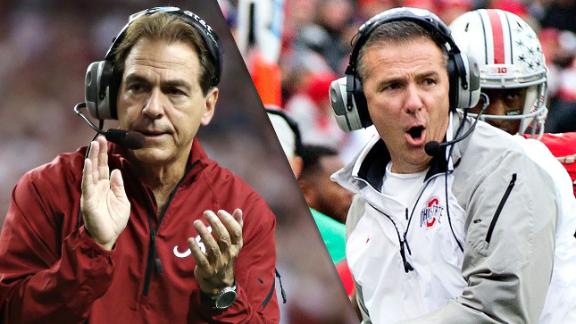 As the inaugural College Football Playoff looms, it's time to start the overanalysis ... er, I mean, analysis ... of the four combatants. Time to begin the process of measuring the four would-be national champions, head-to-head-to-head-to-head.
Exactly what factors rank most important when it comes to these comparisons is up to the person who is doing the comparing. Some might want to talk straight X's and O's. Others might want to talk game control and QBR. But when our eyes glaze over during that, it might cause us to refocus elsewhere, to the nooks and crannies of each program that will eventually add up to create the true advantages to win a team's final two games of the season.
What am I talking about? I'm not entirely sure. I'm writing this with one hand on the keyboard and the other hand on a ladle of eggnog. But as with eggnog, no one is entirely sure what will add up to the correct mixture of a College Football Playoff champion.
Here's our best guess in a too-early CFP Tale of the Tape.
Offense

Anyone who paid any attention to Alabama over the last two seasons knows that its ability to move the football received a supercharge this season, as the Tide averaged 490.5 YPG, good for a 1.3-yard advantage over high-powered archrival Auburn. Ohio State averaged an even more impressive 507.6 YPG and was one of four FBS schools to average 7-plus yards per play with 7.04. By comparison, Florida State posted 434.7 YPG, ranked 40th in the nation. So ... where's Oregon? Out ahead like the Road Runner leaving Wile E. Coyote, averaging 546.2 YPG (third in FBS), 46.3 points per game (third in FBS), and scoring 80 touchdowns (first in FBS). In fairness, Ohio State ranks just behind the Ducks in those two last categories, but Oregon's complete body of offensive work is undeniable.
Advantage: Oregon
December, 24, 2014
Dec 24
10:00
AM ET
The victories have been dismissed. The opponents, too.
But going on a long winning streak is just not easy to do.
Whatever you believe about Florida State and how the Seminoles have arrived at 29 straight wins, stop for a moment for a little perspective. Because these players are a part of college football history, tied with Miami (1990-92) and Michigan (1901-03) for No. 13 on the all-time longest streaks list.
[+] Enlarge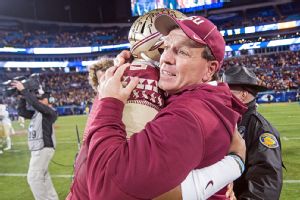 Rob Tringali for ESPNDuring their 29-game win streak, coach Jimbo Fisher and Florida State have knocked off 19 bowl teams.
Of the 15 teams that have won 29 or more straight games, only eight played after World War II; only six after 1960; only three since 2000.
"It's impressive, obviously," said North Texas assistant Kevin Patrick, who was on the Miami teams that won 29 straight. "It's something the more years that go by, the more impressed I even become with it. It's such a high mark, especially back in the state of Florida. ... You go to school with so many people that are so familiar with the schools, it gives you a lot of bragging rights."
The Florida State and Miami winning streaks bear similarities, beyond sharing the same home state. Miami won a national championship in the middle of its streak, the way Florida State did a season ago. Miami played eight games decided by a touchdown or less; Florida State has played nine (albeit seven have happened in 2014); Miami played 10 teams that were ranked at the time they played; Florida State nine.
Where there is slight separation is the opposition they played. Miami faced 12 bowl teams; Florida State 19. FSU played eight teams with losing records; Miami 12.
Still, wins are exceedingly hard to string together when you become a marked team.
"We were a lot of people's bowl games," Patrick said. "We were bigger than going to a bowl game to play so-and-so. They came into the Orange Bowl, we got the best out of everybody. I can remember even those smaller teams coming in, and they would give us everything they got. Great teams are capable of winning those games even at close margins. You win or you lose. That's it."
The only two other teams to reel off long winning streaks over the past 15 years were Miami (2000-02) and USC (2003-05). Both won 34 straight. Both have fielded teams regarded as among the best in college football history.
USC was viewed as playing in the better conference. There is an interesting comparison to be made with those USC teams and Florida State. During its 34-game winning streak, USC played 10 ranked opponents -- just one more than Florida State has played during its winning streak.
While the Trojans had only four games decided by a touchdown or less, they actually played weaker overall competition. USC faced 17 teams with losing records during its win streak. Yes, the USC streak was longer, but by only five games. If the FSU streak continues, the Noles have at least their next two games against winning opponents.
Miami also played its share of losing teams in the Big East. Clint Hurtt, who was on the 2001 national championship team, said motivation was a bigger factor than any pressure to keep the winning streak going.
"The pressure was never the issue. It was actually keeping interest," Hurtt said. "What Florida State is going through right now is they have to present the challenge to themselves. The thing we did on those teams -- each position set goals that we had within the game that we had to try and accomplish. We played a game within the game just to get us going. That's the truth."
There is one more thing the two Miami teams and the 2003-05 USC teams have in common: Their winning streaks ended in the national championship game. Miami lost to Alabama in the 1992 Sugar Bowl; Miami lost to Ohio State in the 2003 Fiesta Bowl; USC lost to Texas in the 2005 Rose Bowl.
All three were favored to win, making their losses all the more stunning.
"It was one of the strangest games I've ever been in," Patrick said of the loss to Alabama. "I remember sitting in there at halftime looking over at one of the other guys thinking, 'What is going on out there?' Some days the ball just doesn't roll your way. Was there pressure? Absolutely not. I don't think we went in there and one person thought about a streak. It was just the next one, and we're going to take care of business."
Florida State has taken care of business for so long, it is hard to believe the Seminoles are actually an underdog to Oregon in the Rose Bowl Game Presented By Northwestern Mutual on Jan. 1 in the College Football Playoff semifinals, the first time they haven't been favored to win since 2011.
While that might be a surprising place for the Seminoles to be in, they want to avoid what would be the biggest surprise of all: losing.
December, 23, 2014
Dec 23
4:20
PM ET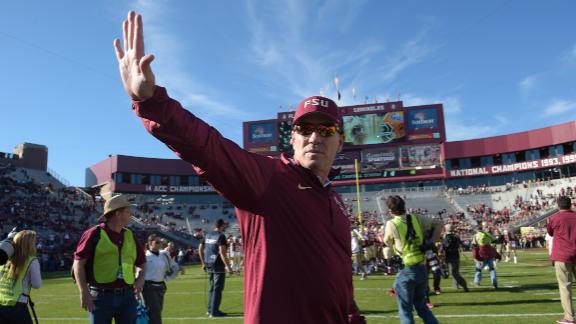 Florida State's Jimbo Fisher agreed Tuesday to a new eight-year contract through the 2022 season, a deal the school says will make him one of the highest-paid coaches in the country.
Salary terms were not disclosed because contract details are still being worked out, but a source told ESPN.com's Chris Low that the deal is worth an average of $5.5 million a year.
"I am pleased that we have been able to secure Coach Fisher as our head coach for the long term," athletic director Stan Wilcox said in a statement. "The commitment we are making to him is a reflection of the outstanding job he has done in leading our program to its current level of excellence. While we are delighted with the undefeated season this year and our upcoming appearance in the inaugural College Football Playoff, we began working on this new contract before the success of this past season was in full view. It is a great day for Florida State."
Fisher, who is 58-10 in five seasons at Florida State, earned a new contract last season after taking Florida State to the national championship, one that increased his salary into the $4 million pay range.
"I am honored to be the head coach at Florida State University, which I've said many times before," Fisher said in a statement. "I appreciate that FSU believes in what we are doing and supports our goal of maintaining one of the best programs in the country. It is a privilege to coach the young men in our program. It is truly a family.
"Florida State is a very special place. I appreciate the support of the administration in accomplishing some great things. We have improved in a number of areas over the years, and the commitment to providing the very best in academics, facilities and maturation and growth opportunities for our young men has been key to our success. I look forward to continuing to build on what we are establishing."
December, 23, 2014
Dec 23
12:36
PM ET
Associated Press
The only thing left for Marcus Mariota to win at Oregon is the national championship.
The Ducks' star quarterback is The Associated Press college football player of the year, adding yet another honor to his spectacular season.
Mariota won the AP vote in the same landslide fashion he won the Heisman Trophy. He received 49 of the 54 votes submitted by the AP Top 25 media panel. Alabama receiver Amari Cooper drew three votes. Wisconsin running back Melvin Gordon and Florida State quarterback Jameis Winston had one vote each.
Mariota is the first Oregon player to win AP player of the year, which was first awarded in 1998, and the eighth quarterback to win it in the last nine years.
The junior has also won the Maxwell Award and Walter Camp player of the year, and the Davey O'Brien and Johnny Unitas Golden Arm Award, which go to the top quarterbacks in the country.
Oregon will face Florida State and last year's Heisman winner and AP player of the year, Winston, in the College Football Playoff semifinals on Jan. 1 at the Rose Bowl. The winner will face Alabama or Ohio State in the national championship game Jan. 12 at AT&T Stadium in North Texas.
With his combination of speed and a strong arm, Mariota is a play of the day waiting to happen.
He set a Pac-12 record by accounting for 53 touchdowns, including 38 TD passes. He is the highest rated passer in the country (186.33) and has thrown for 3,783 yards and just two interceptions.
"He's an absolute competitor, an incredible perfectionist," Oregon coach Mark Helfrich said.
December, 23, 2014
Dec 23
12:00
PM ET
TALLAHASSEE, Fla. -- Coming into the season, the defensive line was highlighted as one position group Florida State couldn't stand to suffer any injuries. Of course, three defensive linemen went down in Week 2, and starter
Nile Lawrence-Stample
was ruled out for the season two weeks later.
Beset with injuries, the No. 3 Seminoles were forced to develop their depth. Three months later, while Florida State still isn't nearly as strong on the defensive line as it has been in years, the unit is in the best shape it has been all season.
Against Oregon's high-powered and uptempo offense, Florida State will need every able body ready to contribute.
"It's really important," defensive tackle
Derrick Mitchell
Jr. said of Florida State's depth along the line. "We're going to need a lot of guys to sub in when Oregon gives us the opportunity."
Derrick Nnadi
is a reserve defensive tackle the coaching staff was high on throughout preseason camp. Seminoles coach Jimbo Fisher praised the blue-chip recruit's performance all August, and Nnadi's teammates echoed those sentiments.
The 6-foot-2, 303-pound freshman rose to the occasion in Week 2 after three tackles went down in the first half against The Citadel, but Nnadi's playing time has been sporadic since then. He played in only seven of the Seminoles' 12 regular-season games, and Fisher said, like most freshmen, Nnadi had his good days and his bad days and had to work through mental and physical hurdles.
But, once again, Nnadi was called upon during desperate times. Starter
Eddie Goldman
, a potential first-round pick, was sidelined early against Georgia Tech in the ACC championship game, and Nnadi was tasked with helping slow down one of the country's best rushing offenses.
"He dominated in spurts," Mitchell said of Nnadi. "When you got a guy like Nnadi, who's mentally focused all week and does his job all week, it's easy once you get in."
The emergence of Nnadi was a necessity against Georgia Tech, but there won't be as much pressure on the first-year player in the Rose Bowl. Lawrence-Stample, who was initially ruled out for the remainder of the season after tearing a pectoral muscle in September, is practicing and expected to play against the Ducks.
"Nile's a heckuva player," Fisher said. "He was fixing to have a great year."
Adding Lawrence-Stample back into the fold gives the Seminoles many more options with their defensive line alignment, too. Star defensive end
Mario Edwards Jr
. often shifts to tackle because his 300-pound frame can handle playing on the interior. However, two of Edwards' greatest assets are his athleticism and quickness, and it's against spread offenses like Oregon that allows Florida State to best utilize Edwards' talent.
To get a sense of just how disruptive Edwards can be against uptempo and spread offenses, one only has to flip on the tape from last season's national title game. Edwards harassed speedster
Nick Marshall
much of the night and chased down the Auburn quarterback on a couple of occasions.
"Mario's going to play a big role," linebacker
Terrance Smith
said. "They're a very big spread team and like to get you out on the open and Mario is a very good open field player. For him to be able to make plays in space is going to big time."
December, 23, 2014
Dec 23
9:00
AM ET
TALLAHASSEE, Fla. -- A new era of wide receivers has been ushered in over the past two decades. They are bigger, faster and stronger than ever before, and they are manhandling undersized defensive backs who could provide little resistance.
The receivers -- Keyshawn, Ochocinco, T.O., et al -- could talk. Oh, could they talk, and it didn't matter if secondaries, fans or the cameras wanted to hear it.
Almost 20 years after "Just Give Me the Damn Ball!" and 10 years since "Who Covered 85 in '05," maybe an unintended byproduct has fully crystallized. Those brash receivers taught future defensive reinforcements that would eventually be tasked with quieting them that one of their best tools is a voice of their own. Defensive backs --
Richard Sherman
,
Patrick Peterson
,
Earl Thomas
-- are now equals to their offensive counterparts in size, strength, talent and trash-talking.
[+] Enlarge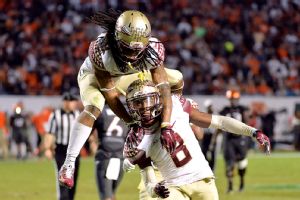 Steve Mitchell/USA TODAY SportsJalen Ramsey (bottom) isn't afraid to give receivers a piece of his mind.
Florida State's
Jalen Ramsey
fits the 21st century cornerbacks mold. He's 6-foot-1 and tips the scales at 204 pounds, and he is gratuitous with the verbal blows.
"Most wide receivers are soft, honestly, so once you get in their mind, it plays into my hands," Ramsey said. "When you get in some people minds, they won't think how they normally would."
It's not as if the former freshman All-American needs any additional help from receivers. Ramsey, a sophomore, has started every game of his FSU career and was the first true freshman to start at cornerback since Deion Sanders. Ramsey is among the best defensive backs in the country, and this season he has settled into the Seminoles' "star" role, which is essentially the nickelback in their scheme.
Few players nationally impact a game like Ramsey. He is fourth on Florida State in tackles (75), second in tackles for loss (9.5) and sacks (three), and first in interceptions (two) and passes broken up (11).
Ramsey said he's recently noticed offenses scheming for him differently, and he feels Georgia Tech purposefully avoided him in the ACC championship game. Oregon quarterback
Marcus Mariota
, who represents the other half of a much-anticipated Jan. 1 chess match against Ramsey, raved about Ramsey's game-breaking ability.
"If you just watch him on film, he's a guy that will singlehandedly turn a drive and just stop it," Mariota said. "He's a great player. He's going to make his plays."
Ramsey showed no interest in exchanging pleasantries with Mariota leading up to the game, though. In a time when players are often coached to recycle football cliches or speak in ambiguities, Ramsey didn't mince words when asked about playing against the most recent Heisman Trophy winner. Ramsey didn't dismiss or disrespect Mariota's wildly successful season, but he wasn't about to place an opponent on a pedestal above his own teammate, one who also happens to own a Heisman.
"That doesn't really matter to me," Ramsey said about playing against the 2014 Heisman winner. "Jameis [Winston] is the best player in America. I go up against him every day in practice. So it doesn't matter."
Those closest to Ramsey say his comments are part of a competitive drive few players across any sport can match.
"It reminds me of
Kobe Bryant
," his brother, Jamal Ramsey, said.
"He doesn't feel like he takes a back seat to anybody," Lamont Ramsey, Jalen's father, said.
That drive in Ramsey was developed at a young age. Jamal, who is three years older than Jalen, would allow his younger brother to play pickup football and basketball with him. If there were a game going on in the neighborhood, Jalen was the youngest one playing and getting "bullied around," Lamont joked. Jalen held his own, though, because if he weren't able to keep pace, Jamal said his brother would have been sent back home.
Ramsey wasn't as physically impressive then as he is now. He entered high school standing just 5-foot-3 and weighing 135 pounds but trained with his father, who has tutored some of college football's top players -- Navy's
Keenan Reynolds
and Tennessee's
Derek Barnett
among them. Jamal was also a quarterback at Middle Tennessee State (where Lamont also played receiver) and would pit his younger brother against MTSU's receivers. Ramsey was once again playing up a level, which might be putting it generously considering a 5-foot-3 cornerback was responsible for guarding grown men.
"He would win some, and he would lose some, but as he got older, he got stronger and won some more," Jamal said. "He's always competed and didn't want people having bragging rights over him."
He especially didn't want Jamal to have the upper hand. The two usually played on the same team, whether in basketball or football, so the brotherly banter was forced to come in other areas. Jamal liked the
Florida Gators
growing up, and Jalen cheered for Miami. Jamal likes the NBA's Knicks, so naturally Jalen is a Heat fan.
It wasn't until Jamal made the switch to receiver in college that the two began going head-to-head. By then, Jalen had grown; he shot up six inches as a high school sophomore. During preparations for a high school all-star game after his senior season, Jalen and Jamal took to the field.
"They were working on releases, and it was the first time [Jalen] jacked his brother up," Lamont said. "His brother didn't like it, and it got heated. Jalen said 'I'm not that little dude anymore.'"
Now, as the most experienced player on Florida State's defense, Ramsey is also not a young dude anymore. He wasn't nearly as vocal as a freshman on a 2013 defense that now has five players logging regular minutes in the NFL. But Ramsey is one of the unit's leaders on a new-look 2014 defense.
"It came with my role and my age. I'm more comfortable this year," he said.
He's more comfortable complementing his play with his talk too.
Said Jamal: "Because he's always backed it up."
Winston Prepared To Test Weakened Oregon Secondary
ACC SCOREBOARD
Saturday, 12/20
Monday, 12/22
Tuesday, 12/23
Wednesday, 12/24
Friday, 12/26
Saturday, 12/27
Monday, 12/29
Tuesday, 12/30
Wednesday, 12/31
Thursday, 1/1
Friday, 1/2
Saturday, 1/3
Sunday, 1/4
Monday, 1/12