April, 16, 2014
Apr 16
12:00
PM ET
April, 16, 2014
Apr 16
11:45
AM ET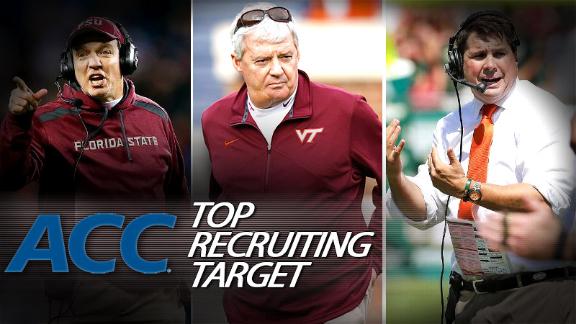 With Wednesday's release of the
2015 ESPN 300
, here's a look at five top ACC targets in the 2015 class.
To continue reading this article you must be an Insider
April, 16, 2014
Apr 16
11:19
AM ET
The New York Times has reported that
there was virtually no investigation
, either by the Tallahassee Police Department or Florida State University, into the rape allegations against FSU quarterback and Heisman Trophy winner
Jameis Winston
.
According to the newspaper's investigation, "Florida State did little to determine what had happened." The paper also reported that a second woman "had sought counseling after a sexual encounter with Mr. Winston, according to the prosecutor's office."
An excerpt from the article:
"The woman did not call it rape — she did not say "no." But the encounter, not previously reported, "was of such a nature that she felt violated or felt that she needed to seek some type of counseling for her emotions about the experience," according to Georgia Cappleman, the chief assistant state attorney, who said she had spoken with the advocate but not with the woman."
The NYT also reported that the police investigator who handled the case, Scott Angulo, "has done private security work for the Seminole Boosters, a nonprofit organization, with nearly $150 million in assets, that is the primary financier of Florida State athletics, according to records and a lawyer for the boosters."
Earlier this month, the U.S. Department of Education's Office of Civil Rights
opened an investigation
into Florida State's handling of the sexual assault allegations against Winston.
UPDATE:
Florida State has since
released this statement
on its website in response to the article.
April, 15, 2014
Apr 15
4:08
PM ET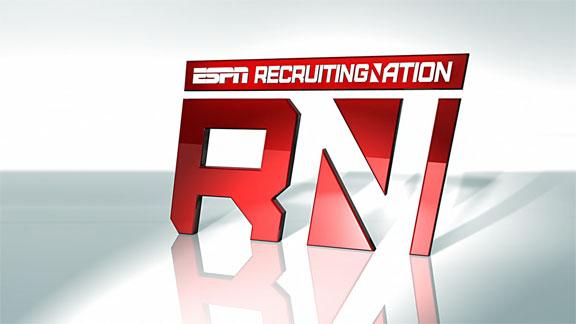 Kerryon Johnson
, the No. 26 player in the ESPN Junior 300,
committed to the Auburn Tigers on Tuesday
over Florida State and Alabama. Here's what his pledge means:
To continue reading this article you must be an Insider
April, 15, 2014
Apr 15
3:58
PM ET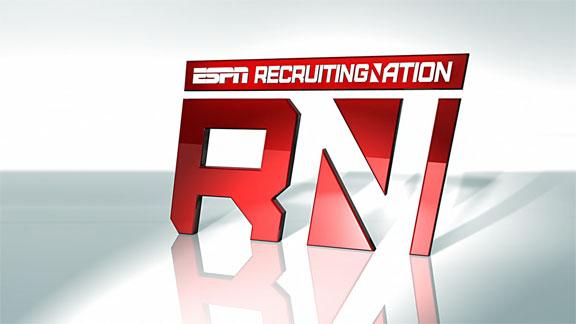 ESPN 300 athlete Kerryon Johnson (Madison, Ala./Madison Academy) grew up a Florida State fan. His first offer came from the Seminoles more than a year ago, and he watched as fellow Alabama native Jameis Winston led them to a BCS national championship this past season.
But when it came time to make his college decision Tuesday, Johnson opted to stay in-state and gave his verbal commitment to Auburn, the runner-up in that BCS title game.
"Auburn is a great program," Johnson told ESPN.com. "It's really on its way back from where it was a few years ago. Honestly, they got to the national championship last year, so they really are on their way to the top quickly."
Johnson, Auburn's sixth commitment for 2015 and No. 26 overall in the ESPN 300, chose the Tigers over Alabama and Florida State. He said he made his decision three weeks ago after a visit to the Plains.
"I've been to Auburn a couple times, and every time I've been there, there's just a feel to Auburn that it felt like in my household," Johnson said. "It's just the whole community. You're meeting people's parents, grandparents, daughters, children. You're meeting everyone. You just feel that family culture, and you know you can trust that.
"All three programs -- great programs, great academic schools, great weight rooms, all of that -- but that feeling right there is what separated them."
April, 15, 2014
Apr 15
12:00
PM ET
April, 14, 2014
Apr 14
4:00
PM ET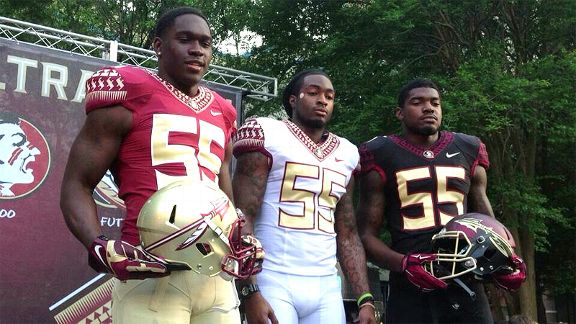 Seminoles.comFlorida State used its connection to the Seminole tribe in influencing the design on its new uniforms.
Somehow, Florida State and Miami both just won.

I'm no fashion critic (c'mon, you've seen my videos) but these guys are gonna look sharp.
The rivals recently unveiled their new uniforms, and neither one opted for an outlandish, over-the-top style, instead choosing to stick with tradition and class. That, in itself, was refreshing. Unlike
the dreadful first Maryland Pride uniforms
, Florida State and Miami both managed to preserve their history while at the same time get an upgrade. FSU released garnet, white and black uniforms, while Miami will have four new looks: The orange jersey, "Juice"; the white jersey, "Storm Trooper"; a green jersey, "Surge"; and a new alternate anthracite "Smoke" jersey. At home, the Canes will wear orange. The 'U' logo on the palms of the gloves is a creative touch, but overall it's a simple, sleek and clean look that doesn't lose any of its edge.
[+] Enlarge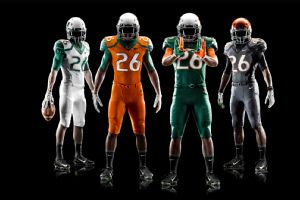 Courtesy of NikeMiami added an anthracite uniform to represent its iconic smoke game entrance.
Florida State embraced its namesake, and used the Seminole tribe patterns as its inspiration, while Miami tactfully included the Ibis on the uniform shoulder, helmet and hip of the pants. The Canes' "Smoke" uniform was designed to represent the school's tradition of running out of the tunnel into the smoke before every home game.
It's good timing for both programs for different reasons. As defending national champs, Florida State has a new look -- one that's in the spotlight again as the nation's premier program. For Miami, the tumultuous days of the NCAA investigation are finally behind it, and the Hurricanes got a fresh start.
"These young men, who unselfishly guided us through some very dark days, now display a renewed attitude and spirit," Miami coach Al Golden said in a statement. "These new uniforms capture that outlook."

The boldest move of the designs was with Florida State, as Nike used a pattern from the Seminole tribe to accentuate the shoulders and neckline. While some might not like the bigger, bolder look, the authenticity of the pattern should be appreciated.
"These uniforms really enhance and embody the Seminole tribe," coach Jimbo Fisher
told his team
, "which is what we all represent. Without them, we wouldn't be the Florida State Seminoles."
Check 'em out, and cast your votes to let us know what you think.
April, 14, 2014
Apr 14
2:00
PM ET
By
ESPN.com staff
| ESPN.com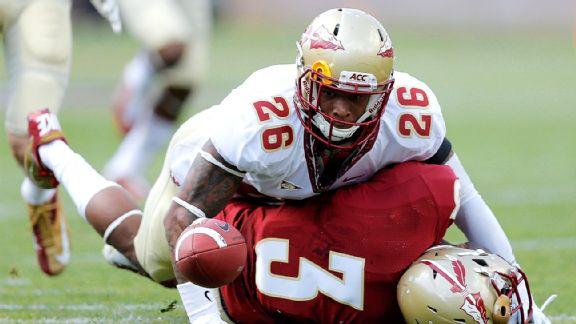 Andrea Adelson talks with Florida State cornerback
P.J. Williams
about stepping into a leadership role this spring and the development of the secondary.
April, 14, 2014
Apr 14
1:00
PM ET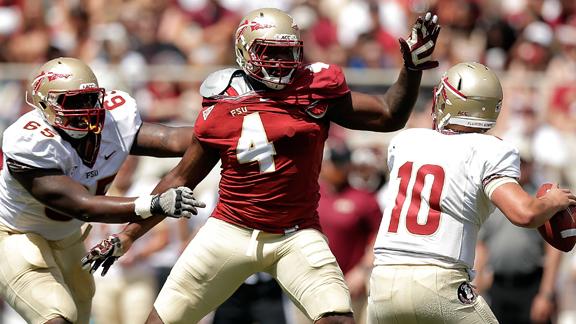 Florida State's spring camp
came to a close
on Saturday with the annual Garnet and Gold game, and now the Seminoles are prepping for a second straight national title.
The game is secondary compared to the rest of spring practices, so with that in mind, here are some of the biggest answers the 15 spring sessions presented.
[+] Enlarge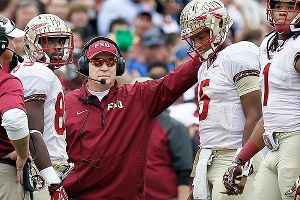 Don Juan Moore/Getty ImagesFlorida State coach Jimbo Fisher escaped the spring with a healthy roster.
1. FSU will be at full strength this fall.
In early March, Noles coach Jimbo Fisher noted how healthy his team was and how rare it is to have a squad almost entirely intact for spring practice. As the practices mounted, though, so did the injuries. The silver lining is that none of the injuries are expected to linger into preseason camp. Running backs
Dalvin Cook
and
Ryan Green
had shoulder surgery but will be 100 percent by around July.
Nick O'Leary
missed the final half of spring practices with a second motorcycle accident, but he avoided any serious injuries. There were a few concussions in camp, but
Terrance Smith
, who suffered one of them, was back for the spring game. The lone setback that could impact fall camp is the foot injury
Ukeme Eligwe
sustained, which Fisher hinted could be the dreaded Lisfranc injury, which has a tendency to persist for quite some time. The thought is he should be fine for August, though.
2. The secondary is among the best in the country.
Quarterback
Jameis Winston
said after the spring game that "we got the best [defensive] backs in the country." He should know, having thrown against the unit for much of the spring and the entire Garnet and Gold game. The secondary of
P.J. Williams
,
Jalen Ramsey
,
Nick Waisome
and
Tyler Hunter
shut down the No. 1 offense's passing attack the entire first half, and the unit was without sophomore
Nate Andrews
. Fisher said throughout the spring that Ramsey is a star-in-the-making and should become a nationally recognized name replacing
Lamarcus Joyner
. Ramsey showcased his skills by moving around at cornerback, safety and nickel during the game. Fisher and Winston are raving about freshman
Trey Marshall
, too. Williams is a star in his own right, shutting down No. 1 receiver
Rashad Greene
.
3. The receivers need to step up.
Speaking of Greene and the receivers, that position is probably the biggest weakness heading into the season. Fisher was upset with the production and consistency his receivers showcased through much of the spring, and the starting unit did not get any separation from the Noles' secondary.
Jesus Wilson
has the potential to be a playmaker from the slot, but can he replace
Kenny Shaw
's production?
Isaiah Jones
is 6-foot-4, but his production did not match that of departed 6-foot-5 receiver
Kelvin Benjamin
.
Levonte Whitfield
announced himself to the world in the national title game, but he is still needs some refinement as a receiver. The coaches can spend two hours a week breaking down film with players during the offseason, and Fisher said that will be a critical step in Florida State's development at receiver.
4. The talent is there at linebacker.
The Noles lose beloved figure
Telvin Smith
and consistent producer
Christian Jones
, but the depth at linebacker is there so those losses might not be felt all that much.
Matthew Thomas
is a budding star, and the former five-star recruit will not be kept off the field this fall.
Terrance Smith
is the leader of the unit and could be a viable replacement for Telvin Smith. Before Eligwe's injury, Fisher voiced his opinion that Eligwe was having as good of a spring as any player.
Reggie Northrup
and
E.J. Levenberry
should each see significant snaps in the rotation, and
Ro'Derrick Hoskins
could be a dangerous third-down specialist from the position.
5. Sean Maguire is a quality backup for Noles.
Earlier this spring, Winston missed a practice to travel to Clemson with the baseball team, putting the pressure squarely on No. 2 quarterback Maguire to perform at a competent level. Following the practice, the third of the spring, Fisher was lukewarm on Maguire's performance. But Maguire looked the part of a quality No. 2 option for Florida State during the spring game. The Noles got him in rhythm with three straight passes to the flats to open the game, and then Maguire dropped in a 26-yard touchdown on a post route over the defender. Maguire, a redshirt sophomore, said he made the most progress this spring than he's ever made at any point in his college career.
April, 14, 2014
Apr 14
12:00
PM ET
April, 14, 2014
Apr 14
11:00
AM ET
At this time last year, Texas A&M was the epicenter of college football during spring practice. The Aggies' 2013 spring game drew a record crowd. ESPN televised the game, "Johnny Football" was the face of the sport and it helped swing in-state recruiting momentum from the Longhorns.
It would only make sense that Texas A&M coach Kevin Sumlin was ready to do it all again this spring.
"No, it's not for me," Sumlin said in March. "I'll be honest with you, you guys know me, that second half [of spring games] goes real quick. I'm ready to get out of there."
The spring game in many ways goes against the core belief of Sumlin, and really every coach, of using every practice to get better. So the Aggies went without a game this spring, and will do so again in 2015 as Kyle Field's renovations continue.
[+] Enlarge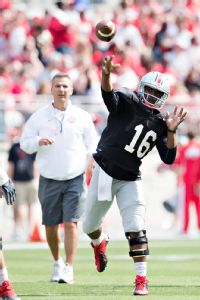 Greg Bartram/USA TODAY SportsOhio State coach Urban Meyer likes the opportunity to get young players, such as redshirt freshman quarterback J.T. Barrett, some playing time in a spring game.
Spring games are at somewhat of a crossroads in college football. They're hardly fighting off extinction as 54 FBS programs held games this past weekend. But the watered-down product is giving coaches reason for pause. The argument against holding the spring game is picking up steam, and coaches are questioning the value in using the final spring practice on a half-speed "dog-and-pony show," as Tulsa coach Bill Blankenship puts it.
A handful of programs aren't holding spring games this year. Oklahoma State coach Mike Gundy did not plan a spring game, and Pittsburgh coach Paul Chryst believed it wasn't in the program's best interest to have one, either.
Both Chryst and Gundy have young rosters. Only Utah State returns fewer starters than the Cowboys. Chryst is still trying to put his stamp on a program that has had more head coaches than winning seasons in the last decade, and he is breaking in a new quarterback. To Chryst and Gundy, it did not make sense to waste a practice day for a haphazard game.
"Truly looking at this from the inside of the program and what this group needs, it was, 'What's the best use of the 15 opportunities we get in the spring,'" Chryst said. "I felt like we didn't have a group where we're going to take just one full day and scrimmage. Bottom line is we wanted to make sure we're maximizing our opportunities."
Two coaches not questioning a spring game finale are the leaders of programs with some of the best odds to win the first College Football Playoff. Both Florida State's Jimbo Fisher and Ohio State's Urban Meyer are in favor of the model most programs still subscribe to: 14 practices, mix in a few scrimmages and hold a game at the end of camp. Fisher and Meyer believe it's the only time in the spring to get an accurate read on how players react to a fall Saturday game atmosphere.
"What you get is the people in the stadium, you get pressure, you get outside people watching you get the lights on the scoreboard and [the game] matters," Fisher told ESPN.com last week. "You get a game environment. It might not be the one in the fall, but it's as close as you'll ever get out in this practice field. To get a guy in front of 40,000 people and watch how they play in front of them, to me, I put more value in that."
However, Meyer acknowledges the issues the modern-day spring game presents. Ohio State star quarterback
Braxton Miller
was out with an injury, but
Joey Bosa
,
Noah Spence
and
Adolphus Washington
were healthy scratches. Fisher elected to sit starting running back
Karlos Williams
, leaving a fullback and a handful of walk-on running backs to carry the spring load Saturday. The sustainability of the spring game could come down to depth, but rosters are thinner with the 85 scholarship limit, and coaches are keeping their proven commodities out of harm's way.
"

To get a guy in front of 40,000 people and watch how they play in front of them, to me, I put more value in that.

"

-- Florida State coach Jimbo Fisher, on the value of spring games
Northwestern coach Pat Fitzgerald said the lack of numbers at certain positions causes the few available players to "double dip" and play both sides, opening those few healthy players up to injury. The emphasis on preventing and identifying concussions has grown substantially in the last few years, and Blankenship added that "a lot more guys are missing practice today with concussion-related symptoms, and that's been consistent across the board with other coaches I talk to."
Meyer said spring games are often a "great opportunity to get scout-team guys a chance to play," which in itself can be considered an indictment of the spring game's inherent value.
"One time at Florida we had only five or six offensive linemen and they had to play both ways," Meyer said, "but the experience of playing in front of [fans], if you want to have a practice but arrange how the receiver has to be the guy, to be in coverage and catch a pass and hear the crowd, that's real."
There are only so many programs that consistently draw 30,000 or more fans for a spring game, though. Those other programs don't have the benefit of putting their players in a game-day atmosphere when only a few thousand fans fill the bleachers.
Blankenship understands he needs to promote his Tulsa program and bring in as many fans as possible. So last year, they tried a new spring game model. Instead of a traditional game of the roster being split, Blankenship operates on only 50 percent of the field and allows fans to sit on the other side of the 50 to get a more intimate view. The game resembles more of a practice as the team works on situations such as red zone and fourth down instead of keeping score.
A piece of him still wants a sound 15th practice, though.
"I do think [the spring game] is worth it from the fan standpoint," he said, "but the coach in me would like to have another practice."
[+] Enlarge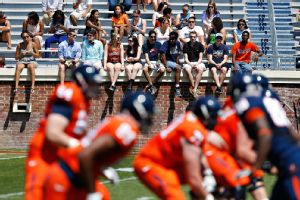 Geoff Burke/USA TODAY SportsThese Virginia students received a better-than-front-row view of the Cavaliers' spring game.
Fans and alumni are maybe the most overlooked part of the equation of whether it is realistic to ditch the spring game. Florida State director of marketing Jason Dennard said it would be nearly impossible to change the Seminoles' spring game model, which begins with downtown events Friday. The school even receives grant dollars from the local economic development council to fortify the weekend lineup.
"It's a complete home run," Dennard said. "After what we've built, it'd be hard to scale it down. People have come to expect this to be a big deal. It's an investment into the future of our program."
While Pittsburgh has struggled to draw fans for its spring games in recent years, Chryst was still cognizant of the program's fans when he decided to cancel the spring game. So Chryst met with the marketing department at Pitt and helped introduce a football clinic for young players and offensive and defensive breakdowns of the Panthers' schemes for the Xs-and-Os fan.
"It was different at first and people said, 'What, no spring game?' But when Coach Chryst announced the Field Pass, the response was overwhelming," said Chris Ferris, associate athletic director for external relations at Pitt.
Could that union of a standard 15th practice with an added day of fan interaction be the union that seals the fate of spring games? Maybe.
"I think it is," Blankenship said. "We're much closer to that in our part of the country. I think the tradition of the spring game is something we're all kind of tied to, but we're all figuring out there's a better way."
April, 14, 2014
Apr 14
5:30
AM ET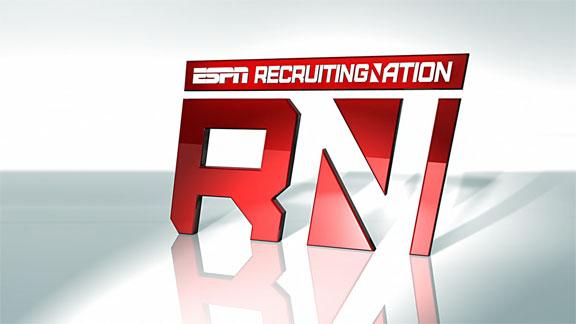 The Early Offer is RecruitingNation's regular feature, giving you a dose of recruiting in the mornings. Today's offerings: Florida State already has one of the best 2015 classes in the nation, but after a key prospect says he's ready to commit, it's about to get even better. South Carolina quarterback prospect
Kelly Bryant
continues to be a hot target with recruiters this spring, but Bryant says only five schools are on the top of his list.
To continue reading this article you must be an Insider
FSU Recruiting Builds On BCS Title Win
ACC SCOREBOARD
Thursday, 8/28
Friday, 8/29
Saturday, 8/30
Monday, 9/1