December, 5, 2013
Dec 5
3:18
PM ET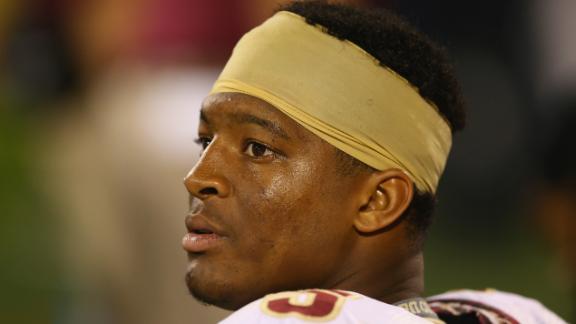 The decision by Florida prosecutors to not press sexual assault charges against Florida State quarterback Jameis Winston has financial ramifications for Winston and his school.
State Attorney Willie Meggs said Thursday that no charges would be filed against Winston, 19, who was accused of raping a female student in December 2012. Meggs said there was not enough evidence for anyone to be charged.
Clearing this legal hurdle makes Winston a nearly shoe-in to win the Heisman Trophy award as long as he performs well in this weekend's ACC Championship game. That's an automatic future revenue stream for Winston.
"Winning the Heisman is worth seven figures over a lifetime," said Ross Tannenbaum, president of Fanatics Memorabilia, the memorabilia division of Fanatics, the nation's largest online sports retailer. "People collect Heisman winners just like they collect MVP award winners and Cy Young winners. They have to have them."
Tannenbaum said Winston might have a little less value than a winner at Notre Dame, Texas and Ohio State, because Florida State doesn't quite have the same fan base. Any money Winston would earn as the Heisman winner will also be spread out, instead paid as a lump sum, because Winston can't take money while he's still in school. He's not eligible to leave school and enter the NFL draft until after next season.
"He'll lose the chance of making immediate money," Tannenbaum said. "If he were done after this year, he'd make hundreds of thousands of dollars right away."
That being said, Winston could enhance his value by coupling a Heisman Trophy with winning a national title.
Winston will also be able to keep his marketability intact now that he has not been charged, said David Schwab, senior vice president of Octagon First Call, the agency's celebrity acquisition and engagement division.
December, 5, 2013
Dec 5
2:27
PM ET
ESPN.com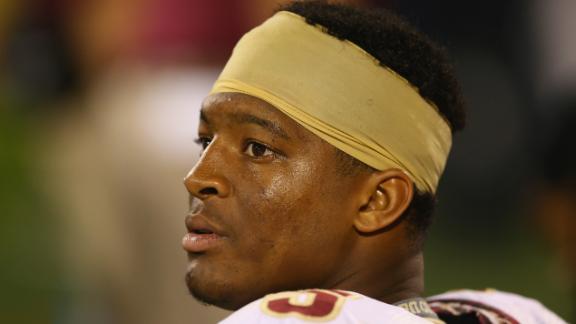 The following is a timeline of events on the Jameis Winston investigation:
Nov. 12, 2013: City official says in e-mail to city commissioners that investigation initially stalled when accuser told police she did not want to prosecute.
Nov. 13, 2013: Report surfaces that Florida State QB Jameis Winston is part of ongoing investigation into sexual assault complaint filed in December 2012. Winston's attorney says police contacted him in February 2013, but no charges were filed and Winston has not been interviewed by police. School says in statement that Winston will play Saturday vs Syracuse.
Nov. 14, 2013: Lawyer for Winston tells ESPN.com that two witnesses who were with Winston in 2012 when alleged sexual assault occurred will corroborate Winston's account of events. Winston exercised his right not to speak with police or provide a statement as part of investigation.
Nov. 20, 2013: DNA samples taken from Winston connect him to woman accusing him of December sexual assault, according to Florida crime lab report obtained by ESPN's Mark Schlabach. Report links Winston's DNA to samples found in woman's underwear. Accuser's family says in statement that detective working the case told accuser's attorney in January that city was "a big football town and the victim needs to think long and hard before proceeding against him because she will be raked over the coals and her life will be made miserable."
December, 5, 2013
Dec 5
2:00
PM ET
The rosters are set, plane tickets purchased and coaching staffs assembled. The 2014 Under Armour All-America Game is less than a month away.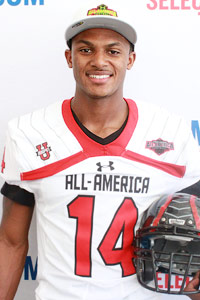 Courtesy of IntersportDeshaun Watson could be the starter from Day 1 at Clemson.
With nearly all of the country's elite prospects all together, there are bountiful storylines leading up to and during the Jan. 2 game in St. Petersburg, Fla. Here are five for ACC fans:
1. Will Deshaun Watson follow the footsteps of Jameis Winston and Christian Hackenberg?
Both Winston and Hackenberg were the No. 1 quarterbacks in their respective classes and played in the Under Armour Game. Both then went on to have great freshman seasons (Winston after a redshirt year) and have their teams in position to make waves on a national level the next few seasons. Watson (Gainesville, Ga./Gainesville) is the No. 1 quarterback for 2014 and will enter a similar situation to Hackenberg's. Clemson will have an opening at quarterback in 2014, and Watson will enroll at Clemson following the game. He will have to beat out 2012 Under Armour All-American
Chad Kelly
, but there is a legitimate chance Watson could be the starter from Day 1 for the Tigers. He is that good.
To continue reading this article you must be an Insider
December, 5, 2013
Dec 5
12:16
PM ET
ESPN.com news services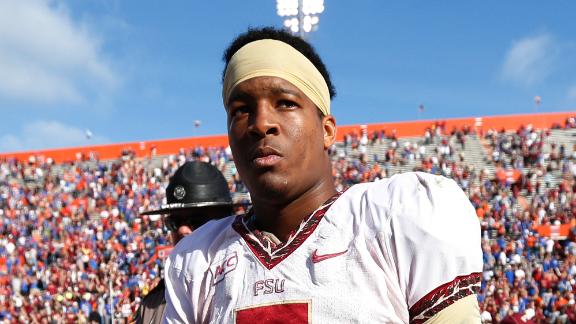 TALLAHASSEE, Fla. -- Search warrants in the sexual assault investigation of Florida State quarterback Jameis Winston indicate the woman told police she was raped at an apartment after a night of drinking at a bar.
The search warrants were released Thursday, hours before a prosecutor was to announce whether the Heisman Trophy contender will be charged with a crime.
In the warrant, the accuser says she and friends had shots at Potbellys and her "memory is very broken from that point forward."
Sources tell ESPN's Shelley Smith, however, that toxicology reports show the accuser had minuscule amounts of alcohol in her system and that there was no evidence of so-called date rape drugs.
According to the warrants, the accuser says she remembers being in a cab with a man and going into an apartment before she was raped.
After that, she remembers the suspect dressing her, putting her on a scooter and dropping her off at an intersection, but she had no idea where the alleged rape occurred.
Information from The Associated Press was used in this report.
December, 5, 2013
Dec 5
12:00
PM ET
Weaver D's in Athens, Ga. lives on
, as it should. Automatic for the people.
Jameis Winston's ability to
overcome negative plays
has made a huge impact on Florida State's offense, writes Tomahawk Nation.
Winston offered some
insight into the frenetic pace
of Jimbo Fisher's QB meetings, writes the Orlando Sentinel.
Safety Jeremy Cash has been
the enforcer on Duke's defense
this season, writes the Charlotte Observer.
Athlon digs up a
handful of intriguing stats
on Saturday's ACC championship game.
Backing the Pack takes a look what Tom O'Brien's
final recruiting class has done
after two years.
The Post and Courier
sits down with Clemson AD Dan Radakovich
to discuss a few key issues, including Dabo Swinney's future.
Syracuse athletics director Daryl Gross says the school is
still in the mix for six different bowl games
, writes The Post-Standard.
Maryland
isn't expecting any advance notice
on its bowl destination, writes the Baltimore Sun.
Former Boston College great
Matt Ryan is getting behind
Andre Williams' Heisman campaign, writes NFL.com.
Aaron Donald took home
ACC defensive player of the year honors
, writes the Tribune-Review.
Football.com writes that Duke's David Cutcliffe
deserves to win coach of the year honors
.
Miami's Al Golden has been
hard at work reeling in recruits
, writes the Sun-Sentinel.
December, 5, 2013
Dec 5
11:00
AM ET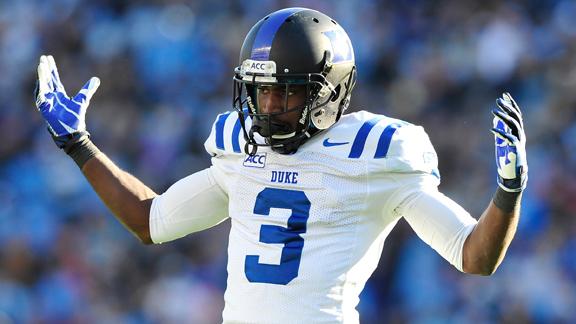 When Duke went on the road in late October and shocked then- No. 14 Virginia Tech, the Blue Devils did so without converting a single third down. Quarterback
Anthony Boone
threw zero touchdown passes -- and four interceptions. And yet Duke rolled out of Blacksburg having snapped a 42-year losing streak against ranked teams on the road.
The difference? Duke was finally able to win a game with defense and special teams.
[+] Enlarge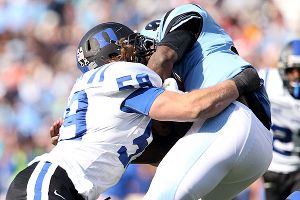 Andy Mead/YCJ/Icon SMIKelby Brown and Duke's defense will face their biggest challenge on Saturday against Florida State.
"To win a defensive game 13-10 is just such a boost of confidence on defense," said linebacker
Kelby Brown
. "It was really encouraging. That's when we showed people this defense is for real. This team is for real."
If Duke is going to have a shot at upending No. 1 Florida State on Saturday in the ACC championship game in Charlotte, it will need to be sharp in every phase of the game. It will have to rely most heavily upon what has become an opportunistic defense, and a special teams unit that has the ability to score and create good field position.
Duke has scored four times on kick returns (two punt return touchdowns and two kickoff return touchdowns), and freshman safety
DeVon Edwards
leads the nation in kickoff return average (32.7).The defense has caused turnovers in 11 of 12 games (including three in the red zone), and enters the ACC title game with 16 interceptions, nine forced fumbles and seven fumble recoveries. Duke is tied for fifth in the ACC with 21 takeaways and the 16 interceptions are the most in the David Cutcliffe era.
"A lot of guys have stepped up into new roles, and our D-line is really experienced now," Brown said. "They're doing a great job up front of allowing the linebackers to fly around and make tackles. That's something, just old-school, 4-3 style defense, the way Boston College has always run it, a great D-line that holds up the line and that's been huge for us. And I think we're the most athletic we've ever been in the secondary. Even though we have some young guys back there, they have speed and they can tackle. It's all kind of clicked from the front line all the way to the back."
Duke, a heavy underdog, knows it has no margin for error. The Blue Devils have never beaten Florida State in 18 tries, and the Noles have won every game this season by at least 14 points. In 2012, Duke's defense was steamrolled by FSU in a 48-7 loss, and many are predicting a similar result. Of all the times these two programs have faced each other, though, only one other time has Duke been ranked -- in 1994, when it was No. 16.
The numbers prove, though, that Duke's defense is the best it's been in over a decade.
Duke is allowing just 23.0 points per game, which would rank as the program's best mark since the 1994 season (22.45 points per game). Duke has 22 sacks this season, and linebackers
David Helton
and Kelby Brown and safety
Jeremy Cash
are the top three tacklers in the ACC.
"





We have a very good offense who can put up points on anybody. We've just got to make sure that we limit people, and the best way to limit people is by making them drive the length of the field on you and not giving up the 50 and 60 yard passes.


"


-- Ross Cockrell, on how Duke's defense can find success against Florida State
Duke's fourth-quarter defense has also been outstanding. It's allowing an average of just 9.1 points in the second half compared to 13.9 in the first half. Duke has surrendered only 3.1 points and outscored opponents 113-37 in the fourth quarter.
"Well, we run better on defense," Cutcliffe said. "First thing you've got to be able to do is get to them to get them on the ground. You can't get them on the ground if you can't run. We run better. We'd better run better in this one because these guys have I think more weapons than anybody in the country."
Starting with Florida State wide receiver
Kelvin Benjamin
.
"We don't have anybody that can line up and match up physically with Benjamin," Cutcliffe said. "He's just a monster and with great skills."
Against Florida's stingy defense last week, Benjamin single-handedly outgained the Gators' offensive output (212 yards to 193). He scored three touchdowns, and had nine receptions. Last season against Duke, Benjamin had three catches for 77 yards.
"Yeah, we've done a great job, I think, defensively," said
Ross Cockrell
, one of the top defenders in the ACC. "But one of the things that we took away from last year was that you can't give up a lot of big plays, especially in the passing game, the deep passes that we gave up. We can't give up those kinds of plays and expect to win ballgames. We know we have a very good team. We have a very good offense who can put up points on anybody. We've just got to make sure that we limit people, and the best way to limit people is by making them drive the length of the field on you and not giving up the 50 and 60 yard passes."
Duke's defense and special teams have been good enough to win the Coastal Division, but they will have to be great to win it all on Saturday.
December, 5, 2013
Dec 5
10:50
AM ET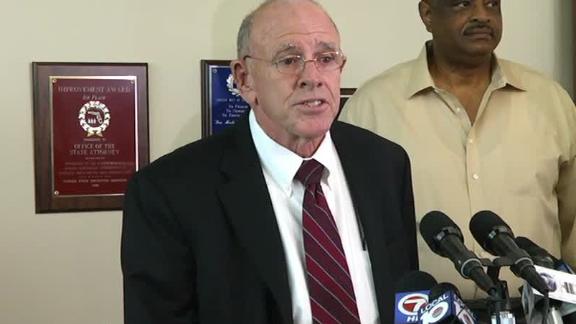 TALLAHASSEE, Fla. -- Nearly one year after Florida State quarterback Jameis Winston was accused of rape by a female FSU student, the state attorney has decided not to charge the Heisman Trophy favorite.
Thursday's decision clears the way for him to finish the season with the No. 1 Seminoles.
Willie Meggs, the state attorney for the Second Judicial Circuit, formally announced the move during a news conference Thursday at the Leon County Courthouse. Winston had faced felony charges after being accused of sexually assaulting the woman at an off-campus apartment on Dec. 7, 2012.
"We've carefully examined all the evidence in this case and have concluded that no charges will be filed against anyone in this case," Meggs said.
Meggs and his office have been investigating the case for the past three weeks, and they interviewed the accuser about two weeks ago. Last month, ESPN.com reported that DNA found in the woman's underwear matched Winston's DNA. His attorney, Tim Jansen of Tallahassee, said Winston had consensual sex with the woman. But the woman's attorney, Patricia Carroll of Tampa, Fla., said the star quarterback raped her 19-year-old client, who withdrew from classes at FSU after the allegations resurfaced in media reports last month.
"We have a duty as prosecutors to determine if each case has a reasonable likelihood of conviction," Meggs said. "After reviewing the facts in this case, we do not feel that we can reach those burdens."
While the case could be reopened if new evidence was found, Meggs indicated that "he had no earthly idea what that would be."
The accuser's attorney released a statement shortly after Meggs spoke.
Future Of Winston And Florida State