November, 21, 2014
Nov 21
2:00
PM ET
TALLAHASSEE, Fla. -- The "Body Blow Theory" might be the macho cousin of the popular TV show. Instead of men working in a lab, the "Body Blow Theory" tapes just about every Saturday and stars men who look like they were built in a lab.
Conceived by Bruce Feldman, the
"Body Blow Theory"
is the aftermath of what happens to a team after being bludgeoned for 60 minutes and 160 plays by one of the country's most physical teams. The following week, those opponents don't have as much in the tank after so many successive shots to the body the prior Saturday.
[+] Enlarge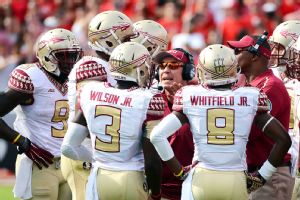 Rob Kinnan/USA Today SportsBoston College hopes to outlast Jimbo Fisher's Seminoles on Saturday.
Evidence supporting the "Body Blow Theory" is hard to come by statistically, but anecdotal evidence from coaches attest to its validity.
"No doubt," Seminoles coach Jimbo Fisher said when asked if he believes in the body blow cumulative toll. "… That's why football is never easy. It's physical. That's why it is such a different game. It's time to man up and play."
The No. 3 Seminoles' next opponent, Boston College, seemingly took advantage of the theory earlier this season. A week after Stanford and depleted USC physically beat each other in Week 2, the Trojans were unable to recover for next weekend's tilt at Boston College. The Eagles ran roughshod over USC to the tune of 452 rushing yards.
The Eagles hope Florida State (10-0, 7-0 ACC) is similarly tired Saturday (ABC, 3:30 ET). Boston College (6-4, 3-3) travels to Tallahassee where Florida State is in the midst of a month-long experiment testing the durability of the country's last remaining Power 5 undefeated.
The body blows began with Louisville carving a beleaguered Florida State front seven for 158 yards on 33 rushes. Although Virginia didn't run successfully the following week, the Cavaliers are built on physicality and defensively they tried to impose their will on a Seminoles team unable to generate enough push to run the football. Quarterback
Jameis Winston
, playing on a hurt ankle, was hit repeatedly, too. And last week, rival Miami played with the most energy it had all season, and the Canes ran 13 more plays than FSU, rushed 40 times and totaled 492 yards.
"We have to go down there and play a really physically tough and strong football game," BC coach Steve Addazio said.
Addazio, who cut his teeth as an offensive line coach, has built Boston College into a college football throwback. The Eagles embrace hitting, and they're usually the ones delivering them. With an offense that ranks 10th nationally in rushes per game (49) and 16th in total defense (323.5 yards), they are built to win at the line of scrimmage.
That game plan keeps games close in the fourth quarter, where Boston College is then able to outlast teams running on their own exhaust.
"You've got to find a way to exceed in the fourth quarter, which is very difficult to do because the sign of a good championship team is that when it gets the hardest the best play comes out, and they've shown that when the game is on the line, they play at a high level that I haven't seen in a long time," Addazio said. "If everyone does their job and plays physical and intense, we'll have a chance to get the game into the fourth quarter, and when we get it there, we all know we have a chance to win it."
The fourth quarter is where Florida State has been at its best, and Seminoles nickelback
Jalen Ramsey
said last week they take pride in dominating the final 15 minutes. Three times this season Florida State has trailed in the fourth quarter yet won all three times and covered the point spread on top of that.
Part of that has to do with the way the Seminoles track each player's health with
GPS tracking
. The system provides real-time data for the staff during practice, which gives Fisher an idea of when to give players a rest. Fisher likes the overall health of his team during a physical five-game stretch.
"That's one of the reasons I believe so whole-heartedly in that GPS. I can guess all I want but it gives me a parameter, which I can set and look at," he said. "I think that's why it's very critical for these guys and their health."
The Eagles will test that health, and Florida and Georgia Tech will thank them for it.
College Football Minute
ACC SCOREBOARD
Thursday, 11/20
Saturday, 11/22