November, 25, 2014
Nov 25
3:40
PM ET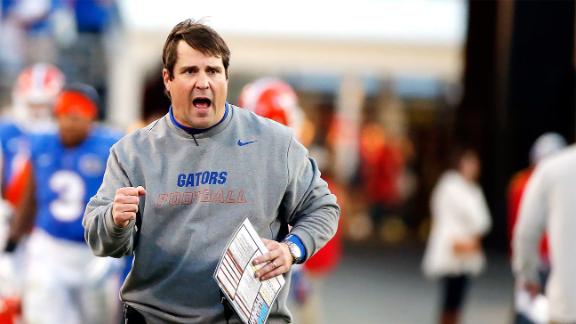 Florida carried Ron Zook off the field
in his final game
, an upset that remains so memorable, people continue to point to that win 10 years later.
Especially this week.
Because everybody wants to know: Can the Gators win one for Champ, the way they won one for the Zooker?
The similarities between Zook's last triumph over Florida State and the 2014 Gators headed into the Florida State game on Saturday are too similar to ignore.
Both Florida teams 6-4. Both heavy underdogs. Both playing for an outgoing coach.
"We were in the same position those guys are in this year," said former Florida running back Ciatrick Fason, a captain on the 2004 team. "Our coach got fired. We hadn't beaten them in Tallahassee in a very long time, so it made us want to go out there and play for Coach Zook but also win at Doak. It happened to be on the same day they were naming the field for coach (Bobby) Bowden, so we wanted to go up there and upset every celebration they had."
In the days leading up to the game, nobody gave down-and-out Florida much of a chance against the No. 10 Seminoles. Florida State had one of the best defenses in the country and had shut down just about every running back that came its way.
But Florida believed it had nothing to lose. To the Gators, all the pressure belonged to Florida State.
"Nobody expected us to win, and that just mentally makes you feel like, 'We can go out here and cut it loose. Don't worry about mistakes. We can go for it on fourth-and-2 or fourth-and-3 because we've got nothing to lose and Florida State has everything to lose,'" Fason said. "As a Gator, we know we're trying to keep them from get a national championship, and it being a rival game with nothing to lose that works to our advantage."
Fason also believes the way Florida played in 2004 caught Florida State off guard. He ended up with 100 yards rushing in the game and was a big reason why the Gators won, saying the Seminoles were not prepared for their smash-mouth style.
After Florida took a 10-3 lead into halftime, Fason told his teammates he wanted them to carry Zook off the field if they ended up winning. They assembled around him in the final minute, a 20-13 win theirs to celebrate.
"As soon as that final tick went off the clock, everybody picked up Coach Zook," Fason said. "It was the best moment of my life."
And it still remains one of the top moments not only in Gators football history, but in Zook's career. Mike Degory, the starting center on the 2004 team, later coached with Zook at Illinois. Even there, Zook talked about the way the Gators won his final game there.
"He always used to say how much it meant to him, and how much he felt the commitment from the players was there," Degory recalled. "Everybody knows after this week, Coach Muschamp is going to be looking for another job, but the players feel a lot of commitment to that coach. We wanted to send Coach Zook out a winner. What we had 10 years ago was a connection with Coach Zook. Deep down in my heart, that is the guy that I wanted to play for and we wanted to echo that by giving him that victory."
Muschamp was even asked about it during his press conference earlier this week in Gainesville.
"That isn't going to help us win the game. I can assure you of that," he said. "So we'll prepare well and we'll go up there and play well. That's what we need to do."
Florida has a history of doing that under Muschamp. It was two years ago Florida went into Doak Campbell Stadium and forced five turnovers in a
37-26 win
. Florida was a much better team then -- ranked higher than Florida State, in fact. But it also happens to be the last time the Seminoles lost.
Since then, Florida has not come close to another 11-win season, while Jimbo Fisher has won two ACC championships, one national championship and 27 straight games. But this season, Florida State has played in so many close games, the expectation is this will be another close one.
Especially if the Gators play as emotionally as they did for Zook in 2004.
"Emotion always counts, but I think at the end of the day, execution wins," Fisher said. "Hopefully, we'll be emotional. To play Florida, our kids will be high. Our kids will be excited. I think you'll see two teams that are emotionally and physically ready to play, and then who can go out and execute and win the battles in the physical and mental execution will be the team that wins."
November, 25, 2014
Nov 25
3:00
PM ET
Whether recruits are attending games this holiday weekend or watching on television, all eyes around the recruiting world will be focused on several rivalry games. From the Iron Bowl to the Egg Bowl there will be recruiting implications throughout the conference this weekend. Here's a closer look at how these game might affect the top remaining recruits.


November, 25, 2014
Nov 25
2:00
PM ET
It is the last regular-season weekend of the year. You know what that means: expect the unexpected.
With that in mind, plenty of teams are on Upset Watch in Week 14.
Saturday
No. 18 Georgia Tech (9-2) at No. 10 Georgia (9-2), noon, SEC Network. Line: Georgia by 13.
At first glance, this line appears to be rather large considering how well Georgia Tech is playing heading into the matchup. The Jackets have won four straight, beat No. 22 Clemson and had an entire off week to prepare. They nearly pulled the upset a year ago, and have a far better team this season. Then there is the matter of how Florida gashed Georgia on the ground. Georgia Tech has been so much more effective offensively with its triple option, if it hangs onto the ball and continues to eat chunks of time off the clock, the Jackets will have an excellent shot to win.
South Carolina (6-5) at No. 22 Clemson (8-3), noon, ESPN. Line: Clemson by 4.5.
South Carolina coach Steve Spurrier has some weird voodoo going on over Clemson. Maybe he's just in their heads. How else to explain the turnover margin during the Gamecocks' five-game winning streak? South Carolina has turned it over three times; Clemson 15. That includes a whopping six Clemson turnovers a year ago. All those mistakes have ended in pretty miserable losses. Clemson has lost each game by double digits. Given the way South Carolina has played this season, all signs point to a Clemson breakthrough. But will the Tigers have
Deshaun Watson
available? If not, will
Cole Stoudt
do enough to break the losing streak?
NC State (6-5) at North Carolina (6-5), 12:30 p.m., ESPN3. Line: North Carolina by 6.5.
The Tar Heels are riding high off an impressive
45-20 win
against Duke, but now they face their second straight rivalry game against a Wolfpack team that had a week off to prepare. Though their run defense played much better, NC State will try to continue to exploit weaknesses in that group behind
Matt Dayes
and
Shad Thornton
. The bigger question is whether the NC State defense has enough to slow down the unstoppable
Marquise Williams
, who has put on quite the offensive show down the stretch. This one could end up being a shootout. If that happens, anyone can win.
Florida (6-4) at No. 3 Florida State (11-0), 3:30 p.m., ESPN. Line: FSU by 7.5.
You are going to hear a lot about what Ron Zook and the Gators did to the Seminoles in 2004. A few similarities are hard to ignore -- Florida had nothing to lose in that game in Tallahassee, the final one under Zook. Florida was 6-4 going into the game; Florida State was a top-10 team. They are all points to keep in mind, especially given the way Florida State has squeaked by its opponents this season. Outgoing Florida coach Will Muschamp handed Florida State its last lost. Maybe he has something up his sleeve to give the Noles another on his way out. Plus, strange things happen in this game the last few years it has ended in a "4" -- 1994, Choke at Doak; 2004, Zookered!; 2014 ???
* Note: There is no line for the Pitt-Miami game with
James Conner
's status up in the air. Considering Miami (6-5, 3-4) is the home team, the Canes need to be on high alert for a Pitt team (5-6, 3-4) that will be desperate to become bowl eligible. Especially given their abysmal performance last week in a loss to Virginia.
** Note II: The line for Virginia-Virginia Tech is even, so tough to put anybody on upset watch in that game. The over/under, however, is set at 40.5. I would take the under on that.
November, 25, 2014
Nov 25
11:56
AM ET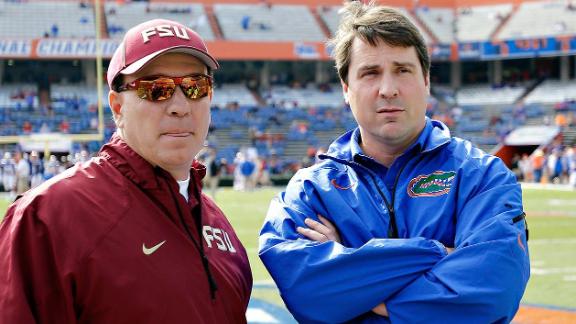 Don't let the record book fool you. The 80,210 seated in Doak Campbell Stadium on Nov. 26, 1994, and the millions more watching from home will tell you the 31-31 tie between No.4 Florida and No. 7 Florida State belies the reality on the field that afternoon.
In one of the greatest installments of the longtime Florida-Florida State rivalry, the stakes were once again high as both teams were situated in the top 10 at kickoff -- just like the 13 other times from 1990-2000. The Gators, ranked No. 4, were also hoping to match FSU's first national title in '93 with their own in '94.
Florida coach Steve Spurrier, never one to shy away from offering a punch line at the expense of a rival school or coach, stoked the fire earlier in the year when he called FSU "Free Shoes University," referring to a report that agents picked up a $6,000 tab that Seminoles players rang up at a Foot Locker near FSU.
"You respect [Spurrier], but he's like a crazy uncle," Andre Wadsworth, a defensive end on that '94 Noles team, said. "I never did like Florida. Growing up in Miami, I only respected the Canes and FSU. The Gators didn't play [Miami]. I don't care about the excuse of being in the SEC and all that nonsense."
Spurrier has always been good at getting opponents' blood boiling, but up until that point, he had not beaten his cross-state rival in Tallahassee and was 1-3 overall against Bobby Bowden.
"We were aware at that point that Steve had not won in Doak Campbell, and, I don't know if that meant anything to the players, but it meant something to the coaches," said Mickey Andrews, FSU' defensive coordinator from 1984-2010. "Steve, part of his deal, was trying to get under the skin of another coach. Everybody thinks some things, but Steve thinks out loud. I'm sure some of the stuff bothered Coach Bowden."
November, 25, 2014
Nov 25
11:00
AM ET
The defending National Champion Florida State Seminoles will play host to arch rival Florida Gators Saturday with some of 2015 and 2016's top prospects in the Sunshine State and beyond in attendance.
When looking at the Seminoles, and some of the very key battles Florida State beat Florida on in recent years, it's a clear indication of how impactful difference-maker skill players can be, and how much the 2013 4-8 season for the Gators was a crushing blow to the current Florida offense.
Here are five battles that Florida State won, all of whom will be key players Saturday.
To continue reading this article you must be an Insider
November, 25, 2014
Nov 25
10:00
AM ET
The weekend that was in the ACC was filled with a number of key official visits, including a trio of ESPN300 prospects. While the news of
Josh Sweat
's visit to Florida State takes center stage for many, both Wake Forest and Georgia Tech picked up key commitments, as well as a 2016 quarterback giving his verbal to Virginia.
To continue reading this article you must be an Insider
November, 25, 2014
Nov 25
9:30
AM ET
By
ESPN.com staff
| ESPN.com
Which teams will make the College Football Playoff? Ultimately, the selection committee will decide. Until then, there will be a lot of campaigning. Each week, we'll unveil what we think one team's campaign message should be. Take a look at past posters here.
After watching his team drop in the polls despite extending its winning streak, Jimbo Fisher
came out swinging in Week 13
. "Let me ask you this: How about the way everybody else hasn't finished?" Fisher said to ESPN's Heather Dinich. With tough games against in-state rival Florida and Georgia Tech in the ACC championship game looming, Florida State will continue to be tested. And the selection committee will likely continue to test Fisher's patience.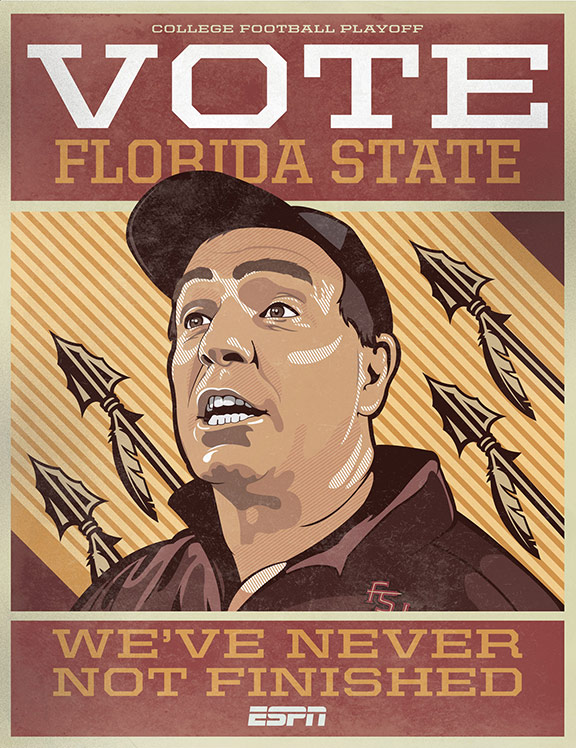 Illustration by Sam Ho
November, 25, 2014
Nov 25
8:30
AM ET
Let's just get this out of the way: Last week in college football was kind of dull.
Unless, that is, you're into watching the single-game FBS
rushing record fall
for the second straight Saturday. (So who breaks it this week?) Yes, last week was dull, unless, of course, you're into Florida State's
weekly high-wire act
, re-awakenings at
Arkansas
and
Minnesota
or UCLA's
continued stranglehold on Los Angeles
.
My point is, the latest set of games didn't significantly impact the College Football Playoff picture -- at least in comparison to the past few weeks. Barring some craziness at the selection-committee table, the top four on Tuesday night is going to look no different than last week's edition.
But Week 13 was simply the calm before the storm. Not so sure? Check out first nine paragraphs Gene Wojciechowski's
BMOC column
. The rocky road to Dec. 9 is enough to make a fan of any playoff contender choke on his or her turkey dinner.
And it starts in two days.
To continue reading this article you must be an Insider
November, 25, 2014
Nov 25
8:00
AM ET
The Pittsburgh-Miami game might be the hardest ACC game to predict this weekend, and it is based mostly on the unknowns.
What Miami team is going to show up in Sun Life Stadium on Saturday? Will it be the one we saw in the first half against Florida State and the previous three games, or will it be the defeated, uninterested group that was
beat up by a Virginia team
desperately trying to make a bowl game and save coach Mike London's job?
As for the Panthers, they need running back
James Conner
, who exited last weekend's game with a hip injury. At his Monday meeting with the media, Pitt coach Paul Chryst
had no new information
on Conner, who is one of the country's top running backs.
"We'll see how he goes," Chryst said. "After the game, he felt all right. Obviously [he] was hurting."
Without Conner, who is third nationally with 1,600 yards, it is hard to envision the Panthers beating Miami and getting to a bowl game. While Pitt has a great stable of young running backs that rushed for 214 yards in the last game, it came against woeful Syracuse. While the Canes and Orange are nearly identical in rushing yards allowed per game, Miami has a significantly better offense to relieve pressure on the defense, which has been porous at times.
Pitt quarterback
Chad Voytik
has not shown enough this season to instill enough confidence he can put the team on his back and carry Pitt to win, so the offense might see a lot of receiver and returner
Tyler Boyd
, who certainly has that ability.
If Conner cannot play and Pittsburgh loses, it would be an unfortunate ending to the sophomore's season as he was a dark horse Heisman contender through the early portion of the season.
Here are a few more links:
November, 25, 2014
Nov 25
12:00
AM ET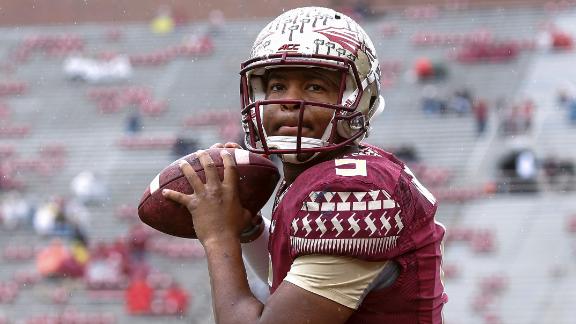 There's only one week left in the regular season before the conference championship games begin (everywhere but the Big 12, that is). That leaves two more auditions for teams to make their final impressions on the 12 members of the College Football Playoff selection committee.
A handful of teams can control their playoff hopes, but more often than not, the teams on the bubble could use a little help down the stretch. The good news? There's still time. Here's a playoff road map to help illustrate how the leading candidates can get there in the final two weeks:
1. Alabama
• What the Tide controls: If Alabama beats Auburn in the Iron Bowl, it wins the SEC West and is one step closer to the playoff. Win the SEC and they're in.
• Where they need help: If Mississippi State loses to Ole Miss in the Egg Bowl, Alabama will clinch the division regardless of what happens in the Iron Bowl.
2. Oregon
• What the Ducks control: They've already clinched the Pac-12 North Division, earning a spot in the conference title game. All Oregon has to do is avoid an upset in the regular-season finale against Oregon State -- a 5-6 team that somehow found a way to upset then-No. 6 Arizona State.
• Where they need help: If Stanford could knock off UCLA, it would eliminate the highest-ranked team in the Pac-12 South from facing Oregon in the league title game. That doesn't mean Arizona or Arizona State couldn't upset Oregon in the title game. After all, Arizona handed the Ducks the only loss of the season. But it would mean the Pac-12's best hope at a two-loss league champ in the playoff is out of the picture.
3. Florida State
November, 24, 2014
Nov 24
3:00
PM ET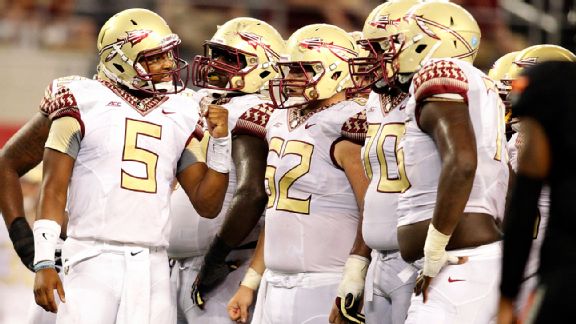 Tim Heitman/USA TODAY SportsLosing to Florida would surely knock the Seminoles out of the College Football Playoff conversation.
The story line gets regurgitated the last weekend in November, every single season. At this point, does it really need to be said just how badly the ACC has to beat its SEC rivals come Saturday?
Well, yes. Because the results carry even more significance now that we are in in the College Football Playoff era. Just look at the way the ACC has been dismissed as a conference. Unbeaten Florida State is ranked behind two one-loss teams in the only rankings that matter -- as much an indictment about the Seminoles' close wins as it is about the perception of the ACC as a whole.
While it has been convenient for many to dismiss what Florida State has accomplished, it has been just as convenient to dismiss the accomplishments of No. 18 Georgia Tech, No. 22 Louisville and No. 24 Clemson. But it may be less difficult to do so if all four teams come through and all win this weekend.
The last time Florida State, Georgia Tech and Clemson swept their SEC rivals was in 2000. The last time they posted a winning record against them was in 2008, when Georgia Tech and Clemson came out victorious. That also happens to be the last time both teams won their SEC rivalry game.
This might be their best shot at a sweep in years. With Kentucky-Louisville now added into the mix, the Cards, Florida State and Clemson are favored to win. All three are at home; all three are the only teams ranked in the matchup. Georgia Tech is the only underdog, though the Jackets go into their game off a bye, with a four-game winning streak under their belts.
To take it one step further, the FPI game projections show:
Florida State with a predicted 73 percent win percentage over Florida.

Louisville with a predicted 77 percent win percentage over Kentucky.

Clemson with a predicted 62.5 percent win percentage over South Carolina.

Georgia with a predicted 80 percent win percentage over Georgia Tech.
"Winning would help the league a lot but it's going to be how does the media portray it?" Georgia Tech coach Paul Johnson said. "When I was here in '08, my first year, we beat Georgia and Clemson beat South Carolina … but nobody said much about it. It was like, 'Oh.' Now the next year when they beat us, it was a big deal so would it help the league? Sure. Anytime we can go head to head with the SEC and win a game it helps the league."
Johnson brings up an excellent point. Will a potential sweep be diminished in value because they are all against SEC East teams? Georgia is the only ranked SEC squad in the group. Florida and South Carolina have been disappointments; Kentucky is not bowl eligible. Georgia is the only school among the four with a winning record in SEC play.
So the East is not even close to its counterparts in the West, creating a no-win situation. If the ACC does well in these games, people may not dish out as much credit as they should. If the ACC winds up with a losing record, get ready for more finger pointing and laughter.
If we are looking a little closer at the matchups, there are two teams that cannot afford to lose: Florida State and Clemson. If Florida pulls the upset, Florida State will be out of the College Football Playoff, the worst result imaginable for a league that only has the Noles in the mix.
The stakes are high for Dabo Swinney and Clemson, too. After beating South Carolina as interim coach in 2008, he has gone 0-5. For the first time since 2009, Clemson will be the only ranked team in the matchup. Clemson has the No. 1 defense in the nation; South Carolina has the No. 87 defense in the nation. While Deshaun Watson's status remains up in the air, the feeling is that Clemson simply cannot afford to lose this game again, not when it has so many obvious advantages.
"The last five years, we've had 15 turnovers and they've had three," Swinney said. "That affects everything. That affects your plays per game, it affects your time of possession, it affects the way things are called, field position, on and on and on and on. That's definitely something we have to get changed for us to have a chance to win the game. There's no doubt about it."
Georgia Tech also has lost five straight to Georgia, and 12 of the last 13. Last season, the Jackets blew an early 20-0 lead and lost 41-34 in double overtime.
Todd Gurley
scored both overtime touchdowns for the Bulldogs. He won't play Saturday.
While Georgia Tech has a Top 25 ranking and spot in the ACC championship game, a win over Georgia would only add to an already stellar season.
"The atmosphere is different about this week because it's a must-win game," Georgia Tech safety
Jamal Golden
said. "You don't want to give them bragging rights for the next 365 days. You just have to hear it over and over again that you can't beat them. It's one of those games you look forward to playing."
It's one of those games that has to fall in the ACC win column this year.
Drive Through: Rankings Preview
ACC SCOREBOARD
Friday, 11/28
Saturday, 11/29