January, 29, 2015
Jan 29
9:00
AM ET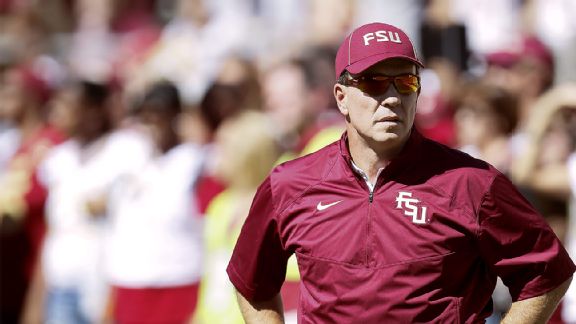 Don Juan Moore/Getty ImagesJimbo Fisher has been able to attract top recruits to continue Florida State's success.
Alabama and Nick Saban have set the national recruiting pace the past five years, and that won't change in the week leading up to signing day as they close on a fifth consecutive recruiting title.
However, Florida State is not far off, and in Saban's rearview mirror is the familiar face of his former offensive coordinator, Jimbo Fisher.
Florida State was the last program to finish ahead of Alabama in the rankings (2011), and the Seminoles are the only other team that will have a top-three class for the fourth time in the past five cycles. Their five-year average finish of 3.4 is second to only Alabama's five-year average of 1.6.
That's why the FSU program is the strongest it has been in the past decade and why there should be optimism among Seminoles fans now that award-winning quarterback
Jameis Winston
, as well as a bevy of starters, are now off to the NFL.
The reality is 2015 is a transitional period for the Seminoles. Twelve players have left early for the NFL over the past three years. They're replacing nearly the entire offensive line and their two best receivers, defensive linemen and cornerbacks. And gone, of course, is one of the greatest players in program history.
Two losses in the 2015 season is not out of the question for Florida State, which has lost only once in its past 30 games.
A fourth consecutive ACC championship would be equally unsurprising. There was the thought that Florida State might have missed a championship window in the 2012 season, which ended with two losses. Eleven players were drafted from that team, including five in the first two rounds. It's hard to compensate for that many meaningful departures.
Of course, the Seminoles went undefeated the next season and went on to claim their first national title since 1999, and did it with key players from Fisher's first recruiting class.
As many as a dozen former Seminoles could be selected in this upcoming NFL draft. Although that means Florida State is losing a significant amount of talent, it also indicates how well Fisher and his staff are recruiting. It shows the sustained recruiting success that Fisher has had over the course of his five-year tenure, and it's why blue-chip prospects are stampeding down Interstate 10 toward Tallahassee.
Half of the Seminoles' 22 commitments are ESPN 300 prospects, and with a few more scholarships remaining, that number figures to grow. The Seminoles have the No. 1 athlete and top-rated safety. They also have top-five players at quarterback, running back, defensive end, cornerback and linebacker.
To replace Winston, Fisher has three ESPN 300 quarterback commits (if including athlete
Kai Locksley
) to go along with 2014 ESPN 300 signee JJ Cosentino and
Sean Maguire
, who started in place of Winston against Clemson. Down the line, 2016 No. 1 quarterback
Malik Henry
plans to leave Southern California and head east to Florida State. (Henry is one of six 2016 FSU commitments, and five are among the top 184 players nationally.)
Although all of those players have the high school credentials, there are countless quarterbacks and high school players who fail to live up to the hype. Fisher has a track record of helping his players realize their potential, which is why the draft numbers have skyrocketed. Winston could be the second No. 1 overall pick Fisher has tutored. (JaMarcus Russell was the first.)
Before Fisher, the Seminoles finished in the top 12 of the rankings in three of Bobby Bowden's last four recruiting classes, but there were too many misses during those cycles.
Florida State's ability to develop players has been a key recruiting pitch, and it's the reason
Abdul Bello
, No. 4 among offensive tackles, committed to Florida State. The ESPN 300 lineman immigrated to Florida from Nigeria in 2013 and admits he still doesn't know many of the nuances to the game. He was looking for a coaching staff that would be able to help his raw athleticism mature, and it's why he said so many top recruits are joining him.
"When those players [from earlier classes] were going there, they were good players, but when they went there … the coaches gave them good coaching," Bello said. "We'll get that same great coaching, same attitude, same hunger and that same will to win with this coaching. We'll be really good."
Fisher's recruiting efforts are boosted now that Florida State has joined the college football arms race. The school received cosmetic upgrades recently with a new indoor practice facility and overhauled football offices and locker rooms. The school is also allocating more money to be spent on assistant coaches. The recruiting budget has increased to where the Seminoles are at least competitive with other top schools. Florida State might always struggle to keep up with the Joneses in Tuscaloosa and throughout the SEC, but Fisher has the pivotal pieces in place.
"I'm not a spoiled kid. If I want it, it's because it's going to make our organization better. Every decision we make is about winning and developing our players," Fisher said not long after FSU unveiled its latest facility upgrades in July. "... I always ask folks, when you walk into an organization, you go into a business, the minute you walk in, you make a first impression: Is this place committed to excellence, is it a championship organization?"
Florida State is one of those organizations now, which is why the future is promising for the Seminoles even with so many unknowns awaiting them in 2015.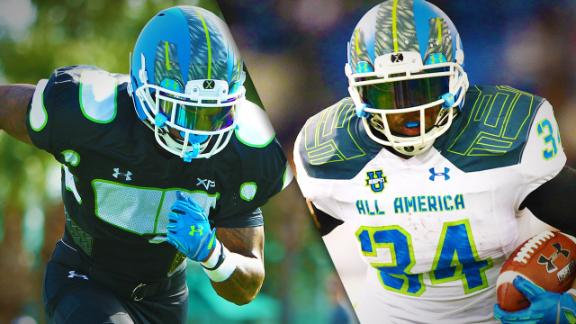 ESPN 300 Recruits on Negative Recruiting