March, 1, 2015
Mar 1
4:15
PM ET
KISSIMMEE, Fla. -- Despite being overcast and rainy, the Orlando Nike regional camp had an incredible turnout of some of the top prospects in the ESPN Junior 300.
The impressive list of prospects in attendance was led by the 30th-ranked player in the ESPN Junior 300, No. 30
Isaac Nauta
, No. 32 Feliepe Franks, No. 42
Demetris Robertson
, No. 66
Rahshaun Smith
and No. 92 Shaq Quarterman. The 10th-ranked player in the country, Nate Craig-Myers, was also in attendance but did not participate due to an injury.
While Saturday's camp in Miami showcased many defensive top defensive back prospects, the offensive line was dominant on Sunday in Orlando.
February, 28, 2015
Feb 28
7:30
PM ET
PLANTATION, Fla. -- The Nike Opening Regional at Miami always brings out some of the top skill prospects in the country, with Broward and Dade counties being the most talented neighboring counties in the country. On Saturday, the event at American Heritage High School brought out more than the future stars of college football, but also some of the area's most popular former stars such as Edgerrin James and Chad Johnson, as well as Luther Campbell of 2 Live Crew fame.
Here are some of the best sights and sounds from the talent-laden Miami Regional.
To continue reading this article you must be an Insider
February, 28, 2015
Feb 28
6:07
PM ET
PLANTATION, Fla. -- The Nike football camp in Miami is generally regarded as one of the top camps, talent-wise, in the country every year and this year's camp held at American Heritage School didn't disappoint.
To continue reading this article you must be an Insider
February, 27, 2015
Feb 27
2:00
PM ET
We're still 26 long weeks away from the start of the 2015 season, but there promises to be plenty of twists and turns for ACC teams before the action kicks off. While some of the drama will come as a surprise, there are a number of key figures around the ACC that are already big stories. With that in mind, we're counting down the
25 most intriguing figures
in the conference this offseason -- from players to coaches to administrators -- and digging into the impact they might make on how 2015 unfolds once the games finally begin. Last up, Nos. 1 through 5.
1. Jimbo Fisher
[+] Enlarge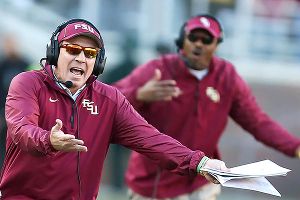 Orlando Sentinel via Getty ImagesThe loss of numerous impact players on offense will likely test Florida State's Jimbo Fisher in 2015.
Role:
Head coach, Florida State
Intrigue:
Fisher won a national title in 2013 and took FSU to the College Football Playoff last year, but now he'll be presiding over an offense without
Jameis Winston
. Finding his next quarterback will be job No. 1, and it also figures to be the most discussed storyline of the spring. Winston set a standard that no one is likely to match, but
J.J. Cosentino
and
Sean Maguire
will do battle to get a chance to try. Adding more pressure to the decision, Fisher will also need to find four new starters on the O-line and replace the most prolific receiver and tight end in program history.
Possible impact:
There's no such thing as rebuilding in Tallahassee. The expectation is for Florida State to reload. But is that realistic this year? The defense was already a concern, and four underclassmen have left for the NFL draft. Meanwhile, the offense won't be there to cover up many mistakes this time around, and Fisher's ability to develop his inexperienced QBs and find the right man for the job will likely be the biggest differentiator between a fourth straight ACC title for Florida State or making that 29-game winning streak a distant memory.
2. Deshaun Watson
Role:
Quarterback, Clemson
Intrigue:
There are no more questions about how good Watson will be, how well he'll acclimate himself to the college game or what could be in store for the Tigers once he gets on the field. As a freshman in 2014, he provided resounding answers to those concerns. Now, it's a matter of whether the future star can simply stay on the field. He suffered three different injuries that cost him time last year, and he's now rehabbing an ACL tear this offseason. Add to the intrigue, Watson said goodbye to coordinator Chad Morris -- the man who recruited him to Clemson -- after Morris took the head coaching job at SMU.
Possible impact:
Last year was a rebuilding season on offense for Clemson, but the Tigers identified a host of young talent, including
Artavis Scott
,
Wayne Gallman
and
Mike Williams
. But Watson was the key ingredient, and when he was on the field, the Tigers were difficult to slow down. The ACL injury ended his season before the bowl game, but he'll also have nine months to rehab before the 2015 season begins. If he's at 100 percent or close to it, Clemson could easily have the most dangerous offense in the ACC.
3. Al Golden
Role:
Head coach, Miami
Intrigue:
It's been four years at Miami for Golden, and patience is wearing thin among the fan base. The front-level talent on the roster has been solid, but depth and consistency have been hard to come by. Last year's team fell apart down the stretch, and the Canes are now just 8-11 since starting the 2013 season with seven straight wins. It may well be now or never for Golden to get Miami back into the national conversation.
Possible impact:
With
Brad Kaaya
,
Joseph Yearby
and a host of talented young offensive players, Miami has weapons. But there's also a ton of talent walking out the door from last year's squad that finished 6-7. If all the chips fall into place, Miami has a shot to win its first ACC Coastal title and take the heat off its head coach, but it certainly seems like the Canes might have been better positioned to do that in each of the past two seasons and couldn't finish the job.
4. Gene Chizik
Role:
Defensive coordinator, North Carolina
Intrigue:
Just five years removed from coaching a national champion at Auburn, Chizik takes over the ACC's worst defense with a huge job ahead of him. Last year, North Carolina allowed at least 30 points in nine games and finished last in the ACC in both rushing and pass defense. Chizik has coached up his share of exceptional defenses, however, and if anyone is capable of reshaping what's been a dismal unit for the Heels, it's him.
Possible impact:
Chizik will completely revamp the scheme, and the spring will be about identifying which players are best equipped for his new defense. If the scheme takes root quickly, UNC has a strong offense and more returning starters than any team in the ACC. It seems like every year, the Heels get some preseason love as a possible Coastal favorite, only to disappoint. But with Chizik in the fold, this could potentially be the year UNC finally pulls it all together.
5. Brent Venables
Role:
Defensive coordinator, Clemson
Intrigue:
Venables took over Clemson's D in 2012 and the unit improved every year, culminating with a No. 1 ranking nationally in total defense in 2014. But now the foundation of that rebuilding project are moving on, and Venables will be looking for replacements for departing stars like
Vic Beasley
,
Grady Jarrett
and
Stephone Anthony
.
Possible impact:
Venables knew this day would come, of course, and he's made a habit of getting his backups plenty of snaps.
Shaq Lawson
,
D.J. Reader
,
Carlos Watkins
and others have seen plenty of action, and the secondary already promises to be sensational. If Venables can manage the transition, Clemson has an exceptional chance to be the best team in the ACC in 2015.
February, 27, 2015
Feb 27
9:00
AM ET
Athlon put together a list of
20 running backs on the rise
for 2015, and it's an ACC-heavy club.
The top 20 includes FSU's Dalvin Cook, Clemson's Wayne Gallman, BC's Jon Hilliman, Virginia's Taquan Mizzell and Miami's Joseph Yearby. Georgia Tech's C.J. Leggett also cracks the "others to watch" list. So that's six running backs from the conference's 14 teams, but it's possible the list could've been even longer.
NC State's combo of Shad Thornton and Matt Dayes was exceptionally good last season. Had their combined stats belonged to just one runner, their 23 touchdowns and 1,934 scrimmage yards would've ranked second in the ACC.
North Carolina's T.J. Logan has been a reflection of his team the past two years -- slow starts followed by strong finishes, but he topped 92 yards in three of his final four games last year, and from Nov. 1 on, 43 percent of his rushes gained at least 5 yards.
Louisville's Brandon Radcliff had to share the backfield with a trio of other productive runners throughout last season, but he still ran for 12 scores (third in the ACC) and had 22 carries of 10 yards or more, trailing only James Conner of Pittsburgh and Cook among returning ACC runners.
Duke's Shaun Wilson will likely still share plenty of snaps with Shaq Powell, but no Power 5 back in the nation with at least 75 carries had a higher yards per carry average than the freshman last year.
At Virginia Tech, J.C. Coleman will be No. 1 on the depth chart after a strong finish to the season, but Shai McKenzie and Marshawn Williams both showed flashes of brilliance as true freshmen last year behind a lackluster offensive line.
And since this was an "on the rise" list, it didn't even include the ACC's player of the year in Conner.
In other words, the ACC should have a really strong corps of runners next season, and it certainly wouldn't be out of the question for the league to end up with a half-dozen 1,000-yard backs or more.
A few more links:
February, 27, 2015
Feb 27
9:00
AM ET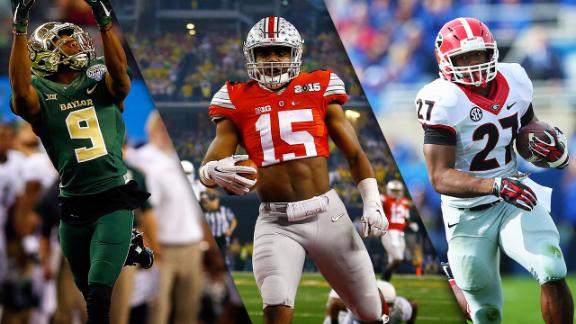 If you asked Mike Leach, odds are he'd probably tell you his job at Washington State is a wee bit more difficult than he might have expected when he was first hired. And it won't be long before Wake Forest fans start to realize just how remarkable Jim Grobe's tenure was in Winston-Salem.
For a variety of reasons -- namely money, scheduling, academics, facilities and recruiting -- the path to the College Football Playoff is simply easier for some Power 5 coaches and nearly impossible for others. Here's a look at the top-10 easiest coaching paths to the playoff, starting with the easiest, and the 10 most difficult coaching jobs:
EASIEST COACHING PATHS TO THE PLAYOFF
1. Texas
One of the wealthiest, most visible brand-name programs in the country wants for nothing -- and unlike Florida State, it doesn't have to navigate through a conference title game. Right now it's in a catch-22 situation. Texas has to win to own the state in recruiting again, but it has to get the recruits to win.
2. Florida State
The Noles can own and have owned the ACC, with Clemson being their most difficult hurdle. The combination of first-class facilities, in-state recruiting and available salary money makes this one of the most desirable jobs for a coach aspiring to reach the playoff.
3. Ohio State
The East Division isn't easy, but it's manageable, and the Big 33 recruiting turf and financial security -- along with the incredible support and facilities -- puts this brand-name program on the fast track to the playoff. It's easy to sell the program that has been the flagship of the conference for more than a decade.
4. Oklahoma
With no conference title game to trip over, the Sooners have one of the easiest paths to the playoff, not to mention the facilities and financial resources to recruit players and pay coaches.
5. Clemson
It's on par with the SEC as far as recruiting and facilities, but has an easier league to navigate. The program has the resources and salaries needed to recruit and coach a top-four team.
6. USC
When this storied program is at full strength -- without scholarship limitations and postseason penalties -- there's nothing in the way of a top-four ranking. Its pipeline of players to the NFL is proof.
7. Notre Dame
The Irish control their strength of schedule and can now sell an ACC bowl lineup to recruits.
8. Georgia
The Bulldogs have owned the state, and while Florida has to contend with FSU (and dreadful facilities), Georgia has had the upper hand in the series against Georgia Tech. Everything is in place for a title run.
9. Alabama
The program oozes money and tradition, luring the best players in the country. It's ranked low because of a grueling SEC West schedule and conference title game to navigate through.

10. LSU
Much like Alabama, the Tigers are the epitome of SEC success, able to cherry-pick recruits and pay for the best coaches in the country. The biggest obstacle is LSU's own conference schedule.
MOST DIFFICULT COACHING PATHS TO THE PLAYOFF
1. Vanderbilt
There's no school in the country with more of an uphill battle to the playoff than Vandy. The stringent academic requirements are a big reason the program can't recruit the elite athletes necessary to compete with the top teams in the league -- which is why it never will.
2. Wake Forest
The smallest school in the BCS had one historic Orange Bowl run, but that was an anomaly, not the trend. It's not the best program in the state, let alone the Atlantic Division.

3. Washington State
The Cougs are the Pac-12's most isolated, rural program, making recruiting difficult -- the heart of Wazzu's troubles over the past 11 straight losing seasons. It also doesn't help to be looking up at Oregon in the North Division.
4. Colorado
After nine straight losing seasons, the Buffs have faded into irrelevance, and they're competing in a South Division that's on the upswing, led by USC and Arizona. The coaching turnover, subpar recruiting and lack of investment in facilities have made the past decade a disaster.
5. Indiana
The Hoosiers have been stuck in a rut of mediocrity and are outpaced when it comes to facilities and coaching hires. Equally as problematic is IU's place in the East Division, alongside heavyweights Ohio State and Michigan State.
6. Kansas
The program has always been overshadowed by its hoops counterpart and hasn't been relevant in football since its 2007 Orange Bowl appearance.
7. Purdue
The fans have lost interest -- and apparently so have the recruits -- but the program also hasn't had the financial backing it needs to stay on pace with the rest of the conference.
8. Iowa State
Not only is there not much in-state talent, but the Cyclones have to share it with rival Iowa.
9. Kentucky
The program has made a renewed financial commitment recently and has demonstrated that bowl eligibility is a reality, but Kentucky has to win the SEC East before it can be taken seriously as a playoff contender.
10. Syracuse
There's a sense of apathy surrounding the program, which is stuck in the ACC's stronger Atlantic Division with FSU, Clemson and Louisville. There's not enough depth on Syracuse's roster to overcome injuries -- or the schedule.
February, 26, 2015
Feb 26
2:00
PM ET
We're still 26 long weeks away from the start of the 2015 season, but there promises to be plenty of twists and turns for ACC teams before the action kicks off. While some of the drama will come as a surprise, there are a number of key figures around the ACC that are already big stories. With that in mind, we're
counting down the 25 most intriguing figures
in the conference this offseason — from players to coaches to administrators — and digging into the impact they might make on how 2015 unfolds once the games finally begin. First up, numbers 6 through 10.
6. Dalvin Cook
Role:
Running back, Florida State
[+] Enlarge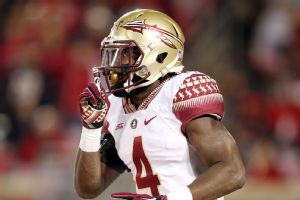 Andy Lyons/Getty ImagesDespite spending half the season as a backup, Dalvin Cook finished his true freshman season with 1,008 yards.
Intrigue:
There's no doubting Cook's talent. Despite playing a supporting role through half the season, he topped 1,000 rushing yards as a true freshman and came up with one big play after another in close games when the Seminoles needed him most. But the final impression of Cook for the 2014 season was an ugly one. He played well in the Rose Bowl, but he fumbled twice in the second half -- both on plays that would've been first downs -- and that led to FSU's undoing. Now he returns hoping to erase those bad memories, and he'll have to do it as the Noles' offensive leader now that
Jameis Winston
,
Rashad Greene
and four-fifths of the offensive line have moved on.
Possible impact:
There's a long history across the sports landscape of memorably bad plays undermining an entire career, but Cook is too young, too tough and too talented to allow that to happen. The bigger question is whether Cook can find as much running room behind a revamped line without the downfield threat of Winston at quarterback. Defenses will be focused on Cook early in the year, but he'll still need to find some running lanes while a new quarterback gets comfortable.
7. Frank Beamer
Role:
Head coach, Virginia Tech
Intrigue:
Beamer is an institution in Blacksburg, but after a third straight disappointing season, there's a hefty contingent of the fan base wondering if it's time to make a change. AD Whit Babcock has certainly considered a similar possibility, issuing a joint statement with Beamer after the season promising improvement. Beamer has plenty of young talent to work with, the pressure is on like never before to maximize their talents.
Possible impact:
Virginia Tech only lost one game by more than a touchdown last year in spite of all the youth on offense, and that has to be a cause for optimism for the Hokies. If
Cam Phillips
and
Isaiah Ford
continue to grow,
Michael Brewer
takes a step forward, the running game comes together -- if all those things can happen, Virginia Tech has a chance to win the ACC. It's a lot of "ifs" though, which means there's a ton riding on Beamer's ability to bring the team together this offseason.
8. Brad Kaaya
Role:
Quarterback, Miami
Intrigue:
Kaaya was thrown to the wolves as a true freshman, and he acclimated himself nicely. He led the ACC in yards-per-attempt and passer rating, and he's certainly aimed at improving in 2015. But while last year was a learning season for him, this year, Kaaya is the focal point of Miami's offense.
Duke Johnson
,
Clive Walford
and
Phillip Dorsett
are all gone, which means Kaaya will go from student to mentor on offense, despite this being his first spring practice as a college quarterback.
Possible impact:
Kaaya's skill set is tremendous, and he could be the ACC's best pocket passer in 2015. But he's got to pick up a lot of slack with so much talent departing around him. He's already shown a willingness to take on a leadership role, and he's spoken out about some of the problems Miami faced in the locker room last year. And as much as Miami needs a quarterback to star on the field, it may need some locker room stability even more.
9. Pat Narduzzi
Role:
Head coach, Pitt
Intrigue:
Narduzzi had been rumored for head-coaching jobs for years after building Michigan State's defense into a juggernaut, and Pitt looks to have hit a home run by nabbing him after Paul Chryst bolted for Wisconsin. Narduzzi inherits plenty of talent on offense, but Pitt's problems were on D, and all eyes will be on that side of the ball as he looks to build another winner.
Possible impact:
Last year, Pitt scored at least 28 points in each of its final six games, and it still lost four of them. For perspective, only four other Power 5 teams lost more such games all season. In other words, the D is a huge concern for the Panthers, and Narduzzi has his work cut out for him. It needs to start with the pass rush. Pitt finished 105th nationally in sacks last season, while Narduzzi's Michigan State team finished eighth.
10. Bobby Petrino
Role:
Head coach, Louisville
Intrigue:
Year 1 of Petrino's return went relatively well, but the task gets tougher now. He's got a trio of QBs who could start, but none that's a definitive call. His defense was dominant last year, but he's lost a number of Charlie Strong's holdovers. Gone is superstar receiver
DeVante Parker
. In are a host of transfers that Petrino has been willing to gamble on after they slipped up in other locations. And through it all, there are still plenty of people simply waiting to see Petrino fail.
Possible impact:
Last year, Petrino took over a team that had lost just three games in the past two years and had ample talent on the roster. He succeeded with that talent. This year, things are different. This isn't Strong's team anymore. It's Petrino's, and he has a long history of winning, too. Still, he's gambled on transfers -- and it's a bet that could pay off big or it could blow up in his face if those players --
Josh Harvey-Clemons
,
Shaq Wiggins
,
Devonte Fields
and others -- haven't learned from past mistakes.
February, 26, 2015
Feb 26
9:00
AM ET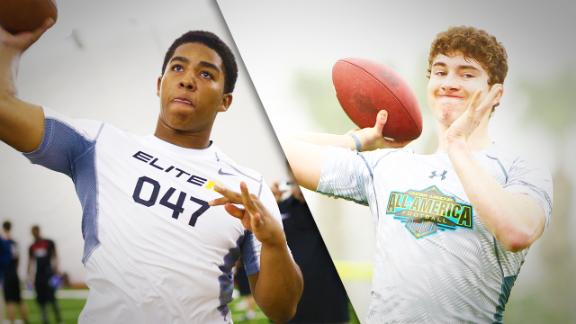 It's not easy to start at quarterback as a true freshman. College football is a fast-moving game with a lot of information to process quickly, not to mention the pressure of leading a program in front of up to and over 100,000 fans at times. In the Class of 2016, there are a few prospects who will have an opportunity to come in and compete from Day One.
Here are five who stand out above the rest.
To continue reading this article you must be an Insider
February, 26, 2015
Feb 26
9:00
AM ET
If you're perusing the nonconference schedules for ACC teams in 2015, you've no doubt noticed that Boston College isn't exactly wowing its fan base by signing up for two games against FCS foes. But before you go and point fingers at the Eagles for stacking the decks for two easy wins, BC Interruption goes through
the agonizing details
of the long, unpleasant journey that led to this slate of games.
Long story short, the ACC's flip-flop on a nine-game schedule two years ago and the ongoing conference reshuffling elsewhere were the biggest dominoes to fall, but when you get into the nitty gritty of it, the saga really underscores just how difficult scheduling has become.
In 2012, Florida State faced a similar problem. West Virginia bailed on a nonconference agreement, and in its place, the Seminoles could do no better than Savannah State -- a game so lopsided,
they didn't even finish playing it
.
Clemson and Georgia Tech both had multiple FCS foes on their schedules in 2013, and even those late-season rivalries against the SEC probably weren't enough to make matchups against Elon or South Carolina State seem worthwhile. But that's the breaks when the conference changes scheduling tactics at the last minute.
Scheduling has become a brutal business. Teams don't see conference foes often enough in the ACC, SEC and Big Ten. No one wants to lose the revenue of a seventh home game, so slating home-and-homes against anyone becomes tricky. Lower-tier FBS schools know their services as punching bags are in high demand, so they want big bucks in return. Contracts for future games aren't worth much more than the paper they're printed on.
Which brings us to the biggest problem: Scheduling matters a lot in this new playoff era. In fact, scheduling was probably the No. 1 topic of discussion as we all debated who was in and who should be left out. But was it Florida State's fault that Oklahoma State wasn't very good? Should Baylor have been made to suffer for keeping scheduling agreements that were signed long before there was such a thing as a playoff committee? How many people were giving extra credit to Ohio State for losing to Virginia Tech rather than thumping four punching bags like Mississippi State did?
One way around the problems may be to ink more nonconference conference games, as UNC and Wake Forest did, and as the Post & Courier suggests Clemson and South Carolina
should also do
. But if we're getting to that point, why not just move to that nine-game conference slate that was such a source of frustration two years ago?
What's more realistic in the short term is that the committee -- which includes its share of ADs who should be familiar with these issues -- needs to seriously re-evaluate how much scheduling factors into its rankings.
A few more links:
February, 25, 2015
Feb 25
2:00
PM ET
We're still 26 long weeks away from the start of the 2015 season, but there promises to be plenty of twists and turns for ACC teams before the action kicks off. While some of the drama will come as a surprise, there are a number of key figures around the ACC who already are big stories. With that in mind, we're counting down the
25 most intriguing figures in the conference
this offseason — from players to coaches to administrators — and digging into the impact they might make on how 2015 unfolds once the games finally begin. Here are numbers 11 through 15.
11. Jabari Hunt-Days
Role:
Outside linebacker, Georgia Tech
Intrigue:
After recording seven tackles for loss as a sophomore in 2013, Hunt Days figured to be the heir apparent to Tech star pass rusher Jeremiah Attaochu in 2014. Instead, he missed the year with academic issues, and as a result, the Yellow Jackets finished 108th in sacks-per-game and allowed more than 5 yards per carry. He's back in the fold now, but is this an older, wiser Hunt-Days?
Possible impact:
Adam Gotsis
was Tech's only established pass rusher last season, but
KeShun Freeman
learned on the fly, and the rest of the defensive front filled in around them. In spite of the overall success of 2014, however, the defense was still a sieve at times, allowing the fifth-most yards-per-play of any Power 5 team. But add Hunt-Days back to the mix and suddenly Tech's pass rush looks a lot more intimidating. He insists he has learned some valuable lessons from his time away, and if that's true, he could team with Gotsis, Freeman and an emerging secondary to transform the Jackets' D into an asset in 2015.
[+] Enlarge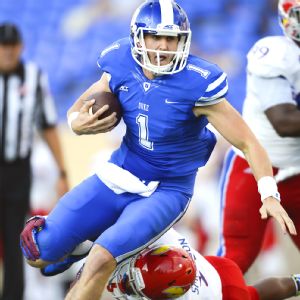 Fabian Radulescu/Icon SportswireDuke QB Thomas Sirk rushed for 238 yards and eight touchdowns in a limited role in 2014,
12. Thomas Sirk
Role:
Quarterback, Duke
Intrigue:
The last time the Blue Devils opened a season with a starting quarterback who had less than 50 pass attempts under his belt was 2006. This season, the entire roster has just 16 passes combined in their careers. Still, Sirk was on the field often last season as a change-of-pace runner in place of
Anthony Boone
. Now he's poised to take over the starting job, but there are still plenty of questions about how much of a complete player he can be.
Possible impact:
David Cutcliffe raved about Sirk's athleticism, saying he might be the fasted QB he has coached, which certainly should pair well with an already deep running game for the Blue Devils. But Sirk's arm is solid, too, so if he can turn his limited game experience into a level of comfort as a full-time starter in 2015, he figures to make Duke's offense particularly dynamic.
13. Michael Brewer
Role:
Quarterback, Virginia Tech
Intrigue:
There's no question the Hokies' offense struggled last season, but there was still plenty of room for optimism because so many of the key roles were filled by freshmen. Instead, Brewer — on campus for just a month before fall camp opened — took the brunt of the criticism. Some was warranted. He threw interceptions in nine of 13 games, including 11 in his first six contests. Some wasn't. He improved his decision-making in the second half of the year and engineered impressive comebacks against ECU, Duke and UVA. Now Brewer has a chance to get a full spring and summer under his belt with his young teammates, but he'll also be pushed by highly regarded freshman
Dwayne Lawson
.
Possible impact:
Brewer doesn't need to be a superstar for Tech in 2015 — something Lawson could well blossom into down the road — but he does need to play smart and take advantage of big-play opportunities when they arise.
Isaiah Ford
,
Cam Phillips
and
Bucky Hodges
should provide the Hokies with an explosive mix of receivers, but if Brewer can't take advantage, it's going to be tough for Frank Beamer's squad to improve dramatically this year, and Tech fans are tired of excuses.
14. Dan Radakovich
Role:
Athletics Director, Clemson
Intrigue:
Radakovich's work at Clemson has been impressive, as the school is in the midst of a four-year run of 10-win seasons and breaking ground on a ton of facility expansions. But the real intrigue for Radakovich is in his other gig, as a member of the College Football Playoff selection committee. Last year, FSU was dinged consistently, despite an unbeaten regular season. This year, the ACC might have an even tougher argument to make, and it will need a strong voice on the committee to state its case.
Possible impact:
Radakovich has shown he's willing to think outside the box and get things done, which is exactly the philosophy that's likely needed to push for the ACC's relevance on the national stage, and his determination to get Clemson to invest in its program to keep up with the big boys nationally is crucial to changing perceptions of the league. The problem, however, is that if Clemson is the team on the precipice of a playoff invite at year's end, Radakovich would have to recuse himself from the proceedings.
15. Charles Kelly
Role:
Defensive coordinator, Florida State
Intrigue:
After having a different coordinator in each of the past three seasons, FSU finally has some stability at the top of its defense. The problem is that many fans aren't thrilled with that. Kelly oversaw some serious struggles last season for the Seminoles, and he took the blame for a lackluster pass rush and a propensity by the D to give up big plays. Add the fact that four starters departed early for the NFL, and the job of rebuilding the once-mighty FSU D is a big one.
Possible impact:
FSU allowed 170 rushing yards per game last year, 73rd nationally. It allowed 51 completions of 20 yards or more, 113th nationally. It had just 17 sacks, 108th nationally. Those are ugly numbers for a team that has thrived on defense previously under Jimbo Fisher. Kelly is not new to the job of building a D, but he's going to need to develop young players quickly if he wants to make significant strides in 2015.
February, 25, 2015
Feb 25
11:48
AM ET
This week ESPN Insider Travis Haney has been
ranking all 65 Power 5 coaching jobs
. The list wraps up today with the top 24, which includes three ACC jobs. After reading where the coaches stand, here's the ACC blog's take on the matter.
1. Florida State
With its history, national profile and recruiting radius, there isn't a better job in the conference. However, while Florida State has ranked among college football's elite programs for much of the last three decades, it's not always the easiest place to win. It needs a coach who can draw prospects to Tallahassee, and Jimbo Fisher has the program rolling.
2. Clemson
Coach Dabo Swinney has turned the Tigers from perennial underachievers into annual ACC title contenders. There is a commitment to excellence at Clemson, and the Tigers have one of the most iconic stadiums in college football. South Carolina is not littered with prospects, but Clemson is close to Charlotte and Atlanta.
3. Louisville
While they haven't always been viewed as one of the better jobs, the Cardinals have turned themselves into a quality program. Five different coaches have put together at least one season with just a single loss, and Bobby Petrino and Charlie Strong combined to elevate the program into title contenders. Athletic director Tom Jurich offers the required support for a football program in a basketball state, too.
4. Miami
The Hurricanes have fallen on hard times the last decade, but it is still Miami. There are certain financial hurdles, but the history and fertile recruiting area still make the Canes an attractive job. Miami might not be able to make A-plus hires, but it should be able to attract top up-and-coming coaches.
5. Virginia Tech
The Hokies have been on a linear incline since Frank Beamer took over, although the last few seasons have been disappointing. Whenever Beamer leaves Blacksburg, though, VaTech should be able to make a solid hire. It's a little tougher to recruit, but there is a ton of support for the program as Lane Stadium provides one of the most intimidating atmospheres.
6. North Carolina
The Tar Heels are the proverbial sleeping giant, yet Carolina has never been able to break through. Maybe it just needs the right coach -- and Larry Fedora could still be that coach -- or maybe it is just too tough to win at a place where football will always be a distant second.
7. Georgia Tech
There is a branch of Yellow Jackets fans who expect Georgia Tech to compete for an ACC title annually, but the reality is it can be a tough place to win and recruit. However, Tech resides in the Coastal Division, which is ripe for the taking for whichever program can separate from the pack.
8. Virginia
Like UNC, Virginia is a program that has the resources to be better than it has been historically. The state is not stocked with talent, but the Virginia Beach area has produced some of the country's greatest talents. The campus is among the nicest, too. There are donors to be tapped into if the program can string together a couple of winning seasons.
9. NC State
The talent is growing in the state, and Charlotte, which has seen drastic population increases recently, has been open for one team to come in and clean up in recruiting for quite some time. A brand new indoor facility is set to open in the spring.
10. Pittsburgh
It hurts that the Panthers do not have an on-campus stadium, and the empty, bright yellow seats can be unattractive for prospects. There is significant talent in western Pennsylvania and Ohio, which Pitt can tap into. Pitt does have a rich history, and the right coach should be able to turn the Panthers into an annual ACC contender. It could take some time, though.
11. Duke
David Cutcliffe was the perfect hire at Duke as he was able to create a buzz around the program and finally use the school's academics to his advantage. Cutcliffe has turned Duke into a winner, but is it sustainable? Will the next coach be able to duplicate or build upon what Cutcliffe started? It didn't happen when Steve Spurrier left after 1989.
12. Boston College
New England and the Northeast are not football havens, so there are challenges in building a roster. It takes a coach willing to embrace what the university has to offer and use it in his favor. Steve Addazio has done that, but how will future coaches fare?
13. Syracuse
The weather can be brutal, and there is not much nearby football talent. Sustainability is a huge question mark at Syracuse, and it is hard to imagine a successful coach remaining in central New York for the long haul.
14. Wake Forest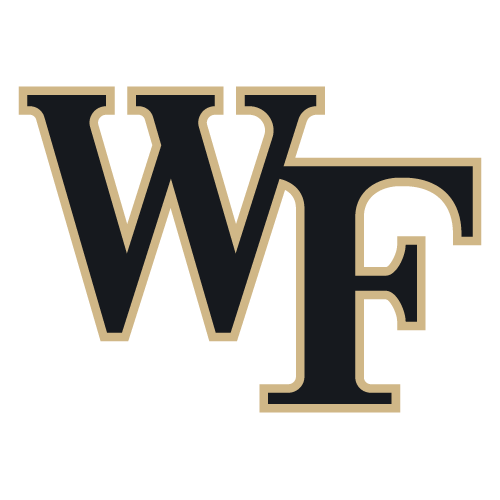 Whoever is coach of the Demon Deacons has his work cut out for him every season. Jim Grobe showed you can surprise people and put together a few winning seasons, but after going 20-7 in 2006 and 2007 combined, he went 31-43 over his final six years. Of the 28 coaches Wake has had since 1908, only three finished with winning records, and none since D.C. "Peahead" Walker left after 1950.
February, 25, 2015
Feb 25
9:00
AM ET
Miami going 6-7 with all of its talent was not only head-scratching to its fans and those who follow the team regularly, it was head scratching to scouts in Indianapolis at the combine last week.
Bruce Feldman of FoxSports.com was there
to get a gauge
on what exactly went wrong. He spoke to Miami players at the combine, and none of them pointed the finger at coach Al Golden. Still, one unnamed scout echoed the thoughts of many when he told Feldman:
"They had more front-line talent than half the teams in the SEC. They didn't have as much talent as Florida State, but they were still pretty loaded. How does that team not win at least nine games in that league?"
Various theories have been floated. After investing everything they had in the game against Florida State -- only to come up short in the fourth quarter -- Miami never recovered and lost its final four games. Golden admitted he needed to do a better job of getting his team to refocus after such a tough loss. But last week, quarterback
Brad Kaaya
also implied there were
schisms in the Miami locker room
that contributed to the disappointing season.
What is interesting in the comments made to Feldman from the former Miami players is they all use the same excuse various players have used for years: That players often are not in position to make plays for one reason or another. Former receiver
Phillip Dorsett
said, "We'd go watch film the next day and there'd be certain guys out of place, and if the guy was in place, that play would've been made. Stuff like that."
Needless to say, Miami remains one of the most interesting teams to watch in the ACC this spring and into the fall.
Elsewhere around the ACC:
February, 24, 2015
Feb 24
4:00
PM ET
Now that the NFL combine has wrapped up, let us take a quick look at how prospects from across the ACC fared.
First, here are the top overall performances, regardless of position, in the seven drills players are asked to complete:
40-yard dash
3.
Phillip Dorsett
, WR, Miami, 4.33
7.
Ronald Darby
, CB, Florida State, 4.38
Bench press
1.
Ereck Flowers
, OT, Miami, 37
t3.
Vic Beasley
, LB, Clemson, 35
t3.
Sean Hickey
, OL, Syracuse, 35
9.
Mario Edwards Jr.
, DE, Florida State, 32
t13.
Cameron Erving
, OL, Florida State, 30
Vertical jump
t7. Darby, 41.5
11. Beasley, 41
Broad jump
4.
P.J. Williams
, CB, Florida State, 11
t8. Beasley, 10-10
3-cone drill
6. Dorsett, 6.7
13.
Kevin Johnson
, CB, Wake Forest, 6.79
20-yard shuttle
2. Johnson, 3.89
10.
Garry Peters
, CB, Clemson, 4.00
12.
Stephone Anthony
, LB, Clemson 4.03
60-yard shuttle
t4. Peters, 11.10
Other notes:
Jameis Winston's Accuser Speaks Out
ACC SCOREBOARD
Thursday, 9/3
Saturday, 9/5
Monday, 9/7