September, 1, 2014
Sep 1
12:00
AM ET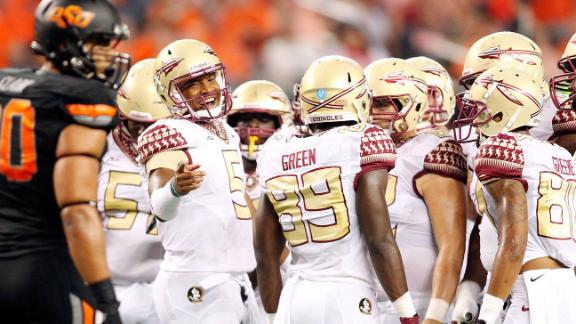 PREGAME WARMUP
What did we learn from Week 1 of the season?
Everything ... and nothing.
We learned that Florida State isn't immune to the same disease that commonly infects defending national champions: Acute Pressur-itis.
FSU coach Jimbo Fisher admitted as much after the Seminoles' semi-joyless 37-31 win against 18-point underdog Oklahoma State at JerryWorld. He said his team felt the pressure of being ranked No. 1 -- and all that comes with trying to win elusive back-to-back national titles.
"Now I think we can relax and go play football," Fisher said.
That's nice. It's also wishful thinking.
Sure, Florida State will be able to relax at home this Saturday against FCS member The Citadel. Quarterback Jameis Winston can get a mani/pedi while the third-stringers dispose of the Bulldogs. And after the blowout win, everybody can kid themselves into thinking FSU is good to go for the remainder of the season.
But truth is, as the regular season stretches its legs and the Seminoles face Clemson, Notre Dame, travel to Louisville and Miami, and finish with Florida, the Seminoles' nerve will be tested again and again. They will get every opponent's best shot -- just like the solid punches Oklahoma State landed a couple of nights ago.
The Cowboys could have beaten FSU. They didn't, which speaks to the Seminoles' resolve, but they could have. And that reality has to be an unnerving thought for Fisher and Florida State fans.
Fisher knows how hard it's going to be to win consecutive championships. He saw what happened to Alabama (and his coaching buddy Nick Saban) last season as the Crimson Tide were undone by complacency and expectations. If it can happen to a Saban-coached team, it can happen to anybody.
August, 31, 2014
Aug 31
1:50
AM ET
We're almost through the first week of the season -- we're still waiting on you, Miami-Louisville -- which means college football is ripe for overreaction. It's this time of year that is worth reminding everyone to take a step back, take a deep breath and remember it isn't even September yet.
With that said, there are only 12 games on each team's schedule, and each school can't afford to throw a week away. So here are some things the ACC blog thinks we learned through the season's first few days.
[+] Enlarge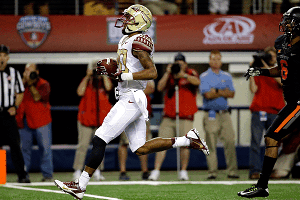 AP Photo/Tony GutierrezWill Florida State find another receiving threat to complement Rashad Greene?
1. Florida State's 2014 team wasn't built in a laboratory …
and isn't as invincible as some tried to project upon the preseason No. 1. The Seminoles jumped out to an early lead, but the armor began to crack shortly thereafter. The defense looked out of sync at times and had issues stopping the Cowboys' offense in the second half. Oklahoma State had 364 yards, with nearly all coming over the final three quarters. All preseason, Jimbo Fisher and his players said the pressure of repeating and being No. 1 would not affect this team, but the fifth-year FSU coach admitted to that in his postgame news conference. Offensively, the Seminoles set records in 2013, but with no Kelvin Benjamin or Kenny Shaw, there is no legitimate No. 2 receiving option opposite
Rashad Greene
.
The good news is this is an early wake-up call for Florida State, and they still escaped with a win. Though they are considered likely two-touchdown favorites for every game this season, this game probably humbled Florida State a little after the public inflated their egos the past eight months.
2. Clemson's defense is better, except when it's against the best:
The Tigers' defense improved drastically the past season, and Dabo Swinney and Brent Venables deserve credit for that. However, the Tigers allowed 38 points in their toughest games a season ago, and once again a quality offense shredded the unit. Georgia hung 45 on Clemson behind nearly 200 rushing yards from
Todd Gurley
, who might be the ridiculous early Heisman favorite now, thanks to the Tigers. Gurley averaged more than 13 yards per carry, and on top of it he had an easy 100-yard kickoff return score. All offseason the Tigers' defense was hyped as possibly the conference's best as it returns stars along the defensive front, the biggest being
Vic Beasley
. But the front seven wore down in the second half, and now the Tigers are left questioning whether they deserved the preseason attention.
3. It's probably a good idea to shelve the perception talk for the time being:
ACC commissioner John Swofford and league coaches must have spent the offseason bench pressing the large stack of papers listing the conference's 2013 accomplishments because they walked into ACC media days with their collective chest puffed out about the ACC playing second fiddle to nobody. Well, Wake Forest lost to Louisiana-Monroe and failed to eclipse 100 total yards. Syracuse nearly lost to FCS Villanova, North Carolina and Georgia Tech both trailed FCS schools, and NC State needed a touchdown with a little more than 90 seconds left for the win. Clemson looked good in the first half, but the defensive front seven was shredded by the UGA rush game and couldn't tackle in the second half. Florida State even looked human, but at least the Seminoles pulled out the win. The rest of the league needed to show some progress, but the cupcake scares were all too familiar for ACC advocates.
4. Give a lot of credit to the Virginia defense:
All afternoon the Cavaliers' defense was brilliant against No. 7 UCLA. Despite continuously being put in bad situations, the defense bailed out Virginia, and the Cavs nearly pulled off the upset. We all knew Virginia had the potential to be really good on defense, but it showed it Saturday by holding UCLA to fewer than five yards per play and creating a couple of turnovers. Starter
Greyson Lambert
did not last long, but Virginia might have found its quarterback of the future in
Matt Johns
. Unfortunately for Virginia, there were too many mistakes. UCLA returned three turnovers for touchdowns, and the play calling was questionable late in the game. Mike London's conservative approach might have cost Virginia the win.
5. Pittsburgh's James Conner wants to join the Heisman discussion:
In Year 3, Paul Chryst has Pitt looking like Wisconsin, at least in box scores. The Panthers rushed 56 times for 409 yards and seven touchdowns. Pitt threw a total of 14 passes in the 62-0 drubbing. Sure it was against FCS Delaware, but there were no gimme games for Pitt during Chryst's first two seasons. Youngstown State defeated Pitt in the 2012 opener, and there were many more close calls over the past two seasons. The Panthers were a popular dark horse pick in the Coastal Division, and they did nothing to suggest they don't belong in the conversation. They are going to ride Conner, who ran for 153 yards and four touchdowns on only 14 carries. The bad news is sophomore receiver
Tyler Boyd
dislocated a finger and could miss the Friday night game against Boston College.
6. Deshaun Watson is going to push for more playing time:
The No. 1 quarterback in the 2014 class did not look like a freshman on his first collegiate drive. He showed great poise on his first throw, which nearly went for a long touchdown. On his next two plays, the Clemson backup threw beautiful passes, with the second going for a touchdown. Stoudt played well in the first half, but the Clemson offense could not get much of anything going in the second half. Watson only attempted four throws, but the Tigers have South Carolina State and then a bye before Florida State. Could we see more of Watson when Clemson travels to Tallahassee?
August, 31, 2014
Aug 31
12:50
AM ET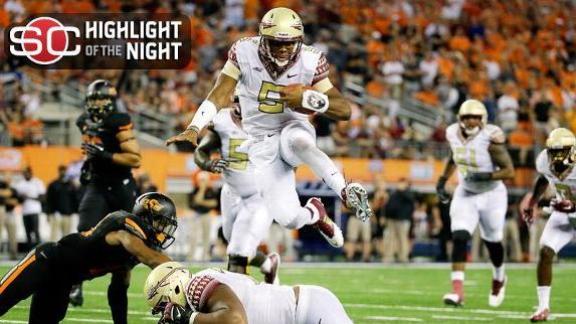 ARLINGTON, Texas -- We pontificate and analyze and study for months, and then the games start, and we find out how much we don't know. We write and speak with good intentions. We're as excited about the season getting here as you are.
But then, like most newborns, it acts nothing like imagined. Little 2014 has a mind of its own, and already we see the darling barely resembles our expectations.
We thought Florida State was invincible, and it's not.
We thought the SEC would hang on to its predominance, and it didn't.
We thought UCLA would resemble a top-five team, and we didn't see it. In fact, we thought the Pac-12 might be the best conference in the nation, and -- oh, wait a minute, we might have gotten that one right.
It's August, not November, and we are trying to solve big puzzles with small clues.
All that practice, all those meetings, all that information has to be synthesized and turned into efficient, crisp football. History tells us we don't see a lot of that on Labor Day weekend. But who remembers history when there's a new season to embrace?
No. 21 Texas A&M kicked off the season by looking all grown up and embarrassing No. 9 South Carolina 52-28. But the Aggies proved to be the anomaly. No. 4 Oklahoma and No. 15 USC dominated overmatched foes.
No. 2 Alabama looked exactly like Florida State and against a similar opponent, and they defeated West Virginia, 33-23. Those games might have been won on the past couple national signing days. When neither team is executing well, talent rules the day. It might wait until the fourth quarter, when minds are tired and precision is an elusive goal. No. 5 Ohio State and No. 13 LSU eventually found a way to beat Navy and No. 14 Wisconsin, respectively.
August, 31, 2014
Aug 31
12:42
AM ET
Considering the way the final three quarters played out, there were a dozen or so plays that stemmed the tide and flipped momentum in AT&T Stadium. Ultimately, three plays ended up having the biggest impact on the game, and they were all born out of mistakes. Florida State coach Jimbo Fisher agrees with the contemporary cliché that more games are lost rather than won, and Oklahoma State coach Mike Gundy has to feel that way after the No. 1 Seminoles defeated the Cowboys
37-31
.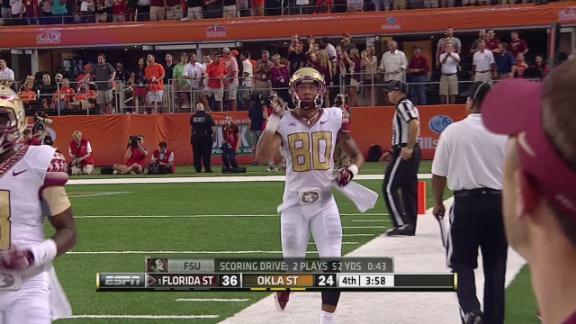 The decisive play came with a little more than four minutes left in the game. The Florida State offense struggled much of the night, and reigning Heisman winner
Jameis Winston
looked flustered throughout.
Rashad Greene
, now fourth all-time on the Seminoles' receiving list, ran a shallow cross, and as he broke to the middle of the field, the Cowboys cornerback bumped into a teammate, freeing Greene. The pass was a little behind Greene, so that little collision might have been the difference between an interception and what Greene did once he caught the ball -- go 50 yards for what proved to be the game-winning touchdown. Two plays earlier, Oklahoma State quarterback
J.W. Walsh
had fumbled the football when he looked poised to rip off a big gain. The Cowboys trailed by three and had a chance to take their first lead of the game. But Walsh was tripped up and fumbled, and Winston iced the game shortly thereafter.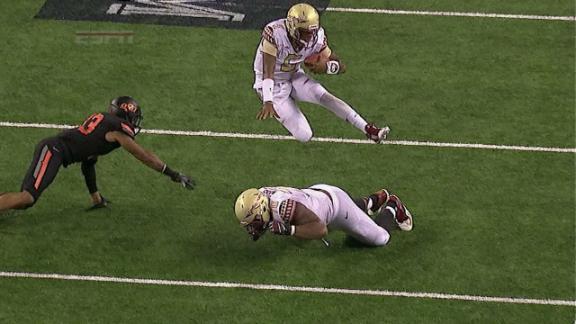 Winston looked like a Heisman winner on a 28-yard touchdown run in the third quarter. The 6-foot-4, 230-pound sophomore lumbered down the field, jumped over his offensive lineman, juked a Cowboys defender and then dove into the end zone. It was the kind of play we've come to expect from Winston but hadn't seen Saturday to that point. That touchdown was also set up by a series of Oklahoma State miscues. The Cowboys looked as if they would pin Florida State deep, but an errant snap on a punt gave the Seminoles the ball near midfield. The Cowboys defense held, but on third-and-11, Cowboys defensive back
Ashton Lampkin
, who was picked on constantly, was called for holding. It extended Florida State's drive, and Winston rumbled into the end zone the very next play.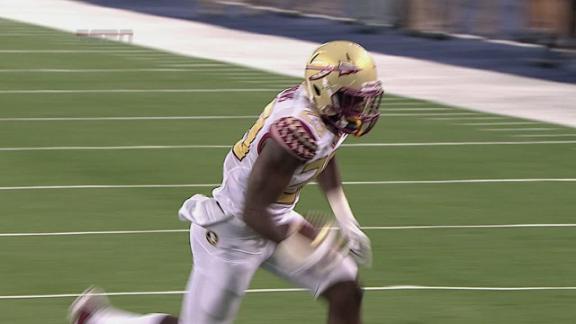 Florida State capitalized on the Cowboys' two turnovers, scoring touchdowns off of each. Oklahoma State managed only three points off the Seminoles' two miscues. The first Cowboys turnover came early in the game as
Nate Andrews
intercepted Walsh near the Oklahoma State end zone, and then Andrews walked in for the score. It was an outstanding play from Andrews, but it once again was precipitated by a special teams breakdown. The Cowboys fouled up the kickoff return and started the drive at their own 3-yard line. Walsh's interception was on the drive's first play, and it gave FSU an early 10-0 lead.
Good teams feed off their opponents' mistakes, and that is exactly what Florida State did.
August, 31, 2014
Aug 31
12:09
AM ET
By
ESPN.com staff
| ESPN.com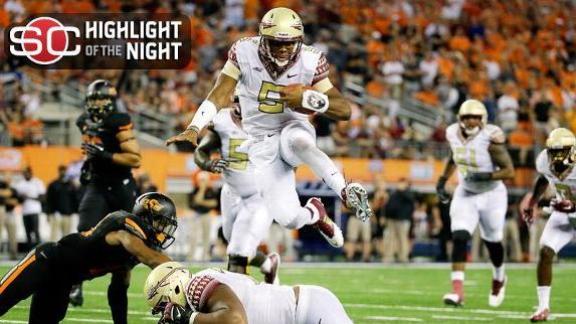 Jameis Winston
threw for 370 yards, two interceptions and a touchdown as Florida State held off Oklahoma State 37-31.
August, 30, 2014
Aug 30
11:59
PM ET
Associated Press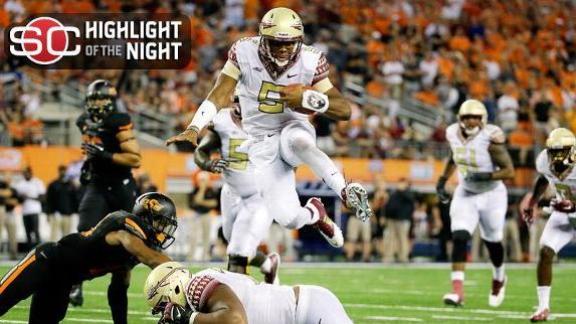 ARLINGTON, Texas -- Jameis Winston threw for 370 yards and scored on a sparkling 28-yard run, and No. 1 Florida State opened defense of its national title with a 37-31 victory Saturday night over Oklahoma State on the same field where this year's champion will be crowned.
Winston wasn't nearly as efficient as he was in the college debut that jump-started his Heisman Trophy season a year ago, but made plays when he had to as the Seminoles (1-0) tied a school record with their 17th straight victory.
The Cowboys (0-1) were 19-point underdogs in the $1.2 billion home of the Dallas Cowboys but stayed close when J.W. Walsh matched Winston's scoring run with a 24-yard sprint and dive across the goal line to get within 27-24 early in the fourth quarter.
Winston's only passing touchdown was a 50-yarder to Rashad Greene, who had 203 yards receiving.
Week 1 Storylines
ACC SCOREBOARD
Monday, 9/1
Thursday, 8/28
Friday, 8/29
Saturday, 8/30