March, 31, 2015
Mar 31
6:12
PM ET
TALLAHASSEE, Fla. -- Doak Campbell Stadium, and its 82,300 seats, might have been a more suitable setting for Florida State's pro day.
The turnout was unlike anything Florida State's communications staff has seen before. There were no more than 70 scouts and 40 media applications for Florida State pro day just a year ago. Tuesday, all 32 NFL teams were represented and 122 NFL coaches, personnel directors, general managers and scouts were clocking times and interviewing draft hopefuls. Media credentials were in such demand that after 100 requests were approved, the remaining were turned away in order to uphold building fire-safety codes. And to preserve a semblance of order and sanity.
[+] Enlarge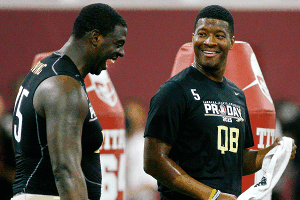 Phil Sears/USA TODAY SportsCam Erving and Jameis Winston had plenty of reason to smile at Florida State's pro day.
Jameis Winston, the former Seminoles quarterback and potential No. 1 overall pick, was the draw. He was throwing for NFL teams a second time after a strong showing at the combine a month prior, and Winston, who weighed in at 231 pounds, impressed those in attendance once again.
However, only one team -- and projections are it's Tampa Bay at No. 1 -- can take Winston. For the remaining 31 teams, the lengthy car rides and chartered flights were for the remaining top-end draft prospects -- seven of whom are ranked in the top 100 of ESPN's NFL draft rankings.
Sixth-year coach Jimbo Fisher said that for all the craziness of Florida State's pro day, it's what you hope for as a coach -- to be the program whose pro day is circled on every NFL coaching staff's calendar.
"You got 12 guys with the possibility to be drafted," Fisher said. "It's a pretty good situation."
If Florida State has just 11 players selected, it would set the record for most draft picks in a three-year span in the modern era with 29. Miami (2002-04) and USC (2008-10) hold the record with 28.
Rashad Greene is among the Seminoles certain to be selected. When Greene arrived in 2011, Florida State had just endured its seventh consecutive season with at least four losses. Two years prior in 2009, Florida State had just one player drafted, and the Seminoles combined to have only 10 players selected from 2008-11. They had 11 drafted in 2013 alone.
"This is the vision we all had," Greene said, pointing to all of the NFL coaches attending. "It took this group and the 2010 group to create this type of environment."
Grades on the 5-foot-11, 177-pound receiver differ -- he could go as early as the third round -- so Greene wanted to put to rest any questions about his on-field ability at pro day. Greene said he was happiest with his route running, and he's been able to focus solely on physical workouts as NFL teams are more than satisfied with his capabilities of mentally digesting an offense.
"Guys are very pleased and kind of shocked I have this much knowledge and feel for the game," he said. "One reaction at the combine was they had to stop me from talking, and I don't do a lot of talking. I was doing pretty good on the whiteboard."
Winston is a sure bet to go in the first round, and tackle/center Cam Erving's talent coupled with his versatility could land him among the top 32 picks, too. Defensive tackle Eddie Goldman did nothing Tuesday to jeopardize his first-round grade, and it was a handful of Goldman's defensive teammates that improved their draft stock most, impressing scouts at the weigh in, during testing and position drills.
Cornerback Ronald Darby positioned himself to be a first-round pick with his performance in position drills. After weighing in at 191 pounds, the fleet-footed cornerback waited until the afternoon to work out for coaches. Each time Darby ran through the cycle of defensive back drills, there was chatter among scouts about how effortless he looked. Darby's inability to catch the football has been a criticism, but after an early drop he hauled in the remaining balls thrown his way.
Fellow cornerback P.J. Williams needed to improve upon his 4.57 time at the combine, and at the pro day he likely registered a time somewhere in the 4.4 range. Some had him clocked as low as 4.37, which is the type of speed many personnel people felt only Darby possessed among the draft-eligible defensive backs. Williams, who like Darby declared for the draft after his junior season, also posted a 41-inch vertical and broad jumped 11 feet, 3.5 inches.
"I felt like I did really good, improved on some things from the combine and came out here to compete," Williams said. "I wasn't going to do [the vertical and broad] when I came out, but I thought about it and said I might as well come out and compete. Then I came out and did good in the position drills."
Like Williams, Mario Edwards Jr. is hoping to solidify himself as a late second- or early third-round pick. The former No. 1 overall high school recruit received a lot of attention early in his college career for his fluctuating weight, but the defensive end weighed 272 pounds at pro day and is in his best shape since arriving in Tallahassee.
Tra Thomas, a former first-round pick and three-time Pro Bowler at left tackle from Florida State, spent last week working with Edwards on his pass-rush ability. Edwards' pass-rush skills were graded as "average" on his ESPN scouting report, but Thomas said Edwards is improving quickly.
"He's going to be a huge success," Thomas said. "He's going to give a lot of offensive linemen fits."
March, 31, 2015
Mar 31
5:45
PM ET
There were representatives from all 32 NFL teams at Florida State's pro day on Tuesday, there to watch a group of 30 players (not all of them Seminoles) that included 11 who could be drafted and seven who could hear their names called in the first three rounds.
But the big story was obviously Jameis Winston, the No. 1 quarterback and No. 1 overall prospect on my draft board. I thought he had a good overall workout -- not an exceptional one -- and did nothing to hurt his status as the favorite to be the No. 1 overall pick of the Tampa Bay Buccaneers.
Let's take a look at Winston's workout and what it means.
March, 31, 2015
Mar 31
3:58
PM ET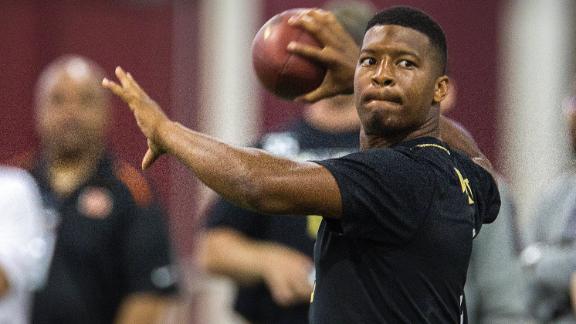 TALLAHASSEE, Fla. -- Jameis Winston's workout at Florida State's pro day on Tuesday was impressive, which was expected.
The quarterback threw 102 passes, and only 10 of them fell incomplete (six of them could be considered drops). Winston showed NFL coaches and general managers he can make all the throws. But that's no big surprise. Everyone already knows Winston can throw.
What surprised and impressed me most was Winston's demeanor -- before, during and after the workout. Although other position groups started more than two hours before Winston was scheduled to throw, he was out on the field with his teammates.
"He's the type of guy that goes to the park at 8 a.m. and doesn't leave until night," Florida State coach Jimbo Fisher said.
Winston borrowed a stopwatch from a scout and playfully timed some of the linemen running the 40-yard dash. He joked with the media on the sidelines, and that was a precursor to his being poised and relaxed during the workout.
Winston's most impressive act came just before his workout began. He gathered all the wide receivers, tight ends and running backs together and approached the area where the coaches, general managers and scouts were standing.
Winston thanked them all for coming. He followed that by giving grandiose introductions of each of his teammates. He also agreed to throw more than 100 passes -- about double the usual amount for a pro day. Winston was the only quarterback working out, and he said he extended the session to help his teammates get more exposure.
Winston has received plenty of attention for several off-the-field incidents, giving rise to questions about his character and maturity. But the fact that Winston, as a quarterback and team leader, appears to care so much about his teammates is a positive sign.
The Tampa Bay Buccaneers, who hold the No. 1 pick in the draft, came away impressed by Winston.
"He had a great day," Bucs general manager Jason Licht said. "He threw a full nine innings."
The Bucs have been doing their homework on Winston for months. He has visited One Buccaneer Place and met with ownership. Co-chairman Joel Glazer said last week he wouldn't be opposed to the Bucs drafting Winston.
But Licht isn't ready to publicly declare Winston will be the No. 1 pick in the NFL draft.
"It's just part of the process," Licht said. "We're going to use every minute of time that we have here in the next few weeks to make a decision."
March, 31, 2015
Mar 31
12:00
PM ET
TALLAHASSEE, Fla. -- In front of several former Florida State players that led the Seminoles back into national relevancy, the remodeled 2015 team went through their first spring scrimmage.
Sixth-year coach Jimbo Fisher spoke positively about his team's energy and performance. Fisher, who has lost only once over the last two seasons, said he saw the makings of another strong team.
Here are the biggest takeaways from the Seminoles' first scrimmage:
1. Quarterback Sean Maguire continues to impress
Maguire opened the quarterback competition with a leg up on the younger players because of his experience in Fisher's offense. The fourth-year quarterback is taking full advantage of his opportunity, and Fisher said last week it was Maguire's play as much as his understanding of the playbook that has him ahead of J.J. Cosentino, John Franklin III and De'Andre Johnson.
On Monday, Fisher once again left practice pleased with Maguire, who could make this quarterback competition short-lived.
"[Maguire] made throws down the field from the start of the scrimmage to the end," Fisher said. "[Maguire] made good decisions, where he went with the ball -- smart, accurate with the ball, scrambled a little, stepped up in the pocket, pocket presence, did a good job with sliding. Even with pressure, throwing it away. I liked what I saw out of him today."
2. The young, inexperienced Seminoles are doing OK
Fisher said at his spring news conference that the key words of this spring were education and patience. This isn't the team that returned a lot of experienced talent like it did a year ago.
At some point it's time to let the players work it out on the field themselves, though.
"I learned a long time ago you gotta let them play. You can overcoach them," Fisher said. "They have to get on the field by themselves. We got to learn to turn them loose. If you don't ever let them have success and failure, you're never going to know what you'll get in the fall. Is it hard? Yes, but you got to let them go."
3. The scrimmage was pretty even
Fisher harped on the success of Maguire and his running backs -- freshman Jacques Patrick in particular -- but overall he said the scrimmage wasn't dominated by the offense or the defense. The pass rush was a struggle for FSU last season, which in turn limited the Noles' effectiveness on third downs. Jacob Pugh sacked Maguire a few times in the scrimmage though, and Fisher said that the defense did a good job on third downs.
Offensively, the line paved the way for the running backs despite being without center Ryan Hoefeld (knee surgery) and right tackle Chad Mavety (right foot). The young receivers were aligned correctly, which Fisher needed to see from his inexperienced group.
The Seminoles will scrimmage again April 7 and will have their spring game April 11. They could have one more practice after the spring game.
March, 31, 2015
Mar 31
9:00
AM ET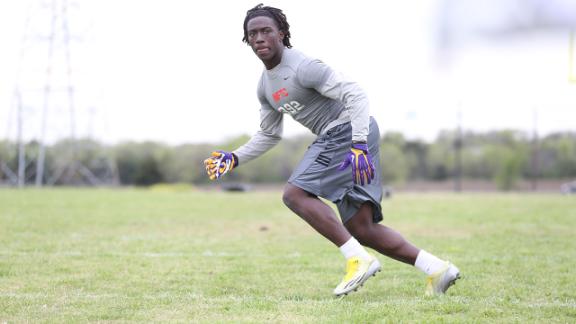 BRADENTON, Fla. -- The IMG 7v7 Southeast Regional Tournament is typically one of the best 7-on-7 events in the country each year. With elite talent on almost every team in attendance, this year was no different. With all the talent on hand there were several trends that stood out. Here's a closer look at the top five trends from the weekend event.
To continue reading this article you must be an Insider
March, 31, 2015
Mar 31
9:00
AM ET
NEW ORLEANS -- Many of the best players from Louisiana, Mississippi and Texas were at the New Orleans Opening regional camp and several trending topics emerged from the event. But the biggest is that it looks like Alabama and LSU are set to do battle again for the top 2016 prospects in Louisiana and bordering states.
To continue reading this article you must be an Insider
March, 30, 2015
Mar 30
11:00
PM ET
NEW ORLEANS -- March has been kind to 2017 running back Cordarrian Richardson of Memphis Trezevant. The sophomore is quickly becoming a household name on the national recruiting trail.
To continue reading this article you must be an Insider
March, 30, 2015
Mar 30
10:07
AM ET
[+] Enlarge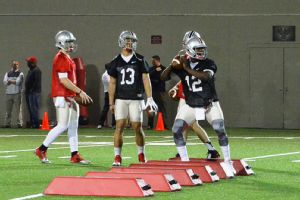 Ohio State AthleticsCardale Jones led the Buckeyes to a national championship, but he'll have to fight to keep the starting QB job.
Many FBS programs around the country have reached the midpoint of spring practice, including defending national champion Ohio State, where coach Urban Meyer still hasn't picked from among three really good quarterbacks.
Michigan and Syracuse will play their spring games Saturday (we haven't confirmed whether the winning team in Ann Arbor will have to run extra stadium steps), and then glorified scrimmages will begin en masse in the coming weeks.
What have we learned so far? Georgia, Notre Dame and Ohio State have really interesting quarterback competitions. Texas is going to play faster (and hopefully better) on offense, and "Coach Boom" is already laying the boom on the Plains. New Michigan coach Jim Harbaugh is really popular at his alma mater (but not popular enough to be elected student body president), and USC might have identified another star receiver.
Here's a look at some of the biggest developments in spring practice so far:
1. Meyer is losing sleep

Meyer has a dilemma that a lot of coaches would love to have: He has to choose from among three quarterbacks who have won big in college.
March, 30, 2015
Mar 30
10:00
AM ET
The ACC is at its spring midpoint. Miami, Boston College and Duke are done. Georgia Tech, Virginia Tech and Louisville just got started. But for most of the league, the biggest storylines are still playing out.
With that in mind, here's a quick rundown of a few of the biggest issues worth monitoring in the ACC so far this spring:
[+] Enlarge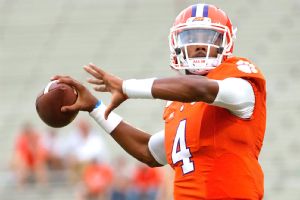 Joshua S. Kelly/USA TODAY SportsClemson will be counting on QB Deshaun Watson to return from injury and lead the Tigers' offense.
The injured QBs: Any discussion of the conference's top quarterbacks for 2015 promises to include Deshaun Watson and Marquise Williams, yet neither is taking snaps this spring. Watson tore his ACL late in the regular season, so his absence was no surprise. Instead, it's been his quick recovery that's been newsworthy. Clemson coach Dabo Swinney says Watson is already at 80 percent and should be ready to run summer drills with the rest of the Tigers' offense. Williams, on the other hand, is dealing with a hip injury, and his absence from spring practice was late-breaking news. Still, the QB situation appears far more established at North Carolina than it was a year ago, with Williams clearly the starter once healthy. Nevertheless, the Tigers and Tar Heels have used the spring to develop their backups, and, given that the reigning national champions needed three starters to get through the season, that might end up being a blessing.
The emerging QBs: There weren't many quarterback battles entering the spring, but the few places where jobs were up for grabs appear to have decisive front-runners. At Florida State, the task of replacing Jameis Winston won't be an easy one, but thus far senior Sean Maguire appears to have separated himself from the pack. Redshirt freshman J.J. Cosentino likely will push the competition into the fall, but for now Maguire looks like the favorite. At Boston College, there might be even less drama, with Darius Wade the obvious front-runner. He wrapped up spring practice last weekend with a relatively forgettable performance, but coaches still love his arm and pocket presence, which could bring an added dimension to the Eagles' run-heavy offense. And at Duke, David Cutcliffe gave lip service to an open job, but it appears clear that Thomas Sirk is the heavy favorite. He has just 14 pass attempts to his credit, but he looked like the veteran presence Duke needed this spring, and it's unlikely he'll be unseated atop the depth chart by fall.
FSU's thin linebacking corps: The defense took a big step back for Florida State in 2014, and Charles Kelly's rebuilding job hasn't been made any easier this spring with the departure of four underclassmen for the NFL draft and a litany of injuries -- particularly among the linebackers. Terrance Smith is dealing with turf toe. Reggie Northrup tore his ACL in the Rose Bowl. Matthew Thomas is now out with a shoulder injury. E.J. Levenberry and Kain Daub decided to transfer. That has Kelly plugging in bodies wherever he can find them, and it likely means FSU won't get a real feel for how its defense will look until the fall. That's a big concern for a team that mustered just 17 sacks last season -- ranking 118th nationally.
Notable position swaps: Spring is always a time when we see teams tinker with personnel at some new positions. That's the case at Florida State, where Jalen Ramsey moves from safety to corner, a move that worked well for Lamarcus Joyner two years ago. Running back Ryan Green also moved to corner, giving FSU ample athleticism in the secondary. At NC State, Airius Moore moves from middle linebacker to the weak side, allowing the Wolfpack to showcase their two talented sophomore linebackers, along with Jerod Fernandez. Dane Rogers moved from end to tackle at Clemson in hopes of finding a steady replacement for Grady Jarrett. Dan Crimmins, BC's second-leading returning receiver, could develop into a more dynamic tight end for the Eagles.
More drama at Miami: Brad Kaaya remains an emerging star, but there are ample questions surrounding him at Miami. Stacy Coley remains something of a mystery after an awful 2014 campaign. The options at tight end were inconsistent at best. The revamped offensive line had its share of spring struggles. Tailback Joseph Yearby was suspended for the spring game, and Gus Edwards saw only limited action. Not surprisingly, the spring game ended with a solid defensive performance that included four interceptions.
Hokies' defensive injuries: Virginia Tech promises to have one of the ACC's top defenses in 2015, but it's tough to get much of a read on it this spring. Brandon Facyson, Kendall Fuller, Luther Maddy, Corey Marshall and Ken Ekanem -- all established starters -- are out with injuries. Virginia Tech is using the time to develop depth, but, particularly in the secondary, Bud Foster would love a chance to get things a bit more settled.
Hunt-Days returns for Georgia Tech: The Yellow Jackets' pass rush was a work-in-progress throughout much of last season, but the development of KeShun Freeman and the return of Jabari Hunt-Days this spring could make it an asset in 2015. Hunt-Days missed all of last season because of academic issues, but he's settling back in nicely this spring and could be a wrecking ball for a Tech defense that's looking to make some major strides.
March, 29, 2015
Mar 29
3:35
PM ET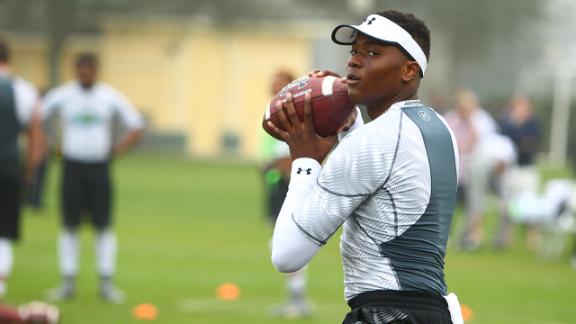 BRADENTON, Fla. -- There were several ESPN Junior 300 members on hand at the IMG7v7 Southeast Regional Championship this weekend on the campus of IMG Academy. The event was headlined by prospects such as quarterbacks Dwayne Haskins and
Jack Allison
, wide receivers
Sam Bruce
,
Trevon Diggs
,
Demetris Robertson
,
Eli Stove
and
Dionte Mullins
, and defensive backs Jamel Cook, K.J. Sails and Tyreke Johnson.
Bruce was one of several Miami commits in attendance and has been committed to the Hurricanes since last July. The 5-foot-8, 178-pound playmaker from Fort Lauderdale (Florida) St. Thomas Aquinas said his commitment to the Canes isn't very solid.
To continue reading this article you must be an Insider
Jameis Winston SportsCenter conversation
ACC SCOREBOARD
Thursday, 9/3
Saturday, 9/5
Monday, 9/7