September, 17, 2014
Sep 17
10:14
AM ET
By
ESPN.com staff
| ESPN.com
It is going to be an exciting weekend of football in the ACC with Clemson heading to No. 1 Florida State, Georgia Tech tripping to Virginia Tech and Miami renewing its rivalry with Nebraska. ACC reporters Andrea Adelson, Jared Shanker and Matt Fortuna meet up to discuss those matchups and more Wednesday at 2 p.m. ET.
September, 16, 2014
Sep 16
2:00
PM ET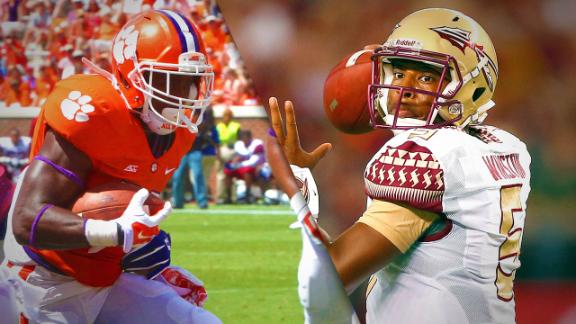 If Clemson has been busy cooking up a few new wrinkles for Florida State during the bye week, the trigger men on offense certainly aren't tipping their hand.
Chad Morris loves
Deshaun Watson
, but he downplayed the freshman's role in Saturday's game plan.
QB
Cole Stoudt
wants to look deep a bit more often against Florida State, but of course, he'll take what he's given.
The Seminoles haven't exactly looked as dominant on defense as they did a season ago, but don't go asking the Tigers if they've found a weakness to exploit.
"It's all in the strategy and game plan," Stoudt said. "We could have the same thing [as earlier games]. We could have something different. We'll mix it up."
In other words, don't bother asking. You'll find out Saturday.
But just because Clemson isn't touting any matchup advantages this week doesn't mean it hasn't been studying hard for what promises to be its biggest test of the season.
There's some juicy tape to watch on both sides of this matchup, Morris said, and that's a good thing.
Clemson's offensive hibernation in the second half against Georgia was an eye opener, and the fireworks the freshmen set off a week later against South Carolina State provided some much-needed reps for some inexperienced offensive talent.
On the flip side, Oklahoma State helped magnify some of the weak links on Florida State's defense, and while Morris certainly isn't suggesting the Seminoles aren't still loaded with talent, he said one of the big takeaways of the early season has been how much FSU misses some of last year's key contributors.
"The guys they lost were big-time players," Morris said. "To find the right combination -- they're a lot like we are offensively -- it takes some time to find the guys to play that role. The dynamics for them have changed because of the playmakers they've lost. That's what you see out of the first two games with those guys."
[+] Enlarge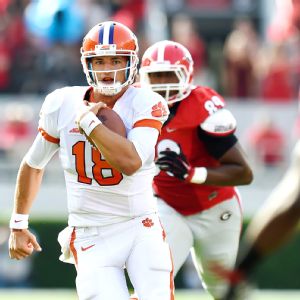 Dale Zanine/USA TODAY SportsThere are plenty of unanswered questions for QB Cole Stoudt and Clemson's offense as the Tigers enter their Week 4 game at Florida State.
That's what makes this matchup so intriguing. FSU is trying to adjust to life without Telvin Smith and Christian Jones and Timmy Jernigan up front. Clemson is wondering just how sharp its offense can be with Sammy Watkins and Tajh Boyd gone and Stoudt and a cast of unknowns taking their place.
The first two games of the season set a template. This week's matchup should answer some major questions for both teams.
"Even if you're a veteran, you haven't gotten into the groove of playing and first games are like Forrest Gumps. They're a box of chocolates, you never know what you're going to get," Jimbo Fisher said of his young defenders in new roles. "At time we were in good shape and at time we became hesitant. Those are things we can't let happen, you have to go and play those guys and that's what we did last week and we'll continue to do this week."
The same is true on Clemson's offense, where Morris spent much of Week 2 giving his young talent a long look. Watson saw increased action and looked sharp. Freshman receiver
Artavis Scott
emerged with six catches for 164 yards and a TD.
Adam Choice
and
Wayne Gallman
-- both freshmen -- led the ground game.
The strong running of the young backs is particularly encouraging as Clemson looks to establish a ground game against a battered Florida State front.
"Those guys are good," Clemson defensive lineman
D.J. Reader
said. "They work hard in practice, and there's a bunch of guys back there that run hard. They find the holes."
But, of course, big numbers against South Carolina State won't mean much against Florida State.
"They've got to continue to grow, absolutely," Morris said. "We knew they would be great players for us, but it's bringing them along at the right time."
For Florida State, the bye week has provided some answers. Defensive tackle
Eddie Goldman
returned to practice this week and should be good to go against Clemson. Linebacker
Ukeme Eligwe
could be back, too, which would be a huge boost to the Seminoles' defensive front.
At Clemson, Morris thinks he has a better handle on his players, too, even if he's not sharing much of that information yet.
Will Watson play more? Will FSU's young linemen take a step forward? Will the Tigers' ground game be a focal point?
That's the fun of a mid-September matchup, really. No one really knows much of anything yet.
"We'll have to see when we get to game day what works best," Stoudt said. "Sometimes you go into games thinking one thing and then something else works better. We'll have to see when we get out there."
September, 16, 2014
Sep 16
11:30
AM ET
TALLAHASSEE, Fla. --
Jesus Wilson
boarded the plane for Dallas with an unsettling feeling. His pads, cleats and gloves were coming with him, mockingly almost. He knew there was little chance he would get the opportunity to knock off the out-of-the-box shine.
[+] Enlarge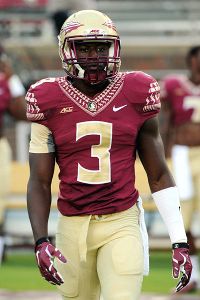 Melina Vastola/USA TODAY SportsReceiver Jesus Wilson says he's ready to make an impact in Florida State's home game against Clemson on Saturday.
A potential starting receiver entering the summer, the sophomore was going to be on the sideline and dressed for No. 1 Florida State's opener, but he wasn't going to play, his suspicions confirmed upon arrival to AT&T Stadium. Seminoles coach Jimbo Fisher told him his indefinite suspension in the aftermath of a scooter theft would end the same time as Florida State's first game.
"I had an idea," Wilson said. "I knew there was going to be some consequences."
Wilson was initially charged with a felony in July for stealing another student's motorized scooter, at which time resulted in a mandatory suspension from games. He was able to remain with the team and practice, and Wilson said he never felt support from teammates or Fisher waver as the legal process ran its course. Wilson pleaded down to two misdemeanors days before fall camp started.
"It's been kind of hard but my family and coaches and team, they always supported me and stood by my side through the whole situation. I had to grow up and be a man and learn what's right and wrong," Wilson said. "...Coach loves us. He treats us like his kids. He understood what I did was wrong but said I had to make smarter decisions in the future and learn from that and become a man."
His teammates and coaching staff needed him, though, and that was evident against Oklahoma State. Without a true No. 2 receiving threat, the hope at Florida State is Wilson will alleviate the pressure on
Rashad Greene
, who after recording 11 catches in Week 1, voiced his opinion that the Seminoles need to balance out the passing attack.
There were signs the offensive distribution was stabilizing Week 2 against The Citadel upon Wilson's return, and Wilson caught a touchdown against the Bulldogs. With the top-ranked Seminoles' game against No. 22 Clemson this week, Wilson will play a pivotal part in the passing game.
As Wilson watched film this week, he saw a lot of man coverage principles from Clemson, which owns the conference's No. 1 pass defense, and the undersized receiver feels that plays into his strengths -- speed and route running.
"I'm looking forward to it," Wilson said. "I'm ready. It's my first time playing in a big game like this."
Throughout the offseason, Wilson has received praise from quarterback
Jameis Winston
as a young player with the ability to replace the production lost from the departures of
Kelvin Benjamin
and Kenny Shaw. Although Wilson stands only 5-foot-9, Winston said Wilson is capable of turning any route into a long touchdown.
Fisher expounded on Winston's answer, and called Wilson the complete receiver that the offense needs opposite Greene.
"[Wilson is] extremely fast, can judge a ball, strong, got great body quickness, stick his foot in the ground and change direction," Fisher said. "He's becoming a very polished receiver."
September, 16, 2014
Sep 16
10:00
AM ET
Though next weekend begins the bulk of the key recruiting weekends in ACC play featuring some of the nation's top prospects on campuses within the conference, this past weekend featured a key commitment for Virginia Tech, and one of the Miami Hurricanes' top commitments making an unofficial visit to an SEC power.


September, 15, 2014
Sep 15
9:20
PM ET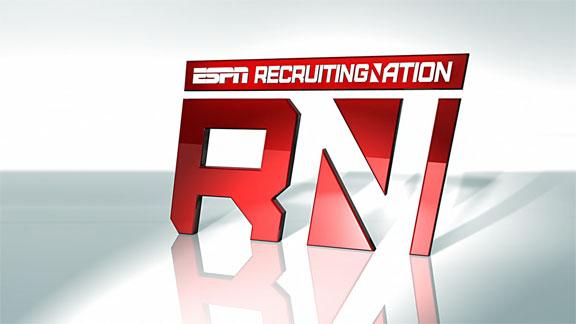 ESPN 300 offensive lineman
Matt Burrell Jr.
has already taken an official visit to
Ohio State
, and that trip has resonated with the No. 61 ranked prospect. He still has four more official visits to take, but Burrell says he has his list in order as it stands.
To continue reading this article you must be an Insider
September, 15, 2014
Sep 15
4:00
PM ET
TALLAHASSEE, Fla. -- We leave you alone for one weekend, ACC, and this is what you do. That has to be what
Clemson
and
Florida State
were thinking as they checked box scores Sunday morning after their bye week.
Virginia Tech
loses all team and conference momentum with a home loss to
East Carolina
.
Georgia Southern
was once again 90 seconds from upsetting an ACC team.
Louisville
, who many felt was now Florida State's biggest threat to an undefeated season, loses at
Virginia
. And, off all teams, it was reeling
Boston College
left to extinguish the flames, and the Eagles salvaged the Saturday with the biggest upset of the season, according to the Football Power Index, with a bulldozing of No. 9
USC
, shocking even the staunchest ACC supporters.
So here we are, at the outset of Week 4 and exactly where we thought we would be before the season kicked off: the ACC seemingly comes down to Clemson and Florida State for the third consecutive season. The two will play in prime time Saturday, and the winner controls its destiny in the Atlantic Division and, with the lack of clarity in the Coastal, conference.
It is what we have grown accustom in the ACC as of late as both programs have been on a similar linear ascent to the top of the conference. Only the Tigers and Seminoles have represented the Atlantic in the ACC championship game since 2009, but the Coastal was superior then. Now, the two have won the past three conference titles and that looks to be the case once again in 2014, too.
Except this year, winning the conference has an entirely new significance. A College Football Playoff invitation is on the line now. Technically, the ACC has seven undefeated teams, but Clemson and Florida State are the conference's prized horses capable of carrying the league to the inaugural final four. The other five would likely need an undefeated run, and that's a wager I'm not sure anyone outside of Atlanta, Pittsburgh, central New York or the Triangle is willing to make right now.
"There's no doubt" the Tigers are a rival, Seminoles coach Jimbo Fisher said. "...It's a game in which you like to be at Florida State to play in because of the ramifications and the national attention it brings."
Despite No. 22 Clemson entering the game with a loss, the national implications will be near the level it was last season because of the dawn of the playoff era. There's the sense conference titles won't mean what they used to for the elite programs, and Fisher has said as much multiple times, pondering whether fans will deem any playoff-less season as a failure. And for two teams that have each won conference titles and played in multiple BCS games the past few seasons, there is the argument that a conference title might not be enough, especially for Florida State.
If Clemson loses big, it almost certainly ends the Tigers' playoff hopes. A Florida State loss and now the nation's top-ranked program and the conference's best chance at a playoff bid needs to not only play close to perfect football against a tough remaining slate but solicit help from the supernatural to even play in the conference championship.
It might only be September but the ACC's playoff chances potentially hinge on this game between conference heavyweights.
September, 15, 2014
Sep 15
9:00
AM ET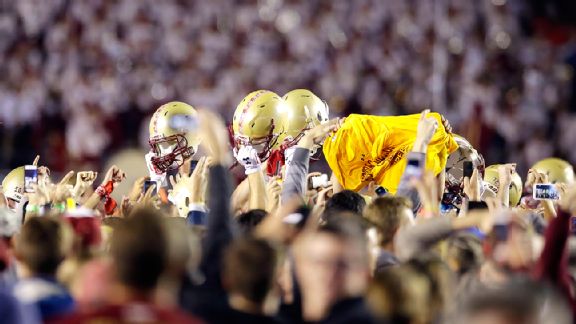 AP Photo/Stephan SavoiaBC's upset over USC shows that ACC teams are capable of winning big nonconference games.
The yin and yang that is the ACC was on full display this past weekend.
Boston College pulled an upset for the ages over No. 9 USC on Saturday night, giving the ACC five wins against top 10 nonconference opponents in a two-year span for the first time in league history!
Oh, but both No. 17 Virginia Tech and No. 21 Louisville lost to unranked teams.
But hey, the ACC is 27-5 against nonconference teams! And for the second time in league history, two unranked ACC teams upset top 10 opponents this year (BC, plus the Hokies over Ohio State in Week 2).
Oh, but look at those rankings. Only two teams remain in the AP poll this week.
But hey, maybe the bottom of the league is starting to rise up if cellar dweller UVa can shock a team like the Cards! Virginia had six wins over the last two seasons while Louisville had 23!
Oh, but look closer at the AP rankings. Only one ACC team sits in the top 15, compared to seven from the SEC.
But hey, at least the ACC is not the Big Ten!
Back and forth we go in our yearly game entitled: What will you turn out to be, ACC?
If only the ACC could get all its pieces to fit nicely into one pretty looking College Football Playoff picture.
Instead, we are left with the all too familiar, a disjointed puzzle that remains hard to comprehend and even harder to predict. Virginia Tech had its offense and defense in sync at Ohio State in Week 2; the Hokies were totally out of sync Saturday at home against East Carolina, a team everybody knew would have a shot at the upset. Boston College allowed 300-plus yards rushing in a loss to Pitt in Week 2. Against USC? The Eagles gave up 20 yards on the ground. Total.
Then there is Louisville, a team that had two turnovers in its first two games. The Cards doubled that total against Virginia and lost.
The season is obviously still young and we only have a few games to go on, but the ACC already is falling into its usual habits despite some of those jazzy stats mentioned above. Big wins end up being fluky wins; four ranked teams dwindle to two; and lo and behold, Florida State and Clemson are left to carry the league.
You know, the way the two are doing this week. "College GameDay" will be in Tallahassee, Florida, for the showdown between the only remaining ranked ACC teams, a game that has determined the Atlantic champion three straight years.
While Florida State has looked shaky and Clemson is playing one of the most daunting schedules in the country to open the season, there is no dispute everybody else inside the ACC is still chasing these two. A host of teams still have a chance to get into the Top 25 rankings this season -- Duke, Pitt and North Carolina are on deck while Virginia Tech and Louisville will have every opportunity to get back in, too. If Miami gets past Nebraska this weekend, who knows what happens.
But what was reinforced this weekend is the importance of following through. One big win is great. But that big win needs to beget another big win and another, until the ACC has got a solid group of teams that become more predictable week in and week out. Watering down the schedule like the folks over in SEC land is not the answer. The ACC needs to continue to be at the forefront of playing big nonconference games.
The league is clearly capable of winning them. It is the consistency that remains elusive.
September, 14, 2014
Sep 14
8:00
PM ET
The ACC makes no sense right now. Virginia Tech thumps Ohio State on the road, then loses to East Carolina at home. Boston College coughs up 214 rushing yards to James Conner one week, then holds USC to 20 yards on the ground the next. Georgia Tech is 3-0, but has hardly looked impressive yet. Oh, and there's that little matter of the conference's top two teams facing off this coming Saturday.

For now, we're doing the best we can with a fluid situation, so fair warning that these projections are a moving target at this point in the season.
College Football Playoff:
Florida State
Orange Bowl:
Clemson vs. Notre Dame*
Russell Athletic Bowl:
Virginia Tech
Franklin American Mortgage Music City Bowl:
Pittsburgh
Belk Bowl:
Duke
Hyundai Sun Bowl:
Miami
New Era Pinstripe Bowl:
Louisville
Military Bowl presented By Northrop Grumman:
Virginia
Duck Commander Independence Bowl:
North Carolina
Quick Lane Bowl:
Boston College
BITCOIN St. Petersburg Bowl:
Georgia Tech
*Note: Notre Dame is eligible for a bid to any ACC tie-in game unless it is selected for a New Year's Six game, which can include playing an ACC team in the Orange Bowl.
College Football Minute