December, 6, 2013
Dec 6
2:00
PM ET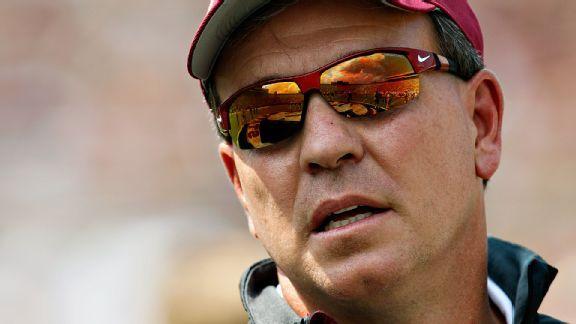 Two ACC schools lead the way for Florida commitment
Dalvin Cook
. And more prospects begin to set up their official visits as national signing day nears for the Class of 2014.
To continue reading this article you must be an Insider
December, 6, 2013
Dec 6
2:00
PM ET
Florida State's offense leads the nation in yards per play, and while
Jameis Winston
has gotten the bulk of the credit, the ground game led by junior tailback
Devonta Freeman
has been among the best in the country all season.
Freeman has set career highs in rushing yards (852), touchdowns (13) and yards from scrimmage (1,087) this season, despite averaging just 13 touches per game.
[+] Enlarge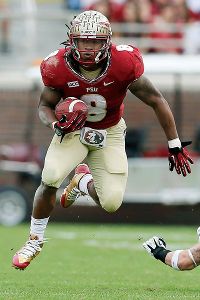 Don Juan Moore/Getty ImagesDevonta Freeman has been a force for the Florida State running game.
ESPN.com caught up with Freeman this week, as his Seminoles get set to take on Duke in the ACC championship game.
Q: Has it dawned on you yet that you might be just one game away from playing for a national title?
A:
It's scary. It hasn't hit me yet, to be honest. It hasn't even hit me yet that we're No. 1. I don't know if that's natural or what, but it hasn't hit me yet. It seems insane, but it's kind of natural, too. We're kind of used to the great success we're having. Now that we're No. 1, we know we're supposed to be No. 1. I just feel like it hasn't changed anything. Or maybe it hasn't hit me yet. I don't know which one it is.
Q: Florida State's offense has a chance to have three receivers top 1,000 yards, and you're on pace to reach that, too. Is that a source of pride?
A:
I think that's good, something to be accomplished here at Florida State. But I haven't paid attention to it too much. But I think it's a great thing if we accomplish that.
Q: Is it indicative of how everyone on the offense seems to get their share of touches?
A:
Jimbo does a great job spreading the ball a lot. And we're so hungry, we make plays. Any time we get the ball, we know we might not get it again until three series later, so we try to take advantage of the opportunities we get. We're getting good YAC yards and things like that.
Q: You're having a career year. James Wilder Jr. has been running well since returning from a concussion. Karlos Williams has had a full season to get used to playing tailback. Is this the best your position group has looked all season?
A:
I think there's still work out there. But I think as a unit, we're getting better and better every day. I wouldn't say we're at our best, but I feel like we're increasing.
Q: People don't seem to be giving Duke much chance to win this game. Does it worry you when everyone is overlooking the team you're about to play?
A:
To me, those are the teams that are most dangerous. I remember in high school, I was in a similar situation. We were playing Miramar, and we weren't worried about them. They shocked us. They beat us the game before state. So those are the teams you can't take for granted. You have to prepare well for them, because they'll bring their 'A' game.
Q: What stands out to you about Duke's defense?
A:
They're going to be everywhere they need to be. They won't have too many missed assignments. They have a lot of guys who do the right thing every time.
Q: Can teams like that be more of a challenge than ones that are very athletic, but not completely disciplined?
A:
I think it's going to challenge us to just be consistent. Be more consistent than them because we know they'll be everywhere they're supposed to be. And that will challenge us.
December, 6, 2013
Dec 6
12:00
PM ET
December, 6, 2013
Dec 6
12:00
PM ET
Montae Nicholson
was planning to commit in early December. The timetable for the four-star Monroeville (Pa.) Gateway athlete and ESPN 300 prospect has been pushed back, but just slightly.
To continue reading this article you must be an Insider
December, 6, 2013
Dec 6
10:00
AM ET
Here are a bunch of fun facts for Saturday's showdown in Charlotte. As always, thanks to ESPN Stats & Info, and sports information departments, for the tidbits.
Duke has clinched its first 10-win season, is on an eight-game winning streak for the first time, has been ranked in the AP poll for the first time since 1994, has two wins against ranked teams for the first time since 1989 and will be playing in consecutive bowl games for the first time.
Duke has outscored opponents by an FBS-high 76 points in the fourth quarter.
The Blue Devils' plus-nine turnover margin in the fourth quarter is also the nation's best.
Duke has gone for it 13 times on fourth-and-1 this season, tied for the most in FBS. The Blue Devils have converted 10 first downs on those 13 plays.
Jamison Crowder has 587 yards after the catch, second-most in the ACC behind Sammy Watkins (837). Crowder has 21 receptions in which he gained at least 10 yards after the catch.
Crowder has been targeted 142 times this season, 25 more than any other ACC player. He has caught an ACC-high 34 screen passes and has averaged 6 yards per catch on screens.
Florida State has 13 ACC titles (11 outright, two shared), one shy of the record held by Clemson. The Seminoles will be playing in their second straight ACC title game after beating Georgia Tech last year.
Duke is looking for its first conference championship since it shared the ACC title in 1989 with Virginia, and it is going for its first outright title since winning the ACC in 1962. The Blue Devils are playing in their first ACC title game.
Florida State has a decided advantage in the series, winning all 18 meetings against Duke by an average of 34 points per game.
Florida State is 12-0 for the first time since it won the BCS national championship during the 1999 season. The Seminoles have won all 12 games by at least 14 points and their average margin of victory (plus-42.7) is on pace to be the highest since Army set the record in 1944 (plus-52.1). They would become the first team to win all of their games by at least 14 points since Urban Meyer's 2004 Utah Utes. Their average in-game win probability is 84 percent, the highest for any team in the last 10 seasons. (Average in-game win probability is a team's chance of winning across all of its plays.)
Jameis Winston leads the FBS with a 91.9 opponent-adjusted QBR. The leader in opponent-adjusted QBR in three of the last six seasons went on to win the Heisman Trophy, including Johnny Manziel last season. Winston had an opponent-adjusted QBR of 90 or higher in eight games. In the last 10 seasons, only Russell Wilson (9) in 2011, Andrew Luck (9) in 2010 and Sam Bradford (9) in 2008 have had more such games in a season.
With Winston under center, the Seminoles have scored more than 35 points in all 12 games, the longest active streak in the nation and tied for the third-longest streak in FBS history. Winston has already set ACC freshman records for both passing yards and passing touchdowns. Winston has 35 passing touchdowns this season, the most in the ACC and third-most in the FBS. He throws a touchdown every 9.1 attempts, best in the nation.
Winston averages 11 yards per attempt, second-best in the FBS behind Baylor's Bryce Petty. He has 62 completions that gained 20 yards or more, fourth-most in the nation. He had eight of those completions against Florida last Saturday, the most allowed by the Gators since 2007, when they gave up eight to Florida Atlantic.
Winston has completed 68.8 percent of his passes this season, ninth-best in the nation. He is the only player since 2000 to complete at least 90 percent of his passes in two games in the same season (minimum 15 attempts). Winston did it against Pittsburgh (25 of 27) and Syracuse (19 of 21).
On third down, Winston leads all FBS quarterbacks with at least 60 attempts in completion percentage (71.0), yards per attempt (11.5) and Total QBR (99.3). Winston has converted a first down on an FBS-high 61 percent of his passing plays (pass attempts plus sacks) on third down. No player in the last 10 seasons has finished a season with a higher third-down conversion percentage on passing plays.
On plays in which he is pressured (knockdown or hurried), Winston completes an AQ-high 65.9 percent of his passes and is averaging 12.2 yards per attempt. The AQ average for a quarterback when pressured is 35 percent and 4.8 yards per attempt. When opponents send five or more pass rushers, Winston leads all AQ players in completion percentage (70.3), touchdowns (19) and yards per attempt (12.4).
Winston completes an AQ-high 59 percent of his passes thrown 15 yards or longer this season. On such passes, he has 17 touchdowns, second-most among AQ quarterbacks behind Baylor's Petty (20).
Florida State averages 8.2 yards per play with Winston under center, the highest for any AQ quarterback who has taken at least 100 snaps. The Seminoles have scored a touchdown on 57 percent of Winston's drives. The FBS average is 27 percent.
Florida State's strength of schedule ranks 68th in the FBS. According to ESPN's adjusted win percentage, it is more difficult to go 10-2 against either Stanford or Arizona State's schedule than it is to go 12-0 against the Seminoles' schedule.
Florida State leads the nation in scoring defense and ranks second in scoring offense. According to ESPN's team efficiency rankings, the Seminoles have the highest-rated offense and defense in the FBS.
December, 6, 2013
Dec 6
3:00
AM ET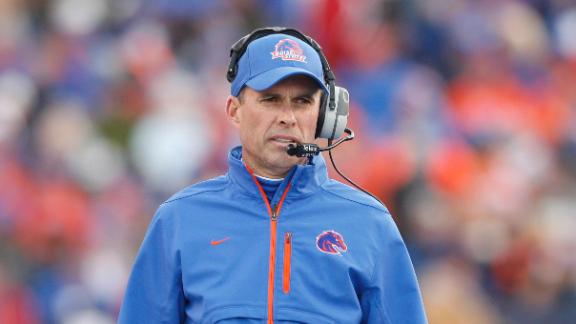 It's almost too quiet for this time of year in college football.
This is when agents make their money, when speculation and misinformation run rampant and when coaches try to discern whether the grass really is greener on the other side of the fence.
Although there hasn't been a great deal of movement, it certainly will be worth watching what happens at Texas, which obviously could trigger a serious domino effect. If Mack Brown retires, don't be surprised if Florida State's Jimbo Fisher is a name that surfaces in the Longhorns' search.
Getting Fisher out of Tallahassee could be a chore. If the Seminoles, as expected, play in the Vizio BCS National Championship, that adds another month to the timetable before Fisher would be available. He's also sitting on a gold mine in terms of talent and has an easier pathway every year to the national title game with the Seminoles playing in the ACC.
Of course, what typically drives the perennial coaching carousel is the green. That's green as in cold, hard cash.
We've already seen USC act quickly by hiring away Steve Sarkisian from Washington. The Trojans had initially targeted Texas A&M's Kevin Sumlin, who parlayed the Trojans' interest into becoming a member of the $5 million club.
We're rapidly approaching the day when a coach in the SEC making $3 million per year will fall somewhere in the bottom of the pack in terms of salary.
It's called market value, and that's what the going rate is right now to hire (and keep) good coaches.
Auburn's Gus Malzahn will be the next to cash in after the job he has done in leading the Tigers to the SEC championship game in his first season.
But the number of coaches packing up their offices this week has paled in comparison with most years. There just aren't that many jobs open right now.
Just look at the SEC. This might actually be a year when there aren't any changes at the top.
December, 5, 2013
Dec 5
10:55
PM ET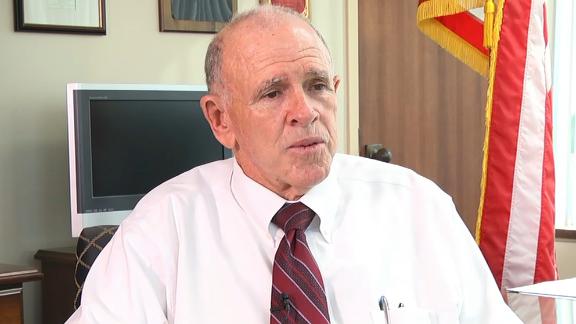 State attorney Willie Meggs announced Thursday that
no charges would be filed
against Florida State quarterback
Jameis Winston
in relation to an alleged sexual assault, and after three weeks of silence while the investigation was ongoing, the Heisman hopeful's family is eager to finally speak out in his defense.
Winston's father, Antonor, said the family never worried about the outcome of Meggs' investigation, but the weeks of media scrutiny proved a damaging experience.
"It's been really frustrating and very stressful," Antonor Winston said. "The media has almost scandalized our son's name, and to do that when he hasn't even gotten charged. The only thing he's done is shown his character and been himself, and for me and my wife, it really hurt us. … People have to understand, he has a momma and daddy just like the accuser does. People have to understand that. That's what I want to get out."
"

It's been really frustrating and very stressful. The media has almost scandalized our son's name, and to do that when he hasn't even gotten charged. The only thing he's done is shown his character and been himself, and for me and my wife, it really hurt us. ... People have to understand, he has a momma and daddy just like the accuser does. People have to understand that. That's what I want to get out.

"

-- Antonor Winston, Jameis Winston's father
The accusations against Jameis Winston first became public Nov. 13 -- more than 11 months after the incident was first reported to police -- and details of the investigation remained sketchy until Meggs announced his decision Thursday.
In the interim, Antonor Winston said his son's reputation was damaged by an onslaught of criticism, rumors and speculation.
"We never could've imagined something coming down like this, but it's a part of learning," Antonor Winston said. "We thank God for allowing us to come through this. But for Jameis to go farther in the process, we pretty much had to go through this. But I'm pretty sure that from now on, our circle is going to be very, very small. We hate to be that way, but it'll be smaller than ever before."
Numerous high-profile attorneys have already contacted the family about pursuing litigation for the damage done to Jameis's reputation, but at this point Antonor Winston said the family simply wants to put the investigation behind it.
"I'm fixing to sit down and relax," he said. "I'm not looking for revenge. But the only thing I really want to put out there is that it was really unfair to Jameis how the media scrutinized his name without any facts."
Florida State coach Jimbo Fisher informed the team before practice Thursday that no charges would be filed against Winston, and the quarterback released a statement through the school saying he was eager to shift focus back to the football field.
"It's been difficult to stay silent through this process, but I never lost faith in the truth and in who I am," Jameis Winston said. "I'm very relieved I'll be able to continue my education at Florida State and I'm excited I can now get back to helping our team achieve its goals."
On Thursday, Fisher raved about Winston's maturity throughout the investigation, saying his focus never wavered from football.
Linebacker
Telvin Smith
said the team had rallied around Winston, but was glad the dark cloud had finally been lifted.
"That's huge just because that part of the clutter, that's gone," Smith said. "Now what are you going to say about the team? We're just going to keep fighting, keep playing."
Winston is a front-runner for the Heisman Trophy and Florida State is currently atop the BCS standings, with a meeting with Duke in Saturday's ACC championship game likely the last impediment to a berth in the national championship game.
While the accusations threatened to derail Jameis' Heisman campaign, Antonor Winston said his son navigated the past few weeks well.
"Jameis was fine because he was around a lot of great people," he said. "It was his mother and me listening to all the persecution. But it's easy to go through something when you know you're innocent."
Jameis Winston had declined to comment publicly on the investigation, but he continued to meet with media and, on the field, led Florida State to wins over Syracuse, Idaho and Florida, while setting the school record for touchdown passes in a season.
Winston's high school coach, Matt Scott, was in attendance for the Syracuse game and has kept in touch with his former player regularly. He said Winston's focus on football helped him avoid the media scrutiny.
"That's the thing I've always appreciated about him -- he's going to be him," Scott said. "Some people are going to like it. Some people are not. But there's nothing hidden in the closet. Whatever you see is what you're going to get."
Antonor Winston said his son was thoroughly vetted by media during his high-profile recruitment in high school, and he was disappointed to see so much criticism before a decision was made on whether Jameis would be charged.
Scott said he was frustrated by suggestions that Winston had been given special treatment because of his status as a star quarterback and high-profile recruit, insisting that had never occurred during Winston's career at Hueytown High School in Alabama.
"Anybody that would say that he got the five-star treatment or favoritism, those types of things in high school, I can assure you they either were not there or it's someone that's jealous of his success," Scott said. "Because that was not the case at all."
But both Antonor Winston and Scott said they were not worried about the outcome of the case.
"I knew he was going to come out on top, and I knew he'd breathe a sigh of relief," Antonor Winston said of his son. "Now he's got to refocus himself from that forcefield to going back to being Jameis. And Jameis is going to be fine. But I just think this starts the healing process."
December, 5, 2013
Dec 5
4:52
PM ET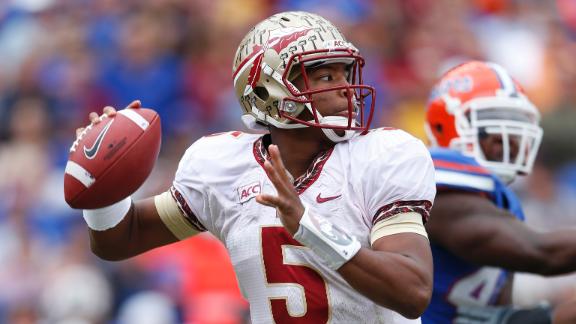 Florida State was and still is the No. 1 team in the country, just one game away from playing for a national title. It still has arguably the best combination of offense and defense in college football. And the Seminoles still have the leading candidate to win the Heisman Trophy as they prepare to face Duke in Saturday's Dr Pepper ACC Championship game.
If the legal system isn't going to derail
Jameis Winston
this season, it's quite possible nothing will.
On Thursday afternoon, the state attorney's office announced the decision
not to press charges against Winston
, who was accused of rape almost a year ago. If Florida State exhaled with the news, it wasn't louder than a whisper, because anyone who has watched the Seminoles play in November knows they weren't winning while worrying. Certainly not while they were beating rival Florida by 30 points, or Syracuse by 56, or Idaho by 66. Not once has Florida State or Winston allowed this heavy allegation to weigh it down. Not once during the regular season has Winston even addressed the incident with the media. Instead, he continued to play and win, week after week.
Winston's status hasn't changed, so don't expect the Noles to.
[+] Enlarge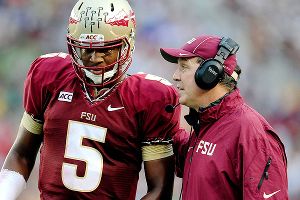 Stacy Revere/Getty ImagesJameis Winston and Jimbo Fisher now can focus on getting FSU to the national title game.
While Winston's character and his guilt or innocence will likely continue to be a controversial topic among fans and media members -- especially those whose Heisman votes are due Monday -- the strength of Florida State with Winston orchestrating the offense is not debatable. He has proven -- repeatedly -- to be unflappable, both on and off the field. If he has played under any stress, it has been masked by his jaw-dropping accuracy, disguised by arguably the most talented group of receivers in the country.
If that's how Winston plays under duress -- averaging 11.0 yards per attempt, completing 71 percent of his passes on third downs, and leading the nation with a 91.9 opponent-adjusted QBR -- then Duke's defense will need a miracle now that Winston is free to play the two most important games of the season without any legal issues looming.
While the court of public opinion might still be deliberating Winston's innocence, it's not as if he has anything more to prove on the field. One of the biggest questions heading into this season was how Winston -- just a 19-year-old freshman -- would handle the pressure of playing for a national title contender in his first season as a starter. In one week, he answered it: 25 of 27 completions for 356 yards and four touchdowns and one rushing touchdown in a stunning performance in the season opener at Pitt.
One of the biggest questions across all of college football last month was how much of a distraction the allegation of rape would be. In three days, Winston answered it: 19-of-21 for 277 yards and two touchdowns in a 59-3 dismantling of Syracuse.
"It's the same thing every single week," Winston said matter-of-factly that day.
Remarkably -- almost even eerily -- the only thing that would have changed Florida State's pattern of winning would have been a felony charge.
The only statement to come from Florida State's football program regarding the state attorney's decision was from coach Jimbo Fisher, who has already redirected the focus to Saturday's title game.
"Right now, we're all looking forward to what we have in front of us on Saturday," Fisher said.
It's the same thing every single week, right?
As far as Florida State athletic director Stan Wilcox is concerned, "Winston's status as a Florida State University student athlete remains unchanged."
So does Florida State's place in the BCS standings.
December, 5, 2013
Dec 5
4:27
PM ET
We should have known the Bowl Championship Series was bound to deliver at least a little shot of drama on its way out the door.
To continue reading this article you must be an Insider
December, 5, 2013
Dec 5
3:57
PM ET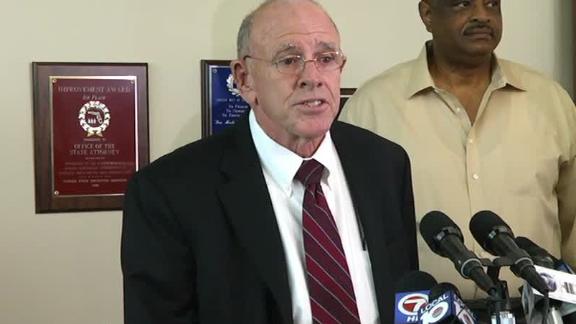 Three key factors led a Florida state attorney to conclude that he could not file a sexual assault charge against Florida State quarterback Jameis Winston.
Major lapses in the accuser's memory, her level of intoxication at the time of the incident and the presence of DNA from two different men in the woman's rape kit were the main reasons the state decided not to charge the Heisman Trophy favorite, State Attorney Willie Meggs said during a news conference Thursday.
To prove such a case, a prosecutor must be able to show a jury a convincing narrative of what happened. If the accuser cannot remember parts of the story, the prosecutor must have other witnesses who can provide the material. It was clear in Meggs' explanation that the other witnesses whom his staff interviewed did not plug the gaps in the accuser's story.
Several times during his news conference, Meggs referred to her memory gaps about what happened on Dec. 7, 2012. "She was not sure about a lot of things," Meggs said.
Although Meggs refused to speculate why, he did point to an analysis of a blood-alcohol test taken several hours after the alleged attack that showed that her blood-alcohol content at the time of the incident could have been 0.10 percent, even though when it was taken the test registered a 0.04 reading. The 0.10 reading would have been higher than the 0.08 legal limit for driving.
The clear implication of Meggs' use of the extrapolated blood alcohol levels was to show that the accuser may have been in the brownout or blackout stage of intoxication, a probable cause of the memory gaps.
December, 5, 2013
Dec 5
3:53
PM ET
By
ESPN.com staff
| ESPN.com
To watch on your smartphone, click here
ESPN legal analyst Lester Munson and ACC reporter Andrea Adelson react to the news that Florida State quarterback Jameis Winston will not be changed with a crime.
December, 5, 2013
Dec 5
3:21
PM ET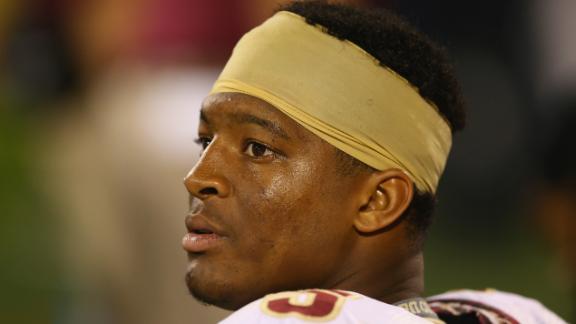 The decision by Florida prosecutors not to press sexual assault charges against Florida State quarterback Jameis Winston has financial ramifications for Winston and his school.
State Attorney Willie Meggs said Thursday that no charges would be filed against Winston, 19, who was accused of raping a female student in December 2012. Meggs said there was not enough evidence for anyone to be charged.
Clearing this legal hurdle makes Winston likely to win the Heisman Trophy award if he performs well in this weekend's ACC championship game. That would be an automatic future revenue stream for Winston.
"Winning the Heisman is worth seven figures over a lifetime," said Ross Tannenbaum, president of Fanatics Authentic, the memorabilia division of Fanatics, the nation's largest online sports retailer. "People collect Heisman winners just like they collect MVP award winners and Cy Young winners. They have to have them."
Tannenbaum said Winston might have a little less value than a winner at Notre Dame, Texas and Ohio State, because Florida State doesn't quite have the same fan base. Any money Winston would earn as the Heisman winner will also be spread out, instead of being paid as a lump sum, because Winston can't take money while he's still in school. He's not eligible to leave school and enter the NFL draft until after next season.
"He'll lose the chance of making immediate money," Tannenbaum said. "If he were done after this year, he'd make hundreds of thousands of dollars right away."
That being said, Winston could enhance his value by coupling a Heisman Trophy with winning a national title.
Winston will also be able to keep his marketability intact now that he has not been charged, said David Schwab, senior vice president of Octagon First Call, the agency's celebrity acquisition and engagement division.
FSU Students React To Winston Decision