September, 30, 2014
Sep 30
9:09
AM ET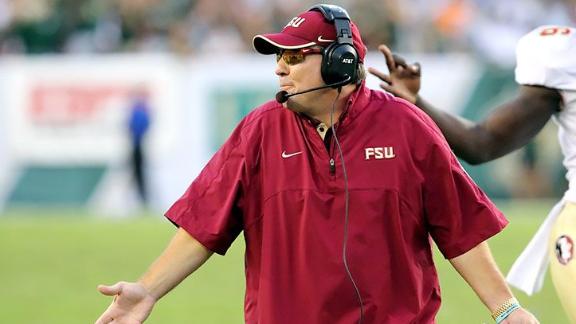 NC State coach Dave Doeren apologized to Florida State coach Jimbo Fisher on Tuesday after accusing the Seminoles of faking injuries in their win over the Wolfpack on Saturday.
In a statement released on Twitter, Doeren said: "I have apologized to Jimbo Fisher & want to apologize to his staff, players & FSU fans for my comments that took away from a tremendous football game. I left an emotional locker room & took those emotions w/ me to the press conference. It was a great college football game with tremendous plays made by both teams. That is where the focus deserves to be. I have the utmost respect for Jimbo, his staff and players. FSU played a great game and earned the win."
The two coaches have traded barbs since Doeren's initial comments Saturday, after No. 1 Florida State rallied to beat NC State 56-41.
"The tempo we had was working until all the crazy fall-down things were going on and the clock kept stopping," Doeren said after the game. "You know the refs can't do anything about that, but it's horrible the way the tempo gets slowed down by these injuries. We went fast in the first quarter; I guess there were no fake injuries."
When asked about his comments Monday, Doeren said his team has dealt with "multiple people falling down" and limping off the field through the first five games of the season and called it "unsportsmanlike" behavior. He specifically pointed to one second-half play in which a Seminoles player "walked off the field as slow as humanly possible, and he's back in the game."
September, 30, 2014
Sep 30
8:00
AM ET
It appears things are getting a bit salty between a pair of ACC coaches.
Florida State's Jimbo Fisher fired back Monday at NC State coach Dave Doeren, two days after Doeren had accused the Seminoles of faking injuries in FSU's 56-41 win.
"Well, I accuse him of not knowing what he's talking about," Fisher said Monday, as our Jared Shanker wrote. "They're not fake injuries. No one faked injuries, and we wouldn't do that. We'll coach Florida State, and he can coach North Carolina State."
As Shanker writes, Eddie Goldman, Derrick Mitchell Jr. and Terrance Smith needed help off the field Saturday in Raleigh, North Carolina.
Doeren softened his stance Monday but did not exactly back down, saying that the issue is not specific to FSU and that a rule should be in place that a player has to sit out for more than one play if he leaves the game in such a situation.
None of this, of course, is particularly new to college football, which has publicly wrestled with the hurry-up, no-huddle debate going on three years now. There is no real clear answer yet.
Surprisingly, a poll embedded in Shanker's story shows fans are overwhelmingly OK with Doeren's suggestions, saying that he did not cross a line. But our David Hale likely had a point Saturday when he tweeted that if you're going to fake injuries to slow the offense's tempo, you probably don't do it with Goldman in the red zone.
On to the rest of your ACC links ...
September, 29, 2014
Sep 29
10:08
PM ET
September, 29, 2014
Sep 29
2:58
PM ET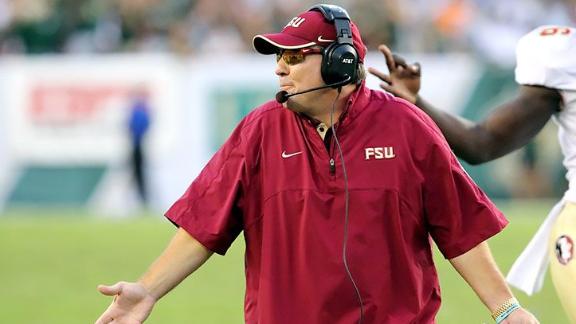 TALLAHASSEE, Fla. -- NC State almost upset top-ranked Florida State on Saturday. Two days later, it was Seminoles coach Jimbo Fisher who was upset after hearing that Wolfpack coach Dave Doeren accused Florida State of faking injuries.
"Well, I accuse him of not knowing what he's talking about," Fisher said Monday. "They're not fake injuries. No one faked injuries, and we wouldn't do that. We'll coach Florida State, and he can coach North Carolina State."
After Saturday's 56-41 loss to the Seminoles, Doeren voiced a few gripes with Florida State's tactics. A handful of FSU defensive players throughout the game needed help off the field, including veteran players Eddie Goldman, Derrick Mitchell Jr. and Terrance Smith.
"The tempo we had was working until all the crazy fall-down things were going on and the clock kept stopping," Doeren told reporters after the loss. "You know the refs can't do anything about that, but it's horrible the way the tempo gets slowed down by these injuries. We went fast in the first quarter; I guess there were no fake injuries."
The Wolfpack's offense has improved dramatically in Year 2 under Doeren, who now has Florida transfer Jacoby Brissett as his quarterback. The Wolfpack racked up 520 yards of offense against Florida State via Doeren's up-tempo pace. NC State at one point held a 24-7 advantage and led for most of the game.
At his Monday news conference, Doeren reiterated his belief that the Seminoles faked injuries but softened his stance somewhat. He also called it an issue not specific to Florida State but rather a college football problem.
September, 29, 2014
Sep 29
2:00
PM ET
Breaking down some interesting stats after five weeks of games in the ACC.
* Jameis Winston's Heisman campaign shouldn't be on life support just yet. His numbers are down from last year, but not by as much as you might think.
Last season, Winston led 137 drives and Florida State scored on 66 percent of them, averaging 4.1 points per drive.
This season, Winston has led 33 drives and the Seminoles have scored 61 percent of the time and averaged 3.7 points per drive.
It's really a small blip, and given that Winston is breaking in a lot of new faces in new roles at the skill positions, it's certainly not too surprising.
Winston also ranks 10th nationally in passing yards per game, 15th in yards per attempt and 19th in passer rating. Again, off a bit from last season, but certainly well within range of climbing back into the Heisman race by year's end.
* In Florida State's first eight quarters of action against Power 5 opponents, it had tallied just 131 yards and two TDs on 45 non-QB rushing attempts (2.9 yards per carry). Since the start of overtime against Clemson, however, those numbers have jumped to 194 yards and five TDs on 30 carries (6.5 YPC).
*
Rashad Greene
is FSU's Mr. Reliable. Since he arrived in 2011, he's responsible for 36 percent of all of the Noles' receptions on third or fourth down (48). This season, he's been targeted on 11 of 21 third-down passes.
More Greene: He's played in 19 games decided by two touchdowns or less. In those games, he's caught 118 passes for 1,658 yards and 12 TDs. No other FSU receiver has had more than three touchdown catches in those games.
* The bad news for FSU is the defense. The Seminoles have allowed more than 400 yards of offense to ACC teams in consecutive games for the first time since 2009 — a season in which Florida State finished 108th nationally in total defense.
* Looking for a dark horse for the ACC's top freshman? How about NC State's
Bo Hines
, who has 24 catches for 312 yards already this season. Only three other true freshmen in the nation have more catches and only two have more yards than Hines, and no Power 5 conference receiver in the nation (min. 25 targets) has caught a higher percentage of his passes (87.5).
*
Jacoby Brissett
was exceptional against Florida State, with Jimbo Fisher comparing the NC State QB's game to that of his own Heisman winner. But beyond the highlight plays, what's perhaps been so impressive about Brissett so far this season is that he hasn't made many mistakes. In fact, the NC State QB currently has a streak of 156 straight attempts without an interception — the longest streak by any quarterback since Baylor's
Bryce Petty
went 229 straight throws from Oct. 5 through Nov. 30 of last season.
* While Brissett avoided picks, Virginia Tech's
Michael Brewer
keeps racking them up. Brewer threw two more against Western Michigan, giving him 10 for the year, which is tied with Wake Forest's
John Wolford
for the most in the country. Brewer has thrown multiple interceptions in four straight games. That's the longest streak by a Power 5 QB since USC's Matt Barkley tossed multiple INTs in four straight in 2012. In the last decade, the only Power 5 QB with two or more picks in five straight games was Oregon State's Matt Moore in 2005.
* Speaking of Wolford, he threw three more picks Saturday, which Louisville turned into two touchdowns and a missed field goal. Overall, Wake Forest has allowed 59 points off turnovers this year, the third most by any Power 5 team. Those 59 points account for 59 percent of all the points the Demon Deacons have surrendered this season, third most of any team in the country.
Worse news for Wake: It has Florida State up next on the schedule. Last year, the Deacons turned the ball over seven times against FSU, leading to 38 points for the Seminoles. Ouch.
* Saturday marked the first time this season that Pitt's
James Conner
failed to reach 100 yards rushing and the first time that Miami's
Duke Johnson
topped the century mark. Still, Conner and Johnson are the only running backs in the nation to have exceeded 90 yards in every game so far this season.
For Johnson, Saturday's win over Duke was his 14th career game topping 90 yards rushing. Only three other active Power 5 running backs have had more since the start of 2012: Nebraska's
Ameer Abdullah
(22), Georgia's
Todd Gurley
(18) and Wisconsin's
Melvin Gordon
(15). That's pretty good company.
* Of course
Deshaun Watson
is great, but here are a few numbers to illustrate how good he's been: Watson leads the nation in yards per attempt (11.9). He's second only to Oregon's
Marcus Mariota
in passer rating (212.7). He's third behind Mariota and Alabama's
Blake Sims
in completion percentage (72.7). He has the third-best rate of TD-to-attempts in the country behind Mariota and Cal's
Jared Goff
. And no QB in the nation has had a higher percentage of his passes result in plays of 20 yards or more than Watson (21.1).
* Impressive early work by Todd Grantham. Louisville currently leads the nation in total defense (208.5 yards per game) against FBS teams. Virginia is the next closest in the ACC, allowing more than 100 additional yards per game than the Cardinals (313.0). Louisville's 18 sacks and nine interceptions against FBS teams are also tops in the nation, and only TCU has had a higher percentage of opponent drives end without gaining a first down (58%). ESPN's metrics note the Cardinals' defensive win probability added of 2.40 nearly doubles any other team in the country (Ole Miss and Utah State are next at 1.23).
* Virginia's offense still won't be confused with Oregon or Baylor, but the Hoos have scored 20 points or more in five straight games for the first time since Oct. 6, 2007. They haven't hit that mark in six straight since 2002, but that could change Saturday against reeling Pittsburgh.
September, 29, 2014
Sep 29
12:00
PM ET
All offseason, many shared opinions on how the traditional polls are essentially meaningless in this new College Football Playoff era. Yet when the coaches dropped Florida State from the top spot to No. 2 on Sunday, Seminoles fans already began to lament the loss of a wire-to-wire No. 1, at least in one poll. The vitriol was reminiscent of the good ol' days of the BCS.
There are two schools of thought on why the Seminoles dropped: The first is that to
be
the man, you've got to
beat
the man, as pro wrestler Ric Flair has so eloquently put it for the last 40 years. The other is that 2013 should have no bearing on 2014, and the reigning champion is on equal footing with the rest of the country; every undefeated team has a rightful claim to the No. 1 ranking at this point.
That all makes for hotly debated Sunday afternoons, but not much else. The only ranking that matters now is the one the playoff committee will release next month.
[+] Enlarge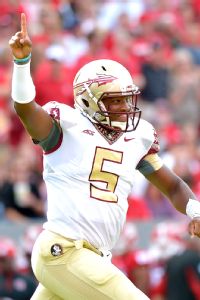 Grant Halverson/Getty ImagesJameis Winston and Florida State are not No. 1 in the USA Today coaches' poll anymore. But that should be of little concern.
Could Florida State use it as motivation and start playing better? Of course, they certainly could, but I'd imagine Jimbo Fisher is concerning himself with rounding into form a team that by all accounts has not been as dominant as it was last season.
Following Saturday's
56-41
victory over NC State, Fisher said it is "frustrating" the Seminoles have not played as well as he would like through the first third of the regular season. Here are the bigger takeaways from Saturday's game moving forward. The loosening grip on the No. 1 ranking is not one of them.
1. The rushing attack found some life
Based purely on talent, there was a faction of Florida State fans who expected
Karlos Williams
, a former five-star recruit, to be one of the Seminoles' most prolific running backs since Warrick Dunn. The numbers were paltry through three games, however, as the running backs and offensive lines tagged each other in and out of Fisher's doghouse. Against NC State, however, Williams ran for a career-high 126 yards and three touchdowns. That was a product of much better blocking, too, as a Florida State running back made it at least five yards past the line of scrimmage before getting touched an astonishing six times in the second half, according to ESPN Stats & Information. That is a sign of an offensive line paving the way, and the rushing attack needs to be clicking by the time Notre Dame rolls into town on Oct. 18. The offensive line was criticized heavily following the Clemson victory, but the unit can be proud of the holes it opened Saturday and use that confidence moving forward.
2. A battered defense is struggling at the line of scrimmage
It is tougher to gauge this Florida State defense when it is without two starting defensive linemen, but the injury bug has bitten the unit hard. Playing without
Mario Edwards Jr.
(concussion) and
Nile Lawrence-Stample
(pectoral, out for season), NC State carved up the Seminoles defense. It is not an issue that will be fixed over the course of a week, if it can be fixed at all. The Florida State defense is not as talented as it was last season at every level. Shoddy tackling has added to the mediocre defensive numbers, too. Whether it was a running back, receiver or a scrambling
Jacoby Brissett
, the Seminoles whiffed far too many times. But with the limited bodies, does Fisher even risk increasing the physicality in practice? To the defense's credit, after a program-worst 24 points allowed in the first quarter, the defense tightened up and allowed touchdowns only following FSU turnovers the remainder of the game. Young bodies along the defensive line also played major roles in the second half and showed the promise you would expect out of a freshman class ranked No. 3 in the country.
3. The offense is hitting its stride …
... and that should compensate for a defense still finding its bearings. It is no surprise the offensive production is apples and oranges when it is
Jameis Winston
at quarterback vs. anybody else. Winston was brilliant the majority of the game and showed no signs of rust. Complementing the passing game was a rushing attack that sealed the victory in the fourth quarter. The Seminoles converted 8 of 11 third-down attempts, and Winston was 7-of-9 passing on third down, with an average of 12 yards per attempt. While receiver
Rashad Greene
continues to state his case as the country's best receiver, the Seminoles found a competent option outside of the senior. Sophomore
Jesus "Bobo" Wilson
had 109 yards and two scores. One issue is the offensive line did not pass block particularly well for a second consecutive game.
September, 28, 2014
Sep 28
8:01
PM ET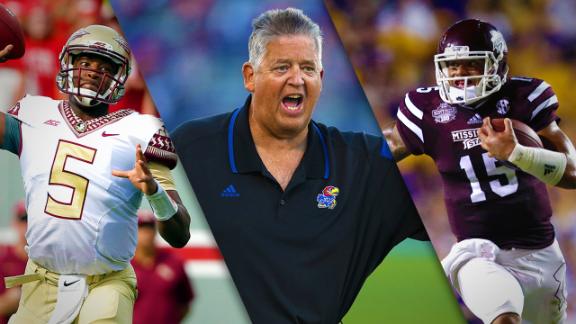 FRIDAY WALKTHROUGH
It looked like a quiet weekend of college football, so the BMOC thought he could slip away to his Scottish castle for Ryder Cup week, feast on kippers and haggis, and then jaunt back in his Gulfstream G650ER in time for the college football season to reveal all its secrets this week.
He handed over his ancient, sacred typewriter and gamboled off, leaving this space to a substitute, a proxy, a mere stand-in, a RSDOC -- Regular Sized Dude on Campus. That would be me. G'day, gav'nuhs!
While the RSDOC at first felt like Joel Goodson at the beginning of "Risky Business" when his parents were leaving town -- "Just use your best judgment, RSDOC: You know we trust you" -- he ended up feeling like Jack Nicholson was hacking at his office door with an axe while bellowing with wide, demented eyes, "THERE ARE NO QUIET WEEKENDS IN COLLEGE FOOTBALL!'"
PREGAME SPEECH, POST-CAREER VARIETY
The Charlie Weis era at Kansas is over. It feels like someone should at least play a quick dirge on a kazoo.
He went 6-22 overall and 1-18 in Big 12 play, his last statement as the Jayhawks coach being a 23-to-bagel defeat to Texas, thereby keeping a tradition alive that started in 1938: Kansas losing to the Longhorns. His winning percentage of .214 is the worst for any Power 5 team over the past two-plus seasons.
Weis, the first of what might be more than a few big-name heads to roll over the coming weeks -- yes, we're casting quick glance toward Ann Arbor -- never produced that "decided schematic advantage" he promised everyone when he was hired at Notre Dame in 2005. The man does know how to negotiate a contract, though. According to USA Today, his combined severance from Notre Dame and Kansas in 2015 will be nearly $4.6 million, which will rank him among the highest paid coaches in the country.
Only he'll be chilling on the sofa eating Cheetos. Life is so cool!
September, 28, 2014
Sep 28
8:00
PM ET
Another week in which the middle of the pack in the ACC took another big step backward but may have actually cleared up the bowl picture a bit. Miami and Clemson are on the rise, while Duke, Pitt and BC are headed in the wrong direction -- but as of now, they're all still on track to play in a bowl.

College Football Playoff:
Florida State
Capital One Orange Bowl:
Clemson versus Notre Dame*
Russell Athletic Bowl:
Louisville
TaxSlayer Bowl:
Georgia Tech
Belk Bowl:
Virginia Tech
Hyundai Sun Bowl:
Miami
New Era Pinstripe Bowl:
NC State
Military Bowl presented By Northrop Grumman:
Virginia
Duck Commander Independence Bowl:
Duke
Quick Lane Bowl:
Pittsburgh
BITCOIN St. Petersburg Bowl:
Boston College
* Note: Notre Dame is eligible for a bid to any ACC tie-in game unless it is selected for a New Year's Six game, which can include playing an ACC team in the Orange Bowl.
September, 28, 2014
Sep 28
2:25
PM ET
Associated Press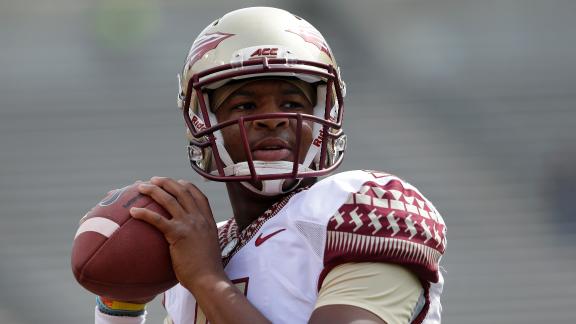 Florida State stays at No. 1 in The Associated Press college football poll after a second straight comeback victory, but support for the Seminoles is waning.
Jameis Winston returned from a one-game benching to lead Florida State past North Carolina State 56-41. The Seminoles trailed 24-7 in the first quarter.
Florida State received 27 first-place votes, seven fewer than last week, from the media panel Sunday. No. 2 Oregon and No. 3 Alabama both had 13 first-place votes. No. 4 Oklahoma drew the remaining seven first-place votes.
"You're always concerned, but we can't control the polls," FSU coach Jimbo Fisher said Monday. "All we gotta do is keep winning. Polls are for the polls and voters. If we keep winning and doing what we do, we'll be fine."
There was little movement throughout the rankings, with the first seven teams holding their spots. That could change next week when six games match ranked teams, including three SEC games.
September, 28, 2014
Sep 28
2:00
PM ET
September, 28, 2014
Sep 28
10:00
AM ET
NC State gave No. 1-ranked Florida State everything it had before the Noles won. Memphis gave No. 10 Ole Miss a fight until the fourth quarter, and No. 6 Texas A&M needed an overtime thriller to hold off a much-improved Arkansas team.
There were plenty of September scares in Week 5, but only one ranked team -- No. 13 South Carolina -- wound up losing on Saturday. At home. To Missouri. Which had just lost to Indiana.
And you thought the SEC West was the unpredictable race.
With two home losses, it's hard to imagine the Gamecocks in the inaugural College Football Playoff. Missouri has officially taken the lead in the SEC East, and is the only team in that division entering October undefeated in conference play. Still, it's not unfathomable to think a two-loss SEC East champion could be just one game away from the playoff. At this rate, don't count out a 5-3 division champ, either. While everyone is drooling like Uga over the muscles of the SEC West, the SEC East is just as muddled, only for a different reason.
[+] Enlarge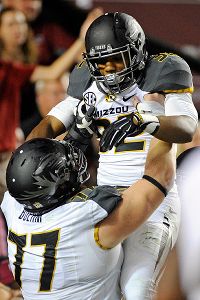 Todd Bennett/Getty ImagesRussell Hansbrough found the end zone three times in Saturday's win over South Carolina.
There's parity in the West and mediocrity in the East.
"We've got to use this to make us better," Missouri coach Gary Pinkel said, "not use this to make us feel good."
Missouri has no time for celebration. The Tigers host Georgia next, before travelling to Florida. And Texas A&M and Arkansas are still on the schedule, along with a feisty Tennessee team that's much better than it was a year ago.
The question in the SEC this year is not who will go undefeated, but how many losses will the champion have?
Big Ten championship preview?
It's time to pay attention to Nebraska.
That near-loss to McNeese State? We'll give the Huskers a hall pass and call it a fluke. Running back
Ameer Abdullah
is a legitimate Heisman candidate, and he's put Nebraska in position to shake up the playoff picture in Week 6, when the Huskers travel to Michigan State. The Big Ten will be on the big stage for what could be a sneak preview of the conference title game. Nebraska is the only undefeated team remaining in the Big Ten, and the Spartans are favored to win the East Division, with their lone loss coming early at Oregon.
Nebraska's only other remaining ranked opponent is an unconvincing Wisconsin team. If the Huskers beat the Spartans, they have a serious chance to gain some traction in the playoff race.
Irish X factor
: Is Notre Dame going to crash the playoff party or get an invitation? It's still too early to tell, but we will learn more about the Irish in Week 6, when they host Stanford. If the Cardinal suffer their second loss of the season, they will sink in the playoff picture. Notre Dame is also a common opponent for USC, which beat Stanford, and the selection committee will consider common opponents. The Irish also have a chance to derail Florida State's hopes. Notre Dame is the toughest remaining opponent on the Noles' schedule, and after that performance against NC State, FSU certainly looks beatable.
Undefeated no more
: Thank you, Pac-12, for reminding everyone that this is just the beginning of the chaos.
Arizona State, Washington, Oregon State and Utah all experienced their first losses of the season this weekend. College football entered Week 5 with 24 undefeated FBS teams. Now 17 remain -- including five in the SEC West.
Eight of those undefeated teams will go head-to-head in Week 6 (Arizona-Oregon, Texas A&M-Mississippi State, Oklahoma-TCU, and Alabama-Ole Miss.)
Hang on. The playoff race is about to really get started.
College Football Minute - Sept. 30
ACC SCOREBOARD
Friday, 10/3
Saturday, 10/4