December, 5, 2013
Dec 5
4:52
PM ET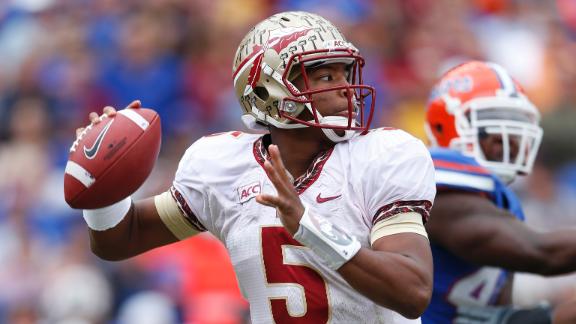 Florida State was and still is the No. 1 team in the country, just one game away from playing for a national title. It still has arguably the best combination of offense and defense in college football. And the Seminoles still have the leading candidate to win the Heisman Trophy as they prepare to face Duke in Saturday's Dr Pepper ACC Championship game.
If the legal system isn't going to derail
Jameis Winston
this season, it's quite possible nothing will.
On Thursday afternoon, the state attorney's office announced the decision
not to press charges against Winston
, who was accused of rape almost a year ago. If Florida State exhaled with the news, it wasn't louder than a whisper, because anyone who has watched the Seminoles play in November knows they weren't winning while worrying. Certainly not while they were beating rival Florida by 30 points, or Syracuse by 56, or Idaho by 66. Not once has Florida State or Winston allowed this heavy allegation to weigh it down. Not once during the regular season has Winston even addressed the incident with the media. Instead, he continued to play and win, week after week.
Winston's status hasn't changed, so don't expect the Noles to.
[+] Enlarge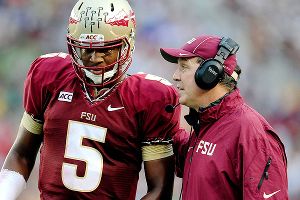 Stacy Revere/Getty ImagesJameis Winston and Jimbo Fisher now can focus on getting FSU to the national title game.
While Winston's character and his guilt or innocence will likely continue to be a controversial topic among fans and media members -- especially those whose Heisman votes are due Monday -- the strength of Florida State with Winston orchestrating the offense is not debatable. He has proven -- repeatedly -- to be unflappable, both on and off the field. If he has played under any stress, it has been masked by his jaw-dropping accuracy, disguised by arguably the most talented group of receivers in the country.
If that's how Winston plays under duress -- averaging 11.0 yards per attempt, completing 71 percent of his passes on third downs, and leading the nation with a 91.9 opponent-adjusted QBR -- then Duke's defense will need a miracle now that Winston is free to play the two most important games of the season without any legal issues looming.
While the court of public opinion might still be deliberating Winston's innocence, it's not as if he has anything more to prove on the field. One of the biggest questions heading into this season was how Winston -- just a 19-year-old freshman -- would handle the pressure of playing for a national title contender in his first season as a starter. In one week, he answered it: 25 of 27 completions for 356 yards and four touchdowns and one rushing touchdown in a stunning performance in the season opener at Pitt.
One of the biggest questions across all of college football last month was how much of a distraction the allegation of rape would be. In three days, Winston answered it: 19-of-21 for 277 yards and two touchdowns in a 59-3 dismantling of Syracuse.
"It's the same thing every single week," Winston said matter-of-factly that day.
Remarkably -- almost even eerily -- the only thing that would have changed Florida State's pattern of winning would have been a felony charge.
The only statement to come from Florida State's football program regarding the state attorney's decision was from coach Jimbo Fisher, who has already redirected the focus to Saturday's title game.
"Right now, we're all looking forward to what we have in front of us on Saturday," Fisher said.
It's the same thing every single week, right?
As far as Florida State athletic director Stan Wilcox is concerned, "Winston's status as a Florida State University student athlete remains unchanged."
So does Florida State's place in the BCS standings.
December, 5, 2013
Dec 5
3:54
PM ET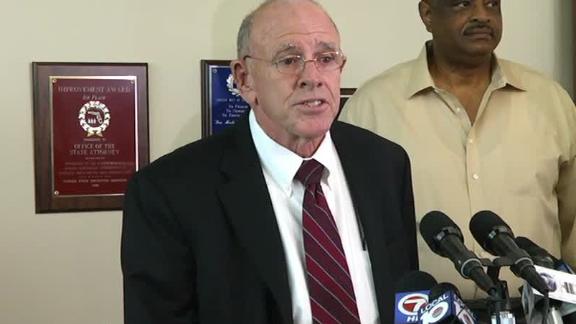 Three key factors led a Florida state attorney to conclude that he could not file a sexual assault charge against Florida State quarterback Jameis Winston.
Major lapses in the accuser's memory, her level of intoxication at the time of the incident and the presence of DNA from two different men in the woman's rape kit were the main reasons the state decided not to charge the Heisman Trophy favorite, State Attorney Willie Meggs said during a news conference Thursday.
To prove such a case, a prosecutor must be able to show a jury a convincing narrative of what happened. If the accuser cannot remember parts of the story, the prosecutor must have other witnesses who can provide the material. It was clear in Meggs' explanation that the other witnesses whom his staff interviewed did not plug the gaps in the accuser's story.
Several times during his news conference, Meggs referred to her memory gaps about what happened on Dec. 7, 2012. "She was not sure about a lot of things," Meggs said.
Although Meggs refused to speculate why, he did point to an analysis of a blood-alcohol test taken several hours after the alleged attack that showed that her blood-alcohol content at the time of the incident could have been 0.10 percent, even though when it was taken the test registered a 0.04 reading. The 0.10 reading would have been higher than the 0.08 legal limit for driving.
The clear implication of Meggs' use of the extrapolated blood alcohol levels was to show that the accuser may have been in the brownout or blackout stage of intoxication, a probable cause of the memory gaps.
December, 5, 2013
Dec 5
3:53
PM ET
By
ESPN.com staff
| ESPN.com
To watch on your smartphone, click here
ESPN legal analyst Lester Munson and ACC reporter Andrea Adelson react to the news that Florida State quarterback Jameis Winston will not be changed with a crime.
December, 5, 2013
Dec 5
3:20
PM ET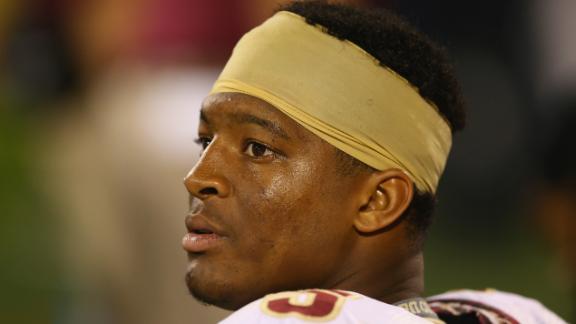 The decision by Florida prosecutors not to press sexual assault charges against Florida State quarterback Jameis Winston has financial ramifications for Winston and his school.
State Attorney Willie Meggs said Thursday that no charges would be filed against Winston, 19, who was accused of raping a female student in December 2012. Meggs said there was not enough evidence for anyone to be charged.
Clearing this legal hurdle makes Winston likely to win the Heisman Trophy award if he performs well in this weekend's ACC championship game. That would be an automatic future revenue stream for Winston.
"Winning the Heisman is worth seven figures over a lifetime," said Ross Tannenbaum, president of Fanatics Authentic, the memorabilia division of Fanatics, the nation's largest online sports retailer. "People collect Heisman winners just like they collect MVP award winners and Cy Young winners. They have to have them."
Tannenbaum said Winston might have a little less value than a winner at Notre Dame, Texas and Ohio State, because Florida State doesn't quite have the same fan base. Any money Winston would earn as the Heisman winner will also be spread out, instead of being paid as a lump sum, because Winston can't take money while he's still in school. He's not eligible to leave school and enter the NFL draft until after next season.
"He'll lose the chance of making immediate money," Tannenbaum said. "If he were done after this year, he'd make hundreds of thousands of dollars right away."
That being said, Winston could enhance his value by coupling a Heisman Trophy with winning a national title.
Winston will also be able to keep his marketability intact now that he has not been charged, said David Schwab, senior vice president of Octagon First Call, the agency's celebrity acquisition and engagement division.
December, 5, 2013
Dec 5
2:29
PM ET
ESPN.com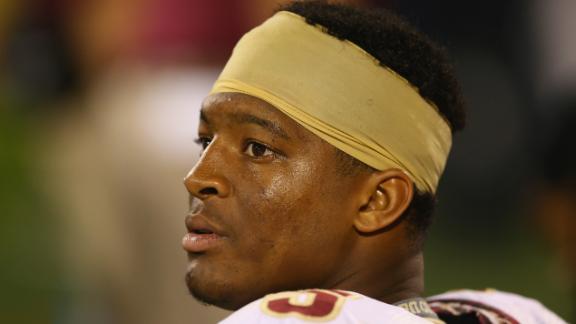 The following is a timeline of events in the Jameis Winston investigation:
Nov. 12, 2013: City official says in email to city commissioners that investigation initially stalled when accuser told police she did not want to prosecute.
Nov. 13, 2013: Report surfaces that Florida State QB Jameis Winston is part of ongoing investigation into sexual assault complaint filed in December 2012. Winston's attorney says police contacted him in February 2013, but no charges were filed and Winston has not been interviewed by police. School says in statement that Winston will play Saturday vs. Syracuse.
Nov. 14, 2013: Lawyer for Winston tells ESPN.com that two witnesses who were with Winston in 2012 when alleged sexual assault occurred will corroborate Winston's account of events. Winston exercised his right not to speak with police or provide a statement as part of investigation.
Nov. 20, 2013: DNA samples taken from Winston connect him to woman accusing him of December sexual assault, according to Florida crime lab report obtained by ESPN's Mark Schlabach. Report links Winston's DNA to samples found in woman's underwear. Accuser's family says in statement that detective working the case told accuser's attorney in January that city was "a big football town and the victim needs to think long and hard before proceeding against him because she will be raked over the coals and her life will be made miserable."
December, 5, 2013
Dec 5
2:00
PM ET
The rosters are set, plane tickets purchased and coaching staffs assembled. The 2014 Under Armour All-America Game is less than a month away.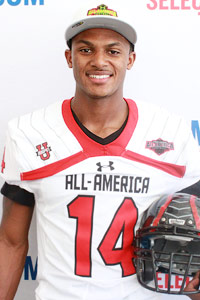 Courtesy of IntersportDeshaun Watson could be the starter from Day 1 at Clemson.
With nearly all of the country's elite prospects all together, there are bountiful storylines leading up to and during the Jan. 2 game in St. Petersburg, Fla. Here are five for ACC fans:
1. Will Deshaun Watson follow the footsteps of Jameis Winston and Christian Hackenberg?
Both Winston and Hackenberg were the No. 1 quarterbacks in their respective classes and played in the Under Armour Game. Both then went on to have great freshman seasons (Winston after a redshirt year) and have their teams in position to make waves on a national level the next few seasons. Watson (Gainesville, Ga./Gainesville) is the No. 1 quarterback for 2014 and will enter a similar situation to Hackenberg's. Clemson will have an opening at quarterback in 2014, and Watson will enroll at Clemson following the game. He will have to beat out 2012 Under Armour All-American
Chad Kelly
, but there is a legitimate chance Watson could be the starter from Day 1 for the Tigers. He is that good.
To continue reading this article you must be an Insider
December, 5, 2013
Dec 5
12:19
PM ET
ESPN.com news services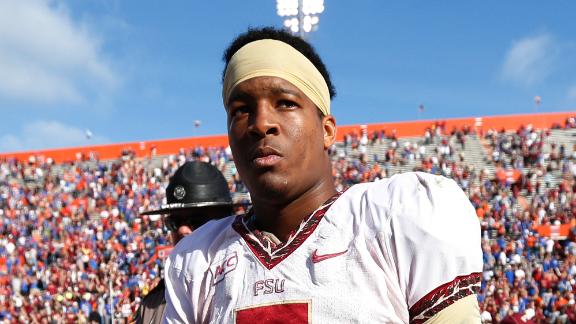 TALLAHASSEE, Fla. -- Search warrants in the sexual assault investigation of Florida State quarterback Jameis Winston indicate the woman told police she was raped at an apartment after a night of drinking at a bar.
The search warrants were released Thursday, hours before a prosecutor was to announce whether the Heisman Trophy contender will be charged with a crime.
In the warrant, the accuser says she and friends had shots at Potbellys and her "memory is very broken from that point forward."
Sources tell ESPN's Shelley Smith, however, that toxicology reports show the accuser had minuscule amounts of alcohol in her system and that there was no evidence of so-called date rape drugs.
According to the warrants, the accuser says she remembers being in a cab with a man and going into an apartment before she was raped.
After that, she remembers the suspect dressing her, putting her on a scooter and dropping her off at an intersection, but she had no idea where the alleged rape occurred.
Information from The Associated Press was used in this report.
FSU Students React To Winston Decision