September, 18, 2014
Sep 18
1:00
PM ET
By
Sharon Katz
| ESPN Insider
Last year, in a matchup billed as the "ACC Game of the Year", No. 5 Florida State went into Death Valley and dominated No. 3 Clemson. The Seminoles outgained the Tigers by more than 200 yards and forced an offense led by four-year starting quarterback Tajh Boyd into four turnovers and five punts.
Florida State is the clear No. 1 team in the nation, and Clemson is still in the process of breaking in new quarterbacks. So why should this year be any different?
While admittedly a small sample size, the Noles' first two games of the season show this is not the same team that won the BCS National Championship. Pair these weaknesses with Jameis Winston's absence in the first half on Saturday, and Clemson may have a better-than-advertised chance to come away from Bobby Bowden field with a win.
Winston will be sorely missed
The Clemson Tigers caught a break with Winston's first-half suspension, to say the least. Without Winston, Florida State will turn to redshirt sophomore Sean Maguire, who has just 26 career pass attempts, including 16 completions, in 10 appearances the last two seasons. All of Maguire's attempts came with the Seminoles leading by at least 25 points -- not exactly high-pressure situations.
September, 18, 2014
Sep 18
10:35
AM ET
By
ESPN.com staff
| ESPN.com
ESPN.com reporters Ted Miller, Edward Aschoff and Heather Dinich join host Chantel Jennings to discuss the latest on Jameis Winston and preview the weekend slate of games.
September, 18, 2014
Sep 18
9:00
AM ET
By
ESPN.com staff
| ESPN.com
The ACC has a full slate of interesting games in Week 4. Andrea Adelson, Matt Fortuna, David Hale and Jared Shanker give their takes on who will win and why.
Andrea Adelson:
If East Carolina quarterback
Shane Carden
can rack up 417 yards on one of the best secondaries in the ACC, what hope does North Carolina have in this game? North Carolina can talk revenge all it wants, hoping for a little payback for its embarrassing loss last year. But the Tar Heels have come out flat in both of their games this season, have had problems on the offensive and defensive lines and have been inconsistent in their run and return games. Just about every matchup arrow points in East Carolina's favor.
East Carolina 31, North Carolina 21.
David Hale:
If we learned anything from last week's game, it should be this: In September, momentum swings quickly. Virginia Tech was riding high, ECU was overlooked and the end result was a dramatic win for the Pirates. Fast-forward to this week, and we have an overlooked North Carolina against an ECU team with an increasingly crowded bandwagon. The Tar Heels have a chip on their shoulder, remembering what happened last season. UNC's secondary is solid, and Carden completed just 15 of 36 passes last week after ECU's first two drives. The Pirates won't sneak up on North Carolina this time around, and that's the biggest advantage for the Heels.
North Carolina 28, East Carolina 24.
Hale:
It was just last year that Virginia's underrated defense helped knock off BYU in Charlottesville, and those Hoos certainly weren't as good as this year's group. Yes, BYU has improved, but the Cougars still don't have the most explosive offense. More importantly, BYU has thrown four interceptions and fumbled six times (four lost) in its first three games, and UVa's defense will be by far the best the Cougars have seen so far. The onus will be on the Cavaliers' offense to put a few points on the board -- no easy task against BYU -- but this could be a game in which the first team to find the end zone twice wins.
Virginia 20, BYU 17.
Matt Fortuna:
UVa is clearly a much-improved squad from last season and shouldn't need a two-hour rain delay to pull off the upset, as may have been the case last season. But the Hoos will still have their work cut out for them in Provo, Utah.
Taysom Hill
is a much better quarterback than he was a year ago. He has rushed for 356 yards through three games, second most nationally. Further complicating matters is the altitude of LaVell Edwards Stadium, which will test the depth of the UVa defense. The BYU defense has been flat-out salty against the run, and too much will be put on the Hoos' passing attack.
BYU 30, Virginia 27.
Adelson:
The Deacs showed some signs of life on offense in the second half against Utah State a week ago. Now the trick is to limit the turnovers and get the run game going. The bet is that will happen this week against Army, which has a run defense that ranks 84th in the nation, allowing 176 yards per game. The Wake Forest defense has played well for the most part, ranking 17th in the nation in total D, and will do enough to slow down the Black Knights.
Wake Forest 21, Army 20.
Jared Shanker:
It is not the sexiest matchup in Week 4, as both Army and Wake Forest have struggled in recent seasons. Army has not had a winning season since 2010, and Wake Forest is considered by many to be the worst Power 5 team in 2014. It isn't as much a case of having confidence in Army as it is questioning what Wake Forest will bring to the table. Stanford shut out Army last weekend, but the Black Knights were able to score 47 points against Buffalo, a team much more comparable to Wake Forest than the Cardinal. Wake Forest is playing a true freshman at quarterback and Army has a more experienced player leading the offense, and I think that will be the deciding factor. This will be a game decided in the final four minutes.
Army 13, Wake Forest 10.
Fortuna:
The Tigers know they are better than what they showed last season in a humiliating home loss to Florida State.
Jameis Winston
's declaration that Memorial Stadium is his house this past spring only fueled that fire, and now Winston won't even be around for the first half. All of that plays perfectly into the formula for a Tigers upset. Their highly touted defensive front has not lived up to expectations through two games, but if Clemson can create pressure early, get to backup QB
Sean Maguire
and force him to throw to someone other than
Rashad Greene
, the Tigers will give themselves a chance.
Clemson 31, Florida State 27.
Shanker:
It's almost as if this whole Winston half-game suspension sets up for the reigning Heisman Trophy winner to add to his legacy. Maguire is a solid backup, so the smart money is on him keeping the game close heading into halftime. At that point, the offense's keys are handed back to Winston, who torched the Tigers last season. The Florida State defense stifled Clemson's offense last season, and this version of Chad Morris' offense is not quite as talented as last season's. If the Florida State defense is motivated, it certainly could give
Cole Stoudt
and
Deshaun Watson
fits.
Florida State 24, Clemson 17.
Unanimous predictions
Georgia Tech at Virginia Tech:
The Hokies have won four straight in the series, as defensive coordinator Bud Foster seems to always find a way to slow down the Jackets' triple-option offense. Though Virginia Tech is coming in off a loss, it has looked like the stronger team in the first three games.
Virginia Tech 20, Georgia Tech 17.
Iowa at Pitt:
If there is anyone in the ACC who should be familiar with the Hawkeyes, it is coach Paul Chryst, who coached against them during his time at Wisconsin. Though Iowa ranks No. 6 in the nation in rush defense,
James Conner
will find a way to get his 100 yards and lead the Panthers to a 4-0 start for the first time since 2000.
Pitt 28, Iowa 17.
Maryland at Syracuse:
The Orange beat the Terps 20-3 last year in their first meeting as ACC members, though Maryland was missing several of its best players in the game. In a battle of mobile quarterbacks,
Terrel Hunt
will better
C.J. Brown
and get Syracuse to 3-0 for the first time since 1991.
Syracuse 28, Maryland 24.
Tulane at Duke:
The Blue Devils have gone through their nonconference schedule with ease, but cannot get caught looking ahead to a looming showdown with Miami. The big question is whether
Shaun Wilson
can duplicate his 245-yard performance against the No. 94 rush defense in the country.
Duke 41, Tulane 10.
Maine at BC:
BC has to guard against a letdown after an emotional win over No. 9 USC last week. Coach Steve Addazio kept the intensity going at practice this week, hoping his team can carry on the momentum it has gained. Bank on that, behind another 100-yard rushing game from
Tyler Murphy
.
Boston College 34, Maine 7.
Louisville at FIU:
FIU put a scare into Pitt last week, so Louisville has to ward against overconfidence. Of course, the last time these two teams met a season ago, Louisville won 72-0. This should be a bounce-back game for the Cards' offense, which struggled a week ago in a loss to Virginia.
Louisville 45, FIU 0.
Presbyterian at NC State:
The Wolfpack looked good last week in a road win over USF, and need to build off that win against Presbyterian, with a showdown against Florida State set for next weekend. The nonconference schedule has been weak, but after winning three games all of last season, NC State will take win No. 4.
NC State 42, Presbyterian 10.
Miami at Nebraska:
The Cornhuskers have a big edge on the Hurricanes in the trenches, and that is where this game will be decided. Miami's defense has played better, but it will have a tough time slowing down Heisman contender
Ameer Abdullah
on the road in a nationally televised game.
Nebraska 35, Miami 24.
Records this season
Shanker: 32-3
Adelson: 29-6
Fortuna: 29-6
Hale: 29-6
September, 17, 2014
Sep 17
8:09
PM ET
September, 17, 2014
Sep 17
4:00
PM ET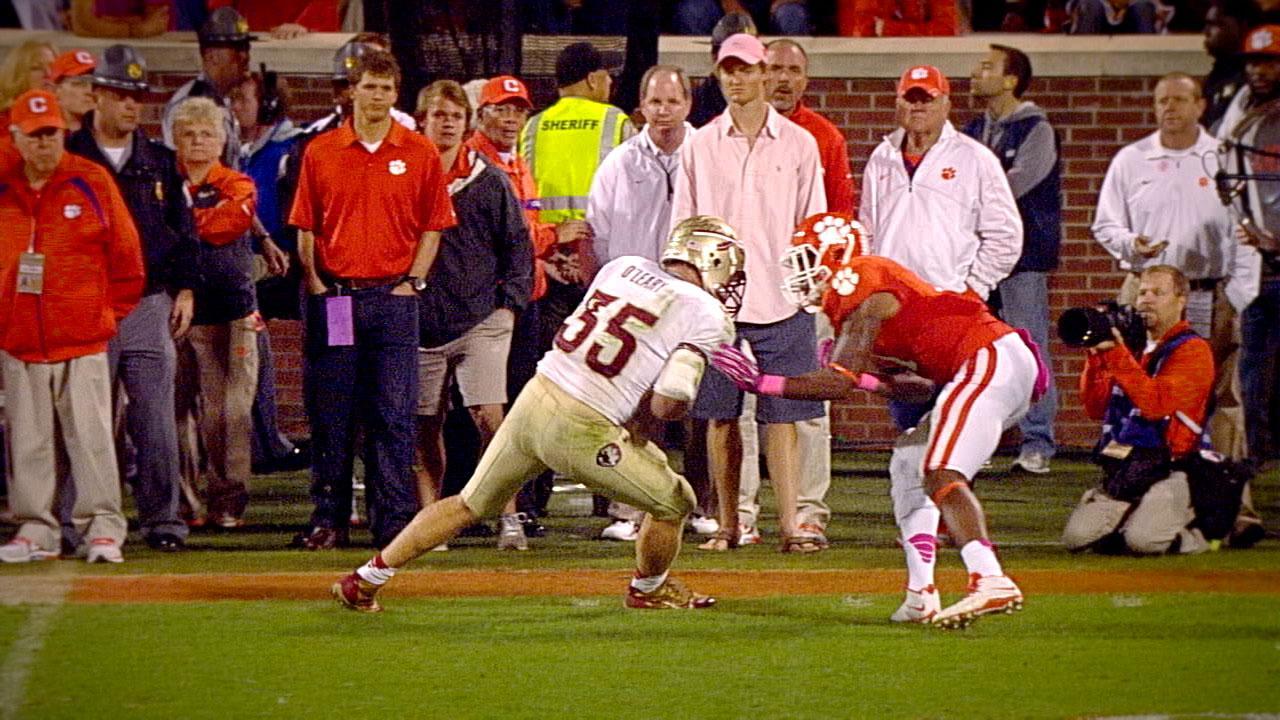 TALLAHASSEE, Fla. --
Nick O'Leary
is the definition of a player who allows his play to speak for him. Any reporter looking to speak with the talented Florida State tight end is surely a glutton for punishment.
His teammates weren't much help initially, either, expounding on O'Leary's succinct, stone-faced answers, but that primarily was because of their exuberant and gleeful expressions watching the Mackey Award candidate's highlights from the Clemson game last season.
"Nooo! Oh my goodness!" cornerback
P.J. Williams
said before repeating himself.
"Haha! You're going to see more of that," safety
Jalen Ramsey
said.
"Hehe. … It looks like buddy lost that one," linebacker
Terrance Smith
added.
[+] Enlarge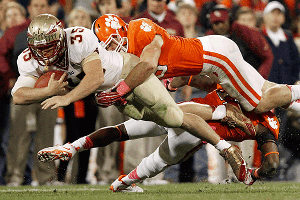 AP Photo/Mike StewartLike in last season's game, Nick O'Leary is looking to get physical against Clemson on Saturday.
All three were shown the video clip of O'Leary sending Clemson safety
Travis Blanks
tumbling out of bounds after the 6-foot-3, 247-pound tight end lowered the boom on the Tallahassee, Florida, native (a tidbit not lost on Smith. "He's actually from Tallahassee, ain't he?")
As O'Leary watches the replay, he breaks character and cracks a smile, however fleeting. He calls it "just a play that happened in a game" before walking.
The play and explanation define O'Leary's business-like approach to tight end. He is a throwback to a position that is in the midst of transformation. Rare are tight ends in this pass-heavy era that are capable of blocking a defensive end at the point of attack one play and registering a 94-yard reception the next.
And whether he's blocking or breaking tackles, at the end of the play, he lifts himself from the turf and jogs back to the huddle without as much as a word. He's the lone receiver on Florida State's team that doesn't wear gloves, either. He wore them for one play and dropped a pass, so since then he has went with the bare hands approach, which, of course, only accentuates his renaissance act.
"Nick's just a football player, man," Smith said. "He doesn't get all that flashy stuff. He goes out and plays. He's going to block anybody, catch on anybody. His routes are some of the best routes I've had to cover. Nick is just an old-school football player. He just comes to play ball."
"He likes to get nasty," receiver
Jesus Wilson
said.
O'Leary is the grandson of legendary golfer Jack Nicklaus, but he resembles a grizzly bear more than the Golden Bear. O'Leary needed a sport that was a little more violent. As O'Leary hauled in
Jameis Winston
's pass against Clemson, he closed in on the sideline but decided to turn up field for extra yardage. Oh, and the score was 34-7 at the time, and the game was decidedly in hand.
"I've always had the mentality of being the more physical guy out there," O'Leary said. "[On the Clemson play], I knew that one guy wasn't going to take me down."
Teammates aren't immune either from getting embarrassed at the hands -- and shoulder -- of O'Leary. Defensive lineman
Mario Edwards Jr.
said O'Leary is just as intense and physical in practice, calling the Clemson play "normal for him to do."
So, allow the Florida State defenders to offer No. 22 Clemson's defense advice on what to do if O'Leary is bearing down Saturday night.
"You got to know how to hit that person and know how fast and know high or low. Shoot, you see right here [Blanks] really didn't know," Williams said. "I guess he didn't know what he had coming."
September, 17, 2014
Sep 17
3:41
PM ET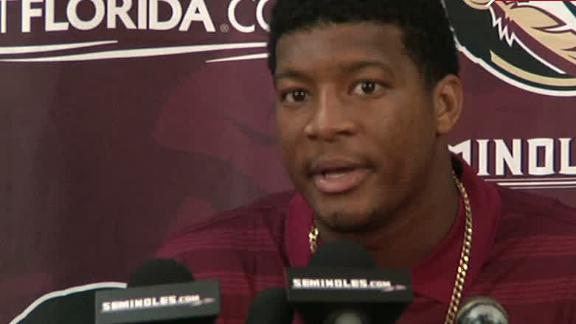 In August 2013, a few weeks before Florida State quarterback Jameis Winston became a national sensation and leading Heisman Trophy candidate by throwing for four touchdowns in a 41-3 victory at Pittsburgh in his first college start, he offered reporters a few words of wisdom.
They might have been the last intelligent words to come out of his mouth.
"If I get Manziel disease," Winston told reporters, "I want every one of you all to get your mikes and start slapping me on the head."
Obviously, Winston was referring to former Texas A&M star Johnny Manziel, whose "Johnny Football" persona seemed to take on a life of its own -- and become more important than his team -- after he won the Heisman Trophy in 2012, becoming the first freshman to nab the award.
Winston, who claimed last year's Heisman Trophy as a redshirt freshman, has somehow turned "Manziel disease" into a chronic case of knuckleheadedness.
On Wednesday, Florida State officials suspended Winston from playing in the first half of the No. 1 Seminoles' home game against No. 22 Clemson at Doak Campbell Stadium in Tallahassee on Saturday night.
The punishment is the result of Winston allegedly standing on a table near FSU's student union Tuesday and screaming obscenities, which mimicked a popular Internet meme. The phrase is of a sexual nature and, depending on your age, might range from being utterly offensive to tacky (or, sadly, even funny) if you heard it.
Shortly after FSU interim president Dr. Garnett S. Stokes and athletic director Stan Wilcox announced Winston's one-half suspension in a joint statement, in which they described his behavior as "offensive and vulgar," Winston apologized for his latest off-field troubles, which have become all too familiar in his time at FSU.
"First of all, I want to apologize to the university, my coaches and to my teammates," Winston said. "I'm not a 'me' person, but in that situation, it was a selfish act, and that's not how you do things around here."
Funny, the last time I checked, you can't spell Jameis without "me" and "I."
Sure, Winston is a 20-year-old college student, and 20-year-old college students are apt to make dumb decisions. But how many strikes does Winston get before he goes from being a foolish, immature college student to a complete knucklehead who can't be trusted? He's already into his second at-bat at FSU.
We've heard his apologies too many times before. His words once again ring hollow. After Winston was cited for shoplifting crab legs and crawfish
September, 17, 2014
Sep 17
3:00
PM ET
The roller coaster ride of perception for the ACC has
already had its share of highs and lows
, and this week figures to be about as big as any when it comes to setting the table for the College Football Playoff. So let's see where the conference stacks up through the first three weeks of the season.
Where the ACC stands:
Once again, the conference is stationed in the No. 4 spot in
ESPN's power rankings
, still well behind the Big 12 and down a net of 8 points in the ratings compared with its nearest competitor. The Big Ten actually gained ground on the ACC last week, and with three ACC-Big Ten matchups Saturday, that lead could be precarious.

Top playoff contenders:
Florida State (No. 1 AP, No. 2 FPI), Clemson (22/19), Pitt (NR/27).
Nonconference record:
27-5 overall (7-2 last week), 15-5 vs. FBS, 4-2 vs. Power 5.
Week 3 recap:
How bad was the Hokies loss to ECU really? The Hokies started slow but powered back in what would've been the biggest comeback in program history had they pulled it off. ECU might be the best team from the Group of 5, and its performance the previous week against South Carolina only looks better now. And just as Virginia Tech's hype machine probably revved up a bit too fast after the Ohio State game, the Hokies probably aren't as bad as they're being portrayed now.
The problem, however, is that perception drives so much in college football, and all you need to do is look at the polls, where Ohio State remains a top-20 team after routing a listless Kent State, while Virginia Tech has tumbled well down the list of "others receiving votes."
On the upside, however, Boston College did a lot to win back any mojo Virginia Tech lost with its punishing of USC. It was a stellar performance from the Eagles defense and ground game, and BC was clearly the deeper, more physical team throughout.
Really, what Week 3 probably illustrated more than anything is that the ACC can certainly play with just about anyone in the Power 5 conferences, but it also isn't that far ahead of the elite teams from the Group of 5. As a result, the conference has just two teams ranked in the Top 25 in ESPN's FPI, but has seven ranked in the next 25.
Week 4 preview:
When it comes time for the selection committee to judge the ACC, there's a good chance this week's games will tell a big part of the story.
Start with the three games against the Big Ten. That league is so down at this point that any losses by the ACC would look bad, but Miami could actually benefit a bit from a win over Nebraska, one of two still unbeaten Big Ten teams. The Hurricanes have improved at QB the last two weeks, and this is a big chance to show the Week 1 loss to Louisville was more growing pains than anything.
Then there's the matter of Pitt and Iowa. The Hawkeyes' loss to Iowa State took most of the luster off this game, but Pitt is still poised as a fringe playoff contender and the ACC's third-highest-ranked team. The league and the Panthers would take a big blow with a loss here.
Virginia Tech gets a good test with Georgia Tech, and it will be interesting to see how the Hokies respond to last week's loss and the departure of receiver Josh Stanford. It's worth remembering that Virginia Tech has the easiest remaining schedule in the ACC, and if it were to win out and knock off an undefeated Florida State in the ACC title game, the playoff would still be a realistic possibility.
Meanwhile, North Carolina has a chance to revitalize its playoff chances with a win at ECU, while a loss might actually help bolster Virginia Tech's chances by illustrating that last week's result was no fluke and the Pirates are the real deal.
The biggest game of the week for the ACC might be Virginia at BYU. It figures to be a defensive battle, but UVa knocked off the Cougars at home last year, and certainly the Hoos are a better team now. BYU is No. 18 in the FPI, the highest-ranked foe for any ACC team this week.
Then there's the big question of the week: What's better for the ACC? If Florida State wins, it keeps the Seminoles on the path toward the playoff, but it knocks Clemson down to 1-2 and out of the Top 25, meaning it won't even be much of a marquee win for FSU. If Clemson wins, the ACC can trumpet another legitimate contender, but it's at the expense of the league's best hope for a national title. The one sure thing is that Clemson needs the game more than Florida State for playoff purposes, but the Seminoles could probably reassure a lot of uneasy fans with another impressive win.
Drive To The National Championship