September, 23, 2014
Sep 23
8:24
PM ET
[+] Enlarge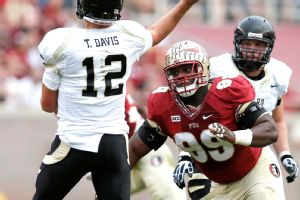 Don Juan Moore/Getty ImagesNile Lawrence-Stample will miss the rest of the season after suffering a torn pectoral muscle.
TALLAHASSEE, Fla. -- Florida State starting defensive tackle Nile Lawrence-Stample suffered a torn pectoral in the 23-17 overtime win against Clemson and will miss the remainder of the season, Seminoles coach Jimbo Fisher said Tuesday.
"We found out [Monday] he'll be out for the year. It's the tendon down in there and you can't chance that, can't rehab that," Fisher said. "It's a shame because to battle back and get healthy like he did and play a heck of a football game [and] he'll have surgery now."
Lawrence-Stample, a redshirt junior, was already hobbled from a knee injury suffered in the first half of the game against The Citadel on Sept. 6, and missed the second half of spring practice after undergoing shoulder surgery. He tore his pectoral Saturday against Clemson, but played the remainder of the game.
Fisher said it is rare for a player to be able to play through that injury but credited Lawrence-Stample's adrenaline as the reason he was able to avoid coming off the field.
"Nile's a tough son of a gun," Fisher said. "Off the knee [injury] and to do that, I have a lot of respect for what he was doing big time."
September, 23, 2014
Sep 23
4:00
PM ET
Florida State is
No. 1 in both major polls
, but the
ESPN.com power rankings
feature a different team at the top of the heap: Oklahoma. Our good ol' ACC friend, Heather Dinich, voted the Sooners No. 1, and she has come here to tell us why exactly she has the reigning national champions a distant fourth in her rankings.
Heather, you realize Florida State has won 19 straight games, right?
[+] Enlarge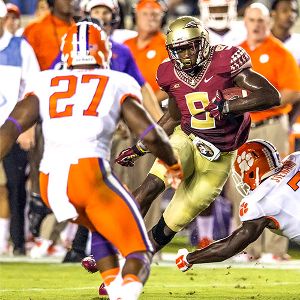 AP Photo/Mark WallheiserFlorida State figured out a way to sidestep Clemson, but it still has some problems to shore up to compare to the 2013 Noles.
HD:
SHOW ME MORE. I'm not convinced. Yes, I think Florida State will be in the playoff, but I don't think the Seminoles will win it, nor do they look like the No. 1 team in the country. I'm looking at these teams every week like the committee is supposed to, with no preconceived notions. I don't care what FSU did last year. It's not the same team. The whole "No. 1 until proven otherwise" argument doesn't fly. Florida State can't run the ball. It's not good on third downs. The offensive line hasn't lived up to the hype. The Seminoles have been underwhelming in the red zone. And that's just the offense …
AA:
Wait, you want the defending national champions to SHOW YOU MORE than beating a ranked Clemson team without its Heisman Trophy-winning quarterback? Tell me, would Oregon have beaten Washington State without
Marcus Mariota
? Would Mississippi State have beaten LSU without
Dak Prescott
? I could go on, but I think you get my point. Florida State pulled off a team win, proving that it has more than just
Jameis Winston
on its roster. Was it a perfect game? Absolutely not. But Oklahoma did not play a perfect game at West Virginia, either. Somehow, the Sooners found a way to win. That is exactly what the Seminoles did on Saturday night. They made the big plays when they needed to -- including the game-winning overtime score on
Karlos Williams
' 12-yard run. The Noles did have problems running the ball, but not on the most important play of the game. What Florida State did -- winning its biggest game of the season without the best player in the country -- stands above any other victory to date. How is that not enough?
HD:
Because Clemson lost that game more than FSU won it. That "ranked team" is no longer ranked in my top 25 because it "pulled a Clemson." Yeah, I said it. A fumble on the 18-yard line with the game tied and two minutes to play? Shotgun formation on fourth-and-inches? Seven trips to the red zone, two touchdowns.
Golf clap for the "team win."
It's not enough because Oklahoma has fewer weaknesses. Because Mariota was sacked seven times -- and still looked like the best player in the country. Because
Amari Cooper
is better than
Rashad Greene
. Because if Florida State lined up against any of those teams right now ... they'd lose. They'd lose because they're No. 108 in the country in third-down conversions, and -- get this -- 30 percent of their running plays have gone for zero or negative yardage. That ranks 110th in the country, and the only team in the ACC that's worse is Wake Forest.
Between your Ice Bucket Challenge and six gazillion viewings of "Frozen," I think you've got brain freeze. Jump back to 2014. This ain't last year's FSU team.
AA:
That's cooold. Ice cold! But you still did not really answer my question. Mariota and Cooper are great players, just like Winston. Take them away from their teams and what happens? Lots more weaknesses get exposed. You can have your fancy stats, but I will rely on what my eyes tell me. Clemson had a solid game plan against the Florida State offense, using the strength of its front seven to shut down the run game. Therefore, it shouldn't be that surprising the Noles had a hard time running the ball when Clemson's main purpose was slowing down the run. Especially since the strength of Clemson's defense is in the front seven.
Didn't you
write in April
: "Clemson's defensive line is as good as advertised." You also picked Clemson to win, so seeing Florida State pull out the victory should further bolster its case -- regardless of whether Clemson "pulled a Clemson." The Tigers will be back in the Top 25 this season and will win 10 games. As the season wears on, this win will look better and better for Florida State -- the No. 1 team in all the land.
September, 23, 2014
Sep 23
3:00
PM ET
Beware the upset watch ... Syracuse
found that out last week
. So did Pitt, and we didn't even have the Panthers on upset alert.
Just about every ACC team is a double-digit favorite in nonconference play, all except Boston College (favored by seven over Colorado State) and Syracuse (underdog). So we look at conference play to warn a teams to watch out.
Duke (4-0) at Miami (2-2), 7:30 p.m., ESPN2. Line: Miami by 5.
Duke won the Coastal Division last season and beat Miami 48-30, yet the Blue Devils are the underdogs in this game? SMH. While Duke has not really been tested this season, Miami can no longer expect to roll its helmets onto the field and beat Duke. Not after what happened last season. In that game, Duke rushed for 358 yards. The Miami run defense looks vulnerable again, after allowing Nebraska to run for 343 in a 41-31 loss last weekend. Duke may not have
Ameer Abdullah
, but it does have the No. 5 rushing offense in the ACC this season -- averaging 261 yards per game. That is 120 yards better than Miami, still struggling to run the ball consistently as teams key in on
Duke Johnson
. The Canes should have an opportunity to run the ball on Duke, but to win this game their defense has got to tackle better and close up some serious holes in its run defense. Anybody confident they can do that?
No. 1 Florida State (3-0) at NC State (4-0), 3:30 p.m., ABC. Line: FSU by 22.
Truth is, we have this game in here just for old times' sake. Because Carter-Finley has been a house of horrors for the Seminoles, who have dropped three of their last four games in Raleigh. The one in 2012 was particularly painful, as No. 3 Florida State had its championship hopes rising before blowing a 16-3 halftime lead with a dreadful fourth-quarter performance. Florida State has not looked as dominant as the team that easily beat NC State 41-14 last season, and has had some issues on the offensive and defensive lines it needs to work through. NC State has not really been tested yet, but the Wolfpack appear to have made improvements with
Jacoby Brissett
under center. The Wolfpack are usually good for throwing a scare and/or pulling an upset on Florida State or Clemson, so never say never.
September, 23, 2014
Sep 23
10:00
AM ET
What was expected to be a big weekend on the recruiting front in the ACC turned out to be exactly that, with Florida State and Wake Forest receiving huge recruiting news.


September, 23, 2014
Sep 23
10:00
AM ET
Week 4 provided yet another reminder of the wonderful uncertainty and unpredictability of the college game.
And suffice to say, the drama tends to center on the guys taking the snaps. Shortcomings at quarterback have leveled the playing field among Power 5 and Group of 5 programs, and several breakout performers on under-the-radar teams have emerged to steal the spotlight.
So as we pass the season's one-quarter mark, my updated list of the top 10 quarterbacks in college football will reflect all of the upheaval, from the emergence of Kenny "Trill" Hill to the unfortunate decisions of the reigning Heisman Trophy winner.
While current productivity remains at the forefront of my thought process when compiling this list, each passer's NFL projection is equally important.
With that in mind ... Seeeet. Hut.
---
College production: 9.5
NFL skills: 10
Preseason rank: 2
To continue reading this article you must be an Insider
September, 23, 2014
Sep 23
8:00
AM ET
Virginia kicker
Ian Frye
went through
quite a harrowing ordeal
during the BYU game last weekend.
When the team started to walk to the locker room at halftime, Frye noticed his mother coming down a set of stairs toward him. She yelled to Frye that his dad, Mark, was having chest pains. Frye went into the locker room briefly before finding his dad, who was seated just outside the door having a hard time breathing. He spoke with his dad and the paramedics, before his parents urged him to go back to his team.
Mark Frye, 58, was transported to a local hospital after suffering a heart attack. Ian Frye was left to play the rest of the game, worrying about his dad. But that did not keep him from nailing a 46-yard field goal in the fourth quarter.
"Just sitting there on the sideline was tough," Frye told local reporters Monday. "But I wanted to be there with my team, support them, and do what I needed to do. I was called out for a 46-yard field goal. That was probably one of my hardest kicks that I've ever had to do, just knowing about my dad and what he was going through and having to perform still for the team. I kicked it for him."
After the game ended, BYU police escorted Frye to the hospital to see his dad, who had undergone successful surgery. BYU athletic director Tom Holmoe visited in the hospital and brought Ian a meal. Ian Frye stayed overnight in Utah and returned to Charlottesville on Monday after a lengthy flight delay in Atlanta.
Mark Frye remains in a Provo hospital but is expected to recover. He has taken great pride in Ian's career, never missing a game. The 46-yard field goal Frye nailed was the first kick Mark Frye had ever missed his son attempt.
But he is not completely out of the loop. He was the first one to text Ian on Monday and let him know the ACC named him its Specialist of the Week after making all four field goal attempts in the game.
He is now 10-of-11 on field goal attempts this season.
Pretty amazing story.
In some other Virginia news, quarterback
Greyson Lambert
had a walking boot on Sunday and will be evaluated throughout the week.
Matt Johns
and
David Watford
will get increased reps at quarterback in case Lambert is not ready to go against Kent State this weekend. He is not the only ACC quarterback who is day-to-day.
Louisville quarterback
Will Gardner
is having his knee examined after he tweaked it against FIU. Coach Bobby Petrino told reporters Monday that it was
too early to tell
whether Gardner will be able to play against Wake Forest. If he can't,
Reggie Bonnafon
will be ready to go after missing last week following his father's death.
Now a quick look around the ACC:
September, 22, 2014
Sep 22
2:57
PM ET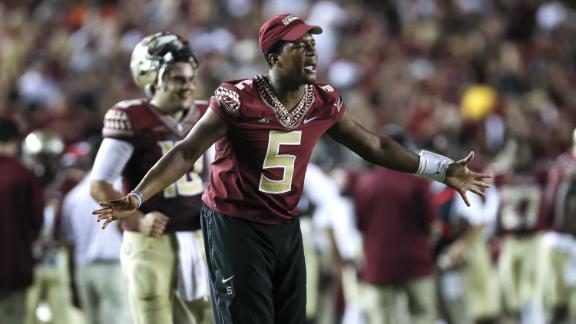 TALLAHASSEE, Fla. -- Florida State coach Jimbo Fisher said Jameis Winston's one-game suspension "hit home" with the Seminoles' quarterback.
"Tremendously," Fisher said when asked how missing Saturday's 23-17 overtime win over Clemson affected the reigning Heisman Trophy winner. "I think you could see it on the sideline ... [but] he was a great influence for Sean [Maguire] and the other guys on the sideline. It was not for show or go. It was something heartfelt. I think it hit home, there's no doubt."
Fisher reinstated Winston on Monday and named him the starting quarterback for this weekend's game against NC State.
Winston was suspended last week after he stood on a table outside FSU's on-campus student union Tuesday and yelled a profane and sexually explicit phrase, mimicking a popular Internet video.
The suspension was initially for the first half but was extended to the entire game Friday night after he misled the administration, sources told ESPN.
Winston again garnered headlines during pregame warm-ups when he ran out of the locker room in a helmet and full pads, taking practice snaps with the rest of the quarterbacks.
When Fisher emerged from the locker room and saw Winston running drills, he sent him back to change. Winston spent the game on the sideline in jeans and a baseball hat.
Fisher took blame for the pregame stir.
September, 22, 2014
Sep 22
2:45
PM ET
Associated Press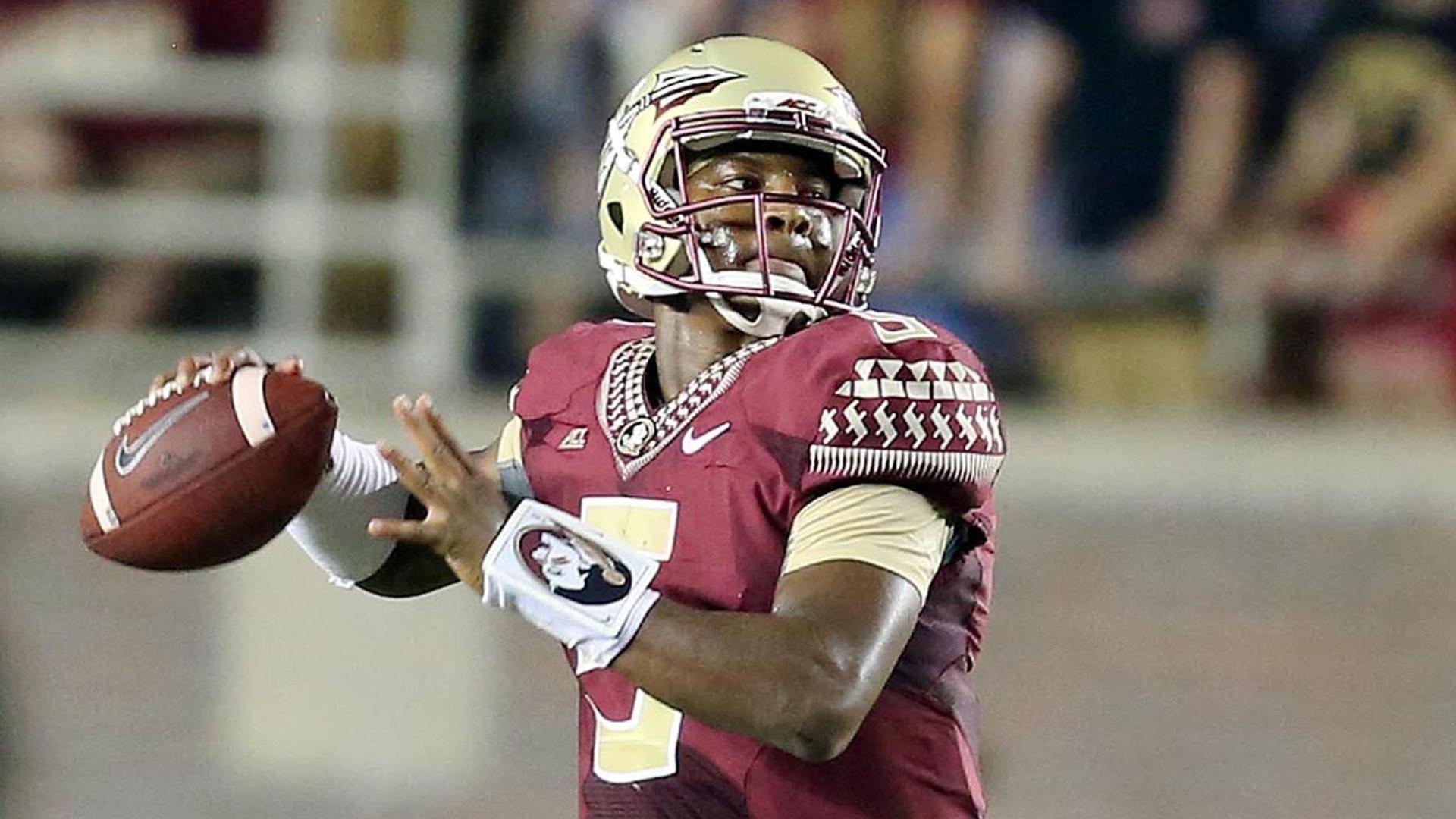 LINCOLN, Neb. -- Nebraska's Ameer Abdullah, a candidate for this year's Heisman Trophy, says 2013 winner Jameis Winston of Florida State needs to clean up his act.
Abdullah and Winston both grew up in the Birmingham, Alabama, area and trained together at the same gym. Abdullah said he considers Winston a friend.
"It's kind of hard for me to understand what's going on with him right now, but from a general standpoint it's the maturity level," Abdullah said Monday. "Think before you act. Understand the bigger picture. Everything that you do, say or how you present yourself can have dire consequences. That's something I feel like he definitely needs to assess more."
Winston was suspended for Saturday's overtime win against Clemson after making "offensive and vulgar" comments on campus. In April, Winston was caught leaving a supermarket without paying for crab legs and crawfish and was ordered to perform community service. He was accused of sexually assaulting a student in 2012, but a prosecutor declined to press charges.
Abdullah, a 21-year-old senior, said the 20-year-old sophomore Winston seems to lack common sense.
"He's a very intelligent young man," Abdullah said, "but he's made his fair share of mistakes. It gets to the point where you feel like he needs to start understanding and take things more seriously because these things can alter what happens in his future."
Abdullah added: "Every situation you do, you represent not only yourself, the university, your family, people who go to the university. So being that guy who's the star down there, he holds much bigger weight than he realizes sometimes. ... I know he's much better than what he's shown."
Brock Huard's QB Rankings