October, 30, 2014
Oct 30
1:00
PM ET
Twelve years have passed since the goalposts went down, so recollections are a little fuzzy. Memories of plays have given way to memories of emotions, though, so players from both sides of the 2002 game between No. 4 Florida State and unranked Louisville are still clear.
Louisville quarterback Dave Ragone remembers that September game as a must-win for a Conference USA program fighting for respect. Florida State cornerback Stanford Samuels remembers the embarrassment of wading through UL fans as he walked off the field. Cardinals coach John L. Smith remembers it positioning the program for a move to a major conference.
And they all remember the rain.
Here's a look back at that 2002 game, a
26-20 Louisville victory
, through the eyes of three of the people who lived it.
The hype
Smith: "Two years before, we went down [to Florida State] with the same kids, but they were all sophomores, and FSU kicked our tails. We had those same kids, but now they're coming to our place, and they remembered that [2000 game], but now they're seniors and two years older."
Samuels: "I remember being very confident. In the meetings leading up to the game, we were all speaking the language about how confident we felt."
Ragone: "We started that season, and we lost to Kentucky and the air came out of the balloon because we knew we had to be perfect to be in the conversation for anything. But we also knew we had Florida State on the schedule, and that was our last chance for validity in terms of where our program was. There was a belief within the team. I don't think anybody outside the fan base or the players thought there was any chance we'd pull that upset."
Game day
With the remnants of Tropical Storm Isidore creating torrential downpours, rain was the constant.
[+] Enlarge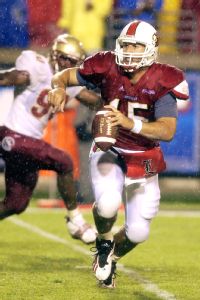 AP Photo/Timothy D. EasleyLouisville quarterback Dave Ragone had 225 total yards and two touchdowns in the win over Florida State.
Ragone: "We woke up that morning and the rain started coming down. The weather was horrific. To this day, I've never been a part of anything like that," he said. "But it just didn't matter. We were not going to be denied."
Samuels: "We got there and it's a tropical storm coming though. At the time, Coach [Mickey] Andrews believed in playing man-to-man, and that rain and the conditions it created, it made us question whether he should put us in man."
The rain didn't scare off Cardinals fans that evening, though. Smith said it was never a "miserable rain," although few share Smith's unabashed exuberance for life.
Samuels: "The atmosphere was electric. It was one of the games you dream about being a part of entering college. It was everything you wanted it to be."
Fourth quarter and overtime
The game stayed even mostly throughout, and the
box score
produced nearly identical numbers for the teams.
Early in the fourth quarter, Ragone threw a 1-yard touchdown pass to knot the game at 20. Both teams were held scoreless the rest of the fourth quarter, setting up overtime.
Ragone: "When we got that game tied up and we knew we were going to overtime at our place in these conditions, their backs now against the wall, at no point did any of us think we weren't going to win that football game."
On the first play of the extra period, Florida State quarterback Chris Rix threw what can only be described as a water-logged duck. The ball flailed in the air and dropped into the arms of a Louisville player at the 5-yard line. On the next play, Cardinals tailback Henry Miller ran for 25 yards and a touchdown on the first play of Louisville's overtime drive. Miller was met by his offensive line and a few thousand fans to create the largest and happiest dog pile Louisville's ever seen.
Smith: "There was so much runoff on the ground, I thought we'd drown in the pool. I kept thinking somebody was going to drown."
Ragone: "We were in complete hysteria. I can remember running around and not celebrating with anybody. I couldn't find anybody. I was just running around. It wasn't that jump-in-your-arms moment with somebody," Ragone said. "And then the pile started, and I got my helmet ripped off and that didn't even matter. The people who stayed, we celebrated as much with our teammates as we did with those fans. That's the memory I'll always remember."
Celebration
The Cardinals fans that did not add to the chaos in the end zone decided to make a run at the goal posts. Smith, now the coach at Fort Lewis College in Durango, Colorado, has a piece of one of the goalposts in a box somewhere in his home. A few of the fraternity brothers that sawed the uprights after the win hand-delivered pieces to the Cardinals' coaching staff a few days later. Many fans still have their pieces of the posts.
Here's the goalpost center from the last FSU game! #BeatFSU #CardinalHistory @CardChronicle @howielindsey pic.twitter.com/mbJiFQ3aW0

— J (@jboylan121) October 23, 2014
Ragone: "It was taken to fraternity row; it was taken all over the city. I remember people on top of it, climbing on it. To see that goalpost go down, it felt like an out-of-body experience for a lot of us."
Samuels: "It's an embarrassing moment, considering who we are. At that moment, that's one of the deepest hurts you could feel. For us to come into the game like things were under control and we would take advantage of the atmosphere and further our claim on a national championship-caliber season, and for it to end with the Louisville fans storming the field and climbing the goalposts, that was heartbreaking."
The aftermath
Louisville played on a Sunday, Tuesday and three Thursdays that season, and Smith said it was all part of athletic director Tom Jurich's plan to gain exposure for a program that one day hoped to position itself to land in a major conference.
While moving to the Big East and later the ACC was not a direct result of that win over Florida State, Smith said he believes it certainly played a role.
Smith: "Jurich said we had to position ourselves because there's going to be changes, and leagues would move. That was probably, as I look back, the one game that put Louisville on the track where people in the country would come in and sit down and talk to us. Everybody watched it. As far as recruits, it put us on a scale where we're invited to a lot more recruiting tables. You can now sit at the table with FSU or Miami."
October, 30, 2014
Oct 30
12:40
PM ET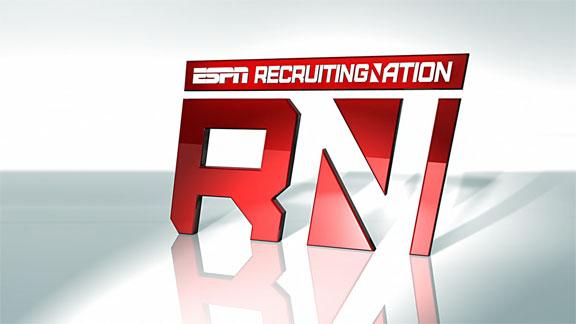 Terry Beckner Jr
., the No. 1 ranked prospect in the country, likes to play his recruitment close to the vest. He doesn't share too much when it comes to what he's thinking, but Beckner is ready to release the schools where he will make official visits.
October, 30, 2014
Oct 30
11:20
AM ET
October, 30, 2014
Oct 30
10:30
AM ET
It will be strength against strength when Florida State and Louisville meet at Papa John's Cardinal Stadium on Thursday night, with QB
Jameis Winston
and the Seminoles' potent offense going against DE
Lorenzo Mauldin
and Louisville's stout defense. Since the start of 2013, Florida State has averaged the second-most yards per play on offense. Louisville has allowed the fewest yards per play on defense. So who has the advantage? ACC reporters David Hale and Jared Shanker debate.
[+] Enlarge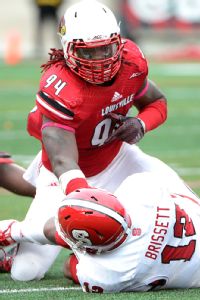 Jamie Rhodes/USA TODAY SportsLorenzo Mauldin and Louisville's defense have done a good job this season of pressuring the quarterback.
Hale says Louisville's defense has the advantage:
Let's get the obvious out of the way: Winston is a great player, and with him at quarterback, there's not a scenario in which I see Florida State's offense being completely shut down. But this Louisville defense is capable of slowing the Seminoles down a bit, and that might be enough to pull the upset.
First, Winston's competition during his year-and-a-half as FSU's quarterback hasn't exactly been stout. He has yet to play a defense that ranks better than 22nd nationally in yards-per-play allowed (Wake Forest in 2013, which, coincidentally, was statistically his worst game); the average ranking for Winston's opposition is 65th. Louisville, on the other hand, is second in the nation.
The Cardinals' defense is a lot like Florida State's was last season -- aggressive, stout in the secondary, and capable of affecting the passer with a strong rush up front. That's translated into 28 sacks (fifth nationally) and 15 interceptions (second). Opposing quarterbacks have an adjusted Total QBR of just 14.7 against Louisville -- the best mark in the country.
Will Winston be an exception? Surely he's the toughest test Louisville's defense has faced, too, but the other problem FSU faces is that Winston can't be a one-man show. The Cards have a strong enough pass rush that they can avoid blitzing regularly yet can still pressure the quarterback -- particularly against an FSU line that's looked shaky so far this season. That means the Cardinals can double
Rashad Greene
, forcing FSU's younger receivers to step up. More importantly, however, Louisville has allowed the fewest rushing yards in the country this season, while FSU is already struggling to run the ball and now has the additional concerns of RB
Karlos Williams
' off-field drama to deal with.
Add it all up, and it's clearly the biggest defensive challenge FSU's offense will have faced during Winston's tenure -- and it may be enough for Louisville to be the first team to hand the Seminoles' star QB a loss.
[+] Enlarge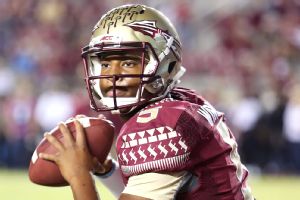 MCT via Getty ImagesJameis Winston has yet to face a defense as good as the one Louisville has.
Shanker says Florida State's offense holds the edge:
More than ever, football is becoming a quarterback-driven sport, and the Seminoles have the best in the country. Regardless of how you feel about him off the field, Winston reminded us all of his brilliance on it in the second half against Notre Dame. Rushed and knocked down countless times, Winston continually hit his mark on throws that ate up big chunks of yards.
Big plays will be hard to come by Thursday as statistics argue this is one of the best defenses Winston has faced, and that can't be disagreed with. However, just how good is this Louisville defense? That's worthy of debate. The Cardinals' D took advantage of a true freshman playing his first game ever in the season opener against Miami, and star Clemson QB
Deshaun Watson
was injured in the first half against Louisville. Watson was the nation's leader in QBR. This Louisville defense has not faced a quarterback of Winston's caliber, so how it performs against one is still a question mark.
What the Cardinals' defense should be able to do is make Florida State one-dimensional on offense, but that's something a lot of teams have been able to do. The Seminoles rank 104th in rushing yards per game, and there is little reason to believe they'll improve upon that ranking after this game. Oklahoma State and Notre Dame both shut down the Seminoles' rushing attack, but Winston provided all the offense the Noles needed in the second half of those games.
With all of that said, it wouldn't be a shock if Louisville holds Florida State below 30 points, something that hasn't happened once with Winston at the helm. The issue that remains for the Cards -- even in that scenario -- is that some way, somehow this Florida State team always finds a way to win. If this is a close game in the fourth quarter, the Seminoles are going to know how to react. The crowd won't intimidate FSU's offense. No matter how many plays go for negative yards, this offense is capable of three chunk plays and a touchdown drive spanning less than two minutes. The receiving corps is no longer Greene and a bunch of also-rans.
Travis Rudolph
and
Jesus Wilson
are taking the pressure off Greene and tight end
Nick O'Leary
.
FSU's offense isn't the same as last season's unit, but it's still the best in the ACC. And that'll be good enough to beat the Cards.
October, 30, 2014
Oct 30
9:00
AM ET
By
ESPN.com staff
| ESPN.com
Shanker:
It's not as if this team has not dealt with media circuses before, and this week was no different with the news that police are investigating running back
Karlos Williams
for domestic assault. Whether Williams plays, the constant for FSU the past two years is
Jameis Winston
, and he will be on the field Thursday. While the Cardinals' defense ranks as No. 1 nationally, no defense has been able to stop Winston yet. History suggests the Cards will need to score in the 30s, and their offense has struggled to score at times this season.
Florida State 30, Louisville 24
Fortuna:
This is not a very favorable matchup for FSU, and it cannot come at a worse time: Thursday, the night before Halloween, the site of a major upset 12 years ago. Louisville's defense is relentless, especially against the run, and the Seminoles' already struggling ground game probably won't be turning a corner in this one, as
Mario Pender
(ankle) is out again and Williams has been engulfed in controversy all week. Who knows if Williams is as adept at blocking out off-the-field issues as Winston is, but it might not matter. The Cardinals finally have their weapons -- namely,
DeVante Parker
— back at full strength, and the offense might just look like what we all expected it to when Bobby Petrino took over. Can the underwhelming FSU defense step up? Getting pressure on
Will Gardner
will be key. Playing from behind is no way to live, though, and the Noles can overcome only so many slow starts (Clemson, NC State, Notre Dame) before paying a price.
Louisville 23, FSU 17
Shanker:
The Eagles run the ball very well and don't ask quarterback
Tyler Murphy
to do too much through the air. So that sounds like the same formula Miami used to beat Virginia Tech last week.
Duke Johnson
ran all over the Hokies, and Murphy and BC's stable of backs are capable of running for close to 300 yards combined. Defensively, the BC defense is stout, and it is hard to imagine the Virginia Tech offense finding much success.
Boston College 17, Virginia Tech 14
Adelson:
The Hokies played their worst game of the season last week against Miami and now have to face the best running quarterback in the country in Murphy, who is on his way to a 1,000-yard season. The matchup advantages seem to skew toward BC, but expect Virginia Tech to really place an emphasis on its run game. The Eagles have had trouble closing out games this season, so the Hokies will have a chance to survive in a slog.
Virginia Tech 21, Boston College 20.
Hale:
The simplest answer here is the Wolfpack have to win an ACC game eventually, right? Sure, we've been fooled into thinking the streak would come to an end before, but this seems like a must-win for the program. Dave Doeren has had a week off to prepare.
Jacoby Brissett
has had the bye week to get healthy. The defense gets back a handful of suspended players. Syracuse is coming off a tough, physical loss to Clemson and is playing with a true freshman at QB. Meanwhile, the fans in Raleigh are getting restless, and the goodwill engendered by NC State's close loss to Florida State has all but evaporated. It's time for a Wolfpack victory in conference play, and, really, it feels like now or never.
NC State 21, Syracuse 14
Fortuna:
A.J. Long
finally looked like a freshman last week for Syracuse, getting sacked four times, but he was facing a nasty Clemson defense. He'll be better off for that test in the long run, including this week against an NC State team that averages less than two sacks per game. The Wolfpack have struggled against the run in ACC play, surrendering 217 rushing yards per outing, which give the Orange some opportunities to open up the offense and let Long breathe a bit. Brissett, meanwhile, has not looked like the same player in his three outings since the FSU game. A Syracuse defense that gave its offense a chance despite four turnovers should be strong enough to keep Brissett and the Pack offense from regaining its touch.
Syracuse 24, NC State 13
Hale:
Georgia Tech runs the football. Virginia is 10th in the nation in rushing defense (based on yards-per-carry). And if that strength-on-strength battle ends in something resembling a draw, the Hoos have a clear advantage nearly everywhere else. The Hoos can get after the quarterback, which should negate Georgia Tech's big-play threat. Georgia Tech has struggled to affect the passing game, which should help Virginia's inconsistent passing attack. The Yellow Jackets are allowing 5.4 yards per carry, meaning the Cavaliers should be able to run early and often. But perhaps most important, it's an issue of motivation. Virginia needs this game desperately -- both for its bowl chances and for coach Mike London to keep his job.
Virginia 30, Georgia Tech 27
Adelson:
Though Virginia has been excellent against the run this season, the defense has been gashed for some big plays. It happened last week against North Carolina, and now the Hoos have to play a Georgia Tech offense that not only pounds the ball but has a nose for big gains. Georgia Tech has 48 offensive plays that have gone for 25 or more yards this season -- including 15 in the past two games. If Virginia cannot stop the big play or score off takeaways, the Jackets will win.
Georgia Tech 30, Virginia 27.
Unanimous picks
Duke at Pitt:
Both defenses are light years ahead of where they were since last season's meeting in Durham (a 58-55 Panthers win), but Pitt's offense needs to regroup in a hurry after its turnover-plagued performance against Georgia Tech. Facing a Blue Devils' offense that is coming off a bye is no easy task the week after defending the Yellow Jackets' attack, either.
Duke 31, Pitt 27
North Carolina at Miami:
There is something to be said for UNC's recent resurgence. Its defense has made several big plays lately, too. But
Brad Kaaya
has only grown as a passer, and Duke Johnson might be running as well as he ever has. The Hurricanes have just too much offensively for the Tar Heels to handle.
Miami 40, UNC 35
Current Standings
Shanker: 51-12
Adelson: 50-13
Fortuna: 49-14
Hale: 48-15
October, 30, 2014
Oct 30
8:30
AM ET
With the NCAA's announcement that Georgia running back
Todd Gurley
has to sit for two games for his NCAA-violating, off-field transgressions is sad for the world of college football. We lost arguably the sport's best player for a couple more weeks because he decided to profit off of his name for what appears to be a few thousand dollars.
More than $3,000
in cash, actually.
To continue reading this article you must be an Insider
October, 30, 2014
Oct 30
8:00
AM ET
The game plan for Clemson's offense with
Cole Stoudt
has been conservative to say the least.
As The Post & Courier writes, Stoudt
isn't looking downfield often
. Of his 35 attempts last week against Syracuse, 21 were thrown to targets behind the line of scrimmage. Ten were thrown downfield at least 15 yards, and he completed just two. And that's a big reason for the lack of real productivity for the Tigers.
As we noted in
our weekly By the Numbers post
, of the 93 quarterbacks with at least 150 pass attempts vs. FBS competition, Stoudt ranks 92nd in yards-per-completion at just 9.0.
Add to the lack of a downfield threat the fact that Clemson's running game has been stagnant — just 3.5 yards-per-rush on non-sack plays, the worst among Power 5 teams save Wake Forest — and you've got a real problem.
The end result is that Clemson is averaging just 4.73 yards-per-play in the month of October, which ranks 105th nationally. Who would've thought we'd ever be saying that about a Chad Morris offense?
The good news is that
Deshaun Watson
continues to make progress from his broken finger, and while it's unlikely he's back for Wake Forest in a week's time, the Georgia Tech game on Nov. 15 seems like a legitimate possibility. Meanwhile,
Wayne Gallman
ran for 101 yards on 28 carries last week against Syracuse, which marked the first 100-yard game by a Clemson tailback this season.
A few more links for your Thursday reading pleasure:
The Orlando Sentinel takes a look at
what makes Louisville's defense so dominant
.
DeVante Parker
should
be an interesting challenge
for Florida State's secondary, writes the Tallahassee Democrat.
Karlos Williams
will
play against Louisville
, according to Jimbo Fisher, but he's the
subject of a university inquiry,
as Yahoo notes.
Tonight will be
a major recruiting night
for Louisville as it hosts the defending champs, writes The Courier-Journal.
Anthony Harris
hasn't racked up the interceptions for Virginia as he did a year ago, but he's still
playing at a high level
, writes the Daily Progress.
Miami will be
missing a key contributor
on the offensive line against North Carolina, writes the Sun-Sentinel.
If
AJ Long
is going to turn things around from last week's struggles vs. Clemson, NC State
looks like the right defense
to do it against, writes Syracuse.com.
Duke
isn't getting distracted
by its Top 25 ranking, writes the Associated Press.
In spite of Virginia Tech's struggles, Steve Addazio knows Lane Stadium is
no easy place to win
, writes BC Interruption.
October, 29, 2014
Oct 29
8:47
PM ET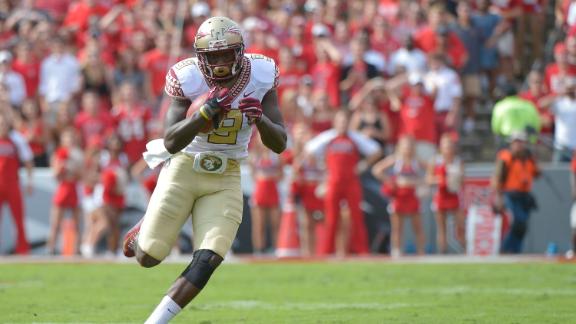 Tallahassee Police Department officials intend to continue their domestic assault investigation of Florida State running back Karlos Williams, according to The Associated Press, and Williams might face a Title IX investigation by the school even if police drop the case.
Williams, the No. 2 Seminoles' leading rusher, was accused of physically assaulting his ex-girlfriend, who is the mother of his infant son and pregnant with their second child. On Wednesday, the woman formally requested that Tallahassee police terminate their investigation and asked that Williams not be charged.
"It is my desire that this matter be resolved expeditiously without Mr. Williams being arrested, charged, or prosecuted for any criminal offense," the woman wrote in an affidavit, which was sent to Tallahassee police by her attorney. "Please exercise your discretion properly by respecting my privacy and my family's privacy in this matter."
Williams, a senior from Davenport, Florida, also could face a Title IX investigation by FSU's Office of Student Rights and Responsibilities, which could lead to findings of violations of the school's student conduct code.
FSU spokeswoman Browning Brooks said in a statement Wednesday: "While each set of facts and circumstances is different, as a general matter notice of Title IX-related issues would prompt an investigation."
Florida State would not confirm whether it would investigate Williams, citing privacy policies, according to the AP. Federal policy dictates that universities must investigate possible Title IX violations if they are aware.
October, 29, 2014
Oct 29
4:49
PM ET
The lawsuit against Florida State defensive end Chris Casher that was opened by the attorney who defended him in his school code of conduct hearing has been voluntarily dismissed.
A source told ESPN.com that Casher has paid restitution to attorney Adam Ellis, and the status of the case is now listed as closed after the Leon County court received a notice of voluntary dismissal on Oct. 28 from the plaintiff.
A pretrial hearing had been set for Nov. 4.
Casher was named as a defendant in a civil suit filed Oct. 1 for "small claims more than $500 but not more than $2,500." Earlier this month, The Tallahassee (Florida) Democrat reported the suit was for $2,500 in legal fees.
Last May, Casher faced a student code of conduct hearing for his role in the 2012 alleged sexual assault involving teammate Jameis Winston and another Florida State student. In an interview with police, Casher said he witnessed and videotaped parts of the encounter but deleted the video and no longer had the cell phone.
Winston has maintained his innocence through his attorney, saying the sexual encounter was consensual. He was not charged criminally but still faces a school conduct code hearing as part of the university's continuing Title IX inquiry.
In June, Casher, a redshirt sophomore, received one year of probation after being found responsible for two violations of the school's conduct code: acts that invade the privacy of another person and the recording of images without consent, The Wall Street Journal reported.
FSU-Louisville: Most To Gain, Lose
ACC SCOREBOARD
Thursday, 10/30
Saturday, 11/1