September, 23, 2014
Sep 23
10:00
AM ET
What was expected to be a big weekend on the recruiting front in the ACC turned out to be exactly that, with Florida State and Wake Forest receiving huge recruiting news.


September, 23, 2014
Sep 23
10:00
AM ET
Week 4 provided yet another reminder of the wonderful uncertainty and unpredictability of the college game.
And suffice to say, the drama tends to center on the guys taking the snaps. Shortcomings at quarterback have leveled the playing field among Power 5 and Group of 5 programs, and several breakout performers on under-the-radar teams have emerged to steal the spotlight.
So as we pass the season's one-quarter mark, my updated list of the top 10 quarterbacks in college football will reflect all of the upheaval, from the emergence of Kenny "Trill" Hill to the unfortunate decisions of the reigning Heisman Trophy winner.
While current productivity remains at the forefront of my thought process when compiling this list, each passer's NFL projection is equally important.
With that in mind ... Seeeet. Hut.
---
College production: 9.5
NFL skills: 10
Preseason rank: 2
To continue reading this article you must be an Insider
September, 23, 2014
Sep 23
8:00
AM ET
Virginia kicker
Ian Frye
went through
quite a harrowing ordeal
during the BYU game last weekend.
When the team started to walk to the locker room at halftime, Frye noticed his mother coming down a set of stairs toward him. She yelled to Frye that his dad, Mark, was having chest pains. Frye went into the locker room briefly before finding his dad, who was seated just outside the door having a hard time breathing. He spoke with his dad and the paramedics, before his parents urged him to go back to his team.
Mark Frye, 58, was transported to a local hospital after suffering a heart attack. Ian Frye was left to play the rest of the game, worrying about his dad. But that did not keep him from nailing a 46-yard field goal in the fourth quarter.
"Just sitting there on the sideline was tough," Frye told local reporters Monday. "But I wanted to be there with my team, support them, and do what I needed to do. I was called out for a 46-yard field goal. That was probably one of my hardest kicks that I've ever had to do, just knowing about my dad and what he was going through and having to perform still for the team. I kicked it for him."
After the game ended, BYU police escorted Frye to the hospital to see his dad, who had undergone successful surgery. BYU athletic director Tom Holmoe visited in the hospital and brought Ian a meal. Ian Frye stayed overnight in Utah and returned to Charlottesville on Monday after a lengthy flight delay in Atlanta.
Mark Frye remains in a Provo hospital but is expected to recover. He has taken great pride in Ian's career, never missing a game. The 46-yard field goal Frye nailed was the first kick Mark Frye had ever missed his son attempt.
But he is not completely out of the loop. He was the first one to text Ian on Monday and let him know the ACC named him its Specialist of the Week after making all four field goal attempts in the game.
He is now 10-of-11 on field goal attempts this season.
Pretty amazing story.
In some other Virginia news, quarterback
Greyson Lambert
had a walking boot on Sunday and will be evaluated throughout the week.
Matt Johns
and
David Watford
will get increased reps at quarterback in case Lambert is not ready to go against Kent State this weekend. He is not the only ACC quarterback who is day-to-day.
Louisville quarterback
Will Gardner
is having his knee examined after he tweaked it against FIU. Coach Bobby Petrino told reporters Monday that it was
too early to tell
whether Gardner will be able to play against Wake Forest. If he can't,
Reggie Bonnafon
will be ready to go after missing last week following his father's death.
Now a quick look around the ACC:
September, 22, 2014
Sep 22
2:57
PM ET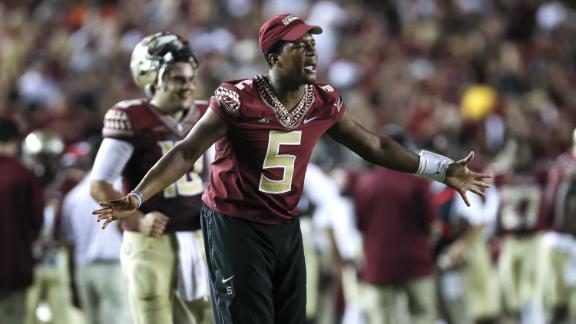 TALLAHASSEE, Fla. -- Florida State coach Jimbo Fisher said Jameis Winston's one-game suspension "hit home" with the Seminoles' quarterback.
"Tremendously," Fisher said when asked how missing Saturday's 23-17 overtime win over Clemson affected the reigning Heisman Trophy winner. "I think you could see it on the sideline ... [but] he was a great influence for Sean [Maguire] and the other guys on the sideline. It was not for show or go. It was something heartfelt. I think it hit home, there's no doubt."
Fisher reinstated Winston on Monday and named him the starting quarterback for this weekend's game against NC State.
Winston was suspended last week after he stood on a table outside FSU's on-campus student union Tuesday and yelled a profane and sexually explicit phrase, mimicking a popular Internet video.
The suspension was initially for the first half but was extended to the entire game Friday night after he misled the administration, sources told ESPN.
Winston again garnered headlines during pregame warm-ups when he ran out of the locker room in a helmet and full pads, taking practice snaps with the rest of the quarterbacks.
When Fisher emerged from the locker room and saw Winston running drills, he sent him back to change. Winston spent the game on the sideline in jeans and a baseball hat.
Fisher took blame for the pregame stir.
September, 22, 2014
Sep 22
2:45
PM ET
Associated Press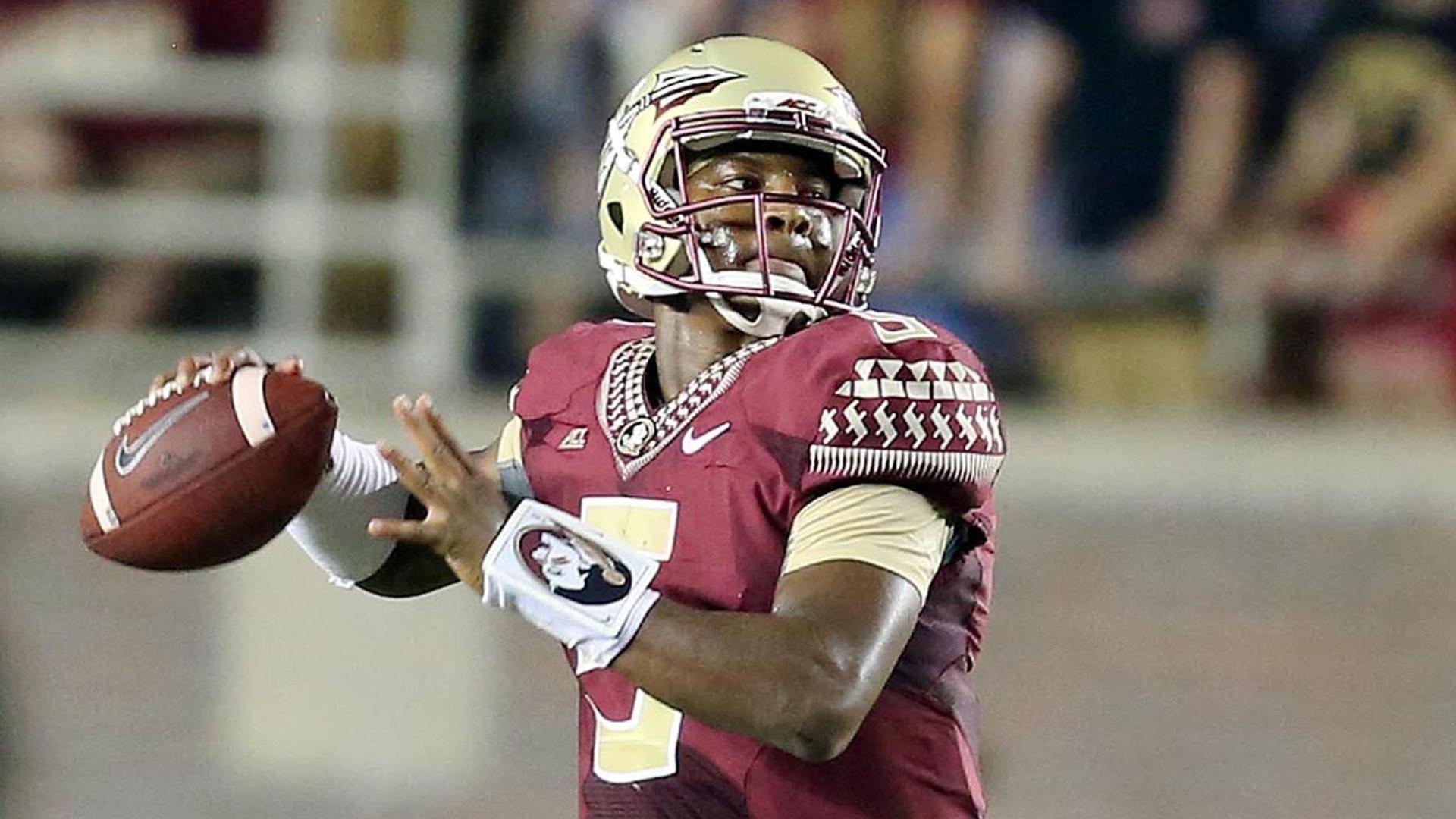 LINCOLN, Neb. -- Nebraska's Ameer Abdullah, a candidate for this year's Heisman Trophy, says 2013 winner Jameis Winston of Florida State needs to clean up his act.
Abdullah and Winston both grew up in the Birmingham, Alabama, area and trained together at the same gym. Abdullah said he considers Winston a friend.
"It's kind of hard for me to understand what's going on with him right now, but from a general standpoint it's the maturity level," Abdullah said Monday. "Think before you act. Understand the bigger picture. Everything that you do, say or how you present yourself can have dire consequences. That's something I feel like he definitely needs to assess more."
Winston was suspended for Saturday's overtime win against Clemson after making "offensive and vulgar" comments on campus. In April, Winston was caught leaving a supermarket without paying for crab legs and crawfish and was ordered to perform community service. He was accused of sexually assaulting a student in 2012, but a prosecutor declined to press charges.
Abdullah, a 21-year-old senior, said the 20-year-old sophomore Winston seems to lack common sense.
"He's a very intelligent young man," Abdullah said, "but he's made his fair share of mistakes. It gets to the point where you feel like he needs to start understanding and take things more seriously because these things can alter what happens in his future."
Abdullah added: "Every situation you do, you represent not only yourself, the university, your family, people who go to the university. So being that guy who's the star down there, he holds much bigger weight than he realizes sometimes. ... I know he's much better than what he's shown."
September, 22, 2014
Sep 22
2:35
PM ET
September, 22, 2014
Sep 22
2:00
PM ET
Plenty of coaches around the ACC are sifting through some ugly numbers this week, but we'll start with one of the best performances of the weekend.
* Florida State's
Rashad Greene
was a hero yet again Saturday night. His 74-yard touchdown grab with 6:04 to play tied the game at 17 and gave the Seminoles a chance to win in overtime.
The big catches are nothing new for Greene. In fact, you could argue that he's been on the receiving end of the most significant throws in the college career of four different quarterbacks:
2014:
Sean Maguire
, 74-yard touchdown to tie game versus Clemson
2013:
Jameis Winston
, 49-yard completion with less than a minute to play to set up a game-winning touchdown in the BCS national championship
2012:
EJ Manuel, 39-yard touchdown with 40 seconds left to beat Virginia Tech, keeping FSU's hopes alive for Jimbo Fisher's first ACC championship
2011:
Clint Trickett
, 56-yard touchdown with 9:32 left to tie Oklahoma
The last one occurred in a game FSU eventually lost, but it's a play many Noles fans recall as the loudest Doak Campbell Stadium has ever been.
Beyond Greene's contributions historically though, he's on an immensely hot streak right now. In his last three games against Power 5 teams, he has 29 catches for 485 yards and two touchdowns. Nineteen of those 29 receptions have gone for first downs.
Currently Alabama's
Amari Cooper
is the only receiver in the nation with a longer active streak of 100-yard games against Power 5 teams.
* Georgia Tech is 4-0, and a big reason for that success thus far has been quarterback
Justin Thomas
, who
ranks 10th in ESPN's Total QBR
so far this season. The presumption is the Yellow Jackets are finally embracing the passing game, and therefore the offense is more dynamic.
But that's not entirely true. Georgia Tech has had the QB drop back to pass on 27 percent of its plays this year, which is just a mild uptick from 2013, when the QB dropped back on 26 percent of its plays.
What's different is the success Thomas has enjoyed on those dropbacks. Tech is averaging more yards per dropback, been sacked less often and those plays are accounting for a greater percentage of its total offense than it did a year ago with Vad Lee at quarterback.
* While Thomas has been sharp as a passer,
DeAndre Smelter
is blossoming into a star as a receiver. The former baseball player has three 100-yard games already this season (only Cooper and West Virginia's
Kevin White
have more) and only Cooper, Pitt's
Tyler Boyd
and Air Force's
Jalen Robinette
have been responsible for a higher percentage of their team's targets than Smelter (40.3 percent).
* Yes, Boston College's game Saturday was only against Maine, but here's a ridiculous stat for you: The Eagles rushed for 413 yards, while only allowing 16 yards on the ground.
More ridiculous: A week earlier, against USC, Boston College ran for 452 yards and allowed just 20.
In the past 10 seasons, there were just eight other examples of a team rushing for more than 400 while allowing 20 or fewer yards on the ground in a game, and BC managed to do it in back-to-back weeks.
* Panic time for some other ground games around the ACC?
Virginia Tech's rushing game was bad last year and is again in 2014. Overall, the Hokies rank 10th in the ACC in yards-per-carry on non-QB rushes (4.29) and their running backs are averaging just 3.2 yards-per-carry against FBS teams.
North Carolina and Virginia (with 1,000-yard rusher
Kevin Parks
) are 12th and 13th, respectively, in non-QB yards-per-rush.
Clemson is 11th (4.02), and even with FSU's best defensive lineman,
Mario Edwards Jr.
, out for much of the game Saturday, the Tigers mustered just 3.2 yards-per-carry. Take away the Clemson QBs, and the ground game had just 47 yards.
Then there's Louisville. Two weeks ago at Virginia, the Cards' ground game averaged fewer than 4 yards per rush, and on Saturday against FIU, things were even worse. Set aside Dominique Brown's 18-yard scamper on the first play of the game, and Louisville had just 34 yards on its final 30 attempts.
* Virginia Tech's once-stifling defense has really struggled so far this year. Part of it is the game plan Bud Foster has implemented, but the big plays have killed the Hokies. In four games, Tech has coughed up 32 plays of 19 yards or more (once every eight plays). Last year, it allowed just 53 all season.
* Plenty of credit for Georgia Tech's win should go to Ted Roof's defense, which rattled
Michael Brewer
into three turnovers that translated to 17 points. So far this season, the Yellow Jackets have racked up 45 points following turnovers, tops in the ACC.
* And finally, here's a number that pretty much sums up Clemson's season so far: In two games against FBS teams, Clemson is averaging 2.37 yards-per-play in the fourth quarter and overtime (fourth-worst nationally) and has picked up just three first downs (worst in the nation).
September, 22, 2014
Sep 22
11:00
AM ET
TALLAHASSEE, Fla. -- It was the first question
Florida State
coach Jimbo Fisher was asked after the game. He greeted it with a face worn and weathered, insight into a stressful week. His joy during a five-minute opening statement was tempered, drained from a volatile week of fluctuating punishments and constant character-questioning columns.
[+] Enlarge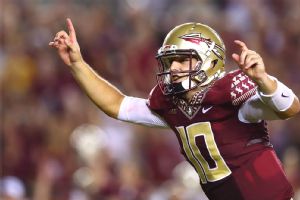 Ronald Martinez/Getty ImagesWith a strong team effort, Sean Maguire and Florida State showed they're still No. 1 until somebody beats them.
Minutes earlier the fifth-year championship coach, in a rare moment of vulnerability,
wept in front of his team
, besieged with emotion while expressing the pride he felt watching FSU pull off what seemed unimaginable minutes earlier -- a win against ACC rival and No. 22 Clemson in overtime.
"Do you think Florida State should remain No. 1 after
this
performance?" the reporter asked.
It was a superfluous detail in a game with layers of juicy plotlines that easily filled the four-hour telecast. And frankly, Fisher's answer can be tossed into the circular file with the rest of the minutiae from Saturday's game, which includes every page of team statistics and numbers with the exception of the final score.
Florida State won. It did it without its best player,
Jameis Winston
, for the entire game, and arguably its second-best player,
Mario Edwards Jr
., for the final half.
The Seminoles were tested this weekend, but the grades from the coaches and AP pollsters don't matter. We learned more about them Saturday than what any poll with waning belief in the reigning national champions could ever indicate.
"We challenged our guys to find out who we are," an emotional Fisher said. "We're not where we want to be, but we do know who we are."
The Seminoles know they're a group with the fundamental resolve required to earn one of the four College Football Playoff bids. On Saturday, they looked like a pumpkin instead of the horse-drawn carriage driven by a Heisman winner, but this is the fall season, the time when carved, misshapen pumpkins are celebrated.
The team was distracted. After the game, Fisher and his players copped to falling victim to the unavoidable lapses in focus that accompany a suspension (and a second one) to the star player for standing on a table in the busiest intersection of campus and unloading an obscene and profane outburst.
The backup quarterback completed six passes in the first half. Yet in the fourth quarter, he unleashed a 74-yard pass to the tie the score. Hero might be a strong word to frame
Sean Maguire
's performance, but only in the sense that the word is incessantly used to overstate the contributions of a player in a glorified game. Considering the pressures dropped onto Maguire's shoulders days before potentially the biggest game of FSU's season, he exceeded expectations.
The defense that has been under fire for mediocre early returns and already deemed unfit to succeed 2013's No. 1 national unit allowed 249 first-half yards. Yet in the second half, they lined up inches from national irrelevance only to hold Clemson out of the end zone and scoreless on that drive. When the Tigers tested the defensive line on fourth-and-inches in overtime, the maligned unit disrupted the play in the backfield. The only reason they were in overtime was because defensive tackle
Eddie Goldman
stripped
C.J. Davidson
of the ball as the Tigers bled the clock before setting up for a game-winning score.
The running backs had 38 yards in regulation. Yet in overtime,
Karlos Williams
ran the final 25 yards to ignite the celebration.
The punter, who has received the harshest criticism from fans, had his first kick go 37 yards; that was a half yard longer than his season average entering Saturday. Yet over his final seven punts,
Cason Beatty
pinned four of them inside Clemson's 20-yard line.
This wasn't a rag-tag group of players -- the Seminoles have possibly the country's most talented roster -- but it was a rag-tag performance driven by star efforts rather than star ratings. Certainly Clemson punctuated its #Clemsoning trademark with a comedy of errors, but they were often forced by Florida State. Two goal-line tackles before the bad snap. Davidson didn't just drop the ball.
Adam Choice
didn't trip on the 16-yard line and fall inches short of the first-down marker.
Before the game, we wondered if the top-ranked Seminoles, which looked beatable in their first two games, were a suitable No. 1 or a product of the country's best player calling the shots under center and rising to the situation weekly.
But it was the definition of a team win, and a gutty one at that. It was something we did not see at all during the regular season from the Seminoles last year, if only because they rewrote the handbook on dominance. It might be the prettiest Florida State win over the last two seasons considering the pregame Winston malady.
Maybe Florida State didn't look like the No. 1 team Saturday. But they looked like a championship-caliber team, and an undefeated one at that, which means they can still lay claim to the No. 1 ranking.
"We ain't lost in 19 straight games," Fisher said, answering the reporter's question. "We're No. 1 until somebody beats us."
Brock Huard's QB Rankings