October, 1, 2014
Oct 1
3:00
PM ET
Well, we're back to Florida State and a bunch of long shots. Wouldn't it have been nice if, at the end of September, the ACC still had at least as many playoff hopefuls as the SEC West?
Where the ACC stands:
Stop me if you've heard this before, but the middle of the pack in the ACC is dragging the conference down yet again. The ACC tumbled again in
ESPN's conference power rankings
, with just two teams ranked
in the top 35 of our Football Power Index
. The other four major conferences have at least five apiece. Pitt's home loss to Akron ended the Panthers' chances, according to
our Playoff Eliminator
, leaving just five ACC teams still in the mix with two months of games left to be played.
According to the Playoff Eliminator, here's how the conferences stack up:

ACC:
5 teams (4 "on the fence," 1 "in contention")
Big Ten:
9 teams (8, 1)
Big 12:
5 teams (3, 2)
Pac-12:
9 teams (6, 3)
SEC:
12 teams (7, 5)
Other:
3 teams (2, 1)
Of course, there was one big positive for the ACC -- and particularly FSU -- to come from the playoff committee this week: It
doesn't sound like overall conference strength will be a major factor
when deciding the top four teams.
Top playoff contenders:
Florida State (No. 1 AP, No. 5 FPI), Louisville (No. 41 FPI), Georgia Tech (No. 52 FPI).
Nonconference record:
34-13 overall (2-3 last week), 20-10 vs. FBS, 4-6 vs. Power 5 (plus Notre Dame)
Week 5 recap:
Syracuse fell to Notre Dame in New York, and that was expected. Boston College couldn't close out a game at home against Colorado State, and that qualified as a minor upset. Akron upended Pitt at home, and that was just a slap in the face for the ACC.
There were bright spots, including the return of
Jameis Winston
, who threw for four TDs, and the arrival of
Deshaun Watson
, who tossed six against the overwhelmed North Carolina secondary. NC State earned some attention in a loss, too, with
Jacoby Brissett
's standout performance against the nation's top-ranked team. But overall, it was another bad week for the conference.
In the last two weeks, the ACC is just 7-8 in nonconference play, while the once-vilified Big Ten is 16-1.
The end result: Even after a come-from-behind win in which it scored 56 points, Florida State is already teetering on the edge of many playoff predictions right now.
Week 6 preview:
Georgia Tech is barely on the playoff radar at the moment, but with a perfect 4-0 record and dates with Georgia and (potentially) FSU to end the year, the Yellow Jackets have plenty of time to make up ground, but that has to start with this week's game against resurgent Miami. Another win for Tech would put it squarely in the driver's seat in the Coastal, and it might force pollsters to start taking notice.
Still, it's probably time the ACC shifts its focus from an internal discussion of playoff contenders to some extra scoreboard watching that may help the league's overall profile.
Florida State remains the league's most viable candidate for a playoff bid, and it should have an easy time against Wake Forest on Saturday. But outside the conference, the Seminoles can gain some ground.
If Notre Dame can upend Stanford to remain unbeaten in time for its Oct. 18 trip to Tallahassee, Florida State will have a shot to earn one of the signature wins of the season. There are 14 Power 5 conference teams still unbeaten (plus the Irish and BYU), but only UCLA, Texas A&M and Florida State have multiple wins over top-30 opponents. FSU's strength of schedule could still wind up looking impressive, regardless of the ACC's image problems.
Meanwhile, Alabama, Oregon, Texas A&M and Oklahoma — four of the FPI's top six — take on undefeated opposition this week, while Auburn (No. 3 in FPI) gets LSU. Losses for the Seminoles' top competition would be a nice bonus, even if it's still early in the year.
And don't ignore the Michigan State-Nebraska game either. If it comes down to a Big Ten vs. ACC debate for the No. 4 spot in the playoffs at year's end, it's likely it will be one of these two teams the Seminoles will be battling. It's a coin flip as to which team FSU should be rooting for, however, and both have just one remaining ranked foe on their schedules after Saturday.
October, 1, 2014
Oct 1
2:00
PM ET
TALLAHASSEE, Fla. -- NC State was driving and on the cusp of cutting Florida State's fourth-quarter lead to a field goal.
Jacoby Brissett
, who had carved up the top-ranked Seminoles all afternoon, had the Wolfpack at the Florida State 13-yard line with more than enough time to score again, keeping NC State's upset hopes alive.
That's when a 6-foot-1, 204-pound defensive back took on the former role of a 5-foot-8, 180-pound defensive back, who, despite his lack of size, was the quintessential edge blitzer -- full of heart and unbridled willpower. Sophomore
Jalen Ramsey
looked like Lamarcus Joyner, a Florida State star who graduated after last season.
"You just don't see a guy [Ramsey's] size that has his burst," Florida State coach Jimbo Fisher said.
[+] Enlarge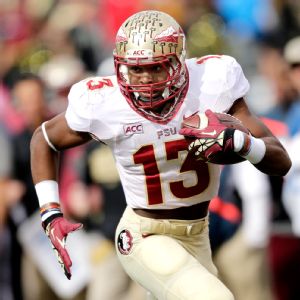 AP Photo/Nell RedmondFlorida State's Jalen Ramsey is showing a knack for making big plays in key moments.
Ramsey fired off the offense's left edge, and a confused offensive line allowed the second-year starter to match one-on-one with a running back. He dipped his shoulder, pushed through the off-balance blocker and stripped Brissett as he prepared to unload a pass.
It was the sack-strip combination that was reminiscent of Joyner's time at Florida State. As a senior in 2013, Joyner led the team with 5.5 sacks and three forced fumbles. Joyner's tackles-per-game and fumbles-per-game averages last season are similar to what Ramsey has done through four games in 2014. Ramsey is not as proficient at blitzing yet, but even that resembles a young Joyner, said Fisher.
"Joyner, he would miss tackles sometimes because he was so reckless, especially early in his career, because he played so hard. Jalen's a little bit like him," Fisher said. "[Ramsey] can clean up a little bit tackling, and I don't mean that as criticism. He gets there so fast and he is so athletic. He could have had a couple more sacks on the day, but I think he is doing a great job with providing pressure off the edge, and covering in the slot with his length and size and playing the run. He can close on the ball.
"I think he has the chance to be a heckuva nickel now."
The tackling issue is not specific to just Ramsey. Missed tackles have been an issue for the Seminoles all season, but there were more than 30 missed tackles against NC State, which Fisher deemed "inexcusable." He said it was the most missed tackles he has seen in a game since becoming head coach in 2010.
""Guys just want to sometimes do their own thing and dive in there and try and cut them down. You just have to keep your eyes up," said safety
Tyler Hunter
, who was one of FSU's defensive players of the game Saturday. "… I'm telling guys just to work on the fundamentals, telling them on the sideline what they needed to do, then going out and thinking they're going to do it. Sometimes it's in one ear and out the other."
On Tuesday, however, Fisher called Florida State's practices one of the best he's seen this season. The Seminoles spent extra time Monday and Tuesday practicing tackling. With Saturday's opponent Wake Forest providing little offensive threat, it's an opportune time for Florida State to work on tackling basics.
There has not been any living hitting or tackling to ground, but the Seminoles are practicing "thudding," the act of wrapping up a ball carrier or receiver but keeping him upright.
Defensive end
Mario Edwards Jr.
and linebacker
Ukeme Eligwe
are expected to return against Wake Forest, and veterans
Eddie Goldman
,
Derrick Mitchell
Jr. and
Terrance Smith
were all banged up against NC State. Fisher believes the health of his team played a role in the missed tackles, too.
"We had a lot of space-tackling drills, guys moving better, stepping on toes, and had some guys not as healthy in that game that I think will be healthier in this game," Fisher said Tuesday.
October, 1, 2014
Oct 1
12:00
PM ET
TALLAHASSEE, Fla. -- Before the season, the general belief was it would be unlikely
Jameis Winston
could improve upon his freshman season statistically. He lost a first-round receiver and a venerable slot option, and 4,000-yard and 40-touchdown seasons don't come around often.
Through Florida State's first four games this season, however, Winston has only 57 fewer passing yards, and that is with one fewer game because of the Week 4 suspension. In 2014, Winston is averaging 40 more yards per game (330), and his 69.5 completion percentage is more than two points higher than last season's number.
[+] Enlarge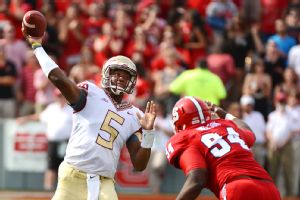 Rob Kinnan/USA Today SportsDespite missing a game due to suspension, Jameis Winston is keeping pace or surpassing some of his passing statistics from his Heisman-winning season.
With lingering questions surrounding the rushing attack and defense, Winston and the passing offense have carried the Seminoles to three of the team's four wins. The defense, which allowed a program-record 24 first-quarter points Saturday, knows there is a larger margin for error with Winston directing the offense.
"We're definitely confident in the offense, knowing they can score any time. It's not really like 'Oh, we know we're going to lose,'" safety
Tyler Hunter
said. "We're always going to be confident in the offense, that it can go up and score on anybody."
Winston is coming off his best game of the season against NC State, completing 26 of 38 passes for 365 yards and four touchdowns. In the second half, he led touchdown drives on five of the Seminoles' seven possessions, and on the last drive, Winston orchestrated a four-minute drive and ran for a critical first down to seal the win.
The reigning Heisman Trophy winner has struggled with turnovers through his first three games, however. He fumbled in the first half against NC State and threw two second-half interceptions. The second came inside the Seminoles' 15-yard line while they were nursing a tenuous fourth-quarter lead.
Florida State coach Jimbo Fisher and co-offensive coordinator Randy Sanders were already prepping to give Winston an earful as he trotted to the sideline because it is a play Fisher said the offense runs "all the, all the, all the, all the time." But he acknowledged sometimes quarterbacks misread the defense or suffer from information overload, which causes a split-second breakdown.
"It is like driving home and you drive past the turn to turn into your house. Sometimes you can be distracted. There's so much on these quarterbacks today, especially like an offense like ours," Fisher said. "These guys are making every decision -- run, pass where it goes and who gets it. There is so much on them. No matter how mature a guy is he's still got a young mind."
Fisher said those minds often work like computers. If it freezes, set it aside and give it a minute to reboot. Florida State knows any malfunction with its quarterback is not a product of a growing virus in need of persistent troubleshooting.
"Those guys have that true confidence in themselves. They know they messed up but they will come back," Fisher said, "… and you are going to keep going back to them and they are going to keep making plays."
October, 1, 2014
Oct 1
10:35
AM ET
October, 1, 2014
Oct 1
10:20
AM ET
By
ESPN.com staff
| ESPN.com
On this week's ACC Live chat Andrea Adelson, Matt Fortuna, David Hale and Jared Shanker discuss the standard of winning at Florida State, the latest from the crazy Coastal Division and preview this weekend's slate. They also will take your questions live on screen!
October, 1, 2014
Oct 1
9:00
AM ET
Ryan Switzer
can make guys miss at a prolific clip with his speed, size and shiftiness, a combination that proved difficult to stop in the return game a season ago.
He just kept going, and going and going, all the way to an NCAA-record tying five punts returned for touchdowns. It was easy to take what Switzer did for granted, because he made it all look so effortless.
[+] Enlarge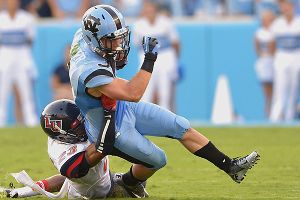 Grant Halverson/Getty ImagesRyan Switzer has been bottled up on punt returns thus far in 2014 after returning five for scores last season.
Yet Switzer knew it would be nearly impossible to match those results in 2014. It is exceedingly difficult to return one punt for a score. Nearly everything has to go perfectly, from the trajectory of the kick, to the blocking up front, to making the right decision on which running lanes to take.
Excellent returners sometimes get two or three in a season. Five? Only one other player in NCAA history had ever done that.
Switzer entered the season as a marked man. Teams started game planning for him in the return game, either punting to him in the boundary so they can try and pin him, or launching sky kicks with good hang time to allow the coverage to converge on him.
He has had between four and five new faces trying to block for him up front, including several who are playing special teams for the first time. Switzer himself has missed a few opportunities with the ball in his hands because of mistakes he says he has made.
To date, Switzer has not returned a punt for a touchdown and is averaging just 6.4 yards per return -- down from the 20.9 yards he averaged a season ago.
But he is not alone. Return units across the ACC have struggled five weeks into the season, somewhat surprising considering the All-America talent returning.
"Obviously people are excited now when I'm back there, as they should be because we did great things last year," Switzer said in a phone interview. "It's eventually going to happen. That's all I can really say about it because we are getting a lot better at it, and I do think we practice it more than anybody else in the country so it will eventually come."
So far, the ACC is the only power 5 conference without a punt return for a score. Over the first five weeks of 2013, the league had three -- including two from
Jamison Crowder
at Duke.
Overall, punt return average is down across the league. Last season, teams averaged 10.1 yards per return. This season, that average is down to 8.7. Crowder, an All-ACC selection as a return specialist a year ago, is averaging nearly 10 yards fewer per return. No ACC player with nine or more punt returns is averaging more than 9.7 yards per kick.
"What you have to realize is every return is not going to be a touchdown," Crowder said in a phone interview. "Sometimes, you catch yourself forcing the issue a little bit and that throws off your decision making. Sometimes when you do that, you may fumble or muff a punt and that will ultimately hurt the team. So you can't force the issue.
"You have to be patient and just go out there and play each play and if a return happens to open up and break, then that's all good, but if a return doesn't open up and break, I want to be able to make the right decisions so I can put the offense in a good position."
Kickoff returners who had big performances a year ago also have struggled in the early going.
Kermit Whitfield
, who led the nation in kickoff return average a year ago, is not even listed among the ACC leaders. He is averaging 16.8 yards fewer per return than 2013.
Coach Jimbo Fisher specifically pointed to missed blocking assignments on kickoff returns last week against NC State, saying, "It's nothing to do with the returner. You give him a crease and he'll get out of there."
Returning punts and kicks takes a true team effort, and it requires great deal of fortitude as well. The good news is the season is still young. Switzer did not return his first punt for a touchdown last year until the Virginia game on Nov. 9. He also has more return yards now than he did a year ago at this time.
As the season wears on, the units should get better, and that should open up more opportunities for the highlight-reel returns we have come to expect.
"It's only a matter of time," Switzer said. "You just learn how to be patient and pick the right time to try and make something happen."
October, 1, 2014
Oct 1
8:00
AM ET
The situation in Michigan with the
"probable mild concussion"
of quarterback
Shane Morris
has brought head injuries back into the public consciousness. There was clearly a breakdown on the Wolverines' sideline Saturday and, as a result, within the athletic department the last few days.
At Florida State, Seminoles coach Jimbo Fisher addressed how the nation's top-ranked team deals with in-game concussions. Defensive end
Mario Edwards Jr
. and running back
Mario Pender
missed Saturday's game with concussions, and freshman
Trey Marshall
left the game with a concussion.
"If there's anything it comes to me and then it's up to [doctors] and they make a decision when a guy goes back in. It has nothing to do with me," Fisher said. "We get [the player] directly to them and they come to me and say 'It's OK' or 'There's no chance.'
"… That's doctors. It has nothing to do with me, and I don't want that responsibility. There's no game or no situation that's worth it, if a coach knows [of a concussed player]. I don't know the circumstances [at Michigan]. A doctor, that's his expertise. … I want to have the best for these guys and that's an expert."
Clemson coach Dabo Swinney said the Tigers have a "
monstrous medical staff
. We have doctors for doctors."
While the last few days in Michigan have not put the school or athletic department in a positive light, hopefully this leads to more knowledge and a better response for the future.
Here are a few more ACC links:
September, 30, 2014
Sep 30
3:00
PM ET
Want to ask ESPN RecruitingNation senior analyst Tom Luginbill a question about your team? Tweet it to @TomLuginbill using the hashtag #AskLoogs.
@TomLuginbill in light of the latest #JameisBeingJameis foolishness, do you account for a player's character in your rankings? #AskLoogs

— Elk River Privateer (@MattCopeland72) September 19, 2014
Absolutely, if we can confirm it or see it for ourselves. This is the challenge of player evaluation. Oftentimes the easy part is determining if the guy can play. The difficult part is finding out what kind of person he is. What are his red flags? Personality quirks? A player might be a four- or five-star player and two-star person. Quite honestly, we never saw any of this "foolishness" with
Jameis Winston
when he was a recruit. The way kids handle pressure, hype, exposure, success, failure, academics, social environment, etc. can often be impossible to project when a guy is 16 years old. You just don't know what they are going to do until you have them in your program. You are always weighing risk and what you are willing to deal with in exchange for ability level, especially if you know going in there are some red flags. There is no crystal ball and too many unknown factors that are part of the equation with any recruit, but when coaches are on the hook is when they knowingly take a high-risk player. Coming out of high school, Winston was not in that category.
September, 30, 2014
Sep 30
9:27
PM ET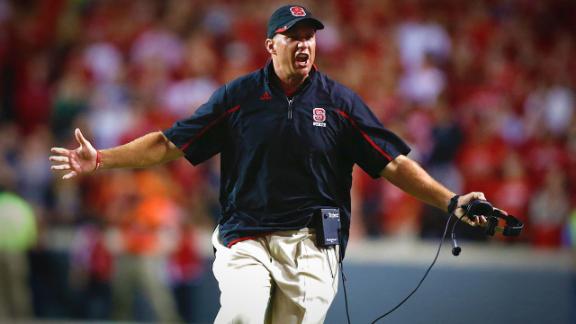 Rule No. 1 to concocting your very own conspiracy theory: Never let facts get in your way.
Just go with what you believe no matter how it sounds or looks!
Take NC State coach Dave Doeren, a man unafraid of taking on big, bad Florida State. Forget any apology you may have heard this week. Doeren provided the perfect fodder for two separate conspiracy theories after his Wolfpack blew an early lead and lost to the No. 1 Seminoles 56-41 on Saturday.
First, there is the classic "favored team gets preferential treatment" conspiracy theory that generally reads: Referees must protect favored team at all times! No exceptions! In this case, the highly scientific favored team theorem would read: No. 1 team in the nation + only ACC College Football Playoff contender = MUST. NOT. LOSE.
Did the refs deliberately protect Florida State? Read between the lines. "There was some unbelievable holding by their offensive line that apparently is invisible," Doeren said after the game Saturday.
Doeren already has experienced the "favored team gets preferential treatment" conspiracy theory. See: Clemson at NC State, 2013. Bryan Underwood scored the go-ahead touchdown midway through the third quarter against the No. 3 Tigers. Pandemonium ensued.
But ... ohhhhh. Look at that. Underwood was whistled out of bounds. The play was unreviewable. Clemson won. And ACC officials later said it was unclear whether Underwood had stepped out of bounds. Doeren, by the way, says he still has photographic evidence on his phone that Underwood was in. Do not trifle with a scorned Dave Doeren.
The man does NOT forget.
September, 30, 2014
Sep 30
10:30
AM ET
TALLAHASSEE, Fla. -- Jimbo Fisher likes to poke fun at the media, but it's clear the Florida State coach has an affinity for prose and an artfully crafted metaphor. He's likened to special teams to debt, reading defenses to driving and, most recently, team dynamics to the sociology of a family.
Maybe he isn't channeling William Shakespeare, but Fisher got his point across when asked what he's learned about his 2014 team so far, which has yet to emerge out of the shadow of the 2013 team that spent a January night making confetti angels on the Rose Bowl turf.
[+] Enlarge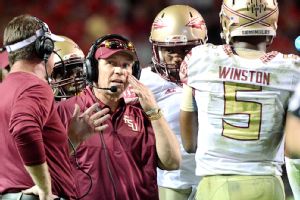 Rob Kinnan/USA TODAY SportsJimbo Fisher doesn't quite have the pulse of his team on lockdown quite yet but is encouraged by its fighting spirit in its 4-0 start.
"How many people in here have kids, raise your hand," said Fisher, short a chalkboard and yard stick after passing on the lectern. "You have that first kid and you've got [parenting] down. Well, here's the second one, it's going to be just like [the first kid]. Errr wrong."
OK, land this plane, Jimbo.
"It's similar to that. You train it the same, I'm doing the same things I did with No. 1 but the results aren't the same. [The second] doesn't think or do the same. That's kind of how a team is. A lot of coaching and success comes from judging the personality of the team and getting to know it. You don't just get it and plug it in."
Translation: Fisher is not entirely sure what he is coaching yet, but he knows this isn't the 2013 team. It isn't a slight to the current group either. That's Fisher's roundabout way of saying even he's still sizing up his team entering Week 6.
The good news is the Seminoles remain undefeated even if their three FBS wins have come by an average of nine points. That's far fewer than the average of victory of the other three teams to receive a first-place vote in the AP poll and more than 20 points fewer than their own margin of victory through the first three FBS games of 2013.
Through preseason camp, the fifth-year Seminoles coach harped on finding an identity for his team. He felt he had a finger on the pulse of his team, but top-ranked FSU has been a mixed bag through four games. This isn't the balanced offense it was last season. This isn't the top five defense that has been a Tallahassee tradition under Fisher. It's not a team built on forcing turnovers while limiting its own.
What the heck is the 2014 Florida State team? Better yet, who are they?
"Great competitors [who] don't flinch," Fisher said, "but I think it's evolving offensively and defensively to how we can play."
The Seminoles deserve the credit for winning close games in which they were tested late in fourth quarters, which did not happen at all during the 2013 calendar year. But they're walking a tightrope over shark-infested waters. Maybe it is more like mutated, ill-tempered sea bass with the nature of the remaining schedule, but the point still stands: An identity will have to crystallize over the final two months.
Right now, the Seminoles' identity is a team relying on an elite passing attack buttressed by arguably college football's top quarterback and receiver. Maybe that will be its identity all season, and it very well might be good enough to repeat as national champion, but history suggests either a complementary rushing attack or defense will need to materialize.
Fisher isn't worried yet, though, and that's the benefit of gutting out wins even when a team is not playing up to potential. It's equally frustrating and promising, Fisher said. The confidence in Florida State from pollsters, the Football Power Index, and Las Vegas has waned each week, but Fisher realizes only under the wildest scenario would an undefeated Florida State be left out of the four-team College Football Playoff. So he is keeping weekly stock reports of his team instead and, despite outside doubts, he contends FSU's arrow is trending up. The Seminoles did in fact have a 100-yard rusher and a defense that allowed only 123 yards in the second half Saturday.
"I don't worry. You take how it goes and play well enough to beat your opponent and you want to see it gradually going in that direction, and, as crazy as it sounds, I do," he said. "We've improved tremendously from that opening game. I start to see it in my mind."
September, 30, 2014
Sep 30
10:00
AM ET
Another weekend in the ACC has come and gone. As expected, North Carolina State made a splash after giving top-ranked Florida State a scare and an unexpected flip became the news of the day Friday.


September, 30, 2014
Sep 30
8:00
AM ET
It appears things are getting a bit salty between a pair of ACC coaches.
Florida State's Jimbo Fisher fired back Monday at NC State coach Dave Doeren, two days after Doeren had accused the Seminoles of faking injuries in FSU's 56-41 win.
"Well, I accuse him of not knowing what he's talking about," Fisher said Monday, as our Jared Shanker wrote. "They're not fake injuries. No one faked injuries, and we wouldn't do that. We'll coach Florida State, and he can coach North Carolina State."
As Shanker writes, Eddie Goldman, Derrick Mitchell Jr. and Terrance Smith needed help off the field Saturday in Raleigh, North Carolina.
Doeren softened his stance Monday but did not exactly back down, saying that the issue is not specific to FSU and that a rule should be in place that a player has to sit out for more than one play if he leaves the game in such a situation.
None of this, of course, is particularly new to college football, which has publicly wrestled with the hurry-up, no-huddle debate going on three years now. There is no real clear answer yet.
Surprisingly, a poll embedded in Shanker's story shows fans are overwhelmingly OK with Doeren's suggestions, saying that he did not cross a line. But our David Hale likely had a point Saturday when he tweeted that if you're going to fake injuries to slow the offense's tempo, you probably don't do it with Goldman in the red zone.
On to the rest of your ACC links ...
September, 30, 2014
Sep 30
9:08
AM ET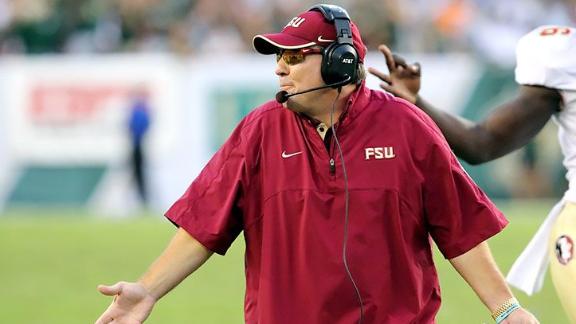 NC State coach Dave Doeren apologized to Florida State coach Jimbo Fisher on Tuesday after accusing the Seminoles of faking injuries in their win over the Wolfpack on Saturday.
In a statement released on Twitter, Doeren said: "I have apologized to Jimbo Fisher & want to apologize to his staff, players & FSU fans for my comments that took away from a tremendous football game. I left an emotional locker room & took those emotions w/ me to the press conference. It was a great college football game with tremendous plays made by both teams. That is where the focus deserves to be. I have the utmost respect for Jimbo, his staff and players. FSU played a great game and earned the win."
The two coaches had traded barbs since Doeren's initial comments Saturday, after No. 1 Florida State rallied to beat NC State 56-41.
"The tempo we had was working until all the crazy fall-down things were going on and the clock kept stopping," Doeren said after the game. "You know the refs can't do anything about that, but it's horrible the way the tempo gets slowed down by these injuries. We went fast in the first quarter; I guess there were no fake injuries."
When asked about his comments Monday, Doeren said his team has dealt with "multiple people falling down" and limping off the field through the first five games of the season and called it "unsportsmanlike" behavior. He specifically pointed to one second-half play in which a Seminoles player "walked off the field as slow as humanly possible, and he's back in the game."
Georgia Flips, Signs ESPN 300 FSU Commit
ACC SCOREBOARD
Friday, 10/3
Saturday, 10/4