July, 24, 2014
Jul 24
12:33
PM ET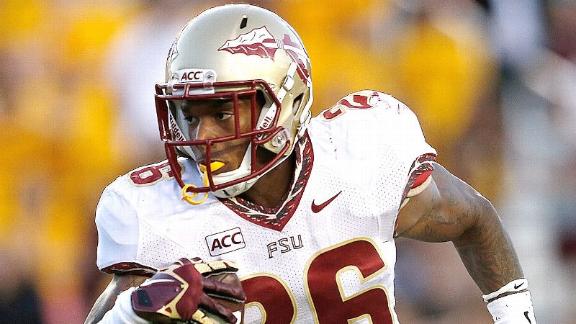 GREENSBORO, N.C. -- In between breaking down pass-rushers and drawing up passing trees, Florida State coach Jimbo Fisher wanted to watch some basketball. Last month's NBA Finals provided little drama, so he loaded Game 5 of the 1997 NBA Finals onto the screen. The "Flu Game."
This wasn't a reprieve from preparations for the 2014 season, though. This was a lesson in history, one that will have a profound impact on the Seminoles' 2014 season, Fisher believes. He didn't so much wonder how Michael Jordan played through the flu-like symptoms, but why.
Why did Joe Montana play through six concussions? Why did Larry Bird refuse to retire from a back injury so bad that his surgeon was bewildered as to how he played through it?
"We study guys who had attitudes of domination who won for long periods of time -- Joe Montana, John Elway repeated, Michael Jordan, Larry Bird, Magic Johnson," Fisher says. "Those guys all had that killer instinct and were guys who wanted to be on top, stayed on top, and one championship wasn't enough.
[+] Enlarge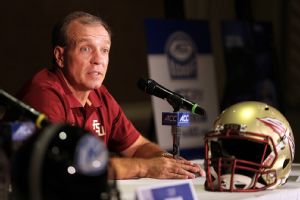 AP Photo/Chuck BurtonJimbo Fisher said that Florida State's biggest obstacle in 2014 may not be an opponent -- it's complacency.
"A picture's worth 1,000 words. Your actions speak, your drive, your commitment to excellence. Michael Jordan, you never saw him not play to the max, and that, to me, to the players, sends a message. It's a constant education to me, to these kids, to get them to think in that type of mold, because it's human nature to win and relax."
There are certainly questions on Florida State's roster, but it is still considered the best in the country. Where the Seminoles could trip up is mentally, an aspect of the game Fisher has worked so hard to strengthen within his program. He's spent the past year praising the 2013 team for its work ethic and desire to return the Seminoles to the pinnacle of the sport they once dominated.
Now that they're there, the next task -- admittedly his toughest yet -- is keeping the Seminoles there. So if you happen upon Fisher wandering through the Florida State library, it's because he is looking for a book on a very specific topic. He's soliciting suggestions, but perusing the bestsellers list and Oprah's book club will be fruitless. The coach needs reading material on how to maintain the Seminoles' status as one of college football's elite programs.
"Can't find many books on it," Fisher says. "All of them talk about how to get there, not many of them talk about how to stay there."
He's turned to friend and confidant Nick Saban, who mentored Fisher during their time at LSU. Saban won the national championship at Alabama in January 2010, but a talented team failed to meet expectations during the 2010 season. Saban found the formula again, however, and the Tide won the title after the 2011 season; they repeated the next year.
As the confetti fell in Pasadena, California, in January when Fisher won his first national championship, the two coaches sat on the "College GameDay" set. They celebrated, they reminisced but, most importantly, they advised.
"He said, 'Now you got some challenges, now is when the problems start,' and I understood that," Fisher recalls of their conversation inside the Rose Bowl. "He's been through it, and he fixed it after a while, didn't he? He had that one year and then came back and did it twice."
But Saban isn't going to spell it out for Fisher -- even Saban is constantly tinkering to quell complacency. They're friends, but increasingly they have become rivals. Florida State is the biggest threat to end an Alabama dynasty that has three of the final five BCS crystal balls in a trophy room in Tuscaloosa.
Fisher says he believes he has a Jordan in Tallahassee, Florida: quarterback
Jameis Winston
, a player who wants to win two more than he wants to win one. The redshirt sophomore won a national championship and a Heisman Trophy before losing a game, which he still has yet to do. Winston says a loss is "definitely not in our vocabulary."
With Winston, Fisher is confident that the "attitude of domination" has been instilled throughout the program, which means there is not as much of that annual concern as to whether his current team has the needed motivation for a national title run. What Fisher still needs to discern is how the 2014 team is different from last season's. He has an idea, but the pads won't come on for another two weeks, and two-a-day practices have not worn down this particular squad yet. One of the underrated aspects of being the head coach is identifying the personality and drive of a team, Fisher says, and pushing the wrong buttons at the wrong time can derail a season.
"There's no formula for it," Fisher says. "I think it evolves and don't think you ever have the answer. It's a constant battle that challenges you all the time. That's one of the things that makes it so hard to duplicate that success. You're constantly fighting that battle."
July, 24, 2014
Jul 24
10:00
AM ET
At events like The Opening, prospects get together in a unique environment. RecruitingNation took advantage and asked a few questions.
Of Cam Newton, Johnny Manziel or Jameis Winston, who would you want as your quarterback?
Choosing Newton:
ESPN 300 No. 2 Martez Ivey:
You could pick Manziel, too, but it's what Cam brings. He always has that smile on his face. I remember watching him when Auburn was down to Alabama, he still had a smile on his face and went out there and won the game. He wins.
No. 10 Tim Settle:
He can be locked down and not be able to throw, but he can run. And I'm trying to tell you, he doesn't get just 10 yards -- he can get 15 if you want 10. I also think he was more mature than Johnny and Jameis.
No. 19 Josh Rosen:
Probably, Newton. Just because there are so many things you can do with him. He's just one of those guys if he runs around on the college level he's not as susceptible to injury because of his size and athleticism. I would probably pick someone that can stand in the pocket first, and I think if you put Cam in the right system -- he can do some damage.
No. 35 Calvin Ridley:
I would definitely take Cam Newton because I like him, he can sling the ball, he's a threat to run, defense had to pack the box in college against him and gives guys like me more opportunities one-on-one.
No. 51 Breiden Fehoko:
I think Cam Newton. When you look at overall, playmaker, dual-threat, he has a gun [strong arm], he's just as fast on his feet as others, he stands about 6-foot-6, weighs 250 and he can see the entire field with everything else he has.
*Of the 30 players asked, 22 picked Newton.
Choosing Manziel:
No. 38 Malik Jefferson:
Manziel. He has the go-get-it attitude. He wants it every second. Even though people said he was a dumb butt off the field, he always wanted to play no matter what his circumstance was. He just goes out there and plays, and has fun while he is doing it.
Alabama commitment Blake Barnett:
I would say Johnny Manziel, just because he's a playmaker. He can drop back and throw the ball down the field, then he can beat you up with his feet. I think he's a terrific player.
Choosing Winston:
No. 16 Jashon Cornell:
In college? I'm going to take Jameis. He has the ability to be the best of all. He plays baseball, too, which helps his arm strength, and just the leader he is.
Georgia commit Jackson Harris:
I would probably go with Winston. I know [FSU quarterbacks coach Randy Sanders] pretty well, he recruited me, and he would just tell me the stuff that he can do and does. His stories were unbelievable.
Michigan verbal Alex Malzone:
Winston, just because of his winning mentality. He's going to work, you can tell he is a competitor and will do anything to win. As a quarterback, that is what you want.
Will Winston repeat as the Heisman Trophy winner?
Ivey:
Those receivers made him look really good last year. It's going to be a challenge for him, and there is always a young freshman that steps up from out of nowhere now. I don't really think the off-the-field hurts him. People are always going to hassle him about something. It comes with being a Heisman winner and high profile player.
Settle:
No. He can't stay out of trouble. He's always in trouble, and some of them are the littlest things that end up being big. He has to be hitting on all cylinders to have a chance, because there is some freshman that will pop up. I won't be shocked if he has a great year, but you have to be smart in the decisions you make.
No. 12 Torrance Gibson:
Yeah, I think he can. He has a lot of dedication and determination. He's a great quarterback and a great leader, and I think he can repeat. The off-the-field could hurt a little. The politics too -- people don't like seeing other people on top. If he keeps his head on straight, I think he'll be fine.
No. 28 Damien Harris:
I don't think he will. Not saying he's not a great player, as he was the best player in college football last year, but I actually have Braxton Miller winning the Heisman this year. I think he'll win it, he's a great quarterback. I don't think the off-the-field should hurt Jameis, unless it's something out-of-the-question horrible. I think Braxton will get him though.
Barnett:
I think it's a possibility. He's an excellent athlete and a great quarterback. If he's got a solid team at Florida State again, he will be productive. Almost every player goes through different adversities off the field, but just like Johnny Manziel did -- he's continued to be very successful.
Texas A&M commit Jordan Davis:
No. There is a lot of young talent. And if Johnny [Manziel] didn't do it, I don't think Jameis will. The off-the-field stuff hurt Johnny, so I think the stupid decisions Jameis made will hurt him, too, next year.
July, 23, 2014
Jul 23
12:42
PM ET
The preseason All-ACC team was released Wednesday, and naturally quarterback
Jameis Winston
led the way with the most votes. There were not too many surprises, beginning with Florida State players littered throughout the list of 26 names.
Here is the 2014 preseason All-ACC team, as voted on by the media at the ACC Kickoff:
Thoughts:
While the ACC had the second-most NFL draft picks in May, there is significant talent returning to the conference for the 2014 season. Of the 26 players, 21 were named to one of the three All-ACC teams at the end of last season. That doesn't include Parker, who will play his first season in the ACC this coming season. Winston, the reigning Heisman Trophy winner and the leading vote getter (although not a unanimous one), and Beasley, who received the second-most votes, are two of the three returning consensus All-Americans from the 2013 season.
Few conferences would be able to rival that offense with Winston throwing to 1,000-yard receivers Crowder and Greene and a 6-foot-3 target in Parker. O'Leary is one of the best tight ends in the country. There was a seemingly close battle at running back behind Duke Johnson, Williams got the nod over Virginia running back
Kevin Parks
, who rushed for more than 1,000 yards last season.
Defensively, that is one talented line. Beasley received the second-most votes for the preseason player of the year, and Edwards was the No. 1 high school recruit in the 2012 class. Maddy and Jarrett are two of the best defensive tackles in the country.
Duke has the second-most players on the team, which speaks to the program David Cutcliffe is building in Durham. The Blue Devils were not picked to win the ACC Coastal despite winning it last season and returning quarterback
Anthony Boone
. There is a constituency out there that still doesn't believe Duke is the real deal and is bound for a letdown, but the media believes there is talent throughout the roster; the Blue Devils have a player at receiver, offensive line, linebacker and the secondary. Miami, which was picked to win the division, has two players on the list.
Even as Duke had four players, the Seminoles still had nine, only further signifying the gap between Florida State and the rest of the conference, although the league is undoubtedly improving. That list does not include
Ronald Darby
or
Jalen Ramsey
, two players who will almost certainly be on an All-ACC team by the end of the season. It is no surprise Florida State was ranked as having the most talent on its 2014 roster two weeks ago in ESPN.com's
future power rankings
.
July, 23, 2014
Jul 23
12:00
PM ET
Georgia Tech has had some major roster turnover this offseason, adding more fuel to the fire surrounding coach Paul Johnson.
On Monday, the school announced backups Anthony Autry, Travin Henry and Darius Commissiong had been kicked off the team for rules violations. Since last season ended, Georgia Tech has lost more non-senior players from its roster than any other team in the ACC.
Ken Sugiura of the Atlanta Journal-Constitution goes over the
complete list of departures
:
Defensive lineman Justin Akins (left team)
Receiver Anthony Autry (dismissed)
Offensive lineman Morgan Bailey (transfer)
Defensive end Darius Commissiong (dismissed)
B-back Travis Custis (transfer, academic issues)
Defensive end Jabari Hunt-Days (academically ineligible)
Quarterback Ty Griffin (transfer)
Defensive end Travin Henry (dismissed)
Jimmie Kitchen (expected to transfer after suspension)
Quarterback Vad Lee (transfer)
Defensive lineman Kevin Robbins (transfer)
Offensive tackle Chase Roberts (medical)
Defensive lineman Anthony Williams (scholarship not renewed)
That is quite a list, though only Hunt-Days and Lee were starters last season. Still, it is very unusual to see this much roster turnover on a team with a returning head coach. So why have so many players either gotten themselves into trouble or decided to leave? Does this have to do with Johnson or something else?
Johnson did not shed much light into the turnover during the ACC Kickoff, saying there is a consistency to the way he expects the program to run. Some players adhere to standards. Some don't.
Turnover is always expected, but not like this. Johnson has had to defend himself for months now, but that has gone deeper than just the roster changes. There is a growing segment of the Georgia Tech fan base that has
become disenchanted
with him, his style of play and efforts on the recruiting trail. Johnson criticized all the negativity in Atlanta while he was in Greensboro, N.C., pointing at his overall and conference records while at Tech.
Still, it is alarming to see so many players gone.
The Jackets may not be done losing players, either. Autry's younger brother, Myles, signed with Georgia Tech in February but has been unable to enroll because of NCAA Clearinghouse issues.
Myles Autry
, an ESPN 300 player, told the AJC he was indeed reconsidering the Jackets. He was the highest-rated player in the 2014 Georgia Tech class, so losing him would be yet another blow.
Here's a look at other headlines across the ACC:
July, 23, 2014
Jul 23
9:00
AM ET
GREENSBORO, N.C. -- There was quite a different feel around the ACC Kickoff this season. More swagger, more puffed out chests, more bravado.
All those years of BCS misery? Almost like they never happened. Losing bowl record last season? Forgotten. How about that losing record against power-five conference teams? Nope, not going to talk about that. Because the ACC is now home to the national champions, and everybody in the ACC did their best to remind us all over two days.
[+] Enlarge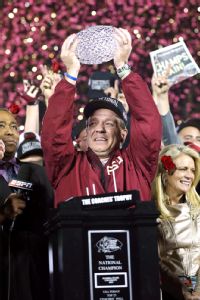 Matthew Emmons/USA TODAY SportsFSU's national title has given a confidence boost to the ACC.
Florida State permeated every single conversation, its national championship win serving as a national championship win for all. Its momentous victory meant fist pumps around the room. Duke coach David Cutcliffe, whose team lost to Florida State in the ACC championship game by 38 points, might have summarized the mood best when he was asked about the Seminoles' championship.
"Go Noles!" he shouted.
Anybody think Coach K shouted, "Go Heels!" when North Carolina won its national title a few years back?
The dynamic in football is obviously different. There are rivalries, yes, but there also is a brotherhood among these coaches, steeped in their determination to make the ACC shed its "basketball conference" label. They have all shared in the pain over the past 10 years, watching the SEC exert its dominance while the ACC was left to answer questions about why it was always a step behind.
They all promised their day would come, selling the league hard to anybody who would listen. Jimbo Fisher has been one of their loudest defenders, his stock line: "There is really good football in this league!"
People used to roll their eyes. But now, finally, there are believers. Finally, the national conversation has flipped from, "Who can take down the SEC?" to "Who can take down Florida State?"
Without a doubt, the ACC deserves this moment. Winning national championships should come with a shot of confidence and an infusion of new energy. So what if it felt like some of the coaches were reciting a list of carefully scripted, neatly orchestrated talking points? Talking points, by the way, that John Swofford recited in his Commissioner Forum media event, perhaps hoping to set the tone for the Kickoff.
Every league coach should revel in the victory. They should use those talking points on the recruiting trail. Do you want to play against the best? Well, the best is right here, in the ACC.
Now, one championship does not make a league, nor does it change the perception that the ACC is not yet among the top three conferences in the country. There has to be consistency. The SEC did not earn its reputation based on one national championship alone, or one team alone carrying the flag for the conference.
Everybody else in the league needs to step up their level of play. Everybody else in the league needs to start winning its elite nonconference matchups. A national championship, a BCS bowl win, and 11 bowl teams are obviously a terrific start. But it cannot end there.
All this bravado and swagger need to be translated into results on the football field. Confidence needs to be channeled into momentum. Having bragging rights now is great. But the ACC knows it has to find a way to hang onto those bragging rights, so that every year it can beat its chest just a little bit louder.
July, 22, 2014
Jul 22
4:00
PM ET
Florida State and
Jameis Winston
were the runaway favorites Monday to repeat as ACC champion and league player of the year, respectively. Those were the two names atop my ballot as well. As for how I slotted everyone else:

Atlantic
1) Florida State
2) Clemson
3) Louisville
4) Syracuse
5) Boston College
6) NC State
7) Wake Forest
Coastal
1) Duke
2) Pitt
3) North Carolina
4) Miami
5) Virginia Tech
6) Georgia Tech
7) Virginia
Couple of points:
You'll have a hard time convincing me -- and most likely anyone else -- that Clemson and Louisville, as of today, are not the closest to FSU in the Atlantic. The Nos. 4-6 spots left a little wiggle room (sorry, Wake), and I think that Syracuse returns more proven talent from last year than BC and NC State.
On the other side of things, well, I see no reason not to pick Duke right now. The Blue Devils are the defending Coastal champions, return a ton of contributors and are the closest thing to a proven commodity in the wide open division.
After that: Chaos. The division sets up nicely for a team to make another surprise run this year, and Pitt is the one that I think is perhaps best-positioned to take advantage. The schedule sets up nicely for the Panthers, who get Duke at home and sub BC for FSU as an Atlantic opponent. While
Chad Voytik
is a newcomer under center and the offensive line had its share of obvious issues last season, more consistency up front (and, one can only assume, improved health) should help the offense exploit playmakers in the backfield and at receiver.
I think UNC has as good of a shot as anyone else of winning the division, but the team's youth, particularly on the offensive line, has me hesitant to pick them as the favorite.
Miami being picked as the Coastal frontrunner shocked me, given the way the team finished last season, the complete uncertainty at quarterback and the lack of punch shown on defense last season. A look at the voting suggests the Hurricanes accumulated just enough points as a second- or third-place team to ultimately get the No. 1 nod over Duke (33) and UNC (27), both of whom garnered more first-place votes than Miami (26).
We'll have more on the Coastal possibilities later on in the blog, further illustrating just how wide open this race really is. The fact every team but Virginia received a first-place vote speaks to that.
July, 22, 2014
Jul 22
12:00
PM ET
The most honest man at ACC Kickoff was probably Wake Forest's Dave Clawson. And, to his credit, he even managed to
find a little humor
in the bleak picture painted by his depth chart this year, as the High Point Enterprise wrote.
Asked to comment about where his first Wake Forest team is predicted to finish in the ACC's tough Atlantic Division, Clawson replied, "Were we picked to win it? I didn't see those. Were we unanimous first? The bull's-eye is on us, right?"
Clawson didn't sugar-coat the team's lack of experience and depth, but he had his most pointed comments regarding the quarterback position, where Tyler Cameron and Kevin Sousa are battling for a job that no one seems eager to win.
"Those two guys who took snaps in the spring, neither did enough, even if we didn't have those [true freshmen] coming in, to take control of the job," Clawson said.
What was unique from Clawson was his pessimism on the position. What wasn't unique were the questions about the position. Plenty of coaches were asked about their quarterbacks in Greensboro, and for good reason. After talking with each coach and the players in attendance, here's a quick run-down of where each ACC team's QB situation stands.
1. Florida State
: Jameis Winston is the returning Heisman winner and his time in Greensboro was, at the very least, a solid first step in FSU's quest to repair its quarterback's image.
2. Duke
: Anthony Boone is the only other quarterback in the league with at least 300 attempts last season who is back for 2014, but David Cutcliffe
still plans to use two quarterbacks
and eagerly talked up Thomas Sirk, who will step into the red zone role manned so well by Brandon Connette last season.
3. Clemson
: The biggest worry for Clemson is the potential for a real quarterback controversy (or, at the very least, a lively debate) if Cole Stoudt struggles early. Dabo Swinney offered blanket support for his senior, but the early schedule is difficult, and the immensely talented but completely green
Deshaun Watson
is waiting in the wings
.
4. NC State
: Dave Doeren can
barely contain his enthusiasm
about the addition of Jacoby Brissett, whom the coach described as "everything you recruit in a quarterback." Doeren did remind reporters, however, that Brissett's on-field experience remains extremely limited.
5. North Carolina
: Hey, if
Peyton Manning
says Marquise Williams is
going to be an exceptional passer
, who are we to argue? Still, it's not enough to convince Larry Fedora to hand him the starting job just yet, and it sounds more and more like UNC will use two quarterbacks at times.
6. Syracuse
: Terrel Hunt has proved he can win and he's taken on a leadership role this offseason, but he still needs to prove he can be a respectable downfield passer. And even Scott Shafer admitted
things needed to get better there
.
7. Louisville
: The depth chart isn't set in stone here either, but Bobby Petrino
had plenty of praise
for Will Gardner in Greensboro, saying, "He can make all the throws you need to make. He's got the arm strength. He's got a very quick release. ... He's a natural leader that the players have already learned to follow."
8. Pitt
: Paul Chryst says Chad Voytik still has a ways to go, but
he's pleased with the quarterback's progress
and, of course, Voytik will have as dangerous a weapon as any first-year starter in the league in Tyler Boyd.
9. Boston College
: The Eagles actually have a relatively experienced and settled QB spot with the arrival of transfer Tyler Murphy, and lineman Andy Gallik said Murphy has
grasped the offense and taken on a leadership role
. But his problem will be that he doesn't have much in the way of receiving targets or experience in the backfield to help him out.
10. Virginia
: Mike London shrugged off the rumors about his job, and one reason he can do that is that he's immensely confident in QB Greyson Lambert, who looks to have
cemented his role as the team's starter
.
11. Georgia Tech
: Paul Johnson smiled at the notion that recently departed QB Vad Lee said the triple-option wasn't for him, noting the situation had become "frustrating" for both sides. With Justin Thomas, however, Johnson said he has
the ideal quarterback to run his offense
.
12. Virginia Tech
: Well, Brenden Motley did get a preseason player of the year vote, even if he's not exactly destined to win the starting job. Frank Beamer said he
plans to end the drama soon
, even if no one separates himself and "he has to go with a gut decision."
13. Miami
: Ryan Williams would make this a much better scenario, but Al Golden isn't interested in predicting his veteran
will be back from a torn ACL
any time soon. That leaves Jake Heaps and Kevin Olsen, neither of whom earned a ton of praise in Greensboro.
14. Wake Forest
: It's going to be a long year for Clawson, but at least he's got a sense of humor about it.
More links:
Dabo Swinney is confident Clemson will have
a chance to win the Atlantic
, writes The State.
Swinney has no intention of
taking religion out of his football program
, writes Sports on Earth.
There are
no hard feelings
between Swinney and Syracuse coach Scott Shafer, writes The Post-Standard.
Florida State's
offensive line will be what sets the Seminoles apart
in the ACC, writes Tomahawk Nation.
And your non-sports link of the day: If you don't hear from me for a few months, blame
the new Simpsons World
from FXX, which looks… amazing.
July, 22, 2014
Jul 22
10:43
AM ET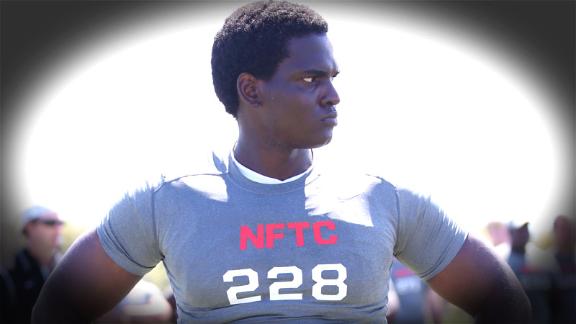 ESPN 300 offensive tackle
Abdul Bello
has committed to Florida State. Here's how the Seminoles plan to work him into the mix:
July, 22, 2014
Jul 22
9:00
AM ET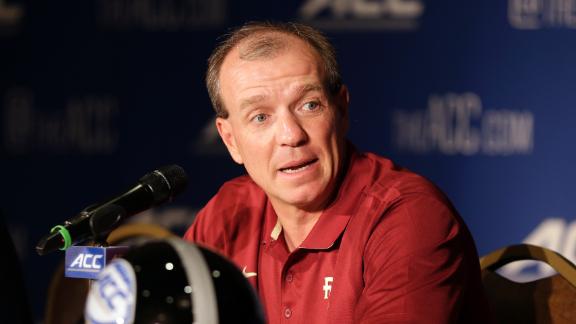 GREENSBORO, N.C. -- The 2014 ACC Kickoff is in the books, and while the preseason hype rarely translates well to the games on the field, there were still a few notable take-aways from the festivities at the Grandover Resort. Here are five things we learned from this year's media days.
1. The College Football Playoff is on everyone's mind.
Florida State Seminoles
coach Jimbo Fisher led the charge for the ACC in Greensboro, touting the accomplishments of the conference last year, including the Heisman winner, a national title and an Orange Bowl winner, a slew of NFL draft picks and 11 bowl invitations. Fisher and others continued to refer to the ACC as "the No. 1 football conference" in the country.
That, of course, may not sit so well with the SEC, but it was actually a Big 12 coach that landed the first blows after Fisher referred to the conference's lack of a championship game as "ridiculous."
Baylor's Art Briles fired back, saying "Jimbo Fisher needs to worry about the ACC" rather than tell the Big 12 how to conduct business.
Of course, it was clear that the ACC was exactly what Fisher and others were worried about as the politicking to ensure the conference has at least one representative in the first College Football Playoff is already underway. There are five power conferences and just four playoff spots, so someone's going to be left out, and Fisher has no interest in watching the games from home.
2. Jameis Winston isn't shying from the spotlight.
Jameis Winston was the star of the ACC Kickoff, arriving to a horde of media members eagerly awaiting something controversial. Instead, Winston (mostly) said all the right things, talking up his team and the league, offering jokes when possible and, most notably, admitting he had plenty of maturing to do in light of the off-field incidents that have dogged his career thus far.
Winston said he understood the spotlight he would be living in this year, adding that he had to "live up to the hype," and if he didn't, "it would be chaos."
Of course, Winston has made a habit out of sounding good -- and confident -- in front of the cameras, but the spotlight will stick with him well beyond his time in Greensboro.
Oh, and speaking of Winston's future: He notably declined to comment on his father's promises that the Heisman winner would be playing two more seasons at FSU. Instead, Winston said he "couldn't predict the future." In other words, don't cross him off your 2015 mock drafts just yet.
3. No one knows what will happen in the Coastal Division.
It's not that the media has a particularly successful track record of picking winners at ACC Kickoff, but this year's preseason poll was particularly telling about the depth of quality -- or, perhaps, litany of weaknesses -- in the Coastal Division.
The Miami Hurricanes came away as the overall favorite among the voting media, but the team finished with the third-most first-place votes in the division. Duke, last year's winner, had the most first-place votes and was second overall. North Carolina ranked fourth, but had the second-most first-place votes. In all, six of the seven teams in the conference had at least one first-place vote. Only Virginia missed out, which given the utter ridiculousness of it all, probably means the Hoos will be playing the Atlantic winner in Charlotte this December.
4. Miami has quarterback concerns.
There's still optimism
Ryan Williams
will be back at some point, but there's no certainties on when that might happen -- if it happens at all. That leaves the Hurricanes with a vacancy at the most important position on the field, and it also likely means a void in leadership, too.
"Ryan Williams is still the leader," tailback
Duke Johnson
said, "
Kevin Olsen
is just a quarterback."
Coach Al Golden mirrored those comments, saying Olsen -- the freshman -- still had to mature as a player and earn the respect of his teammates. Transfer
Jake Heaps
is now in the mix, too, but he's going to be learning on the fly.
In the end, the quarterback concerns weren't enough to keep the media from tabbing Miami as the Coastal favorite, and Johnson can at least agree with that.
"They might not have the strongest arm or be the fastest or the most accurate," Johnson said, "but when you have the receivers we do and the offensive line we do, it becomes pretty simple."
5. No one's handing the Atlantic to FSU.
Syracuse Orange
coach Scott Shafer said he first understood how good Florida State was during pregame warm-ups last year. He pointed out a few players who were far bigger than anyone on his team, only to learn the FSU behemoths were redshirting.
But even with the knowledge that his Orange are facing an uphill battle, Shafer wasn't admitting defeat before the games are played in 2014.
"The great thing about football is that the ball is oblong and does funny things and on any given Saturday you have an opportunity to steal a game," Shafer said.
Syracuse would need a big upset, but Clemson and Louisville think they've got good chances to win the Atlantic. Tigers defensive end
Vic Beasley
was particularly vocal about this year's matchup against the Seminoles with Clemson's formidable defensive front leading the way. Dabo Swinney has never backed off his comments that his team wasn't far behind FSU last year, and he's encouraged that a new-look offense, led by quarterback Cole Stoudt, can upset the Seminoles in 2014.
Of course, we're still a long way from that finish line, so for now, it's all just talk.
July, 21, 2014
Jul 21
10:00
PM ET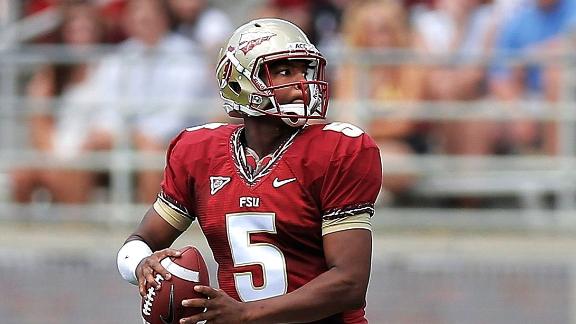 GREESNBORO, N.C. -- Florida State coach Jimbo's Fisher patience was tested at the onset of the ACC Kickoff on Monday. It wasn't a question about
Jameis Winston
or crab legs. It was a question that amounted to peanuts.
Literally.
"How about that -- people didn't know about putting peanuts in a Coke," Fisher ranted. "You believe that? This generation now. Golly."
He couldn't believe a reporter from the North (hint: me) never put salted peanuts in a bottle -- has to be glass -- of Coke, and had never even heard of it. But when your program is on the cusp of a college football dynasty, especially after an ugly slide from dominance, you can have the look of a coach without any worries, and he said as much Monday. Throughout his nearly 90-minute media session, Fisher was charismatic and engaging, usually the hallmark of Florida State's quarterback, which is a testament to how he views not only his 2014 team but the state of his program.
Fisher was most impassioned when talking about the latest renovation at Florida State, which has been the most cosmetic of his Seminoles tenure. He spent the first four years internally tearing down and rebuilding a program that sat at the pinnacle of college football for two decades. When preseason camp opens in two weeks, it will do so with a complete makeover of the football facilities, allowing Fisher to surpass rival SEC schools in the ongoing arms races.
[+] Enlarge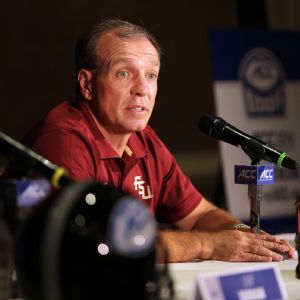 AP Photo/Chuck BurtonJimbo Fisher has the complete makeover of the football facilities that he has desired.
"I always ask folks, when you walk into an organization, you go into a business, the minute you walk in you make a first impression: Is this place committed to excellence, is it a championship organization?" Fisher said, hands bouncing off the table.
It was a pointed message, particularly aimed 550 miles away at Tallahassee. Fisher thanked the university administration and athletic department for the new toys, but he alluded to some early resistance, normal for a demanding coach and budget-mindful athletic department. They were changes he wanted earlier that a national championship finally afforded him. It's not limited to just superficial alterations like new locker rooms and statues with light-up jerseys, but changes that are hard to initially quantify that the old staff didn't endorse.
It was a change in culture, a trending phrase in football-crazed outposts throughout the country. Throughout the world really. Fisher spoke glowingly of the German national soccer team, which won the World Cup a little more than a week ago. The governing soccer body in Germany felt Brazil's facilities were insufficient and adverse to creating a winning environment, so the German soccer association built its own hotel and training grounds in Brazil, thousands of miles from its base in Europe.
It's doubtful Florida State football settlements will pop up in Miami and Chapel Hill and Blacksburg, but Fisher expects the Tallahassee colony to at least rival the ones in Tuscaloosa and Baton Rouge and Austin.
"Our players weren't growing in those first three years, our university was, and our culture -- from administration and all the things we had to do around those kids, academic support, player development, mental conditioning -- that's the culture that had to change for us to be a champion," Fisher elaborated. "When you demand so much from that kid and you don't put that into your own organization, how do you expect that kid to be a championship if you're not?
"... I'm not a spoiled kid. If I want it, it's because it's going to make our organization better. Every decision we make is about winning and developing our players. ... Our school and administration are doing a great job, and I'll continually push. I still got a bucket list."
There was a list of priorities from Fisher when he took the head coaching job in 2010, and maybe what speaks loudest about the state of Florida State football is that the surface-level changes are among the last to come. The behind-the-scenes work has been going on the past four seasons, and it culminated in a national title.
Midway through his media session, Fisher was asked whether Florida State is poised for a run similar to the one predecessor Bobby Bowden orchestrated from 1987 to 2000, when the Seminoles finished in the top five every season. It might be an unrealistic goal in this era -- Fisher doesn't rule out the jump to the NFL, either -- but Florida State is in the best position to unseat Alabama and Fisher mentor Nick Saban. Monday, the Seminoles were picked to win the ACC and Winston was named the preseason Player of the Year. Florida State is the odds-on favorite to win the College Football Playoff. Only Alabama is recruiting better.
"Why can't you? I don't know if it's feasible," Fisher said regarding a run similar to Bowden's. "Let's go play ball and find out."
July, 21, 2014
Jul 21
9:15
PM ET
By
ESPN.com staff
| ESPN.com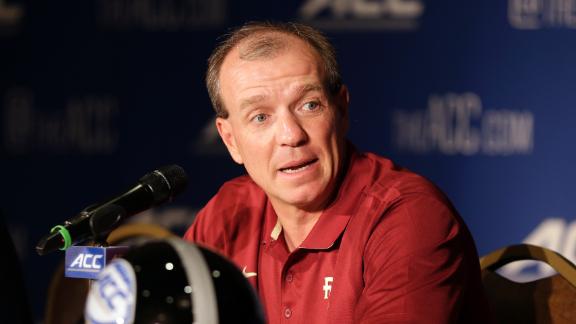 Andrea Adelson and Jared Shanker wrap up ACC media days, discussing
Florida State Seminoles
coach Jimbo Fisher's comments on the Big 12, Bobby Petrino and the Miami Hurricanes as preseason Coastal favorites.
July, 21, 2014
Jul 21
6:01
PM ET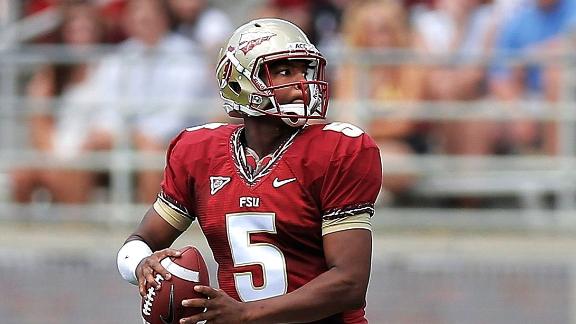 GREENSBORO, N.C. -- Florida State coach Jimbo Fisher prefers to keep players' punishments out of the public domain. In the case of Heisman Trophy-winning quarterback Jameis Winston's supermarket citation in April, however, Fisher said there weren't any consequences to speak of.
When Winston was caught shoplifting seafood at a store in Tallahassee, Florida, he was ordered to reimburse the store and perform community service. He also was suspended from the baseball team, and at the time, Fisher said he stood by baseball coach Mike Martin's decision. Speaking to reporters Monday at the annual ACC Kickoff, Fisher explained why he declined to pile on the punishment.
"Not after we found out the story and what had happened and [what Winston did] was not a malicious thing," he said. "It was not done with intent."
At the time of the incident, the Leon County Sheriff's Office said it would not speculate on whether Winston took the items -- $32 worth of crab legs and crawfish -- intentionally.
"People need to realize, when you suspend him in baseball, you understand how important baseball is to him? That cut his heart out," Fisher said Monday. "If it was done maliciously, we may have done other things. It was a silly mistake and not done with any malicious doing, and you don't punish a guy twice for the same crime."
July, 21, 2014
Jul 21
5:35
PM ET
Florida State coach Jimbo Fisher said Monday at ACC media days that it's "ridiculous" the Big 12 doesn't play a conference championship game.
When informed of the comment, Baylor coach Art Briles lobbed a retort later in the day.
"Don't come down here to Texas and try to tell me how to do mine," Briles said from Big 12 media days in Dallas. "Jimbo Fisher needs to worry about the ACC. That's what he needs to worry about.
"I'm not telling him how to do their business."
As college football journeys into a four-team playoff era, conferences have been lobbying to strengthen their position. The Big 12 has been touting the fact that it will play nine conference games, while the SEC and ACC will only play eight.
But the Big 12 is the only major conference without a championship game.
Fisher called the conference championship game essentially an extra playoff game that the Big 12 doesn't have to play.
"And by the way I think every conference should have to have one," Fisher said. "We got a [national] champion and not everyone plays the same number of games and does the same thing."
Florida State and Baylor figure to be two teams jockeying for spots in the inaugural playoff. The Seminoles are the defending national champs. Baylor won the Big 12 last season.
Quarterback Clint Trickett, who used to play for Florida State before transferring to West Virginia in the Big 12, reacted on Twitter to the comments of his former coach:
July, 21, 2014
Jul 21
3:00
PM ET
Florida State was the
overwhelming preseason favorite
to win the ACC championship, selected in voting among media members at ACC media days in Greensboro, North Carolina.
Here is a look at the voting totals, with first-place votes in parentheses:
Atlantic
1. Florida State (109) -- 780
2. Clemson (3) -- 660
3. Louisville -- 564
4. Syracuse -- 368
5. NC State -- 326
6. Boston College -- 301
7. Wake Forest -- 136
Coastal
1. Miami (26) -- 614
2. Duke (33) -- 597
3. Virginia Tech (23) -- 571
4. North Carolina (27) -- 570
5. Georgia Tech (1) -- 322
6. Pitt (2) -- 319
7. Virginia -- 142
FSU Coach Explains Why Winston Went Unpunished
ACC SCOREBOARD
Thursday, 8/28
Friday, 8/29
Saturday, 8/30
Monday, 9/1