November, 28, 2014
Nov 28
11:30
AM ET
The Florida-Florida State rivalry has been one built on runs. Only three times since 1968 have the teams alternated wins over a three-year period.
Seminoles coach Jimbo Fisher ended a six-game skid to Florida in his first season as head coach in Tallahassee, and now he has Florida State on the verge of its fourth win in five seasons against the Gators. In all three FSU wins under Fisher, the Gators have been held to seven points.
Adding to the rivalry this season has been quarterback
Jameis Winston
, who has goaded Gators fans seeking his autograph by signing his name and last year's score, 37-7, on the Florida memorabilia.
However, Florida has the distinction of being the last team to hand FSU a loss, although it came all the way in 2012, 27 games ago.
ESPN reporters Edward Aschoff and Jared Shanker break down the classic ACC-SEC rivalry:
[+] Enlarge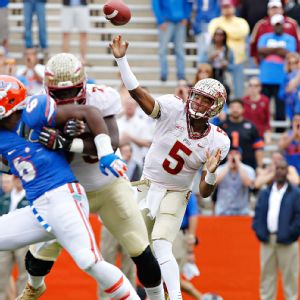 Kim Klement/USA TODAY SportsThe Gators know they can't allow Jameis Winston to be comfortable in the pocket.
Key to victory for Florida:
If the Gators are going to win this game, they have to run the ball well. That's how they upset Georgia, and that's the only way Florida will leave Tallahassee with a win over the Seminoles. Florida averaged 201 rushing yards in conference games and piled up 418 on Georgia to open the month. FSU has allowed 416 rushing yards in the last two games, which means the Gators will have to heavily rely on running backs
Matt Jones
and
Kelvin Taylor
, who have the one-two-punch ability to frustrate a defense that has been far from elite this season.
Key to victory for Florida State:
Jimbo Fisher said he will dial up the film of Florida's win over Georgia because the Bulldogs employ former FSU assistant Jeremy Pruitt as defensive coordinator, and the Noles still run a similar scheme. Florida State has struggled to stop the rush all season, and Florida ran all over Georgia. What Florida State has to do, as it has all season, is stop the run in pivotal situations. Florida State is significantly better against the run in the second half, and if the Noles can keep Florida's offense off the field in the second half, it will give Winston the requisite time needed for a comeback if it once again comes to that.
X-factor for Florida:
While running the ball will be key for the Gators, you have to take Winston out of the game. Winston is very good against the rush, but you have to force him into bad situations if you want to beat him. Putting pressure on him will be key for Florida's defense, and that's where end/linebacker
Dante Fowler Jr.
comes in. The future first-round draft pick has been one of the SEC's most disruptive players this season (credited with 15 quarterback hurries), and if he can force Winston to rush his throws it will be a major advantage for Florida's defense.
X-factor for Florida State:
There's no point in ignoring the obvious. Anytime Winston suits up for Florida State, he is the Seminoles' X-factor. He is the reigning Heisman Trophy winner and college football's premier prime-time player. No deficit to this point has been too large for Winston, who continually rises to the occasion in the game's tensest moments. He leads the country with four game-winning drives in the fourth quarter and has a QB rating of 194.26 when trailing by 15 or more points. For Florida to win, it will have to keep Winston out of the end zone for more than just the first half.
Aschoff's favorite moment from the rivalry:
Watching Warrick Dunn in this rivalry was fun, and so was having the game decide the national championship after the 1996 season. But two memories really stick out to me because I was actually there for them: Ron Zook getting carried off the field in 2004 (didn't they rename the field "Ron Zook Field" after that?) and the 2008 Florida team's impressive rain-soaked win in Tallahassee. The one thing about the 2008 game that really sticks out is how Tim Tebow, covered in garnet paint, taunted FSU's student section after a touchdown because Seminoles fans cheered when Percy Harvin went down with an ankle injury. To this day, that 2008 Florida team is the best team I've ever covered.
Shanker's favorite moment from the rivalry:
No doubt those games were memorable ones and that 2008 image of Tebow will live on this rivalry's lore for quite some time. However, I'm going with the
1994 "Choke at Doak."
I've watched it a handful of times over the last few years with the 20-year anniversary being this week, and it's crazy how so many little plays added up to help FSU overcome a 31-3 deficit to tie it in the final minutes. That '94 comeback makes this 2014 season look tame by comparison. This season's renewal could go down in history, too, if Muschamp leaves like Zook did. I don't know if Nole Nation would be able to take that a second time.
November, 28, 2014
Nov 28
10:00
AM ET
It seems like just yesterday we were kicking off the ACC season, but here we are at the finish line. Week 14 may be the end of the regular season, but there's still plenty of intrigue -- from crucial rivalry showdowns to three teams playing for bowl eligibility. Here's what to watch for.
Friday, 8 p.m.
Virginia at Virginia Tech, ESPN, #UVAvsVT
Few rivalries in the country have been as lopsided as this one, with the Hokies winning 10 in a row and 14 of the last 15. But this year's matchup feels entirely different. UVa is coming off an emphatic win over Miami, a win that helped save Mike London's job. Virginia Tech, meanwhile, is coming off one of its most embarrassing losses in history, a 6-3 defeat to Wake Forest. Changes on the Hokies' staff appear all but certain at this point. To add to the intrigue, both teams are playing for bowl eligibility, with the winner getting that crucial sixth win and the loser on to what promises to be a tumultuous offseason.
Saturday, noon
Georgia Tech at Georgia, SEC Network, #GTvsUGA
The Yellow Jackets toppled Georgia in Athens in 2008 in Paul Johnson's first season as coach, and it appeared that perhaps the power structure in the state was beginning to change, but in the five years since, it's been all UGA. In last year's game, Tech led 20-0 in the second quarter only to lose 41-34 in double overtime. This year, the Jackets' players are hoping to finally get some revenge, and with Tech playing its best football of the year, an upset is certainly possible. Georgia fell to Florida last month when it couldn't stop the ground game, and Tech figures to employ the same philosophy this weekend.
Kentucky at Louisville, ESPN2, #UKvsLOU
There's plenty on the line for both sides in the ACC's newest rivalry game against the SEC. Kentucky has lost five straight, but a win here could get Mark Stoops' squad bowl eligible. Louisville's offense is finally clicking, as
Reggie Bonnafon
looks comfortable in his role as starter. A win for the Cardinals would keep them in the hunt for an Orange Bowl berth. But, of course, state bragging rights may top all of those goals.
South Carolina at Clemson, ESPN, #SCvsCLEM
Like Virginia and Georgia Tech, Clemson has been on the wrong side of a lopsided rivalry in recent years. Dabo Swinney beat South Carolina to secure the head-coaching job at Clemson in 2008, but he hasn't been able to repeat the feat since. But freshman QB
Deshaun Watson
could return for this one, and he offers hope. Add to that a South Carolina defense that offers little in the way of a pass rush and has been gouged repeatedly this year, and things certainly look a bit more positive for the Tigers. It will be up to
Vic Beasley
& Co. to quell the South Carolina ground game, but Clemson fans are clearly hoping this is the year the Gamecocks' run comes to an end.
12:30 p.m.
Syracuse at Boston College, ESPN3, #CUSEvsBC
Tyler Murphy
& Co. nearly upended defending champ Florida State last week in Tallahassee, but fell just short. Whether the emotions of a close loss in a big game carry over may be the biggest factor in this matchup. Syracuse is reeling, with an offense that has mustered just 40 points in its last four games -- all losses. BC's defense is one of the more underrated units in the country, which won't make it easy for the Orange to bust out of their offensive slump, and Murphy's big-play ability could be the spark for BC's seventh win of the season.
NC State at North Carolina, ESPN3, #NCSTvsUNC
North Carolina had plenty to celebrate last week, knocking off rival Duke for the first time in three years, taking back the Victory Bell and earning bowl eligibility. Can the Tar Heels keep that momentum going against another rival in the regular-season finale? UNC has won four of five and played its best defensive game of the year a week ago, while NC State hasn't beaten a bowl-eligible team since its opener against Georgia Southern. This could be a nice feather in North Carolina's cap, but a win for NC State would be a signature victory for Dave Doeren.
3:30 p.m.
Florida at Florida State, ESPN, #UFvsFSU
It's been exactly two years since Florida State last lost a game, and that one came at home against rival Florida. The two programs have trended in opposite directions since, with Jimbo Fisher poised for a run at a second straight national championship, while Will Muschamp will be coaching his final game for the Gators after resigning two weeks ago. Still, FSU hasn't shown a propensity for blowing away anyone this season, and Florida has the ground game to frustrate the Seminoles' D and the secondary to test
Jameis Winston
. A decade ago,
Ron Zook upended FSU
after he'd been axed by Florida. Muschamp will try to do the same this time around.
7 p.m.
Wake Forest at Duke, ESPNU, #WAKEvsDUKE
The record certainly won't wow anyone this season, but Wake Forest has, in some ways, been one of the most impressive teams in the ACC. With huge holes across the offense, points have been at a premium all season, and the Deacons knew going into the year it would be an uphill battle. But they've continued to fight all season, which is a tribute to the work being done behind the scenes by head coach Dave Clawson. The work paid off with a 6-3 win over Virginia Tech last week -- Wake's first conference victory in more than a year -- but the test is much tougher this week. Duke enters this game riding a two-game losing streak, and David Cutcliffe will surely want to send his seniors out with a win in their last home game.
Pittsburgh at Miami, ESPN2, #PITTvsMIA
James Conner
's availability looks doubtful, which means it'll be up to
Chad Voytik
and
Tyler Boyd
to spark Pitt's offense. The bigger question, however, may be whether Miami is motivated to finish up the season. Last week's game against Virginia was as listless as the Hurricanes have looked all year, and another poor showing in the regular-season finale could ratchet up those hot-seat rumors for Al Golden. There's no question which side wins this game on paper, but with Pitt playing for a bowl game and Miami simply playing out the string, motivation could be the differentiating factor.
November, 26, 2014
Nov 26
2:00
PM ET
TALLAHASSEE, Fla. -- Florida State coach Jimbo Fisher said he will feel "nothing" if the No. 3 Seminoles wrap a bow on consecutive undefeated regular seasons Saturday.
"We'll get ready for Georgia Tech," he said.
Publicly, Fisher has avoided smelling the roses he's planted. The immediate goal after winning the national championship last January was to win another. He's not paraded around the Seminoles' 27-game winning streak and said luck has as much to do with the streak as any (a sentiment many analysts share regarding this recent Florida State run). During this holiday season of reflection, don't expect the word "undefeated" at the Fisher table.
"We don't ever say undefeated. National championships are the goal here," Fisher said.
[+] Enlarge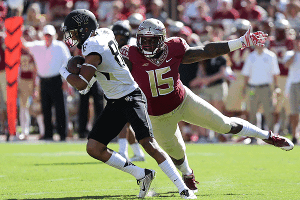 AP Photo/Steve CannonMario Edwards Jr. and Florida State can complete consecutive undefeated regular seasons with a victory Saturday over Florida. That's never happened in school history.
Goal or not, Fisher is on the verge of consecutive unblemished regular seasons. It's dangerous territory comparing current coaches to lionized predecessors. There's the risk of being labeled an iconoclast for uttering any perceived blasphemous statements toward Bobby Bowden.
That's not the basis this post is built on -- there's no Venn diagram to weigh the accomplishments of Fisher and Bowden, who turned what was once the nation's third-largest women's college into a football power.
So save the pitchforks for the selection committee.
However, with a victory Saturday over Florida, Fisher and the Seminoles would finish the regular season undefeated in consecutive years, and that has never happened at Florida State.
It is an apples-to-oranges comparison with Bowden, who had only one undefeated season but regularly played Florida and Miami -- and Nebraska and Notre Dame and Ohio State and Pitt -- most at their peak. Bowden was playing an SEC-style schedule before it was the fashionable thing to do, and it's hard to envision Fisher's Seminoles avoiding the landmines that were in front of Bowden annually during the 1980s and '90s.
That shouldn't take away from what Fisher has done in his short time as head coach in Tallahassee. Outside of the Florida State constituency, Fisher has been fairly criticized for several significant off-field issues, the allegations of sexual assault against
Jameis Winston
the most polarizing. During the last two seasons on the field, though, Fisher has been bulletproof and in the process has established himself as one of college football's top coaches.
"Coach Jimbo, that's what he tells us: We have a chance to do what people -- Deion [Sanders], [Terrell] Buckley, Coach [Lawrence] Dawsey and all those guys back when it was dominant -- we have a chance to do things they weren't able to do," junior defensive end
Mario Edwards Jr.
said. "He constantly lets us know we have an opportunity in front of us to do things even the great ones haven't."
Edwards was part of the 2012 recruiting class, signing following an 8-4 regular season. It was the eighth straight season in which Florida State failed to secure double-digit wins in the regular season. Edwards bought into Fisher's vision and the upward trajectory at Florida State in the same way senior
Karlos Williams
bought in the year before and Lamarcus Joyner and Telvin Smith the previous cycle.
"Being a part of something like this, and from when I first came in and how [Fisher] has changed the program and built it into something like this and contributing to it means a lot," Williams said.
As Fisher said, though, undefeated regular seasons are secondary to Florida State's ultimate goal, which doesn't truly begin until after the regular season takes a bow and exits stage left.
"This season is far from over," fourth-year junior
Terrance Smith
said, "so we don't necessarily see that light [at the end] yet."
November, 26, 2014
Nov 26
10:30
AM ET
Jared Shanker:
In college football, there is no denying emotion plays a pivotal role, and playing for a coach and a bowl can be the tipping point for a team hoping to rally. No doubt Virginia will have no shortage of motivation against its in-state rival, but the Cavaliers are also the better team.
Greyson Lambert
is improving, and the Virginia defense is every bit as good as the one in Blacksburg. Virginia needs to limit mistakes, as the Cavs turned it over eight times during a four-game skid. The Hokies are struggling to create turnovers, though, which plays into UVa's favor. Mike London returns UVa to a bowl.
Virginia 20, Virginia Tech 10
David Hale:
If we're slaves to whatever happened most recently, then Virginia Tech certainly looks like a lost cause. But let's think bigger picture. The Hokies know what's at stake here: A 22-year bowl streak, state bragging rights in a rivalry they've owned for a decade, perhaps the future of their longtime head coach. Is this a game where Virginia Tech is a no-show? No way. The Wake Forest game was brutal, but lessons were certainly learned.
Brenden Motley
will get a longer look at quarterback, and his mobility can help offset the Virginia pass rush. The ground game has actually looked better with
J.C. Coleman
the past two weeks. And while the Hokies clearly overlooked Wake Forest, that won't be the case against rival Virginia. Plus, let's not forget that, in spite of the record, Virginia Tech still features one of the most potent defenses in the country -- and it'll give Lambert and the UVA offense fits.
Virginia Tech 17, Virginia 14
Andrea Adelson:
The Jackets and Bulldogs are running the ball extremely well this season, so both teams should be able to get some yards on the ground. The key in this game is going to be in the turnover category. Both teams have been excellent at taking the ball away this season. While Georgia Tech has converted 24 takeaways into 116 points, Georgia has allowed only six total points off its own turnovers. There is going to be quite the battle there. Given the way Georgia Tech has played during its winning streak, the Jackets will pull out a close one after one defensive score.
Georgia Tech 35, Georgia 31
Matt Fortuna:
Much like Georgia Tech, Georgia has proven its rushing attack can keep up the pace no matter who is in the backfield, as we've all seen what has happened even without the ridiculously gifted
Todd Gurley
. The Bulldogs' defense has greatly improved under coordinator Jeremy Pruitt this season, too, ranking 13th nationally. Has it shored up the loose ends that Florida exposed by repeatedly running on it earlier this month, to the tune of 418 yards? The Yellow Jackets' attack is different, sure, but the Dawgs have too much pride to fall to another rival, especially as they play for a chance at the SEC title game next week.
Georgia 40, Georgia Tech 34
Shanker:
If South Carolina manages to pull off the upset, Dabo Swinney will be hearing about it for as long as Steve Spurrier is hanging around college football. This is an absolute must-win game for Clemson, but dark clouds are already starting to form with star freshman
Deshaun Watson
still listed as day-to-day with a sprained knee. If
Cole Stoudt
starts, will he be able to take advantage of a vulnerable South Carolina defense? The Tigers have the No. 1 defense, but South Carolina is No. 18 in scoring against Power 5 competition. That means the Gamecocks could score just enough, and with Stoudt at quarterback "just enough" might be 17 points.
South Carolina 17, Clemson 14
Adelson:
The Tigers have relied on their defense all season, and will do it again to finally break their long losing streak to South Carolina. Clemson ranks No. 1 in the nation in total defense and will make life difficult for
Dylan Thompson
, who is not having the type of season anybody expected. While the prospects on offense look shaky if Watson is out, Clemson has won squeakers this season with an inconsistent Stoudt behind center. As long as Clemson takes care of the football, the defense will lead the victory.
Clemson 17, South Carolina 14
Hale:
Strictly from a matchup standpoint, Pitt doesn't have a distinct edge, but this game may be a question of motivation. The storyline for Miami is a familiar one right now. Just like last year, the season built to Florida State, and the Hurricanes came up short. Last year, Miami responded by losing four of six to close out the season. This year, the follow-up to the FSU game was perhaps Miami's worst performance of the season, which certainly bodes well for Pitt. On the flip side, the Panthers are desperately seeking win No. 6 to get bowl eligible, so there's no question which team has more to play for. Add the fact that
Chad Voytik
is playing his best football of the season now, and Pitt is in position to move the ball even if
James Conner
isn't at 100 percent.
Pitt 21, Miami 20
Fortuna:
Pitt is the more desperate team here, fighting to extend its season and make a bowl game for the third straight season under third-year coach Paul Chryst. But the Panthers could be without Conner, which will put much more pressure on Voytik and the passing attack. Is Miami's defense ready to take care of business after consecutive letdowns? Its offense should not be a problem in this one.
Miami 38, Pitt 24
Adelson:
Everybody expects Florida to play an emotional game for outgoing coach Will Muschamp. That should serve the Gators well in the early going, and they will have opportunities to establish the run against a Florida State defensive front that has had its up and downs this season.
Dante Fowler
,
Vernon Hargreaves
and company will throw some different looks at
Jameis Winston
and force him out of his comfort zone. But ultimately, Winston will do what he always does -- find a way to win a close game.
Florida State 28, Florida 27
More unanimous picks
Syracuse at Boston College:
The Eagles were the latest team to nearly upend Florida State last week, but that hasn't always been a recipe for success afterward. It will be interesting to see if the physical and emotional toll of that loss carries over, but Syracuse certainly hasn't been playing good football either.
BC 33, Syracuse 13
Kentucky at Louisville:
The ACC's newest rivalry game may not offer much in the way of fireworks in Year 1.
Reggie Bonnafon
finally looks comfortable running Bobby Petrino's offense, and Louisville is still fighting for an Orange Bowl berth. Kentucky is desperate to get win No. 6, but the Wildcats have lost five straight.
Louisville 24, Kentucky 20
NC State at North Carolina:
Ready for some offensive fireworks? Both of these teams are allowing an average of more than 400 yards per game to FBS foes, and both have potentially explosive offenses. That should make for a fun rivalry matchup to end the regular season, but UNC gets the edge after playing easily its most complete game of the season last week against Duke.
North Carolina 45, NC State 33
Wake Forest at Duke:
Last week's win over Virginia Tech was a fitting moment for a Wake Forest team that has continued to fight in spite of adverse circumstances all season, and the Deacons' D is legit. Meanwhile, Duke is reeling from two straight losses. This game may end up close, but it's still hard to see Wake pulling off the upset in two straight.
Duke 24, Wake Forest 10
Current standings
Shanker: 66-20
Adelson: 66-20
Fortuna: 65-21
Hale: 65-21
November, 26, 2014
Nov 26
9:24
AM ET
By
Sharon Katz, ESPN Stats & Information
| ESPN.com
Richard Mackson/USA TODAY SportsBrett Hundley and the Bruins could be on track for big things.
In the past few weeks, the playoff discussion has centered around the remaining zero- or one-loss teams from Power 5 conferences.
There is one two-loss team, however, that may have an argument for inclusion when all is said and done.
UCLA
faces
Stanford
Friday (3:30 ET, ABC) with a chance to clinch the Pac-12 South. With a win against the Cardinal, UCLA will face
Oregon
in the Pac-12 Championship Game. If UCLA wins out, it will have a résumé worthy of discussion for the playoff.
Schedule
UCLA has played the hardest schedule in the nation, according to ESPN's strength of schedule rankings. The Bruins have not only played a nine-game Pac-12 schedule, but their out-of-conference slate also is the hardest of any Power 5 team.
The Bruins opened their season at
Virginia
in a game that kicked off at 9 AM PT. In Week 2, they faced
Memphis
, the current first-place team in the American Athletic Conference, and followed that game with a trip to Arlington to face
Texas
in Week 3.
The Bruins traveled close to 8,000 miles (counting return trips) before their first conference game and escaped with a 3-0 record. Two of those wins were against fellow Power 5 opponents; excluding
Notre Dame
,
Florida State
is the only other Power 5 team with multiple out-of-conference wins against Power 5 opponents.
Add in that UCLA's conference schedule is the 12th-hardest in the nation before a potential Pac-12 Championship Game, and there will be no argument from the committee that the Bruins were not tested.
Wins
A difficult schedule affords the Bruins more opportunities for signature wins. UCLA has six wins against teams currently ranked in the top 40 of
ESPN's Football Power Index
, second-most in the FBS behind
Alabama
. If the Bruins win out, they will add two current FPI top 20 wins to their résumé.
One of the arguments against UCLA is that it played close games in the beginning of the season against lesser opponents. Since those games, however, the teams that UCLA beat have risen in the rankings. UCLA's first six opponents all rank 42nd or better in the FPI after two of those teams began the season outside the top 42.
If UCLA were to beat Stanford and Oregon, the average current FPI ranking of UCLA's 11 wins would be 33, the best in the nation.
Strength of Record
Many will point to UCLA's two losses, to Utah and Oregon. The Oregon game was not even as close as the 12-point final scoring margin suggests.
ESPN's Strength of Record metric accounts for both wins and losses to measure the difficulty of achieving a team's record, given its schedule. UCLA, with two losses, currently ranks sixth in Strength of Record, ahead of one-loss
Baylor
and
Ohio State
. That means that it would be harder for an average top 25 team to achieve UCLA's 9-2 record than either Baylor's or Ohio State's record.
If UCLA beats Stanford and Oregon it will likely jump into the top four in Strength of Record. The Bruins would likely have the same record as Oregon but will have played a tougher schedule in achieving that record. Similarly, assuming
TCU
and Baylor win out, the Bruins would have as many wins as those teams but significantly more quality wins, including a victory against one of the top teams in the nation (Oregon).
All of these arguments are contingent on UCLA winning out. Beating Stanford at home and Oregon on a neutral field is not an easy feat.
ESPN's Football Power Index projects that the Bruins have a 24 percent chance to win out, but if they were to do it, could the committee really leave a two-loss Pac-12 champion, with the hardest schedule in the nation, out of the playoff?
November, 26, 2014
Nov 26
9:00
AM ET
It's the final week of the regular season, and Florida State continues to avert disaster, and thus its playoff hopes remain alive and well. Here's where things stand.
Florida State Seminoles
Record:
11-0 (8-0 ACC)
Rank:
No. 3
Next big obstacle:
vs. Florida on Saturday
Reason for optimism:
As seems to be the case each week, Florida State's biggest reason for optimism remains its record, which remains perfect -- even if FSU's performances on the field haven't been. The Seminoles narrowly escaped Boston College on Saturday in yet another close call, but that's simply a narrative. If the Seminoles can knock off an SEC team in Florida this week, the argument that FSU is a team that rises in the face of adversity gets stronger.
Cause for concern:
FSU's run defense has to be a worry at this point. Boston College carried 51 times for 240 yards in a losing effort last week, mustering a 7:34 time-of-possession advantage in the process. It marked the eighth time in 11 games this season that the Seminoles have surrendered at least 150 yards on the ground -- something that happened just six times from 2011-13. Why is that such an issue? This week's opponent, Florida, is fourth in the SEC in rushing yards per game versus FBS foes and toppled Georgia earlier this season on the strength of its ground game. Following the Gators, FSU gets Georgia Tech, which ranks fourth nationally in rushing.
Who they'll be rooting for this week:
Start with the teams that can still help Florida State's strength of schedule, namely the entire ACC. Clemson, Louisville and Georgia Tech can all upend SEC teams, which certainly would make the ACC look better in comparison. A Tech win, in particular, would be big, with UGA ranked in the top 10 and the Yellow Jackets awaiting FSU in the ACC title game. Beyond conference status, however, FSU wouldn't mind seeing Auburn upend Alabama, Texas knock off TCU, Oregon State upset Oregon or Ole Miss topple Mississippi State. A little chaos at the top of the polls would only make a 12-0 record look all that much more impressive for Florida State.
On the fringes:
If Georgia Tech could win out by beating two top-10 teams, Yellow Jackets fans will certainly want to make their case. They'll have an uphill battle with plenty of teams still ranked ahead of Tech, but it's at least worth monitoring as long as the Jackets keep winning.
November, 25, 2014
Nov 25
8:00
PM ET
North Carolina earned bowl eligibility and dealt the final blow to Duke's Orange Bowl chances in Week 13, while Pitt and Virginia each kept bowl hopes alive. Virginia Tech had a shot to wrap up win No. 6, but fell to Wake Forest in ugly fashion. So with one week left, the ACC is guaranteed at least 11 bowl-eligible teams (including Notre Dame) with as many as 12 possible.

College Football Playoff:
Florida State*
Capital One Orange Bowl:
Georgia Tech*
Russell Athletic Bowl:
Notre Dame*
Franklin American Mortgage Music City Bowl:
Louisville*
Belk Bowl:
Clemson*
Hyundai Sun Bowl:
Miami*
New Era Pinstripe Bowl:
Duke*
Military Bowl presented by Northrop Grumman:
North Carolina*
Duck Commander Independence Bowl:
Virginia
Quick Lane Bowl:
Boston College*
BITCOIN Bowl:
NC State*
Note: Notre Dame takes one of the ACC's bowl slots if it is not invited to a New Year's Six bowl game.
* Bowl eligible
November, 25, 2014
Nov 25
7:41
PM ET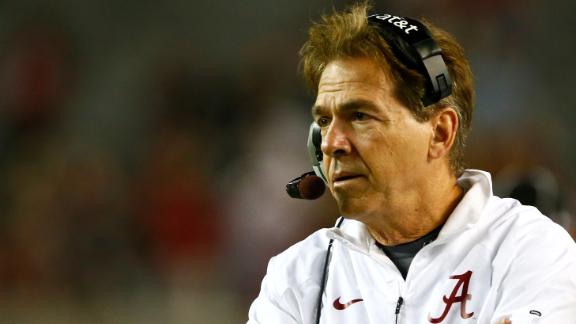 For the first time this season, the top seven teams in the College Football Playoff Top 25 have remained the same, as determined by 11 members of the 12-member selection committee (Mike Tranghese was sick and unable to travel to Dallas for the meetings).
No. 1 Alabama, No. 2 Oregon, No. 3 Florida State and No. 4 Mississippi State each won in Week 13, and in spite of another close win for the Seminoles, FSU did not drop another spot. The only difference at the top was that No. 8 UCLA, No. 9 Georgia and No. 10 Michigan State all slid up one notch to take the spot of Ole Miss, which sank nine spots to No. 19 after being shut out by Arkansas.
Here's what the bracket would look like today: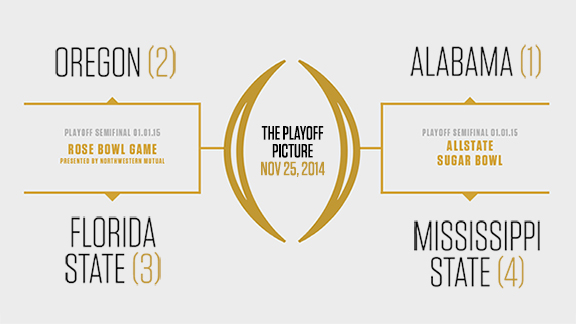 espn
TCU is still the first team on the bubble at No. 5, followed by No. 6 Ohio State and No. 7 Baylor. No. 11 Arizona jumped four spots, and No. 17 Missouri is up three spots. Another big mover was No. 18 Minnesota, which rose seven spots after beating Nebraska.
The biggest surprise this week was that not one but
two
Group of 5 teams were ranked: No. 23 Boise State and No. 24 Marshall. It was a controversial call, as Boise State is a two-loss team just one win away from clinching the Mountain West's Mountain Division, and Marshall is the only undefeated team remaining in the Group of 5. Marshall has already clinched the Conference USA East title.
Marshall is ranked No. 19 in the latest Associated Press poll, followed by No. 21 Colorado State and No. 25 Boise State. This is the first time since Week 10, when East Carolina was ranked in the selection committee's first Top 25, that the Group of 5 has been represented in the CFP rankings.
That would make Boise State the frontrunner to represent the Group of 5 in a New Year's Six Bowl.
As for the other major bowls, here's a projection based on the current rankings:
The Orange Bowl lost the ACC champion (FSU) so it gets the next highest-ranked ACC team, No. 16 Georgia Tech. The Orange Bowl then selects the next highest-ranked nonconference championship team from the Big Ten, SEC or Notre Dame. By contract, displaced conference champs from the SEC and Big Ten don't go to the Orange Bowl. That would pit the Yellow Jackets against No. 10 Michigan State because the committee would look to avoid a rematch with No. 9 Georgia.
Here's what New Year's Eve and New Year's Day could look like, based on today's rankings:
Dec. 31
12:30 p.m. ET -- Chick-fil-A Peach Bowl -- No. 9 Georgia vs. No. 7 Baylor
4 p.m. ET -- VIZIO Fiesta Bowl -- No. 23 Boise State vs. No. 8 UCLA
8 p.m. ET -- Capital One Orange Bowl -- No. 16 Georgia Tech vs. No. 10 Michigan State
Jan. 1
12:30 p.m. ET -- Goodyear Cotton Bowl Classic -- No. 5 TCU vs. No. 6 Ohio State
5 p.m. ET -- Rose Bowl Game presented by Northwestern Mutual -- No. 2 Oregon vs. No. 3 Florida State
8:30 p.m. ET -- Allstate Sugar Bowl -- No. 1 Alabama vs. No. 4 Mississippi State
Dr. Lou's Picks
ACC SCOREBOARD
Friday, 11/28
Saturday, 11/29