September, 19, 2014
Sep 19
12:00
PM ET
Florida State coach Jimbo Fisher and Clemson offensive coordinator Chad Morris are two of the best offensive minds in football. But they go about their business in very different ways. Fisher is a little more old-school by 2014 college football standards, while Morris subscribes to lightning speed and triple-digit play counts.
One isn't necessarily better than the other, but just with all offensive philosophies, there are positives and negatives to both. Each coach offers insight into his offense on the eve of the ACC showdown between No. 1 Florida State and No. 22 Clemson. Jared Shanker spoke with Fisher about his "complex" model, which backup quarterback
Sean Maguire
will operate without restrictions, and David Hale talked with Morris about his "left lane" preference.
Fisher looks at championships and points, not plays
[+] Enlarge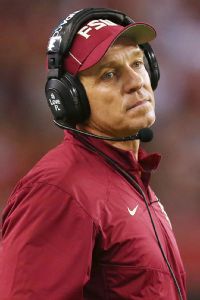 Ronald Martinez/Getty ImagesJimbo Fisher thinks Florida State has an advantage when his pro-style Seminoles line up on offense.
Fisher was in his element at the Seminoles' media day in August. He was talking Football 101, discussing X's and O's and, taking a page from public speaking handbooks, actively engaging his audience by moving across the dais.
Toward the end, he was asked about the latest trend in college football offenses. It's no longer just spread offenses and no-huddle drives, but now coaches, including Saturday's opposing offesive coordinator, have their eyes on running as many plays as possible with the intention of reaching 100.
"We scored the most points in NCAA history and didn't go no huddle," Fisher said in August. "And Alabama didn't win a bunch of national championships with no huddle."
The fifth-year Florida State coach wasn't criticizing the up-tempo faction of coaches -- in 2014 that's a losing battle as far as numbers go -- but pointing out that recent national champions, himself included, aren't relying on any gimmicks offensively.
Florida State is No. 1 in the country again, and while Fisher said his teams are capable of exhibiting no-huddle and up-tempo concepts, why would he mess with a winning formula?
With the overhaul of offensive philosophies throughout the country -- five of the top-10 teams in the AP poll are spread, up-tempo or both -- Fisher said it is an advantage when his pro-style Seminoles line up on offense.
"Being able to play conventional plays into our hands because not many people are doing it," Fisher said in August. "It used to be the teams that spread, you don't know how to play it [on defense]. Now all teams are playing spread, it makes the team you're playing, say they're a 4-2-5 nickel defense, now they have regular people running with a 260-pound tight end, 240-pound fullback and take an iso or counter. How much time do they see it in practice and practice against it?"
Several players have referred to Fisher's offense as "complex," and Fisher himself said it's "probably a little more NFL-laden" with multiple-line protections, formations and the freedom for the quarterback at the line of scrimmage to make checks between a run or pass.
"It's been successful, and it develops guys for the league," Fisher said. "You go to school to be a lawyer, you go to the best law school. You want to be an NFL player, you go to teams that run NFL systems. When our guys get [to the NFL] they say they're very comfortable, the schemes and concepts are very similar."
Morris not deviating from uptempo style
[+] Enlarge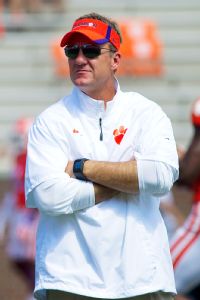 Joshua S. Kelly/USA TODAY SportsOC Chad Morris' fast-paced offense has proved to be a winning formula for Clemson.
When he met with reporters earlier this week, Morris was asked whether he might slow down his usually fast-paced offense to eat some clock and keep Florida State's offense off the field. It was a reasonable plan, but it never crossed Morris' mind.
In fact, if Morris has a regret this season, it's that he hasn't been aggressive enough.
In the opening week of the season, Clemson was saddled with awful field position throughout a disastrous second half at Georgia. Morris decided to go conservative, hoping to avoid a bad mistake. It was the wrong move. The Tigers had seven second-half drives and punted seven times. A three-point game at the start of the fourth quarter ended as a 45-21 Georgia win.
"Obviously if I had to do it over, I'd have thrown three straight deep balls," Morris said. "If I'd known we'd be three-and-out, I'd have made everybody in the stands go, 'Ooh, ooh, ooh.'"
Most of the time, that's exactly what Morris wants to do. In his three-plus seasons at the helm of Clemson's offense, the fireworks have been routine, and the pace has been frenetic. Among Power 5 teams since 2011, Clemson has run the second-most plays and ranks seventh in touchdowns, sixth in passing yards and seventh in plays of 20 yards or more. Morris has been at the forefront of the fast-and-loose style that has turned offenses like Clemson, Texas A&M, Baylor and Oregon into the some of the most entertaining spectacles in college football.
Morris' offensive philosophy stands in stark contrast to the man calling plays for Clemson's opposition this week, and the contrasts in style between Morris' game plan and Fisher's makes for lively debate. In each of the past two seasons, Fisher's pro style has won the day, and last year, it set scoring records and paved the way to a national title. Still, Morris doesn't see the head-to-head showdown Saturday as a referendum on his approach.
"We're going to do what we do," Morris said. "You're just trying to get your guys to play at a high level. And in games like this, your big-time players have to show up, and it's our job as coordinators to put them in a position to be successful."
And if putting players in position to succeed is the ultimate goal, it's hard to argue with Morris' up-tempo style. While Fisher's playbook is mercilessly complex, the main goal of Morris' offense is simply -- to move fast and make quick decisions. That means paring down the decision-making to the most important details and then letting athletes go out and make plays.
Still, at the end of the day, Morris said the underpinnings of what he does aren't a whole lot different than Fisher's philosophy.
"You try to find weaknesses and exploit them and do what you do good," Morris said.
Of course, what Morris does best is to open up the throttle and let the offense test its limits.
"I'm used to putting it in the left lane and put the hammer down," Morris said.
September, 19, 2014
Sep 19
10:00
AM ET
September, 19, 2014
Sep 19
9:00
AM ET
Here are five things I learned in college football this week:
1. Sure, No. 5 Auburn greatly benefited from No. 20 Kansas State's red zone miscues and three missed field goals in Thursday night's 20-14 victory at Bill Snyder Family Stadium. But give the Tigers some credit for making plays when it mattered most, especially on defense.
Auburn limited the Wildcats to only 40 rushing yards on 30 carries (1.3 yards per carry) and surrendered only one run longer than 10 yards to KSU tailback
Charles Jones
, who came into the game averaging 6 yards per attempt. Also, Auburn only allowed two passes of more than 15 yards, and held quarterback
Jake Waters
to minus-7 rushing yards on 11 attempts.
Auburn might not yet have a championship-caliber defense, but it is certainly making strides under second-year coordinator Ellis Johnson.
[+] Enlarge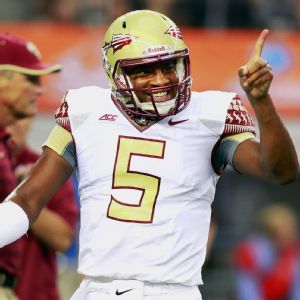 Tim Heitman/USA TODAY SportsThe Seminoles are used to getting off to a fast start in games when Jameis Winston is under center.
2. No. 1 FSU is used to starting fast with quarterback
Jameis Winston
on the field. According to ESPN Stats & Information, the Seminoles had a halftime lead of at least seven points in 15 of the previous 16 games Winston started at FSU. The only team that stayed within six points of the Seminoles in the first half was Auburn, which had an 11-point halftime lead in last season's BCS National Championship. FSU rallied for a 34-31 victory in the second half to claim the school's third national title.
We'll see if No. 22 Clemson can keep it close in Saturday night's ACC showdown at Doak Campbell Stadium in Tallahassee, Florida. Winston is suspended from playing in the first half after making vulgar comments in the FSU student union Tuesday, and redshirt sophomore
Sean Maguire
is expected to make his first career start. Maguire hasn't started a game since November 2011, when he was a senior at Seton Hall Prep in New Jersey.
3. Although hindsight is 20/20, Georgia offensive coordinator Mike Bobo accepted blame for not having tailback
Todd Gurley
more involved in the offense when the Bulldogs faced first-and-goal at South Carolina's 4-yard line in the closing minutes of last week's 38-35 loss. UGA attempted a play-action pass on first-and-goal, and quarterback
Hutson Mason
was penalized for intentional grounding. After two more plays, the Bulldogs missed a chip-shot field goal that would have tied the score, and the Gamecocks were able to run out the clock.
Bobo's first-down call was an aggressive one, and it can certainly be argued that he should have put the ball in the hands of Gurley, who might be the country's best running back. But if the play-action pass had worked, we'd be talking about how brilliant Bobo's call was. And, of course, if Bobo had called for Mason to hand the ball to Gurley on four straight plays and the Bulldogs didn't score, we'd be talking about how vanilla and uncreative his play calling was.
4. West Virginia's defense surrendered 447 yards of offense in last week's 40-37 win at Maryland, but Mountaineers defensive coordinator Tony Gibson said 188 yards came on three plays. Quarterback
C.J. Brown
threw a 77-yard touchdown to
Stefon Diggs
and had a 75-yard scoring run of his own. The Mountaineers didn't give up a touchdown after Brown's long run on the first play from scrimmage in the second half (the Terps kicked a field goal and scored on a long punt return in the fourth quarter).
West Virginia will need a similar defensive effort if it's going to upset No. 4 Oklahoma in Morgantown on Saturday night. Last season, the Sooners defeated the Mountaineers 16-7, their fewest points total during the previous two seasons.
5. Oregon's recent dominance over Washington State is making it one of the most lopsided conference series in the country. The No. 2 Ducks have won seven straight games over the Cougars heading into Saturday night's game in Pullman, averaging 52.4 points per game with an average margin of victory of 32.1 points. Ouch.
September, 18, 2014
Sep 18
8:41
PM ET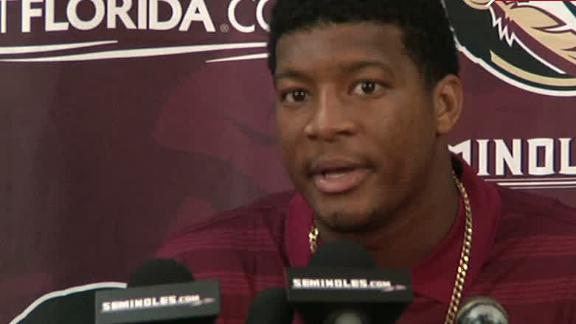 TALLAHASSEE, Fla. -- Florida State coach Jimbo Fisher dismissed any criticism that Jameis Winston's half-game suspension for a profane and sexually charged outburst was too light.
"We're in charge. It's our team. That's our thought. We went with the consequences and we're ready to move on," Fisher said Thursday.
Florida State interim president Garnett S. Stokes and athletic director Stan Wilcox suspended the No. 1 Seminoles' star quarterback for the first half of Saturday's game against No. 22 Clemson in a joint statement Wednesday. They denounced Winston's behavior, calling it "offensive and vulgar."
Fisher's name was not on the statement, which raised eyebrows and questions as to whether this was a decision that came down from the administration rather than Fisher.
"They're always involved in university policies," Fisher said. "That's things at Florida State, the way we do it."
Fisher was asked a follow-up question about whether he usually is the one to mete out punishment, but he did not respond.
He also declined to divulge what Winston, the reigning Heisman Trophy winner, told him about what happened outside the student union building Tuesday, instead saying the team is preparing for the 8 p.m. ET kickoff Saturday against Clemson. The winner of this game has won the ACC the past three seasons.
"He was wrong, and he made a mistake and a bad error in judgment," Fisher said. "That's water under the bridge. We got to move on and get ready for this game."
Fisher also said in an interview on SiriusXM's College Sports Nation channel that he doesn't think Winston is a "bad kid" but that he makes "bad decisions."
"What his problem is, he doesn't always see the danger in all the situations," Fisher said Thursday.
Backup quarterback Sean Maguire
September, 18, 2014
Sep 18
4:48
PM ET
September, 18, 2014
Sep 18
10:35
AM ET
By
ESPN.com staff
| ESPN.com
ESPN.com reporters Ted Miller, Edward Aschoff and Heather Dinich join host Chantel Jennings to discuss the latest on Jameis Winston and preview the weekend slate of games.
September, 18, 2014
Sep 18
10:01
AM ET
By
Sharon Katz
| ESPN Insider
Last season, in a matchup billed as the "ACC Game of the Year," No. 5 Florida State went into Death Valley and dominated No. 3 Clemson. The Seminoles outgained the Tigers by more than 200 yards and forced an offense led by four-year starting quarterback Tajh Boyd into four turnovers and five punts.
This time, Florida State is the clear No. 1 team in the nation, and Clemson is still in the process of breaking in new quarterbacks. So why should this year be any different?
While admittedly a small sample size, the Seminoles' first two games of the season show this is not the same team that won the BCS National Championship last season. Pair the weaknesses with Jameis Winston's first-half absence Saturday, and Clemson may have a better-than-advertised chance to come away from Bobby Bowden Field with a win.
Winston will be sorely missed
Clemson caught a break with Winston's first-half suspension, to say the least. Without Winston, Florida State will turn to redshirt sophomore Sean Maguire, who has just 26 career pass attempts, including 16 completions, in 10 appearances the past two seasons. All of Maguire's attempts came with the Seminoles leading by at least 25 points -- not exactly high-pressure situations.
To continue reading this article you must be an Insider
College Football Minute