December, 9, 2013
Dec 9
1:10
AM ET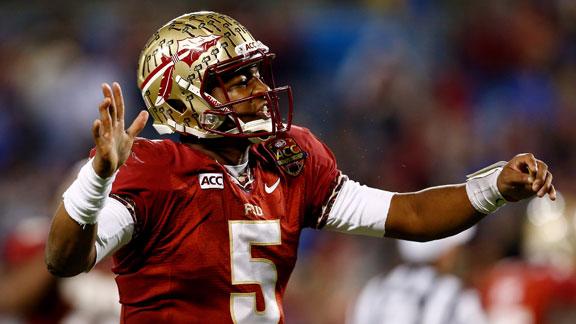 We say goodbye to the BCS (and, yes, some will say good riddance) with a matchup in the final VIZIO BCS National Championship that may be the toughest assignment yet for the conference everybody loves to hate.
The SEC, the epitaph on its national championship streak all but written just a week ago, is back on college football's grandest stage.
And if anybody says they tabbed Auburn back in the preseason to be the team carrying the SEC's banner, they either have a serious problem with the truth or are seriously psychic.
Either way, talk about a compelling way to bid adieu to the BCS era.
No. 1 Florida State vs. No. 2 Auburn.
One team established itself as the country's most talented team from the outset of the season, but had seemed to invent ways in recent years on how not to get to this point. One team didn't even win a league game and fired its coach last season and was never supposed to be playing for a national championship.
They collide in the Rose Bowl on Jan. 6 in Pasadena, Calif., in what will be the final BCS National Championship.
"We showed the world that we belong here, and we're not done yet," Auburn receiver
Sammie Coates
said.
To continue reading this story,
click here
.
December, 8, 2013
Dec 8
11:29
PM ET
By
ESPN Stats & Information
| ESPN.com
The final BCS standings were released Sunday along with matchups for all of the remaining bowl games. Here are some tidbits to prepare you for the five BCS games.
Rose Bowl Game presented by Vizio
4
Michigan State Spartans
vs 5
Stanford Cardinal
January 1, 2014, at 5 ET on ESPN
Michigan State
: First Rose Bowl appearance since the 1987 season and its first appearance in a BCS bowl. The Spartans have reached a bowl game in all seven seasons under head coach Mark Dantonio after making no bowl appearances from 2004-06.
Stanford
: Second consecutive appearance in the Rose Bowl (def. Wisconsin 20-14 last season). The Cardinal are making back-to-back Rose Bowl appearances for the first time since 1970-71. Stanford has reached a BCS bowl in four straight seasons after making just one from 1998-2009.
Tostitos Fiesta Bowl
15
UCF Knights
vs 6
Baylor Bears
January 1, 2014, at 8:30 ET on ESPN
UCF
: First BCS bowl berth in school history. Won 11 games this season, tied for the most in school history (also won 11 in 2010).
Baylor
: Like their opponents in the Fiesta Bowl, the Bears receive their first BCS bowl berth in school history. Baylor looks to extend a school-record 11 wins this season to 12 in this game.
Allstate Sugar Bowl
11
Oklahoma Sooners
vs 3
Alabama Crimson Tide
January 2, 2014, at 8:30 ET on ESPN
Oklahoma
: Ninth BCS bowl appearance, second-most all-time. The Sooners are 3-5 in BCS bowl games, snapping a five-game losing streak with a win in the 2011 Fiesta Bowl vs Connecticut.
Alabama
: Third straight BCS bowl appearance and fifth in the last seven seasons under Nick Saban. The Crimson Tide will make their first Sugar Bowl appearance since the 2008 season (lost to Utah in that game).
Discover Orange Bowl
12
Clemson Tigers
vs 7
Ohio State Buckeyes
January 3, 2014, at 8:30 ET on ESPN
Clemson
: First BCS bowl appearance since 2011, when the Tigers played in the Orange Bowl. Those two games mark the only BCS bowls in school history. Speaking of history for the Tigers, they will make a school-record ninth straight appearance in a bowl game.
Ohio State
: Tenth BCS bowl appearance, most all-time. The Buckeyes will make their first Orange Bowl appearance since the 1976 season against Colorado. Their last BCS appearance came in a 2011 Sugar Bowl win over Arkansas.
Vizio BCS National Championship Game
1
Florida State Seminoles
vs 2
Auburn Tigers
January 6, 2014, at 8:30 ET on ESPN
Florida State
: After beating Northern Illinois in last year's Orange Bowl, the Seminoles return to a BCS bowl game. It marks their first back-to-back BCS bowl appearances since 2002-03. This will be their first BCS Championship Game appearance since 2000 and fourth overall.
Auburn
: Second BCS Championship Game appearance, first since winning the national title over Oregon in the 2010 season. This marks the third BCS bowl appearance for the Tigers, who are unbeaten in such games thus far.
December, 8, 2013
Dec 8
11:25
PM ET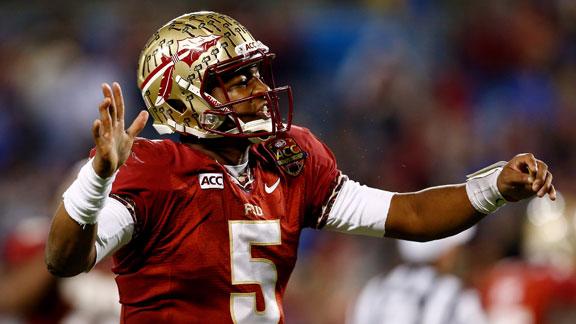 Jan. 6, 8:30 p.m. ET, Pasadena, Calif. (ESPN)
FLORIDA STATE SEMINOLES BREAKDOWN
For months, Florida State was happy to downplay its own talent. In each of the past two seasons, the Seminoles bore the burden of lofty expectations and eventually collapsed under the weight. This time, they were happy to fly beneath the radar. But make no mistake -- they knew this season would be special.
[+] Enlarge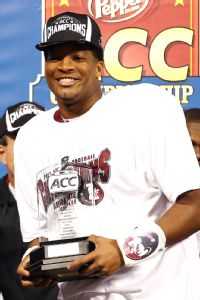 Streeter Lecka/Getty ImagesJameis Winston transformed the Seminoles, starting with the spring game.
"The turning point was the spring, spring football when we started, and we knew we were going to have a special year," quarterback
Jameis Winston
said.
Winston has been the catalyst. The redshirt freshman was a revelation from the moment he stepped onto the field during Florida State's spring game, launching a long touchdown throw on his first pass attempt. In his debut against Pitt, he was nearly flawless, accounting for five touchdowns in the win. He delivered the pregame inspiration in Death Valley, then delivered Florida State's biggest win of the season, thumping Clemson 51-14. By season's end, he had rewritten the record books at Florida State.
But if Winston was the man in the spotlight, he was pushed there by an immensely talented supporting cast. Three receivers and his top tailback are all within reach of 1,000 yards for the season.
Nick O'Leary
and
Kelvin Benjamin
provide two of the biggest matchup advantages in the country, and Winston has exploited their talents to the tune of 21 touchdowns. His offensive line employs five players who figure to land NFL jobs within the next two years. For the season, Florida State led the nation, averaging 7.8 yards per play.
The offense garnered headlines, but the defense shouldn't be overlooked. Florida State lost seven starters and three assistant coaches from last season's No. 2-ranked unit, and during the spring, new coordinator Jeremy Pruitt revamped the scheme. The adjustments didn't take long to master. The Seminoles lead the nation in pass defense for the second straight year, but this season they added a penchant for takeaways, racking up 25 interceptions. The rushing defense was nearly as stout, allowing just 3.1 yards per carry. The first-team defense didn't allow a rushing touchdown all season. In the final nine games of the season, FSU's first-team defense allowed just 42 points total.
Florida State wrapped up its berth in the Vizio BCS National Championship with one final dominant performance against Duke in the ACC title game. Winston accounted for four touchdowns. The defense forced three turnovers and nine punts. It was Florida State's fourth win over a ranked foe by a combined score of 200-35.
-- David M. Hale

vs.

AUBURN TIGERS BREAKDOWN
All around the Auburn football offices there are signs that read, "It's a New Day." Coach Gus Malzahn promised the return of championships to The Plains when he came back to the school after the 2012 season, and against all reason, he's put the previously inept Tigers back in contention to claim college football's coveted crystal football trophy less than one year later.
[+] Enlarge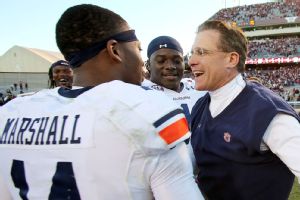 Thomas B. Shea/Getty ImagesNick Marshall (left) and Gus Malzahn have authored the season's best turnaround story.
Auburn's date with Florida State in the BCS championship is the culmination of a turnaround few believed was possible.
Even before Michigan State beat Ohio State to open the door for Auburn's trip west, it felt like the start of something new on The Plains.
Auburn's resurgence from winless in the SEC to conference champs can be traced back to Malzahn and quarterback
Nick Marshall
. First, Malzahn had to rebuild the fragile psyche of a program that went through one of the worst slides in the history of college football. Second, he had to find a quarterback to execute his complex zone-read option offense. Lastly, he had to make it all work.
Marshall, who transferred to Auburn late in August, knew only a quarter of the offense when he started at quarterback for the Tigers in Week 1. He accounted for only 126 total yards in the season opener against Washington State. But with the help of Malzahn and offensive coordinator Rhett Lashlee, he started piecing things together. He led four game-winning or game-tying drives, and the offense has scored 30 points or more in each game since the team's lone loss to LSU in September.
Auburn's magical run hasn't come without its share of drama, though. The Tigers needed a 73-yard Hail Mary in the final minute to knock off Georgia, and the town is still buzzing after the field goal return by
Chris Davis
to upset No. 1 Alabama. Auburn is being tabbed a team of destiny, and with what's happened in the final month of the season, how can you pick against it? It's been as unlikely a comeback story as you'll ever see, and it's not over yet. There's still one game left to be played.
-- Greg Ostendorf
December, 8, 2013
Dec 8
10:20
PM ET
TALLAHASSEE, Fla. --
Devonta Freeman
has never been to California, and he's already concerned about the long flight west. Six hours on a plane is more than he's accustomed to, never mind that it's a trip he has been dreaming of since the spring.
The BCS made it official Sunday night, and No. 1 Florida State will face No. 2 Auburn in Pasadena on Jan. 6 with a national championship on the line. Freeman's vacation plans in the interim are simple.
"I just want to grind," Freeman said. "Get better."
Freeman met with running backs coach Jay Graham on Sunday, asking for areas he could improve on before he takes the field again in 28 days. The work begins immediately.
There was celebration for Florida State, which wrapped up a conference title with a 45-7 win over Duke on Saturday, but Freeman's mantra was the overwhelming narrative as the Seminoles begin the month-long wait for the final step on their march toward a national championship. They've come far, but the goal wasn't simply to get here.
"It won't mean nothing if we don't go out and win this game and finish it the right way," linebacker
Telvin Smith
said. "We're going to go out, prepare well and play hard."
There will be ample time for revelry between now and Jan. 6. A handful of Florida State's stars will be on the banquet circuit, collecting awards for a season's worth of goals met.
Jameis Winston
will be in New York next week for the Heisman Trophy presentation, which he's the heavy favorite to win. There are holidays and vacations and down time, but Florida State is well prepared for the distractions. It has spent the entire season preparing for them.
From the Heisman hype to off-field legal drama, two turns on ESPN's "College GameDay" and 11 other contests that seemed over before they kicked off, Florida State has ridden the roller coaster and still come away a bastion of consistency. Thirteen wins, all by at least two touchdowns, all because the mindset hasn't changed.
And with one game left to go, the Seminoles insist it won't change now.
"We're 13-0. This is where we started the season off wanting to come here. Now we're here," said kicker
Roberto Aguayo
, who has outscored all 13 of FSU's opponents by himself this season. "It's been in our minds the entire time. It's nothing new. We're playing for a national championship and this is where we should be."
The team gathered Sunday for its annual awards night. They watched the BCS announcement together at the stadium. They cheered the inevitable, and then they prepared to go back to work.
It's funny, Freeman said. A few weeks ago, Florida State was dogged with questions about what might happen if four or five teams finished undefeated. Now, the Seminoles are the only team with an unblemished record.
It was no accident, Freeman said, and all that matters now is that Florida State keeps doing what has gotten it this far.
"We've gotta win," Freeman said. "We've gotta win. And I'm not doubting anything."
December, 8, 2013
Dec 8
9:06
PM ET
Red Smith, the poet laureate of sweat, once wrote that 90 feet between bases is the nearest to perfection that man has yet achieved. The basepath has nothing on the length of college football's regular season, which, with the patience of a kindergarten teacher and the tenacity of Scotland Yard, identified Florida State and Auburn as the two best teams to play for the BCS National Championship.
Tenacity is the lifeblood of a sport that demands physical and mental exertion for 60 minutes. Patience, not so much. Patience in college football is attributed to tailbacks who wait for a hole to appear. But in a sport in which a quarterback may have three seconds to complete a pass without getting his slobber knocked, patience often goes untapped.
Yet patience has never been more important than it has been in 2013, and not just because it was nearly midnight on the final Saturday of the regular season before Michigan State proved that Ohio State didn't have the credentials to play for the crystal football. In a season made predictable only by its unpredictability, patience became the coin of the realm.
Patience rewarded no fans more than at Auburn. It didn't take any patience to appreciate the rapid rise of the Tigers from 3-9 in 2012 to 12-1 this year. But the way that the Tigers waited until the very end to upend Georgia on a Hail Mary tipped pass and defeat archrival No. 1 Alabama on a 109-yard field goal return for a touchdown, focused upon the power of faith no matter what reality promised.
Patience proved critical at Florida State, not because head coach Jimbo Fisher decided to start a redshirt freshman at quarterback. Jameis Winston played with poise and the acumen of an upperclassman as the Seminoles cruised to a 13-0 record (12 wins by at least 27 points). But Florida State fans had to hold their collective garnet-and-gold breath for several weeks before local authorities decided not to charge Winston in a sexual assault case.
Patience paid off at Missouri, which had endured a 5-7, injury-filled debut in the SEC in 2012. Coach Gary Pinkel revamped his training and practice methods, and took advantage of the depth that resulted from playing so many players in 2012. The Tigers won the SEC East and finished 11-2 this season.
To continue reading,
click here
.
December, 8, 2013
Dec 8
5:10
PM ET
ESPN.com news services
After weeks of conjecture and debate about strength of schedule, the matchup for the VIZIO BCS National Championship turned out to be an obvious one.
No. 1 Florida State and No. 2 Auburn top the final BCS standings and will play for the national title Jan. 6 in Pasadena, Calif.
The regular season had set up the possibility for a controversial BCS title game with one-loss Auburn on the outside looking in at unbeaten but less-tested Florida State and Ohio State, but Michigan State took the Buckeyes out of the conversation by winning the Big Ten championship game on Saturday.
Meanwhile, Auburn moved up to the second spot in the standings by outscoring Missouri 59-42 in the SEC championship game.
Now the title game is set: Florida State, the nation's only undefeated team, will face 12-1 Auburn, champion of the conference that has won the past seven national championships.
"We all complain about the BCS, but isn't it funny how often they get it right," Florida State coach Jimbo Fisher said.
The Buckeyes fell to No. 7 in the BCS standings but will still have the opportunity to play in a record 10th BCS bowl. Ohio State will face No. 12 Clemson in the Discover Orange Bowl.
December, 8, 2013
Dec 8
4:35
PM ET
ORLANDO, Fla. -- On Saturday, Jacksonville (Fla.) Trinity Christian won the FHSAA class 3A state championship game 34-7 over Clearwater Central Catholic.
Louisville wide receiver commit
Isaiah Ford
, had a big day with two touchdowns, but for the most part, Trinity was led by several talented junior prospects including two,
Kevin Toliver II
and
Jeffery Holland
, that are ranked in the top 10 of the ESPN Junior 300.
To continue reading this article you must be an Insider
December, 8, 2013
Dec 8
2:00
PM ET
Saturday was a big day for the ACC. Florida State will play for the national championship, marking the first time that will happen for a league school since 2000. This weekend was also a big one for the future of the conference, too, as recruiting is kicking into gear now that the regular season is over.
Noles assistant coach Tim Brewster, considered one of the nation's best recruiters, immediately took to Twitter following the win and let recruits know the coaches are hitting the road upon returning to Tallahassee. With the coaches focusing on the ACC title game, the FSU staff missed a week to be in the home and schools of recruits. Now, they have a week to work on closing out the 2014 class and gaining momentum in 2015 before the dead period, which begins next week.
To continue reading this article you must be an Insider
December, 8, 2013
Dec 8
12:52
PM ET
ESPN.com news services
Florida State finished the regular season as No. 1 in The Associated Press college football poll, and Auburn has reached No. 2.
The Seminoles and Tigers likely wrapped up spots in the BCS championship game by winning their conference title games Saturday night. The BCS bowl matchups will be revealed Sunday night (8:30 p.m. ET, ESPN).
Florida State received 56 first-place votes from the media panel. Auburn received the remaining four first-place votes.
Alabama is No. 3 in the last rankings until after the bowls. Michigan State jumped six spots to No. 4 after beating Ohio State for the Big Ten title.
No. 5 Stanford is the Pac-12 champion for the second straight season.
No. 6 Baylor won the Big 12 and Ohio State slipped to No. 7 after its first loss since the 2011 season.
The AP poll is not used in the formula that determines the BCS standings. The BCS is calculated by combining the averages of three factors: the USA Today coaches' poll, the Harris poll, and an average of six computer ratings. Each factor counts for one-third in the BCS calculations.
The coaches' poll had the same top four as the AP poll, while Baylor was No. 5, Ohio State sixth and Stanford seventh.
Florida State was an unanimous No. 1 selection in the coaches' poll.
Information from The Associated Press was used in this report.
December, 8, 2013
Dec 8
12:00
PM ET
All the bowl announcements will be made Sunday night. For now, we take our best guess at how it is all going to look. The only real question at this point centers on the Chick-fil-A Bowl and Russell Athletic Bowl. Miami and Duke are fighting for the spots in those games.

Given the lopsided score in the ACC title game, we still think Miami is going to Atlanta. But we could be very wrong. Miami versus Louisville in the Russell Athletic Bowl in Orlando, Fla., would be an intriguing matchup with great storylines, too. Tough decision to make here for the Chick-fil-A Bowl.

Vizio BCS National Championship, Jan. 6: Florida State
Discover Orange Bowl, Jan. 3: Clemson
Chick-fil-A Bowl, Dec. 31: Miami
Russell Athletic Bowl, Dec. 28: Duke
Hyundai Sun Bowl, Dec. 31: Virginia Tech
Belk Bowl, Dec. 28: North Carolina
Franklin American Mortgage Music City Bowl, Dec. 30: Georgia Tech
AdvoCare V100 Bowl, Dec. 31: Boston College
Military Bowl presented by Northrop Grumman, Dec. 27: Maryland

* - Pitt, Syracuse at-large.
December, 8, 2013
Dec 8
10:30
AM ET
ORLANDO, Fla. -- ESPN 300 defensive end
Chad Thomas
(Miami/Booker T. Washington), a Miami verbal commitment since July, ended his high school career on Saturday night with a 40-21 victory over Jacksonville (Fla.) Bolles in the FHSAA class 4A state championship game.
The 6-foo-5, 240 pound defender said after the game he will likely take all five of his official visits before signing day on Feb. 5.
The No. 70 prospect in the country, who was visited by Alabama offensive line coach Mario Cristobal this past week, said the Crimson Tide will get one of his visits next month.
To continue reading this article you must be an Insider
December, 8, 2013
Dec 8
10:00
AM ET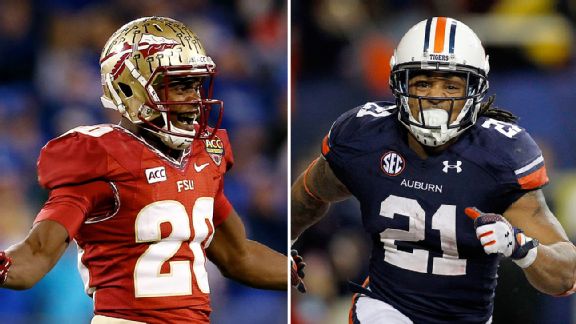 Getty ImagesAre Lamarcus Joyner and FSU's defense capable of shutting down Tre Mason and Auburn's offense?
The best team all season will meet the hottest team in the BCS National Championship.
It feels right, doesn't it? There will again be a dearth of controversy, as there often is when all the BCS dust settles. There might be heartache and heartburn along the way, but the right teams usually wind up playing.
The championship weekend Takeaways begin there, with a look at what to expect and who should be favored when Auburn and FSU play in January in Pasadena. (No, the matchup isn't official yet, but you can count on it.) Other Takeaway thoughts include taking a moment to appreciate the BCS era, a look at the team that could be Auburn or Mizzou next season, mulling the week ahead for Texas and more.
1. Auburn-FSU is the 'total' package
You have seen FSU's offensive dominance all season, including Saturday night's ACC championship game, in which Duke "pushed" the Seminoles in a 45-7 loss. Auburn just scored a combined 93 points and gained 841 rushing yards against then-No. 1 Alabama in the Iron Bowl last weekend and then-No. 5 Missouri in Saturday's SEC title game, teams with two of the better defenses in the conference all season.
Most Vegas books will have the line somewhere in the neighborhood of a touchdown in favor of Florida State. That makes sense to coax some action on the Tigers and because FSU has won its games by an average of 40 points.
The total, though, is what will intrigue me most because it indicates what sort of game is expected. Early word I received is that it will be somewhere between 60 and 65 points.
To continue reading this article you must be an Insider
December, 8, 2013
Dec 8
10:00
AM ET
Here's a look at three things we learned from the ACC championship game in no particular order:
[+] Enlarge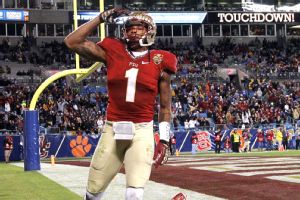 AP Photo/Bob LeveroneKelvin Benjamin's jersey number explains FSU's status before and after a rout in the ACC title game.
1. The No. 1 team in the country didn't slip, trip or even stumble:
The Noles can't control the computers or what happens in the rest of the country, but Florida State did its job and beat Duke 45-7 for the program's 14th ACC title. The ACC wasn't its own worst enemy, there wasn't any epic upset, and the magic ended for Duke, which means it hasn't quite ended yet for Florida State. For weeks, FSU has been projected to play in the BCS national championship game, and the Seminoles haven't done anything to derail their hopes. The final BCS standings and bowl pairings will be announced at 9 p.m. ET on Sunday, but Florida State hasn't given any reason to doubt it belongs in Pasadena.
2. Reality set in for Duke:
Duke knew it was the underdog going into this game, and it embraced that role, the whole time truly believing it could accomplish the unthinkable. Duke went to Charlotte not just happy to be there, but legitimately trying to win. The Blue Devils, though, were completely overmatched by the abundance of elite talent on Florida State's roster -- just as they were a year ago. Duke had no answer for Florida State's defense, which was all over quarterback
Anthony Boone
and pressured him into two interceptions and no touchdowns. Duke struggled on third downs (7-of-20), and couldn't capitalize on Florida State's three turnovers. The best team in the Coastal Division was once again no match for the ACC's top-ranked team.
3. Jameis Winston has put the off-field allegations behind him and still has Heisman hopes in front of him:
With last week's news that no charges would be filed against Winston for allegations of rape, Saturday's title game was the first time since mid-November that he played free of any off-field legal distractions. It was also the first time in four games that Heisman voters, whose ballots are due on Monday, had a chance to see Winston play knowing he would not be charged. While it wasn't a flawless performance (two interceptions), Winston still had remarkable numbers, throwing for 330 yards and three touchdowns, and running for another 59 yards and a touchdown. It was enough to earn game MVP honors. With a poor performance by NIU quarterback
Jordan Lynch
in a 47-27 loss to Bowling Green in the MAC championship, the Heisman race further narrowed. The only question remaining is how many Heisman voters will continue to question Winston's character. Saturday's performance against Duke, though, wasn't any reason to question his resume.
High-Powered Offenses In BCS Title Game