October, 22, 2014
Oct 22
4:15
PM ET
TALLAHASSEE, Fla. -- This season is uncharted waters for college football. With the inaugural playoff looming and the first committee rankings being released Tuesday, nobody is quite entirely sure how to accurately size up each team's résumé.
"But you got to fill the airwaves," said Jimbo Fisher, coach of No. 2 Florida State, with a laugh. "You got to have something to talk about."
Outside of whether the SEC will land two teams in the College Football Playoff, no topic has been as hotly discussed as whether Florida State, the preseason No. 1 and still undefeated, could survive a loss and still manage to earn a bid. The consensus is the Seminoles have little margin for error, but opinions differ on how slim Florida State's margin is.
Florida State's body of work has been held up to the light and examined for flaws more than other team. It's part of the double-edged sword that accompanies the title of reigning national champion and offseason favorite. While the Seminoles aren't perfect, their record still remains without a blemish, and there is something to be said for that.
[+] Enlarge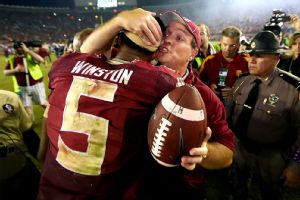 Streeter Lecka/Getty ImagesJimbo Fisher has seen plenty of improvement in his team as the weeks pass.
"Culture is so important because you find excuses to win and you do things in big moments, and this team does and is able to do that," he said.
That culture can't be quantified in numbers or accurately measured by computations, though, and several of those metrics have not produced favorable results. The Seminoles are No. 21 in game control, which measures how dominant a team is in each game; Mississippi State (1) and Ole Miss (4) are both in the top five. The Seminoles also rank seventh in the Football Power Index, behind one-loss teams Alabama, Auburn, Georgia and Ohio State. While the Seminoles have a 31 percent chance to finish undefeated, it's more of a reflection of their remaining schedule in an ACC bereft of playoff contenders. It should be noted they have already defeated Oklahoma State in a neutral-site game, Clemson without
Jameis Winston
and No. 7 Notre Dame.
"I don't listen to it. I don't want to lose, either," Fisher said. "This is a marathon. What you think of one team, what they thought a couple weeks ago they don't think now and maybe [in] three weeks they won't think what they think now. We're trying to put them in [the playoff] now, but let things sort itself out.
"There's a lot of ball to be played."
Whether Florida State begins No. 1 in the committee's rankings or somewhere below, Fisher likes where his team stands. It has not measured up to the 2013 team statistically, but Fisher harped all season that 2014 would be a different squad even if many of the players, including a Heisman Trophy winner, returned. He implored the public to throw away recent history when judging this team.
After the first four games, Fisher said he saw a team improving even if the rest of the country did not. Now, more than halfway through the season, he still sees a team poised to play its best football.
"I love our team. I really do. I like to coach it," he said. "It competes hard, plays well, gets better every week. We're continuing to get better and I think we'll continue to grow but I like where we're at."
Seemingly the two biggest concerns for the Seminoles, who enter their final bye this weekend, are the defense and the running game. Last season, the defense ranked first nationally in scoring and third in total defense. This season, under new coordinator Charles Kelly, the unit ranks 34th and 52nd, respectively, albeit without several of the star players that highlighted the defense in 2013.
In the fourth quarter against Notre Dame, though, the defense held the Irish to just 109 yards. They had eight sacks entering the game, but sacked
Everett Golson
three times.
The Seminoles have not run the ball effectively for much of the season, as the stable of running backs has struggled to replicate the productivity void left behind by 1,000-yard rusher Devonta Freeman. Against FBS competition, the Seminoles have yet to top 171 yards rushing.
With Winston at quarterback and the passing game clicking, Fisher believes he just needs a rushing attack that can complement the aerial assault and pick up yards in the game's tensest moments -- third downs, goal line and fourth quarters.
"We ran the ball very effectively when we had to run it in the second half, and I was proud of that, Fisher said. "… But we've got to get better. The balance as far as yards aren't [there], but we're making enough big plays in the passing game and we're running enough to [keep defenses] honest. But we're going to continue to run the football and we'll keep working on that."
Drawing Conclusions: Week 8
ACC SCOREBOARD
Thursday, 10/23
Saturday, 10/25