December, 13, 2013
Dec 13
9:00
AM ET
Jameis Winston, QB, Florida State
Key stats:
68 percent completions, 38 touchdown passes, 90.9 adjusted QBR
Why he made it to NYC:
Four months ago, Winston was a renowned recruit who had yet to win the starting job at Florida State. Now, he's on the brink of a national championship. The Seminoles' offense is talented, but former first-round draft pick EJ Manuel didn't find nearly the same success Winston has as a redshirt freshman. Winston set a school record with 38 touchdown passes, while adding four more on the ground. He leads the nation in adjusted QBR (90.9), yards per attempt (10.9) and rating (190.06). In his 13 career games, Winston has thrown for 300 yards seven times and accounted for at least four touchdowns six times. His totals are diminished some because he played every snap in just three of Florida State's games thanks to a bevy of blowout wins. Winston set the record for touchdowns and passing yards for both ACC quarterbacks and FBS freshman this season, and he has three receivers all within 75 yards of 1,000 on the year.
Heisman moment:
There's a wealth of options to choose from for Winston, so picking one isn't easy. He announced himself as a contender for the award in his debut, completing 25 of 27 passes against Pitt, accounting for five touchdowns. He unleashed a series of highlight-reel plays in the opening weeks of the season,
capped by a 55-yard touchdown pass
to
Kenny Shaw
while under pressure as time expired in the first half against Boston College. Winston played perhaps his best game on his biggest stage, throwing for 444 yards in a blowout of then No. 3 Clemson. And he wrapped up his season -- and the Seminoles' berth in the VIZIO BCS National Championship Game -- by throwing for 330 yards and racking up four touchdowns in a win over Duke in the ACC title game.
December, 13, 2013
Dec 13
5:30
AM ET
The Early Offer is RecruitingNation's regular feature, giving you a daily dose of recruiting in the mornings. Today's offerings: After a few days off, the Early Offer is back with news on Florida adding one of the best offensive linemen in the country; a road trip that takes fans inside the world of coaches on the road; and an avalanche of commitments from junior college prospects is coming in the next week.
Gators get their guy
It took a little bit longer than anticipated, but
Florida landed
highly coveted offensive lineman
David Sharpe
(Jacksonville, Fla./Providence) on Thursday. Sharpe, the No. 18 player in the country and second-ranked offensive tackle, pushed back a scheduled decision before Thanksgiving to Thursday, but in the end it was worth the wait for Florida fans.
To continue reading this article you must be an Insider
December, 12, 2013
Dec 12
9:25
PM ET
It is harder than ever for college football teams to play good defense. That's been apparent the last few years, as up-tempo and spread offenses have become commonplace, and some are among the most successful in the sport. (We're looking at you, Auburn and Baylor.)
Yes, up-tempo and spread offensive attacks have made some pretty good defenses look silly, in part because defenses are now on the field for a lot more plays each game. The FBS average is 71.9 plays per game, up from 67.7 per game five years ago. The NFL average is 65.
We (current and former defensive players) could complain about rule changes that give offenses a huge advantage (i.e., the frenzied pace that doesn't allow defenses to get set, or allowing offensive linemen to block downfield on screens and pass plays), but we don't make excuses. No, what we defenders must do is adapt -- and in turn, we analysts must change the way we evaluate defenses.
It is no longer good enough to look simply at points allowed (this never accounted for scores allowed by the offense or special teams) and yards allowed (this never accounted for yards allowed in a blowout game) to determine good defensive teams.
When I evaluate defenses, the objective factors I rely on most are points allowed per drive (FBS average is 1.97) and yards allowed per play (FBS average is 5.74). These statistics give a better view of how defenses are performing -- regardless of the number of plays they are on the field.
Almost all of my top 10 teams excel in these two areas, and I also factor in my own analysis, after covering games live and breaking down tape, to create this ranking. This subjective part of the ranking tells me which teams are disciplined, and which teams have difference-makers -- things you can't get from the statistics alone.
With those factors in mind, here is my ranking of the top 10 defenses of the 2013 season:
This was the top defense in the country by any measurement. Sparty had the No. 1 defense in yards allowed per play (3.94) and was third in points allowed per drive (0.93) -- and if you prefer the old-school stats, MSU dominated those, too. Additionally, Michigan State's D allowed the fewest rushing yards per game (80.5), fewest yards per rush (2.7) and fewest 10-yard runs (30) in the FBS.
To continue reading this article you must be an Insider
December, 12, 2013
Dec 12
6:34
PM ET
ESPN.com news services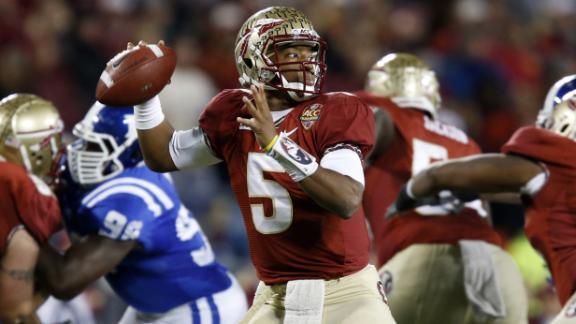 Florida State quarterback Jameis Winston was selected as the Walter Camp player of the year on Thursday, saying he was "overwhelmed" by the honor before later praising his team for the support it gave him during a trying month.
Winston had faced felony charges after being accused of sexually assaulting a female FSU student at an off-campus apartment on Dec. 7, 2012. But last week, state attorney Willie Meggs decided not to charge the Heisman Trophy favorite.
"I know I did nothing wrong," Winston said from the 23rd Home Depot College Football Awards in Lake Buena Vista, Fla.
"People just got to realize that my family, and the coaches, and Coach (Jimbo) Fisher, they just supported me through this whole process, and I just feel so loved by that -- you just don't understand just how much that means to me."
The redshirt freshman is the second player from Florida State to win the Walter Camp award, joining quarterback Charlie Ward in 1993. Former Notre Dame linebacker Manti Te'o won the Walter Camp last year.
The other finalists were Texas A&M quarterback Johnny Manziel, Northern Illinois quarterback Jordan Lynch, Alabama quarterback AJ McCarron and Boston College running back Andre Williams.
McCarron didn't go home empty-handed, beating out Manziel and Winston for the Maxwell Award as the nation's most outstanding player.
December, 12, 2013
Dec 12
2:00
PM ET
Jim Grobe is out at Wake Forest and Dave Clawson is in. How will that affect the Deacons' recruiting efforts?
Also, teams are making visits to prospects and the Canes are battling for two wide receivers.
To continue reading this article you must be an Insider
December, 12, 2013
Dec 12
1:00
PM ET
TALLAHASSEE, Fla. — They know the numbers, but none of Florida State's offensive playmakers wants to vouch for just how significant 1,000 would be.
The refrain was established even before the season, and it has been repeated again and again each time another Seminoles star gets within striking distance.
"I don't feel like anyone is really focusing on that," said
Rashad Greene
, Florida State's leading receiver with 981 yards. "We want that crystal ball. That's the goal, and individual stuff will take care of itself."
It's the same answer given by
Kenny Shaw
, now 71 receiving yards shy of 1,000.
It's the same answer given by
Kelvin Benjamin
, who needs 43 receiving yards to crack 1,000.
[+] Enlarge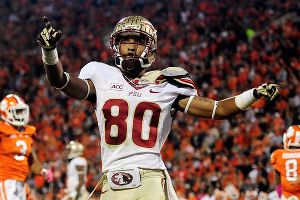 AP Photo/Richard ShiroRashad Greene is one of three FSU receivers who's less than 75 yards from the 1,000-yard mark this season.
It's the same answer given by
Devonta Freeman
, who can top 1,000 rushing yards with just 57 in the VIZIO BCS Championship Game.
And, of course, the national championship is exactly where their focus should be, but the proximity of all four players to that elusive mark is nothing to shrug off.
At Florida State, getting to 1,000 has been a remarkably rare accomplishment for anyone. In the school's history, only 12 players have reached that mark, and only once have multiple Seminoles cracked 1,000 in the same season.
For Freeman, getting to 1,000 would end the longest -- and one of the most inexplicable -- streaks in the country. No Florida State back has topped 1,000 yards since 1996 thanks to a confluence of injuries, depth, performance and bad luck. To end the streak in a national championship game would be a perfect conclusion.
"That would be great," Freeman said. "But we've got to win it. We've got to win, then get these 1,000 yards."
Freeman figured to have plenty of competition from his teammates in Florida State's backfield, but
Karlos Williams
(705 yards) was developed slowly after moving from safety in Week 2, and
James Wilder Jr
. (542 yards) was hobbled by injuries in the early season, opening the door just enough for Freeman to approach that elusive mark.
When the season began, the depth at receiver actually appeared to be a concern. Senior Greg Dent was suspended after being charged with sexual assault. Senior Willie Haulstead was ruled academically ineligible.
Jarred Haggins
suffered a preseason knee injury and was lost for the year, too. That left Florida State with just four veteran receivers, but the lack of depth actually proved to be a blessing.
The tight rotations meant Greene, Shaw and Benjamin were on the field more often, and for Benjamin in particular, that made a marked difference in his performance. In 2012, Benjamin withered down the stretch, but this season, his last two games have been his best. He has caught 14 passes for 331 yards and five touchdowns in his last two contests, pulling him into position to crack 1,000 yards, too.
Only once has Florida State had two receivers top 1,000 in a season -- 1995, when E.J. Green and Andre Cooper did it with a combined 9 yards to spare. That Florida State might have three this year would put the Seminoles' offense in rarefied company.
Only four other teams in college football history have had three 1,000-yard receivers in the same season. Three of those teams -- 2009 Houston, 2007 Hawaii and 2003 Texas Tech -- hardly offer apt comparisons. They combined to throw the ball on 69 percent of their plays. Florida State, meanwhile, has thrown just 46 percent of the time this season.
The 2007 Tulsa Golden Hurricanes are really the only good comparison to what Florida State has done on offense this year. They had a 50-50 split on play-calling, and they are the only team in the last 10 years to have four players top 1,000 yards in one season.
It's not a record that established Tulsa as an all-time great, of course. It's simply just an interesting bit of trivia. And that's why Florida State's mantra is so significant.
One thousand yards would mean something. Four players topping 1,000 would mean even more. But four 1,000-yard players sharing a national championship would assure the Seminoles of their place in history.
"To me, if it's in the context of winning and being successful, then it's a great accomplishment," Jimbo Fisher said. "Still, 1,000 yards is 1,000 yards, and that means a lot."
December, 12, 2013
Dec 12
12:00
PM ET
December, 12, 2013
Dec 12
5:30
AM ET
1. The Heisman Trust dictated that when we voted this year, we pledge not to reveal it to the media or our spouses or our bartenders. To which I say, control freak who? All right, have it your way. I read the police report regarding Florida State quarterback
Jameis Winston
, and I didn't like what I read about him. But I sighed, held my nose and cast my vote, and the guy I voted for is going to win. Whoever that might be.
2. The secrecy pledge is a study in chutzpah, asking media members that do nothing but beat the drum for the Heisman 12 months a year not to talk about their individual vote. The Heisman people also just shoved the pledge under the voter's nose as he/she cast the electronic ballot: sign this or else, pal. That's what bullies do. Oh yeah, my second-place vote went to a tattooed quarterback who didn't win a third national championship this year. And if you led the FBS in rushing, I might have voted you third.
3. I have tried very hard not to get sucked into the Nick-Saban-to-Texas vortex, because I think it's a case of Texas people saying what they want to hear, combined with Saban's agent, Jimmy Sexton, roiling the waters on behalf of his client. And did Texas really say that they want to hire a head coach who has won a Super Bowl or a BCS title? If nothing else, that shows a lack of imagination. How many coaches who have won either had done so before that team/school hired them? One: Saban.
December, 11, 2013
Dec 11
3:33
PM ET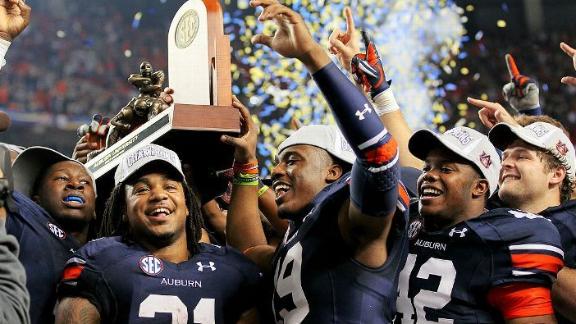 Mark Skiba's father was on vacation in Las Vegas last January when he looked at the future odds for Auburn to win the national championship: 500 to 1.
So he called he son, a Tigers fan who graduated from the school in 1998.
"I told my dad to put $100 on it," Skiba said. "And he said, 'You're crazy.'"
Thanks to an improbable 12-1 season, which included spectacular finishes against Georgia and in the Iron Bowl against Alabama, Skiba and a handful of others have a chance to make a lot of money on the Vizio BCS Championship Game.
Skiba, whose bet was placed at the Paris Hotel & Casino on the Vegas Strip, didn't even get the best odds.
The Las Vegas Hotel says it had 14 bettors who placed a bet on Auburn to win it all at 1,000-1 odds. A spokesman for Sportsbook.com said it had two bettors who threw down $100 at 1,000-1 odds.
By comparison, Florida State opened the season with 40-1 odds to win the national title. The top-ranked Seminoles (13-0) will face Auburn on Jan. 6 in Pasadena, Calif.
For most of the season, Mark Skiba's betting slip lived in a drawer in his Alabama home, but it almost found its way to the bottom of a trash can after the team lost to LSU in September.
"They lost by 14 and it could have been worse," Skiba said. "So I almost threw it out. As it turns out, I now have it in a safety deposit box."
December, 11, 2013
Dec 11
3:20
PM ET
Florida State quarterback
Jameis Winston
was voted the ACC Player of the Year, Offensive Player of the Year, Rookie of the Year and Offensive Rookie of the Year by the
ACC's head coaches
.

Coaches were not allowed to vote for their own players, and ballots were worth three points for each first-team, two points for second-team and one point for third-team selections.
Winston was one of three unanimous first-team selections to the All-ACC team (named on all 13 possible ballots). He was joined by national rushing leader and fellow Heisman finalist
Andre Williams
of Boston College and Clemson wide receiver
Sammy Watkins
, a finalist for the Biletnikoff Award.
Bronko Nagurski Trophy winner
Aaron Donald
of Pitt was voted the ACC Defensive Player of the Year. Duke's David Cutcliffe was voted the ACC Coach of the Year by his peers for the second straight season, and Virginia Tech cornerback
Kendall Fuller
picked up ACC Defensive Rookie of the Year honors.
2013 ACC Coaches All-ACC Football Team
(Voting points in Parentheses)
First Team
Offense
QB—Jameis Winston, Fr.-R, Florida State (39)
RB—Andre Williams, Sr., Boston College (39)
RB—Devonta Freeman, Jr., Florida State (28)
WR—Sammy Watkins, Jr., Clemson (39)
WR—Rashad Greene, Jr., Florida State (31)
WR—Jamison Crowder, Jr., Duke (31)
TE—Eric Ebron, Jr., North Carolina (38)
T—Cameron Erving, Jr.-R, Florida State (31)
T—Brandon Thomas, Sr.-R, Clemson (23)
G—Laken Tomlinson, Jr.-R, Duke (26)
G—Tre' Jackson, Jr., Florida State (23)
C—Bryan Stork, Sr.-R, Florida State (38)
Defense
DE—Vic Beasley, Jr., Clemson (35)
DE—Jeremiah Attaochu, Sr., Georgia Tech (29)
DT—Aaron Donald, Sr., Pitt (35)
DT—Timmy Jernigan, Jr., Florida State (33)
LB—Telvin Smith, Sr., Florida State (37)
LB—Denzel Perryman, Jr., Miami (30)
LB—Kevin Pierre-Louis, Sr., Boston College (28)
CB—Lamarcus Joyner, Sr., Florida State (38)
CB—Kyle Fuller, Sr., Virginia Tech (32)
S—Terrence Brooks, Sr., Florida State (33)
S—Anthony Harris, Jr., Virginia (22)
Special Teams
PK—Roberto Aguayo, Fr.-R, Florida State (28)
P—Pat O'Donnell, Sr.-R, Miami (31)
SP—Jamison Crowder, Jr., Duke (27)
December, 11, 2013
Dec 11
2:30
PM ET
Nick Saban's name is sure to come up in every high-profile coaching job that opens until he decides to retire.
That's just the nature of the business when you've had the kind of success Saban has had with four national championships in the last 11 years.
[+] Enlarge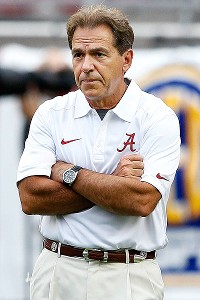 Kevin C. Cox/Getty ImagesAlabama coach Nick Saban has several protégés who are now head coaches, including Florida State's Jimbo Fisher, Florida's Will Muschamp and Michigan State's Mark Dantonio.
He won't be playing for a national title this season, but one of his protégés will -- Florida State's Jimbo Fisher.
In fact, it's been an eventful season all the way around for the Saban coaching tree.
Since we're all into power rankings this time of year, let's roll out the power rankings for the Saban coaching tree coming out of this season. In other words, those guys who have coached under Saban at some point in the college ranks and have gone on to be head coaches either in major college football or the NFL.
1. Jimbo Fisher, Florida State head coach:
We'll go with Fisher at No. 1 on this list since he has the No. 1 Seminoles unbeaten and headed to the VIZIO BCS National Championship game to face Auburn. It's their first trip to the national title game since the 2000 season. Fisher is a finalist for the Eddie Robinson Coach of the Year Award. His Seminoles have been dominant this season. They've won all 13 of their games by 14 or more points and 12 of their 13 games by 27 or more points. Fisher was Saban's offensive coordinator at LSU from 2000-04.
2. Mark Dantonio, Michigan State head coach:
Another finalist for the Eddie Robinson Coach of the Year Award, Dantonio has Michigan State in the Rose Bowl for the first time since the 1988 season and led the Spartans to a school-record 12 wins this season. This will be their seventh straight bowl appearance. Dantonio was Saban's secondary coach at Michigan State from 1995-99.
3. Jim McElwain, Colorado State head coach:
In his second season at Colorado State, McElwain has the Rams in a bowl game for the first time since the 2008 season. They will face Washington State in the New Mexico Bowl. McElwain was a part of two national championship teams at Alabama under Saban as the Crimson Tide's offensive coordinator from 2008-11.
4. Pat Shurmur, Philadelphia Eagles offensive coordinator:
Now in his first season with the Eagles, Shurmur was the Cleveland Browns head coach from 2011-12. He coached under Saban at Michigan State from 1995-97 as the Spartans' tight ends coach.
5. Josh McDaniels, New England Patriots offensive coordinator:
This is McDaniels' second season as the Patriots' offensive coordinator. He was the Denver Broncos' head coach from 2009-10 and was a graduate assistant under Saban at Michigan State in 1999.
6. Will Muschamp, Florida head coach:
After a breakthrough second season at Florida and a trip to the Sugar Bowl, Muschamp's Gators suffered through a dismal 4-8 season this year that was marred by a litany of injuries. It was Florida's first losing season since 1979. The Gators lost their last seven games, including a home loss to Georgia Southern. It goes without saying that Year No. 4 will be a critical one for Muschamp, whose Gators have struggled on offense. Muschamp coached under Saban at LSU as the linebackers coach in 2001 and defensive coordinator from 2002-04. He was also Saban's assistant head coach with the Miami Dolphins in 2005.
7. Derek Dooley, Dallas Cowboys receivers coach:
Now in his first season with the Cowboys, Dooley was the head coach at Tennessee from 2010-12. The Vols suffered through losing seasons all three years and managed just five SEC wins, leading to Dooley's firing. Dooley was the head coach at Louisiana Tech for three years prior to his stint at Tennessee. He coached under Saban at LSU from 2000-04 as tight ends coach and then running backs coach. From there, he went with Saban to the Miami Dolphins and coached tight ends before getting the Louisiana Tech head job in 2007.
December, 11, 2013
Dec 11
12:57
PM ET
By
Alok Pattani
| ESPN.com
Getty ImagesWhat teams would join Florida State and Auburn if there were a playoff this year?
If there were a four-team playoff this year, the current version of the
Championship Drive Ratings
would suggest that the four most deserving teams on résumé alone are
Stanford
,
Florida State
,
Auburn
and
Michigan State
.
Stanford is the highest-rated team in the current version of the Championship Drive Ratings on account of putting together a great performance against a top-five schedule. In the 10 years for which we have play-by-play data, no team with a schedule rated in the top five has done as well -- taking into account wins and average win probability -- as Stanford this year. An average FBS team would have won less than four games against Stanford's schedule and would have had an average in-game win probability well below the Cardinal's 72 percent.
If we are specifically interested in rating top teams' résumés (and we generally are), one potential modification to this method would be to look at things from a top-team perspective rather than an average-team viewpoint. So instead of looking at how an average team would do against these teams' schedules, how would a team at the 90th percentile -- such as
Clemson
this season -- do? The below chart helps answer this question.
The expectations rise against each of these team's schedules, obviously, but now Auburn's and Florida State's results look more impressive relative to schedule than Stanford's résumé. At the same time, going 11-2 against Stanford's schedule would have been harder even for a top team than going 12-1 against
Michigan State's
schedule or 11-1 against
Alabama's
slate.
If you want to go beyond pure résumé and look at how strong the teams actually are, take a look at the
Football Power Index
top five: Florida State,
Oregon
, Alabama, Stanford and
Baylor
. Auburn is eighth, and Michigan State is quite a bit lower.
There is no exact answer here, but if you combine the numbers above with the stated goals of the College Football Playoff committee to value strength of schedule and conference champions, it's pretty clear that Florida State, Auburn and Stanford -- yes, even with two losses -- should each earn a spot in the playoff. Each of those teams has a very solid résumé from either a top team or an average team perspective, and all three are rated strongly by FPI.
The fourth spot gets a bit trickier. From either the average team or top team perspective, Michigan State's résumé of wins and losses alone is about as impressive as Alabama's, and the Spartans have a conference championship that the Tide don't. On the other hand, FPI shows that Alabama is quite clearly the stronger team, so if you put the résumé criteria aside at that point and just pick the better team, Alabama would be the choice.
Jameis Winston On His Year Off The Field