December, 4, 2013
Dec 4
4:46
PM ET
ESPN.com news services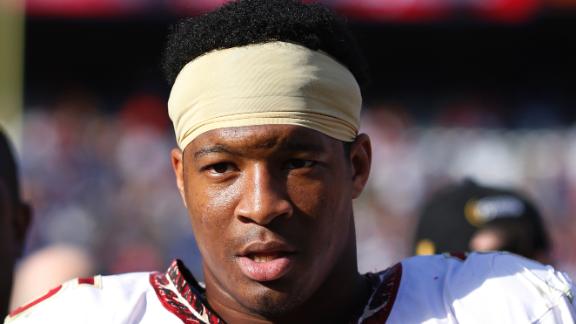 TALLAHASSEE, Fla. -- The prosecutor overseeing the investigation of sexual assault allegations against Florida State quarterback Jameis Winston said Wednesday his office is ready to deliver its findings.
State Attorney Willie Meggs has scheduled a news conference at 2 p.m. ET on Thursday in his office to make the announcement. Meggs said investigators have learned as much as they can about the December 2012 incident.
"We think we have exhausted all investigative tools," he said.
Winston, who was named the ACC Player of the Year on Wednesday, has led the Seminoles to the No. 1 ranking, and they will play for a conference title Saturday, with a shot at the national crown.
The quarterback also is the leading candidate for the Heisman Trophy, and many voters are waiting to see whether Winston will be charged with a crime before casting their ballots. The deadline for Heisman ballots to be turned in is Monday.
ESPN has previously reported that DNA belonging to Winston was found in the underwear of the accuser. A lawyer for Winston has suggested that the star quarterback and the accuser had consensual sex. But the family of the victim has accused the 19-year-old of rape.
Meggs has said he wanted to make sure prosecutors completed a thorough investigation before making a final decision. He has also said several times that it's up to prosecutors to determine whether there is a "reasonable" chance of conviction.
The fact that Meggs has scheduled a news conference -- as opposed to getting a warrant for Winston's arrest -- could be seen as a sign that he will not file charges.
December, 4, 2013
Dec 4
2:00
PM ET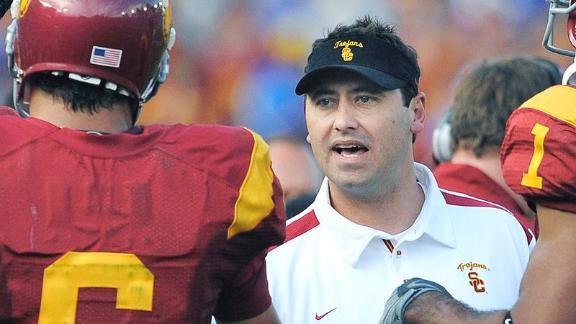 It's championship week in college football, and the ACC could have what is considered to be the most lopsided contest of the weekend. No. 1 Florida State and No. 20 Duke meet in Charlotte for the ACC title.

In a few more seasons, this game might not have a 29-point spread in favor of the Seminoles. Coach David Cutcliffe has the Blue Devils on the rise after leading them to their first double-digit win season in school history. Duke's ACC Championship Game appearance coupled with Cutcliffe's desire to finish his career in Durham has the Blue Devils poised to make a future splash in recruiting.
Before we take a look at the latest from the ACC, here's the most recent
class rankings
and
BCS conference class rankings
.
Trending up:
A successful season usually impacts the next cycle of recruiting more than the current one as a large number of BCS schools have at least half of their spots filled by December. So Duke's best season in school history should pay dividends in 2015 more so than 2014. After talking with several 2015 recruits from the state of North Carolina, many are looking at Duke more seriously. Three-star
Corey Bell
(Cornelius, N.C./Hough), who has offers from Duke, NC State and UNC, already has Duke as his No. 1 school. He won't be the last North Carolina prospect to place Duke at the top in the coming months. Cutcliffe has a lifetime contract at Duke essentially, and his job security is on the level of Urban Meyer and Nick Saban. He's not going anywhere. If the Blue Devils do not crack the top 40 in the class rankings in 2014, there is a very good chance it will happen in 2015.
To continue reading this article you must be an Insider
December, 4, 2013
Dec 4
1:28
PM ET
Florida State redshirt freshman quarterback
Jameis Winston
has been named the
ACC's 2013 Player of the Year
in a vote by the Atlantic Coast Sports Media Association (ACSMA). Winston becomes the first underclassman in the ACC's 61-year history to receive the award.
From the release:
Winston, a native of Bessemer, Ala., was the choice of 47 of the 65 ACSMA members casting ballots. Boston College running back
Andre Williams
placed second with 13 votes. Pitt defensive tackle
Aaron Donald
was named on four ballots, while Clemson quarterback
Tajh Boyd
, the 2012 ACC Player of the Year, received one vote.
Donald was voted the 2013 ACC Defensive Player of the Year, while Winston picked up the ACC Offensive Player of the Year award in addition to his overall honor.
December, 4, 2013
Dec 4
1:25
PM ET
When ESPN 300 wide receiver
Josh Malone
(Gallatin, Tenn./Station Camp)
verbally committed to Tennessee
on Wednesday afternoon, it didn't come as a surprise to many. After all, Malone is the top-ranked prospect in Tennessee and the Vols have placed a heavy emphasis on landing the talented pass-catcher.
Clemson, however, has been known to go out-of-state and land top receiver prospects such as
Sammy Watkins
. The Tigers might have lost out on Malone, but it's not like they were left empty-handed.
Clemson already has commitments from ESPN 300 wide receivers
Artavis Scott
(Tarpon Springs, Fla./East Lake) and
Demarre Kitt
(Tyrone, Ga./Sandy Creek), as well as
Kyrin Priester
(Snellville, Ga/Fork Union Military Academy).
The Tigers are also targeting another ESPN 300 prospect
Trevion Thompson
(Durham, N.C./Hillside) and they are considered, by many, to be the favorite for the talented pass-catcher.
In addition to Clemson, Malone was also heavily considering Georgia and Florida State before narrowing down his choices to Clemson and Tennessee late in the process.
For Georgia, the Bulldogs already have commitments from
Shakenneth Williams
(Macon, Ga./Rutland) and
Gilbert Johnson
(Homestead, Fla./Homestead) and they are limited on scholarships. Unless something changes on its recruiting board, Georgia might not take another receiver in this class.
Florida State, meanwhile, is still in heavy contention for ESPN 300 wide receiver
Travis Rudolph
(West Palm Beach, Fla./Cardinal Newman) and Florida commit
Ermon Lane
(Homestead, Fla./Homestead). If FSU continues to have success on the field and happens to win the national championship, the Seminoles will likely see new names appear on their board.
December, 4, 2013
Dec 4
1:12
PM ET
Associated Press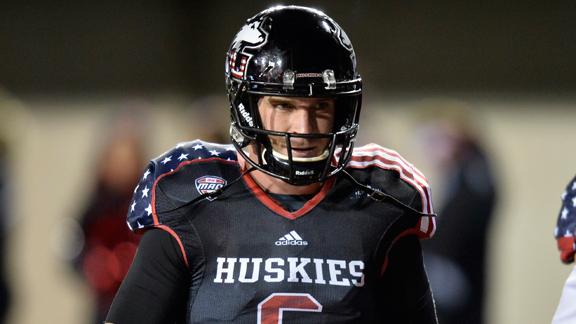 GREENSBORO, N.C. -- Florida State quarterback Jameis Winston has picked up two more individual awards from the Atlantic Coast Conference.
The ACC on Wednesday selected Winston as both its overall and offensive player of the year one day after he was picked as rookie of the year.
Pittsburgh defensive tackle Aaron Donald was voted the ACC's defensive player of the year.
Winston is the first redshirt freshman in the 61-year history of the league to win the overall award. He received 47 of 65 votes from members of the Atlantic Coast Sports Media Association. Boston College running back Andre Williams had 13 votes, and Donald had four.
Winston has led the Seminoles (12-0, 8-0) to the top spot in the BCS standings and a berth in Saturday's ACC title game opposite No. 20 Duke (10-2, 6-2). He is the first Florida State player to win the overall award since Heisman Trophy winner Chris Weinke in 2000.
He leads the nation with a 192.6 pass efficiency rating and a 91.9 Total QBR. Winston also is tops in the ACC with 3,490 passing yards and 35 touchdown throws, and he's emerged as a leading Heisman candidate despite being embroiled in a high-profile investigation into an alleged sexual assault last December.
December, 4, 2013
Dec 4
12:00
PM ET
R.I.P. to a lunchtime hero, as
one of the creators of the Doritos Locos Taco has died
. And if you've ever wondered how the idea came to be (possibly while chowing down on one at 2 a.m.),
it's actually an interesting story
.
A trio of Florida State receivers are
poised to make history
, writes the Tallahassee Democrat.
FSU backup quarterback Jacob Coker
earned a standing ovation
at Tuesday's practice -- the first he'd attended since knee surgery, writes the Orlando Sentinel.
A run of good health has
played a pivotal role
in Duke's dream season, writes the Raleigh News & Observer.
The Blue Devils say they're
ready to shock the world
in Saturday's ACC Championship Game, writes the Charlotte Observer.
The Winston-Salem Journal
sees plenty of parallels
between Wake Forest's all-time best coaches in football and basketball.
Clemson's Chad Morris is
being mentioned as a possible successor
to Jim Grobe at Wake Forest, writes The State.
The Hyundai Sun Bowl
looks like the logical destination
for Virginia Tech, writes the Roanoke Times.
Meanwhile, Kendall Fuller became the first Virginia Tech player to win ACC
defensive rookie-of-the-year honors
, writes the Richmond Times-Dispatch.
Boston College great Doug Flutie puts Auburn's shocking Iron Bowl win
into historic context
, writes the Boston Herald.
Miami will
open practice to the public
as it preps for bowl season, writes the Sun-Sentinel.
Syracuse is already
making its pitch for a bowl bid
in what could be an overcrowded ACC field, writes The Post-Standard.
Georgia Tech
looks to be the frontrunner
to land a transfer from Notre Dame, writes the Atlanta Journal-Constitution.
December, 4, 2013
Dec 4
9:34
AM ET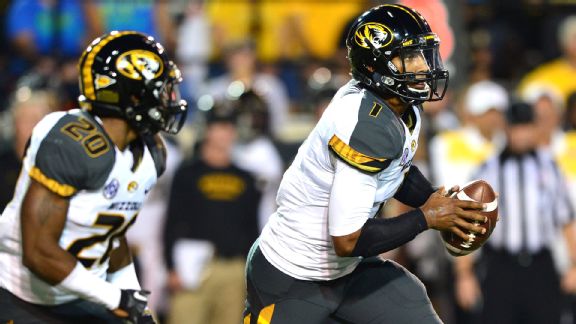 Don McPeak/USA TODAY SportsThe speed of QB James Franklin (right) and Mizzou's other offensive stars could give Auburn fits.
With many teams off this weekend, coaches could have a little more time than usual to take in the four conference championship games Saturday -- those in the ACC, SEC, Pac-12 and Big Ten.
Ahead of those four matchups, I got coaches who went up against the participating teams to share some of their insights about what we should expect this weekend, and mixed in a few of my own.
ACC: Florida State Seminoles versus Duke Blue Devils
Coach No. 1 on Duke: "They're one of the two or three best-coached teams in the conference. They know what they're doing. They're opportunistic on defense. They do a good job of taking away what you like to do, the run game or particular routes that you like in the passing game. Everyone talks about that, but they actually do it. The offense adjusts well on game days, too."
To continue reading this article you must be an Insider
December, 4, 2013
Dec 4
5:30
AM ET
The Early Offer is RecruitingNation's regular feature, giving you a daily dose of recruiting in the mornings. Today's offerings:
Josh Malone
, one of the nation's best receivers, will announce his decision today, so will he be singing Rocky Top, calling the Dawgs or heading to Clemson? In-home visits are taking place all over the country and social media is providing us with an inside look at life on the trail; and we're less than a week away from finding out where the top player in Pennsylvania will end up.
Will Rocky Top be home sweet home?
Four-star receiver Josh Malone, the nation's No. 48 player out of Gallatin (Tenn.) Station Camp, has already signed financial aid agreements with Tennessee, Georgia, Clemson and Florida State, but he will announce his decision at noon ET Wednesday on NBC Sports Network. The
RecruitingNation Hot Board
has Malone projected to select Tennessee. The Volunteers were smart and were the first to use the signing of the financial aid paperwork as a tool in the recruiting process. Because he was technically "signed" UT coaches were able to have regular contact with him. Shortly after, the three other schools followed suit.
To continue reading this article you must be an Insider
December, 3, 2013
Dec 3
4:30
PM ET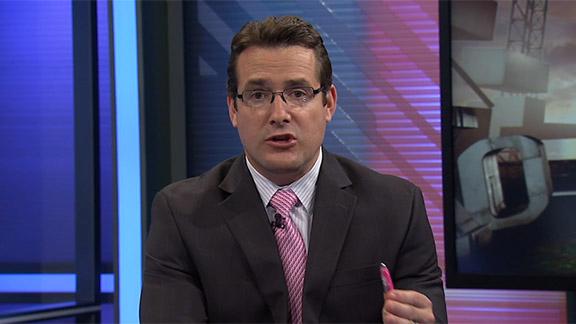 Recruiting junior college players is no longer a college football taboo, as even No. 1 Florida State has a handful of juco targets. Prospects from the juco ranks such as
Cam Newton
and
Terrence Cody
have helped programs to national championships over the last few seasons, so coaches are willing to go to juco programs to provide immediate help.
Here are the top five juco players in the
ESPN JC 50
being recruited by ACC teams.
1. OT Chad Mavety (Garden City, N.Y./Nassau)
The second-ranked tackle and No. 8 overall among juco recruits, Mavety is down to Florida State and Ohio State. Clearly Mavety is a player who could have an impact on the national title race next season as both the Seminoles and Buckeyes are poised to make another title run . Mavety visited both schools in November, and a decision should come soon. The offensive line is priority No. 1 for the Noles between now and signing day.
To continue reading this article you must be an Insider
December, 3, 2013
Dec 3
2:00
PM ET
TALLAHASSEE, Fla. -- It's sort of a running joke among the Florida State defensive backs. It's a confident group -- ranked No. 1 in the nation two years running -- so no one admits when they're overmatched, but they know covering
Kelvin Benjamin
is a tough job, and so they can't help but laugh when someone else tries to do it.
Lamarcus Joyner
, all 5-foot-8 of him, has battled Benjamin for jump balls in practice, but how many corners can combat a 6-foot-5 frame?
[+] Enlarge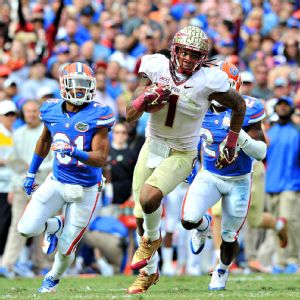 Steve Mitchell/USA TODAY SportsKelvin Benjamin's 12 touchdowns leads Florida State's receiving corps.
P.J. Williams
is tall enough to at least pose a threat on those plays, but then, he has to account for Benjamin's surprising burst of speed, too. How may 6-5 receivers get used on end-arounds, after all?
Terrence Brooks
plays with a unique blend of speed and physicality, but mixing it up with Benjamin isn't exactly fun. A receiver with size and quickness that still likes to hit, to block downfield -- how many players in the country do that?
"It's like it's easy for him," Brooks said. "I don't think they make him anymore in the factories."
This is how it's been since Benjamin arrived at Florida State in 2011, a physical freak of nature who performed such astonishing feats of athleticism and strength on the practice field that the accounts from teammates were often met with skepticism from those who hadn't seen it firsthand. But making it look easy was actually what made life hard for Benjamin.
His first year was a waste. He was overweight, unprepared and redshirted.
The 2012 season represented a big step forward, but still a disappointment. His focus wandered, and his production waned. He caught 30 balls, but he had just 52 receiving yards in the final five games of the season.
This season, however, Benjamin is blossoming into the player his teammates always knew he could be -- a monster few defensive backs are capable of taming.
"Anybody can make mistakes and have a season like [2012] and throw excuses out there," Benjamin said. "I felt like the season just improved me as a player."
Benjamin's improvements began in the weight room. He shed some excess pounds and got into the best shape of his life. He hit the film room, studying the playbook with renewed vigor, knowing a new quarterback was taking the reins of the offense, and he'd have a fresh start and a bigger role. He talked with
Rashad Greene
and
Kenny Shaw
, the veterans of the receiving corps, about finally showing the rest of the world what had so often been confined to the practice field.
"He's a lot more focused mentally than anything," Greene said. "He's always had the ability, the skill, the talent. But the way he's been locked in and just been all in for the team -- he can tell you, he's really focused compared to what he was last year. And it's showing all around."
It's helped, too, that Benjamin's role has increased dramatically.
A year ago, the receiving corps was deep -- a solid mix of veterans and younger players all eager for their share of throws. For Benjamin, however, there simply weren't enough footballs to go around. He'd be on the sideline for long stretches, then his head wasn't in the game when he took the field.
But this offseason, Florida State lost three seniors for the season before fall camp concluded, and that's meant a tight rotation on game days and plenty of throws for Greene, Shaw and Benjamin, who are now all within reach of 1,000 yards.
"A receiver wants to touch the ball as many times as you touch it in practice, and my first season, I wasn't doing that," Benjamin said. "I let that get to me, wanting the ball more and the rotation. This year, we stay on the field until we finish the game. It's just staying in there and having that feeling that consistently you're in the game and you're warm and can go out there and do it."
In last week's win over Florida, Benjamin was constantly in quarterback Jameis Winston's sights. He had a career-high nine catches for 212 yards and three touchdowns. It was the first time a Florida State receiver topped the 200-yard mark in 11 years. It was the eighth-best single-game total in school history, and Winston had predicted it earlier in the week.
"I said, 'KB, you are an unstoppable force. If you go out there and do what you're supposed to do, no one can cover you,'" Winston recalled after the win.
None of it comes as a surprise, of course. Just look at Benjamin, and it's always been obvious he would become a star. There simply aren't other receivers who do what he can do.
Duke corner
Ross Cockrell
said the key is to challenge Benjamin at the line of scrimmage, play physical with him. But really, Cockrell is grasping at straws. Benjamin has five inches and 50 pounds on the Duke corner.
"We'll be working all week on that answer," Duke coach David Cutcliffe said of defending Benjamin. "We don't have anybody that can line up and match up physically with him. He's just a monster and with great skills."
Benjamin has always been a monster, but after three years, Jimbo Fisher has finally convinced him to prepare as if he were a mere mortal. Now those skills are well refined, and Benjamin presents a matchup as perplexing for defenders as any in college football.
And that's when Florida State's own defensive backs can break character and admit, covering the monster can't be done. They know. They've tried.
"Seeing him go against other guys," Brooks said, "we sit there and laugh about it."
The Word: Florida State The New Dynasty?