July, 30, 2014
Jul 30
4:25
PM ET
ESPN.com news services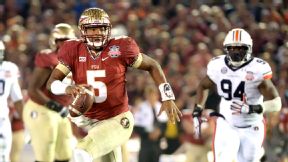 Kirby Lee/USA TODAY SportsAn officer confiscated a pellet gun possessed by Jameis Winston, left, and Chris Casher after the players complied with him during a 2012 off-campus stop.
TALLAHASSEE, Fla. -- Police say Heisman Trophy winner Jameis Winston and Florida State teammate Chris Casher were held at gunpoint by campus police nearly two years ago while hunting squirrels with a pellet gun.
Officer Anthony Gioannetti responded to a call and found the pair on a campus bike path with a long-barreled pistol. He drew his gun, pointed it at the players and shouted several times for them to get on the ground.
One of the players dropped the gun and Gioannetti kept his weapon draw until another officer handcuffed the players across the street from campus. The officers then determined the pistol was a pellet gun.
"They said they were shooting at squirrels along the bike trail," Gioannetti wrote in his report.
The gun was confiscated and the players were released with no charges.
The story was first reported Wednesday by USA Today.
Contacted after the report, Winston said, "Sorry sir, I'm not talking about that."
July, 30, 2014
Jul 30
2:40
PM ET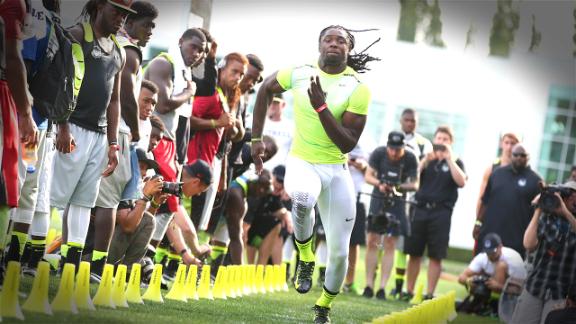 Josh Sweat
, the nation's No. 1 prospect, has lined up all five of his official visits. Sweat said he turned down more than 50 scholarship offers to focus on Florida State, Georgia, Ohio State, Oregon and Virginia Tech. He also said Texas A&M and Auburn are also still under consideration.
July, 30, 2014
Jul 30
12:00
PM ET
In the spring, Syracuse coach Scott Shafer said he was looking forward to seeing a new and improved Wayne Williams ready to tackle fall practice.
I'd say these
photos are proof
of that.
.
The picture on the left was taken in January, when Williams enrolled at Syracuse and weighed close to 350 pounds. The picture on the right is what he looks like now. Though Williams did not say how much weight he has dropped, it appears to be a significant amount.
A new and improved Williams indeed.
Why is this important? Williams' development
is a huge key
for a Syracuse defensive line that has to address major depth issues when practice begins Saturday. Syracuse has to replace tackle Jay Bromley, who led the team with 10 sacks and 14.5 tackles for loss last season. Williams was so out of shape in the spring, he could not really contribute in a meaningful way, and the Orange ended up cross-training ends to play inside to help make up for depth concerns.
An in-shape Williams changes the picture dramatically. Syracuse has been waiting on him for years now, a talented prospect who has been frustratingly out of reach. But now that it appears Williams has taken the necessary steps to get himself into playing shape, the Orange defensive front could end up surprising some people.
Now, here is a look at more headlines across the ACC:
July, 30, 2014
Jul 30
9:30
AM ET
In every class there are must-get recruits for schools. They can be a top uncommitted prospect or even a pledge who is essential to keep in the fold.
Here are the picks for the teams in the ACC, with the prospect's overall ranking.
To continue reading this article you must be an Insider
July, 30, 2014
Jul 30
9:00
AM ET
As we get set to open fall camps around the ACC, we're counting down the
conference's Top 25 players
-- five per day all this week.
15. Anthony Harris, Virginia Cavaliers
Safety, senior
His junior stats speak for themselves, leading the nation with eight interceptions. Even more impressive is he picked off an opposing quarterback in five straight games, an even tougher feat considering Virginia spent much of last season on the wrong end of a blowout. The unquestioned leader of the Cavaliers defense, Harris will have to repeat his performance from last season as well as raise his teammates' level of play if Virginia is going to return to bowl eligibility. Harris also will be saddled with grooming
Quin Blanding
, a five-star freshman.
14. Tyler Boyd, Pittsburgh Panthers
Wide receiver, sophomore
With
Aaron Donald
,
Tom Savage
and
Devin Street
all moved on, Boyd is the face of the program. The second-year player is the lone Panthers representative on the team's media guide. He totaled nearly 1,200 receiving yards last season, but don't be surprised if those numbers increase. He is the only proven receiving target, and first-year starter
Chad Voytik
will need a security blanket. Boyd is one of the most explosive players in the conference, and he could easily lead the ACC in catches and yards this season.
13. Ryan Switzer, North Carolina Tar Heels
Wide receiver/punt returner, sophomore
It speaks volumes about a player's game-breaking ability when he ranks No. 13 on the list following a season with just 32 catches and 341 yards receiving. But Switzer earns the accolades considering how dynamic he is on special teams. He returned 25 punts last season and he took five back for touchdowns, tying an NCAA record. Scoring on 20 percent of your punt returns is an unheard of number.
Chad Owens
, who shares the record with Switzer, needed 36 returns.
Devin Hester
scored on less than 10 percent of his returns when he broke the NFL record with four punt return scores in 2007.
12. Mario Edwards Jr., Florida State Seminoles
Defensive lineman, junior
The best indicator on Edwards' junior season will be analyzing the statistics of those around the former No. 1 recruit nationally. The Seminoles' scheme won't consistently put Edwards in a position to rack up sacks or tackles for loss, but he will be the focal point of a defensive line filled with blue-chip prospects. Edwards will be asked to take on double-teams to open up room for his fellow linemen and to allow Florida State's athletic linebackers to run freely toward the football. On the occasions Edwards doesn't command a double-team, it could be a repeat of the national championship game when Edwards, listed at 294 pounds, was running down Auburn's
Nick Marshall
.
11. Kendall Fuller, Virginia Tech Hokies
Cornerback, sophomore
A preseason All-ACC selection, Fuller is poised to not just follow in brother Kyle's footsteps but to surpass him. The 2013 ACC Defensive Rookie of the Year, Fuller has the tools to be the next elite defensive back to come through Blacksburg. He played in every game last season and picked off six passes. Fuller is also a factor in defending the run, totaling 58 tackles. At nearly 200 pounds, Fuller is rarely going to get bullied by opposing receivers.
July, 30, 2014
Jul 30
8:30
AM ET
ESPN College GameDay will be in the Metroplex during the opening weekend of the college football season for the Cowboys Classic at AT&T Stadium in Arlington, Texas, between Oklahoma State and Florida State.
It's Official! GameDay will be LIVE from Sundance Square for #FSUvsOKST! #GetUp4GameDay pic.twitter.com/HrkIIWstxF

— College GameDay (@CollegeGameDay) July 30, 2014
The GameDay set will broadcast from the Sundance Square Plaza in downtown Fort Worth.
The Cowboys were host to GameDay last season when they played Baylor in Stillwater. Oklahoma State won that game, 49-17.
July, 29, 2014
Jul 29
9:30
AM ET
The ESPN 300 for the Class of 2015 has been updated with the 2014 season in clear sight. With the prestigious list updated and the helmets and pads just days away, RecruitingNation takes a look at five things to know for the ACC.
To continue reading this article you must be an Insider
July, 29, 2014
Jul 29
9:00
AM ET
As we get set to open fall camps around the ACC, we're counting down the conference's top players -- five per day all this week.
20. Kelby Brown, Duke Blue Devils
Position:
Linebacker
Year:
Redshirt senior
Brown has been an integral piece to Duke's turnaround, bouncing back from a knee injury to record 114 tackles last season. He is one of three returning 100-tackle players on the Blue Devils' defense in 2014, and he will start for a fourth time in five years. Brown should also provide a boost to the pass rush, having made 11 stops behind the line of scrimmage in 2013.
19. Jalen Ramsey, Florida State Seminoles
Position:
Defensive back
Year:
Sophomore
Ramsey has already made his mark on what should be another outstanding secondary, as the former five-star recruit earned freshman All-America honors last season as a 14-game starter. He is the first FSU corner to start as a true freshman since Deion Sanders did in 1985. Ramsey thrived again this spring, as he was one of three players to earn the Seminoles' Hinesman Award (spring standout). Ramsey now steps into the role formerly held by
Lamarcus Joyner
, the anchor of last season's secondary, which led the nation in pass defense.
18. Nick O'Leary, Florida State
Position:
Tight end
Year:
Senior
O'Leary returns for his senior season as one of
Jameis Winston
's top targets, as FSU searches for answers at receiver behind
Rashad Greene
. O'Leary enters 2014 as arguably the nation's top tight end, this after a 2013 campaign that saw him haul in 33 receptions for 577 yards and seven touchdowns. He is back to 100 percent after missing the end of the spring following a motorcycle accident. And, in case you haven't heard, he comes from good lineage: His grandfather is golf legend Jack Nicklaus.
17. Karlos Williams, Florida State
Position:
Running back
Year:
Senior
Williams entered FSU as a five-star prospect at safety. He moved to running back last year and did not disappoint, finishing second on the team in rushing, with 730 yards. He scored 11 touchdowns and averaged 8.0 yards per carry. He helped turned the momentum of the BCS title game by converting a fake punt in the second quarter. Now Williams is the top man in the backfield for the Seminoles, and the possibilities seem endless for an athlete who finally has a full year of playing the position under his belt.
16. Kevin Parks, Virginia Cavaliers
Position:
Running back
Year:
Redshirt senior
Parks was one of the more overlooked players in the ACC last season, a byproduct of Virginia's winless conference campaign. Still, the Salisbury, North Carolina, native became the first Cavalier to rush for 1,000 yards since Alvin Pearman in 2004, tallying 1,031 yards and 11 touchdowns. Listed at a generous 5-foot-8, Parks did plenty of speed training this offseason in hopes of making more explosive plays. He will be the leader of a crowded backfield that should help take pressure off new quarterback
Greyson Lambert
.
July, 28, 2014
Jul 28
3:50
PM ET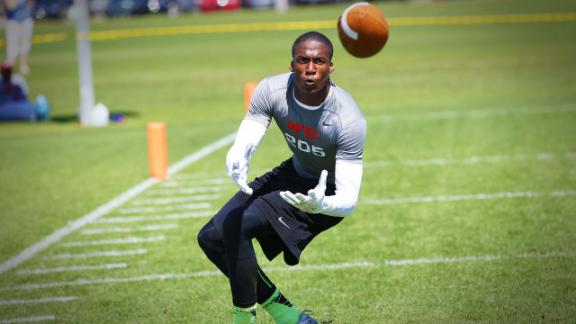 Five-star athlete
George Campbell
, a former Michigan recruit, has seen his recruitment skyrocket after backing off his pledge to the Wolverines back in December. Now, the No. 10-ranked prospect has decided to narrow his choices of colleges to 10.
To continue reading this article you must be an Insider
July, 28, 2014
Jul 28
2:00
PM ET
Notre Dame begins its football scheduling and bowl arrangement with the ACC this season, and hopes are high the Irish will help the league across the board -- especially when it comes to strength of schedule.
But will the Irish end up helping or hurting? ACC reporters Andrea Adelson and Matt Fortuna debate.
Andrea says: Jury is out on the Irish.
Imagine this scenario playing out: Oct. 18, Doak Campbell Stadium. Notre Dame and Florida State, putting together an instant classic. The Irish have the Seminoles on the ropes, threatening their perch atop the college football rankings.
[+] Enlarge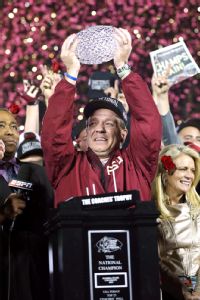 Matthew Emmons/USA TODAY SportsAdding Notre Dame to the schedule makes Florida State's task of repeating as champs that much more daunting.
These two programs have played their fair share of nail-biters. This one would join the list, after Notre Dame kicks a last-second field goal to take down the defending national champions. The loss ends up ruining Florida State's chances of repeating.
Think having Notre Dame as a quasi-partner would go over well in that nightmare scenario?
Not exactly. And while hypotheticals are generally a meaningless exercise, in this case they cannot be ignored. Because we really have no idea what the addition of Notre Dame will do to the ACC this year. The Irish could help, or just as likely, they could hurt the league.
Florida State is but one example, though it is the most important. The Seminoles are playing a much more difficult schedule than a year ago. Not only do they have a neutral-site game against Oklahoma State, they have to play rival Florida, expected to be improved.
Two difficult nonconference games against power-five opponents is challenging enough. Adding Notre Dame into the mix gives Florida State the toughest nonconference slate in the ACC AND the toughest nonconference slate among the other teams expected to be ranked in the preseason Top 5.
Nobody else has to play two power-five opponents and Notre Dame. Alabama, Oregon, Oklahoma and Auburn play one power-five opponent each. Notre Dame is not on their respective schedules.
Notre Dame is expected to be a preseason Top 25 team, so that means the Irish certainly have the capability of pulling an upset. And the placement of that game on the schedule is not exactly ideal. After a bye, Florida State has to travel to Louisville for a Thursday night game, the toughest two-game stretch on the schedule.
Now, it is well within the realm of possibility that a one-loss Florida State would make it into the playoffs, but nobody even knows how the committee is going to start evaluating candidates. Nothing can be accepted as a given.
Then there is the bowl partnership between Notre Dame and the ACC. Say Florida State is out of the playoff and into the Discover Orange Bowl. Say the Irish and Clemson finish with the same record. Well, the Russell Athletic or Capital One Bowls would be well within their rights to take Notre Dame over Clemson. Can't imagine that would go over very well, either.
There's no doubt the partnership looks good on paper. But there may be a time it backfires.
Matt says: The Irish will be a huge plus.
Notre Dame football's affiliation with the ACC moving forward is far from a one-sided affair. Yes, the Irish do get to expand their schedule after finding a safe (and natural) home for their other sports. And yes, the Irish do gain access to a ton of postseason opportunities that simply did not exist for them when they were entirely independent. But the school and the conference are now friends with benefits, and that means that the ACC receives some perks from this relationship as well.
[+] Enlarge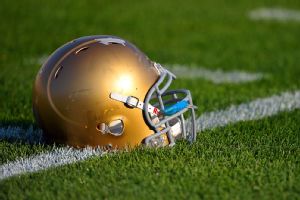 Matt Cashore/USA TODAY SportsNotre Dame's partnership with the ACC has already boosted the conference's profile.
For one, Notre Dame is a sudden boost to the league's schedule strength. Getting the Irish once every three years on their slates undoubtedly alleviates some of the stress that conference athletic directors are under to fulfill league requirements each year. And, in years in which ACC schools host Notre Dame, the home team is almost guaranteed to sell out its stadium for that contest, along with gaining the priceless exposure that comes with hosting a prime-time, nationally televised contest. (And when Notre Dame comes to town, sure as you're born, the game will be under the lights. The Irish have not played a road matinee since 2011, at Pitt.) On top of that, the opportunities could be there for one fewer road game, if not exactly an extra home one. Look no further than next year's clash with Boston College, scheduled for Nov. 21, 2015 at Boston's Fenway Park. That is an Irish home game, as the program takes one of its games off-site each year as part of the "Shamrock Series." So it is one fewer road trip for the Eagles next year, and it is possible that others in the ACC could find themselves in similar situations in 2017 and beyond. The Irish "hosted" former league member Maryland in Landover for their 2011 Shamrock Series contest game as well.
Let's not overlook what the semi-addition of Notre Dame has already done for the league's exposure, either. As part of Notre Dame's ACC agreement, the Irish can take an ACC team's place in a non-access bowl if their record is better than, equal to or within one win of the ACC team -- or if the Irish are ranked higher. The Irish would share in the revenues of the non-access bowl. And, well, what do you know? The ACC bowl lineup that starts this year -- the same year that the Irish begin their football partnership with the league -- is deeper and better than before, with the Capital One Bowl and New Era Pinstripe Bowl among the league's new 13 postseason partners. Some coincidence.
Sure, Notre Dame could upset an expected national title contender like Florida State this year and potentially ruin the league's chance at reaching the four-team College Football Playoff, but "potentially" is the key word there. The Seminoles have, after all, opened as 24-point favorites over the Irish, so there really shouldn't be much to worry about. And heck, it's not like Notre Dame hasn't beaten FSU when it supposedly mattered before, only to see the Noles crowned as national champions later. (Lest we forget about the '93 Game of the Century.)
And if the Irish were to win in Tallahassee? Well, chances are they would be having a really good season then. Playoff good. Which would mean one less spot in the ACC bowl lineup for them to take from a team with the same or better record. And, perhaps, give the ACC an even stronger presence in the playoff, which is
supposed
to reward strength of schedule, meaning a 12-1 FSU team with nonconference wins over Oklahoma State and Florida would, theoretically, still have a very strong case.
A case strengthened by Notre Dame.
July, 28, 2014
Jul 28
1:00
PM ET
The ACC has produced incredible talent over the last decade, with 353 players drafted into the NFL since 2005.
So it should come as no surprise the league is well represented in our countdown of
the Top 100 players in college football
.
Seventeen ACC players made the list -- 11 from Florida State. There is no question Florida State has one of the most talented teams in the country, perhaps the most talented team.
Ten of those 11 players made our ACC Top 25 player countdown, though the order is slightly different.
Clemson, Miami, Louisville, Duke and Pitt also have players represented in the Top 100.
July, 28, 2014
Jul 28
12:00
PM ET
It was an ugly year for Pitt's offensive line in 2013 by virtually any measure.
No line in the ACC allowed more sacks than the 43 coughed up by the Panthers.
The 3.62 yards per rush for Pitt's ground game ranked 12th in the conference, despite two 700-yard rushers on the roster.
Against AQ-conference teams, the Panthers mustered just 2.35 yards per carry -- a league worst.
But there is plenty of optimism that things will be better for Pitt in 2014, and one of the reasons for that optimism is that
Pitt will be bigger
.
Per the Pittsburgh Tribune:
When training camp opens next Sunday, Pitt's offensive linemen will stand, on average, taller than 6-foot-5 and weigh 311.4 pounds. That's not unlike how it was in 2011 when former coach Todd Graham's line stood at 6-5 and 313 pounds. But it's a half-inch taller and more than 16 pounds heavier than in Dave Wannstedt's final season in 2010.
Obviously there's a lot more than goes into a successful O line than simply height and weight, and as the Tribune notes in its story, Paul Chryst will pick his starters based on ability, not size. But bulking up in the trenches is generally a sign of good things to come.
Take, for example, what Jimbo Fisher built at Florida State. As the Tallahassee Democrat noted this week,
expectations are immensely high
for FSU's senior-laden offensive line, which features four returning starters.
But take a look at 2011. FSU's O line returned plenty of starters then, too, but the group was simply awful. Injuries played a part, sure, but what Fisher learned early on was that the Seminoles simply didn't have the bodies up front for his offense to run as efficiently as he wanted.
For the 2011 opener, FSU's line averaged about 308 pounds. The interior of the line (a young Bryan Stork, David Spurlock and Jacob Fahrenkrug) averaged about 302 pounds. The expected line for the opener in 2014 checks in averaging 315 pounds with the interior group (
Austin Barron
,
Tre' JacksonJosue Matias
) in the neighborhood of 316.
The results for Florida State:
2011:
3.34 yards-per-carry (9th in ACC), 40 sacks
2012:
5.62 yards-per-carry (1st), 26 sacks
2013:
5.63 yards-per-carry (1st), 33 sacks
There's no question there has been a significant upgrade in talent -- Barron, Jackson and Matias were part of the freshman-heavy line that started 2011's bowl game -- but there was a clear upgrade in size, too.
And make no mistake, there is talent on Pitt's O line.
Adam Bisnowaty
and
Dorian Johnson
were both four-star recruits.
Matt Rotheram
is an All-ACC caliber player. There's depth with the likes of
Jaryd Jones-Smith
.
But there's also size for Pitt's line, which now -- from a physical standpoint anyway -- measures up favorably against the best of the ACC.
Left tackle:
Pitt (Bisnowaty, 6-6/305); FSU (
Cam Erving
, 6-6/308)
Left guard:
Pitt (Johnson, 6-5/300); FSU (Matias, 6-6/325)
Center:
Pitt (
Artie Rowell
, 6-2/315); FSU (Barron, 6-3/293)
Right guard:
Pitt (Rotheram, 6-6/335); FSU (Jackson, 6-4/330)
Right tackle:
Pitt (
T.J. Clemmings
, 6-6/315); FSU (
Bobby Hart
, 6-4/320)
Average:
Pitt (6-5/314); FSU (6-4.5/315)
On to more links …
Is Josh Sweat The Next Jadeveon Clowney?
ACC SCOREBOARD
Thursday, 8/28
Friday, 8/29
Saturday, 8/30
Monday, 9/1