Watch: UA combine (WR vs. DB)
January, 9, 2013
1/09/13
9:33
AM ET
By
RecruitingNation staff
| ESPN.com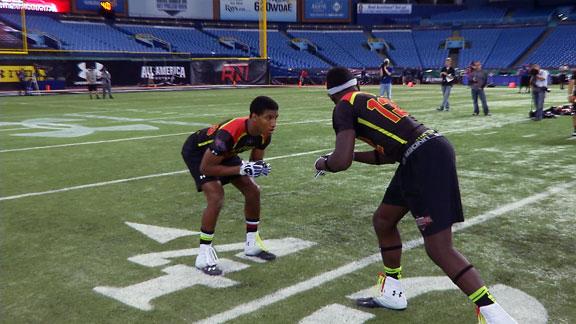 Wide receiver vs. defensive back one-on-one matchups from the Jan. 4 Under Armour Combine held at Tropicana Field in St. Petersburg, Fla. The combine featured many of the nation's top 2014 and 2015 prospects.
Under Armour All-America Arrival Recap
Recruiting reporters Derek Tyson and Tom VanHaaren break down top storylines from the player arrival day at the Under Armour All-America Game.
Under Armour All-America Arrival Recap
VIDEO PLAYLIST
FSU FB RECRUITING SCORECARD
nfl

NFL


"Watt's 2014 season is the most dominant we have EVER seen by a defensive lineman." http://t.co/u08mXf5AX7 http://t.co/kX1xJsNiDl
about 2 hours ago

DeionSanders

DeionSanders


How could you ever expect what you're not willing to give?! #Truth
about 3 hours ago

DeionSanders

DeionSanders


Thank u JESUS for letting me live life today and Glorify your name. I don't deserve it but u allowed me to anyway. #Truth
about 3 hours ago

marlon_humphrey

Fruit PUNCH


I love my new bowl gift! Shoutout to the Sugar Bowl! http://t.co/OVoWJJIROz
about 5 hours ago

Seminoles_com

Seminoles Athletics


Senior Editor, @Tim_Linafelt looks into the bond between WR Rashad Greene and Coach Dawsey. http://t.co/Ra2or6cXLa http://t.co/2TcyyQFYsA
about 5 hours ago

Noles247

Noles247.com


#Oregon's defenders talk about playing against Jameis Winston http://t.co/kSMwUiRMkJ via @Noles247
about 5 hours ago

Noles247

Noles247.com


5-Star Terry Beckner Jr. details the latest in his recruitment http://t.co/7KbbkNDpch via @Noles247
about 6 hours ago

Warchant

Warchant.com


Day 2 pre-Rose Bowl podcast is up. Latest on #FSU's preparations for Oregon in @rosebowlgame https://t.co/MGHi4DcDas http://t.co/cpkYbFiv2b
about 6 hours ago

Warchant

Warchant.com


WR George Campbell is no longer chasing a fifth star as his recruitment nears its end: https://t.co/RjRrJcrjzt ($) http://t.co/NNo3uDOhj4
about 7 hours ago

Noles247

Noles247.com


Rashad Greene: 'I want to be remembered as a legend' http://t.co/YmZKisYUVJ via @Noles247
about 8 hours ago

Warchant

Warchant.com


50 photos from #FSU's Sunday pre-Rose Bowl practice ($). https://t.co/His4nV4t3e http://t.co/g1aAZHkaUU
about 8 hours ago

DeionSanders

DeionSanders


The Atlanta Falcons didn't show up for a home game with the playoffs riding on it. Wow. #Truth
about 8 hours ago

CoachUno1

Courtney Williams


@DeionSanders said in September that Harbaugh was done in SF everbody called him crazy.. #DontKillTheMessenger #HOP
about 8 hours ago

BrianBShynin

HitBreakKid CoShyned


lol Reporters saying now what @DeionSanders said like three months ago.
about 8 hours ago

PrimeWebDesign

Jeff Bellamy


@49ers fans that were tossing hate at Prime, direct your apologies to him at @DeionSanders http://t.co/ZztJIkuRp4 #49ers #HarbaughToMichigan
about 8 hours ago

ESPN_ACC

ESPN ACC


Byron Cowart's decision will come down to three schools http://t.co/k7LwU7tynB
about 9 hours ago

Noles247

Noles247.com


#FSU co-offensive coordinators talk about a few of the offensive stars for the #Seminoles http://t.co/1RrTsm1fqq via @Noles247
about 9 hours ago

DerekTysonESPN

Derek Tyson


De'Andre' Johnson @dredadon14 giving a shout out to the fans. #Noles https://t.co/KahHoFisOm
about 9 hours ago

Noles247

Noles247.com


News and notes from #FSU's practice today http://t.co/B4laoWBaMB via @Noles247
about 9 hours ago

Noles247

Noles247.com


Updates with every #FSU commit and target at #ArmyBowl can be found here: http://t.co/NB7DyLQF6S via @Noles247
about 9 hours ago

Noles247

Noles247.com


Calvin Brewton recruiting for #FSU at #ArmyBowl http://t.co/9UM5Xs4W8T via @Noles247
about 9 hours ago

Noles247

Noles247.com


Can Texas & Maryland get back in it with Kai Locksley? http://t.co/Xi0GxNtd5a via @Noles247
about 9 hours ago

Seminoles_com

Seminoles Athletics


RT @NolesTV: @LayneHerdt @Tim_Linafelt & @JSchillace break down the day that was at the #RoseBowl WATCH: http://t.co/mv0SbHntow
about 9 hours ago

Warchant

Warchant.com


Informative interview with co-OC & QB coach Randy Sanders on Winston & #FSU offense.($) https://t.co/pif5VgAyai http://t.co/XtqAQtwhnC
about 10 hours ago

Noles247

Noles247.com


From #ArmyBowl check-in: Sh'mar Kilby-Lane will see two in January http://t.co/2OTaVUQaOc via @Noles247
about 10 hours ago

Noles247

Noles247.com


From #ArmyBowl check-in: Neville Gallimore set to announce decision http://t.co/iIM5wIFbk5 via @Noles247
about 10 hours ago

IraSchoffel

Ira Schoffel


Solid Jameis Winston quote today: "Dalvin Cook is tremendous. We get that guy the ball 40 times a game, he'd have Melvin Gordon numbers."
about 10 hours ago

TomahawkNation

TomahawkNation.com


Florida State football video practice report http://t.co/XNVxaRYFL8 http://t.co/I7yZ2XwoRw
about 10 hours ago

_DCReeves

D.C. Reeves


Still Christmas time at the Roosevelt Hotel. http://t.co/pgJi5eJ1t1
about 10 hours ago

TomahawkNation

TomahawkNation.com


.@malik_henry16 takes in #Noles practice #FSU http://t.co/QvuGdzOE1D http://t.co/4shyyJNvwJ
about 10 hours ago

Noles247

Noles247.com


5-Star Iman Marshall goes in-depth about #FSU http://t.co/aUV5DxUd1t via @Noles247
about 10 hours ago

Warchant

Warchant.com


Fisher talks #FSU, injuries, R. Greene, Winson & more following Sunday's practice. https://t.co/hKtxuSTcsZ http://t.co/4QmT6qoT83
about 10 hours ago

Noles247

Noles247.com


Kris Boyd talks change of plans; #FSU http://t.co/PM2DtOsTsP via @Noles247
about 10 hours ago

RivalsCamp

Rivals Camp Series


Intense Madden matchup between #FSU commits Jacques Patrick & Derwin James #UAAllAmerica #Noles https://t.co/JZta0UskFD
about 10 hours ago

Noles247

Noles247.com


Byron Cowart wants to play with other great players http://t.co/gXNcBSR0Up via @Noles247
about 11 hours ago

ESPN_ACC

ESPN ACC


Florida making run at FSU QB commit http://t.co/4SVt9cYrvQ
about 11 hours ago

NolesTV

NolesTV


#Noles held practice inside the StubHub Center in California. Go inside @FSU_Football practice. http://t.co/3NtirOERcz
about 11 hours ago

Noles247

Noles247.com


#FSU 2016 QB commitment watches the #Seminoles prepare in California today http://t.co/FMHL6Xr0e8 via @Noles247 http://t.co/QdAedApz3t
about 11 hours ago

adidasFballUS

adidas Football US


Remember my name, I'll be shutting down your favorite wideout for the next decade.@Tee_Time24#ArmyBowl #teamadidas http://t.co/7DL1Fdewwg
about 11 hours ago

Noles247

Noles247.com


#FSU Sunday practice update from California http://t.co/B4laoWBaMB via @Noles247
about 11 hours ago

Noles247

Noles247.com


#FSU DT target @Path2Greatwork has checked in at #ArmyBowl. Latest from him here http://t.co/LpjmREpJnx via @Noles247
about 11 hours ago

FSU_Football

FSU Football


Fisher: Trey Marshall has a chance to be a really good player. He is tough. He reminds me of Joyner.
about 11 hours ago

FSU_Football

FSU Football


Fisher on Winston: Most people don't have true confidence. He does....Joyner had that. Telvin (Smith) had that.
about 11 hours ago

FSU_Football

FSU Football


Fisher: Greene is so smooth but he is always in control.
about 11 hours ago

FSU_Football

FSU Football


Fisher: How many times have you seen Usain Bolt ahead at the 40, 50 meter mark? And he's the fastest man in the world.
about 11 hours ago

FSU_Football

FSU Football


Fisher speaking to media after practice today in LA. "Rashad is very similar to (Lawrence) Dawsey. He's 1 of the all-time greats."
about 11 hours ago

Noles247

Noles247.com


From #ArmyBowl check-in: Latest on #FSU LB commitment Sh'mar Kilby-Lane's visit plans http://t.co/pOxI1tJ4GB via @Noles247
about 12 hours ago

Noles247

Noles247.com


#FSU commitment @Calvin_Brewton doing some recruiting at #ArmyBowl http://t.co/76zMrQChYT via @Noles247
about 12 hours ago

theACC

The ACC


Don't forget to VOTE for YOUR favorite @theACCDN #MustSeeACC Moment of the Year! http://t.co/NyuoBmTv3N
about 12 hours ago

fsufball

FSU Football


Ducks' challenge: Stop Winston without star corner (The Associated Press): LOS ANGELES (AP) -- Just when it se... http://t.co/9vZOkhCi8Q
about 12 hours ago

DeionSanders

DeionSanders


"@9415llady: @DeionSanders @WaffleHouse he's a really good kid Prime!" A great kid. I love him and he wants to do right.
about 12 hours ago

Warchant

Warchant.com


Update on where @ByronHawkStar99 stands as he arrives at the #UAAllAmerica game practice: https://t.co/o0DCyJnFa4 ($)
about 12 hours ago

TideSports

TideSports.com


PRACTICE REPORT: Get the lowdown from #SugarBowl practice in New Orleans with @AaronSuttles and @_DCReeves (video) https://t.co/S75Grne8T5
about 12 hours ago

Noles247

Noles247.com


#FSU co-oc @CoachSandersFSU says Jameis Winston is a 'better player this year' http://t.co/YydRH7DE4J via @Noles247
about 12 hours ago

Noles247

Noles247.com


From #UAALLAMERICA check-in: Deondre Francois to visit #FSU & #UF before Signing Day http://t.co/ohU5hg1tN4 via @Noles247
about 12 hours ago

Noles247

Noles247.com


From #ArmyBowl check-in: Two January visits for Tarvarus McFadden http://t.co/FaQXhgmzTc via @Noles247
about 12 hours ago

ESPN_ACC

ESPN ACC


Jameis Winston offers glimpse into his year http://t.co/F1SXbWuYPK
about 12 hours ago

Noles247

Noles247.com


From #ArmyBowl check-in: #Miami commitment final official visit will be to #FSU http://t.co/tvLDFxfjKz via @Noles247
about 12 hours ago

Warchant

Warchant.com


Byron Cowart says FSU and UCLA are competing for a visit on weekend of Jan. 23. #UAAllAmerica
about 12 hours ago

Warchant

Warchant.com


Yep, those are FSU shorts on 5-star DE Byron Cowart @ByronHawkStar99 #UAAllAmerica: http://t.co/UfwYpF2P2t
about 13 hours ago

Warchant

Warchant.com


Early practice updates, observations from FSU's Sunday practice in Calif. (Goldman & others) https://t.co/yS4hBLG6UY http://t.co/nQAYQ3kKvK
about 13 hours ago

ESPN_ACC

ESPN ACC


Viewer's Guide: Russell Athletic Bowl http://t.co/GjQqRqjRLX
about 13 hours ago

TideSports

TideSports.com


See photos from Sugar Bowl week Day 2 - http://t.co/UOssEsCSCS@tommydeas @CecilHurt @_DCReeves @AaronSuttles http://t.co/5JuQwMF9Q3
about 13 hours ago

SeminoleBooster

Seminole Boosters


Tailgate with the Noles in Pasadena! Tickets still available at http://t.co/9GAd6wl8fK! http://t.co/cR2cUvWRcL
about 13 hours ago

Warchant

Warchant.com


FSU offensive line commit Abdul Bello has added some good weight. Catching up at #UAALLAMERICA check-in: https://t.co/o0DCyJnFa4 ($)
about 13 hours ago

MichaelWarchant

Michael Langston


#FSU commit OL Abdul Bello at Under Armour check in http://t.co/dXH0n5W7dv
about 13 hours ago

MichaelWarchant

Michael Langston


#FSU commit OL Abdul Bello at Under Armour check in http://t.co/dXH0n5W7dv
about 13 hours ago

Warchant

Warchant.com


#FSU's Jameis Winston warming up at practice. @rosebowlgame. http://t.co/wBSINW9nv4. http://t.co/EOvo1Ou3Rz
about 13 hours ago

Warchant

Warchant.com


An update with Jacques Patrick from #UAALLAMERICA check-in: https://t.co/o0DCyJnFa4 ($) Talks about who he'll be recruiting this week.
about 13 hours ago

Noles247

Noles247.com


5-Star Derwin James: "I'm here to bring the pain" http://t.co/7kNN5dcqcn via @Noles247 #UAALLAMERICA
about 13 hours ago

Noles247

Noles247.com


#Wolfpack making big push for #FSU RB commitment Johnny Frasier http://t.co/cOryUl7rGO via @Noles247
about 14 hours ago

Warchant

Warchant.com


#FSU practice underway from sunny California. More on @rosebowlgame coverage. http://t.co/wBSINW9nv4. http://t.co/RL1rZSdZqt
about 14 hours ago

Noles247

Noles247.com


#FSU commitment @Tee_Time24 talks #FSU, visits, and more upon arriving at #ArmyBowl check-in http://t.co/HJNN0SkZZJ via @Noles247
about 14 hours ago

Noles247

Noles247.com


Latest on #FSU RB target, #UM commitment @Famousscarlett from #ArmyBowl check-in http://t.co/HJNN0SkZZJ via @Noles247
about 14 hours ago

DavidHaleESPN

David Hale


Yes. Learned that in J-school. RT @wdfogg: is it your journalistic style to over state certain points to mislead people on the situation?
about 14 hours ago

Warchant

Warchant.com


FSU team buses are swagged out and arriving for practice in L.A. http://t.co/mTcW9DdnG7
about 14 hours ago

Warchant

Warchant.com


Update at #UAALLAMERICA check-in from 5-star CB Iman Marshall: https://t.co/o0DCyJnFa4 ($) Talked about relationship with Malik Henry.
about 14 hours ago

fsufball

FSU Football


Rose Bowl may start rivalry for Mariota, Winston (The Associated Press): PASADENA, Calif. (AP) -- College foot... http://t.co/ivdncOV8Y5
about 14 hours ago

Noles247

Noles247.com


Just caught up with #FSU RB commitment @JohnnyOsoFast at #ArmyBowl check-in http://t.co/3i3TwPGVBX via @Noles247
about 14 hours ago

Seminoles_com

Seminoles Athletics


Round 2 of #Noles offensive interviews. #RoseBowl #CFBPlayoff https://t.co/1IhDyRWjz0
about 14 hours ago

Warchant

Warchant.com


5-star CB Iman Marshall meets @rivalsmike at the #UAAllAmerican check in: http://t.co/NoYKkmMNie
about 14 hours ago

Noles247

Noles247.com


#FSU says it won't target Ifo's replacements http://t.co/88NqVVd0pk via @Noles247 #RoseBowl
about 15 hours ago

Seminoles_com

Seminoles Athletics


.@FSU_Football thoughts on @WinTheDay's defense? WATCH: http://t.co/64wfGjzNj0 #RoseBowl http://t.co/LqCVWNBVCs
about 15 hours ago

_DCReeves

D.C. Reeves


Pano shot of Bama practice in NOLA: http://t.co/sdQbvBiAwL
about 15 hours ago

Warchant

Warchant.com


New entry in our LA Confidential Blog - Behind the scenes for the @rosebowlgame #FSU-Oregon. https://t.co/zsIbBNZ5mk http://t.co/6mlwjSPekg
about 15 hours ago

Warchant

Warchant.com


Insider Report: Fisher talks new contract, praises FSU administration's commitment. https://t.co/g7GJEVqiIw http://t.co/z5UqKCT8Gj
about 15 hours ago

_DCReeves

D.C. Reeves


First #Alabama practice in the Superdome. #SugarBowl http://t.co/ioI97Gw1AE
about 15 hours ago

Noles247

Noles247.com


5-Star Calvin Ridley ready to enroll early http://t.co/xrbdmfNHW2 via @Noles247
about 15 hours ago

Noles247

Noles247.com


#FSU back in the picture with Peters http://t.co/1yR9329kA7 via @Noles247
about 15 hours ago

fsufball

FSU Football


Sugar Bowl: Jones, Sims rise as unexpected stars (The Associated Press): Ohio State quarterback Cardale Jones ... http://t.co/jBkCSQw6p7
about 15 hours ago

fsufball

FSU Football


Bowden likes FSU's chances in playoff era (The Associated Press): MEMPHIS, Tenn. (AP) -- Former Florida State ... http://t.co/31ehjqPMrF
about 15 hours ago

Seminoles_com

Seminoles Athletics


Thank you, #Noles fans for getting us to 50K followers on @twitter! RT and join the celebration! http://t.co/BFEJN6W1bK
about 15 hours ago

theACCDN

ACC Digital Network


It's official. @CanesFootball's Duke Johnson will enter the NFL Draft. These highlights give good reason why. http://t.co/AoLpkJoYDC #TheU
about 16 hours ago

Warchant

Warchant.com


Warchant Recruiting Report: Previewing all-star games, latest on #FSU targets & more (free). https://t.co/6C4VHEzeBt http://t.co/7BEpvv8YMD
about 16 hours ago

Tim_Linafelt

Tim Linafelt / FSU


If you haven't yet watched @JSchillace's video of @FSU_Football from @Disneyland, you're missing out: http://t.co/jwKAkaVnWN
about 16 hours ago

MichaelWarchant

Michael Langston


Five star DE Byron Cowart just arrived for Under Armour check in. #FSU http://t.co/hnfZlDOsgy
about 16 hours ago

MichaelWarchant

Michael Langston


Five star DE Byron Cowart just arrived for Under Armour check in. #FSU http://t.co/hnfZlDOsgy
about 16 hours ago

JonSolomonCBS

Jon Solomon


FB recruiting expenses (2012-13): Alabama $983,721, Oregon $674,755, Ohio St $564,152, FSU $425,796. http://t.co/Yn2ZUhxJ2R
about 16 hours ago

DavidHaleESPN

David Hale


This is true. FSU, GT, Lou & Clem set the narrative. RT @_aeaton: @ProsFB the one that matters plays soon.
about 16 hours ago

Noles247

Noles247.com


#ArmyBowl check-in: #FSU back in communication with four-star DB committed elsewhere http://t.co/LVZ8QS4Hvw via @Noles247
about 16 hours ago
ACC SCOREBOARD
Saturday, 12/20
Monday, 12/22
Tuesday, 12/23
Wednesday, 12/24
Friday, 12/26
Saturday, 12/27
Monday, 12/29
Tuesday, 12/30
Wednesday, 12/31
Thursday, 1/1
Friday, 1/2
Saturday, 1/3
Sunday, 1/4
Monday, 1/12
BLOG ARCHIVE:
CATEGORIES: