Rising Seniors Day 2 notebook
December, 29, 2012
12/29/12
11:30
AM ET
One of the standouts for the Rising Seniors East offense on the first day of practice was tight end
Milan Richard
(Savannah, Ga./Calvary Day). The 6-3, 230-pound junior did not get a lot of passes thrown his way this season, but was still able to catch 22 passes for 341 yards and three touchdowns, and he enjoyed the added repetitions at Grady Stadium on Friday.
"I think I picked up the terminology well, but my route-running needs to sharpen up," Richard said. "I am able to stretch the field as a big receiver, but I need to do better in a three-point stance because I am used to working out of a spread."
[+] Enlarge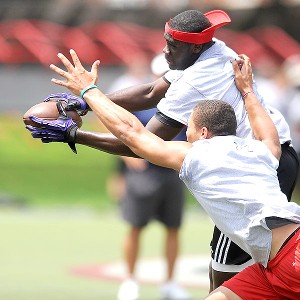 Radi Nabulsi/ESPN.com2014 tight end Milan Richard has Clemson and South Carolina on top, but several others, including home state Georgia, in the mix.
The ESPN Watch List selection has double-digit offers, but he said two schools are standing out in his mind.
To continue reading this article you must be an Insider
Insider
Paul Finebaum: Sophomore Slump for Jameis Winston?
Paul Finebaum joins Keith Olbermann to discuss the possibility that, after a turbulent offseason, Jameis Winston is in for a sophomore slump.
Paul Finebaum: Sophomore Slump for Jameis Winston?
VIDEO PLAYLIST
FSU FB RECRUITING SCORECARD
Pdub80

Peter Warrick


Y'all go follow @Venzell55 and see what college he chooses!Told ya I got ya man,-G.O.A.T
about 3 hours ago

Pdub80

Peter Warrick


9 days #noles #nolesnation
about 3 hours ago

Noles247

Noles247.com


#Noles in the NFL - Thursday Action Review: Big night for Lawrence Timmons http://t.co/jwYxkDek42 via @Noles247 http://t.co/VqT9zDSw4u
about 3 hours ago

ThaRealCashKidd

MRNODAYZOFF


Was in the barbershop and saw some @Pdub80 highlights! Still one of the greatest NCAA Football stars ever. #beastmode#PeterWarrick
about 3 hours ago

FSU_Facilities

FSU Facilities


We are only 9 days from the 2014 season starting which brings back great memories of @Pdub80 in the garnet and gold! http://t.co/sC5uHAxq5j
about 3 hours ago

_DCReeves

D.C. Reeves


So @AaronSuttles & I sifted through Thursday's practice and press conferences to give you the latest #Alabama news: https://t.co/iv3ClTYjYV
about 3 hours ago

Noles247

Noles247.com


#FSU offers 2019 prospect, younger brother of top RB target in 2015 http://t.co/ohwuOCiHQm via @Noles247
about 3 hours ago

_DCReeves

D.C. Reeves


Just made my @SECNetwork debut on that Saban presser B-roll (no autographs please)
about 3 hours ago

ParticleHustler

Chris Karo


@TomahawkNation Why is this tournament double elim for everyone but the undefeated team? Makes no sense. Should have to beat LV twice.
about 3 hours ago

DeionSanders

DeionSanders


If your day ain't productive check yourself! #Truth
about 4 hours ago

Warchant

Warchant.com


Highly touted freshmen like Kain Daub and J.J. Cosentino are helping FSU's scout team simulate Oklahoma St. (Free) https://t.co/Wm7Zx5Z9EA
about 4 hours ago

Natalie_Pierre

Natalie Pierre


FSU's renewal rate for season ticket holders is at 96% for this season. That's a record-high for the program: http://t.co/0JmWKXrHwv
about 4 hours ago

ESPN_ACC

ESPN ACC


Chase Rice just chasing his dream http://t.co/Pdqe6CD6r3
about 4 hours ago

TomahawkNation

TomahawkNation.com


Who does Chicago have to throw against Vegas? If you're Vegas, can you throw your #2 and save the 75mph kid for international champ?
about 4 hours ago

DeionSanders

DeionSanders


Coach CT. #PrimePrep http://t.co/UKY39yhKDC
about 4 hours ago

DeionSanders

DeionSanders


Coach @cthompson_sr instructing after his receivers practice. #PrimePrep http://t.co/zm0Am1qJW7
about 5 hours ago

FSU_Football

FSU Football


The #Noles turned their attention to Oklahoma State on Thursday. Practice Report: http://t.co/xW7OKkvLIJ http://t.co/Fyg3Z7XHJV
about 5 hours ago

BASZOEY

TRIBE PRIDE IMAGES


@Seminoles_com you guys have the best stuff! http://t.co/f5IQWqZYvJ
about 5 hours ago

EverySimpsons

Every.Simpsons.Ever


#EverySimpsonsEver http://t.co/X8wXT1XQyO
about 5 hours ago

SenatorGiggity

Reuben J. Cogburn


Poison... Poison... Tasty fish!
about 5 hours ago

kylefredrickson

Kyle Fredrickson


#OKstate Mike Gundy busted out a golf analogy today about scheduling. Does that make FSU a double-dogleg par-5? http://t.co/D0VMYirvAu
about 5 hours ago

Noles247

Noles247.com


Here is the full story on 5-star DE Shavar Manuel just published by @RyanBartow http://t.co/fmZZLoPUft via @Noles247
about 5 hours ago

Noles247

Noles247.com


#FSU's top cornerbacks both return to practice on Thursday after suffering injuries... http://t.co/4Mn2rsnDxD
about 6 hours ago

IraSchoffel

Ira Schoffel


Great that he does this. "@Warchant: Video as #FSU coach Jimbo Fisher addresses Marching Chiefs before season: https://t.co/l0Z9L8dX3I"
about 6 hours ago

ESPN_ACC

ESPN ACC


Pitt names QB Chad Voytik starter http://t.co/JVFCfo8Scs
about 6 hours ago

SWernerPG

Sam Werner


This @EverySimpsons marathon is downright dangerous. Every time I'm about to do something productive turns into "Ehh I'll watch one more."
about 6 hours ago

TomahawkNation

TomahawkNation.com


Don't always believe what you hear from players/coaches about practice. http://t.co/AEqGy8Uxlq Applies for all teams w/ closed sessions.
about 6 hours ago

Noles247

Noles247.com


Video: Jimbo Fisher talks Thursday practice http://t.co/koeeP0gSAE via @Noles247
about 6 hours ago

Noles247

Noles247.com


Several FSU targets make 2014 All-USA Preseason Football Team http://t.co/gge3nzK4dn via @Noles247
about 6 hours ago

TheStateOfTheU

StateOfTheU.com


@TomahawkNation National #1 recruit. Size/strength/feet/hands/smarts combo. Prototypical franchise LT. Just never cared in college.
about 6 hours ago

TheStateOfTheU

StateOfTheU.com


LRT: every single #Canes fan has been saying that from jump. Seantrel loved the weed more than being great in college. BUT NOW.....
about 6 hours ago

PickSixPreviews

PickSix Previews


Looks like Seantrel trolled Miami "@FansBuffalo_Bil: Doug Marrone: Cordy Glenn, Seantrel Henderson could be "best tandem in the league"
about 6 hours ago

Noles247

Noles247.com


Oklahoma State's Mike Gundy updates QB situation http://t.co/jqmUaP8C6R via @Noles247
about 7 hours ago

Noles247

Noles247.com


#FSU stands out to 4-star 2016 LB http://t.co/U0qc7ZW4sc via @Noles247
about 7 hours ago

Noles247

Noles247.com


Dynamic DB duo gets back to work for #FSU http://t.co/LteFAwVv6u via @Noles247
about 7 hours ago

Warchant

Warchant.com


Video as #FSU coach Jimbo Fisher addresses Marching Chiefs before season on Thursday: https://t.co/yQOpM66wcH
about 7 hours ago

Noles247

Noles247.com


2016 5-star has favorite, lead group http://t.co/WcQPVAz3n8 via @Noles247
about 7 hours ago

FSU_Football

FSU Football


The #Noles turned their attention to Oklahoma State on Thursday. Practice Report: http://t.co/xW7OKkvLIJ http://t.co/Fyg3Z7XHJV
about 7 hours ago

Noles247

Noles247.com


Camped at #FSU. Was offered. RT @bartonsimmons: Top100 2017 prospect Maleik Gray. Doesn't look like a soph. https://t.co/ztCrP9yfYj
about 7 hours ago

Deondre_3

Dre


#tbt glad to be a Nole ! http://t.co/WR6xrwpEC0
about 7 hours ago

aliciaFSUgirl

Alicia Cross


@JCameronShow completes ALS Ice Bucket Challenge w/ the help of his sons Bryce & Clark nominated by: @TomahawkNation http://t.co/bcDlnorpdL
about 7 hours ago

ChrisWeinke16

Chris Weinke


Watch IMG Academy vs. Godby on Aug. 23 live on Sun Sports: TAMPA, Fla. -- Sun Sports announced ... http://t.co/masGz0vzFU
about 7 hours ago

Noles247

Noles247.com


#FSU Bolts feed has been extremely active today. A worthy bookmark if you haven't already: http://t.co/6gKoPhCT5i via @Noles247
about 7 hours ago

SounthaK

Sountha Key


Thank you @AnquanBoldin for bein real coo with us. #49ersFaithful #49ers http://t.co/QU4TlMdfTU
about 7 hours ago

Noles247

Noles247.com


5-star DE sets decision date, talks #FSU and more http://t.co/fE91tPvl6C via @Noles247
about 7 hours ago

TheBobbyBowden

Bobby Bowden


Social responsibility—we must give our best to help make the world what God created it to be—full of goodness, love & the fullness of life.
about 7 hours ago

_DCReeves

D.C. Reeves


T.J. Yeldon a second-team All-SEC pick by the coaches. Mike Davis (SC) and Todd Gurley (UGA) on first team.
about 7 hours ago

_DCReeves

D.C. Reeves


Nick Saban press conference wrap-up: https://t.co/BoB7nHNU79
about 7 hours ago

_DCReeves

D.C. Reeves


Full Coaches' All-SEC teams: https://t.co/HTaIXPmz0U
about 7 hours ago

_DCReeves

D.C. Reeves


Preseason First-team All-SEC picks for #Alabama Cooper, Howard, Kouandjio, C. Jones, A. Robinson, T. DePriest, Landon Collins.
about 7 hours ago

Warchant

Warchant.com


Updated post-practice report with notes from Jimbo Fisher: https://t.co/eOOc2dAYTK ($) Talking Ok State, sold-out stadiums, scout team, more
about 7 hours ago

NolesTV

NolesTV


The #Noles are in game planning mode Find out what Jimbo Fisher thinks of OSU in @Seminoles_com's practice report http://t.co/YvV6ABkYHF
about 7 hours ago

Warchant

Warchant.com


Fisher usually addresses band before season. Said marching chiefs "second to none."
about 8 hours ago

Warchant

Warchant.com


Jimbo Fisher addressing #fsu marching chiefs before season. "I greatly appreciate what you all do." http://t.co/ktKd9cvpQs
about 8 hours ago

ESPN_ACC

ESPN ACC


Former UNC LB and country singer Chase Rice is the real-life Forrest Gump. http://t.co/0dtljU20qf http://t.co/wYyeuuqYnT
about 8 hours ago

Noles247

Noles247.com


Fisher updates status of Ronald Darby and P.J. Williams after practice http://t.co/1KaynusZaR via @Noles247
about 8 hours ago

Warchant

Warchant.com


Jimbo Fisher on John Franklin, who played QB last year: "He's playing receiver more full time now ... He's evolving into more of a receiver"
about 8 hours ago

Noles247

Noles247.com


Jimbo Fisher speaking post-practice. More here: http://t.co/1KaynusZaR via @Noles247
about 8 hours ago

JaredLorenzen22

jared lorenzen


This is a VERY different article that most. Very personal. Let me know what ya think. Thx @espn & @tommytomlinson http://t.co/1SFaUPv2PO
about 8 hours ago

FSU_Soccer

FSU Soccer


Make sure to pick up your 2014 Soccer poster at tomorrow's game against Portland at 7pm in the Plex #noles http://t.co/xmkGdiA5uV
about 9 hours ago

Noles247

Noles247.com


Iman Marshall knows where he will take officials to four schools, fifth to be decided between fans http://t.co/O2aZZg4fF7 via @Noles247
about 9 hours ago

WCTVMike

Mike McCall


We're still tracking this Severe T'Storm WARNING for Leon county until 5:45. Storm is moving south. #flwx http://t.co/ildAG5Cj18
about 9 hours ago

joshnewberg247

Josh Newberg


#FSU RB Ryan Green is dressed and back out at practice today. Full report here: http://t.co/bELaIOlVMG
about 9 hours ago

Rivals

Rivals.com


#FSU commit and 5-star #Rivals100 safety Derwin James shares insight into his football life&who he is recruiting ($) http://t.co/gVYbbN0Bp7
about 9 hours ago

DeionSanders

DeionSanders


Fun in the pool. Truth http://t.co/vnVsX29NFx
about 9 hours ago

NolesTV

NolesTV


WATCH as sights and sounds continues with another peek at the #Noles practicing. http://t.co/FNyOWLqZYe
about 9 hours ago

DZdatdude

Dave Ziggler Jr


@TomahawkNation that sucks. Disappointing that a true freshman at DT is ahead of Bryant.
about 9 hours ago

_DCReeves

D.C. Reeves


Here's the practice update from Thursday. Good news on the health front https://t.co/bfsnd1Uhlq #Alabama
about 9 hours ago

TomahawkNation

TomahawkNation.com


RS-FR DT Keith Bryant being on scout team is disappointing. http://t.co/VUedV0nNCA Maybe he'll step it up later on in year.
about 9 hours ago

Warchant

Warchant.com


FSU practice report as #noles prepare for game day and notable names return to full pads: https://t.co/IIqZkcgoCi #FSU
about 9 hours ago

PatrikNohe

Patrik Nohe


Matthew Thomas continues to appear in shorts and tennis shoes, was not practicing again today as he comes back from an ankle injury. #FSU
about 9 hours ago

TomahawkNation

TomahawkNation.com


People who have hurt ankles often wear protective boots
about 9 hours ago

DavidHaleESPN

David Hale


He should wear Jacobbi McDaniel's boots. RT @PatrikNohe: No. RT @ricobert1: Is he wearing a boot? http://t.co/B3AISAmDOm
about 9 hours ago

TomahawkNation

TomahawkNation.com


FSU back into the IPF after lightning in the area. This thing really is a big advantage. So much lightning in Florida.
about 10 hours ago

DavidHaleESPN

David Hale


Jamison Crowder accounts for 40% of #Duke's returning scrimmage yards from 2013. Why he's prepared for the challenge: http://t.co/eral4mU5bC
about 10 hours ago

TomahawkNation

TomahawkNation.com


@JeffBarlisESPN @onlygators I'm just glad we're not speaking in absolutes about a very fluid dynamic.
about 10 hours ago

DavidHaleESPN

David Hale


Man, it's critical I get on the ball about proper Jimbo-related adjective use. RT @SolidSeminole: Or "Critical" in Jimboese
about 10 hours ago

TomahawkNation

TomahawkNation.com


#FSU began Oklahoma State preparation on Thursday. Also, a peek into the scout team and likely redshirts. http://t.co/0JgDtVJ8n1
about 10 hours ago

Noles247

Noles247.com


Practice Update: Game prep begins - http://t.co/M8xovNNXha
about 10 hours ago

DavidHaleESPN

David Hale


Why Nick O'Leary is crucial for #FSU this year & some other tight end tidbits around the #ACC… http://t.co/K4lUKtRZQP
about 10 hours ago

TomahawkNation

TomahawkNation.com


@JeffBarlisESPN @onlygators well firing the coach is an admission of a mistake, if it happens, and nobody wants to admit a mistake.
about 10 hours ago

_TomLang

Tom Lang


Edwards to @JCameronShow : One loss #FSU team would make playoff
about 10 hours ago

TomahawkNation

TomahawkNation.com


@JeffBarlisESPN @onlygators I took the Over on Mizzou. Think they win 8. http://t.co/tASY1jFIbd
about 10 hours ago

ESPN_ACC

ESPN ACC


ACC coaches used 1 word to describe their teams. Your turn to do the same for ur favorite team. Go! http://t.co/IT75l3n8EK
about 10 hours ago

TomahawkNation

TomahawkNation.com


Duh RT @_TomLang Edwards to @JCameronShow: "Until proven otherwise" he will believe as Bob Stoops does - record will trump better SOS
about 10 hours ago

Noles247

Noles247.com


#FSU Practice Update: Game prep begins - http://t.co/M8xovNNXha via @Noles247 
about 10 hours ago

TomahawkNation

TomahawkNation.com


@JeffBarlisESPN Wow. So 7 is "most likely safe?"
about 10 hours ago

TomahawkNation

TomahawkNation.com


@JeffBarlisESPN I think 9 is 100% safe, 8 is most likely safe, 7 is very likely a new coach.
about 10 hours ago

TomahawkNation

TomahawkNation.com


@JeffBarlisESPN Sure, but if UF has multiple games where it loses by double digits, and the better SEC wins are very close, does 8 get it?
about 10 hours ago

PFBSuperDave

Dave McIntire


As I head to the airport & @LVSuperBook SuperContest weekend, I leave you with the original SuperContest longform. http://t.co/wg422kIqRq
about 10 hours ago

TomahawkNation

TomahawkNation.com


@JeffBarlisESPN I ams skeptical of that because I think the style of play and how the wins/losses come will matter.
about 10 hours ago

TomahawkNation

TomahawkNation.com


@JeffBarlisESPN meaning 8 is safe regardless of the eight?
about 10 hours ago

osfsu

Brendan Sonnone


"ABC" by the Jackson 5 is blaring at the IPF right now. A little different, usually there's no music.
about 10 hours ago

38Godfrey

Steven Godfrey


Coincidence: A current Top 15 program that can't rectify credentialing "web site people" just mailed me a print copy of their media guide.
about 10 hours ago

bubbaprog

Timothy Burke


Pretty awesome of David Price to bless Rays fans with a one-hit, no walk, complete game that results in a Rays victory.
about 10 hours ago

ESPN_ACC

ESPN ACC


By the numbers: Tight end talent http://t.co/N4ECQWPYLK
about 10 hours ago

TomahawkNation

TomahawkNation.com


Just realizing that FSU's most points in CFB history will probably fall in the 15-game playoff era. Need a FG less per game to break it.
about 11 hours ago

SiriusXMCollege

SiriusXM College


AUDIO: FSU head coach Jimbo Fisher joined the FSU Camp Tour show to preview the seminoles. https://t.co/AQQrGjXibW
about 11 hours ago

TomahawkNation

TomahawkNation.com


Yup. FSU's starting right tackle Bobby Hart is a senior and is only 4 months older than 4-star WR recruit Calvin Ridley.
about 11 hours ago

UnderwoodSports

Cam Underwood


Compare this to Calvin Ridley, a HS SENIOR, who is already 19 and 8 months... https://t.co/qrRLKm5UBd
about 11 hours ago
ACC SCOREBOARD
Thursday, 8/28
Friday, 8/29
Saturday, 8/30
Monday, 9/1
BLOG ARCHIVE:
CATEGORIES: