Playmaker Stacy Coley headed to Miami
February, 6, 2013
Feb 6
11:31
AM ET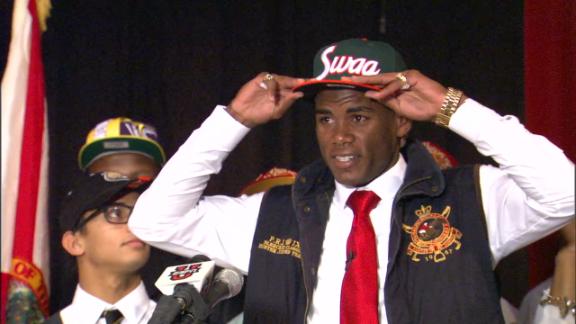 Stacy Coley
(Oakland Park, Fla./Northeast) is the latest college recruit to come down to Florida State and Miami (Fla.). This round goes to the Hurricanes.
The 6-foot-1 Under Armour All-American, No. 47 in the ESPN 150 and fourth-best receiver nationally, visited both rivals then made the announcement Wednesday morning on ESPNU.
What is the impact of Coley's decision?
To continue reading this article you must be an Insider
Welcome
!
We see that you are not an ESPN Insider. Upgrade today and gain access to our exclusive coverage.
ESPN The Magazine subscribers

Need more information?
Recruiting Storylines: ACC - Dec. 19
Recruiting Storylines: ACC - Dec. 19
VIDEO PLAYLIST
Recruiting Storylines: ACC - Dec. 19

Recruiting Storylines: ACC - Dec. 19

C.J. Hampton Discusses College Decision

C.J. Hampton Discusses College Decision

Passing Game Key For Florida State

Passing Game Key For Florida State
FSU FB RECRUITING SCORECARD
Nike Men's Florida State Seminoles Garnet Football Weight Room Legend T-Shirt Shop »
DeionSanders

DeionSanders


Victory Prayer! PrimePrep defeats Findlay Prep in Vegas http://t.co/UF6Y9e5ArD
about an hour ago

DeionSanders

DeionSanders


68-67 PrimePrep over Findlay Prep. 10 seconds left Prime ball after timeout by Findlay. Hold on Baby let's hold on.
about an hour ago

DeionSanders

DeionSanders


29 seconds left PrimePrep 66-65
about 2 hours ago

theACC

The ACC


(...cont) Those 3 teams w/ at least 10 wins: @FSU_Football, @Duke_FB and @ClemsonFB.
about 2 hours ago

theACC

The ACC


This marks the 1st time in the league's 61-year history that 3 ACC teams have ended the regular season with at least 10 wins (cont...)
about 2 hours ago

_DCReeves

D.C. Reeves


RT @tommydeas: Tuscaloosa News/Tidesports/TuscPreps garners top 10 recognition in APSE web contest, fifth straight year. Proud of the hard …
about 2 hours ago

DeionSanders

DeionSanders


53-50 Findlay Prep with 6:07 left in the 4th qtr
about 2 hours ago

TomahawkNation

TomahawkNation.com


VIDEO: Osceola and Renegade http://t.co/5u0TthQkF2
about 2 hours ago

TomahawkNation

TomahawkNation.com


RT @slmandel: So, Auburn fans think I'm an idiot for suggesting they'll only score 20 points. FSU fans think the same for only picking them…
about 2 hours ago

DeionSanders

DeionSanders


43-41 3rd qtr. Findlay Prep up over PrimePrep.
about 2 hours ago

DeionSanders

DeionSanders


PRIMEPREP let's do this baby!! Truth http://t.co/r4i5640qXu
about 3 hours ago

DeionSanders

DeionSanders


Coach Ray and @SnaptureIt at PrimePrep vs Findlay Prep in Vegas. http://t.co/qfkCSBORMH
about 3 hours ago

Pdub80

Peter Warrick


RT @Reggieajones: @Pdub80 and @reggieajones down in the 850 vibing to that at @djskee #livefnlasxm
about 4 hours ago

Pdub80

Peter Warrick


RT @FSUJones12: @Pdub80 wife is a Hawkeye but I showed her your highlight reel and she loves you. Can I buy a ball signed to her? http://t…
about 4 hours ago

Pdub80

Peter Warrick


"@gobig3: More from last night with these fools @pdub80 @mrfla941 http://t.co/g8eZ8yy4wM"
about 4 hours ago

DeionSanders

DeionSanders


Stop worrying about yesterday and things u can't control and Focus on Today before u miss it. PRAY and let God be God. #TRUTH..
about 4 hours ago

Noles247

Noles247.com


UMass a tough test for Florida State men's basketball team http://t.co/4YvTcpOqqd via @Noles247
about 4 hours ago

TomahawkNation

TomahawkNation.com


RT @Mengus22: Saw him at Elite 11 Columbus. He's short but can throw the hell out of the ball. RT @dkurtenbach: Dillard QB Bud Martin will …
about 4 hours ago

TomahawkNation

TomahawkNation.com


Thanks and Yes RT @mikeparker1968 @TomahawkNation welcome back and merry christmas do u think jimbo will stack the box against auburn
about 4 hours ago

theACC

The ACC


The ACC has placed 2 teams in BCS bowls for the 2nd time in last 3 years, with #1 @FSU_Football playing for the BCS National Championship.
about 5 hours ago

ColeyHarvey

Coley Harvey


The #Bengals mailbag is out. The first question asks, who should you root for this wknd between the Ravens and Pats? http://t.co/9HGmcyH2fm
about 5 hours ago

TomahawkNation

TomahawkNation.com


We're back! Let's talk some football. Opponent Blogger Q&A: College And Magnolia - Part 1 http://t.co/UkLKHutbv2
about 6 hours ago

theACC

The ACC


SEEN on Instagram: http://t.co/FEwwtEgFTaKids from the Clemson "Call Me Mister" Program visiting today with Clemson football.
about 6 hours ago

cdowlar

Corey Dowlar/ESPN


Seen a few interesting house divided decals on vehicles in my day. But a Florida/Nebraska one is new.
about 6 hours ago

ColeyHarvey

Coley Harvey


Didn't link this a few minutes ago, but the #Bengals do end up avoiding the blackout. They'll have a sellout Sunday http://t.co/WHRkqbGVxf
about 6 hours ago

FSU_Football

FSU Football


RT @JeffFischel: The best of @FSU_Football LB Christian Jones: http://t.co/bv3t6RF1LrOfficial Highlights from @theACCDN
about 7 hours ago

fsufball

FSU Football


(fsu) Unanimously Great: The Seminoles only Unanimous All-American selection was Lamarcus Joyner. Hear what he... http://t.co/InXEmJjmRG
about 7 hours ago

_DCReeves

D.C. Reeves


RT @CecilHurt: SEC imposes field-rushing fines on Missouri and Auburn ($5,000) and Ole Miss ($25,000 for recidivism). All will be paid with…
about 7 hours ago

ESPN_ACC

ESPN ACC


ACC mailblog http://t.co/zFwwC238LE
about 7 hours ago

ColeyHarvey

Coley Harvey


If there were two things I'd like to see the #Bengals' defense do the next two weeks, these would be them. http://t.co/Pcop4BUOKB
about 7 hours ago

fsufball

FSU Football


(b/r) Texas A&M Football Recruiting: Aggies Learning to Recruit for SEC Play: The Texas A&M Aggies defense f... http://t.co/inGvUngmE2
about 7 hours ago

ESPN_ACC

ESPN ACC


Miami and Louisville mascots square off http://t.co/BqvCUBpXqS
about 8 hours ago

theACC

The ACC


The ACC has an NCAA-record 11 teams participating in bowl games. ACC was also the 1st league to set previous record of 10 bowl teams in 2008
about 8 hours ago

Warchant

Warchant.com


All hail #FSU's Red Lightning, college football's new Katherine Webb http://t.co/bG3rqA6SUH
about 8 hours ago

TomahawkNation

TomahawkNation.com


I'm sure #FSUtwitter would handle that well RT DrBauss @TomahawkNation can you make up a rumor for us to discuss while we wait?
about 8 hours ago

DeionSanders

DeionSanders


Hey y'all I had a blast I just landed and got to get ready to watch @PrimePrep play against Findley Prep in Vegas. God bless y'all. Truth
about 8 hours ago

DeionSanders

DeionSanders


"@JPops15: @DeionSanders who would choose to start a team with cousins, foles, or Glennon" check all weather forecast.
about 8 hours ago

DeionSanders

DeionSanders


"@xianbuss: Who wins in a footrace flash, superman or @DeionSanders" I am a super hero to the hood I go by Rich Blackman! Lol
about 8 hours ago

DeionSanders

DeionSanders


"@DerekRHooker: @ Does your momma still live in Gateway with Primetime at bottom of pool? Thats what i heard anyway. #FtMyers" she sold that
about 8 hours ago

DeionSanders

DeionSanders


"@V4Albert: @ @ajmorano I would consider Panthers slightly under the radar." How with the # 1 defense
about 8 hours ago

DeionSanders

DeionSanders


"@get_crabbed_15: @DeionSanders which WR always brought his best when he had to face you?" All of them they knew Prime didn't play.
about 8 hours ago

DeionSanders

DeionSanders


"@cj23k: @DeionSanders Do the Cowboys have any chance this weekend with that D?" Excuse me have u seen Washingtons defense?
about 8 hours ago

DeionSanders

DeionSanders


"@SirJesseDeclan: @DeionSanders Have you seen Cam grow as a leader more so this season than last season?" Yes on and off the field.
about 8 hours ago

DeionSanders

DeionSanders


"@Sir_KrishSingh: @DeionSanders what do my Raiders need to do to be relevant again?"Everything started with stability at qb
about 8 hours ago

DeionSanders

DeionSanders


"@msymsick17: What do you think about Browns WR Josh Gordon??" He's a grown man. I'm proud of him now he has to focus off the field.
about 8 hours ago

DeionSanders

DeionSanders


"@Christ_beloved_: do you still keep in contact with pastor David Forbes?" Yes lord @DavidForbesJr is a blessing to me every time we speak.
about 8 hours ago

DeionSanders

DeionSanders


"@royaltyrell516: @DeionSanders what made you like 21?" #2 in yo program #1 in your heart. #21
about 8 hours ago

DeionSanders

DeionSanders


"@Rockchalkpride: @DeionSanders have you ever been mistaken for a different athlete or celebrity?"Red Foxx or Cool Papa Bell
about 8 hours ago

DeionSanders

DeionSanders


"@ezekielj87: @DeionSanders do u ever feel like u can make an impact as a coach? What style of coachin u imply????"I do daily at PrimePrep
about 8 hours ago

DeionSanders

DeionSanders


"@dysu10: @DeionSanders you ever come back to ft myers?Have you talked to Ernest " spoke to Ernest this week we have big plans!
about 8 hours ago

DeionSanders

DeionSanders


"@totallyKYLE8: @DeionSanders do you think the rams have a shot for the playoffs?"NO
about 8 hours ago

DeionSanders

DeionSanders


"@VmA_15: @DeionSanders what do you think about the Bengals?" Injuries and inconsistent qb play
about 8 hours ago

DeionSanders

DeionSanders


"@MartyMar310: @DeionSanders Will you call my 3 girls and wish them Merry Christmas from Prime Time Sanders Claus?" No
about 8 hours ago

DeionSanders

DeionSanders


"@IAmPhillyC: @DeionSanders faster player in their prime, you or Bo Jackson ?" Prime ran 4.2z for. Breakfast
about 8 hours ago

ColeyHarvey

Coley Harvey


Part of that is due to the scoring threat Gio poses as a runner/receiver and also because BJGE is on the field for a lot of third-and-shorts
about 8 hours ago

ColeyHarvey

Coley Harvey


In layman's terms, that means the offense has actually added nearly 50 points with Gio on the field, and lost two points with BJGE on field.
about 8 hours ago

ColeyHarvey

Coley Harvey


One stat from Gio/BJGE comparison I just noticed that wasn't used...#Bengals estimated point average is +48.9 w Gio on field. At -1.6 w BJGE
about 8 hours ago

DeionSanders

DeionSanders


"@KaseyKeys: @DeionSanders who's the best fisherman u know? 👈"well Barry Switzer,Jimmy Houston,my tailor David Corbitt, my homeboy Earn
about 8 hours ago

DeionSanders

DeionSanders


"@MikeD_OrBigO: what do u say to the ppl who say you aren't very humble?" Life humbles us all at some point.
about 8 hours ago

DeionSanders

DeionSanders


"@Alanisland_4: Did you face diversity during your high school days or at any point in your career? Adversity finds difference makers
about 8 hours ago

Warchant

Warchant.com


#FSU baseball ranked No. 5 in preseason poll: http://t.co/nAA0j5mZCp #noles
about 8 hours ago

DeionSanders

DeionSanders


"@ARealBulgarian: where would you rank Antonio Brown among receivers? top 5?" Yes @AntonioBrown84 is a DOG! And a great returner
about 8 hours ago

DeionSanders

DeionSanders


"@_M_S_L_: do you wish you would have been able to play for the Raiders in the 02 playoffs?" I never look back my neck ain't that long.
about 8 hours ago

DeionSanders

DeionSanders


"@JasonS423: @DeionSanders do u believe in evolution?" I believe in SOLUTIONS
about 8 hours ago

DeionSanders

DeionSanders


"@armin5500: @DeionSanders Pepperoni or Stuffed Crust?" Soul food, Louisiana hot sauce with sweet ice tea
about 8 hours ago

DeionSanders

DeionSanders


"@oflanman: should the G-MEN make a coaching change?" The coach ain't throwing all those pics Eli is and the defense needs improvement
about 8 hours ago

DeionSanders

DeionSanders


"@stuntaHH4L: will there ever be another 2 sport athlete? You and Bo were my idols" it's some out there that's great but they won't allow it
about 8 hours ago

DeionSanders

DeionSanders


"@mcathcart13: @DeionSanders did you enjoy your time with the Syracuse skychiefs?" Yes Lawd i did. It was a great experience.
about 8 hours ago

DeionSanders

DeionSanders


"@gamez_time76: seen any good movies lately?" I Ike hood movies on Apple TV ask @Traceyeedmonds
about 8 hours ago

DeionSanders

DeionSanders


"@Mar_1_Da_Great: How do you feel abt "defenseless" punters?they tackle the returner we applaud but when they get knocked out we sad. #HOP
about 8 hours ago

DeionSanders

DeionSanders


"@ChristianWilki1: @DeionSanders favorite coach ever?" Bobby Bowden,Mickey Andrews,Jimmy Carr,Ray Rhodes,Barry Switzer,Mike Zimmer,Rex Ryan,
about 8 hours ago

DeionSanders

DeionSanders


"@UnchDaddy: @DeionSanders Who is the better all around corner Sherm or Revis?" Right now @RSherman_25 has the mantle!!
about 8 hours ago

DeionSanders

DeionSanders


"@PLEDGE_03: @DeionSanders what keeps you up at night, Prime?" PrimePrep and trying to give the kids the best education ever. And Truth
about 8 hours ago

DeionSanders

DeionSanders


"@Waltisthebest: @DeionSanders what u think of alshon Jeffery? do u think bears should resign cutler?" He's good and NO!
about 8 hours ago

DeionSanders

DeionSanders


"@JordanAzar1: why doesn't stafford get the same criticism as Romo?" He plays for Detroit not Dallas
about 8 hours ago

DeionSanders

DeionSanders


"@Clifford_Woo: @DeionSanders in your prime, would you beat Usain Bolt in a race?"He didn't want none in a 40. I would be a gunshot n the 40
about 8 hours ago

DeionSanders

DeionSanders


"@RyanMcDonnell98: what was it like practising with Jerry Rice when you were with San Francisco 49ers?" 2 goats in a pasture!
about 8 hours ago

DeionSanders

DeionSanders


"@C23Michaels: What does it take to be prime time? @DeionSanders" a true gift from God in many areas of life but also the will to stand!
about 8 hours ago

DeionSanders

DeionSanders


"@ajmorano: What "under the radar" team has a chance at making a Super Bowl run?" How can u be under a radar at this point in the season
about 8 hours ago

DeionSanders

DeionSanders


"@BlakeBurns7: cocky, but you have every right to be it #Primetime" cocky is a broke word. I got money so call me Confident
about 8 hours ago

theACC

The ACC


MT @theACCDN The best of [@FSU_Football] Lamarcus Joyner... http://t.co/uykdx05zEQ
about 8 hours ago

DeionSanders

DeionSanders


"@michaelbretluna: who do u think texas choose choose as it's new head coach?" What's important is who they choose as qb !
about 9 hours ago

DeionSanders

DeionSanders


"@Shane_OnU what is your favorite/most memorable play you made in your career" The 1z at practice! I practiced like it was Gameday! Truth
about 9 hours ago

DeionSanders

DeionSanders


"@agreesivegrind: is it hard 2 get in prime prep if u live in ohio do they have scholarship offers football 2 play there" my school FREE!
about 9 hours ago

DeionSanders

DeionSanders


"@shug619: advice for Dad's with daughters? #TRUTH" spend time with your daughter and show her what a MAN is & she will never settle 4 less
about 9 hours ago

DeionSanders

DeionSanders


"@_HairSoSlick: I wonder if my fav player knows what the skins have to do to make it to the Super Bowl next year" get a new Defense ASAP
about 9 hours ago

DeionSanders

DeionSanders


"@RealRadford83: can you tell us what you said to the Clemson sideline when you took a KR to the house? It's going back!
about 9 hours ago

DeionSanders

DeionSanders


"@swurv119: if Hester breaks your record, what will your first thought be?" I truly love@D_Hest23 he's a great man father and friend. .
about 9 hours ago

DeionSanders

DeionSanders


"@EP2_Era: who was the greatest influence in your life on become a better football player ?" My ***** working 2 jobs was.
about 9 hours ago

DeionSanders

DeionSanders


"@Coreynoguns: how was your time with the Ravens?" I loved bmo to life. Made life long friendships with players employees and management
about 9 hours ago

DeionSanders

DeionSanders


"@georgeharriott: Do you feel the game has been changed due to the focus on hits to or leading with the helmet?" Most definitely .
about 9 hours ago

DeionSanders

DeionSanders


"@ADH__1: @DeionSanders what made you all around great?" God given ability work ethic confidence and attitude.
about 9 hours ago

DeionSanders

DeionSanders


"@TheMarcusDaniel: should Jerry Jones step down as GM?" He's the only reason u have 3 rings last time I checked.
about 9 hours ago

DeionSanders

DeionSanders


"@VBCaneFan: @DeionSanders fav Bible verse?" Psalm 37.4
about 9 hours ago

DeionSanders

DeionSanders


"@C_Dot_A: How do you feel about Cincinnati? Would you ever consider starting a Prime Prep here?"gave my life to The Lord in Cincy.
about 9 hours ago

DeionSanders

DeionSanders


"@*****: what tem did you have the most fun moments on?" Atlanta falcons and Cincinnati reds
about 9 hours ago

DeionSanders

DeionSanders


"@RileyEMeyer: Big Fan of You, what was the biggest moment in your HOF career? #AskPrime" retiring my ***** b4 it started!
about 9 hours ago

DeionSanders

DeionSanders


"@kwillis508: do you feel black quarterbacks are treated differently in the league."Only when they don't do their jobs.Bad play has no color
about 9 hours ago

DeionSanders

DeionSanders


"@Grimreaper340: why dont you start a nation wide football camp?"don't really have the time but I am working on something special DBs & wrs
about 9 hours ago

DeionSanders

DeionSanders


"@alldaymaxgray:how hard was it to go from a football mindset to a baseball mindset ? Football was the wife baseball the girlfriend.
about 9 hours ago
ACC SCOREBOARD
Saturday, 12/21
Monday, 12/23
Tuesday, 12/24
Thursday, 12/26
Friday, 12/27
Saturday, 12/28
Monday, 12/30
Tuesday, 12/31
Wednesday, 1/1
Thursday, 1/2
Friday, 1/3
Saturday, 1/4
Sunday, 1/5
Monday, 1/6
BLOG ARCHIVE:
CATEGORIES: