Six-foot-9 OT Ruble garnering big attention
April, 23, 2013
4/23/13
2:07
PM ET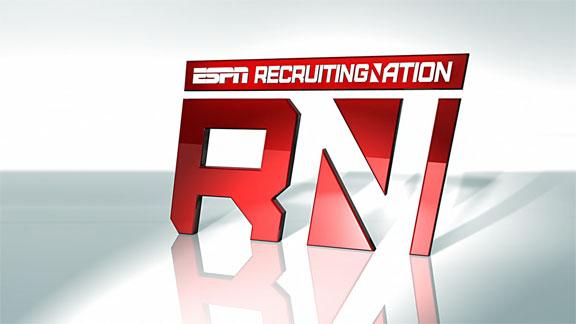 ASHBURN, Va. -- Offensive tackle
Brock Ruble
(Hyattsville, Md./DeMatha) has been in high demand lately.
Since the holidays, the 6-foot-9 prospect said he usually leaves school with a white trash bag full of letters. Not too shabby for a first-year starter.
To continue reading this article you must be an Insider
Insider
Clemson's First Half Strategy For FSU
Trevor Matich explains how Clemson DE Vic Beasley and the Tigers' defense will gameplan for Florida State with Seminoles QB Jameis Winston sitting out the first half.
Clemson's First Half Strategy For FSU
VIDEO PLAYLIST
FSU FB RECRUITING SCORECARD
DavidHaleESPN

David Hale


RT @ESPN_ACC: Sport Science Battle of the Ball Boys: FSU's Red Lightning vs. Auburn's Blue Thunder http://t.co/WWVhRxEdW0"
3 minutes ago

ESPN_ACC

ESPN ACC


Sport Science Battle of the Ball Boys: FSU's Red Lightning vs. Auburn's Blue Thunder http://t.co/3GYb7YTdSP
5 minutes ago

Noles247

Noles247.com


Pair of former #Noles among Pro Football Hall of Fame nominees http://t.co/ooOdz0DOwr via @Noles247
8 minutes ago

CincyShirts

CincyShirts.com


#StillStrong Update - You have raised $20,500 for @Dev_Still71 's @pldgit campaign! #100kbyTurkeyDay http://t.co/KiKWkKFt79
10 minutes ago

Panthers

Carolina Panthers


#TBT | QB Chris Weinke, a 29-year-old rookie, leads #Panthers to unlikely win in NFL debut: http://t.co/Ke0E9FtoOi http://t.co/q7rAjceS0A
10 minutes ago

TomahawkNation

TomahawkNation.com


The SEC West is the best division right now. But what's the best division ever? http://t.co/oclnapBi7P
20 minutes ago

ESPN_ACC

ESPN ACC


Red Lightning vs. Blue Thunder http://t.co/BYAG8BiIUq
20 minutes ago

Nol_Brew

Nolan Brewster


Hate to see ppl and news sources use quit instead of retire when referring to players ending their career like #DavidAsh. #rightdecision
26 minutes ago

TomahawkNation

TomahawkNation.com


Opponent Blogger Q&A: Shakin The Southland Part 2 @STSouthland @ryan_kantor http://t.co/g9JVP7UdfP
29 minutes ago

DavidHaleESPN

David Hale


Must read/watch for #FSU fans: Examining Nick O'Leary's pummeling of #Clemson's Travis Blanks last year… http://t.co/ulZK0EXIYk
29 minutes ago

joeovies

Joe Ovies


K discussing perceived advantages, says "some people would say in the old ACC, Carolina got all the calls." My man, *you* said that.
30 minutes ago

_DCReeves

D.C. Reeves


@JCameronShow @PatrikNohe But don't dozens of kids go through it every year? I agree philosophically, but JW isn't only one experiencing it
31 minutes ago

Warchant

Warchant.com


Here's Ira Schoffel's column on, "The Problem with Jameis." https://t.co/JJi5SG68NA http://t.co/zNWnK3Sz3E
32 minutes ago

SeanRossman

Sean Rossman


This will be the 18th time @collegegameday has been at an on-campus site featuring a No. 1. The top-ranked team is 16-1 in those games.
35 minutes ago

Noles247

Noles247.com


Kelvin Benjamin going through growing pains with the @Panthers http://t.co/XIeyNjq8Yx via @Noles247
41 minutes ago

theACCDN

ACC Digital Network


Undefeated UNC has climbed the ladder to the top spot in the country & is this the best goal of the year? http://t.co/CG2RD9oC0e #ACCSoccer
about an hour ago

Noles247

Noles247.com


Swinney: Winston's absence 'doesn't change anything' http://t.co/9qUzHiZStJ via @thestate
about an hour ago

JasonKirkSBN

Jason Kirk


Happy FSU-Clemson week! An ode to the Bowden Bowl by @MichaelWeinreb http://t.co/exa4jgMo42 http://t.co/BNze99l0xk
about an hour ago

woodywhitehurst

Woody Whitehurst


Mike Golic just called out Paul Finebaum for his SEC bias as it relates to Winston. That was unexpected.
about an hour ago

Noles247

Noles247.com


#FSU's Aaron Thomas featured on Athlon Sports cover http://t.co/t3aOlySCRD via @Noles247 http://t.co/8BhrXIx5fN
about an hour ago

DeionSanders

DeionSanders


When u finally realize that your own life ain't about you you will truly have Peace and be blessed. #TRUTH.
about an hour ago

Noles247

Noles247.com


#FSU Soccer faces UConn today, opens ACC play this weekend http://t.co/N9H3wYVh1J via @Noles247
about an hour ago

ESPN_ACC

ESPN ACC


ACC Week 4 predictions http://t.co/aKR40H7QTM
about an hour ago

Noles247

Noles247.com


#FSU Commits: Week 4 Schedule - Big games between @STA_Football & @MiramarSports / @IMGAFootball & @mvaeagles http://t.co/6gjXjV6HUy
about an hour ago

DavidHaleESPN

David Hale


Overheard at Panera: "It was my dream to go to Canada one day, but so far, no." #DreamBig
about an hour ago

NCStateFootball

State Football


Bud Nailed it. Best team blogger in all of CFB RT @TomahawkNation: My thoughts on Jameis Winston and the suspension http://t.co/Gm07jtJ3bw
about an hour ago

ian_dbrown

Ian Brown


Happy to help a great cause for @AnquanBoldin #AcrossTheMiddle #ComeToPlay #Q81 http://t.co/2Udma2BucR
about an hour ago

CyberRedChick

V


#DoubleTeam @AnquanBoldin & @Kaepernick7 http://t.co/oFbYacFDuW
about an hour ago

CyberRedChick

V


@AnquanBoldin My T-Shirt arrived today! Finally :) Glad to support! Accolades4reachin goal! http://t.co/N4YmVF8yXw
about an hour ago

wilroxnik

Roxies Kitchen


Got my Across the middle shirt! Excited to wear it Sunday. #BeatTheCardinals @AnquanBoldin Women's size fits so nice! http://t.co/NhSuTP5ll1
about an hour ago

DeionSanders

DeionSanders


When u finally realize that your own life ain't about you you will truly have Peace and be blessed. #TRUTH
about 2 hours ago

Noles247

Noles247.com


#Noles in the NFL - Week 3 Schedule http://t.co/pKCHLAFFQg via @Noles247
about 2 hours ago

hymnforrachel

rachel


best commentary on this situation. thank you Bud RT @TomahawkNation: My thoughts on Jameis Winston and the suspension http://t.co/qtoPS8EwCN
about 2 hours ago

TomahawkNation

TomahawkNation.com


#Noles have history of success with backup quarterbacks #FSU http://t.co/WCVpP1uUEh
about 2 hours ago

DidieratDoak

Didier Occident


Wow Mike Golic ripped @finebaum on @MikeAndMike this morning on Jameis. Somebody had to say it
about 2 hours ago

ESPN_ACC

ESPN ACC


ACC morning links http://t.co/qeL2mih5hP
about 2 hours ago

Noles247

Noles247.com


Get to know Sean Maguire http://t.co/yS5aP4Ybdb Fisher on Maguire http://t.co/90HtNNVZR1 Winston on team w/o him http://t.co/iyXp8fR2yx
about 2 hours ago

Noles247

Noles247.com


Winston News - Suspended http://t.co/Fydi0DlOny Apologizes http://t.co/CQhWALOjRS Fisher comments http://t.co/VWcdqQHYDX via @Noles247
about 2 hours ago

Noles247

Noles247.com


#FSU Visitor News - No. 1 http://t.co/hg0ySOo01R Top WR http://t.co/mD2zORuDAm LB/DE http://t.co/8fzgqx9AJn List http://t.co/4Y7sSvXh89
about 2 hours ago

BrandonPertner

Brandon Pertner


I don't think I have ever seen a wk where so many big name tms have a bye. ND, OSU, USC, UCLA, Texas, Tenn, Baylor, Stanford, Ariz St, Miss.
about 2 hours ago

TomahawkNation

TomahawkNation.com


My thoughts on Jameis Winston and the suspension http://t.co/qNxKDx6KnS
about 2 hours ago

fsufball

FSU Football


Clemson-Florida State headlines Week 4 in ACC (The Associated Press): A look at things to watch in the Atlanti... http://t.co/yfHDFIjewb
about 4 hours ago

DeionSanders

DeionSanders


Love is so real! #Truth
about 8 hours ago

Warchant

Warchant.com


Warchant Man Cave Show has some fun with Dabo Swinney, discusses Cat V Sat, #FSU & more. https://t.co/Z9MkRO8xvQ http://t.co/xi7TjeNOqP
about 10 hours ago

TN_Hoops

Michael Rogner


FSU is spending money on the basketball program while suspending star football players? I am so confused right now
about 11 hours ago

theACCfootball

ACC Football


.@GTAthletics takes on @VT_Football in the #ACCFootball Challenge app! D/L today: http://t.co/tjki79deTT http://t.co/jqbJUyHTrh
about 11 hours ago

gened01

Gene Deckerhoff


Great Jimbo Fisher Call-In Show tonite. Thanks to callers and fans. ICYMI his thoughts on QB Sean Maguire : http://t.co/En02o0f0hB #FSUVoice
about 11 hours ago

Noles247

Noles247.com


Trio of 2017 prospects from St. Pete area coming up for #FSU-Clemson http://t.co/0wpe00MxTJ via @Noles247
about 11 hours ago

TomahawkNation

TomahawkNation.com


This guy filling in for Jameis Winston in the first half Saturday night. http://t.co/eGjyvGOws7 (click to see throw .gif) #Noles #FSU
about 11 hours ago

RyanBartow

Ryan Bartow


@247CrystalBall has #OhioState for @HeaftyLefty. Keep an eye on upcoming official to #FSU. http://t.co/RdJlbhYnNK http://t.co/3WRR6ERTRT
about 11 hours ago

GridironStuds

Chad Wilson


I will be joined by @Brandon_Odoi @NickdelaTorreGC & @TomahawkNation tomorrow on GIS show talking big games on Sat.: http://t.co/hUQQwNGrHm
about 12 hours ago

tonycarter904

Tony Carter


Don't worry FSU friends and Family we gonna be alright !!!!
about 12 hours ago

TheDylan1Moses

Dylan Moses


Going back to Tallahassee for the FSU game this weekend!😍 #GoNoles @FSU_Football
about 12 hours ago

Noles247

Noles247.com


ICYMI: Latest on weekend visit plans for @jacques_patrick http://t.co/yhzBKwo8aO via @Noles247
about 12 hours ago

mattd12

Matthew Dutton


.@TomahawkNation hit the nail on the head with Chappelle's Show reference. Older guys could substitute Murphy, Carlin, Blazing Saddles, etc.
about 13 hours ago

Adhocoutchea

Green_Shoots


@TomahawkNation well written and balanced piece. Kudos.
about 13 hours ago

malik_henry16

OVO_MALIK


Leave my boy jameis alone man💯👋
about 13 hours ago

TomahawkNation

TomahawkNation.com


Perception matters, and for that reason, FSU's suspending Winston makes sene http://t.co/qNxKDx6KnS
about 13 hours ago

bellebubba

Mary Lynn Hancock


@TomahawkNation thanks 4 the piece - from an older fan who remembers younger days and actions -why hasn't he learned he lives n a fishbowl?
about 13 hours ago

TomahawkNation

TomahawkNation.com


Perspectives on Florida State suspending Jameis Winston #Noles #FSU http://t.co/E0nps8zPQ1
about 13 hours ago

ConSchwartz

Constance Schwartz


Look at our girl @CBSSportsGang Jen Sabatelle in SBJ!! Congrats. Cc @DeionSanders @TonyGonzalez88 @michaelstrahan http://t.co/Pf5tTTYWSS
about 13 hours ago

topslfla

Nesto


@TomahawkNation It would be blank. Crab gate was a civil citation. More like a parking or speeding ticket than a criminal infraction.
about 13 hours ago

TomahawkNation

TomahawkNation.com


Anyhow, I think FSU probably did what it had to do in suspending Winston. Column soon.
about 13 hours ago

TomahawkNation

TomahawkNation.com


Not saying Jameis is a good guy, but writing column on the entirety of his criminal record would consist of one word: Shoplifting. That's it
about 13 hours ago

TomahawkNation

TomahawkNation.com


Traditional news outlets in a bind because they don't want to cover stuff that's not newsworthy, but they do need to turn a profit.
about 13 hours ago

dmeeks_SF

David Meeker


Got my #AcrossTheMiddle @AnquanBoldin shirt and can't wait to wear it Sunday for the game #BeatTheCardinals http://t.co/XKtjTf0CUX
about 13 hours ago

WildSideWalking

Damian Medeiros


Got my Ravens-themed shirts today on behalf of @AnquanBoldin and his #Q81Foundation - great stuff! #AcrossTheMiddle http://t.co/dlt3XVZD5x
about 13 hours ago

Kev_LG3

Kevin


@AnquanBoldin Great Shirt! Lets go Niners!!! #ForeverFaithful http://t.co/wxgZOJ8Dmk
about 13 hours ago

fourmidnight

Michael A. Harris


Just got my shirt in its sick @AnquanBoldin hope 4 a 1 two punch with @Kaepernick7 vs cards! #goniners2n1 http://t.co/SKJ7knQPyr
about 13 hours ago

_bg_tyme

Brandyn Gomez


@AnquanBoldin #acrossthemiddle http://t.co/lMM1FkumCM
about 13 hours ago

TomahawkNation

TomahawkNation.com


.@njoidaview @mattbenne Jameis stories get clicks. Which means $$$. Period. Anything he does, newsworthy or not, gets covered because profit
about 13 hours ago

MarkEnnis

Mark Ennis


How is this appropriate? http://t.co/8NYgSeKGjg
about 13 hours ago

TomahawkNation

TomahawkNation.com


.@Sean_Grimm It's hard to coordinate a six-word chant in a crowd. Probably won't be audible. But they'll try to chant FHRITP I bet.
about 14 hours ago

DeionSanders

DeionSanders


"@StarksEddie: @DeionSanders you always on twitter dropping knowledge that gives me hope. #OneloveOneGOD" thank u and God bless u. #Truth
about 14 hours ago

primediscussion

Adam T.


Really great discussion on the @TomahawkNation podcast tonight. Common sense, measured insight. http://t.co/DzbxUnHoES
about 14 hours ago

TomahawkNation

TomahawkNation.com


Podcast: How social media has forced traditional media to cover more off-field happenings with amateur athletes. http://t.co/JJYRjwBgq4
about 14 hours ago

Noles247

Noles247.com


Checking on http://t.co/htIM0ajpax RT @coachbloom4: Thanks to Coach Hamilton from FSU for coming to our 6 am workout this morning!
about 14 hours ago

Warchant

Warchant.com


Call-in show is mostly uneventful. No new comments on Jameis Winston.
about 14 hours ago

TimBrewster

Tim Brewster


#NoleNation step up and make #Doak absolutely crazy Sat night!! #ItsOurHouse!
about 14 hours ago

TimBrewster

Tim Brewster


#NoleNation step up and make #Doak absolutely crazy Sat night!! #ItsOurHouse!
about 14 hours ago

TimBrewster

Tim Brewster


#NoleNation step up and make #Doak absolutely crazy Sat night!! #ItsOurHouse!
about 14 hours ago

TomahawkNation

TomahawkNation.com


http://t.co/JJYRjwBgq4 RT @pcola_boy: @TomahawkNation @sbncollege the link doesn't work. You got another?
about 14 hours ago

Noles247

Noles247.com


Jimbo Fisher on an array of subjects during call-in show, including back-up QB and contingency plans http://t.co/SbQz6OZSMW via @Noles247
about 14 hours ago

TomahawkNation

TomahawkNation.com


No social media back then. RT @njoidaview: John Allaman made a good point. All y'all Nole fans in an uproar loved SeaBass, Janokowski.
about 14 hours ago

Warchant

Warchant.com


Jimbo asked about QB contingency if Sean Maguire is hurt: "There is a plan." Mentions walk-on Troy Cook, JJ Cosentino, John Franklin.
about 14 hours ago

Noles247

Noles247.com


Jimbo Fisher Call-In Show Updates http://t.co/YJcd68QlLO via @Noles247
about 14 hours ago

sbncollege

SB Nation College


Florida State football podcast: Media and the college football celebrity athlete http://t.co/k26rtA3FL0
about 14 hours ago

malbrizio

Matt Albrizio


@TomahawkNation that pod was a scary prophecy for what happened yesterday. Definitely remember listening and really thinking about it after
about 14 hours ago

88Dreamchaser

IG:Dream88chaser


FSU v. Clemson #GoNoles
about 14 hours ago

Noles247

Noles247.com


Just added a trio of teammates expected at #FSU-Clemson from the Panhandle http://t.co/f9GrqqBlpU via @Noles247
about 14 hours ago

TomahawkNation

TomahawkNation.com


August 8: recorded podcast w/ @MarkEnnis @CoolHand_Lucas on media coverage of the celebrity college athlete. LISTEN http://t.co/JJYRjwBgq4
about 14 hours ago

DeionSanders

DeionSanders


If someone is drowning do you throw them a Anchor or a Life Raft? Check your timeline to see what you're throwing. #Truth
about 14 hours ago

TomahawkNation

TomahawkNation.com


2017's No. 1 overall recruit RT @TheDylan1Moses: Going back to Tallahassee for the FSU game this weekend!😍 #GoNoles @FSU_Football
about 14 hours ago

fsufball

FSU Football


(b/r) Everything You Need to Know About Jameis Winston's Backup: Sean Maguire: Sean Maguire was an afterthough... http://t.co/uSZCSUhnXq
about 14 hours ago

Leon_Washington

Leon Washington


Seminole Nation!!! http://t.co/IfKirx9rRb
about 14 hours ago

CNee247

Chris Nee


No. 1 in 2017 due in for #FSU-Clemson http://t.co/TdmUCYboAF via @Noles247
about 14 hours ago

tjchase3

??T.Jeezy??


Catch Me At The Clemson Vs FSU Game This Weekend !!
about 15 hours ago

Warchant

Warchant.com


Students on FSU campus had varied but strong opinions on Jameis Winston and his suspension. https://t.co/AryTtDeV84 http://t.co/CSUjcwggG0
about 15 hours ago

Noles247

Noles247.com


Jimbo Fisher talks Sean Maguire, 3rd string QB during Call-In Show http://t.co/HDzXzyWPCq via @Noles247
about 15 hours ago
BLOG ARCHIVE:
CATEGORIES: