Florida State Seminoles:

Auburn Tigers
June, 27, 2014
Jun 27
8:56
AM ET
July 1 could be a big day for the Oregon Ducks. After narrowly missing out on five-star quarterback
Kyler Murray
and then QB
Blake Barnett
(No. 56 in the ESPN 300), No. 141
Travis Waller
is set to announce with the Ducks and Notre Dame considered the top two. After being considered a lean to Notre Dame in recent weeks, a June 21 offer by Oregon is a potential game-changer. With the offer to Waller, Oregon is in position to not get left out of the quarterback sweepstakes in 2015. The Ducks offered No. 89
Sam Darnold
on June 16 following Barnett's pledge to Alabama. With the offer to Waller five days later, they have a very good chance to snag one of the two remaining top quarterback prospects on the West Coast.
[+] Enlarge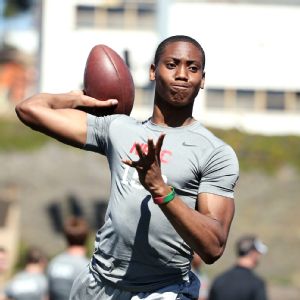 Tom Hauck for Student SportsTravis Waller, the No. 6 QB-DT in the ESPN 300, is set to decide between Oregon and Notre Dame on July 1.
There are currently four five-star prospects committed in the Class of 2015. On July 2, another will come off the board when No. 13
Justin Hilliard
announces his decision. The day should be a great one for either Ohio State or Notre Dame with the Buckeyes having been the team to beat headed into last weekend's unofficial visits to South Bend and Columbus. As decision day closes in, Ohio State remains the team receiving the behind-the-scenes chatter as the most likely destination for the outside linebacker. Should the Buckeyes reel in Hilliard next Wednesday, it will be a huge shot in the arm for Ohio State as he is close with a number of top prospects in the Midwest with the ability to impact a class with more than just his pledge.
ESPN 300 No. 226
Sage Hardin
will announce his decision Friday at 6 p.m. via Twitter (
@SageHardin75
). While the athletic offensive tackle hasn't been tipping his hand in regards to a favorite, he did tell RecruitingNation on Wednesday night that Georgia, Virginia, Tennessee, California, Miami (Fla.), Georgia Tech and NC State are in the running. The Georgia offer June 16 was a huge one for the Atlanta-area prospect, as was the offer from Tennessee June 17. The Hurricanes have placed the full court press on Hardin, and a June 7 unofficial visit to NC State impressed more than anticipated. There are family connections to Virginia, but the uncertainty of the Cavaliers' future is cause for concern. This one is likely to come down to the home state Bulldogs, the Volunteers and Cavaliers with Georgia having gained the most mention since offered 11 days ago.
Three-star safety
P.J. Locke
has announced that he will make his commitment on July 1 at Beaumont Central High. He has a final 10 school list of Arizona State, Baylor, Michigan State, Notre Dame, Oregon, Penn State, Stanford, TCU, UCLA and Wake Forest. Since an early June unofficial visit to Eugene, the Ducks have been the team trending with Baylor and TCU working hard to try to keep the physical safety in-state.
ESPN 300 No. 63
Abdul Bello
had plans to make a number of summer camps, and for the first time see college programs outside the Sunshine State. The plans changed in early June with Bello taking summer school classes. After only having the time to attend Florida camp in early June, Bello and his coach are currently working to scheduled July trips to LSU and Auburn, along with a trip to Florida State and likely back to Gainesville for Friday Night Lights.
Florida State will hold its annual July camp on the 16th through 18th. Although the Class of 2015 will be the main focus of the Seminoles' camp, the top prospect in attendance may well be 2016 quarterback
Malik Henry
. The 6-foot-2, 175-pound Henry will be in Tallahassee and is scheduled to work out all three days of the camp. Henry is at the top of the quarterback board for Florida State in 2016, and is also at the top of the board for UCLA with the hometown Bruins having had the full court press on Henry for months already.
No. 48
Richard McBryde
continues to have Auburn in front with Miami (Fla.), Florida and Alabama in the mix. The Under Armour All-America Game selection said Thursday that Auburn is recruiting him the hardest, and is pushing him to commit. With that said, McBryde said he hopes to make unofficial visits to Miami (Fla.) and/or Florida. McBryde said the pressure from Auburn to commit does not hurt the Tigers, but shows how much they value him as a player.
Four-star athlete
Shaquery Wilson
continues to have Georgia on top of his list followed closely by Arkansas. The month of July will prove to be impactful in the wide receiver and cornerback prospect's recruitment. Wilson is scheduled to camp at Alabama for three days in July at wide receiver, and an offer would definitely be a game-changer. Wilson will also attend Dawg Night in July, as well as make unofficial visits to Tennessee and Auburn.
In the Class of 2016, cornerback
Trayvon Mullen
has enjoyed about as impressive of a week as is possible, picking up offers from Alabama and LSU on the same day, as well as getting offers from Wisconsin and Ohio State on Thursday. While the Crimson Tide's offer is a big one, a May offer from Clemson was just as big because the 6-foot-2, long-armed corner has been a Tigers fan for a few years.
June, 2, 2014
Jun 2
10:00
AM ET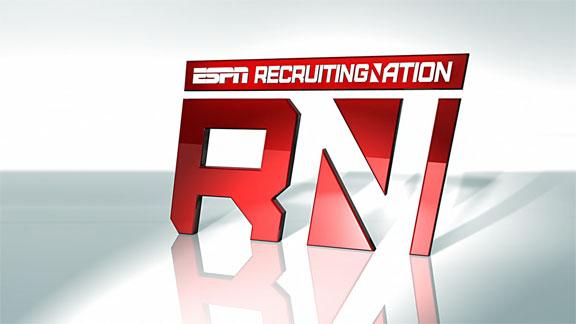 JACKSONVILLE, Fla. —
CeCe Jefferson
is one of the top defensive ends in the country, ranked No. 9 in the ESPN 300. Yet the 6-foot-3, 248-pound, five-star prospect found himself playing middle linebacker, defensive end and even fullback in his team's spring football game.
That's exactly how Jefferson likes it.
"I like moving around because it shows the coaches at the next level that I'm versatile enough to do it," Jefferson said. "I don't mind playing multiple positions in college. Linebacker is probably what I'm going to be because I'm not really that big to play defensive end against 300-pounders all night. So moving around is definitely not a problem to me. I feel like I'm versatile enough to do it, so if a coach asks me to do it, I'm going to do it."
It's Jefferson's versatility and ability to cause so much disruption for opposing offenses that has college coaches from across the country flocking to Glen St. Mary, Florida, to try to land the talented defender from Baker County High School.
April, 1, 2014
Apr 1
9:00
AM ET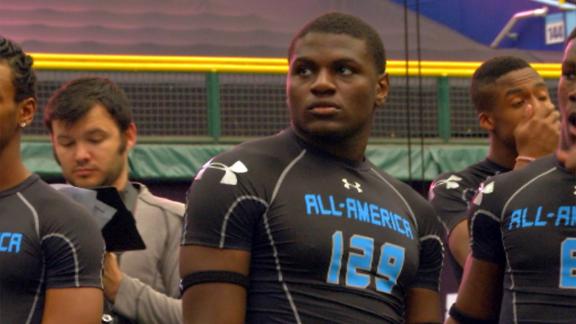 Throughout this recruiting cycle, RecruitingNation will profile a number of ESPN 300 prospects in the 2015 class, including an inside look at the prospect, his recruitment, a scouting report and what college program could benefit when he ultimately makes his decision
.
BRADENTON, Fla. -- On a team loaded with talented prospects, do-it-all athlete
Jeffery Holland
takes a back seat to no one. The 6-foot-2, 226-pound outside linebacker plays multiple positions for Jacksonville (Fla.) Trinity Christian, including running back, tight end, wide receiver and, of course, linebacker -- the position most schools recruiting him want him to play. Holland even lined up at cornerback for a game during the IMG 7v7 Southeast Regional championships in Bradenton, Fla., over the weekend.
The No. 8 player in the country, his athleticism is something that comes naturally, but it doesn't hurt that he has pretty good bloodlines too. Holland's uncle, Carey Holland, won an SEC basketball title at Auburn in 1985.
To continue reading this article you must be an Insider
March, 26, 2014
Mar 26
9:30
AM ET
Throughout this recruiting cycle, RecruitingNation will profile a number of ESPN 300 prospects in the 2015 class, including an inside look at the prospect, his recruitment, a scouting report and what college program could benefit when he ultimately makes his decision.
ROSWELL, Ga. — Running back
Eric Swinney
was one of 13 ESPN Junior 300 prospects to attend the
Atlanta Nike Football Training Camp
on Sunday. Of those 13, 12 are from Georgia, which regularly churns out elite college football players. For some reason, however, the state doesn't seem to get the recognition as a top talent-producing state.
To continue reading this article you must be an Insider
January, 13, 2014
Jan 13
10:30
AM ET
By
Brett Perrotta, ESPN Stats & Info
| ESPN.com
With the door closed on the 16-year reign of the BCS, we dove into the 72 BCS bowl games to find the 10 most memorable moments of the BCS era.
10. Utah's hook-and-ladder:
The first team ever dubbed a "BCS Buster" was the Urban Meyer-coached and
Alex Smith
-led Utah Utes in 2004. In the 2005 Fiesta Bowl, Utah led Pittsburgh 28-7 late in the third quarter and lined up at the Panthers' 18-yard line. Smith swung it left to Steven Savoy, who lateraled to
Paris Warren
, who ran it in for the score as the Utes completed a 12-0 season.
9. Peerless Price down the sideline:
Tennessee led Florida State 14-9 with 9:29 remaining in the fourth quarter in the 1999 Fiesta Bowl with the first BCS Championship on the line. UT quarterback
Tee Martin
found Price down the right sideline, and Price took it the distance for a 79-yard score. Price had 199 receiving yards for the winning Vols, the most ever in the BCS title game.
8. Ginn's costly return:
Ohio State received the opening kickoff from Florida in the 2007 BCS Championship game, and
Ted Ginn
Jr. wasted no time in getting the game's first score on a 93-yard return. What will always be remembered, however, is that Ginn suffered a foot injury on the ensuing celebration and was out for the rest of the Buckeyes' 41-14 loss.
7. Warrick's juggling score:
Though the championship of the 1999 season was marked by Virginia Tech freshman QB
Michael Vick
, it was Florida State's
Peter Warrick
who was named the most outstanding player. He had a punt return for a touchdown in the second quarter, and his juggling catch on a 43-yard score midway through the fourth served as the dagger.
6. Vince Young, Part I:
Facing Michigan in the 2005 Rose Bowl, Young was responsible for all five Texas touchdowns in a 38-37 win. Though he had runs of 60, 23 and 20 yards, the most impressive was a 10-yard run in which Young escaped the tackle of Michigan lineman Pat Massey before scampering to the right pylon.
5. Dyer isn't down:
Tied at 19 with Oregon with just more than two minutes remaining in the 2011 BCS Championship Game, Auburn running back
Michael Dyer
appeared to be tackled for a short gain at the Auburn 45-yard line. Having rolled over the defender, Dyer was never ruled down, and ended up gaining 37 yards on the play before he was taken down at the Oregon 23-yard line. Auburn would win on a field goal as time expired.
[+] Enlarge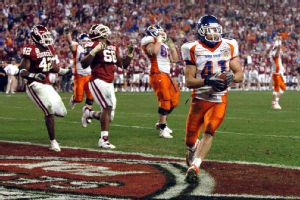 Steve Grayson/WireImageIan Johnson's two-point conversion run in overtime propelled Boise State over heavily favored Oklahoma in the 2007 Fiesta Bowl.
4. Winston to Benjamin:
Trailing Auburn 31-27 in the final BCS Championship Game, Heisman Trophy winner
Jameis Winston
drove the Noles 78 yards in less than a minute to the Auburn 2-yard line. Receiving the snap with 17 seconds left in a wild fourth quarter, Winston threw a perfect pass to
Kelvin Benjamin
, who brought it down for the game-winning score to complete an undefeated season.
3. Was it pass interference?
Some will remember Maurice Clarett's game-saving strip of
Sean Taylor
, but the lasting legacy of the game is the dubious pass interference call in overtime. Miami led 24-17 and Ohio State faced fourth-and-3 from the 5-yard line.
Glenn Sharpe
was called for pass interference, giving the Buckeyes new life in a game they would win 31-24.
2. Boise State's trick plays:
In the 2007 Fiesta Bowl, Boise State trailed heavily favored Oklahoma 35-28 with 18 seconds left and facing fourth-and-18 from the 50-yard line. Jared Zabransky completed a pass to Drisan James just short of the first down, but he lateraled it to Jerard Rabb, who took it the rest of the way for the tying touchdown. In overtime, down 42-35 on fourth down, wide receiver Vinny Perretta completed a 3-yard pass to
Derek Schouman
for a touchdown. Chris Petersen elected to go for two, and Zabransky faked a throw to his right before handing it behind his back to Ian Johnson on the Statue of Liberty play for the winning two-point conversion. Johnson would propose to his girlfriend, a Boise State cheerleader, on the sideline after the game.
1. Vince Young, Part II:
After a Longhorns touchdown and key fourth-down stop, undefeated Texas trailed undefeated USC 38-33 with 26 seconds remaining and faced fourth-and-5 from the 9-yard line, with the 2005 BCS championship on the line. Vince Young dropped back to pass but saw nobody open, and immediately sprinted for the right pylon for the title-winning score in the marquee game of the BCS era.
November, 18, 2013
11/18/13
5:00
AM ET
1. In the 11th game of last season, Oregon lost to Stanford, 17-14, in overtime. In the 11th game in 2011, Oregon lost to USC, 38-35. In the 11th game in 2009, Oregon held on to win at Arizona, 44-41, in three overtimes. I'm not smart enough to figure that out. Ducks offensive coordinator Scott Frost told me that in April. The coaches didn't have a reason, other than fatigue or overconfidence. But they are aware of it. If Oregon looks flat at Arizona this week, it won't be from falling into the same trap.
2. Alabama and Florida State are guaranteed nothing in the BCS. But the
gulf between the No. 2 Seminoles and No. 3 Buckeyes
indicates that there won't be any drama about who goes to Pasadena as long as the Crimson Tide and the Seminoles win out. Given that Alabama still must play No. 6 Auburn, and then, with a win, either No. 8 Missouri or No. 11 South Carolina, we may yet witness a huge public debate about the Buckeyes and No. 4 Baylor. As of now, that debate is for entertainment purposes only.
3. Here's one thing the BCS standings might have gotten right: as
Coaches By the Numbers
tweeted Sunday, only three teams are 5-0 this season against teams with winning records. They are No. 1 Alabama, No. 2 Florida State and No. 3 Ohio State. You can argue that their opponents don't play anyone, hence their records. But if it were that easy to beat that many teams with records over .500, more than three teams would have done so.
September, 8, 2012
9/08/12
9:01
AM ET
SEFFNER, Fla. -- Four-star offensive lineman
Roderick Johnson
helped lead Delray Beach (Fla.) American Heritage to a 36-28 upset win over Seffner (Fla.) Armwood on Friday night. The 6-foot-6, 316-pound tackle prospect helped lead the way for Greg Bryant, the No. 2-ranked running back in the country.
Behind the blocking of Johnson, Bryant rushed for two touchdowns. Johnson said it was a big win, but he is already looking ahead to next week.
"I feel like we got a lot off of our chest for this season," he said, "but now we have to get ready for our next game. It's an honor to block for Greg because I know he's the best running back in the country."
To continue reading this article you must be an Insider
June, 12, 2012
6/12/12
6:42
PM ET
GAINESVILLE, Fla. -- Under Armour All-American safety
Marcell Harris
(Orlando, Fla./Dr. Phillips) has offers from the who's who of college football programs, but the talented 6-foot-1, 209-pound athlete decided to participate at Florida's camp on Tuesday afternoon.
Harris said getting familiar with Florida's coaching style, in particular defensive backs coach Travaris Robinson and head coach Will Muschamp, was a reason he decided to participate.
"It was cool being out there with them and seeing their style of how they coach," Harris said. "They were putting me in a position to play where I would be playing if I went there -- playing safety but also covering the slot."
To continue reading this article you must be an Insider
New Contract For Jimbo
ACC SCOREBOARD
Saturday, 12/27
Saturday, 12/20
Monday, 12/22
Tuesday, 12/23
Wednesday, 12/24
Friday, 12/26
Monday, 12/29
Tuesday, 12/30
Wednesday, 12/31
Thursday, 1/1
Friday, 1/2
Saturday, 1/3
Sunday, 1/4
Monday, 1/12