Florida State Seminoles:

Derrick Mitchell Jr
September, 8, 2014
9/08/14
11:00
AM ET
TALLAHASSEE, Fla. -- Jimbo Fisher is a football coach. That means he likes to talk about what he can control, and anything he can't is just wasted breath.
But he is a
football
coach, which means he knows injuries are a part of the sport. His Florida State team was lucky in 2013, avoiding the injury bug and remaining healthy over the course of a national championship season.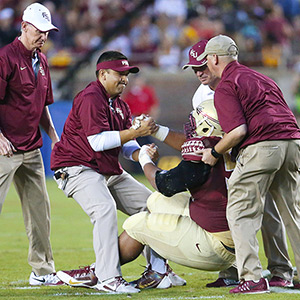 AP Photo/Steve CannonFlorida State's been fortunate with regard to injuries but its defensive tackles were hit hard Saturday.
The Seminoles have been able to manipulate injury luck quite a bit with their
GPS tracking system
, but there is no guard against the inherent dangers of a game predicated on high-speed collisions and 300-pound men wrestling 130 times in 40-second intervals.
That became evident Saturday night as top-ranked Florida State lost three defensive tackles to lower leg injuries, including starters Eddie Goldman and Nile Lawrence-Stample. Fisher did not disclose any specifics on the injuries or the amount of time, if any, that will be missed, but Goldman's left foot was in a boot and he needed the aid of a walking cane to gingerly limp to the locker room after the game.
"When I rub that crystal ball I can't ever figure it out," Fisher said after the game about planning for more injuries in 2014. "Sometimes you do, sometimes you don't. That's the thing about football -- you don't [know]. ... That's just ball. You keep your fingers crossed."
While Florida State has arguably the country's most talented roster, there was concern at defensive tackle leading up to the season.
Timmy Jernigan
declared early for the NFL, leaving the Seminoles thin on the interior of the defensive line. And by halftime Saturday, Florida State was without three of its top five defensive tackles.
The schedule offers a brief reprieve for Florida State as they enter a bye week, which could allow for all three to return. The Seminoles' next game is Sept. 20 against Clemson, and they might need all the defensive linemen they can get to combat the Tigers' up-tempo offense.
The 6-foot-4, 320-pound Goldman was one of the better defensive tackles in the conference, and his presence would almost certainly be missed most if he is forced to the sidelines. Junior defensive end Mario Edwards Jr. said the defense would have a much different feel without Goldman, who he calls "the big man in the middle."
"He can two-gap it, he can hold up the blockers so that a lot of linebackers can scrape over the top, and with Eddie missing it'd be a big piece missing," Edwards said.
Linebacker Reggie Northrup said Goldman's presence often draws double teams, which frees him up to make tackles. He is confident in the backups, and defensive tackle
Derrick Mitchell
Jr. could see a bulk of the snaps in Goldman's stead. Mitchell, a redshirt junior, is 20 pounds lighter than Goldman, however.
"It's definitely going to affect [the defense] because Eddie's a big part of our defense," Mitchell said. "He's in a lot of our defensive packages. We're going to have to make some changes if he can't go. He's a very important part of our defense."
September, 1, 2014
9/01/14
11:00
AM ET
For all the warts Florida State displayed on Saturday, there is something to be said that the top-ranked Seminoles still managed to win. The opener against a tougher-than-advertised opponent at a neutral site is in the rearview mirror, and now the Seminoles essentially have three weeks -- sorry to The Citadel -- to shore up any lapses in the armor before division rival Clemson visits Sept. 20.
Seminoles coach Jimbo Fisher said last week that opening games are always cause for concern as he truly never knows how his team will react in game situations. The opening week of the season naturally over-stimulates the reactionary portion of the brain, but it's vital to remember that while 12 games does not sound like a lot, it is a long season and the Florida State team we saw Aug. 30 will look much different on Nov. 30.
But now that we have had 24 hours to digest the Seminoles' 37-31 win and look ahead to Week 2, we will try to break down fact from fiction as to where the real concerns are for Florida State.
1. FICTION: Florida State is overrated.
With all Florida State returns, there is little reason to believe this team is overrated at this point. The Seminoles might be overhyped, but that is through no fault of their own. Collectively, we -- fans, media, Vegas -- expected perfection from a team that is rebuilding in some vital areas and hadn't played a football game in nearly eight months. The Seminoles still might be the most talented team in the country, and the Oklahoma State challenge did nothing to change the roster outlook. Maybe the biggest positive to come from Saturday for Florida State is they still had the look of a team that understands what it takes to win a game, even when they're not clicking on all cylinders.
"We still made critical plays when we had to make critical plays," Fisher said, "and there is something to that."
What Florida State did do was buy into their own hype a little bit and, when momentum flipped, didn't handle the expectations as the preseason No. 1, as well as Fisher, would have liked. From the outside, it looks like an obvious wake-up call, and Florida State players are referring to it as such, with
Jameis Winston
calling it an "eye opener." But it is only a wake-up call if it results in a change, and we'll have to wait another few weeks to see any.
"This year it hit us right off the bat," cornerback
P.J. Williams
said, "and that's a good thing."
2. FICTION: Winston's performance is indicative of a Heisman hangover.
[+] Enlarge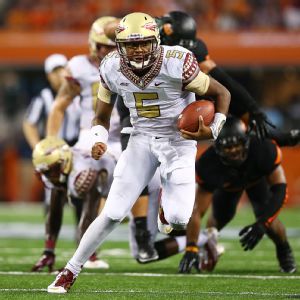 Ronald Martinez/Getty ImagesJameis Winston had a dazzling run, but made a few mistakes in the season opener.
At least not yet. Winston was equal parts brilliant and baffling at times, but the mistakes seemingly are correctable. The reigning Heisman Trophy winner forced a few passes into tight coverage at critical times in the game -- in the red zone and before halftime -- but if those drives had resulted in points instead of turnovers, Winston acknowledged after the game that the victory might have been sealed at halftime. Winston still has the type of arm that NFL teams will covet, and he put that on display. Few quarterbacks in the country can make the throws Winston can, and even fewer defensive backs can defend them. And when his team needed him most, Winston again rose to the occasion, sprinting 28 yards on a touchdown run that will be replayed dozens of time this week.
The real issue for the passing game is who is going to emerge opposite
Rashad Greene
?
3. FACT: Florida State needs a No. 2 receiver to emerge.
There is a very good chance Greene will leave Florida State as the most prolific receiver in school history, and he showed why Saturday. But the passing game was out of sorts for stretches, and that is due in part to the lack of a playmaker other than Greene.
"They were … forcing us to throw the football," Fisher said.
How many teams would have dared Florida State do that last season with Greene,
Kelvin Benjamin
and
Kenny Shaw
? Fisher said Winston kept relying on Greene, who had 11 catches for 203 yards, because Fisher called for plays to Greene. There just isn't the same confidence in the other receiving options at this point, and maybe that changes once
Jesus Wilson
returns from suspension, which is still labeled as indefinite but figures to end sooner rather than later. The freshman receivers that earned so much attention during preseason camp didn't catch a single pass. The trio of
Ja'Vonn Harrison
,
Ermon Lane
and
Travis Rudolph
still figures to be a great one in Tallahassee, but expectations from fans were far too high early on.
Levonte Whitfield
had some nice plays, but he is limited to a slot role.
The offensive line protected Winston extremely well, however, which in the future should give him enough time to start finding those No. 2 candidates. If defenses start fearing the pass it again, it should open up more holes for running back
Karlos Williams
.
4. (PARTIAL) FACT: The defensive tackles need to play better.
I watched Oklahoma State's offensive drives beginning from the second quarter, and the Seminoles' defensive tackles played well at times and looked shaky at times. If anything, the interior needs to play more consistently, and that could happen if Fisher elects to rotate more bodies in the future. Much of the burden was on
Eddie Goldman
,
Nile Lawrence-Stample
and
Derrick Mitchell
.
There was a mix of good and bad from the tackles on just about every defensive drive. The interior would get penetration one play and then get pushed a few yards off the ball on the next. A lot of it was simply Oklahoma State's speed, too. A few times the defensive tackles were in position to make a tackle behind the line of scrimmage, but
Tyreek Hill
just took away the angle. Goldman played well for much of the game, I thought, and if the linemen make those tackles for loss, their play might not be as widely discussed.
ESPN 300 Recruits: Do Facilities Matter?