Florida State Seminoles:

Duke Blue Devils
March, 22, 2014
3/22/14
9:15
PM ET
MARIETTA, Ga. -- The Nike SPARQ combines have grown with each passing year, and on Saturday there was a record turnout. If the 1,993 prospects who attended weren't impressive enough, the performances by several top prospects who came to compete certainly left spectators turning heads.
Here is a rundown of some of the event's top performers.
ESPN Junior 300 running back Taj Griffin posted one of the top SPARQ scores of the day. Griffin checked in at 5-foot-10, 174-pounds, ran a 4.41 40-yard dash and a 4.35 shuttle, had a 46-inch vertical leap and a 36-foot power ball toss for a combined score of 124.29. On the recruiting front, Oregon, Clemson, Florida State, Ohio State and Tennessee continue to stand out the most.



2015 RB Taj Griffin @tg__7 with the highest SPARQ score of the day in Atlanta. pic.twitter.com/SaY2QZLPrE

— Gerry Hamilton (@HamiltonESPN) March 22, 2014

No. 3 junior offensive tackle Chuma Edoga posted an impressive score of 94.65. After measuring at 6-4 and weighing 276 pounds, Edoga ripped off a 5.01 40-yard dash, a terrific 4.69 shuttle and had a 33.8-inch vertical jump and 37-foot power ball throw. Following his impressive effort, he said his top four schools in order are Tennessee, Southern California, Georgia and Stanford with a decision likely on May 25, his birthday. The big news might have been that he currently prefers the Volunteers, but his mother is in the corner of the Bulldogs and Cardinal.
No. 252 prospect C.J. Sanders made the trip and did not disappoint. He checked in at 5-9 and 176 pounds, ran a 4.57 40-yard dash, had a blazing 4.09 shuttle run, leaped 36.5 inches and tossed the power ball 41 feet. On the recruiting front, USC, Notre Dame and Georgia are the latest to offer, joining Duke, Northwestern, Stanford, Tennessee, Vanderbilt, Mississippi State and Ole Miss. He visited USC last week, and lists Reggie Bush as his childhood idol. Sanders is the son of former Ohio State and NFL wide receiver Chris Sanders. His mom played basketball at Michigan. He reports his family favors Duke and USC early on with a decision slated for the summer.
Ben Cleveland is already considered one of the top offensive line prospects in the country, and the 6-7, 317-pounder showed why Saturday. He clocked a very impressive 5.22 40-yard dash and 4.87 shuttle, and had a 25.8-inch vertical leap and 41.5-foot power ball throw for a score of 99.78. He has offers from Georgia, Clemson, Florida, South Carolina and Texas with Alabama expected in the near future. He made an unofficial visit to Clemson two weeks ago.
Class of 2016 prospect
Class of 2015 running back Jaylen Burgess posted a 118.44. The 5-10, 214-pounder ran a 4.66 40-yard dash and a 4.38 shuttle, and had a 36.7-inch vertical leap and 42.5 power ball throw. He is receiving interest from Tennessee, Vanderbilt, Clemson, Duke and a number of other ACC schools. Duke and Tennessee are the coaching staffs Burgess talks to the most. He posted more than 1,500 all-purpose yards as a junior.
Class of 2016 linebacker and defensive end Charles Wiley checked in at 6-3, 203 pounds. He clocked a 4.68 40-yard dash and 4.45 shuttle, and also leaped 35 inches and threw the power ball 34.5 feet. He has an early offer from Virginia Tech.
Class of 2015 athlete Jeremiah Mercer is flying completely under the recruiting radar. While he had to sit out the 2013 season due to transfer rules, he made his mark Saturday posting a score of 97.47. The 5-11, 163-pound running back and wide receiver ripped off a 4.48 40-yard dash and 4.18 shuttle, and added a 36.2-vertical leap and 31-foot power ball toss. He is receiving interest from Vanderbilt and Mississippi State and lists Florida State as his dream school.
Class of 2016 inside linebacker Tyler Reed posted a very impressive score of 104.91. After measuring 6-2, 234 pounds, Reed ran a 4.96 40-yard dash and 4.59 shuttle, and had a 35.5-inch vertical leap and 41-foot power ball throw. He recorded 130 tackles as a sophomore.
Class of 2015 running back Eric Montgomery posted a 115.47, one of the day's top scores. The tailback checked in at 5-11, 185 pounds, ran a 4.46 40-yard dash and a 4.19 shuttle, and jumped 36 inches and threw the power ball 38 feet. On the recruiting front, Kentucky, Cincinnati, Ole Miss and Mississippi State, among others, are showing interest.
September, 9, 2013
9/09/13
9:04
AM ET
It's time for a fresh set of power rankings with another week in the books. The top four teams remain the same from last week, but there was some shuffling the rest of the way down.

1. Clemson (2-0, 0-0 ACC; last week: 1):
The Tigers did what we all expected in a 52-13 win over South Carolina State. They also ended up moving up one spot in the AP poll to No. 3. Their big win over Georgia in Week 1 remains the crown jewel in the ACC crown after two weeks.
2. Florida State (1-0, 1-0 ACC; last week: 2):
The Seminoles were off this past week after beating Pittsburgh in the opener. Let's see what Game 2 has in store for
Jameis Winston
this weekend against Nevada.
3. Miami (2-0, 0-0 ACC; last week: 3):
The Hurricanes had the most impressive win in Week 2, over No. 12 Florida, which vaults them to No. 15 in the latest AP poll. But that win does nothing to change their standing in the ACC. There remains a clear gap between Clemson, Florida State and the rest of the league. Miami looks like it is starting to close the gap, but the Canes still have a long way to go -- especially after their offense struggled for most of the day against the Gators.
4. Georgia Tech (1-0 0-0 ACC; last week: 4):
The Jackets were also off in Week 2, so all we have to judge them on is a blowout win over FCS Elon. The next five weeks will tell us what we need to know about this team, as the Jackets prepare to play at Duke, North Carolina, Virginia Tech, at Miami and at BYU. That is one of the most brutal stretches any ACC team has to play this season.
5. North Carolina (1-1, 0-0 ACC; last week: 7):
The truth is, you could flip flop the Tar Heels and Virginia Tech at this point. Despite their victories over the weekend, both have problems that must be addressed. For starters, North Carolina has to get the coin toss figured out. The defense was once again up and down. They need a more consistent, better effort out of that group.
6. Virginia Tech (1-1, 0-0 ACC; last week: 5):
North Carolina gets the nod ahead of Virginia Tech for this week based on the quality of opponent it just played. The Tar Heels beat an FBS team, Virginia Tech an FCS team. I think we can all agree the Hokies have a formidable defense -- better than North Carolina's -- but the offense still has a ways to go to be respectable.
Logan Thomas
now has one touchdown pass and three interceptions on the season.
7. Virginia (1-1, 0-0 ACC; last week: 6):
No. 2 Oregon boatraced the Hoos on Saturday, but the truth is, nobody really expected them to win the game. They stay in the top half of the rankings this week based on their win over BYU in the opener. That win looks a lot better today after BYU clobbered No. 15 Texas. Virginia enters a five-game stretch now with winnable games. If the Hoos can take advantage, they will be looking good for a bowl spot.
8. Maryland (2-0, 0-0 ACC; last week: 8):
The Terps have beaten their first two opponents by a combined 90-20 and have not faced much of a test. The opponents' strength has been really weak, hence their spot here. Still, this is a team that has showed off its talent on offense in the first two weeks.
C.J. Brown
, in his return from a knee injury, ranks No. 3 in the nation in total QBR to lead all ACC quarterbacks. Chew on that one for a while.
9. Duke (2-0, 0-0 ACC; last week: 10):
Give the Blue Devils credit for pulling out a road win in Memphis with backup quarterback
Brandon Connette
this past Saturday. You can write the win off by saying it was "only Memphis," but the Tigers are a rapidly improving team and Duke was on the ropes. Any road win is a good win for a team that won only once away from home last season.
10. NC State (2-0, 0-0 ACC; last week: 9):
The Wolfpack get downgraded slightly for struggling to beat Richmond. While it is true the Spiders have caused FBS opponents fits, the Wolfpack nearly handed the game away with their own miscues. NC State had four turnovers, including three inside Richmond territory. Quarterback
Pete Thomas
struggled, throwing two interceptions. While he did lead the team into field goal range for the game winner, he has some work to do to improve.
11. Boston College (2-0, 1-0 ACC; last week: 14):
The Eagles climb out of the cellar for the first time in a long time after their 24-10 win over Wake Forest. You can already see the difference new coach Steve Addazio has made in the program. His team is playing a lot more physically and with a lot more energy. That is best illustrated in
Andre Williams
, who is now averaging 5.5 yards per carry -- one full yard better than last season. The BC run game has gone from awful to respectable in a matter of weeks. The Eagles have now matched their win total from 2012.
12. Pittsburgh (0-1, 0-1 ACC; last week: 12):
The Panthers were off last week, so they stay put here. The good news is they will not have to play a team as strong as Florida State the rest of the way in the ACC. They get New Mexico this week.
13. Wake Forest (1-1, 0-1 ACC; last week: 11):
The Deacs were supposed to be better this season with so many veterans returning, but they looked completely lost against BC. The defense got gashed on the ground. The offense could not run, nor could it execute the option effectively. Not sure why coaches insisted on sticking with it when it was not working. Their inability to run the ball was a bugaboo last season, and it looks to be the same this season.
14. Syracuse (0-2, 0-0 ACC; last week: 13):
The Orange have been the biggest disappointment in the ACC so far based on the first two games. No doubt they played a tough schedule to start against two Big Ten teams, but they were not even competitive in a loss to Northwestern this past weekend in which
Drew Allen
got benched after throwing four interceptions and the defense gave up 581 yards of total offense. Scott Shafer has some serious questions to answer before the season gets away from him.
April, 17, 2013
4/17/13
10:00
AM ET
MEMPHIS, Tenn. -- Defensive end
Derek Barnett
(Brentwood, Tenn./Brentwood Academy) looked forward to a meeting this offseason with
Drew Richmond
(Memphis, Tenn./Memphis University School).
After all, Richmond's team ended the season for Barnett last November with a one-point win the state-playoff semifinal round.
Barnett said he thought he earned a victory over Richmond on Sunday at the Nike Football Training Camp on the home turf of the coveted 2015 offensive tackle.
"I want to go up against the best," Barnett said, "so I was like, 'Come on, let's battle.' It went well. I got the best of him. He got me a few times, but I think I won that one."
October, 27, 2012
10/27/12
7:04
PM ET
TALLAHASSEE, Fla. -- The game was billed as a battle of division leaders, but Duke hardly looked the part Saturday as Florida State dominated the Blue Devils en route to
a 48-7 victory
.


Despite Duke's upstart status this season, little has changed in its rivalry with the Seminoles.
EJ Manuel
threw for 282 yards and two touchdowns,
Tyler Hunter
added a 75-yard punt return for a score and Florida State cruised to its 18th victory in as many tries against the Blue Devils.
It was over when:
James Wilder Jr.
rumbled into the end zone from 1 yard out just 1:50 into the second quarter. That touchdown put Florida State ahead 24-0, and it was already clear that in spite of all the buzz leading up to the game surrounding Duke's sudden resurgence, the Blue Devils simply weren't in the same class as the Seminoles.
Game ball goes to:
Wilder and
Devonta Freeman
. There were plenty of stout performances, from Manuel's long passes to stellar defensive work by
Cornellius Carradine
and
Christian Jones
. But coming into the game, the big question was how Florida State's ground game would respond to the loss of starting tailback
Chris Thompson
, and Freeman and Wilder offered an emphatic answer. The pair combined for 174 yards on 25 carries and scored three times on the ground. Since Thompson's injury, Wilder and Freeman have averaged 6.8 yards per carry.
Stat of the game:
Manuel wasn't asked to do much against Duke, but when he unloaded in the passing game, it was usually for a big play. Manuel averaged 17.6 yards per attempt against Duke -- the highest average of his career. Five of Manuel's eight completions gained at least 30 yards, and he finished with 282 yards passing. In his two career starts against Duke, Manuel has completed just 17 passes, but five have gained 50 yards or more. Meanwhile, Duke's quarterbacks averaged just 3.6 yards per attempt Saturday.
Unsung hero:
Dustin Hopkins
. OK, so neither of his field goals meant a whole lot in determining the outcome, but Hopkins connected on a 56-yard kick with 9:40 to go in the fourth quarter to set the ACC's all-time record for most field goals in a career, eclipsing former Maryland kicker Nick Novak. Hopkins has 15 field goals in his last five games, but the 58-yarder was a career-long for the senior. He's just 10 points shy of setting the NCAA record for most points scored in a career.
Record performance:
Hopkins provided the only ACC record of the day, as Duke's
Conner Vernon
will have to wait to set the conference record for receiving yards. Vernon entered play needing 94 yards to break Peter Warrick's career mark for ACC receivers, but he managed just three catches for 12 yards.
Cause for concern:
It was an easy win for Florida State, but fumbles remained a big problem for the second consecutive game. FSU coughed up the football four times Saturday, with Duke recovering each of them. This comes on the heels of a six-fumble performance against Miami last week. The problems were across the board, too, with Manuel fumbling on a QB run,
Rodney Smith
fumbling after a long reception, Freeman coughing up the football on a running play and Hunter muffing a return.
October, 26, 2012
10/26/12
9:00
AM ET
Things to keep an eye on when Florida State takes on Duke on Saturday.
[+] Enlarge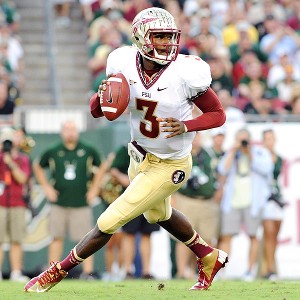 Al Messerschmidt/Getty ImagesE.J. Manuel has been extremely accurate when passing outside of the pocket.
Noles to watch:
1. EJ Manuel.
It's been a Jekyll-and-Hyde season for Manuel depending on the venue. He's been mediocre on the road, throwing just two TD passes in three games, completing 66 percent of his throws and averaging just 230 yards per game. Manuel has been unstoppable at home, though. In five home games, he's completing nearly 75 percent of his throws with eight TDs and averaging 332 yards per game.
2. Tyler Hunter.
After his third fumble of the season on special teams last week,
Rashad Greene
was benched as FSU's top punt returner, and Hunter will now get his chance. But while Greene struggled to hold onto the football, he was also a big-play threat, with two touchdowns already. Hunter provides the same home-run potential, Fisher said, having played on offense through much of his high school career.
3. James Wilder Jr. and Devonta Freeman.
Chris Thompson
's season is over and the burden of picking up the FSU ground game now falls to a pair of sophomores. Both runners are averaging better than 6 yards per carry this season and combined for 119 yards and two touchdowns after Thompson departed last week's game, so there's ample reason for optimism.
October, 25, 2012
10/25/12
9:00
AM ET
In August, it would have been pretty easy to assume this week's game would feature one team in control of its own destiny in the ACC and another looking for help. Of course, who would've guessed the team with its sights set on the ACC championship game would be Duke, and it would be Florida State that was still on the outside looking in?
[+] Enlarge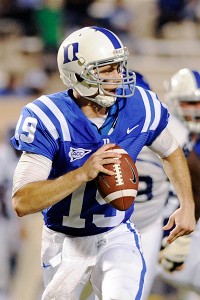 Liz Condo/US PresswireQuarterback Sean Renfree is a big reason why Duke is bowl-eligible for the first time since 1994.
Still, history suggests there's little room for concern for Florida State this week, even if Duke is playing its best football in nearly two decades. But the Seminoles know what can happen when they take an opponent lightly, and the Blue Devils have talent.
So, what are the keys to running up another big win over Duke? We checked in with Blue Devils beat writer Laura Keeley from the Raleigh News & Observer for some answers.
NoleNation: Duke is 0-17 all-time against FSU, has never lost by fewer than 19 points and has allowed at least 44 points in 14 of the 17 previous meetings. Obviously this year's Duke team is the best they've had in a while, but do these Blue Devils really believe they have a chance to knock off FSU?
Laura Keeley:
They do. This is not your Duke team of old, and I present you three different situations as evidence:
1) Wake Forest scored 10 points in the final 2:26 of the third quarter to tie that Sept. 29 game at 20-20. Duke scored 14 straight points and won 34-27 to snap a 12-year losing streak to the Demon Deacons.
2) Duke came out of the tunnel at Blacksburg and built a 20-0 lead against a physically superior Virginia Tech team in the first quarter. That's the second-highest total ever surrendered by the Hokies in the Frank Beamer era, and it took the largest comeback of the Beamer era for Virginia Tech to win.
3) So yes, in the above game Virginia Tech scored 41 unanswered points to win 41-20. But the Blue Devils shook that off and came out and beat UNC 33-30 to end an 8-year losing streak to the Tar Heels and clinch bowl eligibility. The game-winning drive came after Duke CB
Ross Cockrell
failed to corral a loose ball that would have sealed the deal for Duke, but instead UNC RB
Giovani Bernard
scooped and scored and gave UNC the temporary lead.
So, yeah, things are different in Durham this year. That said, the Blue Devils are aware of the monumental challenge Florida State presents and acknowledge that the Noles are bigger, faster and stronger. That's just a fact.
August, 27, 2012
8/27/12
4:04
PM ET
Four-star offensive lineman
Shawn Curtis
(Orlando, Fla./Olympia) has around 20 scholarship offers, but the 6-foot-6, 279-pound tackle prospects said four schools are sticking out.
"USF, NC State, Mississippi State and Syracuse are probably sticking out to me the most right now," Curtis said. "Duke is also standing out some, too.
Curtis says a big reason for Mississippi State being in his top schools is because the Bulldogs are in the SEC.
To continue reading this article you must be an Insider
ESPN 300 Recruits on Negative Recruiting