Florida State Seminoles:

Ellis Johnson
January, 4, 2014
Jan 4
3:54
PM ET
NEWPORT BEACH, Calif. -- Auburn defensive coordinator Ellis Johnson wouldn't have missed this for the world.
The only question, as it turns out, was which side of the field he would be on Monday night in the VIZIO BCS National Championship.
[+] Enlarge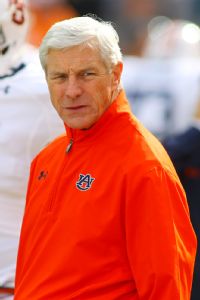 Greg McWilliams/Icon SMIWhile Ellis Johnson's defense has had its struggles, the Tigers are second in the SEC red zone defense and third in sacks.
Johnson, one of the most respected defensive minds in college football, was one of Florida State coach Jimbo Fisher's top targets when Mark Stoops left Florida State to become Kentucky's head coach.
But one of the first calls newly hired Auburn coach Gus Malzahn made after getting the job was also to Johnson, who was fired after one forgettable 0-12 season as Southern Miss' head coach.
"It was close. I guess I could have been on the other side," Johnson said Saturday during media day. "I actually got a call from someone Jimbo and I both know before I even got fired at Southern Miss."
To say the least, Johnson was intrigued and remembers telling his wife, Caroline, that the Florida State situation was ready-made.
"We really thought we were looking at a three-year deal here at Auburn," Johnson said. "Nobody expected this, but I knew they were going to win at Florida State."
After meeting with Malzahn, Johnson was scheduled to meet with Fisher, but didn't want to drag it out any further; he knew Auburn was where he belonged.
Getting back into the SEC was important for Johnson, as was getting a chance to work under Malzahn. But, ultimately, Johnson made his decision for family reasons.
He'd taken his family out of Columbia, S.C., which was home to his wife, to accept the Southern Miss job and felt as though they'd be happier in Auburn. Plus, he wasn't too far away from locking in a nice pension from the state of Alabama after working previously on Alabama's coaching staff.
"There were a lot of reasons to go to Florida State, and I knew Jimbo was on the verge of something special there," Johnson said. "But there were some other reasons outside football that made Auburn the right choice for us, and it's been unbelievable the way this season has unfolded."
Johnson's first defense at Auburn has had its moments, both good and bad. But the Tigers have consistently made key plays during crucial situations and were second in the SEC in red zone defense.
"We're going to have to play a lot more consistently in this game," Johnson said. "If we give up some of the cheap plays we have this season at times, we're going to have a hard time."
January, 3, 2014
Jan 3
4:22
PM ET
NEWPORT BEACH, Calif. -- The hits just keep coming for Texas, which can't seem to find a coach to replace Mack Brown.


Well, here's some good news: If the Longhorns hire Jimbo Fisher, they'll get a two-for-one deal, scoring the Heisman Trophy winner, too.
The odds of that happening don't look good, of course, especially because Fisher recently signed a new contract with Florida State. And Texas already had its chance at quarterback
Jameis Winston
.
"Through the whole recruiting process, I said to my coach, 'We got to get Texas on the phone,' " Winston said.
Winston even tried to get Brown on the phone himself.
"I tried to call him a couple times because I really like Texas," he said.
It's probably better it didn't work out. After all, Winston said he was an Oklahoma fan.
SWINGING FOR THE STARS
Who says Winston can't play both baseball and football at the next level?
"You can do anything you put your mind to," the two-sport star said. "A lot of people are going to say, 'No way, he's a quarterback.' Bo Jackson was a running back. The one thing I always seem to do is gain the trust of my teammates. Even being in the NFL, if I can convince those guys I can be your quarterback, I can go play baseball for the Atlanta Braves, New York Yankees. I can't talk about that, because I'm living in the moment right now."
On Tuesday, he'll be ready to talk baseball again.
"Right now I got one thing on my mind, win the national championship on Monday. Tuesday comes, I'll be ready for it then. I'm pretty sure [Florida State baseball] coach Mike Martin, he'll talk to me about it then. I know he's not saying nothing about baseball to me right now."
HAPPY RETURNS
Prior to this season, Auburn's
Chris Davis
had not returned any punts or kicks during his college career, but it wasn't because he didn't try.
"I'd been asking. I never got the opportunity," said Davis, who led the SEC in punt return average this season and also returned the missed field goal against Alabama 109 yards for a touchdown.
Asked what reason the previous coaching staff at Auburn gave him for not giving him a shot to return kicks, Davis said, "They didn't have an answer for me."
Auburn's current special teams coach, Scott Fountain, was the director of player personnel on the previous staff and made it known when the new regime arrived that Davis was plenty capable as a return man. Davis had excelled as a return specialist in high school.
The rest, as they say, is history.
"I'd mention it every year. I'd go back and catch punts and kicks at the beginning of the season, but I never got the opportunity," Davis said. "I thank Coach Fountain and Coach [Gus] Malzahn for the opportunity."
NOT BACKING DOWN
Florida State's receivers, led by 6-foot-5, 234-pound sophomore
Kelvin Benjamin
, are big, physical and explosive.
Benjamin has 14 touchdown catches entering Monday's Vizio BCS National Championship, which presents quite a challenge for an Auburn pass defense that ranked last in the SEC this season.
But the Tigers are adamant they're not going to all of a sudden change it up.
"We've mixed it up, but man[-to-man coverage] is our base," Auburn defensive coordinator Ellis Johnson said. "We're going to play man. LSU had great receivers. Georgia had good receivers. Missouri's got bigger receivers than Florida State's got. We've seen all types. We've seen some of the best. At all times, we haven't stopped them, but you can't just give up on something.
"I think a lot of people have been intimidated out of man coverage against them early in the game because they can't score on them. If we score on them and hold the ball on them a little bit, we'll have a chance to be more aggressive. If we don't, we're going to have a hard time."
GETTING DRAFTY
Florida State junior running back
Devonta Freeman
said he turned his papers into the NFL draft evaluation board but hasn't heard back from it yet. Freeman said when he does, he will talk to Fisher about possibly entering the draft.
January, 3, 2014
Jan 3
2:40
PM ET
NEWPORT BEACH, Calif. -- Florida State quarterback
Jameis Winston
was greeted by crowd of television cameras as he stepped out of the shiny black Chevy SUV that had escorted he and several of his teammates to the Newport Beach Marriott on Friday morning for the Seminoles' offensive news conference.
Sipping on his Starbucks, Winston was once again unfazed as the center of attention.
[+] Enlarge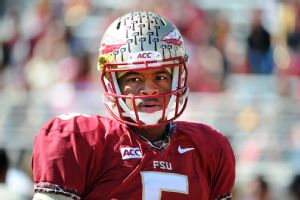 Melina Vastola/USA TODAY SportsHeisman-winning quarterback Jameis Winston threw 38 touchdown passes this season and just 10 interceptions.
After a whirlwind awards tour, which included a trip to New York to claim his Heisman Trophy, Winston was again lighting up the stage with his engaging personality. He was the focus -- not just for the media, but also for Auburn's defense. Auburn defensive coordinator Ellis Johnson conceded that the Tigers "have not been, by all standards, a really good defense this year." That's going to have to change on Monday night against the Seminoles if the Tigers hope to win the Vizio BCS National Championship, and according to Ellis, the difference in the game will be the defense's ability to pressure Winston into uncharacteristic mistakes.
"It's going to be a big factor," Ellis said. "The play in the box, they have tremendous skill out on the edges, but the pressure in the box is going to be one of the biggest keys to any defensive success that we have. There will be some other things in the game we can't control, kicking game, offense, all are going to contribute. But as far as us performing defensively and giving our football team a chance to win, there's got to be pressure on the quarterback."
Somehow, pressure doesn't seem to get to the 19-year-old first-year starter.
According to ESPN Stats & Info, on plays Winston is pressured (knocked down or hurried), he completes an AQ-high 62 percent of his passes and is averaging 11.1 yards per attempt. The AQ average for a quarterback when pressured is 35 percent and 4.7 yards per attempt.
It's a statistical mismatch in Florida State's favor, but Auburn's hybrid safety,
Robenson Therezie
, isn't deterred.
"With our game plan I feel like when we execute and do our jobs, I feel like we can keep him outside his comfort zone," Therezie said. "With our front four, I don't think he's seen the front four he's about to face on January 6th. It's a completely different front four than he's ever faced. With our secondary, I don't think he's seen the secondary that he's seen all year with our secondary. It's completely different from all the other leagues he's played in."
The good news for Auburn's defense: It has had a little experience with elite SEC quarterbacks. Now the bad news: Against the offenses of
Johnny Manziel
,
AJ McCarron
,
Aaron Murray
,
Zach Mettenberger
and
James Franklin
, Auburn allowed 7.3 yards per play.
"I think seeing those type of players, week in and week out, definitely gets you ready," defensive back
Jermaine Whitehead
said. "I mean, seeing previous Heisman winners gets you ready for a guy that just won the Heisman. Playing against those guys a couple years now, watching them grow and watching how they transpired over the years, the depth of exactly what Winston has the capacity of ...
"I think being in those situations, also, has shown us how to be resilient, not give up when they make a big play. We understand that their college football team is one of the best in the country, and they're going to have big times in the game, and how we respond is going to be the test of the game."
Kirk Herbstreit's Gameplan Breakdown
ACC SCOREBOARD
Friday, 11/28
Saturday, 11/29