Florida State Seminoles:

FSU camp 2014
August, 28, 2014
8/28/14
1:00
PM ET
TALLAHASSEE, Fla. -- Florida State isn't afraid of playing under the brightest of lights. The Seminoles did it several times last season.
However, Florida State coach Jimbo Fisher understands AT&T Stadium -- also known as "Jerry World," after Dallas Cowboys owner Jerry Jones -- can be an awe-inspiring venue. So he's breaking routine to make sure the Seminoles are not caught up in those lights against Oklahoma State on Saturday.
And it's good to get used to it now, as the preseason No. 1 Seminoles hope to be back in in the stadium in January for the inaugural College Football Playoff national championship.
[+] Enlarge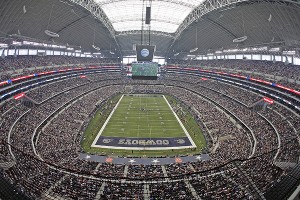 AP Photo/James D. SmithFlorida State hopes to open and close its season at AT&T Stadium.
"We're going to go out [to AT&T Stadium] Thursday night and Friday we might, which I usually don't do, stop by and take a half-hour and have them turn on the lights and the bells and whistles and we'll catch a few punts here and there and throw some balls just to get used of the atmosphere, which is very unique and, I hear, is different," Fisher said. "We're going to try and eliminate that clutter before [Saturday]."
While several nationally ranked programs will play a game in an NFL stadium, few are as state-of-the-art as AT&T Stadium, which cost $1.3 billion and opened in 2009. Florida State will be the only team afforded the luxury of playing in it before the national championship game.
Senior receiver
Christian Green
said his brother Brandon played at AT&T Stadium and believes it's in the Seminoles' best interest to get the initial wonder out of the way before the opening kickoff.
"I've heard a lot about it. My brother played in it; my brother's been there before. He's always like, 'It's good that y'all are going early, because it's a big stadium, so you get all the overwhelming stuff out of the way and just focus in on the game,' " Green said.
Fisher said he hopes the opener prepares Florida State if the Seminoles do return in the playoffs. He noted each time the Seminoles play in an NFL stadium -- which is where the first three College Football Playoff title games will be held -- it offers a little bit of an advantage.
"That's sports -- how you handle those situations, how you handle those arenas," he said. "We've been in a lot of big games, but that is a different stadium. But at the end of the day, it's got two goal posts at the end; that's what we've got to remember."
August, 19, 2014
8/19/14
10:00
AM ET
TALLAHASSEE, Fla. -- When Jimbo Fisher is asked about his 2014 class -- and he's been asked a lot -- he smiles and cracks a joke, one that has become part of the fifth-year Florida State coach's preseason vernacular.
"I'll put it this way: We may get caught by the game warden for having our [fishing] live well too full," he cracks, "but I'm not throwing any of them back."
[+] Enlarge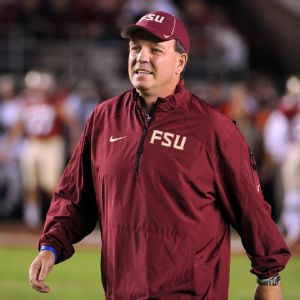 Melina Vastola/USA TODAY Sports"That's the kind of guys you want here, guys who want to get on the field quickly," Jimbo Fisher said.
Maybe he's just happy this offseason he's being asked about newcomers instead of a quarterback competition or whether the Seminoles are "back." Or maybe it is possible Fisher really does expect greatness out of this 2014 class, which RecruitingNation ranked No. 3 in February.
Through summer workouts and the first two weeks of preseason camp, Fisher said this class is far along as physically as he has ever seen. That is due in large part to 13 linemen Fisher signed, seven of whom tip the scales at 290 pounds or more. While linemen are usually relegated to a redshirt season upon arrival, Fisher said he sees a use for several of the newcomers to play early. Over the course of the last three classes, nine freshman linemen have been letterwinners, and Fisher has played junior college transfers immediately, as well.
Mentally, however, this group of 28 is as far along as any of the five classes Fisher's recruited. There wasn't a single academic casualty among the signees, and the 2014 signees began studying the playbook as soon as possible. The coaching staff has commended the Seminoles' upperclassmen throughout camp for tutoring the younger players, too.
"All of those guys have been very coachable and they're willing to learn. That's been huge," first-year defensive coordinator Charles Kelly said. "The whole class in general, size speed and athleticism has been very impressive.
Expect some of the 2014 praise to subside as fall camp ends and preparations for Oklahoma State begin, but there should be more than a handful of freshmen who make significant contributions as freshmen. Receivers
Ermon Lane
and
Travis Rudolph
were in the top six among receivers nationally in the 2014 class, and in practices freshman defensive tackle
Derrick Nnadi
has been "that dude," according to end
Mario Edwards Jr.
Over the last three seasons,
29 freshmen have earned letters
and 14 were named to at least one freshmen All-America team. Those numbers should continue to grow in 2014. Sophomore
Jalen Ramsey
, a Thorpe Award watch list member in 2014, said Florida State embraces its freshmen like few programs, and there is rarely a grudge if a younger player earns a starting job from an upperclassman.
"As a team, we want the best people on the field beside us. When you have the best people on the field, you don't have to worry about doing extra roles," Ramsey said. "If they're the best, then definitely play them."
Ramsey said he entered his freshman season with a mindset that he was not going to be outworked and would secure at least a spot in the defensive backfield's rotation. He ended up starting every game.
"It inspires [the freshmen]," Fisher said. "That's the kind of guys you want here, guys who want to get on the field quickly."
August, 14, 2014
8/14/14
2:00
PM ET
TALLAHASSEE, Fla. -- Odell Haggins has been Florida State's defensive tackles coach since 1996, a total of 19 consecutive seasons. As far as stability goes on the defensive staff, it begins with Haggins. It ends there, too, as the remaining three assistants have been on staff a combined five seasons.
Charles Kelly is in his second year on staff but shifts from linebackers coach to the secondary while also adding the title of defensive coordinator, a position he's never held for an entire season at the FBS level. In his stead coaching the linebackers is Bill Miller, who was hired away from Minnesota.
Early returns indicate Kelly, who
received rave reviews when he was hired
, has hit the ground running as the new leader of a defense that finished No. 1 in points per game during their 2013 championship run.
"He stays positive. He gets on you when you mess up but he explains it when you do," cornerback
Ronald Darby
said. "If I'm going to do something, he asks why you did it, and if I explain why, he's more understanding as a coach instead of 'Shut up I don't want to hear that!' He's a great coach."
Despite switching defensive coordinators, Seminoles coach Jimbo Fisher said not much has changed schematically. Kelly worked under 2013 coordinator Jeremy Pruitt, and the players have said the changes have been minimal. The terminology and the scheme remain largely intact, which could foster an easier transition this season for a defense replacing its best player at every level of the unit.
Kelly said there will be small differences, though, simply because he and Pruitt are not clones of each other. Kelly said he will have his own identity, which is really just a mosaic of the knowledge he's gained in his 23 seasons of coaching.
Over those 23 seasons, Kelly has coached nearly every position group, and that is not limited to just the defense. There are challenging aspects to that, but Kelly said a good coach is able to adapt to any position and it's prepared him to coordinate the entire defense.
"I grew up wanting to be a coach, so if you can coach and communicate and teach, you should be able to coach any position," Kelly said. "Coaching different positions, sometimes the personalities at positions are different, so it teaches you how to handle people differently."
Kelly acknowledges the potential issues of adding a new coach in the mix, but he welcomes the addition of Miller, who began coaching in 1978 and has coached six first-round draft picks, including Ray Lewis.
"Change is good sometimes because it's new blood, new ideas. It's a different way of looking at things," Kelly said. "When you're the only one doing it, you get tunnel vision. When you trust people you work with, then you trust what they say."
Helping facilitate a smooth transition for Miller is his familiarity with Fisher's coaching philosophies. Fisher is a protégé of Nick Saban, and Miller was on Saban's staff at Michigan State.
"There's kind of an unwritten club of guys that worked for Nick Saban," Miller said. "What helps me a lot is I've been in this defensive system before. Sal [Sunseri] and I were together at Michigan State, and having that kind of background and knowing what this system is all about has been a great aid to me."
Fisher said
E.J. Levenberry
is working with the first team at linebacker, and the sophomore said during fall camp that Miller has helped him with his fundamentals.
Florida State held its first scrimmage this week, and throughout the defense the fundamentals were not lacking. Fisher was upbeat following the scrimmage, and defensive lineman
Mario Edwards
said the players are comfortable in the system. Any mistakes were attributed to tired legs, Edwards said.
"We know the defense," Edwards said, "and we know where to be."
August, 12, 2014
8/12/14
9:00
PM ET
TALLAHASSEE, Fla. -- When Florida State coach Jimbo Fisher was asked who stood out to him during the team's first preseason scrimmage, he listed nearly one-fifth of his roster, 15 names and an entire position group total.
It's quite the stark contrast from how Fisher felt at the end of March following the first scrimmage of the spring, when the fifth-year coach, sounding like a let-down parent, expressed no anger but disappointment in the Seminoles' effort.
"Our kids know how to work. We know how to do things and what's expected," Fisher said Tuesday. "They know what's tolerated and not tolerated, and we're doing a very good job of staying above that line."
Fisher said Florida State, ranked No. 1 in the USA Today Coaches Poll, covered "everything from A to Z" in practice -- which was the longest of camp thus far -- mixing in full drives with the first-team offense playing against the first-team defense and working on situation football -- third downs, red zone and short-yardage to name a few examples.
The practice's physicality, a topic covered at length the last few days in the wake of
Jalen Ramsey
's dismissal from practice Sunday, was where Fisher wanted it to be. While a few healthy players wore the blue non-contact jersey, the rest of the team was in pads and hitting full speed.
"There were some good licks," said Fisher, who added Ramsey had one of his best practices for a second straight day.
A handful of projected starters did not participate --
Ukeme Eligwe
,
Ronald Darby
and
P.J. Williams
to name a few -- the coaching staff learned enough about the Seminoles on Tuesday to see evidence that the 2014 team's identity is forming. Florida State has a starting lineup that could be the best in the country, but the team's depth was on display through much of the scrimmage. The freshmen have received rave review throughout camp, and Fisher once again was pleased with how his young players performed.
"You can visualize who can begin to help you, and the next three or four days will be interesting to see how they recover and how they play after this scrimmage," Fisher said.
The defense is in the midst of replacing its leader at every level of the unit, and there were some mental miscues during the scrimmage. However, junior defensive lineman
Mario Edwards Jr.
said those were largely because the starting defense was not used to a high-intensity, 12-play drive. Through much of the everyday practices, Edwards said the defense usually is on the field for only a few snaps before rotating with the second team.
The positive for the defense is the veterans are jelling with the inexperienced underclassmen.
"I would say the chemistry of the defense," was the biggest difference between the first spring and summer scrimmage, Edwards said. "We know where to be. We still had mental busts and brain farts, but for the most part we know where to be."
Florida State has its first day off Wednesday, and Fisher can rest comfortably knowing the Seminoles have earned one.
"I'm pretty pleased where we're at," Fisher said. "We got a lot of work to do but I'm not disappointed at all. We know where we're going."
August, 12, 2014
8/12/14
1:00
PM ET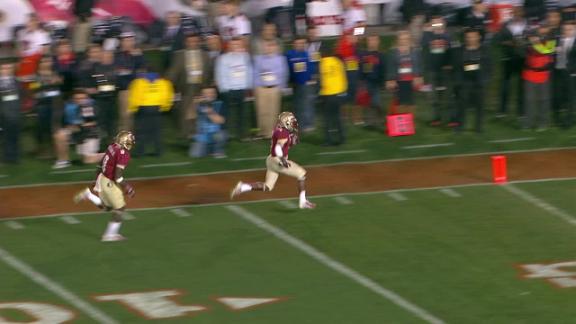 TALLAHASSEE, Fla. -- Florida State is not deviating from company line that the Seminoles have moved on from 2013, but forgive FSU fans if they're still reveling in the past.
Levonte Whitfield
gave Florida State its first lead of the national championship game with a 100-yard kickoff return in the fourth quarter, and, seven months later, it's still a talking point for Seminoles fans when interacting with the player affectionately known as Kermit.
"It's like every day, I get a lot of [Twitter] mentions about it," Whitfield said. "I try not to think about it. They can't take it away from me but I try not to think about it. It's time to move on."
Whitfield still has the play burned in his memory, though. With the Seminoles trailing 24-20 with 4:42 left in the game, the then-true freshman fielded the kickoff from about two yards deep in the end zone. Eleven seconds later, he was in the end zone.
"As soon as I got the ball I see
Chad Abram
kicked out, got his block and Karlos [Williams] made a cut and I see a big hole and I see nothing but daylight," Whitfield said.
With his sophomore season on the horizon, though, Whitfield wants to be remembered as more than just the kick returner from the national championship. The 5-foot-7, 183-pound receiver said he is working with the first-team offense in practice, and he could be relied upon in the passing game more often this season as a slot receiver, especially with fellow diminutive receiver
Jesus Wilson
(5-9, 177) indefinitely suspended.
Whitfield is one of the fastest players in the country, but Seminoles coach Jimbo Fisher said Whitfield needs to display that speed even when the ball is not in his hands. Whitfield said he is working on his route running, too.
"I want to be an All-American," Whitfield said, "and do what I need to do to help the team win."
August, 7, 2014
8/07/14
9:00
AM ET
TALLAHASSEE, Fla. -- It's the double-edged sword of having a wildly talented team but with nearly a month's worth of practices still standing in the way of the season opener. There are not many question marks in the starting lineup for Florida State, which means the uncertainties at those few positions are squarely under the microscope.
[+] Enlarge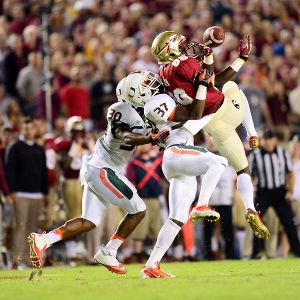 Phil Ellsworth/ESPN ImagesSenior Christian Green is among a group of Florida State wide receivers looking to complement Rashad Greene.
That's why Jimbo Fisher,
Rashad Greene
, the offensive line and even the Seminoles' secondary are being asked about the inexperienced group of receivers. It's understandable why the receiver corps has been a debated and scrutinized, and it is a legitimate question to ask which receivers will step up to complement the senior Greene, the team's leading receiver. Especially when considering Fisher's frustration with the receivers boiled over this spring.
A lack of consistency drew the ire of Fisher in March, but through three practices this fall, Fisher has been much more measured and complimentary of the receivers. However, consistency is still a concern during preseason practices for a unit that, outside of Greene, combined for 23 catches in 2013.
"Consistency, guys knowing what to do, where to be when that ball is thrown to you," Fisher said when asked what will separate the jumble behind Greene. "I've been pleased with the younger and older receivers."
The younger receivers, for only practicing three days and none with full pads on, have been the stars among the corps so far. At this point, though, that is more a product of the vast hype and media and fan intrigue rather than on-field performance.
Ermon Lane
was the No. 2 receiver nationally in the ESPN 300 and stands 6-foot-4 and weighs 206 pounds.
Travis Rudolph
was not far off in the recruiting rankings, registering as the sixth-best receiver in the 2014 class. Four-star
Ja'Vonn Harrison
rounds out the highly regarded freshman trio.
"Travis and Ja'Vonn, those two really do have good routes. Ermon is more of a physical type guy, he can go up, get off the jam. That's what separates those guys," senior receiver
Jarred Haggins
said. "By the time they all take their role, they're going to be awesome."
Haggins missed the entire 2013 season with a stress fracture in his knee but is healthy and competing for the No. 2 spot. With
Kermit Whitfield
and
Jesus Wilson
-- who is still indefinitely suspended -- likely filling the slot receiver role, Haggins,
Christian Green
and
Isaiah Jones
are competing with the freshmen for the starting outside receiver position.
The 6-foot-2, 204-pound Green caught 13 passes last season, second most among returning receivers, but he caught more passes as a redshirt freshman (26) than he has the rest of his career combined. A member of the 2010 recruiting class, Green arrived in Tallahassee with the same national acclaim as the current freshmen, as he ranked No. 53 in the ESPN 150.
Despite the limited action and attention he has received the first four years of his career, Green is determined to make a senior jump similar to the departed
Kenny Shaw
, Green's freshman roommate and a receiver who caught nearly as many passes a senior (54) as he did his first three seasons (70).
"It's something I've been waiting for," Green said. "I've been patient and playing my role and doing whatever they asked me to do. Now is the time."
Green said he is doing his best balancing his own ambitions with mentoring the younger receivers, but this offseason they were all under the tutelage of
Jameis Winston
. Last summer, Winston was still embroiled in a quarterback competition. During summer 7-on-7 workouts and throwing sessions that coaches couldn't watch, it was Winston who took the lead role of developing his young receivers.
"Jameis really understands what he wants and how he wants it," Fisher said. "It's something he picked up this summer from
Peyton Manning
. I always talk to him about taking two routes a day and running it 100 times. Make those guys understand how to do it."
August, 5, 2014
8/05/14
3:30
PM ET
TALLAHASSEE, Fla. -- Florida State had the No.1 pass defense in 2013. It's hard to believe it, but the secondary could be even better in 2014, with four possible first-round picks starting in the backfield.
Seminoles coach Jimbo Fisher knows what he is going to get out of his defensive backs. However, the front seven is looking for players to emerge to alleviate the burden of losing tackle Timmy Jernigan and linebacker Telvin Smith. The defensive line needs a handful of role players to complement the starters, and the linebacking corps doesn't have a definitive first-team unit just yet.
"I want to see those [starting linemen] take responsibility, and I want to see the quality depth behind it so we can get a quality rotation," Fisher said. "I know we have plenty of guys capable.
[+] Enlarge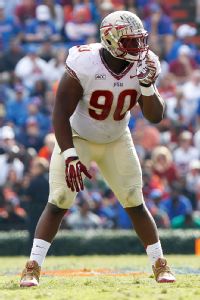 Kim Klement/USA TODAY SportsEddie Goldman will start at defensive tackle, but Jimbo Fisher is hunting quality behind the junior.
"The leadership role at linebacker,
Terrance [Smith
] is there but who steps up at Mike linebacker? Who's going to become the pass rushers, who's going to be the DPR [designated pass rushers], who's going to be the nickel 'backers, who's going to be the first- and second-down 'backers?"
Standing at the podium for his first fall camp news conference, Fisher still displayed a palpable confidence as he elaborated on the defense's questions, but he was cataloging them so he could return to them in another two weeks to see which have been answered.
Florida State has what looks to be a clearly defined set of starters on the defensive line with
Mario Edwards Jr.
,
Eddie Goldman
,
Nile Lawrence-Stample
and
Chris Casher
. Defensive line inherently is a position that requires a bevy of fresh bodies, though, which is why Fisher is determined to uncover quality rotational players who will allow his starters to come off the field without the defense taking a step back.
There is no shortage of options behind Florida State's starters. There are 10 backups along the line who are either freshmen or sophomores, and they average almost 6-foot-4 and 293 pounds.
Keith Bryant
,
Justin Shanks
and
DeMarcus Walker
were blue-chip recruits out of high school, and the defense needs those three to become primary rotational players with the idea they could be the starters in 2015. Florida State also brought in a number of freshmen, and Fisher said, physically, they already fit the Florida State defensive lineman archetype.
The luxury Fisher has is the younger players will all be able to learn from Edwards, who is in his second year in this defensive system but in his first as the unquestioned leader of the defensive line. The former No. 1 high school recruit, few players nationally are as physically gifted as Edwards.
"He's so daggone big and athletic. He's still 300 pounds, but we played a lot with those guys at LSU, 300-pound ends," said Fisher, calling upon his days as an assistant in Baton Rouge, Louisiana. "When you can do a standing back flip and a run a 5-flat [in the 40-yard dash] and bend like he does, you don't worry."
Behind the defensive line, Smith returns as a starter in the linebacker corps, but it is a tossup as to who will partner with him.
Ukeme Eligwe
, who is recovering from a Lisfranc injury,
E.J. Levenberry
and
Reggie Northrup
all played at least 13 games last season, and
Matthew Thomas
was shelved after four games in 2013 to repair a balky shoulder and preserve his redshirt. Thomas was a five-star recruit and one of the top players during the spring. When a player has a good practice, Fisher likes to say he "flashed," and routinely this spring Fisher said "No. 6 flashed," referring to Thomas.
As Fisher balances each player's talents and weaknesses, the potential deciding factor ultimately could boil down to chemistry. Fisher said it's often overlooked, but certain players raise their level of play when lining up next to certain teammates.
"We'll mix and match and also see who plays well together," Fisher said. "Sometimes people don't look at that. Some guys play better beside certain guys, and creating those packages is going to be critical."
August, 4, 2014
8/04/14
11:30
PM ET
TALLAHASSEE, Fla. -- Preseason camp begins with five days of heat acclimation, but that doesn't mean there is a nearly week-long grace period for Florida State. Not when the Seminoles are in pursuit of consecutive national championships.
New linebackers coach Bill Miller was already adjusted to head coach Jimbo Fisher's "attitude of domination" standard at the onset of the Seminoles' first practice of fall camp. When a freshman linebacker didn't perform a warm-up drill correctly, Miller sent him back to the front of a line with a not-so-subtle message to do it better next time.
"I liked the intensity of practice. It was very good competition, guys getting after each other, competing with each other, for the most part knowing what to do," Fisher said.
Although players were not in pads Monday, Fisher was encouraged by what he saw. With the mandated restriction on pads -- Florida State's first two-a-day will be Saturday -- the first day of practice was an opportunity for the Seminoles to work on alignments, assignments and execution.
Fisher expressed a little disappointment in how the passing game performed -- he called the quarterbacks' execution "very average" -- but he acknowledged it was the first time the group had a defensive line charging at them in four months. And when you return
Jameis Winston
, the reigning Heisman Trophy winner, there is little reason for long-term concern.
Once baseball season ended, Fisher forced Winston to take a couple of weeks off to ease the demands on his star player's body. The result was a Winston who is much fresher than he was entering the 2013 season and a smarter player under center. When Winston was kept from the field, he used it as an opportunity to fine-tune his mechanics.
"He was very anxious to get better fundamentally. He did a lot of film study with his footwork and working on his release and quickening things up," Fisher said.
Coupled with an energized Winston, the first few days of practice should go smoother this season because of the lack of roster turnover on the offense line and a defensive scheme that remains largely unchanged. The offensive line has five seniors and more than 100 starts among them, and new defensive coordinator Charles Kelly is executing the same defensive scheme as predecessor Jeremy Pruitt. Kelly was the Seminoles' linebackers coach in 2013. While Florida State has to replace defensive leaders
Timmy Jernigan
,
Lamarcus Joyner
and
Telvin Smith
, there is a knowledge that should allow the new starters to transition quickly to their roles.
"It's the second year on defense of exactly the [same] system we're running, so I think the knowledge is increased," Fisher said. "The young guys will know more because the older guys can help them. Last year early, the older guys couldn't help them because they were learning it for the first time, too."
There is a belief those younger players will crack the rotation and make an impact at some point in 2014, possibly for the Aug. 30 opener against Oklahoma State. Freshman receivers
Ermon Lane
and
Travis Rudolph
, recovered from offseason foot surgery, look physically impressive, and there is an opportunity for playing time on the defensive line; the Seminoles have seven freshmen defensive linemen, and Fisher said "there's not one you'd throw back."
Linebacker
Terrance Smith
smiled when asked about the big bodies accompanying their new faces.
"This is probably the biggest group of freshmen we've had in a long time," he said. "Me as a linebacker, I'm not complaining because we got some big D-Linemen in front of me."
Notes:
Sophomore receiver
Jesus "Bobo" Wilson
remains indefinitely suspended following a Monday meeting with Fisher. Wilson is practicing and should return during the season, but Fisher sounded as if Wilson will not play in the opener. ... Linebacker
Ukeme Eligwe
(Lisfranc injury) is not practicing, but Fisher said Eligwe is ahead of schedule.
Nile Lawrence-Stample
(shoulder surgery) is practicing but will be eased back into contact. ... A few players wrote on Twitter that Sunday would be their last day tweeting until the season ends. Fisher said it was a team initiative and he did not ask his team to quit social media until the season ended. However, Fisher did say Florida State does monitor what its players and the athletes it is recruiting say on social media.
Freshman Quarterbacks A Growing Trend?
ACC SCOREBOARD
Thursday, 9/3
Saturday, 9/5
Monday, 9/7