Florida State Seminoles:

FSU pro day
March, 18, 2014
Mar 18
5:45
PM ET
TALLAHASSEE, Fla. --
Kelvin Benjamin
has sat on the fringe of the first round of NFL mock drafts since he declared early. The powerfully built receiver passed the eye test at the combine, but an ordinary 40-yard dash time left some front offices questioning Benjamin's first-round credentials. Those still apprehensive about his speed were hoping Benjamin would alleviate concerns at Florida State's pro day Tuesday.
That didn't happen. Benjamin decided not to run. He asked NFL teams to look at his body of work -- and body, all 6-foot-5, 240 pounds of it -- as proof he is a surefire first-round talent.
Following a dominant pro-day performance in position drills, undoubtedly far more teams are willing to overlook his 4.61 time in Indianapolis.
[+] Enlarge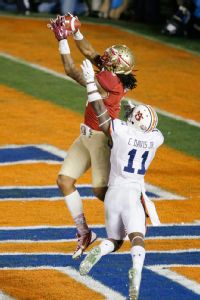 AP Photo/Gregory BullFSU's Kelvin Benjamin might not be the fastest WR, but as Jimbo Fisher said, "You don't want to play against that guy."
"I really wish he ran, but he has such a unique skill set with his ball skills and catch radius," one NFC scout said.
While running routes, Benjamin showcased his ability to catch the football at its highest point and make the types of catches most NFL receivers can't. On one throw toward the boundary, NFL coaches cleared as the ball's flight plan descended toward a coaching cluster. Benjamin hauled in the pass -- easily -- and on the next throw he reached behind to catch an underthrown and off-target toss.
And for those who still question his speed?
"I can open up that stride and stride all day," he said. "You got a guy who can run 4.3, he's going to get tired and not keep up with the stride all day."
Noles coach Jimbo Fisher will be terse with NFL coaches asking if Benjamin is worth a first-round payday.
"You don't want to play against him. That's the ultimate thing," he said. "I'm telling you this: You don't want to play against that guy. He changes the game."
Defensive tackle
Timmy Jernigan
will likely be the first former Florida State player taken, and both Mel Kiper and Todd McShay project him to the Cowboys at No. 16. Jernigan weighed in at 305 pounds Tuesday, six pounds heavier than at the combine. Most of the questions he was hearing about his stock surrounded his height (6-1) and sub-300-pound playing weight.
"I feel like they definitely wanted to see how well I could move, weighing a little bit heavier than I did at the combine and how well I could move agility-wise and how powerful I was," Jernigan said. "I feel like I did a pretty good job showing that."
NFL coaches intently watched the secondary drills, as
Lamarcus Joyner
and
Terrence Brooks
are both potential second-round picks. Brooks built upon his strong performance at the combine, excelling in position drills.
Joyner is rated higher than Brooks, but there is some trepidation among NFL scouts. Joyner struggled securing catches and one scout noted the need to be able to finish making the play on the ball. He said Joyner showed that in his film, but an NFC North scout chimed in that he is more worried about Joyner's height. He measured in at just above 5-8.
"It's a big concern," the NFC North scout said. "You don't see too many 5-8 corners."
The biggest surprise among the defensive backs, and possibly the entire pro day was the attendance of
Greg Reid
. A three-year starter at cornerback for Florida State, Reid was dismissed from the team before his senior season. He enrolled at Division II Valdosta State but a torn ACL cost him his senior season. Instead of returning in 2013, he declared for the NFL draft but was not selected.
A few scouts buzzed that Reid, who can be signed by a team at any time, was the best defensive back participating.
"I was pleased to come out and show NFL coaches how I was doing and how far I've came," Reid said. "I'm healthy and everything is going in the right track."
March, 18, 2014
Mar 18
8:00
AM ET
Kelvin Benjamin
,
Timmy Jernigan
and a host of other former Florida State players will work out for NFL coaches and personnel departments, and ESPN will have live coverage of the Seminoles' pro day.
Beginning at 10 a.m. on Tuesday, fans can use
this link
to access WatchESPN's online stream.
ESPN NFL draft analysts Mel Kiper Jr. and Todd McShay have Benjamin and Jernigan as first-round picks in their latest mock drafts. Kiper and McShay both have Jernigan going No. 16 to Dallas, while Benjamin is projected as a late first-round selection. Kiper has Benjamin going No. 26 to Cleveland and McShay slots Benjamin two spots later to Carolina.
Lamarcus Joyner
is on the cusp of being a first-round pick and will make his final push on Tuesday.
Terrence Brooks
is coming off a stellar combine performance and is talked about as a late second-round selection, and
Devonta Freeman
and
Telvin Smith
are possibilities for the third round.
In 2013, a record 11 former Florida State players were drafted.
March, 17, 2014
Mar 17
8:00
PM ET
Late last month,
Terrence Brooks
finally began feeling he was altering outside perceptions and wondered why it didn't happen earlier. It's not a case of too little too late, though, rather a change coming at the most opportune time.
The former Florida State safety will work out one final time for NFL coaches and personnel departments Tuesday at the Seminoles' pro day (10 a.m. ET,
WatchESPN)
. It gives him one final chance to confirm to front offices what they saw last month in Indianapolis. At the combine in February, Brooks ran the fastest 40-yard dash (4.42), had the best vertical jump (38 inches) and was fifth in the broad jump (9-feet-11) among safeties.
[+] Enlarge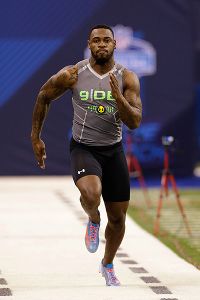 AP Photo/Nam Y. HuhTerrence Brooks turned heads at the combine with a 4.42 40-yard dash, and now looks to build on that at FSU's pro day.
"Definitely I feel like things are changing and teams are realizing how good I am," Brooks said. "I'm still never satisfied, and some people are still caught in the hype of the big-name guys."
A number of those big names come from the same defense as Brooks, although he acknowledges players such as
Timmy Jernigan
and fellow defensive back
Lamarcus Joyner
deserve it. He admits he felt lost in the shuffle in Tallahassee despite starting 27 of 28 games the last two seasons. The spotlight on the Noles' top-ranked 2013 defense shined brightest on Jernigan, Joyner,
Telvin Smith
and even freshman
Jalen Ramsey
.
He feels some of that still stems from his high school career, when he was a three-star recruit. He was a reserve for Florida State until his junior season, when he permanently moved to safety. Brooks was invited to the Senior Bowl but still flew under the radar until February's combine.
"I took that chip all the way through college, and even then making plays I still got overlooked on that defense," he said. "I feel like the film doesn't lie and [NFL teams] can watch that and see what kind of player I am."
With his exceptional numbers in several combine drills, Brooks will only run the three-cone drill and shuttle before doing position-specific drills for scouts. At the end of the pro day he will meet with NFL teams, who will drill Brooks mentally and analyze his on-field acumen. His trainer, Roy Holmes, believes that's where Brooks excels.
Holmes works with Brooks at EXOS and trains NFL prospects. Former No. 1 pick
Andrew Luck
trained with Holmes in 2012, and he said Brooks is similar when interpreting defensive schemes.
"He's really calm, stays under pressure, pretty much a gamer, knows how to put people in the right places, and you saw that a little bit at the Senior Bowl when he started calling out coverages and different checks," Holmes said. "He's like a seasoned vet."
There will be 19 members of Florida State's 2013 national title team working out at the pro day, and six former players will also participate.
Florida State expects at least one representative from all 32 NFL teams, which Trevor Moawad said should not come as a shock. The Vice President of Pro and Elite sports at API/EXOS, Moawad works with a handful of college programs and NFL draft hopefuls on developing the right mindset. Two teams who enlist his services are Alabama and Florida State, which stake claim to four of the last five national titles.
In his experiences with NFL front offices, Moawad said personnel departments specifically target Alabama and Florida State players. Noles coach Jimbo Fisher, who in 2013 had a record 11 former players drafted, previously worked under Nick Saban, who hired Moawad in 2007.
"They will be able to transition well wherever they get drafted," Moawad said. "You want a player from Alabama, you want a player from Florida State. You want a player whose played for Jimbo Fisher because you know they have to be disciplined and understand what it takes to be successful."
Suspension For Winston Earned