Florida State Seminoles:

Jela Duncan
December, 31, 2013
12/31/13
12:00
PM ET
December, 23, 2013
12/23/13
12:00
PM ET
Shopping days are nearly gone.
November, 23, 2013
11/23/13
7:00
AM ET
Here's one final look at what's on tap today in the ACC:


Game: Duke (8-2) at Wake Forest (4-6)
What's at stake:
The Coastal Division title is on the line for Duke, which can win it outright with two more wins, against Wake Forest and North Carolina. A win would guarantee Duke at least a share of the division title, while a loss by the Blue Devils would send them into a tie with Georgia Tech, and also possibly Miami, North Carolina and Virginia Tech. A win would also give Duke a ninth win for the first time since 1971. Wake Forest, meanwhile, has to win out just to become bowl eligible.
Statistically speaking:
All four of Duke's running backs --
Jela Duncan
,
Shaquille Powell
,
Josh Snead
and
Juwan Thompson
-- average at least five yards per rushing attempt this season. A total of 43.8 percent of Duke's offense has come from its ground game this year.
Quotable:
"This isn't a flash in the pan. We're going to be good next year if our team has the kind of work ethic that this team has." -- Duke coach David Cutcliffe


Game: Virginia (2-8) at Miami (7-3)
What's at stake:
Miami still has a slim chance at playing in the ACC title game. It needs to win its final two games and hope Duke loses, for starts, so there is no margin for error against the Hoos. Virginia is looking to snap a seven-game winning streak and finish on a strong note.
Statistically speaking:
UVa true freshman
Keeon Johnson
made his collegiate debut in the Cavaliers' fifth game of the season after originally being slated to redshirt. He has 17 catches for 226 yards (13.3 yards per catch) and one touchdown. He's on pace to have the best true freshman receiving season for a UVa wide receiver since Billy McMullen had 28 catches for 483 yards (17.2 yards per catch) and six touchdowns in 1999.
Quotable:
"A lot of players on this team have been successful against Miami. It's one of those things you have to create that mindset, that balance of, we got two games left, and we want to play to the best of our ability to send these seniors out." -- Uva coach Mike London


Game: Old Dominion (8-3) at North Carolina (5-5)
What's at stake:
North Carolina would become bowl eligible with a win, completing one of the best turnarounds in college football this year. The Tar Heels started out 1-5, but enter this game on a four-game winning streak.
Statistically speaking:
UNC freshman
Ryan Switzer
has the single-season school record with three punt return touchdowns. The ACC single-season record is four by Maryland's Steve Suter in 2002. The ACC career mark is six, also held by Suter. Three of Switzer's last five punt returns have gone for touchdowns.
Quotable:
"The kids kept believing. They kept working extremely hard. They had great attitudes. And that's one thing that I can say about these guys: Their attitude after a game or going into a game has been the same each and every week. That has been very consistent, which is what we're looking for." -- North Carolina coach Larry Fedora


Game: The Citadel (5-6) at (7, 8, 6) Clemson (9-1)
What's at stake:
A BCS bowl. Pride. Senior Day. There shouldn't even be a whiff of an upset in Death Valley, and this should be an easy week before ending the regular season against rival South Carolina. Clemson has to keep winning, though, to help ensure a shot at a BCS bowl. If Clemson can defeat The Citadel, it will give the Tigers 31 wins over the last three years, the most in a three-year period in school history.
Statistically speaking:
Saturday will be the final home game for Clemson's 19 seniors. Only 10 of the 19 are scholarship players. The class has a 36-14 record over the last four years, the sixth-most wins for a class in Clemson history. That includes 24 wins over ACC teams, the most in school history in a four-year period.
Quotable:
"He has I think been the best receiver in the country. I don't think there's any doubt about it in my mind." – Dabo Swinney on WR
Sammy Watkins


Game: East Carolina (8-2) at NC State (3-7)
What's at stake:
Pride. Recruiting. There's plenty of history between ECU and NC State, as the Pirates are located in Greenville, N.C. The two teams met every season from 1970-1987, but since then have played just nine times. This one is important because of the state of both programs within the state -- ECU is trending up and NC State? Well, the Pack have lost six straight and are winless in league play. This is a chance for first-year coach Dave Doeren to reassert the program's place within the state, and to avoid what could be an embarrassing home loss.
Statistically speaking:
Freshman wide receiver
Jumichael Ramos
has 18 catches this season, and eight of them have been to convert a third or fourth down. Only one time when Ramos was targeted on a third or fourth down play did the rookie fail to convert and that was a third and 15 against Syracuse when he gained 11 yards.
Quotable:
"I know what they're saying at that school. Those things have been talked about here. We feel like we have a lot to prove, probably more than them to be honest with you. It's a game that means a lot for a lot of reasons." – NC State coach Dave Doeren


Game: Pitt (5-5) at Syracuse (5-5)
What's at stake:
Bowl eligibility and bragging rights. These former Big East teams will play for the first time as ACC opponents, and one of them will finish bowl eligible. The loser of the game will have one more chance to reach the six-win mark in the regular-season finale. This is also a chance for Pitt to redeem itself from last year's 14-13 loss to the Orange.
Statistically speaking:
S
Ray Vinopal
has created four turnovers in his last two games, including a forced fumble and recovery to set up a Panthers' touchdown against North Carolina.
Quotable:
"With the push towards the big mega-conferences, to some degree, I'm saddened that some of the rivalries are not played anymore. We don't play West Virginia anymore. That was a great game. So I'm glad that we are able to do two things, first and foremost, this week playing a Pitt team that we've been playing for the last 55 years; I think it's great for the fans in both towns and for the fans in the northeast that have watched these games for so many years," -- Syracuse coach Scott Shafer


Game: Alabama A&M (4-7) at Georgia Tech (6-4)
What's at stake:
It's the first meeting between the schools, and the first time Georgia Tech will play a team from the SWAC, and the first time coach
Paul Johnson
will coach against a team from that conference. As far as the ACC race goes, Georgia Tech has to wait and see how it plays out, as the Jackets have wrapped up their ACC play at 5-3. They're in sole possession of second place in the division this week. The only thing at stake here for Georgia Tech really is avoiding an embarrassing loss and using an unheralded opponent to tune up for the regular-season finale against Georgia.
Statistically speaking:
Georgia Tech's defense has not allowed a rushing play longer than 34 yards. The Yellow Jackets are one of just 10 FBS teams that have not allowed any rushing plays of 40 yards or longer. In Georgia Tech's six wins this season, the defense has allowed just 11.5 points per game.
Quotable:
"We could have -- had we played better Thursday night and found a way to beat a good Clemson team; we knew going into that game we had a chance. If we won that game, I felt like we had a chance to win the division without the tiebreaker or outright. There's still that chance. I think the Coastal is pretty well balanced and I don't know that there's one team that's head and shoulders better than the rest. You just step back and let the guys play out and see what happens." -- Georgia Tech coach Paul Johnson


Game: Boston College (6-4) at Maryland (6-4)
What's at stake:
Maryland is trying to break a two-game losing streak to the Eagles, and with two more wins, the Terps could finish the ACC season at .500 -- a huge improvement from the past two seasons under Randy Edsall. It would also be a strong finish for Maryland in what will be the program's final year in the ACC before moving to the Big Ten. Both teams are already bowl eligible, so this game is about continuing the positive momentum, and positioning themselves for one of the better bowls.
Statistically speaking:
BC is fifth in the country and second in the ACC in red zone offense, having scored on 21 of 22 chances. BC has scored 13 touchdowns (six rushing and seven passing ) and has kicked eight field goals to account for their 18 scores from inside the red zone.
Quotable:
"I think Andre is an outstanding football player. The answer to that is yes. The definition is being a dominant football player, leading rusher in America. High, high character. A great human being. A real student-athlete. Certainly extremely valuable to our football team. I would say he fits all that criteria." -- BC coach Steve Addazio on whether RB
Andre Williams
is a Heisman contender


Game: Idaho (1-9) at (2, 2, 2) Florida State (10-0)
What's at stake:
The national championship. It doesn't change for Florida State, which must win out to maintain its No. 2 spot in the BCS standings.
Statistically speaking:
The Seminoles have outscored their opponents 170-21 before halftime during their last five games -- a stretch that featured two top 10 opponents (No. 3 Clemson and No. 7 Miami). During the five-game span, FSU has nearly tripled its opponent's yardage in the first half -- averaging 301 yards before halftime and allowing just 110 yards to opponents. With Florida State resting most of its starters for the better portion of the second half in these games, opponents have gained nearly 50 percent more yards after halftime (156.8).
Quotable:
"We have played good football, but there are still things we need to clean up and we know that. We have not played our best football yet in my opinion." -- Florida State coach Jimbo Fisher
November, 17, 2013
11/17/13
9:00
AM ET
Who stood out the most in the ACC this weekend? Glad you asked.

North Carolina wide receiver Ryan Switzer.
As a receiver, Switzer put up a modest two catches for 21 yards. But the true freshman was a game-changer as a punt returner, as he brought back kicks of 65 and 61 yards, the latter breaking a 27-27 tie with 4:46 left in the fourth quarter and helping the Tar Heels escape Pittsburgh with the 34-27 win, their fourth in a row. North Carolina is on the verge of a bowl berth after a 1-5 start, and they have the 5-foot-10, 175-pound rookie in large part to thank for that after blowing a 27-3 second-half lead.
Maryland quarterback C.J. Brown.
Brown delivered when his team needed him most, helping engineer a big upset in Blacksburg, Va., as the Terrapins escaped with a 27-24 overtime win. Brown was just 12 of 25 passing for 135 yards with a touchdown and an interception, but he made some big plays with his legs, including the three-yard game-winning run in the extra session as he moved left and dived into the pylon to clinch the victory. Brown finished with 122 rushing yards and two scores on 23 carries, helping Maryland snap a three-game winning streak and clinching bowl eligibility for the first time in three seasons under coach Randy Edsall.
Boston College running back Andre Williams.
He seemingly has reserved a spot in this post every week, as the senior powered the Eagles to a sixth win, tripling last year's total. They gained bowl eligibility for the first time since 2010 with a 38-21 Senior Day win over NC State. Williams rushed for 339 yards and two touchdowns on 42 carries, breaking the ACC's single-game and single-season rushing record (he has 1,810 rushing yards on the season). Williams now has four 200-yard rushing games on the year, and he has amassed 634 rushing yards and four touchdowns in his last two games.
Florida State quarterback Jameis Winston.
Winston played just a half, but he made it count. The redshirt freshman completed 19 of 21 passes for 277 yards with two touchdowns and no picks, leading the Seminoles to a 38-0 lead at the break, en route to a 59-3 win. Keep in mind the Syracuse defense he was facing had not given up a touchdown in its previous two games, too. According to ESPN Stats & Info, Winston is now the only player since at least 2000 with two games of at least 90 percent comp pct (min. 20 att) in a season.
Duke's rushing game.
The Blue Devils entered Saturday's contest averaging 165.9 rushing yards per game. Against Miami, they rushed for 358 and five scores, doing whatever they wanted as they overcame an early 17-7 deficit and scored the game's final 20 points to win 48-30.
Josh Snead
led the ground attack with 138 yards on nine carries, and
Jela Duncan
added 98 yards on 16 carries. Let's not overlook
Brandon Connette
, who scored four rushing touchdowns on 11 carries, totaling 37 yards on the night.
October, 25, 2012
10/25/12
9:00
AM ET
In August, it would have been pretty easy to assume this week's game would feature one team in control of its own destiny in the ACC and another looking for help. Of course, who would've guessed the team with its sights set on the ACC championship game would be Duke, and it would be Florida State that was still on the outside looking in?
[+] Enlarge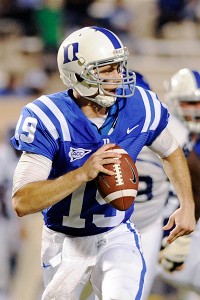 Liz Condo/US PresswireQuarterback Sean Renfree is a big reason why Duke is bowl-eligible for the first time since 1994.
Still, history suggests there's little room for concern for Florida State this week, even if Duke is playing its best football in nearly two decades. But the Seminoles know what can happen when they take an opponent lightly, and the Blue Devils have talent.
So, what are the keys to running up another big win over Duke? We checked in with Blue Devils beat writer Laura Keeley from the Raleigh News & Observer for some answers.
NoleNation: Duke is 0-17 all-time against FSU, has never lost by fewer than 19 points and has allowed at least 44 points in 14 of the 17 previous meetings. Obviously this year's Duke team is the best they've had in a while, but do these Blue Devils really believe they have a chance to knock off FSU?
Laura Keeley:
They do. This is not your Duke team of old, and I present you three different situations as evidence:
1) Wake Forest scored 10 points in the final 2:26 of the third quarter to tie that Sept. 29 game at 20-20. Duke scored 14 straight points and won 34-27 to snap a 12-year losing streak to the Demon Deacons.
2) Duke came out of the tunnel at Blacksburg and built a 20-0 lead against a physically superior Virginia Tech team in the first quarter. That's the second-highest total ever surrendered by the Hokies in the Frank Beamer era, and it took the largest comeback of the Beamer era for Virginia Tech to win.
3) So yes, in the above game Virginia Tech scored 41 unanswered points to win 41-20. But the Blue Devils shook that off and came out and beat UNC 33-30 to end an 8-year losing streak to the Tar Heels and clinch bowl eligibility. The game-winning drive came after Duke CB
Ross Cockrell
failed to corral a loose ball that would have sealed the deal for Duke, but instead UNC RB
Giovani Bernard
scooped and scored and gave UNC the temporary lead.
So, yeah, things are different in Durham this year. That said, the Blue Devils are aware of the monumental challenge Florida State presents and acknowledge that the Noles are bigger, faster and stronger. That's just a fact.
Fisher: Winston's Choice Won't Be A Surprise
ACC SCOREBOARD
Saturday, 12/20
Monday, 12/22
Tuesday, 12/23
Wednesday, 12/24
Friday, 12/26
Saturday, 12/27
Monday, 12/29
Tuesday, 12/30
Wednesday, 12/31
Thursday, 1/1
Friday, 1/2
Saturday, 1/3
Sunday, 1/4
Monday, 1/12