Florida State Seminoles:

Les Miles
August, 19, 2014
Aug 19
9:30
AM ET
Boston College coach Steve Addazio remembers an era when players wanted to redshirt as true freshmen to better prepare them for the final four years of their college career.
"Now it's 'I want to play,' " Addazio, 55, said. "If you're talking about not playing them early, the majority are like 'What do you mean?'"
So, the ability to play or possibly even start as a true freshman has become a regular sales pitch for coaches from the Power Five to the Group of Five. It's certainly a tool in the belt for Florida State coach Jimbo Fisher. Last week, Fisher alluded to the number of freshmen All-Americans he's coached the last four seasons. Twenty-four hours later, it was on the program's official recruiting Twitter page.
"The last [four] years we've had 14 freshmen All-Americans," said Fisher, condensing multiple outlets' freshmen award teams into one, concise Florida State propaganda poster. "If you come in ready to play, we're willing to put you on the field. It's critical for guys to come in saying 'When I'm the best, I'll play.'"
Fisher has the goods to back up his claims, even if the numbers are obviously skewed to best represent his program. But how does his résumé compare to those coaching some of the country's other top programs?
I tried to come up with a way to accurately discern which schools play the most freshmen and decided true freshmen letterwinners was the simplest and most effective way to crunch the numbers. To earn a letter, a player has to actually play consistently through the season. The disclaimer is each program can use different benchmarks when awarding letters, but there is never going to be a perfect way.
I began with Florida State's, looking back at the 2011-2013 classes. To properly quantify the data from Florida State, I decided I'd look at the five schools ranked highest in the preseason polls that have had its coach in place at least five seasons. Oregon's Mark Helfrich was offered an exemption because he was promoted from within and is in his sixth season with the Ducks. Coaches in place at least five years was the stipulation since an incoming coach might be susceptible to playing the prospects he recruited or having a number of transfers that could open up starting or rotational spots.
The criteria: Each class was looked at and the total number of signees was pared down to just those who enrolled as members of the football team in the fall. Junior college signees were excluded, as were any recruits who were academically or medically disqualified before playing a game. That explains why the total number of freshmen for our purposes might look different than what might be seen on RecruitingNation. Any true freshmen who spent a year at a post-graduate or prep school was also excluded. Redshirt freshmen were disqualified, too.
Bottom line is if the player was not a part of the football team the fall following his high school graduation, he was excluded.
Nearly all of the data was collected after poring through media guides and archives, although the communications departments at some of the schools were also helpful providing numbers and deserve recognition.
So, here is the actual data:
It is hardly a coincidence that Fisher and Alabama's Nick Saban, who mentored Fisher at LSU, have identical percentages of true freshmen earning a letter. Fisher and Saban arguably have been the two best recruiters over the last few cycles, and, the data shows those two are not going to keep young talent off the field simply because of age. Nearly half of the true freshmen at Alabama and Florida State lettered over the last three seasons.
Mark Dantonio has built Michigan State into a national title contender in a different manor, relying on experience. Only 12 percent of true freshmen lettered over the last three seasons. Recruiting to Michigan State is not the easy task it is at some other top-10 programs, and the Spartans are not recruiting as many ESPN 300-level players as the likes of Alabama and Florida State.
It should be noted Michigan State, Oklahoma and Oregon don't have quite the recruiting base Alabama and Florida State do.
Inquiring minds want to see how that 45 percent stacks up to some of the other top programs in the country, so even though they did not fit the criteria I looked at a few other schools with coaches in place at least five seasons and lately in the top half of the rankings. LSU was worth a look considering it's Les Miles' 10th season in Baton Rouge and, like Fisher and Saban, has recruited exceptionally well for a long period of time. Mark Richt is in his 14th season at Georgia and, like Miles, usually has a highly-regarded recruiting class. Steve Spurrier is in his 10th season at South Carolina and has steadily improved the Gamecocks' class to the point that the 2015 class is No. 5 nationally. Dabo Swinney has turned Clemson from a perennial disappointment into a two-time BCS bowl participant. And Ohio State and Texas A&M, mainly because it's worth seeing how third-year Buckeyes coach Urban Meyer fares considering he frequently voices his preference to avoid redshirting. Kevin Sumlin is also in the process of trying to build an SEC power that can compete with Alabama and LSU in the SEC West.
For the Buckeyes, out of the 69 true freshmen to land in Columbus, Ohio, from 2011-2013, 31 lettered -- the same 45 percent. Looking at just Meyer's two seasons, however, he is decimals ahead of Fisher and Saban at 46 percent (21 out of 46), thanks in large part to 14 freshmen letterwinners in his first season.
Georgia's Mark Richt has a percentage of nearly 50 percent, but the Bulldogs' numbers might be the most skewed. Along with South Carolina, the Bulldogs had several recruits that either did not qualify or spent time at a prep school or junior college. Also, Georgia's long list of dismissals and transfers is well documented, and all of the departures has opened up spots for freshmen to earn immediate playing time.
It is Miles, though, who plays a higher percentage of freshmen than all of the others. Twelve true freshmen lettered for LSU in both 2012 and 2013, and another nine earned a letter in 2011. There were a total of 65 applicable freshmen to enter LSU during that span and 33 of them lettered. That's a percentage of 51 percent.
Certainly the numbers will fluctuate year to year, and coaches at every single program are playing freshmen more frequently than ever before. When taking into account the timeline is over three years, LSU averages just one more freshman letterwinner per season than Alabama and Florida State. For our intents and purposes, though, the data shows which top programs consistently play the most freshmen in this new era of freshmen phenoms.
And, uh, FYI, Alabama has 19 ESPN 300 players prepping for their freshmen season this fall. LSU has 16, and Florida State isn't far off with 13 of their own.
January, 31, 2014
Jan 31
5:30
AM ET
The Early Offer is RecruitingNation's regular feature, giving you a daily dose of recruiting in the mornings. Today's offerings: Coaches say things like size and speed are important when determining whether or not they will pursue a recruit, but one ACC head coach has something else that's vital in his team's evaluation process; Les Miles and Nick Saban were in the home of the nation's No. 1 receiver prospect on Thursday.

Overlooked part of evaluation


January, 24, 2014
Jan 24
5:30
AM ET
The Early Offer is RecruitingNation's regular feature, giving you a daily dose of recruiting in the mornings. Today's offerings: If USC is going to close strong, landing some of this weekend's 11 official visitors are key; even though neither are going to land him, Alabama and Oregon earned high praise for their recruiting efforts with offensive lineman Braden Smith's coach; and
Lorenzo Carter
has become priority No. 1 for several of the Southeast's top teams.
11 recruits set to visit USC
To continue reading this article you must be an Insider
January, 20, 2014
Jan 20
5:30
AM ET
The Early Offer is RecruitingNation's regular feature, giving you a daily dose of recruiting in the mornings. Monday's offerings: The nation's No. 1 receiver visited LSU over the weekend, but it's just the first part of his tour throughout the Southeast this week;
Derrick Griffin
is back in Texas after a short stint at a prep school, and it will help him get back on the recruiting map; and Nebraska's loss is Kansas State's gain.
To continue reading this article you must be an Insider
May, 30, 2013
5/30/13
9:00
AM ET
DESTIN, Fla. -- If Florida coach Will Muschamp and athletic director Jeremy Foley have their way, both LSU and Florida State will stay on the Gators' schedule regardless of how many SEC games are on Florida's slate.
It's a good call by Muschamp and Foley because both games are big for the program, and big for the money pot. Anyone who knows anything about Florida football recognizes the bitterness and enthusiasm the Gators' rivalry with the Seminoles, which dates back to 1958, exudes.
"The Florida State game is very important to us," Foley said. "I don't see that changing."
[+] Enlarge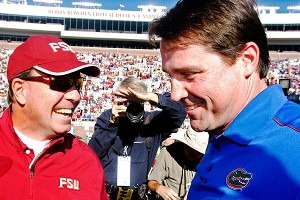 AP Photo/Phil SearsFSU's Jimbo Fisher (left) and Florida's Will Muschamp are good friends and have a lot in common, but this year they have seen their programs head in opposite directions.
Keeping Florida State on the schedule is a no-brainer for the Gators, but there has been plenty of talk about potentially ending the Florida-LSU series, especially from LSU's camp. This game has been played for 42 consecutive years, and the two became permanent cross-division opponents when the SEC split into divisions in 1992. But LSU coach Les Miles and athletic director Joe Alleva have been very public this week about getting rid of permanent crossover opponents.
Muschamp understands LSU's stance on moving from the current 6-1-1 format to a 6-2 format, which has two crossover rotators and no permanent opponent, but he believes this game is too important to scrap.
"It's a great game for our league," Muschamp said. "I've been on both sides of it as a coordinator and now as a head coach. It's a national game for our league.
"At the end of the day, a 6-2 format is probably the fairest format -- if you want to be honest -- but I do enjoy the rivalry."
Miles, whose Tigers already share a division with Alabama and Texas A&M, doesn't want to have to continue playing one of the East's top teams every year if other squads don't face similar challenges.
"I think you play your division, rotate two teams [from the other division]," Miles said. "Everybody in the country can honor and visually see that that's the honest, straightforward way to do it."
I understand where Miles is coming from. Alabama and Georgia are dealing with permanent opponents who have fallen in recent years, while LSU played 11-win teams in Florida and South Carolina last year, going 1-1 against them. This fall, the Tigers host Florida and play at Georgia, both of which will probably be top-10 teams entering the fall.
Alabama's East opponents are Kentucky and Tennessee (permanent), which both have new head coaches.
"I'm totally opposed to permanent opponents," Alleva said. "It has nothing to do with Florida. I think it's a competitive disadvantage to every team in the league to have a permanent opponent. I think they all should rotate. It's better for our fans, it's better for our players. We have players who never get to play against some SEC teams. So from a competitive standpoint, from a student-welfare standpoint, from our fans' standpoint I think we should just play six in our division and rotate the other two."
It's going to be tough for LSU to get rid of Florida because of other more historical crossover rivalries, such as Alabama-Tennessee and Georgia-Auburn. SEC commissioner Mike Slive has been adamant about not getting rid of those games and said a hybrid format with only some teams having permanent crossover opponents hasn't been discussed.
"The rivalry games are important," Slive said. "Otherwise I would have given you the [scheduling] format last Monday."
One rivalry the Gators aren't high on is the one against Miami. This fall, Florida will play Miami for the fifth time since 2002, but Foley doesn't consider the rivalry, which was hot before the 1990s, much of a priority -- especially if the SEC moves to nine conference games.
"You never say never, but that's not high on the agenda right now," Foley said. "For me to sit here and say, 'Well, we'll do that down the road,' there's too many unknowns in scheduling right now. If you're at nine conference games plus Florida State, I'd probably tell you it's unlikely. There's been no conversation between us and the University of Miami."
January, 16, 2013
1/16/13
6:12
PM ET
Eddie Jackson
(Pompana Beach, Fla./Boyd Anderson) received a welcome visit Tuesday when an SEC coach came calling.
To continue reading this article you must be an Insider
January, 8, 2013
1/08/13
5:43
PM ET
BATON ROUGE, La. -- Reports and rumors circulated Tuesday that ESPN 150 defensive end
Tim Williams
(Baton Rouge, La./University Lab) would make an announcement Friday on local radio regarding where he was going to school.
Turns out, Williams had news Tuesday, but not the news that was circulating.
To continue reading this article you must be an Insider
Jimbo Fisher Tells Winston To 'Calm Down'
ACC SCOREBOARD
Thursday, 10/23
Saturday, 10/25