Florida State Seminoles:

Mike Martin
September, 19, 2012
9/19/12
1:00
PM ET
Florida State baseball has begun fall practice, and we checked in with head coach Mike Martin to see how his team is coming together after losing a number of key players and top signees to the MLB draft.

NoleNation: After the MLB signing deadline, you said you were having trouble sleeping thinking about all the holes you needed to fill. Are you feeling a bit more comfortable with things now?

Mike Martin: What you have to do is just move on. You can't dwell on the past. We had a number of outstanding arms that we had signed, but we also have an outstanding group of young men that are in here now. People are going to get opportunities that maybe would not have gotten opportunities this quick in their career, but we're excited for them to see where they go with it.

NN: You've got two pretty solid transfers in Marcus Davis and Brett Knief. How have they looked so far?

Martin: They've been very impressive. They're guys that -- of course, Knief has played in a Division-I program before -- but it's an opportunity for both of them. I think in the next couple of weeks we'll know more, but I've certainly been impressed with what I've seen so far.

NN: You've got a handful of big bats you'll need to replace, but you're also looking for a couple of guys to step in at the back end of the pen after Robert Benincasa left for the pros. Any early ideas of who can fill the void?

Martin: No, we've got two or three guys we're looking at. We know that Gage [Smith] can go into that role, but at the same time, Gage was so important to use being used in the middle. Your middle guy is one that enables the closer to pitch on a number of nights, and that was another reason that Benny had the success he did is Gage pitched so well to give him a chance.

NN: Another thing you talked about over the summer was how much a season of summer league ball can help some of the younger guys. Has anyone come back looking like they've taken a big step forward?

Martin: It's a little early to tell that because we haven't had a lot of practices to evaluate, but you see guys come back like [Luke] Weaver, who pitched in the Cape. Peter Miller pitched in the Cape. I've been pleased with the way they're approaching the art of pitching. When you go to a summer league, you learn a lot about yourself because you're playing against the best players in the country. It just does our guys so much good.

NN: How about physically? Have you been pleased with the shape the team is in as they've picked things back up this fall?

Martin: Oh yeah, guys know what the expectations are here and they've done a very good job of taking care of themselves. Now is the time to improve in that area because, of course, the fall is important when it comes to being evaluated, but it's even more important that you get in the weight room and use these four important months to get stronger and quicker.

NN: So as you go through fall practice over the next few weeks, what's the biggest thing you're looking for?

Martin: Mainly it's just implementing our system. We've got to get guys acclimated to what we're trying to do whether it's bunt, become better base runners or just learning how we play the game. You can call certain things fundamentals, but we'd rather refer to it as "our system." We've got some guys that are very, very far behind in learning the system and it's up to us to get that planted in their minds that, this is what we've got to do.
July, 17, 2012
7/17/12
10:20
AM ET
The state of Florida, known for its tropical climate and sun, becomes a destination for many people, and many baseball players, too.

And Brett Knief, a star at Seminole State College in Sanford, Fla., via the University of North Carolina, just wasn't ready to leave quite yet.

Not so long ago, his destination looked like it would be Columbia, S.C. But Knief decided to decommit from the Gamecocks and head to Florida State instead.

"I think when it came down to it, South Carolina, of course, has a bunch of history, but I wanted to work with Coach [Mike] Martin Jr.," Knief explained. "He is one of the best hitting coaches in the country and obviously Coach [Mike] Martin Sr. I went to school in New Jersey [Ramsey, N.J./Don Bosco Prep], but then I went to Orlando for junior college and I just didn't want to leave the state of Florida to be honest with you."


June, 29, 2012
6/29/12
12:50
PM ET
TALLAHASSEE, Fla. -- Longtime Florida State baseball coach Mike Martin will be around for a few more years. He signed a three-year extension with the university Friday.
[+] Enlarge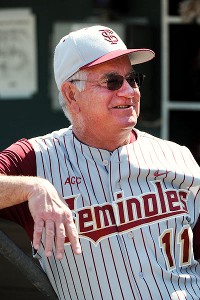 Al Messerschmidt/Getty ImagesFSU's Mike Martin has won 16 conference titles and coached seven national players of the year.
The deal locks up Martin as the Seminoles' head baseball coach through the 2014-15 season, but the 68-year-old Martin isn't ruling out sticking around longer than that.
"This is where I want to end my career," Martin said. "I'm not saying this is the last contract I'm ever going to sign, but that decision will be made by Florida State."
Martin's deal was set to expire Saturday, but FSU athletics director Randy Spetman said the school was eager to maintain the stability it has enjoyed throughout Martin's 33-year career as the Seminoles' head coach.
New No. 1 In ESPN CFB Power Rankings