Florida State Seminoles:

Nate Freese
May, 20, 2014
May 20
12:00
PM ET
April, 4, 2014
Apr 4
2:30
PM ET
Pro days are now in the rearview mirror, with a month remaining between now and the NFL draft. With that, let's take a look back at some notable performances from ACC pro days this year.
Boston College (March 12)
Big name:
RB
Andre Williams
. Representatives from 29 NFL teams were on hand to see the nation's top running back from last season. Williams says he improved on his combine 40-yard-dash time of 4.56. Also of note:
Nate Freese
, who went 20 of 20 last season on field goal tries, did not disappoint in front of his future employers, hitting a 60-yard try.
[+] Enlarge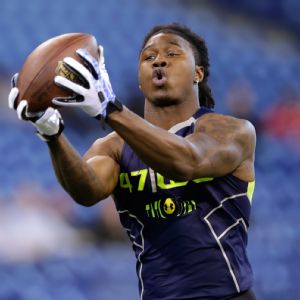 AP Photo/Michael ConroyClemson WR Sammy Watkins in all likelihood will be the first ACC player drafted in May.
Clemson (March 6)
Big name:
WR
Sammy Watkins
. Watkins stood on his 40 time of 4.43 from the combine but was there to help out quarterback
Tajh Boyd
, doing little to change the general consensus that he is the top receiver in this year's draft.
Boyd said scouts told him his performance was much better than his showings at the combine and Senior Bowl, as he connected on short, intermediate and deep routes with familiar receivers in familiar environs.
Duke (March 26)
Big name:
CB
Ross Cockrell
. Cockrell improved on his combine results, with Duke saying that his 40 time was sub-4.4, which is better than what he ran in Indianapolis (4.56).
Florida State (March 17)
Big name:
Where to begin? DL
Timmy Jernigan
slightly improved his combine 40-time from 5.06 to 5.03. S
Terrence Brooks
, LB
Telvin Smith
, DB
Lamarcus Joyner
and LB
Christian Jones
all drew a crowd, but they declined to run the 40 in front of reps from all 32 NFL teams, content to sit on their combine performances.
Georgia Tech (March 28)
Big name:
LB
Jeremiah Attaochu
. Attaochu ran drills at both linebacker and defensive lineman, recovering nicely from a hamstring injury in the Senior Bowl that forced him out of the combine. He said his 40 time was in the 4.5s. DB
Jemea Thomas
also impressed, reportedly running a 4.38 40.
Louisville (March 17)
Big name:
QB
Teddy Bridgewater
. With scouts from 29 teams watching, Bridgewater was off target with several of his throws. He ran an unofficial 4.78 40 time, but the potential No. 1 pick misfired on at least 10 passes, leaving some questions lingering heading into the draft.
Miami (April 3)
Big name:
OT
Seantrel Henderson
. This is the name that is going to stick out, as Henderson did not finish his workouts. His agent later told reporters that it was due to dehydration. With 30 NFL teams represented, quarterback
Stephen Morris
took a strong step forward, reportedly completed almost all of his 67 throws.
North Carolina (March 25)
Big name:
TE
Eric Ebron
. Ebron stood on his 40 time from the combine of 4.60, but his pro day was marred by several dropped passes, though the always upbeat tight end was not stressed about the drops when speaking to reporters afterward.
NC State (March 25)
Big name:
CB
Dontae Johnson
. Johnson showed his versatility, as he can play corner or safety, and he said he felt better than he did at the combine, where he ran a 40 time of 4.45 and jumped 38.5 inches in the vertical.
Pittsburgh (March 3)
Big name:
DT
Aaron Donald
. College football's best defensive player rested on his combine numbers in the 40 (4.68) and bench press (35 times), but teammates
Tom Savage
and
Devin Street
helped themselves. Savage impressed during a scripted 100-throw workout while Street said he ran a sub-4.5 40.
Syracuse
Big name:
LB
Marquis Spruill
. Spruill recovered nicely from a combine snub, weighing in at 231 pounds, nine pounds heavier than his playing weight. He did not disclose numbers. Running back
Jerome Smith
, meanwhile, said he ran in the 4.5-4.6 range, which would be an improvement over his combine time of 4.84.
Virginia (March 17)
Big name:
OT
Morgan Moses
. A considerably different-looking Moses showed up at 311 pounds, roughly 20 pounds lighter from his playing days with the Cavaliers. After clocking in at 5.35 in the 40 at the combine, he unofficially ran between 4.9 and 5.06 at his pro day, though he pulled a hamstring during one of the runs, forcing him to miss the remainder of his drills.
Virginia Tech (March 19)
Big name:
QB
Logan Thomas
. Thomas remains a fascinating prospect to keep an eye on in the NFL, and he threw well in front of NFL scouts at pro day. Corner
Antone Exum
impressed as well, running 40 times of 4.53 and 4.55.
Wake Forest (March 17)
Big name:
WR
Michael Campanaro
. After seeing his final year end prematurely because of a shoulder injury, Campanaro, the only Demon Deacon to have garnered a combine invite, again impressed in receiver drills, making his case to become a potential mid-round pick. Nose guard
Nikita Whitlock
, meanwhile, saw himself lining up as a fullback for the first time in his career. Weather conditions were less than ideal for the NFL hopefuls.
February, 4, 2014
Feb 4
9:00
AM ET
Some are can't-miss prospects, such as
Jameis Winston
. The Florida State quarterback was ESPN's No. 1 QB in the Class of 2012, won the Heisman Trophy in his first season as the Seminoles' starter and added a national championship to cap his redshirt freshman year.
Others are not so easy to find.
Andre Williams
, who finished three spots behind Winston in the 2013 Heisman Trophy voting, was a two-star prospect in the Class of 2010. All the Boston College running back did this past fall was tally the fifth-highest rushing total in FBS history (2,177 yards).
[+] Enlarge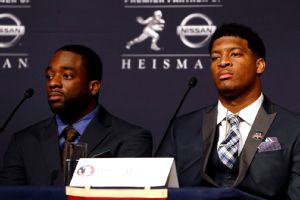 Jeff Zelevansky/Getty ImagesAndre Williams and Jameis Winston came from opposite ends of the recruiting spectrum.
With national signing day coming Wednesday, we figured this is a good time to revisit where
our All-ACC players
stood when they signed with their schools. The results, as usual, offer some surprises.
Just one ESPN.com All-ACC player from this past season entered college as a five-star prospect. Williams was one of two two-star prospects. There were 11 four-star prospects and eight three-star prospects. Two players, both of whom are from the high school Class of 2009, don't have star ratings, as ESPN didn't start using star ratings until 2010. Kickers and punters have no ratings, rankings or grades.
(All rankings and information are from ESPN's
Recruiting Nation
.)
Offense
QB Jameis Winston, Florida State via Hueytown (Ala.) High: Four stars, No. 14 overall prospect, Class of 2012. Scout grade: 84

RB: Andre Williams, Boston College via Allentown (Pa.) Parkland High: Two stars, No. 152 RB, Class of 2010. Scout grade: 73

RB: Devonta Freeman, Florida State via Miami Central High: Four stars, No. 15 RB, Class of 2011. Scout grade: 80

WR: Sammy Watkins, Clemson via South Fort Myers (Fla.) High: Four stars, No. 39 overall prospect, Class of 2011. Scout grade: 82

WR: Rashad Greene, Florida State via Fort Lauderdale (Fla.) Saint Thomas Aquinas High: Four stars, No. 125 overall prospect, Class of 2011. Scout grade: 80

WR: Jamison Crowder, Duke via Monroe (N.C.) High: Three stars, No. 65 WR, Class of 2011. Scout grade: 78

TE: Eric Ebron, North Carolina via Greensboro (N.C.) Smith High: Four stars, No. 8 TE, Class of 2011. Scout grade: 80

T: Cameron Erving, Florida State via Colquitt County (Ga.) High: Three stars, No. 83 DT, Class of 2010. Scout grade: 76

T: Brandon Thomas, Clemson via Dorman (S.C.) High: No. 60 OG, Class of 2009. Scout grade: 76*

G: Laken Tomlinson, Duke via Chicago Lane Tech High: Three stars, No. 65 OG, Class of 2010. Scout grade: 75

G: Tre' Jackson, Florida State via Wayne County (Ga.) High: Three stars, No. 50 DT, Class of 2011. Scout grade: 78

C: Bryan Stork, Florida State via Vero Beach (Fla.) High: No. 45 TE, Class of 2009. Scout grade: 76*
Defense
Special Teams
K: Nate Freese, Boston College via Strongsville (Ohio) High: Class of 2009

P: Pat O'Donnell, Miami via Palm Beach (Fla.) Central High: Class of 2009

SP: Ryan Switzer, North Carolina via Charleston (W.Va.) George Washington High: Four stars, No. 59 WR, Class of 2013. Scout grade: 80
December, 16, 2013
12/16/13
9:00
AM ET
Florida State's undefeated season is reflected in the Seminoles' 10 all-conference selections by ESPN.com. Quarterback
Jameis Winston
was the highlight of the group, along with Boston College running back
Andre Williams
, who was also a Heisman candidate this year. This list differs just slightly from the choices of the coaches and writers, with the toughest decisions coming on defense.
Offense
QB: Jameis Winston, Florida State
RB: Andre Williams, Boston College
RB: Devonta Freeman, Florida State
WR: Sammy Watkins, Clemson
WR: Rashad Greene, Florida State
WR: Jamison Crowder, Duke
TE: Eric Ebron, North Carolina
T: Cameron Erving, Florida State
T: Brandon Thomas, Clemson
G: Laken Tomlinson, Duke
G: Tre' Jackson, Florida State
C: Bryan Stork, Florida State
Defense
Special Teams
December, 6, 2013
12/06/13
4:00
PM ET
Thanks for the great comments this week, keep them coming.
We start with a difference of opinion on
who should play in the BCS national title game
.

Hans in Winter Haven, Fla., writes:
Notre Dame went undefeated with a lame schedule last year and this year we have Ohio State with the 53rd rated schedule toughness and FSU with 70th in schedule toughness but now 42nd with Duke on schedule. How many undefeated teams in the NFL won the Super Bowl? In other words when are reporters actually going to talk about what if Auburn played FSU's schedule or maybe Alabama playing Ohio State's schedule then who would be undefeated at the end of the year? An undefeated team playing lesser opponents and getting into final two is a joke. Thank goodness for some sort of playoffs next year because Alabama or Auburn would kill FSU and beat overrated OSU. Complete bias and horrible voting. The two best teams are Auburn and Alabama with Missouri not far behind.
Andrea Adelson writes:
Where should I begin? First, college football is not the NFL so there is no need to even compare or talk about the records of teams in the Super Bowl. They have a playoff. College football does not yet. Second, what purpose would it serve to imagine Alabama hypothetically playing another conference's schedule and vice versa? These teams cannot up and flip conferences. Florida State and Ohio State must play the schedules laid out in front of them. It is an impossibility to switch them into the SEC just to see how it would play out. Also, we are talking about two legitimate conferences here, not the Sun Belt and the MAC. I am completely dumbfounded as to why only an unbeaten run in the SEC should be celebrated in college football. What makes you believe Auburn, with two fluke wins and several others that came down to the final possession, would beat Florida State? Because they are in a superior conference? That is hogwash. It should matter when you WIN all your games. Auburn should not get a mulligan for losing by two touchdowns to a three-loss team that almost lost to Arkansas (winless in SEC play).
Adam in Nashville, Tenn., writes:
"Winning all your games in a power conference should be good enough for a shot at a national championship."Tell that to the '04 Auburn team.
Adelson writes:
I felt bad for Auburn that year. But guess what? Two undefeated teams made it in ahead of the Tigers. This year, a one-loss Auburn team is asking to move ahead of an unbeaten squad. Not the same.
Greg in Newark, Ohio, writes:
Thank you for putting together a well thought out article that gives a viewpoint of why FSU and OSU should get the chance to play for the NC provided they win.
Adelson writes:
Thanks, Greg. I will reiterate: going unbeaten matters.
Jason in Atlanta writes:
Am I correct in assuming that bowls must select 7-5 teams over 6-6 teams? So my Jackets (and BC and Maryland) are safe, right?Thanks!
Ryan in Clemson writes:
Hey Andrea, I saw that you had Miami in the Chick-Fil-A Bowl, however I thought there was a rule that would force them to pick Duke. The "Boston College" rule or something like that. I'm probably just remembering the rule wrong, but I was wondering if you could explain it? Thanks and have a great day!
Adelson writes:
Let me answer Jason and Ryan at the same time. There is only one rule requirement in the bowl selection process: the one-win rule. Using the conference records of each team, if a bowl passes on a team with the best available league record, it can only choose another team within one conference win. So for example, if a bowl passes on a team that went 5-3 in league play, it could only choose another team that went 4-4. In the case of the Chick-Fil-A Bowl, Miami would be an eligible candidate. We kept the Hurricanes there based on a better potential national matchup vs. the SEC. Either Clemson, Miami or Duke will play in that game, depending on what happens with the Discover Orange Bowl.
[+] Enlarge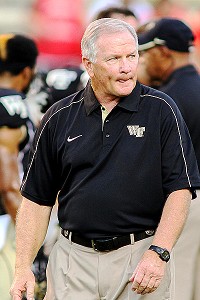 Jeremy Brevard/US PRESSWIREJim Grobe resigned on Monday as Wake Forest coach after 13 seasons at the helm.
Mark in Roanoke writes:
Andrea, Thank you for the
kind words you have written
about Coach Grobe. I have been a Wake fan for just about my whole life. As a kid growing up in nearby High Point, N.C., I can tell you that very few people in the Piedmont Triad area of NC even cared about WF football. Coach Grobe changed that. You are right, Wake lost a great coach today, but college football lost an even better man. Jim Grobe succeeded at a place few thought anyone could succeed. Thanks again.
Adam Kessler in Charlotte, N.C., writes:
Thank you for your incredible profile of Coach Grobe. I was at Wake during probably the best 4 years of sports imaginable (2004 - 2008), and Coach Grobe was an absolute standout. I am so glad you were able to share his Wake Forest legacy with the rest of the country with your wonderful article. In a time filled with coaching scandals, recruiting violations, and testy media relationships, Coach Grobe always did things the right way. I think our fan base agrees with his decision to step down, and while we're sad he's leaving, we're excited to have (hopefully) some new life in our football program. Thanks again!
Adelson:
I know I speak for Heather when I say we are going to miss talking to Coach Grobe dearly. One of the nicest coaches I have ever had the privilege of knowing.
Vern in Atlanta writes:
Andrea: I just saw
the "All-ACC" team
. All I can say is WOW. The No. 1 scoring defense and No. 1 pass defense (FSU) has only ONE player listed on the "first team" (
Lamarcus Joyner
). Moreover, the placekicker from FSU has only missed one kick -- all year -- and he's second-team" Who selects the "all-ACC" team - a Florida Gator cheerleader???
Adelson:
Very funny, Vern. The team you referenced was selected by 65 voting members of the Atlantic Coast Sports Media Association. I do not have a vote and neither does Heather. I understand why Florida State fans were upset, but there are other players in this league who had outstanding seasons. I only had issues at two spots: I would have had
Telvin Smith
and
Christian Jones
in at linebacker.
Timmy Jernigan
could have made it in over
Nikita Whitlock
at defensive tackle. You can also make the case for
Roberto Aguayo
at kicker, but
Nate Freese
made all 18 of his attempts, including two 50-yarders. Aguayo obviously got many more opportunities to score points because he was on a far better offensive team. I did not think that choice was as egregious, even though Aguayo is the Groza finalist over Freese. Let us also remember Florida State had 17 total selections to lead everyone. The coaches will come out with their own team next Wednesday, so we can compare then.
December, 2, 2013
12/02/13
3:28
PM ET
Florida State led all schools with seven players on the
All-ACC first team
, including quarterback
Jameis Winston
, running back
Devonta Freeman
and cornerback
Lamarcus Joyner
.

In all, the Seminoles had 17 players chosen to the first, second and third teams as voted on by the Atlantic Coast Sports Media Association and announced Monday. Eleven players were selected from Coastal Division champion Duke, including four on the first team.
Boston College back
Andre Williams
, who leads the nation and set an ACC single-season record with 2,102 yards rushing, was the only unanimous selection to the All-ACC team. Clemson receiver
Sammy Watkins
received 63 votes, while Winston received 61. Duke receiver
Jamison Crowder
, who leads the ACC in receptions with 88 and has returned two punts for touchdowns this season, was the only player selected at multiple positions. Crowder was voted to the first team at receiver made the second team as a specialist.
First team
Offense
QB – Jameis Winston, Florida State
RB – Andre Williams, Boston College
RB – Devonta Freeman, Florida State
WR – Sammy Watkins, Clemson
WR - Jamison Crowder, Duke
WR –
Rashad Greene
, Florida State
TE -
Eric Ebron
, North Carolina
T-
Cameron Erving
, Florida State
T-
James Hurst
, North Carolina
G- Tre' Jackson, Florida State
G-Shaq Mason, Georgia Tech
C-
Bryan Stork
, Florida State
Defense
DE -
Vic Beasley
, Clemson
DE -
Kareem Martin
, North Carolina
DT -
Aaron Donald
, Pitt
DT –
Nikita Whitlock
, Wake Forest
LB -
Kelby Brown
, Duke
LB –
Denzel Perryman
, Miami
LB –
Kevin Pierre-Louis
, Boston College
CB – Lamarcus Joyner, Florida State
CB –
Ross Cockrell
, Duke
S –
Anthony Harris
, Virginia
S –
Jeremy Cash
, Duke
Special Teams
PK -
Nate Freese
, Boston College
P -
Pat O'Donnell
, Miami
SP -
Ryan Switzer
, North Carolina
November, 25, 2013
11/25/13
11:00
AM ET
The final regular-season weekend is on deck. Time sure flies. So here's one last look at all that went down in the ACC this past weekend.
The good:
The ACC seemingly survived JV week without incident, with Florida State and North Carolina each putting up 80 points, Georgia Tech crushing Alabama A&M 66-7, and Clemson taking care of business against the Citadel with a 56-7 win. Two teams, UNC and Pitt, got to bowl-eligibility, setting up for some great showdowns this coming rivalry weekend.
The bad:
Well, there is always Virginia, which lost by 19 at Miami and remains winless in ACC play. And there is NC State, also winless in ACC play after a 14-point home loss to East Carolina -- which, to add insult to injury,
further declared its place in the Triangle in a season in which it beat both NC State and North Carolina
.
The ugly:
North Carolina's 80-20 win over Old Dominion featured a shortened fourth quarter, from 15 minutes to 10. And none of the Tar Heels' 80 points ended up coming in the final frame. Funny enough, this was actually a 14-13 game after the first quarter. I was at Notre Dame on Saturday, and when the out-of-town scores were announced in the press box, this game was announced: "North Carolina 80, Old Dominion 20. That's football, not basketball."
[+] Enlarge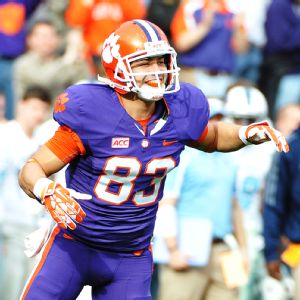 AP Photo/Rainier EhrhardtClemson walk-on WR Daniel Rodriguez, a Purple Heart recipient, caught a TD pass Saturday, providing a heart-warming moment.
The awesome moment:
It came at the 14:10 mark of the fourth quarter, with Clemson already holding a 45-3 lead over the Citadel. Then,
Daniel Rodriguez
caught a 2-yard touchdown pass from
Cole Stoudt
, for his first career touchdown. On Military Appreciation Day, no less. If you're not already familiar with Rodriguez's story,
become so
. Simply amazing.
The icers:
Paul Chryst, bravo. Randy Edsall, not so much. Up 17-16 with 1:03 left and Syracuse facing a fourth-and-8 from the Pitt 36, Chryst called a timeout right as the Orange were about to attempt a game-winning field goal, which was then revealed to be a fake, a fake that looked destined to be good.
Terrel Hunt
then threw an incomplete pass out of the timeout, sealing bowl-eligibility for the Panthers and leaving Syracuse with no other choice but to beat Boston College this Saturday in order to make the postseason. Edsall, meanwhile, called a timeout to ice BC kicker
Nate Freese
's 52-yard game-winning attempt, which hooked left. With new life from Edsall's timeout, however, Freese drilled it, giving the Eagles a 29-26 win at Maryland, their fourth straight victory.
The unconventional two-pointer:
Speaking of BC-Maryland, how about the wild extra-point sequence in the fourth quarter?
Alex Amidon
hauled in a 74-yard touchdown pass for BC with 5:02 left to take a 26-24 lead. But the extra point was blocked, and
Anthony Nixon
ran it back the other way to tie the game at 26. You don't see that every day.
The Heisman hopefuls:
In making your case for why you should win college football's highest individual honor, you can do a lot worse than what
Andre Williams
and
Aaron Donald
did on Saturday. Williams rushed for 263 yards, eclipsing the 200-yard mark for the third straight game. He also got to 2,073 yards on the season, becoming just the 16th player in college football history to reach the 2,000-yard plateau. His 36-yard run set up the game-winning field goal for Boston College. Donald, meanwhile, was named the Walter Camp defensive player of the week award, as the Pitt defensive tackle tallied nine tackles, 3.5 tackles for loss and a blocked extra-point attempt that provided the winning margin in a 17-16 win at Syracuse.
The three-headed attack:
Here's another box-score oddity you don't see every day: Florida State had three different players average better than 11 yards per carry.
Devonta Freeman
carried it 11 times for 129 yards and a touchdown (11.7 yards per carry),
Karlos Williams
ran it 10 times for 114 yards and two touchdowns (11.4 ypc) and
James Wilder Jr
. rushed four times for 85 yards and a score (21.3). The Seminoles had 336 rushing yards on the day, averaging 8.4 yards per attempt.
The Blue Devils:
Where do we start this time? Duke is in the BCS standings for the first time, at No. 24, after getting picked to finish last in the Coastal Division by the media in July. The Blue Devils have now clinched a tie of the division title after beating Wake Forest 28-21, and can win it outright by winning this Saturday at North Carolina. They have tied a school record with nine wins, something they have not done since 1941. And they have won seven straight games for the first time since 1994.
November, 25, 2013
11/25/13
9:00
AM ET
Sorting out the ACC after Week 13:
1. Florida State (10-0, 8-0 ACC; LW: No. 1):
The Seminoles were their usual dominant selves in an
80-14 dismantling of Idaho
, leaving little doubt their on-field performance this season makes them worthy of playing for a national championship. They will try to close their first unbeaten regular season since 1999 against sinking in-state rival Florida.

2. Clemson (10-1, 7-1; LW: No. 2):
As expected, the Tigers had
no problems against The Citadel
. This week will not be so easy as they try to end a four-game losing streak to South Carolina.
Tajh Boyd
has thrown 12 touchdown passes to two interceptions in his past three games, and is completing 78.3 percent of his passes in that span.
3. Duke (9-2, 5-2; LW: No. 3):
We could be on the verge of witnessing history. After
beating Wake Forest 28-21
on Saturday, Duke wins the Coastal with a victory over North Carolina on Saturday.
Anthony Boone
had his best game since returning from a collarbone injury, and the defense had another stellar fourth-quarter performance. Duke has won nine games for the first time since 1941.
4. Virginia Tech (7-4, 4-3; LW: No. 4):
While it is true the Hokies have not looked so hot recently, they are the best positioned after Duke to make the ACC championship game. If the Blue Devils lose to the Tar Heels and the Hokies beat Virginia, there are several scenarios that favor Virginia Tech for a spot in the ACC title game. Plus, they own a 4-1 record in the Coastal and victories over Miami and Georgia Tech.
5. Miami (8-3, 4-3; LW: No. 5):
The Canes ended their three-game losing streak with a
much-needed win over Virginia
thanks to their maligned defense, which came through with four turnovers -- two returned for scores. Concerns remain about an inconsistent offense and a struggling
Stephen Morris
, who was off once again in the win over the Hoos.
6. Georgia Tech (7-4; 5-3; LW: No. 6):
No surprise at how soundly the
Jackets dispatched Alabama A&M
for a second win over an FCS opponent this year. Now comes the best opportunity in years to beat in-state rival Georgia, heavily handicapped because of injuries. Coach Paul Johnson has beaten Georgia only once in five meetings, and that came in his first season as head coach.
7. North Carolina (6-5, 4-3; LW: No. 7):
The surging Tar Heels have won five straight and are playing some of the best football in the ACC. You could make an argument they deserve to be ranked higher. But they did lose to the three teams ahead of them in the power rankings, and their victories have come against UVa, NC State, Pitt and Old Dominion. Not exactly heavyweights there.
8. Boston College (7-4, 4-3; LW: No. 8):
A bit of fortune helped Boston College beat Maryland on Saturday, along with a lot of
Andre Williams
. The senior running back has now topped 2,000 yards on the season, and folks across the nation are taking notice. Expect him to earn a few more votes in the
ESPN.com Heisman Watch
on Tuesday. BC now has a chance to win eight games for the first time since 2009.
9. Pitt (6-5, 3-4; LW: No. 11):
The Panthers secured bowl eligibility following a
17-16 win over Syracuse
, despite being outgained, losing the turnover battle and falling short in time of possession. Special teams was the reason.
Aaron Donald
came up with a blocked extra point, and a timeout call just as Syracuse was about to fake a field goal were the two big turning points.
10. Maryland (6-5, 2-5; LW: No. 10):
There is no way around it. Maryland lost a heartbreaker to Boston College on senior day. Coach Randy Edsall decided to call timeout to ice kicker
Nate Freese
, who ended up missing the 52-yard attempt. When he got his second shot, Freese nailed the kick to win the game. The Terps did lose head-to-head to Syracuse but they are bowl eligible, so that gives them the spot ahead.
11. Syracuse (5-6, 3-4; LW: No. 9):
Talk about losing a heartbreaker. Syracuse did, too, and now the Orange's bowl hopes are on life support with a game against former Big East rival Boston College to close the season.
Terrel Hunt
played better, but injuries have really taken a toll on this team defensively.
12. Wake Forest (4-7, 2-6; LW: No. 12):
The Deacs put forth a great effort in a loss to Duke, jumping out to a 14-0 lead before ultimately coming up short. They will not make a bowl game for the fourth time in five seasons, putting a damper on a season that began with postseason expectations.
13. NC State (3-8, 0-7; LW: No. 13):
Hard to say what the low point has been this season for new coach Dave Doeren.
Losing to East Carolina
certainly did not seem like a certainty when the season began. But everything has unraveled for the Wolfpack, who went 0-4 against teams from North Carolina this season. They will try to avoid their first winless season in ACC play since 1959 against Maryland this weekend.
14. Virginia (2-9, 0-7; LW: No. 14):
The Hoos have lost eight straight, and have only one win over an FBS program this season. Virginia has now allowed 35 or more points in seven losses this season, and
Greyson Lambert
has come in to finish the last three games.
Week 14 Picks: Florida-Florida State
ACC SCOREBOARD
Friday, 11/28
Saturday, 11/29