Florida State Seminoles:

Nick Marshall
January, 7, 2014
Jan 7
1:30
PM ET
In a game as good as Monday's Vizio BCS National Championship, there are countless storylines to dissect in the aftermath. And as Florida State soaks in its third national championship, we're only beginning to fully appreciate the effort it took for the Seminoles to get here. So while the celebration in Tallahassee continues, here's a brief look at some of the most underrated storylines from FSU's absurd 34-31 win over Auburn.
[+] Enlarge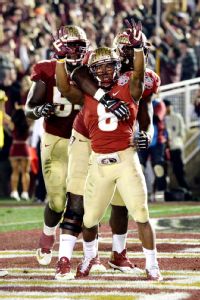 Jayne Kamin-Oncea/USA TODAY SportsFlorida State RB Devonta Freeman became the first 1,000-yard rusher for the Seminoles since 1996.
Quest for 1,000, Part I:
It was an otherwise uninteresting 4-yard rumble on first down late in the third quarter, but it was one of the most statistically significant rushes in Florida State history. The run put
Devonta Freeman
at exactly 1,000 yards for the season, making him the first FSU back to reach that mark since Warrick Dunn in 1996 and ending the longest active 1,000-yard rusher drought in college football. Freeman finished the season with 1,016 yards and 14 touchdowns. More importantly, he was a crucial part of the offense when
Jameis Winston
struggled early Monday, finishing with 94 all-purpose yards and a touchdown.
Quest for 1,000, Part II:
Freeman's 1,000th yard came late.
Rashad Greene
's came early. The junior wide receiver cracked the mark with the second of his nine catches in the title game, finishing the season with 1,128 receiving yards. He's the first FSU receiver to crack 1,000 since Anquan Boldin did it in 2002. Greene's impact Monday was huge. He was the only FSU receiver to catch a pass for positive yardage in the first half, and he was responsible for 40 percent of Winston's targets in the game. Most significant: He had 57 yards on two catches on the winning drive.
Quest for 1,000, Part III:
And if Freeman and Greene weren't enough, sophomore receiver
Kelvin Benjamin
became the third FSU player to join the 1,000-yard club with his penultimate grab, a crucial 21-yard catch early in the fourth quarter that set up Florida State's second touchdown. Benjamin ends the season with 1,011 yards. It was a frustrating game at times for Benjamin, who was shut out in the first half and had two crucial second-half drops that ended drives. His final two catches, however, were essential, including the winning touchdown grab.
Special teams was big:
Kermit Whitfield
's kick return for a score was obviously a turning point in the game, but it was hardly the only crucial play on special teams. The first half, in many ways, was defined by two momentum-shifting punts. The first, by Auburn's
Steven Clark
, pinned FSU at its own 2-yard line.
Cason Beatty
's punt on the ensuing drive netted just 22 yards, and Auburn scored easily to take a 7-3 lead. Tack on three lucky saves in a row for Auburn after muffed punts, the 15-yard penalty that kept FSU from going for two early in the fourth quarter and, perhaps most significant, a missed 33-yard field goal by Auburn's
Cody Parkey
early in the second quarter and special teams swung the momentum of the game in either direction again and again. As for Whitfield, the true freshman touched the ball just 25 times in 2013 but racked up 818 yards and four touchdowns.
[+] Enlarge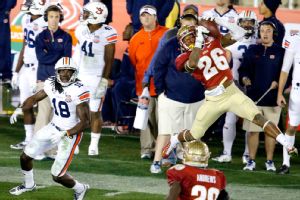 AP Photo/Gregory BullP.J. Williams' interception led to a touchdown that pulled the Seminoles within one point.
FSU's young stars:
The three biggest plays in the game for Florida State came from Winston (game-winning TD drive),
P.J. Williams
(game-saving interception) and Whitfield (game-changing kick return). That trio's total accomplishments prior to this season: 14 tackles by Williams, largely on special teams. In other words, this veteran team that Jimbo Fisher has been slowly building for years won the national title in large part because of the contributions of three players who'd barely seen the field before the start of 2013. That's a good sign for 2014 at Florida State, too.
Pruitt's big adjustment:
To open the game, FSU defensive coordinator Jeremy Pruitt brought pressure on
Nick Marshall
often, and it wasn't entirely successful. The Tigers' QB burned the Seminoles deep on several big plays. But Pruitt adjusted, was more conservative down the stretch, and it worked. Marshall was just 7-of-17 passing with an interception when Florida State brought four or fewer pass-rushers, according to ESPN Stats & Info.
Jernigan's impact:
The stat sheet shows just nine tackles, but anyone who watched Monday's game knows
Timmy Jernigan
meant so much more for Florida State's defense. He was a beast up the middle, shutting down Auburn's vaunted run game for long stretches and offering next to nothing between the tackles. He clogged gaps and allowed linebacker
Telvin Smith
to step up and record a game-high 15 tackles. He flushed Marshall out of the pocket repeatedly. Of course, Jernigan was also completely gassed by the end, relegated to the sideline for much of Auburn's final two scoring drives, and the Tigers' success without Jernigan in the game was the ultimate proof of what an impact FSU's under-the-radar defensive tackle actually made.
Winston's rebound:
There were two resounding narratives regarding Florida State entering the game. The first was that Winston, the Heisman Trophy winner, would have a field day against an overmatched Auburn secondary. The second was that the untested Seminoles wouldn't know how to handle a close game in the fourth quarter. It just goes to show that the pregame predictions often don't amount to much. Winston's unwavering confidence this season -- particularly on the prime-time stage -- has been Florida State's hallmark. The "do it big" speech has been played again and again, but Winston was hardly that guy during the first three quarters Monday. His footwork was a mess. He was off target on throws. He was hesitant to release the ball, choosing again and again to tuck and run. He rarely looked downfield in spite of those supposed mismatches for his receiving corps. And yet, when the game was on the line, the QB who'd thrown just 25 fourth-quarter passes all season rebounded by completing 9 of 11 for 117 yards and two touchdowns in the game's final quarter.
It really was about his teammates:
If there was a mantra Winston stuck to this season throughout all the highs and lows, it was that the season -- and his success -- was built on the backs of his teammates. Monday's national championship proved him right. While Winston struggled early, so many others stepped up. Freeman moved the ball on the ground. Greene provided a reliable target. Fisher called a brilliant fake punt that
Karlos Williams
managed to execute perfectly. Whitfield returned a kick for a score. The defense held Auburn scoreless on five straight drives -- forcing a turnover along the way -- while Winston slowly chipped away at a 21-3 deficit. Yes, it was the Heisman winner who delivered the winning drive with 1:19 to play, but it was Greene's spectacular run after a catch and Benjamin's unparalleled ability to go up for a ball in the end zone that made the difference. For Florida State, 2013 really was about team, no matter how good (or, in Monday's case, shaky) Winston was along the way.
January, 7, 2014
Jan 7
12:26
AM ET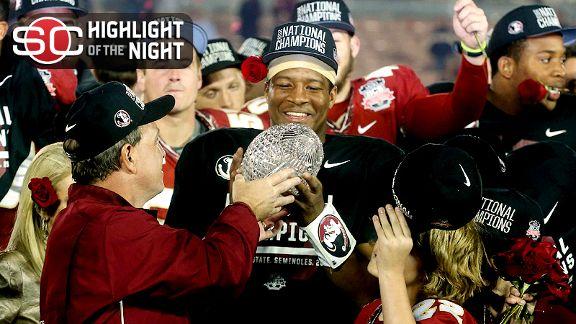 Love it or hate it, the BCS delivered a dramatic and fitting ending on Monday night, as No. 1 FSU rallied from from a late four-point deficit in the final two minutes to defeat No. 2 Auburn
34-31
in the final VIZIO BCS National Championship at the Rose Bowl in Pasadena, Calif. The Seminoles won their third national championship and ended the SEC's reign of seven consecutive BCS national championships.


Play of the game:
Trailing 31-27 with about one minute to go, Heisman Trophy winner
Jameis Winston
threw a 49-yard pass to
Rashad Greene
to move to Auburn's 23-yard line with 56 seconds to play. Six players later, after Auburn was penalized for pass interference in the end zone, Winston threw a 2-yard touchdown pass to
Kelvin Benjamin
to go ahead for good with 13 seconds to play. FSU's extra point gave it a 34-31 lead.
Turning point:
After Auburn took a 24-20 lead with about 4:42 to go, FSU's
Levonte Whitfield
returned the ensuing kickoff 100 yards for a touchdown, giving the Seminoles a 27-24 lead with 4:31 left. Whitfield, a 5-foot-7 freshman known as "Kermit," returned a kickoff for a touchdown for the second time this season.
Early turning point:
With Auburn holding a 7-3 lead early in the second quarter, Tigers quarterback
Nick Marshall
lofted a 50-yard touchdown pass to
Melvin Ray
to stake the Tigers to a 14-3 lead with 13:48 to go in the first half. Ray, a sophomore from Tallahassee, Fla., had four catches for 58 yards this season before hauling in the long touchdown catch against the hometown Seminoles. FSU, which hadn't trailed since falling behind Boston College on Sept. 28 and had led for more than 571 minutes of football before falling behind the Tigers, suddenly trailed by two scores. The Seminoles played catch-up the rest of the night but finally caught the Tigers in the end.
Player of the game:
Winston, a redshirt freshman from Bessemer, Ala., got off to a slow start against Auburn's defense, getting sacked four times and fumbling once in the first half. But in the end, Winston broke the Heisman Trophy jinx, throwing the winning touchdown with 13 seconds to play. He completed 20 of 35 passes for 237 yards with two touchdowns.
What it means:
The controversial BCS era ends with the SEC being denied its eighth consecutive national championship, which should sit well with college football fans outside of the SEC. In a game in which the SEC seemed most vulnerable during its championship streak, the Tigers jumped out to a 21-3 lead but couldn't hold on for a victory. The Tigers were denied their second BCS national championship since the 2010 season, when they defeated Oregon 22-19 in the BCS National Championship behind quarterback
Cam Newton
. Auburn coach Gus Malzahn missed becoming only the second coach -- Miami's Larry Coker was the first -- to lead his team to the national title in his first season since the BCS began in 1998.
Stat that matters:
2-for-12: Florida State won despite going 2-for-12 on third down.
What's next:
Florida State will probably be a popular choice to be the No. 1 team in preseason polls heading into the 2014 season. FSU will have to replace several key pieces on defense, including linebackers
Christian Jones
and
Telvin Smith
and cornerback
Lamarcus Joyner
. But the Seminoles will bring back Winston, the reigning Heisman Trophy winner, along with several of their most important players on offense. Auburn, which reached the BCS national championship in Malzahn's first season, will be among the SEC West favorites in 2014, along with Alabama and LSU. The Tigers will bring back Marshall, but they'll have to wait to see if junior tailback
Tre Mason
returns to school or enters next spring's NFL draft. Auburn's very young defense will be a lot wiser in coordinator Ellis Johnson's second season, too.
January, 6, 2014
Jan 6
9:00
AM ET
Here's a quick preview of Monday night's
VIZIO BCS National Championship
(8:30 p.m. ET, ESPN):


Who to watch:
Florida State quarterback
Jameis Winston
. The Heisman Trophy winner, who will be playing for a national title on his 20th birthday, has a chance to become the first freshman quarterback to win a national championship. Only one sophomore or freshman starting quarterback has ever won the BCS National Championship, and that was Alabama's
AJ McCarron
as a sophomore. Winston can also become just the third quarterback since 1950 to go undefeated with a national championship and a Heisman Trophy all in the same season. Winston, who has dominated the headlines both on and off the field this season, has proved to be the game's best player, but Auburn is confident in defensive coordinator Ellis Johnson's game plan to pressure him into uncharacteristic mistakes.
What to watch:
Florida State's defensive line against Auburn's offensive line. This matchup will feature two of the nation's best fronts, which both feature future NFL talent. Auburn's strength all season has been its running game, and the Tigers have no plans of abandoning that now. The Seminoles, though, have every intent of slowing the Tigers down and forcing them to win with their passing game. Auburn has run on 71 percent of its plays, the highest percentage for any non-triple-option offense in the FBS. The Tigers lead the nation in rushing yards per game and runs of 25 yards or more.
Tre Mason
leads the SEC in almost every major rushing category, and his seven 100-yard rushing games against SEC defenses are the most in a season for any player in the last 10 seasons. FSU leads the nation in scoring defense, though, and is No. 13 in the country in rushing defense.
Why to watch:
The SEC's streak of seven straight national titles is on the line, and if Auburn wins, the conference will have claimed 10 of the 16 BCS titles. The last time an SEC team lost a true national championship game to a team from outside the conference was when Nebraska beat Florida to end the 1995 season (1996 Fiesta Bowl). Auburn is also playing for the fifth straight national title for the state of Alabama. With wins over then-No. 1 Alabama and then-No. 5 Missouri in its previous two games, Auburn has a chance to become the first team in college football history to win three consecutive games against top-five teams. For Florida State, it's the program's first appearance in the BCS National Championship in 13 years. Both coaches -- Auburn's Guz Malzahn and FSU's Jimbo Fisher -- are playing for their first national titles. It's also historic, as this year's game will be the last in the current BCS system before the four-team College Football Playoff begins next season.
Prediction:
Florida State 38, Auburn 35. The Tigers have been a team of destiny this season, while the Seminoles have been a team of dominance. Florida State is the deeper, more talented team, and that will show against an Auburn defense that has been average this year. While the key to the game is up front, and whether FSU can slow down Auburn's running game, the difference will be in the likes of Winston, FSU wide receiver
Kelvin Benjamin
and Seminoles running back
Devonta Freeman
. It's not that Auburn can't pass the ball -- quarterback
Nick Marshall
's Hail Mary beat Georgia -- but Florida State does it better. If Auburn is trailing and gets behind in down and distance, Florida State's defense -- particularly the secondary with
Lamarcus Joyner
-- will be too good for the likes of
Sammie Coates
to bail the Tigers out. Monday is the day the SEC's streak comes to an end and Florida State returns to the pinnacle of college football.
January, 4, 2014
Jan 4
5:00
PM ET
When Dameyune Craig left Florida State to return to his alma mater, he was leaving behind a national championship contender and a potential Heisman Trophy quarterback in
Jameis Winston
. It's no wonder Craig turned down Auburn the first time they offered.
[+] Enlarge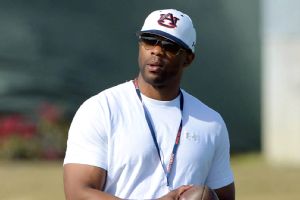 Kirby Lee/USA TODAY SportsDameyune Craig's return to Auburn helped the Tigers land Nick Marshall and develop their receivers.
But it wasn't the talent and future success that made it such a difficult decision. It was his relationship with Winston, the quarterback he was responsible for bringing to Tallahassee. Craig had served as a mentor, a father figure and a friend to the Seminoles' redshirt freshman.
"Without Coach Craig being in my life -- he was a good reason why I came to Florida State," Winston said. "He kept me on the right path. He used to call me every morning. If he had one of his visions or something, 5 in the morning he'd call me and let me know, 'Aye Jaboo, don't do this.' Coach Craig's got a lot of visions."
The relationship began when Winston was a sophomore in high school. Craig had just become the new quarterbacks coach at Florida State, and it didn't take long for him to make Winston a recruiting priority.
It helped that Craig could relate to Winston. He, too, was a star quarterback from the state of Alabama. While at Auburn, he set numerous passing records, including completions (216) and passing yards (3,227) in a single season. He led the Tigers to 10 wins in 1997. He was who Winston wanted to be at the next level.
"Just talking to him, meeting his family and everything, I see him as me," Winston said at Saturday's BCS media day. "When I grow up, I want to be like him."
Craig also made an impact on Winston's family. He was the first recruiter to bypass the high school coach and talk directly with Jameis' father, Antonor Winston.
"He was willing to break through the walls," Antonor said. "Coaching-wise, you never go to a school for a coach because they could be a dime a dozen. As a mentor, Dameyune just understood Jameis. He said some stuff that nobody would think about saying about Jameis, and it came to pass."
According to Antonor, Craig told his son that if Jameis went to Auburn, he would start as a true freshman. If he chose Alabama, he might make some people mad because he would take AJ McCarron's spot. But at Florida State, he could redshirt his first year, learn from future NFL quarterback EJ Manuel and focus on his baseball career, too.
That's what the family wanted to hear. It was a win-win situation. So Winston, the No. 1 quarterback and No. 14 prospect in the 2012 ESPN 300, signed with the Seminoles.
"Coach Craig doesn't get enough credit for bringing Jameis there," Antonor said. "Their relationship -- Jameis knew leaving home, Dameyune was going to make him do right. He got recruited by a lot of schools and a lot of recruiters, but I don't think anybody came in and cared about Jameis' well-being the way he did."
It couldn't have worked out better for the prized recruit. Jameis redshirted his first year with football. In the spring, he started 30 games for the baseball team that ended up reaching the super regionals. And this season, with expectations high, he took over as Florida State's starting quarterback and led the Seminoles to an undefeated season and a spot in the VIZIO BCS National Championship.
[+] Enlarge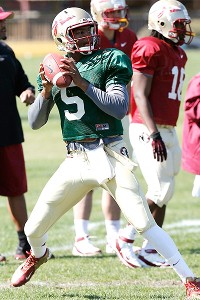 AP Photo/Don Juan MooreJameis Winston spent his redshirt season under Craig's tutelage.
The only downside? Craig wasn't there to be a part of it. He left after Winston's freshman year, a decision that was difficult for Winston and his family.
"It hit me pretty hard," Jameis said. "I didn't really express that because I had to talk to Coach [Jimbo] Fisher about it. I was sad when Coach Craig left because it was unexpected. I had talked to him about it, and I knew he had done the right thing for him. I trusted him and told him I supported him the whole way.
"I told him, 'Coach Craig, if you gotta go, then go. Because I'm going to be with you no matter what.'"
Little did Winston know, he'd be going against his former mentor and coach in Monday's national championship game.
The decision to leave Florida State for Auburn worked out for Craig, too. He works with the wide receivers now, but he helped recruit quarterback
Nick Marshall
, who has been instrumental in the Tigers' miracle season. The two have already developed a relationship similar to what Craig had with Winston.
"He's the same type of guy," Marshall said. "He doesn't let anything change. What's his is ours. That's with all the coaches. If we have anything to talk about, we can call any one of our coaches on the coaching staff and just talk to them about it. It's like another dad to us."
However, Craig will always hold a special place in his heart for Winston and his family. It's the reason Winston mentioned Craig in his Heisman Trophy speech. It's the reason Winston deleted Craig's number from his phone -- he was afraid he'd be tempted to call his former coach. It's the reason why Monday's game won't affect their relationship.
"I don't think he's concentrating on beating me," Winston said. "He's concentrating on beating Florida State. It's just like I'm not concentrating on beating him, because at the end of the day, win or lose, me and him are going to remain the same. He's going to be happy for me if we win. I'm going to be happy for him if they win."
January, 2, 2014
Jan 2
3:19
PM ET
NEWPORT BEACH, Calif. -- Florida State cornerback
Lamarcus Joyner
knows all about Auburn wide receiver and Miami native
Ricardo Louis
-- the Noles recruited him. And Joyner has done his homework on sophomore receiver
Sammie Coates
, who is third in the country in yards per catch (22.1) and averages 54.1 yards per touchdown reception.
[+] Enlarge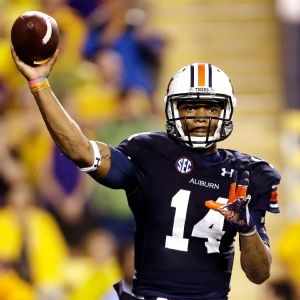 AP Photo/Gerald HerbertWhile Auburn is known for its rushing attack, Nick Marshall is completing 60 percent of his passes and has FSU's attention.
So while the rest of the country is seemingly wrapped up in Auburn's nation-leading ground game -- and deservedly so -- Florida State's secondary isn't sleeping on the Tigers' ability to throw the ball. There's no question Auburn's strength is up front and in its running game, which averages 335.7 yards per game, but to the Seminoles, the difference will be their ability to force the Tigers to throw and get them into long yardage situations.
"That's the key to the game," Joyner said. "That's key. That front seven has been tremendous for us all season, and we need them to do one more for this last game. [The Tigers] have a lot of great talent up front themselves. Their O-line is pretty good. I see a lot of those guys playing on Sunday. And we have a lot of guys who can play on Sunday in our front seven. It's a clash of the beasts. … We need them to do more so the pretty boys in the back in the secondary can get a little shine."
It's already glowing.
Florida State leads the FBS with 25 interceptions and ranks third with 34 takeaways. Still, they're going to have to make the most of their opportunities against Auburn.
Auburn threw it only 11 times in the SEC title game against Missouri, and only 16 times against Alabama. Quarterback
Nick Marshall
, who has 1,023 rushing yards this season, had seven pass attempts against Tennessee, and eight against Arkansas. Overall this season, Auburn has run on 71 percent of its plays, the highest percentage for any non-triple option offense in the FBS.
"We obviously haven't thrown as much the second half of the season as we did the first," Auburn offensive coordinator Rhett Lashlee said, "but never was there an instance I thought it was because we couldn't or didn't want to, it was simply because you're going to go with what's working."
Not that their play-action passing game doesn't work.
Just ask Georgia, which was stunned by Marshall's 73-yard game-winning touchdown pass to Louis on fourth-and-18 with just 25 seconds left.
"I think Marshall has as good of arm talent as anybody in the country," FSU defensive coordinator Jeremy Pruitt said. "He can flat-foot throw it 80-some yards. A couple of throws he's made, especially down the stretch here, have been very accurate.
"The big thing is they've been throwing it when they want to throw it. They've been dictating to everybody else. I think it's important to get them behind the sticks early on and get them in some long yardage situations, but I'm sure that's what everybody's game plan has been, and they haven't had a whole lot of success doing it."
Florida State, obviously, hopes to change that.
January, 1, 2014
Jan 1
9:30
AM ET
Editor's note: Each day this week Florida State reporter David M. Hale and Auburn reporter Greg Ostendorf will preview a position battle in Monday's VIZIO BCS National Championship Game. Today's matchup is between Auburn's running backs and Florida State's linebackers.
[+] Enlarge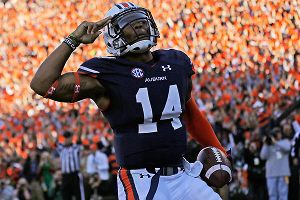 AP Photo/Dave MartinNick Marshall isn't a running back, but with over 1,000 yards rushing, Auburn's quarterback provides a lethal ground threat.
Auburn's running backs:
Gus Malzahn has always been one to tailor his offense around his team's skill set. In this case, it's safe to say that Auburn's strength is running the football. The Tigers have run on 71 percent of its plays, the highest percentage of any non-triple-option offense in the FBS. They lead the nation in rushing yards per game and are one of five schools this season to have two players with at least 1,000 rushing yards.
The star is running back
Tre Mason
. He leads the SEC in rushing (1,621 yards) and rushing touchdowns (22), rushing for a career-high 304 yards and four touchdowns on 46 carries in the SEC championship game. That performance, along with his 164-yard outing against No. 1 Alabama, earned him a trip to New York City for the Heisman Trophy presentation.
But as impressive as Mason has been all year, it's quarterback
Nick Marshall
who makes this offense go. Technically, Marshall isn't a running back, but how can you not include him in this category when he has over 1,000 yards rushing? The junior college transfer seems to get better every game as he gets more and more comfortable with the zone-read. Florida State has the athletes to defend Auburn's offense, but Marshall's ability to run turns a great offense into a nearly unstoppable offense.
The wild card of the group is
Corey Grant
, a former Alabama transfer. If Mason is the thunder, Grant is the lightning. The junior has been used sparingly, but he's a threat to take it to the house every time he touches the ball. He has 650 yards and six touchdowns on the season and is among the nation's best in yards per carry (10.0).
Statistically speaking, Florida State has been strong against the run, but the Seminoles haven't faced a rushing attack quite like Auburn's "four-headed monster." When they faced Boston College's
Andre Williams
, they gave up 149 yards to the Heisman finalist. Mason is every bit the player that Williams is, and that's just one of the multiple weapons Auburn has in its arsenal.
Florida State's linebackers:
It's hard to know quite what to make of this matchup. On the one hand, FSU has been exceptional against the run for most of the season. The Seminoles are eighth nationally, allowing just 3.1 yards per carry (and just 2.9 in the first halves of games), and the first-team defense has yet to allow a rushing touchdown. Throw out the second half against NC State (when the backups played the entirety), and FSU is allowing just 2.6 yards per rush since the start of October, when
Christian Jones
moved up to the defensive line and
Terrance Smith
stepped in as the starting middle linebacker.
The problem, of course, is that Maryland and Wake Forest and Duke didn't provide anything close to the challenge Auburn will on Jan. 6. The best rushing offense Florida State faced this year was Boston College, and not coincidentally, no team had more success on the ground (200 yards) or overall (34 points) against FSU this season.
Still, the Seminoles defense has evolved immensely since that BC game. Terrance and
Telvin Smith
have both developed into reliable defenders against the run. Jones provides an athletic defender on the edge.
Jalen Ramsey
(6-foot-1, 195 pounds) moved to safety and can play sideline to sideline against the run. Both Jones and Ramsey will be vital against an Auburn team that runs outside the tackles routinely with great success (averaging 6.3 yards before contact outside the tackles, according to ESPN Stats & Info, best among AQ schools). FSU is allowing just 3.1 yards per rush between the tackles this year, but 5.1 outside.
The Seminoles have the athleticism on defense to make life tough for an Auburn running game that hasn't struggled often, but what the Tigers do well is also the one place where some questions remain for Florida State.
Ostendorf:
Edge Auburn
Hale:
Slight edge for Auburn
December, 31, 2013
12/31/13
9:30
AM ET
Editor's note: Each day this week Florida State reporter David M. Hale and Auburn reporter Greg Ostendorf will preview a position battle in Monday's VIZIO BCS National Championship Game. Today's matchup is between Auburn's wide receivers and Florida State's defensive backs.
Auburn's wide receivers:
If there was ever a game for Auburn to stick to the run, this would be it. Quarterback
Nick Marshall
has struggled at times through the air and the Tigers are in for their most challenging test yet against a Florida State secondary that leads the nation in interceptions (25).
Expect a heavy dose of Marshall and
Tre Mason
running the read-option together like they've done all season.
Florida State still has to be wary of Auburn's big-play ability. It starts with
Sammie Coates
who has emerged as a go-to wide receiver for the Tigers. He's one of the fastest players in the SEC, if not the nation, and he leads the team with 38 catches for 841 yards and seven touchdowns. He's second nationally in yards per catch (22.1) and all seven of his scores have come from more than 35 yards. It was his 39-yard touchdown grab in the final minute against Alabama that put Auburn in position to win that game.
The problem for the Tigers is that nobody has emerged opposite Coates. Freshman
Marcus Davis
had his moments early in the season, making key catches in critical situations.
Ricardo Louis
, who hauled in the 73-yard Hail Mary touchdown pass to beat Georgia, might be the most dangerous athlete on the team. But neither has been consistent.
When Auburn plays Florida State, it's going to need a play in the passing game from somebody other than Coates. Whether it's Davis, Louis or even tight end
C.J. Uzomah
, who's healthy again, somebody is going to have to step up and make a play when their number is called. Nothing will come easy, though, against a talented Seminoles' secondary.
Florida State's secondary:
Only five teams threw less often this season than Auburn, which runs the ball on 72 percent of its plays. When the Tigers do throw, however, they've mustered some big plays -- averaging 14 yards per completion.
The recipe for Auburn is pretty simple -- run, run, run, then go deep. It's a plan that may run into some trouble against Florida State, however. The Seminoles' secondary is the nation's best for the second straight season.
Lamarcus Joyner
leads a deep and talented group that leads the nation in fewest yards per attempt (4.9), most interceptions (25) and lowest QBR allowed (18.1). Opponents have completed just 6 of 36 passes thrown 20 yards or more against them this year, according to ESPN Stats & Info.
Coates and Louis both have good size to win some battles downfield, but Florida State can match that physicality with
P.J. Williams
(6-0, 190) and
Ronald Darby
(5-11, 190), who have both been exceptional this year. Darby has allowed just seven completions this year and allows the fifth-lowest completion percentage among AQ-conference defensive backs in the nation.
Marshall can keep some plays alive with his legs, giving his receivers a chance to get open downfield, but Florida State hasn't been burned often this year.
Sammy Watkins
,
Allen Hurns
and
Devin Street
all found some success this season, which should provide a bit of optimism for Coates, but no QB has managed better than 7 yards per attempt against FSU's secondary all year. In its last eight games, Florida State's secondary is allowing just 4.5 yards per attempt with 6 TDs and 19 INTs.
Ostendorf:
Edge Florida State
Hale:
Edge Florida State
Handicapping Uncommitted Top 10 Recruits
ACC SCOREBOARD
Thursday, 10/23
Saturday, 10/25