Florida State Seminoles:

Scottie Montgomery
July, 18, 2014
Jul 18
12:00
PM ET
Big names among the assistant ranks tend not to stay assistants for too long, but Clemson's Chad Morris says he's
right where he wants to be
and isn't looking for a head-coaching gig long-term, writes the Augusta Chronicle.
Of course, if a certain job in College Station, Texas, were to open up -- as our Travis Haney
wrote about this week
-- it certainly would seem like a good fit for Morris, who is a Texas A&M graduate. But Morris also
earned $1.3 million last season
, which makes it a bit easier to stay comfortable in a coordinator role, and though he is smart enough to know when the right situation comes around, I think he is also sincere when he says he is not looking to leave.
And Morris isn't the only ACC assistant would could be a hot commodity at some point in the next couple years. A few other names to watch for bigger jobs:
Bud Foster, Virginia Tech:
The offense has been down over the past few years for the Hokies, but Foster's defense has been as good as ever. Foster has turned down lucrative offers elsewhere in the past, so he is clearly not looking to leave, but he will nevertheless remain on the radar for a lot of other programs looking to bring in a proven commodity.
Jay Graham, Florida State:
He is young, has NFL experience and SEC ties, and he is a recruiting whiz. He also presided over the first 1,000-yard back at Florida State in 16 years last season. Graham is going to be a hot name very soon.
Chip West, Virginia:
How does a team that finishes 2-10 and has a head coach constantly mired in hot-seat rumors still land a solid recruiting class, including five ESPN300 members? Chalk it up to West, one of the best recruiters in the nation.
Scottie Montgomery, Duke:
He will get his first crack at a coordinator job this year as he takes over for Kurt Roper, who left for Florida. Montgomery has NFL experience as a wideouts coach with the Pittsburgh Steelers, and he is a terrific recruiter. If Duke's offense continues to shine, he is going to get a lot of credit -- and a lot of long looks from other programs.
Brent Venables, Clemson:
Morris gets all the buzz because offense is fun and the Tigers' defense has played second fiddle for years. But look, everyone remembers that Orange Bowl loss to West Virginia to conclude the 2011 season, and what Venables has done for the Tigers' defense since then -- 29.3 ppg in 2011, 24.8 in 2012, 22.2 in 2013 -- has been impressive, and this year's unit could be his best yet. More importantly, the Clemson defense is finally climbing out of the shadow of its prolific offense.
More links:
Athlon has a look at recruiting in the Tidewater, Virginia area, and how the region has become
a key battleground
for programs like Florida State and Virginia.
The Pittsburgh Post-Gazette has a piece on how colleges are
bringing in outside help to sell tickets
.
The Daily Progress is looking at Virginia's opponents and wonders if this is
the golden age of Duke football
.
A new play-calling system
should help Terrel Hunt run Syracuse's up-tempo offense, according to Syracuse.com. We wrote plenty
about up-tempo offenses
yesterday, if you missed it.
Georgia Tech's special teams
should be a strength
, writes the Atlanta Journal-Constitution.
The Courier-Journal wonders why Bobby Petrino isn't having
more success on the recruiting trail
at Louisville.
April, 18, 2014
Apr 18
9:00
AM ET
Scottie Montgomery returned to Duke last year from an NFL world where quarterbacks were never, ever hit in practice.
So when his quarterbacks started begging him to go live this spring, his first reaction was, 'No way!' He was in protection mode, the way he was as a Steelers assistant. But veterans
Anthony Boone
and
Brandon Connette
persisted, and he slowly relented -- only a few times, and with clear instructions to the defense.
[+] Enlarge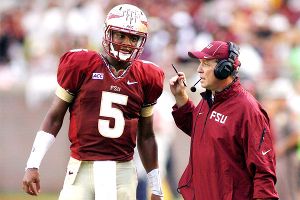 AP Photo/Phil SearsFlorida State coach Jimbo Fisher had Jameis Winston go live last spring when he was dueling Jacob Coker for the starting job.
"My initial feel is, 'Don't ever let anybody get touched, so I have to fight myself at times, because I want to protect these guys and these guys want to compete for jobs," said Montgomery, the offensive coordinator.
His is a dilemma that many coaches across the league
have faced this spring
. Do you allow your quarterbacks to get hit in practice to help simulate game situations and foster competition, knowing you have increased their injury risk? Or do you never even broach the subject because the priority should always be to protect the quarterback?
Four ACC teams allowed their quarterbacks to go live at some point during spring practice, more than any other power-five league. Clemson did it for the first time under offensive coordinator Chad Morris, believing he would see more out of the three quarterbacks vying for the starting job. Early enrollee freshman Deshaun Watson
ended up getting hurt
and missing the spring game.
Florida State allowed its younger quarterbacks to go live this spring. Coach Jimbo Fisher said he did the same last year, when
Jameis Winston
was a redshirt freshman competing to win the starting job.
"They've got to be able to feel things around them and react," Fisher said. "They get in a false security blanket sometimes."
Does that cause him extra worry?
"It's no different than when we run the running backs, and I get nervous in the scrimmages when the backs are running and get tackled," Fisher said. "Our guys know if they've got a kill shot, not to. There's a certain limit of how we practice with each other. You know those shots that everyone wants to have? We won't take those on each other even if we're in a live scrimmage because it's not productive to the organization. Tough to me is when you're eyeball to eyeball, not when a guy's exposed and you can do that."
The coaches are not the only ones who wrestle with the idea. NC State quarterback
Jacoby Brissett
was not live this spring. But when he was competing for the starting job at Florida with
Jeff Driskel
back in 2012, both were allowed to go live early on in fall practice. The first day they were allowed to take hits, Driskel hurt his shoulder.
[+] Enlarge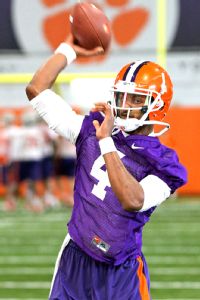 AP Photo/Anderson Independent-Mail/Mark CrammerClemson freshman Deshaun Watson was injured in practice and missed the spring game.
"There's a right time and wrong time for quarterbacks to be live," Brissett said. "We haven't done live practices, but in the fall sometimes we will have a live scrimmage on a Saturday. It helps out with the game speed reps."
For a running quarterback such as Brissett, that helps. Same for the Duke quarterbacks. Georgia Tech has its quarterbacks live during practice for that reason.
Some coaches believe going live helps separate the competition. But Clemson was the only school with an open quarterback competition to allow its quarterbacks to go live during scrimmage situations. North Carolina, for example, has
Marquise Williams
and
Mitch Trubisky
battling to win the starting job, but offensive coordinator Seth Littrell does not believe it is necessary to allow quarterbacks to get hit. "I've never done it," he said.
Virginia Tech also is in the middle of an intense competition, but quarterbacks have been off limits so far this spring. Veteran
Mark Leal
would have no problem if the coaches changed their minds.
"Honestly, I'd like to be live," he said. "I think the rest of the quarterbacks would, too, because it gives more of a game feel. If you're not live, sometimes the whistle gets blown early when you don't think you should have been sacked or the play gets messed up because when there's a rush around you, the first thing the coaches want to do is blow the whistle, rather than you continue to play or go through your reads and progressions and finish the play."
Depth concerns often dictate what coaches do. Pitt only had two scholarship quarterbacks this spring, so there was no way they were going live. Virginia Tech only has three quarterbacks on the roster this spring.
Still, all the protections most coaches take are not enough to keep their quarterbacks injury-free. Miami quarterbacks were off limits this spring, but
Ryan Williams
tore his ACL
during a scrimmage.
It was a noncontact injury.
April, 14, 2014
Apr 14
12:00
PM ET
3Q CLEM D. Watson pass,to S. Seckinger for 19 yds for a 1ST down