October, 31, 2014
Oct 31
8:30
AM ET
Thursday night's game
provided several reminders about Florida State.
1. This team, unlike its predecessor, is at times more lucky than good.
2. The Seminoles are still pretty darn good, even with all their injuries.
3.
Jameis Winston
is an excellent crunch-time quarterback.
4. FSU likely has too many warts to repeat as national champion.
5. Jimbo Fisher is an unquestionably brilliant coach.
Let's focus on the last item. Fisher's coaching acumen often gets overlooked, often because of what Fisher says and does away from the sideline.
He out-coached Louisville's Bobby Petrino in the second half Thursday, pushing the right buttons, especially on a
third-and-6 from Louisville's 35-yard line
late in the fourth quarter. Winston found a wide-open
Freddie Stevenson
, who scooted in for an easy, euthanizing touchdown. It's another reminder that Fisher is at the top of his game.
Fisher's clout as a recruiter also showed up as three freshmen, led by running back
Dalvin Cook
, reached the end zone. And his Seminoles team, despite myriad mistakes and continuing controversy, won its 24th straight game.
So why is it so hard to celebrate Fisher? Because of the other stuff.
October, 31, 2014
Oct 31
8:00
AM ET
October, 30, 2014
Oct 30
11:00
PM ET
About this time of year coaches scour junior college ranks for offensive line talent, and thathas helped
Tyler Howell
become one of hottest targets around. Plus, is Clemson in danger of losing ESPN 300 commitment
Juwuan Briscoe
?
To continue reading this article you must be an Insider
October, 30, 2014
Oct 30
10:06
PM ET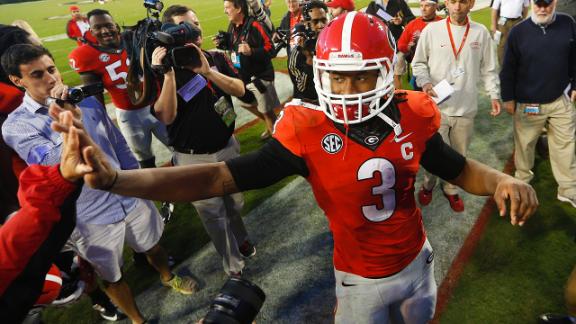 The NCAA announced Thursday night that its Division I Student-Athlete Reinstatement Committee has upheld Georgia running back Todd Gurley's four-game suspension, meaning he'll miss the Bulldogs' next two games after sitting out the previous two.
Georgia officials appealed the ruling earlier this week after the NCAA had said that Gurley would have to sit out 30 percent of his team's competition, or four games, for accepting $3,000 to autograph memorabilia for multiple dealers over the past two years.
Gurley, who was a leading Heisman Trophy candidate before the suspension, will miss Georgia's game against Florida in Jacksonville, Florida and next week's game at Kentucky.
He will be eligible to return for the Bulldogs' home contest against Auburn (No. 3 CFP, No. 4 AP) on Nov. 15.
"We are very disappointed in tonight's decision by the Division I Student-Athlete Reinstatement Committee regarding our appeal on Todd Gurley's eligibility reinstatement," Georgia said in a statement Thursday. "We believe our case to the NCAA for Todd's immediate reinstatement was strong and compelling. However, we now have exhausted all available options and look forward to Todd's return to competition on Nov. 15. The full attention of Bulldog Nation now needs to be focused on our team and Saturday's important game against Florida."
Georgia (No. 11 CFP, No. 9 AP) has won its last two games without Gurley, as freshman Nick Chubb has rushed for 345 yards and three touchdowns while leading the Bulldogs to road victories at Missouri and Arkansas.
Gurley, a junior from Tarboro, North Carolina, has rushed for 773 yards with eight touchdowns and has averaged 8.2 yards per carry.
October, 30, 2014
Oct 30
12:00
PM ET
No Todd Gurley for two more weeks and no spot in the top 10 of the College Football Playoff rankings for Georgia? Have no fear, Bulldogs, our Edward Aschoff is here with a pep talk.
Hey Georgia Bulldogs, lift those chins up and poke those chests out. You've got a playoff run to make.
[+] Enlarge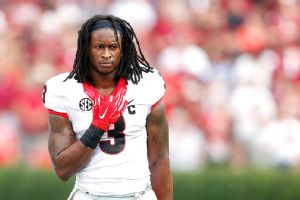 Joe Robbins/Getty ImagesHey Georgia, it's on you to win the next two games. If you are able to do that, you'll get this guy back for the big one against Auburn.
The past few days haven't been very kind to you guys at all. It started with hope, as rumors swirled that star running back Todd Gurley would be back in time to help trample the Gators in Jacksonville. He was even reportedly taking first-team reps.
Then, the first tattered domino fell Tuesday night. The College Football Playoff committee wasn't very impressed with you. Couple that bad, early-season loss to a less-than-impressive South Carolina team with what the committee must have thought was a soft first-half slate, and you debuted in the
College Football Playoff Rankings
at No. 11. I even agree that the best win Georgia has is against Clemson, which just happens to be ranked No. 21, but come on. Eleventh? This team is better than that.
However, that wasn't the most disheartening news. On Wednesday, you found out that Gurley will have to sit out
two more games
for accepting more than $3,000 in cash from multiple individuals for autographed memorabilia. The NCAA then arrogantly boasted that it could have made things even worse for Gurley, adding a little gasoline to the already effervescent flame dancing on the program.
But fear not, Dawgs. Grab those hoses, because there's plenty of time to prove the committee wrong.
Don't like the committee or Twitter tell you that you aren't a beautiful butterfly. Don't let esteemed ESPN colleague Andrea Adelson try and steal your shine! (I heard what she said about you guys on our Spreecast, too.) You guys are the real deal, right now, and you have a chance to really impress the committee with what you have ahead in November.
Plus, you'll start the month without Gurley. Yes, he's out against a struggling Florida team and a Kentucky team still looking to grow, but
Nick Chubb
will once again have to carry the rushing load with
Keith Marshall
and
Sony Michel
sidelined. Hey, if he keeps trucking along without help, the committee will have to take that into account. This kid is a true freshman, yet he's dazzling fans and punishing defenders barely removed from his senior prom. Not to add anymore pressure to his already piled plate, but he does look like a young Gurley.
People want to trash your schedule? You know, the one you were dealt and had no control over this season? Well, you still have No. 3 Auburn (at home), and chances are you're headed to Atlanta for the SEC championship game, unless you get really sloppy. I understand that the East is, well, like an old horror movie, but that's not your fault. Don't beat yourself up because there is no real East challenger at the moment. Just take care of business, and the committee will start to come around. A win over Auburn will have you skyrocketing up the rankings.
Even though people aren't impressed with your early state, you're a better team now than you were after the South Carolina game.
I was wrong about this defense not having what it took to sustain success through the entire season. The secondary still doesn't exactly wow me, but the front seven is playing better than I thought it would, thanks to new defensive coordinator Jeremy Pruitt deciding to go with a more aggressive plan by getting those linebackers more involved in the backfield. The defensive line has been disruptive at the right times this season.
This is a defense that is getting better each week. Do not dwell on what happened during the second half of the Arkansas game. I get it, you built a commanding 38-6 halftime lead and coasted in the second half. Hey, it happens. Look at Alabama against Tennessee for crying out loud.
Before that game, you shut out Missouri 34-0 on the road in the first of two games without Gurley.
I've learned that this team doesn't need to stretch the ball with the deep pass because it runs so well.
Hutson Mason
would like to chuck it around, but he hasn't had to, yet, even though he's getting more comfortable with his receivers. And once Gurley gets back for the Auburn game, Mason might be able to do even more with Gurley and Chubb helping out.
The SEC and the Playoff are both there for the taking, Georgia. So ignore the Twitter tough guys. Shake off the hatin' committee. Just continue to do what you're doing, and people will come around.
I know I did.
October, 30, 2014
Oct 30
10:00
AM ET
The unveiling of the first set of
College Football Playoff Rankings
angered many because of the large SEC presence, but it also proved November is going to be extremely fun in the nation's top conference.
Three teams -- Mississippi State, Auburn and Ole Miss -- found their way into the top four of the rankings, nearly causing a viral revolt. Let's get one thing straight, though. There is no SEC bias, but there are some very talented teams in the SEC. The committee sees it and decided three SEC teams were worthy of their high placements.
These folks complaining about the SEC's initial playoff outlook might not have much to gripe about in a few weeks (when the rankings actually matter) because the conference is in for a bloody, bloody month. The SEC West, which owns four of the top six teams in the country, is about to beat its ever-loving brains in.
The SEC now finds itself in an interesting situation. A week ago, everyone was talking about the possibility of the SEC getting two teams in. Then, Ole Miss lost to LSU.
After the first set of rankings were released, it's clear the committee is impressed with what the SEC West has done to this point. But things are about to get a little complicated for the league, as it begins to devour itself even more, starting with No. 4 Ole Miss hosting No. 3 Auburn on Saturday in what is essentially an elimination game in the Grove.
"This is the time of year where the good teams really come up to the top because they've got to be consistently good," Auburn coach Gus Malzahn said. "It's hard to get better this time of year. Most teams can't do it."
There are four regular-season games remaining between top-six teams, and they all involve SEC West teams. Shame on you if you can't get excited about the cannibalization that is about to ensue in the SEC.
With Ole Miss playing Auburn and Mississippi State, Alabama playing LSU and Mississippi State, and Auburn playing Georgia, the SEC will feast on itself during the month that houses our most gluttonous holiday -- Thanksgiving.
As of this moment, what playoff scenarios still lurk for the SEC? Well, let's take a look:
(Note: I think we can all agree that the SEC champion will make the playoff, regardless of if it has one or two losses. Three losses could complicate things, but we're going off the assumption that the SEC champ won't have three losses.)
Magnolia magnificence
This is the simplest scenario. If No. 1 Mississippi State wins out and wins the SEC, the Bulldogs are in. Duh. Same for No. 4 Ole Miss. No questions asked.
Well, what happens if Ole Miss wins out and Mississippi State's only loss is to the Rebels on the road? I think the committee would have a tough decision involving Mississippi State, because its only loss would be an Ole Miss squad that probably wouldn't dip below fourth in the rankings. Mississippi State beat three top-10 teams in a row earlier this season and No. 6 Alabama (on the road) still looms.
Ascending in Alabama
Alabama or Auburn wins out. Now, there's a chance one of these teams could still make it to Atlanta, but they both need help. Auburn needs Mississippi State to lose at least two more games, and Alabama needs Ole Miss to lose at least one more.
But even if neither makes it to Atlanta, a one-loss Alabama or Auburn could make it into the playoff. Think about the gauntlet both teams would have gone through only to escape with one loss to a team currently ranked inside the top four. It's similar to Alabama making it into the BCS title game in 2011 without playing in Atlanta.
Also, Alabama is currently ranked first in ESPN's Football Power Index and second in ESPN's strength of record metric and Auburn still has to play three teams on the road ranked inside the top 11.
Georgia ... Oh, Georgia
These Bulldogs could really stir things up. If Georgia wins the East, then a win in Atlanta will send the Bulldogs to the playoff. Even with a loss to Auburn in two weeks, an SEC-winning Georgia would make the playoff.
And that's where things get interesting. What if unbeaten Mississippi State loses to Georgia? Is Mississippi State left out? Would a two-loss Georgia team eliminate Mississippi State altogether?
You think that's tricky? What if Alabama or Auburn wins out, but either Mississippi State or Ole Miss goes to Atlanta and loses? Who do you send? Chances are a two-loss Ole Miss team would be eliminated, but how does the committee look at one-loss Mississippi State and one-loss Auburn? Mississippi State won head-to-head, but will the committee care later? You'd think so, but these are imperfect humans we're talking about.
CHAOS!!
Honestly, this is what everyone should be rooting for. There's a chance the SEC might have four two-loss teams from the West before the SEC championship game.
Here you go: LSU wins out, beating Alabama; Alabama beats Mississippi State and Auburn; Ole Miss loses to Auburn and beats Mississippi State; Auburn beats Georgia. Now Alabama, Auburn, LSU, Mississippi State and Ole Miss all have two losses. Or Alabama beats LSU and Mississippi State, but loses to Auburn; Ole Miss beats Auburn and Mississippi State, but loses to Arkansas; Auburn beats Georgia and Alabama. Now, Alabama, Auburn, Mississippi State and Ole Miss all have two losses.
A tiebreaker decides the West, and then the winner of the SEC title goes to the playoff. Chances are the loser, which would have more than one loss, won't make it.
How the committee views the SEC in the coming weeks will be interesting. If everyone starts losing, hold onto your Tiger Rags and pour another hot toddy, because there are going to be a lot of sleepless nights in the month of November.
October, 30, 2014
Oct 30
9:00
AM ET
By
ESPN.com staff
| ESPN.com
After everyone agreed on all of the picks last week (probably the last time we all doubt Les Miles in Death Valley at night), we're back with some differences of opinion. The headliner is obviously Ole Miss-Auburn, but there are several other games worth watching closely, including Florida-Georgia, with Will Muschamp trying to save his job. Let's get on with the picks.
Why Georgia wins big:
Even without
Todd Gurley
lining up for Georgia, the Bulldogs still have an absolute stud in freshman
Nick Chubb
. In two games as a starter, Chubb has rushed for 345 yards and three touchdowns. The kid just tosses people around out there and certainly has a little Gurley in him. Florida is starting the
Treon Harris
era at quarterback, but the offense has been lousy for the better part of the season, while Georgia's defense is on a roll. It'll be tight early, but Georgia pounds away in the second half.
Georgia 28, Florida 14
-- Edward Aschoff
How Florida keeps it close:
This is Harris' game at quarterback, and he certainly provides more of a spark than
Jeff Driskel
. If
Matt Jones
and
Kelvin Taylor
can run the football and negate some of the pressure from Georgia's talented pass-rushers, Florida could have some success moving the football. If they can even out the time of possession battle, you'll see a much more effective defense from the Gators.
Georgia 21, Florida 13
-- Alex Scarborough
Why Kentucky wins:
Missouri just can't seem to get it together. Just look at last weekend's game against Vanderbilt. Sure, the Tigers won, but not convincingly. And Kentucky is no Vanderbilt. The Wildcats gave Mississippi State a run for its money and beat South Carolina a few weeks ago. With a true playmaker at quarterback and a better-than-expected defense, Kentucky will give Missouri fits on both sides of the ball and win on the road.
Kentucky 30, Missouri 20
-- Alex Scarborough
Why Missouri wins:
Ever since a 34-0 beatdown at the hands of Georgia, the Tigers have looked shaky, especially on offense. But things are gradually getting better as quarterback
Maty Mauk
re-learns how to take care of the ball. This game offers the improving Wildcats a plum opportunity to show they can win conference games. But look for the home team to squeeze out a hard-fought victory.
Missouri 26, Kentucky 23
-- Jeff Barlis
Why Ole Miss wins:
The Rebels were injected with some playoff hope after the first batch of College Football Playoff rankings were announced. That should energize a team that lost an ugly one at LSU.
Bo Wallace
has to regroup, and he has to follow what his coaches tell him. The Rebels haven't had a consistent running game all season, but Auburn's pass defense ranks 75th nationally, and that should help Wallace regroup after a bad showing in Baton Rouge. Watching Ole Miss' defense try to tackle Auburn's running game might be the highlight of the day. A late turnover will seal it for the Rebels.
Ole Miss 31, Auburn 28
-- Edward Aschoff
Why Auburn wins:
Ole Miss' sideline was like a M*A*S*H unit last week against LSU, with multiple key players leaving with injuries. Even if most of those guys play Saturday -- and it looks like they will -- the Rebels aren't going to be at 100 percent against arguably the best offense they'll face all season. If Wallace doesn't play better than he did a week ago, Auburn might win easily. Ole Miss' quarterback is the X factor here, and I suspect he'll fare well against Auburn's mediocre defense at home, but the Tigers have way more firepower at their disposal right now.
Auburn 31, Ole Miss 24
-- David Ching
Why Mississippi State wins big:
Playing its first game with the No. 1 ranking, Mississippi State came out tight against Kentucky. Dan Mullen even admitted that. Look for the Bulldogs to play more relaxed at home Saturday in front of the familiar sound of cowbells clanging. They're the No. 1 team in the country, and
Dak Prescott
,
Josh Robinson
and the defense will prove it against the Razorbacks.
Mississippi State 35, Arkansas 14
-- Greg Ostendorf
How Arkansas keeps it close:
It should be a triumphant return to Davis Wade Stadium for the nation's No. 1 team, but things aren't perfect for the Bulldogs. Kentucky's offense exposed some issues with the MSU secondary. While Arkansas doesn't have the same caliber of passing attack, the Hogs do have a stable of talented runners, a veteran quarterback and two good tight ends.
Mississippi State 37, Arkansas 26
-- Jeff Barlis
More unanimous picks:
Texas A&M over UL Monroe:
The big storyline will be who starts at quarterback for Texas A&M,
Kenny Hill
or
Kyle Allen
? Either way, the Aggies should roll against a lesser opponent.
Texas A&M 52, UL Monroe 14
South Carolina over Tennessee:
Steve Spurrier won't have to go for it on every fourth down against the Vols, but don't be surprised if he still has a few tricks left up his sleeve. The Gamecocks have won three of the past four games in this series.
South Carolina 35, Tennessee 24
Vanderbilt over Old Dominion:
Vandy is looking for its third win of the season, but it won't come easy against Old Dominion quarterback
Taylor Heinicke
and his 54 career touchdown passes.
Vanderbilt 31, Old Dominion 28
Standings
Edward Aschoff: 64-11
Greg Ostendorf: 64-11
Jeff Barlis: 63-12
Chris Low: 63-12
David Ching: 62-13
Alex Scarborough: 61-14
Sam Khan Jr.: 57-18
October, 30, 2014
Oct 30
8:30
AM ET
With the NCAA's announcement that Georgia running back
Todd Gurley
has to sit for two games for his NCAA-violating, off-field transgressions is sad for the world of college football. We lost arguably the sport's best player for a couple more weeks because he decided to profit off of his name for what appears to be a few thousand dollars.
More than $3,000
in cash, actually.
To continue reading this article you must be an Insider
October, 30, 2014
Oct 30
8:00
AM ET
1. The news broke Wednesday morning that Georgia running back
Todd Gurley will miss two more games
once the NCAA finally announced its ruling on his eligibility case. He received approximately $3,000 for autographed memorabilia and has been out of action since the Bulldogs' Oct. 11 game at Florida.
A subject of ridicule on Twitter
was that the NCAA also ordered Gurley to complete 40 hours of community service. But the biggest penalty is obviously that he'll miss Saturday's game against rival Florida and the following week's visit to Kentucky (plus the Mizzou and Arkansas games he already missed). Georgia coach Mark Richt said
Gurley will finish his career "with honor"
once he returns for the Nov. 15 Auburn game, but what will the Bulldogs do in the meantime?
Florida expects the Bulldogs to hand off to Nick Chubb repeatedly
, just as they did in the last two games. A college athlete's ability to profit off his or her name is a hot topic these days, with writers like esteemed colleague Chris Low opining that
changes are in order
. Even the attorney for Bryan Allen, the memorabilia dealer who turned in Gurley,
believes that should be the case.
2. Tennessee offensive coordinator Mike Bajakian echoed Volunteers coach Butch Jones' prediction that senior quarterback
Justin Worley will not be available Saturday against South Carolina
. Maybe that won't be such a bad outcome. Sophomore Josh Dobbs offered reason to believe
he might be the Vols' quarterback of the future
with a strong performance off the bench last Saturday against Alabama. But the Crimson Tide had not prepared for the youngster. South Carolina will have the entire week. He might be the X-factor in Saturday's game at Columbia. Or for the superstitious Gamecocks among us, maybe it will be South Carolina's uniforms.
South Carolina will wear black jerseys and black pants
on Saturday for the first time since losing 24-14 to Florida in 2009.
3. Georgia (6-1, 4-1 SEC) is clearly the favorite to win the SEC East, but Missouri (6-2, 3-1) can still make some noise if the Bulldogs fall into any sort of slump. The Tigers haven't played particularly well lately, but they have only one conference loss as Kentucky (5-3, 2-3) prepares to visit on Saturday. Both teams will be looking to get back on track for the stretch run.
Perhaps Mizzou quarterback Maty Mauk found his stride last week
against Vanderbilt after several rocky games in a row. Meanwhile, Kentucky needs just one more win to achieve bowl eligibility, but
it hasn't won a true road game since the 2010 opener
. Not the greatest sign, particularly since its previously productive running game has underperformed lately and coaches are questioning
whether they should use fewer backs in the regular rotation
.
Around the SEC
" The State asks how South Carolina's disappointing season
might impact its 2015 recruiting class
.
" Formerly suspended safety Jermaine Whitehead
does not appear close to returning to Auburn's starting lineup
.
" Derrick Henry
is leading an unusually thin group of Alabama running backs
this week in practice with an open date ahead.
" LSU is focused on
cleaning up its mistakes
from last Saturday's Ole Miss game with Alabama ahead next weekend.
" John Kadlec, better known as "Mr. Mizzou" after serving the school as an athlete, coach, administrator and broadcaster,
died Wednesday at age 86
.
Tweets of the day
Championship style meets innovative speed. Introducing our 1939 Throwback TECHFIT uniforms. #12thMan #teamadidas pic.twitter.com/gFQcMMTOE9

— Texas A&M Equipment (@TAMUequipment) October 29, 2014
Great detail work by @hydrographics1 on facemask, chinstrap and the stitching from the original leather helmet pic.twitter.com/7U8mPSkD7A

— Texas A&M Equipment (@TAMUequipment) October 29, 2014
October, 29, 2014
Oct 29
10:03
AM ET
The cruel twist in this whole
Todd Gurley
mess is that the NCAA's archaic rules may end up being the only thing with any prayer of stopping the Bulldogs' splendid junior running back.
And that's a shame, because those rules are outdated.
The NCAA announced Wednesday that Gurley
must sit for a total of four games
, meaning he will be eligible to return Nov. 15 against Auburn, after acknowledging that he received money for autographs.
At the crux of this debate is whether a college athlete should be able to profit from his own name and likeness.
Earlier this week, NCAA president Mark Emmert told USA Today Sports that schools should revisit the rules regarding autographs and decide if they're still proper.
My immediate reaction: It's about time.
This is a battle the NCAA is going to lose. The August ruling in the Ed O'Bannon federal court case was just the start. If this were a football game, there would be about a minute to play and the NCAA's opponent would be lining up in the victory formation.
[+] Enlarge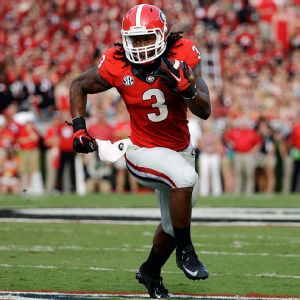 David Goldman/AP ImagesThe NCAA's ruling means Georgia will be without Todd Gurley for two more games: Saturday against Florida and Nov. 8 at Kentucky.
In general, the college football public is tired of seeing a kid like Gurley, who grew up in a trailer park and is helping generate millions of dollars for his university, prevented from profiting from his own likeness.
Right after Gurley was suspended Oct. 9, you were able to go to Georgiadogs.com, the school's official site, and purchase a Nike No. 3 Georgia home jersey for $134.95. Guess what number Gurley wears. A quick check now of Georgiadogs.com produces only a No. 11 jersey -- worn by former star quarterback Aaron Murray.
All of these big-time college athletes, who receive a free education but also are watching everybody else around them getting rich, have noticed. Of the 14 current SEC football coaches, 12 are making at least $3 million per year. You've got assistant coaches making $1 million or more per year, and athletic directors approaching that same figure. Emmert, by the way, is raking in a cool $1.7 million annually.
The revenue being generated today in college sports is akin to Monopoly money and makes the premise that athletes don't deserve a slice of the pie -- or at the very least the opportunity to profit by signing their own names -- all the more absurd.
Yes, it would be complicated to set up a system where players could cash in. Maybe a fund could be created that would be spread out among teammates and the school. After all, Gurley doesn't pile up those yards on his own.
Surely there's a way to figure it out without having this same issue crop up year after year. Players have long been signing memorabilia for money. They're still doing it, and they're going to keep doing it.
Did you see former Georgia offensive lineman Chris Burnette's tweet right after Gurley was suspended? Burnette tweeted: "Man the NCAA is full of crap. Being a college athlete who can't profit off your own name?! NCAA didn't give him his talent or his name. Wow."
I'd say Burnette's tweet echoes the sentiments of the large majority of college athletes right now.
The NCAA says Gurley acknowledged breaking rules, so he's not an innocent victim. He knew the rules, as out of touch as they may be. All college athletes know them. They're browbeaten with the NCAA dos and don'ts from the time they walk onto campus.
But what's at issue here is that the rules are obsolete, with all the money that is being made.
The NCAA is an easy target right now, no question. But just maybe the fact the best player in college football has been sidelined will finally bring everything to a head.
It's time for some real reform that makes sense, and not just dollars and cents for everybody but the players whom the fans come to see every Saturday.
October, 29, 2014
Oct 29
9:12
AM ET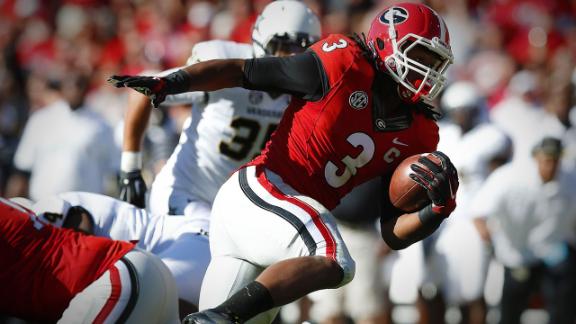 Georgia running back Todd Gurley must sit out two more games for accepting more than $3,000 in cash from multiple individuals for autographed memorabilia, the NCAA ruled Wednesday.
Georgia issued a statement Wednesday saying it plans to appeal the decision immediately. The NCAA membership committee that oversees the reinstatement process will review the appeal this week. The committee can reduce or remove the conditions the staff has imposed, but cannot increase them.
According to the NCAA, Gurley received the cash for signing memorabilia and other items over two years and must repay a portion of the money he received to a charity of his choice and also complete 40 hours of community service as conditions of his reinstatement.
Gurley, whom the NCAA said acknowledged violating NCAA rules, has already missed two games for the No. 11 Bulldogs (6-1, 4-1 SEC) and would be eligible to return Nov. 15 against No. 3 Auburn.
The Bulldogs will be without Gurley for Saturday's game against Florida in Jacksonville and next week's game at Kentucky.
"We can only control certain things,'' Georgia coach Mark Richt said Wednesday. "My goal is to control how well we practice and how hard we prepare. That's been our focus all season long, and maybe a little bit more the last couple of ballgames.
"There are questions and things swirling around that could become a distraction. But I think our players have done a really good job of only worrying about things they can control.''
Georgia is nearing the three-week mark since Gurley, a star tailback who had been among the top Heisman Trophy candidates, was indefinitely suspended Oct. 9 while the school investigated allegations he received improper benefits for signing autographs.
Gurley, a junior, has rushed for 773 yards with eight touchdowns and has averaged 8.2 yards per carry.
In its release, the NCAA said Gurley's punishment, which equals 30 percent of his team's competition, "is consistent with precedent in similar cases. Additional withholding was strongly considered because the violations occurred over multiple years with multiple individuals and the student received extensive rules education about the prohibition of receiving payment for autographs."
The NCAA also said: "The university's due diligence in its investigation and the student's full disclosure of his involvement in the violations were factors in not imposing a more severe withholding condition."
Earlier this month, ESPN.com reported that Bryan Allen, a memorabilia dealer from Rome, Georgia, had hired Atlanta attorney Ed Garland because of Allen's relationship with Gurley. Garland confirmed to WSB-TV in Atlanta on Thursday that Allen paid Gurley $400 to sign several UGA mini helmets.
In the weeks before Gurley was suspended, Allen sent emails to several news outlets, claiming he'd paid Gurley "thousands of dollars" over the previous 18 months to autograph large quantities of footballs, helmets, photos and other memorabilia.
In Gurley's absence, freshman Nick Chubb
October, 29, 2014
Oct 29
8:00
AM ET
1. The initial
College Football Playoff rankings
came out on Tuesday night, and the "First Four" was all anyone could talk about, especially after the World Series Game 6 devolved into an
old-fashioned Kansas City barbecue
. With three teams in the top four,
#SECbias
was probably trending worldwide. Fans of other conferences were going berserk. Nevermind that voices of reason such as playoff chairman Jeff Long (full disclosure: he's also Arkansas' athletic director) said
there's a lot of time for things to change
. Heck, look no further than this week's schedule. Two of the top teams in the nation will play this week, as No. 3 Auburn visits No. 4 Ole Miss. Fans of other conferences can delight in knowing the SEC West will
bludgeon itself throughout November
. And as for No. 6 Alabama getting a so-called snub? Well, this sums up the Tide's plight:
Why would Alabama not be "thrilled?" They play No. 1 and No. 3 at home..

— Cecil Hurt (@CecilHurt) October 28, 2014
2. As the AJC's Chip Towers said,
"Gurley Watch" reached Day 19
on Tuesday and still no update on the Georgia running back's status for Saturday's big game against Florida. The
Bulldogs are cautiously optimistic
, as Todd Gurley continues to practice. Meanwhile, the Gators' defensive players say
they are expecting, preparing and actually hoping to face the Heisman candidate
on Saturday. Despite Florida's downward spiral in the past two seasons,
the Gators say they're confident
. The history of this bitter rivalry suggests
the game is usually closely contested
. At least one thing that's guaranteed is a good time at the ol' Cocktail Party. It's always cool to see the intermingling of red, black, orange and blue inside and outside the stadium. On Saturday, we'll see it on the field as well. Georgia is the home team, but
both teams agreed to wear home jerseys
in what should make for a neat visual.
3. Determined to snap its three-game losing streak, Texas A&M underwent
a sweeping round of soul-searching
during its bye week with a willingness to re-evaluate
every position on the team
. That includes the quarterback position, where sophomore starter Kenny Hill is now battling with freshman Kyle Allen with a
decision to come on Thursday
. It's a stunning turn of events for Hill, who started the season with a school-record 511 yards passing in the opener and has thrown for 2,649 yards in eight games. Allen actually
went to offensive coordinator Jake Spavital's office
to ask if the starting job was really up for grabs. Yes, he was told, this is really happening. The same could be said for the Aggies' tailspin, but at least the bye week came at a perfect time. A&M is still reeling from its last game, a 59-0 loss at Alabama. Saturday's home game against Louisiana-Monroe
ought to do wonders in boosting some confidence
in Aggieland. Especially for the QB, whoever he is.
Around the SEC
" Mississippi State QB Dak Prescott
ditched his walking boot and practiced
on Tuesday. He's not sure what all the fuss was about, saying: "I'm sure there's some boots Beyonce or somebody's worn before that people have made a big deal about."
" Ole Miss
changed its play-calling terminology
after a former intern left in the offseason to join the Auburn staff.
" Michigan native and current Tennessee coach Butch Jones
swatted aside speculation
that he could be a candidate to be the Wolverines' next coach.
" Vanderbilt quarterback Johnny McCrary will be
the "lead dog" against Old Dominion
, but coach Derek Mason also hopes Patton Robinette will play after being medically cleared last week from a concussion suffered on Sept. 20.
Tweet of the day
It should be an eight-team playoff. Bama, Georgia, LSU and Tennessee should be in there

— Mark Schlabach (@Mark_Schlabach) October 28, 2014
Todd Gurley's 4-Game Suspension Upheld