August, 21, 2014
Aug 21
8:00
AM ET
1. Talk to any SEC athletic director about priorities during football season and fans' in-game experience inevitably arises in the conversation. With so many games available now on TV – which you can watch for free, from the comfort of home, in high definition – SEC schools researched the areas of greatest concern to fans. They found that
availability of concessions and restroom conditions were the top issues
, and other concerns include cell service and video production. The SEC reported that 12 schools have upgraded their concessions before this season and at least eight are working on improving restroom and/or cell service. Those changes won't necessarily be the deciding factor in whether most fans attend a game, but in this day and age, schools recognize that they must provide as many fan amenities as possible because there are so many entertainment options available.
2. This might be too much for even the most even-tempered Auburn fan to turn down. Deranged Alabama fan Harvey Updyke, who poisoned the famous Toomer's Oaks in downtown Auburn,
has agreed to appear at a Sept. 29 charity event in Mobile, Alabama
, where fans can dunk him in a dunking booth or throw pies at his face. The event will help raise funds for "Roses From Linda," which helps family members visit terminally ill patients before they die. Updyke's wife, Elva, said he told charity organizers "they can do whatever they want to him if it will raise money for kids." So get your pitching arms warmed up, Auburn fans. You've got about a month.
3. Speaking of the Iron Bowl, hey, whaddya know?
The Auburn-Alabama game is college football's hottest ticket on the secondary market
, according to this story from Forbes. The median price is only $535 a pop. No big deal. Also included in the top 10 are six other games that feature SEC teams (Alabama-LSU, Florida-Alabama, Clemson-Georgia, LSU-Texas A&M, Texas A&M-Alabama and Auburn-Georgia). None of those games hold a candle to the top single-game ticket price from last preseason, however. At this time last year, Alabama-Texas A&M tickets were going for an average of $744 on the secondary market.
More from the SEC
Tweet of the day
How college football's coaches have fared against top-25 teams http://t.co/3njBQGtkoa pic.twitter.com/Yt562LOKtq

— WSJ Sports (@WSJSports) August 20, 2014
August, 19, 2014
Aug 19
1:00
PM ET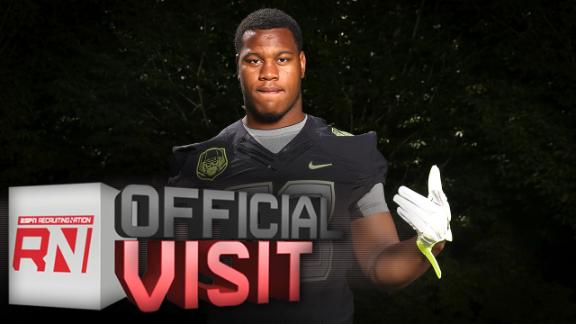 In a six day period, the Georgia Bulldogs were able to land the No. 1-ranked defensive tackle in the country,
Trenton Thompson
, flip Alabama commitment
Jonathan Ledbetter
and land the No. 129-ranked player in the ESPN 300,
Jayson Stanley
.
The impressive stretch of commitments is just what the Bulldogs needed heading into the season.
The SEC is known for having dominant defensive lines over the past several years and Georgia has had their fair share of NFL-caliber players along the defensive front, but new defensive coordinator Jeremy Pruitt is now making his mark -- on the recruiting front at least.
Ledbetter, an Under Armour All-American, had been committed to Alabama since January, but decided to switch his commitment to the Bulldogs to be closer to home and to play with his older brother Jason who just recently joined Georgia as a tight end.
Want to thank all my recruiting coaches and the entire staff at Bama but I've decided to stay home and rep my state. #Dawg4Life #GoDawgs =6=>

— Big Led (@LedbetterDE15) August 17, 2014
"I was thinking about the switch for a while," Ledbetter said. "I just wanted to be sure that I could accomplish everything I plan on doing at UGA. Throughout the whole process they were one of my leaders. The program is phenomenal and the people there are great. Also, education is crucial to me so knowing I could receive a top-notch education and also play SEC football was a big factor.
"As many people know, my brother also attends UGA now and I decided that I couldn't pass up on a once-in-a-lifetime opportunity to play with my brother in college. The class was also gaining a lot of momentum so I felt like it was the perfect time to go public with my decision. It took a lot of praying and long talks with my family but I decided at the end of the day, all you have in this world is your family and having the ability to stay close to home, play football and get an education is something that cannot be passed up."
Thompson and Ledbetter join two other ESPN 300 defensive ends
Natrez Patrick
and
Chauncey Rivers
, and three-star defensive tackle
Quincy Vasser
.
Throw in five-star defensive end Lorenzo Carter and the No. 4-ranked defensive tackle from the 2014 class, Lamont Gaillard, and the Bulldogs are accumulating a tremendous amount of talent that Georgia fans hope will wreak havoc on SEC quarterbacks over the next several years.
As for Stanley, he becomes the third wide receiver commit, fourth if athlete
Terry Godwin
plays on the offensive side of the ball. The other receiver commits include four-star pass-catchers
Michael Chigbu
and
Shaquery Wilson
. At 6-foot-2 and 205-pounds, Stanley is the biggest of all of Georgia's receiver commitments and could become a formidable target in the red zone for the Bulldogs.
August, 19, 2014
Aug 19
12:00
PM ET
The 2014 college football season starts in just nine days. We're getting you ready by counting down the ACC's 10 biggest battles of the fall. Today, we're wrapping things up with the two games most likely to define the season for the ACC.
No. 2
The matchup:
Clemson vs. Georgia
Date/Location:
Aug. 30, Sanford Stadium, Athens, Georgia (5:30 p.m. ET, ESPN)
Last meeting:
The rivalry was reignited last season, when Clemson out-gunned Georgia,
38-35
, in the season opener in Death Valley. The two starting QBs combined for nearly 600 yards passing, but neither will be back for this year's game.
Why it matters:
Much like Virginia Tech's season-opening date with Ohio State, FSU's date with Oklahoma State and Miami's Sept. 20 showdown with Nebraska, this is a chance for the ACC's upper echelon to establish the conference's standing against top-tier non-conference foes. Georgia has plenty of buzz entering the season and projects as a possible SEC East favorite. Clemson is clearly in the shadows of FSU in the ACC. But a win on the road for the Tigers would certainly put Dabo Swinney's crew back into the conversation for the College Football Playoff and, just as importantly, give the ACC a marquee non-conference win as ammunition when the selection committee decides who's in and who's out at year's end.
No. 1
The matchup:
Clemson vs. Florida State
Date/Location:
Sept. 20, Doak Campbell Stadium, Tallahassee, Florida
Last meeting:
The game was billed as the biggest of the year in the ACC last season, too, but it took all of 12 minutes for Jameis Winston and Florida State to take all the air out of the building in Death Valley. The Seminoles led by 20 at the half and cruised to a dominant
51-14 win
behind 444 yards passing from Winston.
Why it matters:
The easy answer here is the winner of this game has gone on to win the ACC's Atlantic in each of the past four years, and that'll be Step 1 in the road to a national championship. But, of course, both Clemson and FSU have significant non-conference games that will already be in the books by the time this one's played, and if both emerge from those Week 1 battles with a 'W,' it could mean this game has as much national cache as any in the nation this year -- and certainly any that kick off before the weather gets cold. Clemson will be a much bigger underdog this year after last season's thrashing, but Swinney insisted then that his team was more evenly matched with FSU than the score reflected. He'll get a chance to back up his words in Tallahassee for what, once again, promises to be the best game the ACC has to offer on its schedule.
August, 19, 2014
Aug 19
12:00
PM ET
With the College Football Playoff finally here, we will be meticulously dissecting every game with any team anyone thinks could find itself in this year's final four.
People have voiced their concern about a playoff taking away the importance of every game. You guys can be scared, but I'm not. Games will still be big, and will affect the playoff. All that's happening now is that some early games might not end the season for some teams.
Oh, what a crime!
[+] Enlarge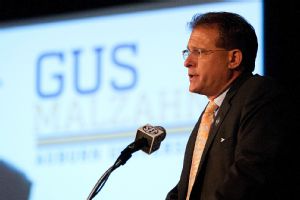 Marvin Gentry/USA TODAY SportsGus Malzahn and his Tigers face five key games this season that could alter their playoff hopes.
And honestly, we've seen teams lose in the middle of the season and still make it to the BCS national title game (I see you Alabama), so I think this is getting blown way out of proportion.
SEC teams vying for a playoff spot -- or two -- could likely get away with one loss, but you can never be too careful with the human element. Winning is still the goal.
There are going to be quite a few games that impact the playoff this season. Here are the top 10 games involving SEC teams that will affect the playoff (in order of appearance):
1. Wisconsin vs. LSU (in Houston, Texas), Aug. 30:
If Wisconsin is going to push itself past Big Ten favorites Michigan State and Ohio State, the Badgers need to start off fast with a win against LSU. The Tigers have questions on both sides of the ball, but people will be salivating over seeing the matchup between Wisconsin running back
Melvin Gordon
and LSU's incredibly athletic front seven. These are the games LSU coach Les Miles thrives in, but Wisconsin won't be intimidated.
2. Georgia at South Carolina, Sept. 13:
A lot of people think the winner of this game will head back to Atlanta. The winner will also have a clearer path to the playoff and could serve as an early elimination game. Last season, we saw 71 points, 990 yards and just one turnover in the Bulldogs' thrilling win in Athens. This time, the game is in Columbia, where the Gamecocks have won two straight against the Dawgs.
3. LSU at Auburn, Oct. 4:
Even though Auburn lost this game last season, it changed the dynamic of the team's season. The fight and comeback they had in the second half injected an incredible amount of confidence into an Auburn team that ran all the way to the final BCS title game. Could this game have the same affect for either squad in 2014? With the upcoming schedules both of these teams have, a loss here could throw off their playoff plans.
4. Alabama at Ole Miss, Oct. 4:
A lot of folks already have this game circled as the conference's first big upset of the season. And why not? Alabama might be the SEC favorite, but it's far from perfect and will be breaking in a new starting quarterback against an Ole Miss defense that has a fierce two-deep. A win for Ole Miss, which has its highest expectations in years, would propel the Rebels into the thick of playoff talk.
5. South Carolina at Auburn, Oct. 25:
Another game involving the defending SEC champs, and this one will be very important for both teams. Each should be right at or near the top of their respective divisions just before the final month of the season, meaning this game is important for both the playoff and the SEC. Expect a lot of points with two teams that averaged more than 30 points a game last season and have some defensive unknowns. You want to enter November controlling your own destiny.
6. Auburn at Ole Miss, Nov. 1:
If both of are undefeated when the Tigers arrive in the Grove, this game will have major playoff implications. Even if they aren't, the SEC Western Division will still be on the line, and we all know the eventual SEC champion will be an almost lock to make it in the playoff. The playoff picture will be much clearer when these two meet, and as the season ticks down, you want to control your own destiny.
7. Alabama at LSU, Nov. 8:
Of course this game will affect the playoff. It's Alabama-LSU! Ever since Nick Saban arrived in Tuscaloosa in 2007, this game has been decided by less than 10 points six times. However, Alabama has won the past two by 21 points. Both of these teams will know a whole lot more about each other at this point in the season, and while Alabama could be at the top of the polls, LSU's young talent could become dangerous.
8. South Carolina at Florida, Nov. 15:
If South Carolina is going to make the playoff, the Gamecocks will need to win this game. We can't quite put our finger on Florida, but a loss to a bad Florida team isn't getting you any playoff love. But what if Florida is a contender in the East? Well, the division could be on the line, and it's going to be very hard for any team not playing in its conference title game to make the playoff.
9. Auburn at Georgia, Nov. 15:
We all know how last season's game ended. One bat down, and Auburn's Cinderella story is short-lived. You know the Dawgs have this game circled on their calendar. It's another game that could have SEC title implications, and of course that means it will affect the playoff with the season winding down. A loss for Auburn would likely end its playoff chances, while a win for a Georgia team in the East hunt would do wonders.
10. Auburn at Alabama, Nov. 29:
The Iron Bowl changed the landscape of the BCS title game last season and we have no reason to believe it won't have an impact on this year's College Football Playoff. Remember the "Kick Six?" Well, you better believe Alabama does. The Crimson Tide gets its archrival at home this year and Saban is 8-1 at Alabama in revenge games. The loser of this game will be without bragging rights and a playoff spot.
August, 19, 2014
Aug 19
9:30
AM ET
Boston College coach Steve Addazio remembers an era when players wanted to redshirt as true freshmen to better prepare them for the final four years of their college career.
"Now it's 'I want to play,' " Addazio, 55, said. "If you're talking about not playing them early, the majority are like 'What do you mean?'"
So, the ability to play or possibly even start as a true freshman has become a regular sales pitch for coaches from the Power Five to the Group of Five. It's certainly a tool in the belt for Florida State coach Jimbo Fisher. Last week, Fisher alluded to the number of freshmen All-Americans he's coached the last four seasons. Twenty-four hours later, it was on the program's official recruiting Twitter page.
"The last [four] years we've had 14 freshmen All-Americans," said Fisher, condensing multiple outlets' freshmen award teams into one, concise Florida State propaganda poster. "If you come in ready to play, we're willing to put you on the field. It's critical for guys to come in saying 'When I'm the best, I'll play.'"
Fisher has the goods to back up his claims, even if the numbers are obviously skewed to best represent his program. But how does his résumé compare to those coaching some of the country's other top programs?
I tried to come up with a way to accurately discern which schools play the most freshmen and decided true freshmen letterwinners was the simplest and most effective way to crunch the numbers. To earn a letter, a player has to actually play consistently through the season. The disclaimer is each program can use different benchmarks when awarding letters, but there is never going to be a perfect way.
I began with Florida State's, looking back at the 2011-2013 classes. To properly quantify the data from Florida State, I decided I'd look at the five schools ranked highest in the preseason polls that have had its coach in place at least five seasons. Oregon's Mark Helfrich was offered an exemption because he was promoted from within and is in his sixth season with the Ducks. Coaches in place at least five years was the stipulation since an incoming coach might be susceptible to playing the prospects he recruited or having a number of transfers that could open up starting or rotational spots.
The criteria: Each class was looked at and the total number of signees was pared down to just those who enrolled as members of the football team in the fall. Junior college signees were excluded, as were any recruits who were academically or medically disqualified before playing a game. That explains why the total number of freshmen for our purposes might look different than what might be seen on RecruitingNation. Any true freshmen who spent a year at a post-graduate or prep school was also excluded. Redshirt freshmen were disqualified, too.
Bottom line is if the player was not a part of the football team the fall following his high school graduation, he was excluded.
Nearly all of the data was collected after poring through media guides and archives, although the communications departments at some of the schools were also helpful providing numbers and deserve recognition.
So, here is the actual data:
It is hardly a coincidence that Fisher and Alabama's Nick Saban, who mentored Fisher at LSU, have identical percentages of true freshmen earning a letter. Fisher and Saban arguably have been the two best recruiters over the last few cycles, and, the data shows those two are not going to keep young talent off the field simply because of age. Nearly half of the true freshmen at Alabama and Florida State lettered over the last three seasons.
Mark Dantonio has built Michigan State into a national title contender in a different manor, relying on experience. Only 12 percent of true freshmen lettered over the last three seasons. Recruiting to Michigan State is not the easy task it is at some other top-10 programs, and the Spartans are not recruiting as many ESPN 300-level players as the likes of Alabama and Florida State.
It should be noted Michigan State, Oklahoma and Oregon don't have quite the recruiting base Alabama and Florida State do.
Inquiring minds want to see how that 45 percent stacks up to some of the other top programs in the country, so even though they did not fit the criteria I looked at a few other schools with coaches in place at least five seasons and lately in the top half of the rankings. LSU was worth a look considering it's Les Miles' 10th season in Baton Rouge and, like Fisher and Saban, has recruited exceptionally well for a long period of time. Mark Richt is in his 14th season at Georgia and, like Miles, usually has a highly-regarded recruiting class. Steve Spurrier is in his 10th season at South Carolina and has steadily improved the Gamecocks' class to the point that the 2015 class is No. 5 nationally. Dabo Swinney has turned Clemson from a perennial disappointment into a two-time BCS bowl participant. And Ohio State and Texas A&M, mainly because it's worth seeing how third-year Buckeyes coach Urban Meyer fares considering he frequently voices his preference to avoid redshirting. Kevin Sumlin is also in the process of trying to build an SEC power that can compete with Alabama and LSU in the SEC West.
For the Buckeyes, out of the 69 true freshmen to land in Columbus, Ohio, from 2011-2013, 31 lettered -- the same 45 percent. Looking at just Meyer's two seasons, however, he is decimals ahead of Fisher and Saban at 46 percent (21 out of 46), thanks in large part to 14 freshmen letterwinners in his first season.
Georgia's Mark Richt has a percentage of nearly 50 percent, but the Bulldogs' numbers might be the most skewed. Along with South Carolina, the Bulldogs had several recruits that either did not qualify or spent time at a prep school or junior college. Also, Georgia's long list of dismissals and transfers is well documented, and all of the departures has opened up spots for freshmen to earn immediate playing time.
It is Miles, though, who plays a higher percentage of freshmen than all of the others. Twelve true freshmen lettered for LSU in both 2012 and 2013, and another nine earned a letter in 2011. There were a total of 65 applicable freshmen to enter LSU during that span and 33 of them lettered. That's a percentage of 51 percent.
Certainly the numbers will fluctuate year to year, and coaches at every single program are playing freshmen more frequently than ever before. When taking into account the timeline is over three years, LSU averages just one more freshman letterwinner per season than Alabama and Florida State. For our intents and purposes, though, the data shows which top programs consistently play the most freshmen in this new era of freshmen phenoms.
And, uh, FYI, Alabama has 19 ESPN 300 players prepping for their freshmen season this fall. LSU has 16, and Florida State isn't far off with 13 of their own.
August, 18, 2014
Aug 18
5:01
PM ET
By
ESPN.com staff
| ESPN.com
Which teams outside of the AP top 10 have the best chances of making noise in the inaugural College Football Playoff?
For Brad Edwards, it starts with Georgia.
Click here

for more on why he thinks the Bulldogs can make a run.
August, 18, 2014
Aug 18
2:30
PM ET
Now that the
AP preaseason poll
is out, we know exactly who will make up the College Football Playoff.
If only it were that easy.
History has shown that preseason polls really don't mean as much as we'd like to think they do. Still, they're fun and give us a nice easel to work with.
[+] Enlarge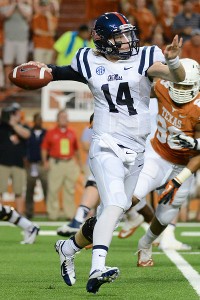 Brendan Maloney/USA TODAY SportsBo Wallace and Ole Miss could be a threat to sneak out of the West.
As we dive into this poll, you'll see that most of the team everyone is talking about to be in the playoff at season's end are right at the top of the poll -- Florida State, Alabama, Oregon, Oklahoma, Ohio State and Auburn. Only four teams can make it into the playoff, but most people have some sort of combination of these teams.
Good luck with that.
According to ESPN stats guru
Brad Edwards and ESPN Stats & Information
, "There has been only one year in the last seven (2011) in which more than two of the preseason top-10 teams finished the regular season ranked in the top four."
In short, that means that more often than not, the final four in the AP poll -- which we'll use as a means of determining the fictitious four-team playoff from the past -- started the season well outside of the early playoff sphere.
The same can be said about the final BCS standings of the regular season. Only once since 2006 have two teams ranked inside the top four of the AP preseason poll finished the regular season ranked inside the top four of the BCS standings. Yep, 2011 when Alabama and LSU ranked second and fourth, respectively, and finished the regular season as the top two teams in the country and played in the BCS national championship game.
Since 2006, five SEC teams have started the season ranked inside the top four of the AP poll and finished the regular season inside the top four of the BCS standings. Alabama has done it three times (2011, 2012, 2013) and LSU has done it twice (2007, 2011). Alabama won the BCS national championship twice in that span (2011, 2012), while LSU won it all in 2007.
So this all bodes well for Alabama, which is ranked second in the AP poll. This also bodes well for the SEC in general when it comes to the playoff, because at least one team has finished in the top four of the BCS standings each year since 2006 (remember the seven straight BCS titles for this conference?).
Want to take it even further? The SEC has placed two teams in the final four of the BCS standings in three straight seasons and five times total since 2006, so we can't rule out the SEC double-dipping in the playoff.
Now, the selection committee will make things a little different, as more the human element replaces the computers that were very nice to the SEC. Regardless of the humans and the preseason poll, history has taught us that an SEC outsider will make a strong playoff run this year.
There are eight SEC teams ranked inside the AP preseason poll, and there's a chance that each one will have a big hand in the playoff. But which outsiders have a chance to make a real playoff run? Here are four teams that could make a magical run from outside the top 10:
Ole Miss: The immediate talent is very impressive in Oxford, but for the first time in a while, Ole Miss has a very talented two-deep on defense. Quarterback Bo Wallace has to be more consistent, and he'll be working with a healthy throwing shoulder for the first time in two years. Having Alabama, Auburn and Mississippi State at home will help. If the Rebels stay healthy, they are a legitimate threat in the Western Division.

Georgia: The defense has a lot of question marks, but that offense has the potential to score for days. Quarterback Hutson Mason should have no problem replacing Aaron Murray with the experience and quality talent coming back at receiver and running back. The tests come early with a visit from No. 16 Clemson before a trip to No. 9 South Carolina.

Mississippi State: For some reason, these Bulldogs will enter the season unranked (only 22 votes received?). All they do is return 18 starters and the deepest, most talented team coach Dan Mullen has had during his time in Starkville. This could be the year the Bulldogs get over the hump and push for the West title.

LSU: There will be a new quarterback, new receivers and there are still some unknowns on defense. A strong running game and offensive line should help a program that has never really needed a huge passing game under Les Miles. That linebacking corps and the secondary have scary athleticism. Watch for a late run by the Tigers.
Flying under the radar?
Florida and Missouri:
If Florida figures things out with Kurt Roper's new spread offense, the Gators might take the East with the defense they have. The Tigers lost a ton of leadership and need answers at receiver, but they love the underdog role, and their defensive line and running game are filthy.
August, 18, 2014
Aug 18
9:44
AM ET
By
ESPN.com staff
| ESPN.com
With the season less than two weeks away, Phil Steele takes a crack at projecting the final standings for the SEC, along with records for each team.
Click here

for the full rundown of Steele's thoughts on who will finish where and why, but here's a sample: He likes Alabama in the West and Georgia in the East.
August, 18, 2014
Aug 18
9:11
AM ET
As I wrote on Sunday, recent history tells us that at least half of the playoff teams are likely to come from outside the preseason AP top 10.
So which teams ranked Nos. 11-25 are most likely to finish in the selection committee's top four? Let's use ESPN's Football Power Index (FPI) to identify the strongest candidates.
---

There's nothing surprising about this pick. The highest-ranked SEC team outside of the top 10 is an obvious place to start.
To continue reading this article you must be an Insider
August, 17, 2014
Aug 17
6:32
PM ET
[+] Enlarge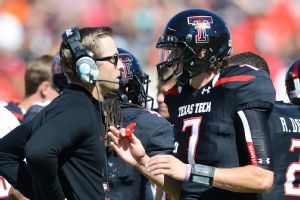 John Weast/Getty ImagesThree Texas Tech quarterbacks transferred after this season once it was clear Kliff Kingsbury favored Davis Webb as his starter.
During Florida State's 14-year streak of top-five finishes (1987-2000), the Seminoles developed an assembly line of quarterbacks. They signed, they learned, they waited, and after two or three seasons, they started.
Now that Florida State has returned to the top of the sport, let's check in on the assembly line behind Heisman Trophy winner Jameis Winston. Clint Trickett is starting at West Virginia. Jacob Coker is expected to start at Alabama. And Seminoles head coach Jimbo Fisher gave his blessing to both of them.
Whether it's out of self-regard or wanderlust, quarterbacks no longer are content to wait their turn. Coker went to Tuscaloosa to fill a void left in part by the three Crimson Tide quarterbacks who have transferred out in the past two years. And that's not even the record.
Three quarterbacks have left Texas Tech since the end of the past season. With sophomore Davis Webb entrenched as the starter, third-year sophomore Michael Brewer departed for Virginia Tech, sophomore Baker Mayfield went to Oklahoma and third-year sophomore Clayton Nicholas transferred to Bowling Green.
August, 17, 2014
Aug 17
3:54
PM ET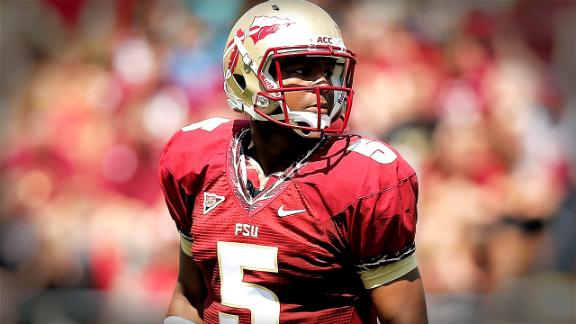 This one's for you, Auburn fan who thinks the national runner-up should be higher than sixth in the
Associated Press preseason poll
, released Sunday afternoon. And it's for you, Ohio State fan, to defend the chronically criticized Big Ten, the only Power Five league without a team in the top four of either the AP or
USA Today coaches'
preseason poll.
Don't worry, Baylor fan, we didn't forget you. If you want to climb to the top of beautiful new McLane Stadium and scream about why your Bears should be higher than No. 10 in both polls, go right ahead. Maybe you can hear the same outcries from fans of No. 19 Arizona State, No. 20 Kansas State or No. 24 Missouri, the defending SEC East champ excluded from the coaches' poll while barely squeaking into the AP.
Speaking of the SEC, no other conference had more teams (eight) in the preseason AP poll. So what's the complaint? There could have been more. Meanwhile, the league that ended the SEC's run of national titles, the ACC, placed just three teams -- No. 1 Florida State, No. 16 Clemson and No. 23 North Carolina -- in the AP rankings. Duke fans, grumble away.
Preseason polls serve a therapeutic purpose. They allow us to vent, to argue, to compare, to exclaim, to protest and, most important, to fill time before the games begin later this month. They are part of the American sports fan experience, and you should enjoy them.
Yet for the first time, the polls will have little to no bearing on shaping college football's national championship race. And that's a great thing too.
If Tom Osborne, Condoleezza Rice and Jeff Long were relentlessly refreshing Twitter at 2 p.m. ET Sunday, the time the AP poll was released, we have a problem. If Oliver Luck, Tyrone Willingham and Archie Manning furiously began calculating the Top 25 breakdown by conference, this might not work out. If Mike Tranghese, Barry Alvarez and Pat Haden immediately noticed how similar the AP and coaches' preseason polls are -- teams ranked 7 to 17 are identical, and only two teams, Missouri and Texas, made just one of the polls -- the playoff selection process could go very wrong.
The 13 members of the College Football Playoff selection committee shouldn't care about these rankings. They shouldn't spend one nanosecond analyzing them. They shouldn't read this or any other media report about what the polls suggest about this team or that conference. Here's hoping they spent Sunday fishing, golfing or anything other than poll watching.
This is about you, not them. So go ahead and wonder if a Wisconsin team with a largely revamped roster is rated way too high -- No. 14 in both polls -- and why Iowa, which loses far less than the Badgers off a vastly improved team, failed to make either preseason poll. Ask which set of voters correctly has the order of "O" teams -- Oregon, Oklahoma and Ohio State. Argue whether teams with new quarterbacks (Alabama, Georgia, LSU, Clemson, Texas A&M) are too high or too low.
Notre Dame's inclusion at No. 17 will set off fireworks, but remember the AP votes took place before Friday's announcement that four starters, including star cornerback
KeiVarae Russell
, have been held out pending an academic investigation into potential misconduct.
There's little debate at the top, as defending champion Florida State, led by reigning Heisman Trophy winner
Jameis Winston
, received 57 of the 60 first-place votes in the AP poll. Alabama, which will have a new quarterback but returns arguably the nation's most talented roster, is solidly in second position. It's very close for No. 3 between Oregon, which could have the nation's best player (
Marcus Mariota
), and Oklahoma, which stunned Alabama in the 2014 Sugar Bowl and eyes the next step.
Although the SEC has three teams among the top nine and five in the top 13, the Pac-12 enters the season projected as the nation's No. 2 conference. The quarterback-stacked league has three teams in the top 11 and five in the top 19.
Few would be shocked if the inaugural playoff reveals a field similar to the top of the preseason rankings. We could see four teams from four conferences, as both polls show, or multiple teams from a league like the SEC or Pac-12. Perhaps a team outside the preseason top 10 rises up, like Georgia, Arizona State or Nebraska. While zero teams from Group of Five conferences appear in the AP poll, don't write off UCF, the reigning Fiesta Bowl champion.
Talking season might be over, but debate season is in full swing, at least until the real season begins. So tell the world what you think of the polls. Just don't expect the committee members to listen.
Dawgs' Class Makes Top 5 Debut
SEC SCOREBOARD
Thursday, 8/28
Saturday, 8/30
Sunday, 8/31