October, 24, 2014
Oct 24
10:15
AM ET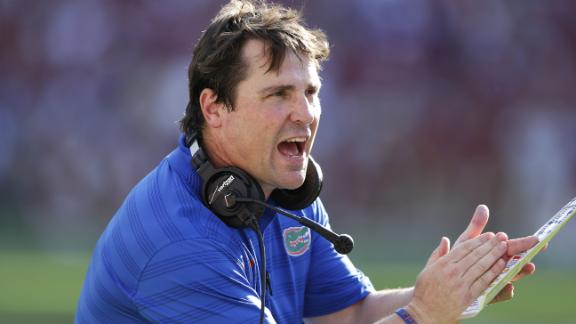 Hey, no pressure, Jeremy Foley, but the balance of power in the SEC is riding on your next move.
It looks likely that Florida will have a new coach in 2015, and Foley, the Gators' longstanding and highly respected athletic director, will make a decision that could greatly influence whether the Western Division continues to dominate the league and capture national acclaim.
[+] Enlarge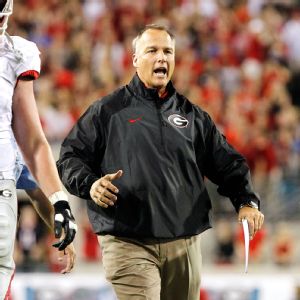 Kim Klement/USA TODAY SportsMark Richt and Georgia rule the SEC East now, but could that change?
Sure, Georgia remains in the national and conference title race discussion, even without star running back
Todd Gurley
, but beyond that it's a cluster of disappointing, regrouping and reconstructing teams.
The division in the divisions is enough to make you believe that things have always, always, always been this way in the SEC.
That made an SEC East assistant laugh this week. He didn't quite offer Rust Cohle's "time is a flat circle" soliloquy from "True Detective," but he reminded me of college football's cyclical nature.
"It'll turn," he said, "and then it'll turn again."
Back to Florida and Foley's next hire: The other six schools might not want to hear this –- and especially Georgia -– but because of its past success and location in recruiting heaven, it's the flagship in the SEC East.
October, 24, 2014
Oct 24
9:00
AM ET
Sometimes a millimeter can make the difference between winning and losing. Just ask Georgia.
But a lot of us were guilty of writing off the Bulldogs when they came out on the wrong side of that fourth-down measurement Sept. 13 in their 38-35 loss to South Carolina.
[+] Enlarge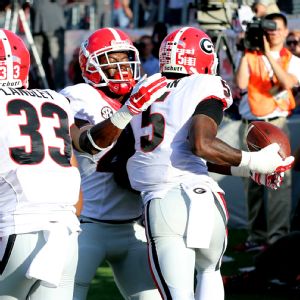 Nelson Chenault/USA TODAY SportsThough certainly not an easy one, Georgia appears to have the most manageable path out of the SEC to the College Football Playoff.
All they've done since is reel off five straight wins, the last two on the road with
Todd Gurley
, the best player in the country, watching from home while suspended.
And while we're all mesmerized with how stout the West has been, the dirty little secret as we enter the final week of October is that Georgia has the most manageable path of any of the SEC teams to the College Football Playoff.
Notice I didn't say the easiest path, because there is no such thing in this league.
But there's also a reason ESPN's Football Power Index projections give Georgia a 43 percent chance of winning the SEC championship. The next closest team is Ole Miss at 26 percent followed by Mississippi State (17 percent), Alabama (8 percent) and Auburn (4 percent).
Think about it, especially if Gurley returns for the November stretch. The Dawgs would essentially have two games against ranked teams standing in their way -- at home against Auburn on Nov. 15 and then possibly the SEC championship game Dec. 6.
Now compare that against the grind the four West teams face.
Auburn still has to play at Ole Miss on Nov. 1, at Georgia on Nov. 15, at Alabama on Nov. 29 and then potentially the SEC championship game. Clearly, the Tigers have the toughest path.
The other three don't have cakewalks, either.
After playing Saturday at Tennessee, Alabama still has to play at LSU on Nov. 8 and then faces Mississippi State at home on Nov. 15, Auburn at home on Nov. 29 and then the SEC championship game if they get by.
Ole Miss travels to LSU on Saturday and then returns home to face Auburn on Nov. 1, travels to Arkansas on Nov. 22, comes back home to play Mississippi State on Nov. 29 and would then have the SEC championship game.
Mississippi State, which plays Saturday at Kentucky, probably has the second toughest road behind Auburn. The Bulldogs have to play at Alabama on Nov. 15 and at Ole Miss on Nov. 29 before perhaps ending with the SEC championship game.
The bottom line: Georgia's hitting its stride at the right time, getting its players back and getting a lot better on defense.
Mark Richt and his staff have done a terrific job keeping this team pointed in the right direction despite the early struggles on defense and the suspension of Gurley.
In the end, the Dawgs just might have their day.
Stroll down memory Lane
Tennessee fans still haven't forgiven Lane Kiffin for leaving them high and dry for USC after only one season in Knoxville, but what they really ought to be mad at him about is his role in what's been an abysmal stretch of quarterback play for the Vols.
Kiffin returns Saturday to Neyland Stadium as Alabama's offensive coordinator and does so with Tennessee senior quarterback
Justin Worley
struggling just to stay in one piece. Worley has already been sacked 29 times this season and is currently nursing a shoulder injury that's kept him out of practice all week. If he can't go Saturday,
Nathan Peterman
and
Joshua Dobbs
could split time under center.
In fact, longtime Tennessee follower Brent Hubbs of Volquest.com dug up a stat this week that's staggering. In their last 35 SEC games, the Vols have thrown 42 touchdown passes and 57 interceptions while starting five quarterbacks.
With those kind of numbers, is it really a surprise that Tennessee is 7-28 in SEC play over that stretch?
As a comparison, Alabama has thrown 66 touchdown passes and just 14 interceptions during its last 35 SEC games. The Tide started three quarterbacks during that span, including
AJ McCarron
for all but nine of those games.
So yes, you better be good up front. You need to protect the quarterback on offense and pressure the quarterback on defense. But more than ever, you also better be darn good at quarterback, not to mention experienced, efficient and healthy.
What's all this have to do with Kiffin?
Upon taking the Tennessee job, he sent word to a couple of quarterbacks the Vols had committed under the previous regime that they needed to look elsewhere -- and they did.
Their names?
Tajh Boyd
and
Bryce Petty
.
Landsharks attack
This is the best Ole Miss defense since ...
The measuring stick in Oxford, at least over the past 55 years, would be the 1962 defense, which was the backbone of the Rebels' 10-0 national championship team. That unit allowed just 19 points in six SEC contests.
This year's defense has given up just six touchdowns in its first seven games, while scoring four of its own off takeaways. And one of the six it gave up came on the last play of the game against Texas A&M with the Rebels leading 35-14. Ole Miss leads the country in scoring defense, allowing an average of 10.6 points per game.
Even more telling, Ole Miss' plus-19.4 defensive efficiency is on pace to be the best for any team in the past 10 seasons. Team efficiency is the point contributions of each unit to the team's schedule-adjusted scoring margin, on a per-game basis. According to ESPN's Stats ∓ Info, the Rebels have forced at least two turnovers in six of their seven games this season, tied for the most in FBS.
It's no coincidence Ole Miss coach Hugh Freeze is slowing the tempo on offense. Smart coaches aren't so programmed into playing a certain way they can't adjust. Freeze is playing more to his defense right now.
And with that defense, why wouldn't he?
October, 24, 2014
Oct 24
8:00
AM ET
1. Who is the best one-loss team in the country? That is the most intriguing debate in college football right now. With four teams in the top 5, it has to be somebody from the SEC, right? Well, the rest of the nation might disagree and claim SEC bias. On Thursday, ESPN Insider Brad Edwards used a metric called Game Score
to rank the losses of each playoff contender
. The best loss, with a score of 72, was Alabama's loss at Ole Miss. The worst (27) was Ohio State losing at home to Virginia Tech. That seems fair. What I don't agree with is putting Auburn's loss to Mississippi State among the worst losses with a score of 46. Sure, the Tigers lost by double digits, but it was on the road against the No. 1 team in the country. And they overcame a 21-0 deficit to make it a one-score game in the second half.
1a. On the same scale, Notre Dame's recent loss to Florida State was among the best losses, but it still might have cost the Fighting Irish a shot at the playoff according to Gregg Doyel. The new Indianapolis Star columnist writes that while it was a good loss, the Irish are lacking any good wins. I tend to agree. I figured SEC fans would, too.
Read the full piece here
.
2. So I was going to call out Texas A&M for backing out of its home-and-home series with Oregon in 2018 and 2019, but then the Aggies went and scheduled
a home-and-home with Clemson
those same years. Now personally, I would have loved to have seen the Aggies and the Ducks and all the points that would have ensued. But who knows where those two programs will be in four years? All I know is that there are some enticing non-conference matchups on the slate for 2019. Check these games out:
Texas A&M at Clemson
Notre Dame at Georgia
LSU at Texas
Kansas State at Mississippi State
Michigan at Arkansas
Even that last game could be intriguing assuming Michigan has hired a new coach and that Bret Bielema has the Razorbacks among the SEC contenders by then. And they haven't yet, but you can go ahead and count on both Alabama and Auburn scheduling a quality non-conference that year.
3. I've done a couple stories this season on SEC players showing support for cancer patients, so naturally it caught my attention when I saw
a similar piece
on Patrick Towles. The Kentucky quarterback has lent support to high school freshman Brady Walz, the nephew of Louisville women's basketball coach Jeff Walz, and even invited him to attend the Wildcats' win over Vanderbilt last month. No, it's not the Iron Bowl, but the Kentucky-Louisville can get pretty heated in the Bluegrass State. This seems to be a growing trend in college football, and there are probably more stories like this that never get told. Kudos to you Mr. Towles. Kentucky hosts No. 1 Mississippi State on Saturday.
Tweet of the day
Astronaut Butch Wilmore is a big SEC fan and spoke with @finebaum this afternoon. Convo on SEC Nation Saturday. pic.twitter.com/KLOECflLTR

— Brett Austin (@KBrettAustin) October 23, 2014
October, 23, 2014
Oct 23
2:00
PM ET
Only six weeks of the regular season remain. And while the SEC has separated contender from pretender to this point, the jockeying for conference supremacy is far from over. The odds of anyone going undefeated are slim. In fact, according to ESPN Stats & Information, there's a 36 percent chance all seven teams in the West finish with two or more losses. With that backdrop in mind, let's take a look at which playoff hopefuls have the easiest and toughest roads ahead.
Smoothest sailing
Georgia and Mississippi State have it relatively easy. According to ESPN Stats & Info, their remaining strength of schedule rank 43rd and 47th, respectively.
Georgia survived a tough early season game against Clemson, and despite falling on the road at South Carolina has gotten right back on track. With Florida down, Kentucky coming back down to earth and Georgia Tech fresh off back-to-back losses, the only real test remaining is a Nov. 15 showdown with Auburn -- and that game comes in Athens. Of all the contenders in the SEC, the Dawgs are the only ones with just one game against a ranked opponent remaining.
[+] Enlarge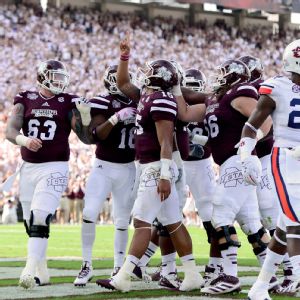 Joe Faraoni/ESPN ImagesThe remainder of Mississippi State's schedule ranks as relatively easy compared to the rest of the SEC.
Mississippi State, meanwhile, is on a good track after beating a slew of ranked teams in LSU, Texas A&M and Auburn. Now comes a bit of a breather with Arkansas followed by UT Martin. There's a road date with Alabama on Nov. 15, but then it's on to lowly Vanderbilt the week before the Egg Bowl versus rival Ole Miss.
Roughest waters
Between Alabama, Auburn and Ole Miss, it's hard to say who has it worst. According to ESPN Stats & Info, Alabama has the weakest remaining strength of schedule of the three, but the Tide rank 21st nationally in that category. Auburn comes in at No. 16 and Ole Miss No. 14.
Anecdotally, it's hard to argue against Auburn having the most brutal remaining schedule in the SEC. The Tigers, having already played Kansas State, LSU and Mississippi State, get South Carolina, Ole Miss and Texas A&M in the next three weeks. Then it's on to Georgia, and two weeks later there's a trip to Alabama. Of the five SEC teams still in playoff contention, Auburn is the only one with three ranked teams left to play.
Ole Miss doesn't have it much easier, though. The Rebs go to LSU on Saturday, which is never an easy task. And while Presbyterian and a bye week provide a breather, finishing in consecutive weeks with Arkansas and Mississippi State will be a physically taxing challenge.
Alabama will feel the Rebs' pain, though. The Tide travel to Tennessee this Saturday, followed by a much needed week off. But after that comes a trip to LSU and then a home date with Mississippi State. Two weeks later, it's Auburn coming to town.
Where we'll settle things
The final weekend in November could be utter mayhem. In a good way.
With all due respect to Georgia-Georgia Tech, that Saturday will be all about two rivalry games in the West. In the Iron Bowl and Egg Bowl, we could find out a) who will play in the SEC championship game in Atlanta and b) who will present their case to the selection committee as a non-title winning candidate.
It's conceivable Auburn beats Ole Miss and Mississippi State loses to Alabama. If that's the case and everyone is tied at one loss, then it becomes a matter of tiebreakers.
To win the division, Alabama would have to beat Auburn and have Ole Miss lose to State. Auburn would need the opposite. State, on the other hand, would need to beat Ole Miss and have Alabama lose to Auburn. And just because it's only fair, Ole Miss would need the exact opposite scenario to play out.
The only thing that could make that better is if both games were played simultaneously.
October, 23, 2014
Oct 23
9:00
AM ET
By
ESPN.com staff
| ESPN.com
There's not much disagreement among our reporters this week. OK, there's not
any
disagreement among our reporters. But they don't necessarily agree on how competitive those games will be. And as everyone knows, the weeks that look boring are always anything but. Let's get on with the picks:
Why Mississippi State wins big:
Kentucky's defense has already surrendered 282 rushing yards to South Carolina and 303 to LSU last week. That doesn't bode well for Saturday's game, when Mississippi State will bring the SEC's top offense (and No. 2 rushing offense at 264.3 yards per game) to Lexington. The Wildcats are improving, but they don't have the firepower to hang around in this one.
Mississippi State 42, Kentucky 17
-- David Ching
Why Kentucky keeps it close:
Mississippi State should be rested after having last week off, while Kentucky is still smarting from its 41-3 loss at LSU. The Bulldogs should roll, but it won't be easy. The Wildcats have been a different team at home and have the firepower at defensive end to keep
Dak Prescott
on his toes. Mark Stoops has instilled the right kind of pride in his team, which means the Wildcats will bounce back and make this a second-half game.
Mississippi State 31, Kentucky 27
-- Chris Low
Why Ole Miss wins big:
Anthony Jennings
has struggled enough throwing the football for LSU, and he'll find it even more difficult against Ole Miss' vaunted secondary. If Jennings turns the ball over and makes Cam Cameron's game plan too one-dimensional, the Rebels will feast.
Ole Miss 31, LSU 17
-- Alex Scarborough
Why LSU keeps it close:
Ever since getting blown out by Auburn, the Tigers have steadily improved. From barely surviving a trip to Florida to handling upstart Kentucky, LSU's offense and defense have gotten better. Ole Miss' defense presents a supreme challenge, but with senior
Terrence Magee
and true freshman
Leonard Fournette
, LSU has the backs to establish a running game and battle the Rebels to the end.
Ole Miss 23, LSU 20
-- Jeff Barlis
Why Alabama wins big:
This game screams blowout. Alabama's defense is on fire and the offense just exploded, hanging nearly 60 on Texas A&M. Tennessee hasn't hit 400 yards since the end of September. Hey, Lane Kiffin is back in Knoxville, so I can only imagine what he has cooked up for Tennessee's defense -- and those Vols fans. I bet there are more anti-Kiffin signs than Tennessee points in Knoxville on Saturday.
Alabama 41, Tennessee 10
-- Edward Aschoff
Why Tennessee keeps it close:
Lane Kiffin would love nothing more than to put up a big number on his former team, but this Alabama offense has struggled on the road this season. In their two road games, the Tide have failed to break 20 points. They might reach that number Saturday, but it won't be easy against a Vols defense that looked inspired in the first half last week.
Alabama 24, Tennessee 14
-- Greg Ostendorf
More unanimous picks:
Auburn over South Carolina:
Auburn is 12-0 at home under Gus Malzahn and won those by an average of more than 23 points per game. Interesting side note: South Carolina hasn't beaten Auburn since 1933 (though the teams didn't play each other again until 1996); Auburn is 7-0 since then.
Auburn 42, South Carolina 21
-- Sam Khan Jr.
Arkansas over UAB:
UAB can move the ball (had 548 yards against Mississippi State and kept it close at the half), but slowing down the Razorbacks' elite rushing attack is a tall task.
Arkansas 45, UAB 20
-- Sam Khan Jr.
Missouri over Vanderbilt:
Mizzou has actually been better on the road than at home, but Vanderbilt has yet to win away from home or an SEC game, period. The Tigers' defense and special teams are coming off great performances at Florida. The offense will join in on the fun Saturday.
Missouri 41, Vanderbilt 10
-- Sam Khan Jr.
Standings:
Edward Aschoff: 59-10
Greg Ostendorf: 59-10
Jeff Barlis: 58-11
Chris Low: 58-11
David Ching: 57-12
Alex Scarborough: 56-13
Sam Khan Jr.: 52-17
October, 22, 2014
Oct 22
3:49
PM ET
ESPN 300 defensive end
Josh Sweat
received his Under Armour All-America jersey on Wednesday. The No. 5 ranked prospect received the honor in front of his classmates, teammates and family and spoke about his accomplishments on and off the field.
A short video played on a projector before the ceremony, giving everyone in attendance a better look at who Sweat really is as a person.
Sweat took some time to answer a few questions to help expand on who he is, where he has been and what makes him tick.
Josh Sweat accepting his Under Armour @AllAmericaGame https://t.co/Qdo2JmIAhj

— Tom VanHaaren (@TomVH) October 22, 2014
What one player are you looking forward to competing against?:
Yeah, probably the biggest person I was looking for was
Martez Ivey
. Great guy, I played against him at a camp and I believe that's the person I would have been going against anyway. That would be a good matchup.
If you could start a team with any other player in your class who would it be?:
Give me the best corners, defensive backs and linebackers. Everybody who can cover the best so I can get to the quarterback. That's a defensive end's best friend is the secondary.
What was your earliest football memory?:
Probably knocking off Oscar Smith middle school in the city championship. The middle school I went to never won a game two years before and then I came out there and we won everything in every other sport for this one year. We beat them in the city championship and now I'm at Oscar Smith high school. So I played against a lot of the guys that are my teammates now. That's a good thing to brag about. When they bring it up, I had to brag.
Which football player did you idolize or want to be like when you were a kid?:
Honestly, no one. Other than my two older brothers. I watch it more now that I'm heavy into football.
If you could take on any pro player in their sport who would it be?:
I would like to race Usain Bolt. I would challenge LeBron James to try to dunk on me. I would challenge him to try to. I would also swim against Michael Phelps.
Why do you wear your number?:
I wear No. 9. The person that previously wore it was a real good guy, a tight end and linebacker. But, my favorite number is 2. I always wanted to wear that number.
What is one thing people would be surprised to know about you?:
I used to video game heavily. I mostly played "Call of Duty." I play a little bit now, but not as much as I used to. I used to sit in the house and play before I was heavy on football.
October, 22, 2014
Oct 22
12:08
PM ET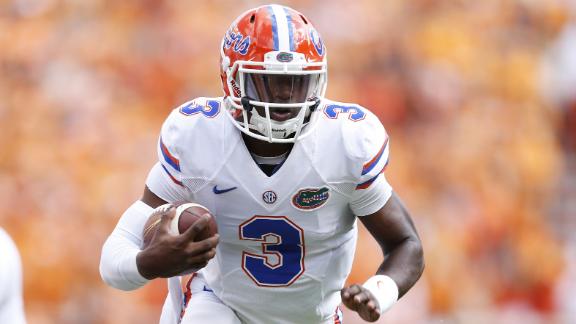 GAINESVILLE, Fla. -- Embattled coach Will Muschamp on Wednesday named true freshman Treon Harris the starter at quarterback for the Florida Gators.
Harris replaces fourth-year junior Jeff Driskel, who has struggled mightily in the Gators' last four games.
"[Harris] is getting all the reps right now," Muschamp said, "and Jeff is certainly going to have a role in that game."
Florida has a bye week before facing No. 9 Georgia (6-1, 4-1 SEC) on Nov. 1 in Jacksonville, Florida.
The Gators (3-3, 2-3 SEC) are coming off two straight home losses, including an ugly 42-13 homecoming defeat to Missouri on Saturday that saw fans boo Driskel and chant "Fire Muschamp" before flocking to the exits in the third quarter.
Driskel has had 12 turnovers in his last 14 quarters, while Harris has sparked the offense with extended playing time in the fourth quarters of the Tennessee and Missouri games.
Harris was suspended the week after leading Florida to a come-from-behind 10-9 victory at Tennessee after police investigated an accusation of sexual battery from another UF student. Harris was reinstated five days later when the accuser withdrew her complaint.
After sitting in the coaches' booth for the LSU game on Oct. 11, Harris returned to the field against Missouri and was 8-of-12 passing for 98 yards with a touchdown and an interception. He also ran for a touchdown and lost a fumble on a first-quarter sack.
October, 22, 2014
Oct 22
10:45
AM ET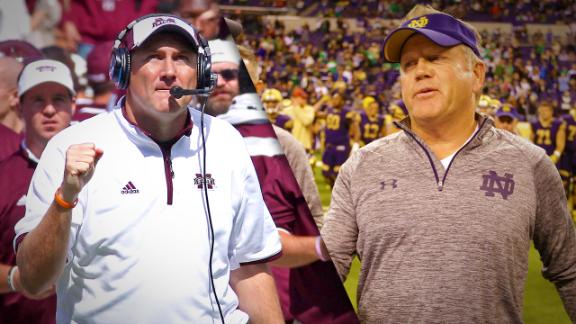 The SEC has an impressive 89 committed prospects in the
updated ESPN 300 rankings
. While the SEC West has been dominant on the field, 13 of the 14 SEC schools are ranked in the top 40 of the RecruitingNation class rankings. Here's a closer look at five things to know in the SEC from the new recruiting rankings.
To continue reading this article you must be an Insider
October, 22, 2014
Oct 22
10:30
AM ET
By
ESPN.com staff
| ESPN.com
There were no major changes made to this week's playoff tracker. Ole Miss, Alabama and Georgia all proved why they are contenders with big wins this past Saturday while Mississippi State and Auburn enjoyed the week off.
Here's a look at where the five remaining SEC contenders stand heading into Week 9.
Mississippi State
Record:
6-0 (3-0)
AP rank:
No. 1
Next big obstacle:
Nov. 1 vs. Arkansas
Reason for optimism:
The Bulldogs seem to be in good shape in coming off a bye week and facing Kentucky, which fell back to Earth with a 41-3 loss to LSU on Saturday. Mississippi State should cruise to a win that would help its remaining Western Division games against Arkansas, Alabama and Ole Miss grow increasingly important in the divisional and national title pictures.
Cause for concern:
If their record remains spotless and their Western Division title hopes hinge on a win against Ole Miss in the Egg Bowl, the Bulldogs will have to win that pivotal game on the road. Mississippi State has a 1-6 record in Oxford in the 2000s. The Bulldogs' lone win came in 2010, when No. 25 MSU edged Ole Miss 31-23.
Who they'll be rooting for this week:
LSU over Ole Miss.
-- David Ching
Ole Miss
Record:
7-0 (4-0)
AP rank:
No. 3
Next big obstacle:
Oct. 25 at LSU
Reason for optimism:
The Rebels are on an absolute role right now. They're second in the SEC in total defense (290.6 yards allowed per game) and have held opponents under 200 yards three times this season. Quarterback
Bo Wallace
is averaging 271 yards per game and has thrown 17 touchdowns to six interceptions.
Cause for concern:
The Rebels are still in the SEC West, and road trips to LSU and Arkansas loom. Oh, and Ole Miss ends the season at home with No. 1 Mississippi State. The running game hasn't been very explosive at all this season, ranking 11th in the league (151.3 yards per game).
Who they're rooting for this week:
Kentucky over Mississippi State.
-- Edward Aschoff
Alabama
Record:
6-1 (3-1 SEC)
AP rank:
No. 4
Next big obstacle:
Nov. 8 at LSU
Reason for optimism:
After hearing all week how they were slipping following a loss to Ole Miss and a narrow win at Arkansas, the Crimson Tide came out Saturday on fire, throttling Texas A&M 59-0. It was a complete performance that said Alabama is right in the thick of the playoff conversation.
Cause for concern:
Consistency is going to be the biggest challenge for this young Alabama team. Playing well at home is good, but now it must prove it can take the show on the road. First up its a trip to Tennessee and two weeks later it's on to Death Valley and LSU.
Who they'll be rooting for:
It's a bit of a double-edged sword for Alabama seeing as you never want to face an LSU team with growing confidence, but it would do the Tide some good to see the Bayou Bengals upset Ole Miss this weekend.
-- Alex Scarborough
Auburn
Record:
5-1 (2-1)
AP rank:
No. 5
Next big obstacle:
Oct. 25 vs. South Carolina
Reason for optimism:
Despite losing to Mississippi State its last time out, Auburn is still the No. 1 team in ESPN's Football Power Index (FPI). The Tigers will enter the second half refreshed after having this past weekend off, and they also get back safety
Jermaine Whitehead
who was reinstated to the team Tuesday.
Cause for concern:
We won't know if the bye week fixed all of Auburn's problems until we see the Tigers in action this Saturday, but they need to play much better than they did against Mississippi State if they expect to win out. The other bad news is that winning out might be their only option for making the playoff.
Who they're rooting for this week:
Auburn would love to see LSU take Ole Miss down a notch before it travels to Oxford a week from Saturday.
-- Greg Ostendorf
Georgia
Record:
6-1 (4-1)
AP rank:
No. 9
Next big obstacle:
Nov. 1 vs. Florida (in Jacksonville, Fla.)
Reason for optimism:
Well, there really doesn't seem to be a true competitor in the East. The Dawgs embarrassed Missouri in Columbia and Kentucky got trounced in Baton Rouge.
Nick Chubb
has been an absolute star in place of
Todd Gurley
, rushing for 345 yards and three touchdowns as the starter in the last two games.
Cause for concern:
Chubb has been great, but you still have to wonder how durable the freshman really can be if he keeps carrying the ball as much as he has (68 carries in two games) with Gurley still sidelined. Also, the East is just bad, so what happens when the Dawgs face a team from the West? Hello, Auburn on Nov. 15.
Who they're rooting for this week:
South Carolina over Auburn
-- Edward Aschoff
October, 22, 2014
Oct 22
10:00
AM ET
Although Georgia's
Nick Chubb
is the headliner for a second straight week after another ridiculous performance, this week's SEC freshman tracker is heavy on defense -- including a couple of defensive linemen who have already emerged as breakout performers.
Here are five SEC true freshmen who stood out last Saturday (and five more worth mentioning):
RB Nick Chubb, Georgia

What he did:
Chubb continued to give
Todd Gurley
the Wally Pipp treatment by carrying 30 times for 202 yards and two touchdowns in the Bulldogs' 45-32 win at Arkansas. He also caught a pass for an 8-yard gain. In the last two games, Chubb has run 68 times for 345 yards, and the Bulldogs have blasted Missouri and Arkansas on the road.
What it means:
If and when Gurley returns to the lineup, he will obviously resume carrying the Bulldogs' running game. But with the one-time Heisman Trophy frontrunner suspended and
Sony Michel
and
Keith Marshall
out with injuries, Georgia desperately needed Chubb to produce, and he has exceeded every reasonable expectation.
DE Derek Barnett, Tennessee

What he did:
Barnett logged his first game with double-digit tackles, recording 10 in a loss to Ole Miss, and also notched four tackles for loss and two sacks. The game wasn't particularly competitive -- Ole Miss won 34-3 -- but Barnett clearly ranked among the Volunteers' top defensive performers.
What it means:
He hasn't been getting the same kind of attention as Texas A&M freshman
Myles Garrett
, but Barnett might catch up soon. All of a sudden he's second in the SEC with 9.5 tackles for loss, along with 38 tackles and three sacks.
DE Marquis Haynes, Ole Miss

What he did:
In the Rebels' win against Tennessee, Haynes finished with five tackles, 2.5 sacks and his first career fumble recovery. That continued a dominant recent run in which he has totaled 4.5 sacks in the last two games.
What it means:
Haynes leads arguably the SEC's top defense with 7.5 tackles for loss and 6.5 sacks. He also leads the SEC with three forced fumbles. The Rebels already have a star-studded defense, and Haynes is quickly adding another name to the list of players to watch.
S Jamal Adams, LSU

What he did:
The Tigers' highest-rated defensive signee in a well-regarded 2014 recruiting class, Adams had his best game yet in a win against Kentucky. He finished with a career-high eight tackles, 1.5 tackles for loss and a sack, plus he delivered the key block that sprung
Tre'Davious White
for a 67-yard punt return for a touchdown.
What it means:
Simply put, the energetic Adams is showing why those around the LSU program believe he is the next
Eric Reid
at safety. He is the Tigers' leading tackler on special teams and is already a leader on their nickel and dime defensive groupings.
S Dominick Sanders, Georgia

What he did:
Sanders started at safety for the seventh straight game and scored for the first time in his college career when he picked up a
Brandon Allen
fumble and returned it 54 yards for a touchdown. Sanders' touchdown just before halftime gave Georgia a 38-6 halftime lead.
What it means:
Sanders, who also made four tackles against Arkansas, has been one of the more reliable performers in Georgia's depth-deprived secondary. The Bulldogs still have plenty to clean up on pass defense, but the overall defense continues to make progress under first-year coordinator Jeremy Pruitt.
Other notables:
WR Kendrick Edwards, Arkansas:
Caught a 4-yard touchdown pass in the fourth quarter as the Razorbacks attempted a late rally against Georgia.
QB Treon Harris, Florida:
Rotated at quarterback with
Jeff Driskel
and finished 8-for-12 for 98 yards, one touchdown and one interception, and also rushed eight times for 26 yards.
RB Jalen Hurd, Tennessee:
Ran 13 times for 40 yards and caught two passes for 19 yards in a loss to Ole Miss.
WR Josh Malone, Tennessee:
Caught five passes for 75 yards in a loss to Ole Miss.
WR Speedy Noil, Texas A&M:
Caught four passes for 32 yards and returned six kickoffs for 106 yards in a loss to Alabama.
October, 22, 2014
Oct 22
9:18
AM ET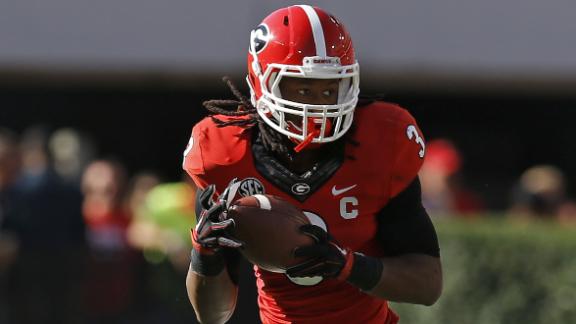 University of Georgia officials will apply to the NCAA on Wednesday for reinstatement of star running back Todd Gurley, who has been suspended indefinitely from the team since Oct. 9 for allegedly receiving money for signing autographs.
"Todd has confirmed his desire to seek reinstatement, and the university fully supports Todd's request," the university said in a statement issued Wednesday.
"The university hopes for and expects a prompt ruling by the NCAA so that Todd, his coaches, and teammates can adequately prepare for our next game."
Georgia officials are hoping that Gurley, a leading Heisman Trophy candidate before his suspension, can return for the Nov. 1 game against Florida in Jacksonville, according to people familiar with the investigation.
Coach Mark Richt said Wednesday he was "optimistic" for Gurley's eligibility to be reinstated in time for the game against Florida.
"I think we as an institution and Todd as a student-athlete did everything within the protocol of the governing body, the NCAA, so hopefully it all will end well and hopefully sooner than later,'' Richt said after Wednesday's practice.
In December 2010, Auburn quarterback Cam Newton was declared ineligible by the school and was reinstated by the NCAA the next day. The NCAA concluded that a "violation of Newton's amateur status had occurred" because his father shopped his son to another school before signing with the Tigers. The NCAA reinstated Newton because it didn't believe he or Auburn officials knew of his father's actions.
Gurley, a junior from Tarboro, North Carolina, remains the SEC's leading rusher after gaining 773 yards and scoring eight touchdowns in Georgia's first five games.
October, 22, 2014
Oct 22
8:00
AM ET
1. On Tuesday, my colleague Greg Ostendorf wrote about how Auburn freshman
Roc Thomas
is
primed for a big second half
to the season. Watching Thomas from afar, I'd have to agree. While he's not as fast as
Corey Grant
or as powerful as
Cameron Artis-Payne
, he's probably Gus Malzahn's most explosive running back when it comes to consistently picking up large chunks of yards. But Ostendorf's piece got me thinking: Who are some other potential second-half stars in the SEC? Here are four that come to mind:
2. The Head Ball Coach took the Florida question in stride. Steve Spurrier says he's not leaving South Carolina for The Swamp to replace Will Muschamp. "No,"
Spurrier told reporters on Tuesday
. "I tell everybody my next move is going to be to Crescent Beach, Fla." It was fun to imagine Spurrier roaming the Florida sideline again, but at 69 years old you knew it wasn't likely, if not altogether impossible. He's comfortable at South Carolina. Things might not be perfect there right now, but the work pales in comparison to what must be done at Florida. The Gators, should they choose to part ways with Muschamp, need a long-term solution, not a splashy stop-gap they'd have to replace sooner than later.
3. Texas A&M is going back to the drawing board. Even the QB position is up for grabs,
said coordinator Jake Spavital
. But that's not what caught my attention on Tuesday. What piqued my interest was coach Kevin Sumlin's comments about how Saturday's loss at Alabama was an "eye-opener." He said, "
This program was founded on three things -- play hard, play smart, be physical." Texas A&M has done none of those things recently. It started with Mississippi State and Ole Miss, but it ended with Alabama breaking its will. There was no aggressiveness from the Aggies' sideline, no fire to show in the second half they're better than the score indicated. They gave up. They wanted to go home. And if you're a coach, that's the worst possible thing you can see. What we're seeing from A&M is that you can't survive in this league on talent alone. You have to have those three things Sumlin discussed, but you have to have them in more than name only.
Tweet of the day
How unpopular is Lane Kiffin in Tennessee? Take a peek inside the race for the State House: http://t.co/51tJwekqD9 pic.twitter.com/xnPbzunPzw

— College GameDay (@CollegeGameDay) October 21, 2014
October, 21, 2014
Oct 21
1:00
PM ET
There's no denying that with his team's No. 1 ranking, undefeated record, wins against Top 25 teams and his own performance, Mississippi State's
Dak Prescott
is still the top contender
for the Heisman Trophy
from the SEC and, so it seems, he is the national favorite at the moment, depending on where you look (Oregon's
Marcus Mariota
is getting some love as well, lately).
[+] Enlarge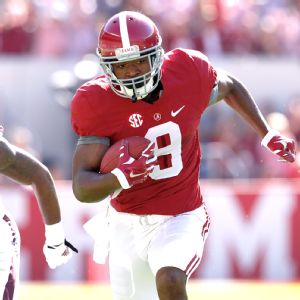 Marvin Gentry/USA TODAY SportsAmari Cooper caught eight passes for 140 yards and two touchdowns against Texas A&M.
But when it comes to SEC candidates, Prescott, the league's best quarterback on what is currently the league's best team, is the front-runner. Perhaps we should be paying some attention, however, to the league's best receiver: Alabama's
Amari Cooper
.
We've had this conversation before. Earlier this season, particularly after his 10-catch, 201-yard, three-touchdown performance against Florida, Cooper's name began to emerge as one deserving of Heisman Trophy candidacy.
Well, in case you forgot about Cooper after two less productive weeks (one in which he was hampered by an injury), he reminded us all on Saturday why he is the standard in the league at his position.
Cooper was dominant in Alabama's
59-0 win
against Texas A&M: eight catches, 140 yards, two touchdowns. The Aggies had no answers for Cooper, whom quarterback
Blake Sims
looked toward early and often in the game. He's big, fast, physical and extremely productive. He has been outstanding this season, with five games of at least 130 receiving yards and 908 receiving yards total, which ranks fourth in the country.
So while Prescott (whose team was off last weekend) remains the league's premier option currently and we continue to await word on what will happen with suspended Georgia running back
Todd Gurley
, perhaps we should keep a closer eye on Cooper moving forward.
Here are three other players to keep an eye on:
Bo Wallace, QB, Ole Miss: Wallace wasn't pristine this week (13-of-28, 199 yards), but he was still turnover-free and threw two touchdowns to guide the Rebels to a win over Tennessee. He is averaging 290.7 offensive yards per game in SEC play, while throwing nine touchdowns and zero interceptions in Ole Miss' four conference wins. He is third in the league in passer rating (163.0) and second in passing yards (1,899) and touchdown passes (17).
Josh Robinson, RB, Mississippi State: The Bulldogs were off this week but Robinson has no doubt been an excellent weapon to pair with Prescott this season. He's second in the SEC with 689 rushing yards and yards per carry (7.0) and tied for second with eight rushing touchdowns.
Todd Gurley, RB, Georgia: We don't know when Gurley will come back as he has missed the last two games, suspended by Georgia while it investigates allegation whether he profited from signing autographs. Even though he sat the last two games, he still leads the SEC in rushing yards (773), yards per carry (8.2) and is tied for second in rushing touchdowns (eight). The longer he's out, the more his chances are hindered, but for now, we'll keep him in the watch.
Mint Condition: SEC Greats Getting Cards