September, 16, 2014
Sep 16
12:00
PM ET
Despite Saturday's loss to South Carolina,
Todd Gurley
is still among the favorites to win the Heisman Trophy this season.
Georgia's stud running back did just about everything he could have to win that game Saturday. He broke through tackles, changed the field on a dime during a wild 17-yard gain, drug Gamecocks -- likely kicking and screaming -- on his back and legs, and flattened guys in his way inside Williams-Brice Stadium.
[+] Enlarge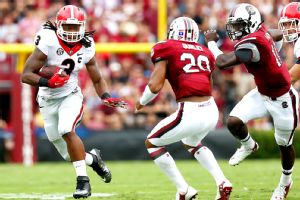 Streeter Lecka/Getty ImagesTodd Gurley did everything he could do to get Georgia a big road victory at South Carolina. Although the Bulldogs lost, he's still a top Heisman candidate.
Call this hyperbole if you want, but it wouldn't shock me if the lightning that delayed Saturday's game and the thunder heard in the distance that day wasn't linked to Gurley's presence in Columbia.
Still, it wasn't enough, but who knows what would have happened if he'd been given the ball on that first-and-goal from South Carolina's 4-yard line with 5:24 left in the fourth quarter. I know Bulldogs fans are wondering how the Dawgs went away from their workhorse back at such a critical moment ...
Through two games, Gurley is second in the SEC with 329 rushing yards on 35 attempts. He's averaging a whopping 9.4 yards per carry and has four rushing touchdowns. He also has a 100-yard kickoff return for a touchdown.
Gurley is your leader in the Heisman clubhouse nationally and the unquestioned one when it comes to SEC candidates. He has that special, rare blend of power, speed and agility that Playstation footballers wish they could compute.
But we already knew all that. So today, I thought we'd talk a little bit about the quarterbacks.
We can't have 10 legitimate Heisman candidates in the SEC. It's just not logical. But we
can
talk about a handful of guys who could throw themselves into the mix as the season goes on.
Now, will all of these guys be in the Heisman discussion in November? No. In fact, there's a good chance that by October most of this list will be eliminated from serious contention. But at this early part of the season, it was necessary to mention what these guys had done so far.
Here are a couple of other players to watch when it comes to SEC Heisman chances:
September, 16, 2014
Sep 16
8:00
AM ET
It's a fact frequently brought up in Missouri circles but not necessarily around the league, and it's one I find fascinating. The Tigers continued their nation-long active streak of forcing turnovers to 47 consecutive games on Saturday and
it started with an interception by Missouri defensive tackle
Josh Augusta
. That triggered a run that would see the Tigers collect four turnovers in a 38-10 rout of Central Florida. It was one of the highlights of a great day by the Tigers' defensive line,
including a strong performance from
Shane Ray
, who was eventually named SEC Defensive Player of the Week. The Tigers continue to simply play well and win. They have one more non-conference game (Indiana) before getting their chance to defend their SEC East division crown.
If Florida wants to be successful defensively, pressuring quarterbacks is paramount. On Saturday against Kentucky,
Dante Fowler Jr
. did a good job of it but didn't have a ton of help.
That has to change when the Gators play Alabama
this week. The individual matchup involving Fowler should be interesting -- he is facing Alabama true freshman
Cam Robinson
, the No. 1 offensive tackle in the 2014 recruiting class. For what its worth,
the Gators said they needed some adversity
, like Saturday's game provided, before going to Tuscaloosa.
Days after its loss at South Carolina, Georgia is still the subject of much conversation. A lot of it centers around the offensive playcalling and coordinator Mike Bobo. My colleague Edward Aschoff said not giving the ball to running back
Todd Gurley
near the goal line late in the game
was the wrong call
. That topic was even the
first question posed to Mark Richt by a caller on his weekly radio show
and he admitted that "I think we were all thinking the same thing on the ride home." The Bulldogs play Troy this week, so don't expect that chatter to calm anytime soon.
Read more
here
.
Around the SEC
Tweet of the day
@obnoxiousCUfan @MarshallM13 when you beat us

— Elliott fry (@elliott_fry22) September 14, 2014
September, 15, 2014
Sep 15
1:00
PM ET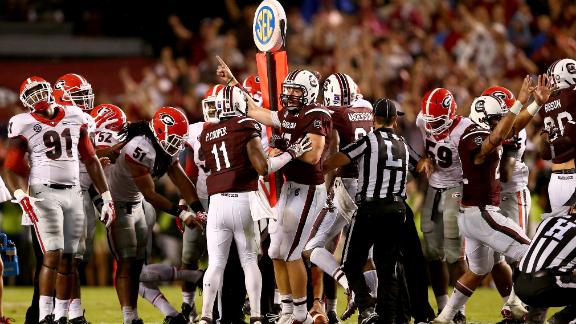 South Carolina quarterback
Dylan Thompson
thought he had just ended the game.
With 5:24 left in the fourth quarter, and the Gamecocks clinging to a 38-35 lead over sixth-ranked Georgia, Thompson gift wrapped an interception for Georgia cornerback
Damian Swann
. The veteran defensive back scooted toward the end zone and an illegal block on the Gamecocks gave Georgia the ball at South Carolina's 4-yard line after Swann was eventually tackled.
No one could possibly judge Thompson's immediate assumption about the outcome of the game. With Georgia holding the nation's best player -- running back
Todd Gurley
-- in its backfield, you just knew that the Dawgs would pull ahead.
[+] Enlarge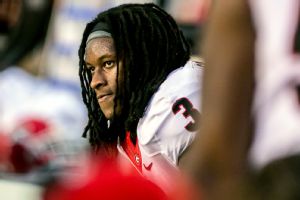 Jeff Blake/USA TODAY SportsTodd Gurley never got a chance to give Georgia the lead when the Bulldogs had a first down inside South Carolina's 5-yard line late in the game.
But when offensive coordinator Mike Bobo could have just handed the ball to his freight train running back 12 feet away from the goal line, he decided to give quarterback
Hutson Mason
the opportunity to shine. What ensued was a bizarre set of events that included a perplexing intentional grounding play -- on first down, no less -- and a missed chip-shot field-goal attempt by the very reliable
Marshall Morgan
.
Minutes later, the Gamecocks were celebrating and rushing through their own set of hedges in the end zone to mob their fantastic student section.
"We were meant to win this game, and Georgia was not," said South Carolina coach Steve Spurrier, who improved to 16-6 all-time against Georgia.
That might be true, and though there were a lot of questionable calls and no-calls that helped the Gamecocks along the way (has anyone found the phantom hold that took away the early 54-yard Gurley touchdown?), not giving Gurley, who had 128 rushing yards to that point, the ball inside the 5 was a mistake of epic proportions. Everyone in the stadium expected No. 3 to get the ball, and he should have. Even if South Carolina had all 11 defenders stacked in the box, the first -- and only -- call you have to start the drive is to hand it to the best and toughest running back in the entire country.
Instead, Georgia gambled with the pass and Mason's penalty moved the Dawgs back 10 yards. Georgia eventually had to settle for a field-goal attempt that was missed.
"If I had to do it again we would've hammered it," Georgia coach Mark Richt said after the game.
Bobo wasn't made available to the media after the game.
At least Richt knows it wasn't the right call, but there is nothing that can be done about it now. You learn and move on, but this one will sting. There will be a lot of finger-pointing by fans, as the Bulldogs dive into the teeth of conference season. And this play could come back to haunt the Bulldogs if they don't make it to Atlanta for the SEC title game in December.
Forget all the craziness that certainly didn't help Georgia on Saturday, that first-down call will leave a sick feeling in Athens for months if the Bulldogs continue to look up in the SEC East standings.
We don't know if Gurley, who had already made a handful of dazzling/gritty plays before that drive even began, would have punched the ball in on first down, but he was without a doubt the best option in that situation.
September, 15, 2014
Sep 15
12:00
PM ET
What do we know about the SEC right now? Not as much as we thought we did on Friday, before Kentucky put a triple-overtime scare into Florida, South Carolina toppled Georgia and other conference teams gave us reason to doubt previous assumptions about the SEC hierarchy.
The uncertainty is part of what makes following the league fun, though. With a couple more SEC teams jumping into conference play this week, we should soon gain a better understanding of where things actually stand within the conference. But for now -- with a couple of key SEC games and a huge nonconference matchup on Thursday ahead -- let's celebrate how many SEC fan bases truly believe their teams have a legitimate chance to make it to Atlanta in December.
A quick look at the week ahead:
Game of the week: Florida at Alabama
Little did we know before the season that Florida's first major challenge of the fall would come from Kentucky and not from Nick Saban's juggernaut in Tuscaloosa. Will Muschamp's team (2-0, 1-0 SEC) needed an all-star performance from receiver
Demarcus Robinson
(15 catches for 216 yards and two touchdowns) and an assist from the back judge who was minding the play clock on a key fourth-down play to beat the Wildcats (2-1, 0-1) in overtime. The Gators need to make a lot of progress in a little time if they're to have a chance against No. 3 Alabama (3-0), despite the Crimson Tide's over reliance on dump-off passes to
Amari Cooper
and occasionally shoddy pass defense. Florida has the ability to make this a competitive game, but it must look a lot more like the team that destroyed Eastern Michigan, 65-0, two weeks ago than the one that easily could have lost to Kentucky.
Player under pressure: Dak Prescott
Mississippi State's quarterback has been great against three overmatched teams so far (Southern Miss, UAB, South Alabama). When they visit No. 8 LSU this weekend, Prescott and the Bulldogs will gain their first real opportunity to prove they'll be more than a middle-of-the-pack program in the SEC West this season. LSU hasn't allowed a single point in nine quarters and has outscored opponents 108-0 since falling behind Wisconsin, 24-7, early in the second half of the opener. The Tigers traditionally win comfortably in this series, so the pressure is on Prescott to keep the Bulldogs afloat against by far the best team they will have faced to date.
Coaches under the microscope: Georgia coordinators Mike Bobo and Jeremy Pruitt
A longtime Mark Richt assistant, Bobo has fielded some of the most productive offenses in school history in recent seasons, but he has taken plenty of heat for not handing the ball to
Todd Gurley
on Saturday with Georgia knocking at the South Carolina goal line with the chance to take a late lead. That decision blew up in Bobo's face when the drive sputtered and normally solid kicker
Marshall Morgan
missed a chip-shot field goal. Meanwhile, newcomer Pruitt's defense was atrocious, surrendering 447 yards of total offense following a solid debut two weeks ago against Clemson. This Saturday's matchup against Troy shouldn't provide a major challenge for the Bulldogs, but it will be their next opportunity to get bad tastes out of their mouths.
Storyline to watch: Auburn's travel schedule
Playing a Thursday night game halfway across the country can't help but be disruptive for Gus Malzahn's No. 5 Auburn Tigers (2-0, 1-0). It might be a competitive challenge, too, as the 1,000-mile trip to Manhattan, Kansas, will culminate with Malzahn's team facing No. 20 Kansas State (2-0). The sunny side of the unusual trip is that Auburn was off last weekend, so it will not play on short rest. Plus the Tigers will have nine days until they host Louisiana Tech on Sept. 27, so they have extra recovery time built into the back end of this trip and a relatively easy nonconference game between K-State and a huge SEC matchup with LSU on Oct. 4. Nonetheless, this odd piece of scheduling will probably create a couple of headaches for Malzahn and his staff.
Intriguing matchup: Arkansas running game against Northern Illinois defense
Fresh off a 438-yard outing in Saturday's win at Texas Tech, Arkansas' impressive rushing attack seems to rank among the nation's best.
Jonathan Williams
(22 carries, 145 yards, four TDs against Texas Tech) and
Alex Collins
(27-212, 2 TDs) might be the best tandem in the SEC and the Razorbacks' offensive line is doing fine work. Let's see how they fare on Saturday against a Northern Illinois defense that ranks 13th nationally against the run, surrendering 81 yards per game and 2.4 yards per carry. The Huskies posted those numbers in wins against Presbyterian, Northwestern and UNLV, so they certainly haven't seen the likes of Arkansas' running game yet. It seems highly likely NIU's opponent averages might rise a bit after Saturday's game.
September, 15, 2014
Sep 15
11:45
AM ET
September, 15, 2014
Sep 15
8:00
AM ET
Arkansas' 49-28 win at Texas Tech was a big one for the Hogs in the Bret Bielema era, perhaps the biggest to date. It's a sign of a program showing improvement after a rough 2013. In the aftermath, much of the discussion focused on the Razorbacks' running game, led by Alex Collins, Jonathan Williams and that big Arkansas offensive line. Rightfully so. But what is easy to overlook is the performance of the Razorbacks' defense, which took some body blows early but had an impressive second half, holding the high-powered Red Raiders to just seven points. New defensive coordinator Robb Smith's crew
stood up to the challenge Texas Tech presented
and helped Arkansas score a seminal win as a result.
Though they lost, Kentucky opened a lot of eyes on Saturday night in the Swamp. Taking Florida to three overtimes in a 36-30 loss is notable for a program that has been a cellar dweller. One of the reasons for the Wildcats' ability to compete is the increased talent on the field they've gathered in recruiting under coach Mark Stoops. Several of those young Wildcats, especially receiver Garrett Johnson,
give Kentucky reason for hope in the future
.
Alabama coach Nick Saban is often cited as one of the most detailed-oriented coaches around. That may be true, but it doesn't apply to every part of the game, apparently. Asked after Saturday's win over Southern Mississippi about the play of left guard Leon Brown,
Saban admitted that he doesn't pay much attention to the offensive linemen
. As a former quarterback and defensive back, he focuses on the skill players. He emphasized that the linemen are important but that he doesn't even "watch them during individual [drills]."
You can see the video, where Saban smiles and jokes his way through the soliloquy, here
.
Around the SEC
Tweet of the day
Hahahaha, Billy Horschel doing the Gator Chomp on 18 after winning the Tour Championship and getting booed by Georgia fans.

— Dan Wolken (@DanWolken) September 14, 2014
September, 14, 2014
Sep 14
8:00
PM ET
We're creeping closer and closer to the meat of conference season in the SEC. That just means things will get a little clearer in the bowl picture for the league.
We had a major shakeup at the top of our predictions with South Carolina's 38-35 upset win over Georgia, but we're still going with one SEC team making the College Football Playoff and 11 teams from the league making it into the postseason:
College Football Playoff semifinal (Rose Bowl):
Alabama
Orange Bowl:
Texas A&M
Chick-fil-A Peach Bowl:
South Carolina
Capital One Bowl:
Auburn
TaxSlayer Bowl:
LSU
Outback Bowl:
Ole Miss
Franklin American Mortgage Music City Bowl:
Georgia
Belk Bowl:
Missouri
AdvoCare V100 Texas Bowl:
Mississippi State
AutoZone Liberty Bowl:
Florida
Birmingham Bowl:
Tennessee
September, 14, 2014
Sep 14
2:07
PM ET
Associated Press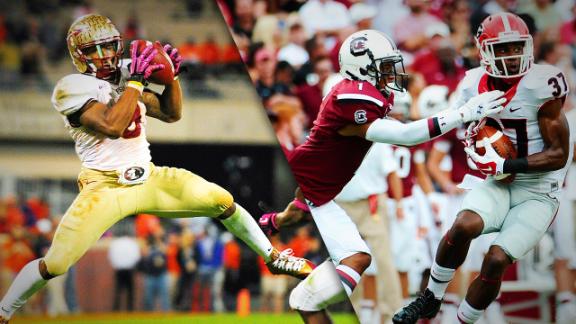 South Carolina's win over Georgia vaulted the Gamecocks 10 spots to No. 14 in The Associated Press college football poll, giving the Southeastern Conference an unprecedented seven teams in the top 15.
The SEC had eight teams ranked in the poll for the third straight week and five teams in the top 10 for two weeks running. Alabama was third behind No. 1 Florida State and No. 2 Oregon, followed by No. 5 Auburn, No. 6 Texas A&M, No. 8 LSU and No. 10 Ole Miss.
Georgia fell to No. 13 after losing to the Gamecocks 38-35, and Missouri was No. 18.
Florida State, which was off, had 37 first-place votes, losing one to the Ducks, who had 17.
September, 14, 2014
Sep 14
2:00
PM ET
By
ESPN.com staff
| ESPN.com
There's a new No. 1 in the SEC Power Rankings following South Carolina's triumph over Georgia. The teams at the top of this week's rankings weren't tested this week, but that could change Saturday, when Florida travels to Alabama and Mississippi State heads to LSU. This week's shakeup could be just the beginning.

Edward Aschoff, Jeff Barlis, David Ching, Sam Khan Jr., Chris Low, Greg Ostendorf and Alex Scarborough contributed to these rankings.
September, 14, 2014
Sep 14
1:25
PM ET
There were some great games around the SEC over the weekend. Several prospects attended games and used social media as a platform to share their experiences. Here's a look at some of the top social media posts:
The No. 2-ranked inside linebacker in the country,
Roquan Smith
, visited South Carolina for its 38-35 victory over Georgia. The Under Armour All-American tweeted out a picture of his family in Williams-Brice Stadium. Georgia is one of Smith's favorite schools, while South Carolina has fallen behind. A big win against the Bulldogs could have given the Gamecocks a boost.
In Carolina with the fam #Gamecocks pic.twitter.com/HOi3hQbl1Z

— God's_Gift_4rm_Above (@RoquanSmith1) September 14, 2014
Former Florida defensive back commit
Marcus Lewis
is still considering Kentucky and Florida. The four-star prospect might not have attended the game, but Lewis was definitely watching on TV. The ESPN 300 prospect tweeted out his thoughts on how Kentucky looked.
Coach Stoops brings a new attitude towards this Kentucky team.

— Marcus Lewis (@THE_NUMERO_UNO) September 14, 2014
David Womack tweeted a picture of his son,
Matt Womack
, an LSU commit, with Alabama head coach Nick Saban. Womack has been committed to LSU since July, but it appears the Alabama offer could give this three-star offensive lineman something to think about.
Matt got an offer from Alabama yesterday!! Not too many players can say they been offered by LSU and Bama!!! pic.twitter.com/8Oo297QdRB

— David Womack (@Hernandofootbal) September 14, 2014
Five-star defensive end
CeCe Jefferson
, despite suffering a shoulder injury Friday night, visited Florida for the third consecutive week. In this photo he tweeted out, Jefferson is in the Florida locker room holding a "Chucky" doll. The doll, which is usually taken through the Gator Walk prior to the game, is a recent Florida defensive tradition started by
New England Patriots
defensive tackle and former Florida player
Dominique Easley
and passed down to defensive end
Dante Fowler Jr.
=¯, No caption needed... = pic.twitter.com/v1eTotHzXh

— 7 (@cecejeferson7) September 14, 2014
ESPN Junior 300 quarterback
Brandon McIlwain
poses with his mom for a photo in front of Williams-Brice Stadium. McIlwain has narrowed down his choices to South Carolina, Duke, Florida, Auburn, Penn State and Virginia Tech. The strong-armed quarterback is one of the top signal-callers in the country for 2016.
Great game yesterday for the #Gamecocks =4« Big win! Me and my mom Pregame = #blessed pic.twitter.com/ltuQkuVEKA

— Brandon McIlwain (@BFMcIlwainqb12) September 14, 2014
Miami running back commit
Dexter Williams
visited Florida for its thrilling 36-30 victory over Kentucky. Despite his commitment to the Hurricanes, the Gators have continued to pursue Williams. Williams tweeted about his time in Gainesville.
Can't lie UF was live !!!

— FlexOnTheCarry (@DexterW_22) September 14, 2014
2017 OL prospect
Jack Anderson
, who already holds offers from Arizona State, New Mexico, Texas Tech and UAB, visited Texas A&M for its 38-10 victory over Rice on Saturday night.
See ya soon College Station! pic.twitter.com/saSuPGNULo

— Jack Anderson5ã3ã (@jackyboy5454) September 14, 2014
Drive Through: Resurgent Gamecocks
SEC SCOREBOARD
Thursday, 9/18
Saturday, 9/20