August, 1, 2014
Aug 1
10:39
AM ET
Associated Press
ATHENS, Ga. -- Georgia receiver Malcolm Mitchell has endured another setback in his bid to rejoin the Bulldogs.
Mitchell, who was regarded as the team's top receiver going into the 2013 season, underwent arthroscopic surgery after reinjuring his right knee running pass routes with teammates this week.
Quarterback Hutson Mason was working with Mitchell and didn't even realize he was hurt after he planted making a cut.
"The thing you want to pound your head over is it was the last route when it happened," Mason said Friday, shortly before the Bulldogs held their first practice of the preseason. "We were working on slant routes, slant routes, slant routes, and he just looked so explosive. He was looking so good."
Director of sports medicine Ron Courson said a full recovery was expected after Thursday's procedure but did not give a timetable for Mitchell's return.
The junior initially tore a ligament in his right knee in last season's opener against Clemson, knocking him out for the rest of the year. He then hurt his left leg during spring practice and missed the remaining workouts.
Mitchell had 40 catches for 572 yards and four touchdowns in 2012.
"There's no way to sugarcoat it," Mason said. "You're going to miss a guy like Malcolm. He's one of those guys you just find a way to get him the ball and let him do what he does best."
August, 1, 2014
Aug 1
10:00
AM ET
Fall camp is upon us with Mississippi State kicking things off Thursday and Auburn and Alabama getting underway Friday.
That means, of course, that the offseason is officially over. It's been fun and depressing and mesmerizing all at once.
Let's take a look back:
Arrests galore
[+] Enlarge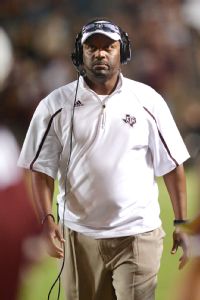 Patrick Green/Icon SMITexas A&M coach Kevin Sumlin has had to deal with offseason incidents involving five players.
Texas A&M's Kevin Sumlin tried to make the argument that one bad apple doesn't spoil the whole bunch. This week he told reporters, "Everything gets lumped into one big bucket. That's tough." The problem, of course, is that it's not one bad apple -- or two or three or four. Five Aggies were arrested, including Darian Claiborne and Isaiah Golden. Alabama, on the other hand, had four players get in hot water, including
Dillon Lee
and
Jarran Reed
, who were arrested on suspicion of driving under the influence. And at Georgia, the hits keep coming. It was bad enough when
Josh Harvey-Clemons
and
Tray Matthews
were dismissed, then
Jonathan Taylor was booted
after being charged with aggravated assault.
Nick Marshall cited for pot -- but he'll be a better passer
Auburn's talented quarterback nearly went the length of the offseason without trouble. With another few weeks and another expectedly solid season, he might have been able to put to rest the talk of his dismissal from Georgia. He might have simply been Auburn quarterback Nick Marshall -- no asterisk, no footnote about his off-the-field trouble. Instead of talking about his improvements as a passer, becoming more accurate and comfortable in the offense and more technically sound, the discussion has turned to his mental makeup, whether he'll be suspended and what this all means for Auburn's hopes of repeating as SEC champs after being
cited by police for possessing a small amount of marijuana
.
Head Ball Coach wins 'talking season'
Really, we could just
link to a story
about what Steve Spurrier said at SEC media days and be done with this. Or we could
link
to what he said later about Clemson coach Dabo Swinney being from Pluto. Or we could simply call up Spurrier, ask for his thoughts on, say, LeBron James' return to Cleveland, press record and play the tape back for you. Spurrier is the annual grand champion of the offseason, or what he likes to call "talking season." Among a field of college coaches who are often stuffy and close to the vest, the Head Ball Coach speaks his mind, shows off his wit and seems to generally enjoy the spotlight.
Derrick Henry, Leonard Fournette for Heisman
Boy, do expectations run rampant from February to July. If you didn't know any better, you'd think
T.J. Yeldon
and
Terrence Magee
didn't exist. If you listened to the Internet, you'd think Alabama's Henry ran for 10,000 yards last season, literally crashing through brick walls and requiring an entire SWAT team to tackle him, instead of looking at the stat sheet that reads no career starts and no games with double-digit carries. But that's what a Sugar Bowl with 161 all-purpose yards will do for you. If that kind of hype bothers you, hold on because the Leonard Fournette show has arrived in full force at LSU. The former No. 1 overall recruit has been
compared with Michael Jordan and
Adrian Peterson
. He's a Heisman Trophy contender, if you ask the right people. Oh, and he's also a college freshman who only recently arrived at on campus.
Tempo debate won't go away
[+] Enlarge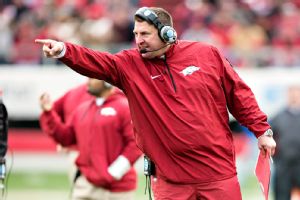 Wesley Hitt/Getty ImagesArkansas coach Bret Bielema won't give up the up-tempo debate.
You remember the back-and-forth between Gus Malzahn and Bret Bielema last year, when Bielema alleged that up-tempo offenses were a health concern. Malzahn asked if that was a joke and
Bielema fired back
, saying he wasn't a comedian. That seemed serious at the time. Well, maybe the joke's on us because this debate just won't go away. The tabled 10-second proposal has further stoked the flames. Bielema further dug a hole for himself when he brought the death of a Cal football player into the debate, then
argued to Sports Illustrated
that players with sickle-cell traits are the most at risk. So, as you might have guessed, there was more back-and-forth and at one point during SEC media days. Missouri coach Gary Pinkel called the safety issue straight-up "fiction." Oh, joy. A healthy debate is one thing, but to go on and on about an issue that isn't even able to go to a vote seems ludicrous.
The force is with Chris Conley
On the bright side, hopefully Georgia wideout Chris Conley's "Star Wars" films keep on coming. His first trailer for "
Retribution
" was a huge hit, and apparently he has a
second film already in the works
. At a time where athletes' rights and off-the-field behavior dominate our headlines, it's refreshing to see a football player do something totally original and totally unrelated to the game he plays, all while doing well in school. In a game that's become much more big business than unadulterated fun, it's great to see an athlete do something he loves and be celebrated for it.
It's still the SEC vs. the world
You'd think that the year the SEC finally failed to win the national championship would be the year the league would stop absorbing so many shots from the rest of its Power 5 conference brethren. But you'd be wrong. The SEC is still the target of almost every major talking point in college football, from scheduling to the playoff to recruiting tactics. Every conference media days involved some jab at the SEC. Oklahoma coach Bob Stoops gloated about the SEC falling back to earth, in his mind solidifying his
comments about the bottom half of the league
being overrated. But oddly, in the same breath he boasted about Oklahoma's strength of schedule, propping up a Tennessee program that hasn't finished a season above .500 since 2009. How does that work? But Stoops wasn't alone. Everyone took a shot and everyone did it for the same reason: lobbying for the playoff. With four spots and five major conferences, everyone is looking to throw someone under the bus.
August, 1, 2014
Aug 1
9:00
AM ET
Finally, the moment you've all been waiting for. Our top-25 countdown ends here and now with our best five players in the SEC entering the 2014 season.
5. Landon Collins, S, Alabama Crimson Tide
It was only a matter of time before Collins became one of the league's best DBs. The former five-star recruit had to wait his turn, but when he got his chance as a sophomore, he jumped at the opportunity. Despite switching back and forth between free and strong safety and not starting the first four games of the season, he filled up the stat sheet with 70 tackles, four tackles for loss, two sacks, two interceptions, two fumble recoveries, two forced fumbles and eight passes defended.
4. Vernon Hargreaves III, CB, Florida Gators
Cornerback is one of those positions that's supposed to take time to master. You have to learn the various coverages and physically mature to handle more experienced receivers. But Hargreaves defied convention last season, quickly becoming the top on-ball defender in the SEC by season's end with three interceptions and 11 passes defended. "At the end of the day, he has some natural instincts that others of us don't have," his coach, Will Muschamp, explained.
3. Amari Cooper, WR, Alabama Crimson Tide
We didn't see Cooper's best until late in 2013. By the time his foot injury healed, he tweaked his knee, and without full mobility, he wasn't his usual elusive self. But in the final six games, he looked more like the Cooper we saw burst onto the scene as a true freshman, catching 30 passes for 507 yards and three touchdowns. Now fully healthy and armed with an offensive coordinator in Lane Kiffin who loves to highlight his playmakers, Cooper's stock could soar even higher as a junior.
2. Cedric Ogbuehi, OT, Texas A&M Aggies
There's got to be something in the water in College Station, Texas. The way the Aggies keep producing NFL-caliber offensive tackles defies any other explanation. First, it was
Luke Joeckel
. Then, it was
Jake Matthews
. Now, it's Ogbuehi, who made himself a potential first-round pick at right tackle last season before deciding to return for his senior year and a shot at playing left tackle, the O-line's biggest money position. You'd be hard pressed to find an offensive lineman who has a better blend of size, strength and athleticism than Ogbuehi.
1. Todd Gurley, RB, Georgia Bulldogs
Coaches, players and sports writers can agree on at least one thing: Gurley is a beast. At SEC media days, nearly every player surveyed by ESPN called Georgia's lead tailback the most intimidating player to tackle in the league. Reporters, meanwhile, made Gurley a first-team All-SEC choice, awarding him the second-most votes overall. If he can stay healthy, he's the league's best shot at winning the Heisman Trophy. With 2,374 yards in the past two seasons, only Nebraska's
Ameer Abdullah
has more career rushing yards entering 2014.
July, 31, 2014
Jul 31
6:45
PM ET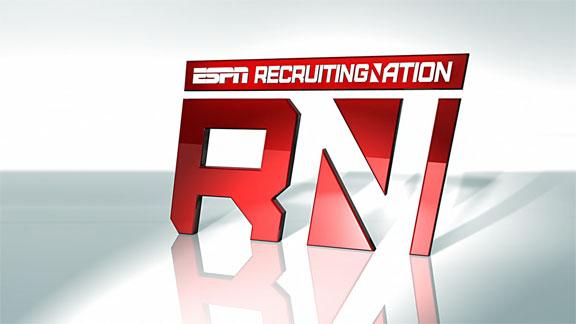 ESPN 300 defensive back
Rico McGraw
flipped his commitment from Georgia to SEC rival Alabama. McGraw, from Nashville, Tennessee, is a very versatile defender and should provide immediate depth in the secondary for the Crimson Tide.
July, 31, 2014
Jul 31
12:00
PM ET
You hear that?
No, it's not the sound of former LSU defensive back Patrick Peterson making it rain with his new
$70 million contract extension
.
That sound you hear is another kind of excitement.
Football is here. Sort of.
Fall camp in the SEC gets going this afternoon at Mississippi State and will kick off at Auburn and Alabama tomorrow.
So, to celebrate, Crimson Tide coach Nick Saban took his players out on the lake. Enjoy.
.
Now back to your regularly scheduled programming and a look around the rest of the conference.
July, 30, 2014
Jul 30
3:00
PM ET
Who believed Florida State quarterback
Jameis Winston
would win the Heisman Trophy before the start of the 2013 season?
Who had former Missouri defensive end
Michael Sam
as an All-American?
ESPN.com is counting down the top 100 players in college football this week, but there are plenty of other players who might be poised for breakthrough seasons in 2014.
Click here for 10 players
who might become household names before season's end.
July, 30, 2014
Jul 30
2:40
PM ET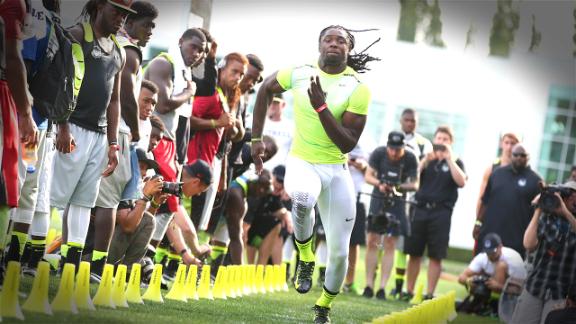 Josh Sweat
, the nation's No. 1 prospect, has lined up all five of his official visits. Sweat said he turned down more than 50 scholarship offers to focus on Florida State, Georgia, Ohio State, Oregon and Virginia Tech. He also said Texas A&M and Auburn are also still under consideration.
To continue reading this article you must be an Insider
July, 30, 2014
Jul 30
12:00
PM ET
July, 30, 2014
Jul 30
9:30
AM ET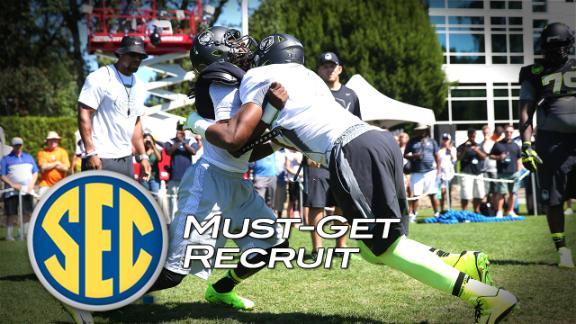 The SEC already has commitments from 77 prospects in the ESPN 300, but there are still several key targets available. Whether it's a current commit, a position of need or just the best available player, here is a look at the top must-get recruits for each SEC team.
To continue reading this article you must be an Insider
July, 29, 2014
Jul 29
9:30
AM ET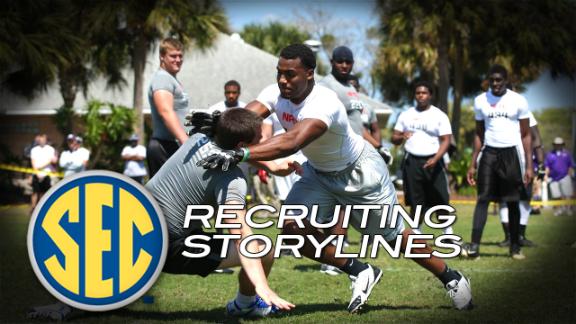 The SEC has 77 committed prospects in the
updated ESPN 300 rankings
. The league continues to dominate on the recruiting front and there are no signs of the momentum slowing down. Here's a closer look at five things to know in the SEC from the new recruiting rankings.
To continue reading this article you must be an Insider
July, 28, 2014
Jul 28
3:50
PM ET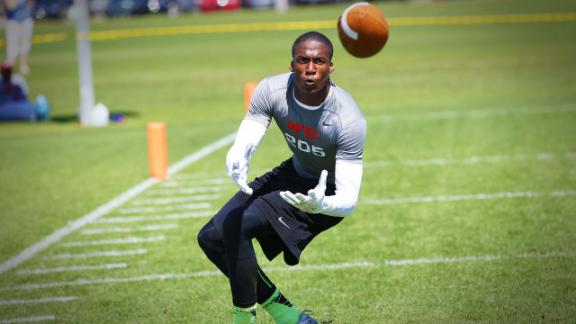 Five-star athlete
George Campbell
, a former Michigan recruit, has seen his recruitment skyrocket after backing off his pledge to the Wolverines back in December. Now, the No. 10-ranked prospect has decided to narrow his choices of colleges to 10.
To continue reading this article you must be an Insider
July, 28, 2014
Jul 28
12:55
PM ET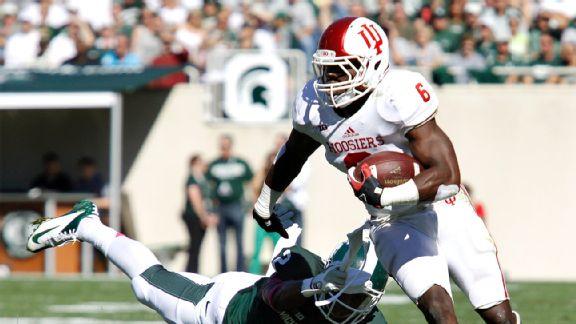 Who believed Florida State quarterback Jameis Winston would win the Heisman Trophy before the start of the 2013 season?
Who had former Missouri defensive end Michael Sam as an All-American?
ESPN.com is counting down the top 100 players in college football this week, but there are plenty of other players who might be poised for breakthrough seasons in 2014. Here are 10 players who might become household names before season's end:
Trenton Brown, OL, Florida
Florida's myriad injuries on the offensive line were a big reason it finished last season with a 4-8 record, its worst finish since a winless campaign in 1979. Among the 15 players who suffered season-ending injuries were offensive tackles D.J. Humphries and Chaz Green and guard/tackle Tyler Moore.
If not for the injuries up front, Brown, a transfer from Georgia Military Academy, might have redshirted in his first season at UF. But he was forced to start at right tackle in the final five games after Moore was hurt in a scooter accident. If Brown plays up to his potential this coming season, the 6-foot-8, 350-pound senior might become one of the SEC's best offensive linemen. He's slated to start at right guard and will be a load for interior defensive linemen to try to move.
Greg Bryant, RB, Notre Dame
#CFBRank: Todd Gurley
SEC SCOREBOARD
Thursday, 8/28
Saturday, 8/30
Sunday, 8/31