December, 22, 2014
Dec 22
11:00
PM ET
We asked college football fans what recruits they want under the Christmas tree for their favorite school. Here are the best answers in this special Christmas edition of the Early Offer. The Early Offer will return next week from the Under Armour Game practices in Orlando, Florida.
@jeremycrabtree Ole Miss CeCe Jefferson to add to an already great defense. And DeMarcus Lodge to go along with our other talented WR.

— Joe Turnage (@Joe_T25) December 21, 2014
@jeremycrabtree Florida- Bryon Cowart, CeCe, Ivey, Holland, Jordan Scarlett

— Trenton Stowell (@tstowell24) December 21, 2014
@jeremycrabtree b cowart Cece and dpayne come to auburn to make impact on defense

— Tad tisdale (@TadTisdale) December 21, 2014
@jeremycrabtree Ryan Davis at Kstate

— darren mueller (@milkman2993) December 21, 2014
@jeremycrabtree @ESPNRNFball Daylon Mack to #LSU. He would play from day 1.

— Dustin L. Davis (@DustinLDavis) December 21, 2014
A quarterback. #VirginiaTech MT "@jeremycrabtree: What recruits do you want your school to land for Christmas?"

— Joe Kriz (@joe_kriz) December 21, 2014
@jeremycrabtree @ESPNRNFball Van Jefferson, Roquan Smith, and Keep Bobo #UGA football

— Dx2 (@theReal_DrDave) December 21, 2014
@jeremycrabtree @ESPNRNFball OU-Demarcus Lodge

— RNS (@LTBCEO) December 21, 2014
@jeremycrabtree @ESPNRNFball @tezivey @ByronHawkStar99 @cecejeferson7 @Famousscarlett @thaRD5 @Jalen_Merrick @K72_Phillips @Deondre_3

— Gator_Fan_4Life (@gatorsfan1977) December 21, 2014
@jeremycrabtree @ESPNRNFball a&m get daylon Mack

— Trey Burnett (@rednationrocks2) December 22, 2014
@jeremycrabtree @ESPNRNFball Martez Ivey and Daron Payne would be huge for Auburn. Need depth at those positions and they are both studs.

— jakewright (@jakewright1996) December 22, 2014
@jeremycrabtree @kris23db -DBU.

— Zane Ellis (@ZaneMoneyEllis) December 22, 2014
@jeremycrabtree @ESPNRNFball #EarlyOffer Daylon Mack, Kris Boyd, and Warren for #Texas

— Evan Yarbrough (@evan_yarbrough) December 22, 2014
@jeremycrabtree Kyle Phillips and Ugo Amadi! #Vols

— Jarret Henry (@JarretHenry) December 22, 2014
@jeremycrabtree DL-N Gallimore,G Campbell,D Daniels LB-McGinnis,Wheeler, Josh Smith OL-Wariboko, Teauma WR - Newsome DB-Orr, Dalton #Sooners

— nk boomer (@nk_boomer) December 22, 2014
@jeremycrabtree KSU - Kylan Johnson@shotime_kc

— Wildcat_Jeff (@Snyder_cat) December 22, 2014
December, 22, 2014
Dec 22
10:16
PM ET
1. What the Miami Beach Bowl lacked in artistry and defense -- BYU and Memphis combined for nine turnovers and more than 900 yards – it more than made up for in excitement. Memphis won 55-48 in double overtime in a game that featured five ties and four lead changes. In the fourth quarter, Memphis had three punts and committed three turnovers until quarterback
Paxton Lynch
scrambled and threw a fourth-down, game-tying touchdown in the final minute. It's too bad that the postgame brawl that grabbed headlines obscured a wildly entertaining bowl game.
2. One of the biggest reasons for Mark Richt's enduring success at Georgia apparently is leaving for Colorado State. Mike Bobo has been on Richt's staff for all 14 of his seasons in Athens, the last eight as offensive coordinator. In the last three season, Georgia has averaged at least 36 points and 450 yards per game. Colorado State had good success the last time it hired an SEC offensive coordinator. But Jim McElwain came from Alabama with a western pedigree. Bobo, 40, played at Georgia and has worked there for all but one year of his coaching career. It's a gamble, but Bobo has credentials worth gambling on.
3. No offense to my colleague Adam Schefter, who covers the NFL like white on rice. But a story that Stanford head coach David Shaw is not interested in coaching in the NFL is only news if you're in the NFL. It's like a story reporting that Bill Belichick is not interested in coaching at Michigan. Shaw has repeatedly made it clear that he is emotionally invested in Stanford. Getting out the message is a problem that's not unique to Shaw -- ask Bob Stoops how many times he has dealt with questions about leaving Oklahoma. So Schefter's story is one that may be written again next year.
December, 22, 2014
Dec 22
7:17
PM ET
ESPN.com news services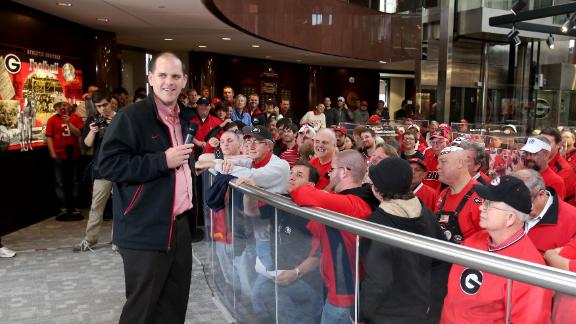 Georgia offensive coordinator Mike Bobo has agreed to be the head coach at Colorado State, the school announced Monday night.
Bobo's deal is expected to be for five years, a source told Schad.
Colorado State feels Bobo's recruiting plan, personality and demeanor are an excellent fit for the program.
The Rams' previous head coach, Jim McElwain, was hired by the Gators this offseason to fill the same role at Florida.
Bobo's Bulldogs ranked 30th in the nation in yards per game this season, 11 spots behind Colorado State's potent attack. Bobo was named Georgia's offensive coordinator in 2007 after joining head coach Mark Richt's staff in 2001.
Information from ESPN.com's Mark Schlabach contributed to this report.
December, 19, 2014
Dec 19
1:30
PM ET
Five-star and ESPN 300 prospects create the most buzz, but with more than a hundred FBS programs competing for talent it takes more than just those top-rated prospects to have success. Rosters are built largely with prospects which enter college with little fanfare, but their development and contributions are key. Every year we see prospects that flew under the radar but developed into some of their conference's top players.

Throughout our evaluations we've come across many players who show promise and are great additions based on their upside for development and/or scheme fit.

Here are five commitments in the SEC that we feel are unheralded, but great additions worth keeping an eye on.


December, 19, 2014
Dec 19
9:00
AM ET
By
ESPN.com staff
| ESPN.com
Bowl season is almost upon us. Alabama's still playing for a national title, while plenty of other SEC teams still have lots to prove. So let's get right to the picks.
Duck Commander Independence Bowl
December 27, 3:30 p.m. ET, ABC
Why Miami wins:
My question is: How motivated will this South Carolina team be? The same can be said for Miami, but the Hurricanes have
Duke Johnson
, arguably the best player on the field. Miami is 6-1 when it rushes for more than 125 yards. Don't be surprised if Johnson reaches that number on his own.
Miami 34, South Carolina 24
-- Greg Ostendorf
Why South Carolina wins:
So the Gamecocks have one of the SEC's worst defenses and let Clemson walk over them to end the season? Steve Spurrier and his crew are getting a few weeks to regroup and forget such a bad regular season. Plus, Miami lost five of its six games by 10 or more points, so just do the math.
South Carolina 27, Miami 24
-- Edward Aschoff
AutoZone Liberty Bowl
December 29, 2 p.m. ET, ESPN
Why West Virginia wins:
Call me crazy, but I don't see bowl practice yielding a dramatic turnaround for Texas A&M. While I expect
Kyle Allen
and the offense to be fine, I don't know how that defense gets any better -- especially without a coordinator in place. In the end, Dana Holgorsen and
Clint Trickett
light up the Aggies' secondary and win.
West Virginia 45, Texas A&M 35
-- Alex Scarborough
Why Texas A&M wins:
Texas A&M was hard to figure this season. The Aggies were all over the place, pretty good one game and pretty bad the next. West Virginia likes to play hurry-up offense the way Texas A&M does, so get ready for a shootout. The Aggies still haven't proved that they're ready for prime time defensively, but will score enough points in this one that it won't matter.
Texas A&M 45, West Virginia 38
-- Chris Low
AdvoCare V100 Texas Bowl
December 29, 9 p.m., ESPN
Why Arkansas wins big:
Which team led the SEC in points allowed per game for the month of November? Alabama? Ole Miss? Missouri? None of the above. It was the Razorbacks, who allowed an FBS-best 9.5 points per game. I just can't see
Tyrone Swoopes
and the Longhorns bucking that trend in this one.
Arkansas 28, Texas 10
-- Greg Ostendorf
Why Texas keeps it close:
This is a matchup of two teams that played better down the stretch. Texas won four of its last six games to reach bowl eligibility and played some decent defense along the way. I'm still going with Arkansas because of the way the Hogs finished the season, but I think Texas will make it interesting.
Arkansas 21, Texas 14
-- David Ching
Franklin American Mortgage Music City Bowl
December 30, 3 p.m. ET, ESPN
Why LSU wins big:
Notre Dame has quarterback issues and LSU has a secondary that is one of the best nationally at defending the pass. If
Leonard Fournette
& Co. can run the ball the way they did on Thanksgiving against Texas A&M against Notre Dame's banged-up D, the Tigers should be able to cruise to a win.
LSU 27, Notre Dame 17
-- Sam Khan Jr.
Why Notre Dame keeps it close:
With the exception of Kentucky, LSU hasn't blown out a Power 5 team all season. This team simply is not built for that. As bad as Notre Dame's defense has played down the stretch -- and they have been bad -- the Fighting Irish will hang around. If only LSU had a quarterback.
LSU 24, Notre Dame 21
-- Greg Ostendorf
Belk Bowl
December 30, 6:30 p.m. ET, ESPN
Why Louisville wins:
Oh, the fun we'll have with Todd Grantham facing his old team. Both Grantham and Georgia offensive coordinator Mike Bobo want a shot at each other, which means this one will be back-and-forth and plenty fun. Something tells me Bobby Petrino's offense proves to be too much in the fourth, and a late Georgia turnover seals it.
Louisville 27, Georgia 23
-- Edward Aschoff
Why Georgia wins:
Sure, Todd Grantham knows this team well, but Mark Richt knows Grantham well, too. And if Georgia blocks up front as well as it has and
Nick Chubb
runs like he has been running, that's not easy to defend. The Bulldogs average 41 points per game for a reason; I suspect they're headed that way again.
Georgia 41, Louisville 31
-- Sam Khan Jr.
Chick-fil-A Peach Bowl
December 31, 12:30 p.m. ET, ESPN
Why TCU wins big:
TCU hasn't seen anything like Ole Miss' defense, which leads the nation by allowing 13.8 points per game. But I don't think the Rebels will be able to shut down (or keep up with)
Trevone Boykin
and an explosive TCU offense that averages 46.8 ppg. Not without injured receiver
Laquon Treadwell
.
TCU 40, Ole Miss 24
-- David Ching
Why Ole Miss keeps it close:
The popular storyline for the Peach Bowl is TCU's high-powered offense versus Ole Miss' talented Landshark defense. But let's not forget about
Bo Wallace
and the Rebels' offense. Even without Laquon Treadwell, I expect Ole Miss to put up enough points to make it a ballgame.
TCU 42, Ole Miss 38
-- Alex Scarborough
Capital One Orange Bowl
December 31, 8 p.m. ET, ESPN
Why Georgia Tech wins:
Georgia Tech's option offense is never a lot of fun to prepare for. The Bulldogs have had some extra time to get ready during the bowl practices, but will be without defensive coordinator Geoff Collins, who left to take the Florida defensive coordinator job. The Yellow Jackets were an offensive machine the last month of the season, and that won't change in Miami.
Georgia Tech 31, Mississippi State 30
-- Chris Low
Why Mississippi State wins:
Generally when opponents have time to practice for Georgia Tech's option offense, they fare well. Paul Johnson is 1-5 in bowl games since arriving at Tech in 2008. Although they'll have to function without defensive coordinator Geoff Collins, the Bulldogs will still get the job done.
Mississippi State 28, Georgia Tech 21
-- David Ching
Outback Bowl
January 1, Noon ET, ESPN2
Why Auburn wins big:
Wisconsin's strength is running the ball. While Auburn's defense leaves much to be desired, that's one area where they're decent, ranking 46th nationally in rushing yardage allowed. And though Barry Alvarez is a Hall of Fame coach, I'll take Gus Malzahn over someone coaching his second game in eight years.
Auburn 45, Wisconsin 28
-- Sam Khan Jr.
Why Wisconsin keeps it close:
Something tells me
Melvin Gordon
is going to go out with a bang. And, frankly, nothing I've seen from Auburn makes me believe it will be able to stop him. While the Tigers ultimately should win, Gordon and the Badgers will have enough success running the football to keep things close.
Auburn 35, Wisconsin 30
-- Alex Scarborough
Buffalo Wild Wings Citrus Bowl
January 1, 1 p.m. ET, ABC
Why Missouri wins big:
Forget the SEC championship game; there's still something about Missouri. Like last season, the Tigers continued to find ways to win. And when they lost in Atlanta in 2013, they went out and beat Oklahoma State in the Cotton Bowl. I expect more of the same this time around.
Missouri 24, Minnesota 14
-- Alex Scarborough
Why Minnesota keeps it close:
Weird things always happen during bowl season, and while Minnesota doesn't exactly wow me, I think this game will be much closer than it should be. The Tigers still have an offense that can drag, while the Gophers are trying to win their first bowl game since 2004, which incidentally came against another SEC team (Alabama). I have a feeling this one will hurt our eyes at times.
Missouri 23, Minnesota 21
-- Edward Aschoff
Allstate Sugar Bowl
College Football Playoff semifinal
January 1, 8:30 p.m. ET, ESPN
Why Alabama wins big:
The last thing we remember is Ohio State blowing out Wisconsin in the Big Ten championship game, and
Cardale Jones
doing his best Troy Smith impersonation. I'm not sold. I think the young quarterback struggles against this stout Alabama defense. And good luck shutting out the Crimson Tide. That's not happening with Lane Kiffin calling plays. Alabama has too many playmakers.
Alabama 31, Ohio State 7
-- Greg Ostendorf
Why Ohio State keeps it close:
The Buckeyes didn't get here by being an average team. This is a really good team. Urban Meyer knows what to expect from a Saban-coached team thanks to his days in the SEC. Cardale Jones showed he can throw the ball well, and that's one thing Alabama had trouble defending in the Iron Bowl.
Alabama 31, Ohio State 24
-- Sam Khan Jr.
TaxSlayer Bowl
January 2, 3:20 p.m. ET, ESPN
Why Tennessee wins:
On one sideline, you have Tennessee, which won three of its last four games to reach bowl eligibility for the first time in years. On the other side, Iowa lost three of its last four. Iowa is better than its record, but I'm putting some faith in Tennessee quarterback
Josh Dobbs
.
Tennessee 23, Iowa 21
-- David Ching
Why Iowa wins:
Butch Jones really appears to have Tennessee moving in the right direction. The Vols probably could -- and should -- have won a couple more games in 2014, but that's why Jones is building. And while there's absolutely nothing flashy about anything that Iowa does on offense, I think the grinding nature of the Hawkeyes will eventually wear Tennessee's line down. Expect a couple of costly turnovers from the Vols as well.
Iowa 21, Tennessee 17
-- Edward Aschoff
Birmingham Bowl
January 3, Noon ET, ESPN
Why Florida wins:
East Carolina is great at throwing the ball -- the Pirates are second nationally with 367.3 passing yards per game -- but Florida is equipped to defend that style of offense pretty effectively. It's hard to know what to expect from a team playing with an interim coach, but I'll give the Gators a slight edge.
Florida 17, East Carolina 14
-- David Ching
Why East Carolina wins:
The big question in this one: How genuinely excited is Florida to be in this game? East Carolina, on the other hand, would love to take home an SEC pelt and has the kind of high-scoring offense that could give the Gators' smothering defense trouble. Better days are ahead for Florida's program, but this won't be one of them.
East Carolina 27, Florida 21
-- Chris Low
Standings
Greg Ostendorf: 89-23
Edward Aschoff: 87-25
David Ching: 86-26
Chris Low: 86-26
Sam Khan Jr.: 84-28
Alex Scarborough: 83-29
December, 18, 2014
Dec 18
8:00
AM ET
Plenty of recruiting news flying across the wire on Wednesday, which was signing day for midterm junior college prospects. Several SEC teams did well in inking JUCOs, led by Ole Miss, Mississippi State and Auburn,
three teams that were considered "winners" in Wednesday's junior college sweepstakes
.

Another SEC winner in recruiting on Wednesday was
Texas A&M after it landed ESPN 300 receiver Christian Kirk
, the No. 30 overall player in the ESPN 300. The Aggies have done well in the state of Arizona, where Kirk is from, recently, landing quarterback Kyle Allen (now the Aggies' starter) and defensive end Qualen Cunningham (who played as a true freshman) in the 2014 class. Kirk,
who brings a strong skill set to College Station, Texas
,

will be able to join his good buddy Allen in the Aggies' offense next fall.
The
Football Writers Association of America released its All-America team
and there is plenty of SEC representation on it, including six members on the first team (Amari Cooper, Reese Dismukes, Shane Ray, Benardrick McKinney, Landon Collins and Senquez Golson. The SEC got seven total players on the two teams. On Tuesday, The Associated Press All-America teams were released and the
SEC got 15 players across the three squads
.
Kentucky had a void to fill at offensive coordinator when Neal Brown left the Wildcats to become the head coach at Troy and it looks like Mark Stoops has his man. Several reports point to
West Virginia offensive coordinator Shannon Dawson as Stoops' pick to replace Brown
at the position. It ensures some continuity for the Wildcats, who ran the well-known Air Raid offense under Brown the last two seasons. Dawson is also an Air Raid disciple, having worked under Dana Holgorsen. At West Virginia,
Holgorsen was the playcaller
, but Dawson has been in the offense long enough to be well-versed in it so the transition to handling those duties at Kentucky should be smooth. West Virginia averaged 502 offensive yards per game (11th nationally) while Kentucky averaged 384.5 yards per game (75th).
Around the SEC
Tweet of the day
If Jim Harbaugh ends up making $8 mil at Michigan per @RapSheet, Nick Saban won't be happy making a paltry $7.5 a year.

— Paul Finebaum (@finebaum) December 17, 2014
December, 17, 2014
Dec 17
2:58
PM ET
[+] Enlarge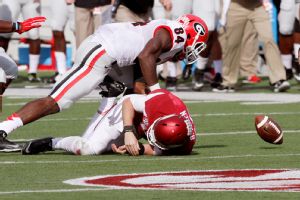 AP Photo/Danny JohnstonLeonard Floyd (84) was named Georgia's defensive MVP this season after recording six sacks and 55 tackles.
Georgia will be without linebacker Leonard Floyd when it takes on Louisville in the Belk Bowl later this month.
Floyd had surgery Tuesday to "clean up his shoulder," according to Georgia coach Mark Richt.
"We wanted to give [Floyd] the maximum amount of time to be prepared for his senior year," Richt said Wednesday during his Belk Bowl news conference.
Richt announced Saturday at a team function that Floyd would be coming back to Georgia for his senior year rather than entering the NFL draft.
Floyd, named the defense's most valuable player in 2014, led the Bulldogs with six sacks and finished with 55 tackles, 8.5 tackles for loss and three forced fumbles.
Richt said a timetable for Floyd's return to the field has not yet been set.
December, 16, 2014
Dec 16
1:00
PM ET
Should it cap the season with a win against Louisville in the Belk Bowl, Georgia (9-3, 6-2 SEC) has a chance to finish in the top 10 in the final polls. But this will go down as another season where the Bulldogs are left to consider what might have been.
What could they have done if star running back
Todd Gurley
hadn't missed half the season -- first because of an NCAA eligibility case and later because of a season-ending knee injury? What might have happened if they had finished better in winnable games against South Carolina and Georgia Tech?
An SEC East title and a playoff spot were attainable goals for Georgia this season, so the Bulldogs have to feel some disappointment after the regular season because of their missed opportunities.
Let's recap:
Best win:
Only days after Georgia coach Mark Richt first sat down Gurley about the eligibility issue, the Bulldogs traveled to Missouri and blasted the Tigers 34-0. The Bulldogs picked off four
Maty Mauk
passes and held Mizzou to 147 yards of total offense, and freshman
Nick Chubb
proved to be a capable replacement for Gurley, rushing 38 times for 143 yards and a score. Honorable mention goes to Georgia's 34-7 win against Auburn, when Gurley and Chubb led a rushing attack that accumulated 289 yards. Jeremy Pruitt's defense also limited Auburn's explosive offense to 292 total yards.
Worst loss:
The circumstances behind Georgia's 38-20 loss to Florida on Nov. 1 made the loss even more painful. The writing was on the wall that Gators coach Will Muschamp was on his way out, and Florida's offense seemingly couldn't do anything right leading into its trip to Jacksonville. But the Gators ran all over Georgia that day, posting 418 rushing yards -- the second most ever against a UGA defense -- en route to an enormous upset of then-No. 9 Georgia. Florida's win stopped Georgia's three-game series winning streak, and briefly gave Muschamp hope of staying on as head coach.
Player of year: Chubb.
Gurley would have cruised to this honor since he was once the leading candidate to win the Heisman Trophy. But you can't win for half a season of work. Chubb was a force once the opportunity arrived. With Gurley available for the first five games, Chubb ran just 31 times for 224 yards. Over the final seven games, the freshman ran 155 times for 1,057 yards. Chubb ranks second in the SEC in rushing (1,281 yards), was named SEC Freshman of the Year, and made the first-team All-SEC squad for both the coaches and media.
Breakout player: Isaiah McKenzie.
Since we have already discussed Chubb, how about a guy who breathed life into Georgia's awful return game? Georgia hadn't returned a punt for a touchdown since the 2011 season when McKenzie took one to the house against Troy. He repeated the feat with a 59-yard runback against Kentucky, on a day when he also took the opening kickoff back 90 yards for a score. At the end of the regular season, the freshman nicknamed "The Human Joystick" because of his slippery moves is averaging 12.1 yards per punt return and 28.1 yards per kickoff return.
Play of year:
Instead of narrowing it down to one play, let's recap five of Gurley's greatest hits from the season. His UGA career ended in disappointment, but he'll still go down as one of the greatest Bulldogs running backs ever. Here's a reminder of why:
A
100-yard kickoff return
for a touchdown against Clemson.
His
51-yard touchdown run
against Tennessee.
A 26-yard run
against Tennessee where he hurdled a defender.
When he took a direct snap in the Wildcat and
floated a 50-yard pass
to tight end
Jeb Blazevich
against Vanderbilt.
His first touch upon his return from suspension, when he
returned a kickoff 100 yards for a touchdown
against Auburn (although it was called back on a penalty).
2015 outlook:
Even without Gurley and some important seniors -- namely linebackers
Amarlo Herrera
and
Ramik Wilson
, cornerback
Damian Swann
, receivers
Michael Bennett
and
Chris Conley
, and quarterback
Hutson Mason
-- Georgia still has reason for optimism next season. For starters, Richt announced over the weekend that outside linebackers
Leonard Floyd
and
Jordan Jenkins
, receiver
Malcolm Mitchell
and left tackle
John Theus
will all return. If Georgia can find a consistent replacement for Mason under center, Chubb and the returning skill talent should help the offense remain productive. It's reasonable to expect the defense to keep improving in Year 2 under Pruitt, as well.
December, 16, 2014
Dec 16
10:35
AM ET
By
Brian Fremeau
| ESPN Insider
Each of the four teams that will play in the inaugural College Football Playoff this year had an outstanding 2014 season, which was no surprise considering their recent success. Over the past four years, only four major conference programs have an overall FBS winning percentage of at least 80 percent: Alabama (44-5, .898), Oregon (43-6, .878), Florida State (43-6, .878) and Ohio State (41-10, .804).
Our annual Football Outsiders projections are based in part on program success, four-year and five-year measures of efficiency that our research indicates has a strong correlation with next-year success. The Crimson Tide, Ducks, Seminoles and Buckeyes will certainly carry strong program ratings into next season, but which programs are on the doorstep?
The four programs we identified have three common traits. They each have a four-year FBS winning percentage of at least 70 percent, they each improved their program rating from last season to this season, and they each have a higher program rating today than they did four years ago. If multiple years of success are a key to playoff contention, these four programs -- two in the Big 12 -- are well-positioned to take the next step.
35-14 (.714) four-year FBS record
No. 7 program rating (up from No. 12 four years ago)
The Bulldogs had a peculiar year in terms of efficiency versus results. Georgia crushed Missouri by 34 points on the road but finished one game behind the Tigers in the SEC East standings with head-scratching losses to middle-of-the-road conference foes South Carolina and Florida. They ended the year with an overtime loss to nonconference rival Georgia Tech after taking a 24-21 lead with only 18 seconds left in regulation. Georgia ranked eighth nationally in overall game efficiency but every other team ranked that highly finished the year with two or fewer losses.
The good news is that the Bulldogs finished the year with their best ranking in four years in a number of metrics.
To continue reading this article you must be an Insider
December, 15, 2014
Dec 15
2:10
PM ET
Todd Grantham said he has not communicated with his former co-workers at Georgia in the eight days since learning that his new team, Louisville, will face the Bulldogs in the Dec. 30 Belk Bowl.
On a Monday conversation with reporters, the first-year Louisville defensive coordinator downplayed any competitive advantage he might have gleaned from practicing against most of the Bulldogs' players over the previous four seasons as a Mark Richt assistant.
"It still gets down to getting off blocks, tackling people, winning one-on-one matchups on both sides of the ball, so I don't think that'll play as big a factor as you guys will make it out to be," Grantham said. "I think it gets down to just playing football. Obviously they're a talented team. They're one of the best offenses in the country, so we know we've got to play well and be ready for a big challenge."
[+] Enlarge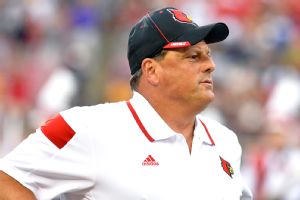 AP Photo/Timothy D. EasleyTodd Grantham's Louisville defense leads the nation in interceptions and is tied for seventh in sacks.
A veteran assistant like Grantham has plenty of experience in situations like this, coaching against friends, former co-workers or ex-players several times each season. While he understands the intrigue surrounding his coaching against a program where he was on staff less than a year ago, Grantham said it doesn't add extra juice to the bowl game from his perspective.
"I've got a lot of respect for the people there -- both the coaches and the players," Grantham said. "This isn't the first time that a coach has faced a team that he was coaching the year before. It's part of the business. We've had a great season. We went 9-3 and it's a chance for us to send our seniors out the right way because they really did believe in our system when we came here."
That they did. Former Louisville coach Charlie Strong left a strong defensive identity behind when he left for Texas after last season, and the Cardinals have thrived in the first season under Grantham's leadership. Despite losing safety
Calvin Pryor
and defensive end
Marcus Smith
to the first round of the NFL draft, Louisville still ranks sixth nationally in total defense, allowing 293.3 yards per game.
Further, the Cardinals lead the nation in interceptions (25), rank fourth in third-down defense (28.2 percent) and are tied for seventh in sacks (3.25 per game). They're in the top 20 in turnovers gained (T12, 28), scoring defense (18th, 20.5 points per game) and red zone defense (T19, 27 opponent scores in 36 red zone possessions).
Not bad for a first season in a new conference -- and Grantham said it's only the tip of the iceberg.
"Our main focus and vision is to win the ACC and compete for a national title, and after one year here and the recruiting class we're having, I'm more convinced than ever that we can reach that goal," Grantham said.
That sounds very much like the sales pitch that Grantham used to make while wearing Georgia's red and black. Replace ACC with SEC and insert Florida instead of Florida State as the opponent he has circled as the roadblock standing between his team and the championships it wants to win.
Grantham's tenure at Georgia ended with a bit of a flop -- the young Bulldogs surrendered 29 points and 375.5 yards per game last season -- as fans and media questioned his job security throughout the 2013 season.
"We obviously had a really young team last year and we kind of faced some veteran offenses, some veteran quarterbacks, and because of that, we had to take some shots with those guys, but I think they got better for it," Grantham recalled. "They were able to mature and I think that's one of the reasons they're able to have some success right now."
Two of those young players, cornerback
Shaq Wiggins
and safety
Josh Harvey-Clemons
, followed Grantham to Louisville and sat out this season as transfers. Grantham credited the former Bulldogs for their work on the scout team and said he expects them to compete for starting jobs in 2015.
As for Georgia, Grantham said he remains proud of what the program accomplished in his four seasons there -- a time where the Bulldogs won SEC East titles in 2011 and 2012 and dominated rivals Florida, Georgia Tech, Auburn and Tennessee with an 11-1 record in his final three seasons.
That's what Grantham said he remembers about his Georgia tenure, not the last season where he came under fire.
"I've always known I was a good coach in what I was doing," Grantham said. "I think if you go back and look at the changes we were able to establish and make at the University of Georgia in my time there, we were able to win games, we were able to put, really, Georgia back on the map from being relevant."
December, 15, 2014
Dec 15
12:30
PM ET
The SEC is known for its defensive line talent, with dozens of NFL linemen having played for one of the conference's 14 schools. But this was an uncommonly productive season for the league's freshman pass-rushers, even by the SEC's lofty standards.
Two true freshmen – Texas A&M's Myles Garrett and Tennessee's Derek Barnett – earned second-team All-SEC honors from the league's coaches and media, and several others enjoyed productive debut seasons in arguably the nation's toughest conference.
Garrett set an SEC record for freshmen with 11 sacks this season, but Barnett might have been not just the conference's best freshman defensive lineman -- he might have been the SEC's best defensive lineman, period.
[+] Enlarge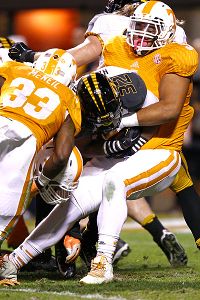 AP Photo/Wade PayneTennessee freshman Derek Barnett ranks third in the nation in tackles for loss.
Missouri's Shane Ray won the SEC's Defensive Player of the Year awards from both the coaches and media, and he is the conference's only player whose numbers stand up against Barnett's. Ray led the SEC with 14 sacks and 21 tackles for loss in 13 games, although six of his sacks and 9.5 of his tackles for loss came against Missouri's weak nonconference opposition. Barnett made all 10 of his sacks against SEC opponents, as well as 18 of his 20.5 tackles for loss.
Barnett is the only freshman to rank among the national top 30 in tackles for loss (he's third) and Ole Miss freshman defensive end Marquis Haynes is the only freshman in the national top 50 in forced fumbles (he's tied for 29th with three). Garrett (tied for sixth with 11), Barnett (tied for 16th with 10) and Haynes (tied for 43rd with 7.5) are three of the only four freshmen to rank in the national top 50 in sacks.
Haynes did not post the ridiculous numbers that Garrett and Barnett did, but he was the best pass-rusher on a powerful Ole Miss defense. He led the Rebels in sacks, quarterback hurries (eight), and forced fumbles and is tied for the team lead with a host of teammates with one fumble recovery.
Those three were the headliners, but they are not the only freshman pass rushers who appear destined for SEC stardom. Here are three more freshmen who could strike fear into quarterbacks' hearts next season:
OLB Lorenzo Carter, Georgia:
Arguably the biggest recruit in Georgia's 2014 class, Carter didn't start for the first time until Game 9 against Kentucky. But he made the most of that opportunity wotj nine tackles, 2.5 sacks and 3.5 tackles for loss against the Wildcats. The Freshman All-SEC honoree started the last four games and figures to become a major impact player in 2015.
OLB Rashaan Evans, Alabama:
Earning playing time as a freshman on Alabama's talented front seven is difficult, but Evans contributed as a role player. He made 15 tackles, two tackles for loss and a sack thanks to impressive speed and a high motor. Once he gets an opportunity to play more, he's going to be a regular visitor into opponents' backfields.
DE Da'Shawn Hand, Alabama:
The SEC's coaches saw enough from Hand in limited action to name him to their Freshman All-SEC team. One of the nation's most coveted recruits in 2014, Hand recorded just seven tackles, two sacks and two tackles for loss as a reserve on Alabama's deep defensive line. Rest assured, his time is coming.
December, 15, 2014
Dec 15
10:00
AM ET
Now that Oregon quarterback
Marcus Mariota
has strutted away with the Heisman Trophy in an utter landslide, it's time to look into the future to see who could be up for that bronze beauty next year.
What's that? We haven't gotten to bowl season? Santa hasn't even come to fill our stockings?
Pssssh! It's
never
too early for some prognostication that has nothing to do with the current season. And looking ahead to the Heisman is so much fun.
So who could be in the mix for a trip to Times Square next December? I think the SEC has a few candidates to keep an eye on. Too bad
Todd Gurley
isn't returning, because he would be at the top of this list. In fact, if he didn't deal with that NCAA suspension or lose his season to an ACL injury, Gurley might have won the Heisman over Mariota. But that's a story for another day.
Also, Heisman finalist
Amari Cooper
isn't on our list because he would be crazy
not
to bolt to the NFL.
Here's our very early list of possible SEC Heisman candidates in 2015:
The NFL could claim these guys:
T.J. Yeldon, RB, Alabama: He leads Alabama with 932 rushing yards and has 10 touchdowns, but he could take his game to the next level. He wasn't completely healthy this season, but his vision and ball security improved a lot in 2014.
D'haquille Williams, WR, Auburn: He missed two games but still led the Tigers with 45 catches for 730 yards and five touchdowns. Another top-tier athlete, Williams made a ton of clutch plays for Auburn this fall. But with his incredible athleticism and size, he's very much a candidate to leave early.
Keep an eye on:
Speedy Noil, WR, Texas A&M: He had only 559 receiving yards and five touchdowns, but when you are regularly making plays like this, people better be on the lookout for you. Noil is a supreme athlete who will grow with more time in the Aggies' offense.
December, 15, 2014
Dec 15
8:00
AM ET
1. Sometimes you're just at a loss of words. That's how I felt when I found out that Auburn freshman Jakell Mitchell was
shot and killed
early Sunday morning. I knew Mitchell well from when I covered recruiting, and I remember talking to him on signing day. He and high school teammate Stephen Roberts were excited to start their next chapter at Auburn. Now, as Jay G. Tate wrote, Mitchell is gone
"far too soon."
Tragedy has become
all too familiar
on the Plains as Mitchell becomes the latest casualty, joining former football players Ed Christian and Ladarious Phillips, who were shot and killed at the same apartment complex as Mitchell in 2012, and more recently Philip Lutzenkirchen, who died in a car accident before this season.
The Auburn Family is grieving the loss of a teammate & friend Jakell Mitchell. We are praying for his family. pic.twitter.com/ZC5PP2nJ6u

— Jay Jacobs (@jayjacobsauad) December 14, 2014
.
2. On a lighter note, Auburn snagged Will Muschamp as its defensive coordinator this weekend, making him
the highest paid assistant coach
in college football. Why pay so much for a defensive coach when the SEC, and football in general, is more about how many points you score? Because a good defense is still necessary to win a championship, and
the price of playing good defense
is going up. The thought of Muschamp teaming up with Gus Malzahn is scary for opposing SEC teams. It's not so different from what Alabama did last offseason, hiring Lane Kiffin to join forces with Nick Saban. Look how that turned out. And how about
next year's Iron Bowl
? Malzahn and Muschamp vs. Saban and Kiffin? Sign me up.
3. Amari Cooper might have
finished third
in the Heisman Trophy voting Saturday, but the Alabama wide receiver won over some fans with his humility and specifically the story he told about his childhood. His family didn't have a car growing up, so they had to walk about three miles to the store to get groceries. From
AL.com's story
:
Cooper remembered telling his mom he was too tired to make the walk there and back one day. When she returned, marks lined [her] arms where she carried all the bags a few miles home.

"It was just an example of how hard she worked, her getting off work so late or working so hard all ready," Cooper said. "She sacrificed for us. You want to know how much somebody loves you, just look at how much they sacrifice."
3a. And speaking of the Heisman Trophy, is it too early to start looking at the 2015 favorites? USA Today put out
its top 10 contenders
, which included two from the SEC -- Mississippi State quarterback Dak Prescott and Georgia running back Nick Chubb. Prescott, who might still leave early for the NFL, flirted with the Heisman this season, and Chubb earned Freshman of the Year honors in the SEC for his performance in place of Todd Gurley.
Colorado State Hires Bobo
SEC SCOREBOARD
Monday, 12/22
Saturday, 12/20
Tuesday, 12/23
Wednesday, 12/24
Friday, 12/26
Saturday, 12/27
Monday, 12/29
Tuesday, 12/30
Wednesday, 12/31
Thursday, 1/1
Friday, 1/2
Saturday, 1/3
Sunday, 1/4
Monday, 1/12