October, 31, 2014
Oct 31
11:00
AM ET
Gather round, ravenous SEC fans, for today marks the last day before the league devours itself. It's only fitting that the eve of what could be a gruesome month of southern cannibalization falls on Halloween.
All the playoff love could all come crashing down in the next few weeks, as the SEC feeds on itself. By the 30th of next month, the league could look like a hoard of pesky zombies from "The Walking Dead."
It's a scary good time in the SEC, but if you can't stand the sight of carnage, maybe you should cover your eyes and turn on the lights before your dreams are haunted with carcasses of elephants, tigers and bears.
In honor of teeth gnashing into flesh, here's how you celebrate Halloween -- and NICK SABAN'S BIRTHDAY!! -- in the SEC:
[+] Enlarge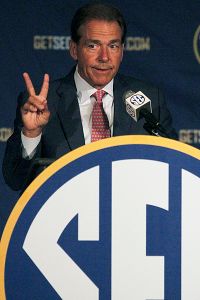 AP Photo/Butch DillThere are two holidays in some sectors of SEC country on Oct. 31: Halloween and Nick Saban's birthday.
Godzilla:
Not a horror movie icon, but he's easily the greatest, most destructive monster ever. Kinda reminds me of the way Mississippi State quarterback
Dak Prescott
manhandles defenses. Like Godzilla, he's been virtually unstoppable this season. Prescott is undefeated, has 2,393 yards of offense and 26 touchdowns, and is the Heisman Trophy front-runner.
"Jaws":
Aptly named the "Landsharks," Ole Miss' defense has been terrifyingly good this season. It's barely allowing 300 yards of offense a game and gives up an SEC-low 4.35 yards per play. This group also tops the SEC and ranks second nationally with 24 takeaways.
"A Nightmare on Elm Street":
Will the Gators ever wake up from this grisly nightmare? Things were supposed to be better with a fresh start after last year's injury-plagued season, but Florida is 3-3, has an offense in reverse and is in danger of missing out on a second straight bowl appearance. Will Muschamp is also coaching for his job, and faces Georgia next ...
"Children of the Corn":
Like the twisted youngsters that resided in Gatlin, Nebraska, the
LSU Tigers
should be feared. One of the youngest teams around, its's scary how freakishly good these guys look when they put everything together. They aren't perfect, but they beat No. 3 Ole Miss and are getting better and maturing. A night in Baton Rouge truly is terrifying for intruders.
Cujo:
These
Georgia Bulldogs
really do have bite. You might even say they're possessed, they're playing so well. Since that ugly loss to South Carolina, the Dawgs have reeled off five straight wins, most of them in convincing fashion. The defense is playing out of its mind, and the offense is clicking even without
Todd Gurley
.
Pinhead:
Don't let the name full you; he's one of the most sinister horror movie villains around. The bone-chilling star of the "Hellraiser" movies is kinda like Les Miles in the way he tortures his victims. Woeful opponents venture into a stadium looking to challenge Miles, only to be be sucked into a wicked realm of pain and confusion. He's diabolical, yet very intriguing and extremely dangerous.
"Night of the Living Dead:"
What happened to Vanderbilt? The Commodores used to be so vibrant and exciting. Now, they're lifeless and stumbling around the bottom of the SEC under new coach Derek Mason, with no bowl hopes in sight. After back-to-back nine-win seasons under James Franklin, Vandy is 2-6 and owns the SEC's worst offense. George A. Romero would be proud.
"Jeepers Creepers":
It's becoming harder and harder to watch Missouri's offense and the downward spiral of
Maty Mauk
's play, but the Tigers keep winning. Like the Creeper lurking rural back roads, the Tigers are dangerous but rough on the eyes. Even at 6-2 and a game out of first place in the SEC East, the Tigers are last in the league in total offense in conference games (232.8) and 11th in scoring (21.8). Mauk is averaging 97 passing yards and has five interceptions to two touchdowns in league play.
Michael Myers:
No one terrorizes opposing backfields -- as Myers did the hapless folks of Haddonfield, Illinois -- better than Missouri defensive end
Shane Ray
. While he doesn't stalk his prey with slow, stealthy movements, Ray is even more dangerous because of how fast he gets to quarterbacks. He leads the SEC with 8.5 sacks and 14 tackles for loss.
Jason Voorhees:
Alabama just won't go away. This team certainly isn't the same as past championship contenders, but it's threatening and is still on the playoff/SEC path. Jason had sloppy moments, too, but you could never count him out for a valiant return.
Trick:
Remember when we thought South Carolina would win the SEC East? Well, the Gamecocks are all but out of race with four losses, and the defense's numbers have been gruesome in conference play. South Carolina allows 457.5 yards per game and nearly 40 points a contest.
Treat:
The state of Mississippi has lost just once, has two teams ranked in the top four and could find its way into the first College Football Playoff. Kentucky has five wins and is on the verge of making a bowl game for the first time since 2010.
October, 31, 2014
Oct 31
10:30
AM ET
Here are five things I learned in college football this week:
1. Florida State doesn't look like the team that won a BCS national championship last season. It looks more like the Auburn team that lost to the Seminoles in the last BCS National Championship game.
To win a national title in the past, or now reach the four-team College Football Playoff, a team is going to need more than a few good breaks along the way. FSU seems to be getting them every week, just like Auburn did last season.
The Seminoles beat Clemson 23-17 in overtime on Sept. 20 because the Tigers fumbled the ball -- and a golden opportunity for an upset -- at FSU's 14-yard line in the final two minutes of regulation.
[+] Enlarge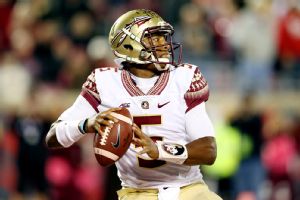 Andy Lyons/Getty ImagesJameis Winston and Florida State are getting the breaks needed to reach the College Football Playoff.
On Oct. 18, FSU defeated Notre Dame 31-27 because the Irish were penalized for offensive pass interference on a pick play, wiping out a go-ahead touchdown pass from
Everett Golson
to
Corey Robinson
in the final moments.
Then on Thursday night, the No. 2 Seminoles trailed No. 25 Louisville 21-0 in the final minutes of the first half on the road. FSU tailback
Karlos Williams
fumbled near the goal line, but tight end
Nick O'Leary
recovered the ball in the end zone for a touchdown, giving the Seminoles a manageable 21-7 deficit heading into the locker room.
On the first play from scrimmage in the second half, Louisville safety
Gerod Holliman
intercepted
Jameis Winston
's pass. But Winston chased down Holliman, knocked the ball loose and FSU's
Travis Rudolph
recovered the fumble.
The Seminoles scored three touchdowns in the fourth quarter to pull away for a 42-31 win, their 24th victory in a row.
"We've been there before," Winston said. "Being down is nothing when you've got heart and you persevere. Personally, we play better when we're down, honestly."
2. Georgia fans have every right to be upset that the NCAA didn't reduce star tailback
Todd Gurley
's four-game suspension, which will keep him sidelined for Saturday's game against Florida in Jacksonville, Florida, and next week's road trip to Kentucky.
But Georgia fans shouldn't be upset at the NCAA or the UGA administration. Gurley knew he was breaking NCAA rules when he accepted $3,000 to autograph helmets, footballs and other memorabilia. And it wasn't a momentary lapse of judgment. According to the NCAA, Gurley was paid to autograph memorabilia for multiple dealers over the past two years.
Sure, the NCAA rules that prohibit players from receiving money for their autographs and likeness are out of date and need to be repealed. But Gurley knew the rules, and Georgia officials constantly educate their players about what they can and can't do.
I have sympathy for Gurley, who grew up in a mobile home park in Tarboro, North Carolina. His mother struggled to make ends meet while raising Gurley and his siblings, and his family still doesn't have much when it comes to material possessions. It doesn't make much sense that Georgia and the NCAA can profit from his name, image and likeness, while he will have to sit four games for profiting from his own name.
At the end of the day, Gurley's biggest flaw might have been his honesty about breaking the NCAA rules.
3. Don't think the timing of Oklahoma freshman tailback Joe Mixon's guilty plea to avoid going to trial on charges that he punched a woman in the face in a bar on July 25 was coincidental.
By entering an Alford plea, which allows Mixon to continue asserting his innocence, his attorneys avoided making the videotape that showed Mixon punching a woman available to the media and public through state open records laws.
On Saturday, a new Oklahoma law, Senate Bill 2676, takes effect that would have required police to release the surveillance video from the bar where the incident took place. But since Mixon reached a deal with prosecutors before the law goes into effect, police in Norman, Oklahoma, are refusing to release the video to media.
Police allowed members of the media to view the tape but wouldn't let them make copies. The original tape was returned to the bar owners on Thursday night and was destroyed, according to media reports.
Attorneys for the city of Norman say they still have a copy, after they were threatened with a lawsuit, but contend that that copy is not subject to release under transparency laws.
Oklahoma senator David Holt, who wrote the new law, told KOKH-TV in Oklahoma City that his intent was to increase transparency.
"I don't even know that we need to say that, I thought that the intention of that was clear. That if you can look at it, you can copy it, especially in the day and age where we all have iPhones, we're just one click away from copying a document," Holt said.
4. Winston threw a career-high three interceptions in Florida State's win at Louisville, and his chances of repeating as the Heisman Trophy winner seem all but dead.
According to a Heismanology poll conducted by ESPN's Joe Tessitore, Winston received only 4.5 percent of the available points in this week's balloting -- and that was before he tossed three interceptions against the Cardinals.
After nine weeks of the season, it seems to be a two-man race between Mississippi State's
Dak Prescott
and Oregon's
Marcus Mariota
. According to Tessitore, they received 95 percent of the first- and second-place votes.
But there is still a lot of football to be played, and Tessitore notes that the last time two players received such a high percentage of the first- and second-place votes was 2012, when Kansas State quarterback Colin Klein and Oregon tailback Kenjon Barner were leading the voting. Of course, Texas A&M freshman Johnny Manziel ended up becoming the first freshman to win.
5. And, finally, the stat of the week from ESPN Stats & Info: Mississippi State is averaging a Power 5-high 188.6 rush yards per game inside the tackles. Prescott and
Josh Robinson
are two of four Power 5 players who have run for at least 500 yards and seven touchdowns inside the tackles.
October, 31, 2014
Oct 31
10:00
AM ET
Ready for the weekend? Here's a glance at the SEC slate. All times Eastern:
Noon
Louisiana-Monroe at Texas A&M, SEC Network:
This is what the doctor ordered for the Aggies, who are coming off a three-game losing streak including their second-worst loss in school history (a 59-0 embarrassment in Alabama). Louisiana-Monroe won't be intimidated, because it has played two other SEC teams on the road this year (LSU and Kentucky). It will likely matter little. The thing to watch in this game is who starts at quarterback for the Aggies:
Kyle Allen
or
Kenny Hill
(it's sounding like Allen will get the nod, his first after Hill started the previous eight, though A&M won't make the decision publicly known until its first offensive possession on Saturday).
3:30 p.m.
[+] Enlarge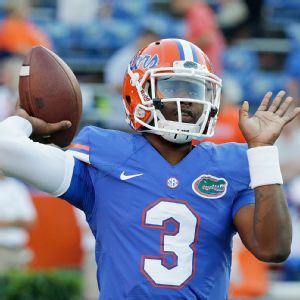 AP Images/John RaouxThe Gators turn to true freshman QB Treon Harris to break Florida's three-game losing streak against the Bulldogs.
Florida at No. 11 Georgia, CBS:
Georgia is going for its fourth straight win in this rivalry and if the Bulldogs get it, it'll be the first four-game winning streak over the Gators in this series since 1983, when they capped off a six-game winning streak. And if they're able to expect the Will Muschamp talk to only intensify. The Florida coach's days seem to be numbered in Gainesville. The Gators have made a quarterback change though, giving true freshman
Treon Harris
the start for this one. So that provides some intrigue for the Gators while the Bulldogs try to strengthen their hold on the SEC East lead.
4 p.m.
Kentucky at Missouri, SEC Network:
This should be one of the most compelling games of the day. Kentucky is still seeking that sixth win to become bowl eligible for the first time since 2010. The Wildcats lost last week but competed admirably against No. 1 Mississippi State. Missouri is looking to stay within reach of Georgia in the SEC East Division race but the Tigers have been up and down this season. They've won their last two thanks to their defense and special teams but the offense has left much to be desired of late.
7 p.m.
No. 3 Auburn at No. 4 Ole Miss, ESPN:
Make no bones about it, this is the game of the day (or night, rather). It's basically a College Football Playoff elimination game, as the loser would have a rough time trying to sneak back into the top four. Ole Miss is coming off its first loss, a 10-7 heartbreaker to LSU in Death Valley; Auburn had to shoot it out with South Carolina to escape with a 42-35 home win last week. You have Auburn, one of the league's premier offenses, going against Ole Miss' Landshark D. And two innovative coaches (Hugh Freeze and Gus Malzahn) who started from the bottom -- now they're here. Should be a blast.
Old Dominion at Vanderbilt, ESPNU:
With no SEC wins and a rough first season for its new coach, Vanderbilt needs all the positives it can get. That means a win here would be nice, regardless of the fact that it's a nonconference game against a Conference USA team. The quarterback carousel continues for the Commodores as redshirt freshman
Johnny McCrary
became the team's fourth starting quarterback this year. Fortunately, he showed some signs of promise in the loss to Missouri, throwing two touchdowns, and will get the nod again, though Derek Mason noted
Patton Robinette
could see some time as he recovers from an injury. Old Dominion comes into this game having lost four straight.
7:15 p.m.
Arkansas at No. 1 Mississippi State, ESPN2:
Mississippi State has been No. 1 for a few weeks in the polls, but it is in the driver's seat officially now, holding the No. 1 ranking in the first set of College Football Playoff rankings. The pressure will undoubtedly increase each week as the Bulldogs get closer; it will be compelling to see how the Bulldogs handle it. This week's challenge is Arkansas, a team still seeking its first SEC win of the Bret Bielema era but a squad that has given other SEC West foes headaches, taking Alabama and Texas A&M down to the wire. Mississippi State has won 10 straight; Arkansas' SEC skid is now at 16.
7:30 p.m.
Tennessee at South Carolina, SEC Network:
Both teams are having a rough go at it this year but when these two met at Neyland Stadium last year, it was quite memorable. South Carolina came in ranked as the No. 11 team nationally but Tennessee pulled off a 23-21 win with a 19-yard field goal from Michael Palardy as time expired. Butch Jones did not publicly announce who is starting at quarterback for this game (
Justin Worley
,
Nathan Peterman
and Josh Dobbs are the options) and the Vols are still seeking their first SEC win of the season. South Carolina is looking to snap a three-game SEC skid and it's a wonder if we'll see some more fourth-down magic from Steve Spurrier, whose Gamecocks went 5-for-6 on fourth down last week.
October, 31, 2014
Oct 31
9:00
AM ET
No. 11 Georgia (6-1, 4-1 SEC) seems to be cruising to an SEC East title, and it has definitely cruised lately in the Florida-Georgia series -- an annual meeting in Jacksonville that the Bulldogs once dreaded.
Georgia has won three in a row against the Gators (3-3, 2-3), matching its longest winning streak in the series since its six-game streak from 1978-83.
Can they extend the streak and perhaps put the final nail in Will Muschamp's coffin as Florida's coach? Here are four key factors and storylines as we approach kickoff:
[+] Enlarge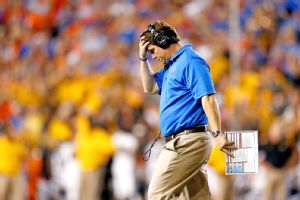 Rob Foldy/Getty ImagesThe Gators have never beaten Georgia during Will Muschamp's tenure as head coach.
Coaching hotseat:
Conventional wisdom has this being Muschamp's final chance to save his job at Florida, which is not exactly a new storyline in this series.
Florida coach Ron Zook was fired during the week of the 2004 Florida-Georgia game and nearly led his team to an upset win against No. 7 Georgia. The Bulldogs led 24-7 early before Florida rallied to make it 24-21 early in the fourth quarter. Georgia had to recover a late onside kick and run out the clock to seal a 31-24 win.
On the Georgia side, who knows whether Mark Richt and his staff would still be in place were it not for their 2011 win in Jacksonville. To that point, Richt was 2-8 against the Gators and had nearly lost the fan base after starting that season with losses to Boise State and South Carolina.
Some program insiders thought the Richt regime would not survive another loss to Florida, but it never came to that. The Bulldogs connected on fourth-down touchdown passes to Michael Bennett and Tavarres King, took the lead on a Richard Samuel touchdown run in the fourth quarter and built momentum that carried UGA to its first SEC East title since 2005.
Maybe Georgia covers the double-digit spread on Saturday, but remember that teams with coaches on the hotseat typically refuse to roll over in this series.
Turning to Treon:
Freshman quarterback Treon Harris will make his first career start against Georgia -- mostly because Jeff Driskel (97-183, 928 yards, 6 touchdowns, 10 interceptions) has been atrocious and partially because Harris has injected some much-needed life into the Gators' stagnant offense when he has come off the bench.
Harris (12-18, 263 yards, 3 touchdowns, 1 interception) generated instant buzz when he went 2-for-2 for 148 yards and two touchdowns in the Gators' opening rout of Eastern Michigan, but has played only intermittently since then. He split time with Driskel in Florida's last game, a 42-13 loss to Missouri, and led the Gators to two late scores. It seems to be his job now, so Georgia defensive coordinator Jeremy Pruitt has surely designed schemes to confuse the rookie.
The Bulldogs frequently blitz opposing quarterbacks, with defensive back Damian Swann (two sacks, five quarterback hurries, two forced fumbles) and linebacker Amarlo Herrera (three sacks, five hurries) making several big plays as extra rushers.
Florida versus the run:
Harris versus Georgia's defense is certainly the key matchup, but a close second is Florida's rushing defense against Nick Chubb and the Bulldogs' backfield.
The Gators likely believe this is their saving grace since they rank 12th nationally in total defense (317.3 ypg) and No. 22 against the run (117.7 ypg), but those numbers are somewhat deceptive. Florida has faced two offenses that rank in the nation's top 50 in rushing offense -- Alabama and LSU -- and both ran effectively against the Gators. Alabama had 52 carries for 223 yards in a blowout win over Florida and LSU ran 50 times for 195 yards and three scores in a 30-27 win.
Even with this week's news that Todd Gurley will not play for Georgia, the Bulldogs still figure to pound the run with Chubb and Brendan Douglas. Since Gurley was suspended prior to the Missouri game, Chubb is averaging 34 carries per game and 172.5 rushing yards per game.
If Florida devises a way to slow down the UGA freshman, it has a chance to win. So far, nobody has done that.
Turnover battle:
If quarterback Hutson Mason (10 touchdowns, 3 interceptions) and Georgia continue to protect the football the way they have thus far, it's difficult to envision Florida pulling the upset.
No team has committed fewer turnovers (four) than Georgia or surrendered fewer points off turnovers (three). Meanwhile, the Bulldogs have scored 55 points off 17 takeaways and rank sixth nationally with a plus-52 points-off-turnovers margin.
Driskel was a turnover dispenser, so it will be interesting to see whether Harris fares any better in his first college start. The Gators have turned it over 16 times (five fumbles and 11 interceptions) and are tied for 75th nationally with a minus-6 points-off-turnover margin (they've scored 48 points after turnovers and given up 54).
That trend looks like a huge advantage for Georgia, but the Bulldogs have to force mistakes from the freshman and continue to capitalize like they have in the past. Georgia has scored a defensive touchdown in three of the last four games. Another play like that might bury the Gators.
October, 31, 2014
Oct 31
8:30
AM ET
Thursday night's game
provided several reminders about Florida State.
1. This team, unlike its predecessor, is at times more lucky than good.
2. The Seminoles are still pretty darn good, even with all their injuries.
3.
Jameis Winston
is an excellent crunch-time quarterback.
4. FSU likely has too many warts to repeat as national champion.
5. Jimbo Fisher is an unquestionably brilliant coach.
Let's focus on the last item. Fisher's coaching acumen often gets overlooked, often because of what Fisher says and does away from the sideline.
He out-coached Louisville's Bobby Petrino in the second half Thursday, pushing the right buttons, especially on a
third-and-6 from Louisville's 35-yard line
late in the fourth quarter. Winston found a wide-open
Freddie Stevenson
, who scooted in for an easy, euthanizing touchdown. It's another reminder that Fisher is at the top of his game.
Fisher's clout as a recruiter also showed up as three freshmen, led by running back
Dalvin Cook
, reached the end zone. And his Seminoles team, despite myriad mistakes and continuing controversy, won its 24th straight game.
So why is it so hard to celebrate Fisher? Because of the other stuff.
October, 31, 2014
Oct 31
8:00
AM ET
October, 30, 2014
Oct 30
11:00
PM ET
About this time of year coaches scour junior college ranks for offensive line talent, and thathas helped
Tyler Howell
become one of hottest targets around. Plus, is Clemson in danger of losing ESPN 300 commitment
Juwuan Briscoe
?
To continue reading this article you must be an Insider
October, 30, 2014
Oct 30
10:06
PM ET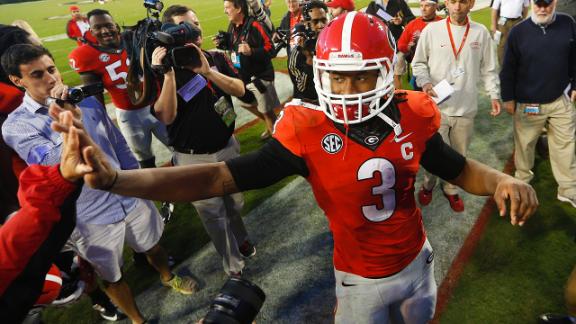 The NCAA announced Thursday night that its Division I Student-Athlete Reinstatement Committee has upheld Georgia running back Todd Gurley's four-game suspension, meaning he'll miss the Bulldogs' next two games after sitting out the previous two.
Georgia officials appealed the ruling earlier this week after the NCAA had said that Gurley would have to sit out 30 percent of his team's competition, or four games, for accepting $3,000 to autograph memorabilia for multiple dealers over the past two years.
Gurley, who was a leading Heisman Trophy candidate before the suspension, will miss Georgia's game against Florida in Jacksonville, Florida and next week's game at Kentucky.
He will be eligible to return for the Bulldogs' home contest against Auburn (No. 3 CFP, No. 4 AP) on Nov. 15.
"We are very disappointed in tonight's decision by the Division I Student-Athlete Reinstatement Committee regarding our appeal on Todd Gurley's eligibility reinstatement," Georgia said in a statement Thursday. "We believe our case to the NCAA for Todd's immediate reinstatement was strong and compelling. However, we now have exhausted all available options and look forward to Todd's return to competition on Nov. 15. The full attention of Bulldog Nation now needs to be focused on our team and Saturday's important game against Florida."
Georgia (No. 11 CFP, No. 9 AP) has won its last two games without Gurley, as freshman Nick Chubb has rushed for 345 yards and three touchdowns while leading the Bulldogs to road victories at Missouri and Arkansas.
Gurley, a junior from Tarboro, North Carolina, has rushed for 773 yards with eight touchdowns and has averaged 8.2 yards per carry.
October, 30, 2014
Oct 30
12:00
PM ET
No Todd Gurley for two more weeks and no spot in the top 10 of the College Football Playoff rankings for Georgia? Have no fear, Bulldogs, our Edward Aschoff is here with a pep talk.
Hey Georgia Bulldogs, lift those chins up and poke those chests out. You've got a playoff run to make.
[+] Enlarge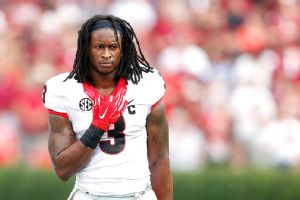 Joe Robbins/Getty ImagesHey Georgia, it's on you to win the next two games. If you are able to do that, you'll get this guy back for the big one against Auburn.
The past few days haven't been very kind to you guys at all. It started with hope, as rumors swirled that star running back Todd Gurley would be back in time to help trample the Gators in Jacksonville. He was even reportedly taking first-team reps.
Then, the first tattered domino fell Tuesday night. The College Football Playoff committee wasn't very impressed with you. Couple that bad, early-season loss to a less-than-impressive South Carolina team with what the committee must have thought was a soft first-half slate, and you debuted in the
College Football Playoff Rankings
at No. 11. I even agree that the best win Georgia has is against Clemson, which just happens to be ranked No. 21, but come on. Eleventh? This team is better than that.
However, that wasn't the most disheartening news. On Wednesday, you found out that Gurley will have to sit out
two more games
for accepting more than $3,000 in cash from multiple individuals for autographed memorabilia. The NCAA then arrogantly boasted that it could have made things even worse for Gurley, adding a little gasoline to the already effervescent flame dancing on the program.
But fear not, Dawgs. Grab those hoses, because there's plenty of time to prove the committee wrong.
Don't like the committee or Twitter tell you that you aren't a beautiful butterfly. Don't let esteemed ESPN colleague Andrea Adelson try and steal your shine! (I heard what she said about you guys on our Spreecast, too.) You guys are the real deal, right now, and you have a chance to really impress the committee with what you have ahead in November.
Plus, you'll start the month without Gurley. Yes, he's out against a struggling Florida team and a Kentucky team still looking to grow, but
Nick Chubb
will once again have to carry the rushing load with
Keith Marshall
and
Sony Michel
sidelined. Hey, if he keeps trucking along without help, the committee will have to take that into account. This kid is a true freshman, yet he's dazzling fans and punishing defenders barely removed from his senior prom. Not to add anymore pressure to his already piled plate, but he does look like a young Gurley.
People want to trash your schedule? You know, the one you were dealt and had no control over this season? Well, you still have No. 3 Auburn (at home), and chances are you're headed to Atlanta for the SEC championship game, unless you get really sloppy. I understand that the East is, well, like an old horror movie, but that's not your fault. Don't beat yourself up because there is no real East challenger at the moment. Just take care of business, and the committee will start to come around. A win over Auburn will have you skyrocketing up the rankings.
Even though people aren't impressed with your early state, you're a better team now than you were after the South Carolina game.
I was wrong about this defense not having what it took to sustain success through the entire season. The secondary still doesn't exactly wow me, but the front seven is playing better than I thought it would, thanks to new defensive coordinator Jeremy Pruitt deciding to go with a more aggressive plan by getting those linebackers more involved in the backfield. The defensive line has been disruptive at the right times this season.
This is a defense that is getting better each week. Do not dwell on what happened during the second half of the Arkansas game. I get it, you built a commanding 38-6 halftime lead and coasted in the second half. Hey, it happens. Look at Alabama against Tennessee for crying out loud.
Before that game, you shut out Missouri 34-0 on the road in the first of two games without Gurley.
I've learned that this team doesn't need to stretch the ball with the deep pass because it runs so well.
Hutson Mason
would like to chuck it around, but he hasn't had to, yet, even though he's getting more comfortable with his receivers. And once Gurley gets back for the Auburn game, Mason might be able to do even more with Gurley and Chubb helping out.
The SEC and the Playoff are both there for the taking, Georgia. So ignore the Twitter tough guys. Shake off the hatin' committee. Just continue to do what you're doing, and people will come around.
I know I did.
October, 30, 2014
Oct 30
10:00
AM ET
The unveiling of the first set of
College Football Playoff Rankings
angered many because of the large SEC presence, but it also proved November is going to be extremely fun in the nation's top conference.
Three teams -- Mississippi State, Auburn and Ole Miss -- found their way into the top four of the rankings, nearly causing a viral revolt. Let's get one thing straight, though. There is no SEC bias, but there are some very talented teams in the SEC. The committee sees it and decided three SEC teams were worthy of their high placements.
These folks complaining about the SEC's initial playoff outlook might not have much to gripe about in a few weeks (when the rankings actually matter) because the conference is in for a bloody, bloody month. The SEC West, which owns four of the top six teams in the country, is about to beat its ever-loving brains in.
The SEC now finds itself in an interesting situation. A week ago, everyone was talking about the possibility of the SEC getting two teams in. Then, Ole Miss lost to LSU.
After the first set of rankings were released, it's clear the committee is impressed with what the SEC West has done to this point. But things are about to get a little complicated for the league, as it begins to devour itself even more, starting with No. 4 Ole Miss hosting No. 3 Auburn on Saturday in what is essentially an elimination game in the Grove.
"This is the time of year where the good teams really come up to the top because they've got to be consistently good," Auburn coach Gus Malzahn said. "It's hard to get better this time of year. Most teams can't do it."
There are four regular-season games remaining between top-six teams, and they all involve SEC West teams. Shame on you if you can't get excited about the cannibalization that is about to ensue in the SEC.
With Ole Miss playing Auburn and Mississippi State, Alabama playing LSU and Mississippi State, and Auburn playing Georgia, the SEC will feast on itself during the month that houses our most gluttonous holiday -- Thanksgiving.
As of this moment, what playoff scenarios still lurk for the SEC? Well, let's take a look:
(Note: I think we can all agree that the SEC champion will make the playoff, regardless of if it has one or two losses. Three losses could complicate things, but we're going off the assumption that the SEC champ won't have three losses.)
Magnolia magnificence
This is the simplest scenario. If No. 1 Mississippi State wins out and wins the SEC, the Bulldogs are in. Duh. Same for No. 4 Ole Miss. No questions asked.
Well, what happens if Ole Miss wins out and Mississippi State's only loss is to the Rebels on the road? I think the committee would have a tough decision involving Mississippi State, because its only loss would be an Ole Miss squad that probably wouldn't dip below fourth in the rankings. Mississippi State beat three top-10 teams in a row earlier this season and No. 6 Alabama (on the road) still looms.
Ascending in Alabama
Alabama or Auburn wins out. Now, there's a chance one of these teams could still make it to Atlanta, but they both need help. Auburn needs Mississippi State to lose at least two more games, and Alabama needs Ole Miss to lose at least one more.
But even if neither makes it to Atlanta, a one-loss Alabama or Auburn could make it into the playoff. Think about the gauntlet both teams would have gone through only to escape with one loss to a team currently ranked inside the top four. It's similar to Alabama making it into the BCS title game in 2011 without playing in Atlanta.
Also, Alabama is currently ranked first in ESPN's Football Power Index and second in ESPN's strength of record metric and Auburn still has to play three teams on the road ranked inside the top 11.
Georgia ... Oh, Georgia
These Bulldogs could really stir things up. If Georgia wins the East, then a win in Atlanta will send the Bulldogs to the playoff. Even with a loss to Auburn in two weeks, an SEC-winning Georgia would make the playoff.
And that's where things get interesting. What if unbeaten Mississippi State loses to Georgia? Is Mississippi State left out? Would a two-loss Georgia team eliminate Mississippi State altogether?
You think that's tricky? What if Alabama or Auburn wins out, but either Mississippi State or Ole Miss goes to Atlanta and loses? Who do you send? Chances are a two-loss Ole Miss team would be eliminated, but how does the committee look at one-loss Mississippi State and one-loss Auburn? Mississippi State won head-to-head, but will the committee care later? You'd think so, but these are imperfect humans we're talking about.
CHAOS!!
Honestly, this is what everyone should be rooting for. There's a chance the SEC might have four two-loss teams from the West before the SEC championship game.
Here you go: LSU wins out, beating Alabama; Alabama beats Mississippi State and Auburn; Ole Miss loses to Auburn and beats Mississippi State; Auburn beats Georgia. Now Alabama, Auburn, LSU, Mississippi State and Ole Miss all have two losses. Or Alabama beats LSU and Mississippi State, but loses to Auburn; Ole Miss beats Auburn and Mississippi State, but loses to Arkansas; Auburn beats Georgia and Alabama. Now, Alabama, Auburn, Mississippi State and Ole Miss all have two losses.
A tiebreaker decides the West, and then the winner of the SEC title goes to the playoff. Chances are the loser, which would have more than one loss, won't make it.
How the committee views the SEC in the coming weeks will be interesting. If everyone starts losing, hold onto your Tiger Rags and pour another hot toddy, because there are going to be a lot of sleepless nights in the month of November.
October, 30, 2014
Oct 30
9:00
AM ET
By
ESPN.com staff
| ESPN.com
After everyone agreed on all of the picks last week (probably the last time we all doubt Les Miles in Death Valley at night), we're back with some differences of opinion. The headliner is obviously Ole Miss-Auburn, but there are several other games worth watching closely, including Florida-Georgia, with Will Muschamp trying to save his job. Let's get on with the picks.
Why Georgia wins big:
Even without
Todd Gurley
lining up for Georgia, the Bulldogs still have an absolute stud in freshman
Nick Chubb
. In two games as a starter, Chubb has rushed for 345 yards and three touchdowns. The kid just tosses people around out there and certainly has a little Gurley in him. Florida is starting the
Treon Harris
era at quarterback, but the offense has been lousy for the better part of the season, while Georgia's defense is on a roll. It'll be tight early, but Georgia pounds away in the second half.
Georgia 28, Florida 14
-- Edward Aschoff
How Florida keeps it close:
This is Harris' game at quarterback, and he certainly provides more of a spark than
Jeff Driskel
. If
Matt Jones
and
Kelvin Taylor
can run the football and negate some of the pressure from Georgia's talented pass-rushers, Florida could have some success moving the football. If they can even out the time of possession battle, you'll see a much more effective defense from the Gators.
Georgia 21, Florida 13
-- Alex Scarborough
Why Kentucky wins:
Missouri just can't seem to get it together. Just look at last weekend's game against Vanderbilt. Sure, the Tigers won, but not convincingly. And Kentucky is no Vanderbilt. The Wildcats gave Mississippi State a run for its money and beat South Carolina a few weeks ago. With a true playmaker at quarterback and a better-than-expected defense, Kentucky will give Missouri fits on both sides of the ball and win on the road.
Kentucky 30, Missouri 20
-- Alex Scarborough
Why Missouri wins:
Ever since a 34-0 beatdown at the hands of Georgia, the Tigers have looked shaky, especially on offense. But things are gradually getting better as quarterback
Maty Mauk
re-learns how to take care of the ball. This game offers the improving Wildcats a plum opportunity to show they can win conference games. But look for the home team to squeeze out a hard-fought victory.
Missouri 26, Kentucky 23
-- Jeff Barlis
Why Ole Miss wins:
The Rebels were injected with some playoff hope after the first batch of College Football Playoff rankings were announced. That should energize a team that lost an ugly one at LSU.
Bo Wallace
has to regroup, and he has to follow what his coaches tell him. The Rebels haven't had a consistent running game all season, but Auburn's pass defense ranks 75th nationally, and that should help Wallace regroup after a bad showing in Baton Rouge. Watching Ole Miss' defense try to tackle Auburn's running game might be the highlight of the day. A late turnover will seal it for the Rebels.
Ole Miss 31, Auburn 28
-- Edward Aschoff
Why Auburn wins:
Ole Miss' sideline was like a M*A*S*H unit last week against LSU, with multiple key players leaving with injuries. Even if most of those guys play Saturday -- and it looks like they will -- the Rebels aren't going to be at 100 percent against arguably the best offense they'll face all season. If Wallace doesn't play better than he did a week ago, Auburn might win easily. Ole Miss' quarterback is the X factor here, and I suspect he'll fare well against Auburn's mediocre defense at home, but the Tigers have way more firepower at their disposal right now.
Auburn 31, Ole Miss 24
-- David Ching
Why Mississippi State wins big:
Playing its first game with the No. 1 ranking, Mississippi State came out tight against Kentucky. Dan Mullen even admitted that. Look for the Bulldogs to play more relaxed at home Saturday in front of the familiar sound of cowbells clanging. They're the No. 1 team in the country, and
Dak Prescott
,
Josh Robinson
and the defense will prove it against the Razorbacks.
Mississippi State 35, Arkansas 14
-- Greg Ostendorf
How Arkansas keeps it close:
It should be a triumphant return to Davis Wade Stadium for the nation's No. 1 team, but things aren't perfect for the Bulldogs. Kentucky's offense exposed some issues with the MSU secondary. While Arkansas doesn't have the same caliber of passing attack, the Hogs do have a stable of talented runners, a veteran quarterback and two good tight ends.
Mississippi State 37, Arkansas 26
-- Jeff Barlis
More unanimous picks:
Texas A&M over UL Monroe:
The big storyline will be who starts at quarterback for Texas A&M,
Kenny Hill
or
Kyle Allen
? Either way, the Aggies should roll against a lesser opponent.
Texas A&M 52, UL Monroe 14
South Carolina over Tennessee:
Steve Spurrier won't have to go for it on every fourth down against the Vols, but don't be surprised if he still has a few tricks left up his sleeve. The Gamecocks have won three of the past four games in this series.
South Carolina 35, Tennessee 24
Vanderbilt over Old Dominion:
Vandy is looking for its third win of the season, but it won't come easy against Old Dominion quarterback
Taylor Heinicke
and his 54 career touchdown passes.
Vanderbilt 31, Old Dominion 28
Standings
Edward Aschoff: 64-11
Greg Ostendorf: 64-11
Jeff Barlis: 63-12
Chris Low: 63-12
David Ching: 62-13
Alex Scarborough: 61-14
Sam Khan Jr.: 57-18
October, 30, 2014
Oct 30
8:30
AM ET
With the NCAA's announcement that Georgia running back
Todd Gurley
has to sit for two games for his NCAA-violating, off-field transgressions is sad for the world of college football. We lost arguably the sport's best player for a couple more weeks because he decided to profit off of his name for what appears to be a few thousand dollars.
More than $3,000
in cash, actually.
To continue reading this article you must be an Insider
October, 30, 2014
Oct 30
8:00
AM ET
1. The news broke Wednesday morning that Georgia running back
Todd Gurley will miss two more games
once the NCAA finally announced its ruling on his eligibility case. He received approximately $3,000 for autographed memorabilia and has been out of action since the Bulldogs' Oct. 11 game at Florida.
A subject of ridicule on Twitter
was that the NCAA also ordered Gurley to complete 40 hours of community service. But the biggest penalty is obviously that he'll miss Saturday's game against rival Florida and the following week's visit to Kentucky (plus the Mizzou and Arkansas games he already missed). Georgia coach Mark Richt said
Gurley will finish his career "with honor"
once he returns for the Nov. 15 Auburn game, but what will the Bulldogs do in the meantime?
Florida expects the Bulldogs to hand off to Nick Chubb repeatedly
, just as they did in the last two games. A college athlete's ability to profit off his or her name is a hot topic these days, with writers like esteemed colleague Chris Low opining that
changes are in order
. Even the attorney for Bryan Allen, the memorabilia dealer who turned in Gurley,
believes that should be the case.
2. Tennessee offensive coordinator Mike Bajakian echoed Volunteers coach Butch Jones' prediction that senior quarterback
Justin Worley will not be available Saturday against South Carolina
. Maybe that won't be such a bad outcome. Sophomore Josh Dobbs offered reason to believe
he might be the Vols' quarterback of the future
with a strong performance off the bench last Saturday against Alabama. But the Crimson Tide had not prepared for the youngster. South Carolina will have the entire week. He might be the X-factor in Saturday's game at Columbia. Or for the superstitious Gamecocks among us, maybe it will be South Carolina's uniforms.
South Carolina will wear black jerseys and black pants
on Saturday for the first time since losing 24-14 to Florida in 2009.
3. Georgia (6-1, 4-1 SEC) is clearly the favorite to win the SEC East, but Missouri (6-2, 3-1) can still make some noise if the Bulldogs fall into any sort of slump. The Tigers haven't played particularly well lately, but they have only one conference loss as Kentucky (5-3, 2-3) prepares to visit on Saturday. Both teams will be looking to get back on track for the stretch run.
Perhaps Mizzou quarterback Maty Mauk found his stride last week
against Vanderbilt after several rocky games in a row. Meanwhile, Kentucky needs just one more win to achieve bowl eligibility, but
it hasn't won a true road game since the 2010 opener
. Not the greatest sign, particularly since its previously productive running game has underperformed lately and coaches are questioning
whether they should use fewer backs in the regular rotation
.
Around the SEC
" The State asks how South Carolina's disappointing season
might impact its 2015 recruiting class
.
" Formerly suspended safety Jermaine Whitehead
does not appear close to returning to Auburn's starting lineup
.
" Derrick Henry
is leading an unusually thin group of Alabama running backs
this week in practice with an open date ahead.
" LSU is focused on
cleaning up its mistakes
from last Saturday's Ole Miss game with Alabama ahead next weekend.
" John Kadlec, better known as "Mr. Mizzou" after serving the school as an athlete, coach, administrator and broadcaster,
died Wednesday at age 86
.
Tweets of the day
Championship style meets innovative speed. Introducing our 1939 Throwback TECHFIT uniforms. #12thMan #teamadidas pic.twitter.com/gFQcMMTOE9

— Texas A&M Equipment (@TAMUequipment) October 29, 2014
Great detail work by @hydrographics1 on facemask, chinstrap and the stitching from the original leather helmet pic.twitter.com/7U8mPSkD7A

— Texas A&M Equipment (@TAMUequipment) October 29, 2014
Todd Gurley's 4-Game Suspension Upheld