October, 2, 2014
Oct 2
9:00
AM ET
By
ESPN.com staff
| ESPN.com
Now we're talking. Three SEC West games between top 15 teams, plus a Tennessee-Florida rivalry game with Will Muschamp fighting for his job. Which teams will take a giant step toward the playoff this weekend? Let's get on with the picks.
Why Tennessee wins:
The Vols have lost two straight but went toe-to-toe with Georgia in a tough road environment. Now they return home, where they've played well this season and let's be honest:
Justin Worley
has outplayed
Jeff Driskel
so far this year. Quarterback play goes a long way in a tightly contested game, which this could be. So give me the home team with the better quarterback. Florida had an off week and the Gators needed it badly, but they still have a lot of work to do.
Tennessee 30, Florida 24
-- Sam Khan Jr.
Why Florida wins:
Through the first three games, Florida is trending in the wrong direction. The Gators were lucky to survive against Kentucky and then were throttled by Alabama the next week. But I think they bounce back Saturday. They had a week off, which is a good remedy for any struggling team, and they're better up front, especially with the return of starting left tackle
D.J. Humphries
.
Florida 31, Tennessee 24
-- Greg Ostendorf
Why Texas A&M wins:
Arkansas was probably the worst matchup for A&M in the entire SEC and the Aggies survived -- barely. Defending
Dak Prescott
and
Josh Robinson
won't be a treat for A&M, either, but Mississippi State's beleaguered secondary is in for a long Saturday. This should be a great game, but my money's on
Kenny Hill
& Co. putting up a few more points.
Texas A&M 30, Mississippi State 21
-- David Ching
Why Mississippi State wins:
Is there anything Prescott can't do? The kid can embarrass defenses with his arm and his legs, and with the holes in the defense A&M showed us against Arkansas, I think he's going to have another big day. It'll be interesting to see how Mississippi State's secondary holds up against Hill, but I think they can put pressure on him up front. This one is coming down to the very end, and with a bruising back like Robinson helping Prescott, the Bulldogs get another big West win.
Mississippi State 31, Texas A&M 28
-- Edward Aschoff
Why Alabama wins:
I went back and forth with this one so many times because I think Ole Miss has the offense to hurt Alabama. That up-tempo play won't be kind to the Crimson Tide, but having two weeks to prepare is a major advantage. This is by far the best team either has faced to this point, and I just don't think Ole Miss will be able to run the ball. That means the Tide can put pressure on
Bo Wallace
and force him to make mistakes. Those mistakes late will have Bama walking out of the Grove with a close win in front of the "GameDay" crew.
Alabama 27, Ole Miss 23
-- Edward Aschoff
Why Ole Miss wins:
This isn't your daddy's Ole Miss. This isn't even your slightly older brother's. This version of the Rebs is different with a talented group of pass-rushers, a ball-hawking secondary and one of the best wide receivers in the country. Throw in the fact that the game's in Oxford and that Ole Miss runs the hurry-up, no-huddle as well as anyone, and you've got the right ingredients for an upset.
Ole Miss 34, Alabama 31
-- Alex Scarborough
Why Auburn wins big:
It's not as much that I think Auburn is that good -- the offense still isn't quite in sync. It's more that I don't trust LSU freshman quarterback
Brandon Harris
. The talent is there, but he's making his first start in what will be a raucous atmosphere on the Plains. And this isn't last year's Auburn defense. The front four will make life difficult for Harris and the LSU offense.
Auburn 31, LSU 14
-- Greg Ostendorf
Why LSU keeps it close:
Clearly none of us has been too impressed with LSU's defense, but Auburn's defense has yet to contend with a passing game like the one it will see on Saturday. Though just a true freshman, Harris has "an NFL arm," according to none other than Gus Malzahn. Expect lots of drama on the Plains. Auburn will prevail in front of the home crowd, but this one could come down to which team has the ball last.
Auburn 34, LSU 30
-- Jeff Barlis
Why South Carolina wins:
Kentucky is one of the feel-good stories in the SEC this season and South Carolina currently exists somewhere on the opposite end of the happiness spectrum. The Gamecocks might go into meltdown mode if they lose to the Wildcats. I won't rule out that possibility -- the Wildcats are vastly improved this season, but South Carolina still feels like the safer pick.
South Carolina 30, Kentucky 20
-- David Ching
Why Kentucky wins:
I predicted this early in the week, before
Dorian Baker
and
Stanley "Boom" Williams
were suspended. But despite my newfound misgivings, I'm not backing off. This is a classic case of two teams going in opposite directions.
Za'Darius Smith
and
Bud Dupree
will harass
Dylan Thompson
into a few interceptions, which
A.J. Stamps
may or may not pick off, and the Wildcats will score just enough points to win in regulation.
Kentucky 30, South Carolina 24
-- Alex Scarborough
Why Georgia wins big:
We all like Georgia big, and it's easy to see why. The Bulldogs are deeper and more talented and have arguably college football's best player in
Todd Gurley
. Vanderbilt has struggled out of the gate and might be without quarterback
Patton Robinette
for this game. It doesn't look pretty for the Commodores.
Georgia 42, Vanderbilt 10
-- Sam Khan Jr.
Standings
Jeff Barlis 44-5
Chris Low 44-5
Edward Aschoff 43-6
David Ching 43-6
Greg Ostendorf 43-6
Sam Khan Jr. 42-7
Alex Scarborough 41-8
October, 1, 2014
Oct 1
2:45
PM ET
By
ESPN.com staff
| ESPN.com
Watch a replay of ESPN.com reporters Edward Aschoff, David Ching and Chris Low previewing a monster week of SEC action. They broke down Alabama-Ole Miss, Mississippi State-Texas A&M and LSU-Auburn, while also talking Todd Gurley's Heisman chances and answered viewer questions.
October, 1, 2014
Oct 1
10:35
AM ET
October, 1, 2014
Oct 1
10:30
AM ET
October has arrived and most teams have played a third of their regular-season schedule. One team has fallen off our playoff tracker (South Carolina) but the rest remain from last week. Let's dive in and see where the College Football Playoff contenders from the SEC stand as of today:
Alabama Crimson Tide
Record:
4-0
AP rank:
No. 3
Next big obstacle:
Oct. 4 at Ole Miss
Reason for optimism:
The bye week came at the right time for Alabama. It needed
Blake Sims
,
Jarrick Williams
and
DeAndrew White
healthy for Ole Miss on Saturday. And if it needed any extra motivation, Rebs safety
Cody Prewitt
delivered, telling reporters that, "We don't think Bama has really been as good as they have been."
Cause for concern:
Survive Ole Miss and things don't get any easier. You thought that Oct. 11 trip to Arkansas would be a cake walk? Ha! You thought Texas A&M would be an easier out without
Johnny Manziel
? That's a good one. That schedule you thought was littered with SEC cupcakes like Tennessee now looks more like a minefield.
Who they'll be rooting for this week:
Mississippi State over Texas A&M. If the Bulldogs can upset Texas A&M and Auburn the next two weeks, the West might loosen up some.
--Alex Scarborough
Auburn Tigers
Record:
4-0
AP rank:
No. 5
Next big obstacle:
Oct. 4 vs. LSU
Reason for optimism:
Nick Marshall
continues to look more and more like his old self. On Saturday, he passed for 166 yards and three touchdowns, and he also rushed for 105 yards. His new favorite target? OK, it's still
D'haquille Williams
, but fellow wide receiver
Quan Bray
has emerged as a playmaker on both offense and special teams for the Tigers.
Cause for concern:
There are a lot of question marks as to who's going to play this Saturday against LSU. Linebackers
Cassanova McKinzy
and
Kris Frost
are day-to-day with injuries, and starting right tackle
Patrick Miller
is questionable with an ankle injury. It also looks like Auburn will be without safety
Jermaine Whitehead
for the third straight game.
Who they'll be rooting for this week:
Ole Miss over Alabama
--Greg Ostendorf
Texas A&M Aggies
Record:
5-0
AP rank:
No. 6
Next big obstacle:
Oct. 4 at Mississippi State
Reason for optimism:
The Aggies passed a big test by showing that their run defense -- while still having a lot of room for improvement -- can do just enough to help them win after being tested thoroughly against Arkansas, the best rushing team in the SEC. The offense also showed it can win when it's not at its best and
Kenny Hill
responded to adversity emphatically, showing poise in fourth quarter and overtime. Health-wise, the Aggies are in relatively good shape, which is critical considering what lies ahead.
Cause for concern:
The schedule gets only tougher in the next few weeks. This weekend it's a trip to Starkville to meet undefeated Mississippi State. They return home the following week to host Ole Miss. Then on Oct. 18 they go to Tuscaloosa for a showdown with Alabama. These are all teams and places the Aggies have won before, but now they're doing it with a team that has a lot of young players in key positions, like quarterback, free safety, defensive end and receiver. This three-week stretch is a monumental test for Texas A&M.
Who they'll be rooting for this week:
LSU over Auburn. (This would help the Aggies jump Auburn in the national rankings and gain an advantage in the standings)
--Sam Khan Jr.
Ole Miss Rebels
Record:
4-0
AP rank:
No. 11
Next big obstacle:
Oct. 4 vs. Alabama
Reason for optimism:
The defense ranks first in the SEC and fourth nationally, allowing 248 yards per game and has 11 takeaways on the season. QB
Bo Wallace
is also spreading his passes around very nicely. Even with depth an issue at receiver, the Rebels already have five players with double-digit receptions.
Cause for concern:
The West is easily the toughest division in college football. There really isn't a major weak link when it comes to teams on this side of the division, and Ole Miss still has to go through everyone. We'll find out if Ole Miss has the depth needed to make a real SEC run.
Who they're rooting for this week:
LSU over Auburn
--Edward Aschoff
Mississippi State Bulldogs
Record:
4-0
AP rank:
12
Next big obstacle:
Oct. 4 vs. Texas A&M
Reason for optimism:
With an open date between their dismantling of LSU and this Saturday's showdown with Texas A&M, the Bulldogs have had time to rest and scheme to face perhaps the best opponent they've played to date. It had to help their confidence to see A&M struggle against Arkansas the way it did, too.
Cause for concern:
Mississippi State's secondary has been one of the team's few weaknesses, and that's a bad weakness to have against a high-flying offense like Texas A&M's. It also doesn't help that veteran center
Dillon Day
will miss the A&M game while serving a one-game suspension for unsportsmanlike play against LSU.
Who they'll be rooting for this week:
Alabama over Ole Miss (because why not?) --
David Ching
Georgia Bulldogs
Record:
3-1
AP rank:
No. 13
Next big obstacle:
Oct. 11 vs. Missouri
Reason for optimism:
The SEC East is still a mess, and South Carolina's loss to Missouri means the Bulldogs once again control their own destiny in the division. Just win, baby, and the Dawgs are headed back to Atlanta. Also,
Todd Gurley
seems like he's getting better and better with each week.
Cause for concern:
Passing, whether it's by the Bulldogs or against them.
Hutson Mason
admitted Saturday that the chemistry between himself and his receivers isn't where it should be, especially when it comes to throwing the deep ball. Right now, Georgia's defense can't stop any sort of passing over the middle of the field.
Who they're rooting for this week:
Tennessee over Florida
--Edward Aschoff
LSU Tigers
Record:
4-1
AP rank:
15
Next big obstacle:
Oct. 4 at Auburn
Reason for optimism:
It seems unlikely that anyone in the SEC West will finish undefeated, so the Tigers can stick around in this race if they start winning. A win in Saturday's game at Auburn could potentially jump-start LSU's chances, especially if
Brandon Harris
goes off as the new starting quarterback.
Cause for concern:
Auburn's running game has to scare LSU defensive coordinator John Chavis a bit after Mississippi State had so much success against the Tigers two Saturdays ago. LSU might be able to stick around in the SEC West race with two division losses, but a playoff bid would almost be out of the question if the Tigers fall again.
Who they'll be rooting for this week:
Texas A&M over Mississippi State --
David Ching
September, 30, 2014
Sep 30
1:00
PM ET
Well,
Todd Gurley
isn't exactly slowing down these days.
The Georgia running back just keeps chugging along, leaving defenders shamed along the way. On Saturday, Gurley ran for a career-high 208 yards, had two touchdowns and averaged 7.4 yards per carry against Tennessee. Not bad. No wonder he now has 16 career 100-yard rushing games.
On the season, Gurley has 610 rushing yards and six touchdowns. He's averaging an SEC-high 8.8 yards per carry.
Again, we know how good Gurley is and he should be at the top over everyone's Heisman ballot, at least for the SEC. He should be at the top of it nationally, but some folks are hung up on that Mariota guy.
[+] Enlarge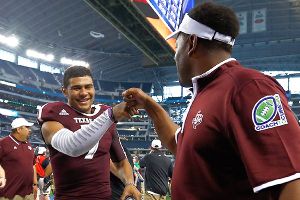 Tom Pennington/Getty ImagesKenny Hill showed his moxie against Arkansas, propelling Kevin Sumlin and the Aggies to 5-0.
But let's take some time to talk about Texas A&M quarterback
Kenny Hill
-- the trillest of them all.
We've been impressed with how he has terrorized defenses through the first part of the season, but I think he had his best performance this past Saturday against Arkansas. First, he had to bring his team back from a 14-point deficit in the second half. Then, he had to win in overtime. All he did was throw touchdowns of 86 and 59 yards to tie the game in the fourth. In overtime, he needed just one play, finding
Malcome Kennedy
, who was somehow behind
three
Arkansas defenders, for a 25-yard game-winning touchdown.
Kenny Trill's gutty performance showed us that he's more than just a kid tossing the ball around in a pass-friendly system. He had to bring his team back from the edge and then win the game. He did both without really breaking a sweat, throwing for 386 yards with four touchdowns and one interception.
On the season, Hill leads the SEC with 1,745 passing yards and 17 touchdowns. No SEC quarterback is on his level right now.
Here are four others to keep an eye on in the SEC:
September, 30, 2014
Sep 30
11:20
AM ET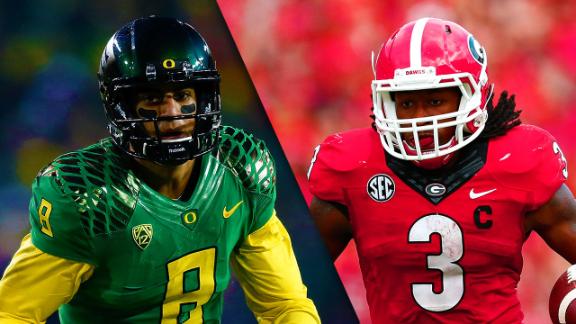 Entering Week 6 of the college football season, Oregon quarterback
Marcus Mariota
and Georgia running back
Todd Gurley
have separated themselves as the front-runners for the Heisman. This week, Pac-12 reporter Chantel Jennings and SEC reporter Edward Aschoff engage in a friendly (-ish) debate regarding the two players:
[+] Enlarge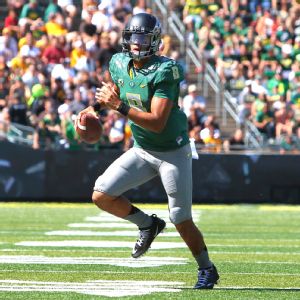 Cal Sport Media/AP ImagesOregon QB Marcus Mariota is dangerous with his feet or his arm.
Jennings:
Mariota is the best player in college football right now. The only thing that could derail that fact would be if his offensive line can't keep it together and continues to put up performances like it did against Washington State, in which it allowed seven sacks. But when we come to the Mariota-Gurley Heisman talk, I'm really interested to see what your argument is, Edward. Mariota is a machine. As a quarterback, he has the highest passer efficiency rating in the nation. There are only 10 quarterbacks in the country who haven't thrown a pick yet, and none of those signal-callers has thrown more than 10 touchdowns. Mariota has thrown 13. Then, look at his feet. He doesn't even play running back but he still has about a third of Gurley's rushing yardage and half the number of rushing touchdowns (Mariota: 214 yards, three touchdowns; Gurley: 610 yards, six touchdowns). Please, Ed, let's hear your side ...
Aschoff:
Listen, Mariota is a heck of a player. I think he's hands down the best quarterback in the country and should be the first quarterback taken in next year's NFL draft. With that said, he's no Gurley. He's a machine, yes, but he's more of a Prius compared to the Cadillac Escalade with a V-8 that Gurley is. The scary thing about Georgia's junior running back is that he's slimmed down yet he looks bigger. He's faster and more agile yet he's stronger. Gurley can bowl his opponents over, sprint to the outside and take a run to the house, or he can leave defenders dizzy with his elusiveness. Gurley has 610 rushing yards, but he should have even more. His coaches limited him to just six carries against Troy (73 yards), and the argument could be made that his 28 carries (career-high 208 yards) against Tennessee on Saturday weren't enough. Oh, and did I mention that this tank of a human being is averaging a gaudy 8.8 yards per carry and that out of his 69 carries this season he has just 11 lost yards? Take Gurley off Georgia's team and the Bulldogs aren't 1-1 in SEC play. You really think Mariota is better than that? He's flashier than that? Come on.
[+] Enlarge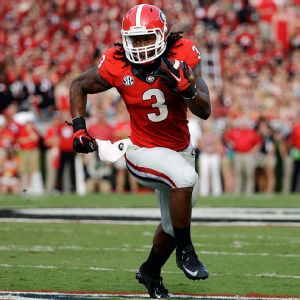 David Goldman/AP ImagesGeorgia RB Todd Gurley has a rare blend of speed and power.
Jennings:
First off, most people in the Pacific Northwest would rather be a Prius than an Escalade. Sure, an Escalade might look fancier and be in more music videos, but at the end of the day, don't you want the vehicle that doesn't require maintenance every other month? The vehicle that doesn't need to stop every 40 miles to fill up the tank? A vehicle that so many other vehicles of the future are going to be based on?
Anyway, back to the nitty-gritty, which is yes, when it comes to the facts, Mariota is better than that. His pass attempt-to-touchdown ratio is the best in the country: every 7.4 times the ball leaves his hands, it's ending up in the end zone. OK, fine. Gurley doesn't pass the ball. Let's talk about running again. Every 11.5 carries, Gurley ends up in the end zone. Guess what? Every 11 carries, Mariota finds his way there. He has the highest completion percentage of any quarterback in the country.
And
he has already led his team to a victory over a top-10 team this season. Everyone can agree a Prius is more efficient than an Escalade, and in football, it's good to be efficient. That's exactly what Mariota is.
Aschoff:
I see what you did there with the Prius and the Escalade. But if I need someone to bust through a brick wall and grind out that extra yard -- or three -- I'm handing it off to that environment-destroying driving machine. While we're talking about rushing, which is Gurley's specialty, he's already had 19 runs of 10 or more yards in just four games. If you're keeping score at home, that's 4.8 of those runs per game. Two of those runs went for 51 yards. What has Mariota done? He has 11 of those runs and hasn't even touched a 50-yard scamper yet. And it should be noted that Gurley is excellent when he takes contact. It seems to make him better. He drags defenders with him like Linus drags his blanket. Heading into last week, he was the only player in the country to average more than 100 yards after contact in multiple games (102 vs. Clemson and South Carolina). In a what-have-you-done-for-me-lately society, Gurley was incredible against an improved Tennessee team. He ran for a career-high 208 yards (and now he has 16 career 100-yard rushing games), had two touchdowns, registered 30 receiving yards and averaged 7.4 yards per carry. How good was he? Well, Tennessee had so little confidence in its defense stopping him late in the game that it attempted an onside kick with two minutes left and three timeouts remaining in order to try to keep the ball away from him. All Gurley did after that was run the clock out with 26 rushing yards on six carries.
But hey, that Mariota performance over
Washington State
was cool and all ...
Jennings:
You're right. I'll give you that. Washington State might not be better than a 2-2 Tennessee team that has already given up 4.4 yards per rush this season (cough, cough, No. 81 in the nation in that category). But it's not fair to look at the most
recent
performance since the slates are so different. Let's look at both players' best wins so far. Gurley's was against Clemson in the season opener, no? He carried the ball 15 times, scored thrice and accounted for 198 rushing yards and minus-5 receiving yards. That's cool. Mariota's best win was Week 2 against Michigan State, a game in which he threw for 318 yards and three touchdowns and added nine rushes for 42 yards. Michigan State is one of the best defenses in the country. Clemson isn't even one of the top three in the ACC. Now, I know I was an English major and all, but 360 yards of total offense plus three touchdowns is still bigger than 193 yards of total offense and three touchdowns, right?
Aschoff:
That Michigan State (still the Big Ten, though) win was huge, and Mariota was great. I'll give that to you. And Clemson, well, #Clemsoning took over a couple of weeks ago. But don't sleep on what Gurley did against Tennessee and South Carolina. The numbers aren't exactly helping the Gamecocks, but that was a great game, and Gurley did everything he could have ... when his coach wasn't throwing the ball on first-and-goal from the 4-yard line late in the fourth quarter. Gurley averaged 6.6 yards per carry in that game, on the road. Before Gurley faced Tennessee, the Vols were allowing 3.9 yards per carry. Then Gurley went all Gurley on the Vols.
Both of these players are great, and you have a chance to win any game with either. I want the bulldozer in the backfield who can grind out yards or take it to the house. The good thing is that this debate should rage on because they'll have plenty of opportunities to make us both look good going forward.
September, 30, 2014
Sep 30
10:00
AM ET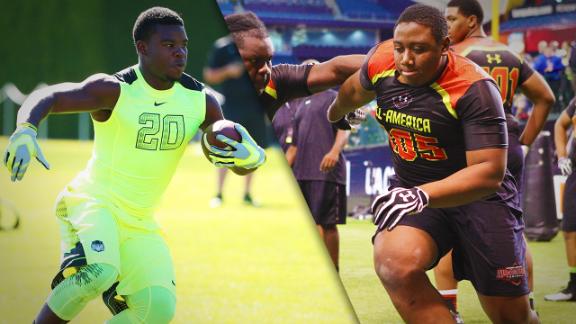 There was a ton of big recruiting news from around the Southeastern Conference this weekend. Several top prospects made their verbal commitments, Georgia flipped an FSU commit, and Missouri -- despite its big win against South Carolina on Saturday -- lost a commitment. Here is a closer look at the top recruiting news from around the conference.
September, 29, 2014
Sep 29
9:36
PM ET
Associated Press
ATHENS, Ga. -- Georgia safety Sheldon Dawson, who appeared in two games this season in a backup role, is no longer a member of the team.
Coach Mark Richt said Monday that Dawson "is not a member of the team anymore" but provided no further details.
Dawson, a junior, made one start in 2013. He had three tackles this season.
Richt also said freshman tailback Sony Michel probably won't need surgery for his shoulder injury but won't play this week for No. 13 Georgia against Vanderbilt.
September, 29, 2014
Sep 29
3:00
PM ET
ATHENS, Ga. -- Like many Georgia fans spoiled by the numbers and excitement former quarterback Aaron Murray generated during his illustrious Bulldogs career, quarterback
Hutson Mason
isn't thrilled with the lack of a downfield passing presence within Georgia's offense right now.
Four games into the 2014 season, Georgia's passing game has been a shell of its former high-flying self, as Mason has yet to throw for 200 yards in a game and his longest pass has gone just 36 yards.
The good news is that the Bulldogs have just one loss and are a top-15 team, but Mason understands that this trend of a limited passing game can't continue if the Dawgs want to make a run at the SEC title.
[+] Enlarge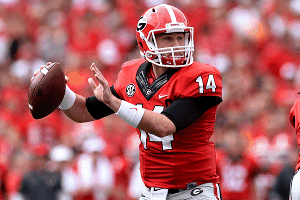 Dale Zanine/USA TODAY SportsShots downfield have been minimal this season for QB Hutson Mason and Georgia.
"We just gotta get better in the passing game all around," Mason said. "From me to everybody else, we gotta get better.
"I'll never apologize for winning a ball game. We did what we needed to do, but I will say we need to get better, I need to get better in the passing game."
But when he was asked what it's going to take for the passing game to improve, Mason admitted that's the "million-dollar question."
"Man, I don't know what to tell you," he said. "We'll go back to work; I'll go back to work. I'll learn from my mistakes and all I can do is just keep trusting my protection."
More importantly, Mason added, he needs to develop more chemistry and trust in his receivers. That right there is a major part of the passing game's struggles. With
Malcolm Mitchell
nursing a knee injury and
Justin Scott-Wesley
dealing with an early-season suspension, Georgia's receiving corps lost some valuable depth during the first month of the season.
Veterans
Chris Conley
and
Michael Bennett
, who have combined for 25 catches and 298 yards with two touchdowns, could be gassed from so many practice reps, and youngsters, like
Isaiah McKenzie
and
Reggie Davis
are still learning.
Now, freshman running back
Sony Michel
, who has been exceptional in the passing game thus far, is out for a while with a shoulder injury.
While defenses have taken away the deep ball at times this season, Mason said there have been plenty of miscues, especially in the Tennessee game, by the offense. The biggest has come in the form of miscommunication between Mason and his receivers, he said. There were a few times last Saturday where receivers ran the wrong routes or didn't hit their marks on routes. Some guys didn't even turn around at the right time for certain passes.
Because of that, there's been some trust lost between Mason and his receivers, especially when it comes to deeper throws. And while Mason admitted he's been off on a few passes this season, the playbook has been limited because timing with this group of receivers hasn't been as crisp as it needs to be.
"The more confident we get in each other, the more confidence I get in my guys, the more confidence we give [offensive coordinator] Coach [Mike] Bobo to call plays down the field, the better we'll get," Mason said. "That's where it starts is execution, and right now we're not executing so it's hard for everybody to have full confidence in each other when you're not executing it."
Head coach Mark Richt said last Saturday that he hopes Mitchell and Scott-Wesley will return to practice this week. He also hopes to get senior
Jonathon Rumph
(hamstring) back soon, too. So help is coming, which should help open things up and should get some rhythm back in this passing game.
However, with the health of Mitchell and Rumph not a guarantee going forward, Mason and his receivers have to jell better. Mason said the passing game starts with him, and he hasn't shied away from some of his shortcomings this season, but he also understands that the guys who need to catch the ball have to help out more, too.
"When you're in there, you gotta execute," he said. "There's really no excuse. It's my job to trust it, and if I don't trust it then it's not gonna work. That trust starts with you gotta execute it and you gotta make the plays. The more plays you make, the more trust Coach Bobo will have in throwing the ball down the field … and the more I'll have trust in my guys."
September, 29, 2014
Sep 29
8:00
AM ET
1. Fresh off its win over Memphis on Saturday, Ole Miss was
already taking shots at Alabama
. Safety
Cody Prewitt
said he doesn't believe the Crimson Tide are as good as they have been in recent years. It might be a little early to say that; after all, just last year, Prewitt's Rebels were shut out in Tuscaloosa, 25-0. A lot has changed since that game, though. The Ole Miss defense, which has allowed just two touchdowns through the first four games, is much improved, and quarterback
Bo Wallace
is a year older. At Alabama, the offense looks more balanced under new coordinator Lane Kiffin, and they're even using
their own version of the no-huddle offense
. It's one of many intriguing matchups in the SEC this weekend.
[+] Enlarge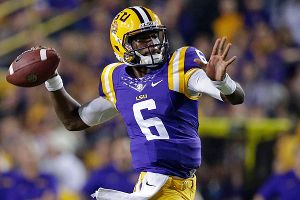 AP Photo/Gerald HerbertWill LSU turn to Brandon Harris in hostile territory at Auburn?
2. Speaking of intriguing matchups, how about LSU traveling to Auburn on Saturday? Les Miles' team has won six of the last seven against Auburn, but his Tigers opened up as 7.5-point underdogs on the road. A big reason for that is the uncertainty at quarterback. Miles has yet to name a starter, but after Saturday's victory over New Mexico State,
it was pretty clear who played better
. The question will be whether Miles wants to give freshman
Brandon Harris
his first start on the road, in a hostile environment. The Auburn defense isn't worried as much about the opposing quarterback; it's worried about
getting healthy
after three starters were banged up in a 45-17 victory over Louisiana Tech on Saturday.
3. What happened to South Carolina on Saturday? It looked like the Gamecocks were well on their way to beating Missouri and grabbing hold of the SEC East. Then, all of a sudden, it all slipped away. A day later, Steve Spurrier saw his team's streak of 69 consecutive weeks in the AP Top 25 come to an end. The good news is that despite the loss to Missouri and despite dropping out of the polls, South Carolina is
still not out of the SEC race
. The bad news is that they have to travel to Lexington this weekend to face much-improved Kentucky team, and the local beat writers are already saying that
Spurrier's team looks beatable
again this week. We'll know a lot more about both teams following Saturday's game.
Around the SEC
Tweet of the Weekend
That was fun #12thMan #ARKvsTAMU pic.twitter.com/3m4Ulb8Cb7

— Texas A&M Football (@AggieFootball) September 28, 2014
September, 28, 2014
Sep 28
2:00
PM ET
By
ESPN.com staff
| ESPN.com
There's a new No. 1 this week following Texas A&M's struggles to get by a rapidly improving Arkansas team. But considering Auburn took down those same Razorbacks 45-21 earlier this season, the Aggies' overtime victory wasn't enough to keep them on top. Beyond that, South Carolina keeps sliding, while the conference gets ready for a trio of huge games Saturday in Ole Miss-Alabama, Mississippi State-Texas A&M and Auburn-LSU.

Edward Aschoff, Jeff Barlis, David Ching, Sam Khan Jr., Chris Low, Greg Ostendorf and Alex Scarborough contributed to these rankings.
Georgia Flips, Signs ESPN 300 FSU Commit