September, 23, 2014
Sep 23
12:00
PM ET
For today's lunch break, the continued impressive recruiting mind of the
Tennessee Volunteers
coaching staff takes center stage, plus the latest on Under Armour All-America Game defensive back
Micah Abernathy
.
September, 23, 2014
Sep 23
11:00
AM ET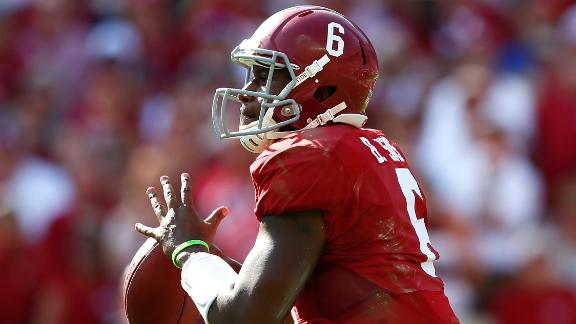 If you tilt your head ever so slightly toward the city of Birmingham, Alabama, you might be able to hear the light, yet almost sinister, cackle of Mike Slive, his fingertips rippling toward one another as the word "excellent" slithers through his teeth.
What has the SEC commissioner so happy? Well, just take a look at the most recent top 25 and all the chaos erupting around him in college football. The SEC leads all conferences with eight representatives in the top 25. Four of those teams are ranked inside the top 10: Alabama (three), Auburn (five), Texas A&M (six) and Ole Miss (10).
So can the SEC realistically get two teams into the College Football Playoff?
For now, that answer has to be yes. While the rest of the Power 5 conferences -- ACC, Big 12, Big Ten and Pac-12 -- have lost steam or suffered losses to start the year, the SEC is sitting very pretty in the national rankings. It also helps that five of the SEC's eight ranked teams are unbeaten.
That's not going to last, as all five of those teams, which are in the SEC Western Division, will face each other in a bloody round-robin in the coming weeks.
Hello, strength of schedule!
Oh, what's that? The SEC faced soft nonconference opponents to start the season? Well, not so fast, my SEC-hating friend. The league has a 5-2 record against nonconference Power 5 opponents and is 3-1 vs. the top 25.
Alabama beat West Virginia, which held tight with No. 4 Oklahoma on Saturday.

LSU roared back from a 24-7 deficit to beat Wisconsin.

Auburn went on the road to Kansas State and won with its passing game ... and maybe some knowledge of the Wildcats' signals.

Georgia thumped a Clemson team that took No. 1 Florida State -- sans Jameis Winston -- to overtime, thanks to Clemsoning to the max!*

Arkansas is still running over and through Texas Tech after a 49-28 drubbing of the Red Raiders in Lubbock, Texas.
*Only true home win.
To put that in comparison with, oh, let's just say the Big Ten, the SEC is light years ahead. Through the first three weeks, the Big Ten went 23-13, including 1-10 against the Power 5 and 0-8 against the
FPI Top 50
.
[+] Enlarge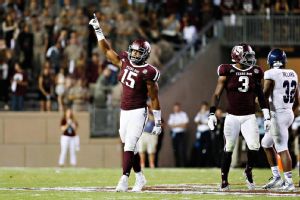 Soobum Im/USA TODAY SportsMyles Garrett (15) and the Aggies are just one of four SEC West teams in the AP Top 10.
The FPI (Football Power Index) measures team strength that is meant to be the best predictor of a team's performance going forward for the rest of the season. Its top four teams are in the SEC: Alabama, Texas A&M, Auburn and Georgia.
With the exception of the Big 12, the other Power 5 conferences really haven't done themselves any favors. Florida State has survived two games it could have
easily
lost, while suspected darling Virginia Tech went from beating Ohio State in Week 2 to promptly losing to ECU and Georgia Tech. USC upset Stanford on the road then lost 37-31 to -- wait for it -- Boston College.
The SEC has received plenty of help from the other conferences, and I think it's very safe to assume the SEC champion is getting into the playoff, regardless, but here are some scenarios that could put two SEC teams in the playoff:
The wild, wild West
Before we go on, check out these notes provided by ESPN Stats & Information about the SEC West:
The SEC West is 22-0 outside the West, winning by an average of 34 points.

All seven West teams rank in the top 20 of the FPI, which is more teams than the Big 12, Big Ten and ACC combined.

Six West teams are ranked in the top 20 of the AP Poll. Arkansas isn't, but has won its last three games by 41.7 points per game.
Strength of schedule isn't going to be a problem for the West champ. For as tough as the West is, don't rule out an undefeated run or a one-loss run. We've seen it before ...
Let's just say an undefeated Alabama beats an undefeated Texas A&M close at home on Oct. 18. Alabama runs the table and wins the SEC. A&M runs the table afterward and sits in the top 10. Chances are that if A&M has just one loss, it has won some pretty good games, so you're looking at a potential top-five finish.
Alabama is in and with the other conferences in such disarray, it'd be tough to keep an A&M team out that would have (according to current rankings) five wins over ranked opponents.
Swap these two out for any West teams and it works, even Arkansas.
The LEast
The East isn't close to what its Western counterpart is this season, but that doesn't mean that an Eastern representative can't make it in. The easiest way is for the champ to win in Atlanta.
But look at Georgia for a possible two-team appearance. Let's say that South Carolina and Georgia run the table and South Carolina loses in Atlanta. Georgia, which lost only to South Carolina
and
is ahead of the Gamecocks in the polls, has a good shot at making it in with the West champ.
If both of these teams win out and South Carolina wins the SEC, I dare you to keep Georgia out.
Atlanta upset
You have an undefeated West champ upset by the East champ. The East champ is in, and after everything that West team did to make it through the gantlet, how do you keep that team out? Even if the East champ has two losses, I don't see how the committee could keep the West champ out based on body of work alone.
Hey, these are all hypotheticals, but they aren't impossible. The SEC got two teams into the BCS national title game in 2011 and almost got two in 2012.
Based on past BCS standings to determine a four-team playoff, the SEC would have gotten two teams in five times since 2005.
Don't count out the SEC.
September, 23, 2014
Sep 23
8:00
AM ET
1. The SEC is all over
the Top 25 this week
, but let's just come right out and say it -- there's no dominant team. Oh, a few of the West's best will have their chances to make a case, but right now there isn't a team without
some
warts. Take Texas A&M for instance. The Aggie offense with Kenny Trill pulling the trigger is a nightmare to game plan against. But A&M's defense is scary, too, and not in a good way. This unit was the worst in the SEC last season in
total defense
and
run defense
. Sure, the Aggies have improved since then. Maybe a lot. But who have they played for us to be sure? Aside from the season-opening ambush of South Carolina (a game in which the Gamecocks
piled up 433 yards
), A&M has played Lamar, Rice and SMU. Kevin Sumlin and Co. would be
wise to not overlook the Razorbacks
. Since their loss to Auburn in Week 1, the Hogs have averaged 58 points of offense in winning their last three. Their
SEC-best rushing attack
has the potential to give Texas A&M some nightmares as well.
2. Despite the roller coaster the Gamecocks have already been on in the season's first month of games (you can just
see it on Steve Spurrier's face
), it should be noted that South Carolina
leads the SEC East
. Does anybody want to win this division? Maybe we'll get an answer on Saturday when Missouri visits USC.
Spurrier isn't sounding too confident
after the way his team looked against what had been a dreadful Vanderbilt team. On the other hand, Mizzou is banged up. Starting left guard and fifth-year senior Anthony Gatti
tore his ACL and MCL
in the Tigers' loss to Indiana. And second-leading receiver Darius White
will be out with a strained groin
. This one isn't exactly shaping up to be the epic battle for East supremacy that some thought it could be a month ago.
3. ESPN's "College GameDay" is headed to Columbia, South Carolina. Not to be outdone, the other big game in the SEC East -- Tennessee at Georgia -- will be
the site of the SEC Network's pregame show "SEC Nation"
. The Vols have something to prove and will hit the road with
a much-improved defense
. UT is sixth in the SEC in total defense, giving up 343 yards a game. That should give Tennessee some hope in preparing to face Georgia's star running back Todd Gurley and his
SEC freshman of the week
understudy, Sony Michel. The Bulldogs are also short-handed with Keith Marshall, Malcolm Mitchell and Justin Scott-Wesley
among the injured
. The biggest challenge for Tennessee, however, is likely to come on the other side of the ball. Georgia has an intimidating pass rush, and the Vols O-line has
given up an SEC-worst nine sacks
already this seasons. Buckle up.
Around the SEC
Tweet of the day
This Nick Saban - Regions Bank ad is pretty great: https://t.co/7VZ06EXePH

— Chuck Dunlap (@SEC_Chuck) September 22, 2014
September, 22, 2014
Sep 22
4:00
PM ET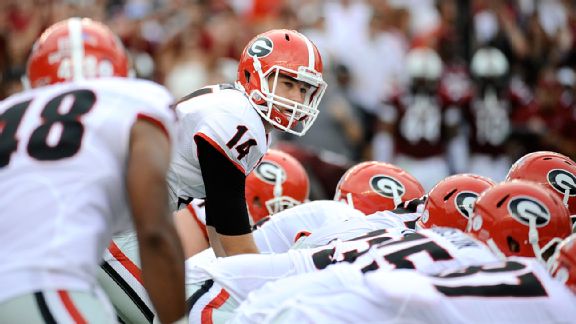 AP Photo/Rainier EhrhardtThe Volunteers' secondary will be a good test to see whether Hutson Mason can stretch the field.
Georgia's showdown with Tennessee on Saturday is the perfect test for the Bulldogs at this point in the season. The Vols (2-1, 0-0 SEC) pose the exact threat that Georgia needs in order to take the next step in its 2014 progression.
We know the 12th-ranked Bulldogs (2-1, 0-1) can run for days (they're second in the SEC averaging 304 rushing yards per game and lead the league with 7.7 yards per rush), but the jury is still out on whether quarterback
Hutson Mason
can consistently throw down field. We also need to see Georgia's secondary step up and show that it can start limiting the big plays in the passing game.
Look, the East is an absolute mess right now. There is no dominant team, but even though the Dawgs are looking up at South Carolina in the division after a head-to-head loss in Columbia, they still might have the best path to Atlanta. Having running back -- and Heisman Trophy contender --
Todd Gurley
gives Georgia a chance in any game. And did I mention that the East is a total crapshoot?
But if the Dawgs are going to avoid another loss or slogging through conference play, they have to be able to throw the ball and stop the pass.
Mason knows this offense backward and forward. No one is debating that, but what we haven't seen from him is any sort of down-field threat. The longest pass Mason has completed this year is a 36-yarder to
Isaiah McKenzie
on the first play from scrimmage for the Dawgs against South Carolina. After that, Mason was reduced to intermediate passes against a defense that
wanted
Mason to try and win the game, meaning they were more concerned with Georgia's running game.
Think about this: South Carolina's defense, which had allowed 832 passing yards in its first two games allowed Mason to throw for just 191 yards.
You have to take advantage of a defense like that, and Mason didn't.
I totally get that not having
Malcolm Mitchell
and
Justin Scott-Wesley
on the field takes away two huge big-play threats, but
Chris Conley
is a vertical monster and you can't sit there and tell me that no one else is able to run some deeper passing routes in that receiving corps. Whether there's a confidence issue there with the receivers or Mason, if Georgia's offense is going to take some heat off of Gurley, it needs to be able to spread the field more with its passing game, and Tennessee's secondary provides a nice challenge for Mason.
Tennessee cornerbacks
Cameron Sutton
and
Justin Coleman
and safety
Brian Randolph
pose the biggest threat to Georgia's passing game so far. The Vols had yet to allow 200 yards passing until Oklahoma's
Trevor Knight
threw for 308 two Saturdays ago, but with two weeks to prepare, you have to think that this secondary will be polished for the Dawgs. but here's something that should perk Mason's ears: Tennessee surrendered
five passing plays of 20-plus yards to Oklahoma.
Saturday could prove to be a real turning point for Mason, as a passer, if he performs well against Tennessee's secondary. The Vols won't make it easy, but it's a great way to boost his confidence if he can start to get into rhythm throwing down field.
As for Georgia's secondary, the combo of quarterback
Justin Worley
(721 yards, six touchdowns and three interceptions) and receiver
Marquez North
(14 catches, 173 yards and two touchdowns) is a challenge for anyone. Worely has mad some fantastic throws during the early part of the season, while North continues to show why he needs to be in the conversation with the league's top receivers.
You also can't forget about Alton "Pig" Howard or
Josh Smith
, who have combined for 23 catches this year. Smith is still nursing a high-ankle sprain, but he hasn't been ruled out of Saturday's game.
Need a dynamic weapon to take some pressure off of North, well, the Vols have one in freshman receiver
Josh Malone
, who seems to be improving each week.
Georgia's secondary looked good against Troy, but so has everyone else this year. It didn't look good against South Carolina when
Dylan Thompson
torch the Dawgs over the middle of the field and finish with 271 yards and three touchdowns.
There has been a lot of rotation in Georgia's defensive backfield, and defensive coordinator Jeremy Pruitt has made it clear that he's going to challenge his secondary and put them in more man-to-man situations.
Well, this is a great game to see how far those guys have come.
September, 22, 2014
Sep 22
8:00
AM ET
1. Missouri is still reeling from its
surprising home loss to Indiana
, a middling Big Ten team. Let that sink in for a minute. The Tigers were favored by 14 or 15 points in most spreads. And lost. For a team that was starting to look like a strong contender in the East Division, it was a shocking upset. Mizzou's
worst loss in years
. There is no panacea on the horizon. Up next is a road trip to South Carolina, which has ongoing problems of its own after
barely escaping Nashville
with a win against the Dores. As one would expect, Head Ball Coach Steve Spurrier threw around some choice adjectives. The word embarrassing came up a lot. After giving up two kickoff returns for touchdowns, Spurrier announced on Sunday that he will be the Gamecocks'
new assistant kickoff coverage coach
. That oughta fix it. College GameDay will be in Columbia, S.C., this weekend, which prompted yet more Spurrier being Spurrier:
Spurrier on GameDay coming to SC: "I heard there was a good chance they'd come if us and Missour won. I guess only one of us had to win."

— Dave Matter (@Dave_Matter) September 21, 2014
.
2. There wasn't much to learn about Georgia in
its 66-0 win
against Troy. Or was there? We already knew Todd Gurley was one of the nation's finest players. He hardly broke a sweat on Saturday with six carries for 73 yards, but Georgia
hasn't had to overwork Gurley
, and still his 9.8 yards per carry leads the FBS. We knew the Bulldogs had some
talented youngsters
, but who knew true freshmen
Sony Michel and Isaiah McKenzie were ready
to completely overshadow
another injury to former five-star running back Keith Marshall
? It seems the only question surrounding Georgia is
wither the passing game
, fellas? Georgia welcomes Tennessee this weekend along with the chance to see if Hutson Mason needs to do anything other than hand off. For their part, the Vols enjoyed a
perfectly timed bye week
after three nonconference games and can now go about the business of clawing their way back to SEC relevance.
3. That sound of laughter you're hearing off in the distance? It's Lane Kiffin basking in the afterglow of Alabama's
42-21 smackdown
of the Gators. His offense so thoroughly dominated Florida's defense, the Gators set a record for the
most yards allowed in school history
. Dating to his time as head coach at Tennessee, that kind of performance against the hated Gators was something Kiffin could only dream about. On Saturday, his quarterback threw for 445 yards -- second only to Scott Hunter's 484 in Alabama history -- and his money wide receiver was the
clear winner in a much-anticipated matchup
with one of the best cover cornerbacks in college football. Today, receiver Amari Cooper is a
legitimate Heisman candidate
. We suspected he might be the best wideout in the country, but there is now a totally different perception of quarterback Blake Sims (who
deflected some of the praise to Kiffin
, by the way). If Alabama's offense can keep up this kind of balance and ruthless efficiency, the only sound we'll be hearing will be the chattering teeth of defensive coordinators.
Around the SEC
Tweet of the day
Fairly disappointing to see ONLY 4 SEC West schools in top 10 in new AP poll.

— Paul Finebaum (@finebaum) September 21, 2014
.
September, 21, 2014
Sep 21
10:45
PM ET
Recruiting in the SEC is already difficult, but the difficulty in Gainesville is about to be ratcheted up even more as rival recruiters are already pressuring Florida recruits to reconsider. Plus, it was clear Saturday night that Oregon needs help on the offensive line, but the good news is that help is on the way.
To continue reading this article you must be an Insider
September, 21, 2014
Sep 21
8:00
PM ET
Alabama reinforced its position as a College Football Playoff contender by obliterating Florida on Saturday, while Mississippi State and Georgia also jumped in this week's SEC bowl projections.
We're also adding a 12th team -- Arkansas -- to the list after the Razorbacks crushed Northern Illinois to improve to 3-1. Arkansas has an awfully difficult schedule down the stretch, but we will give Bret Bielema's club the benefit of the doubt for now and project it to reach at least six wins.
Here is our full SEC list entering the fifth week of the season:
College Football Playoff semifinal (Rose Bowl):
Alabama
Orange Bowl:
Texas A&M
Chick-fil-A Peach Bowl:
Auburn
Capital One Bowl:
Georgia
TaxSlayer Bowl:
South Carolina
Outback Bowl:
Mississippi State
Franklin American Mortgage Music City Bowl:
Ole Miss
Belk Bowl:
Missouri
AdvoCare V100 Texas Bowl:
LSU
AutoZone Liberty Bowl:
Tennessee
Birmingham Bowl:
Arkansas
Duck Commander Independence Bowl:
Florida
September, 21, 2014
Sep 21
2:00
PM ET
By
ESPN.com staff
| ESPN.com
It was a wild week in the SEC. Mississippi State dominated in Death Valley and then had to hold on as Les Miles and LSU tried to cook up another miracle. Alabama shook off some sloppy play early to outclass Florida in Tuscaloosa. And Missouri suffered a shocking home loss to an Indiana team coming off a loss to Bowling Green.

Edward Aschoff, Jeff Barlis, David Ching, Sam Khan Jr., Chris Low, Greg Ostendorf and Alex Scarborough contributed to these rankings.
September, 21, 2014
Sep 21
9:00
AM ET
Can you feel the drama building? We're just starting to get into the meat of the SEC schedule and already the league is spinning off its axis with excitement. Here are this week's best performances:

Blake Sims and Amari Cooper, Alabama:
Everyone suspected Cooper might be the nation's best receiver, but who saw this coming from Sims? The Crimson Tide
dismantled Florida 42-21
and Sims' 445 yards passing -- second best in the school's storied history -- was the biggest reason why. Equally unstoppable was Cooper, who caught 10 passes for 201 yards and three TDs. Much of Cooper's production came against the defense of UF cornerback
Vernon Hargreaves III
, thought to be one of the nation's finest.
Dak Prescott and Josh Robinson, Mississippi State:
Time after time this dynamic duo sliced through the heart of the LSU defense en route to the Bulldogs' first win in Baton Rouge in nearly 23 years. LSU's late rally made
the final score 34-29
, which diminished State's dominance for most of the game. Prescott passed for 268 yards and two TDs. He ran 22 times for 105 yards and another score in building MSU's 34-10 lead. Meanwhile, Robinson was a deadly efficient complement, running for a career-high 197 yards and a TD on 16 carries (12.3 yards per carry). The Bulldogs' offense was firing on all cylinders and racked up 570 yards with standouts all around. The empty seats in Death Valley were a testament to just how demoralizing Mississippi State's performance was for the No. 8 Tigers and their fans.
Auburn's run defense:
Holding a run-heavy team like Kansas State to 40 yards on the ground is exactly how you win huge nonconference road games. The Tigers did that in
Thursday's 20-14 win
in Manhattan, Kansas. The Wildcats came in averaging 236 yards a game on the ground, but Auburn defensive coordinator Ellis Johnson had his front seven ready. When called upon, safeties
Joshua Holsey
(11 tackles) and Rudy Ford (eight tackles) cleaned up the leftovers.
Arkansas' run game:
We might want to reserve a weekly spot for this unit, as it seems there is absolutely no slowing down
Alex Collins
,
Jonathan Williams
and their under-appreciated blockers. The Razorbacks were rolling once again in
their 52-14 rout
of Northern Illinois on Saturday. Collins, Williams and
Korliss Marshall
combined to rush for 188 yards on 36 carries. Right guard
Denver Kirkland
(6-foot-5, 330 pounds), left tackle
Dan Skipper
(6-10, 316) -- both sophomores -- and senior tight end
AJ Derby
(6-5, 255) had great success opening some gaping holes.
Sony Michel, Georgia:
We knew the heralded true freshman was good, but in garbage time against Troy he laid any doubt to rest. Michel needed just 10 carries to pile up 155 yards (15.5 yards per carry) and three touchdowns. Occasionally running out of the Wildcat, he's already proven to be more than a backup. The future is looking bright for a Bulldogs team that suffocated Troy in
a 66-0 romp
.
September, 20, 2014
Sep 20
11:47
PM ET
Well, that was an interesting day in the SEC. Here's what we learned:
1. The SEC West is clearly the best ... again:
It's the same story in the SEC: The West is the best. None of these teams are perfect, but they are the best of the bunch in the SEC. Alabama throttled Florida at home, Auburn went on the road and gutted out a tough win over No. 20 Kansas State, Texas A&M just continues to roll over everyone, Arkansas can run on anyone, Ole Miss is a top-10 team, and Mississippi State walked into Death Valley at night and beat No. 8 LSU team in what turned into a late thriller. We know this LSU team has issues with its passing game and young defense, but give Mississippi State a lot of credit for that performance. There's a reason the West entered the weekend with five ranked teams -- all in the top 10. On the other side of the conference, everyone in the East has issues. The thing about the West is no team is really sticking out as the dominant team in the division, and every one of them is a work in progress, but they've all had really good moments. This is easily the toughest division in all of college football. Whoever comes out of this division might have an automatic ticket to the playoff on principle alone.
[+] Enlarge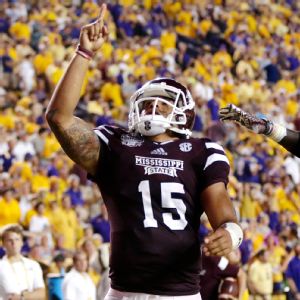 AP Photo/Gerald HerbertDak Prescott had 373 yards of offense and three touchdowns in a return to his home state.
2. Florida's offense and defense have issues:
Where do you even start with Florida's performance in that
42-21 loss
to third-ranked Alabama? Despite plenty of opportunities afforded to the offense, the Gators continuously stalled with the ball. Quarterback
Jeff Driskel
struggled with the same issues that have plagued him his entire career. He was off with his deep throws and had trouble with his reads and threw for just 93 yards with a touchdown and two interceptions on 9-of-28 passing. Even with decent protection for most of the day, Driskel never got into a rhythm and couldn't take advantage of an Alabama secondary trying to find its identity. The defense gave up some big plays in the passing game, especially when the ball went to
Amari Cooper
(10 catches, 201 yards and three touchdowns).
Blake Sims
torched Florida's secondary, which struggled with coverage issues all day, for 445 passing yards and four touchdowns, including one of 87 and 79 yards. Yes, Florida's defense was on the field for a very long team, but the Gators allowed 645 total yards ... the most allowed in school history.
3. Mississippi State will challenge for the West title:
I wondered why this team wasn't ranked in the Top 25 to begin the season, and then the defense fell asleep in Week 2 and I started to wonder if Mississippi State was for real. Now, after a
34-29 win
over LSU in Baton Rouge, you can't sleep on Dan Mullen and his Bulldogs. Sure, this was a rout that got pretty tight late in the fourth quarter, but this is a win the Bulldogs should be ecstatic about. And how about quarterback
Dak Prescott
? He had his best performance to date in his home state with 373 yards of offense and three touchdowns. Fellow Louisiana native
Josh Robinson
wasn't too shabby either, as he rushed for 197 yards and a score. Take the Bulldogs lightly at your own risk.
4. The East race is a total crapshoot:
Besides a dominating performance from Georgia over Troy, the SEC East didn't have a great day. Florida was blown out by Alabama, Missouri was stunned at home by unranked Big Ten representative Indiana
31-27
, and South Carolina slogged through a
48-34 win
at Vanderbilt. We saw that Florida's offense still has major issues and Missouri's interior defensive linemen need a lot of work, as Indiana ran for 241 yards on the Tigers. South Carolina still controls its own destiny when it comes to going to Atlanta for the SEC title game, but no one would be shocked to see the Gamecocks drop another one. Will Georgia's defense get better? Will Florida have an offense? Was this a fluke loss for Mizzou? Is Tennessee a real sleeper? A two-loss SEC East champ is not out of the question with so many uncertainties.
5. Will Muschamp's seat is hotter than ever:
I have a feeling
Bill from Gainesville
won't be calling into many radio shows this week. With a loss in which the Gators faded quickly in the second half, Muschamp's seat is roasting in Gainesville. Last year's injury-riddled, 4-8 season was one thing, but Florida has regressed in the past two games this season, which means the Gators have to show vast improvement in two weeks at Tennessee in order to perk an already downtrodden and disheartened fan base. You have to let the season play out, but this was a bad loss for Muschamp's squad, even if Alabama was the No. 3 team in the country. Florida should be competitive in games such as this, and the Gators just weren't after Alabama cleaned up its mistakes in the second half. There were plenty of opportunities for Florida in this one, but the Gators just didn't execute. Florida fans are frustrated with their coach and their quarterback, who are both in their fourth years at UF.
September, 20, 2014
Sep 20
3:12
PM ET
Associated Press
ATHENS, Ga. -- Sony Michel ran for 155 yards and three touchdowns to highlight a big day for freshmen in No. 13 Georgia's 66-0 win over Troy on Saturday.
Michel, playing behind Todd Gurley, had a 75-yard gain to set up his second touchdown.
Among other standout freshmen for Georgia (2-1) were receiver Isaiah McKenzie, who scored on a 52-yard punt return, and Bryce Ramsey, who threw his first career touchdown pass.
Dontreal Pruitt started at quarterback for Troy (0-4) as Brandon Silvers was held out after leaving last week's loss to Abilene Christian with a concussion. The Trojans' last 0-4 start was in 1982.
Drive Through: Heisman Race