October, 31, 2014
Oct 31
12:00
PM ET
GAINESVILLE, Fla. -- Mitch Davis was on his knees praying as Georgia stood on Florida's 2-yard line with five seconds left, poised to tie or win the game that had so confounded him and his Bulldogs brethren.
"We've got it this time," the senior linebacker thought.
It was 1993. Georgia had lost three straight games to Florida, and time was running out on Davis' last chance to beat the hated Gators.
"I've never wanted to win more in my life," Davis said.
Didn't happen.
[+] Enlarge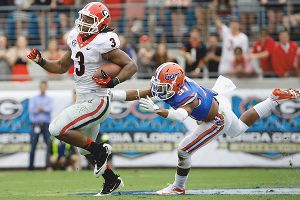 Sam Greenwood/Getty ImagesTodd Gurley and Georgia have won three in a row against Florida, but older Georgia players have been on the other end of long losing streaks to the Gators.
In a rivalry that has filled its history books with drama, 1993 was another fabled chapter. A Florida player called a timeout a split second before Georgia scored a touchdown. It was called back, and the Bulldogs' last chance fell to the soaking wet turf.
Davis and his fellow seniors sat dejected in the postgame locker room, shaking their heads at the thought of never having beat Florida.
"Right now I'm not willing to accept that we've let Florida beat us four years in a row," he said after the game. "It's degrading."
It's 21 years later, and the memory of that loss still follows Davis like a dark shadow.
His Class of 1990 arrived at UGA with all the fanfare that comes with being one of the top-two recruiting classes in the nation. They went out as the first Georgia class in 30 years to lose four straight to Florida.
It left an empty feeling.
"As a football player you always want to get even," Davis said from his home in Atlanta. "Knowing that you'll never have that opportunity again, it leaves a hole in your heart."
It's a sentiment echoed by all of the seniors from UGA's 1990 class.
"It really bugged me that we couldn't beat Florida while I was there," said Bernard Williams, the 6-foot-8, 317-pound left tackle who went on to be a first-round draft pick of the
Philadelphia Eagles
a few months later.
The disappointment is always lurking just beneath the surface. Davis says he can't bring himself to go to Jacksonville for the annual game anymore.
"A lot of fans still know me, and going there they bring up the situation that we didn't win the game," he said. "That kind of bothers me, so I stay away from it. Just watch it on TV."
Whether you call it Florida-Georgia or Georgia-Florida, it's one of college football's most heated rivalries, and its history features stretches of dominance by both schools.
Even if you throw out the disputed 1904 game, Georgia won 24 of the first 29 games in the series. Florida won 10 of the next 12 and most recently won 18 of 21 from 1990 to 2010.
Now the Bulldogs have won the last three years. If Georgia wins on Saturday (and it was a 13-point favorite as recently as Wednesday), it would be the first time in 29 years that Florida would have lost four in a row.
The tables are nearly turned, and those Class of 1990 Bulldogs will be watching with eager anticipation.
"Oh, it's well-deserved," Williams said. "It's about time they lost four in a row. I'm not a big Florida fan at all, so it will put a big smile on my face to see them lose four in a row."
The Gators realize the gravity of the situation. Their backs are against a wall with one last shot at beating Georgia.
"As a senior, I really want to win this game," said center
Max Garcia
, who is from Norcross, Georgia. "I don't even care about the rest of the games if we win this game."
To a man, the Gators' seniors speak with reverence for the Florida-Georgia rivalry. They've seen a different level of focus and desire in practice. They say throw out the records for this one -- anything to avoid losing four straight to your archrival.
Because that, Davis says, leaves a scar that never goes away.
"If Georgia wins four games I'll be excited," he said. "It'll be a little bit of vindication, but you still wish you had been able to be a part of that.
"When you go into your top rivalry and you can't win four years in a row, it will stick with you the rest of your life."
Todd Gurley's 4-Game Suspension Upheld