August, 27, 2014
Aug 27
5:00
PM ET
Big Ten football kicks off in 26 hours. Let's get you ready with a mailbag:
@ESPNJoshMoyer upset alert week 1 in the big ten?

— Matt Finnigan (@Finnarious) August 26, 2014
Josh Moyer:
Hmmm ... it's a bit tricky this week since only three of 14 games don't feature huge double-digit favorites (Rutgers-Washington State, UCF-Penn State,
Wisconsin
-
LSU
). Out of those three, though, I like Wisconsin the most as an upset pick. LSU has a new quarterback and running back and its run defense shows a few cracks. The Tigers ranked 94
th
in the nation last season in stopping ball carriers behind the line and were No. 35 in run defense. And you know what happens when
Melvin Gordon
finds room on the outside (hint: touchdown). Wisconsin has fared well against better run defenses, so they should be able to keep the ball moving Saturday. We'll see if that's enough.
@ESPN_BigTen @ESPNJoshMoyer (1) Who is Michigan's feature back, or will it be by-committee? (2) Jabril Peppers - phenom or flop?

— Michael Blount (@MichaelBlount1) August 27, 2014
Josh Moyer:
After a sub-par freshman campaign, it sure looks as if
Derrick Green
is on pace to be
Michigan
's feature back. Brady Hoke named him the starter, although he added that
De'Veon Smith
will be "1A." But if you look at how Doug Nussmeier and Brady Hoke have approached running backs since 2010, the top guy has always received at least twice as many carries as the backup. (One exception: Alabama's
Eddie Lacy
and
T.J. Yeldon
split carries in 2012 but combined for 66.5 percent of team carries.) Green had 27 percent body fat last year and naturally looked sluggish; he's at 9 percent right now. He'll be better. As for
Jabrill Peppers
, count me among the believers. Devin Gardner said recently that Peppers and
Devin Funchess
are the
best athletes on the team
. That's big praise. So sure, Peppers has generated a lot of hype -- but I think he'll live up to it.
@ESPNJoshMoyer why so down on the Gophers? 5-7 (2-6) seems low. Not saying they are winning 9+, but no bowl? Really?

— Darren Michael (@HaloKitty343) August 27, 2014
Josh Moyer:
In our
season predictions this morning
, I was the only Big Ten reporter to pick
Minnesota
to win fewer than six games. Everyone else said six or seven. I'll admit I waffled slightly between choosing five and six wins, but the Minnesota passing game -- or lack thereof --
really
concerns me. The Gophers ranked No. 105 in the nation last season in total offense and, without a playmaker like Ra'Shede Hageman on defense, I'm not yet sold on the defense being as good as last year. In some ways, last season's 8-5 record was a best-case scenario -- especially with surprising wins against Penn State and Nebraska, and close wins against Norhtwestern and Indiana. When I look at this season's schedule, I see seven losses: at TCU, at Michigan, Northwestern, Iowa, Ohio State, at Nebraska, and at Wisconsin. Northwestern was the toss-up for me but, as it stands, I see the Wildcats winning a close one.
@ESPNJoshMoyer How big of a concern is the Penn State O-line?

— Sean Banks (@seanbanks3) August 27, 2014
Josh Moyer:
It's the biggest question mark on the team, and I think it's going to be the determining factor in whether
Penn State
finds success. I picked the Nittany Lions to win seven games and, honestly, I think that's even slightly optimistic with this line. (Two players who were defensive tackles in February are now starting inside as offensive guards, and absent is basically any quality depth.) This offense has for which to be excited:
Christian Hackenberg
, two terrific running backs, my pick for
B1G tight end of the year
and a plethora of talented young wideouts. The only thing that's missing is a solid O-line -- and all the talent in the world doesn't mean anything if Hackenberg and Co. can't find time. If last season's O-line returned, I might even pick Penn State to win 10 games. The potential is there, but the offensive line is going to act as the cap.
August, 27, 2014
Aug 27
12:00
PM ET
For more than a decade, no FBS programs have experienced more success in out-of-conference games during the regular season than LSU and Wisconsin -- programs that open the season against one another on Saturday in Houston.
LSU has not lost a nonconference game in the regular season since falling to Virginia Tech on Sept. 7, 2002. Since then it has won 45 straight, while Wisconsin's record in that same time period is 43-3, the nation's second-best winning percentage (.935).
Obviously one of them is going to lose on Saturday, though, so let's take a look at some of the key factors in the LSU-Wisconsin game and what a win might mean for their respective conferences.
Key to victory for Wisconsin:
Dominate the line of scrimmage. That's always the motto for the Badgers, who showed they could fare just fine against an SEC defense when they ran for 293 yards against South Carolina (and
Jadeveon Clowney
) in the Jan. 1 Capital One Bowl. Controlling the game on the ground with
Melvin Gordon
,
Corey Clement
and a talented offensive line becomes an even higher priority given Wisconsin's inexperience at receiver and quarterback, where
Tanner McEvoy
makes his first FBS start. And the Badgers' 3-4 defense has to win battles up front and make LSU beat it through the air.
[+] Enlarge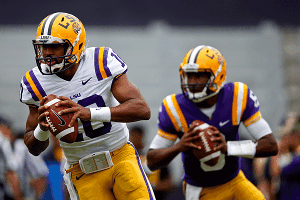 Derick E. Hingle/USA TODAY SportsLSU may need Anthony Jennings (10) and Brandon Harris (6) to have success against Wisconsin.
Key to victory for LSU:
With a talented backfield and experienced offensive line, the Tigers figure to run the ball effectively against a retooled Wisconsin defensive front. But it will be up to LSU quarterbacks
Anthony Jennings
and
Brandon Harris
to do just enough with the pass to prevent the Badgers from crowding the box to defend the run. Regardless of which quarterback is on the field, he will have either little or no college experience. If the Tigers throw the ball as ineffectively as Jennings did in his lone start -- LSU's 21-14 Outback Bowl win over Iowa, where he was 7-for-19 for 82 yards, no touchdowns and one interception -- it might become difficult to move the ball even against an inexperienced Wisconsin defense.
Keep an eye on:
Wisconsin linebacker Vince Biegel.
The 6-foot-4, 230-pound sophomore could give the Badgers the pass-rushing and playmaking presence they desperately need from their completely revamped defensive front seven. Biegel will be critical in both helping against the run and creating havoc in the LSU backfield from his outside linebacker spot. Like many players at his position for Wisconsin, he has been nicked up in fall practice. But after a breakout spring, Biegel could be a guy who announces himself as an up-and-coming star on this national stage.
Keep an eye on: LSU linebacker Kwon Alexander.
One of the Tigers' top playmakers at linebacker last season, Alexander has shifted from strongside linebacker to Lamin Barrow's old spot on the weak side, which should allow him to be even more active on defense. His sideline-to-sideline speed and tackling ability should make him a great fit for the new role. Alexander and the LSU defense will have their hands full with a powerful Wisconsin running game that features Heisman Trophy contender Gordon. But if Alexander lives up to the reputation he's already started building at his new position, he's in line for a huge season, starting Saturday.
What win will mean for Big Ten:
Marquee nonconference wins have been in short supply for the Big Ten in recent years, and there would be no better way to build instant credibility than by gaining a win over an established SEC power. Wisconsin would become an immediate playoff contender, as the rest of its schedule is extremely favorable. Other league teams would also get a boost in terms of conference perception. The doom-and-gloom outlook for the Big Ten since Ohio State quarterback
Braxton Miller
's season-ending shoulder injury would fade away quickly with a Badgers victory in Houston.
What win will mean for SEC:
LSU has been the SEC's standard bearer in the past decade when it comes to these marquee nonconference openers. LSU's aforementioned 45 straight nonconference wins in the regular season is the nation's longest streak. That includes wins in 11 straight openers, against such opponents as TCU, Oregon, North Carolina, Washington, Oregon State and Arizona State. LSU beating Wisconsin would be another feather in the SEC's cap, solidifying its status as the nation's best conference.
August, 27, 2014
Aug 27
10:00
AM ET
BATON ROUGE, La. -- Once Les Miles publicly reveals LSU's starting quarterback -- probably sometime right before kickoff on Saturday -- that will settle ... exactly nothing.
Perhaps the most persistent question surrounding the Tigers since spring practice opened was whether sophomore
Anthony Jennings
or freshman
Brandon Harris
would take the first snap in Saturday's opener against Wisconsin. But no matter which inexperienced quarterback Miles and offensive coordinator Cam Cameron choose to start against the Badgers -- Miles has already said both will play in the game -- that will resolve only the first phase of this competition.
Since neither player has run away with the job, their battle will play out publicly over the next several Saturdays.
[+] Enlarge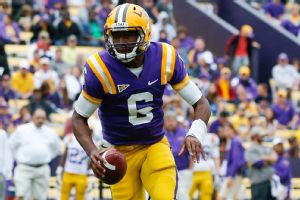 Derick E. Hingle/USA TODAY SportsBrandon Harris has a good arm that may be a better compliment to the Tigers' running game.
"Our team understands that we have talented quarterbacks and we have guys that can play," Miles said at his Monday news conference. "But right now they have not separated themselves, and we are not certain. If we were certain, then I promise you, we would play the one guy that would give us all the advantage. But if two guys can give us greater advantage than one guy, then let's certainly play two."
Here's the main dilemma No. 13 LSU's coaches face against a difficult opening opponent like No. 14 Wisconsin. This isn't some directional school that the Tigers are likely to push around regardless of who plays quarterback. Wisconsin is capable of beating LSU, which is why the Tigers probably can't afford to take many chances with this decision.
Advantage Jennings.
Despite some unimpressive performances in his first couple of starts, Jennings at least has actual game experience. He came off the bench to lead the Tigers' game-winning, 99-yard touchdown drive to beat Arkansas and appeared in a total of nine games against opponents like TCU, Florida and Ole Miss. But he also went 7-for-19 for 82 yards and tossed an interception that should have been a pick-six as a starter in LSU's 21-14 Outback Bowl win over Iowa. In the Tigers' spring game, Jennings had two interceptions that went back for touchdowns.
"I know a lot more of the offense [than last season], I'm more comfortable in my skin, I have guys around me that I've known for a year now," Jennings said. "So it's easier now to talk to the guys and to get them going as opposed to last year when I didn't really know anybody and I was staying to myself."
Without question, Jennings possesses the intangibles to become a successful college quarterback. But at some point, the Tigers will need someone under center who is capable of striking fear in opposing defenses.
The running game should be superb, but the Tigers must pose at least a threat with the pass to keep opponents from focusing solely on stopping
Leonard Fournette
& Co. on the ground. During LSU's spring game, it didn't require a coach with Cameron's experience at molding quarterbacks to see which player possessed the more electric skillset.
Advantage Harris.
The freshman boasts a next-level arm and is also a shifty runner, providing a nice balance to the bigger Jennings, who can bowl over a defender if necessary
.
But he's also a true freshman quarterback -- a group not known for their down-to-down consistency.
"You know any young quarterback is going to have a setback at some point in time and that's where the team comes in," Cameron said. "We've got to make sure that when they have that setback, it's not one that gets us beat."
So, for now at least, plan on seeing both quarterbacks play until one of them shows he deserves to take the lion's share -- or maybe even all -- of the snaps.
"I think eventually one of them is going to end up separating himself, but right now I think they're on an equal playing field and both having great success throughout fall camp and the scrimmages we've been having," running back
Terrence Magee
said.
Beyond Wisconsin, LSU plays Sam Houston State, Louisiana-Monroe and New Mexico State in September -- with the Sept. 20 SEC opener against Mississippi State crammed in between -- so the next several weeks will play a huge role in settling this battle before the Tigers fully dive into conference play. They can compete in real games without the probability of a major screwup costing LSU a victory.
That won't be the case on Saturday, so if Miles' history with such decisions is any indication, he might play it close to the vest against the Badgers and then let the competition continue in the ensuing weeks.
"I think our system lends itself to allowing young quarterbacks to play well against quality opponents because we believe in the running game and we believe that we can take the ball back, hand it off to a running back, give him a three-way break and we can be successful running the football in a way some people can't," Cameron said.
"Les and I cut our teeth in this system that way. We believe in it."
August, 27, 2014
Aug 27
9:46
AM ET
By
Brian Fremeau
| ESPN Insider
So just how many SEC teams will play in the inaugural College Football Playoff? The conference utterly dominated the top of the BCS standings over the past decade and claimed seven of the last eight national titles. Eight SEC teams were voted into the preseason Associated Press Top 25; five among the top 15.
According to our Football Outsiders projections, six SEC teams have at least a 5 percent likelihood to reach the playoff: Alabama, Auburn, Georgia, LSU, South Carolina and Texas A&M. No other conference has more than three teams with odds that high. In fact, our projections show an 81 percent likelihood that at least one SEC team will reach the playoff, outpacing the ACC (78 percent), Pac-12 (61), Big 12 (45) and Big Ten (45).
But there is still a 19 percent chance the SEC will be shut out of the CFP in 2014. Inconceivable? Perceptions will shift quickly if the league doesn't dominate its nonconference opponents. And our numbers indicate that five SEC teams have to be particularly wary of an upset this week, starting Thursday with Boise State versus Ole Miss at 8 p.m. on ESPN.
There is a 65 percent chance that the SEC will be on the wrong end of at least two of the following games in Week 1, and only an 8 percent chance they'll sweep them all. This list, of course, doesn't include Alabama's neutral-site game against West Virginia, in which Football Outsiders' projections have the Crimson Tide as a 25-point favorite.

53.6 percent chance the Vols lose
August, 26, 2014
Aug 26
11:00
PM ET
The Early Offer is RecruitingNation's regular feature, giving you a daily dose of recruiting news across the country. Today's offerings: Notre Dame has the
No. 15 class in the country
, but the Irish could quickly climb into the top 10 with a monster recruiting weekend on the horizon. Plus, after Georgia landed star junior quarterback
Jacob Eason
, the Dawgs have been on a recruiting run at receiver, and we continue our tour of the top recruiting happenings on social media.
To continue reading this article you must be an Insider
August, 26, 2014
Aug 26
11:30
AM ET
BATON ROUGE, La. -- For all the headlines generated by quarterback battles and freshman superstars, one thing seems abundantly clear about Saturday's showdown between No. 13 LSU and No. 14 Wisconsin. The team whose defensive front seven has the more effective outing will probably be the victor.
Since both teams have defensive fronts with questions to answer, that only makes this point more clear.
[+] Enlarge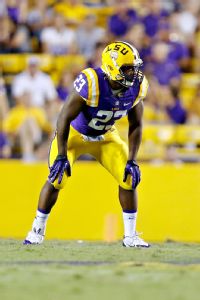 Derick E. Hingle/USA TODAY SportsLamar Louis and LSU's defense will have their hands full with Wisconsin RB Melvin Gordon.
"We have a young front, they have a young front, so both defenses in general, they're definitely going to be targeted in this game," LSU tight end
Logan Stokes
said. "We're going to do our best to get after that D-line, and they're going to do it to us, too. So yeah, both defenses are going to be pressured. Defensive line-wise, it's going to be a measuring stick for both of them."
Both offenses return key pieces that will allow them to hammer most opponents into submission. It starts with four returning starters from two offensive lines that frequently had their way in 2013.
According to ESPN Stats and Information, opposing defenders didn't make first contact with a Wisconsin ball carrier last season until he had already gained an average of 3.95 yards per carry -- an average that ranked fourth in the nation behind only Oregon (4.28), Ohio State (4.28) and Auburn (4.23). LSU finished 23 in that category, with Tiger runners averaging 3.03 yards before contact on each rush.
And with the star power either returning or added to the Badger and Tiger backfields, there is no reason to believe this season will be much different for either team. Freshman phenom
Leonard Fournette
joins the senior duo of
Terrence Magee
and
Kenny Hilliard
to give LSU what should become a phenomenal running game. And it will have to be exceptional to match what
Melvin Gordon
brings to Wisconsin's backfield. The Heisman Trophy candidate ran for 1,609 yards, 12 touchdowns and averaged 7.8 yards per carry last fall.
The key, said LSU strongside linebacker
Lamar Louis
, is to respect Gordon's explosive game, but not to be in awe of his abilities. After all, the Tigers have faced plenty of top-tier backs in SEC play and even in their own practices.
"He's a good back, speedy back, makes good cuts, good decisions. I think he's up for the Heisman Trophy, so he's a good back," Louis said. "I'll say what [defensive coordinator John Chavis] tells us all the time, it's not someone who we haven't faced in these past years. It's not someone who we don't practice against in Terrence Magee, Leonard Fournette,
Jeremy Hill
. So we'll be ready. But yeah, we're not taking him lightly."
The Tigers and Badgers have plenty to prove up front on defense, so they can't afford to take any opponent lightly.
LSU must replace both starting defensive tackles and will break in new starters at two different linebacker positions after an offseason retooling. And Wisconsin's roster turnover was even more severe, as it loses every starting defensive lineman and linebacker from a 2013 defense that ranked fifth nationally against the run, surrendering 102.5 yards per game.
That means focusing more on Wisconsin's general defensive tendencies instead of on specific personnel during game preparation.
"It's kind of weird not being able to have any film to really watch on guys that's new to [starting], but the thing that we have to do is make sure that we prepare ourselves for the scheme that those guys run," LSU offensive tackle
La'el Collins
said. "I think we've done a great job of that, and I think we're still doing a great job with it. Just pretty much prepare, when you look at the program and the tradition of the team, nothing really changes."
Wisconsin must also do the same thing when preparing for Chavis' defense. The philosophy remains the same, but it's more difficult for the Badgers to know much about Louis in his new spot at strongside linebacker or how
Kwon Alexander
fits at weakside linebacker after playing strongside in 2013. And it's even tougher to know what to expect from the host of redshirt defensive tackles -- most notably
Frank Herron
-- who will make their college debuts on Saturday.
The possibilities probably excite Gordon if he hopes to build Heisman buzz, Louis admitted.
"I think it's going to be more big for him than us," Louis said. "If I'm a Heisman Trophy running back, and I play LSU for the opener, it doesn't get any bigger than that. So we know what's at stake for us and for him and what he can benefit from, so we're going to have our head on a swivel, and we're going to be ready."
And it works the other way, as well. Wisconsin boasts what should be a great offensive line and one of the nation's best backs. Shutting down a bunch like that would legitimize all of the preseason happy talk surrounding an LSU defense that is reportedly on the rise.
"We have great players on our defensive line, maybe guys that didn't play last year, but I think we're going to get a chance to see them on Saturday," Stokes said. "Frank Herron and guys like that didn't play last year and were redshirted and have been doing nothing but making plays since fall camp started. So we're going to get a chance to see those guys. I'm looking forward to it."
August, 25, 2014
Aug 25
11:00
PM ET
The Early Offer is RecruitingNation's regular feature, giving you a daily dose of recruiting news across the country. Today's offerings: Five-star defensive end
Byron Cowart
is closing ranks and instead of focusing on the more than 50 schools that have offered him scholarships, he's zeroing in on four schools leading up to his late September decision. Plus, Oregon fans can rest a little easier knowing the Ducks' star running back recruit didn't suffer major damage in his first game of the season, and we continue our tour of the top recruiting happenings on social media.
To continue reading this article you must be an Insider
August, 25, 2014
Aug 25
10:00
AM ET
BATON ROUGE, La. --
John Diarse
chuckled when he described himself as a veteran. He realizes how silly that sounds since he has yet to play in a college game, but it's the truth.
The funny thing is, having participated in two sets of spring and preseason practices, Diarse is actually one of the longest-tenured wide receivers on No. 13 LSU's roster.
"Seeing that I am a redshirt freshman, in some ways it does [feel absurd]," admitted Diarse, whose team opens the season against No. 14 Wisconsin on Saturday. "But I think I'm a vet in my mind, mentally, because I've been through the program and I know what it takes and the hard work that has to be done on and off the field. So in my mind I'm a vet, but as far as stats-wise and playing time, not really."
[+] Enlarge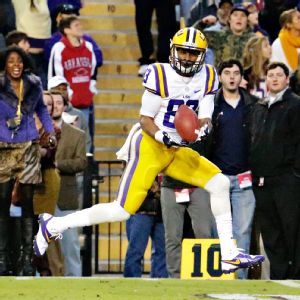 AP Photo/Bill HaberLSU's most experienced receiver is Travin Dural, who has all of seven career catches.
Take a gander at LSU's wideout depth chart.
Travin Dural
is the most experienced player, by far. He's a redshirt sophomore with all of seven catches for 145 yards to his credit. There is only one scholarship senior -- junior college transfer
Quantavius Leslie
-- on the roster. There are no scholarship juniors.
Once 2013 star juniors Odell Beckham and Jarvis Landry decided to enter the NFL draft, the Tigers' wideout depth chart now features that couple of inexperienced veterans and a host of guys like Diarse, who either redshirted last season or who will be enrolled in college for the first time this fall.
"We always joke about that in the receiving room about me being the oldest, but I take pride in being an older guy," said Leslie, who finished with one catch for 11 yards last season. "I just tell them what's right. I've been through this, so this is not my first year going through it."
But Leslie is unique in that regard at LSU. Many Tigers, like arguably the nation's top group of 2014 wideout signees, have only been on campus for a few months and still have plenty to learn.
Leslie and some of the older players like Diarse have learned all three wideout positions by now, but they only played one in their first seasons at LSU. That's a common trajectory for a newcomer, so a true freshman like
Trey Quinn
,
Malachi Dupre
or
D.J. Chark
-- all of whom are in the Tigers' plans for 2014 according to coach Les Miles -- would be well ahead of the curve if he becomes functional at more than one spot this fall.
"We've got a lot of smart guys," Diarse said. "Once these younger guys kind of catch the feel for it, they'll be able to do both inside and out."
Although he missed a portion of preseason practice, one skill that Dupre -- RecruitingNation's No. 1 wideout prospect for 2014 -- believes will help him contribute this season is his blocking ability. He played in a run-first offense at John Curtis in New Orleans, so clearing a path for running backs will be nothing new, even if the Tigers figure to put the ball in the air more frequently than what he's accustomed to seeing.
"I think that made me better coming into a situation like I am now where the ball will be in the air more," Dupre said. "But still remembering where I came from and thinking I had to make the best out of any opportunity I got in high school because I might not get another opportunity will definitely help now because I'll get more opportunities."
The greatest factor in the newcomers' development, though, will be time. They've had the summer and preseason practices to get a taste against all-conference-caliber defenders like
Tre'Davious White
,
Rashard Robinson
and
Jalen Collins
. Producing in games will be a different achievement.
That said, the freshmen have their veteran teammates excited about what they can accomplish in the future.
"All of them make plays. I was surprised at all of them," Leslie said. "They're not playing or practicing like no freshmen. They're practicing like they've been here."
And don't forget about Diarse's fellow redshirt freshmen
Avery Peterson
and
Kevin Spears
. Between those three and the Tigers' four true freshman wideouts, LSU has a huge group of pass-catchers preparing for their first college games on Saturday.
With that in mind -- plus the still-unannounced starting quarterback adding further uncertainty to the Tigers' passing game -- it would not be a surprise if offensive coordinator Cam Cameron plays it close to the vest on Saturday. But LSU's wideouts believe their summer practice time against a solid group of defensive backs has prepared them for this first test, even against a Wisconsin secondary that largely remains intact from a season ago.
"Everyone says that we're a young group and we have a young quarterback, whoever it's going to be, so it's like everyone says we're not going to be able to pass the ball," Dural said. "Being able to pass it in camp against our defense is exciting to us. We're moving the ball."
August, 25, 2014
Aug 25
8:30
AM ET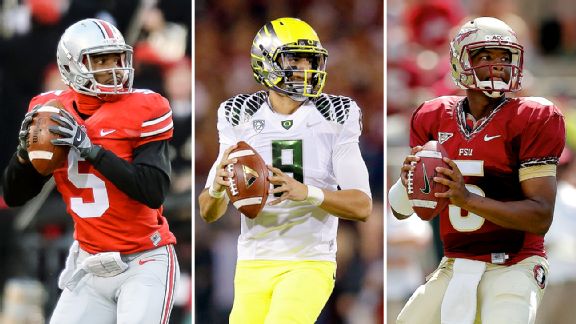 Getty ImagesSchools sell multiple jerseys with the numbers of Braxton Miller, Marcus Mariota and Jameis Winston.
Ohio State quarterback Braxton Miller missing the season could hit the school, retailers and Nike in the wallet.
Only four players in all of college football are more merchandised than Miller, according to jersey options matched to the most marketable players that are being sold on official school website stores.
Oregon is selling 25 different jerseys, counting colors and sizes, of No. 8, quarterback Marcus Mariota.
Michigan offers 17 different versions, in blue and white, in infant, youth, toddler, women's and men's cut, of No. 98, worn by its quarterback Devin Gardner.
Notre Dame has 15 different jerseys of its quarterback Everett Golson, who wears No. 5.
The University of Alabama website features 10 different jersey choices of No. 4, the same number worn by its star running back T.J. Yeldon.
Ohio State's official store is selling seven versions of Miller's No. 5.
That's even more jersey options (six) than Florida State fans have of No. 5 to choose from, the number worn by Heisman Trophy winner Jameis Winston.
The NCAA and its schools have long contended that numbers don't necessarily correspond to current players, but common sense, as proven by all the cases above, suggests otherwise.
While players one day might be able to realize a percentage of the business from their jersey sales, the recent O'Bannon ruling did not include commentary on this area.
It's not known how many No. 5 Ohio State jerseys have been produced for this season, but Miller's absence will be the biggest hit to the college jersey marketplace in two years. In August 2012, LSU safety Tyrann Mathieu was dismissed from the team weeks before Baton Rouge retailers got their shipment of No. 7 jerseys. The number is finally fashionable again thanks to it being given to Leonard Fournette, the nation's top running back recruit.
August, 24, 2014
Aug 24
9:35
PM ET
By
ESPN.com staff
| ESPN.com
College Football Week 1 Picks
SEC SCOREBOARD
Thursday, 8/28
Saturday, 8/30
Sunday, 8/31