October, 26, 2014
Oct 26
1:10
AM ET
By
Brett Edgerton
| ESPN.com
[+] Enlarge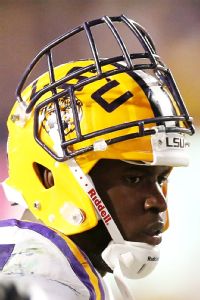 Chris Graythen/Getty Images
There's nothing quite like a Saturday night at Tiger Stadium.
On this particular Saturday night, LSU upset third-ranked Ole Miss 10-7 and a few stunning images really caught our eye.
First, let's start with something many of us had never seen before: A facemask that was literally displaced. It happened as Tigers running back Leonard Fournette was being tackled and the result was the picture you see on the right.
Then there was the celebration after the game. Oh, the celebration. No one has ever accused LSU fans of not being able to party.
Check out the crowd-surfing of LSU receiver Trey Quinn and the mascot Mike the Tiger (don't worry, not the real one).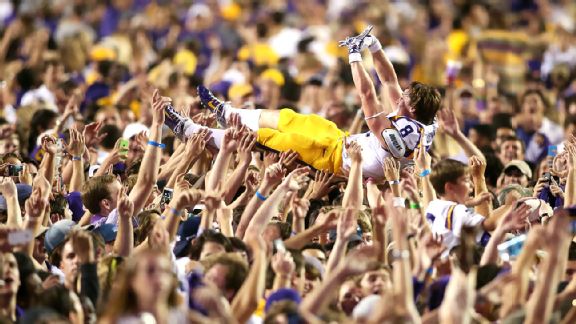 Crystal LoGiudice/USA TODAY Sports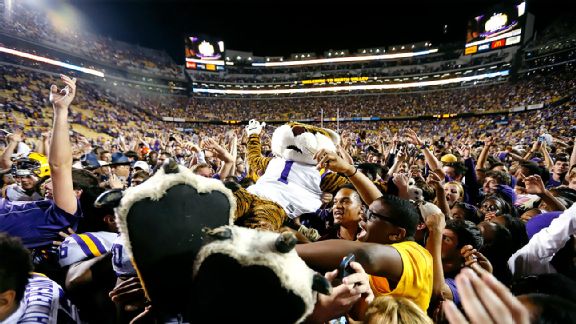 AP Photo/Jonathan Bachman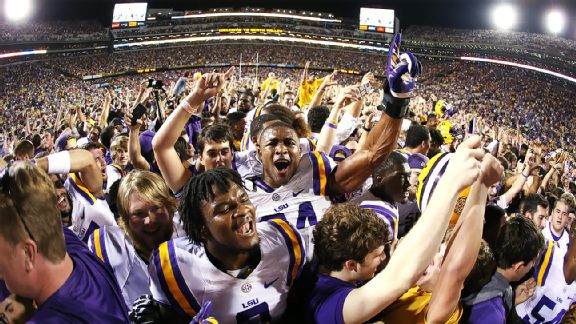 Chris Graythen/Getty Images
Look at that Tiger Stadium field after the game. Not an inch of grass can be seen.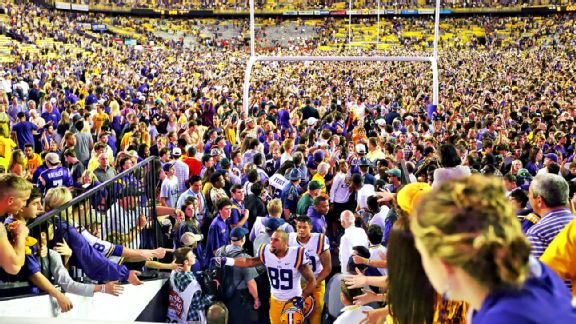 Crystal LoGiudice/USA TODAY Sports
And finally, we can't leave without including the great Les Miles. The victory must have been especially touching for the longtime LSU coach, whose mother passed away on Friday night. The postgame interview was classic Miles, in every way possible. Just watch: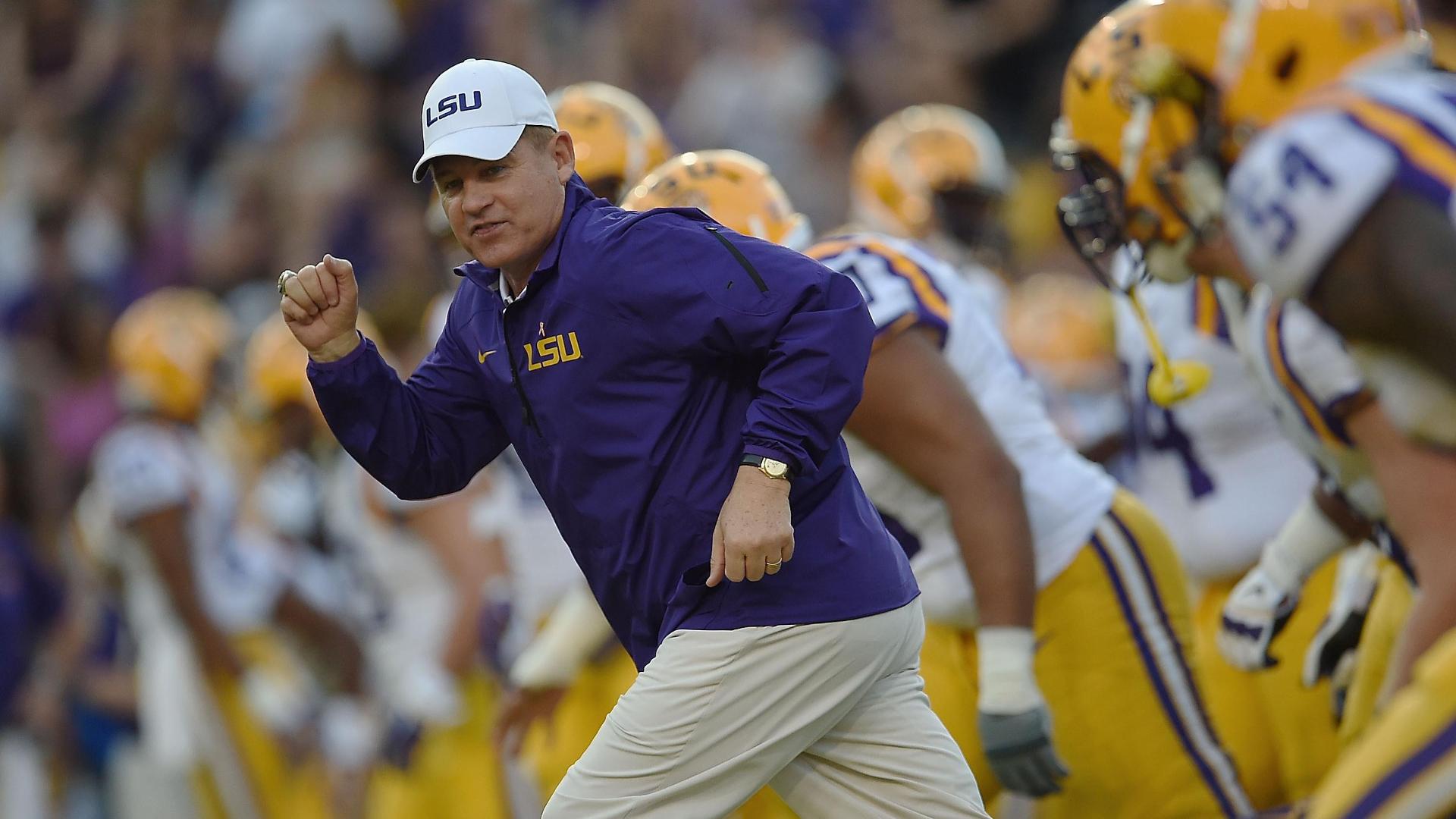 October, 26, 2014
Oct 26
12:43
AM ET
Imagine that. Last week there wasn't a single competitive game on the SEC slate. This Saturday, every game was must-see TV even though Alabama-Tennessee lacked the fourth-quarter drama of the other games.
With three prime-time games going bonkers to the delight of three terrific crowds, you could have made a serious case for an SEC RedZone channel. Picture-in-picture just wasn't enough.
Hugh Freeze is kicking himself:
No. 3 Ole Miss fell to No. 24 LSU,
10-7
, when the Tigers intercepted a
Bo Wallace
pass with two seconds left. Freeze has to live with a couple of bad decisions that cost the Rebels a shot at overtime. First, a mind-numbing delay of game pushed their freshman kicker back from a 42- to a 47-yard field-goal attempt. Then Freeze chose to have Wallace sneak in a pass with nine seconds left, figuring they'd either get something underneath and out of bounds to set up an easier field goal, or Wallace would take a shot at the end zone where only his receiver could catch the ball. Technically, there was enough time to go for the win
and,
if it fell incomplete, kick the game-tying field goal. Neither scenario happened, and now Ole Miss has to live with a haunting first loss of the season. With more SEC West bloodletting to come, the possibility of getting two teams into the playoff took a serious hit.
[+] Enlarge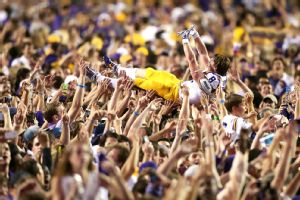 Crystal LoGiudice/USA TODAY SportsLSU upset No. 3 Ole Miss by limiting the Rebels to just 7 points and controlling the time of possession.
Here's to old school football:
As expected, the Rebels' Landshark defense shut down the airways and owned the takeaway advantage (four to LSU's one). What wasn't expected, however, was the Tigers' success running against a unit that was giving up an average of 97.1 yards a game. LSU piled up an astounding 264 yards on the ground, gradually wearing down Ole Miss. The Tigers defense also played its best game of the season, thriving in an electric Death Valley atmosphere. The Rebels led for most of the game until a 13-play, 95-yard, fourth-quarter drive by LSU that featured only one pass attempt -- the game-winning touchdown. It was Les Miles' 24th fourth-quarter win at LSU. The man is a warlock.
Mississippi State looks vulnerable:
It would be so easy to devote this space to some well-deserved gushing over MSU's unstoppable dynamic duo -- running back
Josh Robinson
(198 yards, two touchdowns) and quarterback
Dak Prescott
(216 yards passing with one touchdown and 88 yards rushing with two scores). And it's only fair to give Mark Stoops and his Wildcats all the credit in the world for Kentucky's improvement. But the story of this game that will have lasting implications concerned the Bulldogs' leaky defense. Mississippi State came into Saturday's game ranked 121st in passing yards allowed and gave up 401 yards to UK.
Having your defense exposed
in your first game as the No. 1 team in the land is not the best look for the playoff committee.
A desperate Spurrier is a dangerous Spurrier is an entertaining Spurrier:
Steve Spurrier definitely put the fun back in the Fun n' Gun offense Saturday night on the Plains in a 42-35 loss to Auburn. The Gamecocks came in with a 2-3 record in the SEC, and the Spurrier called plays like he had nothing to lose. And you know what? It worked. South Carolina's defense is still a disaster in cleats, but Riverboat Steve dialed up an epic shootout. Reverses, double reverses, quarterback throwbacks, wildcat bombs, onside kicks, fourth-down insanity ... it was all on glorious display. This was vintage Spurrier. The Gamecocks went for it on fourth down six times and converted five. For their part the Tigers looked comfortable all night. They know a thing or two about winning with offense, so this one felt a lot like 2013. Auburn isn't in control in the West Division but has to like its chances to still get to Atlanta or slip into the playoff as a worthy one-loss team.
Lane Kiffin makes for great theater:
Neyland Stadium was packed with Big Orange fans thirsting for some revenge against their former coach in his return. But on Alabama's first play, Kiffin dialed up a bootleg that was perfectly executed by
Blake Sims
and
Amari Cooper
, who ran 80 yards for a touchdown. Kiffin ran with Cooper down the Bama sideline for a bit before flashing a sly grin under his visor. On the Tide's next drive, Cooper continued to dominate, catching three more passes for 75 yards. After Cooper's second score, he shoulder-bumped Kiffin, who was smiling broadly this time. Vols fans probably doubled over with nausea. The Crimson Tide never lost the lead in the
34-20 win
over Tennessee. What we really learned in this one was just how good Cooper is. His 185 yards in the first quarter were the most for any SEC receiver in a quarter in the last 10 seasons. When it was over Cooper had 224 yards to break Julio Jones' single-game school record of 221 yards receiving (also against the Vols, in 2010).
October, 25, 2014
Oct 25
11:12
PM ET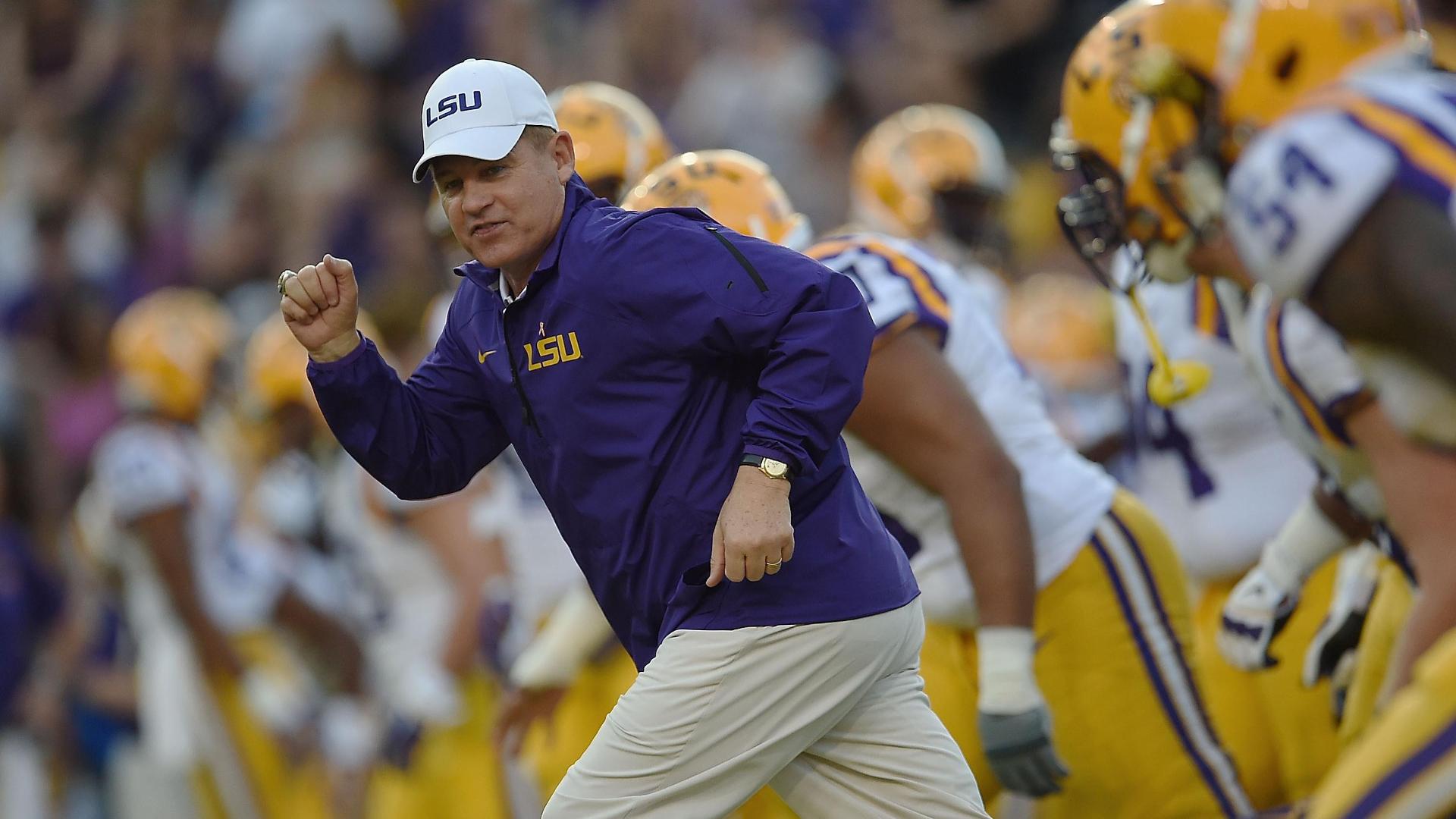 A breakdown of LSU's
10-7 upset win
over Ole Miss on Saturday night.
How the game was won:
Defense. LSU held Ole Miss to 313 offensive yards and got two critical stops in the final two minutes. The first came with 1:44 remaining on a fourth-and-1 try in which the Tigers stuffed the Rebels, and the second came with two seconds left when, instead of trying a 47-yard field goal, Ole Miss coach Hugh Freeze elected to try one more play. The Tigers made him pay for the decision. LSU senior safety
Ronald Martin
intercepted a pass from Ole Miss quarterback
Bo Wallace
with two seconds left to seal the upset win.
Game ball goes to:
Leonard Fournette
. The true freshman running back, who was the No. 1 recruit in the 2014 class, came up big after
Terrence Magee
left the game with an injury. Fournette finished with 113 yards on 23 carries, including some critical runs in LSU's final scoring drive. He even got his face mask ripped off by an Ole Miss defender, but his work on the last scoring drive help set up the game-winning score. Give the LSU defense a ton of credit also for keeping the Tigers in it even though they turned the ball over four times.
What it means:
We have a big shakeup near the top of the rankings and in the College Football Playoff race. Previously undefeated Ole Miss (7-1, 4-1 SEC) will drop and LSU, a team that is in the midst of what many have called a "rebuilding year" seems to be getting stronger. The Tigers (7-2, 3-2 SEC) have now won three in a row and are building momentum.
Playoff implication:
Ole Miss's chances take a hit. How much of a hit? We'll find out when the playoff selection committee's rankings are released on Tuesday. But a team that once controlled its own fate no longer does.
Best play:
Without a doubt, the play that sealed the win for LSU ... Martin intercepting Wallace: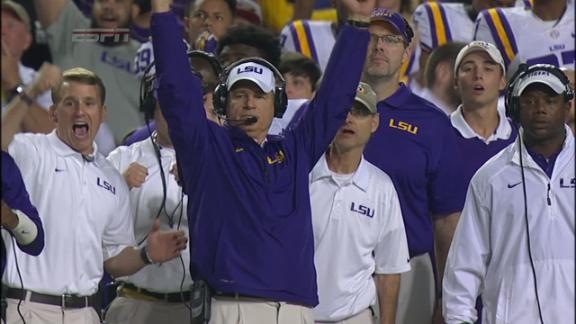 What's next:
Ole Miss must regroup quickly as it returns home to Oxford to host No. 5 Auburn a week from today. LSU has an open date next week and doesn't return to the field until Nov. 8 when it hosts No. 4 Alabama in Baton Rouge.
October, 25, 2014
Oct 25
11:08
PM ET
Associated Press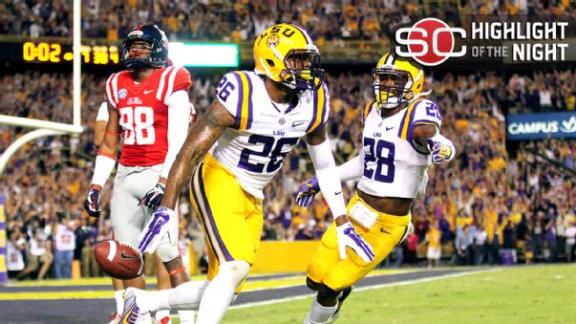 BATON ROUGE, La. -- Bo Wallace's pass was intercepted by Ronald Martin in the final seconds, and No. 3 Mississippi lost for the first time this season, 10-7 to 24th-ranked LSU on Saturday night.
Ole Miss was lining up for a potential tying field goal from 42 yards, but was called for delay of game. So the Rebels decided to run a play instead and Wallace threw his first interception in a Southeastern Conference game this season.
Soon after, fans were streaming onto the Tiger Stadium field.
Leonard Fournette ran for 113 yards, and LSU (7-2, 3-2) finished with 264 yards rushing against defense that came in allowing 97.1 per game. Anthony Jennings' short touchdown pass to tight end Logan Stokes gave LSU the lead late in the fourth quarter.
Mississippi (7-1, 4-1) led most of the way, but mainly because LSU turned the ball over four times and missed a short field goal.
LSU Holds Off Ole Miss