April, 16, 2014
Apr 16
12:35
PM ET
The Syracuse Orange and LSU Tigers will play a home-and-home series beginning in 2015, the schools announced Wednesday.
The first game between the teams will take place Sept. 26, 2015, at the Carrier Dome in Syracuse, N.Y. LSU will host the second game on Sept. 9, 2017.
"We are thrilled to enter into this home-and-home agreement with a premier program like LSU," Syracuse athletic director Daryl Gross said in a statement. "Student-athletes come to Syracuse to play on the biggest stage possible, and this gives our coaches and young men the chance to battle one of the standard-bearers of the SEC on our home turf.
"It is a complicated process to arrange games of this magnitude, and I couldn't be happier for our fans and for all who will be involved in this upcoming series."
The 2015 game will be the first regular-season contest between the schools. They have met twice in bowls -- Syracuse won the 1989 Hall of Fame and LSU won the 1965 Sugar.
The Tigers will face the Orange at the Carrier Dome in Syracuse, N.Y., on Sept. 26, 2015, during the fourth week of the season. Syracuse will make the return trip to Tiger Stadium on Sept. 9, 2017.
"This is another attractive nonconference series that our fans will enjoy and our football program will benefit from," LSU athletic director Joe Alleva said, according to the school's website. "To be able to bring LSU football to the northeast part of the country for a football game will be a unique experience and then to have Syracuse return the trip to Tiger Stadium in 2017 will be a nice addition to our home schedule."
April, 16, 2014
Apr 16
11:45
AM ET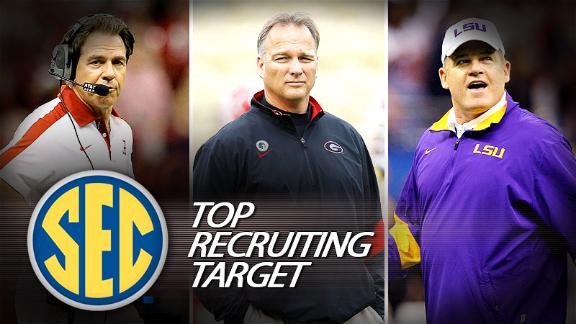 With Wednesday's release of the
2015 ESPN 300
, here is a look at five top targets for the top conference in college football.
To continue reading this article you must be an Insider
April, 16, 2014
Apr 16
9:00
AM ET
Editor's note: With LSU's spring practice now in the rearview mirror, this week we'll empty our notebook from the spring and cover a few topics that we weren't able to hit before the Tigers' spring game. On Wednesday we focus on a senior who is still learning how to play his position.
BATON ROUGE, La. -- A year ago at this time, not only was
Logan Stokes
preparing for his rookie season in SEC football, he was also a virtual rookie at his position, tight end.
And yet the junior college transfer played in every game and even started three in LSU's tight end-heavy offense last fall.
[+] Enlarge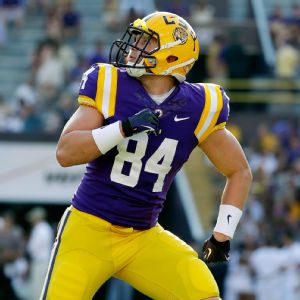 AP Photo/Gerald HerbertAfter a season spent strictly as a blocker, LSU tight end Logan Stokes is getting some experience in the passing game.
"I started playing tight end my sophomore year in junior college -- and I'm still learning," said Stokes, who up until that point had played defensive end. "I'm still young at this. I think I may have the least experience at tight end of any of them. This is my second year really playing tight end."
Stokes had other options when he picked the Tigers more than a year ago, but he knew he'd have a chance to play immediately despite his relative youth at the position. There were only a couple of tight ends on campus when he arrived last January, and all of them -- plus freshman
DeSean Smith
-- played once the season rolled around.
Stokes played a role as a blocker but never dented the stat sheet with a reception. He made improving as a receiver one of his priorities during spring practice. In fact, Stokes said all of the tight ends worked to diversify their games so they could fill all of the roles required of a well-rounded tight end.
"Obviously DeSean's more of a deep threat than I am. I'll just face the facts there," Stokes joked of Smith, who is enough like a receiver that the Tigers might flex him out into a slot receiver position at times. "I mean, I can get out on the routes and I can do what they ask me to do in the route game and DeSean is getting to where he can do what they want him to do in the blocking. Now when we play teams and we're in the game, they can't be like, 'Oh, they're running the ball' or 'Oh, they're throwing the ball.'
"Now we can kind of mix it up on people and they won't know what's going on. I feel like this year we've all been catching balls in the scrimmages and we've all been active in all aspects of the game."
All of them were active in the passing attack during the Tigers' spring game. Smith caught three passes for 45 yards, including a 19-yard touchdown from
Brandon Harris
.
Dillon Gordon
caught two balls for 32 yards and
Travis Dickson
one for 8. Stokes hardly looked like a guy with limited receiving skills when he went over the middle to make a pretty, 26-yard grab from
Anthony Jennings
in the second quarter.
"The tight ends you saw involved more [in the spring game] than you've seen. I thought our tight ends did an outstanding job," offensive coordinator Cam Cameron said after the game. "I thought Dillon Gordon did a good job, DeSean Smith really an outstanding spring, Logan Stokes, Travis Dickson, that group. So they're doing some things today that we enjoyed and I thought our guys did well."
The Tigers' tight ends echo Cameron's optimism and expect their increased involvement to be a trend that lasts beyond the spring, thanks in no small part to the progress they made during the 15 spring workouts.
"I think we've had a great spring," Stokes said. "Everyone's gotten better at their weaknesses. DeSean's improved a lot on his blocking, I've improved a lot on my receiving game – me and Dillon both. Me and Dillon are both still strong blockers. Travis is good at both. So right now, we're all working on our weaknesses and we've all made improvements."
April, 15, 2014
Apr 15
12:00
PM ET
April, 15, 2014
Apr 15
9:00
AM ET
Editor's note: With LSU's spring practice now in the rearview mirror, this week we'll empty our notebook from the spring and cover a few topics that we weren't able to hit prior to the Tigers' spring game. On Tuesday, we focus on a junior pass rusher with star potential.
BATON ROUGE, La. –
Danielle Hunter
had a fine first season as a starter, but he had a problem. Mentally, the then-sophomore couldn't get out of his own way.
"I was thinking too much," Hunter said. "I know you could watch games and you could see me just, like, I'd stutter myself out of sacks and all that. I was thinking too much last year. I need to just let go and just play."
[+] Enlarge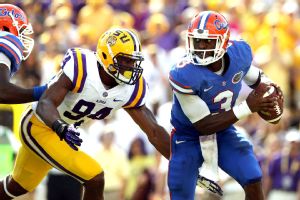 Chuck Cook/USA TODAY SportsDanielle Hunter is a good bet to build on his sack total of three from last season.
There were bright spots along the road. He was the SEC's Defensive Lineman of the Week after recording seven tackles and batting down two passes in the Tigers' 17-6 win over Florida. And he recorded a career-high eight tackles against Auburn -- the first of 10 consecutive starts he would make to close the season.
But Hunter finished the season with just three sacks (tied for second on the team), eight tackles for a loss (second) and five quarterback hurries (second). The Tigers' total of 27 sacks was the program's fewest since 2009.
That's why he identified improving as a pass rusher as one of his top goals during spring practice.
"All of us, we've got to do better than last year because last year we didn't do as well as we thought we were going to do," Hunter said.
If Hunter's spring was any indication, expect rapid improvement this fall. For one thing, Hunter is no longer out-thinking himself.
"Coach Brick [Haley] has been telling me I'm starting to do that," he said. "The young guys are starting to do that."
Hunter recorded sacks on back-to-back plays in a standout effort during the Tigers' spring game and was credited with two more quarterback hurries.
He made sure to share the credit with defensive tackle
Quentin Thomas
afterward for occupying blockers, but it was Hunter who blew past the offensive tackle to record the two sacks.
And as his confidence continues to build -- and as he learns to "just let go and play," as he put it -- the 6-foot-6 junior might emerge as one of the SEC's better pass rushers in 2014.
"I think he's a very talented guy," LSU coach Les Miles said. "I think he has range and speed and I think the more snaps he gets, the more significant he'll be and the more impact that he'll give us in the fall. I think he'll start fast and I think he'll finish fast."
April, 14, 2014
Apr 14
9:57
PM ET
April, 14, 2014
Apr 14
9:00
AM ET
Editor's note: With LSU's spring practice now in the rearview mirror, this week we'll empty our notebook from the spring and cover a few topics that we weren't able to hit prior to the Tigers' spring game. We begin with a story on a pair of rising stars in LSU's secondary.
BATON ROUGE, La. -- Shortly after LSU's defense adopted the Seattle Seahawks' "Legion of Boom" moniker, the Tigers tired of breaking huddles by using the nickname that Seattle's feisty secondary gave itself.
But LSU's secondary still has a perfectly good nickname of its own.
[+] Enlarge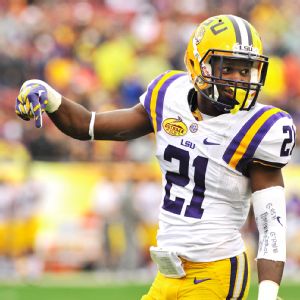 Al Messerschmidt/Getty ImagesCB Rashard Robinson had his best outing of 2013 in LSU's 34-10 rout of Texas A&M.
"We've still got the DBU saying, though," cornerback
Rashard Robinson
said.
DBU as in "Defensive Back University," which might seem boastful, but it suits a program whose secondary has produced seven All-Americans and four first-round NFL draft picks in the last decade.
"That's a lot to live up to. We've got Patrick [Peterson] and them, there were some great players here, so we've got to live up to the hype," said Robinson, who attended the same high school (Ely in Pompano Beach, Fla.) that produced Peterson, a former LSU All-American and current star with the Arizona Cardinals.
The Tigers can go a long way toward upholding that tradition if Robinson and fellow sophomore
Tre'Davious White
continue their upward climb this fall. The duo put a positive spin on what had been an up-and-down 2013 season for DBU by claiming starting jobs by the end of the fall.
The Tigers gave up some big yardage totals while trying to settle on the right personnel last fall -- including a season-high 349 yards to Ole Miss in Game 8 -- but after that point, they allowed just 168.8 passing yards per game in the final five games. Perhaps the highlight of that stretch was the 34-10 dismantling of Texas A&M when first-time starter Robinson locked down Aggies star
Mike Evans
, intercepted his first career pass, and the Tigers handed
Johnny Manziel
(16-for-41 for 224 yards, one touchdown, two interceptions) the worst outing of his college career.
Now, instead of green freshmen, Robinson and White are established starters, and they might just be growing into the program's next shutdown corners.
"I think they're becoming more mature, understand the spot that they're in," LSU coach Les Miles said. "I think they're getting better. They're talented men, and they're getting reps after reps."
For both players, that means focusing on the little things. Robinson, who wasn't cleared to enroll at LSU until two days before the first game last fall, understandably took time to develop the necessary level of confidence.
"I was always peeking towards the sideline, just making sure I wasn't messing up or anything like that, because I always used to hear [defensive backs coach Corey] Raymond yelling and it used to shake me up sometimes," Robinson said. "But now I just relax and have that football swag with my technique and it's been going good."
White entered the starting lineup early last season and spent the spring working on basic elements of cornerback play that make a subtle difference.
"There's some things I still need to work on. I take it as that, but there's some things that I got better at as the spring went along," said White, who led the team with nine passes defended and seven pass breakups last season. "[Things such as] being more physical at the line of scrimmage with the receiver and staying squared, not open as quick as I did last fall."
As long as they stay out of trouble and in good academic standing, White and Robinson have the potential to lead a bounce-back year for LSU's secondary -- and maybe even prove that the DBU nickname still has merit -- in 2014.
"To be honest, we've still got a couple things to work on, but we're not too far away," Robinson said. "We're coming together."
April, 12, 2014
Apr 12
3:54
PM ET
Associated Press
SULPHUR, La. -- Former Louisiana State University linebacker Tahj Jones was injured after being shot by another former LSU football player, police said Saturday.
Sulphur Police Chief Lewis Coats said Jones, a Sulphur resident, was shot Friday night at an apartment complex by Brandon Winey, a former offensive tackle for LSU.
Jones, 24, went to the apartment complex to visit a woman and Winey arrived shortly after to visit the same woman. A fight ensued, and Winey pulled out a handgun and shot Jones in the abdomen, Coats said.
The woman drove Jones to a hospital in Sulphur. He was transferred to Rapides Regional Medical Center in Alexandria for surgery Saturday morning. Hospital spokeswoman Charla Ducote said Jones was in serious condition following surgery.
Winey fled in his vehicle and was later arrested at his house in Lake Charles, Coats said. Winey, 36, was charged with attempted second-degree murder and remained jailed Saturday in Sulphur on $1 million bond, according to the Sulphur police department. It wasn't immediately clear if he had an attorney.
LSU spokesman Michael Bonnette says the university is aware of and monitoring the situation.
Jones, whose college career ended after last season, had taken part in LSU's pro day last Wednesday. A versatile linebacker who also played on special teams, Jones started three games and played in eight for LSU in 2013, but played only one game in 2012 because of academic problems.
He was a backup in 2011 and 2010, coming to LSU after twice being named to the 5A all-state first team at Sulphur High School.
April, 11, 2014
Apr 11
9:00
AM ET
BATON ROUGE, La. --
LSU
held its final spring practice this week, officially sending the Tigers into a crucial offseason.
An obvious point this spring was that Les Miles' coaching staff was working with an incomplete roster. Seven underclassmen jumped ship to enter the NFL draft and only two of the Tigers' 23 signees -- quarterback
Brandon Harris
and defensive back
Edward Paris
-- enrolled early to participate in spring practice.
That leaves plenty of questions as the team moves into the offseason -- five of which we'll address now:
5. Do the Tigers have adequate depth in the backfield?
[+] Enlarge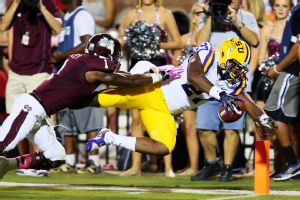 Spruce Derden/USA TODAY SportsOutside of Kenny Hilliard, there is not a lot of returning depth in the backfield and the Tigers will need to rely on incoming freshman.
The answer to this question during the spring was a resounding no --
Terrence Magee
and
Kenny Hilliard
were the only scholarship tailbacks on the roster, and Magee missed a portion of the month after spraining an ankle in a scrimmage -- but that's irrelevant. You don't win or lose a game in March or April.
But even when freshmen
Leonard Fournette
and
Darrel Williams
arrive this summer, will that be enough? An injury here or there could cause major problems. For example, look what happened at Georgia last season. When the season opened, it appeared as though the Bulldogs had one of the nation's top backfields with
Todd Gurley
and
Keith Marshall
leading the way and freshmen
J.J. Green
,
Brendan Douglas
and
A.J. Turman
serving as backups. But then Gurley suffered a minor injury in the opener against Clemson followed by a serious ankle injury in Game 4 against LSU. The next week, Marshall suffered a season-ending knee injury.
All of a sudden, Georgia was down to a bunch of freshmen -- all of whom were mid-level prospects -- by the first week of October. It's no mystery why the Bulldogs went 1-2, and very nearly 0-3, in that October stretch before Gurley returned to the lineup. A lack of backfield depth in the SEC can be a season killer when you make a living on the ground like Georgia and LSU typically do.
4. How many players will figure into the Tigers' plans on the defensive line? And how good can they be this season?
Aside from quarterback play, this might be the most important factor for the 2014 Tigers. Brick Haley's bunch was a bit erratic last season, and now it must function with youngsters replacing departed juniors
Anthony Johnson
and
Ego Ferguson
in the middle.
The good news is that there is plenty of talent on hand along the interior line.
Christian LaCouture
and
Quentin Thomas
worked as first-teamers, with redshirt freshmen
Maquedius Bain
,
Greg Gilmore
and
Frank Herron
chipping in as reserves. There is an extremely high ceiling with that group, but they're about as green as it gets. It will also bear watching during preseason camp to see whether a signee like
Travonte Valentine
can crack Haley's rotation, too.
The end spots are also a bit of a mystery.
Jermauria Rasco
-- who missed the spring while returning from offseason surgery -- and
Danielle Hunter
seem locked in as starters, but will they improve upon middling results in 2013? And who fills in the depth chart behind them?
Tashawn Bower
seems like a safe bet, but who else? We'll see.
3. Who will start at safety?
Jalen Mills
and
Ronald Martin
seemed to have these jobs locked down during the spring, but
Rickey Jefferson
and
Corey Thompson
-- another player who missed spring practice due to injury -- will be in the mix in August.
Keep in mind that nearly every time this position came up in one of his post-practice press gatherings, Miles mentioned how the Tigers' safety signees --
Jamal Adams
,
Devin Voorhies
and
John Battle
-- will be part of the preseason competition, too.
2. Will this offense be productive enough to win a championship?
It probably was last season, but for once it was LSU's defense that was in the middle of a retooling effort. John Chavis' defense appears to be on the rise now, but Cam Cameron must replace nearly every significant skill player from last season's offense.
Freshmen like Fournette, Harris and receiver
Malachi Dupre
don't just look like serviceable college players, they look like superstars in the making. But it's a lot to ask of true freshmen to be superstars immediately.
Cameron's dilemma is that he will almost certainly rely on at least a half-dozen newcomers to make an impact this fall. It's a tricky proposition, but his getting reliable production out of that group might mean the difference between LSU contending for the SEC West title this fall or having to wait another year or two until they mature and bring the Tigers back to national championship contention.
1. Will Harris overtake Anthony Jennings at quarterback?
We can't post this list and fail to address the biggest question surrounding the Tigers this spring. After a month of practice, there doesn't seem to be an answer, although Harris clearly outperformed his sophomore counterpart in the spring game.
LSU's coaches understandably see no need to declare a starter five months before the season starts. They'll battle it out this summer in passing sessions and then again in August. Harris looks to be the contender with higher upside, but he must prove he can avoid the decision-making problems that most freshman quarterbacks encounter when the pressure of the season arrives.
April, 10, 2014
Apr 10
2:00
PM ET
BATON ROUGE, La. -- LSU's spring practice is officially in the books. Now that it's over, we thought it might be fun to review two sets of our predictions from before the spring and see how close we came.
Prediction No. 1: Freshmen will contend for playing time
[+] Enlarge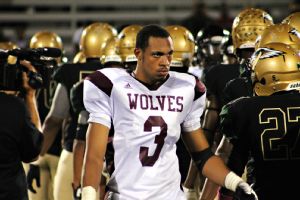 Max Olson/ESPN.comLSU early enrollee Edward Paris is making an impact at defensive back.
Outcome:
Although it's clear that freshmen such as tailback
Leonard Fournette
, receiver
Malachi Dupre
and safety
Jamal Adams
-- none of whom will arrive until this summer -- are likely contributors in 2014, this prediction mostly referred to the redshirt freshmen who will see their first action this fall. It also referred to early enrollees defensive back
Edward Paris
and quarterback
Brandon Harris
, who participated in spring practice and stand a good chance of playing this season.
We were hardly going out on a limb here, but it appears as though plenty of redshirt freshmen secured 2014 playing time over the last month. Players worth mentioning from that group include receiver
John Diarse
and defensive linemen
Frank Herron
,
Maquedius Bain
and
Greg Gilmore
.
Prediction No. 2: Anthony Jennings keeps the QB job
Outcome:
To be determined. Harris clearly outplayed Jennings in last Saturday's spring game, but LSU's coaches and players insist the competition is far from over. Jennings etched his name into LSU lore by leading the game-winning touchdown drive against Arkansas last year in relief of an injured
Zach Mettenberger
, but his mediocre performance in the Outback Bowl and highly average spring game -- he threw two interceptions, both to linebackers who returned them for touchdowns -- leave this race wide open.
Jennings might very well start the opener against Wisconsin, but we can't claim victory (or accept defeat) on our quarterback prediction at this point.
Prediction No. 3: Right guard isn't the only offensive line job that's up for grabs
Outcome:
Right guard is the only spot that didn't return a starter, so it was clearly up for grabs. We were curious as to whether new offensive line coach Jeff Grimes might shake things up along the line, but it doesn't appear that he did.
Returning starters
La'el Collins
,
Vadal Alexander
,
Elliott Porter
and
Jerald Hawkins
apparently held onto their starting roles, although it wouldn't be completely untrue to say that some of their jobs were up for grabs had one of the reserves put together a dominant spring. Nonetheless, the right guard battle --
Evan Washington
,
Fehoko Fanaika
and
Ethan Pocic
all remain in the running for the job -- was the only one that seemed highly competitive this spring.
Prediction No. 4: Rashard Robinson keeps rising at cornerback
Outcome:
Another fairly safe prediction here. As long as Robinson remains on the active roster, it seems highly likely that he will build upon his late charge in 2013 and become a star in the secondary.
Harris and
Rob Bolden
teamed up to beat him on a pretty throw down the sideline in the spring game, but Robinson otherwise held up well last Saturday. After shutting down Texas A&M superstar
Mike Evans
last season, Robinson has LSU fans excited about his potential -- and he didn't seem to hurt his cause on the practice field this spring.
Prediction No. 5: Danielle Hunter improves as a pass rusher
Outcome:
Anyone who saw Hunter manhandle the second-string offensive line in the spring game -- including back-to-back sacks on one possession -- would say this prediction seems to be sound.
LSU posted just 27 sacks last season, which was a big drop-off after the last few Tigers teams boasted at least one or two scary pass rushers.
Jermauria Rasco
led the team with just four sacks, and Hunter tied for second with three.
It would be a major upset -- and a big disappointment -- if Hunter fails to exceed that total this fall.
Now let's take a look at our predictions for five players to watch during the spring: Paris, Jennings, Fanaika, wide receiver
Quantavius Leslie
and defensive lineman
Mickey Johnson
.
There were some hits and misses here. Jennings was an obvious choice since he and Harris were clearly going to battle for the quarterback job. Picking either one made sense, but we went with Jennings since he was the more experienced player. Harris was the contender who generated all of the positive buzz in the spring game, however.
Fanaika, Leslie and Johnson are all veterans at positions with major playing time available, so they seemed like good picks. Fanaika is still a leading contender to start at right guard and Leslie had a productive second scrimmage (four catches, 135 yards and three touchdowns), although he was quiet in the spring game. But Johnson dealt with injuries during the spring and was not a factor in the Tigers' competition at defensive tackle.
The problem with our Paris prediction was that we projected him as a contender at safety, which is where ESPN listed him as a prospect. The early enrollee practiced at cornerback during the spring, so we can't feel too good about that prediction. But he was working with the second-team defense by the end of the spring, so at least he flashed some potential.
If we could redo the list, we'd place Harris, Washington, Diarse, Bain and sophomore
Kendell Beckwith
-- who shifted to middle linebacker this spring -- on there.
April, 10, 2014
Apr 10
12:37
PM ET
AUSTIN, Texas -- A historic day on the University of Texas campus got even better Thursday, thanks to Les Miles.
The LSU head coach was photographed attending a UT history class along with his wife, Kathy.
More than just Presidents on the 40 Acres today. @LSUCoachMiles is currently sitting in a UT history class. pic.twitter.com/inInjzDrHe

— Longhorn Network (@LonghornNetwork) April 10, 2014
Months ago, amid the coaching search to replace Mack Brown, a photo of Miles being spotted on Texas' campus might have burned down the Internet. But no need to panic, LSU fans, he's only in town for his family.
What's going on here? LSU wrapped up its spring practices last week, giving Miles and his wife time to get away this week and visit their daughter,
Kathryn "Smacker" Miles
, a freshman on the Longhorns women's swim team.
Miles also attended Texas' annual academic awards banquet on Wednesday night and told the
Austin American-Statesman
he was impressed by the event.
"It's an affirmation of things being done right," Miles told the newspaper. "I think the message certainly is that to compete not only in the pool but in the classroom, and I think she's enjoying that very much."
Miles is in Austin on the same day that President Barack Obama and former President George W. Bush are scheduled to speak at the LBJ Presidential Library's Civil Rights Summit, honoring the 50th anniversary of the passage of the 1964 Civil Rights Act.
April, 10, 2014
Apr 10
12:00
PM ET
Plenty going on as spring practices continue in the SEC. We have pro days, coaching talk, players adapting to new positions and even reality TV news in today's lunch links:
April, 10, 2014
Apr 10
9:00
AM ET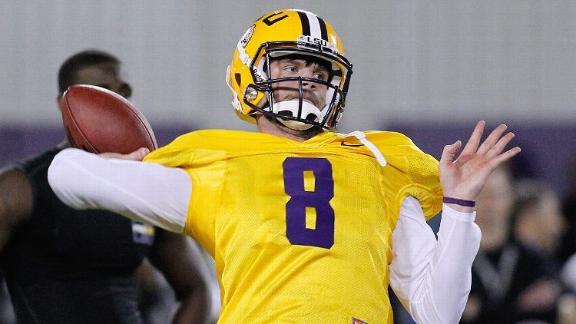 BATON ROUGE, La. -- Although 20 of his former LSU teammates also worked out before NFL scouts at Wednesday's pro day,
Zach Mettenberger
was the story.
The former Tigers quarterback seemed a bit displeased by his performance in his first public workout since undergoing surgery to repair the injured ACL and MCL in his left knee in early January. But his performance seemed to impress the pro scouts and coaches in the room, likely reinforcing his stock as a second-round pick in next month's draft.
Mettenberger discussed the throwing session with a contingent of media members on Wednesday. Here is a portion of what he had to say:
Q: How do you think you showed what you can do in coming back from the knee surgery?
A:
I have been saying for a couple weeks now that I'm healthy and good enough to know, and I don't think all of y'all believed me. I think one thing I wanted to do is show that I could go out there and take an explosive drop and throw the ball downfield like everyone knows I can. It was great to get out there and throw the ball around with all my guys that I threw with for three years for one final time.
Q: What do you think this shows about your recovery?
A:
I think people think it's pretty remarkable at 13 weeks, where I'm at. I did a lot of good things today, but sometimes I just hold myself to almost an unrealistic standard. I wasn't too pleased with myself on some of those throws today, but all things considered, I thought I did OK, but still a lot to improve on.
Q: How close are you to 100 percent?
A:
Right now I'm probably 85, 90 percent. I think by rookie camp in May, I'll be 100 percent.
Q: Have you had any private workouts with teams yet?
A:
I haven't had any private workouts with teams. Hopefully I'll get more now since they've seen that I'm OK. You saw with the Clemson offensive lineman, he got hurt [
Brandon Thomas
tore his ACL in a private workout with the
New Orleans Saints
last week], I think, my feedback from teams, they're afraid to work me out because they don't want me to injure anything. So I haven't had any private workouts, but I've been throwing every day with the guys here in town. We were able to jell, mesh kind of how we were, but we were still off a little bit on timing things. But I thought we did pretty well today.
Q: Do you have any workouts scheduled?
A:
Yeah, I've got a few. I'm flying to the Jaguars tomorrow [and Saturday with the Lions]. I've got a couple the rest of this week and then next week. So I'm excited for all those.
Q: What do you think you've proven about your health?
A:
I think I've shown that I'm not going to start the season on the PUP list. I think I showed that I'm healthy enough to go through practice, compete for a job and by the time the season rolls around in September, I should be fully healed, no question.
Q: Did you ever doubt that you'd be back so quickly?
A:
You tear your ACL in late November and have surgery in early January, you kind of doubt being back in three months and throwing. But I had [LSU head trainer] Jack Marucci with me and Dr. [Brent] Bankston and they kept reminding me that I was going to be fine in three months. And here I am three months later and they were right. I probably should have stressed a little less and just listened to Jack.
April, 9, 2014
Apr 9
9:30
PM ET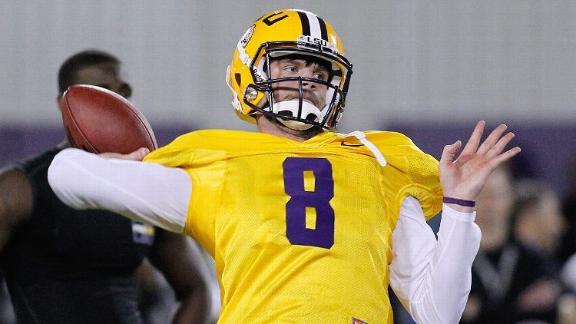 BATON ROUGE, La. -- Barely three months removed from surgery to repair the torn ACL and MCL in his left knee,
Zach Mettenberger
hardly took it easy in his first public throwing session before NFL talent evaluators.
The former LSU quarterback gave NFL eyeballs plenty to see -- and looked both frustrated and exhausted by the end -- when he completed 93 for 107 pass attempts at the Tigers' pro day workouts on Wednesday.
"I'm three months out of surgery and not in playing shape and my legs are kind of tired. So yeah, that's kind of something to expect," said Mettenberger, who will visit the Jacksonville Jaguars on Thursday and said he will work out with the Detroit Lions on Saturday. "But I'm doing everything I can to work through that to be ready for rookie camp."
Like Texas A&M's
Johnny Manziel
at his pro day, Mettenberger threw passes while wearing a helmet and shoulder pads. LSU offensive coordinator Cam Cameron said before the workout that they had been planning the move since well before Manziel did it, and Mettenberger added that the trend will likely continue.
"You play the game in pads," Mettenberger said. "We talked about that probably three months ago and really started talking about it seriously two months ago. People can believe it or not, but I just think it's going to be a new trend for quarterbacks to work out with pads on."
Mettenberger, who wore a brace on the left knee, said he's between 85 and 90 percent and predicted he'd be operating at full strength in time for a rookie camp in May. He showed the teams in attendance -- a group that was several hundred strong and included five head coaches and seven general managers -- a variety of drops and rollouts in order to indicate that his knee is stable.
LSU director of athletic training Jack Marucci, who helped coordinate Mettenberger's rehab, said he placed no limitations on what Mettenberger would attempt in the workout.
"If he was practicing in spring ball, we would have let him do spring ball," Marucci said.
Overall, it seemed to go well. Mettenberger has never had a problem zipping passes with authority, and although he wasn't thrilled with the 14 incompletions -- about half of which came on dropped passes -- he understood that some rust was inevitable.
"Timing was a little off," Mettenberger said. "It wasn't the most disciplined route running that we've had here, something Coach Cam wouldn't allow. But all things considered, with guys being gone and we haven't been with Coach Cam every day for the last three months, it was a pretty good day."
Mettenberger had a big collection of former LSU teammates to throw to on Wednesday. Among the 21 overall participants were receivers
Odell Beckham
,
Jarvis Landry
,
Kadron Boone
and
James Wright
and running backs
Jeremy Hill
,
Alfred Blue
and
J.C. Copeland
.
[+] Enlarge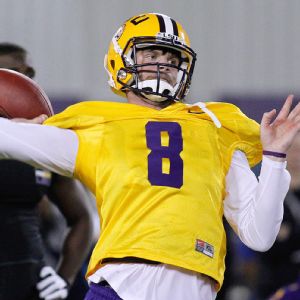 AP Photo/Jonathan BachmanZach Mettenberger predicted he'd be operating at full strength in time for a rookie camp in May.
Not only were they looking to impress NFL execs with their pass-catching skills and positional abilities, some of them wanted to improve upon their workouts at the combine. Aside from Mettenberger's throwing, perhaps the biggest storyline of the day would be whether Landry could complete the 40-yard dash faster than the 4.77 seconds he posted while nursing a hamstring injury in Indianapolis.
Problem solved. Landry's two official times on Wednesday were 4.58 and 4.51, and he improved his production in all of the testing drills in which he participated at the combine.
"Even though it took a while [since the combine in late February], I feel like today was a positive day," Landry said. "I got a lot out of today. I'm getting great feedback. I think now is just not letting up, just continue working and continuing to impress people."
Landry has never been one to test particularly well, but his on-field production in 2013 was unquestioned. He ranked among the SEC's top receivers with 77 catches for 1,193 yards and 10 touchdowns and flashed some of the most reliable hands of any receiver in the country -- reminding Cameron of a star wideout he once coached with the Baltimore Ravens.
"Guys know he can run," Cameron said. "They've already told me, 'We know this guy can run.' They're going to look at the tape when it comes to a guy like that. We had
Anquan Boldin
, and I don't know that Anquan ever ran a 4.58, but all he does is catch the ball, compete and win world championships. So I guess he helped himself."
Hill also improved upon his 40 time at the combine, going from a 4.66 in Indianapolis to a 4.52 and a 4.54 on Wednesday, helping reinforce Cameron's prediction that he can be a valuable every-down back in the pros.
One player who didn't need to run again, however, was Beckham. He posted a 4.43 40 time at the combine and joked that he felt so good on Wednesday that he thought about trying to beat that time at pro day.
"I was warming up and I was kind of telling my dad, 'I want to run again.' And they were all like, 'There's just no point,' " Beckham said. "So there was a part of me that wanted to run again, just to show that I do have that speed and it wasn't just a one-time thing."
He seems to be the highest-rated Tiger in this draft, with some projections placing him in the middle of the first round. Beckham -- who has workouts ahead with the New York Jets, Cincinnati Bengals and Buffalo Bills -- said he has already accepted an invitation to attend next month's draft and is proud to be considered one of the best prospects in a loaded class of receivers.
"Honestly I wouldn't say that I didn't expect it, but it's a little surprising now to finally see that they're saying that if not the best, you're one of the best," Beckham said. "So it's a great feeling to me and it's something that I worked for."
Kevin Toliver II Climbs New ESPN 300
SEC SCOREBOARD
Thursday, 8/28
Saturday, 8/30
Sunday, 8/31