December, 22, 2014
Dec 22
11:00
PM ET
We asked college football fans what recruits they want under the Christmas tree for their favorite school. Here are the best answers in this special Christmas edition of the Early Offer. The Early Offer will return next week from the Under Armour Game practices in Orlando, Florida.
@jeremycrabtree Ole Miss CeCe Jefferson to add to an already great defense. And DeMarcus Lodge to go along with our other talented WR.

— Joe Turnage (@Joe_T25) December 21, 2014
@jeremycrabtree Florida- Bryon Cowart, CeCe, Ivey, Holland, Jordan Scarlett

— Trenton Stowell (@tstowell24) December 21, 2014
@jeremycrabtree b cowart Cece and dpayne come to auburn to make impact on defense

— Tad tisdale (@TadTisdale) December 21, 2014
@jeremycrabtree Ryan Davis at Kstate

— darren mueller (@milkman2993) December 21, 2014
@jeremycrabtree @ESPNRNFball Daylon Mack to #LSU. He would play from day 1.

— Dustin L. Davis (@DustinLDavis) December 21, 2014
A quarterback. #VirginiaTech MT "@jeremycrabtree: What recruits do you want your school to land for Christmas?"

— Joe Kriz (@joe_kriz) December 21, 2014
@jeremycrabtree @ESPNRNFball Van Jefferson, Roquan Smith, and Keep Bobo #UGA football

— Dx2 (@theReal_DrDave) December 21, 2014
@jeremycrabtree @ESPNRNFball OU-Demarcus Lodge

— RNS (@LTBCEO) December 21, 2014
@jeremycrabtree @ESPNRNFball @tezivey @ByronHawkStar99 @cecejeferson7 @Famousscarlett @thaRD5 @Jalen_Merrick @K72_Phillips @Deondre_3

— Gator_Fan_4Life (@gatorsfan1977) December 21, 2014
@jeremycrabtree @ESPNRNFball a&m get daylon Mack

— Trey Burnett (@rednationrocks2) December 22, 2014
@jeremycrabtree @ESPNRNFball Martez Ivey and Daron Payne would be huge for Auburn. Need depth at those positions and they are both studs.

— jakewright (@jakewright1996) December 22, 2014
@jeremycrabtree @kris23db -DBU.

— Zane Ellis (@ZaneMoneyEllis) December 22, 2014
@jeremycrabtree @ESPNRNFball #EarlyOffer Daylon Mack, Kris Boyd, and Warren for #Texas

— Evan Yarbrough (@evan_yarbrough) December 22, 2014
@jeremycrabtree Kyle Phillips and Ugo Amadi! #Vols

— Jarret Henry (@JarretHenry) December 22, 2014
@jeremycrabtree DL-N Gallimore,G Campbell,D Daniels LB-McGinnis,Wheeler, Josh Smith OL-Wariboko, Teauma WR - Newsome DB-Orr, Dalton #Sooners

— nk boomer (@nk_boomer) December 22, 2014
@jeremycrabtree KSU - Kylan Johnson@shotime_kc

— Wildcat_Jeff (@Snyder_cat) December 22, 2014
December, 22, 2014
Dec 22
12:00
PM ET
BATON ROUGE, La. -- LSU got considerable production out of its vaunted freshman class this season, but some members of the class are still waiting to contribute.
Today and tomorrow, we'll look at the freshmen who are in line to redshirt, as well as a couple who appeared in only a game or two. Today we begin with the players on offense.
OL GARRETT BRUMFIELD
Height/Weight:
6-4/309 pounds
ESPN prospect rating:
Four stars, No. 54 overall prospect on ESPN 300, No. 1 offensive guard
2014 in review:
The writing was on the wall when Brumfield and
William Clapp
signed in February in that LSU returned a wealth of experience along the line. Unless something catastrophic happened, they would most likely sit out the season and redshirt -- and that's what happened. Brumfield could be in line to play guard or center next season, particularly if one of the Tigers' underclassmen opt to enter the NFL draft.
Teammate's comments:
"Brumfield is a very athletic guy. He kind of reminds me of Trai [Turner, a former LSU lineman and rookie with the Carolina Panthers] in a way. Clapp reminds me of maybe a little smaller P.J., if you remember [former LSU center] P.J. Lonergan. So those are two guys that played really good football at LSU, and they've gotten so much better from when they came in to now. I really like those guys. They're good guys and things like that, so they have a bright future." -- junior left guard
Vadal Alexander
OL WILLIAM CLAPP
Height/Weight:
6-5/295 pounds
ESPN prospect rating:
Four stars, No. 22 offensive guard
2014 in review:
The son of former LSU captain Tommy Clapp worked behind veterans at guard and center during the season. Center might be where he eventually settles, however, with senior
Elliott Porter
completing his career and sophomore
Ethan Pocic
able to play multiple positions along the line.
Teammate's comments:
"[Brumfield and Clapp have] both been working great at guard and center. They switch back and forth with it. They practice at center one day and they go back to guard the next day. They're going at it. ...I believe there's a little competition between them two -- like they're young, but they're always trying to see who can get it in." -- sophomore right tackle
Jerald Hawkins
WR TONY UPCHURCH
Height/Weight:
6-1/230 pounds
ESPN prospect rating:
Four stars, No. 283 overall prospect on ESPN 300, No. 42 wide receiver
2014 in review:
Of the four wide receivers LSU signed in February, Upchurch probably needed the most work.
Trey Quinn
and
Malachi Dupre
contributed immediately and
D.J. Chark
also appeared in a handful of games. Upchurch needed time to slim down a bit and learn LSU's offense. He'll have to compete for playing time with a number of young wideouts in 2015.
Teammate's comments:
"He's grown a lot. From the first time I met him in the summer to yesterday, he's grown a lot. He's matured a lot. He was real heavy when he first got here and he's losing weight. He's growing as a person on and off the field. He's not doing some of the things he was doing when he first got here. He's more focused on football." – sophomore wide receiver
Travin Dural
TE JACORY WASHINGTON
Height/Weight:
6-5/221 pounds
ESPN prospect rating:
Four stars, No. 169 overall prospect on ESPN 300, No. 5 tight end (H)
2014 in review:
As with the other offensive redshirts, Washington faced a logjam at his position when he arrived at LSU in the summer. The Tigers returned four tight ends who saw the field in 2013, plus they added junior college transfer
Colin Jeter
. Washington and the other young tight ends should have a much greater opportunity to play next season with seniors
Logan Stokes
and
Travis Dickson
completing their careers.
Teammate's comments:
"I think Jacory's going to be a monster one day. He's big, tall, strong. Just coming here, they wanted him to put some size on and get used to the system and we had a lot of older guys in front of him, so they redshirted him. But it's definitely benefited him a lot. He looks a lot more comfortable out there at practice, especially blocking. I don't think he had ever blocked before he got here and he's actually going to be a very good blocker. Obviously y'all know about his receiving skills, so he's going to be very good." -- Stokes
December, 21, 2014
Dec 21
2:00
PM ET
Dec. 19, 2014. Consider it one of the biggest days for Big 12 recruiting in a long time.
On a day already anticipated as one to watch with the morning announcements of ESPN 300 linebacker
Malik Jefferson
and four-star athlete
DeAndre McNeal
, the Big 12 got its own version of a Christmas bonus with five major commitments by the end of the afternoon.
Jefferson and McNeal committed to Texas. ESPN 300 quarterback
Jarrett Stidham
committed to Baylor after recently decommitting from Texas Tech. ESPN 300 defensive end
Ricky DeBerry
and four-star safety
Kahlil Haughton
chose Oklahoma.
And better believe, it's not over for the conference.
There are several players who could be additions to the growing number of Big 12 commitments. Here are five names to watch from now until national signing day in early February.
December, 20, 2014
Dec 20
2:00
PM ET
On Friday shortly after noon, following the 8 a.m. commitment of ESPN 300 No. 35
Malik Jefferson
to Texas over Texas A&M, No. 15 and five-star defensive tackle
Daylon Mack
sent another shock wave in the Lone Star state decommitting from Texas A&M in what would turn out to be a Friday to forget for Aggie fans.
I have decomitted from Texas A&M and I will be releasing my top two schools around noon Saturday!

— THEE MACK TRUCK (@DaylonMack) December 19, 2014
Just minutes ago, Mack followed through on his Friday tweet, releasing his top two teams.
To continue reading this article you must be an Insider
December, 19, 2014
Dec 19
12:00
PM ET
BATON ROUGE, La. -- Fullback is a disappearing position in the NFL.
Connor Neighbors
understands this reality.
That's why LSU's senior fullback is less concerned about his positioning for the NFL draft than he is about finding a pro team that still uses players with his skillset in this era of wide-open offensive schemes.
[+] Enlarge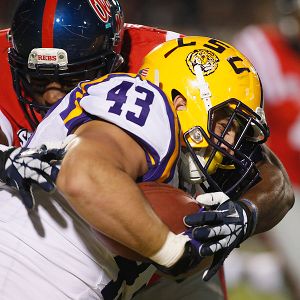 AP Photo/Rogelio V. SolisLSU's Connor Neighbors is hoping a trip to the Senior Bowl in his home state of Alabama can help match him with an NFL team in need of a fullback.
"I don't really care about the draft," Neighbors said. "If I get drafted, that's fine. I just want to have a chance to play on a team. And I'm a football player, too. I can play special teams. I can do all that stuff. So as long as I have a chance and I seize the opportunity and make a team, that's all I really care about."
His recently accepted invitation to participate in the Senior Bowl all-star game shows that scouts believe Neighbors has the makings of a pro fullback. But Neighbors is smart to hedge his bets on becoming an actual draft pick.
Since 2007, when a whopping nine fullbacks came off the board in the draft, the number of players drafted from Neighbors' position has dwindled. In each of the last three drafts, only three fullbacks have been selected. And in the last five years, a total of 16 fullbacks came off the board.
ESPN draft analyst Mel Kiper Jr. and NFLDraftScout.com both rate Neighbors as the No. 5 fullback prospect in the upcoming draft, which indicates that becoming a late-round pick or undrafted free agent might be Neighbors' most likely path to an NFL roster.
If he goes the undrafted free agent route, Neighbors will have to find a club that makes use of his position -- and he admits he has been paying attention to where he might be a good fit.
"Ever since I moved to the position, when I've watched football, I've seen that," Neighbors said. "I know that a lot of teams, they have a package for [fullbacks]. Not everyone, NFL teams, they don't really use it that often. ...
"Tennessee uses one. [Former LSU quarterback and current Titans rookie
Zach Mettenberger
is] trying to get me to go there. He's like, 'How awesome would it be?' if I was there. That would be tight," Neighbors continued. "I know Atlanta uses one. Green Bay, they use one -- and they give him the ball -- so that would be tight if I went there. I try not to worry about that stuff, though, because I can't determine the outcome except with my play."
His performances in the Senior Bowl practices can help. Scouts flock to observe the game-week practices each year in order to see many of the nation's top senior prospects go head to head. For a player with three career carries for 6 yards and 11 career receptions for 119 yards, this is a good chance for Neighbors to show them that he can handle the ball, as well as block and cover kicks.
"I heard it's a pretty intense week, so we'll see what happens," Neighbors said.
Neighbors has a first-hand source who can attest to that intensity. His dad, Wes, played in the Senior Bowl in 1987 after an All-SEC career at Alabama. His late grandfather Billy, a College Football Hall of Famer, was an All-American at Alabama and played in the game in 1962.
Since the Senior Bowl is played in Neighbors' home state of Alabama -- in Mobile -- friends and family won't have far to travel to see him become the third Neighbors to compete in the game. And Neighbors expects plenty of them to show up for his final college game.
"That's what my dad said," Neighbors said, "so I've got to play good so I don't embarrass anybody."
December, 19, 2014
Dec 19
9:00
AM ET
By
ESPN.com staff
| ESPN.com
Bowl season is almost upon us. Alabama's still playing for a national title, while plenty of other SEC teams still have lots to prove. So let's get right to the picks.
Duck Commander Independence Bowl
December 27, 3:30 p.m. ET, ABC
Why Miami wins:
My question is: How motivated will this South Carolina team be? The same can be said for Miami, but the Hurricanes have
Duke Johnson
, arguably the best player on the field. Miami is 6-1 when it rushes for more than 125 yards. Don't be surprised if Johnson reaches that number on his own.
Miami 34, South Carolina 24
-- Greg Ostendorf
Why South Carolina wins:
So the Gamecocks have one of the SEC's worst defenses and let Clemson walk over them to end the season? Steve Spurrier and his crew are getting a few weeks to regroup and forget such a bad regular season. Plus, Miami lost five of its six games by 10 or more points, so just do the math.
South Carolina 27, Miami 24
-- Edward Aschoff
AutoZone Liberty Bowl
December 29, 2 p.m. ET, ESPN
Why West Virginia wins:
Call me crazy, but I don't see bowl practice yielding a dramatic turnaround for Texas A&M. While I expect
Kyle Allen
and the offense to be fine, I don't know how that defense gets any better -- especially without a coordinator in place. In the end, Dana Holgorsen and
Clint Trickett
light up the Aggies' secondary and win.
West Virginia 45, Texas A&M 35
-- Alex Scarborough
Why Texas A&M wins:
Texas A&M was hard to figure this season. The Aggies were all over the place, pretty good one game and pretty bad the next. West Virginia likes to play hurry-up offense the way Texas A&M does, so get ready for a shootout. The Aggies still haven't proved that they're ready for prime time defensively, but will score enough points in this one that it won't matter.
Texas A&M 45, West Virginia 38
-- Chris Low
AdvoCare V100 Texas Bowl
December 29, 9 p.m., ESPN
Why Arkansas wins big:
Which team led the SEC in points allowed per game for the month of November? Alabama? Ole Miss? Missouri? None of the above. It was the Razorbacks, who allowed an FBS-best 9.5 points per game. I just can't see
Tyrone Swoopes
and the Longhorns bucking that trend in this one.
Arkansas 28, Texas 10
-- Greg Ostendorf
Why Texas keeps it close:
This is a matchup of two teams that played better down the stretch. Texas won four of its last six games to reach bowl eligibility and played some decent defense along the way. I'm still going with Arkansas because of the way the Hogs finished the season, but I think Texas will make it interesting.
Arkansas 21, Texas 14
-- David Ching
Franklin American Mortgage Music City Bowl
December 30, 3 p.m. ET, ESPN
Why LSU wins big:
Notre Dame has quarterback issues and LSU has a secondary that is one of the best nationally at defending the pass. If
Leonard Fournette
& Co. can run the ball the way they did on Thanksgiving against Texas A&M against Notre Dame's banged-up D, the Tigers should be able to cruise to a win.
LSU 27, Notre Dame 17
-- Sam Khan Jr.
Why Notre Dame keeps it close:
With the exception of Kentucky, LSU hasn't blown out a Power 5 team all season. This team simply is not built for that. As bad as Notre Dame's defense has played down the stretch -- and they have been bad -- the Fighting Irish will hang around. If only LSU had a quarterback.
LSU 24, Notre Dame 21
-- Greg Ostendorf
Belk Bowl
December 30, 6:30 p.m. ET, ESPN
Why Louisville wins:
Oh, the fun we'll have with Todd Grantham facing his old team. Both Grantham and Georgia offensive coordinator Mike Bobo want a shot at each other, which means this one will be back-and-forth and plenty fun. Something tells me Bobby Petrino's offense proves to be too much in the fourth, and a late Georgia turnover seals it.
Louisville 27, Georgia 23
-- Edward Aschoff
Why Georgia wins:
Sure, Todd Grantham knows this team well, but Mark Richt knows Grantham well, too. And if Georgia blocks up front as well as it has and
Nick Chubb
runs like he has been running, that's not easy to defend. The Bulldogs average 41 points per game for a reason; I suspect they're headed that way again.
Georgia 41, Louisville 31
-- Sam Khan Jr.
Chick-fil-A Peach Bowl
December 31, 12:30 p.m. ET, ESPN
Why TCU wins big:
TCU hasn't seen anything like Ole Miss' defense, which leads the nation by allowing 13.8 points per game. But I don't think the Rebels will be able to shut down (or keep up with)
Trevone Boykin
and an explosive TCU offense that averages 46.8 ppg. Not without injured receiver
Laquon Treadwell
.
TCU 40, Ole Miss 24
-- David Ching
Why Ole Miss keeps it close:
The popular storyline for the Peach Bowl is TCU's high-powered offense versus Ole Miss' talented Landshark defense. But let's not forget about
Bo Wallace
and the Rebels' offense. Even without Laquon Treadwell, I expect Ole Miss to put up enough points to make it a ballgame.
TCU 42, Ole Miss 38
-- Alex Scarborough
Capital One Orange Bowl
December 31, 8 p.m. ET, ESPN
Why Georgia Tech wins:
Georgia Tech's option offense is never a lot of fun to prepare for. The Bulldogs have had some extra time to get ready during the bowl practices, but will be without defensive coordinator Geoff Collins, who left to take the Florida defensive coordinator job. The Yellow Jackets were an offensive machine the last month of the season, and that won't change in Miami.
Georgia Tech 31, Mississippi State 30
-- Chris Low
Why Mississippi State wins:
Generally when opponents have time to practice for Georgia Tech's option offense, they fare well. Paul Johnson is 1-5 in bowl games since arriving at Tech in 2008. Although they'll have to function without defensive coordinator Geoff Collins, the Bulldogs will still get the job done.
Mississippi State 28, Georgia Tech 21
-- David Ching
Outback Bowl
January 1, Noon ET, ESPN2
Why Auburn wins big:
Wisconsin's strength is running the ball. While Auburn's defense leaves much to be desired, that's one area where they're decent, ranking 46th nationally in rushing yardage allowed. And though Barry Alvarez is a Hall of Fame coach, I'll take Gus Malzahn over someone coaching his second game in eight years.
Auburn 45, Wisconsin 28
-- Sam Khan Jr.
Why Wisconsin keeps it close:
Something tells me
Melvin Gordon
is going to go out with a bang. And, frankly, nothing I've seen from Auburn makes me believe it will be able to stop him. While the Tigers ultimately should win, Gordon and the Badgers will have enough success running the football to keep things close.
Auburn 35, Wisconsin 30
-- Alex Scarborough
Buffalo Wild Wings Citrus Bowl
January 1, 1 p.m. ET, ABC
Why Missouri wins big:
Forget the SEC championship game; there's still something about Missouri. Like last season, the Tigers continued to find ways to win. And when they lost in Atlanta in 2013, they went out and beat Oklahoma State in the Cotton Bowl. I expect more of the same this time around.
Missouri 24, Minnesota 14
-- Alex Scarborough
Why Minnesota keeps it close:
Weird things always happen during bowl season, and while Minnesota doesn't exactly wow me, I think this game will be much closer than it should be. The Tigers still have an offense that can drag, while the Gophers are trying to win their first bowl game since 2004, which incidentally came against another SEC team (Alabama). I have a feeling this one will hurt our eyes at times.
Missouri 23, Minnesota 21
-- Edward Aschoff
Allstate Sugar Bowl
College Football Playoff semifinal
January 1, 8:30 p.m. ET, ESPN
Why Alabama wins big:
The last thing we remember is Ohio State blowing out Wisconsin in the Big Ten championship game, and
Cardale Jones
doing his best Troy Smith impersonation. I'm not sold. I think the young quarterback struggles against this stout Alabama defense. And good luck shutting out the Crimson Tide. That's not happening with Lane Kiffin calling plays. Alabama has too many playmakers.
Alabama 31, Ohio State 7
-- Greg Ostendorf
Why Ohio State keeps it close:
The Buckeyes didn't get here by being an average team. This is a really good team. Urban Meyer knows what to expect from a Saban-coached team thanks to his days in the SEC. Cardale Jones showed he can throw the ball well, and that's one thing Alabama had trouble defending in the Iron Bowl.
Alabama 31, Ohio State 24
-- Sam Khan Jr.
TaxSlayer Bowl
January 2, 3:20 p.m. ET, ESPN
Why Tennessee wins:
On one sideline, you have Tennessee, which won three of its last four games to reach bowl eligibility for the first time in years. On the other side, Iowa lost three of its last four. Iowa is better than its record, but I'm putting some faith in Tennessee quarterback
Josh Dobbs
.
Tennessee 23, Iowa 21
-- David Ching
Why Iowa wins:
Butch Jones really appears to have Tennessee moving in the right direction. The Vols probably could -- and should -- have won a couple more games in 2014, but that's why Jones is building. And while there's absolutely nothing flashy about anything that Iowa does on offense, I think the grinding nature of the Hawkeyes will eventually wear Tennessee's line down. Expect a couple of costly turnovers from the Vols as well.
Iowa 21, Tennessee 17
-- Edward Aschoff
Birmingham Bowl
January 3, Noon ET, ESPN
Why Florida wins:
East Carolina is great at throwing the ball -- the Pirates are second nationally with 367.3 passing yards per game -- but Florida is equipped to defend that style of offense pretty effectively. It's hard to know what to expect from a team playing with an interim coach, but I'll give the Gators a slight edge.
Florida 17, East Carolina 14
-- David Ching
Why East Carolina wins:
The big question in this one: How genuinely excited is Florida to be in this game? East Carolina, on the other hand, would love to take home an SEC pelt and has the kind of high-scoring offense that could give the Gators' smothering defense trouble. Better days are ahead for Florida's program, but this won't be one of them.
East Carolina 27, Florida 21
-- Chris Low
Standings
Greg Ostendorf: 89-23
Edward Aschoff: 87-25
David Ching: 86-26
Chris Low: 86-26
Sam Khan Jr.: 84-28
Alex Scarborough: 83-29
December, 18, 2014
Dec 18
12:30
PM ET
Les Miles said his discussions with the players haven't gone beyond the informal stage yet, but he knows that a number of LSU players are weighing the possibility of entering the NFL draft after the season.
That's nothing new for LSU's coach, who has lost 17 underclassmen to the draft in the last two years, but he also knows the potential that will exist for his 2015 team if juniors like offensive lineman
Vadal Alexander
, linebacker
Kwon Alexander
and defensive backs
Jalen Collins
and
Jalen Mills
opt to return.
"I think that this team has the potential to play in championships and should the juniors recognize how close we are to being in the [College Football Playoff] that frankly this could be a great class for quite some time and a great team for quite some time," Miles said this week.
Those upcoming decisions will be a major factor in whether LSU fulfills that potential next season. Miles said he has made and will make that point in further discussions with his underclassmen on whether another year in college would benefit them.
[+] Enlarge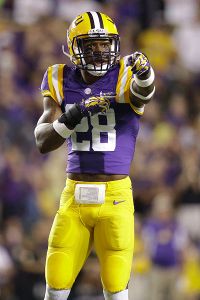 Gerald Herbert/AP PhotoJalen Mills is one of several LSU draft-eligible defenders with a decision to make.
"It's just basically revealing simple statistics about conference opponents and guys that are going to have senior quarterbacks and teams that are going to lose this and lose that, whereas we're really in pretty good shape should we return our junior class," Miles said.
Earlier today, we examined each position on LSU's offensive roster and which players have NFL decions to make. Now we turn to the defense:
DEFENSIVE LINE
Key departing seniors:
Defensive end
Jermauria Rasco
(63 tackles, 4 sacks, 6.5 tackles for loss)
Key draft-eligible player:
Junior defensive end
Danielle Hunter
(64 tackles, 1.5 sacks, 12 TFL)
Key underclassmen/not eligible for draft:
Sophomore defensive tackle
Christian LaCouture
(37 tackles, 2.5 sacks, 4 TFL), freshman defensive tackle
Davon Godchaux
(34 tackles, 1.5 TFL)
Comment:
Hunter refused to discuss his draft situation on Wednesday, but there is good reason to believe that he can and will jump to the pros after the bowl game. If he and Rasco are both gone, the Tigers might lean heavily on
Tashawn Bower
,
Lewis Neal
,
Deondre Clark
and
Sione Teuhema
to provide a pass rush next season. The good news is that the tackle spot will be much better off in 2015 now that LaCouture and Godchaux have established themselves, with junior
Quentin Thomas
and a number of freshmen and redshirt freshmen (look out for
Travonte Valentine
) capable of grabbing some playing time for themselves.
LINEBACKER
Key departing seniors:
D.J. Welter
(35 tackles)
Key draft-eligible players:
Junior Kwon Alexander (79 tackles, 7.5 TFL), junior
Lamar Louis
(29 tackles, 2.5 TFL)
Key underclassmen/not eligible for draft:
Sophomore
Kendell Beckwith
(68 tackles, 2 sacks, 6.5 TFL, INT)
Comment:
This figures to be a strong position even if Alexander jumps to the pros. Asked whether he requested an evaluation from the NFL's advisory committee, Alexander said, "One of the coaches told me to put it in. I just threw it in there, but I'm not worrying about that right now. I'm just trying to focus on this bowl game." He had a strong first season at weakside linebacker, posting a team-high 79 tackles and earning second-team All-SEC honors, but could certainly boost his draft stock by returning. Starting strongside linebacker Louis figures to return, and Beckwith should be a star next year in his first full season as the starter in the middle. Plus, the Tigers will have regulars
Deion Jones
and
Duke Riley
back, and freshman
Clifton Garrett
will be coming off his redshirt season. With so much depth and talent returning, Alexander predicted that his position group next year can be "the best linebackers in the country."
SECONDARY
Key departing seniors:
Safety
Ronald Martin
(66 tackles, 2 INT)
Key draft-eligible players:
Junior cornerback Jalen Collins (33 tackles, INT), junior safety Jalen Mills (54 tackles, 3 TFL, INT), redshift sophomore defensive back
Dwayne Thomas
(24 tackles, 2.5 TFL, INT)
Key underclassmen/not eligible for draft:
(Safety) sophomore
Rickey Jefferson
(23 tackles, 2 INT), freshman
Jamal Adams
(56 tackles, 3 TFL), (cornerback) sophomore
Tre'Davious White
(32 tackles, 3 TFL, 2 INT)
Comment:
Mills and Collins are both expected to explore their draft possibilities. Mills hasn't spoken to reporters since the end of the season, and Collins said Wednesday that "I've thought about it a couple times, but I haven't made any final decisions yet." ESPN's Mel Kiper Jr. rates Collins as the No. 8 draft-eligible cornerback prospect for 2015. Even if they both jump to the pros, the secondary should still be in good shape. Thomas and junior safety
Corey Thompson
will return from injury, while Adams, White and Jefferson have all established themselves as reliable contributors.
Rashard Robinson
is a wild card, as Miles hasn't announced whether the suspended cornerback will be allowed back on the team. "I would hope that he might be here [next season]," Miles said earlier this week. If Robinson is gone permanently, the Tigers might have to rely on a freshman like
Ed Paris
,
John Battle
or
Russell Gage
.
SPECIAL TEAMS
Key departing seniors:
None
Key draft-eligible players:
Junior punter
Jamie Keehn
(45.0 yards per punt), junior snapper
Reid Ferguson
Key underclassmen/not eligible for draft:
Sophomore kicker
Colby Delahoussaye
(11-15 FG, 34-36 PAT, 67 points)
Comment:
Keehn told reporters this week that he plans to return, so LSU's kicking game should remain intact. In fact, there could be added competition next season now that freshman kicker
Cameron Gamble
has had time to settle in and possibly challenge Delahoussaye and sophomore
Trent Domingue
for opportunities on field goal/PAT and kickoffs.
December, 18, 2014
Dec 18
12:00
PM ET
Connor Neighbors
will be long gone by then, but LSU's senior fullback believes the Tigers have championship potential in 2015 -- as long as the roster doesn't take too hard of a hit from the NFL draft.
"There's a bunch of personalities on this team that I don't think any other team has," Neighbors said. "So if the people that are eligible to stay, if they do stay, this team could be probably the best next year. Obviously they've got to improve in some areas, but what team doesn't?"
The Tigers' title possibilities might hinge on keeping more draft-eligible players on campus than they have in recent seasons. LSU lost a whopping 17 of them to the draft in the last two years, and the on-field product has suffered as a result.
Today we'll take a position-by-position look at LSU's roster positioning and which players have decisions to weigh, starting first with the offense and then with the defense:
[+] Enlarge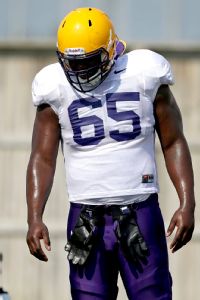 AP Photo/Gerald HerbertKeeping Jerald Hawkins would go a long way in stabilizing LSU's offensive line next season.
QUARTERBACK
Key departing seniors:
None
Key draft-eligible players:
None
Key underclassmen/not eligible for draft:
Sophomore
Anthony Jennings
(104-213, 1,460 yards, 10 TDs, 7 INTs), Freshman
Brandon Harris
(25-42, 452 yards, 6 TDs, 2 INTs)
Comment:
LSU doesn't figure to lose one of its quarterbacks, but it will remain the most scrutinized position on the offense. Jennings started most of the season and was not consistent enough, while Harris struggled in his one start and has barely seen the field since then. LSU coach Les Miles said this week that Harris "is being groomed" to compete for the starting spot in the future, so expect the Jennings-Harris battle to resume in the spring.
RUNNING BACK
Key departing seniors:
Tailbacks
Terrence Magee
(545 rushing yards, 3 TDs) and
Kenny Hilliard
(431 rushing yards, 6 TDs), fullback Connor Neighbors (four catches for 27 yards)
Key draft-eligible players:
None
Key underclassmen/not eligible for draft:
(Tailback) Freshman
Leonard Fournette
(891 rushing yards, 8 TDs), freshman
Darrel Williams
(280 rushing yards, 3 TDs), (fullback)
Melvin Jones
(five catches, 22 yards, TD)
Comment:
Nobody has a decision to make here. Magee, Hilliard and Neighbors are all seniors and Fournette, Williams and Jones will return in 2015. The Tigers are poised to add ESPN 300 tailbacks Nick Brossette and Derrius Guice to the backfield next season, and both will have the opportunity to contribute immediately following Magee and Hilliard's departures. The running game will still be in great shape.
WIDE RECEIVER/TIGHT END
Key departing seniors:
(Tight end)
Travis Dickson
(seven catches, 60 yards),
Logan Stokes
(one catch, 3 yards, TD)
Key draft-eligible players:
(Tight end) junior
Dillon Gordon
(no catches), (Receiver) redshirt sophomore
Travin Dural
(37 catches, 758 yards, 7 TDs)
Key underclassmen/not eligible for draft:
(Tight end) Sophomore
Colin Jeter
(no catches), sophomore
DeSean Smith
(no catches), (receiver) redshirt freshman
John Diarse
(13 catches, 199 yards, 2 TDs), freshman
Malachi Dupre
(14 catches, 318 yards, 5 TDs), freshman
Trey Quinn
(17 catches, 193 yards)
Comment:
The big news is that draft-eligible sophomore Dural said this week that he expects to be back at LSU next season. The speedster was the heart and soul of LSU's passing game, but he's probably making a good decision. A more consistent season in 2015 could improve his draft stock, as he started out with three 100-yard outings in the first four games, but hasn't had one since. Gordon should also return and will contribute heavily as a blocking tight end. Both positions have youngsters who are in line to contribute more heavily. Diarse, Dupre and Quinn are all freshmen who made some good things happen in their first game action, and several freshman receivers (keep an eye on
D.J. Chark
) are in line behind them. Same thing at tight end, where Colin Jeter, DeSean Smith and redshirting freshman
Jacory Washington
all could enjoy expanded roles in 2015.
OFFENSIVE LINE
Key departing seniors:
Left tackle La'el Collins, center
Elliott Porter
, right guard
Evan Washington
, right guard Fehoko Fanaika
Key draft-eligible players:
Junior left guard
Vadal Alexander
, right tackle
Jerald Hawkins
Key underclassmen/not eligible for draft:
Sophomore center/guard
Ethan Pocic
Comment:
This is the most important position group to watch. Collins has been outstanding at left tackle, winning the SEC's Jacobs Blocking Trophy as the conference's top blocker. He and Porter make two starters who are definitely leaving, and Washington and Fanaika are two of the top reserves. Where things could really go sideways is if Alexander and Hawkins opt to enter the draft, as well. LSU looks to be positioned well for a championship push next season, but having to replace four of the five starting offensive linemen would not be an encouraging sign. Both players were noncommittal when asked about the draft this week, but both of them requested draft grades from the NFL's advisory committee. Said Alexander, whom ESPN's Mel Kiper Jr. rated as the No. 7 guard prospect among draft-eligible players, "You want to focus on getting better because, stay or leave, you want the type of guy who can compartmentalize things and just focus on the here and now, and that's what I'm trying to do right now. Somebody'll lie to you and say they never think about it, but I'm not seriously thinking about it right now and I will make a quick decision after the bowl game."
December, 17, 2014
Dec 17
12:00
PM ET
When LSU and Notre Dame were ranked in the top 10 at points earlier in the season, nobody would have predicted that they would eventually meet in the Franklin American Mortgage Music City Bowl. And yet here we are.
LSU (8-4) and Notre Dame (7-5) stumbled down the stretch to land in Nashville, Tennessee, and set up their 11th all-time meeting -- the most between Notre Dame and any SEC program.
A bowl win will put a positive spin on a disappointing season for the Tigers or Fighting Irish. Here, LSU writer David Ching and Notre Dame writer Matt Fortuna discuss what a win would mean, as well as best- and worst-case scenarios for the two teams.
What a win would mean for LSU:
From a bragging-rights perspective, a win on Dec. 30 would give LSU a winning record (the programs are currently 5-5 head-to-head) against the Fighting Irish. Obviously that would make for a nice historical footnote. As for its modern-day impact, the Tigers are hoping to repeat what happened the last time they met Notre Dame in a bowl. LSU's 2006 team blasted Notre Dame to end that season and went on to win a BCS title the following year. LSU has some questions to answer this offseason -- particularly at quarterback -- but after enduring some growing pains with a young roster, the Tigers believe they can be playoff contenders next season. A win in Nashville would be a good way to kickstart the offseason.
What a win would mean for Notre Dame:
A win over No. 23 LSU would easily be Notre Dame's best victory of the season. More importantly, it would stop the bleeding that comes with a season-ending four-game losing streak. The Irish need positive momentum going into next season, especially with so many familiar faces expected to return in 2015. A lot of that could go out the door if this same cast of characters enters riding a five-game slide and wondering how it all went south so fast following a 6-0 start and No. 5 ranking.
LSU's best case for bowl:
Minus the narrow margin of victory, a game like LSU's regular-season finale against Texas A&M would be ideal. The Tigers' defense held a potent offense to just 228 total yards and their offensive scheme was perhaps the most ambitious it has been all year. Quarterback
Anthony Jennings
was outstanding on quarterback runs (he rushed for 119 yards) and completed passes to seven different teammates, freshman tailback
Leonard Fournette
was outstanding, and speedy receiver
Travin Dural
did some damage on jet sweeps. If LSU is to move back toward contender status in 2015, the offense has to be much more effective than it was this fall. Finishing the season with a productive outing against an underwhelming Notre Dame defense would do wonders for the young Tigers' confidence.
Notre Dame's best case for bowl:
In a weird way, the best-case scenario for Notre Dame would be that
Malik Zaire
emerges as a star, carves up a really, really good LSU defense, runs the offense to a T and looks like the Irish's quarterback of the future. That is not to say that the Irish cannot win with
Everett Golson
, or that it would necessarily be good to see him struggle in any way, shape or form. But the fact of the matter is that the Irish have seen all that Golson can and cannot do throughout the course of this season, with his 22 turnovers -- all over the final nine games -- contributing largely to this losing skid. Zaire has yet to start or see meaningful action in a close game, and if he looks great against a great defense, the Irish may just know where to start when it comes to finding the right guy to lead their offense in 2015. The defense needs to play better, sure, but much of that unit's demise can be chalked up to youth, inexperience and a litany of injuries. There are no excuses for the offense being as inconsistent as it has as of late, which means success from a fresh face could simplify things for this program moving forward.
LSU's worst case for bowl:
As with Notre Dame, another ugly outing on offense would be the wrong way to enter the offseason. Both teams have good reason to believe their defenses will be strong in 2015, but they need to figure out where they're going at quarterback (in LSU's case, is it going to be Jennings or freshman
Brandon Harris
?) and develop a dependable offensive identity. The power running game will continue to be LSU's bread and butter, but another game where its quarterback struggles to make drive-extending completions won't create much confidence that next season will be different for the Tigers' offense.
Notre Dame's worst case for bowl:
If the Irish look listless on offense, and if neither quarterback can get things going against the Tigers' defense -- or worse, turns the ball over frequently -- it will be back to the drawing board for Brian Kelly and his offense, which would be entering Year 6 with
still
no answer at quarterback. Golson cannot afford another outing like his last month of work, and Zaire cannot botch his first major opportunity to make a public statement and to show he is capable of answering the bell with the spotlight on him.
December, 17, 2014
Dec 17
11:30
AM ET
The Associated Press announced its
three-team list of All-Americans
for the 2014 season on Tuesday, and the SEC is represented by 15 players, including four on the first team.
A couple of obvious
first-team selections
were Alabama wide receiver
Amari Cooper
, who was only the nation's best receiver, Alabama safety
Landon Collins
and Ole Miss cornerback
Senquez Golson
. Mississippi State linebacker
Benardrick McKinney
and Missouri defensive end
Shane Ray
made the second team.
All good there.
But as you scan all three teams, you won't see Mississippi State quarterback
Dak Prescott
. No, the one-time Heisman Trophy front-runner, who set all kinds of Mississippi State records and helped lead the Bulldogs to their first 10-win season since 1999, didn't make it. Instead, Oregon Heisman winner
Marcus Mariota
, TCU's
Trevone Boykin
and Ohio State's
J.T. Barrett
made the cut.
Clearly, all three are worthy of All-America status, but so is Prescott after breaking 10 Mississippi State single-season records in 2014, including total offense (3,935), total offense per game (327.9) and touchdowns responsible for (37).
Four players for only three spots ...
Hey, there's always next season.
Here are the 15 SEC AP All-Americans:
FIRST TEAM
Offense
WR:
Amari Cooper, Jr., Alabama
C:
Reese Dismukes
, Sr., Auburn
Defense
CB:
Senquez Golson, Sr., Ole Miss
S:
Landon Collins, Jr., Alabama
SECOND TEAM
Offense
OT:
La'el Collins
, Sr., LSU
OG:
Arie Kouandjio
, Sr., Alabama
OG:
A.J. Cann
, Sr., South Carolina
Defense
DE:
Shane Ray, Jr., Missouri
DT:
Robert Nkemdiche
, So., Ole Miss
LB:
Benardrick McKinney, Jr., Mississippi State
CB:
Vernon Hargreaves III
, So., Florida
S:
Cody Prewitt
, Sr., Ole Miss
P:
JK Scott
, Fr., Alabama
THIRD TEAM
Offense
OT:
Cedric Ogbuehi
, Sr., Texas A&M
OG:
Ben Beckwith
, Sr., Mississippi State
December, 17, 2014
Dec 17
11:00
AM ET
LSU will enter 2015 with the same glaring question that faced the Tigers entering a roller coaster 2014 season: Who will be the starting quarterback?
The job belonged to
Anthony Jennings
for all but one game this fall – a blowout loss at Auburn – but freshman
Brandon Harris
hasn't been able to push past the inconsistent sophomore.
While LSU's defense rebounded from an awful start to eventually lead the SEC in total defense at 305.8 yards allowed per game, the quarterback issues plagued the offense for most of the season, and Cam Cameron's attack was frustratingly unproductive as a result.
It remains the leading storyline of the season as LSU (8-4, 4-4 SEC) prepares to conclude the season against Notre Dame in the Franklin American Mortgage Music City Bowl.
Here is a recap of the Tigers' season to this point:
Best win:
Rival Ole Miss came to Tigers Stadium undefeated and ranked third nationally, but the Rebels left with a disappointing 10-7 loss. Tight end
Logan Stokes
scored the game-winning touchdown on a 3-yard catch late in the fourth quarter – Stokes' only catch of the season – and senior safety
Ronald Martin
sealed the win with an interception at the goal line with 2 seconds remaining. The win briefly reignited LSU's hopes of sneaking back into the SEC West race, although an overtime loss to Alabama in its next game snuffed out those aspirations.
Worst loss:
A 41-7 loss at Auburn was the ugliest, but the Tigers' most painful defeat was probably its 20-13 overtime loss to Alabama. LSU was in position to upset the eventual SEC champs, grabbing a 13-10 lead on a
Colby Delahoussaye
field goal with 50 seconds to play. But Alabama drove for the game-tying field goal in the final minute and then won the game with a touchdown pass from
Blake Sims
to
DeAndrew White
in overtime. That gave the Crimson Tide, LSU's bitter rival, its fourth consecutive win in the series.
Player of the year: La'el Collins.
Although he could have entered the draft after last season like teammates Odell Beckham, Jarvis Landry and Jeremy Hill, Collins returned and almost certainly improved his draft stock. The senior left tackle won the SEC's Jacobs Blocking Trophy as the conference's top blocker and generally dominated opponents while becoming LSU's only first-team All-SEC selection. A three-year starter at LSU, Collins will leave an enormous hole on the left side of the line in 2015.
Breakout player: Leonard Fournette.
Receiver
Travin Dural
probably deserves mention here, too, after leading the team with 758 receiving yards and seven touchdowns, but we have to go with Fournette. The freshman running back – formerly the nation's No. 1 overall prospect – flashed moments of brilliance and carried the Tigers to narrow wins against Florida and Texas A&M. The SEC All-Freshman team member leads the team with 891 rushing yards and eight touchdowns and is averaging 126.8 all-purpose yards per game. It wasn't enough to maintain a Heisman Trophy campaign like some expected, but it was a solid debut effort.
Play of the year:
We have to go with Fournette's touchdown run against Texas A&M where he evoked memories of Heisman Trophy winner Herschel Walker by running over Aggies safety
Howard Matthews
on his way to the end zone. LSU fans can only hope it was another sign of great things to come.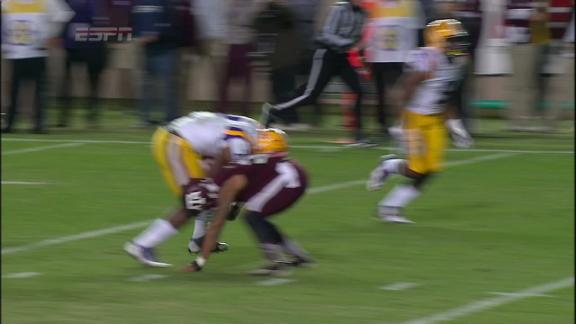 While Fournette's powerful run takes the cake, Dural's school-record 94-yard touchdown catch against Sam Houston State deserves a mention, too. The speedy wideout's catch from Jennings was a heck of a first offensive play in the Tigers' home opener at expanded Tiger Stadium.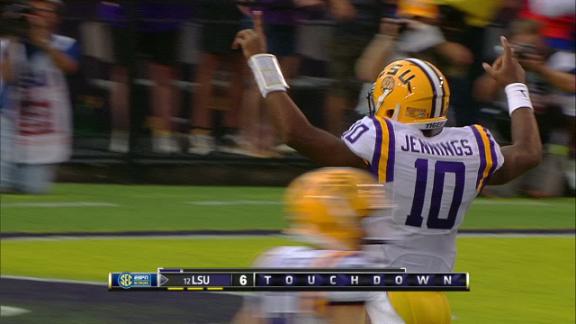 2015 outlook:
As has been the case in several recent seasons, LSU's success in 2015 might hinge on which underclassmen decide to enter the draft. The Tigers have been hit hard by the draft lately and might lose a handful of draft-eligible players again this year. Four of LSU's starting offensive linemen are eligible to enter the draft, as are defensive backs
Jalen Mills
and
Jalen Collins
and linebacker
Kwon Alexander
. This was a young team that should improve next year, and the Tigers could be Western Division contenders if the draft hit isn't too painful and a consistent quarterback emerges.
December, 15, 2014
Dec 15
9:26
PM ET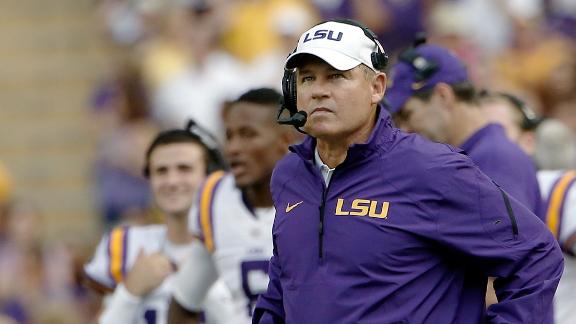 BATON ROUGE, La. -- Les Miles will not be the next coach at Michigan. So says Les Miles.
After LSU's Monday evening bowl practice, the Tigers' coach addressed persistent rumors that he will return to his alma mater, where he played under Bo Schembechler and spent a decade as an assistant coach.
Miles refused to be quoted on the record in the post-practice chat with reporters, but he sent a clear message: A return to Ann Arbor is not going to happen. He and his agent, George Bass, have not heard from Michigan, Miles said, and he would not change jobs even if Michigan made contact.
Miles also has told LSU athletic officials that he has not been contacted by Michigan and that he has no intention of leaving the Tigers, LSU spokesman Michael Bonnette said.
Miles is nearing the end of his 10th season at LSU, where he has won two SEC titles and one Bowl Championship Series crown. Miles-to-Michigan rumors have emerged in the past -- most notably late in the 2007 season, when he famously addressed reports on the subject prior to the SEC championship game -- but he has remained at LSU each time the Wolverines have had a coaching vacancy.
Since Michigan fired Brady Hoke on Dec. 2, Miles has shot down questions about a return to the Wolverines, but never as emphatically as he did Monday. After unofficially addressing the Michigan job opening, Miles went on to discuss several subjects related to his current job, including injuries, underclassmen who might become early entries in the 2015 NFL draft and the Tigers' upcoming bowl matchup with Notre Dame.
Information from The Associated Press was used in this report.
Intriguing SEC bowl games
SEC SCOREBOARD
Monday, 12/22
Saturday, 12/20
Tuesday, 12/23
Wednesday, 12/24
Friday, 12/26
Saturday, 12/27
Monday, 12/29
Tuesday, 12/30
Wednesday, 12/31
Thursday, 1/1
Friday, 1/2
Saturday, 1/3
Sunday, 1/4
Monday, 1/12