July, 25, 2014
Jul 25
12:00
AM ET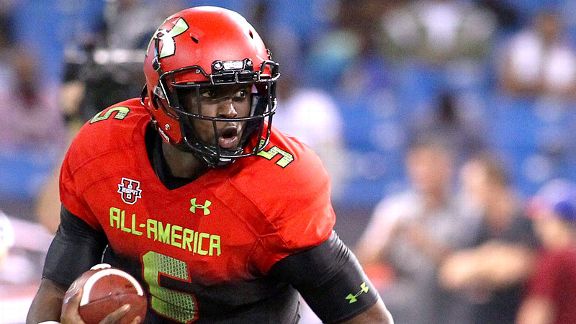 Miller Safrit/ESPNFor the next three years, Leonard Fournette will play in college for comparatively minimal compensation -- which he could earn millions for doing now in the NFL.
I have taken this stand for 30 years in newspapers, on radio and on "First Take." I've often been called un-American for proposing an extremely American solution to the un-American injustice taking place before our wide eyes every college football Saturday. So go ahead, close your eyes and condemn me if you must.
Here I go again: College football should make cheating legal. If the NFL can keep getting away with forcing players to wait three years out of high school before they're drafted -- three! -- the NCAA should be made to do away with its rules against paying players beyond room, board and tuition. I'm not talking about some token, $2,000-a-year "spending money" stipend for every player. I mean: If university boosters want to bid for the nation's best players, let them!
After all, this country was built on a good ol' free-market economy. Supply and demand. And are the best 18-year-old football players ever in demand. That's why TV networks pay billions -- around $16 billion total -- to televise college football. ESPN is paying about $470 million annually for the next 12 years -- about $5.64 billion total -- just to broadcast the new four-team playoff.
Yet the stars of the show are forced to risk their pro futures for three unpaid years playing a violent, high-stakes game before packed stadiums seating upward of 100,000 and TV audiences of millions? That's the biggest crime in sports.
July, 24, 2014
Jul 24
12:00
PM ET
This day in sports will be forever remembered for the pine-tar home run hit by Kansas City Royals third baseman George Brett. Who can forget Brett running out of the dugout, throwing his hat down and arguing the call after the umpire ruled him out for using an illegal bat with too much pine tar?
31 Years Ago Today, George Brett produced one of the most famous plays ever. "The Pine Tar Game." #PineTar pic.twitter.com/q5Y0hCYf4c

— Baseball Photos (@Baseball_Photos) July 24, 2014
Now let's get back to football and Thursday's lunch links.
July, 23, 2014
Jul 23
3:30
PM ET
From time to time, our SEC reporters will give their takes on a burning question facing the league. They will both have strong opinions, but not necessarily the same view. We will let you decide which reporter is right.
With the start of the 2014 season a little more than a month away, we are still trying to figure out who will be in position to capture the league title this fall. But there are a few teams we are still trying to get a good read on.
Today's Take Two topic:
What is the toughest SEC team to get a handle on in 2014 -- Missouri or LSU?
Take 1: Edward Aschoff
[+] Enlarge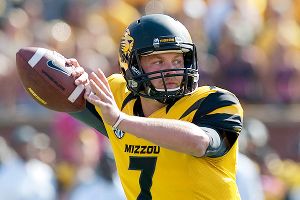 AP Photo/L.G. PattersonMaty Mauk returns, but Missouri has several question marks on both sides of the ball.
To me, the
Missouri Tigers
are the toughest team to figure out in 2014. After last season's special run through the SEC, there is plenty of confidence in Columbia, Missouri, but there is also a lot of uncertainty in some areas on this team. I could see this group of Tigers continuing to ride the momentum they created last season, but I could also see Mizzou take a nosedive this fall.
I do like that Mizzou has a confident, talented quarterback returning in
Maty Mauk
. He went 3-1 as a starter last season in place of an injured James Franklin. Mauk threw for more than 1,000 yards and had 11 touchdowns to just one interception. He lost almost nine pounds this summer because of a viral infection, but he thinks it has made him lighter, faster and quicker. He has a stacked backfield to work with and an experienced offensive line in front of him. The defense will again be anchored by a stout defensive line, starting with potential All-SEC defensive end
Markus Golden
.
But there are plenty of questions. Who is Mauk going to throw to? How will reshuffling affect the offensive line? Are there true playmakers at linebacker? How is an inexperienced secondary going to hold up this season? Who's going to replace all those proven leaders?
Receivers
Bud Sasser
,
Jimmie Hunt
and
Darius White
have good field experience, but one of them is going to have to stand out as
the guy
for Mauk to rely on. Are any of them ready? Can any of them be dynamic enough playmakers to force defenses to adjust? Not having someone like
Dorial Green-Beckham
could really hurt this offense.
Two starters are gone at linebacker, and this unit dealt with injuries this spring. Not great. Mizzou's secondary was one of the SEC's worst last season, and three starters are gone. Is that a good thing or a bad thing? There is depth in the secondary, but not a lot of proven guys, and that concerns me.
The biggest thing might be finding new vocal leaders. Who can carry this team like Franklin, Michael Sam and L'Damian Washington did last season? Is Mauk up to the task? Golden? I don't think we really know what the locker room scene is like for this team.
Take 2: Greg Ostendorf
Let's start with the fact that LSU lost nine players to the NFL draft this past year, more than any other team in college football. The team's starting quarterback, its top two running backs, top two wide receivers and its top offensive lineman have all moved on to the next level. Time to rebuild, right? Not in Baton Rouge. Not under Les Miles.
Since Miles took over in 2005, LSU has had 60 players taken in the NFL draft, yet the Tigers have managed to win at least 10 games in seven of Miles' nine seasons as head coach.
So don't expect this season's LSU team to fall off completely, but with so many unknowns and a stacked SEC West, the Tigers could finish anywhere between first to sixth in their own division. They are talented enough to reach the inaugural College Football Playoff, but they could just as easily end up in the Music City Bowl.
Where this team goes will be dependent on its incoming recruiting class. Between
Brandon Harris
,
Leonard Fournette
and
Malachi Dupre
, LSU could have three true freshman starting on offense by the time the season opener rolls around.
Fournette might be the closest thing to a sure thing. The 6-foot-1, 224-pound running back was the No. 1 recruit in the country and has already drawn comparisons to Adrian Peterson. He was one of the top stories at SEC media days, and he has yet to record a carry. But can he handle the pressure and the rigors of a college football season? Can Harris and Dupre handle it? All three were playing high school football in Louisiana less than a year ago.
As for the defense, there are even more question marks. Linebacker
Kwon Alexander
and cornerback
Tre'Davious White
are good players, potentially All-SEC, but what is the status of
Jalen Mills
after his arrest this offseason? Who will fill the big shoes left by Ego Ferguson and Anthony Johnson on the defensive line? Who are the leaders going to be?
This might be the toughest coaching job yet for Miles, but don't be surprised if LSU is in the playoff conversation when it travels to Texas A&M on Thanksgiving.
July, 23, 2014
Jul 23
9:00
AM ET
Whether you believe him or not, Alabama coach Nick Saban is playing his quarterback battle close to the vest.
You, me and everyone in between has former Florida State backup Jacob Coker taking the starting job in Tuscaloosa, Alabama, but Saban isn't going to make it that easy. What Saban doesn't want is an overly confident quarterback walking into his program and screwing things up, so Saban's language makes sense.
Still, we're all pretty sure that Coker will leave fall practice ahead of
Blake Sims
and those youngsters who duked it out during spring practice.
While
we
might have it all figured out for the Crimson Tide, competition will take place next month to see who starts the opener against West Virginia on Aug. 30. And that's not the only QB battle that we'll be diving into in the coming weeks. Other teams are trying to sort things out under center heading into fall camp:
KENTUCKY
Patrick Towles vs. Drew Barker vs. Reese Phillips vs. Maxwell Smith:
Coming out of spring, Towles, a redshirt sophomore, had a slight lead over everyone. He's an impressive athlete and has matured considerably since his arrival on campus. Phillips and Barker have yet to take snaps with the Wildcats in a real game, but that won't stop the coaches from throwing them in on Day 1 of the season. Barker arrived with a ton of hype and is clearly the future of the position. Smith, the quarterback with the most experience on the roster, is finally throwing again after undergoing extensive shoulder surgery before the spring. If he's healthy, he'll compete, but it looks like this really is a three-horse race right now.
Advantage: Towles
LSU
Anthony Jennings vs. Brandon Harris:
Jennings ended last season with mixed reviews after replacing an injured
Zach Mettenberger
. And his spring got even tougher with the emergence of Harris, a true freshman. Both are incredibly inexperienced, but have that dual-threat quality that will help either this fall, as they try to run this offense. Harris really impressed his coaches and teammates this spring, and many think he might have a slight advantage. Coach Les Miles raved about him at SEC media days and praised his throwing ability, something Jennings has to work more on going forward.
Advantage: Harris
TENNESSEE
Justin Worley vs. Josh Dobbs vs. Nathan Peterman:
Worley is the old soul around the football complex. The senior had an up-and-down 2013 season that included thumb surgery, but left spring with a bit more confidence. Dobbs has the athleticism and upside to be a stud, but he has to get more comfortable in the pocket and mature as a passer. Peterman had limited reps this spring, causing some to think he would transfer, but he'll compete this fall for the starting job. Honestly, it's a murky situation at quarterback, but a complete overhaul of the offensive line might make it tough for any quarterback to succeed in 2014.
Advantage: Worley
TEXAS A&M
Kenny Hill vs. Kyle Allen:
Hill's arrest during the spring perked a lot of ears in the Allen camp, but this race is far from over. While Hill is still looking to regain trust, he has more experience than Allen, a true freshman, and knows the Aggies' offense better to this point. Both are athletic guys, but you'll see a little more running out of Hill. Allen has the potential to be a star with his throwing ability and awareness in the pocket, and might be little more polished than Hill in that category. Sumlin isn't the kind of coach who wants to shuffle his quarterbacks, a la Steve Spurrier, but he won't be afraid to play both guys this fall if he has to.
Advantage: Push
VANDERBILT
Patton Robinette vs. Johnny McCrary vs. Stephen Rivers vs. Wade Freebeck:
During the spring, we thought this was going to come down to Robinette and McCrary. Robinette has the only game experience on the roster at quarterback, but McCrary is a big, physical player who can make plays with his arm and legs. He might be the most athletic of the bunch and is viewed as an exciting up-and-comer. But when Rivers transferred from LSU, things changed. He only has one year to compete, and his coaches are raving about him. Coach Derek Mason also likes that he's gotten bigger since his arrival. As for Freebeck, Mason calls him "phenomenal" and is intrigued by his size. He's grown two inches (6-foot-5 now) and is up to 217 pounds.
Advantage: Push
July, 23, 2014
Jul 23
5:30
AM ET
The Early Offer is RecruitingNation's regular feature, giving you a dose of recruiting in the mornings. Today's offerings: ESPN.com conducted a survey of the top 300 2015 football recruits, and throughout the week it's been exploring the results. This includes a look at how recruits are
open to playing with gay teammates
and how they would
support unionization, stipends and an expanded College Football Playoff
.
So which schools scored with recruits for the best food, top facilities, greatest campus atmosphere and coolest uniforms?
July, 22, 2014
Jul 22
9:28
AM ET
ESPN.com news services
BATON ROUGE, La. -- LSU freshman defensive tackle Trey Lealaimatafao might not be able to play this season after he injured his arm punching through glass in the Tigers' weight room.
LSU spokesman Michael Bonnette says Lealaimatafao was hospitalized Monday to treat a deep cut to his arm. School officials have not offered further details on why the player punched through glass, the severity of the injury or the effect it could have on Lealaimatafao's career.
Lealaimatafao took to Twitter on Tuesday to update his condition:
Hi everyone, I'm doing well pic.twitter.com/xKdECracQY

- Trey Lealaimatafao™ (@TLay_56) July 22, 2014
According to ESPN.com's rankings, the 6-foot, 300-pound Lealaimatafao was a four-star recruit, No. 38 in the state of Texas and one of seven LSU signees from the Lone Star State.
He initially committed to Texas but later decommitted after the coaching change and ultimately signed with LSU, where he was expected to compete for playing time immediately.
At his signing day news conference, Tigers coach Les Miles compared him to former All-SEC defensive lineman Drake Nevis.
"He's maybe a little taller, a little wider, maybe a little faster, but he has a very high motor and real acceleration on the field," Miles said.
As a senior at San Antonio's Warren High School, Lealaimatafao was credited with 53 tackles, seven sacks, three forced fumbles and two fumble recoveries. He was honored as a U.S. Army All-American.
LSU opens the season Aug. 30 against Wisconsin at NRG Stadium in Houston.
July, 21, 2014
Jul 21
1:45
PM ET
By
ESPN.com staff
| ESPN.com
LSU Tigers
head coach Les Miles talks about the loss of talent to the NFL draft, how he will replace quarterback
Zach Mettenberger
and his expectations for running back
Leonard Fournette
.
July, 21, 2014
Jul 21
12:00
PM ET
Seven SEC coaches, including Auburn's Gus Malzahn and LSU's Les Miles, will go through ESPN's "Car Wash" on Monday, appearing on "Sportscenter," "College Football Live," "First Take" and more. Stay tuned throughout the day.
In the meantime, be sure to read Monday's lunch links to get your SEC fix.
July, 18, 2014
Jul 18
10:08
PM ET
Associated Press
YPSILANTI, Mich. -- Rob Bolden has transferred to Eastern Michigan from LSU.
Coach Chris Creighton says Friday night he's glad the quarterback will end his college career with the Eagles. He will be eligible to play this fall as a graduate transfer.
The Orchard Lake, Michigan, native went to Penn State out of high school and started in 15 games over two seasons.
Bolden threw seven touchdown passes and 14 interceptions for the Nittany Lions. He was allowed to transfer immediately because of NCAA sanctions against Penn State's football program stemming from the Jerry Sandusky scandal, but he did not play in a game for the Tigers.
Bolden, who didn't play in a game at LSU, was switched to wide receiver from QB during spring practice.
July, 18, 2014
Jul 18
11:00
AM ET
Now that you've seen the
media's preseason All-SEC team
, and
Chris' ballot
, it's time to see what I cooked up after a week of fun in Hoover, Ala.:
OFFENSE
QB:
Nick Marshall
, Auburn
RB:
Todd Gurley
, Georgia
RB:
Derrick Henry
, Alabama
WR:
Amari Cooper
, Alabama
WR:
Laquon Treadwell
, Ole Miss
TE:
O.J. Howard
, Alabama
OL:
Cedric Ogbuehi
, Texas A&M
OL:
La'el Collins
, LSU
OL:
Laremy Tunsil
, Ole Miss
OL:
Corey Robinson
, South Carolina
C:
Reese Dismukes
, Auburn
DEFENSE
DL:
Dante Fowler Jr.
, Florida
DL: A'
Shawn Robinson
, Alabama
DL:
Chris Jones
, Mississippi State
DL:
Robert Nkemdiche
, Ole Miss
LB:
Benardrick McKinney
, Mississippi State
LB:
Leonard Floyd
, Georgia
LB:
Curt Maggitt
, Tennessee
DB:
Vernon Hargreaves III
, Florida
DB:
Tre'Davious White
, LSU
DB:
Cody Prewitt
, Ole Miss
DB:
Landon Collins
, Alabama
SPECIALISTS
PK:
Marshall Morgan
, Georgia
P:
Drew Kaser
, Texas A&M
RS:
Andre Debose
, Florida
AP:
Christion Jones
, Alabama
East

1. South Carolina
2. Florida
3. Georgia
4. Missouri
5. Tennessee
6. Vanderbilt
7. Kentucky
West

1. Alabama
2. Auburn
3. Ole Miss
4. Mississippi State
5. LSU
6. Texas A&M
7. Arkansas
SEC Champion

Alabama
July, 18, 2014
Jul 18
10:00
AM ET
The extended version of SEC media days is behind us, and we've seen the way the media voted in terms of picking the champion and the preseason All-SEC selections.
Alabama was the pick, which given our track record, might not be the best news for the Crimson Tide. As Nick Saban so willingly reminded everybody, it's not like the media has had a crystal ball lately when it comes to picking the SEC champ. Only four times in the last 22 years have the media correctly picked the SEC champion at the SEC's preseason shindig.
Maybe this is the year we start the kind of streak John Wooden would be proud of. Here's a look at the
selections from SEC media days this year
.
Below is my own ballot, and Edward will unveil his later today after he finishes breaking down tape from all of the World Cup matches (or are they games?).
OFFENSE
QB:
Nick Marshall
, Auburn
RB:
Todd Gurley
, Georgia
RB:
Mike Davis
, South Carolina
WR:
Amari Cooper
, Alabama
WR:
Malcolm Mitchell
, Georgia
TE:
Hunter Henry
, Arkansas
OL:
Cedric Ogbuehi
, Texas A&M
OL:
Laremy Tunsil
, Ole Miss
OL:
La'el Collins
, LSU
OL:
A.J. Cann
, South Carolina
C:
Reese Dismukes
, Auburn
DEFENSE
DL: Dante Fowler, Jr., Florida
DL:
Chris Jones
, Mississippi State
DL:
A'Shawn Robinson
, Alabama
DL:
Robert Nkemdiche
, Ole Miss
LB:
Benardrick McKinney
, Mississippi State
LB:
Leonard Floyd
, Georgia
LB:
Trey DePriest
, Alabama
DB:
Vernon Hargreaves III
, Florida
DB:
Taveze Calhoun
, Mississippi State
DB:
Landon Collins
, Alabama
DB:
Cody Prewitt
, Ole Miss
SPECIALISTS
PK:
Marshall Morgan
, Georgia
P:
Drew Kaser
, Texas A&M
RS:
Marcus Murphy
, Missouri
AP:
Christion Jones
, Alabama
EAST
1. South Carolina
2. Georgia
3. Florida
4. Tennessee
5. Missouri
6. Vanderbilt
7. Kentucky
WEST
1. Alabama
2. Auburn
3. Mississippi State
4. LSU
5. Ole Miss
6. Texas A&M
7 Arkansas
SEC CHAMPION
Alabama
July, 18, 2014
Jul 18
9:00
AM ET
HOOVER, Ala. -- It's like SEC media days just started.
Well, not really. Four days of a nonstop influx of SEC information could knock Todd Gurley off his feet. It was a fun week, but now it's over, and it's time to shift our attention to fall practice. It's just a couple of weeks away!
As we inch closer to the regular season, let's take one last look at the week that was with five takeaways from what went down in Hoover:
1. Alabama has something to prove:
Buried in
some Texas-sized talk
you'll find something else that gets under Nick Saban's skin: The way his team finished last season. After being picked by just about everyone to win the BCS title, the
Alabama Crimson Tide
lost its last two games of the season, including getting run out of New Orleans in a Sugar Bowl loss to Oklahoma. So while Alabama was picked to win the West, this team is still hurting after how last season ended. "We have to reestablish our identity as a team at Alabama," Saban said. "It's going to take every player to have a tremendous amount of buy-in for us to be able to do that." The team has to do that for an entire season. It has to listen, and it sounds like that's happening so far. A Saban-coached team filled with five-star talents is hungry and upset? That bodes well for the rest of the league ...
2. Will Muschamp doesn't feel the heat:
Months after coaching one of the worst seasons in
Florida Gators
history, Muschamp is ignoring the toxicity surrounding his program. When you go 4-8 at a school like Florida, your seat will be engulfed in flames, but Muschamp is keeping his cool and focusing on his team during a critical season for the program. "I think you combat the hot-seat talk with having a good team and winning games," Muschamp said. "Control the controllable is always what I've said. ... That's coaching our football team, developing our football team. There was never any time in my mind that I didn't think I would be retained." Muschamp, whose team is breaking in a new spread offense and getting healthier, added that he expects his team to have "an outstanding year."
3. Vandy and Kentucky don't lack confidence:
The
Vanderbilt Commodores
are breaking in a new coach and the
Kentucky Wildcats
are looking to build for the long term in Year 2 with Mark Stoops. Both teams have a ton of questions entering the year, but representatives from both programs oozed confidence and even some bravado. "Our team is a team of probably no-name young men who have a chance to do something great," first-year Vandy coach Derek Mason said. "It's talented across the board. I think our opportunity to compete for an SEC East title is now."
James Franklin
who?
For Stoops, he isn't dwelling on the past because he's pretty amped about the present, and possibly the future. "I'm excited about this team," Stoops said. "This team has worked extremely hard. They've done everything we've asked them to do. ... Our players have put in the time. Our training staff has done a great job getting them prepared. We're physically better. Hopefully that will translate to more wins." Stoops isn't ready to say he has a bowl team, but he promises it doesn't lack any heart or fight.
4. Richt and Spurrier like their teams:
While Saban scolded the media about its decision to pick his team to win the SEC,
Georgia Bulldogs
coach Mark Richt wasn't thrilled about being ranked second in the SEC East. "Obviously, what's important is what happens at the end of the year. Earlier I got asked that question. I said, 'I'm not happy to be named No. 2. I'm not going to start cheering that 'We're No. 2.' I think in the end it's going to be Georgia."
And he wasn't kidding. He
really
likes returning an offense that averaged nearly 500 yards and 36.7 points per game that could only get better with some healthier components returning, and he thinks his defense will play smarter. The addition of new defensive coordinator Jeremy Pruitt has Richt excited. And when Steve Spurrier comes out and praises his team within the first minute of his introductory news conference, that means he likes the guys he's coaching. South Carolina's offense is loaded, but the defense has questions in the secondary. Spurrier doesn't seem too concerned, though.
5. The future is now in Baton Rouge:
One of the most talked-about players of the week wasn't even in the building. Heck, he hasn't even played a snap of college ball. But LSU freshman running back
Leonard Fournette
was compared to Michael Jordan and was said to have the talent to be the best player to ever play at LSU. Those are quite the compliments to pay a freshman, but
Tigers
coach Les Miles and Fournette's teammates believe he can live up to the hype. "He has been compared to
Adrian Peterson
," LSU running back
Terrence Magee
said. "To be honest, I think it's the only guy that's playing the running back position right now that you can compare [Fournette] to." He wasn't the No. 1 recruit in the 2014 class for nothing, and Fournette should make an immediate impact in an offense looking for a bellcow back to replace
Jeremy Hill
.
July, 17, 2014
Jul 17
2:30
PM ET
Roughly one out of every five players on Thursday's Doak Walker Award watch list comes from the SEC.
The conference did not have a finalist for the award, which goes to the top running back in college football, last season, as winner
Andre Williams
of Boston College and finalists
Ka'Deem Carey
(Arizona) and
Bishop Sankey
(Washington) hailed from the ACC and Pac-12. And of the 10 semifinalists, only Auburn's Tre Mason and South Carolina's
Mike Davis
came from the SEC.
That could easily change this season since the league is brimming with star-caliber tailbacks, as evidenced by the 11 SEC backs on the Doak Walker watch list, led by the two players whom the media selected to its preseason All-SEC first team this week at media days:
Todd Gurley
of Georgia and
T.J. Yeldon
of Alabama.
Here is the full list of 11 SEC candidates out of the 53 total players on the watch list:
Tra Carson
, Texas A&M
Alex Collins
, Arkansas
Mike Davis, South Carolina
Todd Gurley, Georgia
Derrick Henry
, Alabama
Terrence Magee
, LSU
Josh Robinson
, Mississippi State
Kelvin Taylor
, Florida
Jonathan Williams
, Arkansas
Trey Williams
, Texas A&M
T.J. Yeldon, Alabama
July, 17, 2014
Jul 17
8:00
AM ET
By
ESPN.com staff
| ESPN.com
It's the unofficial start of college football season as media events kick off with the biggest one of all, the four-day SEC circus in Hoover, Alabama. Keep this page open throughout today's proceedings as we bring you all of the latest from our array of reporters, who will cover all 14 teams at the event.
LSU's Talented Youth
SEC SCOREBOARD
Thursday, 8/28
Saturday, 8/30
Sunday, 8/31