December, 6, 2013
Dec 6
12:00
PM ET
We've almost reached the conclusion of your SEC football season, so buckle up for a whole lotta links.
December, 6, 2013
Dec 6
5:30
AM ET
The Early Offer is RecruitingNation's regular feature, giving you a daily dose of recruiting in the mornings. Friday's offerings: The battle for the top prospects in the West is going to be fierce, but USC coach Steve Sarkisian is doing all he can to make sure the Trojans have some of the nation's best recruiters on his staff; a major winter storm could hinder the official visit plans of many teams across the country this weekend; and are the Sooners about to steal an in-state recruit away from LSU?
Trojans add ace recruiter

Sarkisian will have to assemble an all-star staff if he wants to win the recruiting wars in the West. So far that's exactly what he's doing. After Tee Martin announced Wednesday night he was sticking around as an assistant for the Trojans, the school announced Thursday that Washington linebackers coach Peter Sirmon would join the staff. Sirmon is considered one of the best position coaches in the Pac 12, but he's also well respected as a recruiter. I visited with him a few weeks back for a story about Husky recruiting efforts, and I instantly can tell he why recruits gravitate toward him. He's very charismatic and should be an excellent fit for the Trojans. It will be interesting to see if USC also can land Washington defensive coordinator Justin Wilcox and defensive line coach Tosh Lupoi. Both reportedly have large buyouts from Washington, but Sirmon, Wilcox and Lupoi are close friends and often go on the road with each other to recruit.
To continue reading this article you must be an Insider
December, 5, 2013
Dec 5
6:52
PM ET
Associated Press
BATON ROUGE, La. -- LSU spokesman Michael Bonnette says freshman football player Jeryl Brazil, who's had several run-ins with the law since September, has been dismissed from the team by coach Les Miles.
Bonnette's statement regarding Brazil on Thursday comes as Baton Rouge police say the 19-year-old former player is wanted on felony charges in connection with a burglary near campus. Brazil is accused of entering an unlocked apartment where two people were asleep and stealing $47.
Brazil had already received two misdemeanor summonses, one for disturbing the peace by fighting and one for simple battery of a female student.
Miles suspended Brazil in October, after the second incident, and never reinstated him.
Brazil was listed as a defensive back but saw his only action on offense, with two carries for 10 yards.
December, 5, 2013
Dec 5
3:13
PM ET
The seventh annual Under Armour All-America Game is less than a month away. The 2014 game, which is set for 4 p.m. ET Jan. 2 at Tropicana Field in St. Petersburg, Fla. on ESPN, features 90 of the top high school football prospects in the country. Practices begin Dec. 29.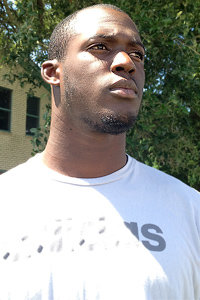 Alex Scarborough/ESPNNo. 1 Leonard Fournette is one of several five-star prospects who haven't made a commitment.
As is usually the case, the SEC will be well represented. Here are some of the storylines:
Year of dominance:
The top 15 prospects in the ESPN 300 are all scheduled to take part. That means that all 13 five-star prospects in the class will be competing, including No. 1
Leonard Fournette
(New Orleans/Saint Augustine). All told, 28 of the top 30 prospects in the ESPN 300 are on an UA All-America roster.
SE
C leads the way:
It comes without surprise that the SEC has the most committed prospects taking part, with 34. The Big Ten and ACC have 13 each, the Big 12 has three and the Pac-12 has two. Notre Dame has five commits in the game.
The SEC West alone has 25.
To continue reading this article you must be an Insider
December, 5, 2013
Dec 5
12:00
PM ET
Conference championship Saturday is almost upon us. Catch the fever!
December, 4, 2013
Dec 4
2:00
PM ET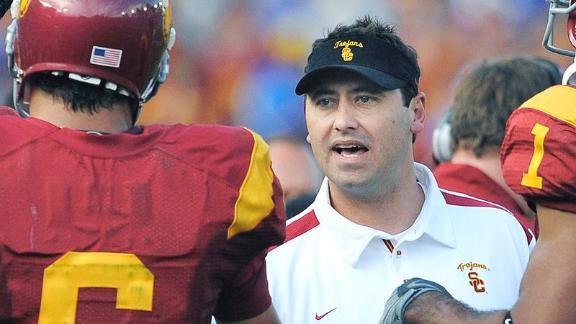 The latest update to the
RecruitingNation class rankings
features a number of moves due in large part to the release of the
ESPN Junior College 50 rankings
. Within the conference, Alabama still has a strong grasp on the top spot with all 14 schools in the top 35 classes nationally. Here's a look at the
conference's rankings

.

Trending up:
Both Texas A&M and Auburn are trending up thanks to the release of the ESPN JC 50. The Aggies jumped from No. 5 to No. 4 and into the top 3 in the conference rankings with junior college offensive linemen
Avery Gennesy
(Southhaven, Miss./East Mississippi Community College) and
Jermaine Eluemunor
(Rockaway, N.J./Lackawanna College) coming in at No. 13 and 15 in the ESPN JC 50. Auburn junior college commitment
D'haquille Williams
(Reserve, La./Mississippi Gulf Coast Community College) and
Dalvon Stuckey
(De Funiak Springs, Fla./Pearl River Community College) came in at No. 1 and 9 in the JC 50. Auburn jumped from No. 14 nationally to No. 12, and the Tigers are in striking position on several other highly-ranked prospects.
To continue reading this article you must be an Insider
December, 4, 2013
Dec 4
12:00
PM ET
Like Georgia QB Aaron Murray before him, it's tough to see a senior like LSU's
Zach Mettenberger get hurt
before he has a chance to play his final bowl game and ride off into the sunset. Here's to good health in the NFL.
December, 4, 2013
Dec 4
11:50
AM ET
There are many who feel ESPN 300 safety
Jamal Adams
(Lewisville, Texas/Hebron) will choose an SEC school when he announces his college plans at the Under Armour All-America Game on Jan. 2. Whether that will be Florida, LSU, Texas A&M or Ole Miss is still up in the air.
Adams hosted an in-home visit with LSU on Tuesday evening and came away with a higher opinion on a school he already had a lot of respect for.
To continue reading this article you must be an Insider
December, 4, 2013
Dec 4
10:30
AM ET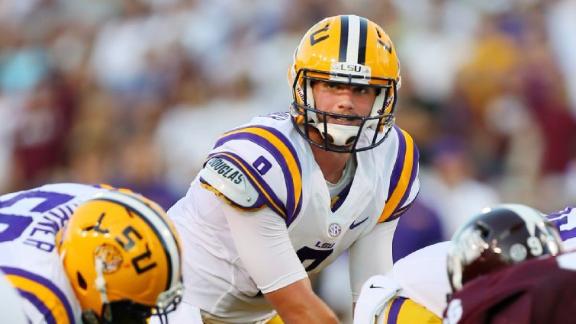 For the second time this month, a talented SEC quarterback's career came to a shocking end.
Only a week after Georgia senior
Aaron Murray
tore his ACL against Kentucky, LSU's
Zach Mettenberger
, who was once a teammate of Murray's at Georgia,
suffered the same fate
against Arkansas. Mettenberger's left knee bent back after he was hit by Arkansas defensive tackle
Byran Jones
in the fourth quarter of LSU's 31-27 win over the Razorbacks last Friday.
[+] Enlarge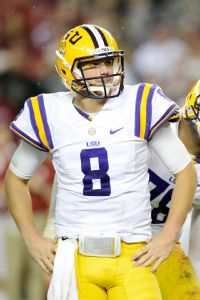 John David Mercer/USA TODAY SportsZach Mettenberger showed remarkable improvement both on and off the field during his LSU career.
Like Murray, it was a sad way for Mettenberger to go out with the Tigers, especially after all the improvements he'd made on and off the field during his college career.
Known more for his dismissal from Georgia after he was arrested outside of a bar back in 2010, Mettenberger truly turned things around during his time with the Tigers. He stayed quiet off the field, and excelled on it. After an up-and-down first season as a starter in 2012, Mettenberger appeared to be in line to be an early pick in the 2014 NFL draft. He went from 2,609 yards and 12 touchdowns with seven interceptions to 3,082 yards and 22 touchdowns to eight picks in 2013. His QBR rose by nearly 40 points, he helped guide the Tigers to nine wins again, and he helped direct an LSU offense that ended the regular season averaging 465.9 yards per game.
Mettenberger stayed on the sideline during the Tigers' comeback win over Arkansas and was visibly moved after the game when he joined his teammates and LSU's band for one last song inside Tiger Stadium. Maybe he knew his LSU career was over. Maybe he was so overcome with the joy of winning and the sadness of leaving the purple and gold behind that tears were his only release.
Maybe it was all of the above, but to see the laid back, easy-going Mettenberger break down emotionally showed the college football world just how much he loved his team and the program that took a big chance on him.
His improvements under new offensive coordinator Cam Cameron showed that, too. Mettenberger always had the physical tools and smarts to be an elite quarterback, but he knew he needed to be challenged. Cameron helped him see the field better and understand the game more. Mettenberger could have coasted because of his natural talent and the inexperience behind him, but he soaked up every drop of knowledge Cameron had in order to become a more well-rounded player.
He shed weight in order to move better in the pocket. He took to longer film room sessions. He became more of a vocal leader with his teammates. And he impressed in games, throwing for 200-plus yards in nine games in 2013, after failing to have back-to-back 200-yard outings last season until November.
While Mettenberger will miss LSU's bowl game, there are some positives for him and his team. There's a chance he could still throw at LSU's pro day next spring, and the Tigers will get another chance to see the future of the position:
Anthony Jennings
.
It was Jennings who calmly drove the Tigers 99-yards and won the game with a 49-yard touchdown pass against Arkansas after Mettenberger's departure. More practice and more game action can only benefit the freshman.
It'll be a bittersweet feeling for Mettenberger to watch his team play without him, but this season will go a long way to ensuring that his NFL future will be brighter than expected coming out of 2012. It's a long road back for Mettenberger, but he's been through this before.
December, 4, 2013
Dec 4
12:20
AM ET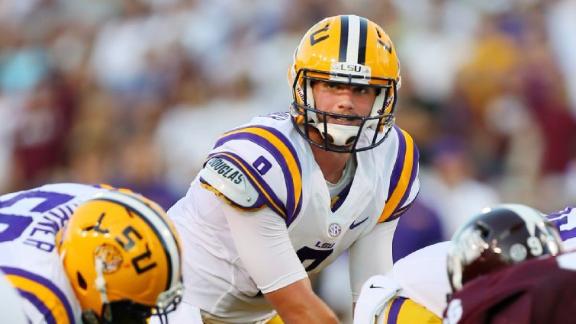 LSU quarterback Zach Mettenberger suffered a torn ACL and an MCL sprain during the Tigers' 31-27 victory last week over Arkansas, multiple sources told ESPN.
The school confirmed Wednesday that Mettenberger will miss the Tigers' bowl game but did not disclose specifics about the injury, per school policy.
"We are very disappointed for Zach," coach Les Miles said Wednesday. "He's been a tremendous leader for our team and he's as competitive a guy as I have ever been around. He's had a great impact on our program."
Mettenberger was hit on his left knee during the fourth quarter by Arkansas defensive tackle Byran Jones. The senior quarterback was wearing a brace on the knee as a precautionary measure, but the force of the blow bent his knee back, causing the damage.
A source said that once the sprain heals -- in an estimated two weeks -- Mettenberger would have surgery to repair his ACL.
Mettenberger, who is known for his arm strength, was thought to be no worse than a mid-first-round pick in the 2014 NFL draft before he suffered the injury, two high-ranking league personnel sources said.
"I know Zach will work extremely hard to rehabilitate his knee and I don't anticipate this injury having any impact on what should be a great future in the NFL," Miles said.
Backup quarterback Anthony Jennings, who took over for Mettenberger against the Razorbacks and led LSU (9-3, 5-3 SEC) to victory late in the game, will be the starter for the team's bowl.
December, 3, 2013
Dec 3
4:30
PM ET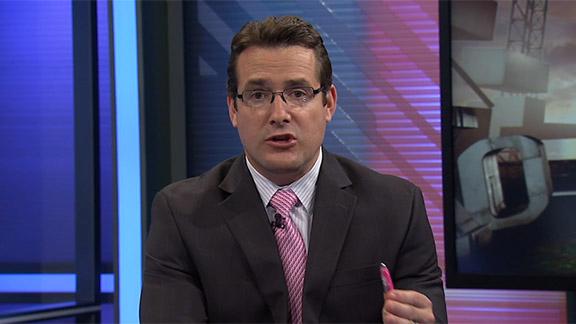 Looking over the newly released
ESPN JC 50
, there are several recruits on that list already committed to SEC schools. There are also many that still remain undecided. With signing day quickly approaching, here's a closer look at five prospects, who's destination is still unknown.
[+] Enlarge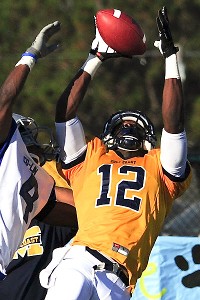 Courtesy of Mississippi Gulf Coast C.C.D'haquille Williams is an Auburn commit, but the No. 1 prospect in the ESPN JC 50 is also still strongly considering LSU.
1. WR D'haquille Williams (Laplace, La./Mississippi Gulf Coast CC):
The No. 1-ranked prospect in the ESPN JC 50 is already committed to Auburn and visited this past weekend for Auburn's miracle win over Alabama. This talented wide receiver, however, is still considering LSU and it appears to be a neck-and-neck battle. Williams' MGCCC teammate
Derrick Moncrief
is also committed to Auburn which could certainly play in the favor of the Tigers -- Auburn that is.
To continue reading this article you must be an Insider
December, 3, 2013
Dec 3
12:00
PM ET
You have to feel bad for old Ed Orgeron. The former Ole Miss head coach had a good run as interim coach at USC, but last week's loss to UCLA seemed to seal his fate. How long before he ends up back in the South as a head coach?
December, 3, 2013
Dec 3
11:56
AM ET
While most recruiting attention goes to the nation's top high school prospects, mining junior colleges for elite talent can be the difference between a BCS bowl and mediocrity. Just ask Auburn, which went 11-14 in the two seasons between juco phenom QBs Cam Newton and Nick Marshall.
With the new ESPN JC 50 player rankings out, here's a look at the recruits who could be making a difference for your favorite team at this time next year.
The fight for No. 1
The No. 1 prospect in the ESPN JC 50 is uberathletic wide receiver D'haquille Williams (Reserve, La./Mississippi Gulf Coast). The vertical threat with instant-impact talent and elite ball skills was once committed to LSU but is now an Auburn pledge. It continues to be a battle between the two SEC West programs with a final decision possibly coming soon. Williams was on campus at Auburn over the weekend for the historic Iron Bowl. His Mississippi Gulf Coast teammate Derrick Moncrief is No. 14 in the JC 50 and an Auburn commit.
To continue reading this article you must be an Insider
Zach Mettenberger's NFL Draft Stock