January, 26, 2015
Jan 26
8:00
AM ET
Editor's note:
We broke down LSU's need to improve at quarterback as part of our SEC blog's positional series two weeks ago. This week on the LSU blog, we continue our position-by-position look at the 2015 Tigers.
Leonard Fournette
did not live up to preseason Heisman Trophy buzz last fall, but he still set LSU's freshman rushing record with 1,034 yards. Now, with seniors
Terrence Magee
and
Kenny Hilliard
working to earn NFL roster spots, Fournette is in position to become the Tigers' feature back as a sophomore.
"I talked to Leonard and his mindset is very strong right now," offensive lineman
Vadal Alexander
said on Jan. 16 after announcing his decision to return for his senior season. "He's ready to go back to work. I talked to him actually today walking from class and he's ready to go. We're ready to make this offense explosive. Along with him and the whole offense, we're ready to do big things."
During his freshman season, Fournette displayed glimpses of the potential that made him ESPN's top overall prospect in the 2014 recruiting class. His 264 all-purpose yards (including 143 rushing yards and a 100-yard kickoff return touchdown) in a bowl loss to Notre Dame made for one of the most dynamic performances in LSU postseason history, and his power running was the driving force in key SEC wins against Florida and Texas A&M.
If he and fellow sophomore
Darrel Williams
take a step forward like their former teammates expect, LSU's running game should remain in good shape.
[+] Enlarge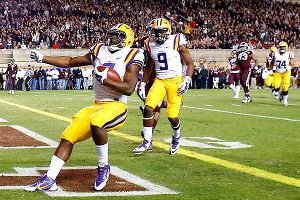 Scott Halleran/Getty ImagesLeonard Fournette will shoulder even more of the load for LSU in 2015 after an outstanding freshman season.
"I expect a lot out of those boys, especially with Leonard and Darrel," ex-Tigers fullback Connor Neighbors said. "They probably could be the two best backs we've ever had. Leonard's shown flashes of what he can do, and so has Darrel in some cases.
"But I know once Kenny and Terrence leave, Darrel's role is going to expand. He's a hell of a back just like Leonard is. He just has to wait his turn. It's hard when your classmate is the same age and gets a little more playing time. I know how that feels. But once he steps up, it's going to be great."
Williams was the less-heralded prospect out of LSU's 2014 running back signees but became a valuable reserve, particularly in short-yardage situations. Magee agreed with Neighbors' assessment that Williams' role should expand, partially because of LSU's traditional philosophy of spreading around the carries and partially because of Williams' ability to avoid fumbling.
"It's always running back by committee here," Magee said. "Since he's been here, the biggest thing that I've seen about him, he does a great job of taking care of the ball. Since he's been here, I can only remember him fumbling the ball twice. That plays a big part in playing running back -- you've got to take care of the ball. He does a great job in pass protection, so I think he's going to find his way on the field very easily next year on third downs as well as first and second down."
The biggest question surrounding the group will be depth. Neighbors and
Melvin Jones
are out of the picture, leaving
John David Moore
as the Tigers' only player with game experience at fullback. And with Magee and Hilliard completing their eligibility, Fournette and Williams will be entrusted with helping verbal commits
Derrius Guice
and
Nick Brossette
get ready to play as freshmen.
"I know they're going to bring in two great young freshmen and hopefully they can learn from Darrel and Leonard and be able to contribute to the team next year," Magee said.
It helps that
David Ducre
, who can play fullback and tailback, is already on campus as an early enrollee. Perhaps he wasn't as high-profile a prospect as LSU's tailback commits, but LSU believes it got a steal in Ducre, whose versatility could make him an immediate weapon.
The most important figure will be Fournette, though. He should be the centerpiece of LSU's offense in 2015, and based on his performances when LSU continuously fed him the ball in 2014, that should be a good thing for the Tigers.
BREAKDOWN
Returning players:
TB: Leonard Fournette (187 carries, 1,034 yards, 10 TDs; 7 receptions, 127 yards; 1,786 all-purpose yards), Darrel Williams (64-302, 3 TDs; 6-63 receiving). FB: John David Moore (No carries).
Departed players:
TB: Terrence Magee (112-571, 3 TDs; 17-171 receiving), Kenny Hilliard (90-447, 6 TDs; 4-35 receiving). FB: Connor Neighbors (No carries, 4-27 receiving), Melvin Jones (4-12; 5-22 receiving, TD).
Committed prospects:
TB: Derrius Guice (No. 8 RB, No. 96 overall on ESPN 300, four stars), Nick Brossette (No. 12 RB, No. 121 overall, four stars). FB: David Ducre (No. 35 RB, four stars, early enrollee). ESPN lists Fournette's younger brother Lanard, who committed to LSU over the weekend, as a running back (No. 100 at the position, three stars), but it's possible that he will play receiver in college.
Outlook:
This will be a young bunch with seniors Magee, Hilliard and Neighbors completing their eligibility. Fournette's presence obviously solidifies the position, but the Tigers will enter the season with very little experience at fullback and only Fournette and Williams with on-field work at tailback. Ducre will get a leg up by participating in spring practice and tailback commits Guice and Brossette should have a chance to contribute as freshmen should they sign with the Tigers next month.
January, 25, 2015
Jan 25
10:30
AM ET
This is the second to last weekend before signing day and there was a ton of big visitors around the Southeastern Conference. Here is a closer look at some of the top social media posts by prospects who visited SEC schools over the weekend.
Three-star defensive tackle
Tyrell Jacobs
gave his verbal commitment to Missouri over the weekend. He tweeted out a few photos of himself posing in a Missouri game jersey.
You think they ready ? <╚=¬ pic.twitter.com/O4bLhtuul9

— Tyrell Jacobs (@tyrelljacobs98) January 25, 2015
Georgia safety
Rashad Roundtree
posted a photo of himself and Georgia head coach Mark Richt during his visit to Athens over the weekend.
Future Coach pic.twitter.com/G5cs2yX6Ve

— Tree (@Rashad_Tr33) January 25, 2015
Five-star defensive end
CeCe Jefferson
and ESPN 300 outside linebacker
Jeffery Holland
took a visit to Ole Miss over the weekend and tweeted out a photo.
Me and @holland_jeffery @hollwalking through! pic.twitter.com/EQ2gUIaQnr

— January 29th (@cecejeferson7) January 24, 2015
ESPN 300 wide receiver
DaMarkus Lodge
tweeted out a photo of one of the most impressive cakes you will ever see. Lodge took a visit to Ole Miss and had this impressive culinary masterpiece waiting for him upon his arrival.
January 24, 2015
Auburn linebacker commit
Richard McBryde
posted a photo of himself with head coach Gus Malzhan and another two photos of himself with new defensive coordinator Will Muschamp.
=== pic.twitter.com/aQNZjR7pUI

— RICHARD MCBRYDE (@R_Mcbryde15) January 25, 2015
Georgia athlete commit
Terry Godwin
posed a for a picture with his family during his Alabama visit.
@TerryGodwin_4 and family on Bama official. pic.twitter.com/clsTHulN4g

— olivia (@libby141) January 25, 2015
Miami running back commit
Jordan Scarlett
and uncommitted running back Jordan Cronkite both visited Florida this weekend and posed together for a photo in Florida's locker room.
January 25, 2015
Five-star defensive back
Iman Marshall
tweeted a photo of himself and LSU defensive line coach Ed Orgeron during his visit to LSU over the weekend.
LEGENDARY =/ pic.twitter.com/eYpTEDBzbm

— Biggie (@iman_marshall8) January 25, 2015
South Carolina commit
Jalen Christian
tweeted a photo of himself and head coach Steve Spurrier during his visit to Columbia.
HBC and I ===L=» pic.twitter.com/rhDxAe0uVk

— Jalen Christian4Ń (@Thatblasiankidd) January 24, 2015
ESPN 300 wide receiver
Brandon Martin
confused some people on Saturday when he tweeted that he was not committed to Missouri despite several reports. He quickly corrected the tweet and meant to say "I am now committed to Missouri." The error gave Missouri fans a scare for a few minutes.
I'm not committed to the university of Missouri #Tigersfamily #MizzouMade #Mizzoufootball

— Brandon Martin (@5_go_live_5) January 24, 2015
I meant now I'm now committed

— Brandon Martin (@5_go_live_5) January 24, 2015
Miami running back commit
Mark Walton
had maybe the most interesting wardrobe on his weekend visit to Georgia.
Georgia Life Chilling =6=6=6 Dawg pic.twitter.com/Ec26lTisGQ

— Mark Deuce Walton Jr (@F5_DEUCE) January 22, 2015
January, 23, 2015
Jan 23
12:00
PM ET
BATON ROUGE, La. -- Ed Orgeron complimented his LSU predecessor Brick Haley -- in fact, he said the improvement Haley's defensive line made over the course of the season "might have been one of his better coaching jobs" -- but there is a glaring hole in the line's production.
After recording just 19 sacks in 13 games, the Tigers' average of 1.46 per game tied for 102nd nationally. They were only slightly better at generating negative-yardage plays, as their average of 5.8 tackles for loss per game tied for 64th.
That's a far cry from even a few seasons ago, when Orgeron's Ole Miss teams had difficulty completing simple center-quarterback exchanges because of LSU's disruptive defensive line.
"Anytime you think about LSU in my opinion, you think about the great defensive lines that they had, the guys dominating," Orgeron said. "As a coach playing against LSU, I remember when we couldn't take a snap. The center came out the game and said, 'Coach, I can't snap the ball,' and the quarterback said, 'If he don't snap it, I'm quitting.' So I've been against these guys."
Now he's with them, and he will be charged with building a more productive pass rush in 2015 without both of last season's starting defensive ends,
Jermauria Rasco
and
Danielle Hunter
. That duo played the vast majority of downs at end, although sophomores
Tashawn Bower
and
Lewis Neal
, and freshmen
Deondre Clark
and
Sione Teuhema
also gained on-field experience as reserves.
That foursome includes the most likely candidates to take over for the departed veterans.
"Those guys, they got a lot of reps earlier this year and throughout the whole season," Rasco said. "That's a good look for next year, because if you don't get too many game reps, you'll never get the pace of the game, because it's a lot different from practice being on the field."
Rasco and Hunter both pointed to Bower as the Tigers' next stellar pass-rusher, and Bower said that he feels a responsibility to become that player because he has received the most playing time out of the group.
"Yeah, I feel that way, just based on experience and being here I guess the next longest. I'd say so," Bower said. "But we've got a bunch of great guys on the D-line who are learning and getting better each time. And you can see it on film, so there's a bunch of great guys who are ready to step up and get in that spot."
Hunter said Teuhema could also be a name to watch, chuckling as he described the freshman's mentality as a third-down pass-rusher.
"Sione, he plays pass-first all day. He doesn't play no run-first at all," Hunter said.
Under Orgeron and new defensive coordinator Kevin Steele, the pass-rush burden will probably not rest solely on the shoulders of the defensive line. With Steele likely to install elements of a 3-4 defensive scheme, his outside linebackers will play larger roles in chasing down quarterbacks, as well.
The Tigers have a number of speedy linebackers on the roster who could excel in such roles.
But it will be Orgeron's responsibility to get more out of the line -- and he plans to do that by teaching, building depth, and coaching the group with his trademark aggressiveness.
"I think it's drill work, film work, knowledge," Orgeron said. "I'm going to show them NFL film, I'm going to show them film of
J.J. Watt
, I'm going to show them how to get better, how-to-rush sets, great technique, get in great shape, and also coach them with an attitude. I believe the players play with the attitude of the football coach."
.
January, 23, 2015
Jan 23
9:00
AM ET
By
RecruitingNation
| ESPN Insider
Thursday saw activity on social media throughout the country, with coaches on the road, schools collecting commitments and No. 9 overall prospect
CeCe Jefferson
receiving a visit from one of his finalists.
January, 22, 2015
Jan 22
1:00
PM ET
BATON ROUGE, La. --
Jalen Mills
wasn't even sure what position he would play if he returned for his senior season at LSU.
But regardless of whether he plays cornerback or safety this fall, Mills had greater concerns when he decided the join the unusually large -- by LSU standards, anyway -- group of draft-eligible players who decided to turn down the NFL for at least another year.
He and the other returning Tigers want to be remembered for more than simply staying just long enough to earn a pro football paycheck.
[+] Enlarge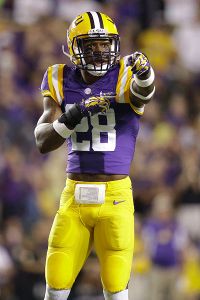 Gerald Herbert/AP PhotoJalen Mills decided against entering the NFL draft so he could make a run at a national championship.
"We have a little group text message between us guys, just us, and that's all we talk about. That's the reason why we wanted to come back," said Mills, already a three-year starter in LSU's secondary. "Of course you want to get your degree, but for the most part, you want to win a national championship."
Seated in the Tigers' team meeting room, Mills looked up toward the collage of former Tigers greats such as
Glenn Dorsey
that borders the room's massive film screen and pointed.
"You want to be those guys in the meeting room where you have these guys up there," Mills said. "You want to be those guys that are always talked about. You want to be those guys in the record book, 'This is the team that won the national championship, these are the guys who came back and made that happen.' You want to be those guys, and I feel like that is really what put all these guys over the edge to come back."
It says something about how hard LSU has been hit by early draft entry in the last couple of years that losing just three juniors to the NFL this year -- linebacker
Kwon Alexander
, cornerback
Jalen Collins
and defensive end
Danielle Hunter
-- was cause for celebration.
Only three college programs (Florida State with five and USC and Florida with four apiece) lost more underclassmen than LSU, but this was nothing compared to the Tigers' draft hit following the 2012 and 2013 seasons. A whopping 11 LSU underclassmen entered the draft after the 2012 season and seven more players with college eligibility remaining made the jump after last season.
Perhaps that makes Mills' championship goal more realistic since the 2015 Tigers will have fewer glaring holes to fill. In fact, he might be a candidate to fill one of those holes since Collins and fellow cornerback
Rashard Robinson
have both left the program. Mills spent nearly all of his first two college seasons at cornerback before shifting to safety to address depth concerns.
"When the safety numbers are low and the corner numbers are high, I moved to safety. And now the corner numbers are low and the safety numbers are high, [so] it's a possibility I could move to corner," Mills said. "I haven't really met with the defensive staff yet. I'm pretty sure something is going to happen pretty soon with spring ball right around the corner."
Several factors could impact that outcome. How will
Dwayne Thomas
bounce back from a torn ACL? And who will the Tigers land on the recruiting trail? They are still in the running for some coveted defensive back recruits, and ESPN's No. 10 overall prospect
Kevin Toliver II
(Jacksonville, Fla./Trinity Christian) is already on campus and will practice at cornerback in the spring.
Mills said he was encouraged by Toliver's response when he approached him shortly after LSU's spring semester classes started and invited him to participate in drillwork with several veteran DBs.
"I told him, 'Hey man, I know you like that room, I know you like that bed, but it's time. You're not in high school no more,'" Mills said. "And he kind of told me, 'All right, just give me a call when you guys want to do drills or whatever.' So we're going to get him rolling."
Otherwise, the Tigers' most important holes to fill are at offensive tackle –
Jerald Hawkins
and
Vadal Alexander
expect to fill those spots and defensive end, where starters Hunter and
Jermauria Rasco
are both gone.
In December, Hunter pointed at
Tashawn Bower
and
Sione Teuhema
as possible replacements.
"There's a couple of guys down there," Hunter said. "You've got Sione, you've got Tashawn. Those guys are guys that we look up to, guys that we can see coming to be the next great pass-rusher here at LSU."
Lastly, LSU will once again feature youth in the backfield.
Leonard Fournette
and
Darrel Williams
distinguished themselves last season as freshmen, and the Tigers will rely on first-year players once again at both fullback and tailback.
Senior tailbacks
Kenny Hilliard
and
Terrence Magee
are both gone, as are fullbacks
Connor Neighbors
and
Melvin Jones
, so this will be an important class to address backfield depth.
The good news is that versatile
David Ducre
(Mandeville, La./Lakeshore) is already on campus, plus the Tigers have verbal commitments from homegrown ESPN 300 backs
Derrius Guice
(Baton Rouge, La./Catholic) and
Nick Brossette
(Baton Rouge, La./University Laboratory).
Of course with last year's No. 1 overall prospect Fournette already on campus, those freshmen will not face immense pressure to produce immediately. He seems prepared to take another step forward after setting a freshman rushing record with 1,034 yards in 2014.
"That dude there is ridiculous," Hawkins said. "I just can't wait to block for him. All our running backs, but especially him. There's just something special about him. He's going to pretty much shock the world this year."
January, 22, 2015
Jan 22
11:10
AM ET
The SEC took some flak in 2014 for not having enough elite quarterback play.
Expect some of that flak to return this season, as the SEC once again deals with a handful of young and relatively inexperienced quarterbacks running amok through the league. Seven of the top 14 SEC passers from 2014 won't be returning in 2015, giving some offensive coordinators extra work to do this year.
But fear not OCs and QBs, the league is still stocked with running back talent that should be able to carry some of those offenses still looking for stability at quarterback.
It sounds redundant, but 2015 really could be the "Year of the Running Back." And this group of running backs is on the younger side, but that shouldn't matter. Freshmen running backs took the league by storm last season, and unfortunately for SEC defenses, those kids are only going to get better.
[+] Enlarge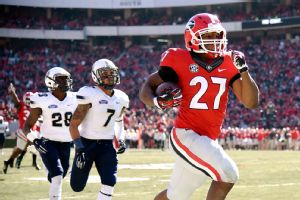 Dale Zanine/USA TODAY SportsNick Chubb rushed for 1,547 yards and 14 TDs last season, despite making just eight starts.
Six of the top-10 statistical running backs return in 2015, and all of them have the capability of making up for some quarterback deficiencies their teams might have.
The four schools that immediately come to mind are Alabama, Arkansas, Georgia, and LSU.
T.J. Yeldon
might be gone at Alabama, but the Crimson Tide will be in very good hands with rising junior
Derrick Henry
taking over as the lead back. Henry and Yeldon shared the carries in 2014, with Henry leading the way with 990 rushing yards. The return of
Kenyan Drake
will add another dimension to Alabama's running game, but Henry is a special talent, and with Alabama breaking in a new quarterback, a restructured offensive line and a young group of receivers, Henry will have plenty of opportunities to shine.
Leading the charge of the running back revolution is rising sophomore
Nick Chubb
, who will be the center of attention in Georgia's offense while the Bulldogs look for a quarterback. You think that's an issue for Chubb? All he did was rank second in the SEC in rushing (1,547 yards and 14 touchdowns) after making just eight starts last season. He was thrust into the starting role after star running back
Todd Gurley
was suspended by the NCAA for four games and then tore his ACL in his late-season return.
That led to Chubb running over, around and through so many unfortunate defenders. In those eight starts, he never dipped below 100 rushing yards and averaged 165.4 per game. Like Gurley, Chubb just runs on another level and appears to either be from another planet or constructed in a lab hidden in the Mojave Desert. The Bulldogs bring back solid talent around Chubb, but let's face it, if new offensive coordinator Brian Schottenheimer isn't routinely handing the rock to Chubb, something just isn't right.
About 600 miles southwest of Chubb is his position rival for the next two years: LSU's
Leonard Fournette
. Another manchild who roughed up plenty of defenders this past season (
so, so sorry Aggies
), Fournette will have to carry the load for the Tigers in 2015, because we just don't know what to expect from the quarterback position. He needed some time to feel comfortable, but when he did, he made his opponents suffer, finishing the season with 1,034 and 10 touchdowns.
Then, there is Arkansas, which has the SEC's best running back duo in
Jonathan Williams
and
Alex Collins
. Both rushed for more than 1,000 yards last season, and with
Brandon Allen
still needing to find his way at quarterback, those two will be relied upon again in 2015. And why not? Coach Bret Bielema wants to pound his opponents into submission anyway, and those two have done it well for the past two seasons.
And just for the heck of it, Tennessee's
Jalen Hurd
will rush for 1,000 yards, even with talented quarterback
Joshua Dobbs
under center.
Here are some other running backs who might have to push their quarterbacks:
Kelvin Taylor/Adam Lane Jr., Florida:
With new coach Jim McElwain installing yet another offense in Gainesville, the Gators have yet another quarterback battle on their hands. The good news is that Taylor and Lane have the potential to be a solid duo. Taylor rushed for 565 and six touchdowns as a backup last season, and Lane broke out in Florida's bowl game, rushing for 109 yards and touchdown.
Brandon Wilds, South Carolina:
The Gamecocks lose
Dylan Thompson
at quarterback, and there is a bit of a battle brewing for his replacement. Wilds, who has 1,277 career rushing yards, has been very solid, and should have no trouble taking over as the starter for
Mike Davis
.
Ralph Webb, Vanderbilt:
Another freshman standout in 2014, Webb will have to continue to be Vandy's top offensive weapon in 2015. The quarterback situation was up-and-down last season, and who knows what it will look like this year. Webb rushed for 907 yards and four touchdowns last season.
Russell Hansbrough, Missouri:
But the Tigers have veteran
Maty Mauk
at quarterback! Well, he wasn't exactly consistent last season, and proved to be a liability at times for Mizzou's offense. Hansbrough, on the other hand, rushed for 1,084 yards and 10 touchdowns in a breakout year. With
Marcus Murphy
gone, Hansbrough should grab the majority of carries and improve on a very solid first year as a starter.
January, 22, 2015
Jan 22
10:00
AM ET
We're almost done with our ranking of the SEC's Top 25 players for the 2014 season, and today we take a look at Nos. 6-10:
6. Dante Fowler Jr., DE/LB, Florida

He entered the season with a chance to put his name among the SEC's best pass-rushers, and he didn't disappoint. The hybrid defensive end/linebacker played the Buck position excellently all season. He led the Gators in sacks (8.5), tackles for loss (15) and quarterback hurries (17). Fowler has always been a physical specimen during his time in Gainesville, but his in-game evolution really shined in 2014. He played smarter and was much more disruptive on the outside. He was able to cover a lot of ground from the Buck position, finishing with 60 tackles and two forced fumbles. He was a major energy source for Florida's defense and was able to disrupt plays without recording stats. He played himself into possibly being a top-10 pick in this year's NFL draft.
7. La'el Collins, OT, LSU
The second-team All-American was one of the SEC's best linemen this season after a solid year in 2013. Collins anchored LSU's line from that left tackle position and led the team in both offensive snaps (843) and knockdowns (88). The first-team All-SEC member also received the Jacobs Blocking Trophy, which is presented annually to the top offensive lineman in the SEC, as voted on by the league's coaches. Collins really excelled as a run-blocker for the Tigers in '14 and could land himself in the first round of this year's NFL draft. He could play either left or right tackle at the next level.
8. Senquez Golson, CB, Ole Miss
Talk about a major turnaround. Golson went from just an OK athlete running around Ole Miss' secondary to the league's top statistical cornerback in 2014. The 5-foot-9, 176-pound defensive spark plug was the ultimate ball hawk on the outside for the Rebels; he led the SEC in 2014 with a school record-tying 10 interceptions and tied for first in the league with 18 defended passes. The first-team All-American essentially took one side of the field away from opposing quarterbacks, while his speed and athleticism helped him cover plenty of ground in the defensive backfield. Golson totaled 43 tackles (33 solo) and averaged 1.4 passes defended per game.
9. Reese Dismukes, C, Auburn
I know, how was he still in college last season? The old man on the Plains played with the style of a polished veteran but had the energy of a young pup for the Tigers. Dismukes wasn't just the SEC's best center this year, he was officially named the nation's best center, winning the Rimington Trophy in December. For the past two seasons, Dismukes has been a team captain for the Tigers, and he has consistently been one of the toughest linemen to beat across the country.
10. Todd Gurley, RB, Georgia
Even though a four-game suspension and an eventual ACL injury cut his 2014 season short, a healthy Todd Gurley was arguably the nation's best player, regardless of position. Gurley went from an injury-riddled 2013 season to being in the best football shape of his Bulldog life at the beginning of the 2014 season. In the five games prior to his suspension, Gurley rushed for an SEC-high 773 yards and had eight rushing touchdowns. He also returned a kick 100 yards for a touchdown. After he returned, Gurley rushed for 138 yards and a touchdown before going down with that ACL injury. In six games, Gurley rushed for 911 yards (151.8 yards per game) and nine touchdowns, averaging 7.4 yards per carry. He also rushed for at least 131 yards in five of those six games.
January, 21, 2015
Jan 21
11:00
PM ET
ESPN 300 prospect
Holton Hill
is one of only three elite cornerbacks remaining on the board in the 2015 class, and that means coaches are doing all they can to land his commitment.
To continue reading this article you must be an Insider
January, 21, 2015
Jan 21
12:50
PM ET
LSU has gained a commitment from highly coveted in-state prospect
Donte Jackson
. Below, see how the ESPN 300 talent fits into Les Miles' program:
To continue reading this article you must be an Insider
January, 21, 2015
Jan 21
10:30
AM ET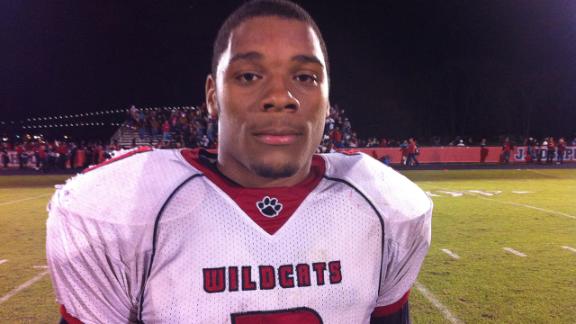 GLEN ST. MARY, Fla. -- Five-star defensive end
CeCe Jefferson
is nearing the time to make his college decision and the No. 9-ranked player in the ESPN 300 is starting to narrow his choices.
To continue reading this article you must be an Insider
January, 21, 2015
Jan 21
9:00
AM ET
1. Here's another kind of story that we occasionally see this time of year -- of the much more pleasant variety than those about transfers and dismissals. Florida tight end
Jake McGee
tweeted Tuesday that the
NCAA granted him a sixth season of eligibility
after he broke his leg in the first game of the Gators' 2014 season. Georgia offensive lineman
Kolton Houston
received
similar news about a month ago
, less than two years removed from a years-long eligibility case that prevented him from playing during his first three seasons on campus. It's always nice to see the NCAA side with the athletes and give them the opportunity to make full use of their college experience when possible.
2. So maybe
Nick Marshall
is a defensive back, after all. Since it seemed likely that he would shift from quarterback -- where he starred at Auburn -- to cornerback during the run-up to the NFL draft, it seemed surprising when initial stories had
Marshall coming to the Senior Bowl as a quarterback
. Marshall cleared things up on Tuesday, however, saying he
expects to be a defensive back in the pros
after practicing at corner and as a gunner on special teams. When Southeastern Louisiana's Bryan Bennett joined the South team's roster Tuesday, it
enabled Marshall to shift to cornerback full-time for this week's practices
.
3. He's been rumored to be a front-runner for the
San Francisco 49ers
' offensive coordinator opening, but
Lane Kiffin continues to recruit for Alabama
. Crimson Tide coach Nick Saban said Tuesday at Senior Bowl practice that he couldn't say with certainty that Kiffin would return to his staff next season, but he's "hopeful that will continue." Kiffin certainly provided a jolt for Alabama's offense last season, helping
Blake Sims
become one of the nation's most efficient passers and funneling the ball to receiver
Amari Cooper
enough to solidify his status one of the
most coveted prospects in the upcoming NFL draft
.

. Kiffin
predicted during Sugar Bowl week
that he would return to Alabama in 2015, but an NFL coordinator job would have to be tempting for the former NFL coach.
Around the SEC
Age is just a number to Steve Spurrier
, 69, who said he feels "really good" physically and has dedicated himself to improving South Carolina's performance from its disappointing 2014 campaign.
Former Missouri football player Phil Pitts reportedly stepped down from his position as head coach at Helias High School in Jefferson City, Missouri,
to accept a coaching position at Mizzou
. Pitts played at Missouri under Gary Pinkel, who is still recruiting Helias' star tight end
Hale Hentges
, a 2015 Alabama commit.
Tennessee will play its annual
Orange and White spring game
on April 25.
Louisiana athlete
Donte Jackson
will
announce his pick
between LSU and Georgia on Wednesday at 11:30 a.m. ET.
Alabama defensive end prospect Prince Tega Wanagho Jr., whose "Coming to America" story we mentioned in Monday's morning links,
suffered a serious left leg injury
during a basketball game Tuesday night. Wanagho recently emerged as one of the nation's hottest football prospects by flashing a rare combination of size and athleticism in his first year playing football after moving to the U.S. from Nigeria.
Tweet of the day
Lets try this college thing one more time! thanks @ncaa = = see you in the fall!

— Jake McGee (@JakeOvaTheWorld) January 20, 2015
January, 21, 2015
Jan 21
9:00
AM ET
Tuesday was a busy day on the recruiting trail with head coaches and assistants earning frequent flyer miles with national signing day only 15 days away. The headliner on Tuesday was No. 2-ranked
Terry Beckner Jr.
and a visit from Florida State.
To continue reading this article you must be an Insider
January, 20, 2015
Jan 20
2:00
PM ET
BATON ROUGE, La. -- For a player like
Lamar Louis
, LSU's defensive coordinator change might be helpful on multiple levels.
For starters, Louis should have the opportunity to play more on scrimmage downs -- potentially displaying new skills that might help the 5-foot-11 senior linebacker impress pro scouts enough to become an NFL draft pick. Louis also believes that defensive coordinator Kevin Steele's new defensive looks will help the Tigers become tougher to scheme against.
"If we can get [the new defensive scheme] down pat and be the multiple defense that we want, I think that it switches things up for other teams," Louis said. "It's not coming into Tiger Stadium going, 'OK, they're going to be the same old 4-3 team, so this is how we're going to come at it.' They're actually going to have to think now.
"We can … when we play Auburn, play something different. When we play Arkansas, play something different. So we're going to not be as predictable as in the past if we can get everything down pat and be multiple like we would like."
Under Steele's predecessor John Chavis, LSU frequently lined up in defensive back-heavy packages like the nickel and Chavis' dime package, known as the "Mustang," which uses six defensive backs. As the starting strongside linebacker, Louis was often the odd man out when the Tigers brought extra defensive backs onto the field.
But if all goes according to play, the linebackers might play a bigger role under Steele even when the Tigers shift to a nickel defense.
"Being able to play in a 3-4 and a 4-3 and being able to have an opportunity to stay in in a nickel package, and just looking at different schemes, it's definitely going to help me at the next level," Louis said. "And I think it's going to help our team tremendously."
LSU's coaches have greater concerns at the moment than nailing down a defensive scheme or roles for specific players. First, they need to nail down the final spots in their recruiting class, with national signing day just two weeks away.
At last week's introductory news conference, new defensive line coach Ed Orgeron said the Tigers will still be a 4-3 defensive club -- deploying four defensive linemen and three linebackers as its traditional defensive front -- but they will also add elements of the 3-4 that Steele coached with Nick Saban at Alabama.
"We're going to base out of a 4-3, but there's some times where you're going to get in a 3-4 front," Orgeron predicted. "But we have 4-3 personnel here and I believe that's what we're going to start off with."
Steele agreed with that premise, pointing out that having four linebackers on the field with 3-4 looks will make it easier to defend the spread offensive schemes in place at nearly every other SEC West school.
"You're going to have to use it all in this league," Steele said. "You're going to have to have some odd-front stuff, particularly against the spread offense that much of the West is running. And so to get those two edge guys [outside linebackers] out there. But there also is a place for the other, so we'll have to mix that in there."
Between signing day and spring practice, the Tigers' coaching staff will likely sit down and begin nailing down a scheme that best suits the available personnel. Steele said he has no intention of simply "taking a playbook out and dusting it off and throwing it on and saying, 'OK, this is what we're doing.' We have to adapt things to the talent on the field, because I'll promise you this, I cannot tackle."
That approach suits Tigers head coach Les Miles just fine. Miles clearly likes the idea of throwing multiple looks at opposing offenses, and it appears that the Tigers will do so under the new defensive regime.
"I want to do both. I want to make sure we have elements of the 4-3 package ingrained and I'd like the opportunity to be open in certain situations," Miles said. "So that being said, I just want to make sure that it goes that way. As Steele said, we'll sit down and talk techniques and all that stuff and then we'll be on the right page."
January, 20, 2015
Jan 20
1:00
PM ET
In the 100 days leading up to signing day 2015, RecruitingNation will be looking back at our ESPN recruiting rankings from 2006 to the present and counting down the best player of the past 10 years at each ranking position, No. 100 to No. 1.
Arrelious Benn, No. 17 in 2007 class
Benn came out of talent-rich Dunbar High in Washington, D.C., where he was teammates with 2009 NFL first-round pick
Vontae Davis
and 2011 seventh-round selection Nate Bussey. Benn picked Illinois in November of 2008 after making official visits to Florida State, Miami (FL), and Notre Dame. His choice was due in large part to then-Illini assistant coach Mike Locksley and the fact that Davis was already on campus at Illinois and Bussey was already committed to the Illini. Benn was part of a stellar Illinois class in 2007 that included Martez Wilson, Craig Wilson, and D'Angelo McCray.
Benn hit the ground running at Illinois, earning Big Ten Freshman of the year after setting school freshman records for receptions (43) and yards (521). He caught two TD passes.
As a sophomore in 2008, Benn caught 67 passes for 1,055 yards and three TDs, and accounted for 1,668 all-purpose yards. He was named All-Big Ten second team by the coaches, and first team by the national media. He also received fourth-team All-American honors from Phil Steele Magazine.
Benn was named All-Big Ten honorable mention as a junior after catching 49 passes for 645 yards.
Benn chose to forgo his final year of eligibility and enter the 2010 NFL draft. He left Illinois with 159 receptions for 2,221 yards, and 996 kick return yards. He caught a pass in 36 of 37 games played.
Benn was selected in the second round, No. 39 overall, by the
Tampa Bay Buccaneers
in 2010. He has battled through a torn ACL, missing ample time the past two seasons.
Honorable mention:
Timmy Jernigan
, No. 17 in 2011, and Malachi Dupre, No. 17 in 2014. Jernigan was a three-year standout at Florida State starting his junior campaign on the Seminoles' BCS National title team. He was selected in the second round, No. 48 overall, in the 2014 NFL draft by the
Baltimore Ravens
. Dupre was named to the All-SEC Freshman team in 2014 after catching 14 passes for 318 yards and five TDs.
Five-Star DE Jefferson Updates Recruitment