September, 30, 2014
Sep 30
12:00
PM ET
AUBURN, Ala. -- Every championship team faces adversity at one point or another. For last year's Auburn team, it came in the form of a September road trip to Death Valley.
The Tigers began the season 3-0, snapping their SEC skid against Mississippi State along the way. But in the first half at LSU, Auburn simply looked outmatched. It was pouring rain; the offense couldn't move the ball; the defense couldn't stop Jeremy Hill; and it was 21-0 after the first 30 minutes. It felt like the team should get back on the bus and head home.
Auburn didn't, though. As the rain tapered off in the second half, Gus Malzahn's team fought back and nearly made it a one-possession game before eventually
losing 35-21
.
Looking back, the game can be remembered two different ways. On one hand, it was the lone blemish on an otherwise flawless resume heading into the BCS title game and a contest Auburn would rather forget. On the other hand, it was a turning point for Auburn, a loss that would create momentum and ignite a nine-game winning streak.
As for the players, all they remember is the rain, or the "very stiff, wind-driven dew," as LSU coach Les Miles so eloquently put it.
"It was raining in Death Valley, and that's always a good time," Auburn center
Reese Dismukes
said. "It was a night game. I remember that was kind of our turning point in our season. We lost the game, but it really showed that we had fight. It came down to the wire at the end."
"Wet, rainy," running back
Corey Grant
said. "Started off slow. Came back second half, made some adjustments and we kind of got back on track, but it was a little bit too late."
"I kind of remember the rain a lot," defensive tackle
Montravius Adams
said. "It was really slippery. It was my first road game as a college player and I didn't know I was going to play that much, but coach put me in so I tried to do what I could.
"And I remember losing. That's the big thing I remember. I think it's going to be better this year. I hope we get the win."
"We didn't really come out the way we should've," cornerback
Jonathon Mincy
said. "We didn't have that edge. By the time it was time for us to adjust, we didn't really put the proper points on the board or we didn't make the correct stops, fill in gaps."
It's been more than a year since that game, and Malzahn admits it still leaves a bitter taste in his mouth. To this day, it's his only SEC loss as a head coach.
However, he also remembers the second-half comeback and how it was a defining moment for Auburn last season. He remembers how the players responded after halftime and how they were an onside kick away from making things interesting.
"Our guys came back," Malzahn said on Monday's Tiger Talk radio show. "They responded like champions in the second half, and it gave us momentum the rest of the year."
This is a new year, though, and the roles have reversed. Auburn is the overwhelming favorite at home against a young, inexperienced LSU team that has a quarterback in
Brandon Harris
who is
making his first road start
in a hostile environment. Sound familiar?
Nick Marshall
made his first road start in Baton Rouge last year.
The good news for Harris is there's no rain in the forecast this year. The bad news is Auburn is hungry for a win.
"I haven't beat them all four years and I'm coming up on the last time playing them, so I'll be excited and especially motivated to play those guys," Dismukes said.
"We lost last year in their house," added Adams. "They're coming to our house now, so we're going to try and get that win."
September, 30, 2014
Sep 30
11:00
AM ET
What a weekend ahead in the SEC. There are some premier games pitting ranked teams against each other and others featuring teams with plenty to prove in college football's premier conference. In our SEC roundtable yesterday,
we tackled games we'd pay to see
.
Today, we pose the question: Which team has the most to prove Saturday? Our SEC writers take a swing at answering it.
Edward Aschoff:
It has to be Florida. If the Gators are going to have any chance in the SEC East race, they have to win this weekend in Knoxville. Also, I think it's pretty clear this is a must-win for coach Will Muschamp. Is this a team that can legitimately compete in the SEC? We didn't see it two weeks ago against Alabama, and we honestly don't know what to expect from the Gators this season. Can
Jeff Driskel
properly direct this offense? Can the secondary stop blowing assignments? Do the Gators have any mettle? We'll find out Saturday.
[+] Enlarge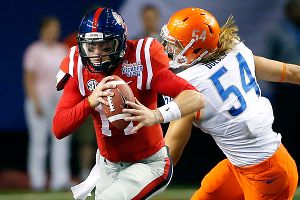 AP Photo/John BazemoreWith ESPN's "College GameDay" in Oxford, Mississippi, this weekend, Ole Miss certainly has the stage to prove itself against Alabama.
Alex Scarborough:
Alabama, Auburn, Ole Miss, Mississippi State and Texas A&M are all undefeated. They have something to prove, certainly, but they're not staring down the barrel of a shotgun. That would be LSU. The Tigers have
everything
to prove. We'll find out against Auburn whether LSU can get back on track or whether this is a rebuilding year. It certainly looked like the latter against Mississippi State.
Anthony Jennings
played so poorly against New Mexico State that he was replaced by
Brandon Harris
. Is he the answer? When will the
Leonard Fournette
we all expected show up? For that matter, when will that swarming, physical LSU defense return? Will the real LSU please stand up?
Jeff Barlis:
It'd be easy to pick Ole Miss, but my gut says Mississippi State has more to prove. The Rebels have been a trendy pick as a team on the rise for a while now. The Bulldogs, on the other hand, didn't get voted into the Top 25 until they ended a 23-year losing streak to LSU in Baton Rouge. That was also MSU's first win against a ranked team in its past 16 tries. Expectations haven't been this high in Starkville in a long time. But in order to truly contend for the SEC West, the Bulldogs will have to knock off Texas A&M.
David Ching:
There are two ways of looking at this one. On one hand, I want to go with Ole Miss because it's in unfamiliar territory. The Rebels are rarely good enough for "GameDay" to consider visiting. They're 2-7 against ranked opponents under Hugh Freeze. I think they're a good team, but they must prove they're legitimate. Beating Alabama would be a great start. On the other hand, LSU embarrassed itself against Mississippi State. The Tigers need to prove they're worthy of a No. 15 ranking, not to mention consideration among the contenders in the West. They desperately need to beat Auburn.
Sam Khan:
It's definitely Ole Miss, for many of the reasons David stated. This is the Rebels' moment: "College GameDay" in the Grove, Alabama coming to Vaught-Hemingway, a chance to finally prove they are ready to take the next step. The past season, when these teams met and many thought the Rebels would give Alabama trouble, they were shut out. If they're truly going to contend in the SEC West, this is a game in which the Rebels have to thrive. Plus, this isn't just about them; it's also about the balance of power this year in the state of Mississippi. Over in Starkville, a rising rival, Mississippi State, is also undefeated and ranked, has a road win at LSU under its belt and will try to knock off No. 6 Texas A&M. If the Bulldogs can, the Rebels -- who seemed to have the momentum at this time a year ago -- have to keep up.
Greg Ostendorf:
It feels like Texas A&M lost this past weekend. Despite a thrilling come-from-behind victory against an improved Arkansas team, everybody is all of a sudden counting the Aggies out. They dropped to
No. 3 in this week's power rankings
. They're underdogs against Mississippi State. Did we all forget how good they looked in the season opener? The past year's Auburn team didn't exactly blow out every opponent, and yet they won the conference. I think it's important for Texas A&M to get back on track this week and play like the team we saw earlier in the season, the team everybody had as a shoo-in for the playoff.
September, 30, 2014
Sep 30
11:00
AM ET
BATON ROUGE, La. -- As is often the case after a disappointing loss, many callers were on the warpath last week during LSU coach Les Miles' radio show.
[+] Enlarge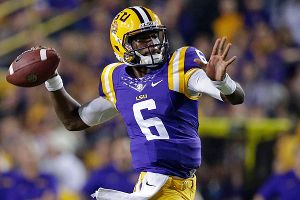 AP Photo/Gerald HerbertNo matter the formation, Brandon Harris has been a more effective quarterback option than Anthony Jennings.
The most common criticism? That LSU's offense had grown too predictable in the previous weekend's 34-29 loss to Mississippi State -- particularly before freshman quarterback
Brandon Harris
replaced
Anthony Jennings
and nearly engineered a miraculous comeback win.
When one of the more pleasant critics encouraged Miles and offensive coordinator Cam Cameron to limit their use of I-formation/two-tight end sets, Miles predicted they would sprinkle in more spread formations in the future.
"I can tell you that we do look forward to expanding the use of spread for both quarterbacks," Miles said. "That's a direction that we're going in. It's just that right now a personnel group that's very, very strong for us, especially on the running end, is the two-tights."
LSU used more shotgun sets with multiple receivers in last week's 63-7 win against New Mexico State. The Aggies were not a formidable opponent, but that might be a sign of things to come with Harris taking over as the starter this week against Auburn.
"I think Brandon's more comfortable like that," running back
Leonard Fournette
said.
Harris played in a spread offense in high school, so that makes sense. And while Harris said he is also comfortable taking snaps from under center, spreading the field was the best way to attack NMSU's defense.
"You've got to go with things that make us successful," Harris said. "I was comfortable with that in high school, and we tried to come out this week and spread people out and just run the football."
It wasn't so much that the Tigers changed their offensive philosophy against NMSU as that they enjoyed much more success once Harris entered the game -- continuing a recent trend.
Using the tight ends
Does LSU use the tight end-heavy package more than most teams, as some callers insinuated? Absolutely.
The Tigers have run 89 plays with at least two tight ends and two running backs, which is the most of any team in the nation. The next-closest teams are Pitt and Boston College, both of which have run 77. Only B.C. (314 plays) utilized that look more than LSU (228) in 2013.
Is that a problem? Miles doesn't think so -- not when the Tigers' offensive identity is built upon the running game.
"We have the opportunity to take advantage of people in both two-tights and in spread," Miles said. "And we have two very, very talented tight ends and it gives the opportunity of running lanes for I-back style of backs, which Leonard Fournette and
Kenny Hilliard
and those guys are."
That said, the Tigers actually used the two-tight formation less against NMSU than they had in previous weeks. LSU averaged 20 plays per game using at least two tight ends and two backs through the first four games, but used that look just nine times against NMSU.
It helped that LSU was rarely in short-yardage situations, so the blocker-heavy lineup was not necessary. Rest assured that it will remain part of LSU's arsenal.
"Obviously everybody knows we have a powerful running game, so it's something to kind of expect," receiver
John Diarse
said.
Multiple receivers
As previously mentioned, LSU didn't shift to an entirely new scheme with Harris. The Tigers were simply more productive.
The Tigers ran 30 plays, gained 287 yards and scored four times on plays where there were at least three wideouts on the field against NMSU. In the first four games, they averaged 27 plays per game with three wideouts and 163.5 yards per game.
"Every receiver enjoys going out in a three- or four-wide set," receiver
Travin Dural
said. "As the game went on, you could tell the receivers went from kind of being mad and frustrated to having more smiles on their face."
Shotgun
Harris played almost exclusively in mop-up duty prior to the NMSU game, but LSU's offense has been more dangerous in nearly every way with him at quarterback.
He is 15-for-20 for 316 yards, three touchdowns and one interception while passing out of the shotgun (an average of 15.8 yards per pass attempt) compared to Jennings' 27-for-52 for 327 yards, two touchdowns and two picks (6.3 ypa). Harris has nine completions of 20-plus yards from the shotgun compared to just four for Jennings.
"We came out in a couple of three- and four-wide sets when [Harris] was in the game, given the situation, and he made some plays," Dural said. "He made some great throws and did some great things on the ground and he helped us out tremendously."
LSU has also rushed the ball more effectively out of the shotgun with Harris. The Tigers have 24 runs for 155 yards (6.5 yards per carry) out of the shotgun with the freshman compared to 47 for 205 (4.4 ypc) with Jennings.
Under center
Boosted by his school-record 94-yard touchdown pass to Dural against Sam Houston State, Jennings is actually averaging 13.1 yards per pass attempt after taking snaps from under center. He's 15-for-31 for 407 yards, three touchdowns and one interception in that scenario. Meanwhile, Harris is 7-for-10 for 78 yards (7.8 ypa), three touchdowns and no interceptions.
LSU has run the ball 115 times and gained 457 yards (3.97 ypc) with Jennings taking the snap from under center compared to 51 attempts for 312 yards (6.12 ypc) with Harris under center.
It's anybody's guess whether those trends continue with Harris as the starting quarterback, however. The Tigers might spread the field more now, but power-run formations will surely remain part of LSU's scheme.
Diarse predicted that Cameron's philosophy will still change each week based on personnel matchups.
"I think as an offensive coordinator, you kind of look for what works and it just so happened that spreading those guys out from New Mexico State worked for us," Diarse said. "We kind of stuck with it and it lasted us the whole game. Each and every week, Coach Cam is unpredictable. He's not a predictable coach at all. He can throw anything at you."
September, 30, 2014
Sep 30
9:30
AM ET
Claim your spot on the couch now. Reserve your table at your favorite sports bar. Buy another TV. Do whatever you gotta do to make sure you don't miss a snap Saturday because this is going to be a good one.
College football has been a well-kept secret so far, as it has been hiding the true identities of teams. Not this week. It's time to play or go home. There are six games between ranked teams. Of the 17 undefeated teams remaining, eight play against each other this week. It's the most relevant weekend the sport has had in regard to the new College Football Playoff.
Here are the games you can't miss, ranked from
least
to most likely to affect the playoff:
No. 14 Stanford at No. 9 Notre Dame
-- Stanford already has one loss, and this is the second straight road trip for the Cardinal. If Stanford loses again, its playoff hopes will be in serious jeopardy but not over, given that it could still win the conference. This game should reveal more about Notre Dame's place in the playoff, as it will be the first ranked opponent for the Irish.
No. 4 Oklahoma at No. 25 TCU
-- ESPN's Football Power Index gives Oklahoma a 64 percent chance to win and predicts this to be Oklahoma's hardest remaining game -- slightly more difficult than Nov. 8 against Baylor. If the Sooners can't handle TCU, they'll be on the outside looking in.
No. 15 LSU at No. 5 Auburn
-- LSU gave Auburn its only regular-season loss the past year, but LSU has already lost to Mississippi State, which put the Tigers behind in the SEC West race. Considering the rest of LSU's schedule -- and the hole it's already in -- this is a must-win. For Auburn, this is a chance to erase some doubts and make a push from the bubble into the top four.
No. 6 Texas A&M at No. 12 Mississippi State
-- Two terrific quarterbacks will be on display in the Aggies'
Kenny Hill
and the Bulldogs'
Dak Prescott
, who both rank in the top 10 in total QBR. A&M's stock dropped a bit this past week after it needed overtime to beat Arkansas, but it could be a top-four team if it can survive the state of Mississippi the next two weeks.
No. 3 Alabama at No. 11 Ole Miss
-- This is the most interesting matchup of the day. Alabama ranks third in offensive efficiency, and Ole Miss ranks second in defensive efficiency. Neither team has played a ranked opponent, so there is still some margin for error, but the Tide have a chance to separate from the crowded West.
No. 19 Nebraska at No. 10 Michigan State
-- Surprise. The game with the biggest playoff implications is not in the SEC West. This Big Ten matchup could knock Sparty out of the playoff entirely. It's one thing to lose to Oregon; it's another to try to make the four-team playoff with two losses and your best win coming over Nebraska in the Big Ten title game. Conversely, a win in East Lansing could vault the Huskers into the playoff conversation. They're the only undefeated team left in the Big Ten, and the toughest game left on their schedule is against No. 17 Wisconsin. If Nebraska pulls off the upset, it's time to take it seriously as a playoff team.
September, 30, 2014
Sep 30
8:00
AM ET
1. Alabama's players wouldn't bite. When asked about Ole Miss safety Cody Prewitt's comments -- "
We don't really think Bama is as good as they have been
" -- none of the four Crimson Tide players interviewed Monday said
anything noteworthy in response
. After all, what did you expect? This is Alabama we're talking about. Landon Collins had fans forward him a link to the bulletin board material, but he wasn't about to lob any shots in return. "
We're definitely going to give them our best game and see who comes out with the W," Alabama's star safety explained. If he had gone any further, Nick Saban would have had his head. And, frankly, there was no reason to fan the flames. Neither team is what it has been. Blake Sims has played well, but he's no AJ McCarron. C.J. Mosley ain't walking through that door. This isn't your daddy's Ole Miss, either. Prewitt and that secondary are tenacious. The front seven can get after it. As Saban said, "This is the best team we've played all year." If anything, Prewitt's slight jab was just what we needed to set the week off right.
2. I'll admit it: we were a little myopic on the SEC Blog Monday. In a
roundtable discussion
, our writers were asked to pick their game of the week. The options: Alabama-Ole Miss, Texas A&M-Mississippi State and LSU-Auburn. The reason? Well, it's obvious, seeing as all three games have College Football Playoff implications. But to make sure we cover all our bases, it felt like we ought to make note of the other games on the SEC slate. No, Vanderbilt-Georgia doesn't hold much intrigue. We can skip that. But you could argue that Florida-Tennessee and South Carolina-Kentucky mean something. For the Gators, this feels like a must win. Jeff Driskel needs to crawl out of the hole he's dug for himself, and his coach, Will Muschamp, needs a W to keep his job. The Vols, meanwhile, have to say enough is enough with moral victories and finally close out a big game. And in the case of South Carolina-Kentucky, you're looking at two teams heading in opposite directions. The Gamecocks fell all over themselves yet again Saturday, blowing a late lead against Missouri. Kentucky, on the other hand, broke its winless streak in the SEC by beating Vandy. The Wildcats may be young, but they're dangerous. With a deep group of tailbacks, Bud Dupree and Za'Darious Smith rushing off the edge, and A.J. Stamps making plays in the secondary, South Carolina and the rest of the East better watch out.
3. Not to end our morning jaunt on a sour note, but I was struck by news Monday of the
Indianapolis Colts releasing Da'Rick Rogers
. I shouldn't be surprised, I know. This is par for the course with Rogers, after all. But once again I was reminded of what a waste of potential the former Tennessee receiver was. To this day I remember seeing him play at Calhoun High in Georgia. He's the best high school player I've ever witnessed in person. Sadly, on the list of all-time SEC talents that never amounted to much, Rogers is right up there with names like Ryan Perrilloux, Mitch Mustain and B.J. Scott. Rogers was everything you wanted in a receiver: tall, physical, explosive. Even in the NFL he flashed All-Pro talent. But something never clicked for him. Maybe there's still time, but not likely. If anything, his story is a cautionary tale for any four- or five-star prospect who thinks talent alone can get the job done.
September, 29, 2014
Sep 29
10:08
PM ET
September, 29, 2014
Sep 29
2:48
PM ET
BATON ROUGE, La. -- LSU freshman quarterback Brandon Harris will make his first college start on Saturday at No. 5 Auburn, coach Les Miles said Monday.
Harris led the No. 15 Tigers (4-1, 0-1 SEC) to seven touchdowns in seven possessions after replacing struggling starter Anthony Jennings in the second quarter of Saturday's 63-7 win over New Mexico State.
Harris also nearly led LSU to a comeback victory against Mississippi State the previous Saturday, directing a pair of touchdown drives in the game's final four minutes.
"I think he deserved the opportunity to take snaps," Miles said at his Monday news conference. "I don't think it was a difficult decision."
Harris went 11-for-14 for 178 yards and three touchdowns and ran for two more scores in roughly two quarters of work against New Mexico State, with the Tigers rolling up 429 yards of total offense in that time.
Meanwhile, in seven possessions, Jennings was responsible for three turnovers (two interceptions and a fumble) and the Tigers' offense went three-and-out twice before Miles finally removed him from the game.
Jennings has started LSU's past six games, including wins over Iowa and Wisconsin, and the Tigers are 5-1 in his starts. However, LSU's offense was unproductive against Mississippi State before Harris entered the game in the 34-29 loss, and many fans in Tiger Stadium began to boo each time Jennings jogged onto the field for a new possession once things went south against NMSU.
September, 29, 2014
Sep 29
12:00
PM ET
Finally we've reached the heart of the SEC schedule where nonconference blowouts are a thing of the past. No more directional schools, this week it's nothing but mano-a-mano conference battles.
We're going to start separating the pretenders from the contenders, as division races heat up. It's time to find out a whole lot more about the powerful SEC West, where a whopping six top 15 teams square off. Buckle up!
Game of the week: Alabama at Ole Miss
The No. 3 Tide still have the best chance to win the SEC West -- a 31-percent chance to be exact, according to ESPN's FPI (Football Power Index) -- but their biggest threat of being upset will be waiting at Vaught-Hemingway Stadium on Saturday. The No. 11 Rebels admitted they were looking ahead to the big game after slogging past Memphis 24-3, but they still turned in another impressive performance by what has become one of the nation's most dominant defenses. Ole Miss kept Memphis out of the end zone and has allowed just two touchdowns on 38 drives this season. The Rebels' run defense was particularly nasty, limiting Memphis to 23 yards on 31 attempts. Alabama is coming off a bye and a dominant, complete performance of its own in a 42-21 thrashing of Florida. It all sets up to be quite a clash in Oxford, Mississippi, the first of what will likely be a handful of glamorous SEC West showdowns.
Player under pressure: Dak Prescott
Last time we saw them, the Bulldogs made quite the statement in beating then-No. 8 LSU for the first time in nearly 15 years and winning in Baton Rouge for the first time in nearly 24 years. Prescott showed all of his dual-threat brilliance in carving up the Tigers' defense, and MSU shot up in the polls after a very big win. In order for the Dogs to keep momentum on their side they now have to beat another top 10 foe. Prescott will be the central figure, and the pressure he'll face is sure to be literal as well as figurative. Texas A&M leads the SEC with 17 sacks in four games. True freshman end
Myles Garrett
has been a force with 5.5, while linebacker
Shaan Washington
returned from a broken collarbone last week and recorded two sacks in his first game of the year. One more thing: Prescott will be without his starting center, as
Dillon Day
will serve a one-game suspension for stomping on two LSU players.
Coach under the microscope: Florida's Will Muschamp
Muschamp probably has this category to himself until his Gators start winning and pulling off upsets. Florida's loss to Alabama was not unexpected, but the way it went down -- more ineptitude on offense and a school record for yards allowed on defense -- pushed fans to the brink. Even some of Muschamp's die-hard supporters had to be talked off their nearest ledge. If the noise was that loud after UF's loss to a juggernaut program like Alabama, what would happen if the Gators lose to Tennessee for the first time in nearly 10 years? The Volunteers are an improving bunch. They came oh-so-close to beating Georgia on the road last week, and they're still hungry for respect. Florida, coming off a bye, will have to get its act together in order to pull off a win at Neyland Stadium.
Storyline to watch: Will Brandon Harris start?
LSU's visit to No. 5 Auburn has an entirely different feel after the Bayou Bengals' season-long quarterback controversy took a turn for the decisive. True freshman Brandon Harris was electrifying in relief of
Anthony Jennings
. Harris was 11-of-14 passing for 178 yards and directed the LSU offense to seven touchdowns on seven possessions. After the game, coach Les Miles declined to name Harris the starter, saying LSU's way is to thoroughly evaluate before making a decision. With all due respect, that's a bunch of hooey. Harris obviously gives LSU its best chance to pull what would be an enormous upset both in terms of the national stage and the division race. It won't be easy against Auburn's improving defense. The Tigers have allowed only three plays of 25 yards or more this season, tied for the second fewest in the FBS.
Intriguing matchup: South Carolina at Kentucky
While the West division deserves all the attention it's going to get on Saturday, the East is quietly trying to sort itself out. Upstart Kentucky finally removed a very large monkey off its back by beating Vanderbilt and snapping a 17-game conference losing streak. In order to earn respect, the Wildcats' next task is to score an upset. Kentucky and its fans will be fired up for this home game, and the Gamecocks are ripe for the picking after blowing a 20-7 lead in the fourth quarter against division-leading Missouri. Kentucky's improving offense will stretch USC's struggling defense. But the most intriguing matchup in this one is on the other side of the ball, where the Cats' defense is coming off its best performance against an SEC foe since 1996. UK held Vanderbilt to 139 yards last week. If the Wildcats can contain the Gamecocks' offense, it might not even take a shootout to earn that elusive signature win.
September, 29, 2014
Sep 29
11:00
AM ET
This will be "Separation Saturday" in the SEC West. Three games -- Alabama-Ole Miss, Mississippi State-Texas A&M and Auburn-LSU -- will pit top-15 teams from the West against one another, so we should soon know more about who will emerge as legitimate contenders in college football's toughest division.
Considering all that will be at stake on Saturday, here are our SEC writers' picks for the games most worth watching on Saturday.
Edward Aschoff:
I mean, it's "GameDay" in the Grove -- the nation's best tailgating spot. I'm ready for chandeliers at tailgates, sport coats, sun dresses and the finest Southern hospitality this side of the mighty Mississippi. This is a chance for Ole Miss to prove it really deserves to be in the conversation with the premier teams, not just in the SEC but in the entire country. On the flip side, this is going to be the toughest test for Alabama thus far, and the Rebels' up-tempo offense certainly presents an issue for an Alabama defense that has struggled against that style in recent years.
Alex Scarborough:
Give me Oxford. Give me The Grove. Give me one team seeking to regain its spot atop college football and another team poised to break through into national prominence. Give me an SEC West showdown with actual playoff implications. Give me a quarterback with something to prove. In fact, give me two of 'em. Give me two of the most talented receivers in the country, two tenacious defenses and two coaches who sit on opposite ends of the spectrum, philosophically. Give me one game: Alabama-Ole Miss.
Jeff Barlis:
I have a feeling my choice will go against the grain: LSU at Auburn. I still think Auburn is the top team in the SEC, until proven otherwise. The Bayou Bengals, on the other hand, are just starting to get their talented true freshmen, RB
Leonard Fournette
, QB
Brandon Harris
and WR
Malachi Dupre
, integrated into the game plan. Expect this one to be a shootout that will force LSU coach Les Miles to turn to Harris, who has been the team's best signal-caller. This game could be one that decides the West Division. And remember, LSU was the only SEC team to beat Auburn last year.
David Ching:
I'll agree with Mr. Barlis here. If I had to answer this question at the end of the first quarter Saturday, I definitely wouldn't have picked Auburn-LSU. LSU's offense was sputtering against New Mexico State, and
Anthony Jennings
had been a turnover machine. Harris' joining the starting lineup is intriguing, though. A touted true freshman making his first start on the road against the defending conference champ? That's fascinating stuff. How will LSU's defense fare against Auburn's running game?
Dak Prescott
and Mississippi State embarrassed the Tigers' defense two Saturdays ago, and Auburn's offense is no less dangerous.
Sam Khan:
The other games are nice, but Texas A&M-Mississippi State looks to be the most hotly contested one of the bunch. The cowbells will be ringin' fiercely at Davis-Wade Stadium. The anticipation for this game in Starkville will be at a fever pitch, considering the Bulldogs are undefeated, ranked 12th in the country and coming off a landmark win at LSU. The past season, these teams combined for 92 points and 1,092 offensive yards in a game A&M won 51-41. Two of the SEC's best quarterbacks (
Kenny Hill
and Prescott) will be on display, and there are SEC West and even Heisman Trophy implications in this game.
Greg Ostendorf:
The atmosphere I'd pay most to see? The Grove for Alabama-Ole Miss. But the game I'd pay most to see? That's two hours away in Starkville. I'm still not sure what to make of the Aggies after Saturday, but I'm not turning down a chance to see Hill. Besides maybe
Todd Gurley
, Hill is the most exciting player in the conference. That said, it's hard not to root for Prescott after all he has overcome. It's the best quarterback matchup of the day, and I expect it to come down to the wire. Sign me up.
September, 29, 2014
Sep 29
10:00
AM ET
BATON ROUGE, La. -- Les Miles allowed
Brandon Harris
to speak to reporters for the first time all season after Saturday's 63-7 rout of New Mexico State.
LSU's coach did it in his own oddball way. In his postgame press conference, Miles instructed a local TV anchor who requested to interview the freshman quarterback to say "pretty please" and then told the reporters in the room not to ask Harris any difficult questions. It was fitting, as he has handled the Tigers' quarterback battle in uniquely Miles fashion.
No matter what Miles says to the contrary, that battle is over. By letting Harris face the media, Miles all but admitted -- even if he refused to confirm -- Harris will start ahead of sophomore
Anthony Jennings
when No. 15 LSU (4-1, 0-1 SEC) visits No. 5 Auburn (4-0, 1-0) on Saturday.
"We have always done things in a measured fashion," Miles said. "We will go back, look at the film, communicate with our team and not do so through the paper. ... That's not necessarily the splash you want, but that is how we do things."
Fine. Miles is doing the respectable thing by taking Jennings' psyche into account while making the inevitable quarterback switch.
Jennings is a 19-year-old kid who seemed to say and do the right things throughout his competition with Harris, and he might not have played his last important snap as a Tiger. Jennings is also 5-1 as LSU's starting quarterback -- including wins against Iowa and Wisconsin -- so he deserves far better than the boos that rained down each time Miles sent the struggling starter back into Saturday's game before ultimately benching him in favor of Harris.
The fans who booed and chanted "We want Harris!" at Tiger Stadium were ultimately proven correct, at least in their expectations for the freshman quarterback. Harris was nothing short of phenomenal and led LSU to seven touchdowns in seven drives and 429 yards of total offense in roughly two quarters of work.
Miles can publicly handle the situation however he sees fit, but aside from on-field experience (and nobody would describe either of them as a veteran) there is no measure that indicates Jennings is a superior option to start over Harris -- not the scoreboard, not the stat sheet and certainly not the eye test.
Mississippi State shut down the Jennings-led LSU offense for the first 56 minutes two weeks ago before Harris came on and nearly led the Tigers to what would have been a miraculous comeback win. Miles showed loyalty to his starting quarterback -- and more than a little stubbornness -- when he started Jennings for the sixth consecutive game against New Mexico State and left him in despite three turnovers and two three-and-outs in LSU's first seven possessions.
Miles and offensive coordinator Cam Cameron have given Jennings every opportunity to claim this job, and he simply hasn't been able to get it done. Harris has, and sometimes in spectacular fashion, with the Tigers scoring points at a far greater rate with him under center.
That's perhaps the most important point to consider. The Tigers will probably need to post prodigious point totals to beat teams such as Auburn, Texas A&M, Alabama, Ole Miss and Arkansas. Their offense bogged down at times against the likes of Louisiana-Monroe and New Mexico State with Jennings under center, and it looked completely dysfunctional for most of the Mississippi State game.
A super-productive outing against a horrible New Mexico State defense and a couple of late, garbage-time touchdowns -- even the ones against Mississippi State that nearly built an LSU comeback win -- might not be enough to anoint Harris as the starting quarterback for the rest of the season, but Jennings' continued ineffectiveness is more than enough proof his backup deserves a chance.
Miles and Cameron don't have to make a public proclamation for this to be obvious. Auburn's coaches will surely prepare for both quarterbacks, but Gus Malzahn's staff isn't dumb enough to expect Jennings to start. Besides, what would be so difficult about adapting, even if they prepare all week for Harris and get Jennings instead?
There is no good reason for LSU to avoid pulling the trigger on this decision now. It will not be ideal to give Harris his first career start at Jordan-Hare Stadium, yet Jennings hasn't started a game in an opponent's home stadium, either. His dismal performances of late before heavily partisan crowds at Tiger Stadium shouldn't provide Miles and Cameron with any confidence he would play any better in front of 87,451 screaming East Alabamians on Saturday.
They've done right by Jennings in slow-playing this change, though with the SEC West meat grinder approaching, LSU's coaches must start worrying about winning games. Their chances to win are simply better with the more dynamic player at quarterback, even if he will almost certainly make mistakes along the way. Switching to Harris couldn't be a more obvious choice at this point.
September, 29, 2014
Sep 29
8:00
AM ET
1. Fresh off its win over Memphis on Saturday, Ole Miss was
already taking shots at Alabama
. Safety
Cody Prewitt
said he doesn't believe the Crimson Tide are as good as they have been in recent years. It might be a little early to say that; after all, just last year, Prewitt's Rebels were shut out in Tuscaloosa, 25-0. A lot has changed since that game, though. The Ole Miss defense, which has allowed just two touchdowns through the first four games, is much improved, and quarterback
Bo Wallace
is a year older. At Alabama, the offense looks more balanced under new coordinator Lane Kiffin, and they're even using
their own version of the no-huddle offense
. It's one of many intriguing matchups in the SEC this weekend.
[+] Enlarge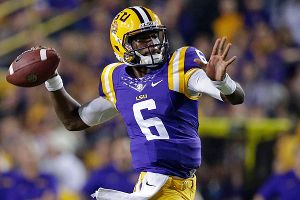 AP Photo/Gerald HerbertWill LSU turn to Brandon Harris in hostile territory at Auburn?
2. Speaking of intriguing matchups, how about LSU traveling to Auburn on Saturday? Les Miles' team has won six of the last seven against Auburn, but his Tigers opened up as 7.5-point underdogs on the road. A big reason for that is the uncertainty at quarterback. Miles has yet to name a starter, but after Saturday's victory over New Mexico State,
it was pretty clear who played better
. The question will be whether Miles wants to give freshman
Brandon Harris
his first start on the road, in a hostile environment. The Auburn defense isn't worried as much about the opposing quarterback; it's worried about
getting healthy
after three starters were banged up in a 45-17 victory over Louisiana Tech on Saturday.
3. What happened to South Carolina on Saturday? It looked like the Gamecocks were well on their way to beating Missouri and grabbing hold of the SEC East. Then, all of a sudden, it all slipped away. A day later, Steve Spurrier saw his team's streak of 69 consecutive weeks in the AP Top 25 come to an end. The good news is that despite the loss to Missouri and despite dropping out of the polls, South Carolina is
still not out of the SEC race
. The bad news is that they have to travel to Lexington this weekend to face much-improved Kentucky team, and the local beat writers are already saying that
Spurrier's team looks beatable
again this week. We'll know a lot more about both teams following Saturday's game.
Around the SEC
Tweet of the Weekend
That was fun #12thMan #ARKvsTAMU pic.twitter.com/3m4Ulb8Cb7

— Texas A&M Football (@AggieFootball) September 28, 2014
September, 28, 2014
Sep 28
8:00
PM ET
Alabama was off this week, so it remains in the top spot as a College Football Playoff representative, but we have some movement in the next couple of teams in this week's SEC bowl projections.
We're moving Auburn up a spot in place of Texas A&M, which won but showed it might still have some work to do after needing a furious rally and a few breaks to escape with an overtime win over Arkansas.
Also, despite the Razorbacks' loss, we'll stick with them finding a way to get three more wins and bowl eligibility this season. They proved they're a quality team that's making progress, although they have a brutal schedule to navigate the rest of the way.
Here is our full SEC list entering the sixth week of the season:
College Football Playoff semifinal (Rose Bowl):
Alabama
Orange Bowl:
Auburn
Chick-fil-A Peach Bowl:
Texas A&M
Capital One Bowl:
Georgia
TaxSlayer Bowl:
Missouri
Outback Bowl:
Mississippi State
Franklin American Mortgage Music City Bowl:
Ole Miss
Belk Bowl:
South Carolina
AdvoCare V100 Texas Bowl:
LSU
AutoZone Liberty Bowl:
Tennessee
Birmingham Bowl:
Arkansas
Duck Commander Independence Bowl:
Florida
LSU To Start Freshman QB