March, 31, 2015
Mar 31
1:00
PM ET
BATON ROUGE, La. -- The greatest lesson Jermauria Rasco has learned over the past few months has been one in humility.
The former LSU defensive end has started to realize that starting 26 straight games for one of the SEC's best defenses doesn't necessarily mean that an NFL future is a certainty.
[+] Enlarge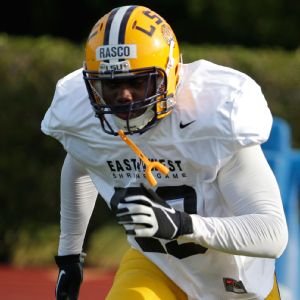 Chris O'Meara/AP PhotoFormer LSU DE Jermauria Rasco says he's staying positive about his prospects at playing in the NFL.
As a senior, Rasco led the Tigers in sacks and quarterback hurries for the second straight season -- he had four sacks and eight hurries both seasons -- and yet he was not one of the 300-plus prospects invited to the NFL scouting combine.
"Not getting invited, it humbled the hell out of me and made me want to work even harder," Rasco said last Friday after completing his workout at LSU's pro day. "I feel like that's what I did today."
The combine snub came on the heels of a practice week at the East-West Shrine Game where he got off to a slow start. Rasco admittedly struggled early on at defensive end and in linebacker drills, but recovered to have what NFL Network analyst Charles Davis described as a "very nice week" during the game telecast.
"The first day, I got my [rear end] tore up, but other than that ... the first day I didn't do like I wanted to, but after that first day, I was back in a groove and by the end of the week, I was feeling more confident," Rasco said. "I was back to myself and doing what I normally do."
But will that be enough to get him drafted? That's the question that will plague Rasco for the next month until the draft, which runs from April 30-May 2.
He doesn't possess the physical measurables or raw tools that have helped former teammate Danielle Hunter turn scouts' heads despite lackluster sack totals. And he is not necessarily a dynamic playmaker off the edge. But Rasco does possess a combination of football IQ and on-field consistency that might help him find a home on some NFL roster.
That's the goal -- even if it means he must sign with a club as an undrafted free agent instead of getting selected somewhere in the draft's seven rounds. That's the route that former LSU players Craig Loston (Jacksonville) and Anthony Johnson (Miami) took last season, and both players remain on those teams' rosters.
"You just never know what's going to happen," Rasco said. "That's what I was kind of thinking, if you go undrafted, you do get to hand pick which team you want to go to, but at the same time you've got to be real careful that you pick the right situation."
Overall, Rasco seemed to believe he helped himself at LSU's pro day. He ran a 4.73-second time in the 40-yard dash and did fine in the other drills, except for the bench press, where he said a mishap -- not the shoulders he had surgically repaired after the 2012 and 2013 seasons -- allowed him to complete only 12 reps.
"On the bench press, the bar slipped out of my hand," Rasco said. "I'm real discouraged about that because I had a lot more in me, but when that happened, it just messed up the whole momentum."
It's unlikely to be a deal breaker for an NFL club, though. As Rasco mentioned, his best chance of making it is to find the right situation.
He's something of a 'tweener. Maybe a late-round pick, maybe an undrafted free agent. Maybe a 4-3 defensive end, maybe an outside linebacker in a scheme that could use a smart player who can function in a few different roles.
Even if he didn't get to show what he could do at the combine, Rasco said he will try to stay optimistic over the next month in hopes of getting a chance in some team's camp and battling his way onto a roster.
"I feel pretty good about it. Everybody knows the draft is really tricky, so you never know where you get picked up, or even if you get picked up," Rasco said. "So I'm not even worried about it. If it's for me, it's for me, but at the end of the day, I'm just playing the waiting game right now."
March, 31, 2015
Mar 31
12:30
PM ET
BATON ROUGE, La. -- Les Miles shares your anxiousness, Tigers fans. He wants to know who LSU's starting quarterback is right now, too.
The same two candidates, junior Anthony Jennings and sophomore Brandon Harris, are competing for the second consecutive spring, but 10 practices and two scrimmages haven't produced clarity. Asked Monday whether the starting job is still up for grabs, Miles replied, "Very much." LSU practices twice this week before spring break, then twice more before the April 18 spring game.
[+] Enlarge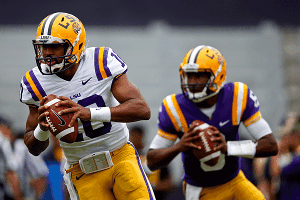 Derick E. Hingle/USA TODAY SportsA starter has yet to emerge for LSU from the quarterback battle between Anthony Jennings and Brandon Harris -- the same candidates from last spring.
"I would like to have already made the decision because that would mean I've got Brett Favre or Tim Tebow or somebody like that," Miles told ESPN.com, "but it takes some time for those guys to grow up. We're going to allow that to happen.
"I'm not necessarily pleased with the progress thus far, but I do recognize that there's some real progress being made."
The wait can be frustrating, but it also might be necessary. LSU has to get the quarterback piece right after finishing 114th in passing average (162.9 ypg), 109th in QBR (35.4) and 119th in completion percentage (50) last season, when Jennings started all but one game.
"The worst thing that could happen to us is one guy winning the job over a guy who's playing average," LSU offensive coordinator Cam Cameron said Tuesday morning. "Who knows what that means? All we've got to do is look to last year.
"My thought to our QBs this spring is, 'Get as good as you can get and put us in a position where we don't know who the best player is because everybody is playing so well.'"
What Cameron can conclude confidently is that LSU's quarterback story, while including the same central characters, will have a different ending (he adds that freshman Justin McMillan has performed well this spring). The quarterbacks "got over a hurdle" in Saturday's scrimmage by combining for six touchdown passes, many through extremely tight windows.
It was the best scrimmage showing since former Tigers quarterback Zach Mettenberger fired five consecutive touchdowns in a 2012 workout.
"They are ascending at a rapid level," Cameron said. "I'm watching both of these guys and I know all the things they should have learned, and I'm confident that both guys are moving beyond some of the struggles they've had."
Cameron has seen improved footwork and more confident decision-making from Jennings, who completed 50 percent or less of his attempts in all but two SEC games and eclipsed 60 percent completions just once. Perhaps most important, Jennings is driving his throws better, a must in a league in which few secondaries play off-man or zone coverage. Jennings appeared to have the edge in Saturday's scrimmage, passing for 200 yards and two touchdowns.
"He has responded well," Miles said.
Harris is "a little bit more explosive" than Jennings, Miles acknowledged, but the sophomore has had to sync up his footwork with his strong arm. According to Cameron, there's a bad habit among bionic-armed quarterbacks: throwing the ball later than they should simply because they can against high school defenses.
"You're not going to get away with that in this conference consistently," Cameron said. "He's never had to be a rhythm passer. This sounds crazy, but for the first time in his life, he's having to learn how to anticipate. That's why a lot of guys with big arms fail. They never learn how to anticipate.
"Brandon's anticipation has improved dramatically."
LSU will shape its offense around running back Leonard Fournette and the rushing game, but its focus this spring has been volume passing. Cameron wants his quarterbacks making easier throws while maintaining a downfield focus because of LSU's receiver speed.
Given the coaches' confidence in the rest of the team -- Miles thinks the linebackers and defensive backs could be the best of his tenure; Fournette has earned excellent reviews; there's speed and length at receiver; tight end could be a strength -- LSU could be a quarterback away from being a CFP-caliber team.
"You saw two years ago we did something that's never been done in the history of the SEC with Zach," Cameron said. "We have similar running backs, similar receivers, our tight ends are even better. So are we going to surpass what that group did two years ago? I don't know.
"This group has unlimited potential when it comes to running and throwing the football."
That's why patience in deciding the starter is so vital.
"You want to stack bricks, keep stacking performances," Cameron said. "What does that mean? Each performance you keep getting better. This week will be very telling. If one guy levels off and one of these guys keeps stacking performances, [the starter] will be obvious to everybody."
March, 31, 2015
Mar 31
9:00
AM ET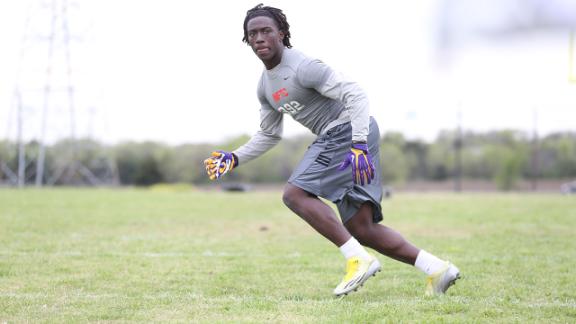 BRADENTON, Fla. -- The IMG 7v7 Southeast Regional Tournament is typically one of the best 7-on-7 events in the country each year. With elite talent on almost every team in attendance, this year was no different. With all the talent on hand there were several trends that stood out. Here's a closer look at the top five trends from the weekend event.
March, 31, 2015
Mar 31
9:00
AM ET
NEW ORLEANS -- Many of the best players from Louisiana, Mississippi and Texas were at the New Orleans Opening regional camp and several trending topics emerged from the event. But the biggest is that it looks like Alabama and LSU are set to do battle again for the top 2016 prospects in Louisiana and bordering states.
To continue reading this article you must be an Insider
March, 30, 2015
Mar 30
11:00
PM ET
NEW ORLEANS -- March has been kind to 2017 running back Cordarrian Richardson of Memphis Trezevant. The sophomore is quickly becoming a household name on the national recruiting trail.
To continue reading this article you must be an Insider
March, 30, 2015
Mar 30
12:00
PM ET
BATON ROUGE, La. -- Everyone has their candidates to become breakout performers in 2015 -- even LSU's players themselves.
The Tigers are now two-thirds of the way through spring practice, so we asked a handful of LSU players to consider what they've witnessed so far this spring and answer the following question:
"Who is a player that the average fan might not know well yet, but who they'll be talking about this fall?"
The most popular answer? Sophomore receiver D.J. Chark.
[+] Enlarge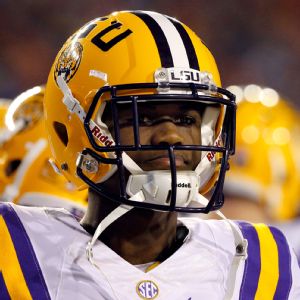 Kim Klement/USA TODAYSophomore D.J. Chark has impressed his teammates this spring.
"For sure right now, off spring football, it's D.J. Chark," senior safety Jalen Mills said. "He's been playing at a very high level for us. I think he's moved into a starting role. That's what I've been seeing in practice, and he's been playing off the charts right now. Hopefully he keeps it up and makes the team better."
LSU coach Les Miles has credited Chark with at least one touchdown catch after each of the Tigers' three spring scrimmages, which would be a huge step forward from a freshman season where he appeared in six games, but did not record a reception.
Miles said the speedy wideout is playing with improved confidence, and Chark's teammates seem to agree.
"You hear about Travin Dural and Trey Quinn and John Diarse and myself at receiver because we got the bulk of the plays last year," sophomore receiver Malachi Dupre said. "But I feel like D.J. Chark is making full strides and working towards playing time for himself. I feel like he's done a great job this spring. His biggest thing was confidence. It wasn't his physical abilities at all."
Sophomore running back Leonard Fournette said of Chark: "He's a sophomore now with us and stepping up, making big plays. I always knew he had it in him, but you didn't want to put him out there too early. But he's coming along big time."
Here are some other Tigers' picks for 2015 breakout players:
Offensive lineman Vadal Alexander's pick: Weakside linebacker Deion Jones
Alexander offered up several names, including tight end DeSean Smith and the interior linemen -- he named Garrett Brumfield, Josh Boutte, Will Clapp, Andy Dodd and K.J. Malone -- who are competing for starting jobs. His first pick was Jones, though, who is taking over for Kwon Alexander at linebacker.
"He plays extremely fast," Alexander said. "He's really learning how to take on blocks now, because in the SEC you can't run around everybody. You've got to take on people and he's doing a really good job of that. He's the fastest linebacker I've faced since I've been at LSU. He's really talented, sees things fast and he's improving. He's probably had the best spring out of all the linebackers."
Middle linebacker Kendell Beckwith's pick: Safety Rickey Jefferson
"He had his moments last year with interceptions and things, but I feel like people might not respect him enough or see him as that type of player yet," Beckwith said. "I feel like he's going to have a breakout-type, a real good year for us. [He can] come up, hit, cover. He's been doing it all. I feel like he's kind of under the radar, but once the season gets started, people will see."
Cornerback Tre'Davious White's pick: Cornerback Russell Gage
"He's making so many plays -- intercepting the ball, breaking the ball up, bringing energy," White said. "He's going to be a great player. He didn't play last year, just trying to adjust to everything and I feel like this year, he's going to be a guy that makes a lot of plays once he gets on the field."
Tight end DeSean Smith's pick: Defensive tackle Greg Gilmore
"Every time I watch Greg, he's busting his butt," Smith said. "He's out there, he's doing real good and I feel like he'll blow up for sure. That's the first name that came to my mind."
Defensive end Lewis Neal's pick: Defensive end Maquedius Bain
"He's had to switch positions, but he's learning and he's still getting better at what he does," Neal said of Bain, who played defensive tackle last season. "Obviously he didn't play a lot last year. We both were in the same boat. But it's that time to come, to step up. So that's a name that nobody knows. That's one person I can name off the defensive line that you will hear."
Neal offered that compliment to his teammate, but he was also quick to note that it's still on Bain and the other players mentioned to truly earn that praise.
The breakout candidates have apparently made strides this spring, but they still have plenty to prove.
"You really can't make a suggestion about whose name will be heard because it's all about that person," Neal said. "I can say that, but what if it comes back to haunt me because they didn't follow through? It's all about your drive and your effort to get there. That's huge credibility if you put that on yourself. … If that person has that drive, they can be all that they want to be."
March, 30, 2015
Mar 30
10:00
AM ET
We haven't exactly come to the end of spring football for the SEC -- and a few schools have barely even touched their pads -- but we've already seen and heard some interesting things coming out of many spring camps.
Plenty of questions remain at key positions, and there have been a few surprises here and there. As we prepare for the final couple of weeks of spring ball in the SEC, here are five intriguing developments we've seen so far:
Not much separation in QB races
A handful of quarterback contests got underway this spring, but we don't have many answers in terms of leaders at this point. Vanderbilt ended the spring by watching its four-man race drop to three after Patton Robinette decided to end his playing career, citing health concerns and a desire to go to medical school. Jake Coker is improving at Alabama, but he hasn't exactly distanced himself from the pack. Will Grier and Treon Harris are neck-and-neck at Florida, while Brandon Harris and Anthony Jennings continue to flip-flop for the top position at LSU. Brice Ramsey looked like the leader on paper at Georgia, but Jacob Park is turning heads with his arm strength and athleticism. Connor Mitch got off to a fast start at South Carolina this spring, but still has a long way to go. Chad Kelly may have arrived at Ole Miss this spring as the favorite to take the starting job, but coach Hugh Freeze has made it clear that the three-man competition will bleed into the fall. It sounds like most of these are headed for Round 2 after the summer.
Arkansas' offensive line shake-up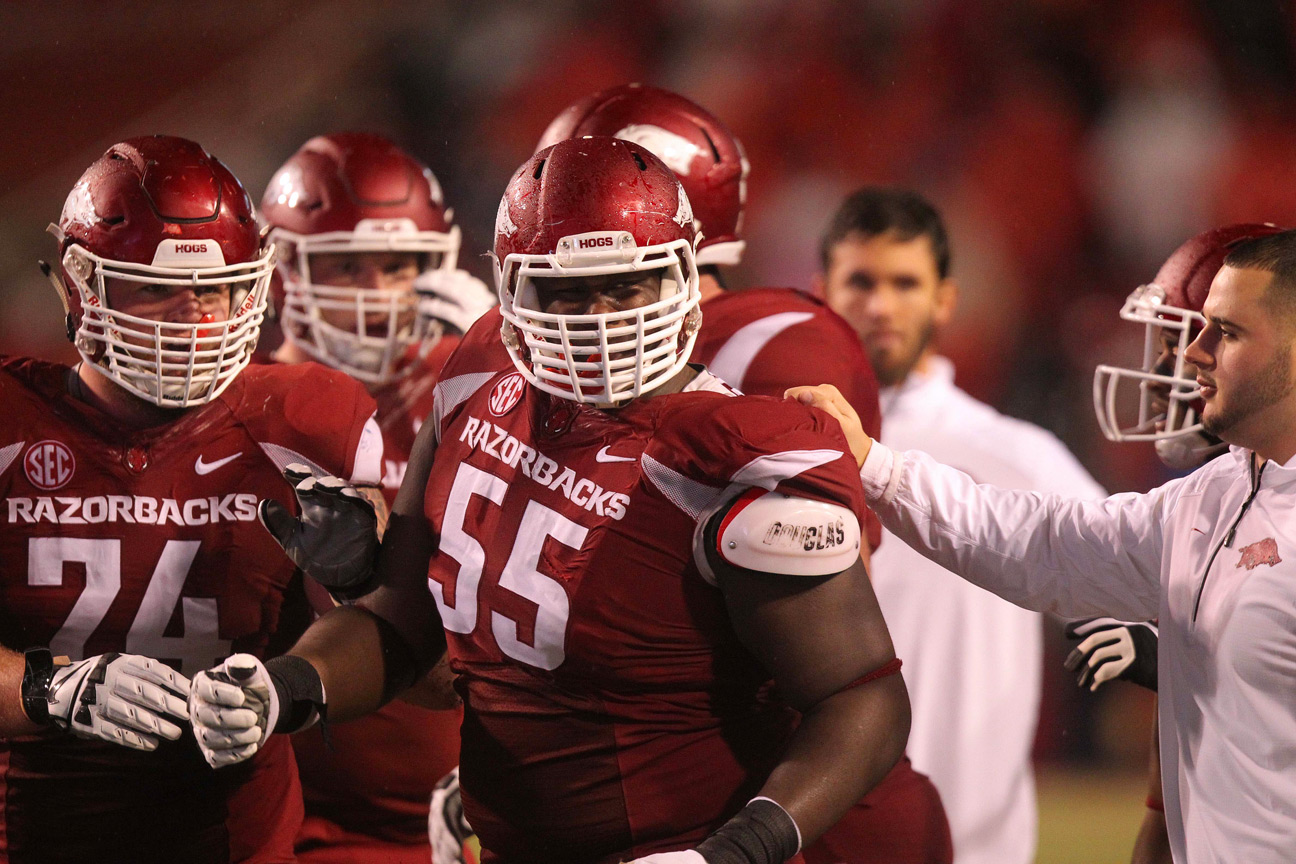 Nelson Chenault/USA TODAY SportsThe Razorbacks are moving Denver Kirkland (55), arguably the team's best lineman, to left tackle.
Last season, the Razorbacks' front five dominated the SEC's rushing defenses, with their runners averaging 218 yards per game. They also allowed the fewest sacks in the conference (14). So it's safe to say coach Bret Bielema got the improvement wanted from his offensive line last year. But there's always room to tweak things in this league and that's exactly what Bielema has done. With starting right tackle Brey Cook gone, the staff moved Dan Skipper from left tackle, where he started 13 games last year, to right tackle. Denver Kirkland, viewed as the team's most talented lineman, moved from right guard to left tackle. Frank Ragnow, who saw time at center in nine games last year, moved to right guard. From all indications, Bielema has found the exact combination he wants up front.
Austin Golson's new position
When Auburn secured Golson's services from Ole Miss, it appeared the Tigers were going to get a valuable guard who could even play some tackle if needed. But this spring, Golson has been working out at center for Auburn. That doesn't sound like too much of a big deal until you consider that Golson, a top-notch high school prospect at one time, is trying to replace All-American Reese Dismukes, one of the most successful centers in the history of the school. Golson hasn't played center before and he's been splitting reps with Xavier Dampeer, who played center in high school and junior college and saw time at the position in five games last season.
D.J. Chark's impressive spring
It's not like LSU needs more speed, but that's what the Tigers appear to be getting in Chark, a sophomore wide receiver. While he didn't record any stats at receiver last year, Chark has been turning plenty of heads this spring. The initial focus this spring fell on fellow receivers Travin Dural and Malachi Dupre, but Chark has been stealing the spotlight of late, registering at least one touchdown catch in every scrimmage thus far. Coach Les Miles said Chark caught three passes for 99 yards and two touchdowns in Saturday's scrimmage. The emergence of Chark is big for a passing game looking for some sort of consistency this year, and the two quarterbacks vying for the starting spot have to be excited about Chark's progress.
Brandon Powell's emergence at Florida
The Gators had plenty of questions concerning its offense coming into this spring. Finding a quarterback topped the list of crucial needs, but getting some consistency at receiver was also a high priority. Most thought Demarcus Robinson, who led Florida in catches (53), receiving yards (810) and receiving touchdowns (seven) would reclaim his spot as Florida's top playmaker. However, this spring has given Powell new life. The former running back has moved to receiver, and the word out of Gainesville is that he's been the team's most dynamic playmaker. Powell played both running back and receiver in 11 games last year, registering 217 yards of offense. Before a foot flare-up sidelined him last week, the 5-foot-9, 181-pound Powell was lighting up Florida's practices. Powell, not Robinson, had been the Gators' most explosive and most consistent offensive threat this spring. Florida's offense still lags behind its defense, so it's critical to get Powell back on the field.
March, 28, 2015
Mar 28
7:00
PM ET
#Bama DT commit Raekwon Davis might be biggest guy ever talked to 6-7 1/2, 310. Ran 4.8 shuttle @ #NOLA #TheOpening. pic.twitter.com/FVVXbvRemX

— Jeremy Crabtree (@jeremycrabtree) March 28, 2015
NEW ORLEANS -- At 6-foot-7½ and 314 pounds, Alabama defensive tackle commitment
Raekwon Davis
towered over the competition at Saturday's Opening Regional at Joe Brown Park in New Orleans. He also loomed large over his peers with his play.
Davis, who is from Meridian (Mississippi) High School and ranks as the nation's No. 243 player, earned an invitation to The Opening finals, which will be held from July 5-10 at Nike World Headquarters in Beaverton, Oregon. Davis took a little while to get going during drills, but by the time the one-on-ones arrived, he performed admirably, winning repetitions at defensive tackle, defensive end and even offensive tackle.
To continue reading this article you must be an Insider
March, 27, 2015
Mar 27
8:31
PM ET
BATON ROUGE, La. -- LSU was one of the first schools to take advantage of signing seniors that plan to enroll early to financial aid agreements after the NCAA introduced the rule change in the fall of 2013. The Tigers were also one of the first schools, at least publicly, to be sanctioned for violating contact rules around the FAA agreement when the NCAA and Southeastern Conference banned LSU from signing early enrollees to the agreement for the next two years and stripped the program of 10 percent of its recruiting evaluation days in 2015.
At the center of the case was Matt Womack, a three-star offensive lineman from Senatobia (Mississippi) Magnolia High School, who signed a financial aid agreement with LSU last August with the intent to enroll at the school in January. Instead, Womack decommitted, like hundreds of prospects do every recruiting cycle, and signed with Alabama in February. LSU was punished because Tigers head coach Les Miles visited Womack's home on Oct. 28 -- a trip that was perfectly legal at the time because a school can have unlimited communication with a prospect once that prospect signs an FAA -- but when he didn't end up in Baton Rouge, the trip turned into a violation of NCAA contact rules.
[+] Enlarge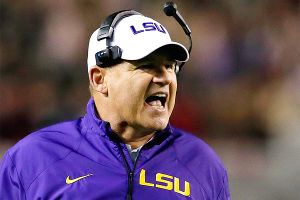 Kevin C. Cox/Getty ImagesLes Miles and LSU found themselves the victim of a hole in the financial aid agreement rules in recruiting.
The ruling was puzzling because there's a lot of discussion as to whether or not financial aid agreements will even be around in the future. An early signing period for football is expected to be approved by the Conference Commissioners Association in July and instituted this fall for a two-year trial period. The 72-hour early signing window starting on Dec. 16 would allow prospects to sign a national letter of intent, and some recruiters and conference officials believe it could render financial aid agreements obsolete.
Even if it doesn't and schools are still allowed to sign prospects to FAAs, it's still hard to fathom how LSU ended up being punished because a teenager decommitted. That was something LSU coach Les Miles agreed with during a Friday morning visit.
"How can you possibly blame the institution?" Miles said. "It basically amounts to this. You put up a sign where the speed limit is 45 mph. Then because a guy changes his mind, he takes down the 45-mph sign and puts up a 25-mph sigh. And then all those guys that went 45 back when it was legal to go 45, they're going to be punished? It doesn't make sense.
"They said we could not even communicate with him. I never had a conversation with Matt Womack after the time he said 'I would like to not sign early.' Think about that. He didn't say 'I'm going to another school.' He said 'I would like to not enroll early.' I didn't have the ability to ever talk to him because of our compliance department. We couldn't even call and recruit the guy."
Miles said in hindsight he doesn't know how he and his staff could have handled things any differently than what they did.
"We have always been compliant with the NCAA, and we do the right things," Miles said. "We stepped into the concrete before it hardened, and they pounded a nail in our finger for it. It doesn't make any sense to me."
The NCAA still has to accept the penalties imposed by the SEC, but LSU is not expected to appeal the sanctions. Also keep in mind, the ruling won't keep LSU from accepting commitments from players that want to enroll early. The only difference now is that they won't be allowed to sign the FAA -- where unlimited communication would be allowed -- and just enroll in school at the start of the second semester.
LSU associate head coach and recruiting coordinator Frank Wilson said the topic has already come up with some recruits, but he believes it won't hurt the Tigers' chances to land top prospects that want to become part of the program in January.
"It's made us vulnerable for conversation and to have to defend it," Wilson said. "It's information, or legislation, that the everyday parent doesn't quite understand. If you just read the papers or saw the scroll on ESPN, you'd think 'Oh you can't go to LSU if you're a mid-year.' So we've had to have educated conversations about it with parents and prospects.
"But we're able to present it in a manner where they know long term that it truly doesn't affect them. We've already got a few mid-term guys committed to us, and we know there are so many great reasons why the best players want to come to LSU."
March, 27, 2015
Mar 27
8:10
PM ET
BATON ROUGE, La. -- Jalen Collins was shocked to learn at the NFL scouting combine that he had a fractured right foot.
For his sake, thankfully the combine medical staff still allowed Collins to participate, and he delivered one of the most impressive performances of any cornerback at the event despite the injury.
The former LSU cornerback, whom some draft analysts project as a first-round pick, recently underwent surgery to repair an incomplete Jones fracture in his foot. It prevented him from participating in LSU's pro day on Friday, but should only sideline him for about three more weeks.
[+] Enlarge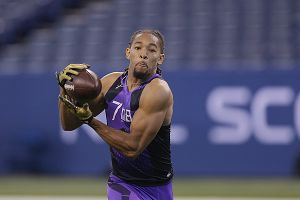 David J. PhillipJalen Collins didn't let a broken foot prevent him from impressing at the NFL scouting combine.
"When I first found out, I was kind of disappointed because I didn't think I was going to be able to work out at the combine," Collins said. "When my name wasn't on the list of people that had to sit out, I was excited to hear that.
"Just after the combine workouts I just went into it [thinking] this is something that I have to get done -- a little speed bump, but it shouldn't be too hard to come back from."
The foot surgery is about the only disappointing aspect of the three months since Collins declared for the draft. He started seven games last season as a junior and just 10 in his entire college career, but Collins' combination of ideal size (6-foot-2, 198 pounds) and raw tools helped him vault up the list of prospects at his position.
Not bad for a guy who was advised to stay in college when he submitted his name to the NFL underclassman advisory board to be evaluated as a possible draft entrant. Undaunted, Collins had faith in his own abilities. Those abilities have him sitting 24th on ESPN draft analyst Mel Kiper Jr.'s Big Board and ranking as Kiper's No. 3 cornerback.
"I was honestly just hoping for the best," Collins said of his decision to enter the draft. "Everybody wants to be in the first round, obviously, but coming in, I really didn't have any prior expectations. I was just going to do what I could do and hope for the best."
Following his combine performance, where he ran a 4.48-second time in the 40-yard dash and finished among the top cornerbacks in several other drills while performing well during positional exercises, Collins has reason for optimism.
Collins said he already has interviews lined up with nine or 10 NFL clubs, starting with the Baltimore Ravens and Jacksonville Jaguars next week. Once his foot heals, he will surely have several more individual workouts with interested suitors ahead of the April 30 draft.
"It really has [been a whirlwind]," Collins said. "Leading up to the combine and just kind of working out, not really having any idea what would happen, just, 'I'm going to work hard, do what I can.' And then after the combine, it's like, 'Wow, this is really happening.' "
While Collins was unable to participate on Friday, 22 former LSU players were able to compete in front of approximately 100 scouts and coaches representing every NFL club.
Offensive tackle La'el Collins -- another possible first-round pick -- was among them, although he stood on the numbers he posted at the combine and participated only in positional drills alongside former teammates Elliott Porter, Fehoko Fanaika and Evan Washington.
Linebacker Kwon Alexander, whose 4.55 time in the 40 was among the fastest for linebackers at the combine, participated only in the shuttle run and positional drills. Defensive end Danielle Hunter did all of the events and drills on Friday except the 40 -- he ran the fastest time of any defensive lineman at the combine at 4.57 -- and the bench press after completing 25 reps at the combine.
"I felt great [at the combine]," said Hunter, who injured himself at the combine while running his second 40. "I had a little hamstring injury and I didn't want to do all the drills, so I just waited until pro day to do most of the drills."
But Hunter was pleased with his showing on Friday, when he posted the best numbers out of all of the day's participants in the 20-yard shuttle run (4.31 seconds), three-cone drill (6.95 seconds), broad jump (10 feet, 10.5 inches) and vertical jump (36.5 inches). ESPN Scouts Inc.'s No. 77 overall prospect and Kiper's No. 9 defensive end, Hunter participated in positional drills at both end and linebacker.
"I got the times I needed," Hunter said. "I showed what I can show in my drills. My hips, they could be a little better."
The aforementioned foursome -- Jalen Collins, La'el Collins, Alexander and Hunter -- has already solidified positions as LSU's top draft prospects, but several other Tigers needed strong performances on Friday in order to help themselves.
Two such players were running backs Terrence Magee and Kenny Hilliard. Magee did not run the 40 at the combine after injuring his hamstring at a postseason all-star game, and Hilliard probably wished he hadn't run in Indianapolis after posting a 4.83. He fared much better on Friday, posting a 4.6, while Magee ran a 4.56.
"I heard a couple different things. I heard 4.6 and I heard 4.5, but I'm glad with either one," Hilliard said. "I just wanted to improve here from the combine and that's what I came out here and did."
Receiver Quantavius Leslie posted the fastest 40 time of the day (4.45), while Porter completed the most bench press reps (34). For a full list of results, see the pro day page on LSU's official athletics site here.
March, 27, 2015
Mar 27
7:30
PM ET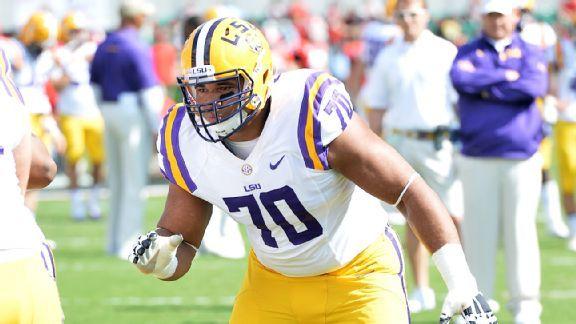 BATON ROUGE, La. -- LSU's La'el Collins, who was a second-team All-American as a senior in 2014, said all the talk of him being moved to right tackle or guard in the NFL is just that for now -- "talk."
"Every team, every scout, every coach, offensive line coach from teams that have worked me out has said "definitely" I'm a left tackle," said the 6-foot-4, 305-pounder, a likely first-round draft pick who boosted his stock even further by flashing his athleticism at last month's scouting combine.
But Collins insisted Friday that he wouldn't have any problem moving inside if that's what his next employer prefers. And he only views it as positive that teams and draft analysts see that kind of versatility in him.
[+] Enlarge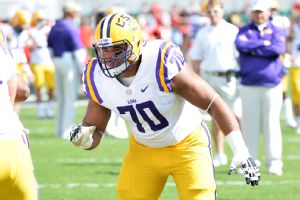 Scott Clarke/ESPN ImagesLSU All-American offensive lineman La'el Collins insists he won't have a problem moving inside if that's what his next employer prefers.
"I believe in my abilities. And I think the fact that I'm even in the conversation to be able to play guard or tackle at the next level is huge, that's value," Collins said after performing position drills in front of a packed house of NFL scouts at LSU's pro timing day (he elected to skip all of the other drills and let his combine performance speak for itself). "Being able to play both positions is something I love to carry on my shoulders. I feel like I can fit in anywhere, plug in anywhere."
Collins virtually echoed the same words that another former LSU left tackle said about him earlier in the day -- Cincinnati Bengals veteran Andrew Whitworth, who was on hand at the Tigers' indoor practice facility.
Whitworth is an ideal model and mentor for Collins since he also played guard early in his nine-year NFL career before becoming a Pro Bowl left tackle in 2012 and a second-team All-Pro in 2014.
"It's one of those things that sometimes people can get nit-picky about, but at the end of the day, he can be an excellent guard or he can be a great tackle," Whitworth said. "It depends on the system, and it depends on the atmosphere he's put in. Honestly, to me, it's more of a compliment, because that means they think you're tough and strong and physical, and that you can also play on the edge.
"If they can already consider you at two positions, that means they have a high opinion of you."
Collins' ultimate landing spot will depend on each team's specific needs. If he moves just one hour down the road to New Orleans, for example, he'll likely play guard for the Saints -- not only because they need one to eventually replace six-time Pro Bowler Jahri Evans, but because they've been ahead of the recent NFL curve when it comes to valuing the position.
Evans and Carl Nicks were both first-team All-Pro guards during the Saints' Super Bowl prime, because quarterback Drew Brees loves to climb up in the pocket.
Lately, more and more guards have gone higher in the draft league-wide -- including the Dallas Cowboys' Zack Martin, who was moved from tackle to guard after being drafted 16th overall last year and wound up being a first-team All Pro.
The year before that, guards Chance Warmack and Jonathan Cooper were top-10 draft picks for the Tennessee Titans and Arizona Cardinals, respectively. The year before that, the Pittsburgh Steelers' David DeCastro and Bengals' Kevin Zeitler both went in the 20s.
Another top prospect this year, Iowa's Brandon Scherff, could also be switched from left tackle to guard in the NFL.
I spoke to a few personnel folks Friday at LSU who agreed the guard position has become increasingly valued.
"If they're good players, why not [draft them high]," said new Saints assistant general manager and former Miami Dolphins GM Jeff Ireland. "If they're gonna help you win, and they're gonna be productive and consistent and they're good character people and dependable, that's important."
"I don't think it is [a stigma to be moved to guard] anymore," Whitworth said. "I think now you see a lot of the really top-end guards that are getting paid the same as tackles, or at least close. So I think that position's changing."
Collins was set to meet with the Saints after Friday's workouts, since they had almost their entire contingent of coaches and front office personnel on hand. He said he has about 15 other visits set up, though he declined to name the teams.
Though Collins was glad he generated positive buzz with his combine performance (his 40-yard dash time of 5.12 seconds ranked sixth among offensive linemen), he said it was hard to sit and watch for most of Friday's activities.
"It kinda sucks, especially for a guy like me," Collins said. "I'm a very big competitor. It got me very anxious."
Asked what he hoped to show NFL teams, Collins said, "Just be consistent and show them my game's nowhere near where I'm gonna be. There's so much more room for me to grow, show 'em that I'm coachable. You bring me in, you can coach me and train me the way you want me to be. And I'll go out there and be successful and do everything you need me to."
Stay tuned for more coverage out of LSU's pro day from ESPN SEC reporter David Ching.
Six NOLA players punch Opening tickets
SEC SCOREBOARD
Thursday, 9/3
Saturday, 9/5