October, 31, 2014
Oct 31
12:29
PM ET
By
ESPN.com staff
| ESPN.com
October, 31, 2014
Oct 31
11:00
AM ET
Gather round, ravenous SEC fans, for today marks the last day before the league devours itself. It's only fitting that the eve of what could be a gruesome month of southern cannibalization falls on Halloween.
All the playoff love could all come crashing down in the next few weeks, as the SEC feeds on itself. By the 30th of next month, the league could look like a horde of pesky zombies from "The Walking Dead."
It's a scary good time in the SEC, but if you can't stand the sight of carnage, maybe you should cover your eyes and turn on the lights before your dreams are haunted with carcasses of elephants, tigers and bears.
In honor of teeth gnashing into flesh, here's how you celebrate Halloween -- and NICK SABAN'S BIRTHDAY!! -- in the SEC:
[+] Enlarge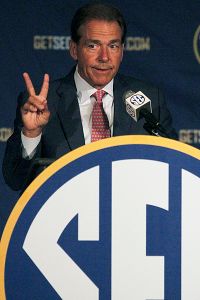 AP Photo/Butch DillThere are two holidays in some sectors of SEC country on Oct. 31: Halloween and Nick Saban's birthday.
Godzilla:
Not a horror movie icon, but he's easily the greatest, most destructive monster ever. Kinda reminds me of the way Mississippi State quarterback
Dak Prescott
manhandles defenses. Like Godzilla, he's been virtually unstoppable this season. Prescott is undefeated, has 2,393 yards of offense and 26 touchdowns, and is the Heisman Trophy front-runner.
"Jaws":
Aptly named the "Landsharks," Ole Miss' defense has been terrifyingly good this season. It's barely allowing 300 yards of offense a game and gives up an SEC-low 4.35 yards per play. This group also tops the SEC and ranks second nationally with 24 takeaways.
"A Nightmare on Elm Street":
Will the Gators ever wake up from this grisly nightmare? Things were supposed to be better with a fresh start after last year's injury-plagued season, but Florida is 3-3, has an offense in reverse and is in danger of missing out on a second straight bowl appearance. Will Muschamp is also coaching for his job, and faces Georgia next ...
"Children of the Corn":
Like the twisted youngsters that resided in Gatlin, Nebraska, the
LSU Tigers
should be feared. One of the youngest teams around, its's scary how freakishly good these guys look when they put everything together. They aren't perfect, but they beat No. 3 Ole Miss and are getting better and maturing. A night in Baton Rouge truly is terrifying for intruders.
Cujo:
These
Georgia Bulldogs
really do have bite. You might even say they're possessed, they're playing so well. Since that ugly loss to South Carolina, the Dawgs have reeled off five straight wins, most of them in convincing fashion. The defense is playing out of its mind, and the offense is clicking even without
Todd Gurley
.
Pinhead:
Don't let the name full you; he's one of the most sinister horror movie villains around. The bone-chilling star of the "Hellraiser" movies is kinda like Les Miles in the way he tortures his victims. Woeful opponents venture into a stadium looking to challenge Miles, only to be be sucked into a wicked realm of pain and confusion. He's diabolical, yet very intriguing and extremely dangerous.
"Night of the Living Dead:"
What happened to Vanderbilt? The Commodores used to be so vibrant and exciting. Now, they're lifeless and stumbling around the bottom of the SEC under new coach Derek Mason, with no bowl hopes in sight. After back-to-back nine-win seasons under James Franklin, Vandy is 2-6 and owns the SEC's worst offense. George A. Romero would be proud.
"Jeepers Creepers":
It's becoming harder and harder to watch Missouri's offense and the downward spiral of
Maty Mauk
's play, but the Tigers keep winning. Like the Creeper lurking rural back roads, the Tigers are dangerous but rough on the eyes. Even at 6-2 and a game out of first place in the SEC East, the Tigers are last in the league in total offense in conference games (232.8) and 11th in scoring (21.8). Mauk is averaging 97 passing yards and has five interceptions to two touchdowns in league play.
Michael Myers:
No one terrorizes opposing backfields -- as Myers did the hapless folks of Haddonfield, Illinois -- better than Missouri defensive end
Shane Ray
. While he doesn't stalk his prey with slow, stealthy movements, Ray is even more dangerous because of how fast he gets to quarterbacks. He leads the SEC with 8.5 sacks and 14 tackles for loss.
Jason Voorhees:
Alabama just won't go away. This team certainly isn't the same as past championship contenders, but it's threatening and is still on the playoff/SEC path. Jason had sloppy moments, too, but you could never count him out for a valiant return.
Trick:
Remember when we thought South Carolina would win the SEC East? Well, the Gamecocks are all but out of race with four losses, and the defense's numbers have been gruesome in conference play. South Carolina allows 457.5 yards per game and nearly 40 points a contest.
Treat:
The state of Mississippi has lost just once, has two teams ranked in the top four and could find its way into the first College Football Playoff. Kentucky has five wins and is on the verge of making a bowl game for the first time since 2010.
October, 31, 2014
Oct 31
8:00
AM ET
October, 30, 2014
Oct 30
12:45
PM ET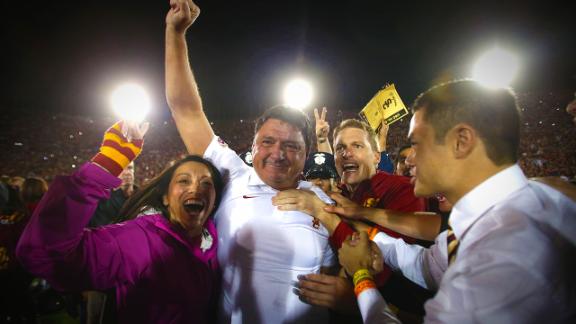 MANDEVILLE, La. -- Ed Orgeron stirs a massive pot of gumbo the same way he would lead his defensive linemen through a drill during the dog days of preseason camp.
Beads of sweat forming on his forehead, Orgeron doesn't just stir this Cajun delicacy whipped up by his mother, known affectionately as "Co Co." He attacks it, making sure it's just right for serving.
Sure enough, the roux is heavenly, not to mention all of the ingredients that go with it.
"In Louisiana, you better know how to do two things -- swim and make a roux," Orgeron jokes.
It's game day at the Orgeron household, and like any football coach worth his salt, he has his ritual down to a science.
Only these days, the man they call "Coach O" isn't coaching, at least not until December, when he's sure to emerge as one of the hottest free agents on the market. He's too busy being a husband, father, cook and the biggest (and loudest) Mandeville High School fan on the planet while soaking up life on the North Shore of Lake Pontchartrain.
* * *
The first Saturday this season was the hardest.
"I really didn't know what to do with myself because the juices were flowing and I'm running around the house," says Orgeron, whose thick Cajun drawl is naturally amplified. "It's taken an adjustment to just calm down and watch the games and not be as emotional."
Maybe he's not as emotional, but the fire is still there.
Watching the games from an outdoor paradise his wife, Kelly, designed that includes a gourmet kitchen with multiple flat-screen TVs just feet from a saltwater pool and hot tub, Orgeron is ready to watch Kentucky-Mississippi State. The coach, who insists he has cut down on his beloved Red Bulls, is just getting warmed up.
October, 30, 2014
Oct 30
10:00
AM ET
BATON ROUGE, La. -- Les Miles said he had never seen a face mask pop off like
Leonard Fournette
's did last Saturday against Ole Miss, but equipment managers around the SEC have.
LSU director of athletic equipment Greg Stringfellow said his counterparts at Mississippi State and Ole Miss informed him that Fournette was at least the fourth SEC player to have that happen in a game this season.
"I know Ole Miss said it happened one time and Mississippi State said twice," Stringfellow said.
[+] Enlarge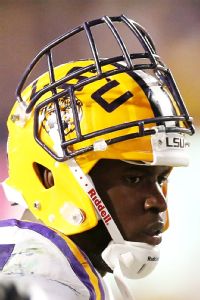 Chris Graythen/Getty Images Having his face mask ripped off forced Leonard Fournette from the game for a crucial play.
But that doesn't make it any less of a shock in the moment -- particularly when the key participants had never seen it happen before. To his credit, Fournette tried to keep running on the play, even after Ole Miss linebacker
Serderius Bryant
grabbed his facemask while falling to the ground and came close to ripping it completely off Fournette's helmet.
"I was just trying to break the tackle," Fournette said. "Next thing I noticed, my facemask was gone. I was looking on the ground for it. I thought it was on the ground, but it actually stuck [to the top of my helmet]."
It was such an egregious personal foul that ESPN color analyst Kirk Herbstreit remarked, "Wow, that may be an NCAA record for a facemask" upon seeing it on instant replay.
Ole Miss'
Carlos Thompson
tackled the LSU running back shortly after Bryant grabbed the facemask, stopping Fournette for a 6-yard gain. However, the penalty gave LSU a first down at Ole Miss' 3-yard line.
Fournette, who had carried the ball on four of the previous six plays, was unable to continue on the drive, however. Stringfellow and his staff were busy on the Tigers' sideline trying to either fix the original helmet or fit Fournette with a new one as quickly as possible, but quarterback
Anthony Jennings
hit tight end
Logan Stokes
with the game-winning touchdown pass two plays later.
"All my guys saw it, so we all kind of ran together at one time," Stringfellow said. "I was the first one there and I just grabbed it and looked at it to see what was broken on it to see if it could be reattached real quickly. We were all kind of like, 'Holy crap,' but the game was still going on and it was kind of a key part of the game, obviously. We were trying to figure out exactly what was going on, trying to get him back on the field."
What was going on was that a freight train wearing a No. 7 LSU jersey broke away from Bryant, whose right hand held his facemask in a death grip as he fell. Stringfellow said the two forces moving in opposite directions pulled apart three of the four rubberized fixings that held the facemask and helmet together. The fourth was "hanging on by a thread," he said.
Stringfellow didn't think it was a defect with the Riddell helmet that Fournette was wearing, however.
"It looked like it had just had a catastrophic failure because of the amount of force," Stringfellow said. "And facemasks are made, really, to absorb blows that come into them. When you pull the opposite way of the way they're supposed to absorb, different things happen. They're not made to go out from force. They're made to go in with force."
The play has become an amusing sidenote to Saturday's game because LSU still went on to score the go-ahead points on the drive. LSU coach Miles even made light of the situation at his post-practice interview session on Monday.
"I told him today in practice, I said I would've ripped it off much quicker and it would not have slowed him down at all, and then I just told him he needed to be careful where he put his head after he lost his facemask," Miles said. "I never saw anything like it. I never saw a guy handle it like he handled it, either. Just rolled on through it."
Miles would not have found the situation so funny had LSU failed to score on the drive while one of its leading offensive players -- Fournette ran 23 times for 113 yards against the Rebels -- was on the sideline.
That was Stringfellow's beef about the situation afterward. He went so far as to suggest that the SEC establish a rule where a team's equipment staff would receive extra time to fit a player with a new helmet in such a situation, so that the opponent who commits the penalty doesn't gain an advantage through the infraction.
"We probably could have gotten him back in there if we got another first down, but we were so close it didn't happen," Stringfellow said. "But still, missing him that close to the end zone, in that game, we're very fortunate to have a good group of running backs that you could sub somebody in and get the job done.
"But in the same sense, the guy was playing pretty good right then and you don't want to lose him at that point in time. So we did everything that we could to get him back on the field as quick as possible. For the next time that he had to go on the field, he had a brand-new facemask."
Luckily for LSU, the Tigers didn't require Fournette's services any further in the 10-7 win.
October, 30, 2014
Oct 30
9:00
AM ET
By
ESPN.com staff
| ESPN.com
After everyone agreed on all of the picks last week (probably the last time we all doubt Les Miles in Death Valley at night), we're back with some differences of opinion. The headliner is obviously Ole Miss-Auburn, but there are several other games worth watching closely, including Florida-Georgia, with Will Muschamp trying to save his job. Let's get on with the picks.
Why Georgia wins big:
Even without
Todd Gurley
lining up for Georgia, the Bulldogs still have an absolute stud in freshman
Nick Chubb
. In two games as a starter, Chubb has rushed for 345 yards and three touchdowns. The kid just tosses people around out there and certainly has a little Gurley in him. Florida is starting the
Treon Harris
era at quarterback, but the offense has been lousy for the better part of the season, while Georgia's defense is on a roll. It'll be tight early, but Georgia pounds away in the second half.
Georgia 28, Florida 14
-- Edward Aschoff
How Florida keeps it close:
This is Harris' game at quarterback, and he certainly provides more of a spark than
Jeff Driskel
. If
Matt Jones
and
Kelvin Taylor
can run the football and negate some of the pressure from Georgia's talented pass-rushers, Florida could have some success moving the football. If they can even out the time of possession battle, you'll see a much more effective defense from the Gators.
Georgia 21, Florida 13
-- Alex Scarborough
Why Kentucky wins:
Missouri just can't seem to get it together. Just look at last weekend's game against Vanderbilt. Sure, the Tigers won, but not convincingly. And Kentucky is no Vanderbilt. The Wildcats gave Mississippi State a run for its money and beat South Carolina a few weeks ago. With a true playmaker at quarterback and a better-than-expected defense, Kentucky will give Missouri fits on both sides of the ball and win on the road.
Kentucky 30, Missouri 20
-- Alex Scarborough
Why Missouri wins:
Ever since a 34-0 beatdown at the hands of Georgia, the Tigers have looked shaky, especially on offense. But things are gradually getting better as quarterback
Maty Mauk
re-learns how to take care of the ball. This game offers the improving Wildcats a plum opportunity to show they can win conference games. But look for the home team to squeeze out a hard-fought victory.
Missouri 26, Kentucky 23
-- Jeff Barlis
Why Ole Miss wins:
The Rebels were injected with some playoff hope after the first batch of College Football Playoff rankings were announced. That should energize a team that lost an ugly one at LSU.
Bo Wallace
has to regroup, and he has to follow what his coaches tell him. The Rebels haven't had a consistent running game all season, but Auburn's pass defense ranks 75th nationally, and that should help Wallace regroup after a bad showing in Baton Rouge. Watching Ole Miss' defense try to tackle Auburn's running game might be the highlight of the day. A late turnover will seal it for the Rebels.
Ole Miss 31, Auburn 28
-- Edward Aschoff
Why Auburn wins:
Ole Miss' sideline was like a M*A*S*H unit last week against LSU, with multiple key players leaving with injuries. Even if most of those guys play Saturday -- and it looks like they will -- the Rebels aren't going to be at 100 percent against arguably the best offense they'll face all season. If Wallace doesn't play better than he did a week ago, Auburn might win easily. Ole Miss' quarterback is the X factor here, and I suspect he'll fare well against Auburn's mediocre defense at home, but the Tigers have way more firepower at their disposal right now.
Auburn 31, Ole Miss 24
-- David Ching
Why Mississippi State wins big:
Playing its first game with the No. 1 ranking, Mississippi State came out tight against Kentucky. Dan Mullen even admitted that. Look for the Bulldogs to play more relaxed at home Saturday in front of the familiar sound of cowbells clanging. They're the No. 1 team in the country, and
Dak Prescott
,
Josh Robinson
and the defense will prove it against the Razorbacks.
Mississippi State 35, Arkansas 14
-- Greg Ostendorf
How Arkansas keeps it close:
It should be a triumphant return to Davis Wade Stadium for the nation's No. 1 team, but things aren't perfect for the Bulldogs. Kentucky's offense exposed some issues with the MSU secondary. While Arkansas doesn't have the same caliber of passing attack, the Hogs do have a stable of talented runners, a veteran quarterback and two good tight ends.
Mississippi State 37, Arkansas 26
-- Jeff Barlis
More unanimous picks:
Texas A&M over UL Monroe:
The big storyline will be who starts at quarterback for Texas A&M,
Kenny Hill
or
Kyle Allen
? Either way, the Aggies should roll against a lesser opponent.
Texas A&M 52, UL Monroe 14
South Carolina over Tennessee:
Steve Spurrier won't have to go for it on every fourth down against the Vols, but don't be surprised if he still has a few tricks left up his sleeve. The Gamecocks have won three of the past four games in this series.
South Carolina 35, Tennessee 24
Vanderbilt over Old Dominion:
Vandy is looking for its third win of the season, but it won't come easy against Old Dominion quarterback
Taylor Heinicke
and his 54 career touchdown passes.
Vanderbilt 31, Old Dominion 28
Standings
Edward Aschoff: 64-11
Greg Ostendorf: 64-11
Jeff Barlis: 63-12
Chris Low: 63-12
David Ching: 62-13
Alex Scarborough: 61-14
Sam Khan Jr.: 57-18
October, 30, 2014
Oct 30
8:00
AM ET
1. The news broke Wednesday morning that Georgia running back
Todd Gurley will miss two more games
once the NCAA finally announced its ruling on his eligibility case. He received approximately $3,000 for autographed memorabilia and has been out of action since the Bulldogs' Oct. 11 game at Florida.
A subject of ridicule on Twitter
was that the NCAA also ordered Gurley to complete 40 hours of community service. But the biggest penalty is obviously that he'll miss Saturday's game against rival Florida and the following week's visit to Kentucky (plus the Mizzou and Arkansas games he already missed). Georgia coach Mark Richt said
Gurley will finish his career "with honor"
once he returns for the Nov. 15 Auburn game, but what will the Bulldogs do in the meantime?
Florida expects the Bulldogs to hand off to Nick Chubb repeatedly
, just as they did in the last two games. A college athlete's ability to profit off his or her name is a hot topic these days, with writers like esteemed colleague Chris Low opining that
changes are in order
. Even the attorney for Bryan Allen, the memorabilia dealer who turned in Gurley,
believes that should be the case.
2. Tennessee offensive coordinator Mike Bajakian echoed Volunteers coach Butch Jones' prediction that senior quarterback
Justin Worley will not be available Saturday against South Carolina
. Maybe that won't be such a bad outcome. Sophomore Josh Dobbs offered reason to believe
he might be the Vols' quarterback of the future
with a strong performance off the bench last Saturday against Alabama. But the Crimson Tide had not prepared for the youngster. South Carolina will have the entire week. He might be the X-factor in Saturday's game at Columbia. Or for the superstitious Gamecocks among us, maybe it will be South Carolina's uniforms.
South Carolina will wear black jerseys and black pants
on Saturday for the first time since losing 24-14 to Florida in 2009.
3. Georgia (6-1, 4-1 SEC) is clearly the favorite to win the SEC East, but Missouri (6-2, 3-1) can still make some noise if the Bulldogs fall into any sort of slump. The Tigers haven't played particularly well lately, but they have only one conference loss as Kentucky (5-3, 2-3) prepares to visit on Saturday. Both teams will be looking to get back on track for the stretch run.
Perhaps Mizzou quarterback Maty Mauk found his stride last week
against Vanderbilt after several rocky games in a row. Meanwhile, Kentucky needs just one more win to achieve bowl eligibility, but
it hasn't won a true road game since the 2010 opener
. Not the greatest sign, particularly since its previously productive running game has underperformed lately and coaches are questioning
whether they should use fewer backs in the regular rotation
.
Around the SEC
" The State asks how South Carolina's disappointing season
might impact its 2015 recruiting class
.
" Formerly suspended safety Jermaine Whitehead
does not appear close to returning to Auburn's starting lineup
.
" Derrick Henry
is leading an unusually thin group of Alabama running backs
this week in practice with an open date ahead.
" LSU is focused on
cleaning up its mistakes
from last Saturday's Ole Miss game with Alabama ahead next weekend.
" John Kadlec, better known as "Mr. Mizzou" after serving the school as an athlete, coach, administrator and broadcaster,
died Wednesday at age 86
.
Tweets of the day
Championship style meets innovative speed. Introducing our 1939 Throwback TECHFIT uniforms. #12thMan #teamadidas pic.twitter.com/gFQcMMTOE9

— Texas A&M Equipment (@TAMUequipment) October 29, 2014
Great detail work by @hydrographics1 on facemask, chinstrap and the stitching from the original leather helmet pic.twitter.com/7U8mPSkD7A

— Texas A&M Equipment (@TAMUequipment) October 29, 2014
October, 29, 2014
Oct 29
4:00
PM ET
BATON ROUGE, La. -- The problems that LSU's offensive line encountered early in the season seemed as numerous as
Leonard Fournette
scholarship offers.
The Tigers weren't healthy.
They played without suspended senior center Elliott Porter for the first two games.
Offensive line coach Jeff Grimes needed several games to settle on a starting right guard -- a job that eventually went to sophomore Ethan Pocic.
Opposing defenses regularly stacked the box because LSU's passing game isn't exactly intimidating.
It was a mess, and it turned the offensive line -- one that returned four starters from 2013 -- into an early disappointment on an offense that was loaded with inexperience elsewhere.
"At first our chemistry, it was kind of off," said Fournette, LSU's freshman tailback who sometimes struggled to find running room behind the line early in the season. "But as the season's going on, we're getting stronger and we're learning our weaknesses as a whole and just getting better at it."
No doubt about that. Last Saturday's 264-yard rushing performance against Ole Miss, which boasted the nation's No. 5 run defense (97.1 ypg) entering the game, was the line's crowning achievement to date. Although turnovers hampered the Tigers throughout the night, Fournette (23 carries for 113 yards),
Terrence Magee
(12-74) and
Kenny Hilliard
(12-63) all found regular creases to exploit against the Rebels.
The Tigers' fourth-quarter drive was an offensive lineman's dream. Thirteen plays, 95 yards, and each of the first 12 plays was a run. LSU coach Les Miles later described it as "a middle-1970s drive."
Finally, once the Tigers had driven to the Ole Miss 3, quarterback
Anthony Jennings
faked a dive handoff to Hilliard, rolled right and hit wide-open tight end
Logan Stokes
with the game-winning touchdown.
The Rebels never saw it coming, and why would they?
"I think that [the 12 straight runs] had a lot to do with it," Stokes said, "especially because during a lot of those runs when I was in, I was the back-side tight end cutting off or cutting the guy or doing something like that. So I think that when I sold it and I think that the fact that everybody up front sold it just how we had been learning those plays, it just worked out perfect for me."
This might have been the line's most impressive performance, but it had been building to this point for weeks. Many LSU fans' eyes probably rolled when Miles said the line gave a strong performance in a 41-7 loss at Auburn -- it did, but LSU got down so quickly that depending solely on the run didn't make sense -- but its improvement has been more obvious in the last three games.
Florida came in allowing barely more than 100 yards on the ground when LSU ran for 195 -- including 140 and two touchdowns from Fournette -- against the Gators. The momentum continued the following week when LSU abused Kentucky for 303 rushing yards on 51 attempts.
"We knew last week they figured out who they want to be," Ole Miss coach Hugh Freeze said after LSU handed his Rebels their first loss of the season. "That's the best offensive line we've played and their running backs are very, very good."
This coming from a coach whose team has already faced Alabama, LSU's next opponent, which typically boasts one of the conference's top offensive lines.
The Crimson Tide's defense isn't too shabby, either, as it currently ranks second nationally against the run (78.1 ypg). Moving the ball on the ground against Alabama will be another measuring stick of the line's recent progress.
"From Florida and on, I think we've played a lot better. Auburn, actually, we played a lot better," Porter said. "We keep on improving and keep on being together. That's what we've done a good job at in practice, in the game, talking in meetings -- everything is coming together as one."
It took longer than expected for that to occur, but LSU's line is finally playing at the high level many expected during the summer. The line combined with a stingy defense to lead the Tigers to the Ole Miss upset and will certainly be one of the driving forces if LSU takes down Alabama on Nov. 8.
"Hats off to our offensive linemen," said Stokes, who joined the Tigers last year from Northeast Mississippi Community College. "I remember looking at Elliott Porter one time and just telling him, 'Last drive, man. Give us all you got.' … For me to come in from a junior college and just walk in and get to be around those guys and see how it's done, it's a great feeling. I don't ever question us when we get in the fourth quarter because of the leadership we have up front."
October, 29, 2014
Oct 29
2:30
PM ET
By
ESPN.com staff
| ESPN.com
A great coach's office is like a museum, full of history and mementos, personal and professional.
Each week this season, ESPN.com will give you a tour of a college football coach's inner sanctum.
Today's stop: Baton Rouge, Louisiana,
in the office of Les Miles.
October, 29, 2014
Oct 29
12:53
PM ET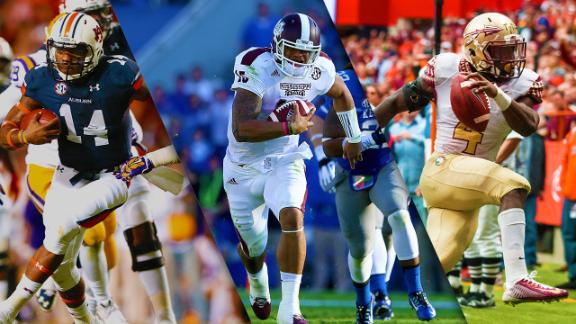 If you're among the college football fans buying into the #SECBias conspiracy, you probably wouldn't have liked the old BCS formula any better than the new College Football Playoff's selection committee.
Wes Colley, whose computer standings were part of the BCS formula for the past 16 years, said there's a good chance the BCS formula also would have ranked three SEC teams in the top four if the system were still being used.
According to Colley's BCS proxy standings, Mississippi State and Florida State, the only two undefeated teams left from Power 5 conferences, would have been ranked Nos. 1 and 2, respectively, followed by No. 3 Alabama and No. 4 Auburn.
The 12-person selection committee that will choose the four teams for the inaugural College Football Playoff had Mississippi State and FSU at the top teams in the first rankings released Tuesday night, followed by No. 3 Auburn and No. 4 Ole Miss.
"When I saw the top 25 from the committee, I thought it was reasonable," said Colley, an astrophysical scientist at the University of Alabama-Huntsville. "I had a couple of question marks. I'm not really quite sure why they're so down on LSU. But it certainly seemed like a reasonable go at it."
During the BCS era, the six computer ratings (Richard Billingsley, Jeff Anderson and Chris Hester, Jeff Sagarin, Kenneth Massey and Peter Wolfe produced the others that were used since 2001) comprised one-third of the BCS formula. The highest and lowest computer ratings for each team were dropped, and the other four were averaged. The coaches' poll and Associated Press Top 25 poll accounted for the other two-thirds, until the Harris Interactive Poll replaced the AP poll in 2005.
October, 29, 2014
Oct 29
10:00
AM ET
Another week, another game where an SEC true freshman running back made a big impression.
Nick Chubb
and Georgia were off on Saturday, but LSU's
Leonard Fournette
did a fine job representing the league's freshmen with a 100-yard outing against Ole Miss' vaunted defense.
Here is a recap of how Fournette and some of the SEC's other true freshmen standouts performed last weekend:
S Jamal Adams, LSU
What he did:
Although he made five tackles and broke up three passes in a
10-7 win
against Ole Miss, Adams once again went viral on the Web for something else entirely. As he had done against Florida's
Andre Debose
, Adams dramatically flopped to the ground after Ole Miss quarterback
Bo Wallace
made contact with him after a play. Once again, Adams' flop drew a 15-yard unsportsmanlike conduct penalty.
What it means:
Adams' flops are amusing and all, but the kid has serious game. He is one of LSU's best special teams players and is becoming a playmaker in the Tigers' nickel and dime defensive packages. He is tied for fifth on the team with 42 tackles.
DE Derek Barnett, Tennessee
What he did:
Barnett was one of Tennessee's top defensive performers against Alabama, recording six tackles and 1.5 tackles for loss in the Volunteers'
34-20 loss
.
What it means:
Now a fixture in Tennessee's starting lineup, Barnett has become one of the SEC's top young defensive ends. After adding another 1.5 TFLs against the Crimson Tide, Barnett ranks second in the conference with 11. He's also tied for sixth in the league with four sacks.
RB Leonard Fournette, LSU
What he did:
Fournette was unquestionably the SEC's top freshman this week, helping LSU gain an upset win over then-No. 3 Ole Miss by rushing 23 times for 113 yards (he did lose a fumble in the end zone, however), catching two passes for 41 yards and returning two kickoffs for 57 yards. He finished with 211 all-purpose yards.
What it means:
This was Fournette's third game with at least 100 rushing yards and his second where he cracked the 200-yard mark in all-purpose yards. His high was 225 against Florida. The Ole Miss game pushed him past the 1,000-yard plateau in all-purpose yards this season (1,209).
RB Jalen Hurd, Tennessee
What he did:
Hurd propelled Tennessee's running game against a stingy Alabama defense, rushing 16 times for 59 yards in a loss to the Crimson Tide. He also caught a team-high six passes for 27 yards.
What it means:
He has dealt with injuries recently, but Hurd returned last week to rush for 40 yards against Ole Miss. He seemed to be back to normal against Alabama, registering 86 yards of total offense. The Vols will surely lean heavily on the freshman when they face South Carolina's underwhelming run defense on Saturday.
CB Chris Lammons, South Carolina
What he did:
Lammons started at cornerback and finished second on the team with six tackles along with 0.5 tackles for loss in a 42-35 loss against Auburn.
What it means:
Lammons started for the second consecutive game and has set a new career high for tackles in both of them. With six against Auburn, he bested the five he posted against Furman the previous week. South Carolina's defense has had major issues this season, and it looks like the Gamecocks are giving Lammons the chance to lock down a job with an eye on the future.
Other notables:
K Aaron Medley, Tennessee:
Kicked field goals of 24 and 27 yards and hit both of his PATs in a loss to Alabama.
WR Josh Malone, Tennessee:
Caught a 9-yard touchdown pass in a loss to Alabama.
WR Trey Quinn, LSU:
Caught two passes for 42 yards in a win against Ole Miss.
CB Tre Tarpley, Vanderbilt:
Made two tackles, a tackle for loss and forced a fumble in a
loss to Missouri
.
RB Roc Thomas, Auburn:
Ran eight times for 34 yards in a win against South Carolina.
October, 29, 2014
Oct 29
9:00
AM ET
By
ESPN.com staff
| ESPN.com
The College Football Playoff committee has spoken, and there are four teams from the SEC West in the top six, including three in the top four. Who says the SEC isn't getting two teams in the playoff? There's still plenty of football to be played, though. For now, here's a look at where each SEC playoff contenders stands heading into Week 10.
Mississippi State
Record:
7-0 (4-0)
Rank:
No. 1
Next big obstacle:
Nov. 15 at Alabama
Reason for optimism:
Entering Saturday's game with Arkansas, Mississippi State ranks first nationally in both strength of record (which measures the difficulty in achieving its record based on its strength of schedule) and game control (which gauges its command of games from beginning to end) according to ESPN Stats & Information. In other words, the Bulldogs have earned their No. 1 national ranking.
Cause for concern:
There are still two top-10 opponents left on the schedule, and the Bulldogs will face both of them on the road. On Nov. 15, they'll visit Alabama (State is 0-2 in Tuscaloosa under Dan Mullen and has won there just twice since 1957) and end the regular season with a trip to Ole Miss (the home team in the Egg Bowl is 12-2 in the 2000s).
Who they'll be rooting for this week:
Auburn at Ole Miss
-- David Ching
Auburn
Record:
6-1 (3-1)
Rank:
No. 3
Next big obstacle:
Nov. 1 at No. 4 Ole Miss
Reason for optimism:
How can Auburn not be happy? At No. 3, the Tigers are the top-ranked one-loss team according to the committee. They're ahead of Oregon, TCU, Notre Dame and even in-state rival Alabama. On the field, they have to be happy with the way the offense looked this past weekend against South Carolina.
Nick Marshall
and Co. seem to be clicking again after playing their most complete game of the season.
Cause for concern:
It was only one game, but the Auburn defense took a major step backward Saturday. The Tigers couldn't get off the field at times, and they allowed South Carolina to throw for 416 yards and five touchdowns. Not to mention, the Tigers also have arguably the most treacherous road ahead among the playoff contenders.
Who they'll be rooting for this week:
Sure, it would be nice to see No. 1 or No. 2 go down, but Auburn should also pull for Kansas State to handle its business at home against Oklahoma State. That nonconference win looks better and better with each Wildcat victory.
-- Greg Ostendorf
Ole Miss
Record:
7-1 (4-1)
Rank:
No. 4
Next big obstacle:
Nov. 1 vs. No. 3 Auburn
Reason for optimism:
Despite losing at LSU this past weekend, the Rebels aren't out of the playoff race by any means. That shiny No. 4 ranking proves that the committee has been very impressed with what the Rebels have done to this point. Ole Miss also gets Auburn and Mississippi State at home, somewhat smoothing out the road to Atlanta.
Cause for concern:
Well, that loss destroyed the chance at a perfect season, and we saw what happens when you couple an average running game with a quarterback who loses the mental edge with an opponent's crowd.
Bo Wallace
was never in rhythm against LSU (just look at that ugly game-clinching interception) and the running game just wasn't a threat.
Who they're rooting for this week:
Arkansas over Mississippi State
-- Edward Aschoff
Alabama
Record:
7-1 (4-1)
Rank:
No. 6
Next big obstacle:
Nov. 8 at No. 19 LSU
Reason for optimism:
Given the way Alabama struggled in a loss at Ole Miss and a narrow win at Arkansas, there were questions about whether Lane Kiffin's offense could go on the road. But they were answered Saturday when the Tide went to Rocky Top and dominated Tennessee 34-20.
Cause for concern:
If you want LSU, you want them early. You want the young, unsure team that lost to Mississippi State, not the confident, maturing bunch that upset Ole Miss. Alabama gets the latter, a team that now believes it can beat anyone, especially in Tiger Stadium.
Who they'll be rooting for:
The SEC will take care of itself, so in order to get two teams from the conference in -- and increase Bama's chances of making the playoff -- Tide fans should be hoping for Louisville to beat Florida State or Stanford to beat Oregon.
-- Alex Scarborough
Georgia
Record:
6-1 (4-1)
Rank:
No. 11
Next big obstacle:
Nov. 1 vs. Florida (in Jacksonville, Florida)
Reason for optimism:
Find a true competitor in the East, and then maybe the Dawgs would have to look over their shoulders down the home stretch. There just isn't a team right now that anyone thinks can seriously contend with the Dawgs in November. The defense is now on the same page with the offense, and that's a great sign.
Cause for concern:
We are still awaiting word on
Todd Gurley
.
Nick Chubb
has been great in his place, but you just have to wonder how much of a beating the true freshman can take down the stretch. Auburn awaits, and the Dawgs would still have to play -- and beat -- a behemoth in the West in Atlanta.
Who they're rooting for this week:
Kentucky over Missouri
-- Edward Aschoff
LSU
Record:
7-2 (3-2 SEC)
Rank:
No. 19
Next big obstacle:
Nov. 8 vs. Alabama
Reason for optimism:
Look who's back. Most of us thought we'd seen the last of LSU as a playoff contender when Auburn humiliated Les Miles' club 41-7 on Oct. 4. But after winning three in a row, including one against Ole Miss on Saturday, the Tigers might not be out of it after all. They can truly state their case against Alabama next weekend.
Cause for concern:
The Tigers haven't exactly been lighting up the scoreboard against better opponents. They turned it over and scored just 10 points gainst Ole Miss. Until it is more balanced on offense, LSU will lean heavily on its defense and running game and hope that's enough to win. The results on that front have been mixed.
Who they'll be rooting for this week:
Ole Miss vs. Auburn, Arkansas at Mississippi State
-- David Ching
October, 29, 2014
Oct 29
8:00
AM ET
1. The initial
College Football Playoff rankings
came out on Tuesday night, and the "First Four" was all anyone could talk about, especially after the World Series Game 6 devolved into an
old-fashioned Kansas City barbecue
. With three teams in the top four,
#SECbias
was probably trending worldwide. Fans of other conferences were going berserk. Nevermind that voices of reason such as playoff chairman Jeff Long (full disclosure: he's also Arkansas' athletic director) said
there's a lot of time for things to change
. Heck, look no further than this week's schedule. Two of the top teams in the nation will play this week, as No. 3 Auburn visits No. 4 Ole Miss. Fans of other conferences can delight in knowing the SEC West will
bludgeon itself throughout November
. And as for No. 6 Alabama getting a so-called snub? Well, this sums up the Tide's plight:
Why would Alabama not be "thrilled?" They play No. 1 and No. 3 at home..

— Cecil Hurt (@CecilHurt) October 28, 2014
2. As the AJC's Chip Towers said,
"Gurley Watch" reached Day 19
on Tuesday and still no update on the Georgia running back's status for Saturday's big game against Florida. The
Bulldogs are cautiously optimistic
, as Todd Gurley continues to practice. Meanwhile, the Gators' defensive players say
they are expecting, preparing and actually hoping to face the Heisman candidate
on Saturday. Despite Florida's downward spiral in the past two seasons,
the Gators say they're confident
. The history of this bitter rivalry suggests
the game is usually closely contested
. At least one thing that's guaranteed is a good time at the ol' Cocktail Party. It's always cool to see the intermingling of red, black, orange and blue inside and outside the stadium. On Saturday, we'll see it on the field as well. Georgia is the home team, but
both teams agreed to wear home jerseys
in what should make for a neat visual.
3. Determined to snap its three-game losing streak, Texas A&M underwent
a sweeping round of soul-searching
during its bye week with a willingness to re-evaluate
every position on the team
. That includes the quarterback position, where sophomore starter Kenny Hill is now battling with freshman Kyle Allen with a
decision to come on Thursday
. It's a stunning turn of events for Hill, who started the season with a school-record 511 yards passing in the opener and has thrown for 2,649 yards in eight games. Allen actually
went to offensive coordinator Jake Spavital's office
to ask if the starting job was really up for grabs. Yes, he was told, this is really happening. The same could be said for the Aggies' tailspin, but at least the bye week came at a perfect time. A&M is still reeling from its last game, a 59-0 loss at Alabama. Saturday's home game against Louisiana-Monroe
ought to do wonders in boosting some confidence
in Aggieland. Especially for the QB, whoever he is.
Around the SEC
" Mississippi State QB Dak Prescott
ditched his walking boot and practiced
on Tuesday. He's not sure what all the fuss was about, saying: "I'm sure there's some boots Beyonce or somebody's worn before that people have made a big deal about."
" Ole Miss
changed its play-calling terminology
after a former intern left in the offseason to join the Auburn staff.
" Michigan native and current Tennessee coach Butch Jones
swatted aside speculation
that he could be a candidate to be the Wolverines' next coach.
" Vanderbilt quarterback Johnny McCrary will be
the "lead dog" against Old Dominion
, but coach Derek Mason also hopes Patton Robinette will play after being medically cleared last week from a concussion suffered on Sept. 20.
Tweet of the day
It should be an eight-team playoff. Bama, Georgia, LSU and Tennessee should be in there

— Mark Schlabach (@Mark_Schlabach) October 28, 2014
Epic Coaching Rants: Kids Edition