September, 29, 2014
Sep 29
2:48
PM ET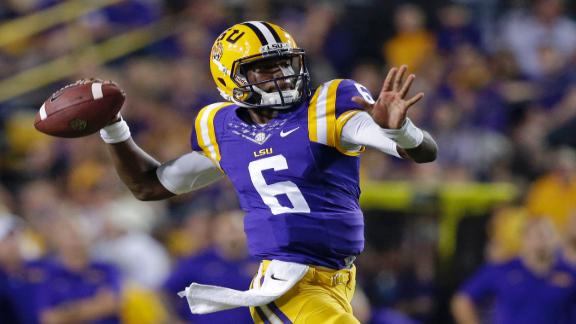 BATON ROUGE, La. -- LSU freshman quarterback Brandon Harris will make his first college start on Saturday at No. 5 Auburn, coach Les Miles said Monday.
Harris led the No. 15 Tigers (4-1, 0-1 SEC) to seven touchdowns in seven possessions after replacing struggling starter Anthony Jennings in the second quarter of Saturday's 63-7 win over New Mexico State.
Harris also nearly led LSU to a comeback victory against Mississippi State the previous Saturday, directing a pair of touchdown drives in the game's final four minutes.
"I think he deserved the opportunity to take snaps," Miles said at his Monday news conference. "I don't think it was a difficult decision."
Harris went 11-for-14 for 178 yards and three touchdowns and ran for two more scores in roughly two quarters of work against New Mexico State, with the Tigers rolling up 429 yards of total offense in that time.
Meanwhile, in seven possessions, Jennings was responsible for three turnovers (two interceptions and a fumble) and the Tigers' offense went three-and-out twice before Miles finally removed him from the game.
Jennings has started LSU's past six games, including wins over Iowa and Wisconsin, and the Tigers are 5-1 in his starts. However, LSU's offense was unproductive against Mississippi State before Harris entered the game in the 34-29 loss, and many fans in Tiger Stadium began to boo each time Jennings jogged onto the field for a new possession once things went south against NMSU.
College Football Minute - Sept. 30