August, 29, 2014
Aug 29
5:20
PM ET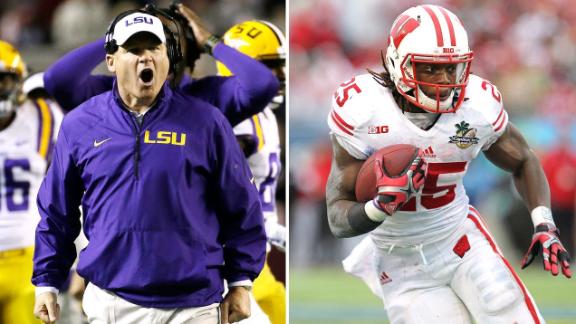 BATON ROUGE, La. -- LSU cornerback Rashard Robinson and wide receiver Malachi Dupre will not play in Saturday's opener against No.14 Wisconsin, the school says.
LSU's student newspaper, The Daily Reveille, first reported Friday that Robinson -- who is listed as a starting cornerback -- did not travel with the No. 13 Tigers to Houston for the game. The Baton Rouge Advocate later reported that Robinson is suspended for the game and that Dupre sprained his ankle in practice and also would not play.
LSU, though, says Robinson was not suspended and that Dupre's injury was to the leg, not ankle.
Tigers coach Les Miles was scheduled to meet with reporters at NRG Stadium on Friday afternoon, but it was canceled.
Miles has played coy throughout the preseason when asked about Robinson and safety Jalen Mills, who was suspended throughout the summer following his arrest for allegedly knocking a woman unconscious in May.
Robinson has frequently practiced with the reserves, but Miles did not reveal that the sophomore had any disciplinary issues.
Asked by a caller on his Wednesday radio show whether Robinson would start against Wisconsin, Miles replied, "Rashard Robinson practiced today. Everything's good."
Junior Jalen Collins started twice last season and could be in line to start against the Badgers.
August, 29, 2014
Aug 29
11:00
AM ET
BATON ROUGE, La. -- Every once in a while, Les Miles scrolls through the numbers stored in his cell phone and settles on digits that once connected him to a source of advice and camaraderie.
Bo Schembechler died nearly eight years ago, but Miles can't bring himself to remove his coaching mentor's number from his contacts list.
"It's impossible to take it out, isn't it?" Miles asked, staring at the number on the screen. "You know what, sometimes, I haven't dialed it in a while, but sometimes I dial it, too."
Miles will kick off his 10th season as the LSU Tigers' coach on Saturday against Wisconsin, so the 60-year-old Ohioan had plenty of time to create his own unique identity within the world of college football. And boy has he ever done that, parlaying his wacky personality and consistent winning into a status as one of the sport's rock stars.
[+] Enlarge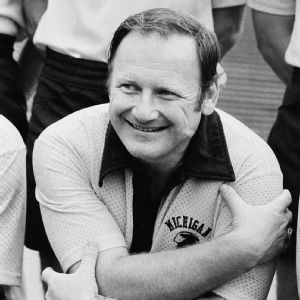 AP Photo"Bo [Schembechler] had the feel of his team," LSU coach Les Miles said. "... I was fortunate to play for him and coach alongside him and I just saw how he touched his team in really special ways."
But Miles wouldn't deny that lessons learned while coaching under father figures like Schembechler and Bill McCartney helped mold him into the head coach he became. Not that he can necessarily pinpoint individual ways that those mentors shaped his own philosophies.
"I think what happens is you have natural instincts in coaching and team philosophies and things that are in your mind right and wrong about a coaching year, scheduling, how you write the schedule for your team -- just the many things that go into developing a team," Miles said. "And I think that these two guys have so marked my memory that I don't know that I can even separate it.
"But I can tell you this, the things that when you ask [how they influenced me], Bo had the feel of his team. He had just an unbelievable, uncanny recognition for what his team needed. I don't think anybody had that ability that Bo had. I was fortunate to play for him and coach alongside him and I just saw how he touched his team in really special ways -- just roughly and sometimes with humor and sometimes matter-of-factly. He just had it. He could really just speak to his team."
It's easy to see how Schembechler's methods of communication might have rubbed off on his former pupil. In fact, he still speaks to Miles, even from the Great Beyond.
Well, sort of.
Miles chuckled while reporting that he has an enormous Schembechler bobblehead in his office at his family's Baton Rouge home. Miles said he sometimes talks to the approximately 4-foot-tall doll as though it's actually the man who coached him at Michigan, offered him his first college coaching job as a Wolverines graduate assistant in 1980 and later hired him as a full-fledged member of his staff.
Asked how those conversations might go, Miles replied, "Just some smiling thoughts. Or I can remember asking him some questions about personnel and his very candid responses."
Michigan was already on top when Miles became a part of Schembechler's program. He learned entirely different lessons about how to become successful when he followed McCartney to Colorado.
McCartney hired 28-year-old Miles to coach the offensive line as a member of his first Colorado staff in 1982. Through some rocky early seasons in Boulder, Miles helped McCartney lay the groundwork for what would become one of the nation's winningest programs in the late 1980s. The Buffaloes had become competitive by the time Miles left McCartney's staff to return to Michigan in 1987, and it would win a national championship a few years later.
Miles doesn't speak of any coach as reverently as he does of Schembechler, but it's clear that McCartney -- a man of great Christian faith -- also made a mark on his young assistant.
"Bill McCartney had vision that was unnatural," Miles said. "He knew where he wanted to go with his program. He knew how he needed to lead his team. He could recruit as well as any."
But where does Miles' trademark gutsiness come from? The trick plays in crucial situations? The decisions to go for it on fourth-and-short over and over? The call to throw for the end zone with seconds remaining when a field goal could win the game?
That's mostly Les, although even that distinctive bravado might owe a bit to his mentor.
"You've got to understand something," Miles said. "That Schembechler guy, he was pretty stinking confident."
Miles is certainly no clone, however. It's difficult to picture Schembechler or McCartney participating in TV commercials where they eat grass or engaging in some of the other antics that have transformed Miles into the sport's clown prince. But their lessons are always there, forming a portion of the eccentric coaching personality for which Miles is famous.
Every coach -- actually every successful person in any industry -- can look back at the early stages of his career and point to the people who helped him get on the right track, whose daily presence helped him understand how to do the job correctly.
Miles' first two bosses are both in the College Football Hall of Fame and Miles is well on the way there himself, proving that he must have been paying attention while learning at the feet of two football masters.
"Being around both those guys," Miles said, "I can't tell you how fortunate I am."
August, 29, 2014
Aug 29
9:10
AM ET
A lot of us were probably guilty of anointing
Jake Coker
before he'd ever graced the Alabama practice field.
We heard the stories about his bazooka arm, how he pushed eventual Heisman Trophy winner
Jameis Winston
in the Florida State quarterback race a year ago and how his old coach, Jimbo Fisher, said he would be the most talented quarterback Nick Saban has coached at Alabama.
Who's to say Coker won't live up to that billing?
[+] Enlarge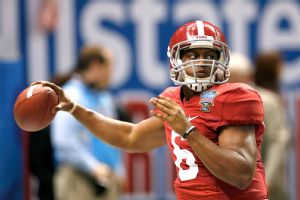 AP Photo/Aaron M. SprecherBlake Sims is taking advantage of his chance to be Alabama's starting quarterback.
But as it stands now, he still has fifth-year senior
Blake Sims
in his way before laying claim to the Alabama quarterback job. That's more a credit to Sims than it is a knock against Coker.
It's also a reminder that Saban is as bottom-line as it gets. He's not going to reward a player for potential. He's going to play whoever gives the team the best chance to win right now.
By all accounts, Sims has outplayed Coker.
That doesn't mean he has locked down the job. Reports indicate Sims is expected to start against West Virginia in the opener Saturday, but both will get snaps.
Saban's not nearly as concerned about settling on who his starting quarterback will be for this first game as he is on settling on who it will be for the season. Sometimes, the "process" takes a few games.
Moreover, Coker has been on campus for fewer than four months, since his transfer from Florida State. Sims has been there for more than four years -- sweating, working and sacrificing with his teammates.
The last thing Saban's going to do is hand the job over to somebody who hasn't won it, especially when that somebody is new to the program.
The added layer of drama in the quarterback situation this season is that Lane Kiffin is debuting as the Tide's offensive coordinator, their third in four seasons.
However it shakes out, the Crimson Tide would like to add more of a big-play element to their passing game. They ranked 45th nationally a year ago in completions of 20 yards or more (45). A healthy
Amari Cooper
at receiver should help pad those numbers.
Ultimately, Alabama doesn't have to figure it out until a stretch against Florida at home on Sept. 20 and Ole Miss on the road two weeks later.
We're now in the playoff era in college football, so it's probably fitting that Alabama will have its own little playoff at the quarterback position during these next few weeks.
Fournette's debut
I'm old enough to remember Herschel Walker's college football debut and can still see him running over Bill Bates at the goal line in Neyland Stadium. That was 34 years ago.
There was only one Herschel, for sure. But it's been a while since I've been as eager to see a freshman play in this league as I am to see LSU running back
Leonard Fournette
. He's built a lot like Walker (6-foot-1, 230 pounds) and has the kind of speed and power the great ones possess.
Rest assured, NFL scouts will be watching, and not just because Wisconsin's
Melvin Gordon
will be on the other side Saturday night. This summer, I had a longtime NFL coach tell me he'd never seen high school tape of a running back as impressive as Fournette's.
"I'm not so sure that he's not ready [for the NFL] right now," the coach said. "If he stays healthy, he's everything you're looking for wrapped into one."
Two-minute drill
• Auburn defensive coordinator Ellis Johnson feels better about his defense than he did at any point a year ago. The Tigers should be much more physical in the defensive line and plan to play
Montravius Adams
a good bit at end. "He's 315 pounds and can flat run," Johnson said. Johnson said
Cassanova McKinzy
and
Kris Frost
make up the best starting linebacker combo he has ever coached. The big concern is at the hybrid "star" position. There's no timetable for when the Tigers will get
Robenson Therezie
back because of an eligibility issue, which means
Justin Garrett
has to stay healthy. Last season, that was a struggle for Garrett, who has had a terrific preseason camp.
[+] Enlarge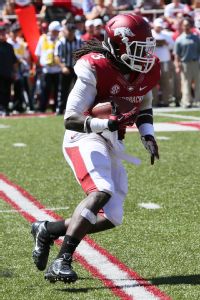 Nelson Chenault/USA TODAY SportsArkansas' Alex Collins rushed for 1,026 yards and four TDs in his freshman season.
•
Alex Collins
burst onto the scene last season at Arkansas and ran his way to SEC Freshman of the Year honors with 1,026 rushing yards, but the Hogs' coaches think sophomore running back
Korliss Marshall
(6-foot, 205 pounds) is the most explosive of the group. Junior
Jonathan Williams
is also back and rushed for 900 yards last season.
• Tennessee's
Curt Maggitt
plans to move between end and outside linebacker, as the Vols need him to be a disruptive presence. The concern with Maggitt is whether he can stay healthy. He missed all of last season with a knee injury and has battled a high-ankle sprain in camp. The Vols' most consistent pass-rusher this preseason has been true freshman
Derek Barnett
, who will play a key role Sunday night in getting after Utah State quarterback
Chuckie Keeton
.
• One of the best matchups of the opening weekend will be Georgia's running game against a Clemson defensive line that's as deep, talented and experienced as any in the country.
Todd Gurley
won't have to go it alone. The word out of the Dawgs' camp is that
Keith Marshall
looks as good as new after suffering that nasty knee injury last season. Interestingly enough, they also want to play both true freshmen,
Nick Chubb
and
Sony Michel
. They are that good, although dividing carries among four running backs gets tricky.
• Why does Mississippi State coach Dan Mullen think this is his best team? For one, this is the most depth he's had, and he also has a quarterback in junior
Dak Prescott
who's the best fit he's had in Starkville for the offensive system he wants to run.
August, 28, 2014
Aug 28
5:00
PM ET
Can anyone recall a season in recent memory that promises to be as wide open as this one? Every team in the SEC has holes. Every team has question marks. But almost every team has talent and legitimate hopes of a banner season.
How will it all shake out? This is our first shot at it, so take it easy on us. Like most of you, we will know a lot more about every team in the conference by the time the weekend is through.
But if there is one thing I'm confident in, it's that an SEC team will compete in the inaugural College Football Playoff. Sorry if I'm not buying that two will make it. Maybe next season, when all these inexperienced quarterbacks are a year more mature, but not now.
CFB Playoff (Allstate Sugar Bowl): Alabama
Cotton Bowl, Jan. 1: South Carolina
Orange Bowl, Dec. 31: LSU
Birmingham Bowl, Jan. 3: Vanderbilt
TaxSlayer Bowl, Jan. 2: Florida
Outback Bowl, Jan. 1: Georgia
Capital One Bowl, Jan. 1: Auburn
Franklin American Mortgage Music City Bowl, Dec. 30: Missouri
Belk Bowl, Dec. 30: Mississippi State
AdvoCare V100 Texas Bowl, Dec. 29: Texas A&M
AutoZone Liberty Bowl, Dec. 29: Ole Miss
August, 28, 2014
Aug 28
3:00
PM ET
There's been no more talked about storyline in the SEC this offseason than the conference's lack of name recognition at quarterback. But are we making too big a deal of the lack of experience? Hugh Freeze, who boasts the most seasoned quarterback in the league in senior
Bo Wallace
, seems to think so. He told ESPN, "Too much is made of that. Last year at this point, who talked about
Nick Marshall
? Nobody. Who talked about Johnny Manziel before his first year? Nobody."
Numbers never lie
Let's start with the most obvious statistic: the number two. Nick Marshall and
Jameis Winston
, the two quarterbacks in the BCS National Championship Game, were first-year starters last season. And Marshall, of course, was a defensive back a few years prior at Georgia and had the benefit of only three weeks on campus at Auburn before he won the starting job and took the field against Washington State.
[+] Enlarge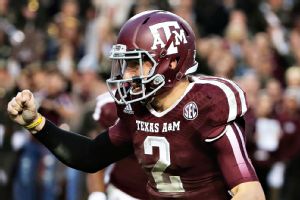 Scott Halleran/Getty ImagesQuarterbacks come to college more prepared than ever to step in as freshmen and succeed.
All told, since the 2000-01 season there have been 12 inexperienced quarterbacks (fewer than six career starts entering the season) who have appeared in the BCS title game.
Looking at last season alone, almost 20 similarly inexperienced quarterbacks were ranked in the top 50 nationally in QBR. Along with Winston and Marshall, you could find Mississippi State's
Dak Prescott
and Baylor's
Bryce Petty
.
Remember your history
There was a time, remember, when AJ McCarron, Aaron Murray and Zach Mettenberger weren't the players we know them to be today. It wasn't all that long ago that Johnny Football was a scruffy, too-short Johnny Manziel.
The departed class of quarterbacks had to start somewhere.
Mettenberger finally got his shot at LSU and led the Tigers to a 10-3 record.
McCarron took over and helped Alabama to a national championship.
Murray slid under center and slung the football for 3,000 yards and 24 touchdowns.
Do we need to recount Manziel's freshman season? The Heisman Trophy says enough.
QBs aren't young anymore
There's a new truth about freshmen quarterbacks: By the time they've arrived at college, many of them aren't the wide-eyed rookies we've come to expect.
The rise of spread offenses have asked more of high school quarterbacks. Summer 7-on-7 camps have refined their skills, too. And then there's the trend toward personal quarterback coaches.
With so many tools at their disposal, quarterbacks have shortened the learning curve.
Ken Mastrole can relate. When he was a freshman at Maryland in the mid-1990s, he said he "had no one teaching me what I was doing wrong." He had little knowledge of X's and O's. He didn't go to camps and didn't have a personal coach to mentor him.
Now Mastrole is doing that job himself, having worked with the likes of E.J. Manuel and Teddy Bridgewater. As soon as he gets a new client, whether he's in college or entering high school, he said he immediately starts working on their footwork and drops, watching film and analyzing their throwing motion.
"Plus, the mental and vision training I incorporate speeds up their decision-making process," he added. "I have QBs now more than ever that are competing to start as freshmen and sophomores, and it gives them three-plus years of experience which makes them even more ready for college."
He continued: "My former teammate is now a high school offensive coordinator and is running the Air Raid offense. I sit in his meetings and am blown away on how advanced he is. He has his guys mentally ready when they sign a letter of intent."
Let the vet have his shot
Coaches, at the end of the day, will go with their gut. And more often than not that means going with what they know -- at least to begin with.
At Alabama, don't be surprised if
Blake Sims
gets the starting nod against West Virginia. The fifth-year senior has earned his shot, while
Jake Coker
, who transferred from FSU this summer, is still getting his bearings.
At LSU,
Anthony Jennings
could be the first quarterback to trot on the field against Wisconsin. The sophomore saw the field nine times last year, starting in a win at the Outback Bowl, while
Brandon Harris
has yet to attempt a single pass in college.
But talent will always win out. If Sims can't get the job done, Coker will step in. If Jennings struggles, Harris will take over. The two newbies may not be totally comfortable with their respective offenses yet, but you can teach that. You'd rather have the best guy learning on the fly than the best guy riding the bench.
You would rather be sitting here today with a proven guy, but also you know that there's going to be good players that emerge," said Freeze. "I'm glad we're one that has [a veteran QB], but I fully expect that there will be two or three no one's talking about right now that come out and play and perform really well."
August, 28, 2014
Aug 28
12:00
PM ET
One of the biggest keys to Saturday's matchup between Wisconsin and LSU will be which team can run the ball effectively. There will no shortage of talented running backs on the field and here's a look at the players who could be the deciding factor in the game.
August, 28, 2014
Aug 28
11:00
AM ET
By
ESPN.com staff
| ESPN.com
Every season, several true freshmen make an immediate impact in the SEC. Judging by the way things look to be heading at some SEC powerhouses there might be even more than usual this season, but here are five that we predict to make the biggest splash in 2014.
[+] Enlarge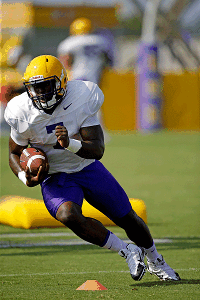 AP Photo/Gerald HerbertLeonard Fournette was the top-ranked recruit in the 2014 ESPN 300.
Leonard Fournette, LSU:
When well-respected college football writers are projecting a true freshman running back as the Heisman Trophy winner -- and more than a few have at least mentioned Fournette's name in the conversation -- you know the kid is special. LSU fans rejoiced when Fournette announced that he would become a Tiger, and he has done nothing since then to temper their excitement. Blessed with exceptional size, speed and power, Fournette is going to become a star. The only question is when. Even if he must share carries with backfield mates
Terrence Magee
,
Kenny Hilliard
and
Darrel Williams
, Fournette's debut will be celebrated with Mardi Gras-like fanfare around Louisiana.
-- David Ching
Cam Robinson, Alabama:
It might not be the toughest position to learn on the offensive line, but there's an argument to be made that left tackle is the most critical. And considering Alabama is breaking in a new quarterback, it's even more important to protect his blind side. Which makes it all the more impressive that Robinson, a former five-star prospect, came into spring camp as a true freshman and won the starting job for the final spring scrimmage. He has size, he has agility and, apparently, he has the consistency few rookies possess. Even in today's day and age of young guys playing earlier and earlier, the fact that he's gone all the way through fall camp without any setbacks or doubt about his starting from Week 1 is flat-out impressive.
-- Alex Scarborough
Roc Thomas, Auburn:
The hype all offseason has been on Fournette at LSU, but he's not the only talented freshman running back in the SEC. If given the opportunity, Thomas has a chance to be just as productive his first year. The question is whether or not there will be enough carries to go around. Despite losing Tre Mason to the NFL, Auburn has four capable running backs who should all contribute this year.
Cameron Artis-Payne
and
Corey Grant
will get the first crack because of experience, but Thomas is too good to keep off the field. Don't be surprised if he's the guy by mid-October.
-- Greg Ostendorf
Myles Garrett, Texas A&M:
After signing him in February, Kevin Sumlin jokingly referred to Garrett as "Batman" in reference to the sculpted body that the 6-foot-5, 255-pound five-star prospect boasts. Since arriving on campus this summer, Garrett has earned the respect of his teammates and performed well on the practice field. "Myles is about what we thought when we recruited him," defensive coordinator Mark Snyder said last week. For a player ranked No. 4 overall in the 2014 class, that means look out. Garrett will play early and often and should provide a boost to the Aggies' pass rush immediately, something sorely needed after a down year for the Aggie defense in 2013.
-- Sam Khan
Tony Brown, Alabama:
The Texas native and two-sport athlete wasn't going to let some silly shoulder injury slow him down, even if that meant wearing a protective brace. The former five-star prospect got to school early and made an interception during the final spring scrimmage, albeit with one good shoulder and a black no-contact jersey on. Now closer to 100 percent, he hasn't given an inch, appearing second on the depth chart at cornerback. He'll see the field plenty as is, but if
Bradley Sylve
or
Cyrus Jones
falters, we could see Brown in the starting lineup making plays.
-- Alex Scarborough
LSU will start QB Jennings vs. Wisconsin
SEC SCOREBOARD
Thursday, 8/28
Saturday, 8/30
Sunday, 8/31