October, 26, 2014
Oct 26
2:25
AM ET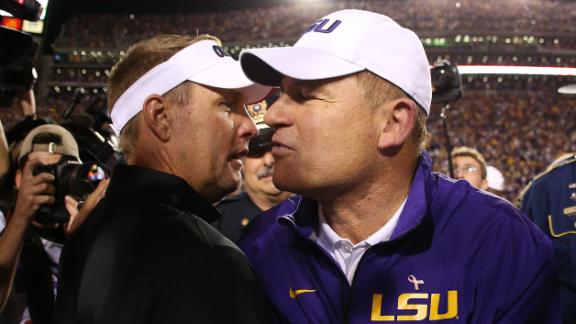 BATON ROUGE, La. -- The Egg Bowl still might decide the SEC West champion, but the dream matchup between unbeaten Ole Miss and unbeaten Mississippi State won't happen.
LSU made sure of that with its
10-7
comeback win on Saturday night. Tiger Stadium, after all, is where LSU coach Les Miles often says that opponents' dreams go to die.
No. 3 Ole Miss' dreams aren't entirely dead, but the Rebels must regroup in a hurry with No. 5 Auburn coming to Oxford next week.
"They're hurt. They've got to figure out how they're going to handle it," Ole Miss coach Hugh Freeze said after his team's loss left Mississippi State, Florida State and Marshall as the nation's only unbeaten teams. "They're not the only team in America that is going to go through this. If you'd have told me this team was going to be where we are right now in August, we'd be pleased. We're obviously not pleased to leave here after the season we've had."
[+] Enlarge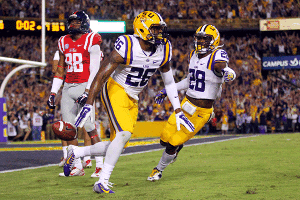 Crystal LoGiudice/USA TODAY SportsAn interception by Ronald Martin, No. 26, with two seconds left sealed Ole Miss' first loss of the season.
Ole Miss fans hadn't been this enthusiastic about their program in years, especially after they made it through the first three-quarters of a tough October stretch -- versus Alabama, Texas A&M and Tennessee -- unscathed. But LSU safety
Ronald Martin
ruined the Rebels' chances at a perfect season when he picked off a
Bo Wallace
pass at the Tigers' goal line with two seconds to play.
Frequently plagued by poorly timed turnovers earlier in his career, Wallace hadn't turned the ball over once in Ole Miss' first four SEC games. He picked an awful time for his first of 2014 -- particularly since Freeze instructed him to either throw into the flat so the receiver could get out of bounds or throw it away, leaving open the possibility for a game-tying field goal try.
"I think Bo would tell you, I thought we were pretty clear we were either going to take the flat throw or throw it out of bounds and try the field goal," Freeze said. "He must have felt like he had a shot at the touchdown play there. … I wish I could do that over for sure."
Wallace fought back tears after the game when asked about his decision on the final throw.
"I'm not going to talk about it," he said. "One-on-one, threw it up -- [it's] done."
The common refrain from the Rebels afterward was that this game might be done, but their division title hopes are not. At 7-1 (4-1 SEC), they own a head-to-head advantage over Alabama (7-1, 4-1) and still must face Mississippi State (7-0, 4-0) and Auburn (6-1, 3-1). Win out and they will represent the division in the SEC championship game.
"We'll bring them in [Sunday] and we'll sit down and have a heart-to-heart," Freeze said. "Again, we're not the only team in this league -- I don't know if anybody's going to go through it unscathed, it's that tough. But you have to respond to adversity the right way."
That's what LSU has done. Three weeks ago at Auburn, the Tigers (7-2, 3-2) suffered possibly the ugliest loss of Les Miles' tenure, 41-7. They're 3-0 since then and entered a bye week preceding Alabama's Nov. 8 visit by posting easily their most impressive win of the season.
"One thing about these Tigers, you put them in Tiger Stadium and give us a little bit of time to fix things, they can be very special," Miles said. "This team wanted to make this night special and they did."
Beyond what the win means for his team's season, it was special for another reason entirely to Miles. His mother, Martha, died Friday night at age 91, and Miles said he struggled to determine the proper way to inform his team without affecting the players' psyche before one of their biggest games of the season.
"I spent time thinking about the way that I need to tell them that when they see me on the sideline, it has not to do with who's passed and what's going on," Miles said. "It has only to do that I'm looking for every opportunity and advantage for us to win, and they need to see me as an aggressive man.
"After the game, I can't tell you the number of young men that put their arms around me and said they love me, Coach, which is as touching as anything I've had happen."
The players presented Miles with an honorary game ball, an award only given out after victories. Those are always difficult to come by in the SEC West, but this one was unique even by the standards of college football's toughest division.
There's a reason why some of the first words out of Freeze's mouth in his postgame news conference were, "This league is brutal."
Everyone knew that already, but Saturday's game was just another reminder of the peril that awaits SEC West teams each Saturday on their division schedule. As Freeze noted, the odds are against anyone in the division finishing with a spotless record. If his team can refocus quickly, the Rebels are still in the thick of the West race.
"It wears on you physically and mentally, but the thing is we still can control everything we want with the schedule that lies ahead," Freeze said. "We're going to have to play really good football. They're sore, they're down, they're disappointed, but hopefully we'll respond in the correct way."
College Football Top Plays: Week 9