September, 23, 2014
Sep 23
4:24
PM ET
Associated Press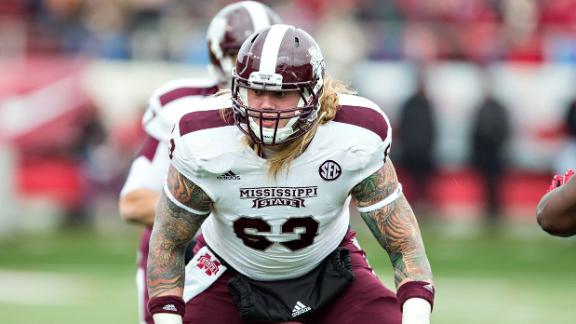 STARKVILLE, Miss. -- Mississippi State offensive lineman Dillon Day has been suspended one game by the Southeastern Conference for "multiple flagrant and unsportsmanlike acts" during Saturday's 34-29 win over LSU.
The league announced the suspension on Tuesday.
Day was shown on camera stepping on LSU's Davon Godchaux and Rashard Robinson on separate plays. He was not penalized on either play.
The SEC's announcement also said the league took into account previous disciplinary action for similar behavior. Day was suspended for the first half of a game last season after stepping on an Auburn player.
Day posted a statement on Twitter Monday addressing the LSU incidents, saying he did not intentionally try to cause harm.
My personal letter to the bulldog fans. pic.twitter.com/Mx2CXhvBTF

- Dillon Day (@DoomzDAY63) September 22, 2014
The team's starting center, Day will miss the 14th-ranked Bulldogs' game against No. 6 Texas A&M on Oct. 4.
September, 23, 2014
Sep 23
2:00
PM ET
BATON ROUGE, La. -- LSU coach Les Miles and many of his players embraced their roles as good soldiers on Monday, accepting blame for individual failures that allowed
Mississippi State to win 34-29
on Saturday at Tiger Stadium.
[+] Enlarge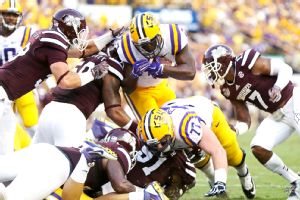 AP Photo/Gerald HerbertLSU's O-line didn't open up much running room for Leonard Fournette against Mississippi State.
There was plenty of blame to go around, from coverage breakdowns to missed tackles to dropped passes to quarterback misfires. But perhaps the most distressing problems the No. 17 Tigers (3-1) experienced came on the interiors of both lines, where they were simply not consistent enough. At times they were even manhandled by the Bulldogs' physical fronts.
"Everybody has their times where they go through stuff," said senior center
Elliott Porter
, whose group paved the way for LSU to rush for just 89 yards in 35 carries. "But we're going through it [and] we're going to get through it. We've just got to get our identity and once we get our identity, it's going to be a good thing for this team."
And what should that identity be?
"Just [like] the LSU offensive line that we had in the past, last year and years before: tough, hard-nosed, physical offensive linemen [who] finish blocks. Including myself," Porter continued. "I believe we all have to improve with that. But I'm definitely putting it more on myself than the other guys. I'm the leader. I have to put it on myself more."
Porter wasn't the only blocker in need of improvement, however.
Miles said
Ethan Pocic
should start again at right guard against New Mexico State (2-2) on Saturday after taking a starting spot away from senior
Fehoko Fanaika
against Mississippi State. Left guard
Vadal Alexander
's starting position might also be in jeopardy.
"We may look at a substitute that will go to the left side or to the right side at that guard spot," Miles said.
Whatever personnel comprises the eventual starting lineup, it must play with far more consistency if LSU's run-first philosophy will have any effectiveness against the better SEC defenses this season. LSU's line struggled to get a consistent push at times even against its nonconference opponents, but talent eventually won out in those games.
The Tigers once again struggled to create running space against Mississippi State, and it was more costly this time -- in part because of poor communication, Porter said.
"The lines that we had in the past, including last year and the year before, we executed because we communicated better," Porter said. "We have to communicate better. It will come. I have a lot of faith that it's coming. It was there sometimes on Saturday night, but it wasn't consistent enough."
On the opposite side of the line, LSU struggled mightily in containing Mississippi State quarterback
Dak Prescott
. That's a tall order for any defense, but Prescott made the Tigers look awful at times, rolling up the highest yardage total -- 570 yards -- surrendered by an LSU defense since 2001.
Much of that production came on runs straight up the middle, with the Bulldogs generating 302 rushing yards and 9.1 yards per attempt on runs between the tackles according to ESPN Stats and Information. In LSU's first three games, opponents averaged 54 rushing yards per game and 3.4 yards per carry on runs between the tackles.
Despite what the numbers say, Miles insisted that defensive tackle is not a weakness for his team, and sophomore
Christian LaCouture
agreed with his coach's assessment.
"I don't see us as a weakness at all," said LaCouture, who has started all four games at tackle. "We've got the talent, we've got the hard-working guys. We've just got to be on the same page as the defense, and we will. Looking at it, I don't think we have any weaknesses on this football team. We've just got to make sure we play as one."
Continuity along the defensive front won't come any easier in the short term. Miles said
Quentin Thomas
, who started three of the first four games is "nicked" and could miss a week or two. Thomas left LSU's football facility with his arm in a sling after Monday's practice.
Meanwhile, redshirt freshmen
Frank Herron
,
Maquedius Bain
and
Greg Gilmore
-- all of whom seemed to be in line for bigger roles prior to the season -- have barely played. Asked about that group on Monday, Miles also mentioned converted end
Lewis Neal
as a player who could see more action.
"I do see some of those guys stepping forward even more in this game," Miles said. "I can tell you that Lewis Neal came in and played late in that game and probably played six or eight snaps, made four tackles. There's a guy that's going to play a lot of football, and he's just making his case. Some of those guys got onto the field in that game and made a case for more playing time, and that's what we needed to have happen."
That is certainly true, as what the Tigers didn't accomplish much along either line against Mississippi State. New Mexico State does not represent a major threat, but the Tigers need to establish more consistent lineups with road trips to Auburn and Florida fast approaching.
"Somebody's got to come up and play more," LaCouture said. "Somebody's got to step up, and I know they will. We've got some great guys back there, and I know they'll step up to the challenge."
September, 23, 2014
Sep 23
12:00
PM ET
BATON ROUGE, La. -- At first glance, Mississippi State's success rate on third down against LSU doesn't appear to be anything special.
The Bulldogs were just 5-for-14 on third down Saturday night, a conversion rate that could easily result in defeat instead of the 24-point advantage they built at one point. But in the crucial part of Mississippi State's 34-29 win at Tiger Stadium – their third-quarter run where they built that enormous lead – quarterback
Dak Prescott
& Co. ran circles around the Tigers' defense.
In five third downs in the quarter, Mississippi State scored twice – on a 56-yard Prescott run and a 74-yard touchdown pass from Prescott to
Jameon Lewis
– picked up two more first downs and totaled 154 yards. Only once did they fail to convert for at least a first down.
"I think there are a couple times that Dak improvised," Mississippi State coach Dan Mullen said. "I know Jameon's touchdown, obviously [a] huge improvised play and that's one of the things that Dak brings to the table."
Prescott was responsible for a miscue early in the third quarter that allowed LSU to get back into a game the Bulldogs had dominated. On the first play of the quarter, LSU linebacker
Kwon Alexander
ripped the ball out of Prescott's hands and defensive end
Danielle Hunter
recovered the loose ball and returned it 25 yards for a touchdown that cut State's lead to 17-10.
But check out the damage Prescott did immediately afterward, particularly on third down:
On the ensuing drive, Prescott kept the Bulldogs' possession alive with a 12-yard completion to De'Runnya Wilson on third-and-10. Shortly thereafter, Prescott scrambled for a 56-yard touchdown when the Bulldogs faced third-and-3 near midfield.
Mississippi State's offense didn't do much on the first two plays of its next drive, but Prescott then created some more third-down magic. LSU pass-rushers Dwayne Thomas and Hunter both had a shot at him, but Prescott escaped as the pocket collapsed and scrambled left to spot a wide-open Lewis near midfield. No Tigers defender laid a fingertip on the Bulldogs receiver as he sprinted 55 yards for a touchdown that pushed State's lead to 31-10.
On State's final drive of the quarter, LSU had the Bulldogs backed up to their own goal line. Facing third-and-9 from his own 2, Prescott ran for a 12-yard gain and another first down. The Bulldogs drove 88 yards in 14 plays, eventually settling for a 28-yard field goal that made it 34-10.
"You're going to trust [Prescott]. You're going to put the ball in his hands to make things happen in that moment in the game. And we did that for the whole game," Mullen said. "When we needed a play, he stepped up and made the plays that we needed to make – and he did it with his arm and with his legs."
As Mullen said, that ability to make something out of nothing is part of what makes Prescott special. The Heisman Trophy contender was impressive throughout Saturday's win, passing for 268 yards and rushing for 105, but those third-down conversions were particularly important in helping Mississippi State put some distance between itself and LSU.
"He is their offense," LSU safety
Jalen Mills
said of Prescott. "We knew going into the game that he could run and throw, but we had a couple of miscues on defense."
And Prescott made the Tigers pay when those miscues occurred – particularly on third downs in the third quarter, when the Bulldogs averaged 30.8 yards per attempt and made the biggest plays that all but locked up the biggest win in Mullen's tenure.
September, 23, 2014
Sep 23
11:00
AM ET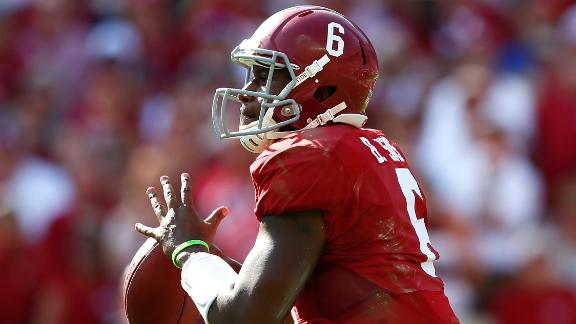 If you tilt your head ever so slightly toward the city of Birmingham, Alabama, you might be able to hear the light, yet almost sinister, cackle of Mike Slive, his fingertips rippling toward one another as the word "excellent" slithers through his teeth.
What has the SEC commissioner so happy? Well, just take a look at the most recent top 25 and all the chaos erupting around him in college football. The SEC leads all conferences with eight representatives in the top 25. Four of those teams are ranked inside the top 10: Alabama (three), Auburn (five), Texas A&M (six) and Ole Miss (10).
So can the SEC realistically get two teams into the College Football Playoff?
For now, that answer has to be yes. While the rest of the Power 5 conferences -- ACC, Big 12, Big Ten and Pac-12 -- have lost steam or suffered losses to start the year, the SEC is sitting very pretty in the national rankings. It also helps that five of the SEC's eight ranked teams are unbeaten.
That's not going to last, as all five of those teams, which are in the SEC Western Division, will face each other in a bloody round-robin in the coming weeks.
Hello, strength of schedule!
Oh, what's that? The SEC faced soft nonconference opponents to start the season? Well, not so fast, my SEC-hating friend. The league has a 5-2 record against nonconference Power 5 opponents and is 3-1 vs. the top 25.
Alabama beat West Virginia, which held tight with No. 4 Oklahoma on Saturday.

LSU roared back from a 24-7 deficit to beat Wisconsin.

Auburn went on the road to Kansas State and won with its passing game ... and maybe some knowledge of the Wildcats' signals.

Georgia thumped a Clemson team that took No. 1 Florida State -- sans Jameis Winston -- to overtime, thanks to Clemsoning to the max!*

Arkansas is still running over and through Texas Tech after a 49-28 drubbing of the Red Raiders in Lubbock, Texas.
*Only true home win.
To put that in comparison with, oh, let's just say the Big Ten, the SEC is light years ahead. Through the first three weeks, the Big Ten went 23-13, including 1-10 against the Power 5 and 0-8 against the
FPI Top 50
.
[+] Enlarge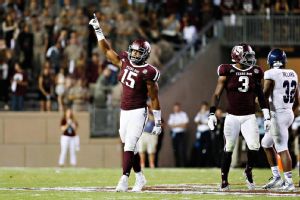 Soobum Im/USA TODAY SportsMyles Garrett (15) and the Aggies are just one of four SEC West teams in the AP Top 10.
The FPI (Football Power Index) measures team strength that is meant to be the best predictor of a team's performance going forward for the rest of the season. Its top four teams are in the SEC: Alabama, Texas A&M, Auburn and Georgia.
With the exception of the Big 12, the other Power 5 conferences really haven't done themselves any favors. Florida State has survived two games it could have
easily
lost, while suspected darling Virginia Tech went from beating Ohio State in Week 2 to promptly losing to ECU and Georgia Tech. USC upset Stanford on the road then lost 37-31 to -- wait for it -- Boston College.
The SEC has received plenty of help from the other conferences, and I think it's very safe to assume the SEC champion is getting into the playoff, regardless, but here are some scenarios that could put two SEC teams in the playoff:
The wild, wild West
Before we go on, check out these notes provided by ESPN Stats & Information about the SEC West:
The SEC West is 22-0 outside the West, winning by an average of 34 points.

All seven West teams rank in the top 20 of the FPI, which is more teams than the Big 12, Big Ten and ACC combined.

Six West teams are ranked in the top 20 of the AP Poll. Arkansas isn't, but has won its last three games by 41.7 points per game.
Strength of schedule isn't going to be a problem for the West champ. For as tough as the West is, don't rule out an undefeated run or a one-loss run. We've seen it before ...
Let's just say an undefeated Alabama beats an undefeated Texas A&M close at home on Oct. 18. Alabama runs the table and wins the SEC. A&M runs the table afterward and sits in the top 10. Chances are that if A&M has just one loss, it has won some pretty good games, so you're looking at a potential top-five finish.
Alabama is in and with the other conferences in such disarray, it'd be tough to keep an A&M team out that would have (according to current rankings) five wins over ranked opponents.
Swap these two out for any West teams and it works, even Arkansas.
The LEast
The East isn't close to what its Western counterpart is this season, but that doesn't mean that an Eastern representative can't make it in. The easiest way is for the champ to win in Atlanta.
But look at Georgia for a possible two-team appearance. Let's say that South Carolina and Georgia run the table and South Carolina loses in Atlanta. Georgia, which lost only to South Carolina
and
is ahead of the Gamecocks in the polls, has a good shot at making it in with the West champ.
If both of these teams win out and South Carolina wins the SEC, I dare you to keep Georgia out.
Atlanta upset
You have an undefeated West champ upset by the East champ. The East champ is in, and after everything that West team did to make it through the gantlet, how do you keep that team out? Even if the East champ has two losses, I don't see how the committee could keep the West champ out based on body of work alone.
Hey, these are all hypotheticals, but they aren't impossible. The SEC got two teams into the BCS national title game in 2011 and almost got two in 2012.
Based on past BCS standings to determine a four-team playoff, the SEC would have gotten two teams in five times since 2005.
Don't count out the SEC.
September, 23, 2014
Sep 23
8:00
AM ET
1. The SEC is all over
the Top 25 this week
, but let's just come right out and say it -- there's no dominant team. Oh, a few of the West's best will have their chances to make a case, but right now there isn't a team without
some
warts. Take Texas A&M for instance. The Aggie offense with Kenny Trill pulling the trigger is a nightmare to game plan against. But A&M's defense is scary, too, and not in a good way. This unit was the worst in the SEC last season in
total defense
and
run defense
. Sure, the Aggies have improved since then. Maybe a lot. But who have they played for us to be sure? Aside from the season-opening ambush of South Carolina (a game in which the Gamecocks
piled up 433 yards
), A&M has played Lamar, Rice and SMU. Kevin Sumlin and Co. would be
wise to not overlook the Razorbacks
. Since their loss to Auburn in Week 1, the Hogs have averaged 58 points of offense in winning their last three. Their
SEC-best rushing attack
has the potential to give Texas A&M some nightmares as well.
2. Despite the roller coaster the Gamecocks have already been on in the season's first month of games (you can just
see it on Steve Spurrier's face
), it should be noted that South Carolina
leads the SEC East
. Does anybody want to win this division? Maybe we'll get an answer on Saturday when Missouri visits USC.
Spurrier isn't sounding too confident
after the way his team looked against what had been a dreadful Vanderbilt team. On the other hand, Mizzou is banged up. Starting left guard and fifth-year senior Anthony Gatti
tore his ACL and MCL
in the Tigers' loss to Indiana. And second-leading receiver Darius White
will be out with a strained groin
. This one isn't exactly shaping up to be the epic battle for East supremacy that some thought it could be a month ago.
3. ESPN's "College GameDay" is headed to Columbia, South Carolina. Not to be outdone, the other big game in the SEC East -- Tennessee at Georgia -- will be
the site of the SEC Network's pregame show "SEC Nation"
. The Vols have something to prove and will hit the road with
a much-improved defense
. UT is sixth in the SEC in total defense, giving up 343 yards a game. That should give Tennessee some hope in preparing to face Georgia's star running back Todd Gurley and his
SEC freshman of the week
understudy, Sony Michel. The Bulldogs are also short-handed with Keith Marshall, Malcolm Mitchell and Justin Scott-Wesley
among the injured
. The biggest challenge for Tennessee, however, is likely to come on the other side of the ball. Georgia has an intimidating pass rush, and the Vols O-line has
given up an SEC-worst nine sacks
already this seasons. Buckle up.
Around the SEC
Tweet of the day
This Nick Saban - Regions Bank ad is pretty great: https://t.co/7VZ06EXePH

— Chuck Dunlap (@SEC_Chuck) September 22, 2014
September, 22, 2014
Sep 22
3:03
PM ET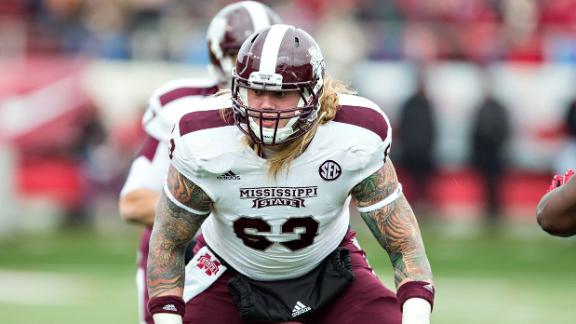 BATON ROUGE, La. -- Coach Les Miles said LSU's football staff has already submitted to the SEC office its concerns over Mississippi State center Dillon Day stomping two Tigers players in Saturday night's game.
"That's already in the works," Miles said at his Monday press luncheon. "I think not only did TV catch that, but that was something that we caught and that we sent in and certainly the conference will do the right thing."
TV cameras caught Day jumping on LSU defensive lineman Davon Godchaux's stomach after a Dak Prescott run, and then later stomping on cornerback Rashard Robinson's leg at the end of a play.
Day also drew a 15-yard personal foul penalty late in the third quarter for a hit well after the whistle.
Mississippi State's senior center was suspended for the first half of last season's game against Troy for stomping on an Auburn player, with Bulldogs coach Dan Mullen saying after the Troy game, "I didn't think that [Day's personal foul] represented what our football program was all about."
Day took to Twitter to defend himself and apologized that it was perceived that he was trying to injure LSU players.
My personal letter to the bulldog fans. pic.twitter.com/Mx2CXhvBTF

- Dillon Day (@DoomzDAY63) September 22, 2014
September, 22, 2014
Sep 22
1:00
PM ET
BATON ROUGE, La. -- Just like that, LSU has a quarterback question on its hands once again.
This was bound to happen eventually, once talented true freshman
Brandon Harris
gained full command of the Tigers' offensive scheme. It's happening now, sooner than Les Miles' coaching staff might have anticipated, after what happened on the field in Saturday night's 34-29 loss to Mississippi State.
Sophomore starter
Anthony Jennings
struggled to do much of anything with the offense for three-plus quarters. Then he left the game with what appeared to be a shoulder injury after taking a huge hit at the LSU goal line. Then Harris came on and breathed some life into the Tigers' offense, nearly sparking a miraculous comeback win.
[+] Enlarge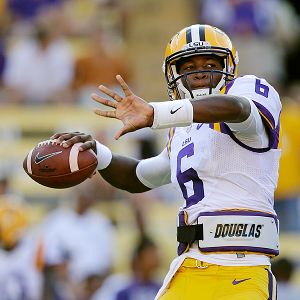 AP Photo/Gerald HerbertBrandon Harris provided the LSU offense with a spark against the Bulldogs, completing 6-of-9 passes for 140 yards and two TDs.
"He played real great when he came in," LSU receiver
Travin Dural
said. "He came in off the sideline without warming up and threw three, four great passes, made a great run and put us back in this game."
To be clear, Jennings does not deserve all (or maybe even most) of the blame for LSU's stagnant offense on Saturday. The Tigers had been a run-heavy team that took occasional shots downfield through the first three games, but Mississippi State's stout defensive front controlled the line of scrimmage on Saturday.
Outside of a 20-yard
Leonard Fournette
run early in the second quarter, the Tigers had just one run that covered at least 10 yards and that was on a Harris scramble on the game's final drive. They averaged just 2.5 yards per carry, which simply wouldn't cut it when Mississippi State's offense was carving up LSU's defense so efficiently. And for the most part, the Bulldogs also took away the downfield throws that had made LSU's passing game dangerous at times.
Miles said ineffective offensive line play contributed to both issues.
"The protection is something that makes every quarterback struggle," Miles said. "If you've got somebody running in your face, it's an issue. So for me to say that [playing Harris earlier would] have been any different at that point, I'm not ready to say that."
This was the kind of game where LSU needed a quarterback who could stretch the field in order to take some pressure off the run, and it was evident that Jennings' passing skills did not scare Mississippi State's defense enough to back them out of the box. Harris, however ...
That's the dilemma here, and let's do our best not to overreact to what LSU's offense did late against a Bulldogs team that obviously took its foot off the gas pedal too early. Harris was phenomenal in three possessions, finishing 6-for-9 for 140 yards and two touchdowns, but the pressure was largely off once he entered the game. Playing against State's starters would have made life tough for Harris, too.
We also can't overlook that LSU's offense looked potent for the first time once Harris entered the lineup.
"His performance certainly, in the limited pieces that we asked him to perform, was very positive," Miles said. "We're not going to also downplay what was really great throws, the ability to move his feet and those things. That we see. We're going to make the correct decision, and he made a case for himself today. And we enjoyed the productivity that he gave us."
Nonetheless, maybe Saturday's game against New Mexico State is the perfect time to see what the freshman is made of. It remains to be seen how serious Jennings' injury was -- Miles said Jennings was "nicked up" and not available to re-enter the game late once LSU closed the gap -- so the freshman might play more on Saturday out of necessity. But either way, maybe it's time to start getting Harris valuable game reps.
Playing Jennings makes sense if LSU's coaches believe that their strategy in the first several games -- playing it close to the vest on offense and letting the defense control the game -- will help the Tigers remain in contention in the SEC West. Jennings probably suits that philosophy better than Harris. But Saturday night's results revealed that might not be an effective strategy against the caliber of opponents that remain on LSU's schedule.
The Tigers are going to need to score. A lot. As a raw talent, Harris might be more prone to mistakes, but he's also more likely to make a defensive coordinator think twice about crowding the line of scrimmage. And if he's LSU's quarterback of the future (since nearly everyone seems to agree that he is) LSU might as well let Harris start proving whether he can handle the job.
Miles' coaching staff probably wouldn't publicly admit to thinking beyond this season, especially since the Tigers have played only four games. That's understandable. The question they must consider this week, and each week moving forward, is whether making Harris their starting quarterback would better prepare the Tigers to win right now as well as in the future.
September, 22, 2014
Sep 22
11:26
AM ET
September, 22, 2014
Sep 22
10:20
AM ET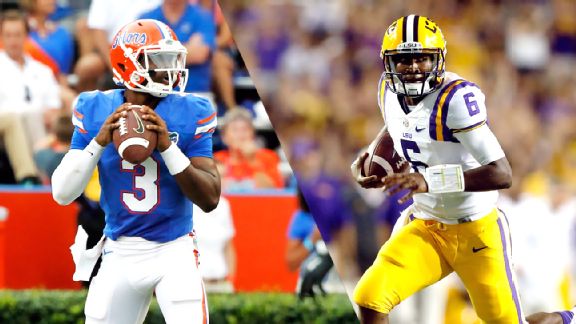 Derick E. Hingle/USA TODAY SportsCould it be time for Treon Harris, left, and Brandon Harris to see more time on the field?
Let me preface by saying that I'm not calling for anyone to be permanently benched, but as we dive into the heart of SEC play, it might be time for Florida and LSU to take a look at their quarterback situations and give those youngsters more time. Their offenses are drowning in inconsistency and a lot of that has to do with the quarterback play.
Florida's
Jeff Driskel
, a redshirt junior, and LSU's
Anthony Jennings
, a true sophomore, have been too inconsistent to start the year to not try some new things at quarterback. That means true freshmen
Treon Harris
(Florida) and
Brandon Harris
(LSU) need more quality reps in practice and games.
Against good defenses, Florida and LSU watched their offenses back-peddle on Saturday because of nonexistent passing games. It might be good for both schools to ease their freshmen quarterbacks onto the field a little bit more going forward because there are obvious issues under center.
This was supposed to be a brand new year for Driskel with new offensive coordinator Kurt Roper installing a spread offense that would fit with his skill set more, but the last two weeks have raised the same questions about Driskel's composure. He had a troubling Jekyll-and-Hyde performance in that triple-overtime win against Kentucky and then looked flat and had zero rhythm in the blowout loss to Alabama. Driskel was off on just about every one of his down-field passes against a shaky Alabama secondary that gave him plenty of good looks in the first half and he couldn't get the ball out fast enough. He finished a paltry 9 of 28 passing for 93 yards with a touchdown and two interceptions.
Driskel's confidence was shot, as the struggles that have plagued his college career returned in Tuscaloosa. With the bye week here, Florida's coaches have two weeks to prepare for Tennessee and get things right with their offense. And that should include more quality reps from Treon Harris.
Benching Driskel for Treon Harris right now would be a mistake, but keeping the frosh off the field is too. His first two college passes went for 148 yards and two touchdowns against Eastern Michigan. That will never happen again, but there have to be plays in Roper's playbook for him to make. He's at least a change of pace for the Gators at quarterback, and some sort of change has to come.
Coach Will Muschamp hinted at some quarterback re-evaluation in the next two weeks.
"The execution is not where it needs to be," Muschamp told reporters Saturday. "We missed a deep ball to (
Demarcus Robinson
) early in the game where he got on top of a guy. We had a dropped third down.
"Against a team like that, you have to make plays when you have the opportunities, and we didn't do that. We need to go back and evaluate the decisions we made going into the game and during the game."
One Florida great, Emmitt Smith, even tweeted his unhappiness with Driskel.
Put Jeff Driskel on the bench please, I have seen enough.

— Emmitt Smith (@EmmittSmith22) September 20, 2014
Ouch.
At LSU, Jennings went from hero in the comeback win over Arkansas last year to a wildly inconsistent gunslinger. To his credit, he made some big throws in that valiant comeback over Wisconsin, but against a Mississippi State defense that is the best he's seen to date, Jennings threw for 157 yards and missed too many passes that were there. Granted, the Bulldogs frustrated him all night with pressure, but Jennings just wasn't efficient enough to win the game for the Tigers. He had no composure.
Jennings has been more of a game manager than anything for the Tigers to start the year, as LSU has spent more time running the ball. When the Tigers had to throw down field against Mississippi State, which held LSU to 89 rushing yards, they couldn't.
Until Brandon Harris came in late and delivered touchdown passes for 30 and 31 yards to almost pull the dramatic comeback win. Harris completed 6 of 9 passes for 140 yards in relief duty.
The thing about this situation is that it looked like Jennings got hurt in the Mississippi State game, so Brandon Harris might have no choice but to see more time. But he's also a better down-field passer and appears to be the more talented option. He really struggled against Wisconsin, but delivered some beauties against Mississippi State. Let him play. Build his confidence.
The seasons aren't over for either of these programs, but they will be soon enough if they don't create a passing threat. It might not be time for a changing of the guard for either school, but there's no point in keeping some talented guys on the bench.
Let the kids play.
September, 22, 2014
Sep 22
8:00
AM ET
1. Missouri is still reeling from its
surprising home loss to Indiana
, a middling Big Ten team. Let that sink in for a minute. The Tigers were favored by 14 or 15 points in most spreads. And lost. For a team that was starting to look like a strong contender in the East Division, it was a shocking upset. Mizzou's
worst loss in years
. There is no panacea on the horizon. Up next is a road trip to South Carolina, which has ongoing problems of its own after
barely escaping Nashville
with a win against the Dores. As one would expect, Head Ball Coach Steve Spurrier threw around some choice adjectives. The word embarrassing came up a lot. After giving up two kickoff returns for touchdowns, Spurrier announced on Sunday that he will be the Gamecocks'
new assistant kickoff coverage coach
. That oughta fix it. College GameDay will be in Columbia, S.C., this weekend, which prompted yet more Spurrier being Spurrier:
Spurrier on GameDay coming to SC: "I heard there was a good chance they'd come if us and Missour won. I guess only one of us had to win."

— Dave Matter (@Dave_Matter) September 21, 2014
.
2. There wasn't much to learn about Georgia in
its 66-0 win
against Troy. Or was there? We already knew Todd Gurley was one of the nation's finest players. He hardly broke a sweat on Saturday with six carries for 73 yards, but Georgia
hasn't had to overwork Gurley
, and still his 9.8 yards per carry leads the FBS. We knew the Bulldogs had some
talented youngsters
, but who knew true freshmen
Sony Michel and Isaiah McKenzie were ready
to completely overshadow
another injury to former five-star running back Keith Marshall
? It seems the only question surrounding Georgia is
wither the passing game
, fellas? Georgia welcomes Tennessee this weekend along with the chance to see if Hutson Mason needs to do anything other than hand off. For their part, the Vols enjoyed a
perfectly timed bye week
after three nonconference games and can now go about the business of clawing their way back to SEC relevance.
3. That sound of laughter you're hearing off in the distance? It's Lane Kiffin basking in the afterglow of Alabama's
42-21 smackdown
of the Gators. His offense so thoroughly dominated Florida's defense, the Gators set a record for the
most yards allowed in school history
. Dating to his time as head coach at Tennessee, that kind of performance against the hated Gators was something Kiffin could only dream about. On Saturday, his quarterback threw for 445 yards -- second only to Scott Hunter's 484 in Alabama history -- and his money wide receiver was the
clear winner in a much-anticipated matchup
with one of the best cover cornerbacks in college football. Today, receiver Amari Cooper is a
legitimate Heisman candidate
. We suspected he might be the best wideout in the country, but there is now a totally different perception of quarterback Blake Sims (who
deflected some of the praise to Kiffin
, by the way). If Alabama's offense can keep up this kind of balance and ruthless efficiency, the only sound we'll be hearing will be the chattering teeth of defensive coordinators.
Around the SEC
Tweet of the day
Fairly disappointing to see ONLY 4 SEC West schools in top 10 in new AP poll.

— Paul Finebaum (@finebaum) September 21, 2014
.
September, 21, 2014
Sep 21
10:45
PM ET
Recruiting in the SEC is already difficult, but the difficulty in Gainesville is about to be ratcheted up even more as rival recruiters are already pressuring Florida recruits to reconsider. Plus, it was clear Saturday night that Oregon needs help on the offensive line, but the good news is that help is on the way.

September, 21, 2014
Sep 21
8:00
PM ET
Alabama reinforced its position as a College Football Playoff contender by obliterating Florida on Saturday, while Mississippi State and Georgia also jumped in this week's SEC bowl projections.
We're also adding a 12th team -- Arkansas -- to the list after the Razorbacks crushed Northern Illinois to improve to 3-1. Arkansas has an awfully difficult schedule down the stretch, but we will give Bret Bielema's club the benefit of the doubt for now and project it to reach at least six wins.
Here is our full SEC list entering the fifth week of the season:
College Football Playoff semifinal (Rose Bowl):
Alabama
Orange Bowl:
Texas A&M
Chick-fil-A Peach Bowl:
Auburn
Capital One Bowl:
Georgia
TaxSlayer Bowl:
South Carolina
Outback Bowl:
Mississippi State
Franklin American Mortgage Music City Bowl:
Ole Miss
Belk Bowl:
Missouri
AdvoCare V100 Texas Bowl:
LSU
AutoZone Liberty Bowl:
Tennessee
Birmingham Bowl:
Arkansas
Duck Commander Independence Bowl:
Florida
SEC West strong in AP top 25