LSU Tigers:

2014 SEC Media Days
July, 16, 2014
Jul 16
6:30
PM ET
HOOVER, Ala. -- When you place a microphone in front of Les Miles, it's magical. You never know what the LSU head coach might say or which sound bite might go viral. The possibilities are seemingly endless for "The Mad Hatter."
Miles didn't disappoint when he stepped on the dais in Ballroom C of the Hyatt Regency Birmingham. His opening statement was more than 10 minutes long and more than 1,400 words. Here are the best quotes Miles provided.
[+] Enlarge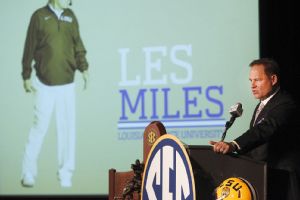 AP Photo/Butch DillLSU coach Les Miles is always good for a quote.
It's the gift that keeps on giving:
On the SEC Network:
"I told commissioner [Mike] Slive in the last five minutes congratulations on Cox Cable picking up the SEC Network and the fact that there will be a bunch of people in Baton Rouge excited to watch the Tigers. I won't have to change my cable provider."
On his family vacation:
"The Miles family, [daughter and Texas student] Smacker Miles, I took a vacation. I went to Austin, took my three children with me, so we had six, two parents and four children on that campus. It was miserable. I hated it. But it was great fun. I mean, it was not a beach, it was not sand, but it was my family, and that was the best. Manny is my eldest son. He's pitching and playing football. FIFA was on TV. He decided to pick up a soccer ball, called up a couple buddies, he was in a soccer game for four hours. Think about that, right? My [youngest daughter] Macy Miles is pitching in fast-pitch softball in Orlando, Florida, at the World Series. Certainly there's a lot of media there, as well. She's in a 10-and-under league. She has a 4-0 win as a pitcher, no hit. A very quality smasher's club that she faced this morning."
On why he disliked Austin:
"Oh, no, no, no. It was just not vacation. I loved it. My daughter's doing wonderfully there. I enjoy the experience she's having, OK? But it was not a beach. There was no hotel that I walked out and jumped into the surf. But the great news is, as a family, we did some things we never would have done. I'm glad you asked this question [laughter]. Example: We rented bikes. It just happened to rain like hell. There was a bunch of hills down there. I want you to know something. As a father, I'm watching my kids going down this hill. I promise you, some of the experiences I had there, I'll not have again [laughter]."
On LSU's outlook this year:
"I like us. I like us in every game."
On losing players early to the NFL draft:
"Yeah, we'd like to have those guys back. I keep approaching the NFL on an opportunity for us to draft back some of our players that they take.
Patrick Peterson
, he'd have come back [smiling]."
On true freshman tailback Leonard Fournette:
"I think it's exactly where he needs to be. He expects himself to be something very special. I think if you look at Michael Jordan, he could not have been coached to be Michael Jordan. Michael Jordan accepted the role of expecting him to be better than any." (
You can read more on the high praise for Fournette here
.)
On the College Football Playoff:
"I think it's a quality attempt. I think the playoffs will eventually at some point in time expand. I think that the playoff will be equally kind to the SEC. The reason I say that is because there's just such quality competition here. The teams week in and week out are so prepared, so capable and talented. For them not to include one and possibly more in that playoff would be, I don't know, maybe shortsighted."
On recruiting the state of Texas as an SEC coach:
"I think our conference is a conference of choice. I think there's an opportunity for the very best players to want to play in this conference. I'm also a coach that coached in the Big 12 Conference and recognized the great advantages of Texas, recognized the great advantages of the OUs in that conference. But you look at a high school athlete, you want to play against the very best; we can make that argument at the SEC."
July, 14, 2014
Jul 14
9:00
AM ET
HOOVER, Ala. -- Welcome to SEC media days!
It didn't seem as if we'd ever get here, but in a couple of hours, the inside of the Wynfrey Hotel will be transformed into a circus. The arrival of SEC media days brings us ever closer to the start of the 2014 season. Remember, this is the first season in which we'll be seeing an actual playoff end the season. That right there might be too much to digest.
But before we dive into the nitty-gritty of the season, we're turning our attention to SEC media days. It's where you can have 1,000 media members all together -- along with a lobby jam-packed with ravenous fans (usually Alabama ones) -- crowding around kids and coaches.
It really is a beautiful thing, and here are 10 things to keep an eye on this week in Hoover:
1. Life without Marshall:
Monday was supposed to be a chance for Auburn to truly introduce quarterback
Nick Marshall
to the world. Sure, we've all seen what he can do with a football in his hand, but this was where we were supposed to hear Auburn's quarterback
talk
about all he does with a football. After all, Marshall could be a Heisman Trophy candidate this fall. But after Marshall was cited for possession of a small amount of marijuana Friday, he's out for media days. Tight end
C.J. Uzomah
will take his place. Marshall should be here to own up to his mistake. He should be here to take responsibility, but he isn't. Now his coach and teammates have to do that.
[+] Enlarge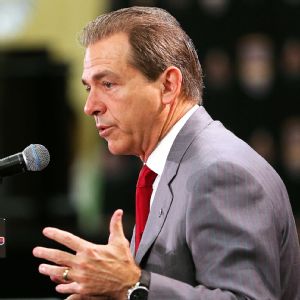 Mike Ehrmann/Getty ImagesNick Saban and Alabama may be picked for the fourth time in five years to win the SEC.
2. Bama talk:
For the first time since the 2011 SEC media days, Alabama did not arrive as the defending national champs. The Crimson Tide didn't even make it to the SEC title game. But that won't matter. Alabama still will steal the show. Everyone is here to see coach Nick Saban and ask questions about
why
Alabama couldn't get it done last season. We'll hear questions about the present and future for Alabama. And with so much talent returning, Alabama will likely be picked to win the SEC for the fourth time in five years.
3. Mason's debut:
Vanderbilt coach Derek Mason is headed to the big leagues, but his first official stop as the man in charge of the Commodores is in Hoover. This ain't Stanford, and it definitely isn't the Pac-12. He'll meet a throng of media members inside a gigantic ballroom. He'll be bombarded with questions about replacing James Franklin, and we'll all wonder if he has what it takes to keep Vandy relevant. Will he wow us during his introductory news conference? Or will he take the businesslike approach and just try to get through such a long day?
4. Muschamp's hot seat:
After a 4-8 season that saw an anemic offense and a loss to FCS foe Georgia Southern, Florida coach Will Muschamp is feeling the heat under his seat. While he has been very collected about the pressure he should be feeling, he knows that this is the most important season of his tenure. To be fair, Florida dealt with an unfair amount of important injuries, but that means nothing now. Muschamp has yet to take Florida back to the SEC title and is 0-3 against archrival Georgia. Muschamp knows he has to win, and he and his players will be grilled about it all day today.
5. Sumlin dealing with distractions:
Johnny Manziel might be gone, but Texas A&M is still dealing with distractions away from the football. Before Kevin Sumlin could even get to media days, he had to dismiss two of his best defensive players in linebacker Darian Claiborne and defensive tackle Isaiah Golden, who were arrested on charges of aggravated robbery earlier this year. One of his quarterbacks --
Kenny Hill
-- also was arrested in March on a public intoxication charge. Once again, Sumlin will have to talk about more than just football this week.
[+] Enlarge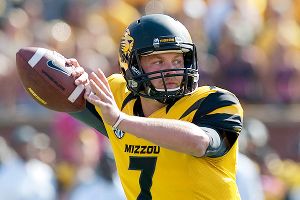 AP Photo/L.G. PattersonMissouri's Maty Mauk threw for 1,071 yards with 11 touchdowns and just two interceptions in place of the injured James Franklin.
6. Quarterback composure:
A lot of talented quarterbacks left this league after last season, but we'll get our fill this week. Marshall might be absent, but we'll hear from
Jeff Driskel
,
Dak Prescott
,
Dylan Thompson
,
Bo Wallace
and
Maty Mauk
. All these guys could have big seasons and will be crucial to their respective teams' success. Can Florida's Driskel rebound after his early, season-ending injury? Is Thompson ready to replace Connor Shaw at South Carolina? Can Wallace of Ole Miss finally find some consistency? And can Prescott (Mississippi State) and Mauk (Missouri) prove their 2013 success wasn't just a flash in the pan?
7. Mauk's composure:
Speaking of Missouri's quarterback, he's an incredibly interesting character to watch. He went 3-1 as a starter in place of the injured James Franklin last season, and has the right attitude and moxie that you want in a quarterback. Is he ready to be the guy full time? Is he ready to lead without a stud like Dorial Green-Beckham to throw to or Franklin to help him? A lot of veteran leadership is gone, so all eyes are on Mauk. He's also a very confident person who isn't afraid to speak his mind. Let's hope he's on his game.
8. Players and the playoff:
This is the first season of the College Football Playoff, and we've received just about everyone's opinion on the matter. Well, almost. We haven't heard much from the people who might be playing in it. What do players think about it? Are there too many games now? Not enough? Do they care about the bowl experience? Do they even care about the playoff?
9. What do players think about getting paid?
With the Power Five a real thing and autonomy becoming more of a reality, what do the players think about it all? What are their thoughts on the prospect of getting some sort of compensation from their schools? Are they getting enough now? How much is enough?
10. What will Spurrier say?
Need I say more? We all want to know what Steve Spurrier will say. Will he take shots at Georgia or Saban? Will Dabo Swinney come up? Will another coach be a target? Who knows, and who cares? We just want him to deliver some patented Spurrier gold!
'CFL' Extra: Picks Of The Week
SEC SCOREBOARD
Thursday, 9/18
Saturday, 9/20