October, 23, 2014
Oct 23
5:36
PM ET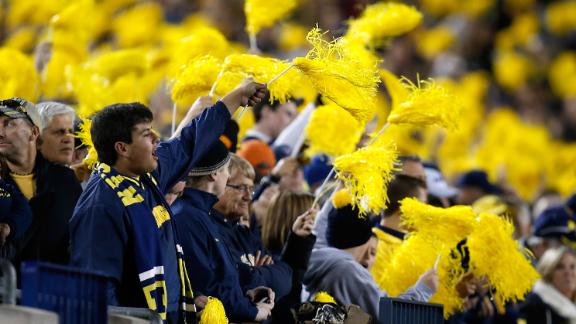 Athletic director Dave Brandon continued his quest to make amends with the Michigan student body Thursday by announcing a significant drop in student football ticket prices for the 2015 season.
A season pass to all seven of the Wolverines' home games in 2015 will cost students $175, down from $280, according to details released through the Michigan Daily student newspaper. Prices for non-student season-ticket holders won't be affected by the change.
"A nearly 40 percent reduction in ticket prices is, I think it's fair to say, unprecedented," Brandon told the Daily.
The high cost of attendance was one of the many items on a list of complaints that have led students and fans to call for Brandon to lose his job. Through online petitions, campus protests and public appeals to the university's Board of Regents, the student body has expressed its contempt with the beleaguered athletic director. In addition to dropping prices on tickets, Brandon has attempted to mend fences with the student body by promising regular open forums where students can ask him questions and submit ideas in the future.
"We listen," Brandon told the Daily. "We've been listening. ... We really learned that two really important components to re-engaging with our students in trying to create a more robust, more enthusiastic and larger student section for next year's football season was price and strength of schedule."
The price change makes Michigan the fourth most-expensive ticket for students in the Big Ten, if no other school changes its prices before the 2015 season. This season, Michigan had the most expensive tickets ahead of Ohio State ($252), Penn State ($218) and Wisconsin ($188). The $175 total puts them on par with Iowa and in-state rival Michigan State, both also $175.
October, 23, 2014
Oct 23
4:40
PM ET
By
ESPN.com staff
| ESPN.com
OK, so we didn't exactly go out on the limb with
our Week 9 scoring predictions
this week. For once, we actually all agreed.
So we thought we'd take it a step further this week. Instead of just predicting the winner, which
seems
like a relatively easy exercise this week, we each took a crack at making a bold prediction for Week 9.
Here are those bold predictions:
Adam Rittenberg:
Tommy Armstrong Jr. and
Gary Nova
combine for 550 pass yards
I expect a big day for both quarterbacks in Lincoln. Rutgers is very vulnerable to long passes -- 52.5 percent of opponents' completions against the Scarlet Knights go for 10 yards or longer -- and Nebraska features a big-play passing attack. I'm also not sold on the Huskers secondary, which will be tested by Rutgers deep threat
Leonte Carroo
. Maybe
Randy Gregory
inhales Nova and it's another rough day on the road for Rutgers, but I see a lot of pass yards in this one.
Brian Bennett:
Penn State breaks out something new
The Nittany Lions know they can't simply line up and run the ball in conventional ways (or protect
Christian Hackenberg
) because of their porous offensive line, and the talent level isn't going to change this season. But the team had a bye week in which James Franklin said it spent working on those issues. Expect the coaching staff to throw some new wrinkles at Ohio State, a la the 2011 game when Penn State broke out the Wildcat. It probably still won't be enough to beat the surging Buckeyes, but Ohio State had better be ready to adjust for something different.
Austin Ward:
The Badgers will look competent throwing the football
The two-quarterback system barely made an appearance the last time Wisconsin stepped on the field, though it hardly made any difference against Illinois and its pillow-soft defense.
Melvin Gordon
might still be enough on his own against another unit that doesn't usually put up much of a fight on the ground, but Maryland does have better athletes on that side of the ball and the Badgers will likely need to show more balance to get the win they need to remain a factor in the West. Coming off a bye week to tinker with the rotation and fine-tune some packages for both
Joel Stave
and
Tanner McEvoy
, expect to see more production from those passers -- maybe even the first 200-yard passing performance since Week 2 against Western Illinois.
Josh Moyer:
The Illini will look incompetent with a two-QB system
Tim Beckman was adamant he wants to play both dual-threat
Aaron Bailey
and pocket-passer
Reilly O'Toole
. Bad move, Tim -- and even your offensive coordinator doesn't seem sold on the idea. Bill Cubit just
shrugged earlier this week
when asked if Beckman's two-QB idea was the best plan: "I don't know. I'll be honest with you, the playbook gets really expanded for one guy." The two-quarterback system worked against Wisconsin because the Badgers didn't expect Bailey to run. That element of surprise is gone now; Minnesota knows what's coming. And we think we know, too: Another Illinois loss.
Dan Murphy:
Three players will reach 200 rushing yards
Despite
Tevin Coleman
-- the country's second most productive running back -- taking the week off for a bye, the Big Ten will see three 200-yard rushing performances this Saturday. Illinois allows 271 yards per game on the ground (125th nationally). Minnesota workhorse
David Cobb
will fill the majority of that quota this week. Wisconsin's Melvin Gordon, the only player with more rushing yards than Coleman, faces a Maryland defense with its own issues stopping the run. The regular cast of characters finishes with
Ameer Abdullah
from Nebraska, who is likely headed for a high-scoring affair with Rutgers in Lincoln.
Mitch Sherman:
Michigan will rush for positive net yardage
Believe it. Michigan State mauled the Wolverines last year, sacking QB
Devin Gardner
seven times as the Wolverines finished with minus-48 rushing yards -- the lowest figure in program history. It'll go better for Michigan on Saturday, though well not enough to beat the Spartans. Or come close. Michigan ranks 64th nationally in rushing offense, a significant improvement over last year, and the Spartans have slipped to eighth against the run, allowing 100.3 yards per game. The Wolverines won't get to triple digits, especially without injured back
Derrick Green
. But Brady Hoke has said he wants to get Gardner more involved in the ground game. They had a bye week to prepare. Let's see it.
October, 23, 2014
Oct 23
9:00
AM ET
By
ESPN.com staff
| ESPN.com
Is it a full moon or something? First, we have three people -- Brian Bennett, Josh Moyer and Mitch Sherman -- who notched perfect weeks last week. And now, all of our experts agreed on the games this week. Yes, strange days indeed.
Anyway ... here are the breakdowns:
Unanimous selections
Minnesota 31, Illinois 20:
The Big Ten's worst run defense will get a heavy dose of
David Cobb
, the nation's carries leader (189) and No. 4 rusher (1,013). Like Purdue, Illinois will try to attack Minnesota with its speed and will have some success, but Minnesota remains perfect in league play.
Wisconsin 38, Maryland 30:
Expect a ton of handoffs from Wisconsin's quarterbacks, who should want no part of Will Likely. But Maryland allows nearly 200 rush yards per game, which doesn't bode well against a rested
Melvin Gordon
.
Nebraska 41, Rutgers 27:
Can the Huskers avoid a slow start? If so, they should be able to pull away from a Rutgers team that had no answers for Ohio State's offense. Quarterbacks
Tommy Armstrong Jr.
and Gary Nova both put up big numbers in this one.
Michigan State 24, Michigan 13:
The Wolverines' points totals against MSU have dropped every year since 2004. They exceed last year's woeful production but can't stop the Spartans'
Connor Cook
and
Tony Lippett
, who connect for two touchdown strikes.
Ohio State 27, Penn State 16:
J.T. Barrett
won't go nuts against an improved Penn State defense that can shut down the run. But his counterpart,
Christian Hackenberg
, could be in real trouble if he's not protected from
Joey Bosa
and Ohio State's fearsome defensive line.
Our records:
Mitch Sherman: 62-13 (.827)
Brian Bennett: 60-15 (.800)
Austin Ward: 59-16 (.787)
Adam Rittenberg: 58-17 (.773)
Josh Moyer: 56-19 (.747)
Dan Murphy: 28-10 (.737)
October, 23, 2014
Oct 23
8:00
AM ET
Working for the weekend -- and the return of Big Ten football? Let's pass the time together.
1. Buzz-building weekend:
For all the problems generating much hype for teams in the Big Ten early in the season, it doesn't seem to really be slowing down individuals in the league heading into the final weekend of October. In fact, the next couple weeks could be critical for launching a few stars into the conversation for the stretch run, beginning with
Melvin Gordon
and a campaign that appears to be back on track. Just like Wisconsin collectively, Gordon was a bit slow out of the gates and became something of a forgotten man. But coming off a bye week with another opportunity to potentially put up big numbers against Maryland and its soft rush defense, he could be right back in the thick of a few trophy races.
Ameer Abdullah
takes on a Rutgers defense that was just gashed by
J.T. Barrett
, and the Nebraska rusher could use an impressive outing to recapture some hype that slowed down considerably after the loss at Michigan State and an off date of his own. Then there's Barrett, who is flying up the charts with his eye-popping numbers. The Ohio State quarterback is also in position to capture more attention if he adds a solid Penn State defense to his list of recent victims.
2. Position under fire:
The problems the Penn State offensive line have had are no secret, and
Christian Hackenberg
surely has the bruises to prove it. But if the Nittany Lions are going to bounce back and regain some of the winning swagger they had during the four-game winning streak that opened the season, they're going to need to show some marked improvement in a hurry. Coming off a bye week to work out a few kinks, Penn State is certainly going to be put to the test to see what it accomplished with the extra practice time on Saturday night against the Buckeyes. Count
Joey Bosa
among those who has noticed the guys in charge of blocking him next have had issues at times this season, pointing out some "struggles" and noting their youth after practice on Wednesday. The Ohio State pass-rusher also made clear, however, that he is expecting Penn State's best shot this weekend and won't take anything for granted, though he was obviously fired up to hit the road after practice. The Nittany Lions had certainly better be energized and ready for the sensational sophomore's top effort as well.
3. Under-the-radar matchup:
The coaches may have taken notice and started ranking them in their poll, but the Gophers still aren't drawing much of a spotlight despite sitting on top of the West Division. There might not really be any incentive to pay attention to Illinois at this point, but it's a program that still has something to play for as its coach fights for his job and a bowl game remains mathematically in reach. So despite the justifiably low intrigue there might be nationally for Minnesota's trip to Illinois, the outcome figures to be plenty relevant in the Big Ten. If the Gophers win again, they're halfway through the league schedule without a loss and on the inside track in the divisional race heading into their second and final bye week. Should the Illini pull an upset, they'd be right back at .500, Tim Beckman's seat would be considerably cooler and they could once again start entertaining the idea of playing in the postseason. Maybe that's a stretch to make the game itself worth watching for casual fans, but the final score will carry weight for both teams.
East Division
West Division
October, 22, 2014
Oct 22
5:00
PM ET
We're on the back side of the wait for Week 9 in the Big Ten. Let's get to the latest batch of questions. As always, thanks for the submissions.
@mitchsherman @ESPN_BigTen huge game for Wisconsin if they want to make a run this year. Coach is very coy on qb situation. What gives?

— Douglas Greenberg (@DougGreenB) October 22, 2014
Mitch Sherman:
Every game is a big one for the Badgers at this point. Since the promising first 30 minutes of the year against LSU, something has seemed constantly amiss with Wisconsin. It is far from out of the running in the wide-open West Division, but with the loss at Northwestern, the Badgers are climbing uphill again. It's reminiscent, somewhat, of the 2012 path, when Wisconsin scuffled through the first half of the season, then dropped three of its final four before backing into the conference title game and clobbering Nebraska. The quarterback situation is just strange. Gary Andersen said this week it's not a competition but that
Joel Stave
and
Tanner McEvoy
will both play. I don't entirely get that, though I recognize, considering Stave's unusual season, that it's likely been one of the most difficult situations a coaching staff could face with two healthy quarterbacks.
@mitchsherman As Nebraska sets it self out from the others in the west can we make the playoff at 11-1 and a big ten championship?

— Brandon Williamson (@Husker_bran) October 22, 2014
Sherman:
Let me direct you to the weekly
Playoff Eliminator
, which puts into context the contenders that remain for the main event in January. Context is the all-important factor here. Without it, no one can say if a Big Ten team has a shot to make the playoff. At this point, even the league's top-ranked teams, when the committee's first poll is unveiled next week, will need help in order to reach the top four. But with highly ranked SEC teams falling each week in conference play and so many big games left before the playoff is set, it makes sense to believe that any Big Ten team would stand a reasonable chance to fit into the playoff picture at 12-1.
@mitchsherman @ESPN_BigTen Lets say Hoke is done. What's your timetable for fielding a competitive team? #nomorepatience

— Paul Satchell (@psatch1) October 22, 2014
Sherman:
Well, that's going to depend on the next coach. Since we're dealing in hypotheticals, let's say the Wolverines hit a home run -- no a grand slam -- in finding their next guy. If a proven NFL coach takes the job or a big-name guy from college who understands the recruiting game, I think Michigan can be competitive immediately. It could be a real contender nationally in the second year, simply because the talent is there. Hoke has recruited well; he and his staff have just struggled to develop talent in Ann Arbor and, to some degree, attract the right mix of recruits. The right coach could fix all of that in a short time.
@mitchsherman @ESPN_BigTen Will Gardner's regression at QB end this week vs MSU? He's got so much talent. Coaches have "done him wrong"

— Carlos Moncada (@losfromcp) October 22, 2014
Sherman
: The short answer is no. The long answer? Not against Michigan State if the U-M played the Spartans every week between now and the end of the season. You saw what happened last year when Michigan State made even Ohio State fans feel sorry for Gardner. (OK, probably not.) The Spartans will be up for this game like they were to face Nebraska on Oct. 4, looking to pound another nail into the coffin of Michigan's season. Gardner, of course, is plenty talented. He's the right choice to run Michigan's offense, considering the roster of quarterbacks, but probably not this offense. Hoke suggested before the Penn State game that Gardner might play to his strength and run the football more. He carried 10 times for 18 yards in the 18-13 U-M win. With a week off to prepare for the Spartans, maybe the offense has undergone a transformation, though it's doubtful a philosophical change could dig Michigan out of this hole.
October, 22, 2014
Oct 22
11:45
AM ET
October, 22, 2014
Oct 22
11:34
AM ET
By
Brett Edgerton
| ESPN.com
Let's face it: It's a good time to be a Spartans fan in the state of Michigan. As
Brian Bennett detailed on Tuesday
, "Little Brother" has owned the Wolverines lately -- and is a huge favorite to continue that domination when the two schools meet on Saturday.
Just how thorough is that Michigan State domination?
Even the iconic block "M" on Michigan's campus has been painted green.
Yes, it appears some MSU fans decided they would sneak into Ann Arbor overnight and not only cover the "M" in green paint, but also add the letters "S" and "U" to the end of it. According to the student newspaper, The Michigan Daily,
the block "M" has been in place since 1953
and is highly visible to students walking to and from classes.
As if walking to an early-morning class wasn't bad enough already...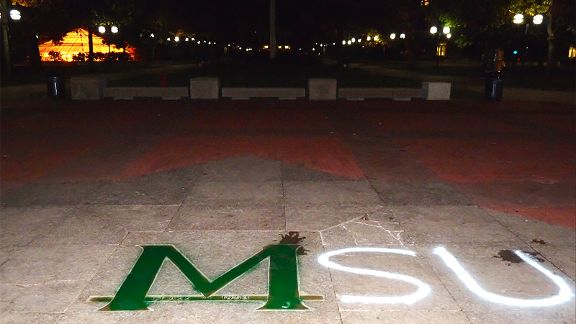 Twitter/@ByAZuniga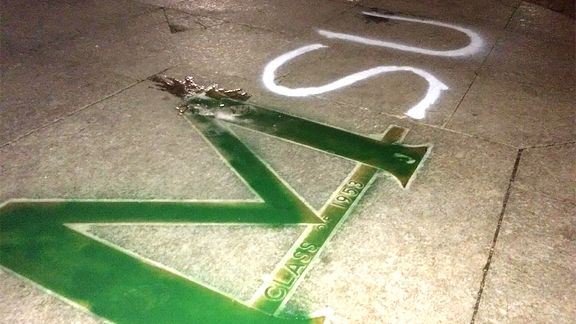 Twitter/@ByAZuniga
October, 22, 2014
Oct 22
8:00
AM ET
Trophy games and rivalries will be a regular occurrence from now until the end of the Big Ten season. This week features one of the nastiest in-state showdowns, but the build-up to this year's version has been comparatively tame.
1. Michigan and Michigan State have never been shy about their mutual distaste for one another. This year's pregame volley of words has been
far more civil
than in the past decade. Maybe it's because Michigan State no longer has to ferociously refute the "little brother" tag. Maybe it's because Michigan limps into Saturday's game with a 3-4 record and doesn't have much of a trash-talking leg on which to stand. The sentiment behind closed doors is probably a little more hostile. The boring "it's a big game because it's the next game" lines are probably the proper do-your-talking-with-your-pads rhetoric. Nonetheless, it makes rivalry week a little too PR-scrubbed and professional for my liking.
2. Is J.T. Barrett at the top of your Big Ten quarterbacks list yet? If not, he should be. The Buckeyes rookie has
the best quarterback rating
in the nation since the third week of the season. He has Ohio State's spread offense running
as smoothly as former two-time conference MVP Braxton Miller ever did
. If Barrett continues to roll and leads Ohio State to a league title, Urban Meyer is going to have a difficult decision to make between two healthy preseason Heisman contenders next August.
3. Death, taxes and Minnesota games being decided by halftime. Those used to be the safe bets during Jerry Kill's first three-plus seasons with the Gophers. On Saturday, Kill's team won for the first time when trailing at half. They have still never lost when leading after two quarters. Coming from behind against Purdue was a significant step forward for Kill's rebuilt program, which is built to play with a lead. Long completions on play-action passes beat the Boilermakers and added to the Gophers' case
as a legitimate West Division contender
.
East Division
West Division
October, 21, 2014
Oct 21
4:00
PM ET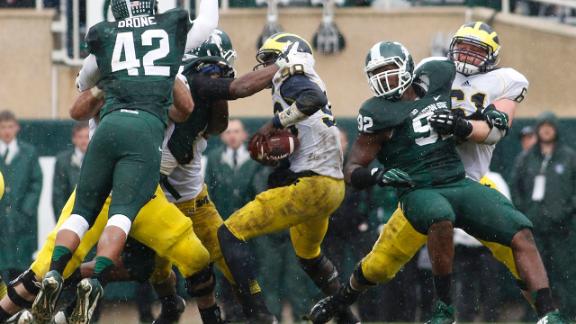 Our crew of Big Ten reporters will occasionally give their takes on a burning question facing the league. They'll have strong opinions, but not necessarily the same view. We'll let you decide which one is right.
The Michigan-Michigan State series resumes on Saturday (3:30 p.m. ET, ABC), and the Spartans have been dominant of late in winning five of the past six meetings. But will it continue? Today's
Take Two topic
is: Which program will be in better shape five years from now?
Take 1: Brian Bennett
The real answer here is we have no idea. Things can change quickly in college sports, and nothing is guaranteed. Just look at Florida and Texas.
It's particularly hard to predict with any accuracy what Michigan will look like in the future, because we don't know who will be the coaching the Wolverines in five months, much less years. Of course, the Maize and Blue have all the resources to bounce back quickly, assuming they hire the right man. But they've missed on that two times in a row now, right?
That's why I'll pick Michigan State. Rivalries tend to go in cycles, and the Spartans' ownership of their in-state opponent likely won't continue at this rate. But stability has been a key to the success of Mark Dantonio in East Lansing, as so many of his coaches have been with him since the beginning. That probably won't stay the case -- Pat Narduzzi has to get a head-coaching gig this winter, and he is likely to take some other Spartans assistants with him when he does -- but Dantonio will keep sticking with what works.
He just coached his 100th game with Michigan State and is only 58. Dantonio figures to still be leading the Spartans five years from now, and the program continues to get better in all areas. Even if Michigan finally maximizes its potential, Michigan State isn't going away. I'll stick with the sure thing.
Take 2: Dan Murphy
Five years is a long time in the cyclical world of college football. As far ahead as Michigan State currently sits in just about every metric of a successful program, there's no reason to believe Michigan can't catch up and possibly pass the Spartans in the future.
There's a good chance Michigan is closing in on a clean slate with its athletic department leadership. Strong relationships between the head coach, athletic director and the university's big wigs is an essential part of creating a consistent winner on the football field. If things in Ann Arbor continue down this current path, the Wolverines will get a chance to start building those bounds from scratch before the 2015 season.
The resources -- money, facility, support and athletic talent -- have always tilted toward Michigan in this rivalry. The ingredients for a better product are there, Michigan just hasn't been able to put them together during the past couple years.
Meanwhile, in East Lansing, Dantonio is battling the high expectations and attrition that come with success. His coaching staff has remained largely intact during the Spartans' rise, but that can't continue forever.
Five years from now, Dantonio will be a 63-year-old coach that might be dealing with a new staff for the first time in a long time. It's not a foregone conclusion that the Goliath he's built will shrink, but history certainly points to the possibility that Michigan will be in a good spot to catch up, which is probably a good thing for Wolverines' fans to keep reminding themselves as this season's meeting plays out on Saturday.
October, 21, 2014
Oct 21
3:00
PM ET
By
ESPN.com staff
| ESPN.com
Questions were asked. Coaches had answers. Here are a few of the highlights from this week's Big Ten conference call ...
By the way, if you're not following us on Twitter, what are you waiting for? Follow along at
@ESPNRittenberg
,
@BennettESPN
,
@ESPNJoshMoyer
,
@DanMurphyESPN
,
@MitchSherman
and
@AWardESPN
.
Brady Hoke filibuster watch: Opening statement clocks in at 90 seconds this week.

— Austin Ward (@AWardESPN) October 21, 2014
Mark Dantonio says he thinks a one-loss Big Ten champ should make the playoff. "But that's just me as a fan," he said.

— Brian Bennett (@BennettESPN) October 21, 2014
More from Dantonio on the playoff: Could make a case for 15 different teams to be in the playoff.

— Dan Murphy (@DanMurphyESPN) October 21, 2014
Last 3 weeks, Fitz has seen Melvin Gordon, David Cobb and Ameer Abdullah: "Pretty special [group of RBs in B1G], no question about that."

— Austin Ward (@AWardESPN) October 21, 2014
Jerry Kill said coming from behind to beat Purdue was significant step last week. Gophers had never won after trailing at half under Kill.

— Dan Murphy (@DanMurphyESPN) October 21, 2014
Urban Meyer said Joey Bosa played his best game on Saturday vs. Rutgers. Kid's still getting better. Scary.

— Brian Bennett (@BennettESPN) October 21, 2014
Kevin Wilson on Tevin Coleman's big plays: "He's got a knack for it. Little bit of it is scheme, lot of it's him."

— Austin Ward (@AWardESPN) October 21, 2014
Michigan To Lower Price Of Student Tickets