November, 24, 2014
Nov 24
7:30
PM ET
It's Ichigan week at Ohio State. The students and supporters on the southern end of this heated rivalry started the week with their annual tradition of covering every printed
M
on ca... , er, school grounds.
Each year in the week leading up to The Game, red tape covers Ohio State's campus and redacts all the appearances of the unlucky 13th letter of the alphabet that tape can reach. Gossip on Twitter the first day of this week suggested the school was getting rid of the last two letters -- the "um" -- on a large sign that says "Ohio Stadium" and hangs outside the Buckeyes' field. A photo of a crane lifting the letters away turned out to be a hoax.
The Wolverines travel to Ohio's capital city this weekend with a 5-6 record after losing to the Terrapins last Saturday. Ohio State (10-1) needs to beat its rival in order to keep alive its chance for an invite to the College Football Playoff. No red tape needed here.
November, 24, 2014
Nov 24
5:39
PM ET
Michigan fumbled away its best chance to become bowl eligible over the weekend with a
23-16 loss
to Maryland. A pair of special teams penalties -- one that negated a punt return touchdown and another that gave Maryland a first down inside the 10-yard line -- doomed the Wolverines to a disappointing final home game that seemed fitting for the 2014 season.
Nonetheless, there were a few individuals who stood out about the rest and are receiving awards in our penultimate round of helmet stickers.
Senior LB Jake Ryan:
Ryan topped 100 tackles on the season during his final game at the Big House. He finished with a game-high 13 stops, which led the Big Ten on Saturday. On Monday, he was named one of the five finalists for this year's Butkus Award, given to the nation's top linebacker.
Junior C Jack Miller:
Miller is the cog in the middle of a much-maligned offensive line that has steadily improved this season. Michigan's running attack in November has been as good as we've seen from the Wolverines in the past two years. It gained 292 yards on the ground against Maryland. If nothing else, Miller deserves some recognition for representing his team well while answering questions about their shortcomings throughout the season.
Junior DE Mario Ojemudia:
Ojemudia and fellow lineman
Taco Charlton
played well while replacing dismissed senior Frank Clark. Ojemudia made five tackles, one behind the line of scrimmage and batted down a screen pass that he nearly turned into an interception. He stepped into a bigger role on Saturday and did so without stumbling.
November, 24, 2014
Nov 24
5:00
PM ET
Short week. I've got the mail. Here you go:
@mitchsherman What do you think should happen at Nebraska?

— Shonny Schneider (@sss809) November 24, 2014
@mitchsherman what is the final straw for making changes at NU? Sellout streak?

— Christopher Hawkins (@GoBigRedRev) November 24, 2014
@mitchsherman: Nebraska is a hot topic again late in the season for its failure to win key games. The Huskers' 28-24 loss to Minnesota on Saturday squashed the final strand of hope to play for a Big Ten title, officially extending the drought to 15 years without a conference crown. I think the Nebraska administration needs to ask a different set of questions this year than last, when Athletic Director Shawn Eichorst offered a vague statement in support of coach Bo Pelini at the close of the regular season. Is Nebraska satisfied with its place in the Big Ten? Are the Huskers content to win nine games a year but rarely, if ever, factor in the national conversation? If so, change is unnecessary. But if the Huskers want more, some kind of fix appears in order. Clearly, the formula in place isn't working to improve Nebraska. As for the streak of 340 consecutive sellouts, Nebraska can't afford to wait until it ends before taking action. Apathy is growing as the Huskers slide further down the Big Ten pecking order. And the streak of sellouts should not be taken for granted.
@mitchsherman If Wisconsin wins out & beats Ohio St in #B1G title, where do Mich St, Ohio St, & Wisconsin stand in terms of big six bowls?

— Sam Ensign (@samensign11) November 24, 2014
@mitchsherman: The Badgers, in that scenario, would land in the Cotton, Fiesta or Peach. The College Football Playoff committee would then be tasked to determine if Ohio State or Michigan State belonged in another of the New Year's Six games -- other than the Orange, which will be determined by conference tie-ins. The Orange Bowl gets the Big Ten runner-up only if it ranks ahead of every available SEC team. The Spartans appear in decent shape today for a New Year's Six spot, especially if Ohio State keeps winning. Of course, the Buckeyes, with a close loss to Wisconsin, could remain ahead of Michigan State and steal a New Year's Six spot, knocking MSU to the Buffalo Wild Wings Citrus Bowl. Remember, though, if a Big Ten team lands in the Orange Bowl, another can't go to the Citrus. Got that? In a nutshell, it's complicated.
@mitchsherman assume 10 bowl eligible teams this year. What are chances B1G can win 6-7 with conference setting up matchups with bowls?

— Dave Fitzgerald (@BuckeyeFitzy) November 24, 2014
@mitchsherman: It's a safe assumption that the league will get 10 teams in the postseason. Nine are eligible, with Northwestern or Illinois to get a sixth win on Saturday. For an 11th team to make it, Michigan must upset Ohio State. The Big Ten, as usual, will be matched against the SEC as a likely underdog in the Outback and possibly the Citrus or TaxSlayer (formerly Gator). If Ohio State wins the league and misses the playoff, it figures to go in as a favorite to win a New Year's Six bowl, though the same can't be said for other remaining Big Ten contenders Michigan State, Wisconsin and Minnesota. Moving down the line, Pac-12 foes will likely bring stronger resumes than the Big Ten in San Diego and Santa Clara. By my count, the league will be fortunate to go 3-3 with its top six teams. It looks slightly better for the lower-division teams, matched against the ACC in New York and Conference USA in Dallas, though the SEC could loom in Nashville. The Big Ten's at-large matchups might determine its chance to get above .500 in the postseason. I'd say, expect four to five wins and hope for six..

November, 24, 2014
Nov 24
3:30
PM ET
For Michigan and head coach Brady Hoke, this is The Game.
This is the one that Hoke grew up pretending to be a part of as a kid in his back yard in Dayton, Ohio. The one that fired him up enough to pound his fist on the podium when describe his passion for beating "that school from Ohio" the first time he was introduced as the head coach at Michigan. The one that caused an almost identical scene four years later when talking about what a win would mean this time around. And for Hoke, there is a pretty good chance it will also be the last one.
Michigan enters this year's rivalry game with a 5-6 record, which won't sit well during the team evaluation interim athletic director Jim Hackett promised to complete when the season comes to a close. There is little left to salvage for this season's group of Wolverines in a big-picture sense, but beating the Buckeyes would still let the senior class end on a rare high note.
[+] Enlarge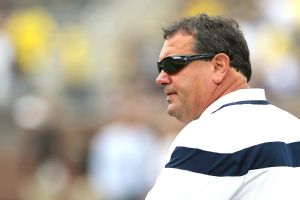 Leon Halip/Getty ImagesMichigan and coach Brady Hoke enter this year's game against Ohio State with a 5-6 record.
"Winning the last game always means a lot," Hoke said. "I don't think there's ever a time with any senior class going out, in my experience, in this game when it hasn't meant something. You want to be able to go back and say, 'In my senior year we beat Ohio.'"
Hoke is wrapping up his own senior season of sorts. His fourth year in Ann Arbor is winding to a close, and it would be surprising if he was eligible to return next fall. It's likely that this will be the last time he will coach in the game he has spent the past half century idolizing as the greatest sporting event in the world. He said he hasn't let that affect his thoughts as he gets ready this week.
"Not at all," Hoke said. "The one thing I know is if you don't put all your focus and everything into your preparation and emotion for this game, then as a coach you're missing it, too. It's a fun week. That doesn't make sense to some people maybe. For both teams, this is truly an honor and a privilege to play in this game. It. Is. The. Game."
The rivalry grew to that level of reverence when Big Ten championships, if not more, hung in the balance at the annual season finale. This season's crop of seniors recalled the No. 1 vs. No. 2 classic in 2006 as their favorite memory of watching the game while growing up. The implications of this Saturday's game are far more one-sided.
Ohio State is playing to preserve a potential playoff bid. Michigan has nothing to play for but a good memory.
As much as Wolverine players are trained to dislike the Buckeyes ("I'll say this as diplomatically as I can," center Jack Miller said. "I'm not a fan of Ohio State"), they said Monday that they take no extra joy in playing the spoiler role. Bowl eligibility is still on the table with an upset win, but at this point most folks in Ann Arbor would rather turn this season into a repressed memory than drag it out with a trip to a meaningless bowl game.
The motivation to save Hoke's job is gone, too. That ship sailed with a loss to Maryland last weekend, which killed November momentum and guaranteed that Michigan's record would be worse than the year before for the third straight time under Hoke.
Defensive coordinator Greg Mattison offered a passionate defense of Hoke's resume Monday.
"I've done this a long time. I've been with a lot of head coaches," he said. "You don't know how lucky you are here."
Hoke -- whether it was an effort to keep storylines pointed toward the game and his players and away from himself or just his ability to see the writing on the wall -- was far less interested in stumping for his job. He seemed Monday to complete his trip through the five stages of grief and land at acceptance. When asked to evaluate the state of his program, Hoke told reporters he imagined he would have a more appropriate time to do that soon enough. Then he smiled wryly, like an outlaw already strapped to the chair.
That leaves him with more than likely one game, The Game, to finish his dream job with a good taste in his mouth. Hoke and his players have sidestepped big-picture questions throughout the season by saying the only thing that matters is the game right in front of them. At last, they're right.
November, 24, 2014
Nov 24
2:00
PM ET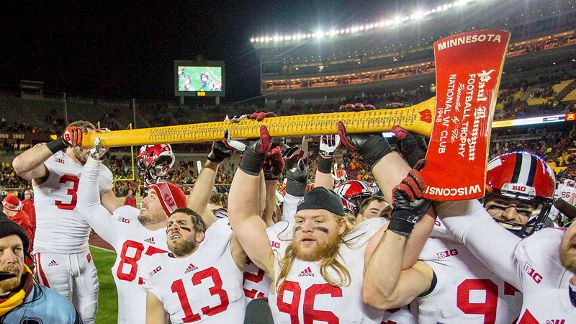 Jesse Johnson/USA TODAY SportsThe Gophers have their best chance in years to win back the Paul Bunyan Axe from the Badgers.
Just one weekend left in the regular season. For some teams, it will be the last time they play football until next Labor Day weekend. A few will be fighting just to play one more game this season. And, of course, it's rivalry time.
Here are five storylines to watch in Week 14:
1. A Bunyan-sized game:
We know Ohio State will represent the East Division in the Big Ten title game. The Buckeyes' opponent will be determined on Saturday in Madison. In an excellent bit of scheduling prowess, Minnesota plays at Wisconsin with the West Division championship on the line. The Gophers are also looking to snap a 10-year losing streak in the Paul Bunyan Axe game, but this may be the best team they've had during that streak. Playing Wisconsin might help Ohio State's chances for the College Football Playoff more since the Buckeyes have already beaten Minnesota. This game is always physical and emotional, and it will have more riding on it than it has in years.
2. Brady Hoke's last stand?
Michigan sits at 5-6, needing a win at Ohio State in order to reach a bowl game. Even that might not be enough to save Hoke's job, but it's his best Hail Mary option since beating the Buckeyes always carries weight. Problem is, the Wolverines are a massive underdog in Columbus, and their offense doesn't have enough playmakers to hang with the Buckeyes. It will take a miracle, and Ohio State doesn't figure to be distracted after a subpar performance against Indiana likely snapped the Buckeyes back into focus.
3. The Beckman Bowl?
The Land of Lincoln game between Northwestern and Illinois has the potential for some serious fun. Both teams are one win away from bowl eligibility. Illinois might save Beckman's job with a win on the road over the Wildcats, while Northwestern would complete an improbable, bizarre season by reeling off three straight victories to make a bowl. Throw in the recent sniping about who is Chicago's Big Ten team, and this game shapes up as a whole lot more interesting than we had a right to expect.
4. Rivalries old and new:
Not many people will pay attention the Old Oaken Bucket game between Purdue and Indiana, as neither will make a bowl, but it still means something in the Hoosier State. Michigan State and Penn State will play for
one of the ugliest trophies in sports
. More recent rivalries hold more intrigue. The Nebraska-Iowa Heroes Game won't be for a division title, but the Bo Pelini watch could be in full effect. Meanwhile, Rutgers and Maryland play for the first time as Big Ten members and could start a new rivalry on the East Coast.
5. The race for records:
Melvin Gordon
needs one yard to break Ron Dayne's Big Ten single-season rushing record, and he still has
Barry Sanders
in his sights.
David Cobb
could set Minnesota's school record for rushing, if he's healthy enough to play. Indiana's
Tevin Coleman
needs 94 yards to reach 2,000 for the season, which would give the Big Ten two 2,000-yard rushers in the same season for the first time ever. Ohio State's
J.T. Barrett
is six touchdown passes away from the Big Ten single-season record held by
Drew Brees
. And if Buckeyes teammate
Joey Bosa
can get three more sacks, he'll break the school season record. He has promised to do a backflip if he gets the record, so we should all root for that.
November, 24, 2014
Nov 24
8:00
AM ET
One more weekend to go in the regular season. Some thoughts to begin your Thanksgiving week:
1. Next week, the Big Ten will hand out its individual trophies, as well as reveal the all-conference teams. And the media and coaches are going to have a hard time deciding on the coach of the year award.
On one hand, you have Urban Meyer, who has led a very young Ohio State team to a 10-1 record while developing freshman
J.T. Barrett
into a Heisman Trophy contender on the fly. Eventually, a Buckeyes coach has to win this thing again, right? It hasn't happened since Earle Bruce took home the hardware in 1979, and that's silly.
On the other hand, how do you overlook what Jerry Kill has done at Minnesota? He has the Gophers sitting at 8-3, with a chance to win the West Division by beating Wisconsin this week. It would be nearly impossible to ignore Kill for the award if Minnesota does win that game and forces a rematch with Ohio State in Indianapolis. The Gophers are 16-7 in their last 23 regular-season games and 9-4 in their last 13 Big Ten contests. Remarkable stuff, especially considering a lot of people thought Kill would not return to the sidelines after last year's health issues.
The
28-24 win at Nebraska
may have been Kill's best one yet, and it shows the progress this program has made,
Chip Scoggins writes
.
2. Just think about how much better Minnesota's season would look if its only losses were at TCU and a close one at home vs. Ohio State. But, of course, the
Gophers somehow stumbled at Illinois
. That was undoubtedly the biggest win in the Tim Beckman era. But Beckman just might have a chance to top that.
Beating Penn State these days is no great achievement, considering the dilapidated state of the Nittany Lions' offense. Still,
winning that game in Champaign on Saturday
meant that Beckman has doubled his previous Big Ten win total this season and, more importantly, has the Illini in contention for a bowl. If they beat Northwestern this Saturday, the postseason awaits.
Can athletic director Mike Thomas really fire Beckman if he goes 6-6?
Attendance remains a major issue
, especially considering the embarrassing crowd that showed up to Memorial Stadium on Saturday -- less than 10,000 by most media estimates. But Beckman would have gone from two wins to four wins to six wins in three seasons. It's hard not to call that progress, even if it hasn't been pretty at times.
The ticking clock on Beckman's job has stopped for now,
Mark Tupper writes
.
3. You couldn't talk about Iowa this season without mentioning that dream schedule: No games against Michigan State, Ohio State Michigan or Penn State (though in hindsight, it would have been better to play those last two than Maryland). West Division rivals Wisconsin and Nebraska coming to Iowa City. A very manageable nonconference slate.
That schedule is a major reason why people were predicting as many as 10 or 11 wins for the Hawkeyes, who were a trendy pick to win the West. But Kirk Ferentz's team has been eliminated from the division race already, and if it doesn't beat a reeling Nebraska team on Black Friday, it will finish 7-5. Even an 8-4 record would feel underwhelming, given all the advantages that Iowa squandered.
The Hawkeyes
gave a great effort against Wisconsin
on Saturday, especially in the second half. You wonder if things would have been different had they played like that all season. Instead, there's no way to talk about this Iowa season without using the word disappointing.
Let's hit the links ...
West Division
East Division
And, finally ... "Dilly Bar Dan"
received more attention
and some nice hospitality in Lincoln.
November, 23, 2014
Nov 23
2:00
PM ET
November, 23, 2014
Nov 23
10:49
AM ET
It wouldn't be a real visit weekend in college football without a giant cookie cake, and that's exactly what wide receiver
Cameron Stewart
was greeted with on his visit to Nebraska.
Finally Here ?? pic.twitter.com/ysunOOChrw

— Django (@OchoCinco018) November 21, 2014
Cookie cakes are one of the more popular recruiting tools when it comes to social media posts and the Cornhuskers put together an excellent looking cookie cake.
There were no cookies tweeted from Michigan State's visiting targets, but there were plenty of happy faces after the big win against Rutgers.
ESPN Jr. 300 tight end Luke Farrell tweeted a few pictures after his visit and showed off his view.
MSU today pic.twitter.com/b4PSfP55cC

— Luke Farrell (@LukeFarrell88) November 22, 2014
Farrell was joined by fellow ESPN Jr. 300 target Sean Foster, who got to meet Spartans basketball coach Tom Izzo on the trip.
#ESPNJr300 OL Sean Foster on his Michigan State visit today with Tom Izzo before the game pic.twitter.com/7riIJWx6v6

— Tom VanHaaren (@TomVH) November 22, 2014
The Spartans had a lot of important prospects in attendance and the victory was a big deal for their recruiting efforts, but the bigger story might have been what happened in Ann Arbor to rival Michigan.
The Wolverines hosted a few big targets of their own, including Florida State receiver commit Auden Tate.
Florida State commit Auden Tate @AudenT_18 on his Michigan visit today: pic.twitter.com/7xzRmKjGpj

— Tom VanHaaren (@TomVH) November 22, 2014
Since the game was against Maryland, it only made sense that a few prospects from the state of Maryland would come check out the game. That list included ESPN Jr. 300 targets Devery Hamilton and Ellison Jordan as well as Stephen Spanellis.
#GoBlue #MaizeandBlue #GoWolverines ?????????????????????????? pic.twitter.com/jUfVB39AgK

— Boy Dawg (@bigeazy95) November 22, 2014
Unfortunately for the Wolverines the game ended in a loss and further uncertainty about the future of coach Brady Hoke and his staff. With a 5-6 record and its last game coming against Ohio State, the outlook is dim.
In-state ESPN 300 running back Mike Weber might have added insult to injury when he tweeted that he was decommitting from Michigan almost immediately after Maryland scored its go ahead touchdown in the game.
I'm decommiting from the university of Michigan thank you Michigan for the love and support I'll remake my decision at the army bowl

— Mikey (@mikeweber25) November 22, 2014
Weber wasn't visiting Michigan, but had just come off a big playoff loss of his own and decided he had seen enough. The Michigan coaches have now lost seven ESPN 300 commits in the 2015 class and there is potential to lose more as tight end Chris Clark is planning visits as well.
Clark is the highest-ranked commit Michigan has left and he took to Twitter after the game to express his disappointment.
Man michigan has officially hit rock bottom

— Chris Clark (@Clark8Chris) November 23, 2014
November, 22, 2014
Nov 22
7:39
PM ET
By
ESPN.com staff
| ESPN.com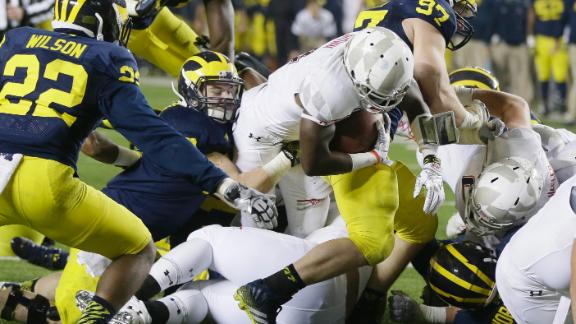 C.J. Brown
and
Wes Brown
each rushed for a touchdown in the fourth quarter to help
Maryland edge Michigan 23-16
.
November, 22, 2014
Nov 22
7:14
PM ET
Associated Press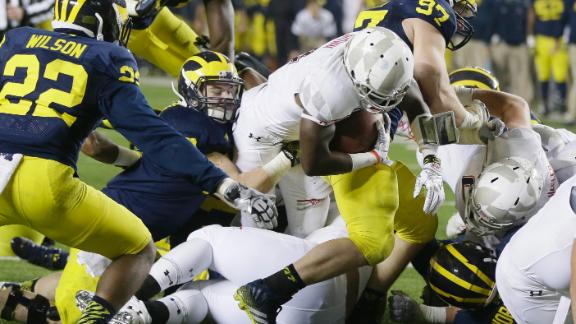 ANN ARBOR, Mich. -- Wes Brown's 1-yard touchdown run with 5:59 remaining lifted Maryland to a 23-16 victory over Michigan, leaving the Wolverines' postseason hopes in dire shape with one game remaining in the regular season.
The Terrapins (7-4, 4-3) scored two touchdowns in the fourth quarter and guaranteed themselves at least a .500 record in conference play in their inaugural Big Ten season. Michigan (5-6, 3-4) had won three of four to keep its bowl hopes in decent shape, but now the Wolverines need a monumental upset at Ohio State next weekend to prolong their season.
The loss on a chilly, dreary day at Michigan Stadium was a fitting conclusion to the Wolverines' home schedule. This dismal season has put coach Brady Hoke's job in jeopardy.
Final Verdict: Hoke Or Muschamp?