July, 21, 2014
Jul 21
10:48
PM ET
By
Greg Sukiennik
| ESPN.com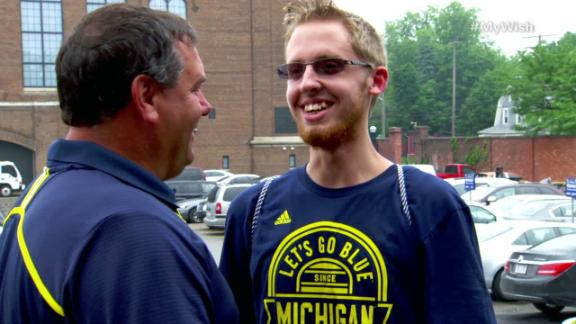 Growing up in a family of Michigan football fans in Grain Valley, Missouri, Stephen Loszewski had a wish that he would someday play football for the Wolverines.
His leukemia diagnosis in the spring of 2011, during Stephen's freshman year of high school, did more than put his wish on hold -- it changed his reality overnight.
Leukemia took away high school football and the normal social life of a teenager and replaced it with chemotherapy, nausea and the social isolation of hospital rooms (though his friends and teammates stayed close). He has been in remission since his sophomore year, but even though he was able to stay in the game he loves by helping his father coach youth football, a return to the playing field was ruled out.
So when it came time for Stephen, now 18, to choose his wish, he sought the chance to be treated like the Michigan football recruit he could never otherwise be.
"Instead of just asking, 'Hey, could I get some really good tickets to a Michigan game,' I wanted to take advantage of the opportunity that I had," Stephen said. "I figured maybe I could get them to pretend to recruit me somehow."
What Michigan gave him was more than he had asked for. Way more.
Stephen was tired and not feeling like answering questions from what he thought was a local TV news crew in the family living room. But he started to suspect something was up when his mother handed him a letter from Michigan coach Brady Hoke.
"Shortly after that, someone knocked at my door saying they were looking for me. That's when the dots really started to come together," Stephen said. "It turned out to be Jake Long -- one of my all-time idols as a Michigan player -- and he was at my house with letters from every single one of the Michigan coaches."
July, 17, 2014
Jul 17
12:00
PM ET
July, 17, 2014
Jul 17
11:00
AM ET
Gas up the family station wagon and hit the
Holiday Road
. The Ultimate Road Trip is back! Over the next couple of weeks we're going to look at each week during the 2014 season and pick the can't-miss game (and maybe for Thursday/Friday games, we'll work in two).
Start planning accordingly. The Ultimate Pac-12 Road Trip continues.
Welcome to Week 4
Saturday, Sept. 20
California at Arizona
Hawaii at Colorado
Utah at Michigan
Oregon at Washington State
San Diego State at Oregon State
Georgia State at Washington
Byes: Arizona State, Stanford, UCLA, USC
My choice
: Utah at Michigan


Why
: Another great win for the Pac-12 last week with UCLA's triumph over Texas.
Marcus Mariota
and
Brett Hundley
are now neck-and-neck in the Heisman race after three weeks.
With a third of the league on bye this week, we have scattered conference and nonconference games on the docket. While all of them are exciting for the teams and fan bases involved, there isn't a ton of national appeal for Cal at Arizona or Oregon at Washington State.
Besides, the nonconference games give us an opportunity to explore cities and stadiums we traditionally don't get to. And why not head out to The Big House to see the Utes take on the Wolverines in yet another Pac-12-Big Ten showdown? Next week we'll roll into a full slate of conference games, but take the opportunity this week to enjoy one of the few nonconference games left on the docket.
This game is intriguing for several reasons. First, you have the old Mountain West connection between Michigan coach Brady Hoke and Utah's Kyle Whittingham. Hoke and Co. went 0-2 against Utah during his time at San Diego State. I know; I covered both games. One was a tail-kicking. The other was a fourth-quarter collapse.
Next, both coaches are feeling a little extra heat on their hindquarters heading into this season (though the Pac-12 blog maintains a united front that any hot seat talk regarding Whittingham is still unwarranted at this point). Still, if Utah loses on the road to Michigan, most people wouldn't see it as a ghastly mishap. If Michigan loses to Utah at home, however, that could be another hole in Hoke's hull.
And let's not kid ourselves. Utah is very capable of winning this game. The offensive line is improved,
Travis Wilson
will have had a couple games to get acclimated, and the Utes boast an elite wide receiver in
Dres Anderson
and a potentially strong trio of running backs.
For last week's UCLA-Texas matchup, we talked about the Longhorns still being a brand name, even if the brand isn't currently strong. The same can be said right now for Michigan. The Wolverines are very much a brand name. But they've slipped the past couple of years. They are vulnerable to a team like Utah. In fact, I'm not so sure the Utes wouldn't be favored or if this game would be a pick 'em if they were playing at Rice-Eccles.
I'm not yet prepared to call an upset. I want to see what Wilson and Co. look like against Fresno State -- a decent Mountain West team even without Derek Carr. But I'm not ready to put a check in the win column for the Wolverines. This one might be tighter than people think.
You can see the rest of the road trip
here
.
July, 15, 2014
Jul 15
12:00
PM ET
Hey, kids, it's link time:
July, 14, 2014
Jul 14
5:12
PM ET
Michigan and Oklahoma, two of the most accomplished programs in college football history, have agreed to a home-and-home series in 2025-26.
The first game will be in Norman on Sept. 6, 2025. The Sooners will return the trip Sept. 12 the following season.
"We are excited to reach an agreement to play Oklahoma, one of the storied programs in college football history," Michigan athletic director Dave Brandon said in a statement. "Oklahoma and Michigan have always been regarded as two of the top programs in college football, and creating this type of matchup is great for fans of both programs and the game of college football."
Despite their decorated histories, the Sooners and Wolverines have met only once before. Oklahoma defeated Michigan 14-6 in the 1976 Orange Bowl to clinch the program's fifth national championship.
"We remain committed to playing games that celebrate the history and excitement of college football," Oklahoma athletic director Joe Castiglione said in a statement. "Oklahoma and Michigan represent two of the most iconic names in American sport, and we look forward to a series that will be marked by mutual respect and admiration."
July, 11, 2014
Jul 11
4:00
PM ET
Germany or Argentina? Should be an interesting weekend. Enjoy it.
As you can tell, we're including more questions we receive through Twitter, so
send 'em in!
Let's get to those questions ...
@ESPN_BigTen I think Ohio States run game is being underestimated, where will that unit they rank in the B1G come December?

— Chris Willeke (@ChrisWilleke2) July 11, 2014
Adam Rittenberg:
Chris, it's a tough question because of the revamped offensive line with four new starters, but I expect Ohio State to work out the kinks by midseason. Ed Warinner is one of the nation's best offensive line coaches and while there's not a ton of starting experience up front, players such as
Darryl Baldwin
and
Antonio Underwood
have been in the program for a long time. Quarterback
Braxton Miller
will have his share of big run plays because that's what he does, but how much help he gets from the running backs remains to be seen.
Ezekiel Elliott
certainly has the talent to have a big sophomore season. He's not quite as big as Carlos Hyde but runs with power. It will be interesting to see who emerges behind Elliott and how the carries are ultimately distributed. I don't expect Ohio State to be a
top five rushing attack
like last year, but top 15 or 20 certainly is realistic despite the new blood.
---
Jeff from San Diego writes:
Adam, I liked your article about Ohio State and how so called experts seem to just assume the B1G is theirs. That leads nicely into my question, which is: Will any experts be bold enough to choose Iowa to win the West? I'm guessing that 99 percent of experts are going to take Wisconsin or Nebraska and not even give the Hawks a sniff. Is it just lazy journalism to pick the name brand or will these experts actually do their research and see the West as an open race?
Adam Rittenberg:
Jeff, unfortunately there's a degree of laziness out there and some writers just assume things will be a certain way just because they usually are. Anyone who truly studies the teams and the schedules in the West won't see much separating Iowa, Wisconsin and Nebraska. None is a perfect team, and each has the capability to reach the league title game. Iowa's schedule certainly is the most beneficial as it gets both Wisconsin and Nebraska at home. The Hawkeyes also lose fewer key players than Wisconsin, which is going through a significant roster overhaul. Nebraska brings backs studs
Ameer Abdullah
and
Randy Gregory
but plays three of the league's top four teams -- Michigan State, Wisconsin and Iowa -- on the road.
Bottom line: I wouldn't expect 99 percent of the prognosticators to go with Wisconsin or Nebraska. Iowa will get some love. But possibly not as much as it deserves.
---
Chandler from Chicago writes:
I think you feel it is incumbent upon you as a Big Ten reporter to continue to advance the notion that there is parity in the league, when there really is not. The nature of the recent Big Ten has been that "golden generations" come along for second-tier programs and briefly (for one to three years) provide Ohio State with a meaningful competitive challenge. Right now, that happens to be Michigan State. To look narrowly at the results from the last three seasons (one of which was Ohio State's hell year) would be to lose site of the forest through the trees (Ohio State's historical domination against Sparty). To say that Sparty should be favored to win the Big Ten this year based on last year would be like calling for a short summer based on one cold day. When it comes to talent, Ohio State homeostatic state is as good (or better than) Sparty at the peak of its upward cycle, before it inevitably drifts back down the curve toward its historical mean. The only way for Sparty to truly disrupt these up-and-down cycles in a way that could challenge OSU on a permanent basis would be to start contesting it on a top line and depth level in recruiting.
Adam Rittenberg:
Chandler, I feel no such obligation to promote parity. When Ohio State has been the overwhelming favorite entering a season, I've acknowledged it repeatedly. I'm also not basing too much on last year, but returning starters/starters lost and who did what in previous seasons always shapes preseason debates. Your type of thinking -- basing so much on long-term history and recruiting rankings -- can be flawed. I agree that some Big Ten teams haven't consistently sustained at elite levels while Ohio State has, but I also think programs can rise in class with the right coaches and infrastructure in place. Michigan State, in my view, is making that rise under Mark Dantonio.
It doesn't mean MSU should be favored this year. I might pick Ohio State (haven't decided yet). But my point is there's no intelligent argument that at this stage a wide gap exists between the teams entering the 2014 season.
---
Steve from Columbus, Ohio, writes:
Hey Adam, hope the summer tan is coming on ... evenly. Anyways, I got to thinking about Big Ten perception, coinciding with the rise of the SEC, etc. Generally, the unfavorable bowl record coupled with the Ohio State losses in the NCGs are highlighted as the primary reasons. Yet you never hear much about the fall of Michigan contributing to the perception. After Lloyd Carr left Michigan in 2007, its football program really fell off the map, sans one Sugar bowl win over an ACC team. I wonder how much of the "fall of the Big Ten" perception is really because Michigan has largely been irrelevant since 2007. If Michigan were to rise and be on the MSU-OSU level of talent/competitiveness consistently, would the Big Ten perception repair its reputation/dramatically improve?
Adam Rittenberg:
My farmer's tan is in top form, thanks for asking, Steve. Although I disagree that you never hear about Michigan's struggles hurting Big Ten perception and performance, I agree that Michigan's irrelevance from the national main stage plays a big role in the Big Ten's backslide. In fact, it might play the biggest role. This is a program that has the history, the facilities, the money, the national appeal and all the other resources to compete for championships. Talent doesn't appear to be the problem, but Michigan has had trouble maximizing what it has on a consistent basis.
Michigan's identity changed under Rich Rodriguez, and Brady Hoke has yet to translate his vision to the field. Perhaps it happens this season. The Big Ten's national perception doesn't rest solely on Michigan, but the league would be helped by another program -- whether it's Michigan, Wisconsin, Nebraska, Iowa, etc. -- competing at the highest levels.
---
@ESPN_BigTen What part of Indiana's defense is the weakest, relative to the rest of the big ten?

— Luke Kleppe (@LukeKleppe) July 11, 2014
Adam Rittenberg:
Good question, Luke. It's easy to pick on the secondary because those players are often most exposed on big plays. But if you can't match up along the line of scrimmage in the Big Ten, you're going to pay dearly. Indiana has had some decent defensive linemen in recent years but not enough depth to consistently stop its opponents. The Hoosiers have finished 115th, 116th and 118th in rush defense during Kevin Wilson's first three seasons. That falls on the defensive line.
July, 11, 2014
Jul 11
10:00
AM ET
We've already covered the
conference's potential villains
, so it's only natural that we move on to the good guys.
You won't find them in comic books or out in the Big Ten footprint fighting crime. But even opposing fans won't find it all that difficult to root for this cast of characters. Some overcame injuries or other obstacles, some have been wronged, and others just seem like genuinely good people.
There are certainly plenty of other athletes and coaches whom this could apply to, so it wasn't easy just picking a handful. But true heroes don't expect media attention for their good deeds … plus, we had to cut this list off somewhere.
So, in alphabetical order, here are the unmasked Big Ten heroes:
[+] Enlarge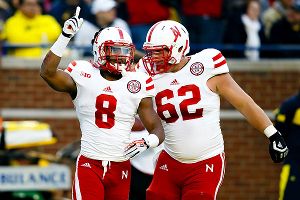 Rick Osentoski/USA TODAY SportsAmeer Abdullah, left, decided to put the NFL off for another year and return for his senior season at Nebraska.
Ameer Abdullah, running back, Nebraska:
About 100 juniors declared early for this year's NFL draft, and no one would've blamed Abdullah if he decided to join the herd. Instead,
he decided to stay
-- and he's said all the right things. As the youngest of nine children, the other eight of whom have earned college degrees, Abdullah stressed the importance of his education and finishing that degree. When a lot of other players are chasing dollar signs instead of diplomas, that's a refreshing viewpoint. Added Bo Pelini: "He's an All-American on the field. He's an All-American off the field."
Adam Breneman, tight end, Penn State:
Forget the fact he remained loyal and committed to the university throughout the sanctions, when he could've bolted to the likes of Florida State or Notre Dame. He's also used his football celebrity to champion a few charitable causes, something more common for coaches than players. In high school he started "Catch the Cure," which helped raise more than $200,000 to fight Lou Gehrig's Disease. During his Under Armour jersey presentation two years ago, he even helped man
a booth outside the auditorium
to seek donations. Currently, he's the secretary of Penn State's nonprofit chapter of "Uplifting Athletes," which raises money for the Kidney Cancer Association. You don't have to like the Nittany Lions, but you have to like what Breneman's doing.
Ralph Friedgen, offensive coordinator, Rutgers:
Underappreciated. Underestimated. Underdog. That's why Friedgen is under two other heroes on this list. It's easy to root for someone who appeared to be unfairly punished – and is now seeking out justice on the gridiron. Friedgen is just about the only head coach to win conference coach of the year and
then be fired that same season
. It happened with Maryland in 2010; now, he's helping oversee a Rutgers offense that people aren't expecting a lot from. He's in the same division as the Terps -- heck, they're on the schedule this year -- and Friedgen has a chance to show Maryland it made a mistake. He certainly
could've handled the dismissal better
, but it's hard to blame him and easy to wish him well. As long as you're not a Terps fan, that is.
Jerry Kill, head coach, Minnesota:
Stop me if you've heard this before. "I'm rooting against them when they play us, but I'm wishing all the best to ________ the rest of the season." Chances are Kill's filled in quite a few of those sentences the past few years. He has refused to let epilepsy get the best of him, and his longevity's been a testament to his toughness. He's been a coach since 1985, and he just led the Gophers to back-to-back bowls. Plus, he recently
started a new epilepsy foundation
for young patients, and he put $100,000 of his own money toward that. How can you not root for this guy?
Jake Ryan, linebacker, Michigan:
Torn anterior cruciate ligaments are usually big setbacks, something that means missed seasons or at least gradual returns. Not for Ryan. The Michigan linebacker, a team captain last season, was on crutches last spring and returned in time for the Oct. 12 game against Penn State.
Said defensive coordinator Greg Mattison
: "If he ever truly logged the hours of extra treatment and extra rehab that he has done since the day that happened, I think it would floor you." Nothing has really been handed to Ryan, as he wasn't a highly sought-after recruit. But he's worked hard and now finds himself on the preseason watch lists for the Bednarik and Nagurski awards. It's his final season at Michigan, and big things are expected from him.
Heroes on deck:
Tracy Claeys,
Stefon Diggs
, Herb Hand,
Jeremy Langford
,
Venric Mark
July, 7, 2014
Jul 7
3:16
PM ET
It's Insider's second go-round projecting college football's next three years in our Future Power Rankings.
What did we learn from our first edition? For one, teams can make a substantive move in just a year's time. Just look at Auburn, which jumped from 23rd to fifth after a run to the championship game. USC, now with coaching stability, made the biggest leap (25th to sixth). Oklahoma, UCLA, FSU and Baylor were among other risers, and you'll soon read why.
On the other side, we were high a year ago on Florida and Michigan. Oops. The Gators' injury-plagued 4-8 season dropped them from No. 4 to No. 14, while the Wolverines, who lost five of their last six games, fell from fifth to 20th. We know Will Muschamp's job is in danger, but is that an omen for Brady Hoke's future in Ann Arbor?
Alabama is again our No. 1 team, but with two losses to end the season, its lead shrank. Is that a subtle signal that the Tide might have peaked under Nick Saban?
We'll examine those topics and more in the Future Power Rankings.
Here's how we compiled it: Our panel -- myself, Brad Edwards, Brock Huard, Tom Luginbill and Mark Schlabach -- provided 1-10 ratings in five different categories that we found to be comprehensive in determining current positioning, as well as a projection for the 2015 and 2016 seasons.
Here are the top 25 college football teams over the next three years:
---
1

The bar graphs reflect the average points given by the voters for each category. Category averages are weighted by importance to generate overall score.
Coaching: Saban did not receive a perfect 10, as he did a year ago. Maybe the one panelist who gave him a nine dinged him for how he managed the final second of the Iron Bowl.
But seriously, Saban is still well ahead of No. 2 Urban Meyer (9.2) and No. 3 Bill Snyder (9.0). (Have to appreciate that Snyder gets that kind of love, even if K-State didn't break the Top 25.)
Edwards thinks 2014 is a big year for Saban because it will show whether he can adapt his defense to better handle tempo offenses. Look at how Saban's defenses mightily struggled last year against not only Texas A&M, but also Auburn and Oklahoma.
"You put them all together and you realize, 'You know what, Alabama might have an issue with this,'" Edwards said. "I happen to believe Saban and [defensive coordinator] Kirby Smart have done enough to deserve the benefit of the doubt. Let's see what they can come up with this year before I decide the dynasty is over. Saban is now recruiting to find those types of players [to defend tempo offenses]."
As for the best coach in the state?
"I want to see Gus Malzahn beat Nick Saban one more time before I say he's a better coach," Edwards said, "which is a conclusion a lot of people are already making."
Current talent: There are more positional questions than in the past few years, especially the offensive line and cornerback spots. Rival coaches are even rumbling about it. "I don't know about them," one SEC coordinator said. But do not be fooled for an instant into thinking the Tide have suddenly become as barren as a bachelor's refrigerator in terms of talent.
Bama still has the top running back group in the country with T.J. Yeldon, Kenyan Drake and Derrick Henry, who was a bright spot in the otherwise drab Sugar Bowl performance. The time could be now for LB Reuben Foster and FS Landon Collins to shine on defense. MLB Trey DePriest will be the defense's rock.
And what about QB Jake Coker? His old coach at FSU, Jimbo Fisher, believes Coker is capable, which is why Coker nearly beat out last year's Heisman Trophy winner to start at FSU.
Recruiting: This is why Alabama earned association with the word "dynasty" -- it started winning almost every major recruiting battle, and the program became the closest thing there is on the planet to the NFL's minor league system. It has not dipped, and there's no reason to believe it will as long as Saban is around; he will not let it slide.
Title path: It's going to happen, and it could happen this year: The SEC is going to knock itself out of the playoff. The strength of the top half of the league could turn out to be a bad thing in some seasons.
The Tide are regularly part of a kickoff game of some kind, playing the likes of Clemson, Virginia Tech or West Virginia, but the nonconference slate is typically manageable. The conference schedule always works for and against the SEC. For the Tide, Auburn is the new-slash-old menace.
The rating suggests that it isn't the ideal road to the playoff, but it should not be preventive for a power program such as Alabama.
Program power: Like the coaching category, Bama still received four 10s and a nine. The takeaway: It's hard to remain perfect.
"We all know that every dynasty comes to an end, but when you look back on every dynasty, you know where the turning point was," Edwards said. Will we say it was the Iron Bowl and Sugar Bowl, perhaps? "I think what you have is a lot of people trying to be the first one to predict the end of the dynasty," Edwards said. "They want to be the ones to say they didn't miss it. I think they're jumping the gun a little bit."
Which is why Alabama is still No. 1. But one program is making up ground in a hurry ...
July, 7, 2014
Jul 7
11:20
AM ET
Welcome to watch list season!
Yep, college football's individual awards -- I believe we're up to around 257 of them now -- have begun the annual summer tradition of releasing their preseason watch lists. It's an exercise born from a different era, when fans weren't plugged into the game year round and players and teams needed preseason publicity. The lists also signify almost nothing, because Florida State's
Jameis Winston
wasn't on any watch lists last year, nor was Johnny Manziel in 2012. Being excluded from the preseason watch list doesn't prevent a player from winning the award, and being included means very little except that you had a good season last year or that your school's sports information department did a strong job lobbying for you.

That's a lengthy intro to explain why we won't be posting on every single watch list this summer. They'll mostly be relegated to links and mentions on
our Twitter account
. We will occasionally write about some that happen to be interesting or have notable snubs, etc.
Watch lists for two of the bigger awards came out on Monday, and since they are notable prizes, we thought they were worth passing along. They are the Maxwell Award, which is presented to the top player in the country, and the Bednarik Award, which goes to the nation's best defensive player. If nothing else, this gives you an idea of where players stand in public perception heading into the season.
Here are the Big Ten players on the Maxwell list:
And for the Bednarik:
July, 3, 2014
Jul 3
12:00
PM ET
July, 3, 2014
Jul 3
9:00
AM ET
The Opening presented by Nike Football will take place July 5-10 at Nike World Headquarters in Beaverton, Oregon, with 162 of the nation's top high school football prospects set to compete. With four days of dynamic training, competition and recruits targeting uncommitted players to come to their chosen school, there's bound to be some players who see their stock improve and some wild recruiting news that comes out of left field.
Here are five bold predictions of what will happen at the prestigious event:
To continue reading this article you must be an Insider
July, 1, 2014
Jul 1
12:00
PM ET
Five-star prospects
Justin Hilliard
and
Jashon Cornell
will announce their commitments live on ESPN.com Wednesday at 10 a.m. ET.
The two recruits will announce separately from their respective schools, but will make their decisions back to back so let's get you up to speed on where each one is at in the process.
To continue reading this article you must be an Insider
My Wish: University Of Michigan Football
BIG TEN SCOREBOARD
Thursday, 8/28
Friday, 8/29
Saturday, 8/30