September, 30, 2014
Sep 30
11:00
PM ET
What happens when you have a large senior class about to graduate? You target a large recruiting class like Mississippi State is in 2015. Michigan's recruiting remains in chaos, as another Wolverine commit is having second thoughts.


September, 30, 2014
Sep 30
10:43
PM ET
September, 30, 2014
Sep 30
6:18
PM ET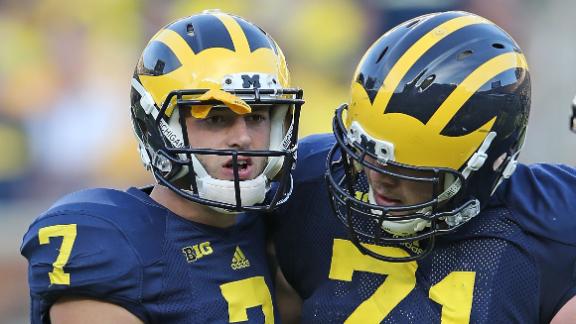 University of Michigan president Mark Schlissel has asked for a "thorough review" of the school's in-game player safety procedures following the controversy surrounding quarterback Shane Morris' head injury.
In his first public comments on the situation, Schlissel issued a statement Tuesday afternoon expressing "extreme disappointment" in how the Wolverines coaches and medical staff handled the injury to Morris in Saturday's loss to Minnesota. Morris was left in the game despite appearing woozy from a shot to the head and was later put back in the game for one play. Michigan athletic director Dave Brandon acknowledged in his own statement early Tuesday morning that Morris had suffered a mild concussion..
Schlissel said he has been in "regular discussion" Brandon and the school's board of regents about the incident and wants the athletic department to provide him and other campus leaders with detailed injury and safety procedures. Those protocols will also be reviewed by experts from Michigan's medical system, he said.
"Despite having one of the finest levels of team medical expertise in the country, our system failed on Saturday," Schlissel said in the statement. "We did not get this right and for this I apologize to Shane, his family, his teammates, and the entire Michigan family. It is a critical lesson to us about how vigilant and disciplined we must always be to ensure student-athlete safety. As president, I will take all necessary steps to make sure that occurs and to enforce the necessary accountability for our success in this regard."
Schlissel has been Michigan's president since July. He was previously the provost at Brown.
Brandon outlined two changes Michigan will make immediately.
September, 30, 2014
Sep 30
4:00
PM ET
Brady Hoke's call was a focus this week, as he spoke for the first time since the
12:52 a.m. Tuesday news release
regarding student-athlete welfare. We offered a brief overview there but, as always, we included highlights throughout the conference.
By the way, if you're not following us, what are you waiting for? Follow along at
@ESPNRittenberg, @BennettESPN, @ESPNJoshMoyer, @DanMurphyESPN, @MitchSherman and @AWardESPN.
Hoke says he won't add anything to Brandon's statement today. "I feel bad for Shane."

— Dan Murphy (@DanMurphyESPN) September 30, 2014
Hoke says "we'll see" about Morris playing Saturday at Rutgers. At this point, I see no good reason why Michigan would play him.

— Brian Bennett (@BennettESPN) September 30, 2014
Brady Hoke: "The statement is out there, and it is what it is." That really cleared things up. Bizarre teleconference.

— Austin Ward (@AWardESPN) September 30, 2014
Pelini says there's no coach in the B1G who would trot out someone on the field who's "dinged." "Anyone who would imply otherwise is wrong"

— Josh Moyer (@ESPNJoshMoyer) September 30, 2014
Gary Andersen notes there's not a player on Wisconsin roster that has played in Evanston. Calls Northwestern "a new venue" for Badgers.

— Brian Bennett (@BennettESPN) September 30, 2014
"I don't think we have a talent problem. I think we have some young corners that need to play better." Urban Meyer on his secondary

— Austin Ward (@AWardESPN) September 30, 2014
Dantonio notes SR DE Marcus Rush in line to have most career starts in Michigan State history. Still one of most underrated guys in B1G.

— Brian Bennett (@BennettESPN) September 30, 2014
Minnesota's Jerry Kill: "The ceiling for our whole team is that we can get a lot better." If so, Gophers will be a contender in the West.

— Mitch Sherman (@mitchsherman) September 30, 2014
Franklin: "It's not like a whole lot of things popped up on Saturday that we haven't been writing stories about all year long."

— Brian Bennett (@BennettESPN) September 30, 2014
September, 30, 2014
Sep 30
3:43
PM ET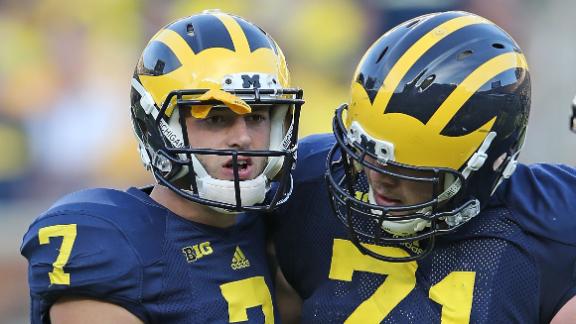 ANN ARBOR, Mich. -- Students and fans flooded the front lawn of University of Michigan president Mark Schlissel's on-campus house Tuesday night, demanding the school get rid of athletic director Dave Brandon.
A few hundred protesters gathered at the school's nearby Diag -- a popular outdoor meeting place on campus -- at 6 p.m. and marched the short distance to the president's house a half-hour later. Craig Kaplan, an undergraduate senior, stood on the home's front steps and led chants with a bullhorn as the rally wound down shortly before 7 p.m.
"Michigan has a special place in my heart," said Kaplan, who played a role in organizing the protest. "The fact that it's been mismanaged like this hurts me deeply as a student, as a fan, just as a person that cares about this university. It makes me upset how students have been handled and how the culture at Michigan has changed."
The protest came in the wake of Brandon and Schlissel acknowledging that the athletic department made mistakes while dealing with quarterback Shane Morris' head injury during Saturday's 30-14 loss to Minnesota in Ann Arbor.
Brandon said a "serious lack of communication" on the Michigan sideline Saturday allowed Morris to return to the field after showing symptoms of a concussion. The incident and the way Brandon and his employees handled its aftermath have led to a large group of Michigan supporters to call for his ouster. More than 9,000 students, staff members and alumni have backed Brandon's removal in an online petition started by a graduate student Monday night.
September, 30, 2014
Sep 30
10:00
AM ET
Nebraska and Ohio State had outstanding weekends both on the field and with their recruiting efforts. The Big Ten saw a few commitments, offers and some turmoil over the weekend, so here is the conference recap to get you caught up.
To continue reading this article you must be an Insider
September, 30, 2014
Sep 30
8:00
AM ET
It's Week 6 already, so we have some catching up to do. Here are some notes and observations before we get to the links:
1. Michigan recruiting backlash.
With all the Brady Hoke talk and the loss to Minnesota, you knew it was only a matter of time before something like this happened. Michigan commit and ESPN 300 tight end
Chris Clark
tweeted Sunday -- since deleted -- that if Hoke is fired then
"that changes everything."
He likely just said what other recruits are thinking, and it'd be na´ve to think opposing coaches aren't going to exacerbate the situation by trying to use Hoke's lack of job security against Michigan. Recruiting could wind up being an uphill battle the rest of the season, despite the Wolverines' No. 19 ranking. They currently have 11 commits, and Clark is the highest-rated one.
2. Offensive line woes.
Penn State offensive line coach Herb Hand has taken up the practice this season of tweeting out highlights of his Nittany Lions on Sundays. He doesn't do it every week, but he does it most of the time. Needless to say, he skipped the exercise this weekend -- but it's difficult to blame him. There were few highlights Saturday against Northwestern, and the clip of his linemen that most stuck out involved one of his offensive guards
inadvertently blocking a teammate
. Hand is a good coach, but he doesn't have depth or experience to work with here. He took the blame for Saturday's disastrous performance, but it's clearly not his fault. This is a young offensive line and, quite frankly, it just doesn't have much talent right now.
3. David Cobb's importance cannot be understated.
The Minnesota running back has accounted for slightly more than 47 percent of the Gophers' offense. Not just rushing offense, mind you -- entire offense. That means he's a bigger part of the offense than
Ameer Abdullah
at Nebraska,
Melvin Gordon
at Wisconsin and
Tevin Coleman
at Indiana. Cobb has 722 rushing yards (5.8 ypc) and four TDs so far this season. He's worth watching.
Now, on to the links:
East Division
West Division
September, 30, 2014
Sep 30
1:38
AM ET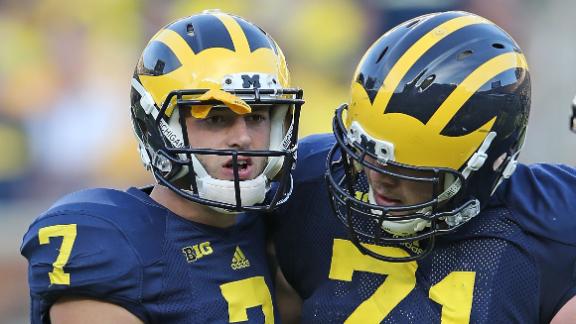 The Michigan Wolverines football staff made mistakes because of a "serious lack of communication" while dealing with quarterback Shane Morris' head injury, athletic director Dave Brandon said.
Brandon released a statement shortly before 1 a.m. ET Tuesday outlining a two-day investigation he conducted into how Michigan's football medical personnel and its coaching staff handled a "probable mild concussion" for its sophomore quarterback.
"Unfortunately, this confusion created a circumstance that was not in the best interest of one of our student-athletes," Brandon said. "I sincerely apologize for the mistakes that were made. We have to learn from this situation, and moving forward, we will make important changes so we can fully live up to our shared goal of putting student-athlete safety first."
Morris remained on the field for one play of Saturday's 30-14 loss to Minnesota after displaying concussion symptoms in the fourth quarter. The sophomore stumbled and needed the help of his teammates to stay on his feet after a helmet-to-helmet hit knocked him to the ground.
Coach Brady Hoke and offensive coordinator Doug Nussmeier both said they were looking elsewhere on the field at the time of the hit and saw only its aftermath. Hoke said Morris told him his stumble was the result of an earlier injury to his ankle, not the blow to his head.
September, 29, 2014
Sep 29
11:00
PM ET
Auburn hasn't been given too much of a chance to land coveted receiver
Christian Kirk
, but the Tigers' chances are better than most think. Plus, Michigan lost a key defensive recruit, and don't be surprised if more are to follow.
To continue reading this article you must be an Insider
September, 29, 2014
Sep 29
5:30
PM ET
At his core, Brady Hoke is a defensive line coach. Looks like one. Talks like one. Acts like one.
Ask him about defensive line play, or watch him work with the defensive tackles at Michigan, as I have, and you can feel the enthusiasm he has for the job. He's in his happy place, his comfort zone.
At times during Hoke's Michigan tenure, particularly in recent weeks, he has looked a lot less comfortable being the CEO of a big-deal program. We knew Monday's news conference would be a difficult one for Hoke, as the
Shane Morris
incident in Saturday's loss to Minnesota had gained national traction, not just in the sports media but on "Good Morning America" and "Today."
[+] Enlarge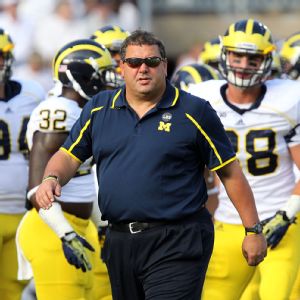 Matthew O'Haren/USA TODAY SportsThe pressure is mounting on Michigan coach Brady Hoke after getting routed at home by Minnesota.
So the D-line coach played defense, responding to criticism that the sophomore QB should have been removed from the game immediately after absorbing a helmet-to-helmet hit from Minnesota's
Theiren Cockran
. Hoke did not see the hit, but after reviewing it, he believes it to be targeting and submitted the play to the Big Ten for review.
Hoke said he would never compromise a player's health, especially when the player had potential head trauma. He said Michigan's medical staff is the only group that determines whether a player can re-enter a game, as Morris did. He said that Morris was not concussed, and the only health issue that hampered the quarterback was a high ankle sprain.
"There should be some criticism when we talk about the performance, and that's me and coaching and I understand that," Hoke said. "But when your integrity and character is attacked, I think that is really unwarranted."
Hoke's character shouldn't be attacked here. Anyone who knows the coach -- inside or outside Schembechler Hall -- will vouch for him. He loves his players. He loves Michigan. None of that should be in doubt.
But his performance, not only with wins and losses but with an ability to oversee a high-profile program and all that comes with it, including handling a crisis, should be scrutinized. Several folks around the college football world I corresponded with Monday said the same thing about Hoke: good coach, great guy, tough guy, but the Michigan job might be too big for him.
Every FBS head coach must project an image of complete control, but it's even more important to do so at programs like Michigan that are constantly under the microscope. It takes a certain personality, usually a flashy one and an unflappable one, to handle the toughest of situations. Hoke doesn't exactly fit the profile.
It's fine that Hoke was watching the ball during the play in question, but someone on Michigan's sideline should have seen the hit and Morris' subsequent stumble. Even if it was just the ankle giving out, someone needed to intervene and ensure Morris didn't take the next snap.
Hoke said those people are there and would step in if they saw a problem.
"I would assume yes," he said, "because they do every other time."
Well, this time they didn't. That's a problem.
That brings us to the headset question. You knew it was coming on Monday.
Unlike most head coaches, Hoke doesn't wear a headset for the majority of games. He's often mocked for it, as some say he's not fully plugged in. Hoke thinks it's just the opposite; he can teach more and be more engaged without a headset.
But he was asked Monday if he would wear a headset in the future to be more clued-in about potential injuries.
"No, thank you," he said, clearly annoyed.
Whether the headset matters or not, the image does. So does the image of Morris stumbling into offensive lineman
Ben Braden
after taking a blow to the head. And so does the image of Hoke going on the defensive with the media.
All these images form a bigger picture and a question: Should Hoke be the face of Michigan football?
If things don't improve quickly, it's hard to see him moving forward as CEO.
This happens in college football. Some coaches are better-suited to different roles. Charlie Weis, twice fired as a head coach at major programs, surely will have opportunities as an offensive playcaller. If Will Muschamp doesn't make it at Florida, he'll likely have his pick of defensive coordinator jobs.
It could be the same thing with Hoke.
There were a million things he'd rather be doing Monday than responding to reporters' questions under the glare of the national spotlight.
Like coaching defensive linemen.
September, 29, 2014
Sep 29
5:12
PM ET
John Harbaugh, whose connection to Michigan is well documented, threw his support behind embattled Michigan Wolverines coach Brady Hoke when asked Monday if he would be interested in the job if it were to become open.
"I'm interested in Brady Hoke being the head coach at Michigan for a long time to come," the Baltimore Ravens head coach said.
Harbaugh has been Ravens coach since 2008 and is under contract through the 2017 season. He has led Baltimore to a 74-39 record in seven seasons and a Super Bowl victory two seasons ago.
Harbaugh's ties to Michigan date to his childhood, when his father was an assistant under Bo Schembechler. Harbaugh also graduated from high school in Ann Arbor.
Hoke has come under increasing fire this season. The Wolverines are 2-3 after a 30-14 home loss to Minnesota on Saturday, marking the first time in the program's 135-year history that it has lost three games in September. The crowd at the Big House booed him frequently.
Hoke said after the game that he didn't hear the jeering while on the sideline and that even if he had, it wouldn't have affected him.
"I didn't hear it. When you're in the moment, you really don't," he said. "This is a big-boy business."
Meanwhile, Harbaugh said he does not know why his name is brought up repeatedly in connection with the Michigan job.
"Brady Hoke is a guy we believe in," said Harbaugh, speaking from the Ravens' facility. "The Harbaughs believe in Brady Hoke. He's a great coach. He believes in Michigan. I believe in what they're doing there. I think they're going to turn it around. The team should be galvanized right now. I expect them to come out as wounded lions and go to work because they love Brady."
September, 29, 2014
Sep 29
2:00
PM ET
Is it almost Saturday yet?
Five Big Ten games are on tap this weekend, in addition to Indiana taking on North Texas. Plenty of entertainment and intrigue await, so let's get to it.
Five things to watch in Week 6


1. Top-two B1G teams square off.
Michigan State is still widely regarded as the best team in the conference, but Nebraska is the last remaining undefeated team. So, regardless of the winner, this game should determine a lot. If Michigan State wins, there's no more question about the best Big Ten team. If Nebraska comes away with the victory, it should launch itself into the College Football Playoff discussion. This game also has the potential to provide a preview of the Big Ten title game; a lot is on the line here.

2. "Hot-Seat Watch: Brady Hoke" continues.
Will he be fired by midseason? Can the Wolverines finally bounce back? Can a U-M quarterback actually turn in a good performance? Plenty of questions are swirling around this program, and there aren't a lot of answers right now. Michigan is even a four-point underdog to Rutgers -- which really shows just how far the Wolverines have fallen. Hoke is still clinging on to hope, as he said Saturday this team is still capable of winning the Big Ten title. But that optimism won't stick if it loses another B1G game. Another loss, and the "Fire Hoke" chatter will only magnify. It looks as if he's already gone -- but another loss could move up that timetable.


3. Maryland and Rutgers' surprising starts.
Both teams are just one play away from perfect 5-0 records. Instead, they've had to
settle
for surprising 4-1 starts. After a bad game against Penn State, Rutgers quarterback
Gary Nova
has appeared to put it behind him. And a close loss to West Virginia hasn't slowed down the Terrapins' offense. Big Ten fans weren't quite sure what to make of these additions before the season, but both teams have proved their mettle so far. If Maryland can somehow knock off Ohio State, it instantly throws its hat into the Big Ten title race. If Rutgers can beat a reeling Michigan, it's all but assured of a bowl game.
4. Heisman hype.
If Nebraska tailback
Ameer Abdullah
isn't trending upward on your Heisman list then you're doing it wrong. His least-impressive game (McNeese State) still led to his
most-impressive play
, and he's on pace for more than 2,100 rushing yards. He looked good again this past week, when he rushed for 196 yards by halftime. Wisconsin tailback
Melvin Gordon
is also back on track after running for 434 yards and seven touchdowns in just the last two weeks. Oh, and let's not forget about Indiana's
Tevin Coleman
. He won't be invited to the ceremony, and his team isn't on the same level as Nebraska or Wisconsin. But he's showing he deserves to be in the same conversation as those two other running backs. He actually leads the conference -- yes, even over Abdullah and Gordon -- in rushing yards per game (172.75).

5. Is Northwestern finally back?
The Wildcats' 29-6 win over Penn State was their largest margin of victory since 2012, and it was their best win in at least a full calendar year. Players said they lacked focus those first two weeks but that everything's changed now. One game doesn't signify a trend, but another win should certainly have the Wildcats feeling better about themselves. A victory won't come easy against Wisconsin, but it'd be a huge statement if it actually happened. In a weak Big Ten, the Wildcats could still end up as a bowl-eligible team.
September, 29, 2014
Sep 29
1:29
PM ET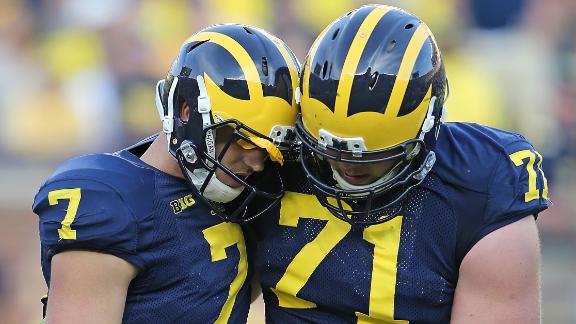 Michigan coach Brady Hoke said, to his knowledge, quarterback Shane Morris did not sustain a head injury during Saturday's game and denied seeing the play in question as it happened.
Morris left during the fourth quarter of a 30-14 loss to Minnesota because of a high ankle sprain. Hoke said the sophomore would have practiced Sunday with the team if not for his ankle injury.
Morris needed help from teammates to stay on his feet after a helmet-to-helmet hit delivered by a Gophers linebacker two plays before he left the game. He wobbled, but waved off trainers on the sideline when asked if he needed medical attention.
Hoke said Monday that he did not see the hit when it happened, but said Morris told him it was the ankle injury -- not the blow to the head -- that caused him to stumble.
"We would never, ever put a guy on the field when there is a possibility of head trauma," Hoke said. "We won't do that."
The coach said after the game Saturday that it was ultimately his decision to leave Morris in the game. However, on Sunday, he backtracked from that stance with a written statement released by the university which said only medical personnel have the authority to allow an injured player back in a game.
Hoke said a statement about how Morris' injury was handled will be coming in the near future from the medical staff. He declined to go into detail about the process of clearing a player to return to the field.
Buckeyes' Marching Band Mocks Michigan