March, 6, 2015
Mar 6
2:00
PM ET
Much has been made of the unorthodox physical demands Michigan's new coaching staff will push on its team throughout spring practice in the name of building toughness. Defensive coordinator D.J. Durkin is hoping to create an equal amount of mental stress for his players during the coming month.
The Wolverines return to the field in a few days after a week-long hiatus for spring break. A heavy dose of note-taking awaits them. Durkin, who most recently coached top-15 defenses in back-to-back years as Florida's coordinator, says he wants to keep his new players' heads swimming in new lessons this March.
[+] Enlarge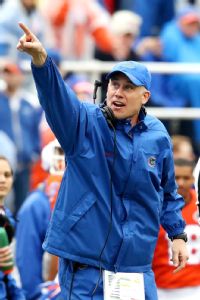 Marvin Gentry/USA TODAY SportsD.J. Durkin on experimenting with schemes: "We're going to go through and install quite a bit, a lot of the stuff that I've done before, and then we'll just sort it out and see what we're best at."
"Every day I want our guys coming into meetings with the approach of, 'I've got to sit down and be locked in and learn football,'" Durkin said. "Every day, whether it's something small or big, we're going to be installing [a] new defense for those guys to get them used to that."
Part of the information overload is to keep pushing their players, and part is a learning experience for the coaches themselves. Durkin and head coach Jim Harbaugh both like to use three-man and four-man fronts depending on the opponent, game plan, and their own personnel. Installing as much as possible in its first offseason in Ann Arbor will give the staff a chance to see what it will have at its disposable during in the fall.
Michigan ran a 4-3 defense last season under veteran Greg Mattison, who remains on staff as a defensive line assistant. That scheme held opponents to 311.3 yards per game last season, seventh among all FBS teams.
The Wolverines return two linebackers -- senior
Joe Bolden
and fifth-year senior
Desmond Morgan
-- capable of starting on the inside or outside, which provides some flexibility. The loss of both defensive end starters from last season also makes it a good time to do some shuffling on the line of scrimmage.
To start this spring, Durkin's plan is to throw whatever he can at the wall and see what sticks.
"That's the goal: By the end of spring to have a lot of things answered," he said. "We're going to go through and install quite a bit, a lot of the stuff that I've done before, and then we'll just sort it out and see what we're best at."
The team's strengths will determine where several players bouncing between different positions land. Senior
Royce Jenkins-Stone
, for example, could land at defensive end or stay at linebacker (where he has played 36 games over the past three seasons) depending on the formation. Expected breakout star
Jabrill Peppers
is also among the many players working at different spots in spring drills.
Mattison has been an important asset for the new staff in its effort to get to know the roster. The former coordinator started his second stint at Michigan in 2011 when Brady Hoke took over as head coach. Mattison had a hand in recruiting many of the current players. Durkin said he wants to give everyone a clean slate on the field, but Mattison has helped them get to know the personalities of their new guys.
"When you're at a place where you've recruited all your guys, you know their families and you know everything about them," Durkin said. "We don't know that yet. Greg knows that about all those guys, or most of those guys. That's where it's really going to be helpful. ... That's an opinion I trust and I've trusted for a long time."
Mattison started a relationship with Harbaugh while coaching with Jack Harbaugh at Western Michigan in the 1980s, and later with John Harbaugh on the Baltimore Ravens staff. He coached at Florida as well, but he and Durkin did not overlap with the Gators.
Players can see the connection between the coaches, but say their differences are quickly apparent.
"Coach Matti is a little bit more laid back than coach Durkin," said Bolden, the team's top returning tackler, in an interview with the school's website. "Coach Durkin might have an aneurysm some time, but it's all right. Coach Durkin is intense, intense, intense. Coach Matti is a very intense guy, too, but didn't show it as much. There's more movement from Coach Durkin on the field. Sometimes it's hard to find him."
That intensity spills into meeting rooms for Durkin. He said he's been pleased with the defense's attentive study habits so far, but he plans to push them harder throughout the rest of spring practice.
Bold Predictions For Spring Recruiting
BIG TEN SCOREBOARD
Thursday, 9/3
Friday, 9/4
Saturday, 9/5
Sunday, 9/6
Monday, 9/7