July, 30, 2014
Jul 30
9:30
AM ET
The Big Ten programs have done a nice job filling out their 2015 classes so far. There aren't any teams that have closed out all their available slots though, which means there are still some big targets on the board.

As commitments and decommitments happen, this list could change, but here is a look at a few remaining must-get targets for the conference.


July, 29, 2014
Jul 29
5:00
PM ET
By
Adam Rittenberg, Josh Moyer, Mitch Sherman
and
Austin Ward
| ESPN.com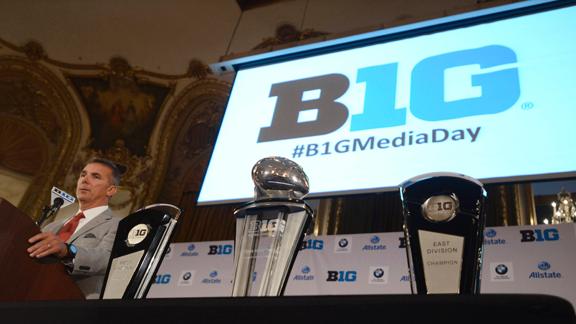 CHICAGO -- Big Ten media days are in the books and the countdown to the 2014 season can officially begin. It was a mostly uneventful session at the Hilton Chicago, despite the presence of stars such as
Braxton Miller
,
Melvin Gordon
,
Ameer Abdullah
and
Shilique Calhoun
.
Our Big Ten reporting crew weighs in on some of the topics from the past two days.
What was the biggest surprise at Big Ten media days?
Austin Ward:
The lack of major headlines coming from the league was a bit of a shock considering some of the star power in Chicago, the storylines around college football right now and the amount of trash talk between leagues that has popped up this month. Not even Ohio State coach Urban Meyer or Penn State coach James Franklin were able to stir the pot much nationally, and typically they are always good for a viral sound bite or hot topic in late July. There's nothing wrong with avoiding controversy, but the Big Ten didn't do much to draw attention to itself over two days.
Mitch Sherman:
Other than the bright-red pants worn by Maryland quarterback
C.J. Brown
on Tuesday to go with his dark jacket and tie, I was surprised most by the lack of bravado we saw out of Michigan State. I know the Spartans are a blue-collar bunch and that this spot atop the Big Ten is new to them. But after a 13-1 season and set to play arguably the most significant nonconference game nationally on Sept. 6 at Oregon, I thought Michigan State would come to Chicago with a little more swagger. If coach Mark Dantonio hadn't worn
his giant championship ring
, I'm not sure I would have remembered that MSU beat Ohio State in December, then Stanford in the Rose Bowl. This is not to suggest it's a bad thing; simply that the Spartans -- even flamboyant defensive end Shilique Calhoun -- are not resting on their accomplishments of 2013.
Josh Moyer:
OK, let's say you pulled aside the top three offensive players in the Big Ten -- Braxton Miller, Melvin Gordon and Ameer Abdullah -- and asked them, in separate interviews, about the most exciting offensive player in the conference. Who do you think they would say? Well, their answer was my biggest surprise this week; they all said the same guy -- Indiana wideout
Shane Wynn
. Maybe they just wanted to put the spotlight on an underrated player, but it was still a shock to hear Wynn's name so often. Heck, I told Wynn about that -- and even he was surprised. It's fun to watch a short guy like Wynn, who is 5-foot-7, run circles around defenders. So while I thought Wynn would be in for a good season, I can't say I would've mentioned him in the same breath as those three.
[+] Enlarge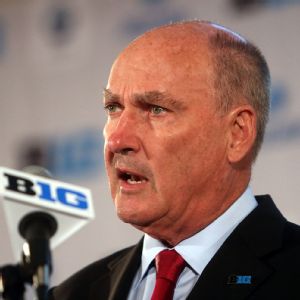 Jerry Lai/USA TODAY SportsCommissioner Jim Delany was "content to lay low" during his address at the 2014 Big Ten media days.
Adam Rittenberg:
In keeping with the understated theme, I was surprised Big Ten commissioner Jim Delany didn't make a bigger splash with his annual media days address Monday. Mike Slive quoted Churchill and Mandela,
Bob Bowlsby talked doomsday
and
Larry Scott spread warm fuzzies
at Pac-12 media days. But
Delany didn't rock the boat at all
. A year after outlining a four-point proposal to reform college football, he seems content to lay low and let the process play out. Delany always seems to be a step ahead, and he has never been one to hold back on his opinions. But I wonder if he felt a need to keep relatively quiet after the Ed O'Bannon-NCAA trial and with the vote on NCAA autonomy coming up next week.
Who had the most memorable interview?
Moyer:
I have to go with Purdue tailback
Raheem Mostert
. He's
the fastest player in the Big Ten
, and he might just be the most charismatic. You couldn't blame Purdue if it came out a little quiet at this media day after the season the Boilermakers had, but Mostert didn't shy away from making some bold statements. He said his offense was capable of scoring 30-some points a game and, while I still think there's zero chance of that happening, it takes some guts to make that statement. Plus, he was hilarious in talking about how far along
Danny Etling
's come. He couldn't say enough good things about Etling now, but said last season he looked like a guy who just lost his dog every time he threw a pick. So my "Most Optimistic" and "Most Well-Spoken" awards go to Mostert.
Sherman:
Northwestern coach Pat Fitzgerald was on fire Tuesday during the group session. Fitzgerald, always an eloquent speaker, had plenty to get off his chest in the wake of an offseason like no other in Evanston, Illinois. He waxed on about problems with the current model of college athletics, in particular criticizing some of the outdated rules that govern recruiting. "I don't want to be basketball," Fitzgerald said in the midst of his monologue. "We're going there." He harped on the disingenuous ways that some college coaches try to attract prospects. All of this after his players voted recently on whether to unionize. The issues of unionization and inequity within the sport are inseparable. Still, Fitzgerald managed keep his own players and former players largely out of the discussion. And the coach made a lot of sense.
Rittenberg:
Well, my favorite moment was Michigan State's
Connor Cook
, midway through an answer Tuesday about how Dantonio had loosened up over time, stared blankly and said, "Sorry, my brain, I just blacked out right there." Must have been a fun Monday night in Chicago. ... I really enjoy Franklin's energy, especially in a league of mostly decaffeinated coaches. Franklin on Tuesday excitedly recalled the night the Penn State staff
watched assistant Herb Hand appear on "Chopped"
while riding a bus between their guest-coaching camp stops in the South. "It was awesome, we were driving and Herb comes walking out [on the show] and the whole bus explodes: 'Herbie! Herbie!'" Franklin said, clapping his hands. "The other guys come out and the whole bus is booing them, 'Boo! Boo!' So Herbie wins the first round and the bus goes crazy, 'That's our boy!' He loses the next round and that bus turned on him in an instant. Everybody's bashing him. His flavors were good but the presentation was awful." Again, something different and refreshing.
Ward:
Calhoun had little interest in a standard question-and-answer interview, instead turning his podium session on Monday into an interactive experience that livened up the event while the Michigan State star was in the spotlight. He spent his 30 minutes joking, laughing and telling reporters how much he enjoyed watching them talk over each other to ask questions and then yelling across the room at Cook to clarify comments the quarterback had supposedly made about him earlier. In one brief session, Calhoun made the kind of memorable impact on the media he's been known to make on opposing quarterbacks.
What's one new thing you learned?
Rittenberg:
Big Ten teams aren't shying away from the playoff talk. Players, coaches and the commissioner all acknowledged that if you don't make the playoff, you're basically irrelevant in college football. And that's the right position for this league to take. The perception is that Big Ten players and coaches only care about the Rose Bowl and don't aim higher. Perhaps some of that is true, but most of the folks I encountered this week seemed to embrace the significance of the new system. I loved what Ohio State defensive lineman
Michael Bennett
said: Anything short of a national title would be disappointing. That's how the Big Ten needs to think.
Moyer:
Nebraska's
Kenny Bell
has
a killer Afro
? Michigan State's
Kurtis Drummond
has
great fashion sense
? Penn State's
Sam Ficken
will never escape questions about the 2012 Virginia game? There were certainly a lot of tidbits. But I was impressed with how even-keeled Maryland coach Randy Edsall was. At one point, during podium interviews, an irate cameraman kept yelling at reporters to move out of his shot. It went on for a few minutes, but Edsall never paused or broke from his calm demeanor. Other coaches might have yelled for some quiet; Edsall just pretended like nothing was wrong. It was an interesting juxtaposition.
Ward:
The Spartans have some really nice bling. Both Cook and Dantonio flashed their championship rings on Monday, and the huge, sparkling accessories were hard to miss. At one point Cook took his off to allow the media a closer look at the prize he helped earn with breakout passing outings against Ohio State in the conference title game and Stanford in the Rose Bowl, but he might have really just needed a break from lugging around the heavy jewelry on his hand.
Sherman:
Even in the age of the College Football Playoff, with more potential for sweeping change in the sport, old habits die hard in the Big Ten. From Michigan coach Brady Hoke's lamenting about the elimination of tradition at the Rose Bowl when Pasadena serves as a semifinal site to Iowa's Kirk Ferentz preaching the values of old-school football, the more things change nationally, the more they stay the same in the Big Ten. This is comforting and disturbing all at once. I heard Nebraska's Bell speak of unity among the league and Ohio State's Miller project confidence that the Buckeyes can make another run at a perfect season. But the league needs a larger dose of more progressive thinking.
July, 29, 2014
Jul 29
10:00
AM ET
CHICAGO --
Nebraska Cornhuskers
coach Bo Pelini caused a stir last month when he brought up the idea of
eliminating national signing day altogether
.
Several coaches in the Big 12 and Pac-12 told ESPN.com last week that they liked Pelini's proposal, which would give recruits a chance to sign as soon as they were offered a scholarship. The intent would be to slow down the recruiting process and make coaches accountable for offers, which currently are extended with zero consequences.
"It makes so much sense," Pelini told ESPN.com on Monday. "People say, 'Oh, let's just have an early signing day.' Why have a signing day at all? It would solve a lot of problems. I haven't heard a lot of reaction from conference administrators and people like that, but I would love to see it, at least start talking about it."
But getting a radical recruiting idea -- or any recruiting proposal -- through the convoluted legislative process isn't easy. It's downright impossible.
"That's the frustrating thing," Pelini said. "We as coaches talk. I just think for this to move forward, you've got to get everybody in the same room. There has to be a willingness to change. Why does everything take so long? You have to go through this committee and that committee and then you get the feedback."
Several Big Ten coaches recently have made recruiting proposals to reform a process that seems to be getting increasingly flawed. The
Maryland Terrapins
' Randy Edsall would like to prevent scholarship offers from
being extended until a prospect's senior season
. The
Michigan Wolverines
' Brady Hoke would like
official visits to be allowed at the end of a prospect's junior year
to ease the financial burden on players' families.
Most
Big Ten coaches favor an earlier signing date
-- Hoke wants it on Aug. 1 -- and earlier official visits, ideally during a short window in June when they're conducting high school camps. But coaches from other leagues don't want any changes to the calendar.
"I don't want to expediate recruiting any more,"
Auburn Tigers
coach Gus Malzahn told ESPN.com last week. "It's too fast now."
Iowa Hawkeyes
coach Kirk Ferentz calls that "a laughable excuse."
"Is anybody paying attention to anything?" Ferentz said. "The facts are recruiting is accelerated, and the facts are people and families are traveling at record amounts.
"But we choose not to address it."
Ferentz and his Big Ten colleagues will continue to push for changes to the recruiting calendar. But they're not holding their breath.
"Get everybody in the same room and let's figure out what works," Pelini said. "I don't think it's that difficult."
July, 29, 2014
Jul 29
9:30
AM ET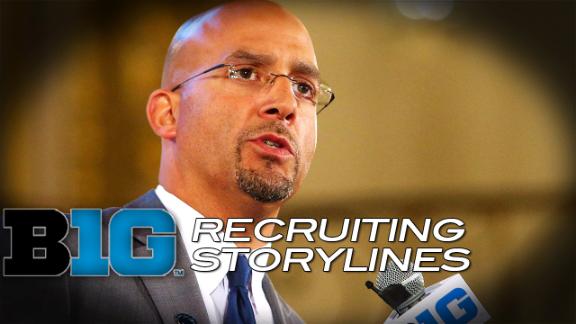 The ESPN 300 has been updated, and we are moving closer and closer to the college football season. Plenty of top prospects are uncommitted but could soon be off the board.
Here are five things to know about the ESPN 300 within the Big Ten.
To continue reading this article you must be an Insider
July, 29, 2014
Jul 29
9:00
AM ET
This week, we're counting down the Top 25 players in the Big Ten. Our reporting crew voted to select the list based on past performance and future potential.
The
first five selections
were unveiled on Monday. Here's the next group of five:
20. Jake Ryan, LB, Michigan Wolverines:
The play-making fifth year senior returned from a knee-ligament tear to play in eight games and start five last season. Named a team captain despite the abbreviated campaign, Ryan enters his final year at Michigan with the experience of 29 starts. He has made a tackle behind the line of scrimmage in 25 of his past 30 games and should anchor the Wolverines defensively.
19. Trae Waynes, CB, Michigan State Spartans:
What can the Spartans do to account for the loss of star corner
Darqueze Dennard
? It helps to have the junior Waynes, who's set to move from the field corner to the boundary spot manned last year by the All-American Dennard. Waynes, a solid athlete, is up to the challenge.
18. Devin Funchess, WR/TE Michigan:
Classify him any way you'd like, Funchess will catch plenty of passes this fall. The 6-foot-5 junior runs like a wideout with the size of a tight end. He has started 15 consecutive games and looks ready to improve his already solid production amid a plentiful mix of young talent for the Wolverines.
17. Kurtis Drummond, S, Michigan State:
The fifth-year senior has started a team-high 21 consecutive games, earning preseason inclusion on watch lists for the Bednarik and Thorpe awards, plus the Nagurski Trophy. Drummond has a nose for the football, evidenced by his four interceptions last year, and he supports the run well.
16. Jeremy Langford, RB, Michigan State:
In a league of strong backs, Langford often gets overlooked. Not a good idea after he rushed for 1,422 yards a season ago. Now as a fifth-year senior, the former cornerback and wideout has found a home in the backfield. His presence as a leader helps ease pressure on quarterback
Connor Cook
.
Look for Nos. 15-11 on Wednesday …
July, 28, 2014
Jul 28
6:00
PM ET
By
Austin Ward, Mitch Sherman
and
Josh Moyer
| ESPN.com
CHICAGO -- The season has unofficially started in the Big Ten.
Coaches are talking about the importance of taking it one game at a time while chasing a conference title. Players have busted out their finest suits and are raving about how difficult the offseason conditioning program was at their schools. And the media grabbed some free food between interviews.
There is one more day to go before the circus leaves Chicago, but before we get to that, the Big Ten blog is handing out some awards to put a bow on the opening day.
Best-dressed player:
Michigan State safety
Kurtis Drummond
. The honors could just as easily have gone to teammates
Shilique Calhoun
or
Connor Cook
, the former for his bow tie and the latter for his accessorizing with his enormous championship ring. But Drummond stole the show as the sharpest of the Spartans, who clearly looked the part of returning conference champs.
I think the Best Dressed award has been locked up today. Kurtis Drummond, folks. pic.twitter.com/XAnHXjJWKP

— Austin Ward (@AWardESPN) July 28, 2014
.
Most fun-loving players:
The bright spotlight and huge crowd around him might have kept Ohio State coach Urban Meyer a bit guarded, but his players certainly welcomed the attention and weren't afraid of being playful with the media. Tight end
Jeff Heuerman
loosened things up by locking quarterback
Braxton Miller
in a headlock, and after that, both decided to moonlight as media members by sneaking over to ask Meyer a few questions toward the end of a session -- a rare glimpse at the personalities off the field of two of the league's best talents on it.
Ohio State's Jeff Heuerman and Braxton Miller decided to join the media today and interview Urban Meyer. pic.twitter.com/scWhYDZRNs

— Austin Ward (@AWardESPN) July 28, 2014
.
Biggest missed opportunity:
The Wisconsin-LSU matchup to open the season is appealing enough at a neutral site. But the Badgers and Tigers could have taken the intrigue to another level by hosting those games at two of the loudest, most hostile stadiums in the country -- if only Gary Andersen had been around a couple of years earlier. The Badgers' coach said he "would have said yes" to a home-and-home series at Camp Randall and in Death Valley, a tantalizing what-might-have-been if the Tigers might have been as willing as Andersen.
Most appropriate Twitter handle:
Nebraska's
Kenny Bell
(@AFRO_THUNDER80). The 6-foot-1 receiver was probably the easiest player to pick out of a crowd, as his puffy afro towered over opposing players. Bell's play didn't earn him an award last season -- he was honorable mention on the All-Big Ten team -- but we just couldn't go one more day without recognizing that 'fro.
The instantly recognizable @AFRO_THUNDER80 pic.twitter.com/OJMwHynz40

— Adam Rittenberg (@ESPNRittenberg) July 28, 2014
.
Best-dressed coach:
Penn State's James Franklin. Every day, the head coach spends 22 minutes to shave his head in every direction and trim that goatee ... so it seems slightly surprising that he is probably the coach who spends the most time on his head, considering he's bald. But, hey, it takes time to pull that look off -- and he was also looking dapper with that Penn State lapel, blue tie and matching pocket square. Franklin often jokes that he doesn't need to sleep, so maybe he uses some of that extra time to pick out the right clothes.
James Franklin and our Josh Moyer are sharing head shaving techniques. Seriously. pic.twitter.com/S7iVnnNvo9

— Brian Bennett (@BennettESPN) July 28, 2014
.
Quote of the day:
Penn State linebacker
Mike Hull
has learned under three head coaches -- Joe Paterno, Bill O'Brien and Franklin -- during his career, and their personalities really couldn't have been any different. Hull laughed while providing their takes on social media as an example.
"Yeah, I've seen the whole evolution," he said. "Joe didn't know what Facebook was, O'Brien called Facebook 'Spacebook' and, now, Coach Franklin probably has every social media there is to have. It's crazy."
Most Big Ten quote:
"How are you going to approach the Rose Bowl?" -- Michigan coach Brady Hoke, lamenting some aspects of the College Football Playoff in years, like this season, when the Granddaddy of Them All is to serve as a national semifinal game. Hoke suggested that some of the pageantry associated with the game -- for instance, the Beef Bowl team competition at Lawry's, a prime rib restaurant in Beverly Hills -- will be eliminated because of the high stakes and need for a regular game-week regimen. Of the traditional Rose Bowl, Hoke added: "It's the greatest experience in America for kids."
Most Iowa quote (maybe ever):
"Sometimes, old school is a good school." -- Hawkeyes coach Kirk Ferentz on his program's resistance to some of the offensive innovation that has swept college football.
Best quote about a player not in attendance:
"I don't like standing too close to him because it seems like the wind is always blowing through his hair. When he smiles, this little thing comes off his tooth like in the toothpaste commercial." -- Penn State coach James Franklin on sophomore quarterback
Christian Hackenberg
.
July, 28, 2014
Jul 28
3:50
PM ET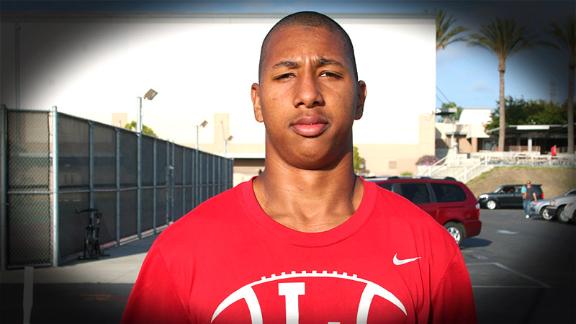 Defensive end
Keisean Lucier-South
planned to trim his considerable list of scholarship offers to a final five schools in early August, but just like he is on the field, the nation's No. 28 prospect was quick off the line, announcing his top five on Monday.
To continue reading this article you must be an Insider
July, 28, 2014
Jul 28
11:20
AM ET
By
ESPN.com staff
| ESPN.com
The Big Ten's coaches and top players are gathering in Chicago and so are several of ESPN.com's reporters. Keep this page open throughout the day as we bring you all of the latest from the league's media day event.
July, 28, 2014
Jul 28
11:05
AM ET
ESPN.com has taken on the herculean task of ranking the top 100 players in college football entering the 2014 season. These are based on expected contributions for the 2014 season, regardless of position.
The list will be released in 10-player increments, starting today with Nos.
100-91
and
90-81
.
Make sure to track the rankings all week long, as there will be Big Ten players in all five days.
Three Big Ten players made the first installment:
T-83:
Michigan LB
Jake Ryan
T-97:
Iowa DT
Carl Davis
T-99:
Michigan State LB
Taiwan Jones
We have one player (Ryan) who has shown the ability to be one of the elite at his position, along with two others (Davis and Jones) who are here largely on potential. If Ryan stays healthy and builds on the form he showed in 2012 -- he earned second-team All-Big Ten honors and recorded 16.5 tackles for loss and four forced fumbles -- he could easily finish among the top 50 players.
Davis is another player with a chance to rise much higher on the postseason list. He brings a rare mixture of size and athleticism to Iowa's interior defensive line, the team's strongest group in 2014. Davis has shown only flashes of what he could become, but if he puts it all together he'll be in the mix for major awards and most likely a good spot in the 2015 NFL draft.
Jones' inclusion in the top 100 comes as a bit of a surprise as fellow linebackers Max Bullough and Denicos Allen overshadowed him in 2013. He steps into a featured role this fall, taking over for Bullough at the middle linebacker spot. Jones definitely will get noticed for his play, good or bad, as MSU tries to remain one of the nation's elite defenses.
I have no major gripe with any of these selections, as all three defenders have talent but must prove more to rise into the nation's upper crust.
Several Big Ten players just missed the cut for the top 100, including Michigan cornerback
Blake Countess
, Wisconsin offensive tackle
Rob Havenstein
, Nebraska wide receiver
Kenny Bell
and Michigan State offensive tackle
Jack Conklin
. You can certainly make a good case for Countess, a first-team All-Big Ten selection in 2013 who led the league with six interceptions, to be among the top 100. I also expect big things from Conklin, who started 13 games as a redshirt freshman last fall.
Coming Tuesday:
Nos. 80-61.
July, 28, 2014
Jul 28
9:45
AM ET
The College Football Playoff selection committee has the unenviable task of choosing the four best teams in the country -- a difficult job, but not inconceivable.
Choosing the best 100 players in the country?
Impossible.
Yet here we are with a No. 1 just for you.
This summer, 32 writers and editors from ESPN.com narrowed down a field of 460 players representing every conference to create
#CFBrank
-- a list of the top 100 players based upon their expected contributions for this season. It was a dizzying assignment, one with no right answer or formula. There is no simple way to compare kickers and quarterbacks, or linebackers and linemen -- yet that's exactly what we did. Each player was ranked using a scale of 0 to 10 with 10 being the most valuable to his team.
Florida State
quarterback Jameis Winston would have been a 10 last season. It's a no-brainer: Heisman Trophy winner. National title. Undefeated.
A lot of talent from his supporting cast is gone this season. Still a perfect 10?
What about
Auburn
center Reese Dismukes? A Rimington Trophy finalist who helped his team to the national title game. Do you rank him a nine? Eight?
The exercise is subjective: Which positions do you value more? The linemen who are the lead blockers or Todd Gurley, a Heisman hopeful who's had 12 career 100-yard-rushing games? Do you give more credit to the quarterbacks or the defensive ends who smother them? Incoming freshmen like
LSU
running back
Leonard Fournette
, and
Michigan
cornerback
Jabrill Peppers
-- the top two players, respectively, in the 2014 recruiting class -- were also considered. Neither of them has done diddly squat at the collegiate level, but both are oozing potential and are worthy of at least a ... five? Six?
(Don't forget that the last defensive player to win the Heisman Trophy was a Michigan cornerback, too.)
Go ahead, argue among yourselves. Think you can do it better? You'll be arguing
with
yourself.
Oregon
's
Ifo Ekpre-Olomu
is an All-American cornerback whose three interceptions last season all came in the end zone. He plays for a national title contender. Is he more valuable than
Ohio State
quarterback
Braxton Miller
?
Michigan State Spartans
defensive end
Shilique Calhoun
?
Don't look for
Oklahoma
transfer receiver Dorial Green-Beckham -- Bob Stoops can't find him yet, either. Because the former Missouri star's eligibility is still uncertain, he wasn't included in the voting. These 100 spots were reserved for the players who have all but guaranteed playing time. They're for game-changers at every position -- or players we think will be.
Beauty, they say, is in the eye of the beholder. So are the top 100 players in the country. Here are the first two parts --
100-91
and
90-81
-- of #CFBrank. We will unveil the rankings in descending order every day this week.
July, 28, 2014
Jul 28
9:00
AM ET
As the 2014 season creeps closer, we're breaking down the Top 25 players in the Big Ten. All five Big Ten reporters voted, ranking players based on both past performance and future potential at the college level.
Unlike in past years, we'll be releasing these in groups of five, not individually. So, without further ado, the first five names in the countdown ...

25. Blake Countess, CB, Michigan:
Countess kicks off our top 25 but easily could move up the list if he builds on a good sophomore season. He led the Big Ten with six interceptions, including one returned for a touchdown, and earned first-team all-conference honors from the media. If he continues his playmaking ways, he should contend for the Big Ten's Tatum–Woodson Defensive Back of the Year award.

24. Andre Monroe, DE, Maryland:
The Terrapins need a solid defensive front to compete in their new league, and Monroe plays a big role following a breakout 2013 season. He led Maryland in both sacks (9.5) and tackles for loss (17), as he rebounded extremely well from a knee injury that cost him the 2012 season. A shorter, stouter defensive end at 5-foot-11 and 282 pounds, Monroe is a great fit in Maryland's 3-4 defense.

23. Nate Sudfeld, QB, Indiana:
Tre Roberson
's transfer earlier this summer clears the way for Sudfeld to take total control on offense. Sudfeld has 28 touchdown passes in his first two seasons despite sharing time and could put up huge numbers in Kevin Wilson's quarterback-friendly offense. He has a mostly new-look receiving corps but plays behind one of the league's best offensive lines.

22. Devin Gardner, QB, Michigan:
We had some debate about Gardner, who, like his team, had both brilliant and bad moments throughout the 2013 season. He's still the Big Ten's leading returning passer (2,960 yards) and accounted for 32 touchdowns (21 pass, 11 rush) last season. If he clicks with new offensive coordinator Doug Nussmeier and gets help from a besieged line, he could finish a truly unique career on a high note.

21. Theiren Cockran, DE, Minnesota:
Overshadowed by linemate Ra'Shede Hageman in 2013, Cockran's big season (7.5 sacks, a league-high four forced fumbles) went largely unnoticed outside Minneapolis. He figures to get much more attention this season and has worked hard to put himself among the Big Ten's top pass-rushers. At 6-foot-6, 255 pounds and athletic, Cockran could be a nightmare for offensive tackles.
Coming Tuesday:
Nos. 20-16 ...
July, 28, 2014
Jul 28
8:30
AM ET
CHICAGO -- Hello from the Hilton Chicago, where Big Ten media days will officially commence shortly.
We're going to have all kinds of coverage for you, including a live blog throughout the event that will include pictures, notes, quotes, observations and many other goodies. We'll also be taking your questions for players and coaches, which you can send to us via
Twitter
while using the hashtag #AskB1GPplayers. Some of the players who'll be dropping by include:
Illinois TE Jon Davis and DL Austin Teitsma
Indiana QB Nate Sudfeld
Maryland QB C.J. Brown
Iowa DT Carl Davis
Michigan DE Frank Clark and QB Devin Gardner
Michigan State DE Shilique Calhoun and QB Connor Cook
Minnesota QB Mitch Leidner
Nebraska RB Ameer Abdullah and WR Kenny Bell
Northwestern QB Trevor Siemian
Ohio State DT Michael Bennett and QB Braxton Miller
Penn State RB Bill Belton
Purdue RB/KR Raheem Mostert
Rutgers DT Darius Hamilton
Wisconsin RB Melvin Gordon.
Also make sure to follow the individual Twitter handles Adam and I will be using
here
and
here
.
We've done loads of previewing of this event, covering everything you'd need to expect from these two days in the Windy City. If you need a refresher, click
here
to sift through our coverage.
Here's the official schedule of events today (again, all times are ET):
Coaches at the podium
10:30 a.m -- Pat Fitzgerald, Northwestern
10:45 a.m. -- Darrell Hazell, Purdue
11 a.m. -- Gary Andersen, Wisconsin
11:15 a.m. -- Tim Beckman, Illinois
11:30 a.m. -- Brady Hoke, Michigan
12 p.m. -- Kyle Flood, Rutgers
12:15 p.m. -- Jerry Kill, Minnesota
12:30 p.m. -- Mark Dantonio, Michigan State
1 p.m. -- Bo Pelini, Nebraska
1:15 p.m. -- Randy Edsall, Maryland
1:30 p.m. -- Urban Meyer, Ohio State
2 p.m. -- James Franklin, Penn State
2:15 p.m. -- Kevin Wilson, Indiana
2:30 p.m. -- Kirk Ferentz, Iowa
Others at podium
2:45 p.m. -- Mark Silverman, Big Ten Network
3 p.m. -- Michael Kelly, College Football Playoff
3:15 p.m. -- Jim Delany, Big Ten commissioner
Coaches and players will also be available in breakout interview sessions from 11:30 a.m. to 3:30 p.m. Make sure to keep your browsers locked on the blog for all the latest from Big Ten media days.
July, 27, 2014
Jul 27
11:08
AM ET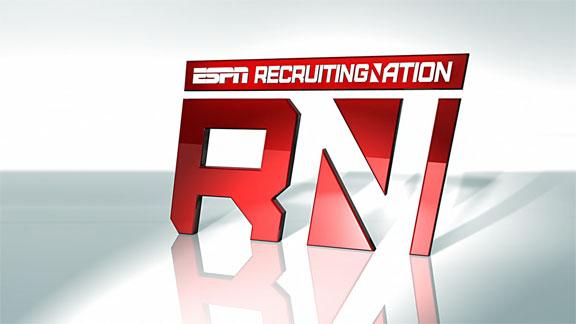 Four-star athlete
Brian Cole
is such a versatile player that he may end up helping the
Michigan Wolverines
on both sides of the ball. Here's a look at what his commitment means to Michigan:
To continue reading this article you must be an Insider
Blue Chip Battles: ESPN 300 Update
BIG TEN SCOREBOARD
Thursday, 8/28
Friday, 8/29
Saturday, 8/30