October, 21, 2014
Oct 21
8:00
AM ET
Three bite-sized opinions, with links below, to start off your morning:
1. Larry Johnson deserves cheers, not jeers from Penn State fans.
The longtime Nittany Lions assistant, now an Ohio State coach, is
returning to Happy Valley
for a Saturday night game. One fan tweeted at me, referring to LJ as "Larry Judas." He's not the only PSU fan that still harnesses some bitterness toward Johnson. But that really misses the mark. Johnson knew James Franklin was big on defensive line coach Sean Spencer -- he admitted as much Monday -- so Johnson simply stepped aside. This is the same man who declined a defensive coordinator position with Illinois in 2008 which would've reportedly doubled his salary. And who, in 2011, declined to put his name in for Maryland's next coordinator job because he already promised Penn State's recruiting class he'd coach them the next season. Just because a coach leaves somewhere doesn't mean he's "disloyal." I'm not 100 percent certain what kind of reception he'll receive Saturday night, but a standing ovation seems much more appropriate than any boos.
2. Purdue fans have a reason to be excited -- finally.
Danny Etling
was heralded as Purdue's savior before he ever took a snap last season. And when he did finally step under center for the first time, against Northern Illinois, the crowd offered him a standing ovation. Well, it turns out the quarterback to turn this Boilermakers team around might just be the lesser-known
Austin Appleby
. At least, he was lesser-known until a few weeks ago. In his last three starts, the Boilermakers are averaging 35.7 points a game. Before Appleby, that number was 23.8. He has some weapons on offense and, if this defense can step up, Purdue could really be a good team. Seriously. Appleby stuck with it after Etling twice beat him out for the starting job, and Appleby still has no shortage of confidence. He said last week that Purdue
"could've hung 40"
on Michigan State.
3. Illinois' "Gray Ghost" uniforms deserve a thumbs-up.
Maybe it's just because I'm a sucker for history, but I really dig the uniforms the Fighting Illini plan to wear this weekend for Homecoming. It's not necessarily how they look --
and they look fine
-- but it's the story behind them that really gets me. Ninety years ago, during Illinois' Homecoming against Michigan, Red Grange scored four touchdowns in the first 12 minutes of the game. He ended up with six TDs as the Illini became the first team to beat Michigan in two years. After that game, famous sportswriter Grantland Rice referred to Grange as a "gray ghost." So, that's the idea behind Illinois' uniforms. Wish more teams would honor history like that. Seems like fans are embracing the new design, too. The jerseys have already
sold out online
.
Now, on to the links ...
East Division
West Division
October, 20, 2014
Oct 20
5:00
PM ET
Let's get this week started off right with a good, old-fashioned Big Ten mailbag ...
@ESPNJoshMoyer Is it still "The Wild Wild West" like, @ESPNRittenberg says about the B1G West Division? Or is Nebraska clearly the leader?

— BlackFlash41Reverse (@Black41Reverse) October 20, 2014
Josh Moyer:
Why not both? Adam is still right -- there's really
not a lot of separation
over in the West. Minnesota is the only team that has yet to drop a conference game, but three others (Nebraska, Iowa, Wisconsin) are within striking distance with only one loss. At the same time, we've been saying for quite a few weeks now that Nebraska clearly boasts the edge, talent-wise, in the division. Heck, I picked the Huskers to win the West in the preseason. Nebraska is the only balanced team here. Minnesota and Wisconsin really don't have much in the way of passing games, and the Hawkeyes haven't exactly been models of consistency. But one misstep in this division could cost the crown. That's why the "Wild, Wild West" may have become slightly clearer, but it's still pretty muddled. We'll know how the East shakes out when Michigan State takes on Ohio State in two weeks. But the West? We might not know until the final week. Take a look at the Huskers' final three opponents: Wisconsin, Minnesota, Iowa. Now that's wild.
Mike from Grand Rapids, Minnesota, writes:
Does Brady Hoke need to win out to save his job? As much as I'm in the minority, I don't want to see Michigan go through another coaching search. This team, their O-line in particular, is pretty young.
Moyer:
See, that's a tough question, Mike -- only because there's about a zero percent chance Hoke wins out. Listen, he's gone. Even he has to know he's gone. Michigan has looked worse every season, and player development seems to be an ongoing issue. I'll even give you the offensive line since it's young. But why is
Devin Gardner
regressing? And why couldn't U-M adjust when Rutgers nailed them for 404 passing yards? As far as player development/recruiting, let me share kind of an eye-opening fact here: Michigan's usual starting lineup features seven players who were on the ESPN 300; Rutgers has recruited seven total ESPN 300 players since 2006. How about resources? For every dollar Rutgers' athletic department spends, Michigan spends $1.82. Yet, Rutgers was the Vegas favorite earlier this season -- and won. So it's clear Michigan is not on the right track. If Hoke somehow turns this team around and beats Michigan State and Ohio State, sure, he'll keep his job. But we might as well talk about what happens to Tim Beckman if Illinois wins out. Because neither is very likely to happen.
@ESPN_BigTen @ESPNJoshMoyer josh-what should us badger fans expect v maryland after our bye week, and who will we see under center? Thanks

— Douglas Greenberg (@DougGreenB) October 20, 2014
Moyer:
Let's get the obvious out of the way first: Expect lots and lots of yards for
Melvin Gordon
. The Terrapins are ranked No. 102 nationally in rush defense and the Badgers are ranked No. 1 in rushing offense. That's a big reason the Badgers are favored by double digits. Before the injury to Indiana's
Nate Sudfeld
, Maryland's offense also kind of reminded me of the Hoosiers without
Tevin Coleman
– you saw all this potential through the air … but you wondered when it was going to materialize. With
C.J. Brown
struggling, you still wonder. Maryland hasn't faced a top-25 defense yet this season, and it should struggle against Wisconsin. As far as Wisconsin's quarterback situation, both players are still splitting reps with the first team.
Joel Stave
has seen more time than
Tanner McEvoy
the last two games and, unless McEvoy practices better this week, I'd expect more of the same.
@ESPNJoshMoyer seeing as Penn State beat Akron, who beat Pitt, who beat Virginia Tech, who beat Ohio State, PSU clearly wins Saturday right?

— Amanda Wrzeszczynski (@PSU_Wrz) October 20, 2014
Moyer:
Haha ... well, I can't argue with that logic. Here's another fact to chew on: Penn State beat Ohio State, 63-14, in 1994. The next season, the Buckeyes won 28-25. Of course, do I really think the Nittany Lions will win Saturday after getting demolished last season by that same 63-14 score? Of course not. This is one of the worst offensive lines in the Power 5, while the Buckeyes have one of the best defensive lines. If Penn State can even keep this close -- Saturday night's game is the hot PSU ticket this season -- then it should be a boost. The Nittany Lions' defense is much improved from last season, but it really hasn't yet played a good quarterback. And
J.T. Barrett
has been great this season. This needs to be a low-scoring affair for PSU to really stand a chance. But I'd be surprised if Penn State really threatened.
October, 20, 2014
Oct 20
4:00
PM ET
When Michigan kicker
Matt Wile
struggled in his first two games this season, he said it helped that his teammates were behind him.
That's not quite as cliché as it may sound.
Sure, Wile's fellow Wolverines told him not to worry when he missed three of four kicks from that dastardly right hash to start the season. They had his back after he went 0-for-2 in a shutout loss to Notre Dame in the metaphorical way good teammates should. They told him he was still their guy and he'd get the next one, and certainly that steadied the senior's shaken confidence. What really helped, though, was when they got behind him in a more literal sense.
Michigan's field goal practice this season has included a chorus of hecklers who stand a few feet behind Wile every time he lines up for a kick. They do their best to distract him, chirping the type of things they hope will make the buzz of 100,000 screaming fans fade in comparison.
Dennis Norfleet
, the team's top punt returner/on-field break dancer, is usually the ring leader.
"Norfleet likes to be pretty loud," Wile said. "They only ever succeed if they can make me laugh. ... They talk about my nonexistent hamster. I apparently have a hamster. I don't know where that came from."
Fictional hamsters aside, the wheels inside Wile's head are now spinning at the right pace when he lines up for a kick. He's made seven of his eight attempts since losing to the Irish. He said the biggest adjustment during that stretch has been not psyching himself out. His only miss in the last five games was a 56-yard attempt that Rutgers freshman
Kemoko Turay
needed moonshoes to block.
"The guy from Rutgers made a great play," Wile said. "I definitely would've liked to see how that turned out otherwise. I thought I hit it pretty well."
In his last outing, an
18-13 win over Penn State
, Wile made all three of his field goals, including a 42-yarder to tie the game in the third quarter and a 37-yarder to take the lead for good in the fourth. The game-tying kick was the closest Wile came to the right hash -- his mental sticking point earlier in the season -- against the Nittany Lions.
Michigan coach Brady Hoke said he starts the special-teams portion of practice by sending Wile down the right hash attempting kicks at different lengths. He didn't claim to be Sigmund Freud in straightening out Wile's approach but said he's made it a point to get the kicker to stop pressing if he starts to struggle in practice.
"If he misses a couple in a row, I'll just tell him don't overthink it," Hoke said. "Sometimes he just flat-out overthinks it instead of just going up there and swinging your leg. I don't know if you want to call that psychology."
Wile does use a few tricks to keep himself mentally centered. If he feels doubt creeping in on the sideline, he visualizes the referee raising his arms after a successful kick. While he's lining up, he'll crunch his upper body into an awkward stance to remind himself to stay compact when he strikes the ball.
He has worked with a kicking specialist back in his hometown of San Diego to remove some kinks from his form. Most importantly, he says, he knows he has his teammates standing behind him.
"Now I don't care where I kick from," Wile said. "If I'm on the field, in my mind I'm going to make the kick."
October, 20, 2014
Oct 20
2:00
PM ET
Curse the double bye, as we have another week coming up with just five Big Ten games. But there are a few good ones on tap, including a couple intriguing rivalries. Here's your early look at the storylines for Week 9:
1. Can Michigan close the Bunyan-sized gap with Michigan State?
Based simply on this year's performances, Saturday's game between Michigan and Michigan State could be one of the most lopsided in the history of the Paul Bunyan Trophy series. The Spartans are riding high, having won 13 straight Big Ten contests, while the Wolverines are just 3-4. Michigan State has won five of the past six in this rivalry, including three straight in East Lansing. The inability to beat his rivals is a big reason Brady Hoke is fighting for his job right now. Maybe the Wolverines can rally behind their embattled coach. If not, this has a chance to get ugly.
2. Will Ohio State keep it rolling?
The Buckeyes have scored 50 or more points in each of their past four games to build their case for the College Football Playoff. This week brings their toughest road test of the season to date, a night game at Penn State. Beaver Stadium will be decked in white, and Nittany Lions fans will do their best to rattle young quarterback
J.T. Barrett
. Penn State's defense is probably the best one Ohio State has played in at least a month as well. Of course, the Lions have lost their first two Big Ten games and are having all sorts of issues with their offensive line, which they spent last week's bye week trying to solve. Don't be surprised if James Franklin and his staff throw out some new wrinkles this Saturday night.
3. Make-or-break game in Madison:
Is Maryland for real? Is Wisconsin a serious contender? The season has failed to adequately answer these questions thus far. The Terrapins are 2-1 in their first year in the league and are coming off a solid win over Iowa. They've been up and down (the down includes a home blowout loss to Ohio State), but they also have a lot of explosive playmakers. Wisconsin has a Heisman Trophy candidate in
Melvin Gordon
but hasn't figured much else out on offense, especially in the passing game. The Badgers already have one conference loss and likely can't afford another one if they want to win the West Division. Can Wisconsin keep pace with Maryland's skill players like
Stefon Diggs
? Can the Terps' shaky defense slow down Gordon? One team will be left standing as a serious division contender after Saturday.
4. Beckman's last stand?
Illinois coach Tim Beckman may well have to make a bowl game to save his job this season. That means the 3-4 Illini probably have to win this week at home against Minnesota, because the rest of the schedule isn't kind. The Gophers sit atop the West Division at 3-0 but looked vulnerable to a big-play passing offense on Saturday against Purdue. Illinois will have to follow the Boilermakers' game plan, though either
Aaron Bailey
or
Reilly O'Toole
must make a big jump at quarterback. Here's the best reason to predict that Minnesota will come away with the road win in Champaign: Beckman's defense is surrendering a Big Ten-worst 271.1 rushing yards per game.
David Cobb
could run all day.
5. Rutgers' mettle being tested:
You really wanted to join the Big Ten, Rutgers. Well, here you go. After dealing with the piping-hot cauldron of the Horseshoe last week -- where the Scarlet Knights got scalded in a 56-17 loss to Ohio State -- Kyle Flood's team jumps back into the fire this week with a trip to Nebraska. It's harder to imagine many more difficult back-to-back road challenges than that in the Big Ten, and it highlights the difficulty of Rutgers' second-half schedule (a November trip to Michigan State still awaits). Nebraska looked terrific last week in the second half at Northwestern and must simply avoid complacency before the big West Division showdowns arrive the final three weeks (at Wisconsin, Minnesota, at Iowa). For the Scarlet Knights right now, this is mostly about survival and not letting a promising season go up in flames
October, 20, 2014
Oct 20
8:00
AM ET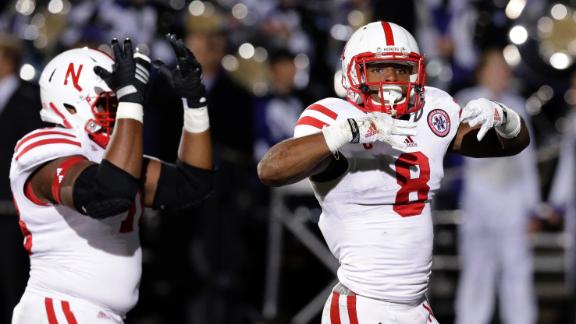 Good morning. A few thoughts before we get to the links:
1. Quarterback
J.T. Barrett
is receiving loads of attention as Ohio State continues its incredible offensive surge. And rightly so, because Barrett's numbers (20 total touchdowns, five interceptions, 65.2 percent completion rate) are astounding. He has the highest ESPN QBR score in the country since Sept. 6, the date of the Buckeyes' loss to Virginia Tech.
But let's not forget the improvement of Ohio State's offensive line. The young group with four new starters looked like a liability in the first couple of games. Since then, it has become a source of strength. The Buckeyes allowed no sacks on Saturday against Rutgers, whose defense came into the game leading the Big Ten in that category. The Scarlet Knights only had two tackles for loss and just one quarterback hurry. Ed Warriner's group showed similar dominance against Maryland, whose defensive front caused Iowa's offensive line all kinds of problems on Saturday.
Urban Meyer had his players
give the assistant coaches a standing ovation
after the Rutgers win. It's hard to tell
just how good the Buckeyes are
right now, Bob Hunter writes. But they look pretty darn good.
2. As great as
Ameer Abdullah
is, I thought Nebraska needed one more weapon to take its offense to a truly elite level. The Huskers might have found that extra option on Saturday at Northwestern.
De'Mornay Pierson-El
, who to this point had done most of his damage on punt returns, had three catches and even threw a touchdown pass to
Tommy Armstrong Jr.
, evoking memories of
a famous trick play from Nebraska's past
. The speedy true freshman gives Armstrong another target along with
Kenny Bell
and
Jordan Westerkamp
. The Huskers were dominant offensively in the second half against a pretty good Northwestern defense, and Pierson-El was a big reason why.
"De'Mornay and Ameer and Kenny, when does it end?" offensive coordinator Tim Beck told the Omaha World-Herald. "You want those guys on the field, because now you've got to guard them all."
3. Indiana just can't seem to sustain any kind of positive momentum. The Hoosiers were a trendy pick to make a bowl this season, especially after
winning at Missouri
on Sept. 20.
But since then, Kevin Wilson's team has gone just 1-3 (with the lone win over North Texas). And as IU showed in Saturday's 56-17 loss to Michigan State, it's highly doubtful that there is another win left on the schedule.
True freshman quarterback
Zander Diamont
clearly
isn't ready
, as his 5-for-15, 11-yard performance vs. the Spartans confirmed. He should be redshirting, but season-ending injuries to
Nate Sudfeld
and
Chris Covington
thrust him into action. Even with
Tevin Coleman
having a season for the ages, the Hoosiers don't have much of a chance without a passing attack and with a defense that can't win Big Ten games on its own. There's much to like about the young talent Wilson has brought to Bloomington, but Indiana continues to be stuck in program quicksand. The last five games will test the resolve of Wilson and his players.
West Division
East Division
And finally
...
Ohio State's band put on another amazing halftime show.
Rock out to it
. The Pinball Wizard part is my favorite.
October, 19, 2014
Oct 19
2:00
PM ET
October, 17, 2014
Oct 17
3:00
PM ET
It's been quite the interesting week in our fantasy league.
Not only did we complete our league's first-ever trade -- listed below -- but Austin Ward's time atop the standings proved to be a short one. After his lowest-scoring week of the season, he dropped from first to third. So it's still anybody's championship ... well, almost anybody's.
Your results this week:
Coal Crackers (Josh Moyer):
132
Legendary Leaders (Brian Bennett):
108
The Trombone Shorties (Adam Rittenberg):
89
Massive Attack (Austin Ward):
58
Sherman Tanks (Mitch Sherman):
57
And the overall standings:
The Trombone Shorties:
843
Coal Crackers:
841
Massive Attack:
813
Legendary Leaders:
720
Sherman Tanks:
585
Trade Alert:
Bennett's Legendary Leaders traded Indiana RB
Tevin Coleman
to Moyer's Coal Crackers in exchange for Nebraska QB Tommy Armstrong and Iowa RB
Mark Weisman
.
Trade analysis:
Bennett needed a quarterback badly, and put the word out he was willing to make a deal. The quarterbacks on his roster heading into this week --
Joel Stave
and
Reilly O'Toole
-- are both on bye, and he literally had no starters. So it was either take zeroes, hope to get lucky on the waiver wire, or make a trade. Sherman offered
Gary Nova
, but I sweetened the deal by adding a running back. My other QBs aren't great, but it was difficult to turn down the prospect of having
Melvin Gordon
and Coleman on the same team.
Waiver-wire:
If your heads are swirling from all the moves, know that you're not alone. This season is getting harder, and it's difficult to find starters at key spots -- so there was once again a lot of shuffling. Ward focused on Ohio State players, while Rittenberg added two solid wideouts.
Sherman adds Maryland QB C.J. Brown and drops Michigan QB Devin Gardner
Bennett adds Ohio State WR Devin Smith and drops Penn State WR Geno Lewis
Ward adds Ohio State RB Rod Smith and drops Indiana QB Nate Sudfeld
Moyer adds Maryland WR Stefon Diggs and drops Illinois WR Mike Dudek
Rittenberg adds Rutgers WR Leonte Carroo and drops Northwestern WR Dan Vitale
Sherman adds Purdue RB Akeem Hunt and drops Michigan RB De'Veon Smith
Bennett adds Nebraska WR Kenny Bell and drops Illinois WR Geronimo Allison
Ward adds Ohio State WR Michael Thomas and drops Illinois WR Martize Barr
Moyer adds Nebraska WR Jordan Westerkamp (drops no one due to 2-for-1 trade)
Rittenberg adds Maryland kickers and drops Wisconsin kickers
Sherman adds Iowa WR Kevonte Martin-Manley and drops Penn State WR DaeSean Hamilton
Bennett adds Maryland QB Caleb Rowe and drops Illinois QB Reilly O'Toole and Wisconsin RB Corey Clement (drops two due to 2-for-1 trade)
Ward adds Ohio State TE Jeff Heuerman and drops Michigan State WR Macgarrett Kings
Moyer adds Maryland RB Brandon Ross and drops Indiana WR Shane Wynn
Rittenberg adds Indiana WR Shane Wynn and drops Indiana RB D'Angelo Roberts
Sherman adds Ohio State defense and drops Wisconsin defense
Bennett adds Ohio State kickers, drops Minnesota kickers
Ward adds Nebraska defense, drops Michigan defense
Rittenberg adds Northwestern defense and drops Penn State defense
Sherman adds Nebraska kickers and drops Penn State kickers
Ward adds Rutgers kickers and drops Indiana kickers
And now for a look at our rosters this week:
The Trombone Shorties (Rittenberg)
Purdue QB
Austin Appleby
Michigan State QB
Connor Cook
Nebraska RB
Ameer Abdullah
Northwestern RB
Justin Jackson
Rutgers WR Leonte Carroo
Indiana WR Shane Wynn
Maryland kickers
Northwestern defense
Bench: Michigan WR
Devin Funchess
(on bye)
Coal Crackers (Moyer)
Minnesota QB
Mitch Leidner
Northwestern QB
Trevor Siemian
Indiana RB Tevin Coleman
Maryland RB Brandon Ross
Maryland WR Stefon Diggs
Nebraska WR Jordan Westerkamp
Michigan State kickers
Michigan State defense
Bench: Wisconsin RB Melvin Gordon (on bye)
Massive Attack (Ward)
Iowa QB
Jake Rudock
Ohio State QB
J.T. Barrett
Ohio State RB Rod Smith
Minnesota RB
David Cobb
Ohio State WR Michael Thomas
Ohio State TE Jeff Heuerman
Rutgers kickers
Nebraska defense
Bench: Illinois RB
Josh Ferguson
(on bye)
Legendary Leaders (Bennett)
Nebraska QB Tommy Armstrong
Maryland QB Caleb Rowe
Iowa RB Mark Weisman
Ohio State RB
Ezekiel Elliott
Nebraska WR Kenny Bell
Ohio State WR Devin Smith
Ohio State kickers
Minnesota defense
Bench: Wisconsin QB Joel Stave (on bye)
Sherman Tanks (Sherman)
Maryland QB C.J. Brown
Rutgers QB Gary Nova
Purdue RB Akeem Hunt
Michigan State RB
Jeremy Langford
Iowa WR Kevonte Martin-Manley
Michigan State WR
Tony Lippett
Nebraska kickers
Ohio State defense
Bench: Penn State QB
Christian Hackenberg
(on bye)
October, 17, 2014
Oct 17
2:23
PM ET
Cornerback
Iman Marshall
was the center of attention at Long Beach (Calif.) Poly on Friday morning, as he received his Under Armour All-America Game jersey. It's the second consecutive year a Jackrabbits standout will take part in the game, as Marshall follows
Juju Smith
, from the 2014 class.
Marshall will follow Smith's lead in another aspect as well, as the five-star cornerback and nation's No. 8 overall prospect will keep recruiting fans guessing as to his ultimate destination all the way to signing day.
While Marshall announced earlier this fall that he would take official visits to Florida State, LSU, Michigan, Notre Dame and Oklahoma, those have yet to be scheduled.
"Everything is still the same," Marshall said of his recruiting plan. "I'm just enjoying the process and the season. I'm excited for my five officials."
Although, everything might not be the same for long, as Marshall added that those might not actually be the five schools he visits.
"I have a feeling I might switch one, but I'm still debating," Marshall said, declining to state what school might not actually receive a trip.
SATs have prevented Marshall from taking official visits to this point, and he said he hopes to eventually take some during the end of the season so there isn't a rush to take them all after the season ends. One thing that isn't likely to change between now and the end of the year is that the three California schools involved -- Stanford, UCLA and USC -- will all be in the race until the end.
Six questions with Iman Marshall
Who are you most looking forward to playing with at the Under Armour All-America Game?
Marshall
: "First off I would love to play with
Josh Rosen
,
Christian Kirk
and
Cordell Broadus
. There are a lot of guys on the East Coast as well, but those are the three that come to my mind right now."
If you could start your team with any player from the 2015 recruiting class, who would it be?
Marshall
: "I'd have Rosen at quarterback, Broadus on one side and Kirk on the other, with
Calvin Ridley
in there also. Me at cornerback, Derwin James at safety and Kevin Tolliver on the other side of me. John Houston and
Jeffery Holland
at linebacker."
What is your earliest football memory?
Marshall
: "In my first game, I went 85 yards for a touchdown on my first carry."
What football player did you idolize growing up?
Marshall
: "As a defensive back, of course, I wanted to be like Deion Sanders. Every DB wants to be like him."
If you could take on any professional at their sport, who would it be?
Marshall
: "I'd take on LeBron or Kobe at basketball. You can't miss that."
Why do you wear your number (8)?
Marshall
: "Nobody knows this but the reason I got eight was that in Pop Warner, my number was zero. They didn't have zero in high school, so the closest number that looks like zero is eight."
October, 17, 2014
Oct 17
8:00
AM ET
I went to college with Brook Berringer. I did not know him well.
Berringer was 17 months older than me. The few times I interviewed him for the school newspaper, I thought he seemed much older than that, probably because he somehow stayed above the fray -- especially late in his career as a quarterback that happened to coincide with the most controversial and successful period in Nebraska football history.
Because of my own youth and lack of awareness, I failed at the time to recognize the impact of Berringer on people in Nebraska.
I saw him as just another guy with a good story. That is, until April 20, 1996, two days after Berringer died when the small plane he piloted crashed in a field north of Lincoln.
At Nebraska's spring game, instead of celebrating consecutive national championships or another batch of Cornhuskers drafted into the NFL -- Berringer likely would have been among them -- the school and state mourned its fallen hero by playing a video tribute on the big screens.
Sports are often emotional. But not like that. That was not about sports. The stadium went completely silent. It remains the only time I've shed tears while sitting in a press box. I was far from alone.
The Big Ten Network documentary, "Unbeaten," a 54-minute production on the life and death of Berringer, set to premier after the Nebraska-Northwestern game on Saturday, will similarly stir emotions for those who remember Berringer, and it will educate a generation of fans too young to have watched him play.
This fall marks the 20-year anniversary of his greatest football achievement, leading Nebraska to eight wins in place of injured star Tommie Frazier.
The documentary, directed by Matthew Engel and Kevin Shaw with Bill Friedman, BTN coordinating producer for original programming, hits all the right notes on Berringer.
It features no narration, only sound from a diverse lineup of former Berringer teammates and testimony from others, including Nebraska assistant Ron Brown, who recruited Berringer to Lincoln, and
Kyle Orton
, who has worn No. 18 since high school as a tribute to the QB.
An archived Berringer interview away from the field is particularly haunting. Forgotten audio from Keith Jackson lends important historical perspective.
"We wanted Brook to have a voice," Engel said.
For Nebraska fans, the first half of the film largely serves as review of the 1994 and '95 seasons, with impressive insight into the complicated dynamic of the Frazier-Berringer relationship. The final 25 minutes includes powerful reporting on the plane crash and its aftermath, poignant footage and a final sequence certain to move viewers like that April Saturday 18 years ago in Lincoln.
"He's a guy who represents all that's good about a college football player," Friedman said. "He was a symbol of how Nebraskans want their football to be portrayed."
Berringer's impact is lasting, memorialized with a statue of the quarterback in uniform with his coach, Tom Osborne, that stands outside the entrance Nebraska's athletic offices on the north side of Memorial Stadium.
Shaw said he visited Lincoln prior to documenting Berringer and saw the statue without knowing its significance. In learning about Berringer and remembering the statue, Shaw said, it was a "wow moment."
"It was like, that's
that
guy," he said.
With "Unbeaten," BTN succeeded in creating a film that will touch Nebraskans and teach others across the Big Ten about a quarterback who's worth remembering for another 20 years and beyond.
Let's go around the league:
East Division
West Division
October, 16, 2014
Oct 16
5:33
PM ET
Michigan's governing board and university president said Thursday they plan to take a "long-term approach" to reviewing the current state of the school's athletic department.
President Mark Schlissel opened the university's monthly board meeting Thursday by saying he was "deeply disappointed" with the athletic department's handling of quarterback Shane Morris' head injury in late September and the communication blunders that followed.
Schlissel did not mention athletic director Dave Brandon, who's received the brunt of the recent criticism, in his comments.
The regents who spoke to reporters following the meeting echoed Schlissel's sentiment about completing a deliberate review before making decisions about long-term changes. They said they did not know how long Schlissel planned to deliberate Brandon's future.
In the meantime, third parties close to Michigan have begun testing the waters for potential replacements if he does decide to make a change in the athletic director's office.
A source told ESPN.com's Adam Rittenberg that a Michigan donor has reached out to athletic directors at other Power 5 schools to gauge their interest in the job. On Wednesday, ESPN's Brett McMurphy reported that a third party has contacted three potential candidates to replace Brandon.
"It's a circumstance that requires patience and also a degree of urgency," regent Mark Bernstein said. "John Wooden, the UCLA basketball coach, used to say, 'Play quickly, but don't rush.' This is the kind of thing that needs resolution, but it's not the type of thing that serves anybody well to come out immediately with a decision."
October, 16, 2014
Oct 16
8:00
AM ET
How is it possible that half of the season is already gone? Why does it seem like time is dragging until Saturday every week? Life and football are truly mysteries.
1. Quarterback quandary:
Narrowing the field seemed like it could be a blessing in the summer, with Indiana coach Kevin Wilson quick to point out the benefits of no longer needing to juggle practice reps as much now that
Nate Sudfeld
was the last man standing in what was once a three-man battle. But there was an obvious downside that didn't receive nearly as much attention in July as perhaps it should have, and now that an injury has struck their starter, it's clear how much the transfers of
Tre Roberson
and
Cameron Coffman
hurt the Hoosiers. Roberson, experienced and proven in the Big Ten, is off putting up
big numbers
at Illinois State. Coffman is waiting for his chance to play for Wyoming while he sits out the season. And back at Indiana, the Hoosiers are scrambling to find somebody to
put behind center
this week with Michigan State's vaunted defense coming to town. The chance to focus on one guy and potentially unleash more of Sudfeld's ability was a nice silver lining, but it was apparently just a distraction from a huge storm cloud that was poised to wipe out Indiana's season.
2. Something special:
There's any easy way to get Urban Meyer to gush about his team these days. All it takes is one mention of his kickoff coverage unit, and the Ohio State coach turns downright giddy by his standards. The Buckeyes have reason to be pleased with what they're getting on special teams lately, and they lead the Big Ten in net yardage on kickoffs thanks to a combination of well-positioned kicks, an aggressive scheme and a roster loaded up with speedy players willing to fly down the field and hit somebody. Meyer has always had a fondness for special teams, and he's fostered a competition for "starting positions" on the units that makes even first-teamers on offense and defense proud to contribute on punts and kickoffs. It may not draw much attention, but the Buckeyes are racking up some hidden yardage and subtly altering the field-position battle each week thanks in large part to Meyer's cover guys.
3. Best Bye:
No program seems too thrilled with the double-bye schedule in place this season, but there appear to be obvious benefits for all four teams sitting out with an off date Saturday. Penn State's offensive line remains in disarray, and while it can't suddenly turn its inexperienced blockers into veterans, some extra reps and game-planning won't hurt heading into the stretch run that starts against Ohio State's tenacious defensive line next week. Wisconsin and Illinois both could use some time to work out kinks in the passing attack, with the former toying with a two-quarterback rotation and the latter trying to find the best option with
Wes Lunt
on the sideline. And after finally getting back in the win column, Brady Hoke might be able to take a deep breath at Michigan and enjoy at least a few moments of peace after a victory over the weekend. Out of all those options, maybe the Wolverines needed a bye the most -- unless the
regents
decide to stir the pot up again.
East Division
West Division
October, 16, 2014
Oct 16
12:00
AM ET
[+] Enlarge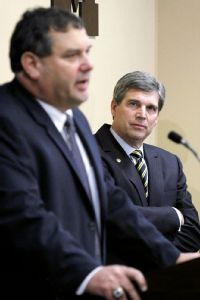 Gregory Shamus/Getty ImagesDave Brandon, right, hired Brady Hoke in 2011, but the questions about Brandon's future as AD have overshadowed the ones about Hoke's future as football coach.
ANN ARBOR, Mich. -- College campuses love a good protest. Students at Michigan have attempted to stage several of them, with varying degrees of success, in the past month to voice their disapproval of the university's athletic department and its leader, Dave Brandon.
The most noticed of these events came on the final day of September, when a few hundred bodies gathered to shout "Fire Brandon" outside the seemingly empty campus residence of university president Mark Schlissel. On Thursday, the detractors will get their first real opportunity to hurl grievances at something other than locked doors and online petitions.
Michigan's Board of Regents, the university's eight-person elected governing body, meets Thursday for the first time since the mishandled response to quarterback Shane Morris' head injury dropped Brandon's approval ratings from low to nearly flat-lining and sparked the public outcry. While there is no mention of the athletic department on the board's official agenda, regent Denise Ilitch expects Brandon to be a topic of conversation at some point during the meeting.
October, 15, 2014
Oct 15
11:00
PM ET
Michigan commit
Garrett Taylor
will visit Ohio State, Penn State and Virginia Tech, but keep a close eye on the Buckeyes. Plus, LSU's elite running back class is starting to fall apart.
Future Of Michigan-Michigan State Rivalry