April, 18, 2014
Apr 18
11:00
AM ET
ANN ARBOR, Mich. -- Time will tell whether Doug Nussmeier can fix
Michigan
's offense and finally install the kind of pro-style, power running game that Brady Hoke has talked about for the past four years.
One thing, however, appears certain: Whether Nussmeier succeeds or fails won't be because of a lack of energy.
[+] Enlarge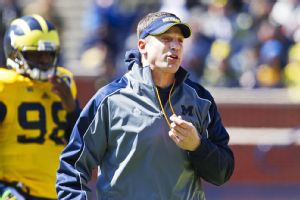 AP Photo/Tony DingDoug Nussmeier added some energy to Michigan's spring practices.
The Wolverines' offense probably needed a shot of adrenaline after last season's highly inconsistent performance and lackluster showing in the Buffalo Wild Wings Bowl
loss to Kansas State
. Their first-year coordinator was there to provide that jolt during the team's 15 spring practices, as his voice often was the loudest one vibrating off the Al Glick Field House walls.
"He jumps around and screams all the time," receiver
Devin Funchess
told ESPN.com. "I love the energy he brings to practice. We really have to match him."
Quarterback
Devin Gardner
called Nussmeier "an insane, crazy man" on the practice field. Offensive lineman
Kyle Kalis
said, "he's spunky." Nussmeier doesn't dispute those descriptions.
"We'll exude our passion for the game," he said. "They spend so much time and energy preparing that we want to create an environment with high energy and positivity, and I think they've embraced that. I get excited when I get the opportunity to go out there with them on the field."
Laid-back types won't last long working under Alabama's Nick Saban, as Nussmeier did the past two seasons. His style is a little bit different than his Michigan predecessor, Al Borges. While Borges was a beloved figure around the team, he was a bit more professorial in his approach.
"He [Nussmeier] has brought in a different way of being a good football coach," Hoke said. "His passion and energy for what he does is obvious out there."
Hoke said it was very difficult to let Borges go because of their personal relationship, but he had followed Nussmeier's career for a while. He played with Nussmeier's agent while at Ball State and nearly hired Nussmeier when he took over his alma mater as head coach.
Nussmeier has simplified things in Michigan's running game, with the goal of becoming a much more north-south ground attack. The Wolverines averaged just 3.3 yards per carry last season -- second to last in the Big Ten -- and
Fitz Toussaint
's 648 rushing yards led the team. Nussmeier has has a 1,000-yard rusher in each of his last six seasons as coordinator, at Alabama, Washington and Fresno State.
"We want to play physical and be a balanced team," he said. "And that all starts with what you're doing up front in the trenches and on the line of scrimmage."
That's also where Nussmeier's biggest challenge lies, as Michigan's offensive line struggled in the interior in 2013 and is relying on a lot of freshmen and sophomores in 2014. The Wolverines' season could well depend on whether those guys develop quickly this summer.
The good news is that Nussmeier isn't just all caffeine. Gardner says that while he's frantic on the field, Nussmeier is soft-spoken and direct in meeting rooms, calling him "one of the best teachers I've ever been around, including school."
Hoke concurs. Earlier this week, he praised his new assistant for his skill at teaching details and "his ability to command a room and get the attention of an offense."
There's little question that Nussmeier has the Wolverines' attention. Now it's a matter of making the necessary repairs.
"I think that's exactly what we need," Kalis said, "A guy that's not going to accept anything but perfect."
April, 18, 2014
Apr 18
10:00
AM ET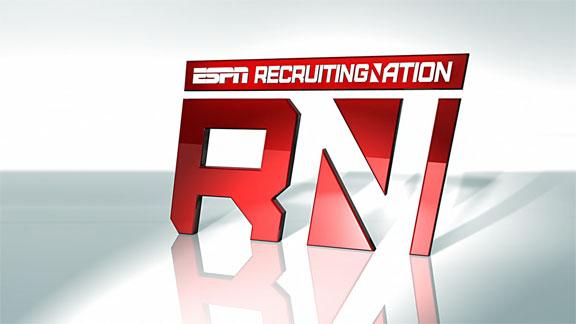 Throughout this recruiting cycle, RecruitingNation will profile a number of ESPN 300 prospects in the 2015 class, including an inside look at the prospect, his recruitment, a scouting report and what college program could benefit when he ultimately makes his decision.
When you attend a school as prestigious as Cretin-Derham Hall, as No. 16-ranked recruit
Jashon Cornell
does, you are bound to have connections. The Minnesota school has produced its share of college and NFL players over the years, including associate dean of students Marcus Freeman, who played for Notre Dame.
To continue reading this article you must be an Insider
April, 17, 2014
Apr 17
12:00
PM ET
Make up your mind, Mother Nature.
April, 17, 2014
Apr 17
10:00
AM ET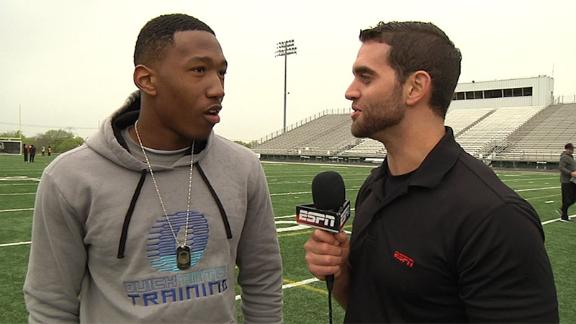 Throughout this recruiting cycle, RecruitingNation will profile a number of ESPN 300 prospects in the 2015 class, including an inside look at the prospect, his recruitment, a scouting report and what college program could benefit when he ultimately makes his decision
.
DESOTO, Texas -- With all the multiple camps, combines and special events happening each spring,
DaMarkus Lodge
chooses not to be a regular on the circuit.
It's not that Lodge is against them, or that he thinks he's above them. The ESPN 300 receiver has simply prioritized his life as a student-athlete. The camp circuit happens to be a middle-of-the-pack priority.
To continue reading this article you must be an Insider
April, 16, 2014
Apr 16
5:00
PM ET
It's Wednesday. There's nothing good on TV (except for
this
). It's mailbag business time.

Ed from State of Rutgers writes:
How would you rank B1G head coaches on the hot seat in 2014? Which assistants are in the best position for a head coaching job after this season?
Brian Bennett:
Thanks for the question, Ed, and welcome to Big Ten country. We didn't see a single head coach get fired in the Big Ten last season, which was good news. But the way these things go, odds are the league won't make it two years in a row without any pink slips.
Let's answer your question by looking at this in tiers. Tier 1 includes the coaches who absolutely won't get fired this season unless there's some sort of unforeseen major scandal: Ohio State's Urban Meyer, Michigan State's Mark Dantonio, Penn State's James Franklin, Minnesota's Jerry Kill, Northwestern's Pat Fitzgerald, Wisconsin's Gary Andersen and Iowa's Kirk Ferentz.
[+] Enlarge
AP Photo/John RaouxKyle Flood could face a difficult first season in the Big Ten, but it might not be enough to cost him his job.
Tier 2 would be the guys who are most likely safe but who could feel some rising temperatures if the season goes awry. That would include: Indiana's Kevin Wilson, who seems to have the Hoosiers on an uptick but who needs to get the team to a bowl soon; Purdue's Darrell Hazell, who almost certainly won't get canned after just two years but can't afford another season as awful as last season's 1-11 debacle; and Michigan's Brady Hoke, who isn't on the hot seat now but who would definitely feel the wrath of fans and boosters if the Wolverines have another 7-5 type year and lose to Ohio State.
Tier 3 covers the coaches actually feeling some heat under their chairs. Let's evaluate them individually:
Tim Beckman, Illinois: This should come as no surprise. The Illini showed improvement last season, but Beckman is still just 6-18 and has seen fan support fall off a cliff. Anything less than a bowl game in 2014 could make things really dicey.

Bo Pelini, Nebraska: This is a well-documented situation, and many people were surprised Pelini wasn't fired at the end of last season, though athletics director Shawn Eichorst remains hard to read. The good news is that Pelini could have a very good team in Lincoln this year, and he sure doesn't appear to be sweating things this spring.

Kyle Flood, Rutgers: He went 9-4 his first season as head coach but just 6-7 with a dismal finish last season. He also has a new boss in town, and the Scarlet Knights will face a very difficult schedule in Year 1 in the Big Ten. He's only making $900,000, so a change wouldn't be too financially painful. The question is whether embattled new athletic director Julie Hermann has enough juice right now to make that call.

Randy Edsall, Maryland: This is the toughest call of the tier, as Edsall might have bought himself some time with last season's winning record and has had to deal with injuries to many star players. Yet he's still just 13-24 after three seasons, and life in the Big Ten might not be easy for the Terps. A losing record in 2014 would make things very uncomfortable in College Park.
---


George K. from Pittsburgh:
Brian, I'm disappointed in what you wrote about
Joe Paterno winning [the Big Ten coaches' tournament]
. There was way too much conjecture in what you said. Please think about it. Then issue a factual restatement, please.
Scott R. from Chadron, Neb., writes:
Pretty sure there was voter fraud on that Osborne/Paterno matchup. Am I the only one who noticed there were as many international votes as domestic? And that those international votes were 87% for Paterno? Every other poll on ESPN.com is about 75% domestic, 25% foreign. This one was 50/50, and the international vote was OVERWHELMINGLY for Paterno. Seems a little suspicious.
Brian Bennett:
File this one under "You Can't Please Everybody, Vol. 734." For the past two weeks, my mailbag was full of comments like Scott's, claiming some sort of voter fraud as Paterno got a huge international vote against both Tom Osborne and Woody Hayes. I have neither the technical expertise nor the time to figure out whether there was some sort of computer tomfoolery going on. But you'd have to be really naive not to raise an eyebrow at the fact that more than half the votes (17,000-plus) in the title matchup came from outside the United States and that those votes were wildly in favor of Paterno. Maybe there's a simple explanation why so many non-U.S. residents care about Big Ten football -- Italians for JoePa, perhaps?
The bottom line is that we placed no rules on this tournament, other than the most votes wins. If someone was ingenious enough to rig it, more power to them. Paterno certainly had the résumé and accomplishments that were deserving on their own. I had no personal stake in the outcome, and I found it to be a fun exercise to go along with March Madness. I hope everyone enjoyed it.
---


Andrew from Columbus, Ohio, writes:
While it is still possible that Ohio State-Michigan State could be a night game, what prevented it from being in the first batch of announced games? Since it would feature the two most compelling teams in the league from last year, it seems to me that it would be the marquee matchup the B1G has been looking to highlight.
Brian Bennett:
Andrew, I can't say I understand all the intricacies here at play, either, except that there are apparently some other details to iron out. That game still seems like a natural choice for a prime-time selection. It's still only mid-April. Stay tuned ...
---

Mike K. from Penn State writes:
With Penn State losing
Allen Robinson
and
Brandon Felder
at the WR position, along with some great O-linemen to the draft, do you think the team can still succeed in the Big Ten solely based on defense?
Brian Bennett:
I have great respect for what Bob Shoop and his staff accomplished at Vanderbilt and expect him to do a great job as the Nittany Lions' defensive coordinator. From what I saw last year, however, I don't think there's enough top-shelf talent on that defense for Penn State to pull a Michigan State and simply dominate everyone on defense. At least not at a championship level. I don't worry as much about the receiving group, because I think with
Geno Lewis
, some of the talented freshmen and those tight ends, they can piece together people for
Christian Hackenberg
to target. My biggest concern is the offensive line, which is thin and has some troubling injuries. It's nearly impossible to win at a high level in the Big Ten without a decent offensive line.
---
Tommy from Savannah, Ga., writes:
March Madness is one of the greatest times of the year, most people live for it. Why wouldn't the NCAA FBS decision makers want something like that with those ratings over the course of a few weeks? Definitely not 68 teams, but eight or 16 teams with a selection show, bracket challenge, Cinderellas, and endless coverage and hype. They already do it for FCS.
Brian Bennett:
You'll find no bigger NCAA tournament fan than me, Tommy, and my wife is really happy it's over so she can see me again. Still, it's hard to compare the sports. Football simply is a much more physical game, and so adding more games to the schedule becomes problematic, along with the logistical problems caused by Christmas break and the semester changes. I do believe we will eventually have an eight-team tournament, with the five power conference champions getting an automatic berth along with the top champion of the other leagues plus two wild cards. That's a perfect setup. But it took us decades just to get to a four-team playoff, and that semifinal day on Jan. 1 (most years) will instantly become one of the best days on the sports calendar.
Besides, I could argue college football already has March Madness all fall long, and the ratings reflect that. Before the Final Four began, the NCAA tournament averaged a reported 9.8 million viewers, which was a big increase. By contrast, the Big Ten championship game drew 11.6 million viewers, while the Auburn-Alabama game attracted 13.8 million. The men's basketball final (aired on network TV) between UConn and Kentucky got 21.2 million viewers, compared to 25.6 million for the BCS title game (aired on ESPN) between Florida State and Auburn. We could see record ratings for the inaugural rounds of the College Football Playoff.
April, 16, 2014
Apr 16
12:00
PM ET
Is this heaven? Nope, still Iowa. But happy to be back.
April, 16, 2014
Apr 16
11:45
AM ET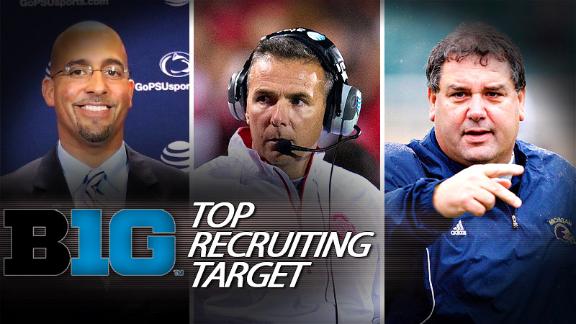 The top-ranked prospects tend to wait out the process, so there are still some huge names at the top of Big Ten recruiting boards. The top targets will be fought over by most teams within the conference, which will make for some interesting recruiting battles.
Here is a look at the top five targets within the Big Ten in the
2015 ESPN 300
.
DE Jashon Cornell
6-4, 270 pounds
ESPN 300 rank: No. 16
To continue reading this article you must be an Insider
April, 15, 2014
Apr 15
12:00
PM ET
Heading to Hawkeye Country later today. Any recommendations?
April, 15, 2014
Apr 15
11:00
AM ET
The most exciting day of the Big Ten offseason is here. OK, not really, but it's definitely in the top five.

The first portion of the Big Ten's prime-time schedule is out as ABC/ESPN made its six selections for games to be played under the lights. The Big Ten Network will announce its prime-time picks next week. Additional kickoff times could be announced later this spring or early in the summer.
Here's the ABC/ESPN schedule:
Sept. 6
Virginia Tech at Ohio State, 8 p.m. ET, ESPN
Sept. 20
Miami at Nebraska, 8 p.m. ET, ABC or ESPN or ESPN2
Oct. 4
Nebraska at Michigan State, 8 p.m. ET, ABC or ESPN or ESPN2
Oct. 11
Penn State at Michigan, 7 p.m. ET, ESPN or ESPN2*
Oct. 25
Ohio State at Penn State, 8 p.m. ET, ABC or ESPN or ESPN2
Nov. 1
Illinois at Ohio State, 8 p.m. ET, ABC or ESPN or ESPN2
*-previously announced
A few notes, quotes and observations:
November night games
Contrary to popular belief, the Big Ten never had a strict policy against playing prime-time games after Nov. 1, but most of its schools preferred to keep those games in the first two months of the season. League members have shown an increased willingness to schedule more prime-time games, and after discussing November night contests for several years, we finally have one.
[+] Enlarge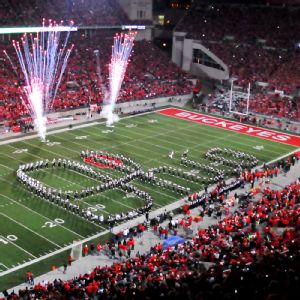 David Dermer/Getty ImagesOhio Stadium will host its first November night game in 2014.
Although the November matchup -- Illinois at Ohio State -- lacks a wow factor, this is still a positive step for the league. Also, this is
not the final list
for November prime-time games, as others will be announced in the future.
"There is a real recognition with our coaches, our athletic directors and our fans that prime-time football is very important," Mark Rudner, the Big Ten's senior associate commissioner for television administration, told ESPN.com. "It's important to the conference, it's important to recruiting, it puts you on a big stage.
"It's a big event whenever you have prime-time football."
Ohio State athletic director Gene Smith and coach Urban Meyer both have vocalized their desire for more night games. The Buckeyes get three of them on ABC/ESPN (two home, one road), and possibly more to come. It's the Urban Effect.
Huskers, Lions back in prime
No two Big Ten fan bases value night football at their home venues more than Penn State and Nebraska. The Nittany Lions and Huskers both host prime-time games on ABC/ESPN in 2014 (Nebraska didn't have an ABC/ESPN prime-time game in 2013) and make multiple appearances.
The Nebraska-Miami game should be a fun one, especially given the history between the two programs in bowl games (their last five meetings took place in major bowl games). Nebraska's visit to Michigan State is one of few must-see division crossover contests, so it makes sense in prime time.
Beaver Stadium will be rocking for the Ohio State game as former longtime Penn State assistant coach Larry Johnson makes his return to Happy Valley wearing scarlet and gray. Although Penn State remains ineligible for postseason play, the Lions' value is reflected here with East Division matchups against both Michigan and Ohio State. The Lions' consecutive winning seasons despite the bowl ban, plus the arrival of coach James Franklin, enhance the program's appeal for top TV slots.
No limits on prime-time appearances
Big Ten teams typically have had no more than three prime-time appearances per season, but like the November night games issue, this was more of a preference than a policy. As schools like Ohio State become increasingly more open to night football, the number of prime-time appearances will increase, and will occasionally exceed three.
Wisconsin played four prime-time games (two home, two road) in the 2011 season.
"That three [limit] was really self-imposed," Rudner said. "You could waive it if you wanted to. I don't know if that will be as hard and fast as it was before. They see the value in these big events, these big games."
Additional games/announcements
Some Big Ten prime-time games were previously announced, such as Michigan's Sept. 6 trip to Notre Dame and Purdue's Sept. 13 neutral-site game against Notre Dame. A game time has not been set for Wisconsin's season-opener against LSU on Aug. 30 in Houston, but the game will kick off in prime time and be televised by an ESPN network.
One thing to remember when predicting or analyzing night-game choices: other games being played in the same window. Prime-time kickoffs offer certain benefits, but teams don't like being overshadowed in the late window.
April, 14, 2014
Apr 14
5:00
PM ET
Sorry for the lack of a mailbag last Wednesday, but I was busy catching up with folks at Ohio State. Never fear: the Monday mailbag is back.
D.J. from Minneapolis writes:
What happens to the union story if the Northwestern players vote no?
Brian Bennett:
A great question, and based on media comments from several players -- most notably quarterback
Trevor Siemian
-- it sure seems like the Wildcats players are against the union and will vote no on April 25. But there might be a stronger undercurrent of support from players who are not as vocal in public. Given that the leader of the movement,
Kain Colter
, has already graduated and won't be eligible to vote, you wonder who on the team will take the baton and push for the union. All it takes, remember, is a simple majority.
So does a no vote mean this is the end of the story? I don't think it's that basic. Northwestern players would be able to try to unionize again next year. The regional National Labor Relations Board ruling has also set a precedent, at least for football players at private schools, and those who believe in the cause, such as CAPA president Ramogi Huma, would likely try to persuade players at other programs to follow Northwestern's lead. The school will continue to try to fight the original ruling, as well.
If the Wildcats' players vote no next week, we might not see any tangible results from the union movement for a while. If nothing else, however, it was another shot across the bow at the NCAA and another huge warning to the leaders of college sports that they had better make some changes before a judge or a legislature does it for them.
---
Kelly from Wilmington, N.C., writes:
Brian, I know you said in
your article
that you don't think "The Game" would ever be a prime-time game, but do you think Michigan will gauge this year's game vs. Penn State to consider using Penn State and Ohio State every other year for a night game? They went from "never" to yes with Notre Dame and are now using Penn State. Yes, they get a great spot every year on ABC, but could you imagine if they moved to it a night game? Is it possible that they have realized that at least one night game a year is great in so many ways, not just for Michigan, but the Big Ten as a whole?
Brian Bennett:
I shouldn't have written "never" to the idea of an Ohio State-Michigan night game, because so many things have changed in college football that anything is possible. I never thought we'd actually see a playoff, for instance. But both schools have said they're not in favor of moving "The Game" away from the afternoon and under the lights. Michigan athletic director Dave Brandon doesn't even want to play Michigan State at night and so I doubt he will budge on the idea of playing Ohio State in prime time. And I don't think this game needs any more attention, as evidenced by all the signs and reminders of the rivalry that I saw while visiting both Michigan and Ohio State earlier this month. So I wouldn't expect it to happen anytime soon, though never say never.
---
Rob NitLion from Morristown, N.J., writes:
Can any conclusions be drawn about the benefit of spring games based on some of the attendance numbers you guys have mentioned in your recaps? I'm not going to pull a
Braxton Miller
and brag about PSU's "domination" of spring game attendance in the B1G, but ... some schools can really use the spring game as a springboard for recruiting, while other schools ... under 10,000 at Maryland, Indiana, Illinois, Wisconsin and more might only be hurting their own image? Weather wasn't much of a factor this weekend, so what is the reasoning for the rather paltry attendance numbers, or is the annual spring game at other schools not nearly the weekend long "festival" that the Blue-White game is in State College every year?
Brian Bennett:
I've come to the conclusion that spring games just aren't as big a deal at some places as they are others. And that's OK. I don't have much of a tolerance for spring games and don't like watching them, because you learn less from those than you would from watching just about any other practice. Sure, it's a fun day for fans to see their teams and sit in the stadium and maybe get some autographs, and all that is great. But I also have no problem with people who feel like they have better things to do than watch football that often isn't really representative of the finished product, with many star players usually being held out.
I don't know if spring game attendance factors much into recruiting. It certainly can't hurt to sell that to recruits as evidence of intense interest and appreciation of your program. But Michigan hasn't gotten many big spring game crowds over the years and that doesn't seem to affect the Wolverines' recruiting very much. I doubt many prospects are basing their decisions on anything that occurs at a spring game, and if they are, that is misguided on their part.
---
Dalton from Cincinnati writes:
I've had some different debates with some of my friends on why Michigan hasn't been able to rebound and compete for a Big Ten championship since 2006. To clear things up, do you think it is because Michigan State is no longer "the little brother" in this rivalry, or because Ohio State has won all but two meetings against them since 2001? Or is it the fact MSU hasn't had as much coaching turnover, has had better coaching and better development of their recruits and has had more winning seasons? I think MSU becoming more constant under Mark Dantonio has led to this occurring than anything else. What is your take on this?

Brian Bennett:
I thought Michigan State clearly benefited during Rich Rodriguez's tenure in Ann Arbor, as the Wolverines' downturn and different approach to recruiting helped the Spartans begin to establish themselves. Certainly, the success of Michigan State and Ohio State hasn't done anything to help Michigan, and butting heads against both those programs now in the East won't be easy.
Still, in my view, the biggest thing holding back Michigan is not any external force but Michigan itself. The two coaching changes, and especially veering between very contrasting styles, caused some problems that current Wolverines coaches will tell you are still being felt today. More than anything, though, Michigan simply hasn't capitalized on its own enormous resources and fulfilled its potential. As noted a minute ago, recruiting has been strong under Brady Hoke, at least if you believe the scouting services. The Maize and Blue have never had much trouble attracting talent. Development of that skill has been an issue, though many of those players are still young.
Perhaps we overrate Michigan's history and tradition, since the program claims only one national title since 1948. But with the school's money, stadium size, fan support and access to players, the Wolverines have no one to blame but themselves for not winning a Big Ten title in what is fast approaching a decade's time.
April, 14, 2014
Apr 14
12:00
PM ET
I missed all the spring games this weekend because I was busy attending Joffrey's wedding.
April, 13, 2014
Apr 13
11:11
PM ET
ESPN.com news services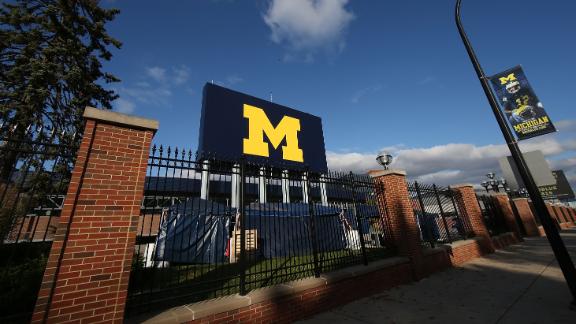 In the Ohio State-Michigan rivalry, it appears nothing is off-limits.
Buckeyes quarterback Braxton Miller took to Twitter to insult the Wolverines' turnout for their spring game after Saturday's OSU game drew more than 61,000 fans. Michigan, who held their spring game April 5, drew about 15,000 fans on April 15.
- BRAXTON MILLER (@BraxtonMiller5) April 13, 2014
Miller did not get to participate in the game, as Ohio State's All-Big Ten quarterback sat out spring workouts after surgery on his throwing shoulder. Also sitting out were wide receiver Evan Spencer (ankle), safety Vonn Bell (knee), tight end Jeff Heuerman, wideout Jalin Marshall, H-back Dontre Wilson and starting offensive tackle Taylor Decker.
April, 13, 2014
Apr 13
12:07
AM ET
There wasn't a huge crop of prospects at the Chicago NFTC, but there were plenty of top recruits looking to prove their worth against their peers.
After an outstanding Elite 11 performance Saturday morning and going through passing drills later in the day, Missouri quarterback commit
Drew Lock
earned the camp's only invite to The Opening and Elite 11.
To continue reading this article you must be an Insider
Michigan Outlook: 2014
BIG TEN SCOREBOARD
Thursday, 8/28
Saturday, 8/30