October, 25, 2014
Oct 25
9:13
PM ET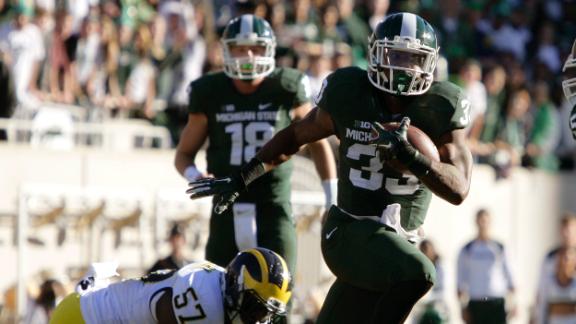 EAST LANSING, Mich. -- Another dominant Michigan State win won't extinguish the flames of its annual showdown with its neighbors from Ann Arbor.
Coach Mark Dantonio made sure of that by dumping gasoline on the heated rivalry after a 35-11 win at Spartan Stadium on Saturday night.
With his team comfortably ahead by 17 points late in the fourth quarter, Dantonio opted to keep swinging at a Michigan defense that had long been on the ropes. Senior Jeremy Langford pounded in his third score of the day with 28 seconds left in the game. The parting shot wasn't an attempt to add some style points to Michigan State's 13th straight conference win, Dantonio said, but retaliation from a perceived slight before the start of the game.
Michigan players planted a stake on the Spartan Stadium turf after running onto the field before the opening kickoff. Michigan State players and their coaches took notice and decided to keep exacting their revenge until their final offensive play of the game.
"It just felt like we needed to put a stake in them at that point," Dantonio said when asked about the final score.
Spartans players have long felt disrespected by the more tradition-laden Michigan program that they say exudes arrogance. The most cited example came in 2007, when Wolverines running back Michael Hart said defeating Michigan State was like beating his "little brother."
Gardner Throws Shovel Pass To No One