January, 29, 2015
Jan 29
1:00
PM ET
This week, we're examining a problematic position for each Big Ten team during the 2014 season and how it can potentially be repaired in 2015.
Up next: Michigan
Problem position:
Quarterback
Why quarterback was a problem in 2014:
Offensive line, running back and wide receiver were no great shakes in 2014 for the Wolverines, either. But Michigan's repeated inability to develop a quarterback remains the most pressing concern, especially for new coach Jim Harbaugh and his staff.
Devin Gardner
regressed as a senior, throwing 15 interceptions and just 10 touchdowns, yet Michigan didn't have anyone who could beat him out. And now he's gone.
How it can be fixed (solutions on the roster):
Shane Morris
is the most experienced quarterback on the roster, though his main claim to fame is being left in a game after suffering a concussion. The junior has made two career starts, both of them blowout losses.
Russell Bellomy
looked overmatched in his previous exposure during the 2012 Nebraska game, but that was a long time ago.
Wilton Speight
redshirted last year.
How it can be fixed (potential help from 2015 recruiting class):
Two new quarterbacks will be thrown into what should be a wide-open competition.
Alex Malzone
committed to Brady Hoke's staff and enrolled in January, so he'll be ready for spring practice. New coach Jim Harbaugh recently flipped former Texas commit
Zach Gentry
to Michigan. Both are four-star prospects, according to ESPN Recruiting.
Early 2015 outlook:
Well, one thing's for sure. The era of the running quarterback is officially over, as all of Michigan's contenders for the job are suited for the pro-style system Hoke always talked about and that Harbaugh will run. Are any of them ready to step in and play well in 2015? That remains a huge question mark. The spring competition will be crowded, and the incumbents will have to learn a new set of plays and terminology. Don't be surprised if Harbaugh decided to go with one of the youngsters he recruited. There's hope for the future here, but it may take more than one more season for Michigan to finally solve its quarterback problem
January, 29, 2015
Jan 29
9:00
AM ET
Less than a week before signing day, recruiting has consumed conversation around college football. So in the spirit of the season, a recruiting-themed version of the links seems well advised.
Basically, at this time of year, you've got a choice:
Buy into the hype and live large next Wednesday, convinced that your team just signed the class that will vault it past Ohio State. (If you support the Buckeyes, well, plenty of reason also exists for optimism.)
Or you can play the role of realist, bursting bubbles everywhere with stories of five-star mistakes and walk-on success stories. As
Randy Peterson
of the Des Moines Register illustrates well, if you buy into enough recruiting hype,
you'll get burned
.
The latter option makes sense. But at this time of year, who wants to make sense when you can picture every prospect as a star?
Big Ten coaches are a bit divided
, as I wrote Wednesday, on the
league-wide recruiting impact
of good publicity in the wake of Ohio State's national championship and the Michigan hiring of Jim Harbaugh.
For some Big Ten programs, it helps to sell the success of rival institutions. To some prospects, it matters to play at the Horseshoe or in the Big House – even as a visitor.
And for other programs, this signifies no change. Michigan State is the best example. As the Spartans build another class like those that have produced four 11-win seasons in the past five years, coach Mark Dantonio cares little about recruiting momentum generated by Ohio State or Michigan.
It's bad enough for Michigan State coaches, players and fans that at every turn, they're inundated with talk of Michigan's new coach; the last thing you'll hear from Dantonio is an acknowledgement that another team in the league might help the Spartans recruit.
"We're selling results," he said. "When we first came here, we were selling hope."
At the same time, Dantonio, entering his ninth year in East Lansing, told me this week he recognizes the tenuous nature of the Spartans' spot near the top of the league.
"I think we're here to stay," he said, "but it's a quick drop back to mediocrity. It's always, 'What have you done for me lately?' I understand that."
As long as Michigan State pays attention to next week and continues to restock its program -- with or without the help of other Big Ten powers -- it's not likely to fall far from its current perch.
What about the impact
of Ohio State's national title on its own recruiting class?
Apparently, it will be
felt more in 2016 and 2017
. The Buckeyes, No. 7 in the ESPN class rankings, completed the bulk of their recruiting for 2015 before the College Football Playoff wins over Alabama and Oregon.
But Urban Meyer has remained busy on the recruiting trail since mid-January, scooping up elite high school sophomores and juniors at a rate that ought to alarm other Big Ten coaches.
Their commitments, of course, are non-binding, but the Buckeyes figure to compete well with programs like Alabama and Florida State in the near future for the best prospects nationally.
Recruiting, by nature, is unpredictable. Meyer, though, in building on the Buckeyes' success, is working to remove that element of unpredictability from the game.
Around the league we go:
And finally, East Lansing and Minneapolis made
this list
of the 10 best American cities for football.
January, 28, 2015
Jan 28
11:00
PM ET
Despite making a commitment to Alabama last week, ESPN 300 offensive tackle
Isaiah Prince
said Wednesday he's visiting Maryland and will give the Terps a solid look.
January, 28, 2015
Jan 28
11:45
AM ET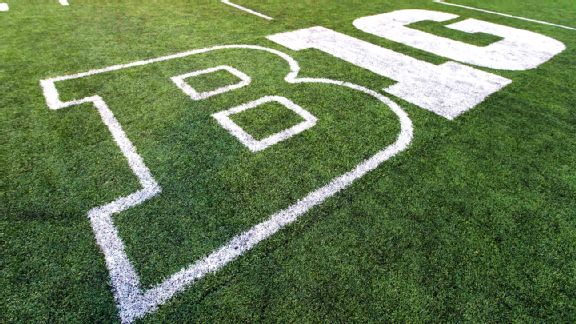 Jeff Hanisch/USA TODAY Sports
About a year ago, long before the first game that factored into the College Football Playoff and before his team played a down of Big Ten football, Rutgers coach Kyle Flood began to offer to recruits his vision of the era ahead.
In particular, Flood told them he found it difficult to believe that a one-loss Big Ten champion would miss the four-team playoff.
A month into last season, as the league sat squarely outside playoff speculation, Flood did not waver, bolstered by his confidence in Big Ten coaches and the respect he believed the league had earned.
"Players want to win championships," Flood said. "They want to know if they're on the right team and have the right season that they have access to a championship."
His assertion proved correct, of course, as Ohio State roared to the finish, securing the fourth spot in the semifinals.
[+] Enlarge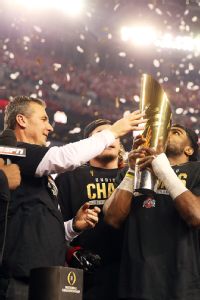 Darren Carroll for ESPNOhio State's national championship capped a strong bowl season for the Big Ten and showed recruits that the league is once again a national player.
What the Buckeyes did next, though, sent ripples through the Big Ten landscape. Ohio State's national title restored positive energy to the league. Packaged with a strong postseason by other conference teams -- the Big Ten won three of four games on New Year's Day and finished 6-5 overall -- and the splash of Jim Harbaugh's hire at Michigan, it shifted perception of the league from a doormat nationally to something of a force again.
In recruiting, dividends pay immediately.
Some Big Ten coaches, back on the recruiting trail for the past two weeks in the push toward signing day a week from Wednesday, have noticed a change in attitude from prospects who had grown accustomed to watching the league struggle on a big stage.
"A part of recruiting is perception," Indiana coach Kevin Wilson said this week as he drove to recruiting stops in Indianapolis. "The perception of the Big Ten is that it's on the rise right now. We enjoy that. We embrace that. We're excited about that."
So does a rising tide lift all boats in Big Ten recruiting? No consensus exists among league coaches. Wilson, whose program has qualified for one bowl game in the past two decades, and others said they welcome the flood of media exposure around Ohio State and Michigan this month as impactful for the entire conference in attracting prospects.
Minnesota defensive backs and special teams coach Jay Sawvel said he has heard the stereotype that Big Ten programs lag in athleticism.
It was justified at times, Sawvel said.
But the narrative can change. This bowl season helped. The Big Ten and SEC split four postseason meetings.
In four years at Minnesota with Jerry Kill, Sawvel said, he has found the Gophers received well by recruits. That reception has improved as Minnesota notched wins in the past 15 months over Penn State, Nebraska twice and Michigan.
"Our conference is known everywhere," Sawvel said, "but it needed a step up in legitimacy. I think Ohio State's run and what happened in other bowl games helped that a little bit. But what has to happen for the conference as a whole is for one through 14 to step up."
Illinois recruiting coordinator Alex Golesh sees a change, too.
"It's raised some eyebrows," said Golesh, an Ohio State graduate who coaches tight ends and running backs for the Illini.
Golesh said he's happy to use talk of a general upswing among the Big Ten as a selling point for Illinois in recruiting. He won't go much further, though.
For instance, he has not talked once about Harbaugh with a recruit. How about Ohio State, which plays at Illinois in November?
"You find out what's going to make the kid tick. You sell your program, your product, your fit and your coaching staff," Golesh said this week while recruiting in Nashville. "I don't think we'd bring up the success of another school unless you absolutely have to."
"

A lot of times schools from the South that come recruiting in our part of the country, part of their pitch is, 'If you want to play great football, you have to come to the South.' That's a tough sell nowadays. After this bowl season, you'd be hard-pressed to make that pitch to a recruit.

"

- Rutgers coach Kyle Flood
It's no different at Michigan State, which claims four 11-win seasons in the past five years -- a record matched in the Big Ten only by the Buckeyes.
"We're selling results," MSU coach Mark Dantonio said Tuesday. "When we first came here, we were selling hope. We're not selling hope now. That's probably as big a difference as anything. The results are there. We're putting a lot of guys in the NFL. It's not a myth. These things are happening."
Hope isn't always a bad thing to sell, though, especially if it's justified. Wilson, entering his fifth year at Indiana, said the Hoosiers have upgraded recruiting significantly since 2011.
The former offensive coordinator at Oklahoma, Wilson watched Oklahoma State, Baylor and Texas Tech elevate their programs in recent years. Some of it came through recruiting success aided by competing every year with Texas and Oklahoma.
The Big Ten East necessitates a similar climb as top programs continue to raise the bar. Wilson said his staff doesn't blink at the rising challenge.
"It enhances recruiting," Wilson said. "Look at what Michigan State has done. At the end of the day, the power of the Big Ten is a positive. We have sold that in recruiting. Great players want a chance to prove themselves against other great players."
Harbaugh's staff, with barely a month to build a recruiting class, fights to finish in this last week as five Big Ten teams rate among the national leaders in ESPN's class rankings. Ohio State is seventh, followed by Penn State (12th), Michigan State (28th), Wisconsin (29th) and Nebraska (32nd).
For Flood at Rutgers, the selling points of the Big Ten are no different. He believed in the league before its recent turnaround.
When he shared his feelings last year about a one-loss league champion, recruits believed him. Still, Flood said, he knows they heard a different message from coaches outside the conference.
"A lot of times," Flood said, "schools from the South that come recruiting in our part of the country, part of their pitch is, 'If you want to play great football, you have to come to the South.'
"That's a tough sell nowadays. After this bowl season, you'd be hard-pressed to make that pitch to a recruit."
January, 28, 2015
Jan 28
9:30
AM ET
Michigan and Ohio State couldn't be in more opposite situations both on the field and on the recruiting trail. The Buckeyes are coming off winning the national championship. The Wolverines had a losing season and coaching change, bringing Jim Harbaugh back to Ann Arbor.
To continue reading this article you must be an Insider
January, 28, 2015
Jan 28
9:00
AM ET
Official visits, unofficial visits, in home visits and everything else one can possibly think of is happening with one week until national signing day, Feb. 4. As expected, Twitter is abuzz right now with information flowing constantly all day and night.
Here is a look at some highlights from Tuesday.
Gainesville waddup?

— January 29th (@cecejeferson7) January 27, 2015
@HamiltonESPN
: ESPN300 five-star defensive end
CeCe Jefferson
headed to Florida on Tuesday afternoon for an unofficial following a trip to Ole Miss and Alabama over the weekend. In a recruitment that could go a number of different directions, the Rebels and Gators are the best bets to be standing on national signing day unless Auburn can pull the upset. Jefferson is scheduled to visit LSU this weekend, followed by a national signing day announcement live on ESPN.
Thanks to Coach Saban and @BamaCristobal for coming by this afternoon! #RollTide #SEC #CreekBoyz pic.twitter.com/Gn7lm1QMA8

— Coconut Creek FB (@CreekFootball1) January 27, 2015
@HamiltonESPN
: Nick Saban was in South Florida on Tuesday, and one of his stops was Coconut Creek High. The reason is simple -- Coconut Creek is home to a trio of ESPN Junior 300 prospects, including top cornerback
Trayvon Mullen
, who has an Alabama offer.



To continue reading this article you must be an Insider
January, 28, 2015
Jan 28
9:00
AM ET
National signing day is exactly one week away. For some programs, it will be a sprint between now and next Wednesday. Others have already done most of their heavy lifting and will be focusing on babysitting their committed prospects and laying the groundwork for 2016. One thing's for sure, however: when head coaches talk about their 2015 classes next week, there will be nothing but superlatives.
No one has ever had a bad recruiting class, if you believe what is said at these signing day press conferences. Here are six quotes you are guaranteed not to hear from any Big Ten coach or anywhere in America on Feb. 4:
"This probably ranks as the third- or fourth-best class we've ever signed here."
You'll hear a lot of coaches say their class is "the best" one they've had. Which always makes me wonder what current players recruited by that coach must think.
"With this class, we got a step slower and a little bit smaller."
"Faster, higher, stronger" isn't just the Olympic motto. It's the go-to cliche for coaches on signing day.
"
We got some good players, but we didn't really fill our needs."
You'll hear a lot of talk about classes that filled needs. Of course. Why would you recruit players you didn't need?
"We pay very close attention to star rankings and agree with how the experts ranked our class."
Many coaches will say they completely ignore recruiting service rankings ... unless they can use it to brag about how highly-rated their class is or collect a bonus for a high ranking.
"We missed out on a few kids we really wanted."
The signing day spin will be that teams got everybody they wanted. In this era of decommitments and flipping and prospects embracing the drama of their announcements, that's pretty much impossible.
"This class has some great athletes, but their character is questionable."
Every prospect on signing day is "a high-character kid" who fits the team culture. Except coaches don't really get to spend a lot of time with many of the prospects they sign, and they're hoping that 17-year-old doesn't turn out to be a knucklehead once he lives on his own for the first time.
OK, on to the links:
West Division
January, 27, 2015
Jan 27
12:30
PM ET
Nebraska and Michigan are next scheduled to play in 2018. If the past few days in recruiting serve as an indication, the game can't get here soon enough.
After a weekend in Ann Arbor in which Jim Harbaugh's staff flipped the commitment of Florida defensive end
Reuben Jones
from Nebraska to Michigan,
Daishon Neal
on Tuesday poured fuel on the warm embers of a budding Big Ten rivalry.
Neal, a defensive end out of Omaha (Neb.) Central, accepted a visit Monday from Michigan defensive line coach Greg Mattison. Committed to Nebraska since April, Neal wavered in his pledged after Bo Pelini was fired in November. As Neal worked to establish a relationship with Mike Riley's new staff in Lincoln, he flirted with Oklahoma and Oregon in recruiting, ultimately eliminating both.
This week, on the heels of his official visit to Nebraska, Neal received an offer from Michigan.
Then on Tuesday, he reaffirmed his commitment to the Huskers in a radio interview with Sharp & Benning in the Morning on Omaha's KOZN 1620-AM.
In the process, Neal and his father, Abraham Hoskins Jr., ripped the Wolverines.
"They made one bad statement," Hoskins said of the Monday visit with Mattison, "and it ruined them. They said without football, Daishon wouldn't be able to go to Michigan -- like we couldn't afford to send him there or we couldn't get him [academically eligible].
"Once he said that, we pretty much escorted him out of the house."
Neal said Mattison "basically tried to call me stupid in front of my face."
Listen to the full audio
here
.
A few things strike me:
Mattison and the Michigan coaches cannot respond until next week, when Neal signs with Nebraska. And by then, the Wolverines will have more important topics to address -- like their own class.
Interpret Mattison's purported comments as you wish. He wasn't necessarily insulting Neal. It's a fact Michigan is selective in the admission process and it helps a student's cause to receive a football scholarship. I doubt his statement was related to finances.
This feels a bit like Mattison walked into a trap in Omaha. Did Michigan really stand a chance here? Neal had an excellent visit to Nebraska over the weekend, by his own account, and the Huskers benefit from a victory -- perceived or real -- over Jim Harbaugh and the Wolverines in recruiting.
Most notably, less than a month into the Harbaugh era, things are going just as well as hoped.
We all know Harbaugh is going to make a run at Urban Meyer and Ohio State in the way he targeted USC's Pete Carroll while at Stanford.
Of course, Harbaugh will get under the skin of Michigan State fans.
A little bad blood with Nebraska is an excellent side story. It makes sense, too.
Nebraska running backs coach Reggie Davis coached for Harbaugh with the 49ers for the past four years. Harbaugh's son, Michigan tight ends coach Jay, worked as an undergraduate assistant for Nebraska's Riley at Oregon State.
Harbaugh, in fact, played late in his NFL career for Riley with the Chargers.
The Huskers and Wolverines figure to coach with similar philosophies and covet many of the same recruits.
In fact, they're battling for another. Tight end
Matt Snyder
of San Ramon, California, a Nebraska pledge, visited Michigan last weekend.
Home visits from both schools to Snyder are scheduled for this week. Expect a little more sparring.
Now, if only the Big Ten could do something about that four-year wait until they play again.
January, 27, 2015
Jan 27
12:00
PM ET
Come and get your grades, Big Ten teams. All this week, we're handing out our marks for every Big Ten club's 2014 season performance in the following areas: offense, defense, special teams, coaching and overall showing.
Next up: Michigan
Offense: F
Brady Hoke changed offensive coordinators in the offseason, and Doug Nussmeier came in from Alabama pledging to establish a stronger run game and help the quarterbacks. Instead, Michigan finished dead last in the Big Ten in total offense -- something that should never happen -- and 13th in scoring at just 20.9 ppg.
Devin Gardner
, who'd shown promise amid some erratic play the previous two seasons, took a big step backward while throwing 15 interceptions against just 10 touchdowns. Yet backup
Shane Morris
was worse, and Gardner remained the best option. The inability to develop a quarterback or a dominant offensive line ultimately cost Hoke his job.
Defense: B-minus
Greg Mattison's defense was one of the few bright spots in an otherwise disastrous season in Ann Arbor. The Wolverines finished third in the Big Ten in yards allowed per game and got strong play from All-Big Ten linebacker
Jake Ryan
, among others. This was more of a solid defense than a dominant one, however, as Michigan created just 10 turnovers all season -- by far the fewest in the Big Ten -- and padded its numbers against bad offensive teams like Indiana, Penn State and Northwestern.
Special teams: C-minus

Michigan was below average in the Big Ten in punting, kickoff returns and punt returns and had a kick blocked at Rutgers that could have won that game.
Matt Wile
did hit three crucial field goals in the win over Penn State, but there weren't a lot of memorable plays on special teams beyond
Dennis Norfleet
's
George Clinton-approved dance moves
.
Coaching: D
Hoke consistently brought in highly-rated recruiting classes, but four years into his tenure, his offense still lacked any kind of strength on which to hang its hat and there was no sense that was going to change. The gross mishandling of Morris' concussion during the Minnesota game and the pregame stake gaffe vs. Michigan State made it appear that this staff didn't have enough awareness of what was happening around it. Give Hoke some credit for keeping the team together while everything was crumbling, however, and to even have a chance to get to a bowl game the final week was a minor achievement after a 2-4 start. That and Mattison's work with the defense is all that keeps this from a failing grade.
Overall: D-minus
Championships are expected at Michigan, but this year's team had almost as many public apologies (three) as victories (five). Embarrassingly bad performances against Notre Dame, Utah and Minnesota plus another one-sided defeat at the hands of Michigan State led to fan outrage and Hoke's dismissal. A 3-3 finish at least prevented even more damage, and the cupboard isn't entirely bare for Jim Harbaugh. The Wolverines have had seasons with worse records than 5-7, but few compare to this one in terms of regrettable moments.
January, 27, 2015
Jan 27
12:00
PM ET
Michigan and UCLA are battling it out for ESPN 300 tight end
Chris Clark
, who will announce his decision on signing day on ESPN.
The fourth-ranked tight end says he has a tough decision ahead. Clark has taken visits to Michigan and UCLA, and with signing day on Feb. 4, all that's left to do is figure out which school is the best fit.
To continue reading this article you must be an Insider
January, 27, 2015
Jan 27
10:00
AM ET
By
Tom Van Haaren
| ESPN Insider
We are in the home stretch to signing day with roughly one week to go. This past weekend was a huge part of the Big Ten's recruiting efforts, so here is a look at the most important events of the weekend.
To continue reading this article you must be an Insider
January, 27, 2015
Jan 27
9:00
AM ET
Happy Tuesday, Big Ten fans. We hope all of you in the Northeast are staying safe amid snowmageddon.
1. Well, the
Craig Kuligowski to Illinois buzz
was nice while it lasted. The Missouri defensive line coach, one of the nation's most underrated assistants,
opted to stay with the Tigers
rather than join Illinois in what likely would have been a co-defensive coordinator role.
According to
longtime Missouri beat writer Dave Matter
, Illinois thought it had Coach Kool until Missouri's Gary Pinkel stepped in late and "delivered finishing move."
FINISH HIM!
Kugligowski would have been a nice boost for Illinois, especially with a defensive front that has underperformed during Tim Beckman's tenure. Kugligowski, whose
Twitter handle
says it all, mass-produces elite linemen, including each of the past two SEC defensive players of the year (
Shane Ray
and Michael Sam). He would have been a nice upgrade to Illinois' defensive staff. And it would have been nice for the Illini to swipe a top assistant from their braggin' rights rival.
But he's not the only solution for Illinois, as the Chicago Sun-Times' Steve Greenberg points out during
this Twitter exchange
with yours truly. Greenberg notes that Illinois wants more than a position coach for this role, and there's no guarantee Kugligowski would have succeeded in a broader role.
This remains a critical hire for Beckman, who needs a Bill Cubit-like savior for the defense before a pivotal 2015 season.
2. ACC members North Carolina and Wake Forest took an unusual but necessary step Monday and
scheduled a home-and-home nonconference series
for 2019 and 2021. As
colleague Andrea Adelson writes
, the ACC's recent expansions have limited the league's oldest rivals to just four meetings since 2004. These lengthy lulls are a major downside of bloated leagues with divisions.
Iowa and Illinois went six seasons without a game
until the Hawkeyes visited the Illini this past November.
The schedule-niks among you will recall how
Big Ten teams explored the possibility of adding nonleague games
against one another not too long ago. The introduction of a nine-game league schedule in 2016, plus divisions aligned with geography in mind, shortens the gaps between certain matchups. Still, there will be certain cross-division matchups we would like to see more often, and divisional games that we could do without every year.
Ultimately, I'd like to see leagues ditch divisions and perhaps championship games altogether (especially if it replaces them with playoff quarterfinal games). But the ACC, which opted to follow big brother SEC and stay with eight-game league schedules, could see more "non-league" matchups like Wake-UNC.
Links from around the league, plus an
early Big Ten forecast from Athlon
.
East Division
West Division
January, 27, 2015
Jan 27
9:00
AM ET
Monday was a busy day on the recruiting trail, as expected with just 10 days left until national signing day Feb. 4. The state of Texas is literally hanging on every word and tweet of a handful of top uncommitted prospects that will provide bragging rights for a fan base that no longer plays each other on the field. This and a number of others topics make up today's Daily Social.
To continue reading this article you must be an Insider
January, 27, 2015
Jan 27
12:08
AM ET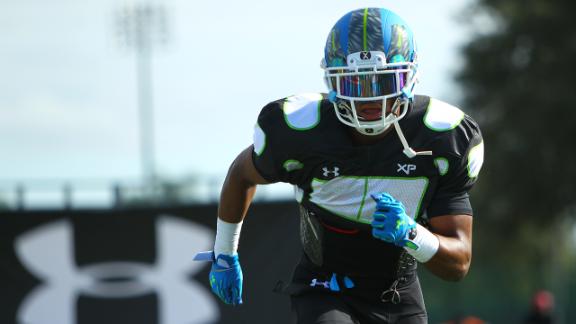 It's tough to imagine a more exhausting and stressful conclusion to a recruiting process than the one
Iman Marshall
orchestrated. Over the past 10 days, Marshall has taken official visits to Florida State, LSU and Michigan, as well as hosted several coaches at his home and school. But just like on the football field, the nation's No. 4 overall prospect doesn't appear to be fazed at all by what's being thrown at him.
To continue reading this article you must be an Insider
No. 1 CB Marshall: "Nobody Remembers Second"
BIG TEN SCOREBOARD
Thursday, 9/3
Saturday, 9/5
Monday, 9/7