Colin Cowherd believes that Michigan coach Jim Harbaugh is better suited to coach college football rather than in the NFL.
San Francisco offensive lineman Alex Boone told HBO's "Real Sports with Bryant Gumbel" that former 49ers and current Michigan coach Jim Harbaugh wanted too much of his players in the NFL.
49ers guard Alex Boone says former coach Jim Harbaugh "wore out his welcome" with the team and "might be clinicaly insane."
With the draft looming, today's #B1GFridayFive takes a look at the best recent draft histories by Big Ten schools.
Jim Harbaugh and members of his staff will travel far and wide as guest coaches at football camps around the country.
Michigan's Ultimate Frisbee team asked for -- and surprisingly got -- a visit from Jim Harbaugh during its practice as it prepared for regionals.
The Spartan Statue is painted in Wolverines colors in possible revenge for a fall prank in Ann Arbor.
Highly-recruited offensive tackle Frank Martin II has cut his list of schools to 10 teams, but most insiders believe USC has a substantial lead.
Iowa DE Drew Ott took a pass when asked Wednesday about the leadership qualities of QB Jake Rudock, who's leaving the Hawkeyes for Michigan.
ESPN Stats & Information has ranked all 64 Power 5 teams' nonconference schedules, and the Big Ten has six teams in the top 20.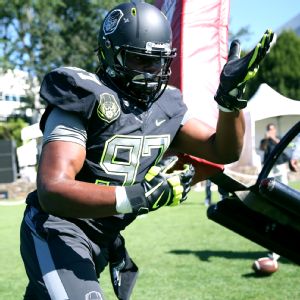 Outside of the January run up to national signing day, no other time sees more commitments than mid-April through the end of May. We look at big spring decisions and questions.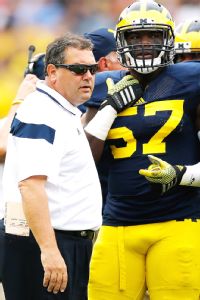 Former Michigan defensive end Frank Clark has been convicted of a disorderly conduct charge after pleading no contest in an agreement with prosecutors in northwest Ohio.
We thought we'd take a look at the most successful coaching debuts in the Big Ten in the past 25 years in today's #B1GFridayFive.
It's official: Former Iowa Hawkeyes quarterback Jake Rudock is set to become a Michigan Wolverine.
You're probably well aware of the three Big Ten head coaches currently in charge of their alma maters, but what about those who came before them?
Apr 20, 2015

,

1:16 PM ET
Is Jim Harbaugh better off in college?