April, 16, 2014
Apr 16
11:45
AM ET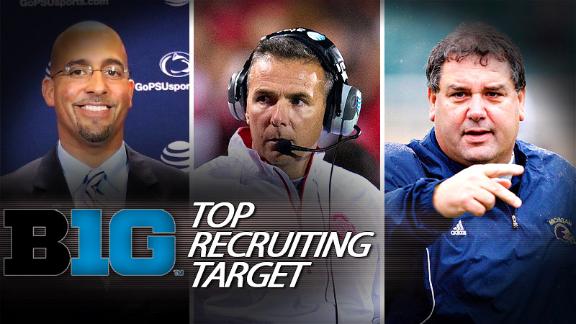 The top-ranked prospects tend to wait out the process, so there are still some huge names at the top of Big Ten recruiting boards. The top targets will be fought over by most teams within the conference, which will make for some interesting recruiting battles.
Here is a look at the top five targets within the Big Ten in the
2015 ESPN 300
.
DE Jashon Cornell
6-4, 270 pounds
ESPN 300 rank: No. 16
To continue reading this article you must be an Insider
April, 15, 2014
Apr 15
12:00
PM ET
Heading to Hawkeye Country later today. Any recommendations?
April, 15, 2014
Apr 15
11:00
AM ET
The most exciting day of the Big Ten offseason is here. OK, not really, but it's definitely in the top five.

The first portion of the Big Ten's prime-time schedule is out as ABC/ESPN made its six selections for games to be played under the lights. The Big Ten Network will announce its prime-time picks next week. Additional kickoff times could be announced later this spring or early in the summer.
Here's the ABC/ESPN schedule:
Sept. 6
Virginia Tech at Ohio State, 8 p.m. ET, ESPN
Sept. 20
Miami at Nebraska, 8 p.m. ET, ABC or ESPN or ESPN2
Oct. 4
Nebraska at Michigan State, 8 p.m. ET, ABC or ESPN or ESPN2
Oct. 11
Penn State at Michigan, 7 p.m. ET, ESPN or ESPN2*
Oct. 25
Ohio State at Penn State, 8 p.m. ET, ABC or ESPN or ESPN2
Nov. 1
Illinois at Ohio State, 8 p.m. ET, ABC or ESPN or ESPN2
*-previously announced
A few notes, quotes and observations:
November night games
Contrary to popular belief, the Big Ten never had a strict policy against playing prime-time games after Nov. 1, but most of its schools preferred to keep those games in the first two months of the season. League members have shown an increased willingness to schedule more prime-time games, and after discussing November night contests for several years, we finally have one.
[+] Enlarge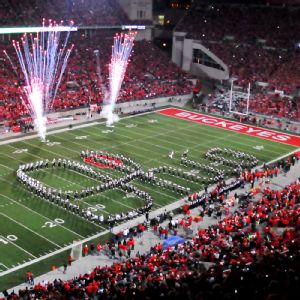 David Dermer/Getty ImagesOhio Stadium will host its first November night game in 2014.
Although the November matchup -- Illinois at Ohio State -- lacks a wow factor, this is still a positive step for the league. Also, this is
not the final list
for November prime-time games, as others will be announced in the future.
"There is a real recognition with our coaches, our athletic directors and our fans that prime-time football is very important," Mark Rudner, the Big Ten's senior associate commissioner for television administration, told ESPN.com. "It's important to the conference, it's important to recruiting, it puts you on a big stage.
"It's a big event whenever you have prime-time football."
Ohio State athletic director Gene Smith and coach Urban Meyer both have vocalized their desire for more night games. The Buckeyes get three of them on ABC/ESPN (two home, one road), and possibly more to come. It's the Urban Effect.
Huskers, Lions back in prime
No two Big Ten fan bases value night football at their home venues more than Penn State and Nebraska. The Nittany Lions and Huskers both host prime-time games on ABC/ESPN in 2014 (Nebraska didn't have an ABC/ESPN prime-time game in 2013) and make multiple appearances.
The Nebraska-Miami game should be a fun one, especially given the history between the two programs in bowl games (their last five meetings took place in major bowl games). Nebraska's visit to Michigan State is one of few must-see division crossover contests, so it makes sense in prime time.
Beaver Stadium will be rocking for the Ohio State game as former longtime Penn State assistant coach Larry Johnson makes his return to Happy Valley wearing scarlet and gray. Although Penn State remains ineligible for postseason play, the Lions' value is reflected here with East Division matchups against both Michigan and Ohio State. The Lions' consecutive winning seasons despite the bowl ban, plus the arrival of coach James Franklin, enhance the program's appeal for top TV slots.
No limits on prime-time appearances
Big Ten teams typically have had no more than three prime-time appearances per season, but like the November night games issue, this was more of a preference than a policy. As schools like Ohio State become increasingly more open to night football, the number of prime-time appearances will increase, and will occasionally exceed three.
Wisconsin played four prime-time games (two home, two road) in the 2011 season.
"That three [limit] was really self-imposed," Rudner said. "You could waive it if you wanted to. I don't know if that will be as hard and fast as it was before. They see the value in these big events, these big games."
Additional games/announcements
Some Big Ten prime-time games were previously announced, such as Michigan's Sept. 6 trip to Notre Dame and Purdue's Sept. 13 neutral-site game against Notre Dame. A game time has not been set for Wisconsin's season-opener against LSU on Aug. 30 in Houston, but the game will kick off in prime time and be televised by an ESPN network.
One thing to remember when predicting or analyzing night-game choices: other games being played in the same window. Prime-time kickoffs offer certain benefits, but teams don't like being overshadowed in the late window.
April, 14, 2014
Apr 14
5:00
PM ET
Sorry for the lack of a mailbag last Wednesday, but I was busy catching up with folks at Ohio State. Never fear: the Monday mailbag is back.
D.J. from Minneapolis writes:
What happens to the union story if the Northwestern players vote no?
Brian Bennett:
A great question, and based on media comments from several players -- most notably quarterback
Trevor Siemian
-- it sure seems like the Wildcats players are against the union and will vote no on April 25. But there might be a stronger undercurrent of support from players who are not as vocal in public. Given that the leader of the movement,
Kain Colter
, has already graduated and won't be eligible to vote, you wonder who on the team will take the baton and push for the union. All it takes, remember, is a simple majority.
So does a no vote mean this is the end of the story? I don't think it's that basic. Northwestern players would be able to try to unionize again next year. The regional National Labor Relations Board ruling has also set a precedent, at least for football players at private schools, and those who believe in the cause, such as CAPA president Ramogi Huma, would likely try to persuade players at other programs to follow Northwestern's lead. The school will continue to try to fight the original ruling, as well.
If the Wildcats' players vote no next week, we might not see any tangible results from the union movement for a while. If nothing else, however, it was another shot across the bow at the NCAA and another huge warning to the leaders of college sports that they had better make some changes before a judge or a legislature does it for them.
---
Kelly from Wilmington, N.C., writes:
Brian, I know you said in
your article
that you don't think "The Game" would ever be a prime-time game, but do you think Michigan will gauge this year's game vs. Penn State to consider using Penn State and Ohio State every other year for a night game? They went from "never" to yes with Notre Dame and are now using Penn State. Yes, they get a great spot every year on ABC, but could you imagine if they moved to it a night game? Is it possible that they have realized that at least one night game a year is great in so many ways, not just for Michigan, but the Big Ten as a whole?
Brian Bennett:
I shouldn't have written "never" to the idea of an Ohio State-Michigan night game, because so many things have changed in college football that anything is possible. I never thought we'd actually see a playoff, for instance. But both schools have said they're not in favor of moving "The Game" away from the afternoon and under the lights. Michigan athletic director Dave Brandon doesn't even want to play Michigan State at night and so I doubt he will budge on the idea of playing Ohio State in prime time. And I don't think this game needs any more attention, as evidenced by all the signs and reminders of the rivalry that I saw while visiting both Michigan and Ohio State earlier this month. So I wouldn't expect it to happen anytime soon, though never say never.
---
Rob NitLion from Morristown, N.J., writes:
Can any conclusions be drawn about the benefit of spring games based on some of the attendance numbers you guys have mentioned in your recaps? I'm not going to pull a
Braxton Miller
and brag about PSU's "domination" of spring game attendance in the B1G, but ... some schools can really use the spring game as a springboard for recruiting, while other schools ... under 10,000 at Maryland, Indiana, Illinois, Wisconsin and more might only be hurting their own image? Weather wasn't much of a factor this weekend, so what is the reasoning for the rather paltry attendance numbers, or is the annual spring game at other schools not nearly the weekend long "festival" that the Blue-White game is in State College every year?
Brian Bennett:
I've come to the conclusion that spring games just aren't as big a deal at some places as they are others. And that's OK. I don't have much of a tolerance for spring games and don't like watching them, because you learn less from those than you would from watching just about any other practice. Sure, it's a fun day for fans to see their teams and sit in the stadium and maybe get some autographs, and all that is great. But I also have no problem with people who feel like they have better things to do than watch football that often isn't really representative of the finished product, with many star players usually being held out.
I don't know if spring game attendance factors much into recruiting. It certainly can't hurt to sell that to recruits as evidence of intense interest and appreciation of your program. But Michigan hasn't gotten many big spring game crowds over the years and that doesn't seem to affect the Wolverines' recruiting very much. I doubt many prospects are basing their decisions on anything that occurs at a spring game, and if they are, that is misguided on their part.
---
Dalton from Cincinnati writes:
I've had some different debates with some of my friends on why Michigan hasn't been able to rebound and compete for a Big Ten championship since 2006. To clear things up, do you think it is because Michigan State is no longer "the little brother" in this rivalry, or because Ohio State has won all but two meetings against them since 2001? Or is it the fact MSU hasn't had as much coaching turnover, has had better coaching and better development of their recruits and has had more winning seasons? I think MSU becoming more constant under Mark Dantonio has led to this occurring than anything else. What is your take on this?

Brian Bennett:
I thought Michigan State clearly benefited during Rich Rodriguez's tenure in Ann Arbor, as the Wolverines' downturn and different approach to recruiting helped the Spartans begin to establish themselves. Certainly, the success of Michigan State and Ohio State hasn't done anything to help Michigan, and butting heads against both those programs now in the East won't be easy.
Still, in my view, the biggest thing holding back Michigan is not any external force but Michigan itself. The two coaching changes, and especially veering between very contrasting styles, caused some problems that current Wolverines coaches will tell you are still being felt today. More than anything, though, Michigan simply hasn't capitalized on its own enormous resources and fulfilled its potential. As noted a minute ago, recruiting has been strong under Brady Hoke, at least if you believe the scouting services. The Maize and Blue have never had much trouble attracting talent. Development of that skill has been an issue, though many of those players are still young.
Perhaps we overrate Michigan's history and tradition, since the program claims only one national title since 1948. But with the school's money, stadium size, fan support and access to players, the Wolverines have no one to blame but themselves for not winning a Big Ten title in what is fast approaching a decade's time.
April, 14, 2014
Apr 14
12:00
PM ET
I missed all the spring games this weekend because I was busy attending Joffrey's wedding.
April, 13, 2014
Apr 13
11:10
PM ET
ESPN.com news services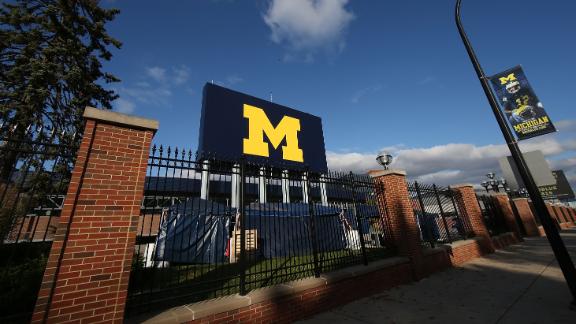 In the Ohio State-Michigan rivalry, it appears nothing is off-limits.
Buckeyes quarterback Braxton Miller took to Twitter to insult the Wolverines' turnout for their spring game after Saturday's OSU game drew more than 61,000 fans. Michigan, who held their spring game April 5, drew about 15,000 fans on April 15.
- BRAXTON MILLER (@BraxtonMiller5) April 13, 2014
Miller did not get to participate in the game, as Ohio State's All-Big Ten quarterback sat out spring workouts after surgery on his throwing shoulder. Also sitting out were wide receiver Evan Spencer (ankle), safety Vonn Bell (knee), tight end Jeff Heuerman, wideout Jalin Marshall, H-back Dontre Wilson and starting offensive tackle Taylor Decker.
April, 13, 2014
Apr 13
12:07
AM ET
There wasn't a huge crop of prospects at the Chicago NFTC, but there were plenty of top recruits looking to prove their worth against their peers.
After an outstanding Elite 11 performance Saturday morning and going through passing drills later in the day, Missouri quarterback commit
Drew Lock
earned the camp's only invite to The Opening and Elite 11.
To continue reading this article you must be an Insider
April, 11, 2014
Apr 11
4:30
PM ET
Enjoy all the spring games this weekend. We'll recap each early next week.
Follow us
on Twitter
!
To the inbox ...
Ethan from Abbottstown, Pa., writes
: While watching March Madness, I couldn't help but notice how full the stands were for semis and finals. One of the arguments against the college playoff was that fans wouldn't travel on short notice. Why? I never understood that argument. March Madness has been in play for more than 75 years and the less popular college basketball with smaller fan bases have been traveling to game sites for under a week's notice for years.
Adam Rittenberg:
Ethan, the concern isn't so much that fans would travel to a national semifinal but whether they could travel to both a semifinal and the championship game the following week. Are Ohio State fans going to attend the Rose Bowl in Pasadena and then head back to Arlington, Texas, the following week for the championship game? Would Oregon fans make two potentially long trips back to back? The nice thing about basketball's Final Four is that both the semis and title game are at the same site. Remember, you're filling much larger stadiums for football, and you ideally don't want the title game to just feature a corporate crowd.
---

LoveLikeLacey from Chicago writes:
What are your thoughts on how the backup QB situation will work out at MSU? There are a great deal of implications if either
Damion Terry
or
Tyler O'Connor
transfer, since Sparty didn't take a QB in the 2014 class. I realize Terry has a great skill set and might even see the field this year in certain packages, but O'Connor was fairly highly recruited himself and I believe he also has some skills.
Adam Rittenberg:
Love the name, Lacey. It will be interesting to see how that competition unfolds. Before
Connor Cook
became Connor Cook, some folks criticized the staff for not giving O'Connor much of a chance to prove himself in games. O'Connor seemed to perform well in last week's jersey scrimmage (10-for-15 passing, 132 yards, TD), and he has
created some separation with Terry
since the start of the spring. It might be a case in which MSU uses Terry in different ways to keep him involved this year, but Cook still has two years left, so a true O'Connor-Terry competition might not take place until 2016. It's not ideal, and it could result in one player leaving.
---

A.J. from Madison, Wis., writes:
Adam, I love how Gary Andersen tries to adapt his schemes to the personnel he has. What has been driving me nuts, however, is the continual position switching of players back and forth. I get that he wants to maximize the talent on the field, but doesn't it hurt the development of the players? If you want to get the best players at the positions, part of that is learning technique and scheme, which seems difficult to do if guys keep getting moved.
Adam Rittenberg:
A.J., it could come back to hurt Andersen, and as he told me this week, the switches don't always work, but you never know if you don't try. The good thing is Andersen has a track record for moving players around on defense and making it work. He did it at Utah State, which typically has less talent than Wisconsin, and produced strong defenses. There's definitely a big emphasis on technique as well, but the coaches need to see how a player looks at a certain position before making their determination.
---

Bob from Virginia writes:
I didn't think you were fair with your comments about Julie Hermann and the Star-Ledger's campaign against her, specifically Steve Politi. I'd like to see you tell her face to face that you actually believe she was glad those people lost their jobs. You know it's not true. Have some integrity and stand up for what's right, Adam, not for a has-been columnist who had more to do with his paper's demise than anything else. Here's a
different point of view of what happened
in that classroom: Last I heard it was a free country, and if Julie felt the way she did about a newspaper, she had a good reason for it.
Adam Rittenberg:
Bob, whether or not she's actually glad to see the newspaper struggling, she should have been more careful with her comments. Stand up for what's right? How about showing some poise despite the pressure? That's what other Big Ten athletic directors do. I understand there are discretion policies about comments made in classroom settings at Rutgers, but the risk of something like this getting out outweighs the potential benefit (is there a benefit?) of making that comment.
I doubt you're the only Rutgers fan who feels this way, but I look at the bigger picture. Very few people are fired up about Rutgers in the Big Ten. A lot of Big Ten fans strongly believe Rutgers doesn't belong. The events of the past year at Rutgers only reinforce this perception. It's up to Hermann, with help from Big Ten commissioner Jim Delany, to change the perception. This didn't help.
---
Mitch from Massachusetts writes:
With Michigan's relatively new tradition of giving the numbers of great players from the past to current stars, do you see them ever giving out Charles Woodson's number 2? If so, who (besides
Jabrill Peppers
) has a shot of wearing it?
Adam Rittenberg:
Interesting question, Mitch. Most of the legends Michigan is honoring played a long time ago, such as Tom Harmon (QB
Devin Gardner
wears his No. 98) or Bennie Oosterbaan (LB
Jake Ryan
wears his No. 47). I'm not sure how Michigan would feel about doing the same thing for a fairly recent player like Woodson, who is still active in the NFL. My sense is the program would rather wait and honor other players who might be lesser known by most younger fans. While Peppers could be a star, I'd be shocked if he received such an honor early in his career. Veteran CB
Blake Countess
would be a better bet.
April, 11, 2014
Apr 11
12:00
PM ET
Have a great weekend, everybody, and enjoy all the spring games. Looks like some nice weather out there.
April, 10, 2014
Apr 10
4:00
PM ET
Head coaches from the Big Ten East Division, along with a player from each team, addressed the media this afternoon on teleconferences. The
West Division players and coaches
spoke Wednesday.
Here's a closer look at the East:

INDIANA
Defense has been a lingering Indiana concern for years, but coach Kevin Wilson believes he's starting to see a change, thanks to new defensive coordinator Brian Knorr. The scheme hasn't changed radically, but the Hoosiers return 10 starters there -- and Wilson's seen a promising spring so far with an added focus on competition and communication: "They've for sure held their own on a daily basis -- and, in some ways, probably even better -- against the offense."
Wilson believes teams need to invest scholarships into the kicking game, but he thinks it's also too risky to offer recruits straight out of high school. If you look at the NCAA's top 25 kickers, Wilson estimated at least 15 started out as walk-ons. So he's hoping to find some walk-ons who are willing to work for a scholarship, rather than be granted one right away.
At 5-foot-7, Shane Wynn is the Hoosiers' leading returning receiver, and he's transitioning to playing the outside. It's been a little different for Wynn, who said he's had to watch more film as a result. He's reading the corners now, instead of the safeties, as just one example.

MARYLAND
Maryland coach Randy Edsall is confident in his offense and believes the Terrapins have enough options so that opponents can't focus on just one person. If defenses lock on to wideout Stefon Diggs, then quarterback C.J. Brown can take off running or receiver Deon Long can pick up some slack. "The No. 1 thing I do like," Edsall said, "is we can spread the field."
Maryland's staff has already started looking at film of Big Ten teams, so they know what to expect when the conference season begins. Edsall said he wants to at least get a feel for their personnel and what kind of schemes he'll face. He's also confident the Terps will be ready: "We fully expect to be able to compete when we get into the Big Ten this year."
Brown said one of the main reasons he committed to Maryland was the coach who recruited him at the time, former Terps assistant and current Penn State coach James Franklin. He's looking forward to squaring off against Franklin this season, and Edsall said there's no question he would like to develop a rivalry with the Nittany Lions.

MICHIGAN
The quarterback derby will continue, and Brady Hoke included all three of his options in the discussion heading into the offseason. The Wolverines coach did acknowledge, though, that Devin Gardner "probably would be" the starter if there was a game on the schedule this weekend. There isn't, so Shane Morris and Wilton Speight will continue to be in the conversation.
The first opponent on the schedule will always stir emotions for Michigan fans, but Hoke didn't attach any revenge or sentimentality to his reasons for wanting to take on Appalachian State in the opener this fall. "We needed a game," Hoke said. "I thought it would be a good game." Defensive end Frank Clark was certainly aware of the history between the programs, even though he was still years away from joining Michigan and getting a shot at making up for the upset loss in 2007 -- which he called "shocking" and "shows how hard those guys play."

MICHIGAN STATE
Michigan State is coming off a Rose Bowl victory, but coach Mark Dantonio and quarterback Connor Cook would prefer not to think about that any longer. Dantonio said they've talked a lot these last four months about not growing complacent, and Cook only echoed his coach. "A lot of people keep bringing up the Rose Bowl," Cook said. "But we're past that. We're focusing on the now."
The offensive line has made some big strides since January, at least according to Cook. He felt like he had no time in the pocket last spring and said the pass rush was getting to him every time. This spring? He doesn't feel rushed in the pocket, and he thinks that's pretty indicative of how far this line has come.
Jeremy Langford earned a lot of praise from Cook, who said the running back has become a much bigger part of the passing attack. "He's improved a lot with catching the ball," Cook said, complimenting Langford's versatility. "He's done so many different things for us."

OHIO STATE
There is still work to be done in addressing the most glaring weakness on the team last season, but Urban Meyer called Ohio State's pass defense "drastically improved" and will be watching closely for more signs of progress in Saturday's spring game. The Buckeyes will play a traditional game, but the emphasis will be on throwing the football and assessing the skill players on both offense and defense -- giving Meyer a chance to evaluate backup quarterback Cardale Jones in a live setting in addition to checking out the secondary.
Arguably the strongest part of last season's team is undergoing a transition without four senior starters, and the offensive line is somewhat of a concern for Meyer heading into the offseason. With guard Pat Elflein the only other player to have earned a first-team slot to play alongside junior Taylor Decker at this point, that competition is likely to spill over into preseason camp in August. Both tackle Darryl Baldwin and guard Antonio Underwood were praised for their work by defensive tackle Michael Bennett, and Billy Price and Jacoby Boren are dueling at center.

PENN STATE
Franklin said he knew exactly what he was getting into at Penn State, in terms of the current depth and sanctions. He and former coach Bill O'Brien worked together at Maryland, and he said the two had a lot of honest conversations about the current state of the Nittany Lions. The two have continued to talk since.
Derek Dowrey and Brian Gaia are both making transitions from defensive tackle to offensive guard, and Franklin said he has been pleased with their performances so far: "They're doing a good job for us -- and they have to. We're thin at that position."
Franklin said he feels especially comfortable with the talent at running back and defensive line. Middle linebacker Mike Hull was more specific about naming the players who impressed him, pointing to backup linebacker Gary Wooten and cornerback Da'Quan Davis. Hull said Wooten is always around the football and that Davis, who missed part of the spring with a hamstring injury, has come up with several interceptions.

RUTGERS
Another open competition at the most critical position on the field -- quarterback -- is still playing out at Rutgers, and coach Kyle Flood isn't ready to declare a winner in what would seem to be a wide-open battle. Flood indicated that Gary Nova, Mike Bimonte and Chris Laviano are all "really vying for that first-team job."
The change in conference affiliation has been welcomed with open arms by the Scarlet Knights, who can "feel the energy" as theypractice for their first season in the Big Ten. Defensive tackle Darius Hamilton said the team was already buzzing with excitement about the opportunity, and Flood called joining the league a "positive in every way." The move also presents the opportunity for a rivalry to develop with new divisional neighbor Penn State, with both Flood and Hamilton citing the proximity between the schools as a bonus.
April, 10, 2014
Apr 10
12:00
PM ET
How long is too long to wait for free pizza?
April, 9, 2014
Apr 9
12:00
PM ET
April, 9, 2014
Apr 9
9:00
AM ET
ANN ARBOR, Mich. -- When asked why Michigan's offensive performances went through such wild fluctuations last season, quarterback
Devin Gardner
didn't go looking for excuses.
"My play wasn't as consistent as it needs to be," he told ESPN.com. "I feel like that's where it starts. If I'm not consistent, then I don't feel like the rest of the team can be."
Gardner is likely being too hard on himself. Sure, his season saw plenty of ups and downs. He had the two biggest passing days ever by a Wolverine against Indiana (503 yards) and Ohio State (451) and turned in some other huge statistical Saturdays. He also struggled with turnovers at times and was ineffective in ghastly offensive outputs against Connecticut, Michigan State and Iowa.
[+] Enlarge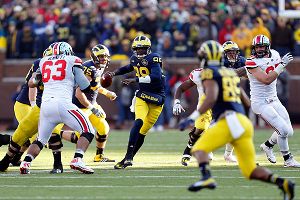 Gregory Shamus/Getty ImagesMichigan QB Devin Gardner played with a broken foot against Ohio State, but said it was something he had to do for his teammates.
Still, Gardner finished second in the Big Ten in total offense, and he and receiver
Jeremy Gallon
were the two most reliable weapons Michigan had last season. A spotty offensive line and poor running game served as much bigger culprits in the week-to-week unpredictability of the offense.
Yet Gardner understands that the responsibility for a team's performance almost always lies at the foot of the quarterback, fairly or not. The Wolverines lack many accomplished veterans, particularly on offense. Gardner wants to be the guy who lifts them out of mediocrity.
"If we don't have a leader who's going to fight till the end, it's kind of hard for the guys that are following," he said. "I feel like that last game I played in, they really looked to me as a leader, as that warrior who will be there no matter what."
That last game, of course, came against Ohio State on Nov. 30. Gardner accounted for five total touchdowns and nearly led Michigan to the upset before his two-point conversion pass attempt was intercepted in the 42-41 loss. It was later revealed that Gardner had played most of the second half on a broken left foot.
Gardner said he wasn't sure that the foot was broken at the time but that he knew something was really wrong. There was no time to tape it or add any extra padding. So he just played through it.
"It was very painful," he said. "I wasn't the only one hurting, so I just felt like I had to finish for my teammates.
"It's 'The Game' for a reason, and so you've got to give it everything you've got. So even if I had to hop on one leg , which sometimes I was, that's just how it had to happen. I told my teammates, 'All right, I'm not going to be able to move a little bit here, so help me out.'"
His teammates had already seen Gardner suffer bodily punishment for the cause, especially during a pounding at Michigan State. But this was something even more impressive.
"It's definitely not like we didn't respect him before," offensive lineman
Kyle Kalis
said. "But when you see that, it's like, damn, this guy can really play through pain."
"Him going out there and being a warrior didn't surprise me," head coach Brady Hoke said. "But I think it was a learning experience for him also. He learned he can push through things. He willed himself to keep pushing."
Gardner surprised the Michigan coaches and even the medical staff by getting through all of spring practice. Heading into the final week of drills, he estimated that his foot was about 80 percent healthy. He didn't fare well in Saturday's spring game, going just 2-for-10 with an interception, but there's little doubt that he's the starting quarterback despite some spring talk of a competition.
New offensive coordinator Doug Nussmeier is promising to install a more physical point of attack and a better north-south running game. Gardner, who carried the ball 165 times last year, is hoping that will help keep the wear and tear down during the season.
He needs to continue improving his decision making, and he has watched film of past Nussmeier quarterbacks
Jake Locker
and
Keith Price
from Washington and
AJ McCarron
from Alabama.
"Those guys get the ball out of their hands and are really efficient," Gardner said. "[Nussmeier] is so big on being efficient and on things he calls winning plays, which are checking down to the back or throwing the ball away when it's not there."
Nussmeier sees similarities to Locker in Gardner's game.
"He's obviously an exceptional athlete," Nussmeier said. "He's continuing to learn how to do some of things he'll be asked to do in this system. He has an extremely high ceiling and exceptional touch. His accuracy is really good when he gets his feet and eyes in the right place. He's working to find that consistency, and lot of that is understanding the progressions."
Nussmeier praises Gardner for "really making a commitment to elevating his level of play" this offseason. After a brief consideration about turning pro, which wasn't much of an option with his injury, Gardner said he returned for his fifth year because "I've got a lot of unfinished business." That includes, he said, gaining revenge on rivals Ohio State and Michigan State as well as ending Michigan's Big Ten title drought.
It's going to take more than just the quarterback to get all of that done. But Gardner says it all starts with him.
"You have to have the attitude that you're not going to get beat," he said. "You're not going to give up."
Michigan Outlook: 2014
BIG TEN SCOREBOARD
Thursday, 8/28
Saturday, 8/30