January, 27, 2015
Jan 27
9:00
AM ET
Happy Tuesday, Big Ten fans. We hope all of you in the Northeast are staying safe amid snowmageddon.
1. Well, the
Craig Kuligowski to Illinois buzz
was nice while it lasted. The Missouri defensive line coach, one of the nation's most underrated assistants,
opted to stay with the Tigers
rather than join Illinois in what likely would have been a co-defensive coordinator role.
According to
longtime Missouri beat writer Dave Matter
, Illinois thought it had Coach Kool until Missouri's Gary Pinkel stepped in late and "delivered finishing move."
FINISH HIM!
Kugligowski would have been a nice boost for Illinois, especially with a defensive front that has underperformed during Tim Beckman's tenure. Kugligowski, whose
Twitter handle
says it all, mass-produces elite linemen, including each of the past two SEC defensive players of the year (
Shane Ray
and Michael Sam). He would have been a nice upgrade to Illinois' defensive staff. And it would have been nice for the Illini to swipe a top assistant from their braggin' rights rival.
But he's not the only solution for Illinois, as the Chicago Sun-Times' Steve Greenberg points out during
this Twitter exchange
with yours truly. Greenberg notes that Illinois wants more than a position coach for this role, and there's no guarantee Kugligowski would have succeeded in a broader role.
This remains a critical hire for Beckman, who needs a Bill Cubit-like savior for the defense before a pivotal 2015 season.
2. ACC members North Carolina and Wake Forest took an unusual but necessary step Monday and
scheduled a home-and-home nonconference series
for 2019 and 2021. As
colleague Andrea Adelson writes
, the ACC's recent expansions have limited the league's oldest rivals to just four meetings since 2004. These lengthy lulls are a major downside of bloated leagues with divisions.
Iowa and Illinois went six seasons without a game
until the Hawkeyes visited the Illini this past November.
The schedule-niks among you will recall how
Big Ten teams explored the possibility of adding nonleague games
against one another not too long ago. The introduction of a nine-game league schedule in 2016, plus divisions aligned with geography in mind, shortens the gaps between certain matchups. Still, there will be certain cross-division matchups we would like to see more often, and divisional games that we could do without every year.
Ultimately, I'd like to see leagues ditch divisions and perhaps championship games altogether (especially if it replaces them with playoff quarterfinal games). But the ACC, which opted to follow big brother SEC and stay with eight-game league schedules, could see more "non-league" matchups like Wake-UNC.
Links from around the league, plus an
early Big Ten forecast from Athlon
.
East Division
West Division
January, 27, 2015
Jan 27
9:00
AM ET
Monday was a busy day on the recruiting trail, as expected with just 10 days left until national signing day Feb. 4. The state of Texas is literally hanging on every word and tweet of a handful of top uncommitted prospects that will provide bragging rights for a fan base that no longer plays each other on the field. This and a number of others topics make up today's Daily Social.

January, 27, 2015
Jan 27
12:08
AM ET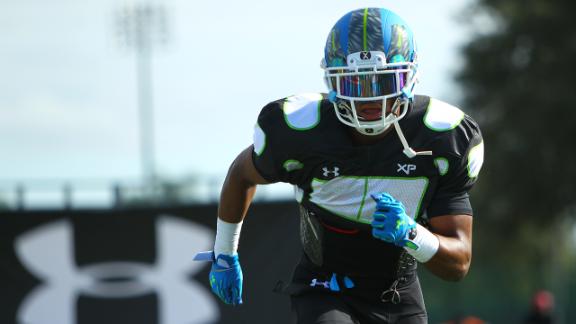 It's tough to imagine a more exhausting and stressful conclusion to a recruiting process than the one
Iman Marshall
orchestrated. Over the past 10 days, Marshall has taken official visits to Florida State, LSU and Michigan, as well as hosted several coaches at his home and school. But just like on the football field, the nation's No. 4 overall prospect doesn't appear to be fazed at all by what's being thrown at him.
To continue reading this article you must be an Insider
January, 26, 2015
Jan 26
9:00
AM ET
Good morning. Only 24 days until pitchers and catchers report. But we get you caught up on Big Ten news reports every day ...
1. It has been the
year of the Big Ten running back
, so was it any surprise that two of them shined in Saturday's Senior Bowl?
Nebraska's Ameer Abdullah
won game MVP honors
while leading the North to victory. Abdullah had 73 rushing yards and added another 40 receiving yards while showing NFL teams that the only measurable that matters with him is the size of his heart. I still wish Abdullah would have stayed healthy all season, because I think he could have joined Melvin Gordon and Tevin Coleman by making a run at 2,000 yards.
Minnesota's David Cobb was another Big Ten back who had a special season, and he produced 69 yards and a touchdown on 11 carries at the Senior Bowl. Cobb may not have the breakaway speed of other NFL running back hopefuls, but he is one tough dude to tackle.
Of course, the Senior Bowl is as much about the practices as it is the game itself. Our Todd McShay says Iowa defensive tackle Carl Davis is among 1
0 players who helped themselves the most
in Mobile. Davis was named the outstanding practice player of the week by Senior Bowl officials. He could have solidified his spot as a first-rounder.
Other Big Ten alumni who
gained notice at the Senior Bowl
included a pair of tackles in Wisconsin's Rob Havenstein and Penn State's Donovan Smith.
2. How cool was
Ohio State's national championship celebration
on Saturday morning? I also love that the Buckeyes held the event during
a key recruiting weekend
. What prospect wouldn't be excited about seeing 45,000 fans turn out to the Horseshoe or be impressed by the national championship trophies on display?
Urban Meyer is already one of the greatest closers ever on the recruiting trail, and now he's got even more to sell. Ohio State picked up two players for their future classes on Sunday, including
a blue-chip tight end
.
3. Of course, the big "news" from Columbus during the celebration was
Braxton Miller telling the fans
"we've got another more year to do it [again]." That was hardly a definitive answer on the senior quarterback's future, and he was unlikely to announce a transfer in that atmosphere. But it is the most we've heard yet from Miller himself about his plans.
What Saturday might have shown Miller is that while he could transfer somewhere else and start right away next season, he'll probably never be as loved as he is by his home-state fans. Perhaps all of Meyer's talk about the unselfishness on this year's Buckeyes -- including the great story about walk-on Nik Sarac declining a scholarship so a player more in need could take it -- will convince Miller to come back and sacrifice some playing time or even change positions to make another championship run.
Who knows, really? The tug of home and the Buckeyes will be strong on Miller. But this saga is far from over.
Elsewhere in Big Ten country ...
East Division
West Division
January, 25, 2015
Jan 25
12:05
PM ET
It was a huge recruiting visit weekend in the Big Ten, as eight commitments had taken place in the conference by Sunday morning. With a little more than a week left until signing day (Feb. 4), programs have put their recruiting efforts into overdrive to try to close out their classes strong.
These visits were crucial to help get some of those big targets to make final decisions, so here's a look at some of the best social posts from those recruiting visits.
PENN STATE:
The Nittany Lions had a ton of visitors on campus, mostly comprised of current commitments. Offensive line commit
Steven Gonzalez
took a picture with all the visitors and his future offensive line coach, Herb Hand.
A few pictures from Steven Gonzalez with all the visitors at Penn State this weekend pic.twitter.com/r9GCUZozO3

— Tom VanHaaren (@TomVH) January 24, 2015
The Penn State coaches did land a commitment from one of their visitors in defensive tackle
Robert Windsor
on Sunday morning. The staff had a few uncommitted prospects on hand, including defensive end
Shareef Miller
.
Me and coach Franklin My Guy =¯=¯ pic.twitter.com/z6J1HBotR5

— D (@MillerShareef) January 25, 2015
MICHIGAN:
The Michigan staff was hoping this weekend would produce a few commitments, and it did just that. The Wolverines had six 2015 commitments prior to the weekend but ended up flipping former Texas quarterback commit
Zach Gentry
during the Michigan basketball game.
Excited about the future! #GoBlue =

— Zach Gentry (@ZGentry_11) January 25, 2015
Gentry is an ESPN 300 prospect and the No. 9-ranked pocket passer in the 2015 class. He joins fellow quarterback commit
Alex Malzone
in Michigan's class and will help bolster much-needed competition at the position.
Florida defensive end
Reuben Jones
also committed to the Wolverines on his visit and happens to fill another need on the depth chart.
Truly Blessed to Announce I am Officially Committed to The University of Michigan ÄDÄD #GoBlue pic.twitter.com/MTcX3qYSfw

— February 10th (@ImDatDude44) January 24, 2015
The Wolverines are still hoping the weekend produces a few more commitments from some of the visitors, including defensive back
Chris Williamson
.
2015 DB Chris Williamson on his official visit to Michigan pic.twitter.com/xmR0B6jXQL

— Tom VanHaaren (@TomVH) January 24, 2015
ILLINOIS:
Illinois had some big visitors on campus, including defensive tackle
Jamal Milan
and running back
Ke'Shawn Vaughn
. Both prospects would be huge additions to the class, so it was only the finest ice sculptures and cake that came out for the visitors.
Official visit wouldn't be complete without the @CoachGolesh special #IlliniNation pic.twitter.com/0TJcoyo6EP

— Nina (@ninabaloun) January 25, 2015
MARYLAND:
The Terps have been on a nice streak of landing commitments, and the coaches continued that this weekend by getting 2016 wide receiver
D.J. Turner
.
Blessed to say that I have Officially committed to the University of Maryland! #DMVtoUMD #GoTerps pic.twitter.com/KZjmDTniL6

— DJ Turner (@Djturner15) January 24, 2015
OHIO STATE:
The Buckeyes had an excellent weekend for big visitors, as the visit weekend coincided with the national championship celebration. It gave the recruits a chance to see all the trophies Ohio State won this season while seeing what else the Buckeyes have to offer.
Danny Clark
, a 2017 quarterback commit for Ohio State, was on campus doing some recruiting for his future team.
Sure would be cool if my boy @joshmyers58 commits tomorrow. #OhioboysRBuckeyes @OSUCoachMeyer pic.twitter.com/FP3zXCKk4b

— THE PROTOTYPE (@DClarkQB) January 24, 2015
The coaches were doing a ton of recruiting themselves, especially with the 2015 official visitors. Wide receiver
K.J. Hill
showed off the cookie cake he received on his visit.
=4ǻ pic.twitter.com/Spoqzhy0y0

— KMFJ (@KayJayHill) January 24, 2015
Since the 2015 class only has a few pieces left to fill, Ohio State also had a junior day of sorts with some of the top 2016 targets on campus. ESPN Junior 300 receiver
Austin Mack
stopped to take a selfie with the head man himself on the trip.
#ESPNJr300 WR Austin Mack with Urban Meyer on his Ohio State visit pic.twitter.com/kStDWMjP8M

— Tom VanHaaren (@TomVH) January 24, 2015
INDIANA:
If you haven't noticed that cookie cakes and desserts are a common theme of recruiting, then here's another reminder. Hoosiers quarterback commit
Austin King
tweeted a picture of his cookie cake on his visit to Indiana.
They never disappoint==L #CrimsonArmy15 ª=4 pic.twitter.com/XH6HymyGyf

— Austin King (@austinking_10) January 23, 2015
WISCONSIN:
The Badgers had a successful weekend of their own by landing two big commitments. The first was defensive tackle
Kraig Howe
from Ohio, who tweeted his announcement.
Proud to announce that I committed to the University of Wisconsin... On, Wisconsin!

— Kraig Howe (@KraigHowe) January 24, 2015
The second was 2015 running back
Bradrick Shaw
, who also took to Twitter to announce his decision.
I would also like to take the time to say that I am officially committed to the University of Wisconsin #OnWisconsin =4ª=4ª=P

— Bradrick Shaw (@bradricks27) January 25, 2015
Howe fills a need for the Badgers and Shaw gives Wisconsin three running back commits ranked as four-star prospects between the 2015 and 2016 classes. The Wisconsin staff is reloading at running back to continue the excellent tradition at the position.
MICHIGAN STATE:
The Spartans didn't have a ton of big-name visitors on campus this weekend, but the coaches were hosting a very important target for the 2015 class. ESPN 300 linebacker
Quart'e Sapp
took his visit to Michigan State and took to Twitter to show off his time on the trip.
With @DantonioMark himself 3MSU3 pic.twitter.com/lSsI48ivmB

— Quart'e Sapp (@Dedicated_2Work) January 24, 2015
Sapp would be a huge get for the Spartans, who find themselves in his top four along with Miami, Missouri and Tennessee.
NEBRASKA:
Nebraska's new staff has hit a groove in recruiting and hosted a big visitor list this weekend, including plenty of the Cornhuskers' commitments. Offensive lineman
Christian Gaylord
shared a picture of some of the offensive linemen on the visit in uniform.
Line squad @hines_bittleman @MattFarniok1 @Bubaka_03 @_McDeck_ #TheFuture pic.twitter.com/lis63tltAC

— Christian Gaylord (@Big_Chris_65) January 25, 2015
Linebacker
Tyrin Ferguson
also took to Twitter to show his time in Lincoln.
Good weekend with my family #GBR #NsUp pic.twitter.com/ACOn1BYZjM

— Tyrin Ferguson (@tferg__) January 25, 2015
The staff did also have a few targets on campus who were not committed to Nebraska, including Kansas State commit
Mohammed Barry
.
Nebraska was also hosting a few commitments it is trying to hang onto and convince to stay on board come signing day. That included defensive lineman
Daishon Neal
, who became that much more important with the decommitment of Reuben Jones.
#GBR!<È=L pic.twitter.com/Egm93nzlHe

— DJ (@DaishonNeal90) January 24, 2015
January, 24, 2015
Jan 24
8:23
PM ET
Jim Harbaugh landed his first commitment as Michigan head coach on Saturday when 2015 defensive end
Reuben Jones
tweeted his decision for the Wolverines. Jones had decommitted from Nebraska prior to his visit and is now on board for Michigan.
Truly Blessed to Announce I am Officially Committed to The University of Michigan ÄDÄD #GoBlue pic.twitter.com/MTcX3qYSfw

— February 10th (@ImDatDude44) January 24, 2015
New defensive coordinator D.J. Durkin used his ties to the state of Florida to go and get Jones, who is only commit No. 7 for the Wolverines in the 2015 class. Michigan has room for roughly nine more prospects and still has plenty of needs to fill, so there is still plenty of work ahead.
To continue reading this article you must be an Insider
January, 23, 2015
Jan 23
4:50
PM ET
Jim Harbaugh's seven-year contract at Michigan ensures him a raise to more than $6 million annually after his fifth season and an evaluation by school officials to keep his pay in line with market value, according to the document released by the school to ESPN's Darren Rovell and other media.
Harbaugh is to earn $5 million in each of the first three years of his deal -- a $500,000 base salary and $4.5 million in additional compensation for contracted TV and radio appearances and an apparel agreement, among other items.
The contract calls for a 10 percent raise to $5.5 million in January 2018 and another 10 percent raise to $6.04 million in January 2020, pending the market-value review.
The total value of the deal is $38,069,000.
If Harbaugh leaves Michigan for other employment, he must pay the university the remaining pro-rated amount of his $2 million signing bonus. For instance, if he takes an NFL job after four years, he will owe the school $857,142.
Other terms of the contract provide Harbaugh with:
The joint responsibility with the athletic director to schedule games. The final decision rests with the AD.

The use of two automobiles.

$4,000 of apparel annually from Michigan's official outfitter (currently adidas).

Use of a private viewing box for his family and guests at Michigan Stadium and 16 additional tickets to home games.

Private air travel for all recruiting purposes and up to 25 hours of additional flight time for personal travel. First-class commercial airfare for all other football-related travel.

The contract allows for a salary pool of $4-5 million for his assistant coaches, with 10 percent raises after the third and fifth years of Harbaugh's deal.
Harbaugh's incentives include payment of $125,000 for winning the Big Ten East Division, $250,000 for a conference title, $200,000 for a New Year's Six bowl appearance, $300,000 for a berth in the College Football Playoff and $500,000 for a national championship.
Additionally, he will receive $50,000 if named Big Ten coach of the year, $75,000 as national coach of the year and up to $150,000 for the academic performance of his players.
The contract was dated Dec. 28, 2014, and signed by Michigan athletic director Jim Hackett and president Mark Schlissel. Harbaugh was introduced in Ann Arbor on Dec. 30.
January, 23, 2015
Jan 23
9:00
AM ET
Wrapping up the first full week since August without college football. Just 30 more weeks until the games start again:
Oregon State coach Gary Andersen confirmed
, in an interview with Dennis Dodd of CBS Sports, that he left Wisconsin last month in large part over
frustration with the school's admission standards
.
No surprise there, though it was interesting to read Andersen's explanation and the matter-of-fact nature with which he -- and Wisconsin AD Barry Alvarez -- spoke about the situation.
"I don't expect anybody to understand it," Andersen told Dodd in reference to making the move to Oregon State. "I don't expect any one person to look at me and say, 'I get it.' But I get it."
Alvarez offered no apologies or even a suggestion that Wisconsin would relax its standards.
Sounds like Andersen and Alvarez were at odds to stay over admissions. The blowout loss to Ohio State in the Big Ten championship game likely provided the push Andersen needed to act sooner rather than later. And Oregon State, after Mike Riley's move to Nebraska, found itself in the right place at the right time to land the coach.
As a result of Riley's decision to leave Corvallis, Andersen, Paul Chryst at Wisconsin and Pat Narduzzi at Pittsburgh all landed in positions to better succeed on their terms ...
The quarterback situation at Michigan
is tenuous, with little experience of note among the four quarterbacks on the roster. In fact,
Shane Morris
, the most experienced of the bunch, is known best for his place at the center of a controversy last September as he returned to play against Minnesota after suffering a concussion.
It appears that Jim Harbaugh is
interested in adding another QB
to the mix. The new U-M coach, according to reports, visited 6-foot-7 signal caller
Zach Gentry
in Albuqerque, New Mexico, this week, and Gentry looks set to set visit Ann Arbor this weekend.
Gentry, rated 118th in the ESPN 300, has been committed to Texas since May. (Texas, for what it's worth, is trying at the same time to flip No. 1-rated QB
Kyler Murray
from his pledge to Texas A&M.)
As for Gentry, it makes great sense for him to consider Michigan. Harbaugh's work with
Andrew Luck
at Stanford speaks for itself. The coach, a successful QB at the college and NFL level, will be a recruiting force with the nation's top quarterbacks for as long as he remains at Michigan. Meanwhile, Texas represents much more of a crapshoot for Gentry ...
As you may have heard
,
this happened
over the past couple days at Pitt and Penn State.
Fun stuff. In spite of the prevalence of mediocre teams in the state of Pennsylvania, it's great to see the old rivals
sparring on social media
. Nothing brings out the feistiness in college coaches quite like recruiting, by the way.
Let's allow this episode to mark the start of an unofficial countdown to the renewal of the PSU-Pitt rivalry. They'll play for the first time in 16 years in September 2016 at Heinz Field, then in 2017 at Beaver Stadium, followed by a repeat of the home-and-home arrangement in 2018 and 2019.
The arrival of Narduzzi at Pitt comes at the right time for this. He is, of course, familiar with the Nittany Lions as former defensive coordinator at Michigan State. And with excitement on the rise at both schools, no better time exists than now for a little stoking of the flames.
And how about Herb Hand, the Penn State offensive line coach, with a barrage of Twitter barbs? We won't make more than a quick reference to the 44 sacks for which his position group was largely responsible in 2014. You can bet Pitt fans will take note -- now and for the next 19 months.
Around the rest of the league:
January, 23, 2015
Jan 23
9:00
AM ET
This is a crucial visit weekend for many of the teams within the Big Ten conference as we are only a few weeks away from signing day. A ton of big visitors will be on campuses across the Midwest, so here is a look at the most important visits this weekend.
Michigan
To continue reading this article you must be an Insider
January, 23, 2015
Jan 23
12:02
AM ET
January, 22, 2015
Jan 22
3:00
PM ET
What he brings
:
Roquan Smith
is lean linebacker prospect who can run and brings great range and athleticism to the position. He is an upside guy that is better in space at this stage than defending at the point of attack. Smith really excels in this facet with his length and athleticism. He can turn and get depth in coverage, and closes fast underneath giving up little yardage after the catch. He puts himself in position to make plays, and has very good ball skills.
To continue reading this article you must be an Insider
January, 22, 2015
Jan 22
9:00
AM ET
By
RecruitingNation
| ESPN Insider
Wednesday marked the two-week point until national signing day and coaches were out in force on the recruiting trail, with UCLA's visit to No. 4 overall prospect
Iman Marshall
leading the headlines.
To continue reading this article you must be an Insider
January, 22, 2015
Jan 22
9:00
AM ET
I took a few days off shortly after the national title game for a mini-vacation, so that helped delay my football withdrawal. But now reality is starting to settle in: we won't have any more college football games for a long, bleak eight months.
Yet when the 2015 season finally does kick off over Labor Day weekend, we will be immediately welcomed back with a slate of fascinating games. Last year, we had the delicious Wisconsin-LSU opener to look forward to, along with some minor curiosities like Rutgers-Washington State, Penn State-UCF in Ireland and Ohio State-Navy. This year's opening slate will be even better.
It will all begin with an absolute blockbuster of a Thursday night. TCU will play at Minnesota in what looks like the biggest nonconference game of the Jerry Kill era. Our Mark Schlabach ranked the Horned Frogs No. 1 in his way-too-early 2015 Top 25 (and, no, I have no idea why he didn't put Ohio State at No. 1, either). At the very least, TCU figures to be a Top 5 team when it comes to TCF Bank Stadium, offering the Gophers a chance to make a major early statement.
That same night, we get the debut of Jim Harbaugh as head coach of Michigan, which will play its first-ever Thursday night game at Utah. The Utes have beaten the Wolverines the past two times they played them, including last September, and opening at Rice-Eccles Stadium won't be easy. But everyone will want to see Harbaugh on the Maize and Blue sidelines for the first time.
Those games set the table for a strong Saturday which includes Wisconsin and new head coach Paul Chryst going up against Alabama at AT&T Stadium in Arlington, Texas. The Badgers will be heavy underdogs, but Ohio State showed it's possible for a Big Ten team to bully big, bad 'Bama. We'll also get Mike Riley's first game as Nebraska head coach in an intriguing matchup against BYU and Northwestern seeking a rebound season that will begin by hosting Stanford.
The icing on the cake arrives on Labor Day night, as the defending champion Buckeyes go on the road to Virginia Tech. The Hokies were the only team to beat Ohio State in 2014, and Lane Stadium should be total pandemonium for this one.
The Big Ten changed the narrative and greatly bolstered its reputation during bowl season. The league will get a chance to continue that momentum right away in the 2015 season, even if it feels a million miles away at this point. ...
Speaking of scheduling, Michigan State added BYU to its future schedules for 2016 and 2020 on Wednesday. The Cougars
replaced Eastern Michigan on the schedule
for the Spartans, which is a win for everybody. Athletic director Mark Hollis has been committed to scheduling at least one strong nonconference opponent per year, and Oregon comes to East Lansing in Week 2 of 2015 to complete a home-and-home.
Future Spartans' nonconference schedules in 2016 and beyond (the dawn of the nine-game Big Ten slate) will include Notre Dame (2016 and '17), Arizona State (2018, '19), Miami (2020, '21) and Boise State (2022, '23), along with BYU. That's smart, aggressive scheduling in the playoff era, and in the years when Michigan State plays both BYU and Notre Dame in addition to nine Big Ten contests, it will have to be ready for a season-long grind.
Elsewhere in the Big Ten:
No. 1 CB Marshall: "Nobody Remembers Second"