March, 3, 2015
Mar 3
6:49
PM ET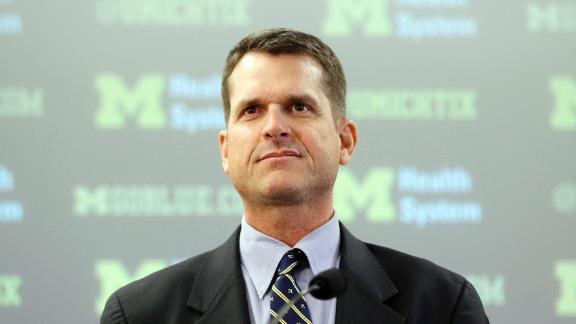 Jim Harbaugh's heroics at Michigan apparently stretch beyond the football field.
Harbaugh and one of the football program's support staffers stopped to help a pair of women who had been in a car crash on the interstate Tuesday afternoon. A university spokesman confirmed that the Wolverines' head coach and football operations director Jim Minick provided first aid and offered their coats to the women as they waited for law enforcement to arrive shortly before 3 p.m.
The police report said the car flipped multiple times while rolling over the median on I-94 before coming to a stop in a snow embankment. No other vehicles were involved in the crash. The 53-year-old driver was partially ejected from the car through the driver's side window. She and her 73-year-old passenger were both wearing seat belts and had "non-life threatening injuries." They were transported to a local hospital via ambulance.
Harbaugh and Minick were on their way to the airport when they saw the car and stopped to help. Michigan started its spring practice last Monday, but will not practice this week during the university's spring break.
March, 3, 2015
Mar 3
3:00
PM ET
Naples High has enjoyed tremendous success under head coach Bill Kramer. With two state titles and numerous deep playoff runs, the Southwest Florida 6A power has become a must stop for college coaches having produced a number of national recruited prospects over the past decade.
In the 2016 class, there are a trio of prospects who rank among the best in the area, state and country.
Fils-aime hot on the trail despite injury in 2014
Headed into the 2014 season, ESPNJr300 running back
Carlin Fils-aime
was a name known to college coaches, and had a handful of offers. After injuring his ankle in Game 4 caused him to miss the rest of the season, the quick and powerful back was unsure what would come of his recruitment.
That question was answered in February with offers from Ohio State, Alabama, Auburn, and Florida.
"After I got injured, I didn't really expect to get any more offers," Said Fils-aime. "When those schools offered me I was pretty shocked because of my injury."
The Gators are one of several schools the 5-foot-10, 175-pounder plans to visit in the coming weeks.
"For now, we are trying to go up to Florida during spring break, but if not will get up there in the summer. We also want to visit Georgia, North Carolina, N.C. State if we can this summer. I'll probably fly up to Ohio State, too. I was just at Miami, and had a great time. I was impressed with how they rotated their backs in practice, and the basketball game against North Carolina was fun."
If there is one program yet to offer that could be a game-changer in the physical back's recruitment, it would be Stanford.
"I'm a big Stanford fan. I have always liked them because they have a great law program, and if football doesn't work out for me, I want to go into law. That is one of the schools that I do love."
Naples High head coach Bill Kramer has had some really good backs through the years, including former Ohio State star Carlos Hyde. In Fils-aime, Kramer has a talented athlete who brings a lunch-pail mentality.
"I love his competitive DNA," Said Kramer. "He works in the classroom, and is already qualified. He's a guy that you can count on, and it matters to him every day. Our defensive players say hitting him is like hitting a light pole. He's can make plays in really small spaces, understands leverage, and is really explosive."
Byrd one of the nation's best
The Miami Hurricanes' 2016 class is the best in the nation in the early going. One of the 10 ESPNJr 300 verbals is former Florida pledge
Tyler Byrd
. The 5-foot-11, 195-pound versatile prospect is blessed with rare talent according to Kramer.
"I think he's a Top 50 wide receiver and Top 10 corner. He's really strong physically, he's almost 6-feet even, you are not going to outleap him, and if he gets his hands on you, you are negated. He'll do something about every day that is just spectacular."
Though Byrd is solid with his commitment to the Hurricanes due to the love that Al Golden and staff showed throughout the entire process, programs such as Florida, Georgia, Michigan, and others remain under consideration. On Monday, Byrd said he planned to make all five of his official visits.
Riley the best on defense at Naples High
While Fils-aime and Byrd are names known both regionally and nationally on the recruiting radar, Naples High is home to one of the top sleepers in the Sunshine State in safety
Chris Riley
.
According to Kramer, the 6-foot-3, 180-pound talented all-around athlete is the team's best defensive player, which is saying something considering Byrd is on that same unit.
"Our best defensive player, and that's saying something because we have some really good players. He was Southwest Florida Defensive Player of the Year for good reason. He has tremendous length, he's physical, knows all of his run fits, and is a great tackler. We can't count how many one-on-one tackles he's made in space against really good players. He can also cover man, is terrific in zone, and understands how it all works and fits together."
Riley is receiving interest from North Carolina, Boston College, and a growing list of others.
"I've heard from North Carolina, Boston College, Purdue, Georgia Tech, Harvard and Yale," Said Riley. "North Carolina and Boston College are two I really want [offers]."
Riley had 103 tackles and two interceptions as a junior, taking home area Defensive Player of the Year honors, as well as being an all-area punter. Riley's father, Chris Riley, played quarterback at Connecticut.
Defensive tackle Colton Strickland and kicker Jerry Nunez are also expected to receive offers in the 2016 class.
March, 3, 2015
Mar 3
10:00
AM ET
Spring practice is prove-it time for certain players, especially those previously underperforming, redshirted or injured. While established Big Ten stars like Michigan State quarterback
Connor Cook
and Ohio State defensive end
Joey Bosa
merely need to get their work in, others must impress every time they step on the practice field.
Which Big Ten players have the most at stake during spring ball?
[+] Enlarge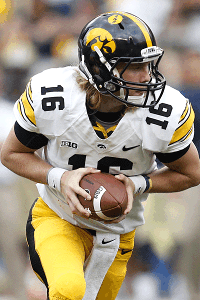 Charles LeClaire/USA TODAY SportsIowa QB C.J. Beathard has spring ball to bounce back from a somewhat mediocre 2014 season.
Iowa QB C.J. Beathard:
Hawkeyes fans love the long hair, the strong arm and perhaps just the idea of Beathard as a departure from the norm in Iowa City. But Beathard has to make the coaches swoon too, and he will get the chance as the team's No. 1 quarterback, at least on the depth chart, entering spring ball. Beathard's improvement starts with greater accuracy, as he completed just 56.5 percent of his passes last season.
Michigan RB Derrick Green:
A heralded 2013 recruit, Green struggled with his weight as a freshman and showed some promise early last season before sustaining a broken clavicle. Jim Harbaugh's power-based offense seems ideal for Green's size and skill set, but the rising junior must assert himself this spring. Green isn't the only power back competing for the starting spot as
De'Veon Smith
and USC transfer
Ty Isaac
also are in the mix.
Maryland WR Levern Jacobs:
After a productive 2013 season (47 receptions, 640 yards), Jacobs was set to start for Maryland before being suspended for the season for his role in a July altercation. Jacobs was
found not guilty of assault in December
and could emerge as Maryland's top receiving option as the team must replace standouts
Stefon Diggs
and
Deon Long
, who combined for 113 receptions and 1,367 yards last fall.
Rutgers QB Chris Laviano:
Laviano served as
Gary Nova
's backup last season, but there's no guarantee he will be the Scarlet Knights' starter in 2015. He must beat out talented LSU transfer
Hayden Rettig
this spring. Laviano's experience must boost him as Rettig seemingly has all the tools to guide an offense returning standout receiver
Leonte Carroo
.
Ohio State LB Raekwon McMillan:
The jewel of Ohio State's 2014 recruiting class stepped into the fire last season and had respectable results (54 tackles, 6.5 tackles for loss, one interception). He now must take on a bigger role as Ohio State has a hole to fill at middle linebacker and undoubtedly sees McMillan, a freakish athlete, as the future.
Michigan DB Jabrill Peppers:
Peppers is
flipping out with excitement
about spring ball after a much-anticipated freshman season that didn't go according to plan. The No. 2 player in the 2014 recruiting class missed most of last fall with injuries but has the skills to bolster Michigan's secondary, if he proves himself to a new defensive staff led by coordinator D.J. Durkin. Peppers will take reps at safety and cornerback this spring.
Minnesota's redshirt freshman WRs:
A passing offense ranked 119th nationally last season is preventing Minnesota from taking the next step, and the Gophers lose dynamic tight end
Maxx Williams
to the NFL draft. Receiver depth should be the team's top priority, and four redshirt freshmen --
Desmond Gant
,
Isaiah Gentry
,
Melvin Holland Jr.
and
Jerry Gibson
-- take on bigger roles this spring. All four have good size, and hopes are especially high for Gentry.
Penn State OT Andrew Nelson:
Some will put quarterback
Christian Hackenberg
on the prove-it list, but the junior showed in 2013 what he can do with a capable offensive line blocking for him. Big Ten coaches were adamant Hackenberg's struggles last season primarily stemmed from the issues up front. He will need better protection from players like Nelson, who started every game as a redshirt freshman last season and could move from right tackle to the left side.
Wisconsin QB Joel Stave:
He is 21-7 as the Badgers' starting quarterback but comes off of a season where he completed a career-low 53.4 percent of his passes and threw more interceptions (10) than touchdowns (9). Perhaps the return of coach Paul Chryst is just what Stave needs to cement himself as the starter and finish his career strong. If not, challengers are waiting.
Nebraska WR Jamal Turner:
Nebraska upgraded its passing game late in Bo Pelini's tenure and could take another step under Mike Riley, who produced plenty of standout wideouts at Oregon State. Turner has been unlucky on the injury front but still brings unique skills to a receiver corps looking for someone to complement
Jordan Westerkamp
and fill the void left by
Kenny Bell
. It's now or never for Turner, who arrived at Nebraska with so much hype.
March, 3, 2015
Mar 3
9:00
AM ET
Minnesota opens spring practice Tuesday without a quarterback problem.
Mitch Leidner
, though far from prolific, brings 16 games of starting experience, a level of efficiency and style of play to the position that fits the Gophers well.
The same cannot be said of at least five teams in the Big Ten this spring.
Ohio State -- clearly not on any quarterback-deprived list -- and Michigan made
this rundown
by Ben Kercheval of Bleacher Report on the top QB battles of spring. It includes predicted post-spring leaders at the position.
Michigan practice is already underway, though on break this week.
Maryland and Nebraska get started before the end of the week in addition to Minnesota. The Terrapins, while likely set with
Caleb Rowe
, who's expected back from knee surgery in plenty of time for fall camp, are splitting time between
Shane Cockerille
and
Perry Hills
in the spring.
Let's take a look at the best Big Ten spring QB battles, sans Ohio State, where it won't get all that interesting until closer to summer:
Michigan candidates:
Shane Morris
(junior next season),
Wilton Speight
(redshirt freshman) and Alex Malzone (true freshman)
Predicted post-spring leader:
Morris, simply because of his experience. But this race will extend into the spring, when true freshman Zach Gentry joins the mix. And don't go to sleep on a summer surprise.
Iowa candidates:
Jake Rudock
(senior),
C.J. Beathard
(junior)
Predicted post-spring leader:
Beathard. He'll get the benefit of the doubt this spring -- treatment to which Rudock has grown accustomed over the past two years -- after the Hawkeyes placed the junior atop the depth chart in January.
Rutgers candidates:
Chris Laviano
(sophomore),
Hayden Rettig
(sophomore),
Giovanni Rescigno
(redshirt freshman)
Predicted post-spring leader:
Rettig. He's got an upside that the other two can't match, and with a season to acclimate after his transfer from LSU, look for Rettig to emerge this spring as one of the league's top newcomers.
Northwestern candidates:
Zack Oliver
(senior),
Matt Alviti
(sophomore),
Clayton Thorson
(redshirt freshman)
Predicted post-spring leader:
Oliver, who's tall and strong and maybe a bit underappreciated this spring because of his turnover-prone play to finish last season. He'll enjoy a nice spring, but the battle will continue in August, and don't count out Thorson.
Purdue candidates:
Austin Appleby
(junior),
Danny Etling
(junior),
David Blough
(redshirt freshman)
Predicted post-spring leader:
Appleby, in perhaps the league's toughest spring call. He faded in November, and both competitors will apply pressure in the spring. But Appleby will draw strength from his best moments of 2014.
Around the rest of the league:
March, 3, 2015
Mar 3
9:00
AM ET
Many of the West region's best seven-on-seven teams were in Las Vegas over the weekend, joined by a few additional national squads for the Pylon Elite Las Vegas 7v7. When the dust settled, Ground Zero, a team made up of California's Inland Empire prospects, took home the trophy after beating 702 Elite, which featured Las Vegas Bishop Gorman standouts.


March, 2, 2015
Mar 2
10:06
PM ET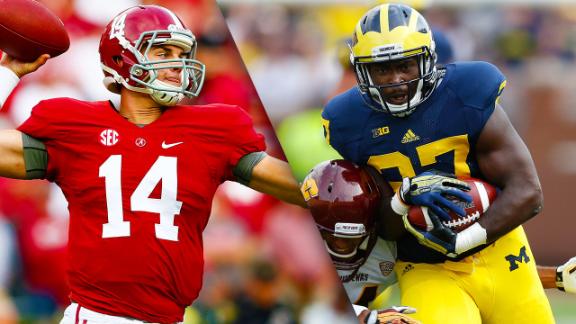 It's hard to dive head-first into this whole idea of spring when a lot of us are still digging out from under the snow. But, alas, spring football practice is here.
That means the countdown to the 2015 college football season has officially begun.
New stars will emerge. Coaches will land on the hot seat, and somebody's going to swear they're getting the cold shoulder from the College Football Playoff selection committee.
Which players have the most to prove this spring and heading into the 2015 season? Some might be coming off injuries. Others weren't as productive or consistent last season, and a few are taking on even bigger roles or getting fresh starts. The players are listed alphabetically:
WR Bralon Addison, Oregon

Oregon was without its three best receivers in the title game loss to Ohio State last season. Of course, one of those had been out all season. Addison tore his ACL last spring, and just like that, the Ducks' leading returning receiver from the 2013 team was gone. But he's back and eager to re-establish himself in a receiving corps that should be as dangerous as ever. There was some talk before the title game in January that he might play, and he even suited up during warm-ups. The Ducks, though, weren't going to use an entire year of eligibility for just one game. Addison is electric in the open field, whether he's catching passes, taking off on jet sweeps or returning punts. If everybody is healthy, Oregon should have the fastest group of receivers in the country. Addison gets to prove he's as good as new.
March, 2, 2015
Mar 2
10:00
AM ET
Spring is springing in the Big Ten. Michigan and Northwestern have already hit the practice field, Minnesota, Maryland and Nebraska join them this week and the rest will follow soon.
With spring in the air, we've got some burning questions about the league during this season of practice and hope:
1. Who's going to win the Ohio State quarterback race?
This is a question destined to not return an answer this spring. That's because only
Cardale Jones
will be healthy enough to go through full spring drills.
J.T. Barrett
will do some light seven-on-seven stuff as he recovers from a broken ankle, while
Braxton Miller
won't be cleared to throw with his medically repaired shoulder until at least May. So Jones has a chance to gain an early edge in perhaps the most interesting quarterback battle of all time. Can he seize it?
2. How quickly does Jim Harbaugh remake Michigan's culture?
Expecting an overnight turnaround in Ann Arbor is unfair and unrealistic, even with Harbaugh's sterling track record. The Wolverines need to find answers at quarterback, running back and receiver, but the more pressing issue is simply developing more toughness than they showed throughout much of the Brady Hoke era. How quickly Michigan adapts to Harbaugh's ways will determine how fast this rebuilding effort will go, and Harbaugh let the message be known last week.
Embracing the art of Hard Work is to disappearing from society. Therefore, we at Michigan Football designate 2015 as the year of Hard Work

— Coach Harbaugh (@CoachJim4UM) February 27, 2015
3. What will Nebraska look like under Mike Riley?
Huskers athletic director Shawn Eichorst surprised the college football world by hiring Riley away from Oregon State. Riley couldn't possibly be more different, personality-wise, from previous Nebraska coach Bo Pelini. But what does that mean in how Big Red looks on the field? Riley has been known for running a pro-style offense, though he says he'll design the offense around the strength of his players. Quarterback
Tommy Armstrong Jr
. will need to fend off challenges to his job this spring. The Huskers seemed to take on the volatile traits of Pelini during his tenure; can they now mirror Riley's straight-forward, low-key approach?
4. Who'll win the quarterback job at Iowa, Northwestern, Rutgers and Purdue?
Who starts under center will be the dominant story line at all four places this spring. At Iowa, head coach Kirk Ferentz will let
C.J. Beathard
battle incumbent two-year starter
Jake Rudock
. Northwestern has a three-man scrum, with
Zack Oliver
,
Matt Alviti
and
Clayton Thorson
fighting to replace Trevor Siemien.
Chris Laviano
and LSU transfer
Hayden Rettig
are the main candidates to succeed
Gary Nova
at Rutgers. And Purdue will open things up once again between
Austin Appleby
,
Danny Etling
and
David Blough
. These competitions could all last until fall camp but will be heavily scrutinized in March and April.
5. How does Michigan State replace its stars?
Under Mark Dantonio, the Spartans have usually just moved on to the next guy when a star leaves. But Michigan State, which could be ranked in the top 10 in the preseason, still has to replace some of the most productive players in recent program history, including running back
Jeremy Langford
, receiver
Tony Lippett
, cornerback
Trae Waynes
, defensive end
Marcus Rush
and safety
Kurtis Drummond
. We'll get to see this spring just how well those holes can be filled.
6. Can Penn State fix its offensive line?
Christian Hackenberg
's bruises from last year might just now be healing, as the Nittany Lions' offensive line was one of the worst in the country in 2014. The best player on that line, left tackle
Donovan Smith
, left for the NFL, and starting guard
Miles Dieffenbach
also is gone. Yet there's hope for improvement, thanks to incoming juice transfer Paris Palmer, true freshman Sterling Jenkins and some young players who redshirted. Penn State must begin to find the right mix and build cohesion there this spring.
[+] Enlarge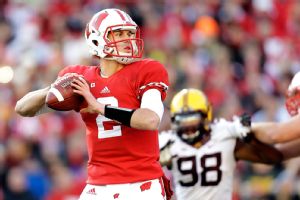 Mike McGinnis/Getty ImagesJoel Stave will be fighting for the top spot as Wisconsin looks for a starting quarterback.
7. Can Paul Chryst work magic at the quarterback position for Wisconsin?
The Badgers have been a consistent Big Ten title contender for the past several years, but the quarterback position has been lacking since
Russell Wilson
completed his one year in Madison. New head coach/old offensive coordinator Chryst could help rectify that situation, whether it's by building on the skills of veteran
Joel Stave
or going young with a fresh face such as
D.J. Gillins
or Austin Kafentzis. Wisconsin will need much better play at that position before opening 2015 against Alabama.
8. Does Minnesota have any receivers?
Jerry Kill and his staff think they can improve one of the biggest problem positions in recent years for the Gophers. Redshirt freshmen
Isaiah Gentry
,
Melvin Holland
Jr. and
Desmond Gant
are full of promise. They need to start fulfilling it this spring, because the security blanket of tight end
Maxx Williams
is gone.
9. Can changes help the defenses at Illinois and Maryland?
If the Illini are going to build some momentum after last season's bowl appearance, their leaky defense must improve. Tim Beckman hired former NFL assistant Mike Phair as co-defensive coordinator this offseason, and job No. 1 is figuring out a way to stop the run, which Illinois hasn't been able to do for a few years. Maryland parted ways with defensive coordinator Brian Stewart a little more than a year after giving him a contract extension and elevated inside linebackers coach Keith Dudzinski to the role. The Terps will also switch to a 4-3 base and hope to right a defense that rarely dominated in 2014.
10. Where's the next wave of running back stars?
Last season saw an unprecedented amount of production from elite running backs, including Wisconsin's
Melvin Gordon
, Indiana's
Tevin Coleman
, Nebraska's
Ameer Abdullah
, Minnesota's
David Cobb
and Langford. All of those guys are gone, but budding superstars such as Ohio State's
Ezekiel Elliott
, Wisconsin's
Corey Clement
and Northwestern's
Justin Jackson
remain. In a league that churns out tailback talent, plenty of new names are sure to emerge as well.
March, 1, 2015
Mar 1
10:49
PM ET
[+] Enlarge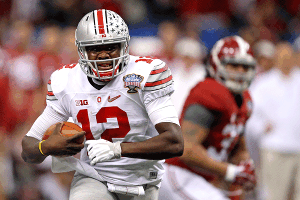 Chuck Cook/USA TODAY SportsCan Cardale Jones parlay last season's run into the full-time starting QB job at Ohio State?
Defending national champion Ohio State might have too many quarterbacks.
Traditional heavyweights such as Florida, Michigan and Texas might not have enough.
As spring football practice opens around the country, many of the sport's best teams will start to sort out quarterback questions. Six of the teams that finished in the top 10 of the final Associated Press top 25 poll in 2014 -- Oregon, Alabama, Florida State, Baylor, Georgia and UCLA -- will have new quarterbacks this coming season.
February, 27, 2015
Feb 27
2:00
PM ET
Michigan's most experienced position group might be the most interesting to watch leading up to the team's first season under new coach Jim Harbaugh.
Spring practice is generally a time to analyze and get excited about the new, and there is plenty of that in Ann Arbor this year. A new battle for the starting quarterback job started this week. There are new potential stars like defensive back
Jabrill Peppers
and running back
Ty Isaac
expected to make an impact next fall. And of course, there is the new coaching staff.
But it's the offensive line, the only group that returns fully intact from a year ago, that might determine how much and how fast the Wolverines can improve. Two years of serving as the program's on-field whipping boys leaves the linemen eager to practice whatever its coaches preach.
"There's something special there," said Tim Drevno, who will coach the line along with his play-calling duties as offensive coordinator. "They want to be taught, and they want to be coached, and they want to be demanded on. You couldn't ask for anything better. There is nobody resisting what we're doing."
Drevno was aware of the criticism his charges have faced during the past couple years. The relatively young group floundered through the better part of the past two seasons. In 2013, the Wolverines finished near the bottom of national rankings in sacks allowed (109
th
) and rushing yards (103
rd
). Those numbers improved to the middle of the pack last fall, but not enough to quiet the disparaging remarks.
Harbaugh and Drevno have transformed more inept offenses together in the past. In 2007, they left the University of San Diego to take over the Pac-10's worst offense at Stanford. They turned the Cardinal into a BCS bowl winner in four years. The offensive line and its power running game served as an effective sledgehammer for that remodel, and remain one of Stanford's biggest strengths almost a decade later.
Michigan's current skill players -- an inevitably inexperienced quarterback, young receivers and well-stocked backfield -- make the same type of power offense the program's best bet for fast results.
"The biggest thing is just getting a great knowledge of the offense and where we want to go with it," Drevno said. "Finding out our personality on offense and who we're going to be and what schemes we're going to run."
The first step in that process is developing a tough mentality on the line, something Drevno says the new coaching staff will demand from his players.
"Yeah, you demand it from them," he said. "You get them to trust you. You invite them over to your house for a barbecue. You tell them that you love them. You get them to play for you. It's pretty cool when it happens."
All of Michigan's coaches have made a point to say they want to evaluate players without any preconceived notions of who fits where. None of the five returning starters is guaranteed his spot this season. Drevno said the first thing he wants to see from his players is how well they translate what they learn in meetings to the field. Though they are just two practices into the spring, he said he has been happy with his group's desire to learn and willingness to be active in meetings.
"They're going to come off the football. They're going to know where to go," he said. "They're going to have a want-to, a brotherhood, they're going to take control in the room, and they're going to lead us."
February, 27, 2015
Feb 27
9:00
AM ET
The best quote from the first week of spring practice at Michigan, surprisingly, came from someone other than Jim Harbaugh.
Of course, it was
about Harbaugh
.
"He's the smartest man I've ever been around," U-M offensive coordinator Tim Drevo told reporters Thursday night after the Wolverines' second practice of the spring.
What, not the smartest man in the world?
It should be noted that Drevno, 45, worked with Harbaugh at Stanford from 2007 to 2010. If you take him at his word on Harbaugh, it's safe to assume Drevno didn't get out and about much on the Stanford campus, which is full of its share of smart people.
Otherwise, in this opening week, Drevo said he
likes what he's seen
from Michigan, which returns its entire offensive line.
Drevno, who will call plays next season and coaches the line, told the Detroit News:
"There's something special in there. Are we there yet? No. It's Day 2, but there's something special in there, and I'm excited about it."
Ah, the optimism of spring.
Some intriguing data
and
excellent analysis here
by Joseph Juan of numberFire on the NFL combine results of Melvin Gordon.
According to the numbers, the former Wisconsin All-American compares favorably to many of the great running backs of this generation.
Juan's findings:
Gordon seems to possess a rare combination of size, speed and power that combined with his instincts and vision could make him a very formidable NFL running back. ... As a testament to the rarity of Gordon's collection of skills, no other NFL running back for which we have combine data from the past 15 years falls within the ranges I set forth for (build, speed, power and explosiveness.)
The writer finds, in conclusion, that Gordon "appears that he's primed for a breakout rookie season."
Full disclaimer: While I enjoy the NFL draft, I'm not sold on the predictive ability of the combine, pro days or individual workouts. I think a player's body of work in college serves as the best indicator of his NFL potential -- and Gordon couldn't have done much better in that category.
Stats and measurements can be interpreted to make just about any argument. Nevertheless, the numberFire breakdown of Gordon is solid.
I agree that he's got a chance to join the backs to whom he's compared in this article. But the organization that drafts him in May likely ranks as the top factor in determining his shot to make a rookie splash.
A Friday trip around the rest of the Big Ten:
And finally, from Wisconsin, this is, well,
it's something
. Have a good weekend.
February, 26, 2015
Feb 26
12:00
PM ET
Since spring practice opened at Michigan and Northwestern this week, we've been ranking position groups around the Big Ten. For previous entries in the series, click
here
.
We come now to the end, with special teams. Since it's virtually impossible to predict what kick coverage units will look like several months from now or project how new starters will fare on field goals and such, we're basing these rankings mostly on who's coming back at place-kicker, punter and returner.
Here we go:
Best of the best:
Maryland
The Terrapins return the 2014 Lou Groza Award winner in
Brad Craddock
, who missed only one field goal all of last season. They also bring back an elite return man in
Will Likely
, who led the Big Ten in kickoff return average and was third on punt return average last year. Punter
Nate Renfro
is also back, giving Randy Edsall both experience and trust at the key specialist spots.
Next up:
Ohio State
It's entirely possible that Cam Johnston is a wizard, as his rugby-style punts somehow both cover a ton of distance yet seem to stop at the right places. He was brilliant in the Sugar Bowl. The Buckeyes also have a boatload of speed they can use in the return game, including
Jalin Marshall
and
Dontre Wilson
. Place-kicker
Sean Nuernberger
is back after a respectable freshman campaign, but it's not like Urban Meyer really wants to kick field goals, anyway.
Sleepers:
Nebraska and Minnesota
"Sleeper" isn't really the right word here, but we wanted to give a shout out to both of these special-teams units.
The Huskers have one of the nation's most electrifying punt return men in
De'Mornay Pierson-El
, who averaged 17.5 yards per attempt and scored three touchdowns last year. Punter
Sam Foltz
and kicker
Drew Brown
also return and could improve with experience.
Minnesota has the reigning Big Ten punter of the year in
Peter Mortell
, plus highly productive returners
Jalen Myrick
and
Craig James
. More accuracy from kicker
Ryan Santoso
(12-of-18 as a freshman) would solidify the Gophers as one of the best special-teams groups around.

Problem for contenders:
Penn State and Michigan
Again, it's nearly impossible to predict how new kickers will fare, as you don't really get to see how they will fare in pressure situations until the games begin. Both the Nittany Lions and Wolverines have some big shoes to fill.
Place-kicker
Sam Ficken
was far and away the best thing about Penn State's otherwise highly shaky special teams in 2014, and now he's graduated. The team doesn't have a scholarship kicker on the roster and may turn to walk-on Joe Julius. Punt and return teams must make major strides as well.
Michigan lost both its place-kicker (
Matt Wile
) and punter (
Will Hagerup
) to graduation, and its return game was no better than average last season. New special-teams coach John Baxter will have his work cut out for him this spring in bringing some new names -- like freshman kicker
Andrew Davis
-- along.
February, 26, 2015
Feb 26
9:00
AM ET
Jim Delany and his counterparts in the Big Ten wanted to start a discussion. Mission very much accomplished.
The conference's plan to
circulate a white paper
regarding keeping football and basketball players off the field for their first year on campus has become a hot topic for anyone involved with college sports this week. Reactions have ranged from
cautious support
to
complete dismissal
to
"I don't want to touch that with a 10-foot pole."
The Big Ten's release was flushed out with
a handful of ideas
that Delaney and his athletic directors would like NCAA members to mull over in the next year leading up to the organization's national convention. Of the brainstorming icebreakers -- which included time commitments, length of season and academic requirements – the only one to gain much attention was the most outlandish and improbable: freshman ineligibility. Maybe that was the point.
Several theories about the proposal's actual intent have been floated in the past few days: Maybe this week's meeting was purely a public relations stunt so Delaney and other could proudly tout the Big Ten's commitment to academics. Maybe it was to try to
nudge the NBA toward raising its minimum age requirement
. Or maybe it was an attention-grabbing idea designed to stir up enough interest that smart minds started thinking about more logical solutions.
The possibility of the idea actually becoming an NCAA rule seems both unrealistic and counterintuitive. This is
an all-or-nothing deal
, and the vast majority of Div. I universities that don't deal with one-and-done players don't have the resources (or the motivation) to give all their student-athletes an extra year of scholarship money. The NCAA already
created a rule that will keep academically at risk athletes off the field as freshmen
. It goes into effect in 2016. Does it make sense to punish the freshmen that are ready to handle school and sport by making them sit out a year too?
If the schools are genuine in their academic-first approach, shouldn't they focus on the other ideas that create an environment where the workload for athletics is manageable for all student-athletes regardless of their year? Doesn't the "Year of Readiness" discourage student-athletes from finishing their degrees in four years? Why rush when you know you've got five years on campus? And doesn't that set student-athletes apart from all of their other peers? Isn't that the perception the NCAA is trying to avoid in the first place?
The Big Ten's idea, which has been endorsed by commissioners from the Big 12 and the Pac-12 as well, raises plenty of questions. If that was the point, then kudos, mission accomplished. Otherwise, it doesn't make a whole lot of sense.
And now, onto your links…
Jim Harbaugh Assists Two Women In Car Accident
BIG TEN SCOREBOARD
Thursday, 9/3
Friday, 9/4
Saturday, 9/5
Sunday, 9/6
Monday, 9/7