November, 26, 2014
Nov 26
8:30
AM ET
OK, so who's it gonna be -- Mississippi State or Ohio State?

Honestly, the suspense is killing me, and we haven't even gotten to the games this weekend. See, here's the issue that these teams are facing: Who will have the best résumé after championship Saturday?

Mississippi State might not go to Atlanta for the SEC championship game, but if the Bulldogs beat Ole Miss on Saturday, they'll be in position for that fourth spot (assuming the top three win out). But if No. 6 Ohio State wins out, the Buckeyes will be Big Ten champions. Say what you will about the strength of the Big Ten, the Buckeyes would have a conference championship and the fourth-ranked Bulldogs would not. Both would only have one loss.
November, 26, 2014
Nov 26
8:00
AM ET
Tomorrow is a day to remember and be thankful for all of our blessings. Today is a day to be thankful for morning links, the final edition of the regular season.
1. Maryland's football team got into the holiday spirit this week by explaining the fine tradition of football on Thanksgiving to
a room full of foreign diplomats
. Four Maryland players visited Washington, D.C.'s, Blair House -- across the street from the White House – to rub elbows with ambassadors from around the world and provide a Nerf-aided tutorial of America's favorite sport. That must be one of the perks that comes with plastering the
lyrics of the Star Spangled Banner
on your helmets early in the season. For their efforts, the four Terrapins who made the trip were rewarded by taking part in America's other favorite Thanksgiving tradition -- food.
2. This week's
new College Football Playoff rankings
, released Tuesday night, add more evidence that November has been kind to the Big Ten's image. The league now has four teams in the top 20 with Minnesota moving up to No. 18 behind Wisconsin (14), Michigan State (10) and Ohio State (6). Those rankings will get the conference's top teams another chance to prove themselves against good competition in bowl season.
The Buckeyes are in good position to test the importance of a conference championship in the new playoff system. At least two teams ahead of Ohio State in the current rankings will finish the year without playing in a conference title game (TCU and either Alabama or Mississippi State). That extra game could help Urban Meyer's team plead its case to the selection committee.
3. First, the Buckeyes have to avoid an upset against rival Michigan this weekend. Meyer told his team earlier this week that
losing their cool would not be tolerated
. Last year the two teams fought, players were ejected and an overmatched Wolverines team was in the game until its final play.
Meyer's solution – simply telling his team not to scuffle with opponents – seems like a better approach than the altercation avoidance tactics supported by the Wisconsin and Minnesota coaching staffs for their battle this week. After a stand-off last season, the teams decided to
water down the winning team's celebration
with the massive axe rivalry trophy by keeping it tucked away until after the game ends. It seems that reminding players that fighting should remain between the sidelines should be enough.
East Division
West Divison
November, 25, 2014
Nov 25
3:30
PM ET
By
ESPN.com staff
| ESPN.com
Questions were asked, and coaches had answers. Here are a few of the highlights from this week's Big Ten conference call.
By the way, if you're not following us on Twitter, what are you waiting for? Follow along at
@ESPNRittenberg
,
@BennettESPN
,
@ESPNJoshMoyer
,
@DanMurphyESPN
,
@MitchSherman
and
@AWardESPN
.
Pat Fitzgerald says he would be in favor of the Big Ten giving its teams the week off for Thanksgiving.

— Mitch Sherman (@mitchsherman) November 25, 2014
Brady Hoke asked about the impact of Rutgers and Maryland joining the Big Ten: "Well, for us it hasn't been very good." Mich. lost to both.

— Dan Murphy (@DanMurphyESPN) November 25, 2014
Mark Dantonio says he's been "very impressed" with ability of Rutgers and Maryland to adjust to Big Ten. MSU beat them by a combined 82-18.

— Mitch Sherman (@mitchsherman) November 25, 2014
Brady Hoke on what has stood out watching Ohio State on film: "Both sides of the ball, and their kicking game, too." So, everything.

— Austin Ward (@AWardESPN) November 25, 2014
Kill on a chance to reach B1G title game with a win: "We're probably doing it sooner than I thought we would."

— Dan Murphy (@DanMurphyESPN) November 25, 2014
Franklin says that being in the pocket is Hackenberg's strength -- but having a pocket isn't a strength of the offense.

— Josh Moyer (@ESPNJoshMoyer) November 25, 2014
Jerry Kill on stopping Melvin Gordon: "It's an issue... He's like a missile." Stresses gap control is essential.

— Dan Murphy (@DanMurphyESPN) November 25, 2014
Minnesota coach Jerry Kill on the status of running back David Cobb: "He'll be very questionable."

— Austin Ward (@AWardESPN) November 25, 2014
November, 25, 2014
Nov 25
2:30
PM ET
Michigan and Ohio State have always fought for some of the same recruits. The Wolverines win some and the Buckeyes win some, and those recruiting battles have real implications on the field.
Each team could have used one or two more victories on the recruiting trail, so let's take a look at a few current players recruited by both teams who could have made an impact for the opposing team in the big game on Saturday, and a few future battles that could impact games in the years to come.
To continue reading this article you must be an Insider
November, 25, 2014
Nov 25
10:42
AM ET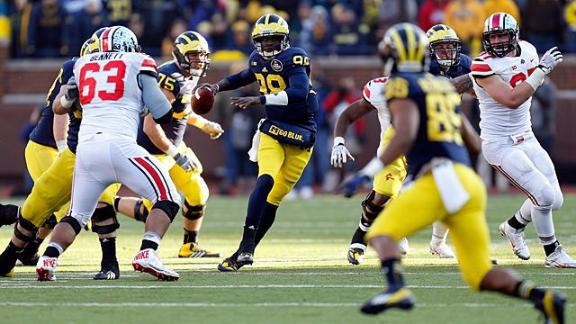 COLUMBUS, Ohio -- Urban Meyer is expecting better behavior from his Ohio State team, and anybody who gets ejected for fighting this year against rival Michigan could face an even harsher penalty from the Buckeyes coach.
"He wants the game to be very intense, but if anybody throws any punches this year, we're dismissed," linebacker Curtis Grant said. "You know he pretty much put it out there [Sunday], so there's no telling what will happen if you get into a fight this year. We've got to be on our best behavior."
Dismissal from a game for fighting is automatic from game officials, something Ohio State running back Dontre Wilson and offensive guard Marcus Hall both found out after a second-quarter melee marred last year's game against Michigan.
Hall missed the Big Ten championship game against Michigan State because of a suspension, a matchup the Buckeyes lost to snap a 24-game winning streak and fall out of position to play for the national title.
Grant seemed to be referring to the in-game disqualification, but with Meyer making it clear during his first team meeting this week that he would have no tolerance for extracurricular activity, the punishment from the program could be severe and long-lasting as well.
November, 25, 2014
Nov 25
10:00
AM ET
Here is a look at all the most important recruiting action from this past weekend within the Big Ten conference.
To continue reading this article you must be an Insider
November, 25, 2014
Nov 25
8:30
AM ET
Let's just get this out of the way: Last week in college football was kind of dull.
Unless, that is, you're into watching the single-game FBS
rushing record fall
for the second straight Saturday. (So who breaks it this week?) Yes, last week was dull, unless, of course, you're into Florida State's
weekly high-wire act
, re-awakenings at
Arkansas
and
Minnesota
or UCLA's
continued stranglehold on Los Angeles
.
My point is, the latest set of games didn't significantly impact the College Football Playoff picture -- at least in comparison to the past few weeks. Barring some craziness at the selection-committee table, the top four on Tuesday night is going to look no different than last week's edition.
But Week 13 was simply the calm before the storm. Not so sure? Check out first nine paragraphs Gene Wojciechowski's
BMOC column
. The rocky road to Dec. 9 is enough to make a fan of any playoff contender choke on his or her turkey dinner.
And it starts in two days.
To continue reading this article you must be an Insider
November, 25, 2014
Nov 25
8:00
AM ET
Good morning, Big Ten fans. Some notes and observations for Thanksgiving week:
1. And then there were two ...:
Bovada released its updated odds Monday on the Heisman Trophy winner, and only two names are left: Oregon's
Marcus Mariota
and Wisconsin's
Melvin Gordon
. Mariota is the favorite with 1-3 odds, while Gordon is at 2-1. All other players/bets are off the board.
I've said this before, but I'm really not sure what else Gordon has to do to pass Mariota here. In a land where there's just
Jesus, girls and Marcus Mariota
, the Oregon quarterback has had an unbelievable season. But Gordon's performance is maybe the best from a running back in the last 25 years. Look at past Heisman-winning running backs -- Mark Ingram, Rashaan Salaam, Ron Dayne, Ricky Williams, Eddie George -- and, with the exception of Williams, Gordon has more rushing yards, more yards per carry and more TDs than all of them. And he's just 15 yards and two TDs shy of tying Williams' production; plus, he's averaging 2.4 yards a carry more than Williams. This isn't just a great season for Gordon; it's historically great. He's having one of the best seasons in NCAA history.
2. Ralph Friedgen returning to Maryland:
The Rutgers' offensive coordinator is not being made available to the media this week ... but it's pretty clear he doesn't like this week's opponent in Maryland. OK, let's be honest: He hates Maryland. He was fired as its coach in 2010, the same year he was named ACC Coach of the Year, which obviously doesn't happen too often. And he
didn't hold back
a few years ago when discussing his alma mater: "I could care less about Maryland, I've burned my diploma. ...Well, they talk about Maryland pride. They didn't show me a whole lot of Maryland pride, either getting the job or getting fired."
Think this game doesn't take on a bit more of added importance? Rutgers players told NJ.com there's
some added motivation this week
. It's a storyline worth following, and it'll be interesting to see how both Friedgen and Maryland fans react to his homecoming.
3. Jerry Kill or Urban Meyer?:
One of them has to wind up as the Big Ten coach of the year -- but which one is it going to be? Minnesota has undoubtedly exceeded expectations this season by picking up the Little Brown Jug and the Floyd of Rosedale ... but Meyer's on the cusp of a playoff berth with a redshirt freshman quarterback who was supposed to spend this season on the sideline. If Kill fails to grab Paul Bunyan's Axe by beating Wisconsin this week, Meyer might have the edge. If the Gophers win and wind up in the Big Ten title game? Well, it'd be hard to pick against Kill. Minnesota hasn't finished first or second in the conference since 1967.
Now, on to the links ...
East Division
West Division
November, 24, 2014
Nov 24
7:30
PM ET
It's Ichigan week at Ohio State. The students and supporters on the southern end of this heated rivalry started the week with their annual tradition of covering every printed
M
on ca... , er, school grounds.
Each year in the week leading up to The Game, red tape covers Ohio State's campus and redacts all the appearances of the unlucky 13th letter of the alphabet that tape can reach. Gossip on Twitter the first day of this week suggested the school was getting rid of the last two letters -- the "um" -- on a large sign that says "Ohio Stadium" and hangs outside the Buckeyes' field. A photo of a crane lifting the letters away turned out to be a hoax.
The Wolverines travel to Ohio's capital city this weekend with a 5-6 record after losing to the Terrapins last Saturday. Ohio State (10-1) needs to beat its rival in order to keep alive its chance for an invite to the College Football Playoff. No red tape needed here.
November, 24, 2014
Nov 24
5:39
PM ET
Michigan fumbled away its best chance to become bowl eligible over the weekend with a
23-16 loss
to Maryland. A pair of special teams penalties -- one that negated a punt return touchdown and another that gave Maryland a first down inside the 10-yard line -- doomed the Wolverines to a disappointing final home game that seemed fitting for the 2014 season.
Nonetheless, there were a few individuals who stood out about the rest and are receiving awards in our penultimate round of helmet stickers.
Senior LB Jake Ryan:
Ryan topped 100 tackles on the season during his final game at the Big House. He finished with a game-high 13 stops, which led the Big Ten on Saturday. On Monday, he was named one of the five finalists for this year's Butkus Award, given to the nation's top linebacker.
Junior C Jack Miller:
Miller is the cog in the middle of a much-maligned offensive line that has steadily improved this season. Michigan's running attack in November has been as good as we've seen from the Wolverines in the past two years. It gained 292 yards on the ground against Maryland. If nothing else, Miller deserves some recognition for representing his team well while answering questions about their shortcomings throughout the season.
Junior DE Mario Ojemudia:
Ojemudia and fellow lineman
Taco Charlton
played well while replacing dismissed senior Frank Clark. Ojemudia made five tackles, one behind the line of scrimmage and batted down a screen pass that he nearly turned into an interception. He stepped into a bigger role on Saturday and did so without stumbling.
November, 24, 2014
Nov 24
5:00
PM ET
Short week. I've got the mail. Here you go:
@mitchsherman What do you think should happen at Nebraska?

— Shonny Schneider (@sss809) November 24, 2014
@mitchsherman what is the final straw for making changes at NU? Sellout streak?

— Christopher Hawkins (@GoBigRedRev) November 24, 2014
@mitchsherman: Nebraska is a hot topic again late in the season for its failure to win key games. The Huskers' 28-24 loss to Minnesota on Saturday squashed the final strand of hope to play for a Big Ten title, officially extending the drought to 15 years without a conference crown. I think the Nebraska administration needs to ask a different set of questions this year than last, when Athletic Director Shawn Eichorst offered a vague statement in support of coach Bo Pelini at the close of the regular season. Is Nebraska satisfied with its place in the Big Ten? Are the Huskers content to win nine games a year but rarely, if ever, factor in the national conversation? If so, change is unnecessary. But if the Huskers want more, some kind of fix appears in order. Clearly, the formula in place isn't working to improve Nebraska. As for the streak of 340 consecutive sellouts, Nebraska can't afford to wait until it ends before taking action. Apathy is growing as the Huskers slide further down the Big Ten pecking order. And the streak of sellouts should not be taken for granted.
@mitchsherman If Wisconsin wins out & beats Ohio St in #B1G title, where do Mich St, Ohio St, & Wisconsin stand in terms of big six bowls?

— Sam Ensign (@samensign11) November 24, 2014
@mitchsherman: The Badgers, in that scenario, would land in the Cotton, Fiesta or Peach. The College Football Playoff committee would then be tasked to determine if Ohio State or Michigan State belonged in another of the New Year's Six games -- other than the Orange, which will be determined by conference tie-ins. The Orange Bowl gets the Big Ten runner-up only if it ranks ahead of every available SEC team. The Spartans appear in decent shape today for a New Year's Six spot, especially if Ohio State keeps winning. Of course, the Buckeyes, with a close loss to Wisconsin, could remain ahead of Michigan State and steal a New Year's Six spot, knocking MSU to the Buffalo Wild Wings Citrus Bowl. Remember, though, if a Big Ten team lands in the Orange Bowl, another can't go to the Citrus. Got that? In a nutshell, it's complicated.
@mitchsherman assume 10 bowl eligible teams this year. What are chances B1G can win 6-7 with conference setting up matchups with bowls?

— Dave Fitzgerald (@BuckeyeFitzy) November 24, 2014
@mitchsherman: It's a safe assumption that the league will get 10 teams in the postseason. Nine are eligible, with Northwestern or Illinois to get a sixth win on Saturday. For an 11th team to make it, Michigan must upset Ohio State. The Big Ten, as usual, will be matched against the SEC as a likely underdog in the Outback and possibly the Citrus or TaxSlayer (formerly Gator). If Ohio State wins the league and misses the playoff, it figures to go in as a favorite to win a New Year's Six bowl, though the same can't be said for other remaining Big Ten contenders Michigan State, Wisconsin and Minnesota. Moving down the line, Pac-12 foes will likely bring stronger resumes than the Big Ten in San Diego and Santa Clara. By my count, the league will be fortunate to go 3-3 with its top six teams. It looks slightly better for the lower-division teams, matched against the ACC in New York and Conference USA in Dallas, though the SEC could loom in Nashville. The Big Ten's at-large matchups might determine its chance to get above .500 in the postseason. I'd say, expect four to five wins and hope for six..

November, 24, 2014
Nov 24
3:30
PM ET
For Michigan and head coach Brady Hoke, this is The Game.
This is the one that Hoke grew up pretending to be a part of as a kid in his back yard in Dayton, Ohio. The one that fired him up enough to pound his fist on the podium when describe his passion for beating "that school from Ohio" the first time he was introduced as the head coach at Michigan. The one that caused an almost identical scene four years later when talking about what a win would mean this time around. And for Hoke, there is a pretty good chance it will also be the last one.
Michigan enters this year's rivalry game with a 5-6 record, which won't sit well during the team evaluation interim athletic director Jim Hackett promised to complete when the season comes to a close. There is little left to salvage for this season's group of Wolverines in a big-picture sense, but beating the Buckeyes would still let the senior class end on a rare high note.
[+] Enlarge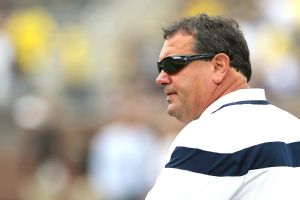 Leon Halip/Getty ImagesMichigan and coach Brady Hoke enter this year's game against Ohio State with a 5-6 record.
"Winning the last game always means a lot," Hoke said. "I don't think there's ever a time with any senior class going out, in my experience, in this game when it hasn't meant something. You want to be able to go back and say, 'In my senior year we beat Ohio.'"
Hoke is wrapping up his own senior season of sorts. His fourth year in Ann Arbor is winding to a close, and it would be surprising if he was eligible to return next fall. It's likely that this will be the last time he will coach in the game he has spent the past half century idolizing as the greatest sporting event in the world. He said he hasn't let that affect his thoughts as he gets ready this week.
"Not at all," Hoke said. "The one thing I know is if you don't put all your focus and everything into your preparation and emotion for this game, then as a coach you're missing it, too. It's a fun week. That doesn't make sense to some people maybe. For both teams, this is truly an honor and a privilege to play in this game. It. Is. The. Game."
The rivalry grew to that level of reverence when Big Ten championships, if not more, hung in the balance at the annual season finale. This season's crop of seniors recalled the No. 1 vs. No. 2 classic in 2006 as their favorite memory of watching the game while growing up. The implications of this Saturday's game are far more one-sided.
Ohio State is playing to preserve a potential playoff bid. Michigan has nothing to play for but a good memory.
As much as Wolverine players are trained to dislike the Buckeyes ("I'll say this as diplomatically as I can," center Jack Miller said. "I'm not a fan of Ohio State"), they said Monday that they take no extra joy in playing the spoiler role. Bowl eligibility is still on the table with an upset win, but at this point most folks in Ann Arbor would rather turn this season into a repressed memory than drag it out with a trip to a meaningless bowl game.
The motivation to save Hoke's job is gone, too. That ship sailed with a loss to Maryland last weekend, which killed November momentum and guaranteed that Michigan's record would be worse than the year before for the third straight time under Hoke.
Defensive coordinator Greg Mattison offered a passionate defense of Hoke's resume Monday.
"I've done this a long time. I've been with a lot of head coaches," he said. "You don't know how lucky you are here."
Hoke -- whether it was an effort to keep storylines pointed toward the game and his players and away from himself or just his ability to see the writing on the wall -- was far less interested in stumping for his job. He seemed Monday to complete his trip through the five stages of grief and land at acceptance. When asked to evaluate the state of his program, Hoke told reporters he imagined he would have a more appropriate time to do that soon enough. Then he smiled wryly, like an outlaw already strapped to the chair.
That leaves him with more than likely one game, The Game, to finish his dream job with a good taste in his mouth. Hoke and his players have sidestepped big-picture questions throughout the season by saying the only thing that matters is the game right in front of them. At last, they're right.
Rivalry Week: Michigan-Ohio State
BIG TEN SCOREBOARD
Friday, 11/28
Saturday, 11/29