September, 16, 2014
Sep 16
11:15
AM ET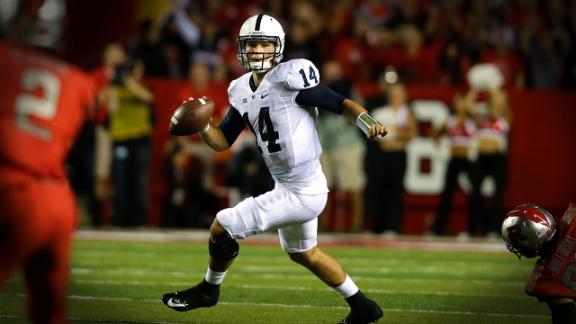 Penn State picked up some good news from the NCAA, which resulted in more positive news on the recruiting trail this weekend. Ohio State solidified its spot in a top target's list, and a few new offers were extended this week.
Here is a look at the latest happenings on the recruiting trail within the Big Ten.
September, 16, 2014
Sep 16
10:00
AM ET
During his two-year stint as San Diego State's football coach, Brady Hoke would often make not-so-subtle overtures about his desire to be the head coach at Michigan. On more than one occasion, Hoke said he envisioned his career arc ending in Ann Arbor, where he'd spent eight seasons as an assistant before head coaching stops at Ball State and SDSU. And he made no secret to his employers that if the maize and blue ever called, he'd be gone.
[+] Enlarge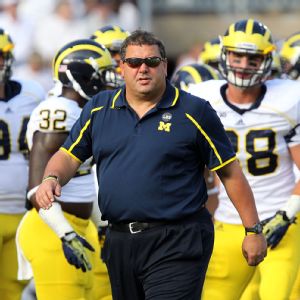 Matthew O'Haren/USA TODAY SportsMichigan coach Brady Hoke has been unable to build upon an impressive first year at his dream job.
Following the 2010 season, Michigan called. Hoke answered with vigor.
Around that time, Kyle Whittingham and the
Utah Utes
were wrapping up their final season as a Mountain West team. Utah, just two years removed from a 13-0 season and No. 2 BCS ranking, was regarded as one of the top non-AQ teams in the country and was headed to the newly-branded Pac-12.
Since leaving their old league in their wake, things haven't exactly gone according to script for these former A-list Mountain West coaches. And when their teams meet Saturday at The Big House, it's possible the outcome could alter the trajectories of their respective careers.
Hoke enjoyed an 11-2 record and a Sugar Bowl victory in his first year with the Wolverines but has seen declining returns after an 8-5 record in 2012 and a 7-6 mark last year. He sits on one of the hottest coaching seats in America.
Meanwhile, Whittingham and the Utes have struggled to adapt to Pac-12 football. The Utes are just 9-18 in conference play since joining the league (a vicious strain of yearly quarterback injuries doesn't go unnoticed) and have failed to reach a bowl game in consecutive seasons. Whittingham's seat isn't as hot as Hoke's, but if the Utes fail to make the postseason for a third straight year, it will be.
"No coach I know of pays any attention to external chatter," Whittingham said. "We're so focused on what we're doing. That's how you have to be. That's how you have to operate. You can't be distracted."
A victory Saturday puts the Utes at 3-0 heading into conference play and gives them a quality road win over a nationally-relevant opponent. A loss sends a signal that the Utes still aren't ready for Power 5 football.
A Michigan win won't make or break Hoke's career. But a loss could re-ignite an already agitated fan base still smarting from a 31-0 loss to Notre Dame in Week 2.
"They all count as one win," Whittingham said. "If the Michigan game counted as two wins, it would be a lot more important. It's not a conference game, so it obviously doesn't impact what happens in our league. But every game is critical and we're not going to approach this one any differently."
Exactly what you'd expect Whittingham to say. However, after beating up on FCS teams, BYU and Mountain West teams the last three years in nonconference play, this is Utah's biggest non-league test since joining the Pac-12. And it's outside the state of Utah, where the Utes have only won once in the last two seasons.
There really isn't a common denominator for why both coaches have struggled in their new surroundings. Hoke went to an already established Power 5 team, rich in success and tradition. Whittingham was shepherding an entire program into a significantly tougher conference.
Still, Hoke inherited a Rich Rodriguez team that was built for the spread and an odd-front defense. His first three years have been spent trying to install a pro-style attack and an even-front defense.
[+] Enlarge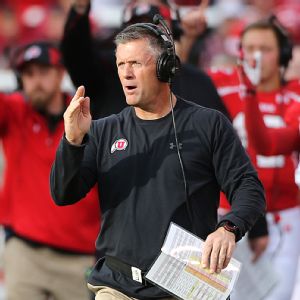 George Frey/Getty ImagesKyle Whittingham's Utes have struggled adjusting to life in the Pac-12
"When you're changing from a philosophic/schematic standpoint to a four-down front, recruiting those guys you want to play in there, you have to recruit the genetics," Hoke said. "Recruiting is always going to be part of it. The overall philosophy you have as a coach, how you want to develop your program, that's all part of it."
Both coaches concede the obvious -- that the weekly grind in the Power 5 is significantly harder. In the Mountain West, Utah's season usually came down to one big game against TCU. This year they face a four-game stretch of USC, at ASU, Oregon and at Stanford -- four teams currently ranked in the AP top 20.
"Everyone in the Pac-12 has to deal with that, so it's not unique to us," Whittingham said. "It's a big difference from what we experienced at the non-Power 5 level ... The recruiting is better. It's all about players. Coaches are way overrated. It's all about players and personnel. The personnel in the Pac-12 is markedly better than the personnel in the Mountain West across the board."
In their two Mountain West meetings, Whittingham's Utes beat Hoke's Aztecs both times. But given the coaching and personnel changes, those game films are moot. And while Whittingham is trying to bring his team to the next level, Hoke is scrambling to hold on to the position he called his "dream job" a year before he even had it.
"You have to be comfortable with who you are and who you are representing and I think we've got great leadership on this team," Hoke said of the outside noise calling for his ouster. "... We understand how we need to compete every Saturday and go about our business."
For both coaches, Saturday might be just as much about staying in business.
September, 16, 2014
Sep 16
9:00
AM ET
There is only one team in the country that has racked up a worse turnover margin than Michigan through the first three weeks of the 2014 season.
The Wolverines have lost the ball eight times so far this season in a wide variety of ways. Sophomore cornerback
Jourdan Lewis
' interception on the second drive of last weekend's 34-10 win over Miami (Ohio) was the team's first and only takeaway at this point. The resulting minus-7 margin is one away from matching Louisiana-Lafayette at the bottom of the national rankings.
[+] Enlarge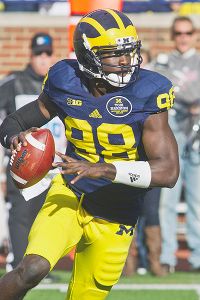 Tony Ding/Associated PressDevin Gardner and the Michigan offense has eight turnovers in the first three games.
"Obviously that's been a point of emphasis," first-year offensive coordinator Doug Nussmeier said Monday. "It will continue to be a point of emphasis. We're not going to play winning football if we continue on this pace. Our guys understand that we've got to get that corrected."
Nussmeier's offense will need to take better care of the ball this weekend if the Wolverines plan to survive a visit from Pac-12 opponent Utah. The Utes and their third-ranked scoring offense (57.5 points per game) have the firepower to cash in on their opponents' mistakes.
Michigan's blunders have come in bunches during the past two weeks. Senior quarterback
Devin Gardner
accounted for three (two interceptions and a fumble) on the first four drives of the second half in a 31-0 loss to Notre Dame. The Fighting Irish led by three touchdowns when that flurry began, but Gardner's issues eliminated any chance of a comeback attempt in South Bend. He added another interception on the final play of the game.
Opposing defenses picked off Gardner's passes 11 times last season. All but one of those came in the first six games of the season, which led Michigan to believe those bad decisions were a thing of the past. Head coach Brady Hoke has been steadfast in his stance that Gardner will remain the team's starting quarterback.
The three turnovers that came in a five-minute span against Miami (Ohio) can't be blamed on Gardner. His one interception in that stretch was tipped at the line of scrimmage. The pick was sandwiched by two fumbles -- one from wide receiver
Amara Darboh
and the other on a botched kickoff return -- that let the clearly overmatched last-place MAC team hang with Michigan throughout the first half. Against better competition, the Wolverines will likely pay a bigger price for their miscues.
"You can't have turnovers," sophomore tight end
Jake Butt
said following Saturday's victory. "That's something we've talked about time and time and time again. Once we took care of the ball, we moved the ball. We just shoot ourselves in the foot when we turn it over."
Everyone in the Michigan locker room recognizes the dangerous pattern, but Hoke said there isn't one clear source of the problem or an easy solution.
"Coincidence? I don't know," he said when asked why the turnovers were coming in spurts. "Are we concerned about it? Yeah. We need to hold on to the ball and we need to get more turnovers on defense."
Creating turnovers is an important and somewhat overlooked piece to the plan for a more successful turnover margin this weekend. Hoke said his team missed two opportunities to take the ball away from the RedHawks last weekend.
Despite its success in other departments this season, the Wolverines defense is tied for dead last nationally in total takeaways. The absence of starting cornerback
Raymon Taylor
and safety
Jarrod Wilson
, both with undisclosed injuries, has put more pressure on an inexperienced rotation of replacements to make big plays in the secondary.
The good news for Michigan this weekend is that the Utes are equally void of playmakers in the defensive backfield. Kyle Whittingham's defense, which has no problem getting pressure on opposing quarterbacks, has intercepted only one pass in its last nine games. Last year's team finished with only three picks, which tied four other programs for the lowest total in FBS. If Gardner and the Wolverines are going to put their turnover troubles behind them, this weekend would be a great time to start.
September, 16, 2014
Sep 16
8:00
AM ET
Concerns about the new College Football Playoff and its impact on how we watch games have made their way into the national conversation this week. What took so long?
After three weeks of trying to place even the most meaningless wins and losses into the context of how they might affect which four teams will battle for a national championship in January,
some are starting to worry
that the new system might be sucking the joy out of Saturdays in the fall.
Is the cycle of playoff-centric predictions and analysis stripping the magic away from upsets and heroic moments? Will fans lose interest once they're told their team no longer has a title shot? Michigan State coach Mark Dantonio felt it necessary to tell his followers that
not all hope was lost after a Week 2 defeat in Oregon.
While it's probably a good thing that the setters of national storylines are treading cautiously around the long-awaited change to the postseason, it's not time to yearn for the good ole days of the BCS quite yet. Part of the overemphasis on playoff discussion can be blamed on the system still being a new, shiny mystery. No one knows how the 13-person committee will weigh each contender yet. Some of that will fade in future years when the college football court develops a precedent.
Another part of the saturation comes from the heavy slate of inter-conference competition that occurs each September. With only four playoff spots available to five conferences, the battle to establish a positive perception before falling into league play is intense. That posturing is less likely to fade, making the future of college football a more tribal affair. The SEC won't be the only fanbase chanting for its conference after big wins, and that doesn't sound like a bad byproduct of the playoff hype.
Even in our unsettled present state, a crowd of red bandana-wearing Boston College students didn't seem bothered by the fact that they aren't playoff contenders while storming the field to celebrate their upset of USC Saturday night. Iowa's last-second loss to in-state rival Iowa State was neither more nor less gut-wrenching than it would have been in the BCS era. Fear not, the magic isn't gone. There's still plenty to play for without the hope of a College Football Playoff berth.
And speaking of playing for more than a playoff spot, kudos to Penn State quarterback
Christian Hackenberg
and the rest of his Nittany Lions teammates who showed up or stayed in Happy Valley despite having the opportunity to back away penalty-free from a team that wasn't eligible for any bowl games until a week ago.
That's when the NCAA decided it wasn't going to punish current players for the past sins of the program's coaches and administrators. After leading a fourth-quarter comeback against Rutgers Saturday night,
Hackenberg told reporters that the lack of a postseason goal helped bring his team closer together
. Now that Penn State is atop the Big Ten East Division and eligible for bowl games, he says the camaraderie they built "is not going to change for a while."
And now, without further ado, the links:
East Division
West Division
September, 15, 2014
Sep 15
5:00
PM ET
Let's cut through the pleasantries -- it wasn't really a pleasant weekend for the Big Ten -- and get right to the mailbag questions. As always -- more than ever, in fact -- thanks for your submissions.
@mitchsherman @ESPN_BigTen who are the favorites to come out of each division after the struggles the B1G has faced over the past two weeks?

— Adam Boben (@abobes7) September 15, 2014
Mitch Sherman: Nothing has changed in the East, where Michigan State remains the team to beat. The Spartans look like the best team in the league, and I don't think you will get much of an argument from logical fans of other Big Ten teams. If anything, the results of the past two weeks -- even the Michigan State setback at Oregon -- has solidified MSU atop its division. It's murky in the West, where the schedule says Iowa is the favorite. The Hawkeyes' play does not. Wisconsin also plays a favorable slate, and we will see if the week off has allowed the Badgers to flip momentum. If so, they are a co-favorite with Nebraska, which, despite a near disaster against McNeese State, has produced two of the league's top performances this seasons in wins against Fresno State and Florida Atlantic.
@mitchsherman @ESPN_BigTen it appears stave is throwing and taking part in drills. Should we expect to see him soon? Need his big arm.

— Douglas Greenberg (@DougGreenB) September 15, 2014
Mitch Sherman: Joel Stave, fighting a football version of the yips, returned to team drills in some form last week, though coach Gary Andersen has not declared anything in regard to his senior quarterback. Sounds like it remains an extended process with Stave, who has sought some outside attention in dealing with his throwing issues. It's good to hear that Stave has maintained a healthy approach in practice, though I have concerns about his effectiveness even after he clears the hurdles necessary to get back on the field. What happens when adversity strikes in a game? How will it impact his play to perform in front of tens of thousands of people who know about his struggles? For that reason, expect the Badgers to move slowly with Stave. The schedule is on their side, staying soft through October.
@mitchsherman @ESPN_BigTen Purdue played well against ND last year & then tanked. How will they fare after a decent ND game this year?

— Joe Paulsen (@yazdog8) September 15, 2014
Mitch Sherman: Well, considering that the Boilermakers tanked this year before playing Notre Dame, I don't know if parallels exist to be drawn. It seems that Purdue does a nice job of getting up for the Irish, or maybe it's something about the matchup that works well. Or maybe Notre Dame is disinterested. Regardless, the Boilers have a good shot on Saturday against unbeaten FCS foe Southern Illinois. If it doesn't happen, another one-win season enters the realm of possibility. As bad as the Big Ten looks, I still don't see that as likely. Quarterback Danny Etling showed improvement against Notre Dame, and hey, Northwestern visits Ross-Ade Stadium this year. Realistically, if Purdue can build on the good things from Saturday in Indianapolis, as many as four games in the Big Ten could be competitive.
@mitchsherman if OSU would've had Kent as 1st game to tune up, think they'd look as rough as they did 1st 2 games?

— Matt Pacholski (@Mpachol) September 15, 2014
Mitch Sherman: That question wins the award, Matt, for most intriguing of the day. I'm not sure J.T. Barrett and the Buckeyes would have defeated Kent State 66-0 if it had been the opener. But it would have been an easy victory that could have provided the young quarterback and his offensive line with the confidence it lacked against Navy and Virginia Tech. I'm convinced that by the end of this season, Virginia Tech could not come into the Horseshoe and dominate Ohio State in any way close to what happened in Week 2. By the same token, the Buckeyes might have had even more trouble with Navy if that game came later in the season. But to answer your question, no; Ohio State would have fared better in its bid to escape this nonconference season with a perfect mark intact if the order of games had been arranged differently..
September, 15, 2014
Sep 15
2:30
PM ET
One and ten. Get to know those numbers because they'll be shoved down your throat all week.
After the Big Ten's worst two-week stretch in nonconference play since, well, ever, the league sits with a 1-10 record against Power 5 teams and Notre Dame. The season looked so promising when Rutgers upset Washington State in Seattle on college football's opening night.
Since then: bupkis.
So prepare for 1-10 fever. Many of you would expect nothing else from evil ESecPN and its Big Ten-hating agenda. But 1-10 is a fact, and in a playoff-first environment where conferences will be constantly compared until Dec. 7, the Big Ten finds itself in a miserable spot.
So, you ask, is there hope for a turnaround? Sure. There's a lot of season left, and as we saw Saturday night at Boston College, anything can happen in college football. The biggest measuring-up opportunities -- Wisconsin-LSU, Michigan State-Oregon, even the Notre Dame games -- are finished, but the baby-step opportunities remain.
There are several of those for the Big Ten in Week 4. It's not the end of nonleague play, but it's the last full Saturday before conference play kicks off.
No one will confuse Missouri, Pitt, Syracuse, Utah and Miami for world beaters, although Mizzou is pretty darn good (Big Ten expansion miss?). But the Big Ten's Week 4 opponents provide chances for that 1-10 mark to look a little bit better ... or much worse.
Fans have to understand that in the playoff environment, everything is connected. Teams can be both playoff contenders and enhancers for league brethren who carry genuine playoff hopes.
For example: If Maryland beats West Virginia on Saturday, and WVU later knocks off a Big 12 heavyweight or two, Maryland suddenly carries more cache, even in subsequent defeats. If Michigan State beats Maryland later this season in College Park, the Spartans would get more playoff credit for that road win.
The problem for the Big Ten is when you lose almost all of your games against comparable conferences, your league race becomes devalued. Conference wins that could make the difference between getting into the playoff and just missing the cut aren't as impressive because of the opponent's nonleague struggles.
And don't kid yourself: it's all about the playoff now. Don't imprison yourself in a Big Ten bubble and pretend like the national race is secondary. You can still enjoy league play and all the twists and turns from now until Dec. 6 in Indianapolis. But you should ultimately judge this league on whether it's in or out on Selection Sunday. Some of you will disagree, but expecting less than the best is part of the reason why the Big Ten finds itself in this position.
That brings us to Week 4. On paper, it should be a better week for the Big Ten, but the last two weeks have shown us nothing is guaranteed.
Nebraska will beat Miami in Lincoln if it plays like it did Saturday night at Fresno State. But if the Huskers revert to McNeese State form against a Hurricanes team that never lacks talent, things could turn sour for one of the Big Ten's last two remaining unbeatens.
Michigan also gets its Power 5 foe at home, where it has been 11-0 in nonconference games under Brady Hoke (21-2 overall). But Utah leads the nation in sacks per game (5.5) and is tied for first in tackles for loss (10.5 per game), which could be a problem for a still-shaky Michigan offensive line.
Other than Rutgers, Big Ten teams have been dreadful in nonleague road games against the Power 5 -- not just losing but losing big (average margin of defeat: 24.5 points). This week, Iowa travels to Pitt, Indiana travels to Missouri and Maryland visits Syracuse.
Pitt is off to a very good start behind bruising back
James Conner
, while Iowa hasn't played particularly well in any of its three games. Indiana just lost to an undermanned Bowling Green team on the road, as the Falcons ran 115 plays and racked up 39 first downs. Maryland and Syracuse look fairly comparable, but Syracuse comes off an impressive win at Central Michigan, while Maryland surrendered 694 yards in the West Virginia loss.
A 4-1 or a 5-0 record in these games won't transform the national narrative about the Big Ten. But it will keep the league out of the crosshairs. After all, 6-10 sounds a lot better than 1-10.
But another bad day -- 1-4 or 0-5 -- would make the Big Ten's playoff path even trickier. And the way this season is going, expect the worst.
The Big Ten can't repair its reputation in Week 4, but it can begin the patching-up process and take some baby steps toward respectability.
September, 15, 2014
Sep 15
1:00
PM ET
The Big Ten is down to its final weekend of widespread nonconference play before mercifully retreating to league games.
The conference followed its flop on the big stage in Week 2 by dropping from eight unbeaten teams to two -- Nebraska and Penn State -- in Week 3. Big Ten teams fell to 1-10 on the season against Power 5 opponents. Saturday night ended with a glimmer of hope thanks to Penn State quarterback
Christian Hackenberg
's fourth-quarter magic in a win over Rutgers. A few teams will have an opportunity to build on that optimism in the coming week.

1. Last chance to save face:
The last two weeks sufficiently bulldozed any Big Ten claims to conference supremacy, or even equality, but a couple programs can scrape a bit of remaining dignity off the pavement with wins this weekend. Indiana and Iowa get a shot to redeem last-minute losses on the road. The Hoosiers are a long shot to beat No. 18 Missouri, and Iowa's run defense will be put to the test at Pitt. Nebraska is the league's best chance at this point. The Cornhuskers(3-0) can provide some relief if they stay unbeaten with a win over Miami in primetime. After that game, the Big Ten has only one nonconference matchup with a Power 5 team remaining in 2014 – Northwestern's trip to Notre Dame in mid-November.

2. Letdown alert:
What a week it was for the Nittany Lions in Happy Valley. It started with the announcement that Penn State's NCAA sanctions were cut short for good behavior and ended with ruining Rutgers' conference welcome party in a 13-10 come-from-behind victory. The Lions, now that they are eligible for the postseason, are suddenly in the mix in the East Division. Penn State gets easy-to-overlook UMass this week. The Minutemen are 0-3 but gave Vanderbilt all it could handle last weekend. Could they catch James Franklin's new team peeking into the future and make this Saturday an interesting game?

3. Is Michigan's defense for real?
The Wolverines enter Week 4 with a top 10 defense despite three of its veteran starters missing time due to injuries. Michigan has shut down the teams it should, allowing an average of 252.7 total yards against Appalachian State, Miami (Ohio) and No. 9 Notre Dame. The Irish hung 31 points on the Wolverines, but turnovers were the bigger culprit in that loss. Michigan held
Everett Golson
and his offense to a respectable 280 yards. Enter Utah, which brings the No. 3 scoring offense in the nation to Ann Arbor. The Utes racked up 1,115 yards of offense in wins over Idaho State and Fresno State. They should provide a good measuring stick for where the Michigan defense stands a month into the season.

4. The Same Old Nova:
Senior quarterback
Gary Nova
threw five interceptions in Rutgers' Big Ten debut, proving he may not have exorcised his past turnover demons just yet. His shot at redemption will come against Navy, which has won two games since sticking with Ohio State for three quarters in its season opener. Consecutive losses for the Scarlet Knights could knock the wind from the sails of a positive start for Kyle Flood's team this season. Rebounding from an emotional week and a tough loss won't be easy.

5. Can Northwestern keep its season from going completely off the rails?
Losers in nine of their last 10 games, the Wildcats host the Leathernecks of Western Illinois (2-1) this weekend. Coach Pat Fitzgerald challenged his team's toughness and pride heading into the bye week and ramped up the intensity at practice. Will the attitude adjustment help Northwestern improve its 115th-ranked rushing attack and 112th-ranked scoring offense? The best case scenario for Fitzgerald's team this weekend would be keeping the jury in deliberation until the start of conference play. Another rough outing against a lowly opponent could spin things out of control in Evanston.
September, 15, 2014
Sep 15
10:00
AM ET
There they go again.
Just when it looked like it was safe to start kicking around some other leagues, the Big Ten tripped all over itself and bumbled away its handful of chances to claim wins over teams from Power 5 conferences.
Minnesota and Illinois were blown out. Purdue fought hard but was ultimately overmatched. A shootout slipped away from Maryland. It's probably best not to mention what happened to Iowa at all.
The conference obviously has nobody else it can blame for the lack of respect nationally when it keeps coming up short in its biggest opportunities to earn it around the nation. There may still be a College Football Playoff contender or two at the top of the league, but if there's a logjam for the third and fourth spots in December, the Big Ten's best may look back at September games it wasn't even involved in as the reason it gets left out of the playoff field.
There were a few bright spots Saturday scattered among the wreckage. Reflect on those and start turning the page to Week 4.
Team of the week:
Struggling mightily to find the end zone for 58 minutes, Penn State didn't look much like the program about to pick up the most valuable win of the weekend. But
Christian Hackenberg
again delivered when it mattered most, calmly leading the game-winning drive in the closing minutes and staking the Nittany Lions to an early lead in the East Division with a rivalry win over Rutgers.
Game of the week:
The game tape won't be sent to the Hall of Fame and the outcome didn't go the Big Ten's way, but the battle for the Cy-Hawk Trophy was still an entertaining affair -- though certainly not because of the offenses. The emotions were high, the score was close from start to finish and the closing minutes leading up to Iowa State's go-ahead field goal also provided a seemingly endless amount of opportunities to question the clock-management skills of Iowa coach Kirk Ferentz. There were high-scoring, competitive games elsewhere, but this was pretty solid theater that will still be worth dissecting all week.
Biggest play:
After the Nittany Lions beat their heads against the wall for more than three quarters, Hackenberg had one final shot at a breakthrough as he took a snap with three minutes left on the clock. His strike to
Geno Lewis
on first down went for 53 yards, instantly flipping the field position and setting the stage for Penn State's breakthrough. Lewis would also grab another 23-yarder on the drive, but it was the initial hookup that generated the momentum that finally carried the Nittany Lions to the end zone.
Big Man on Campus (offense):
The opponent clearly didn't provide much of a challenge, and looking back now, Ohio State surely wishes it could have shuffled around its schedule to get
J.T. Barrett
a chance to tune up against a team like Kent State instead of throwing him into the fire against Navy and Virginia Tech. Who knows if it would have changed anything, but the redshirt freshman quarterback certainly left Saturday's blowout with more confidence after tying a school record with six touchdown passes and throwing for more than 300 yards -- two things
Braxton Miller
has never done with the Buckeyes.
Big Man on Campus (defense):
The Nittany Lions might need to split this award up after that impressive second-half shutout and only allowing one touchdown total on the way to their road win.
Anthony Zettel
was again a fixture in the backfield with three tackles for loss,
C.J. Olaniyan
forced a fumble and tallied a sack, and four different defenders intercepted Rutgers quarterback
Gary Nova
. But
Trevor Williams
doubled down with a pair of picks and finished second on the team with five tackles, giving him the slight nod.
Big Man on Campus (special teams):
The Huskers might have finally found the solution for the problem that has been plaguing them over the last couple seasons on special teams.
De'Mornay Pierson-El
provided a jolt of energy to Nebraska's punt return unit, dazzling with an 86-yard scamper for a touchdown and following that up with a 51-yarder as an encore shortly after to set up another score in the rout of Fresno State.
Biggest face plant:
The Hawkeyes are tempting, but Indiana's loss at Bowling Green figures to be far more damaging to Kevin Wilson's club and its bid to get back to a bowl game. The defense is still a weakness that no amount of production from running back
Tevin Coleman
can consistently overcome, and the Hoosiers will probably be kicking themselves over this loss in November.
Numbers and facts to know:
Nebraska running back
Ameer Abdullah
moved up to No. 5 on the school's all-time rushing list, posting his 19th 100-yard rushing performance to move his career total up to 3,373. ... Officially, Barrett's 300-yard outing through the air was Ohio State's first since Troy Smith in 2006. Terrelle Pryor threw for 334 yards against Indiana in 2010, but those statistics were vacated. ... Michigan held Miami (Ohio) to 33 rushing yards, its lowest rushing total allowed since 2010.
September, 15, 2014
Sep 15
9:00
AM ET
The top performers from the Wolverines' 34-10 victory against visiting Miami (Ohio) Saturday:
RB Derrick Green: The sophomore powered Michigan's rushing attack with 137 yards and two touchdowns against Miami (Ohio). He averaged 6.2 yards per carry, but his best run of the day picked up only two yards. He sidestepped one would-be tackler in the backfield and dragged another past the first down marker on a 3rd-and-1 in the fourth quarter. That second effort helped Green finish the day without getting tackled behind the line of scrimmage.
LB Joe Bolden: The Ohio native made seven stops against the RedHawks, increasing his team-leading total to 22 tackles this season. Bolden also dove to deflect a third-down pass for his highlight-reel moment, which killed Miami's first drive of the second half when the game was still in question.
TE Jake Butt: In his first fully active appearance since tearing his ACL in February, Butt caught three passes for 59 yards and a touchdown. Two plays after yanking a potential interception away from a Miami linebacker for his first catch of the season, Butt slipped into a wide-open field on a fake screen play and hauled in a much-needed, 29-yard scoring play. "Things weren't going exactly how we wanted them that game," he said. "[I] went in there and took the ball out of the defender's hands and scored the touchdown. It kind of provided a good spark for our team."
September, 14, 2014
Sep 14
8:00
PM ET
The major development in this week's bowl projections isn't that the Big Ten suddenly looks poised for a breakthrough postseason. If anything, things went from bad to worse for the league in Week 3 with a 3-6 record in nonconference games.
So what changed? Penn State is back. For good.
Not only did the Lions improve to 3-0 under new coach James Franklin, but they learned Monday that they once again are eligible for bowl games after two seasons of sanctions. So for the first time since the 2011 season, Penn State appears in the bowl projections. While the Lions have a lot to fix, especially on offense, they're a young, talented team that should improve throughout the season. They've posted two of the better wins (UCF and Rutgers) of any Big Ten team so far, and we like their potential to keep racking up W's.
Penn State is slotted for the Capital One Bowl, which knocks several teams down a peg. There's some shuffling at the bottom of the projections as Minnesota tumbles following its blowout loss at TCU, and Indiana falls out of the rankings entirely after an all-too-familiar-looking defeat at Bowling Green.
We continue to keep two teams in the major bowls as Ohio State rebounded nicely from the Virginia Tech loss to crush Kent State.
To the projections ...
Chick-fil-A Peach/Cotton/Fiesta/Orange:
Michigan State
Chick-fil-A Peach/Cotton/Fiesta/Orange:
Ohio State
Capital One:
Penn State
Outback:
Nebraska
National University Holiday:
Wisconsin
TaxSlayer/Franklin American Mortgage Music City:
Iowa
San Francisco:
Michigan
New Era Pinstripe:
Maryland
Quick Lane:
Minnesota
Heart of Dallas:
Rutgers
September, 14, 2014
Sep 14
2:00
PM ET
September, 14, 2014
Sep 14
12:46
PM ET
Rutgers and Penn State played in what turned out to be an exciting game, right down to the wire. There were a few other big home games for Big Ten teams, which means there were important recruits on campus as well.
Here is a look through social media as to how those visits went.
Rutgers vs. Penn State:
It was a packed house and an exciting atmosphere for Rutgers first Big Ten game. There were a ton of local prospects including No. 5 ranked 2016 target Kareem Walker.
RU vs PSU, front row seats !

— AlightyReem (@_KareemWalker) September 13, 2014
He and the other visiting prospects had good seats to take in the contest, and fellow ESPN Jr. 300 tight end Naseir Upshur gave the fans a look at their view.
#ESPNJr300 TE @NaseirUpshur gives you a look at pregame from his viewpoint at Rutgers last night https://t.co/rFawzLcFxW

— Tom VanHaaren (@TomVH) September 14, 2014
This was a big game for both teams, as Penn State heavily recruits the East Coast and New Jersey. The targets for both teams said they are watching closely as to how the programs compete with a new coach at Penn State and a new conference for the Scarlet Knights.
Going into the visit a lot of the recruits said they were hoping to see an exciting game and they got just that.
Tough loss for Rutgers dominated 3 1/2 quarters #CHOPNation great savy by hack

— Dwayne Haskins, Jr (@dh_simba7) September 14, 2014
Maryland vs. West Virginia:
Rutgers wasn't the only Big Ten team hosting important prospects. Maryland had a handful of big time recruits for the game against the Mountaineers.
While the outcome on the field wasn't what Maryland was hoping for, getting ESPN 300 athlete Ryan Davis and No. 2 ranked Byron Cowart is a huge win for the program.
#ESPN300 ATH Ryan Davis @thaRD5 on his Maryland visit today: pic.twitter.com/ZQxV6tIvBo

— Tom VanHaaren (@TomVH) September 14, 2014
Michigan vs Miami (Ohio):
The Wolverines came away with a win on Saturday, and while it wasn't a huge visit weekend, Michigan did still have visitors on campus.
A few of the commits, including Tyree Kinnel, Darrin Kirkland Jr. and Alex Malzone were able to reconnect on the visit and spend some time at their future home.
Chilling with some of my future teammates at the Big House! #GoBlue #Team136 pic.twitter.com/Qas76O54I1

— Darrin Kirkland Jr. (@_KIRKjunior) September 13, 2014
Malzone took some video of the trip and gave the fans a look at what it's like to walk out of Michigan's tunnel as a recruit on game day.
Here is what it's like to walk out the tunnel as a recruit, from Michigan QB commit Alex Malzone https://t.co/GBI1d7ITbb

— Tom VanHaaren (@TomVH) September 14, 2014
September, 14, 2014
Sep 14
9:00
AM ET
Recognizing the best and brightest from Week 3 in the Big Ten:
Michigan Pulls Away From Miami (OH)