November, 24, 2014
Nov 24
2:00
PM ET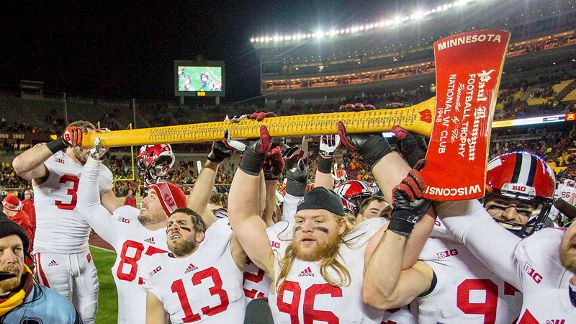 Jesse Johnson/USA TODAY SportsThe Gophers have their best chance in years to win back the Paul Bunyan Axe from the Badgers.
Just one weekend left in the regular season. For some teams, it will be the last time they play football until next Labor Day weekend. A few will be fighting just to play one more game this season. And, of course, it's rivalry time.
Here are five storylines to watch in Week 14:
1. A Bunyan-sized game:
We know Ohio State will represent the East Division in the Big Ten title game. The Buckeyes' opponent will be determined on Saturday in Madison. In an excellent bit of scheduling prowess, Minnesota plays at Wisconsin with the West Division championship on the line. The Gophers are also looking to snap a 10-year losing streak in the Paul Bunyan Axe game, but this may be the best team they've had during that streak. Playing Wisconsin might help Ohio State's chances for the College Football Playoff more since the Buckeyes have already beaten Minnesota. This game is always physical and emotional, and it will have more riding on it than it has in years.
2. Brady Hoke's last stand?
Michigan sits at 5-6, needing a win at Ohio State in order to reach a bowl game. Even that might not be enough to save Hoke's job, but it's his best Hail Mary option since beating the Buckeyes always carries weight. Problem is, the Wolverines are a massive underdog in Columbus, and their offense doesn't have enough playmakers to hang with the Buckeyes. It will take a miracle, and Ohio State doesn't figure to be distracted after a subpar performance against Indiana likely snapped the Buckeyes back into focus.
3. The Beckman Bowl?
The Land of Lincoln game between Northwestern and Illinois has the potential for some serious fun. Both teams are one win away from bowl eligibility. Illinois might save Beckman's job with a win on the road over the Wildcats, while Northwestern would complete an improbable, bizarre season by reeling off three straight victories to make a bowl. Throw in the recent sniping about who is Chicago's Big Ten team, and this game shapes up as a whole lot more interesting than we had a right to expect.
4. Rivalries old and new:
Not many people will pay attention the Old Oaken Bucket game between Purdue and Indiana, as neither will make a bowl, but it still means something in the Hoosier State. Michigan State and Penn State will play for
one of the ugliest trophies in sports
. More recent rivalries hold more intrigue. The Nebraska-Iowa Heroes Game won't be for a division title, but the Bo Pelini watch could be in full effect. Meanwhile, Rutgers and Maryland play for the first time as Big Ten members and could start a new rivalry on the East Coast.
5. The race for records:
Melvin Gordon
needs one yard to break Ron Dayne's Big Ten single-season rushing record, and he still has
Barry Sanders
in his sights.
David Cobb
could set Minnesota's school record for rushing, if he's healthy enough to play. Indiana's
Tevin Coleman
needs 94 yards to reach 2,000 for the season, which would give the Big Ten two 2,000-yard rushers in the same season for the first time ever. Ohio State's
J.T. Barrett
is six touchdown passes away from the Big Ten single-season record held by
Drew Brees
. And if Buckeyes teammate
Joey Bosa
can get three more sacks, he'll break the school season record. He has promised to do a backflip if he gets the record, so we should all root for that.
November, 24, 2014
Nov 24
8:00
AM ET
One more weekend to go in the regular season. Some thoughts to begin your Thanksgiving week:
1. Next week, the Big Ten will hand out its individual trophies, as well as reveal the all-conference teams. And the media and coaches are going to have a hard time deciding on the coach of the year award.
On one hand, you have Urban Meyer, who has led a very young Ohio State team to a 10-1 record while developing freshman
J.T. Barrett
into a Heisman Trophy contender on the fly. Eventually, a Buckeyes coach has to win this thing again, right? It hasn't happened since Earle Bruce took home the hardware in 1979, and that's silly.
On the other hand, how do you overlook what Jerry Kill has done at Minnesota? He has the Gophers sitting at 8-3, with a chance to win the West Division by beating Wisconsin this week. It would be nearly impossible to ignore Kill for the award if Minnesota does win that game and forces a rematch with Ohio State in Indianapolis. The Gophers are 16-7 in their last 23 regular-season games and 9-4 in their last 13 Big Ten contests. Remarkable stuff, especially considering a lot of people thought Kill would not return to the sidelines after last year's health issues.
The
28-24 win at Nebraska
may have been Kill's best one yet, and it shows the progress this program has made,
Chip Scoggins writes
.
2. Just think about how much better Minnesota's season would look if its only losses were at TCU and a close one at home vs. Ohio State. But, of course, the
Gophers somehow stumbled at Illinois
. That was undoubtedly the biggest win in the Tim Beckman era. But Beckman just might have a chance to top that.
Beating Penn State these days is no great achievement, considering the dilapidated state of the Nittany Lions' offense. Still,
winning that game in Champaign on Saturday
meant that Beckman has doubled his previous Big Ten win total this season and, more importantly, has the Illini in contention for a bowl. If they beat Northwestern this Saturday, the postseason awaits.
Can athletic director Mike Thomas really fire Beckman if he goes 6-6?
Attendance remains a major issue
, especially considering the embarrassing crowd that showed up to Memorial Stadium on Saturday -- less than 10,000 by most media estimates. But Beckman would have gone from two wins to four wins to six wins in three seasons. It's hard not to call that progress, even if it hasn't been pretty at times.
The ticking clock on Beckman's job has stopped for now,
Mark Tupper writes
.
3. You couldn't talk about Iowa this season without mentioning that dream schedule: No games against Michigan State, Ohio State Michigan or Penn State (though in hindsight, it would have been better to play those last two than Maryland). West Division rivals Wisconsin and Nebraska coming to Iowa City. A very manageable nonconference slate.
That schedule is a major reason why people were predicting as many as 10 or 11 wins for the Hawkeyes, who were a trendy pick to win the West. But Kirk Ferentz's team has been eliminated from the division race already, and if it doesn't beat a reeling Nebraska team on Black Friday, it will finish 7-5. Even an 8-4 record would feel underwhelming, given all the advantages that Iowa squandered.
The Hawkeyes
gave a great effort against Wisconsin
on Saturday, especially in the second half. You wonder if things would have been different had they played like that all season. Instead, there's no way to talk about this Iowa season without using the word disappointing.
Let's hit the links ...
West Division
East Division
And, finally ... "Dilly Bar Dan"
received more attention
and some nice hospitality in Lincoln.
November, 23, 2014
Nov 23
2:00
PM ET
November, 23, 2014
Nov 23
10:49
AM ET
It wouldn't be a real visit weekend in college football without a giant cookie cake, and that's exactly what wide receiver
Cameron Stewart
was greeted with on his visit to Nebraska.
Finally Here ?? pic.twitter.com/ysunOOChrw

— Django (@OchoCinco018) November 21, 2014
Cookie cakes are one of the more popular recruiting tools when it comes to social media posts and the Cornhuskers put together an excellent looking cookie cake.
There were no cookies tweeted from Michigan State's visiting targets, but there were plenty of happy faces after the big win against Rutgers.
ESPN Jr. 300 tight end Luke Farrell tweeted a few pictures after his visit and showed off his view.
MSU today pic.twitter.com/b4PSfP55cC

— Luke Farrell (@LukeFarrell88) November 22, 2014
Farrell was joined by fellow ESPN Jr. 300 target Sean Foster, who got to meet Spartans basketball coach Tom Izzo on the trip.
#ESPNJr300 OL Sean Foster on his Michigan State visit today with Tom Izzo before the game pic.twitter.com/7riIJWx6v6

— Tom VanHaaren (@TomVH) November 22, 2014
The Spartans had a lot of important prospects in attendance and the victory was a big deal for their recruiting efforts, but the bigger story might have been what happened in Ann Arbor to rival Michigan.
The Wolverines hosted a few big targets of their own, including Florida State receiver commit Auden Tate.
Florida State commit Auden Tate @AudenT_18 on his Michigan visit today: pic.twitter.com/7xzRmKjGpj

— Tom VanHaaren (@TomVH) November 22, 2014
Since the game was against Maryland, it only made sense that a few prospects from the state of Maryland would come check out the game. That list included ESPN Jr. 300 targets Devery Hamilton and Ellison Jordan as well as Stephen Spanellis.
#GoBlue #MaizeandBlue #GoWolverines ?????????????????????????? pic.twitter.com/jUfVB39AgK

— Boy Dawg (@bigeazy95) November 22, 2014
Unfortunately for the Wolverines the game ended in a loss and further uncertainty about the future of coach Brady Hoke and his staff. With a 5-6 record and its last game coming against Ohio State, the outlook is dim.
In-state ESPN 300 running back Mike Weber might have added insult to injury when he tweeted that he was decommitting from Michigan almost immediately after Maryland scored its go ahead touchdown in the game.
I'm decommiting from the university of Michigan thank you Michigan for the love and support I'll remake my decision at the army bowl

— Mikey (@mikeweber25) November 22, 2014
Weber wasn't visiting Michigan, but had just come off a big playoff loss of his own and decided he had seen enough. The Michigan coaches have now lost seven ESPN 300 commits in the 2015 class and there is potential to lose more as tight end Chris Clark is planning visits as well.
Clark is the highest-ranked commit Michigan has left and he took to Twitter after the game to express his disappointment.
Man michigan has officially hit rock bottom

— Chris Clark (@Clark8Chris) November 23, 2014
November, 22, 2014
Nov 22
7:39
PM ET
By
ESPN.com staff
| ESPN.com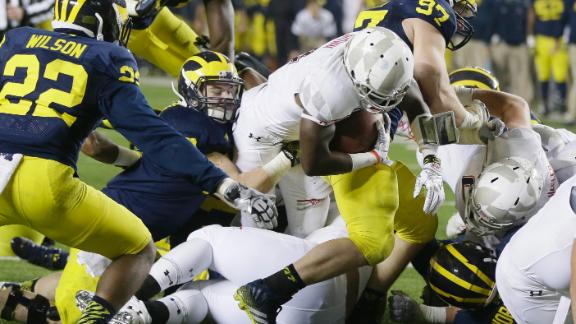 C.J. Brown
and
Wes Brown
each rushed for a touchdown in the fourth quarter to help
Maryland edge Michigan 23-16
.
November, 22, 2014
Nov 22
7:14
PM ET
Associated Press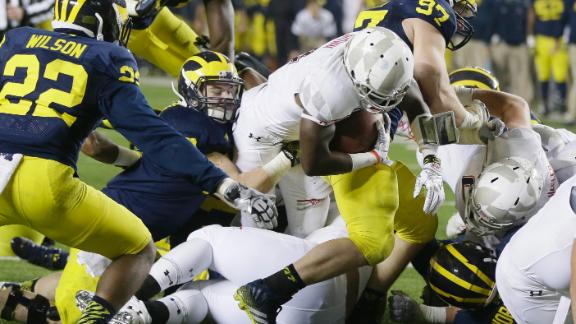 ANN ARBOR, Mich. -- Wes Brown's 1-yard touchdown run with 5:59 remaining lifted Maryland to a 23-16 victory over Michigan, leaving the Wolverines' postseason hopes in dire shape with one game remaining in the regular season.
The Terrapins (7-4, 4-3) scored two touchdowns in the fourth quarter and guaranteed themselves at least a .500 record in conference play in their inaugural Big Ten season. Michigan (5-6, 3-4) had won three of four to keep its bowl hopes in decent shape, but now the Wolverines need a monumental upset at Ohio State next weekend to prolong their season.
The loss on a chilly, dreary day at Michigan Stadium was a fitting conclusion to the Wolverines' home schedule. This dismal season has put coach Brady Hoke's job in jeopardy.
November, 22, 2014
Nov 22
2:04
PM ET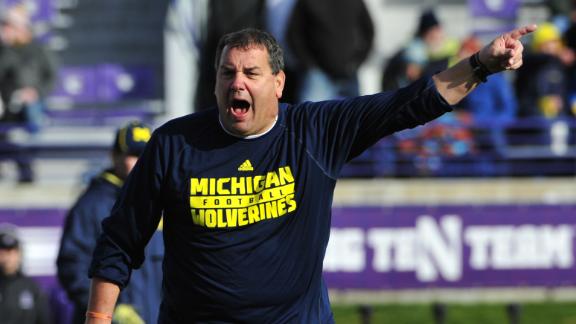 ANN ARBOR, Mich. -- It's not yet clear when a decision will come on Brady Hoke's future as Michigan's football coach, but interim athletic director Jim Hackett said Saturday he would be the one making the decision.
Hackett stepped in as a temporary leader of the university's athletic department Oct. 31, when former athletic director Dave Brandon resigned. Hackett met with the media for the first time in his new role Saturday afternoon and ran through his top priorities, which included evaluation of the football team at the end of the season.
Hackett declined to provide any specific criteria he would use when evaluating the program and Hoke, but said Michigan has no plans to hire a new, permanent athletic director before he decides if any changes are needed with the football team.
"We have a football coach who has had a long history of being a good coach," Hackett said. "He knows we're not where we need to be right now."
Hoke and Hackett have met several times during the last month. Hackett said he thinks the coaching staff has done "an extraordinary job" of working through the adversity they have faced this year. He added that he doesn't feel pressure to make a decision immediately in order to help the team reach a more settled situation during crucial recruiting months.
"I watch how people behave in adversity. These guys have shown up every week and played hard," Hackett said. "I'm also proud of the coaches' ability to work extremely hard during that situation."
November, 21, 2014
Nov 21
3:00
PM ET
Just like the West Division, our league's race is starting to clear up.
Thanks to huge days by
Melvin Gordon
(64 fantasy points) and
J.T. Barrett
(44 fantasy points), it now appears as if it's just a two-team race between the Coal Crackers and Massive Attack. Who will come out on top these last two weeks?
Stay tuned ...
Your results this week:
Coal Crackers (Josh Moyer):
186
Massive Attack (Austin Ward):
156
Legendary Leaders (Brian Bennett):
107
The Trombone Shorties (Adam Rittenberg):
76
Sherman Tanks (Mitch Sherman):
63
And the overall standings:
Coal Crackers:
1,460
Massive Attack:
1,417
The Trombone Shorties:
1,327
Legendary Leaders:
1,164
Sherman Tanks:
1,048
Waiver wire:
Rittenberg trails by 133 points after a down week and, as a result, he is trying to make up for some lost ground. He accounted for exactly half of our league's six moves this week. But, overall, last week's starting rosters are mostly intact.
Sherman adds Michigan RB De'Veon Smith and drops Nebraska RB Imani Cross
Bennett adds Michigan WR Devin Funchess and drops Penn State TE Jesse James
Rittenberg adds Northwestern QB Trevor Siemian and drops Wisconsin QB Tanner McEvoy
Moyer adds Michigan WR Amara Darboh and drops Illinois WR Geronimo Allison
Rittenberg adds the Michigan defense and drops the Rutgers defense
Rittenberg adds the Maryland kickers and drops the Minnesota kickers
Coal Crackers (Moyer)
Purdue QB
Austin Appleby
Minnesota QB
Mitch Leidner
Wisconsin RB Melvin Gordon
Indiana RB
Tevin Coleman
Rutgers WR
Leonte Carroo
Michigan WR Amara Darboh
Wisconsin kickers
Penn State defense
Bench: Maryland QB
C.J. Brown
(at Michigan)
Massive Attack (Ward)
Iowa QB
Jake Rudock
Ohio State QB J.T. Barrett
Ohio State RB
Ezekiel Elliott
Minnesota RB
David Cobb
Ohio State WR
Michael Thomas
Penn State WR
DaeSean Hamilton
Penn State kickers
Michigan State defense
Bench: Illinois RB
Josh Ferguson
(vs. Penn State)
The Trombone Shorties (Rittenberg)
Northwestern QB Trevor Siemian
Michigan State QB
Connor Cook
Nebraska RB
Ameer Abdullah
Northwestern RB
Justin Jackson
Ohio State WR
Devin Smith
Nebraska WR
Kenny Bell
Maryland kickers
Michigan defense
Bench: Ohio State RB
Dontre Wilson
(vs. Indiana)
Legendary Leaders (Bennett)
Nebraska QB
Tommy Armstrong
Illinois QB
Wes Lunt
Iowa RB
Mark Weisman
Michigan State RB
Jeremy Langford
Michigan WR Devin Funchess
Illinois WR
Mike Dudek
Ohio State kickers
Wisconsin defense
Bench: Wisconsin QB
Joel Stave
(at Iowa)
Sherman Tanks (Sherman)
Rutgers QB
Gary Nova
Penn State QB
Christian Hackenberg
Michigan RB De'Veon Smith
Purdue RB
Akeem Hunt
Michigan State WR
Tony Lippett
Iowa
Kevonte Martin-Manley
Michigan State kickers
Ohio State defense
Bench: Wisconsin RB
Corey Clement
(at Iowa)
November, 21, 2014
Nov 21
2:30
PM ET
Saturday is Senior Day at Michigan Stadium. Twelve Michigan football players will play their final home game with a chance to extend their careers into the postseason.
The Wolverines(5-5) host Maryland(6-4) Saturday afternoon in the better of two remaining chances to get a sixth victory and become bowl eligible. Michigan has won three of its past four games. Here's a trio of players who will need to be at their best to win a fourth during that stretch.
Junior DE Mario Ojemudia:
Ojemudia will likely make his second career start Saturday. He and sophomore
Taco Charlton
are responsible for replacing senior
Frank Clark
, who was dismissed from the team following his arrest earlier this week. Ojemudia had two sacks in a 10-9 win over Northwestern two weeks ago. Maryland's offense is at its best when quarterback has
C.J. Brown
has time to throw deep. Ojemudia can help eliminate some of that with a good pass rush.
Junior RB Justice Hayes:
Michigan's running game has turned a corner during November. Head coach Brady Hoke said the offensive line played its best game against Northwestern before last week's bye.
Drake Johnson
and
De'Veon Smith
produced back-to-back games with a 100-yard rusher. Now it's the speedy Hayes' turn for a big day against a Maryland defense that allows nearly 200 rushing yards per game on average.
Senior QB Devin Gardner:
The intangible effect in a game expected to be decided by less than a touchdown will come from seniors like Gardner, who is in the home stretch of his up-and-down career in Ann Arbor. The Wolverines should be capable of sending their seniors out with a win, but need to avoid the turnovers and other mistakes that cost them games earlier in the year. If Gardner came play relatively mistake free, he'll give his team a good chance to win.
November, 21, 2014
Nov 21
10:00
AM ET
We are in week 13 of the regular season and only a few months away from signing day. That means that programs have most of their recruiting done and are trying to fill in the last spots of the class.

This is a good time to take a look at the Big Ten recruiting efforts, where some teams are having success and some need help. The numbers below help show the makeup and statistics behind the recruiting classes within the conference.

Commits from different states:
November, 21, 2014
Nov 21
9:00
AM ET
The Big Ten will have an important recruiting weekend despite the weather in most areas being poor and the regular season coming close to the end. Here is a look at the most important visitors of the weekend for the conference.
Michigan versus Maryland:
To continue reading this article you must be an Insider
Two Weeks Left And We Still Know Nothing