December, 8, 2013
Dec 8
3:47
PM ET
Last week, Michigan State coach Mark Dantonio rhetorically asked "Why not us?" about the Spartans' chances of playing for the BCS title should they beat Ohio State. Dantonio clearly was serious.

The final regular season USA Today coaches' poll is out, and with it comes
the public revelation of how the coaches voted
for the first time all season. It's always an intriguing and often comical exercise to review the ballots of a system fraught with inherent conflicts of interest.
Dantonio voted Michigan State No. 2 behind Florida State on his ballot following the Spartans'
34-24 win
over Ohio State in the Big Ten championship game. And while I don't quite agree, his case does have some merit. Michigan State went 12-1, had one loss on the road to Notre Dame by four points and just beat the team that was ranked No. 2.
West Virginia coach Dana Holgorsen apparently agrees. He also voted Michigan State No. 2, the only other coach to do so. Most coaches ranked the Spartans somewhere between No. 3 and No. 5, while Baylor's Art Briles had them No. 8, the lowest ranking for MSU among the coaches in the poll. Briles also ranked Ohio State No. 10.
Here's a quick look at where every Big Ten coach with a vote ranked his league counterparts:
Tim Beckman, Illinois
5. Michigan State
7. Ohio State
19. Wisconsin
Dantonio
2. Michigan State
4. Ohio State
19. Wisconsin
24. Iowa
25. Minnesota
Brady Hoke, Michigan
4. Michigan State
6. Ohio State
18. Wisconsin
21. Iowa
Jerry Kill, Minnesota
3. Michigan State
5. Ohio State
14. Wisconsin
21. Iowa
25. Minnesota
Urban Meyer, Ohio State
4. Michigan State
5. Ohio State
19. Wisconsin
24. Iowa
Bo Pelini, Nebraska
4. Michigan State
5. Ohio State
18. Wisconsin
21. Iowa
25. Nebraska
Big Ten coaches were clearly higher on their own league than most voters and in many cases, had a much stronger opinion of their own teams. That Pelini's ballot has his own Huskers No. 25 tells you most of what you need to know about the silliness of the system. It would have been fascinating to see how the coaches would have voted if Ohio State had won Saturday and forced a debate with the SEC.
Some other notable votes:
Arkansas coach Bret Bielema had Ohio State ranked the lowest of any voters, at No. 12. Is he a strength of schedule proponent? Apparently not, since he had Louisville, which beat no one with a detectable pulse, at No. 6 (nine spots ahead of UCF, who beat the Cardinals on the road and won the American Athletic Conference with a better schedule. So, um, yeah). Bielema had Michigan State No. 4, his former team Wisconsin No. 21 and his alma mater Iowa No. 25.
Alabama's Nick Saban voted his own Crimson Tide No. 3 and his former team, Michigan State, No. 4. Steve Spurrier had the Spartans No. 3, a spot ahead of Alabama. Notre Dame's Brian Kelly, whose team was the only one to beat the Spartans, had Michigan State at No. 4.
Enjoy the goofiness and controversy of the coaches' ballots, and be thankful that this incredibly dumb system for picking a national championship game will be gone shortly.
December, 8, 2013
Dec 8
12:00
PM ET
It's all over except for the official bowl selections.

Those will come out Sunday night. But before we know for sure where Big Ten teams are going bowling, we've got one last set of projections.

Michigan State's Big Ten championship game win over Ohio State obviously sends the Spartans to the Rose Bowl. And it all but guarantees two BCS bids for the Big Ten, as someone will snatch up the Buckeyes. We think that the Discover Orange Bowl makes the most sense.

The next two bowls are pretty easy to figure out. Wisconsin will go to the Capital One Bowl, where they should face a strong SEC opponent. Iowa, coming off a nice finish to the year, will enjoy the no-rules, just-right feeling at the Outback Bowl.

The biggest debate involves the Buffalo Wild Wings Bowl selection. From what we're hearing, that game favors Michigan over Nebraska. That could change, but we're going with it for now. That leaves Nebraska to the TaxSlayer.com Gator Bowl. How many Huskers fans would travel to Jacksonville if that's the case?

Minnesota has an argument for a better bowl than Michigan or Nebraska, but the Gophers still lack the brand name or traveling reputation. So it's back to Texas for a second straight year for Jerry Kill's guys.

We'll find out later Sunday night if we were right.

Rose Bowl Game Presented by VIZIO, Jan. 1: Michigan State
Discover Orange Bowl, Jan. 3: Ohio State
Capital One Bowl, Jan. 1: Wisconsin
Outback Bowl, Jan. 1: Iowa
Buffalo Wild Wings Bowl, Dec. 28: Michigan
TaxSlayer.com Gator Bowl, Jan. 1: Nebraska
Texas Bowl, Dec. 27: Minnesota
Heart of Dallas Bowl, Jan. 1: Not filled
Little Caesars Pizza Bowl, Dec. 26: Not filled
December, 8, 2013
Dec 8
11:40
AM ET
Michigan's 2015 defensive back commit
Shaun Crawford
(Lakewood, Ohio/St. Edward) recently said he might visit rival Ohio State.
Michigan coach Brady Hoke has a no visit policy for his commitments so if a visit were to take place, it would cause some controversy.
Crawford was the second defensive back commit for Michigan to say he was going to visit other schools. 2014 commit
Jabrill Peppers
(Paramus, N.J./Paramus Catholic) also said there is a possibility he will take official visits after his season is over.
No visits have been scheduled yet for either prospect so there is still a chance for them to sway their thinking.
To continue reading this article you must be an Insider
December, 6, 2013
Dec 6
4:02
PM ET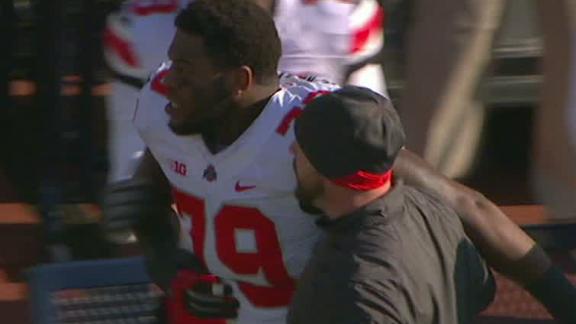 INDIANAPOLIS -- Ohio State offensive lineman Marcus Hall won't start Saturday's Big Ten championship game against Michigan State because of his actions last week in the team's victory over Michigan, coach Urban Meyer said Friday.
Hall was one of several players ejected after a first-half fight during Ohio State's 42-41 win over the Wolverines. Hall also made obscene gestures to the crowd as he walked off the field at Michigan Stadium.
The Big Ten issued a public reprimand to Hall this week but did not tack on additional punishment.
But Meyer has decided not to start Hall, saying he was "very, very disappointed" in Hall's actions.
Meyer did not say when or how much Hall might play against the Spartans, saying "We'll see what happens."
Pat Elflein, who filled in after Hall's ejection at Michigan, will start Saturday.
December, 6, 2013
Dec 6
2:00
PM ET
Now that the season has finished and a contact period is open, the Michigan coaching staff has been on the road scouting prospects. Plenty of 2015 targets have had Michigan coaches in their school, and a few recently received offers from the Wolverines.
To continue reading this article you must be an Insider
December, 6, 2013
Dec 6
12:00
PM ET
Finally, the Big Ten matchup we've been waiting for is nearly here ...
December, 5, 2013
Dec 5
5:00
PM ET
The Big Ten's bowl lineup will be revealed Sunday night, and there shouldn't be much drama this season.
Unless Ohio State crushes Michigan State in the Big Ten championship, the league should send two teams to BCS bowls. Ohio State is essentially assured of a BCS bowl, win or lose. If the Rose Bowl Game presented by Vizio loses No. 2 Ohio State to the Vizio BCS National Championship, the Rose almost certainly will take No. 10 Michigan State if the Spartans remain in top 14 of the final BCS standings. The Spartans would have to lose convincingly to slip to No. 15 or lower.
Assuming Ohio State and Michigan State both are headed to the big bowls, the Capital One Bowl is expected to take No. 21 Wisconsin. Iowa has one of the nation's best traveling fan bases and missed a bowl last season, so it would be a mini surprise if the Hawkeyes didn't head to the Outback Bowl in Tampa. The Hawkeyes beat Nebraska, Michigan and Minnesota this year, and likely has a more motivated or larger traveling fan base when it comes to this year's bowls.
[+] Enlarge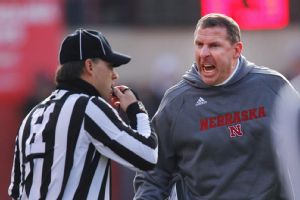 Bruce Thorson/USA TODAY SportsBo Pelini and Nebraska's finish to the season could scare off the Buffalo Wild Wings bowl.
That brings us to what's likely the only real debate in this year's Big Ten bowl rundown.
It starts with the Buffalo Wild Wings Bowl in Tempe, Ariz., which picks before the TaxSlayer.com Gator Bowl in Jacksonville, Fla., in the final year of the Big Ten's current lineup. Three teams are in the mix for the Buffalo Wild Wings Bowl: Michigan, Minnesota and Nebraska.
A lot depends on how the Big 12 side of the Buffalo Wild Wings Bowl plays out. Oklahoma visits Oklahoma State and Texas visits Baylor on Saturday. Wins by either of the road underdogs could alter the BCS picture and the bowl selection process. After the Big 12's automatic BCS berth, the
Buffalo Wild Wings Bowl selects third in the Big 12 lineup after the AT&T Cotton Bowl and the Valero Alamo Bowl.
From talking to some folks in the bowl community and reading stories like
this
and
this
and
this
, here's how I see the debate playing out:
Oklahoma is the team to watch. The Buffalo Wild Wings Bowl would love to have the Sooners and revive the Oklahoma-Nebraska rivalry. But it's unlikely OU falls below the Alamo Bowl, even with a loss Saturday.

Texas is the likelier option for the Buffalo Wild Wings Bowl. Some Nebraska fans would love another shot at their old Big 12 nemesis, but there's not as much enthusiasm on the other side. Although the matchup could be compelling, the bowl would face a tough decision with Michigan also on the table.

Nebraska's win over Michigan on Nov. 9 won't be a major factor. How both teams finished the season might be more important. Michigan, which played arguably its best game last Saturday against Ohio State, has the edge against Nebraska, which was crushed by Iowa on Black Friday in Lincoln. Nebraska fans always travel well, but how motivated are they after the way things went down both during and after last week's game? That's a question bowl officials are trying to answer.

Michigan hasn't played a game west of Arlington, Texas, since the 2007 Rose Bowl. The school has a large alumni presence in the West that could easily attend a game in Tempe, Ariz. Nebraska hasn't played a bowl in Arizona since the 1996 Fiesta.

If the Buffalo Wild Wings Bowl takes Michigan, Nebraska likely will go to the Gator Bowl, and vice versa. Although Minnesota has more wins than Michigan and a win against Nebraska, it would be a surprise if the Gator Bowl, which gravitates toward brand-name schools, passes up Nebraska or Michigan. While Minnesota fans are understandably excited about their team, arguably more so than Nebraska fans and Michigan fans, they're fighting a reputation for traveling poorly for bowls.
Our
latest projections
have Nebraska to the Wings, Michigan to the Gator and Minnesota to the Texas Bowl. We'll have our final projections Sunday, but a lot will depend on how those Big 12 games shake out.
December, 5, 2013
Dec 5
2:00
PM ET
The Under Armour All-America game is fast approaching and plenty of participants still have questions surrounding their recruitment.
The Big Ten has quite a few of those recruits in the game, so here is a look at five of the bigger storylines heading into the prestigious game.
Will Jabrill Peppers take visits?
To continue reading this article you must be an Insider
December, 5, 2013
Dec 5
1:30
PM ET
The Wolverines will find out which bowl they're headed to soon enough. But even without knowing the opponent, there's plenty Michigan can fix internally and look to improve upon. Here's a list of to-do's for the Wolverines to hit over the next few weeks.
1. Get healthy.
Devin Gardner
has taken a beating this season. Between a knee brace midway through the season, a walking boot on his left foot following the Ohio State game and the general tackle-fest that occurred on his body through the season, he'll need to relish in these weeks to really get back to his usual self. On top of that,
Brendan Gibbons
needs to recover from his groin injury, and
James Ross III
needs to get back to 100-percent. Really, after that much football, no player on the team is 100 percent so each guy needs to get into rehab until the bowl game.
[+] Enlarge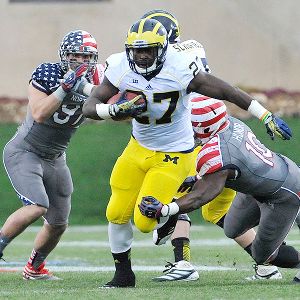 David Banks/USA TODAY SportsDerrick Green had only 40 carries through nine games but carried 42 times in the final three games.
2. Forget about the regular season.
It might not be the game the Wolverines wanted, but it's a brand new season and Michigan has the chance to go 1-0. They can't get the Ohio State, Michigan State or Penn State games back. Look ahead only. It's a young team and it needs to avoid distractions, and past games sometimes can be major distractions.
3. Work on "fundamentals and techniques."
Not sure how many times we heard it this season, but this tagline never really hit home all the way for the guys. Even before the Ohio State game, coaches were saying they couldn't get all 11 on the field to play together on every down. So a 7-5 season shouldn't really be that disappointing when the Wolverines were playing 9-vs-11 or 10-vs-11 football at points, should it? But in a bowl game, they need to figure out how to get every player on the same page.
4. Grow chemistry on the offensive line.
Now that Michigan has established these five are in fact the best five, the Wolverines need to stick with them and allow them to grow for the next few weeks. With their growth will come major strides for the offense as a whole. So if this group can live, breathe and dream football as a unit, it has a chance to improve upon its impressive performance against Ohio State and really give the Michigan offense a chance in whichever matchup.
5. Get Derrick Green reps.
Michigan didn't turn to Green until late in the season, so he didn't get a ton of experience. In total, the freshman carried the ball 82 times for 265 yards (3.2 yards per carry). However, the Wolverines didn't turn to him as the lead back until far too late in the season and because of it, he's now behind in his development. The Wolverines need to try and get him as many reps against first-team defensive linemen and linebackers as possible. No matter what team Michigan plays, they'll need Green to show up. He needs this month to make sure he can show up.
December, 5, 2013
Dec 5
12:00
PM ET
Perhaps we could have a Big Ten-ACC Challenge in the title game? At least that one couldn't end in a tie.
December, 4, 2013
Dec 4
5:00
PM ET
How many of you will be milling around downtown Indianapolis this weekend? Maybe we'll see you there. For now, let's correspond via email:
Alex from Denver, N.C., writes:
Please tell me how the two OSU players can avoid being suspended for an entire game, while Will Gholston in 2011 is suspended for what he did in the Michigan game. Watching the OSU player exit the stadium was ridiculous and the OSU community should be ashamed of that behavior. The Big Ten should be ashamed of condoning that behavior. If you don't discipline it, then you allow it.
Brian Bennett:
The argument from the Big Ten is that
Marcus Hall
and
Dontre Wilson
were ejected from the Michigan game, and that satisfied the requirement of revoked playing time. William Gholston was not ejected from the game against Michigan in 2011 but was suspended by the league for the following game. There is some logic to that argument, especially as it applies to Wilson. As for Hall, I believe some additional punishment was warranted for his double-bird salute as he walked off the field (Urban Meyer said he has handed out internal discipline to Wilson and Hall and another player). And there were other players involved in the scrum who could have faced suspensions.
My big problem with the ruling is that the fight was an ugly scene in the league's most high-profile game, and it looks as if the Big Ten is protecting its two marquee teams and its championship game. Handing down even a smaller suspension like one quarter would have carried some symbolic weight. Instead, the completely meaningless "public reprimand" comes off looking extremely weak and does nothing to curb incidents like that in the future.
Victor from Columbus, OH, writes:
Is it just me or does this Ohio State team have that underdog destiny feeling about them? This team reminds me a lot of the 2002 national championship team. OSU isn't dominating opponents, many people nationally aren't giving them a shot, but most importantly, this team refuses to lose! Even with a decisive win (if OSU wins) this coming Saturday, I believe OSU would still be a relatively large underdog in the BCS championship game. Last time that happened OSU won the national championship and shocked the country. Do you feel the destiny or is it just us OSU fans being over optimistic?
Brian Bennett:
Ohio State as underdog? That's something you don't hear much. It's hard to say a team coached by Meyer coming off an undefeated season is in any way an underdog; remember that the Buckeyes were ranked No. 1 in some preseason polls. The 2002 team was coming off a 7-5 campaign and was not ranked in the Top 10 to start the year, and those Buckeyes had a lot of close, low-scoring games.
Ohio State does, however, figure to be an underdog in a potential BCS matchup with Florida State. But it won't be anything like that scenario against Miami and its roster full of future pros in the Buckeyes' last national championship game win. Things have broken right for Meyer's team this year in that other contenders like Alabama, Oregon, Baylor and Stanford have all lost. And it goes without saying that Florida State has a possible major issue on its hands. So in that sense, perhaps the Buckeyes are a team of destiny.
Justin A. from Columbus, Ohio, writes:
First of all I'd like to say that as a Michigan fan living in Columbus, Ohio life can be rough. Attending The Game this past Saturday, felt like a dream that was ended by a rude awakening. It was a heartbreaking loss and I am proud of my team yet I am sure I will hear plenty of smack talk at work on Monday. As for my question, what does more for the Big Ten's perception: Michigan State beating Ohio State in the B1G CG and MSU playing Stanford in the Rose Bowl and OSU getting matched up with Missouri or Alabama and then both B1G teams beat those teams in their bowl games, or OSU winning the national championship against a Florida State team and hearing about how the SEC didn't have a chance to defend its title streak? I think both scenarios would greatly boost the Big Ten's image, yet I can't decide which scenario would boost it more.
Brian Bennett:
I feel for you Justin, and for Michigan fans everywhere. I can imagine it's not too fun to see your two biggest rivals play for the Big Ten championship on Saturday. As for your question, I'll go with the national championship. Sure, there would be some griping from the SEC that Ohio State lucked its way to a title, and even more so nationally if
Jameis Winston
weren't available for Florida State. Still, when people talk about SEC dominance, do they bring up BCS bowl wins? No, they brag about national titles. That's the ultimate prize, and it's been 12 years since a Big Ten team held the crystal football. People would forget in time the circumstances around the championship, but -- as they say -- flags fly forever. A national title from the Big Ten would also give the league a nice boost heading into the playoff era.
Rob NitLion from Morristown, N.J., writes:
I understand the annual awards are individual based, but how can a Michigan offensive lineman POSSIBLY win a conference award? Again, I understand this is an individual award, and
Taylor Lewan
won the award last year, but let's look at some of the stats that directly relate to the offensive line. Team Sacks allowed -- 3rd worst in B1G. Rushing yards per game -- 2nd worst. So the offensive line couldn't pass protect very well (even with a very mobile QB) and couldn't open up running lanes (again includes yards Gardner earned when protection broke down). What exactly did Lewan do to earn this award?
Brian Bennett:
Michigan would tell you that Lewan graded out higher this year than he did a season ago when he was a first-team All-American and the Big Ten offensive lineman of the year for the first time. They'll also say that he didn't give up a sack this year. I feel for Lewan, and offensive line is one area where every single player has to be in sync or the whole thing breaks down. The Wolverines' well-documented blocking woes weren't Lewan's fault. Still, I think some of that lack of team success has to be factored in, and I saw Lewan lose his composure in the Michigan State game. My pick for offensive lineman of the year in 2013 would have been Ohio State's
Jack Mewhort
.
Brutus from The Ninth Circle writes:
Hey, Brian, not sure how to read the Penn State win against Wisconsin this past weekend. Do you think BO'B squad exceeded their potential, or did they finally just live up to it? I'm thinking it's the latter, in that the talent was there all season but just hadn't been working together at the same time. Seems like they may have a a brighter future than some predicted.
Brian Bennett:
Keeping in mind the obvious depth and talent issues that Bill O'Brien faced, there were definitely times that Penn State underachieved this season. The Nittany Lions lost by 20 to Indiana, probably should have lost to Illinois at home and got smoked by 49 points at Ohio State. The defense was a major problem, as was inconsistency on offense. Don't forget that the Lions played with a true freshman quarterback. I saw Penn State as team with some very good players that was capable of putting together strong performances at time. It just happened that its best performance came at the end.
Kevin from Evanston writes:
With Northwestern being a Top-5 APR school can't they go bowling at 5-7? If they were to go to the Little Caesars Bowl in Detroit, plenty of fans would travel.
Brian Bennett:
There is a way that Northwestern could get into a bowl. I wrote about this last year when the NCAA approved a new bowl waiver. Basically, if there aren't enough 6-6 teams to fill all the postseason slots, the bowls can pick other teams in this order:
Teams that finish 6-6 with wins against two FCS opponents;
Teams that finish 6-7 by losing in their conference title game;
Teams that finish 6-7 but normally play 13 games (so, basically, Hawaii);
FCS teams in transition to the FBS that are at least 6-6
FBS teams that finish 5-7, but finish in the Top 5 of the NCAA's academic progress rate
Northwestern ranked No. 1 in the APR so would be eligible under that fifth clause. But it's not going to happen this year. There are 35 bowl games, and more than 70 teams are already at least 6-6 with more possibilities to come this weekend. So the Wildcats will be staying home.
Jim from Albuquerque, N.M., writes:
I think Bo Pelini is right. You take all the media hype about whether or not he is on the hot seat, and it's not right. I am glad he stood his ground. The media is not into "equal harassment." As for the refs, they made a bad call on a block NU's wide receiver made on a PSU defender. I would have been angry as a head coach too. That was a reasonable block; and the receiver's head was in front of the defender. The media is ruthless and should be censured for damage they can inflict on a football program's image. And there should be legal implications.
Brian Bennett:
Sure, Jim. It's the media's fault that Nebraska gave up 70 points in the Big Ten championship game last year and had a whole bunch of fans ready to make a change. It's the media's fault that Pelini has lost four games every year. It's the media's fault that Pelini hasn't delivered a conference championship or a BCS bowl. It's the media's fault that Nebraska continually shoots itself in the foot with turnovers and has the same volatile personality as its head coach. It's the media's fault that Pelini nearly hit an official with his hat and then cursed in his postgame press conference that was broadcast live, just the latest in a long line of examples of Pelini failing to control his anger.
Yep, all of that is on reporters, because certainly no one else had ever talked about or considered that Pelini might get fired. To borrow another man's words, If you want to arrest me, go ahead and arrest me.
December, 4, 2013
Dec 4
1:30
PM ET
Michigan State and Ohio State will face off for the first time this season on Saturday in the Big Ten championship game.
And while they're a bit of an unknown to each other, they have six overlapping opponents this season, including the Wolverines. Michigan lost to both teams, though, in very different ways. Here's a breakdown of what we can draw from the OSU-MSU matchup based off what happened with the Wolverines.
OSU OFFENSE vs. MSU DEFENSE
[+] Enlarge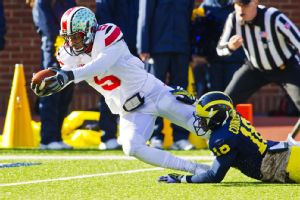 AP Photo/Tony DingBraxton Miller's Buckeyes had a big day running the ball against Michigan's defense. But will they be able to have that success against Michigan State's tough D?
Michigan offense vs. MSU defense:
Obviously the big takeaway from this game was the fact that the Wolverines had negative 48 rushing yards. Yes, a lot of that was due to Michigan State seven sacks, but the Wolverines never got the running game going.
Fitzgerald Toussaint
averaged 2.5 yards per carry which is actually above MSU's season average of 2.2 yards per rush allowed. But he only carried the ball eight times.
Devin Gardner
never got going either. Gardner wasn't bad in the passing game, as he threw for 210 yards, but he had no touchdowns, which is the identity of this MSU secondary. They've allowed 170 passing yards per game, but they've only given up 11 passing touchdowns (less than one per game).
OSU offense vs. Michigan defense:
The Buckeyes had 526 yards of offense against Wolverines, including nearly 400 rushing yards. The dual-threat rushing attack of
Braxton Miller
and
Carlos Hyde
combined for four touchdowns and nine yards per carry. Miller completed only six passes against the Wolverines and just one receiver (tight end
Jeff Heuerman
) tallied more than one reception. The 526 yards was right around the Buckeyes' average of 530 yards per game, but generally their attack is more balanced as they've averaged 321 rushing yards and 209 passing yards per game.
OSU offense vs. MSU defense:
It'll be strength vs. strength in this matchup. The Buckeyes prolific rushing attack will attempt to find holes against a Spartan front seven that seems to be a solid wall. It should be interesting because Michigan State hasn't seen a duo quite like Miller/Hyde. The big key will be whether or not MSU can come up with turnovers. Hyde and Miller will probably be able to find some yards, but if the Spartans can kill some plays, it'd be huge.
MSU OFFENSE vs. OSU DEFENSE
MSU offense vs. Michigan defense:
Michigan State quarterback
Connor Cook
threw for one touchdown and 252 yards against Michigan, but his offensive line gave him quite a bit of time in the pocket (he was sacked twice, though) while opening holes for running back
Jeremy Langford
, who picked up 120 yards against the Wolverines. The thing about MSU's offense is that it's generally played much better against opposing defenses when compared to what opposing offenses to vs. the Michigan State defense. That was really the case for the Michigan-MSU game.
Michigan offense vs. OSU defense:
The Wolverines put together their most complete offensive performance of the season. And it seems pretty fair to say that Ohio State wasn't really expecting it. Gardner mainly used his arm and short, quick passes to attack the Buckeye defense. His 451 passing yards and four touchdowns absolutely destroyed Ohio State's average of 256 passing yards allowed per game, and it definitely played toward the problems with OSU's defense. The Buckeyes have given up 30 touchdowns this season and 23 of those have been passing touchdowns, so while they might have an All-Big Ten defensive back in
Bradley Roby
, their secondary has been an issue.
MSU offense vs. OSU defense:
Gardner's performance against Ohio State showed that there are shots down the field that can be made against the Buckeyes. And with Cook improving with each game, he'll have to look for those. But what really opened up the field was Michigan's offensive line protecting Gardner well enough and creating enough room for the running backs. The Michigan State offensive line is greatly improved from last season, and Langford has proven himself as a versatile and strong back. However, one of the worst things that could have happened to Michigan State was how well Michigan's offense played last weekend. Because after that lackluster performance, the Ohio State defense will look to make a statement and Cook and his offense will be on the Buckeyes' defensive menu.
December, 4, 2013
Dec 4
12:00
PM ET
This might be the most excited I've ever been for a trip to the state of Indiana.
December, 3, 2013
Dec 3
12:30
PM ET
Last week, Michigan athletic director Dave Brandon wrote a
1,059-word blog post
affirming his support for head coach Brady Hoke.
[+] Enlarge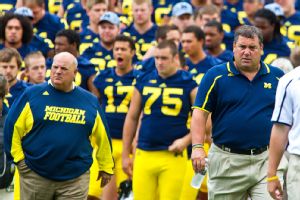 AP Photo/Tony DingAfter a down 2013, Al Borges (left) and Brady Hoke might not have the luxury of another season for their offense to grow.
Hoke's job status at Michigan, at least for a fourth season, never seemed to be in doubt. If Jabrill Peppers, Michigan's top 2014 recruit, hadn't
expressed concern about Hoke's future
, Brandon could have saved himself some time at the keyboard.
Brandon urged patience with the program, mentioned coaches like Jim Harbaugh and Nick Saban in his post and praised defensive coordinator Greg Mattison, whose job, at least to the outside, always appeared safe. Noticeably absent from the post was offensive coordinator Al Borges, who, along with offensive line coach Darrell Funk, has been the subject of increasing criticism as Michigan's offense sunk to historic lows in early November before reviving itself last Saturday against archrival Ohio State.
Hoke doesn't have a blog (am I the only one who wished he did) and isn't nearly as verbose as his boss, but he also expressed some public support for his staff Monday during an appearance at Detroit's Ford Field.
From
The Detroit News
:
Hoke was asked if he's happy with the staff and anticipates having this staff in 2014.

"Yeah, I anticipate the staff [returning]," he said.

When pressed and asked if he does not expect any changes, he responded simply.

"Correct," Hoke said.

He was asked again if this is a "we'll-see situation."

"No," he said.
Like every coach, Hoke will conduct evaluations with his staff following the season. Not surprisingly, Brandon will be a part of those. So it's possible changes could come following Michigan's bowl appearance, but don't hold your breath.
There's no doubt Hoke is loyal, and loyalty is a fleeting quality in today's pressurized world of college coaching. Florida on Monday
fired offensive coordinator Brent Pease
and offensive line coach Tim Davis, and other programs either have made or will make significant staff changes.
Michigan's offensive woes and season record aren't nearly as bad as Florida's, but both programs are supposedly big time and face pressure to win championships. Brandon's counterpart at Florida, Jeremy Foley, also had to give his head coach a vote of confidence in recent days. What do the two approaches say about the culture of the programs, the leagues they play in and the standards they set for performance?
Hoke and Borges were united in their offensive vision at San Diego State, and nothing has changed at Michigan. They want to restore a pro-style offense built around the power run. But for various reasons -- personnel types, youth, lack of development -- it hasn't happened yet. Michigan's offense had negative net rushing totals in its first two November games, couldn't score a touchdown in regulation at Northwestern and racked up just 158 yards at Iowa before exploding for 41 points, 31 first downs and 603 yards against Ohio State.
The Wolverines seem to be at their best with quarterback
Devin Gardner
moving around and ball-carriers attacking the perimeter, rather than between the tackles. That hasn't been the long-term vision, but the plan could come into focus next season as young linemen and young running backs mature.
Borges is a smart coach, but he's also a journeyman coordinator. He had different jobs each season from 2000-04 and hasn't been at one stop for longer than five years since a seven-year stint at Portland State from 1986-92.
Like many coaches, Hoke believes in staff continuity, which is often a top indicator of success. We've seen plenty of examples in the Big Ten, including the long-tenured staffs at Michigan State and Minnesota picking up the slack when head coaches Mark Dantonio and Jerry Kill stepped away because of health reasons.
Northwestern attributes much of its recent success, at least until this year, to the staff remaining fully intact. Coach Pat Fitzgerald plans to keep it that way despite a highly disappointing 5-7 record. But Fitzgerald isn't at Michigan. He doesn't have the same external and historic demands as Hoke does, or should.
Does the patience/loyalty shown by Brandon and Hoke show that Michigan is different (in a good way), avoids knee-jerk reactions and wisely plans for long-term success? Or does it show Michigan talks like a big-time program but struggles to make the hard choices needed to compete at the highest level?
I'll admit it's a tough one. We'll probably get our answer in 2014.
Weekend Recruiting Wrap: Big Ten - Dec. 2