March, 26, 2015
Mar 26
8:36
PM ET
[+] Enlarge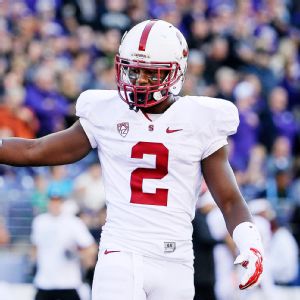 AP Photo/Elaine ThompsonEx-Stanford cornerback Wayne Lyons is the first, and likely only, former Jim Harbaugh player who is reuniting with his old coach now that he has returned to the college ranks.
Former Stanford cornerback Wayne Lyons will be finishing his career with his old head coach, Jim Harbaugh, at Michigan, Wolverines assistant Mike Zordich said.
Lyons, a Florida native who was recruited to Stanford by Harbaugh when he was in Palo Alto, has been an expected arrival in Ann Arbor since February. He is the first, and likely only, former Harbaugh player who is reuniting with his old coach now that he has returned to the college ranks.
Zordich said the fifth-year transfer was on campus this past weekend and would be joining the team this summer.
"There are three guys coming in in the secondary," Zordich said. "One coming from Stanford and two freshmen."
Zordich said he spent time with Lyons over the weekend and watched his film.
"I think he's the right kind of body, a bigger body ... a lot of length. He's a pretty good corner," Zordich said.
March, 26, 2015
Mar 26
6:44
PM ET
The quarterback dominoes in the 2016 class continued to fall Thursday, as No. 4 pocket passer K.J. Costello announced his commitment to Stanford.
Costello, the nation's No. 40 overall prospect, had narrowed his choices to Michigan, Stanford and USC in recent weeks, and had been close to making a commitment since the beginning of the month, finally feeling comfortable enough with his final choice to do it Thursday.
This is a significant recruiting win for Stanford, as the Cardinal elected not to take a scholarship quarterback in the 2015 class after missing on top targets Ricky Town and Brandon Wimbush. In the 2016 class, the Cardinal focused all their attention at the position on Costello and did not make an offer to any other signal-caller.
Costello broke onto the scene as a sophomore, throwing for 1,478 yards and 13 touchdowns for Santa Margarita Catholic High School in Coto de Caza, California. His first offer came the following April as Florida State came calling. Costello then raised his game as a junior, passing for 3,123 yards and 23 touchdowns.
Grabbing a commitment from Costello means David Shaw and staff don't have to regroup and begin recruiting other quarterbacks in earnest, and it should give the Cardinal an in-state recruiting bump. Costello is the biggest name at the position in state, and is good friends with ESPN Junior 300 wide receiver and teammate Dylan Crawford, who also holds a Stanford offer.
Cardinal coaches also earn some recruiting bragging rights with the commitment, as Costello's mother attended USC and the 6-foot-4, 216-pound quarterback has said he grew up very familiar with the Trojans' program. Stanford also beat out Michigan, where coach Jim Harbaugh undoubtedly used his success with the Cardinal as a recruiting pitch for the Wolverines.
Costello is commitment No. 2 in the 2016 class for Stanford, joining defensive tackle Bo Peek
March, 26, 2015
Mar 26
3:30
PM ET
As the NCAA tournament moves to its next round Thursday, so does our Big Ten bracket challenge. This is your opportunity to sound off on the best game settings in the league. Here in March, those autumn afternoons remain a distant dream. But it won't stop us from wishing for tailgates and touchdowns.

The results are in from the first round. Eight teams remain alive, and it's about to get heated in the quarterfinals with two storied programs battling head-to-head. Kudos to Purdue for what was either voting irregularity or the largest international fanbase in the league, but the commissions met and it was unanimous that Nebraska was moving on anyway to face Michigan. The polls close Monday at 4 p.m.
No. 4 Nebraska vs. No. 5 Michigan
Tournament résumés:

Nebraska: The game-day experience starts Friday evening at Misty's, where local and opposing fans gather to hear the Nebraska marching band, eat prime rib and put down a few beverages. That hospitality continues straight through to the final buzzer, when Husker fans are known to stand and applaud the visiting team, win or lose. Before then, pregame festivities reach a climax during the Husker Power chant as the team prepares for its traditional Tunnel Walk, which is as hair-raising an experience as any Big Ten team has when taking the field. Don't forget to pack your red balloons. Fans release them in the stadium after Nebraska's first score in each game.
Michigan: The Big House is massive and claims to have hosted more than 100,000 spectators in every Michigan home game since Nov. 8, 1975. The maize-colored crowd can get the low-slung bowl rocking when the Wolverines are rolling, which hasn't always been the case in recent years. Critics say the stadium is too quiet for its population, but there are few atmospheres more charged than a night game at Michigan. Late starts will come more frequently in the future. Before the game, the university's nearby golf course fills up with tailgaters, downtown Ann Arbor offers some must-eat restaurants within reasonable walking distance to the stadium, and the front lawns on State Street overflow with students ready to party. Michigan Stadium may have fallen behind its neighbor in Ohio in sheer numbers, but the winningest tradition in college football still knows how to do it in style.
March, 26, 2015
Mar 26
2:00
PM ET
The results are in. The first round of the Best Big Ten game day setting tournament is complete, what did we learn?
First of all, Purdue might be able to solve its attendance woes by building an international airport in West Lafayette (more on that in a minute). Second, there is a pretty significant gap between the haves and have-nots when it comes to entertaining fans on football Saturdays. Every first-round winner captured at least two-thirds of the vote. The next round is likely to be a bit more competitive. Before we get to that, a brief recap:
No. 3 Wisconsin def. No. 14 Indiana
The Badgers haven't lost to Indiana on the field since 2002. They have controlled the series, reaching a high mark of 83 points against the Hoosiers in their 2010 meeting. The game day atmosphere is equally dominant. Wisconsin took 86 percent of the vote in this contest where 5,471 people weighed in. Even in its home state, Indiana finished with only 33 percent of the vote.
No. 4 Nebraska def. No. 13 Purdue
The Cornhuskers are advancing despite a bit of controversy. Purdue actually won 65 percent of the overall vote, but our crack team of investigators uncovered some trends pointing toward corruption that would make even the city of Chicago blush. More than 12,000 of Purdue's 14,990 votes came from overseas. We're fairly confident that all of those aren't coming from Anthony Mahoungou's fan club. Nebraska won 49 of 50 states in the U.S. and when international numbers were excluded had a comfortable margin with 70 percent of the vote.
To put it in March Madness terms, some crafty engineers at Purdue found a way to put Dirk Nowitzki, Pau Gasol and Tony Parker in Boilermaker jerseys and sneak them onto the court. Upon further review, the judges have sent Nebraska on to the next round.

No. 5 Michigan def. No. 12 Northwestern
This was no m00n repeat. The Wolverines would have had a clean sweep of the 50 states if not for the apparent diehard Northwestern fan base in Vermont. Michigan and the Big House, with 78 percent of the overall vote, still cruised to an easy victory over Ryan Field in the contest that drew the biggest legitimate crowd (7,377 participants) in the first round.
No. 6 Iowa def. No. 11 Illinois
Kinnick Stadium is a plucky six seed, and could be a good contender to pull of an upset in the next round. Iowa's product on the field has struggled in the past few years, but the game-day experience had no issues competing with Illinois. The Hawkeyes won 81 percent of the vote. Only Wisconsin registered a more lopsided victory this week.
No. 7 Michigan State def. No. 10 Maryland
The Big Ten newcomers have yet to establish themselves as worthy of a road trip after their first year in the league. Maryland, despite its massive crab-and-cheese-covered pretzels, fell to Spartan Stadium in the 7-10 matchup. Michigan State took 77 percent of the 5,501 votes and moves on to face Penn State in the next round. If Tom Izzo can somehow get involved, the Spartans can be a dangerous seven seed.
No. 9 Minnesota def. 8 No. Rutgers
Our lone upset of the first round belong to Minnesota. Twice as many Gophers fans than Rutgers fans showed up to the polls this week. Rutgers won the Lambert-Meadowlands Trophy this year, which is given to the top college football team in the northeast. They controlled that upper corner of the country in our tournament as well, but the rest of the U.S. would rather eat their Dilly Bars in snowy Minnesota during college football season.
Voting for the Elite Eight contests begins this afternoon. Vote early, vote often, just please don't ask your thousands of European cousins to vote as well. That skews the results. Here are your matchups for the next round:
1 Ohio State vs. 9 Minnesota
2 Penn State vs. 7 Michigan State
3 Wisconsin vs. 6 Iowa
4 Nebraska vs. 5 Michigan
March, 26, 2015
Mar 26
11:00
AM ET
Spring is here, but we can't stop daydreaming about the fall.
So we've been putting together our ultimate Big Ten road trip for the 2015 season. In case you've missed the previous installments, we've been giving our picks for which game we would attend each week if money and editorial decisions were no object. We can each pick only one game per week.
It's time for Week 9, which falls on Halloween. Don't be skurred:
Saturday, Oct. 31
Maryland at Iowa

Michigan at Minnesota

Illinois at Penn State

Nebraska at Purdue

Rutgers at Wisconsin
Byes: Indiana, Michigan State, Northwestern, Ohio State
Brian Bennett's pick: Michigan at Minnesota
The Little Brown Jug game had become so one-sided that it had lost all its luster ... that is, until Minnesota went into the Big House last year and smacked the Wolverines around. All of a sudden, that jug might be a bit more important to the Maize and Blue this year. A long dormant rivalry renewed, perhaps? With no other high-profile games this weekend, save me a Surly and fly me to Minneapolis.
Dan Murphy's pick: Rutgers at Wisconsin
The Badgers' home schedule is a little soft in 2015. The teams visiting Wisconsin went a combined 32-55 last year, and Rutgers (8-5) had the best record of the bunch. The matchup between Corey Clement and Paul James, if he stays healthy, could wind up being one of the best running back battles in the conference this season. Plus, it's Halloween in Madison, which I hear is a pretty good time. The people-watching will be entertaining even if the game is another 37-0 blowout like the 2014 version.
Josh Moyer's pick: Michigan at Minnesota
Grab me a dilly bar and some thermals, because I'm off to Minneapolis this week. The Gophers haven't beaten Michigan in back-to-back seasons since 1962-63, so this weekend's a chance to see Jerry Kill rewrite history. On top of that, I'd get an up-close look at the Little Brown Jug and a bird's-eye view of the Michigan coach who's everywhere. Easy decision.
Mitch Sherman's pick: Michigan at Minnesota

Sign me up for Halloween in Minneapolis. Might we see a few Brady Hoke masks from the Minnesota fans, hoping to scare the Wolverines into a repeat performance from a year ago in Ann Arbor, when the Gophers rolled Michigan 30-14? That game delivered a sobering dose of reality in Michigan's Big Ten opener. In its first return to Minnesota since a 35-13 win in 2012, Michigan gets the Gophers much deeper in the season this year. And by late October, coming off an open date after hosting Michigan State, it will be interesting to gauge the psyche of the Wolverines. Are they still riding the wave of Jim Harbaugh energy? The Halloween game rates with a trip to Penn State as their toughest away from home in the Big Ten.
Previous trippin'
Week 1: Bennett and Murphy at Ohio State-Virginia Tech; Ward at Michigan-Utah; Moyer at Wisconsin-Alabama

Week 2: Unanimous: Oregon at Michigan State

Week 3: Sherman and Murphy at Rutgers-Penn State, Bennett and Ward at Nebraska-Miami

Week 4: Bennett and Ward at Maryland-West Virginia, Sherman and Moyer at BYU-Michigan

Week 5: Unanimous: Iowa at Wisconsin

Week 6: Unanimous: Nebraska at Wisconsin

Week 7: Moyer and Ward at Penn State-Ohio State, Murphy at Michigan State-Michigan, Sherman at Nebraska-Minnesota

Week 8: Bennett and Moyer at Penn State vs. Maryland, Sherman at Ohio State-Rutgers, Ward at Northwestern-Nebraska
March, 26, 2015
Mar 26
10:30
AM ET
How do Big Ten teams combat their geographic disadvantages in recruiting, when many of the best players are in different regions? One of the answers is increasingly becoming satellite camps.
Penn State's James Franklin is the George Washington of this particular idea in the Big Ten. He ruffled some feathers in the South last year when he and some assistants participated in camps at Stetson (Florida) and Georgia State as guest coaches. That got the Nittany Lions exposure and face-to-face contact with prospects in some of the hottest recruiting hotbeds.
Nebraska's new staff under Mike Riley used to do the same type of things when it was at Oregon State, located far away from many prospect pipelines. The Huskers are already planning on adopting the satellite camp idea this summer, most likely in Texas, California, Georgia and Florida.
It should come as little surprise, then, that Michigan is jumping into that game as well under new coach Jim Harbaugh.
The Wolverines have booked two guest-coaching spots in June so far, in Alabama and in Texas. How excited do you think Nick Saban, Gus Malzahn, Charlie Strong and Kevin Sumlin will be to see Jim Harbaugh working camps in their states this summer?
The NCAA prohibits schools from holding camps more than 50 miles from their campus. But as long as the school isn't hosting the camp and its coaches are merely guests at a site, then everything is kosher.
Except, that is, in the SEC, which has a rule that forbids its coaches from working satellite camps. SEC coaches were upset about Franklin's foray last year, and the league made noise about changing the NCAA rule allowing for guest coaches. Boo hoo. Those guys have every other recruiting advantage in the world.
There's really no downside here at all for Big Ten teams entering this realm. It can be extremely helpful for a program like Nebraska, which struggles to get kids to Lincoln for official visits. Even Michigan has to recruit more nationally now because there is less talent in its state, and Harbaugh is going to turn over every stone. Ohio State might be the only Big Ten school that doesn't have to go the satellite camp route, because the Buckeyes have a wealth of talent in Ohio from which to draw and Urban Meyer's recruiting reach extends to pretty much anywhere he wants it to go. But you have to wonder if Meyer might look more seriously at the idea now that the team up North is working down South.
Numbers don't lie. There are simply more and better prospects in the South and in Texas. If you can't move your schools there, then the next best thing is to get as much face time and brand recognition as possible in those areas. The coaches and programs in those regions don't like the invasion, but there is no unfair practice involved here. It's just competition.
I love it. Penn State, Nebraska and Michigan have the right idea. Tell the rest of the league to load up the car. We're going (satellite) camping!
March, 25, 2015
Mar 25
11:00
PM ET
Dominating Florida is always critical for Florida State, but another secret to the Seminoles' success is doing well in Virginia, and highly-coveted corner
Levonta Taylor
could be the Noles' next big get from the state.
Will Be Making My College Choice April 3rd! @ Ocean Lakes High School 6pm... Anyone Can Come, No Charge Decision, Decisions, & Decisions.=­

— Levonta Taylor (@iamlevonta) March 24, 2015
March, 25, 2015
Mar 25
10:27
AM ET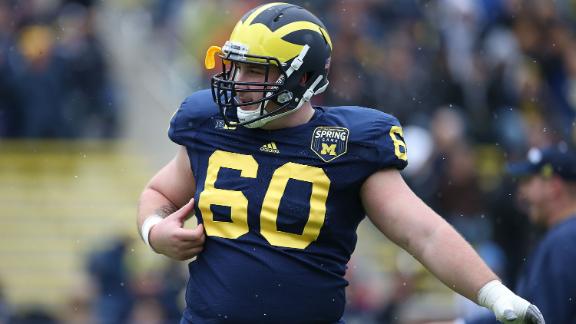 Former Michigan starting center Jack Miller announced earlier this month he would not play his senior season and on Wednesday he told ESPN concern about the long-term impact from past and possible future concussions was a factor in the decision.
"I know I've had a few and it's nice walking away before things could've gotten worse," Miller said. "And yes, multiple schools have reached out. But I'm ready to walk away from it. My health and happiness is more important than a game."
Miller is focused on finishing his degree and pursuing business opportunities. Miller said he had one concussion in high school and "probably" two or three at Michigan, though he said he reported only one.
"I wanted to keep playing," Miller said. "You're supposed to be tough in this game, everyone carries that attitude."
Miller played in 22 games at Michigan. He started 16 times, including all of the 2014 season, when he won the team's award for best lineman of the year.
"I know it's pretty unorthodox for a 21-year-old to see past his own nose," he said. "This game requires such a passion to excel, and my flame is burned out.
"However, I'd be lying if I said that the concussion thing doesn't scare me a little."
Miller said he isn't sure if he would allow a future son to play the game.
"Football has taught me so much about life, it's incredible how much I've learned from it. That's why my dad ultimately wanted me to play the game at a young age, then we found out I was good," he said. "But is it worth the potential injury? Really tough call."
March, 25, 2015
Mar 25
9:00
AM ET
Urban Meyer makes news when he thinks about the quarterback decision that he faces before next season. He actually talked about it Tuesday.
Meyer said the dilemma has started to "eat away" at him.
In this report by Tim May of the Columbus Dispatch, Meyer praised the Ohio State quarterbacks for their positive attitude in spring practice, specifically mentioning a compliment offered by Braxton Miller to Cardale Jones. Miller and J.T. Barrett talked a little football at practice, he said.
These are insignificant details, though they remain fascinating in the context of the OSU QB race, especially when offered by Meyer. The battle won't actually hit its stride until August of course, when all three accomplished players presumably will enter preseason camp in good health.
Meyer said Tuesday that he was moved to feel this way about the quarterbacks because he has "such great respect for all three guys."
He also offered a dose of reality. "The negative: Two people are going to have to watch."
This storyline has already taken on a life of its own. It's in danger of spinning out of control at some point before August, at least in the uncontrolled environment away from the Ohio State campus. Twelve practices remain for the Buckeyes this spring -- more time for the media and fans to anticipate and overanalyze every minor twist.
And if Meyer is already feeling a burden now, imagine how he'll feel in August.
Let's get to the links:
March, 24, 2015
Mar 24
3:50
PM ET
ESPN.com news services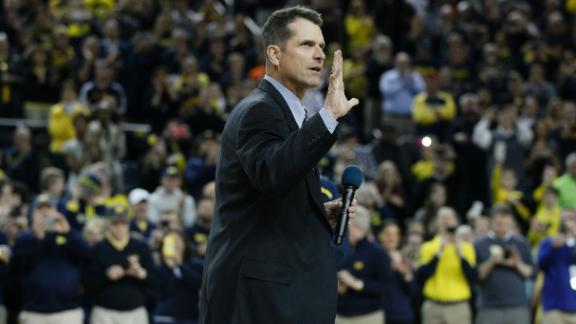 The Michigan Wolverines' football season doesn't kick off until Sept. 3, but at least one person thinks new coach Jim Harbaugh is overpaid: Jim Harbaugh.
Harbaugh signed a seven-year deal worth up to $38.1 million this offseason to coach his alma mater, but when asked if he is worth that kind of money, he told TV station Fox 2 in Detroit simply, "No."
"I'm not doing five times as much work as somebody else or doing more work than someone who's not the head football coach at the University of Michigan so, to answer your question, honestly, I would have to say no," Harbaugh said Monday.
A tradition-rich program, Michigan hopes the team's former quarterback can help turn around a program that won just five games last season and has not beaten arch rival Ohio State since 2011. Harbaugh, meanwhile, has had success as coach of the NFL's San Francisco 49ers and before that with the Stanford Cardinal.
While Jim may downplay his success, his brother John, coach of the Baltimore Ravens, said the hype surrounding the Wolverines' new coach is appropriate.
"I think it's warranted," John Harbaugh said at the NFL owners meetings on Tuesday. "His career has begun. He's a great football coach. He was a great player at Michigan, obviously. ... Great coach, great family man. I love him to death."
Though Jim Harbaugh may think he's not worth his salary, don't expect him to relinquish any of it, either.
"Naw," he said. "I like making a buck just like the next guy."
March, 24, 2015
Mar 24
9:00
AM ET
Future uniform possibilities have created some buzz for multiple Big Ten teams this week. A day after Cardale Jones got Buckeye fans excited about a darker look, Michigan fans debated the merits of going retro.
The school said it hasn't made any official decisions about uniforms yet, but a report Tuesday said the Wolverines plan to reinstate pride stickers on their helmets and do away with the short-lived Legends jerseys. Michigan handed out helmet stickers during half of Jim Harbaugh's playing career in the mid-1980s, but got rid of them a decade later. The Legends jerseys, introduced in 2011, were supposed to reward current stars by letting them wear the same numbers as former Michigan greats.
The big wardrobe decision for Michigan comes this summer, when the school has to decide whether it will pursue its contract with Adidas or look for another supplier. The school reportedly polled its student-athletes over the weekend, and like most young Americans, they said they would prefer to wear Nike.
Michigan is Adidas' biggest brand in college sports and its most expensive contract. If the Wolverines opt for a different logo, it could be a potential blow to the company's recent efforts to be cool again in in America. The German-based shoemaker tied its fate to soccer globally and has consistently lost market share to Nike and relative newcomer Under Armour in recent years in the U.S.
Adidas is rethinking its strategy in the U.S., according to an interesting story in the Wall Street Journal this week. Adidas is making changes to try to win back the loyalty of young Americans. Michigan would be a good vehicle for that project, but upping the cool factor in time to convince the school to stick around will be difficult.
Speaking of things that make you cool, don't forget to vote for your favorite college gameday settings in the Big Ten blog's version of March Madness.
And now, onto the links…
March, 23, 2015
Mar 23
8:27
PM ET
[+] Enlarge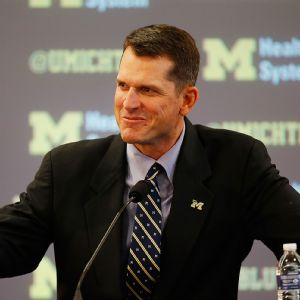 Gregory Shamus/Getty ImagesNew Michigan coach Jim Harbaugh will have a lot of reasons to smile if he can guide the Wolverines to a national championship.
At Clemson, winning a national championship in the College Football Playoff is valued at $900,000 -- that's the bonus coach Dabo Swinney is guaranteed if the Tigers win it all. It's more than any incentive promised to the four coaches who actually made the semifinal round of the inaugural playoff, including Nick Saban.
It's even more than Michigan's Money Man, Jim Harbaugh, whose total bonus is $800,000 for winning a title in Ann Arbor.
It's on par, though, with Colorado, where a national title is worth $750,000 to coach Mike MacIntyre.
Meanwhile, Cal coach Sonny Dykes is still waiting for his contract to be updated to include the playoff, but he would have gotten $50,000 for taking the Golden Bears to the BCS national championship.
The disparity in incentives for winning college football's biggest prize? Priceless.
"We pay close attention to the marketplace, which is much easier to do on guaranteed compensation than it is on incentive compensation," said Oregon athletic director Rob Mullens, "because incentive compensation can be all over the board."
He's right -- it is.
March, 23, 2015
Mar 23
9:00
AM ET
Cardale Jones got fans talking Friday when he posted this photo on Instagram.
The picture? A photoshopped rendition of a black-and-red Ohio State uniform, something not yet in the Buckeyes' repertoire. "How Sick Would This Be," Jones wrote.


A special uniform like that would be long (and somewhat) overdue for the Buckeyes. Rumors of a black alternate uniform circulated last season before Urban Meyer halted the fun by saying there were no such plans. Still, Meyer said he would be fine with it "somewhere down the road."
It's definitely pretty slick. But, for whatever reason, it just seems like black is a great choice for a uniform. (Just ask Iowa fans.) Twitter was aflutter just three months ago for a similar wardrobe change at Penn State. Defensive back Jordan Lucas and running back Akeel Lynch excited the fan base with this Photoshop, and James Franklin was eventually asked about the possibility. The answer? Possibly, but time moves slow on uniform changes.
Maybe we'll see something similar in The Horseshoe soon enough. Or maybe schools should open up some sort of concept contest to fans because there's been some cool-looking mock-ups floating around. (Hint, hint, Maryland.)
Now, on to the links ...
Michigan C Cites Concussions In Decision To Quit
BIG TEN SCOREBOARD
Thursday, 9/3
Friday, 9/4
Saturday, 9/5
Sunday, 9/6
Monday, 9/7