October, 31, 2014
Oct 31
5:30
PM ET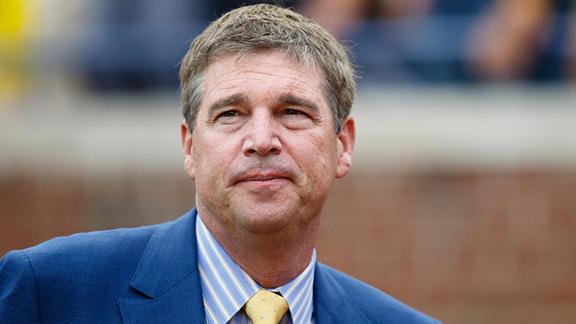 Michigan's search for a new athletic director will soon be under way, if it's not already. The Wolverines might be shopping for a new football coach before the year is over, which makes a speedy decision for the new leader of the department more of a pressing issue.
The university's president, Mark Schlissel, said he's looking for a leader who will prioritize the welfare of Michigan's athletes and one who shows a high level of integrity. No experience as a "Michigan man" is necessary, but that doesn't mean Schlissel and interim director Jim Hackett won't look closely at a few qualified candidates with ties to the school and its athletic program. Here's a short list, in alphabetical order, of some potential targets that make sense for the Wolverines.
---
Brad Bates
Current job:
Boston College athletic director
Michigan ties:
Played defensive back for the Wolverines under Bo Schembechler in the late 1970s.
Notable coaching hires:
Steve Addazio (2013)
Credentials:
Bates has worked in college athletic departments since 1985. He spent 17 years serving multiple roles at Vanderbilt before taking his first athletic director job at Miami University in Oxford, Ohio. He left Miami in 2012 for Boston College, where he has been a part of coaching searches for the football and basketball programs.
Bates holds a doctoral degree in education from Vanderbilt, which might score him some points with Schlissel, a newcomer to Michigan who previously served as a provost at Brown University.
---
Greg Byrne
Current job:
University of Arizona athletic director
Michigan ties:
None
Notable coaching hires:
Dan Mullen (2008), Rich Rodriguez (2011)
Credentials:
Byrne, an Oregon native, graduated from Arizona State in 1994. He has two decades of experience working in college athletics. He made stops at Oregon, Oregon State and Kentucky before landing his first athletic director position at Mississippi State.
Byrne has not been mentioned at all in connection to the Michigan job, but if the Wolverines plan to hire a new head coach this winter, he would be a strong choice to lead that search. Byrne hired Dan Mullen, who has Mississippi State at No. 1 in the College Football Playoff rankings, and former Michigan coach Rich Rodriguez, who has turned Arizona into a Pac-12 title contender. His father, Bill Byrne, hired Kevin Sumlin while serving as Texas A&M's athletic director.
---
Joe Castiglione
Current job:
Oklahoma University athletic director
Michigan ties:
None
Notable coaching hires:
Bob Stoops (1999)
Credentials: Castiglione hired Stoops during his first full year as the athletic director, and together they have helped keep Oklahoma a fixture among college football's top programs. The Florida native graduated from Maryland in 1979. He held a variety of fundraising and communications jobs in college sports at Rice, Georgetown and Missouri before taking over as the Tigers' athletic director in 1993.
While Castiglione has plenty of job security and is well entrenched in Norman, the coaching website FootballScoop.com reported Friday that his name is one to watch in the Michigan search.
---
Bob De Carolis
Current job:
Oregon State athletic director
Michigan ties:
Coached softball and served as an associate athletic director during 19 years in Ann Arbor
Notable coaching hires:
Mike Riley (2003)
Credentials:
De Carolis started his career as an administrative assistant at Michigan in 1979 and worked his way up the ladder. He coached the Wolverines softball team for five years while working as the athletic department's business manager. He was in charge of all of Michigan's athletic facilities when he left for an associate AD job at Oregon State in 1998. He took over as the Beavers' athletic director in 2002. He holds degrees in business education and sports management.
---
Jeff Long
Current job:
University of Arkansas athletic director
Michigan ties:
Served as an associate athletic director during his 11-year career at Michigan
Notable coaching hires:
Bret Bielema (2012)
Credentials:
Originally hired by Michigan legend Bo Schembechler, Long spent more than a decade in Ann Arbor serving in a variety of roles for the athletic department. He is currently the head of college football's new playoff selection committee and has served on many NCAA task forces and committees.
Prior to taking over at Arkansas in 2008, Long held athletic director positions at Eastern Kentucky and Pittsburgh. He earned a master's degree in education from Miami (Ohio) in 1983 while working as a graduate assistant on the football team. He also coached at Rice, Duke and North Carolina State.
---
Warde Manuel
Current Job:
University of Connecticut athletics director
Michigan ties:
Played defensive end for Schembechler for two seasons, and joined the track and field team when a neck injury ended his football career
Notable coaching hires: Bob Diaco (2013), Jeff Quinn (2010 at Buffalo)
Credentials:
The former high school All-American started as a defensive end for the Wolverines in the 1980s. He remained at his alma mater for more than a decade and held several positions of leadership in the athletic department. He oversaw the football and basketball programs and was named an associate athletic director for the Wolverines in September 2000.
Manuel, who holds a master's in social work and an MBA degree from Michigan, is in his third year as the athletic director at UConn. Prior to moving to Connecticut, Manuel spent seven years as athletic director at the University of Buffalo.
October, 31, 2014
Oct 31
4:00
PM ET
Happy Halloween! Before filling up on candy, dive into the mailbag to get set for the first weekend in November.
@AWardESPN 4 already how many 200+ yard rushing performances does Abdullah need to get? Already statistically better than most in a career. - Shawn Hale (@shawnhale86) October 31, 2014
Austin Ward:
The Nebraska star has certainly packed what might be a productive career for some running backs into a little more than half of a season, and Abdullah is doing some truly special things with the football this year. I'm not sure that he needs to add another 200-yard game to his resume necessarily to be worth of a trip to New York for the Heisman Trophy presentation, but if he can tack one more on, it seems like a lock that he should be among the finalists. There are really two factors left for Abdullah at this point in his campaign for awards. First, the Huskers need to keep winning, and Abdullah carrying the team to the West Division title and maybe even the College Football Playoff would be huge for his candidacy. The second is shining in a specific game against another guy who will be getting votes in what should be a wildly entertaining matchup on Nov. 15 against
Melvin Gordon
and Wisconsin. And if Abdullah gets to that 200-yard mark again that week, just go ahead and punch his ticket to Gotham.
@AWardESPN What needs to happen in the conference, to convince top level recruits to play for more B1G schools? - TMayneII (@TMayneII) October 31, 2014
Austin Ward:
There's no one-size-fits-all answer that applies across the league, but the bottom line is the Big Ten needs to start winning more games outside the conference when it gets primetime opportunities against marquee opponents. Falling short in games against LSU, Oregon or even Virginia Tech isn't a good way to generate much momentum, and the SEC's stranglehold on the national title recently hasn't done the Big Ten any favors. This might be something of a chicken-or-egg situation since having great players obviously helps in claiming those meaningful victories, but programs such as Michigan State and Ohio State already have the athletes to go outside the league, win games and boost the reputation of the Big Ten. It just has to get the job done.
@AWardESPN who are prospects for the Michigan AD job? - katiyana (@katiyana) October 31, 2014
@ESPN_BigTen @AWardESPN As of this mornings developments, what are the odds at that Jim Harbaugh will be Michigan's football coach in 2015? - don n brookfield (@DonInBrookfield) October 31, 2014
Austin Ward:
One search is already underway in the Michigan athletic department, and it seems a certainty that another will start when the season ends with Brady Hoke. And given how important knowing who the boss will be to the next coach for the Wolverines, they had better work quickly to replace Dave Brandon as the athletic director. The short list figures to have plenty of names with ties to the program, starting with UConn's Warde Manuel, Jeff Long of Arkansas and Boston College's Brad Bates. But if Michigan can't get somebody in place soon, things could get messy when it comes to firing Hoke and hiring a replacement. That's one reason it's difficult to envision Jim Harbaugh taking the reins, and it also continues to be tough to imagine he's ready to leave the NFL right now to head back to the college ranks without winning a Super Bowl. Somebody representing Michigan will have to make a run at him, though, which again underlines the importance of filling the AD vacancy as soon as possible.
@AWardESPN what are Michigan State's weaknesses? - Adam Greer (@agreer11) October 31, 2014
Austin Ward:
The Spartans don't have many, but there are areas that aren't as strong as others that Ohio State will be focusing on next week ahead of the titanic battle in East Lansing. On defense, Michigan State doesn't seem nearly as solid across the board as it was a year ago and it might not be as athletic either. Purdue was able to move the ball without much trouble running an offense that looked pretty similar to Ohio State's, and it doesn't have nearly as much talent on offense as the Buckeyes. Offensively,
Connor Cook
has put up some impressive numbers and the Spartans are scoring seemingly at will, but the quarterback has looked a bit careless at times with the football and recently had a three-week stretch with at least one interception in every game that raised a small warning flag. He's going to have to be careful next week against an Ohio State secondary that leads the Big Ten in picking off passes.
October, 31, 2014
Oct 31
2:30
PM ET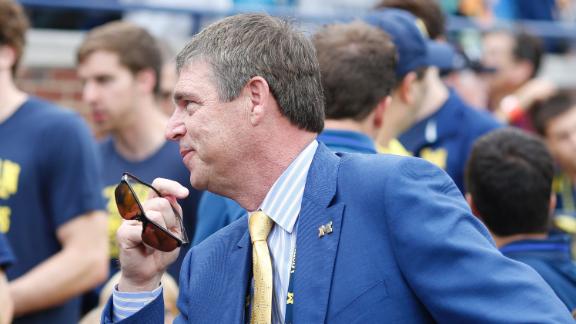 Dave Brandon had no previous experience working in college sports when Michigan hired him as its athletic director in 2010. He was a businessman, most famously as leader of the Domino's Pizza chain.
He set about trying to run the Wolverines' athletic department like a business, which in many ways, of course, it is. But Brandon's tenure also reflected some of the worst tendencies of modern American corporate culture: the incessant focus on short-term profits over long-term loyalty, viewing customers as revenue streams and beating people over the head with marketing and "branding."
We could go over Brandon's many missteps -- the revelation of his incredibly
tone-deaf emails to fans
this week likely serving as the last straw for school president Mark Schlissel and the board of regents -- but in the end, it's pretty simple. Whether you work on Wall Street or State Street, any CEO's job depends on the bottom line. Brandon's fate wasn't sealed by a quarterly finance report, but by his football team's inability to play competently for four quarters under Brady Hoke.
[+] Enlarge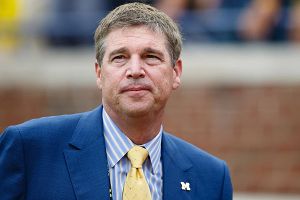 Rick Osentoski/USA TODAY SportsDave Brandon, hired as the Michigan Wolverines' athletic director in 2010, resigned on Friday.
So what Brandon's resignation on Friday really signals is the beginning of a new way forward for Michigan football. There was no real way Hoke was going to survive this season, not with a 10-12 record since Jan. 2013 and a host of embarrassing defeats. Hoke was already on his way out the door after the
Shane Morris
concussion debacle (aided by Brandon's own bumbling of the situation from a PR standpoint). Another blowout loss to Michigan State -- which included a silly pregame spectacle that prompted another public apology -- slammed and locked that door.
But the Wolverines couldn't move on from the Hoke era without first getting rid of the man who hired him. Brandon no longer had enough support or credibility to make the next major football decision. Dream candidates like Jim Harbaugh or Les Miles or really any other established head coach would have steered well clear of Ann Arbor if it meant working under Brandon and in the toxic atmosphere around him.
Brandon has long been viewed as a meddling AD who liked the spotlight; the former benchwarmer under Bo Schembechler had some definite Jerry Jones traits when it came to inserting himself into the football operations, so a low-key coach like Hoke was a good fit for him. The past few seasons have shown that the Michigan job is probably too big for Hoke, and no alpha-dog coach would want to deal with Brandon's interference. Even the Big House doesn't have enough room for two giant egos.
The timing of Friday's announcement should allow Hoke to finish out the season as coach. The Wolverines can take a month or so to hire the right athletic director, whether that is someone with Michigan ties like UConn's Warde Manuel, Boston College's Brad Bates or Arkansas' Jeff Long, or one who is not a "Michigan Man." Schlissel has only been school president for a little more than three months, and he won't and shouldn't be beholden to finding an AD who can play the six-degrees-of-Schembechler game.
The next athletic director's first agenda item will likely be the most important one he or she will ever make, as the Maize and Blue can't afford to whiff on a third straight football coaching hire. The next AD would also be wise to learn from Brandon's mistakes and listen to what Wolverines fans want, though that doesn't have to mean retreating into the tradition-worshiping navel-gazing that has hamstrung this program at times.
Michigan is too big to fail. Or at least it should be. Maybe Brandon could have survived the football setback had he not alienated so many people in the process. But CEOs are always slaves to their bottom line, and Michigan football is a stock that has bottomed out. This is the first step back up.
October, 31, 2014
Oct 31
11:26
AM ET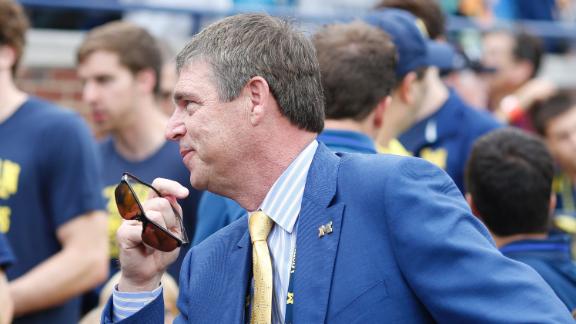 The Dave Brandon era in the Michigan athletic department officially ended Friday afternoon. The university's 11th athletic director handed in his resignation earlier this week amid a storm of controversy.
A string of athletic department mishaps in the past several months dominated headlines around the Michigan campus and served as a regular distraction at sporting events.
"Dave feels that it would be in the best interest of our student-athletes, the athletic department and the university community if he moved on to other challenges and allowed the important work of the department and the university to continue without daily distractions," said Mark Schlissel, the university's president.
Schlissel said he would begin searching for Brandon's replacement immediately.
The president, who took office at Michigan in July, said he will be looking for someone who prioritizes highly the welfare of student-athletes and operates with "integrity to the Michigan way of doing athletics." He said previous ties to the school or its sports teams are not prerequisites for the job.
"I think we need the very best person possible to do this job," Schlissel said. "Certainly, people that have a connection to Michigan know many things about the university. I can tell you, though, despite the fact that I've only been here for about 110 days, I feel like a Michigan man already."
Schlissel appointed former Michigan football player Jim Hackett to serve as interim athletic director and help select a permanent replacement. Hackett played for legendary Wolverines coach Bo Schembechler in the 1970s and served as the CEO of a successful office furniture business after graduating. Hackett sits on the board of advisors for two academic programs at the university.
October, 31, 2014
Oct 31
11:00
AM ET
Happy Halloween, Big Ten fans! The conference got off to a ghoulish start this season but has since provided enough tricks and treats to set up an entertaining final month of the regular season. In celebration of the undead, let's take a look at what Halloween staples we think of when talking about the Big Ten.

Jason Voorhees:
Have you ever seen Jason run after one of his soon-to-be victims? Nope, but somehow he always catches them with his slow-and-steady gait. Watching Minnesota hasn't been much different this season. The Golden Gophers are in no hurry, defiantly marching their way toward wins in the age of turbo-speed offenses. Somehow Jerry Kill (a name made for a horror movie villain) and his team, which is now 6-2, usually end up catching their opponent and slashing them to bits.

Zombies:
Unless of course, Minnesota is playing the Fighting Illini. Tim Beckman and his coaching staff might be walking dead as his third season in Champaign rolls toward the finish line, but that doesn't mean they can't take a few other teams down with them along the way. Can Illinois infect another team with an undefeated conference record when it faces Ohio State this Saturday? Something tells me
J.T. Barrett
will be going to this weekend's party dressed as
Michonne, katana and all
.

Freddy Krueger:
You don't want to sleep on Nebraska this season. The Cornhuskers fell off the radar after a loss at Michigan State in early October. With
Ameer Abdullah
terrorizing defenses this season, they haven't played their way out of an unexpected playoff bid just yet. The original playoff rankings put Nebraska at 15
th
. If Bo Pelini's team can win the West Division and a potential rematch with the Spartans in the Big Ten championship game, it can silently sneak up on a lot of folks in the college football world.


Sidney Prescott:
The Ohio State-Penn State referee crew. Sidney is the main character in the
Scream
series, but this one applies to pretty much any pretty slasher-film target. You know, the ones who always seems to make the wrong decision. The front door is open? It's time to scramble up the stairs. An incomplete pass bounces on the turf? Let's rule it an interception. Getaway car is running in the driveway? Time to hide behind the chainsaws. The play clock expired? Let them kick the field goal anyway. These decisions always work out for the killer, and you would be hard-pressed to find anyone outside of Columbus who doesn't see Urban Meyer as the perfect fit for a Big Ten villain role.

The Headless Horseman:
Michigan isn't headless quite yet, but coach Brady Hoke and athletic director Dave Brandon are both moving in the direction of the guillotine. The Wolverines may be riding through the night searching for a couple new leaders a month from now. While football season has left the people of Ann Arbor feeling hollow, the town has been anything but sleepy this autumn. The Big House feels haunted. Maybe that explains all the boos.
All right, I think we've filled our quota for (candy)corny Halloween puns this year. Before we go, a few costume suggestions for coaches and players around the Big Ten…
Michigan LB Jake Ryan
:
He-Man
(
Before Ryan cut his hair
, of course)
Rutgers DE Kemoko Turay
:
The Fresh Prince of Bel-Air
(No one has rocked the flat top
as well as Turay
since Will Smith.)
Michigan WR Dennis Norfleet:
Carlton Banks
(Will needs his partner in crime, and
Norfleet's dance moves
fit the bill.)
Northwestern DC Mike Hankwitz:
Walter White
(
No costume required
, maybe just a black hat.)
Penn State coach James Franklin:
Gus Fring
(
Close enough
, and Hankwitz's defense did blow up the Nittany Lions this year.)
Purdue coach Darrell Hazell:
George Whitfield
(No wonder
Hazell
has
Austin Appleby
playing so well.)
Nebraska coach Bo Pelini:
Voldemort
(
When Bo is screaming
, the resemblance is uncanny.)
Michigan State P Mike Sadler:
Bo Pelini (Well, technically
Faux Pelini
, but
his impression
was spot-on.)
Indiana QB Zander Diamont:
Derek Zoolander
(There's more to life than being ridiculously good looking, and for
former model Diamont
, that includes playing quarterback for the Hoosiers.)
October, 31, 2014
Oct 31
10:00
AM ET
November is almost here, and that means it's time for the championship push in the Big Ten. While there are no games between ranked teams this weekend, there are some contests that could separate pretenders from contenders.
Here's a look at what's on tap Saturday (all times ET):
Noon
Northwestern (3-4, 2-2 Big Ten) at Iowa (5-2, 2-1)
, Big Ten Network: The games between these two are often close, with four of the past six meetings being decided by seven points or fewer, including last season's overtime affair. Both the Wildcats and Hawkeyes have similar statistical profiles, so this could be another thriller.
Maryland (5-3, 2-2) at Penn State (4-3, 1-3)
, ESPN2: The Nittany Lions and Terrapins have not played since 1993, and this could become a new Big Ten rivalry -- provided that Maryland can actually make it competitive. The Terps have won only once in 37 tries against Penn State (1961). Nittany Lions coach James Franklin used to be Maryland's head-coach-in-waiting, while Terrapins boss Randy Edsall is from Pennsylvania.
Wisconsin (5-2, 2-1) at Rutgers (5-3, 1-3)
, ESPN: This is the first-ever meeting between the Scarlet Knights and the Badgers, who appear to be traveling different paths. Rutgers has been blown out in its past two games -- at Ohio State and at Nebraska -- while Wisconsin just put together its best effort of the season in a 52-7 win over Maryland. Rutgers quarterback
Gary Nova
(knee) is questionable, which could make things tougher against a Wisconsin defense ranked No. 7 nationally in points allowed.
3:30 p.m.
Purdue (3-5, 1-3) at No. 15 Nebraska (7-1, 3-1)
, ABC/ESPN2: The Boilers' offense is vastly improved, but it will need to find a way to keep pace with a Huskers squad that's averaging 42.8 points per game at home. Purdue ranks 11th in the Big Ten in rush defense and could have a hard time stopping
Ameer Abdullah
.
Indiana (3-4, 0-3) at Michigan (3-5, 1-3)
, BTN: Last season's game produced 110 points and more than 1,300 yards. That seems highly unlikely this year, as both teams are struggling to score.
Devin Gardner
will remain the Wolverines' starting quarterback, while Indiana hopes
Zander Diamont
can improve after he threw for just 11 yards in his college debut, versus Michigan State.
8 p.m.
Illinois (4-4, 1-3) at No 16 Ohio State (6-1, 3-0)
, ABC: The Illibuck game might not be ready for prime time unless Illinois can build off last week's rare Big Ten win versus Minnesota. The Illini are last in the Big Ten in total defense, while Ohio State is putting up 44.3 points per game. So, yeah, it could get ugly (and cold, with temperatures expected to dip into the low 30s in Columbus).
Byes: Michigan State, Minnesota
Required reading
Week 10 predictions
|
Bold calls
Take Two: Abdullah or Gordon to NYC
Ameer Abdullah fights to see through the jungle
Gordon does Gotham; return trip in store
Ohio State learning more about J.T. Barrett
James Franklin to face familiar opponent
Michigan's issues run deeper than Hoke
Spartans sharpen focus as stakes grow
Big Ten playoff tracker
October, 31, 2014
Oct 31
8:00
AM ET
Happy Halloween. Let's get your Friday started with three questions that may have slipped through the cracks -- until now -- about Week 10 in the Big Ten.
Can Austin Appleby keep it going this week against Nebraska?
Sure. While the Cornhuskers rank third nationally in limiting opponents to a 48.1-percent completion rate, Appleby can look for high percentage throws to speedy backs
Akeem Hunt
and the
do-it-all
Raheem Mostert
. They've combined to catch 40 passes this year. Miami burned Nebraska in September with a similar style. It's a good formula for a talented, young quarterback such as Appleby, whose 83.4 QBR index ranks seventh nationally and leads the Big Ten. Since taking over for
Danny Etling
, the 6-foot-5 sophomore has completed 66.3 percent of his throws and led the Boilermankers to 35.7 points per game. With what we saw from the Nebraska defense last week against Rutgers, reason exists to believe that Appleby can have another good day.
Have we seen the last of Maryland's feel-good story for this season?
The Terps' fast start took a dramatic turn for the worse last week at Wisconsin. Maryland's quarterbacks have been beaten up. Its running game was non-existent in Madison. The turnovers are starting to mount -- with nine in the past three games -- and it faces two of the Big Ten's top defensive units next in Penn State, a
familiar foe
to coach Randy Edsall, and, after a bye, Michigan State. Maryland looks like it's a year or two away from a breakthrough. It has recruited athletes such as
William Likely
and
Stefon Diggs
, plenty capable of changing games against Big Ten competition, but the infrastructure is not yet strong enough. It's conceivable, despite five wins in its first seven games, that Maryland will still be in search of a bowl eligibility-clincher in the regular-season finale on Nov. 29 against Rutgers.
Is Illinois on track to salvage its season?
The easy answer is no. The Fighting Illini scored a lot of points behind
Wes Lunt
, now injured, early in the season, and it hasn't been the same since
Reilly O'Toole
took over this month. Before its upset win over Minnesota last week, Illinois had lost four of five games, including a clunker at home to Purdue. But suddenly, the Boilermakers look much better. Illinois was competitive in losing at Wisconsin, and it punched Minnesota in the mouth, capitalizing on three turnovers and four sacks. Don't expect Illinois to win Saturday at Ohio State for the
first time in seven years
, but if it can continue to build on last week, a bowl appearance is not out of the question with a closing stretch at home against Iowa and Penn State and a visit to Northwestern.
East Division
West Division
October, 30, 2014
Oct 30
4:00
PM ET
When simply
picking the games
doesn't cut it, the Big Ten blog crew takes it to another level. For some bolder, more specific predictions for the opening weekend of what could be an unforgettable November, we hit the roundtable.
Adam Rittenberg:
Purdue will pace Nebraska well into the second half.


This isn't a knock on the Huskers, who are quietly putting together a very solid, and refreshingly drama-free, season. But Purdue's offense is hitting its stride behind quarterback
Austin Appleby
, speed backs
Akeem Hunt
and
Raheem Mostert
and a much-improved offensive line. The Boilers have had two weeks to prepare and face a Nebraska defense that still has too many technical breakdowns for my liking. This will be a track meet for two, maybe three quarters -- thinking 28-24 Nebraska at halftime -- before
Ameer Abdullah
and Nebraska pull away in the fourth.
Mitch Sherman:
Wisconsin will make its biggest statement yet.


The Badgers served notice to the rest of the West last week with a 52-7 win over Maryland that they've turned a corner. Still, it was one game. It was at home, and we've seen previous flashes from Wisconsin. But with most of the attention focused on the exploits of
Melvin Gordon
and uncertainty at QB, the Wisconsin defense has built a résumé as the Big Ten's best. Now, with
Joel Stave
back in command, the Badgers will streamroll Rutgers, beat up at QB and elsewhere after trips to Ohio State and Nebraska, and enter the final four weeks as the favorite in the West despite that ugly Northwestern loss.
Brian Bennett:
Northwestern and Iowa will head to overtime. Again.


Just like last year in Iowa City, the Wildcats and Hawkeyes will play to a draw in regulation. They're similar teams, with good defenses and running games but who struggle to score at times.
Justin Jackson
and
Mark Weisman
will each find the end zone twice as the teams go into overtime tied at 20. Northwestern makes one more play in the second extra period to win it.
Austin Ward:
Tevin Coleman
will be held in check.


The Indiana tailback wasn't getting all that much support from the passing game even when
Nate Sudfeld
was healthy and that didn't slow him down even against stout rush defenses. But with the attack even more one-dimensional now, his string of 100-yard outings is going to come to an end on the road against Michigan and a defense allowing just 3.1 yards per carry. That's about the only thing the Wolverines do well at this point, and any chance of salvaging something positive out of this season for Brady Hoke's club will require coming out inspired to take care of Indiana. That's yet another sign of how bad things are at Michigan, but there is a talented, proud defense waiting for a chance to do something nobody else has done yet this season.
Dan Murphy:
Ohio State hits 60 points for the second time this season.


Any chances of the Buckeyes looking ahead to the Michigan State next weekend were knocked out after the close call in Happy Valley.
J.T. Barrett
will be back in his comfort zone at home and looking to pick a part the Fighting Illini defense. Ohio State hung 66 points on Kent State earlier this year. While Saturday might not be quite as big of a blowout, the Buckeyes will get to 60 for the second year in a row against Illinois.
Josh Moyer:
Penn State hits its highest rushing total of the Big Ten season.


OK, maybe this is a bit of a gamble considering that left tackle
Donovan Smith
-- the only returning starter on the line this season -- suffered an injury Saturday, and his status is unknown against Maryland. But the Nittany Lions fared better than I expected against Ohio State, and the offensive line has a much easier test against the Terrapins. Only 17 teams in the nation are faring worse in run defense than than the Terps, so we should see a healthy dose of Penn State speedsters
Bill Belton
and
Akeel Lynch
. James Franklin has vowed to keep running the ball, and I think that strategy finally pays off this weekend.
October, 30, 2014
Oct 30
9:00
AM ET
By
ESPN.com staff
| ESPN.com
After a weird week in which everyone agreed on their selections, things are back to normal and our experts are fighting among themselves.
Why Indiana will win:
This season Michigan's offense is averaging 1.16 touchdowns per game against Power 5 conference competition. Hoosiers RB
Tevin Coleman
is averaging 1.25 touchdowns per game against Power 5 competition. Big plays from Coleman and IU receiver
Shane Wynn
will be the difference. The Wolverines' run defense has been strong this year, but not against marquee running backs.
David Cobb
ran for 183 yards in Minnesota's win at the Big House, and
Jeremy Langford
finished with 177 last week. Coleman will do the same, and Michigan's offense doesn't have enough horsepower to keep up. ... Indiana 27, Michigan 23
-- Dan Murphy
Why Michigan will win:
Just when you thought it couldn't get any worse for the Wolverines, this week happened, with the controversies surrounding
Joe Bolden
's spearing of the Spartan Stadium turf and Dave Brandon's alleged angry email exchanges with fans. Yes, it got worse. Michigan has been dodging disasters for nearly two months now. At some point, it's got to get better in Ann Arbor, right? This is the week, as Indiana brings its downtrodden defense to the Big House, for
Devin Gardner
and the U-M offense to get healthy, even if temporarily. What about Tevin Coleman and the Hoosiers' offense? Yeah, that's a concern, but the Wolverines have been strong against the rush, allowing 3.1 yards per carry to rank second in the Big Ten. ... Michigan 34, Indiana 24
-- Mitch Sherman
Why Maryland will win:
Penn State is primed for a letdown game after an emotionally exhausting overtime loss at home. The Terps didn't inspire much confidence last week in their loss to Wisconsin, but they've been hot and cold all season. Maryland's run defense has been miserable (110th nationally), which should make for a good matchup with Penn State's woeful offensive line. The Nittany Lions' defense should keep this a low-scoring game. Expect a lot of action for the field goal kickers, and Maryland's
Brad Craddock
is the best in the Big Ten in that department. ... Maryland 19, Penn State 17
-- Dan Murphy
Why Penn State will win:
Penn State will have to bounce back from an emotional overtime loss to Ohio State, but the Nittany Lions' defense proved it was one of the league's very best vs. the Buckeyes. Meanwhile, schizophrenic Maryland nearly got shut out at Wisconsin. The Terps won't have any easier time moving the ball in Beaver Stadium, and
Christian Hackenberg
will do just enough for Penn State to improve to 36-1-1 all-time in this "rivalry." ... Penn State 17, Maryland 14
-- Brian Bennett
Why Iowa will win:
Let's take a three-point look at Northwestern's offense: QB
Trevor Siemian
has been so inconsistent this season that he's ranked behind both Devin Gardner and
Tanner McEvoy
in passing efficiency. Northwestern RB
Justin Jackson
is good, but the Wildcats have managed to average more than four yards a carry in only one game. And only 19 offenses in the nation are averaging fewer points per game (20.9). Add that all together, and you get a struggling offense that Iowa should take advantage of. The Hawkeyes aren't a one-dimensional offense, so this shouldn't be a repeat of the Wisconsin game. It should be close, but the Hawkeyes win in the end. ... Iowa 24, Northwestern 20
-- Josh Moyer
Why Northwestern will win:
Iowa and Northwestern both have had disappointing seasons to date. Both come off of bye weeks and both look to finish strong. The vibe around Iowa is more concerning. Other than the Indiana game, when has Iowa actually looked good? Northwestern at least has solid wins against Penn State and Wisconsin. The Wildcats have a better defense and should be able to run against Iowa with Justin Jackson. Iowa has more offensive firepower, but can the Hawkeyes deliver in a critical game? These are typically close contests, and Northwestern comes out on top this time. ... Northwestern 23, Iowa 21
-- Adam Rittenberg

Unanimous selections
Ohio State 49, Illinois 21:
If the Buckeyes can grab a comfortable edge, look for Urban Meyer to rest
J.T. Barrett
, nursing a knee sprain, in advance of the season-defining trip next week to Michigan State. Though the Illini are riding high after an upset victory over Minnesota, Ohio State and its defensive front pose a new kind of challenge.
Wisconsin 45, Rutgers 14:
With or without
Gary Nova
, the Scarlet Knights are feeling the effects of trips over the past two weeks to Ohio State and Nebraska. And Rutgers is getting the Badgers at a bad time, right as Wisconsin finds itself offensively behind rejuvenated QB
Joel Stave
and the relentless
Melvin Gordon
.
Nebraska 52, Purdue 28:
Lots of points in Lincoln, but look for the Huskers to control this from the start. Purdue has made huge strides offensively behind
Austin Appleby
, but its defense still lacks the playmakers to slow
Ameer Abdullah
. Another big day, too, for
Kenny Bell
, set to break Johnny Rodgers' career receiving-yardage record at Nebraska.
Our records:
1. Mitch Sherman: 66-14 (.825)
2. Brian Bennett: 64-16 (.800)
3. Austin Ward: 63-17 (.786)
4. Adam Rittenberg: 62-18 (.775)
5. Josh Moyer: 60-20 (.750)
6. Dan Murphy: 32-11 (.744)
October, 30, 2014
Oct 30
8:00
AM ET
A wild November is two days away. Buckle up.
1. Conversation starter:
The College Football Playoff rankings are going to change, that much is certain. But as a starting point, the first-ever edition is pretty useful for gauging where the Big Ten sits and what it must do hitting the homestretch over the final month of the regular season. The heavy lifting mostly applies to Nebraska and Ohio State, and the spots those programs hold at Nos. 15 and 16 might have revealed more about the thinking of the selection committee than just about anything else on Tuesday. For starters, at this point, it's hard to argue that the Huskers didn't deserve the higher ranking since their lone loss was at Michigan State and they own a reasonably attractive win over Miami. The loss to Virginia Tech is currently weighing down the Buckeyes, and despite how hard-fought the victory was at Penn State against its stout defense, there isn't much else on the resume right now worth getting too excited over for the committee. But it's important to keep in mind that even with all those teams standing between Nebraska and Ohio State and a playoff berth, there is a lot of football left to play -- and if either of them can win out, it still seems likely that a one-loss Big Ten champ is going to climb enough rungs to get into the field. Only one of those teams can do it since they would face off in the conference title game, but the Big Ten as a league remains very much alive in the race for the national crown.
2. Bucking up:
J.T. Barrett
isn't completely healthy yet on his sprained knee, but the Ohio State quarterback made it clear after practice on Wednesday that he was on track to play on Saturday night against Illinois. Considering what's looming for the Buckeyes on Nov. 8 at Michigan State, though, it might be best for Urban Meyer to get him out of the game as early as possible to make sure he's in one piece for such a critical matchup with both the Big Ten and national-title implications. Like any week, nothing can be taken for granted, and Illinois has put together some decent game plans on defense and is coming off an upset win over Minnesota. But if the Illini do live up to their billing as the worst total defense in the league in the Horseshoe this weekend, Meyer would be wise not to leave Barrett on the field into the fourth quarter behind backup offensive linemen in an effort to get him extra reps like he did two weeks ago against Rutgers. The stakes are too high, and Michigan State is more than capable of beating the Buckeyes again even if they're at full strength.
3. Under-the-radar matchup:
Basically from here on out, the West will have a matchup every week that could serve as an elimination game for the division title. The undercard for a heavyweight November starts with Northwestern visiting Iowa, which isn't exactly a showdown between leading contenders but will nevertheless leave one team in the race and essentially knock the other out. The Hawkeyes have had an extra week to address the issues that popped up in a loss at Maryland that cut down on their margin for error in the rough-and-tumble West. Playing at home will also be an advantage for Kirk Ferentz and his club. Northwestern has been something of a wildcard, though, and it already has gone on the road and come home with a surprising victory after taking apart Penn State in late September. The Wildcats do have two losses in the league already, and they don't have much going for them in a theoretical tiebreaker should they win out. But they're not all that different than the Hawkeyes at this point -- and the loser on Saturday will effectively be out of the race.
East Division
West Division
Dave Brandon Resigns