September, 18, 2014
Sep 18
12:00
PM ET
Michigan sophomore
Jake Butt
saw teammate
Dennis Norfleet
running toward him pointing to the sky and decided to break doctor's orders. Butt, having just caught his third career touchdown pass last Saturday afternoon, met his fellow receiver in mid-air at the goal line with a flying chest bump. He thought he had earned a brief celebration after all.
"I knew I wasn't supposed to, but yeah, I did," he said. "It's not like I have big hops anyways. It was a baby jump."
[+] Enlarge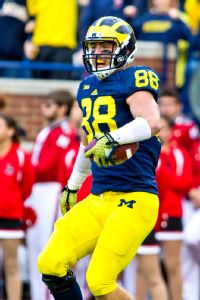 AP Photo/Tony DingJake Butt's touchdown catch Saturday against Miami (Ohio) was the third of his career.
Six and a half months after surgery to repair a torn anterior cruciate ligament and meniscus in his right knee, Butt found himself back in the end zone. His second of three catches so far this season was good for a walk-in 29-yard score against Miami (Ohio). Team doctors told Butt to avoid any unnecessary risks while his joint rounds back into shape, but he couldn't help but get airborne to enjoy the moment.
Pushing limits helped put Butt on the field sooner than expected, even in a new era of knee rehab that has turned once-dreaded ACL injuries into surmountable obstacles. The 6-foot-6, 249-pound tight end is still working his way to full health, but his return comes at an opportune time for the Wolverines. Without star receiver
Devin Funchess
, whose status remains a mystery after missing last week with an apparent leg injury, Michigan's offense is searching for new options in the passing game.
"We may play more tight ends. It just depends on what we want to do," head coach Brady Hoke said when asked about contingency plans if Funchess can't play in a key non-conference game with Utah this weekend. "... I think again, you go back to the tight end position with getting guys ready for different personnel groups, I think that's a positive."
Hoke said Butt's versatility opens parts of the playbook Michigan wouldn't be able to use if he remained on the sidelines. He expects the sophomore's impact to grow in the coming weeks as he ramps up to full speed and loses the restrictive play count the Wolverines have set for him.
Butt made the ESPN.com All-Big Ten freshman team last season after catching 20 passes for 235 yards and two touchdowns. The coaching staff considered him a big part of the offensive game plan for this season, even after he hurt his knee in early February.
At the time, the Wolverines didn't expect to have the sophomore in their lineup until the team started Big Ten play in late September. Butt had other ideas. His maternal grandfather, Bob Lally, won two national championships for Notre Dame under Frank Leahy in the 1940s, and Butt was determined to play on the same field as one of his childhood idols before Michigan's series with the Irish expired. He set a goal the day after he was injured to play in South Bend the second week of the season. Though he took only four snaps in that game, he reached it.
"Jake was committed to getting on that field for his Papa. That was a big deal for him," said Rob Butt, Jake's father, who attributes the fast recovery to hard work, a positive attitude, and a knack for mending quickly.
Butt broke a bone in his foot in fifth grade and shocked doctors when X-rays showed it was completely healed a little more than two weeks later. That was about the time he started scouring the Internet for ways to become a better receiver. Butt cut tennis balls in half and taped them to his palms to force himself to catch with his fingertips when his dad threw him passes in the backyard. His reputation for working hard followed him through an all-state high school career in Ohio.
The same attitude led Butt to impatiently grind away at whatever the Michigan training staff allowed him to do during the past six months. He set up camp in the trainer's office, receiving treatment while he ate or studied or did just about anything else. After rehab sessions, he went home and repeated the drills on his own in his apartment.
"When he got hurt he said I'm going to have the quickest ACL recovery in history," offensive coordinator Doug Nussmeier said. "When you know the kid, nothing would surprise you. Each and every day we're trying to give him a little bit more. He's a phenomenal football player."
Butt's ability to create matchup issues for opposing defenses will make him a key piece in Nussmeier's offense, especially if Funchess needs more time to return to the lineup. He took a big step forward last weekend with three catches for 59 yards and his touchdown. That return to the box score happened sooner than anticipated for just about everyone except himself.
"I hold myself to a high standard," he said. "Once they called that play, I knew I was going to get into the end zone."
Longhorns, Wolverines Announce Home-And-Home Series