September, 22, 2014
Sep 22
12:30
PM ET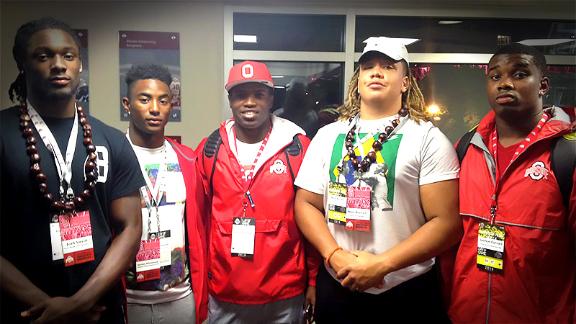 Michigan's loss to Utah has started to create uncomfortable feelings in Ann Arbor. The season is not looking bright for the Wolverines, and the product on the field typically impacts recruiting directly.
The Wolverines have played only four games, but recruits have noticed the heat from the media and outside voices creeping in. Michigan has had success recruiting in recent years under Brady Hoke, but it seems as if this season might be where the pendulum starts to swing the other way if it doesn't get turned around.
September, 22, 2014
Sep 22
10:00
AM ET
Is the Big Ten finally on the rise?
It was a good weekend for the conference -- the best it's had so far this season -- as it went 12-1 Saturday, with its lone loss coming in the Michigan-Utah contest. Indiana rallied to upset No. 18 Mizzou, Iowa came back to surprise Pitt, and Rutgers overcame an early deficit to beat Navy.
It might be premature to say the Big Ten has bounced back since its record against Power 5 opponents is still pretty dismal. But it's on the right track, and Saturday's performance allowed the conference to gain back some respect.
The Big Ten might be down but, after this weekend, it's certainly not out.
[+] Enlarge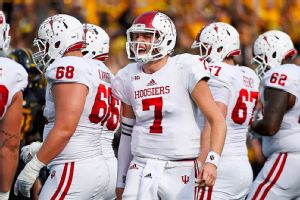 Jasen Vinlove/USA TODAY SportsNate Sudfeld led Indiana to its first win against a ranked team since 2006; it had lost its previous 18.
Team of the week:
There's really no controversy at all to this pick -- Indiana. The Hoosiers entered the game against No. 18 Missouri as two-touchdown underdogs, and no one gave them much of a chance. But Indiana's defense recorded 11 tackles-for-loss and stepped up in key times, and
Tevin Coleman
and the offense turned in another solid performance. If Indiana's defense can keep this up, it could surprise in the East. This was the best non-conference win of the season for the Big Ten.
Game of the week:
The answer could just as easily be Indiana again, but let's look elsewhere. For 53 minutes, the Hawkeyes couldn't manage to gain a lead in their game against Pitt. But all that changed in the final minutes. Backup quarterback (at least for now)
C.J. Beathard
helped Iowa orchestrate a key fourth-quarter touchdown drive by making two critical third-down passes and converting a fourth-down run. The Hawkeyes ate up nearly eight minutes on the drive, and the defense held firm on the next drive when Pitt reached the 29-yard line. It was a great game to watch, a great win on the road and some great play-calling by Greg Davis.
Biggest play:
It wasn't the most exciting play Saturday, and it wasn't the best highlight. But no big play came at a more critical time than Coleman taking a short Indiana swing pass and parlaying it into a 44-yard gain. With a little more than a minute left in regulation, Coleman broke two tackles and marched to the Missouri 7-yard line after a facemask penalty was tacked on to the end of the pass. Indiana scored the game-winning touchdown two plays later. Without Coleman's play, maybe this comeback comes up short.
Big Man on Campus (offense):
No, the opponent wasn't a tough one. But when you put up crazy numbers like Wisconsin's
Melvin Gordon
, the choice is still an easy one. In case you don't know these numbers by now -- and, really, you should feel embarrassed if this is news to you -- Gordon rushed for 253 yards and five touchdowns on just 13 carries. You won't find a more dominating rushing performance this season, unless you fire up your console and slide the difficulty settings to "Freshman." As we said
earlier
, Gordon ran like Bo Jackson straight out of Tecmo Bowl.
Big Man on Campus (defense):
Lead the team in tackles? Check. Make a stop in the backfield? Check. Record an interception? Check. Maryland defensive back
William Likely
came up big Saturday as, not only did he force a turnover, but he also returned the interception 88 yards for a touchdown. It wasn't a garbage-time play, either. Likely's play came just as Syracuse was about to pull within a score. Instead, Likely's score basically put the game away.
Big Man on Campus (special teams):
There are a few good candidates here -- such as
Kenzel Doe
and his 165 returning yards or Iowa's
Marshall Koehn
and his 52-yard field goal -- but let's go outside the box a little bit. Know who else deserves some props? Northwestern punter
Chris Gradone
. He averaged 44.1 yards a punt, but the real reason he's on this list? Six of his seven punts landed inside the 20, and none bounced into the back of the end zone. The Wildcats were outgained by nearly 100 yards on the day, so field position was a big friend of Northwestern. After Gradone's first punt, which wasn't great, Western Illinois managed just six total return yards on the next six punts. Western Illinois was forced to start within its own 10-yard line three times and didn't get past the 17 the other three times. And, for Gradone's grand finale, he booted a 45-yard punt out of bounds on the 1-yard line. Doe was good, but Wisconsin would have won anyway. Koehn was good, but it was just one play. Gradone was solid throughout the game.
Biggest face plant:
Really, there's only one choice here, so it's an obvious one. Michigan fell to Utah in the Big House, and there really wasn't a lot to build on. Michigan's special teams allowed a punt return for a touchdown, the offense turned the ball over four times, and quarterback
Devin Gardner
once again looked lost. Backup quarterback
Shane Morris
didn't look much better and, right now, this team looks like one of the worst in the conference. The Wolverines need to regroup, but Brady Hoke's time in Michigan might already be up.
Numbers and facts to know:
Wisconsin rushed for 644 yards, the most in school history and the fourth-most in Big Ten history ... Hoke started off his U-M career 19-0 in Michigan Stadium but has since gone 2-3 -- with an 0-3 record against Power 5 teams ... Michigan State's 73-14 win was the school's largest since 1989, when it defeated Northwestern 76-14 ... Purdue's 22-point win against Southern Illinois was its largest victory since the 2012 season, against Eastern Michigan (54-16) ... Indiana won its first game against a ranked opponent since 2006; it had lost its previous 18 ... The Hoosiers did not turn the ball over against Missouri, the first time in 47 straight games that Mizzou did not force at least one turnover ... James Franklin is the first Penn State coach to start 4-0 since Dick Harlow went 5-0 in 1915.
September, 21, 2014
Sep 21
8:00
PM ET
Those in Ann Arbor will understandably disagree, but Week 4 was a very good one for the Big Ten. The league went 12-1 and won several games in impressive fashion. When almost every team handles its bid-ness, there's not much shuffling in the bowl projections.
The big development this week is Indiana's return. Seven days after an all-too-typical, potentially bowl-crushing loss at Bowling Green, Indiana recorded its biggest win in years, shocking No. 18 Missouri on the road. The Hoosiers are back in the projections and could rise higher in the coming weeks if they can build on the Missouri win. For now, we have them receiving an at-large bowl invitation.
Michigan moves down after its loss to Utah. The Michigan brand still carries weight in the bowl pecking order, but this Wolverines team could have a tough time reaching the six-win mark if its offense doesn't dramatically improve. The Wolverines are last nationally in turnover margin at minus-10 through four games. Yuck.
For now, we have Michigan essentially staying home for bowl season in Detroit.
New Big Tenners Maryland and Rutgers, meanwhile, move up after impressive starts.
Expect more shuffling next week as Big Ten play begins in full force. Several matchups could affect the order, namely Minnesota visiting Michigan and Indiana visiting Maryland.
To the projections ...
Chick-fil-A Peach/Cotton/Fiesta/Orange:
Michigan State
Chick-fil-A Peach/Cotton/Fiesta/Orange:
Ohio State
Capital One:
Penn State
Outback:
Nebraska
National University Holiday:
Wisconsin
TaxSlayer/Franklin American Mortgage Music City:
Iowa
San Francisco:
Maryland
New Era Pinstripe:
Rutgers
Quick Lane:
Michigan
Heart of Dallas:
Minnesota
At-large: Indiana
September, 21, 2014
Sep 21
2:00
PM ET
September, 21, 2014
Sep 21
10:46
AM ET
It was a great weekend for the Big Ten, going 12-1 with the only loss coming from Utah's defeat of Michigan. A few of the games turned out to be exciting matches, including Indiana's win over Missouri and eventually Nebraska's win over Miami.
It was a great opportunity for visiting recruits to see some big games and the prospects took to social media to document those trips. Here is a look at some of the best posts from the weekend.
Nebraska vs. Miami:
This game lived up to the hype and the Cornhuskers put on a show for the visiting recruits. There were some big targets on hand, so this was an important game.
Wide receiver Tavin Richardson made the trip from South Carolina and tweeted his approval of the game.
Tonight's game was turnt????

— GetDoughBoys#?1?1?. (@Rich_Man11) September 21, 2014
Turnt is good. The fans were in full force and as loud as ever, something defensive back Kahlil Haughton took notice of.
Good lord, Nebraska fans are too live!

— Kahlil Haughton (@Kahlilhaughton) September 21, 2014
It's not hard to see why after seeing offensive coordinator Tim Beck's picture of the raucous crowd.
Shoutout to the Nebraska Student section. THIS IS AWESOME !!!!! pic.twitter.com/qZDlAiFEd9

— Tim Beck (@NU_speed_kills) September 21, 2014
Beating Miami in the fashion it did, this was a big win for Nebraska on the field and on the recruiting trail as well.
Penn State vs. UMass:
On paper this doesn't look like a huge game for Penn State, but there were some big visitors in town to watch the Nittany Lions.
A few of the commitments got a chance to bond, and that might be a help for the future as defensive end Jonathan Holland has been talking about taking other visits. He and offensive line commit Sterling Jenkins spent some time together on the visit and seemed to enjoy themselves.
Walking with @S_Jenkins72 is like walking with a celebrity

— Hollywood (@JonHolland_COO) September 20, 2014
Outside of the commitments, Penn State had a few important uncommitted prospects checking out campus as well. The No. 29-ranked prospect in 2016, quarterback Brandon McIlwain took in the game and got the chance to speak with the coaches during the trip.
#ESPNJr300 QB Brandon McIlwain @BFMcIlwainqb12 on his visit to Penn State today: http://t.co/iq67odOjxR pic.twitter.com/pqg2pp9VwO

— Tom VanHaaren (@TomVH) September 20, 2014
Fellow ESPN Jr. 300 prospect Rahshaun Smith, the No. 99-ranked recruit in 2016, was also on campus. Penn State has made the East Coast a big priority, and since Smith hails from Maryland and happens to be a top prospect, he will be a main target for the coaches going forward.
#WeAre #PSU ?????? pic.twitter.com/DFlXApR63m

— Humble & Hungry ?? (@Nextlevel_shaq) September 20, 2014
Eastern Michigan vs. Michigan State:
It was a walk in the park for the Spartans on Saturday as they rolled past Eastern Michigan. That means it was a relaxed time for the recruits after the game once they spent time with the coaches.
Brandon Wildman, a 2016 quarterback, made the trip in from Illinois and got his money's worth on the unofficial visit.
Always great talking with the Salems @CoachSalemMSU pic.twitter.com/HFUt4Z4Nwx

— Brandon Wildman (@brandon_wildman) September 20, 2014
Michigan vs. Utah:
Michigan had the only loss for the conference on Saturday after losing to Utah at home. The Wolverines didn't have a huge visitor list, but there were plenty of prospects watching to see the outcome right from the comfort of their own home.
Todd Sibley, a 2017 Ohio running back, tweeted that he had his eyes on the game and was curious to see what would take place.
Watching this Michigan game very closely ??

— ?Todd Sibley Jr.? (@ToddSib23) September 20, 2014
Sibley was watching because he's interested in Michigan, but the outcome wasn't what he was hoping for. The Wolverines have now lost two games in convincing fashion, which could start to impact prospects and their perception of the program.
It might not have been the best game to have prospects on campus because of the loss, but also because of the terrible weather. The game was eventually delayed due to rain and lightning and resumed over two hours later.
In-state running back Matt Falcon was one of the visitors on hand, though, and because he lives relatively close, this likely won't be Michigan's last chance to impress the talented back.
2016 RB Matt Falcon @mfalcon21 at Michigan today. pic.twitter.com/117lNgrFT0

— Tom VanHaaren (@TomVH) September 20, 2014
September, 21, 2014
Sep 21
8:56
AM ET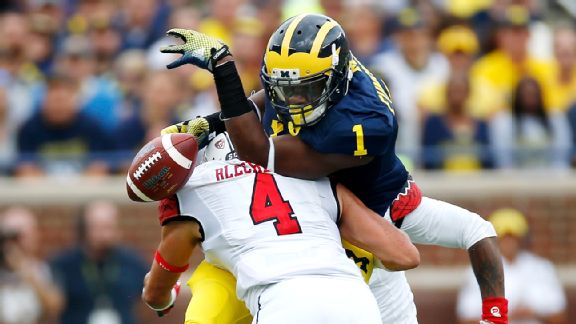 Gregory Shamus/Getty ImagesDevin Funchess and the Wolverines were roughed up by the visiting Utes on Saturday.
Quarterback
Devin Gardner
will be the first change for the
Michigan Wolverines
.
Coach Brady Hoke will be the second, and probably by December.
Athletic director Dave Brandon will be the next, and probably shortly after Hoke.
It's time to start over at Michigan. There's no "fixing it" in the middle of the season. Losing at home -- and being dominated at home -- by Utah signals the denouement,
as I wrote
earlier in the week. The end is near.
"Utah's a good team -- tough, physical, well-coached," a Pac-12 coach said Saturday afternoon, "but Michigan can't lose at home to Utah. You're Michigan."
The offense again didn't score a point, again didn't reach the red zone against a Power 5 opponent. (It didn't against Notre Dame, either.)
There's a deep culture of blah at Michigan, and it has prevailed since last November. It starts with a faulty offensive line, which undermines even a seemingly talented runner like
Derrick Green
and forces its quarterback into poor decisions. That's why backup
Shane Morris
, whenever his number is called, will offer no more solutions than Gardner. It's still September, yes, but Michigan's season is doomed.
With Green (the No. 38 overall prospect in 2013) as an example, it's not as if the Wolverines are bereft of talent. They had RecruitingNation's No. 6 class in 2013, and No. 5 class in 2012. Shouldn't those players be hitting their stride about now? If not, why not?
The situation reminds me of Auburn when it was clear that Gene Chizik needed to go (apart from the fact that Michigan has no title year to hang its hat on). Highly ranked recruiting classes yielded little to no results. When the program started to lose the fan base and future recruits, that's when it made the move.
Hoke is a seemingly good guy, but Michigan will soon do the same. It has no choice, because it will only get worse. Even the next three games -- Minnesota, Rutgers and Penn State -- suddenly look rife with peril.
That's where the Week 4 takeaways begin. Later: Why Jeff Long, Condi Rice, et al, should send a gift basket to Clemson, South Carolina; Texas A&M will now resume its regularly scheduled schedule; Florida (and LSU and Clemson) needs to give its freshman QB a shot; Oklahoma's best back emerged in Morgantown.
To continue reading this article you must be an Insider
September, 21, 2014
Sep 21
12:25
AM ET
Five lessons from the week that was in Big Ten football.
1. The Big Ten can step up in key games:
After two weeks of justified bashing, the Big Ten deserves some credit for bouncing back nicely in the last meaningful Saturday of nonconference play. The league went 3-0 against the ACC and recorded a huge road win against a ranked SEC opponent as Indiana stunned No. 18 Missouri in Columbia. Iowa finally found its swagger -- and, potentially, its new quarterback (
C.J. Beathard
) -- in rallying to beat Pitt. Nebraska didn't lose its composure in a chippy game against Miami and outlasted the Canes behind star back
Ameer Abdullah
. And all three games against MAC teams -- Michigan State-Eastern Michigan, Wisconsin-Bowling Green and Penn State-Massachusetts -- turned into routs by the Big Ten squads. Michigan remains a black eye for the league, but everyone else took a step forward and the Big Ten bolstered its record against Power 5 opponents. It doesn't erase the damage done the previous two weeks, but the Big Ten can feel a little better as league play cranks up next week.
[+] Enlarge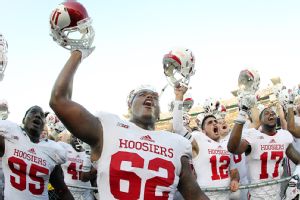 Ed Zurga/Getty ImagesIndiana had plenty of reason to celebrate on Saturday after notching a signature win over No. 18 Missouri.
2. Indiana is back on track:
Same old Hoosiers. That's what everyone said in Week 2 when an Indiana defense that hasn't stopped anyone for two decades let Bowling Green march downfield for the game-winning score. The loss made bowl eligibility seem unlikely and raised questions about the program's direction under fourth-year coach Kevin Wilson. And then Indiana did the most un-Indiana-like thing imaginable: beat Missouri on the road,
31-27
, thanks in large part to its defense. The Hoosiers limited Missouri to one second-half touchdown, and
Tevin Coleman
(132 yards rushing, one touchdown) showed why he's one of the nation's best big-play backs. It added up to the biggest win of the Wilson era and the biggest in recent memory for IU. The coaches and players deserve a ton of credit for rebounding from the Bowling Green setback. IU has teased us before, but a win like this suggests the program is truly turning a corner under Wilson.
3. Michigan's offense is just getting worse:
Brady Hoke hired Doug Nussmeier to fix Michigan's offense and save his job as head coach. But Michigan's offensive woes clearly run deeper than the playcaller, as the unit has amazingly managed to backtrack this year. The Wolverines have yet to reach the red zone in 23 drives against Power 5 opponents (Notre Dame and Utah). The turnover troubles that plagued them in the past have only intensified, as four more giveaways against Utah leave Michigan with 12 on the season and a minus-10 turnover margin. There was a rock-bottom feeling about the
26-10
Utah loss, which ended at a mostly empty, waterlogged Michigan Stadium following a weather delay. Athletic director Dave Brandon repeatedly gave Hoke a vote of confidence before the season, but if the offense doesn't improve in Big Ten play, Hoke could be in serious trouble.
4. B1G's newcomers are better than expected:
The Big Ten might have added Maryland and Rutgers because of their favorable locations, but the league is getting an added bonus so far this season. Both programs could be undefeated and both have won two games away from home in the first three weeks. Maryland responded from a last-second loss to West Virginia and beat Syracuse,
34-20
, behind big plays in all three phases.
Will Likely
continued his excellent season with an 88-yard pick-six, while quarterback
C.J. Brown
and running back
Brandon Ross
connected on a 90-yard score on a screen pass. Rutgers beat an always-tricky Navy team,
31-24
, in Annapolis, Maryland, despite losing star running back
Paul James
in the first half. Quarterback
Gary Nova
responded from his five-interception debacle with a clean performance (12-of-15 passing, no interceptions), and running backs
Justin Goodwin
and
Desmon Peoples
picked up the slack with James sidelined.
5. Melvin Gordon is going to be just fine:
Until Saturday, things had not gone as expected this season for the Wisconsin star. He barely saw the field in the second half of a Week 1 loss to LSU and was held to 38 rush yards on 17 carries against FCS opponent Western Illinois in Week 2. But after an early fumble against Bowling Green, Gordon could not be stopped. He rushed for a career-high 253 yards, the most by an FBS back this season, and tied the team record with five touchdowns in a
68-17
win. And he did it on only 13 carries, recording the best single-game yards-per-carry average (19.5) in team history by a wide margin (14.5 was next best). Gordon even put himself in the company of the great Glenn Davis, as he's tied with the Army star for the NCAA career yards-per-carry record (8.26). Although Gordon will face better defenses this season, he appears to be just fine for Big Ten play. "T
he unselfishness of Melvin Gordon ... has been incredible," Badgers coach Gary Andersen said. "I'm so proud of the way that he's handled it. Today was his day."
September, 20, 2014
Sep 20
11:20
PM ET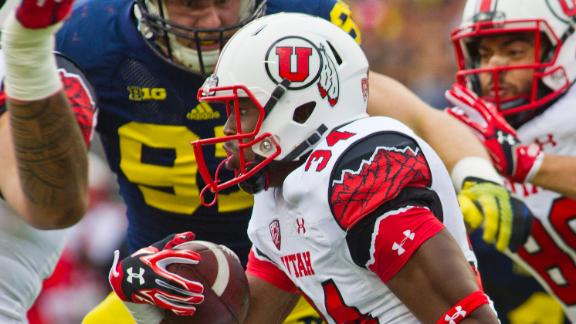 The announcement at the start of the fourth quarter thundered ominously, perhaps even forebodingly, from the public address system Saturday night at Michigan Stadium.
The detached voice informed a thinning crowd that severe storms were approaching Michigan's campus and were expected to reach the stadium within 20 minutes. The sheets of rain and lightning strikes arrived on schedule and delayed a painful day for the Wolverines an extra 144 minutes. The few hundred fans who returned to the Big House after the weather cleared witnessed the end of a
26-10
loss to visiting Utah (3-0) and, if things continue in this direction in Ann Arbor, perhaps the beginning of the end of something much larger and ominous.
Brady Hoke started his fourth season as head coach at Michigan on thin ice, and the first month of the 2014 season has done nothing to halt the melting. Hoke's team fell to 2-2, with a 31-0 shutout loss to rival Notre Dame and a sound defeat at the hands of the Utes filling the loss column.
It's not so much the record that created a feeling of woe following Saturday's game. The manner in which the day unfolded left a locker room disappointed and searching for answers.
"I'm concerned about everything that we're doing," Hoke said. "We need to play better. We need to make sure we execute better."
[+] Enlarge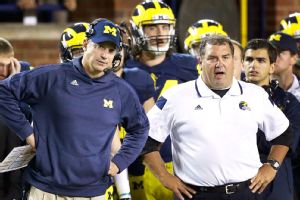 AP Photo/Carlos OsorioMichigan offensive coordinator Doug Nussmeier and head coach Brady Hoke are looking for ways to fix a turnover-prone offense.
The frustration of the Michigan coaching staff started to boil over before halftime, when the score was still 10-10 and Michigan's defense looked stout enough to keep the game close.
Cameras captured Hoke jawing with defensive coordinator Greg Mattison
following a sideline-infraction penalty late in the second quarter.
Hoke said their "discussion" was nothing out of the ordinary for the two coaches who have worked together on and off for the past 30 years. Michigan's players defended their coaching staff after the game and echoed Hoke's mantra that execution and "the little things" are what continue to trip them up.
"It comes down to execution, and we didn't execute," said senior middle linebacker
Jake Ryan
, who made a team-high 13 tackles. "We have the best coaches there are. I've got to give all the credit in the world to them."
Most of the flubbed execution for the Wolverines this season has come on the other side of the ball.
Michigan's offense didn't score after the first drive of the game Saturday. It hasn't run a play inside the red zone in either of its two losses this season. It ran one play inside the Utah 40-yard line in the final 49 minutes Saturday, and that was a pass intercepted by Utah's
Brian Blechen
.
That was the first of three interceptions thrown by Wolverines quarterbacks, which sunk the nation's worst turnover margin to a minus-10. Senior starter
Devin Gardner
(14-of-26 passing for 148 yards) was responsible for two of the interceptions, with the second one coming on his final play of the day with 13 minutes, 37 seconds remaining in the fourth quarter. Sophomore
Shane Morris
replaced him and threw an interception on his first drive. He also fumbled on the next drive after play resumed.
Hoke said it was too early to assess who his starting quarterback will be when the team starts Big Ten play next Saturday against Minnesota. Turnovers have been the biggest bugaboo thus far for Michigan, but the changes the Wolverines need, if Hoke is going to survive for a fifth season in Ann Arbor, are broader than one player.
"I don't think there has to be an overhaul. I think it's our execution, the little things that we need to do. And again, that starts here," Hoke said, pointing to himself.
What is certain is the Wolverines are in need of a change. Michigan has lost seven of its past 11 games and three of its past four against FBS competition at Michigan Stadium. The program has trended steadily backward since its overtime victory over Virginia Tech at the Sugar Bowl in Hoke's first season.
Michigan scheduled this home-and-home series with Utah the summer after that BCS victory. The fact that the Wolverines offered Utah $1 million to travel to Ann Arbor, the type of carrot big-time programs typically use to lure sacrificial lambs into their stadiums, speaks volumes about how much has changed since then. Hoke's team is 17-13 in the past three years.
"I don't know if I have all the answers," center
Jack Miller
said.
Doubt that anyone has the answers -- at least those outside the walls of Michigan's locker room -- must be creeping in.
Hoke hasn't lost control, or hope, yet. It's still September, after all. He reminded his players after the game of the 1998 Michigan team he helped coach to a share of the Big Ten title after it lost its first two games.
Michigan has eight games remaining against teams from the Big Ten, a league that did a lot to bolster its reputation Saturday after two rocky weeks in nonconference play. Even an imperfect run through conference play -- perhaps capped with a win over rival Ohio State -- could be enough to inspire optimism for the future.
Hoke can still salvage the job he called his dream destination before it ever opened to him, but he'll be fighting an uphill battle from here. Michigan has been sufficiently warned: The storm is coming.
Hoke's Future At Michigan In Jeopardy?