December, 18, 2014
Dec 18
2:00
PM ET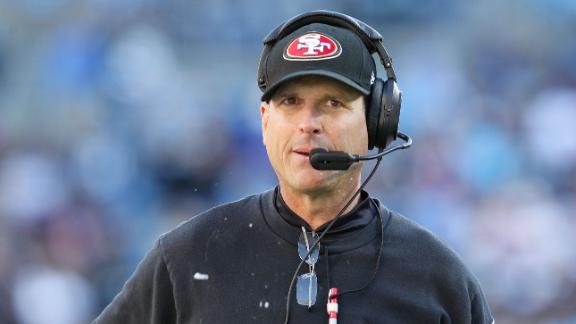 Michigan
reportedly offered its head coach position
to
San Francisco 49ers
coach Jim Harbaugh on Wednesday. That move perked up the ears of Michigan commitments and potential targets with the possibility of a big-name coach coming to Ann Arbor.
Coming off a losing season With six current commitments, Michigan is in an interesting situation, wanting to make a big splash with this hire. When former coach Brady Hoke was hired from San Diego State, some of the top national recruits had concerns about the coach because they didn't know much about him and didn't know if he could win at the highest level.
Both of those concerns would not be an issue with Harbaugh, as he is prominently known across the country and has proven to be a winner on all levels.
When 50 ESPN 300 Michigan commitments and targets
were polled by ESPN.com earlier this month
, 22 said they would like to see Michigan hire Harbaugh. If the Wolverines are able to reel in the coach, it could yield immediate results.
ESPN 300 tight end
Chris Clark
had been committed to Michigan since June 19, but decommitted on Dec. 2 to explore new options. Clark tweeted that he hopes Michigan does hire Harbaugh and said it would definitely help Michigan to get him back in the fold.
December, 18, 2014
Dec 18
8:00
AM ET
Live football has almost returned. Until it arrives again, take a few spins on the coaching carousel.
The Wisconsin Way:
Continuity should be back at Wisconsin, and the program made it clear that it won't be compromising anything it proudly stands for to keep it. By sticking inside the family on Wednesday and officially bringing Paul Chryst back home, the Badgers have somebody who knows exactly what the job entails and a coach who almost certainly won't be making a lateral move at any point in the future. Maybe the Badgers will start spending more money on assistants down the road, so there's some flexibility there in regards to an issue that turned off Bret Bielema. But in terms of knowing the kind of recruits it can expect to land and clearly laying out the academic requirements moving forward, not to mention bringing in an existing relationship with the university and the boss, Chryst couldn't be any better suited to provide stability for Wisconsin after a rough stretch of losing Bielema and then Gary Andersen after two short years.
Down to one:
Wisconsin moving quickly leaves only Michigan active on the job market, and while there's no telling when that search will end, it is effectively the only one that still has a chance of connecting on a true home-run hire. No offense to Chryst or new Nebraska coach Mike Riley, because those were smart, sensible hires that made perfect sense for each program -- but they certainly don't qualify as splashy or scream that championships are on the way. If Les Miles is definitively out of the picture, it really seems as though Jim Harbaugh is going to have to come through for the Wolverines once his commitments to San Francisco are over at the end of the NFL season. And it seems like Michigan is fully
committed to doing whatever it takes
to deliver him. Maybe there's another huge name secretly looming out there for Michigan, but if there was, wouldn't there have been some indication of that by now? The Big Ten is down to one job, and there really only seems to be one guy who should claim it.
Coordinator corner:
Just below those headline vacancies leading Big Ten programs, the chance to replace Tom Herman as Ohio State's quarterbacks coach and offensive coordinator will be up there as a highly-coveted position this offseason as the coaching carousel spins. The odds are strong that Ed Warinner will receive something of a promotion from his co-coordinator duties and take on more responsibility as a play-caller, though he was already somewhat active in that regard in his current role. Warinner not only deserves a raise for the incredible job he's done with the Ohio State offensive line, he has earned more credit than he currently receives for that work, which is perhaps why he hasn't landed an opportunity to lead his own program yet despite a couple interviews over the last two years. The Buckeyes are actually fortunate that they don't have to replace both Herman and Warinner simultaneously, but either way there will be no shortage of candidates lining up for the shot to potentially work with
J.T. Barrett
,
Cardale Jones
and
Braxton Miller
at quarterback.
East Division
West Division
December, 17, 2014
Dec 17
6:34
PM ET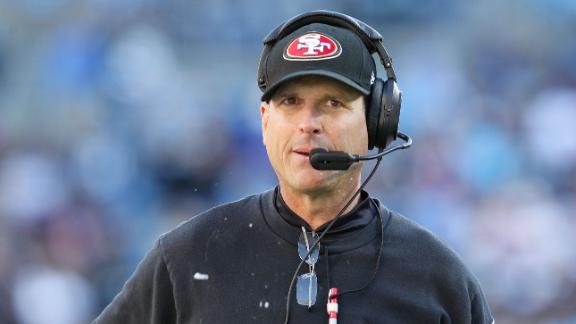 Multiple NFL and Michigan sources had said for weeks that 49ers head coach Jim Harbaugh was not expected to wind up at Michigan, but in recent days at least one person familiar with his thinking said he was at least "considering it."
According to multiple reports, Michigan has made a six-year, $49 million offer to Harbaugh. The offer was earlier reported by CBS5 in Arizona.
The annual average pay of $8.17 million would make Harbaugh the highest-paid college football coach, surpassing Alabama's Nick Saban by more than $1.21 million.
Another person close to the process said that while it was possible Harbaugh could wind up at Michigan, "it was not likely."
Asked why he was considering it now, but hadn't been previously, one person said now that the 49ers are out of the playoffs, it was possible for Harbaugh to at least consider the offer.
December, 17, 2014
Dec 17
3:30
PM ET
Every day this week, before the bowl season kicks off, our Big Ten panel of experts will be weighing in on different topics related to the regular season.
Our third question of the week: What was the Big Ten's biggest disappointment of the season?
Mitch Sherman:
Christmas came early for Big Ten detractors. No individual or team performance matched the league-wide flop of Week 2. You remember it as the day Ohio State lost 35-21 at home to Virginia Tech, Notre Dame pounded Michigan 31-0 and Oregon dominated the second half against Michigan State. Moreover, Nebraska barely avoided overtime against McNeese State. Iowa scored two late touchdowns to sneak past Ball State. Maryland, Minnesota, Rutgers and Illinois – all eventual bowl teams -- won close over South Florida, Middle Tennessee and Howard and Western Kentucky. Northwestern lost to Northern Illinois, and Central Michigan routed Purdue. Seriously, The nation laughed at the Big Ten all year because of that day. Want to know why league teams opened as underdogs in all 10 bowl games? Look to Sept. 6.
[+] Enlarge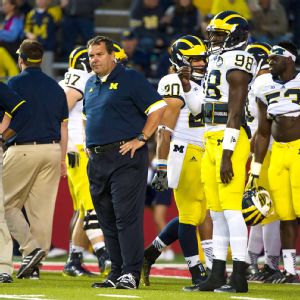 Cal Sport Media via AP ImagesMichigan's 5-7 season was tough to watch on several fronts.
Josh Moyer:
You can't talk about the biggest disappointment without mentioning Michigan's 2014 season – especially the first half of it. The Wolverines started just 2-4, with wins over Appalachian State and Miami (Ohio), while making school history with its poor play. First came a 31-0 loss to Notre Dame, which was the most lopsided loss to the Irish in the series' 127-year history. Then came a lightning-delayed loss to Utah, when the Big House emptied so much that one player called it the "Ute House." And then Brady Hoke's squad lost the Little Brown Jug to Minnesota, 30-14, in the Gophers' largest margin of victory in the series since 1977. Oh, and Michigan helped Rutgers get its first-ever Big Ten win, as longtime starting QB
Gary Nova
passed for a career-high 404 yards. It was a nightmare first half to the season.
Dan Murphy:
The Big Ten championship game. The state of Ohio might disagree, but this year's game in Indianapolis did not live up to its billing. This was supposed to be a showdown between one of the country's best offenses and one of its best defenses. One side of that equation never showed up in Ohio State's 59-0 win over Wisconsin. The lopsided score (and the Buckeyes defense) gave us no chance to marvel at
Melvin Gordon
. The Heisman Trophy runner-up ran for 76 yards, eliminating whatever small chance he had to win the award. I understand that without an Ohio State blowout, the Big Ten probably would have been the odd man out in this year's College Football Playoff. But from the standpoint of wanting a dramatic, competitive finale to the conference season, man, what a dud.
Adam Rittenberg:
I remember talking with MGoBlog's Brian Cook about Michigan in the summer, and Cook described Michigan's schedule as "low-variance," likely to produce eight or nine wins, but probably not 10 or seven. I completely agreed. No one envisioned 5-7 as being remotely possible for a team that, despite underachieving the year before, seemingly had improved depth and leadership. Brady Hoke really liked his team. Opposing coaches told me the talent absolutely was in place for a solid season. Then the bottom fell out against Notre Dame and Michigan never truly recovered. I really thought the offense could at least be respectable under new coordinator Doug Nussmeier, but it never got on track against solid competition. Northwestern and Iowa certainly belong in the biggest-disappointment conversation, but neither team has as much raw talent as Michigan. What a clunker.
Brian Bennett:
As disappointing as Michigan and Northwestern were, I never viewed either as a serious league title contender. Many picked Iowa to win the West Division because of its dream schedule. No Ohio State or Michigan State and both Wisconsin and Nebraska at home the final two weeks. Yet the Hawkeyes managed to go just 7-5, losing at home to a terrible Iowa State team, getting blown out at Minnesota and letting Maryland run all over them. This Iowa team never found a real identity and squandered what could have potentially been a special season. That should cause some re-evaluation this offseason in Iowa City.
Austin Ward:
The premature end of defensive end
Noah Spence
's college career. Ohio State obviously disagreed with the ruling against Spence, and perhaps it had a case that his failed drug test wasn't for a performance-enhancing substance. But either way, the junior did break the rules when he was suspended for a second time by the Big Ten, bringing a promising college career to a sad end. The league was robbed of a chance to watch his elite talent for another season, Ohio State's plans for unleashing a completely unstoppable defensive line at every position took a blow and, of course, Spence's own health was damaged. Hopefully there is a happy ending for him following his time away from the field, but it was certainly a wasted opportunity this season.
December, 17, 2014
Dec 17
11:27
AM ET
ANN ARBOR, Mich. -- The Michigan athletic department shed another tie to erstwhile director Dave Brandon on Wednesday with the resignation of chief marketing officer Hunter Lochmann.
A school spokesman said Lochmann left Michigan "to pursue other opportunities."
A week ago, Lochmann made controversial comments about the impact of individual student-athletes on the athletic department's marketability. He said the power of star players like former quarterback Denard Robinson was "fleeting" during a discussion about whether or not college athletes should be paid at the IMG Intercollegiate Athletics Forum.
"At Michigan, it's the block M that has the infinity and power, not Denard Robinson," Lochmann said, according to a story from SportsBusiness Daily. "Those are fleeting, four-year relationships, but it's the block M that's been there for over 150 years."
Lochmann was hired as the athletic department's first chief marketing officer in December 2010. His position was created less than a year into Brandon's five-year tenure as Michigan's athletic director. Brandon resigned under intense public scrutiny in late October.
Among the criticisms that led to public protests and digital petitions calling for Brandon's firing was a perception that the former Dominos Pizza CEO cared more about enhancing Michigan's athletic brand than what was best for fans, alumni or student-athletes.
The spokesman from Michigan did not say whether Brandon's departure or Lochmann's recent comments had any impact on the latter's decision this week to leave the university.
December, 17, 2014
Dec 17
8:00
AM ET
Good morning, sports fans. You've got one week to finish your Christmas shopping, and if you haven't started picking out Hannukah gifts yet you're already behind. Might we suggest some lovely morning links?
1. Today's the day when Wisconsin can make its reunion with Paul Chryst official. Chryst
told his players
at Pittsburgh that he planned to meet with the Badger brass. His move might leave room for another domino to fall among Big Ten coaches. The chain reaction that started with Bo Pelini's firing at Nebraska could wind up affecting Michigan State as well. Defensive coordinator Pat Narduzzi is one of many potential candidates that make sense for the opening at Pitt. Narduzzi
danced around questions
about his contact with other schools this week. Spartans head coach Mark Dantonio knows it's a matter of time before he loses the talented coordinator, and this might finally be the year.
2. At least Dantonio knows he won't be losing his quarterback this offseason. Redshirt junior
Connor Cook
said he would return for his final year of eligibility in 2015. Cook said
he has "unfinished business"
to attend to at the college level. The 6-foot-4 Cook won't have star receiver
Tony Lippett
to help him fill out his résumé next fall, but he could be helping his draft stock by sticking around. Heisman winners
Marcus Mariota
and
Jameis Winston
would likely have been selected before Cook in this year's draft.
Next year's class
is a little less daunting.
3. The Associated Press released its All-America teams Tuesday and 14 Big Ten players were mentioned on
the top three units
. Four players --
Melvin Gordon
,
Tevin Coleman
,
Brandon Scherff
and
Joey Bosa
-- made the first team. There are always tough calls and offended feelings when trying to narrow down a pool of thousands of players to the very best at each position, but the Big Ten shouldn't feel slighted by any of the picks this season. It would be a tough sell to say any others were undeservedly left off the list.
Now, on to the links…
East Division
West Division
December, 16, 2014
Dec 16
1:00
PM ET
Michigan is up next in our week-long project to review the 2014 season for each team in the Big Ten.
Overview:
Brady Hoke's final season as Michigan's head coach consisted of a long string of stubbed toes. A constant barrage of distractions away from the field cast a permanent cloud over this season's team. Things didn't get much brighter on the field. Turnovers, allowing too many and not taking enough, were the team's most consistent problem. They contributed to an offense that averaged 20.9 points and 333 yards per game. Only Penn State did worse in the Big Ten in those categories. Veteran quarterback
Devin Gardner
and star receiver
Devin Funchess
combined for three touchdowns in the first 26 minutes of the season, but only connected for one more score in the remaining 11 games. A well-stocked defense helped Michigan pull out a couple of close and dramatic wins against Penn State and Northwestern. The resulting 5-7 record meant the Wolverines would miss bowl season for the third time in the last seven seasons.
Offensive MVP:
Gardner battled through injuries and other elements outside his control during a disappointing final season at Michigan. He played poorly at times -- sophomore
Shane Morris
replaced him in the lineup briefly in late September -- and contributed to the turnover problems. Still, the fifth-year senior remained the obvious soul of the offense. The few times Michigan moved the ball well were a result of Gardner's good play. In a young, unproven group, Gardner's experience made him an important part of the offense.
Defensive MVP:
Senior linebacker
Jake Ryan
moved from outside to inside linebacker to bolster the Wolverines' strong front seven. The new position allowed him to use his speed and instinct to patrol the entire field. He led the team with 112 tackles, including 14 tackles for loss. Ryan, a deserving recipient of the team's MVP award voted on by his teammates, is a no-brainer selection for the defense's top player in 2014.
December, 16, 2014
Dec 16
10:00
AM ET
As Michigan's search for its next head coach reaches two weeks and counting, the end result remains a guessing game. Here we take a look at some of the names (in alphabetical order) most frequently mentioned during the search and lay out the arguments for why they will or won't end up in Ann Arbor.
Jim Harbaugh – San Francisco 49ers
The Case For:
Harbaugh remains the slam-dunk hire for Michigan. He transformed Stanford from a program that had not had a winning season in five years before he arrived to an Orange Bowl winner when he left for the NFL. Harbaugh's stay in San Francisco will likely come to an end this year, making it a good time for him to return to his alma mater.
The Case Against:
The ultra-competitive Harbaugh may not want to leave the NFL on a bad note. Many NFL insiders, including ESPN's Adam Schefter, previously said they expect Harbaugh will remain at the pro level. Michigan has been patient so far, but it would have to wait two more weeks for the 49ers to finish their season before trying to sign Harbaugh. That puts the Wolverines in a bad spot while trying to build a recruiting class that is down to only six committed prospects.
Les Miles – LSU Tigers
The Case For:
Miles has been mentioned as a candidate in each of Michigan's last three coaching searches. He played for the Wolverines during the same era as interim athletic director Jim Hackett. He's another native son who would excite fans because of a resume that includes two SEC titles and a national championship.
The Case Against:
Miles told LSU beat reporters Monday night that he didn't want to be quoted directly about the Michigan opening, but that
he wasn't considering leaving for Ann Arbor
. He said neither he nor his agent has talked to the Wolverines. If Miles were to reverse course it wouldn't be the first time a coach took a job after saying he wouldn't, but reports out of Baton Rouge are that he was adamant he wasn't considering it.
Jim Mora – UCLA Bruins
The Case For:
Mora's early success in recruiting has helped UCLA become a force in the Pac-12 South during his three seasons as a college head coach. He spent the first quarter century of his coaching career in the NFL before taking three years off and eventually landing with the Bruins. He's a strong second-tier option if Michigan can't land its top choice.
The Case Against:
Mora, a father of four, was happy enough keeping his family on the West Coast last year when he was reportedly offered a job at Texas. There's nothing to indicate he would be any more swayed to leave behind what he's building in Los Angeles to come to Michigan. His contract with UCLA extends through 2019 and
his assistants would be shocked
if he left now.
Dan Mullen – Mississippi State Bulldogs
The Case For:
Mullen became one of the coaching world's rising stars this season while leading Mississippi State to the No. 1 ranking and holding it until November. The former Urban Meyer assistant previously coached in the Midwest as a graduate assistant at Notre Dame and a quarterbacks coach at Bowling Green.
The Case Against:
Mississippi State is working this month to extend Mullen's contract in Starkville and keep him around. Athletic director Scott Stricklin said on Dec. 8 that he was optimistic that the two sides would reach a deal. Mullen told The Clarion Ledger
he had not been in contact with Michigan
as of Tuesday morning. He also said in October that he hopes to have
shoveled his last driveway
.
Sean Payton – New Orleans Saints
The Case For:
It was a surprise when Payton's name was one of many tossed out as possible candidates during the first two weeks of the search. He is a Midwest native who coached as an assistant in Big Ten for one season (Illinois) before moving to the NFL in 1997. He's had a lot of success in nine seasons with the Saints, including winning Super Bowl XLIV, but is in the middle of his first losing season since 2007.
The Case Against:
Payton's salary is reportedly in the $8 million range, which would be almost impossible to match on the college level, even for a school like Michigan. He has spent almost two decades in the NFL and told reporters he has
no plans to leave New Orleans
.
Greg Schiano – Free Agent
The Case For:
If Michigan is looking for a tough disciplinarian, Schiano fits that bill. He is largely responsible for building Rutgers' program from a laughingstock to a top-10 team in his decade there. He has spent the past year traveling the country to hone his coaching philosophy and
prepare for his next job
.
The Case Against:
Schiano struggled at his most recent job with the Tampa Bay Buccaneers, where players complained he was too much of a micromanager. His year away from the game makes him a harder sell to Michigan fans who are hoping for a big name to join the program.
Bob Stoops – Oklahoma Sooners
The Case For:
Stoops provides that big name after 15 seasons at Oklahoma. He has won 168 games, a national championship and multiple national coach of the year awards. The Sooners have grown stagnant in recent years, which leads some to believe that Stoops and Oklahoma would both be better off with a fresh start.
The Case Against:
Stoops has a good relationship with the university leadership at Oklahoma and one of the largest annual salaries in college football. The Youngstown, Ohio, native has no problem recruiting talented players to Norman and it's unclear if he would be interested in taking on a perceived fixer-upper like Michigan.
December, 16, 2014
Dec 16
9:21
AM ET
The very first thing Michigan's interim athletic director did after announcing he would start searching for the school's new football coach was to ask for patience.
In a silly season marked by expedient and unexpected hires, Michigan has been slow and deliberate in its search. Jim Hackett, now six weeks into his career as an athletic director, had specific timelines in mind the day he formally fired Brady Hoke. He knew enough to know he'd be surrounded by eager requests for a resolution and wanted to deliver a message right away: Sit tight. This could be a while.
"I ask for your patience in this search process," he said. "It's not fair for me to comment on potential candidates today or the institutions or organizations they currently may be employed by. I can't compromise the integrity of our search process by commenting prematurely, until we have that new coach ready to go."
That's a request Hackett should get used to issuing if he has plans to drop the interim tag from his title and stick around for a while. Fan bases aren't known for their equanimity, so there will be plenty of fingers hovering above the panic button in the near future. It will take at least a couple of years, not a couple of weeks, to solve the issues keeping Michigan from competing for championships on a regular basis.
The need to rush to find a coach doesn't exist for Michigan. The only notable jobs that remain open outside of Ann Arbor as of Tuesday morning are Colorado State and Wisconsin, expected to become Colorado State and Pittsburgh later this week if Paul Chryst returns to Madison to coach the Badgers. Neither of those programs is in line to poach someone high on Michigan's wish list.
Recruiting concerns shouldn't force Hackett into a decision either. Each passing day does give Michigan's next staff less time to rebuild a recruiting class that has only six current commits. On the other hand, much of that rehab is done in face-to-face meetings that build trust. Monday started a month-long dead period when coaches aren't allowed to travel to see recruits. No new coach will be able to sit in a prospect's living room until Jan. 14.
At some point before September, the Wolverines will hire their new coach. Then the real patience-testing waiting period begins. Michigan isn't likely to be in a position for instant gratification regardless of who it hires.
Fast turnarounds usually require an electric, game-changing player (i.e. Denard Robinson in 2011). In today's college football world, that player almost has to be at quarterback. The Wolverines have an improved offensive line and have many skill players returning, but their offense won't click until it finds a star at that position. That's not to say
Shane Morris
or another Wolverine can't eventually fill that role, but the available options all appear to be more than a few months of training away from getting there.
A solid defense and a game-managing offense isn't enough to compete in Michigan's division anymore. The program's next head coach will have annual battles with Urban Meyer and Mark Dantonio, two smart coaches with a big head start in creating teams that can control the game on both sides of the ball.
The time it will take to catch up puts Hackett and the Wolverines in a tight spot. After seven years with only one bowl win, Michigan can't afford another full trip through the life cycle of a coaching staff without some sustained success.
Starting with a new president and a new athletic director presents a rare opportunity for the program to do a complete reboot. The right head coach can help all three of them settle into appropriate roles and healthy relationships – something Michigan's last two coaches learned was an important ingredient to success. With so much riding on this decision, Michigan fans should have no problem being patient as Hackett takes all the time he needs.
December, 16, 2014
Dec 16
9:00
AM ET
We are almost in the home stretch on our way to signing day, so coaches are pushing it into overdrive to finish out their recruiting classes.
Here is a look at the latest news on the recruiting trail within the Big Ten.
To continue reading this article you must be an Insider
December, 16, 2014
Dec 16
8:00
AM ET
Good morning, Big Ten fans. Only four more days until college football résumés ...
1. Ohio State OC Tom Herman a good fit for Houston:
He's currently in
negotiations with Houston
to be its next head coach, according to The Associated Press. And, if the Cougars sign him in the end, they're getting a good one. He worked a lot of magic with Ohio State's quarterback situation, and Houston could use a little of that after sophomore
John O'Korn
took a step back and lost his job after a terrific freshman campaign. Herman would have two young quarterbacks to work with -- O'Korn and Greg Ward Jr. -- and he'd inherit a talented team that simply underperformed this season. Herman has proven enough; he's undoubtedly ready to move up the ranks. Ohio State fans should be sad to see him go but, at the age of 39, you knew he couldn't stay around forever. As the winner of the Broyles Award, which goes to the nation's top assistant, he was just too talented stay a coordinator much longer.
2. Indiana one of two leading schools for UAB running back:
In case you need to catch up here, UAB running back
Jordan Howard
is looking for a new home after his program folded. And he's quite the coveted sophomore, considering he's No. 7 nationally with 1,587 rushing yards.
As ESPN.com's Jeremy Crabtree reported
, Howard has Indiana and Notre Dame leading the way right now. He visited both schools, has no other visits planned and wants to decide where to transfer within about the next three weeks. In other words, it sure looks as if Howard is down to the Irish and the Hoosiers.
It's a bit of a surprise the Alabama native is looking to move up North, but it could work out well for Indiana.
Tevin Coleman
is expected to declare early for the NFL draft, and the Hoosiers are looking for a replacement. Playing time is something IU could offer, and it doesn't hurt that UAB wideout
Marqui Hawkins
already chose Indiana. Plus, as Howard told me
a little over a week ago
, he has some family in the Fort Wayne, Indina, area. If IU can reel him in, he would instantly become one of the most intriguing Big Ten running backs of the 2015 season. He's definitely a player you should be keeping an eye on.
3. $12 million worth of football building renovations at Penn State
: OK, so $12 million isn't nearly as much of a head-turner as
Maryland's $155 million facility
. But we're talking about strictly football here, and $8 million is dedicated to just "branding and graphic upgrades." As
StateCollege.com reported
, one of the plans is to integrate video, sound and lighting to "create a 'Wow' factor in all areas of the building." Among the renovations? An "experience room," which is supposed to immerse recruits into a digital, first-person view of game day. Digital locker room name plates are among the suggested concepts, as this renovation is trying to take PSU more into the 21st century. The funds aren't as much as other B1G schools' recent renovations, but PSU doesn't need to alter as much, either. The facilities are already pretty good.
East Division
West Division
December, 15, 2014
Dec 15
9:24
PM ET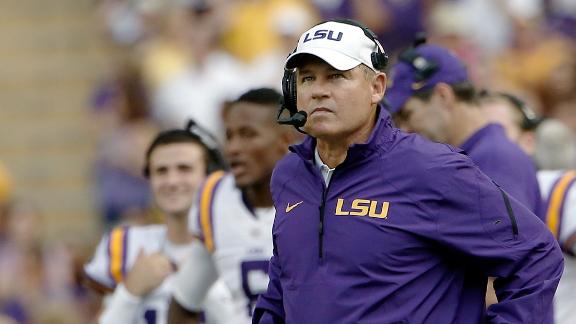 BATON ROUGE, La. -- Les Miles will not be the next coach at Michigan. So says Les Miles.
After LSU's Monday evening bowl practice, the Tigers' coach addressed persistent rumors that he will return to his alma mater, where he played under Bo Schembechler and spent a decade as an assistant coach.
Miles refused to be quoted on the record in the post-practice chat with reporters, but he sent a clear message: A return to Ann Arbor is not going to happen. He and his agent, George Bass, have not heard from Michigan, Miles said, and he would not change jobs even if Michigan made contact.
Miles also has told LSU athletic officials that he has not been contacted by Michigan and that he has no intention of leaving the Tigers, LSU spokesman Michael Bonnette said.
Miles is nearing the end of his 10th season at LSU, where he has won two SEC titles and one Bowl Championship Series crown. Miles-to-Michigan rumors have emerged in the past -- most notably late in the 2007 season, when he famously addressed reports on the subject prior to the SEC championship game -- but he has remained at LSU each time the Wolverines have had a coaching vacancy.
Since Michigan fired Brady Hoke on Dec. 2, Miles has shot down questions about a return to the Wolverines, but never as emphatically as he did Monday. After unofficially addressing the Michigan job opening, Miles went on to discuss several subjects related to his current job, including injuries, underclassmen who might become early entries in the 2015 NFL draft and the Tigers' upcoming bowl matchup with Notre Dame.
Information from The Associated Press was used in this report.
December, 15, 2014
Dec 15
10:00
AM ET
The Big Ten doesn't put out an all-freshman team. But we do. Here are our picks for the top first-year players in the league in 2014:
Offense
QB: J.T. Barrett, Ohio State:
Well, duh.
RB: Justin Jackson, Northwestern:
In the year of the running back in the Big Ten, Jackson somewhat quietly produced 1,187 yards and 10 touchdowns as a true freshman.
RB: Curtis Samuel, Ohio State:
He added to the Buckeyes' ridiculous array of skill players, running for 386 yards and six scores. Looks like a future star.
WR: Mike Dudek, Illinois:
In another season, one in which a guy like Barrett doesn't put up mind-boggling stats, Dudek would have been the freshman of the year in the league. He should surpass 1,000 yards receiving in the Fighting Illini's bowl game.
WR: DaeSean Hamilton, Penn State:
Though the Nittany Lions' offense struggled, Hamilton caught more passes (75) than any other Big Ten player and finished with 848 yards in the regular season.
WR/RB: Jalin Marshall, Ohio State:
A versatile, speedy weapon who could come out of the backfield or fly into it, Marshall scored seven touchdowns on offense and one on punt returns. He's also the team's backup quarterback right now.
OL: Mason Cole, Michigan:
The first Wolverine ever to start the opener at left tackle as a true freshman, Cole stayed there all season and showed a lot of promise with his excellent footwork and instincts.
OL: Brian Allen, Michigan State:
The true freshman and brother of All-Big Ten center
Jack Allen
appeared in all 12 games, with one start at left guard.
OL: Billy Price, Ohio State:
The redshirt freshman has started all 13 games as a guard for the Buckeyes.
OL: Andrew Nelson, Penn State:
The Nittany Lions had their issues on the offensive line, but Nelson started every game at tackle -- including twice at left tackle -- and has a bright future.
OL: Christian DiLauro, Illinois:
He filled in as the starting right tackle in the second half of the season for the Illini and helped them rally their way to a bowl game.
Defense
DL: Kemoko Turay, Rutgers:
After a torrid start, the pass rushing specialist finished with 7.5 sacks. He also blocked a field goal against Michigan to preserve that victory.
DL: Malik McDowell, Michigan State:
The blue-chip recruit whose signing day saga made headlines showed his talent by playing in all 12 games and recording 3.5 tackles for loss.
DL: Steven Richardson, Minnesota:
Thrust into a starting role after the first week because of injuries, the true freshman more than held his own by finishing with 5.5 tackles for loss and two sacks.
LB: Darron Lee, Ohio State
: After taking a medical redshirt last year, Lee emerged as one of the Buckeyes' top defensive playmakers, recording 66 tackles, 13.5 tackles for loss, two interceptions and a pair of fumble recoveries, one of which he scored on.
LB: Ja'Whan Bentley, Purdue:
The Boilermakers' linebacker position has been a problem for the past few years, but Bentley is part of the solution. He was Purdue's second-leading tackler on the season with 76 stops, adding an interception and three fumble recoveries.
LB: Anthony Walker, Northwestern:
In his first start against Penn State, Walker returned an interception 49 yards for a touchdown. He also had a pick in the win at Notre Dame and led the Wildcats with nine tackles for loss.
LB: Raekwon McMillan, Ohio State:
Playing mostly in a reserve role, McMillan had an immediate impact on the Buckeyes. The former stud recruit recorded 50 tackles, 2.5 sacks and an interception.
DB: Eli Apple, Ohio State:
It's scary how many star freshmen the Buckeyes have. Apple is another, as he had 41 tackles, including 5.5 for loss, and a pair of interceptions.
DB:
Montae Nicholson, Michigan State:
The true freshman played in every game and had three starts in the Spartans' "No Fly Zone." He had 30 tackles and a pair of fumble recoveries.
DB: Godwin Igwebuike, Northwestern:
He made waves in the Wildcats' upset win over Wisconsin by grabbing three interceptions. He started five times at safety and finished with 51 tackles.
DB: Marcus Allen, Penn State:
He started Penn State's final six games at safety after
Ryan Keiser
got hurt, and the Nittany Lions' defense didn't miss a beat. He was third on the team in tackles with 52.
Specialists
K: Rafael Gaglianone, Wisconsin
: The effusive Brazilian with the strong leg went 17-for-20 on field goals, including 2-of-3 from beyond 50 yards.
P: Daniel Pasquariello, Penn State:
His 37.7-yards per punt average was nothing to write home about -- except the Australian probably does write home a lot. He improved down the stretch to solidify the Nittany Lions' punt team.
Returner: De'Mornay Pierson-El, Nebraska:
He was third in the FBS in punt-return average (17.8) and scored three touchdowns, including a memorable one in the comeback win at Iowa.
Why Would Jim Harbaugh Take Michigan Job?
BIG TEN SCOREBOARD
Saturday, 12/20
Monday, 12/22
Tuesday, 12/23
Wednesday, 12/24
Friday, 12/26
Saturday, 12/27
Monday, 12/29
Tuesday, 12/30
Wednesday, 12/31
Thursday, 1/1
Friday, 1/2
Saturday, 1/3
Sunday, 1/4
Monday, 1/12