March, 5, 2015
Mar 5
2:50
PM ET
By
Brett Edgerton
| ESPN.com
Jim Harbaugh's much-ballyhooed return to Twitter since becoming Michigan's head coach has not disappointed. Of all the quirky and enthusiastic tweets so far, though, his latest two might be our favorites.
It started Tuesday, when Harbaugh gave public congrats to a woman he has admired for years.
Big Congrats to Judge Judy on signing her contract extension thru 2020 from a Devout Fan!

— Coach Harbaugh (@CoachJim4UM) March 3, 2015
That's right -- Judge Judy, the TV judge who has built a financial empire (she reportedly makes about $47 million a year) since her reality courtroom show began in 1996. Judith Sheindlin has many fans, but perhaps none bigger than Harbaugh, who
waxed poetic about the judge
during the 2013 NFL combine.
"Trust is big to me. I'm a big fan of the Judge Judy show. When you lie in Judge Judy's courtroom, it's over. Your credibility is completely lost and you stand no chance of winning that case. I learned that from her. It's very powerful. And true. If somebody lies to you, how can you trust anything they say after that?"
He said this with a straight face and was absolutely sincere. How do we know this? He went to see it for himself,
attending one of the Judge Judy's tapings with his father
back in the summer of 2013.
Jim Harbaugh and his dad once sat in the audience of a Judge Judy taping. He's just too much. pic.twitter.com/kSLWOW1m6o

— Paul Myerberg (@PaulMyerberg) March 3, 2015
So you can imagine how thrilled Harbaugh was when he heard back from Judge Judy this week. How thrilled? We'll let him tell you.
Thank you so much for the kind wishes @CoachJim4UM, best of luck this year at Michigan!

— Judge Judy (@JudgeJudy) March 5, 2015
A shout out from @JudgeJudy would make anyone's day, thank you! The BEST! & Excellence are easy to spot, Judge Judy is it's highest level.

— Coach Harbaugh (@CoachJim4UM) March 5, 2015
March, 5, 2015
Mar 5
10:00
AM ET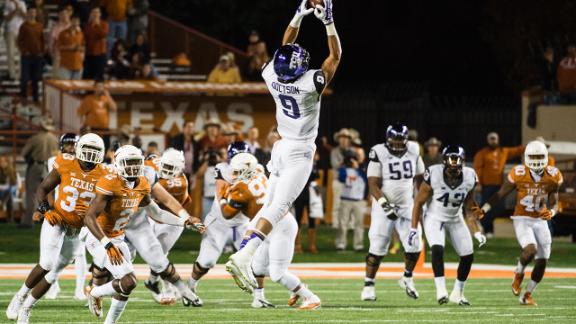 Junior days are underway, and the spring evaluation period is quickly approaching. While a number of programs are off to a fast start and in need of keeping impressive commitments in the fold, there also are programs in need of creating momentum and battling archrivals on the trail this spring and headed into the summer.
Here is a look at 10 programs that need a big spring, for various reasons (listed alphabetically):
Florida
The Gators saved the 2015 class in the days leading up to national signing day creating some momentum heading into the spring and summer. The time to capitalize is now for Jim McElwain and staff, and Florida simply must continue to gain steam with archrival Florida State swinging a big recruiting stick in state, and Miami on a run headed into the spring evaluation period. Florida currently has three verbals, all outside the ESPN Junior 300.
March, 5, 2015
Mar 5
9:00
AM ET
It's the middle of another cold, snowy, football-less week in Big Ten country. We'll do our best to put a smile on your face anyway with today's edition of the morning links.
1. College football fans have come up with countless ways to process the agony of a tough season. Iowa fans have been more creative than most, going so far as to develop their own mythical deity to explain their misfortune. They've raised the bar again.
Two frustrated Hawkeyes,
one of whom happens to tour with REO Speedwagon
now and then, vented this week about a 7-6 record through the magic of Broadway musicals. They discovered that Kirt Ferentz's healthy salary worked out to be $571,400 per win in 2014, which lends itself nicely to a familiar classic born in the mid-1990s. Be warned:
This version
is even more likely to be stuck in your head than the original.
Of all the ways to express anger over young men playing a game below a fanbase's standards -- from poisoning trees to horrible social media mentions and death threats, this has to be among the most enjoyable. Kudos to @actioncookbook and @TimStop24 for a job well done.
And in other soon-to-be viral and entertaining Internet news this week, it appears Michigan coach Jim Harbaugh has struck up a Twitter friendship with daytime television's Judge Judy. Harbaugh, a self-described devoted fan, congratulated her honor on signing a contract extension earlier this week. On Wednesday, Judge Judy responded.
Thank you so much for the kind wishes @CoachJim4UM, best of luck this year at Michigan!

— Judge Judy (@JudgeJudy) March 5, 2015
2. One of the ugliest scenes of the most recent bowl season may end up
helping Mike Riley get off to a good start at Nebraska
.
The Cornhuskers open the 2015 season by hosting BYU, a team that ended its appearance in the Miami Bowl in
a sucker-punch brawl
with Memphis. The game, a back-and-forth thriller, quickly deteriorated after BYU failed to score in its second possession of overtime. Cougars coach Bronco Mendenhall promised his players that were involved would be disciplined, and it looks like that could come in the week leading up to this year' season opener.
The details of what type of punishment Mendenhall has in mind
for roughly 10 of his players isn't clear
. They may miss game time or preparation time in the week leading up to the game. It's a necessary move by BYU, and an unexpected benefit for Nebraska, who will likely still be working out some kinks under its new coaching staff in early September.
3. USA Today published its Big Ten spring preview Wednesday, which started with a nod to the team that everybody in the conference will be chasing for the foreseeable future. Urban Meyer was expected to change Ohio State for the better when he arrived three-plus years ago. But it wasn't clear then how much of an impact,
as the article points out
, he would have on the entire conference. The Big Ten's momentum from a 6-5 bowl record is spilling into the spring. The conference heavyweights have all done their best to keep pace with the Buckeyes. The quality of the league is on the rise, and as much as any fan outside of Ohio will hate to admit it, a lot of credit is due to Meyer and his staff for that change.
Now, onto the links...
March, 4, 2015
Mar 4
11:15
AM ET
Redshirting is not a popular term among the nation's top football prospects, but a quick look at the recent Heisman Trophy winners shows the importance of that extra year of development. The list below may not include the next Jameis Winston or Johnny Manziel, but we feel these players, once prominent recruits in the 2014 class, are in position to make big debuts in the 2015 college football season.
1. Marlon Humphrey (Alabama) -- A youth movement is going to be underway on the perimeter for Alabama this fall and while 2014 classmate Tony Brown saw some time last year, Humphrey will be joining the fray in 2015. Humphrey fits the physical dimensions coach Nick Saban wants at corner. The former five-star is big, can run and is savvy when it comes to playing different schemes.
To continue reading this article you must be an Insider
March, 4, 2015
Mar 4
10:00
AM ET
The opening of spring practice around the Big Ten brings competition to each of the league's 14 programs. Departing top players and the maturation of others lead to fights for practice reps that will help shape depth charts and summer conversation topics.
At Ohio State, the nation's most prominent position battle looks set to be waged at quarterback upon the return from injury of
Braxton Miller
and
J.T. Barrett
. This spring, the spotlight belongs to
Cardale Jones
.
So which position battles require close attention over the next few weeks?
Michigan quarterbacks:
It's wide-open, with junior
Shane Morris
, redshirt freshman
Wilton Speight
and true freshman
Alex Malzone
auditioning for Jim Harbaugh and coordinator Tim Drevno. Speight owns a size advantage. Morris has played in parts of the past two seasons, but was ineffective in place of
Devin Gardner
. The spring serves only as an appetizer in this race, which figures to extend to August, when freshman
Zach Gentry
joins the fun.
Minnesota running backs:
David Cobb
meant so much to the Gophers over the past two seasons as they rolled to 16 wins. Minnesota likely can't replace his production with one back, though redshirt freshman
Jeff Jones
-- a homegrown, elite recruit from the Class of 2013 -- looks physically equipped to give it a shot. Senior
Rodrick Williams Jr
. (who showed flashes late in the year), sophomore
Berkley Edwards
and redshirt freshman
Rodney Smith
will likely also factor in the battle for the top job.
[+] Enlarge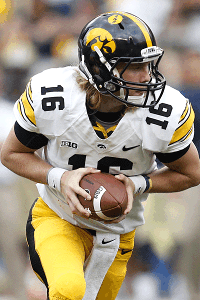 Charles LeClaire/USA TODAY SportsJunior C.J. Beathard is in a battle with senior Jake Rudock to quarterback the Hawkeyes.
Iowa quarterbacks:
Junior
C.J. Beathard
dodged rumors of a transfer in December and senior
Jake Rudock
did the same recently. Both remain in Iowa City, ready to resume the battle that ended in a bowl defeat against Tennessee with Beathard in charge of the offense. Soon after, the Hawkeyes placed him atop the depth chart. But any edge over Rudock, a 25-game starter over the past two seasons, is small and could disappear quickly this spring.
Ohio State cornerbacks:
Opposite
Eli Apple
, the Buckeyes must replace
Doran Grant
. It's no easy task, considering Grant's value to the Ohio State defense during its national title run. But sophomores
Gareon Conley
and
Damon Webb
look up to the task. Conley played considerably more last season after a redshirt year that followed his arrival in Columbus as the No. 1 prospect in Ohio in 2013. Webb, the top prospect out of Michigan a year later, figures to make a jump after limited action last year.
Penn State offensive tackles:
The urgency here outweighs the options, and the Nittany Lions have plenty of candidates to replace
Donovan Smith
, gone early to the NFL.
Andrew Nelson
started as a freshman at right tackle and may take over on the left side. Opposite Nelson, the race is on, with redshirt freshmen
Noah Beh
,
Brendan Brosnan
,
Chance Sorrell
and
Chasz Wright
set to enter the mix. Newcomer
Paris Palmer
, a junior, may be the man to beat, though. True freshman
Sterling Jenkins
joined the program in January.
Purdue quarterbacks:
Juniors
Austin Appleby
and
Danny Etling
bring considerable starting experience into the spring. Redshirt freshman
David Blough
, who came to Purdue with credentials equally as impressive as the other two, has yet to take a collegiate snap. But for the Boilermakers, who've won just one Big Ten game behind the elder quarterbacks over the past two seasons, it's all hands on deck.
Nebraska I-backs:
This is a legitimate four-man race to replace three-time 1,000-yard rusher
Ameer Abdullah
. Senior
Imani Cross
has the size and experience, with 22 career touchdowns. Junior
Terrell Newby
is a quicker option with skills perhaps well suited to Mike Riley's offense. Sophomore
Adam Taylor
offers an impressive mix of power and speed but missed last season with a knee injury. Redshirt freshman
Mikale Wilbon
showed promise last year in scout-team duty.
Michigan safeties:
The Wolverines have a lot back at safety, including surefire starter
Jarrod Wilson
. But competition for the other spot may grow fierce between the likes of senior
Jeremy Clark
and juniors
Delano Hill
and
Dymonte Thomas
. Most intriguing,
Jabrill Peppers
, after injuries shortened his much-hyped true freshman season, has taken spring snaps at safety. Michigan coaches continue to audition defensive backs, so it may take much of the spring to sort out who is vying for specific spots.
Rutgers running backs:
If healthy, rising senior
Paul James
has earned the top spot. But James needed knee surgery last fall and has battled other injuries. He's out this spring, leaving a glut of young backs to fight for time. Sophomore
Robert Martin
finished last season on a strong note, but not as well as classmate
Josh Hicks
, who gashed North Carolina for 202 yards in the Quick Lane Bowl. Juniors
Justin Goodwin
and
Desmon Peoples
, who led the Scarlet Knights in rushing last season, add flavor to this competition.
Northwestern quarterbacks:
Senior
Zack Oliver
is the man with the most experience as the Wildcats prepare to replace
Trevor Siemian
. But Oliver's late-season turnover trouble helped open this race up for sophomore
Matt Alviti
and redshirt freshman
Clayton Thorson
. Each of the three brings a different set of skills, so a decision would help simplify matters as the season nears.
March, 4, 2015
Mar 4
9:00
AM ET
Cost-of-attendance stipends were one of the first major reforms Power 5 conferences pushed through the NCAA as a result of autonomy. Pretty much everybody agreed that closing the gap between what a scholarship pays for and the actual cost of going to a university -- including things like living expenses -- was a smart way to give some assistance to players.
But like so many other issues in college sports, those stipends may also carry unintended consequences. Because the amount each school offers can be very different, some people are afraid it will become a recruiting incentive.
PennLive.com's David Jones
covered this situation well
on Tuesday. Based on current cost-of-attendance data, as determined by university financial aid departments, Penn State will offer the highest cost-of-attendance stipend in the Big Ten when it goes into effect next school year, at $4,788 per year per athlete. The next highest would be Wisconsin at $4,265.
Compare that to Michigan State, which would offer $1,872 per year, or Michigan at $2,054. OK, you might say, that's only a difference of about $2,000 or $3,000, so why would a recruit choose a school based on that? But add that figure up over the four or five years of a player's career, and you're talking about a difference of maybe $15,000. That's not exactly peanuts.
Some coaches are worried about how this is all going to play out.
"To me, it's going to get into being like free agency in college," Maryland coach Randy Edsall told me on signing day. "What we've heard is that some schools might have a cost of attendance of up to $6,000. Now, will kids opt to go where they can get more money? Have we opened up a can of worms, where now it becomes, 'How much money can I get at this school, compared to the other one?'"
The stipends haven't gone into effect yet and are still so new that it's hard to say for sure what will happen. But Penn State's James Franklin, who looks for every edge he can find in recruiting, has said he would use cost of attendance as a selling point.
"I know people were already selling that this year," Edsall said. "It's going to be bigger as we move forward."
The disparity in the stipend amounts isn't going to change, because those numbers are based on individual schools' tuition costs and other factors. Power 5 conference leaders have always known that the figures would vary from program to program.
But were they actually ready for this measure -- however well-intentioned -- to become a recruiting tool? We'll probably find out the first time a team loses a player who chose to go with a rival because of its higher stipend. Just another reminder that almost every change in college sports leads to another issue.
Around the league ...
March, 3, 2015
Mar 3
6:49
PM ET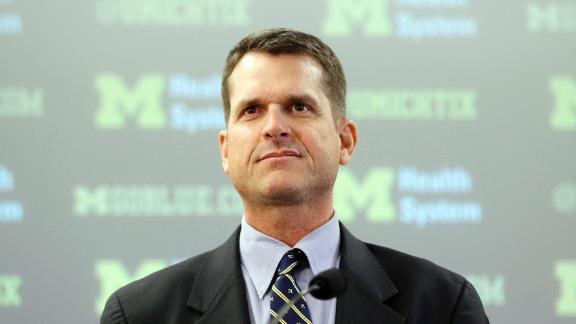 Jim Harbaugh's heroics at Michigan apparently stretch beyond the football field.
Harbaugh and one of the football program's support staffers stopped to help a pair of women who had been in a car crash on the interstate Tuesday afternoon.
A university spokesman confirmed that the Wolverines' head coach and football operations director Jim Minick provided first aid and offered their coats to the women as they waited for law enforcement to arrive shortly before 3 p.m.
The police report said the car flipped multiple times while rolling over the median on I-94 before coming to a stop in a snow embankment. No other vehicles were involved in the crash. The 53-year-old driver was partially ejected from the car through the driver's side window. She and her 73-year-old passenger were both wearing seat belts and had "non-life-threatening injuries." They were transported to a local hospital via ambulance.
Harbaugh and Minick were on their way to the airport when they saw the car and stopped to help. Michigan started its spring practice Feb. 23 but will not practice this week during the university's spring break.
March, 3, 2015
Mar 3
3:37
PM ET
A telltale sign of spring practice is a depth chart filled with ORs.
Coaches preach year-round competition, but it's a theme that resonates strongest during the 15 practices each spring. It's the first chapter of a team's story, and position battles often form subplots for the coming season.
Not every position will be settled by the end of the spring. Some of the nation's most intriguing spots, like the quarterback positions for national champion Ohio State and runner-up Oregon, likely won't be decided until preseason camp because of lingering injuries (Braxton Miller, J.T. Barrett) or impending arrivals (Vernon Adams). But the spring provides clues about which players can take the OR away and cement themselves into key roles.
As teams continue to begin spring ball, here are 12 position competitions to track around the country (in alphabetical order). Not surprisingly, the list is quarterback heavy but features a few other spots of intrigue.
March, 3, 2015
Mar 3
3:00
PM ET
Naples High has enjoyed tremendous success under head coach Bill Kramer. With two state titles and numerous deep playoff runs, the Southwest Florida 6A power has become a must stop for college coaches having produced a number of national recruited prospects over the past decade.
In the 2016 class, there are a trio of prospects who rank among the best in the area, state and country.
Fils-aime hot on the trail despite injury in 2014
Headed into the 2014 season, ESPNJr300 running back
Carlin Fils-aime
was a name known to college coaches, and had a handful of offers. After injuring his ankle in Game 4 caused him to miss the rest of the season, the quick and powerful back was unsure what would come of his recruitment.
That question was answered in February with offers from Ohio State, Alabama, Auburn, and Florida.
"After I got injured, I didn't really expect to get any more offers," Said Fils-aime. "When those schools offered me I was pretty shocked because of my injury."
The Gators are one of several schools the 5-foot-10, 175-pounder plans to visit in the coming weeks.
"For now, we are trying to go up to Florida during spring break, but if not will get up there in the summer. We also want to visit Georgia, North Carolina, N.C. State if we can this summer. I'll probably fly up to Ohio State, too. I was just at Miami, and had a great time. I was impressed with how they rotated their backs in practice, and the basketball game against North Carolina was fun."
If there is one program yet to offer that could be a game-changer in the physical back's recruitment, it would be Stanford.
"I'm a big Stanford fan. I have always liked them because they have a great law program, and if football doesn't work out for me, I want to go into law. That is one of the schools that I do love."
Naples High head coach Bill Kramer has had some really good backs through the years, including former Ohio State star Carlos Hyde. In Fils-aime, Kramer has a talented athlete who brings a lunch-pail mentality.
"I love his competitive DNA," Said Kramer. "He works in the classroom, and is already qualified. He's a guy that you can count on, and it matters to him every day. Our defensive players say hitting him is like hitting a light pole. He's can make plays in really small spaces, understands leverage, and is really explosive."
Byrd one of the nation's best
The Miami Hurricanes' 2016 class is the best in the nation in the early going. One of the 10 ESPNJr 300 verbals is former Florida pledge
Tyler Byrd
. The 5-foot-11, 195-pound versatile prospect is blessed with rare talent according to Kramer.
"I think he's a Top 50 wide receiver and Top 10 corner. He's really strong physically, he's almost 6-feet even, you are not going to outleap him, and if he gets his hands on you, you are negated. He'll do something about every day that is just spectacular."
Though Byrd is solid with his commitment to the Hurricanes due to the love that Al Golden and staff showed throughout the entire process, programs such as Florida, Georgia, Michigan, and others remain under consideration. On Monday, Byrd said he planned to make all five of his official visits.
Riley the best on defense at Naples High
While Fils-aime and Byrd are names known both regionally and nationally on the recruiting radar, Naples High is home to one of the top sleepers in the Sunshine State in safety
Chris Riley
.
According to Kramer, the 6-foot-3, 180-pound talented all-around athlete is the team's best defensive player, which is saying something considering Byrd is on that same unit.
"Our best defensive player, and that's saying something because we have some really good players. He was Southwest Florida Defensive Player of the Year for good reason. He has tremendous length, he's physical, knows all of his run fits, and is a great tackler. We can't count how many one-on-one tackles he's made in space against really good players. He can also cover man, is terrific in zone, and understands how it all works and fits together."
Riley is receiving interest from North Carolina, Boston College, and a growing list of others.
"I've heard from North Carolina, Boston College, Purdue, Georgia Tech, Harvard and Yale," Said Riley. "North Carolina and Boston College are two I really want [offers]."
Riley had 103 tackles and two interceptions as a junior, taking home area Defensive Player of the Year honors, as well as being an all-area punter. Riley's father, Chris Riley, played quarterback at Connecticut.
Defensive tackle Colton Strickland and kicker Jerry Nunez are also expected to receive offers in the 2016 class.
March, 3, 2015
Mar 3
10:00
AM ET
Spring practice is prove-it time for certain players, especially those previously underperforming, redshirted or injured. While established Big Ten stars like Michigan State quarterback
Connor Cook
and Ohio State defensive end
Joey Bosa
merely need to get their work in, others must impress every time they step on the practice field.
Which Big Ten players have the most at stake during spring ball?
[+] Enlarge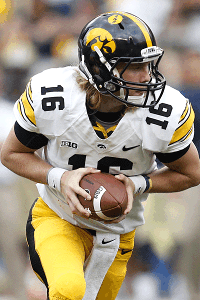 Charles LeClaire/USA TODAY SportsIowa QB C.J. Beathard has spring ball to bounce back from a somewhat mediocre 2014 season.
Iowa QB C.J. Beathard:
Hawkeyes fans love the long hair, the strong arm and perhaps just the idea of Beathard as a departure from the norm in Iowa City. But Beathard has to make the coaches swoon too, and he will get the chance as the team's No. 1 quarterback, at least on the depth chart, entering spring ball. Beathard's improvement starts with greater accuracy, as he completed just 56.5 percent of his passes last season.
Michigan RB Derrick Green:
A heralded 2013 recruit, Green struggled with his weight as a freshman and showed some promise early last season before sustaining a broken clavicle. Jim Harbaugh's power-based offense seems ideal for Green's size and skill set, but the rising junior must assert himself this spring. Green isn't the only power back competing for the starting spot as
De'Veon Smith
and USC transfer
Ty Isaac
also are in the mix.
Maryland WR Levern Jacobs:
After a productive 2013 season (47 receptions, 640 yards), Jacobs was set to start for Maryland before being suspended for the season for his role in a July altercation. Jacobs was
found not guilty of assault in December
and could emerge as Maryland's top receiving option as the team must replace standouts
Stefon Diggs
and
Deon Long
, who combined for 113 receptions and 1,367 yards last fall.
Rutgers QB Chris Laviano:
Laviano served as
Gary Nova
's backup last season, but there's no guarantee he will be the Scarlet Knights' starter in 2015. He must beat out talented LSU transfer
Hayden Rettig
this spring. Laviano's experience must boost him as Rettig seemingly has all the tools to guide an offense returning standout receiver
Leonte Carroo
.
Ohio State LB Raekwon McMillan:
The jewel of Ohio State's 2014 recruiting class stepped into the fire last season and had respectable results (54 tackles, 6.5 tackles for loss, one interception). He now must take on a bigger role as Ohio State has a hole to fill at middle linebacker and undoubtedly sees McMillan, a freakish athlete, as the future.
Michigan DB Jabrill Peppers:
Peppers is
flipping out with excitement
about spring ball after a much-anticipated freshman season that didn't go according to plan. The No. 2 player in the 2014 recruiting class missed most of last fall with injuries but has the skills to bolster Michigan's secondary, if he proves himself to a new defensive staff led by coordinator D.J. Durkin. Peppers will take reps at safety and cornerback this spring.
Minnesota's redshirt freshman WRs:
A passing offense ranked 119th nationally last season is preventing Minnesota from taking the next step, and the Gophers lose dynamic tight end
Maxx Williams
to the NFL draft. Receiver depth should be the team's top priority, and four redshirt freshmen --
Desmond Gant
,
Isaiah Gentry
,
Melvin Holland Jr.
and
Jerry Gibson
-- take on bigger roles this spring. All four have good size, and hopes are especially high for Gentry.
Penn State OT Andrew Nelson:
Some will put quarterback
Christian Hackenberg
on the prove-it list, but the junior showed in 2013 what he can do with a capable offensive line blocking for him. Big Ten coaches were adamant Hackenberg's struggles last season primarily stemmed from the issues up front. He will need better protection from players like Nelson, who started every game as a redshirt freshman last season and could move from right tackle to the left side.
Wisconsin QB Joel Stave:
He is 21-7 as the Badgers' starting quarterback but comes off of a season where he completed a career-low 53.4 percent of his passes and threw more interceptions (10) than touchdowns (9). Perhaps the return of coach Paul Chryst is just what Stave needs to cement himself as the starter and finish his career strong. If not, challengers are waiting.
Nebraska WR Jamal Turner:
Nebraska upgraded its passing game late in Bo Pelini's tenure and could take another step under Mike Riley, who produced plenty of standout wideouts at Oregon State. Turner has been unlucky on the injury front but still brings unique skills to a receiver corps looking for someone to complement
Jordan Westerkamp
and fill the void left by
Kenny Bell
. It's now or never for Turner, who arrived at Nebraska with so much hype.
March, 3, 2015
Mar 3
9:00
AM ET
Minnesota opens spring practice Tuesday without a quarterback problem.
Mitch Leidner
, though far from prolific, brings 16 games of starting experience, a level of efficiency and style of play to the position that fits the Gophers well.
The same cannot be said of at least five teams in the Big Ten this spring.
Ohio State -- clearly not on any quarterback-deprived list -- and Michigan made
this rundown
by Ben Kercheval of Bleacher Report on the top QB battles of spring. It includes predicted post-spring leaders at the position.
Michigan practice is already underway, though on break this week.
Maryland and Nebraska get started before the end of the week in addition to Minnesota. The Terrapins, while likely set with
Caleb Rowe
, who's expected back from knee surgery in plenty of time for fall camp, are splitting time between
Shane Cockerille
and
Perry Hills
in the spring.
Let's take a look at the best Big Ten spring QB battles, sans Ohio State, where it won't get all that interesting until closer to summer:
Michigan candidates:
Shane Morris
(junior next season),
Wilton Speight
(redshirt freshman) and Alex Malzone (true freshman)
Predicted post-spring leader:
Morris, simply because of his experience. But this race will extend into the spring, when true freshman Zach Gentry joins the mix. And don't go to sleep on a summer surprise.
Iowa candidates:
Jake Rudock
(senior),
C.J. Beathard
(junior)
Predicted post-spring leader:
Beathard. He'll get the benefit of the doubt this spring -- treatment to which Rudock has grown accustomed over the past two years -- after the Hawkeyes placed the junior atop the depth chart in January.
Rutgers candidates:
Chris Laviano
(sophomore),
Hayden Rettig
(sophomore),
Giovanni Rescigno
(redshirt freshman)
Predicted post-spring leader:
Rettig. He's got an upside that the other two can't match, and with a season to acclimate after his transfer from LSU, look for Rettig to emerge this spring as one of the league's top newcomers.
Northwestern candidates:
Zack Oliver
(senior),
Matt Alviti
(sophomore),
Clayton Thorson
(redshirt freshman)
Predicted post-spring leader:
Oliver, who's tall and strong and maybe a bit underappreciated this spring because of his turnover-prone play to finish last season. He'll enjoy a nice spring, but the battle will continue in August, and don't count out Thorson.
Purdue candidates:
Austin Appleby
(junior),
Danny Etling
(junior),
David Blough
(redshirt freshman)
Predicted post-spring leader:
Appleby, in perhaps the league's toughest spring call. He faded in November, and both competitors will apply pressure in the spring. But Appleby will draw strength from his best moments of 2014.
Around the rest of the league:
Bold Predictions For Spring Recruiting
BIG TEN SCOREBOARD
Thursday, 9/3
Friday, 9/4
Saturday, 9/5
Sunday, 9/6
Monday, 9/7