October, 30, 2014
Oct 30
9:00
AM ET
By
ESPN.com staff
| ESPN.com
After a weird week in which everyone agreed on their selections, things are back to normal and our experts are fighting among themselves.
Why Indiana will win:
This season Michigan's offense is averaging 1.16 touchdowns per game against Power 5 conference competition. Hoosiers RB
Tevin Coleman
is averaging 1.25 touchdowns per game against Power 5 competition. Big plays from Coleman and IU receiver
Shane Wynn
will be the difference. The Wolverines' run defense has been strong this year, but not against marquee running backs.
David Cobb
ran for 183 yards in Minnesota's win at the Big House, and
Jeremy Langford
finished with 177 last week. Coleman will do the same, and Michigan's offense doesn't have enough horsepower to keep up. ... Indiana 27, Michigan 23
-- Dan Murphy
Why Michigan will win:
Just when you thought it couldn't get any worse for the Wolverines, this week happened, with the controversies surrounding
Joe Bolden
's spearing of the Spartan Stadium turf and Dave Brandon's alleged angry email exchanges with fans. Yes, it got worse. Michigan has been dodging disasters for nearly two months now. At some point, it's got to get better in Ann Arbor, right? This is the week, as Indiana brings its downtrodden defense to the Big House, for
Devin Gardner
and the U-M offense to get healthy, even if temporarily. What about Tevin Coleman and the Hoosiers' offense? Yeah, that's a concern, but the Wolverines have been strong against the rush, allowing 3.1 yards per carry to rank second in the Big Ten. ... Michigan 34, Indiana 24
-- Mitch Sherman
Why Maryland will win:
Penn State is primed for a letdown game after an emotionally exhausting overtime loss at home. The Terps didn't inspire much confidence last week in their loss to Wisconsin, but they've been hot and cold all season. Maryland's run defense has been miserable (110th nationally), which should make for a good matchup with Penn State's woeful offensive line. The Nittany Lions' defense should keep this a low-scoring game. Expect a lot of action for the field goal kickers, and Maryland's
Brad Craddock
is the best in the Big Ten in that department. ... Maryland 19, Penn State 17
-- Dan Murphy
Why Penn State will win:
Penn State will have to bounce back from an emotional overtime loss to Ohio State, but the Nittany Lions' defense proved it was one of the league's very best vs. the Buckeyes. Meanwhile, schizophrenic Maryland nearly got shut out at Wisconsin. The Terps won't have any easier time moving the ball in Beaver Stadium, and
Christian Hackenberg
will do just enough for Penn State to improve to 36-1-1 all-time in this "rivalry." ... Penn State 17, Maryland 14
-- Brian Bennett
Why Iowa will win:
Let's take a three-point look at Northwestern's offense: QB
Trevor Siemian
has been so inconsistent this season that he's ranked behind both Devin Gardner and
Tanner McEvoy
in passing efficiency. Northwestern RB
Justin Jackson
is good, but the Wildcats have managed to average more than four yards a carry in only one game. And only 19 offenses in the nation are averaging fewer points per game (20.9). Add that all together, and you get a struggling offense that Iowa should take advantage of. The Hawkeyes aren't a one-dimensional offense, so this shouldn't be a repeat of the Wisconsin game. It should be close, but the Hawkeyes win in the end. ... Iowa 24, Northwestern 20
-- Josh Moyer
Why Northwestern will win:
Iowa and Northwestern both have had disappointing seasons to date. Both come off of bye weeks and both look to finish strong. The vibe around Iowa is more concerning. Other than the Indiana game, when has Iowa actually looked good? Northwestern at least has solid wins against Penn State and Wisconsin. The Wildcats have a better defense and should be able to run against Iowa with Justin Jackson. Iowa has more offensive firepower, but can the Hawkeyes deliver in a critical game? These are typically close contests, and Northwestern comes out on top this time. ... Northwestern 23, Iowa 21
-- Adam Rittenberg

Unanimous selections
Ohio State 49, Illinois 21:
If the Buckeyes can grab a comfortable edge, look for Urban Meyer to rest
J.T. Barrett
, nursing a knee sprain, in advance of the season-defining trip next week to Michigan State. Though the Illini are riding high after an upset victory over Minnesota, Ohio State and its defensive front pose a new kind of challenge.
Wisconsin 45, Rutgers 14:
With or without
Gary Nova
, the Scarlet Knights are feeling the effects of trips over the past two weeks to Ohio State and Nebraska. And Rutgers is getting the Badgers at a bad time, right as Wisconsin finds itself offensively behind rejuvenated QB
Joel Stave
and the relentless
Melvin Gordon
.
Nebraska 52, Purdue 28:
Lots of points in Lincoln, but look for the Huskers to control this from the start. Purdue has made huge strides offensively behind
Austin Appleby
, but its defense still lacks the playmakers to slow
Ameer Abdullah
. Another big day, too, for
Kenny Bell
, set to break Johnny Rodgers' career receiving-yardage record at Nebraska.
Our records:
1. Mitch Sherman: 66-14 (.825)
2. Brian Bennett: 64-16 (.800)
3. Austin Ward: 63-17 (.786)
4. Adam Rittenberg: 62-18 (.775)
5. Josh Moyer: 60-20 (.750)
6. Dan Murphy: 32-11 (.744)
October, 30, 2014
Oct 30
8:00
AM ET
A wild November is two days away. Buckle up.
1. Conversation starter:
The College Football Playoff rankings are going to change, that much is certain. But as a starting point, the first-ever edition is pretty useful for gauging where the Big Ten sits and what it must do hitting the homestretch over the final month of the regular season. The heavy lifting mostly applies to Nebraska and Ohio State, and the spots those programs hold at Nos. 15 and 16 might have revealed more about the thinking of the selection committee than just about anything else on Tuesday. For starters, at this point, it's hard to argue that the Huskers didn't deserve the higher ranking since their lone loss was at Michigan State and they own a reasonably attractive win over Miami. The loss to Virginia Tech is currently weighing down the Buckeyes, and despite how hard-fought the victory was at Penn State against its stout defense, there isn't much else on the resume right now worth getting too excited over for the committee. But it's important to keep in mind that even with all those teams standing between Nebraska and Ohio State and a playoff berth, there is a lot of football left to play -- and if either of them can win out, it still seems likely that a one-loss Big Ten champ is going to climb enough rungs to get into the field. Only one of those teams can do it since they would face off in the conference title game, but the Big Ten as a league remains very much alive in the race for the national crown.
2. Bucking up:
J.T. Barrett
isn't completely healthy yet on his sprained knee, but the Ohio State quarterback made it clear after practice on Wednesday that he was on track to play on Saturday night against Illinois. Considering what's looming for the Buckeyes on Nov. 8 at Michigan State, though, it might be best for Urban Meyer to get him out of the game as early as possible to make sure he's in one piece for such a critical matchup with both the Big Ten and national-title implications. Like any week, nothing can be taken for granted, and Illinois has put together some decent game plans on defense and is coming off an upset win over Minnesota. But if the Illini do live up to their billing as the worst total defense in the league in the Horseshoe this weekend, Meyer would be wise not to leave Barrett on the field into the fourth quarter behind backup offensive linemen in an effort to get him extra reps like he did two weeks ago against Rutgers. The stakes are too high, and Michigan State is more than capable of beating the Buckeyes again even if they're at full strength.
3. Under-the-radar matchup:
Basically from here on out, the West will have a matchup every week that could serve as an elimination game for the division title. The undercard for a heavyweight November starts with Northwestern visiting Iowa, which isn't exactly a showdown between leading contenders but will nevertheless leave one team in the race and essentially knock the other out. The Hawkeyes have had an extra week to address the issues that popped up in a loss at Maryland that cut down on their margin for error in the rough-and-tumble West. Playing at home will also be an advantage for Kirk Ferentz and his club. Northwestern has been something of a wildcard, though, and it already has gone on the road and come home with a surprising victory after taking apart Penn State in late September. The Wildcats do have two losses in the league already, and they don't have much going for them in a theoretical tiebreaker should they win out. But they're not all that different than the Hawkeyes at this point -- and the loser on Saturday will effectively be out of the race.
East Division
West Division
October, 29, 2014
Oct 29
8:00
AM ET
Welcome to a new age of college football. The year is now 1 CFPE. The College Football Playoff Era began last night with the first release of the selection committee's Top 25 rankings.
1. The Big Ten
landed three teams in the initial poll
, which is about as good as the league could have expected. The No. 8 Spartans lead the way. Nebraska coming in at No. 15, one spot ahead of Ohio State, was the biggest surprise for Big Ten teams. As entertaining as it was to see the first rankings unveiled, next week's will be far more interesting. Then we'll find out if the committee will let its previous rankings affect the new version -- one of the biggest faults of the AP and Coaches' polls -- or if it will more liberally move teams up and down based on how they look at the moment. Either way it's safe to assume there will be just as much consternation and complaining about snubs as in the BCFPE.
2. Speaking of snubs, somehow Penn State's
Mike Hull
was somehow left off of the list of 15 semifinalists for this year's Butkus Award for the country's top linebacker. Northwestern coach Pat Fitzgerald, who has a vote for the final winner, said
he will make Hull a write-in candidate
. Fitzgerald said the semifinalist lists, which he was on as a player in the mid-90s, are just a popularity contest.
Hull did get noticed
by the Bednarik Award folks this week. They added him to the watch list for their top defender award.
3. No snubs this week, however, were more headshaking than the ones Michigan athletic director Dave Brandon dished out to Wolverines fans via e-mail during the past year.
A report on mgoblog.com
Tuesday revealed a collection of snarky and condescending e-mails that the beleaguered athletic director has sent to fans. It's baffling that a man described as a master of public relations when he took the job at Michigan in 2010 could be so tone deaf when talking to his customers. Brandon called the blog report "
nonsense
" when asked about it leaving an award ceremony Tuesday night, but the messages can't sit well with the university president currently mulling over Brandon's future at Michigan.
East Division
West Division
October, 28, 2014
Oct 28
7:00
PM ET
In Dave Brandon's ongoing battle to save his job at Michigan, Tuesday was not a good day for the beleaguered athletic director.
A Michigan spokesman said the school had "nothing else to add" to a
report from mgoblog.com
that the highly-paid administrator sent caustic and condescending emails to fans who wrote to him with their concerns about the athletic department. The website reviewed email exchanges between Brandon and several different fans in which he allegedly told one to "quit drinking and go to bed" and another to "find a new team to support."
[+] Enlarge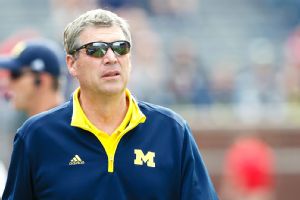 Rick Osentoski/USA TODAY SportsA report on mgoblog.com says emails from Michigan athletic director Dave Brandon told Michigan fans, among other things, to "find a new team to support."
The report, posted Tuesday morning, acknowledges there is no way to completely verify the messages were sent by Brandon himself, but goes to great lengths to eliminate any possibility of a hoax.
Brandon did not respond to messages from ESPN.com asking to confirm or deny the report. The university has yet to respond to ESPN's request to review messages sent from Brandon's official university email account through the Freedom of Information Act.
Both the report and the silence that followed from Brandon's office Tuesday is yet another public relations disaster for a man who was pitched as a whiz in that field when he left his job as Dominos Pizza CEO to become Michigan's athletic director. Those issues have been compounded by a struggling football program and a consistently shrinking profit margin that leaves Brandon's future in jeopardy.
The fifth-year athletic director and former Michigan football player has alienated students, alumni and fans in a variety of ways during his tenure. Former players say he ignored requests to set up a place where they could congregate during home games.
Students were upset when Brandon reworked the seating arrangements for football games without consulting them and raised season ticket prices for students to the highest in the Big Ten -- an issue he recently attempted to fix by dramatically dropping the price and promising to be more connected to the student body. Despite the change,
the Michigan Daily reported
that students still plan to distribute 2,000 "#FireDaveBrandon" T-shirts for Saturday's homecoming game against Indiana.
His detractors started online petitions and
organized rallies to demand the university remove him from office
earlier this autumn. Their main gripe in early October stemmed from Michigan quarterback
Shane Morris
playing in a game when he displayed concussion symptoms and the athletic department's butchered response to the incident.
The university's president and its governing board said they would conduct
a "deliberate" review
of the department at their October meeting. One regent, Mark Bernstein, said afterward that the reservoir of good will for Michigan athletics had run dry because of the department's recent mistakes.
"It's like a spark in a very, very dry forest," Bernstein said.
The flint and steel returned this week with the report by mgoblog.com.
Michigan's biggest athletic donor,
Miami Dolphins
owner Stephen Ross, offered his support to Brandon in October. On Monday, Ross told the Wall Street Journal that he wouldn't stand in the way of any decision Michigan decides to make with the athletic director.
There's no word on if or when Michigan's president will make a decision on Brandon's future, but the timing of a potential change is quickly becoming an issue. With a 3-5 record this season, the Wolverines football team may be looking to hire a new head coach in December if Brady Hoke can't orchestrate a turnaround on the field. Attempting to fill a head coaching job and an athletic director's seat in a short time window is a difficult task.
The Michigan spokesman did not comment on what effect Tuesday's news might have on Brandon's future. He said there was nothing else to add.
October, 28, 2014
Oct 28
10:00
AM ET
October, 28, 2014
Oct 28
10:00
AM ET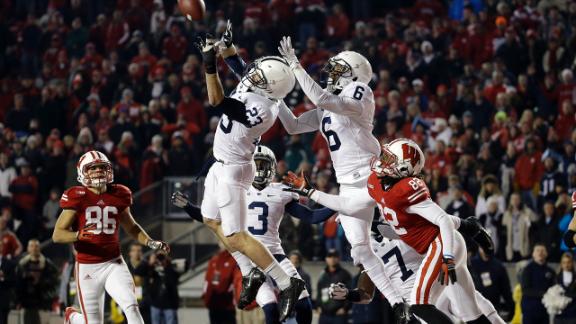 It was an interesting weekend in the Big Ten with commitments, decommitments, offers and overtime thrillers. Here is a look at all that happened on the recruiting trail within the conference.
To continue reading this article you must be an Insider
October, 28, 2014
Oct 28
8:30
AM ET
Welcome to terrific Tuesday. Or terrible Tuesday. All depends on your perspective.
The College Football Playoff selection committee began deliberations on Monday in Grapevine, Texas. Tonight at 7:30 p.m. ET, Arkansas Athletic Director Jeff Long will unveil to a most curious audience the first-ever CFP rankings.
It's a historic time -- and surely chaotic.
Marc Tracy of the New York Times, in
assessing the moment
, writes that "historians will most likely date the end of the era of good feelings to 7:31."
With that in mind, some advice for fans from the Big Ten to the SEC:
To continue reading this article you must be an Insider
October, 28, 2014
Oct 28
8:00
AM ET
You know the drill: Coffee first. Notes and observations here second. And links at the bottom third.
1. Iowa transfer?:
It appears as if freshman wideout Derrick Willies might have played his last game for the Hawkeyes. He posted a
cryptic message
on his Instagram Monday night that read, "It's been real Iowa, things are just moving on to a different chapter in the story..." A Hawkeyes spokesman
told the Des Moines Register
that any roster updates would be addressed by coach Kirk Ferentz on Tuesday. Willies was not listed on the team's Monday depth chart.
2. Hoke domino effect:
Brady Hoke says
no one's talked to him
about his job status, and that kind of uncertainty is not what you want to hear when it comes to recruiting. As a result, ESPN 300 DB Garrett Taylor
decommitted from the Wolverines
on Monday. And U-M will be lucky if he's the last recruit to decommit. Oft-given advice is for a player to commit to a school, not a coach, but it rarely seems to work out that way. Michigan is down to nine commitments right now.
3. No Nova?:
Rutgers senior QB Gary Nova is listed as "questionable" for Saturday's game against Wisconsin, which means redshirt freshman Chris Laviano could be in line for his first career start. Laviano could push Nova for time, regardless, as he outplayed Nova in the Nebraska game and even led his team with 54 rushing yards. But I'm more in line with the
thinking of NJ.com's Dan Duggan
: If Nova is medically cleared, he should play. A one-game sample size isn't enough to vault Laviano over Nova, who's been pretty good this year. Nova still gives the Scarlet Knights their best chance to win.
East Division
West Division
October, 27, 2014
Oct 27
7:48
PM ET
The Bottom 10 inspirational thought of the week:
I'm tired.

Tired of playing the game.

Ain't it a freaking shame?

I'm so ...

Let's face it ... everything below the waist is kaput!
-- Lili Von Shtupp, "Blazing Saddles"
Halloween is here. October is sliding into the rearview mirror. The eye black is smeared. The trainers' tables are full. The cold tubs are packed. So are the hot tubs. Spirits are no longer high. They are broken. Outlooks are no longer optimistic. They are realistic. And with each passing weekend hour, another "Not eligible for postseason" asterisk pops up alongside yet another university name.
There's an old coaches' saying: They remember what you do in November. That's never been truer than now, as the College Football Playoff committee meets behind closed doors in a swanky Dallas-Fort Worth Metroplex hotel to determine the top 25 teams in the game.
But that's not how we roll in the Bottom 10. Our selection committee meets in a brick carport behind the Dream Lodge Motel outside Mesquite. Our meals aren't catered. We eat off the Whataburger kids menu. And instead of being fed an endless digital supply of up-to-the-second statistics from the Power 5, we have one of those old ticker tape machines from a shuttered newspaper, rat-a-tatting out data from the MAC East, Sun Belt and the AACACCACAA.
Is it glamorous? No. But is it necessary? Well, actually, no. But we do it anyway. No matter how tired we might be.
With apologies to Steve Harvey and the honorable Gov. William J. Lepetomane, here's this week's Bottom 10. Somebody's gotta go back and get a crapload of dimes.
1. SMU (0-7)
October, 27, 2014
Oct 27
5:00
PM ET
You've got questions. We've got stuff written below your questions. It's time for a Monday evening mailbag. Where should we begin?
@DanMurphyESPN @ESPN_BigTen Delaney going to do anything about officials? It's embarrassing!

— Jeff Minemier (@jeffjmin) October 27, 2014
.
Dan Murphy:
In Saturday night's unexpected nail-biter between Ohio State and Penn State referees appeared to blow two calls that potentially could have changed the outcome of the game. In one instance replay equipment broke down preventing the officials from properly reviewing an interception call that should have been overturned. In another, Ohio State kicked a field goal three seconds after the play clock expired. The Big Ten admitted Monday that its crew made mistakes.
I'm usually a staunch supporters of referees having one of the toughest jobs in sports and doing a remarkable job of making the right call almost all of the time. These two misses were inexcusable though, and could have cost Penn State its biggest win of the season. There's no reason why in 2014, when anybody inside Beaver Stadium with a smartphone had access to replays, those mistakes should go uncorrected on the field. If the rules prohibited the referees from finding a way to change their initial ruling, then those rules should be changed.
---
DJ from Minneapolis writes:
Saturday was another "here we go again" moment for Minnesota and their fans. Why can't this program ever get over the hump? Is .500 the best MN can ever aspire to and isn't it likely the Gophers will lose out with the rest of the schedule?
Dan Murphy:
The Gophers will probably be underdogs for all four games they play in November, but it wouldn't be a shock if they steal at least one victory. A bad loss to Illinois doesn't make them a bad team all of a sudden.
The margin for error is always going to be thinner at a program like Minnesota that doesn't have the resources, tradition, or location to bring in steady waves of talent. That doesn't mean the Gophers aren't capable of making it to a Big Ten title game or even winning it in an isolated year when a few bounces roll their way. It doesn't look like that will happen this season, but it shouldn't take away from the terrific job coach Jerry Kill has done finding a formula for success. Speaking of Kill ...
---
Adam from Los Angeles writes:
With Brady Hoke being on the hot seat would Michigan ever consider a bold in-conference play and target Jerry Kill as a head coaching candidate? I know Kill has health challenges, and is probably loyal to Minnesota but could you imagine what he and his staff could do with Michigan's resources? A solid program builder at every level, does a lot with very little.
Dan Murphy:
Building programs with limited resources doesn't necessarily translate to winning at a place like Michigan, where the ingredients for success are more plentiful. A coach who is well-versed in doing more with less doesn't always become a coach who knows how to do more with more. The past two coaches at Michigan -- Hoke and Rich Rodriguez -- have failed more because of their inability to control the off-the-field issues in a high-pressure job than their lack of coaching acumen.
Running a big-time program like Michigan requires a coach that can be as much of a politician as he is a tactician. That's not to say Kill isn't capable of handling those responsibilities, but there are others who have more experience in that field that are probably higher on the wish list if Michigan does decide to make a coaching change.
@DanMurphyESPN What causes more chaos tomorrow: a playoff committee ranking that's way off from polls, or a pick that's aligned to polls?

— wmstrom (@wmstrom) October 27, 2014
.
Dan Murphy:
I guess that all depends on what part of the country you are from and where you went to school. There is bound to be a faction of fans somewhere that is upset. I wouldn't expect the selection committee's rankings to look the same as the AP poll. There will undoubtedly be some differences with so many one-loss teams with different strengths and weaknesses. The important thing to remember is none of it matters now. Everything changes on a weekly basis in college football. The one guarantee I can make is that this week's rankings will certainly be different than the final group that is decided in December.
---
Buckeye fan from Boston writes:
In comparing the 2013 Week 9 BCS rankings and the Week 16 BCS rankings, six teams ranked in Week 9 ended up unranked in the Week 16 rankings ... six unranked teams ended up ranked, including Michigan State, which went from unranked to No. 4 during that time period. If this holds true, which top 10 team do you think is most likely to end up unranked, and which unranked team do you think has a shot of being in the top ten?
Dan Murphy:
Michigan State's biggest jump a year ago didn't come until after winning the Big Ten championship. It's hard to imagine any team currently outside the polls finishing in the top 10 without winning a league title. With that in mind, two programs who have a path to get there -- albeit a difficult one -- are Wisconsin and Louisville.
The Badgers(5-2) still control their own fate in the West Division. The biggest game left on the schedule is Nebraska at home. If they can win out and somehow upset the East Division winner in Indianapolis, Wisconsin would be a top 10 team. That, of course, would probably require them to find a passing game. Louisville (6-2) has games against Florida State and Notre Dame remaining on the schedule. Two quality wins and a trip to the ACC title game would be enough to catapult them high in the rankings.
The big droppers are harder to predict. I'd imagine that at least someone in the SEC has to fall victim to the week-to-week difficult competition. No. 7 Ole Miss and No. 9 Georgia are candidates there.
Thanks for the questions, everyone. Looking forward to hearing from you again soon.
October, 27, 2014
Oct 27
4:15
PM ET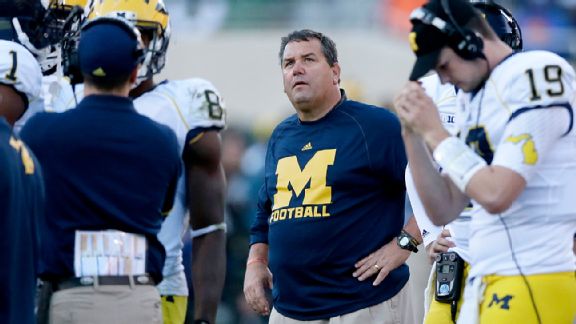 AP Photo/Carlos OsorioMichigan dropped their fifth game of the season in a loss to rival Michigan State.
Add one more Mich-stake to the list for Brady Hoke's tenure with the Wolverines.
A familiar pattern of bravado followed by butt-kicking followed by bumbling explanations unfolded this weekend on Michigan's trip to East Lansing. Michigan linebacker Joe Bolden drove a tent stake into Michigan State's turf shortly before the Spartans commenced a 35-11 beatdown of their rivals, their sixth win in the seven years since Michigan's Michael Hart called them "little brother."
Hoke said he wasn't fully aware of what happened after the game Saturday night. He apologized on Sunday, and on Monday said the whole thing was "overblown" and he didn't think it was another example of the disrespect that Mark Dantonio and the Spartans have complained about since Hart's comments.
"[It] had nothing to do with Michigan State. It had to do with a commitment for our football team," Hoke said. "No one feels worse than Joe. That wasn't the intent."
If that's true, then add one more tone deaf communication failure to the year of mismanaged messages for Michigan. The program and its head coach seem hopelessly tangled up in trying to figure out how to act like "Michigan Men" in unfamiliar territory.
This time, though, Hoke shouldn't be the only one to take the blame for the egg left on Michigan's face. He did, of course, because that's what head coaches are wont to do. But the current state of the mitten state rivalry, summed up neatly by Saturday's events, isn't Hoke's doing. It's another symptom of a problem that existed before he arrived and won't be weeded out simply by hiring someone new to take his place.
Hoke isn't absolved of all sins here. He hasn't done much to stem the sense of entitlement most of the college football world sees when it looks at Michigan these days. He has been borderline delusional when asked about where his program stands at different points this season. His status as a Michigan Man -- the holier than thou title that no longer carries the connotation that Bo Schembechler intended ­-- was a big reason why he was hired in the first place.
While Hoke didn't create the problems, his fault lies in failing to fix them, or even trying to fix them.
Michigan State's players say they have always felt the upturned noses in Ann Arbor. It started for them while they were being recruited in high school, before Hoke's staff arrived. Senior linebacker Taiwan Jones, a native Michigander, said the message sunk in further during his first game against the Wolverines in 2011.
"You come out at warm-ups and you hear them talking. You can feel the arrogance," he said.
Given the recent evidence -- driving a stake into Michigan State's turf and staring down the opposing sideline as a 17-point underdog -- it's hard to argue with Jones' assessment.
It wasn't a tent stake that put Dantonio in a vindictive mood Saturday night. It was the long string of perceived slights that outdate both him and Hoke between the two schools. When asked Monday if he sees any signs of that disrespect, Hoke simply said: "No."
Hoke can't fix a problem that he doesn't think exists. No one else at Michigan seems aware of an entitlement issue either, or at least no one is willing to say so publicly. Former Wolverines coach Rich Rodriguez had the audacity to suggest some changes might be in order, and he was escorted out of town after three year short years.
For a team that consistently recruits blue-chip talent and then gets bullied by the players they passed on, isn't it worth considering that Dantonio might have a point? To turn a blind ear to a suggestion from the Rose Bowl champs seems like just another example of the arrogance that got Michigan State so riled up in the first place.
None of Hoke's bosses have talked to him about his future at Michigan yet this year, but all signs point to a change in the near future. If that happens, the man who takes his place will have to wage war against the heavy weight of Michigan's tradition. Unless the institution around him is willing to change, it's hard to believe anyone will have success in that fight.
October, 27, 2014
Oct 27
3:57
PM ET
ANN ARBOR, Mich. -- Michigan linebacker Desmond Morgan will sit out the remainder of the 2014 season with a hand injury and will be redshirted, coach Brady Hoke said Monday.
Morgan made six tackles in Michigan's season-opening win over Appalachian State, but he has not played since. Hoke said Morgan had a "hand problem" and the linebacker was seen wearing a sling on the sideline at Michigan home games earlier in the season. Hoke does not talk about specific injuries to players and doesn't address their status at all unless they are done for the season.
Hoke said the decision to redshirt Morgan was partially because his hand was taking a long time to heal, and partially to preserve a year of eligibility.
"A little bit of both," he said. "It's two-thirds of the season done."
Morgan, a senior this year, is expected to return for a fifth year in 2015. He started 30 games and made 223 tackles during his first three seasons at Michigan. He finished third on the team with 79 stops last season.
Recruiting Pitfall At Florida, Michigan