October, 24, 2014
Oct 24
9:30
AM ET
Here are five things I learned in college football this week:
1. Last season, we all wondered how in the world Stanford was good enough to defeat six ranked opponents during the regular season, but couldn't beat Utah on the road.
The Utes, who finished 5-7 in 2013, upset the Cardinal 27-21 in Salt Lake City, an ugly loss that might have prevented Stanford from being selected for a four-team playoff if it had been around a year earlier.
After watching Virginia Tech lose to Miami 30-6 at home Thursday night, the Hokies' stunning 35-21 upset of then-No. 8 Ohio State on the road Sept. 6 looks like the biggest head-scratching result of 2014.
Since upsetting the Buckeyes, the Hokies have dropped four of their past six games and have looked terrible on offense. Miami outgained the Hokies 255-36 in the first half to build a 24-0 lead, and then forced them to fumble on their first three possessions of the second half.
Virginia Tech's 250-game streak of scoring even seemed to be very much in doubt, until backup quarterback
Mark Leal
threw a 14-yard touchdown to
Isaiah Ford
with 1:30 to go.
Sure, the Buckeyes have looked much better since losing to Virginia Tech, scoring more than 50 points in four straight victories. But OSU had better hope the College Football Playoff selection committee wasn't paying attention to the Hokies on Thursday night.
[+] Enlarge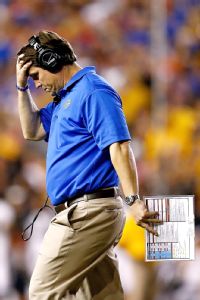 Rob Foldy/Getty ImagesBarring a quick turnaround to the Gators' season, the Will Muschamp era in Gainesville appears to be drawing to a close.
2. Unless Florida can run the table the rest of the season, which would include upsets of No. 9 Georgia in Jacksonville, Florida, on Nov. 1 and No. 2 Florida State on the road on Nov. 29, the Will Muschamp era will probably come to an end after four seasons.
The early list of candidates being mentioned for the not-yet-open UF job include Mississippi State's Dan Mullen, Ole Miss' Hugh Freeze, Arizona's Rich Rodriguez and Oklahoma's Bob Stoops.
Florida has contacted Stoops about its openings in the past, but he has always been reluctant to leave the Sooners. Mullen, who was Florida's offensive coordinator under former coach Urban Meyer, seems like an obvious choice. But Mullen and UF athletics director Jeremy Foley didn't always see eye-to-eye during their previous working relationship, so those past differences would have to be worked out.
I don't think Foley, one of the most respected ADs in the country, can afford to make another mistake. With Muschamp's tenure seemingly headed to a disappointing end, Foley is batting 1-for-3 in football coaching hires since legendary coach Steve Spurrier left. Foley struck out on former UF coach Ron Zook and hit a home run with Meyer. He can't be wrong again.
3. Here's a great stat from ESPN Stats & Info, which says a lot about the current state of affairs in Michigan: According to Westgate Las Vegas SuperBook, Michigan State is a 17-point favorite against Michigan this weekend. According to historical lines data from The Gold Sheet going back to 1957, it is the highest betting line in the rivalry in the past 57 years. Before this week's game, the most points Michigan State was favored by in the rivalry was 13 in 1966 (MSU won 20-7).
4. Given Florida quarterback Jeff Driskel's play the past two seasons, it's hard to believe that he was actually the last quarterback to defeat Florida State. Driskel led the Gators to a 37-26 victory over the Seminoles on the road on Nov. 24, 2012, completing 15 of 23 passes for 147 yards with one touchdown. The Seminoles were undone by five turnovers in that loss, including three interceptions thrown by former quarterback
EJ Manuel
.
Since that loss, the Seminoles have won 22 games in a row. Meanwhile, the Gators have dropped 11 of their past 18 games.
5. More than a few athletic directors around the country had to cringe when Texas AD Steve Patterson suggested earlier this week that the Longhorns were budgeting $6 million annually to pay student-athletes $10,000 in cost-of-attendance and likeness stipends per year.
Patterson said the Longhorns are prepared to pay each of their student-athletes $5,000 for full cost of attendance (which would cover educational expenses that a full scholarship doesn't currently pay) and $5,000 in compensation for the university's use of the player's name, image and likeness.
Patterson said Texas is prepared to provide the stipends if the NCAA doesn't win its appeals of its current legal battles concerning student-athlete compensation.
The bottom line: Paying an additional $6 million to student-athletes is a drop in the bucket for an athletic department such as Texas. In fact, it's only 3.6 percent of the Longhorns' annual operating budget for athletics. But for smaller (and poorer) FBS programs such as Iowa State, Purdue, Wake Forest and Washington State, the additional costs will be significant.
Michigan To Lower Price Of Student Tickets