September, 19, 2014
Sep 19
1:00
PM ET
The time is running out to make a splash outside of the Big Ten, a league that collectively has been having a hard time keeping its head above water so far this season.
Some have obviously had it better than others, particularly since Nebraska and Penn State both have spotless records. But the ghastly overall mark for the league in matchups with Power-5 members has left a few teams facing critical must-win games in the middle of September, either for the sake of playoff contention, a push for a bowl bid, or just to show any signs of life at all.
Heading into Week Four, the Big Ten blog crew takes a look at which program needs a victory the most -- and there were plenty of options.
Adam Rittenberg:
Iowa
It's still fairly early in the 2014 season, but Iowa has yet to play a good game. The Hawkeyes were fortunate to beat Northern Iowa and extremely fortunate to beat Ball State before falling last week to Iowa State. The run game struggles are utterly baffling, and it's critical Iowa gets
Mark Weisman
,
Jordan Canzeri
and Co. going against a Pittsburgh team that ranks ninth nationally against the run. A Hawkeyes defensive line pegged to be the team's strength must step up against
James Conner
. This game has no bearing on whether Iowa wins the Big Ten West Division, as I predicted before the season. But Iowa has looked nothing like a league title contender, and something needs to shift in a hurry.
Austin Ward:
Indiana
The Hoosiers have already fallen behind the projected win schedule that would send them back to the postseason, so even at this early stage they'll likely need to pull an upset to get back on track. So Indiana has a pressing need, but it probably also has the longest odds of getting a victory as it heads to Missouri. The problem that has plagued Kevin Wilson's program again popped up in the shootout loss to Bowling Green, and that's troubling given all the offseason talk about making defensive adjustments and improvements to complement the high-powered offense. The combination of tailback
Tevin Coleman
and quarterback
Nate Sudfeld
makes Indiana a dangerous opponent for anybody -- even the reigning SEC East champions. But without a few stops against the Tigers, the Hoosiers could find themselves in a hole before conference play even starts.
Josh Moyer:
Rutgers
Believe it or not, a lot is on the line for Rutgers. The Scarlet Knights are coming off an incredibly emotional loss after they played in front of the biggest crowd in school history in a game
in which an RU player said
"could change New Jersey and Rutgers football forever" -- if Rutgers won. The Knights can't afford another letdown, or else they could very well see a Northwestern-like fall with their tough schedule. Not only do they have the East Division to contend with, but they also face Nebraska and Wisconsin. In other words, after Tulane next week, it's not going to get any easier. Rutgers needs a confidence boost before the schedule gets harder, and a win against Navy could be just what it needs.
Dan Murphy:
Nebraska
Not all is lost for the Cornhuskers if they don't hold off a fast Miami team, but no team can do as much to help themselves and the Big Ten as a whole as Nebraska can Saturday night. Bo Pelini's group is one of two undefeated teams left in the league. Get past Miami and Nebraska should be in good shape for a 10-win season. A victory against an out-of-conference opponent with some brand-name cache will help the Big Ten save a little bit of face in its last real chance to do so. That could help the Huskers if they make a run toward the College Football Playoff, or it could help the overall resume for whatever Big Ten team knocks them off to win the conference title.
Mitch Sherman:
Michigan
The Wolverines are closing in on the one-year anniversary of their 42-13 win over Minnesota. Why is that significant? It's the last victory about which Michigan could actually feel good about. Since, Michigan is 4-7. Its two wins this season reveal next to nothing about the ability of Brady Hoke's team to play to always lofty expectations. In its lone chance to build momentum this season, Michigan laid an egg against Notre Dame. The Wolverines need to beat Utah like the human body needs food. Their players need it. Their coaches need it. Their fans need it. A win would surpass in prestige any that a Big Ten team has achieved this season. A loss could send the Wolverines into a spiral -- just in time for the big meeting with Minnesota.
September, 19, 2014
Sep 19
12:00
PM ET
There will be several familiar faces in Michigan Stadium Saturday afternoon for freshman defensive tackle
Bryan Mone
when his Wolverines host Utah. The Salt Lake City product will get a chance to square off with former high school teammates and friends, but he is most looking forward to seeing his parents on their first trip to his new home.
Homesickness is a common ailment among freshmen football players across the country, but it hit Mone harder than most. Making the 1,600-mile move east to Ann Arbor was a difficult decision. Not only was he leaving behind his tight-knit Tongan family, but he was also leaving them with the heavy responsibilities he shouldered for many years.
Since the start of junior high Mone has been largely in charge of caring for his older brother Filimone, who was born in Tonga with health problems that have prevented him from walking, talking or fending for himself. Bryan, seven years his brother's junior, hustled home from football practice throughout high school to feed Filimone, change his diapers and help move him around the house. The family jokes that Mone's first foray into weight training was lifting his brother.
[+] Enlarge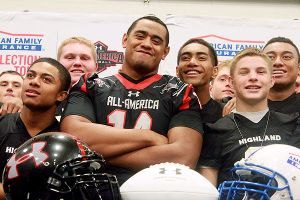 Courtesy of IntersportMichigan freshman Bryan Mone on family: "We come from nothing, and they're my motivation."
"I had to grow up faster than other kids," he said. "It's a blessing. I say it's a blessing."
The family moved from Tonga to California to Utah in search of the resources they needed to help Filimone. The silver lining for Mone was finding football. He landed at Highland High School in Salt Lake City, a school that has produced a handful of NFL draft picks including five-time Pro Bowler and fellow Tongan Haloti Ngata. Two other Highland alums -- Utah starting defensive end
Nate Orchard
and Michigan fullback
Sione Houma
-- will be on the field Saturday at Michigan Stadium.
Defensive coordinator Greg Mattison, who coached Ngata during his time with the Baltimore Ravens, tells Mone he sees similarities between the two players. The 6-foot-4, 312-pound Mone has played all three games and has made four tackles so far for the Wolverines. He has helped to add a new element of depth to the front lines of a top 10 defense that is allowing an average of 80 rushing yards per game this season.
"The sky is the limit for him," Mattison said. "You don't think he's the youngest of all of them. He just got out of high school, and all the sudden he's here starting or playing a lot for the University of Michigan."
Mone finished his high school career as the top-rated prospect in Utah. He chose to pass up scholarship offers to stay close to Filimone and the rest of his family because he thought Michigan gave him a chance to help them more in the long run.
"We come from nothing, and they're my motivation," Mone said. "At first I was planning to stay home, but I trust the coaches here. Academic-wise, I knew I'd be able to get something."
A promising future didn't make the transition to life away from home any easier. The self-proclaimed "mama's boy" enrolled a semester early at Michigan and struggled to deal with the distance at first. He called often to make sure his family was managing to take care of Filimone without him, and so that his brother could hear his voice.
"(Filimone) does understand his surroundings and his atmosphere. He can sense it. It did get him down a little bit," said Latu Lauhingoa, Mone's older sister who has helped pick up some of his caretaking responsibilities. "Every time Bryan calls, he wants to talk where Filimone can hear. We would just put the phone to his ear and, oh my gosh, would he smile."
Mone leaned on Houma, his current and former teammate, for support during the spring semester. He also started to develop close relationships with his fellow defensive linemen. Coaches and veterans of that unit say they have bonded more this year than in any previous seasons. Mone called them his new family. When asked if he had any particular mentors that have helped him get settled on the field, he rattled off the names of 10 fellow linemen before taking a breath.
The defensive line was heralded this offseason as a strength that would need to be an anchor of this Michigan team if it was going to rebound from a 7-6 season a year ago. The final decorating touch to their position group meeting room, which was renovated in the spring along with the rest of Schembechler Hall, is a sign that assistant coach Mark Smith hung this summer. He made all of the players sign it as an oath of sorts when they returned for fall camp in August. It reads: "I am committed to my brothers."
Among a group that universally agrees it has grown closer in the past year, no one understands that concept of commitment quite like Mone.
September, 19, 2014
Sep 19
11:30
AM ET
Heading into their Big Ten slate with a 3-1 record won't be an easy task for the Wolverines. Michigan will need some of its young players to step up this weekend to get past a Utah team that is averaging 57.5 points per game so far this season. On the other side of the ball, the Utes defense leads the nation in sacks(5.5 per game) and tackles for loss(10.5).
Here are a few players who could make a difference with breakout performances:
WR Amara Darboh:
The sophomore made his first career start in a 34-10 win over Miami(Ohio) last week after missing all of last season with a foot injury. He caught six passes for 88 yards and his first career touchdown against an overmatched RedHawks' defense. Michigan will probably have to take to the air at some point to hang with the high-tempo Utah offense. If senior
Devin Funchess
(leg injury) can't play again this week, Darboh becomes a primary target in the passing game.
LT Mason Cole:
True freshmen starters on the offensive line are a rare species. At left tackle, they are almost unheard of. Cole has impressed teammates and coaches with his poise so far this season, but he'll face the stiffest test of his career this weekend. His respect in the locker room will take a big leap if he can hold off Utah defensive ends
Nate Orchard
and
Hunter Dimick
. That duo has upheld Utah's recent history in the defensive trenches by picking up 2.5 sacks each through two games, an impressive stat line even if two of them came against a woefully inept Fresno State offensive live.
Michigan's secondary:
The Wolverines' defense heads into the weekend tied for dead last among FBS teams (with Utah and a dozen other schools) with only one takeaway. That's been an emphasis for defensive coordinator Greg Mattison all week in practice.
"Coach Mattison keeps pounding it in our head that we need to create turnovers," said sophomore safety
Jeremy Clark
. "I think if we keep playing hard and keep hustling to the ball, we'll get our turnovers."
Clark, a first-year starter, and true freshman
Jabrill Peppers
, who played an expanded role at cornerback last weekend, continue the theme of young players who can make a difference against the Utes. Both have the athletic ability to be playmakers in the secondary if they get themselves in the right spots. Eventually, Michigan's turnover rate has to progress toward the mean. This could be a good week to start.
September, 19, 2014
Sep 19
10:00
AM ET
There aren't many big, exciting home games for the Big Ten this week, but the few that are playing at home are making the most of it. Nebraska, Illinois and Michigan will all have big recruiting visitors for their game.

Here is a look at who is visiting and why they're important.


September, 18, 2014
Sep 18
12:00
PM ET
Michigan sophomore
Jake Butt
saw teammate
Dennis Norfleet
running toward him pointing to the sky and decided to break doctor's orders. Butt, having just caught his third career touchdown pass last Saturday afternoon, met his fellow receiver in mid-air at the goal line with a flying chest bump. He thought he had earned a brief celebration after all.
"I knew I wasn't supposed to, but yeah, I did," he said. "It's not like I have big hops anyways. It was a baby jump."
[+] Enlarge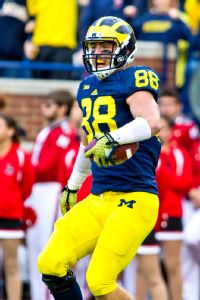 AP Photo/Tony DingJake Butt's touchdown catch Saturday against Miami (Ohio) was the third of his career.
Six and a half months after surgery to repair a torn anterior cruciate ligament and meniscus in his right knee, Butt found himself back in the end zone. His second of three catches so far this season was good for a walk-in 29-yard score against Miami (Ohio). Team doctors told Butt to avoid any unnecessary risks while his joint rounds back into shape, but he couldn't help but get airborne to enjoy the moment.
Pushing limits helped put Butt on the field sooner than expected, even in a new era of knee rehab that has turned once-dreaded ACL injuries into surmountable obstacles. The 6-foot-6, 249-pound tight end is still working his way to full health, but his return comes at an opportune time for the Wolverines. Without star receiver
Devin Funchess
, whose status remains a mystery after missing last week with an apparent leg injury, Michigan's offense is searching for new options in the passing game.
"We may play more tight ends. It just depends on what we want to do," head coach Brady Hoke said when asked about contingency plans if Funchess can't play in a key non-conference game with Utah this weekend. "... I think again, you go back to the tight end position with getting guys ready for different personnel groups, I think that's a positive."
Hoke said Butt's versatility opens parts of the playbook Michigan wouldn't be able to use if he remained on the sidelines. He expects the sophomore's impact to grow in the coming weeks as he ramps up to full speed and loses the restrictive play count the Wolverines have set for him.
Butt made the ESPN.com All-Big Ten freshman team last season after catching 20 passes for 235 yards and two touchdowns. The coaching staff considered him a big part of the offensive game plan for this season, even after he hurt his knee in early February.
At the time, the Wolverines didn't expect to have the sophomore in their lineup until the team started Big Ten play in late September. Butt had other ideas. His maternal grandfather, Bob Lally, won two national championships for Notre Dame under Frank Leahy in the 1940s, and Butt was determined to play on the same field as one of his childhood idols before Michigan's series with the Irish expired. He set a goal the day after he was injured to play in South Bend the second week of the season. Though he took only four snaps in that game, he reached it.
"Jake was committed to getting on that field for his Papa. That was a big deal for him," said Rob Butt, Jake's father, who attributes the fast recovery to hard work, a positive attitude, and a knack for mending quickly.
Butt broke a bone in his foot in fifth grade and shocked doctors when X-rays showed it was completely healed a little more than two weeks later. That was about the time he started scouring the Internet for ways to become a better receiver. Butt cut tennis balls in half and taped them to his palms to force himself to catch with his fingertips when his dad threw him passes in the backyard. His reputation for working hard followed him through an all-state high school career in Ohio.
The same attitude led Butt to impatiently grind away at whatever the Michigan training staff allowed him to do during the past six months. He set up camp in the trainer's office, receiving treatment while he ate or studied or did just about anything else. After rehab sessions, he went home and repeated the drills on his own in his apartment.
"When he got hurt he said I'm going to have the quickest ACL recovery in history," offensive coordinator Doug Nussmeier said. "When you know the kid, nothing would surprise you. Each and every day we're trying to give him a little bit more. He's a phenomenal football player."
Butt's ability to create matchup issues for opposing defenses will make him a key piece in Nussmeier's offense, especially if Funchess needs more time to return to the lineup. He took a big step forward last weekend with three catches for 59 yards and his touchdown. That return to the box score happened sooner than anticipated for just about everyone except himself.
"I hold myself to a high standard," he said. "Once they called that play, I knew I was going to get into the end zone."
September, 18, 2014
Sep 18
10:10
AM ET
By
Lee Schechter
| Special to ESPNBoston.com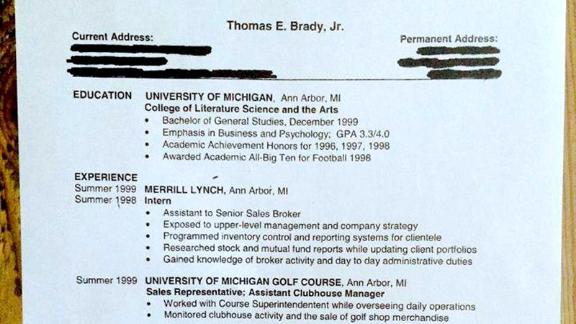 We all know
Tom Brady
as the future Hall of Fame quarterback who has won three Super Bowls, two Super Bowl MVPs, two NFL MVPs, has been to nine Pro Bowls and the list goes on ...
But what if Brady had followed a different career path? What if he hadn't been drafted by the Patriots in the sixth round of the 2000 draft, No. 199 overall?
Brady found his college résumé and posted it on his Facebook page for a fun Throwback Thursday.
"Found my old résumé! Really thought I was going to need this after the fifth round. #tbt," Brady wrote in the post.
Tom Brady/Facebook
If Brady hadn't become one of the greatest quarterbacks of all time, he could have fallen back on his degree in general studies from the University of Michigan. He graduated from Michigan's College of Literature Science and the Arts in 1999 with an emphasis in business and psychology, with a GPA of 3.3 out of 4.0 in those concentrations.
At the top of Brady's list of summer jobs was his position as an intern at Merrill Lynch in Ann Arbor, Michigan, where he was an assistant to senior sales broker for two summers in 1998 and 1999. Brady wrote that he was "exposed to upper-level management and company strategy" and "researched stock and mutual fund reports while updating client portfolios." Tom Brady, stockbroker? Doesn't have quite the same ring to it is as NFL quarterback.

If a career in football hadn't panned out, maybe Brady could have tried getting a job in another sporting industry -- golf. Brady spent two summers -- while also working at Merrill Lynch -- as a sales representative at the University of Michigan Golf Course for one summer and at the Polo Fields Golf and Country Club in Jackson, Michigan, for the other. His roles at those courses were as a sales rep, course ranger and starter. Imagine stepping to the first tee and having Brady tell you to keep your cart off the fifth and 12th fairways?
Brady also had hands-on experience in construction -- mainly in supervision and management -- and as a security manager at the Top of the Park Ann Arbor Summer Festival.
And just for icing on the cake, Brady listed some of his football accolades at the bottom of his résumé -- 1997 national champion, 1999 team captain, etc.
Could it be that the managerial and leadership experience he attained in the real world prior to being drafted helped him become the field general we see today? If so, we tip our caps to Brady's summer employers, but are thankful he never had to knock on your doors looking for a full-time gig.
September, 18, 2014
Sep 18
9:00
AM ET
By
ESPN.com staff
| ESPN.com
Week 4 features a new voice in the predictions mix as our new Big Ten reporter Dan Murphy jumps into the fray. It also features a handful of games our writers disagree on, including games involving programs that desperately need to rebound with a win this week.
Why Iowa will win:
Call me a contrarian if you'd like (I've been called much worse), but Iowa seems to rise up at the unlikeliest of times. Pitt has looked way better than the Hawkeyes this season. The Panthers can run the ball (
James Conner
has 544 rush yards and eight touchdowns), while Iowa can't (393 rush yards, four touchdowns). Panthers coach Paul Chryst, the former Wisconsin assistant, knows the Hawkeyes well. So of course I'm going with Iowa, which will discover its run game and force two second-half turnovers to rally for the win.
Iowa 21, Pitt 20
-- Adam Rittenberg
Why Pitt will win:
Adam did a pretty good job of making my argument for me. This game hinges on who wins the battle between Iowa's front seven and the Panthers' running game. Conner's 214 rushing yards against Boston College in a 30-20 win look a lot more impressive this week after the Eagles held USC's entire offense to 20 rushing yards. Pitt also has some good experience in the secondary (CB
Lafayette Pitts
and S
Ray Vinopal
) that could put a dent in the strong completion percentage
Jake Rudock
has put together thus far.
Pitt 27, Iowa 17
-- Dan Murphy
Why Syracuse will win:
Beating MAC teams isn't easy, as the Big Ten can attest. Well, Syracuse went on the road last week and crushed Central Michigan, one of the better MAC squads, by 37 points, looking nothing like the team that was extremely fortunate to get by Villanova in its opener. The Orange are a different offense with quarterback
Terrel Hunt
at the helm, and they're stout in defending the run (opponents average just 2.7 yards against them). Maryland makes too many mistakes to get this win on the road.
Syracuse 28, Maryland 24
-- Adam Rittenberg
Why Maryland will win:
Maryland has shown an explosiveness on offense and special teams, but the Terrapins have lacked consistency. They will need to avoid the turnovers and wild mood swings on the road at Syracuse. Former Orange quarterback Randy Edsall's team has enough playmakers to get the job done.
Maryland 31, Syracuse 27
-- Brian Bennett
Why Utah will win:
Unless Brady Hoke's unwillingness to talk about injuries is based around a desire to spring a surprise by unleashing a healthy secondary on the Utes, the Wolverines could have their hands full with
Travis Wilson
, the nation's No. 2 quarterback in terms of passing efficiency. The jury is still out on Michigan's offense as well, particularly since it was shut out at Notre Dame, its only true test so far, and has shown signs that issues protecting the football haven't been solved. That's not a good combination against a program that appears to be on the rebound and actually has prior experience winning at the Big House under Kyle Whittingham.
Utah 34, Michigan 27
-- Austin Ward
Why Michigan will win:
Utah is good, but it's no Notre Dame. The Utes' success so far this season has come against two lowly opponents -- Idaho State and Fresno State -- so they might be getting a little bit more credit than they deserve.
Devin Gardner
is a wild card, but I can't see him committing another four turnovers, at least not in the Big House.
Michigan 31, Utah 28
-- Josh Moyer
Why Rutgers will win:
Rutgers is actually an underdog against Navy, and this game has serious letdown potential after the Scarlet Knights got sky high for Penn State. Yet the Scarlet Knights have been very good against the run and have the defensive front to disrupt the Navy option. That will be enough to pull it out -- provided
Gary Nova
doesn't throw another five interceptions.
Rutgers 24, Navy 21
-- Brian Bennett
Why Navy will win:
The Scarlet Knights said there would be no letdown after the loss last week to Penn State. But Rutgers invested so much energy in the program's first meeting in nearly two decades with the Nittany Lions that, yes, there will be a letdown. And be sure of this, Navy requires Rutgers' full attention. Quarterback
Keenan Reynolds
is expected back from injury on Saturday to lead the nation's No. 1-ranked rushing offense, which averages more than 400 yards. Rutgers looks equipped up front to defend the triple option with
Darius Hamilton
and a solid line, but Navy's offensive efficiency will prove too much to overcome. It has won eight straight true home games dating to 2012. Make it nine.
Navy 31, Rutgers 21
-- Mitch Sherman
Unanimous decisions
Illinois over Texas State, 38-21:
The Illini running game finally emerges and opens things up for
Wes Lunt
to have a big second half in Champaign.
Missouri over Indiana, 42-27:
The Hoosiers couldn't help the Big Ten's nonconference record against the MAC's Bowling Green last week. They aren't likely to turn that around against an undefeated SEC opponent.
Michigan State over Eastern Michigan, 52-3:
Former Penn State quarterback
Rob Bolden
's last crack at the Big Ten doesn't go any better than the first time around. Mark Dantonio calls off his dogs after halftime to keep this one from getting uglier than it could.
Minnesota over San Jose State, 27-13:
David Cobb
and the Gophers show they are still headed in a good direction despite a disappointing showing against TCU last Saturday.
Nebraska over Miami, 34-31:
The Canes have the talent to make it close, but they don't have the quarterback to steal a game from a big-time opponent on the road yet.
Northwestern over Western Illinois, 24-10:
Pat Fitzgerald keeps it simple and forces his team to play the bully role while trying to develop a new toughness in Evanston.
Penn State over UMass, 44-14:
The
Christian Hackenberg
hype machine continues its crescendo toward a primetime matchup in the Big House in early October.
Purdue over Southern Illinois, 28-20:
The Salukis put up a fight, but
Danny Etling
builds on a strong performance against Notre Dame to pull the Boilermakers to 2-2.
Wisconsin over Bowling Green, 33-7:
Bowling Green won't be able to sneak up on a well-rested Badgers team at Camp Randall Stadium.
Our records:
Mitch Sherman: 31-6
Adam Rittenberg: 29-8
Austin Ward: 29-8
Brian Bennett: 28-9
Josh Moyer: 27-10
September, 18, 2014
Sep 18
8:00
AM ET
Hitting on the hottest topics in the Big Ten before sweeping through the league ahead of another critical non-conference Saturday.
1. Minnesota's QB quandary:
There's not exactly a controversy under center, since the Gophers have made it quite clear that
Mitch Leidner
is the top option to lead the offense. But for the second week in a row, there have been questions about his health, and therein lies the uncertainty that could turn this into a more pressing issue for Jerry Kill. The Minnesota coach pegged Leidner at 100 percent on his injured knee last week, but Saturday something else popped up with his foot -- though Kill shot down reports of a broken bone and seemed puzzled by where they came from. Backup
Chris Streveler
has appeared in all three games and was needed to finish the last two, and at some point if he keeps handling himself well and if Leidner's bumps and bruises remain a weekly topic of conversation, perhaps the Gophers may find themselves in the midst of a real controversy. This week it probably won't matter given the way Minnesota ran the ball all over San Jose State last year. But Michigan is looming next week, and the Gophers would likely be better off if they didn't have to keep answering questions about their starting quarterback.
2. Waiting game for Buckeyes:
From the outside, the case seems pretty open and shut regarding
Noah Spence
's latest failed drug test and what figures to be permanent ineligibility for the All-Big Ten defensive end. But there hasn't yet been an official verdict handed down, so Ohio State coach Urban Meyer confirmed after practice Wednesday night that Spence was still practicing with the team while "doing things to get healthy." Given what would seem to be a long-shot appeal combined with the serious tone from the Spence family when they addressed a "medical illness" to the Columbus Dispatch last week, it is somewhat surprising that the star junior would be back on the field at all right now while each of those separate, but related, issues are sorted out. Meyer stressed that Ohio State was doing what it could to support him, and if Spence is eventually cleared for a return, everybody involved would surely want him ready to play again. So unless or until the Big Ten tells him otherwise, Spence is still working out with the Buckeyes and waiting for the next update on his status.
3. Heat is on Hawkeyes:
The running game is struggling. The kicking game looked like a fire drill even when the field-goal unit hit a clutch attempt last weekend. Kirk Ferentz is under fire with his clock management skills being questioned. And after dealing with all that in the aftermath of the loss to Iowa State, the Hawkeyes have to hit the road to play unbeaten Pittsburgh before diving into conference play. Maybe Iowa could actually use that traveling time to bond and rally against the odds that seem to be stacking up against the program, because it's pretty clear the team needs a spark. The Hawkeyes were a trendy dark horse pick to win the West, and no matter what happens at Pitt it should be fine next week at home to open conference play against Purdue. But it's time for them to show they really have what it takes to contend this fall.
East Division
West Division
September, 17, 2014
Sep 17
5:15
PM ET
If you ask some of
Brian Cole
's friends and family, they would tell you they think Cole has a chance to be the best football player to come out of Saginaw. That's saying a lot since the Michigan city is home to some big-name football players, including current NFL player LaMarr Woodley among others.
Cole has ties to many of the former players from his hometown, including Michigan State receiver DeAnthony Arnett and former NFL player Stuart Schweigert. Cole doesn't know Woodley personally, but he did get the opportunity to speak with him at an arena football game earlier in the year.
"LaMarr was teaching me about life and football," he said. "We talked for a little while about everything. It was before I was committed to Michigan, so we didn't talk about Michigan really."
The ESPN 300 prospect was presented with his Under Armour All-America jersey on Wednesday and is the first from his hometown to play in the prestigious game.
"It's just a blessing," he said. "It's real exciting and I'm just really thankful for this opportunity."
#ESPN300 Michigan commit Brian Cole accepting his Under Armour All America jersey https://t.co/LEDNN0A0A1

— Tom VanHaaren (@TomVH) September 17, 2014
If you could start a team with any player in your class, who would it be?
I don't really pay attention to recruiting that much. I would pick
Alex Malzone
; I'm the closest with him. I need that go-to guy at quarterback so I'd go with him.
What is your first football memory?
My first Lions game, running on the field. I got selected for the halftime show. I was about five and I won, we had to do a relay race, put different clothes on and the big shoes. I was a size four an they were a size 13. Me and my dad walked in and some big, tall guy asked us if we wanted to be in the halftime show, I didn't know what was going on but I was excited.
What football player did you idolize growing up?
Barry Sanders. He was good, he could do it all. Watching his highlights he was unstoppable, he could make you miss and he could do anything.
If you could take on one athlete in any sport, who would it be?
I like hockey. I would take on Zdeno Chara. We play NHL video games and Chara always wins the fights in that game so that would be funny, because he's so big.
What number do you wear and why?
I wear No. 1 because God is No. 1 and that's my favorite number. I've talked to the Michigan coaches about the No. 1 at Michigan. I'm going to get it. I'm going to earn it, you have to earn it, but that's my goal. I haven't talked to Devin Funchess about it yet, but I saw that he has it.
What is one thing people would be surprised to know about you?
I'm humble. Most people really don't know me, so they don't know. I don't really talk about sports, either, unless people ask me. I like hockey, too. I was always an active kid and all my friends had ice rinks in their backyards so I learned how to ice skate at a young age and I would always rollerblade and play hockey. I wish I knew how to play hockey.
Michigan commit and #ESPN300 prospect Brian Cole was just presented with his Under Armour @AllAmericaGame jersey pic.twitter.com/aacS1SLnd4

— Tom VanHaaren (@TomVH) September 17, 2014
September, 17, 2014
Sep 17
2:04
PM ET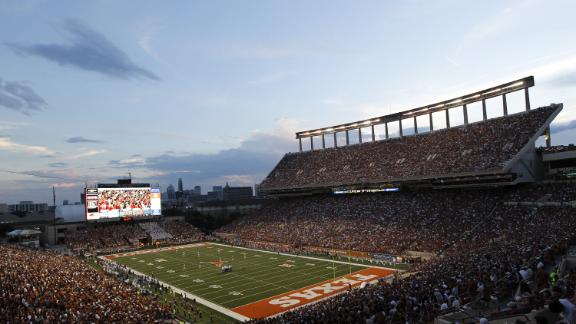 ANN ARBOR, Mich. -- With the matchup between college football's top two all-time wins leaders on hold for the foreseeable future, the Michigan Wolverines have moved on to the next-closest option.
The Wolverines and the Texas Longhorns, who are No. 3 in all-time wins, announced plans Wednesday for a future home-and-home series. The Longhorns will visit Ann Arbor in 2024, and Michigan will reciprocate with a trip to Austin in '27.
"A matchup of this magnitude doesn't come along all that often, and when it does, it's special for both programs and the great fans that support each institution," Michigan coach Brady Hoke said in a statement. "This also is a special series for all fans of college football, and I anticipate great games just like the first contest played between the two programs."
In their only previous meeting, Texas beat Michigan on a last-second field goal to win the 2005 Rose Bowl.
The scheduled matchups are for Aug. 31, 2024, and Sept. 4, 2027.
Michigan and Notre Dame, which ranks No. 2 in all-time wins, decided to end their annual rivalry after this season.
Since Michigan and Notre Dame decided to end their rivalry, the Wolverines have scheduled several home-and-home matchups, including Arkansas (2018-19), Washington (2020-21), Virginia Tech (2020-21), UCLA (2022-23) and Oklahoma (2025-26).
September, 17, 2014
Sep 17
2:00
PM ET
Three weeks' worth of games are in the book. That's not enough to decide the individual award races in the Big Ten, but it won't stop us from figuring out where those races stand.
Our Big Ten reporters are voting weekly on the races, with players receiving five points for a first-place vote, four for a second-place nod, etc. Also, we try hard to base these standings on 2014 season results only, not any preconceived notions or a player's previous track records.
Here's how things shake out:
Graham-George Offensive Player of the Year
1. Nebraska RB Ameer Abdullah
(Five first-place votes): Abdullah gets the unanimous nod on offense as he
continues to power up
the Huskers attack.
2. Penn State QB Christian Hackenberg
: He has become the master of the two-minute drive, and he leads the Big Ten in passing.
3. Indiana RB Tevin Coleman
: He leads the Big Ten in rushing yards (437) and rushing touchdowns (five) despite having played just two games. He's averaging 9.3 yards per carry.
4. Michigan State QB Connor Cook
: His completion rate is over 68 percent, and Cook can build on his stats against Eastern Michigan and Wyoming the next two weeks.
5. Illinois QB Wes Lunt
: He wasn't able to summon late-game magic at Washington in Week 3 but still is among the league's top passers.
Also receiving votes
: Michigan RB Derrick Green; Wisconsin RB
Melvin Gordon
; Minnesota RB David Cobb; Nebraska QB Tommy Armstrong Jr.
Nagurski Woodson Defensive Player of the Year
1. Penn State DT Anthony Zettel
(5): Another unanimous pick, Zettel has been a monster in the early going for the Lions. He leads the Big Ten in tackles for loss, with seven, to go along with three sacks.
2. Ohio State DE Joey Bosa
: He's tied for the league lead with two forced fumbles, in addition to 3.5 tackles for loss and 1.5 sacks.
3. Iowa DT Louis Trinca-Pasat
: His strong start to the season continues, as he has four tackles for loss along Iowa's strong defensive front.
4. Wisconsin S Michael Caputo:
He and the Badgers were off last week but should get a test from Bowling Green's fast-paced offense.
Also receiving votes
: Penn State LB
Mike Hull
; Rutgers DE Kemoko Turay; Minnesota LB
Damien Wilson
; Michigan State DE Marcus Rush; Ohio State LB Joshua Perry.
September, 17, 2014
Sep 17
12:59
PM ET
[+] Enlarge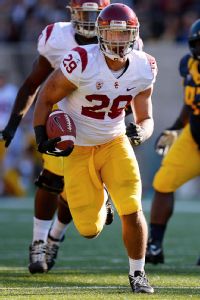 Thearon W. Henderson/Getty ImagesTy Isaac will have three years of eligibility remaining with Michigan.
ANN ARBOR, Mich. -- Running back Ty Isaac's appeal to play this season for Michigan was denied by the NCAA, coach Brady Hoke said Wednesday.
The sophomore, who transferred from USC this summer, had applied for a medical hardship waiver in an attempt to play immediately. Isaac, a Chicago-area native, said he was returning to the Midwest to be closer to his mother, who was recovering from hearing loss surgery.
The NCAA denied his initial request to skip the mandatory one-year waiting period for transfer players in late August.
Isaac ran for 236 yards and two touchdowns on 40 carries during his freshman year with the Trojans. The Wolverines had hoped he would be a part of the running back rotation in Ann Arbor this season.
Hoke said Isaac has been a productive member of the team while working with the scout team this fall.
"He's handled it great," Hoke said. "He had a great day yesterday. From an attitude standpoint and everything else, he's been awesome."
Longhorns, Wolverines Announce Home-And-Home Series