ESPN Big Ten reporter Dan Murphy discusses Jim Harbaugh's move to invite college coaches to Michigan's high school camp.
The Michigan coach cleverly calls out Southern coaches who have complained about the Big Ten's 'satellite' camps; will any dare take his invite?
If you are a college football coach in America, consider yourself cordially invited to attend Michigan's high school camp this summer.
The staging of satellite camps could be short-lived, so we're proposing Big Ten options for additional satellite camps this offseason.
Those in the ACC and SEC have heavily opposed the Big Ten's participation in satellite camps.
National recruiting experts Craig Haubert and Tom Luginbill discuss how the Buckeyes' win in the first College Football Playoff could pay dividends on the recruiting trail across the Big Ten.
Defensive tackle Rashan Gary, the No. 1 overall recruit in the initial ESPN 300 for the 2016 class, joins ESPN's Matt Schick to talk recruiting, defensive scheme and the feelings of being the nation's top player.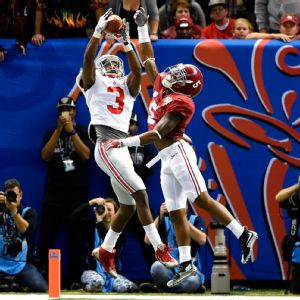 Winning national championships, drawing enormous crowds to spring games and exploiting recruiting loopholes -- all of a sudden, the Big Ten is beating the SEC at its own game.
Earlier this month, the Big Ten Network announced its slate of Big Ten night games in 2015. Now, we have the ABC/ESPN family of networks' choices.
The newly minted No. 1 player isn't likely to make his college decision until the Under Armour All-American Game or signing day.
Thursday's release of the first 2016 ESPN 300 will feature plenty of fast-rising prospects.
The Opening regional in Washington, D.C., was as good as advertised. Here is a look at the five top trends from the event.
Colin Cowherd believes that Michigan coach Jim Harbaugh is better suited to coach college football rather than in the NFL.
San Francisco offensive lineman Alex Boone told HBO's "Real Sports with Bryant Gumbel" that former 49ers and current Michigan coach Jim Harbaugh wanted too much of his players in the NFL.
49ers guard Alex Boone says former coach Jim Harbaugh "wore out his welcome" with the team and "might be clinically insane."
Apr 24, 2015

,

1:57 PM ET
Jim Harbaugh initiates open-door policy at prep camp