November, 26, 2014
Nov 26
1:00
PM ET
Let's get
this
Queen song queued up -- and, for Adam Rittenberg's team, we'll have
another
ready -- because it's down to just Austin Ward and me in the final week.
Ward needs to beat me by 57 points to win our championship, so the odds are against him. But it's not over just yet; I've been outscored by that much twice this season.
It's been a see-saw year but, ultimately, it's no coincidence the top two teams just happen to have the top two fantasy players.
Melvin Gordon
has earned me an average of 34.8 fantasy points per week, while
J.T. Barrett
has gotten Ward 33.4 points a game. Rittenberg was in the driver's seat early on with
Ameer Abdullah
(24.9 ppg), but the MCL injury hurt The Trombone Shorties as much as it did the
Nebraska Cornhuskers
.
We'll know our champion for sure by Saturday night. In the meantime, here's a look at the scoring, waiver-wire moves and final rosters.
Your results this week:
Coal Crackers (Josh Moyer):
137
Massive Attack (Austin Ward):
124
The Trombone Shorties (Adam Rittenberg):
89
Legendary Leaders (Brian Bennett):
75
Sherman Tanks (Mitch Sherman):
57
And the overall standings:
Coal Crackers:
1,597
Massive Attack:
1,541
The Trombone Shorties:
1,416
Legendary Leaders:
1,239
Sherman Tanks:
1,105
Waiver wire:
Only seven moves were made in our final week, and none were all that significant. Rittenberg was forced to find a replacement for
Trevor Siemian
, but most of us just picked up players based on their matchups this weekend. Sherman didn't even make a move.
Bennett adds Northwestern WR Kyle Prater and drops Michigan WR Devin Funchess
Rittenberg adds Indiana WR Shane Wynn and drops Nebraska WR Kenny Bell
Ward adds Michigan kickers and drops Penn State kickers
Moyer adds Maryland defense and drops Penn State defense
Rittenberg adds Illinois QB Reilly O'Toole and drops Northwestern QB Trevor Siemian
Moyer adds Maryland WR Deon Long and drops Maryland QB C.J. Brown
Rittenberg adds Northwestern defense and drops Michigan defense
Coal Crackers (Moyer)
Purdue QB
Austin Appleby
Minnesota QB
Mitch Leidner
Wisconsin RB Melvin Gordon
Indiana RB
Tevin Coleman
Rutgers WR
Leonte Carroo
Maryland WR Deon Long
Wisconsin kickers
Maryland defense
Bench: Michigan WR
Amara Darboh
(at Ohio State)
Massive Attack (Ward)
Iowa QB
Jake Rudock
Ohio State QB J.T. Barrett
Ohio State RB
Ezekiel Elliott
Illinois RB
Josh Ferguson
Ohio State WR
Michael Thomas
Penn State WR
DaeSean Hamilton
Michigan kickers
Michigan State defense
Bench: Minnesota RB
David Cobb
(at Wisconsin)
The Trombone Shorties (Rittenberg)
Illinois QB Reilly O'Toole
Michigan State QB
Connor Cook
Nebraska RB Ameer Abdullah
Northwestern RB
Justin Jackson
Ohio State WR
Devin Smith
Indiana WR Shane Wynn
Maryland kickers
Northwestern defense
Bench: Ohio State RB
Dontre Wilson
(vs. Michigan)
Legendary Leaders (Bennett)
Nebraska QB Tommy Armstrong
Wisconsin QB
Joel Stave
Iowa RB
Mark Weisman
Michigan State RB
Jeremy Langford
Northwestern WR Kyle Prater
Illinois WR
Mike Dudek
Ohio State kickers
Wisconsin defense
Bench: Illinois QB
Wes Lunt
(at Northwestern)
Sherman Tanks (Sherman)
Rutgers QB
Gary Nova
Penn State QB
Christian Hackenberg
Michigan RB
De'Veon Smith
Purdue RB
Akeem Hunt
Michigan State WR
Tony Lippett
Iowa WR
Kevonte Martin-Manley
Michigan State kickers
Ohio State defense
Bench: Wisconsin RB
Corey Clement
(vs. Minnesota)
November, 26, 2014
Nov 26
12:00
PM ET
The Big Ten individual awards will be revealed next week. But if you've been following us here all season long, you should know exactly who the favorites and top contenders are.
This is our last one of the season, and since we've pretty much exhausted all the competitive bonus categories, we've added a special holiday-themed one to get you ready for tomorrow.
Away we go ...
Graham-George Offensive Player of the Year
1. Wisconsin RB Melvin Gordon
(six first-place votes): When Wisconsin absolutely needed Gordon to come through in the fourth quarter at Iowa, he did just that. Not much more left to say about this special player and his historic season.
2. Ohio State QB J.T. Barrett
: The records keep falling for the Buckeyes' redshirt freshman, who'd probably be a runaway winner if Gordon had been born a couple of years earlier or later. Barrett will likely settle for the quarterback of the year trophy -- not a bad consolation prize.
3. Indiana RB Tevin Coleman
: He's 94 yards away from 2,000 for this season. Unbelievable season, but again, just bad timing for a major award.
4. Nebraska RB Ameer Abdullah
: He showed his heart by rushing for 98 yards despite a bad knee and shoulder vs. Minnesota. I think he would have made a run at 2,000, too, if not for those unfortunate late-season injuries.
5. Minnesota RB David Cobb
: He injured his hamstring in the second half at Nebraska and is questionable for the finale at Wisconsin. The Gophers need their workhorse back.
Nagurski-Woodson Defensive Player of the Year
1. Ohio State DE Joey Bosa
(six first-place votes): Simply the most destructive defensive player in the Big Ten all season. He'll be back as a true junior for the Buckeyes next season, which is scary.
2. Penn State LB Mike Hull
: On pace for a 130-tackle regular season, Hull has been as consistently good as it gets from the linebacker position.
3. Michigan LB Jake Ryan
: He was named a finalist for the Butkus Award on Monday. Hull has had a better season overall, but Ryan has still been outstanding as a senior.
4. Wisconsin LB Vince Biegel
: One of the Badgers' "
Chevy Bad Boys
," Biegel leads the Big Ten's top defense with 14.5 tackles for loss.
5. Minnesota CB Briean Boddy-Calhoun
: The Big Ten co-defensive player of the week, he has a been a big-play machine all season, including his forced fumble and recovery to seal the win at Nebraska.
Also receiving votes:
Penn State DT
Anthony Zettel
; Minnesota LB
Damien Wilson
[+] Enlarge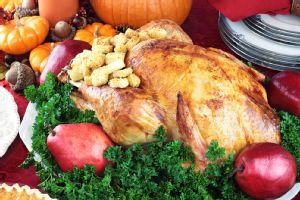 ThinkstockStuffing or turkey for Big Ten dish of the year?
Pilgrim-Pocahontas Thanksgiving Dish of the Year
1. Stuffing
(four first-place votes): That's right. It's almost Thanksgiving, so we're ranking the best dishes on Turkey Day. And in perhaps a slight upset, preseason favorite turkey did not come in first. Stuffing pulled off a J.T. Barrett-like surprise. Because it is awesome. Especially my grandma's.
2. Turkey
(two first-place votes): It is the featured back, if you will, of the entire Thanksgiving attack. Says Josh Moyer: "You guys haven't lived until you've tried it deep-fried."
3. Pumpkin pie
: Dessert is kind of like the special teams of Thanksgiving meals; you can't win with it alone but it can't be forgotten, either. Pecan pie also received one vote (from Dan Murphy), though I'd argue it's too sweet unless part of a Derby Pie. Austin Ward voted for "any kind of pie." I like where his head's at.
Also receiving votes:
Mashed potatoes, grilled potatoes, potatoes au gratin and any kind of potatoes.
November, 26, 2014
Nov 26
10:30
AM ET
By
ESPN.com staff
| ESPN.com
Why Iowa will win:
Based on the roller-coaster ride Iowa has been on lately, now is the time to jump back in and hang on tight as the regular season comes to a close. The Hawkeyes actually impressed even in a losing effort last week against Wisconsin, and with Nebraska reeling and having to go on the road, expect Kirk Ferentz to get his team ready to capitalize. The Blackshirts have been a mess down the stretch once again, and Black Friday won't be any different with
Jake Rudock
leading an Iowa passing attack that somewhat surprisingly ranks No. 4 in the Big Ten. ... Iowa 31, Nebraska 20.
-- Austin Ward
Why Nebraska will win:
Are the Huskers trending downward? You bet. But Iowa is not nearly as good as Wisconsin or Minnesota. The Huskers still boast the better total offense here -- they're 34 spots ahead of Iowa in the national rankings at No. 29 -- and the better scoring offense, with 10 points more per game. The defense has been up and down, but
Mark Weisman
is no
Melvin Gordon
or
David Cobb
. And
Ameer Abdullah
is only getting healthier. Iowa hangs tough but loses in the end. ... Nebraska 28, Iowa 24.
-- Josh Moyer
Why Indiana will win:
It's time to cash in the chips on Purdue. I've been a believer in the Boilers since they beat Illinois in early October, then hung around with Michigan State and Minnesota. But things have gone downhill. Lately, Purdue can't run the football, and it can't stop the run -- a bad combination, especially against
Tevin Coleman
. The Indiana junior will have a huge day and cruise past 2,000 rushing yards for the season in perhaps his last collegiate game. Defensively, the Hoosiers haven't stopped a decent offense all year, but they've got enough left to avoid a winless Big Ten season. ... Indiana 38, Purdue 24.
-- Mitch Sherman
Why Purdue will win:
Purdue's production has taken a step backward since scoring 38 against Minnesota and threatening to take down the Gophers. The Boilermakers stumble into the Hoosier State battle, but Indiana is exactly what the doctor ordered in that front. No one on Purdue's roster compares to Tevin Coleman, but speedy senior
Raheem Mostert
can have a big day against Indiana's run defense.
Austin Appleby
proves to be the difference to help Darrell Hazell end his second year on a high note. ... Purdue 24, Indiana 20.
-- Dan Murphy
Unanimous selections
Ohio State 35, Michigan 14:
No, Brady Hoke, there is no Santa Claus. The Wolverines simply do not have enough offensive competence to hang with the Buckeyes on the road, though emotion will help them keep it close into the third quarter.
Wisconsin 24, Minnesota 20:
The Gophers have a real chance here, but the potential absence of David Cobb (hamstring) and the road environment will make it tough. Melvin Gordon is held under 200 yards but rips off the game-winning score in the fourth quarter.
Maryland 31, Rutgers 23:
The Scarlet Knights' only win since Oct. 4 was at home against Indiana. The Terps have been playing much better than their fellow first-year Big Ten newbie, and they'll protect home field to spoil Ralph Friedgen's homecoming.
Northwestern 28, Illinois 21:
It's win or go home for both teams. The Wildcats are surging at the right time, having scored 81 points in back-to-back wins the past two weeks. The loss of quarterback
Trevor Siemian
(ACL) hurts Northwestern, but picking the Illini to win consecutive Big Ten games strains logic.
Michigan State 19, Penn State 10:
Don't underestimate the power of Senior Day in Beaver Stadium, as we've seen the Nittany Lions put up strong performances in their regular-season finales the past two years. Their defense will also cause the Spartans some trouble. But Penn State is going to a bowl regardless, and its offense has few options against Pat Narduzzi's defense.
Our records:
1. Austin Ward: 83-22 (.790)
2. Dan Murphy: 53-15 (.779)
T-3. Brian Bennett: 81-24 (.771)
T-3. Mitch Sherman: 81-24 (.771)
5. Adam Rittenberg: 78-27 (.743)
6. Josh Moyer: 77-28 (.733)
November, 26, 2014
Nov 26
10:00
AM ET
When merely picking winners and losers isn't enough, the Big Ten reporters sit down at the roundtable and come up with more specific predictions -- this time for the final week of the regular season.
Adam Rittenberg:
Wisconsin needs a late rally to beat Minnesota
There's something about these Golden Gophers, who have turned a corner under Jerry Kill and aren't just a cute little story any more. After winning rivalry trophies against both Michigan and Iowa, Minnesota aims for the Axe and leads for most of Saturday's game at Camp Randall Stadium. Remember, Wisconsin lost its home finale last year and might not have the benefit of the usual raucous student section. The Badgers gather themselves in the fourth quarter and take the lead on a 70-yard
Melvin Gordon
touchdown run to chop Minnesota (sorry, Rutgers) and advance to their third Big Ten title game in four seasons.
Dan Murphy:
J.T. Barrett
will pass or run for a career high.
Barrett makes his debut in the heated Michigan rivalry with one of his top performances of the year. The Buckeyes offense shouldn't have any issue moving the ball Saturday, it's just not clear yet whether they will spend more time in the air or on the ground. Barrett ran for 189 yards against Minnesota and threw for 330 yards against Cincinnati. One of those season- and career-high marks is likely to fall against a Wolverines team that doesn't have much left to play for in the regular-season finale.
Brian Bennett:
Penn State takes Michigan State to the wire
James Franklin was passionate in his press conference this week, and I expect the Nittany Lions to play the same way at home on senior day. Penn State doesn't match up well with Michigan State on paper, but they didn't against Ohio State, either. This is a better team at home, and while the offensive line will have its troubles against the Spartans' pass rush, I expect Franklin's team to turn in one of its better efforts of the season.
Austin Ward:
Jake Rudock
sets a new career high in passing yards.
The Hawkeyes' performance varies from game to game, and some inconsistency from their junior quarterback has been part of the problem. But when Iowa is aggressive with its play-calling, Rudock seems to gain confidence and has shown an ability to pick apart a few defenses with three 300-yard passing performances this season. Nebraska has been pretty solid for the most part with the No. 5 pass defense in the Big Ten, but the program is reeling right now and Rudock is poised to take advantage on the way to topping his career-best 322 yards set earlier this season.
Mitch Sherman:
Tevin Coleman
makes a run at the single-game FBS rushing record
After Melvin Gordon went for 408 against Nebraska on Nov. 15, Oklahoma freshman
Samaje Perine
churned out 427 against Kansas last week. How about three weeks in a row? After all, Coleman is red hot, with 535 rushing yards in the past two games, including 228 against Ohio State in the Horseshoe. And Purdue's defense has allowed an average of 251 yards on the ground to its past five opponents. I like Coleman to go over 2,000 for the season in the first quarter (he's at 1,906) and stay on pace with Perine into the second half. In the end, he falls short, rushing for a career-best 315 as Indiana earns its lone Big Ten victory in what is likely Coleman's final game as a Hoosier.
Josh Moyer:
Tevin Coleman and Melvin Gordon both rush for more than 200 yards.
The Nos. 1 and 2 rushers in the nation have both picked up more than 200 yards in each of the last two weeks -- and it just so happens those two weeks are the only times both Coleman and Gordon reached the mark on the same weekend. I'm predicting it happens for a third straight week. Neither of their opponents' run defenses are particularly strong, with Purdue ranked No. 90 and Minnesota at No. 52, so the opportunity is there for both backs. They're both on a hot streak, and they both have a lot on the line (last game for Indiana, title hopes for Wisconsin), So, it should be another week of dominance.
November, 26, 2014
Nov 26
8:30
AM ET
OK, so who's it gonna be -- Mississippi State or Ohio State?

Honestly, the suspense is killing me, and we haven't even gotten to the games this weekend. See, here's the issue that these teams are facing: Who will have the best résumé after championship Saturday?

Mississippi State might not go to Atlanta for the SEC championship game, but if the Bulldogs beat Ole Miss on Saturday, they'll be in position for that fourth spot (assuming the top three win out). But if No. 6 Ohio State wins out, the Buckeyes will be Big Ten champions. Say what you will about the strength of the Big Ten, the Buckeyes would have a conference championship and the fourth-ranked Bulldogs would not. Both would only have one loss.
November, 26, 2014
Nov 26
8:00
AM ET
Tomorrow is a day to remember and be thankful for all of our blessings. Today is a day to be thankful for morning links, the final edition of the regular season.
1. Maryland's football team got into the holiday spirit this week by explaining the fine tradition of football on Thanksgiving to
a room full of foreign diplomats
. Four Maryland players visited Washington, D.C.'s, Blair House -- across the street from the White House – to rub elbows with ambassadors from around the world and provide a Nerf-aided tutorial of America's favorite sport. That must be one of the perks that comes with plastering the
lyrics of the Star Spangled Banner
on your helmets early in the season. For their efforts, the four Terrapins who made the trip were rewarded by taking part in America's other favorite Thanksgiving tradition -- food.
2. This week's
new College Football Playoff rankings
, released Tuesday night, add more evidence that November has been kind to the Big Ten's image. The league now has four teams in the top 20 with Minnesota moving up to No. 18 behind Wisconsin (14), Michigan State (10) and Ohio State (6). Those rankings will get the conference's top teams another chance to prove themselves against good competition in bowl season.
The Buckeyes are in good position to test the importance of a conference championship in the new playoff system. At least two teams ahead of Ohio State in the current rankings will finish the year without playing in a conference title game (TCU and either Alabama or Mississippi State). That extra game could help Urban Meyer's team plead its case to the selection committee.
3. First, the Buckeyes have to avoid an upset against rival Michigan this weekend. Meyer told his team earlier this week that
losing their cool would not be tolerated
. Last year the two teams fought, players were ejected and an overmatched Wolverines team was in the game until its final play.
Meyer's solution – simply telling his team not to scuffle with opponents – seems like a better approach than the altercation avoidance tactics supported by the Wisconsin and Minnesota coaching staffs for their battle this week. After a stand-off last season, the teams decided to
water down the winning team's celebration
with the massive axe rivalry trophy by keeping it tucked away until after the game ends. It seems that reminding players that fighting should remain between the sidelines should be enough.
East Division
West Divison
November, 25, 2014
Nov 25
3:30
PM ET
By
ESPN.com staff
| ESPN.com
Questions were asked, and coaches had answers. Here are a few of the highlights from this week's Big Ten conference call.
By the way, if you're not following us on Twitter, what are you waiting for? Follow along at
@ESPNRittenberg
,
@BennettESPN
,
@ESPNJoshMoyer
,
@DanMurphyESPN
,
@MitchSherman
and
@AWardESPN
.
Pat Fitzgerald says he would be in favor of the Big Ten giving its teams the week off for Thanksgiving.

— Mitch Sherman (@mitchsherman) November 25, 2014
Brady Hoke asked about the impact of Rutgers and Maryland joining the Big Ten: "Well, for us it hasn't been very good." Mich. lost to both.

— Dan Murphy (@DanMurphyESPN) November 25, 2014
Mark Dantonio says he's been "very impressed" with ability of Rutgers and Maryland to adjust to Big Ten. MSU beat them by a combined 82-18.

— Mitch Sherman (@mitchsherman) November 25, 2014
Brady Hoke on what has stood out watching Ohio State on film: "Both sides of the ball, and their kicking game, too." So, everything.

— Austin Ward (@AWardESPN) November 25, 2014
Kill on a chance to reach B1G title game with a win: "We're probably doing it sooner than I thought we would."

— Dan Murphy (@DanMurphyESPN) November 25, 2014
Franklin says that being in the pocket is Hackenberg's strength -- but having a pocket isn't a strength of the offense.

— Josh Moyer (@ESPNJoshMoyer) November 25, 2014
Jerry Kill on stopping Melvin Gordon: "It's an issue... He's like a missile." Stresses gap control is essential.

— Dan Murphy (@DanMurphyESPN) November 25, 2014
Minnesota coach Jerry Kill on the status of running back David Cobb: "He'll be very questionable."

— Austin Ward (@AWardESPN) November 25, 2014
November, 25, 2014
Nov 25
2:30
PM ET
Michigan and Ohio State have always fought for some of the same recruits. The Wolverines win some and the Buckeyes win some, and those recruiting battles have real implications on the field.
Each team could have used one or two more victories on the recruiting trail, so let's take a look at a few current players recruited by both teams who could have made an impact for the opposing team in the big game on Saturday, and a few future battles that could impact games in the years to come.
To continue reading this article you must be an Insider
November, 25, 2014
Nov 25
10:42
AM ET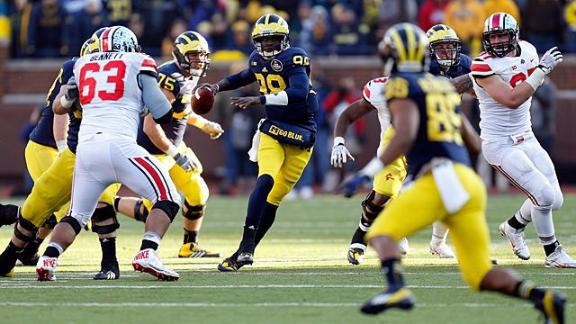 COLUMBUS, Ohio -- Urban Meyer is expecting better behavior from his Ohio State team, and anybody who gets ejected for fighting this year against rival Michigan could face an even harsher penalty from the Buckeyes coach.
"He wants the game to be very intense, but if anybody throws any punches this year, we're dismissed," linebacker Curtis Grant said. "You know he pretty much put it out there [Sunday], so there's no telling what will happen if you get into a fight this year. We've got to be on our best behavior."
Dismissal from a game for fighting is automatic from game officials, something Ohio State running back Dontre Wilson and offensive guard Marcus Hall both found out after a second-quarter melee marred last year's game against Michigan.
Hall missed the Big Ten championship game against Michigan State because of a suspension, a matchup the Buckeyes lost to snap a 24-game winning streak and fall out of position to play for the national title.
Grant seemed to be referring to the in-game disqualification, but with Meyer making it clear during his first team meeting this week that he would have no tolerance for extracurricular activity, the punishment from the program could be severe and long-lasting as well.
November, 25, 2014
Nov 25
10:00
AM ET
Here is a look at all the most important recruiting action from this past weekend within the Big Ten conference.
To continue reading this article you must be an Insider
November, 25, 2014
Nov 25
8:30
AM ET
Let's just get this out of the way: Last week in college football was kind of dull.
Unless, that is, you're into watching the single-game FBS
rushing record fall
for the second straight Saturday. (So who breaks it this week?) Yes, last week was dull, unless, of course, you're into Florida State's
weekly high-wire act
, re-awakenings at
Arkansas
and
Minnesota
or UCLA's
continued stranglehold on Los Angeles
.
My point is, the latest set of games didn't significantly impact the College Football Playoff picture -- at least in comparison to the past few weeks. Barring some craziness at the selection-committee table, the top four on Tuesday night is going to look no different than last week's edition.
But Week 13 was simply the calm before the storm. Not so sure? Check out first nine paragraphs Gene Wojciechowski's
BMOC column
. The rocky road to Dec. 9 is enough to make a fan of any playoff contender choke on his or her turkey dinner.
And it starts in two days.
To continue reading this article you must be an Insider
November, 25, 2014
Nov 25
8:00
AM ET
Good morning, Big Ten fans. Some notes and observations for Thanksgiving week:
1. And then there were two ...:
Bovada released its updated odds Monday on the Heisman Trophy winner, and only two names are left: Oregon's
Marcus Mariota
and Wisconsin's
Melvin Gordon
. Mariota is the favorite with 1-3 odds, while Gordon is at 2-1. All other players/bets are off the board.
I've said this before, but I'm really not sure what else Gordon has to do to pass Mariota here. In a land where there's just
Jesus, girls and Marcus Mariota
, the Oregon quarterback has had an unbelievable season. But Gordon's performance is maybe the best from a running back in the last 25 years. Look at past Heisman-winning running backs -- Mark Ingram, Rashaan Salaam, Ron Dayne, Ricky Williams, Eddie George -- and, with the exception of Williams, Gordon has more rushing yards, more yards per carry and more TDs than all of them. And he's just 15 yards and two TDs shy of tying Williams' production; plus, he's averaging 2.4 yards a carry more than Williams. This isn't just a great season for Gordon; it's historically great. He's having one of the best seasons in NCAA history.
2. Ralph Friedgen returning to Maryland:
The Rutgers' offensive coordinator is not being made available to the media this week ... but it's pretty clear he doesn't like this week's opponent in Maryland. OK, let's be honest: He hates Maryland. He was fired as its coach in 2010, the same year he was named ACC Coach of the Year, which obviously doesn't happen too often. And he
didn't hold back
a few years ago when discussing his alma mater: "I could care less about Maryland, I've burned my diploma. ...Well, they talk about Maryland pride. They didn't show me a whole lot of Maryland pride, either getting the job or getting fired."
Think this game doesn't take on a bit more of added importance? Rutgers players told NJ.com there's
some added motivation this week
. It's a storyline worth following, and it'll be interesting to see how both Friedgen and Maryland fans react to his homecoming.
3. Jerry Kill or Urban Meyer?:
One of them has to wind up as the Big Ten coach of the year -- but which one is it going to be? Minnesota has undoubtedly exceeded expectations this season by picking up the Little Brown Jug and the Floyd of Rosedale ... but Meyer's on the cusp of a playoff berth with a redshirt freshman quarterback who was supposed to spend this season on the sideline. If Kill fails to grab Paul Bunyan's Axe by beating Wisconsin this week, Meyer might have the edge. If the Gophers win and wind up in the Big Ten title game? Well, it'd be hard to pick against Kill. Minnesota hasn't finished first or second in the conference since 1967.
Now, on to the links ...
East Division
West Division
November, 24, 2014
Nov 24
7:30
PM ET
It's Ichigan week at Ohio State. The students and supporters on the southern end of this heated rivalry started the week with their annual tradition of covering every printed
M
on ca... , er, school grounds.
Each year in the week leading up to The Game, red tape covers Ohio State's campus and redacts all the appearances of the unlucky 13th letter of the alphabet that tape can reach. Gossip on Twitter the first day of this week suggested the school was getting rid of the last two letters -- the "um" -- on a large sign that says "Ohio Stadium" and hangs outside the Buckeyes' field. A photo of a crane lifting the letters away turned out to be a hoax.
The Wolverines travel to Ohio's capital city this weekend with a 5-6 record after losing to the Terrapins last Saturday. Ohio State (10-1) needs to beat its rival in order to keep alive its chance for an invite to the College Football Playoff. No red tape needed here.
Kirk Herbstreit's Gameplan Breakdown
BIG TEN SCOREBOARD
Friday, 11/28
Saturday, 11/29