September, 22, 2014
Sep 22
2:00
PM ET
For the most part, the work outside of the Big Ten is done. And after an awful lot of lows, the league finally hit on some high notes before the fun really begins with a Saturday loaded with conference games.
The Big Ten's grace period to celebrate a successful Saturday is over, though. It's time to move on and set the table for what should be an entertaining weekend.
Five things to watch in Week 5
1. What's next for Michigan?:
There was only one team in the league not celebrating Saturday night, and the driving rainstorm wasn't what cancelled the party for Michigan. The Wolverines are still a mess on offense, seemingly incapable of finding the red zone and strangely allergic to maintaining possession of the football, and those problems have left Brady Hoke in a tough spot heading into Saturday's Big Ten opener with Minnesota at the Big House. There doesn't appear to be an easy fix at this point, though a change at quarterback is probably where Hoke will start. But no matter who starts under center, the Wolverines are facing their first legitimate challenge for the Little Brown Jug since losing it in 2005 -- and watching the Gophers put their hands on it would only make life tougher for Hoke.
2. Heisman hype:
The campaign has been steadily picking up steam for weeks for Nebraska's
Ameer Abdullah
, but he might finally have company in the Big Ten now that his buddy
Melvin Gordon
has belatedly thrown his hat in the ring. The Wisconsin star definitively put his slow start behind him with a record-setting outing Saturday against Bowling Green that produced five touchdowns and 253 yards on just 13 carries, and he's got a chance to keep the momentum going as the Badgers wrap up nonconference action at home against South Florida. Meanwhile, Abdullah can try to maintain his position as the Big Ten's current top candidate as the Huskers play host to Illinois and its porous defense.
3. Bucks back to work:
After a rocky training camp and some continued bad news mixed in with an early loss, Urban Meyer hasn't exactly had the best month. The Ohio State coach isn't getting
Braxton Miller
back this season and it seems unlikely he'll ever have star defensive end back with the program either, but that hasn't done much to change his outlook with a team that can still compete for a Big Ten title and a potential spot in the College Football Playoff. Beating up on Kent State won't do much to impress the selection committee, but it gave the Buckeyes and a young roster a jolt of confidence heading into their first off date last weekend. They're facing a dangerous Cincinnati passing attack Saturday, and how Ohio State's rebuilt secondary handles that challenge could reveal just how realistic the odds of contending in the conference really are at this point.
4. Welcome party:
Maybe it's still taking some getting used to, but Maryland's first chance to dive into conference play might help in making it seem more real that it's really a member. After all, what's more Big Ten then a trip to Indiana? In some ways, both the Hoosiers and Terrapins qualify as pleasant surprises for the league at this point, even though both come into a matchup that has the makings of a wildly enjoyable affair with losses on their resumes. Maryland's defeat makes a bit more sense given the way West Virginia has battled with Alabama and Oklahoma already this season, while Indiana's shootout loss at Bowling Green might remain a head-scratcher for a while. Kevin Wilson's club did bounce back in a major way with its upset win at Missouri, but with home-field advantage this week against the newcomers, count this as another win that Indiana likely needs if it's planning on heading to a bowl game.
5. Wild or mild?
: If Northwestern was looking to once again establish itself as a threat in the Big Ten after its disastrous 0-2 start before a bye week, grinding its way to a 24-7 win over Western Illinois wasn't the best way to do it. Going on the road and knocking off unbeaten Penn State? Now that would certainly send a message. It's a tall order for Pat Fitzgerald's club given the various issues that have plagued the Wildcats dating back to the middle of last season, and the Nittany Lions seem to be enjoying the opportunity to play without NCAA sanctions having over their heads lately. The home crowd is likely going to be rocking on Saturday, and Penn State can jump out to an early lead in the East Division thanks to a schedule that already allowed them to play a league game this month. Both teams still have something to prove, but it's the Wildcats who have their backs pressed to the wall even though it's still September.
September, 21, 2014
Sep 21
10:46
AM ET
It was a great weekend for the Big Ten, going 12-1 with the only loss coming from Utah's defeat of Michigan. A few of the games turned out to be exciting matches, including Indiana's win over Missouri and eventually Nebraska's win over Miami.
It was a great opportunity for visiting recruits to see some big games and the prospects took to social media to document those trips. Here is a look at some of the best posts from the weekend.
Nebraska vs. Miami:
This game lived up to the hype and the Cornhuskers put on a show for the visiting recruits. There were some big targets on hand, so this was an important game.
Wide receiver Tavin Richardson made the trip from South Carolina and tweeted his approval of the game.
Tonight's game was turnt????

— GetDoughBoys#?1?1?. (@Rich_Man11) September 21, 2014
Turnt is good. The fans were in full force and as loud as ever, something defensive back Kahlil Haughton took notice of.
Good lord, Nebraska fans are too live!

— Kahlil Haughton (@Kahlilhaughton) September 21, 2014
It's not hard to see why after seeing offensive coordinator Tim Beck's picture of the raucous crowd.
Shoutout to the Nebraska Student section. THIS IS AWESOME !!!!! pic.twitter.com/qZDlAiFEd9

— Tim Beck (@NU_speed_kills) September 21, 2014
Beating Miami in the fashion it did, this was a big win for Nebraska on the field and on the recruiting trail as well.
Penn State vs. UMass:
On paper this doesn't look like a huge game for Penn State, but there were some big visitors in town to watch the Nittany Lions.
A few of the commitments got a chance to bond, and that might be a help for the future as defensive end Jonathan Holland has been talking about taking other visits. He and offensive line commit Sterling Jenkins spent some time together on the visit and seemed to enjoy themselves.
Walking with @S_Jenkins72 is like walking with a celebrity

— Hollywood (@JonHolland_COO) September 20, 2014
Outside of the commitments, Penn State had a few important uncommitted prospects checking out campus as well. The No. 29-ranked prospect in 2016, quarterback Brandon McIlwain took in the game and got the chance to speak with the coaches during the trip.
#ESPNJr300 QB Brandon McIlwain @BFMcIlwainqb12 on his visit to Penn State today: http://t.co/iq67odOjxR pic.twitter.com/pqg2pp9VwO

— Tom VanHaaren (@TomVH) September 20, 2014
Fellow ESPN Jr. 300 prospect Rahshaun Smith, the No. 99-ranked recruit in 2016, was also on campus. Penn State has made the East Coast a big priority, and since Smith hails from Maryland and happens to be a top prospect, he will be a main target for the coaches going forward.
#WeAre #PSU ?????? pic.twitter.com/DFlXApR63m

— Humble & Hungry ?? (@Nextlevel_shaq) September 20, 2014
Eastern Michigan vs. Michigan State:
It was a walk in the park for the Spartans on Saturday as they rolled past Eastern Michigan. That means it was a relaxed time for the recruits after the game once they spent time with the coaches.
Brandon Wildman, a 2016 quarterback, made the trip in from Illinois and got his money's worth on the unofficial visit.
Always great talking with the Salems @CoachSalemMSU pic.twitter.com/HFUt4Z4Nwx

— Brandon Wildman (@brandon_wildman) September 20, 2014
Michigan vs. Utah:
Michigan had the only loss for the conference on Saturday after losing to Utah at home. The Wolverines didn't have a huge visitor list, but there were plenty of prospects watching to see the outcome right from the comfort of their own home.
Todd Sibley, a 2017 Ohio running back, tweeted that he had his eyes on the game and was curious to see what would take place.
Watching this Michigan game very closely ??

— ?Todd Sibley Jr.? (@ToddSib23) September 20, 2014
Sibley was watching because he's interested in Michigan, but the outcome wasn't what he was hoping for. The Wolverines have now lost two games in convincing fashion, which could start to impact prospects and their perception of the program.
It might not have been the best game to have prospects on campus because of the loss, but also because of the terrible weather. The game was eventually delayed due to rain and lightning and resumed over two hours later.
In-state running back Matt Falcon was one of the visitors on hand, though, and because he lives relatively close, this likely won't be Michigan's last chance to impress the talented back.
2016 RB Matt Falcon @mfalcon21 at Michigan today. pic.twitter.com/117lNgrFT0

— Tom VanHaaren (@TomVH) September 20, 2014
September, 21, 2014
Sep 21
8:56
AM ET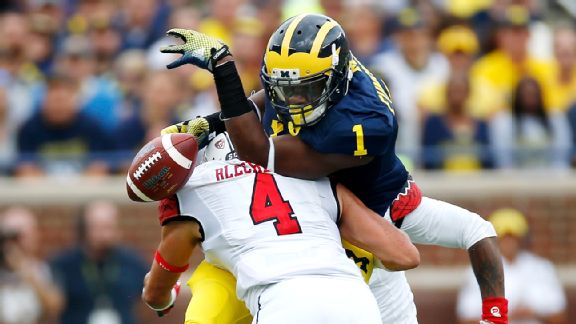 Gregory Shamus/Getty ImagesDevin Funchess and the Wolverines were roughed up by the visiting Utes on Saturday.
Quarterback
Devin Gardner
will be the first change for the
Michigan Wolverines
.
Coach Brady Hoke will be the second, and probably by December.
Athletic director Dave Brandon will be the next, and probably shortly after Hoke.
It's time to start over at Michigan. There's no "fixing it" in the middle of the season. Losing at home -- and being dominated at home -- by Utah signals the denouement,
as I wrote
earlier in the week. The end is near.
"Utah's a good team -- tough, physical, well-coached," a Pac-12 coach said Saturday afternoon, "but Michigan can't lose at home to Utah. You're Michigan."
The offense again didn't score a point, again didn't reach the red zone against a Power 5 opponent. (It didn't against Notre Dame, either.)
There's a deep culture of blah at Michigan, and it has prevailed since last November. It starts with a faulty offensive line, which undermines even a seemingly talented runner like
Derrick Green
and forces its quarterback into poor decisions. That's why backup
Shane Morris
, whenever his number is called, will offer no more solutions than Gardner. It's still September, yes, but Michigan's season is doomed.
With Green (the No. 38 overall prospect in 2013) as an example, it's not as if the Wolverines are bereft of talent. They had RecruitingNation's No. 6 class in 2013, and No. 5 class in 2012. Shouldn't those players be hitting their stride about now? If not, why not?
The situation reminds me of Auburn when it was clear that Gene Chizik needed to go (apart from the fact that Michigan has no title year to hang its hat on). Highly ranked recruiting classes yielded little to no results. When the program started to lose the fan base and future recruits, that's when it made the move.
Hoke is a seemingly good guy, but Michigan will soon do the same. It has no choice, because it will only get worse. Even the next three games -- Minnesota, Rutgers and Penn State -- suddenly look rife with peril.
That's where the Week 4 takeaways begin. Later: Why Jeff Long, Condi Rice, et al, should send a gift basket to Clemson, South Carolina; Texas A&M will now resume its regularly scheduled schedule; Florida (and LSU and Clemson) needs to give its freshman QB a shot; Oklahoma's best back emerged in Morgantown.
September, 20, 2014
Sep 20
9:21
PM ET
Associated Press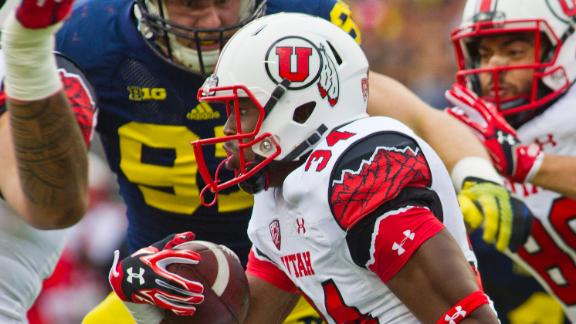 ANN ARBOR, Mich. -- Travis Wilson returned after a frightening fall in the first half to throw a third-quarter touchdown pass, and Utah finally finished off a 26-10 win over Michigan on Saturday after a lightning delay in the fourth quarter of 2 hours, 24 minutes.
The game was delayed with 7:51 remaining, and when it resumed, not much was left of the announced crowd of 103,890. Michigan (2-2) was already down 26-10 at that point.
Wilson left the game in the second quarter after he tried to leap over a Michigan defender and landed on his head. The Utes (3-0) led 13-10 at halftime anyway, and Wilson found Dres Anderson for a 28-yard touchdown early in the third.
September, 20, 2014
Sep 20
6:31
PM ET
Crisis In Ann Arbor?