October, 1, 2014
Oct 1
5:00
PM ET
We haven't corresponded in far too long. Let's catch up, shall we?
@BennettESPN Has the Nebraska-MSU game taken over the preseason consensus pick of Ohio State-MSU as the biggest conference game of the year?

— Adam Wilson (@wilsonadamiam) October 1, 2014
Brian Bennett: I'm going to East Lansing this weekend and simply cannot wait. This game should be terrific, especially since Nebraska has had more offensive success against Michigan State's defense than anyone else in the Big Ten. The Huskers have a real shot on Saturday night, and I'm expecting a thriller.
In some ways, it could be the biggest game of the year in the conference, because the loser is basically out of the running for the College Football Playoff. But I always think division games are bigger. Whichever team loses this weekend could still get to Indianapolis (perhaps to force a rematch). The Ohio State game may still loom larger for Michigan State because of the division stakes, just as Wisconsin (and possibly Iowa and Minnesota) will for Nebraska. But there might not be a better Big Ten matchup all year then the one on deck at Spartan Stadium.
@BennettESPN Didn't expect announcement of 2 QB system from Iowa coaches. Should we be nervous? Can't recall last time 2 QBs worked out.

— DamirSD (@dspot23) October 1, 2014
Brian Bennett: Well, you don't have to look too far back to find successful two-QB systems in the Big Ten. Northwestern pulled it off during a 10-win season in 2012, while Indiana successfully juggled Nate Sudfeld and Tre Roberson last year.
So it can work, though in those examples, the two quarterbacks offered different skill sets. C.J. Beathard and Jake Rudock aren't all that dissimilar, though Beathard seems to throw a better deep ball and Rudock is a better scrambler. This will likely be more of a ride-the-hot-hand situation than a strict platoon. That has higher potential to be divisive, but at this point, neither quarterback has really separated himself with consistent play.
@BennettESPN 1yr ago UofM was said to be 'a year away' from title contention. Were there any overlooked signs of what has actually happened?

— Matt Kirwin (@UofMKirwin12) October 1, 2014
Brian Bennett: I'm not sure who said Michigan was a year away, and in fact, I was always skeptical of the Wolverines this year. Still, it's Brady Hoke's fourth year and his roster should be full of his recruits by now. He can make excuses for being young all he wants, and yes, the offensive line is still fairly inexperienced. But look at Ohio State and how many first-year and second-year players are making key contributions.
The biggest knock on Hoke, in my mind, is the lack of player development in Ann Arbor. (Our Tom VanHaaren did a nice job of detailing that here.) The only two players Hoke has recruited who have made an All-Big Ten team are Blake Countess and Devin Funchess, who were both second-team selections in 2013, and outside of Funchess, none would make an All-Big Ten team if the season ended today. That's way too low of a number for Michigan.
---
Disrespected Husker Fan from Lincoln writes: Can you explain the reasoning for everybody keeping Nebraska so low in the polls despite their undefeated record? McNeese State would beat Kansas by two touchdowns.
Brian Bennett: I'm not sure comparing yourself to Kansas is the best way to earn respect. While it would be foolish to get hung up on meaningless polls, I do think Nebraska is ranked curiously low right now at 5-0. That's because, in my opinion, of two factors: 1. People still remember that close call with McNeese State (a team, by the way, that is ranked No. 5 in the FCS); and 2. Voters still have a healthy distrust for the Cornhuskers because of their stumbles in big games the past few years.
There's no reason to fret about it, however. If Nebraska manages to win this weekend, it will make a huge leap in the polls. More importantly, the committee will have to consider a 6-0 Huskers team very seriously. An unbeaten Big Ten champion would almost certainly get into the playoff.
@BennettESPN what will it take for IU to beat Iowa nxt week? are there 3 games remaining after NT that are winnable to get bowl eligible?

— Iago (@_Blake_Jones) October 1, 2014
Brian Bennett: If Indiana's recent pattern continues, the Hoosiers probably will lose to North Texas and then beat Iowa. The win at Missouri stands as the most inexplicable result in the Big Ten thus far. Obviously, beating the Mean Green this week is crucial for Kevin Wilson's team, which then must find three more victories in Big Ten play. Indiana will be favored to beat Purdue at home in the finale, so there's one. The other three best options appear to be at reeling Michigan on Nov. 1, at home against Penn State (whom the Hoosiers beat last year in Bloomington) on Nov. 8 and at Rutgers on Nov. 15.
But until Wilson's team can find some consistency from week to week on both sides of the ball, I'll believe it when I see it.
October, 1, 2014
Oct 1
12:37
PM ET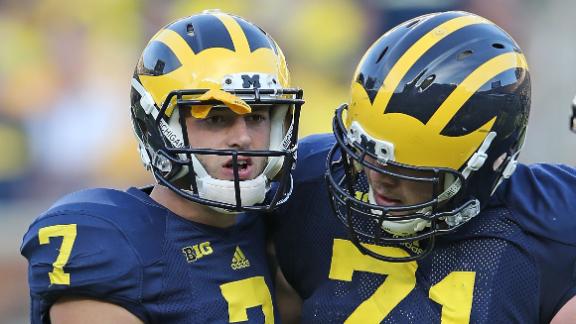 Michigan coach Brady Hoke, who moved Devin Gardner back into the starting quarterback role Wednesday, said he takes responsibility for communication issues that allowed Shane Morris to return to the field on Saturday after he showed symptoms of a concussion.
Hoke, however, reiterated that it's not his decision to determine when players are healthy enough to play. He declined to clear up any discrepancies between his account of the weekend's events and a statement released by athletic director Dave Brandon at 1 a.m. Tuesday.
"When you're a leader you have to take responsibility," Hoke said. "I take responsibility for our student-athletes, and I take it for their health and welfare."
Gardner, a redshirt senior, will start at quarterback against Rutgers on Saturday night. He had started 16 consecutive regular-season games before last week.
Morris, who suffered a high ankle sprain in addition to the head injury Saturday, wasn't listed by Hoke as an option for the Rutgers game.
Hoke and his players are the only members of the Michigan athletic department to date who have fielded questions about what Brandon called a "serious lack of communication" in a written statement. Hoke said he still has a strong relationship with his boss and that he isn't bothered by the statement.
"This is a big family, this university is. That's the way we look at it," Hoke said. "The statement itself is what we stand by."
October, 1, 2014
Oct 1
11:30
AM ET
Michigan coach Brady Hoke is in his fourth season, but the Wolverines find themselves starting just one senior on offense and feature a variety of players yet to solidify their starting roles.
Hoke has said this is a young team and attributes that fact to some of the woes on the field.
While youth can be a factor in some cases, one Big Ten assistant says it shouldn't be an excuse for why a team isn't performing, or why players aren't developing.
"I'm not sure anyone can use the excuse of a young team," the coach said. "It's the coaches' job to get players ready to play. If they don't have experience, then you have to minimize what you ask [the players] to do."
To understand Michigan's situation, we take a look at the past recruiting classes, how the players have developed and how the results compare to their biggest rival.
Class of 2011
Hoke was hired in January 2011, so he and his staff only had a month to add any pieces to the 2011 class before national signing day. Hoke and his assistants added several prospects to this class, and these players are currently either seniors or redshirt juniors.
[+] Enlarge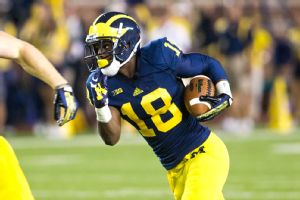 AP Photo/Tony DingBlake Countess is one of just five players from Michigan's 2011 recruiting class who have blossomed into solid contributors.
Total commits:
19
ESPN 300 commits:
0
Solid contributors (5):
Brennen Beyer
,
Blake Countess
,
Frank Clark
,
Desmond Morgan
,
Raymon Taylor
Players who left early (7):
Thomas Rawls
, Chris Barnett, Tony Posada,
Chris Rock
, Antonio Poole, Greg Brown, Tamani Carter
Outcome:
With seven players leaving before graduating, that was a huge blow to depth and the current roster. Only having five of 19 commitments develop to their potential didn't help, either.
Class of 2012
This was Hoke's first full class, and those players are now either juniors or redshirt sophomores. These prospects have had three years in Hoke's system and ideally should be the big contributors for the program.
Total commits:
25
ESPN 300 commits:
4
Solid contributors (5):
Devin Funchess
,
Jehu Chesson
,
Willie Henry
,
Joe Bolden
,
Jarrod Wilson
.
Jury is still out (4):
Amara Darboh
,
Dennis Norfleet
,
Chris Wormley
,
James Ross
.
Comparison:
Ohio State's 2012 class had 25 commits as well, and eight of those prospects turned into solid, consistent contributors. Urban Meyer was hired in November 2011, so this was partially his first class.
Outcome:
You could make the argument that there is still time left for these players to develop. Time is running out, though, and having only five of 25 playing up to their expected potential from this class is not good for the roster.
Class of 2013
This was Hoke's second recruiting class at Michigan and it was loaded with talent. This class is now redshirt freshmen and sophomores, so it's hard to fully judge these prospects as they still have plenty of football ahead of them.
Total commits:
27
ESPN 300 commits:
15
Solid contributors (5):
Derrick Green
,
Jake Butt
,
Jourdan Lewis
,
Delano Hill
,
Taco Charlton
.
Jury's out (5):
David Dawson
,
Patrick Kugler
,
Chris Fox
,
Mike McCray
,
Ben Gedeon
.
Comparison:
Ohio State's 2013 class was Meyer's first full class and 11 of the 24 commitments are already solid, consistent contributors. This is impressive, as these players are still relatively young. Having that many young contributors has helped accelerate Meyer's plan for the Buckeyes and turned them into Big Ten title and College Football Playoff contenders.
Outcome:
Michigan's recruiting classes have improved as time has gone on, but it might be too late. The 2011 and 2012 classes were where the Wolverines needed the most help with Hoke's transition, and whether it was lack of development or some other reason, those players haven't provided much production. Prospects from the 2013 and 2014 classes have started to take over as the majority of the impact players for the Wolverines.
Class of 2014
This was Hoke's best class yet, with a five-star commit and 10 prospects ranked as four-stars. Injuries have hampered a few prospects from making a real impact, but it is clear that the younger players are already pushing for time on the field.
Total commits:
16
ESPN 300 commits:
9
Solid contributors:
Mason Cole
,
Bryan Mone
.
Comparison:
Ohio State had 23 commitments in its 2014 class with 11 ESPN 300 prospects. The Buckeyes are seeing results from
Curtis Samuel
,
Raekwon McMillan
,
Sean Nuernberger
and
Erick Smith
. The Buckeyes have five true freshmen in the two-deep, so they are again getting production from the younger players.
Outcome:
Jabrill Peppers
,
Drake Harris
and a few other prospects have dealt with injuries, preventing them from consistently contributing. By all accounts, Peppers should be on the field when healthy and this class already has one starter in Cole along the offensive line. It's too early to tell how these prospects will pan out, but it is looking as though there will be some good players from this class.
October, 1, 2014
Oct 1
10:20
AM ET
It's already October, and some teams will reach the halfway point of their schedules by the end of the weekend. Time flies when you're having fun or protesting to oust your athletic director.
Michigan remains on the front page, rather than the sports page, for the way it handled quarterback Shane Morris' concussion and the hit's aftermath. Students and alumni marched to the university president's house to ask that athletic director Dave Brandon be removed from his post. The biggest authority figures on campus doled out written statements Tuesday, leaving head coach Brady Hoke and his players to answer all the questions that follow. A member of Congress got involved, but the Big Ten said it won't penalize Michigan for failing to follow the conference's head injury protocol. This is growing into a problem that doesn't appear will wash away with the next news cycle.

[+] Enlarge

Eric Francis/Getty ImagesNebraska's Ameer Abdullah is getting plenty of Heisman Trophy consideration already.

Ameer Abdullah sprinted forward in the Heisman Trophy chase this week after churning out another 200-yard performance Saturday against Illinois. The Alabama native is now behind only Oregon quarterback Marcus Mariota and Georgia running back Todd Gurley, according to the oddsmakers in Vegas. Abdullah jumped from a 25-1 candidate to a 9-1 candidate in a week. He could launch himself into the frontrunner spot with another standout performance and a victory over Michigan State in East Lansing this Saturday.

It's been a good start to the week for second-string quarterbacks around the Big Ten. Iowa announced its former backup, C.J. Beathard, will split time with Jake Rudock in a platoon system moving forward. Maryland's Caleb Rowe received a big vote of confidence from his head coach while challenging C.J. Brown for playing time. And lastly, Wisconsin veteran Joel Stave, who began the season with 19 career starts, has battled through the mental block that kept him on the sideline during September.
Read about all those quarterback happenings and more, in this morning's edition of the links:
East Division
West Division
September, 30, 2014
Sep 30
11:00
PM ET
What happens when you have a large senior class about to graduate? You target a large recruiting class like Mississippi State is in 2015. Michigan's recruiting remains in chaos, as another Wolverine commit is having second thoughts.


September, 30, 2014
Sep 30
10:43
PM ET
September, 30, 2014
Sep 30
6:18
PM ET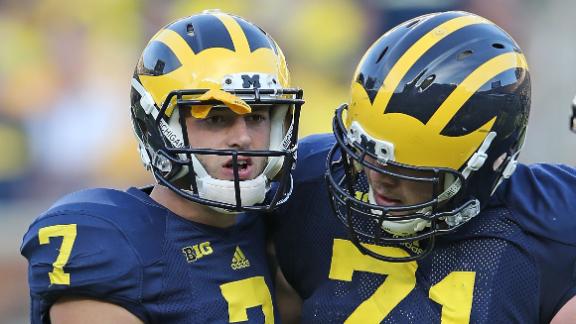 University of Michigan president Mark Schlissel has asked for a "thorough review" of the school's in-game player safety procedures following the controversy surrounding quarterback Shane Morris' head injury.
In his first public comments on the situation, Schlissel issued a statement Tuesday afternoon expressing "extreme disappointment" in how the Wolverines coaches and medical staff handled the injury to Morris in Saturday's loss to Minnesota. Morris was left in the game despite appearing woozy from a shot to the head and was later put back in the game for one play. Michigan athletic director Dave Brandon acknowledged in his own statement early Tuesday morning that Morris had suffered a mild concussion..
Schlissel said he has been in "regular discussion" Brandon and the school's board of regents about the incident and wants the athletic department to provide him and other campus leaders with detailed injury and safety procedures. Those protocols will also be reviewed by experts from Michigan's medical system, he said.
"Despite having one of the finest levels of team medical expertise in the country, our system failed on Saturday," Schlissel said in the statement. "We did not get this right and for this I apologize to Shane, his family, his teammates, and the entire Michigan family. It is a critical lesson to us about how vigilant and disciplined we must always be to ensure student-athlete safety. As president, I will take all necessary steps to make sure that occurs and to enforce the necessary accountability for our success in this regard."
Schlissel has been Michigan's president since July. He was previously the provost at Brown.
Brandon outlined two changes Michigan will make immediately.
September, 30, 2014
Sep 30
4:00
PM ET
Brady Hoke's call was a focus this week, as he spoke for the first time since the
12:52 a.m. Tuesday news release
regarding student-athlete welfare. We offered a brief overview there but, as always, we included highlights throughout the conference.
By the way, if you're not following us, what are you waiting for? Follow along at
@ESPNRittenberg, @BennettESPN, @ESPNJoshMoyer, @DanMurphyESPN, @MitchSherman and @AWardESPN.
Hoke says he won't add anything to Brandon's statement today. "I feel bad for Shane."

— Dan Murphy (@DanMurphyESPN) September 30, 2014
Hoke says "we'll see" about Morris playing Saturday at Rutgers. At this point, I see no good reason why Michigan would play him.

— Brian Bennett (@BennettESPN) September 30, 2014
Brady Hoke: "The statement is out there, and it is what it is." That really cleared things up. Bizarre teleconference.

— Austin Ward (@AWardESPN) September 30, 2014
Pelini says there's no coach in the B1G who would trot out someone on the field who's "dinged." "Anyone who would imply otherwise is wrong"

— Josh Moyer (@ESPNJoshMoyer) September 30, 2014
Gary Andersen notes there's not a player on Wisconsin roster that has played in Evanston. Calls Northwestern "a new venue" for Badgers.

— Brian Bennett (@BennettESPN) September 30, 2014
"I don't think we have a talent problem. I think we have some young corners that need to play better." Urban Meyer on his secondary

— Austin Ward (@AWardESPN) September 30, 2014
Dantonio notes SR DE Marcus Rush in line to have most career starts in Michigan State history. Still one of most underrated guys in B1G.

— Brian Bennett (@BennettESPN) September 30, 2014
Minnesota's Jerry Kill: "The ceiling for our whole team is that we can get a lot better." If so, Gophers will be a contender in the West.

— Mitch Sherman (@mitchsherman) September 30, 2014
Franklin: "It's not like a whole lot of things popped up on Saturday that we haven't been writing stories about all year long."

— Brian Bennett (@BennettESPN) September 30, 2014
September, 30, 2014
Sep 30
3:43
PM ET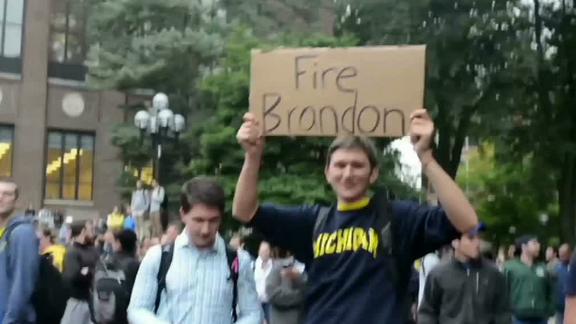 ANN ARBOR, Mich. -- Students and fans flooded the front lawn of University of Michigan president Mark Schlissel's on-campus house Tuesday night, demanding the school get rid of athletic director Dave Brandon.
A few hundred protesters gathered at the school's nearby Diag -- a popular outdoor meeting place on campus -- at 6 p.m. and marched the short distance to the president's house a half-hour later. Craig Kaplan, an undergraduate senior, stood on the home's front steps and led chants with a bullhorn as the rally wound down shortly before 7 p.m.
"Michigan has a special place in my heart," said Kaplan, who played a role in organizing the protest. "The fact that it's been mismanaged like this hurts me deeply as a student, as a fan, just as a person that cares about this university. It makes me upset how students have been handled and how the culture at Michigan has changed."
The protest came in the wake of Brandon and Schlissel acknowledging that the athletic department made mistakes while dealing with quarterback Shane Morris' head injury during Saturday's 30-14 loss to Minnesota in Ann Arbor.
Brandon said a "serious lack of communication" on the Michigan sideline Saturday allowed Morris to return to the field after showing symptoms of a concussion. The incident and the way Brandon and his employees handled its aftermath have led to a large group of Michigan supporters to call for his ouster. More than 9,000 students, staff members and alumni have backed Brandon's removal in an online petition started by a graduate student Monday night.
College Football Minute