December, 19, 2014
Dec 19
3:17
PM ET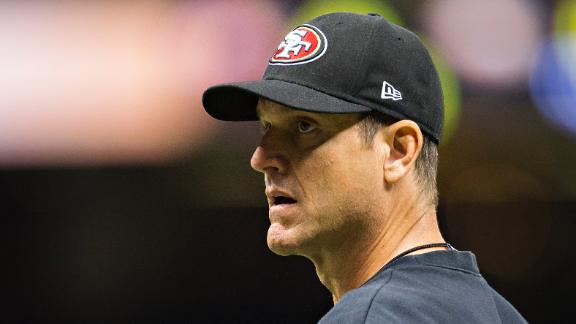 San Francisco 49ers coach Jim Harbaugh's family and friends have been encouraging him to take the University of Michigan head-coaching job, but he is torn because his heart is in the NFL, according to sources close to the situation.
Harbaugh first would like to see what head-coaching opportunities come available -- and he is likely to be a top choice for a handful of teams -- before getting back to Michigan with an answer, per sources.
He also is aware of the fact that Michigan might not be able to wait for him, especially when it might not even land the coach who is believed to be the school's top choice. Plus, college football recruiting is in full swing. The longer a school waits, the more of a disadvantage it can be. It leaves both sides in a tough and delicate spot, even though they have mutual interest in each other, per sources.
Harbaugh would like to finish coaching this season, go through the players' getaway day on Dec. 29 and then make his decision as quickly as possible. As another source said, Harbaugh's agent Dave Dunn "has a good sense of realistic NFL options already."
But as one Michigan source wondered Friday, "If he wants to stay in the NFL, who will pay him $8 million per year?" -- an indication that the Wolverines are prepared to go hard after Harbaugh.
There is an undisputed emotional connection for Harbaugh, who played at Michigan, is an iconic figure there and has been hearing from family and friends about returning as the prodigal son. Harbaugh's father, Jack, is influential with his son and has made it known that he likes and admires Michigan interim athletic director Jim Hackett, whom he got to know in the mid-1970s, when he was coaching the defensive backs at Michigan while Hackett was playing center at the school.
December, 19, 2014
Dec 19
2:30
PM ET
By
ESPN.com staff
| ESPN.com
Every day this week, before the bowl season kicks off, our Big Ten panel of experts weighed in on different topics related to the regular season.
Our final question of the week:
What was your favorite Big Ten moment of the season?
Brian Bennett:
Take a bow, Melvin
[+] Enlarge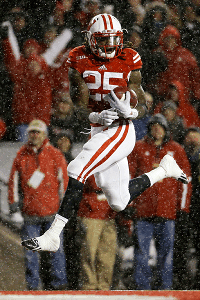 AP Photo/Morry GashNeither sleet nor snow could stop Melvin Gordon against Nebraska.
If there's one moment that I'll forever remember from the 2014 Big Ten season, it happened at Camp Randall Stadium on Nov. 15. That was the day
Melvin Gordon
went off the hinges, running for a then-record 408 yards vs. Nebraska. He averaged a ludicrous 16.3 yards per carry and scored four touchdowns in the most unstoppable individual performance you're ever likely to see. Best of all, Gordon capped his day with a 26-yard touchdown run that gave him the record on the final play of the third quarter. Snow had begun to fall, and Gordon sealed the record with a little bow in the back of the end zone. His record somehow lasted only one week, but the memories will persevere forever.
Josh Moyer:
Penn State fans celebrating the end of the postseason ban
It wasn't the most important Big Ten moment of the 2014 season, but it's still one I've never quite seen before – and probably never will again. After the NCAA announced the
elimination of the bowl ban
, along with other sanction reductions, PSU fans spilled into the streets of downtown Happy Valley and celebrated as if they just knocked off the top team in the nation. Two years of anger and frustration gave way to unbridled joy. Thousands sprinted to different venues on campus and just
chanted, screamed and sang
. Some even crowd-surfed on mattresses at the last stop. I've seen big fan celebrations before, but never for something that happened
off
the field. It was quite a sight.
Mitch Sherman:
Mark Dantonio's answer to the Michigan disrespect
The seeds were planted long before Oct. 25, but when Michigan linebacker
Joe Bolden
drove a stake into the turf at Spartan Stadium, Michigan State reached its boiling point. It's rare that we get to see the reserved Dantonio stick out his chest, but the Spartans punctuated a 35-11 win over U-M with a
Jeremy Langford
touchdown run in the final 30 seconds. That was a message in response not just to the pregame stake-planting but years of disrespect. "I felt like we needed to put a stake in them at that point," Dantonio said after the game, also referencing the "little brother stuff" that has long brewed in this series. It was a great subplot, of which Michigan coach Brady Hoke, fittingly, was "not fully aware."
Austin Ward:
Anthony Schlegel's takedown of a fan on the field
Leaving the stands and running on the field is pointless, dumb and dangerous right from the start. In case anybody had overlooked that last part, Ohio State assistant and former linebacker Anthony Schlegel offered a reminder that would have made The Rock proud. After a student had the bright idea to step on the turf at the Horseshoe during a September game against Cincinnati, he compounded it by getting a bit too close to the Ohio State sideline, where Schlegel popped out to plant him in the ground with an unforgettable body slam. The lesson, as always, is to stay in the seats.
Dan Murphy:
Michigan-Ohio State moment of sportsmanship
Maybe it's all this Christmas music that has me feeling sappy, but the moment that keeps coming to mind (other than Melvin Gordon's insane performance against Nebraska) was shortly after
J.T. Barrett
's season-ending injury against the Wolverines. Michigan quarterback
Devin Gardner
made his way on to the field and offered some support to Barrett, who was still laid out on his back as trainers worked on his leg. At that point, it was the fourth quarter of a one-touchdown game between bitter rivals with a lot on the line -- a potential playoff berth for the Buckeyes and a last-ditch effort to save their coaching staff for the Wolverines. One of the worst moments of the year (Barrett's injury) was quickly followed by a great one. The quarterback's show of genuine solidarity was a reminder that these guys are human beings. Gardner fell short of expectations on the field this season, but it's far more appropriate that college football's lasting image of him will be that moment of sympathy.
Adam Rittenberg:
Bust a move, Coach Kill
I'm tempted to go with Gordon in the snow against Nebraska, especially since I was there to witness history, but Jerry Kill gets my vote for
his "old age" dance moves
after Minnesota wins. Minnesota's rise under Kill has been one of the best Big Ten story lines in the past two seasons. Many wondered early in 2013 if Kill's coaching days soon would end because of his struggle with epilepsy, particularly seizures on game day. But the coach has his condition under control and continues to show why he's one of the best at getting the most out of his teams. You couldn't help but smile seeing Kill enjoy the wins by
dancing in the locker room
, surrounded by his joyous players. Those moments never get old.
December, 19, 2014
Dec 19
8:00
AM ET
Bowl season is a tricky time for coaches to motivate players.
"You can grind guys up if you occupy them too much mentally," Northwestern coach Pat Fitzgerald said this week.
Read more from Fitzgerald and others Friday on ESPN.com about motivation in bowl season. His Wildcats, sitting home this month, would trade places with any of the 10 Big Ten bowl teams. And with that wonderful time of year to start on Saturday -- the first Big Ten bowl game is still a week away -- it makes sense to look at the factors motivating conference teams.
Here's a ranking of Big Ten teams with the most for which to play in the postseason:
Ohio State (Allstate Sugar Bowl, vs. Alabama, Jan. 1):
A clear leader in this category as the Big Ten representative in the College Football Playoff, the Buckeyes carry the weight of the league on their shoulders. What else is new? Ohio State is flagship program of the Big Ten under Urban Meyer, who had
a lot to say
Thursday about his team's daunting task against the Crimson Tide.
Michigan State (Goodyear Cotton Bowl, vs. Baylor, Jan. 1):
The Spartans lost to a pair of playoff teams, yet they're largely forgotten nationally. A
business trip
to Texas to face Baylor, the next best thing to a playoff opponent, offers a chance for MSU to finish on a high note nearly equal last year's Rose Bowl win.
Minnesota (Buffalo Wild Wings Citrus Bowl, vs. Missouri, Jan. 1):
A victory in Orlando would give the Golden Gophers a nine-win season for the first time since 2003 and the second time in more than a century, and it would represent the school's best two-year run in over 50 years. It won't come easy against the two-time SEC East champ. The Gophers must run the ball effectively, their bread and butter,
now and in the future
.
Penn State (New Era Pinstripe Bowl, vs. Boston College, Dec. 27):
The Nittany Lions, exposed in the second half of this season for a
lack of overall talent
, can end on a high note in this much-awaited return to the postseason after a two-year bowl ban. A visit to New York against a regional recruiting rival heightens the stakes.
Rutgers (Quick Lane Bowl, vs. North Carolina, Dec. 26):
The Scarlet Knights exceeded expectations to make it this far. After an inspiring comeback win over fellow Big Ten newcomer Maryland to close the regular season, confidence is high, though the
uncertain injury status
of star receiver
Leonte Carroo
threatens to put a damper on the excitement around this bowl trip.
Wisconsin (Outback Bowl, vs. Auburn, Jan. 1):
Motivated by the embarrassment of a 59-point loss in the Big Ten title game, the Badgers got knocked down another step by the surprise departure of Gary Andersen. But the return of Paul Chryst has boosted the spirits of players, who will look to impress their new coach as he observes in Tampa. Against Auburn's multi-faceted offense, Wisconsin must use
everything at its disposal
, including QB
Tanner McEvoy
on the defensive side.
Nebraska (National University Holiday Bowl, vs. USC, Dec. 27):
The Cornhuskers are also playing to catch the eye of a new coach, as Mike Riley figures to watch closely. Riley's new staff will start fresh though, so what happens in San Diego stays in San Diego. Still, Nebraska players, amid a dramatic exit from their former coach that has
sparked more debate
, want to provide a fond farewell for their old staff of assistant coaches.
Illinois (Zaxby's Heart of Dallas Bowl, vs. Louisiana Tech, Dec. 26):
With victories over Penn State and Northwestern to get bowl eligible, Illinois has won simply by making it this far. No marquee opponent awaits, and Dallas isn't exactly a winter paradise, though maybe the
man of the hour
, QB
Reilly O'Toole
, can rally the Fighting Illini once again.
Maryland (Foster Farms Bowl, vs. Stanford, Dec. 30):
Did the Terrapins run out of gas in the second half against Rutgers? It was a long season, packed with several highlights, in Maryland's first season of Big Ten play. But a visit to face Stanford, which is coming off four consecutive major bowls, near its home turf, looks like
another significant challenge
for Randy Edsall's team.
Iowa (TaxSlayer Bowl, vs. Tennesssee, Jan. 2):
The Hawkeyes need someone to step up, a
habitual practice
in the postseason, or they face a dull ending to a disappointing season that set up well in Iowa City.
Around the rest of the league:
December, 18, 2014
Dec 18
11:00
PM ET
If Jim Harbaugh takes the Michigan job, it could shake up the recruiting race in the Big Ten. Plus, Paul Chryst's hiring at Wisconsin makes a lot of sense.


December, 18, 2014
Dec 18
5:49
PM ET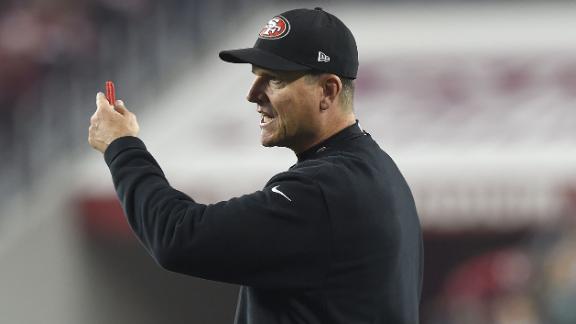 San Francisco 49ers coach Jim Harbaugh would not bite Thursday when asked to comment on numerous reports that have him and alma mater Michigan exchanging flirtatious glances.
"As you know, I only talk about the job that I have," Harbaugh said in his news conference. "Been together a long time. It's a long-standing policy."
But surely, the Michigan man must have a soft spot in his heart for the Wolverines, for whom he played from 1983 through 1986 and finished third in the Heisman Trophy voting as a senior, no?
"Again, I mean, I really don't want to talk about any other job than the one I have," Harbaugh said, "or talk about anybody else's process."
Harbaugh has one year remaining on the five-year, $25 million contract he signed with the 49ers in 2011, but he appears on his way out of Santa Clara after an underachieving season rocked by controversy, arrests and injuries. At 7-7, the Niners are eliminated from the playoffs with two games to go following three straight trips to the NFC title game.
The 49ers close out the season with home games against the San Diego Chargers on Saturday and the Arizona Cardinals on Dec. 28.
The NFL Network reported Wednesday night that Michigan was prepared to offer Harbaugh a six-year contract worth $48 million, while ESPN NFL Insider Adam Schefter reported Harbaugh had interest in the Michigan job.
Harbaugh, who was reportedly close to being traded to the Cleveland Browns
December, 18, 2014
Dec 18
2:00
PM ET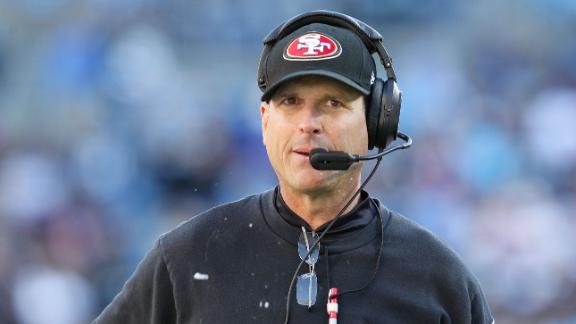 Michigan
reportedly offered its head coach position
to
San Francisco 49ers
coach Jim Harbaugh on Wednesday. That move perked up the ears of Michigan commitments and potential targets with the possibility of a big-name coach coming to Ann Arbor.
Coming off a losing season With six current commitments, Michigan is in an interesting situation, wanting to make a big splash with this hire. When former coach Brady Hoke was hired from San Diego State, some of the top national recruits had concerns about the coach because they didn't know much about him and didn't know if he could win at the highest level.
Both of those concerns would not be an issue with Harbaugh, as he is prominently known across the country and has proven to be a winner on all levels.
When 50 ESPN 300 Michigan commitments and targets
were polled by ESPN.com earlier this month
, 22 said they would like to see Michigan hire Harbaugh. If the Wolverines are able to reel in the coach, it could yield immediate results.
ESPN 300 tight end
Chris Clark
had been committed to Michigan since June 19, but decommitted on Dec. 2 to explore new options. Clark tweeted that he hopes Michigan does hire Harbaugh and said it would definitely help Michigan to get him back in the fold.
To continue reading this article you must be an Insider
December, 18, 2014
Dec 18
1:31
PM ET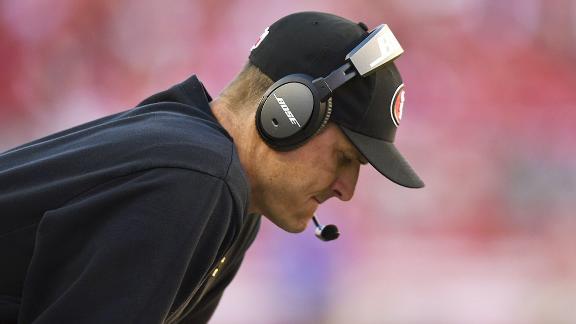 You're a Michigan fan. You're praying that Jim Harbaugh, the San Francisco 49ers coach who used to be the coach at Stanford, accepts the reported six-year, $49 million offer and turns yet another program into a winner. But you're also a little wary. You know that there's a cost to Harbaugh's success. You've closely followed the drama of the 49ers this season, reading report after report about how he manages to win but alienate nearly everyone in the process.
You think you're getting that guy?
Well, maybe not. As 49ers offensive coordinator Greg Roman told me earlier in the fall: "Jim the college coach is Jim the college coach. Jim the NFL coach, there are some differences."
So what will Jim the college coach (possibly) bring to Ann Arbor? Here's a quick cheat sheet.
1. He'll Give The Strangest -- and Coolest -- Recruiting Pitches
The stories of Harbaugh visiting homes on recruiting trips are legendary: How he would wear the same set of clothes every day during a week-long trip; how he would sometimes make house visits in sweatpants; how, according to Stanford assistant coach Ron Lynn, "it was not beyond him to take off his shoes" in a recruit's living room and ask for a spittoon.
But the best Harbaugh recruiting story comes from when the recruits and their families visit Palo Alto. The football administrators would lead them into the team meeting room. Suddenly, Harbaugh would appear, holding (no joke) a samurai sword and a shovel. "With one hand we'll fight, and with the other we'll build!" he'd say. Even the longtime college coaches had never seen anything like it. And it worked.
2. But You Might Not Get a Recruiting Pitch At All
December, 18, 2014
Dec 18
8:00
AM ET
Live football has almost returned. Until it arrives again, take a few spins on the coaching carousel.
The Wisconsin Way:
Continuity should be back at Wisconsin, and the program made it clear that it won't be compromising anything it proudly stands for to keep it. By sticking inside the family on Wednesday and officially bringing Paul Chryst back home, the Badgers have somebody who knows exactly what the job entails and a coach who almost certainly won't be making a lateral move at any point in the future. Maybe the Badgers will start spending more money on assistants down the road, so there's some flexibility there in regards to an issue that turned off Bret Bielema. But in terms of knowing the kind of recruits it can expect to land and clearly laying out the academic requirements moving forward, not to mention bringing in an existing relationship with the university and the boss, Chryst couldn't be any better suited to provide stability for Wisconsin after a rough stretch of losing Bielema and then Gary Andersen after two short years.
Down to one:
Wisconsin moving quickly leaves only Michigan active on the job market, and while there's no telling when that search will end, it is effectively the only one that still has a chance of connecting on a true home-run hire. No offense to Chryst or new Nebraska coach Mike Riley, because those were smart, sensible hires that made perfect sense for each program -- but they certainly don't qualify as splashy or scream that championships are on the way. If Les Miles is definitively out of the picture, it really seems as though Jim Harbaugh is going to have to come through for the Wolverines once his commitments to San Francisco are over at the end of the NFL season. And it seems like Michigan is fully
committed to doing whatever it takes
to deliver him. Maybe there's another huge name secretly looming out there for Michigan, but if there was, wouldn't there have been some indication of that by now? The Big Ten is down to one job, and there really only seems to be one guy who should claim it.
Coordinator corner:
Just below those headline vacancies leading Big Ten programs, the chance to replace Tom Herman as Ohio State's quarterbacks coach and offensive coordinator will be up there as a highly-coveted position this offseason as the coaching carousel spins. The odds are strong that Ed Warinner will receive something of a promotion from his co-coordinator duties and take on more responsibility as a play-caller, though he was already somewhat active in that regard in his current role. Warinner not only deserves a raise for the incredible job he's done with the Ohio State offensive line, he has earned more credit than he currently receives for that work, which is perhaps why he hasn't landed an opportunity to lead his own program yet despite a couple interviews over the last two years. The Buckeyes are actually fortunate that they don't have to replace both Herman and Warinner simultaneously, but either way there will be no shortage of candidates lining up for the shot to potentially work with
J.T. Barrett
,
Cardale Jones
and
Braxton Miller
at quarterback.
East Division
West Division
December, 17, 2014
Dec 17
6:38
PM ET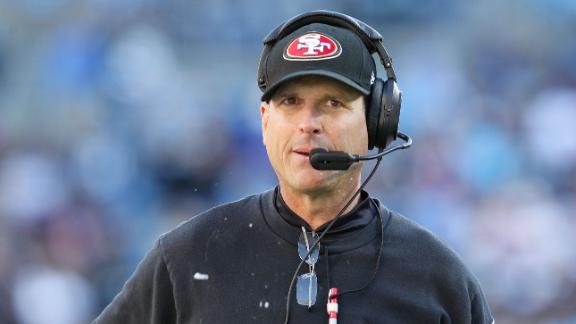 Multiple NFL and Michigan sources had said for weeks that 49ers head coach Jim Harbaugh was not expected to wind up at Michigan, but in recent days at least one person familiar with his thinking said he was at least "considering it."
According to multiple reports, Michigan has made a six-year, $49 million offer to Harbaugh. The offer was earlier reported by CBS5 in Arizona.
The annual average pay of $8.17 million would make Harbaugh the highest-paid college football coach, surpassing Alabama's Nick Saban by more than $1.21 million.
Another person close to the process said that while it was possible Harbaugh could wind up at Michigan, "it was not likely."
Asked why he was considering it now, but hadn't been previously, one person said now that the 49ers are out of the playoffs, it was possible for Harbaugh to at least consider the offer.
December, 17, 2014
Dec 17
3:30
PM ET
Every day this week, before the bowl season kicks off, our Big Ten panel of experts will be weighing in on different topics related to the regular season.
Our third question of the week: What was the Big Ten's biggest disappointment of the season?
Mitch Sherman:
Christmas came early for Big Ten detractors. No individual or team performance matched the league-wide flop of Week 2. You remember it as the day Ohio State lost 35-21 at home to Virginia Tech, Notre Dame pounded Michigan 31-0 and Oregon dominated the second half against Michigan State. Moreover, Nebraska barely avoided overtime against McNeese State. Iowa scored two late touchdowns to sneak past Ball State. Maryland, Minnesota, Rutgers and Illinois – all eventual bowl teams -- won close over South Florida, Middle Tennessee and Howard and Western Kentucky. Northwestern lost to Northern Illinois, and Central Michigan routed Purdue. Seriously, The nation laughed at the Big Ten all year because of that day. Want to know why league teams opened as underdogs in all 10 bowl games? Look to Sept. 6.
[+] Enlarge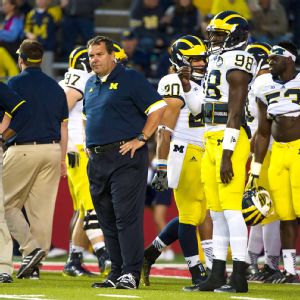 Cal Sport Media via AP ImagesMichigan's 5-7 season was tough to watch on several fronts.
Josh Moyer:
You can't talk about the biggest disappointment without mentioning Michigan's 2014 season – especially the first half of it. The Wolverines started just 2-4, with wins over Appalachian State and Miami (Ohio), while making school history with its poor play. First came a 31-0 loss to Notre Dame, which was the most lopsided loss to the Irish in the series' 127-year history. Then came a lightning-delayed loss to Utah, when the Big House emptied so much that one player called it the "Ute House." And then Brady Hoke's squad lost the Little Brown Jug to Minnesota, 30-14, in the Gophers' largest margin of victory in the series since 1977. Oh, and Michigan helped Rutgers get its first-ever Big Ten win, as longtime starting QB
Gary Nova
passed for a career-high 404 yards. It was a nightmare first half to the season.
Dan Murphy:
The Big Ten championship game. The state of Ohio might disagree, but this year's game in Indianapolis did not live up to its billing. This was supposed to be a showdown between one of the country's best offenses and one of its best defenses. One side of that equation never showed up in Ohio State's 59-0 win over Wisconsin. The lopsided score (and the Buckeyes defense) gave us no chance to marvel at
Melvin Gordon
. The Heisman Trophy runner-up ran for 76 yards, eliminating whatever small chance he had to win the award. I understand that without an Ohio State blowout, the Big Ten probably would have been the odd man out in this year's College Football Playoff. But from the standpoint of wanting a dramatic, competitive finale to the conference season, man, what a dud.
Adam Rittenberg:
I remember talking with MGoBlog's Brian Cook about Michigan in the summer, and Cook described Michigan's schedule as "low-variance," likely to produce eight or nine wins, but probably not 10 or seven. I completely agreed. No one envisioned 5-7 as being remotely possible for a team that, despite underachieving the year before, seemingly had improved depth and leadership. Brady Hoke really liked his team. Opposing coaches told me the talent absolutely was in place for a solid season. Then the bottom fell out against Notre Dame and Michigan never truly recovered. I really thought the offense could at least be respectable under new coordinator Doug Nussmeier, but it never got on track against solid competition. Northwestern and Iowa certainly belong in the biggest-disappointment conversation, but neither team has as much raw talent as Michigan. What a clunker.
Brian Bennett:
As disappointing as Michigan and Northwestern were, I never viewed either as a serious league title contender. Many picked Iowa to win the West Division because of its dream schedule. No Ohio State or Michigan State and both Wisconsin and Nebraska at home the final two weeks. Yet the Hawkeyes managed to go just 7-5, losing at home to a terrible Iowa State team, getting blown out at Minnesota and letting Maryland run all over them. This Iowa team never found a real identity and squandered what could have potentially been a special season. That should cause some re-evaluation this offseason in Iowa City.
Austin Ward:
The premature end of defensive end
Noah Spence
's college career. Ohio State obviously disagreed with the ruling against Spence, and perhaps it had a case that his failed drug test wasn't for a performance-enhancing substance. But either way, the junior did break the rules when he was suspended for a second time by the Big Ten, bringing a promising college career to a sad end. The league was robbed of a chance to watch his elite talent for another season, Ohio State's plans for unleashing a completely unstoppable defensive line at every position took a blow and, of course, Spence's own health was damaged. Hopefully there is a happy ending for him following his time away from the field, but it was certainly a wasted opportunity this season.
December, 17, 2014
Dec 17
11:27
AM ET
ANN ARBOR, Mich. -- The Michigan athletic department shed another tie to erstwhile director Dave Brandon on Wednesday with the resignation of chief marketing officer Hunter Lochmann.
A school spokesman said Lochmann left Michigan "to pursue other opportunities."
A week ago, Lochmann made controversial comments about the impact of individual student-athletes on the athletic department's marketability. He said the power of star players like former quarterback Denard Robinson was "fleeting" during a discussion about whether or not college athletes should be paid at the IMG Intercollegiate Athletics Forum.
"At Michigan, it's the block M that has the infinity and power, not Denard Robinson," Lochmann said, according to a story from SportsBusiness Daily. "Those are fleeting, four-year relationships, but it's the block M that's been there for over 150 years."
Lochmann was hired as the athletic department's first chief marketing officer in December 2010. His position was created less than a year into Brandon's five-year tenure as Michigan's athletic director. Brandon resigned under intense public scrutiny in late October.
Among the criticisms that led to public protests and digital petitions calling for Brandon's firing was a perception that the former Dominos Pizza CEO cared more about enhancing Michigan's athletic brand than what was best for fans, alumni or student-athletes.
The spokesman from Michigan did not say whether Brandon's departure or Lochmann's recent comments had any impact on the latter's decision this week to leave the university.
December, 17, 2014
Dec 17
8:00
AM ET
Good morning, sports fans. You've got one week to finish your Christmas shopping, and if you haven't started picking out Hannukah gifts yet you're already behind. Might we suggest some lovely morning links?
1. Today's the day when Wisconsin can make its reunion with Paul Chryst official. Chryst
told his players
at Pittsburgh that he planned to meet with the Badger brass. His move might leave room for another domino to fall among Big Ten coaches. The chain reaction that started with Bo Pelini's firing at Nebraska could wind up affecting Michigan State as well. Defensive coordinator Pat Narduzzi is one of many potential candidates that make sense for the opening at Pitt. Narduzzi
danced around questions
about his contact with other schools this week. Spartans head coach Mark Dantonio knows it's a matter of time before he loses the talented coordinator, and this might finally be the year.
2. At least Dantonio knows he won't be losing his quarterback this offseason. Redshirt junior
Connor Cook
said he would return for his final year of eligibility in 2015. Cook said
he has "unfinished business"
to attend to at the college level. The 6-foot-4 Cook won't have star receiver
Tony Lippett
to help him fill out his résumé next fall, but he could be helping his draft stock by sticking around. Heisman winners
Marcus Mariota
and
Jameis Winston
would likely have been selected before Cook in this year's draft.
Next year's class
is a little less daunting.
3. The Associated Press released its All-America teams Tuesday and 14 Big Ten players were mentioned on
the top three units
. Four players --
Melvin Gordon
,
Tevin Coleman
,
Brandon Scherff
and
Joey Bosa
-- made the first team. There are always tough calls and offended feelings when trying to narrow down a pool of thousands of players to the very best at each position, but the Big Ten shouldn't feel slighted by any of the picks this season. It would be a tough sell to say any others were undeservedly left off the list.
Now, on to the links…
East Division
West Division
Harbaugh Torn Between NFL, Michigan Job
BIG TEN SCOREBOARD
Monday, 12/22
Saturday, 12/20
Tuesday, 12/23
Wednesday, 12/24
Friday, 12/26
Saturday, 12/27
Monday, 12/29
Tuesday, 12/30
Wednesday, 12/31
Thursday, 1/1
Friday, 1/2
Saturday, 1/3
Sunday, 1/4
Monday, 1/12