September, 22, 2014
Sep 22
5:30
PM ET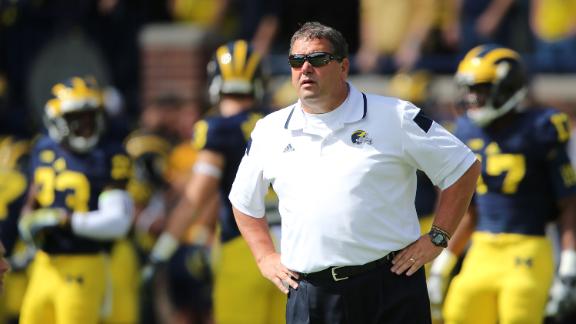 The problems with Michigan's offense are clear. The solutions, for a group that needs to get itself turned around in a hurry if coach Brady Hoke is going to
keep his job
after the 2014 season, are not.
The easiest symptom to diagnose for the Wolverines (2-2) through four games is their turnover margin, which is the worst in the nation at minus-10. Senior quarterback
Devin Gardner
has played at least some role in seven of the 12 times the offense has coughed up the ball. His second interception in Saturday's 26-10 loss to Utah cost him a chance to finish the fourth quarter. It might end up costing him his starting job. Hoke said he'll decide Tuesday whether Gardner or sophomore
Shane Morris
will start this weekend.
Cutting down on turnovers won't be as simple as changing the quarterback, though. Morris has struggled in that department, too. He has been at the root of three turnovers in limited time as a backup this season. In his three drives of relief work against the Utes, he threw one interception, fumbled once and narrowly avoided a safety on the game's final series.
[+] Enlarge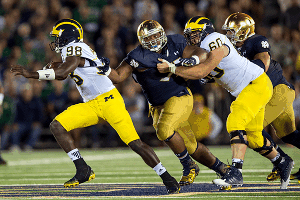 Matt Cashore/USA TODAY SportsProtecting quarterback Devin Gardner has been a major issue for Michigan this season.
"I think they both know what they need to do better, and they will," Hoke said Monday. "I think both competed and made some good decisions, also."
Gardner isn't the only player in jeopardy of losing playing time Saturday when Michigan opens its Big Ten schedule at home vs. Minnesota. Hoke said all 11 starters on offense will be evaluated this week during practice, and the Wolverines might rethink the personnel groups they are using in order to get the best possible combinations on the field.
Inexperience throughout the offense, and particularly on the offensive line, has led to an inconsistent attack. Against Utah, Michigan's offense moved the ball regularly on its own half of the field but appeared to run into a brick wall as soon as it crossed the 50-yard line.
The Wolverines reached Utah territory seven times. On four of those drives, the offense went backward the play after it crossed midfield. In all, Michigan ran 24 plays on Utah's half of the field and gained 44 yards, 25 of which came on one passing play that was immediately followed by Gardner's first interception of the day.
"It's been a reoccurring thing," offensive coordinator Doug Nussmeier said. "Consistency in performance is where we've got to improve. Coaches and players, we're all in this together, and it's all of us getting it corrected."
Drive-killing plays -- turnovers, sacks and penalties -- kept Michigan from establishing an offensive rhythm Saturday and two weeks earlier in its 31-0 loss to Notre Dame. That doesn't appear to be an easier fix than the turnover woes.
Hoke and Nussmeier talked about continuing to harp on technique and fundamentals. When asked what needed to change on offense, Nussmeier talked about the overall youth and needing a better look from the scout team. Hoke didn't bend from his stance that Team 135 in Ann Arbor will be a good one. When he asked what evidence he has to support that claim, though, he could cite only hard work and faith in his players.
The team, to its credit, has battled. The offense charged forward under Morris after a two-hour, 24-minute rain delay Saturday night. Then the same old problems bit them again. Morris fumbled after scrambling for 3 yards on the drive's first play in Utah territory -- a reminder that these aren't issues that can be willed away with grit and determination.
Michigan center
Jack Miller
, the lone representative of the offense to speak to the media after Saturday's loss, said, frankly, that he didn't have an answer for how to fix their problems. Hoke and Nussmeier took a more circuitous route Monday afternoon, but after two days of watching film they didn't have much to add.
September, 22, 2014
Sep 22
12:30
PM ET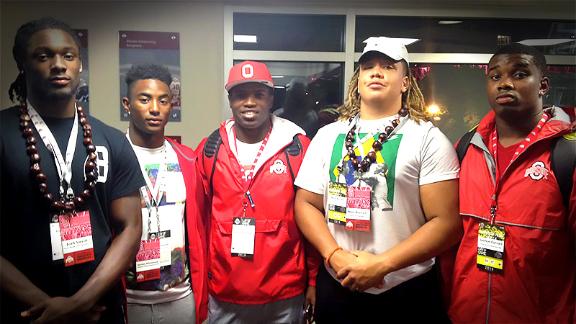 Michigan's loss to Utah has started to create uncomfortable feelings in Ann Arbor. The season is not looking bright for the Wolverines, and the product on the field typically impacts recruiting directly.
The Wolverines have played only four games, but recruits have noticed the heat from the media and outside voices creeping in. Michigan has had success recruiting in recent years under Brady Hoke, but it seems as if this season might be where the pendulum starts to swing the other way if it doesn't get turned around.
September, 22, 2014
Sep 22
2:53
PM ET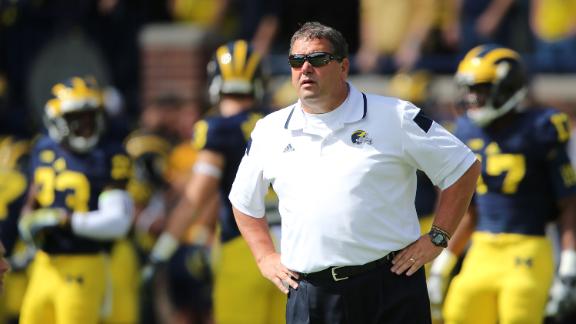 Michigan coach Brady Hoke said he isn't feeling the heat as questions arise about the future of the program or his role in shaping it after another disappointing loss this weekend, adding that the outside discussion about where the Wolverines are headed won't change the way he makes decisions moving forward.
"It won't affect the course that we want to go, I can tell you that," Hoke said at a news conference Monday afternoon.
Michigan's 26-10 loss to visiting Utah on Saturday dropped the team's record to 2-2 this season and 3-7 since November. The Wolverines have struggled offensively during that stretch. They have only one touchdown in their last three games against Power 5 opponents, a garbage-time score in the final minutes of a bowl loss to Kansas State.
Hoke said the coaching staff will decide Tuesday if it will replace senior Devin Gardner at starting quarterback. The staff is also considering other personnel changes to try to spark production.
Players and assistant coaches vehemently defended Hoke and the state of the locker room Monday. Defensive coordinator Greg Mattison, who first shared a sideline with Hoke in 1984, said he would not have returned to Michigan to coach if not for Hoke taking over the team in 2011.
"Anybody can say anything they want. That man is why I'm here," Mattison said. "He's a tough, hard-nosed son of a gun. When a guy works as hard as he does and prepares the way he does, then there's not pressure. To me, pressure is when you haven't done your job or aren't doing your job. Pressure is when you don't prepare."
Mattison and Hoke butted heads in front of ABC's cameras Saturday after Mattison was flagged for a sideline infraction late in the second quarter. Both coaches downplayed the incident as a normal interaction between competitive friends. Mattison said Monday that he shouldn't have "snapped" at Hoke during the game.
The frustration level with a poor start hasn't caused fractures among the players in the locker room, said redshirt junior Blake Countess
September, 21, 2014
Sep 21
8:00
PM ET
Those in Ann Arbor will understandably disagree, but Week 4 was a very good one for the Big Ten. The league went 12-1 and won several games in impressive fashion. When almost every team handles its bid-ness, there's not much shuffling in the bowl projections.
The big development this week is Indiana's return. Seven days after an all-too-typical, potentially bowl-crushing loss at Bowling Green, Indiana recorded its biggest win in years, shocking No. 18 Missouri on the road. The Hoosiers are back in the projections and could rise higher in the coming weeks if they can build on the Missouri win. For now, we have them receiving an at-large bowl invitation.
Michigan moves down after its loss to Utah. The Michigan brand still carries weight in the bowl pecking order, but this Wolverines team could have a tough time reaching the six-win mark if its offense doesn't dramatically improve. The Wolverines are last nationally in turnover margin at minus-10 through four games. Yuck.
For now, we have Michigan essentially staying home for bowl season in Detroit.
New Big Tenners Maryland and Rutgers, meanwhile, move up after impressive starts.
Expect more shuffling next week as Big Ten play begins in full force. Several matchups could affect the order, namely Minnesota visiting Michigan and Indiana visiting Maryland.
To the projections ...
Chick-fil-A Peach/Cotton/Fiesta/Orange:
Michigan State
Chick-fil-A Peach/Cotton/Fiesta/Orange:
Ohio State
Capital One:
Penn State
Outback:
Nebraska
National University Holiday:
Wisconsin
TaxSlayer/Franklin American Mortgage Music City:
Iowa
San Francisco:
Maryland
New Era Pinstripe:
Rutgers
Quick Lane:
Michigan
Heart of Dallas:
Minnesota
At-large: Indiana
September, 21, 2014
Sep 21
2:00
PM ET
September, 21, 2014
Sep 21
10:46
AM ET
It was a great weekend for the Big Ten, going 12-1 with the only loss coming from Utah's defeat of Michigan. A few of the games turned out to be exciting matches, including Indiana's win over Missouri and eventually Nebraska's win over Miami.
It was a great opportunity for visiting recruits to see some big games and the prospects took to social media to document those trips. Here is a look at some of the best posts from the weekend.
Nebraska vs. Miami:
This game lived up to the hype and the Cornhuskers put on a show for the visiting recruits. There were some big targets on hand, so this was an important game.
Wide receiver Tavin Richardson made the trip from South Carolina and tweeted his approval of the game.
Tonight's game was turnt????

— GetDoughBoys#?1?1?. (@Rich_Man11) September 21, 2014
Turnt is good. The fans were in full force and as loud as ever, something defensive back Kahlil Haughton took notice of.
Good lord, Nebraska fans are too live!

— Kahlil Haughton (@Kahlilhaughton) September 21, 2014
It's not hard to see why after seeing offensive coordinator Tim Beck's picture of the raucous crowd.
Shoutout to the Nebraska Student section. THIS IS AWESOME !!!!! pic.twitter.com/qZDlAiFEd9

— Tim Beck (@NU_speed_kills) September 21, 2014
Beating Miami in the fashion it did, this was a big win for Nebraska on the field and on the recruiting trail as well.
Penn State vs. UMass:
On paper this doesn't look like a huge game for Penn State, but there were some big visitors in town to watch the Nittany Lions.
A few of the commitments got a chance to bond, and that might be a help for the future as defensive end Jonathan Holland has been talking about taking other visits. He and offensive line commit Sterling Jenkins spent some time together on the visit and seemed to enjoy themselves.
Walking with @S_Jenkins72 is like walking with a celebrity

— Hollywood (@JonHolland_COO) September 20, 2014
Outside of the commitments, Penn State had a few important uncommitted prospects checking out campus as well. The No. 29-ranked prospect in 2016, quarterback Brandon McIlwain took in the game and got the chance to speak with the coaches during the trip.
#ESPNJr300 QB Brandon McIlwain @BFMcIlwainqb12 on his visit to Penn State today: http://t.co/iq67odOjxR pic.twitter.com/pqg2pp9VwO

— Tom VanHaaren (@TomVH) September 20, 2014
Fellow ESPN Jr. 300 prospect Rahshaun Smith, the No. 99-ranked recruit in 2016, was also on campus. Penn State has made the East Coast a big priority, and since Smith hails from Maryland and happens to be a top prospect, he will be a main target for the coaches going forward.
#WeAre #PSU ?????? pic.twitter.com/DFlXApR63m

— Humble & Hungry ?? (@Nextlevel_shaq) September 20, 2014
Eastern Michigan vs. Michigan State:
It was a walk in the park for the Spartans on Saturday as they rolled past Eastern Michigan. That means it was a relaxed time for the recruits after the game once they spent time with the coaches.
Brandon Wildman, a 2016 quarterback, made the trip in from Illinois and got his money's worth on the unofficial visit.
Always great talking with the Salems @CoachSalemMSU pic.twitter.com/HFUt4Z4Nwx

— Brandon Wildman (@brandon_wildman) September 20, 2014
Michigan vs. Utah:
Michigan had the only loss for the conference on Saturday after losing to Utah at home. The Wolverines didn't have a huge visitor list, but there were plenty of prospects watching to see the outcome right from the comfort of their own home.
Todd Sibley, a 2017 Ohio running back, tweeted that he had his eyes on the game and was curious to see what would take place.
Watching this Michigan game very closely ??

— ?Todd Sibley Jr.? (@ToddSib23) September 20, 2014
Sibley was watching because he's interested in Michigan, but the outcome wasn't what he was hoping for. The Wolverines have now lost two games in convincing fashion, which could start to impact prospects and their perception of the program.
It might not have been the best game to have prospects on campus because of the loss, but also because of the terrible weather. The game was eventually delayed due to rain and lightning and resumed over two hours later.
In-state running back Matt Falcon was one of the visitors on hand, though, and because he lives relatively close, this likely won't be Michigan's last chance to impress the talented back.
2016 RB Matt Falcon @mfalcon21 at Michigan today. pic.twitter.com/117lNgrFT0

— Tom VanHaaren (@TomVH) September 20, 2014
September, 21, 2014
Sep 21
8:56
AM ET
Quarterback
Devin Gardner
will be the first change for the
Michigan Wolverines
.
Coach Brady Hoke will be the second, and probably by December.
Athletic director Dave Brandon will be the next, and probably shortly after Hoke.
It's time to start over at Michigan. There's no "fixing it" in the middle of the season. Losing at home -- and being dominated at home -- by Utah signals the denouement,
as I wrote
earlier in the week. The end is near.
"Utah's a good team -- tough, physical, well-coached," a Pac-12 coach said Saturday afternoon, "but Michigan can't lose at home to Utah. You're Michigan."
The offense again didn't score a point, again didn't reach the red zone against a Power 5 opponent. (It didn't against Notre Dame, either.)
There's a deep culture of blah at Michigan, and it has prevailed since last November. It starts with a faulty offensive line, which undermines even a seemingly talented runner like
Derrick Green
and forces its quarterback into poor decisions. That's why backup
Shane Morris
, whenever his number is called, will offer no more solutions than Gardner. It's still September, yes, but Michigan's season is doomed.
With Green (the No. 38 overall prospect in 2013) as an example, it's not as if the Wolverines are bereft of talent. They had RecruitingNation's No. 6 class in 2013, and No. 5 class in 2012. Shouldn't those players be hitting their stride about now? If not, why not?
The situation reminds me of Auburn when it was clear that Gene Chizik needed to go (apart from the fact that Michigan has no title year to hang its hat on). Highly ranked recruiting classes yielded little to no results. When the program started to lose the fan base and future recruits, that's when it made the move.
Hoke is a seemingly good guy, but Michigan will soon do the same. It has no choice, because it will only get worse. Even the next three games -- Minnesota, Rutgers and Penn State -- suddenly look rife with peril.
That's where the Week 4 takeaways begin. Later: Why Jeff Long, Condi Rice, et al, should send a gift basket to Clemson, South Carolina; Texas A&M will now resume its regularly scheduled schedule; Florida (and LSU and Clemson) needs to give its freshman QB a shot; Oklahoma's best back emerged in Morgantown.
Where will Michigan's administration turn?
Like late last year, Jim Harbaugh is a name you'll hear. But the NFL wormhole very rarely works in reverse, and never with coaches who are having success at the pro level. So that's fantasy stuff.
But Les Miles? There's some smoke to that one.
A friend of the Hatter's told me last fall that if the Michigan job again became available, he could see the timing being right this time.
"I could see him finishing there," Miles' friend said. "Yeah, I could see that happening. If he's going anywhere, it's there."
Those close to the program say Miles loves Louisiana, but he sometimes feels unloved -- or at least underappreciated -- by those in Louisiana. He just lost a home game to Mississippi State for the first time this millennium. Another loss or two by November, and Miles (now 98-25 at LSU) might really feel taken for granted.
Michigan, meanwhile, would put grass down in the Big House if it would woo Les.
"That would throw the college football landscape for a loop!" a Power 5 head coach texted Saturday night.
It would, yes. LSU couldn't wrangle Kirby Smart from Alabama, could it? That wouldn't be part of Nick Saban's process.
On the other end of Saturday's game in Baton Rouge, Dan Mullen's agent should slyly slide his client's business card across the table to Michigan. However Mississippi State fares the rest of this season, it's likely this is the ceiling in Starkville. In the sport's most difficult division, wins like Saturday's are so precious. Win all you can, and get while the getting's good, Mr. Mullen.
Every candidate for the Michigan job should have serious, pointed questions about administrative support. As much as the current state is about poor offensive numbers and losses, it's about something larger: Coaches and administrators at other schools often talk to me about Michigan's one-foot-in, one-foot-out approach to committing to football.
"You want to win? Spend the money to do it," one AD said this summer. "You want to be about academics? Absolutely nothing wrong with that. Just pick a lane and go."
Next week now
• Most thankful for Florida State's overtime win:
1. The College Football Playoff committee
2. FSU
If the Seminoles lost in the final minute of regulation without
Jameis Winston
, the 13-person panel likely would have had an unthinkably challenging dilemma in a month. How would it have viewed the reigning national champs, who play in a bad league that had an abysmal day Saturday?
Nightmare avoided. Well, that one. I'm sure there will be others to come.
• South Carolina fans were gloating when Clemson collapsed. Gamecocks fans had quickly forgotten, in literally minutes, about the epic struggle their team had with a Vanderbilt squad that was obliterated by Temple and had to rally against UMass.
What it means: The SEC East is every bit as messy as I thought it would be. Maybe messier. In August, I wrote that a 6-2 team would win a tiebreaker to win the division. But it could be 5-3, really.
Laugh at me if you like, but I'm not giving up on Florida. Some obsess about the schedule, but Alabama was its toughest league game. UF's three hardest remaining conference games -- LSU, Georgia and South Carolina -- are all being played in the state of Florida.
Georgia and South Carolina, meanwhile, both have to play Auburn. Even a split with South Carolina and Georgia, with some help, could land the Gators in the SEC title game. For it to happen, though, they need make a move at QB.
• How many more chances can Florida really give
Jeff Driskel
? Enough's enough, isn't it? Even Emmitt Smith thinks so, based on
his tweet
toward the end of Alabama's rout of the Gators.
I know Will Muschamp and OC Kurt Roper aren't going to want to panic after one loss, but Florida really has to start thinking about, at minimum, getting freshman
Treon Harris
more involved. The Gators are off this week and then play at Tennessee, so perhaps Roper can devise a plan for two quarterbacks. The Volunteers present the perfect middle-of-the-road test for Harris to get acclimated and see if he's ready for a larger role.
Driskel just isn't going to get there. It was obvious early that Florida's plan was to try to test Alabama deep, picking on its young corners. But Driskel's timing and reads were often poor, and he went 4-of-12 with a pick in the first quarter. Florida needs a QB who can at least keep defenses honest so the Gators can run the ball.
• Another note on Mississippi State: It would win the SEC East. How would it do in the ACC, Big Ten and Big 12? Pretty well -- I'd say a top-two finish in any of those leagues.
We're about to see how good MSU is in its own division. The Bulldogs get a week off before hosting Texas A&M and Auburn in consecutive weeks. Even a split keeps them alive in the SEC West, and I think they could win both.
They always seem to play close with Auburn, even when it had Cam Newton. And A&M, which hasn't played anyone decent in a month, has to deal with another physical test (Arkansas) before its trip to Starkville. An SEC offensive coordinator told me late last year that Mississippi State was physically the most impressive team he had seen all year. If that seemed surprising then, it didn't after watching the Bulldogs steamroll LSU at the line of scrimmage. Heads up for this team.
• While we're on the subject, after Lamar, Rice and SMU, I'm curious how A&M responds to getting hit for the first time in a long time. I'd pursue some extra tackling drills this week, if I were Kevin Sumlin. Arkansas, its opponent in Arlington, Texas, does some popping. When I saw the Razorbacks last week at Texas Tech, I was surprised to see how quick their defenders were to the ball. They've progressed offensively and defensively.
There was no more unheralded win in the country Saturday than the Hogs' 52-14 blistering of Northern Illinois. For the Aggies, will there be some rust accumulation for a team that's won its past three games by a combined score of 169-19? It's time to see whether
Kenny Hill
is a nickname generator or a legit Heisman candidate.
• The game of the year ended just before 2 a.m. ET. Arizona freshman QB
Anu Solomon
's 73rd pass of the night was a Hail Mary TD to push the Wildcats past Cal 49-45. Zona, which trailed 31-13 after the third quarter, scored 36 points in the final 14:46.
The visiting -- and no-doubt stunned -- Bears had jumped out to a 28-6 halftime lead. I feel for Sonny Dykes, who clearly has his team playing better. But what a comeback for Arizona and its young offense.
After seeing Washington State slice through Oregon's defense on Saturday night, it makes me wonder what Arizona's more talented skill players will do Oct. 2 in Eugene. Texas transfer
Cayleb Jones
(186 yards vs. Cal) is a really tough matchup, and the Cats are plenty deep beyond him.
• Kentucky and Virginia are similar programs in their respective leagues: They're much improved, playing tight with better teams. Do not at all be surprised when they pick off someone they're not supposed to.
Example: Mississippi State has to go to Lexington after those games against A&M and Auburn. And Duke (now 4-0) should be on guard when the Cavs go to Durham on Oct. 18.
Breakout Watch
Samaje Perine, RB, Oklahoma Sooners
A coach said in July that "the big back from Austin," Perine, would be a bigger star in Oklahoma's 2014 offense than fellow freshman
Joe Mixon
. Mixon, the more heralded signee, got into trouble, giving Perine more of an early-season opportunity.
Keith Ford
's injury then made Perine the feature back against West Virginia, and Perine responded with a prodigious effort on the road. With 242 yards and four scores, Perine became the first OU freshman to rush for more than 200 yards in a game since Adrian Peterson in 2004.
There were questions about the Sooners' young skill players, but Bob Stoops said he felt good about running back because of the size. Perine, at 5-foot-11 and 243 pounds, is a great example -- and he should only improve.
Tevin Coleman, RB, Indiana Hoosiers
More than 100 of Coleman's 132 rushing yards came in the second half of Indiana's upset at Missouri. That included a 44-yard run that set up the winning TD. Coleman is averaging 8.6 yards per carry through three games, and he was over 7 yards per carry a year ago. Makes me wish I had included Coleman in my preseason breakout list. Indiana coach Kevin Wilson mentioned his name to me in July.
And what a huge win for Wilson, whose team dug a deep hole after losing a shootout last week at Bowling Green.
Gunner Kiel, QB, Cincinnati Bearcats
Kiel threw four more TDs -- he now has 10 in two games -- in the Bearcats' win against Miami of Ohio.
Ohio State had better be on full alert this week; you know Tommy Tuberville will make Cincinnati's trip to Columbus the Bearcats' Super Bowl.
Crisis In Ann Arbor?