September, 2, 2014
Sep 2
5:00
PM ET
We're only one week into the season, but your fearless Big Ten reporting crew is projecting how the postseason will shape up for the league. (Repeat after me: There are 14 weeks left).
And we have some immediate changes from
our preseason projections.
Nebraska and Michigan move up, while Iowa moves down. (The Wolverines not only looked pretty good in Week 1, but they're a very popular team for bowls). Northwestern, fresh off a home loss to Cal, is out. Rutgers, which won at Washington State, is in.
Michigan State remains a College Football Playoff pick for us, but this weekend's game at Oregon is obviously crucial to that.
It's ridiculously early, so don't overreact. But here are our latest Big Ten bowl picks:
College Football Playoff semifinal:
Michigan State
Chick-fil-A Peach/Cotton:
Ohio State
Capital One:
Nebraska
Outback:
Michigan
National University Holiday Bowl:
Wisconsin
TaxSlayer/Franklin American Mortgage Music City Bowl:
Iowa
San Francisco:
Minnesota
New Era Pinstripe:
Maryland
Quick Lane:
Indiana
Heart of Dallas:
Rutgers
September, 2, 2014
Sep 2
12:00
PM ET
Some of you will be sad when the lights go out Saturday night at Notre Dame Stadium. The Michigan-Notre Dame series will go to sleep, and no alarm clock has been set to rouse a rivalry that exists more for some than others.
College football fans born in the past 40 years, especially those living in the Midwest, have grown up with Michigan-Notre Dame as a September staple. Since 1978, the two teams have played in all but six seasons, and every year since 2002.
If you're among this group, it's not easy to see the series go away for a while.
But you should also know a few things about the Michigan-Notre Dame series, and Big Ten future scheduling as a whole.
[+] Enlarge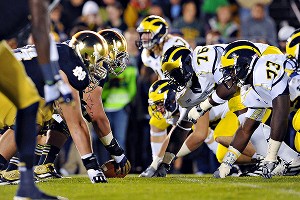 Matt Cashore/USA TODAY SportsEven though Michigan will no longer play Notre Dame, the Wolverines will face other teams that can bolster their resume.
First, while there have been several memorable games in the series, especially in recent years, wins haven't meant much in the bigger picture. Michigan victories in 2009, 2010 and 2013 didn't springboard the team to great heights. Although Notre Dame's win in 2012 was part of a run to the national title game, other victories (Stanford, Oklahoma) provided the real momentum.
Schedule strength is paramount in the playoff era, and every game against a major opponent should be a résumé booster. This game hasn't been.
More important, nonconference schedules throughout the Big Ten are improving and diversifying, and Michigan is a prime example. The Wolverines lose Notre Dame after Saturday, but look what they're gaining: Florida (2017), Arkansas (2018-19), Washington (2020-21), Virginia Tech (2020-21), UCLA (2022-23) and Oklahoma (2025-26), not to mention both Oregon State and BYU in 2015. If Notre Dame remained an annual opponent, forget about many of these other contests, especially with the Big Ten adopting a nine-game league schedule in 2016.
So focus on the end of the Notre Dame series if you'd like, but there are many exciting beginnings for Michigan and its Big Ten brethren.
"It has picked up," Mark Rudner, the Big Ten's senior associate commissioner for television administration, told me. "I've seen a lot of games that are in discussion, haven't been approved or announced yet. Over the next 15 years, Big Ten football fans will be very pleased with what they see in how our schools are scheduling."
Even the games already announced should get fans excited.
Here are some:
Ohio State: Virginia Tech (2014-15), Oklahoma (2016-17), Oregon State (2018), TCU (2018-19), Oregon (2020-21), Texas (2022-23)

Wisconsin: Alabama (2015), LSU (2016), Virginia Tech (2019-20)

Nebraska: Miami (2014-15), BYU (2015), Oregon (2016-17), Oklahoma (2021-22), Tennessee (2026-27)

Michigan State: Oregon (2014-15), Arizona State (2018-19), Miami (2020-21), Boise State (2022-23)

Rutgers: Washington (2016-17), Miami (2018-19), UCLA (2020-21)

Purdue: Virginia Tech (2015, 2023), Missouri (2017-18)

Maryland: West Virginia (2014-15, 2020-21), Texas (2017-18)

Penn State: Pitt (2016-19), Virginia Tech (2022-23), possible LSU game in 2020

Northwestern: Stanford (2015-16, 2019-21)
Michigan State and Purdue will continue to play Notre Dame -- the Spartans resume their series in 2016, while Purdue and Notre Dame play again in 2020 and beyond -- but both also have plenty of new opponents. Variety is a great thing, especially for teams trying to reach the playoff.
It's why Michigan could get much more national mileage
without
Notre Dame on its schedule every year. (It's also why I worry about Iowa and whether having the annual game with Iowa State could prevent playoff runs.)
Wisconsin might be the best example of the Big Ten's schedule upgrade trends, thanks in part to the playoff and its emphasis on who you play. The Badgers' opener Saturday against LSU marked their first regular-season game against an SEC opponent since 1972 (also LSU). Counting Saturday, Wisconsin will open three consecutive seasons against top-flight SEC foes. The Badgers have gone from Week 1 light bites (UNLV, Northern Iowa, Massachusetts) to porterhouses.
Those are national showcase opportunities and games with playoff implications. The Big Ten needs these, especially until its league games carry more currency with the committee.
"Our schools have become a lot more serious about nonconference scheduling," Rudner said.
Last spring, the Big Ten began having quarterly conference calls with each school's football schedule coordinator. During these calls, each school reports its scheduling agreements or potential agreements. The idea is to keep everyone in the loop. If there's a series one conference member can't schedule with a marquee opponent, another might make it work.
Previously, the schools only shared schedule plans in specific situations. But things are changing, thanks to the playoff and other factors like
declining attendance
.
"[The playoff] factors in to the extent that it's all about strength of schedule," Rudner said. "Who you play matters. It's important that we all report to each other, that we're all accountable. Because in order for this to work, we all have to be paddling in the right direction."
That direction is the playoff, the only relevant barometer for teams and leagues.
"With the format being what it is, strength of schedule being a factor," Rutgers coach Kyle Flood told me, "you don't want to leave a shadow of a doubt about whether you belong."
Saturday marks the end of one traditional nonleague matchup, but there are plenty of new beginnings that can help the Big Ten show it belongs in the field of four.
September, 2, 2014
Sep 2
10:00
AM ET
By
Tom Van Haaren
| ESPN Insider
The first weekend of college football means there is plenty of recruiting news to watch. To keep you up to speed on some of the more important recruiting news within the Big Ten conference, here is a recap of what happened this past weekend.


September, 2, 2014
Sep 2
8:00
AM ET
On a Sunday night conference call with reporters, six days before another measuring-stick game for his team, Michigan State coach Mark Dantonio provided a dose of perspective.
"Win or lose, you know, we still have a lot of football games ahead of us, and we have to understand that that's every bit as important as this one single game," Dantonio said.
He's right. As tempting as it can be to draw conclusions about teams and leagues after Week 1, it's also irresponsible. Seasons have plot twists. What we think is true on Sept. 1 rarely proves true on Jan. 1.
But there's an undeniable angst around the Big Ten entering Week 2. It might have been there even if Wisconsin had held onto a 17-point lead against LSU. But after the Badgers' collapse, which knocks them out of the playoff picture for now, the stakes are even higher.
I still think a narrow Michigan State loss to Oregon keeps the Spartans alive for a playoff spot. But a convincing defeat -- and, in the minds of some, any defeat -- will hurt the Big Ten's chances of having a representative.
League commissioner Jim Delany, in an interview with SI.com,
called the MSU-Oregon game "disproportionally important"
in terms of playoff perception. That phrase -- disproportionally important -- underscores the unfairness and the reality of Week 2 games like Spartans-Ducks.
It's not really fair to punish Michigan State for a loss -- Oregon is 34-2 at Autzen Stadium since the start of the 2009 season. But the bashing will come, perhaps more for the Big Ten than MSU, if the Spartans fall short.
There's also pressure for both Ohio State and Michigan in Week 2. The Buckeyes should win against a Virginia Tech team that isn't what it used to be, but Bud Foster's defense can be tricky, and Ohio State needs its revamped offensive line to improve after struggling for the first three quarters against Navy.
"Our offensive line did not play like an Ohio State offensive line," coach Urban Meyer said Monday. "The second half we played pretty good. But pretty good is not what we expect. You play pretty good this week you won't win that game."
Speaking of offensive lines, we'll have a better idea about Michigan's after Week 2. The embattled group looked better in the opener (350 rush yards), but Notre Dame, despite some personnel issues on defense,
provides a better test
.
Although beating Notre Dame hasn't been much of a springboard for Michigan in recent years, a road win would be huge for Brady Hoke's crew. A loss suggests there's still much to fix.
"The talent level [at Notre Dame] is very similar," Hoke said "That, as much as anything else, gives you a little bit of an idea about where we stand."
MSU, OSU and Michigan aren't the only Big Ten teams entering pressure-packed games. Northwestern can't afford to drop to 0-2 -- and lose its sixth straight home game -- against Northern Illinois. Purdue and Iowa face potentially tricky MAC foes in Central Michigan and Ball State. Wisconsin needs to get quarterback Tanner McEvoy going.
Patience is a nice idea, but it runs in short supply in college football. Don't kid yourselves: This is a huge week in the Big Ten.
Post-Labor Day linkage:
West Division
East Division
And, finally ...
Michigan State hopes to go all NES on its opponent Saturday ...
Sparty is going duck hunting this Saturday! #BeatOregon pic.twitter.com/MEfu9azto2

— #BeatOregon (@MSUHumor) August 31, 2014
September, 1, 2014
Sep 1
8:00
AM ET
He's only 19, it's important to remember, and his college experience consists of just 13 games. Yet how many quarterbacks would you take right now over Penn State's
Christian Hackenberg
if your team needed to orchestrate a game-winning drive?
Florida State's
Jameis Winston
would be one answer, for sure, but I can't think of many others beyond the reigning Heisman winner. Fact is, with Ohio State's
Braxton Miller
sidelined for the season, Penn State's super sophomore is poised to become the Big Ten's king of clutch.
As a true freshman, Hackenberg led a touchdown drive to tie the score in regulation against Michigan and a two-minute drill to set up a tying field goal against Illinois. Penn State went on to win both of those games. He was even better Saturday, when the Nittany Lions took over on their own 26 with 1:13 remaining, trailing UCF by a point. Hackenberg went 4-of-6 for 55 yards on the drive, and his best play was probably an 8-yard scramble on fourth-and-3, to get in range for Sam Ficken's game-winning field goal.
"The key is [No.] 14," UCF coach George O'Leary said after the game. "I think everybody in the country would like to have him.''
We tend to think young quarterbacks need time to mature into late-game magicians, but some just seem to naturally have it in them. Winston,
Johnny Manziel
and Miller all showed that as freshmen. So did Hackenberg.
He did throw two interceptions Saturday, but the entire offense was riding on his right arm. A patchwork offensive line couldn't open holes for the running game, which managed just 57 yards on 28 carries, so he chucked it 47 times en route to a school-record 454 passing yards. It was
a master class on the QB position
, Ben Jones writes.
Penn State will likely have to lean hard on Hackenberg all year long, and keeping him healthy is likely the No. 1 key to its season. But if the Nittany Lions can just hang around long enough in games to give No. 14 a chance to win them at the end, good things could happen.
On to the Labor Day links:
East Division
West Division
Finally...
New #Badgers RB touchdown dance https://t.co/r2ixoP9ZK9

— Badger Football (@BadgerFootball) August 31, 2014
August, 31, 2014
Aug 31
8:00
AM ET
Recognizing the best and the brightest from Week 1 in the Big Ten:

Rutgers RB Paul James:
It sure looks as if we can add James to the growing list of solid running backs in the conference. James was the constant in the Knights' offense Thursday and, whenever it faltered, he was the one to pick it up. His stat line: 29 carries, 173 yards, three TDs. He was the workhorse against Washington State, and he was the reason the Knights were able to match the Cougars' high-scoring offense. Maybe
Leonte Carroo
was a bit flashier -- maybe -- but James was Mr. Consistent.
Penn State QB Christian Hackenberg:
All he did was set a single-game school record with 454 passing yards. And, oh yeah, he went 4-of-6 for 55 yards and ran for another 8 yards on the game-winning drive. He took his share of hits in the pocket and didn't get much run support, but he did just about everything he could for the win. Did he force it at times? You bet. But he was the main reason PSU moved the ball downfield, and he is now the only player in the 127-year history of the Nittany Lions to reach the 400-yard passing plateau. How could we not give him a helmet sticker?
Penn State K Sam Ficken:
It's only fair. Hackenberg drove the offense; Ficken won the game. After missing four field goals in the 2012 loss to Virginia, Ficken redeemed himself by going 4-of-4 on Saturday -- and by nailing the last-second, game-winning 36-yard field goal. Kickers don't earn helmet stickers all that often, but kickers don't have days like Ficken too often, either. It's a
true underdog story
.
Michigan WR Devin Funchess:
Tell me if you see a pattern here. First score, first passing TD -- Funchess. Second score, second passing TD -- Funchess. Third score … OK, OK. You get it. Funchess finished with seven catches for 95 yards and scored the game's first three TDs. He helped ice this game before it really started. Props to
Devin Gardner
for getting him the ball, but Funchess has to get most of the credit on those last two tosses. He leaped, made an adjustment and broke a tackle
for the second TD
. And he came up with a catch in double coverage
for the third
.
Ohio State QB J.T. Barrett:
His video game-esque stats are a bit misleading, since a lot of his yards came after the catch. But Barrett didn't let up in his first career start. He kept a cool head in the second half and helped lead the Buckeyes to a comeback win. His final numbers? Check this out: 12-of-15, 226 passing yards, two TDs, one interception, 50 rushing yards. He really earned this helmet sticker with his final two quarters, going 4-of-4 for 130 yards and two TDs. It was a memorable first start.
Nebraska RB Ameer Abdullah:
The impressive part? Abullah rushed for 232 yards and a TD on just 21 carries. The more impressive part? He was pulled in the middle of the third quarter when the game was in hand. He was nearly perfect after the first drive; nine of his last 15 carries went for at least 10 yards. He's shifty, he's quick, and he just outright confused the hapless Florida Atlantic defense. We see many more helmet stickers in Mr. Abdullah's future.
August, 31, 2014
Aug 31
1:22
AM ET
Five lessons from the opening week of Big Ten play.
1. Familiar issues preventing Wisconsin from next step:
The Badgers had a wonderful chance to springboard themselves into the playoff conversation, as they had a young LSU team down 24-7 in the third quarter. But it unraveled in a hurry as several familiar problems -- and some bad luck on the injury front -- doomed Wisconsin in a
28-24 loss
. Wisconsin won't become an elite program until it has more dynamic quarterback and receiver play to complement its bread-and-butter run, can avoid blunders in the kicking game and shores up the secondary. Injuries to two starting defensive linemen certainly hurt, and star running back
Melvin Gordon
wasn't right after a long run in the third quarter. But the same limitations we've seen before with the Badgers surfaced again in a painful season-opening loss. There's still a lot to play for, but a win would have been huge for Wisconsin and the Big Ten.
[+] Enlarge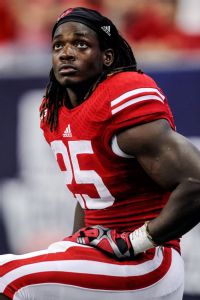 Troy Taormina/USA TODAY SportsWisconsin's Melvin Gordon rushed for 140 yards and a touchdown but never seemed right again after a long run in the third quarter.
2. Quarterback play is on the uptick:
To
take a step forward as a league
, the Big Ten must make strides at the most important position on the field. Week 1 was a promising start. Michigan State's
Connor Cook
picked up where he left off last year and played almost flawlessly (12-of-13 passing, 285 yards, three touchdowns) against Jacksonville State. Other veterans such as Michigan's
Devin Gardner
(13-of-14 passing, three touchdowns), Iowa's
Jake Rudock
and Rutgers'
Gary Nova
started off strong. Second-year players such as Penn State's
Christian Hackenberg
, Nebraska's
Tommy Armstrong
and Purdue's
Danny Etling
made big-time throws in victories, and Ohio State freshman
J.T. Barrett
delivered in his debut as the starter. Illinois' offense had some hiccups but new starting quarterback
Wes Lunt
finished with four touchdown passes. No one will confuse the Big Ten's quarterback contingent with the Pac-12's, but there are some good signs heading into some bigger games.
3. PSU, OSU lines are works in progress:
A Penn State offensive line with just one returning starter and two converted defensive tackles starting at the guard spots topped any fan's list of concerns entering the season. Ohio State's offensive line might not have been the biggest red flag following
Braxton Miller
's injury, but there was some curiosity with four new starters. Both units did some good things Saturday, especially down the stretch in wins against UCF and Navy, respectively. But Penn State struggled to get its power run going and endured two holding penalties and two false starts. Ohio State had just 71 rush yards on 24 attempts through the first three quarters against an undersized Navy defense. The Buckeyes finished strong (122 fourth-quarter rush yards) but need to make strides, beginning this week against Virginia Tech. Michigan also entered its opener with the offensive line in the spotlight. Although Appalachian State isn't a great gauge, Michigan got its ground game going with 350 yards and two 100-yard rushers (
Derrick Green
and
De'Veon Smith
).
4. Rutgers could be a surprise team:
Few expected much from the Scarlet Knights, including the
Big Ten reporter crew
, but Kyle Flood's team began the season on an impressive note. It's never easy to travel to the West Coast, and Rutgers opened with a Washington State team poised to expose its shaky pass defense. Although Washington State racked up 532 pass yards, Rutgers controlled the line of scrimmage and much of the game in a
41-38 win
. New offensive coordinator Ralph Friedgen has made an immediate impact, and Rutgers showcased a powerful run game led by
Paul James
and a big-play pass attack. The defense still needs work, and the competition level will improve, but Rutgers should be 2-0 before its highly anticipated Big Ten debut Sept. 13 against Penn State at High Points Solutions Stadium.
5. Northwestern is reeling:
Few FBS teams had a rockier offseason than Northwestern, which endured the union debate, Venric Mark's stunning departure and several key injuries in the preseason. Pat Fitzgerald always had found ways to get his teams ready for the season and entered Saturday with an 8-0 mark in openers. But Northwestern didn't look ready against Cal and was outplayed in all three phases during the first 42 minutes. The Wildcats made a nice run at the end of the third quarter and had chances to complete a comeback but went conservative at the wrong times and made too many errors in a
31-24 home loss
, its fifth consecutive setback at Ryan Field. You wonder if this team has reached a breaking point after all the setbacks since the past October. A Week 2 win against Northern Illinois is critical.
August, 30, 2014
Aug 30
5:37
PM ET
By
ESPN.com staff
| ESPN.com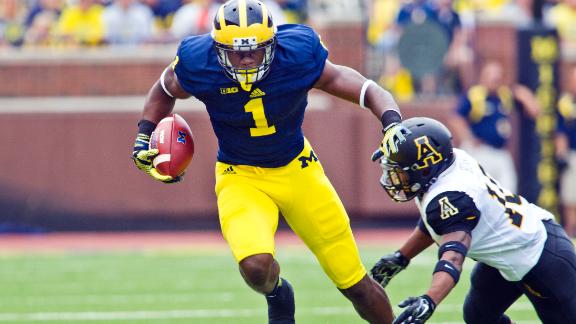 Devin Gardner
threw three touchdown passes to
Devin Funchess
in the first half to fuel Michigan in a
52-14 rout
of Appalachian State.
August, 30, 2014
Aug 30
5:19
PM ET
By
ESPN.com staff
| ESPN.com
QB
Devin Gardner
says he is feeling comfortable with the new offense after a record-breaking win for the
Michigan Wolverines
.
Gardner Feeling Comfortable With Offense