September, 23, 2014
Sep 23
10:30
AM ET
The Big Ten went 12-1 this past weekend and hosted some big visitors on the recruiting side. Penn State and Nebraska both had big weekends, while Michigan is still looking for answers.


September, 23, 2014
Sep 23
8:00
AM ET
For this edition of the morning links, I bring you three bite-sized opinions:
1. Michigan should look to backup QB:
Shane Morris
doesn't
deserve
to start, per se, but
Devin Gardner
has shown he's not the answer to Michigan's woes. Actually, he's a big contributing cause. Against two Power-5 opponents, Gardner has led the Wolverines offense to exactly zero touchdown drives. Can Morris possibly fare any worse? Hoke should announce the starter later Tuesday. If he picks Gardner, this has to be the dual-threat's last chance. But if U-M wants to turn things around now, maybe it should stop starting the same guy over and over again and expecting different results. You know what they call that ...
2. Ameer Abdullah still the best back in the Big Ten:
Apologies to Wisconsin's
Melvin Gordon
, who made enough highlight-worthy plays just on Saturday to fill up a season-long reel. But Abdullah has still had the more impressive season by far. Gordon put up video game numbers against Bowling Green, but Abdullah grinded it out against a good Miami run defense for 229 yards. Abdullah's "worst" game came against McNeese State when he turned in
this play
. Don't worry; you really don't have to click that link because you've probably seen that crazy play -- where he breaks at least five tackles en route to a 58-yard TD -- at least a dozen times already. Gordon is great but, so far this season, Abdullah is better.
3. NCAA president Mark Emmert can't admit when he's wrong:
Can we make something clear here? Whether or not you agreed with the NCAA's initial move of sanctioning Penn State, it seems as if we can all agree that the NCAA handled the situation in a manner that was far from ideal. But, of course, the NCAA's tone-deaf president was asked Monday about his handling of it all -- and, of course, disagreed.
Emmert's response
: "I think that has gone really well." It looks as if we need to talk, Mark. If you dole out a punishment and reduce said punishment twice in two years, then you probably missed the mark initially. Heck, you're basically admitting you missed the mark with actions instead of words. ESPN.com's own Ivan Maisel wrote something to that effect as well --
nearly a full year ago
. The more Emmert talks, the more it becomes harder to believe him.
Now on to the links ...
East Division
West Division
September, 22, 2014
Sep 22
10:16
PM ET
September, 22, 2014
Sep 22
9:25
PM ET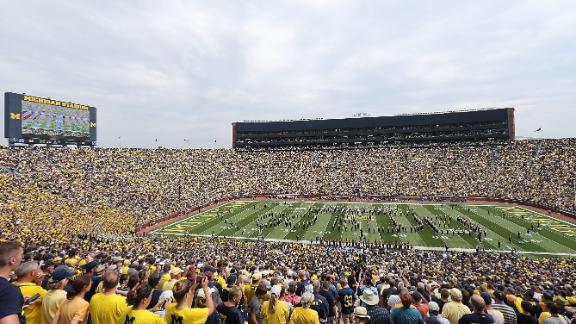 For a while Monday, Michigan fans received two tickets to Saturday's game against Minnesota simply by purchasing a couple of bottles of Coca-Cola, according to a UM spokesman.
The two tickets, with a total face value of $150, could be obtained by purchasing two Coca-Cola products for $3.
The promotion was immediately pulled Monday night when Michigan officials found out about it. Several individuals had posted about the promotion on Twitter.
A Michigan spokesman told ESPN that Coca-Cola had purchased a block of tickets for Saturday's game against Minnesota with the purpose of using them in a promotion for students.
Michigan had final approval for the promotion, but because of a "miscommunication," Coca-Cola thought it could go ahead with the two-ticket promotion.
However, Michigan said it never gave Coca-Cola approval.
"Coke is a great partner of ours and had purchased a limited block of tickets for the Minnesota game for a Coke retail activation aimed at Michigan students," the spokesman said. "Due to a miscommunication in the approval process, this promotion should not have run as-is."
Any tickets obtained Monday through the Coca-Cola promotion will be honored at Saturday's game, the spokesman said.
It's unknown how many tickets Coca-Cola purchased for this promotion or how many tickets were passed along to fans Monday.
The Michigan Daily reported the promotion was available at the university's U-go's convenience stores in Ann Arbor.
September, 22, 2014
Sep 22
5:30
PM ET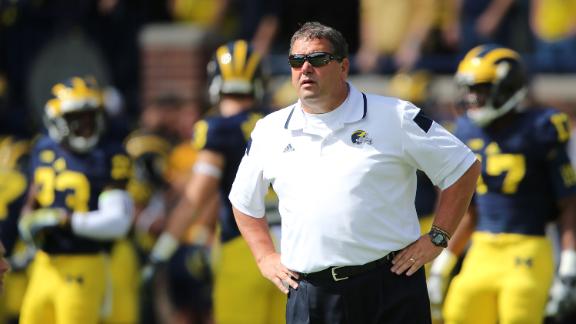 The problems with Michigan's offense are clear. The solutions, for a group that needs to get itself turned around in a hurry if coach Brady Hoke is going to
keep his job
after the 2014 season, are not.
The easiest symptom to diagnose for the Wolverines (2-2) through four games is their turnover margin, which is the worst in the nation at minus-10. Senior quarterback
Devin Gardner
has played at least some role in seven of the 12 times the offense has coughed up the ball. His second interception in Saturday's 26-10 loss to Utah cost him a chance to finish the fourth quarter. It might end up costing him his starting job. Hoke said he'll decide Tuesday whether Gardner or sophomore
Shane Morris
will start this weekend.
Cutting down on turnovers won't be as simple as changing the quarterback, though. Morris has struggled in that department, too. He has been at the root of three turnovers in limited time as a backup this season. In his three drives of relief work against the Utes, he threw one interception, fumbled once and narrowly avoided a safety on the game's final series.
[+] Enlarge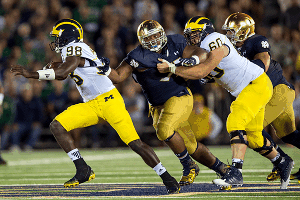 Matt Cashore/USA TODAY SportsProtecting quarterback Devin Gardner has been a major issue for Michigan this season.
"I think they both know what they need to do better, and they will," Hoke said Monday. "I think both competed and made some good decisions, also."
Gardner isn't the only player in jeopardy of losing playing time Saturday when Michigan opens its Big Ten schedule at home vs. Minnesota. Hoke said all 11 starters on offense will be evaluated this week during practice, and the Wolverines might rethink the personnel groups they are using in order to get the best possible combinations on the field.
Inexperience throughout the offense, and particularly on the offensive line, has led to an inconsistent attack. Against Utah, Michigan's offense moved the ball regularly on its own half of the field but appeared to run into a brick wall as soon as it crossed the 50-yard line.
The Wolverines reached Utah territory seven times. On four of those drives, the offense went backward the play after it crossed midfield. In all, Michigan ran 24 plays on Utah's half of the field and gained 44 yards, 25 of which came on one passing play that was immediately followed by Gardner's first interception of the day.
"It's been a reoccurring thing," offensive coordinator Doug Nussmeier said. "Consistency in performance is where we've got to improve. Coaches and players, we're all in this together, and it's all of us getting it corrected."
Drive-killing plays -- turnovers, sacks and penalties -- kept Michigan from establishing an offensive rhythm Saturday and two weeks earlier in its 31-0 loss to Notre Dame. That doesn't appear to be an easier fix than the turnover woes.
Hoke and Nussmeier talked about continuing to harp on technique and fundamentals. When asked what needed to change on offense, Nussmeier talked about the overall youth and needing a better look from the scout team. Hoke didn't bend from his stance that Team 135 in Ann Arbor will be a good one. When he asked what evidence he has to support that claim, though, he could cite only hard work and faith in his players.
The team, to its credit, has battled. The offense charged forward under Morris after a two-hour, 24-minute rain delay Saturday night. Then the same old problems bit them again. Morris fumbled after scrambling for 3 yards on the drive's first play in Utah territory -- a reminder that these aren't issues that can be willed away with grit and determination.
Michigan center
Jack Miller
, the lone representative of the offense to speak to the media after Saturday's loss, said, frankly, that he didn't have an answer for how to fix their problems. Hoke and Nussmeier took a more circuitous route Monday afternoon, but after two days of watching film they didn't have much to add.
September, 22, 2014
Sep 22
5:00
PM ET
Well, it's been a while, folks. Did ya miss me?
Let's get to those Big Ten questions.
@ESPNRittenberg After the Mizzou win, what is IU's ceiling and can we get Tevin Coleman some Heisman/Doak Walker love?

— Jesse Pace (@JGPace) September 22, 2014
Adam Rittenberg:
It's a fascinating question, Jesse, because Indiana hasn't had a win like this in a while. Coach Kevin Wilson has often talked about the challenge of handling success when you achieve it and how that's part of turning a corner as a program. Indiana can compete with just about anyone in the Big Ten, especially if its defense can build off the Missouri game.
This week's home game against Maryland is huge. Maryland has the playmakers to test the Hoosiers' defense, but Indiana comes in with confidence and a good chance to start Big Ten play at 1-0. If so, the Hoosiers have a chance to improve to 4-1 against North Texas. Then bowl eligibility, which has been so elusive for IU, is within sight.
Wilson and his staff have upgraded the talent. It's now about maturity and not getting too carried away with a great win. But I've always felt Indiana could win seven or eight games if things go right.
Coleman finally got overdue national attention after his performance at Missouri. It's hard to get hype in a league featuring two elite running backs (Ameer Abdullah and Melvin Gordon), but people are finally noticing what Coleman can do.
Every UMFan from Streamwood, Illinois, writes: On a scale of 1 to 10, 1 being Lane Kiffin (USC or Tennessee, take your pick) 10 being Nick Saban at Alabama, what's Brady Hoke's job security? Is Michigan still a destination job?
Adam Rittenberg:
It has dropped from about a 7 to begin the season to a 3 or 4 right now. Anyone who objectively watched the end of the Utah game sensed the hopelessness surrounding Hoke's program right now. Hoke needs a strong showing in Big Ten play, at least five wins and possibly more, to keep the hounds at bay. It starts this week against Minnesota, a team Michigan has beaten even when it's really down (see: 2008). If Michigan loses the Jug, the talk about Hoke losing his job will only intensify.
Is Michigan a destination job? There's great tradition. The facilities have recently become top-notch. The resources are there. The right coach can make Michigan great again. But I also think the culture needs to change. I'm tired of hearing about what Michigan was. Stop living in the past. Don't be afraid to bring in an outsider if that person can win. If so, embrace that person. Spend less time on legends jerseys and more time on how to appeal to the best recruits from around the country. It's not a turn-key job, but it remains an appealing one.
@ESPNRittenberg is Penn state a legitimate contender for the East title? Can't the Lions be 6-0 when they matchup with Ohio State?

— LeftyMarlins (@LeftyMarlins) September 22, 2014
Adam Rittenberg:
At some point, Lefty, we're going to look around and realize, "Hey, Penn State can really win this thing." It seems like people are still grasping that Penn State is, indeed, eligible for everything again. I still worry that the Lions are an injury or two away from being in big trouble, but they've remained relatively healthy so far and seem to be getting better each week. A 6-0 start is certainly possible as PSU plays two struggling teams (Northwestern and Michigan) and has two open weeks between now and the Ohio State game. But it will take a win against Ohio State for Penn State to be viewed as a serious contender in the East. From what I've seen, Michigan State is still a cut above everyone else.
Dave from Marietta, Ohio, writes:
Yes, 12-1 was an excellent weekend for the Big Ten (BIG ups to Indiana from an OSU grad; no thanks to you, U-M). But, the hatred for the Big Ten will remain. 1-10 is burned into the memories of the media. For anyone from the Big Ten to get in, there has to be an even weaker sister champion from the other Power 5 conferences, and right now, I don't see one.
Adam Rittenberg:
First impressions tend to stick, Dave, and the Big Ten made a very poor one during the first three weeks. The media doesn't make the selections and the committee has pledged to take into account the whole season, but the Big Ten didn't show much punch in nonleague play. A Clemson win against Florida State would have really helped because the ACC would have a tougher road to the playoff. The Big Ten would really benefit from Oklahoma losing (and Baylor, too) and the Pac-12 beating up on each other.
If Nebraska or Penn State runs the table, it's in. And I still think a Michigan State team that dominates Big Ten play would have a shot. But it will be tough.
September, 22, 2014
Sep 22
2:51
PM ET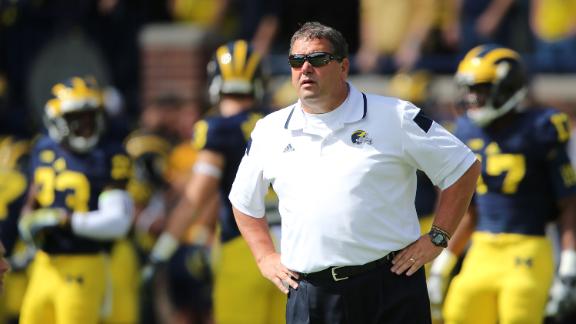 Michigan coach Brady Hoke said he isn't feeling the heat as questions arise about the future of the program or his role in shaping it after another disappointing loss this weekend, adding that the outside discussion about where the Wolverines are headed won't change the way he makes decisions moving forward.
"It won't affect the course that we want to go, I can tell you that," Hoke said at a news conference Monday afternoon.
Michigan's 26-10 loss to visiting Utah on Saturday dropped the team's record to 2-2 this season and 3-7 since November. The Wolverines have struggled offensively during that stretch. They have only one touchdown in their last three games against Power 5 opponents, a garbage-time score in the final minutes of a bowl loss to Kansas State.
Hoke said the coaching staff will decide Tuesday if it will replace senior Devin Gardner at starting quarterback. The staff is also considering other personnel changes to try to spark production.
Players and assistant coaches vehemently defended Hoke and the state of the locker room Monday. Defensive coordinator Greg Mattison, who first shared a sideline with Hoke in 1984, said he would not have returned to Michigan to coach if not for Hoke taking over the team in 2011.
"Anybody can say anything they want. That man is why I'm here," Mattison said. "He's a tough, hard-nosed son of a gun. When a guy works as hard as he does and prepares the way he does, then there's not pressure. To me, pressure is when you haven't done your job or aren't doing your job. Pressure is when you don't prepare."
Mattison and Hoke butted heads in front of ABC's cameras Saturday after Mattison was flagged for a sideline infraction late in the second quarter. Both coaches downplayed the incident as a normal interaction between competitive friends. Mattison said Monday that he shouldn't have "snapped" at Hoke during the game.
The frustration level with a poor start hasn't caused fractures among the players in the locker room, said redshirt junior Blake Countess
September, 22, 2014
Sep 22
2:00
PM ET
For the most part, the work outside of the Big Ten is done. And after an awful lot of lows, the league finally hit on some high notes before the fun really begins with a Saturday loaded with conference games.
The Big Ten's grace period to celebrate a successful Saturday is over, though. It's time to move on and set the table for what should be an entertaining weekend.
Five things to watch in Week 5
1. What's next for Michigan?:
There was only one team in the league not celebrating Saturday night, and the driving rainstorm wasn't what cancelled the party for Michigan. The Wolverines are still a mess on offense, seemingly incapable of finding the red zone and strangely allergic to maintaining possession of the football, and those problems have left Brady Hoke in a tough spot heading into Saturday's Big Ten opener with Minnesota at the Big House. There doesn't appear to be an easy fix at this point, though a change at quarterback is probably where Hoke will start. But no matter who starts under center, the Wolverines are facing their first legitimate challenge for the Little Brown Jug since losing it in 2005 -- and watching the Gophers put their hands on it would only make life tougher for Hoke.
2. Heisman hype:
The campaign has been steadily picking up steam for weeks for Nebraska's
Ameer Abdullah
, but he might finally have company in the Big Ten now that his buddy
Melvin Gordon
has belatedly thrown his hat in the ring. The Wisconsin star definitively put his slow start behind him with a record-setting outing Saturday against Bowling Green that produced five touchdowns and 253 yards on just 13 carries, and he's got a chance to keep the momentum going as the Badgers wrap up nonconference action at home against South Florida. Meanwhile, Abdullah can try to maintain his position as the Big Ten's current top candidate as the Huskers play host to Illinois and its porous defense.
3. Bucks back to work:
After a rocky training camp and some continued bad news mixed in with an early loss, Urban Meyer hasn't exactly had the best month. The Ohio State coach isn't getting
Braxton Miller
back this season and it seems unlikely he'll ever have star defensive end back with the program either, but that hasn't done much to change his outlook with a team that can still compete for a Big Ten title and a potential spot in the College Football Playoff. Beating up on Kent State won't do much to impress the selection committee, but it gave the Buckeyes and a young roster a jolt of confidence heading into their first off date last weekend. They're facing a dangerous Cincinnati passing attack Saturday, and how Ohio State's rebuilt secondary handles that challenge could reveal just how realistic the odds of contending in the conference really are at this point.
4. Welcome party:
Maybe it's still taking some getting used to, but Maryland's first chance to dive into conference play might help in making it seem more real that it's really a member. After all, what's more Big Ten then a trip to Indiana? In some ways, both the Hoosiers and Terrapins qualify as pleasant surprises for the league at this point, even though both come into a matchup that has the makings of a wildly enjoyable affair with losses on their resumes. Maryland's defeat makes a bit more sense given the way West Virginia has battled with Alabama and Oklahoma already this season, while Indiana's shootout loss at Bowling Green might remain a head-scratcher for a while. Kevin Wilson's club did bounce back in a major way with its upset win at Missouri, but with home-field advantage this week against the newcomers, count this as another win that Indiana likely needs if it's planning on heading to a bowl game.
5. Wild or mild?
: If Northwestern was looking to once again establish itself as a threat in the Big Ten after its disastrous 0-2 start before a bye week, grinding its way to a 24-7 win over Western Illinois wasn't the best way to do it. Going on the road and knocking off unbeaten Penn State? Now that would certainly send a message. It's a tall order for Pat Fitzgerald's club given the various issues that have plagued the Wildcats dating back to the middle of last season, and the Nittany Lions seem to be enjoying the opportunity to play without NCAA sanctions having over their heads lately. The home crowd is likely going to be rocking on Saturday, and Penn State can jump out to an early lead in the East Division thanks to a schedule that already allowed them to play a league game this month. Both teams still have something to prove, but it's the Wildcats who have their backs pressed to the wall even though it's still September.
September, 22, 2014
Sep 22
12:30
PM ET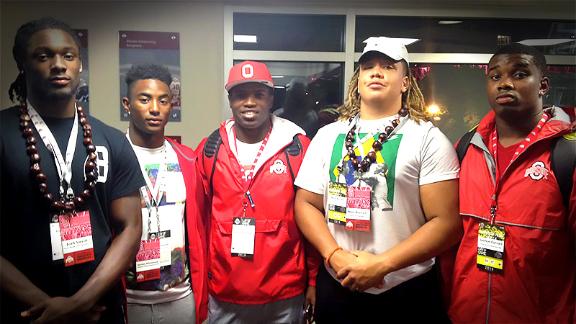 Michigan's loss to Utah has started to create uncomfortable feelings in Ann Arbor. The season is not looking bright for the Wolverines, and the product on the field typically impacts recruiting directly.
The Wolverines have played only four games, but recruits have noticed the heat from the media and outside voices creeping in. Michigan has had success recruiting in recent years under Brady Hoke, but it seems as if this season might be where the pendulum starts to swing the other way if it doesn't get turned around.
To continue reading this article you must be an Insider
September, 22, 2014
Sep 22
10:00
AM ET
Is the Big Ten finally on the rise?
It was a good weekend for the conference -- the best it's had so far this season -- as it went 12-1 Saturday, with its lone loss coming in the Michigan-Utah contest. Indiana rallied to upset No. 18 Mizzou, Iowa came back to surprise Pitt, and Rutgers overcame an early deficit to beat Navy.
It might be premature to say the Big Ten has bounced back since its record against Power 5 opponents is still pretty dismal. But it's on the right track, and Saturday's performance allowed the conference to gain back some respect.
The Big Ten might be down but, after this weekend, it's certainly not out.
[+] Enlarge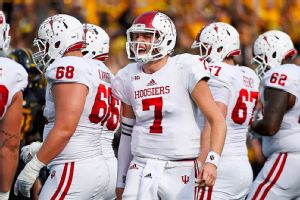 Jasen Vinlove/USA TODAY SportsNate Sudfeld led Indiana to its first win against a ranked team since 2006; it had lost its previous 18.
Team of the week:
There's really no controversy at all to this pick -- Indiana. The Hoosiers entered the game against No. 18 Missouri as two-touchdown underdogs, and no one gave them much of a chance. But Indiana's defense recorded 11 tackles-for-loss and stepped up in key times, and
Tevin Coleman
and the offense turned in another solid performance. If Indiana's defense can keep this up, it could surprise in the East. This was the best non-conference win of the season for the Big Ten.
Game of the week:
The answer could just as easily be Indiana again, but let's look elsewhere. For 53 minutes, the Hawkeyes couldn't manage to gain a lead in their game against Pitt. But all that changed in the final minutes. Backup quarterback (at least for now)
C.J. Beathard
helped Iowa orchestrate a key fourth-quarter touchdown drive by making two critical third-down passes and converting a fourth-down run. The Hawkeyes ate up nearly eight minutes on the drive, and the defense held firm on the next drive when Pitt reached the 29-yard line. It was a great game to watch, a great win on the road and some great play-calling by Greg Davis.
Biggest play:
It wasn't the most exciting play Saturday, and it wasn't the best highlight. But no big play came at a more critical time than Coleman taking a short Indiana swing pass and parlaying it into a 44-yard gain. With a little more than a minute left in regulation, Coleman broke two tackles and marched to the Missouri 7-yard line after a facemask penalty was tacked on to the end of the pass. Indiana scored the game-winning touchdown two plays later. Without Coleman's play, maybe this comeback comes up short.
Big Man on Campus (offense):
No, the opponent wasn't a tough one. But when you put up crazy numbers like Wisconsin's
Melvin Gordon
, the choice is still an easy one. In case you don't know these numbers by now -- and, really, you should feel embarrassed if this is news to you -- Gordon rushed for 253 yards and five touchdowns on just 13 carries. You won't find a more dominating rushing performance this season, unless you fire up your console and slide the difficulty settings to "Freshman." As we said
earlier
, Gordon ran like Bo Jackson straight out of Tecmo Bowl.
Big Man on Campus (defense):
Lead the team in tackles? Check. Make a stop in the backfield? Check. Record an interception? Check. Maryland defensive back
William Likely
came up big Saturday as, not only did he force a turnover, but he also returned the interception 88 yards for a touchdown. It wasn't a garbage-time play, either. Likely's play came just as Syracuse was about to pull within a score. Instead, Likely's score basically put the game away.
Big Man on Campus (special teams):
There are a few good candidates here -- such as
Kenzel Doe
and his 165 returning yards or Iowa's
Marshall Koehn
and his 52-yard field goal -- but let's go outside the box a little bit. Know who else deserves some props? Northwestern punter
Chris Gradone
. He averaged 44.1 yards a punt, but the real reason he's on this list? Six of his seven punts landed inside the 20, and none bounced into the back of the end zone. The Wildcats were outgained by nearly 100 yards on the day, so field position was a big friend of Northwestern. After Gradone's first punt, which wasn't great, Western Illinois managed just six total return yards on the next six punts. Western Illinois was forced to start within its own 10-yard line three times and didn't get past the 17 the other three times. And, for Gradone's grand finale, he booted a 45-yard punt out of bounds on the 1-yard line. Doe was good, but Wisconsin would have won anyway. Koehn was good, but it was just one play. Gradone was solid throughout the game.
Biggest face plant:
Really, there's only one choice here, so it's an obvious one. Michigan fell to Utah in the Big House, and there really wasn't a lot to build on. Michigan's special teams allowed a punt return for a touchdown, the offense turned the ball over four times, and quarterback
Devin Gardner
once again looked lost. Backup quarterback
Shane Morris
didn't look much better and, right now, this team looks like one of the worst in the conference. The Wolverines need to regroup, but Brady Hoke's time in Michigan might already be up.
Numbers and facts to know:
Wisconsin rushed for 644 yards, the most in school history and the fourth-most in Big Ten history ... Hoke started off his U-M career 19-0 in Michigan Stadium but has since gone 2-3 -- with an 0-3 record against Power 5 teams ... Michigan State's 73-14 win was the school's largest since 1989, when it defeated Northwestern 76-14 ... Purdue's 22-point win against Southern Illinois was its largest victory since the 2012 season, against Eastern Michigan (54-16) ... Indiana won its first game against a ranked opponent since 2006; it had lost its previous 18 ... The Hoosiers did not turn the ball over against Missouri, the first time in 47 straight games that Mizzou did not force at least one turnover ... James Franklin is the first Penn State coach to start 4-0 since Dick Harlow went 5-0 in 1915.
Michigan Pulls Plug On Coke Promotion