Watch: UA combine (WR vs. DB)
January, 9, 2013
Jan 9
9:33
AM ET
By
RecruitingNation staff
| ESPN.com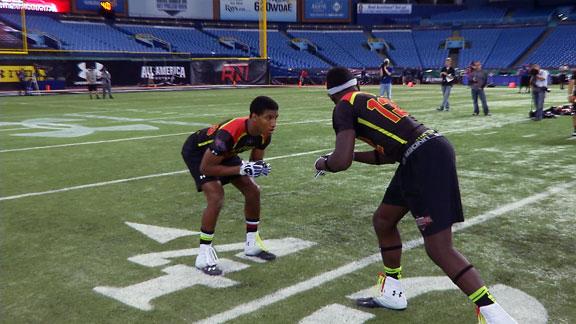 Wide receiver vs. defensive back one-on-one matchups from the Jan. 4 Under Armour Combine held at Tropicana Field in St. Petersburg, Fla. The combine featured many of the nation's top 2014 and 2015 prospects.
Weekend Recruiting Wrap: Big Ten - Dec. 2
Tom VanHaaren offers a snapshot of the latest Big Ten recruiting news, including the trio of players who flipped to Wisconsin, a juco addition at Nebraska and the latest surrounding Jabrill Peppers' visits outside of Michigan.
Tags:
Jacob Maxwell
,
Dareian Watkins
,
Micah Kapoi
,
Jabrill Peppers
,
Terrell Clinkscales
,
Chance Waz
,
Michigan Wolverines
,
Wisconsin Badgers
,
Nebraska Cornhuskers
,
RecruitingNation
,
ESPN 300
,
ESPN Juco 100
,
high school football recruiting
Weekend Recruiting Wrap: Big Ten - Dec. 2
VIDEO PLAYLIST
Weekend Recruiting Wrap: Big Ten - Dec. 2

Weekend Recruiting Wrap: Big Ten - Dec. 2

Tom VanHaaren offers a snapshot of the latest Big Ten recruiting news, including the trio of players who flipped to Wisconsin, a juco addition at Nebraska and the latest surrounding Jabrill Peppers' visits outside of Michigan.

Tags: Jacob Maxwell

,

Dareian Watkins

,

Micah Kapoi

,

Jabrill Peppers

,

Terrell Clinkscales

,

Chance Waz

,

Michigan Wolverines

,

Wisconsin Badgers

,

Nebraska Cornhuskers

,

RecruitingNation

,

ESPN 300

,

ESPN Juco 100

,

high school football recruiting

ESPN Top College Football Plays

ESPN Top College Football Plays

Check out the top plays from Week 14 in college football from the ESPN family of networks.

Hoke Defends Decision To Go For Two

Hoke Defends Decision To Go For Two

Michigan coach Brady Hoke talks about his team's effort and the decision to go for a two-point conversion with 32 seconds left.

Tags: Michigan

,

Brady Hoke
MICHIGAN FB RECRUITING SCORECARD
adidas Men's Michigan Wolverines #98 White Football Replica Jersey Shop »
ScoutMichigan

Scout Wolverines


U-M Hangs On to Beat Stanford, 68-65 http://t.co/G0j635g8fv #goblue
about 6 hours ago

bigtenconf

Big Ten Conference


.@PennStateVBALL wins the 2013 #NCAA Volleyball Championship! http://t.co/FZLKXHH3Gx
about 7 hours ago

mikerothstein

Michael Rothstein


RT @DJJazzyJody: What MJ told Trey Burke: "He said, 'Keep working. You're doing really good. Just stay healthy.' Those words will stick wit…
about 7 hours ago

bigtenconf

Big Ten Conference


RT @NCAAVolleyball: Champs! http://t.co/yqqUqejSJs
about 7 hours ago

bigtenconf

Big Ten Conference


Congrats to @PennStateVBALL, earning their sixth national title & tying Stanford for the most #NCAA crowns all-time!
about 7 hours ago

DaveBrandonAD

Dave Brandon


A great guy & A Michigan Difference! RT @utahjazz:@Trey_Burke3 meets with #umich fans prior to Jazz-Bobcats #UTAatCHA http://t.co/W2PBKpF9C7
about 7 hours ago

ScoutMichigan

Scout Wolverines


Forums: U-M 68, Stanford 65. Final Stats http://t.co/L6p4YmFHR1 #goblue
about 8 hours ago

DaveBrandonAD

Dave Brandon


NYC is good for @umichbball! The maize and blue fan turnout was terrific...thanks for coming out and supporting our Wolverines!#goblue
about 8 hours ago

DaveBrandonAD

Dave Brandon


A very nice win! RT @DesmondHoward: Nice win for @umichbball against Stanford in Brooklyn. 68-65 for the boys in maize & blue.
about 8 hours ago

ChantelJennings

Chantel Jennings


@VanBergen53 @JBooty_88 such flow wisdom, Ryan. Im just waiting for @timouthy to weigh in...
about 8 hours ago

DesmondHoward

Desmond Howard


Nice win for @umichbball against Stanford in Brooklyn. 68-65 for the boys in maize & blue.
about 9 hours ago

mikerothstein

Michael Rothstein


If I'm Stanford here, I'm letting Zak Irvin catch this inbounds if anyone. Make the freshman hit key shot
about 9 hours ago

ChantelJennings

Chantel Jennings


Absolutely no reason to be in the lane there.
about 9 hours ago

ChantelJennings

Chantel Jennings


Spike was literally shouting and waving his arms at his team to NOT FOUL on his way down the court. Way to listen.
about 9 hours ago

ChantelJennings

Chantel Jennings


He has quite the LeVert(ical) RT @stephenjnesbitt "Guys, I've got this." http://t.co/QZFPoy1ykR
about 9 hours ago

BTN_Michigan

Big Ten Network


Michigan has the lead thanks to 17 pts from Nik Stauskas
about 9 hours ago

BTN_Michigan

Big Ten Network


Michigan F Jon Horford fouls out with 2 pts
about 9 hours ago

ChantelJennings

Chantel Jennings


If my grandmother is to pick tonight's winner, it's Michigan. Why? They have better hygiene, keep their hair clean, it's not shaggy.
about 9 hours ago

BTN_Michigan

Big Ten Network


Stanford C Stefan Nastic fouls out with 14 pts, 4 rebs
about 9 hours ago

BTN_Michigan

Big Ten Network


Stanford C Stefan Nastic in trouble with 4 personal fouls (12 pts, 4 rebs)
about 9 hours ago

BTN_Michigan

Big Ten Network


Michigan's largest lead so far: 10, thanks to 41% field goal shooting (18-44)
about 9 hours ago

ChantelJennings

Chantel Jennings


Other middle names: Jon Kelly Horford. Caris Coleman LeVert. Mitchell Neil William McGary. When games aren't super exciting, peruse mgoblue.
about 9 hours ago

ChantelJennings

Chantel Jennings


Fun fact: Max Bielfeldt's middle name is Claggett.
about 9 hours ago

ChantelJennings

Chantel Jennings


One aspect of McGary being out is that Morgan, Horford don't consistently send the ball after a defensive rebound - Gets transition looks.
about 10 hours ago

BTN_Michigan

Big Ten Network


11 pts for Michigan F Glenn Robinson III (13 ppg this season)
about 10 hours ago

ChantelJennings

Chantel Jennings


Michigan in transition is a very good thing. A very good thing.
about 10 hours ago

BTN_Michigan

Big Ten Network


15-4 scoring run in last 5:43 for Michigan
about 10 hours ago

mikerothstein

Michael Rothstein


Keep playing like he has and he'll have a shot, for sure. RT @BVaryaSkins: @mikerothstein Last one. Burke's chances at ROTY?
about 11 hours ago

mikerothstein

Michael Rothstein


Stanford, but ends up being one of the best bowl games of the year RT @darby_doolittle: @mikerothstein who wins: MSU or Stanford?
about 11 hours ago

mikerothstein

Michael Rothstein


Under. RT @kesseltine: @mikerothstein ...stafford picks over/under ....my pick over 2.....yours?
about 11 hours ago

mikerothstein

Michael Rothstein


Agree RT @boomshaka9: @mikerothstein Well, all things considered, I'd say they have one of the most loyal fan-bases in sports. What say you?
about 11 hours ago

ChantelJennings

Chantel Jennings


Should be interesting to see what difference Spike can make. He distributes better than Walton still, I think.
about 11 hours ago

mikerothstein

Michael Rothstein


WR or CB, IMO. RT @darby_doolittle: @mikerothstein what position do the lions attack in first round in next years draft?
about 11 hours ago

mikerothstein

Michael Rothstein


Chance? Yes. But a lot has to happen RT @MrRevolution712: @mikerothstein in your honest opinion...any chance of the playoffs this season?
about 11 hours ago

mikerothstein

Michael Rothstein


Think Lions win tomorrow. Unsure on GB/CHI RT @mork1215: does it end tomorrow or do we get one more heartbreaking tease next week?
about 11 hours ago

BTN_Michigan

Big Ten Network


Michigan (6-4), Stanford (8-2) squaring off in Brooklyn
about 11 hours ago

mikerothstein

Michael Rothstein


Got #Lions questions or questions about whatever? I'm sitting here watching Michigan-Stanford & getting some work done if you've got 'em
about 11 hours ago

BTN_Michigan

Big Ten Network


RT @BTNSean: Breaking: Mitch McGary ruled out tonight for #Michigan.
about 11 hours ago

qu9rter8ack

Devin Gardner


#PreciateYa RT @CJae_Guapo: @qu9rter8ack congrats!! http://t.co/6c1J8Rjzwi
about 12 hours ago

umichfootball

Michigan Football


Just the sixth QB in Big Ten history to have a 500+ & 400+ yard passing game in the same season. #BWWBowl http://t.co/VlyeHSecTm
about 12 hours ago

bigtenconf

Big Ten Conference


For the first time ever, an all #B1G Women's Volleyball National Championship. @PennStateVBALL vs. @BadgerVBall. Predictions? #B1GVolleyball
about 12 hours ago

ChantelJennings

Chantel Jennings


Walk in the door to my grandmas. "You're just in time for some whiskey." She's 85. It's 5:30. Good god I love this woman.
about 13 hours ago

DesmondHoward

Desmond Howard


Good luck to Enterprise Hornets in the championship game tonight. #WENOTME
about 13 hours ago

ESPNMichigan

ESPN Michigan


Midyear signings: Michigan http://t.co/9aeh76PfzQ
about 14 hours ago

DaveBrandonAD

Dave Brandon


Glad the #happyalums had fun! RT @nnemitz: @DaveBrandonAD thanks for the idea of skating at Central Park! #goblue http://t.co/ztgf9PHTby
about 15 hours ago

mikerothstein

Michael Rothstein


Take 5 min & watch this. Worth it (this could be really old & I'm just finding out about it, to be fair) http://t.co/3lrkpVmY5m
about 16 hours ago

mikerothstein

Michael Rothstein


@AngieAkers San Diego is paradise. (Also, warm, could surf and warm)
about 16 hours ago

mikerothstein

Michael Rothstein


@AngieAkers Yep. Or I just need to get out your way once the season is over. Really need an infusion of Southern California.
about 16 hours ago

mikerothstein

Michael Rothstein


@AngieAkers Thanks! You as well. And you made the smart call. It's been raining or snowing here it feels like for a month.
about 16 hours ago

mikerothstein

Michael Rothstein


@AngieAkers Ha! Thanks so much! Hope you & Jeremy are having a great holiday season! Are you headed back to the cold & rain of the Midwest?
about 16 hours ago

mikerothstein

Michael Rothstein


RT @Big_Tah47: Just leaving the doctor, and shananigans59 and I are having another boy. 😁👍 Tahj Ali Whitehead http://t.co/sTaCSOXJ5M
about 16 hours ago

ChantelJennings

Chantel Jennings


Just havin coffee with all my hippie friends cc:@TomVH http://t.co/ygzNrDUhdW
about 16 hours ago

mikerothstein

Michael Rothstein


Today's view while getting some work done on a rainy Ann Arbor Saturday. http://t.co/1MphE6Hm9Y
about 17 hours ago

mikerothstein

Michael Rothstein


From the #Giants perspective from my colleague. RT @DanGrazianoESPN: W2W4: Giants at Lions http://t.co/9V5GvPk0nM
about 17 hours ago

mikerothstein

Michael Rothstein


RT @ESPNNFL: Since 2011, Lions WR Calvin Johnson has 5,094 Rec yards. He's the only player in NFL history with 5,000 Rec yards in 3 yr span…
about 17 hours ago

mikerothstein

Michael Rothstein


Four keys for the #Lions tomorrow against the #Giants http://t.co/3RWEfg43dq
about 18 hours ago

mikerothstein

Michael Rothstein


The #Lions need a return to the past from Matthew Stafford for any shot at the playoffs this year: http://t.co/AjXwIF2uzx
about 18 hours ago

mikerothstein

Michael Rothstein


Obviously a long way to the draft, but could be good for #Lions fans to watch Fresno State-USC today.(3:30 p.m./ABC)
about 19 hours ago

ScoutMichigan

Scout Wolverines


Preview: Michigan/Stanford in Brooklyn http://t.co/CaC7SkFbki #goblue
about 21 hours ago

DesmondHoward

Desmond Howard


Happy holidays! We start the bowl season today. Which game are you most looking forward to seeing?
about 21 hours ago

ChantelJennings

Chantel Jennings


Bahaha. Got her. http://t.co/3I1mF2ZD5K
about 22 hours ago

ScoutMichigan

Scout Wolverines


John Beilein Previews Stanford Match-Up http://t.co/rBdAOqvIUY #goblue
1 day ago

DesmondHoward

Desmond Howard


RT @CySid: Awesome story on Jeremy Gallon! Kid represents #Michigan & @DesmondHoward 21brilliantly. Great job @Mark__Snyder. http://t.co/f…
1 day ago

mikerothstein

Michael Rothstein


Lions need Stafford to return to earlier form http://t.co/4xkXMUssIW
1 day ago

ESPN_BigTen

ESPN BigTen


Withers to JMU; change coming for OSU http://t.co/oPkoQcK7yR
1 day ago

BTN_Michigan

Big Ten Network


#UMich video: Tom Dienhart Bowl Preview Interview http://t.co/tSOqYj3Mmz
1 day ago

mikerothstein

Michael Rothstein


Hilarious RT @hochman: We all love the game NBA Jam. I met the one player from the arcade NBA Jam no one knows: http://t.co/sewng2cpA8
1 day ago

ESPN_BigTen

ESPN BigTen


Iowa responds to DJK's allegations http://t.co/ZZIG8qGSen
1 day ago

mikerothstein

Michael Rothstein


So I'm currently trying to convince @AmeliaRayno to make "Side Out" part of her movie-watching plans tomorrow. Someone help convince.
1 day ago

ESPN_BigTen

ESPN BigTen


My news story on Iowa's response to the allegations by Derrell Johnson-Koulianos, with additional comments from DJK… http://t.co/6MvjYCqTz9
1 day ago

jayfeely

Jay Feely


Bringing it RT @onemangang97 Always wondered why my boy @jayfeely covered kicks the way he did. I had no clue about defenseless kicker rule
1 day ago

ChantelJennings

Chantel Jennings


How is "rom com" not an option to search by on my TV?
1 day ago

bigtenconf

Big Ten Conference


11 #B1GMBBall teams hit the court this weekend. What's the best seat in your team's arena to watch a game? http://t.co/S27MUb7RC8
1 day ago

mikerothstein

Michael Rothstein


RT @kmeinke: Lions LB Ashlee Palmer spent the night in the hospital after the Ravens game following birth of son http://t.co/JmcRgOxd7X
1 day ago

mikerothstein

Michael Rothstein


That's pretty good. RT @MoneyLynch: This is Steven Hauschka and I'm tweeting from Marshawn's account. Please vote me into the pro bowl.
1 day ago

ScoutMichigan

Scout Wolverines


McGary 'Injured,' Not Nearly at 100-Percent http://t.co/gIKAXi9Atw #goblue
1 day ago

ScoutMichigan

Scout Wolverines


Ways Among UM Commits set to Rise in Rankings http://t.co/w15ocvJ12J #goblue
1 day ago

mikerothstein

Michael Rothstein


News story on #Lions TE Brandon Pettigrew being ruled out for Detroit and other injuries: http://t.co/4Fle2fh3Aa
1 day ago

mikerothstein

Michael Rothstein


Jim Schwartz didn't want to comment on whether the #Lions tried to trade for Hakeem Nicks this year. He rarely says anything on that stuff.
1 day ago

mikerothstein

Michael Rothstein


True, but that was more apostrophes than I cared to use RT @kmeinke: *y'alls. RT @mikerothstein: Matthew Stafford dropped a y'all today.
1 day ago

mikerothstein

Michael Rothstein


Matthew Stafford dropped a y'all today.
1 day ago

ESPN_BigTen

ESPN BigTen


Bad season hasn't hurt Cats' recruiting one bit RT @insidenu: Parrker Westphal commits to #Northwestern over Vandy. http://t.co/kp8A0TB4zz
1 day ago

ESPN_BigTen

ESPN BigTen


Big Ten Friday mailblog http://t.co/08PvRhzvSR
1 day ago

ESPNMichigan

ESPN Michigan


Big Ten Friday mailblog http://t.co/f2MnXhelYo
1 day ago

mikerothstein

Michael Rothstein


Here's a look at some of the contingency plans the #Lions have with Pettigrew now out Sunday vs. #Giants: http://t.co/yKErlhVVct
1 day ago

mikerothstein

Michael Rothstein


Brandon Pettigrew OUT for the #Lions on Sunday vs. #Giants
1 day ago

ESPN_BigTen

ESPN BigTen


Melvin Gordon makes right call on return http://t.co/TEQaxpgBfz
1 day ago

ESPN_BigTen

ESPN BigTen


Newser on Melvin Gordon returning to Wisconsin for his redshirt junior season. Big news for Badgers … http://t.co/SIlynPbJMz
1 day ago

ESPN_BigTen

ESPN BigTen


@marcmorehouse Problem is if you beat ND, ND is down. You lose, B1G stinks. Wins vs. SEC, top Pac-12/ACC/Big 12 help more in perception.
1 day ago

ESPN_BigTen

ESPN BigTen


Think we know what this is about now. RT @CoachHammock: Great news to start the day. Future is bright in Wisconsin
1 day ago

ESPN_BigTen

ESPN BigTen


@marcmorehouse For nostalgia, maybe, but how much mileage do B1G teams receive from beating ND? Virtually none. Lose-lose perception-wise
1 day ago

mikerothstein

Michael Rothstein


No fines for Levy Fairley or Delmas from Monday night for #Lions.
1 day ago

ESPN_BigTen

ESPN BigTen


Swarbrick on B1G: "It's probably 50/50. They had less flexibility on when we could play, and we had more things we were trying to work out."
1 day ago

ESPN_BigTen

ESPN BigTen


Notre Dame AD Swarbrick attributes no ND-B1G games in 2015 partly to ND's schedule realities, partly to B1G's prep for nine league games.
1 day ago

BTN_Michigan

Big Ten Network


RT @BTNSean: MSU's #B1G title win, Jack Hoffman's run & U-M shocks KU land in top 50 of @SInow's memorable sports moments in 2013: http://t…
1 day ago

ChantelJennings

Chantel Jennings


New names we've heard through bowl prep: Offense: http://t.co/aa3m7Ugalh | Defense: http://t.co/ilvBHIn6vo
1 day ago

ESPN_BigTen

ESPN BigTen


Take Two: B1G's most improved bowl team http://t.co/jqYGimo8g5
1 day ago

ESPN_BigTen

ESPN BigTen


RT @jimlefko: For those who care about such things, Notre Dame will play 0 Big Ten football foes in 2015. First time that has been in the c…
1 day ago

ESPNMichigan

ESPN Michigan


Bowl prep names we've heard: Defense http://t.co/dYbI64vPJa
1 day ago

ScoutMichigan

Scout Wolverines


Forums: Harbaugh Quote http://t.co/BU7WWElTsv #goblue
1 day ago
BIG TEN SCOREBOARD
Saturday, 12/21
Monday, 12/23
Tuesday, 12/24
Thursday, 12/26
Friday, 12/27
Saturday, 12/28
Monday, 12/30
Tuesday, 12/31
Wednesday, 1/1
Thursday, 1/2
Friday, 1/3
Saturday, 1/4
Sunday, 1/5
Monday, 1/6
BLOG ARCHIVE:
CATEGORIES: