Michigan Wolverines:

Dan Samuelson
February, 28, 2014
2/28/14
10:30
AM ET
Spring football started Tuesday, so the competition for positions is well underway. This week, we're counting down the five position battles that you should also keep an eye on over the next month. We've counted this down for a week, though you probably knew exactly which position would take the cake at No. 1.
No. 1:
left tackle
Who's in the mix:
Erik Magnuson
(injured),
David Dawson
,
Dan Samuelson
What to watch:
Of the top five position battles to watch, three have been on the offensive line, which makes sense considering the 2013 performance. The O-line needs to see some change going in to next season. They say if there's youth on a line, it's best to have it on the outside. If that's the case, then the Wolverines are in good shape. It's more than likely the Wolverines will be starting underclassmen at both tackle spots. Yesterday we looked at the struggles in replacing a three-year starter on the right side, but it's an even bigger challenge to replace a four-year starter on the left side, QB Devin Gardner's blind side.
Replacing
Taylor Lewan
isn't going to be easy. The All-American started 48 consecutive games at left tackle for the Wolverines. He graded out with his best year of football during this past season and now the Wolverines will have to search for his replacement. Magnuson was the frontrunner but will miss the spring season while rehabbing from shoulder surgery. At 6-foot-6, 295 pounds Magnuson is a bit smaller than Lewan (6-8, 315), but is agile and athletic. Last season he played in 12 games and recorded seven starts at guard, which will only help his future as a tackle. Since he has experience at both positions, he'll better know the nuances of the line as a whole, which will only help the chemistry of the left side of the line. However, with him sitting out for the spring, Michigan coach Brady Hoke said that Dawson has been taking reps with the first group. He's a shorter option than the other tackles (6-4, 295) but assuming Magnuson comes back 100 percent, Dawson could likely be repping with the twos at either tackle spot. Samuelson is another option at tackle for the Wolverines. The rising redshirt freshman is 6-5 and 282 pounds.
The countdown:
February, 3, 2014
2/03/14
12:30
PM ET
For the most part, Brady Hoke really doesn't like recruiting surprises. The majority of his commitments at Michigan have come early in the recruiting cycle, and by the time signing day rolls around, there aren't many spots left in Ann Arbor.
That's largely the case again this season. Michigan had six early enrollees, so only 10 will sign Wednesday. The Wolverines are really waiting on only one possible signee -- in-state defensive lineman
Malik McDowell
. The 6-foot-6, 260-pound prospect out of Southfield, Mich,. will decide among Michigan, Michigan State, Ohio State and Florida State.
Most later commits for the Wolverines have happened because Michigan offered a scholarship late in the process. However, the Wolverines have been in on McDowell for years. And on Wednesday, McDowell could join the very short list of Hoke's signing day surprises. Here's a look at those players from his first three classes.
2013 | Signing day: Feb. 1
RB Derrick Green | Jan. 26
[+] Enlarge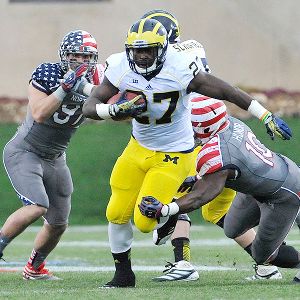 David Banks/USA TODAY SportsDerrick Green was a big signing for Brady Hoke at Michigan.
He was the last commitment in the 2013 class for the Wolverines and one of the freshmen who contributed the most this season. He chose Michigan over Auburn and Tennessee, who had both just gone through coaching changes. However, there was quite a bit of tension going into his decision day as to whether Hoke would be able to sign a player of Green's caliber from outside the Midwest.
DB Reon Dawson | Jan. 14
Dawson changed his commitment from Illinois, the in-state school he had been committed to for nearly eight months. Michigan came in with a late offer, not until about a month before he committed to the Wolverines. However, Dawson attended high school with longtime commit
Mike McCray
, so he said he had heard plenty about Michigan.
OL Dan Samuelson | Jan. 12
Samuelson was a bit of a surprise for a few reasons. He had been committed to Nebraska for eight months (and before that, he had been committed to Pitt for less than a month). However, he decided he wanted to be closer to his Indiana home and Michigan was only three hours away. But the bigger surprise was that most observers believed the Wolverines' offensive line recruiting was pretty much completed, as Hoke had already secured five four-star linemen.
2012 | Signing day: Feb. 2
WR/KR/PR Dennis Norfleet | Feb. 1
He really has been the only game-time decision during Hoke's tenure. The Wolverines were able to flip Norfleet's commitment from Cincinnati in the final days. Hoke had offered a scholarship to Norfleet the week before signing day, but he didn't decommit from Cincinnati until the night before.
DT Willie Henry | Jan. 31
Henry had taken his official visit to Michigan the weekend before signing day and then chose the Wolverines over MAC and Big East schools. Henry was an important late commit for the Wolverines because he kind of stopped the bleeding after several recruiting runner-up finishes for the Wolverines (TE
Sam Grant
, CB
Armani Reeves
, OL
Alex Kozan
, OL
Josh Garnett
).
2011 | Signing day: Feb. 3
The 2011 class as a whole was kind of a surprise class, as Hoke had less than two months to put it together. So there were a few guys, such as quarterback
Russell Bellomy
, offensive lineman
Chris Bryant
and linebacker
Antonio Poole
, who committed within two weeks of signing day. Today, that would seem like a lot of late commitments for Hoke, but for the 2011 class, it wasn't that crazy. The Wolverines picked up three commitments in the few days leading up to Hoke's first signing day at Michigan.
TE Chris Barnett | Feb. 2
Before Barnett got to signing day with Michigan, he attended four different high schools and broke commitments to Arkansas and Oklahoma. He ended up staying in Ann Arbor for only one season.
DE Frank Clark | Feb. 2
Clark was on campus for the first recruiting weekend of Hoke's tenure. The late add of not only an Ohio kid, but a player from Cleveland Glenville -- an Ohio State pipeline school -- was impressive for Hoke in his first few months on the job.
RB Thomas Rawls | Feb. 1
Rawls had visited only Michigan and Central Michigan, so it wasn't a huge surprise that he ended up choosing the Wolverines. However, in an interesting turn of events, Rawls was granted his release from Michigan following this season and will play for Central Michigan next season.
April, 30, 2013
4/30/13
9:10
AM ET
ANN ARBOR, Mich. -- Spring practice has ended for Michigan and for the first time, the depth chart for the fall is beginning to take shape.

Yes, there will still be some big competitions on Michigan's offense -- particularly at running back and wide receiver -- but there is now a better idea of who the Wolverines' starting 11 will be in August when they open the season against Central Michigan.

WolverineNation takes a two-day look at what Michigan's depth chart will be come fall, starting with the offense.

Quarterback

February, 25, 2013
2/25/13
9:00
AM ET
The writers at WolverineNation and BuckeyeNation put their heads together to break down the rivals' 2013 recruiting classes. They'll give readers a position-by-position look at who coaches Brady Hoke and Urban Meyer signed and, ultimately, which class edged out the other. It's too early to say what will happen through the next few seasons, and we won't make any promises except that Hoke and Meyer are going to put talent on the field.
Michigan got:
Michigan landed the top offensive line class in 2013 for the entire country, so this battle was easy. The Wolverines landed six total offensive linemen, five of whom are within the ESPN 300.
Michigan landed four offensive linemen in 2012 and to build depth across the line, the coaching staff decided to take six in this class.
To continue reading this article you must be an Insider
January, 12, 2013
1/12/13
4:36
PM ET
With six offensive line commitments, the Michigan coaching staff has turned a weakness into a strength. It's no secret that Michigan's offensive line was an area of concern in the 2012 season and it's easy to see the coaches were interested in fixing that problem.
To continue reading this article you must be an Insider
January, 12, 2013
1/12/13
3:52
PM ET
Michigan already had a strong haul in the 2013 class along the offensive line, but it appears to have gotten even stronger. The Wolverine's hosted a few offensive linemen on Saturday and have landed one of the visiting targets.
To continue reading this article you must be an Insider
January, 11, 2013
1/11/13
11:16
AM ET
ANN ARBOR, Mich. -- Nebraska commit
Dan Samuelson
(Plymouth, Ind./Plymouth) has set a decision date, and Michigan fans might want to mark down this date.
To continue reading this article you must be an Insider
January, 3, 2013
1/03/13
2:38
PM ET
The Weekly Update at WolverineNation is a sneak peek inside Michigan recruiting.
2014 Targets
There have been quite a few questions about 2014 prospects and when everything is going to pick up. It seems like it has been slow, but Michigan already has two commitments for 2014 which is on pace with the 2013 class.
To continue reading this article you must be an Insider
December, 27, 2012
12/27/12
8:00
AM ET
The Weekly Update at WolverineNation is a sneak peek inside Michigan recruiting.
SAM MUSTIPHER
Good Counsel High School in Maryland has been a hotbed of recruiting and continues to produce top talent, including offensive lineman
Sam Mustipher
in the 2014 class. Mustipher recently received an offer from Michigan, and it seems to have him pretty excited.
To continue reading this article you must be an Insider
December, 24, 2012
12/24/12
9:30
AM ET
'Tis the season of giving, but there are still a few recruiting gifts that Michigan fans would like to receive this year. As we wind down the 2013 recruiting season, WolverineNation looks at five gifts Michigan fans would like to receive on signing day.
[+] Enlarge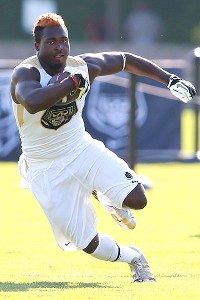 Tom Hauck for ESPN.comDerrick Green would be a great holiday present for Michigan fans.
1
.
The gift of running
- Michigan already has two running backs committed, but the addition of
Derrick Green
(Richmond, Va./Hermitage) would give the Wolverines some outstanding options going forward. Green is the No. 5 running back in the country, so it would be a huge boost to Michigan's run game. Green also happens to be good friends with offensive line commit
David Dawson
(Detroit/Cass Tech), who has been recruiting Green to Michigan once again. All Green has said as far as when he will make a decision is "soon," which could mean anything.
2. Interceptions
- Safety
Leon McQuay III
(Seffner, Fla./Armwood) is still on the board, and as of now is expected to make his announcement at the Under Armour All America game on Jan. 5. He plans on enrolling early, and is likely deciding between Michigan, USC and Vanderbilt. All three schools seem to have him interested, and have something a little different to offer. If Michigan lands the talented defensive back he could be used in a variety of ways within defensive coordinator Greg Mattison's defense.
To continue reading this article you must be an Insider
December, 20, 2012
12/20/12
10:00
AM ET
The Weekly Update at WolverineNation is a sneak peek inside Michigan recruiting.
COREY MARTINEZ
The state of Florida is typically known for speed and skill players, but the Sunshine State also is home to some of the top offensive linemen for the 2014 class. One of them is Tampa Catholic lineman
Corey Martinez
, who has compiled offers from Florida State, Kentucky, Miami, South Florida and Vanderbilt.
To continue reading this article you must be an Insider
December, 11, 2012
12/11/12
10:12
AM ET
ANN ARBOR, Mich. -- As of the beginning of the 2012 football season, it seemed as though the Wolverines had pretty much secured the best offensive line classes they could've hoped for in the 2012 and 2013 classes. But when No. 1 offensive guard
David Dawson
(Detroit/Cass Tech) and Michigan parted ways, a few questions emerged. But even without Dawson, the O-line commits in Brady Hoke's first two full classes still seem very strong.
Since that point the Michigan coaching staff has extended offers, re-extended offers and reached out to players who hadn't been on the radar for months. To break down the search, here's a timeline of O-line recruiting for this class.
[+] Enlarge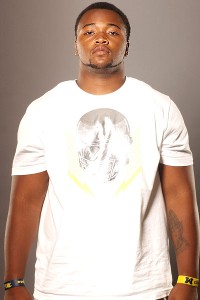 Tom Hauck for ESPN.comDavid Dawson's decommitment threw Michigan off its O-line recruiting game late in the process.
Feb. 18:
OT
Chris Fox
, OG
Kyle Bosch
and Dawson commit.
To continue reading this article you must be an Insider
Michigan C Cites Concussions In Decision To Quit
BIG TEN SCOREBOARD
Thursday, 9/3
Friday, 9/4
Saturday, 9/5
Sunday, 9/6
Monday, 9/7