December, 20, 2013
Dec 20
4:00
PM ET
Wishing you a great weekend. Check out the
full ESPN bowl schedule
(with broadcast teams).
Don't forget to follow us
on Twitter
if you aren't already.
To the inbox ...

Mike from Allentown, Pa., writes:
Hey Adam, with all the talk about Penn State's bowl ban being looked into this offseason, I have a hypothetical question for you. If the NCAA were to drop Penn State's bowl ban, would the Big Ten comply and make them eligible for the Big Ten championship? Or, is it possible the Big Ten could extend that ban separate from the NCAA?
Adam Rittenberg:
Mike, the Big Ten's penalties always were tied to the NCAA's. Big Ten rules state that if the NCAA declares a team ineligible for postseason play, that team can't play in the Big Ten championship game. So if the NCAA lifts the bowl ban, the Big Ten would declare Penn State eligible for a league title (the Lions already can win their division). Big Ten commissioner Jim Delany has been pleased with Penn State's response to former Sen. George Mitchell, the independent athletics integrity monitor assigned to the school. So I'd be shocked if the Big Ten added or maintained any sanctions against Penn State once the NCAA ones are lifted.
---

Josh from Indy writes:
Have you ever thought about the comparison between Darqueze and his cousin Alfonzo? Both had great careers for their respective teams. Just wanted your take on this.
Adam Rittenberg:
Josh, I definitely thought about it after
Darqueze Dennard
won the Big Ten's Tatum-Woodson Defensive Back of the Year award, which Nebraska's Alfonzo Dennard claimed in 2011. I can't imagine two family members have won the same award while playing for different teams in the same league. Pretty cool. Darqueze's numbers this season are more impressive than Alfonzo's in 2011, although Alfonzo was a true shut-down guy who basically eliminated one side of the field. Darqueze's pro prospects are better, as many peg him as a first-round draft pick. We'll never know where Alfonzo would have been drafted if he hadn't had the off-field trouble. Both are great players, though.
---

Derek from Preston, Iowa, writes:
Hey Adam, I was just curious as to what you thoughts were on Derrell Johnson-Koulianos' Twitter tirade against Kirk Ferentz. Ferentz is beloved for the most part in Hawkeye Country, and this whole thing just seems weird. Why now?
Adam Rittenberg:
The timing is interesting, Derek, as much of this happened three years ago. I understand Derrell's perspective that Ferentz blackballed him with the NFL and stifled his playing career. Some of his teammates back up the accusations against Ferentz and strength coach Chris Doyle. It's an unfortunate situation, but I would be very surprised if Ferentz or Iowa has anything to say about the accusations, especially so long after the fact. Iowa has moved forward and Ferentz's word still carries weight in NFL circles.
DJK has the right to air his grievances, and he has never held back on his views. Honestly, I can't think of a Big Ten player I've covered who fit in less with a particular program. But I doubt there will be major consequences for Ferentz or Iowa.
---

Fatback from Newark, Ohio, writes:
Just wanting to know what your thoughts about Ohio State's defensive coordinator position. I know Fickell is an OSU guy, but we definitely need a change of pace. What do you think about Fickell moving down to just a position coach ( if he doesn't get another job this offseason), and hiring another person from the outside or moving Mike Vrabel up? I think with Vrabel we would play much more aggressive and sit back in all the zone coverage that teams seem to kill us on. Again, your thoughts?
Adam Rittenberg:
It would be tough for Ohio State to demote Fickell, who was the Big Ten's
third highest-paid assistant this year
($610,000). You're not going to pay that salary to a position coach (at least you shouldn't). Fickell still brings a lot of value to Ohio State as a recruiter, and while his defense has its issues this year, youth in the front seven and
Christian Bryant
's injury didn't help matters. On the other hand, Urban Meyer has extremely high standards, and if he feels Fickell isn't helping the team to a national championship, maybe you make the change.
I've heard that Vrabel has definite head-coaching potential, and he did a nice job with a young defensive line this year. With Everett Withers reportedly departing to James Madison, don't be surprised to see a co-coordinator situation with Vrabel and Fickell. Perhaps Vrabel has more say on play calls. I just can't see Ohio State forcing out Fickell right now.
---
Joe from Kentucky writes:
How can you guys leave off
Blake Countess
and
Stanley Jean-Baptiste
from the All-B1G selection for
Bradley Roby
? Roby was suspended for his off-the-field antics (looks really all-conference) and he got exposed by any of the good WRs he faced.
Jared Abbrederis
and
Jeremy Gallon
made him look silly to the tune of almost 400 yards combined. That does not sound like an all-conference performer to me. On the other hand, Countess led the conference in INTs and Jean-Baptiste was right there (if not tied). I think you guys were a little biased in trying to make MSU and OSU the top two represented teams (which their records show). Also,
Ryan Shazier
is the only person on that Ohio State defense to be named All-B1G.
Adam Rittenberg:
Roby's one-game suspension really isn't relevant, as we included
Carlos Hyde
on the team despite his three-game suspension because he was the Big Ten's best running back in league play (few would argue). I agree that Roby struggled against Abbrederis in the Wisconsin game, but many of Gallon's yards didn't come against Roby in the Michigan game. Roby made a touchdown-saving tackle on Gallon, running completely across the field, one of several displays of athleticism he had this season. He had a very good Big Ten season and is one of the better special-teams players I can remember in this league. SJB had a nice season but no picks in Big Ten play. You could make a case for Countess, but I still feel Roby performed better in Big Ten play than any corner other than MSU's Dennard. Shazier is the only other Buckeye defender on our All-Big Ten team, although lineman
Michael Bennett
deservedly made the second-team.
---

Will from Columbus, Ohio, writes:
Should I be concerned that Michigan will be breaking in two new starters at both offensive tackle positions in 2014? Lewan and Schofield took 99.9 percent of the snaps this year, likely making their replacements having VERY little, to no game experience. After the abysmal display on the interior of the line this year, I do believe there are positives in game time reps of the interior line translating to better protection up the middle next season. Will inexperience on the edge hurt the line more next year than the inside this year, or can you mask the youth more on the outside than in?
Adam Rittenberg:
Some good points here, Will. I agree that Michigan's interior line will be improved next year because of all the experience gained, even through some tough times. It will be interesting to see what Michigan does with
Erik Magnuson
, who can play either guard or tackle but might be best at tackle depending on his development. The staff was excited about
Ben Braden
's development in the offseason, and he could step in for Lewan at left tackle. I'm really interested to see how the line performs in Arizona following bowl practices, but you're right that the group will continue to be under the microscope with both veteran tackles departing.
---
Ken from Carmel, Ind., writes:
When
Clifton Garrett
recently committed to LSU, he mentioned the great game-day atmosphere. Having attended a game there, I agree. Sometimes I think the B10 doesn't get that -- and is slow to pick up other little things like that (night games) that can make the difference in winning or losing recruiting battles, and eventually games. As an Iowa grad, the large number of 11 a.m. games certainly don't help the game-day atmosphere. I get the feeling that the people at the top -- president, and A.D. -- don't understand this. You'll have a couple more arrests with later games, but most people just cheer louder and have more fun - a.k.a., better game-day atmosphere. Your thoughts?
Adam Rittenberg:
Couldn't agree more, Ken, and I've been writing this for years. The Big Ten needs to prioritize prime-time games and become more open to weekday games, which would get some of the smaller programs some much-needed exposure. The good news: the league is definitely warming up to the idea, adding more prime-time games and becoming open to November night games, most likely in the 2014 season. Purdue athletic director Morgan Burke said Thursday that the Big Ten's next television contract will feature more prime-time games. That's a good thing, as the noon ET and 3:30 p.m. ET windows just don't carry the same weight with recruits.
December, 20, 2013
Dec 20
2:30
PM ET
Big Ten bloggers Adam Rittenberg and Brian Bennett will occasionally give their takes on a burning question facing the league. We'll both have strong opinions, but not necessarily the same view. We'll let you decide which blogger is right.
Coaches always harp on the importance of the 15 bowl practices, not just for the development of their young players but the entire team. Although the Big Ten went 2-5 in bowls last season, teams such as Minnesota and Michigan made strides even in losing efforts.
Today's Take Two topic is:
Which of the Big Ten's seven bowl teams -- Michigan State, Ohio State, Wisconsin, Iowa, Michigan, Nebraska and Minnesota -- will make the most improvement before kickoff?
Take 1: Adam Rittenberg

To me, this comes down to teams with weaknesses that can be fixed in several weeks of practices and those who are what they are with certain elements. Ohio State's pass defense, for example, is what it is and likely will be exposed by Clemson's ridiculously good wide receivers. I feel the same way about Wisconsin's passing game, although
Jared Abbrederis
could have a big performance in his final collegiate game. Michigan's offensive line looked better against Ohio State, partially because of the scheme, and should progress with some added practice time. My concern there, however, is the health of quarterback
Devin Gardner
. So I'm hesitant to go with the Wolverines.
My pick here is Minnesota, mainly because we saw the way the Gophers improve on offense between the end of the regular season and last year's Texas Bowl. The offensive line stepped up as Minnesota piled up 222 rush yards and 31 points. The group carried that over into this season, and Minnesota ranks fifth in the Big Ten in rushing at 200.9 yards per game. Minnesota needs to see the same type of progress from its passing game before returning to the Texas Bowl to face Syracuse on Dec. 27. I think it can happen. Quarterback
Philip Nelson
has a chance to get healthy and improve his chemistry with promising young wide receivers
Drew Wolitarsky
and
Donovahn Jones
. It'll be tough without top wideout
Derrick Engel
, but I expect a strong offensive showing from Minnesota in Houston and a double-digit win.
Take 2: Brian Bennett
I'm with you on Michigan, which would likely be my pick if we knew with more confidence how healthy Gardner would be. But good health is a reason I'll go with Nebraska.

The Huskers were a seriously beat-up team by the second half of the season, and their offensive line was being held together by spit and string because of so many injuries. I think that greatly contributed to Nebraska's poor performance in the finale against Iowa (though the Hawkeyes had an awful lot to do with that as well). The break between the regular season and the bowl game has already helped many of those players heal up, including quarterback
Tommy Armstrong Jr
., who was hobbled by an ankle problem. The offensive line should be as close to full strength as it has been in a long time.
And don't forget how many young players and first-time starters Bo Pelini played on defense this year, including several freshmen in the front seven. Extra bowl practices should prove very beneficial for them, and this is a defense I think has a chance to be special in the next year or two. The players also shouldn't be worrying about the status of their head coach as some undoubtedly were in November.
Add all that up, and I expect the Cornhuskers to look much better than they did while limping to the regular-season finish line. Whether that's good enough to beat Georgia remains to be seen.
December, 20, 2013
Dec 20
1:00
PM ET
We continue our delivery of the regular-season report cards with Nebraska.
It was an odd year in Lincoln, shaped by injuries and controversy but growth and promise, and it ended with a fan base largely divided. For every member of Husker Nation ready to hand out passing grades, there's another who saw it in just the opposite way.
So at the risk of just adding to the confusion, here it goes:
Offense: B-minus
[+] Enlarge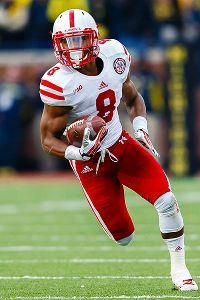 Rick Osentoski/USA TODAY SportsAmeer Abdullah, who ran for 1,568 yards, was one of the bright spots for the Nebraska offense this year.
Considering the bevy of injuries on the offensive line and the loss of quarterback
Taylor Martinez
for all but one game in Big Ten play, Nebraska gets the benefit of the doubt. Its replacements played well enough to keep the Huskers in every game -- if not for the turnovers.
Oh, the turnovers. Nebraska lost the football 28 times, most in the Big Ten, and often turnovers came at the worst times. There's likely not a team in the country that could have handled four fumbles and an interception against Michigan State better than the Huskers did on Nov. 16. But it was still a 13-point loss.
Before the injuries hit, the Huskers' running game was a force. And I-back
Ameer Abdullah
still finished with 1,568 yards, arguably the best season by a Huskers back since 1997. Freshman QB Tommy Armstrong enjoyed some nice moments. Receivers
Kenny Bell
and
Quincy Enunwa
did their jobs well.
Nebraska badly missed a playmaker at tight end. But no one will soon forget the Ron Kellogg-to-
Jordan Westerkamp
Hail Mary that beat Northwestern, a play that single-handedly nudges this grade upward.
Defense: C
Remember the fourth quarter against Wyoming and the first 15 minutes against South Dakota State? Too much bad stuff happened to bump this grade past the point of average.
Sure, the Huskers were young. They needed time to grow into their roles. Why is that, though? How did Nebraska find itself, six years into the coach Bo Pelini regime, in a spot that required a rebuilding job? In year two or three, we'd understand more easily.
There was also debacle in Minneapolis as Minnesota rushed for 271 yards and basically punched the Blackshirts in the face.
Nebraska responded well late. It played a great defensive game in the win at Michigan and a good one to win at Penn State. Even against Iowa, despite losing 38-17, the defensive play was decent.
When factoring the promise for next year -- with emerging stars like
Randy Gregory
,
Avery Moss
and
Michael Rose
-- this defense is better than average. But production doesn't always meet potential.
Special teams C-minus
Bell on kickoff returns and place-kicker
Pat Smith
, who was solid all year and hit a game-winning field goal in overtime at Penn State, prevented a failing grade here.
Just too many mistakes and lack of adjustments.
Nebraska averaged 3.04 yards per punt return -- better nationally than only Mississippi State and 1-11 Cal. More than that, the Huskers fumbled a pair of punt returns and erred too often on decisions in the return game.
Additionally, Michigan State converted a key fake field goal against the Huskers, and Pelini's ill-advised decision to fake a punt against Iowa proved costly.
Overall: C-plus
Nebraska sits 8-4 as it prepares for the TaxSlayer.com Gator Bowl against Georgia, leaving it with a chance to again reach nine wins. A loss on New Year's Day would mark Pelini's first season with five defeats and make this the second Nebraska team not coached by Bill Callahan since 1968 to miss the nine-win benchmark. The absence of key players, youth on defense, turnovers and other mistakes factor in the Huskers' overall grade. None of it weighs heavily enough to sink this team to great depths, yet Nebraska hasn't done enough, either, to get far above the industry average.
December, 20, 2013
Dec 20
12:00
PM ET
December, 20, 2013
Dec 20
3:00
AM ET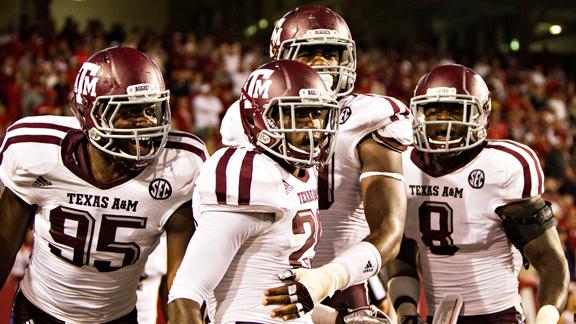 Sometimes the grass isn't as green as it looks.
Several schools that made the dramatic decision of switching conferences during one of the rounds of conference realignment have found this out the hard way.
For a couple of programs, conference realignment has been a boon. The majority, however, have struggled to compete in their new leagues.
This year, teams that realigned into one of the five major conferences went a combined 56-53, including Missouri's 11-2 breakout season.
In the seasons before they realigned, those same teams went a combined 75-42 in their conferences.
Next year, Maryland (currently ACC) and Rutgers (American) will join the fray and relocate to the Big Ten, while Louisville (American) will shift to the ACC. If their experience resembles their realigning brethren, the schools could be in for bumpy transitions.
Below is our conference realignment scorecard of those who have made the move. Grades were based largely on improved visibility, competitive standing and future outlook.
1. Texas A&M
The move: Big 12 to SEC

Improved visibility: A+

Competitive standing: A-

Future outlook: A-

Overall grade: A+
After 15 years of mediocrity in the Big 12, Texas A&M's football program has been completely transformed since bolting for the SEC.
With electric, Heisman-winning quarterback Johnny Manziel competing in college football's premier conference, Texas A&M's visibility has skyrocketed the past two years.
December, 19, 2013
Dec 19
6:40
PM ET
LINCOLN, Neb. -- Bo Pelini addressed the media after Nebraska practiced on Thursday at the Hawks Championship Center, the final opportunity to hear from the coach before the Huskers arrive in Jacksonville, Fla., in one week for the TaxSlayer.com Gator Bowl.
News and notes from Pelini's meeting with reporters:

-He said the Huskers are healing nicely from the slew of injuries that accumulated in the second half of the season. All of the players hopeful to play to against Georgia have returned to practice, with the exception of quarterback
Taylor Martinez
.
"Not 100 percent," Pelini said, "but it looks like he's going to be out for the game."
On the offensive line, in particular, Nebraska has made progress in getting healthy, Pelini said.
The Huskers broke from practice for two weeks before resuming workouts on Saturday. They'll break again this weekend as many players travel home after final exams. The team is set to reconvene in Lincoln on Christmas night.
-Pelini said the Nebraska coaches were received well on the recruiting trail this month. The Huskers have collected 19 commitments, including new signees Byerson Cockrell, a defensive back, and defensive end Joe Keels out of junior college.
At the start now of a dead period in recruiting, Pelini said he expects several battles over Nebraska prospects to remain unsettled until near signing day.
"I think we have a chance to really finish our class off well," he said. "I like our class."
-Redshirt freshman quarterback Tommy Armstrong, who missed most of the final two regular-season games with an ankle injury, has made progress in practice over the past week. Armstrong is among a sizeable group of young players benefiting from this extra work, Pelini said.
"Where they were a month and a half, two months ago and where they are now," the coach said, "it's night and day. You go right down the line. Guys have grown up a lot."
-Pelini mentioned sophomores
Jonathan Rose
and
Charles Jackson
and freshman
D.J. Singleton
as players who have shown improvement of late. The Nebraska coaches are examining their personnel in the secondary as they prepare to replace nickel back
Ciante Evans
and corner
Stanley Jean-Baptiste
after the Gator Bowl.
"There are some young guys who might be off other people's radar who are going to be very good football players," Pelini said.
-Asked if he's concerned that issues in the Nebraska strength program contributed to the injuries this season, Pelini said no. The coach said he's confident in the work of strength coach James Dobson and his staff.
"There's no strength-and-conditioning issue there," Pelini said. "There's a reason why (Ndamukong) Suh and Prince (Amukamara) and Barrett Ruud and the rest of them come back here to train with coach Dobson in the offseason, because they believe in what he does."
December, 19, 2013
Dec 19
2:30
PM ET
If you thought the Hollywood awards season lasted a long time, well, it has nothing on college football.
There's now an endless number of individual trophies, many sponsored by city sports commissions or other groups who want to be associated with college football. And the same is true with All-America teams. Major ones now include the Associated Press, American Football Coaches Association, Football Writers Association of America, Walter Camp, Sporting News, ESPN.com, SportsIllustrated.com and CBSSports.com. Whew.
It can be hard if not impossible to keep up with all of it. So we're here to recap it for you, with a list of every Big Ten player who made one of those major All-America teams. In all, eight different Big Ten players garnered at least one first-team All-America nods, while 19 earned at least a second- or third-team honor. (Note that some organizations, like Walter Camp and ESPN.com, release only a first team).
We start the list with the lone unanimous first-team All-American from the conference:
[+] Enlarge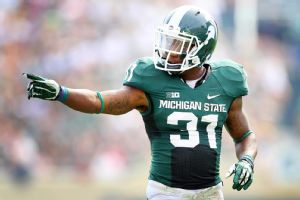 Mike Carter/USA TODAY SportsMichigan State corner Darqueze Dennard was the Big Ten's only unanimous first-team All-American.
Michigan State CB Darqueze Dennard
First team: AP, AFCA, FWAA, Walter Camp, Sporting News, ESPN.com, SI.com, CBSSports.com
Ohio State LB Ryan Shazier
First team: AP, ESPN.com, SI.com
Second team: FWAA, Walter Camp, CBSSports.com
Michigan OT Taylor Lewan
First team: Sporting News
Second team: AP, Walter Camp, CBSSports.com, SI.com
Wisconsin LB Chris Borland
First team: FWAA
Second team: AP, CBSSports.com, SI.com
Penn State WR Allen Robinson
First team: CBSSports.com, Sporting News
Second team: FWAA, SI.com
Third team: AP
Ohio State OT Jack Mewhort
First team: ESPN.com
Second team: FWAA, Walter Camp, SI.com
Third team: AP, CBSSports.com
Northwestern K Jeff Budzien
First team: Sporting News
Second team: Walter Camp
Third team: AP
Michigan State P Mike Sadler
First team: ESPN.com, CBSSports.com
Michigan State DE Shilique Calhoun
Second team: AP, Walter Camp, SI.com
Ohio State RB Carlos Hyde
Third team: AP
Iowa OT Brandon Scherff
Second team: FWAA
Nebraska RB Ameer Abdullah
Third team: AP
Penn State G John Urschel
Third team: AP
Wisconsin G Ryan Groy
Third team: AP
Minnesota DT Ra'Shede Hageman
Third team: AP
Michigan State LB Max Bullough
Third team: AP
Michigan State LB Denicos Allen
Second team: SI.com
Third team: AP
Nebraska G Spencer Long
Third team: CBSSports.com
Ohio State S C.J. Barnett
Third team: CBSSports.com
December, 19, 2013
Dec 19
2:00
PM ET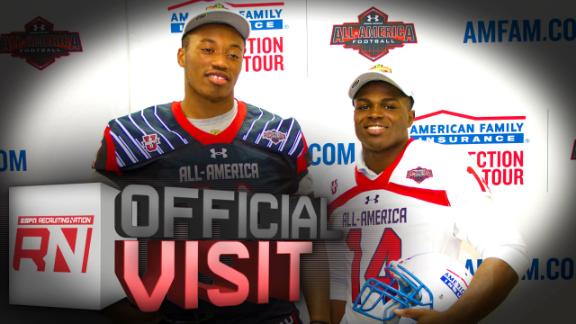 As the calendar year winds down, there is still plenty to talk about within recruiting. Big Ten teams have been on a roll on the recruiting trail as of late, and each program is hoping that continues into signing day.
Here are five things for fans to watch as we head into the holiday season.
Under Armour Game
There are six Big Ten teams represented in the Under Armour All-America game this year with Michigan, Michigan State, Minnesota, Nebraska, Ohio State and Penn State all having commitments scheduled to play in the game.
The game will be played Jan. 2 in St. Petersburg, Fla., but there will be plenty to watch before the big game. The participants will go through tough practices and skill competitions leading up to the event, which always has some interesting storylines.
The practices put the best players in the country against each other, so it's a good measuring stick of top prospects.
To continue reading this article you must be an Insider
December, 19, 2013
Dec 19
12:00
PM ET
December, 19, 2013
Dec 19
10:45
AM ET
It's that time again. Join me
today at noon ET
to talk all things Big Ten football (and more!) Last week's chat was pretty strong, so let's keep the momentum going as we fill the void until bowl season.
Talk to you at noon.
December, 19, 2013
Dec 19
9:00
AM ET
Big Ten bowl season is rapidly approaching. With that in mind, today we offer you five players to watch during the league's seven bowl games:
Michigan State QB Connor Cook
Rose Bowl Game presented by VIZIO vs. Stanford
The Spartans developed into a different team when Cook started playing well at quarterback. Ohio State forced Michigan State's offense to become one dimensional for most of the Big Ten title game, and Cook responded with a career-high 304 passing yards and three touchdowns to win MVP honors. Stanford stuffs opponents' running games and can really get after the quarterback with guys like
Trent Murphy
and
Shayne Skov
, so the Spartans will likely need another big game out of Cook to prevail in Pasadena.
[+] Enlarge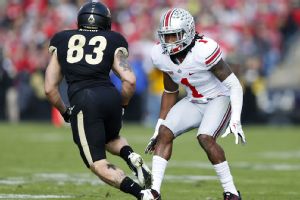 Joe Robbins/Getty ImagesBradley Roby should be busy against Clemson's talented receivers.
Ohio State CB Bradley Roby
Discover Orange Bowl vs. Clemson
Roby did not have the kind of season he envisioned when he decided to come back for his redshirt junior year. But after some early-season struggles, he again rounded into shape as one of the country's top defensive backs. He'll have his hands full against Clemson star receiver
Sammy Watkins
, or even if he gets matched up with
Martavis Bryant
. Both are explosive wideouts who are capable of going the distance every snap. Given the weaknesses surrounding the rest of the Buckeyes' pass defense, Roby really has to bring his best effort. NFL scouts will be watching closely.
Wisconsin LT Tyler Marz
Capital One Bowl vs. South Carolina
The Badgers' sophomore didn't get the kind of attention and rave reviews that previous Wisconsin left tackles have received. He also got benched in the season finale against Penn State for doing a poor job in pass protection. Well, he'd better be working overtime on that during bowl practice, because he's about to get a spotlight matchup against
Jadeveon Clowney
. The Gamecocks defensive end has had an up and down season and has mostly lived off his reputation this year, but he's capable of making a game-changing play in a heartbeat. Just ask Michigan and Vincent Smith. Marz needs to be on point for four quarters.
Iowa LB James Morris
Outback Bowl vs. LSU
As the fourth-year starter at middle linebacker, Morris has been the leader of the Hawkeyes defense. He needs to remain strong in the run game against the Tigers, who figure to rely heavily on 1,000-yard back
Jeremy Hill
. And with true freshman
Anthony Jennings
expected to start at quarterback for LSU, Morris can help Iowa disguise coverage and confuse the rookie with his checks. He's also the Hawkeyes' leading sack producer, so getting some pressure on Jennings will be big, too.
Nebraska DE Randy Gregory
TaxSlayer.com Gator Bowl vs. Georgia
The Huskers' best chance of slowing down a Bulldogs offense that averaged 38 points in the regular season is to get pressure on the quarterback. Especially since that quarterback is
Hutson Mason
, not the injured
Aaron Murray
. (Nebraska is happy to see that, as Murray torched them for 427 passing yards and five touchdowns in last year's Capital One Bowl win). Enter Gregory, who led the Big Ten in sacks this season with 9.5. Gregory is athletic enough to play in the SEC and to give the 'Dawgs fits. He'll also have to be stout against the run since
Todd Gurley
is one of the most talented backs in the country.
December, 18, 2013
Dec 18
12:00
PM ET
December, 18, 2013
Dec 18
11:00
AM ET
The TaxSlayer.com Gator Bowl pits two of the nation's top runners in Georgia sophomore tailback
Todd Gurley
and Nebraska junior I-back
Ameer Abdullah
.
In the first installment of a three-part look over the next two weeks at the New Year's Day game in Jacksonville, Fla., we examine the impact of Gurley and Abdullah.
Todd Gurley, Georgia
[+] Enlarge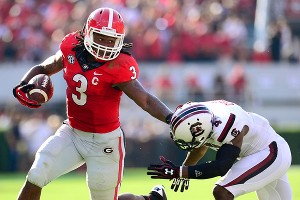 Dale Zanine/USA TODAY SportsTodd Gurley's use as a receiver was a big difference-maker for Georgia's offense.
2013 Stats:
144 attempts, 903 yards, 10 TDs; 30 catches, 344 yards, 5 TDs
Season recap:
Gurley strained his quadriceps while completing a 75-yard touchdown run in the second possession of the opener against Clemson. The injury limited him to 12 carries (for 154 yards) in the opener and plagued him for weeks -- right up to when he sprained his ankle in Game 4 against LSU and missed the next three games. Gurley returned to total 187 yards against Florida, but has never been the same dominant runner this season. And yet he still posted huge numbers down the stretch, including a 157-yard game against Auburn and a 158-yard game against Georgia Tech.
What he means to the offense:
Georgia is a completely different team when Gurley is in the lineup. Take his four-touchdown outing against Georgia Tech, for example. Georgia ran four plays in the two overtime periods -- all of which were Gurley runs and two of which went for touchdowns. It's no coincidence that the offense bogged down, or that the Bulldogs lost twice, when Gurley sat out with the ankle injury.
Season highlight:
The Georgia Tech game was probably the biggest highlight, but Gurley had a series of strong outings. He ran for 132 yards and had his first career touchdown catch in a narrow win against South Carolina. And the Bulldogs probably don't beat Florida without Gurley's two early touchdowns.
Biggest change from 2012:
Georgia made it an offseason point of emphasis to work its running backs into the passing game more heavily, and it paid off. Gurley was a potent receiving weapon down the stretch, logging 87 receiving yards against Florida, 77 against Auburn and 90 against Kentucky. Only four Bulldogs finished with more receiving yards than Gurley's 344 and he tied for the team lead with five touchdown catches.
Against Nebraska last year:
Gurley rushed for 81 of his 125 yards and scored a touchdown in the first half of the Bulldogs' 45-31 win against Nebraska in last season's Capital One Bowl.
Crystal ball:
Without question, a healthy Gurley ranks among the nation's best running backs. He hasn't been healthy much this season and is still poised to rush for more than 1,000 yards. It wouldn't be much of a surprise to see him rank among the nation's leading Heisman Trophy contenders in 2014 and sit near the top of most projections for NFL draft-eligible running backs at this time next season.
[+] Enlarge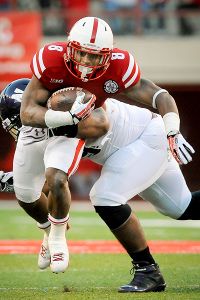 Eric Francis/Getty ImagesAmeer Abdullah has had some problems with fumbles but has been the anchor of Nebraska's offense.
Ameer Abdullah, Nebraska
2013 stats:
254 attempts, 1,568 yards, 8 TDs; 26 catches, 232 yards, 2 TDs
Season recap:
En route to third-team All-America honors by the Associated Press and a consensus spot on the All-Big Ten first team, the junior from Homewood, Ala., topped 100 yards 10 times. He also recorded the fifth 1,500-yard rushing season at Nebraska, cementing his spot among the school's storied history of backs.
What he means to the offense:
Much like Gurley, just about everything. Nebraska this year went offensively as far as Abdullah could lead it. Conservatively, he was worth two wins to this team. The stats are impressive, but they don't measure his value. He is the heartbeat of these Huskers, illustrated by his naming as a captain at season's end, team MVP and lifter of the year.
Season highlight:
Start with his breakthrough game in the Big Ten opener against Illinois, as Abdullah rushed for a career-best 225 yards. He churned out 123 against Michigan State's top-rated defense. Looking for one play? Take your pick between the game-winning touchdown catch at Michigan or the 16-yard conversion on fourth-and-15 against Northwestern that set the stage for Nebraska's Hail Mary win.
Biggest change from 2012:
Even after Abdullah rushed for 1,137 yards as a sophomore, questions remained about his durability. He was, after all, a fill-in last year for Rex Burkhead, the workhorse who missed much of the season with a knee injury. Abdullah left no doubt this year about his toughness and developed into a complete back as his per-carry average jumped from 5.0 to 6.2.
Against Georgia last year:
Abdullah rushed for 48 yards on seven carries, with the bulk of Nebraska's work on the ground going to the senior Burkhead. Abdullah's 26-yard run on the Huskers' opening drive of the third quarter helped them take a 31-23 lead before the Bulldogs scored the final 22 points.
Crystal ball:
Abdullah will seek an evaluation from the NFL Draft Advisory Board, but he's not likely to long consider their findings. Expect him back in 2014, bidding to become the first player in Nebraska history to amass three 1,000-yard rushing seasons. If he can avoid fumbles -- Abdullah lost five this year and 15 over three seasons -- a run at the Heisman isn't out of the question.
College Football Realignment Scorecard
BIG TEN SCOREBOARD
Saturday, 12/21
Monday, 12/23
Tuesday, 12/24
Thursday, 12/26
Friday, 12/27
Saturday, 12/28
Monday, 12/30
Tuesday, 12/31
Wednesday, 1/1
Thursday, 1/2
Friday, 1/3
Saturday, 1/4
Sunday, 1/5
Monday, 1/6