September, 18, 2014
Sep 18
12:11
AM ET
For the first time, Oklahoma will wear its new alternate uniforms Saturday at West Virginia.
With a large number of recruits and a national television audience tuning in, there was speculation that the Sooners might debut the uniforms last weekend against Tennessee. Stoops, however, said there had been a delay and that the uniforms were not ready.
They'll apparently be ready for Morgantown.
Saturday. pic.twitter.com/qBBewinfm9

— Oklahoma Football (@OU_Football) September 17, 2014
September, 17, 2014
Sep 17
1:00
PM ET
Receiver
Sterling Shepard
has stepped seamlessly into the No. 1 receiver role at Oklahoma. The junior has 17 receptions for 335 yards and two touchdowns during the Sooners' first three games. Earlier this week, Shepard took time to chat with reporters about the suspension of West Virginia cornerback
Daryl Worley
, his first experience playing in Morgantown, West Virginia, and how it feels to be a Sooner.
How does that change things when you hear an opponent will be missing a key player?
Shepard
: You don't want to change your game plan but you definitely have to, if you're studying one-on-one film, you want to look at the guy and see what he likes to do. Everybody has a different game and it's something you have to go back and look at some film because the guy hasn't played.
Is it one of those things where you don't have a reaction to it so you respect the guy that is going to come in for him?
Shepard
: You go about it the same way.
What do you remember about your last trip to West Virginia?
Shepard
: It was a rowdy place. I had heard about the burning couches and everything and I wasn't familiar with that. Now I am. Fans will say anything to you there. It's a rowdy place but a great environment. I love playing there.
How important is it to lead by example on the road?
Shepard
: It's just keeping it in their [young players'] head to stay focused on your job and if you do your job you'll be all right. Don't focus on the crowd. When you get into the game, stuff tends to block out and you'll be all right. Especially the young guys, you'll start off nervous but that will end up coming down throughout the game.
What grade out you give yourself after three games?
Shepard
: I try not to grade myself. I just try to go out and help everybody else, help my team out in any way I can. Get open and do my job. It's like I tell the young guys: Do your job and the ball will come your way. And play with speed.
How close attention do you pay to other receivers around the nation?
Shepard
: Not too much. I have a lot of friends like
Stefon Diggs
,
Cayleb Jones
so I'll see what they're doing from time to time. That's about as far as that goes but I'm not looking on the Internet every day trying to see what guys are doing.
I'm sure you dreamed of playing here growing up; has it been what you expected?
Shepard
: Oh yeah, I love it here. I've known these coaches for dang near my whole life. I love being around them and it's just as I imagined when I was a little kid.
September, 17, 2014
Sep 17
12:30
PM ET
It's time to take a look at some of the top committed prospects being placed on "Flip Watch." To date, more than 25 prospects in the 2015 ESPN 300 have decommitted or flipped their commitments. As signing day inches closer, expect that number to increase to over 35 with more than 40 possible.
Here are a handful of more than 15 to watch in the coming weeks and months:
No. 238 Pat Allen, OT
Commitment: Georgia
The Bulldogs verbal made an official visit to Oklahoma last weekend and came away impressed as expected. The offensive tackle with a 6-foot-10 wingspan will visit Michigan Sept. 26 followed by trips to Tennessee Oct. 3 and Arkansas Oct. 10 before concluding his visits with a trip to Athens Nov. 14 when the Bulldogs play host to Auburn. While I still like Georgia's chances, I wouldn't characterize this as a solid commitment at this point.
Flip percentage: 40 percent
September, 17, 2014
Sep 17
8:00
AM ET
No matter how many times I watch this,
it's still funny
. Why? What did it accomplish?
September, 16, 2014
Sep 16
4:00
PM ET
In Tuesday's mailbag we'll talk
Bryce Petty
's Heisman hopes, West Virginia's future and Texas' offense. As always, thank you for all of your questions. You can submit questions for next Tuesday
here.
On to the mailbag:
Greg writes:
OK, I know this is a crazy question but it crossed my mind. Say at the end of the regular season you have a one-loss West Virginia team (I know, I know, just humor me). Do you believe they would have a shot at the playoff?
Brandon Chatmon:
Why not? That would mean wins over Oklahoma and Baylor, a pair of Top 10 teams currently, along with a sole loss to Alabama. The key would be a strong season from the Crimson Tide to reaffirm the Mountaineers' effort in the season opener. If the Crimson Tide somehow tumble down the SEC standings, that would hurt a one-loss WVU's chances, no doubt about it. A solid season from Maryland would help the cause as well. After all, it's not like all of the other Power 5 conferences have been dominating the competition, so any one-loss Big 12 champion could have a strong case.
Singletary in Austin writes:
I recognize it's faced subpar competition, but how would you rate Baylor's defense and defensive depth against the last couple years? To my eyes they look bigger, faster and deeper.
Chatmon:
I'd agree. Even though the Bears haven't been tested, the talent upgrade is obvious. I really like what I've seen from
Shawn Oakman
,
Jamal Palmer
and
Xavien Howard
thus far, but those three are just a few of the athletes on Baylor's defense that I would consider an upgrade over previous years. It's becoming really clear how well Art Briles and company have done on the recruiting trail lately.
NoZe in Austin writes:
What chance do you give Bryce Petty of winning the Heisman? Do they have to run the table (which would include a first-ever win in Norman)?
Chatmon:
Petty just needs to play extremely well in big games. It wasn't numbers that kept him away from New York a year ago (4,200 passing yards and 46 total touchdowns is enough). He looked like a superhero at times but looked human against Oklahoma, Oklahoma State, TCU and Texas last season. It really doesn't matter what he does right now, he just needs to excel against the Big 12's best and have his Heisman moment with everyone watching. If that happens, even if BU is not undefeated he could cement his spot in the Heisman race.
Ben in Waco, Texas, writes:
Why isn't Oklahoma State's defense, and particularly our D-line, getting any love? Going into the Florida State game, everyone knew our D-line was the strength of our team, yet when FSU had trouble with them, national media made no mention of OSU having anything to do with FSU's struggles. They've chalked it up to a bad game, despite OSU's defense continuing to look the part of a solid D. We heard about how good Oklahoma's defense was against Tulsa, and how good Baylor's D looked against SMU, but OSU's performance against FSU no big deal???
Chatmon:
I was candid about my concerns about OSU's defense, although not necessarily the defensive line, before the season opener and they accepted the challenge against FSU. I apologized on Twitter to the Pokes defense for questioning it, so I can't really speak to what others are doing. If OSU's defensive line wants more love, it can earn it with dominant performances in Big 12 play because it looks like, for the second straight season, OSU's destiny will be decided by its defense, not its more ballyhooed offense in 2014.
Josh in Morgantown, Kentucky, writes:
How do you think WVU's offense will fare against the Oklahoma defense? Do you see the WVU defense getting enough stops for a win?
Chatmon:
I think it will be a great back-and-forth battle to watch between WVU's offense and OU's defense. The Sooners will force other playmakers to emerge, and I think WVU has some guys, like
Wendell Smallwood
and
Daikiel Shorts
, who are ready to do that. I expect both sides to win their share of battles. Ultimately I think WVU's defensive line, which impressed me against Maryland, will decide the game. If that group plays well, WVU can upset the Sooners. If not, OU's running game and deep passing will prove too much for the Mountaineers.
Kurt in Lubbock writes:
Hey guys, love the blog. I'm going to support and back my team no matter what, but do you think Texas Tech has any chance of making a bowl game this year? And do you think our defense can ever get better? Or are we doomed to a three- to four-win season this year?
Chatmon:
I'm not ready to say Tech has no chance at a bowl game, but a lot has to change if the Red Raiders even hope to go bowling. I think we will learn everything we need to know about Texas Tech when it visits Oklahoma State Sept. 25. How much pride do the Red Raiders have? Do they have the depth to make the needed changes on defense? We will find out at Boone Pickens Stadium. If those answers are negative, that's when I'd start thinking just three or four wins is a distinct possibility.
Don in Muscatine writes:
Can Iowa State win four Big 12 games (as well as Toledo) and push for a bowl game?
Chatmon
: I love the fight the Cyclones have shown early, but I just don't see where those wins would come from. The Big 12 is even deeper than I expected with West Virginia and Oklahoma State looking like they will be better than I thought. Toledo should be a win, but it's hard for me to see them reaching four conference wins unless
Sam Richardson
really takes his game to another level during the rest of the season.
Aaron in Temple, Texas, writes:
How scary would the Longhorns be if they had a better offense?
Chatmon:
I wouldn't call them scary, but I'd consider them Big 12 title contenders. But that's not the scenario for Charlie Strong's bunch. They rank eighth or lower in several major offensive categories, including points (20.7), third-down conversions (27.3 percent) and yards per play (4.6). There have been some positive signs from
Tyrone Swoopes
, and he's starting to make me rethink my belief that
Jerrod Heard
is the future under center. Nonetheless, UT's offense is not explosive, dynamic, powerful or efficient. Until that changes, nobody can consider the Longhorns a real threat in the Big 12.
September, 16, 2014
Sep 16
1:00
PM ET
With only four teams playing, it's a light week for the Big 12. But it's also another monster one, with a couple of nationally relevant matchups in Auburn-Kansas State and Oklahoma-West Virginia. We examine the keys in these two games in our weekly Big 12 roundtable:
What is the biggest key for Kansas State against Auburn?
Max Olson:
Gap integrity. Kansas State's defense sees high-caliber option football on a daily basis in practice, but it doesn't see many athletes like the ones Auburn brings to the table. The Tigers are so good at stretching and squeezing defenses and setting them up to fail. What's essential for KSU is smart decision-making and reads, fundamentally sound tackling and playing consistently solid assignment football. You won't stop these guys if all 11 defenders aren't operating on the same page.
Brandon Chatmon:
The Wildcats will need big plays if they hope to knock off Auburn. All three phases -- offense, defense and special teams -- will need to provide a big play to overcome a Tigers offense that will be tough to hold down for the entire contest. Kansas State receiver
Tyler Lockett
has the proven ability to provide several big plays, and quarterback
Jake Waters
is improving with each game. But outside of that duo, K-State will need a relatively unknown name to rise to the occasion Thursday.
Jake Trotter:
Establishing the run. Even with a wideout the caliber of Lockett, Bill Snyder's attack is predicated on getting the run game going, either with Waters (the leading rusher in the Big 12) or the committee of running backs. An effective run game would keep the Auburn defense on its heels while also keeping Gus Malzahn's high-powered offense on the sidelines.
What is the biggest key for Oklahoma against West Virginia?
Olson:
Endurance. West Virginia is averaging 91 plays per game this season, more than any other Power 5 conference team. OU is holding opponents to 75 per game thus far, but if that number gets into the 80s or 90s on Saturday, the Sooners need to be able to hang in there, get stops and get off the field in a hostile environment. WVU only needed 82 plays to absolutely terrorize OU in 2012. I don't doubt this defense can answer the challenge, but
Clint Trickett
and his crew of skill players shouldn't be taken lightly.
Chatmon:
Adapt. The last time OU went to Morgantown, the Sooners didn't adapt well during the game as
Tavon Austin
ran through, around and by their defense. Mike Stoops' defense is much better equipped to adjust to anything WVU throws at Oklahoma this time around, with a defensive unit overflowing with versatile talents like
Eric Striker
,
Geneo Grissom
and
Quentin Hayes
to deal with the run and the pass from Dana Holgorsen's offense.
Trotter:
Another quick start. Oklahoma has been unbelievable in the first quarter of its three games this season, and another quick start would serve the Sooners well in Morgantown. It would deflate what will be a hostile crowd. It will take pressure off quarterback
Trevor Knight
. And it will allow Oklahoma's defense to do what it does best, and that's tee off on the quarterback in obvious passing downs.
What is the biggest key for West Virginia against Oklahoma?
Olson:
Knight. He was downright average against the Mountaineers last season, turning the ball over three times and getting benched for the final quarter of a close game. Granted, his two interceptions came after suffering a bruised knee. And it was his second career start. Knight has been sharp to start the 2014 season, but it'll be fascinating to see how WVU comes up with ways to challenge and frustrate him again.
Chatmon:
A quick start. If Trickett and the Mountaineers can take a quick lead, the atmosphere at Milan Puskar Stadium could reach epic levels. A WVU lead, especially a double-digit one, could also force the Sooners to move away from their running game and lean more on the pass to try to regain the momentum. Tennessee tried to take away the run game and Knight made the Vols pay, but it could be another story in the first road start in a night game for the Sooners' sophomore.
Trotter:
The Mountaineers have to stop the run. Or at least slow the run. West Virginia allowed 5.9 yards per carry to Alabama and 6.0 to Maryland. Those numbers will get West Virginia beat against Oklahoma, which features one of the most powerful rushing attacks in the country -- even without sophomore running back
Keith Ford
.
Samaje Perine
and
Alex Ross
are more than capable of shouldering the load, and Knight can be lethal off QB draws, zone reads and play-action rollouts. The Mountaineers have to hold their own up front against the best offensive line in the league. Because once the Sooners get the ground game going, they are difficult to stop.
September, 16, 2014
Sep 16
10:00
AM ET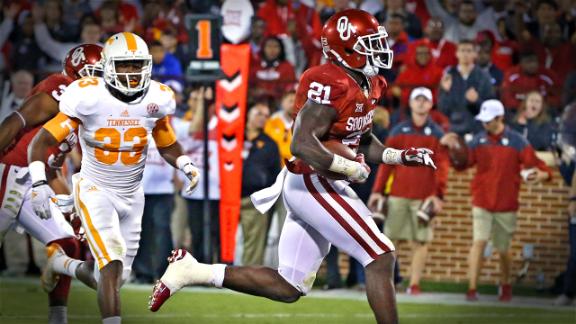 The upcoming week for the Big 12 will be quiet, as only three games featuring conference teams will take place -- one of those occurring on Thursday. Fortunately, the conference is coming off a dynamic week of football that featured big-time commitments for Oklahoma.
To continue reading this article you must be an Insider
September, 16, 2014
Sep 16
8:00
AM ET
Happy Tuesday to all you NFL fantasy owners of Big 12 legend
Darren Sproles
.
Drive Through: Mountaineers Have Eye On Upset
BIG 12 SCOREBOARD
Thursday, 9/18
Saturday, 9/20