December, 10, 2013
Dec 10
8:00
AM ET
Talk is cheap, but it's never left the hype machine feeling shortchanged.
As if an Allstate Sugar Bowl featuring two of college football's most prestigious programs wasn't intriguing enough, we get to rehash a good old-fashioned war of words in the weeks leading up to the Jan. 2 showdown in New Orleans between No. 3 Alabama and No. 11 Oklahoma.
Bob Stoops, the Sooners longtime coach, hasn't been bashful in his criticism of the Southeastern Conference, of which the Crimson Tide are a charter member. He's called it an overrated, top-heavy league with a history of overblown defensive prowess. And that's just what he's said on the record in the past year or so.
[+] Enlarge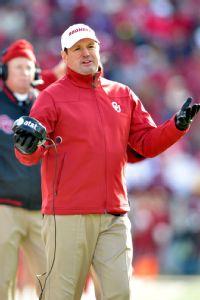 Jackson Laizure/Getty ImagesOklahoma's Bob Stoops gets a chance to make a statement against the SEC's Alabama Crimson Tide.
The last seven BCS national champions be damned, Stoops has been on a one-man mission to change the narrative surrounding college football's most dominant conference. He's shouted at the gates of Mike Slive's castle over and over again, and rather than send one of the commissioner's meager lords to answer Stoops' cries, the doors have opened and Alabama has come to call.
The Tide, owners of three of the last four national championships and arguably the best coach in college football, will represent the league in a game that many fans of the SEC hope shuts Stoops up once and for all.
Only don't count on it.
When Stoops was asked Sunday about his history of opining on the SEC it was as if he misunderstood the premise.
"What comments?" he asked in return.
Well let's see. You could start with the part about his seeing the SEC's dominance being sold as "propaganda." Or you could point to his comments about the league's poor defense in which he sarcastically mocked teams for struggling to defend Texas A&M, meanwhile neglecting how Oklahoma was blown out by the Aggies in the Cotton Bowl last season, 41-13. But instead the reporter in question noted how Stoops said that the bottom of the SEC was overrated.
"I'm not playing the bottom half," Stoops responded. "If the SEC is Alabama, there is nothing to talk about, right? If you want to say the SEC is Alabama, then sure, they're the ones that have won all the national championships, or most of them. Now, if you want to play in the bottom half, that's a different story. But we're not playing the bottom half, are we? So there's not a lot to talk about, is there? "
Stoops, however, failed to realize that when he initially made his disparaging comments about the bottom half of the SEC, Auburn and Missouri were included among that group after coming off dreadful seasons in which they combined for two wins in league play. But Auburn beat Alabama only a few weeks ago and on Saturday it bested Missouri in the conference title game. The bottom of the bottom half is now set to play Florida State in the VIZIO BCS National Championship Game in Pasadena, Calif.
The last time Stoops went to the Big Game he lost to SEC champ Florida in 2009. In 2004 the Sooners lost to USC and the year before they lost to an SEC team again in LSU, who happened to be coached by Alabama's Nick Saban at the time.
Just don't look for Saban to take up for the SEC against Stoops and Oklahoma this time around. Providing bulletin board worthy quotes isn't a part of his M.O. He'll let the game on the field do the talking. The most you'll get from him was the blunt response he gave during the offseason: "I've got more important things to do than sit around and read what Bob Stoops has to say about anything."
But leave it to Bob's brother, Mike, who coaches the Sooners defense, to smooth the waters somewhat. Maybe he thought we'd had enough gossip already.
"I think they have great programs," he said of the SEC. "The athletes they have down there, the coaches they have down there, it's rated as the top conference in college football for many years, having won seven national championships, having a chance to win eighth. They've got great athletes. Every time you step on the field with a Southeastern Conference team, they're very well coached and they play very hard. They're very complete when you look at any of these top Southeastern Conference teams."
But one Stoops doesn't speak for all, and when brother Bob goes toe-to-toe with one of the SEC's best in Alabama, he'll either answer his critics or eat his words.
December, 9, 2013
Dec 9
4:00
PM ET
Oklahoma receiver and return specialist
Jalen Saunders
became a Bedlam hero for the second consecutive season.

In 2012, Saunders had 10 receptions for 162 yards and two touchdowns, including an 81-yard punt return, as the Sooners took out Oklahoma State in overtime, 51-48.
Saturday in Stillwater, Saunders didn't have the same kind of numbers. But in Oklahoma's
33-24 Bedlam victory
, he did deliver the same big plays, taking a major role in the Sooners' first three touchdowns.
Saunders returned a punt 64 yards for a score in the first quarter to put the Sooners on the board and tie the game, 7-7.
In the third quarter, he took a double reverse 37 yards around the edge to set up Oklahoma's fake field goal touchdown, which evened the game again, 17-17.
Then with 19 seconds to go in the fourth quarter, Saunders hauled in a pass from
Blake Bell
in the corner of the end zone from seven yards out, giving the Sooners a 27-24 lead.
Saunders' two-game Bedlam career will go down in the annals: 15 receptions, 201 receiving yards, two receiving touchdowns, 49 yards rushing, two punt return touchdowns -- and the hero in two dramatic, come-from-behind victories.
December, 9, 2013
Dec 9
12:00
PM ET
December, 9, 2013
Dec 9
11:00
AM ET
Oklahoma earned itself a Sugar Bowl berth with its 33-24 win over Oklahoma State in Bedlam on Saturday -- an improbable win for an injury-riddled team. Here are five stats that defined the Sooners' stellar performance in Bedlam:
[+] Enlarge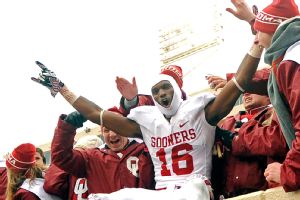 AP Photo/Brody SchmidtA combination of factors allowed the Sooners to celebrate another Bedlam victory.
Blake Bell's 91 raw QBR in the fourth quarter:
The junior achieved hero status with his game-winning touchdown drive in the final minutes of the Bedlam win. He was 9 of 14 for 134 yards (9.6 yards per attempt) and one touchdown. He played with a confidence and calm that was missing in OU's losses to Texas and Baylor. It marked the fourth time Bell has recorded a raw QBR over 90 in the fourth quarter of a game this season (Tulsa, Notre Dame, Texas Tech). Bell's performance also made the Sooners quarterback of the future decision as murky as it has ever been.
OSU's yards per play on third down:
OU defensive coordinator Mike Stoops had his defense ready to go on third down as the Cowboys finished with negative yardage on third down. OSU ran 13 plays for minus-12 yards on third down, an average of minus-0.92 yards per play. The Pokes converted just 2 of 13 third down-conversion attempts. The Sooners secondary was so solid it held
Clint Chelf
to an raw QBR of 9 on third down after he entered the game leading the Big 12 with a 91.8 QBR on third down plays, according to ESPN Stats and Information.
OU won the turnover battle:
The Sooners finished plus-1 in turnover margin after head coach Bob Stoops had repeatedly mentioned the turnover battle heading into Bedlam. True enough the Sooners got their final turnover on OSU's final desperation play but to play OSU even in the turnover battle through 60 minutes of action changed the game. The Cowboys success this season was largely built upon forcing turnovers, and they fell way short of their four-turnover-per-game goal as the Sooners had one giveaway, a
Kendal Thompson
interception.
OSU's 3 yard per carry average in the second half:
OU's run defense buckled down after halftime. OSU had 14 carries for 42 yards and one touchdown in the second half and really couldn't regain the rhythm it had to open the game.
Desmond Roland
had nine carries for 34 yards (3.78 ypc) and one touchdown after amassing 12 carries for 110 yards (9.17 ypc) and one touchdown in the first 30 minutes.
OSU's percentage of drives without a first down or touchdown:
The Cowboys entered Bedlam with just 30.5 percent of their drives ending without a first down or touchdown. Against the Sooners, 46.7 percent of their drives ended without a first down or touchdown. Texas Tech, Texas and Baylor, three top 25 teams who suffered November losses to the Pokes, were unable to force more than 30 percent of the Pokes drives to end in that fashion. The Sooners did, and they headed home with another Bedlam victory.
December, 9, 2013
Dec 9
10:00
AM ET
Taking stock of Week 15 in the Big 12:
Team of the week:
Baylor was unranked to begin the season and picked to finish fifth in the Big 12. Instead, with a convincing 30-10 victory over Texas, the Bears won 11 games for the first time in school history to capture the program's first outright conference title in 33 years. Baylor will cap its magical season against Central Florida in the Tostitos Fiesta Bowl.
Disappointment of the week:
Oklahoma State had a chance at a second Big 12 title and BCS bowl berth in three years. And all the Cowboys had to do was beat Oklahoma in Stillwater as 10-point favorites. Instead, despite shuffling through three quarterbacks and not scoring an offensive touchdown until 19 seconds left in the game, the Sooners knocked off their instate rival yet again. The Cowboys have lost 10 of 11 to Oklahoma, but given the circumstance and the ending, this one hurt worst of all.
[+] Enlarge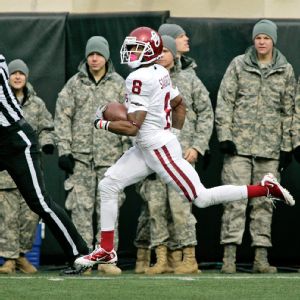 Brett Deering/Getty ImagesJalen Saunders had another memorable day against Oklahoma State.
Big (offensive) man on campus:
Jalen Saunders
is to the Cowboys what kryptonite is to Kryptonians. A year after sparking Oklahoma's Bedlam fourth-quarter comeback with a punt return touchdown, Saunders gashed Oklahoma State again, having a hand in Oklahoma's first three touchdowns. He returned another punt for a score in the first quarter. He took a double reverse 37 yards to set up the fake field goal touchdown. Then, with 19 seconds remaining, he hauled in the game-winning touchdown from
Blake Bell
in the corner of the end zone from 7 yards out. Saunders will finish his two-year career in Norman with four Bedlam touchdowns.
Big (defensive) man on campus:
Cornerback
K.J. Morton
returned from an abdominal strain to deliver the exclamation point to Baylor's season. Morton picked off Texas quarterback
Case McCoy
twice, returning the second 57 yards in the fourth quarter for an apparent touchdown. The score was nullified on his celebration penalty. But by then, the party had already begun in Waco.
Special teams players of the week:
The field goal tandem of
Grant Bothun
and
Michael Hunnicutt
converted Bob Stoops' first successful fake field goal attempt in 11 years. After their drive stalled at the Oklahoma State 8-yard line, the Sooners lined up for a field goal. Instead, Bothun, the holder, took off running with the ball left and threw the ball to Hunnicutt, the kicker. Hunnicutt backed into the end zone before getting belted by two Cowboys, tying the score 17-17.
Play of the week:
Cornerback
Justin Gilbert
appeared to have ended Bedlam with an Oklahoma State victory, as he came down with an apparent interception on a jump ball to
Lacoltan Bester
. But instead of landing on the turf, Gilbert landed on Bester, who tapped the ball out of Gilbert's hands at the last moment. Officials ruled it an incompletion, and Oklahoma State coach Mike Gundy inexplicably didn't challenge the call. Five plays later, Bell hit Saunders for the game-winning score.
Stat of the week:
As Oklahoma State's head coach, Gundy's record against Oklahoma is 1-8. Gundy's record against the rest of the Big 12: 44-22
Quote of the week:
"A defining moment for our program and one I think we'll be able to repeat many times." -- Baylor coach Art Briles, after the school's first Big 12 championship
December, 9, 2013
Dec 9
8:00
AM ET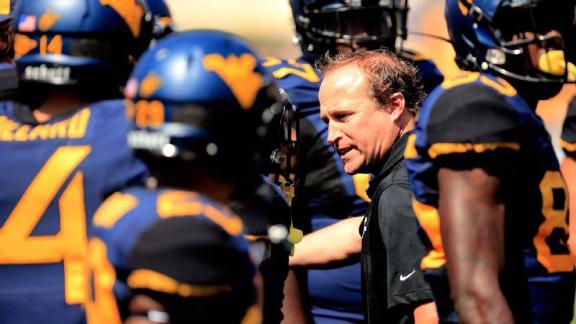 Baylor needed Oklahoma to top Oklahoma State in the annual Bedlam Series, but when Saturday came to an end, the Bears were the new Big 12 champion. While Baylor didn't add to its recruiting tally for the 2014 class, TCU, West Virginia, Iowa State and Kansas landed commitments throughout the week. The Cyclones picked up three pledges, while the Horned Frogs and Jayhawks added two apiece.
Here are some of this past week's highlights:
To continue reading this article you must be an Insider
December, 8, 2013
Dec 8
11:29
PM ET
By
ESPN Stats & Information
| ESPN.com
The final BCS standings were released Sunday along with matchups for all of the remaining bowl games. Here are some tidbits to prepare you for the five BCS games.
Rose Bowl Game presented by Vizio
4
Michigan State Spartans
vs 5
Stanford Cardinal
January 1, 2014, at 5 ET on ESPN
Michigan State
: First Rose Bowl appearance since the 1987 season and its first appearance in a BCS bowl. The Spartans have reached a bowl game in all seven seasons under head coach Mark Dantonio after making no bowl appearances from 2004-06.
Stanford
: Second consecutive appearance in the Rose Bowl (def. Wisconsin 20-14 last season). The Cardinal are making back-to-back Rose Bowl appearances for the first time since 1970-71. Stanford has reached a BCS bowl in four straight seasons after making just one from 1998-2009.
Tostitos Fiesta Bowl
15
UCF Knights
vs 6
Baylor Bears
January 1, 2014, at 8:30 ET on ESPN
UCF
: First BCS bowl berth in school history. Won 11 games this season, tied for the most in school history (also won 11 in 2010).
Baylor
: Like their opponents in the Fiesta Bowl, the Bears receive their first BCS bowl berth in school history. Baylor looks to extend a school-record 11 wins this season to 12 in this game.
Allstate Sugar Bowl
11
Oklahoma Sooners
vs 3
Alabama Crimson Tide
January 2, 2014, at 8:30 ET on ESPN
Oklahoma
: Ninth BCS bowl appearance, second-most all-time. The Sooners are 3-5 in BCS bowl games, snapping a five-game losing streak with a win in the 2011 Fiesta Bowl vs Connecticut.
Alabama
: Third straight BCS bowl appearance and fifth in the last seven seasons under Nick Saban. The Crimson Tide will make their first Sugar Bowl appearance since the 2008 season (lost to Utah in that game).
Discover Orange Bowl
12
Clemson Tigers
vs 7
Ohio State Buckeyes
January 3, 2014, at 8:30 ET on ESPN
Clemson
: First BCS bowl appearance since 2011, when the Tigers played in the Orange Bowl. Those two games mark the only BCS bowls in school history. Speaking of history for the Tigers, they will make a school-record ninth straight appearance in a bowl game.
Ohio State
: Tenth BCS bowl appearance, most all-time. The Buckeyes will make their first Orange Bowl appearance since the 1976 season against Colorado. Their last BCS appearance came in a 2011 Sugar Bowl win over Arkansas.
Vizio BCS National Championship Game
1
Florida State Seminoles
vs 2
Auburn Tigers
January 6, 2014, at 8:30 ET on ESPN
Florida State
: After beating Northern Illinois in last year's Orange Bowl, the Seminoles return to a BCS bowl game. It marks their first back-to-back BCS bowl appearances since 2002-03. This will be their first BCS Championship Game appearance since 2000 and fourth overall.
Auburn
: Second BCS Championship Game appearance, first since winning the national title over Oregon in the 2010 season. This marks the third BCS bowl appearance for the Tigers, who are unbeaten in such games thus far.
December, 8, 2013
Dec 8
11:00
PM ET
Jan. 2, 8:30 p.m. ET, New Orleans (ESPN)
OKLAHOMA SOONERS BREAKDOWN
Outside of his 2000 national championship, this season might constitute Bob Stoops' best coaching finish.
[+] Enlarge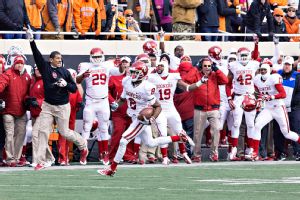 Richard Rowe/USA TODAY SportsReceiver and punt returner Jalen Saunders is an integral part of the Sooners' success. He had a return touchdown and a receiving touchdown in the win over Oklahoma State.
After the Sooners were blown out at Baylor a month ago, most pegged Oklahoma for an 8-4 finish. Instead, despite juggling three different quarterbacks, the Sooners rallied for road wins over red-hot Kansas State and Oklahoma State to secure their fourth consecutive double-digit win season and first BCS bowl since 2010.
The way the Sooners won Bedlam underscores just how improbable a finish it was. Oklahoma didn't even score an offensive touchdown until the final 19 seconds of the game, yet somehow toppled the heavily favored, then sixth-ranked Cowboys, 33-24.
Unlike the Jason White, Sam Bradford and Landry Jones eras, the Sooners are not equipped to win in shootouts. But led by a veteran offensive line, a reliable running back in
Brennan Clay
and its mobile quarterbacks, Oklahoma does have a strong running game, ranking 18th in the country.
Even without a surefire all-conference player, the Sooners also have their best defense since 2009. They are undersized up front, but the pass defense is prolific.
Aaron Colvin
is a proven lockdown corner, and
Eric Striker
is one of the best blitzing linebackers in college football.
The true strength of this team, however, is special teams.
Jalen Saunders
, who had a touchdown return in Bedlam, is one of the most electric returners in the country.
Roy Finch
leads the Big 12 in kickoff returns. And
Michael Hunnicutt
is a reliable field-goal kicker.
It will be interesting, as it has been all season, to see what the Sooners do at quarterback in the bowl. Freshman
Trevor Knight
won the job late in the season and was terrific at Kansas State. But he suffered a dislocated shoulder just before halftime at Oklahoma State. Knight should be fine for the bowl. But
Blake Bell
, who struggled in the losses to Texas and Baylor, led Oklahoma on the game-winning touchdown drive in the final seconds of the fourth quarter that beat Oklahoma State.
-- Jake Trotter

vs.

ALABAMA CRIMSON TIDE BREAKDOWN
The sting of losing the Iron Bowl remains. The Crimson Tide didn't expect to fall to the Tigers in the final week of the regular season, miss out on the SEC championship game and, as a result, a trip to Pasadena, Calif., for a shot at a third-straight BCS championship. All of which begs the question: How will Alabama respond now that it has been relegated to the Allstate Sugar Bowl? And does Oklahoma stand a chance?
[+] Enlarge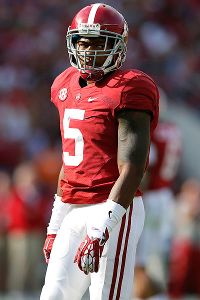 Kevin C. Cox/Getty ImagesCB Cyrus Jones and the Alabama secondary will have its hands full with OU's receivers.
Judging by previous experience, expect Alabama to arrive in New Orleans with something to prove. The last time the Tide missed out on a shot in the title game, it went to Orlando and beat Michigan State in the most lopsided Capital One Bowl in the game's history.
But Alabama isn't the same team it was then.
On offense, Alabama is actually much better as Doug Nussmeier has guided UA to 38.8 points per game -- the most in the Nick Saban era.
AJ McCarron
might not win the Heisman Trophy, but he has a shot at making it to New York having thrown for 2,676 yards, 26 touchdowns and only five interceptions. The offensive line that was rebuilt after being the best in college football a year ago has actually allowed 12 fewer sacks this season than the last. And the running back tandem of
T.J. Yeldon
and
Kenyan Drake
hasn't disappointed either, combining for 1,857 yards and 21 touchdowns.
The defense, though, has endured its ups and downs. Against Texas A&M, it gave up the most yards in school history, and against Auburn, it allowed the most rushing yards since 2011 (296) and the most rushing yards by a quarterback (99) in the Saban era. Discipline was an issue in those games and the back end of the defense was a troublesome spot throughout as strong safety
Vinnie Sunseri
was lost to injury midway through the season and the cornerback spot opposite
Deion Belue
was a revolving door with
John Fulton
,
Cyrus Jones
,
Bradley Sylve
,
Eddie Jackson
and
Maurice Smith
all taking unsuccessful turns.
The Tide's defense will be tested by Oklahoma. With a few QBs that can run, if Alabama doesn't come out ready to play, it could turn into a shootout as the Sooners possesses the kind of spread offense that has given the Tide trouble (http://espn.go.com/blog/sec/post/_/id/75890/alabama-at-loss-defending-spread-offenses). LSU had the best tandem of receivers Alabama faced this season, but Oklahoma might have the best receiver corps with three wideouts with 20 or more catches.
Jalen Saunders
has 615 yards and five touchdowns of his own and Sterling Shepherd, who has 428 yards and six touchdowns, is the kind of shifty receiver that can hurt you.
-- Alex Scarborough
December, 8, 2013
Dec 8
10:29
PM ET
Associated Press
Alabama heads to the Allstate Sugar Bowl facing the same kind of challenge it encountered the last time the Crimson Tide played in this game.
They will need to stay motivated after their national title hopes have vanished.
Alabama was atop the polls all season and seemed headed toward a shot at a third straight national title before falling 34-28 to No. 2 Auburn. The third-ranked Crimson Tide (11-1) instead will face No. 11 Oklahoma (10-2) in the Sugar Bowl on Jan. 2 at New Orleans.
These two storied programs will be facing each other for only the fifth time ever. Oklahoma leads the series 2-1-1 and beat Alabama 20-13 when they last met in 2003 at Tuscaloosa.
Two of their prior meetings came in bowl games. Oklahoma and Alabama tied 24-24 in the 1970 Bluebonnet Bowl. Alabama beat Oklahoma 17-0 in the Orange Bowl on Jan. 1, 1963.
"Even though there is some disappointment in terms of how we finished our season this year, we're not disappointed at all in the opportunity that we have to play in the Sugar Bowl and to play against a great team," Alabama coach Nick Saban said. "I'm hopeful that our team will look at this as a challenge and an opportunity for them to prove the kind of football team we can be."
Alabama faced a similar situation five years ago.
When it earned that Sugar Bowl invitation in 2008, Alabama had just lost the SEC title to Florida with a BCS championship game appearance at stake. Alabama fell behind 21-0 to Utah and went on to lose 31-17. The Tide had a more pleasant Superdome postseason memory when they capped their 2011 national title with a 21-0 victory over LSU in the BCS championship game.
December, 8, 2013
Dec 8
7:41
PM ET
With college coaches out and about visiting schools and prospects, a number of players in the 2015 class from the Atlanta area have seen their stock quickly rise. One of those is junior
Adonis Thomas
(Lawrenceville, Ga./Central Gwinnett).
The 6-foot-4, 212-pound outside linebacker is the No. 207-ranked prospect in the ESPN Junior 300 and has seen his stock skyrocket in December with offers from some heavy hitters nationally.
To continue reading this article you must be an Insider
December, 8, 2013
Dec 8
5:08
PM ET
ESPN.com news services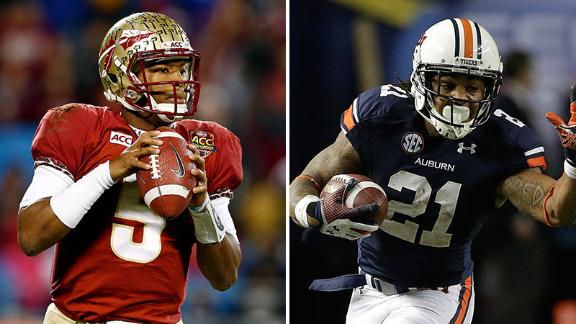 After weeks of conjecture and debate about strength of schedule, the matchup for the VIZIO BCS National Championship turned out to be an obvious one.
No. 1 Florida State and No. 2 Auburn top the final BCS standings and will play for the national title Jan. 6 in Pasadena, Calif.
The regular season had set up the possibility for a controversial BCS title game with one-loss Auburn on the outside looking in at unbeaten but less-tested Florida State and Ohio State, but Michigan State took the Buckeyes out of the conversation by winning the Big Ten championship game on Saturday.
Meanwhile, Auburn moved up to the second spot in the standings by outscoring Missouri 59-42 in the SEC championship game.
Now the title game is set: Florida State, the nation's only undefeated team, will face 12-1 Auburn, champion of the conference that has won the past seven national championships.
"We all complain about the BCS, but isn't it funny how often they get it right," Florida State coach Jimbo Fisher said.
The Buckeyes fell to No. 7 in the BCS standings but will still have the opportunity to play in a record 10th BCS bowl. Ohio State will face No. 12 Clemson in the Discover Orange Bowl.
December, 8, 2013
Dec 8
12:00
PM ET
Northern Illinois' loss Friday night opened up all kinds of possibilities, and the Big 12 appears ready to pounce on the opportunity to grab a second BCS bid. Baylor is the outright Big 12 champion and is headed to the Tostitos Fiesta Bowl, while Oklahoma could earn an at-large berth thanks to its win over Oklahoma State in Bedlam. If the Allstate Sugar Bowl takes OU, it creates a tidal wave that impacts the remaining bowl-eligible Big 12 teams, who would jump up one spot over their projection from last week.

Here are our Week 15 bowl projections for the Big 12:

Tostitos Fiesta Bowl (Jan. 1): Baylor vs. BCS at-large
Allstate Sugar Bowl (Jan. 2): Oklahoma vs. SEC champion (or replacement)
AT&T Cotton Bowl (Jan. 3): Oklahoma State vs. SEC No. 3/4
Valero Alamo Bowl (Dec. 30): Texas vs. Pac-12 No. 2
Buffalo Wild Wings Bowl (Dec. 28): Kansas State vs. Big Ten No. 4/5
National University Holiday Bowl (Dec. 30): Texas Tech vs. Pac-12 No. 3
Texas Bowl (Dec. 27): None available vs. Big Ten No. 6
New Era Pinstripe Bowl (Dec. 28): None available vs. American No. 4
Heart of Dallas Bowl (Jan. 1): None available vs. Big Ten No. 7
December, 8, 2013
Dec 8
10:00
AM ET
What we learned about the Big 12 in Week 15:
1. Baylor is the one and only champ:
The last time Baylor won an outright conference championship, Mike Singletary was its middle linebacker. Until Saturday. With a little help from their friends from Norman, the Bears captured their first Big 12 title, and won't have to share it with anybody. Baylor faces some adversity with the loss at Oklahoma State, but Art Briles' bunch showed some gumption, bouncing back for a hard-fought win at TCU before closing out Floyd Casey Stadium in style.
[+] Enlarge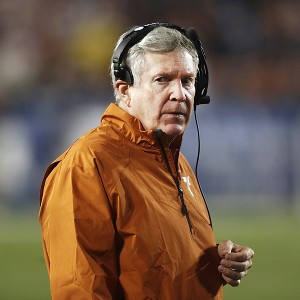 AP Photo/Rick BowmerWith another season outside the BCS and turnover in the athletics department, Texas coach Mack Brown will be hearing more about his job security.
2. The Big 12 is alive for two BCS bowls:
With Northern Illinois falling in MAC title game Friday night, the Big 12 remains alive for two BCS bowls. As the Big 12 champ, Baylor is going to the Tostitos Fiesta Bowl and will take on Central Florida. But with its win over Oklahoma State, Oklahoma is in the mix for an at-large berth. It's now up to the Allstate Sugar Bowl. And the Sugar will basically be deciding between the Sooners, coming off a huge rivalry win, and the Oregon, which didn't play this past weekend and lost two of four to finish up the regular season.
3. The Mack Brown speculation is about to ramp up:
It has been a storyline all season. Now it's about to reach a fevered pitch. It would have been interesting to see what Texas would have done had the Longhorns upset Baylor, captured the outright Big 12 title and gone to the Fiesta Bowl. Instead, Texas finished with less than nine regular-season wins for the fourth straight season, which requires a thorough internal review from the burnt orange brass. Will Brown be forced to resign before the bowl game? Let the speculation commence.
4. Oklahoma owns Bedlam:
The Cowboys have made great strides with their program under Mike Gundy. But one fact remains: They cannot beat the Sooners in the fourth quarter. Oklahoma really had no business winning this one. Oklahoma State was the heavy favorite. At home. With the superior quarterback. And a senior-laded defense. The Sooners didn't even score an offensive touchdown through the first 59 minutes, 41 seconds of the game. But Oklahoma's defense hung tough, and the Sooners reeled off a pair of remarkable special teams plays to keep the score close. Then, like so many times before in this game, Oklahoma broke Oklahoma State's back in the final two minutes. Even with all their recent success, the Cowboys have now lost 10 of 11 in Bedlam. And the Sooners still own their instate rivals.
5. Bob Stoops can still win big games:
People often needle Stoops' "Big-Game Bob" moniker. But Saturday, Stoops proved again he can still win the big games. Even the ones nobody expects him to win. Despite rotating three different quarterbacks and playing without the starting left side of his offensive line, Stoops manufactured a win in Stillwater with bold special teams calls and a defense that gave up yards but never broke. The Cowboys had the advantage over the Sooners in many different ways -- quarterback, experience, defense and home field -- but Stoops outcoached his Oklahoma State counterpart. And somehow, someway, added another big-game win to his resume.
Alabama, Oklahoma To Meet In Sugar Bowl