July, 24, 2014
Jul 24
11:00
AM ET
During the summer, ESPN.com is taking a closer look at each scholarship player on Oklahoma's roster in our Crimson Countdown series. Each day, we analyze each player's impact on the program since arriving on campus, his potential impact this fall, and his long-term projection. Starting with No. 1 Dominique Alexander, the series follows the roster numerically through No. 98 Chuka Ndulue.
No. 72 Derek Farniok, tackle, 6-foot-9, 329 pounds, junior
Impact thus far:
Farniok made his biggest impact with a start against Oklahoma State in the Sooners' 2013 Bedlam win at Boone Pickens Stadium. In 2011, he redshirted. He played a special teams role as a redshirt freshman in 2012 then played in four games as a sophomore, including the lone start of his career.
Impact in 2014:
Farniok should play a backup role at tackle for the Sooners with veterans
Tyrus Thompson
and
Daryl Williams
manning the position. He clearly has a ways to go in his development, but his start against the Cowboys was a sign he could contribute this fall and expand his role in 2015.
Long term upside:
It all depends on Farniok's continued development. Even with OU bringing in talented tackles around him, Farniok has the ability to be a contributor if he responds to the competition.
Evaluation grade for Farniok:
C. He hasn't starred, but he hasn't disappointed either. Farniok enters his junior season with a start under his belt, even though a pair of veterans have stood between him and playing time since he stepped on campus.
Development grade for Farniok:
A. OU has given Farniok opportunities to play in a backup role behind Thompson and Williams and even threw him into the mix in short-yardage situations. Can't really ask for much more from the Sooners' development approach.
July, 23, 2014
Jul 23
5:00
PM ET
DALLAS -- Big 12 media days have come and gone. Some of the storylines (Dairy Queen, fake watches) were silly. Others were far more serious. Here are some of the takeaways from this year's edition of media days:
Baylor has a chip on its shoulder:
Despite winning the Big 12 last season and returning the Big 12 offensive player of the year in quarterback
Bryce Petty
, Baylor was voted second in the conference's preseason poll behind Oklahoma. The Bears clearly felt a bit disrespected while in Dallas this week. "That comes with being Baylor," defensive end
Shawn Oakman
said. "We're gonna be great one day and y'all are gonna notice." The Bears were pretty great last season, stomping the Sooners 41-12 on the way to their first Big 12 title. "That game from OU last year, that should have showed you that that product was nowhere near as good as the product that Baylor was putting on the field," Oakman said. "The execution, the players from each and every position ... You could tell we were on a different level from OU." Still getting picked to finish behind Oklahoma has given the Bears extra fuel for this season. "In our minds, we're still underdogs," Oakman said. "We play with a chip on our shoulder. You only get the respect if you earn it."
Stoops is loose as a goose:
The loosest coach at Big 12 media days might have been Oklahoma's Bob Stoops. He was cracking jokes, photo-bombing his wife's TV interview (she was there for a Mary Kay convention) and taking a break between interview sessions to grab a strawberry smoothie. He even chided Alabama coach Nick Saban for suggesting the Crimson Tide didn't care about being in the Sugar Bowl. "So if I'm not in a national championship game, that means I've got a built-in excuse?" Stoops said. Such bravado could be a sign that Stoops thinks he has a pretty good team. With
Trevor Knight
at quarterback and nine starters back defensively, it's not hard to see why.
TCU has a big problem:
Though they had already left, the Horned Frogs were the story the second day of Big 12 media days. Defensive end
Devonte Fields
, who last week was voted the league's preseason defensive player of the year, was accused of pulling a gun on his ex-girlfriend. TCU acted quickly after the news surfaced,
claiming it had "separated" from Fields
. If any part of the allegations levied against Fields are true, it's difficult to see him ever playing another game in the Big 12. That is a big loss for the league. And an even bigger one for TCU, which is attempting to bounce back from one of its worst seasons in the Gary Patterson era.
Strong believes in Ash:
The biggest question mark in Charlie Strong's first season as coach at Texas is quarterback. More specifically, quarterback
David Ash
. But even though Ash missed virtually all of last season with concussion issues, then the spring with a fractured foot, Strong said he was impressed with Ash when watching old game film. "When Ash is healthy, he played very well," Strong said. All signs point to Ash being the starter when the Longhorns open the season. Whether he can be consistent and be healthy could go a long way in dictating how Strong's first season goes, too.
Bowlsby does not believe in the NCAA:
According to Big 12 commissioner Bob Bowlsby, cheating pays. And the enforcement wing of the NCAA is broken. Bowlsby painted a bleak future for the NCAA, also predicting that Olympic sports could be in trouble down the line. "If you like intercollegiate athletics the way it is, you're going to hate it going forward," he said. "There's a lot of change coming." Because of its popularity, football will always be fine. But with lawsuits and athletic department expenses about to rise dramatically, Bowlsby thinks something will have to give.
Everyone's mind is on the playoff, even if all minds don't quite get it:
The inaugural College Football Playoff was one of the big topics of conversation this week. The Big 12 coaches all believe the league is positioned strongly for inclusion, thanks to a robust nonconference slate of games and a nine-game conference schedule. Many players, however, weren't well-informed about how the playoff will work. One didn't know how many teams would be in it. Another thought every conference champ automatically advanced to it. And still another had no idea just how the playoff would be picked. The playoff is going to be an adjustment for college football fans. There is going to be an adjustment for the players, too.
Trickett was always the guy:
According to West Virginia coach Dana Holgorsen,
Clint Trickett
was always going to be this season's starting quarterback. It was just a matter of him getting cleared medically. "We wanted him to be the guy," Holgorsen said. "We had to wait and see how he did coming off the shoulder surgery." Holgorsen said there was little the other West Virginia quarterbacks could have done this spring to unseat Trickett, who sat out while recovering from the shoulder injury. "He was the best option we had this year, he was the best option we had last year," Holgorsen said. "Once I was pleased with what I saw, it was a no-brainer to me."
Hill will get the ball a lot:
Oklahoma State coach Mike Gundy has had some talented offensive players over the years. But Gundy said it has been a long time since the Cowboys had a playmaker like juco running back
Tyreek Hill
. "He's very fast," said Gundy, comparing him to former West Virginia standout
Tavon Austin
. "He gets [past] that first level [of the defense] and no one is caching him." Gundy wants Hill to touch the ball at least 20 times a game. Whether he's at running back or lined up in the slot, Hill is going to be the focal point of the Oklahoma State attack.
Snyder is still the man:
Kansas State coach Bill Snyder is 74 years old, just two years younger than former Oklahoma coach Barry Switzer, who popped by media days Monday night. But Snyder is still coaching strong, with a team that was voted third in the preseason poll behind co-favorites Oklahoma and Baylor. Apparently everyone should
eat only one meal a day
.
July, 23, 2014
Jul 23
4:58
PM ET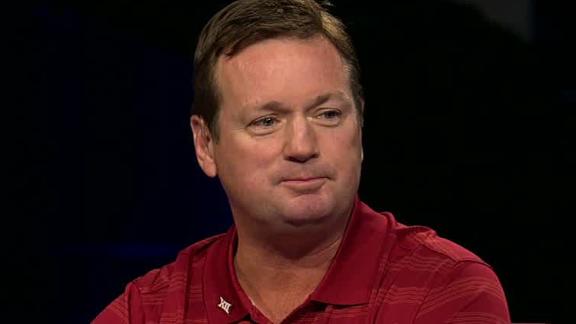 BRISTOL, Conn. -- Bob Stoops responded to Alabama coach Nick Saban's comments about the Sugar Bowl being a "consolation game" as quickly and decisively as the Sooners did in last season's 45-31 upset of the Tide.
"They didn't look like it was a consolation game on that first drive when they scored a touchdown and everyone thought they were going to rout us," the Oklahoma coach said. "I've been in plenty of those [non-national title games]. We've played in a bunch of national championship games, right? ... That's a good one.
"So that means I've got a built-in excuse the next time we don't play for a national championship?"
Stoops was in Bristol Wednesday for a round of interviews.
On Tuesday, Saban, who was in Bristol, talked about the challenge of getting his team to play Oklahoma as to "try to play in a consolation game."
Stoops also discussed critics that suggest the Big 12 should add a conference title game. The Big 12 is the only Power 5 conference that doesn't have a league championship game.
"Think about it: mathematically we play everybody, they [the SEC] don't play everybody," Stoops said. "For instance Texas A&M. They play eight conference games.
"They have Lamar, Rice, SMU and Louisiana Monroe. Boy those are all a bunch of toughies, right? We have nine conference games. So if [Texas A&M] was fortunate enough to be in the SEC championship game, they would play nine conference games at the end of the day and they have all those four 'toughies' to go with it.
July, 23, 2014
Jul 23
2:00
PM ET
Our series of preseason picks for every single Big 12 game of 2014 continues today with Week 13. Beware, Texas Tech, winning in Ames, Iowa, can be difficult, especially late in the season.
More Big 12 predictions for 2014
.
Kansas State 38, at West Virginia 35:
K-State's ability to win close games rises to the forefront as the Wildcats grab a key road win in Morgantown, West Virginia. The Mountaineers lead for the majority of the second half but All-Big 12 receiver
Tyler Lockett
comes through when K-State needs him with a late touchdown.
at Baylor 48, Oklahoma State 28:
The Bears jump on the Cowboys early, taking a three touchdown lead after one quarter of play. OSU's big-play threats
Tyreek Hill
and
Jhajuan Seales
spark a Cowboy rally with back-to-back second quarter scores but BU quarterback
Bryce Petty
isn't about to let the Pokes ruin the party, passing for two scores in the third quarter and finishing with five touchdowns overall in the win. Revenge is sweet for Art Briles' squad.
at Oklahoma 49, Kansas 10:
The Sooners are dominant at home against the Jayhawks scoring on four of their first five drives and taking a comfortable lead at halftime. It's a rough but important experience for KU quarterback
Montell Cozart
who struggles against OU's athletic defense but starts to find a rhythm toward the end of the game. Meanwhile, OU's eyes turn to Bedlam and securing another Big 12 title.
Texas Tech 38, at Iowa State 34:
The Cyclones appear ready to secure yet another upset win in Ames until
Davis Webb
suddenly gets on fire in the final 15 minutes with a pair of long touchdown passes and a quarterback sneak for another score in the final two minutes to help the Red Raiders escape with a win.
Current Big 12 standings
1. Oklahoma
-- 10-1, 7-1
2. Kansas State
-- 8-2, 6-1
3. Baylor
-- 8-2, 5-2
4. Texas
-- 7-4, 5-3
5. TCU
-- 7-3, 4-3
6. Texas Tech
-- 7-4, 4-4
7. Oklahoma State
-- 5-6, 3-5
8. West Virginia
-- 4-7, 3-5
9. Kansas
-- 3-8, 1-7
10. Iowa State
-- 2-8, 0-7
July, 23, 2014
Jul 23
11:00
AM ET
During the summer, ESPN.com is taking a closer look at each scholarship player on Oklahoma's roster in our Crimson Countdown series. Each day, we analyze each player's impact on the program since arriving on campus, his potential impact this fall, and his long-term projection. Starting with No. 1 Dominique Alexander, the series follows the roster numerically through No. 98 Chuka Ndulue.
No. 71 Tyrus Thompson, tackle, 6-foot-5, 336 pounds, redshirt senior
Impact thus far:
After a redshirt season in 2010 and limited action in 2011, Thompson has been an impact player for the past two seasons, starting 16 games in 2012 and 2013 combined. His versatility is an asset as the senior has played both tackle positions during his time in Norman, Okla.
Impact in 2014:
Thompson should be a starter and key player for the Sooners offensive line, bringing experience, athleticism and production to the table during his final season in crimson and cream. It will be important for him to remain healthy throughout the year.
Long term upside:
Thompson has all-conference potential if he raises his game to another level and remains healthy in 2014.
Evaluation grade for Thompson:
A. When healthy, Thompson is an asset to OU's offense. And his versatility takes his value to an even higher level. The Texas native stepped on campus as a four-star recruit and he's met those expectations heading into his senior campaign.
Development grade for Thompson:
A. A redshirt season in 2010 was the right decision for Thompson's future. Now the Sooners get the payoff with a year of production from a savvy, veteran lineman instead of spot duty from a raw freshman in 2010.
July, 23, 2014
Jul 23
9:00
AM ET
The media voted Oklahoma as the clear preseason favorite to win the Big 12.
But the league's players give the slight edge to Baylor as the team to beat in the Big 12 this season.
This week, the Big 12 blog team anonymously polled 30 of the 39 players that attended Big 12 media days.
Oklahoma received 47 of 56 first-place media votes in the Big 12's preseason poll, which was released last week. But 43 percent of the players polled said the defending Big 12 champion Bears were actually the team to beat in the league, narrowly topping the Sooners.
The players were asked several other questions about the league, including its most impressive coach, its most obnoxious team, and its most underrated player.
The results of the poll:
(Note: players were not allowed to answer their own school or any teammate in any of the questions)
Who is the team to beat this year in the Big 12?
Baylor: 43%
Oklahoma: 40%
Kansas State: 6%
Oklahoma State: 6%
Texas: 3%
Who is the league's most impressive coach?
Kliff Kingsbury: 24%
Bill Snyder: 21%
Art Briles: 17%
Bob Stoops: 14%
If you could draft an opposing Big 12 player and put him on your team, who would it be?
Baylor QB
Bryce Petty
: 27%
Baylor WR
Antwan Goodley
: 15%
Kansas State WR
Tyler Lockett
: 12%
Kansas State QB
Jake Waters
: 12%
Who is the league's most underrated player?
Waters: 10%
TCU DT
Davion Pierson
: 10%
Iowa State TE
E.J. Bibbs
: 10%
Other answers: Kansas State DE
Ryan Mueller
, Texas Tech LB
Sam Eguavoen
, Oklahoma WR
Sterling Shepard
, Oklahoma State LB
Ryan Simmons
, Baylor DE
Shawn Oakman
, Kansas State C
BJ Finney
, TCU CB
Kevin White
, Baylor RB
Devin Chafin
, Baylor RB
Johnny Jefferson
, Kansas State CB
Randall Evans
, Oklahoma State DT
James Castleman
Who is the team you're most fired up to play?
Texas: 24%
Kansas State: 21%
Oklahoma: 21%
Baylor: 10%
Who is the most obnoxious team in the league?
TCU: 21%
Baylor: 18%
Texas: 14%
Texas Tech: 14%
What program has the best pregame intro?
Oklahoma: 27%
Oklahoma State: 19%
Texas: 15%
Who do you predict will make the inaugural playoff?
(Note: Players were allowed to include Big 12 teams here)
Florida State: 20%
Oregon: 16%
Alabama: 15%
Other top vote-getters: Auburn, Baylor, LSU, Oklahoma, Ohio State, Stanford
July, 22, 2014
Jul 22
9:00
AM ET
Our series of preseason picks for every single Big 12 game of 2014 continues today with Week 12. Not a good week to be the home team, evidently.
More Big 12 predictions for 2014.
Texas 28, at Oklahoma State 27:
Even with the Pokes in the bottom half of the Big 12 standings, you knew this game was going to be a tricky one for Texas. The Longhorns find the end zone with 2 minutes left -- no controversial fumble this time, either -- and Charlie Strong's defense clamps down once
J.W. Walsh
crosses the 50, securing victory with a fourth-down sack off the edge on a risky blitz from
Quandre Diggs
.
TCU 35, at Kansas 15:
TCU lets the Jayhawks into the red zone too many times early on, but keeps forcing field goals and rallies in the third on some big-time playmaking from
Trevone Boykin
, who notches a touchdown reception and a long touchdown run as a Wildcat quarterback. The missed opportunities in the first half cost KU a chance to capitalize off its win over ISU the week before.
Oklahoma 38, at Texas Tech 34:
The
Trevor Knight
vs.
Davis Webb
duel, with the crown for the Big 12's second-best QB on the line, does not disappoint. Tech takes a double-digit lead into the start of the fourth quarter, but Knight flips the switch with heroics that can only be described as Sugar Bowl-caliber and connects with
Taylor McNamara
on third-and-goal for the go-ahead score in the final minute to clinch victory in a downright brawl.
Current Big 12 standings
1. Oklahoma
-- 9-1, 6-1
2. Kansas State
-- 7-2, 5-1
3. Baylor
-- 7-2, 4-2
4. Texas
-- 7-4, 5-3
5. TCU
-- 7-3, 4-3
6. Texas Tech
-- 6-4, 3-4
7. Oklahoma State
-- 5-5, 3-4
8. West Virginia
-- 4-6, 3-3
9. Kansas
-- 3-7, 1-6
10. Iowa State
-- 2-7, 0-6
July, 22, 2014
Jul 22
7:00
AM ET
DALLAS -- The first day of Big 12 media days delivered several compelling storylines. Here's what to expect from Day 2 in Dallas:
Iowa State Cyclones
Attending:
Coach Paul Rhoads, tight end
E.J. Bibbs
, center
Tom Farniok
, defensive end
Cory Morrissey
, linebacker
Jevohn Miller
.
Storyline:
The Cyclones missed out on a bowl game last season after back-to-back appearances. But Rhoads appears to have the offensive pieces to get back to bowl eligibility. Bibbs was a preseason All-Big 12 selection, and Farniok leads an offensive line that trails only Oklahoma in the league in career starts. Rhoads appears to have the offensive coordinator, too. Mark Mangino has returned to the Big 12 after four years away from coaching in the FBS. Mangino's résumé includes a national championship as offensive coordinator at Oklahoma, and an Orange Bowl victory as the head coach at Kansas.
Kansas State Wildcats
Attending:
Coach Bill Snyder, quarterback
Jake Waters
, receiver
Tyler Lockett
, center
BJ Finney
, defensive end
Ryan Mueller
, linebacker
Jonathan Truman
.
Storyline:
From start to end, the Wildcats were the most improved team in the Big 12 last season. The biggest reason was the emergence of Waters at quarterback during the second half of the year. Waters actually outperformed Baylor quarterback and Big 12 Offensive Player of the Year
Bryce Petty
during the final seven games in QBR. Waters has one of college football's top playmakers to throw to again in Lockett, and the team is solid again on both sides of the trenches. Snyder's squads usually improve over the course of a season. But if K-State starts out this season the way it finished the previous, look out.
Oklahoma Sooners
Attending:
Coach Bob Stoops, quarterback
Trevor Knight
, offensive tackle
Daryl Williams
, defensive end
Geneo Grissom
, safety
Julian Wilson
.
Storyline:
After a brief malaise, the bloom is back on Oklahoma. That's what a 45-31 bowl win over the preeminent program in college football will do. But can the Sooners carry over the momentum generated from the Alabama win into this season? The answer to that question will depend largely on Knight, the sophomore quarterback. In the Sugar Bowl, Knight was sensational, throwing for 348 yards and four touchdowns. But he has started and finished only three games in his young career. If he can rekindle the Sugar Bowl magic, the Sooners will push for inclusion in the inaugural College Football Playoff.
Texas Longhorns
Attending:
Coach Charlie Strong, running back
Malcolm Brown
, center
Dominic Espinosa
, defensive end
Cedric Reed
, cornerback
Quandre Diggs
.
Storyline:
The Strong era is afoot in Austin.
Regardless of what he has or hasn't said this offseason to
boosters
or
high school coaches
, Strong ultimately will be measured by how many games he wins on the field. At almost every position, the Longhorns are equipped for success. But that won't amount to much if they don't get better quarterbacking than they have the previous four seasons. That makes
David Ash
the most important player on the roster. He missed almost all of last season with concussion issues and then the spring with a fractured foot. If Ash can stay healthy, the Longhorns can make a serious run in the Big 12. If he can't, the Strong era could be off to a tumultuous start.
West Virginia Mountaineers
Attending:
Coach Dana Holgorsen, receiver
Kevin White
, cornerback
Daryl Worley
, punter
Nick O'Toole
.
Storyline:
It's make-or-break time for Holgorsen, who has produced a pair of mediocre seasons in West Virginia's first two years in the Big 12. The schedule is brutal, but that won't discharge Holgorsen from showing improvement from last year's 4-8 season. The Mountaineers have good running backs and receivers. But do they have the answer at quarterback? Holgorsen unexpectedly gave the early nod this summer to
Clint Trickett
, even though he missed all of spring ball recovering from shoulder surgery. Holgorsen's fate figures to be intertwined with that of his senior quarterback.
July, 21, 2014
Jul 21
1:30
PM ET
The Big 12's head coaches are in Dallas today for Big 12 media days, but that doesn't mean they aren't busy as usual recruiting like crazy. The latest on each Big 12 program's recruiting efforts:
BAYLOR
Total commits:
10
ESPN 300 commits:
3
The latest:
The Bears are capitalizing on their 2013 success in a big way for the future: Baylor might have the nation's top
2016 recruiting class
at this point with six verbal pledges. Baylor landed one of its most impressive victories in a long time Friday when offensive tackle
Patrick Hudson
, a top-20 prospect for 2016, flipped to BU after being committed to Texas A&M for nearly four months. But that's not all. Art Briles and his staff also landed receiver
Tren'Davian Dickson
and local defensive back
Eric Cuffee
this weekend and locked up a big-time talent last week in ESPN Junior 300 running back
Kameron Martin
.
IOWA STATE
Total commits:
6
ESPN 300 commits:
0
The latest:
We mentioned him in last week's Big 12 scorecard, and the big week is finally here. Running back
Devine Ozigbo
is set to announce his commitment on Tuesday at 2 p.m., and trimmed his list of 20 offense down to three: Iowa, Iowa State and Boise State. The three-star back is a top-100 recruit in the state of Texas and would be an important get for the Cyclones who could play right away for them.
KANSAS
Total commits:
11
ESPN 300 commits:
0
The latest:
When you're able to get a player as talented as receiver
Kevin Thomas
on campus, you've got to lock him up. The Jayhawks did just that last week, securing a commitment from the three-star wideout from Texas powerhouse DeSoto High School, during his unofficial visit. Thomas chose KU over offers from the likes of Wisconsin, Nebraska and Clemson and is now KU's highest-rated pledge.
KANSAS STATE
Total commits:
8
ESPN 300 commits:
0
The latest:
The Wildcat's newest commitment came from three-star defensive end
Josh Little
of Oklahoma City Millwood. The 6-foot-4, 230-pound lineman picked KSU over a handful of offers, including from Arizona State, Purdue, Washington State and Iowa State. Little hails from the same high school that produced All-Big 12 receiver
Tyler Lockett
and racked up 76 tackles and five sacks as a junior.
OKLAHOMA
Total commits:
7
ESPN 300 commits:
5
The latest:
Former Sooners commit defensive tackle
Du'Vonta Lampkin
has set a decision date for Sept. 15, and he still has OU in his final three. The three-star recruit from Houston Cypress Falls is down to OU, Texas and LSU. While Texas is currently in the lead, Lampkin is planning to give the Sooners one last chance to sway him with his official visit for the Sept. 13 game against Tennessee.
OKLAHOMA STATE
Total commits:
8
ESPN 300 commits:
3
The latest:
Three-star offensive tackle
Joshua Jones
released his top five this weekend and Oklahoma State made the list along with TCU, Texas Tech, Purdue and Wake Forest. The big 6-foot-6, 271-pound lineman hails from Bush High School in the Houston area, and it wouldn't be a surprise if this comes down to an OSU-TCU battle.
TCU
Total commits:
16
ESPN 300 commits:
0
The latest:
TCU landed its first verbal commit for the class of 2016, from defensive end
Jonathan Marshall
, during its final summer camp. The Shepherd, Texas, standout is 6-foot-3 and 256 pounds and had early offers from Oklahoma State and North Texas. It's possible another commitment could come Monday from three-star DeSoto (Texas) defensive tackle
Bryce English
, a former Texas commit who is set to choose between TCU, Arkansas, Arizona State and UCLA.
TEXAS
Total commits:
11
ESPN 300 commits:
5
The latest:
Texas did not land any new commitments off its inaugural "Under The Lights" camp on Friday, but ESPN Junior 300 offensive tackle
J.P. Urquidez
came close to announcing a decision Saturday and has Texas and Baylor at the top of his list. The Longhorns also hosted a critical unofficial visit from four-star QB
Kai Locksley
and his father, Maryland offensive coordinator Mike Locksley. He's set to make a commitment to either UT, Florida State or Maryland during his season opener.
TEXAS TECH
Total commits:
7
ESPN 300 commits:
2
The latest:
The Red Raiders got a big opportunity recently to ensure one of their top commits stays in the fold. Three-star running back
Corey Dauphine
, who has long been rumored to be considering a flip to Texas A&M or Baylor, took an unofficial visit to Lubbock and went home saying he felt 100-percent solid with his commitment. Dauphine could still take a trip to A&M in early August, but this was a big step in the right direction for Tech's chances.
WEST VIRGINIA
Total commits:
14
ESPN 300 commits:
2
The latest:
WVU's newest pledge should be a familiar name: Three-star QB
David Sills
. As a 13-year-old, he made a (very) early commitment to USC and then-coach Lane Kiffin. He went back on the market this year -- he didn't have much of a relationship with Steve Sarkisian -- and the Mountaineers won out for the standout from Eastern Christian Academy in Maryland. Stills is up to 6-foot-3 and 190 pounds and should be a fairly polished passer when he arrives in Morgantown after years of training with famed QB coach Steve Clarkson.
July, 21, 2014
Jul 21
12:30
PM ET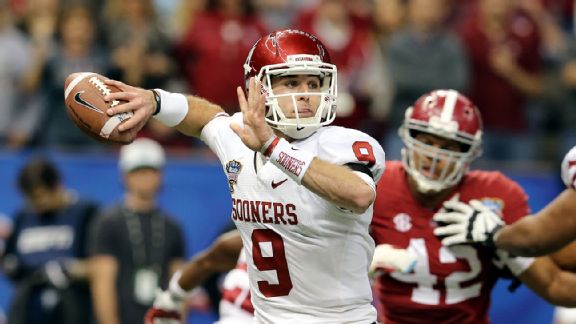 Chuck Cook/USA TODAY SportsHalf of Trevor Knight's touchdowns in 2013 were notched against the Crimson Tide.
As we count down 50 days until the start of the 2014 college football season, ESPN Insider Travis Haney is answering at least one big question a day until South Carolina and Texas A&M's kickoff Aug. 28.

Heisman contenders, breakout freshmen, conference winners -- it will all be covered as part of Insider's Ultimate Season Preview.
Today's question: Is Oklahoma QB Trevor Knight the player who torched Alabama or the guy who never did much against weaker Big 12 defenses?
Half of Knight's TDs and almost half of his completions came in one game, but that game was against Alabama. So it leaves us wondering: Was the Sugar Bowl the exception or, moving forward, the rule?
Because of minor injuries and uneven performances, Knight couldn't stay on the field against Big 12 opponents in 2013. Remember that it was an 80-yard TD drive led by
Blake Bell
that even provided Knight with the Sugar Bowl stage.
Now, Bell is a tight end and Knight is a Heisman contender. Go figure.
Why Knight is that guy ...
Oklahoma's coaches said last summer that Knight was capable of what you saw against the Tide.
Maybe it just took him that long to find his footing, and now he'll take off.
July, 21, 2014
Jul 21
9:00
AM ET
Our series of preseason picks for every single Big 12 game of 2014 continues today with Week 11. Oklahoma and Baylor, the preseason favorites in the Big 12, face off at Oklahoma Memorial Stadium in one of the season's most anticipated games.
More Big 12 predictions for 2014
.
at Kansas 35, Iowa State 34:
One of the most entertaining games of the season goes largely unnoticed as the Jayhawks and Cyclones offenses go back-and-forth in the fourth quarter. A late
Montell Cozart
touchdown run followed by an interception by
Ben Heeney
cements the win for KU.
Kansas State 23, at TCU 20:
Bill Snyder's squad uses a
Tyler Lockett
kickoff return for a touchdown and a late TCU turnover to grab the road win over the Horned Frogs and further cement its place among Big 12 title contenders. Neither offense is stellar but K-State makes key plays and key conversions when they need them while TCU's offense fails in those key moments, ultimately providing the difference as K-State improves to 5-1 in the Big 12.
at Texas 31, West Virginia 21:
With UT treading water at .500 in Big 12 play, the Longhorns take on an "us against the world" mentality and begin what they hope will be late-season rally, starting with a home win over the Mountaineers. Longhorn running back
Johnathan Gray
finishes with 150 yards and two scores as WVU's defense doesn't have an answer for the Longhorns running game.
at Oklahoma 35, Baylor 24:
The Sooners defense is stellar against Baylor's offense, limiting the Bears to three touchdowns while forcing two turnovers that set up a pair of Sooners scores. OU's
Trevor Knight
outduels BU's
Bryce Petty
, throwing for two touchdowns and zero interceptions while Petty's two touchdown tosses are offset by an interception and fumble. And four different OU defenders record sacks as OU harasses Petty into one of his worst games of the year. Ultimately, the hostile road environment at Oklahoma Memorial Stadium is too much for Art Briles' group to overcome as the Sooners cement themselves in the driver's seat in the Big 12 title race.
Current Big 12 standings
1. Oklahoma
-- 8-1, 5-1
2. Kansas State
-- 7-2, 5-1
3. Baylor
-- 7-2, 4-2
4. Texas
-- 6-4, 4-3
5. TCU
-- 6-3, 3-3
6. Texas Tech
-- 6-3, 3-3
7. Oklahoma State
-- 5-4, 3-3
8. West Virginia
-- 4-6, 3-3
9. Kansas
-- 3-6, 1-5
10. Iowa State
-- 2-7, 0-6
Stoops Talks Sugar Bowl Win
BIG 12 SCOREBOARD
Saturday, 8/30
Sunday, 8/31