October, 31, 2014
Oct 31
11:00
AM ET
Happy Halloween, everybody. We've got a fun-sized treat for you. Last year, we compared Big 12 coaches and players to
horror movie villains
. This time around, we've come up with the Halloween candy that we think best represents each Big 12 team.
[+] Enlarge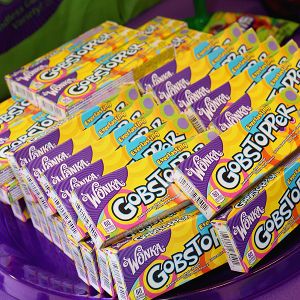 Casey Rodgers/AP ImagesEverlasting Gobstoppers are an unconventional candy, and Art Briles has built an unconventional power at Baylor.
Baylor: Gobstoppers.
Just hear me out. Art Briles, with his affinity for inventive offense and giving players silly nicknames, is the Willy Wonka of the Big 12. He's turning Baylor into a factory. One of Wonka's better inventions has been the Gobstopper: Brightly colored, tart, and sweet with a tough core. It's a candy that lasts far longer than you expected.
Iowa State: Candy corn.
Who doesn't love candy corn? Who doesn't love Paul Rhoads? Not totally sure what they're made of besides sugar, but still tasty. Might pull an upset or two but won't win a lot of head-to-head matchups in a kid's basket. It's still perfectly acceptable from year to year, though.
Kansas: 3 Musketeers.
One of those candies that's always in your bucket, but not one that many people covet. Same shape and chocolate shell as its competitors, but with a fluffy, whipped interior. Like Kansas football, I"m sure that the 3 Musketeers has a small but fiercely loyal fanbase that believes this bar gets wrongly overlooked.
Kansas State: Apple.
A treat so good they nicknamed their city after it. Healthy, affordable alternative that always gets more out of its natural sugars than most candies do from artificial sweeteners. Even better when paired with the warmth of caramel like Bill Snyder, the Werther's Original of coaches.
Oklahoma: Snickers.
As they say, there's only one. This is high praise. Like OU, Snickers are a winner year after year, a traditional powerhouse. People keep assuming Bob Stoops will eventually get tired of Snickers and covet a candy bar with shinier wrapping. But you just don't walk away from something so reliable, well-built and tough to beat.
Oklahoma State: Black Forest Gummy Bears.
Starting to become more recognized and readily available, and they're definitely solid. Still a way to go before they become a household name, but a certain segment of the population recognizes them as something special and different from any other gummy bear.
TCU: Take 5.
The most complete candy bar, yet few people are properly aware or appreciative of it. A creation of adaptation, really. Lots of other candy bars have some of its ingredients, but adding an innovative pretzel crunch (the Frogs' new Air Raid offense) to its traditional combination of salty nuts with a smooth caramel/peanut buttery defense makes for one great flavor profile.
Texas: Protein bar.
Sorry, Charlie Strong took away all the Longhorns' candy when he took over, as candy can make you soft. "No candy" is secretly the sixth core value. Texas is trying to get back to the days of being Reese's or some other nationally respected candy, but for now, eat those protein bars and get stronger. They might not taste that good (like this 2014 season), but they're good for you.
Texas Tech: Payday.
Kliff Kingsbury got a nice one before the season, and now everyone thinks they're nuts. Get it? We're just teasing you, Red Raiders. A more fitting choice might've been Butterfingers. A lot of people love them, but they're a bit messier than you think -- kinda like Texas Tech's turnover and penalty problems.
West Virginia: Hershey's Special Dark.
Just the right combination of sweet and bitter, an underrated candy that's fueled by caffeine. A lot of caffeine: 31 milligrams, about as much as a can of Coca-Cola. Just so you know, Dana: Consuming five of these bars would be nearly the equivalent of two Red Bulls. Let's be honest, though: Pixy Stix are the real Red Bull of kids' candy.
October, 31, 2014
Oct 31
10:30
AM ET
Here are five things I learned in college football this week:
1. Florida State doesn't look like the team that won a BCS national championship last season. It looks more like the Auburn team that lost to the Seminoles in the last BCS National Championship game.
To win a national title in the past, or now reach the four-team College Football Playoff, a team is going to need more than a few good breaks along the way. FSU seems to be getting them every week, just like Auburn did last season.
The Seminoles beat Clemson 23-17 in overtime on Sept. 20 because the Tigers fumbled the ball -- and a golden opportunity for an upset -- at FSU's 14-yard line in the final two minutes of regulation.
[+] Enlarge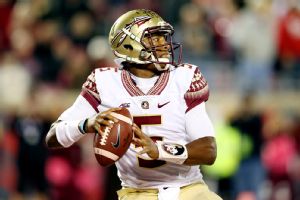 Andy Lyons/Getty ImagesJameis Winston and Florida State are getting the breaks needed to reach the College Football Playoff.
On Oct. 18, FSU defeated Notre Dame 31-27 because the Irish were penalized for offensive pass interference on a pick play, wiping out a go-ahead touchdown pass from
Everett Golson
to
Corey Robinson
in the final moments.
Then on Thursday night, the No. 2 Seminoles trailed No. 25 Louisville 21-0 in the final minutes of the first half on the road. FSU tailback
Karlos Williams
fumbled near the goal line, but tight end
Nick O'Leary
recovered the ball in the end zone for a touchdown, giving the Seminoles a manageable 21-7 deficit heading into the locker room.
On the first play from scrimmage in the second half, Louisville safety
Gerod Holliman
intercepted
Jameis Winston
's pass. But Winston chased down Holliman, knocked the ball loose and FSU's
Travis Rudolph
recovered the fumble.
The Seminoles scored three touchdowns in the fourth quarter to pull away for a 42-31 win, their 24th victory in a row.
"We've been there before," Winston said. "Being down is nothing when you've got heart and you persevere. Personally, we play better when we're down, honestly."
2. Georgia fans have every right to be upset that the NCAA didn't reduce star tailback
Todd Gurley
's four-game suspension, which will keep him sidelined for Saturday's game against Florida in Jacksonville, Florida, and next week's road trip to Kentucky.
But Georgia fans shouldn't be upset at the NCAA or the UGA administration. Gurley knew he was breaking NCAA rules when he accepted $3,000 to autograph helmets, footballs and other memorabilia. And it wasn't a momentary lapse of judgment. According to the NCAA, Gurley was paid to autograph memorabilia for multiple dealers over the past two years.
Sure, the NCAA rules that prohibit players from receiving money for their autographs and likeness are out of date and need to be repealed. But Gurley knew the rules, and Georgia officials constantly educate their players about what they can and can't do.
I have sympathy for Gurley, who grew up in a mobile home park in Tarboro, North Carolina. His mother struggled to make ends meet while raising Gurley and his siblings, and his family still doesn't have much when it comes to material possessions. It doesn't make much sense that Georgia and the NCAA can profit from his name, image and likeness, while he will have to sit four games for profiting from his own name.
At the end of the day, Gurley's biggest flaw might have been his honesty about breaking the NCAA rules.
3. Don't think the timing of Oklahoma freshman tailback Joe Mixon's guilty plea to avoid going to trial on charges that he punched a woman in the face in a bar on July 25 was coincidental.
By entering an Alford plea, which allows Mixon to continue asserting his innocence, his attorneys avoided making the videotape that showed Mixon punching a woman available to the media and public through state open records laws.
On Saturday, a new Oklahoma law, Senate Bill 2676, takes effect that would have required police to release the surveillance video from the bar where the incident took place. But since Mixon reached a deal with prosecutors before the law goes into effect, police in Norman, Oklahoma, are refusing to release the video to media.
Police allowed members of the media to view the tape but wouldn't let them make copies. The original tape was returned to the bar owners on Thursday night and was destroyed, according to media reports.
Attorneys for the city of Norman say they still have a copy, after they were threatened with a lawsuit, but contend that that copy is not subject to release under transparency laws.
Oklahoma senator David Holt, who wrote the new law, told KOKH-TV in Oklahoma City that his intent was to increase transparency.
"I don't even know that we need to say that, I thought that the intention of that was clear. That if you can look at it, you can copy it, especially in the day and age where we all have iPhones, we're just one click away from copying a document," Holt said.
4. Winston threw a career-high three interceptions in Florida State's win at Louisville, and his chances of repeating as the Heisman Trophy winner seem all but dead.
According to a Heismanology poll conducted by ESPN's Joe Tessitore, Winston received only 4.5 percent of the available points in this week's balloting -- and that was before he tossed three interceptions against the Cardinals.
After nine weeks of the season, it seems to be a two-man race between Mississippi State's
Dak Prescott
and Oregon's
Marcus Mariota
. According to Tessitore, they received 95 percent of the first- and second-place votes.
But there is still a lot of football to be played, and Tessitore notes that the last time two players received such a high percentage of the first- and second-place votes was 2012, when Kansas State quarterback Colin Klein and Oregon tailback Kenjon Barner were leading the voting. Of course, Texas A&M freshman Johnny Manziel ended up becoming the first freshman to win.
5. And, finally, the stat of the week from ESPN Stats & Info: Mississippi State is averaging a Power 5-high 188.6 rush yards per game inside the tackles. Prescott and
Josh Robinson
are two of four Power 5 players who have run for at least 500 yards and seven touchdowns inside the tackles.
October, 31, 2014
Oct 31
10:00
AM ET
All eyes will be on Milan Puskar Stadium in Week 10 as TCU and West Virginia battle to put themselves in prime position to win the conference in their third season as members. Kansas State hopes to strengthen its résumé against Oklahoma State, Oklahoma could face a tough task against Iowa State in Ames, Baylor hopes to shake off injury troubles against Kansas and Texas Tech against Texas could be a classic offense-defense battle.
Here are the storylines to watch in the Big 12 during Week 10:
No. 18 Oklahoma at Iowa State, noon ET (Fox Sports 1):
This has the potential to be a scary game for an OU squad looking to rebound after two losses in three games. Iowa State's offense is finding its footing under offensive coordinator Mark Mangino after a season-high 45 points against Texas on Oct. 18. Tight end
E.J. Bibbs
, who leads all Big 12 tight ends with 32 receptions and six touchdowns, could cause problems for the Sooners' secondary. For Oklahoma,
Trevor Knight
will be looking to build on his performance against Kansas State, which included 318 passing yards, a 81.3 completion percentage and season-best 92.1 Adjusted QBR. Meanwhile the Sooners' defense will be looking to prove it's better than the 6.2 yards per play and the 2.11 points per drive it has allowed during conference games.
No. 7 TCU at No. 20 West Virginia, 3:30 p.m. ET (ABC/ESPN2):
The Horned Frogs earned the distinction of the Big 12's top-ranked team in the first edition of the College Football Playoff rankings and visits West Virginia on the heels of an 82-point outburst that was the talk of the Big 12. The Mountaineers feature a much-improved defense and one of the best quarterback-receiver duos in the nation with
Clint Trickett
and
Kevin White
. If TCU quarterback
Trevone Boykin
plans to cement his name in the Heisman race, this is the opportunity to do so with a Heisman moment or two and leading his team to victory over an explosive and confident Mountaineers' squad. It should be an exciting game to watch as Trickett and Boykin are the Big 12's most improved signal-callers, with their increase in Total QBR -- Boykin (plus-29.8, second) and Trickett (plus-27.3, fourth) -- ranking in the top four among Power 5 quarterbacks this season.
Kansas at No. 13 Baylor, 4 p.m. ET (Fox Sports 1):
Does Baylor have a problem looking up at TCU in the College Football Playoff rankings after it beat them head-to-head? If so, the matchup with the Jayhawks is BU's first chance to show the committee its No. 13 ranking is too low for the defending Big 12 champion. Quarterback
Bryce Petty
has watched TCU's Boykin and WVU's White sprint past him in the race to be the Big 12's most legitimate Heisman contender and is looking to regain the production that placed him among the preseason favorites. Petty has been uncharacteristically inconsistent in Big 12 play with Adjusted QBRs of 74.9, 19.5, 74.7 and 41.2 in four conference outings. Meanwhile, KU could make a strong statement in Clint Bowen's candidacy for the permanent head coaching gig with a shocking upset at McLane Stadium.
Texas at Texas Tech, 7:30 p.m. ET (Fox Sports 1):
Which team is more deflated? Texas is coming off a shutout loss to Kansas State, which included an average of 3.77 yards per play, the second-worst single game average in a conference game this season. Yet, there sits Texas Tech on the opposite end of the spectrum, having given up 9.13 yards per play in its 82-27 loss to TCU, the largest yards-per-play average allowed in conference play in 2014. Charlie Strong's team will lean on its defense to spark a tough road win, and the Red Raiders will count on Kliff Kingsbury's offense to outscore an subpar Texas attack. Should be fun to see who wins this battle of offensive and defensive minds.
Oklahoma State at No. 9 Kansas State, 8 p.m. ET (ABC):
Oklahoma State is still chasing bowl eligibility and faces a difficult final stretch. To get a win in Manhattan, coach Mike Gundy must get more from an offense that has three combined touchdowns in its last three games. K-State knows this could be another win over a team with a winning record to add to the résumé after the Wildcats knocked off OU and UT in back-to-back weeks. With quarterback
Jake Waters
operating KSU's offense with efficient precision, KSU should feel good about extending its win streak to five before trips to TCU, West Virginia and Baylor in its final four games.
October, 31, 2014
Oct 31
8:30
AM ET
Thursday night's game
provided several reminders about Florida State.
1. This team, unlike its predecessor, is at times more lucky than good.
2. The Seminoles are still pretty darn good, even with all their injuries.
3.
Jameis Winston
is an excellent crunch-time quarterback.
4. FSU likely has too many warts to repeat as national champion.
5. Jimbo Fisher is an unquestionably brilliant coach.
Let's focus on the last item. Fisher's coaching acumen often gets overlooked, often because of what Fisher says and does away from the sideline.
He out-coached Louisville's Bobby Petrino in the second half Thursday, pushing the right buttons, especially on a
third-and-6 from Louisville's 35-yard line
late in the fourth quarter. Winston found a wide-open
Freddie Stevenson
, who scooted in for an easy, euthanizing touchdown. It's another reminder that Fisher is at the top of his game.
Fisher's clout as a recruiter also showed up as three freshmen, led by running back
Dalvin Cook
, reached the end zone. And his Seminoles team, despite myriad mistakes and continuing controversy, won its 24th straight game.
So why is it so hard to celebrate Fisher? Because of the other stuff.
October, 30, 2014
Oct 30
11:00
PM ET
About this time of year coaches scour junior college ranks for offensive line talent, and thathas helped
Tyler Howell
become one of hottest targets around. Plus, is Clemson in danger of losing ESPN 300 commitment
Juwuan Briscoe
?
To continue reading this article you must be an Insider
October, 30, 2014
Oct 30
1:30
PM ET
A closer look at eight players who have a chance to shine this week:
TCU WR Emanuel Porter:
If
Josh Doctson
isn't able to play, Porter is in line to start. Even if Doctson, Boykin's go-to receiver, plays but is limited, you'll see a lot more from the true freshman, whose route-running and blocking earned praise this week. He scored his first career TD last week. He'll get another this week at West Virginia.
Kansas CB JaCorey Shepherd:
His biggest supporters say Shepherd is quietly having an All-Big 12 caliber season. Time to prove it against Baylor and the best group of receivers in the conference. They will test his speed and smarts. Here's a great chance for Shepherd to make a statement.
[+] Enlarge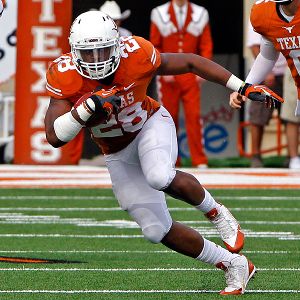 AP Photo/Michael ThomasMalcolm Brown is due for his first 100-yard game of the season.
Baylor QB Bryce Petty:
In his three October games, Petty had an average QBR of 51.5. He had some real ups and downs, and then a bye week to correct and move forward. We'll see the sharp, poised, all-conference caliber quarterback return to form this week against the Jayhawks.
Texas RB Malcolm Brown:
Texas was supposed to have one of the best running games in the Big 12, but still hasn't had a 100-yard rusher this season. Texas Tech has the second-worst run defense among Power 5 conference teams. So now would be a pretty good week for Brown and
Johnathan Gray
to change that trend.
West Virginia WR Kevin White:
We have no reason to ever list him here, really, as he's constantly breaking out. But how will White respond after the first quiet game of his stellar season? You know Gary Patterson will have a good plan for slowing down the league's top receiver.
Oklahoma State RB Desmond Roland:
After a nice five-game stretch in which he put up 447 rushing yards and six TDs, Roland was limited to 37 yards on 12 carries in the loss to West Virginia.
Daxx Garman
is going to need major help from Roland and
Tyreek Hill
to keep the Kansas State defense honest.
Iowa State WR D'Vario Montgomery:
He's hauled in nine catches in each of his last two games after a slow start to the season. You can't really send bracket coverage his way, either, with how
Allen Lazard
and
E.J. Bibbs
are playing. But can Montgomery burn the Sooners secondary?
Kansas State DB Randall Evans:
Dante Barnett
earned player-of-the-week honors, but Evans was just as good against Texas. The Wildcats' secondary doesn't get a lot of hype, but they have some playmakers who will give Oklahoma State's Garman fits.
October, 30, 2014
Oct 30
12:13
PM ET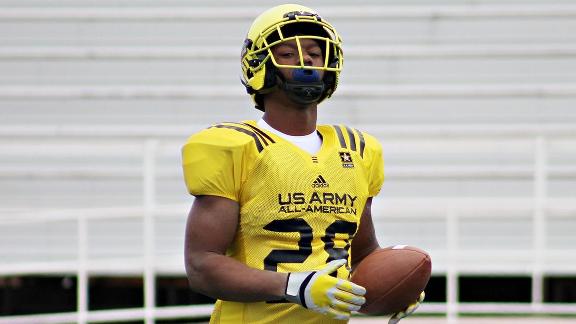 Oklahoma freshman running back Joe Mixon reached a plea deal this week to avoid going to trial on the misdemeanor charge of acts resulting in gross injury.
Mixon entered an Alford plea, which allowed him to continue asserting his innocence. He was handed a one-year deferred sentence, 100 hours of community service and behavior counseling.
Mixon was accused of punching a female student July 25, breaking four bones in her face. After the incident, Mixon was suspended from football-related activities for one year.
Mixon's attorney, Kevin Finlay, released a statement shortly after the agreement became public.
"Today, Joe has made the decision that entering an Alford Plea to the misdemeanor and accepting the short period of probation was the best course of action at this point in his life," the statement read. "Joe does not want to be a further distraction to his family, friends, teammates, and the University of Oklahoma.
"Joe would like to apologize to everyone affected by this unfortunate chain of events. Joe looks forward to continuing towards his goal of becoming a successful student and athlete at the University of Oklahoma."
October, 30, 2014
Oct 30
9:00
AM ET
By
ESPN.com Staff
| ESPN.com
Why TCU will win:
The Horned Frogs, playing like one of the nation's best teams, can get better.
Trevone Boykin
has been lethal, this offense has too much explosive diversity and TCU's defense will get the crucial second-half stops. This will be a fun chess match, a really physical game and another statement win for the Frogs.
TCU 48, West Virginia 38.
--
Max Olson
Why West Virginia will take it down to the wire:
Clint Trickett
and
Kevin White
are a great place to start. Add the Big 12's most improved defense, and WVU is in business. WVU has the playmakers to keep up with Boykin and the Horned Frogs' offense, while an electric atmosphere in Morgantown will make things even more difficult on TCU. Expect a close, high-scoring affair.
TCU 49, West Virginia 46
--
Brandon Chatmon
Why Kansas State will win:
Oklahoma State's offense is a dumpster fire right now, while K-State is coming off a shutout victory over Texas. The Cowboys again won't be able to move the ball against K-State's defense, which is stout at every level. And
Jake Waters
& Co. will be able to generate enough offensively to put this game away in the second half.
Kansas State 31, Oklahoma State 13
--
Jake Trotter
Why Oklahoma will win:
Don't sleep on these Cyclones. They proved against K-State and Texas that they're no easy out. But the Sooners are coming off a bye week, get top back
Keith Ford
back and know this Big 12 race isn't over for them just yet. OU steps up and gets a much-needed, bounce-back win.
Oklahoma 45, Iowa State 20.
--
Olson
Why Iowa State will keep it close:
The Cyclones have historically played Oklahoma tough in Ames. The Iowa State offense is beginning to find its stride under coordinator Mark Mangino, while the Sooners have been suspect defensively the past month. The Cyclones probably won't be able to make enough stops to win. But they have the offense to make this one interesting.
Oklahoma 35, Iowa State 31
--
Trotter
Why Baylor will win:
Big plays, big plays and big plays. Injuries have dealt the Bears a blow along the offensive line, but
Bryce Petty
& Co. should come up with enough big plays to win comfortably against the Jayhawks.
Baylor 45, Kansas 14
--
Chatmon
Why Texas will win:
Anytime a game seems like a toss-up, I lean toward the team with the best defense. The Longhorns' defense ranks in the top third of the Big 12 in several categories including yards per play and sacks, which should help UT slow the Red Raiders' offense.
Texas 24, Texas Tech 13
--
Chatmon
Season records:
Trotter: 48-4
Chatmon: 46-6
Olson: 46-6
October, 30, 2014
Oct 30
8:00
AM ET
Madison Bumgarner
is an absolute boss. Still, it was a great ride for K.C. And a great World Series.
October, 29, 2014
Oct 29
4:30
PM ET
A closer look at one statistic worth keeping an eye on for each Big 12 team entering Week 10:
Baylor:
The Bears had a bye week to address their penalty problems. One stat to put that issue in perspective: The Bears have more 10-plus penalty games this season (
five
) than the entire Big Ten conference combined (three). Then again, Big 12 teams have combined for 16 such games. That suggests style of play and the league's refs are probably important factors in the Bears' penalty woes.
Iowa State:
The breakthrough is coming for
Allen Lazard
and
D'Vario Montgomery
. Both were impressive against Texas and have been targeted a combined
51
times by
Sam B. Richardson
in the Cyclones' past three games. In fact, Lazard was targeted a season-high 15 times against the Longhorns, one more than team receptions leader
E.J. Bibbs
.
Kansas:
When interim head coach Clint Bowen says running back
Corey Avery
isn't being properly appreciated, he might be right. Avery's 417 rushing yards rank
No. 11
in FBS among true freshmen on Power 5 conference teams and second most in the Big 12 behind Oklahoma's
Samaje Perine
, and he's already surpassed 500 total yards in his debut season.
Kansas State:
ESPN Football Power Index data ranks the strength of Kansas State's record so far as
No. 10
in the country and best in the Big 12. That's a good snapshot of both KSU's tough schedule and its impressive showings against ranked foes. But FPI still projects K-State will lose to TCU and Baylor, and that its road test at West Virginia is almost a 50-50 game (KSU's odds of winning are currently pegged at 46.8 percent).
Oklahoma:
Getting running back
Keith Ford
back is good news for this Oklahoma offense, but tip your cap to his young understudies. In the four games Ford missed, Perine and
Alex Ross
combined to average
4.99
yards per carry and 156 rushing yards a game. All three offer different skill sets, giving the Sooners one dangerous trio if they can stay healthy the rest of the way.
Oklahoma State:
After impressing in his first two starts, quarterback
Daxx Garman
has shown regression in his past four. His adjusted QBR of
40.2
in the month of October ranks No. 99 nationally and ninth in the Big 12. His QBR for those first starts against UTSA and Texas Tech was a combined 74.1, but he finished this month with a TD-to-INT ratio of 3-7.
TCU:
The aerial attack stole most of the attention, but here's a big reason why TCU was capable of scoring 82 against Texas Tech: The Horned Frogs rushed for 224
yards on first downs against Tech. When you're getting
8.3
yards per carry on first down, you have the opportunity to do pretty much anything on offense.
Texas:
Here's something you couldn't have expected entering the season: Texas is eight games in and hasn't had a running back surpass 100 rushing yards in any games. In fact, since losing
David Ash
in the opener, Texas has not had a back surpass
80
rushing yards in a single game. Quarterback
Tyrone Swoopes
' 95 rushing yards against Iowa State remains the team high.
Texas Tech:
Following last week's record-setting debacle, Texas Tech's defense ranks No. 123 nationally and
last
among Power 5 conference teams in defensive efficiency, according to
ESPN Stats & Info
. But really, after a game like that, there's nowhere to go but up from here.
West Virginia:
Clint Trickett
continues to rank
No. 1
in the Big 12 in passing, completion percentage, yards per attempt, completions of 20-plus yards, passer efficiency and QBR. He has more passing yards (2,763) and a better completion percentage (68.3 percent) than
Bryce Petty
had through the first eight games of his prolific Big 12 Offensive Player of the Year season last year.
October, 29, 2014
Oct 29
9:00
AM ET
The first College Football Playoff Rankings were unveiled Tuesday night, and five Big 12 teams made the Top 25 cut. Here's a deeper look at what those rankings mean for the Big 12 and its hope of placing a team in the inaugural College Football Playoff:
TCU
Record:
6-1 (3-1 Big 12)
Playoff committee rank:
No. 7
Next big obstacle:
Nov. 1 at West Virginia
Reason for optimism:
Assuming the SEC West starts to knock itself out, TCU is in pretty good shape after the first unveiling of the playoff rankings. Playoff committee chairman Jeff Long said the gap between No. 6 Alabama and No. 7 TCU was a "small" one. The Horned Frogs also have the chance to notch a pair of marquee wins these two next weeks against No. 20 West Virginia and No. 9 Kansas State.
Cause for concern:
The Horned Frogs are ranked ahead of every Big Ten team, but not No. 5 Oregon. Assuming the playoff committee ends up with Florida State and two SEC West teams, that final playoff spot could come down to the Ducks and the Horned Frogs, and the Ducks appear to have the slight advantage at the moment. TCU could win out and still get snubbed if Oregon won out, too.
Whom they'll be rooting for this week:
Stanford to knock off Oregon for a third straight year.
Kansas State
Record:
6-1 (4-0)
Playoff committee rank:
No. 9
Next big obstacle:
Nov. 8 at TCU
Reason for optimism:
The Wildcats are ranked higher in the playoff rankings than they are in the polls, which means K-State is getting more respect where it counts. The committee also seems to be valuing quality losses, which is one reason K-State is ranked seven spots ahead of Ohio State, whose lone loss to Virginia Tech looks worse and worse. With road games at No. 7 TCU, No. 20 West Virginia and No. 13 Baylor still ahead, the Wildcats have as much upside as any team outside the top four.
Cause for concern:
At No. 3, Auburn is currently in the playoff. The committee is putting an emphasis on head-to-head, which is the primary reason Ole Miss got the edge for the fourth spot ahead of Alabama. If the final spot came down to Auburn and K-State, the committee would probably be compelled to favor Auburn, which won in Manhattan, Kansas, last month.
Whom they'll be rooting for this week:
Ole Miss to give Auburn its second loss.
Baylor
Record:
6-1 (3-1)
Playoff committee rank:
No. 13
Next big obstacle:
Nov. 8 at Oklahoma
Reason for optimism:
The Bears are ahead of four one-loss teams, including three spots ahead of No. 16 Ohio State. Baylor also has two remaining games against ranked teams, including Oklahoma and No. 9 Kansas State in the regular-season finale. The timing of the K-State game could be significant for Baylor to make a late surge.
Cause for concern:
Even if they go 11-1, the Bears are going to need a lot of help. The nonconference schedule is going to weigh them down like an albatross. That's one significant reason there are 10 other one-loss teams ranked ahead of them.
Whom they'll be rooting for this week:
TCU to take down West Virginia. The Bears have the head-to-head advantage over TCU. They don't have it over the Mountaineers. The better TCU does, the better it looks for Baylor.
Oklahoma
Record:
5-2 (2-2)
Playoff committee rank:
No. 18
Next big obstacle:
Nov. 8 vs. Baylor
Reason for optimism:
The Sooners are the highest-ranked two-loss team. There's still a lot of football to be played, and if a two-loss team can make a run, it might be Oklahoma.
Cause for concern:
The Sooners would need a minor miracle to surge that far. Even though Oklahoma's two losses came against top-10 teams, the playoff committee is not giving the Sooners the edge over one-loss teams. Oklahoma will need a bunch of losing from those teams ranked ahead in the coming weeks.
Whom they'll be rooting for this week:
West Virginia to beat TCU. The Sooners would need to win the Big 12 to have a chance, and they have the head-to-head advantage over West Virginia.
West Virginia
Record:
6-2 (4-1)
Playoff committee rank:
No. 20
Next big obstacle:
Nov. 1 vs. TCU
Reason for optimism:
The Mountaineers are the third-highest-ranked two-loss team, just behind Oklahoma and LSU. They have a chance to climb higher in the month of November with home bouts against No. 7 TCU and No. 9 Kansas State.
Cause for concern:
West Virginia still has a giant mountain to climb to get in the playoff mix. A lot can happen here over the next few weeks. But the Mountaineers are going to need a bevy of upsets elsewhere in college football.
Whom they'll be rooting for this week:
Kansas State to throttle Oklahoma State. The Mountaineers need K-State to be ranked as high as possible when it visits Morgantown on Nov. 20 for a Thursday night clash.
October, 29, 2014
Oct 29
8:00
AM ET
NBA kicks into full gear tonight. "Can't wait!" Here's a
offseason primer
to help you if you didn't pay attention during the offseason.
October, 28, 2014
Oct 28
8:15
PM ET
The initial College Football Playoff rankings have brought changes in the Big 12 bowl projections.
With the Allstate Sugar Bowl serving as a semifinal site and TCU on the outside of the top 4 at No. 7, the Horned Frogs slide over to another New Year's Day bowl (Fiesta, Cotton or Peach). Ninth-ranked Kansas State, as one of the top 12 teams in the initial rankings, joins TCU in a New Year's Day bowl.
Additional movement this week features Charlie Strong's Texas squad dropping out completely. UT would have to win three of four games in the final weeks of the season to reach six wins and bowl eligibility. With TCU, West Virginia, Oklahoma State and Texas Tech remaining on the schedule, the odds aren't on the side of the Longhorns.
Cotton Bowl:
TCU
Fiesta Bowl:
Kansas State
Valero Alamo Bowl:
West Virginia
Russell Athletic Bowl:
Baylor
AdvoCare V100 Texas Bowl:
Oklahoma
AutoZone Liberty Bowl:
Oklahoma State
Cactus Bowl:
None eligible
Plea Deal For Sooners' Mixon