November, 28, 2014
Nov 28
2:00
PM ET
In today's Black Friday edition of the Twitter mailbag, we discuss Texas talent, the Big 12's playoff hopes and the best way to cook a turkey.
I will be in Arlington, Texas, this weekend to check out Baylor vs. Texas Tech, which is always entertaining.
Hope everyone had a great Thanksgiving.
Now, on to the 'bag:
@Jake_Trotter who QBs the Texas Longhorns next year?

— CD1 (@ChrisDDow) November 28, 2014
Trotter:
That was a poor performance last night. But
Tyrone Swoopes
is still the odds-on favorite. He's had a bunch of good moments this year, even if none of them came against TCU.
@Jake_Trotter How many Texas players would start for Baylor or TCU?

— Brett Bayne (@kidslovetrains) November 28, 2014
Trotter:
Malcom Brown
could start for anyone in the country.
Jordan Hicks
,
Cedric Reed
and
John Harris
could start for anyone in the league. Maybe
Quandre Diggs
, though last night wasn't pretty. After that...
@Jake_Trotter Most irritating Twitter fans?

— BC_FROG (@BC_FROG) November 28, 2014
Trotter:
I'm not going to answer this. You all know who you are.
@Jake_Trotter What's the future for Keith Ford, Alex Ross, and Joe Mixon now that Samaje has had such a breakout season? Will Any transfer?

— Cole Steffens (@cole_stef) November 28, 2014
Trotter:
It's possible. Ross has a role as a returner, and fits as a nice change-of-pace back to Perine. We don't know what Mixon can do yet. Ford would seem like the most likely to fall out of the rotation, especially with his past fumbling issues. Whatever happens, Perine is going to be the primary running back in that backfield for the foreseeable future. At least, he should be.
@Jake_Trotter is there any real chance that the Big XII is shut out of the CFP even with two 11-1 teams?

— Justglad (@jgtbh2014) November 28, 2014
Trotter:
Sure, there's a real chance. If the season ended today, that's exactly what would happen. But if I'm a fan of either TCU or Baylor, I'm more worried about No. 6 Ohio State than No. 4 Mississippi State. The committee seems to be overlooking Ohio State's early loss to Virginia Tech for whatever reason, and the Buckeyes have a chance for a marquee win at the end in the Big Ten championship game. It feels to me like the Big 12 is one more upset away from getting a team in the playoff.
@Jake_Trotter likelyhood Baylor and TCU getting left out would lead the B12 to expand?

— Vakaviti (@vakaviti) November 28, 2014
Trotter:
It would take us a step in that direction. A Big 12 official told me over the summer that it would take getting left out three years in a row for the league to rethink expansion. But it's going to really sting if two 11-1 teams are left out. I would think that would at least force the league to have a discussion about whether its current format is really the best path to the playoff.
@Jake_Trotter who is the best football coach in the big 12? Briles, Strong, Stoops, Gundy, Patterson, or Snyder?

— Cody Edwards/Arnold (@CodyJEdwards) November 28, 2014
Trotter:
Bill Snyder is arguably the greatest coach in college football history. He certainly should be in that conversation. But Gary Patterson should be this season's Big 12 coach of the year for what he's accomplished in Fort Worth.
@Jake_Trotter Which of the bottom 4 teams in the Big 12 (KU, ISU, OSU, TTU) do you see taking the biggest leap forward next season?

— Stephen Beam (@sbeam2011) November 28, 2014
Trotter:
Oklahoma State. The Cowboys should be pretty salty defensively next year. And the emergence of true freshman QB
Mason Rudolph
offers hope that the offense could get back to business in 2015.
@Jake_Trotter Fried Turkey, Smoked Turkey, or Baked Turkey. What is your favorite? #turkeydayconfessions

— Dane Hernandez (@Dane4theGospel) November 28, 2014
Trotter:
Smoked turkey in a landslide. I wish you all could have tried the 13-pounder my pops smoked yesterday. Off the charts.
@Jake_Trotter Yea I got 1 question: 61-58!! What is wrong with you Trotter?? #sicem

— Max Olson (@max_olson) November 28, 2014
Trotter:
I thought I blocked this guy already.
November, 26, 2014
Nov 26
9:19
AM ET
The
Oklahoma Sooners
must recruit the state of Texas effectively to maximize their ability as a program, and this is especially true in Dallas/Fort Worth and East Texas. On Tuesday night, Bob Stoops and staff scored big at North Mesquite High, picking up a verbal from ESPN Junior 300 offensive tackle
Jean Delance
.
November, 25, 2014
Nov 25
8:00
PM ET
The fourth College Football Playoff rankings were revealed Tuesday night, and the Big 12 was left outside the top four for the second consecutive week.
TCU remained at No. 5; Baylor stayed at No. 7.
As a result, nothing changed from last week's bowl picture.
Oklahoma State is the only Big 12 team that can still play its way to bowl eligibility. But the Cowboys will have to upset Oklahoma in Bedlam on Dec. 6 to get to six wins.
Goodyear Cotton Bowl:
TCU
VIZIO Fiesta Bowl:
Baylor
Valero Alamo Bowl:
Kansas State
Russell Athletic Bowl:
Oklahoma
AdvoCare V100 Texas Bowl:
Texas
AutoZone Liberty Bowl:
West Virginia
Cactus Bowl:
None eligible
November, 25, 2014
Nov 25
5:56
PM ET
ESPN.com news services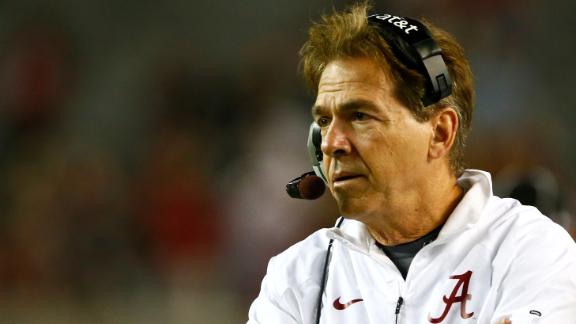 Things stayed the same at the top of the latest unveiling of the College Football Playoff rankings, but one team took quite the tumble down the list.
Alabama, Oregon, Florida State and Mississippi State are again the top four teams in the CFP rankings; in fact, the top seven teams from last week's rankings remain unchanged. TCU, Ohio State and Baylor held steady at the Nos. 5-7 spots.
Mississippi, however, took a spill, going from No. 8 last week all the way down to No. 19 after an embarrassing 30-0 road loss to Arkansas that was the Rebels' third straight SEC defeat.
As a result of Ole Miss' fall, UCLA, fresh off its win over rival USC, moved up to No. 8. Georgia and Michigan State rounded out the top 10. The Spartans benefited from the Rebels' fall, moving back into the top 10 after landing at No. 11 the previous week.
Further down the rankings is the battle to see which school from outside the Power 5 conferences will earn a guaranteed spot in a New Year's bowl. Boise State
November, 25, 2014
Nov 25
2:30
PM ET
A closer look at one statistic worth keeping an eye on for each Big 12 team entering Week 14:
Baylor:
Baylor leads the FBS in points, yards and first downs per game, but the Bears' remarkable ability to protect the football really stands out. BU ranks fifth among FBS teams and No. 1 in the Big 12 with a
6.0
turnover percentage. The top five teams in the FBS in that category-- BU, Rice, Oregon, Georgia and Northern Illinois -- have combined for 44 wins this season.
Iowa State:
The Cyclones' defense will need to be much better on third down if ISU hopes to knock off West Virginia. ISU is allowing conversions on a Big 12-worst
47.1
percent of opponent's third-down attempts. But last week's 34-31 loss to Texas Tech proves some hope as ISU held the Red Raiders to 36.4 percent on third-down conversion attempts, which was a season low for Cyclones' opponents.
Kansas:
Big plays have been lacking for Kansas' offense for much of the season. The Jayhawks have gained 10 or more yards on
16
percent of their plays this season, ranking last in the conference and No. 115 among FBS teams. New offensive coordinator Eric Kiesau has helped increase that number with some personnel changes, but KU will need several big plays if it hopes to upset Kansas State.
Kansas State:
Is
Jake Waters
the Big 12's top clutch signal-caller? The senior has a Big 12-best
79.8
raw QBR on third down. He completes 63.1 percent of his passes, averages 12.42 yards per completion and is sacked just 2.3 percent of the time on third down. Waters is a key reason the Wildcats' offense is so efficient and productive.
Oklahoma:
Baylor, TCU and Kansas State are well renowned for their offensive firepower. Yet Oklahoma sits atop the conference rankings in yards per play. The Sooners
6.72
yards per play has been built upon a running game that is averaging 265.4 yards per game and 6.3 yards per carry to lead the Big 12 in both categories.
Oklahoma State:
The Cowboys averaged
1.87
points per possession in
Mason Rudolph
's first start. With the true freshman at the helm, OSU's offense was far more explosive in the 49-28 loss to Baylor than its previous four games. TCU (0.6), West Virginia (0.71), KSU (0.5) and Texas (0.58) each held the Cowboys below one point per possession in OSU's four losses before last weekend.
Texas:
Opponents have converted just
5 of 30
third-down conversions against Texas' defense in the Longhorns last two games. West Virginia (3 of 17) and Oklahoma State (2 of 13) struggled to continue drives. Winning the third down battle could be key if the Longhorns hope to slow
Trevone Boykin
and TCU on Thanksgiving night.
TCU:
Gary Patterson's team has outgained opponents by at least
330
yards on four different occasions this season, joining Alabama as the only FBS team to achieve this feat. The Horned Frogs outgained FCS opponent Samford (412), SMU (369), Oklahoma State (418) and Texas Tech (339) by that margin. It has been a part of a damatic change in TCU's offensive fortunes under new offensive coordinator Doug Meacham.
Texas Tech:
The inability to finish has handcuffed the Red Raiders this season. Tech has converted
58.8
percent of its goal-to-go attempts into touchdowns, the worst percentage in the Big 12 and tied for No. 115 among FBS teams. With Baylor on the horizon, Tech will need to capitalize on every single scoring opportunity it gets.
West Virginia:
Dana Holgorsen's team heads into its final game with six wins and bowl eligibility, a pretty remarkable feat for the Mountaineers considering their carelessness with the ball. WVU has a
minus-15
turnover margin, worst in the Big 12 and tied for No. 120 among FBS teams. No FBS team at minus-15 or higher has more than three wins this season.
November, 25, 2014
Nov 25
1:00
PM ET
In this week's Big 12 roundtable, we discuss which was the most impressive feat this Big 12 season, who has the tougher road to 11-1 between TCU and Baylor, and whether this season should still be considered a successful one for West Virginia:
Which was more impressive, Samaje Perine's 427 rushing yards or Baylor's 21-point comeback vs. TCU?
[+] Enlarge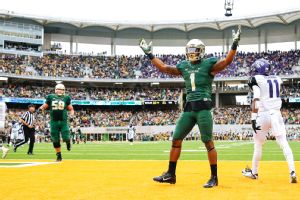 Kevin Jairaj/USA TODAY SportsBaylor's historic comeback against TCU might yet play a factor in the College Football Playoff race.
Brandon Chatmon:
The Bears 21-point comeback in 11 minutes against the nation's No. 5 team is far more impressive. The margin for error was minimal for Art Briles' team. The offense got the credit for scoring 24 points, but the defense stepped up just as much by getting three straight stops against
Trevone Boykin
and the Big 12's most improved offense. Perine's performance was history-making, but it was an individual performance that had no impact in the Big 12 title race. The same cannot be said about BU's comeback.
Max Olson:
I have to agree with Brandon on this one. According to ESPN Stats & Info, the chances of Baylor pulling off its 24-point rally were only 2 percent. That game should have been over. It took a perfect sequence of events for the game to fall apart for TCU. The odds of Perine breaking
Melvin Gordon
's FBS single-game rushing record one week later are probably near-impossible, sure, but this was the No. 94 total defense in FBS and 300 of his rushing yards came on eight plays. Baylor needed 41 plays to pull off the comeback.
Jake Trotter:
The Baylor comeback was stunning. But I have to go with Perine's record-breaking day. That was a record that had stood for 15 years until Gordon topped it the week before. Think about all the great running backs that have come through college football who haven't come close to sniffing 400 yards. Think about all the great Oklahoma running backs over the years who had never even touched 300 yards. Gordon's record may have lasted just a week. But if history before that is any indication, Perine's 427-yard day will be remembered for a very long time.
Who has the tougher road to 11-1, Baylor or TCU?
Chatmon:
TCU's trip to Texas won't be easy. Baylor's home finale against Kansas State is even tougher. Bill Snyder's program has more to play for than the Longhorns, with a Big 12 title likely to remain within reach in their first trip to McLane Stadium. The Wildcats were the first team to make Baylor's offense look somewhat human in 2013 and will bring the same sound defense to Waco on Dec. 6.
Olson:
As weird as this sounds, I actually think Texas has a slightly better chance of beating TCU than K-State does of pulling the upset in Waco. The Horns have momentum, a bye week of extra prep, play great defense and are playing at home. So for that reason, I'd say the Horned Frogs have a little tougher path.
Trotter:
Winning on the road is always tougher than winning at home. And even though K-State is better than Texas and could give Baylor a fight in Waco, I think TCU has the tougher road. Texas has quietly been playing good football the last month to get bowl eligible. The offensive line has come together, while the defensive line has emerged as the best in the league. The Longhorns will be a difficult out for TCU on their home field on Thanksgiving night.
Do you still consider this season to be a successful one for West Virginia, in light of the three-game losing streak?
Chatmon:
Since competing for a championship should always be the goal, successful is not the word I would use. But the Mountaineers, without a doubt, have taken several steps towards becoming a force in the Big 12. The defense is much improved, and the overall depth on the roster is light years ahead of where it was when WVU entered the Big 12 in 2012. Dana Holgorsen shouldn't be satisfied with the Mountaineers return to a bowl game, but he should be pleased with the direction his program is heading.
Olson:
It's an important question. Let's be honest, though. There are a bunch of people (and I might've been one of them) who wondered if a step in the wrong direction this season would've spelled the end of Holgorsen's stint in Morgantown. I think he has proven himself to some extent in 2014. He's building something good, and this season still feels like a positive step.
Trotter:
Provided the Mountaineers win at Iowa State, yes. The season might feel disappointing to West Virginia fans at the moment. But remember, this was a team nobody gave much of a chance of getting to a bowl game before the season. The Mountaineers not only achieved that, they were ranked for a good chunk of the year, hosted College GameDay and came within a hair of sweeping Baylor and TCU to become a serious factor in the Big 12 title race. After slugging it out against such a brutal slate, West Virginia has run out of steam this last month. But if the Mountaineers rally to beat Iowa State and win a bowl game, they will finish 8-5, with momentum going into 2015. In August, every rational West Virginia fan would have taken that.
November, 25, 2014
Nov 25
10:00
AM ET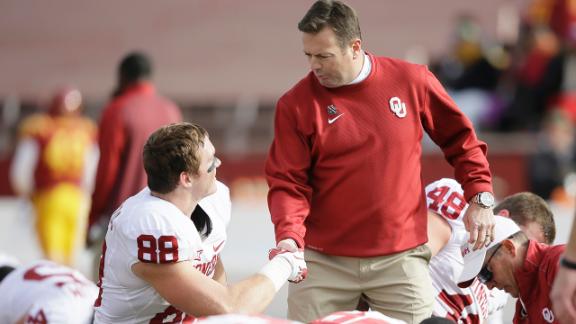 While Oklahoma picked up a junior college commit, Texas had a commit give his fans reassurance. TCU offered one of the fastest risers in recruiting, and Iowa State hosted several athletes, including one juco player who may now have the Cyclones atop his list of schools.
Here's an in-depth look on Big 12 recruiting and how the weekend fared:
To continue reading this article you must be an Insider
November, 25, 2014
Nov 25
8:30
AM ET
Let's just get this out of the way: Last week in college football was kind of dull.
Unless, that is, you're into watching the single-game FBS
rushing record fall
for the second straight Saturday. (So who breaks it this week?) Yes, last week was dull, unless, of course, you're into Florida State's
weekly high-wire act
, re-awakenings at
Arkansas
and
Minnesota
or UCLA's
continued stranglehold on Los Angeles
.
My point is, the latest set of games didn't significantly impact the College Football Playoff picture -- at least in comparison to the past few weeks. Barring some craziness at the selection-committee table, the top four on Tuesday night is going to look no different than last week's edition.
But Week 13 was simply the calm before the storm. Not so sure? Check out first nine paragraphs Gene Wojciechowski's
BMOC column
. The rocky road to Dec. 9 is enough to make a fan of any playoff contender choke on his or her turkey dinner.
And it starts in two days.
To continue reading this article you must be an Insider
November, 24, 2014
Nov 24
11:00
PM ET
Malik Jefferson
reduced his list to seven schools on Monday, and though the list is hardly a surprise, recruiters think there are still some in store with the No. 35 player in the country.
To continue reading this article you must be an Insider
November, 24, 2014
Nov 24
4:00
PM ET
A glance at the names looking up at
Samaje Perine
in Oklahoma's record book reveals just how special the performance was:
Billy Sims. Joe Washington. Marcus DuPree. Greg Pruitt. Adrian Peterson.
OU has produced a laundry list of elite running backs, but none of them have been able to match the 427 rushing yards Perine produced in the Sooners 44-7 win against Kansas on Saturday. In fact, nobody has.
[+] Enlarge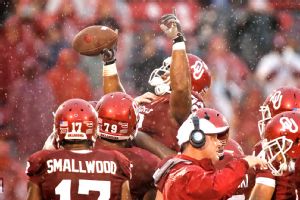 Brett Deering/Getty ImagesSamaje Perine's were ecstatic when he broke the NCAA single-game rushing record with 427 yards against Kansas.
Perine broke the week-old FBS single-game rushing record of Wisconsin's
Melvin Gordon
with his career-high rushing performance. The Sooners running back finished with 34 carries for 427 yards and five touchdowns and added one reception for 19 yards as Oklahoma rolled to victory.
"It's a very unique moment," running backs coach Cale Gundy said. "As (OU athletic director) Joe Castiglione said earlier, think about all the great running backs that have played this game. We jumped on his back and let him do his thing."
The true freshman got the headlines, even if he didn't want them, but his teammates wanted the record as much, if not more, than he did.
And they showed it. On and off the field.
On the field, Oklahoma's offensive line, along with fullbacks
Aaron Ripkowski
and
Dimitri Flowers
, were happy to pave the way for Perine's big day. The Sooners imposed their will in the trenches with 341 of Perine's 427 rushing yards coming between the tackles, according to ESPN Stats and Information. He averaged 12.1 yards per carry and scored four of his five touchdowns on rushes between the tackles.
Off the field, the Sooners blockers were tracking Perine's progress, with an eye on creating history. Perine was fine with leaving the game to let other Sooners' running backs shine. Oklahoma's offensive line was not.
"We were just counting down, we were definitely completely aware of what was going on," center
Ty Darlington
said. "We said 'he's staying in.' We wanted that thing about as much as he did. We wanted it for him."
Since Day 1 on campus, people have gravitated to the humble Perine. His drive to be great is only topped by his desire to share the spotlight.
"I think it's a reflection of how much they respect him, of the person that he is," Gundy said. "The day after he rushed for 242 yards at West Virginia, he was in here buying pizzas for the offensive linemen. I've never had anyone do that around here."
Perine's traits have combined to create games like Saturday, which was the third game of at least 200 rushing yards in Perine's young career, joining his 242 yards against West Virginia and 213 yards against Texas Tech. His teammates love to see him do well, and he loves to do well for them.
"I think it's a reflection of how close we are as a team," Ripkowski said. "Everyone wants to see everyone do well. Nobody on the team is about (themselves). Everybody pushes for everyone to do their job. Everyone just gets excited when someone excels in their job."
When Perine looks at his 1,428 rushing yards and 19 touchdowns during his first collegiate season, he just shrugs it off as simply doing his job. When Ripkowski and the offensive line look at the same numbers, they are beaming with pride.
"We all feed off it, and that's what we work for during the week," Ripkowski said. "The offensive line and all these blockers have a sense of pride when we put those numbers up."
November, 24, 2014
Nov 24
2:30
PM ET
Here's what's been cooking on the recruiting trail in the last week around the Big 12:
BAYLOR
Total commits:
13
ESPN 300 commits:
3
The latest:
Baylor had a big weekend, hosting a pair of its 2016 commits in four-star running back
Kameron Martin
and four-star receiver
Tren'Davian Dickson
. 2015 ESPN 300 wideout
Devontre Stricklin
was in McLane Stadium for the Oklahoma State game as well. The Bears also bolstered their trenches for 2015 by snagging a commitment from 6-foot-7, 300-pound City College of San Francisco offensive tackle
Dominic Desouza
, who had offers from Big 12 foes Oklahoma State, TCU and Kansas.
IOWA STATE
Total commits:
11
ESPN 300 commits:
0
The latest:
Copiah-Lincoln (Miss.) Community College defensive tackle
Demond Tucker
visited Iowa State over the weekend. Tucker holds offers from Ole Miss, Mississippi State, Texas A&M, Arizona State and Big 12 rival Kansas State. He would be a huge pickup for the Cyclones, who badly need to fortify their defensive line.
KANSAS
Total commits:
13
ESPN 300 commits:
0
The latest:
The Jayhawks are in a battle with Minnesota for three-star Kansas City, Kansas, inside linebacker
Colton Beebe
. Two weekends ago, Beebe visited Minnesota, and though he's visited Kansas unofficially several times, Beebe has indicated he will set an official visit with the Jayhawks after they name a head coach.
KANSAS STATE
Total commits
: 13
ESPN 300 commits:
0
The latest:
The Wildcats have a big visit coming up this weekend in junior-college wideout DeDe Westbrook, who was at Oklahoma this past weekend and Oklahoma State the weekend before that. With Tyler Lockett and Curry Sexton both set to graduate, Westbrook would fill a big firepower void at receiver for K-State.
OKLAHOMA
Total commits:
15
ESPN 300 commits:
6
The latest:
The Sooners got some much needed junior college cornerback help with
William Johnson
of Rochester (N.Y.) Monroe Community College committing after visiting Norman over the weekend. Oklahoma, however, missed out on one of its top targets, as 4-star defensive end
Keisean Lucier-South
stayed in state and committed to UCLA on Sunday.
OKLAHOMA STATE
Total commits:
13
ESPN 300 commits:
3
The latest
: Oklahoma State had a tough week on the trail, as the Cowboys parted ways from ESPN 300 cornerback
Jaylon Lane
after he was arrested. Earlier in the week, three-star safety
Kenneth McGruder
decommitted from the Pokes and reopened his recruitment. Oklahoma State turned McGruder's spot into a commitment from Kilgore Junior College safety
Jordan Burton
, who had previously been committed to Memphis.
TCU
Total commits:
17
ESPN 300 commits:
0
The latest:
TCU remains in the mix for the top wide receiver in Texas in Cedar Hill's
DaMarkus Lodge
. The former Texas A&M commit is also looking at Baylor, Ole Miss, LSU and USC and might not pick a school until signing day. The way the Horned Frogs have been throwing the ball around this season hasn't hurt their chances with Lodge.
TEXAS
Total commits:
19
ESPN 300 commits:
9
The latest:
Cistercian (Irving, Texas) quarterback
Matthew Merrick
committed to Texas, but will grayshirt and delay his enrollment by a year. Merrick had offers from Colorado State and Nevada. Merrick would give the Longhorns a fourth quarterback for 2016, along with starter Tyrone Swoopes, redshirting freshman Jerrod Heard and incoming freshman
Zach Gentry
.
TEXAS TECH
Total commits:
14
ESPN 300 commits
: 5
The latest:
After missing the last month with a broken hand, Texas Tech QB commitment
Jarrett Stidham
returned with a vengeance Saturday, throwing for 318 yards, rushing for 193 and accounting for nine touchdowns in leading Stephenville to a 69-60 win over Estacado in a playoff game.
WEST VIRGINIA
Total commits:
22
ESPN 300 commits
: 3
The latest:
Former Iowa State defensive end commit
Larry Jefferson
could be on the cusp of pledging with the Mountaineers. His Itawamba (Miss.) Community College defensive end teammate
Xavier Pegues
has already made that switch, and the two have indicated they want to continue playing together.
November, 24, 2014
Nov 24
1:57
PM ET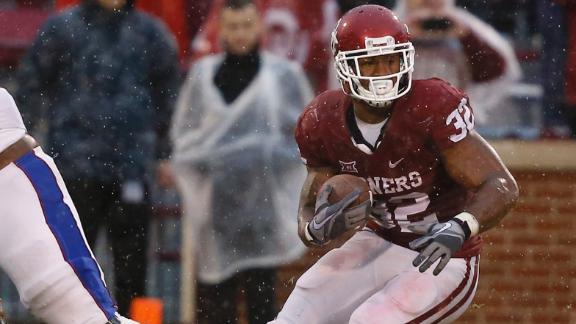 NORMAN, Okla. -- Not long after Oklahoma running back Samaje Perine broke Melvin Gordon's FBS single-game rushing record, Perine heard from the Wisconsin star over Twitter.
"He sent me a direct message, saying congratulations," Perine said. "We then joked around a little bit back and forth."
Just one week after Gordon broke LaDainian Tomlinson's 15-year-old FBS record for rushing yards in a game with 408, Perine rewrote the record book again Saturday with 427 yards in Oklahoma's 44-7 rout of Kansas.
"It lasted so short, but I congratulated him and just told him there's going to be pressure that comes with that," Gordon said. "People are going to look for, every game, they're going to look for you to be explosive and make plays. And I just told him that, 'Don't worry about that too much. Don't worry about the media and the expectations because the expectations are going to be high for you and all eyes are going to be on you.' ...
Impact Performance Winner
BIG 12 SCOREBOARD
Thursday, 11/27
Saturday, 11/29