December, 8, 2013
Dec 8
12:41
AM ET
The BCS bowl matchups won't be announced until Sunday night, but we can give our best projection now of what those matchups will be.
Here is how we think things will shake out for each of the five BCS games, including a look at what variables are still in play for each.
VIZIO BCS National Championship
Projected matchup: Florida State Seminoles versus Auburn Tigers
To continue reading this article you must be an Insider
December, 7, 2013
Dec 7
7:24
PM ET
STILLWATER, Okla. -- The ground rumbled and the frozen earth quaked.
And even though the ending was seismic, the result was not.
[+] Enlarge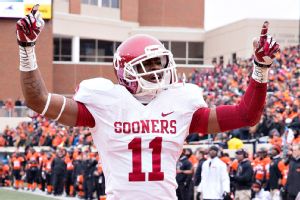 Richard Rowe/USA TODAY SportsOklahoma State again had to watch the Sooners celebrate a Bedlam win.
Yet again, Oklahoma ripped the heart out of its in-state rival.
Another phenomenal Bedlam victory for the Sooners. Another catastrophic Bedlam loss for the Cowboys.
Despite shuffling through three quarterbacks and not scoring an offensive touchdown until the final 19 seconds, Oklahoma ruined Oklahoma State's Big 12 title and BCS-bowl hopes with a
33-24
victory Saturday.
"The feeling in the locker room is a bad feeling right now," Oklahoma State running back
Desmond Roland
said. "We had it right on the line, and we couldn't finish it."
This one, however, was most disastrous in a long line of Bedlam disappointments for the Cowboys.
Oklahoma State had everything on the line this time.
A chance for its second Big 12 title in three years.
A chance at a top-five finish and a Fiesta Bowl berth.
And, perhaps most important, as a double-digit Bedlam favorite for the first time since Vegas began keeping track, the most golden of opportunities at home to send a message that Oklahoma State was finally on equal ground with the Sooners.
Instead, Oklahoma downed the Cowboys in the final seconds for the third time in the past four years.
"A tough one to swallow," Oklahoma State linebacker
Caleb Lavey
said.
Maybe the fact a magnitude-4.5 earthquake struck Boone Pickens Stadium just as the Cowboys were attempting a second-quarter field goal should have been a sign.
Ben Grogan
made the kick. But fate, yet again in this rivalry, would not be wearing orange.
With starting quarterback
Trevor Knight
out and backup
Kendal Thompson
erratic,
Blake Bell
returned from his sarcophagus to lead the Sooners on a game-winning touchdown drive in the final two minutes, capped by a 7-yard scoring strike to
Jalen Saunders
in the corner of the end zone with 19 seconds remaining.
It was Oklahoma's first offensive touchdown of the game.
And it was the only one the Sooners would need, as linebacker
Eric Striker
delivered the exclamation point by scooping up a fumble and returning it for a touchdown as time expired.
"We like to have the pressure on us, the defense," Lavey said. "That's something you wish you could have back. But that's not gonna happen."
The Cowboys would like to have several plays back.
On their first from scrimmage, Roland broke free around the edge for an apparent 75-yard touchdown. But wideout
Charlie Moore
was flagged for holding, and the play was called back.
"We didn't look like the normal Oklahoma State offense," Roland said. "We moved the ball the whole game, but we couldn't capitalize. I feel like we could have put up more points than we did."
The Cowboys entered Bedlam red-hot offensively, especially quarterback
Clint Chelf
, who had the highest QBR of any signal-caller in the nation in the month of November. But in sub-10-degree temperatures, Chelf lost his rhythm. And he completed just 2 of 10 passes on third down without a conversion against Oklahoma, causing several promising drives to stall out.
"Our mental focus just wasn't there," Roland said.
[+] Enlarge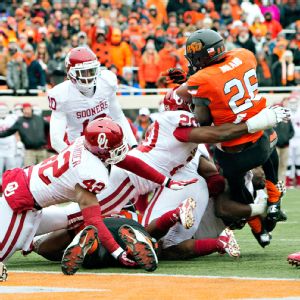 Richard Rowe/USA TODAY SportsThe Sooners' defense and special teams kept Oklahoma in the game.
Eventually, the Sooners took advantage.
Later in the first quarter, with Oklahoma State up 7-0 and seemingly in control, Saunders, who sparked Oklahoma's fourth-quarter comeback last season with a punt-return touchdown, weaved through defenders before dashing right for a 64-yard punt-return score.
In the third quarter, Oklahoma State regained control. With Knight out with a separated non-throwing shoulder, the Sooners failed to get a first down their first four drives of the half. And when Chelf hit a wide-open Roland for a 15-yard wheel-route touchdown, it looked as if the Cowboys would finally put the game away.
Instead, the Sooners answered again with a 37-yard reverse from Saunders, who took the ball to the Oklahoma State 7. After the drive stalled, Bob Stoops called his first successful fake field goal in 11 years, and holder
Grant Bothun
flicked the ball on the run to place-kicker
Michael Hunnicutt
for a touchdown to again tie the game.
"Did Bob make some great calls? You bet," Oklahoma State coach Mike Gundy said of his counterpart. "We lost the kicking game. When you do that, it's always tough to win."
The Cowboys, as they have five other times in Bedlam since 2000, lost the final two minutes, too. Ultimately dooming them again.
After going up 24-20 on Roland's 1-yard touchdown plunge with 1:46 remaining, all the Big 12's best defense had to do was keep Oklahoma's third-string quarterback out of the end zone.
Instead, Bell came alive. He found
Sterling Shepard
for two big pass plays, then forced a defensive pass interference.
For a moment, it looked as if Oklahoma State had made the winning play that had eluded the program in Bedlam for so many years.
Justin Gilbert
appeared to come down with an interception, but the ball popped out at the last moment, and Gundy didn't challenge the incompletion.
Five plays later, Oklahoma did what it's usually done to the Cowboys.
"It hurts," said Oklahoma State cornerback
Kevin Peterson
, who originally committed to the Sooners coming out of high school.
"Feels like a missed opportunity."
Oklahoma State's biggest Bedlam miss yet.
December, 7, 2013
Dec 7
6:40
PM ET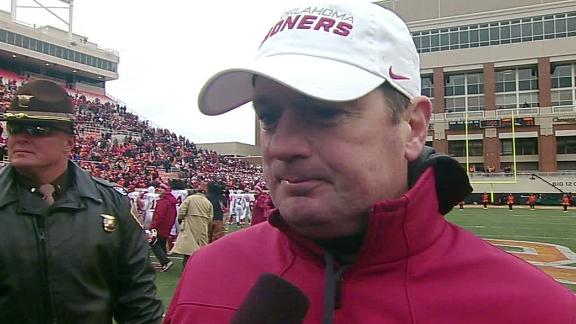 STILLWATER, Okla. -- Oklahoma just found a way.
That explains the Sooners'
33-24
Bedlam win over Oklahoma State at Boone Pickens Stadium on Saturday.
Yet, it might more aptly sum up the Sooners' season.
[+] Enlarge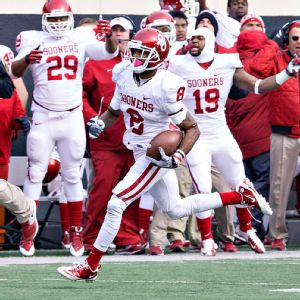 Richard Rowe/USA TODAY SportsOklahoma got two big scores from Jalen Saunders to upset Oklahoma State.
OU scored touchdowns on a fake field goal and punt return before
Blake Bell
, the third Sooners quarterback to enter the game, led OU down the field with less than two minutes left in regulation for a game-winning touchdown drive that destroyed the Cowboys' dreams and could catapult the Sooners into a BCS berth.
"'Big Game' Bob must be back," OU defensive coordinator Mike Stoops quipped of his brother and boss.
Bell, who came in to run the Sooners offense for the majority of the second half after
Trevor Knight
was injured in the first half and
Kendal Thompson
was ineffective, took his game to another level when he stepped on the chilly turf with 1 minute, 46 seconds remaining in the fourth quarter and his team trailing 24-20. The junior completed 4 of 7 passes on the final drive before connecting with receiver
Jalen Saunders
for a 7-yard touchdown with 19 seconds left. And he did it after having very limited practice repetitions heading into Saturday because Oklahoma planned to use a lot of the quarterback run game, the system within which Knight and Thompson are supposed to excel.
"I'm still in shock of the whole deal," said Bell, who finished 10-of-16 for 140 yards and one touchdown. "That was everyone being out there, doing their job and marching down the field and getting the game-winning drive."
It was a measure of redemption for Bell, who had been up and down this season but played like an elite quarterback with his team's back against the wall. His response to being the third signal-caller to take a snap during the game was the perfect portrayal of how the entire Sooners squad has responded to adversity throughout the season.
For this Oklahoma outfit to finish 10-2 makes it easily one of the best coaching jobs of Bob Stoops' career. Scheme changes and the lack of a reliable quarterback hindered the offense. And a seemingly endless string of injuries saw the defense's starting lineup crippled.
Yet OU kept winning.
"We had some adversity but the guys kept going," Bob Stoops said. "Nobody flinched, nobody said anything about it and everybody just kept working."
During the course of the season, OU lost three of its top players -- fullback
Trey Millard
, linebacker
Corey Nelson
and defensive tackle
Jordan Phillips
-- for the season and dealt with various injuries that forced other starters to miss games during conference play.
None of that adversity, however, kept Sooners from loading their buses and heading back to Norman with a victory over a Cowboys team that had played the best football in the Big 12 since November.
"It shows a lot of toughness on the players' part to continue to battle back," said Bob Stoops, who likened this season to the Sooners' injury-riddled 2009 campaign.
The difference? OU finished 8-5 in 2009, which is the last time it didn't win 10 games in a season. This year's group won 10 games in the regular season and could secure its first 11-win season since 2010 with a bowl victory.
"Another disappointing 10-win season at Oklahoma," center
Gabe Ikard
said. "Some people didn't think we were going to be very good, it's a rebounding year, you heard a lot of that before the season. So to win 10 games this season, I'm really proud of the coaches and players on this team to get us to this point."
It was an improbable season capped off by an improbable win led by an improbable hero in Bell. The only consistent thing was the Sooners' ability to find a way to get it done, no matter what obstacles dropped into their path.
"With our inexperience, our youth, our changing of quarterbacks, we played three quarterbacks today," Mike Stoops said. "We're still consistently good, all the way through. When you look at the totality of what we had to go through, we're moving in a very positive direction."
And still among the best the Big 12 has to offer.
December, 7, 2013
Dec 7
6:35
PM ET
Associated Press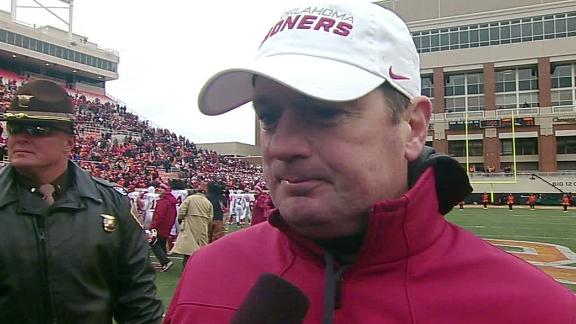 STILLWATER, Okla. -- Oklahoma players say they were unaware of an earthquake that happened during the second quarter of the No. 18 Sooners' 33-24 victory over Oklahoma State.
The U.S. Geological Survey recorded a 4.5 magnitude earthquake in central Oklahoma at 12:10 p.m. Saturday near Arcadia, about 7 miles east of Edmond and about 14 miles northeast of Oklahoma City.
It occurred about the time Sooners' kicker Michael Hunnicutt kicked a 21-yard field goal in the second quarter of the win over the No. 6 Cowboys (10-2, 7-2 Big 12 Conference).
Hunnicutt says he didn't know about the earthquake and didn't feel it, while Oklahoma (10-2, 7-2) wide receiver Sterling Shepard says if he felt anything, he likely thought it was the result of the 58,520 in attendance in Boone Pickens Stadium.
December, 7, 2013
Dec 7
3:57
PM ET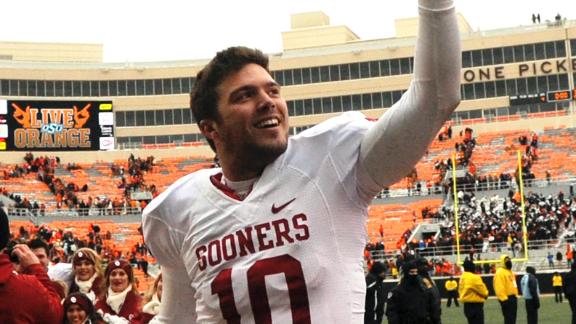 Oklahoma knocked off Oklahoma State
33-24
at Boone Pickens Stadium on Saturday. Here's how it happened:


It was over when:
Blake Bell
lofted a perfect pass to
Jalen Saunders
for a 7-yard touchdown with 19 seconds left in the game. It capped an eight-play, 66-yard game-winning drive, although the Sooners added a touchdown as the clock ran out, when OSU's last-ditch attempt at laterals ended with a fumble return for a touchdown by
Eric Striker
.
Game ball goes to:
Bell. The junior was outstanding on OU's final drive. He stepped up when it mattered, going 5-of-8 on the final drive and finding Saunders. Bell finished 10-of-16 for 140 yards and one touchdown after
Trevor Knight
did not return after halftime
because of a hand injury
.
Unsung hero of the game:
Saunders caught the game-winning touchdown and had a 64-yard, momentum-changing punt return for a touchdown in the first quarter.
Best call:
The Sooners had several terrific play calls in the game, but the best was a fake field goal that resulted in an 8-yard touchdown catch by kicker
Michael Hunnicutt
in the third quarter.
What it means:
Baylor and Texas are playing for the outright Big 12 championship later Saturday, and Oklahoma has a legitimate chance to earn a BCS berth after this win. The Sooners also ruined the BCS hopes of their rivals from Stillwater with the upset.
Oklahoma vs Oklahoma State Highlight