July, 30, 2014
Jul 30
9:30
AM ET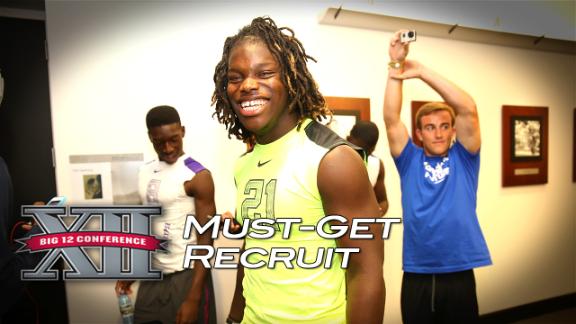 With the Big 12 football season kicking off in a few weeks, college recruits will be focused on setting up official visits and also narrowing their college lists in preparation for a commitment. As important as this time will be for recruits, it'll be equally important for schools, as they prepare for a season that, with solid performances in home-game environments, can assist in landing some of the best uncommitted prospects around.
Here are some names that the Big 12 schools will be pursuing throughout the fall.
July, 30, 2014
Jul 30
9:00
AM ET
With the season just a month away, we're taking this week
to rank the Top 25 players in the Big 12
.
This is a ranking of who we're projecting the best 25 players will be in 2014.
Today, we continue with Nos. 15-11, which include a pair of budding quarterbacks:
15. Malcom Brown, DT, Texas:
The Longhorns' 6-foot-4, 305-pound run-stuffer might have as much NFL upside as any player in the league. The former blue-chip recruit had a breakout season as a sophomore in 2013 with 68 tackles, including 12 for loss. If Brown continues to develop he could become one of the most menacing defensive players in the league.
14. Sam Carter, SS, TCU:
Jason Verrett
and
Devonte Fields
have overshadowed Carter the past two years. But with Verrett gone and Fields' TCU future in limbo, Carter will be the cornerstone of one of the best defenses in the conference. Carter has nine interceptions the past two years, the most of any returning Big 12 player.
13. B.J. Finney, C, Kansas State:
Nobody in the Big 12 has more offensive line starts than Finney, who has 39 in three years. Not only has Finney been a starter for seemingly forever, he's been a stalwart for Bill Snyder in the trenches. Finney is a two-time first-team All-Big 12 selection, and was voted on the preseason all-conference squad for 2014. With Finney manning center, the Wildcats have compiled a sparkling three-year record of 29-10.
12. Trevor Knight, QB, Oklahoma:
This might be our most controversial selection so far. But we're believers in Knight, who was nothing short of spectacular quarterbacking the Sooners to the 45-31 win over Alabama in January. Knight struggled with his passing accuracy and his health early on as a redshirt freshman. And sure, he's started and finished only three games in his career. But Knight was also terrific in a late-season win at Kansas State. We don't think the Alabama performance was a one-hit wonder. We think it was a sign of more to come.
11. Davis Webb, QB, Texas Tech:
Webb gets the slight nod over Knight, due to a more impressive spring. As good as Knight was in the Sugar Bowl, Webb was just as impressive leading Texas Tech to the upset win over Arizona State in the National University Holiday Bowl. Including that bowl game and Tech's three open spring scrimmages, the rising sophomore tossed 17 touchdowns with no interceptions. He also showed more zip on his throws in the spring after adding 15 pounds of muscle during the offseason. Tech's defense remains a question. But Kliff Kingsbury's passing offense should be prolific thanks to Webb's rapid development.
Coming Thursday:
Nos. 10-6 ...
July, 29, 2014
Jul 29
3:00
PM ET
The initial response to the preseason poll tells the tale.
Baylor quarterback
Bryce Petty
, receiver
Antwan Goodley
, linebacker
Bryce Hager
and defensive end
Shawn Oakman
weren't exactly thrilled to see Oklahoma atop the Big 12 preseason poll with the Bears sitting at No. 2.
Oakman: "Same ol, same ol."
Goodley: "I couldn't believe it."
Petty: "Let's go, that's all I can say."
Hager: "Just another thing to motivate us."

These are the same players that handed the Sooners a 41-12 defeat in Waco, Texas a year ago, making their displeasure very easy to understand.
"We beat them last season and won the Big 12," Hager said. "So that is just another motivation heading into this season."
All four players took it as a sign they still have work to do, both on the field and off the field.
"That's not up to us to vote, it's up to us to play," Petty said. "That tells us that we're not there yet, and that's fine with me. I don't think you're ever there. Once you think you've arrived, that's when you're in trouble."
The Sooners, with their Allstate Sugar Bowl win over Alabama, carried more momentum into the offseason while the Bears stumbled into the offseason after a Tostitos Fiesta Bowl loss to Central Florida. OU's win helped cement Bob Stoops program in the national spotlight during the offseason while Baylor got overshadowed.
"They deserve it, they beat a good football team on a big stage," Goodley said. "We have no control over that. I guess we still have a lot to prove, we still don't get the respect we deserve, but we haven't been at the top that long. I feel like we're going to get there though."
Even with the feeling of disrespect helping the spur them into the preseason, the Bears understand their 2013 accomplishments mean nothing. Art Briles squad outscored opponents by 375 total points a year ago but those points don't carry over into 2014, so this season's team will still has plenty to prove. It's part of the reason the Bears still consider themselves the hunter instead of the hunted despite entering the fall as the defending Big 12 champions.
"At Baylor we've been fighting for respect," Oakman said. "One day we're going to get it, but not today."
July, 29, 2014
Jul 29
12:00
PM ET
Big 12 coaches
read mean
(well, more awkward than mean) tweets.
July, 29, 2014
Jul 29
11:00
AM ET
During the summer, ESPN.com is taking a closer look at each scholarship player on the Oklahoma Sooners' roster in our Crimson Countdown series. Each day, we analyze each player's impact on the program since arriving on campus, his potential impact this fall, and his long-term projection. Starting with No. 1 Dominique Alexander, the series follows the roster numerically through No. 98 Chuka Ndulue.
No. 76 Sam Grant, tackle, 6-foot-7, 281 pounds, sophomore
Impact thus far:
None. Grant shifted to tackle during the spring of 2014 after lining up at tight end during his first two years on campus. He redshirted in 2012 and didn't play in 2013.
Impact in 2014:
Grant's best case scenario is to provide depth behind starters
Tyrus Thompson
and
Daryl Williams
this fall. The Sooners could have an deep group at tackle with
Josiah St. John
,
Christian Daimler
and the freshman also in the mix at the position.
Long-term upside:
Even when he was lining up at tight end, blocking has always been Grant's strength. His length and physical mindset could make him an asset at the position but he will have plenty of competition at the spot and will kind of be behind the eight ball as a guy at a new position.
Evaluation grade for Grant:
C. Even though he has never played in a game despite being on campus for two years, Grant could end up being a terrific evaluation as he looked like a tight end who projected to tackle when the Sooners signed him. They gave him the chance to play tight end initially then he made the move to tackle after the 2013 season and his potential at tackle is much higher than at tight end.
Development grade for Grant:
B. Outside of just throwing Grant onto the field in short yardage or special teams to get his feet wet in 2013, there's not much else to ask from the Sooners.
July, 29, 2014
Jul 29
10:46
AM ET
[+] Enlarge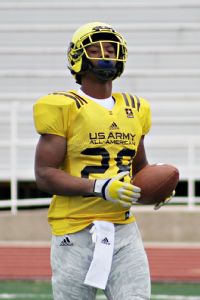 Max Olson/ESPNIncoming Oklahoma freshman running back Joe Mixon allegedly punched a 20-year-old female student, breaking four bones in her face.
Oklahoma Sooners freshman running back Joe Mixon met with police investigators Monday regarding assault allegations stemming from an altercation in Norman last week.
Mixon has not been charged with any crimes. But an Oklahoma female student claims Mixon punched her, breaking four bones in her face.
Kevin Finlay, an attorney representing Mixon, has maintained his did nothing wrong in the incident and released the following statement Monday.
"This past Friday morning Joe Mixon found himself in a situation where he was subjected to both verbal and physical attacks from a very intoxicated and troubled young woman. As a result of these physical attacks, Joe instinctually defended himself against further harm.
"As promised, Joe met with investigators from the Norman Police Department this afternoon. Throughout the meeting, Joe continued to be forthcoming and cooperative with their investigation.
"We are looking forward to a thorough investigation and are very much looking forward to the truth coming out. As we have always maintained, Joe has done nothing wrong."
July, 29, 2014
Jul 29
9:30
AM ET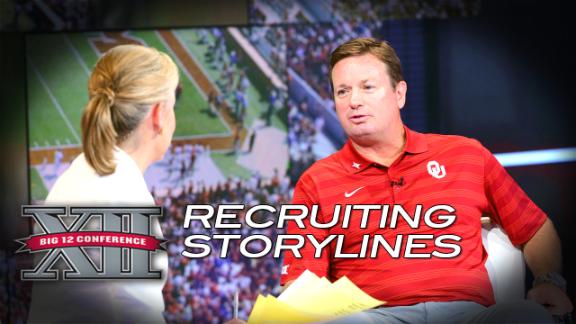 The new ESPN 300 features 22 players currently committed to Big 12 programs. Texas leads the conference race with seven commits, while Oklahoma is next with five. Texas Tech has the conference's highest-ranked ESPN 300 player in quarterback
Jarrett Stidham
, who is ranked No. 38 and is the No. 3 dual-threat quarterback in the country.
Here are five things to know in the Big 12:
To continue reading this article you must be an Insider
July, 28, 2014
Jul 28
11:38
PM ET
Oklahoma and Houston will open the 2016 college football season in the Advocare Texas Kickoff at Houston's NRG Stadium, a source told ESPN.com.
This will be the third meeting between the schools. Oklahoma won the previous two matchups, 63-14 in 2004 and 40-14 in the 1981 Sun Bowl.
July, 28, 2014
Jul 28
3:50
PM ET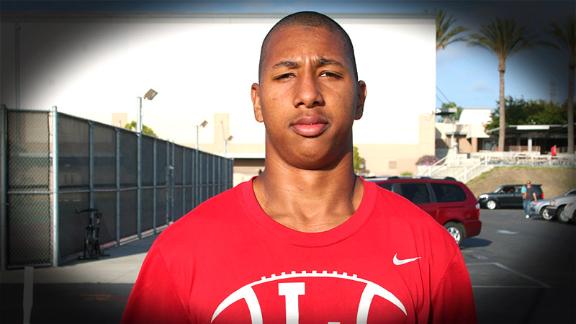 Defensive end
Keisean Lucier-South
planned to trim his considerable list of scholarship offers to a final five schools in early August, but just like he is on the field, the nation's No. 28 prospect was quick off the line, announcing his top five on Monday.
To continue reading this article you must be an Insider
July, 28, 2014
Jul 28
11:00
AM ET
During the summer, ESPN.com is taking a closer look at each scholarship player on the Oklahoma Sooners' roster in our Crimson Countdown series. Each day, we analyze each player's impact on the program since arriving on campus, his potential impact this fall, and his long-term projection. Starting with No. 1 Dominique Alexander, the series follows the roster numerically through No. 98 Chuka Ndulue.
No. 75 Tyler Evans, guard, 6-foot-5, 339 pounds, senior
Impact thus far:
Even if Evans never plays another down in crimson and cream, he's had a solid career for the Sooners. He's started 29 games during his career and has been a solid performer when healthy. He never reached all-conference status but he's been a productive contributor.
Impact in 2014:
Evans' potential impact is a definite wait-and-see scenario. He hasn't played a full season since 2011, suffering an ACL injury in 2012 and a setback with his knee in 2013. If healthy, he will bring added depth and a boatload of experience to an already-experienced offensive line.
Long term upside:
Even if healthy, he will have to fight to earn a role along the offensive line. His experience should help.
Evaluation grade for Evans:
A. He's a guy who started four games as a true freshman and locked down a starting spot as a sophomore and junior. Only injury kept him from becoming a four-year starter. A superb evaluation by the Sooners.
Development grade for Evans:
A. The Sooners recognized his ability to contribute as a true freshman immediately and didn't hesitate to throw him into the mix as he played in 11 games as a true freshman. It's rare that offensive linemen play early but Evans forced himself into the lineup and the Sooners gave him the opportunity to earn a spot.
July, 28, 2014
Jul 28
9:45
AM ET
The College Football Playoff selection committee has the unenviable task of choosing the four best teams in the country -- a difficult job, but not inconceivable.
Choosing the best 100 players in the country?
Impossible.
Yet here we are with a No. 1 just for you.
This summer, 32 writers and editors from ESPN.com narrowed down a field of 460 players representing every conference to create
#CFBrank
-- a list of the top 100 players based upon their expected contributions for this season. It was a dizzying assignment, one with no right answer or formula. There is no simple way to compare kickers and quarterbacks, or linebackers and linemen -- yet that's exactly what we did. Each player was ranked using a scale of 0 to 10 with 10 being the most valuable to his team.
Florida State
quarterback Jameis Winston would have been a 10 last season. It's a no-brainer: Heisman Trophy winner. National title. Undefeated.
A lot of talent from his supporting cast is gone this season. Still a perfect 10?
What about
Auburn
center Reese Dismukes? A Rimington Trophy finalist who helped his team to the national title game. Do you rank him a nine? Eight?
The exercise is subjective: Which positions do you value more? The linemen who are the lead blockers or Todd Gurley, a Heisman hopeful who's had 12 career 100-yard-rushing games? Do you give more credit to the quarterbacks or the defensive ends who smother them? Incoming freshmen like
LSU
running back
Leonard Fournette
, and
Michigan
cornerback
Jabrill Peppers
-- the top two players, respectively, in the 2014 recruiting class -- were also considered. Neither of them has done diddly squat at the collegiate level, but both are oozing potential and are worthy of at least a ... five? Six?
(Don't forget that the last defensive player to win the Heisman Trophy was a Michigan cornerback, too.)
Go ahead, argue among yourselves. Think you can do it better? You'll be arguing
with
yourself.
Oregon
's
Ifo Ekpre-Olomu
is an All-American cornerback whose three interceptions last season all came in the end zone. He plays for a national title contender. Is he more valuable than
Ohio State
quarterback
Braxton Miller
?
Michigan State Spartans
defensive end
Shilique Calhoun
?
Don't look for
Oklahoma
transfer receiver Dorial Green-Beckham -- Bob Stoops can't find him yet, either. Because the former Missouri star's eligibility is still uncertain, he wasn't included in the voting. These 100 spots were reserved for the players who have all but guaranteed playing time. They're for game-changers at every position -- or players we think will be.
Beauty, they say, is in the eye of the beholder. So are the top 100 players in the country. Here are the first two parts --
100-91
and
90-81
-- of #CFBrank. We will unveil the rankings in descending order every day this week.
July, 26, 2014
Jul 26
6:21
PM ET
By
ESPN.com staff
| ESPN.com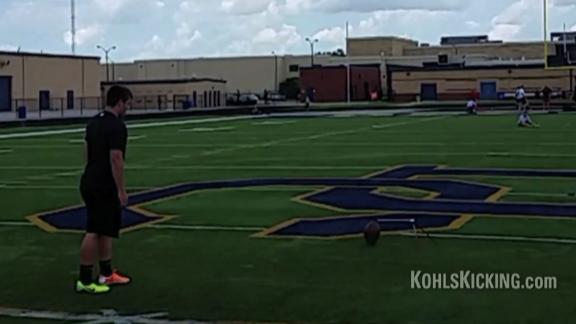 Oklahoma Sooners commit
Austin Seibert
made a 66-yard field goal to win a competition at the Kohl's 2014 Kicking Camp.
July, 26, 2014
Jul 26
4:15
PM ET
Friday, Texas A&M coach Kevin Sumlin fired back at Oklahoma coach Bob Stoops, who mocked the Aggies' nonconference schedule while at the ESPN car wash this past week.
"They have Lamar, Rice, SMU and Louisiana-Monroe," Stoops said. "Boy, those are all a bunch of toughies, right?"
According to AggieSports.com, Sumlin was asked about Stoops' comments at a fan event in Houston:
Sumlin - "Coach Stoops has the right to say whatever he wants, but if he wants to play us again we'll take him up on that."

— Aggie Sports (@Aggie_Sports) July 26, 2014
Behind Heisman winner Johnny Manziel, the Aggies hammered the Sooners in the 2012 Cotton Bowl 41-13. Sumlin actually coached under Stoops at Oklahoma until 2008.
During his Houston appearance, Sumlin also had this to say:
Sumlin said it's easy to kick a guy off the team. But in the "business of developing men."

— Aggie Sports (@Aggie_Sports) July 26, 2014
It's unclear if that was a veiled jab at the Longhorns. But this week, Texas coach Charlie Strong did dismiss six players from his team. Of course, Sumlin could have been exclusively referencing his own program. Seven Aggies players have been arrested since December.
One Thing To Know: Big 12 Recruiting
BIG 12 SCOREBOARD
Saturday, 8/30
Sunday, 8/31