March, 29, 2015
Mar 29
9:00
AM ET
NEW ORLEANS -- When you have some of the best defensive linemen in the nation in attendance at an event like the New Orleans Opening regional, you expect a lot of great one-on-one battles.
And nothing makes for better footage than watching a dominating defensive lineman go to work. Fortunately, high profile prospects like Alabama commitment
Raekwon Davis
and
Edward Oliver
did not disappoint at Saturday's camp.
March, 27, 2015
Mar 27
4:00
PM ET
In today's Twitter mailbag we discuss 400-pound tight end LaQuan McGowan, players off the radar that could become All-Big 12 selections, and the backfields at TCU and Oklahoma.
Condolences to West Virginia fans for Thursday's historical beatdown. Still, I know of eight other Big 12 fanbases that wished their teams would have advanced to the Sweet 16.
On to the 'bag:
@Jake_Trotter @Jake_Trotter if LaQuan McGowan caught the ball at full speed and Shawn Oakman tackled him head on... what would happen?

- Baylor Bearmada (@BaylorBearmada) March 26, 2015
I actually asked Seth Russell which would be worse, getting sacked by Shawn Oakman or trying to tackle McGowan. He said Oakman. I respectfully have to disagree. Oakman is a bad dude, but nobody is stopping McGowan with a head of steam, Oakman included.
@Jake_Trotter over under 5.5 players this year that avoid tackling LaQuan McGowan in the open field over concern for their individual health

- John Wheeler (@J3Wheeler) March 26, 2015
Trotter:You mean in one game? By the way, I hope you guys took time to read my McGowan piece earlier in the week. I enjoyed interviewing him. Interesting kid with a fascinating backstory.
@Jake_Trotter Which Big 12 school has the best chance at landing one of the Ohio State QB's if they decide to transfer?

- Kyle Jacobson (@_KyleJacobson) March 26, 2015
Trotter: Texas would be the most attractive destination. Any of Braxton Miller, J.T. Barrett or Cardale Jones would start with little resistance from what the Longhorns have on the roster. And Texas would be an option for any of the three for obvious reasons, including the track record of Charlie Strong and his staff working with Teddy Bridgewater at Louisville.
@Jake_Trotter How does Texas Tech fair against Arky in Fayetteville this year? Thanks!

- Jøhn L. Hawley (@JohnLHawley7) March 26, 2015
Trotter: At this moment, it's difficult to envision the game going much differently than it did last season. The addition of transfer linebacker Mike Mitchell and freshman defensive tackle Breiden Fehoko will help the run defense, and coordinator David Gibbs will have the players in the right gaps. But the Razorbacks completely mowed over the Red Raiders last season. You either have the horses or you don't, and Tech has long way to go to prove it can up its own again up front against a power-running team such as Arkansas.
@Jake_Trotter not much conference realignment talk lately, any update on possible Big12 expansion?

- Kyle Marcus (@KyleLMarcus) March 26, 2015
Trotter: No update. Carry on.
@Jake_Trotter who's ou's quarterback? Is he successful? Does the defense improve ?

- Luke Eisel (@sheepdogg92) March 26, 2015
Trotter: If I had to bet, I'd put heavy money on Baker Mayfield being the opening-day starter. There's a lot to like about Mayfield, notably his confidence and savvy. But people, notably Sooners fans, seem to forget that Mayfield really struggled against the better teams while at Texas Tech two years ago. Can OU win a Big 12 championship with Mayfield behind center? I'm not sure.
@Jake_Trotter is Keith Ford going to transfer?

- Blaine Brown (@blainebrown24) March 26, 2015
Trotter:It's a possibility. He's going to be buried on depth chart behind Samaje Perine and Joe Mixon. True freshman Rodney Anderson had been turning heads this spring, too, before he suffered an MCL sprain. Apparently, Keith Ford's sister posted something on Facebook suggesting he might transfer. But Ford was at practice this week.
@Jake_Trotter how good will TCU's backfield be next season? Shaun Nixon has awful good vision and cutting ability. And of course Aaron Green

- Steve Godich (@_CaptainCowboy) March 26, 2015
Trotter:The TCU backfield is going to be good. Aaron Green, who can reel off big plays, is an all-conference caliber talent; Shaun Nixon, meanwhile, was highly touted coming out of high school. But I don't know that it's necessary going to be markedly better than last year's group. Don't forget, B.J. Catalon was excellent before suffering the head injury.
@Jake_Trotter How many teams' QBs would you take over Sam Richardson in the B12?

- Teddy Throwsevelt (@Moldy78) March 26, 2015
Trotter:Hmm... I would definitely take Trevone Boykin, Mason Rudolph and Pat Mahomes over Sam B. Richardson. But after that, there are no slam dunks. Seth Russell obviously could have a big season, but he has only one career start. Skyler Howard is going to have to be more accurate to rank near the upper tier of Big 12 QBs. Joe Hubener has potential, but he's an unknown. I mentioned my concerns with Mayfield above. So is it unthinkable that Richardson becomes the fourth- or fifth-best QB in the league? No. He'll have good wideouts to throw to, and he has a ton of experience. The key for Richardson is health. He's been severely banged up the last two years, and when that's happened, his effectiveness has plummeted.
@Jake_Trotter off the radar player that will be an all big 12 selection on offense/defense.

- Mike G (@mikefrogit) March 26, 2015
Trotter: Not sure how off the radar you want to go, but here are a few guys who have never had any honorable-mention recognition that could be first-teamers in 2015: Oklahoma State safety Jordan Sterns, Baylor nickelback Travon Blanchard, Oklahoma center Ty Darlington, Iowa State guard Daniel Burton, Texas defensive tackle Hassan Ridgeway, Texas Tech cornerback Nigel Bethel and TCU cornerback Ranthony Texada.
@Jake_Trotter what does TCU's increasingly competitive non-con sched say about Gary's intentions for the frogs to be yearly CFP contenders?

- Luke (@lehockett) March 26, 2015
Trotter:Well, if you believe you're a big-time program that can compete with anyone, you go out and schedule the Ohio States of the world. Oklahoma has been doing it since Bob Stoops arrived, and it served the Sooners well during the BCS era. Texas has recently ramped up its scheduling as well. As a conference champ, you have to beat someone of note in the non-conference to guarantee yourself a spot in the playoff. TCU will have plenty of opportunities to do that in the coming years.
@Jake_Trotter Will Baylor beef up their OOC schedule by adding Allen High School for 2019?

- Paul (@pgdaly84) March 26, 2015
Trotter: Who didn't see that TCU fan tweet coming?
March, 27, 2015
Mar 27
9:00
AM ET
NEW ORLEANS -- Many said the absolutely loaded 2014 recruiting class in Louisiana would never be matched. Somebody forgot to tell that to the players in 2016 class. The Bayou State is again stacked, and many of those national recruits will be on display at Saturday's Nike Opening regional at Joe Brown Park. More than 20 players ranked in the ESPN Junior 300 will be in attendance, including nine of the top 20 players in Louisiana.
To continue reading this article you must be an Insider
March, 26, 2015
Mar 26
4:00
PM ET
The past two weeks, we've examined some the Big 12 players on the spot this spring. Below in our weekly roundtable, we likewise explore the Big 12 position groups that are also on the spot this spring:
What offensive position group is on the spot this spring?
Jake Trotter: Other than the quarterback derbies taking place in Norman and Austin, which will both be fascinating, I'm interested to see what happens with running back at Kansas State. The Wildcats have several viable contenders for the featured role, including returner Charles Jones, redshirt freshman Dalvin Warmack and true freshman Alex Barnes, who has enrolled early to participate in spring ball. Jones had a prime role in the K-State offense last season, scoring 13 touchdowns. But he also ranked 21st in the Big 12 in yards per carry. Warmack is an intriguing option, having rushed for more than 4,500 yards and 77 touchdowns his final two seasons of high school. Then there's Barnes, who physically looks ready to compete for time now. Whatever happens, with Jake Waters and Tyler Lockett gone, the Wildcats will need more production next season from their primary rusher.
[+] Enlarge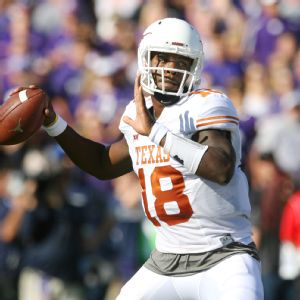 Scott Sewell-/USA TODAY SportsTyrone Swoopes has the upper hand for Texas' starting quarterback job but can he keep it?
Max Olson: Texas quarterbacks. They've been in a rough spot for a few years now, and I think there's a lot of pressure on Tyrone Swoopes and Jerrod Heard this spring. I don't doubt that Texas will pursue a transfer quarterback after spring ball as a necessary move for competition. You have to wonder how much confidence these two can inspire over the course of 15 practices. Swoopes still has the upper hand at the moment, but how much progress can he make? Can Heard grow up and catch up?
Brandon Chatmon: Someone needs to emerge among Oklahoma's receivers to help All-Big 12 candidate Sterling Shepard. There are some good candidates with Dede Westbrook, a junior college transfer, and Michiah Quick, a sophomore who should improve in Year 2, sitting atop the list. Lincoln Riley's offense should give the receivers plenty of opportunities to shine and we've seen how a system change can completely the effectiveness of a receiver.
What defensive position group is on the spot?
Trotter: I would say the Baylor secondary, except all four returning starters have been limited by injuries this spring. So I'll go with the Oklahoma secondary instead. The Sooners ranked ninth in the Big 12 in pass defense last year, and graduated a pair of starters in Julian Wilson and Quentin Hayes, leaving cornerback Zack Sanchez as the only proven performer. Former ESPN 300 signee Steven Parker could make a big jump after playing a key role as a true freshman last season. But the Sooners need some combination of Stanvon Taylor, Ahmad Thomas, Hatari Byrd, Jordan Thomas and/or junior-college transfer Will Johnson to step up, as well, in order for Oklahoma to bounce back in 2015.
Olson: Doesn't sound like TCU has found a whole lot of clarity when it comes to its two vacant linebacker spots, though I did like Gary Patterson's idea that he should start at one spot. Sammy Douglas, Paul Whitmill and Ty Summers will do a fine job, I'm sure, and I think Patterson is onto something when he mentions possibly moving a safety into the second level. But still, these are inexperienced guys taking over for senior playmakers on a team with giant expectations.
Chatmon: I agree with Max. I'm really intrigued with what is going to happen at TCU as the Horned Frogs try to replace Paul Dawson and Marcus Mallett. Dawson got most of the attention but Mallett was exceptionally productive in his own right. Finding quality linebackers could be the difference between another Big 12 title run, or even College Football Playoff run. Coach Gary Patterson has hinted the Horned Frogs will try plenty of different options including safeties in those spots.
What position group will be most improved?
Trotter: The Oklahoma State offensive line was absolutely dreadful for much of last season, before the lightbulb flickered late in the year. I'm not saying the Cowboys will now be mowing over people. But with the bulk of last year's group back, coupled with the addition of capable transfer tackles Victor Salako and Brandon Pertile, Oklahoma State should be able to build off last year's encouraging finish to field one of the league's better lines in 2015.
Olson: I think a group poised to take a big step is Texas Tech's secondary. That's a super young group and I'm interested to see how David Gibbs' teachings influence them. I look at that roster and see some talented guys like Justis Nelson, Nigel Bethel II, Tevin Madison, Jalen Barnes and Payton Hendrix who ought to develop more confidence under the guidance of Gibbs and Kevin Curtis and force more turnovers in the fall.
Chatmon: I expect Baylor's secondary to be much improved. A talented group of athletes will be a year older, a year wiser and much more comfortable as the back end of BU's defense. Not to mention it won't hurt to go against the Bears receiving corps on a regular basis. Improvement from guys like Xavien Howard, who has loads of potential, and the addition of talented newcomers such as redshirt freshman Verkedric Vaughns could help the Bears defensive backs be much better this fall.
March, 26, 2015
Mar 26
2:30
PM ET
Running back Chris Carson could hold the key to Oklahoma State's offense, wide receiver DeDe Westbrook could take Oklahoma's new spread attack to another level and defensive tackle Demond Tucker could provide much-needed strength in the middle of Iowa State's defense.
That trio is among the nine ESPN Junior College 50 recruits who signed with Big 12 schools and have the potential to become household names in the conference this fall.

Which ESPN JC 50 newcomer do you expect to have the biggest impact?
Carson was a late addition to the Cowboys' signing class as OSU looked to secure a backfield mate for quarterback Mason Rudolph. The No. 12 player in the ESPN JC 50, Carson brings good size (6-foot-2, 210 pounds) and the ability to be a workhorse for Mike Gundy's program.
Westbrook is already on campus and participating in spring drills with the Sooners. The No. 14 player in the ESPN JC 50 combines quickness and speed with good size (6-1, 175), which makes him a candidate to excel in the slot or on the outside in Lincoln Riley's offense.
Rasul Douglas will add to a talented West Virginia secondary in the summer. The No. 23 player in the ESPN JC 50 has the size (6-2, 200) and athleticism to be a versatile asset for WVU's defense, with the skills to play cornerback or safety.
Tucker was a much-needed addition for the Cyclones defense. After Iowa State struggled with its depth and production along its defensive front in 2014, Tucker is participating in ISU's spring practices with a eye on making an major impact this fall. His quickness could help him become a disruptive force for the Cyclones defense.
Five other ESPN JC 50 signees could have a similar impact in the Big 12. Cornerback Will Johnson (No. 15 in the ESPN JC 50) is already impressing during the first few practices at OU, and the Sooners secondary is looking for playmakers heading into the fall.
Offensive tackle Maurice Porter (No. 31 in the ESPN JC 50) could add additional depth for Baylor's offensive line when he arrives in the summer.
Guard Jamal Danley (No. 39 in the ESPN JC 50) is going through spring drills with OU as he battles to make an impact on a Sooners offensive line that must replace four starters.
Texas is hoping Quincy Vasser (No. 45 in the ESPN JC 50) can help lessen the loss of Cedric Reed at defensive end.
Motekiai Maile (No. 49 in the ESPN JC 50) could help replace James Castleman in the interior of OSU's defense, helping free opportunities for returning Big 12 Defensive Lineman of the Year Emmanuel Ogbah.
Who do you think will have the biggest impact? Vote now and leave a comment below.
March, 26, 2015
Mar 26
8:30
AM ET
By
ESPN.com staff
| ESPN.com
OLB Rahshaun Smith, No. 54 in the ESPN Junior 300, announced his commitment to Clemson. Watch the replay and hear why he chose the Tigers.
March, 25, 2015
Mar 25
4:15
PM ET
Fielding a strong pass defense is critical in the Big 12.
The conference is full of offenses that look to spread opponents and attack them through the air, putting pressure on defensive backs and pass rushers alike. Yet it can be difficult to measure defensive success against those offenses as passing yards per game and completion percentage can be misleading particularly on teams that feature high-scoring offenses that end up forcing opponents to throw for the majority of the game.
Passing yards per attempt is one key stat that give a good gauge of which teams have efficient pass defenses that are harder to defeat than it may appear. With the help of ESPN Stats and Information, here's a look at the Big 12 rankings in passing yards per attempt (conference games only) since TCU and West Virginia joined the conference in 2012.
[+] Enlarge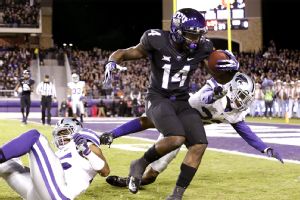 AP Photo/LM OteroThe Kansas State Wildcats have allowed only 6.7 yards per pass attempt over the past three seasons.
1. Kansas State 6.7

Summary: The Wildcats are very good at forcing offenses to take what they are willing to give. Opponents 61.5 completion percentage is ninth among Big 12 teams yet their low yards per pass attempt average is a sign they tackle well after limiting opponents to short completions. Outside of standouts Ty Zimmerman and Randall Evans, KSU doesn't tend to have superstars in the secondary but their performance as a unit is unmatched.
2. Oklahoma State 6.86

Summary: The Cowboys allow 277.85 passing yards per game but their yards per pass attempt average make them one of the Big 12's top pass defenses. OSU's up tempo, high scoring offense resulted in the defense facing a conference-high 40.52 pass attempts per game during the past three seasons. Talented defensive backs like Justin Gilbert and Kevin Peterson have helped the Cowboys withstand the barrage.
3. Texas 6.93

Summary: The Longhorns defense has been solid overall, ranking first in passing yards per game (220.3), sack percentage (8.4 percent) and touchdowns per pass attempt (3.6). A combination of talented defensive backs (Kenny Vaccaro, Quandre Diggs) and pass rushers (Jackson Jeffcoat, Alex Okafor) cemented UT's place in the top three.
4. Oklahoma 7.02

Summary: The Sooners are among the top two in passing yards allowed (241.7) and completion percentage (54.9) helping to land them a spot in the top half of the conference. Current NFLers Aaron Colvin and Tony Jefferson are among the former Sooners who made OU's pass defense one of the Big 12's better units before a disappointing 2014 season put dents in that reputation.
5. TCU 7.18

Summary: The Horned Frogs' opponent completion percentage (54.9), third-down conversion percentage (31.3) and first down per pass attempt percentage (28.8) were the best in the Big 12. But TCU's yards per completion percentage (13.57) was ninth in the conference and doomed them to a spot outside the top four despite featuring some of the Big 12's best defensive backs in Jason Verrett, Chris Hackett and Kevin White.
6. Baylor 7.39

Summary: The Bears explosive offense resulted in BU's pass defense facing 37.67 pass attempts per game which contributed to them finishing in the bottom third of the conference in passing yards per game (278.33, eighth) and third down conversion percentage (43.4, tenth). This is one element of Art Briles program that requires continued improvement if BU is going to extended its Big 12 title run.
7. Texas Tech 7.68

Summary: The Red Raiders ranked near the bottom of the Big 12 in several categories but their touchdown-to-interception percentage stands out above the crowd. Tech gave up 3.88 touchdowns per interception during this span, nearly a full touchdown worst than any other team in the Big 12. Nigel Bethel, Tevin Madison and Justis Nelson are among the young defensive backs on the roster with the talent to help turn this Red Raider trend around.
8. Iowa State 7.74

Summary: The Cyclones landed at the bottom of the Big 12 in passing yards allowed per game (292.3) and sack percentage (3) as ISU struggled to slow the pass happy attacks of the Big 12. Cornerback Nigel Tribune and safety Kamari Cotton-Moya provide hope the Cyclones can improve their pass defense in 2015.
9. West Virginia 8.21

Summary: The Mountaineers pass defense is one main reason WVU has been up and down during its first three seasons in the conference. Losing one-on-one battles and shoddy tackling have resulted in a Big 12-worst 13.92 yards per completion. Yet WVU enters the 2015 with the Big 12's best combination of talent and experience in the secondary so the Mountaineers could start to build a better reputation this fall.
10. Kansas 8.24

Summary: The Jayhawks struggled in pretty much every category, allowing opponents to complete 62.9 percent of their attempts while also allowing 35 percent of those attempts to result in first downs. A lack of sacks (3.6 sack percentage, eighth) and interceptions (2.2 interception percentage, ninth) helped cement KU's spot at the bottom of the Big 12. To make matters worse KU enters the 2015 looking to replace the bulk of its secondary including All-Big 12 cornerback JaCorey Shepherd.
March, 24, 2015
Mar 24
6:36
PM ET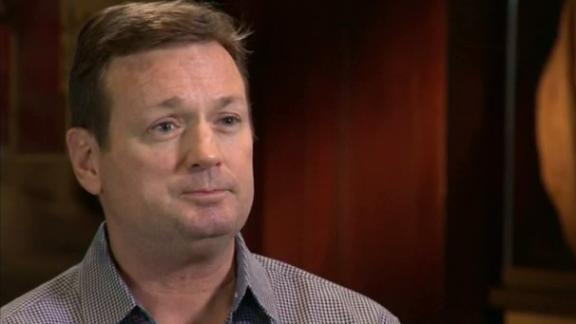 NORMAN, Okla. -- Oklahoma Sooners coach Bob Stoops says he still has a difficult time comprehending the level of racism in an OU fraternity video but now believes his program and his players might be the best option to help frame a national discussion of the issue.
"This was caught here," Stoops said Tuesday in an interview with ESPN. "I think [OU's players] realize it's everywhere. It's around the country. We happen to have it; let's try to do something with it and try to effect change. And I'm proud of the way they've done it.
"It doesn't matter if it's fair or unfair," he said. "Maybe it was brought to us -- I'm a really faithful person -- maybe we're the ones that could handle it the right way. We have a great president who acted very swiftly and strongly, that he's not going to stand for it on our campus. Our players, us as coaches and our community here, our student body got behind our players that we're not going to stand for it here.
"So maybe we were the ones to bring it more to light. Because it isn't just here in Oklahoma. It's around the country. And it needs to be stopped. And we have a strong enough voice, maybe, to step up and start having it end."
It has been nearly 2 ½ weeks since video emerged of a racist chant by fraternity members of the OU chapter of Sigma Alpha Epsilon. The fraternity has since been banished from campus, and several of its members have been expelled from the university.
Stoops has given his players considerable freedom and time to best determine how they want to respond to the recent events. At his team's request, Stoops has canceled several spring practices, joined his players in a symbolic silent protest and endorsed the Sooners' decision to wear black jerseys, shorts and shirts during the remaining days of the spring schedule. Stoops himself wore all black during Monday's practice.
March, 24, 2015
Mar 24
4:00
PM ET
Seth Russell's stellar spring scrimmage, Texas Tech's Davis Webb, and West Virginia's chances lead the mailbag. As always, thanks for your questions. To submit questions for next week's mailbag, click here.
[+] Enlarge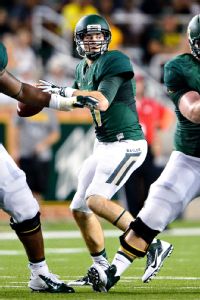 Jerome Miron/USA TODAY SportsSeth Russell's spring has given Baylor fans every reason to believe a third consecutive title is a real possibility.
Robert in Tulsa writes: How far away was Seth Russell last Friday from Baylor three-peating?
Brandon Chatmon: Russell had a terrific scrimmage for the Bears, no question about it. He left no doubt he won't give up his starting spot without a fight with 345 passing yards and four touchdowns. I think we saw the reason Baylor should be considered right alongside TCU as the favorites in the Big 12 despite losing Bryce Petty. A three-peat is a definite possibility.
Lillian in Austin, Texas, writes: If the Longhorns are able to figure out the quarterback problem, will they have a shot at the Big 12 Title?
BC: Absolutely. The Longhorns went 5-2 when ending a game with a Total QBR above 50 (which is considered average) in 2014. A good quarterback can cure a lot of ills, and the Longhorns have enough talent in their locker room to join the fight for a Big 12 title if they are getting consistent quarterback play from Tyrone Swoopes, Jerrod Heard or whoever wants to step up.
Michael in Dallas writes: True or false: Kliff Kingsbury continues to favor Davis Webb in order to try and prove that letting Baker Mayfield slip away was the right call?
BC: False. That sounds like a good way to end up searching for a new job. You can't favor anyone after a 4-8 season. To be clear, I think Patrick Mahomes should be the guy, and ultimately will be the guy, but I don't think Kingsbury should be handing out jobs to anyone, particularly a young quarterback with four starts under his belt during a bowl-less season.
Omar C. in Flower Mound, Texas, writes: Do you think it would be justifiable if NCAA mandated all Power 5 conferences to play one Power 5 and one Group 5 in their schedules to level the playing a field a little bit?
BC: First off, you're giving the NCAA more credit and power than it has. If the Power 5 conferences decided to move forward with this idea, I think it would be a good one for fans and observers alike. I'm all for anything that helps to put schedules closer to an even playing field. I don't see it happening unfortunately because it would require all of those schools to give up their power over their own schedules while risking losing money and/or games. I don't see that happening.
Lonely in Lubbock, Texas, writes: When the old Big 12 changed everyone was making a big fuss about Texas losing its second-best rival Texas A&M, but in Lubbock we lost our main and only rival. After three years of this new version, do we have any hope of finding a new rival as good as the Aggies?
BC: I'm not a big fan of creating rivalries. I like when they organically emerge. I could Oklahoma State, TCU or even West Virginia as good potential candidates. But it requires something special to happen and leave a lasting memory for a rivalry to be born. And we haven't seen that yet. I don't think you can force rivalries to happen so we might have to be patient until one develops on its own.
John Newcomb in Rochester, Pennsylvania, writes: I have to ask you, if William Crest and Dontae Thomas-Williams come out and become the starters with all the new wideouts including Ka'Raun White what levels could this team rise on defense and offense? Shot at the title in the near future?
BC: I don't see it happening. Crest may win the starting quarterback job but DTW has Rushel Shell and Wendell Smallwood ahead of him at runing back. Nonetheless, I could see the Mountaineers getting a shot at a Big 12 title as early as this fall. An efficient quarterback could make WVU the surprise of the Big 12 this fall.
Jacob Worcester in Manhattan, Kansas writes: Kyle Klein should be back from an injury, and he even started two games in 2013. What type of impact will he have when he comes back for the Snydercats?
BC: He can be an asset for the Wildcats' offense. I don't see him replacing Tyler Lockett (who can?) nor do I see him reaching the heights of older brother Collin. But he would bring experience to a relatively inexperienced receiver group.
Chris in Arden, West Virginia writes: What is your take on Joe DeForest at West Virginia?
BC: DeForest is a solid coach who seems to take a lot of undue heat from Mountaineers fans for some reason. His safeties should be among the Big 12's best with Karl Joseph and Dravon Henry leading the way and his special teams helped win games in 2014 with Josh Lambert coming up clutch several times while punter Nick O'Toole was solid. Granted the WVU punt return unit was laughable at times so his units and players aren't perfect, but whose are?
Cole in Oklahoma City writes: Will DeDe Westbrook and Joe Mixon share punt return snaps this spring ... leading in to the summer to see who is going to be returning punts for Oklahoma? Would you consider Heard to be the starting QB for Texas? Who is more of a dark horse Big 12 team?
BC: Three for one huh? Punt return duties are at the bottom of OU's priority list but Westbrook or Michiah Quick would be good candidates. I think Heard should get every opportunity to win the job, and personally think he will. West Virginia is a good dark horse team to keep an eye on, particularly if the quarterback position becomes a strength.
March, 24, 2015
Mar 24
10:00
AM ET
His world had changed in a matter of hours, and the atmosphere surrounding him had become saturated with unease and uncertainty.
Sitting in the home of Oklahoma starting center Ty Darlington, Sooners cornerback Zack Sanchez looked at teammate Eric Striker amid feelings of bewilderment.
"Bro, we committed here three years ago, who knew we would be in this position?" he pondered.
[+] Enlarge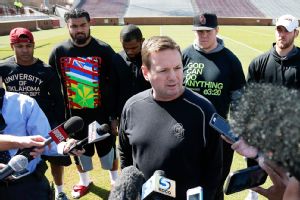 AP Photo/Sue OgrockiCoach Bob Stoops and his players say the team has become closer since a video of members of a campus fraternity participating in a racist chant went viral on March 8.
Striker, Sanchez and Darlington were among the leaders on the football team who helped to create a plan of action after a video of members of the Sigma Alpha Epsilon fraternity at the University of Oklahoma participating in a racist chant went viral March 8. Oklahoma president David Boren acted swiftly, closing the campus chapter of SAE and expelling a pair of students in the following week.
While Boren was handing out punishments, the football team was shaken and unsure about the future. Once the entire team got together in the Adrian Peterson team meeting room at the Switzer Center, the debate went on for hours with various players expressing their opinions on the subject.
"The room was very split in what was the right thing to do moving forward," Darlington said. "This almost tore us apart. Instead it really brought us together in a way that is unparalleled in my time here."
The focus became being proactive in trying to raise awareness of racism, not only at the University of Oklahoma but nationwide. You already have seen some of the ideas that were born during that debate with the Sooners' decision to postpone practice and hold demonstrations instead, along with their joint statements on social media in the week that followed the incident.
"At the end of the day, guys put away their beliefs and whatever the captains wanted to ride with, they were behind us 100 percent," Sanchez said. "I think this has made us stronger than anything could have, it's kind of a blessing the way it has bonded us."
On Monday, the Sooners returned to the practice field for the first time since their worlds were rattled. And their activism returned with them in the form of black practice jerseys, shorts and socks as they went through practice No. 2 of the spring.
"It signifies the strong message they want to send across the country," coach Bob Stoops said. "They realize this isn't just an issue on our campus, it's something they know from talking to their friends across the country, you have different incidents and hopefully it can be stopped. It's their way of putting it in people's minds."
The offense wore black jerseys and the defense wore white jerseys Monday. The plan is to switch colors between each side of the ball on a practice-by-practice basis. The Sooners also have other things planned this spring as they continue their efforts to increase awareness.
"It brings awareness about our stand for a positive change," Striker said.
After a trying few weeks, the Sooners' return to the practice field was a welcome sight. They don't want to be known as "just football players," but the lack of football left a void after postponing a pair of practices in the days following the incident, then heading to various locales for a weeklong spring break.
"It felt good being back out there with my teammates," Striker said. "I love being around my teammates, it's my family, it's like medicine being around them."
When they returned, the Sooners hit the practice field as a more unified team than ever before, ready to return to the game that brought them together as the outside world threatened to tear them apart.
"It was very important," defensive end Charles Tapper said. "We were ready to get out there and release some anger on each other. To show [we're a] brotherhood, we can fight to change the culture here and still go out on the field, is very important."
After Monday's practice, Darlington announced the Sooners plan to begin their media opportunities during the spring with a statement to raise awareness of racism with the goal of making sure the burning fire doesn't go out with time.
"We want to continue to keep it in people's minds," he said. "When these things happen people get really emotional about it for a couple of days or weeks, then the passion fades away and sometimes the change doesn't happen like you would want it to."
March, 24, 2015
Mar 24
9:00
AM ET
March, 23, 2015
Mar 23
2:30
PM ET
Spring ball rolls on and a few new commitments rolled in, too. The latest from the Big 12 on the recruiting trail:
BAYLOR

Total commits: 7
ESPN Junior 300 commits: 4
The latest: The Bears hosted a big group of recruits for its "Friday Night Lights" scrimmage, including incoming freshmen and targets from several classes. One big man on campus was ESPN 300 lineman J.P. Urquidez, a 6-foot-6, 305-pound tackle from Copperas Cove, Texas. Urquidez also visited Miami recently and has those two schools high on his list along with Texas and Oklahoma. He's expected to make his decision this spring.
IOWA STATE

Total commits: 0

ESPN Junior 300 commits: 0

The latest: The Cyclones still have not landed a commitment for 2016. They do continue to pursue defensive end Noah Fant, though that's getting more challenging. The defensive end out of Omaha, Nebraska, recently took an unofficial visit to Nebraska and is expected to check out Purdue next. Getting him in for ISU's junior day was a good move, but Fant is drawing more and more interest these days.
KANSAS

Total commits: 1
ESPN Junior 300 commits: 0

The latest: Kansas could face an interesting battle for offensive lineman Chris Hughes of Harker Heights, Texas. He's been offered by KU, North Texas and now Texas Tech, and you wonder if his stock will rise this spring. The younger brother of Texas players Naashon Hughes and Camrhon Hughes is 6-foot-3 and 260 pounds, but doesn't hold an offer from the Longhorns yet. Can KU fight to steal him from the state of Texas?
KANSAS STATE

Total commits: 1
ESPN Junior 300 commits: 0
The latest: The Wildcats lost a big-time commit over the weekend when defensive end Xavier Kelly elected to reopen his recruitment. Kelly, whose stock has been on the rise this spring, had committed to KSU back in November but is reportedly focusing on Michigan, Oregon and TCU at the moment. He checked in at 6-foot-6 and 230 pounds with a 4.55-second 40-yard dash at The Opening regional camp in Arlington, Texas.
OKLAHOMA

Total commits: 3
ESPN Junior 300 commits: 0
The latest: The Sooners got one of the nation's best running back recruits on campus. ESPN 300 running back Devwah Whaley, the nation's No. 34 recruit, took an unofficial visit to Norman over the weekend. Texas A&M is presumed to be the frontrunner for Whaley at the moment, but OU is right there in the mix along with Texas, Georgia and several other programs.
OKLAHOMA STATE

Total commits: 3
ESPN Junior 300 commits: 0
The latest: Who might Oklahoma State take at quarterback for 2016? The favorite sure seems to be Nick Starkel, a 6-foot-3, 175-pound passer from Argyle, Texas. Though his only FBS offers are from Oklahoma State and Old Dominion, Starkel had a good showing at his Elite 11 tryout in Dallas earlier this month and is expected to visit Stillwater again at the end of the month.
TCU

Total commits: 8
ESPN Junior 300 commits: 3
The latest: The Horned Frogs' first commit for 2017 is in the books: Roshauud Paul. The athlete from Bremond, Texas, pulled the trigger on a commitment last Tuesday and is being recruited as a receiver/corner. As a sophomore, he helped lead Bremond to a Class 2A state title as a quarterback with more than 3,200 total yards and 40 TDs.
TEXAS

Total commits: 4
ESPN Junior 300 commits: 3
The latest: Texas actually has five pledges for 2016, as quarterback Matthew Merrick will grayshirt and enroll next spring. That's his final decision after several schools (led by Florida) pushed hard following signing day to flip Merrick and get him enrolled in the fall. Merrick and ESPN 300 commit Shane Buechele both are expected to arrive in Austin in January. Merrick has a big arm and will be a nice development prospect.
TEXAS TECH

Total commits: 3
ESPN Junior 300 commits: 0
The latest: Texas Tech's staff landed a good one in Donte Coleman. The tight end from West Mesquite High in Texas turned down a dozen other good offers to pick the Red Raiders on Saturday. Coleman, who hauled in four TDs as a junior, could be a matchup nightmare in Tech's scheme at 6-4 and 220 pounds.
WEST VIRGINIA

Total commits: 7
ESPN Junior 300 commits: 0
The latest: West Virginia's newest pledge came from Zach Sandwisch of Toledo, Ohio, an outside linebacker who likes how he'll fit in the Mountaineers' defensive plans. Sandwich racked up 80 tackles in 10 games while helping lead Central Catholic to a state title as a junior. He took visits to West Virginia, Indiana, Toledo and Bowling Green before reaching his decision last week.
March, 20, 2015
Mar 20
4:00
PM ET
Thursday wasn't pretty for Big 12 basketball. Never fear, I'm here to put ailing minds back on football. In Friday's Twitter mailbag, we discuss a potential undefeated Revivalry showdown, Texas Tech's underrated offensive weapon, and whether Baker Mayfield will win the starting QB job in Norman.
On to the 'Bag:
@Jake_Trotter who's gonna have the most explosive offense and who's gonna be the surprise defense this year ?

- E (@Vandeezal) March 20, 2015
Trotter: The easy answer on offense is either TCU or Baylor or both. The Horned Frogs return 10 starters off an attack that ranked second in the country (behind Baylor). Quarterback is the only real question in Waco, and the early returns on Seth Russell this spring have been good. Defensively, keep an eye on Oklahoma State. The Cowboys will have four cornerbacks who can really play. Jordan Sterns is an All-Big 12-caliber safety. The linebacking corps will be the deepest of the Mike Gundy era. And Emmanuel Ogbah is the reigning Big 12 Defensive Lineman of the Year.
@Jake_Trotter Would you be surprised if Baker Mayfield didn't win the starting job at OU? I'd be a bit worried if he didn't run away with it

- Tommy James (@Thomasthejames) March 20, 2015
Trotter: At this point, I'd be surprised. A lot can happen this spring. But the Sooners got a long look at Trevor Knight and Cody Thomas last year, and it was very evident that neither was the answer, at least in their 2014 form. Given his time at Texas Tech and his skill set, Mayfield is also a better fit for the air raid offense that new coordinator Lincoln Riley is installing. Knight could get another shot if Mayfield struggled next season. But my money would be on Mayfield opening the year as the starter.
@Jake_Trotter If Baylor and TCU are undefeated come 11-27-15 will this be biggest game in FW since TCU SMU 1935?

- Geoffrey Mitchell (@geoffmitchell) March 20, 2015
Trotter: You forced me to look up that 1935 Iron Skillet showdown. That was a big one, considering both the Frogs and Ponies were undefeated. But a "Revivalry" featuring an unbeaten TCU and Baylor would be monstrous. The winner would be all but guaranteed a spot in the playoff. I feel pretty comfortable in saying that would constitute the biggest college football game in Fort Worth history.
@Jake_Trotter @ESPN_Big12 What do you expect out of West Virginia this year?

- WVU Mountaineers (@I_hate_pitt) March 20, 2015
Trotter: I expect a step back offensively. But maybe a step forward on defense. It would be almost impossible for any offense to immediately replace the production that Kevin White, Mario Alford and Clint Trickett supplied last year. The Mountaineers also have some retooling to do on the offensive line. Even in a best-case scenario, it's hard to see the Mountaineers being close to as explosive as they were last year. That said, West Virginia could have the league's top secondary with Karl Joseph, Dravon Henry and Daryl Worley. The linebackers have experience. And though pass rush is a concern, this has a chance to be West Virginia's best defense in years. Will that be a net plus given the losses on offense? Probably not. But the possibility is there.
@Jake_Trotter is DeAndre Washington the most underrated RB in the big 12 ? I didn't see you mention him in your RB preview...

- Randy Cody (@ttumatador1) March 20, 2015
Trotter: I'm not sure what preview you're referring to, but Washington definitely gets overlooked, due to Tech's overall struggles last year. But he's a dynamic all-around back, who can reel off big plays and inflict damage as a pass-catcher out of the backfield. This is one of the league's better offensive players. With more consistent quarterbacking in front of him, he could have a huge 2015 season.
Stoops, Players Want To Effect Change
BIG 12 SCOREBOARD
Thursday, 9/3
Friday, 9/4
Saturday, 9/5