October, 30, 2014
Oct 30
11:00
PM ET
About this time of year coaches scour junior college ranks for offensive line talent, and thathas helped
Tyler Howell
become one of hottest targets around. Plus, is Clemson in danger of losing ESPN 300 commitment
Juwuan Briscoe
?
October, 30, 2014
Oct 30
1:30
PM ET
A closer look at eight players who have a chance to shine this week:
TCU WR Emanuel Porter:
If
Josh Doctson
isn't able to play, Porter is in line to start. Even if Doctson, Boykin's go-to receiver, plays but is limited, you'll see a lot more from the true freshman, whose route-running and blocking earned praise this week. He scored his first career TD last week. He'll get another this week at West Virginia.
Kansas CB JaCorey Shepherd:
His biggest supporters say Shepherd is quietly having an All-Big 12 caliber season. Time to prove it against Baylor and the best group of receivers in the conference. They will test his speed and smarts. Here's a great chance for Shepherd to make a statement.
[+] Enlarge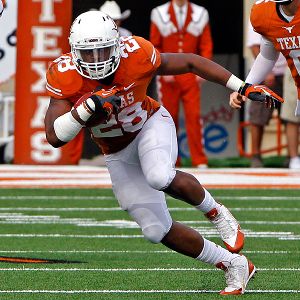 AP Photo/Michael ThomasMalcolm Brown is due for his first 100-yard game of the season.
Baylor QB Bryce Petty:
In his three October games, Petty had an average QBR of 51.5. He had some real ups and downs, and then a bye week to correct and move forward. We'll see the sharp, poised, all-conference caliber quarterback return to form this week against the Jayhawks.
Texas RB Malcolm Brown:
Texas was supposed to have one of the best running games in the Big 12, but still hasn't had a 100-yard rusher this season. Texas Tech has the second-worst run defense among Power 5 conference teams. So now would be a pretty good week for Brown and
Johnathan Gray
to change that trend.
West Virginia WR Kevin White:
We have no reason to ever list him here, really, as he's constantly breaking out. But how will White respond after the first quiet game of his stellar season? You know Gary Patterson will have a good plan for slowing down the league's top receiver.
Oklahoma State RB Desmond Roland:
After a nice five-game stretch in which he put up 447 rushing yards and six TDs, Roland was limited to 37 yards on 12 carries in the loss to West Virginia.
Daxx Garman
is going to need major help from Roland and
Tyreek Hill
to keep the Kansas State defense honest.
Iowa State WR D'Vario Montgomery:
He's hauled in nine catches in each of his last two games after a slow start to the season. You can't really send bracket coverage his way, either, with how
Allen Lazard
and
E.J. Bibbs
are playing. But can Montgomery burn the Sooners secondary?
Kansas State DB Randall Evans:
Dante Barnett
earned player-of-the-week honors, but Evans was just as good against Texas. The Wildcats' secondary doesn't get a lot of hype, but they have some playmakers who will give Oklahoma State's Garman fits.
October, 30, 2014
Oct 30
12:13
PM ET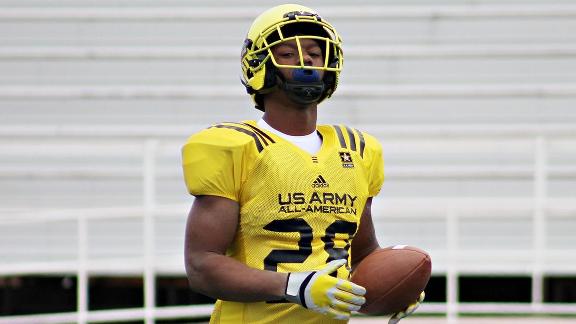 Oklahoma freshman running back Joe Mixon reached a plea deal this week to avoid going to trial on the misdemeanor charge of acts resulting in gross injury.
Mixon entered an Alford plea, which allowed him to continue asserting his innocence. He was handed a one-year deferred sentence, 100 hours of community service and behavior counseling.
Mixon was accused of punching a female student July 25, breaking four bones in her face. After the incident, Mixon was suspended from football-related activities for one year.
Mixon's attorney, Kevin Finlay, released a statement shortly after the agreement became public.
"Today, Joe has made the decision that entering an Alford Plea to the misdemeanor and accepting the short period of probation was the best course of action at this point in his life," the statement read. "Joe does not want to be a further distraction to his family, friends, teammates, and the University of Oklahoma.
"Joe would like to apologize to everyone affected by this unfortunate chain of events. Joe looks forward to continuing towards his goal of becoming a successful student and athlete at the University of Oklahoma."
October, 30, 2014
Oct 30
9:00
AM ET
By
ESPN.com Staff
| ESPN.com
Why TCU will win:
The Horned Frogs, playing like one of the nation's best teams, can get better.
Trevone Boykin
has been lethal, this offense has too much explosive diversity and TCU's defense will get the crucial second-half stops. This will be a fun chess match, a really physical game and another statement win for the Frogs.
TCU 48, West Virginia 38.
--
Max Olson
Why West Virginia will take it down to the wire:
Clint Trickett
and
Kevin White
are a great place to start. Add the Big 12's most improved defense, and WVU is in business. WVU has the playmakers to keep up with Boykin and the Horned Frogs' offense, while an electric atmosphere in Morgantown will make things even more difficult on TCU. Expect a close, high-scoring affair.
TCU 49, West Virginia 46
--
Brandon Chatmon
Why Kansas State will win:
Oklahoma State's offense is a dumpster fire right now, while K-State is coming off a shutout victory over Texas. The Cowboys again won't be able to move the ball against K-State's defense, which is stout at every level. And
Jake Waters
& Co. will be able to generate enough offensively to put this game away in the second half.
Kansas State 31, Oklahoma State 13
--
Jake Trotter
Why Oklahoma will win:
Don't sleep on these Cyclones. They proved against K-State and Texas that they're no easy out. But the Sooners are coming off a bye week, get top back
Keith Ford
back and know this Big 12 race isn't over for them just yet. OU steps up and gets a much-needed, bounce-back win.
Oklahoma 45, Iowa State 20.
--
Olson
Why Iowa State will keep it close:
The Cyclones have historically played Oklahoma tough in Ames. The Iowa State offense is beginning to find its stride under coordinator Mark Mangino, while the Sooners have been suspect defensively the past month. The Cyclones probably won't be able to make enough stops to win. But they have the offense to make this one interesting.
Oklahoma 35, Iowa State 31
--
Trotter
Why Baylor will win:
Big plays, big plays and big plays. Injuries have dealt the Bears a blow along the offensive line, but
Bryce Petty
& Co. should come up with enough big plays to win comfortably against the Jayhawks.
Baylor 45, Kansas 14
--
Chatmon
Why Texas will win:
Anytime a game seems like a toss-up, I lean toward the team with the best defense. The Longhorns' defense ranks in the top third of the Big 12 in several categories including yards per play and sacks, which should help UT slow the Red Raiders' offense.
Texas 24, Texas Tech 13
--
Chatmon
Season records:
Trotter: 48-4
Chatmon: 46-6
Olson: 46-6
October, 30, 2014
Oct 30
8:00
AM ET
Madison Bumgarner
is an absolute boss. Still, it was a great ride for K.C. And a great World Series.
October, 29, 2014
Oct 29
4:30
PM ET
A closer look at one statistic worth keeping an eye on for each Big 12 team entering Week 10:
Baylor:
The Bears had a bye week to address their penalty problems. One stat to put that issue in perspective: The Bears have more 10-plus penalty games this season (
five
) than the entire Big Ten conference combined (three). Then again, Big 12 teams have combined for 16 such games. That suggests style of play and the league's refs are probably important factors in the Bears' penalty woes.
Iowa State:
The breakthrough is coming for
Allen Lazard
and
D'Vario Montgomery
. Both were impressive against Texas and have been targeted a combined
51
times by
Sam B. Richardson
in the Cyclones' past three games. In fact, Lazard was targeted a season-high 15 times against the Longhorns, one more than team receptions leader
E.J. Bibbs
.
Kansas:
When interim head coach Clint Bowen says running back
Corey Avery
isn't being properly appreciated, he might be right. Avery's 417 rushing yards rank
No. 11
in FBS among true freshmen on Power 5 conference teams and second most in the Big 12 behind Oklahoma's
Samaje Perine
, and he's already surpassed 500 total yards in his debut season.
Kansas State:
ESPN Football Power Index data ranks the strength of Kansas State's record so far as
No. 10
in the country and best in the Big 12. That's a good snapshot of both KSU's tough schedule and its impressive showings against ranked foes. But FPI still projects K-State will lose to TCU and Baylor, and that its road test at West Virginia is almost a 50-50 game (KSU's odds of winning are currently pegged at 46.8 percent).
Oklahoma:
Getting running back
Keith Ford
back is good news for this Oklahoma offense, but tip your cap to his young understudies. In the four games Ford missed, Perine and
Alex Ross
combined to average
4.99
yards per carry and 156 rushing yards a game. All three offer different skill sets, giving the Sooners one dangerous trio if they can stay healthy the rest of the way.
Oklahoma State:
After impressing in his first two starts, quarterback
Daxx Garman
has shown regression in his past four. His adjusted QBR of
40.2
in the month of October ranks No. 99 nationally and ninth in the Big 12. His QBR for those first starts against UTSA and Texas Tech was a combined 74.1, but he finished this month with a TD-to-INT ratio of 3-7.
TCU:
The aerial attack stole most of the attention, but here's a big reason why TCU was capable of scoring 82 against Texas Tech: The Horned Frogs rushed for 224
yards on first downs against Tech. When you're getting
8.3
yards per carry on first down, you have the opportunity to do pretty much anything on offense.
Texas:
Here's something you couldn't have expected entering the season: Texas is eight games in and hasn't had a running back surpass 100 rushing yards in any games. In fact, since losing
David Ash
in the opener, Texas has not had a back surpass
80
rushing yards in a single game. Quarterback
Tyrone Swoopes
' 95 rushing yards against Iowa State remains the team high.
Texas Tech:
Following last week's record-setting debacle, Texas Tech's defense ranks No. 123 nationally and
last
among Power 5 conference teams in defensive efficiency, according to
ESPN Stats & Info
. But really, after a game like that, there's nowhere to go but up from here.
West Virginia:
Clint Trickett
continues to rank
No. 1
in the Big 12 in passing, completion percentage, yards per attempt, completions of 20-plus yards, passer efficiency and QBR. He has more passing yards (2,763) and a better completion percentage (68.3 percent) than
Bryce Petty
had through the first eight games of his prolific Big 12 Offensive Player of the Year season last year.
October, 29, 2014
Oct 29
9:00
AM ET
The first College Football Playoff Rankings were unveiled Tuesday night, and five Big 12 teams made the Top 25 cut. Here's a deeper look at what those rankings mean for the Big 12 and its hope of placing a team in the inaugural College Football Playoff:
TCU
Record:
6-1 (3-1 Big 12)
Playoff committee rank:
No. 7
Next big obstacle:
Nov. 1 at West Virginia
Reason for optimism:
Assuming the SEC West starts to knock itself out, TCU is in pretty good shape after the first unveiling of the playoff rankings. Playoff committee chairman Jeff Long said the gap between No. 6 Alabama and No. 7 TCU was a "small" one. The Horned Frogs also have the chance to notch a pair of marquee wins these two next weeks against No. 20 West Virginia and No. 9 Kansas State.
Cause for concern:
The Horned Frogs are ranked ahead of every Big Ten team, but not No. 5 Oregon. Assuming the playoff committee ends up with Florida State and two SEC West teams, that final playoff spot could come down to the Ducks and the Horned Frogs, and the Ducks appear to have the slight advantage at the moment. TCU could win out and still get snubbed if Oregon won out, too.
Whom they'll be rooting for this week:
Stanford to knock off Oregon for a third straight year.
Kansas State
Record:
6-1 (4-0)
Playoff committee rank:
No. 9
Next big obstacle:
Nov. 8 at TCU
Reason for optimism:
The Wildcats are ranked higher in the playoff rankings than they are in the polls, which means K-State is getting more respect where it counts. The committee also seems to be valuing quality losses, which is one reason K-State is ranked seven spots ahead of Ohio State, whose lone loss to Virginia Tech looks worse and worse. With road games at No. 7 TCU, No. 20 West Virginia and No. 13 Baylor still ahead, the Wildcats have as much upside as any team outside the top four.
Cause for concern:
At No. 3, Auburn is currently in the playoff. The committee is putting an emphasis on head-to-head, which is the primary reason Ole Miss got the edge for the fourth spot ahead of Alabama. If the final spot came down to Auburn and K-State, the committee would probably be compelled to favor Auburn, which won in Manhattan, Kansas, last month.
Whom they'll be rooting for this week:
Ole Miss to give Auburn its second loss.
Baylor
Record:
6-1 (3-1)
Playoff committee rank:
No. 13
Next big obstacle:
Nov. 8 at Oklahoma
Reason for optimism:
The Bears are ahead of four one-loss teams, including three spots ahead of No. 16 Ohio State. Baylor also has two remaining games against ranked teams, including Oklahoma and No. 9 Kansas State in the regular-season finale. The timing of the K-State game could be significant for Baylor to make a late surge.
Cause for concern:
Even if they go 11-1, the Bears are going to need a lot of help. The nonconference schedule is going to weigh them down like an albatross. That's one significant reason there are 10 other one-loss teams ranked ahead of them.
Whom they'll be rooting for this week:
TCU to take down West Virginia. The Bears have the head-to-head advantage over TCU. They don't have it over the Mountaineers. The better TCU does, the better it looks for Baylor.
Oklahoma
Record:
5-2 (2-2)
Playoff committee rank:
No. 18
Next big obstacle:
Nov. 8 vs. Baylor
Reason for optimism:
The Sooners are the highest-ranked two-loss team. There's still a lot of football to be played, and if a two-loss team can make a run, it might be Oklahoma.
Cause for concern:
The Sooners would need a minor miracle to surge that far. Even though Oklahoma's two losses came against top-10 teams, the playoff committee is not giving the Sooners the edge over one-loss teams. Oklahoma will need a bunch of losing from those teams ranked ahead in the coming weeks.
Whom they'll be rooting for this week:
West Virginia to beat TCU. The Sooners would need to win the Big 12 to have a chance, and they have the head-to-head advantage over West Virginia.
West Virginia
Record:
6-2 (4-1)
Playoff committee rank:
No. 20
Next big obstacle:
Nov. 1 vs. TCU
Reason for optimism:
The Mountaineers are the third-highest-ranked two-loss team, just behind Oklahoma and LSU. They have a chance to climb higher in the month of November with home bouts against No. 7 TCU and No. 9 Kansas State.
Cause for concern:
West Virginia still has a giant mountain to climb to get in the playoff mix. A lot can happen here over the next few weeks. But the Mountaineers are going to need a bevy of upsets elsewhere in college football.
Whom they'll be rooting for this week:
Kansas State to throttle Oklahoma State. The Mountaineers need K-State to be ranked as high as possible when it visits Morgantown on Nov. 20 for a Thursday night clash.
October, 29, 2014
Oct 29
8:00
AM ET
NBA kicks into full gear tonight. "Can't wait!" Here's a
offseason primer
to help you if you didn't pay attention during the offseason.
October, 28, 2014
Oct 28
8:15
PM ET
The initial College Football Playoff rankings have brought changes in the Big 12 bowl projections.
With the Allstate Sugar Bowl serving as a semifinal site and TCU on the outside of the top 4 at No. 7, the Horned Frogs slide over to another New Year's Day bowl (Fiesta, Cotton or Peach). Ninth-ranked Kansas State, as one of the top 12 teams in the initial rankings, joins TCU in a New Year's Day bowl.
Additional movement this week features Charlie Strong's Texas squad dropping out completely. UT would have to win three of four games in the final weeks of the season to reach six wins and bowl eligibility. With TCU, West Virginia, Oklahoma State and Texas Tech remaining on the schedule, the odds aren't on the side of the Longhorns.
Cotton Bowl:
TCU
Fiesta Bowl:
Kansas State
Valero Alamo Bowl:
West Virginia
Russell Athletic Bowl:
Baylor
AdvoCare V100 Texas Bowl:
Oklahoma
AutoZone Liberty Bowl:
Oklahoma State
Cactus Bowl:
None eligible
October, 28, 2014
Oct 28
5:25
PM ET
ESPN.com news services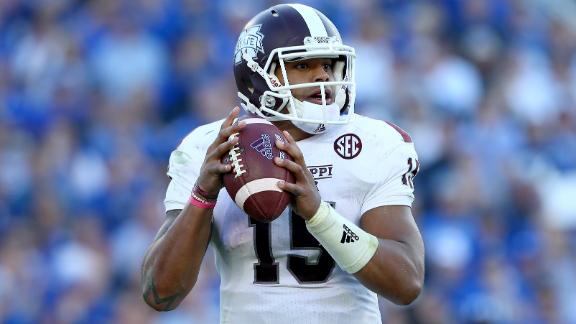 GRAPEVINE, Texas -- The College Football Playoff selection committee has spoken -- and it likes the SEC.
At least for now.
Mississippi State, Florida State, Auburn and Mississippi are the top four teams in the first College Football Playoff rankings.
The first of seven Top 25 rankings compiled by a 12-member selection committee was released Tuesday night. The selection committee will ultimately pick the four teams to play in the national semifinals and set the matchups for the other four big New Year's Day bowls that are part of the playoff rotation.
"It was extremely difficult, more difficult than any of us had expected having gone through our mock selections before," Arkansas athletic director and committee chairman Jeff Long said. "There are 18 one-loss teams in FBS at this point in time, and the difference between many of them is very slim."
Oregon was fifth and Alabama was sixth, giving the Southeastern Conference's West Division four of the top six teams. There are still four games remaining matching those SEC West rivals, starting with Saturday's matchup of Auburn and Ole Miss in Oxford, Mississippi.
"We don't analyze it by conference," Long said. "We look at those teams and evaluate the teams they played and the success they had, or the failures they had."
The final rankings will be released Dec. 7, the day after the most of the conference championships are decided.
"Everyone on the selection committee recognized that our rankings will change over the next six weeks," Long said. "I think that's important for us to emphasize. We expect our rankings to change over the next six weeks. One week's rankings won't influence the next week's rankings."
October, 28, 2014
Oct 28
1:00
PM ET
In our weekly Big 12 roundtable, we examine the league's most surprising and disappointing offensive and defensive units so far this season:
Which offense has been the most surprisingly effective so far this season?
Brandon Chatmon:
TCU is the most surprising offense in the nation, not just the Big 12. The Horned Frogs' new attack leads the Big 12 at 6.86 yards per play and undoubtedly has made Gary Patterson wonder why he didn't turn to this high-tempo, pass-happy attack sooner.
Max Olson:
We knew West Virginia probably had the firepower to score points. We didn't really know if TCU did. It's not just the play calling, which has been superb. It's the instant adaption by
Trevone Boykin
and all of his backs and receivers that has made this unit killer.
Jake Trotter:
To me, it's TCU, and it's not close. The Horned Frogs have gone from having the nation's 88
th-
best scoring offense to its No. 1. Even in Gary Patterson's wildest dreams, I don't think he envisioned such a turnaround when he hired coordinators Doug Meacham and Sonny Cumbie.
Which offense has been the most disappointing?
Chatmon:
I expected more from Texas' offense with its bevy of talented running backs. True enough the offensive line has been playing musical chairs, sparked by departures, but 137.6 rushing yards per game is a surprising number from Charlie Strong's team.
Olson:
Has to be Texas. Neither
Malcolm Brown
nor
Johnathan Gray
has had a 100-yard game and Texas' offensive line is playing like one of the nation's worst.
Tyrone Swoopes
is doing the best he can with what he's got.
Trotter:
You knew Oklahoma State would endure growing pains with so many new starters. But I never thought the offense would fall off a table the way it has. The Cowboys still have explosive playmakers. But the offensive line has been dreadful and the quarterbacking has been inconsistent. As a result, this is the worst Oklahoma State offense since Mike Gundy's first season in 2005.
Which defense has been the most surprisingly effective?
Chatmon:
Baylor had to replace several starters on its 2013 title-winning defense, yet there the Bears are, atop the Big 12 rankings in yards per play for a second straight season (4.4). And their 5.03 yards per play in conference games ranks second in the Big 12. BU's offense gets the headlines but its defense continues to be the main reason for its title hopes.
Olson:
Baylor deserves a ton of credit for not taking a noticeable step back despite losing so many veteran studs. They've had a tough loss and one awfully close call, but you do get the sense they're poised to elevate their play for this stretch run.
Trotter:
I thought the Mountaineers had a chance to be better defensively. But I never thought they would be this much better. Tony Gibson and Tom Bradley have done a tremendous job turning around a unit that had been among the Big 12's worst the previous two years.
Which defense has been the most disappointing?
Chatmon:
Oklahoma's defense looked like it could be one of the nation's best early this season but has struggled in conference play, allowing 6.2 yards per play, ninth in the Big 12. The Sooners have talent all over the field but haven't been as dominant as expected in Big 12 stadiums.
Olson:
I'll agree with BC that it's the Sooners, but you do have to mention Texas Tech. This was already the Big 12's worst scoring D before giving up 82. Coaching, scheme, execution, talent -- Tech is not in good shape in any area.
Trotter:
Oklahoma has a good defense, but it's not the dominant one we all expected with nine starters back. The Sooners have been exposed these last three weeks. Honorable mention honors here go to Tech, whose defense has gone from bad last year to worse this season.
October, 27, 2014
Oct 27
3:15
PM ET
There could be good news on the way for Oklahoma.
Running back
Keith Ford
is expected to practice with the Sooners today, OU coach Bob Stoops said during his news conference on Monday. The sophomore, if he doesn't have any setbacks, should return to action on Saturday against Iowa State and provide a much-needed boost to the Sooners offense.
Ford has been out since Sept. 13, when he injured his foot against Tennessee. He was the Sooners' starting running back and had 34 carries for 194 yards and five touchdowns along with six receptions for 100 yards and another score through the first three games of the season. Ford scored two touchdowns in every game he played before the injury.
OU's running game didn't come to a screeching halt with Ford sidelined, however, as the Sooners averaged 188.5 rushing yards per game. This includes a 301-yard outing against West Virginia during the four-game stretch without Ford. Freshman
Samaje Perine
has emerged as one of the Big 12's best, and most physical, running backs while
Alex Ross
has had his moments as a big-play running back and returner.
Nonetheless, Ford's addition to OU's backfield opens up options for the Sooners' offense and adds a proven playmaker into the mix. Ford is the best receiving threat of the trio with the ability to make big plays on the ground or through the air. Stoops expects Ford to return as a significant part of OU's three-back rotation.
"In all likelihood if he's back to full speed," Stoops said when asked if Ford would return to his role in OU's three-back attack. "He's a guy who showed early on he can make some big plays."
There is more good news on the injury front for the Sooners as quarterback
Trevor Knight
also should be good to go against the Cyclones after returning to practice late last week. The sophomore was banged up against Kansas State, leaving the game at one point before returning in the loss against KSU. Defensive tackle
Charles Walker
is also expected to return to practice today and should provide additional depth for OU's defensive front when he returns to action.
October, 27, 2014
Oct 27
1:30
PM ET
Here's what happened on the recruiting trail around the Big 12 this week:
BAYLOR
Total commits:
12
ESPN 300 commits:
3
The latest:
Houston (Texas) Lamar prospect
J.W. Ketchum
made it a good bye week for the Bears with his Sunday commitment to Art Briles' program. The four-star athlete picked BU over Texas, Oklahoma, Texas A&M, Alabama and others.
IOWA STATE
Total commits:
13
ESPN 300 commits:
0
The latest:
Defense has been the focus of this recruiting class for the Cyclones. Eight of its 13 commitments are defenders including four defensive linemen. Paul Rhoads squad dealing with small numbers along its defensive front heading into this season but hopes to address some of those issues with a pair of junior college defensive linemen in
Larry Jefferson
and
Xavier Pegues
.
KANSAS
Total commits:
14
ESPN 300 commits:
0
The latest:
It's been an interesting dynamic in Lawrence, Kansas, where interim coach Clint Bowen landed Olathe (Kansas) North tight end
Josh Moore
picked KU last week. Moore spurned offers from the majority of the Big 12, Auburn and Ohio State to pledge to the Jayhawks.
KANSAS STATE
Total commits:
11
ESPN 300 commits:
0
The latest:
Bill Snyder's program dipped into Texas for its latest commitment with McKinney (Texas) North safety
Bryce Balous
picking the Wildcats last week. The three-star prospect turned down Texas Tech and Iowa to verbal to K-State. The Wildcats also added Pittsburg (Kansas) running back
Alex Barnes
, who committed to KSU on Monday. The three-star prospect picked KSU over Kansas, Minnesota, Rutgers and others.
OKLAHOMA
Total commits:
14
ESPN 300 commits:
6
The latest:
The Sooners sent out some offers to Class of 2016 pass-catchers last week with La Canada (California) St. Francis receiver
Dylan Crawford
and West Hills (California) Chaminade receiver
Dymond Lee
reportedly receiving offers last week. Both receivers are ESPN Junior 300 members and four-star prospects.
OKLAHOMA STATE
Total commits:
13
ESPN 300 commits:
4
The latest:
It wasn't a great day on the field but one ray of light came to Oklahoma State during Saturday's 34-10 loss to West Virginia as ESPNJr300 member
Mike Williams
appeared to love
his unofficial to OSU, tweeting about his visit multiple times on Saturday.
TCU
Total commits:
16
ESPN 300 commits:
0
The latest:
Not only did TCU score big on the field, putting up 82 points against Texas Tech, the Horned Frogs could have scored big on the recruiting trail as well. Gladewater (Texas) defensive tackle
Daylon Mack
, the No. 15 player in the ESPN 300,
loved his official visit
to TCU. He's currently committed to Texas A&M but it appears Gary Patterson's program definitely gave the elite defensive tackle something to think about.
TEXAS
Total commits:
18
ESPN 300 commits
: 9
The latest:
ESPN 300 member
Cameron Townsend
picked Texas on Sunday, becoming the 18th commitment for Charlie Strong's program. The Missouri City (Texas) Ridge Point linebacker picked UT over Oklahoma, Baylor, TCU, USC, Michigan and others. He is the No. 284 player in the ESPN 300.
TEXAS TECH
Total commits:
11
ESPN 300 commits:
3
The latest:
Could it get any worse for Kliff Kingsbury's program? Not only did Tech give up 82 points to TCU, its top 2015 commitment, quarterback
Jarrett Stidham
, broke his hand over the weekend. The injury shouldn't impact his future as a Red Raider but there doesn't seem to be much good news in Lubbock, Texas, right now.
WEST VIRGINIA
Total commits:
21
ESPN 300 commits:
3
The latest:
It could be a critical recruiting weekend with TCU and ESPN's "College Gameday" heading to Morgantown, West Virginia, on Saturday. Expect several prospects to take advantage of the opportunity with ESPN 300 defensive tackle
Tim Settle
, ESPN 300 athlete Jordan Cronkite and Army All-American
Tim Irvin
among the early list of prospects who could be on campus.
Plea Deal For Sooners' Mixon