July, 25, 2014
Jul 25
3:00
PM ET
Our series of preseason picks for every single Big 12 game of 2014 concludes today with Week 15. The past two Big 12 champions face off, and Bedlam is always fun.
More Big 12 predictions for 2014.
at Baylor 41, Kansas State 24:
With the final weekend mirroring 2013, the Bears know this game could gain added importance if the Sooners slip up in Bedlam. Taking the field with that mindset, Baylor takes a two-touchdown lead in the first quarter and never really looks back.
Bryce Petty
is efficient and effective, and Baylor's defense uses the experience gained in the first 11 games to help slow Bill Snyder's Wildcats in a comfortable win to end Year 1 at McLane Stadium.
at Oklahoma 38, Oklahoma State 35:
Another Bedlam, another close game, another late-game win for the Sooners. This time it's true freshman running back
Joe Mixon
who turns a swing pass into a late fourth-quarter touchdown, giving the Sooners a late lead and, for the second straight Bedlam game, Oklahoma linebacker
Eric Striker
seals the win with a big play on the Cowboys' final drive. The Sooners win the Big 12, and their campaign to be included in the College Football Playoff begins immediately with Bob Stoops saying the Sooners "absolutely" deserve to be one of the four teams included during his postgame comments.
at TCU 42, Iowa State 20:
The Horned Frogs end a solid eight-win season in style with a blowout win against the Cyclones. TCU's offense gives Horned Frogs fans plenty of hope with a six-touchdown performance to end the season, including a touchdown pass and touchdown reception from "Mr. Versatility"
Trevone Boykin
.
Final Big 12 standings
1. Oklahoma
-- 11-1, 8-1
2. Baylor
-- 10-2, 7-2
3. Kansas State
-- 9-3, 7-2
4. Texas
-- 8-4, 6-3
5. TCU
-- 8-4, 5-4
6. Texas Tech
-- 7-5, 4-5
7. West Virginia
-- 5-7, 4-5
8. Oklahoma State
-- 5-7, 3-6
9. Kansas
-- 3-9, 1-8
10. Iowa State
-- 2-10, 0-9
July, 25, 2014
Jul 25
12:00
PM ET
July, 25, 2014
Jul 25
11:00
AM ET
During the summer, ESPN.com is taking a closer look at each scholarship player on the Oklahoma Sooners' roster in our Crimson Countdown series. Each day, we analyze each player's impact on the program since arriving on campus, his potential impact this fall, and his long-term projection. Starting with No. 1 Dominique Alexander, the series follows the roster numerically through No. 98 Chuka Ndulue.
No. 74 Adam Shead, guard, 6-foot-4, 339 pounds, senior
Impact thus far:
Injuries have handcuffed a promising career yet Shead enters his senior season as one of the Sooners' most experienced offensive linemen. He's started 28 games in his career despite nagging injuries. As a redshirt freshman in 2011, he forced his way into the starting lineup as the season progressed, starting five games and playing in nine contests. He started all 13 games as a sophomore then started 10 games in 2013. All the while Shead has dealt with shoulder, knee and back injuries at various points during his career.
Impact in 2014:
If healthy, Shead should be a key contributor along the Sooners' offensive front. His health could be a big "if" however, as a back injury forced him to miss the spring game.
Long term upside:
Shead had the ability to set the tone with his aggressive nature early in his OU career. Unfortunately for him, an injury-free season has been difficult to achieve. If he somehow returned to his pre-injury form, he has all-conference potential.
Evaluation grade for Shead:
A. If he starts a game this fall Shead will be a three-star recruit who started at least one game for four straight seasons at OU. Productive and trustworthy, Shead was a stellar evaluation, the type of recruit the Sooners should strive to secure every single time.
Development grade for Shead
: A. Without a redshirt season, Shead would not be around to add to his 28 career starts this fall. Injury or not, it's unlikely Shead would have made a bigger impact as a true freshman than he can in 2014.
July, 25, 2014
Jul 25
9:00
AM ET
In today's Big 12 blog, we discuss Trevor Knight, Devonte Fields and
Iowa State Cyclones
scheduling.
Click
here
to submit an entry for a future mailbag.
Now, on to the 'bag:
Will in Houston:
Do ya'll think defensive coaches can succeed in the Big 12? Gary Patterson so far has not, which makes me a little nervous about Charlie Strong.
Trotter:
Bob Stoops is a defensive coach, and he's done just fine in the Big 12.
< hr/>
Alex in Searcy, Arkansas writes:
How well do you think Oklahoma would do if Trevor Knight went down with an injury for any length of time? Who do you think could step up and replace him in a leadership role if this were to happen?
Trotter:
With Blake Bell having moved to tight end full time, this scenario would present a huge dilemma for the
Oklahoma Sooners
. That is, assuming Baker Mayfield's petition for eligibility with the NCAA falls through. Mayfield, the reigning Big 12 Offensive Freshman of the Year, would be an excellent backup option for the Sooners. But if he's out until 2015, Oklahoma would have to roll the dice with either Cody Thomas or
Justice Hansen
, neither one of which looked ready yet for the big time during the spring. That's why Stoops said this week Knight had better be sliding a bunch this season. Right now, they can't afford to lose him.
< hr/>
Ryan in Crystal Lake, Illinois writes:
I realize every year they play Iowa. But I was wondering why Iowa State does not also schedule non-conference opponents from the SEC or Pac-12.
Trotter:
The baseline goal for Iowa State every year is to get bowl eligible. That goal would be that much more difficult with an SEC or Pac-12 team on the schedule. The Cyclones already play the
Iowa Hawkeyes
, which went 8-5 last year. That's plenty. Nobody in the Big 12 has more than one Power Five conference opponent on its non-conference slate, except for the
West Virginia Mountaineers
.
< hr/>
Christopher Edwards in North Carolina writes:
What are the chances that
Joe Mixon
jumps Alex Ross for the No. 2 spot on Oklahoma's running back depth chart?
Trotter:
Based on what I've heard, I don't think it's unthinkable that Mixon eventually jumps everyone into the starting lineup.
< hr/>
Harry in Austin, Texas, writes:
Is TCU on a string of bad setbacks or does Gary Patterson have a discipline problem? First the drug busts, then Casey Pachall, now Devonte Fields. These offseasons have not been good to the Frogs.
Trotter:
The
TCU Horned Frogs
certainly have had some discipline issues since joining the Big 12. But the Horned Frogs are hardly alone. Several other schools in the Big 12 have been in the news for ugly off-the-field incidents. Too many to even list here. It really hasn't been a great offseason overall for the league. And, it's been another bad one for TCU.
< hr/>
Bob Budiselic in Carlsbad, California writes:
I was really hoping that Texas and Oklahoma were going to move to the Pac-12. Do you think that this might happen in the future, and bring Tech and OSU?
Trotter:
When it comes to conference realignment, never say never. But that ship has sailed for the foreseeable future.
< hr/>
Nicholas in Houston writes:
Say Tech or TCU wins the conference this season. That would be four straight championships by teams not considered traditional powerhouses. What would that mean for the Big 12's national perception? Would it be a positive because it would show the league is deep? Or, would it be a negative because it would appear that the major powers are on the decline?
Trotter:
Tech or TCU winning the Big 12 in a vacuum wouldn't be a negative for the league. But the Big 12 is always going to be perceived as being stronger when Texas and Oklahoma are strong, too. The same goes for Ohio State and Michigan in the Big Ten, USC and Oregon in the Pac-12, Florida State, Miami and Clemson in the ACC and Alabama, Florida and LSU in the SEC. Right or wrong, perception is reality in college football, and conferences are perceived to be better when their traditional powers are winning.
July, 24, 2014
Jul 24
12:00
PM ET
July, 24, 2014
Jul 24
11:00
AM ET
During the summer, ESPN.com is taking a closer look at each scholarship player on Oklahoma's roster in our Crimson Countdown series. Each day, we analyze each player's impact on the program since arriving on campus, his potential impact this fall, and his long-term projection. Starting with No. 1 Dominique Alexander, the series follows the roster numerically through No. 98 Chuka Ndulue.
No. 72 Derek Farniok, tackle, 6-foot-9, 329 pounds, junior
Impact thus far:
Farniok made his biggest impact with a start against Oklahoma State in the Sooners' 2013 Bedlam win at Boone Pickens Stadium. In 2011, he redshirted. He played a special teams role as a redshirt freshman in 2012 then played in four games as a sophomore, including the lone start of his career.
Impact in 2014:
Farniok should play a backup role at tackle for the Sooners with veterans
Tyrus Thompson
and
Daryl Williams
manning the position. He clearly has a ways to go in his development, but his start against the Cowboys was a sign he could contribute this fall and expand his role in 2015.
Long term upside:
It all depends on Farniok's continued development. Even with OU bringing in talented tackles around him, Farniok has the ability to be a contributor if he responds to the competition.
Evaluation grade for Farniok:
C. He hasn't starred, but he hasn't disappointed either. Farniok enters his junior season with a start under his belt, even though a pair of veterans have stood between him and playing time since he stepped on campus.
Development grade for Farniok:
A. OU has given Farniok opportunities to play in a backup role behind Thompson and Williams and even threw him into the mix in short-yardage situations. Can't really ask for much more from the Sooners' development approach.
July, 23, 2014
Jul 23
5:00
PM ET
DALLAS -- Big 12 media days have come and gone. Some of the storylines (Dairy Queen, fake watches) were silly. Others were far more serious. Here are some of the takeaways from this year's edition of media days:
Baylor has a chip on its shoulder:
Despite winning the Big 12 last season and returning the Big 12 offensive player of the year in quarterback
Bryce Petty
, Baylor was voted second in the conference's preseason poll behind Oklahoma. The Bears clearly felt a bit disrespected while in Dallas this week. "That comes with being Baylor," defensive end
Shawn Oakman
said. "We're gonna be great one day and y'all are gonna notice." The Bears were pretty great last season, stomping the Sooners 41-12 on the way to their first Big 12 title. "That game from OU last year, that should have showed you that that product was nowhere near as good as the product that Baylor was putting on the field," Oakman said. "The execution, the players from each and every position ... You could tell we were on a different level from OU." Still getting picked to finish behind Oklahoma has given the Bears extra fuel for this season. "In our minds, we're still underdogs," Oakman said. "We play with a chip on our shoulder. You only get the respect if you earn it."
Stoops is loose as a goose:
The loosest coach at Big 12 media days might have been Oklahoma's Bob Stoops. He was cracking jokes, photo-bombing his wife's TV interview (she was there for a Mary Kay convention) and taking a break between interview sessions to grab a strawberry smoothie. He even chided Alabama coach Nick Saban for suggesting the Crimson Tide didn't care about being in the Sugar Bowl. "So if I'm not in a national championship game, that means I've got a built-in excuse?" Stoops said. Such bravado could be a sign that Stoops thinks he has a pretty good team. With
Trevor Knight
at quarterback and nine starters back defensively, it's not hard to see why.
TCU has a big problem:
Though they had already left, the Horned Frogs were the story the second day of Big 12 media days. Defensive end
Devonte Fields
, who last week was voted the league's preseason defensive player of the year, was accused of pulling a gun on his ex-girlfriend. TCU acted quickly after the news surfaced,
claiming it had "separated" from Fields
. If any part of the allegations levied against Fields are true, it's difficult to see him ever playing another game in the Big 12. That is a big loss for the league. And an even bigger one for TCU, which is attempting to bounce back from one of its worst seasons in the Gary Patterson era.
Strong believes in Ash:
The biggest question mark in Charlie Strong's first season as coach at Texas is quarterback. More specifically, quarterback
David Ash
. But even though Ash missed virtually all of last season with concussion issues, then the spring with a fractured foot, Strong said he was impressed with Ash when watching old game film. "When Ash is healthy, he played very well," Strong said. All signs point to Ash being the starter when the Longhorns open the season. Whether he can be consistent and be healthy could go a long way in dictating how Strong's first season goes, too.
Bowlsby does not believe in the NCAA:
According to Big 12 commissioner Bob Bowlsby, cheating pays. And the enforcement wing of the NCAA is broken. Bowlsby painted a bleak future for the NCAA, also predicting that Olympic sports could be in trouble down the line. "If you like intercollegiate athletics the way it is, you're going to hate it going forward," he said. "There's a lot of change coming." Because of its popularity, football will always be fine. But with lawsuits and athletic department expenses about to rise dramatically, Bowlsby thinks something will have to give.
Everyone's mind is on the playoff, even if all minds don't quite get it:
The inaugural College Football Playoff was one of the big topics of conversation this week. The Big 12 coaches all believe the league is positioned strongly for inclusion, thanks to a robust nonconference slate of games and a nine-game conference schedule. Many players, however, weren't well-informed about how the playoff will work. One didn't know how many teams would be in it. Another thought every conference champ automatically advanced to it. And still another had no idea just how the playoff would be picked. The playoff is going to be an adjustment for college football fans. There is going to be an adjustment for the players, too.
Trickett was always the guy:
According to West Virginia coach Dana Holgorsen,
Clint Trickett
was always going to be this season's starting quarterback. It was just a matter of him getting cleared medically. "We wanted him to be the guy," Holgorsen said. "We had to wait and see how he did coming off the shoulder surgery." Holgorsen said there was little the other West Virginia quarterbacks could have done this spring to unseat Trickett, who sat out while recovering from the shoulder injury. "He was the best option we had this year, he was the best option we had last year," Holgorsen said. "Once I was pleased with what I saw, it was a no-brainer to me."
Hill will get the ball a lot:
Oklahoma State coach Mike Gundy has had some talented offensive players over the years. But Gundy said it has been a long time since the Cowboys had a playmaker like juco running back
Tyreek Hill
. "He's very fast," said Gundy, comparing him to former West Virginia standout
Tavon Austin
. "He gets [past] that first level [of the defense] and no one is caching him." Gundy wants Hill to touch the ball at least 20 times a game. Whether he's at running back or lined up in the slot, Hill is going to be the focal point of the Oklahoma State attack.
Snyder is still the man:
Kansas State coach Bill Snyder is 74 years old, just two years younger than former Oklahoma coach Barry Switzer, who popped by media days Monday night. But Snyder is still coaching strong, with a team that was voted third in the preseason poll behind co-favorites Oklahoma and Baylor. Apparently everyone should
eat only one meal a day
.
July, 23, 2014
Jul 23
4:58
PM ET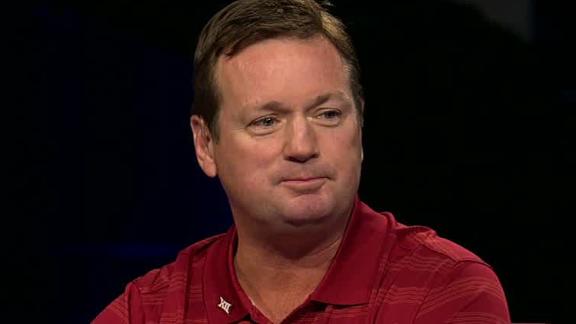 BRISTOL, Conn. -- Bob Stoops responded to Alabama coach Nick Saban's comments about the Sugar Bowl being a "consolation game" as quickly and decisively as the Sooners did in last season's 45-31 upset of the Tide.
"They didn't look like it was a consolation game on that first drive when they scored a touchdown and everyone thought they were going to rout us," the Oklahoma coach said. "I've been in plenty of those [non-national title games]. We've played in a bunch of national championship games, right? ... That's a good one.
"So that means I've got a built-in excuse the next time we don't play for a national championship?"
Stoops was in Bristol Wednesday for a round of interviews.
On Tuesday, Saban, who was in Bristol, talked about the challenge of getting his team to play Oklahoma as to "try to play in a consolation game."
Stoops also discussed critics that suggest the Big 12 should add a conference title game. The Big 12 is the only Power 5 conference that doesn't have a league championship game.
"Think about it: mathematically we play everybody, they [the SEC] don't play everybody," Stoops said. "For instance Texas A&M. They play eight conference games.
"They have Lamar, Rice, SMU and Louisiana Monroe. Boy those are all a bunch of toughies, right? We have nine conference games. So if [Texas A&M] was fortunate enough to be in the SEC championship game, they would play nine conference games at the end of the day and they have all those four 'toughies' to go with it.
July, 23, 2014
Jul 23
2:00
PM ET
Our series of preseason picks for every single Big 12 game of 2014 continues today with Week 13. Beware, Texas Tech, winning in Ames, Iowa, can be difficult, especially late in the season.
More Big 12 predictions for 2014
.
Kansas State 38, at West Virginia 35:
K-State's ability to win close games rises to the forefront as the Wildcats grab a key road win in Morgantown, West Virginia. The Mountaineers lead for the majority of the second half but All-Big 12 receiver
Tyler Lockett
comes through when K-State needs him with a late touchdown.
at Baylor 48, Oklahoma State 28:
The Bears jump on the Cowboys early, taking a three touchdown lead after one quarter of play. OSU's big-play threats
Tyreek Hill
and
Jhajuan Seales
spark a Cowboy rally with back-to-back second quarter scores but BU quarterback
Bryce Petty
isn't about to let the Pokes ruin the party, passing for two scores in the third quarter and finishing with five touchdowns overall in the win. Revenge is sweet for Art Briles' squad.
at Oklahoma 49, Kansas 10:
The Sooners are dominant at home against the Jayhawks scoring on four of their first five drives and taking a comfortable lead at halftime. It's a rough but important experience for KU quarterback
Montell Cozart
who struggles against OU's athletic defense but starts to find a rhythm toward the end of the game. Meanwhile, OU's eyes turn to Bedlam and securing another Big 12 title.
Texas Tech 38, at Iowa State 34:
The Cyclones appear ready to secure yet another upset win in Ames until
Davis Webb
suddenly gets on fire in the final 15 minutes with a pair of long touchdown passes and a quarterback sneak for another score in the final two minutes to help the Red Raiders escape with a win.
Current Big 12 standings
1. Oklahoma
-- 10-1, 7-1
2. Kansas State
-- 8-2, 6-1
3. Baylor
-- 8-2, 5-2
4. Texas
-- 7-4, 5-3
5. TCU
-- 7-3, 4-3
6. Texas Tech
-- 7-4, 4-4
7. Oklahoma State
-- 5-6, 3-5
8. West Virginia
-- 4-7, 3-5
9. Kansas
-- 3-8, 1-7
10. Iowa State
-- 2-8, 0-7
July, 23, 2014
Jul 23
11:00
AM ET
During the summer, ESPN.com is taking a closer look at each scholarship player on Oklahoma's roster in our Crimson Countdown series. Each day, we analyze each player's impact on the program since arriving on campus, his potential impact this fall, and his long-term projection. Starting with No. 1 Dominique Alexander, the series follows the roster numerically through No. 98 Chuka Ndulue.
No. 71 Tyrus Thompson, tackle, 6-foot-5, 336 pounds, redshirt senior
Impact thus far:
After a redshirt season in 2010 and limited action in 2011, Thompson has been an impact player for the past two seasons, starting 16 games in 2012 and 2013 combined. His versatility is an asset as the senior has played both tackle positions during his time in Norman, Okla.
Impact in 2014:
Thompson should be a starter and key player for the Sooners offensive line, bringing experience, athleticism and production to the table during his final season in crimson and cream. It will be important for him to remain healthy throughout the year.
Long term upside:
Thompson has all-conference potential if he raises his game to another level and remains healthy in 2014.
Evaluation grade for Thompson:
A. When healthy, Thompson is an asset to OU's offense. And his versatility takes his value to an even higher level. The Texas native stepped on campus as a four-star recruit and he's met those expectations heading into his senior campaign.
Development grade for Thompson:
A. A redshirt season in 2010 was the right decision for Thompson's future. Now the Sooners get the payoff with a year of production from a savvy, veteran lineman instead of spot duty from a raw freshman in 2010.
July, 23, 2014
Jul 23
9:00
AM ET
The media voted Oklahoma as the clear preseason favorite to win the Big 12.
But the league's players give the slight edge to Baylor as the team to beat in the Big 12 this season.
This week, the Big 12 blog team anonymously polled 30 of the 39 players that attended Big 12 media days.
Oklahoma received 47 of 56 first-place media votes in the Big 12's preseason poll, which was released last week. But 43 percent of the players polled said the defending Big 12 champion Bears were actually the team to beat in the league, narrowly topping the Sooners.
The players were asked several other questions about the league, including its most impressive coach, its most obnoxious team, and its most underrated player.
The results of the poll:
(Note: players were not allowed to answer their own school or any teammate in any of the questions)
Who is the team to beat this year in the Big 12?
Baylor: 43%
Oklahoma: 40%
Kansas State: 6%
Oklahoma State: 6%
Texas: 3%
Who is the league's most impressive coach?
Kliff Kingsbury: 24%
Bill Snyder: 21%
Art Briles: 17%
Bob Stoops: 14%
If you could draft an opposing Big 12 player and put him on your team, who would it be?
Baylor QB
Bryce Petty
: 27%
Baylor WR
Antwan Goodley
: 15%
Kansas State WR
Tyler Lockett
: 12%
Kansas State QB
Jake Waters
: 12%
Who is the league's most underrated player?
Waters: 10%
TCU DT
Davion Pierson
: 10%
Iowa State TE
E.J. Bibbs
: 10%
Other answers: Kansas State DE
Ryan Mueller
, Texas Tech LB
Sam Eguavoen
, Oklahoma WR
Sterling Shepard
, Oklahoma State LB
Ryan Simmons
, Baylor DE
Shawn Oakman
, Kansas State C
BJ Finney
, TCU CB
Kevin White
, Baylor RB
Devin Chafin
, Baylor RB
Johnny Jefferson
, Kansas State CB
Randall Evans
, Oklahoma State DT
James Castleman
Who is the team you're most fired up to play?
Texas: 24%
Kansas State: 21%
Oklahoma: 21%
Baylor: 10%
Who is the most obnoxious team in the league?
TCU: 21%
Baylor: 18%
Texas: 14%
Texas Tech: 14%
What program has the best pregame intro?
Oklahoma: 27%
Oklahoma State: 19%
Texas: 15%
Who do you predict will make the inaugural playoff?
(Note: Players were allowed to include Big 12 teams here)
Florida State: 20%
Oregon: 16%
Alabama: 15%
Other top vote-getters: Auburn, Baylor, LSU, Oklahoma, Ohio State, Stanford
Sooner Commit Hits 66-Yard FG
BIG 12 SCOREBOARD
Saturday, 8/30
Sunday, 8/31