RN asks: Item you'd bring on a visit
January, 27, 2013
1/27/13
4:07
PM ET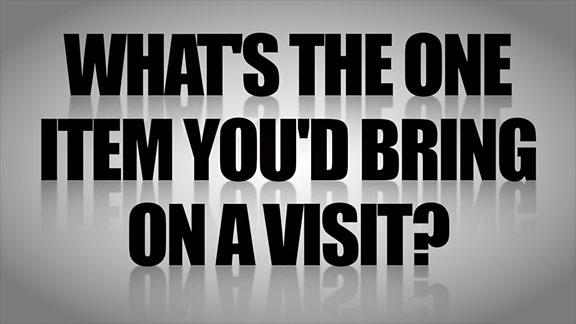 Top recruits Robert Nkemdiche, Kelvin Taylor, Keith Ford, Cooper Bateman and others talk about the one item they'd bring along on an official visit. They thought of everything from a toothbrush to a horse.
Sooners Score ESPN 300 DE From VA
National recruiting analyst Craig Haubert projects the impact No. 13 defensive end Ricky DeBerry will have at Oklahoma.
Sooners Score ESPN 300 DE From VA
VIDEO PLAYLIST
OKLAHOMA FB RECRUITING SCORECARD
SoonerFootball

Sooner Football


Oklahoma football: Could mystery be the #Sooners' secret weapon? | NewsOK http://t.co/dK3eL5VKSG
about an hour ago

spiceadams

ANTHONY ADAMS


"Although I just finished hooping and it was my day off, I still helped out @RonJohnson_3 and his wife in ... https://t.co/PZNbl9Cg6M
about an hour ago

Big12Conference

Big 12 Conference


VIDEO: @trackris24 & #Big12Insider Wendell Barnhouse preview the @TexasBowl - http://t.co/F3LvYpZKtw
about 2 hours ago

OUcheer

The OU Cheer Squad


Candice & Lindi (& Dillan & Drew too) are ready to take off to the Russell Athletic Bowl tomorrow!… http://t.co/t6jGbrM8hV
about 2 hours ago

Big12Conference

Big 12 Conference


#Big12FB: @TexasBowl preview | @TexasFB vs. Arkansas | Monday, 8 p.m. CT - http://t.co/qfMX8aySIK http://t.co/quSDzwRNdp
about 2 hours ago

OU_Football

Oklahoma Football


.@OU_CoachKish: "Linebackers have got to be the playmakers." in an exclusive sit-down.WATCH: http://t.co/wGGgt5HK2i http://t.co/Y1M7FPE2et
about 3 hours ago

OU_Athletics

Oklahoma Sooners


Be an instant @RussellAthBowl expert with http://t.co/wx8Lc6ZvpS ONE Sheets: http://t.co/p2MUmCkZum http://t.co/r9BjB9pZ3z
about 3 hours ago

SoonerSportsTV

Sooner Sports TV


A look at Clemson's offense, @OU_CoachKish on set & another look at @GKTWVillage on @OU_Football Practice Report. Watch now on @FSOklahoma
about 5 hours ago

Big12Conference

Big 12 Conference


VIDEO: @trackris24 & #Big12Insider Wendell Barnhouse preview @OU_Football in the @RussellAthBowl - http://t.co/1WhBKNhRo8
about 5 hours ago

Big12Conference

Big 12 Conference


#Big12FB: @RussellAthBowl preview | @OU_Football vs. Clemson | Monday, 4:30 p.m. CT - http://t.co/Y8UMlxUxGI http://t.co/KRBrWcqmUa
about 6 hours ago

OU_Football

Oklahoma Football


First practice at the Citrus Bowl - done. PHOTOS: http://t.co/blhj3XHkZL http://t.co/8D053z6dIs
about 6 hours ago

Big12Conference

Big 12 Conference


#Big12FB: @WVUfootball's INT TD by Dravon Henry in week 8 is a #TotPlays finalist. Vote - http://t.co/TJWISiAgC5https://t.co/Dt9eqyUN3b
about 6 hours ago

TPetersonn

Torrea Peterson


Last full practice as a sooner:complete
about 7 hours ago

OU_Football

Oklahoma Football


First practice at the Citrus Bowl - done. PHOTOS: http://t.co/blhj3XHkZL http://t.co/8D053z6dIs
about 7 hours ago

SoonerSportsTV

Sooner Sports TV


.@OU_Football Bowl Practice Report No. 2 at the Citrus Bowl. Tune in at 5:30 CT on @FSOklahoma http://t.co/EG15pTbEl3
about 7 hours ago

SoonerSportsTV

Sooner Sports TV


.@OU_Football Bowl Practice Report No. 2 at the Citrus Bowl. Tune in at 5:30 CT on @FSOklahoma http://t.co/EG15pTbEl3
about 7 hours ago

Jake_Trotter

Jake Trotter


Sly haha RT @AaronPetersRN: LOOK AT COACH B's left hand in this pic!!! #HornsDown @RazNation @KARK4News @KNWAnews http://t.co/Ni3OBTasSt
about 8 hours ago

Big12Conference

Big 12 Conference


VIDEO: @trackris24 & #Big12Insider Wendell Barnhouse preview @WVUfootball's appearance in the @AZOLibertyBowl - http://t.co/gj759Y7XBZ
about 8 hours ago

OU_Football

Oklahoma Football


We have arrived! Last full practice before the @RussellAthBowl! http://t.co/FLfrl7lYOk
about 9 hours ago

Big12Conference

Big 12 Conference


#Big12FB: @AZOLibertyBowl preview | @WVUfootball vs. Texas A&M | Monday, 2 p.m. ET - http://t.co/NxX7lP3lXy http://t.co/1bCRzWPgUS
about 9 hours ago

ESPN_Big12

ESPN Big 12


Gary Patterson's career as hands-on builder leads to TCU's rebound season http://t.co/o72hXsr0Jo
about 9 hours ago

ctaylorou

Charlie Taylor


Happy toddler when @Honest arrives http://t.co/cc6B6cSw5p
about 10 hours ago

JLMcCuistion

Josh McCuistion


#Sooners #Rivals100 commit and Jan. enrollee. RT @Katyfootball: 19-6A MVP, 1st Team RB, Rodney Anderson http://t.co/aZaEdv2fG6
about 11 hours ago

OU_Athletics

Oklahoma Sooners


How many of @SoonerSportsTV's 14 bowl trip videos have you watched? Get caught up: http://t.co/ZvhQ8PRDEV
about 11 hours ago

ctaylorou

Charlie Taylor


Just posted a photo http://t.co/mpYtfcdgTF
about 11 hours ago

OU_Athletics

Oklahoma Sooners


How many of @SoonerSportsTV's 14 videos from the #RAB trip have you watched? Get caught up: http://t.co/JWdhRgvNjN
about 12 hours ago

OU_Football

Oklahoma Football


PHOTOS: Shopping spree time for the #Sooners: http://t.co/blhj3XHkZL http://t.co/AWx0gWDmbI
about 12 hours ago

ctaylorou

Charlie Taylor


Hey @williebosshog how long will it take to grow this out? #ChristmasGift http://t.co/hjeTfhoG7h
about 12 hours ago

ctaylorou

Charlie Taylor


#okwx Norman http://t.co/s2Wnwj3bl2
about 12 hours ago

Big12Conference

Big 12 Conference


#Big12FB: Glenn Gronkowski's 62-yard TD in week 8 is a #TotPlays finalist. Vote here - http://t.co/TJWISiAgC5https://t.co/FYh9Ih4JK6
about 12 hours ago

ctaylorou

Charlie Taylor


Father-in-law has best Christmas gifts! @DunkinDonuts #needDunkininNorman http://t.co/UbsFKG8yC5
about 12 hours ago

ctaylorou

Charlie Taylor


Norman Snow. #okwx http://t.co/4CN4iq3Hwy
about 12 hours ago

Jake_Trotter

Jake Trotter


Sheriff Spencer… RT @Glenn_Spencer: Calling all Cowboys. We need you in Arizona! http://t.co/ExuisL1qV6
about 14 hours ago

OU_Football

Oklahoma Football


Happy Birthday, @ya_boy_ksmooth!
about 14 hours ago

roywilliams31

roy williams


Yes the other Roy does. #wrongROY "@Baby_Doll432: @roywilliams31 I Heard You Own A Trucking Company ? :D"
1 day ago

SoonerFootball

Sooner Football


Why the Russell Athletic Bowl is Knight's chance to stake his claim to the starting QB position | NewsOK http://t.co/AegO3DfebY
1 day ago

Big12Conference

Big 12 Conference


Vote for @WVUfootball's game-winning FG by Lambert for the #Big12FB #TotPlays winner - http://t.co/TJWISiAgC5https://t.co/EbAK6qkU5b
1 day ago

SoonerSportsTV

Sooner Sports TV


The #Sooners made some new friends & caught up with an old one Friday at @GKTWVillage.Watch: http://t.co/tkNiIabSut http://t.co/8LKMWTL5Vr
1 day ago

SoonerSportsTV

Sooner Sports TV


The #Sooners made some new friends & caught up with an old one Friday at @GKTWVillage.Watch: http://t.co/tkNiIabSut http://t.co/8LKMWTL5Vr
1 day ago

OU_Football

Oklahoma Football


Great news - @OU_CoachStoops confirms all X-rays negative for DT Matt Romar, who was injured at practice today.
1 day ago

SoonerSportsTV

Sooner Sports TV


It was a long road to Orlando for @OU_Football's equipment truck: http://t.co/3o95nK7EgO More at 5:30 CT @FSSouthwest http://t.co/FEEUVwB1BS
1 day ago

OU_Football

Oklahoma Football


The Sooners had a special opportunity to make new friends today! http://t.co/80W8lt14Yb
1 day ago

OU_Football

Oklahoma Football


The #Sooners rank 19th in the nation in total offense (480.5 ypg) and have 30+ points in their last 10 victories.
1 day ago

OU_Football

Oklahoma Football


.@JessicaCoody talks with @OU_CoachHeupel to discuss the return of @trevor_knight9 and more: http://t.co/ZAS2znLCSk http://t.co/lyv3bB8C8S
1 day ago

Jake_Trotter

Jake Trotter


Two starting Big 12 QBs (Ash, Trickett) were forced to give up football this year because of concussions.
1 day ago

OU_Football

Oklahoma Football


Practice is wrapping up. Catch the Sooner Practice Report tonight on @FSOklahoma at 5:30 PM CT. http://t.co/HKG1AuBNRN
1 day ago

SoonerSportsTV

Sooner Sports TV


Taping underway for first @OU_Football Practice Report show from Orlando. Tune in at 5:30 CT on @FSSouthwest. http://t.co/VRZDngNMKe
1 day ago

Jake_Trotter

Jake Trotter


RT @CraigSmoak: Art Briles says Kendal Briles is officially Baylor's OC moving forward
1 day ago

OU_Football

Oklahoma Football


Former #Sooners DB Corey Ivy catching up with @OU_CoachHeupel at practice. http://t.co/2TYI17DqUd
1 day ago

Jake_Trotter

Jake Trotter


Though he didn't play his best late, Trickett really had a great year. Unfortunate about bowl. But he'll have bright future in coaching
1 day ago

OU_Football

Oklahoma Football


Former #Sooners DB Corey Ivey catching up with @OU_CoachHeupel at practice. http://t.co/tGrO5sg3iP
1 day ago

OU_Football

Oklahoma Football


Apologies, yes Corey Ivy was a DB for #Sooners
1 day ago

CraigSmoak

Craig Smoak


Briles says as of right now new play-caller Kendal Briles will likely stay down on the field.
1 day ago

Jake_Trotter

Jake Trotter


Clint Trickett retires from football http://t.co/A40WHWXg5T
1 day ago

OU_Football

Oklahoma Football


PHOTOS: #Sooners honored to spend time, have fun with kids at @GKTWVillage: http://t.co/blhj3XHkZL http://t.co/DBay2Xpve8
1 day ago

OU_Football

Oklahoma Football


Member of the 2000 national title team - Ontei Jones - checking out practice w @OU_CoachStoops & @OU_CoachGundy http://t.co/jTjR8RY3oT
1 day ago

OU_Football

Oklahoma Football


Former #Sooners RB Corey Ivy catching up with @OU_CoachHeupel at practice. http://t.co/vnViD5R7lA
1 day ago

Big12Conference

Big 12 Conference


The one-handed TD catch by @kstatesports' Sexton in week 6 is a #TotPlays finalist. Vote - http://t.co/TJWISiAgC5https://t.co/oeSojz5mn7
1 day ago

OU_Football

Oklahoma Football


Former #Sooners & @Patriots great Ray Hamilton at practice today. http://t.co/2zWR1LjLQc
1 day ago

Big12Conference

Big 12 Conference


#Big12FB bowl games begin in three days with three contests set for Monday, Dec. 29. Here's the full schedule: http://t.co/n4AFvOG7PP
1 day ago

OU_Football

Oklahoma Football


PHOTOS: #Sooners honored to spend time, have fun with kids at @GKTWVillage: http://t.co/blhj3XHkZL http://t.co/DBay2Xpve8
1 day ago

Geraldini93

Gerald McCoy


This pic is the best example I can give of what this Christmas has been like. Had such a blast with… http://t.co/WsbVetj4lC
1 day ago

SoonerFootball

Sooner Football


Why the #Sooners have an edge in Orlando | NewsOK http://t.co/4NqW5N1HC5
1 day ago

Big12Conference

Big 12 Conference


#Big12FB: @kstatesports' Lockett's week 5 58-yd punt return is a #TotPlays finalist. Vote - http://t.co/TJWISiAgC5https://t.co/oSNYeechfw
1 day ago

JessicaCoody

Jessica Coody


Well this was fun. Check out @bm_shakeit11 on the dance floor at Give Kids the World. http://t.co/VrUDbsujzW
1 day ago

OU_Football

Oklahoma Football


#Sooners busy bringing smiles to these faces on @RussellAthBowl trip http://t.co/ckpaZy5b3y
1 day ago

OU_Football

Oklahoma Football


This young man breaking down some hot dances moves with #Sooners http://t.co/oM4c8Rfyux
1 day ago

OU_Football

Oklahoma Football


. @BM_ShakeIT11 interviewing one of the many "celebrities" at Giving Kids the World! http://t.co/E2kJoVRUMq
1 day ago

OU_Football

Oklahoma Football


Nothing brings a smile to kids' faces quite like Eric Striker & large bunnies! #Sooners http://t.co/1MD5wqiRDk
1 day ago

OU_Football

Oklahoma Football


Visiting Giving Kids the World Village this am & meeting w media amidst palm trees! http://t.co/3up2bDkp2x
1 day ago

SoonerSportsTV

Sooner Sports TV


.@OU_Football and Clemson have met three times before. A look back: http://t.co/QKms7Cx63s http://t.co/8a5enZ4qKC
1 day ago

SoonerSportsTV

Sooner Sports TV


.@OU_Football and Clemson have met three times before. A look back: http://t.co/QKms7Cx63s http://t.co/8a5enZ4qKC
1 day ago

SoonerFootball

Sooner Football


#Sooners' offense should be at full strength for Russell Athletic Bowl | NewsOK http://t.co/vdWUz8nwTI
2 days ago

TiffanyAByrd

Tiffany Byrd


#SoonerFamilyChristmasDinner @B_Bell10 @connor_knight15 @BM_ShakeIT11 @trevor_knight9 @TyDarlington56 @codythomas_12 http://t.co/zrqosS3kDE
2 days ago

OU_Football

Oklahoma Football


Christmas dinner, complete with live music and a magician who blew more than a few minds. More to come... http://t.co/hvucYOEHeb
2 days ago

OU_Football

Oklahoma Football


SLICK! @AColvin_22 took some time to chat w/ @SoonerSportsTV. Also there's a photobomb. WATCH: http://t.co/ryli78Ccrr http://t.co/PCM7h4iWhb
2 days ago

OU_CoachStoops

Bob Stoops


Hope everyone had a great Christmas - be safe & enjoy the rest of the holiday season!
2 days ago

OU_CoachStoops

Bob Stoops


Hope everyone had a great Christmas - be safe & enjoy the rest of the holiday season!
2 days ago

OU_Football

Oklahoma Football


.@connor_knight15 now headlining the #RAB Photo Blog. http://t.co/blhj3XHkZL http://t.co/ZJqf1BDWat
2 days ago

ctaylorou

Charlie Taylor


Christmas movie marathon happening right now. http://t.co/geNKHTsIFU
2 days ago

OU_Football

Oklahoma Football


Christmas dinner, complete with live music and a magician who blew more than a few minds. More to come... http://t.co/hvucYOEHeb
2 days ago

Jake_Trotter

Jake Trotter


The college football quotes of the year have a strong Big 12 flavor: http://t.co/pogVMtEoWM
2 days ago

soonerad

Joe Castiglione


"@PioneersAD: @soonerad Merry Christmas! I trust all is well. God's great blessings to you & your family, my friend." Thanks/Happy New Year!
2 days ago

soonerad

Joe Castiglione


Happy Holidays everyone! I hear the best way to spread Christmas cheer is singing loud for all to hear. So...I'm singing.!!!! @ElfBuddy
2 days ago

Jake_Trotter

Jake Trotter


The Thunder got themselves a center
2 days ago

OU_Football

Oklahoma Football


Practice photos – with more shots of @AColvin_22's visit – now up in the #RAB Photo Blog - http://t.co/blhj3XHkZL http://t.co/AHWTODSPr7
2 days ago

OU_Football

Oklahoma Football


That's right!! It's @AColvin_22!! We'll have lots more from Slick later today. #NFLSooners http://t.co/T0o3berxf8
2 days ago

OU_Football

Oklahoma Football


Special guest at practice today...Take a close look at the pic to find out who. http://t.co/uAZQyOoeXu
2 days ago

roywilliams31

roy williams


My Leila is trying out her new Minnie Mouse vanity.. #TeamWilliams #Family #Love http://t.co/njEkLR9G9c
2 days ago

roywilliams31

roy williams


Two of my babies. @mskag and Madison chillin.. love my family. #TeamWilliams http://t.co/VHopK4p4AU
2 days ago

Bdrumm1

Brandon Drumm


2 yr old boy loves his @OU_Athletics! Special autograph from @samajp32,on record breaking program,and #OU bedding! http://t.co/hm878Jg99r
2 days ago

OU_Athletics

Oklahoma Sooners


And to you! "@JRsBBQ: Merry Christmas to all our friends & especially our @OU_Athletics family many of who are in Orlando..."
2 days ago

carloronaldo

Carlo Ronaldo


Jumped on the bandwagon 23 years ago. @dallascowboys @EmmittSmith22 @Thromedamnball @roywilliams31 @DezBryant http://t.co/OHopvbC6pa
2 days ago

soonerprices

Terry Price


@OU_Athletics really pumped about my @SoonerSportsTV subscription that my wife and kids got me for xmas. http://t.co/tzI6u7p8r4
2 days ago

OU_Football

Oklahoma Football


Merry Christmas! Some of the #Sooners share their favorite Christmas memories: http://t.co/4MxsyVBtYt
2 days ago

Shane_Magness91

Shane Magness


New sign my dad made to hang over my door #Boomer @OU_Football @OU_Athletics @UofOklahoma http://t.co/ifKFdypHbd
2 days ago

jedbarnett44

Jed barnett


To the men and women serving our country who cannot be home for Christmas with their families, thank you for our safety! Merry Christmas!
2 days ago

OU_CoachHeupel

Josh Heupel


Merry Christmas from the Sooner Family to your family!
2 days ago

HL_Dockery_80

Heather Lynn Dockery


@OU_Athletics Merry Christmas OU gifts http://t.co/y94d8qn74V
2 days ago
BIG 12 SCOREBOARD
Saturday, 12/27
Saturday, 12/20
Monday, 12/22
Tuesday, 12/23
Wednesday, 12/24
Friday, 12/26
Monday, 12/29
Tuesday, 12/30
Wednesday, 12/31
Thursday, 1/1
Friday, 1/2
Saturday, 1/3
Sunday, 1/4
Monday, 1/12
BLOG ARCHIVE:
CATEGORIES: