Bob Stoops favors the best four in playoff
June, 13, 2012
6/13/12
2:00
PM CT
There's been some debate nationally about the potential college football four-team playoff. Some conference leaders, particularly in the Pac-12 , want a conference championship to be a major factor in determining the four teams. Other conferences, particularly the Big 12 and SEC, would prefer the four best teams overall.
Oklahoma coach Bob Stoops prefers the top-four model because he's confident the best teams will rise to the top during the regular season.
[+] Enlarge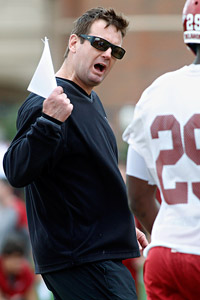 AP Photo/Sue OgrockiOU head coach Bob Stoops wants the best four teams in college football to be in a playoff.
"In the end if you're one of the best four, then you'll be up there," Stoops said.
The veteran coach brought up the 2008 season when OU and Texas finished the regular season ranked in the top four.
"When it's worth arguing that we are (two of the top four teams) with the schedules we play and we've only lost to each other, it does matter," Stoops said. "In the end if we're after a true playoff it ought to be the top four. If you don't do that, we're subject to everybody ridiculing it and diminishing it. It's the only way we're going to get what the public wants."
The 2011 season brought a similar situation as Alabama lost to LSU in the regular season and didn't win the SEC title, yet earned a BCS title berth because they were ranked No. 2 in the BCS rankings -- then went on to win the national championship by knocking off LSU in the championship game.
One major obstacle is how the top four teams would be determined, with a selection committee being among the options.
"That needs work, I don't have the answer," Stoops said. "Everybody, no matter who you are, everybody has an agenda, there's no getting around that. That's a tough one, how they work that out is going to need a lot of work."