December, 7, 2013
Dec 7
12:30
AM ET
Northern Illinois' loss to Bowling Green on Friday in the MAC title game means there won't be a non-AQ team in the BCS this season.

Instead, the defeat opens up another at-large spot for a major-conference team. That team will probably come from the Big 12 or Pac-12 and play in the Sugar Bowl, the most likely candidates being Baylor or Oregon.

Oklahoma could also have a chance to get that spot with a victory over Oklahoma State on Saturday.

December, 6, 2013
Dec 6
5:30
PM ET
Welcome to the mailbag, Pac-12 championship and coaching carousel edition.
Follow the Pac-12 blog on Twitter
.
To the notes.
Elk from Los Angeles writes:
Who's the bigger winner in the coaching carousel, Washington or USC?
Ted Miller
: We have to declare a winner before Chris Petersen even holds his first news conference after replacing new USC coach Steve Sarkisian at Washington?

The only winner we can declare at this moment is the public relations and perception winner, and that is clearly Washington.
Petersen has long been a highly coveted candidate among AQ programs. Many sportswriters reacted with shock today when the news broke that after turning down some many suitors, Petersen was headed to Washington.
Fair to say the general consensus is that Petersen is a home run hire. Further, his track record suggests strongly he is not a climber. If he wins the Rose Bowl in 2017, he doesn't seem like the sort that would, say, jump to Texas.
As for Sarkisian to USC, the general reaction among sportswriters and USC fans was to be underwhelmed. Part of that was the belief that Trojans AD Pat Haden was going to make a home run hire that resonated nationwide -- as in Jon Gruden or Kevin Sumlin.
Sarkisian looked like a strong and legitimate USC candidate on Sept. 29, when Lane Kiffin was fired, but his Huskies immediately dropped three games in a row, and Huskies fans started to grumble.
Sark rebuilt Washington, but he never broke through in the Pac-12 North Division or the national rankings. Sarkisian is a good coach, but he's yet to distinguish himself with a landmark season. Petersen has with two BCS bowl victories and a sparkling 92-12 record.
So at this point, Washington is the clear winner.
Yet keep in mind that being the public relations and perception winner before either has coached a game or even recruited a player will be the least important victory either posts during their respective tenures.
It's all about what comes next, starting with their 2014 recruiting classes.
---
Flannel Beaver from Tacoma, Wash., writes:
I know this has been discussed, but seriously... when will the Pac-12 go to an eight-game conference schedule? I am all for holding the our moral superiority over all other conferences. Do you think the new Playoff Selection Committee will take that into account? Do bowls consider that when looking at options? Do pollsters REALLY consider it? Then why do we continue to do it? How can I as a fan change
Larry Scott
's stance on this?
Ted Miller
: Scott is a Machiavellian, "It's All About the Benjamins" sort. He'd go with eight games if the Pac-12 athletic directors were for it.
A nine-game conference schedule is favored by Pac-12 ADs for two reasons: 1. It means you only have to schedule three nonconference games, therefore less work; 2. An extra Pac-12 game tends to guarantee more ticket sales than a nonconference patsy, something that SEC schools don't worry about.
Once the conference expanded to 12 teams from 10, the nine-game schedule lost the symmetry that provided a true conference champion. But it was retained for the above reasons, even though it damages the conference's place in the national rankings.
The good news is most folk recognize the seriousness of this issue going forward into the four-team College Football Playoff. There will be pressure to level the playing field and have all the major conferences play nine-game schedules, as the Big 12 and Pac-12 currently do.
But if that doesn't happen, then it becomes the CFP selection committee's move. The first time a one-loss SEC team misses out to a one-loss Pac-12/Big 12 team, and the selection committee explains itself by saying, "The SEC choose to play a softer schedule than the Pac-12/Big 12, so that was the final measure that eliminated their team," then you'll see some changing.
In fact, it's too bad we don't have the playoff this year because it would be an interesting process. To me, the four-team playoff would be best served (based on today's records) by having Florida State, Ohio State, the SEC champ and the Pac-12 champ.
Yes, that would mean leaving out Alabama, which I still believe is the best team.
But if that happened because Stanford's/Arizona State's
schedules were dramatically more difficult
, you can bet that the SEC would man-up out of self interest.
---
Craig from Omaha writes:
Lifelong Huskers fan here but enjoy watching Pac-12 football. … My question to you is why is it that the Pac-12 does not play its conference championship game at a neutral site like every other major conference? Is it due to loyal fan bases that are willing to travel? Do they feel there are not adequate facilities to hold such an event? I would have to think of all the venues in Pac-12 country, there would be some place that would fit the bill?
Ted Miller
: The biggest problem with a neutral venue for the Pac-12 title game is the Pac-12 is much more spread out than the SEC, ACC and Big Ten. With just a week to make travel plans, it would be extremely expensive for fans to book flights. In the SEC, just about every fan base is within driving distance to Atlanta, and that's also mostly true in the Big Ten for Indianapolis and the ACC for Charlotte, N.C, though expansion has changed things a bit in that regard. For Texas A&M, it would be a 12-hour haul to drive to Atlanta.
That said, future change isn't off the table. Since the conference expanded, more than a few folks have tossed around the idea of playing the game in Las Vegas, which the Pac-12 blog would be all for, though there's not yet an appropriate stadium to play host. Another option would be rotating the game between major cities.
Truth is, the Pac-12 championship game has done fairly well at home sites -- the game Saturday at Arizona State is pretty close to a sellout. Last year's lackluster fan showing at Stanford was mostly because of torrential rain and a kickoff during Friday rush hour.
And there's something to be said for rewarding the No. 1 team with an advantage.
---

Scott from Homewood, Calif., writes:
I think you are
making the same mistake
as other media members about the Stanford roster. Although the depth chart lists several players as seniors, they are in eligibility only redshirt juniors because they list by academic class instead of eligibility. Guys like Tarpley,
Henry Anderson
, Parry, Reynolds, Fleming, Yankey are listed on the depth chart as seniors but all have a year left. Although Yankey likely will leave early, the others will most likely be back or have the option to come back. In reality, only four offensive starters are seniors and only three defensive starters are seniors. Jon Wilner has posted twice about this issue and I just wanted to spread the word.
Ted Miller
: I understand your point, but I use a depth chart that has both years.
The players Stanford loses on offense: OG
David Yankey
, C
Khalil Wilkes
, OG
Kevin Danser
, RB
Tyler Gaffney
, RB
Anthony Wilkerson
and FB
Ryan Hewitt
.
Players Stanford loses on defense: OLB
Trent Murphy
, LB
Shayne Skov
, DE
Ben Gardner
and DE
Josh Mauro
.
The Cardinal will again be in the thick of the Pac-12 North Division race in 2014, without question. But those are some big hits to the starting lineup.
---

Brian from Bend, Ore., writes:
Any reflection on why Marcus Mariota has been completely overlooked for QB awards and the Heisman? It seems that no one west of the Mississippi is allowed to lose games. He still has really good stats, was No. 1 in Total QBR until the Arizona game and is morally superior to any other NCAA player. Is this not the embodiment of the Heisman?
Ted Miller
: The bottom line is Oregon lost two of its final four games and Mariota didn't play well at Stanford, the Ducks' marquee national game of the season.
Further, when you remove
Jameis Winston
's off-field issues, as was done this week, the Florida State QB is a clear No. 1 at the position, while
Johnny Manziel
has been a force of nature for two seasons, and
AJ McCarron
has led one of the most successful runs in college football history.
I'm not saying I agree with all of that as a reason to demote Mariota. But that's what happened from a national perspective.
December, 6, 2013
Dec 6
2:30
PM ET
December, 6, 2013
Dec 6
12:00
PM ET
Montae Nicholson
was planning to commit in early December. The timetable for the four-star Monroeville (Pa.) Gateway athlete and ESPN 300 prospect has been pushed back, but just slightly.
To continue reading this article you must be an Insider
December, 5, 2013
Dec 5
6:15
PM ET
Amid the hullabaloo of the week -- Sarkisian! Mora? Chris Petersen!? -- the news that probably will have the biggest impact in 2014 in the Pac-12 and nationally was
Marcus Mariota
's
announcement that he will again be Oregon's quarterback
next fall and not enter the NFL draft.
That, as we noted on Tuesday, makes Oregon the 2014 Pac-12 favorite, no matter that running back
De'Anthony Thomas
and/or cornerback
Ifo Ekpre-Olomu
are unlikely to follow his example. In fact, the Ducks are a good bet to begin the season with another top-five ranking, in large part due to Mariota still being behind center -- his two-time first-team All-Pac-12 center
Hroniss Grasu
, no less.
[+] Enlarge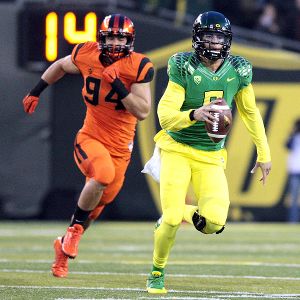 Scott Olmos/USA TODAY SportsMarcus Mariota's return should leave the rest of the Pac-12 chasing Oregon in 2014.
If you include RB
Byron Marshall
over DAT, the Ducks will surround Mariota with nine other returning starters -- the only senior on their most recent depth chart was receiver
Josh Huff
. On defense, things are more iffy, with just five starters back, though a lot of the backups saw plenty of action this past season.
Every other conference team that has reasonable designs on contending next fall will have more questions than Oregon.
Arizona State and Stanford, who play Saturday for the right to go to the Rose Bowl, are senior-heavy teams. Both will welcome back their quarterbacks,
Taylor Kelly
and
Kevin Hogan
, respectively, but they will take significant hits on both sides of the ball, particularly on defense. UCLA also is likely welcoming back quarterback
Brett Hundley
, and it looks like the South Division favorite, but it, too, will be replacing some key star power on defense, starting with outside linebacker
Anthony Barr
.
The most preseason buzz, however, will surround Oregon, and Mariota will be the guy on the cover of all the magazines.
While Ducks fans aren't really looking ahead just yet because many are crossing their fingers over an outside shot at a BCS bowl game -- Discover Orange Bowl vs. Alabama! -- there is enough of a pause in the action to consider the state of the Ducks.
Was Year One under Mark Helfrich a success? A failure? Somewhere in between?
Some Ducks fans, the national-title-or-bust ones, already view it as a failure. Others would join that crowd if Oregon loses its bowl game, wherever that may be.
The more reasoned position is to be mildly disappointed that it became a transitional year, post-Chip Kelly, and that specific circumstances -- Mariota's sprained knee and a uniquely deep Pac-12 -- waylaid what was clearly a pretty darn good team, perhaps as good as any of the other Ducks BCS bowl teams.
As you might have noticed, it's not easy to go undefeated. Just ask Baylor, Alabama and every other college football team unfortunate enough not to play Ohio State's, Florida State's and Northern Illinois's soft schedules. Kelly, as big as his brain is, managed only to do it once before losing the national title game. That year, however, the only other Pac-12 team that ended up ranked was Stanford, and the third-best record in the conference was 8-5 USC.
In other words -- and most Pac-12 fans should not read the end of this sentence -- 10-2 isn't
that
bad. Notice that no other conference team did better.
But who said rationality was part of being a college football fan?
So, knowing that irrational impatience typically prevails, Helfrich is fortunate to have Mariota returning. A third-year starter at quarterback will provide stability and leadership. It's no guarantee of success -- see USC's Matt Barkley -- but it solves the most critical position on any football team. The 2014 team will start with a 10-win over-under.
Of course, Ducks fans will embrace the over. That's life in Eugene now. Helfrich is well aware that he took over a program that no longer sees eight or nine wins as a successful season. He could be 21-4 at the end of the next regular season, but if the Ducks aren't headed to the inaugural College Football Playoff, there will be a strong sentiment that the program has taken a step back under Helfrich.
Mariota is the biggest reason to bet the over. He's the biggest reason Helfrich might coax some breathing room out of his second go-around.
Still, one of the big stories in the Pac-12 in 2014 will be which way the Ducks trend: Do they regain their footing atop the conference? Or does evidence accumulate suggesting a clear decline?
December, 5, 2013
Dec 5
2:30
PM ET
All I wanted was to eat the chicken that is smarter than other chickens and to absorb its power.
December, 5, 2013
Dec 5
2:00
PM ET
The rosters for the Under Armour All-America Game were released Wednesday night, and several Pac-12 commits and targets are scheduled to take part.
Here are the top five storylines that Pac-12 recruiting fans should be watching for during the week of practices and the game, which is set for 4 p.m. ET on Jan. 2 at Tropicana Field in St. Petersburg, Fla., and will be televised on ESPN.
To continue reading this article you must be an Insider
December, 5, 2013
Dec 5
2:00
PM ET
Join us for our weekly chat today -- Thursday! -- at noon PT or 3 p.m. ET.
Click here to join the fun
.
We can talk Pac-12 title game, coaching intrigue, bowl games or you can just show up to rage about anything you like.
December, 4, 2013
Dec 4
5:30
PM ET
As is common every summer, we throw together the
Pac-12 Ultimate Road Trip
series to get you through the dog days. It also gives me something to do while Ted is jet setting across the South of France. The "Road Trip Revisited" post was a hit last season. So we bring the 2013 edition.
Week 1
Our pick
: Boise State at Washington
End result
: A 38-6 smackdown that pushed the Huskies into the Top 25 and sent a clear message to the rest of the country that Washington was ready to be a ranked team.
In retrospect
: Surprisingly, the most entertaining game was Oregon State's loss to Eastern Washington. But knowing what we know now, a trip to Auburn may have been worth the time to see WSU push the Tigers to the brink.
Week 2
[+] Enlarge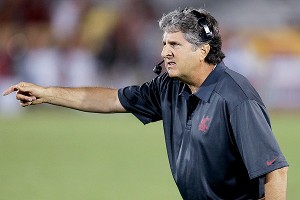 AP Photo/Chris CarlsonCoach Mike Leach and Washington State stunned USC in Week 2 of the season.
Our pick
: Washington State at USC
End result
: The Cougars pulled off an early-season stunner -- and they did it with defense.
In retrospect:
I remember taking some heat for this pick. I suppose a trip to Cal might have been nice to see what would be the Bears only win this season. But I think we made the right call given the fact that the Cougars are bowl eligible and this win is a major reason why.
Week 3
Our pick:
UCLA at Nebraska
End result
: It was an emotionally-heavy week for the Bruins following the
death of Nick Pasquale
. After a sluggish start, the Bruins exploded in the second half en route to a tearful 41-21 win in Lincoln.
In retrospect
: It was hard not to feel great for Jim Mora and the Bruins. Who didn't get chocked up when
Anthony Jefferson
recovered that fumble and ran the ball to Mora with a big hug? The Pac-12 blog certainly did. But for entertainment value, watching Utah and Oregon State exchange late touchdowns and go to overtime, which the Beavers won 51-48, was thrilling.
Week 4
Our pick:
Arizona State at Stanford
End result
: The Cardinal stomped the Sun Devils through three quarters, holding a 39-7 lead before a few late touchdowns by ASU gave us the final 42-28 margin.
In retrospect
: We thought this game would be better. And maybe Saturday's Pac-12 championship game between these two teams will be. But the Holy War produced another thriller – and another Utah win.
Week 5
Our pick
: USC at ASU
End result
: A high-scoring affair that propelled the Sun Devils to the top of the South Division and ended Lane Kiffin's coaching tenure. All in all, a pretty exciting and impactful game on the Pac-12 landscape.
In retrospect:
It was a rain-soaked weekend, so we're thinking we made the right call with this pick.
Week 6
Our pick
: Washington State at California
End result
: The Air Raid out dueled the Bear Raid.
In retrospect
: OK, so we were looking for a little diversity with this pick. And the Mike Leach vs. Sonny Dykes storyline was fun. ASU-Notre Dame was pretty exciting. But Washington at Stanford provided some of the most entertaining football this year. Tight game, controversial calls, and the squabbling fallout about injuries that carried over into the next week was delicious.
Week 7
Our pick
: Oregon at Washington
End result
: 10 in a row.
In retrospect
: Utah provided one of the biggest upsets of the college football season with its win over Stanford. It shook up the rankings and surely was a turning point for the Utes. Of course, weeks later, we know Stanford is back in the title game and Utah (plagued by an injured
Travis Wilson
) went on to lose five of its final six.
Week 8
Our pick
: USC at Notre Dame
End result
: Watching USC's offense in Notre Dame territory was painful as the Trojans dropped their first game of the Ed Orgeron era.
In retrospect
: This was a taking case of business sort of week as the Cardinal got back on track against UCLA, Oregon topped Washington State, ASU pummeled Washington etc. For as frustrating as the USC game was to watch, it was probably the best for entertainment value.
Week 9
Our pick
: UCLA at Oregon
[+] Enlarge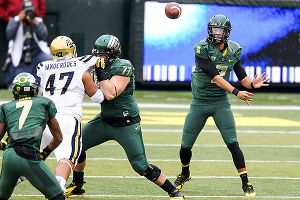 Steve Conner/Icon SMIQB Marcus Mariota and the Ducks had no problem with UCLA in Week 9.
End result
: The Ducks handed the Bruins their second straight road loss and exploded for 21 fourth-quarter points in a 42-14 win.
In retrospect:
Stanford at Oregon State turned out to be a pretty close game -- especially after a late Stanford turnover brought the Beavs back into contention. Utah at USC was pretty sloppy. Not a ton of great games, so we'll stick with this one as the top pick for what we knew at the time.
Week 10
Our pick
: USC at Oregon State
End result
: The Trojans snapped their Corvallis Curse and suddenly people were asking two questions: 1) Can USC make a run in the South? 2) Should Ed Orgeron be our head coach permanently?
In retrospect
: Arizona and Cal was tighter than a lot of people thought it would be. But with only four games on the docket, USC-Oregon State was the game that made the most sense -- and still does.
Week 11
Our pick:
Oregon at Stanford
End result
: The Cardinal pounded away for 45 minutes (and 45
Tyler Gaffney
carries) en route to their second straight win over the Ducks.
In retrospect
: There should be no arguments here, this was the game of the week. Amazing atmosphere (good work, Cardinal fans) and the Ducks made it thrilling in the fourth quarter. Great times all around.
Week 12
Our pick
: Stanford at USC
End result
: The Trojans turned the league back on its head with a last-minute field goal victory -- keeping with theme of amazingly close games between these two teams.
In retrospect
: We didn't know it when the Ultimate Road Trip was written, but this week would be flip week. I was in SEC country and Ted was in The Little Apple. I vividly recall following the Stanford-USC ESPN.com gamecast on my cell phone during Steve Spurrier's postgame news conference. The UCLA game was fun to watch because it showed
Myles Jack
was more than a one-week wonder. But we got it right with this pick.
Week 13
Our pick
: ASU at UCLA
End result
: The Sun Devils locked up the Pac-12 South championship with a signature road victory. They built a huge lead, but UCLA stormed back in the second half and had a chance to win on the final drive.
In retrospect
: We theorized in the preseason that this game would determine the winner of the Pac-12 South. And we were right. What we didn't know was that the outcome of the Oregon-Arizona game would determine the winner of the North. We still feel solid about this pick. But if you made the trip to Tucson, you saw one of the biggest upsets of the year.
Week 14
Our pick
: UCLA at USC
End result
: The Bruins topped the Trojans for the second straight year and won at the Coliseum for the first time since 1997.
In retrospect
: Surprisingly, this game turned out to be pretty one-sided. Given the fact that UCLA was coming off a loss and USC had a ton of momentum, it actually wasn't all that thrilling of a game. The real action was in Eugene – where the Ducks pulled out a last-minute, one-point victory over the Beavers.
December, 4, 2013
Dec 4
2:30
PM ET
This wasn't the person he'd thought he was, or would have chosen to be if he'd been free to choose, but there was something comforting and liberating about being an actual definite someone, rather than a collection of contradictory potential someones.
December, 4, 2013
Dec 4
2:00
PM ET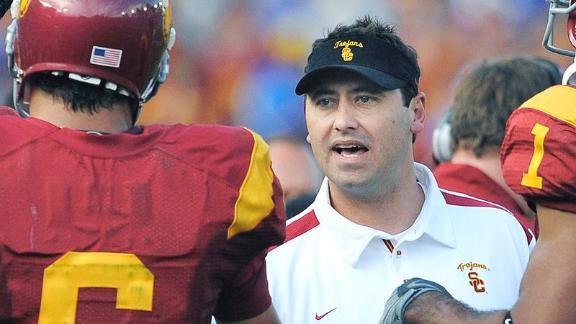 There was some good news for the Pac-12 in the updated
class rankings
released on Wednesday as Arizona, Arizona State and Oregon all moved up. The Wildcats maintained their grip on the top class in the conference and now sit at No. 18 overall. The Sun Devils jumped two places -- from No. 24 to No. 22 -- largely on the strength of a commitment from four-star running back
Demario Richard
(Palmdale, Calif./Palmdale), and in doing so, leapt Stanford for the No. 2 spot in the Pac-12. The Cardinal slid two spots, down to No. 25 overall, while Oregon remains the fourth conference team among the top 40, up to places to No. 30 overall. Here's a look at the
conference's rankings.


Trending up:
In the 2013 class, Arizona State didn't sign and enroll a single four-star high school prospect. With Richard's commitment on Monday, the Sun Devils now have eight in their 2014 class. While Richard is the first commitment since mid-November, Arizona State's on-field performance has recruits buzzing about the future of the Sun Devils and with a win this weekend, coach Todd Graham will have an opportunity to close out this class in a big way.
To continue reading this article you must be an Insider
December, 4, 2013
Dec 4
9:39
AM ET
When I wrote in an Insider article two years ago that the Pac-12 had an opportunity to close the gap between it and the SEC as the top college football conference in the country (an article that drew its fair share of discussion), Pac-12 commissioner Larry Scott was still in the formative and visionary process of building up the league. He had brokered the richest television deal in college sports, and the conference was taking shape with its new members and new direction.
Two years later, the conference continues to close the gap, and while its 12 members cannibalized their own chances at a BCS title in 2013, the vision continues to look very promising. Here are four reasons the Pac-12 continues to pose a long-term threat to the SEC in terms of college football supremacy.
To continue reading this article you must be an Insider
December, 3, 2013
Dec 3
9:07
PM ET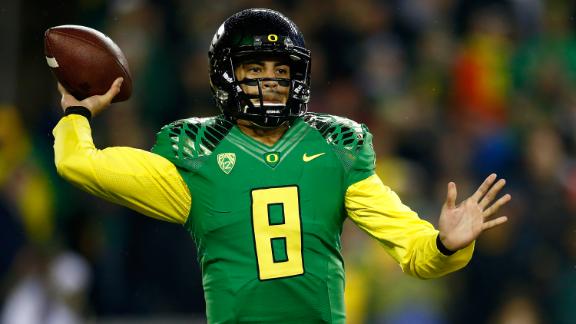 I give
Marcus Mariota
a lot of credit for his decision to return to Oregon for his redshirt junior season. While this is a very deep class of quarterbacks, there isn't a clear-cut elite QB prospect, and with the number of QB-needy teams at the top of this year's draft, there was an opening for him to be the No. 1 overall pick. I think that if he had decided to leave, he would have been the first quarterback taken.
But even though he's turning down a huge paycheck for this upcoming season, I think he made the right decision.
My guess is that part of Mariota's choice was a result of him evaluating himself and realizing that he still has room to grow as a quarterback. His regular season didn't end in the same positive way you might have expected based on his early-season play, and a knee injury that limited his running ability was a big reason why. His explosiveness as a runner is a big part of his game, so when that was taken away it forced him to be more of a pocket passer, and showed him that he's not quite where he needs to be in that area.
Read the rest of the story
here
.
December, 3, 2013
Dec 3
7:18
PM ET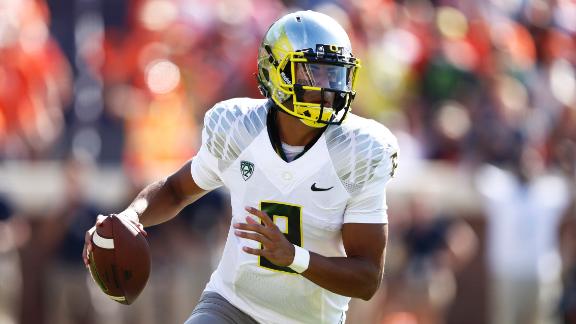 After a trying second half of the season, Christmas came early for Oregon coach Mark Helfrich when quarterback
Marcus Mariota
announced Tuesday that
he would return for his redshirt junior season
instead of entering the NFL draft, in which he almost certainly would have been an early first-round selection.
As a stocking stuffer, two-time first-team All-Pac-12 center
Hroniss Grasu
also announced he will return.
Goducks.com
, the school's athletics website, announced the news for both.
[+] Enlarge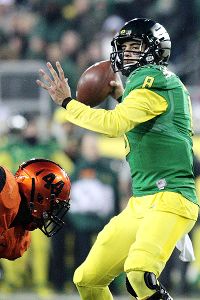 Scott Olmos/USA TODAY SportsMarcus Mariota will return to Oregon next season as a Heisman Trophy favorite.
While the Ducks probably are going to say goodbye to receiver
De'Anthony Thomas
and cornerback
Ifo Ekpre-Olomu
, who have yet to announce their intentions, Mariota's decision does make one thing clear: Oregon will be the favorite to win the Pac-12 in 2014, the first year of the four-team College Football Playoff.
Mariota, a first-team All-Pac-12 selection for a second consecutive year, will be the preseason favorite to win the Heisman Trophy as he captains an offense that looks like it will welcome back eight starters, a calculation that doesn't include DAT or RB
Byron Marshall
, the Ducks leading rusher.
While the Ducks' defense will take a few hits, Helfrich's second team appears stacked and ready for a potential bounce-back season. North Division rival Stanford will be replacing a number of key stars on both sides of the ball, including eight players who earned first- or second-team All-Pac-12 honors.
Mariota completed 227 of 360 attempts for 3,412 yards with 30 touchdowns and four interceptions and rushed for 582 yards and nine touchdowns this season. He set a Pac-12 record from the end of last season into this year by attempting 353 passes without an interception. He ranks second in the nation in ESPN.com Stats & Information's Total QBR.
Of course, a knee injury suffered against UCLA on Oct. 26 hampered him over the second half of the season, most notably in the Ducks' first loss at Stanford. Still, the Ducks "down" year produced a 10-2 record, a sixth consecutive 10-win season with a bowl game left to play.
Mariota's return means that as many as 10 conference teams could welcome back their 2013 starting quarterback. We still await word from UCLA's
Brett Hundley
and Oregon State's
Sean Mannion
on whether they will enter the NFL draft. The return of Utah's
Travis Wilson
is up in the air due to health issues.
Only Arizona and Washington started seniors at QB this year.
The dual return of Mariota and Grasu means the brains of the Ducks' offense will be back in 2014. Grasu, perhaps the nation's top center, should have a mastery of the Ducks' offensive line calls, while Mariota figures to own an Andrew Luck-like knowledge of the nuances of the Ducks' offense as a third-year starter.
That's a huge advantage heading into 2014.
Further, their return is a vote of confidence in Helfrich. If one or the other didn't believe in the Ducks' first-year coach, they almost certainly would have moved on.
The only Ducks who might be unhappy with Mariota's decision are backup QBs
Jeff Lockie
and
Jake Rodrigues
, who will be redshirt sophomores next season. They probably expected to be in a hotly contested competition for the starting job this spring. That said, they might benefit from another year of seasoning playing behind a future high NFL draft choice.
Of course, sometimes the celebrated return of a QB doesn't always work out (see: USC's Matt Barkley in 2012). Fans and NFL scouts will expect Mariota to be even better next fall. Comparable numbers might be viewed as a sign of his plateauing.
But that's a potentiality that isn't worth fretting over today.
Oregon fans were frustrated when the program lost two of its final four games and fell out of the national title race. Here's a guess that those frowns just turned upside down.
Mature Decision By Marcus Mariota