February, 1, 2015
Feb 1
1:01
PM ET
The final weekend for official visits before signing day saw some big trips taken to Pac-12 programs and a few important commitments, while one program got started in earnest on 2016 recruiting.
Beavers bag two
Oregon State coaches have rallied their class after taking over in early December. With several top prospects following former head coach Mike Riley to Nebraska and others leaving or being nudged out of the class, Gary Andersen and staff have done a nice job rebounding and filling their 2015 class. The top five commits have all made their pledges since Jan. 17, and two of those came this weekend in running back
Deltron Sands
and linebacker
Christian Folau
.
I am proud to say I'm officially committed to Oregon State University = pic.twitter.com/vvSpWWfz1L

— 2ă RANưZ W (@LegendarySands4) January 31, 2015
I have decided to officially commit to Oregon State University! #GoBeavs pic.twitter.com/o1LJ4Z0e0u

— Christian Folau (@1_LBEAST) February 1, 2015
Folau is a former Stanford commit who also looked hard at Oklahoma State, Utah and Wisconsin. He is now the top-ranked prospect in Oregon State's class, while Sands continues the Beavers' reach into Florida. He is the fifth Sunshine State prospect in this class and the fourth to commit to Andersen.
UCLA's final push
The Bruins had several of their committed prospects on campus for official visits this weekend, including cornerback
Colin Samuel
, who received a strong late push from Michigan in an attempt to bring him out on an official visit. Samuel instead opted to firm up his commitment to the Bruins. He visited UCLA this weekend along with two significant Bruins targets in ESPN 300 cornerback
DeChaun Holiday
and ESPN 300 defensive tackle
Joseph Wicker
, both pictured alongside Samuel in this tweet.
UCLA official, and yes yall will catch me in the 31 next year! #4sUP pic.twitter.com/qOkgjFPCRb

— UCLA'19 (@Colinsamuel9) January 31, 2015
Holiday is scheduled to announce his commitment later Sunday, and it would be a huge surprise if the standout defensive back lands anywhere other than UCLA. Wicker will announce on signing day and is down to Arizona State, Texas Tech and UCLA -- but again, he is likely to wind up with the Bruins.
Oregon's other visitors
Plenty of attention was paid late last week to Eastern Washington quarterback Vernon Adams, who could
very likely become an Oregon quarterback
in the near future. Adams took a visit to Oregon this weekend and has an opportunity, should he choose to take it, to transfer schools without having to sit out a year as a graduate student.
But the Ducks are also looking to finish out the 2015 class at the linebacker position and have their sights set on Washington State commitment
Jonah Moi
.
Finally in Eugene, Oregon =©

— Jonah Moi (@Onsince95) January 30, 2015
This Ducks jumped on Moi in a big way after missing on a few other targets throughout the process and should have a good shot at flipping the junior college defender.
Oregon also got a visit this weekend from a standout 2016 talent in ESPN Junior 300 athlete
Taylor Rapp
, who already holds offers from Arizona State, Boise State, Northwestern, Oregon, Washington and Washington State.
Enjoying myself out here at Oregon =% pic.twitter.com/xCfqwQLfpn

— Taylor Rapp (@trapp07) January 31, 2015
USC's junior day
USC held its first junior day for 2016 recruits on Saturday, and many of the top prospects in the West region were in attendance. News and photos seemingly came from every recruit in attendance. All told, at least five prospects received offers from USC, including linebackers
Curtis Robinson
and
Krys Barnes
, defensive backs
Jordan Parker
and
Shurrod Thompson
and wide receiver
N'Keal Harry
.
Gardena (Calif.) Serra was well represented, with
Oluwole Betiku
,
Brandon Burton
,
Blake Walls
and
Khalil Tate
in this photo. Betiku, Burton, Tate and fellow 2016 Cavalier
C.J. Pollard
already held USC offers before the visit.
Serra Cavaliers at USC Junior Day. Serra to USC Pipeline reaching double digits. Wole, Burton, Walls, Tate. SFG pic.twitter.com/QOOxxilRVO

— Serrahighfootball (@Serrahighsfg) January 31, 2015
Burton is the nation's No. 76 overall 2016 prospect and part of what is going to be an absolutely loaded class of wide receivers in California.
d=› #FightOn pic.twitter.com/KgIFPEusTm

— ¡Brandon Burton¡ (@BraandonD1) February 1, 2015
ESPN Junior 300 defensive backs
Treyjohn Butler
and
D.J. Morgan
were also in attendance, with both waiting on offers from USC.
................ pic.twitter.com/w6ZJbAzrVX

— T........... (@_treyjohnb) February 1, 2015
USC Junior Day<< #FightOn pic.twitter.com/Y9ZgnBKdof

— D.J. Morgan (@dj_morgan27) January 31, 2015
The state of Arizona was also well represented, with ESPN Junior 300 cornerback
Byron Murphy
joining Harry, along with former Arizona and current San Marcos (Calif.) Mission Hills quarterback
Dakota Miller
.
USC today! @NkealHarry15 @dkiiidakota pic.twitter.com/KPwR3YSXAN

— Bmurph (@byronmurpy) February 1, 2015
January, 30, 2015
Jan 30
6:30
PM ET
Happy Friday. Hope your Super Bowl party is a most righteous affair.
Follow me on Twitter
. Please.
To the notes!
David from Calgary, Alberta writes:
By now, most Oregon fans will have heard the fact that UO
has offered a scholarship
to Vernon Adams from EWU. To me, this doesn't look like the coaching staff at UO has a lot of confidence in the QBs that are currently there and have been in the system. Lockie and Alie have taken snaps with the UO offense, and Mahalak and Griffen have red shirted and been in the system. If Adams does end up going to UO, he has stated that he won't join the team until after a summer internship is up in August. Why would anyone want to take a 1 year "place-holder" who will have essentially 3 weeks to learn the play book and jell with the offense before the season opener, when you have guys who have been in the system for at least a year, and don't have as far to go?
Ted Miller:
I would encourage Oregon fans to not overthink this, as it's pretty simple.
Marcus Mariota
is off to the NFL. The Ducks' quarterback spot is open for competition in 2015.
Mark Helfrich and Scott Frost are going to play the quarterback who gives the Ducks their best chance to win next year. If they have an available scholarship for a quarterback who might be that guy, then it behooves them to invite him to become a Duck, whether that's Adams, Ohio State's
Braxton Miller
or Kal-El, a raw, underrated prospect from Smallville High School who can really fly.
This is an interesting opportunity for Adams to step out from obscurity and perhaps show the nation just how good he is. This is an interesting opportunity for Oregon to get a guy who fits the Ducks' offense and has experience carving up Pac-12 defenses. It also would allow the Ducks another year to develop its crew of promising but young quarterbacks.
(Quick Adams note, per ESPN Stats & Information: In two starts against Pac-12 foes, he's been responsible for 13 touchdowns and no interceptions with a 97.2 Total QBR. In 2013, he led Eastern Washington to an upset over No. 25 Oregon State, and last season he threw for seven touchdowns against Washington, the most the Huskies have ever allowed in a game).
You might wonder how the rest of the Ducks quarterbacks might react. That's easy. Their reaction should be, "Good. This makes us better. Another quality guy in the competition will help me leave no doubt with my teammates and coaches when I win the starting job and make this my offense. I want my backup to be the best available guy."
Nothing is guaranteed. Adams getting a scholarship doesn't make him the starter. He still has to win the job.
As for that internship, I'm skeptical. If Adams becomes a Duck, my money is on him showing up in Eugene as soon as possible. I'm guessing whoever enlisted Adams for an internship would understand.
---
Donovan from St. George, Utah writes:
Why can't Utah keep an offensive coordinator for more than one season?
Ted Miller:
You mean eight offensive coordinators in eight seasons is unusual?
Every departure has its own nuances. Andy Ludwig, who spent four seasons with the Utes, left for California after the 2008 season, and Norm Chow became Hawaii's head coach in 2012. You could say those departures were because of promotions.
The transition from Dave Schramm (2009) to Schramm and Aaron Roderick (2010) was head coach Kyle Whittingham trying to promote from within, and bringing in Chow in 2011 was getting a big name from without. Promoting Brian Johnson in 2012 also was an inside move that seemed both risky and inspired because of Johnson's lack of experience, and bringing in Dennis Erickson in 2013 felt a lot like the call to Chow -- a vacillation back toward a big-name veteran after an inside promotion.
Replacing Erickson with Dave Christensen last season felt like Whittingham jumping on an opportunity to get a respected offensive coach he also knew personally. At the time,
it merited a raised eyebrow
, but it also seemed like Whittingham might have gotten his man -- finally! -- a guy who knows the type of spread offense Whittingham wanted.
Nope. I think Kurt Kragthorpe
reasonably reads the tea leaves here
:
Christensen is eager enough to move that he's disregarding his 25-year friendship with Whittingham and abandoning Kendal Thompson and Jason Thompson, the quarterbacks whom he persuaded to transfer to Utah. His decision supports the theory that Christensen and Whittingham couldn't agree about the QB staffing this season. Travis Wilson twice was benched in favor of Kendal Thompson, who then missed the last four games with a knee injury.
As a reporter, Whittingham has always been great to work with -- accessible, insightful, straight-forward -- but there is pretty significant evidence that he's not always easy to work for. By the way, a lot of good coaches are difficult bosses. That whole accountability and demanding the best all the time thing.
What's clear is that Whittingham isn't afraid of change, and even in a year when the Utes broke through in the Pac-12, he's not satisfied. He would probably be a lot easier to work for if his offense averaged 35 points -- or more! -- a game.
It will be interesting to see who Whittingham hires. Despite Utah posting a quality season after two down years, there seems to be plenty of soap opera going on in Salt Lake between Whittingham and AD Chris Hill. Taking another step forward on all fronts in 2015, including retaining an offensive coordinator for more than one season, would certainly help settle things down.
---
Marcus from Canaan, Connecticut, writes:
It's become increasingly clear to me that the ducks will never win a national title until they start landing 5 star recruits on a regular basis. Being that they have been the preeminent program on the west coast for the last decade or so, why are they still losing the majority of those battles to schools like USC?
Ted Miller:
Got $1 that says Marcus wasn't an Oregon fan in the 1980s.
Oregon is never going to win the majority of its battles for 5-star prospects over USC/UCLA. Never. So get over it.
Why? Primarily, it's an issue of location. The vast majority of 5-star prospects on the West Coast play high school football near USC/UCLA. Further, the Trojans have the huge advantage of being perhaps the preeminent college football program in the nation, winning 11 national titles while producing the most NFL first-round draft picks and NFL Hall of Famers.
Oregon lost the 2010 national title game to Auburn on a last-second field goal. It whipped unbeaten defending national champion Florida State by 39 points in the first College Football Playoff semifinal. It beat Wisconsin in the 2012 Rose Bowl and Kansas State in the 2013 Fiesta Bowl. Oregon has won at least 10 games and finished ranked in the top-11 for seven consecutive years. It has finished ranked in the top five in four of the past five years.
Oregon just needs to keep doing what it's been doing for the past six or seven years, which is trying to ... well ... win the freaking day. That probably includes a steady, but incremental, improvement in the quality of recruits.
But becoming obsessed with 5-star recruits is the worst thing the Ducks could do. It is the path to failure.
---
Thomas from Charleston, North Carolina, writes:
It seems very strange that Colorado has been without a Defensive Coordinator for nearly a month. Some speculation has been that head coach MacIntyre may take over these duties for the 2015 season. Do you think that is a possibility? Has that ever been handled this way at other programs before? Love to get your thoughts on the situation.
Ted Miller:
Even if MacIntyre takes over the defensive play-calling, he's going to hire a defensive coordinator. His doing so, of course, would reduce the number of interested A-list candidates because most coordinators want that control.
And, yes, I understand your frustration and impatience. If MacIntyre could have quickly engineered a high-impact hire, it might have given recruiting a bump, not to mentioned energized fans.
Word is MacIntyre made runs at a couple of guys but couldn't close the deal. With signing day closing in, he might have decided to regroup and refocus, which would explain a dearth of rumors on the post. He also might be waiting for a few more NFL dominoes to fall after the Super Bowl.
The good news is that the next coordinator is probably going to be better than the undistinguished Kent Baer, who has led more mediocre-to-bad defenses than good ones. His departure to UNLV, one suspects, didn't evoke tears from MacIntyre. The Buffs took a step back defensively this fall, despite better, more mature talent. With nine returning starters, Colorado has a chance to be much better in 2015, whoever the coordinator is.
---
Brian from Denver writes:
An under-recognized reason for Stanford's disappointing season, in my opinion, was the tough road schedule. In 2015, though, we get UCLA, Arizona, Notre Dame, Cal and Oregon at home. Does the improved home-away balance outweigh
2015's brutal strength of schedule
? I love that we play 9 conference games, insist on playing both LA schools every year, and play 3 legitimate nonconference foes -- there are no dud games this year! -- but should the schedule make me more optimistic or pessimistic overall?
Ted Miller:
Well, Stanford's schedule will be among the nation's toughest in 2015, period. It plays three quality nonconference foes -- at Northwestern, UCF and Notre Dame -- which is even an uptick from past years. Though it helps to get Oregon at home, the Cardinal also is at USC in Week 3.
That said, it certainly is an advantage to play seven home games and do a 5-4 home-road split in Pac-12 play. Last season, the schedule was 6-6 home-road and 4-5 in conference play.
So be optimistic.
---
Tom from Seattle writes
: [
This is funny
].
Ted Miller:
Yes. That is funny.
A.A. Ron Rodgers!
January, 30, 2015
Jan 30
3:00
PM ET
What he brings
: The versatile
Iman Marshall
is the complete package at the corner position. He brings size, ball skills and athleticism that could project at different positions throughout the secondary. He possesses great transitional quickness for a perimeter defender with his frame and closing speed to shut down receivers in man coverage. He also has the big frame and physicality, range and ball-hawking skills to add value at safety. We expect this competitive and instinctive athlete to compete for early playing time at the next level.
January, 30, 2015
Jan 30
12:00
PM ET
We finish our final Pac-12 blog Quarterback Power Ranking of the season with, perhaps, the most unsurprising No. 1 ever imagined.
Yes, figure this, if you win the Heisman, Davey O'Brien Award, Maxwell Award, the Johnny Unitas Golden Arm Award and are voted first team All-Pac-12, there's a decent chance you'll also sit atop our power rankings at year's end. Congrats,
Marcus Mariota
.
No. 1: Oregon redshirt junior Marcus Mariota
Statistics:
304-of-445 (68.3 percent), 4,454 passing yards, 42 touchdowns, 4 interceptions | 135 carries, 770 rushing yards, 15 rushing touchdowns
Why he's here:
Because he deserves it.
Mariota wasn't just the best quarterback in the Pac-12 or the best quarterback in the nation, he was the best college player to step foot on a field this year. He managed to throw passes into windows that no one else could hit and eluded some of the nation's best defensive backs with running back-like speed. He led the Ducks to the inaugural College Football Playoff and though they ultimately fell short of the national title, he cemented his legacy in not only Oregon football history, but also college football history.
His touchdown to interception ratio (10.5) led the country as did his adjusted QBR (90.8). Mariota's passer efficiency rating of 181.7 was far and away the nation's best and he managed to accomplish all of this behind an offensive line that saw more lineup changes than most Broadway productions see during a season. He was sacked 31 times during the season -- putting Oregon's quarterback protection on par with Northwestern, Arkansas State and Oklahoma State.
Though we will certainly write more and more about Mariota on this blog, it seems very drawn out to need to explain why Mariota deserved this No. 1 spot in 300 words. So, let's close with very true and simple reasoning: He was the best. We're not going to see quarterback play like this -- anywhere in college football -- in a long time.
January, 30, 2015
Jan 30
9:00
AM ET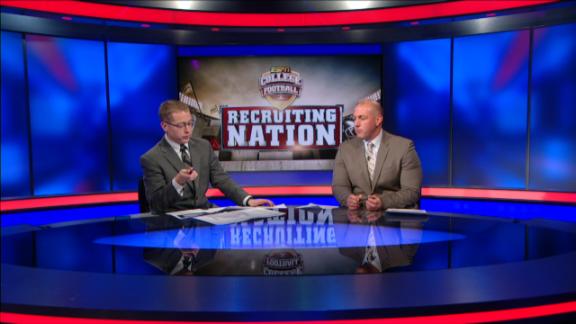 It's the final weekend for official visits before signing day on Wednesday, Feb. 4, and Pac-12 programs are looking to make that final in-person push as they close in on finishing out their classes. We take a look at the top three visit weekends in the conference.
To continue reading this article you must be an Insider
January, 29, 2015
Jan 29
8:27
PM ET
January, 28, 2015
Jan 28
3:00
PM ET
If this season was the "Year of the Quarterback" in the Pac-12, then next year is the "Year of the Running Back." With eight of the top 10 running backs returning in 2015, the conference is going to be stacked with rushing talent.
Three of the four running backs who averaged at least 100 yards per game will be back in 2015 with the exception being USC's Buck Allen, who opted to leave early for the NFL draft. But the Trojans don't need to fear. Sophomore
Justin Davis
is primed to enter the competition to be a top-5 running back in the conference, filling Allen's shoes for USC.
But this got the Pac-12 Blog thinking: Who is going to lead the conference in rushing next season? There are plenty of arguments to be made for each of the top eight guys returning and the top spot could really go to any one of them. So, who do you think steals that spot?
1. UCLA's Paul Perkins | 251 carries, 1,575 yards, 9 touchdowns
With Brett Hundley's early departure, the Bruins will likely rely on Perkins even more next season than they did this past season to get things going for UCLA. Perkins averaged 6.3 yards per carry, a Pac-12 best for running backs who toted the ball at least 200 times. He's not a little-by-little type of running back. Expect him to get his 2015 yardage the same way he got his 2014 yardage -- in big chunks. He led the league in rushes of 10-plus yards (46). A few big games could be enough to put him at the top of the list.
2. Utah's Devontae Booker | 292 carries, 1,512 yards, 10 touchdowns

Booker burst onto the scene this past season and carried a Utah offense that was -- at times -- one-dimensional (especially near the end of the season). He proved his effectiveness even when opponents knew exactly what the Utes were going to do. With a little more stability on the offensive side of the ball (specifically at QB), expect the Utes to make some big strides. He'll need to clean it up a bit; he tallied five fumbles last season, the most of any running back who carried the ball at least 100 times.
3. Arizona's Nick Wilson | 236 carries, 1,375 yards, 16 touchdowns
Because of Oregon's title run and the attention that got, Wilson's accomplishments played second fiddle to the other star freshman running back in the conference (No. 4 on this list). But Wilson actually accrued more yardage on fewer carries than
Royce Freeman
did. Of running backs who carried the ball at least 150 times last season, Wilson was the most effective on third down, converting 58.6 percent. With Wilson and quarterback
Anu Solomon
both returning, Rich Rodriguez's offense is going to be even more dynamic and more difficult to stop.
4. Oregon's Royce Freeman | 252 carries, 1,365 yards, 18 touchdowns
Freeman was an absolute truck for Oregon this season. Give him a full season's worth of starts next season and expect these numbers to go up. With the Ducks transitioning to a new quarterback, and one who likely won't be nearly as mobile as
Marcus Mariota
, expect Oregon to rely more on Freeman and the run game to get some offensive yardage.
5. Cal's Daniel Lasco | 210 carries, 1,115 yards, 12 touchdowns
Even though Sonny Dykes comes from the school of Air Raid, he has much more of a balance in his offense when it comes to rushing and passing. Enter Lasco, who made huge, huge strides between his sophomore and junior seasons. He only got better as the year went on, finishing with three 100-yard games in the Bears' final four appearances. Like Wilson, Lasco will benefit from playing with the same quarterback two seasons in a row, which should help his total yardage. Plus, with Cal coming so close to a bowl game this season, don't discount the value of a chip on the shoulders, especially on the shoulders of a senior.
6. ASU's D.J. Foster | 194 carries, 1,081 yards, 9 touchdowns
What makes Foster so valuable as a running back is that he's so difficult to defend. He managed to pick up all this rushing yardage while also tallying 62 receptions for 688 receiving yards -- which led the country for running backs. If he continues to develop his hands (and we've all seen what
Mike Bercovici
can do), he'll just be even more difficult to game plan against.
7. Oregon State's Storm Woods | 121 carries, 766 yards, 5 touchdowns
Woods might be one of the most interesting running backs to watch next season given the coaching change in Corvallis. Gary Anderson coached
Melvin Gordon
to two phenomenal seasons in Madison (549 carries, 4,196 yards, 41 touchdowns). Obviously Anderson won't be able to turn Woods into Gordon overnight, but there should be several reasons for optimism around the Beaver program and what Anderson could do with the run game. And Anderson will be happy with the product he's getting. Woods was the cleanest running back on this list this season, not recording a single fumble despite carrying the ball 133 times.
8. Washington's Dwayne Washington | 132 carries, 697 yards, 9 touchdowns
Washington split carries with freshman
Lavon Coleman
this season for the Huskies, who averaged 188.6 rushing yards per game. It'll be interesting to see who really takes over for UW next season as the competition between Washington and Coleman will be tight this spring. Expect bigger things from the Huskies in Year 2 of Chris Petersen's tenure.
January, 28, 2015
Jan 28
11:35
AM ET
By
Ryan Canner-O'Mealy
| ESPN.com
It was another season of record-setting performances, unbelievable finishes and very large men scoring very big touchdowns. And, yes, the Fainting Goat.
Here are our favorite plays of the year:
Hail Marys
Bahamas Bowl miracle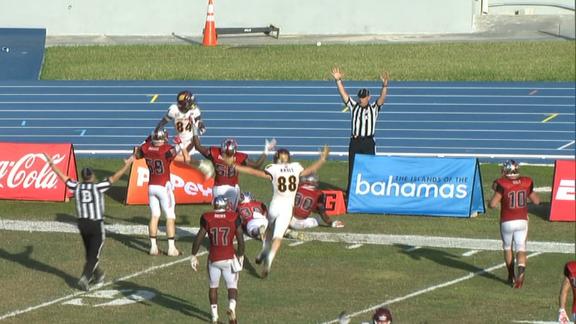 Central Michigan trailed by 35 points entering the fourth quarter. It trailed by seven when it pulled off a 75-yard, three-lateral Hail Mary as the clock struck :00. The Chippewas failed on the two-point conversion, but their comeback and miracle finish was the craziest play of bowl season.
---
Central Florida wins a share of the AAC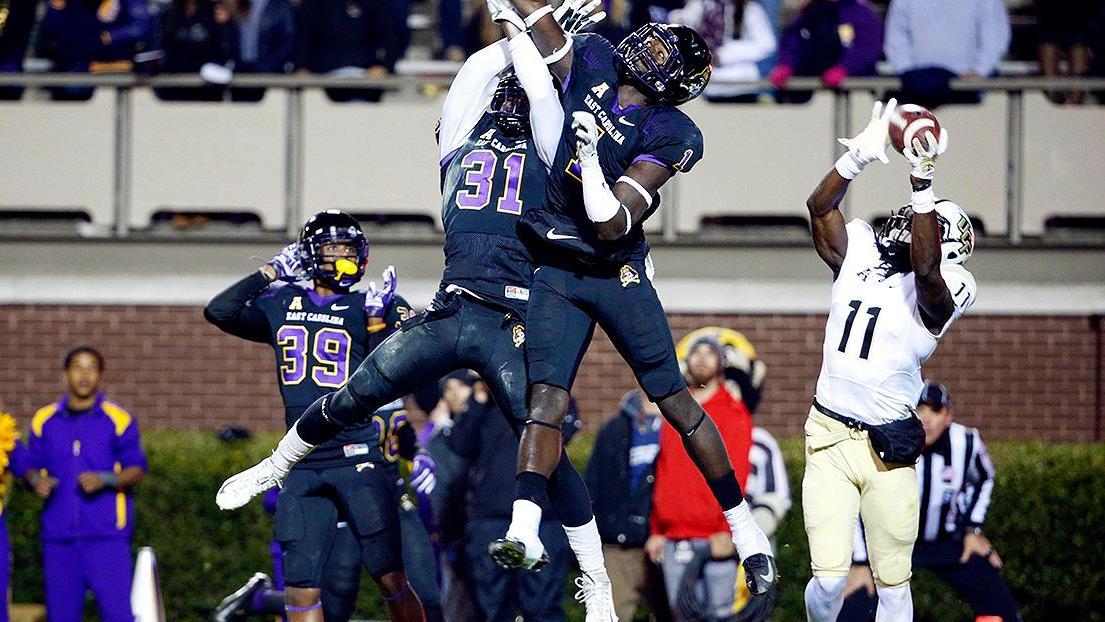 After blowing a 26-9 fourth-quarter lead, it looked as if Central Florida was done. But East Carolina mismanaged the clock -- taking three knees and a sack -- before giving the ball back to the Knights with 10 seconds left. One 51-yard score later, George O'Leary's crew was celebrating a share of a conference championship.
---
Solomon stuns Cal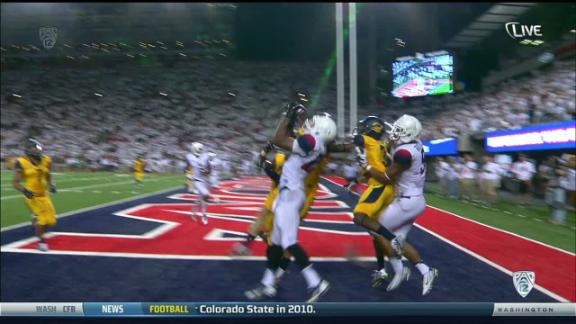 Arizona scored an absurd 36 points in the fourth quarter, capped by
Anu Solomon
hitting
Austin Hill
in the end zone on a 47-yard touchdown that gave the Wildcats a 49-45 win.
---
Big-guy touchdowns
Come to Arkansas, where linemen throw TDs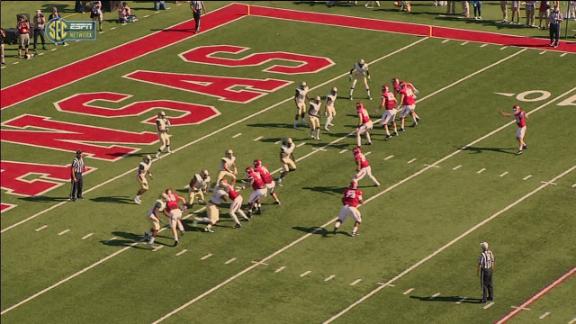 Who said Bret Bielema offenses were old school? Arkansas' coach loves his linemen, and here he lets 350-pound guard
Sebastian Tretola
throw for a score in a 45-17 win over UAB.
---
The biggest of big-guy touchdowns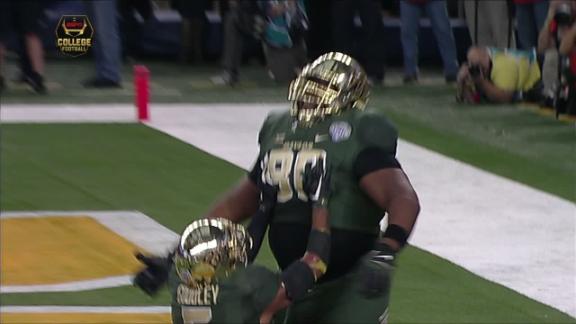 Tretola's pass was nice, but how about seeing a 400-pounder go up the seam for an 18-yard score in a New Year's Six bowl game? That's what Art Briles and Baylor dreamed up, as
Laquon McGowan
scored to give Baylor a 20-point lead before Michigan State stormed back to win 42-41.
---
Boise goes back to the future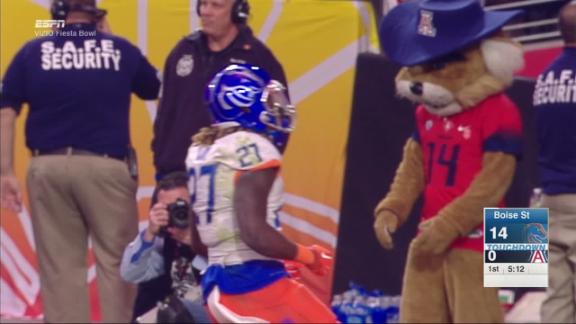 Everyone remembers Boise State's introduction to a national college football audience, upsetting Oklahoma with the Statue of Liberty in the 2007 Fiesta Bowl. Well, the Broncos brought it back for this year's game, as
Jay Ajayi
scored from 16 yards out in a 38-30 Boise win.
---
Fainting Goat gets its own category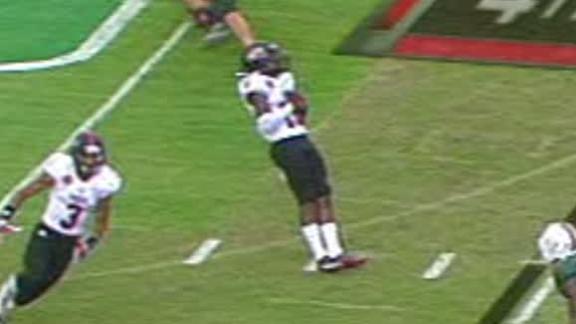 Arkansas State can lay claim to the best worst fake punt ever. In theory, one player falls down, draws the attention of the defense and the Red Wolves get a first down. In reality, he got clobbered and Arkansas State's pass was intercepted. But that only made us love it more.
---
So does this Nebraska false start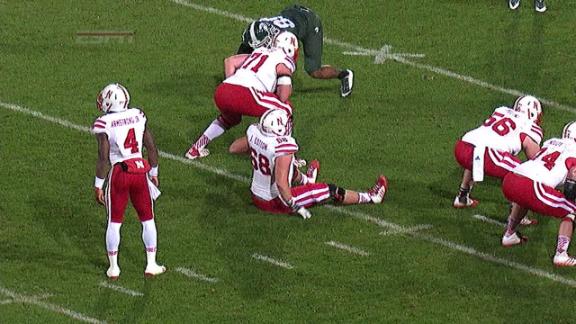 Poor
Jake Cotton
. The Nebraska lineman was just trying to hold his stance, but once all 6-foot-6 and 305 pounds of him starting going backward, there was no turning back.
---
Year of the freshman RB
Leonard Fournette runs over Texas A&M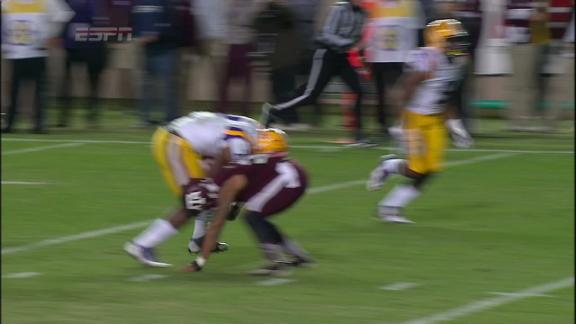 It was an up-and-down year for the heavily hyped Fournette, but he certainly showed signs of why such big things were expected out of him. Just ask Howard Matthews, who got bowled over on Fournette's way to the end zone in LSU's 23-17 win.
---
Dalvin Cook runs past Miami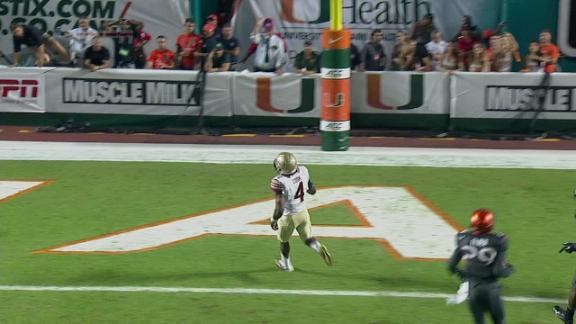 Florida State had fallen behind again. This time, it was 23-10 to rival Miami. But Cook saved the day, with 44- and 26-yard scores to guide the Seminoles to a 30-26 victory.
---
Royce Freeman can do it all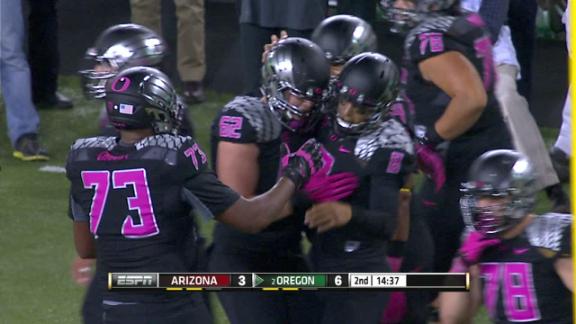 Freeman could be a game-changer for the Ducks, the kind of every-down power back the team hasn't had in the past. And he can throw it too, as he proved with this touchdown toss to Marcus Mariota against Arizona.
---
Samaje Perine an Oklahoma bright spot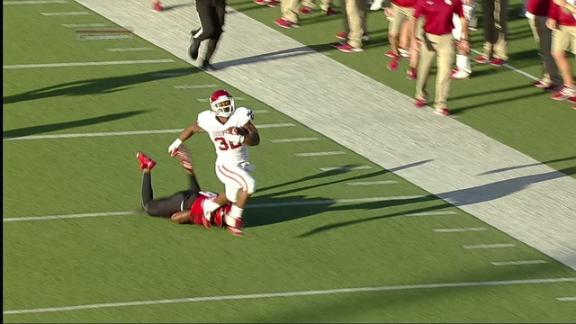 Oklahoma's year certainly ended poorly, but the Sooners have hope for the future following the emergence of Perine. He set the single-game rushing record with 427 yards (and five scores) in a win over Kansas. This 64-yard TD scamper jump-started a comeback win for Oklahoma.
---
Nick Chubb shatters records in Belk Bowl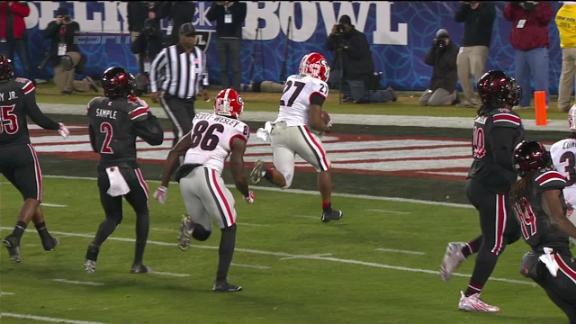 No
Todd Gurley
? No problem for the Bulldogs, who saw Nick Chubb announce himself as perhaps the best of all the freshman runners with a dominant 266-yard performance against a tough Louisville run defense. It was the most rushing yards by a Georgia back in a bowl and also a Belk Bowl mark.
---
More top plays
Nebraska's behind-the-back catch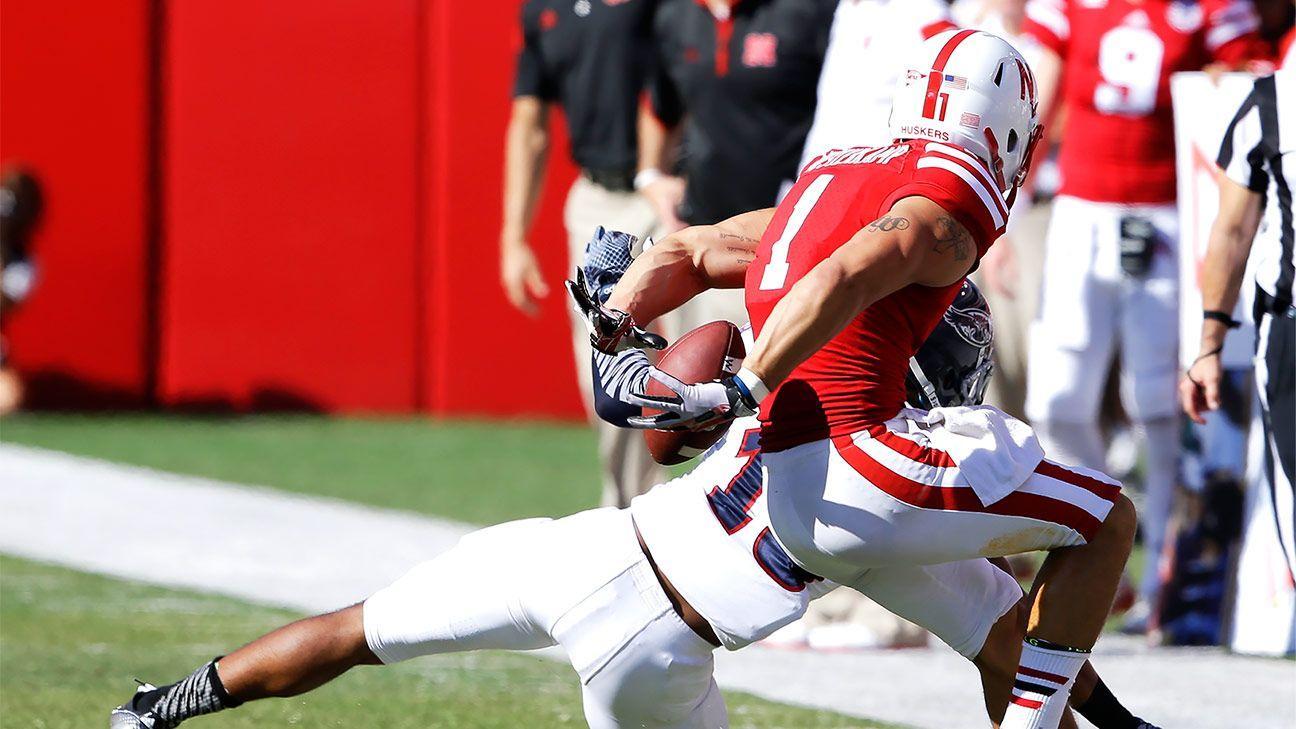 It was all the way back in August, but this held up as one of the best plays of the year. Wide receiver
Jordan Westerkamp
went behind the back to grab a pass during a 55-7 Cornhuskers win over Florida Atlantic.
---
Ohio State DE ends game like a Bosa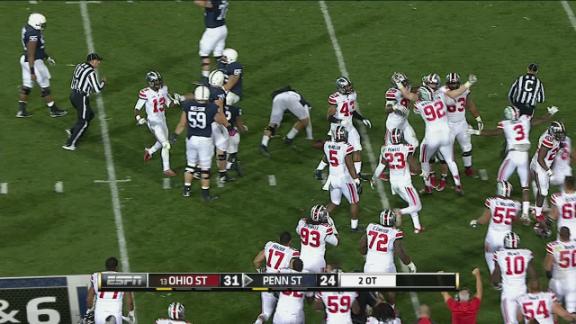 A running back on
Joey Bosa
? Yeah, that's not going to end well. As dominant as Ohio State was down the stretch, it wouldn't have happened had the Buckeyes not taken care of Penn State. Bosa made sure they finally did, with a 31-24 double-overtime win.
---
Mariota strikes a pose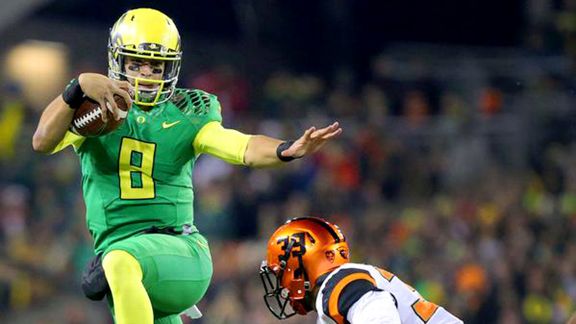 Brian Davies/The Register-Guard Marcus Mariota looked the part of a Heisman Trophy winner in Oregon's win over Oregon State.
---
Ohio State reverse touchdown pass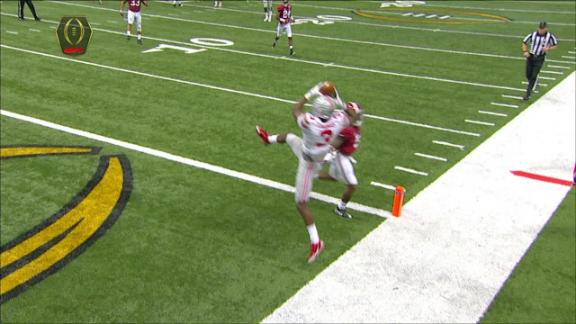 Of all the plays on this list, this is the most important. Trailing Alabama 21-13 in the final seconds of the first half,
Evan Spencer
took a handoff on a reverse and somehow found
Michael Thomas
in the corner of the end zone for a touchdown. The lesson? Even Ohio State's receivers are great quarterbacks.
---
Gordon leaps into record books (briefly)
Melvin Gordon
's stay atop the record book for single-game rushing yards may have lasted only a week, but that does nothing to diminish his magical performance against Nebraska, when he ran for 408 yards and four touchdowns in a 59-24 rout of the Cornhuskers.
---
Air Maxx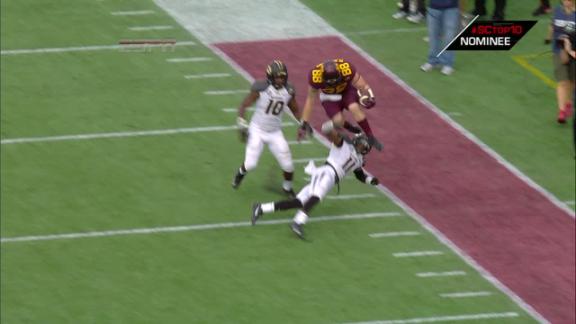 Minnesota may have lost its bowl game, but the Golden Gophers still had the highlight of the game, as tight end Maxx Williams hurdled two defenders en route to a 54-yard touchdown. So it's probably no surprise that Williams declared for the NFL draft after this game.
---
Shaq brings it baq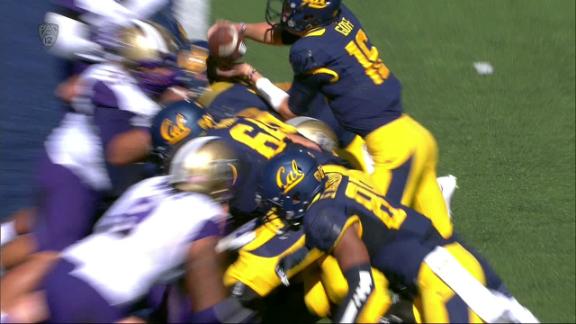 You can't do much more than a 99-yard touchdown return, and that's exactly what Shaq Thompson did for Washington to kick off the scoring in a 31-7 win over Cal.
January, 28, 2015
Jan 28
10:30
AM ET
This week, I asked a few coaches what constituted a good playcaller. Balance was one consistent element, both in terms of run and pass calls as well as taking shots downfield. Creating and leveraging mismatches, finding space for playmakers, was another.
Another characteristic -- confidence -- was a bit more abstract. Coaches said a proper playcaller has to take control of a game rather than allowing a defensive coordinator to get the upper hand.
It's a chess game in the gladiator arena, and one coach said "bravado" is required.
"Always be on the attack," he said, "regardless of down, distance, score or time of the game."
Here are 10 playcallers -- coordinators and head coaches -- who most embody those elements.
1. Gus Malzahn, Auburn head coach
Even though the Auburn offense is built on the same few basic run plays, Malzahn continues to frustrate defensive coordinators.
To continue reading this article you must be an Insider
January, 28, 2015
Jan 28
9:00
AM ET
So, Peter, you've become a pirate.
Leading off:
Super Bowl media day has come and gone. With it there were a few notable appearances and quotes by some former Pac-12 players (there are 18 former conference players and five former conference coaches between the
Seattle Seahawks
and
New England Patriots
).
Notes/team updates/recruiting nuggets:
Just for fun:
On Tuesday, Arizona State quarterback
Mike Bercovici
and safety
Jordan Simone
attended Super Bowl media day to add to some of azcentral.com's coverage of the event. We'll have a story later on today with Bercovici's thoughts on the day and his advice to other reporters (now that he has such a deep understanding of the profession), but as a preview to some of the in-depth and exclusive content you'll get from the Bercovici-Simone media team, check out this tweet:
Just talked to Tom Brady about hair products... #BrotherFromAnotherMother

— Michael Bercovici (@MikeBerco) January 27, 2015
We're sure it was enlightening. Someone get this man a Pulitzer.
January, 28, 2015
Jan 28
9:00
AM ET
Official visits, unofficial visits, in home visits and everything else one can possibly think of is happening with one week until national signing day, Feb. 4. As expected, Twitter is abuzz right now with information flowing constantly all day and night.
Here is a look at some highlights from Tuesday.
Gainesville waddup?

— January 29th (@cecejeferson7) January 27, 2015
@HamiltonESPN
: ESPN300 five-star defensive end
CeCe Jefferson
headed to Florida on Tuesday afternoon for an unofficial following a trip to Ole Miss and Alabama over the weekend. In a recruitment that could go a number of different directions, the Rebels and Gators are the best bets to be standing on national signing day unless Auburn can pull the upset. Jefferson is scheduled to visit LSU this weekend, followed by a national signing day announcement live on ESPN.
Thanks to Coach Saban and @BamaCristobal for coming by this afternoon! #RollTide #SEC #CreekBoyz pic.twitter.com/Gn7lm1QMA8

— Coconut Creek FB (@CreekFootball1) January 27, 2015
@HamiltonESPN
: Nick Saban was in South Florida on Tuesday, and one of his stops was Coconut Creek High. The reason is simple -- Coconut Creek is home to a trio of ESPN Junior 300 prospects, including top cornerback
Trayvon Mullen
, who has an Alabama offer.



To continue reading this article you must be an Insider
January, 27, 2015
Jan 27
5:00
PM ET
In Mark Schlabach's
Way Too Early Top 25
for the 2015-16 season, he had Oregon listed as the No. 5 team.
Six Pac-12 teams were listed in the Top 25 which got our writers talking. Was it too high? Too low? Just right? Turns out Ted Miller thought it was just right and Chantel Jennings thought it was too high.
So, let the Goldilocks debate begin…
Miller:
Before we look at what Oregon has coming back in 2015, let's look at who the Ducks are in the big picture: Oregon has become one of THOSE programs.
Oregon has won at least 10 games and finished ranked in the top-11 for seven consecutive years. It has finished ranked in the top five in four of the past five years. When we write that Oregon is one of THOSE programs, we mean that you put the Ducks in the preseason top 10 without much in-depth analysis just because the odds overwhelmingly favor you ending up being correct. And we all want to end up being correct.
Unless I am picking Oregon football games, but that is another matter entirely.
Now I know Oregon must replace the greatest player in program history, quarterback
Marcus Mariota
, at the most important position. That won't be easy. But the Ducks played for a national title in 2010 without Mariota and won 44 games over the four seasons before Mariota lined up behind center. The Ducks became one of THOSE programs before Mariota. They will remain that way when he jumps to the NFL.
Yet the Ducks even merit a top-10 ranking if you don't grant them special privileges as one of THOSE programs. The offense welcomes back the nation's best set of skill players at running back, receiver and tight end. The offensive line loses three starters, but it welcomes back seven guys with starting experience. The defense takes hits at all three levels, but there is young talent that might actually give the Ducks an upgrade athletically, particularly in the secondary.
When I look at the likely 2015 depth charts of potential top-10 teams, I see Ohio State and TCU looking pretty darn salty. After that, most teams have at least a couple of big questions, just like Oregon.
But the Ducks merit a high preseason ranking based on what is coming back as well as for their earned status as being one of THOSE programs.
We all want to end up correct, right?
Jennings:
I'll agree with you on one thing, Ted: After Ohio State and TCU the other eight teams are kind of a toss up. But even with that, I'm not sure Oregon should really be in the top 10.
I like how you glossed over the whole "No Marcus Mariota" issue in a quaint 24 words but I think it merits more than that. No matter what way you toss -- redshirt freshman, redshirt junior, transfer player -- the Ducks' signal caller next year is going to be inexperienced in Oregon's system. I haven't been sold on
Jeff Lockie
yet. Yes, the third-string QB thing worked for Ohio State last season but that's the exception, not the rule. I don't think Oregon has a QB on its roster that is as talented as the Buckeyes' third-string guy (whomever that might be now).
Just look at last year's Way Too Early Top 25. Of those 10 teams, six finished in the final AP poll of the 2014 season, meaning four did not. When looking at a QB comparison of those two groups, it's pretty stark.
The average adjusted QBR of teams that didn't finish in the top 10 was 68.4 while the average adjusted QBR of teams that did finish in the top 10 was 81.3. So yes, Oregon loses its best player ever at the most important position and it's a position that has proven to be one that keeps teams in or drops them out of the top 10. Show me a QB on Oregon's roster that can keep it in a game or the top 10 and maybe I'll take back this point. But I haven't seen it yet.
Past that, I'm not sold on the other offensive playmakers either. Yes, the Ducks are stocked at running back but at wide receiver? Not as much. I was impressed with
Charles Nelson
during the latter part of the season but we'll see how he does once opponents really start to game plan against him. Can he be as effective?
And we'll see if or how much
Devon Allen
's injury hampers him.
Darren Carrington
is a question mark.
Bralon Addison
missed an entire season which is either going to make him really hungry or really rusty.
Then defensively, Oregon loses its two best players in the secondary, a huge part of its linebacker group and its most athletic pass-rusher. This is not a plug-and-play defense and it'll be another mismatched group of veterans and youth next year. We saw what that provided this season -- lots of miscommunications with lots of big plays given up.
This year, the Ducks had Mariota to make up for that. Next year, they won't.
January, 27, 2015
Jan 27
3:00
PM ET
Oregon has firmly entrenched itself in the upper echelon of college football. It is no longer just a team out West that competes with the Alabamas and the Florida States of the world. Other teams compete with the Oregons of the world.
And though a national title still eludes the Ducks, they've secured themselves a spot with the elite of the elite heading into the 2015 season. It's a place that carries with it the expectation that a program does not simply rebuild after each season it reloads with talented players waiting in the wings and highly ranked recruiting classes.
Oregon has proven it can sustain its talent level from season to season, but there's an added pressure facing the Ducks this offseason as they begin life without
Marcus Mariota
.
[+] Enlarge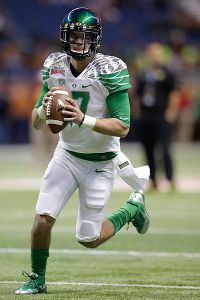 AP Photo/Eric GayJeff Lockie is one possible replacement for Marcus Mariota, though a transfer could come in to compete for the job.
Is there any way to classify the challenge this offseason as anything other than a rebuilding effort after losing a player like that?
It's glaringly evident what Oregon is losing and what it needs to replace.
On the offensive side of the ball, Oregon loses five starters from its national title lineup, most significant of which is Mariota, who, to be fair, probably counts as anywhere from four to six starters.
While the Ducks have a plethora of skill players returning, it will be a rebuilding effort to find the next Oregon quarterback. And whoever steps into that spot -- whether it's a transfer or Mariota's 2014 backup
Jeff Lockie
-- is going to be under a magnifying glass. There's no way that anyone will fill Mariota's shoes but the difference between Oregon thriving, surviving or hemorrhaging in 2015 rests largely on whomever is going to be Mariota's "replacement."
The saving grace for the Ducks is that there will be playmakers around him -- though, exactly how many and when they will all be available to practice is unclear.
If wide receiver Darren Carrington's suspension for the national title game was in fact drug-related, he could face further suspension. It's unclear when wide receiver
Devon Allen
will be able to return from a leg injury suffered in the Ducks' win over Florida State. Wide receiver
Chance Allen
has chosen to transfer, though at best he would've been a backup to
Charles Nelson
next year.
Offensive coordinator Scott Frost has proven playmakers such as Nelson,
Royce Freeman
,
Byron Marshall
,
Thomas Tyner
and
Dwayne Stanford
at his disposal, but who will be getting the ball in their hands remains the biggest question mark.
Plus, all five of those guys would need to stay healthy, which the Ducks couldn't manage to do this year.
If there is a silver lining to be found in Oregon's injury woes it is the experience several young players along the offensive line received in 2014, when they were called upon as part of Oregon's "next man up" mantra.
The Ducks' O-line personnel shuffles were almost unbelievable. What was the team's most experience unit heading into the season was decimated by injuries, though the Ducks managed to spread that experience around by featuring a different starting lineup in nearly every single game. Only one player started every single game this season. It was
Hamani Stevens
and, to be fair, it was at two different positions.
As a result of the constant reshuffling in 2014, Oregon's projected spring depth chart in 2015 features five players who started games. That means something.
"The guys who have played quite a bit should have a level of understanding, a level of confidence," Helfrich said of the offensive line. "At the same time, they better compete, because there's some guys both on campus and some guys that will be in the mix that will compete their tails off for that playing time."
On the defensive side of the ball, Oregon loses five starters. Three of the four starting linebackers return, which helps defensive coordinator Don Pellum -- who also coaches the linebackers -- in helping the defense progress faster.
But the Ducks lose one of their best pass rushers in
Arik Armstead
, who despite only tallying 5.5 tackles for a loss and 2.5 sacks in 2014, has been pegged as a potential first-round pick on athleticism alone. Though there was frustration from the fans with Oregon's "rush three, drop eight" system at times, it proved to be effective enough as the Ducks gave up 6.8 yards per pass attempt.
Tony Washington
, the one linebacker Pellum will need to replace, was second on the team in tackles for loss, but that'll likely be more of a reshuffling and reloading effort.
However the secondary will be a true test. Three of the four starters this season were seniors:
Ifo Ekpre-Olomu
,
Erick Dargan
and
Troy Hill
. Between them, Oregon loses 229 total tackles, 8.5 tackles for a loss, 10 interceptions, 33 pass breakups and 43 passes defended.
That is no small task for secondary coach John Neal and it's going to require a total overhaul in personnel, leaving freshmen and sophomores to fill in quickly. Oregon gave up 49 pass plays of 20 or more yards this season (there were only 14 teams in the country that gave up more) and if that trend continues, it'll be disastrous as the Ducks won't have an offense that can make up for it like they did in 2014.
The offseason is crucial for Oregon and how its program is judged. How much of Oregon's success was due to a spectacular, once-in-a-lifetime player? Being part of the nation's elite means being able to withstand such losses.
Oregon is in that group, but the only thing harder than getting there is staying there. We're about to find out whether the Ducks can protect against a drop-off.
ESPN 300 Recruits on Negative Recruiting