November, 26, 2014
Nov 26
8:00
PM ET
Thanksgiving is a special night. Jimmy Walker used to say dy-no-mite, that's right.
To the notes!
John in San Jose writes:
How could all of you supposed experts or idiots pick Utah over the Cats? Don't you watch the games? Not one of you gave the Cats a chance in Utah and they blew them out.
Kevin Gemmell:
First off, quit trying to sweet talk us, you silver-tongued charmer you. That won't get you anywhere.
[+] Enlarge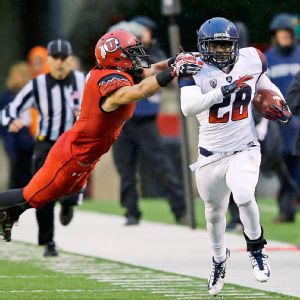 AP Photo/Rick BowmerPerhaps we were guilty of overthinking -- or overwatching -- with our unanimous forecast of a Utah win over Arizona.
I can't speak for the rest of the blog, but I have to admit, I was a little surprised that all five of us picked Utah. I went back on forth on that one.
I always love the "don't you watch the games?" criticism. Because, actually, that's all we do. And I usually watch them multiple times (thank you Pac-12 Networks' Football in 60). And in this case, it's BECAUSE I watch the games that I leaned toward Utah.
When making picks, all we can work with is the information we already have. If I had a copy of Grays Sports Almanac, things would be different. Biff Tannen and I would be sucking down cocktails on a yacht somewhere.
Considering Arizona and Utah had played in six games this season that had come down to a touchdown or less, that led me to believe it would be a close game. And in close games, especially with a warm-weather team going to a cold-weather climate, I thought my rationale was sound.
Obviously, it wasn't, because the Utes got rolled. Perhaps I was overthinking it? I'm sure there were plenty of people in the world who picked Arizona to win. But I'm pretty sure few actually saw a blowout.
My record in Arizona games is 8-3 this year. I whiffed on the Oregon game, I picked them to beat USC and they let me down (where were the "thanks for the support, Kev" mailbag letters then, huh?) and I whiffed on Utah. The only time I picked against them and won was UCLA.
As you can see this morning, I picked them in Territorial Cup. If they lose, I want my "thanks for the support, Kev" mailbag letter from you, John.
---
ST in Boston writes:
Should Oregon have that perfect season by finishing with both a Heisman and CFP trophy, which has historically done more for recruiting (the top single player award or the top team award)? And stats on that?
Kevin Gemmell:
I'm not sure if that is quantifiable. And if there is a study out there about it, I haven't seen it. So this is just an educated guess.
I would say that the opportunity to win a national championship would be the larger draw for recruits on several levels. If you play for a team that's in the national title discussion, it's already a high-profile program.
High-profile programs offer bells and whistles such as upgraded facilities (most of which have awesome locker rooms, weight rooms, practice facilities, player lounges and barber shops), uniform diversity and national TV exposure. It almost feels like playing for a title contender is an afterthought to some of the perks of going to an upper-tier program.
Just because you go to Ohio State or Notre Dame or USC or Oklahoma, doesn't mean you're going to win a Heisman. Heck, Army has more Heisman trophy winners than Texas.
I recently visited Utah and got a tour of the new facilities. The message was that recruiting happens the second you walk in the door. Even when a recruit is waiting alone in the lobby (which is awesome), he is being recruited by his surroundings.
So based on what I've seen, the prospect of a national championship would likely be the bigger draw. Just my take.
---
Andrew in La Crescenta, Calif. writes:
Personally, I believe if UCLA beats Stanford this Friday they would be guaranteed a New Year's Bowl game regardless of the outcome of the Pac-12 Championship game. Oregon would be ranked so high that I can't see the Bruins dropping more than a couple spots if they lose. Any thoughts on this?
Kevin Gemmell:
I like the wishful thinking. But there are a few things to consider. Let's suppose that UCLA wins the South and loses to Oregon in the Pac-12 championship game. What then?
You have a three-loss team that would have fallen out of the top 10. Style points, I believe, will matter. If the Ducks come out and win 42-10, I think the selection committee would be hard-pressed to pick the Bruins for New Year's Day game. If they lose in overtime by a field goal? That might be a different story.
And say it's a 35-24 game -- not a blowout, but not exactly a nail biter. Is there a chance the committee names the winner of the Territorial Cup -- which only has two losses -- to one of those secondary games? If the Wildcats smoke the Sun Devils, or vice versa, they'd be 10-2 and likely in the top 10.
This is all uncharted territory, so the word "guarantee" shouldn't be thrown around loosely. And let's not forget that UCLA ... or Arizona ... or ASU could end up beating Oregon. I don't want an Oregon championship to come off sounding like a forgone conclusion. Because it's not.
Is it possible that three Pac-12 teams play in those games? One playoff and two secondary? Maybe. Perhaps the Ducks play in the national semifinal after edging the Bruins, who play in a secondary game and the Territorial Cup winner at 10-2 also gets in. That might be overly wishful thinking. But I'm not ruling it out.
November, 26, 2014
Nov 26
7:30
PM ET
Here is another random accounting of stats related to the Pac-12.
Stanford at UCLA
Stanford is minus-6 in turnover margin in Pac-12 games, but is just minus-4 in points off turnover margin.
UCLA running back Paul Perkins leads the Pac-12 with 1,262 yards rushing, which is the second-most for a UCLA running back over the last 10 years.
Stanford is one of 20 teams in the country to allow 11 or fewer touchdown passes this season.
Only nine teams in the country have allowed more first downs due to penalty than UCLA (26).
In conference games, UCLA quarterback Brett Hundley has rushed for 492 yards, which is the most in the Pac-12 and fifth-most among Power 5 quarterbacks.
Arizona State at Arizona
Arizona has scored 87 points off turnovers in conference games, the most in the Pac-12.
Over the last three seasons, ASU quarterback Taylor Kelly ranks fifth in the country with 75 touchdown passes.
Points per drive: Arizona 2.39; Arizona State 2.45.
Arizona linebacker Scooby Wright III is the only player in the country with at least 13 sacks and four forced fumbles.
Arizona State's penalty margin (minus-26) is tied for the fifth-best mark in the country.
Notre Dame at USC
USC has forced five turnovers in the red zone, the second-most among Power 5 teams.
USC leads the Pac-12 with 81 third-down conversions.
USC's red zone touchdown percentage (72.7) ranks third among Power 5 teams.
Oregon at Oregon State
Oregon has scored 40-plus points in six straight games and gained more than 500 yards of offense in its last five, both are the longest active streaks in the country.
Since being sacked 15 times in his first five games, Oregon quarterback Marcus Mariota has been sacked just 10 times over the last six games.
With 1,050 rushing yards, Oregon running back Royce Freeman is the first true freshman in school history to crack the 1,000-yard mark.
Oregon State has averaged 30.3 points in the Civil War since 2004.
Oregon State's third-down conversion percentage is 30.9, which is the worst in the Pac-12, while Oregon has the best (52.4).
Washington at Washington State
WSU ranks last in the Pac-12 with a minus-12 in turnover margin in conference games.
WSU receiver Vince Mayle's 1,159 receiving yards in conference play is the third-most over the last 10 years.
Washington's John Ross ranks second in the nation with 760 kickoff-return yards.
Washington leads the nation with seven defensive touchdowns.
Washington outside linebacke Hau'oli Kikaha leads the nation in sacks (17.5) and tackles for loss (23.5)
Utah at Colorado
Utah kicker Andy Phillips has eight field goals of 40-plus yards in conference games, which is twice as many as any other kicker in the conference.
Utah punter Tom Hackett leads the nation in punts downed inside the 20 (34) and 10 (19).
Utah's Kaelin Clay leads the nation with four kicks returned for touchdowns.
Colorado has allowed 20 sacks this season, which is the fewest in the Pac-12.
Colorado's Nelson Spruce is tied for the national lead with 101 catches.
BYU at Cal
Quarterback Jared Goff finished the Pac-12 season with 3,070 yards. He's just the fourth player since 2004 to eclipse the 3,000-yard mark in conference games.
Cal has never played in a bowl after starting the season 5-6.
Cal running back Daniel Lasco needs 15 yards rushing against BYU to become the sixth Pac-12 player to rush for 1,000 yards this season.
Past weeks
Week 2

Week 3

Week 4

Week 5

Week 6

Week 7

Week 8

Week 9

Week 10

Week 11
Week 12
November, 26, 2014
Nov 26
6:00
PM ET
By
ESPN.com staff
| ESPN.com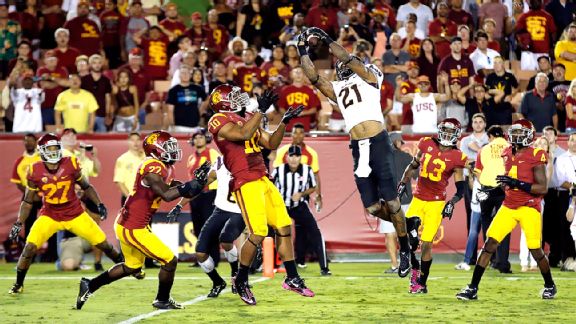 Ric Tapia/Icon SportswireArizona State receiver Jaelen Strong catches a Hail Mary to beat USC on Oct. 4.
Your humble #4Pac welcomes you to another installment of what will be a regular feature on the Pac-12 blog. Here's how it works: We take one question or one topic, or maybe it's some other really cool format that we haven't even thought of yet, and all contribute our thoughts.
Have a suggestion for something we should address in a future #4Pac roundtable? Go ahead and send it to our
mailbag
.
Today, in the spirit of Thanksgiving, we're asking what each Pac-12 reporter is most thankful for from this Pac-12 season.
David Lombardi/@LombardiESPN
:
I'm most thankful for never knowing what's going to happen next. College football is notoriously unpredictable, but the 2014 Pac-12 has taken this volatility to the next level, before proceeding to pour gasoline all over it. Every Saturday,
Larry Scott
lights the match.
First came the Hail Mary epidemic. I'm pretty sure that Pac-12 football viewers will never look at that prayer of a play in the same way again. Furious comebacks, iced kickers, confused officials, epic quarterback performances, mind-numbingly painful turnovers followed by 100-yard fumble returns, and just a whole bunch of general nonsense came next. This season, Pac-12 road teams are a combined 29-20 in conference games. That puts at least some kind of statistical value on the eccentricity that we're dealing with here. With a crazy closing weekend and a title game still ahead, the unpredictability isn't over yet. That's a rush, and I'm thankful for that.
Chantel Jennings/@ChantelJennings
:
Ted and I answered this question in the #6pac last week and I think I'll stick to my original answer. I'm so thankful for back-up quarterbacks. Can you imagine how different this season would be if the conference didn't have this kind of depth at quarterback? What if UCLA hadn't had
Jerry Neuheisel
to turn to when
Brett Hundley
went down at Texas? What if
Mike Bercovici
hadn't been the Sun Devils' star in late September and early October? How fun has it been to watch
Luke Falk
emerge at Washington State, and how much excitement has his presence brought to that fan base after losing
Connor Halliday
in such a disappointing manner?
At this point, would it be so crazy to imagine that whomever steps in for
Anu Solomon
on Saturday could lead the Wildcats to victory? Coming into this season we lauded the Pac-12 for being the conference of quarterbacks. Now, with one week left in the regular season, I don't think any college football fan across the country can deny this league's depth.
Kevin Gemmell/@Kevin_Gemmell
:
I'm most thankful to be covering the most exciting conference in college football. It's chaotic, it's mind-bending and it makes about as much sense as Thanksgiving in July. But it's hard not to love it.
From the Hail Mary's, to the last-second field goals, to the missed field goals, the Pac-12 has provided amazing theatre in 2014.
The road teams (29-20) will finish with a better record in conference games this season. The Pac-12 leads all conferences in scoring, but expect the postseason All-American teams to be littered with defensive players from the West Coast.
Very little about this league makes sense. Heading into last week's matchups, there had been 34 games involving Pac-12 teams that were decided by a touchdown or less. Last week? Zero. And that included Arizona vs. Utah, two teams that had played in more tight games than all but one team in the country.
This league never lacks in the surprise department. And as a writer trying to make sense of it all, I'm thankful that sometimes I can't. Rather, I just sit back and savor the chaos.
Kyle Bonagura/@BonaguraESPN
:
From a neutral perspective, it's hard to ask for a better season than the Pac-12 has provided this season. So looking through a football lens, I'm thankful the boring moments have been significantly outweighed by the exciting ones. Seasons like this don't come around very often.
In 49 conference games, 22 have been decided by one score, five went to overtime and two were decided on Hail Mary's. Oregon's
Marcus Mariota
is on his way to becoming the conference's first Heisman winner since Reggie Bush in 2005, Washington State's Connor Halliday broke the FBS single-game passing record and the Pac-12 South delivered a five-team race for the division title. Even the teams on the bottom half of the standings have stayed relevant late into the year.
To this point, there's not much within reason that could have added to the overall intrigue. Here's to a happy, healthy Thanksgiving to everyone in Pac-12 land any beyond.
Hopefully the final stretch matches what has been building since August.
November, 26, 2014
Nov 26
12:00
PM ET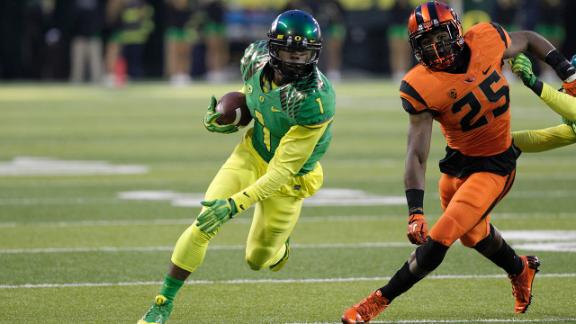 The first rule of College Football Playoff is you talk about College Football Playoff.
The second rule is you assume nothing. Well, that's completely wrong. The entire -- and endless! -- discussion involves projecting ahead, making assumptions about teams winning here or winning there.
So that's what we're going to do here.
As is quantified here
by the inimitable Sharon Katz of ESPN's Stats & Information, UCLA is squarely in the playoff hunt, even as a two-loss team trying to eclipse one-loss teams, such as TCU, Baylor, Ohio State and Mississippi State.
She notes: "If UCLA were to beat Stanford and Oregon, the average current FPI ranking of UCLA's 11 wins would be 33, the best in the nation." Then she concludes, with a question: "[If UCLA were to win out,] could the committee really leave a two-loss Pac-12 champion, with the hardest schedule in the nation, out of the playoff?"
The answer is no.
UCLA as the 11-2 Pac-12 champion will be in the playoff, and there's nothing any other bubble teams can do about it. There are two reasons -- the most important reasons, ones we've seen bandied about incessantly in regards to the selection committee: 1) merit, 2) best four teams. The Bruins would have earned a spot based on a demonstrably superior résumé, including a victory over the Ducks which would function as an eraser for one of their two defeats. And the Bruins would pass the sight test as one of the four best teams by posting the most distinguished win of 2014 on the last day of the season (over No. 2 Oregon).
I already hear the whining out there. Hush. There is no counterargument that is valid. You have lost out to the cruel mistresses of facts and logic. So we are not going to waste time with folks who insist on fighting a losing fight only because of the colors they wear on Saturday.
The more spicy issue is the Territorial Cup. Say UCLA loses to Stanford, and the winner of No. 13 Arizona State at No. 11 Arizona on Friday becomes the Pac-12 South Division champions. That's where things get interesting.
That is this week's only matchup of top-13 teams, meaning the winner can post the weekend's most meaningful victory. In the scenario with UCLA losing, that also means the winner could post the final weekend's most meaningful victory -- again, over No. 2 Oregon in the Pac-12 title game. Consecutive weekends of meaningfulness! The selection committee surely will imbibe that like a 22-year-old single malt.
Arizona's strength of record currently rates 11th and Arizona State's is 13th. Those two ratings would skyrocket, while other teams vying for a top-four spot would slide.
But how could the Wildcats/Sun Devils make up so much ground? Well, we've seen teams gain incredible traction in human polls with a run of wins that seemed impressive at the time. Mississippi State went from unranked to No. 1 after beating LSU, Texas A&M and Auburn. Of that troika, Auburn, at No. 15, is the committee's only presently ranked team, and Texas A&M and LSU play on Thanksgiving Day hoping to avoid a fifth defeat.
So clear-thinking folks, which we are sure committee members are, would see the Wildcats/Sun Devils as worthy of a rapid climb based on veritably impressive wins validated by a season's worth of work. Conversely, in the 20/20 vision of retrospect, the Bulldogs' rise would be a fun, if temporary, illusion worthy of nostalgia -- "I remember when our Bulldogs beat No. 2 Auburn!" -- but certainly not justifying a playoff spot.
What about other teams trying to insinuate themselves into the playoff? Unless Auburn upsets Alabama, Mississippi State's only remaining game is against flagging, No. 19 Ole Miss. TCU has Texas and Iowa State, a pair of unranked teams. Ohio State has its rivalry game with Michigan and then a matchup with either No. 18 Minnesota or No. 14 Wisconsin in the Big Ten title game. Baylor has Texas Tech and No. 12 Kansas State on Dec. 6, a matchup that could significantly bolster the Bears' case.
Ah, but Baylor has its pastry-soft nonconference schedule holding it back. If it comes down the the Bears and, say, Arizona, then the Pac-12 team is surely ... er... what? The Wildcats played UNLV, UTSA and Nevada in its nonconference schedule? Well, cut off my legs and call me shorty, that's not a very Pac-12 thing to do.
It's fortunate that Arizona athletic director Greg Byrne has a great sense of humor. He'd surely be amused -- just like the folks at Baylor -- if the committee cited that weak slate as the reason the Wildcats got left at the altar.
In any event, this is probably all idle speculation. A few more major plot twists are nearly certain. Based on history, at least a couple of the teams in the top-eight fighting for positioning are going to go rear-end-over-tea-kettle, including a member of the top-three that has been practically written into the playoff with an ink pen.
But if you retain anything from these scribbles, it must be this: The first rule of College Football Playoff is you talk about College Football Playoff.
November, 26, 2014
Nov 26
10:30
AM ET
By
ESPN.com staff
| ESPN.com
Why Arizona will win:
This could go one of two ways. Either ASU's blitz-happy scheme will create havoc in the backfield and the Wildcats offense won't be able to get things going, or Arizona will be able to account for the pressure and hit some home runs. We've seen ASU get exploited when they over-pressure. This Arizona team has the running backs and receivers that could take advantage of that. -- Kevin Gemmell
Why Arizona State will win:
The loss to Oregon State reminded the Sun Devils not to overestimate anyone. The start of the Washington State game reminded the Sun Devils that they need to play from the opening kick. When ASU does both of those things, it's very, very dangerous. We saw other receivers step up last week in
Jaelen Strong
's absence. He's expected to be back this week but the Sun Devils' performance against Wazzu will give OC Mike Norvell more confidence in his receiver corps. -- Chantel Jennings
Why Cal will win:
BYU's recent run of success has been a product of significantly inferior opponents, and Cal not only is a big step up in competition for the Cougars, but it has bowl game to play for. -- Kyle Bonagura
Why BYU will win:
While Cal is much improved and has bowl eligibility to play for, I suspect the Golden Bears are going to be physically and emotionally worn down after getting blown out at home by rival Stanford. I think BYU, always hungry for a win against the Pac-12, takes advantage. -- Ted Miller
Why Washington State will win:
It has been a disappointing season filled with miserable moments for the Cougars -- see Conor Halliday's horrific injury. But this is their Super Bowl, and it's at home. Washington State has a chance to purge a lot of 2014 pain by beating their rival. The stage sets up perfectly: Washington's offense is not explosive, and this game will be played in the #Pac12AfterDark Pullman cold. Your move,
Luke Falk
. -- David Lombardi
Why Washington will win:
For all of Washington's offensive shortcomings, this is still a phenomenal defense that gets after the quarterback. If Falk can handle the pressure, he's going to prove me wrong. But in this game, I like Washington to go crazy in the backfield. As for points, well, the Huskies will find them somewhere. -- Kevin Gemmell
Unanimous picks
UCLA will beat Stanford:
Stanford has not proven that it can effectively move the ball against a solid defense, and last week's whipping of USC indicated that UCLA is peaking at the right time on that side of the ball. Plus, the Cardinal won't have offensive MVP
Ty Montgomery
(shoulder), so it's tough to see them outscoring the Bruins, even if their defense contains
Brett Hundley
. -- David Lombardi
Utah will beat Colorado:
Utah's defense is too good to struggle two weeks in a row, especially against the lone winless team in conference play. -- Kyle Bonagura
USC will beat Notre Dame:
Notre Dame has lost four of its past five and expect that streak to continue when the Fighting Irish visit the Coliseum. USC is going to respond after its 18-point loss to UCLA last weekend and
Cody Kessler
is going to continue his quiet campaign (30 TD, 4 INT). Look for
Su'a Cravens
and
Hayes Pullard
to come up big for the Trojans defense. -- Chantel Jennings
Oregon will beat Oregon State:
What's fascinating about this game is that both teams have a lot to play for. Obviously, in the national picture, the Ducks' motivation is more important. I expect a good fight from the Beavers, who are trying to become bowl eligible. But ultimately Oregon has too many weapons and an injury-depleted OSU squad simply can't keep up. -- Kevin Gemmell
November, 26, 2014
Nov 26
9:24
AM ET
By
Sharon Katz, ESPN Stats & Information
| ESPN.com
Richard Mackson/USA TODAY SportsBrett Hundley and the Bruins could be on track for big things.
In the past few weeks, the playoff discussion has centered around the remaining zero- or one-loss teams from Power 5 conferences.
There is one two-loss team, however, that may have an argument for inclusion when all is said and done.
UCLA
faces
Stanford
Friday (3:30 ET, ABC) with a chance to clinch the Pac-12 South. With a win against the Cardinal, UCLA will face
Oregon
in the Pac-12 Championship Game. If UCLA wins out, it will have a résumé worthy of discussion for the playoff.
Schedule
UCLA has played the hardest schedule in the nation, according to ESPN's strength of schedule rankings. The Bruins have not only played a nine-game Pac-12 schedule, but their out-of-conference slate also is the hardest of any Power 5 team.
The Bruins opened their season at
Virginia
in a game that kicked off at 9 AM PT. In Week 2, they faced
Memphis
, the current first-place team in the American Athletic Conference, and followed that game with a trip to Arlington to face
Texas
in Week 3.
The Bruins traveled close to 8,000 miles (counting return trips) before their first conference game and escaped with a 3-0 record. Two of those wins were against fellow Power 5 opponents; excluding
Notre Dame
,
Florida State
is the only other Power 5 team with multiple out-of-conference wins against Power 5 opponents.
Add in that UCLA's conference schedule is the 12th-hardest in the nation before a potential Pac-12 Championship Game, and there will be no argument from the committee that the Bruins were not tested.
Wins
A difficult schedule affords the Bruins more opportunities for signature wins. UCLA has six wins against teams currently ranked in the top 40 of
ESPN's Football Power Index
, second-most in the FBS behind
Alabama
. If the Bruins win out, they will add two current FPI top 20 wins to their résumé.
One of the arguments against UCLA is that it played close games in the beginning of the season against lesser opponents. Since those games, however, the teams that UCLA beat have risen in the rankings. UCLA's first six opponents all rank 42nd or better in the FPI after two of those teams began the season outside the top 42.
If UCLA were to beat Stanford and Oregon, the average current FPI ranking of UCLA's 11 wins would be 33, the best in the nation.
Strength of Record
Many will point to UCLA's two losses, to Utah and Oregon. The Oregon game was not even as close as the 12-point final scoring margin suggests.
ESPN's Strength of Record metric accounts for both wins and losses to measure the difficulty of achieving a team's record, given its schedule. UCLA, with two losses, currently ranks sixth in Strength of Record, ahead of one-loss
Baylor
and
Ohio State
. That means that it would be harder for an average top 25 team to achieve UCLA's 9-2 record than either Baylor's or Ohio State's record.
If UCLA beats Stanford and Oregon it will likely jump into the top four in Strength of Record. The Bruins would likely have the same record as Oregon but will have played a tougher schedule in achieving that record. Similarly, assuming
TCU
and Baylor win out, the Bruins would have as many wins as those teams but significantly more quality wins, including a victory against one of the top teams in the nation (Oregon).
All of these arguments are contingent on UCLA winning out. Beating Stanford at home and Oregon on a neutral field is not an easy feat.
ESPN's Football Power Index projects that the Bruins have a 24 percent chance to win out, but if they were to do it, could the committee really leave a two-loss Pac-12 champion, with the hardest schedule in the nation, out of the playoff?
November, 26, 2014
Nov 26
9:00
AM ET
Since debuting at No. 22 in the first College Football Playoff rankings, No. 8 UCLA has been a steady riser and now appears in good position for a playoff spot if it beats Stanford on Friday and Oregon in the Pac-12 championship game. The Ducks remain firmly at No. 2, while No. 11 Arizona and No. 13 Arizona State could still climb back into the mix with a win and some help from the Cardinal.
Here's where they stand:
Oregon
Record:
10-1 (7-1)
Rank:
2
Next big obstacle:
Saturday at Oregon State
Reason for optimism:
Nothing has changed since last week for the Ducks, who remain a lock for the playoff with wins against Oregon State and whichever team comes out of the Pac-12 South. Even if it loses to Oregon State and wins the Pac-12 title game, Oregon would have a strong case for inclusion. The Ducks' current streak of six games of scoring at least 40 points is twice as long as the second-longest active streak in the country (Baylor).
Cause for concern:
Anything would really be nitpicking at this point, but to use an old cliché,
anything can happen in a rivalry game
. The Beavers don't have one of their stronger teams, but they were still good enough to derail Arizona State a couple weeks ago and last year's Civil War was about as close as it comes.
Whom they'll be rooting for this week:
No. 15 Auburn over No. 1 Alabama
UCLA
Record:
9-2 (6-2)
Rank:
8
Next big obstacle:
Nov. Friday vs. Stanford
Reason for optimism:
That Alabama and Oregon both have losses, yet are still ranked ahead of undefeated Florida State is a great sign for UCLA. It shows the selection committee is placing an emphasis on strength of schedule which gives hope for the Bruins that despite having two losses, they could jump one-loss teams with softer schedules. If UCLA wins out, it should expect to be in the playoff.
Cause for concern:
Even if things break correctly, UCLA isn't assured anything. The committee could look back at some of its less impressive wins – double overtime against two-win Colorado doesn't scream "playoff team" -- and hold that against the Bruins should it come down to them or another team for the No. 4 spot.
Whom they'll be rooting for this week:
No. 19 Ole Miss over No. 4 Mississippi State; Texas over No. 5 TCU; Michigan over No. 6 Ohio State; Texas Tech over No. 7 Baylor.
Arizona
Record:
9-2 (6-2)
Rank:
11
Next big obstacle:
Friday vs. Arizona State
Reason for optimism:
If Arizona beats ASU and Oregon, it would be no lower than No. 7 and as the Pac-12 champion would receive a fair amount of consideration for the final spot. Neither of the Wildcats' losses – USC after a missed field goal and on the road against UCLA – are unforgiveable and Arizona benefits from the Pac-12's overall strength. Among teams with two losses or less, Arizona's road win against No. 2 Oregon is the most impressive.
Cause for concern:
If Stanford doesn't beat UCLA, Arizona doesn't have a chance.
Whom they'll be rooting for this week:
Stanford over No. 8 UCLA
Arizona State
Record:
9-2 (6-2)
Rank:
13
Next big obstacle:
Friday at Arizona
Reason for optimism:
The Pac-12 champion, whoever it is, will be considered. That much has been clear by the committee's consistency in ranking Pac-12 teams favorably against the rest of the country. And because Arizona State is still in the mix to win the conference, a conceivable path to the playoff remains.
Cause for concern:
The Sun Devils are ranked behind five two-loss teams, need UCLA to lose to Stanford, need to win on the road in the Territorial Cup and lost by 35 points (to UCLA) and to a team with a losing record (Oregon State). Their only win against a team ranked by the committee came at home against the No. 25 team (Utah) in overtime.
Whom they'll be rooting for this week:
Stanford over UCLA
November, 26, 2014
Nov 26
8:30
AM ET
OK, so who's it gonna be -- Mississippi State or Ohio State?

Honestly, the suspense is killing me, and we haven't even gotten to the games this weekend. See, here's the issue that these teams are facing: Who will have the best résumé after championship Saturday?

Mississippi State might not go to Atlanta for the SEC championship game, but if the Bulldogs beat Ole Miss on Saturday, they'll be in position for that fourth spot (assuming the top three win out). But if No. 6 Ohio State wins out, the Buckeyes will be Big Ten champions. Say what you will about the strength of the Big Ten, the Buckeyes would have a conference championship and the fourth-ranked Bulldogs would not. Both would only have one loss.
November, 26, 2014
Nov 26
5:00
AM ET
We've got another holiday to worry about. It seems Thanksgiving Day is upon us.
I haven't even finished eating all of my Halloween candy.
Leading off
Depth Chart Wednesday! Depth Chart Wednesday! Depth Chart Wednesday! Let's get to it. Note: UCLA doesn't celebrate Depth Chart Wednesday.
California (page 11 of the game notes)
Oregon (game notes not updated, will update if it becomes available)
Oregon State (page 34 of the game notes)
USC (page 19 of the game notes)
Utah (page 11 of the game notes)
Washington (page 9 of the game notes)
Washington State (page 10 of the game notes)
Awards season is in full swing
OK, there are a lot of these to get through, but stick with us. We can do it together.
There's a very good representation of the Pac-12 among these lists. If a Pac-12 player is a finalist, he's listed as the first name on the list (just an FYI).
MAXWELL AWARD:
Given to the top player in college football (as considered by the Maxwell Football Club and voting panel).
Oregon quarterback Marcus Mariota -- 3,103 passing yards, 32 TD, 2 INT, 597 rushing yards, 97 carries, 9 rushing TDMississippi State quarterback Dak Prescott -- 2,1714 passing yards, 23 TD, 10 INT, 891 rushing yards, 171 carries, 12 rushing TD
Wisconsin running back Melvin Gordon -- 254 carries, 2,109 yards, 25 TD
BEDNARIK AWARD:
Given to the top defensive player in college football (again, as considered by the Maxwell Football Club and voting panel).
Arizona linebacker Scooby Wright III -- 126 tackles, 22 TFL, 12 sacks, 5 forced fumbles
Ohio State defensive end Joey Bosa -- 43 tackles, 18 TFL, 11.5 sacks, 3 forced fumbles
Clemson defensive end Vic Beasley -- 24 tackles, 15.5 TFL, 9 sacks, 1 forced fumble
RAY GUY:
Given to the top college punter. Yards per punt season average follows each finalist's name.
Tom Hackett (Utah) -- 46.5
JK Scott (Alabama) -- 46.8
Scott Arellano (BYU) -- 44.6
Scott Harding (Hawaii) -- 41.5
Austin Rehkow (Idaho) -- 47.8
Justin Vogel (Miami) -- 44.0
Tyler Wedel (Northern Illinois) -- 41.9
Cameron Johnston (Ohio State) -- 43.6
Drew Kaser (Texas A&M) -- 44.4
Alex Kinal (Wake Forest) -- 43.8
OUTLAND:
Given to the top interior lineman (offense or defense).
Texas defensive tackle Malcom Brown
Auburn center Reese Dismukes
Iowa tackle Brandon Scherff
DAVEY O'BRIEN:
Given to the best college quarterback
Mariota (see stats above)
Prescott (see stats above)
TCU quarterback Trevone Boykin -- 3,021 passing yards, 24 TD, 5 INT, 122 rushing attempts, 548 yards, 7 TD
JIM THORPE AWARD:
Given to the top defensive back in college football.
Oregon cornerback Ifo Ekpre-Olomu -- 54 tackles, 1 TFL, 2 INT, 7 pass break ups
Alabama safety Landon Collins -- 75 tackles, 2.5 TFL, 3 INT, 5 pass break ups
Louisville safety Jerod Holliman -- 32 tackles, 2 TFL, 13 INT, 3 pass break ups
News/notes/team reports
November, 25, 2014
Nov 25
8:00
PM ET
Headed into the final week of the regular season, eight Pac-12 teams are bowl eligible, and California and Oregon State remain one win away.
Cal has a significantly easier path to win No. 6, hosting BYU on Saturday, while Oregon State must get through rival Oregon in Corvallis. If the Golden Bears win, it will likely impact where rival Stanford -- which beat Cal 38-17 -- ends up in the postseason. Even though Stanford beat Cal and travelled well for BCS bowls over the past four seasons, the Cardinal's small fan base and demonstrated lack of enthusiasm this season doesn't make it an attractive team for bowl officials.
Oregon remains at No. 2 in the College Football Playoff rankings, while No. 8 UCLA remains within striking distance of the top four should it beat Stanford, then Oregon.
Here's our weekly attempt to map out where the Pac-12 teams will end up come bowl season:
College Football Playoff semifinal (Rose Bowl presented by Northwestern Mutual):
Oregon
VIZIO Fiesta Bowl:
UCLA
Valero Alamo Bowl:
Arizona
National University Holiday Bowl:
USC
Foster Farms Bowl:
Arizona State
Hyundai Sun Bowl:
Utah
Royal Purple Las Vegas Bowl:
Washington
Cactus Bowl:
California*
At-large:
Stanford
*Needs a win to become bowl eligible
November, 25, 2014
Nov 25
7:41
PM ET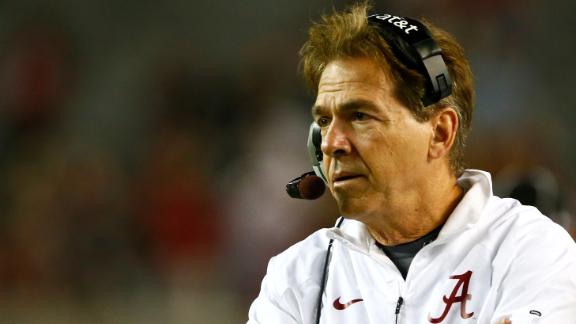 For the first time this season, the top seven teams in the College Football Playoff Top 25 have remained the same, as determined by 11 members of the 12-member selection committee (Mike Tranghese was sick and unable to travel to Dallas for the meetings).
No. 1 Alabama, No. 2 Oregon, No. 3 Florida State and No. 4 Mississippi State each won in Week 13, and in spite of another close win for the Seminoles, FSU did not drop another spot. The only difference at the top was that No. 8 UCLA, No. 9 Georgia and No. 10 Michigan State all slid up one notch to take the spot of Ole Miss, which sank nine spots to No. 19 after being shut out by Arkansas.
Here's what the bracket would look like today: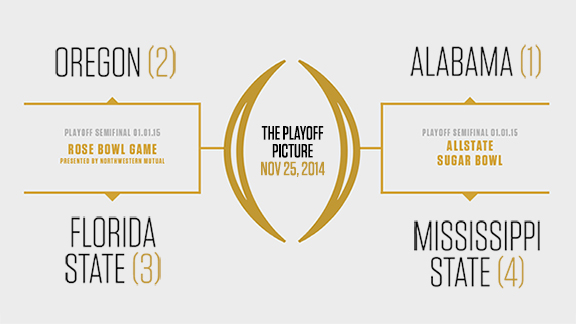 espn
TCU is still the first team on the bubble at No. 5, followed by No. 6 Ohio State and No. 7 Baylor. No. 11 Arizona jumped four spots, and No. 17 Missouri is up three spots. Another big mover was No. 18 Minnesota, which rose seven spots after beating Nebraska.
The biggest surprise this week was that not one but
two
Group of 5 teams were ranked: No. 23 Boise State and No. 24 Marshall. It was a controversial call, as Boise State is a two-loss team just one win away from clinching the Mountain West's Mountain Division, and Marshall is the only undefeated team remaining in the Group of 5. Marshall has already clinched the Conference USA East title.
Marshall is ranked No. 19 in the latest Associated Press poll, followed by No. 21 Colorado State and No. 25 Boise State. This is the first time since Week 10, when East Carolina was ranked in the selection committee's first Top 25, that the Group of 5 has been represented in the CFP rankings.
That would make Boise State the frontrunner to represent the Group of 5 in a New Year's Six Bowl.
As for the other major bowls, here's a projection based on the current rankings:
The Orange Bowl lost the ACC champion (FSU) so it gets the next highest-ranked ACC team, No. 16 Georgia Tech. The Orange Bowl then selects the next highest-ranked nonconference championship team from the Big Ten, SEC or Notre Dame. By contract, displaced conference champs from the SEC and Big Ten don't go to the Orange Bowl. That would pit the Yellow Jackets against No. 10 Michigan State because the committee would look to avoid a rematch with No. 9 Georgia.
Here's what New Year's Eve and New Year's Day could look like, based on today's rankings:
Dec. 31
12:30 p.m. ET -- Chick-fil-A Peach Bowl -- No. 9 Georgia vs. No. 7 Baylor
4 p.m. ET -- VIZIO Fiesta Bowl -- No. 23 Boise State vs. No. 8 UCLA
8 p.m. ET -- Capital One Orange Bowl -- No. 16 Georgia Tech vs. No. 10 Michigan State
Jan. 1
12:30 p.m. ET -- Goodyear Cotton Bowl Classic -- No. 5 TCU vs. No. 6 Ohio State
5 p.m. ET -- Rose Bowl Game presented by Northwestern Mutual -- No. 2 Oregon vs. No. 3 Florida State
8:30 p.m. ET -- Allstate Sugar Bowl -- No. 1 Alabama vs. No. 4 Mississippi State
November, 25, 2014
Nov 25
7:00
PM ET
With more than half the votes in
this week's poll
, Oregon redshirt freshman receiver
Darren Carrington
earns the top spot for this week's Pac-12 Play of the Week.
For a catch like this, there's no better way to explain it than to say, just watch the video.
From the peanut gallery ...
@ESPN_Pac12blog Darren Carrington, Stand Up Guy, Takes a Pass Sitting Down.

— Aubrey NakatomiPlaza (@acgjd) November 25, 2014
@ESPN_Pac12blog Carrington gets by with a little help from his friends: Jesus, girls and Marcus Mariota. #immaculatereception

— Dale Newton (@DSH_Newton) November 25, 2014
@ESPN_Pac12blog A gift from above!

— Dave Caulley (@davelcaulley) November 25, 2014
Kirk Herbstreit's Gameplan Breakdown
PAC-12 SCOREBOARD
Friday, 11/28
Saturday, 11/29