October, 30, 2014
Oct 30
10:01
AM ET
October, 30, 2014
Oct 30
9:00
AM ET
By
ESPN.com staff
| ESPN.com
Why Stanford will win:
Over the past two seasons, I've picked Oregon to win this game with a strong degree of confidence. And I've been wrong. So, with not much confidence -- the Cardinal already have lost three games and NT
David Parry
is hurt -- I am picking Stanford. Mostly because if I'm going to be wrong, I want to be wrong in a new way. And I want Ducks fans to troll me for it. -- Ted Miller
Why Oregon will win:
The Ducks' offense has looked confident, explosive and efficient since it started to get healthy across the offensive line. The new-look Stanford offense, while maybe better suited for the current personnel, might not be able to sustain those long drives that have worn down Oregon in the past. Stanford's defensive injuries are a concern as well. -- Kevin Gemmell
Why Arizona will win:
Scooby Wright III
and his gang of Wildcats are going to be too much for the UCLA offensive line.
Anu Solomon
,
Nick Wilson
and
Austin Hill
will all have big games for Arizona. Time to start making some sense out of the South. -- Chantel Jennings
Why UCLA will win:
This feels a lot like 2012 -- a surging Arizona team coming to the Rose Bowl vs. a UCLA team that had had a couple of bad games. And we all remember what happened there (UCLA won 66-10). Different year, different players. I get all that. But last week was a wake-up call for the Bruins. This game is put-up or shut-up for them. -- Kevin Gemmell
Why Utah will win:
With matching three-game win streaks, there's plenty to like about both teams, but Utah's
Devontae Booker
could be the difference. In his first year in the Pac-12, the juco transfer has averaged a conference-best 166.3 rushing yards per conference game. -- Kyle Bonagura
Why Arizona State will win:
The Sun Devils have a chance to solve what's been a major weakness at home, and I think their upward trajectory indicates that they'll do just that. ASU's defense had given up over 200 rushing yards in four straight entering the Stanford game Oct. 18, and even Washington ran the ball with success against the Sun Devils last week. So on paper, it's a bad matchup since Devontae Booker has made Utah a successful rushing team, but I have a feeling ASU will capitalize on this big (late) stage to make a statement. Plus,
Taylor Kelly
will have shaken off last week's rust. -- David Lombardi
Unanimous picks
Why USC will win:
Washington State's defense just doesn't have it. That's particularly bad news this week, since
Cody Kessler
delivered a notable performance in the face of Utah's ferocious pass rush during USC's loss last week. Kessler has a bevy of weapons in the passing game, and the Trojans also own balance thanks to running back Buck Allen. They will score plenty of points in Pullman, Washington, and there'll again be too much pressure on
Connor Halliday
's shoulders. -- David Lombardi
Why Cal will win:
Both teams are limping into this game, but I think the Bears' limp is more figurative -- they've lost their past three games after a 4-1 start -- while the Beavers are limping because of injuries physical and mental. Cal also just strikes me as hungrier, though the Bears must contend with a strong Oregon State pass defense. The loser here seems unlikely to become bowl eligible, while the winner will need just one more victory over the homestretch. -- Ted Miller
Why Washington will win:
The Huskies snap their two-game losing streak with a 17-point win over Colorado on the road.
Hau'oli Kikaha
,
Danny Shelton
and
Shaq Thompson
are going to have a huge game for the UW front seven defensively and the offense will take a step forward with more consistent play through four quarters (plus, it'll help that there won't be 95 mph winds, as there were in Seattle last week). -- Chantel Jennings
October, 30, 2014
Oct 30
8:00
AM ET
Don't you draw the queen of diamonds boy, she'll beat you if she's able;
You know the queen of hearts is always your best bet.
Leading off
At this point in the season, any injury to a starter can be crippling. And in the ridiculously competitive Pac-12 South, it can be downright devastating. Earlier in the week we learned that USC
would be without
left tackle Chad Wheeler for the rest of the season. Wednesday, another impact player was lost for the year when Utah announced that wide receiver Dres Anderson would
miss the rest of the season
with a knee injury.
"We feel bad for Dres. It's heartbreaking for that kid. He's a fifth-year senior. He's poured everything he had into this program for five years," Utah coach Kyle Whittingham told reporters after practice on Wednesday. "Nobody's outworked him. Nobody's done more for us than Dres during that period of time. He's taken care of business on and off the field. He's got his degree already in hand."
Here are some reactions:
The Utes, very much in the thick of things in the Pac-12 South -- and even the playoff conversation -- enter one of the toughest stretches in the country. After this week's trip to ASU, they are home to Oregon, at Stanford, home to Arizona and at Colorado to close out the season. According to FPI, the Utes have the second-toughest remaining schedule of the 25 ranked teams and the eighth toughest in the nation.
Heisman update
Catching you up on the Heisman race, which could take a turn this weekend with Stanford heading to Oregon, Ducks quarterback Marcus Mariota is nearly neck-and-neck with Mississippi State quarterback Dak Prescott. In the
latest ESPN.com poll
, Prescott leads Mariota by a single point.
Here's how it shakes out (followed by total points):
Dak Prescott, QB, Mississippi State (45)
Marcus Mariota, QB, Oregon (44)
Melvin Gordon, RB, Wisconsin (18)
Amari Cooper, WR, Alabama (13)
Ameer Abdullah, RB, Nebraska (11)
No other Pac-12 players are receiving votes. Here's guessing that if Mariota can finally get over his Stanford hump, he'll enjoy a nice bump.
Who is your Heisman front-runner? #ChampDrive pic.twitter.com/7iMmc6haht

— College GameDay (@CollegeGameDay) October 27, 2014
News/notes/team reports
Just for fun
I guess yesterday was National Cat Day? To which my
beagle
says, meh. The tweet is still funny, though.
Meowcus #GoDucks RT @GoDucksJoe: Hello? Yes, I did see that coverage breakdown on the last play. #NationalCatDay pic.twitter.com/PC6g68Rj23

— Andy McNamara (@McNamaraUO) October 29, 2014
D.J. Foster bringing his media skills to practice.
ASU running back DJ Foster gets in a question for teammate Taylor Kelly. pic.twitter.com/gnIygvvhVC

— Doug Haller (@DougHaller) October 29, 2014
October, 29, 2014
Oct 29
7:30
PM ET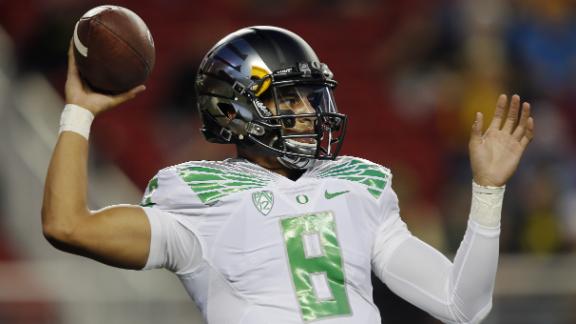 Welcome to the mailbag. Please stay for the punch and pie. And if you feel like it,
follow me on Twitter
.
Emily, who was formerly from L.A., writes
: Unhappy Trojan here, but I have to admit Utah was a really good team. Question that calls for speculation: if Utah beats Oregon - assuming both teams win this coming weekend (yes, I know that's a lot to assume) - do you think the Playoff Committee would recognize Utah as a team worthy of the playoff? Or would taking down Oregon completely knock the PAC-12 out of the running?
Kevin Gemmell
: I think the same train of thought that applies to Oregon also applies to Utah, Arizona and Arizona State. A one-loss Pac-12 team will not be left out of the College Football Playoff. This is why we have people now and not computers. At some point, someone in that room will stand up and say it's absurd for a one-loss Pac-12 champion to not be included. Question is, will there be one?
Since you're asking specifically about the Utes, let's break them down. They already have wins over two ranked teams. If they win out, they will have beaten ASU, Oregon and Arizona -- all ranked, and all in the top 15. Two of their wins would also be against Michigan and Stanford. The Michigan win doesn't carry the weight it used to, but at least one person in that room
will be swayed by a win at Stanford
.
Now, what's the likelihood this actually happens? Pretty slim. The Utes have the second-hardest remaining schedule of the 25 teams according to FPI (8th nationally) and their chances of winning out are .8 percent. And things got a lot tougher with the news this morning that receiver
Dres Anderson
would
miss the rest of the year
with a knee injury. That taxes a passing game that already had issues.
But whether it's Utah, Oregon or one of the desert schools, any of them would have a more-than-presentable résumé to make a case for playoff inclusion with just one loss.
---
Jeff in Sacramento writes
: When is the last time Oregon lost 3 straight to the same team? For instance, if Oregon were to lose to Stanford, this would be the third year in a row. When is the last time that happened?
Kevin Gemmell
: It took a ton of sleuthing and cross-referencing and spreadsheets, but I have your answer.
Actually, I popped open the Oregon media guide and found it in two minutes because it's more recent than you'd think.
Before Oregon had a Stanford problem, it had a -- wait for it -- CAL PROBLEM! That's right, the Bears were the thorn in Oregon's side in 2006, 2007 and 2008. Before Oregon picked up its sixth-consecutive win over the Bears last week, it was Oski owning Puddles. In those three years, two of the wins were by double digits. Two wins came in Berkeley and one at Autzen.
Here are the links to the three games so you can relive the heroics of Nate Longshore and
DeSean Jackson
and wallow in the shortcomings of Dennis Dixon and Jeremiah Johnson.
2006
,
2007
,
2008
.
---
An anonymous Huskie in Cougar Land writes
: Why can't Pac-12 teams schedule good opponents? Other than Oregon playing Michigan St and UCLA playing Texas, I can't count another Pac-12 team playing a team from a power five conference with a winning record. Why do we have to be such wimps? It's quite simple why nobody thinks the Pac-12 can compete with the SEC: they don't play anyone good! Imagine Oregon playing Alabama. Or Stanford playing LSU. If they played tougher opponents, they would not only get the credit they need - and want - but could also vault themselves into national prominence.
Kevin Gemmell
: You might notice a trend … and that's other schools ducking out of their obligations to play Pac-12 teams. It takes two to dance, otherwise you're just pulling a Billy Idol. The Pac-12 has been willing. But their partners haven't been.
Like, for example, Texas A&M recently
leaving Oregon at the altar
, or Georgia pulling out of its Oregon game
a few years ago.
Or Notre Dame trying to
get out of its obligation
at ASU. By the way, this is the second year in a row that three teams from the Pac-12 play Notre Dame. Wouldn't consider them wimps. And for what it's worth, Rutgers and Virginia are a couple of Power-5 teams that look bowl-bound.
But to ease your concerns, here are a few matchups we have to look forward to in the coming years (all information via
fbsschedules.com
):
Arizona: Mississippi State in 2022 and 2023.

Arizona State: Michigan State in 2018 and 2019; LSU in 2022 and 2023.

Cal: Texas in 2015 and 2016; North Carolina in 2017 and 2018; Auburn in 2019 and 2020; TCU in 2020 and 2021.

Colorado: Michigan in 2016; Nebraska in 2018, 2019, 2023 and 2024.

Oregon: Michigan State in 2015; Nebraska in 2016 and 2017; Ohio State in 2020 and 2021.

Oregon State: Michigan in 2015; Ohio State in 2018.

Stanford: Notre Dame annually.

UCLA: Texas A&M in 2016 and 2017; Oklahoma in 2018 and 2019; LSU in 2021 and 2024; Michigan in 2022 and 2023.

USC: Notre Dame annually; Alabama in 2016, Texas in 2017 and 2018.

Utah: Michigan in 2015.

Washington: Michigan in 2020 and 2021.

Washington State: Wisconsin in 2022 and 2023.
So as you can see, there's not a single Pac-12 team that doesn't have a notable Power-5 opponent (or independent Notre Dame) coming up on the schedule. Some are immediate, some are a few years away. Schedules are made years in advance. Sometimes they turn out to be great showdowns. Sometimes they are clunkers. And sometimes they just fizzle. But you can't accuse the Pac-12 of not being aggressive in its scheduling.
This first year of the College Football Playoff is going to be interesting, because we'll see how much the selection committee really takes strength of schedule into account. And we'll likely see teams adjust future schedules accordingly.
October, 29, 2014
Oct 29
2:41
PM ET
By
Jungkyu Lee
| ESPN.com
Ezra Shaw/Getty ImagesPressure on Marcus Mariota has been vital to Stanford's ability to contain Oregon's potent offense.
How do you stop
Oregon's
high-octane offense?
Stanford appears to have found the formula for success, holding Oregon to two of its three lowest-scoring outputs since the start of the 2012 season.
Three keys for Stanford in the past two seasons have been limiting Oregon's designed running game, pressuring quarterback
Marcus Mariota
, and forcing the Ducks into third-and-long situations.
Limiting Oregon's Run Game
Since the start of the 2012 season, Oregon ranks second in the FBS in yards per rush (5.9) and rushing touchdowns (112).
Against Stanford, however, the Ducks' rushing attack has been stymied, totaling one touchdown in the past two meetings. The Ducks have averaged 3.5 such touchdowns per game against all other opponents during that time.
When looking at designed rushes, Oregon has gained 122 and 77 yards in its past two games against Stanford; the Ducks have had at least 150 such yards in 31 of their 32 games against all other opponents.
One key to stopping Oregon's designed run game has been funneling the Ducks inside the tackles. Since the start of 2013, Oregon is averaging 7.4 yards per designed run outside of the tackles (fifth among Power 5 schools) and 5.3 inside the tackles (16th among Power 5 schools).
Oregon was held to a season-low six carries and 30 yards outside the tackles last year against Stanford. In every other game, the Ducks had at least 13 carries and 50 yards to the outside (averaged 18 for 145). In 2012, the Cardinal were also able to funnel Oregon inside as they held the Ducks to season lows in yards (29), first downs (2) and 10-yard rushes (zero) outside of the tackles.
Pressuring Mariota
Marcus Mariota has a Total QBR of 67.0 in the two matchups against Stanford, compared with an 87.8 career Total QBR.
The Cardinal have done a great job of putting Mariota under duress. He has been pressured on 29 percent of his dropbacks against Stanford, and 17 percent against all other opponents.
When under duress against Stanford, Mariota is averaging fewer than 3 yards per play and has been sacked six times.
Forcing Oregon into third-and-long
Stanford has won third downs. Oregon, which ranks at the top of the conference in third-down conversions since the start of the 2012 season (47 percent), has converted 26 percent of its third downs against the Cardinal in its past two meetings.
More than the Ducks' other opponents, Stanford has been able to force them into third-and-long situations. They have needed eight or more yards on 14 of their 27 (52 percent) third downs against Stanford. Although Oregon's average third-down distance to go is not significantly lower against other opponents (7.1 to 6.9), it has had eight or more yards to go on a much lower percentage of third-down plays (39 percent).
Given the difficult situations and the strength of Stanford's defense, Mariota has struggled against Stanford on third down, posting a 29.7 third-down QBR and gaining a first down on 36 percent of his plays.
Can Stanford do it again Saturday?

Despite losing first-team All-Pac-12 members Ben Gardner, Trent Murphy,
Shayne Skov
and
Ed Reynolds
, in addition to defensive coordinator Derek Mason to
Vanderbilt
, Stanford's defense still has been one of the best in college football. The Cardinal rank second in FBS in opponent points per game (12.5), second in yards per game (250.6) and first in yards per play (3.7).
The biggest difference for Stanford, however, is on offense. In their previous meetings, the Cardinal have been able to run the ball to keep Oregon's offense off the field. They have had the ball almost twice as long as the Ducks the past two seasons, including for 42 minutes, 34 seconds in 2013. Stanford's run game has been able to move the chains and keep the clock ticking (274 rushing yards last season).
This year, Stanford ranks 90th in the FBS in rushing yards per game and does not have a workhorse back like Tyler Gaffney or
Stepfan Taylor
. The Cardinal were held below 3.5 yards per rush in each of their losses this season.
October, 29, 2014
Oct 29
11:57
AM ET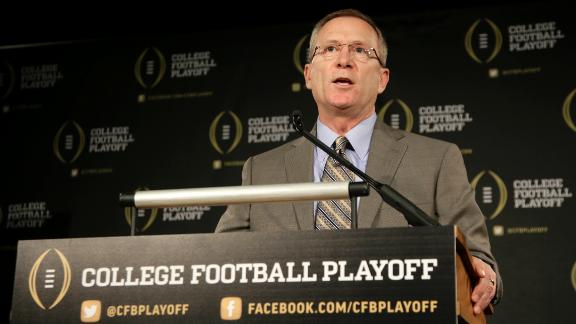 The College Football Playoff selection committee should engineer a commercial deal with the upcoming "The Avengers: Age of Ultron" movie so it can create this scene: A cacophonous room overflowing with complaining fans of every hue and region -- "Three from the SEC!" "Notre Dame is too low!" "Overrated!" "Bias!" -- but then Hulk, Thor and Iron Man zoom down from the sky, smashing through the whiners and leaving a gaping, silent void.
After pregnant silence: "Shut up," grunts Hulk. "And win."
For that is the only meaningful takeaway from the inaugural College Football Playoff rankings from the selection committee. Folks, it's not even November.
Fourteen of the 16 one-loss teams from Power 5 conferences have another one-loss team left on their schedules, so lots of second losses will be handed out no matter what. Worried about SEC world domination? There are four remaining regular-season matchups between top-six teams -- all involving SEC West teams -- including No. 3 Auburn at No. 4 Ole Miss on Saturday (7 p.m. ET on ESPN). In the vaunted SEC West, there's a good chance -- 43 percent, according to ESPN Stats & Info -- that the division champion will have at least two losses.
Ergo, lots of football left. Said committee chair Jeff Long: "The bottom line is it's early, it's close, and it's going to change as we move forward."
In fact, with Auburn and Ole Miss playing Saturday, it's going to change in a notable way next week, which makes our task today somewhat important: The case for No. 5. As in: Who moves into the joyous, warming glow of the top four next week?
You could go with a number of teams as candidates, particularly if you projected forward, but we're going to focus on the next three in the rankings as the most likely to move up next Tuesday: No. 5 Oregon, No. 6 Alabama and No. 7 TCU, a troika of strong one-loss teams.
October, 29, 2014
Oct 29
9:00
AM ET
We've reached the portion of the season when fans of just about every school can complain about how "so-and-so is biased" against their team, which should
obviously
be ranked higher than where it currently sits.
Considering we're still in October, that's a lot of wasted time and energy, but also what makes college football so unique.
So keeping in mind every team's playoff outlook is very much a fluid situation, here's a look at the Pac-12 teams still in playoff contention:
Oregon Ducks
Record:
7-1 (4-1)
Rank:
5
Next big obstacle:
Stanford, Nov. 1
Reason for optimism:
As the top-ranked one-loss team outside the SEC, the Ducks are in good position to eventually wind up in one of the four playoff spots. Since LT
Jake Fisher
returned from injury against UCLA, the Ducks have averaged 48.7 points per game and quarterback
Marcus Mariota
has looked like the Heisman favorite. The remaining schedule is relatively manageable, too. Unranked Stanford will provide a good test Saturday, but No. 17 Utah is the only ranked team left before a potential Pac-12 championship game.
Cause for concern:
Defense. Defense. Defense. Fresh off allowing 41 points to Cal last week, the Ducks haven't proved their defense can bail them out if the offense has an off game. Oregon is the only team in the selection committee's top 10 that has allowed at least 30 points on four occasions. If the committee ends up valuing a more balanced team, the Ducks could be in trouble.
Who they'll be rooting for this week:
West Virginia
Arizona Wildcats
Record:
6-1 (3-1)
Rank:
12
Next big obstacle:
at UCLA, Nov. 1
Reason for optimism:
The Wildcats' 31-24 win at Oregon on Oct. 2 ranks as one of the best wins for any team in college football this year, and freshman quarterback
Anu Solomon
, who has played beyond his years, figures to improve as time goes on. Among teams ranked in the committee's top 25, Arizona ranks No. 9 in scoring (41.1) and No. 4 in total offense (541.9 yards per game).
Cause for concern:
For Arizona to get to the playoff, it will likely need to win out, which means it'll need to get through four ranked teams -- No. 22 UCLA, No. 17 Utah, No. 14 Arizona State and the Pac-12 championship game. With as many close games as Arizona has played in, it seems to reason that there will be at least a game or two in which it comes up on the short end.
Who they'll be rooting for this week:
Oregon
Arizona State Sun Devils
Record:
6-1 (4-1)
Rank:
14
Next big obstacle:
Utah, Nov. 1
Reason for optimism:
The Sun Devils might be the hottest team in the Pac-12 after beating USC, Stanford and Washington in successive weeks. After their defense struggled in a 62-27 loss to UCLA on Sept. 25, they've seemingly turned things around, surrendering just 10 points in each of the past two weeks.
Mike Bercovici
was great filling in for starting quarterback
Taylor Kelly
, but the Sun Devils are happy to have their leader back as they try to finish strong.
Cause for concern:
That loss to UCLA really stands out. Only 10 other FBS teams have allowed that many points in a game this year, and it's not exactly a list of teams ASU should want to be associated with. Its nonconference wins against Weber State and New Mexico leave something to be desired, but a visit from No. 10 Notre Dame on Nov. 8 solves that.
Who they'll be rooting for this week:
Notre Dame
Utah Utes
Record:
6-1 (3-1)
Rank:
17
Next big obstacle:
at ASU, Nov. 1
Reason for optimism:
Utah might have the country's best group of specialists -- kicker
Andy Phillips
, punter
Tom Hackett
, returner
Kaelin Clay
-- to go along with one of the country's better defenses. In those two phases, Utah matches up well with just about any team in the country, and running back
Devontae Booker
has emerged over the Utes' past four games. Defensive End
Nate Orchard
is one of a handful of legitimate All-America candidates on the team.
Cause for concern:
The instability at quarterback certainly doesn't inspire much optimism. The combination of
Travis Wilson
and
Kendal Thompson
has been just enough to get by, and Wilson, who is currently the clear No. 1, needs to improve to take pressure off the Utes' special teams and defense. Utah's remaining schedule -- at ASU, Oregon, at Stanford, Arizona, at Colorado -- might be the most difficult in the Pac-12.
Who they'll be rooting for this week:
Oregon State
UCLA Bruins
Record:
6-2 (3-2)
Rank:
22
Next big obstacle:
Arizona, Nov. 1
Reason for optimism:
UCLA has one of the nation's best quarterbacks in
Brett Hundley
and a talented roster around him that has the potential to be one of the country's best teams. With two losses already, UCLA is clearly a long shot, but because the Pac-12 stacks up well against other conferences, its eventual champion will receive some level of consideration for inclusion in the playoff. For that reason, UCLA isn't out quite yet.
Cause for concern:
The Bruins just haven't played like a team deserving to be in the playoff. Aside from its impressive win against Arizona State, UCLA doesn't have any other performances it can point to and say, "This is why we should be in." In the past four games, the Bruins have lost twice, beat Cal by two and went to double overtime before beating Colorado.
Who they'll be rooting for this week:
Arizona State
October, 29, 2014
Oct 29
8:30
AM ET
Now that we have had time to digest the
first Top 25
from the College Football Playoff Committee, it is pretty obvious the group delivered on the promises it made before the process began.
Strength of schedule matters.
Quality wins matter
.
The AP and coaches poll do not.
One glance at the College Football Playoff Top 25 and the other rankings clearly illustrates the committee truly started with a clean slate.
There are several discrepancies that illustrate this point:
The hurt doesn't show;
But the pain still grows;
It's no stranger to you and me.
(I know you totally just did the drums in your head!)
Leading off
It's depth chart Wednesday! And the people rejoiced. All 12 teams are in action again, so here are the most current depth charts for each team (except, as you know by now, UCLA, which doesn't do a weekly depth chart). As always, I've made some notes below.
Notes (lots this week)
News/notes/team reports
Just for fun
Happy birthday, coach.
"@OregonIMG: Happy Birthday to our two guests tonight @CoachHelfrich and Charles Nelson!!! pic.twitter.com/YXw6pJC9mJ"

— Andy McNamara (@McNamaraUO) October 29, 2014
Recruiting Snapshot: Stanford vs. Oregon