October, 22, 2014
Oct 22
4:00
PM ET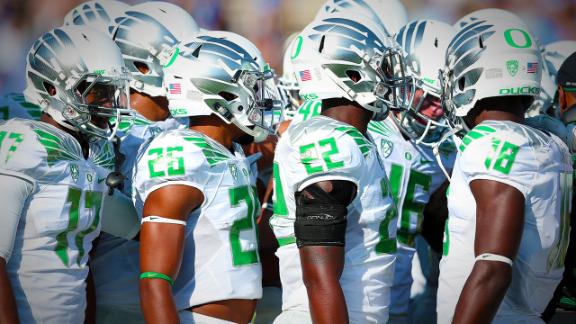 So maybe all the hubbub and Apocalyptic thoughts that came crashing down on Eugene and all of Interstate 5 and up through the Cascades a few weeks ago were a little bit of an overreaction, no?
But oh, how quickly the tide changes. Because in just two weeks,
Marcus Mariota
has led the Oregon Ducks from pandemonium to the Promised Land (with some help from a few other top teams being upset) and back into the good graces of the football gods. Not bad, Marcus, not bad -- just 16 days to go from a hopeless team to a heroic one.
[+] Enlarge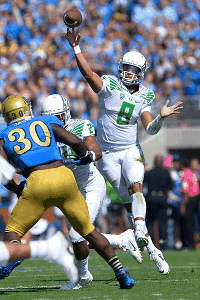 Robert Hanashiro/USA TODAY SportsMarcus Mariota has helped Oregon stay in contention for the College Football Playoff by completing 70 percent of his passes.
"Ah, but [insert SEC West QB name here] could do it in 15," someone argues. But, that's fine. Because the SEC can do what the SEC wants to do.
At this point, the Ducks just need to insulate and take care of business because they're likely in control of their own destiny. According to the ESPN Football Power Index, Oregon has a 21 percent shot to win out. That's third-best among one-loss teams, behind Ohio State and TCU, which both have a 26 percent chance.
And with one game to go until the College Football Playoff committee releases its first set of rankings, Oregon solidified itself as the Pac-12's banner holder.
But that doesn't mean there aren't major issues that could still be exploited, and coach Mark Helfrich is the first to admit that.
"There's a ton we can improve upon, for sure," he said on Sunday night after watching his team's game film from its dominant win over Washington.
Such as ... tackling. That has looked better these past two weeks, but the Ducks are still giving up far too many big plays. Oregon has given up 119 plays of 10 or more yards so far this season. You want to know who else has given up that many plays of 10 or more yards?
Purdue and Toledo. In very few cases in college football -- when it comes to statistics -- do you want to be on the same list as those two teams.
As the weeks progress, the Ducks are doing a better job communicating and getting helmets to the ball. But still, of the 1,182 rushing yards the Ducks have allowed, 610 have come after contact.
So, you can decide whether it's more worrisome that more than half of opponents' rushing yardage has come after Oregon (tries to) tackle or the fact that through seven games, 572 rushing yards have come before an Oregon defensive player has even gotten to the ball. Or, everyone can just agree that it's bad news when the Oregon defense allows other teams a 4.3-yards-per-rush average and a 65 percent conversion rate on third-down rushing attempts.
But, it can get better (well, at 120th in the country in third-down rushing defense, it can't get much worse).
Defensive coordinator Don Pellum has been on this staff a long time, and he knows that this group can play much better than it has. Defenses always take longer to jell and with so many new faces on that side of the ball and D-lineman
Arik Armstead
hopefully healthy for good, maybe the learning curve will kick up a notch.
But the offense finally seems to be clicking. And though Helfrich wants to downplay the return of offensive tackle
Jake Fisher
, the skies have looked dramatically clearer for the Ducks since Fisher got back to bookending the left side of the line and protecting Mariota's blindside.
In Oregon's games against Arizona and Washington State, with Fisher out, the Ducks' average rushing yardage was just about even with what those two teams had given up coming into those games. Meaning, it was average. An average team will not reach the playoff.
But when Fisher returned, the Ducks averaged 1½ times the rushing averages that UCLA and Washington had given up coming into those games. That's the kind of performance the committee wants to see. It's not all about statistics, but when
Royce Freeman
is rushing for 100 yards and Mariota is completing 70 percent of his passes, they're a hard team to ignore.
And that's exactly what the Ducks need to be: Hard to ignore -- and not just because their uniforms are flashy.
So, why not Oregon? That's the question the committee will ask itself as it sits down to look at the résumés of the top 20 or so teams.
It's a team that knows how to be nationally relevant, but it's also a team that knows what it feels like to slip out of that conversation.
Two weeks ago, it seemed like that might happen. But the loss to Arizona doesn't carry as much weight now, as there's a certainty that at least two one-loss teams will be in the playoff.
Oregon is in the conversation. The Ducks are the ones who are going to decide whether they keep themselves there or not.
October, 22, 2014
Oct 22
10:45
AM ET
Several Pac-12 commitments and prospects saw some significant movement in the
updated ESPN 300 rankings released Wednesday
. Overall, the conference holds commitments from two of the top 22 prospects in the country and 26 of the top 300. With fewer than four months until signing day, let's take a look at where the Pac-12 stands in the ESPN 300.
October, 22, 2014
Oct 22
10:15
AM ET
Oregon didn't see Arizona coming. Baylor was blindsided by West Virginia. Now those teams' playoff hopes are damaged, if not totaled.
It's often the surprising losses -- the trap games -- that derail promising seasons. Just ask Oklahoma State (Iowa State) in 2011 or USC (Oregon State) in 2008.
As for 2014, here are the most perilous traps remaining down the stretch for the top six in the AP poll. That includes Mississippi State, FSU and Ole Miss, the three remaining undefeated Power 5 teams.
1. Ole Miss
Trap game:
at Arkansas (Nov. 22)
When they go to Fayetteville, the Rebels will essentially be coming off two open dates (they play Presbyterian on Nov. 8). But Arkansas still presents a classic look-ahead scenario, because Ole Miss has the Egg Bowl against Mississippi State the following week. The "biggest Egg Bowl ever" chatter is buzzing now; just imagine what it will be like a week before the game. If the Rebels' focus is waning, Arkansas is good enough to punish them for it. Mark it down: The Razorbacks are going to end their 16-game SEC losing streak this season, and it wouldn't surprise me if it happened in an impactful game. Mississippi State (Nov. 1) also should be on high alert. Arkansas will slow down the game. Even if Ole Miss isn't running as much up-tempo this season, pace is still something the Rebs want to dictate. The timing and matchup are as dangerous as it gets.
To continue reading this article you must be an Insider
October, 22, 2014
Oct 22
8:00
AM ET
4, 8, 15, 16, 23, 42
Leading off
It's depth chart Wednesday! All 12 teams are in action this week -- no byes. Actually, it will be like this for the next two weeks. So that's exciting! Here are the most current depth charts for all the teams in action this week, save UCLA, which doesn't post a weekly depth chart. As always, I'll note any significant changes below.
Notes
Heisman updates
Usually in this space every Wednesday, we've been linking the straw poll from
Heismanpundit.com
. However Chris Huston, friend of the blog who runs that site, has put it on hold while he does some work for the official Heisman site. We wish him the best.
So today we'll update you with the
ESPN.com Heisman poll.
Oregon quarterback
Marcus Mariota
still sits behind Mississippi State's
Dak Prescott
. But he closed the gap last week with his performance against Washington.
Here's how the latest poll shakes out, followed by their total points:
Dak Prescott (47)
Marcus Mariota (42)
Melvin Gordon (25)
Tie: Amari Cooper (9)
Jameis Winston (9)
Prescott and Mariota were the only players receiving first-place votes. Looks like it's a two-man race to the finish.
Dak Prescott & Marcus Mariota are atop ESPN's Heisman Watch http://t.co/lwKSDCvg17 Which QB would you rather have? pic.twitter.com/49IPVmGfpQ

— ESPN CollegeFootball (@ESPNCFB) October 21, 2014
News/notes/team reports
Just for fun
A cool behind-the-scenes photo journal of
UCLA's trip to Cal
.
Bravo, Oregon fans. Bravo.
When Oregon students get bored w/game, they break out beer pong in stands pic.twitter.com/344nVOlGW8 (via @JeffWhiteee)

— darren rovell (@darrenrovell) October 21, 2014
The Trojans will rock these shiny new lids on Saturday.
#USC will wear the new helmets again on Saturday at #Utah. pic.twitter.com/HMAYhzRLMD

— Lindsey Thiry (@LindseyThiry) October 21, 2014
October, 21, 2014
Oct 21
11:00
PM ET
Adam McLean
picked Penn State in April, but Ole Miss, Tennessee and others haven't stopped recruiting him, and his high school coach knows exactly why. DeMatha Catholic's 2016 class is shaping up to be one of the best ever in school history, and that's saying a lot.
To continue reading this article you must be an Insider
October, 21, 2014
Oct 21
6:30
PM ET
Here's another look at random stats pertaining to the Pac-12.
Friday
No. 6 Oregon vs. California at Levi's Stadium, Santa Clara, California
Oregon has scored 79 points off turnovers, most in the conference.
Oregon has gained 61.9 percent of the possible yards on offense, most in the conference.
Cal leads the nation in touchdowns in conference games (26).
Oregon true freshman RB Royce Freeman has scored 12 touchdowns, most in the conference.
Cal QB Jared Goff ranks No. 2 in the Pac-12 with an 80.8 QBR, which ranks No. 6 nationally.
Saturday
No. 25 UCLA at Colorado

Colorado is second in the Pac-12 averaging 49.3 pass attempts per game, but allows a conference-low 1.71 sacks per game.
The Bruins have had 13 drives of 80 yards or more, the most in the Pac-12.
UCLA picks up at least one first down on 82.4 percent of its drive, second-most in the Pac-12 behind Arizona.
Colorado has gone for it on fourth down 22 times, the most in the Pac-12.
In goal-to-go situations, both UCLA and Colorado have both scored touchdowns on 11 of 13 attempts with two made field goals.
Oregon State at Stanford

Stanford is tops in the conference in yard margin per game in Pac-12 play, averaging 113 more yards than its opponents.
Stanford has committed four turnovers in the red zone-- six teams in the conference have committed none.
Oregon State averages the most seconds of possession per play in the conference (28.3), but is followed closely by Stanford (28.0).
Oregon State scores on 37.2 percent of its drives, while Stanford is at 31.4 -- two of the three lowest rates in the Pac-12.
Stanford did not lose to Oregon State during its school-record 72-week streak in the AP Top 25 that was snapped this week. The Cardinal's last loss to Oregon State came in 2009, when it was unranked.
No. 15 Arizona at Washington State

Opposing defenses have committed 17 penalties against Arizona, the most against any Pac-12 team.
Arizona averages the fewest seconds of possession per play in the Pac-12 (20.1).
Arizona RB Nick Wilson owns the Pac-12's longest rush of the season -- an 85-yard touchdown run against UTSA. Only two other players have a carry longer than 57 yards yards.
Three WSU receivers – Vince Mayle, River Cracraft and Dom Williams – have a reception of 84 yards or longer. Of the rest of the conference, only Arizona (Cayleb Jones and Austin Hill) has more than one.
WSU punts on just 29.5 percent of its drives, the third-lowest percentage in the Pac-12.
No. 20 USC at No. 19 Utah
Utah averages 4.83 drives per game without a first down, the most in the Pac-12. USC averages 3.86, the second most.
Utah RB Devontae Booker averages 187.7 yards rushing in conference games, the second most among Power 5 running backs behind Wisconsin's Melvin Gordon (217) ... and USC's Buck Allen is far behind. He ranks No. 6 (149).
USC QB Cody Kessler is among the most accurate quarterbacks in the country. His completion percentage (69.5) ranks No. 5 and his interception percentage (0.4) is No. 3.
Utah (5.18) and USC (5.36) rank No. 2 and No. 3 respectively in yards per play allowed in Pac-12 play.
No. 14 Arizona State at Washington
Washington has turned the ball over on just 3.4 percent of its possessions, the lowest rate in the Pac-12.
Arizona State is one of five teams in the country averaging over 320 yards passing and over 190 yards rushing on offense.
Arizona State's defense has committed 11 penalties that resulted in first downs, second fewest in the country.
ASU averages 6.74 yards per play, which ranks second in the Pac-12 and 15th nationally.
Washington averages 181.4 passing yards per game, the fewest in the Pac-12.
Past weeks
Week 1
Week 2

Week 3
Week 4
Week 5
Week 6

Week 7
Week 8
October, 21, 2014
Oct 21
12:00
PM ET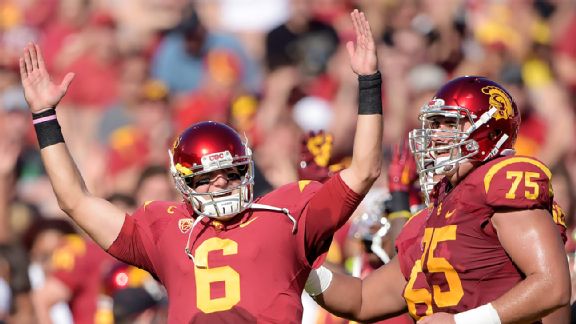 Kirby Lee/USA TODAY SportsCody Kessler set a USC single-game record with his seven passing touchdowns against Colorado.
The Pac-12 is loaded with talent at quarterback this season to the point where it seems like the conference is a hoarder and really good QBs are in abundance. But this is the way we like it. And the other conferences can keep hoarding whatever they like as long as the signal-callers stay west.
Every week we'll provide you with a power ranking of the conference's top quarterbacks, heavily considering the QB's most recent game.
Drumroll please...
Inactive Week 8:
Arizona's
Anu Solomon
and Washington State's
Connor Halliday
.
For Week 7's rankings, click here.
College Football Live Extra: Left Out
PAC-12 SCOREBOARD
Friday, 10/24
Saturday, 10/25