September, 18, 2014
Sep 18
3:00
PM ET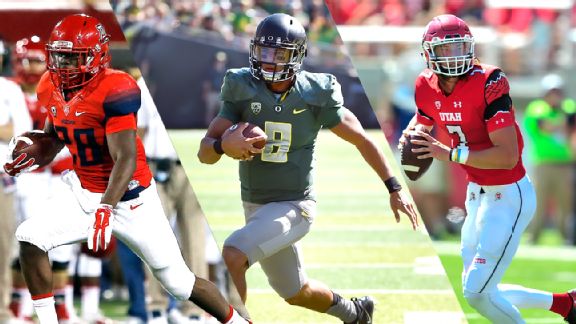 AP Photo, AP Photo, Icon SportswireArizona, Oregon and Utah are among the Pac-12's featured teams Week 4.
Is Cal ready to carry its success into conference play?
KyleBonagura/@BonaguraESPN:
Short answer: yes. But with the understanding that success at Cal won't be defined the same way as it is other places -- at least not yet. This week's trip to Arizona could be the most telling game of the season, because the Bears are still largely an unknown due of the caliber of their first two opponents. Even if Cal keeps it close, that should constitute as success and would set the stage for winnable games the next two weeks vs. Colorado and at Washington State. After that, the schedule is brutal, but things appear to be
headed in the right direction in Berkeley
.
David Lombardi/@LombardiESPN:
Cal is a significantly improved football team -- new coordinator Art Kaufman has at least contained the defensive dumpster fire, many of last season's injuries have healed, and
Jared Goff
is no longer a freshman. However, I do need to see the Bears deliver in Pac-12 play before I buy some of their stock. Their lone FBS win, against, Northwestern isn't overly impressive at this point, so I don't expect a win on the road against efficient
Anu Solomon
(over 10 yards per attempt last week) and Arizona quite yet. I do see Cal beating Colorado at home next week leading into another winnable road game at Washington State, though. So I do think the Bears are ready for a couple droplets of conference success this year -- just not this Saturday.
What kind of chances are you giving Utah in the Big House?
Bonagura:
It would be easy to write off Utah's first two wins because of who they came against -- FCS Idaho State and reeling Fresno State -- but even taking into account who they were playing, the Utes were still awfully impressive to watch. New offensive coordinator Dave Christensen's system is a perfect fit for their personnel, and the defense is right up there with Stanford in terms of its physicality. Michigan, on the other hand, hasn't done anything to inspire confidence in Brady Hoke's third (and final?) season at Michigan. Expecting a close one, but like Utah on the road.
Lombardi:
I'm sure some Utah fans were salivating about this coming opportunity after seeing the score of Notre Dame's beatdown against Michigan in Week 2 (31-0). That final, though, is deceptive: The Wolverines actually out-gained the Irish 289-280. Four turnovers doomed Michigan, but it's safe to assume their defense is much stronger than the porous units Idaho State and Fresno State threw at the Utes (in fact, the Wolverines are allowing only 2.6 yards per rush and 4.1 yards per play). That being said, Utah is playing with confidence in both its running and passing games. If they can hold up along the trenches, a win is certainly within reach.
What needs to happen for Washington State to give Oregon trouble?
Bonagura:
Some sort of external force would help, like, say, the Sports Illustrated cover jinx? Oregon was on the cover in 2003 --
"Rich, Cool and 4-0"
-- before a game with Washington State and the Cougars went to Autzen Stadium and won 55-16. Of course, that was a really good Wazzu team, and to predict anything similar seems foolish.
Lombardi:
Turnovers, turnovers, and more Oregon turnovers. This is a brutal matchup for the Cougars because they don't run the ball, so they are the least capable Pac-12 team of implementing the "Stanford formula" of ball control to beat the Ducks. Since Mike Leach tries to move the ball exclusively through the air,
Connor Halliday
will need to turn in the most efficient performance of his career, and it's going to need to feature a perfect combination of short and deep throws to keep an explosive Ducks' secondary off-balance. Oh, and did I mention that Wazzu will need turnovers?
What is the most interesting game of the weekend?
Bonagura:
Cal-Arizona, no doubt. Conference game, Cal is on the rise, Arizona is 3-0, but had two close ones the past two weeks. Lots of reasons to be intrigued by this one -- and there just aren't that many other good games this week.
Lombardi:
I think it has to be Cal-Arizona. Last year's version was actually one of the Bears' few close contests -- they lost 33-28 to the Wildcats at home. That makes one believe they can at least give the Wildcats a run for it on Saturday. But this one is on the road, so it should provide us with a good Cal litmus test, because it doesn't look like Northwestern is any good.
What running back will run for the most yards this week?
Bonagura:
Arizona true freshman
Nick Wilson
has averaged 149.7 yards a game to start his career. No reason to believe he won't continue to produce against Cal.
Lombardi:
Oregon's
Royce Freeman
is a bruiser, and a speedy one at that. I think he's a complete back, and think he's going to go off in the Palouse.
What must Oregon State do early to avoid needing a Houdini act to escape against San Diego State this time?
Bonagura:
Two keys for Oregon State: cut down on penalties and score touchdowns in the red zone. The Beavers have been the most penalized team in the country (13.0 per game) so far and have the Pac-12's lowest red-zone touchdown percentage (39.5). Rectify those two situations issues and they will be fine.
Lombardi:
Last season, the Beavers trailed 27-14 before outscoring the Aztecs 20-3 in the fourth quarter to eek out the victory. The game was actually tied 14-14 after the first quarter, but San Diego State owned the second and third quarters 13-0. Football is a game of adjustments and counter-adjustments, and it clearly took Mike Riley's staff a little too much time to counter-adjust last year.
Steven Nelson
's pick-six ended up saving the day for Oregon State, but the Beavers must maintain offensive efficiency into the middle of the game this time around.
Kanell's Top Four Teams