September, 2, 2014
Sep 2
11:00
AM ET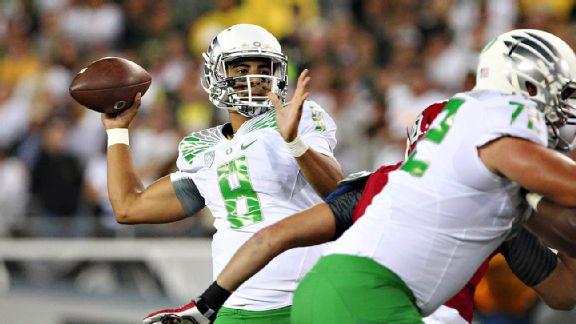 EUGENE, Ore. --
Jameis Winston
has already begun putting together a highlight reel of Heisman-worthy clips. The video of his touchdown run against Oklahoma State in the season opener went viral as he hurdled over his own teammate and juked opponents like a video game.
This weekend, Oregon QB
Marcus Mariota
will get his chance to do the same against visiting Michigan State (6:30 p.m. ET) -- a primetime game, a quality opponent, and a full four quarters (most likely) to pull a rabbit out of his hat for one play or another.
And the fact that it'll be against one of the nation's best defenses could look pretty good to Heisman voters if Mariota is able to put up some big plays.
Last season, Michigan State had the best defense -- statistically -- in the nation, holding opponents to just 251.9 yards per game, including just four yards per play. The Spartans allowed just 12 passing touchdowns and held opposing quarterbacks to a 47.5 percent completion rate.
"They're a great defense," Mariota said. "They're really good at what they do. They put their players in good positions to make plays."
Up front this season, the Spartans feature the reigning Big Ten Defensive Lineman of the Year,
Shilique Calhoun
, who goes by the nickname "Bane" (as in the masked villain from "The Dark Knight Rises"). The defensive line also features defensive end
Marcus Rush
, who's one of the Spartans' more underrated players.
The middle of the field saw some loss for the Spartans in Max Bullough and Denicos Allen, however, MSU returns
Taiwan Jones
as well as young talent in
Riley Bullough
(younger brother of Max) and
Jon Reschke
.
But the "No Fly Zone," which is what the Spartans' secondary has come to be known as, is what Mariota will go up against. Darqueze Dennard is gone but
Trae Waynes
hopes to be the next lockdown corner for the Spartans. And at safety, Michigan State features two-year starter
Kurtis Drummond
and
R.J. Williamson
.
Mariota said the Spartans' defense doesn't really remind him of any Pac-12 defense in particular, but he's expecting to see a lot of man coverage because Michigan State defensive coordinator Pat Narduzzi definitely trusts his defensive backs to make plays on the ball.
"We'll have to communicate up front and make sure we're good in our protections," Mariota said. "And try to take our shots."
Mariota certainly took those shots against South Dakota in Week 1, averaging 19.1 yards per completion. But the Coyotes' defense is nowhere near as tough as what the Spartans will present.
And with a younger crop of receivers, it'll be interesting to see how the Ducks divvy up the targeting among the players. Against South Dakota, Ducks running back
Byron Marshall
was actually the leading receiver, but 11 different players caught passes during the game.
That number will certainly decrease as the Ducks key in on go-to receivers as they prepare to face the Spartans, but how much the rest of Mariota's statistics decrease will be much more interesting and important for Oregon and the Heisman race.
September, 2, 2014
Sep 2
10:00
AM ET
The
Oregon Ducks
made the biggest splash on the recruiting trail over the weekend, landing a commitment from ESPN 300 athlete
Malik Lovette
. The Ducks had the nation's No. 276 prospect on campus for an official visit and sealed the deal rather quickly. Elsewhere, it was a fairly quiet weekend for the conference overall, as three Thursday games, two Friday game and several away games left only four programs hosting Saturday contests and even fewer official visitors.
September, 2, 2014
Sep 2
8:00
AM ET
Leading off
Week 2 brings two of the most anticipated games of the college football season, with Michigan State traveling to Oregon and Stanford hosting USC. Nationally, most are calling the Sparty-Duck game the No. 1 nonconference matchup in college football this year. The Pac-12 blog agrees. And we know what Stanford and USC have been like the last few seasons. It's a good week to be a Pac-12 fan. Here's what some folks are saying about the matchups.
Athlon Sports
on Oregon-Michigan State:
We don't really know anything about either team after lopsided victories in Week 1. Sparty crushed poor Jacksonville State 45-7, while the Ducks routed lowly South Dakota 62-13. This is the ultimate contrast in schemes with Marcus Mariota leading one of the nation's most powerful spread attacks and Pat Narduzzi directing one the gnarliest defensive units in the land.
And their take on Stanford-USC:
Look for quarterbacks Kevin Hogan (204 yds, 4 total TD) and Cody Kessler (394 yds, 4 TD) to build on excellent Week 1 performances. Stanford is looking for revenge after a late-season upset at the hands of the Trojans in Los Angeles a year ago, and the loser will fall a game behind higher-ranked division contenders.
Sports Illustrated previews the MSU-Oregon game as well, with a focus on what this game could mean for the playoff selection committee down the road:
The ramifications of the result from Eugene will transcend what Oregon's Marcus

Mariota

or Michigan State's

Shilique

Calhoun do on the field, as the season's marquee non-conference game provides precious data points in comparing the Big Ten and the Pac-12.
And our own Ted Miller
hit on this yesterday
.
Bowling talk
One of the bolder predictions in the preseason came from Stewart Mandel of Fox Sports, who pegged the
Washington Huskies
as the team to beat in North. Here is
his weekly notebook
with news and notes and his opinion from around college football. Top to bottom, it's a good read with plenty of Pac-12 goodies in there. But the one most readers will stop on are his predictions for the six bowl games on New Year's Day, which still include Washington and UCLA.
Am I feeling a little skittish about my UCLA and Washington picks right about now? Of course. Will I be swapping out Michigan State for Ohio State this time next week? Quite possibly. But I'd like to watch more than one game before jumping to any grand conclusions. After all, a year ago Auburn barely survived Washington State at home in its season opener and Michigan State could barely move the ball against Western Michigan. They wound up a combined 25-3.
Tune in
For all of your audio needs, you can check out the Solid Verbal podcast. They recap a lot of what happened in the Pac-12
(starting at about the 38:20 mark)
. Among the topics:
Some praise for California.
Should we freak out about UCLA?
Washington's struggles.
Washington State-Rutgers.
Worth a listen if you have the time.
News/notes/team reports
*I posted the updated depth charts last week for each team. Is that a weekly feature you guys want?
Tweet at me and let me know.
Just for fun
Never hurts to keep an eye on this:
Notable @HeismanTrophy candidates Week 1 stats » pic.twitter.com/iRLz1vvMXo

— ESPN CollegeFootball (@ESPNCFB) September 1, 2014
Nice to see Cal players celebrating.
#PartyInTheEndzone pic.twitter.com/77t59HZFmf

— Trigga (@BryceTreggs) September 1, 2014
September, 2, 2014
Sep 2
3:00
AM ET
The Pac-12 typically has great quarterbacks and good depth at the position, but the 2014 season is particularly stacked behind center. With 10 returning starters, including a handful who are expected to be All-American candidates and early NFL draft picks, it's almost difficult to keep up with who's doing what to whom's secondary.
No worries. We've got you covered. Each week, we will provide you a top-five ranking of the Pac-12 QBs.
Now, it won't always be a 1 to 5 ranking according to the expected pecking order at season's end or NFL draft lists. It will react heavily to the preceding week. And we'll try to spread some love. If our ratings seem inconsistent and they frustrate you at times, well, we just feel so horrible about that.
Honorable mention
:
Brett Hundley
, UCLA,
Connor Halliday
, Washington State,
Taylor Kelly
, Arizona State: Three big names end up here after being outshined by others, at least for one week. Hundley was victimized by poor offensive line play at Virginia and mostly played well under intense pressure, but he gets hit for he and his team falling well short of expectations. One offensive touchdown ... really? Halliday gets a hat tip for putting up huge numbers in a loss, but it was a disappointing season-opening loss. Ergo, only a hat tip. Kelly put up solid if unspectacular numbers against a terrible opponent.
September, 1, 2014
Sep 1
7:30
PM ET
Duck tales. Duck tales.
RUNNING BACKS
After Saturday's performance it's no surprise that the backs were a big topic of conversation on Monday. Byron Marshall, Thomas Tyner and Royce Freeman combined for two touchdowns and 229 yards on 29 carries against South Dakota. Running backs coach Gary Campbell said that he thought they did well but that they need to get better -- so there's the obvious note of the day.
On where the backs must improve: "One-on-one, I think we need to be able to break tackles and one-on-one be able to avoid guys," Campbell said. "We have to make plays one-on-one and avoid getting tackled."
Campbell was happy with Freeman's performance (10 carries, 75 yards, two touchdowns). "Obviously he made a few mistakes, freshman mistakes," Campbell said. "But, physically he played pretty well. I expect him to be more physical and I think that'll come along with maturity."
The backs were also involved largely in the pass game. Marshall led the way for all receivers with eight catches. Tyner recorded three catches and Freeman recorded one. Offensive coordinator Scott Frost complimented the running backs' versatility. "I think all three of our backs have exceptional hands," Frost said. "It gives us an ability to use them in different ways."
QB Marcus Mariota said that he has worked on his chemistry in the pass game with Marshall. "He has had great hands out of the backfield," Mariota said. "We needed to find ways to get that guy on the field and he has done a great job. He's still learning out there and he's getting better every day."
SOME MARIOTA QUOTES
He stressed communication up front so that the Ducks will be able to take their shots downfield. Mariota referred to Michigan State's defensive backs as some of the best in the country. Though the Spartans' "No Fly Zone" lost a few big names from last year, their secondary still looks very strong.
His evaluation of the receivers in the South Dakota game: "They did a great job," Mariota said. "For young guys, some of those guys playing in their first game, they handled their emotions well and they were able to get some catches in."
On whether he's concerned about going up against an experienced MSU defense with his young receivers: "These guys, even in practice today, they did a good job of understanding our game plan and making sure they're in the right places. For those guys, I think they're excited."
He said the MSU defense doesn't really remind him of any Pac-12 defense.
On recovery from actually playing in a game: "It was good to get the first hit -- that's always nice to kind of get those jitters out of the waym" Mariota said. "But I feel good. My body feels good."
He was impressed with the freshmen, saying they did an unbelievable job (though, during the postgame news conference on Saturday he did make a joke about some of the freshmen being a little overeager and putting on their pads three hours before game time). "We applaud those guys," Mariota said. "They came in wanting to make an impact, and that's what they did."
On where the offense needs to improve going into Week 2: "The tempo -- I think we can play a lot faster," Mariota said. "We understand our tempo is one of our greatest assets and if we continue to push that, push the potential of that, it'll really be a weapon for us."
BONUS NOTES FROM MARK HELFRICH'S SUNDAY CONFERENCE CALL
On freshman offensive lineman Tyrell Crosby getting some snaps. The good: athleticism, explosive. Helfrich also said that he did a lot of good things as well as a lot of bad things, so basically what you'd expect from a freshman with a high talent ceiling. "It's a little bit of a mixed bag," Helfrich said. "I think ideally you're going to redshirt those guys, but as we've experienced if those guys are ready to go we're going to play them."
Oregon played 70 players on offense and defense (not including special teams), 10 of those were freshmen.
On what Mariota could improve on from Week 1 to Week 2: "He had a couple odd plays for him -- he had one ball that just kind of flubbed out of his hand, he tried to kind of run the route for the receiver and it's hard to do that with a quarterback trying to redirect mid pitch. That's something that happens. Another time he was kind of off balance. … I thought he coached the young guys up when he was out of there and did a good job in that regard."
Was he happy with how the Ducks tackled in space? "No." So, another obvious point to end the day.
September, 1, 2014
Sep 1
10:00
AM ET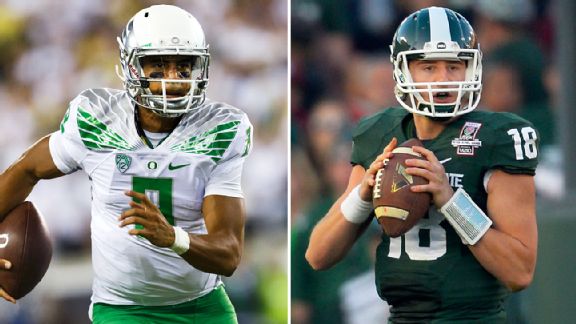 AP PhotoThe performances of Marcus Mariota, left, and Connor Cook will go a long way in determining the outcome of Saturday's Oregon-Michigan State game.
There will be no "real" Rose Bowl on Jan. 1, 2015. The "real" Rose Bowl, whose purity previously had been diluted by the BCS, is a casualty of the College Football Playoff this season. While that will make many of us old fogies wince, the only constructive response is to embrace change and recognize the fulfillment of decades-long clamoring for a playoff was inevitably going to kill off some cherished institutions with its birth.
As a consolation prize, however, the college football gods have given us No. 8 Michigan State visiting No. 3 Oregon on Saturday. It's a Rose Bowl matchup the first weekend of September, with the (alleged) Big Ten best versus (alleged) Pac-12 best. With Ohio State quarterback
Braxton Miller
out for the season and UCLA's less than scintillating performance at Virginia, this one has gained further traction as a potential CFP selection committee barometer for both teams and both conferences.
No, there will be no sunset behind the San Gabriel Mountains at Autzen Stadium, but there likely will be rosy fingers of meaning extending from whatever happens Saturday. For one, an early-season victory over a top-10 team in a nonconference game is exactly what the selection committee claims it will pay homage to. As an optional challenge boldly undertaken outside of the rote bureaucracy of conference scheduling, this game should serve as a badge of honor for teams trying to distinguish themselves to 13 judges in a conference room Dec. 7.
Ah, the committee. We can be fairly certain that, for better or worse, the great "Transitive Property of College Football" will play a role in its deliberations, and that is the perception prize the Spartans and Ducks will battle over in addition to the scoreboard numbers.
If Oregon wins, it will thereby -- transitively -- be better than any team the Spartans beat over the remainder of their season. If Michigan State ends up the Big Ten champion at 12-1, the Ducks will be viewed as the de facto Big Ten champs -- at least if the Ducks do well enough over the rest of their season to merit such an overreaching (overreacting?) designation. This playoff math would be rendered less relevant if Oregon, in this scenario, meanders to a 10-2 finish and fails to win the Pac-12's North Division.
The same goes for Michigan State, perhaps even more so because the rest of its schedule is not as demanding. If the Spartans beat a Ducks team -- in fearsome Autzen Stadium, the Pac-12's toughest road venue, no less -- that goes on to win the ostensibly SEC-ish Pac-12, their bounty could be a defensible claim to the top perch in two Power 5 conferences. That is, of course, if they take care of business over the entire season.
So the function is almost a transference of the Rose Bowl's typical season-ending meaning, just without any of the cool pageantry. A further twist is that both teams after the game become each other's biggest fans, with both winner and loser wanting the other to make the result a more impressive measure of itself.
Not that you'll hear Ducks coach Mark Helfrich or Spartans leader Mark Dantonio celebrating this sort of curlicue thinking. They've got teams with big goals, including playoff goals, but placing this game on such a pedestal could make a loss feel catastrophic within the locker room. Then what about the next 10 or 11 games?
"[This is] game No. 2. We have 10 games after that. Let's not get ahead of ourselves," Dantonio said. "It's not an end-all either way. That's going to be a measuring stick game for us. Where are we at? Who are we? It will give us a little more of a sense of identity early in the season."
Once you get past going John le Carré on potential selection committee intrigues, the football part of this football game is pretty cool, too. Although the teams share a team color of green, that's pretty much where the commonality ends, and even then, Oregon long ago went ludicrous speed on the notion of team colors and sartorial standards.
Speaking of ludicrous speed, Oregon, you might have heard, plays fast and furious on offense and piles up yards and points like a frenzying school of pirañas. Meanwhile, Michigan State, as you know, plays defense like a thick wall of titanium. Wall? It's more like an impregnable box -- with walls slowly closing together.
Last year, Oregon ranked No. 2 in the nation in total offense (565 yards per game) and No. 4 in scoring offense (45.5 ppg). Michigan State ranked No. 2 in total defense (252.2 ypg) and No. 3 in scoring defense (13.2 ppg). The Spartans also enter the game knowing they beat the Pac-12 team that beat the Ducks, given that they dispatched Stanford 24-20 in the 2014 Rose Bowl.
Of course, an over-reliance on what happened the past season is one of the greatest weaknesses in so-called college football punditry. The first weekend has already shown us that projecting forward based on returning starters and extrapolated improvement is an inexact science. Both Oregon and Michigan State are missing key players from 2013 on both sides of the ball. They also have shiny new players ready to glow.
Still, the circumstantial evidence suggests both teams will lean on their obvious strengths on Saturday. The Ducks and quarterback
Marcus Mariota
, a leading Heisman Trophy candidate, rolled up 673 yards without really trying in an opening win over South Dakota, while Michigan State's defense throttled Jacksonville State 45-7 yielding just 244 yards.
The obvious only goes so far. The game ultimately might swing on the secondary quantities. Spartans quarterback
Connor Cook
has been surging since the middle of the past year, and he was darn near perfect in the opener and actually earned a perfect rating of 100 in ESPN.com's Total QB Rating. Oregon's defense has long been given short shrift, despite ranking among the nation's leaders and sending numerous players to the NFL.
The sum conclusion is that, while we will go Rose Bowl-less this season, this is a game that has plenty to offer, both in football on Saturday and in potential micro-analyzed meaning as the season progresses.
September, 1, 2014
Sep 1
8:00
AM ET
I can't believe how fast things move on the outside. I saw an automobile once when I was a kid, but now they're everywhere. The world went and got itself in a big damn hurry.
Leading off
Welcome to Week 2. By now, you probably already know what happened in Week 1. But we'll use this space each Monday to give you a quick reference to every game that happened in the Pac-12.
National reactions
Here's a look at what some folks around the nation are saying about the Pac-12 and its teams.
John Taylor of NBC Sports
hit on a couple of Pac-12 teams
in his Week 1 rewind. USC coach Steve Sarkisian is getting a lot of praise for keeping things together after a tumultuous week leading up to the Trojans' first game.
In the first game of the Steve Sarkisian era Saturday night, the Trojans took out all of their lingering frustrations on an overmatched Fresno State squad by the score of 52-13. Quarterback Cody Kessler passed for 310 yards and three touchdowns ... in the first half alone. The offense ultimately rolled up 704 yards of offense on 104 plays, the latter of which set a Pac-12 record.
Anne Petersen of the Associated Press gets to the heart of
what everyone is thinking in Eugene
... we can finally start looking ahead to Week 2 and Oregon vs. Michigan State.
While Oregon is known for their hyper-drive offense, Michigan State's success last season -- the Spartans went undefeated in conference play -- came in large part because of their bruising defense. The Spartans lost standouts Max Bullough and Darqueze Dennard from that defense, but they still have lineman Shilique Calhoun, considered one of the top players in his league, and linebacker Taiwan Jones, who looked promising in the opener with Bullough gone.
UCLA offensive line coach Adrian Klemm is
catching a little heat
from Pete Roussel for the way his linemen performed in the win over Virginia. The Bruins were without starting center Jake Brendel. And that obviously hurt. But there were bigger line issues at play. Not to mention more than a few wide receiver drops.
The resume of a coach is his tape. And right now, Adrian Klemm has his hands full. He knows it, too. That "super assistant" label from the media doesn't look so fitting right now.
Nationally honored
UCLA linebacker Eric Kendricks was named the
Walter Camp national defensive player of the week
for his performance in UCLA's win over Virginia. Kendricks posted 16 tackles, forced a fumble that led to a UCLA defensive touchdown and also returned an interception for a touchdown. Say what you want about the offense (and there is plenty to say), but Kendricks had a monster game.
News/notes/team reports
Just for fun
Saw this Saturday night and had to tweet it out, because it's equal parts awesome and adorable.
Photo bombed by the cops at his first football game @GoDucks #GoDucks pic.twitter.com/V1CK1Syp3h

— Manny Martins (@EmanuelMartins) August 31, 2014
August, 31, 2014
Aug 31
11:00
PM ET
The Early Offer is RecruitingNation's regular feature, giving you a daily dose of recruiting news across the country. Today's offerings: Despite losing to Florida State, Oklahoma State could end up being a winner on the recruiting trail because of its effort. Plus, Oregon brought in two key official visitors for its first game of the season and was rewarded with an ESPN 300 commitment, and we continue our tour of the top recruiting happenings on social media.
To continue reading this article you must be an Insider
August, 31, 2014
Aug 31
7:00
PM ET
The first week of the season has come and gone, and with it went the redshirts for 75 freshman players in the Pac-12.
USC, which had the conference's
highest-ranked recruiting class
in 2014, played the most freshmen (11) and Oregon State played none. Those 75 players accounted for seven starts (on offense or defense) and eight touchdowns. The total number of players will undoubtedly grow in the next few weeks.
Here's a breakdown of all 75, by school (*-denotes players who started):
Arizona (6)
Arizona State (9)
Cal (8)
Colorado (3)
Oregon (10)
Oregon State (0)
Stanford (4)
UCLA (7)
USC (11)
Utah (10)
Washington (5)
Washington State (2)
August, 31, 2014
Aug 31
11:00
AM ET
EUGENE, Ore. -- Every Sunday through the season we'll be giving out a handful of helmet stickers to deserving Ducks. After Saturday's
62-13 blowout win over South Dakota
, when really everyone and their mother could've gotten one, it was tough to narrow down, but here are the three big winners (and one honorable mention).
QB Marcus Mariota
The redshirt junior completed 14 of 20 passes for 267 yards and three touchdowns. He took off six times and picked up 43 yards on the ground and one rushing touchdown, his final play of the day. With 23 yards against Michigan State next weekend, Mariota will take the top spot for overall offensive yards at Oregon. The best part of his performance might've been the chemistry he showed with his receivers and running backs. Though he only connected with three receivers, there's definitely promise in the young group and
Byron Marshall
proved to be a sure handed pass-catching running back that Mariota will be able to rely on this year.
RB Royce Freeman
The freshman lived up to his hype as he accounted for two touchdowns on 10 carries (he also caught one pass for 11 yards). Mariota said that he knew Freeman was going to be special earlier this summer during a 7-on-7 session after he juked some linebackers. "He stepped onto campus with kind of a confidence that you could tell right away that he believed in himself that he could do whatever he needed to do," Mariota said. "For a guy his size to be that elusive and to be able to have the ability that he has, it's special for us."
Injury gods
Too often we see some player go down with some freak injury in a cupcake or gimme game. And with Michigan State coming to Autzen Stadium next weekend, the Ducks needed to make sure they go into that weekend firing on all cylinders. And whether it was the strength and conditioning staff (most likely) or the injury gods that kept the injury bug away from the Ducks in the opener, they deserve some credit. Props to them.
Honorable mention
Any fan in Autzen Stadium who stayed to watch the whole game, especially when most of the starters exited after the first half. Give yourself a pat on the back. Nothing like doing the wave at 10:43 at night when your team is up 49 points.
August, 31, 2014
Aug 31
2:55
AM ET
We never know. We learn.
We have ideas of what teams will look like, and we project based on returning talent, talking with coaches, watching practices and making educated guesses. But we never
really
know until we see what's on the field.
We're smarter Saturday night than we were Thursday morning -- mostly. The first week of Pac-12 Football 101, which saw the league go 10-2 in nonconference play, was chock-full of intellectual goodies.
Perhaps the team that enlightened us the most was the California Bears, who snapped a 16-game losing streak to FBS teams by going into Ryan Field and notching a
31-24 victory
over the
Northwestern Wildcats
.
[+] Enlarge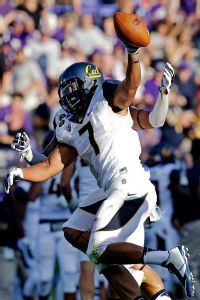 AP Photo/Nam Y. HuhJalen Jefferson celebrates his interception that essentially sealed the game for Cal.
It's not that it was the first FBS win of the Sonny Dykes era, or that the offense looked balanced and explosive. It's the fact that they had a 31-7 lead and won 31-24. Dykes liked the idea that his team had to tip-toe through a little bit of fire to pick up the win. He watched his team evolve from soft to salty.
"I never got the feeling from one player or one coach of 'here we go again,'" Dykes told the Pac-12 blog via telephone after the game. "The guys really believed in each other. And the reason they did is because they have worked so hard. They were prepared. And they knew someone would make a play to give us a chance to win the ball game."
As it turned out, someone made two. On Northwestern's final drive,
Jalen Jefferson
notched a critical sack on second-and-6 for a loss of 11 yards. On the next play, Jefferson snagged an interception that essentially closed out the game.
"It's been a long few months for us, but we're a tighter team than we were last year," Jefferson said. "A lot of those breaks we weren't getting last year, we got them. We can feel things changing for the better."
Added quarterback
Jared Goff
: "I think we learned about resiliency. We knew they would fight back and we didn't give up ... we learned how to finish a game."
It was educational, for sure.
We learned some things haven't changed -- at least not yet. While the Bears were protecting the fourth quarter from a Big Ten team, the
Washington State Cougars
were yielding the fourth quarter to another. And UCLA? Well,
Brett Hundley
is still getting sacked, and his offensive line still looks leaky. If not for three defensive touchdowns, the Bruins would be staring at 0-1.
We didn't learn much from the FCS games -- other than it was good to see Utah's
Travis Wilson
back on the field and that Oregon State seems to makes those games sketchier than they probably should be. We don't know a ton more about ASU's defense or Oregon's offense. We didn't learn much about Stanford's rushing attack.
Ty Montgomery
is really good. But we already knew that.
We learned USC still has the ability to hit the mute button on the outside noise. If there's one team that knows a little something about turmoil, it's the Trojans -- for what they went through last year. That's a team with scary potential.
We learned not very good is sometimes good enough. See Washington and UCLA, whose fans are crawling into bed at this moment feeling both relieved and probably a little jolted.
And the rest of the Pac-12 probably learned a little something about the Bears.
"We're capable of being pretty good, I think," Dykes said. "We have to execute better. We're good in spurts. We have to be good consistently and close people out."
Next week Cal gets FCS Sacramento State with a chance to start 2-0 for the first time since 2011. The schedule ramps up with a pair of high-profile games, including Michigan State at Oregon and USC at Stanford.
Looking forward to what we'll know by this time next Saturday.
Drive Through: Projecting the Playoff Field
PAC-12 SCOREBOARD
Thursday, 9/4
Friday, 9/5
Saturday, 9/6