November, 24, 2014
Nov 24
7:00
PM ET
Eccentric twists and turns have become the primary theme of this 2014 season -- remember the Hail Mary binge, the comebacks, the upsets, the celebratory fumbles at the 1-yard line, the field goal icing drama, and the #Pac12AfterDark hashtag made to describe all the otherworldly mystery.
To remind us that absolutely nothing about the Pac-12 is normal, the stage is set for the South champion to be determined in another "only out West" kind of way: Simultaneous games on Black Friday -- the third to last day of November -- under the beating sun of 80-degree weather.
"Perhaps it is because he hears a different drummer," Henry David Thoreau wrote about the Pac-12 a good 169 years ago. "Let him step to the music which he hears, however measured, or far away."
Well, he wasn't really writing about the road to the Field of Jeans. But the point stands. The Weird West has hummed a different, fascinating tune all season long, and this last regular-season weekend promises to supply more of the same as the Levi's Stadium championship matchup is finalized.
Simultaneous explosions: Stanford-UCLA and ASU-Arizona
[+] Enlarge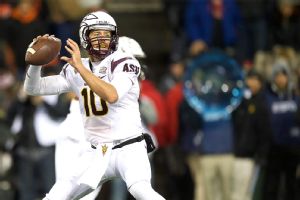 AP Photo/Troy WayrynenTaylor Kelly, Arizona State and Arizona will be scoreboard watching on Friday.
Two more detonations await before we will have fully traversed the minefield of the Pac-12 South. Fittingly, the Rose Bowl will be host to one, while the other will shake Tucson.
Both Stanford-UCLA and ASU-Arizona kick off at 3:30 p.m. ET/12:30 p.m. PT, on Black Friday. Arizona Stadium will require high bandwidth WiFi as both the 9-2 Sun Devils and 9-2 Wildcats need the Bruins to lose so that the Territorial Cup determines the Pac-12 South. So there'll certainly be more than a few fans trying to stream the happenings in Pasadena on their smart phones while simultaneously watching an intriguing Duel in the Desert.
ASU started slowly but ended up whipping Washington State 52-31 this past Saturday, so the Sun Devils feel they're back on track following bitter disappointment in Corvallis two weeks ago. Meanwhile, Arizona did some 1970s Arnold-style muscle flexing in Utah, racking up 298 rushing yards in a 42-10 road annihilation. The Sun Devils' aggressive defense has given up its share of big runs this season, and that's a danger point ahead of a matchup with Arizona's
Nick Wilson
(20 carries, 218 yards, 10.9 per carry, 3 touchdowns at Utah). We'll
keep an eye
on quarterback
Anu Solomon
's status (ankle) throughout this week.
The Territorial Cup will take on truly monumental importance if Stanford successfully embraces the spoiler role and asserts itself early versus UCLA. Remember that the Bruins haven't beaten the Cardinal since 2008 -- that's the pre-
Andrew Luck
era stuff. Stanford clinched its first Pac-12 title run with consecutive victories over UCLA in 2012, and although their title defense has already failed here in 2014, they did shut down the Bruins' rushing attack in a suffocating win last year.
Brett Hundley
's unit must show that it's made significant strides, because the Cardinal's defense looks ready: They battered Cal to the tune of a season-high five takeaways in Saturday's 38-17 win. Stanford set the table with competent offense, but the Bruins' obviously pose a greater challenge than the Bears did defensively. USC mustered only a season-low 4.1 yards per play against UCLA's defense, which is peaking at the right time.
The "rivalry": Utah at Colorado
Let's not kid ourselves: These two programs do not have enough historical hatred for each other to truly fall into the rivalry category. Nevertheless, this is a huge contest for both squads. The Utes have lost three of their last four games, and a loss in Boulder to close the season would put a massively bitter finishing touch on a once-promising season. It'd be like finding a massive, plump orange, only to discover there's a worm inside of it.
Meanwhile, this is Colorado's Super Bowl. The Buffs are 0-8 in conference play, and this is a wonderful chance to enter a critical building offseason on a much-needed high note.
Desperation bowl: Notre Dame at USC
At one point earlier this year, matters looked so promising for both the Irish and the Trojans. Now, this historical rivalry is more about avoiding complete late-season disaster than anything else. Notre Dame has dropped four of five games (including consecutive home defeats to Northwestern and Louisville), while USC's thorough whipping at the hands of hated UCLA has Steve Sarkisian scrambling to avoid that dreaded seven-win season. The loser of this game is going to stagger into bowl season neck-deep in turmoil.
Tipping point game: BYU at Cal
All is not lost for the Bears even though the wounded Stanford beast came into Memorial Stadium to drop off a few busloads of humble pie. Cal feels that it's still ascending as a program -- the defense must improve for the Bears to take that next step -- and this nonconference finale against the Cougars is the Cal's chance to punch a postseason ticket for the first time since 2011. Remember that bowl eligibility secures extra December practice time for a program. That's potentially vital as Sonny Dykes positions his team to attempt a third year breakthrough.
Civil War: Oregon State at Oregon
The "Civil War" is my favorite rivalry nickname, so I don't think I can come up with a better way to describe this game than that simple moniker, one which illustrates just how divided the Beaver State really is. Nobody is giving Oregon State much of a shot here, but remember they're playing for bowl eligibility in
Sean Mannion
's senior season. There's also that whole thing about top 10 teams struggling in Reser Stadium -- one fell victim to Corvallis just two weeks ago. The Ducks must be wary:
Marcus Mariota
's strong Heisman push is on the line along with College Football Playoff hopes.
Some ice cream for a Pac-12 dessert: Washington at Washington State
The last game of the Pac-12 regular season will, indeed, be an opportunity for some #Pac12AfterDark eccentricity. This will offer a good representation of how geographically diverse the Pac-12 is. Whereas Friday's games in Los Angeles and Tucson are expected to experience 80-degree temperatures, the forecast for this one in Pullman calls for the mercury to dip below 30 degrees on Saturday night. This is not the end of the road for Washington, but both the Huskies and the Cougars have chances to add a positive memory to difficult seasons.
November, 24, 2014
Nov 24
5:30
PM ET
Usually our 6-Pac of questions runs on Thursday, but with Thanksgiving this week, Kevin Gemmell and Kyle Bonagura discuss six pressing issues a little earlier this week.
Which Pac-12 South team still in contention would give Oregon the most trouble in the Pac-12 title game?
Kevin Gemmell/@Kevin_Gemmell:
I hit on this in my mailbag last week, and I still think UCLA, Arizona and ASU all provide unique challenges that are starkly different from each other. But the UCLA team I saw live at the Rose Bowl Saturday night was electric. The offensive line mauled, the defensive got after the quarterback and the wide receivers stepped up big. UCLA looks to be playing its best football right now. That could make things real interesting for the Ducks.
[+] Enlarge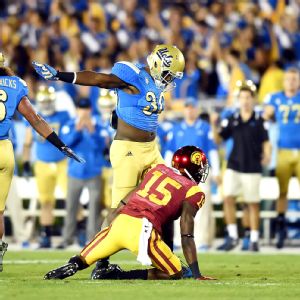 Chris Williams/Icon SportswireDoes UCLA provide the South Division with its best chance to beat Oregon?
Kyle Bonagura/@BonaguraESPN:
Even though UCLA has been the division's best team over the last few weeks, I'm leaning toward Arizona because of the Wildcats' recent success against Oregon. Football is so predicated on match ups and Arizona has won its last two games against the Ducks -- and nothing was fluky about either game. It's also tough to get past the fact that UCLA simply wasn't competitive against the Ducks earlier this year. It trailed 42-10 at home before a late rally made the final score (42-30) appear closer than it was.
If a Pac-12 South team wins the conference championship game, how likely would a playoff berth be?
Gemmell:
I think it depends on how much the committee is really going to emphasize conference championships. They say they will, so we have to take them at their word for now. If it's UCLA, the Bruins would be 5-1 against Top 25 teams, which would include a win over Oregon in the rematch. Arizona would be 4-1 with two wins over the Ducks and ASU would be 6-1 against ranked teams. That in itself makes for a compelling enough argument for inclusion.
Bonagura:
It's a good sign for the Pac-12 that 1-loss Oregon is ranked ahead of undefeated Florida State. It shows there is precedent to slot a 2-loss Pac-12 team ahead of a 1-loss team should UCLA, Arizona or Arizona State beat Oregon. It's obviously not that simple, but like you point out, Kevin, all three would have wins that stack up favorably compared to other candidates from other conferences. It'd be a coin flip.
What are your takeaways for Colorado's season to this point?
Gemmell:
Encouraging, though it's tough to see. I think you hit the nail on the head, Kyle, in your power rankings Sunday when you said because the conference is so deep, you can't see the results in the standings. Colorado has gotten better, but so has the conference. They just need to accelerate their improvement over the next couple of years if they want to pass some of these teams. But they were a lot more competitive this year than in season's past. That's something to build on going forward.
Bonagura:
Coaches hate -- HATE -- playing "What If?" In Colorado's case, it's particularly frustrating, or encouraging, depending how you look at it. The Buffs led 10-win Colorado State (10-1) in the fourth quarter, they went to double overtime with Cal, they led Oregon State at halftime, they went to double overtime with No. 9 UCLA and led Washington at halftime. There were some not-so-close games in there, too, but the point is they were a few breaks from a more respectable record.
Headed into his first Apple Cup, how would you measure Chris Petersen's first season at Washington?
Gemmell:
I think he needs this one to rally his base. He's been a no-nonsense coach when it comes to discipline. I dig that, so kudos to him. The
OKG
thing will fly for now. And I'm willing to give a two-time national coach of the year a couple of seasons to get the OKGs he really needs to build the program up in his image. Much like the situation in Boulder, Washington will have to find a way to keep pace with the rest of the league. The South is rising at a furious pace. Oregon isn't going anywhere. Stanford might not be down for long. In other words, it's not going to get easier.
Bonagura:
Good, not great. The Huskies have won the games they should have won, but there isn't a signature win to date. Like you said, Kevin, he deserves the benefit of the doubt. Nothing about his coaching résumé indicates the Huskies won't trend upwards deeper into his tenure in Seattle. That said, losing the Apple Cup would leave a sour taste on his debut season regardless of what happens it whatever lesser-tier bowl they end up in.
Rich Rodriguez still hasn't beaten Arizona State. What will be the keys in this week's Territorial Cup?
Gemmell:
Neither team needs motivation, that's for sure. But if this game does come down to determining the South Division, well, that's going to make things awfully exciting. Health of some key players will obviously contribute. But I think Arizona's one-two punch of
Terris Jones-Grigsby
and
Nick Wilson
will make or break this game. If those two get off, it opens up a world of possibilities for Arizona's offense. If the Sun Devils can run blitz the heck out of Arizona and make plays in the backfield, that could be the game-changer.
Bonagura:
Health and turnovers are the two big ones. If Arizona quarterback
Anu Solomon
isn't ready to go, I think you have to give the edge to Arizona State. We'll probably have to wait until later in the week to get a better idea of what Solomon's chances are, but the assumption at ASU
is that he will play
. In games between teams this closely matched, I always give the edge to whatever team wins the turnover battle. Also, limit the scoreboard watching -- UCLA will be playing Stanford at the same time.
"Jesus, girls and Marcus Mariota" is the talk around O'Hara Catholic School in Eugene, Oregon. What was the talk around your middle school?
Gemmell:
Will Clark (still the prettiest swing of all time), Guns N' Roses (find me a better debut album top to bottom than Appetite for Destruction … fine, maybe Pearl Jam's Ten a couple of years later in 1991) and Batman (yes, kids there was a time when Michael Keaton actually was Batman).
Bonagura:
When I was in middle school in the Bay Area, Steve Young was wrapping up a legendary career with the 49ers, Puff Daddy owned the radio airwaves and it seemed like every girl saw Titantic at least four times in theaters.
November, 24, 2014
Nov 24
3:00
PM ET
EUGENE, Ore. -- Oregon offensive line coach Steve Greatwood kind of had to scratch his head.
"I checked myself," Greatwood joked. "What did I do wrong? Who did I offend? Which one of the gods did I offend?"
It's not completely ridiculous to believe that someone in Oregon's O-line room might've done something to make the football gods mad. After all, the lineman injury chart is starting to look like an Ayn Rand novel at this point.
Case in point:
Silver lining? The plethora of lower body injuries has allowed younger linemen to get more experience and build toward next year, while not losing too much in the run game (though,
Marcus Mariota
has been sacked more due to the injuries).
For the most part, the Ducks' patchwork system has worked. Yes, they averaged just 3.5 yards per rush in their loss to Arizona on Oct. 2 (two yards fewer than their season average), but considering multiple position changes and shifts along the line, having only one loss seems pretty impressive.
"We spin the dial and see what comes up," Oregon coach Mark Helfrich jokingly said about his offensive line. "It has been a week to week existence in that position room."
Until Nov. 8, it seemed as though Grasu was one of the few untouchables among that dial, but the injury bug struck him too, and Stevens stepped into his place. And for the first time in Mariota's career, he took a game snap from someone other than Grasu on Saturday.
"It was definitely different, but Hamani stepped up and played well," Mariota said. "He was recruited as a center. So, he just did his thing, did what he does naturally."
Again, the line was just fine. The Ducks averaged 6.5 yards per rush, scored three rushing touchdowns and allowed two sacks. Greatwood was happy with the performance, but admitted the Ducks did miss some protections and assignments early. However, those problems cleared themselves up as the game went on.
Although
Doug Brenner
had been the assumed to be the heir to Grasu, Greatwood and Helfrich decided they wanted Stevens -- a redshirt senior -- to bring his leadership and experience to the center position. Brenner played left guard. Yruretagoyena also made his return, and Helfrich was happy to see him "just knocking off that rust."
If that's what it takes to get these guys back in the lineup, Greatwood and Helfrich want to see all kinds of rust knocked off in the coming weeks.
Greatwood said he's never dealt with this many offensive line injuries during his coaching career. The key has been keeping the group confident and continuing to push the players, just like he does when there aren't injuries along the line.
"The last thing you do is throw up your hands," Greatwood said. "No one is going to feel sorry for you. Everybody goes through it. You just have to keep going."
However, the injuries have changed things a bit for the group. Last week, they didn't have a full one- and two-deep group for practice. That, obviously, affects the tempo of practice because there are guys who are running so many more reps than usual. The hitting has lightened up a bit in practice, but with Oregon still wanting to run full speed, it has been a little more "taxing," Greatwood said, for members of his offensive line.
But the Ducks have gotten better with the adjustments. Perhaps when Johnstone went down at the beginning of the season, panic may have set in with this group -- the most experienced one of the entire roster -- and they would suffer some kind of setback.
Now, it's almost surprising to see the offensive line start the same players for two games in a row.
"They don't blink at it," Greatwood said of the moves. "It's like OK this week you're playing this position. The kids have stepped up and done a great job every time we shuffle the deck."
The Ducks have three, maybe four, games left in their schedule and chances are the deck will be shuffled once more (though, Greatwood hopes that shuffling only occurs when guys are getting healthy again).
But until then, he's going to say his Hail Mary's and do random acts of kindness every day (and maybe put his offensive linemen in bubble wrap) ... just in case.
November, 24, 2014
Nov 24
1:00
PM ET
Week 13 was a doozy, folks. So, vote ... because
Odell Beckham Jr. can't win
the Pac-12 Play of the Week, too.
1. A hop, skip and jump away ... from the end zone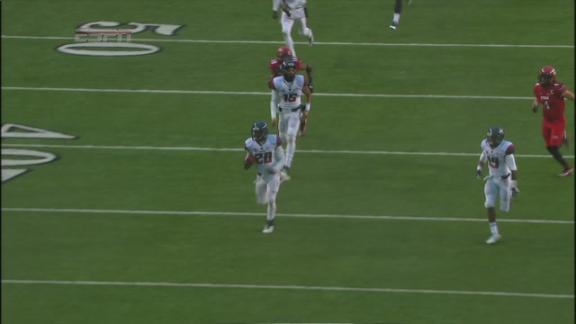 The race is on for which Pac-12 freshman running back will have the most impressive season -- Arizona's
Nick Wilson
or Oregon's
Royce Freeman
. Wilson is averaging six yards per carry and has 35 more rushing yards this season while Freeman has accounted for four more rushing touchdowns than Wilson. But, Wilson is the one that found his way onto the play of the week vote this week after busting out a 75-yard touchdown run in the fourth quarter against Utah. He hopped his way through the line of scrimmage before outmaneuvering a diving
Justin Thomas
and finding his way to the end zone. The score gave the Wildcats a 28-10 lead over the Utes.
2. Hard(ison) making it look easy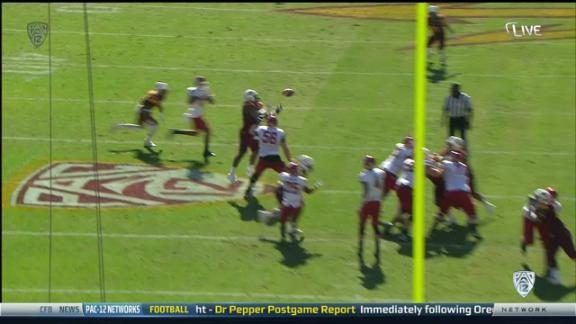 That's right big fella. It's not just the pretty boy defensive backs or linebackers that can pick off quarterbacks. Defensive lineman can, too. Senior defensive lineman
Marcus Hardison
recorded his first career interception against Notre Dame a few weeks ago, but he didn't return that one at all. But against Washington State, Hardison managed to not only pick off
Luke Falk
, but to then ramble and run 12 yards before being taken down. The interception came at a crucial time for the Sun Devils, too. Hardison picked off Falk on his first pass attempt after ASU had cut Washington State's lead to seven. The Arizona State offense followed up Hardison's athletic play with a quick scoring drive to even out the score at 21.
3. Darren's derrière
In the postgame media conference on Saturday, quarterback
Marcus Mariota
said he'd remember redshirt freshman receiver
Darren Carrington
's pass because it represented the ideal that even when you're down you don't stop working, you follow through with your play/what you're doing. That's super poetic, Marcus, but we liked this play just because it was ridiculous. Carrington almost made the play the first time around, spinning halfway around and trying to snatch the pass with his right hand. But he ended up with his backside on the ground but kept his eye on the ball and allowed it to fall into his chest to make the catch. So, the final catch was either much more difficult or much easier than his initial attempt depending on how you look at it.
4. A 9.0 for the landing, a 10.0 for the pick
With the Bruins up by just three in the second quarter, linebacker
Eric Kendricks
picked off a tipped
Cody Kessler
pass that ended up turning the game in UCLA's favor. It was a diving interception and we're still not entirely sure how Kendricks was able to stay in bounds. "It has to be indisputable evidence to overturn it," Mora told the Los Angeles Daily News. "And he kept his feet up. I'm pretty sure he wasn't conscious of it. It was just a very athletic play by him." The Bruins ended up making the best of Kendricks' pick and marching down the field, eating up some clock and extending their lead to 10.
5. Lights, Cameron, Action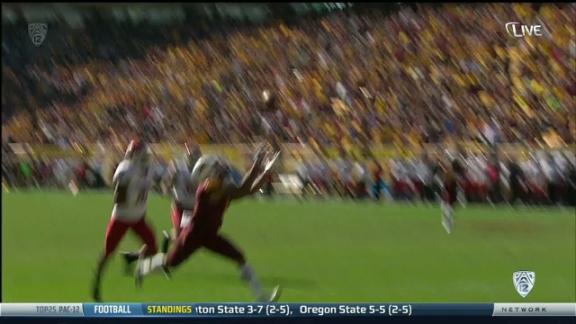 With the Sun Devils trailing by 14, sophomore wide receiver
Cameron Smith
connected with
Taylor Kelly
for a diving, 42-yard touchdown catch. Smith outran freshman defensive back
Charleston White
before making the play, his sixth touchdown catch of the year, and one the Sun Devils needed badly after digging themselves a hole early against the Cougars. Smith finished the day with two touchdowns and 131 yards -- the first 100-yard receiving game of his career.
November, 24, 2014
Nov 24
11:00
AM ET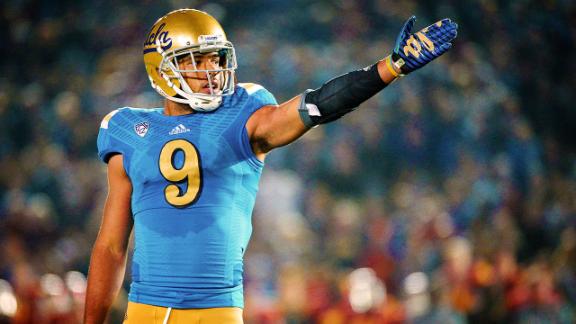 A great mystery has been
lost amid the jocularity surrounding
celebrity journalist and sixth-grader Charlie Papé's quizzing Oregon coach Mark Helfrich about the future of Ducks quarterback
Marcus Mariota
. While we can all appreciate that top topics of conversation at Papé's O'Hara Catholic School in Eugene are "Jesus, girls and Marcus Mariota," what has been over looked is Papé mentioned four topics of interest but never provided that final topic.
While Papé's life story is certain to shortly be developed into a movie -- think one part "Network," one part "Frozen" and one part "Wonder Years" -- we feel certain that elusive No. 4 concerns who will be the Pac-12's South Division champion, for that is a potential and worrisome foil for his troika of topics. It is against whom Oregon fans -- girls and boys, of course -- could see their prayers answered (or not) and against whom Mariota could secure the Ducks' first Heisman Trophy (or not).
After all, there has to be a villain menacing Papé's sixth-grade trinity, right?
[+] Enlarge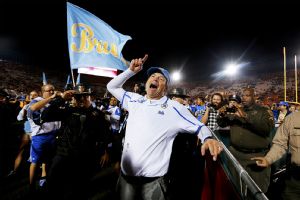 Ric Tapia/Icon SMIIf Jim Mora's Bruins beat Stanford on Friday, UCLA will meet the Ducks in a conference title game that is setting up to have major national significance.
A lot became clear in college football this weekend, and not just that Helfrich clearly enjoys sixth-graders more than adult reporters. For one, the Heisman race is now down to two outstanding athletes: Mariota and Wisconsin running back
Melvin Gordon
, who is posting a historically good season. The only problem with Gordon's candidacy is not a person in the world would select him over Mariota in a football draft, and that includes all those Badgers jumping around in Madison. With Mariota, Wisconsin would be unbeaten.
Second, the once-muddled South picture will be resolved with finality on Friday before nightfall.
If UCLA beats Stanford at home, the Bruins will not only play Mariota and the Ducks for the conference title on Dec. 5 in Levi's Stadium in Santa Clara, they also will be well positioned to play themselves into the College Football Playoff. Their case for the CFP could be decisively made, in fact, with the opportunity to erase one of their two losses by beating the No. 1 or No. 2 team on the final day of the season.
Ah, but down in the desert of Tucson they will be rooting hard for the Cardinal while simultaneously renewing the love fest that is the Territorial Cup. If the Bruins fall, the winner between Arizona and Arizona State captures the South title. Both teams figure to be ranked near the top-10 when the selection committee announces its rankings on Tuesday. The Wildcats and Sun Devils haven't met as ranked teams since 1986. Further, with both sitting at 9-2, this is the first meeting in which both will have at least nine wins since 1975. So, yeah, this is a big Territorial Cup.
And guess what? If the Territorial Cup winner paired that quality victory with a win over Oregon, it also would have a good case for the CFP, though it's likely a couple of dominoes would have to fall ahead of the Wildcats and Sun Devils in the rankings.
Though we should make no assumptions of any kind for Saturday, which includes what the Ducks do at Oregon State in the Civil War, Friday should be a great fun, a joyous conflagration of rivalry and national relevance.
Last year was a breakthrough for the Pac-12. Six teams finished ranked and nine played in bowl games. Five teams posted double-digit wins. There were no naysayers -- at least credible naysayers -- to the conference's overall depth and strength.
Yet there was a chink in the 2013 armor: Just one team, No. 9 Oregon, was ranked in the final AP top 10. The conference was highly respected and completely out of the national picture, though obviously Stanford, ranked No. 5 after winning the Pac-12 title, could have made some noise if it had beaten Michigan State in the Rose Bowl.
That is the step forward the conference can take as we hit the home stretch of 2014, with winning the conference's first national title since 2004 being the biggest and most elusive prize. The Pac-12 title game is setting up to have major national significance, so fans from all corners of the country as well as many in flyover and frozen states will tune in. Some folks out West will be agitating for the Pac-12 title game to become a de facto CFP play-in game, even with a two-loss champion, and fans from other regions need to watch in order to make themselves into educated trolls so they can best fight against this position on Twitter afterward.
Oregon, as a 12-1 Pac-12 champ, by the way, would have the strongest case for the No. 1 overall seed.
This past week, a reader and Arizona fan
questioned the idea of Pac-12 collectivism
-- the idea that a fan of a Pac-12 team should also root hard for the conference in general. He made a fair and not uncommon point, one that aligns with the big-city vibe of the Pac-12 and its pro sports towns.
But college football isn't set up like pro sports, even with this new playoff. It's still a beauty contest and whom you hang out with matters. You can't just root for one team and wish ill on all others. Six teams ranked in the top-20 and more than one perceived national title contender bolsters Colorado just like it bolsters Oregon. It also pays better when they distribute cash from the new playoff/bowl model.
Further, it's fun to know that a prominent TV in a Jackson, Mississippi, sports bar will be tuned to the Pac-12 on Friday, or that a crew of Ohio State students will be marinating in a Columbus apartment checking out the Territorial Cup, or that a dad in Dallas will shush his children so he can better counter the arguments stacked against his TCU/Baylor team by these darned, overrated Pac-12 squads.
Now what we really need is for Papé to contact a friend at Holy Spirit Catholic School in Tuscaloosa, Alabama, and get him to tell Nick Saban about the gospel of Jesus, girls, Marcus Mariota and the Pac-12 South.
November, 24, 2014
Nov 24
8:00
AM ET
It's Baltimore. No one lives forever.
Leading off
Rankings are starting to get awfully important now. As we head into the final week of the regular season, there is plenty of jockeying going on. And how the rest of the country sees things will likely play a role in how the College Football Playoff selection committee sees things.
The Pac-12 had a setback in the rankings last weekend with lackluster performances from Utah and USC. Both of their non-competitive losses bounced them from the rankings, leaving the league with just four teams left in the top 25. Kyle Bonagura has
the conference perspective here
. The good news is that all four teams are ranked in the top 15 -- so the best the league has to offer is getting its due. Here are where the four teams stand in the AP and coaches polls (AP listed first).
Oregon 2-3
UCLA 9-10
Arizona 12-12
ASU 13-13
As always, here are how some folks who cover the conference voted in the AP poll.
Playoff chatter
In this week's look at Pat Forde's
"Fab 4,
"
Oregon is seated nicely at the No. 2 spot, where he projects the Ducks to face Mississippi State in the Rose Bowl.
His take on the Ducks:
The Ducks continue rolling at a high rate of speed, winning their sixth straight Saturday -- all of them by double digits, all while scoring at least 42 points. They jumped on hapless Colorado 30-3 in the first half, upped the lead to 44-10 in the third quarter and then used the fourth as mop-up duty. In combination with Oregon's pileup of strong wins, its lone loss (31-24 to Arizona on Oct. 2) has only gotten better as the season has gone along. The Wildcats now are 9-2 and remain in contention to win the Pac-12 South and have a potential league championship rematch with Oregon.
Worth noting that he also has UCLA as a team still worth consideration. If the Bruins beat Stanford on Friday, they will lock up the South and force a rematch with the Ducks in the Pac-12 championship game. If the Cardinal beat the Bruins, then it's winner take all in the Territorial Cup.
News/notes/team reports
November, 24, 2014
Nov 24
12:00
AM ET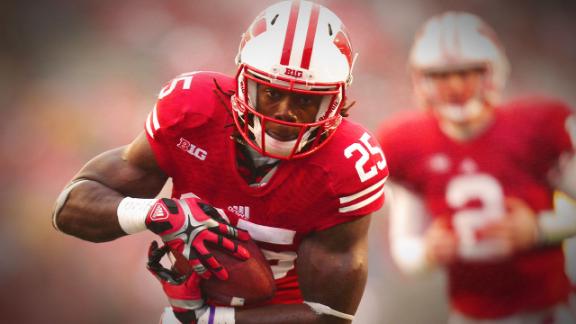 PREGAME SPEECH
There's a reason why the coaches of the College Football Playoff contenders are wound tighter than a fire hose these days.
Florida State coach Jimbo Fisher would rather grow arm-hair curtains than face Florida and Georgia Tech in back-to-back weeks.
Alabama's Nick Saban gets Auburn in the Iron Bowl this week and, if the Tide win, gets Missouri or Georgia in the SEC championship game. Fun.
Baylor's Art Briles has to make the short trip to Arlington for a matchup against Texas Tech, and then play Kansas State in the regular-season finale.
TCU's Gary Patterson has to travel to Austin to play the suddenly dangerous Texas Longhorns, followed by a home game against not-so-dangerous Iowa State.
Ohio State's Urban Meyer meets desperate Michigan at the Horseshoe, and then plays either Wisconsin or Minnesota in the Big Ten championship game.
Oregon's Mark Helfrich takes his team to Corvallis for the Civil War (Arizona State can tell Helfrich all about the Beavers), and then faces UCLA, Arizona or ASU in the Pac-12 championship game.
Mississippi State's Dan Mullen has to survive the Egg Bowl in Oxford, and then hope for the best (an Alabama loss to Auburn, which would mean the Bulldogs would face either Mizzou or UGA in the SEC championship game).
And UCLA's Jim Mora, who runs Saban-Meyer-Fisher intense, has to beat Stanford at Pasadena, and then Oregon to have any chance at reaching the four-team playoff.
This is when roster depth matters. When avoiding injuries matters. When talent, coaching and luck matter.
November, 23, 2014
Nov 23
4:24
PM ET
November, 23, 2014
Nov 23
3:35
PM ET
A week after half the Pac-12 was ranked in the Associated Press poll, that total is
down to four
.
After poor showings on Saturday, USC and Utah both dropped from the rankings, but the remaining four -- Oregon, UCLA, Arizona and Arizona State -- are all at No. 13 or higher, which gives the Pac-12 the most teams ranked 13th or better.
Oregon has settled in at No. 3 behind top-ranked Florida State and Alabama, while Mississippi State and Baylor round out the top five. The Ducks received two first-place votes. UCLA moved up two spots to No. 9 after its 38-20 win against USC, while Arizona jumped three places to No. 12, a spot ahead of rival Arizona State.
UCLA, Arizona and Arizona State all remain in contention to win the Pac-12 South, which will be decided on Friday. If the Bruins beat Stanford at the Rose Bowl, they will be the division champions and play Oregon in the Pac-12 title game Dec. 5 at Levi's Stadium in Santa Clara, California. However, if the Bruins lose, the winner of the Territorial Cup between Arizona and ASU will take the division.
Both games are set to kick off at 3:30 p.m. ET.
November, 23, 2014
Nov 23
2:12
PM ET
Associated Press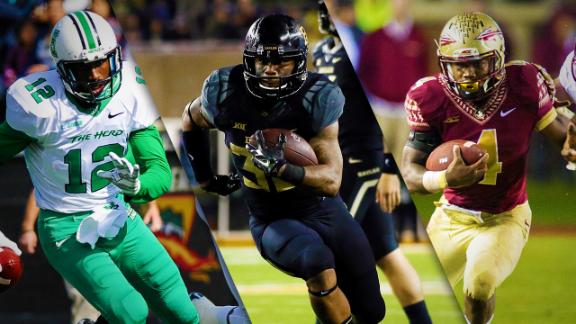 Florida State is No. 1 in The Associated Press college football poll, followed by Alabama, Oregon and Mississippi State. The top four teams were unchanged for the first time since late September.
The gap between the Seminoles and the Crimson Tide narrowed after another close call by Florida State, which beat Boston College 20-17 on a field goal in the waning seconds.
Florida State received 37 first-place votes and 1,458 points, down six first-place votes and 18 points from last week. Alabama has 21 first-place votes 1,445 points. No. 3 Oregon received two first-place votes, one more than last week.
Mississippi State is fourth, followed by Baylor and TCU. Baylor and TCU swapped places. Ohio State remained No. 7.
November, 23, 2014
Nov 23
2:00
PM ET
November, 23, 2014
Nov 23
1:10
PM ET
It was an active weekend for recruits on social media, especially in Los Angeles, where UCLA turned in a huge performance in front of a number of Southern California's elite recruits. This weekend's look at Pac-12 visits through recruits' eyes on social media features stops in Eugene, Tempe, Berkeley and a whole lot of love for the Bruins in Los Angeles.
UCLA's big night
It all started with a bang for the Bruins, as ESPN 300 defensive end Keisean Lucier-South committed to UCLA well before the start of the game against USC.
November 23, 2014
Lucier-South, the nation's No. 29 prospect, had always been considered a lean to the Bruins, but solidifying his commitment was still cause for celebration in Westwood. It gives UCLA the Nos. 3 and 5 prospects in the state after not signing any of the top 13 California prospects in the 2014 class. Lucier-South was in attendance at the Rose Bowl as well, as UCLA's decisive 38-20 victory over USC made for a nice day for the new commitment.
Today was a good day #4sUp #8Clap ????????

— Keisean South1?6? (@KLSouth16) November 23, 2014
While Lucier-South was in attendance on an unofficial visit, there were more than a few official visitors in town for the Bruins. Perhaps the most important uncommitted official visitor was ESPN 300 guard Joshua Wariboko, the No. 174 prospect in the nation. He was on a visit with UCLA pledge Will Lockett and they had similar thoughts on the atmosphere on campus and at the game.
Rose bowl so live ??

— Will Lockett!!!! (@willdoesit__) November 22, 2014
Utah commit George Wilson was at the game and provided a quick snapshot.
?????? v. ?? ???? pic.twitter.com/md0wLM6qwV

— George Siaosi Wilson (@24isreal) November 23, 2014
But the lasting effects from this game might be more felt in the 2016 class, which was loaded in terms of visitors at the Rose Bowl. Outside linebacker Caleb Kelly, the nation's No. 38 prospect in his class, made the drive down.
Were ready for some football! 8 clap! ?? @calebkkelly @grnigne37 pic.twitter.com/nT5UkZRF7q

— Valerie Kelly (@valkel19) November 22, 2014
Insider linebacker Lokeni Toailoa, the nation's No. 79 prospect in 2016 retweeted a number of positive UCLA messages and had this simple statement, regarding UCLA's three straight wins in the rivalry.
Bruwins x3.

— Lokeni Toailoa (@LokeniTheGreat) November 23, 2014
2016 wide receiver Theo Howard, who holds early offers from both programs, was at the Rose Bowl.
Ucla vs usc tonight!!

— theo howard (@theohoward2) November 22, 2014
Running back Damian Alloway, a new addition to the 2016 ESPN 300, at No. 206 overall, holds an offer from UCLA and wasn't shy about which direction he was leaning Saturday night.
I mess with SC and UCLA tough but I'm only a UCLA fan today. #8clap ??

— Damian A1?1?oway (@dalloway11) November 22, 2014
UCLA also hosted 2016 prospects Traveon Beck and Frank Martin -- the No. 132 overall prospect in his class.
#8clap with my boy frank Martin @Frank_martin73 pic.twitter.com/nbKMQiyRnY

— Traveon Beck ? (@HeyImTray) November 23, 2014
More visitors to Oregon
The Ducks have taken advantage of in season official visitors more frequently than any other Pac-12 program, relying heavily on Autzen Stadium's tremendous atmosphere to make an impression on visitors. This weekend, a few notable uncommitted prospects took official visits in Marquise Doherty and Octavius Spencer, but the visit to watch could be Arizona State junior college linebacker commit Davon Durant. All three prospects likely heard plenty from Oregon's committed prospects in town on official visits -- offensive linemen Shane Lemieux and Jake Hanson.
Great times in Eugene with the fam pic.twitter.com/56FafUFBm9

— Jake Hanson (@Jake_Hanson72) November 23, 2014
Trip to Tempe
Arizona State had several interesting official visitors on campus, as ESPN 300 prospects John Houston, Stanley Norman and Joseph Wicker all made their way to Tempe. The Sun Devils also hosted committed junior college tight end Raymond Epps on an official visit.
We got the win. #ASUvsWashington #ForksUp pic.twitter.com/iXiuMBsSN5

— Raymond Epps (@Hard2Guard13) November 22, 2014
Big visitor for Big Game
Cal had a number of commits in town for the Big Game against Stanford. The Golden Bears also received an unofficial visit from 2016 ESPN 300 cornerback Treyjohn Butler, the No. 86 overall prospects who holds early Pac-12 offers from Arizona State, Cal, Washington and Washington State.
#GoBears pic.twitter.com/XpODtoR0y9

— Since98 (@_treyjohnb) November 22, 2014
Great time in the 510.. #calbears pic.twitter.com/YbPestDQqQ

— Since98 (@_treyjohnb) November 23, 2014
Two Weeks Left And We Still Know Nothing