November, 26, 2014
Nov 26
10:30
AM ET
By
ESPN.com staff
| ESPN.com
Why Arizona will win:
This could go one of two ways. Either ASU's blitz-happy scheme will create havoc in the backfield and the Wildcats offense won't be able to get things going, or Arizona will be able to account for the pressure and hit some home runs. We've seen ASU get exploited when they over-pressure. This Arizona team has the running backs and receivers that could take advantage of that. -- Kevin Gemmell
Why Arizona State will win:
The loss to Oregon State reminded the Sun Devils not to overestimate anyone. The start of the Washington State game reminded the Sun Devils that they need to play from the opening kick. When ASU does both of those things, it's very, very dangerous. We saw other receivers step up last week in
Jaelen Strong
's absence. He's expected to be back this week but the Sun Devils' performance against Wazzu will give OC Mike Norvell more confidence in his receiver corps. -- Chantel Jennings
Why Cal will win:
BYU's recent run of success has been a product of significantly inferior opponents, and Cal not only is a big step up in competition for the Cougars, but it has bowl game to play for. -- Kyle Bonagura
Why BYU will win:
While Cal is much improved and has bowl eligibility to play for, I suspect the Golden Bears are going to be physically and emotionally worn down after getting blown out at home by rival Stanford. I think BYU, always hungry for a win against the Pac-12, takes advantage. -- Ted Miller
Why Washington State will win:
It has been a disappointing season filled with miserable moments for the Cougars -- see Conor Halliday's horrific injury. But this is their Super Bowl, and it's at home. Washington State has a chance to purge a lot of 2014 pain by beating their rival. The stage sets up perfectly: Washington's offense is not explosive, and this game will be played in the #Pac12AfterDark Pullman cold. Your move,
Luke Falk
. -- David Lombardi
Why Washington will win:
For all of Washington's offensive shortcomings, this is still a phenomenal defense that gets after the quarterback. If Falk can handle the pressure, he's going to prove me wrong. But in this game, I like Washington to go crazy in the backfield. As for points, well, the Huskies will find them somewhere. -- Kevin Gemmell
Unanimous picks
UCLA will beat Stanford:
Stanford has not proven that it can effectively move the ball against a solid defense, and last week's whipping of USC indicated that UCLA is peaking at the right time on that side of the ball. Plus, the Cardinal won't have offensive MVP
Ty Montgomery
(shoulder), so it's tough to see them outscoring the Bruins, even if their defense contains
Brett Hundley
. -- David Lombardi
Utah will beat Colorado:
Utah's defense is too good to struggle two weeks in a row, especially against the lone winless team in conference play. -- Kyle Bonagura
USC will beat Notre Dame:
Notre Dame has lost four of its past five and expect that streak to continue when the Fighting Irish visit the Coliseum. USC is going to respond after its 18-point loss to UCLA last weekend and
Cody Kessler
is going to continue his quiet campaign (30 TD, 4 INT). Look for
Su'a Cravens
and
Hayes Pullard
to come up big for the Trojans defense. -- Chantel Jennings
Oregon will beat Oregon State:
What's fascinating about this game is that both teams have a lot to play for. Obviously, in the national picture, the Ducks' motivation is more important. I expect a good fight from the Beavers, who are trying to become bowl eligible. But ultimately Oregon has too many weapons and an injury-depleted OSU squad simply can't keep up. -- Kevin Gemmell
November, 26, 2014
Nov 26
9:24
AM ET
By
Sharon Katz, ESPN Stats & Information
| ESPN.com
Richard Mackson/USA TODAY SportsBrett Hundley and the Bruins could be on track for big things.
In the past few weeks, the playoff discussion has centered around the remaining zero- or one-loss teams from Power 5 conferences.
There is one two-loss team, however, that may have an argument for inclusion when all is said and done.
UCLA
faces
Stanford
Friday (3:30 ET, ABC) with a chance to clinch the Pac-12 South. With a win against the Cardinal, UCLA will face
Oregon
in the Pac-12 Championship Game. If UCLA wins out, it will have a résumé worthy of discussion for the playoff.
Schedule
UCLA has played the hardest schedule in the nation, according to ESPN's strength of schedule rankings. The Bruins have not only played a nine-game Pac-12 schedule, but their out-of-conference slate also is the hardest of any Power 5 team.
The Bruins opened their season at
Virginia
in a game that kicked off at 9 AM PT. In Week 2, they faced
Memphis
, the current first-place team in the American Athletic Conference, and followed that game with a trip to Arlington to face
Texas
in Week 3.
The Bruins traveled close to 8,000 miles (counting return trips) before their first conference game and escaped with a 3-0 record. Two of those wins were against fellow Power 5 opponents; excluding
Notre Dame
,
Florida State
is the only other Power 5 team with multiple out-of-conference wins against Power 5 opponents.
Add in that UCLA's conference schedule is the 12th-hardest in the nation before a potential Pac-12 Championship Game, and there will be no argument from the committee that the Bruins were not tested.
Wins
A difficult schedule affords the Bruins more opportunities for signature wins. UCLA has six wins against teams currently ranked in the top 40 of
ESPN's Football Power Index
, second-most in the FBS behind
Alabama
. If the Bruins win out, they will add two current FPI top 20 wins to their résumé.
One of the arguments against UCLA is that it played close games in the beginning of the season against lesser opponents. Since those games, however, the teams that UCLA beat have risen in the rankings. UCLA's first six opponents all rank 42nd or better in the FPI after two of those teams began the season outside the top 42.
If UCLA were to beat Stanford and Oregon, the average current FPI ranking of UCLA's 11 wins would be 33, the best in the nation.
Strength of Record
Many will point to UCLA's two losses, to Utah and Oregon. The Oregon game was not even as close as the 12-point final scoring margin suggests.
ESPN's Strength of Record metric accounts for both wins and losses to measure the difficulty of achieving a team's record, given its schedule. UCLA, with two losses, currently ranks sixth in Strength of Record, ahead of one-loss
Baylor
and
Ohio State
. That means that it would be harder for an average top 25 team to achieve UCLA's 9-2 record than either Baylor's or Ohio State's record.
If UCLA beats Stanford and Oregon it will likely jump into the top four in Strength of Record. The Bruins would likely have the same record as Oregon but will have played a tougher schedule in achieving that record. Similarly, assuming
TCU
and Baylor win out, the Bruins would have as many wins as those teams but significantly more quality wins, including a victory against one of the top teams in the nation (Oregon).
All of these arguments are contingent on UCLA winning out. Beating Stanford at home and Oregon on a neutral field is not an easy feat.
ESPN's Football Power Index projects that the Bruins have a 24 percent chance to win out, but if they were to do it, could the committee really leave a two-loss Pac-12 champion, with the hardest schedule in the nation, out of the playoff?
November, 26, 2014
Nov 26
9:00
AM ET
Since debuting at No. 22 in the first College Football Playoff rankings, No. 8 UCLA has been a steady riser and now appears in good position for a playoff spot if it beats Stanford on Friday and Oregon in the Pac-12 championship game. The Ducks remain firmly at No. 2, while No. 11 Arizona and No. 13 Arizona State could still climb back into the mix with a win and some help from the Cardinal.
Here's where they stand:
Oregon
Record:
10-1 (7-1)
Rank:
2
Next big obstacle:
Saturday at Oregon State
Reason for optimism:
Nothing has changed since last week for the Ducks, who remain a lock for the playoff with wins against Oregon State and whichever team comes out of the Pac-12 South. Even if it loses to Oregon State and wins the Pac-12 title game, Oregon would have a strong case for inclusion. The Ducks' current streak of six games of scoring at least 40 points is twice as long as the second-longest active streak in the country (Baylor).
Cause for concern:
Anything would really be nitpicking at this point, but to use an old cliché,
anything can happen in a rivalry game
. The Beavers don't have one of their stronger teams, but they were still good enough to derail Arizona State a couple weeks ago and last year's Civil War was about as close as it comes.
Whom they'll be rooting for this week:
No. 15 Auburn over No. 1 Alabama
UCLA
Record:
9-2 (6-2)
Rank:
8
Next big obstacle:
Nov. Friday vs. Stanford
Reason for optimism:
That Alabama and Oregon both have losses, yet are still ranked ahead of undefeated Florida State is a great sign for UCLA. It shows the selection committee is placing an emphasis on strength of schedule which gives hope for the Bruins that despite having two losses, they could jump one-loss teams with softer schedules. If UCLA wins out, it should expect to be in the playoff.
Cause for concern:
Even if things break correctly, UCLA isn't assured anything. The committee could look back at some of its less impressive wins – double overtime against two-win Colorado doesn't scream "playoff team" -- and hold that against the Bruins should it come down to them or another team for the No. 4 spot.
Whom they'll be rooting for this week:
No. 19 Ole Miss over No. 4 Mississippi State; Texas over No. 5 TCU; Michigan over No. 6 Ohio State; Texas Tech over No. 7 Baylor.
Arizona
Record:
9-2 (6-2)
Rank:
11
Next big obstacle:
Friday vs. Arizona State
Reason for optimism:
If Arizona beats ASU and Oregon, it would be no lower than No. 7 and as the Pac-12 champion would receive a fair amount of consideration for the final spot. Neither of the Wildcats' losses – USC after a missed field goal and on the road against UCLA – are unforgiveable and Arizona benefits from the Pac-12's overall strength. Among teams with two losses or less, Arizona's road win against No. 2 Oregon is the most impressive.
Cause for concern:
If Stanford doesn't beat UCLA, Arizona doesn't have a chance.
Whom they'll be rooting for this week:
Stanford over No. 8 UCLA
Arizona State
Record:
9-2 (6-2)
Rank:
13
Next big obstacle:
Friday at Arizona
Reason for optimism:
The Pac-12 champion, whoever it is, will be considered. That much has been clear by the committee's consistency in ranking Pac-12 teams favorably against the rest of the country. And because Arizona State is still in the mix to win the conference, a conceivable path to the playoff remains.
Cause for concern:
The Sun Devils are ranked behind five two-loss teams, need UCLA to lose to Stanford, need to win on the road in the Territorial Cup and lost by 35 points (to UCLA) and to a team with a losing record (Oregon State). Their only win against a team ranked by the committee came at home against the No. 25 team (Utah) in overtime.
Whom they'll be rooting for this week:
Stanford over UCLA
November, 26, 2014
Nov 26
8:30
AM ET
OK, so who's it gonna be -- Mississippi State or Ohio State?

Honestly, the suspense is killing me, and we haven't even gotten to the games this weekend. See, here's the issue that these teams are facing: Who will have the best résumé after championship Saturday?

Mississippi State might not go to Atlanta for the SEC championship game, but if the Bulldogs beat Ole Miss on Saturday, they'll be in position for that fourth spot (assuming the top three win out). But if No. 6 Ohio State wins out, the Buckeyes will be Big Ten champions. Say what you will about the strength of the Big Ten, the Buckeyes would have a conference championship and the fourth-ranked Bulldogs would not. Both would only have one loss.
November, 26, 2014
Nov 26
5:00
AM ET
We've got another holiday to worry about. It seems Thanksgiving Day is upon us.
I haven't even finished eating all of my Halloween candy.
Leading off
Depth Chart Wednesday! Depth Chart Wednesday! Depth Chart Wednesday! Let's get to it. Note: UCLA doesn't celebrate Depth Chart Wednesday.
California (page 11 of the game notes)
Oregon (game notes not updated, will update if it becomes available)
Oregon State (page 34 of the game notes)
USC (page 19 of the game notes)
Utah (page 11 of the game notes)
Washington (page 9 of the game notes)
Washington State (page 10 of the game notes)
Awards season is in full swing
OK, there are a lot of these to get through, but stick with us. We can do it together.
There's a very good representation of the Pac-12 among these lists. If a Pac-12 player is a finalist, he's listed as the first name on the list (just an FYI).
MAXWELL AWARD:
Given to the top player in college football (as considered by the Maxwell Football Club and voting panel).
Oregon quarterback Marcus Mariota -- 3,103 passing yards, 32 TD, 2 INT, 597 rushing yards, 97 carries, 9 rushing TDMississippi State quarterback Dak Prescott -- 2,1714 passing yards, 23 TD, 10 INT, 891 rushing yards, 171 carries, 12 rushing TD
Wisconsin running back Melvin Gordon -- 254 carries, 2,109 yards, 25 TD
BEDNARIK AWARD:
Given to the top defensive player in college football (again, as considered by the Maxwell Football Club and voting panel).
Arizona linebacker Scooby Wright III -- 126 tackles, 22 TFL, 12 sacks, 5 forced fumbles
Ohio State defensive end Joey Bosa -- 43 tackles, 18 TFL, 11.5 sacks, 3 forced fumbles
Clemson defensive end Vic Beasley -- 24 tackles, 15.5 TFL, 9 sacks, 1 forced fumble
RAY GUY:
Given to the top college punter. Yards per punt season average follows each finalist's name.
Tom Hackett (Utah) -- 46.5
JK Scott (Alabama) -- 46.8
Scott Arellano (BYU) -- 44.6
Scott Harding (Hawaii) -- 41.5
Austin Rehkow (Idaho) -- 47.8
Justin Vogel (Miami) -- 44.0
Tyler Wedel (Northern Illinois) -- 41.9
Cameron Johnston (Ohio State) -- 43.6
Drew Kaser (Texas A&M) -- 44.4
Alex Kinal (Wake Forest) -- 43.8
OUTLAND:
Given to the top interior lineman (offense or defense).
Texas defensive tackle Malcom Brown
Auburn center Reese Dismukes
Iowa tackle Brandon Scherff
DAVEY O'BRIEN:
Given to the best college quarterback
Mariota (see stats above)
Prescott (see stats above)
TCU quarterback Trevone Boykin -- 3,021 passing yards, 24 TD, 5 INT, 122 rushing attempts, 548 yards, 7 TD
JIM THORPE AWARD:
Given to the top defensive back in college football.
Oregon cornerback Ifo Ekpre-Olomu -- 54 tackles, 1 TFL, 2 INT, 7 pass break ups
Alabama safety Landon Collins -- 75 tackles, 2.5 TFL, 3 INT, 5 pass break ups
Louisville safety Jerod Holliman -- 32 tackles, 2 TFL, 13 INT, 3 pass break ups
News/notes/team reports
November, 25, 2014
Nov 25
8:00
PM ET
Headed into the final week of the regular season, eight Pac-12 teams are bowl eligible, and California and Oregon State remain one win away.
Cal has a significantly easier path to win No. 6, hosting BYU on Saturday, while Oregon State must get through rival Oregon in Corvallis. If the Golden Bears win, it will likely impact where rival Stanford -- which beat Cal 38-17 -- ends up in the postseason. Even though Stanford beat Cal and travelled well for BCS bowls over the past four seasons, the Cardinal's small fan base and demonstrated lack of enthusiasm this season doesn't make it an attractive team for bowl officials.
Oregon remains at No. 2 in the College Football Playoff rankings, while No. 8 UCLA remains within striking distance of the top four should it beat Stanford, then Oregon.
Here's our weekly attempt to map out where the Pac-12 teams will end up come bowl season:
College Football Playoff semifinal (Rose Bowl presented by Northwestern Mutual):
Oregon
VIZIO Fiesta Bowl:
UCLA
Valero Alamo Bowl:
Arizona
National University Holiday Bowl:
USC
Foster Farms Bowl:
Arizona State
Hyundai Sun Bowl:
Utah
Royal Purple Las Vegas Bowl:
Washington
Cactus Bowl:
California*
At-large:
Stanford
*Needs a win to become bowl eligible
November, 25, 2014
Nov 25
7:41
PM ET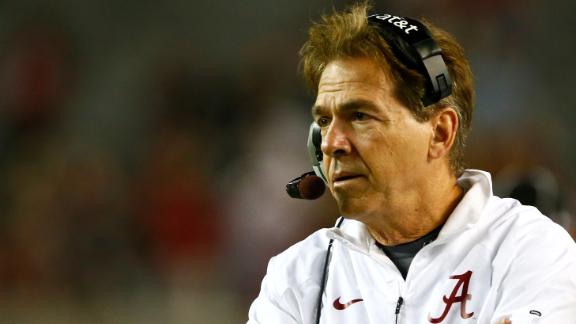 For the first time this season, the top seven teams in the College Football Playoff Top 25 have remained the same, as determined by 11 members of the 12-member selection committee (Mike Tranghese was sick and unable to travel to Dallas for the meetings).
No. 1 Alabama, No. 2 Oregon, No. 3 Florida State and No. 4 Mississippi State each won in Week 13, and in spite of another close win for the Seminoles, FSU did not drop another spot. The only difference at the top was that No. 8 UCLA, No. 9 Georgia and No. 10 Michigan State all slid up one notch to take the spot of Ole Miss, which sank nine spots to No. 19 after being shut out by Arkansas.
Here's what the bracket would look like today: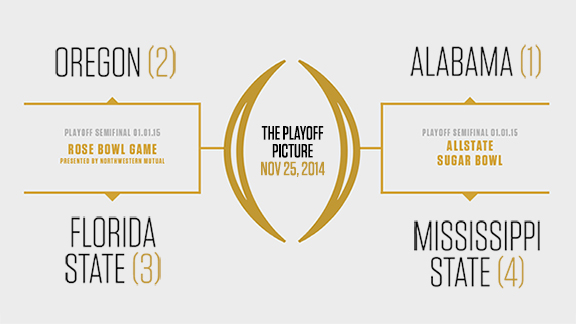 espn
TCU is still the first team on the bubble at No. 5, followed by No. 6 Ohio State and No. 7 Baylor. No. 11 Arizona jumped four spots, and No. 17 Missouri is up three spots. Another big mover was No. 18 Minnesota, which rose seven spots after beating Nebraska.
The biggest surprise this week was that not one but
two
Group of 5 teams were ranked: No. 23 Boise State and No. 24 Marshall. It was a controversial call, as Boise State is a two-loss team just one win away from clinching the Mountain West's Mountain Division, and Marshall is the only undefeated team remaining in the Group of 5. Marshall has already clinched the Conference USA East title.
Marshall is ranked No. 19 in the latest Associated Press poll, followed by No. 21 Colorado State and No. 25 Boise State. This is the first time since Week 10, when East Carolina was ranked in the selection committee's first Top 25, that the Group of 5 has been represented in the CFP rankings.
That would make Boise State the frontrunner to represent the Group of 5 in a New Year's Six Bowl.
As for the other major bowls, here's a projection based on the current rankings:
The Orange Bowl lost the ACC champion (FSU) so it gets the next highest-ranked ACC team, No. 16 Georgia Tech. The Orange Bowl then selects the next highest-ranked nonconference championship team from the Big Ten, SEC or Notre Dame. By contract, displaced conference champs from the SEC and Big Ten don't go to the Orange Bowl. That would pit the Yellow Jackets against No. 10 Michigan State because the committee would look to avoid a rematch with No. 9 Georgia.
Here's what New Year's Eve and New Year's Day could look like, based on today's rankings:
Dec. 31
12:30 p.m. ET -- Chick-fil-A Peach Bowl -- No. 9 Georgia vs. No. 7 Baylor
4 p.m. ET -- VIZIO Fiesta Bowl -- No. 23 Boise State vs. No. 8 UCLA
8 p.m. ET -- Capital One Orange Bowl -- No. 16 Georgia Tech vs. No. 10 Michigan State
Jan. 1
12:30 p.m. ET -- Goodyear Cotton Bowl Classic -- No. 5 TCU vs. No. 6 Ohio State
5 p.m. ET -- Rose Bowl Game presented by Northwestern Mutual -- No. 2 Oregon vs. No. 3 Florida State
8:30 p.m. ET -- Allstate Sugar Bowl -- No. 1 Alabama vs. No. 4 Mississippi State
November, 25, 2014
Nov 25
7:00
PM ET
With more than half the votes in
this week's poll
, Oregon redshirt freshman receiver
Darren Carrington
earns the top spot for this week's Pac-12 Play of the Week.
For a catch like this, there's no better way to explain it than to say, just watch the video.
From the peanut gallery ...
@ESPN_Pac12blog Darren Carrington, Stand Up Guy, Takes a Pass Sitting Down.

— Aubrey NakatomiPlaza (@acgjd) November 25, 2014
@ESPN_Pac12blog Carrington gets by with a little help from his friends: Jesus, girls and Marcus Mariota. #immaculatereception

— Dale Newton (@DSH_Newton) November 25, 2014
@ESPN_Pac12blog A gift from above!

— Dave Caulley (@davelcaulley) November 25, 2014
November, 25, 2014
Nov 25
5:56
PM ET
ESPN.com news services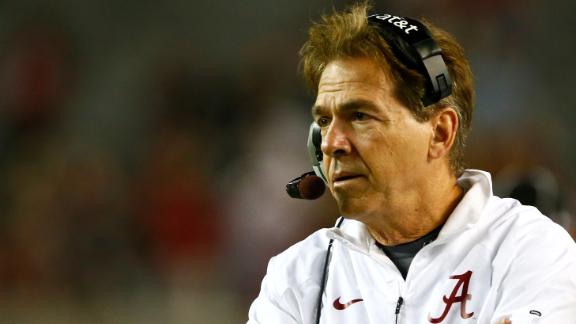 Things remained the same at the top of the latest unveiling of the College Football Playoff rankings, but one team took quite the tumble down the list.
Alabama, Oregon, Florida State and Mississippi State are again the top four teams in the CFP rankings; in fact, the top seven teams from last week's rankings remained unchanged. TCU, Ohio State and Baylor held steady at the Nos. 5-7 spots.
Mississippi, however, took a spill, going from No. 8 last week all the way down to No. 19 following an embarrassing 30-0 road loss to Arkansas that was the Rebels' third straight SEC defeat.
As a result of Ole Miss' fall, UCLA, fresh off its win over rival USC, moved up to No. 8. Georgia and Michigan State rounded out the top 10. The Spartans benefited from the Rebels' fall, moving back into the top 10 after landing at No. 11 the previous week.
Further down the rankings is the battle to see which school from outside the Power 5 conferences will earn a guaranteed spot in a New Year's bowl. Boise State
November, 25, 2014
Nov 25
4:00
PM ET
The Pac-12 is loaded with talent at quarterback this season to the point where it seems like the conference is a hoarder and really good QBs are in abundance. But this is the way we like it. And the other conferences can keep hoarding whatever they like as long as the signal-callers stay west.
Every week we'll provide you with a power ranking of the conference's top quarterbacks, based mostly on that QB's most recent game.
Drumroll please ...
For Week 12's rankings, click here.
November, 25, 2014
Nov 25
10:00
AM ET
Two clear front-runners have emerged in the 2014 Heisman Trophy race: Oregon quarterback
Marcus Mariota
and Wisconsin running back
Melvin Gordon
. Which player should win the award? Pac-12 reporter Kevin Gemmell and Big Ten reporter Brian Bennett debate it.
Brian Bennett:
Kevin, to prove there is no anti-West Coast bias, I'll let you go first. State your case in 150 words or fewer why Mariota deserves the Heisman.
[+] Enlarge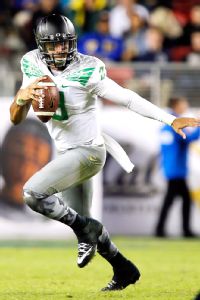 Brian Bahr/Getty ImagesOregon QB Marcus Mariota's 42 total touchdowns -- with still a game to go in the regular season -- is a spectacular feat.
Kevin Gemmell:
Awww, that's really generous of you B-squared. But I don't need 150. I need only seven: "He's the best player in college football." This could be an exercise where we go back and forth listing the merits of both players. Of which there are many. And I like the fact that a non-quarterback is getting deserved Heisman hype. Unfortunately, this is the wrong year for it. So rather than listing all of the reasons why Gordon should win the Heisman (we can do that later, if you really want), I want to know why you think Mariota shouldn't.
BB:
You're right that Mariota might well be the best player in college football. But if the Heisman simply went to the best player, we'd just give it to the NFL's No. 1 draft pick every year. It's supposed to go to the player with the best season. And Gordon is putting up one for the ages.
He rushed for 2,000 yards faster than anyone in history. His current 8.3 yards-per-carry average would be the highest ever. He will soon become one of just three running backs ever to record 2,000 yards and 30 total touchdowns (he needs only three more TDs). And he might just eclipse
Barry Sanders
' hallowed single-season rushing record.
At the very least, Gordon will likely finish with the second-best season by a running back
of all time
. How do you not give the Heisman to someone who does all that? And has Mariota created any "Heisman moments" like Gordon's 408-yard day vs. Nebraska?
KG:
I'm glad you brought up single-season performance. Because with four more touchdowns last week, Mariota has accounted for 42 total this season -- the most of any player in Pac-12 history. You want to talk about a season for the ages? Think of all the offensive talent that has strolled through the Pac-12 over the years. Annually it's the most prolific offensive conference in the country -- and this guy (with one more regular-season game left) has already put up the most prolific offensive season in league history.
I'd call his 318 yards and three touchdowns against Michigan State Heisman-esque ... or have you B1G guys forgotten about that one? But we both know the Heisman isn't about a "moment." You said yourself it's about the best season. And 32 passing touchdowns with just two interceptions -- while playing against some of the most pressure-heavy defenses in the country, is how you build a Heisman season. Not a moment.
And since you're tapping into some history, let's go back a decade and look at how Mariota's current season stacks up. Our QBR metrics -- which measure how well a quarterback has performed against his competition -- go back only 10 years. But Mariota already has a better season than
Jameis Winston
, Johnny Manziel, Robert Griffin III, Cam Newton (all Heisman winners, by the way), Colin Kaepernick, Sam Bradford, Tim Tebow, Pat White and on and on. I bet if we had the historical data, it would show Mariota is having one of the best quarterback seasons in the history of college football.
[+] Enlarge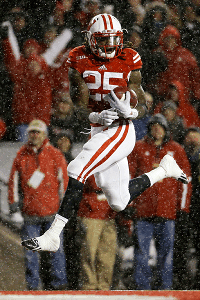 AP Photo/Morry GashWisconsin running back Melvin Gordon, who rushed for 408 against Nebraska, is averaging a phenomenal 8.3 yards per carry.
And if we can agree that quarterback is the most important position in the game (and I think we can agree on that much), how then can you not give the Heisman to the guy having one of the best historical seasons ever at the most important position?
BB:
Mariota is a spectacular player. No argument here on that. (Though I might point out that Ohio State's
J.T. Barrett
also has 42 touchdowns in a much less offense-friendly league. Hmm.) But it bugs me that the Heisman has become the sole province of quarterbacks. Defenses stack as many men as possible in the box against Wisconsin, which doesn't throw the ball well, yet Gordon is still averaging 9.95 yards per carry in his past seven games against ranked teams -- basically a first down every carry! It's much harder to tailor a defense around stopping a dual-threat quarterback.
We may never see a season quite like Gordon's 2014 again, and his numbers speak for themselves. I think one thing we can both agree on is Mariota and Gordon are both otherworldly players. Any way we could split the Heisman in half this year?
KG:
I'm with you 100 percent. I too get peeved that the past few years the Heisman has devolved into the dual-threat quarterback of the year award. And a lot of that has to do with the advancement of the spread offense. These quarterbacks are putting up numbers that seemed unreachable even 10 years ago.
I hear you loud and clear on Gordon. And I can come up with 2,109 reasons why he's the runaway Doak Walker winner. Not even close. He's spectacular. And most years, I'd probably be standing shoulder-to-shoulder with you because I do believe the award has become too quarterback-driven.
This year, however, the voters should and will get it right by handing it to a dual-threat quarterback. From statistical measurables, legacy numbers and team success, Mariota is without equal.
Kirk Herbstreit's Gameplan Breakdown
PAC-12 SCOREBOARD
Friday, 11/28
Saturday, 11/29