September, 22, 2014
Sep 22
11:00
AM ET
The
Socratic smugness
that enveloped me in the wee hours of Sunday morning was a revelation of sorts, though a recognition of futility isn't terribly comforting.
After the tumult of another thrilling weekend, Twitter spun and spun with ostensible wisdom, with Pac-12 and college football philosophers insisting this or that was true based on this or that result. As for me, all I knew is that I knew nothing. Therefore, I am wiser than Twitter, for neither Twitter nor I appears to know anything great and good; but Twitter fancies it knows something, although it knows nothing. In this trifling particular, then, I appear to be wiser than Twitter, because I do not fancy I know what I do not know.
Ya know?
Dominant teams? There may not be any. Florida State, Oklahoma, Alabama, Oregon etc. Each seems to be surviving rather than asserting itself. Same holds true in the Pac-12.
The good news is Socrates also believed an unexamined college football season is not worth following. Further, after four confounding weeks, both nationally and within the Pac-12, we figure to scrape and claw toward more substantial revelations this week, at least on the West Coast. Probably. Maybe.
First, just the facts.
Seven Pac-12 teams remain unbeaten, though hardly unblemished. Three in the North Division: Oregon, Washington and Oregon State. And four in the South: Arizona, Arizona State, UCLA and Utah.
At least one of those will go down before next weekend, as UCLA visits Arizona State in a critical South clash on Thursday. Both teams have looked vulnerable. Both teams have QB questions, with
Taylor Kelly
definitely out for the Sun Devils, and
Brett Hundley
trying to come back from a hyper-extended elbow that knocked him out of the nail-biting win over Texas.
Oregon, the putative top Pac-12 team and favorite to represent the conference in the College Football Playoff, is off this week. The Ducks might be good enough to win the national championship or they might lose three games due to an injury-riddled offensive line or a leaky defense. We've seen Oregon dispatch mighty Michigan State with a dominant second half on both sides of the ball and then cling for dear life at Washington State, the only conference team presently owning a losing record.
Just as UCLA-Arizona State is a separation game in the South, so is Stanford's visit to Washington on Saturday in the North. We have little feeling on the potency of either. Both have flashed potential on both sides of the ball. Yet both also have looked feckless and discombobulated, which is surprising when you consider the reputations of their respective head coaches. The winner becomes the top potential foil for Oregon in the North.
Or might that actually be Oregon State? We don't really know what to make of the Beavers, who visit USC on Saturday, because they haven't played anyone. For that matter, we don't really know what to make of USC either because it was good enough to beat Stanford and bad enough to be humiliated at Boston College.
Things are perhaps just as intriguing -- read: hard to figure -- among the hoi polloi, among the teams not widely viewed as serious threats to win the conference. And by "widely viewed" keep in mind the chattering classes tend to talk themselves into general agreement based their need to wheeze carbon dioxide into the atmosphere, yours truly not exempted by any means.
Colorado's trip to California is a game that matches teams that both said, "We can win this one!" in the preseason. The loser's long shot bowl hopes will take a huge hit. You could probably say the same about Washington State's trip to Utah, though a Utes victory might propel them into the Top 25 and transform them into a popular new dark horse in the South.
In fact, our limited intelligence after four weeks might merely be a confirmation of what most suspected in the preseason: There will be no easy outs this fall, which might be as much a function of the top slipping as the bottom rising. Sure, Washington State is 1-3, but the Cougs pushed Oregon to the brink. A little less brilliance from
Marcus Mariota
and a little more help from the officials and things might have been different. Colorado is 2-2 but it gave Arizona State trouble, the Buffs rushing for 232 yards against the Sun Devils' rebuilt defense. California was a Hail Mary pass away from winning at Arizona and improving to 3-0. Utah won convincingly at Michigan, which might not mean much but it's still a happy ending in the Big House against a team wearing cool winged helmets.
So expect to muddle forward toward clarity, even if we encounter a few false summits along the way. No Pac-12 team appears unbeatable. And no team appears incapable of playing competently. Each fan base should remain hopeful while not ruling out the possibility of eventual despondency.
The good news, as Socrates noted via Plato, is there are two ruling and directing principles in a college football season. It always at least teases our innate desire for pleasure. And, at its end, we acquire grounds to judge excellence.
Hey Shane Falco. I lost a ton of money on that Sugar Bowl disaster of yours. What a bloody shambles that was. You could smell the stink all the way back in bloody Wales.
Leading off
Have we all caught our respective breaths? Good.
What a weekend it was for the Pac-12. Thrilling games in Tucson and Pullman were the exclamation point on a day that saw Colorado cap the Hawaii sweep, OSU take care of business against SDSU, Utah go to B1G country and win on the road and 30 fantastic minutes of football from the Huskies. Here are some reactions from across the league and country:
Jon Wilner weighs in on the weekend in his Pac-12 roundup, with
some harsh analysis
for the Bears:
Cal played well, led 31-13 entering the fourth quarter and had the Wildcats beaten time and time again (or so it seemed). But with an offense incapable of eating the clock, the defense wilted and Arizona pounced on the opportunity. In the Hotline's opinion, the Air/Bear Raid approach is inherently flawed. The next time it wins a major conference championship will be the first time.
Things
aren't looking great in Michigan
after Utah rolled through town, writes Dan Wolken of USA Today. And Athlon Sports
offers up their thoughts
on the Michigan-Utah game.
By now, we've all seen the highlights of the Arizona-Cal game. Rich Rodriguez and his guys just want to remind you of the duration of the game:
In the rankings
The Ducks had a good chance to slide up into that No. 1 spot, but Washington State's gutty performance gave voters enough pause to not give Oregon top honors. Kyle Bonagura
broke it down here
for you.
Here's where the ranked Pac-12 teams stand. As always, the AP ranking is first followed by the coaches poll. You can see the complete polls
here
.
Oregon 2 - 4
UCLA 11 - 10
ASU 15 - 12
Stanford 16 - 14
USC 18 - 22
Utah, Washington Arizona and Oregon State all received votes in the AP poll. Washington, Arizona and Oregon State got votes in the coaches poll. Also, thought you'd like to see how a couple of people voted. Here is
Bill Rabinowitz's
ballot and
Wilner's
ballot.
News/notes/team reports
Just for fun
The
victory announcement
from the Cal store is kind of funny if you haven't heard about it yet.
Creepy? Adorable? A little bit of both?
Touchdown Bears! Cal leads 21-3! http://t.co/QOeGhBjq8g

— Cal Bears (@CalAthletics) September 21, 2014
Kind of dig this move from ASU and Todd Graham.
Sunday's mean work starts again tomorrow...but thanks to @CoachGrahamASU it's just a 3.5-day week #BlackOutBruins pic.twitter.com/1sSWNIIYqd

— Sun Devil Football (@FootballASU) September 21, 2014
Finally, thought this was funny as an impromptu game of Twitter-tac-toe broke out between Utah football and the Pac-12 Network during the rain delay.
While we wait, it's your move, @utah_football. #UTAHvsMICH pic.twitter.com/XpChi2PdAu

— Pac-12 Networks (@Pac12Networks) September 20, 2014
September, 21, 2014
Sep 21
10:45
PM ET
Recruiting in the SEC is already difficult, but the difficulty in Gainesville is about to be ratcheted up even more as rival recruiters are already pressuring Florida recruits to reconsider. Plus, it was clear Saturday night that Oregon needs help on the offensive line, but the good news is that help is on the way.

September, 21, 2014
Sep 21
8:00
PM ET
What did we learn this week, people? The Pac-12's depth is going to make for a fun season and probably a good dose of insanity when trying to sort out the postseason.
For example, two late games Saturday night that ended in dramatic fashion could have bowl implications. When you look at Cal's remaining schedule, are there four wins out there? How about Washington State? Had the Cougars won, you could make a case that, at 2-2, they weren't out of it yet. But what are the odds the Cougars win five of their next eight?
The Bears kick off a stretch of three games against nonranked opponents (Colorado, Washington State, Washington) before closing the season against five of six teams currently ranked in the Top 25. They will need an upset or two along the way. As for Colorado, that Cal game is a huge swing game for the Buffs as well.
Seven Pac-12 teams are still undefeated -- Oregon, Washington, Oregon State, Arizona, Arizona State, UCLA and Utah. We know that isn't going to last. Oregon and Arizona are two wins away from bowl eligibility. Washington needs seven because of the Hawaii rule, and Oregon State, Arizona State, UCLA and Utah are halfway there.
Things are sure to get more interesting in the coming weeks as we plow full steam ahead into conference play.
For now, here are the projections. As always, salt heavily.
College Football Playoff:
Oregon
Fiesta Bowl:
UCLA
Valero Alamo Bowl:
Stanford
National University Holiday Bowl:
Utah
San Francisco Bowl:
USC
Hyundai Sun Bowl:
Arizona State
Royal Purple Las Vegas Bowl:
Washington
Cactus Bowl:
Arizona
Heart of Dallas Bowl*:
Oregon State
*-At large
September, 21, 2014
Sep 21
4:36
PM ET
September, 21, 2014
Sep 21
2:00
PM ET
September, 21, 2014
Sep 21
10:03
AM ET
By
Chris Morris
| ESPN.com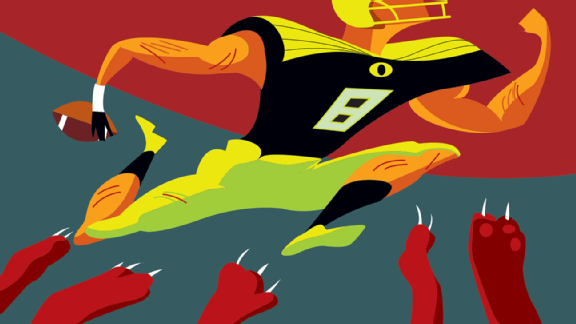 Chris Morris for ESPN
Each Sunday during the season, ESPN.com will highlight four storylines that had an impact on the College Football Playoff race.
Louisiana native Dak Prescott passed for 268 yards and two touchdowns and rushed for 105 and a TD at Tiger Stadium as the Bulldogs snapped a 14-game losing streak to LSU.
---
Jameis Winston, suspended for the game after making "offensive and vulgar" comments earlier this week on campus, was reduced to cheerleader as Karlos Williams scored on a 12-yard touchdown run to rally Florida State past Clemson in overtime.
---
Marcus Mariota threw for 329 yards and five touchdowns and rushed for 58 net yards despite being sacked seven times as the Ducks scraped by the Cougars 38-31.
September, 21, 2014
Sep 21
9:00
AM ET
By
David Lombardi
| ESPN.com
Recovered from the sensory overload that was college football Saturday? Time to re-live some of this weekend's star performances.
Nelson Spruce, WR, Colorado:
Hawaii had no answer for the junior, who caught a school-record 13 passes for a career-best 172 yards in the Buffs'
21-12 win
. Spruce's most explosive play came late in the first quarter, when
Sefo Liufau
found him for a 71-yard touchdown that gave the Buffs a lead they would not relinquish.

Travis Wilson, QB, Utah:
His helmet popped off and his neck bent uncomfortably far out of its usual position during a nauseating second quarter spill, but Wilson returned to the game in the second half to assert total Utah control and get a rain-delayed
26-10 win
at Michigan. A 28-yard touchdown strike to
Dres Anderson
highlighted Wilson's gutsy return, and the Utes knocked the big road monkey off their backs.
Special Teams Unit, Utah:
Kaelin Clay
's 116 return yards included a stunning, sideline-tightrope-walk of a punt return that kept Utah afloat while the offense was still sputtering in the first half. "Automatic"
Andy Phillips
booted four field goals to drive the nail into Michigan's rain-soaked coffin. The Utes have been spectacular in this third phase of the game.
Marcus Peters, CB, Washington:
Georgia State outgained the Huskies 233-62 in the first half, but they led only 14-0 at that point. Washington may have Peters to thank for that manageable deficit, because he recorded two impressive interceptions in the first frame. The second featured a beautiful diving effort near the sideline and served as a prelude to the Dawgs' furious 45-point second half rally in a game they
won 45-14
.
Sean Mannion, QB, Oregon State:
In a narrow escape over San Diego State last year, the Beavers went scoreless in the second and third quarters. This time, they outscored the Aztecs 21-0 over those middle two frames. Mannion executed Oregon State's adjustments with surgical precision, finishing 24-for-31 for 275 yards in his team's
28-7 win
.
Austin Hill, WR, Arizona:
He caught a game-winning Hail Mary. He should have the right to distribute helmet stickers, for crying out loud. Let's not forget about fellow receiver
Cayleb Jones
, whose 13 catches, 186 yards, and three touchdowns also spearheaded a 36-point fourth quarter. Oh, and the guy throwing all those passes may be icing his arm right now:
Anu Solomon
threw 73 times for 520 yards as the
Wildcats shocked the Cal 49-45
. A replay,
just for fun
.
Jared Goff, QB, Cal:
Amidst the Arizona Hail Mary hoopla, it's important to not forget the strides Cal has made in the quarterback's sophomore season. The Bears' defense obviously collapsed, but Goff was spectacular for most of the contest: He delivered lasers downfield, averaging over 21 yards per completion and over 12 yards per attempt.
Marcus Mariota, QB, Oregon:
His stat line was close to perfect in the face of ferocious Washington State pressure (seven sacks) -- 21-for-25, 329 yards, five touchdowns, and 58 more yards on the ground in the Ducks'
38-31 win
. The Ducks could have very well lost this game considering how badly they were struggling up front, but Mariota's composure ended up Winning the Day (yes, that was intended). It never hurts to have track star
Devon Allen
on your side, either (20.3 yards per catch).
River Cracraft, WR, Washington State:
The Cougars played the Ducks tough, and much of that can be credited to a series of fine Cracraft grabs against a very talented Oregon secondary. He finished with eight catches for 107 yards, and it seemed that every one of those receptions came in a clutch spot to keep Wazzu in the ballgame.
September, 21, 2014
Sep 21
3:20
AM ET
Some things we learned about the Pac-12 in Week 4:
No quit in Arizona:
California led 28-6 at halftime and 31-13 going into the fourth quarter, and Arizona needed to go 85 yards in less than a minute without any timeouts. There were plenty of reasons to quit believing. Didn't happen. Instead, the college football world was treated to the best game of the season. Freshman quarterback
Anu Solomon
's 47-yard Hail Mary to
Austin Hill
as time expired to give Arizona a
49-45
win and the
play of the year
so far. Arizona's 36 fourth-quarter points mark a new school record for a quarter and more than the Wildcats scored all game against Cal the past season (33).
[+] Enlarge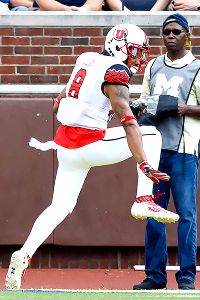 Rick Osentoski/USA TODAY SportsKaelin Clay and Utah struck a pose and took over the Big House from Michigan.
Utah is a complete team:
It's not that we learned the Utes are a complete team this week, more that our previous assumption was confirmed. Let's recap Utah's
26-10
victory over Michigan. Special teams:
Kaelin Clay
added a punt return for a touchdown and now leads the nation with three returns for scores; kicker
Andy Phillips
was 4-for-5 on field goals in bad weather, including one from 50 yards; and punter Tom Hacket twice pinned Michigan inside the 20. Defense: Allowed only a field goal, intercepted three passes and forced a quarterback change. Offense: There is room for improvement, but quarterback
Travis Wilson
bounced back from a scary injury and immediately led the team on a seamless touchdown drive. Backup quarterback
Kendal Thompson
threw a sloppy pick-six, but on the next drive he settled down and showed he can move the team as well. Next week against Washington State should be interesting. And the Utah fans
came to play
as well.
Mannion into record book:
Oregon State quarterback
Sean Mannion
became the school's all-time leading passer. He eluded a pass rush and completed a 27-yard pass to
Hunter Jarmon
in the third quarter to take the record from
Derek Anderson
, who threw for 11,249 yards between 2001 and 2004. Mannion finished with 275 yards passing and now has 11,339 for his career, but he didn't throw a touchdown and had one pick against the Aztecs. The most impressive part of the
28-7
win over San Diego State was the Beavers' defense, which allowed just 215 yards of offense.
Colorado takes advantage:
By giving both Washington a game and Oregon State a late scare, Hawaii proved it could hang with Pac-12 teams. But that was in Hawaii. Colorado's
21-12
win started at 8 a.m. Hawaiian time and was played at altitude, and the Warriors' flight was delayed on Friday, which canceled its walk-through. That's tough sledding. Still, Colorado deserves credit for taking advantage. The Buffaloes built a 21-6 halftime lead and hung on to move to 2-2 for the second straight season -- they've yet to start 3-2 since their move to the Pac-12 in 2011. WR
Nelson Spruce
continued his torrid start with 13 catches for 172 yards, which included a 71-yard touchdown.
Another passed test for Oregon:
Oregon's first road game of the season didn't go as smoothly as it would have liked, but a
38-31
road win over Washington State is a road win, and the Ducks are probably better for it. Offensive line issues remain a concern, but
Marcus Mariota
again looked like the Heisman favorite, as he finished 21-of-25 for 329 yards with five touchdowns and no interceptions. He also ran for 58 yards on 13 carries. Sports Illustrated jinx? Better luck next time.
Inconsistency remains at Washington:
Georgia State has never beaten an FBS opponent but led Washington 14-0 at halftime. Sure, the Huskies bounced back to score 45 points in the second half and win
45-14
. Still, the first half has to be concerning. Take it from coach Chris Petersen, who said, "If we show up like we did in the first half from here on out, we'll get run out of the stadium and won't be able to get back in." Washington is still searching for an identity after playing starkly different types of games in each of Petersen's first four as head coach. The competition level takes a big jump next week, when the Huskies get a visit from No. 16 Stanford. The 45 second-half points were the most a team scored in the second half after being shutout in the first since West Virginia scored 46 against Louisville in 2005.
Time to take Cal seriously:
First, poor Cal. To play that well for that long only to lose on a Hail Mary is torture for a team and fan base that suffered mightily a year ago. Be extra nice to your Cal fan friends this week; this isn't the time for jokes. As devastating a loss as this could be, the performance did legitimize the Golden Bears' first two games. Quarterback
Jared Goff
played like an All-American for long stretches, and the defense played well early before being gassed. That fourth quarter, however, was worse than anything the Cal defense did a year ago. The lack of depth was again on display, just like it was against Northwestern.
Cougars can compete:
The WSU team that showed up in Pullman was the version many were expecting -- and maybe even better -- to see all season, but for WSU to beat Oregon, it would have taken a near-perfect game. The Cougars made a few too many mistakes to get this win, but overall, it was a positive step -- just don't tell Mike Leach. All of a sudden, WSU looks like it can compete week-in, week-out. Two games into the season, that wasn't the case.
September, 21, 2014
Sep 21
2:38
AM ET
By
ESPN.com staff
| ESPN.com
Marcus Mariota
threw for 329 yards and five touchdowns in Oregon's 38-31 win over Washington State.
September, 21, 2014
Sep 21
2:08
AM ET
Associated Press
PULLMAN, Wash. -- Marcus Mariota threw for 329 yards and five touchdowns as No. 2 Oregon held off Washington State 38-31 on Saturday night in a matchup of two of the top offenses in the nation.
Devon Allen and Keanon Lowe each had two touchdown receptions for Oregon (4-0, 1-0 Pac-12), which has won eight straight games against Washington State.
Connor Halliday threw for 436 yards and four touchdowns for Washington State (1-3, 0-1), which boasts the nation's top passing attack. They came into the game as 24-point underdogs, but stayed close the entire way.
Washington State played stout defense in the first half, sacking Mariota five times and recording seven tackles for losses, while holding the Ducks to a total of 210 yards. The score was tied 21-all at halftime.
However, the Cougars' offense stalled in the second half.
Reaction To New AP Top 25 Poll