August, 20, 2014
Aug 20
8:00
AM ET
And I have one of those very loud, stupid laughs. I mean if I ever sat behind myself in a movie or something, I'd probably lean over and tell myself to please shut up.
Leading off
Previews, previews, previews. Lots of them hit the web yesterday. Fox, SI and Athlon all had major Pac-12 pieces.
Perhaps the biggest surprise came from
Fox Sports' Stewart Mandel
, who picked the
Washington Huskies
to win the North Division and Oregon to finish third.
Here's Mandel's take on the Ducks:
The string of 11- and 12-win seasons can't go on forever, and despite the return of star quarterback Marcus Mariota, the Ducks' once-unstoppable offense showed cracks last year following Chip Kelly's departure. Oregon's defense may miss retired coordinator Nick Aliotti.
There's a couple of ways to interpret this. First, Mandel -- a good friend who knows college football as well as anyone in the country -- is brilliant. And when the Huskies are walking away with the North title, he's going to have a satisfied grin on his face for the entire offseason. Or, he could be wrong. Nothing wrong with putting yourself out there.
The country seems high on the No. 25 Huskies. For the national voters to place them in the Top 25 after losing their starting quarterback, a Doak Walker finalist running back and a Mackey Award winning tight end speaks to how highly Chris Petersen is regarded as a head coach. And maybe, just maybe those East of the Rockies are starting to pay the Pac-12 a little more national respect.
But as the Pac-12 blog is fond of saying (and so is every single coach in America), the final rankings are the only ones that matter. So a tip of the cap to Mandel for by far the boldest prediction of this preseason.
Some other previews:
SI's Lindsey Schnell
has Oregon and UCLA playing in the Pac-12 title game -- a common pick among most media, including the Pac-12 blog -- UCLA's
Myles Jack
as the league's defensive MVP. That's another fairly bold prediction considering the quality of players like
Leonard Williams
,
Ifo Ekpre-Olomu
,
Shaq Thompson
,
Hau'oli Kikaha
and Jack's teammate,
Eric Kendricks
. That's going to be a fun award to keep an eye on throughout the season.
NFL.com's college football blog
pays homage to the quarterback depth
in the Pac-12, and Bryan Fischer taps
Kevin Hogan
as the league's breakout player in 2014.
Schedule accordingly
A couple different posts have come out over the last two days about must-see games. Let's put it this way – if you plan on watching Oregon, Stanford or UCLA, you're covered.
First up,
Pat Forde of Yahoo Sports
has his annual list of the 25 most intriguing games of the 2014 season and five of the 25 involve Pac-12 teams. From his list:
No. 2 Michigan State at Oregon (Sept. 6)
No. 4 UCLA at Texas (Sept. 13)
No. 7 Stanford at Oregon (Nov. 1)
No. 14 Oregon at UCLA (Oct. 11)
No. 17 USC at Stanford (Sept. 6)
Next up is
Athlon Sports
, which posted 25 must-see games specific to the Pac-12. Here's their top 5:
No. 1 Stanford at Oregon
No. 2 Oregon at UCLA
No. 3 Michigan State at Oregon
No. 4 USC at UCLA
No. 5. Stanford at UCLA
You can see some interesting opinions in terms of placement. But for the most part all of the major games are covered.
Rank'em
Athlon also came out with its rankings of the
top 37 players in the Pac-12
.
Here's what their top 10 looks like:
Marcus Mariota, QB, Oregon
Leonard Williams, DE, USC
Brett Hundley, QB, UCLA
Ifo-Ekpre Olomu, CB, Oregon
Andrus Peat, OT, Stanford
Myles Jack, LB, UCLA
Taylor Kelly, QB, ASU
Sean Mannion, QB, Oregon State
Hroniss Grasu, C, Oregon
Jaelen Strong, WR, ASU
The top four are identical to
what the Pac-12 blog had
for its Top 25 players. Though we lumped a trio of receivers in our 5-10 and gave the nod to Agholor over Strong for his special teams contributions.
Also,
Jon Wilner of the San Jose Mercury News
released his all-conference projections for 2014. Not a lot of surprises, though it's interesting to see UCLA's
Jordon James
get the nod over Oregon's
Byron Marshall
.
News/notes/practice reports
Just for fun
One member of the Stanford coaching staff told me he believes center Graham Shuler could be better than both of the guys who preceded him.
.@GrahamShuler draws upon the wisdom of his Stanford center forefathers. #TunnelWorkersUnion #gostanford #cardcamp14 pic.twitter.com/B07kMkCTvE

— Stanford Football (@StanfordFball) August 20, 2014
And speaking of reunions, these guys are back together. This could get interesting.
Chip Kelly acquires one of his former Oregon standouts, running back Kenjon Barner, for conditional 2015 7th-rd pick pic.twitter.com/o1aVsnT9by

— NFL on ESPN (@ESPNNFL) August 20, 2014
August, 19, 2014
Aug 19
7:00
PM ET
DANVILLE, Calif. -- As he stood outside a movie theater in an affluent East Bay Area suburb on Sunday, Landrin Kelly fought back tears.
He's used to it now. Ten years have not completely quelled the pain he was left with following the murder of his son, Terrance, just days before he was set to begin a promising college football career at Oregon. No amount of time will.
A couple hundred others also gathered at the theater to see an early screening of "When The Game Stands Tall," a movie that chronicles the story of Terrance's death and the ensuing impact it had on the famed football program at Concord's De La Salle High. Based on
the book by author Neil Hayes
, the movie is set to hit theaters nationwide on Friday.
[+] Enlarge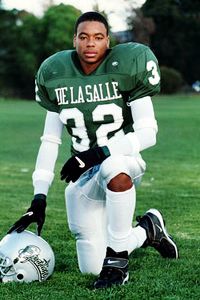 Courtesy of the Terrance Kelly Youth FoundationTerrence Kelly was killed in August of 2004, just days before leaving for the University of Oregon.
For Landrin, the emotions were bittersweet.
"I've been to a lot of events [that remember Terrance]," he said. "The exciting part is that the story is being told of my son."
Violence is a harsh reality in the crime-riddled city of Richmond, just north of Oakland, where the Kelly family called home. It was a main factor in the decision to send Terrance to De La Salle, a private Catholic school 25 miles to the east. Known nationally as a football power, De La Salle provided a safe haven for Kelly and the opportunity to play for legendary coach Bob Ladouceur.
"We wanted to get him out of Richmond," Landrin said.
During his four years at De La Salle, Kelly blossomed into a good student, a team leader and one of the best football prospects in the country. A running back and linebacker for the Spartans, Scout.com ranked Kelly as the No. 16 safety in the country -- one spot ahead of current
Washington Redskins
and two-time Pro Bowler
Dashon Goldson
.
Ask those around the De La Salle community how good Kelly was, and they'll tell you -- like his high school teammates Maurice Jones-Drew and T.J. Ward -- there was little doubt he was destined for a career in the NFL.
Oregon was the first school to offer Kelly a scholarship, but the entire Pac-10 followed suit. He ultimately committed to the Ducks -- over UCLA and Cal -- based largely on the relationship he developed with defensive coordinator Nick Aliotti, whose brother, Joe, was on Ladouceur's staff.
In his personal statement
, as part of his admissions application at Oregon, Kelly reflected on what life was like growing up in Richmond and his plans for the future:
Many people imagine the life of a teenager as being carefree and simple, but that in not the case in the city I live in. While growing up in Richmond, California there has been a lot of distractions. For example, the murder rate of young African Americans in the city is very high, drugs are rampant in the community, not very many of the youth in the community understand the importance of an education, much less if they live or die. Many youth place more importance on being in a gang than an education. A large number of the youth don't even graduate from high school. They either dropout, go to jail, or unfortunately get murdered. Something as simple as sitting down doing your homework can be a challenge. While trying to study I have often had to contend with hearing gunshots, ambulance or police cars racing up and down the streets. The library is just a shelter for the homeless and a baby-sitter for young children waiting until their parents get off work.

Through all of this I have established high expectations and standards for myself. I am determined not to end up like many of my peers. I have a strong sense of purpose and direction for my life. I am motivated to strive to be the best person I can be, with the understanding that a solid education can lead to self-improvement as well as, social and economic empowerment.
De La Salle teammates Cameron Colvin, Jackie Bates and Willie Glasper also signed with Oregon, in no small part because of Kelly. Ward eventually walked on the following year.
[+] Enlarge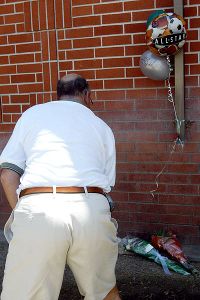 Jeff Chiu/AP PhotoBrother Christopher Brady, principal at De La Salle High School, adjusts a makeshift memorial for Terrance Kelly in this 2004 photo.
"T.K. was the guy that held them all together," said Ladouceur, who is portrayed brilliantly in the movie by Jim Caviezel. "When that happened to him, it took a real motivation out of their lives. They were like the four musketeers and for them to all of a sudden have to go up there minus one, was really, really hard."
The impact Kelly's death had at Oregon was nearly as substantial as it was at home.
"[Aliotti] didn't believe it when I called him and told him somebody killed my baby," Landrin Kelly said. "He didn't believe it. I had to say, 'No, for real Nick.' I was crying. I had to give the phone to my wife because I was so heart broken."
After Terrance's passing, the bond between his family and the Oregon program continued to strengthen. At his funeral in Richmond, part of which is depicted during an emotional scene in the film, Aliotti delivered the eulogy and he went on to keep a picture of Terrance on his desk until his recent retirement.
In 2007, in what would have been Kelly's senior year, Oregon invited Landrin, and his grandson, on to the field to take part in the Senior Day ceremony. He proudly showed off a No. 32 jersey that day and continues to make at least one trip to Eugene a year to watch the Ducks.
In memory of his son, Landrin, along with the help of several others, operates the
Terrance Kelly Youth Foundation
. The foundation exists to provide community outreach for children between the ages of 5 and 17, and aims to inspire kids to become responsible and productive adults in the community. The non-profit organization provides several programs and scholarships for youth in Richmond.
Darren Pratcher was 15-years-old when he shot Kelly four times as sat in his car outside a house in Richmond, waiting to pick up his stepbrother to give him a ride home. The killing came in retaliation for a perceived slight during a pick-up basketball game, which is also depicted in the film.
Pratcher was prosecuted as an adult, and after five days of deliberations in October 2006, a jury convicted him of first-degree murder and weapon enhancements. He was later sentenced to 50 years to life in prison.
August, 19, 2014
Aug 19
9:30
AM ET
Boston College coach Steve Addazio remembers an era when players wanted to redshirt as true freshmen to better prepare them for the final four years of their college career.
"Now it's 'I want to play,' " Addazio, 55, said. "If you're talking about not playing them early, the majority are like 'What do you mean?'"
So, the ability to play or possibly even start as a true freshman has become a regular sales pitch for coaches from the Power Five to the Group of Five. It's certainly a tool in the belt for Florida State coach Jimbo Fisher. Last week, Fisher alluded to the number of freshmen All-Americans he's coached the last four seasons. Twenty-four hours later, it was on the program's official recruiting Twitter page.
"The last [four] years we've had 14 freshmen All-Americans," said Fisher, condensing multiple outlets' freshmen award teams into one, concise Florida State propaganda poster. "If you come in ready to play, we're willing to put you on the field. It's critical for guys to come in saying 'When I'm the best, I'll play.'"
Fisher has the goods to back up his claims, even if the numbers are obviously skewed to best represent his program. But how does his résumé compare to those coaching some of the country's other top programs?
I tried to come up with a way to accurately discern which schools play the most freshmen and decided true freshmen letterwinners was the simplest and most effective way to crunch the numbers. To earn a letter, a player has to actually play consistently through the season. The disclaimer is each program can use different benchmarks when awarding letters, but there is never going to be a perfect way.
I began with Florida State's, looking back at the 2011-2013 classes. To properly quantify the data from Florida State, I decided I'd look at the five schools ranked highest in the preseason polls that have had its coach in place at least five seasons. Oregon's Mark Helfrich was offered an exemption because he was promoted from within and is in his sixth season with the Ducks. Coaches in place at least five years was the stipulation since an incoming coach might be susceptible to playing the prospects he recruited or having a number of transfers that could open up starting or rotational spots.
The criteria: Each class was looked at and the total number of signees was pared down to just those who enrolled as members of the football team in the fall. Junior college signees were excluded, as were any recruits who were academically or medically disqualified before playing a game. That explains why the total number of freshmen for our purposes might look different than what might be seen on RecruitingNation. Any true freshmen who spent a year at a post-graduate or prep school was also excluded. Redshirt freshmen were disqualified, too.
Bottom line is if the player was not a part of the football team the fall following his high school graduation, he was excluded.
Nearly all of the data was collected after poring through media guides and archives, although the communications departments at some of the schools were also helpful providing numbers and deserve recognition.
So, here is the actual data:
It is hardly a coincidence that Fisher and Alabama's Nick Saban, who mentored Fisher at LSU, have identical percentages of true freshmen earning a letter. Fisher and Saban arguably have been the two best recruiters over the last few cycles, and, the data shows those two are not going to keep young talent off the field simply because of age. Nearly half of the true freshmen at Alabama and Florida State lettered over the last three seasons.
Mark Dantonio has built Michigan State into a national title contender in a different manor, relying on experience. Only 12 percent of true freshmen lettered over the last three seasons. Recruiting to Michigan State is not the easy task it is at some other top-10 programs, and the Spartans are not recruiting as many ESPN 300-level players as the likes of Alabama and Florida State.
It should be noted Michigan State, Oklahoma and Oregon don't have quite the recruiting base Alabama and Florida State do.
Inquiring minds want to see how that 45 percent stacks up to some of the other top programs in the country, so even though they did not fit the criteria I looked at a few other schools with coaches in place at least five seasons and lately in the top half of the rankings. LSU was worth a look considering it's Les Miles' 10th season in Baton Rouge and, like Fisher and Saban, has recruited exceptionally well for a long period of time. Mark Richt is in his 14th season at Georgia and, like Miles, usually has a highly-regarded recruiting class. Steve Spurrier is in his 10th season at South Carolina and has steadily improved the Gamecocks' class to the point that the 2015 class is No. 5 nationally. Dabo Swinney has turned Clemson from a perennial disappointment into a two-time BCS bowl participant. And Ohio State and Texas A&M, mainly because it's worth seeing how third-year Buckeyes coach Urban Meyer fares considering he frequently voices his preference to avoid redshirting. Kevin Sumlin is also in the process of trying to build an SEC power that can compete with Alabama and LSU in the SEC West.
For the Buckeyes, out of the 69 true freshmen to land in Columbus, Ohio, from 2011-2013, 31 lettered -- the same 45 percent. Looking at just Meyer's two seasons, however, he is decimals ahead of Fisher and Saban at 46 percent (21 out of 46), thanks in large part to 14 freshmen letterwinners in his first season.
Georgia's Mark Richt has a percentage of nearly 50 percent, but the Bulldogs' numbers might be the most skewed. Along with South Carolina, the Bulldogs had several recruits that either did not qualify or spent time at a prep school or junior college. Also, Georgia's long list of dismissals and transfers is well documented, and all of the departures has opened up spots for freshmen to earn immediate playing time.
It is Miles, though, who plays a higher percentage of freshmen than all of the others. Twelve true freshmen lettered for LSU in both 2012 and 2013, and another nine earned a letter in 2011. There were a total of 65 applicable freshmen to enter LSU during that span and 33 of them lettered. That's a percentage of 51 percent.
Certainly the numbers will fluctuate year to year, and coaches at every single program are playing freshmen more frequently than ever before. When taking into account the timeline is over three years, LSU averages just one more freshman letterwinner per season than Alabama and Florida State. For our intents and purposes, though, the data shows which top programs consistently play the most freshmen in this new era of freshmen phenoms.
And, uh, FYI, Alabama has 19 ESPN 300 players prepping for their freshmen season this fall. LSU has 16, and Florida State isn't far off with 13 of their own.
August, 19, 2014
Aug 19
9:00
AM ET
When
Michigan State Spartans
athletic director Mark Hollis first told football coach Mark Dantonio about his plan to schedule a home-and-home series with the
Oregon Ducks
, Dantonio did not wrestle his boss to the ground, scream obscenities or start updating his résumé.
As Hollis recalls, Dantonio simply smirked, shrugged his shoulders and said, "Why not?"
The reasons not to schedule Oregon -- especially at eardrum-splitting Autzen Stadium, where the Spartans go in Week 2 -- of course include the Ducks' tornadic offense, their dominance at home (92-17 since 1997) and the Big Ten's historic struggles in Pac-12 country. So why would Michigan State saddle itself with such a challenging matchup so early in the season?
"I've never really said, 'Oh, no, I don't want to play those guys,'" Dantonio told ESPN.com. "I just feel like, if you're going to be a champion, you have to be willing to take on all comers."
[+] Enlarge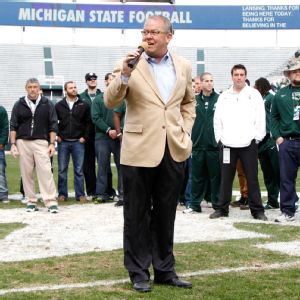 AP Photo/Al GoldisMichigan State athletic director Mark Hollis has upgraded the football schedule with the College Football Playoff in mind, beginning this season with a road game at Oregon.
The Spartans arrived in the ranks of the elite in January by beating Pac-12 champ Stanford in the Rose Bowl, capping a 12-1 season. Now they get a chance to prove they can stay there with another trip to the West Coast on Sept. 6. This early-season showdown of conference heavyweights -- Oregon is ranked No. 4 in the ESPN preseason power rankings; Michigan State is No. 7 -- carries key implications for the inaugural College Football Playoff.
"If we play well in that game, it can definitely bounce us up to the four-team playoff," Spartans defensive end
Shilique Calhoun
said.
The playoff was exactly what Hollis had in mind when he added Oregon to the schedule in March 2012. He also signed future home-and-home deals around the same time with Miami (Fla.) and Alabama, the latter of which has since been canceled. Hollis said arranging the Oregon series was made easier by his close relationship with Oregon athletic director Rob Mullens; the two became friendly when Mullens was at Kentucky and the Spartans and Wildcats put together a basketball series.
"We don't want to be stupid in our scheduling, but at the same time, we were anticipating the playoff system and anticipating the strength-of-schedule [component]," Hollis told ESPN.com. "As we were having these conversations, it seemed right, it fit right. They're a top-five program, and with us coming off a Rose Bowl championship, kind of by freak of luck this turned into a pretty nice game."
(The fact that both schools are Nike-sponsored and wear green doesn't hurt, either. "It's always nice to see Phil [Knight]," Hollis joked, "even though I'm sure he'll be on the other sideline.")
Michigan State sees little downside to the game. Even if the Spartans lose in Eugene, as long as they are reasonably competitive, they would have plenty of time to rebound and still win a Big Ten title. They recall last year, when they lost at Notre Dame but went on to capture their final 10 games and finish No. 3 in the polls.
"It's not an end-all either way," Dantonio said. "It's going to be a measuring stick for us -- where are we at, what do we have to do, who are we? It will give us a little more of a sense of identity early in season."
The on-field matchup itself is incredibly intriguing.
Oregon, with its fast-paced, no-huddle spread offense, leads the nation in scoring the past four seasons combined at 47 points per game. In that same time span, Michigan State's ferocious defense ranks fourth in the FBS in points allowed and third in yards allowed. The Spartans finished No. 2 in total defense in 2013; the Ducks were No. 2 in total offense.
Michigan State has fielded a top-10 defense in each of the past three years, but it is replacing six key starters from last year's unit.
"This should give us an early indication of how things can go for us, if our team is tight-knit or if we have loose ends," Calhoun said. "It will be nice to see how they play and see if we match up with them."
The wise guys say it will be difficult, as Michigan State opened as nearly a two-touchdown underdog in the betting lines. That's not much respect for a defending Rose Bowl champ.
"We're used to it," Michigan State quarterback
Connor Cook
said. "We were underdogs last year against Ohio State and against Stanford. So we're used to playing with a chip on our shoulders, and we're not going to let that affect us."
Regardless of the outcome, the game should provide significant national buzz for the Spartans, as well as heavy local interest. Hollis said the school received more than 8,000 requests for its 3,000-ticket allotment to the game. Oregon's return visit to East Lansing on Sept. 12, 2015, will be a scalper's dream.
"For the general fan, it's one of those games that, no matter who you cheer for, this is one you want to watch," Hollis said.
Dantonio will make sure his team doesn't put too much focus on this one game, as Michigan State must first deal with its opener on Aug. 29 against Jacksonville State, not to mention the 10 regular-season contests after Oregon. But it's impossible to ignore the magnitude of what awaits in Week 2.
"It's been in the back of our minds all offseason," Cook said. "If we win, it will be a statement game that can turn a lot of heads, and it could put us on the way to a national championship."
August, 19, 2014
Aug 19
8:00
AM ET
I ain't got a dime but what I got is mine. I ain't rich, but Lord I'm free.
Leading off
For most of the offseason (pretty much since Utah's
Travis Wilson
was cleared for action), we've been working under the assumption that the Pac-12 would have 10 returning starting quarterbacks. Those assumptions were confirmed Monday when Utah coach Kyle Whittingham announced that Wilson held off a late charge from Oklahoma transfer Kendal Thompson.
At the very least, this means Utah has some depth at the quarterback spot – something that has haunted the Utes since joining the conference. And Whittingham told reporters after practice that Thompson has "earned the right to play," meaning we'll probably see him at some point and in assorted situations. Interpret that how you will.
Here are a few links on Wilson:
We'll also be taking a closer look at Wilson later today in
our returning starting quarterback series
(and I would have gone into scramble mode had Thompson been named the starter).
Getting drafty?
Surely it's too soon for a 2015 mock draft, right? After all, the college football season hasn't started. But if
CBS's Dane Brugler is anywhere near accurate
(he himself admits a lot of these are shots in the dark), then the Pac-12 is in for a big season.
His projection has 10 Pac-12 players going in the first round, including five in the top 11. Here's his list:
That would be outstanding for the conference. Here's a chart I've maintained for a few years (just for you, because you're special), and as you can see, 10 players would be a considerable upgrade from what the league has seen over the last 14 years (though 2003 was a pretty good year).
2014 (3): Anthony Barr (UCLA, No. 9 overall); Brandin Cooks (Oregon State, No. 20); Deone Bucannon (Washington State, No. 27);
2013 (5): Dion Jordan (Oregon, No. 3 overall); Star Lotulelei (Utah, No. 14); Kyle Long(Oregon, No. 20); Desmond Trufant (Washington, No. 22), Datone Jones (UCLA, No. 26).
2012 (4): Andrew Luck (Stanford, No. 1); Matt Kalil (USC, No. 4); David DeCastro (Stanford, No. 24 overall); Nick Perry (USC, No. 28).
2011 (3): Jake Locker (Washington, No. 8); Tyron Smith (USC, No. 9); Cameron Jordan (Cal, No. 24)
2010 (2): Tyson Alualu (Cal, No. 10); Jahvid Best (Cal, No. 30)
2009 (4): Mark Sanchez (USC, No. 5); Brian Cushing (USC, No. 15); Alex Mack (Cal, No. 21); Clay Matthews (USC, No. 26)
2008 (6): Sedrick Ellis (USC, No. 7); Keith Rivers (USC, No. 9); Jonathan Stewart(Oregon, No. 13); Sam Baker (USC, No. 21); Antoine Cason (Arizona, No. 27); Lawrence Jackson (USC, No. 28)
2007 (1): Marshawn Lynch (Cal, No. 12)
2006 (4): Reggie Bush (USC, No. 2); Matt Leinart (USC, No. 10); Haloti Ngata (Oregon, No. 12); Marcedes Lewis (UCLA, No. 28)
2005 (3): Mike Williams (USC, No. 10); Aaron Rodgers (Cal, No. 24); Mike Patterson (USC, No. 31)
2004 (3): Reggie Williams (Washington, No. 9); Kenechi Udeze (USC, No. 20); Steven Jackson (Oregon State, No. 24)
2003 (8): Carson Palmer (USC, No. 1); Terrell Suggs (Arizona State, No. 10); Marcus Trufant (Washington State, No. 11); Troy Polamalu (USC, No. 16); Kyle Boller (Cal, No. 19); Kwame Harris (Stanford, No. 26); Nick Barnett (Oregon State, No. 29); Nnamdi Asomugha (Cal, No. 31)
2002 (4, also the first year with 32 picks): Joey Harrington (Oregon, No. 3); Levi Jones (Arizona State, No. 10); Jerramy Stevens (Washington, No. 28); Robert Thomas (UCLA, No. 31)
2001 (4): Andre Carter (Cal, No. 7); Adam Archuleta (Arizona State, No. 20); Freddie Mitchell (UCLA, No. 25); Todd Heap (Arizona State, No. 31)
2000 (4): Deltha O'Neal (Cal, No. 15); Erik Flowers (Arizona State, No. 26); R.Jay Soward (USC, No. 29); Trung Canidate (Arizona, No. 31).
Out of the playoff?
Speaking of early projections, it doesn't look good for the Pac-12 as far as reaching the college football playoff this year,
according to CBS Bracketologist Jerry Palm
, who writes:
In this projection, the Pac-12, which is arguably the second best conference, is excluded. That is based on the thought that the league will beat each other up enough that its champion may be too damaged to get a spot. Obviously, that remains to be seen.
Of course, this story was posted prior to the news that Ohio State quarterback
Braxton Miller
might
miss the season
. This certainly isn't a time for to celebrate injuries -- even if you are a Michigan fan -- because injuries stink. But we can't ignore the fact either that the Pac-12 benefits from a weakened Ohio State team. It's an unfortunate fact. But a fact nonetheless.
Team notes/practice reports
Getting social with media
As far as alternate uniforms go, we've seen worse. And the more I look at ASU's, the more I like them.
Sun Devil Football Unveils New Uniform Option #LeaveNoDoubt http://t.co/UJT9MeJBNS pic.twitter.com/edrM466bUe

— Sun Devil Athletics (@TheSunDevils) August 18, 2014
The San Francisco Chronicle's new Cal beat writer, Mike Vernon, takes us inside the life of a running back for six seconds.
August, 18, 2014
Aug 18
6:00
PM ET
The eyes of the nation have finally turned west, where the cream of the crop in signal callers has risen to the top. The quarterback depth in the Pac-12 is second to none, and everyone is talking about it.
Here's UCLA coach Jim Mora's take: "I have great respect for the quarterbacks in this conference. Many of them will go on to have great [NFL] careers, but to me, I don't think it's even close -- I don't think there is another conference that has near the quality of quarterbacks."
[+] Enlarge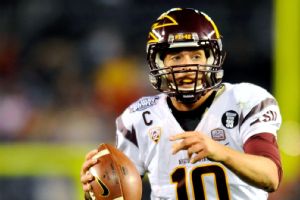 Christopher Hanewinckel/USA TODAY SportsArizona State's Taylor Kelly likes being under the radar in a Pac-12 rich with quarterback talent.
Stanford's David Shaw also weighed in: "[I've] never seen anything like this where you have multiple guys in our conference that you could say could be the No. 1 pick overall in the draft. You have multiple guys in the conference that could be All-Americans and could lead the nation in quarterback rating or lead the nation in yards and yards per attempt in touchdown passes, and that could be any of five or six guys that could do this that this year."
There's only one problem: Players such as Shaw's own
Kevin Hogan
and Arizona State's Taylor Kelly -- two very good quarterbacks -- get lost in the shuffle.
The league has its headliner in Oregon quarterback
Marcus Mariota
. And if he's the main show, then UCLA's Brett Hundley is the opening act. He is, after all, the only other Pac-12 QB who's seriously considered a possible Heisman finalist at this point.
After those two, the conversation tends to tighten up, usually turning to the quarterbacks who are a bit different or doing one thing better than anyone else.
So people bring up Oregon State's Sean Mannion, who will likely take
Matt Barkley
's spot from the top of the Pac-12 career passing board ... midway through the season. They bring up Washington State's Connor Halliday. He's at the center of the Air Raid show and people want to know what it possibly looks like to average 55 pass attempts per game (about 20 more than the league average). Even USC quarterback Cody Kessler gets a little bit of love because of the Steve Sarkisian effect. Trojans fans want to watch that offense and see how it's going to change, and Kessler is at the middle of that moving puzzle.
[+] Enlarge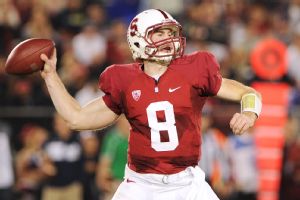 Tommy LaPorte/Icon SportswireStanford's Kevin Hogan, who has an impressive mark against ranked teams, would be among the leaders in passing efficiency in most any conference.
Suddenly, Kelly and Hogan -- statistically, the third- and fourth-best QB's in the Pac-12 in 2013 (based on an adjusted QBR) -- are back to No. 6 and No. 7 in the conversation. And how many actually get that far in the conversation? Few.
As the nation turns to the Pac-12, football fans want to know who's best, who's next best and who's different. So Hogan and Kelly -- outside of their own respective fan bases -- are often forgotten.
If Hogan or Kelly were to be dropped into nearly any other conference, they'd be in that "next-best" conversation -- in the Big Ten behind Ohio State's Braxton Miller, in the ACC behind Heisman winner Jameis Winston of Florida State or in the Big 12 behind Baylor's Bryce Petty (though they'd be in quite the debate against Texas Tech's Davis Webb).
In fact, Kelly would've led the Big Ten in passing yards and passing touchdowns in 2013. In that same conference, Hogan would've been the most efficient passer. Kelly would've been tied for second in the SEC for touchdown passes while Hogan would've been tied for second in the Big 12 in the same category.
Still, on the East Coast or down South, there are no discussions about the fact that Hogan is 10-1 against top-25 opponents, or that he has led his team to two league championships. People don't discuss that Kelly led his team to the Pac-12 South championship last year, or that he'll likely finish his Arizona State career with more passing yards than Jake Plummer.
They don't discuss those things because they're too far down the ladder when it comes to the conversation -- and that's not their own fault.
At Pac-12 media days, Kelly told the Pac-12 Networks that he was OK with the fact that he maybe doesn't get as much credit nationally as he deserves.
"I'm comfortable with it," Kelly said. "I like being under the radar. It makes me work harder. I have a chip on my shoulders to outwork all those great quarterbacks in the country."
Like many of those great quarterbacks across the country, Kelly and Hogan will probably have the chance to play on Sundays. But the question that remains is whether their play on Saturdays this year will finally get people to start talking about these two talented quarterbacks.
August, 18, 2014
Aug 18
5:00
PM ET
[+] Enlarge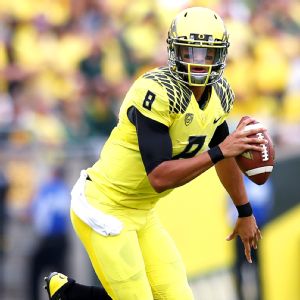 Jonathan Ferrey/Getty ImagesCornerback Ifo Ekpre-Olomu says practicing against Marcus Mariota lets him prepare for all the other experienced Pac-12 quarterbacks.
EUGENE, Ore. -- If the Pac-12 is a quarterback league this season, then it must also be regarded -- at least a bit -- as a league for opportunistic cornerbacks. Given the depth of talent at quarterback, there will be plenty of chances for cornerbacks to make big plays against bigger names.
And that idea is exciting a few
Oregon Ducks
defensive backs.
"I'm ready to play against all the best people," cornerback Dior Mathis said.
And yes, every college football player says that, but not every one actually
gets
to play against the best.
The Pac-12 cornerbacks, however, do.
With 10 returning starting quarterbacks in the Pac-12, cornerbacks are going to be tested by experienced, talented signal-callers.
Last season the Pac-12 passed more frequently than any other Power Five conference. On average, each Pac-12 quarterback attempted 386 passes through the season. That works to be just a bit more than 32 passes per game. Washington State quarterback
Connor Halliday'
s numbers do skew the average a bit. But if even if we exclude Halliday, the average Pac-12 signal-caller still threw about 30 passes.
Compared across the other four power conferences, that's quite the jump. The Big Ten led the rest of the power conferences with each quarterback averaging 309 passes through the season.
That means that per game, Pac-12 defensive backs will get about 11 more chances at a pass than a Big 12 defensive back. It works out to be nine more opportunities than DBs in the SEC and ACC and about six more chances for Big Ten DBs.
But Oregon isn't getting cocky just because there are more opportunities. All-American cornerback
Ifo Ekpre-Olomu
knows that all 10 of those returning starters have gotten better than they were last season when he collected three interceptions and six pass break ups.
"Playing in the Pac-12 you pretty much know you're going to play against some pretty good quarterbacks," Ekpre-Olomu said. "But at the same time, you play against the same guys for three years. Just like they improve, we improve."
But the one advantage that Ekpre-Olomu and Mathis have over other cornerbacks, across the conference and country, is that they face Heisman favorite
Marcus Mariota
every single day in practice.
There might not be better practice for facing a Halliday or Sean Mannion or Taylor Kelly or
Kevin Hogan
, than going against Mariota.
"Going against him every day and seeing how he progresses and seeing his accuracy when he throws to receivers, going against him, it's cool," Mathis said of Mariota. "You get the best quarterback in the country, in my opinion. [We're] going against him every single day. It's doing nothing but making us better."
"Going against Marcus you have to be smart and you have to be on your toes really," Ekpre-Olomu added. "To get a ball thrown at you, especially playing against somebody like that, you have to outsmart the quarterback."
And if Ekpre-Olomu and Mathis can find a way to outsmart Mariota, the Duck defense might be taking a huge step forward when it plays teams with quarterbacks-not-named Mariota.
August, 18, 2014
Aug 18
4:27
PM ET
Got your four teams picked for the inaugural College Football Playoff?
Beware before you turn in your final list, because teams always come out of nowhere. For instance, Auburn, Michigan State and Missouri all finished in the top five of the final polls last season -- and weren't even ranked to start the season.
Conversely, the team starting the season ranked No. 1 in The Associated Press preseason poll hasn't finished higher than No. 7 the past four years.
None of us has a crystal ball, but we do have a road map of sorts -- the games that will shape who gets in and who gets left out this season when the selection committee unveils the first football version of the Final Four.
Here are 10 games to mark on your calendar:
LSU vs. Wisconsin, in Houston, Aug. 30

Right out of the gate, we get a game between two teams just outside the top 10 in the preseason polls who are talented enough to state their case come selection time for the College Football Playoff. And check out Wisconsin's schedule. If Melvin Gordon and the Badgers can get past the Tigers in the opener, the only other nationally ranked team (in the preseason) they face is Nebraska at home on Nov. 15. They avoid both Ohio State and Michigan State in the regular season.
Michigan State at Oregon, Sept. 6
August, 18, 2014
Aug 18
10:00
AM ET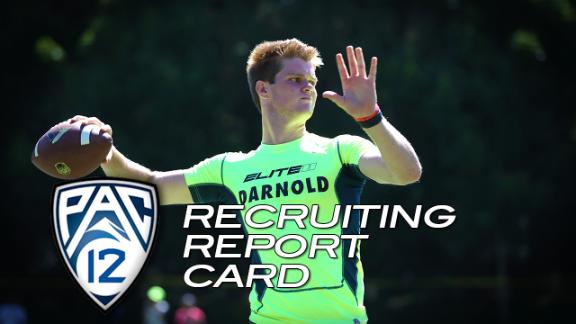 Nearly 90 recruits -- including 10 ESPN 300 prospects -- made commitments to the Pac-12 since the start of June, as the conference recruiting race heated up alongside the weather this summer. Not surpisingly, even with the boon over the past two and a half months, the Pac-12 still lags behind other conferences when it comes to sheer commitment numbers. Many Pac-12 programs have become content to wait until the season, or after the season, to put an emphasis on official visits and commitments. At this point, 35 programs hold commitments from 16 or more recruits, and only one of those -- Arizona -- resides in the Pac-12.
August, 18, 2014
Aug 18
8:00
AM ET
Good morning. You might have noticed a little change in the way we've been doing links the last couple of weeks. Ted gave you a quick
heads up in his mailbag last week
that things would be changing. From here on out, they'll be right there waiting for you when you wake up in the morning.
But on the Pac-12 blog, we're going to add a twist. Moving forward, I'll be manning the links in a column format, tossing in some opinion and analysis of stories the Pac-12 community will be talking about. This is a work in progress,
so tweet at me
with what you'd like to see: quote of the day, tweet of the day, etc. Do you want me to keep the literary and pop culture quotes? Let me know your thoughts.
Without further ado, to the links:
Leading off
The big news over the weekend was obviously
the release of the preseason AP Top 25
. Half of the teams in the league are ranked: Oregon (3), UCLA (7), Stanford (11), USC (15), ASU (19) and Washington (25).
The exact same six
ended last season
ranked: Oregon (9), Stanford (11), UCLA (16), USC (19), ASU (21) and Washington (25).
We all expected Oregon and UCLA to be in the top 10. And with the considerable hype Marcus Mariota and Brett Hundley have received, the Pac-12 blog wouldn't have been shocked if both were top five.
Washington should be pleased to be ranked, considering it lost its starting quarterback, running back and Mackey Award-winning tight end. That ranking is a clear reflection of Chris Petersen's presence, because a Pac-12 team losing that much offensive firepower usually doesn't get the benefit of the doubt with voters.
ASU should feel pretty good about being in the top 20 -- especially after the way
it closed out last season
and the departure of nine starters on defense.
Doug Haller offers
an interesting perspective
on the Sun Devils:
This marks the first time since 2008 that the Sun Devils have made the preseason poll.

Certainly, nothing stinks about that except ... This isn't always a good thing for the Sun Devils. The last six times they made the AP preseason poll -- a stretch dating to 1998 -- they didn't finish in the final AP Top 25 poll.
The Trojans should also feel pretty good about their spot at No. 15. Voters don't appear to be taking a wait-and-see approach to the Steve Sarkisian era. Sounds like a lot of folks are buying in.
And as for the Cardinal, this is just more fodder for head coach David Shaw to play up the nobody-believes-in-us card, which his team often embraces.
Practice reports
Nice/interesting reads
A little fun
The Beavers closed out their scrimmage over the weekend with a little
slip-and-slide action
. Don't see Mike Riley on the tarp. I'm guessing if there was a double-double at the other end, he'd be sliding.
And finally, for everyone who has been to San Bernardino or covered a UCLA camp, we can all relate to Ryan Kartje.
Fall camp in San Bernardino is officially over, and UCLA beat writers rejoice!

— Ryan Kartje (@Ryan_Kartje) August 16, 2014
August, 17, 2014
Aug 17
3:54
PM ET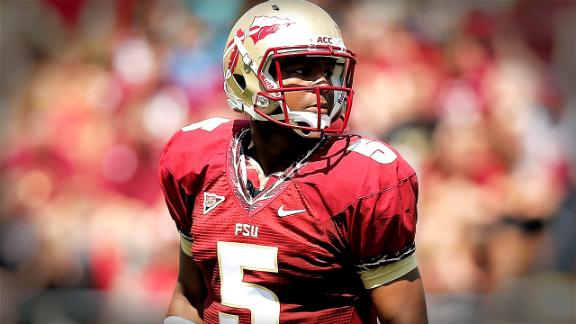 This one's for you, Auburn fan who thinks the national runner-up should be higher than sixth in the
Associated Press preseason poll
, released Sunday afternoon. And it's for you, Ohio State fan, to defend the chronically criticized Big Ten, the only Power Five league without a team in the top four of either the AP or
USA Today coaches'
preseason poll.
Don't worry, Baylor fan, we didn't forget you. If you want to climb to the top of beautiful new McLane Stadium and scream about why your Bears should be higher than No. 10 in both polls, go right ahead. Maybe you can hear the same outcries from fans of No. 19 Arizona State, No. 20 Kansas State or No. 24 Missouri, the defending SEC East champ excluded from the coaches' poll while barely squeaking into the AP.
Speaking of the SEC, no other conference had more teams (eight) in the preseason AP poll. So what's the complaint? There could have been more. Meanwhile, the league that ended the SEC's run of national titles, the ACC, placed just three teams -- No. 1 Florida State, No. 16 Clemson and No. 23 North Carolina -- in the AP rankings. Duke fans, grumble away.
Preseason polls serve a therapeutic purpose. They allow us to vent, to argue, to compare, to exclaim, to protest and, most important, to fill time before the games begin later this month. They are part of the American sports fan experience, and you should enjoy them.
Yet for the first time, the polls will have little to no bearing on shaping college football's national championship race. And that's a great thing too.
If Tom Osborne, Condoleezza Rice and Jeff Long were relentlessly refreshing Twitter at 2 p.m. ET Sunday, the time the AP poll was released, we have a problem. If Oliver Luck, Tyrone Willingham and Archie Manning furiously began calculating the Top 25 breakdown by conference, this might not work out. If Mike Tranghese, Barry Alvarez and Pat Haden immediately noticed how similar the AP and coaches' preseason polls are -- teams ranked 7 to 17 are identical, and only two teams, Missouri and Texas, made just one of the polls -- the playoff selection process could go very wrong.
The 13 members of the College Football Playoff selection committee shouldn't care about these rankings. They shouldn't spend one nanosecond analyzing them. They shouldn't read this or any other media report about what the polls suggest about this team or that conference. Here's hoping they spent Sunday fishing, golfing or anything other than poll watching.
This is about you, not them. So go ahead and wonder if a Wisconsin team with a largely revamped roster is rated way too high -- No. 14 in both polls -- and why Iowa, which loses far less than the Badgers off a vastly improved team, failed to make either preseason poll. Ask which set of voters correctly has the order of "O" teams -- Oregon, Oklahoma and Ohio State. Argue whether teams with new quarterbacks (Alabama, Georgia, LSU, Clemson, Texas A&M) are too high or too low.
Notre Dame's inclusion at No. 17 will set off fireworks, but remember the AP votes took place before Friday's announcement that four starters, including star cornerback
KeiVarae Russell
, have been held out pending an academic investigation into potential misconduct.
There's little debate at the top, as defending champion Florida State, led by reigning Heisman Trophy winner
Jameis Winston
, received 57 of the 60 first-place votes in the AP poll. Alabama, which will have a new quarterback but returns arguably the nation's most talented roster, is solidly in second position. It's very close for No. 3 between Oregon, which could have the nation's best player (
Marcus Mariota
), and Oklahoma, which stunned Alabama in the 2014 Sugar Bowl and eyes the next step.
Although the SEC has three teams among the top nine and five in the top 13, the Pac-12 enters the season projected as the nation's No. 2 conference. The quarterback-stacked league has three teams in the top 11 and five in the top 19.
Few would be shocked if the inaugural playoff reveals a field similar to the top of the preseason rankings. We could see four teams from four conferences, as both polls show, or multiple teams from a league like the SEC or Pac-12. Perhaps a team outside the preseason top 10 rises up, like Georgia, Arizona State or Nebraska. While zero teams from Group of Five conferences appear in the AP poll, don't write off UCF, the reigning Fiesta Bowl champion.
Talking season might be over, but debate season is in full swing, at least until the real season begins. So tell the world what you think of the polls. Just don't expect the committee members to listen.
College Football Minute
PAC-12 SCOREBOARD
Thursday, 8/28
Friday, 8/29
Saturday, 8/30