September, 15, 2014
Sep 15
8:31
PM ET
UCLA and Arizona State learned the hard way just how important a backup quarterback can be over the weekend when both
Brett Hundley
and
Taylor Kelly
went down with injuries.
Here's a quick look at who each school has waiting in the wings:
Arizona: Jesse Scroggins, senior
The Wildcats' depth chart lists Scroggins or
Jerrard Randall
or
Connor Brewer
as the backups to freshman
Anu Solomon
, but Scroggins in the only of the three to attempt a pass this season. He started his career at USC, where he redshirted in 2010 before appearing in one game off the bench in 2011, when he took the final snap of a game against Washington and did not attempt a pass. His only other collegiate action came in 2012 at El Camino College, where he threw for 1,148 yards in eight games.
Career stats:
1 for 2, 9 yards, 0 TD, 0 INT
As a recruit:
Four stars
; No. 2-ranked QB; No. 55 player overall; Class of 2010
Arizona State: Mike Bercovici, junior
There was a time when Bercovici was looked at more favorably than Taylor Kelly, but that perception is not but a faded memory, as Kelly won the job in 2012 and asserted himself as a top QB. Bercovici has a reputation for having a strong arm and a quick release. We'll find out.
Career stats:
14 for 24, 112 yards, 1 TD, 0 INT
As a recruit:
Two stars
; No. 80-ranked QB; No. 142 player in California; Class of 2011
California: Luke Rubenzer, true freshman
Rubenzer, who quickly asserted himself as an important part of the Cal offense, has been one of the surprises of this season. As a change-of-pace running quarterback, the Cal coaching staff determined he was too important to redshirt. He's run for 82 yards on 17 carries and a score. He appears capable as a thrower as well.
Career stats
: 5 of 9, 103 yards, 1 TD, 1 INT
As a recruit
:
Three stars
; No. 43-ranked dual-threat QB; No. 28 player in Arizona; Class of 2014
Colorado: Jordan Gehrke, sophomore
Gehrke remains mostly an unknown after transferring from Scottsdale Community College in Arizona before the 2013 season. While Sefo Lifau is the unquestioned starter, reports out of Boulder indicated that Gehrke did a good job pushing Liufau throughout fall camp. He completing 174 of 366 passes for 2,388 yards and 22 touchdown with 14 interceptions for SCC.
Career stats
: 4 for 8, 35 yards, 0 TD, 0 INT
As a recruit
:
Two stars
; No. 121-ranked QB; no reported offers in high school; Class of 2012
Oregon: Jeff Lockie, sophomore
Lockie split the non-Mariota game reps with
Jake Rodrigues
last season, but it became clear this spring that Lockie was the preferred backup moving forward, which led to Rodrigues' decision to transfer. Lockie wasn't a high-profile recruit, but was the MVP of one of Northern California's most competitive high school leagues during his senior year at Monte Vista High.
Career stats
: 25 for 33, 242 yards, 1 TD, 1 INT
As a recruit
:
Two stars;
No. 105-ranked QB; No. 145 player in California; Class of 2012
Oregon State: Brent VanderVeen, sophomore
VanderVeen emerged from a three-way competition for the backup job, beating out Alabama transfer
Luke Del Rio
in the process. He's the only backup in the conference that has yet to throw a pass in his career.
Career stats
: No pass attempts
As a recruit
:
Two stars
; No. 144-ranked QB; No. 193 player in California; Class of 2012
Stanford: Evan Crower, junior
Before the season began, Stanford coach
David Shaw
spoke candidly about Crower's future, offering the possibility that
Kevin Hogan
's backup could transfer after getting his degree in order to play somewhere else next season. Shaw said Crower is "ready to play," so wouldn't fault him for heading elsewhere. Vanderbilt?
Career stats
: 18 for 28, 236 yards, 2 TD, 0 INT
As a recruit
:
Three stars
; No. 38-ranked QB; No. 58 player in California; Class of 2011
UCLA: Jerry Neuheisel, sophomore
In his first meaningful playing time, Neuheisel stepped up to the challenge, completing 23 of 30 passes for 178 yards and two scores against Texas on Saturday. He's not going to make anyone forget about Brett Hundley, but it was a good enough performance for UCLA fans [and coaches] to feel good about the backup situation.
Career stats
: 34 for 43, 302 yards, 2 TD, 0 INT
As a recruit
:
One star
; No. 156-ranked QB; No. 233 player in California; Class of 2011
USC: Max Browne, freshman
Without question, Browne is the most high-profile No. 2 quarterback in the conference, arriving at USC as one of the most sought-after recruits in the country. He's still green, having only appeared in one game, but if
Cody Kessler
were to go down there would certainly be a lot of interest in how Browne performs.
Career stats
: 3 for 4, 30 yards, 0 TD, 0 INT
As a recruit
:
Four stars
, No. 2-ranked QB; No. 20 player overall; Class of 2013
Utah: Kendal Thompson, junior
Thompson transferred from Oklahoma with hopes to earn the starting job, but
Travis Wilson
held on to it after a competition throughout fall camp. In two games off the bench so far, Thompson has shown to be an effective weapon. He's completed 10 of 17 passes for 156 yards and ran for 78 yards on 15 carries.
Career stats
: 14 for 30, 220 yards, 2 TD, 1 INT
As a recruit
:
Three stars
; No. 22-ranked QB; Class of 2011
Washington: Jeff Lindquist, sophomore
The only backup to start a game in the Pac-12 this year, Lindquist played with mixed results against Hawaii in the season-opener. He has the physical skills to be a good starter, but still needs to develop.
Career stats
: 10 for 26, 162 yards, 1 TD, 0 INT
As a recruit
:
Four stars
; No. 17-ranked QB; No. 3 player in Washington; Class of 2012
Washington State: Luke Falk, freshman
When highly-regarded prospect
Tyler Bruggman
announced he was transferring immediately cast Falk in a different light. Bruggman saw the writing on the wall: Falk had the leg-up in the backup competition and instead of staying and competing, he opted to try his luck elsewhere. Falk arrived at WSU as a recruited walk-on, but was given a scholarship before the season. He threw an 84-yard touchdown on his second career pass attempt on Saturday.
Career stats
: 2 for 2, 86 yards, 1 TD, 0 INT
As a recruit
: Walked on at WSU after originally committing to Cornell;
two stars from Rivals.com
September, 15, 2014
Sep 15
4:13
PM ET
If we get some spoons, we can dig ourselves out of here!
And other interesting notes and quotes from Oregon coach Mark Helfrich's Sunday teleconference following Oregon's
48-14 win
against Wyoming.
On Tyree Robinson, Reggie Daniels and the rest of the young players who are getting major reps: "They're coming along. We had some moments in every phase, not only the DB's but offensively, the young wideouts had a few kind of moments that we need to improve upon in a hurry, where it was a misalignment or a miscommunication. That's what happened on a couple of the third-down conversions, just a simple matter of confirming communication and whether it's the safety to the corner or vice versa, we miscommunicated, missed a couple signals at wideout that would've had huge plays each time. Those are the kind of things that absolutely cannot happen."
Are the young players ready for conference play? "Absolutely. We're to the point now, there's not freshmen and sophomores and juniors and seniors. It's if you're in there, you're our No. 1 guy. Period. And we expect those guys to play like it and play great, if they've been here for three games or three years."
Helfrich gave some props to freshman offensive tackle Tyrell Crosby. Said he did well finishing plays.
Oregon played 67 players on offense and defense versus Wyoming.
Helfrich referred to Washington State's 59-21 win against Portland State as a breakout game that really showed how Cougars QB Connor Halliday is really getting on the same page as his receivers. He said Halliday is putting up "Playstation numbers." Against Portland State, the senior QB completed 41 of 62 passes for six touchdowns (two interceptions) and 544 yards.
On the challenges of entering conference play: "They know you a little bit better, you know them a little bit better. You might know their personnel a little bit more in terms of recruiting and crossover that happens in our conference."
Regarding the number of big plays the Ducks have given up: "When everybody has done their job and fits where they're supposed to fit and takes care of their business, like anything, we've been great. There were some breakdowns [on Saturday], just gap-wise, turned into huge plays. … Part of that is on us as coaches and part of that is execution."
As far as the big plays, according to ESPN Stats & Info, Oregon has given up 51 plays of 10-plus yards, and 15 of those were 20-plus yard plays. Obviously, some of those plays happened when third or fourth string guys were in, but that is still a number to pay attention to. Giving up 51 plays of 10-plus yards through three games is nothing to be proud of. On a national scale, it puts the Ducks at No. 111, tied with Troy and Washington.
On how they get the offensive linemen to be so versatile: "We try to start from the beginning in spring ball, make everyone as versatile as possible, whether that's tackle and guard, right tackle and left tackle. Center is a little more nuanced -- a guy can snap or not, sort of. You can teach that a little bit. But having those guys rotate as much as possible. Hroniss [Grasu] played both guard spots. Everyone in there has played every position except for center, without exception. … Always have the ability to plug in your next-best play, not your next back up."
Grasu has practiced at every position, Helfrich said. Would they move him? "Anything is possible."
Regarding Marcus Mariota's dive and Oregon's guidelines as to reaching the ball for a TD: "It has got to be fourth down or the last play of the game. Secure the ball. We'll take first-and-goal at the 1 or third-and-inches rather than a touchback."
September, 15, 2014
Sep 15
4:00
PM ET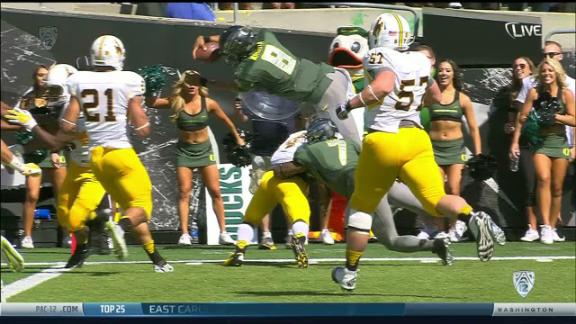 With
52 percent of the vote
, Oregon quarterback
Marcus Mariota
's diving touchdown was named this week's Pac-12 Blog Play of the Week.
It was certainly a play that made more than a few Duck fans nervous as he launched himself headfirst over five players and soared, upside-down, toward the end zone. But, he bounced up and Mariota gave a Heisman-highlight reel play in a game in which those kinds of plays typically don't happen.
As with every week, we're going to reach out to readers to get some of your reactions as well as some reactions from our team of Pac-12 writers.
Kyle Bonagura:
By the time Marcus Mariota gets to New York City for the Heisman Trophy ceremony later this year, most the country will have forgotten Oregon even played Wyoming this season. If that makes you sad for some strange, illogical reason, don't worry because Mariota's
Chip-Kelly-Dive-Into-The-Pool impression
against the Cowboys is a lock to be featured prominently in his Heisman highlight reel.
It was also one of those plays that can play with the collective emotions of a fan base, which I can imagine went something like this:
"Go, go, go ... he's in! ... Wait, is he in? ... Wait, never mind, is he OK? Get up. ... Yeah, he's ok ... Are we sure he got in? ... [watches replay] Oh, he is definitely in, what a play! ... SHOW IT TO ME AGAIN!"
Kevin Gemmell:
The best part about that play was that it didn't have to happen. I get that the Ducks were only ahead 13-7 at the time. But come on, was Oregon really in any danger of losing that game? Of course not. But Mariota doesn't care. He could have stepped out of bounds at the 3.5-yard line instead of going all Evel Knievel. I'll wager dollars to donuts the Ducks would have scored a touchdown one or two plays later. But Mariota was laser focused on delivering a knockout blow. He plays with one speed. And it's pretty fun to watch a guy with no off switch.
Chantel Jennings:
The move itself was a bit McKayla Maroney-esque, launching himself up and over a pile of teammates and players, before twisting, turning and landing on his rear end. The feel in the stadium the entire time was "OMG!" but it swayed from a "Oh my gosh, that's so awesome" to "Oh my gosh, is he OK? IS HE OK? SOMEONE PLEASE TELL ME HE'S OK!" to a "OK, sweet, he's OK, great. Good score. Wooooo." The only thing Maroney did better was the unimpressed face. Now, if someone can get Mariota to do that, that would certainly win the day.
The best of Twitter:
@ESPN_Pac12blog Go, go, go! He's gonna score! He's in...HOLY CRAP, BE CAREFUL, MARIOTA.

— Peter Mertens (@psMertens) September 15, 2014
Dear Marcus, please don't fall on your head.

— Cora (@Cora_Bee) September 13, 2014
@ESPN_Pac12blog the sort of play where Gurley stops polishing his Heisman case, swears under his breath, and goes to hit the weight room

— Ryder Cochrane (@RyderCochrane) September 15, 2014
September, 14, 2014
Sep 14
8:55
PM ET
Nothing has changed with Oregon. The Ducks still are the clear favorite to represent the Pac-12 in the College Football Playoff, but after that, the guessing game continues.
We'll go ahead and project UCLA to the Fiesta Bowl based on the feeling that eventually the Bruins will get things figured out and play like the team many thought they were in the preseason. Right now, there's just not a clear-cut choice behind Oregon. Arizona State, also 3-0, was considered there too, but the uncertainty of QB
Taylor Kelly
's status moving forward is reason for concern.
What to make of USC? A week after stunning Stanford on the road, USC was exposed by Boston College and its big win now looks like an aberration.
As always, take the order with a grain of salt. There haven't been enough games to feel good about these projections.
College Football Playoff:
Oregon
Fiesta Bowl:
UCLA
Valero Alamo Bowl
: Arizona State
National University Holiday Bowl:
Stanford
San Francisco Bowl
: USC
Hyundai Sun Bowl
: Arizona
Royal Purple Las Vegas Bowl
: Utah
Cactus Bowl:
Washington
Heart of Dallas Bowl*
: Oregon State
*-
At large
September, 14, 2014
Sep 14
4:00
PM ET
Every Sunday, we're going to be giving y'all a sample of the best plays of the weekend in the Pac-12.

You get to vote on which you thought was the most impressive and we'll name our Pac-12 Blog Play of the Week.
If you see something you believe deserves to be nominated, tweet at the
Pac-12 Blog here
with the hashtag #PlayOfTheWeek.
We'll bring you the best in Pac-12 action and then it'll be up to you to decide which is the best of the best. We start with Week 3, which had a few surprises across the conference.
But to kick off the Play of the Week, we have two offensive and two defensive plays for you to sift through.
1. Jerry Neuheisel's second TD pass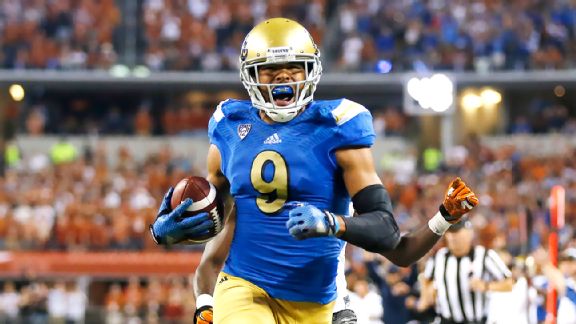 Matthew Emmons/USA TODAY Sports
The redshirt sophomore stepped in for an injured
Brett Hundley
and managed to keep UCLA's playoff hopes alive in hostile territory. He completed 23 of 30 passes for 178 yards and two touchdowns, but none were more important than his final pass of the game -- a 33-yard TD pass to
Jordan Payton
. The score pulled the Bruins in front of Texas 20-17 and would end up being just enough to keep UCLA undefeated. "This kid is everything that's right about college football and about UCLA," UCLA coach Jim Mora said. "I just thought, 'Wow. You couldn't write a better script than this right here.' His dad was a great player here. For him to come to Texas and bringing his team from behind to get a win. It's incredible."
2. Marcus Mariota's Superman dive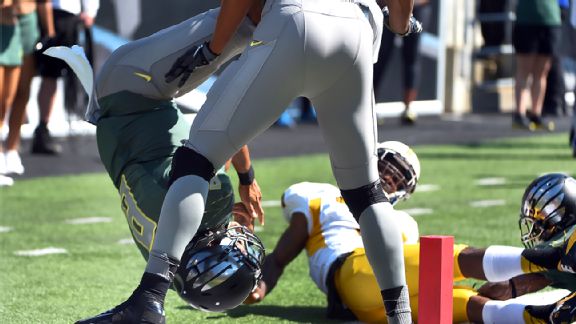 AP Photo/Steve Dykes
On a first down in the second quarter, Mariota escaped the pocket and rushed to the right sideline before taking off from the 4-yard line, flipping over five players and going end-over-end for a TD. (Technically, it was a rushing TD, but we're thinking of it more as a flying TD.) Oregon wide receiver
Keanon Lowe
, who blocked for Mariota on the play, said he expected Mariota to run him over or for the QB to step out of bounds before getting to him. "I hear the crowd go crazy and as I'm blocking I kind of look up and I see him doing a flip outside the back of the end zone," Lowe said. "First thought that goes through my head was: Did he just jump over me? Good thing I'm only 5-foot-9."
3. Shaq Thompson's fumble recovery touchdown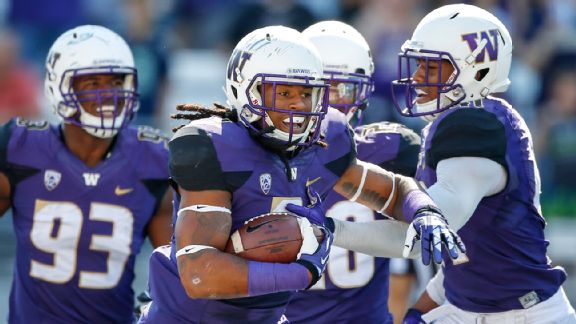 Otto Greule Jr/Getty Images
Shaq Attack (OK, no one calls him that, but let's consider it?) strikes again with a 52-yard fumble recovery for a score. He barely broke stride to grab Illinois quarterback
Wes Lunt
's fumble and then made his way down field to bring the Huskies' lead to 35-5. "I enjoy watching him play," Washington coach Chris Petersen said. "You put him on offense, and he does some good things. He's good on special teams. Then he creates his own offense on defense."
4. Erick Dargan tipped pass leading to his INT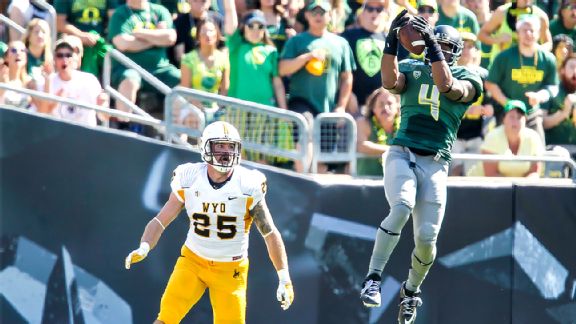 Steve Conner/Icon Sportswire
Dargan picked off two Wyoming passes in the first half of the Ducks' 48-14 blowout. But the second one displayed a ridiculous amount of athleticism and focus. Sandwiched by two Wyoming offensive players, Dargan stepped in, tipped the ball to himself and grabbed it in midair. Mariota, who has been picked off by Dargan quite a few times in Oregon's practices, was pleased to see Dargan picking off another player. "I told him after his second one, 'Hopefully I won't throw you any more in practice, you're getting enough of them,'" Mariota said. "He makes plays like that all the time."
September, 14, 2014
Sep 14
3:01
PM ET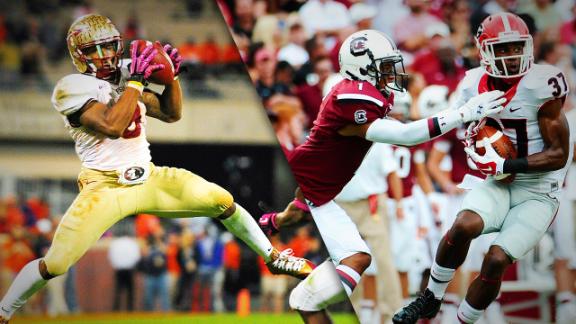 Oregon strengthened its hold on the No. 2 spot in the
fourth AP poll of the season
, but the Pac-12 is without two top-10 teams for the first time this season.
The Ducks picked up an additional first-place vote and are six points closer to top-ranked Florida State (42 behind) compared to last week.
USC took the biggest fall, dropping eight spots to No. 17 following its
37-31 loss
to Boston College and is now one spot behind Stanford, which the Trojans beat on the road last week.
UCLA remains at No. 12 after squeaking out a win against reeling Texas, but was jumped by both Ole Miss and Michigan State. Through three games, UCLA remains undefeated, but none of its wins have done much to impress voters.
Next up for the Bruins is No. 15 Arizona State in Tempe on Sept. 25. The Sun Devils jumped Stanford this week -- largely because USC's loss to Boston College devalued the Cardinal -- after opening conference play with a
38-24 win
against Colorado.
Washington (14) and Arizona (3) also received votes.
September, 14, 2014
Sep 14
2:07
PM ET
Associated Press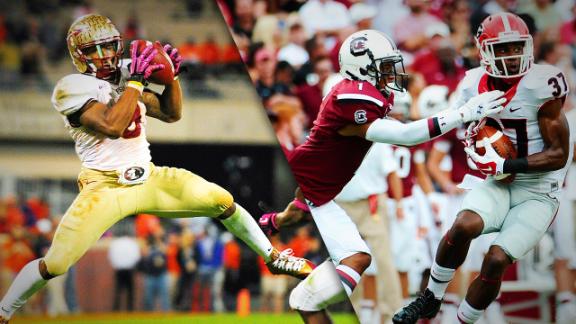 South Carolina's win over Georgia vaulted the Gamecocks 10 spots to No. 14 in The Associated Press college football poll, giving the Southeastern Conference an unprecedented seven teams in the top 15.
The SEC had eight teams ranked in the poll for the third straight week and five teams in the top 10 for two weeks running. Alabama was third behind No. 1 Florida State and No. 2 Oregon, followed by No. 5 Auburn, No. 6 Texas A&M, No. 8 LSU and No. 10 Ole Miss.
Georgia fell to No. 13 after losing to the Gamecocks 38-35, and Missouri was No. 18.
Florida State, which was off, had 37 first-place votes, losing one to the Ducks, who had 17.
September, 14, 2014
Sep 14
2:00
PM ET
September, 14, 2014
Sep 14
9:00
AM ET
Time to tip our cap to those who were the best of the best in Week 3.

Jerry Neuheisel, QB, UCLA:
It was Jerry's World. The redshirt sophomore stepped in for an injured
Brett Hundley
and completed 23 of 30 passes for 178 yards and two touchdowns as he led the Bruins in a come-from-behind
20-17
victory over Texas.
Paul Perkins, RB, UCLA:
Perkins took a bit of the pressure of Neuheisel as he was a weapon in the pass and run game. He had 126 yards on the ground on 24 carries and tallied 69 receiving yards on five catches.
Devon Cajuste, WR, Stanford:
The senior recorded the first three touchdowns of the day for the Cardinal in a
35-0
win over Army. His 13 yards per catch (four receptions, 52 yards) was a game-high.
Marcus Mariota, QB, Oregon:
The junior compiled quite the stat line in just under three quarters of play in the Ducks'
48-14
victory over Wyoming: Two passing touchdowns and 221 passing yards on 19-of-23 passing plus two rushing touchdowns and 71 rushing yards on five carries.
Shaq Thompson, LB, Washington:
Thompson became Washington's first player to record a fumble return score and pick six in the same game since at least 1978. He finished the game with four tackles and three carries for 16 yards in Washington's
44-19
win over Illinois.
D.J. Foster, RB, Arizona State:
The junior recorded his third-straight 100-yard rushing game, as he accounted for 147 yards and one touchdown on 20 carries. Foster also had three receptions for 52 yards and tallied his first receiving touchdown of the season as the Sun Devils defeated Colorado
38-24
.
Nick Wilson, RB, Arizona:
He helped seal the game for Arizona as he rushed for 171 yards on 29 carries. He recorded the first two touchdowns of the game for the Wildcats en route to a
35-28
win, giving Arizona a perfect 3-0 record entering Pac-12 play.
September, 13, 2014
Sep 13
5:50
PM ET
Associated Press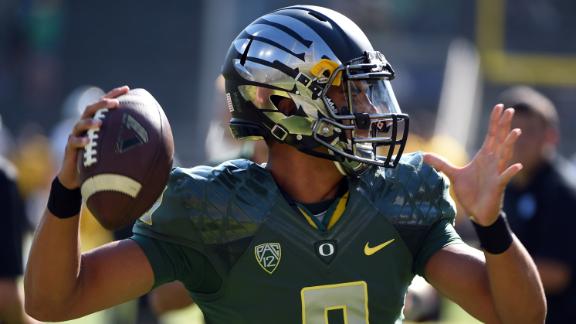 EUGENE, Ore. -- Quarterback Marcus Mariota passed for 221 yards and two touchdowns and ran for two more scores and No. 2 Oregon survived a slow start Saturday to beat Wyoming 48-14.
Oregon (3-0) erased a 7-0 deficit with four second-quarter touchdowns to take command.
Mariota became the fourth Oregon quarterback to pass for more than 7,000 yards. The Ducks junior completed 19 of 23 passes, two for touchdowns. Mariota also rushed five times for 71 yards, including touchdown runs of 15 and 19 yards.
Mariota has thrown a school-record 71 touchdowns, with at least one TD thrown in all 29 games he's appeared in.
SEC Reigns Over AP Rankings