December, 20, 2014
Dec 20
10:00
AM ET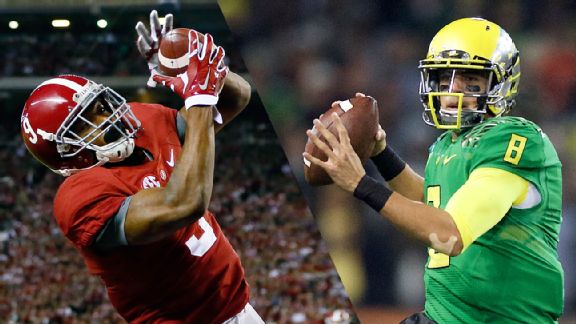 Getty Images, AP PhotoRoughly two-thirds of the coaches in the country believe Amari Cooper and Alabama will meet Marcus Mariota and Oregon in the championship game.
No. 1 Alabama was the overwhelming favorite to win the College Football Playoff in ESPN's weekly poll of the FBS head coaches, #1QFor128.
Also, nearly one-third of the coaches who voted believed the selection committee did not pick the best four teams for the inaugural playoff.
Of the 128 FBS head coaches, 107 participated in the poll, conducted by ESPN's Brett McMurphy.
Alabama was picked by 60 percent of the coaches to win the playoff, followed by No. 2 Oregon (28 percent). No. 3 Florida State and No. 4 Ohio State each received 6 percent of the votes to win the national title.
In the semifinal matchups, Alabama was chosen over Ohio State by a 90-10 percent margin in the Sugar Bowl, while Oregon was selected over Florida State by 73-27 percent margin.
Of the possible title matchups in Arlington, Texas, on Jan. 12, Alabama-Oregon was picked by 67 percent of the coaches, followed by Alabama-Florida State (24 percent), Oregon-Ohio State (5 percent) and Florida State-Ohio State (4 percent).
The coaches who voted believed the selection committee correctly picked the best four teams (69 percent yes, 31 percent no).
The voting among the coaches from the Power 5 and Group of 5 conferences were fairly similar for the most part.
Despite Big 12 co-champion TCU falling from No. 3 to No. 6 in the final ranking, a higher percentage of Power 5 coaches believed the selection committee picked the correct four teams (72 percent yes, 28 percent no) compared to the Group of 5 coaches (67 percent yes, 33 percent no).
The biggest discrepancy was picking the Oregon-Florida State semifinal winner. Only 67 percent of the coaches from the Power 5 conferences (ACC, Big 12, Big Ten, SEC and Pac-12) who voted chose Oregon to beat FSU, compared to 77 percent of the coaches from the Group of 5 conferences (American, Conference USA, Mid-American, Mountain West, Sun Belt).
Another significant difference between the Power 5 and Group of 5 coaches was picking the national champion. Alabama was picked to win by more of the Group of 5 coaches (62 percent) than the Power 5 coaches (58 percent). Oregon had a higher percentage of Power 5 coaches (32 percent) picking the Ducks than the Group of 5 coaches (24 percent).
Also among the Group of 5 coaches, No. 4 Ohio State (8 percent) actually received more votes to win the title than No. 3 Florida State (6 percent). Of the Power 5 coaches, 7 percent picked Ohio State to win the title and 3 percent Florida State.
Vote breakdown
Did the selection committee pick the best four teams?
Yes: 69 percent
No: 31 percent
How the Power 5 coaches voted:
Yes: 72 percent
No: 28 percent
How the Group of 5 coaches voted:
Yes: 67 percent
No: 33 percent
Who will win the College Football Playoff?
Alabama: 60 percent
Oregon: 28 percent
Florida State: 6 percent
Ohio State: 6 percent
How the Power 5 coaches voted:
Alabama: 58 percent
Oregon: 32 percent
Florida State: 7 percent
Ohio State: 3 percent
How the Group of 5 coaches voted:
Alabama: 62 percent
Oregon: 24 percent
Ohio State: 8 percent
Florida State: 6 percent
Who will win the Rose Bowl semifinal?
Oregon: 73 percent
Florida State: 27 percent
How the Power 5 coaches voted:
Oregon: 67 percent
Florida State: 33 percent
How the Group of 5 coaches voted:
Oregon: 77 percent
Florida State: 23 percent
Who will win the Sugar Bowl semifinal?
Alabama: 90 percent
Ohio State: 10 percent
How the Power 5 coaches voted:
Alabama: 91 percent
Ohio State: 9 percent
How the Group of 5 coaches voted:
Alabama: 89 percent
Ohio State: 11 percent
Who will meet in the College Football Playoff final?
Alabama-Oregon: 67 percent
Alabama-Florida State: 24 percent
Oregon-Ohio State: 5 percent
Ohio State-Florida State: 4 percent
December, 19, 2014
Dec 19
6:15
PM ET
Happy Friday. Welcome to the mailbag. Pac-12 bowl season starts Saturday. Yay.
Follow me on Twitter
.
To the notes!
Duckzila from Portland writes:
The Oregon offense typically feasts on teams that are undisciplined on defense. My perception is Florida State is a team that relies on athleticism and freelances quite a bit on the defense side of the ball. Even when they shut down Georgia Tech in the second half of the ACC championship, they were helped out by an inaccurate quarterback missing open plays downfield. To be fair, I definitely suffer from seeing college football through green and yellow shaded glasses, and haven't watched a ton of FSU games this year. I'm curious if you see the FSU defense the same way?
Ted Miller:
No, I don't see Florida State's defense that way.
What I see is a talented unit that was rebuilding after being dominant during 2013's national title campaign, one that was breaking in a new coordinator, one that was then riddled by injuries. I see a defense that is on track to be
as healthy as it has been all season
against Oregon.
I see a defense that is adept at making adjustments. The Seminoles gave up 174 points in the first half this season. They yielded just 125 in the second half. Oregon's underrated defense gave up 141 points in the first half and 151 in the second half. I see a defense that overcame an offense that was stunningly turnover-prone -- the Seminoles' 27 turnovers would have been the highest total in the Pac-12. Oregon had just eight turnovers this season.
Further, and this isn't a terribly original point: Defenses tend to excel after extended pre-bowl preparation. The extra time helps a defense train its eyes, accustom itself to potential misdirection and create a laser-like focus on its keys. Ducks fans saw that when two offensive juggernauts, Auburn and Oregon, played a low-scoring, 22-19 slugfest for the 2010 national championship.
If Oregon's offense wins the battle with FSU's defense, I doubt we will say it's because FSU was undisciplined. I think we'll say it's because the Oregon offense is just really freaking hard to stop.
---
Matt from Washington, D.C. writes:
Ted-According to ESPN, Washington was tied with FSU for the most All-Americans yet won eight games, none against a high-quality team. With the shadow of Dan Hawkins looming large and so much talent leaving this year, what are the reasons for optimism for UW fans moving forward in the Petersen era?
Ted Miller:
It's not unfair to say Chris Petersen's first season was underwhelming, even disappointing. He inherited talent that hinted at 10 wins in the regular season and he won eight. He didn't beat a ranked team and the Huskies struggled against overmatched foes. While he's not one to navel-gaze in front of the media, my guess is Petersen will be as self-critical about himself and his staff as any message board.
So why be optimistic? Well, Petersen went 92-12 at Boise State and won two Fiesta Bowls, a record that far surpasses Dan Hawkins or, really, any coach outside of a Power 5 conference. There's a reason folks so celebrated his hiring. The guy is smart. He's detail-oriented. He has a system. Some of the things that cost the Huskies this year -- such as giving mouthy, me-first cornerback Marcus Peters the boot -- probably will pay off in the long term as Petersen establishes his culture.
Yet Petersen might need to recalibrate some. Playing a Pac-12 schedule is different than playing one or two Power 5 foes a year and trying to earn your big-boy-football bona fides. In the Pac-12, you play a marquee game against Oregon... and then you play a marque game against Arizona State the next weekend.
As much as he's emphasizing "OKGs -- Our Kind of Guys" in recruiting, he's probably going to need a more generous gray area when evaluating prospects, particularly ones who run 4.4-second 40-yard dashes and weigh more than 300 pounds. He also might need to rethink some spots on his coaching staff.
Yes, the Huskies take some huge roster hits heading into 2015, particularly on defense and the offensive line. Eight wins next year probably would be an overachievement. But Petersen wasn't hired for immediate flash. He was hired to return Washington to long-term glory. Those are two different processes, and the latter often includes worse short-term growing pains.
---
Ramon from Chatsworth, California, writes:
The Pac-12 South was an extremely tough division this season. The toughest, if you ask me. With the way the season ended for TCU and Baylor, which Pac-12 south team has the highest chances of being affected, positively and negatively, by their out-of-conference schedule in 2015?
Ted Miller:
Arizona State, UCLA, USC and Utah will be in good shape if the College Football Playoff committee is reviewing their nonconference schedules. Arizona and Colorado will not be.
Here are the schedules.
Arizona: UTSA, at Nevada, Northern Arizona
Arizona State: Texas A&M (Houston), Cal Poly, New Mexico
Colorado: at Hawaii, UMass, Colorado State (Denver), Nicholls State
UCLA: Virginia, at UNLV, BYU
USC: Arkansas State, Idaho, at Notre Dame
Utah: Michigan, Utah State, at Fresno State
Obviously, the Buffaloes are aiming for bowl eligibility, not a berth in the CFP, and have scheduled accordingly. Arizona is another matter, as the Wildcats' nonconference schedule is Baylor-esque and would be viewed dimly by the committee.
Of course, the Wildcats didn't envision they would be in the hunt this season, at least from the past scheduling perspective of athletic director Greg Byrne. If the Wildcats again surge in 2015, their nonconference schedule will be a problem, unless they emerge from the Pac-12 unbeaten.
December, 19, 2014
Dec 19
3:00
PM ET
Has this been the greatest season in Pac-12 history? The jury is still out on that front, as bowl games remain to be played, and Oregon is tasked with carrying the conference flag into a playoff battle with the nation's big boys. But after a captivating regular season, the conference is undoubtedly in strong position entering this final foray.
The 2014 ride -- typically unpredictable, frequently stunning, always entertaining -- has been bathed in a downright surreal aura throughout (see #Pac12AfterDark). We want to commemorate the Paction, so we've assembled a list of the top 15 moments that defined this bizarre Pac-12 campaign while making an impact on its eccentric, memorable course.
Here is the final installment, featuring our three top plays from the 2014 Pac-12 season:
3. The play of polar opposites: Kaelin Clay fumble; Joe Walker TD return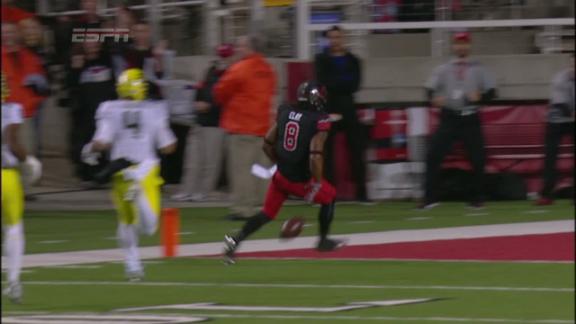 This has to be the ultimate "what if?" play of the Pac-12 season, and that is saying something. Yes, Oregon might have won anyway without Utah wide receiver Kaelin Clay's help in early November, but the journey to do so would have been exponentially more difficult. And a Utes' win would have drastically changed the complexion of the Pac-12 South title race and the inaugural College Football Playoff.
Early in the second quarter, Clay hauled in a deep post from
Travis Wilson
and sprinted toward paydirt. A jubilant Rice-Eccles Stadium shook celebrating what initially looked to be a 79-yard touchdown catch that would have positioned Utah for a 14-0 lead.
But one not-so-minor detail stood in the way of that.
As part of his scoring celebration, Clay had dropped the football -- and he accidentally did so before he had crossed the goal line. So as Utah players were celebrating what they thought to be a touchdown, Oregon defenders were scrambling to recover a fumble. Linebacker Joe Walker eventually secured the ball and ran 99 yards in the opposite direction, scoring to tie the game while creating a signature #Pac12AfterDark moment of mass confusion.
This broke the mayhem gauge: There was a point in time when Utah and Oregon were both simultaneously celebrating 100 yards apart in opposite end zones.
Only the Ducks' party lasted. Instead of trailing 14-0 in the teeth of a ferocious defense playing in front of its electric Salt Lake City crowd, Oregon was suddenly even with the Utes. Walker had sprinted 180 yards on one play -- 80 from the line of scrimmage to pick up the fumble at the goal line, and 100 more to score the other way -- but he was the energized one after the play, while Utah was deflated. The Ducks went on to win 51-27, and the rest was history.
2. The Jael Mary
Before the night of October 4, 2014, we were still oh, so naive. We thought that there was no way a successful Hail Mary could decide a game at the gun more than once per decade. We thought a nine-point lead with three minutes remaining at home against a backup quarterback was ... relatively safe?
But then October 4 happened, and nothing was the same. The practice of expecting conventional finishes in this conference died in the Los Angeles Coliseum on that night. Arizona State and USC played a game which saw Pac-12 end-of-game eccentricity go from being a rare spectacle to a regular occurrence.
Javorius Allen
's 53-yard touchdown run gave USC a 34-25 lead with 3:02 remaining and Troy celebrated, unaware that ASU quarterback
Mike Bercovici
was about to rack up 145 yards over his next three completions. The first was a 73-yard touchdown strike to
Cameron Smith
. That made this a two-point game with 2:43 remaining.
But the Trojans recovered the ensuring onside kick, and ASU didn't have any timeouts left. So nothing to sweat for Steve Sarkisian, right?
Well, nothing except for the ultimate rip-your-heart-out finish. After a USC three-and-out, ASU took over at its own 28 with 23 seconds remaining. A 26-yard pass to Smith positioned the Sun Devils for a final gasp as time expired.
Jaelen Strong
plucked Bercovici's Hail Mary heave out of the air and hopped into the end zone, sending the Coliseum into shocked silence, leaving the hometown fans wondering why USC hadn't seemed interested in covering one of the country's best receivers?
As is the case with so many #Pac12AfterDark questions, there is no satisfying answer. There is only a legendary result, and this one is immortalized as the Jael Mary. Arizona State 38, USC 34.
1. The Hill Mary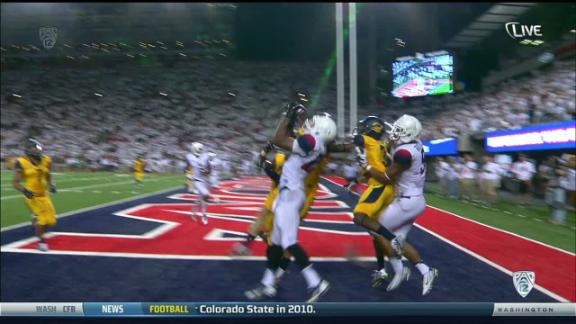 The Jael Mary has an ancestor, and it also Hails (pun intended) from the state of Arizona. Two weeks before the Sun Devils snatched victory from the jaws of defeat in Los Angeles, Arizona did the same thing against California. The difference: The Wildcats put on their show at home, sending a stadium into delirium, and they did it first. Arizona's last-second heroics also were a determinant in their Pac-12 South championship and Cal's failure to make a bowl game, so they beat out their Tempe rivals on this list.
The climactic play of this game was only the final piece of an absolutely sensational Wildcats' rally. Cal led 31-13 entering the fourth quarter, and it's not as if the Golden Bears suddenly stopped scoring to blow their lead: Sonny Dykes' club actually registered two insurance touchdowns in the quarter. But this insurance policy wasn't big enough to withstand a 36-point Arizona fourth quarter.
The Wildcats scored, and they scored furiously fast. A
Casey Skowron
field goal. A
Tra'Mayne Bondurant
interception followed by an
Austin Hill
touchdown. A
Cayleb Jones
touchdown. A
Terrence Jones
-Grigsby touchdown. An onside kick recovery. Another Jones touchdown.
Even after that flurry, Arizona still trailed 45-43. It failed a two-point conversion that could have tied the game with 2:44 remaining. Cal regained possession with a chance to seal the game, but the Wildcats kept kicking.
With under a minute left, Dykes elected to try a 47-yard field goal, but this turned out to be an ill-fated decision.
James Langford
missed, and Arizona got one final chance with 52 seconds left. Facing a fourth-and-7 from his own 33, quarterback
Anu Solomon
found Hill for a 20-yard gain that moved the ball to the Bears' 47. He then spiked the ball with only a precious few ticks remaining, setting up our No. 1 moment of truth.
To signal in the obvious play call, Rich Rodriguez and his fellow coaches clasped their hands together in "Hail Mary" prayer fashion.
Cal only rushed three, and Solomon's 73rd and final pass of the night was also its most majestic, a soaring 50-plus yard lob that might have brought down rain had the game not been played in the cloudless desert.
"Halfway, and then three-quarters of way [into the throw's flight], I knew the ball was coming to me," Hill said. "I was just hoping no one bumped into me, or hit my elbow, or jumped on top of me so I could secure the catch."
Mission accomplished.
Hill Mary immortalized
. Arizona 49, Cal 45.
"Don't ever go home early," a beaming Rodriguez told a TV camera afterward.
Nope, don't do that. Not in this age of Pac-12 football.
Other impact plays
December, 19, 2014
Dec 19
1:00
PM ET
Rose Bowl Game Presented By Northwestern Mutual:
No. 3 Florida State (13-0) vs. No. 2 Oregon (12-1)
Jan. 1, 5 p.m. ET, Rose Bowl, Pasadena, California (ESPN)
Key matchup:
Oregon RB
Royce Freeman
vs. Florida State RB
Dalvin Cook
Why it matters:
The battle between the two most recent Heisman Trophy winners will generate the most headlines, but one of the defining factors of this game will be which freshman running back has a better afternoon. Both first-year players are hitting their stride at the perfect time; it's imperative for teams to run the football well late in the season. Freeman has toppled the 100-yard mark in six of his last eight games, and he ran for 98 and 99 in those other two performances. Cook has ran for 321 yards over his last two games and was named the MVP of the ACC championship game for his 31-carry, 177-yard effort. Adding to the intrigue of this matchup is the difference in running styles. Freeman tips the scales at 229 pounds and sends would-be tacklers tumbling backward. Cook runs through tackles, too, but he also embarrasses defenders with his nifty footwork.
Who wins:
The winner of this matchup could determine the winner of the game. It would not be a shock to see both teams light up the scoreboard in the first half, but eventually the running games will need to take control for Oregon or Florida State to win. Florida State (60th nationally) and Oregon (50th) are essentially equally average against the run, so it's not as if one running back will have a significantly easier afternoon against a porous defense. What could help Freeman is the running threat of
Marcus Mariota
on option plays. The Ducks will look to put pressure on the Seminoles' defensive line with the read option, forcing it to make a decision to take away either Marcus Mariota or Freeman. IF the unit makes the wrong decision it could lead to big gains for the Ducks. Freeman will have a productive day and cross the 100-yard threshold in a 35-34 Oregon win.
December, 19, 2014
Dec 19
9:00
AM ET
By
ESPN.com staff
| ESPN.com
Royal Purple Las Vegas Bowl
Why Utah wins: This has tended to be a letdown game for Pac-12 teams in recent years -- the league has lost four of the past five games in the Las Vegas Bowl. But Utah won't be lacking for motivation after returning to the postseason after a two-year absence and Colorado State, despite its strong season, will be a little deflated following Jim McElwain's departure for Florida. -- Chantel Jennings
Why Colorado State wins: Yes, the Rams lost their coach to Florida, but they're still running on the energy of a 10-2 season and a prolific offense. Receiver Rashard Higgins leads the nation with 17 touchdown catches and Utah is not playing its best ball of the season. I think that's the difference-maker here. -- David Lombardi
Hyundai Sun Bowl
Why Arizona State wins: Good quarterback. Good running back. Outstanding wide receiver and a defense that gets after it on the blitz more than any team in the country. The "attacking-hybrid" defense will leave the other Devils feeling blue. -- Kevin Gemmell
National University Holiday Bowl
Why Nebraska wins: It would be a fitting start to Mike Riley's tenure at Nebraska, wouldn't it? Although the former Oregon State coach won't be guiding his new team from the sideline, expect the Cornhuskers to make an impression with a victory over a Pac-12 foe. -- Chantel Jennings
Why USC wins: USC is a more talented, athletic team than Nebraska and would win this game without extenuating circumstances, but the acrimonious departure of Bo Pelini figures to leave some Cornhuskers indifferently motivated. Further, the Trojans, whose biggest issue is depth, almost certainly benefited more from a few weeks of off-time to heal various bumps and bruises. -- Ted Miller
Foster Farms Bowl
Why Stanford wins: Defense didn't win a championship for the Cardinal. But it can win a bowl game against a Maryland team that averages fewer than 30 points per game and only averages 130.4 yards per game on the ground. -- Kevin Gemmell
VIZIO Fiesta Bowl
Why Boise State wins: It's the Fiesta Bowl. The Broncos don't lose these games. In all seriousness, though, Boise State has ripped off eight straight wins. They're peaking right now, and Arizona had some wind taken of their sails against Oregon. -- David Lombardi
Why Arizona wins: It's a statement game for Arizona -- and the Pac-12 -- so don't expect the Wildcats to take their opponent lightly. It's been too fine a season for Arizona to end with a blowout loss to Oregon and a defeat at the hands of Boise State. Expect to see some fireworks from the Wildcats' young playmakers on offense as well as trophy-laden linebacker Scooby Wright. -- Chantel Jennings
Rose Bowl Game Presented by Northwestern Mutual
Why Oregon wins: Forget the Heisman versus Heisman storyline. The Ducks take care of the football, plain and simple. Florida State has danced with defeat several times, but other teams have let them off the hook. If they Ducks can force turnovers, they are one of the best teams in the country at making opponents pay. -- Kevin Gemmell
Why Florida State wins: Florida State is getting healthy during the break before this game, while Oregon lost All-American cornerback Ifo Ekpre-Olomu to a knee injury. That's a big problem when a team is preparing for Seminoles wide receiver Rashad Greene and quarterback Jameis Winston. Yet it's Oregon's greatest strength and Florida State's seeming weakness that will be the difference. The Ducks pretty much dominated every game they won this year. Florida State pretty much didn't dominate anyone, playing down to foes for three-plus quarters and making their fans squirm in the waning moments. That mental toughness in the fourth quarter will pay off in this one because Oregon won't dominate the Seminoles, and a tight final frame is when Florida State thrives. -- Ted Miller
Valero Alamo Bowl
Why Kansas State wins: This one starts with motivation, and we're betting Kansas State has more. UCLA started out in the preseason top 10 and envisioned itself winning the Pac-12 and playing in the College Football Playoff. It's not unreasonable to suspect the surprising and dispiriting blowout loss to Stanford during the final weekend of the season, which gave Arizona the Pac-12's South Division crown, will come with an extended hangover. While both offenses have good quarterbacks and explosive playmakers, the Wildcats have been more consistent on defense this year. That will be the difference. -- Ted Miller
Why UCLA wins: I'm taking the opposite side of the argument when it comes to motivation. Bowl games are all about motivation, yes, and the Bruins, with a chip on their shoulder, have a chance to end the season on a high note. Brett Hundley's finger is healthy and when he's at his best, there aren't many teams in the country that can stop him. Plus the Bruins are underdogs. That's a role they haven't played much this year, but seem to relish. -- Kevin Gemmell
TicketCity Cactus Bowl
Why Washington wins: The Huskies began to develop a semblance of offensive consistency toward the end of the season, and that makes them a capable all-around team. That certainly should be enough to beat a 6-6 Oklahoma State team that is nothing spectacular this season. -- David Lombardi
December, 19, 2014
Dec 19
8:00
AM ET
Happy Friday!
Leading off
All week we've been bringing you the All-America honors as they rolled in.
In total, 14 Pac-12 players were named to a first-team All-America squad. Of those 14,
Marcus Mariota
, Scooby Wright and
Hau'oli Kikaha
were unanimous selections. Two other players --
Tom Hackett
and
Ifo Ekpre-Olomu
-- were consensus selections appearing on at least three of the five recognized teams.
This is the eighth straight year the Pac-12 has had a unanimous selection and the first time since 2005 it's had three in one year (Reggie Bush, Dwayne Jarrett, Maurice Drew). The five recognized teams are the American Football Coaches Association, the Associated Press, the Football Writers Association of America, The Sporting News and the Walter Camp Football Foundation.
Here's the final tally among the big five:
Offense
QB, Marcus Mariota, Oregon, Jr., AFCA-AP-FWAA-SN-WC (unanimous)
OL, Jake Fisher, Oregon, Sr., FWAA
OL, Hroniss Grasu, Oregon, Sr., SN
OL, Andrus Peat, Stanford, Jr., SN
AP, Shaq Thompson, Washington, Jr., AP
Defense
DL, Nate Orchard, Utah, Sr., FWAA-WC
DL, Danny Shelton, Washington, Jr., AP-SN
DL, Leonard Williams, USC, Jr., AFCA
LB, Eric Kendricks, UCLA, Sr., SN
LB, Hau'oli Kikaha, Washington, Sr., AFCA-AP-FWAA-SN-WC (unanimous)
LB, Scooby Wright III, Arizona, So., AFCA-AP-FWAA-SN-WC (unanimous)
DB, Ifo Ekpre-Olomu, Oregon, Sr., AFCA-AP-WC (consensus)
P, Tom Hackett, Utah, Jr., AFCA-AP-FWAA-WC (consensus)
PR, Kaelin Clay, Utah, Sr., SN
Game of the year?
Just before the start of bowl season, the folks at Athlon Sports wanted to look back at the chaos that was the 2014 Pac-12 regular season. We've been running our pivotal plays series all week, so be sure to check that out. But Athlon looked at
the top 15 games of the season
. Here's their top five.
Oct 2: Arizona 31, Oregon 24
Oct. 4: Arizona State 38, USC 34
Sept. 6: Oregon 46, Michigan State 27
Oct. 25: Utah 24, USC 21
Oct. 4: Utah 30, UCLA 28
You'll note that three of their five are from Week 6. We noted last week in our Roadtrip Revisited post that every game that week was unbelievable. If you click the link, they actually rate 30 games. Fairly surprised the Cal-WSU game (also in Week 6) didn't make the top 10. To each their own.
News/notes/team reports
Just for fun
Really great read from our friend Max Olson on the Big 12 blog about the recruitment of linebacker Malik Jefferson.
Some interesting UCLA notes in there.
December, 18, 2014
Dec 18
10:00
PM ET
1. Two things regarding
Bo Pelini's recorded tirade
against Nebraska athletic director Shawn Eichorst published this week by the Omaha World-Herald. 1) Is anyone surprised? It's not as if this is out of character. That's who Pelini has been when he isn't wearing his public face -- and sometimes when he is. 2) I don't think it hurts his career in the long run. He won't get tagged as a guy who can't work with anyone, because he will be fine in his next job. Pelini respects Youngstown State president Jim Tressel, and I bet Pelini will try very hard not to embarrass Tressel or make him regret this show of faith.
2. Oregon corner
Ifo Ekpre-Olomu
suffered a serious knee injury this week that knocked him out of the playoffs and likely all workouts leading to the 2015 NFL Draft. In case he's wondering why he returned for this season instead of turning pro, let his own words remind him why he stayed at Oregon. Here's what he told me in April: "You always think about the what-ifs….Where I am now is the best place I can be at this moment in my life…I still wanted to be a college student and still experience this last year of college that you probably won't have a chance to ever do again."
3. All 10 Big Ten bowl teams are underdogs, but before you mock the league, remember a couple of things. Only two league teams play a bowl in the Big Ten footprint, and I'm just not sure one of them, Rutgers, will have a home-field advantage in the Quick Lane Bowl in Detroit. Most of the others have road games: Maryland versus Stanford in the Foster Farms Bowl, Nebraska versus USC in the Qualcomm Holiday Bowl; Michigan State versus Baylor in the Goodyear Cotton Bowl Classic; and, of course, Ohio State versus Alabama in the Allstate Sugar Bowl. Bowls are not tailor-made for Big Ten teams, but we love them all the same, right?
December, 18, 2014
Dec 18
6:00
PM ET
Welcome to the mailbag, where the holiday cheer never stops.
Tyler in Palo Alto writes:
When do the bowl predictions come out? Any upsets on the horizon?
Kevin Gemmell:
The Pac-12 blog will reveal its bowl game predictions with a 90-minute extravaganza show airing on The Ocho on Friday morning. Ted will spend 45 minutes screaming incoherently about Pitt while
Chantel holds her FauxPelini
face the entire time. Kyle, David and I will discuss the
Marcus Mariota
vs.
Jameis Winston
storyline for about a minute, followed by another 40 minutes on Johnny Manziel and the SEC dominance. We'll close with a roundtable discussion rehashing the Ka'Deem Carey vs. Bishop Sankey debate and why Desmond Trufant
wasn't on the 2012 postseason Top 25
list. It's going to be a blast.
But in all seriousness, the picks come out Friday morning. No problem telling you I'm going full-blown homer. Of course, the league won't go 8-0. That would be too much to expect. The conference is favored in seven of its eight games, with UCLA the only underdog right now. So if you're going with my picks, then I'm picking the Bruins in an "upset" win.
Someone will slip up. They always do. But on paper, I think the league has a chance to sweep. They say bowl games are about motivation. I see strong motivation for all eight teams in the league.
---
Mark in Portland writes:
If Mariota leads the Ducks to their first ever championship, will he be considered one of the greatest CFB players ever? His stats are up there with the best ever, and he is the first player ever to throw for 30 TD's or more in his freshmen, sophomore and junior seasons. And winning the first ever CFB playoff would be huge and be remembered decades from now.
Kevin Gemmell:
I think winning the Heisman automatically puts you in the conversation of one of the greatest college football players ever, doesn't it? By default, you're already considered the best player in the game for that year.
But in terms of legacy, Mariota has certainly done some special things that make him part of the discussion. As you note, winning the first ever national championship of the playoff era would resonate. Being the first-ever Oregon player to win the Heisman and the first from the region since Oregon State's Terry Baker in 1962 will also stick with folks -- at least on the West Coast.
But even without a national championship, I think what he will best be remembered for are his ball-security numbers. That he has accounted for 53 touchdowns while turning it over just five times is remarkable. Right now, his personal TD-to-turnover margin is plus-48. Only Tim Tebow in 2007 had a better one in the past decade. And chances are Mariota will break that record, too, if he takes care of the ball in the next (two?) game(s).
You also have to look at the fact that of his 372 passes this season, only two have been intercepted. If that percentage holds, it will break the single-season FBS record of quarterbacks with a minimum of 350 attempts.
I think with the numbers and the Heisman, he's already worked his way into the discussion. Adding a national championship (assuming he has a pair of monster games) would, in my mind, solidify him in the top dozen or so. Time will have to do the rest of the work.
---
Shonti in Miami writes:
Realistically, how does Oregon match up with Florida State in the Rose Bowl? FSU fans seem to be really confident, and although they played many very close games this year, the team has a lot of talent. I'm concerned Oregon's offense could struggle against FSU's athletic defensive line and big defensive backs.
Kevin Gemmell:
Much has been written this season about Oregon improving its size across the line. And I think the Ducks use the tempo to their advantage.
Keep in mind, too, that the Ducks have a big back in
Royce Freeman
who can pound when necessary, but he also has the speed and athleticism to hit the corners. My guess is Oregon's pace will counter-balance any size issues. Besides, it's not like Oregon hasn't seen big or athletic defensive lines this season (Stanford, Washington, Utah etc...).
Also,
I wrote this week
about Oregon's success at turning turnovers into points. I think that is going to be a huge factor, since Florida State turns the ball over quite a bit.
Turnovers are one thing. But if you don't do anything with them and end up punting the ball back, they aren't much good. Oregon has been especially good at making their turnovers count. That they have scored 120 points off turnovers ... nearly 20 percent of their total points ... is huge.
If both teams stick to their trends -- FSU not taking care of the ball and Oregon capitalizing on turnovers -- I think the Ducks match up very well.
However, the news that broke yesterday that
Ifo Ekpre-Olomu
is
out with a knee injury
isn't what you want to hear heading into the postseason. He's got two interceptions and nine breakups this season, and he will certainly be missed. But I think Oregon's secondary is seasoned enough now that it will be able to marginally compensate. I don't think it's a game-changing loss, but it's certainly noteworthy.
December, 18, 2014
Dec 18
3:00
PM ET
Has this been the greatest season in Pac-12 history? The jury is still out on that front, as bowl games remain to be played, and Oregon is tasked with carrying the conference flag into a playoff battle with the nation's big boys. But after a captivating regular season, the conference is undoubtedly in strong position entering this final foray.
The 2014 ride -- typically unpredictable, frequently stunning, always entertaining -- has been bathed in a downright surreal aura throughout (see #Pac12AfterDark). We want to commemorate the Paction, so we've assembled a list of the top 15 moments that defined this bizarre Pac-12 campaign while making an impact on its eccentric, memorable course.
We'll be counting down in increments of three throughout this week. Here's the third installment:
6. Cal's stand against Colorado in double overtime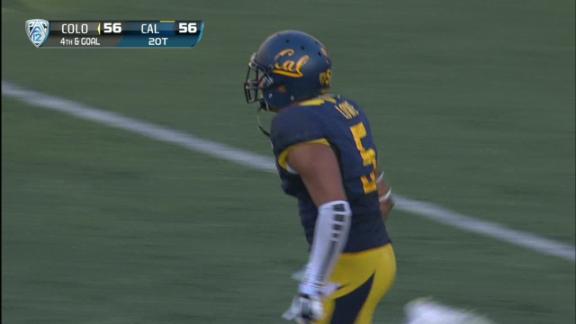 It was one of those "never-say-die" games when it came to Cal and Colorado earlier this year.
Jared Goff
and
Sefo Liufau
threw for seven touchdowns each. EACH. How many conferences even have seven touchdown passes in one game? There were 1,200-plus yards, which is either incredibly impressive or unimpressive, depending on whether you're a fan of offense or defense.
But regardless, this game clearly wasn't going to be decided in regulation, so, we got some free football.
Cal struck first in the first OT. After the Colorado defense had come up with two stops for no gain on first and second down, Goff found
Bryce Treggs
for a 25-yard TD. Liufau responded by finding
Nelson Spruce
on the Buffs' first down, pulling Colorado even. But then the Buffs kind of stalled. They were able to get two first downs to start the second OT, but when the game was on the line and Colorado was -- almost literally -- on the goal line, the Cal defense came up with its biggest stop of the year. Liufau was tackled on fourth-and-goal for a loss of three yards by
Jalen Jefferson
and
Michael Lowe
.
Cal kicked a field goal to win. It was Cal's first conference win of the year and the Bears' first since Oct. 13, 2012. Though the Bears only went on to win two more games and fell short of becoming bowl-eligible, it was a good statement moment and statement win for a team that's clearly on the rise.
5. Marcus Mariota flip vs. Michigan State
Earlier last week, Pac-12 Blog readers voted this play as
Mariota's "Heisman Moment,"
which was pretty telling about a few different things. First of all, it's not a scoring play. In fact, for Mariota's standards, it was pretty darn near basic. There are no flips, no spins, no hurdles, no nothing. It's Mariota getting out of the pocket, making things happen and then getting the ball -- at the perfect time -- to someone else who can make more things happen.
Essentially, your typical Mariota.
The play came when the Ducks needed it most. The Spartans had scored 20 unanswered points and Oregon trailed 27-18 in the third quarter on Sept. 6. The Ducks faced a third-and-long following a sack, and everyone knew that MSU defensive coordinator Pat Narduzzi was going to bring pressure again, and he did. But Mariota was able to avoid sack attempts from
Darien Harris
,
Riley Bullough
and
Ed Davis
before making his way toward his left and sending a shovel pass in the direction of
Royce Freeman
.
Freeman picked up the first down and more (17 yards) and the Ducks were able to score on that drive, pulling within two of the Spartans, before cruising through the fourth quarter and winning 46-27.
4. The fumble heard round the Pac-12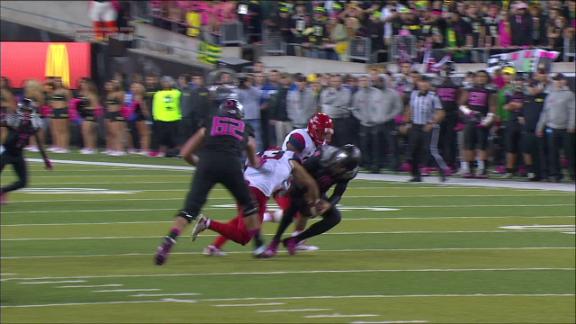 And we move from one of Mariota's best plays to one of his worst, thanks to eventual Bronko Nagurski Trophy winner
Scooby Wright
.
With the No. 2 Ducks trailing by seven at home to unranked Arizona with just over two minutes remaining in the game, Mariota took the snap on a first-and-10 at the 35-yard line. Oregon needed to score on this drive in order to keep itself alive on Oct. 2, but then the unthinkable happened.
Wright seemingly came out of nowhere, stripped Mariota and recovered the fumble.
The play was one of a handful that really sealed the upset victory for the Wildcats. It was the Ducks' only blemish on their schedule and it certainly created some questions for the playoff committee (at least at that point in the season) regarding Oregon. As the conference season played on and the Wildcats earned more respect, and eventually a spot in the Pac-12 game, the loss became less questionable, though a loss nonetheless.
Mariota and Oregon were able to avenge the fumble in the Pac-12 championship game, but it certainly was one of those very, very rare moments this season in which the unflappable and unstoppable Mariota looked human.
Other impact plays:
December, 18, 2014
Dec 18
2:00
PM ET
Bowl season for Pac-12 contenders begins this Saturday with Utah's clash against Colorado State. How much does each conference team have to prove during this postseason opportunity? Here's our list.
1. Oregon
Every year, one of the big questions out West revolves around the Ducks' chances of finally grabbing that national championship. Oregon boasts Superman this year, and it's almost certainly
Marcus Mariota
's last campaign in Eugene. Though their defense suffered a major blow with the loss of
Ifo Ekpre-Olomu
, the Ducks have their man under center. They can't take this chance to win it all for granted: A playoff appearance is a golden opportunity for this powerful Oregon program to prove that it can finally bring home college football's ultimate hardware. Florida State, the defending champs, await in the Rose Bowl Game Presented By Northwestern Mutual.
2. UCLA
This, likely
Brett Hundley
's final season in Westwood, was supposed to be year the Bruins surged from "good" to "elite." But they slipped too often, and the timing of their last fall -- a 31-10 finale loss at the hands of Stanford -- couldn't have been worse. Now, the narrative has shifted back to the old "they can't win the big one" theme, and that's the exact perception UCLA wanted to avoid. They have a chance to make a cleansing statement versus a good Kansas State squad, also 9-3, in the Valero Alamo Bowl.
3. Utah
The season started magically for the Utes -- aside from that 28-27 road bump at home against Washington State, of course. But after kicking 2014 off at 6-1, Utah dropped three of their last five games. They narrowly squeaked by Pac-12 bottom feeder Colorado to close the regular season, so it's fair to say that Kyle Whittingham's club stumbled to the finish line. An 8-4 record is nothing to scoff at, but the Utes could use a good stomping of Mountain West opponent Colorado State in the Royal Purple Las Vegas Bowl. It would go a long way toward maintaining that "we've arrived as a force in the Pac-12" tone over the offseason.
4. ASU
The Sun Devils' season trajectory had some similarities with Utah's, though ASU lost one fewer game late in the season. Still, they were a one-loss team until a rough November knocked them out of the conference race. A Hyundai Sun Bowl date against fellow 9-3 competitor Duke has become ASU's consolation price, and that is quite the step down from the Rose Bowl aspirations Todd Graham's club harbored followings its November 8 win against Notre Dame. So it's important for the Sun Devils to reverse trajectory heading into the offseason, and they would also like to prove that they are better in December than last season's 37-23 Holiday Bowl loss to Texas Tech.
5. Arizona
The Wildcats were peaking at the right time ---- Oh wait, there was red-hot Oregon in the Pac-12 championship game, and there were 24 yards of total offense for Arizona in the first half. Suddenly, Rich Rodriguez's club wasn't peaking at the right time. But the Wildcats can take solace in the fact that the Ducks have the ability to make good teams look foolish. They can also comfort themselves knowing that this VIZIO Fiesta Bowl is a prime chance to deliver a positive closing statement against a 10-2 Boise State team that loves that big stadium in Glendale.
6. USC
Steve Sarkisian really needed that blowout victory over Notre Dame in the finale to dump the "seven win" moniker that online trolls gleefully tossed around following the Trojans' loss to UCLA. Sark got the powerful performance he was looking for, so he's 8-4 heading into a National University Holiday Bowl matchup against Nebraska. Sure, a postseason win would be nice for the Trojans, but they are lower on this list because there is not all that much for them left to prove this season. Regardless of whether they win or lose on December 27, we know who USC is: a very talented, somewhat flawed, and ultimately thin team that's excited about getting a clean slate in 2015.
7. Stanford
There is very little the Cardinal can prove in their Foster Farms Bowl clash with Maryland on Dec. 30. Stanford capped a disappointing 7-5 regular season with a resounding 31-10 thumping of UCLA, and that performance made it very clear the Cardinal had underperformed in their games leading up to the finale. Now, David Shaw's team is a two-touchdown favorite against the Terrapins in a game 20 minutes away from campus, so there is really no chance to prove anything more than what the Cardinal already accomplished against the Bruins -- even in the case of a lopsided victory.
8. Washington
The Huskies managed eight wins in the first year of the Chris Petersen era, and they fought through some turmoil, too. The team delivered a strong finish following the dismissal of star cornerback Marcus Peters. So, the season has served as a solid foundation for Petersen to work with as he tries to assert himself in Seattle moving forward. It's hard to see the result of the TicketCity Cactus Bowl against 6-6 Oklahoma State swinging the vibe too far in either direction.
December, 18, 2014
Dec 18
11:00
AM ET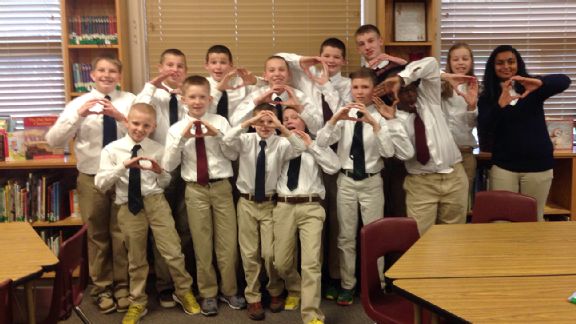 Chantel Jennings/ESPNStudents at O'Hara Catholic School in Eugene offered their thoughts on Oregon's playoff chances.
EUGENE, Ore. -- Twelve-year-old Charlie Papé recently became internet famous when he asked Oregon coach Mark Helfrich during a postgame news conference if he had any insight into quarterback Marcus Mariota's future plans.
Papé explained to Helfrich that there were four things that mattered at his school, O'Hara Catholic School in Eugene, Oregon, just three miles from Autzen Stadium:
Jesus, Girls and Marcus Mariota
.
But there was one problem. He only named three.
"The fourth thing was how bad we're going to beat the next team we play," Pape´ clarified on Wednesday.
It was a minor gaffe in an otherwise spotless delivery of one of the best lines in college football this year.
On Wednesday, Papé and 13 of his fellow schoolmates gathered in the library to discuss a few important topics including what they consider to be the fourth most important thing at O'Hara, any advice they might have for Mariota on whether to go pro or stay for his final year of eligibility, and their thoughts on Florida State.
The answers ranged from incredibly insightful to bizarre, which is what one should probably expect when questioning a group of elementary school students. Now, we give you the wisdom of O'Hara Catholic:
Henry, 9
Fourth most important thing:
Beating Oregon State.
Advice for Mariota:
"I want him to stay because he's a great player."
Breakdown of FSU-Oregon:
"I just think that Oregon is going to win because I think they're the better team because Florida State always wins by a field goal and if Marcus doesn't throw a pick in the fourth quarter I think we'll win, because that's normally how [FSU] wins."
Luke, 10
[+] Enlarge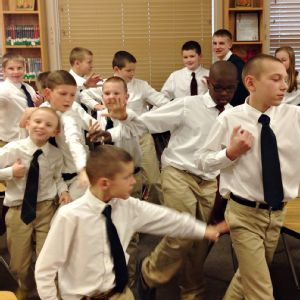 Chantel Jennings/ESPNStudents at O'Hara Catholic School in Eugene do their best Heisman pose in honor of Ducks QB Marcus Mariota.
Fourth most important thing
: Did I do my homework or not
Advice for Mariota
: "I think he should go pro because he won the Heisman. If he hadn't won the Heisman I'd say he should come back."
Oregon wins if ...
: "If Mariota doesn't throw any picks, the Ducks play their hearts out and the Ducks beat them."
Stella, 10
Fourth most important thing
: Service.
Advice for Mariota
: "I'd like if he stayed because he's really good but I want him to go pro also."
Davis, 6
Fourth most important thing
: Being kind.
Advice for Mariota
: "That he doesn't care about the Heisman, he cares about beating Florida State."
What's the key to the game
: "Not throwing any picks and scoring more touchdowns than [FSU]."
Thoughts on FSU
: "Their uniforms look like ugly sweaters."
Sam, 11
Fourth most important thing
: Food (specifically, the cafeteria's French toast and chicken nuggets -- together -- covered in syrup).
Advice for Mariota
: "Run the ball but don't get hurt. And slide, because he never slides."
What Oregon needs to do to win
: "Play hard. Play fast. Do tempo."
Ryan, 10
Fourth most important thing
: Friendship
Advice for Mariota
: "I don't want him to [go pro], but I think he should because he's a good role [model] and he'd make the NFL's image better."
Thoughts on the FSU matchup
: "I think Oregon will win because Jameis is overrated and I think the defense will play well and the offense will have a spark in the beginning. They'll score first and they'll keep scoring."
Sandhya, 10
Fourth most important thing
: Being helpful to people and being kind.
Advice for Mariota
: "I think he should go pro. I'm pretty sure he'll be a first-round pick. I want him to go to the Eagles, because I'm hoping Chip Kelly will rebuild the Ducks there because they already have Josh Huff."
What Oregon needs to do to beat FSU
: "I think the defense has to be a little stronger, covering receivers more."
Andrew, 10
Fourth most important thing
: Sports.
Advice for Mariota
: "Go pro. If he comes back he has more to lose than he has to gain. He could risk things like injuries. But if he goes, I think it'd be a good year to finish on because he already won the Heisman and his team is in the first-ever college playoffs."
What Oregon needs to do to beat FSU
: "Lock down Jameis Winston and be dominant on defense and keep Mariota mobile."
Max, 14
Fourth most important thing
: "A toss up between how bad Charlie Pape´'s fantasy team is and how much cooler the Ducks' uniforms are than Florida State's."
What does Oregon need to do to beat FSU?
: "Show up."
Rather face Ohio State or Alabama?
: "Alabama, because college football has an East Coast bias. Everybody -- but USC -- on the West Coast doesn't really get any respect."
Advice for Helfrich
: "Go for it on fourth-and-short and take the right chances."
Luke, 11
Fourth most important thing
: Fantasy football (the sixth grade class has a league. Luke's team, Luke's Ballers, lost in the first round of the playoffs).
Advice for Mariota
: "I want him to stay but he has accomplished everything so I think he should go pro."
Why does the defense not matter as much?
"I don't think Jameis Winston is that good, so I don't think we need to worry about that."
Jordan, 12
Fourth most important thing
: That the SEC is overrated
Why the SEC is overrated
: "There are a couple dominant teams and then the rest are like Vanderbilt, Arkansas -- they're so-so."
Advice for defensive coordinator Don Pellum
: "I think they should blitz them a lot because they have an OK line, great wide receivers and a great quarterback, so I just think they should blitz."
Cooper, 10
Fourth most important thing
: Winning a national championship
What does Oregon need to do to win a national title
: "In the first game they have to stop Rashad Greene and Nick O'Leary, which will slow down Jameis Winston and force Dalvin Cook -- their freshman running back -- to win the game for them."
Final score prediction
: 56-28, Oregon
Will you be a fan of whatever NFL team drafts Mariota?
"Not if he goes to the Jets."
Jackson, 12
Fourth most important thing
: football (apparently this and Mariota fall into two separate categories of importance)
Advice for Mariota
: "I think he should stay for his senior year and take us to another national championship."
What's the key to Oregon's defense playing well
: "Play strong. Get a lot of turnovers."
December, 18, 2014
Dec 18
8:00
AM ET
If you use more than 5 percent of your brain you don't want to be on earth.
Leading off
Another day, another round of All-America teams. Three more to catch you up on. You should know the names by now.
First up is The Sporting News
:
First-team offense: Marcus Mariota, QB, Oregon; Andrus Peat, OT, Stanford; Hroniss Grasu, C, Oregon;
First-team defense: Danny Shelton, DT, Washington; Scooby Wright III, LB, Arizona; Hau'oli Kikaha, LB Washington; Erick Kendricks, LB, UCLA.
First-team special teams: KR Kaelin Clay, Utah.
Second-team offense: Jaelen Strong, WR, Arizona State.
Second-team defense: Nate Orchard, DE, Utah; Shaq Thompson, LB, Washington; Ifo Ekpre-Olomu, CB, Oregon;
Special teams: Tom Hackett, P, Utah.
Next up is the AFCA FBS All-America team:
First-team offense: Mariota
First-team defense: Leonard Williams, DL, USC; Wright; Kikaha; Ifo Ekpre-Olomu, CB, Oregon.
Specialists: Hackett
And here's the Football Writers Association of America All-America team:
First-team offense: Mariota, Jake Fisher, OL, Oregon
First-team defense: Orchard, Kikaha, Wright III,
Specialists: Hackett
Second-team defense: Williams, Kendricks
The Sporting News also named Mariota
its player of the year.
Ifo out
No doubt, you've heard the news that Oregon cornerback Ifo Ekpre-Olomu, whose name appears on some All-America lists above, is
out for the rest of the season with a knee injury
. It's not an apocalyptic blow to the Ducks. But you don't want to be facing Winston down one of your best defenders, either.
Here's some reaction:
News/notes/team reports
Just for fun
A couple of ASU alums are already benefiting from the new Adidas deal.
Doorbell rings, A package, @adidasFballUS with a sweet pair of personalized #snakeskin cleats, makes me want to play! pic.twitter.com/l7e3ECRGi2

— Jake Plummer (@snakestakes) December 17, 2014
Xmas came early! Sweeeeeet!! @adidasFballUS #ForksUp pic.twitter.com/TAWidzTvXh

— Derek Hagan (@dhagan80) December 17, 2014
All together now ...
awwwwwww
@OrchardNate is the baby whisperer. #utahfootball #maXimusphillips #SFGVegasTakeover pic.twitter.com/bmNQGaiPxC

— Andy Phillips (@AndyDPhillips) December 18, 2014
December, 17, 2014
Dec 17
6:45
PM ET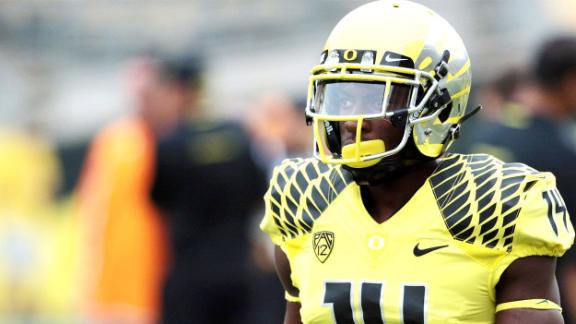 So much for Oregon, injury riddled much of the year, getting healthy for its Rose Bowl matchup with Florida State in the College Football Playoff. So much for the A-list matchup between Ducks All-American cornerback
Ifo Ekpre-Olomu
, who
injured his knee Tuesday
, and Seminoles receiver
Rashad Greene
.
So much for the Ducks hitting their earnest preparation for, potentially, the program's first college football national title with positive momentum.
Oregon doesn't talk about injuries, but we do and this is a bad one. Oregon, when it does at least acknowledge that a key player might be hurt, reverts to the mantra, "Next man in," and that will be the case here. But the Ducks next man in at cornerback won't be anyone close to Ekpre-Olomu, a consensus All-American. While Oregon will don
all-green uniforms for the Rose Bowl
, the guy who steps in for Ekpre-Olomu might as well show up in highlighter yellow --
an actual Ducks uniform option
! -- based on how the Seminoles and quarterback
Jameis Winston
are going to view him.
[+] Enlarge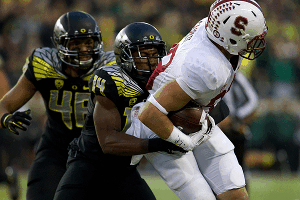 Scott Olmos/USA TODAY SportsOregon star cornerback Ifo Ekpre-Olomu suffered a severe knee injury during the Ducks' practice Tuesday and will miss the rest of the season.
It's likely senior
Dior Mathis
will get the call. The fifth-year senior has seen a lot of action but he has been unable to break into the starting lineup. Or the Ducks could go with promising youngster
Chris Seisay
, a redshirt freshman who was listed behind Ekpre-Olomu on the depth chart in advance of the Pac-12 championship game. At 6-foot-1, Seisay, who started against Wyoming in place of
Troy Hill
, brings better size to field than the 5-foot-9 Mathis -- or the 5-10 Ekpre-Olomu for that matter -- but it's not encouraging when the laudatory remark next to his name on the depth chart is "has tackles in five straight games."
Ekpre-Olomu, a senior who has been a starter since midway through his freshman year, has 63 tackles and nine passes defended, including two interceptions, this season. While he's been notably beaten a few times, there were whispers that he was playing through some bumps and bruises that were slowing him down. He was one of many Ducks who were expected to greatly benefit from nearly a month off.
Suddenly losing a star like Ekpre-Olomu is about more than a starting lineup, though. It also takes an emotional toll on a team, both during preparation as well as the game. The Ducks secondary loses its best player -- a potential first-round NFL draft pick -- and a veteran leader, a guy everyone counted on. Think Mathis or Seisay will have some butterflies when they see Greene, who caught 93 passes for 1,306 yards this season, coming his way? Think Oregon's safeties will be asked to play differently than they have all season with Ifo in street clothes?
The Ducks secondary will be less talented and less confident without Ekpre-Olomu.
Injuries? Oregon's had a few. It lost offensive tackle Tyler Johnston, a 26-game starter, and No. 1 receiver
Bralon Addison
before the season began. It saw emerging tight end
Pharaoh Brown go down on Nov. 8 against Utah. It's been without All-Pac-12 center Hroniss Grasu for three games. It's seen several other key players miss games, including offensive tackle Jake Fisher, running back Thomas Tyner and defensive end Arik Armstead.
Yet the general feeling was the Ducks had survived. And, in fact, thrived, scrapping their way to the No. 2 seed in the CFP. By scrapping we mean winning their last eight games by an average of 26 points since suffering their lone loss to Arizona.
That, in itself, will be something the Oregon locker room will look at and point to as it gets ready for FSU. This is an elite program, one that can overcome adversity, even an injury to perhaps the team's second-best player behind a certain guy who plays behind center.
But there is no changing the fact that Oregon is worse without Ekpre-Olomu, and against a team like FSU, the defending national champions and winners of 29 consecutive games, you don't want to be at anything but your best.
Ifo Ekpre-Olomu Injury A Game-Changer
PAC-12 SCOREBOARD
Saturday, 12/20
Monday, 12/22
Tuesday, 12/23
Wednesday, 12/24
Friday, 12/26
Saturday, 12/27
Monday, 12/29
Tuesday, 12/30
Wednesday, 12/31
Thursday, 1/1
Friday, 1/2
Saturday, 1/3
Sunday, 1/4
Monday, 1/12