October, 1, 2014
Oct 1
9:58
AM ET
Out on the dangling elbow of the Oregon coast, in a port town set against the Coos River, a teacher named Bruce Bryant sometimes points to a photograph affixed to a bulletin board in his classroom. "Hey," he'll ask his students. "Do you know who that is?"
The quarterback in the photo is wearing the bright purple no. 14 jersey of Marshfield High, the institution most of Bryant's eighth-grade students will attend. Twenty-two years after graduating from Marshfield, the player in the photo occupies perhaps the most high-profile job in the state; he was endowed with more hair back in those days, but even if he'd suffered from male-pattern baldness as an adolescent, Bryant isn't sure he'd be any more recognizable. None of his students has ever correctly named the passer.
"That," they say, when Bryant reveals the answer, "is the coach at Oregon?"
To read the full story,
click here
.
October, 1, 2014
Oct 1
8:00
AM ET
"It says here breakfast anytime?"
"That's right."
"I'll have the pancakes in the Age of Enlightenment please."
Leading off
It's depth-chart Wednesday. As we do every week, here are the links to the teams playing this week followed by any significant notes. Washington is on bye this week, so we'll update the Huskies next week. The other 11 teams are in action. UCLA is the only team that doesn't do a weekly depth chart. Enjoy!
Notes
Heisman chatter
The
Heisman Pundit
has released its weekly straw poll. As always, it is made up of 10 anonymous Heisman voters. And despite a bye week, Oregon quarterback
Marcus Mariota
hasn't slipped a bit. Here are the results of this week's poll. Mariota received seven of the 10 first place votes.
Marcus Mariota, QB, Oregon -- 23 (7)
Todd Gurley, RB, Georgia -- 18 (3)
Kenny Hill, QB, Texas A&M -- 7
Amari Cooper, WR, Alabama -- 5
Ameer Abdullah, RB, Nebraska -- 4
Melvin Gordon, RB, Wisconsin -- 2
Jameis Winston, QB, Florida State -- 1
Chip Patterson of CBS
also weighs in on Mariota and notes that
Brett Hundley
climbed back into the conversation with his performance against ASU.
Tune in
Yours truly joined ESPN Radio 1080 The Fan in Portland last night if you're
aching for some pod
.
News/notes/team reports
Just for fun
USA Today wants to know which team
has the best helmets
? ASU and Oregon are in the discussion.
Speaking of the Ducks, their unis for this week.
Thursday's uniform is designed to help raise awareness for women's cancers @KayYowFund #Play4Kay #GoDucks pic.twitter.com/nT1COEKFPy

— Oregon Football (@WinTheDay) September 30, 2014
September, 30, 2014
Sep 30
6:00
PM ET
Here's another look at random stats pertaining to the Pac-12.
Thursday
Arizona at No. 2 Oregon
Saturday
No. 14 Stanford at No. 9 Notre Dame
California at Washington State
Oregon State at Colorado
Arizona State at No. 16 USC
Utah at No. 8 UCLA
Past weeks
Week 1
Week 2

Week 3
Week 4
Week 5
September, 30, 2014
Sep 30
11:20
AM ET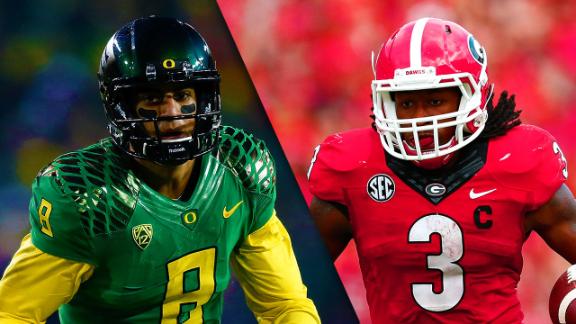 Entering Week 6 of the college football season, Oregon quarterback
Marcus Mariota
and Georgia running back
Todd Gurley
have separated themselves as the front-runners for the Heisman. This week, Pac-12 reporter Chantel Jennings and SEC reporter Edward Aschoff engage in a friendly (-ish) debate regarding the two players:
[+] Enlarge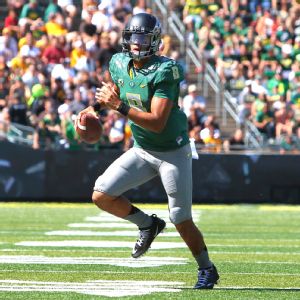 Cal Sport Media/AP ImagesOregon QB Marcus Mariota is dangerous with his feet or his arm.
Jennings:
Mariota is the best player in college football right now. The only thing that could derail that fact would be if his offensive line can't keep it together and continues to put up performances like it did against Washington State, in which it allowed seven sacks. But when we come to the Mariota-Gurley Heisman talk, I'm really interested to see what your argument is, Edward. Mariota is a machine. As a quarterback, he has the highest passer efficiency rating in the nation. There are only 10 quarterbacks in the country who haven't thrown a pick yet, and none of those signal-callers has thrown more than 10 touchdowns. Mariota has thrown 13. Then, look at his feet. He doesn't even play running back but he still has about a third of Gurley's rushing yardage and half the number of rushing touchdowns (Mariota: 214 yards, three touchdowns; Gurley: 610 yards, six touchdowns). Please, Ed, let's hear your side ...
Aschoff:
Listen, Mariota is a heck of a player. I think he's hands down the best quarterback in the country and should be the first quarterback taken in next year's NFL draft. With that said, he's no Gurley. He's a machine, yes, but he's more of a Prius compared to the Cadillac Escalade with a V-8 that Gurley is. The scary thing about Georgia's junior running back is that he's slimmed down yet he looks bigger. He's faster and more agile yet he's stronger. Gurley can bowl his opponents over, sprint to the outside and take a run to the house, or he can leave defenders dizzy with his elusiveness. Gurley has 610 rushing yards, but he should have even more. His coaches limited him to just six carries against Troy (73 yards), and the argument could be made that his 28 carries (career-high 208 yards) against Tennessee on Saturday weren't enough. Oh, and did I mention that this tank of a human being is averaging a gaudy 8.8 yards per carry and that out of his 69 carries this season he has just 11 lost yards? Take Gurley off Georgia's team and the Bulldogs aren't 1-1 in SEC play. You really think Mariota is better than that? He's flashier than that? Come on.
[+] Enlarge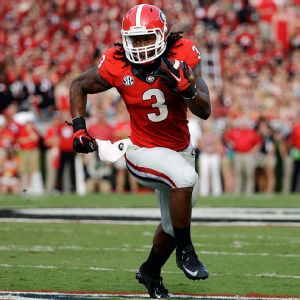 David Goldman/AP ImagesGeorgia RB Todd Gurley has a rare blend of speed and power.
Jennings:
First off, most people in the Pacific Northwest would rather be a Prius than an Escalade. Sure, an Escalade might look fancier and be in more music videos, but at the end of the day, don't you want the vehicle that doesn't require maintenance every other month? The vehicle that doesn't need to stop every 40 miles to fill up the tank? A vehicle that so many other vehicles of the future are going to be based on?
Anyway, back to the nitty-gritty, which is yes, when it comes to the facts, Mariota is better than that. His pass attempt-to-touchdown ratio is the best in the country: every 7.4 times the ball leaves his hands, it's ending up in the end zone. OK, fine. Gurley doesn't pass the ball. Let's talk about running again. Every 11.5 carries, Gurley ends up in the end zone. Guess what? Every 11 carries, Mariota finds his way there. He has the highest completion percentage of any quarterback in the country.
And
he has already led his team to a victory over a top-10 team this season. Everyone can agree a Prius is more efficient than an Escalade, and in football, it's good to be efficient. That's exactly what Mariota is.
Aschoff:
I see what you did there with the Prius and the Escalade. But if I need someone to bust through a brick wall and grind out that extra yard -- or three -- I'm handing it off to that environment-destroying driving machine. While we're talking about rushing, which is Gurley's specialty, he's already had 19 runs of 10 or more yards in just four games. If you're keeping score at home, that's 4.8 of those runs per game. Two of those runs went for 51 yards. What has Mariota done? He has 11 of those runs and hasn't even touched a 50-yard scamper yet. And it should be noted that Gurley is excellent when he takes contact. It seems to make him better. He drags defenders with him like Linus drags his blanket. Heading into last week, he was the only player in the country to average more than 100 yards after contact in multiple games (102 vs. Clemson and South Carolina). In a what-have-you-done-for-me-lately society, Gurley was incredible against an improved Tennessee team. He ran for a career-high 208 yards (and now he has 16 career 100-yard rushing games), had two touchdowns, registered 30 receiving yards and averaged 7.4 yards per carry. How good was he? Well, Tennessee had so little confidence in its defense stopping him late in the game that it attempted an onside kick with two minutes left and three timeouts remaining in order to try to keep the ball away from him. All Gurley did after that was run the clock out with 26 rushing yards on six carries.
But hey, that Mariota performance over
Washington State
was cool and all ...
Jennings:
You're right. I'll give you that. Washington State might not be better than a 2-2 Tennessee team that has already given up 4.4 yards per rush this season (cough, cough, No. 81 in the nation in that category). But it's not fair to look at the most
recent
performance since the slates are so different. Let's look at both players' best wins so far. Gurley's was against Clemson in the season opener, no? He carried the ball 15 times, scored thrice and accounted for 198 rushing yards and minus-5 receiving yards. That's cool. Mariota's best win was Week 2 against Michigan State, a game in which he threw for 318 yards and three touchdowns and added nine rushes for 42 yards. Michigan State is one of the best defenses in the country. Clemson isn't even one of the top three in the ACC. Now, I know I was an English major and all, but 360 yards of total offense plus three touchdowns is still bigger than 193 yards of total offense and three touchdowns, right?
Aschoff:
That Michigan State (still the Big Ten, though) win was huge, and Mariota was great. I'll give that to you. And Clemson, well, #Clemsoning took over a couple of weeks ago. But don't sleep on what Gurley did against Tennessee and South Carolina. The numbers aren't exactly helping the Gamecocks, but that was a great game, and Gurley did everything he could have ... when his coach wasn't throwing the ball on first-and-goal from the 4-yard line late in the fourth quarter. Gurley averaged 6.6 yards per carry in that game, on the road. Before Gurley faced Tennessee, the Vols were allowing 3.9 yards per carry. Then Gurley went all Gurley on the Vols.
Both of these players are great, and you have a chance to win any game with either. I want the bulldozer in the backfield who can grind out yards or take it to the house. The good thing is that this debate should rage on because they'll have plenty of opportunities to make us both look good going forward.
September, 30, 2014
Sep 30
10:00
AM ET
September, 30, 2014
Sep 30
8:00
AM ET
I spent four lonely days in a brown L.A. haze, and I just want you back by my side.
Leading off
It's time to take our weekly stroll through
The Eliminator
. Not
that
one.
This one
. (But kudos to you if you know the reference).
The good news is, no Pac-12 teams were officially "eliminated" this week, per our Mark Schlabach. But a few teams were relegated to the "on the fence" category. One-loss Stanford and USC were already dangling. This week they are joined by Arizona State, Oregon State, Utah and Washington -- all who dropped their first games of the season over the weekend.
Here's Schlabach's take on the Huskies:
After trailing Georgia State by 14 points at home two weeks ago and then mustering little offense in a 20-13 loss to Stanford on Saturday, we're guessing the Huskies won't be occupying this spot for very long. Washington coach Chris Petersen was so desperate to generate some sort of offense against the Cardinal that he tried a fake punt on fourth-and-9 at his team's 47-yard line midway through the fourth quarter. It was stuffed for no gain, and Stanford quarterback Kevin Hogan ran for the go-ahead touchdown five plays later.
Three Pac-12 teams officially remain in contention. That's Arizona, Oregon and UCLA. Of course, one of those teams won't be undefeated by the time Friday morning rolls around. The Ducks and Wildcats are set to square off Thursday night in Eugene.
More playoff projections
If you believe
Yahoo's Pat Forde
, then we're finally going to get to see the matchup we've dreamed about for years in the College Football Playoff: Oregon vs. Alabama. Forde projects the Ducks as the No. 2 seed and Alabama as No. 3 team. His take on the Ducks:
Oregon has won six straight Pac-12 home openers, and none of them has been close. Average score in routs of California (2013), Arizona (2012), Cal (2011), Stanford (2010), Cal (2009), and Washington (2008): 46-13. And three of those opponents were ranked at the time. Next: Sorry, Arizona, you're the opening Pac-12 cannon fodder in Autzen Stadium on Thursday night.
Stewart Mandel
of Fox Sports has the Ducks as the No. 3 seed facing No. 2 Auburn. There's also some good stuff on Notre Dame-Stanford.
Tune in
Yours truly joined
Bill Riley
and
Sean O'Connell
on ESPN700 in Salt Lake City yesterday if you're
aching for some pod
.
News/notes/team reports
Just for fun
It's been a long, long time since we've seen a Cal locker room celebration. This was awesome.
September, 29, 2014
Sep 29
6:00
PM ET
Declarative sentences are dangerous heading into Week 6 of a college football season. History has taught us most things that appear ready to be tied neatly with a bow end up torn to shreds. But danger is the Pac-12 blog's middle name. (We just thought "Pac-12 Danger Blog" might scare some folks away and damage advertising revenue).
Ergo.
Oregon's visit to UCLA on Oct. 11 will be what we thought it would be in August
Sure, both/either the Bruins and Ducks could fall this week at home, going down to Utah and/or Arizona, and we'd pin that on the proverbial "look ahead." But the expectation is that won't happen. The Utes lost some gusto while surrendering a 21-0 lead at home to Washington State, and Arizona is more than a three-touchdown underdog in Autzen Stadium.
[+] Enlarge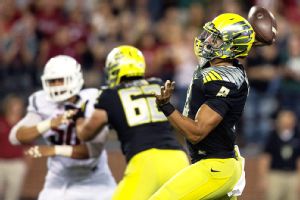 AP Photo/Dean HareMarcus Mariota and Oregon will try to avoid a letdown this week against Arizona.
While neither the Bruins nor Ducks have been consistently impressive, they have produced the loudest national statements in the conference thus far. UCLA posted a dominant road win at Arizona State, while Oregon overwhelmed Michigan State in the second half.
What's most notable about the Ducks-UCLA matchup is its potential for a rematch in the Pac-12 championship game, as both appear to be front-runners in their respective divisions. Not to look too far ahead, which we are clearly doing, but that could create a quandary for the College Football Playoff. It certainly would make it more difficult to get two Pac-12 teams into the playoff.
Of course, if both arrive at the game -- and that's obviously no guarantee at this early juncture -- with multiple losses, the issue is moot. But play out the various scenarios of zero, one and two losses for each in your head. What if they split close games? What if, say, Oregon is the nation's only unbeaten team but UCLA's only defeats are close losses to the Ducks?
It could get complicated. Good thing we can call such speculation "way premature" in order to avoid taxing our brains with the myriad possibilities.
The Pac-12 needs Stanford to beat Notre Dame
If Stanford wins at Notre Dame, the Cardinal will likely jump into or at least be very close to the Top 10, which could give the Pac-12 three Top 10 teams heading into Week 7. If the Cardinal lose, it will become a big hit for them and the Pac-12 as a whole.
While the Pac-12 is widely viewed as the nation's No. 2 conference, probably by a wide margin, and its 22-4 record versus FBS foes is impressive, there already have been substantial damaging defeats.
Most obviously, whatever USC accomplishes this year will be diminished by the loss at Boston College. If the Trojans had lost amid a flurry of turnovers and miscues, that's one thing. The problem is that defeat was all about getting whipped at the line of scrimmage on both sides of the ball. That rates as a physical issue, which is a very football-y thing.
Washington State's losses to Rutgers and Nevada also will hurt because the Pac-12 blog suspects the Cougars are going to give a lot of conference teams trouble this season, witness the so-close performance against Oregon and the huge comeback win at Utah. The Cougs are a solid team, much better than they showed against the Scarlet Knights and Nevada, which by the way are a combined 7-2. But that won't prevent pundits and rival fans from using the transitive property against the Pac-12 when the Cougs notch an upset or two.
Yet if Stanford beats Notre Dame and surges into its Nov. 1 date at Oregon with just one defeat, the Pac-12 might produce a second Top-10 matchup in less than a month. That's the sort of thing the SEC does, which inspires all that media gushing that so annoys many of you fine people.
Bottom line: A road win over No. 9 Notre Dame would provide a significant perception boost and a loss would do the same in a negative direction.
The middle stepped back instead of forward
Washington and Oregon State could have made big statements on Saturday. They didn't. Therefore that velvet rope that has separated both from the North Division VIP room, uncomfortably shared by Oregon and Stanford, is still there, still manned by a couple of beefy security guys.
You probably could say the same for Utah, which looked like a potential South contender before it completely collapsed against the Cougars. The jury is still out on Arizona State, which is dealing with an injury to QB
Taylor Kelly
and a not-ready-for-prime time defense. We'll see where Arizona stands Thursday at Oregon.
Despite many unanswered questions, the overall feeling about the challenging middle of the Pac-12 feels different than it did in August or even a few weeks ago. It doesn't appear as rugged. There seems to be some separation between Oregon, UCLA, Stanford and -- perhaps -- USC and the rest of the conference, though the Trojans could topple if they lose at home to the Sun Devils on Saturday.
Washington was a preseason Top 25 team, and Oregon State and Utah looked like threats to advance into the rankings. No longer. At least not at this point.
That is not to say teams can't get healthy, solve issues or simply grow up and then go on a run. In fact, it's reasonable to suspect that among the gaggle of Arizona, Utah, Washington and Oregon State, at least one will end the season in the Top 25.
At this point, however, there's little to suggest we will have an unexpected interloper breaking through in either division, challenging the consensus preseason favorites.
September, 29, 2014
Sep 29
4:00
PM ET
When Arizona took down Oregon last season, it was considered one of the biggest upsets of the year. The Ducks had everything on lock and had seemingly "learned their lesson" two weeks prior, before handing it all away on the road against a 6-4 team.
This Thursday, Oregon will have the chance to see Arizona again, a year removed from one of the biggest blemishes of the Ducks' recent history. Which got us thinking about other big conference upsets -- how did teams respond in those matchups the following season? Well, we've got you covered with four different examples.
2007: Stanford 24-No. 2 USC 23
[+] Enlarge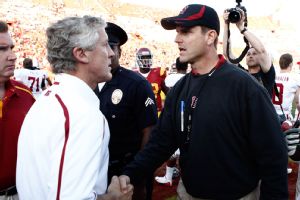 AP Photo/Matt SaylesWhen Jim Harbaugh, right, led Stanford to an upset of Pete Carroll's USC team in 2007, the rivalry heated up. It led to a memorable confrontation after the 2009 game, shown above.
Stanford scored 17 fourth-quarter points, giving the 41-point underdog Cardinal a huge win at USC. It stopped several of the Trojans' win streaks including five straight against Stanford, 35 straight at home and 24 straight conference home wins.
And in 2008 ...
No. 6 USC 45-Stanford 23
No. 6 USC played a rough first half and entered halftime tied at 17 with unranked Stanford. But a strong second half propelled USC to a 45-23 win. From the AP write up: "From the highlights of the game played on the video board during warm-ups, to the "Greatest Upset Ever" T-shirts worn by many fans in the crowd, to the Stanford band spelling out the score of last year's game at halftime, the Cardinal did their best to extend the memory."
2003: No. 13 Kansas State 35-No. 1 Oklahoma 7
Kansas State put up 519 yards of offense against the vaunted Oklahoma defense, giving the Sooners their first loss of the 2003 season (though, they would still go on to play in the BCS Championship, where they endured their second loss of the season, against No. 2 LSU).
And in 2004 ...
No. 2 Oklahoma 31-Kansas State 21
The Sooners, like USC in 2004, started slow against the team that had upset it the previous season. Oklahoma had 60 penalty yards midway through the second quarter and started the game with two three-and-outs. But a strong second half -- Adrian Petersen rushed for 104 yards -- propelled the Sooners to the win.
1998: NC State 24-No. 2 Florida State 7
NC State was a 25-point underdog, but managed to make the Seminoles look like the one that was far overmatched. Florida State was riding a 47-1 ACC record heading into this game, but when your quarterback throws six interceptions, it's pretty hard to win.
And in 1999 ...
No. 1 Florida State 42-NC State 11
This year it was the NC State quarterback who struggled, throwing four interceptions and losing two fumbles en route to a 31-point loss. Two of those turnovers resulted in FSU touchdowns, and the FSU kicker made five field goals -- so it wasn't exactly an impressive performance for the FSU offense, but overall, the Seminoles managed to avenge their upset from the previous season.
1985: Oregon State 21-Washington 20
Oregon State came into this game after being shut out offensively in the two previous games and was a 38-point underdog against the Huskies. With just under four minutes left and the Beavers trailing by six, Oregon State failed to convert a fourth down at its 11 yard line. But minutes later a blocked punt turned into a defensive score and the extra point gave the Beavers the edge they needed for the win.
And in 1986 ...
No. 13 Washington 28-Oregon State 12
The Beavers had already lost three games to ranked opponents in 1986 (by a collective score of 103-24) when the Huskies visited Corvallis. They were overmatched for against their fourth top-25 team of the season and ended up with a 16-point home loss to the team they had shocked the year before.
September, 29, 2014
Sep 29
12:00
PM ET
By
ESPN.com staff
| ESPN.com
Join ESPN.com Pac-12 reporters Kyle Bonagura, Kevin Gemmell and Chantel Jennings at 4 p.m. ET as they review Week 5 in the conference and look ahead to the games this week, including Arizona vs. Oregon on Thursday. Don't forget that you can also ask the experts your Pac-12 questions live on the show.
September, 29, 2014
Sep 29
11:00
AM ET
"This was supposed to be a boring college football weekend," our own Ted Miller tweeted. "But of course, 'Boring College Football Weekend' is the unicorn of sports."
Those simply don't exist, especially in the modern inception of the Pac-12, where substantial conference depth has translated into frequent drama. USC manhandled Oregon State to finish this past Saturday's action, but before that, only eight total points separated the three earlier games at the end of regulation.
Though there wasn't much hype entering Week 5, it ultimately blossomed into a fantastic Saturday of down-to-the-wire finishes. That means the sky's the limit for Week 6, which features a truly robust six-game slate. Let's set the table.
Game with the biggest College Football Playoff implications: Stanford at Notre Dame
[+] Enlarge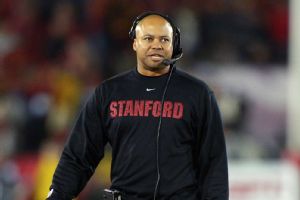 Kirby Lee/USA TODAY SportsCoach David Shaw and Stanford face a crucial test against Notre Dame.
Bad news: Stanford's Week 2 home loss to USC immediately erased much, if not all, of the Cardinal's margin for error in the quest for a College Football Playoff berth. Good news: Saturday's 20-13 road suffocation of Washington made it readily apparent that David Shaw's program can still make up lost ground. The cold-blooded Cardinal defense that has made a name for itself stifling explosive Pac-12 offenses hasn't gone anywhere, and now it's returning to South Bend looking to purge controversial 2012 memories of Stepfan Taylor struggling at the goal line in overtime.
Stanford is in the midst of what is widely considered to be the toughest two-game stretch of its schedule. A win Saturday means a road sweep of the only two trips that derailed the Cardinal when they faced a similar slate in 2012, so there is obviously a lot of stake entering this classic showdown (heck, in 2012, this game ultimately determined a spot in the national title game). One juicy battle is already set, and it pits Stanford's top-ranked pass defense (which has allowed only a single 100-yard passer in four games) against vastly improved Notre Dame quarterback
Everett Golson
(25 straight completions against Syracuse). The Cardinal defense is giving up only 4.7 points per game.
Team with the most to prove: Utah (at UCLA)
Coming off a muscle-flexing win in the Big House, Utah was enjoying life on cruise control against Washington State. The Utes jumped out to a 21-0 lead in front of their raucous home crowd, and the stars seemed to be aligning for a Week 6 Pac-12 South showdown between the undefeated Block U and fellow unbeaten No. 8 UCLA at the Rose Bowl.
Not so fast
, shouted Mike Leach's crew.
Wazzu roared back late, overcoming a fourth-and-14 paired and a 27-14 deficit in the final quarter to win 28-27. And, just like that, Utah had returned from its big early season splash to the dreaded land of questions.
Was the Utes' early season offense really that good, or was it just picking on very shoddy Idaho State and Fresno State defenses? After winning just two road games in two seasons prior, did Utah's victory at The Big House actually signify a turnaround, or was Michigan just a corpse of a football team?
Utah will enter the Rose Bowl with a chance to push aside the Wazzu loss and prove its impressive start was no fluke. The Bruins are bubbling with confidence after hanging 62 points on Arizona State, so this is a true litmus test for the Utes.
Most desperate team: Colorado (vs. Oregon State)
There is no pleasant way to lose in double overtime, but the Buffs took an especially gut-wrenching route in Strawberry Canyon. First, they blew an early 21-7 lead. Then, they wasted a sensational late
Bryce Bobo
touchdown catch that forced extra time in the first place. And in a game dominated by a severe lack of effective defense -- Cal and Colorado became the first teams in FBS history to
both
throw seven touchdown passes in one game -- the Buffs were, ironically enough, ultimately denied by the Bears' defense in a second overtime goal-line stand.
Colorado is now 2-3, but most sobering is the fact that this 59-56 loss dropped them to 4-25 in Pac-12 play since entering the conference in 2011. Oregon State visits Boulder next weekend after mustering only 181 yards of total offense in a disheartening 35-10 loss at USC.
A glance at the Colorado schedule calls for intense urgency now: At least on paper, this coming contest against the Beavers looks like the Buffs' best chance to rack up another win this season. The Los Angeles schools loom after the bye, and there is also a trip to Autzen Stadium waiting in late November.
Diamond in the rough game: California at Washington State
Consider the dazzling offensive display that Cal and Colorado flashed this past Saturday: the aforementioned 14 touchdown passes (tying an FBS record) and the 913 passing yards. Then consider the mind-boggling numbers that Washington State quarterback Conor Halliday is on pace to post this season: After Saturday's 417-yard performance, he has a nation-best 2,318 yards and 20 touchdown passes in just five games. Assuming Washington State makes a bowl game, Halliday is on pace to become the first college quarterback to surpass 6,000 passing yards in a single season.
So if anyone is familiar with the results of mixing gasoline and fire, this game might be the football equivalent. It features two high-scoring offenses coming off confidence-building wins, a pair of shaky defenses, and two coaches hungry to capitalize on an opportunity to make a valuable dent in the Pac-12 standings. Though Leach has a chance to return to .500, Cal's Sonny Dykes can move to 4-1 as his team nears the meat of its schedule.
The true hidden intrigue here might come from Wazzu's defense, which tightened the screws down the stretch at Utah. How will the Cougars fare against explosive Cal youngster
Jared Goff
?
The week's top chance at vengeance: Oregon (vs. Arizona)
The spotlight almost always focuses on Oregon's loss to Stanford last season, but it's important to remember that it was the Ducks' later stumble at Arizona Stadium that ultimately derailed the team's BCS train and rerouted it to the Alamo Bowl. After the Cardinal's 2013 loss to USC, Oregon had a golden opportunity to again smell Roses, but the Wildcats quashed those by administering a humiliating 42-16 beatdown in the desert.
The Ducks say that catastrophe has helped them develop valuable perspective when it comes to preparation, and Thursday night's rematch offers a chance for Oregon to put November 23, 2013 in the past.
Remember that this is a showdown between undefeated teams. Arizona is still buzzing after
Austin Hill
snatched victory from the jaws of defeat with his Hail Mary catch against Cal. The Wildcats have proven they can score in bunches season, but keeping pace with the Ducks in that regard presents an entirely unique challenge.
This week's top chance at redemption: ASU (at USC)
One can be sure that Arizona State players and coaches will wince more than a few times this week. They will be watching film from their brutal 62-27 home loss to UCLA, a game highlighted by the Sun Devils' atrocious tackling against
Brett Hundley
and the Bruins' potent offense.
A trip to the Coliseum always offers a shot at redemption, but No. 16 USC is coming into this game bristling with confidence after smacking Oregon State, 35-10. The Trojans performed exponentially better defensively against the Beavers than they did in their previous game at Boston College, but ASU -- fresh off a 622-yard performance against UCLA -- will provide a new challenge for USC, even if quarterback
Taylor Kelly
(questionable) is not yet ready to return from injury.
Saturday offers two potential outcomes for these teams: ASU will either re-emerge in the Pac-12 South race following that ugly loss to the Bruins, or USC will further entrench itself alongside its crosstown rival as one of the firm leaders of that division.
September, 28, 2014
Sep 28
8:00
PM ET
Well, that was interesting.
Remember how we talked about Utah-Washington State being a swing game? If the Cougars can somehow rally to find four more wins and the Utes can't find three, we're going to look back at the Cougs'
28-27 come-from-behind win
as a tipping point.
The same could be said for Cal, which pulled off
a double-overtime win
against a feisty Colorado team to pick up win No. 3.
Let's begin with the Utes, who once again started hot in nonconference play, only to see things fall apart once league competition started. Can't blame this one on injured quarterbacks, because Utah had two opportunities in the fourth quarter with its starter to make something happen. The Pac-12 blog still thinks there are three wins out there for Utah. Of its eight remaining games, three of them are against unranked teams. The rub is that all three are on the road.
Cal also has five ranked teams still on the schedule, and the three remaining against unranked teams -- Washington State, Washington and Oregon State -- are critical. Two of the three are on the road. We're adding Cal to the projections this week. We like its moxie.
As for the Beavers, boy, that offense didn't look good. Given OSU's three unimpressive wins and one very bad loss, we're going to drop them from the projections for now, but as always reserve the right to change our minds.
We're down to just three undefeated teams left: Oregon, Arizona and UCLA. And 10 teams are either halfway to a bowl game or beyond.
Here are the latest projections. As always, salt heavily.
College Football Playoff:
Oregon
Fiesta Bowl:
UCLA
Valero Alamo Bowl:
Stanford
National University Holiday Bowl:
USC
San Francisco Bowl:
Arizona
Hyundai Sun Bowl:
Washington
Royal Purple Las Vegas Bowl:
Arizona State
Cactus Bowl:
Utah
Heart of Dallas Bowl*:
California
* at large
September, 28, 2014
Sep 28
2:25
PM ET
Associated Press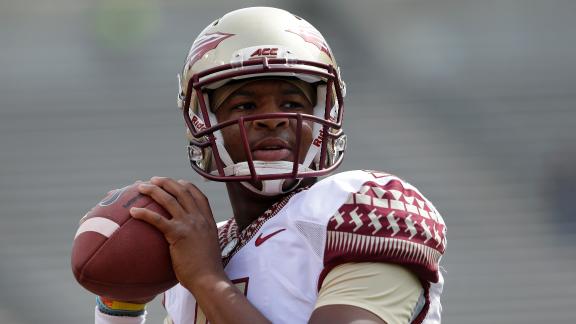 Florida State stays at No. 1 in The Associated Press college football poll after a second straight comeback victory, but support for the Seminoles is waning.
Jameis Winston returned from a one-game benching to lead Florida State past North Carolina State 56-41. The Seminoles trailed 24-7 in the first quarter.
Florida State received 27 first-place votes, seven fewer than last week, from the media panel Sunday. No. 2 Oregon and No. 3 Alabama both had 13 first-place votes. No. 4 Oklahoma drew the remaining seven first-place votes.
"You're always concerned, but we can't control the polls," FSU coach Jimbo Fisher said Monday. "All we gotta do is keep winning. Polls are for the polls and voters. If we keep winning and doing what we do, we'll be fine."
There was little movement throughout the rankings, with the first seven teams holding their spots. That could change next week when six games match ranked teams, including three SEC games.
Who Is The Heisman Front Runner?
PAC-12 SCOREBOARD
Thursday, 10/2
Saturday, 10/4