January, 27, 2015
Jan 27
10:00
AM ET
It was a busy weekend in the conference, as 14 prospects made commitments between Friday and Monday night and several others backed out of Pac-12 recruiting classes. It looks as though this could be a sign of things to come, as the conference recruiting race is heating up with little more than a week until signing day.
January, 27, 2015
Jan 27
9:00
AM ET
Booked a ticket for tomorrow in Tempe
3 a.m., doing cartwheels down the hallway
Leading off:
Jack Follman over at Pacific Takes
broke down the rosters
of this weekend's Super Bowl teams to find out where the Seahawks and Patriots are finding their talent. His findings are very College Football Playoff-y. Here's the breakdown, by Power Five conference:
1. Big Ten, 26; 2. Pac-12, 25; 3. SEC, 22; 4. ACC, 13; 5. Big 12, 9. In all, 11 Pac-12 teams were represented, with Washington State being the lone exception. The full list of players, broken down by team, can be found at the link.
Here are a few other Super Bowl-related items as they relate to the Pac-12:
News/notes/team reports:
Just for fun:
Two groups of alums from USC's School of Cinematic Arts are finalists in Doritos' "Crash the Super Bowl" contest, which has been pared down to 10 finalists. The winner, chosen by an Internet vote, will have their 30-second commercial shown during the Super Bowl and earn a $1 million prize.
You can vote here.
Here are the commercials from USC's two groups:
Middle Seat
Lemonade Stand
January, 27, 2015
Jan 27
12:08
AM ET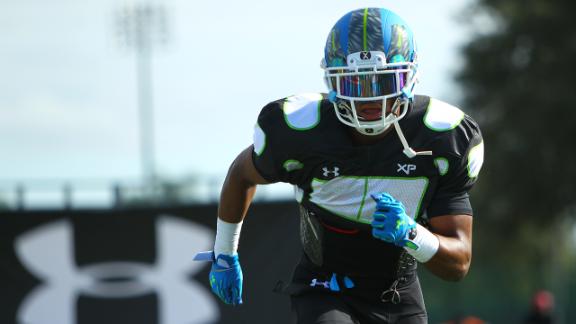 It's tough to imagine a more exhausting and stressful conclusion to a recruiting process than the one
Iman Marshall
orchestrated. Over the past 10 days, Marshall has taken official visits to Florida State, LSU and Michigan, as well as hosted several coaches at his home and school. But just like on the football field, the nation's No. 4 overall prospect doesn't appear to be fazed at all by what's being thrown at him.
To continue reading this article you must be an Insider
January, 26, 2015
Jan 26
4:30
PM ET
Here's a look at how programs in the Pac-12 are faring on the recruiting trail heading into national signing day on Feb. 4.

Commitments: 28
ESPN 300 commitments: 1
Who they have: The Wildcats hit it big with their top two commitments in ESPN 300 offensive tackle Keenan Walker and ESPN JC 50 defensive tackle Anthony Fotu. Arizona also will add four-star tackle Cody Creason, three-star tackle Harper Sherman and three-star guards Alex Kosinski and Nathan Eldrige to the offensive line. There are a number of skill players on both sides of the ball, including running backs Orlando Bradford and Darick Holmes Jr., cornerbacks Shun Brown, Anthony Mariscal, Samuel Morrison and Dane Cruikshank, wide receiver Cedric Peterson and athletes Antonio Parks and Brion Anduze.
Who they want: There aren't many spots left in this class for the Wildcats, but there are a few important names left on the board. The wide receiver spot could see another addition with Jaylinn Hawkins, though rival Arizona State will put up a fight there. Arizona also will look to continue its run of success in Louisiana, as teammates Arthur McGinnis and Darrell Clark (New Orleans/Warren Easton) are two of the top prospects left for the Wildcats, as well as teammates of Arizona commit Kendal Franklin.
To read the rest of our Pac-12 recruiting class breakdowns,
click here

.
January, 26, 2015
Jan 26
11:12
AM ET
On Friday, we rolled out the top 10 breakout players to watch in 2015. But we have 15 more, including two more Big 12 quarterbacks (for a total of four), the next great defender at Michigan State and, like our No. 1 breakout choice, USC's Adoree Jackson, a return game ace.
Check out the
first 10 players
, then read about the next 15:
11. Baker Mayfield, Oklahoma QB
Trevor Knight
was a buzzy Heisman candidate last spring, yet rival coaches were talking about whether Mayfield, if he were eligible in 2014, would overtake him. It was made moot because the Texas Tech transfer didn't get his waiver to play, but Knight's up-and-down season has certainly opened the door for competition.
With an Air Raid-based offensive coordinator in Lincoln Riley coming in, Mayfield is perfectly suited to take over -- and flourish -- as QB1 in Norman.
To continue reading this article you must be an Insider
January, 26, 2015
Jan 26
9:00
AM ET
And in the morning, I'm making' waffles.
Leading off:
The 2015 Senior Bowl has come and gone, and there were plenty of great showings from Pac-12 players. Here's a brief compilation of some of the content you can find regarding the event:
News/notes/team reports:
Just for fun:
There was some #Pac12Trolling happening Sunday as former Arizona State defensive lineman Will Sutton decided to comment on Taylor Kelly and Jaelen Strong's autograph session. Always nice to see a few (fun) shots taken between teammates when it comes to this kind of stuff.
@JediASU @SweetTeaWillie is trolling Kelly and Strong. pic.twitter.com/1YJhqJBWXu

— Zack Chatterton (@zack_chatterton) January 25, 2015
.
Also, if anyone has a chance, check out Sutton's photo at the top of his Twitter page. It's pretty fantastic. Especially if you're a fan of The Lion King ...
January, 24, 2015
Jan 24
7:48
PM ET
Associated Press
[+] Enlarge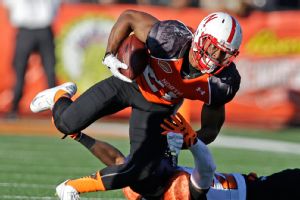 AP Photo/Brynn AndersonAlabama native Ameer Abdullah rushed for 73 yards and added 40 receiving in the North's win in the Senior Bowl.
MOBILE, Ala. -- Nebraska's Ameer Abdullah wanted to leave an impression on more than just the NFL watchers at the Senior Bowl.
Abdullah rushed for 73 yards and added 40 receiving while leading the North to a 34-13 victory over the South on Saturday in the Senior Bowl, punctuating his college career in his home state.
"Being down here was much more than putting on a good performance for me," said Abdullah, a Homewood, Alabama, native who had a large group of family and friends on hand. "Leaving this state was something that was hard for me to do. You could write a movie about it, really, just coming back and playing on Alabama soil for my last time as a collegiate athlete. I couldn't paint a better picture.
"It was emotional for me. I grew up watching this game. This was a monumental day for me."
The Cornhuskers' No. 2 career rusher won MVP honors in a game that showcases senior NFL prospects.
Abdullah made the most of his 11 touches, including four catches. He said being ready for quarterbacks to check down to the backs was emphasized.
"Obviously I'm a running back so I'm going to run the football but I wanted just to show that I had more than one dynamic to my game," Abdullah said.
Minnesota running back David Cobb gained 69 yards on 11 carries, including a 4-yard touchdown late in the third quarter.
January, 23, 2015
Jan 23
5:30
PM ET
Happy Friday. Welcome to the mailbag.
Follow me on Twitter
.
To the notes!
Andrew from Phoenix writes:
Can this post-season please put to bed this
obsession with "ranking" conferences
? Here we are, a week after the season is ended, and we're debating whether the Pac-12 or SEC is the best conference in college football. For what it's worth they are 1 and 2, yet, the representatives of those conferences went 1-5 in the big games. So, then what is it really worth? The Big XII took an absolute nosedive as a whole, yet TCU had the second best postseason of all teams, and will be ranked in the Top 5 to start the season. Florida St got ragged all season for being in the "weak" ACC, whose #2 and #3 teams put an absolute shellacking on comparable teams from "stronger" conferences. The Big 10 is allegedly "back" after going 5-5 in the bowl season, but they only have 3 teams in the whole conference (Ohio St, Michigan St, and Wisconsin) with a prayer of finishing above 5th in the Pac South. Didn't seem to hurt Ohio St much against Oregon, did it? So, please try to convince me why it matters that Wisconsin beat Auburn, Stanford smoked Maryland, and Clemson crushed Oklahoma.
Ted Miller
: To your first question, the answer is no. No, we can not put to bed this "obsession with 'ranking" conferences."
For one, it's necessary in college football, because we have to make subjective distinctions between teams that don't play each other. Whether it's the traditional national polls, the BCS system, or our new College Football Playoff, we have to rank teams, and how the conferences perform is one of the best ways -- the best way? -- we can do that.
Is it an exact science? No. Is it a way of conducting business that is laden with potential for bias and agenda? Absolutely.
Some, by the way, might argue that very subjectivity, an inescapable historical fact of college football, is one of the reasons the sport is so popular with its fans. Without an objective system -- such as large-scale playoffs used in pro sports -- a cherished U.S. institution therefore flourishes in college football: Endless, blathering debate, fueled by paranoia and manufactured offenses and cherry-picked "facts!"
It's a beautiful thing.
Another cherished institution is part of this: Regionalism. Due to the serendipity of a fan's or, often, a media member's birth location, that region becomes the source of all that is good and accomplished, and every other region is inferior, no matter how informed said fan or media member is on said other region. We all know from our present political reality that actually knowing stuff no longer matters and, in fact, can be a burden when debating with a louder and more pithy interlocutor.
But, hey, I'm not a scientist!
So the SEC fan thinks the Pac-12 is soft, and the Pac-12 fan thinks the Big Ten is slow, and the Big Ten fan things the Big 12 is finesse, and the Big 12 fan thinks the ACC is a basketball league, and the ACC fan thinks the SEC is overrated, etc., etc.
It. Will. Never. End.
And for that I am thankful.
---
Robert from New York writes:
I've seen a lot of hype around USC for next season, and I'm not really sold on why. USC had a losing record against the Pac-12 South in 2014, including a blowout loss to UCLA. They're losing key players on both sides of the ball, and have a coach who has never won more than eight regular season games. Are sportswriters getting excited because they want a brand-name school to be elite, or am I missing something?
Ted Miller
: Robert, you sound like some of my Pac-12 blogmates, so you are not alone in voicing some skepticism with the Trojans.
My case leads with this: Among its 16 returning position-player starters, USC welcomes back the most experienced, accomplished quarterback in the conference,
Cody Kessler
, and he will be playing behind an offensive line that will be the best in the Pac-12 (And USC fans should take heart for that 2016 opener against Alabama, because that should be an epic battle at the line of scrimmage between the Trojans and Crimson Tide). That offensive line welcomes back all five starters, led by senior, first-team-All-Pac-12 center
Max Tuerk
, as well has a good crew of backups.
Sure, there are some big hits, particularly with early departures, such as defensive end
Leonard Williams
, receiver
Nelson Agholor
, and runing back
Javorius Allen
. USC is going to need some young guys to step up. But finding ready-to-play youngsters is rarely a problem for USC, and, oh by the way, Steve Sarkisian is well on his way to signing
what could end up a top-five class
.
It will also help that Trojans should be well into the 70s in terms of scholarship players next fall. Though they won't get close to the maximum 85 scholarship players permitted by NCAA rules in their first post-sanctions season, they will be far above the 60 or so they played with in 2014. This will be a much deeper team in Sarkisian's second season.
As for doubting Sark, that's not unreasonable. No, he hasn't won a national title or a conference title, or even 10 games in a season. Yes, there were some times during his first season in which the Trojans seemed poorly prepared, poorly motivated, and poorly coached. You, by the way, could also say the same about Oregon. And Ohio State and Alabama, which went 7-6 and lost to UL Monroe in Nick Saban's first year in Tuscaloosa.
But, from today's vantage point, USC looks like the team with the fewest big questions in the Pac-12, though UCLA and Oregon could quickly counter with impressive clarity at quarterback.
I wouldn't be surprised if the Trojans are in the CFP discussion late into the 2015 season.
Does the USC "brand" play a role in that perception? Probably. But brand names have been pretty good bets over the long haul in college football.
---
Michael from Corvallis, Ore., writes:
With Gary Andersen's staff poaching several assistants and recruits from Utah, not to mention two consecutive games going into OT, is there a chance Utah-Oregon State becomes an actual rivalry?
Ted Miller
: Maybe, but it won't be because of any ill-will between the coaching staffs. Andersen and Utah coach Kyle Whittingham are extremely close -- both have said that to me within the past calendar year, Whittingham just a few weeks ago.
Whittingham also doesn't begrudge defensive coordinator Kalani Sitake jumping to Oregon State, because he knows it was a wise move professionally in the short and long term, particularly if Sitaki wants to be a head coach, which he does. Sitake needs to spread his wings outside of what had become a comfort zone in Salt Lake.
Further, being in different divisions, the Utes and Beavers will have a two-year hiatus coming up as the schedule rotates in 2017-2018.
Utah's chief rival remains BYU. Hard to believe that will change anytime soon, and it will be good to see the renewal of the Holy War in 2016. The Utes will develop Pac-12 rivalries, particularly in the South Division. But it will take time for ill-will and turf-wars to develop.
But Michael, if Utah/Oregon State is particularly annoying you, have at those dastardly Utes/Beavers (don't want to assume your preference just because you live in Corvallis).
---
Wayne from Mesa, Ariz., writes:
With the 2014-15 Bowl Season all wrapped up, I was wondering what your thoughts were and what feedback you may have heard with regard to the new bowl lineup for the PAC-12. Granted, it was more of a tweak over the previous 4 years, but still featured new venues (Santa Clara and Tempe), new opponents (2 Big Ten teams), a slight change in the pecking order (Sun Bowl moved down, Foster Farms up), and of course, altered timing to allow for the New Year's Six. I attended the Sun Bowl, cheering on the Sun Devils. The local fan turnout and community support for that game in El Paso was very impressive! I am a bit concerned about the on-going PAC-12 fan support and enthusiasm for the Cactus Bowl. One wonders if this looks like just a late season PAC-12 road game. Local Phoenix news featured mostly Oklahoma State stories, and thank goodness the Big 12 team once again brought a big group of fans and much excitement to Tempe.
Ted Miller
: The Pac-12 bowl lineup is about as good as it can be. Pretty nice mix of games against the ACC, Big Ten, and Big 12. Certainly the Pac-12 bowls have upgraded under commissioner Larry Scott.
I know some grumble about the bowl lineup. They want a matchup with an SEC team or a bowl game in Florida, but the SEC has a great bowl lineup, and Florida doesn't have much interest in bringing a Pac-12 team across the country. It's a choice of the marketplace, not due to managerial incompetence with the Pac-12 or some conspiracy of forces to keep the Pac-12 down.
Of course, if there's a business person on the West Coast who wants to offer up a $5 million per-team payout to lure a top SEC team across the country for a new bowl game against a Pac-12 team, I'm sure the SEC and Pac-12 would listen.
January, 23, 2015
Jan 23
10:00
AM ET
Today is the day we finish our countdown of the top 25 players in the Pac-12 from 2014. Obviously, this list is subjective, and though we spent a lot of time putting it together, there was a fair amount of debate in its creation.
To check out the rest of the list,
click here
.
No. 1: Oregon QB Marcus Mariota
Statistics:
304-445, 4,454 passing yards, 42 passing touchdowns, 4 interceptions
It should come as no surprise that the Heisman Trophy winner (Maxwell Award winner, Davey O'Brien Award winner, Walter Camp Award winner, etc.) is the No. 1 player in the Pac-12 this season. He led the nation with an adjusted QBR of 90.8 (and was the only signal-caller to have better than an 86). His TD:INT ratio of 21:2 also was an FBS-best this season, as was his passer efficiency rating of 181.7. Behind a depleted and constantly adjusting offensive line, he was cool and collected and made use of a group of playmakers that really didn't have a ton of experience. On the ground, he added 135 carries for 770 yards and 15 rushing touchdowns.
No. 2: Arizona LB Scooby Wright
Statistics:
163 total tackles, 29 TFL, 14 sacks, 6 forced fumbles
Wright -- the Bronko Nagurski Award winner and the Lombardi Award winner -- led the conference with 163 total tackles (99 solo, 64 assisted) while averaging a sack per game. He also forced a Pac-12-best six fumbles. Wright is the only member of this season's top five who will return in 2015, making him the early front-runner for the No. 1 spot after the 2015 season.
No. 3: Utah DE Nate Orchard
Statistics
: 84 tackles, 21 TFL, 18.5 sacks, 2 QBH
There might not be another player in the Pac-12 who made as big of a jump on defense as Orchard did. As a junior he registered 50 total tackles, including nine tackles for a loss and 3.5 sacks. His tackles for loss and sack numbers more than doubled over the past season as he faced even stiffer competition. The Utah defense became one of the biggest storylines of the season, thanks in large part to Orchard and his pass-rushing ability. With the Utes offense struggling and becoming more one-dimensional (due to injury) as the season went on, the defense became even more important and Orchard continued to step up. His presence will be sorely missed by Kyle Whittingham, but his mark on the Utah program is one that will last a very long time.
No. 4: USC DE Leonard Williams
Statistics:
80 tackles, 9.5 TFL, 7 sacks, 1 interception, 1 QBH
Williams, one of the nation's top NFL draft prospects, had a terrific junior season at USC. He missed some time due to injury but was still one of the most feared defensive players in a league stocked full of quarterback talent. He has the talent to play anywhere on the defensive line, which will make his pro career an interesting one, but his college career was one that won't be forgotten soon. Williams tallied 218 tackles, including 36.5 for loss, with 21 sacks.
No. 5: Washington LB Shaq Thompson
Statistics:
61 carries, 456 rushing yards, 2 rushing touchdowns | 81 tackles, 2.5 TFL, 1 sack, 1 interception
This winter, Thompson won the Paul Hornung Award, given to the nation's most versatile player, and rightfully so. He was a playmaker on both the offensive and the defensive side of the ball for the Huskies. He scored six touchdowns -- two rushing, one interception return and three fumble returns. Thompson finished the year as a first-team All-American, as well as becoming the first player to become a double honoree as a first-team All-Pac-12 player on both defense and special teams. Filling Thompson's shoes is going to be one tough task for Chris Petersen. It's pretty rare that one player can fill so many needs, but Petersen will now have to look for someone (or, to be realistic, two to three someones) to do the work that Thompson did alone.
January, 23, 2015
Jan 23
9:00
AM ET
You've gotta ask yourself one question: "Do I feel lucky?" Well, do ya, punk?
Call it, Friendo.
Two quotes today... because Happy Friday.
Leading off
In case you suffer from football withdrawals at any point this weekend, take solace in the fact that plenty of elite college talent will be suiting up for the Reese's Senior Bowl this Saturday. The Pac-12 is sending an entire gaggle of representatives to this game. Most will be representing the North team, but UCLA's Anthony Jefferson and Owamagbe Odighizuwa will play for the South.
There'll be a nasty collection of defensive line talent on the North team: Think Danny Shelton, Henry Anderson, Hau'oli Kikaha, and Nate Orchard -- all on the same unit. Seeing that group play together should create a fun dynamic for avid Pac-12 fans who have watched those players terrorize quarterbacks over the past few seasons.
On the other side of the ball, Oregon State quarterback Sean Mannion may have a chance to throw to receivers from Stanford (Ty Montgomery) and Washington State (Vince Mayle).
Other Pac-12 representatives: Hayes Pullard and Josh Shaw (USC), Eric Rowe (Utah), Damarious Randle and Jamil Douglas (ASU)
This one will feature plenty of hustle, as it's the final live game opportunity for these seniors to raise their NFL Draft stock.
News/notes/team reports
Just for fun
Did you know Ronnie Lott played basketball at USC? That guy needs to be on the football team. Sign him up!
Some #FightOn flavored #TBT for you all! @USC_Athletics @USC_Hoops @Pac12Networks @Mike_Yam @CoachNeuheisel @tj_ford pic.twitter.com/xyvU4kkjSw

— Ronnie Lott (@RonnieLottHOF) January 22, 2015
January, 23, 2015
Jan 23
12:02
AM ET
January, 22, 2015
Jan 22
7:00
PM ET
Our 2014 season Pac-12 team-by-team grades continue. If you want to check out last season's reviews,
click here
.
Offense:
Oregon finished third in the nation, averaging 547 yards per game. With Hesiman winner
Marcus Mariota
leading the attack, the Ducks were very difficult to stop. He led the nation with an adjusted QBR of 90.8 and threw 42 touchdowns and just four interceptions (really, we shouldn't even count that Hail Mary throw at the end of the title game that was intercepted). Outside of Mariota, weapons emerged amongst the youth of the Ducks. Freshman running back
Royce Freeman
became the first true freshman in Oregon history to rush for 1,000 yards (1,365 yards, 18 touchdowns), former running back
Byron Marshall
became more of a slot receiver but caused havoc for opposing defenses with his multiple skills (74 receptions, 1,003 receiving yards, six receiving touchdowns, 52 rushing attempts, 392 rushing yards, 1 rushing touchdown) and freshman
Charles Nelson
burst from special teams star to offensive weapon. All of this happened behind an offensive line that saw a new lineup in nearly every game. Though Oregon finished as the runner-up this season, the offense did put up an FBS-best 681 points during the 2014-15 season.
Grade: A.
Defense:
This is a group that saw its ups and downs. For the most part, the prolific Oregon offense was able to make up for any gaffe the defense might make, but it eventually caught up to the Ducks when they met a defense that was able to slow Oregon's offense (Ohio State). The Ducks gave up 429.7 yards per game this season, but in their two losses that number jumped to 516.5. In their two losses they gave up 53.1 percent of third-down conversion attempts and 80 percent of fourth-down conversion attempts. It's a difficult system, and it took the players a little longer to catch on this season, but in the final month of Pac-12 play and in the Rose Bowl presented by Northwestern Mutual, the Ducks seemed to be full-steam ahead. The defense was clicking and creating opportunities and turnovers, looking like a grade-A group. But that horrible performance against
Ezekiel Elliott
and Ohio State is troubling, making the grade drop a bit. Against the Buckeyes, Oregon didn't look physical at all and couldn't keep the Buckeyes in front of them.
Grade: B+ (overall ... against Ohio State is another story).
Special teams:
Oregon's special teams played well this season. Nelson used special teams as a place to show what he could mean to this team, and that alone gives the special teams a bump here. Following kickoffs, opponents needed to travel 75.2 yards to get to the end zone (20th nationally), but on punt returns opponents started about 68 yards from their end zone (106th nationally). The Ducks returned two punts for touchdowns (no kickoffs were returned for touchdowns) and six of Oregon's 27 punt returns went for at least 20 yards.
Grade: B+.
Overall:
It's hard to look at this group as a whole. The defense had more struggles than the offense, but as a team -- as a whole -- Mark Helfrich's group was pretty well-oiled. The Ducks made the inaugural College Football Playoff and knocked off the reigning champion before playing one of their less physical games of the season in the title game. The kind of consistency needed to go 13-2 is hard to come by, and this team was one that really brought a lot of eyes to the Pac-12.
Grade: A.
Pac-12 Weekend Wrap: Jan. 27