October, 22, 2014
Oct 22
8:00
AM ET
4, 8, 15, 16, 23, 42
Leading off
It's depth chart Wednesday! All 12 teams are in action this week -- no byes. Actually, it will be like this for the next two weeks. So that's exciting! Here are the most current depth charts for all the teams in action this week, save UCLA, which doesn't post a weekly depth chart. As always, I'll note any significant changes below.
Notes
Heisman updates
Usually in this space every Wednesday, we've been linking the straw poll from
Heismanpundit.com
. However Chris Huston, friend of the blog who runs that site, has put it on hold while he does some work for the official Heisman site. We wish him the best.
So today we'll update you with the
ESPN.com Heisman poll.
Oregon quarterback
Marcus Mariota
still sits behind Mississippi State's
Dak Prescott
. But he closed the gap last week with his performance against Washington.
Here's how the latest poll shakes out, followed by their total points:
Dak Prescott (47)
Marcus Mariota (42)
Melvin Gordon (25)
Tie: Amari Cooper (9)
Jameis Winston (9)
Prescott and Mariota were the only players receiving first-place votes. Looks like it's a two-man race to the finish.
Dak Prescott & Marcus Mariota are atop ESPN's Heisman Watch http://t.co/lwKSDCvg17 Which QB would you rather have? pic.twitter.com/49IPVmGfpQ

— ESPN CollegeFootball (@ESPNCFB) October 21, 2014
News/notes/team reports
Just for fun
A cool behind-the-scenes photo journal of
UCLA's trip to Cal
.
Bravo, Oregon fans. Bravo.
When Oregon students get bored w/game, they break out beer pong in stands pic.twitter.com/344nVOlGW8 (via @JeffWhiteee)

— darren rovell (@darrenrovell) October 21, 2014
The Trojans will rock these shiny new lids on Saturday.
#USC will wear the new helmets again on Saturday at #Utah. pic.twitter.com/HMAYhzRLMD

— Lindsey Thiry (@LindseyThiry) October 21, 2014
October, 21, 2014
Oct 21
11:00
PM ET
Adam McLean
picked Penn State in April, but Ole Miss, Tennessee and others haven't stopped recruiting him, and his high school coach knows exactly why. DeMatha Catholic's 2016 class is shaping up to be one of the best ever in school history, and that's saying a lot.
October, 21, 2014
Oct 21
6:30
PM ET
Here's another look at random stats pertaining to the Pac-12.
Friday
No. 6 Oregon vs. California at Levi's Stadium, Santa Clara, California
Oregon has scored 79 points off turnovers, most in the conference.
Oregon has gained 61.9 percent of the possible yards on offense, most in the conference.
Cal leads the nation in touchdowns in conference games (26).
Oregon true freshman RB Royce Freeman has scored 12 touchdowns, most in the conference.
Cal QB Jared Goff ranks No. 2 in the Pac-12 with an 80.8 QBR, which ranks No. 6 nationally.
Saturday
No. 25 UCLA at Colorado

Colorado is second in the Pac-12 averaging 49.3 pass attempts per game, but allows a conference-low 1.71 sacks per game.
The Bruins have had 13 drives of 80 yards or more, the most in the Pac-12.
UCLA picks up at least one first down on 82.4 percent of its drive, second-most in the Pac-12 behind Arizona.
Colorado has gone for it on fourth down 22 times, the most in the Pac-12.
In goal-to-go situations, both UCLA and Colorado have both scored touchdowns on 11 of 13 attempts with two made field goals.
Oregon State at Stanford

Stanford is tops in the conference in yard margin per game in Pac-12 play, averaging 113 more yards than its opponents.
Stanford has committed four turnovers in the red zone-- six teams in the conference have committed none.
Oregon State averages the most seconds of possession per play in the conference (28.3), but is followed closely by Stanford (28.0).
Oregon State scores on 37.2 percent of its drives, while Stanford is at 31.4 -- two of the three lowest rates in the Pac-12.
Stanford did not lose to Oregon State during its school-record 72-week streak in the AP Top 25 that was snapped this week. The Cardinal's last loss to Oregon State came in 2009, when it was unranked.
No. 15 Arizona at Washington State

Opposing defenses have committed 17 penalties against Arizona, the most against any Pac-12 team.
Arizona averages the fewest seconds of possession per play in the Pac-12 (20.1).
Arizona RB Nick Wilson owns the Pac-12's longest rush of the season -- an 85-yard touchdown run against UTSA. Only two other players have a carry longer than 57 yards yards.
Three WSU receivers – Vince Mayle, River Cracraft and Dom Williams – have a reception of 84 yards or longer. Of the rest of the conference, only Arizona (Cayleb Jones and Austin Hill) has more than one.
WSU punts on just 29.5 percent of its drives, the third-lowest percentage in the Pac-12.
No. 20 USC at No. 19 Utah
Utah averages 4.83 drives per game without a first down, the most in the Pac-12. USC averages 3.86, the second most.
Utah RB Devontae Booker averages 187.7 yards rushing in conference games, the second most among Power 5 running backs behind Wisconsin's Melvin Gordon (217) ... and USC's Buck Allen is far behind. He ranks No. 6 (149).
USC QB Cody Kessler is among the most accurate quarterbacks in the country. His completion percentage (69.5) ranks No. 5 and his interception percentage (0.4) is No. 3.
Utah (5.18) and USC (5.36) rank No. 2 and No. 3 respectively in yards per play allowed in Pac-12 play.
No. 14 Arizona State at Washington
Washington has turned the ball over on just 3.4 percent of its possessions, the lowest rate in the Pac-12.
Arizona State is one of five teams in the country averaging over 320 yards passing and over 190 yards rushing on offense.
Arizona State's defense has committed 11 penalties that resulted in first downs, second fewest in the country.
ASU averages 6.74 yards per play, which ranks second in the Pac-12 and 15th nationally.
Washington averages 181.4 passing yards per game, the fewest in the Pac-12.
Past weeks
Week 1
Week 2

Week 3
Week 4
Week 5
Week 6

Week 7
Week 8
October, 21, 2014
Oct 21
12:00
PM ET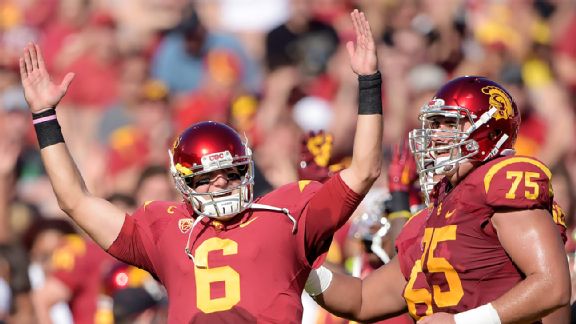 Kirby Lee/USA TODAY SportsCody Kessler set a USC single-game record with his seven passing touchdowns against Colorado.
The Pac-12 is loaded with talent at quarterback this season to the point where it seems like the conference is a hoarder and really good QBs are in abundance. But this is the way we like it. And the other conferences can keep hoarding whatever they like as long as the signal-callers stay west.
Every week we'll provide you with a power ranking of the conference's top quarterbacks, heavily considering the QB's most recent game.
Drumroll please...
Inactive Week 8:
Arizona's
Anu Solomon
and Washington State's
Connor Halliday
.
For Week 7's rankings, click here.
October, 21, 2014
Oct 21
10:00
AM ET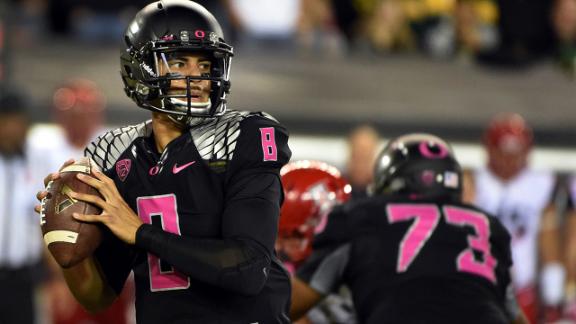 Even without a public commitment, the Pac-12 was full of recruiting news this weekend, as every home team hosted visitors and ESPN 300 prospects made their way to each Saturday game. Elsewhere, Arizona State extended an offer to a 2017 quarterback and Utah has a chance to make a big statement.
To continue reading this article you must be an Insider
October, 21, 2014
Oct 21
9:00
AM ET
Oregon has one game left before the College Football Playoff committee releases its first rankings of the year.
Currently, the Ducks sit at sixth in the AP Poll, but with a strong showing Friday night they could certainly move up. However, there probably won't be any major leaps considering the slates of the five teams that sit ahead of Oregon (No. 1 Mississippi State at Kentucky, No. 2 FSU at Louisville, No. 3 Ole Miss at No. 24 LSU, No. 4 Alabama at Tennessee and No. 5 Auburn vs. South Carolina).
But the committee has said that they're going to give a look to any team in the top 20. So even if Oregon doesn't move up, that doesn't count them out of the committee's first ranking for the group of four. It also doesn't count out No.'s 7-20, either, though. So a strong performance this weekend is necessary in order to leave the committee with a good impression of these Ducks.
And in order to do that, here are four key playmakers -- outside of
Marcus Mariota
-- that need to have big games on Friday against Cal.
1. WR Byron Marshall
Strange to call a guy who had a 1,000-yard rushing season "emerging," but he has a new role on this team. So in a big way he is emerging as a new kind of playmaker for the Ducks. Marshall gives the Oregon offense the ability to mess with defensive coordinators. When defensive coordinators call their defensive sets, it's based on the offensive personnel. And when Marshall is in there, DC's need to basically guess at whether he's going to rush or split out. Technically, the Ducks are referring to him as a wide receiver , but against Washington he recorded just as many rushes (five) as he did catches. Marshall needs to continue to prove his versatility in the offense and be that headache for opposing defenses.
[+] Enlarge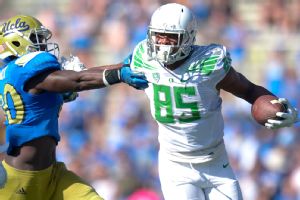 Robert Hanashiro/USA TODAY SportsPharaoh Brown causes match-up problems for defensive coordinators.
2. TE Pharaoh Brown
Of late, Brown has sort of been similar to Marshall in the fact that defensive coordinators don't really know what he's going to do. He led the Ducks in receiving yardage against UW. In the last two games he has accounted for more receiving yards than he did in Oregon's first five games. Oregon coach Mark Helfrich has complimented Brown for how much he has matured in the past year and though his silly penalties the last two weeks might not show that, if Brown continues to mature -- both emotionally and as a player -- he's going to be a guy that can tear defenses up. The committee would like to see that.
3. LT Jake Fisher
Fans can play the "What if" game with Oregon's offensive line all day but it won't change what the Ducks have now, and Fisher is a huge part of that. In the three games that Fisher missed (he left early in the Wyoming game so we'll count that), the Ducks didn't exceed expectations against the given defenses. Coming into the Oregon game, Washington State had given up 4.0 yards per rush and the Ducks averaged 4.1 yards per rush in that game. Coming into the Arizona match up, the Wildcats had given up 3.6 yards per rush, Oregon averaged 3.5 yards per rush that game. On top of that, Mariota was sacked 12 times in those two games. Since, the Oregon run game has excelled -- the Ducks averaged 6.3 yards per rush against UCLA, the Bruins had given up 4.0 yards per rush coming into that game; the Ducks averaged 4.4 yards per rush against Washington, which had only given up 3.1 yards per rush -- and Mariota has only been sacked three times. Keep Mariota healthy and the Ducks have playoff hopes. A lot of that falls on Fisher.
4. DL Arik Armstead
The Ducks needed to rebuild its defensive front coming into this season and Armstead was supposed to be a huge part. And he has played a good role in that effort. After accounting for just 17 tackles last season, the junior has already matched that total this season despite missing time due to injury. He has also tallied four tackles for a loss, one sack and four quarterback hurries. But it's not enough if the Ducks want to have a dominant defense. Oregon needs to be much, much better up front and Armstead needs to play a bigger role. The Ducks are giving up 5.6 yards per play and are allowing teams to convert on 30.8 percent of their plays (96th nationally). He has had a solid season so far but the Ducks need a playmaker on the defensive line, one that can do it all. With his combination of size and athleticism, he seems to be a great candidate. But, the proof is in the pudding and the committee is going to need to see some bigger plays -- especially up front -- out of this Oregon defense.
October, 21, 2014
Oct 21
8:00
AM ET
The exodus is here, the happy ones are near;
Let's get together before we get much older.
Leading off
The Eliminator
blew through the Pac-12 this week with brimstone and hell-fire, slashing its way through a quarter of the league. You can now add Stanford, Oregon State and Washington to the teams officially out of a contention for a spot in the first-ever College Football Playoff. After holding on by their roots, paws and teeth, the Cardinal, Huskies and Beavers all suffered losses that the Eliminator deems too significant to recover from. Her justice is swift, if not fair. Here's some thoughts on the Huskies:
Losing 11 consecutive games to Oregon is pretty bad, but losing in the manner in which they lost to the Ducks was even worse. Oregon dominated in every facet of the game, and Washington proved that Chris Petersen's first season in the Power 5 is not going to be like his first season at Boise State.
So who is left? Arizona and Oregon are the two Pac-12 teams still listed as "In Contention" while Arizona State, UCLA, USC and Utah continue to dangle "On the Fence."
Cardinal seeing red
As noted above, things haven't gone swimmingly for the two-time defending conference champions. Athlon Sports took a look at
some of the issues facing the Cardinal
. And if you're looking on the offensive side of the ball, there are more than a few. They key in specifically on the offensive line:
The most likely reason Stanford's offense has been struggling this season may be due to the fact the Cardinal had to start an almost entirely new offensive line this season. Stanford lost four starters up front, as well as a starting tight end from 2013. Good teams tend to have experience and depth on the offensive line, and that does not appear to be the case for Stanford this season and it is showing. Stanford has allowed 15 sacks this season, which ranks 73rd nationally.
Also from Athlon, a look at
some crazy Pac-12 stats
, and why the Utes must be taken seriously
in the South
.
News/notes/practice reports
Just for fun (the pucker-up edition)
By now, you've probably seen "The Kiss", a moment of celebratory passion between ASU quarterback
Mike Bercovici
and his girlfriend, who also happens to be an ASU cheerleader.
#TheSunDevils QB Mike Bercovici after winning #STANvsASU @ASU_Alumni #FearTheFork #SunDevilNation #azcphotos pic.twitter.com/x50a8m9lt1

— Rob Schumacher (@RobSchumacher1) October 19, 2014
Here's a little story on
the lip-locking moment
. The Pac-12 blog isn't quite ready to place it among history's best kisses ...
like this one
...
this one
...
or this one
. But it ain't bad. However,
you must remember this
...
October, 20, 2014
Oct 20
7:47
PM ET
Over the past few weeks, ESPN Insider has featured the top 10 wide receivers and top 10 quarterbacks in college football.
This third part of the series will review the top 10 running backs in college football. The depth of quality candidates at this position is higher than it has been in a few years, so the competition was quite spirited. The list includes strong representation from the Big Ten, SEC and Pac-12 and varies from speedy breakaway threats to explosive power runners.
Here are the top 10 running backs in college football:
(Note: Unless otherwise noted, all metrics below are from games against Power 5 opponents.)
To continue reading this article you must be an Insider
October, 20, 2014
Oct 20
4:00
PM ET
A slight sense of normalcy returned to the Pac-12 this past weekend, but fear not -- it's still plenty weird out West. Home teams actually posted a winning record (3-2) this past weekend, improving their season season mark to a still-dismal 7-16.
Stanford, the two-time defending champion, is staggering, so Oregon has established a grip on the Pac-12 North. Meanwhile, let's not pretend we have a bead on the minefield that is the Pac-12 South. Four teams are tied at the top in the loss column, and a fifth -- preseason favorite UCLA -- hovers right behind them with two losses. It's a mess of epic proportions.
With USC visiting Utah this weekend, we will see some moving and shaking in the South. Let the horse race continue around the second bend. Here is Week 9:
The delicious appetizer: Oregon vs. Cal (at Levi's Stadium)
A couple weeks ago, Cal enjoyed its time in sole possession of the Pac-12 North lead, but that stay was as short-lived as most expected it to be. Though
Jared Goff
has emerged as one of the league's elite passers (9.1 yards per attempt, 24 touchdowns, four interceptions), the Bears are hindered by a defense that struggles to tackle in critical situations. That was the story of their 36-34 loss to UCLA, even though a trio of Bruins' turnovers kept that game close. It's also bad news entering a matchup with an Oregon team that is beginning to fire on all cylinders. The Ducks blasted Washington 45-20 behind four touchdowns from true freshman
Royce Freeman
. He is a six-foot, 230-pound tank -- exactly the type of player who can turn the Bears into falling dominoes.
Goff will need to deliver an epic performance in his duel with
Marcus Mariota
. Combined numbers for these two: 43 touchdowns, four picks.
Game with the biggest College Football Playoff implications: USC at Utah
Salt Lake City hosts a de facto College Football Playoff elimination game. The Arizona State-Washington battle in Seattle might have shared this designation had the Huskies found a way to get it done at Autzen Stadium, but they were run out of the building. So USC (5-2 overall) and Utah (5-1 overall) square off in the Pac-12's marquee Week 9 game. This one is fun on many levels: The Utes are coming into their own as a rugged defense (allowing 4.7 yards per play), while the Trojans are brimming with offensive confidence following their 56-28 win against Colorado, during which
Cody Kessler
threw a touchdown pass on 27 percent of his attempts (his seven touchdowns broke Matt Barkley's school record).
This game also features the Pac-12's two most productive running backs: USC's
Buck Allen
(130 yards per game) and Utah's
Devontae Booker
(124 yards per game). Buckle up, Rice-Eccles Stadium will be shaking.
The proving grounds game/redemption opportunity: Oregon State at Stanford
Week 8 was bitterly disappointing for these teams. The Beavers lost 29-23 at home in double overtime to a Utah team that managed only 62 passing yards, and Stanford managed less offensive production against Arizona State than Weber State, New Mexico, and Colorado. Talk about a reversal of fortune: The Cardinal's 26-10 loss to the Sun Devils came on the very same field where they dominated offensively and won the Pac-12 championship last season. Judging by margin of victory, that was their worst setback since falling 53-30 to Oregon in 2011.
Unless Stanford figures it out offensively, points will likely be scarce in this game. The Cardinal's defense still leads the nation allowing only 3.8 yards per play, and it has proven to be a rough matchup for the Beavers' offense. Meanwhile, Oregon State's defense has been surprisingly efficient, surrendering 4.9 yards per play (third in the Pac-12), so it's unclear if 13.5 is the spread or the over/under in this one.
Opposing directions bowl: Arizona State at Washington
The Sun Devils delivered a fantastic all-around performance in their 26-10 pounding of Stanford, and the Huskies were on the receiving end of a 45-20 whipping in Eugene. So both clubs are trending in opposite directions here, but they are still a combined 10-3. Washington is desperate to right the ship at home, where its havoc-wreaking defense (nation-best five touchdowns) thrives. Meanwhile, Arizona State has another chance to solidify legitimacy after two straight energizing wins. A week after facing Stanford's anemic attack, the Sun Devils face a Washington offense that is ranked dead last in the Pac-12. That is medicine for a once-struggling ASU defense.
Where great offensive minds meet: Arizona at Washington State

Time to change gears: With Rich Rodriguez and Mike Leach squaring off, there should be no shortage of total offense on the Palouse. The Cougars are desperate; they need to win four of their last five just to make a bowl game.
Connor Halliday
is already on pace to shatter the FBS single season-passing yards record, and
Anu Solomon
brings less gaudy numbers but a better 5-1 record into this game. Both teams are coming off bye weeks, so both offensive game plans should be beyond polished Saturday afternoon.
The afterthought: UCLA at Colorado
The Bruins overcame severe sloppiness in their 36-34 win at Cal, and Colorado never had a chance in the 56-28 loss at the Coliseum. At 0-4 in conference play, the Buffs are desperate, and it's tough to spot a win on their remaining schedule. The Bruins must iron out their galling turnover issue (quarterback
Brett Hundley
has been responsible for eight giveaways -- opponents have scored touchdowns off seven of them) and frequent trouble with defensive breakdowns. Folsom Field might be a good place to start that process, because a home showdown with Arizona waits UCLA after this one.
October, 20, 2014
Oct 20
2:00
PM ET
Week 8 was great. As always, here are your choices for the Pac-12 Blog's Play of the Week. All were impressive, but which was head and shoulders above the rest?
1. Why use two hands when you only need one?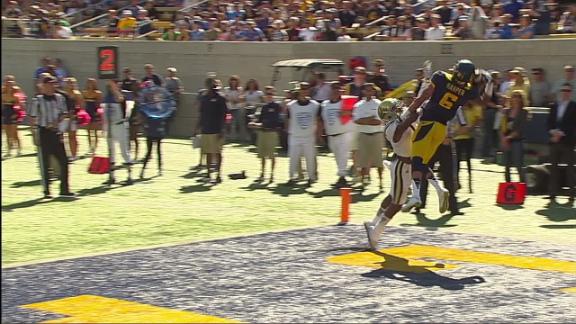 With Cal trailing by three, and the Bears with their second attempt at the endzone from the 7-yard line, Cal junior receiver
Chris Harper
caught a one-handed touchdown pass over UCLA defensive back
Ishmael Adams
(who's not new to the Play of the Week vote, but usually isn't the one being beat in the play). It was a nice throw from quarterback
Luke Rubenzer
, but Harper displayed great athleticism in going up for that ball, controlling it and bringing it down with his right hand.
2. Oregon's own [Dwayne] Stanford problem

Oregon sophomore receiver
Dwayne Stanford
elevated over both
Kevin King
and
Sidney Jones
to come down with his first touchdown against an FBS opponent in his career. It was a perfect ball from quarterback
Marcus Mariota
and Stanford's leap, catch and spin for the score -- which gave the Ducks a 35-6 lead -- certainly deserves a spot in this week's vote. Stanford's catch was even bigger for the Ducks as Mariota begins to look for new weapons in the receiving game with
Bralon Addison
still out and
Keanon Lowe
, his most experienced receiver who returned this season, having sat out the last two games. Stanford finished the day with five catches for 55 yards, including this little 16-yard beaut.
3. No. 7 for No. 6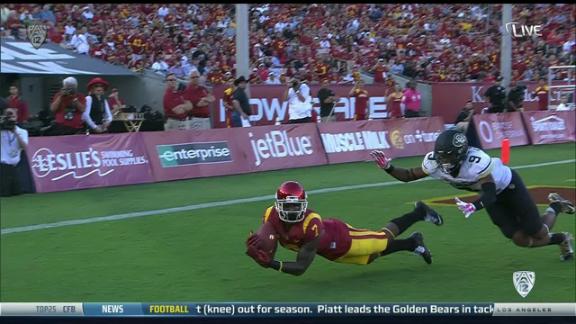 USC quarterback
Cody Kessler
tied the Pac-12's and stole the USC school record for touchdown passes thrown in a game … seven. Yes, this coming from a quarterback who often gets put on the backburner because there are just so many guys to talk about in this conference. Though all seven touchdown passes were impressive, we're going with his record-breaking toss for many reasons:
He displayed plenty of calm in the pocket while Colorado had a pretty solid pass rush going on.
The throw itself was put in the perfect spot so only his receiver could get it.
Steven Mitchell's diving catch for it was just the cherry on top.
4. Book it for Booker
Running back
Devontae Booker
had a huge night on Thursday for the Utes. With not much happening in the air, he got it done on the ground for Utah, rushing 32 times for 229 yards and three touchdowns. But the vote this week is for his 19-yard rushing touchdown in the second overtime to seal the win for Utah. The play itself might not have featured as many ankle breakings as others this weekend, but to thrive under that kind of pressure and get a road win in the Pac-12 (which seems pretty common these days, I know) is good enough to get on the vote. Booker -- who flew under the radar coming into this season -- is now second in the conference in rushing yards per game (123.7) and third in all-purpose yards (146.2).
5. An Oregon Grand [Byron] Marshall
Technically,
Byron Marshall
is a wide receiver now for the
Oregon Ducks
. But don't tell that to the ankles he broke on Saturday as he rushed in a 23-yard touchdown. Though it was a receiving touchdown, it was his performance after the catch that gets him on this vote. His change of speed and direction got two Husky defenders to look silly before he bulldozed his way into the endzone through three more Washington players (and an Oregon player, too). On the day, Marshall accounted for five carries for 30 yards and five catches for 48 yards.
Pac-12 Weekend Wrap: Oct. 21
PAC-12 SCOREBOARD
Friday, 10/24
Saturday, 10/25