December, 10, 2013
Dec 10
2:30
PM ET
You're a sad, strange little man. And you have my pity. Farewell.
December, 10, 2013
Dec 10
1:15
PM ET
The hits keep coming for the Pac-12. First, the nation's deepest and most ambitious conference in terms of scheduling gets just one BCS bowl team.
Then it doesn't have a Heisman Trophy finalist
, even with two candidates who are superior to the players who were invited.
[+] Enlarge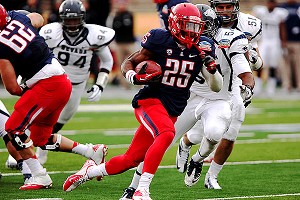 AP Photo/Eric DraperArizona RB Ka'Deem Carey has rushed for more than 100 yards in every game he has played in this season.
Arizona RB
Ka'Deem Carey
is the nation's best running back. He is a better running back than Auburn's
Tre Mason
and Boston College's
Andre Williams
, who are two of the six Heisman finalists.
What that means is that if you had all the college -- or NFL -- coaches pick a running back, the vast majority would choose Carey first. Why? Again, he's better than Mason and Williams.
And, if this is about pure numbers, Carey's numbers are superior to Mason's, who apparently got invited to New York because he posted an undeniably great performance in the SEC title game against Missouri. If that was the selling measure, then the Auburn offensive line should have been sent to New York.
Then there's Oregon QB
Marcus Mariota
, whose Heisman case is hampered by the Ducks losing two of their final four games. Of course, that didn't change the fact that
he's been better than three of the four QB finalists
over the entire season.
None of the four invited QBs --
Jordan Lynch
of Northern Illinois,
Johnny Manziel
of Texas A&M,
AJ McCarron
of Alabama and
Jameis Winston
of Florida State -- has a resume without holes.
Lynch played against weak competition. Manziel lost his final two games of the season and played poorly while doing so. McCarron's candidacy was about career achievement, but he lost to his team's arch-rival to end the season, thereby missing out on his much-celebrated drive for a three-peat.
Winston, the overwhelming favorite as the best player on the best team, obviously had his off-field issue. No charges were filed, but the incident was hardly a shining and blameless moment for Winston.
Who's to blame for nobody from the West Coast heading to NYC? Well, we hate to bring out a hackneyed harrumph but it's obvious: East Coast Bias.
Notice anything about the finalists? Yep, none play in the Mountain or Pacific Time Zones. To get off the Pac-12 train for a bit, consider that Fresno State QB
Derek Carr
, who is probably a better NFL prospect than Manziel, McCarron and Lynch, wasn't invited. He only led the nation in passing and threw 10 more TD passes than anyone else.
This bias isn't about some evil and corrupt dislike of all things West Coast. It's about a limited and flawed radar of evaluation. And, you know, going to bed early.
But East Coast voters aren't the only ones who suffer from bias. Here's a guess that when the regional voting patterns are revealed that Mariota's and Carey's support will only be lukewarm out West. That's because many West Coast voters suffer from a form of college football Stockholm Syndrome, where they are unduly influenced by the dominant and oft-repeated East Coast narrative, even if it runs counter to the conclusions of their own eyes and brains.
Before Oregon lost to Stanford, there was no East Coast Bias to fret. Folks loved Mariota and he led every Heisman poll. But when he lost, he plummeted unlike any other candidate who had an off-game. His consideration died completely when the Ducks also lost at Arizona.
It's a case of out of sight, out of mind, a condition that none of the other finalists back East had to deal with as they were re-evaluated despite shortcomings not unlike Mariota's.
When the odd ending to the season forced Heisman voters to revisit their pecking order, they apparently didn't include players outside their time zones. Bad finishes for Manziel, Lynch and McCarron? Neh.
A bad finish for Mariota? Wait… who's that?
For Carey, it was just a matter of everyone knowing he's the nation's best running back but not caring because he played for a 7-5 Arizona team. Are there really voters in the country who would be willing to step up to a microphone and say, "Mason/Williams are better than Carey"? I hope not.
And, despite a tireless effort from the Wildcats sports information department to point out that Carey's 15 consecutive games with over 100 yards hasn't been accomplished IN A DECADE, voters went all lazy because I'd bet at least 50 percent of them never watched him play all season.
Sour grapes? Absolutely. But sour grapes based entirely on facts and sound logic.
December, 10, 2013
Dec 10
12:00
PM ET
College football players don't get paid a salary but they do get some nice parting gifts each season. If, that is, their team is able to claw its way to a bowl game.
Sports Business Daily has done its annual accounting of bowl gifts
, and let's just say there's a reason players like bowl games, beyond another chance to play and win.
The NCAA allows each bowl to award up to $550 worth of gifts to 125 participants per school, so this is all within the NCAA's complex web of rules.
You'll see "gift suite" over and over. Here's what that is, per SBD:
SportsBusiness Journal's eighth annual analysis of the gift packages provided to bowl game participants by the committees that host the games reveals that half of those organizations will stage a gift suite or shopping spree in the coming weeks. Gift suites are set up as private events prior to the game in which game participants, and often bowl VIPs, are given an order form and allowed to select a gift, or gifts, up to a value that is predetermined by each bowl, not to exceed the NCAA limit.
So what do Pac-12 players get this bowl season. Glad you asked.
Sheraton Hawaii Bowl (Oregon State vs. Boise State)
Tues., Dec. 24, 8 p.m. (ESPN); Honolulu
Gift suite; Oakley sunglasses; Tori Richard aloha shirt, Pro Athletics shorts and performance T-shirt; Ogio backpack; beach towel
AdvoCare V100 Bowl (Arizona vs. Boston College)
Tues., Dec. 31, 12:30 p.m. (ESPN); Shreveport, La.
Gift suite; Timely Watch Co. watch; New Era skull cap; football
Gildan New Mexico Bowl (Washington State vs. Colorado State)
Sat., Dec. 21, 2 p.m. (ESPN); Albuquerque, N.M.
Gift suite, portable mobile device charger, 8 GB USB; Oakley Breadbox sunglasses; cap, Oakley Fine Knit beanie; Oakley Flak Pack XL backpack; Gildan stadium blanket
Fight Hunger Bowl (Washington vs. BYU)
Fri., Dec. 27, 9:30 p.m. (ESPN); San Francisco
Soundmatters wireless portable speaker system; Fossil watch; Maxx HD Wayfarer sunglasses; messenger bag; Macy's gift card
Royal Purple Las Vegas Bowl (USC vs. Fresno State)
Sat., Dec. 21, 3:30 p.m. (ABC); Las Vegas
Samsung Galaxy Tab 3; beanie, cap; Oakley Flak Pack XL backpack; football, Zappos gift card
Hyundai Sun Bowl (UCLA vs. Virginia Tech
Tues., Dec. 31, 2 p.m. (CBS); El Paso, Texas
Gift suite; Timely Watch Co. watch; Top of the World cap, Majestic fleece pullover; Ogio backpack; coin, Helen of Troy hair dryer
National University Holiday Bowl (Arizona State vs. Texas Tech)
Mon., Dec. 30, 10:15 p.m. (ESPN); San Diego
$305 Best Buy gift card; Reactor Meltdown watch; Maui Jim sunglasses; cap
Valero Alamo Bowl (Oregon vs. Texas)
Mon., Dec. 30, 6:45 p.m. (ESPN); San Antonio
iPad Mini with retina display, Apple gift card; Fossil watch; panoramic photo, Schutt mini helmet
Rose Bowl Game presented by Vizio (Stanford vs. Michigan State)
Wed., Jan. 1, 5 p.m. (ESPN); Pasadena, Calif.
Gift suite; Fossil watch; New Era 59Fifty cap; Ogio backpack
December, 10, 2013
Dec 10
8:00
AM ET
There are a number of impact players in the 2014 recruiting class still uncommitted and looking hard at Pac-12 programs. While one commit won't likely make a break a class, there are prospects out there that are extremely important for each class, for reasons on and off the field. This week, we take a look at arguably the top uncommitted target for each program, and why the recruit would make such an impact for that school.
To continue reading this article you must be an Insider
December, 9, 2013
Dec 9
5:30
PM ET
So how do your Pac-12 reporters stack things up heading into the bowl season?
Glad you asked.
Here's Kevin's:
1. Florida State
2. Auburn
3. Alabama
4. Michigan State
5. Stanford
6. Baylor
7. Ohio State
8. Oregon
9. South Carolina
10. Missouri
11. Oklahoma
12. Clemson
13. Oklahoma State
14. LSU
15. UCF
16. Arizona State
17. UCLA
18. Louisville
19. Wisconsin
20. Fresno State
21. Duke
22. NIU
23. Texas A&M
24. Washington
25. Rice
And here's mine:
1. Florida State
2. Auburn
3. Alabama
4. Stanford
5. Michigan State
6. Baylor
7. Ohio State
8. South Carolina
9. Missouri
10. Oregon
11. Oklahoma
12. Oklahoma State
13. Clemson
14. Arizona State
15. UCLA
16. LSU
17. Central Florida
18. Louisville
19. Wisconsin
20. Fresno State
21. Duke
22. Georgia
23. Iowa
24. Washington
25. Northern Illinois
December, 9, 2013
Dec 9
3:08
PM ET
The Pac-12 is favored in eight of its nine bowl games, as Oregon State is the only underdog in its matchup with Boise State in the Sheraton Hawaii Bowl.
That's good news and bad news.
The good news is the conference has an excellent chance to post an impressive bowl record. The bad news is it has a chance to embarrass itself, too. Anything less than 6-3 would be a major disappointment.
[+] Enlarge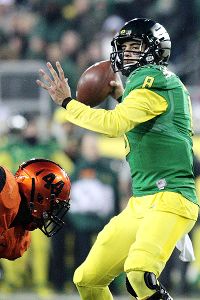 Scott Olmos/USA TODAY SportsMarcus Mariota and the Ducks struggled to the finish line, but they hope to have a strong showing against Texas in the Alamo Bowl.
Of course, the Pac-12 blog has always taken a dim view of judging a conference by its bowl record, despite its annual inevitability. The college football postseason is filled with teams with varied motivation, not to mention coaching turnover -- see Washington and USC, as well as Boise State. Still, a program is responsible for itself.
The biggest reason the Pac-12 should thrive this bowl season is also the biggest negative for the conference: just one BCS bowl team, unlike the SEC, Big Ten, ACC and Big 12, and unlike the previous three seasons. Yep, the deepest Pac-12 perhaps in history ended up being a negative when it came to handing out bowl invitations.
The most aggrieved party is No. 10 Oregon, the only eligible at-large team to be passed over. The Ducks were hoping to be pitted against Alabama in the Allstate Sugar Bowl, but the bowl went with Oklahoma, honoring a relationship with the Big 12 and perhaps thinking the Sooners will travel better than the Ducks.
Not to incur the wide-eyed wrath of Oregon fans, but the Sooners' case probably was stronger on merit, too. The Ducks lost two of their final four games, and they barely slipped by 6-6 Oregon State in the Civil War to conclude the season. Oklahoma is riding a three-game winning streak that was capped by impressive victory over No. 6 Oklahoma State on Saturday. Paired with the Sooners other quality win -- at Notre Dame -- that's more impressive than the Ducks best wins (UCLA and Washington). And the Sooners losses, to Baylor and Texas, are at least comparable to the Ducks' (Stanford and Arizona). According to ESPN Stats & Information, Oregon's and Oklahoma's schedules were pretty equivalent, the Ducks ranking 50th and the Sooners 55th.
Sure, Oregon would be favored against Oklahoma, but the Sugar Bowl folks took the temperature of the respective fan bases and found more smiles in Norman than Eugene.
Finally, to be honest, the way Oregon looked over the final month of the season suggests they'd be better off allowing the Sooners to deal with Alabama and Nick Saban.
As for the conference champions, kudos to Stanford for negotiating the nation's fourth-most difficult schedule with an 11-2 record. In fact, the Cardinal is ranked No. 1 in ESPN Stats & Information "
Championship Drive Rating
," which measures a team's overall merit -- the "difficulty of achieving their W-L or better and how well they control games using in-game win probability; both adjusted for quality of opponent."
Of course, Stanford, which opened as a 3-point favorite against Michigan State in the Rose Bowl Game presented by VIZIO, is where the Pac-12's overall offseason perception will start. It figures to get a tough fight from the defensive-minded Spartans. A Cardinal loss would diminish the Pac-12's national perception as a whole -- as in trickle down from the Big Ten champion being superior to the Pac-12 champ.
Oregon's matchup with Texas in the Valero Alamo Bowl is interesting. If both teams show up with their best game, Oregon wins by two or three touchdowns. But the Ducks over the final four weeks of the season would lose to Texas. The Ducks need to be motivated. They need to know, for one, that the Longhorns figure to be fired up, as they are perhaps playing their last game with Mack Brown as their coach.
The biggest mismatch of the conference's bowl season might be Arizona State against Texas Tech in the National University Holiday Bowl. The Sun Devils have won seven of eight -- the loss coming Saturday in the Pac-12 title game -- and are among the nation's hottest teams. The Red Raiders? They've lost five in a row, the last four being blowouts.
UCLA is in a similar situation in the Hyundai Sun Bowl against Virginia Tech. The Bruins have won four of five, while the Hokies have lost three of five. Virginia Tech's defense will challenge Bruins QB
Brett Hundley
, but the Hokies are horrid on offense.
USC and Washington will be the conference's biggest question marks due to coaching changes. The Trojans face a very good Fresno State team led by QB
Derek Carr
in the Royal Purple Las Vegas Bowl, while the Huskies face a BYU team that ran all over Texas earlier this season in the Fight Hunger Bowl. Under normal circumstances, both matchups would favor the Pac-12. But these aren't normal circumstances.
Oregon State will face a Boise State squad with the same deal in the Hawaii Bowl. While this is a down year for the Broncos, it's hard to bet against Boise State with Chris Petersen in a bowl game. But he's now in Seattle. The Beavers, by the way, really need to win this game, otherwise it's going to be a sour offseason in Corvallis.
Meanwhile, Arizona makes the longest trip to meet Boston College in Shreveport, Louisiana for the AdvoCare V100 Bowl. This is interesting just because you have the top two running backs in the country in Arizona's
Ka'Deem Carey
and Boston College's
Andre Williams
.
Finally, Washington State will be playing in its first bowl game since 2003 in the Gildan New Mexico Bowl against Colorado State. The Cougars have wins over USC, Utah and Arizona. The Rams' best win is over 5-7 Wyoming. Mike Leach and the Cougs should roll.
Again, when you added it all up, 9-0 is not unreasonable and 7-2 is almost pessimistic. But bowl games are funny things, and this has been a funny season.
As we move into a four-team College Football Playoff with a selection committee weighing who's in and who's out, perception might become even more important than it was with the quintessentially subjective BCS.
The Pac-12 seemed like -- at the very least -- the nation's second best conference, no matter the BCS bowl situation. It needs to make good on that during the bowl games.
December, 9, 2013
Dec 9
2:30
PM ET
The guy's in a big red suit flying around because he craves the spotlight. He's a fame junkie. The guy's a clown. He's a megalomaniac. It's all a big shell game. He presents himself like, "Look at me, I'm so nice." He's getting paid. He's got a whole thing happening. Know they sell more Santa statues along with trinkets ... than they do of Buddha?
December, 9, 2013
Dec 9
11:04
AM ET
LITHONIA, Ga. -- In the Class of 2015, defensive end
Arden Key
(Lithonia, Ga./Martin Luther King) is one of the most heavily sought prospects in the Peach State with more than 20 offers.
The No. 59-ranked prospect in the ESPN Junior 300 was once committed to South Carolina along with high school teammate
Wesley Green
, but Key backed off that verbal pledge on Sept. 22.
Fast forward three months and the athletic edge-rush prospect is looking at all his options with two programs in line to make an eventual trimmed list.
To continue reading this article you must be an Insider
December, 9, 2013
Dec 9
11:00
AM ET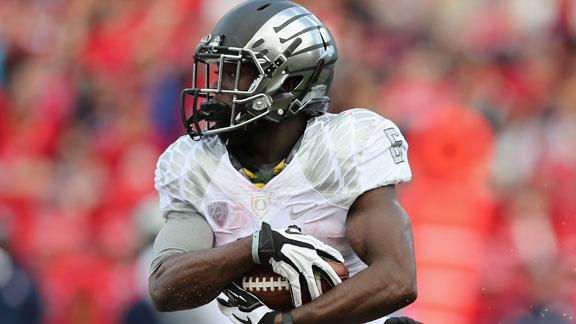 AUSTIN, Texas -- The great unknown of Texas' future remains unsolved two days after Texas' loss to Baylor. But the imminent future was at least settled Sunday: Texas is returning to the Valero Alamo Bowl, this time to take on No. 10 Oregon.
And that proposition looks about as scary as anything
Mack Brown
and his loyalists might see in the next few weeks.
We don't know what's next for Brown. He traveled to New York on Sunday with UT president Bill Powers and athletic director Steve Patterson for the College Football Hall of Fame induction ceremonies. He's supposed to hit the road this week for in-home visits with recruits.
[+] Enlarge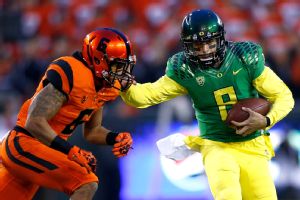 Jonathan Ferrey/Getty ImagesTexas has troubles defending the option. Marcus Mariota and Oregon run it perhaps better than anybody.
Whatever is in the works in the meantime remains unknown. Texas' grand plan is far from clear. But this much is certain: When the dust settles, the Longhorns have plenty of work to do and 15 practices to do so. At some point, preparations to face Oregon will begin.
The response from fans and pundits on Sunday night was relatively consistent: Texas (8-4) is going to get smoked by Oregon (10-2). It won't be pretty.
Oddsmakers have made the Ducks a two-touchdown favorite, which is familiar territory for the Longhorns by now. This team liked playing the underdog role in 2013, so perhaps there's no better way to end the year than with Texas' most difficult matchup yet.
Oregon has a two-time All-Pac-12 quarterback in
Marcus Mariota
. He ranked
No. 2 in the nation in QBR
this season behind Florida State's
Jameis Winston
. If not for an MCL sprain that limited his game late in the season, Mariota would likely be New York-bound as well this week. The way this Heisman field fell apart, he still might.
The Ducks' famously fast tempo won't be what causes this Texas defense trouble. The Longhorns have seen faster this season, and Oregon's plays-per-game-average of 75 is down from a year ago.
The problem will be the option. Among spread offenses, nobody does that better in college football than the Ducks. It's a big reason they're 56-9 since 2009, the year former coach Chip Kelly took over.
Mariota rushed for 695 yards excluding sacks this season, his second as the starter. He says the knee injury that prevented him from running effectively should be 100 percent healed by the Dec. 30 bowl game.
And he's surrounded by options: Three running backs surpassed 500 yards this season, led by second-year back Byron Marshall's 995 yards. He has an ankle injury, but also plenty of time to recover.
And don't forget
De'Anthony Thomas
, as explosive a player as there is in college football. He's healthy again after missing four games with an ankle injury. Miss him once in space and he'll hit the home run. And when you sell out to stop the run,
Josh Huff
(1,036 receiving yards, 11 TDs) can sneak behind the defense and make you pay.
"These guys are like Baylor," Brown said. "They can score fast and they do a tremendous job."
Read option, speed option, triple option, veer, packaged plays – the Ducks do it all. No other bowl team has more 20-yard runs this season than Oregon.
And few bowl teams struggled more to stop the option and the quarterback run than Texas. For all the progress Greg Robinson and the defensive staff made in the past 10 games, this remains the team's Achilles' heel.
The Longhorns gave up the ninth-most rushing yards to quarterbacks in the bowl subdivision. As Brown joked midway through the season: If Texas' opponents don't run the option, they'll put it in the playbook.
It was just too easy, even against a defense with a pair of All-Big 12-caliber ends. Injuries have rendered this unit thin at linebacker and defensive tackle. Robinson, his coaches and his defenders will need these 15 bowl practices to find answers.
Oregon's defense is far from flawless, but it did hold foes to 19 points per game in its wins. It's a top-three scoring defense in the Pac-12 and No. 4 in total defense. At the moment, though, the attention of Texas' offense will be on fixing itself.
Case McCoy
is coming off the worst start of his career. The Longhorns gained 59 yards in the second half Saturday at Baylor. Their only touchdown drive began at Baylor's 11-yard line, and they still needed seven plays to score.
They'll need every practice and film session afforded to them this month. Stanford beat Oregon with pure power. Arizona blew out the Ducks with an elite running back. What's it going to take for Texas to pull this one off?
The Longhorns have their own problems to solve first, and plenty of preparation ahead. If you think the next three weeks will be rough and messy off the field, it can get a lot worse if Texas doesn't stay focused on its toughest test yet.
December, 9, 2013
Dec 9
10:54
AM ET
ESPN.com news services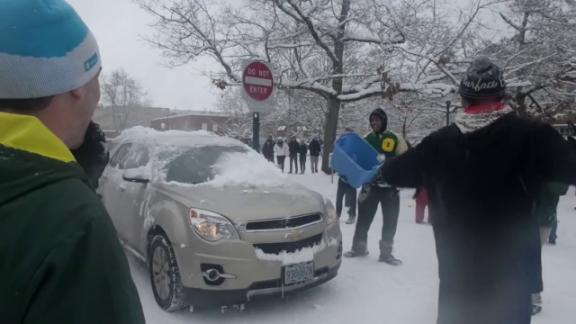 Oregon has suspended starting tight end Pharaoh Brown for the Valero Alamo Bowl for his role in a snowball fight.
Unidentified players reportedly organized the snowball fight and more than 100 students participated.
According to a video that went viral Monday, the group stopped several cars and pelted them with snowballs and dumped containers of snow on windshields. In one case, a driver who got out of his car -- identified by KATU-TV as former professor Sherwin Simmons -- was hit repeatedly and had a large container of snow thrown on him through the driver's side door.
"I was one of the many UO students involved in the snowball fight on Friday, and my actions escalated to an inappropriate level and, for that, I sincerely apologize," Brown said in a statement released by the university. "We never should have engaged innocent people, and I deeply regret my actions and will accept the consequences."
The suspension was announced Monday by coach Mark Helfrich, who has apologized to the targeted drivers. Helfrich had promised discipline during the weekend, saying the behavior shown in the video was "completely unacceptable and dangerous."
Other players involved in the fight received unspecified punishments but will be allowed to play in the bowl game. All students involved in the fight, including nonplayers, are subject to further discipline from the dean of students, the university said.
December, 9, 2013
Dec 9
8:00
AM ET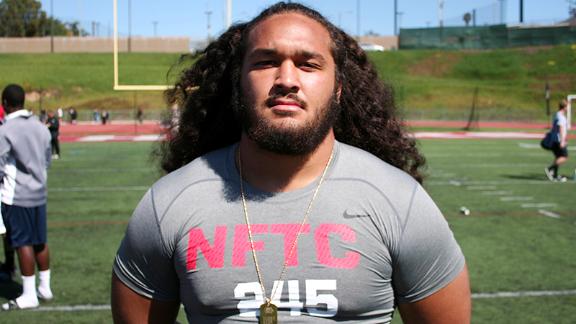 The Pac-12 conference has seen a flurry of action recently, with coaching news and rumors keeping recruits on their toes. Following a week where Steve Sarkisian took over at USC and Chris Petersen moved from Boise State to Washington, this past weekend was tame by comparison. But UCLA made some significant noise with a big commitment, while Oregon extended two intriguing offers. CIF championship games provided backdrops for huge performances from Pac-12 recruits, while the conference title tilt was only the appetizer in the battle between Arizona State and Stanford.
To continue reading this article you must be an Insider
December, 9, 2013
Dec 9
5:00
AM ET
1. Oregon finished 10th in the final BCS standings, the fifth consecutive year in which the Ducks finished the regular season in the top 10. But Oregon's streak of BCS bowl invitations stopped at four. The reason? Bad geographical luck. This year, the Tostitos Fiesta had the last pick among the BCS bowls. The Discover Orange took No. 12 Clemson from the ACC, the Orange's host conference. The Allstate Sugar took No. 11 Oklahoma, a lot closer to New Orleans than Eugene is. If the Fiesta had an earlier pick, No. 15 UCF would be playing closer to home instead of Arizona.
2. College football is played by young men who are faster and bigger than any who have come before them. It is coached by men who have more information at their fingertips than has ever been available. And yet, if nothing else, the 2013 season proved that college football has never been more unpredictable. Auburn, Missouri and Duke were all picked to finished fifth or lower in their divisions. Baylor was picked to finish fifth in the Big 12. I can't explain it, but I thought it was worth pointing out.
3. My three favorite bowls other than the BCS Championship Game: a) the Rose Bowl -- No. 4 Michigan State and No. 5 Stanford play similar throwback styles. Fedoras welcome; b) the AT&T Cotton -- No. 8 Missouri (highest-ranked non-BCS bowl team) and No. 13 Oklahoma State features two explosive offenses and two physical defenses; c) AdvoCare V100 Bowl -- the tailbacks at Arizona and Boston College,
Ka'Deem Carey
and
Andre Williams
, respectively, combined to rush for 3,818 yards and 34 touchdowns.
Oregon Players Facing Discipline