September, 23, 2014
Sep 23
1:00
PM ET
COLUMBUS, Ohio -- If all Urban Meyer wanted was something to feel good about and reassure him progress on defense was being made, the Ohio State coach has plenty of numbers he can pull to set his mind at ease.
The Buckeyes just pitched a shutout before their bye week. They've already intercepted five passes. Only two teams in the nation are allowing fewer yards per game through the air.
Those things may be encouraging, and Meyer certainly isn't complaining considering Ohio State's horrendous pass coverage a year ago effectively cost them a Big Ten title and a shot at a national championship. But those statistics provide something of a false positive, because the reworked secondary of the No. 22 Buckeyes hasn't really been tested yet.
[+] Enlarge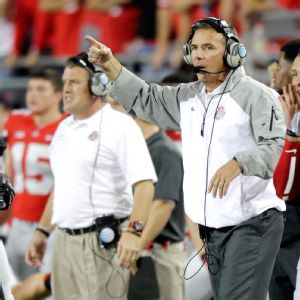 AP Photo/Jay LaPrete"This is the test," Urban Meyer said of Cincinnati. "This is the one that we're all shooting for."
But Cincinnati figures to give them that test on Saturday night at Ohio Stadium.
"Here we go," Meyer said. "This is the test. This is the one that we're all shooting for.
"They're really good at throwing the ball, and it will be a challenge for us. But I really can't make an evaluation yet after the first three games."
The signs appear to be pointing in the right direction under new co-defensive coordinator Chris Ash, who was brought in to lead the overhaul of a coverage unit that finished No. 110 in the nation last season against the pass.
Ohio State was routinely torched down the stretch a year ago, barely surviving a shootout against Michigan before falling to both Michigan State in the Big Ten title game and Clemson in the Discover Orange Bowl thanks largely to breakdowns in the secondary. Meyer didn't hesitate in the aftermath of the losses that snapped a 24-game winning streak to express his frustration with a defense that wasn't playing as aggressively as he wanted, and after Everett Withers left following the season to take over at James Madison, it was up to Ash to dial up the intensity and deliver what his new boss wanted in the secondary.
So far, he appears to be delivering that with a system that relies on simpler schemes, man coverage and players with fearless mentalities who don't back down from the challenge of intense competition on every snap.
"We did make improvement, but again, we've got a long way to go in a lot of areas," Ash said. "It's hard to answer [how much improvement there is], because I don't really know. I was hoping that we would be good, but I was hoping that we would be undefeated at this point and we're not.
"Where are we at right now? We won [against Kent State], we made improvement and that's all we can ask for."
Kent State is a far cry offensively from Cincinnati, and the Buckeyes haven't pretended otherwise since pitching a shutout ahead of their off date and turning the focus to one of the nation's most dangerous quarterbacks and a talented receiving corps.
Ohio State had already snuck a peek at Gunner Kiel and the explosive Bearcats before taking on Kent State, watching the redshirt sophomore's debut in a Friday-night game in which he carved up Toledo for six touchdowns. He was impressive again in another win last weekend against Miami (Ohio), and his hot start and the strength of the Cincinnati offense is clearly not a secret to the Buckeyes.
But with just three weeks of somewhat worthless data on hand, Ohio State is actually welcoming a measuring stick for the revamped secondary. That way Meyer might finally have something worth evaluating to put his mind at ease -- or maybe some evidence that last year's problems haven't yet been solved.
"We've got some things to work out, but we're getting there, real close," safety Tyvis Powell said. "I'm just excited about playing the game, and we're ready to just display to the world that the pass defense has improved."
Meyer Depressed At Florida