November, 28, 2014
Nov 28
5:02
PM ET
Associated Press
COLUMBUS, Ohio -- A missing Ohio State football player told his mother in a text message the day he disappeared that concussions had his head messed up, according to a report filed with police.
Kosta Karageorge, a 22-year-old senior defensive tackle from Columbus, was last seen at his apartment around 2 a.m. Wednesday. Team spokesman Jerry Emig confirmed that Karageorge missed practice Wednesday and Thursday, which his family says was uncharacteristic.
Karageorge's parents filed a missing-person report Wednesday evening, listing him as white, 6-foot-5, 285 pounds, bearded and bald.
His mother, Susan Karageorge, told police he has had several concussions and a few spells of being extremely confused, according to the report. She said that at about 1:30 a.m. Wednesday, he texted a message that cited the concussions and said, "I am sorry if I am an embarrassment."
The team's physician, Dr. Jim Borchers, said Friday that he could not comment on the medical care of student-athletes. But, he said, "We are confident in our medical procedures and policies to return athletes to participation following injury or illness."
The player's sister, Sophia Karageorge, told The Columbus Dispatch that he apparently was upset, and roommates said he went for a walk, dressed in black from his hat to his boots.
"We're very concerned that he's not himself and that he maybe doesn't know what's going on," she told the newspaper.
She said that after each concussion, he followed trainers' instructions and received proper care but "his repercussions from (concussions) have been long-term or delayed."
She said he was without his wallet and his motorcycle.
November, 27, 2014
Nov 27
9:05
PM ET
ESPN.com news services
Police in Columbus, Ohio, and the family of Ohio State's Kosta Karageorge say the senior defensive lineman has gone missing and hasn't been seen since early Wednesday morning.
According to multiple reports, Karageorge went for a walk in Columbus at about 2 a.m. Wednesday, when his roommates last saw him.
"He had some extenuating circumstances that night that lead us to believe he was upset," his sister Sophia said, according to The Columbus Dispatch.
Karageorge's mother has filed a missing person's report with the police, who have confirmed they are actively looking for the walk-on.
Karageorge's mother also says his friends have scoured the Ohio State campus looking for him to no avail.
"Our thoughts continue to be with the family of Kosta Karageorge and we pray that he is safe and that he is found soon," Buckeyes coach Urban Meyer said in a statement Friday afternoon.
"He is a young man who joined the football team in August and was a hard worker on the field and pleasant off the field. He has been an important player in practice for us, right up until the time he was reported missing. If anyone knows anything about his whereabouts, please help his family and contact the authorities."
Team spokesman Jerry Emig confirmed Karageorge missed practice Wednesday and Thursday. Emig said Friday that the school is aware of the situation.
Karageorge left without his wallet or his motorcycle, his sister said. He has a history of sports-related concussions, including one a month ago, and his family worried he might have become disoriented, she said.
November, 26, 2014
Nov 26
1:00
PM ET
Let's get
this
Queen song queued up -- and, for Adam Rittenberg's team, we'll have
another
ready -- because it's down to just Austin Ward and me in the final week.
Ward needs to beat me by 57 points to win our championship, so the odds are against him. But it's not over just yet; I've been outscored by that much twice this season.
It's been a see-saw year but, ultimately, it's no coincidence the top two teams just happen to have the top two fantasy players.
Melvin Gordon
has earned me an average of 34.8 fantasy points per week, while
J.T. Barrett
has gotten Ward 33.4 points a game. Rittenberg was in the driver's seat early on with
Ameer Abdullah
(24.9 ppg), but the MCL injury hurt The Trombone Shorties as much as it did the
Nebraska Cornhuskers
.
We'll know our champion for sure by Saturday night. In the meantime, here's a look at the scoring, waiver-wire moves and final rosters.
Your results this week:
Coal Crackers (Josh Moyer):
137
Massive Attack (Austin Ward):
124
The Trombone Shorties (Adam Rittenberg):
89
Legendary Leaders (Brian Bennett):
75
Sherman Tanks (Mitch Sherman):
57
And the overall standings:
Coal Crackers:
1,597
Massive Attack:
1,541
The Trombone Shorties:
1,416
Legendary Leaders:
1,239
Sherman Tanks:
1,105
Waiver wire:
Only seven moves were made in our final week, and none were all that significant. Rittenberg was forced to find a replacement for
Trevor Siemian
, but most of us just picked up players based on their matchups this weekend. Sherman didn't even make a move.
Bennett adds Northwestern WR Kyle Prater and drops Michigan WR Devin Funchess
Rittenberg adds Indiana WR Shane Wynn and drops Nebraska WR Kenny Bell
Ward adds Michigan kickers and drops Penn State kickers
Moyer adds Maryland defense and drops Penn State defense
Rittenberg adds Illinois QB Reilly O'Toole and drops Northwestern QB Trevor Siemian
Moyer adds Maryland WR Deon Long and drops Maryland QB C.J. Brown
Rittenberg adds Northwestern defense and drops Michigan defense
Coal Crackers (Moyer)
Purdue QB
Austin Appleby
Minnesota QB
Mitch Leidner
Wisconsin RB Melvin Gordon
Indiana RB
Tevin Coleman
Rutgers WR
Leonte Carroo
Maryland WR Deon Long
Wisconsin kickers
Maryland defense
Bench: Michigan WR
Amara Darboh
(at Ohio State)
Massive Attack (Ward)
Iowa QB
Jake Rudock
Ohio State QB J.T. Barrett
Ohio State RB
Ezekiel Elliott
Illinois RB
Josh Ferguson
Ohio State WR
Michael Thomas
Penn State WR
DaeSean Hamilton
Michigan kickers
Michigan State defense
Bench: Minnesota RB
David Cobb
(at Wisconsin)
The Trombone Shorties (Rittenberg)
Illinois QB Reilly O'Toole
Michigan State QB
Connor Cook
Nebraska RB Ameer Abdullah
Northwestern RB
Justin Jackson
Ohio State WR
Devin Smith
Indiana WR Shane Wynn
Maryland kickers
Northwestern defense
Bench: Ohio State RB
Dontre Wilson
(vs. Michigan)
Legendary Leaders (Bennett)
Nebraska QB Tommy Armstrong
Wisconsin QB
Joel Stave
Iowa RB
Mark Weisman
Michigan State RB
Jeremy Langford
Northwestern WR Kyle Prater
Illinois WR
Mike Dudek
Ohio State kickers
Wisconsin defense
Bench: Illinois QB
Wes Lunt
(at Northwestern)
Sherman Tanks (Sherman)
Rutgers QB
Gary Nova
Penn State QB
Christian Hackenberg
Michigan RB
De'Veon Smith
Purdue RB
Akeem Hunt
Michigan State WR
Tony Lippett
Iowa WR
Kevonte Martin-Manley
Michigan State kickers
Ohio State defense
Bench: Wisconsin RB
Corey Clement
(vs. Minnesota)
November, 26, 2014
Nov 26
12:00
PM ET
The Big Ten individual awards will be revealed next week. But if you've been following us here all season long, you should know exactly who the favorites and top contenders are.
This is our last one of the season, and since we've pretty much exhausted all the competitive bonus categories, we've added a special holiday-themed one to get you ready for tomorrow.
Away we go ...
Graham-George Offensive Player of the Year
1. Wisconsin RB Melvin Gordon
(six first-place votes): When Wisconsin absolutely needed Gordon to come through in the fourth quarter at Iowa, he did just that. Not much more left to say about this special player and his historic season.
2. Ohio State QB J.T. Barrett
: The records keep falling for the Buckeyes' redshirt freshman, who'd probably be a runaway winner if Gordon had been born a couple of years earlier or later. Barrett will likely settle for the quarterback of the year trophy -- not a bad consolation prize.
3. Indiana RB Tevin Coleman
: He's 94 yards away from 2,000 for this season. Unbelievable season, but again, just bad timing for a major award.
4. Nebraska RB Ameer Abdullah
: He showed his heart by rushing for 98 yards despite a bad knee and shoulder vs. Minnesota. I think he would have made a run at 2,000, too, if not for those unfortunate late-season injuries.
5. Minnesota RB David Cobb
: He injured his hamstring in the second half at Nebraska and is questionable for the finale at Wisconsin. The Gophers need their workhorse back.
Nagurski-Woodson Defensive Player of the Year
1. Ohio State DE Joey Bosa
(six first-place votes): Simply the most destructive defensive player in the Big Ten all season. He'll be back as a true junior for the Buckeyes next season, which is scary.
2. Penn State LB Mike Hull
: On pace for a 130-tackle regular season, Hull has been as consistently good as it gets from the linebacker position.
3. Michigan LB Jake Ryan
: He was named a finalist for the Butkus Award on Monday. Hull has had a better season overall, but Ryan has still been outstanding as a senior.
4. Wisconsin LB Vince Biegel
: One of the Badgers' "
Chevy Bad Boys
," Biegel leads the Big Ten's top defense with 14.5 tackles for loss.
5. Minnesota CB Briean Boddy-Calhoun
: The Big Ten co-defensive player of the week, he has a been a big-play machine all season, including his forced fumble and recovery to seal the win at Nebraska.
Also receiving votes:
Penn State DT
Anthony Zettel
; Minnesota LB
Damien Wilson
[+] Enlarge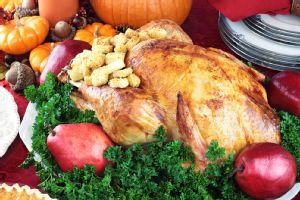 ThinkstockStuffing or turkey for Big Ten dish of the year?
Pilgrim-Pocahontas Thanksgiving Dish of the Year
1. Stuffing
(four first-place votes): That's right. It's almost Thanksgiving, so we're ranking the best dishes on Turkey Day. And in perhaps a slight upset, preseason favorite turkey did not come in first. Stuffing pulled off a J.T. Barrett-like surprise. Because it is awesome. Especially my grandma's.
2. Turkey
(two first-place votes): It is the featured back, if you will, of the entire Thanksgiving attack. Says Josh Moyer: "You guys haven't lived until you've tried it deep-fried."
3. Pumpkin pie
: Dessert is kind of like the special teams of Thanksgiving meals; you can't win with it alone but it can't be forgotten, either. Pecan pie also received one vote (from Dan Murphy), though I'd argue it's too sweet unless part of a Derby Pie. Austin Ward voted for "any kind of pie." I like where his head's at.
Also receiving votes:
Mashed potatoes, grilled potatoes, potatoes au gratin and any kind of potatoes.
November, 26, 2014
Nov 26
10:30
AM ET
By
ESPN.com staff
| ESPN.com
Why Iowa will win:
Based on the roller-coaster ride Iowa has been on lately, now is the time to jump back in and hang on tight as the regular season comes to a close. The Hawkeyes actually impressed even in a losing effort last week against Wisconsin, and with Nebraska reeling and having to go on the road, expect Kirk Ferentz to get his team ready to capitalize. The Blackshirts have been a mess down the stretch once again, and Black Friday won't be any different with
Jake Rudock
leading an Iowa passing attack that somewhat surprisingly ranks No. 4 in the Big Ten. ... Iowa 31, Nebraska 20.
-- Austin Ward
Why Nebraska will win:
Are the Huskers trending downward? You bet. But Iowa is not nearly as good as Wisconsin or Minnesota. The Huskers still boast the better total offense here -- they're 34 spots ahead of Iowa in the national rankings at No. 29 -- and the better scoring offense, with 10 points more per game. The defense has been up and down, but
Mark Weisman
is no
Melvin Gordon
or
David Cobb
. And
Ameer Abdullah
is only getting healthier. Iowa hangs tough but loses in the end. ... Nebraska 28, Iowa 24.
-- Josh Moyer
Why Indiana will win:
It's time to cash in the chips on Purdue. I've been a believer in the Boilers since they beat Illinois in early October, then hung around with Michigan State and Minnesota. But things have gone downhill. Lately, Purdue can't run the football, and it can't stop the run -- a bad combination, especially against
Tevin Coleman
. The Indiana junior will have a huge day and cruise past 2,000 rushing yards for the season in perhaps his last collegiate game. Defensively, the Hoosiers haven't stopped a decent offense all year, but they've got enough left to avoid a winless Big Ten season. ... Indiana 38, Purdue 24.
-- Mitch Sherman
Why Purdue will win:
Purdue's production has taken a step backward since scoring 38 against Minnesota and threatening to take down the Gophers. The Boilermakers stumble into the Hoosier State battle, but Indiana is exactly what the doctor ordered in that front. No one on Purdue's roster compares to Tevin Coleman, but speedy senior
Raheem Mostert
can have a big day against Indiana's run defense.
Austin Appleby
proves to be the difference to help Darrell Hazell end his second year on a high note. ... Purdue 24, Indiana 20.
-- Dan Murphy
Unanimous selections
Ohio State 35, Michigan 14:
No, Brady Hoke, there is no Santa Claus. The Wolverines simply do not have enough offensive competence to hang with the Buckeyes on the road, though emotion will help them keep it close into the third quarter.
Wisconsin 24, Minnesota 20:
The Gophers have a real chance here, but the potential absence of David Cobb (hamstring) and the road environment will make it tough. Melvin Gordon is held under 200 yards but rips off the game-winning score in the fourth quarter.
Maryland 31, Rutgers 23:
The Scarlet Knights' only win since Oct. 4 was at home against Indiana. The Terps have been playing much better than their fellow first-year Big Ten newbie, and they'll protect home field to spoil Ralph Friedgen's homecoming.
Northwestern 28, Illinois 21:
It's win or go home for both teams. The Wildcats are surging at the right time, having scored 81 points in back-to-back wins the past two weeks. The loss of quarterback
Trevor Siemian
(ACL) hurts Northwestern, but picking the Illini to win consecutive Big Ten games strains logic.
Michigan State 19, Penn State 10:
Don't underestimate the power of Senior Day in Beaver Stadium, as we've seen the Nittany Lions put up strong performances in their regular-season finales the past two years. Their defense will also cause the Spartans some trouble. But Penn State is going to a bowl regardless, and its offense has few options against Pat Narduzzi's defense.
Our records:
1. Austin Ward: 83-22 (.790)
2. Dan Murphy: 53-15 (.779)
T-3. Brian Bennett: 81-24 (.771)
T-3. Mitch Sherman: 81-24 (.771)
5. Adam Rittenberg: 78-27 (.743)
6. Josh Moyer: 77-28 (.733)
November, 26, 2014
Nov 26
10:00
AM ET
When merely picking winners and losers isn't enough, the Big Ten reporters sit down at the roundtable and come up with more specific predictions -- this time for the final week of the regular season.
Adam Rittenberg:
Wisconsin needs a late rally to beat Minnesota
There's something about these Golden Gophers, who have turned a corner under Jerry Kill and aren't just a cute little story any more. After winning rivalry trophies against both Michigan and Iowa, Minnesota aims for the Axe and leads for most of Saturday's game at Camp Randall Stadium. Remember, Wisconsin lost its home finale last year and might not have the benefit of the usual raucous student section. The Badgers gather themselves in the fourth quarter and take the lead on a 70-yard
Melvin Gordon
touchdown run to chop Minnesota (sorry, Rutgers) and advance to their third Big Ten title game in four seasons.
Dan Murphy:
J.T. Barrett
will pass or run for a career high.
Barrett makes his debut in the heated Michigan rivalry with one of his top performances of the year. The Buckeyes offense shouldn't have any issue moving the ball Saturday, it's just not clear yet whether they will spend more time in the air or on the ground. Barrett ran for 189 yards against Minnesota and threw for 330 yards against Cincinnati. One of those season- and career-high marks is likely to fall against a Wolverines team that doesn't have much left to play for in the regular-season finale.
Brian Bennett:
Penn State takes Michigan State to the wire
James Franklin was passionate in his press conference this week, and I expect the Nittany Lions to play the same way at home on senior day. Penn State doesn't match up well with Michigan State on paper, but they didn't against Ohio State, either. This is a better team at home, and while the offensive line will have its troubles against the Spartans' pass rush, I expect Franklin's team to turn in one of its better efforts of the season.
Austin Ward:
Jake Rudock
sets a new career high in passing yards.
The Hawkeyes' performance varies from game to game, and some inconsistency from their junior quarterback has been part of the problem. But when Iowa is aggressive with its play-calling, Rudock seems to gain confidence and has shown an ability to pick apart a few defenses with three 300-yard passing performances this season. Nebraska has been pretty solid for the most part with the No. 5 pass defense in the Big Ten, but the program is reeling right now and Rudock is poised to take advantage on the way to topping his career-best 322 yards set earlier this season.
Mitch Sherman:
Tevin Coleman
makes a run at the single-game FBS rushing record
After Melvin Gordon went for 408 against Nebraska on Nov. 15, Oklahoma freshman
Samaje Perine
churned out 427 against Kansas last week. How about three weeks in a row? After all, Coleman is red hot, with 535 rushing yards in the past two games, including 228 against Ohio State in the Horseshoe. And Purdue's defense has allowed an average of 251 yards on the ground to its past five opponents. I like Coleman to go over 2,000 for the season in the first quarter (he's at 1,906) and stay on pace with Perine into the second half. In the end, he falls short, rushing for a career-best 315 as Indiana earns its lone Big Ten victory in what is likely Coleman's final game as a Hoosier.
Josh Moyer:
Tevin Coleman and Melvin Gordon both rush for more than 200 yards.
The Nos. 1 and 2 rushers in the nation have both picked up more than 200 yards in each of the last two weeks -- and it just so happens those two weeks are the only times both Coleman and Gordon reached the mark on the same weekend. I'm predicting it happens for a third straight week. Neither of their opponents' run defenses are particularly strong, with Purdue ranked No. 90 and Minnesota at No. 52, so the opportunity is there for both backs. They're both on a hot streak, and they both have a lot on the line (last game for Indiana, title hopes for Wisconsin), So, it should be another week of dominance.
November, 26, 2014
Nov 26
9:24
AM ET
By
Sharon Katz, ESPN Stats & Information
| ESPN.com
Richard Mackson/USA TODAY SportsBrett Hundley and the Bruins could be on track for big things.
In the past few weeks, the playoff discussion has centered around the remaining zero- or one-loss teams from Power 5 conferences.
There is one two-loss team, however, that may have an argument for inclusion when all is said and done.
UCLA
faces
Stanford
Friday (3:30 ET, ABC) with a chance to clinch the Pac-12 South. With a win against the Cardinal, UCLA will face
Oregon
in the Pac-12 Championship Game. If UCLA wins out, it will have a résumé worthy of discussion for the playoff.
Schedule
UCLA has played the hardest schedule in the nation, according to ESPN's strength of schedule rankings. The Bruins have not only played a nine-game Pac-12 schedule, but their out-of-conference slate also is the hardest of any Power 5 team.
The Bruins opened their season at
Virginia
in a game that kicked off at 9 AM PT. In Week 2, they faced
Memphis
, the current first-place team in the American Athletic Conference, and followed that game with a trip to Arlington to face
Texas
in Week 3.
The Bruins traveled close to 8,000 miles (counting return trips) before their first conference game and escaped with a 3-0 record. Two of those wins were against fellow Power 5 opponents; excluding
Notre Dame
,
Florida State
is the only other Power 5 team with multiple out-of-conference wins against Power 5 opponents.
Add in that UCLA's conference schedule is the 12th-hardest in the nation before a potential Pac-12 Championship Game, and there will be no argument from the committee that the Bruins were not tested.
Wins
A difficult schedule affords the Bruins more opportunities for signature wins. UCLA has six wins against teams currently ranked in the top 40 of
ESPN's Football Power Index
, second-most in the FBS behind
Alabama
. If the Bruins win out, they will add two current FPI top 20 wins to their résumé.
One of the arguments against UCLA is that it played close games in the beginning of the season against lesser opponents. Since those games, however, the teams that UCLA beat have risen in the rankings. UCLA's first six opponents all rank 42nd or better in the FPI after two of those teams began the season outside the top 42.
If UCLA were to beat Stanford and Oregon, the average current FPI ranking of UCLA's 11 wins would be 33, the best in the nation.
Strength of Record
Many will point to UCLA's two losses, to Utah and Oregon. The Oregon game was not even as close as the 12-point final scoring margin suggests.
ESPN's Strength of Record metric accounts for both wins and losses to measure the difficulty of achieving a team's record, given its schedule. UCLA, with two losses, currently ranks sixth in Strength of Record, ahead of one-loss
Baylor
and
Ohio State
. That means that it would be harder for an average top 25 team to achieve UCLA's 9-2 record than either Baylor's or Ohio State's record.
If UCLA beats Stanford and Oregon it will likely jump into the top four in Strength of Record. The Bruins would likely have the same record as Oregon but will have played a tougher schedule in achieving that record. Similarly, assuming
TCU
and Baylor win out, the Bruins would have as many wins as those teams but significantly more quality wins, including a victory against one of the top teams in the nation (Oregon).
All of these arguments are contingent on UCLA winning out. Beating Stanford at home and Oregon on a neutral field is not an easy feat.
ESPN's Football Power Index projects that the Bruins have a 24 percent chance to win out, but if they were to do it, could the committee really leave a two-loss Pac-12 champion, with the hardest schedule in the nation, out of the playoff?
November, 26, 2014
Nov 26
9:00
AM ET
We'll know for sure who's in the inaugural College Football Playoff on Dec. 7. For now, let's see where the Big Ten's remaining contender stands after the latest selection committee top 25:
Ohio State
Record:
10-1 (7-0 Big Ten)
Rank:
No. 6
Reason for optimism:
The Buckeyes didn't drop a spot this week despite a shaky performance last Saturday against Indiana. Ohio State still needs help to move up two more spots to the top four, but it has a chance to add a conference championship and a potential win over a top-15 team (No. 18 Minnesota would likely be in the top 15 if it beats No. 14 Wisconsin) before the final vote. No. 4 Mississippi State likely won't make its own conference title game, and neither No. 5 TCU nor No. 7 Baylor have a conference championship game to play.
Reason for concern:
Barring at least an upset or two, Ohio State will be on the outside looking in, unless the committee really values the Big Ten championship. So the Buckeyes don't control their own destiny, and that Virginia Tech blemish looked even worse when the Hokies managed to score just three points (in double overtime, no less) in a loss to Wake Forest last week.
Whom they'll be rooting for this week:
The Buckeyes still need some losses by teams ahead of them, and maybe this is the weekend they'll get one or two with all the rivalry games on tap. Obviously, Ohio State will be rooting for Auburn to beat Alabama, Oregon State to upset Oregon, Florida to topple Florida State, Mississippi to take down Mississippi State and Texas to defeat TCU. The Buckeyes might also prefer Wisconsin to beat Minnesota to set up a Big Ten championship game against the Badgers, who would be close to the top 10 next week in that scenario. But if a couple of those upsets occur, their opponent in Indianapolis won't matter all that much.
November, 26, 2014
Nov 26
8:30
AM ET
OK, so who's it gonna be -- Mississippi State or Ohio State?

Honestly, the suspense is killing me, and we haven't even gotten to the games this weekend. See, here's the issue that these teams are facing: Who will have the best résumé after championship Saturday?

Mississippi State might not go to Atlanta for the SEC championship game, but if the Bulldogs beat Ole Miss on Saturday, they'll be in position for that fourth spot (assuming the top three win out). But if No. 6 Ohio State wins out, the Buckeyes will be Big Ten champions. Say what you will about the strength of the Big Ten, the Buckeyes would have a conference championship and the fourth-ranked Bulldogs would not. Both would only have one loss.
November, 26, 2014
Nov 26
8:00
AM ET
Tomorrow is a day to remember and be thankful for all of our blessings. Today is a day to be thankful for morning links, the final edition of the regular season.
1. Maryland's football team got into the holiday spirit this week by explaining the fine tradition of football on Thanksgiving to
a room full of foreign diplomats
. Four Maryland players visited Washington, D.C.'s, Blair House -- across the street from the White House – to rub elbows with ambassadors from around the world and provide a Nerf-aided tutorial of America's favorite sport. That must be one of the perks that comes with plastering the
lyrics of the Star Spangled Banner
on your helmets early in the season. For their efforts, the four Terrapins who made the trip were rewarded by taking part in America's other favorite Thanksgiving tradition -- food.
2. This week's
new College Football Playoff rankings
, released Tuesday night, add more evidence that November has been kind to the Big Ten's image. The league now has four teams in the top 20 with Minnesota moving up to No. 18 behind Wisconsin (14), Michigan State (10) and Ohio State (6). Those rankings will get the conference's top teams another chance to prove themselves against good competition in bowl season.
The Buckeyes are in good position to test the importance of a conference championship in the new playoff system. At least two teams ahead of Ohio State in the current rankings will finish the year without playing in a conference title game (TCU and either Alabama or Mississippi State). That extra game could help Urban Meyer's team plead its case to the selection committee.
3. First, the Buckeyes have to avoid an upset against rival Michigan this weekend. Meyer told his team earlier this week that
losing their cool would not be tolerated
. Last year the two teams fought, players were ejected and an overmatched Wolverines team was in the game until its final play.
Meyer's solution – simply telling his team not to scuffle with opponents – seems like a better approach than the altercation avoidance tactics supported by the Wisconsin and Minnesota coaching staffs for their battle this week. After a stand-off last season, the teams decided to
water down the winning team's celebration
with the massive axe rivalry trophy by keeping it tucked away until after the game ends. It seems that reminding players that fighting should remain between the sidelines should be enough.
East Division
West Divison
November, 26, 2014
Nov 26
8:00
AM ET
Each week, Adam Rittenberg takes you inside coaches' conversations in Inside Access. In today's notebook: Texas' defense prepares for TCU test, Auburn's third-down efficiency looms large in the Iron Bowl, Georgia Tech's aggressive and opportunistic defense, and Ohio State's improved wide receiver corps.
Texas' defense ready for final exam
There's no school on Thanksgiving, but TCU presents a final exam for Texas' defense, a unit that has rapidly improved during coach Charlie Strong's first season. The Longhorns have allowed just one passing touchdown in the past four games (just nine all season) and only five third-down conversions in their opponents' past 30 attempts.
Texas' defense now ranks fifth nationally in adjusted QBR, 12th in yards per play, sixth in yards per pass attempt and eighth in sacks per passing play. It held Oklahoma and Oklahoma State to their lowest yards totals since 2007 and 2009, respectively. But TCU poses a different test with the nation's most improved offense, led by the nation's most improved player in quarterback
Trevone Boykin
.
[+] Enlarge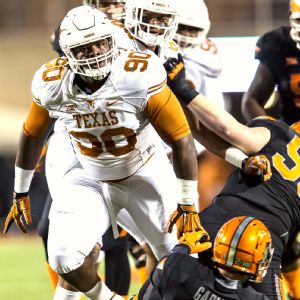 Cal Sport Media via AP ImagesTexas DT Malcom Brown has 6.5 sacks and has been a key to the Longhorns' defense getting better and better each week.
"This is probably the most explosive team we've faced so far," Longhorns defensive coordinator Vance Bedford told Inside Access. "Baylor was something special. They spread you out, the quarterback early on was up for the Heisman. This team creates different problems with their quarterback. He can make some great plays with his legs. They run him quite a bit on options, quarterback draw.
"They play with five or six receivers, and he throws it to all of them, and the running backs. It's going to be tough to slow these guys down."
How can the Longhorns tame TCU?
To continue reading this article you must be an Insider
November, 25, 2014
Nov 25
9:14
PM ET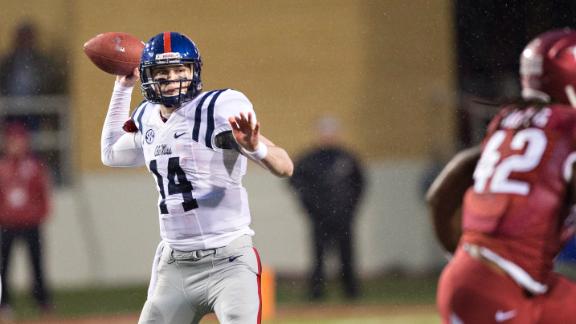 No team in the top seven of last week's
College Football Playoff Rankings
lost, and the selection committee obviously saw nothing to prompt a change in that order this week. So, we're right back where we were last Tuesday night, except that there are now only two weeks remaining for any upsets to occur.
[+] Enlarge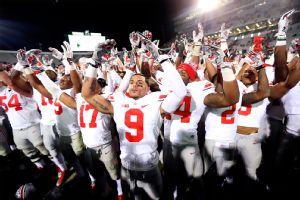 AP Photo/Carlos OsorioOhio State is sitting pretty with two weeks left in the regular season.
With no possible head-to-head matchups between the current top seven, there's a possibility they could all win out -- but not a good one. The
Football Power Index
says there's a 10 percent chance that those teams go 7-0 this week, and barely over a 1 percent chance that they go 13-0 between now and Dec. 7 (Mississippi State would play only one more game if Alabama wins Saturday). In fact, FPI gives only a 14 percent chance for Alabama, Oregon and Florida State all to win out.
Each forthcoming loss among the top teams could make the selection committee's job a little easier. But for now, let's look at the committee's worst-case scenarios.
In the unlikely event that the seven all run the table
To continue reading this article you must be an Insider
November, 25, 2014
Nov 25
8:49
PM ET
COLUMBUS, Ohio -- An appeal by Ohio State Buckeyes defensive end Noah Spence to have his permanent ineligibility restored by the Big Ten was denied Tuesday, officially ending his career with the program and within the league.
The process reached its conclusion after Spence's case was presented to the conference in an effort to get his ban for failing multiple drug tests overturned and allow the former All-Big Ten selection to return to the No. 6 Buckeyes.
Spence was initially suspended for three games, starting with last year's Discover Orange Bowl, but a second failed test just before he was scheduled to return to the field in September extended his suspension indefinitely.
Spence weighed in on Twitter in the wake of the news.
Spence, a junior, was considered a potential candidate to skip his final year of eligibility with Ohio State given his combination of speed and strength that made him one of the best pass rushers in the country a year ago when he finished second in the Big Ten in sacks.
"While we are disappointed in the outcome, we are pleased that Noah has come a long way and we are very proud of the progress he has made with regard to his health," Ohio State athletic director Gene Smith said in a statement. "The Department of Athletics will continue to assist Noah through his pursuits and provide the academic resources necessary to help him complete his degree program."
The Buckeyes have still been productive on the defensive line without Spence in the rotation, with Joey Bosa emerging as a finalist for multiple individual awards as the team has climbed back into contention for the College Football Playoff.
Michigan At Ohio State Preview
BIG TEN SCOREBOARD
Friday, 11/28
Saturday, 11/29