December, 9, 2013
Dec 9
12:00
PM ET
After Sunday's announcements, these links are served in a bowl.
December, 9, 2013
Dec 9
11:17
AM ET
Florida State's offensive line recruiting received a shot in the arm on Monday morning with the commitment of
Chad Mavety
(Garden City, N.Y./Nassau Community College), who chose the Seminoles over Ohio State.
To continue reading this article you must be an Insider
December, 9, 2013
Dec 9
11:15
AM ET
The Big Ten bowl lineup is set. We just had an exciting Big Ten championship. And there are a handful of teams already looking toward the 2014 season.
So there's plenty to discuss, even with no league teams in action this weekend (frowny face) for the first time since August. Come on by my Big Ten Monday chat and we'll break it all down.
The chat starts at 3 p.m. ET, and here is
the link
. See you there.
December, 9, 2013
Dec 9
11:00
AM ET
Neither Adam nor I vote in any of the three major polls (we'll miss you next year, Harris Poll), but we do have a say in ESPN.com's Top 25. Here's what we said on our final regular-season ballots:

Adam's Top 25

1. Florida State
2. Auburn
3. Alabama
4. Michigan State
5. Stanford
6. Baylor
7. Ohio State
8. South Carolina
9. Missouri
10. Oregon
11. Oklahoma
12. Clemson
13. Oklahoma State
14. LSU
15. Arizona State
16. UCLA
17. UCF
18. Louisville
19. Fresno State
20. Wisconsin
21. Texas A&M
22. USC
23. Duke
24. Bowling Green
25. Miami

Brian's Top 25

1. Florida State
2. Auburn
3. Alabama
4. Michigan State
5. Stanford
6. Baylor
7. Ohio State
8. South Carolina
9. Missouri
10. Oregon
11. Oklahoma
12. Clemson
13. Oklahoma State
14. LSU
15. Arizona State
16. UCLA
17. UCF
18. Louisville
19. Wisconsin
20. Texas A&M
21. Duke
22. Fresno State
23. Georgia
24. Notre Dame
25. Bowling Green

Not a lot of surprises here. Michigan State and Stanford is a worthy 100th Rose Bowl matchup of top-five teams. If Alabama loses to Oklahoma and Michigan State wins, the Spartans could potentially finish the season No. 2. ... Ohio State drops five spots for both of us after the 10-point loss in the Big Ten championship game. That's the problem with a subpar schedule; once you lose, there's not much else on the résumé. ... Wisconsin is still hanging around the top 20 and gets a top-10 team (South Carolina) in its bowl. Time for the Badgers to prove the Penn State loss was a fluke. ... Northern Illinois drops out for both of us (see: subpar schedule), while the team that beat the Huskies in the MAC title game jumps in. Bowling Green has had a very nice season, even if it did lose by 32 points to Indiana in September. ... Iowa doesn't crack either of our Top 25s, but it was close for me. The Hawkeyes are my No. 26 this week.

What does your final, pre-bowl Top 25 look like?
December, 9, 2013
Dec 9
10:00
AM ET
With apologies to Ohio State fans, the Big Ten championship game was a smashing success.
[+] Enlarge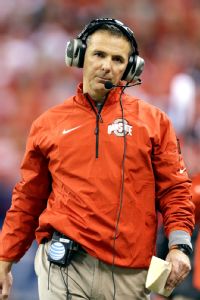 AP Photo/Michael ConroyIt's time to give Urban Meyer Meyer credit for taking some strong disciplinary actions.
Two top-10 teams battling it out in prime time with national title implications created the most juice in the game's short history. According to the overnight Nielsen ratings, an estimated 11.6 million viewers watched Michigan State's 34-24 win over the Buckeyes. That's more than twice as large as the audience for last year's game between Nebraska and Wisconsin, which drew 5.1 million. The inaugural game between Michigan State and Wisconsin in 2011 attracted just more than 7 million viewers.
And despite some challenging weather in Indianapolis, the title game had its best crowd in three years. The presence of Ohio State surely helped, as it appeared that scarlet and gray made up about 70 percent of the stands at Lucas Oil Stadium. Attendance figures for the first three Big Ten title games:
2013:
66,002
2012:
41,260
2011:
64,152
Take that and rewind it back ...
For good measure:
Ohio State coach Urban Meyer has faced a lot of criticism for his disciplinary measures and player conduct from his time at Florida. So it's only fair to commend Meyer for taking strong disciplinary actions with the Buckeyes.
There was much hand-wringing last week about the lack of additional punishment for Ohio State offensive lineman
Marcus Hall
, who got a public reprimand from the Big Ten but nothing more after he was ejected for fighting at Michigan and offered his now infamous two-gun salute to the crowd. Meyer announced on Friday that Hall wouldn't start against Michigan State, which led to a lot of wisecracks about Hall coming in on the second or third play.
But Meyer kept Hall sidelined the entire Big Ten championship game. Even when Ohio State fell behind 17-0 and was doing nothing on offense early on, Hall stayed glued to the bench. For a senior to miss three quarters of his team's biggest rivalry game and then the conference title game, that's pretty stern discipline.
Meyer said Saturday night that he'd decided not to play Hall "a while back." Both Ohio State and the Big Ten could have avoided criticism had Meyer announced early in the week that Hall was suspended for the game. But the Buckeyes probably didn't want Michigan State to have that information.
Meyer's other disciplinary moves during his Ohio State tenure, including the three-game suspension for
Carlos Hyde
and one-game suspension for
Bradley Roby
earlier this year, have all seemed fair. So it's time to cut the Buckeyes' coach some slack in that department.
Big Man on Campus (offense):
Raise your hand if you predicted in the preseason, or even in September or October, that
Connor Cook
would be MVP of the Big Ten championship game. But Michigan State's sophomore quarterback earned it by throwing for a career-high 304 yards and three touchdowns, delivering some terrific, clutch throws all night. Cook is uncannily confident in himself, and he's inspiring confidence with the way he's been playing.
[+] Enlarge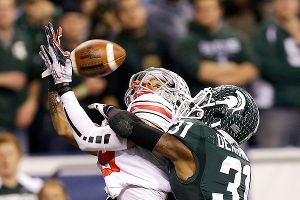 AP Photo/Michael ConroyDarqueze Dennard played a big role in Michigan State's success against Ohio State.
Big Man on Campus (defense):
Ohio State's airspace was under strict no-fly zone restrictions thanks largely to the play of cornerback
Darqueze Dennard
. As he so often does, Dennard locked up his side of the field. He had two big pass breakups, and the Buckeyes went just 8-of-21 for 101 yards through the air, including an 0-for-5 showing by
Braxton Miller
in the fourth quarter.
Big Man on Campus (freshman):
Despite the loss, Ohio State's
Joey Bosa
introduced himself to the country as a future major star. Bosa created havoc all night from defensive end, finishing with two tackles for loss, a sack and three total quarterback hurries. It seemed like he was in the backfield all night.
Noah Spence
and
Adolphus Washington
got all the preseason pub, but Bosa looks like the most fearsome Buckeyes pass-rusher of the future.
Bring on 2014:
We're about to say goodbye to both the dreaded BCS and its
ridiculous use of the coaches' poll
. Even more promising changes are in store for next season when it comes to bowls.
Leagues like the Big Ten promise to have a much greater input on bowl matchups starting in 2014. That should help prevent a situation like we got on Sunday, when the Buffalo Wild Wings Bowl took Michigan over Nebraska to play Kansas State. Selecting the Wolverines might have been in the best interest of that bowl, but it created a matchup with no history or really much of a storyline. It also meant the TaxSlayer.com Gator Bowl got a rematch nobody wanted in Nebraska-Georgia.
It would make much, much more sense, both geographically and in terms of the matchups, to have Kansas State-Nebraska and Michigan vs. Georgia games. The Huskers went to the same bowl in back-to-back years in the 2009 and 2010 seasons (Holiday) and again in 2011 and 2012 (Capital One), and now they play the same team as last year.
Of course, bowls and common sense have rarely gone together. Maybe next year they will.
Fun with numbers (via ESPN Stats & Info):
Miller did not convert a first down on 11 third- or fourth-down attempts, including the stuffed fourth-and-2 rush that all but clinched the game. Miller entered Saturday with a 91.7 Total QBR on third and fourth downs, ninth-best in the FBS. He had converted 49 percent of those downs while averaging 8.1 yards per play the first 12 games of the season. Against Michigan State, he averaged minus-1.4 yards in those situations.
Overall, Ohio State converted just 1 of 12 third or fourth downs against Michigan State. That was its lowest conversion percentage in the past 10 seasons. Entering the game, the Buckeyes had converted 54 percent of third- or fourth-down chances this season, the sixth-highest percentage in the FBS.
December, 9, 2013
Dec 9
9:00
AM ET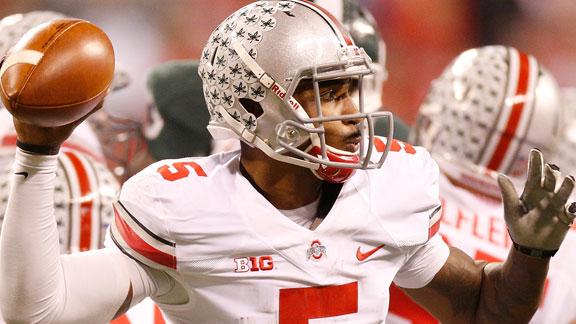 COLUMBUS, Ohio -- The phone call came in, the next challenge was confirmed and Urban Meyer was ready to move on.
The Ohio State coach praised the bowl destination, talked up the opponent he's already preparing for and mentioned on several occasions how his driven team will quickly adapt its goals now that there's only one thing left to accomplish this season.
But as Meyer rattled everything off the No. 7 Buckeyes have to look forward to against No. 12 Clemson in the Discover Orange Bowl on Jan. 3, even on a teleconference it was clear he was still carrying with him at least one wound from the loss that abruptly ended "The Chase" and ripped a likely crack at the national championship away from his team.
"Excuse me," a hoarse Meyer said Sunday night. "I lost my voice yesterday a little bit."
The Buckeyes had no shortage of reasons to scream as Michigan State picked apart their secondary, largely shut down the spread offense and snatched a trip to the Rose Bowl from them in the Big Ten title game. And that loss is likely to haunt Ohio State well after Meyer has any need for lozenges.
But in place of one spot in the BCS, the Buckeyes quickly earned a bid to another when the Orange Bowl called to help brighten up Meyer's afternoon.
They may not have a shot at Florida State, but another ACC powerhouse filled the void to give the Buckeyes a chance to make a statement victory after having their schedule picked apart all season long.
The school-record 24-game winning streak is gone as well, but then there's a springboard to maybe start a new run down in south Florida.
And while it's understandable and perhaps acceptable for Ohio State to be feeling a little down and disappointed for a day or two, that can't last long if it's going to do anything with the opportunity that took the place of the one the Buckeyes really wanted.
"I actually opened a forum a little bit [after the game], opened the floor for anybody, and it was interesting to have a couple players, a couple coaches say a few words," Meyer said. "It was just about finishing this thing the right way. The team has got a chance to win 13 games in a season, and obviously finish ranked very highly. A lot of these players with what they've gone through the last two years, you could look in their eyes and they were very disappointed, but they understand there's an incredible opportunity ahead of them. With opportunity comes responsibility, and they understand that.
"They're heartbroken, but they're competitors and they're also [aware of] the fact we're playing in a BCS bowl against Clemson. It's going to wake you up real fast."
The Buckeyes didn't get much sleep after their first loss in two seasons, getting back from Indianapolis at 4 a.m. Some of the coaches didn't even return to Columbus, leaving directly after the game and locker-room discussion to hit the recruiting trail.
But when the staff and players do all get back together again to start preparing for the Tigers, they'll hear plenty from Meyer about everything that's left for to play for. And for the first time in his tenure, that will include the chance to bounce back from a loss.
"I think it means a lot for us to go back and play in a BCS bowl game," senior left tackle
Jack Mewhort
said in a release. "To get a win in a big time bowl and at the same time show some resiliency would be a great way to go out.
"I couldn't ask at this point for anything more than to play in a BCS bowl game, and getting to go to battle with these guys I've been fortunate to play with for the last four or five years will be great."
The first step before they can deliver another successful battle cry: The Buckeyes just have to get their voice back.
December, 9, 2013
Dec 9
8:00
AM ET
December, 8, 2013
Dec 8
11:29
PM ET
By
ESPN Stats & Information
| ESPN.com
The final BCS standings were released Sunday along with matchups for all of the remaining bowl games. Here are some tidbits to prepare you for the five BCS games.
Rose Bowl Game presented by Vizio
4
Michigan State Spartans
vs 5
Stanford Cardinal
January 1, 2014, at 5 ET on ESPN
Michigan State
: First Rose Bowl appearance since the 1987 season and its first appearance in a BCS bowl. The Spartans have reached a bowl game in all seven seasons under head coach Mark Dantonio after making no bowl appearances from 2004-06.
Stanford
: Second consecutive appearance in the Rose Bowl (def. Wisconsin 20-14 last season). The Cardinal are making back-to-back Rose Bowl appearances for the first time since 1970-71. Stanford has reached a BCS bowl in four straight seasons after making just one from 1998-2009.
Tostitos Fiesta Bowl
15
UCF Knights
vs 6
Baylor Bears
January 1, 2014, at 8:30 ET on ESPN
UCF
: First BCS bowl berth in school history. Won 11 games this season, tied for the most in school history (also won 11 in 2010).
Baylor
: Like their opponents in the Fiesta Bowl, the Bears receive their first BCS bowl berth in school history. Baylor looks to extend a school-record 11 wins this season to 12 in this game.
Allstate Sugar Bowl
11
Oklahoma Sooners
vs 3
Alabama Crimson Tide
January 2, 2014, at 8:30 ET on ESPN
Oklahoma
: Ninth BCS bowl appearance, second-most all-time. The Sooners are 3-5 in BCS bowl games, snapping a five-game losing streak with a win in the 2011 Fiesta Bowl vs Connecticut.
Alabama
: Third straight BCS bowl appearance and fifth in the last seven seasons under Nick Saban. The Crimson Tide will make their first Sugar Bowl appearance since the 2008 season (lost to Utah in that game).
Discover Orange Bowl
12
Clemson Tigers
vs 7
Ohio State Buckeyes
January 3, 2014, at 8:30 ET on ESPN
Clemson
: First BCS bowl appearance since 2011, when the Tigers played in the Orange Bowl. Those two games mark the only BCS bowls in school history. Speaking of history for the Tigers, they will make a school-record ninth straight appearance in a bowl game.
Ohio State
: Tenth BCS bowl appearance, most all-time. The Buckeyes will make their first Orange Bowl appearance since the 1976 season against Colorado. Their last BCS appearance came in a 2011 Sugar Bowl win over Arkansas.
Vizio BCS National Championship Game
1
Florida State Seminoles
vs 2
Auburn Tigers
January 6, 2014, at 8:30 ET on ESPN
Florida State
: After beating Northern Illinois in last year's Orange Bowl, the Seminoles return to a BCS bowl game. It marks their first back-to-back BCS bowl appearances since 2002-03. This will be their first BCS Championship Game appearance since 2000 and fourth overall.
Auburn
: Second BCS Championship Game appearance, first since winning the national title over Oregon in the 2010 season. This marks the third BCS bowl appearance for the Tigers, who are unbeaten in such games thus far.
December, 8, 2013
Dec 8
11:05
PM ET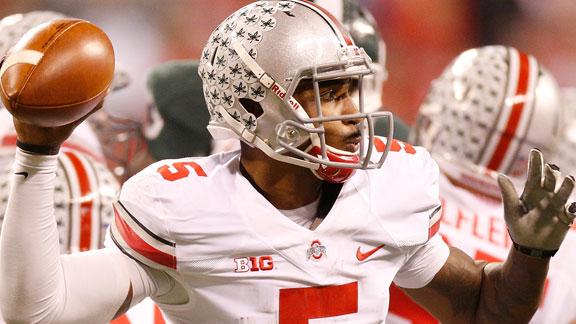 Jan. 3, TBD, Miami (ESPN)
CLEMSON TIGERS BREAKDOWN
Despite its third straight season with at least 10 wins, Clemson ended the regular season by extending its sour streak with a fifth straight losses to rival South Carolina and once again looking up at Florida State in the Atlantic Division standings.
[+] Enlarge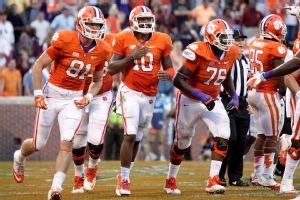 Tyler Smith/Getty ImagesTajh Boyd and the Tigers committed six turnovers in their regular season finale at South Carolina. Can Clemson redeem itself in its bowl game?
The Tigers were picked by the media in July to win the ACC, but they fell flat in their two most important games of the season -- against the Seminoles and against South Carolina. They also happened to be the two worst performances of the season for quarterback
Tajh Boyd
, who has since fallen out of the Heisman conversation.
It wasn't just that the Tigers lost those games; it was the fact that they lost them in embarrassing fashion. Florida State rolled Clemson in Death Valley on Oct. 19, quieting the crowd with a 51-14 romp. In a 31-17 loss to the Gamecocks, Clemson turned it over six times, each gaff seemingly more unbelievable than the last. Clemson's only two losses, though, were to top-10 opponents. Clemson committed 10 turnovers versus FSU and South Carolina and was outscored 45-0 in points off turnovers in those games.
Still, the Tigers will bring one of the country's most productive offenses, led by Boyd and receiver
Sammy Watkins
, who has 224 career receptions and will need nine catches in the bowl game to break Aaron Kelly's school career record of 232. The defense, led by
Vic Beasley
, has also shown significant improvement in the second season under coordinator Brent Venables.
-- Heather Dinich

vs.

OHIO STATE BUCKEYES BREAKDOWN
The flawless, fairytale run wasn't going to last forever, but Ohio State surely wasn't planning on trying to start a new winning streak in its bowl game.
[+] Enlarge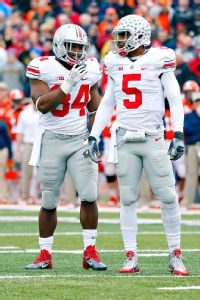 AP Photo/Jeff HaynesCarlos Hyde and Braxton Miller will be a tough duo to handle in the Buckeyes' bowl game.
Undefeated under Urban Meyer until Saturday night's loss in the Big Ten title game against Michigan State, "The Chase" the Buckeyes have been on for a national championship came up one game short. Their defense struggled to get off the field against the Spartans, and their powerful rushing attack was unable to get the yards that counted most.
But the combined star power of Meyer, quarterback
Braxton Miller
, running back
Carlos Hyde
and linebacker
Ryan Shazier
still made Ohio State plenty attractive for a BCS bowl, and it will have a marquee opportunity to post an impressive victory and cap what has still been a record-setting season for the program.
Few teams have been as explosive as the Buckeyes offensively, with both Miller and Hyde rushing for more than 1,000 yards and causing defenses fits with the zone-option attack. And while the passing game has regressed during the final month of the season, Miller has still come a long way as a passer, which has helped receivers
Philly Brown
and
Devin Smith
and tight end
Jeff Heuerman
find the end zone a combined 21 times.
The defense hasn't been quite as consistent, particularly since the loss of stabilizing senior safety
Christian Bryant
in late September to a fractured ankle, but more often than not, it has made the plays needed to rack up wins. Typically, it has been Shazier doing the most damage, as the junior has routinely stuffed the stats sheet while leading the Big Ten in three different individual categories.
Neither side of the ball did quite enough to push the Buckeyes into the bowl they really had their eye on. But there was a nice consolation prize waiting for them, and a big opportunity to start over with, as well.
-- Austin Ward
December, 8, 2013
Dec 8
10:43
PM ET
Associated Press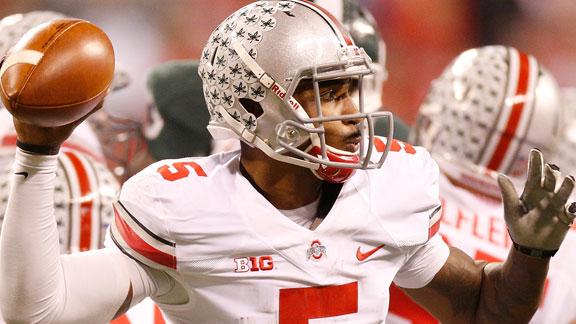 MIAMI LAKES, Fla. -- The Bowl Championship Series came calling once again for Ohio State, albeit not the game the Buckeyes wanted.
A day after seeing their national-title hopes and 24-game winning streak end with a loss in the Big Ten championship game, the seventh-ranked Buckeyes were selected Sunday to play against No. 12 Clemson in the Discover Orange Bowl on Jan. 3.
It's the 10th BCS berth for the Buckeyes, more than any other school, though one of those appearances was later vacated.
"This team, a lot of these players have been through a lot of stuff," Ohio State coach Urban Meyer said. "Last year they went 12-0 and were unable to go play in a bowl game. Now, their first chance to go play in a bowl game, they're in a BCS game against a great team. ... This group of kids wants to go win a bowl game and win their 13th game. That's what we're going to work awful hard to get done."
Since the start of 2012, both the Buckeyes (12-1) and Tigers (10-2) rank in the top 10 nationally in terms of points per game and winning percentage. Combined, they're 45-5 since the start of last season, and although both had bigger aspirations, they still figure to give the Orange Bowl the type of marquee matchup that bowl games covet.
"I definitely want to congratulate Ohio State, another great year," Clemson coach Dabo Swinney said. "They were a couple plays away from playing for the national championship and I've got all the respect in the world for coach Meyer. Looking forward to spending some time with him down in Miami."
Still, going to the Orange Bowl may seem like a bit of a consolation prize for both schools.
December, 8, 2013
Dec 8
9:06
PM ET
Red Smith, the poet laureate of sweat, once wrote that 90 feet between bases is the nearest to perfection that man has yet achieved. The basepath has nothing on the length of college football's regular season, which, with the patience of a kindergarten teacher and the tenacity of Scotland Yard, identified Florida State and Auburn as the two best teams to play for the BCS National Championship.
Tenacity is the lifeblood of a sport that demands physical and mental exertion for 60 minutes. Patience, not so much. Patience in college football is attributed to tailbacks who wait for a hole to appear. But in a sport in which a quarterback may have three seconds to complete a pass without getting his slobber knocked, patience often goes untapped.
Yet patience has never been more important than it has been in 2013, and not just because it was nearly midnight on the final Saturday of the regular season before Michigan State proved that Ohio State didn't have the credentials to play for the crystal football. In a season made predictable only by its unpredictability, patience became the coin of the realm.
Patience rewarded no fans more than at Auburn. It didn't take any patience to appreciate the rapid rise of the Tigers from 3-9 in 2012 to 12-1 this year. But the way that the Tigers waited until the very end to upend Georgia on a Hail Mary tipped pass and defeat archrival No. 1 Alabama on a 109-yard field goal return for a touchdown, focused upon the power of faith no matter what reality promised.
Patience proved critical at Florida State, not because head coach Jimbo Fisher decided to start a redshirt freshman at quarterback. Jameis Winston played with poise and the acumen of an upperclassman as the Seminoles cruised to a 13-0 record (12 wins by at least 27 points). But Florida State fans had to hold their collective garnet-and-gold breath for several weeks before local authorities decided not to charge Winston in a sexual assault case.
Patience paid off at Missouri, which had endured a 5-7, injury-filled debut in the SEC in 2012. Coach Gary Pinkel revamped his training and practice methods, and took advantage of the depth that resulted from playing so many players in 2012. The Tigers won the SEC East and finished 11-2 this season.
To continue reading,
click here
.
December, 8, 2013
Dec 8
8:45
PM ET
The Big Ten bowl lineup is all set. Here it is:
Rose Bowl Game Presented by VIZIO, Jan. 1:
Michigan State vs. Stanford
Discover Orange Bowl, Jan. 3:
Ohio State vs. Clemson
Capital One Bowl, Jan. 1:
Wisconsin vs. South Carolina
Outback Bowl, Jan. 1:
Iowa vs. LSU
Buffalo Wild Wings Bowl, Dec. 28:
Michigan vs. Kansas State
TaxSlayer.com Gator Bowl, Jan. 1:
Nebraska vs. Georgia
Texas Bowl, Dec. 27:
Minnesota vs. Syracuse
Here's a
complete schedule
for all the bowls, along with kickoff times and TV information.
Rapid reaction:
The Big Ten lineup is never easy and will be challenging again this time around. Wisconsin and Iowa in particular will have to play at their best against talented SEC teams.
Nebraska fans can't be too pleased about a rematch with Georgia, the Huskers' opponent in the 2013 Capital One Bowl. Both teams are playing without their quarterbacks and the game represents a chance for Bo Pelini to quiet his critics momentarily. We likely won't see such rematches next year, as the Big Ten takes more control in the bowl pairings. Nebraska goes bowling in Florida for the third consecutive season.
The league matches up well in its two BCS games, although Stanford and Clemson are both outstanding when they bring their 'A' games. Ohio State faces Clemson for the first time since the infamous Woody Hayes punch in the 1978 Gator Bowl.
Minnesota will be favored to beat Syracuse and finish with nine wins as it returns to Houston, and Michigan also could end its season on a positive note if it builds on its performance in The Game against Ohio State.
We'll have much more to come on these bowls.
December, 8, 2013
Dec 8
5:10
PM ET
ESPN.com news services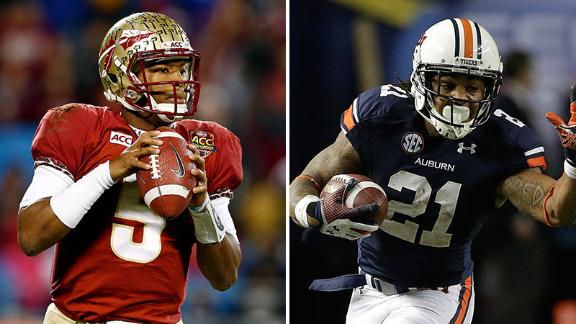 After weeks of conjecture and debate about strength of schedule, the matchup for the VIZIO BCS National Championship turned out to be an obvious one.
No. 1 Florida State and No. 2 Auburn top the final BCS standings and will play for the national title Jan. 6 in Pasadena, Calif.
The regular season had set up the possibility for a controversial BCS title game with one-loss Auburn on the outside looking in at unbeaten but less-tested Florida State and Ohio State, but Michigan State took the Buckeyes out of the conversation by winning the Big Ten championship game on Saturday.
Meanwhile, Auburn moved up to the second spot in the standings by outscoring Missouri 59-42 in the SEC championship game.
Now the title game is set: Florida State, the nation's only undefeated team, will face 12-1 Auburn, champion of the conference that has won the past seven national championships.
"We all complain about the BCS, but isn't it funny how often they get it right," Florida State coach Jimbo Fisher said.
The Buckeyes fell to No. 7 in the BCS standings but will still have the opportunity to play in a record 10th BCS bowl. Ohio State will face No. 12 Clemson in the Discover Orange Bowl.
Clemson, Ohio St. Looking For Redemption