March, 29, 2015
Mar 29
2:15
PM ET
With spring practices under way, it was a big visit weekend in the Big Ten. A number of programs within the conference had some big visitors on hand, so here is a look at some of the top prospects who were on campus and what a few had to say about the visits.
PENN STATE
The Nittany Lions had a ton of big visitors on campus and that included quite a few 2017 prospects.
Lineman Robert Hainsey was one of those recruits on hand, and Hainsey tweeted a picture of the visit.


Yesterday.. #WeAre #WPIALtoPSU ???? pic.twitter.com/hSCwkIFCD7

— ROBERT HAINSEY (@r_hainsey56) March 29, 2015
Cam Spence was another 2017 target in Happy Valley and he too took to Twitter to show off his experience.
Had a good visit @coachjfranklin @PennStateFball @SpenceChaos #WeAre #107kStrong ????????. @JPaschal5 @Callmeemoe__ pic.twitter.com/GxfZVAQzJZ

— Cam Spence (@Only1CamSpence) March 28, 2015
The Nittany Lions also had some 2016 prospects, including Damar Hamlin, Michal Menet and Khaleke Hudson to name a few.
PSU ????.. @BoobieMiles_4 @HamlinIsland @Shizzeee_ @DiddyBop1_ @r_hainsey56 THE MOVEMENT ?? ?? pic.twitter.com/7E4yLKCc3L

— Khaleke Hudson2?1? (@NeverDone_21) March 28, 2015
NEBRASKA


The Cornhuskers also had some big visitors on campus in Lincoln. Offensive lineman Nathan Smith was one of the bigger targets on hand and Smith tweeted his thoughts on his time on campus.
Nebraska visit was awesome today!! @Huskers pic.twitter.com/5moLFcQUgn

— Nathan L. Smith (@Nathan7099) March 28, 2015
OHIO STATE


The Buckeyes picked up a huge commitment in 2016 running back Demario McCall, but the coaches had quite a few other big visitors on hand outside of McCall.


ESPN Jr. 300 tight end Luke Farrell was one of those visitors and Farrell currently holds Ohio State very high on his list.


"It went well," he said. "I liked getting to see practice and I liked how they run the position meetings."


Farrell is still planning some other visits, but wants to decide before his season starts.


One of the more important prospects visiting was Texas quarterback Tristen Wallace, who tweeted out quite a few pictures of the visit and time spent with current Buckeyes quarterback Braxton Miller.
Just 1 time! pic.twitter.com/4YDwRs8aIB

— TWall (@SelfMade___Wall) March 28, 2015
MICHIGAN STATE


The Spartans were yet another Big Ten program with a lot of traffic on campus, including Georgia prospects Isaiah Pryor, Russell Halimon, Korey Banks and Jamyest Williams.


Their time spent with the coaching staff was memorable, especially for Williams, who is a defensive back.


"I was just thinking while Coach [Mark] Dantonio was talking, that he can turn two stars into first-round draft picks, imagine when he gets a four-star athlete and what he could do for me," he said.


Michigan State also had ESPN Jr. 300 receiver Justin Layne in for a visit, and Layne tweeted about his time with the coaches.
Had a great day ! Go Green! #MSU ???? with my bro @Siah_10 pic.twitter.com/05YjfFU5Di

— - JLXIII (@JustinLayne0) March 28, 2015
Layne got a chance to hang out with ESPN Jr. 300 quarterback Messiah DeWeaver, who took a return trip to see Michigan State. DeWeaver will be deciding at the end of April, so this could be an important visit for Michigan State in that race.


"I was there for a couple days," he said. "I saw the ins and outs of practice and had a great time with the coaches and players."


South Carolina was also well represented in East Lansing with Nick McCloud, Josh Wilkes, Greg Ruff, Quay Brown, Jamari Curren and a few others taking the trip.
Some of the Carolina X prospects at @MSU_Football pic.twitter.com/XX1F2UByzO

— Carolina X (@CarolinaXposure) March 29, 2015
MICHIGAN


The Wolverines and Buckeyes had the chance to host one of the biggest visitors of the weekend in ESPN Jr. 300 defensive lineman Rashan Gary as well as a few other New Jersey prospects.


ESPN Jr. 300 receiver Ahmir Mitchell was among that group and tweeted out some pictures from their time at Michigan, including one picture at breakfast with Jim Harbaugh.
Out to breakfast with Coach Harbaugh & these Top D lineman.. Jersey living out ??ichigan ?????? pic.twitter.com/Zxom97TuhT

— Ahmir_SoDevoted (@TheDeuce_2_Nice) March 29, 2015
Michigan coaches offered 2017 defensive lineman Corey Bolds on the visit, who happens to be teammates with Gary.
Blessed and Honored to say I received my 2nd scholarship offer from Michigan University??#GOBLUE pic.twitter.com/4iIugzR1oU

— Prince (@Chief_Corey) March 28, 2015
Athlete Korey Banks received an offer on his visit to Michigan this weekend, and the Georgia prospect came away very impressed with what the Wolverines have to offer.


"It's a Michigan offer. It's always exciting to get a Michigan offer, especially from coach Jim Harbaugh," Banks said. "Of course I'm going to keep them in the running, they pack 118,000 fans in the Big House. What kid wouldn't love that offer, that's a big achievement for me."
March, 29, 2015
Mar 29
10:45
AM ET
Isaiah Pryor isn't your typical recruit. He is 6-foot-2 and has offers from some of the biggest programs in the country, but there's something even more unique about the 2017 Georgia prospect.

Pryor doesn't have a Twitter account.

He decided that he didn't have time for it, so he deleted his account. A decision that is rare among kids his age.

"I was a little kid and everyone had one, so I created one. I just didn't use it, so there's no point in having it," he said. "Apparently coaches like that, because I'm staying off social media."

That's not the only unique aspect about Pryor, though. He used to play the saxophone, but had to stop because football prevented him from being in the marching band. He also understands that football allows him an opportunity to get the education he desires.

"I want to major in psychology because I'm interested in the human mind and helping people with mental disorders. My mom and dad are nurses and they help people every day, so I just want to be in that field," he said. "If I have the opportunity to make it to the NFL, I'm definitely going to take it, but I feel like the reason we're doing all of this is to get an education. After football is over, all you have is your education."

Pryor has already started to do some research on programs and says Ohio State is a school that has stood out for his major.

With so many offers already, he is going to have a big decision ahead of him. He and a few fellow Georgia recruits took a few visits over the weekend before heading to the Adidas showcase at the EFT football academy in Illinois.


March, 29, 2015
Mar 29
9:49
AM ET
There is little doubt
Ohio State
will ink a top-10 class in February 2016. Judging by the start to the class and the perfect ending to last season, a top-five finish is a high-percentage bet. The Buckeyes' class added another key and impactful piece on Saturday in the form of running back
Demario McCall
, giving Urban Meyer five ESPN Junior 300 verbals.
To continue reading this article you must be an Insider
March, 27, 2015
Mar 27
1:00
PM ET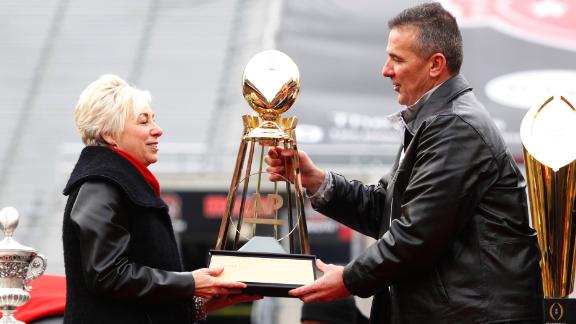 Ohio State football players received their College Football Playoff championship rings on Friday morning, the first of three rings that the school will give the players.
Each player will receive $828 worth of rings, said Ohio State spokesman Dan Wallenberg, which is less than the maximum the school was permitted to spend.
Ohio State spent $204 on each Big Ten title ring, well off the allowance of $325 per player. The school spent $209 to have each Sugar Bowl ring made, $166 less than the $375 per ring limit. The College Football Playoff pays for the national title rings, which cost $415 each.
The title ring was made by Jostens and has more than 50 cubic zirconias on the top of the ring surrounding the College Football Playoff logo football and the words "National Champions."
The sides of the ring have the player's name and the Ohio State logo with the 42-20 score of the title game.
March, 27, 2015
Mar 27
11:10
AM ET
Time to break out the heavy coats, scarves and gloves. Our ultimate Big Ten road trip has reached November.
ICYMI, we've been putting together our choices for the games we would attend each week during the 2015 season, if money and editorial decisions were no object. We can each pick only one game per week.
Moving on to Week 10:
Saturday, Nov. 7
Iowa at Indiana

Wisconsin at Maryland

Rutgers at Michigan

Michigan State at Nebraska

Penn State at Northwestern

Minnesota at Ohio State

Illinois at Purdue
Josh Moyer's pick: Michigan State at Nebraska
I haven't yet scheduled a trip to Lincoln, Nebraska, this season -- and now seems like the perfect time. Connor Cook and Tommy Armstrong both threw for 2,500-plus yards last season and make up half of the B1G's four returning passers to do so. Both teams will be showcasing new running backs to fill the big shoes of Ameer Abdullah and Jeremy Langford. And Wisconsin's new offensive coordinator, Danny Langsdorf, will have to game-plan around Michigan State's new co-defensive coordinators, Harlon Barnett and Mike Tressel. Maybe I'll even get in a day early and say hello to Sherman.
Dan Murphy's pick: Michigan State at Nebraska
This game will be Mike Riley's toughest test in his first year with the Cornhuskers, a measuring stick to see how far Nebraska is from breaking its string of seven consecutive four-loss seasons. For Michigan State, the Buckeyes still loom a couple of games ahead on the calendar, but a trip to Lincoln is a significant hurdle to be cleared. A win on the road against Nebraska would set up two weeks worth of hype surrounding a trip to Columbus with division title hopes -- and probably a whole lot more -- on the line. The product on the field and the implications for the game's winner makes this weekend's travel an easy choice.
Austin Ward's pick: Minnesota at Ohio State
The cross-division matchup last year turned out to be far more competitive than might have been predicted before the season, thanks in large part to the impressive job Jerry Kill has done building a contender at Minnesota. The Gophers gave the Buckeyes one of their toughest tests on the way to the national title, and just about the only thing Urban Meyer didn't win last season was Big Ten Coach of the Year -- which is sitting in Kill's office instead. Watching these two go to battle again on the field should provide some entertainment once more.
Mitch Sherman's pick: Michigan State at Nebraska
Considering Nebraska's recent struggles in big games and Michigan State's run of success on the national level, this series has been surprisingly tight since the Huskers joined the Big Ten in 2011. Even last year, Nebraska rallied late from a big deficit in East Lansing. So expect a close game and a live atmosphere in Lincoln. For the Huskers to succeed in the first year with new coaches, the defense must likely lead the way. Can the Blackshirts solve Cook? Can the new-look Nebraska offense find a formula for success against the tried-and-true Spartans defense? It'll be an interesting matchup, as always.
Previous trippin'
Week 1: Bennett and Murphy at Ohio State-Virginia Tech; Ward at Michigan-Utah; Moyer at Wisconsin-Alabama

Week 2: Unanimous: Oregon at Michigan State

Week 3: Sherman and Murphy at Rutgers-Penn State, Bennett and Ward at Nebraska-Miami

Week 4: Bennett and Ward at Maryland-West Virginia, Sherman and Moyer at BYU-Michigan

Week 5: Unanimous: Iowa at Wisconsin

Week 6: Unanimous: Nebraska at Wisconsin

Week 7: Moyer and Ward at Penn State-Ohio State, Murphy at Michigan State-Michigan, Sherman at Nebraska-Minnesota

Week 8: Bennett and Moyer at Penn State vs. Maryland, Sherman at Ohio State-Rutgers, Ward at Northwestern-Nebraska

Week 9: Bennett, Moyer and Sherman at Michigan-Minnesota, Murphy at Rutgers-Wisconsin
March, 27, 2015
Mar 27
10:00
AM ET
We've reached the height of March Madness as another week nears an end, which begs this question: How to best incorporate basketball into the weekly #B1GFridayFive? A wise editor suggested that we scour the Big Ten football rosters for players we'd like to see lace up the sneakers.
This is, by no means, an all-inclusive list. We want your input. Who plays football in the Big Ten but would make a formidable power forward or point guard? Let us know, and use the hashtag #B1GFridayFive. Here are our selections, listed alphabetically:
---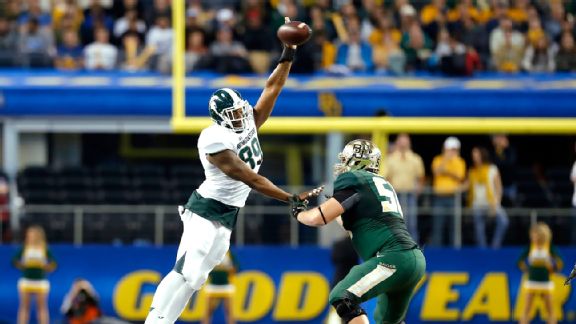 Tim Heitman/USA TODAY Sports


Really, this choice is all about our desire to see what happens to a poor defender intent to draw a charge on the 6-foot-5, 256-pound Calhoun as he barrels downcourt toward the goal. The two-time All-Big Ten lineman, one of the nation's most ferocious pass rushers, earned his reputation as a powerful dunker on the hardwood in the New Jersey high school ranks. He received offers in basketball from the likes of Wagner, Monmouth and Lehigh and averaged 17.5 points and 10 rebounds as a senior in 2010-11 at Middletown South. At the Buc Holiday Classic in January 2011, Calhoun was named MVP for his three-game performance, capped by a 38-point outburst in the championship.
---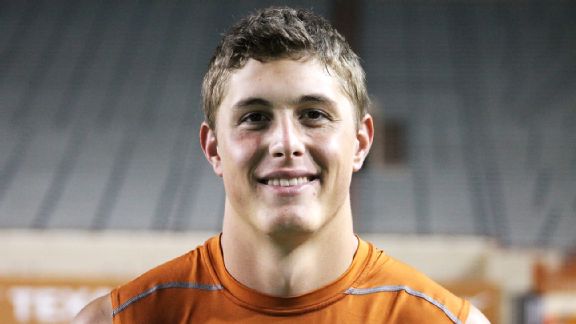 Max Olson/ESPN


This list needs a quarterback, and we couldn't find a better option than Michigan's recently signed freshman, who will join the Wolverines this summer. Gentry, arguably the best New Mexico prep quarterback ever, was nearly as good in basketball. He earned all-state honors as a junior at Albuquerque's Eldorado High School, averaging 19.6 points and 10 rebounds. Even at 6-7, Gentry is an athlete. He rushed for 220 yards in a game last season. Gentry did not play basketball as a senior because of his football plans. He turned down Alabama, among others, to pick Texas last year. But when Jim Harbaugh came calling, Gentry reconsidered, committing to Michigan at, yes, a January basketball game in Ann Arbor.
---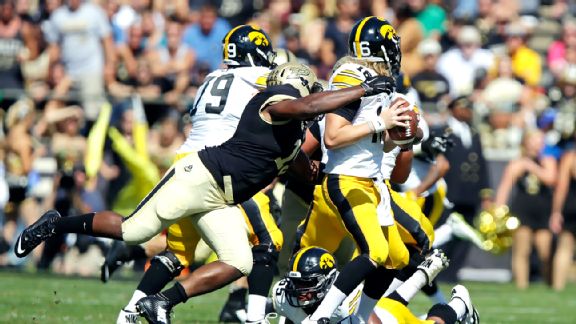 AP Photo/Michael Conroy


Maybe this is a stretch. Robinson, admittedly, is not a good basketball player. But come on, his dad, Glenn "Big Dog" Robinson won the Naismith and Wooden awards at Purdue in 1994, averaging more than 30 points per game as a junior. Glenn was the No. 1 pick in the NBA draft and scored more than 20 points per game over 11 seasons. Gelen's older brother, Glenn Robinson III, plays for the Philadelphia 76ers after a career at Michigan. And Gelen, expected to contend for a starting spot on the defensive line in 2015 after collecting 20 tackles as a true freshman, wears his dad's No. 13 at Purdue. Gelen also competes in wrestling and throws the shot put at Purdue. He can take on another sport, right?
---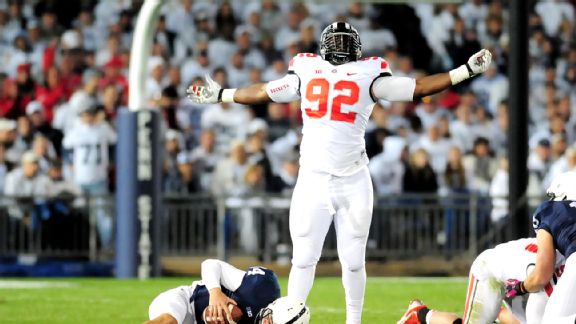 Evan Habeeb/USA TODAY Sports


Washington is a legitimate basketball talent. He was named the Gatorade Player of the Year in Ohio as a senior at Cincinnati's Taft High School after averaging 23.1 points and 14.3 rebounds per game. He led the school to the state's final four and earned a scholarship offer for basketball from Xavier. Washington got serious about football early in his high school career after Cincinnati was the first to offer. Last year, Washington came into his own on the Ohio State line, notching 4.5 sacks. At 6-4, he would surrender several inches in the post, but we'd like to see the 295-pounder battle in the Big Ten paint.
---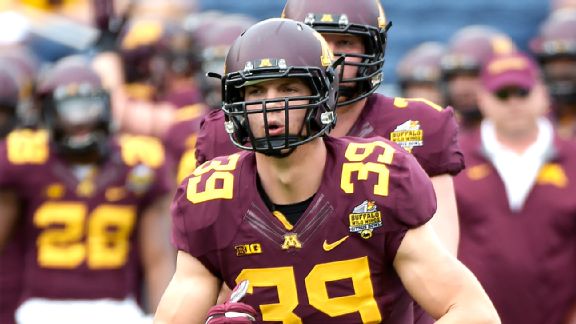 AP Photo/Phelan M. Ebenhack


How did this happen -- a 6-foot-10 kid from Indiana with soft hands and good feet who gave up basketball? There's no doubt that Wozniak gets mistaken regularly around the Twin Cities for a member of Richard Pitino's basketball team. He quit the sport, according to reports at the time of his 2013 football commitment to the Golden Gophers, before his senior year of high school to focus on his work as a tight end. Yes, he is the tallest player in the Big Ten, playing behind star Maxx Williams in 2014 as a redshirt freshman. At 267 pounds, Wozniak could eat space and block shots in basketball, if nothing else. Alas, it's not going to happen.
March, 27, 2015
Mar 27
9:00
AM ET
COLUMBUS, Ohio -- There's no sense wasting any energy worrying about a position battle that hasn't even started yet, and Ed Warinner has more than enough patience to wait.
Before diving into the quarterback race, the new Ohio State offensive coordinator has plenty to keep him busy elsewhere, starting with a competition that certainly won't receive as much attention but could be just as crucial to the Buckeyes' national-title defense in the fall.
[+] Enlarge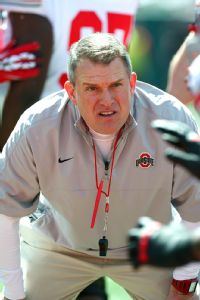 Khris Hale/Icon SportswireOhio State offensive coordinator Ed Warinner has just one spot to fill on the line, with Chase Farris and Jamarco Jones the leading candidates at right tackle.
Regardless of who winds up taking the snaps, protecting that guy and continuing to pound open holes for the running game is going to once again be a top priority. And with four returning first-team blockers up front, the options at right tackle are under Warinner's microscope during spring camp, with Chase Farris and Jamarco Jones pushing for the last open spot.
"[Farris] hit a stride where we thought he was really playing good by the middle, toward the end of the season," Warinner said Thursday. "But you've got a starting lineup, we're on a roll, Darryl Baldwin is playing his butt off, so we spot-played him here and there but didn't really shake up the rotation. I mean, he was ready to be a starter toward the end of last year, and if he keeps doing what he's doing, he'll be able to take that position over.
"But Jamarco Jones is not by any means just going to let him have it. It's just a difference in age and where they're at -- fifth-year guy versus second-year guy."
If that winds up being the difference between the two, Farris would be in for the gig and could potentially become the latest in a string of one-year wonders for the Buckeyes at right tackle. Reid Fragel, Taylor Decker and Baldwin all held down that position without much prior experience and thrived under Warinner for a season before moving on, either due to graduation or by earning a promotion to the left side, as was the case with Decker.
For the moment, Warinner is getting no shortage of opportunities to evaluate both candidates, with the Buckeyes resting some of their veterans. During one period open to the media during practice on Thursday, Jones lined up at left tackle with the first-team offense with Farris bookending him on the right, providing a relatively even playing field for the top contenders for the job.
That doesn't necessarily mean Warinner will be able to reach a conclusion any faster than he and the coaching staff might with their quarterbacks. But at least their options all are on level ground in spring, ensuring one key battle already is underway.
Barrett bouncing back: Urban Meyer suggested earlier in the week that J.T. Barrett's recovery from his fractured ankle might be ahead of schedule, and the redshirt sophomore certainly turned some heads with his performance in drills open to the media. Barrett and Cardale Jones took turns delivering passes that showed off what they do best, whether it was pinpoint accuracy from the former or rockets out of the right hand of the latter. Barrett has been able to jump back into mini-field and seven-on-seven reps early in camp, and he looked as sharp as ever delivering the football on Thursday.
Percy position: Maybe it's just a spring tradition now, but another multipurpose tailback is getting reps with the wide receivers and sparking conversation about the famous Pivot position in Meyer's offense. Last year it was Dontre Wilson; this year appears to belong to Curtis Samuel. The rising sophomore shined in his opportunities in the backfield behind Ezekiel Elliott last year, and it was something of a surprise to see him catching passes instead of taking handoffs with the starter and potential Heisman Trophy candidate currently on the shelf after wrist surgery. But the Buckeyes have left no doubt they will find ways to use all of the talent on hand, and Samuel isn't short on that.
Man in the middle: Living up to the hype might have been impossible given the abundance of chatter that swirled around Raekwon McMillan, but the middle linebacker certainly showed off his potential during his limited opportunities to play behind Curtis Grant last fall. Now it's up to the rising sophomore to become a leader and fill the shoes of his mentor on a full-time basis, and defensive coordinator Luke Fickell is pushing him as much as possible to embrace that role and fight through any uncomfortable moments. Having Darron Lee and Joshua Perry returning at linebacker is invaluable in the process, but McMillan has the makings of a star and the Buckeyes are trying to tap into that as quickly as possible.
March, 26, 2015
Mar 26
4:00
PM ET
COLUMBUS, Ohio -- The career elevator is still on the rise for Ed Warinner.
The newly promoted Ohio State offensive coordinator just won't need a literal one to get to his job on game day.
Warinner has a different title, more responsibilities helping run the system and perhaps more pressure to keep the Buckeyes and their high-scoring attack rolling along heading into his fourth season with the Buckeyes. But he's going to do all that from exactly the same place he has for the last three years -- on the sideline instead of upstairs in the press box.
"I went through that thought process," coach Urban Meyer said. "But his value, to pull him away from that group, the whole offense goes to him before they take the field the last three years and you can't change that right now.
"I'm going to keep him down. He's too good. He's the one, you pull him out now, you've got a problem."
[+] Enlarge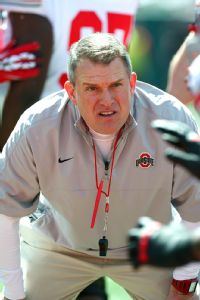 Khris Hale/Icon SportswireOhio State offensive coordinator/offensive line coach Ed Warinner is staying on the sidelines on game day.
The Buckeyes clearly haven't had any issues putting up points with Warinner at field level, and they're in no hurry to fix something that isn't broken, even as the offensive staff undergoes a bit of a facelift.
The loss of former coordinator and quarterbacks coach Tom Herman to Houston is certainly the most noticeable difference for Ohio State after his wildly successful three-year stint with the program, and losing running backs coach Stan Drayton to the Chicago Bears created both another vacancy and a chance to reorganize on game days, if Meyer wanted.
Warinner's track record as a coordinator at Kansas before arriving at Ohio State, his encyclopedic knowledge of multiple systems and his invaluable work with the offensive linemen over the last three seasons as a position coach and co-coordinator all but guaranteed he would be getting a more prestigious title after Herman left, and Meyer wasted little time giving it to him. But the Buckeyes also had to consider how crucial his presence on the sideline has been to their recent success when putting together a plan for the reconfiguration of the staff, and while there's still plenty of time to adjust, if need be, it's now quite clear how much they value it.
"We're still working through that, but right now I'm on the field because the offensive line is on the field and I can take care of adjusting 11 guys and because we have some new coaches," Warinner said after practice Thursday morning. "Coach [Meyer] and I are real comfortable down there. It's been a pretty good deal for three years down there with him and me on the sideline, and we talk and make our adjustments.
"We'll be good with that. I knew that was the way we wanted to go, and I don't see that changing. It works."
The offensive system does too, and Warinner also stressed that there was no reason for him to try to change it much or to try to put his own mark on the playbook just because he's now in a slightly higher-profile position.
He might now be taking his "perfection and toughness" message to a larger audience than just the offensive linemen, and he admitted there is more on his plate this spring than in previous seasons. But it's not just Warinner's spot near the bench that is going to remain unchanged.
"You have to be careful with that," Warinner said. "It's not my offense, it's coach Meyer and Ohio State's offense. It's my job to make sure that we continue to operate at a high level and then to enhance the offense as we move forward. I'm not going to try to do anything other than continue to carry the banner of execution. We're based on toughness, execution, fundamentals; we want to continue to do that.
"[Meyer] sets the tone for that and he's in a lot of offensive meetings, so I'm not going to steer this thing in a different direction. I'm going to steer it down the path that he wants, which has been a real successful path."
The Buckeyes obviously have had to make a few changes over the offseason, and Warinner is certainly part of that overhaul. But taking a few elevator rides at the stadium won't be one of his new duties.
March, 26, 2015
Mar 26
2:30
PM ET
As the NCAA tournament moves to its next round Thursday, so does our Big Ten bracket challenge. This is your opportunity to sound off on the best game settings in the league. Here in March, those autumn afternoons remain a distant dream. But it won't stop us from wishing for tailgates and touchdowns.
The results are in from the first round. Eight teams remain alive. And our first quarterfinal matchup pits Ohio State, which received a bye to open, and Minnesota. The Gophers pounded Rutgers in a mild upset. The polls close Monday at 4 p.m.
No. 1 Ohio State vs. No. 9 Minnesota
Tournament résumés:

Ohio State: The reigning Big Ten and national champion Buckeyes play in one of most iconic and recognizable settings in all of sports. Ohio Stadium, expanded by 2,500 seats last year to an official capacity of 104,944, ranks as the fourth-largest on campus facility in the nation. The Michigan game last season drew a record crowd of 108,610. More than 36 million fans have attended Ohio State games at the Horseshoe, which is listed in the National Registry of Historic Places. Situated on the banks of the Olentangy River, the stadium is known for its unique design and close proximity of fans to the field. The Rolling Stones played at the venue in 1997 and might come back this year. What else do you need to know? From the Ramp Entrance to the Buckeye Battle Cry, this place is uniquely O-H-I-O. Oh, and nowhere else can boast this awesome tradition.
Minnesota: The $303 million horseshoe-style stadium opened in 2009 and is a big upgrade over the last venue. About 20,000 seats have chairbacks, the team store boasts two floors, and the name of every Minnesota county is etched in stone at the stadium. Fans don't mind braving the cold here -- or eating ice cream while doing it -- and look forward to starting every game with the traditional Battle Hymn of the Republic. They'll chant one of the oldest fight songs in the Big Ten (Minnesota Rouser), yell "Ski-U-Mah" (Ski is a Sioux battle cry for victory; U-Mah means Minnesota) and then ask beloved mascot Goldy Gopher to spin his head. And, win or lose, fans will incessantly answer the age-old question, "Who hates Iowa?" ("We hate Iowa!")
March, 25, 2015
Mar 25
11:00
PM ET
Dominating Florida is always critical for Florida State, but another secret to the Seminoles' success is doing well in Virginia, and highly-coveted corner
Levonta Taylor
could be the Noles' next big get from the state.
Will Be Making My College Choice April 3rd! @ Ocean Lakes High School 6pm... Anyone Can Come, No Charge Decision, Decisions, & Decisions.=­

— Levonta Taylor (@iamlevonta) March 24, 2015
To continue reading this article you must be an Insider
March, 25, 2015
Mar 25
5:51
PM ET
[+] Enlarge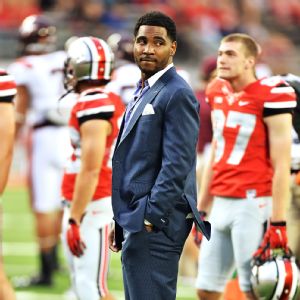 Jamie Sabau/Getty ImagesOhio State is investigating whether QB Braxton Miller violated any NCAA rules by posting a photo of himself promoting health supplements on Instagram.
COLUMBUS, Ohio -- Ohio State is looking into a potential NCAA rule violation with quarterback Braxton Miller after he posted a photo of himself promoting health supplements on Instagram.
The senior quarterback deleted the post from Tuesday that featured a picture of him next to AdvoCare products and included his email as a distributor of the products, but not before it was widely seen and prompted questions about whether his amateur status might be in doubt due to his celebrity and an apparent endorsement.
"We are aware of it," an Ohio State spokesman said Wednesday. "We are looking into it."
The NCAA allows for outside employment of student-athletes, and Miller would not be in violation of any rules by selling AdvoCare products.
But players like the two-time Big Ten offensive player of the year can't use high-profile status in an effort to personally profit, which makes Miller's situation something of a gray area. The Ohio State compliance office hasn't publicly issued any sort of verdict on the situation, but Miller told The Columbus Dispatch "it's all good."
March, 25, 2015
Mar 25
1:30
PM ET
Is there anything better than Big Ten football in the fall?
We think not, which is why we're dreaming of our ultimate Big Ten road trip in 2015. In case you've missed the previous installments, we've been giving our picks for which game we would attend each week if money and editorial decisions were no object. We can each pick only one game per week.
Time to look at Week 8:
Saturday, Oct. 24
Wisconsin at Illinois

Penn State vs. Maryland

Indiana at Michigan State

Northwestern at Nebraska

Ohio State at Rutgers
Byes: Iowa, Michigan, Minnesota Purdue
Austin Ward's pick: Northwestern at Nebraska
By this point there should already be an understanding of where these programs stack up in the West Division, and there probably won't be huge stakes in the race unless the Wildcats have truly recovered from their recent rough patches and found some consistency on offense. But if the Huskers are going to be a factor, this is a matchup at home it can't afford to overlook. And for Pat Fitzgerald, taking his team into a tough place to win and pulling out a victory would have value not only in climbing back up in the standings and potentially into the postseason again, but it might have a long-term impact establishing the Wildcats as a threat again.
Mitch Sherman's pick: Ohio State at Rutgers
I'm off the High Points Solutions Stadium, because it's the closest Ezekiel Elliott or any of Ohio State quarterbacks will get to New York City until December. Maybe Urban Meyer can steer the team bus through Times Square to offer extra motivation for the Buckeyes' Heisman candidates. Really, this is not a great week of matchups in the Big Ten, and OSU squashed Rutgers 56-17 a year ago. I'm not expecting a compelling game, but I want to see the atmosphere for this in Piscataway, and I'm wondering if Rutgers cast of running backs can penetrate the Ohio State defense. Probably not, but hey, a stopover in New York beckons.
Brian Bennett's pick: Penn State vs. Maryland
"Let the rivalry begin." Those were Randy Edsall's words when Maryland pulled off the historic win in State College last year. Don't think Penn State has forgotten that -- or that the Terps refused to shake hands before the game. This might just be turning into a heated new rivalry in the Big Ten, and with this game being in Baltimore at M&T Bank Stadium, I'd expect some Nittany Lions fans to make it closer to a neutral site. Save me a crab cake, and I'll see you there.
Josh Moyer's pick: Penn State vs. Maryland
Our choices are thin in Week 8, so I'm going with a matchup that could wind up blossoming into a nice rivalry. Call it what you will right now, but this game is sure to be an interesting one after last season's no-handshake escapade (and don't forget about the pregame scuffle either). The Nittany Lions tried to downplay how they felt after the Terps' 20-19 win, but it's clear they weren't fans of the move. Outside of the theatrics, this could be another close contest -- or at least has less blowout potential than the other games.
Previous trippin'
Week 1: Bennett and Murphy at Ohio State-Virginia Tech; Ward at Michigan-Utah; Moyer at Wisconsin-Alabama

Week 2: Unanimous: Oregon at Michigan State

Week 3: Sherman and Murphy at Rutgers-Penn State, Bennett and Ward at Nebraska-Miami

Week 4: Bennett and Ward at Maryland-West Virginia, Sherman and Moyer at BYU-Michigan

Week 5: Unanimous: Iowa at Wisconsin

Week 6: Unanimous: Nebraska at Wisconsin

Week 7: Moyer and Ward at Penn State-Ohio State, Murphy at Michigan State-Michigan, Sherman at Nebraska-Minnesota
March, 25, 2015
Mar 25
11:59
AM ET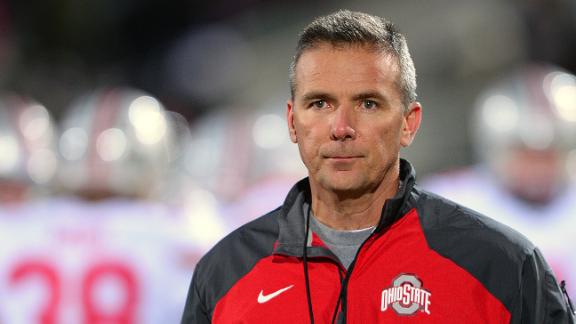 COLUMBUS, Ohio -- The loaded quarterback competition hasn't really even started yet at Ohio State, and already the strain is starting to show on coach Urban Meyer.
Even with J.T. Barrett and Braxton Miller still limited by injuries early in spring practice, leaving Cardale Jones as the only healthy option, Meyer is beginning to look ahead. And he doesn't seem particularly excited about the fact that he'll have to leave two talented options on the sideline.
"That's the only thing that's starting to eat away at me a little bit," Meyer said Tuesday. "It didn't for a while because you're just so busy. But now that I'm seeing what I'm seeing, I have such great respect for all three guys."
Offensive coordinator Ed Warinner echoed similar sentiments about the team's quarterback derby later in the week.
"It's a great problem to have," Warinner said Thursday. "It's one of those ones that will take care of itself down the road. Right now, it's just watch Cardale grow and develop and get better and those other guys are doing what they can do to continue to grow and develop and get better. We'll have to figure that out when the time comes, but not right now."
Meyer has been watching them all closely through three practices, and while each of the decorated candidates is participating at a different level in workouts, their relationships with one another appear to add to Meyer's difficulty in eventually establishing a pecking order.
March, 25, 2015
Mar 25
9:00
AM ET
Urban Meyer makes news when he thinks about the quarterback decision that he faces before next season. He actually talked about it Tuesday.
Meyer said the dilemma has started to "eat away" at him.
In this report by Tim May of the Columbus Dispatch, Meyer praised the Ohio State quarterbacks for their positive attitude in spring practice, specifically mentioning a compliment offered by Braxton Miller to Cardale Jones. Miller and J.T. Barrett talked a little football at practice, he said.
These are insignificant details, though they remain fascinating in the context of the OSU QB race, especially when offered by Meyer. The battle won't actually hit its stride until August of course, when all three accomplished players presumably will enter preseason camp in good health.
Meyer said Tuesday that he was moved to feel this way about the quarterbacks because he has "such great respect for all three guys."
He also offered a dose of reality. "The negative: Two people are going to have to watch."
This storyline has already taken on a life of its own. It's in danger of spinning out of control at some point before August, at least in the uncontrolled environment away from the Ohio State campus. Twelve practices remain for the Buckeyes this spring -- more time for the media and fans to anticipate and overanalyze every minor twist.
And if Meyer is already feeling a burden now, imagine how he'll feel in August.
Let's get to the links:
Did Ohio State Cheap Out On Championship Rings?
BIG TEN SCOREBOARD
Thursday, 9/3
Friday, 9/4
Saturday, 9/5
Sunday, 9/6
Monday, 9/7