September, 30, 2014
Sep 30
12:00
PM ET
COLUMBUS, Ohio -- The physical difference is plain to see.
The height is the same, but
Ezekiel Elliott
is about 20 pounds lighter than the guy who came before him.
The unique mentality requires a bit more of an explanation.
[+] Enlarge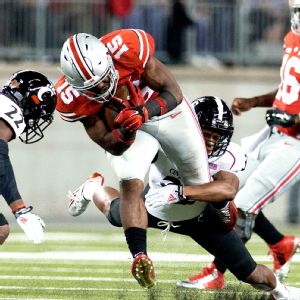 Greg Bartram/USA TODAY SportsEzekiel Elliott has proven to be a worthy heir to Ohio State running back Carlos Hyde.
Ohio State's current starting running back is the first to admit he'd prefer to make tacklers miss and get to the perimeter, while his predecessor thrived on contact and seemed to go out of his way to bowl over defenders.
The offensive system isn't even exactly the same now, either, with the Buckeyes dialing up the tempo to unprecedented levels and rotating through their personnel at the skill positions instead of largely relying on two main guys to carry the load.
But for all the ways he might not fit the mold Carlos Hyde left behind, it looks clear that the two share at least one key trait after Elliott tallied 112 yards after contact last week in a performance that would have made his old mentor proud.
"Well, yeah, I'm not as big of a back as Carlos," Elliott said. "I can't take as many hits as him. He's more of a bruiser-type back, and I have a little more finesse to me.
"But just being a running back, you've got to be tough. You have to have some bruise to you."
Elliott might not pack quite the same punch, but Cincinnati certainly left Ohio Stadium black and blue last weekend after the sophomore relentlessly pounded away at its defense. He unofficially announced himself as a worthy heir to Hyde in the backfield.
He also showed the same ability to handle a healthy workload while appearing to gain strength as a game goes on. Elliott wore down the Bearcats with his 28 carries for 182 yards while adding 51 more on 5 catches. The record-setting outing with 45 first downs and 710 yards was sparked largely by Elliott and the rushing attack, a throwback to last season ago when
Braxton Miller
was teaming with Hyde and posting eye-popping statistics at nearly every turn.
That explosive dynamic was notably absent during the Week 2 loss to Virginia Tech, with redshirt freshman quarterback
J.T. Barrett
and Elliott struggling to make an impact. The defeat put Ohio State's playoff candidacy on the ropes quickly. Elliott finished with just 32 yards on 8 carries against the Hokies, and there certainly wasn't much happening after contact in that game.
But like seemingly everybody else on an inexperienced offense, the improvement every week has been pretty evident as Elliott grows more comfortable with his role and responsibilities. The Buckeyes figure to only grow more dangerous as a result.
"On Saturday, he did the job you would want a Carlos Hyde to do," co-offensive coordinator Ed Warinner said. "But he's a different runner than Carlos. He's playing with very low pad level, he plays with great energy, he's explosive and he finishes runs with great pad level. He doesn't want to make direct contact. He wants to edge defenders, which always allows you to finish runs and come out the other end.
"He's developed, and here we go starting to show that on the field."
Against the Bearcats, Elliot left a lot of defenders having to pick themselves back up while he kept moving down the field.
That's been a familiar sight for Ohio State opponents over the last few seasons. While the guy doing it now has a different method, it's already shaping up to be just as effective.
"That's definitely one of our core values in the running back room," Elliott said. "Get those yards after contact, fight with that extra effort.
"You can't just be all outside, you know? You've got to have a downhill aspect to you."
After a bit of a slow start, Elliott has the ball rolling that way now and Ohio State is building momentum again in the process.
Buckeyes Coach Shows No Mercy