April, 15, 2014
Apr 15
3:30
PM ET
COLUMBUS, Ohio -- After putting the finishing touches on spring camp, a few visitors caught Urban Meyer's eye and he made sure to deliver them a message.
It was partly a reflection of the confidence the Ohio State coach has in the freshmen set to enroll in June, but it was also somewhat of a warning that there is a lot of work to do on the offensive line after a shaky performance for a rebuilding unit in the spring game.
But either way, the brief, matter-of-fact statements highlighted just how critical restocking the offensive line is to Meyer after leaning so heavily on it during a pair of record-setting seasons to start his career with the program.
[+] Enlarge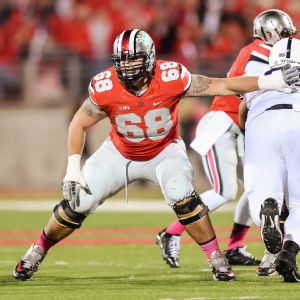 Jamie Sabau/Getty ImagesTaylor Decker has moved from right tackle and locked down the spot at left tackle.
"I saw
Jamarco Jones
down there,
Demetrius Knox
is coming in,
Brady Taylor
," Meyer said. "Those are three bodies that are going to be coming in and I went up to them, looked them in the eye and told them, 'You're not redshirting; you're playing.'
"That's hard for an offensive lineman, but that's an area where we've got to get back to where we [were] -- maybe not where we were, but close."
Replacing four senior starters with three true freshmen isn't exactly the kind of formula that would get the Buckeyes back to the level they were at a season ago up front. And while Meyer wasn't actually suggesting those talented signees are capable of coming in and winning first-team roles right away, based on some issues blocking backup defenders in a spring game that featured five sacks, finding a spot on the two-deep certainly isn't out of the question.
Ohio State has enough options on hand to fill out the lineup in the fall, but 15 workouts didn't provide as much clarity as about that unit as Meyer would have liked. He's officially named
Taylor Decker
a starter at left tackle and
Pat Elflein
has won a job at guard, but leaving three vacancies and name-dropping players who have never practiced with the program is a far cry from leaving camp a year ago with a group that was essentially carved in stone and loaded with experience.
"Coach Meyer likes to have the depth chart set leaving spring, but if it's not there, it's not there," Decker said. "That battle will just continue through camp. There's good and bad to it, but I'd say there's more good to it.
"It's good because there's that competition there, so there's going to be a sense of urgency. You're not going to have guys taking days off, taking plays off in practice because you still have to earn that spot."
The downside is potentially not having a chance to develop the chemistry and familiarity that was such a critical component of the offensive line's success last season, though tackle
Darryl Baldwin
and guard
Antonio Underwood
both seem like safe bets to keep working with the first-team offense after spending all spring there. The race to start at center remains tight, though
Jacoby Boren
brings a bit of experience to the mix as he jockeys with
Billy Price
for that crucial gig in the middle of the spread offense.
But regardless of who wins those jobs, it figures to be imperative for Meyer and the Buckeyes to identify the right fits for those final three spots to get the ball rolling to try to reach the high standard set by the linemen in the last couple seasons. Once those spots are nailed down, Meyer can give his attention to a group of newcomers looking to avoid redshirts and a depth chart that currently has a lot of openings.
"Offensive line is the one," Meyer said. "We've got to really go from here."
That process doesn't start until June for a few guys. But even in April, Meyer made sure to include them in the plan.
April, 15, 2014
Apr 15
12:00
PM ET
Heading to Hawkeye Country later today. Any recommendations?
April, 15, 2014
Apr 15
11:00
AM ET
The most exciting day of the Big Ten offseason is here. OK, not really, but it's definitely in the top five.

The first portion of the Big Ten's prime-time schedule is out as ABC/ESPN made its six selections for games to be played under the lights. The Big Ten Network will announce its prime-time picks next week. Additional kickoff times could be announced later this spring or early in the summer.
Here's the ABC/ESPN schedule:
Sept. 6
Virginia Tech at Ohio State, 8 p.m. ET, ESPN
Sept. 20
Miami at Nebraska, 8 p.m. ET, ABC or ESPN or ESPN2
Oct. 4
Nebraska at Michigan State, 8 p.m. ET, ABC or ESPN or ESPN2
Oct. 11
Penn State at Michigan, 7 p.m. ET, ESPN or ESPN2*
Oct. 25
Ohio State at Penn State, 8 p.m. ET, ABC or ESPN or ESPN2
Nov. 1
Illinois at Ohio State, 8 p.m. ET, ABC or ESPN or ESPN2
*-previously announced
A few notes, quotes and observations:
November night games
Contrary to popular belief, the Big Ten never had a strict policy against playing prime-time games after Nov. 1, but most of its schools preferred to keep those games in the first two months of the season. League members have shown an increased willingness to schedule more prime-time games, and after discussing November night contests for several years, we finally have one.
[+] Enlarge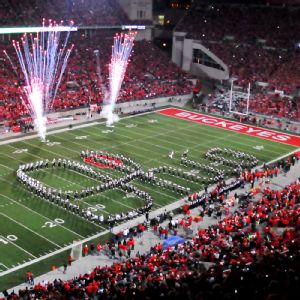 David Dermer/Getty ImagesOhio Stadium will host its first November night game in 2014.
Although the November matchup -- Illinois at Ohio State -- lacks a wow factor, this is still a positive step for the league. Also, this is
not the final list
for November prime-time games, as others will be announced in the future.
"There is a real recognition with our coaches, our athletic directors and our fans that prime-time football is very important," Mark Rudner, the Big Ten's senior associate commissioner for television administration, told ESPN.com. "It's important to the conference, it's important to recruiting, it puts you on a big stage.
"It's a big event whenever you have prime-time football."
Ohio State athletic director Gene Smith and coach Urban Meyer both have vocalized their desire for more night games. The Buckeyes get three of them on ABC/ESPN (two home, one road), and possibly more to come. It's the Urban Effect.
Huskers, Lions back in prime
No two Big Ten fan bases value night football at their home venues more than Penn State and Nebraska. The Nittany Lions and Huskers both host prime-time games on ABC/ESPN in 2014 (Nebraska didn't have an ABC/ESPN prime-time game in 2013) and make multiple appearances.
The Nebraska-Miami game should be a fun one, especially given the history between the two programs in bowl games (their last five meetings took place in major bowl games). Nebraska's visit to Michigan State is one of few must-see division crossover contests, so it makes sense in prime time.
Beaver Stadium will be rocking for the Ohio State game as former longtime Penn State assistant coach Larry Johnson makes his return to Happy Valley wearing scarlet and gray. Although Penn State remains ineligible for postseason play, the Lions' value is reflected here with East Division matchups against both Michigan and Ohio State. The Lions' consecutive winning seasons despite the bowl ban, plus the arrival of coach James Franklin, enhance the program's appeal for top TV slots.
No limits on prime-time appearances
Big Ten teams typically have had no more than three prime-time appearances per season, but like the November night games issue, this was more of a preference than a policy. As schools like Ohio State become increasingly more open to night football, the number of prime-time appearances will increase, and will occasionally exceed three.
Wisconsin played four prime-time games (two home, two road) in the 2011 season.
"That three [limit] was really self-imposed," Rudner said. "You could waive it if you wanted to. I don't know if that will be as hard and fast as it was before. They see the value in these big events, these big games."
Additional games/announcements
Some Big Ten prime-time games were previously announced, such as Michigan's Sept. 6 trip to Notre Dame and Purdue's Sept. 13 neutral-site game against Notre Dame. A game time has not been set for Wisconsin's season-opener against LSU on Aug. 30 in Houston, but the game will kick off in prime time and be televised by an ESPN network.
One thing to remember when predicting or analyzing night-game choices: other games being played in the same window. Prime-time kickoffs offer certain benefits, but teams don't like being overshadowed in the late window.
April, 14, 2014
Apr 14
5:00
PM ET
Sorry for the lack of a mailbag last Wednesday, but I was busy catching up with folks at Ohio State. Never fear: the Monday mailbag is back.
D.J. from Minneapolis writes:
What happens to the union story if the Northwestern players vote no?
Brian Bennett:
A great question, and based on media comments from several players -- most notably quarterback
Trevor Siemian
-- it sure seems like the Wildcats players are against the union and will vote no on April 25. But there might be a stronger undercurrent of support from players who are not as vocal in public. Given that the leader of the movement,
Kain Colter
, has already graduated and won't be eligible to vote, you wonder who on the team will take the baton and push for the union. All it takes, remember, is a simple majority.
So does a no vote mean this is the end of the story? I don't think it's that basic. Northwestern players would be able to try to unionize again next year. The regional National Labor Relations Board ruling has also set a precedent, at least for football players at private schools, and those who believe in the cause, such as CAPA president Ramogi Huma, would likely try to persuade players at other programs to follow Northwestern's lead. The school will continue to try to fight the original ruling, as well.
If the Wildcats' players vote no next week, we might not see any tangible results from the union movement for a while. If nothing else, however, it was another shot across the bow at the NCAA and another huge warning to the leaders of college sports that they had better make some changes before a judge or a legislature does it for them.
---
Kelly from Wilmington, N.C., writes:
Brian, I know you said in
your article
that you don't think "The Game" would ever be a prime-time game, but do you think Michigan will gauge this year's game vs. Penn State to consider using Penn State and Ohio State every other year for a night game? They went from "never" to yes with Notre Dame and are now using Penn State. Yes, they get a great spot every year on ABC, but could you imagine if they moved to it a night game? Is it possible that they have realized that at least one night game a year is great in so many ways, not just for Michigan, but the Big Ten as a whole?
Brian Bennett:
I shouldn't have written "never" to the idea of an Ohio State-Michigan night game, because so many things have changed in college football that anything is possible. I never thought we'd actually see a playoff, for instance. But both schools have said they're not in favor of moving "The Game" away from the afternoon and under the lights. Michigan athletic director Dave Brandon doesn't even want to play Michigan State at night and so I doubt he will budge on the idea of playing Ohio State in prime time. And I don't think this game needs any more attention, as evidenced by all the signs and reminders of the rivalry that I saw while visiting both Michigan and Ohio State earlier this month. So I wouldn't expect it to happen anytime soon, though never say never.
---
Rob NitLion from Morristown, N.J., writes:
Can any conclusions be drawn about the benefit of spring games based on some of the attendance numbers you guys have mentioned in your recaps? I'm not going to pull a
Braxton Miller
and brag about PSU's "domination" of spring game attendance in the B1G, but ... some schools can really use the spring game as a springboard for recruiting, while other schools ... under 10,000 at Maryland, Indiana, Illinois, Wisconsin and more might only be hurting their own image? Weather wasn't much of a factor this weekend, so what is the reasoning for the rather paltry attendance numbers, or is the annual spring game at other schools not nearly the weekend long "festival" that the Blue-White game is in State College every year?
Brian Bennett:
I've come to the conclusion that spring games just aren't as big a deal at some places as they are others. And that's OK. I don't have much of a tolerance for spring games and don't like watching them, because you learn less from those than you would from watching just about any other practice. Sure, it's a fun day for fans to see their teams and sit in the stadium and maybe get some autographs, and all that is great. But I also have no problem with people who feel like they have better things to do than watch football that often isn't really representative of the finished product, with many star players usually being held out.
I don't know if spring game attendance factors much into recruiting. It certainly can't hurt to sell that to recruits as evidence of intense interest and appreciation of your program. But Michigan hasn't gotten many big spring game crowds over the years and that doesn't seem to affect the Wolverines' recruiting very much. I doubt many prospects are basing their decisions on anything that occurs at a spring game, and if they are, that is misguided on their part.
---
Dalton from Cincinnati writes:
I've had some different debates with some of my friends on why Michigan hasn't been able to rebound and compete for a Big Ten championship since 2006. To clear things up, do you think it is because Michigan State is no longer "the little brother" in this rivalry, or because Ohio State has won all but two meetings against them since 2001? Or is it the fact MSU hasn't had as much coaching turnover, has had better coaching and better development of their recruits and has had more winning seasons? I think MSU becoming more constant under Mark Dantonio has led to this occurring than anything else. What is your take on this?

Brian Bennett:
I thought Michigan State clearly benefited during Rich Rodriguez's tenure in Ann Arbor, as the Wolverines' downturn and different approach to recruiting helped the Spartans begin to establish themselves. Certainly, the success of Michigan State and Ohio State hasn't done anything to help Michigan, and butting heads against both those programs now in the East won't be easy.
Still, in my view, the biggest thing holding back Michigan is not any external force but Michigan itself. The two coaching changes, and especially veering between very contrasting styles, caused some problems that current Wolverines coaches will tell you are still being felt today. More than anything, though, Michigan simply hasn't capitalized on its own enormous resources and fulfilled its potential. As noted a minute ago, recruiting has been strong under Brady Hoke, at least if you believe the scouting services. The Maize and Blue have never had much trouble attracting talent. Development of that skill has been an issue, though many of those players are still young.
Perhaps we overrate Michigan's history and tradition, since the program claims only one national title since 1948. But with the school's money, stadium size, fan support and access to players, the Wolverines have no one to blame but themselves for not winning a Big Ten title in what is fast approaching a decade's time.
April, 14, 2014
Apr 14
12:00
PM ET
I missed all the spring games this weekend because I was busy attending Joffrey's wedding.
April, 14, 2014
Apr 14
11:00
AM ET
At this time last year, Texas A&M was the epicenter of college football during spring practice. The Aggies' 2013 spring game drew a record crowd. ESPN televised the game, "Johnny Football" was the face of the sport and it helped swing in-state recruiting momentum from the Longhorns.
It would only make sense that Texas A&M coach Kevin Sumlin was ready to do it all again this spring.
"No, it's not for me," Sumlin said in March. "I'll be honest with you, you guys know me, that second half [of spring games] goes real quick. I'm ready to get out of there."
The spring game in many ways goes against the core belief of Sumlin, and really every coach, of using every practice to get better. So the Aggies went without a game this spring, and will do so again in 2015 as Kyle Field's renovations continue.
[+] Enlarge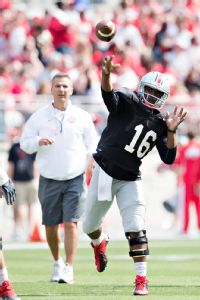 Greg Bartram/USA TODAY SportsOhio State coach Urban Meyer likes the opportunity to get young players, such as redshirt freshman quarterback J.T. Barrett, some playing time in a spring game.
Spring games are at somewhat of a crossroads in college football. They're hardly fighting off extinction as 54 FBS programs held games this past weekend. But the watered-down product is giving coaches reason for pause. The argument against holding the spring game is picking up steam, and coaches are questioning the value in using the final spring practice on a half-speed "dog-and-pony show," as Tulsa coach Bill Blankenship puts it.
A handful of programs aren't holding spring games this year. Oklahoma State coach Mike Gundy did not plan a spring game, and Pittsburgh coach Paul Chryst believed it wasn't in the program's best interest to have one, either.
Both Chryst and Gundy have young rosters. Only Utah State returns fewer starters than the Cowboys. Chryst is still trying to put his stamp on a program that has had more head coaches than winning seasons in the last decade, and he is breaking in a new quarterback. To Chryst and Gundy, it did not make sense to waste a practice day for a haphazard game.
"Truly looking at this from the inside of the program and what this group needs, it was, 'What's the best use of the 15 opportunities we get in the spring,'" Chryst said. "I felt like we didn't have a group where we're going to take just one full day and scrimmage. Bottom line is we wanted to make sure we're maximizing our opportunities."
Two coaches not questioning a spring game finale are the leaders of programs with some of the best odds to win the first College Football Playoff. Both Florida State's Jimbo Fisher and Ohio State's Urban Meyer are in favor of the model most programs still subscribe to: 14 practices, mix in a few scrimmages and hold a game at the end of camp. Fisher and Meyer believe it's the only time in the spring to get an accurate read on how players react to a fall Saturday game atmosphere.
"What you get is the people in the stadium, you get pressure, you get outside people watching you get the lights on the scoreboard and [the game] matters," Fisher told ESPN.com last week. "You get a game environment. It might not be the one in the fall, but it's as close as you'll ever get out in this practice field. To get a guy in front of 40,000 people and watch how they play in front of them, to me, I put more value in that."
However, Meyer acknowledges the issues the modern-day spring game presents. Ohio State star quarterback
Braxton Miller
was out with an injury, but
Joey Bosa
,
Noah Spence
and
Adolphus Washington
were healthy scratches. Fisher elected to sit starting running back
Karlos Williams
, leaving a fullback and a handful of walk-on running backs to carry the spring load Saturday. The sustainability of the spring game could come down to depth, but rosters are thinner with the 85 scholarship limit, and coaches are keeping their proven commodities out of harm's way.
"

To get a guy in front of 40,000 people and watch how they play in front of them, to me, I put more value in that.

"

-- Florida State coach Jimbo Fisher, on the value of spring games
Northwestern coach Pat Fitzgerald said the lack of numbers at certain positions causes the few available players to "double dip" and play both sides, opening those few healthy players up to injury. The emphasis on preventing and identifying concussions has grown substantially in the last few years, and Blankenship added that "a lot more guys are missing practice today with concussion-related symptoms, and that's been consistent across the board with other coaches I talk to."
Meyer said spring games are often a "great opportunity to get scout-team guys a chance to play," which in itself can be considered an indictment of the spring game's inherent value.
"One time at Florida we had only five or six offensive linemen and they had to play both ways," Meyer said, "but the experience of playing in front of [fans], if you want to have a practice but arrange how the receiver has to be the guy, to be in coverage and catch a pass and hear the crowd, that's real."
There are only so many programs that consistently draw 30,000 or more fans for a spring game, though. Those other programs don't have the benefit of putting their players in a game-day atmosphere when only a few thousand fans fill the bleachers.
Blankenship understands he needs to promote his Tulsa program and bring in as many fans as possible. So last year, they tried a new spring game model. Instead of a traditional game of the roster being split, Blankenship operates on only 50 percent of the field and allows fans to sit on the other side of the 50 to get a more intimate view. The game resembles more of a practice as the team works on situations such as red zone and fourth down instead of keeping score.
A piece of him still wants a sound 15th practice, though.
"I do think [the spring game] is worth it from the fan standpoint," he said, "but the coach in me would like to have another practice."
[+] Enlarge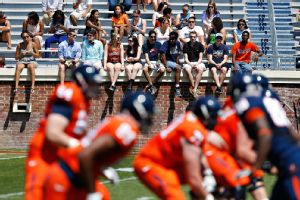 Geoff Burke/USA TODAY SportsThese Virginia students received a better-than-front-row view of the Cavaliers' spring game.
Fans and alumni are maybe the most overlooked part of the equation of whether it is realistic to ditch the spring game. Florida State director of marketing Jason Dennard said it would be nearly impossible to change the Seminoles' spring game model, which begins with downtown events Friday. The school even receives grant dollars from the local economic development council to fortify the weekend lineup.
"It's a complete home run," Dennard said. "After what we've built, it'd be hard to scale it down. People have come to expect this to be a big deal. It's an investment into the future of our program."
While Pittsburgh has struggled to draw fans for its spring games in recent years, Chryst was still cognizant of the program's fans when he decided to cancel the spring game. So Chryst met with the marketing department at Pitt and helped introduce a football clinic for young players and offensive and defensive breakdowns of the Panthers' schemes for the Xs-and-Os fan.
"It was different at first and people said, 'What, no spring game?' But when Coach Chryst announced the Field Pass, the response was overwhelming," said Chris Ferris, associate athletic director for external relations at Pitt.
Could that union of a standard 15th practice with an added day of fan interaction be the union that seals the fate of spring games? Maybe.
"I think it is," Blankenship said. "We're much closer to that in our part of the country. I think the tradition of the spring game is something we're all kind of tied to, but we're all figuring out there's a better way."
April, 14, 2014
Apr 14
10:40
AM ET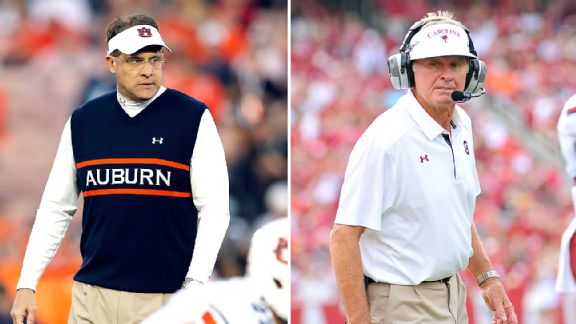 Getty Images, Icon SMIShould Gus Malzahn's Tigers be ranked below Steve Spurrier's Gamecocks to start the season?
I respect Phil Steele's ability to forecast a number of things, including what the initial Associated Press Top 25 poll will look like in August. That said, there's always wiggle room, and I had a few different takes than those in
last week's post
on Insider.
Including the defending SEC champs, here's a look at three top 15 teams that I found to be overvalued in Steele's ranks, and three that were undervalued.
Overrated
Auburn Tigers (No. 4)
I do not wholly disagree that Auburn will begin the year as a top-five team, in the AP or any other poll; I'm just not sure that they should. Should they be in the top 10? Absolutely. But not No. 4.
The 2013 Tigers followed the same formula as the 2010 BCS title-winning team: an absurdly productive offense, led by an unparalleled run game and a defense with its share of liabilities. The Tigers' D ranked 95th in yards per play (5.96).
Even defensive coordinator Ellis Johnson admitted to me last fall that it was a limited group, one susceptible to big plays. Auburn overcame that in the SEC title game against Missouri -- just keep scoring! -- but ultimately couldn't in the BCS championship game against FSU.
To continue reading this article you must be an Insider
April, 14, 2014
Apr 14
9:45
AM ET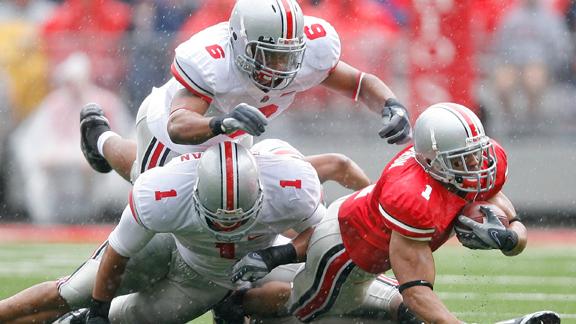 COLUMBUS, Ohio -- Urban Meyer seemed to be guarding a secret, and it couldn't be deciphered by reading between the lines.
The
Ohio State
coach joked about being a little bored by his spring game, expressed some frustration about the lack of offensive execution and stressed that there was plenty of work to do at a few key positions heading into the offseason.
But the truth about how good his third team at Ohio State might be was tucked away on the sidelines, leaving little to truly evaluate between them as the
Gray beat the Scarlet 17-7 on Saturday
at the Horseshoe. And based on the number of players he held out of the spring-closing scrimmage, it might be a safe bet that Meyer is actually feeling pretty good about what he has returning in the fall.
[+] Enlarge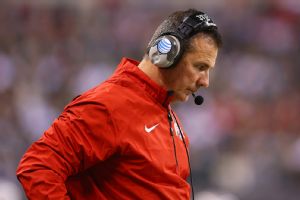 Andy Lyons/Getty ImagesThe spring game didn't say much about Urban Meyer's Buckeyes. And he seems fine with that.
"There were guys out there who will either never play or they're not ready to play now," Meyer said. "Like, [Ohio State sports information director] Jerry [Emig] hands me stats, I'm not sure what to do with these. I don't care.
"... We all know what we saw out there. It's not the Ohio State Buckeyes."
Exhibition games rarely provide much of a reliable gauge for how good a team might truly be, and in the case of the Buckeyes, that might have been by design.
Braxton Miller
was already on the shelf as he finishes up his recovery from offseason shoulder surgery. Having the two-time defending Big Ten player of the year and a three-year starter at quarterback out of the equation obviously changes the complexion of the Ohio State offense.
Cardale Jones
was productive enough throughout camp to win the backup job, but his 14-of-31 passing performance Saturday was yet another reminder of the importance of having a healthy Miller to lead the attack.
Meyer indicated there was some uncertainty about his receiving corps after the spring game, but he had enough faith in
Devin Smith
and
Dontre Wilson
that he didn't feel the need to press either of them into action over the weekend -- aside from a cameo appearance by the latter in a race against students at halftime.
And after watching what could be one of the most talented defensive lines in the country terrorize a rebuilding offensive line throughout camp over the last month, Meyer certainly didn't need to see any more from
Noah Spence
,
Joey Bosa
,
Michael Bennett
or
Adolphus Washington
to boost his confidence heading into the summer, adding to the list of starters who effectively were allowed to take the day off.
Cornerback
Doran Grant
was largely an observer as well, though he did make an appearance to win the halftime derby and became the "fastest student" on campus. Projected first-team guard
Pat Elflein
was a scratch, and presumptive starting running back
Ezekiel Elliott
only touched the football three times. Tight end
Jeff Heuerman
was on crutches after foot surgery, but he'll be back in time for the conditioning program next month.
So while the game itself left little worth remembering aside from what appeared to be marked improvement and depth in the secondary and another handful of mesmerizing catches from
Michael Thomas
, there were actually clues littered around Ohio Stadium that Meyer is poised to unleash his most talented team since taking over the program in 2012 and rattling off 24 consecutive wins.
The trick was knowing where to look.
"[The spring game] was a chance to see some young guys [who] really haven't played, and to be quite honest, I'm not sure how much they will play," Meyer said. "This is a chance for a lot of guys in our program who work very hard, and to be able to get some guys play or catch a pass in Ohio Stadium or whatever, in the big picture it's the right thing to do.
"It's a great thrill for a lot of people."
The real thrills, of course, don't come for a few months. And based on the amount of players who didn't get to actually step between the lines on Saturday, Meyer might not-so-secretly have plenty to be excited about by fall.
April, 13, 2014
Apr 13
11:10
PM ET
ESPN.com news services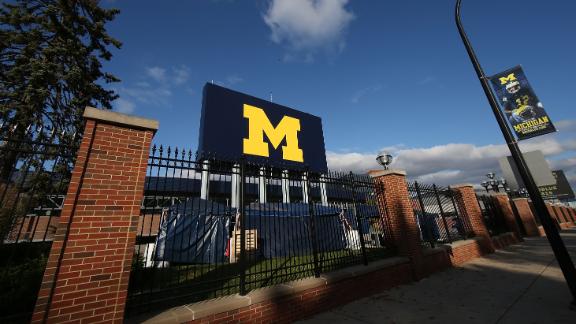 In the Ohio State-Michigan rivalry, it appears nothing is off-limits.
Buckeyes quarterback Braxton Miller took to Twitter to insult the Wolverines' turnout for their spring game after Saturday's OSU game drew more than 61,000 fans. Michigan, who held their spring game April 5, drew about 15,000 fans on April 15.
- BRAXTON MILLER (@BraxtonMiller5) April 13, 2014
Miller did not get to participate in the game, as Ohio State's All-Big Ten quarterback sat out spring workouts after surgery on his throwing shoulder. Also sitting out were wide receiver Evan Spencer (ankle), safety Vonn Bell (knee), tight end Jeff Heuerman, wideout Jalin Marshall, H-back Dontre Wilson and starting offensive tackle Taylor Decker.
April, 12, 2014
Apr 12
6:05
PM ET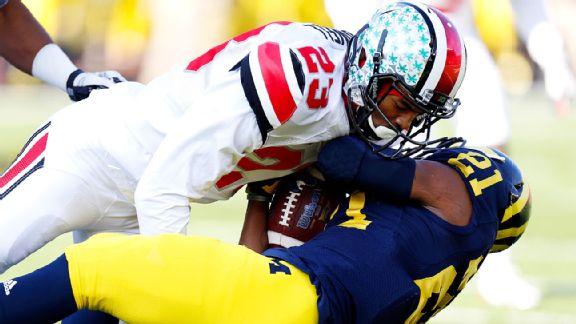 COLUMBUS, Ohio -- The entire roster wasn't on display, leaving some uncertainty about what Ohio State will look like at full strength. But heading into the offseason, there were still some lessons to be learned by the
Gray's 17-7 victory over the Scarlet
on Saturday at Ohio Stadium.
The secondary has improved
The offense was short-handed, starting with the absence of a certain two-time defending Big Ten Player of the Year at quarterback and including short or nonexistent workloads for key receivers. But the defensive backs showed the kind of improvement Urban Meyer demanded since last season's unit finished No. 110 in the country against the pass. In holding Cardale Jones to a 14-for-31 performance through the air without a touchdown, even with top returning cornerback Doran Grant on the sideline, the Buckeyes' defensive backs will head into the summer feeling good about their progress. Armani Reeves and Gareon Conley are both solid options at cornerback, with the former making a statement early in the game with a nice breakup on a deep ball down the sideline. And once Grant and injured safety Vonn Bell are back in the mix to play Ohio State's more aggressive man coverage this fall, the statistics should look drastically better.
Braxton Miller is still the key
[+] Enlarge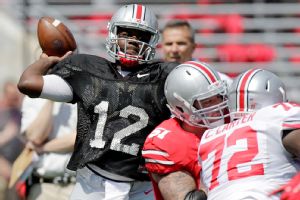 AP Photo/Jay LaPreteCardale Jones is likely to enter the fall as the backup quarterback for Ohio State.
Jones made progress in several areas throughout the spring, and he's earned the right to head into training camp as the second-string quarterback. But Miller remains the most critical component in Ohio State's spread attack, and his absence was a major factor in what was largely a disappointing afternoon for the offense. Miller will be back from his shoulder surgery shortly and is cleared to resume throwing and working out in time for the offseason conditioning program. It is still obvious that the Buckeyes need him on the field if they're going to make a run at a championship this fall. He'll also need some better work from the offensive line than what the Buckeyes put on display in the exhibition, though not having guard Pat Elflein in pads and limiting tackle Taylor Decker's role didn't do the unit any favors Saturday.
Michael Thomas is still a spring star
By now it should come as no surprise, but redshirt sophomore Michael Thomas again led the Buckeyes in receptions in the spring game, turned heads with some eye-popping grabs and looked like a future star on the perimeter. That's a familiar story with Thomas, who has dominated the spotlight during spring camp three years running and capped off the latest one with six catches for 64 yards, including a diving reception for a first down and a one-handed snag along the sideline that highlighted his athleticism and ability to haul in even balls thrown off target. The Buckeyes haven't settled on a true pecking order at receiver yet, though Dontre Wilson and Devin Smith are sure bets to take two top spots. One more time, it appears Ohio State should make room for Thomas in the rotation leaving spring, but obviously he'll need to follow it up with more standout work when practice begins again this summer.
April, 11, 2014
Apr 11
3:00
PM ET
COLUMBUS, Ohio -- Spring weather has just now finally arrived for Ohio State, but its camp is already about to come to a close. Ahead of Saturday's exhibition game to wrap up the 15 workouts spread through March and April, the final look at things to watch will breakd own some intriguing matchups now that the official
rosters
have been unveiled.
[+] Enlarge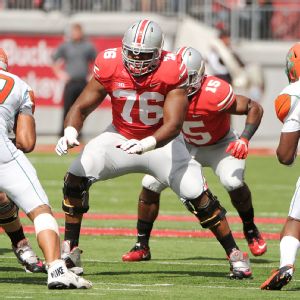 AP Photo/David DurochikWith a tough matchup in Ohio State's spring game, Darryl Baldwin could prove he can lockdown the starting RT job.
Scarlet QB Cardale Jones vs. Gray secondary
The redshirt sophomore has strengthened his case to fill the backup role at quarterback behind Braxton Miller with strong practice performances throughout camp, but he's shown some signs of nerves at times during scrimmages and could benefit from a productive outing in a live setting in front of a big crowd. Urban Meyer typically focuses his attention and play-calling on the passing attack during spring games, and with the Gray having what appears to be the full starting secondary with Tyvis Powell and Cam Burrows at safety and Doran Grant, Armani Reeves and Gareon Conley at cornerback, Jones will be tested.
Gray LB Raekwon McMillan vs. Scarlet RB Ezekiel Elliott
The hype is only building for the touted early enrollee on defense, and McMillan might be the most closely watched player in the Horseshoe as he's thrown into a lineup that includes two projected starters next to him at the outside linebacker spots. The true freshman has impressed the coaching staff during the 14 workouts so far, looking the part physically and embracing the culture Meyer is working so hard to reestablish. Even if finishing camp with some solid work against Ohio State's front-runner at tailback and three first-team offensive linemen doesn't help McMillan reel in senior Curtis Grant on the depth chart, it could still bode well for his chances to help provide depth in the fall -- and start building even more buzz for next season.
Scarlet RT Darryl Baldwin vs. Gray DE Noah Spence
Tougher spring game assignments than what Baldwin will face on Saturday are hard to come by, and really, the redshirt senior isn't likely to take on many pass rushers better than Spence when the real season arrives. So if Baldwin can hold his own against one of the fastest, most tenacious players off the edge in the Big Ten this weekend, that would go a long way toward solidifying a starting job and easing some of the uncertainty still swirling around an offensive line that must replace four starters. The Scarlet line as a whole caught a bit of a break with the first-team defensive line being split up, but Spence still has Adolphus Washington alongside him and ready to wreak the kind of havoc that stole the show in last year's edition of the spring showcase.
April, 12, 2014
Apr 12
4:12
PM ET
Associated Press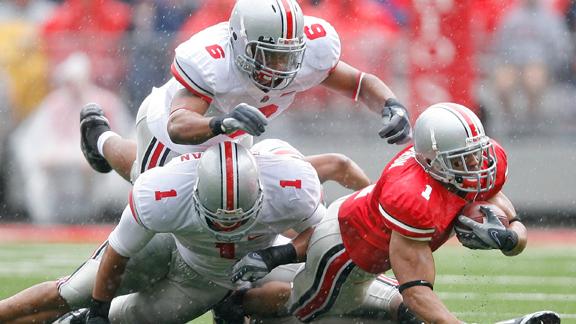 COLUMBUS, Ohio -- With several of his best players either injured or held out of Ohio State's spring game, coach Urban Meyer had to look at the progress of individuals instead of the big picture.
"I'm not trying to evaluate an offense. Who cares?" Meyer said after the Gray squad slipped by the Scarlet 17-7 on Saturday before a crowd of 61,058 at sunny Ohio Stadium. "There's guys out there who will never play or are not ready to play now. I wanted to see who's going to compete, who's going to make plays, not who's going to fit into the team concept. Because we all know what we saw out there. And that's not the Ohio State Buckeyes. That's a bunch of people all over the place."
Bri'onte Dunn and Warren Ball ran for touchdowns to lead the Gray squad on a day in which most of the most notable Buckeyes stayed on the sidelines.
New ESPN 300 Top 10 Revealed
BIG TEN SCOREBOARD
Thursday, 8/28
Saturday, 8/30