December, 18, 2014
Dec 18
3:30
PM ET
By
ESPN.com staff
| ESPN.com
Every day this week, before the bowl season kicks off, our Big Ten panel of experts will be weighing in on different topics related to the regular season.
Our fourth question of the week:
What was the biggest surprise in the Big Ten this season?
Josh Moyer:
We knew this running back class would be good -- but we didn't know it would be this good. Four Big Ten backs are currently ranked within the top 11 nationally in rushing, the most since 2005, when five ranked within the top 11. The Big Ten also became the first conference since 2007 to feature a pair of 2,000-yard rushers in the same season. And then there's that whole matter of being the first conference to ever sweep the list of Doak Walker finalists. It's no surprise this group played well but, before the season, no one was saying how this could be the best group of B1G backs in at least 20 seasons. That's where this group stands now; it's exceeded every lofty expectation.
Brian Bennett:
Without question, the biggest surprise in the Big Ten in 2014 was
J.T. Barrett
. After he had a rough game in Week 2 against Virginia Tech, it looked like Ohio State was really going to struggle replacing
Braxton Miller
at quarterback. Instead, Barrett pretty much turned into Superman after that. He broke all kinds of records, including the Big Ten record for touchdowns accounted for with 45, and finished fifth in the Heisman Trophy voting despite not playing in the Big Ten championship game because of a broken ankle. Nobody knew much about Barrett going into the season. Absolutely no one could have predicted this kind of season for him.
[+] Enlarge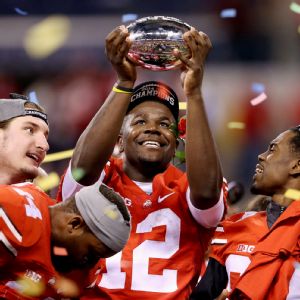 Andy Lyons/Getty ImagesCardale Jones, in his first career start, led Ohio State to a stunningly dominant victory over Wisconsin in the Big Ten championship game.
Mitch Sherman:
I see things on Barrett much like Brian. But at least the freshman had time to get acclimated – and he struggled at the outset.
Cardale Jones
had six days. Jones' performance in the Big Ten title game rated as more of a shocker, I think, than even the showing of Miller's replacement during the regular season. The third-stringer didn't post the flashy number of an average Barrett game in Ohio State's 59-0 hammering of Wisconsin, but just that Jones avoided mistakes and possessed the presence to lead a dominant victory over a good defense – don't overlook that aspect – makes it remarkable. Both quarterbacks, of course, benefited from the pieces around them, The smoothness of their transitions into the starting lineup, though, makes you wonder what Urban Meyer and Tom Herman do differently than everyone else.
Austin Ward:
Ohio State's overall development. There is a perfect poster boy in Barrett, but he was far from the only inexperienced player thrown into the fire for a team that still believed it could win the Big Ten even as faith waned in August. Ohio State had to work in four new offensive linemen, and by the end of the year that group was probably the best in the league. The Buckeyes lost top wideout Philly Brown and workhorse tailback Carlos Hyde, and
Michael Thomas
and
Ezekiel Elliott
emerged without missing a step. The pass defense was atrocious even with two first-round draft picks on the field at the end of thr 2013 season, and one year later, the Buckeyes led the conference in interceptions. The rapid rise of essentially the entire roster into a contender in the College Football Playoff was stunning.
Dan Murphy:
We can't all pick the Buckeyes. Instead, I'm going with Northwestern putting together two of the more improbable wins of the year despite an overall season that didn't meet expectations. The Wildcats were 17.5-point underdogs against the Notre Dame team they beat in overtime. The spread against Wisconsin was only eight points, but probably would've been much higher had those teams met later in the season. The Badgers and the Irish were both teams mentioned in playoff conversations at different points this year, and somehow they both lost to a team that was outgained offensively by the Leathernecks of Western Illinois. Pat Fitzgerald has as much job security as anyone in the Big Ten, but without those two shockers, the conversation would be around a 3-9 Northwestern team and it would have a much different tone.
Adam Rittenberg:
In the spirit of variety, I'm going with Wisconsin's defense. Recent impressions resonate and Wisconsin left a very bad one in the Big Ten championship game against Ohio State, but it shouldn't overshadow a remarkable coaching job by both coordinator Dave Aranda and head coach Gary Andersen. Wisconsin's defense went through an extreme makeover after losing its entire front seven from 2013, including linebacker Chris Borland, the Big Ten's defensive player of the year. The Badgers amazingly didn't backslide and progressed, leading the FBS in fewest yards allowed in one stretch, and they currently rank fourth in yards allowed and 13th in points allowed. They received big performances from the "Chevy Bad Boys" at linebacker,
Mike Caputo
at safety and
Warren Herring
up front. Aranda and Andersen mixed coverages and effectively put more speed on the field. What looked like a liability in August soon became a team strength.
December, 18, 2014
Dec 18
1:00
PM ET
The Allstate Sugar Bowl featuring No. 1 Alabama and No. 4 Ohio State could come down to unexpected players stepping up and making big plays. Earlier we looked at who could be
the offensive X factors
, and now we look at who could fill that role on defense on Jan. 1.
Alabama CB Tony Brown:
Nick Saban and his coaching staff seem to find a way to make the most out of the extended bowl practices. Take last year, for example, when they brought along a true freshman by the name of
Derrick Henry
, who went on to obliterate Oklahoma in the Sugar Bowl. This time, don't be surprised if it's the rookie cornerback, Brown. He has seen the field his fair share this season, but been kept on a short leash because of his inexperience. Well, now the five-star talent has 13 games under his belt, and he could be the answer to Alabama's struggles at cornerback.
Ohio State: LB Darron Lee:
Considering that he's only two years removed from playing quarterback and safety in high school, it's pretty remarkable that the redshirt freshman was able to crack the starting rotation at linebacker so quickly for the Buckeyes. But Lee has done far more than just earn playing time this season, he's rapidly developed into one of the team's best playmakers and looks like a perfect fit in the mold left behind by first-round draft pick
Ryan Shazier
. He may not be a finished product yet, but with the ability to cover the entire field thanks to his elite athleticism, Lee stuffed the stats sheet with 13.5 tackles for loss, 5.5 sacks, 2 interceptions, 2 fumble recoveries, a forced fumble and a pair of touchdowns during his first campaign as a starter. The Buckeyes may have bigger stars on the defense heading into the Sugar Bowl, but they'll need Lee at his best to leave with a victory.
December, 18, 2014
Dec 18
11:00
AM ET
The Allstate Sugar Bowl featuring No. 1 Alabama and No. 4 Ohio State could come down to unexpected players stepping up and making big plays. So who could fill that role on offense on Jan. 1? Alex Scarbrough and Austin Ward take a look:
Alabama: WR Christion Jones:
Chances are that Alabama will need a receiver not named
Amari Cooper
to make plays. With several weeks to prepare, it stands to reason that the Ohio State staff will find a way to bracket Alabama's Heisman Trophy finalist and force quarterback
Blake Sims
to look elsewhere. So pay attention to Jones. The senior has the moves to make people miss in the open field and the speed to get behind the defense. At 13.9 yards per catch, he can make Ohio State pay for focusing too much on Cooper. And for good measure, don't miss Jones on kickoffs and punt returns. Though he hasn't struck paydirt with a touchdown on special teams yet this season, someone with his athleticism is due to break free at some point.
Ohio State: WR Devin Smith:
A pretty straightforward formula has emerged during the senior wideout's career, and it hasn't failed yet. When Smith catches a touchdown, the Buckeyes win. They are 20-0 when Smith has a TD reception. Is that any good? But this season Smith has taken it even further -- when he's at his best, Ohio State's already high-powered offense becomes downright unstoppable. In the two biggest matchups of the season, on the road against Michigan State and in the Big Ten title game against Wisconsin, Smith was a nightmare as a deep threat, unleashing his speed, incredible leaping ability and knack for making tough grabs all at once to kick the Buckeyes into their highest gear. He combined for 10 catches for 266 yards and 4 touchdowns in those wins, and Alabama's secondary will have to account for him in New Orleans.
December, 18, 2014
Dec 18
10:00
AM ET
The team-by-team look back at the Big Ten season continues with a recap of the league champions, the
Ohio State Buckeyes
.
Overview:
Maybe Ohio State still isn't a finished product yet, but that might be a scary thought for the rest of the nation given how frighteningly quick Urban Meyer's team grew up this season. While losing
Braxton Miller
during training camp dominated the headlines, the Buckeyes were already facing a daunting task in trying to replace four starters on the offensive line, their leading rusher, their top wide receiver and two first-round draft picks on defense when the season opened. All that inexperience was prominently on display in a Week 2 loss to Virginia Tech, but Ohio State wouldn't drop another game for the rest of the season and only appeared more confident, more dangerous and more mature with each passing week. It all led up to perhaps the most complete performance by any team in the country this season as the Buckeyes shellacked Wisconsin 59-0 in the Big Ten championship game, clinching a spot in the College Football Playoff and arriving as a national contender again arguably one year ahead of schedule.
Offensive MVP:
The Buckeyes wound up winning the Big Ten with
J.T. Barrett
on the sideline with a fractured ankle, but it's exceedingly unlikely they would have been there in the first place if not for the redshirt freshman's rapid rise in place of Miller at quarterback. Just a couple days after moving up to No. 2 on the depth chart, Miller was lost for the season and Barrett was thrust into the starting role and expected to just pick up the torch from the two-time Big Ten Offensive Player of the Year. Barrett did more than that, though, taking the Ohio State attack to an even higher level than his predecessor by accounting for a league record 45 touchdowns and proving to be the perfect fit to expand the passing game thanks to his accuracy and quick decision-making at the most important spot on the field.
Defensive MVP:
Even a few of the returning starters fit the bill as works in progress, including a defensive end who would emerge as arguably the most disruptive force up front in the entire country.
Joey Bosa
had already proven he could rush the passer a year ago during his freshman campaign, and he was continuing to wreak havoc early in the season as he made it look routine to beat blockers with his combination of speed and size on the way to the quarterback. But he was also somewhat undisciplined at times against the rush, something he seemed to grow out of as his sophomore year progressed. He blossomed into a complete defender with 20 tackles for loss, 4 forced fumbles, a recovery for a touchdown -- and, of course, 13.5 sacks. And like the majority of the Ohio State roster, as good as Bosa is now, there's still room to grow.
December, 18, 2014
Dec 18
8:00
AM ET
Live football has almost returned. Until it arrives again, take a few spins on the coaching carousel.
The Wisconsin Way:
Continuity should be back at Wisconsin, and the program made it clear that it won't be compromising anything it proudly stands for to keep it. By sticking inside the family on Wednesday and officially bringing Paul Chryst back home, the Badgers have somebody who knows exactly what the job entails and a coach who almost certainly won't be making a lateral move at any point in the future. Maybe the Badgers will start spending more money on assistants down the road, so there's some flexibility there in regards to an issue that turned off Bret Bielema. But in terms of knowing the kind of recruits it can expect to land and clearly laying out the academic requirements moving forward, not to mention bringing in an existing relationship with the university and the boss, Chryst couldn't be any better suited to provide stability for Wisconsin after a rough stretch of losing Bielema and then Gary Andersen after two short years.
Down to one:
Wisconsin moving quickly leaves only Michigan active on the job market, and while there's no telling when that search will end, it is effectively the only one that still has a chance of connecting on a true home-run hire. No offense to Chryst or new Nebraska coach Mike Riley, because those were smart, sensible hires that made perfect sense for each program -- but they certainly don't qualify as splashy or scream that championships are on the way. If Les Miles is definitively out of the picture, it really seems as though Jim Harbaugh is going to have to come through for the Wolverines once his commitments to San Francisco are over at the end of the NFL season. And it seems like Michigan is fully
committed to doing whatever it takes
to deliver him. Maybe there's another huge name secretly looming out there for Michigan, but if there was, wouldn't there have been some indication of that by now? The Big Ten is down to one job, and there really only seems to be one guy who should claim it.
Coordinator corner:
Just below those headline vacancies leading Big Ten programs, the chance to replace Tom Herman as Ohio State's quarterbacks coach and offensive coordinator will be up there as a highly-coveted position this offseason as the coaching carousel spins. The odds are strong that Ed Warinner will receive something of a promotion from his co-coordinator duties and take on more responsibility as a play-caller, though he was already somewhat active in that regard in his current role. Warinner not only deserves a raise for the incredible job he's done with the Ohio State offensive line, he has earned more credit than he currently receives for that work, which is perhaps why he hasn't landed an opportunity to lead his own program yet despite a couple interviews over the last two years. The Buckeyes are actually fortunate that they don't have to replace both Herman and Warinner simultaneously, but either way there will be no shortage of candidates lining up for the shot to potentially work with
J.T. Barrett
,
Cardale Jones
and
Braxton Miller
at quarterback.
East Division
West Division
December, 17, 2014
Dec 17
3:30
PM ET
Every day this week, before the bowl season kicks off, our Big Ten panel of experts will be weighing in on different topics related to the regular season.
Our third question of the week: What was the Big Ten's biggest disappointment of the season?
Mitch Sherman:
Christmas came early for Big Ten detractors. No individual or team performance matched the league-wide flop of Week 2. You remember it as the day Ohio State lost 35-21 at home to Virginia Tech, Notre Dame pounded Michigan 31-0 and Oregon dominated the second half against Michigan State. Moreover, Nebraska barely avoided overtime against McNeese State. Iowa scored two late touchdowns to sneak past Ball State. Maryland, Minnesota, Rutgers and Illinois – all eventual bowl teams -- won close over South Florida, Middle Tennessee and Howard and Western Kentucky. Northwestern lost to Northern Illinois, and Central Michigan routed Purdue. Seriously, The nation laughed at the Big Ten all year because of that day. Want to know why league teams opened as underdogs in all 10 bowl games? Look to Sept. 6.
[+] Enlarge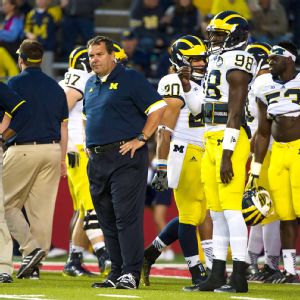 Cal Sport Media via AP ImagesMichigan's 5-7 season was tough to watch on several fronts.
Josh Moyer:
You can't talk about the biggest disappointment without mentioning Michigan's 2014 season – especially the first half of it. The Wolverines started just 2-4, with wins over Appalachian State and Miami (Ohio), while making school history with its poor play. First came a 31-0 loss to Notre Dame, which was the most lopsided loss to the Irish in the series' 127-year history. Then came a lightning-delayed loss to Utah, when the Big House emptied so much that one player called it the "Ute House." And then Brady Hoke's squad lost the Little Brown Jug to Minnesota, 30-14, in the Gophers' largest margin of victory in the series since 1977. Oh, and Michigan helped Rutgers get its first-ever Big Ten win, as longtime starting QB
Gary Nova
passed for a career-high 404 yards. It was a nightmare first half to the season.
Dan Murphy:
The Big Ten championship game. The state of Ohio might disagree, but this year's game in Indianapolis did not live up to its billing. This was supposed to be a showdown between one of the country's best offenses and one of its best defenses. One side of that equation never showed up in Ohio State's 59-0 win over Wisconsin. The lopsided score (and the Buckeyes defense) gave us no chance to marvel at
Melvin Gordon
. The Heisman Trophy runner-up ran for 76 yards, eliminating whatever small chance he had to win the award. I understand that without an Ohio State blowout, the Big Ten probably would have been the odd man out in this year's College Football Playoff. But from the standpoint of wanting a dramatic, competitive finale to the conference season, man, what a dud.
Adam Rittenberg:
I remember talking with MGoBlog's Brian Cook about Michigan in the summer, and Cook described Michigan's schedule as "low-variance," likely to produce eight or nine wins, but probably not 10 or seven. I completely agreed. No one envisioned 5-7 as being remotely possible for a team that, despite underachieving the year before, seemingly had improved depth and leadership. Brady Hoke really liked his team. Opposing coaches told me the talent absolutely was in place for a solid season. Then the bottom fell out against Notre Dame and Michigan never truly recovered. I really thought the offense could at least be respectable under new coordinator Doug Nussmeier, but it never got on track against solid competition. Northwestern and Iowa certainly belong in the biggest-disappointment conversation, but neither team has as much raw talent as Michigan. What a clunker.
Brian Bennett:
As disappointing as Michigan and Northwestern were, I never viewed either as a serious league title contender. Many picked Iowa to win the West Division because of its dream schedule. No Ohio State or Michigan State and both Wisconsin and Nebraska at home the final two weeks. Yet the Hawkeyes managed to go just 7-5, losing at home to a terrible Iowa State team, getting blown out at Minnesota and letting Maryland run all over them. This Iowa team never found a real identity and squandered what could have potentially been a special season. That should cause some re-evaluation this offseason in Iowa City.
Austin Ward:
The premature end of defensive end
Noah Spence
's college career. Ohio State obviously disagreed with the ruling against Spence, and perhaps it had a case that his failed drug test wasn't for a performance-enhancing substance. But either way, the junior did break the rules when he was suspended for a second time by the Big Ten, bringing a promising college career to a sad end. The league was robbed of a chance to watch his elite talent for another season, Ohio State's plans for unleashing a completely unstoppable defensive line at every position took a blow and, of course, Spence's own health was damaged. Hopefully there is a happy ending for him following his time away from the field, but it was certainly a wasted opportunity this season.
December, 17, 2014
Dec 17
12:00
PM ET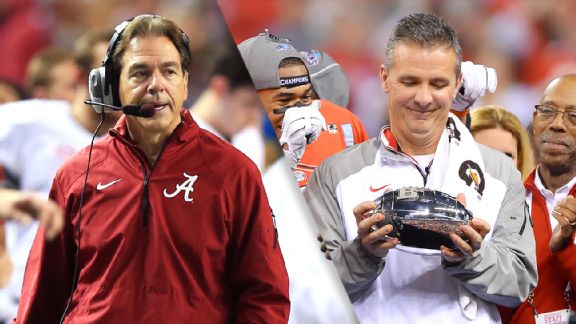 USA TODAY Sports, Icon SportswireNick Saban and Urban Meyer agree that players' families should get assistance to offset the cost of attending playoff games.
COLUMBUS, Ohio -- On the surface, there may not be all that much in common between the two rivals on top of the coaching game.
Urban Meyer is the offensive guru, a master motivator with a reputation for his relationships with players. Nick Saban is the defensive genius, a notedly strong disciplinarian with an incredible attention to detail.
The lines between them may actually blur at times, with Saban also beloved by his players and Meyer not one to let his organization fall out of order. And the truth is, other than that split between offense and defense, the two might actually be more like-minded than they're given credit for, a point that was driven home again when they took up yet another issue in lockstep to try to change college football for the better.
"I know we both committed our entirely livelihood to college football and believe in players," Meyer said. "The players are the most important part of this whole institution of college football.
"So we've had many, many conversations about how to make sure we keep the game or do the best we can to make sure the game stays what it is."
That previously put agents on campus and the possibility of providing stipends for players in the cross-hairs of arguably the two most famous coaches in America, and now they're pushing for some help for families ahead of a historic meeting between Alabama and Ohio State in the semifinal of the inaugural College Football Playoff.
With expensive price tags on flights and hotels around the Allstate Sugar Bowl and the possibility of an additional game looming with a victory, families have expressed their concerns both in letters and on social media that they can't afford to see their sons play in the most important games of their lives. Ohio State was able to offer $800 in reimbursements through the student-assistance fund, but that isn't likely to come close to covering even one trip on relatively short notice, and Saban and Meyer are once again raising their voices to draw attention to an issue that might otherwise be overlooked.
"I just hope that because it's a first that we do the best job that we possibly can for all teams involved, all players involved, all families involved, assessing how we do this so that we can make it better for the families in the future," Saban said. "I think that when I say make it better, I think for the travel that's involved with all the families, that maybe we should do something for the family so that they have an opportunity to get to the game so that they can see the players play.
"I think that would be something great, and I think that's something that all the coaches up here really, really support."
Sitting right next to him at the news conference last week in Orlando, Saban already had an ally who had strongly come out in favor of assisting the extended football family, with Meyer pointing to the huge amounts of money the playoff format is expected to bring in for conferences and universities.
Figuring out exactly how to slice up the pie and make sure moms and dads are in the building moving forward surely won't be an issue that is resolved in time for the first playoff. But just like they did back in the SEC, a pair of powerful rivals are at least making it a topic of conversation to potentially influence some change down the line.
"That was my first thought," Meyer said. "I want to see how our families are going to be able to afford two bowl games if we're fortunate enough to keep going. Universities and conferences are making a lot of money off the TV deals, how are we going to treat the families of the players? I still haven't heard much about it, but I'm going to keep pushing it because I want to know.
"I'm not sure what the answer is. ... They had a room where all those people sat and selected [the teams], I wonder if they have another room where people decide on how we make sure we treat the players the right way. You talk about stress over the holidays? Watch what happens here over the next month. I've spoken to some of my colleagues about it."
The conversation between long-time rivals was surely a short one this time. Once again, Saban and Meyer were already on the same page.
December, 17, 2014
Dec 17
8:00
AM ET
Good morning, sports fans. You've got one week to finish your Christmas shopping, and if you haven't started picking out Hannukah gifts yet you're already behind. Might we suggest some lovely morning links?
1. Today's the day when Wisconsin can make its reunion with Paul Chryst official. Chryst
told his players
at Pittsburgh that he planned to meet with the Badger brass. His move might leave room for another domino to fall among Big Ten coaches. The chain reaction that started with Bo Pelini's firing at Nebraska could wind up affecting Michigan State as well. Defensive coordinator Pat Narduzzi is one of many potential candidates that make sense for the opening at Pitt. Narduzzi
danced around questions
about his contact with other schools this week. Spartans head coach Mark Dantonio knows it's a matter of time before he loses the talented coordinator, and this might finally be the year.
2. At least Dantonio knows he won't be losing his quarterback this offseason. Redshirt junior
Connor Cook
said he would return for his final year of eligibility in 2015. Cook said
he has "unfinished business"
to attend to at the college level. The 6-foot-4 Cook won't have star receiver
Tony Lippett
to help him fill out his résumé next fall, but he could be helping his draft stock by sticking around. Heisman winners
Marcus Mariota
and
Jameis Winston
would likely have been selected before Cook in this year's draft.
Next year's class
is a little less daunting.
3. The Associated Press released its All-America teams Tuesday and 14 Big Ten players were mentioned on
the top three units
. Four players --
Melvin Gordon
,
Tevin Coleman
,
Brandon Scherff
and
Joey Bosa
-- made the first team. There are always tough calls and offended feelings when trying to narrow down a pool of thousands of players to the very best at each position, but the Big Ten shouldn't feel slighted by any of the picks this season. It would be a tough sell to say any others were undeservedly left off the list.
Now, on to the links…
East Division
West Division
December, 16, 2014
Dec 16
10:26
PM ET
1. The hiring of Ohio State offensive coordinator Tom Herman by Houston reminds us that Buckeyes head coach Urban Meyer has a solid record as a coachmaker, too. Herman is the 12th Meyer assistant to get his own gig. The list includes Dan Mullen of Mississippi State and Doc Holliday of Marshall, who will coach on Jan. 1., and Gary Andersen, who led Wisconsin to a Jan. 1 bowl before leaving for Oregon State. Not all 12 coaches went directly from Meyer's staff to a head coaching position. But the list proves Meyer can spot coaching talent as well as he does playing talent.
2. Making a Freshman All-America team has a lot to do with talent and a little to do with luck. Is there a hole that a freshman can fill? There are more holes on struggling teams, but those are the teams avoided by freshmen talented enough to become All-Americans. Four of ESPN's top-10 recruits from the Class of 2014 became freshmen A-As, and 16 of the 22 came from the ESPN Top 300. The lowest-rated recruit to become a Freshman All-American? BYU center
Tejan Koroma
, a Texan who added 25 pounds when he got to Provo and, at 6-1, 280, started every game. Bet he gets bigger -- and better.
3. We've got a CSU Saturday coming up. The
Colorado State Rams
play No. 22 Utah in the Royal Purple Las Vegas Bowl at 3:30 p.m. ET. A half-hour later, the CSU-Pueblo Thunderwolves play Minnesota State for the NCAA Division II title. Hey, even nostalgic Colorado fans may root for CSU-Pueblo. Several former members of Gary Barnett's Buff staff coach the Thunderwolves, including John Wristen, the head coach since the program restarted in 2008. Barnett keeps a hand in as advisor and booster. When the team stayed in a hotel the night before one playoff game, Barnett footed the bill.
December, 16, 2014
Dec 16
3:30
PM ET
Every day this week, before the bowl season kicks off, our Big Ten panel of experts will be weighing in on different topics related to the regular season.
Our second question of the week: Besides
Melvin Gordon
and his 408-yard rushing game,
who had the top individual performance in the Big Ten?
Brian Bennett:
J.T. Barrett
's five TDs vs. Michigan State
[+] Enlarge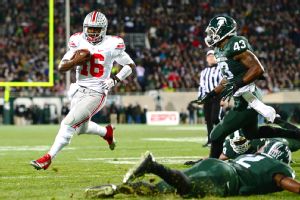 Andrew Weber/USA TODAY SportsA clutch performance by J.T. Barrett on Saturday night helped keep Ohio State's playoff hopes alive.
Barrett was terrific in so many games for the Buckeyes this season but never more so than in the biggest conference game of the season. Going on the road in a hostile environment against a Top 10 opponent, Barrett shredded Michigan State's vaunted defense for 300 passing yards, tossing three touchdown passes and no interceptions, and he also ran for 86 yards and two scores. That put Barrett firmly in the thick of the Heisman discussion and vaulted Ohio State toward its eventual spot in the playoff.
Josh Moyer:
Tevin Coleman
's 307 rushing yards vs. Rutgers
My pick didn't break a school record in this game -- or even win, for that matter. But he still put on a tremendous display after running for a season-low 71 yards the week before, against Penn State. Eight of Coleman's carries went for 10 yards or more, and he also had rushing attempts of 67 and 68 yards. His final numbers: 32 carries, 307 yards, 1 TD, 9.6 yards per carry. His performance was overshadowed by having it fall on the same day as Gordon's 408-yard game. But that didn't make it any less impressive.
Dan Murphy:
Barrett's 389 total yards (200 passing, 189 rushing) and 4 TDs vs. Minnesota
Barrett saved his best performance of the season for one of the Buckeyes' closest games. He scored all four of his team's touchdowns in a 31-24 win against an underrated Minnesota defense. Barrett ran for a school-record 189 yards, which included a record-setting 86-yard touchdown run on a bitterly cold day. He also threw three touchdowns passes (each at least 22 yards long) to reach yet another milestone. The final throw broke Braxton Miller's mark for most touchdowns by an Ohio State player in a single season. Coach Urban Meyer said after the game that the win at Minnesota provided "a very clear picture of who [Barrett] is now."
Mitch Sherman:
Ameer Abdullah
's powerful statement vs. Miami
Before Gordon shredded the record books and Coleman raced past 2,000 yards, Abdullah enjoyed the best start to the season of the league's runners. And his crown jewel of a game came Sept. 20 in Nebraska's 41-31 win over Miami on an emotionally charged night at Memorial Stadium. Abdullah was unyielding, rushing 35 times for 229 yards and three scores. More than the stats, the senior displayed his determination, repeatedly carrying defenders. On not one of those 35 runs did he take a rest. In the aftermath, coach Bo Pelini said Abdullah ran like a "man possessed." No one who saw his performance argued.
Austin Ward:
Jalin Marshall
's four second-half TDs vs. Indiana
Maybe it wasn't a relentless onslaught like the Melvin Gordon Show, but for pure explosion and frightening production in a limited window, there might not have been a more jaw-dropping display than the one Marshall crammed into less than a quarter of action against Indiana. Ohio State was dealing with a legitimate upset threat late in the third quarter when the redshirt freshman dynamo fielded a punt and darted 54 yards for a go-ahead score that eased some of the pressure. But that was merely a prelude for a ruthless closing stretch that would include three more touchdowns all through the air that almost single-handedly fought off the Hoosiers and kept the Buckeyes in position to qualify for the College Football Playoff.
Adam Rittenberg:
Barrett's five TDs vs. Michigan State
I'm all for variety but I just kept coming back to Barrett's game against Michigan State. He's on the road in a building where the Spartans almost never lose under Mark Dantonio. He's making only his third career road start (Navy was a neutral-site game). And he absolutely carves up the "No Fly Zone" secondary for 300 passing yards and three touchdowns, and he added 86 rushing yards and two more scores. I can't think of a better performance by a freshman quarterback in the Big Ten in recent years.
December, 16, 2014
Dec 16
2:20
PM ET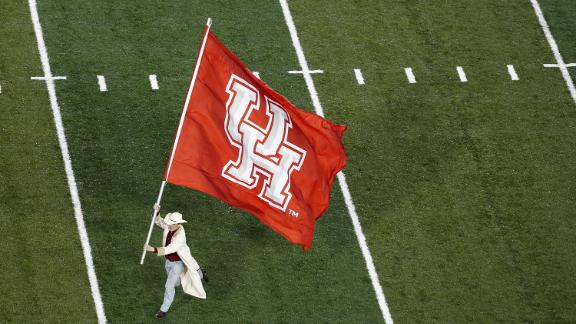 Normally a prominent offensive coordinator leaving in late December to take a head coaching job would impact a recruiting class quite a bit. That doesn't seem to be the case, though, with
Ohio State and offensive coordinator Tom Herman leaving for Houston
.
December, 16, 2014
Dec 16
1:28
PM ET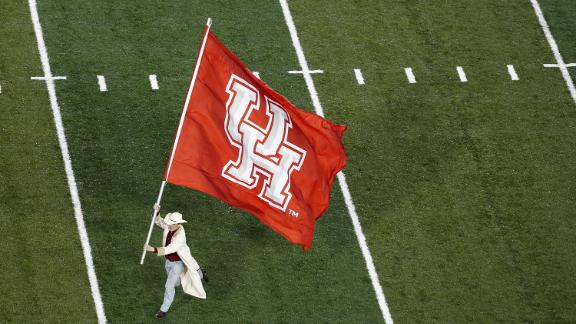 COLUMBUS, Ohio -- There was already more than enough evidence proving the sharpness of Urban Meyer's eye for talent, but add one more perfect example to the Ohio State coach's file.
Tom Herman wasn't toiling away in total anonymity while at Iowa State and building his case as one of the hottest young coordinators in the nation, but he also wasn't so well known that it was obvious Meyer would have to pursue him when he was putting together his first Buckeyes coaching staff three seasons ago. In fact, there really was no previous relationship between the two of them at all.
But Herman shared a similar philosophy with Meyer and won him over quickly despite not popping up on many coaching hot lists. The same was true for current co-defensive coordinator Chris Ash, when Meyer was in the market for an assistant on that side of the ball after last season.
With a coaching tree that has sprouted yet another branch -- Herman is officially taking over as Houston's coach -- and so many Meyer protégés scattered around the country, by now it should be no secret that Meyer is as successful at spotting what he wants in his coaches as he is recruiting top-shelf talent for them to work with on the field.
Filling Herman's shoes won't be easy, not after his wild success preparing four quarterbacks in the past two seasons -- thanks to a string of injuries that almost certainly would have crippled most attacks but barely slowed down the Buckeyes -- to operate the highest-scoring offense in the Big Ten. But when added to a list of former assistants -- like Dan Mullen, Charlie Strong, Steve Addazio, Doc Holliday, Tim Beckman and Gary Andersen -- who are now in charge of programs, the loss of Herman represents another chance for Meyer to add fresh ideas and continue evolving, rather than pose an insurmountable obstacle for title chances in 2015.
The hiring of Herman by the Cougars also offers a fantastic fit for both parties. Herman's ties to recruiting Texas, his knowledge of quarterback play and the spread offense, and his personality will be smash hits with fans and boosters of his new program. It's a victory for the Buckeyes in that they'll keep him around for as long as they're alive in the College Football Playoff.
So even though there's always uncertainty when a job this critical to a major program like Ohio State comes open, Meyer has earned the benefit of the doubt that he'll get his hire right, probably by nabbing an up-and-comer who wasn't widely considered an option when the process began. And given the somewhat unusual way Meyer operates with his offensive staff, he's already working from ahead because he doesn't have to also replace his invaluable offensive line coach and co-offensive coordinator Ed Warinner, who like Herman is destined to run his own program at some point in the near future.
"Like on offense right now, we have two coordinators -- Ed Warinner, Tom Herman -- and myself," Meyer said recently. "It's not one guy calling plays, that's not the way how we do business. At some places, that's maybe how they do it.
"But we script each play, everybody is involved in the game plan and that's the only way I'm going to have it. I don't want that dictator in there, that's not the way we do business."
Losing another coordinator, even the reigning Broyles Award winner as the best assistant in the nation, isn't going to run the Buckeyes out of business.
It's probably going to provide a major boost for Houston and it sets Herman on the path to prove himself and potentially land a bigger job down the road, while leaving Meyer to do a bit of professional recruiting again this offseason. In the end, the odds look good that everybody gets what they want.
Urban Meyer calls into Finebaum
BIG TEN SCOREBOARD
Saturday, 12/20
Monday, 12/22
Tuesday, 12/23
Wednesday, 12/24
Friday, 12/26
Saturday, 12/27
Monday, 12/29
Tuesday, 12/30
Wednesday, 12/31
Thursday, 1/1
Friday, 1/2
Saturday, 1/3
Sunday, 1/4
Monday, 1/12