December, 6, 2013
Dec 6
6:30
PM ET
INDIANAPOLIS -- Michigan State coach Mark Dantonio called the Big Ten championship game "a life moment."
Win or lose, Dantonio and his players will remember Saturday night for the rest of their lives. They hope it ends with a trophy and a guaranteed trip to the Rose Bowl for the first time since the 1987 season.
Dantonio was relaxed and often philosophical during his pregame news conference Friday as he reflected on his team's journey back to Lucas Oil Stadium after a disappointing 7-6 campaign in 2012. The Spartans aren't strangers to this stage after appearing in the inaugural Big Ten title game in 2011.
As MSU's bus turned toward Lucas Oil Stadium on Friday, "it became a reality," Dantonio said.
Here are some notes, quotes and more from Dantonio's media session:
[+] Enlarge

Eric Francis/Getty ImagesMark Dantonio thinks Michigan State is a BCS bowl team win or lose, despite their No. 10 ranking.

Dantonio repeatedly praised Braxton Miller, calling the Ohio State quarterback "a magician" and "the X-factor." Miller is the most physically dangerous quarterback the Spartans have faced this season, mainly because of his tailback-like running skills and his ability to turn bad/broken plays into great ones. "You can know what Ohio State is doing, be right on top of it, do what you do to stop it that particular time, but he can create and make it a good play. We have to be able to defend the loose plays."

Quarterback Damion Terry and wide receiver Trey Kilgore played Miller on Michigan State's scout team. Terry did an especially good job, Dantonio said, and made some big plays as the Spartans went full-contact in practice. "But he's still he's not Braxton Miller yet," Dantonio said.

Dantonio thinks Michigan State is a BCS bowl team win or lose, and he doesn't regret sitting on the ball late in games rather than running up the score. The Spartans are the lowest-ranked major-conference 1-loss team at No. 10. "I just know if they're 121, we'll jump over some of those other teams based on who we're playing," he said.

Dantonio speaks occasionally with his former bosses and coaching mentors Nick Saban and Jim Tressel, the former Ohio State coach. Asked about Tressel's rooting interests Saturday night, Dantonio smiled. "I don't know if he has green on or not tomorrow night, but maybe." Wonder if Tressel has a Christmas-colored sweater vest picked out for the game.

Wisconsin clearly was more comfortable than Nebraska heading into last year's championship game, in part because the Badgers had been here the year before. Dantonio hopes his team is loose and focused Saturday night, but the Spartans won't be intimidated by the stage. "My feeling when we saw the stadium was, 'OK, we've been there,'" Dantonio said. "It wasn't, 'Wow, here we are, what are we doing here?' It's like, 'We've been here, we need to take the next step here.'"

Dantonio was Michigan State's secondary coach in 1998 when the Spartans beat then-No. 1 Ohio State, handing the Buckeyes their only loss of the season. He recalled MSU's growing confidence as the game went along and the consecutive blitzes used to finish off Ohio State. Although it was a big win, Saturday night's game has added significance "because it sends you someplace."

Michigan State co-offensive coordinator/tight ends coach Jim Bollman faces Ohio State for the first time since spending 10 years as the Buckeyes' offensive coordinator under Tressel. Although Bollman's approval rating in Columbus might be lower than Jay Jacobs', Dantonio's affinity for the veteran coach is clear. "He's like a brother to me," Dantonio said. "He's a foxhole guy. He's been there with you through thick and thin. Means the world to us."

Although last year's Spartans team struggled to finish games, its resiliency in rebounding from tough losses set the stage for this year's run, Dantonio said. It's why after the season, at the team banquet, he talked to the returning players about being "the ones" this season. But for Dantonio, the opportunity Saturday night has bee a long time coming. "This didn't start last February," he said. "This started on Nov. 26, 2006, when I became the head football coach at Michigan State."

Dantonio closed his news conference by quoting Muhammad Ali. "We're going to find out tomorrow how great we are."
December, 6, 2013
Dec 6
6:00
PM ET
INDIANAPOLIS -- Ohio State coach Urban Meyer dropped the newsiest item of the Big Ten championship game coaches' press conferences when he told the media that
offensive lineman Marcus Hall would not start
Saturday night's game.
The Buckeyes' second-year coach also had some other interesting things to say on the eve of the title game. Here are some highlights from Meyer's session:
• Middle linebacker
Curtis Grant
played sparingly against Michigan and missed the previous two games because of ankle and back injuries. Meyer said Grant "still has a little bit of a wobble" but that he practiced all week and should play Saturday night.
[+] Enlarge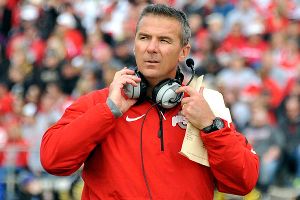 Sandra Dukes/USA TODAY SportsUrban Meyer said Friday he was impressed with his defense's response to its performance vs. Michigan.
• Wide receiver Corey "Philly" Brown has a small stress fracture in his leg, which has contributed to him recording only two catches for six yards the past two games. Meyer said Brown is not 100 percent but should be close to it for Michigan State. Earlier this week, Brown tweeted a response to the Spartans' "No-Fly Zone" nickname for their secondary, saying, "We fly whenever we please."
• Meyer said he didn't see any ill aftereffects for his defense following the performance at Michigan in which the Buckeyes gave up 41 points and 603 total yards. Sunday, he said, was tough when players had to watch the film from that game. But he said nobody hung their head during the week, and "I saw a team that went to work. ... I was impressed with how our defense responded."
• For the first time in two years under Meyer, Ohio State is actually in position to play for the national title since the Buckeyes are ranked No. 2 in the BCS this week. Win Saturday, and there's a great chance they will be in the championship game. But Meyer said "there has not been one peep" from his team about the BCS title implications.
"You wish you could get your guys, like raising your children, put them away on a desert island until they're ready to make the right decisions and focus," he said. "On top of that, it's been finals week at Ohio State. A lot of things going on. I like the maturity of our team. You lean on the coaches and the leaders on your team to stay focused. We'll see how we play. "
• How's this for respect: Meyer said Michigan State's defense is among the top three he's ever faced, including his time in the SEC.
Meyer said he and his coaching staff spent time studying the film of last year's 17-16 win in East Lansing even though it happened way back in September 2012. That was the fewest points the Buckeyes have scored in two years under Meyer. "We did not play great," he said. "We had two good drives. Other than that, it was not a very good performance by the Ohio State offense. "
• A reporter began his question noting that Meyer, who is 24-0 at Ohio State, would have to lose a game eventually. Meyer smiled and said, "[I] appreciate that."
December, 6, 2013
Dec 6
5:15
PM ET
After nearly two full seasons always knowing exactly who was on his right, the familiarity was suddenly gone for
Corey Linsley
.
With almost no warning and without an injury to perhaps brace for what was coming, the chemistry between the Ohio State center and right guard
Marcus Hall
was gone thanks to an ejection for fighting, a senior replaced with a redshirt freshman who certainly, and perhaps justifiably, looked a bit overwhelmed with the situation.
[+] Enlarge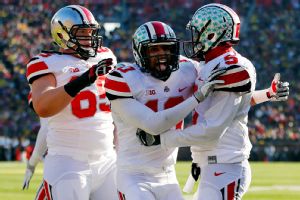 Gregory Shamus/Getty ImagesBraxton Miller and the Ohio State offense didn't slow down with redshirt freshman Pat Elflein (left) in the game at Michigan.
But any nerves in
Pat Elflein
seemingly disappeared quickly at Michigan. And any concern Linsley might have had about a new partnership in the trenches vanished with it. The No. 2 Buckeyes will need Linsley and Elflein to team up again with Hall
sidelined for an indefinite period of time
by the coaching staff for Saturday's Big Ten championship game against No. 10 Michigan State.
"It was kind of fun," Linsley said. "Marcus and I have a really good relationship, but I have a really good relationship with Pat, too. When Pat came in, he was a little wide-eyed there at first, but I kept looking over to my right just on pass [protection] to make sure that was OK, and he was fine.
"That was pretty fun, and, after a couple series in the game, I didn't have to think about him anymore. He did a heck of a job, and he's going to be one heck of a player."
Elflein might already be one for the Buckeyes, although the sample size is obviously still small.
Given the stakes in a rivalry game, the stout defense Ohio State was facing, the bizarre circumstances that put him on the field in a hostile environment and, of course, the national implications for a team in the thick of the national championship race, it would have been understandable for there to be some drop-off between Hall and his replacement.
But the Buckeyes didn't miss a beat in the final three quarters, and the rushing game was every bit as dominant with Elflein on the field as it had been with Hall and the normal collection of starters. In fact, after rushing for 125 yards on 15 carries in the first quarter with Hall in the lineup, Ohio State's production actually slightly improved -- 8.6 yards per rush -- for the rest of the afternoon as
Carlos Hyde
and
Braxton Miller
kept taking advantage of huge holes up front to gain 268 more yards on 31 attempts.
That doesn't mean the Buckeyes won't welcome Hall back when his punishment from coach Urban Meyer for a pair of obscene gestures and a bench-kicking, helmet-throwing incident expires at some point Saturday. But the coaching staff knows it has some depth and a more-than-serviceable option to fill the void.
"Pat played really well against a very good defensive line, and I'm excited about his future at Ohio State," Meyer said. "For a redshirt freshman coming into that situation, he actually played, like, really good at times.
"I'm very impressed with him and very comfortable with him."
After maybe a few uncertain moments, Linsley didn't need much time to get comfortable working with Elflein, either.
December, 6, 2013
Dec 6
4:00
PM ET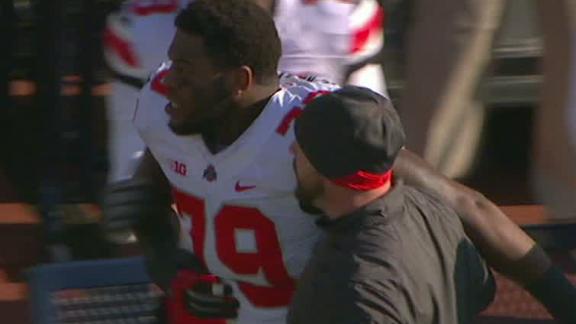 INDIANAPOLIS -- Ohio State offensive lineman Marcus Hall won't start Saturday's Big Ten championship game against Michigan State because of his actions last week in the team's victory over Michigan, coach Urban Meyer said Friday.
Hall was one of several players ejected after a first-half fight during Ohio State's 42-41 win over the Wolverines. Hall also made obscene gestures to the crowd as he walked off the field at Michigan Stadium.
The Big Ten issued a public reprimand to Hall this week but did not tack on additional punishment.
But Meyer has decided not to start Hall, saying he was "very, very disappointed" in Hall's actions.
Meyer did not say when or how much Hall might play against the Spartans, saying "We'll see what happens."
Pat Elflein, who filled in after Hall's ejection at Michigan, will start Saturday.
December, 6, 2013
Dec 6
3:10
PM ET
Ohio State stars
Braxton Miller
and
Carlos Hyde
and Wisconsin linebacker
Chris Borland
are the three finalists for the Silver Football, which is awarded to the Big Ten's top player by the Chicago Tribune.
The honor predates the Heisman Trophy and is voted on by the league's head coaches.
Miller won the Silver Football last year and is vying to become the first back-to-back winner since Indiana's Anthony Thompson in 1988-89. Earlier this week, Miller was named the Big Ten's offensive player of the year for a second straight season.
Teammate Hyde was named the Big Ten's running back of the year on Monday. Hyde rushed for 1,290 yards after serving a three game suspension to start the year.
Borland was named the Big Ten's defensive player of the year and linebacker of the year earlier this week. No defensive player has won the Silver Football outright. Michigan's Brandon Graham was a co-recipient of the trophy with Penn State quarterback Daryll Clark in 2009.
The winner of the 2013 Silver Football will be announced on Dec. 12.
December, 6, 2013
Dec 6
12:55
PM ET
Associated Press
CHARLESTON, W.Va. -- Gordon Gee is returning to West Virginia University as interim president, five months after retiring from Ohio State after remarks he made jabbing Roman Catholics and Southeastern Conference schools were made public.
The West Virginia Higher Education Policy Commission approved Gee's hiring Friday, a day after WVU's board of governors made its recommendation without announcing a name.
Gee's stay is expected to be temporary and his salary was set at $450,000. Former WVU president Jim Clements accepted the same position at Clemson in November.
It marks the seventh time Gee, 69, has headed a major U.S. university, including two stints apiece at West Virginia and Ohio State.
WVU board chairman James Dailey said in a statement he's thrilled with Gee's appointment.
"He is a seasoned and respected higher education leader who has served five major universities over 33 years, and I am confident he will continue the great work going on here and the momentum this university is enjoying," Dailey said.
Gee is expected to visit the Morgantown campus Tuesday.
"I am delighted now to be able to come back -- and give back -- to the West Virginia University community while also continuing my commitments to Ohio State, as well as higher education in Ohio and nationally," Gee said in a statement issued by WVU.
Gee has stumbled through a series of verbal missteps for which he had to issue apologies. He retired in July after his remarks jabbed at Catholics and criticized Notre Dame and former Wisconsin football coach Bret Bielema, who now coaches Arkansas.
In those remarks, made a year ago Thursday to Ohio State's Athletic Council, Gee said Notre Dame was never invited to join the Big Ten because the school's religious leaders are not "good partners."
December, 6, 2013
Dec 6
12:00
PM ET
Finally, the Big Ten matchup we've been waiting for is nearly here ...
December, 6, 2013
Dec 6
10:00
AM ET
There's no doubt that Michigan State and Ohio State match up well, so here's a closer look at the facts and figures surrounding the Big Ten title game:
Ohio State's rushing attack is among the best in the nation, as it's ranked second in rushing yards per game (321.3) but first in both yards per rush (7.1) and rushes that have gained 10 yards or more (130). The Buckeyes lead all BCS schools with 1,502 rushing yards after contact. And they're closing in on the 1973 school record of 4,199 rushing yards in one season. (They currently stand at 3,855.)
On the other end, Michigan State's defense matches up well -- very well. The Buckeyes had four rushing touchdowns last week against Michigan, which is one fewer than Michigan State allowed all season. The Spartans lead the FBS in rushing yards allowed per game (64.8), yards per rush against (2.2) and the fewest carries that have gained 10 or more yards (19).
Let's compare that matchup a little more. In the last four games, Ohio State RB Carlos Hyde has rushed for 700 yards and seven touchdowns on 77 carries. In the last 12 games, Michigan State has allowed just 777 rushing yards (and five touchdowns). That's a lot of 7s.
Braxton Miller started off slowly this season when it came to running the ball, but he's certainly made up for lost time. In the first seven games, he rushed for 410 yards (4.7 ypc), two touchdowns and had just two carries that went for at least 20 yards. In the last three games, he rushed for 481 yards (10.7 ypc), six touchdowns and had nine carries that went for at least 20 yards. His 481 yards are the fifth-most in the FBS since Week 12.
The key to Miller's improvement at running the ball has been his improvement on zone-read plays. In those first seven games, he attempted 24 zone reads and gained just 87 yards and no touchdowns. In the past three games, he recorded 21 such rushes for 276 yards and three TDs.
But one of the keys for Michigan State? Quarterbacks have not rushed for much against it. The Spartans have allowed an FBS-low minus-19 yards on 92 carries by opposing QBs this season. They're the lone team that hasn't allowed a quarterback to have a single carry longer than 12 yards, and they're one of just four teams that haven't allowed a quarterback to score a rushing touchdown.
Both Hyde and Miller are closing in on big career milestones. Hyde needs 33 yards to reach 3,000 rushing yards while Miller needs just 133 to reach that same mark. Only six other Buckeyes have reached that career milestone. Miller also needs just 43 passing yards to top 5,000 yards for his career -- and needs just 166 total yards to reach the 8,000 combined yards mark. Only Art Schlichter has ever reached that 8,000-yard passing/rushing plateau.
Plenty of talented defensive players will be showcased Saturday. Ohio State LB Ryan Shazier leads the Big Ten in tackles-for-loss with 21 and has amassed 50 tackles in his last three games. MSU DB Darqueze Dennard was named the conference defensive back of the year and is third in the conference with four interceptions.
The Spartans are the first Big Ten team to win all eight of their conference games by double-digits since the league went to the eight-game schedule in 1971. The last team to win all of its Big Ten games by double-digits was Michigan back in 1943 when it went 6-0 in conference play.
December, 6, 2013
Dec 6
9:00
AM ET
It's the final 2013 version of rooting interests, the post that examines who Big Ten teams should be pulling for in order to achieve different goals. The picture is pretty clear for No. 2 Ohio State and No. 10 Michigan State, who meet in Saturday night's Big Ten championship and who both are likely assured of spots in BCS bowls. No. 21 Wisconsin played its way out of the at-large mix last week with a home loss to unranked Penn State.
This will be short and sweet, so let's begin.
NATIONAL CHAMPIONSHIP
B1G Candidate:
Ohio State (12-0)
The Buckeyes should root for ...
Missouri to beat Auburn. Although the SEC champion will lobby for a spot ahead of Ohio State no matter what, No. 5 Missouri would have a tougher case than No. 3 Auburn. Either team would need a major boost in the polls to have a chance to jump an undefeated Buckeyes squad.
Duke to beat Florida State. A Florida State loss would remove the Seminoles from the championship chase, so Ohio State wouldn't have to worry about the SEC champion taking its spot in Pasadena on Jan. 6.
BCS AT-LARGE
B1G candidates:
Michigan State (11-1) and Ohio State (12-0)
The Spartans and Buckeyes should root for ...
Bowling Green to beat Northern Illinois. The 14th-ranked Huskies can clinch an at-large spot with a win in the MAC championship game. A loss to Bowling Green frees up a spot.
Texas to beat Baylor and Oklahoma to beat Oklahoma State. Losses by either the Bears or Cowboys -- or both -- would take the Big 12 out of the at-large picture. Baylor, at No. 9 in the BCS standings, is a big threat for an at-large berth.
Stanford to beat Arizona State. Although Stanford wouldn't be a strong at-large candidate with three losses and a small fan base, an Arizona State loss would eliminate the slim possibility of the Pac-12 having two teams in the big bowls (even though No. 12 Oregon should be eligible).
December, 6, 2013
Dec 6
9:00
AM ET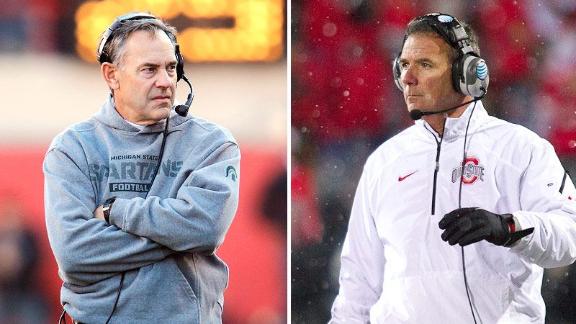 The Big Ten championship game has plenty of implications for both Ohio State and Michigan State. The Buckeyes could end up in the national championship game, and the Spartans could land in the Rose Bowl for the first time since 1988.
There won't be visiting recruits in Indianapolis for the game, per se, but here are 10 prospects who will be impacted by this game on Saturday.
LB Raekwon McMillan (Hinesville, Ga./Liberty County):
The No. 12 prospect in the country makes his decision Dec. 16. That will be only nine days after Ohio State plays in the Big Ten championship game. If the Buckeyes win, there is a good chance they end up in the national championship game, which could be a point of emphasis for McMillan. If he knows he can win championships at Ohio State, it might make it easier for him to head North away from home.
To continue reading this article you must be an Insider
December, 5, 2013
Dec 5
4:25
PM ET
We should have known the Bowl Championship Series was bound to deliver at least a little shot of drama on its way out the door.
To continue reading this article you must be an Insider
Dr. Lou's Picks