February, 1, 2015
Feb 1
11:30
AM ET
The final recruiting visit weekend for the 2015 class was a last-minute effort to get prospects on board. A few Big Ten teams were hosting big visitors, so here is a look at the best of the weekend.
The Michigan State equipment staff opened the weekend by showing the fans what the locker room setup looks like for visiting prospects. This is where the jersey and helmet pictures come from and the recruits get a look at their potential future jerseys.
Last recruiting weekend before Signing Day! #SpartanDawgs #SpartansNeverQuit pic.twitter.com/CmfLYdCylP

— MSU Football EQ (@SpartanFB_eq) January 31, 2015
Ohio State is close to filling its 2015 class, but there are still some big targets on the board. Two of the bigger prospects happened to be on campus this weekend with defensive back
Damon Arnette
and linebacker
Porter Gustin
.
Gustin got a chance to see the new championship trophy and hang out on campus for his final visit.
Porter Gustin with Urban Meyer and the ultimate college football trophy! #BuckeyeNation @portgus15 pic.twitter.com/wPjjvb4vXR

— Scott Higginson (@shigginson88) January 31, 2015
The ESPN 300 prospect made the trip with most of his family, which gave everyone a look at what the Buckeyes have to offer.
Porter Gustin in the stadium with mom, dad, grandpa and aunt! All having a great visit to the #BuckeyeNation pic.twitter.com/nMCSfI9b6q

— Scott Higginson (@shigginson88) January 31, 2015
While he wasn't on a visit to Ohio State, Buckeyes quarterback commit
Torrance Gibson
was on a visit to Miami. Gibson has seen interest from the Hurricanes, Auburn and LSU in recent weeks and has Ohio State fans nervous about what he will do on signing day.
On my way to Miami for a official visit! =—=¨ with a special escort!

— Torrance Gibson (@quick_tg6) January 30, 2015
Penn State is also close to filling its 2015 class, especially after the commitment of defensive back
John Petrishen
on his visit.
This past year has been a dream. After an enjoyable yet rigorous process, I am proud to commit to PENN STATE=5ª#WEARE pic.twitter.com/yWKUzQ6LzQ

— Johnny Petrishen (@jP5_ERA) January 31, 2015
Because the 2015 class is so close to being full, the Penn State coaching staff was able to hold a junior day of sorts and host some of the top targets in the 2016 class as well. That included all of the 2016 commits with
Shane Simmons
,
Miles Sanders
and
Jake Zembiec
.
#WeAre #Committed =1 pic.twitter.com/RSSExs04PQ

— ªDONª (@Shizzeee_) January 31, 2015
Penn State added to that 2016 commit list over the weekend when Detroit defensive back
Lavert Hill
announced his commitment to the Nittany Lions on the visit.
Blessed to say I just committed to Penn State University =5ª=5ª #WeAre...Better #107kStrong #PSUnrivaled pic.twitter.com/owcgJ2KUrW

— Ghost (@VertHill21) January 31, 2015
What would a visit weekend be without a few cookie cakes, right? Illinois went with a giant cookie cake that looks to resemble a football for
Cameron Watkins
' visit.
Just arrived at the UofI lets get the visit started =7=6<È pic.twitter.com/l51Ws80Je1

— Cameron Watkins (@Watkins_Era_23) January 30, 2015
Michigan had a few big visitors on campus as well, including Washington State wide receiver commit
Deontay Burnett
.
Deontay Burnett on his Official Visit at Michigan. SFG pic.twitter.com/B6YnZOEASI

— The GM (@coachrico112) January 31, 2015
The Wolverines are looking to add a receiver to this class, which is why Ole Miss receiver commit
Van Jefferson
was also visiting. Jefferson grew up in Michigan while his father, Shawn, was the wide receivers coach for the
Detroit Lions
until 2012.
Been my brothers since Day 1=¯!!! It's Good to be back Home = pic.twitter.com/IOV6vedhZT

— ¡Van Jefferson¡ (@Vj2kAllDay) January 31, 2015
Wisconsin hosted a somewhat new target this weekend in linebacker
Jake Whalen
. He has been on the Badgers' target list for a while, but he was only recently offered a full scholarship.
Iowa had been looking good to land Whalen, but now with the Wisconsin offer, that decision could go for the Badgers.
Love it in Madison! #badgers pic.twitter.com/cMAPF24Gzr

— Jake Whalen (@JAKEisWHALEN) January 31, 2015
Nebraska received some good news from a few of the visitors in Lincoln on Sunday. Defensive end Alex Davis tweeted he was decommitting from Georgia Southern and committing to Nebraska.
Im flipping my commitment to Nebraska #Cornhuskers <= #BlackShirts =€ pic.twitter.com/JksA2bJ1fk

— Alex Davis (@Ace22Davis) February 1, 2015
January, 31, 2015
Jan 31
1:11
PM ET
Associated Press
COLUMBUS, Ohio -- Ohio State is lowering the football ticket price for two nonconference games next season, but tickets for games against Penn State and Michigan State will be more than $100.
The school says tickets for games against Hawaii and Western Michigan will drop from $79 to $65.
Tickets for the Penn State game will be $125 and the price for the Michigan State tickets will be $150.
The three other homes games against Northern Illinois, Maryland and Minnesota will be priced at $79.
Ohio State began charging a premium for marque games in 2013, but this is the first time the university has cut prices under its new ticketing plan.
Ohio State led the nation in attendance last year, averaging 106,000 fans.
January, 30, 2015
Jan 30
12:00
PM ET
Twitter went into a late Thursday night frenzy. The reason: No. 1-ranked quarterback
Kyler Murray
announced on twitter and through ESPN that he was in fact sticking with his commitment to Texas A&M after visiting Texas 10 days ago. And with a 25 character tweet, Murray set off a twitter reaction rarely seen by a football recruit's decision.
Following my heart... #GigEm

— Kyler Murray (@TheKylerMurray) January 30, 2015
@HamiltonESPN: With this quote by five-star and No. 1-ranked quarterback Murray, a worried Texas A&M fan base let out a collective sigh of relief. The final decision by Murray to sign with Texas A&M also provides Aggies head coach Kevin Sumlin with a shot in the arm in the final days headed to national signing day.
January, 30, 2015
Jan 30
9:28
AM ET
Associated Press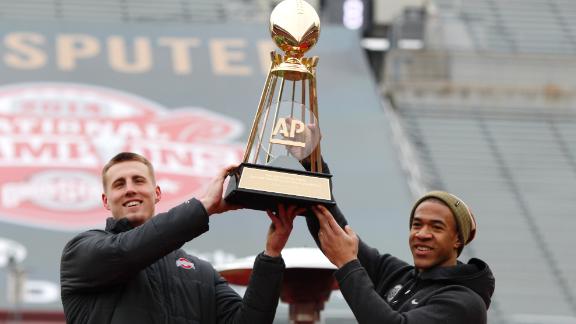 COLUMBUS, Ohio -- The Ohio State University is cashing in after the Buckeyes' victory in the NCAA's championship football game.
The university expects a $3 million increase this year in royalties from licensed merchandise sales as fans continue to buy national championship gear and keepsakes, The Columbus Dispatch reports. Officials anticipate about $17 million in total royalty revenue for the year.
Retailers say the team's story has helped boost sales. The Buckeyes, who defied naysayers in their 42-20 victory over the University of Oregon, earned the final playoff spot after losing two starting quarterbacks to injuries.
"People were energized long before the game, and people are still coming through the door," said Lori Leavitt Watson, vice president of a flag store in Columbus.
The fact that Ohio State hadn't won a championship in more than a decade has also helped increase sales, said Rick Van Brimmer, an assistant vice president for the school's trademark and licensing operations. When the Buckeyes beat the University of Miami for the title in 2002, royalties doubled from the previous year, bringing in about $5 million in total revenue.
More than half of the money that comes into the school's licensing office goes to academic affairs. The athletics department, alumni association and student life program then each receive 15 percent.
The boost in sales is bigger than sports, Brimmer said.
"It transcends athletics and helps us tell the overall Ohio State story," he said. "The world's eyes were on us for an incredible run to the championship, but we stay on their minds for a much longer time."
January, 30, 2015
Jan 30
9:00
AM ET
Because it's Friday before the Super Bowl and you've likely not spent enough time thinking about the big game in Arizona, let's look at it from a Big Ten perspective.
These
fascinating maps
published by Athlon Sports, which detail the colleges and high schools of every player on the New England and Seattle active and injured-reserve rosters -- be sure to set aside some time to study them -- got me in the mood.
Tom Brady
and
Russell Wilson
give the Big Ten its first-ever pair of starting quarterbacks in a Super Bowl. But that's old news.
Between bites of chicken wings and nacho dip, impress with your friends with these nuggets:
The state of Illinois
produced six Patriots and two Seahawks. Of the eight Illinoisans (more than from any state other than California, Texas and Florida), five played at Big Ten schools.
Who got away? New England reserve quarterback
Jimmy Garoppolo
, who played at Eastern Illinois; New England defensive end
Zach Moore
of Division II Concordia (Minnesota); and linebacker
Darius Fleming
of the Patriots, who played at Notre Dame.
The Super Bowl features
four Seahawks and two Patriots who played at Wisconsin -- headlined, of course, by Wilson. The six ex-Badgers are the most from any college. Two are on injured reserve.
Michigan and
Big Ten newbie Rutgers
are among seven schools that placed four players in Super Bowl XLIX. That prestigious list also includes Alabama, Oregon, UCLA, Stanford and Texas A&M. Another six programs are represented Sunday by three players, including Illinois and Purdue. The others? LSU, TCU, USC and California.
Kent State, Memphis and Louisiana Tech
placed two players apiece in the Super Bowl, more than Ohio State, which sends only New England safety
Nate Ebner
. But Seattle coach Pete Carroll coached the Buckeyes' secondary under Earle Bruce in 1979, 15 years before his first head-coaching gig.
Other than Brady and Wilson
, probable starters Sunday from the Big Ten are New England defensive end
Rob Ninkovich
(Purdue), New England safety
Devin McCourty
(Rutgers) and Seattle defensive end
Cliff Avril
(Purdue).
Both of Rob Gronkowski's backups
played in the Big Ten --
Michael Hoomanawanui
at Illinois and
Tim Wright
at Rutgers. Keep an eye on the tight-end duo. Hoomanawanui factored in the Patriots' creative alignments against Baltimore in the AFC divisional round, lining up as an eligible receiver at tackle. Wright caught six touchdown passes in the regular season.
Based on their history, the Patriots will probably get creative near the goal line. In their two most recent Super Bowl wins, former Ohio State linebacker Mike Vrabel caught touchdowns from Brady.
On to the links:
January, 30, 2015
Jan 30
9:00
AM ET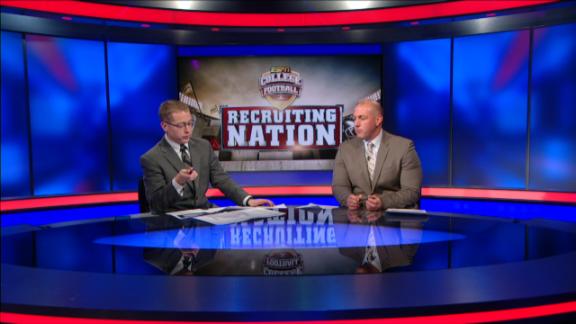 The last visit weekend before signing day means the last effort to sway recruits and land some final prospects. There are quite a few important visitors within the Big Ten this weekend, so here is a look at the most important visitors for each team.
To continue reading this article you must be an Insider
January, 29, 2015
Jan 29
8:32
PM ET
January, 29, 2015
Jan 29
3:00
PM ET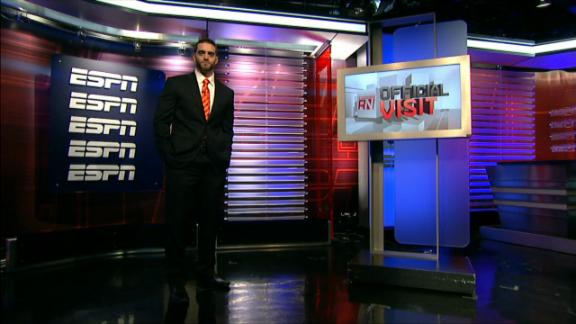 What he brings
:
Martez Ivey
is a long and flexible O-line prospect with tremendous upside. He's tall with almost other-worldly length and possesses a lean, athletic build with a frame that can continue to be developed. His strength at this stage is as a run blocker with the ability to come off with low pads and quickly get into a defenders and drive them back. He is agile and athletic for his size and possesses excellent range as a second-level blocker. He is a little less experienced as a pass blocker but possesses the tools to be outstanding in this area. With his length and ability to quickly set, he can mirror rushers with ease. This is a big man with excellent physical tools. And while he's a good football player at this stage, there is still room to grow and improve.
To continue reading this article you must be an Insider
January, 29, 2015
Jan 29
11:00
AM ET
Looking ahead at potential playmakers in 2015, there should be two divisions: Ohio State, and everyone else.
[+] Enlarge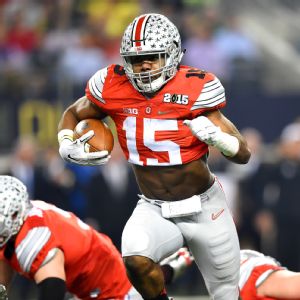 Scott Clarke/ESPN ImagesEzekiel Elliott is among Ohio State's many offensive weapons returning for the 2015 campaign.
Heaven help Big Ten defensive coordinators trying to plan for a team that will have the power element of
Ezekiel Elliott
's running complemented by the ankle-breaking athleticism and versatility of utility types
Jalin Marshall
,
Curtis Samuel
and
Dontre Wilson
. Oh, and there's that
Braxton Miller
fella, should he return to OSU.
Jokes about "Big Ten speed," or lack thereof, are hereby declared dead. They have ceased because of Urban Meyer and his staff's recruiting.
Miller, the Buckeyes' quarterback from 2011-13, will be one of the country's top playmakers regardless of where he plays. Most people in college football believe returning is his best option, even if it means a new, varied role.
Miller's size (6-foot-2, 215 pounds) compares well to NFL running backs such as
Matt Forte
,
Darren McFadden
and
Arian Foster
, according to ESPN Stats and Information. Miller, though, needs to prove to NFL teams that he can play the position without injury. Miller's ability in space is uncanny, but I was surprised to learn that he rushed for 701 yards between the tackles in 2013 (508 outside). One more Stats & Info nugget: His 7.3 yards per carry since 2011 puts him behind only
Melvin Gordon
(minimum 320 carries).So, yeah, it would be highly intriguing to add Miller's skill to the elite-level playmaking talent that's already present.
As a redshirt freshman, Marshall was the team's breakout playmaker in 2014. He scored eight touchdowns (six receiving, one rushing, one punt return). If something happened to
Cardale Jones
in the postseason, Marshall likely would have played QB, too.
Samuel, a freshman this past season, and Wilson, a sophomore, are similarly versatile. They're the team's primary kick returners, averaging 22.8 yards per return last season. They're nowhere near their ceilings, either. You think new co-OC and QBs coach Tim Beck entered into a good situation?
Here are playmaker standouts from the non-Ohio State crop
To continue reading this article you must be an Insider
January, 29, 2015
Jan 29
10:00
AM ET
Grades are past due for the 2014 season, and we're passing out report cards for each Big Ten team, evaluating offense, defense, special teams, coaches and the overall performance.
Up next is an Ohio State team that earned its highest marks after the calendar flipped to 2015.
Offense:
A
It will go down as arguably the most memorable offense in Ohio State history, especially when considering the adversity it overcame. The Buckeyes lost two Heisman Trophy candidates at quarterback --
Braxton Miller
and
J.T. Barrett
-- and still led the Big Ten in scoring (44.8 ppg) and total offense (511.6 ypg). Barrett was brilliant in relief of Miller, finishing fifth in Heisman Trophy voting.
Cardale Jones
picked up the flag after Barrett's ankle injury and sparkled in his first three starts, all in the postseason. So many others stepped up, from running back
Ezekiel Elliott
to wideout
Devin Smith
to a reworked offensive line. Just an incredible performance.
Defense:
A-
The Buckeyes started to look like themselves again after a poor finish to the 2013 season. Big Ten defensive player of the year
Joey Bosa
and All-America tackle
Michael Bennett
triggered a pressuring unit, which led the league in both sacks (45) and tackles for loss (110). A secondary that was Ohio State's biggest weakness the previous year proved to be a strength as the four starters combined for 18 interceptions. Redshirt freshman
Darron Lee
sparked an undermanned linebacking corps in the postseason. After some hiccups in the regular season, especially against elite running backs, Ohio State's defense played its best in the biggest games, blanking Wisconsin in the Big Ten title game and holding both Alabama and Oregon in check during the playoff run.
Special teams:
B+
After a very rocky start in a Week 2 loss to Virginia Tech, Ohio State's kicking game stabilized later in the season.
Cameron Johnston
worked his rugby-style magic, as the Buckeyes led the Big Ten and ranked sixth nationally in net punting (41.8-yard average). Kicker Sean Nuernberger connected on just 13 of 20 field goal attempts and struggled from distance (5-for-10 beyond 40 yards).
Jalin Marshall
sparked Ohio State's punt return unit, finishing second in the Big Ten (11.8 ypr). The Buckeyes excelled on kickoff coverage and were solid on punt coverage.
Coaching:
A
College football historians will be hard pressed to identify a better overall coaching job than the one Ohio State's staff delivered in 2014. The Buckeyes won a national championship with a third-string quarterback and took down the sport's top two teams in fairly dominant fashion (Oregon more so than Alabama). Offensive coordinator Tom Herman showed he's masterful not only at calling plays but developing quarterbacks. Ed Warinner showed again why he's the nation's best offensive line coach, developing a revamped unit into a major strength. Meyer's hiring of defensive assistants Chris Ash and Larry Johnson also paid off as the unit took important steps.
Overall:
A
There's a reason why the final exam counts for such a high percentage of a team's overall grade. Ohio State struggled early but aced every test down the stretch, culminating with a 42-20 win against Oregon at the first College Football Playoff national championship game at AT&T Stadium. The playoff system allowed the Buckeyes to evolve and peak at the right time. They cemented themselves as the nation's best team on the biggest stage, winning their first national championship since 2002.
January, 29, 2015
Jan 29
9:00
AM ET
Less than a week before signing day, recruiting has consumed conversation around college football. So in the spirit of the season, a recruiting-themed version of the links seems well advised.
Basically, at this time of year, you've got a choice:
Buy into the hype and live large next Wednesday, convinced that your team just signed the class that will vault it past Ohio State. (If you support the Buckeyes, well, plenty of reason also exists for optimism.)
Or you can play the role of realist, bursting bubbles everywhere with stories of five-star mistakes and walk-on success stories. As
Randy Peterson
of the Des Moines Register illustrates well, if you buy into enough recruiting hype,
you'll get burned
.
The latter option makes sense. But at this time of year, who wants to make sense when you can picture every prospect as a star?
Big Ten coaches are a bit divided
, as I wrote Wednesday, on the
league-wide recruiting impact
of good publicity in the wake of Ohio State's national championship and the Michigan hiring of Jim Harbaugh.
For some Big Ten programs, it helps to sell the success of rival institutions. To some prospects, it matters to play at the Horseshoe or in the Big House – even as a visitor.
And for other programs, this signifies no change. Michigan State is the best example. As the Spartans build another class like those that have produced four 11-win seasons in the past five years, coach Mark Dantonio cares little about recruiting momentum generated by Ohio State or Michigan.
It's bad enough for Michigan State coaches, players and fans that at every turn, they're inundated with talk of Michigan's new coach; the last thing you'll hear from Dantonio is an acknowledgement that another team in the league might help the Spartans recruit.
"We're selling results," he said. "When we first came here, we were selling hope."
At the same time, Dantonio, entering his ninth year in East Lansing, told me this week he recognizes the tenuous nature of the Spartans' spot near the top of the league.
"I think we're here to stay," he said, "but it's a quick drop back to mediocrity. It's always, 'What have you done for me lately?' I understand that."
As long as Michigan State pays attention to next week and continues to restock its program -- with or without the help of other Big Ten powers -- it's not likely to fall far from its current perch.
What about the impact
of Ohio State's national title on its own recruiting class?
Apparently, it will be
felt more in 2016 and 2017
. The Buckeyes, No. 7 in the ESPN class rankings, completed the bulk of their recruiting for 2015 before the College Football Playoff wins over Alabama and Oregon.
But Urban Meyer has remained busy on the recruiting trail since mid-January, scooping up elite high school sophomores and juniors at a rate that ought to alarm other Big Ten coaches.
Their commitments, of course, are non-binding, but the Buckeyes figure to compete well with programs like Alabama and Florida State in the near future for the best prospects nationally.
Recruiting, by nature, is unpredictable. Meyer, though, in building on the Buckeyes' success, is working to remove that element of unpredictability from the game.
Around the league we go:
And finally, East Lansing and Minneapolis made
this list
of the 10 best American cities for football.
January, 28, 2015
Jan 28
11:45
AM ET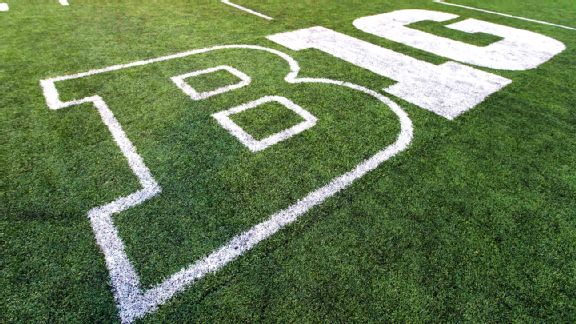 Jeff Hanisch/USA TODAY Sports
About a year ago, long before the first game that factored into the College Football Playoff and before his team played a down of Big Ten football, Rutgers coach Kyle Flood began to offer to recruits his vision of the era ahead.
In particular, Flood told them he found it difficult to believe that a one-loss Big Ten champion would miss the four-team playoff.
A month into last season, as the league sat squarely outside playoff speculation, Flood did not waver, bolstered by his confidence in Big Ten coaches and the respect he believed the league had earned.
"Players want to win championships," Flood said. "They want to know if they're on the right team and have the right season that they have access to a championship."
His assertion proved correct, of course, as Ohio State roared to the finish, securing the fourth spot in the semifinals.
[+] Enlarge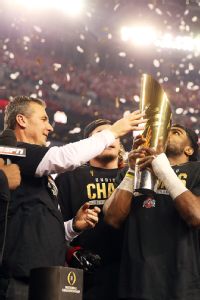 Darren Carroll for ESPNOhio State's national championship capped a strong bowl season for the Big Ten and showed recruits that the league is once again a national player.
What the Buckeyes did next, though, sent ripples through the Big Ten landscape. Ohio State's national title restored positive energy to the league. Packaged with a strong postseason by other conference teams -- the Big Ten won three of four games on New Year's Day and finished 6-5 overall -- and the splash of Jim Harbaugh's hire at Michigan, it shifted perception of the league from a doormat nationally to something of a force again.
In recruiting, dividends pay immediately.
Some Big Ten coaches, back on the recruiting trail for the past two weeks in the push toward signing day a week from Wednesday, have noticed a change in attitude from prospects who had grown accustomed to watching the league struggle on a big stage.
"A part of recruiting is perception," Indiana coach Kevin Wilson said this week as he drove to recruiting stops in Indianapolis. "The perception of the Big Ten is that it's on the rise right now. We enjoy that. We embrace that. We're excited about that."
So does a rising tide lift all boats in Big Ten recruiting? No consensus exists among league coaches. Wilson, whose program has qualified for one bowl game in the past two decades, and others said they welcome the flood of media exposure around Ohio State and Michigan this month as impactful for the entire conference in attracting prospects.
Minnesota defensive backs and special teams coach Jay Sawvel said he has heard the stereotype that Big Ten programs lag in athleticism.
It was justified at times, Sawvel said.
But the narrative can change. This bowl season helped. The Big Ten and SEC split four postseason meetings.
In four years at Minnesota with Jerry Kill, Sawvel said, he has found the Gophers received well by recruits. That reception has improved as Minnesota notched wins in the past 15 months over Penn State, Nebraska twice and Michigan.
"Our conference is known everywhere," Sawvel said, "but it needed a step up in legitimacy. I think Ohio State's run and what happened in other bowl games helped that a little bit. But what has to happen for the conference as a whole is for one through 14 to step up."
Illinois recruiting coordinator Alex Golesh sees a change, too.
"It's raised some eyebrows," said Golesh, an Ohio State graduate who coaches tight ends and running backs for the Illini.
Golesh said he's happy to use talk of a general upswing among the Big Ten as a selling point for Illinois in recruiting. He won't go much further, though.
For instance, he has not talked once about Harbaugh with a recruit. How about Ohio State, which plays at Illinois in November?
"You find out what's going to make the kid tick. You sell your program, your product, your fit and your coaching staff," Golesh said this week while recruiting in Nashville. "I don't think we'd bring up the success of another school unless you absolutely have to."
"

A lot of times schools from the South that come recruiting in our part of the country, part of their pitch is, 'If you want to play great football, you have to come to the South.' That's a tough sell nowadays. After this bowl season, you'd be hard-pressed to make that pitch to a recruit.

"

- Rutgers coach Kyle Flood
It's no different at Michigan State, which claims four 11-win seasons in the past five years -- a record matched in the Big Ten only by the Buckeyes.
"We're selling results," MSU coach Mark Dantonio said Tuesday. "When we first came here, we were selling hope. We're not selling hope now. That's probably as big a difference as anything. The results are there. We're putting a lot of guys in the NFL. It's not a myth. These things are happening."
Hope isn't always a bad thing to sell, though, especially if it's justified. Wilson, entering his fifth year at Indiana, said the Hoosiers have upgraded recruiting significantly since 2011.
The former offensive coordinator at Oklahoma, Wilson watched Oklahoma State, Baylor and Texas Tech elevate their programs in recent years. Some of it came through recruiting success aided by competing every year with Texas and Oklahoma.
The Big Ten East necessitates a similar climb as top programs continue to raise the bar. Wilson said his staff doesn't blink at the rising challenge.
"It enhances recruiting," Wilson said. "Look at what Michigan State has done. At the end of the day, the power of the Big Ten is a positive. We have sold that in recruiting. Great players want a chance to prove themselves against other great players."
Harbaugh's staff, with barely a month to build a recruiting class, fights to finish in this last week as five Big Ten teams rate among the national leaders in ESPN's class rankings. Ohio State is seventh, followed by Penn State (12th), Michigan State (28th), Wisconsin (29th) and Nebraska (32nd).
For Flood at Rutgers, the selling points of the Big Ten are no different. He believed in the league before its recent turnaround.
When he shared his feelings last year about a one-loss league champion, recruits believed him. Still, Flood said, he knows they heard a different message from coaches outside the conference.
"A lot of times," Flood said, "schools from the South that come recruiting in our part of the country, part of their pitch is, 'If you want to play great football, you have to come to the South.'
"That's a tough sell nowadays. After this bowl season, you'd be hard-pressed to make that pitch to a recruit."
January, 28, 2015
Jan 28
11:35
AM ET
By
Ryan Canner-O'Mealy
| ESPN.com
It was another season of record-setting performances, unbelievable finishes and very large men scoring very big touchdowns. And, yes, the Fainting Goat.
Here are our favorite plays of the year:
Hail Marys
Bahamas Bowl miracle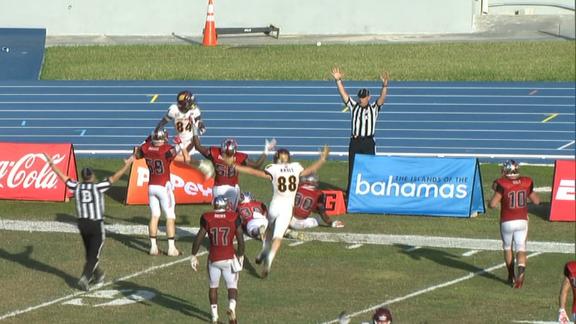 Central Michigan trailed by 35 points entering the fourth quarter. It trailed by seven when it pulled off a 75-yard, three-lateral Hail Mary as the clock struck :00. The Chippewas failed on the two-point conversion, but their comeback and miracle finish was the craziest play of bowl season.
---
Central Florida wins a share of the AAC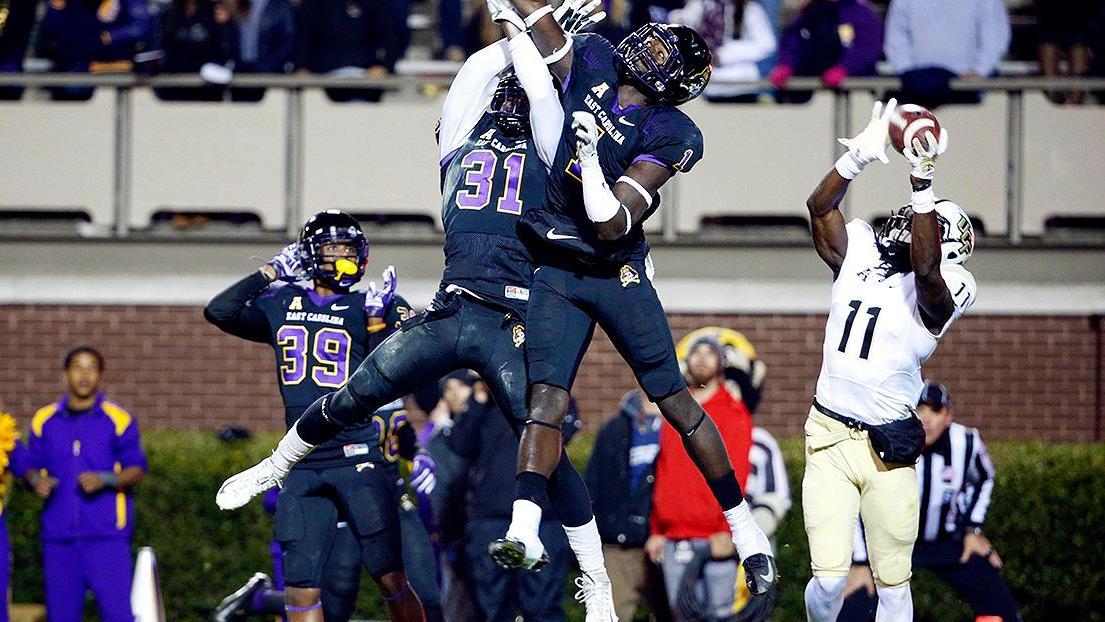 After blowing a 26-9 fourth-quarter lead, it looked as if Central Florida was done. But East Carolina mismanaged the clock -- taking three knees and a sack -- before giving the ball back to the Knights with 10 seconds left. One 51-yard score later, George O'Leary's crew was celebrating a share of a conference championship.
---
Solomon stuns Cal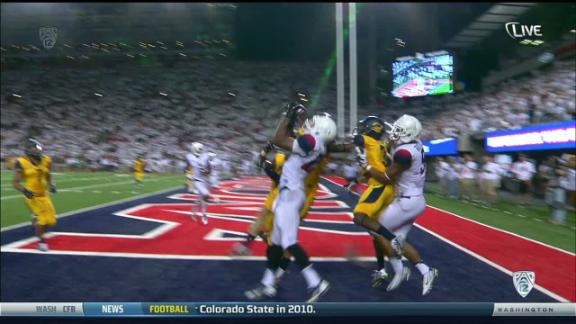 Arizona scored an absurd 36 points in the fourth quarter, capped by
Anu Solomon
hitting
Austin Hill
in the end zone on a 47-yard touchdown that gave the Wildcats a 49-45 win.
---
Big-guy touchdowns
Come to Arkansas, where linemen throw TDs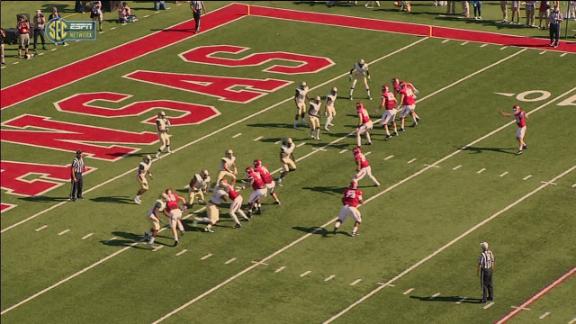 Who said Bret Bielema offenses were old school? Arkansas' coach loves his linemen, and here he lets 350-pound guard
Sebastian Tretola
throw for a score in a 45-17 win over UAB.
---
The biggest of big-guy touchdowns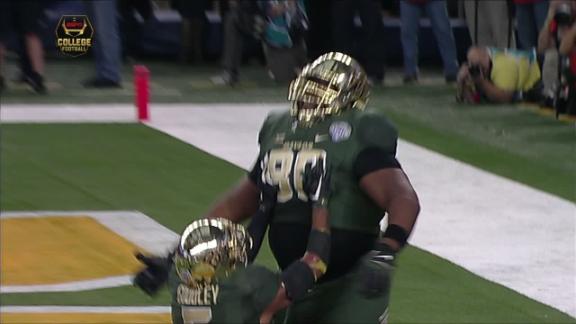 Tretola's pass was nice, but how about seeing a 400-pounder go up the seam for an 18-yard score in a New Year's Six bowl game? That's what Art Briles and Baylor dreamed up, as
Laquon McGowan
scored to give Baylor a 20-point lead before Michigan State stormed back to win 42-41.
---
Boise goes back to the future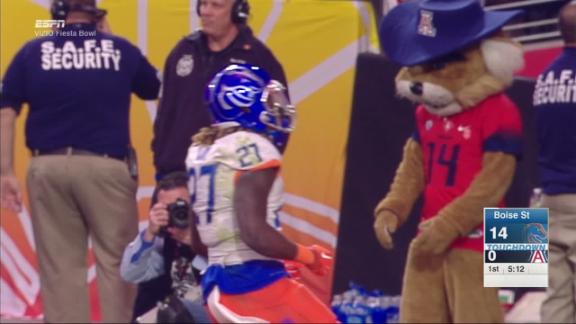 Everyone remembers Boise State's introduction to a national college football audience, upsetting Oklahoma with the Statue of Liberty in the 2007 Fiesta Bowl. Well, the Broncos brought it back for this year's game, as
Jay Ajayi
scored from 16 yards out in a 38-30 Boise win.
---
Fainting Goat gets its own category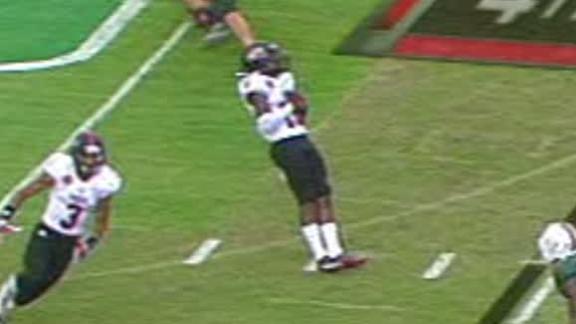 Arkansas State can lay claim to the best worst fake punt ever. In theory, one player falls down, draws the attention of the defense and the Red Wolves get a first down. In reality, he got clobbered and Arkansas State's pass was intercepted. But that only made us love it more.
---
So does this Nebraska false start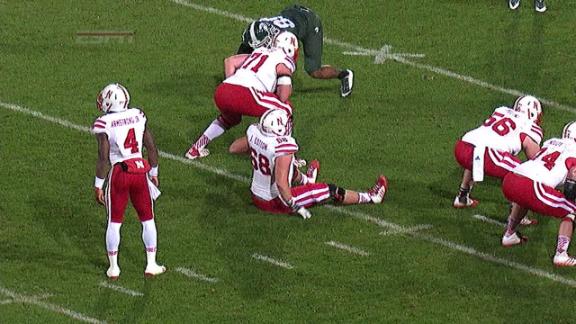 Poor
Jake Cotton
. The Nebraska lineman was just trying to hold his stance, but once all 6-foot-6 and 305 pounds of him starting going backward, there was no turning back.
---
Year of the freshman RB
Leonard Fournette runs over Texas A&M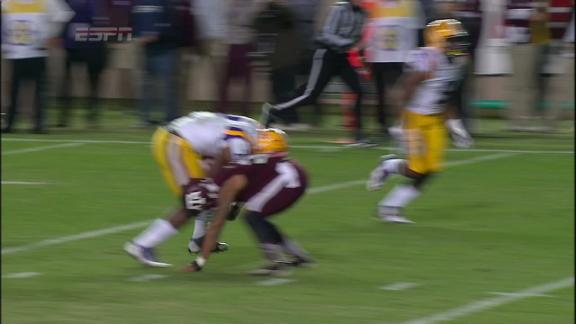 It was an up-and-down year for the heavily hyped Fournette, but he certainly showed signs of why such big things were expected out of him. Just ask Howard Matthews, who got bowled over on Fournette's way to the end zone in LSU's 23-17 win.
---
Dalvin Cook runs past Miami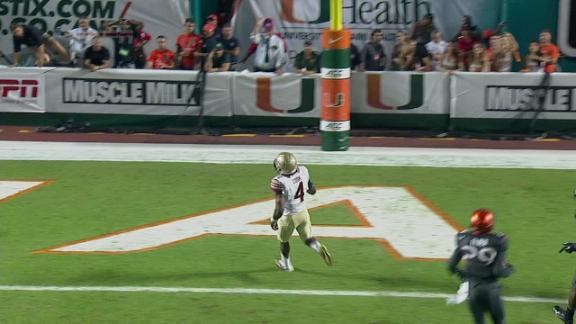 Florida State had fallen behind again. This time, it was 23-10 to rival Miami. But Cook saved the day, with 44- and 26-yard scores to guide the Seminoles to a 30-26 victory.
---
Royce Freeman can do it all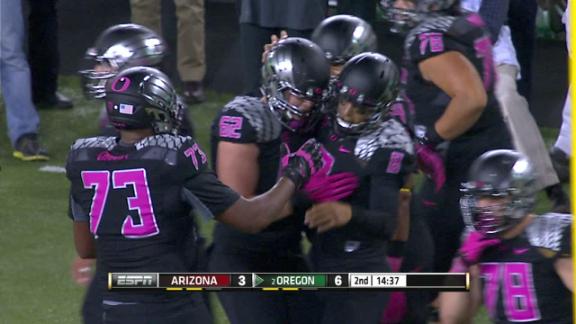 Freeman could be a game-changer for the Ducks, the kind of every-down power back the team hasn't had in the past. And he can throw it too, as he proved with this touchdown toss to Marcus Mariota against Arizona.
---
Samaje Perine an Oklahoma bright spot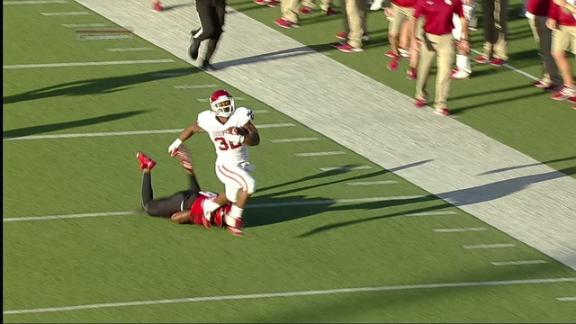 Oklahoma's year certainly ended poorly, but the Sooners have hope for the future following the emergence of Perine. He set the single-game rushing record with 427 yards (and five scores) in a win over Kansas. This 64-yard TD scamper jump-started a comeback win for Oklahoma.
---
Nick Chubb shatters records in Belk Bowl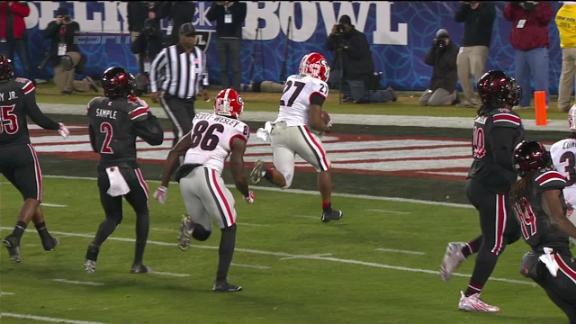 No
Todd Gurley
? No problem for the Bulldogs, who saw Nick Chubb announce himself as perhaps the best of all the freshman runners with a dominant 266-yard performance against a tough Louisville run defense. It was the most rushing yards by a Georgia back in a bowl and also a Belk Bowl mark.
---
More top plays
Nebraska's behind-the-back catch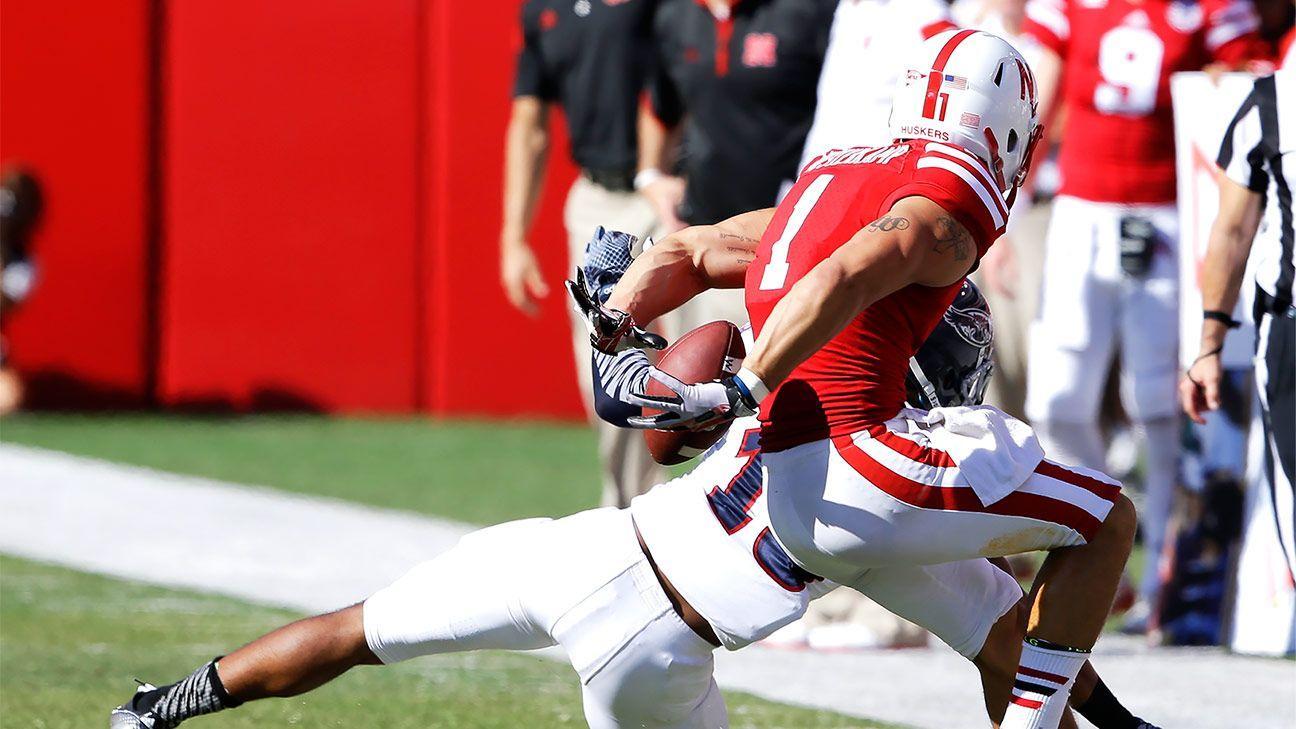 It was all the way back in August, but this held up as one of the best plays of the year. Wide receiver
Jordan Westerkamp
went behind the back to grab a pass during a 55-7 Cornhuskers win over Florida Atlantic.
---
Ohio State DE ends game like a Bosa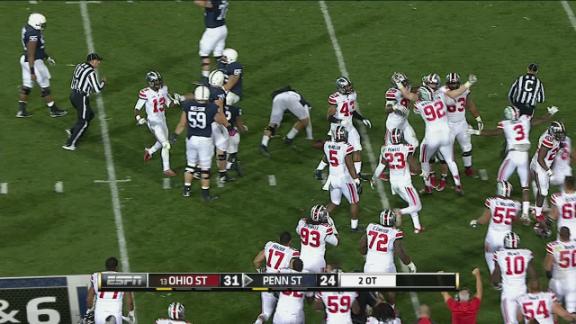 A running back on
Joey Bosa
? Yeah, that's not going to end well. As dominant as Ohio State was down the stretch, it wouldn't have happened had the Buckeyes not taken care of Penn State. Bosa made sure they finally did, with a 31-24 double-overtime win.
---
Mariota strikes a pose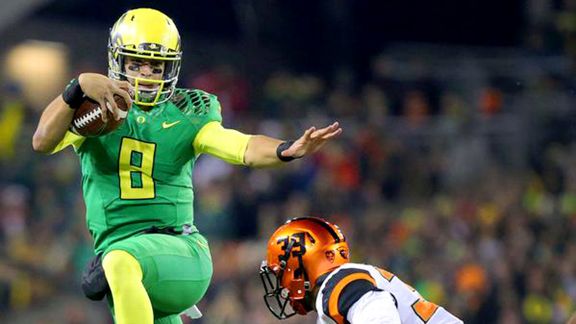 Brian Davies/The Register-Guard Marcus Mariota looked the part of a Heisman Trophy winner in Oregon's win over Oregon State.
---
Ohio State reverse touchdown pass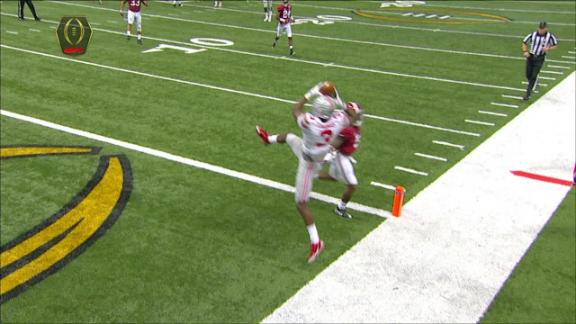 Of all the plays on this list, this is the most important. Trailing Alabama 21-13 in the final seconds of the first half,
Evan Spencer
took a handoff on a reverse and somehow found
Michael Thomas
in the corner of the end zone for a touchdown. The lesson? Even Ohio State's receivers are great quarterbacks.
---
Gordon leaps into record books (briefly)
Melvin Gordon
's stay atop the record book for single-game rushing yards may have lasted only a week, but that does nothing to diminish his magical performance against Nebraska, when he ran for 408 yards and four touchdowns in a 59-24 rout of the Cornhuskers.
---
Air Maxx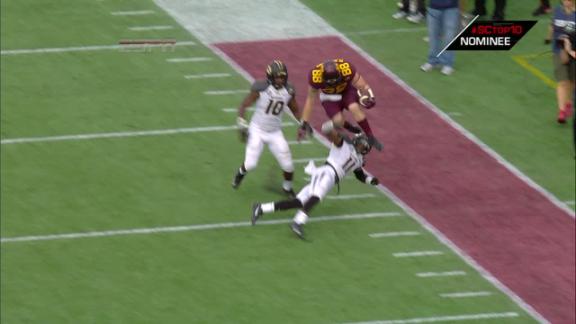 Minnesota may have lost its bowl game, but the Golden Gophers still had the highlight of the game, as tight end Maxx Williams hurdled two defenders en route to a 54-yard touchdown. So it's probably no surprise that Williams declared for the NFL draft after this game.
---
Shaq brings it baq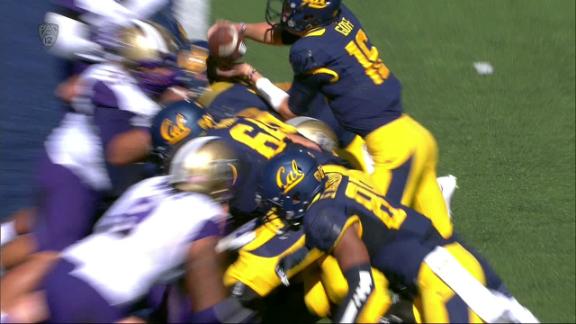 You can't do much more than a 99-yard touchdown return, and that's exactly what Shaq Thompson did for Washington to kick off the scoring in a 31-7 win over Cal.
January, 28, 2015
Jan 28
9:00
AM ET
National signing day is exactly one week away. For some programs, it will be a sprint between now and next Wednesday. Others have already done most of their heavy lifting and will be focusing on babysitting their committed prospects and laying the groundwork for 2016. One thing's for sure, however: when head coaches talk about their 2015 classes next week, there will be nothing but superlatives.
No one has ever had a bad recruiting class, if you believe what is said at these signing day press conferences. Here are six quotes you are guaranteed not to hear from any Big Ten coach or anywhere in America on Feb. 4:
"This probably ranks as the third- or fourth-best class we've ever signed here."
You'll hear a lot of coaches say their class is "the best" one they've had. Which always makes me wonder what current players recruited by that coach must think.
"With this class, we got a step slower and a little bit smaller."
"Faster, higher, stronger" isn't just the Olympic motto. It's the go-to cliche for coaches on signing day.
"
We got some good players, but we didn't really fill our needs."
You'll hear a lot of talk about classes that filled needs. Of course. Why would you recruit players you didn't need?
"We pay very close attention to star rankings and agree with how the experts ranked our class."
Many coaches will say they completely ignore recruiting service rankings ... unless they can use it to brag about how highly-rated their class is or collect a bonus for a high ranking.
"We missed out on a few kids we really wanted."
The signing day spin will be that teams got everybody they wanted. In this era of decommitments and flipping and prospects embracing the drama of their announcements, that's pretty much impossible.
"This class has some great athletes, but their character is questionable."
Every prospect on signing day is "a high-character kid" who fits the team culture. Except coaches don't really get to spend a lot of time with many of the prospects they sign, and they're hoping that 17-year-old doesn't turn out to be a knucklehead once he lives on his own for the first time.
OK, on to the links:
West Division
Prospects Caught In Recruiting Rivalries
null