March, 31, 2015
Mar 31
3:30
PM ET
Ohio State has three extremely talented and accomplished quarterbacks, but the quandary is that only one can start.
Urban Meyer had a different but related situation at Florida in 2006, when he had both Chris Leak and Tim Tebow. His solution then was to use Tebow in short-yardage and goal-line situations. Could a similar strategy help the Buckeyes in 2015?
[+] Enlarge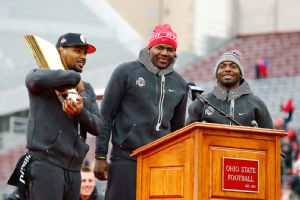 Joe Maiorana/USA TODAY SportsQuarterbacks Braxton Miller (left), Cardale Jones (center) and J.T. Barrett could rotate or be used according to situation.
"I don't know about that, but you might have a specialty quarterback," Meyer said Tuesday when asked about the possibility.
Let's be clear here. Meyer did not say that he would use a two-quarterback system or replicate the Tebow plan, but he did say that "I've thought about that." And understandably so.
No matter who wins the job among Braxton Miller, J.T. Barrett and Cardale Jones, it will mean that two other very talented players will be standing on the sideline (assuming no one transfers or gets hurt). Why not put that playmaking ability to use?
The three returning quarterbacks do have varying strengths, though they're not nearly as different as Leak and Tebow were. Still, you could see perhaps using Jones and his enormous arm as the vertical passing threat and taking advantage of the unique running skills of Miller -- whose shoulder is still not fully healed right now, anyway. Then again, Jones is 250 pounds and would make a pretty good goal-line battering ram himself.
Meyer says he is continuing to take the quarterback situation "one day at a time" and that his Florida system was unique because of "a very ego-less approach to the game." That last part may be the most important trait to duplicate in Columbus this year.
Some other nuggets from Meyer's media session:
He began his news conference by saying the defending champs are "not very good right now." Much of that is due to missing players on the offensive line, both because of injury and rest for veterans. Meyer said he counted nine or 10 offensive linemen who would be ready in August who aren't available this spring. "If you want to have a bad practice," he said, "have a bad offensive line."
The defensive line also remains a concern, as the Buckeyes look to replace star defensive tackle Michael Bennett off a group that wasn't very deep a year ago. Meyer said Tommy Schutt has had a good offseason, and he expects Joel Hale to contribute somewhere. But the line still has a long way to go, especially inside. "We have bodies there, but are they where we need them to be? No, not even close," he said. "Are they trying and getting better? Yes."
Meyer once again talked about an increased role this year for sophomore Curtis Samuel at the H-back position. Meyer called Samuel a "top 5 playmaker" on the team and added that "our job is to get him on the field for 40 or 50 plays." Bri'onte Dunn, another member of the running back group who had been a forgotten man because of some on- and off-the-field issues, is starting to turn things around. "He's got some momentum, and it's showing on the field," Meyer said.
Meyer said his understanding is that "everything looks to be OK" with Braxton Miller and the NCAA over his Instagram involving nutritional supplements. Cleveland.com reports that Ohio State likely will be hit with a secondary violation but that there would be no eligibility problems.
Leading returning receiver Michael Thomas is headed for a sports hernia surgery soon, but Meyer doesn't expect it to be serious. Ryan Shazier and Tyvis Powell each had the same surgery in previous offseasons and missed no time in the following seasons.
March, 31, 2015
Mar 31
2:23
PM ET
There is no offseason in the rivalry between Ohio State and Michigan. The two Big Ten foes find ways to poke one another throughout the year, and the most recent jab belongs to Ohio State.
The folks at Ohio State blog Eleven Warriors discovered a special Michigan addition to Ohio State's new College of Veterinary Medicine renovation. The dog-walking area is complete with a maize-and-blue fire hydrant that is more likely to serve as a public restroom for injured dogs than ever put out any actual fires.
The new dog-walking area at OSU's College of Veterinary Medicine has the perfect fire hydrant. http://t.co/cYDlpeO76t pic.twitter.com/h51r46J8sb

— Eleven Warriors (@11W) March 30, 2015


Michigan is usually referred to simply as "That Team Up North" on the athletic end of Ohio State's campus, but we're guessing that Urban Meyer and company won't mind the Block M showing up in this case. Michigan has remained close-lipped about the rivalry since Jim Harbaugh's staff arrived in January. No scarlet and gray restrooms, for dogs or humans, have been spotted around the Michigan campus ... yet.
March, 31, 2015
Mar 31
1:12
PM ET
Ohio State wideout Michael Thomas, the team's leading returning receiver, will undergo surgery soon to repair a sports hernia, Buckeyes coach Urban Meyer said Tuesday.
Meyer said Thomas had been bothered by the injury since the team's national championship game victory over Oregon. Thomas is expected to be fully healed by the start of the season.
The redshirt sophomore had 54 catches for 799 yards and nine touchdowns in 2014, including a key scoring grab against Alabama in the Sugar Bowl.
March, 31, 2015
Mar 31
11:00
AM ET
Our ultimate Big Ten road trip is nearing conclusion, and these late-season games loom even larger.
In case you missed our previous installments, we're picking what game we would attend in each week of the 2015 season, assuming (for fantasy purposes) that money and editorial decisions were no object. We can each pick only one game per week.
Here comes Week 12 and one titanic tilt:
Saturday, Nov. 21


Indiana at Maryland

Illinois at Minnesota

Michigan State at Ohio State

Michigan at Penn State

Northwestern at Wisconsin

Purdue at Iowa

Rutgers at Army
Bye: Nebraska
Unanimous pick: Michigan State at Ohio State
Brian Bennett: If I could only go to one conference game this season, it would have to be this one. Spartans-Buckeyes has become the Big Ten's main event over the past couple of years, and that should be the case again in 2015 as both teams figure to open the year in the top 5. If Ohio State is going to falter anywhere during its national title defense, this is the most likely spot, though having the game in the Horseshoe is a huge advantage. In the season's penultimate week, the Big Ten East Division likely will be on the line here, and I already can't wait.

Dan Murphy: The last two times these teams have met head-to-head essentially decided the Big Ten championship -- 2013 was in the actual title game, and in 2014 Michigan State presented the most significant threat to stop the Buckeyes. There's a good chance history will repeat itself again in 2015. There won't be a more anticipated game on either team's schedule this season. The Urban versus Harbaugh death matches will need a few years to reach their peak. Until then, the Spartans and Buckeyes are the most interesting interstate matchup between these two neighboring states.

Previous trippin'
Week 1: Bennett and Murphy at Ohio State-Virginia Tech; Ward at Michigan-Utah; Moyer at Wisconsin-Alabama

Week 2: Unanimous: Oregon at Michigan State

Week 3: Sherman and Murphy at Rutgers-Penn State, Bennett and Ward at Nebraska-Miami

Week 4: Bennett and Ward at Maryland-West Virginia, Sherman and Moyer at BYU-Michigan

Week 5: Unanimous: Iowa at Wisconsin

Week 6: Unanimous: Nebraska at Wisconsin

Week 7: Moyer and Ward at Penn State-Ohio State, Murphy at Michigan State-Michigan, Sherman at Nebraska-Minnesota

Week 8: Bennett and Moyer at Penn State vs. Maryland, Sherman at Ohio State-Rutgers, Ward at Northwestern-Nebraska

Week 9: Bennett, Moyer and Sherman at Michigan-Minnesota, Murphy at Rutgers-Wisconsin

Week 10: Moyer, Murphy and Sherman at Nebraska-Michigan State, Ward at Minnesota-Ohio State

Week 11: Unanimous: Minnesota at Iowa
March, 31, 2015
Mar 31
9:30
AM ET
Ten teams down, four left standing in the annual Big Ten blog March tournament. This year we're letting the people decide the best campus to visit on a Saturday in the fall.

Like the NCAA Tournament, we're down to four competitors -- Ohio State, Penn State, Wisconsin and Nebraska. Instead of making you wait a whole week to decide a winner, we're going to settle things today. Inspired by last weekend's Wrestlemania, we're finishing this year's bracket with a Royal Rumble style vote. Choose between one of the four remaining options today to decide this year's tournament winner and the best game day scene in the conference.
Before we get started, a quick review of how we arrived at the final four schools. Here are the results from last week's Elite Eight round.
No. 1 Ohio State def. No. 9 Minnesota
The plucky Golden Gophers put up a good fight, but were no match for the Horseshoe. Minnesota won the loyalty of a few states in its region and the iconoclasts in Vermont -- perhaps bonding thanks to their long, cold winters. The rest of the world (69 percent of total voters) would prefer a trip to Columbus, where the football is the main attraction but there is plenty more to enjoy during a weekend trip.
No. 2 Penn State def. No. 7 Michigan State
Penn State continued a chalky second round in the tournament. The Nittany Lions secured 75 percent of the votes in this run-off against the overmatched Spartans. There might not be as much going on in central Pennsylvania on 350-plus days per year, but on a football weekend it scores a resounding victory over East Lansing. Now can Penn State pull an upset and take down the Buckeyes in our battle royale?
No. 3 Wisconsin def. No. 6 Iowa
The closest battle of this year's tournament so far goes to the Badgers with 60 percent of the vote. Iowa and the folks at Kinnick Stadium put up a good fight. They won the vote in their home state and three neighboring states -- Kansas, Missouri and Illinois. Most of the rest of the country preferred "Jump Around" to the famous pink visitor's locker room. Bucky Badger is on to the final round.
No. 4 Nebraska def. No. 5 Michigan
The most popular match-up in our second round goes to Nebraska. Big Red showed up in droves to win decisively against the Big House. Nearly 13,000 voters weighed in, but Michigan and Delaware were the only two states where more fans picked the Wolverines. Apparently the Tunnel Walk gets the blood boiling a little bit faster than touching the banner. The Cornhuskers will be underdogs in our final round.
That leaves us with four competitors to decide our champion. Get your votes in by midnight on Tuesday to help decide a winner. And in case you need a quick refresher, our descriptions of each campus on game day are listed below.
Ohio State: The reigning Big Ten and national champion Buckeyes play in one of most iconic and recognizable settings in all of sports. Ohio Stadium, expanded by 2,500 seats last year to an official capacity of 104,944, ranking as the fourth-largest on campus facility in the nation. The Michigan game last season drew a record crowd of 108,610. More than 36 million fans have attended Ohio State games at the Horseshoe, which is listed in the National Registry of Historic Places. Situated on the banks of the Olentangy River, the stadium is known for its unique design and close proximity of fans to the field. The Rolling Stones played at the venue in 1997 and might come back this year. What else do you need to know? From the Ramp Entrance to the Buckeye Battle Cry, this place is uniquely O-H-I-O. Oh, and nowhere else can boast this awesome tradition.
Penn State: Beaver Stadium truly turns into its own city during game days. RVs and other tailgaters take up what seem like miles of terrain as Nittany Lions fans flock from all over to see their favorite team. More than 100,000 fans regularly pack the place and make things very uncomfortable for opposing teams. Night games and white-outs are especially impressive scenes. Penn State has one of the largest and most engaged student sections you'll find anywhere, and chants of "We Are!" will ring in your ears coming into and out of the stadium. A picturesque setting and a charming college town also enhance the environment. The only real drawback is getting into and out of State College in a timely fashion. Then again, why are you in such a hurry to leave?
Wisconsin: Where to begin? The bratwursts are big, the crowds are loud, and the atmosphere is electric. The marching band performs a pregame concert at Union South -- listen for "On Wisconsin" -- an hour before every game. Regent Street/Breese Terrace are packed with fans and bars blaring House of Pain before and after the game, and the entire downtown takes on a football flavor. Inside Camp Randall, the excitement really picks up. The most famous tradition is "Jump Around," when the song sends the entire stadium rocking between the third and fourth quarters. But there's also the wave, singing along to "Build Me Up Buttercup," and remaining seated after the game listen to the marching band perform once more. And after all that? It's time to take that energy back downtown to continue the party.
Nebraska: The game-day experience starts Friday evening at Misty's, where local and opposing fans gather to hear the Nebraska marching band, eat prime rib and put down a few beverages. That hospitality continues straight through to the final buzzer, when Cornhuskers fans are known to stand and applaud the visiting team, win or lose. Before then, pregame festivities reach a climax during the Husker Power chant as the team prepares for its traditional Tunnel Walk, which is as hair-raising an experience as any Big Ten team has when taking the field. Don't forget to pack your red balloons. Fans release them in the stadium after Nebraska's first score.
March, 30, 2015
Mar 30
1:00
PM ET
COLUMBUS, Ohio -- On one side is a two-year starter, a steady contributor who has also emerged as a likely captain and unofficial team spokesman for Ohio State.
On the other is a guy who only needed one season to mark himself as a future star while rapidly becoming one of the most productive players at his position in the country on the way to a national championship.
In between them, though, is the linebacker whom both of them will be looking to as the leader of the unit. And even with those veterans around him, Raekwon McMillan is already the man in the middle whom the Buckeyes are all looking to this spring and counting on as it prepares to defend its title in the fall.
[+] Enlarge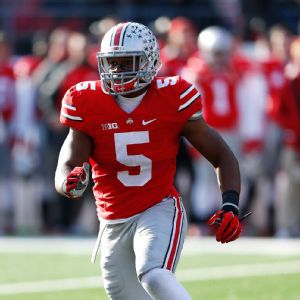 Photo by Joe Robbins/Getty ImagesThe spotlight is on Raekwon McMillan as he makes the transition to being a full-time starter at middle linebacker.
"The guys beside me, they put trust in me all the time," McMillan said. "When we're on the field, I feel like those guys trust me, and anything I say, we're all on the same page and we all work together.
"[Defensive coordinator Luke] Fickell has trust in all three of us to work together on the field."
Ohio State already has evidence of what those other two can do in a full-time role, with both Joshua Perry and Darron Lee shining as part of a defense that improved dramatically and was integral in the victorious run through the postseason.
And while there is no question about McMillan's physical tools and the playmaking ability he showed when given opportunities off the bench as a true freshman, the spotlight and the pressure are both squarely on the middle linebacker now as the Buckeyes plug him in with the first-team unit and hand him the reins as the quarterback of the defense.
That process starts with his presence in leadership meetings, which are mandatory for a starter at his critical position and help set the foundation for his on-field role calling out plays and taking charge of the huddle. But whether it's in the linebacker room, on the practice field during camp or even in class, the Buckeyes have made clear how high the expectations are for McMillan moving forward -- and they fully expect him to meet the challenges they have issued as he replaces Curtis Grant.
"We have to keep pushing," Fickell said. "We need that middle linebacker, and he's got some big shoes to fill. I know he played a bit last year, but that true leadership role, if you're not strong down the middle, you don't have any chance of being good with any defense you've got -- in any sport probably.
"There are big expectations and big things he's got to continue to grow and mature, not just as a football player but as a leader. You can't just rely on it being a natural thing. It's just things where you've got to continue to push guys, and that's one thing we talk about here is that discomfort breeds growth."
McMillan certainly looked comfortable with his role last season, only adding to the hype that accompanied his recruitment by shining when given the chance to share time with Grant in the middle of the defense.
He's definitely not afraid of contact and made 49 tackles in 14 games. He showed impressive instincts while diagnosing plays and slipping into the backfield for 6 tackles for loss, including 2.5 sacks. And if the buzz about his future wasn't already noisy enough, his 24-yard interception return for a touchdown against Maryland helped take the volume to another level and provided the first of what might be many signature moments in his career.
The Buckeyes still have a tackling machine in Perry and a game-breaking, do-it-all weapon in Lee on the outside to fill out the highlight reel. But they're already itching to find out what the new guy in the middle can add to it.
"I want to show that I can be an every-down Mike, not just rotate in," McMillan said. "Joshua, he might not be as flashy as guys think, just makes a lot of tackles and is one of our morale guys. Darron on the other hand is more of a hype guy, always making big plays.
"So we get the best of both worlds, and I have to be the stable guy in the middle."
That spot belongs to McMillan now and all eyes are on him, even from the veterans lined up next to him.
March, 30, 2015
Mar 30
10:07
AM ET
[+] Enlarge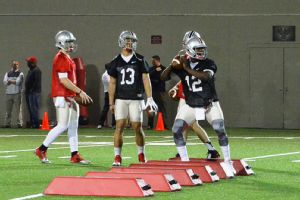 Ohio State AthleticsCardale Jones led the Buckeyes to a national championship, but he'll have to fight to keep the starting QB job.
Many FBS programs around the country have reached the midpoint of spring practice, including defending national champion Ohio State, where coach Urban Meyer still hasn't picked from among three really good quarterbacks.
Michigan and Syracuse will play their spring games Saturday (we haven't confirmed whether the winning team in Ann Arbor will have to run extra stadium steps), and then glorified scrimmages will begin en masse in the coming weeks.
What have we learned so far? Georgia, Notre Dame and Ohio State have really interesting quarterback competitions. Texas is going to play faster (and hopefully better) on offense, and "Coach Boom" is already laying the boom on the Plains. New Michigan coach Jim Harbaugh is really popular at his alma mater (but not popular enough to be elected student body president), and USC might have identified another star receiver.
Here's a look at some of the biggest developments in spring practice so far:
1. Meyer is losing sleep

Meyer has a dilemma that a lot of coaches would love to have: He has to choose from among three quarterbacks who have won big in college.
March, 30, 2015
Mar 30
10:00
AM ET
The last Big Ten team to open spring practice, Rutgers, gets started Monday. And Michigan, the first to finish, wraps Saturday at the Big House. The practices of February and March have shed light on the offseason direction of programs across the league.
As April approaches, here's a look at five notable spring developments in the Big Ten:
Jake Rudock nears departure from Iowa: Rudock, the Hawkeyes' two-year starting quarterback who was demoted behind C.J. Beathard in January, is free to leave Iowa City, with "no strings attached," according to Iowa coach Kirk Ferentz. Scheduled to graduate in May, Rudock visited Michigan this spring and could be eligible, under NCAA rules, to play in 2015, though the Big Ten may pose an obstacle with its intraconference transfer rule. The QB has yet to announce his intention. If he lands in Michigan, he would join an inexperienced group headed by junior Shane Morris; Wilton Speight and Alex Malzone own no college experience.
Harbaugh-mania accelerates: This phenomenon, of course, began long before spring practice. But the excitement that follows Jim Harbaugh at every turn has advanced to a new level since practice opened. While the Michigan workouts have produced few details, the coach continues to generate headlines away from the field -- for his roadside help for two women involved in a rollover car accident to his stint as first-base coach of the Oakland A's. For his latest trick, Harbaugh finished fourth in U-M's Central Student Government presidential election -- a post for which he did not run, of course. Needless to say, Harbaugh brings more to the Big Ten than just his coaching acumen.
Pro-style offense takes hold at Nebraska: New coach Mike Riley and offensive coordinator Danny Langsdorf have introduced a series of foreign concepts during the first half of spring drills. At a school that built its reputation on power offensive football, the new coaching regime will bring much of the scheme that produced strong QB play at Oregon State. Langsdorf, who rejoins Riley after one year with the New York Giants, got a taste this month of the challenge ahead. Nebraska quarterbacks, led by Tommy Armstrong Jr., have been trained to gain yards with their feet as often as their arms. The transition figures to endure a few rocky moments.
Key Spartans missing: Michigan State opened practice last week without running back Delton Williams and receiver Macgarrett Kings Jr. Both are facing legal issues after incidents that occurred in the past month. Coach Mark Dantonio offered little on their status. Neither player is listed on the MSU spring roster. Their standing in the program before next season looms large for Michigan State. Williams was the Spartans' third-leading rusher as a sophomore in 2014, behind the departed Jeremy Langford and Nick Hill. Kings, as a junior, worked as the top MSU punt returner and accumulated 404 receiving yards as Connor Cook's third-leading target.
Buckeyes maintain their edge: Complacency ranks as the No. 1 enemy of a defending champion. Through four practices, Ohio State appears on track to stay hungry in the chase to repeat. Plenty of competition for positions exists in Columbus, a factor that figures to drive the Buckeyes through the offseason. Early reports indicate that Gareon Conley and Damon Webb look set to wage a solid battle for the open cornerback position. Two vacant spots on the defensive line also have generated attention. And what's that, you ask, about the most high-profile battle of all? Nothing much has happened at quarterback, what with Braxton Miller and J.T. Barrett held out of most drills while Cardale Jones runs the show. It'll get intense in August. And Urban Meyer already is feeling the heat.
March, 29, 2015
Mar 29
2:15
PM ET
With spring practices under way, it was a big visit weekend in the Big Ten. A number of programs within the conference had some big visitors on hand, so here is a look at some of the top prospects who were on campus and what a few had to say about the visits.
PENN STATE
The Nittany Lions had a ton of big visitors on campus and that included quite a few 2017 prospects.
Lineman Robert Hainsey was one of those recruits on hand, and Hainsey tweeted a picture of the visit.


Yesterday.. #WeAre #WPIALtoPSU ???? pic.twitter.com/hSCwkIFCD7

— ROBERT HAINSEY (@r_hainsey56) March 29, 2015
Cam Spence was another 2017 target in Happy Valley and he too took to Twitter to show off his experience.
Had a good visit @coachjfranklin @PennStateFball @SpenceChaos #WeAre #107kStrong ????????. @JPaschal5 @Callmeemoe__ pic.twitter.com/GxfZVAQzJZ

— Cam Spence (@Only1CamSpence) March 28, 2015
The Nittany Lions also had some 2016 prospects, including Damar Hamlin, Michal Menet and Khaleke Hudson to name a few.
PSU ????.. @BoobieMiles_4 @HamlinIsland @Shizzeee_ @DiddyBop1_ @r_hainsey56 THE MOVEMENT ?? ?? pic.twitter.com/7E4yLKCc3L

— Khaleke Hudson2?1? (@NeverDone_21) March 28, 2015
NEBRASKA


The Cornhuskers also had some big visitors on campus in Lincoln. Offensive lineman Nathan Smith was one of the bigger targets on hand and Smith tweeted his thoughts on his time on campus.
Nebraska visit was awesome today!! @Huskers pic.twitter.com/5moLFcQUgn

— Nathan L. Smith (@Nathan7099) March 28, 2015
OHIO STATE


The Buckeyes picked up a huge commitment in 2016 running back Demario McCall, but the coaches had quite a few other big visitors on hand outside of McCall.


ESPN Jr. 300 tight end Luke Farrell was one of those visitors and Farrell currently holds Ohio State very high on his list.


"It went well," he said. "I liked getting to see practice and I liked how they run the position meetings."


Farrell is still planning some other visits, but wants to decide before his season starts.


One of the more important prospects visiting was Texas quarterback Tristen Wallace, who tweeted out quite a few pictures of the visit and time spent with current Buckeyes quarterback Braxton Miller.
Just 1 time! pic.twitter.com/4YDwRs8aIB

— TWall (@SelfMade___Wall) March 28, 2015
MICHIGAN STATE


The Spartans were yet another Big Ten program with a lot of traffic on campus, including Georgia prospects Isaiah Pryor, Russell Halimon, Korey Banks and Jamyest Williams.


Their time spent with the coaching staff was memorable, especially for Williams, who is a defensive back.


"I was just thinking while Coach [Mark] Dantonio was talking, that he can turn two stars into first-round draft picks, imagine when he gets a four-star athlete and what he could do for me," he said.


Michigan State also had ESPN Jr. 300 receiver Justin Layne in for a visit, and Layne tweeted about his time with the coaches.
Had a great day ! Go Green! #MSU ???? with my bro @Siah_10 pic.twitter.com/05YjfFU5Di

— - JLXIII (@JustinLayne0) March 28, 2015
Layne got a chance to hang out with ESPN Jr. 300 quarterback Messiah DeWeaver, who took a return trip to see Michigan State. DeWeaver will be deciding at the end of April, so this could be an important visit for Michigan State in that race.


"I was there for a couple days," he said. "I saw the ins and outs of practice and had a great time with the coaches and players."


South Carolina was also well represented in East Lansing with Nick McCloud, Josh Wilkes, Greg Ruff, Quay Brown, Jamari Curren and a few others taking the trip.
Some of the Carolina X prospects at @MSU_Football pic.twitter.com/XX1F2UByzO

— Carolina X (@CarolinaXposure) March 29, 2015
MICHIGAN


The Wolverines and Buckeyes had the chance to host one of the biggest visitors of the weekend in ESPN Jr. 300 defensive lineman Rashan Gary as well as a few other New Jersey prospects.


ESPN Jr. 300 receiver Ahmir Mitchell was among that group and tweeted out some pictures from their time at Michigan, including one picture at breakfast with Jim Harbaugh.
Out to breakfast with Coach Harbaugh & these Top D lineman.. Jersey living out ??ichigan ?????? pic.twitter.com/Zxom97TuhT

— Ahmir_SoDevoted (@TheDeuce_2_Nice) March 29, 2015
Michigan coaches offered 2017 defensive lineman Corey Bolds on the visit, who happens to be teammates with Gary.
Blessed and Honored to say I received my 2nd scholarship offer from Michigan University??#GOBLUE pic.twitter.com/4iIugzR1oU

— Prince (@Chief_Corey) March 28, 2015
Athlete Korey Banks received an offer on his visit to Michigan this weekend, and the Georgia prospect came away very impressed with what the Wolverines have to offer.


"It's a Michigan offer. It's always exciting to get a Michigan offer, especially from coach Jim Harbaugh," Banks said. "Of course I'm going to keep them in the running, they pack 118,000 fans in the Big House. What kid wouldn't love that offer, that's a big achievement for me."
March, 29, 2015
Mar 29
10:45
AM ET
Isaiah Pryor isn't your typical recruit. He is 6-foot-2 and has offers from some of the biggest programs in the country, but there's something even more unique about the 2017 Georgia prospect.

Pryor doesn't have a Twitter account.

He decided that he didn't have time for it, so he deleted his account. A decision that is rare among kids his age.

"I was a little kid and everyone had one, so I created one. I just didn't use it, so there's no point in having it," he said. "Apparently coaches like that, because I'm staying off social media."

That's not the only unique aspect about Pryor, though. He used to play the saxophone, but had to stop because football prevented him from being in the marching band. He also understands that football allows him an opportunity to get the education he desires.

"I want to major in psychology because I'm interested in the human mind and helping people with mental disorders. My mom and dad are nurses and they help people every day, so I just want to be in that field," he said. "If I have the opportunity to make it to the NFL, I'm definitely going to take it, but I feel like the reason we're doing all of this is to get an education. After football is over, all you have is your education."

Pryor has already started to do some research on programs and says Ohio State is a school that has stood out for his major.

With so many offers already, he is going to have a big decision ahead of him. He and a few fellow Georgia recruits took a few visits over the weekend before heading to the Adidas showcase at the EFT football academy in Illinois.


March, 29, 2015
Mar 29
9:49
AM ET
There is little doubt
Ohio State
will ink a top-10 class in February 2016. Judging by the start to the class and the perfect ending to last season, a top-five finish is a high-percentage bet. The Buckeyes' class added another key and impactful piece on Saturday in the form of running back
Demario McCall
, giving Urban Meyer five ESPN Junior 300 verbals.
To continue reading this article you must be an Insider
March, 27, 2015
Mar 27
1:00
PM ET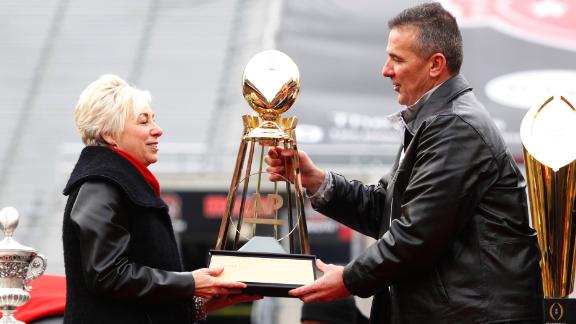 Ohio State football players received their College Football Playoff championship rings on Friday morning, the first of three rings that the school will give the players.
Each player will receive $828 worth of rings, said Ohio State spokesman Dan Wallenberg, which is less than the maximum the school was permitted to spend.
Ohio State spent $204 on each Big Ten title ring, well off the allowance of $325 per player. The school spent $209 to have each Sugar Bowl ring made, $166 less than the $375 per ring limit. The College Football Playoff pays for the national title rings, which cost $415 each.
The title ring was made by Jostens and has more than 50 cubic zirconias on the top of the ring surrounding the College Football Playoff logo football and the words "National Champions."
The sides of the ring have the player's name and the Ohio State logo with the 42-20 score of the title game.
March, 27, 2015
Mar 27
11:10
AM ET
Time to break out the heavy coats, scarves and gloves. Our ultimate Big Ten road trip has reached November.
ICYMI, we've been putting together our choices for the games we would attend each week during the 2015 season, if money and editorial decisions were no object. We can each pick only one game per week.
Moving on to Week 10:
Saturday, Nov. 7
Iowa at Indiana

Wisconsin at Maryland

Rutgers at Michigan

Michigan State at Nebraska

Penn State at Northwestern

Minnesota at Ohio State

Illinois at Purdue
Josh Moyer's pick: Michigan State at Nebraska
I haven't yet scheduled a trip to Lincoln, Nebraska, this season -- and now seems like the perfect time. Connor Cook and Tommy Armstrong both threw for 2,500-plus yards last season and make up half of the B1G's four returning passers to do so. Both teams will be showcasing new running backs to fill the big shoes of Ameer Abdullah and Jeremy Langford. And Wisconsin's new offensive coordinator, Danny Langsdorf, will have to game-plan around Michigan State's new co-defensive coordinators, Harlon Barnett and Mike Tressel. Maybe I'll even get in a day early and say hello to Sherman.
Dan Murphy's pick: Michigan State at Nebraska
This game will be Mike Riley's toughest test in his first year with the Cornhuskers, a measuring stick to see how far Nebraska is from breaking its string of seven consecutive four-loss seasons. For Michigan State, the Buckeyes still loom a couple of games ahead on the calendar, but a trip to Lincoln is a significant hurdle to be cleared. A win on the road against Nebraska would set up two weeks worth of hype surrounding a trip to Columbus with division title hopes -- and probably a whole lot more -- on the line. The product on the field and the implications for the game's winner makes this weekend's travel an easy choice.
Austin Ward's pick: Minnesota at Ohio State
The cross-division matchup last year turned out to be far more competitive than might have been predicted before the season, thanks in large part to the impressive job Jerry Kill has done building a contender at Minnesota. The Gophers gave the Buckeyes one of their toughest tests on the way to the national title, and just about the only thing Urban Meyer didn't win last season was Big Ten Coach of the Year -- which is sitting in Kill's office instead. Watching these two go to battle again on the field should provide some entertainment once more.
Mitch Sherman's pick: Michigan State at Nebraska
Considering Nebraska's recent struggles in big games and Michigan State's run of success on the national level, this series has been surprisingly tight since the Huskers joined the Big Ten in 2011. Even last year, Nebraska rallied late from a big deficit in East Lansing. So expect a close game and a live atmosphere in Lincoln. For the Huskers to succeed in the first year with new coaches, the defense must likely lead the way. Can the Blackshirts solve Cook? Can the new-look Nebraska offense find a formula for success against the tried-and-true Spartans defense? It'll be an interesting matchup, as always.
Previous trippin'
Week 1: Bennett and Murphy at Ohio State-Virginia Tech; Ward at Michigan-Utah; Moyer at Wisconsin-Alabama

Week 2: Unanimous: Oregon at Michigan State

Week 3: Sherman and Murphy at Rutgers-Penn State, Bennett and Ward at Nebraska-Miami

Week 4: Bennett and Ward at Maryland-West Virginia, Sherman and Moyer at BYU-Michigan

Week 5: Unanimous: Iowa at Wisconsin

Week 6: Unanimous: Nebraska at Wisconsin

Week 7: Moyer and Ward at Penn State-Ohio State, Murphy at Michigan State-Michigan, Sherman at Nebraska-Minnesota

Week 8: Bennett and Moyer at Penn State vs. Maryland, Sherman at Ohio State-Rutgers, Ward at Northwestern-Nebraska

Week 9: Bennett, Moyer and Sherman at Michigan-Minnesota, Murphy at Rutgers-Wisconsin
March, 27, 2015
Mar 27
10:00
AM ET
We've reached the height of March Madness as another week nears an end, which begs this question: How to best incorporate basketball into the weekly #B1GFridayFive? A wise editor suggested that we scour the Big Ten football rosters for players we'd like to see lace up the sneakers.
This is, by no means, an all-inclusive list. We want your input. Who plays football in the Big Ten but would make a formidable power forward or point guard? Let us know, and use the hashtag #B1GFridayFive. Here are our selections, listed alphabetically:
---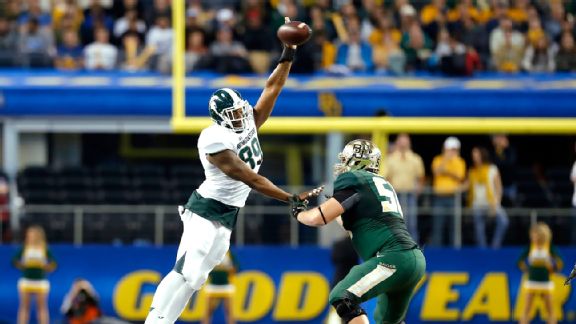 Tim Heitman/USA TODAY Sports


Really, this choice is all about our desire to see what happens to a poor defender intent to draw a charge on the 6-foot-5, 256-pound Calhoun as he barrels downcourt toward the goal. The two-time All-Big Ten lineman, one of the nation's most ferocious pass rushers, earned his reputation as a powerful dunker on the hardwood in the New Jersey high school ranks. He received offers in basketball from the likes of Wagner, Monmouth and Lehigh and averaged 17.5 points and 10 rebounds as a senior in 2010-11 at Middletown South. At the Buc Holiday Classic in January 2011, Calhoun was named MVP for his three-game performance, capped by a 38-point outburst in the championship.
---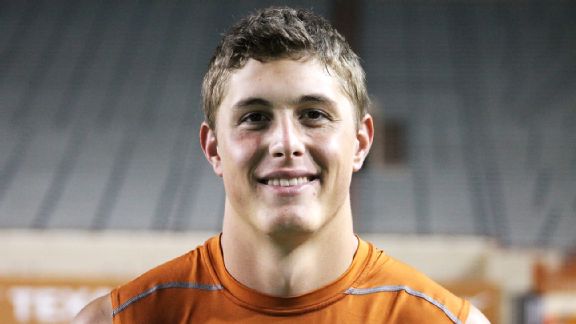 Max Olson/ESPN


This list needs a quarterback, and we couldn't find a better option than Michigan's recently signed freshman, who will join the Wolverines this summer. Gentry, arguably the best New Mexico prep quarterback ever, was nearly as good in basketball. He earned all-state honors as a junior at Albuquerque's Eldorado High School, averaging 19.6 points and 10 rebounds. Even at 6-7, Gentry is an athlete. He rushed for 220 yards in a game last season. Gentry did not play basketball as a senior because of his football plans. He turned down Alabama, among others, to pick Texas last year. But when Jim Harbaugh came calling, Gentry reconsidered, committing to Michigan at, yes, a January basketball game in Ann Arbor.
---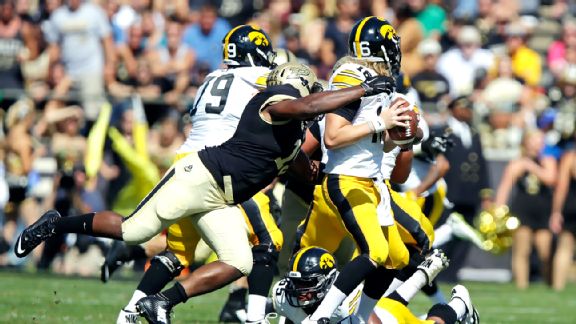 AP Photo/Michael Conroy


Maybe this is a stretch. Robinson, admittedly, is not a good basketball player. But come on, his dad, Glenn "Big Dog" Robinson won the Naismith and Wooden awards at Purdue in 1994, averaging more than 30 points per game as a junior. Glenn was the No. 1 pick in the NBA draft and scored more than 20 points per game over 11 seasons. Gelen's older brother, Glenn Robinson III, plays for the Philadelphia 76ers after a career at Michigan. And Gelen, expected to contend for a starting spot on the defensive line in 2015 after collecting 20 tackles as a true freshman, wears his dad's No. 13 at Purdue. Gelen also competes in wrestling and throws the shot put at Purdue. He can take on another sport, right?
---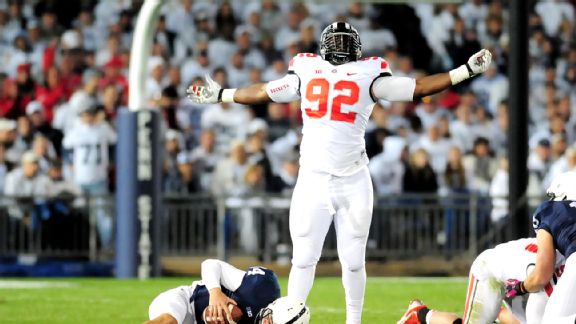 Evan Habeeb/USA TODAY Sports


Washington is a legitimate basketball talent. He was named the Gatorade Player of the Year in Ohio as a senior at Cincinnati's Taft High School after averaging 23.1 points and 14.3 rebounds per game. He led the school to the state's final four and earned a scholarship offer for basketball from Xavier. Washington got serious about football early in his high school career after Cincinnati was the first to offer. Last year, Washington came into his own on the Ohio State line, notching 4.5 sacks. At 6-4, he would surrender several inches in the post, but we'd like to see the 295-pounder battle in the Big Ten paint.
---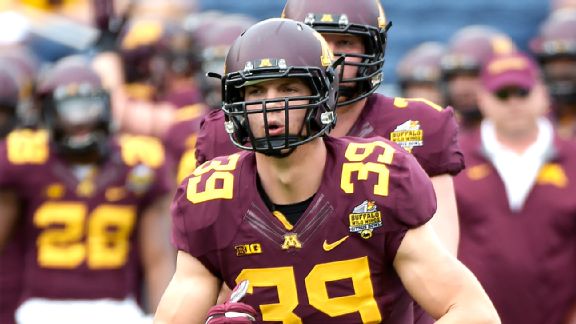 AP Photo/Phelan M. Ebenhack


How did this happen -- a 6-foot-10 kid from Indiana with soft hands and good feet who gave up basketball? There's no doubt that Wozniak gets mistaken regularly around the Twin Cities for a member of Richard Pitino's basketball team. He quit the sport, according to reports at the time of his 2013 football commitment to the Golden Gophers, before his senior year of high school to focus on his work as a tight end. Yes, he is the tallest player in the Big Ten, playing behind star Maxx Williams in 2014 as a redshirt freshman. At 267 pounds, Wozniak could eat space and block shots in basketball, if nothing else. Alas, it's not going to happen.
Did Ohio State Cheap Out On Championship Rings?
BIG TEN SCOREBOARD
Thursday, 9/3
Friday, 9/4
Saturday, 9/5
Sunday, 9/6
Monday, 9/7