January, 24, 2015
Jan 24
6:17
PM ET
Associated Press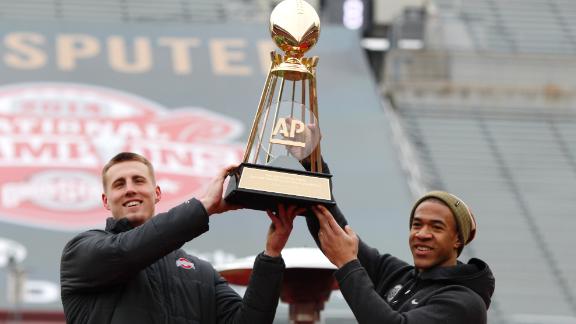 COLUMBUS, Ohio -- After leading Ohio State to a national championship, Joey Bosa had one question for the 45,000 fans who crowded into Ohio Stadium in late January.
"How are you guys out here right now? It's freezing," he said from a makeshift stage erected on the south end of the field.
Buckeyes fans were on their feet as coach Urban Meyer and the team emerged from the southeast tunnel obscured by fog and flanked by flames. Onstage, local politicians delivered speeches and players danced and joked with each other while chants of "O-H! I-O!" rang out throughout the stadium and several highlight videos from the Buckeyes' 14-1 season played on the scoreboard.
As he took the podium to address the crowd, coach Urban Meyer said he initially wanted to move the event indoors to Value City Area until athletic director Gene Smith challenged him.
"Gene Smith says, 'You don't realize, these Buckeye fans are nuts,'" Meyer said. "You are nuts, and from the bottom of our heart thank you for being here."
The university awarded 2,500 free passes allowing fans to watch from the field. More than an hour before the event got underway, they lined a barrier on the 45-yard line as children did somersaults and threw footballs in the north end zone and Brutus Buckeye high-fived those at the front.
Associated Press regional director Eva Parziale presented the AP national championship trophy to Meyer, who also accepted championship trophies from the College Football Playoff and the American Football Coaches Association. Flames and fireworks went off as Meyer gathered in the first college football playoff trophy.
January, 23, 2015
Jan 23
10:00
AM ET
We've been counting down the top 25 players from the 2014 Big Ten season all week, and now we have reached the summit.
Like
Chris Rock
, we're ready to deliver a top 5. These are the best of the best from the year that was.
No. 1: Melvin Gordon, RB, Wisconsin
This one was pretty easy. Gordon won the Doak Walker Award, was the Big Ten's offensive player of the year and finished second in the Heisman Trophy voting. He amassed 2,587 rushing yards -- second most ever by an FBS player, behind only
Barry Sanders
-- and 32 total touchdowns while picking up 7.5 yards per carry. We'll never forget his epic 408-yard performance in just three quarters on Nov. 15 against Nebraska, even if that single-game record stood for only one week. It was the year of the running back in the Big Ten, and Gordon was the king of the class.
No. 2: Joey Bosa, DE, Ohio State
The Big Ten's defensive player of the year, Bosa led the league with 13.5 sacks and 21 tackles for loss while also forcing four fumbles. He could change or even win games with his pass-rushing prowess, as he showed in overtime at Penn State. He was a finalist for the Bednarik and Ted Hendricks awards and the Lombardi Trophy, and he's a good bet to win a major award as a junior in 2015. How does he combine so much speed, power and personality in one package?
No. 3: Tevin Coleman, RB, Indiana
If the Hoosiers had been a better team, or if Coleman had more help from his passing game, then perhaps his 2014 season would be discussed in the same kinds of hushed tones we reserve for Gordon. Make no mistake, though: Coleman's season was also one for the ages, as he ran for a school-record 2,036 yards (in two fewer games than Gordon) and averaged 7.5 yards per carry (the same as Gordon). He had five games of at least 190 yards rushing, including a 228-yard, three-touchdown tour de force at Ohio State late in the year.
No. 4: J.T. Barrett, QB, Ohio State
How would Barrett's 2014 campaign have looked if he hadn't broken his ankle against Michigan in the season finale? Would the Buckeyes still have won the national title? It's a great debate. But what can't be argued is how remarkable Barrett's year was. Thrust into the starting job after
Braxton Miller
's shoulder injury in late August, the redshirt freshman broke just about every school record and finished fifth in the Heisman Trophy voting. He accounted for 45 total touchdowns, led the Big Ten in total offense and pass efficiency, and rode the most famous scooter in Ohio State postseason history.
No. 5: Connor Cook, QB, Michigan State
The Cotton Bowl win over Baylor summed up Cook in a nutshell. After a terrible interception and a couple of errant throws through the end zone, he calmly delivered the game-winning, 10-yard strike with 17 seconds left. Cook isn't always perfect, but there are few quarterbacks you'd take ahead of him with the game on the line. He threw for 3,214 yards and 24 touchdowns in 2014, and the Spartans couldn't be happier that he will return as a senior to lead this fall.
January, 23, 2015
Jan 23
9:30
AM ET
They didn't sneak up on us.
Anyone who tracked the Big Ten's summer buzz -- or reviewed the list of players attending preseason media days in Chicago -- noticed the
league's surplus of standout running backs
.
Wisconsin's
Melvin Gordon
had spurned the NFL, and a potential first-round draft selection, for a run at the Heisman Trophy and a national championship. Gordon's good friend
Ameer Abdullah
also was back for one final season at Nebraska, where he had been among the nation's most productive players. Indiana football might not have held your attention, but
Tevin Coleman
's 7.3 yards-per-carry average certainly did.
[+] Enlarge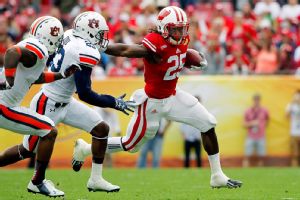 Kim Klement/USA TODAY SportsIn many years, Doak Walker Award winner Melvin Gordon would have taken home the Heisman Trophy.
Michigan State's
Jeremy Langford
and Minnesota's
David Cobb
had been workhorses in 2013 -- combining for 529 carries -- and were back for more. Almost every team had a player capable of logging 1,000 rush yards.
"In this league," Cobb told ESPN.com's Austin Ward in August, "there's a good running back on every team."
Turned out, Cobb was underselling himself and his fellow backs. Most Big Ten teams had great, if not elite, running backs.
The numbers back it up: 2014 was easily the best season for running backs in Big Ten history.
The league produced
six
1,500-yard rushers -- no other conference had more than three (no other Power 5 league had more than two). According to research from the Big Ten office, until 2014 the league never had more than three 1,500-yard rushers in the same season. Although a 12-game regular season, a championship game and the College Football Playoff provide more opportunities, Ohio State's
Ezekiel Elliott
was the only back who needed the extra contests to reach -- and ultimately far eclipse -- 1,500 yards.
According to ESPN Stats and Info, no FBS conference has had even five 1,500-yard rushers since at least 1996.
The Big Ten produced the nation's top three rushers in Gordon, Coleman and Elliott. It had all three finalists for the Doak Walker Award in Gordon (who won), Coleman and Abdullah. Gordon was a Heisman finalist and likely would have won the award in any other year, as
Marcus Mariota
's numbers were overwhelming. Coleman and Gordon were consensus All-Americans, and Elliott earned offensive MVP honors in both the Playoff semifinal at the Sugar Bowl, and in the national championship game.
So much star power eclipsed the consistency of players such as Cobb and Langford, the emergence of Northwestern freshman
Justin Jackson
, the speed threat of Purdue's
Akeem Hunt
, or the versatility of Illinois'
Josh Ferguson
.
Go ahead. Try to find a more productive season at running back -- for any league -- in college football history.
But what stands out about the Year of the Big Ten Running Back was that it occurred in stanzas. Just when one star back broke from the pack, another would seize the spotlight.
Let's take a quick look back:
Act 1: Fear Ameer
Abdullah and Georgia's
Todd Gurley
were the nation's best backs in the first month of the season. The Nebraska senior opened with a 232-yard performance against Florida Atlantic, and finished September with consecutive 200-yard efforts against Miami and Illinois. Abdullah finished with just 54 rush yards against FCS McNeese State but delivered one of the season's most memorable plays -- a
58-yard run after catch
through McNeese State defenders with 20 seconds left that secured a Cornhuskers win.
Although Coleman also had a strong start and other Big Ten backs had their moments, Abdullah put himself in the Heisman talk with 833 rush yards and eight touchdowns by the end of September.
Act 2: Melvin makes his move
It was a bizarre start for Gordon: a huge first half (plus one play) against LSU, followed by a mysterious absence, followed by a 17-carry, 38-yard clunker against Western Illinois. Goodbye, Heisman? Hardly.
Beginning with a 253-yard performance against Bowling Green, Gordon posted 10 consecutive games of 100 or more rush yards, five 200-yard performances and seven games with multiple rushing touchdowns. By the end of October, he had returned to the national awards races.
[+] Enlarge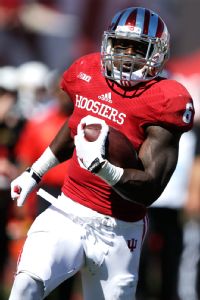 AP Photo/Darron CummingsTevin Coleman's monster performances were hard to miss, even if Indiana was otherwise struggling.
Act 3: Coleman gets his due
It's always hard to get noticed on a struggling team, but when a player consistently puts up numbers like Coleman, he commands attention. Coleman averaged at least 6.9 yards per carry in six of his first seven games, including 14.5 yards per rush in a 219-yard effort at Iowa. Although his 307-yard explosion at Rutgers was overshadowed by Gordon's record-setting day against Nebraska, he earned national respect by
running for 228 yards and three touchdowns at Ohio State
in a game that Indiana led in the third quarter.
Coleman averaged 197.3 rush yards in road games, barely trailing Gordon (198 ypg) for the national lead.
Act 4: What about the other guys?
Cobb and Langford lacked the flash of Gordon, Coleman or Abdullah, but their consistency, durability and production eventually became impossible to ignore. Cobb logged five performances of 145 rush yards or more and recorded 30 or more carries in four consecutive games. Langford started slowly but ended the season with 10 consecutive 100-yard rushing performances, a team record. He ended his career with 15 consecutive 100-yard performances in Big Ten games, the longest such streak for any FBS player in regular-season conference games since at least 1996.
Elliott also surfaced with 154 yards at Michigan State, the first of many big-stage performances he would deliver down the stretch.
Act 5: Gordon's Heisman move
Some felt Mariota had the Heisman locked up by early November. Gordon made them reconsider. After a ho-hum 205-yard effort at Purdue, Gordon gashed Nebraska for
an NCAA-record 408 rush yards
as snow fell at Camp Randall Stadium. His milestone, compiled in just three quarters, lasted just one week as Oklahoma's
Samaje Perine
broke the record
, but Gordon made the Heisman a two-man race again. He followed up with 200 yards at Iowa and a workmanlike 151 against Minnesota as Wisconsin won the Big Ten West Division.
Gordon fell shy of the Heisman but won the Doak Walker Award and secured a place as one of the great -- and perhaps the greatest -- Wisconsin back.
Act 6: Riding the E Train to a championship
The Year of the Big Ten Back was supposed to end with Gordon, but Elliott provided a surprise addendum. It started with 220 rush yards and two touchdowns on 20 carries in Ohio State's 59-0 stomping of Wisconsin in the Big Ten title game. Elliott then followed with 230 yards and two scores on 20 carries in the Playoff semifinal against Alabama at the Sugar Bowl, including a Crimson Tide-taming 85-yard touchdown late in the fourth quarter.
He ended with an even better performance -- 246 rush yards and four touchdowns -- as "ZEEEEEKE!" cheers reverberated throughout AT&T Stadium in Ohio State's national title win against Oregon.
The final carry for a Big Ten back this season: Elliott's 1-yard touchdown run with 28 seconds to play, providing a fitting exclamation point.
January, 23, 2015
Jan 23
9:00
AM ET
This is a crucial visit weekend for many of the teams within the Big Ten conference as we are only a few weeks away from signing day. A ton of big visitors will be on campuses across the Midwest, so here is a look at the most important visits this weekend.

Michigan


January, 22, 2015
Jan 22
4:57
PM ET
By
Brett Edgerton
| ESPN.com
Three players made it to New York for the 2014 Heisman Trophy ceremony: Wisconsin's
Melvin Gordon
, Alabama's
Amari Cooper
, and the winner, Oregon's
Marcus Mariota
.
All three had historic seasons. All three were unquestionably deserving.
All three lost to Ohio State.
And you better believe the Buckeyes aren't going to let anyone forget it either. Enter freshman linebacker
Darron Lee
and sophomore defensive back
Tyvis Powell
, a pair of Bucks who clearly love them some social media.
Remember when
Cardale Jones
caught all of that grief from his teammates
for the televised news conference announcing his return to Ohio State? Well, it was Lee and Powell who led the charge.
And Thursday afternoon, they were back at it again. The target this time? Their vanquished postseason opponents.
What do these 3 players have in common.....??? =J pic.twitter.com/lbOqfTWS92

— Tyvis Powell (@1Tyvis) January 22, 2015
@1Tyvis oo oo pick me!!! I know the answer =

— Darron Lee (@DLeeMG8) January 22, 2015
"@DLeeMG8: @1Tyvis oo oo pick me!!! I know the answer = "> D Lee tell us what u think??

— Tyvis Powell (@1Tyvis) January 22, 2015
@1Tyvis these are the alleged 3 BEST players in college fooseball who all were SHUT DOWN and eventually LOST to us...Go Bucks :

— Darron Lee (@DLeeMG8) January 22, 2015
@DLeeMG8 DING DING DING!!!! WHAT DO WE HAVE FOR HIM JOHNNY??!!!!! Lol

— Tyvis Powell (@1Tyvis) January 22, 2015
@1Tyvis A NATIONAL CHAMPIONSHIP = pic.twitter.com/Z1DcqNKjAk

— Darron Lee (@DLeeMG8) January 22, 2015
"@DLeeMG8: @1Tyvis A NATIONAL CHAMPIONSHIP = pic.twitter.com/xvP7QkpgG3"> AND...... *Drum roll.... A TRIP TO THE WHITE HOUSE!!!!

— Tyvis Powell (@1Tyvis) January 22, 2015
January, 22, 2015
Jan 22
2:00
PM ET
We've been running down the offseason to-do lists for every Big Ten team. Now we turn our attention to the team that might have the least amount of work to do: defending national champion Ohio State. Still, even the Buckeyes have a checklist.
1. Figure out the quarterback situation:
Urban Meyer won't get much sympathy from other coaches for his quarterback "problem." Right now, of course, the Buckeyes have three extremely high-caliber options in
Braxton Miller
,
J.T. Barrett
and
Cardale Jones
. With Miller (shoulder) and Barrett (ankle) still recovering from injuries, Jones will get the majority of the snaps this spring. Then the hard decisions might arrive this summer. Will Miller stay in Columbus, and will he stay at quarterback? How do you bench either Barrett, who was the Big Ten quarterback of the year, or Jones, who led the team to Sugar Bowl and national title wins? The Buckeyes need to make sure this doesn't become a divisive issue, though it's a quandary most teams would love to have.
2. Build depth on defensive line:
Ohio State only loses a handful of seniors and brings the core of its title team back. One place where a departure could hurt, however, is at defensive tackle.
Michael Bennett
was an All-American presence on the interior whose value really shined through in the games against Alabama and Oregon. The Buckeyes managed to get through the season without a lot of depth on the defensive line, and their starters were iron men in the postseason. Now that Bennett and
Steve Miller
-- who had the pick-six against Alabama -- are gone, the front four needs reinforcements. Youngsters like
Tyquan Lewis
, Jalyn Holmes,
Darius Slade
and
Donovan Munger
need to step up, while Ohio State has also recruited several defensive linemen in this year's class, including early enrollee and blue-chip defensive end
Jashon Cornell
.
3. Fight complacency:
The scariest thing for the rest of the Big Ten is that the 2015 Buckeyes could be even better than the 2014 team, considering that basically half of this year's roster consisted of first- and second-year players and that more decorated recruits are on the way. Ohio State is loaded everywhere, is injury proof at quarterback and even has a great schedule, with arguably its two toughest league games -- Michigan State and Minnesota -- at the Horseshoe. So the only worry might be a championship hangover, now that "The Chase" has reached its finish line. Still, Meyer is a master motivator, and he'll almost surely find new ways to keep his players hungry. If they can stay focused, it will take a monumental effort to beat them in 2015.
January, 22, 2015
Jan 22
11:00
AM ET
We've been counting down our postseason Top 25 player rankings for the Big Ten's 2014 season all week. There's still a ways to go until we get to No. 1, and I won't spoil who topped the list (it's not that hard to figure out).
These postseason rankings are fun because we base them on actual performance in the previous season, not projections or expectations. But let's do a little bit of those latter things here and look ahead to who might top the player rankings in 2015.
It should be an exciting race, full of star power. Let's start with what I'll call the Buckeye 5, a quintuplet of Ohio State stars all returning to Columbus:
Joey Bosa:
The league's reigning defensive player of the year is just a true junior, and after leading the Big Ten in sacks and tackles for loss and nearly winning some national awards, he could be ready for another leap forward. Which is truly a scary thought.
[+] Enlarge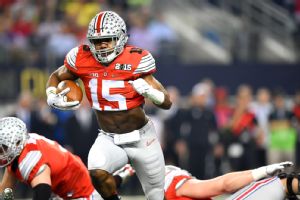 Scott Clarke/ESPN ImagesEzekiel Elliott could become the Big Ten's top star in 2015 after shining down the stretch this season.
Ezekiel Elliott:
The MVP of both the Allstate Sugar Bowl and the College Football Playoff National Championship Presented by AT&T, Elliott caught fire down the stretch and finished with more than 1,800 yards. With the Big Ten's plethora of star backs moving on, he could become the new face of the league. Unless it's one of his teammates in the backfield like ...
Braxton Miller, J.T. Barrett and Cardale Jones:
Miller finished No. 1 on our player rankings the previous two years, so he'd be an obvious choice ... if we were sure that he'd A) stay at Ohio State, B) resume full health in his throwing shoulder and C) reclaim his old starting job. Barrett was No. 5 in the Heisman Trophy voting this season after a record-breaking campaign, while Jones merely led the team to victory in all three postseason games. No one can say for sure at this point who the Buckeyes' main QB will be in the fall, but whoever it is figures to put up massive numbers for what could be a truly great team.
Ohio State is stuffed full of contenders, and our money is on one of them. But what if they all cancel each other out? Here are a few other candidates:
Michigan State QB Connor Cook:
He needs to eliminate some of his careless throws, but no one shakes off a mistake and bounces back with a great play like Cook. Getting him back for his senior season was huge for the Spartans, and he'll have an excellent supporting cast around him.
Penn State QB Christian Hackenberg:
OK, so much of his sophomore season was miserable. But he reminded everyone of his talent with a 371-yard, four-touchdown performance against Boston College in the Pinstripe Bowl. If the Nittany Lions can block for him, watch out.
Nebraska QB Tommy Armstrong:
Is Armstrong ready to carry the Huskers' offense without
Ameer Abdullah
? He threw for 381 yards and had four total touchdowns against USC in the Holiday Bowl, and new coach Mike Riley has a reputation as a strong developer of quarterbacks.
Illinois QB Wes Lunt:
A bit of a reach, perhaps, but Lunt missed five games because of a broken leg and battled hurt through others while still passing for 1,763 yards and 14 touchdowns. A healthy, second year of starting in Bill Cubit's system, with top-notch receiving target
Mikey Dudek
, could equal big numbers.
Wisconsin RB Corey Clement:
Melvin Gordon
is gone, but the Badgers aren't going to stop running the ball at a highly successful rate. Clement, who ran for 949 yards and nine touchdowns as Gordon's understudy, should see a huge spike in carries and is a leading candidate to top the Big Ten in rushing this year.
Michigan State DE Shilique Calhoun:
His reputation outpaced his 2014 production from a pure statistical stretch (eight sacks, 12.5 tackles for loss), but Calhoun still is one of the most feared pass-rushers around. The 2013 Big Ten defensive lineman of the year surprised many by returning for his senior year, and he could be in line for a monstrous final go-round in East Lansing.
January, 22, 2015
Jan 22
10:00
AM ET
To quote the band Europe, we're in the final countdown. Our list of the best Big Ten players from the 2014 season has reached the top 10. This next group reflects the league's strongest position (by far): running back.
Let's get to it.
No. 6: Ameer Abdullah, RB Nebraska
Abdullah won't soon be forgotten by Nebraska fans who have seen plenty of elite running backs over the decades. The heart and soul of Huskers football the past few years eclipsed 1,600 rushing yards for the second consecutive season, ranked fourth nationally in all-purpose yards (174.8 ypg) and had 22 total touchdowns, numbers that would have been even greater if not for a late-season knee sprain. Abdullah earned second-team AP All-America honors and was a finalist for the Doak Walker Award and a semifinalist for the Maxwell Award.
No. 7: Ezekiel Elliott, RB, Ohio State
For most of the season, it was the
Melvin Gordon
,
Tevin Coleman
and Ameer Abdullah show, with some cameos from
David Cobb
. No one mentioned Elliott, mostly because Buckeyes freshman quarterback
J.T. Barrett
kept stealing the show with his performances. But Elliott took center stage in Ohio State's championship run, earning offensive MVP honors in both the College Football Playoff semifinal and championship game. Cheers of "Zeeke!" echoed in Indianapolis, New Orleans and Arlington, Texas, as Elliott racked up 696 rush yards and eight touchdowns in the Big Ten championship and playoff games. He finished third nationally in rushing yards with 1,878.
No. 8: Anthony Zettel, DT, Penn State
The only non-running back in this portion of the player rankings earned his spot largely by making life miserable for opposing running backs. Zettel moved from end to tackle in the spring and emerged as an interior force, finishing second in the Big Ten in tackles for loss (17) and tied for fourth in sacks (8). He also tied for the team lead in interceptions (3). An exceptional athlete who supplements his football work with
mixed martial arts training
, Zettel is continuing Penn State's tradition of elite defensive tackles.
No. 9: David Cobb, RB, Minnesota
The 220-pound Texan put Minnesota's offense on his back for much of the season. Cobb set single-season team records for both carries (314) and rush yards (1,626), and logged seven 100-yard rushing performances. The second-team All-Big Ten selection had big performances against both Ohio State (145 yards) and Michigan (183 yards) and reached the end zone in each of his final six Big Ten games. Minnesota's offense lacked balance at times, but Cobb kept the chains moving.
No. 10: Jeremy Langford, RB, Michigan State
Langford might be the nation's most under-appreciated running back in the past
two
seasons. Constantly overshadowed by flashier players in the Big Ten and elsewhere, he has been remarkably consistent and productive, recording 10 100-yard rushing performances to give him a team-record 18 for his career. He also tied Michigan State's single-season rushing touchdowns record with 22. Like in 2013, Langford did much of his damage in Big Ten play, averaging 127.5 rush yards per game. In almost any other league, he's a first-team all-conference selection.
January, 22, 2015
Jan 22
9:00
AM ET
I took a few days off shortly after the national title game for a mini-vacation, so that helped delay my football withdrawal. But now reality is starting to settle in: we won't have any more college football games for a long, bleak eight months.
Yet when the 2015 season finally does kick off over Labor Day weekend, we will be immediately welcomed back with a slate of fascinating games. Last year, we had the delicious Wisconsin-LSU opener to look forward to, along with some minor curiosities like Rutgers-Washington State, Penn State-UCF in Ireland and Ohio State-Navy. This year's opening slate will be even better.
It will all begin with an absolute blockbuster of a Thursday night. TCU will play at Minnesota in what looks like the biggest nonconference game of the Jerry Kill era. Our Mark Schlabach ranked the Horned Frogs No. 1 in his way-too-early 2015 Top 25 (and, no, I have no idea why he didn't put Ohio State at No. 1, either). At the very least, TCU figures to be a Top 5 team when it comes to TCF Bank Stadium, offering the Gophers a chance to make a major early statement.
That same night, we get the debut of Jim Harbaugh as head coach of Michigan, which will play its first-ever Thursday night game at Utah. The Utes have beaten the Wolverines the past two times they played them, including last September, and opening at Rice-Eccles Stadium won't be easy. But everyone will want to see Harbaugh on the Maize and Blue sidelines for the first time.
Those games set the table for a strong Saturday which includes Wisconsin and new head coach Paul Chryst going up against Alabama at AT&T Stadium in Arlington, Texas. The Badgers will be heavy underdogs, but Ohio State showed it's possible for a Big Ten team to bully big, bad 'Bama. We'll also get Mike Riley's first game as Nebraska head coach in an intriguing matchup against BYU and Northwestern seeking a rebound season that will begin by hosting Stanford.
The icing on the cake arrives on Labor Day night, as the defending champion Buckeyes go on the road to Virginia Tech. The Hokies were the only team to beat Ohio State in 2014, and Lane Stadium should be total pandemonium for this one.
The Big Ten changed the narrative and greatly bolstered its reputation during bowl season. The league will get a chance to continue that momentum right away in the 2015 season, even if it feels a million miles away at this point. ...
Speaking of scheduling, Michigan State added BYU to its future schedules for 2016 and 2020 on Wednesday. The Cougars
replaced Eastern Michigan on the schedule
for the Spartans, which is a win for everybody. Athletic director Mark Hollis has been committed to scheduling at least one strong nonconference opponent per year, and Oregon comes to East Lansing in Week 2 of 2015 to complete a home-and-home.
Future Spartans' nonconference schedules in 2016 and beyond (the dawn of the nine-game Big Ten slate) will include Notre Dame (2016 and '17), Arizona State (2018, '19), Miami (2020, '21) and Boise State (2022, '23), along with BYU. That's smart, aggressive scheduling in the playoff era, and in the years when Michigan State plays both BYU and Notre Dame in addition to nine Big Ten contests, it will have to be ready for a season-long grind.
Elsewhere in the Big Ten:
January, 21, 2015
Jan 21
7:05
PM ET
By
Brett Edgerton
| ESPN.com
They've been best friends since their high school days in East Stroudsburg, Pennsylvania. Two 27-year-old buddies who love football -- one an
Ohio State
fan since idolizing Eddie George as a kid, the other an
Oregon
fan since embracing the program's fast-paced style as a teenager.
So naturally, they watched this year's College Football Playoff semifinals together on New Year's Day -- Harry Ravese rooting on his Buckeyes against
Alabama
and Anthony DeBellonia cheering for his Ducks against
Florida State
.
That was a winning day for both -- and also the day a fateful bet was made.
"He mentioned casually that if Oregon wins, he was going to get a championship Ducks tattoo," Ravese recalled to ESPN.com, "and it got me thinking and I gave him this look and he looked back and we were both thinking the same thing."
What they were thinking was that the loser of the Ohio State-Oregon national championship game would have to get a tattoo of the other team's logo.
"Everyone that we know thought we were both crazy for agreeing to it," Ravese said.
But agree to it they did -- an especially daring bet for the tattoo-less Ravese (DeBellonia already had four prior tats).
They couldn't watch the title game together, though. There was just too much at stake. They were too passionate about their respective teams. They "probably would've come to blows," DeBellonia said with a laugh, though sounding half serious.
You know what happened next. The Buckeyes pulled away in the second half and routed the Ducks 42-20 for their sixth consensus national championship in the poll era (since 1936).
So it was time for DeBellonia's fifth tattoo -- this one clearly the most painful. "I felt bad at first," Ravese said, adding that he didn't gloat over the phone in the immediate aftermath of the victory. "But that wore off."
And DeBellonia, a man of his word, delivered on his end of the bet this afternoon.
LADIES AND GENTLEMAN. HERE IS THE TATTOO. A man of his word @Debellonia88 pic.twitter.com/HWUah8BL5D

— H (@Hlee3D) January 21, 2015
This is the happiest day of my life.

— H (@Hlee3D) January 21, 2015
DeBellonia did not echo that sentiment.
=

— Sun Duck (@Debellonia88) January 21, 2015
When asked by ESPN.com if he had any regrets, DeBellonia responded, "Yeah, the Ducks lost. Wish I hadn't gotten the bad end of the stick, but, hey, a bet is a bet."
But in case you're wondering, the loser of this bet does still plan on getting that Oregon tattoo soon -- and that one will be on his arm, not hidden on his thigh.
"I want people to see that one," DeBellonia said. "No matter what happened today, I'm still a proud Oregon Ducks fan."
January, 21, 2015
Jan 21
4:24
PM ET
[+] Enlarge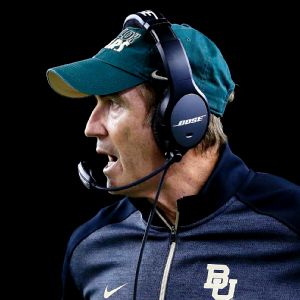 Jamie Squire/Getty ImagesBaylor coach Art Briles said Wednesday that his team fell just short of edging Ohio State for the final spot in the inaugural College Football Playoff.
According to Art Briles, national champion Ohio State was three votes away from not even making the inaugural College Football Playoff.
During an interview with a group of reporters Wednesday, the Baylor coach noted "a source" told him that the Bears fell short of the fourth and final playoff spot by "an 8-to-4 vote."
Instead, the Buckeyes got the final nod and went on to beat Alabama and Oregon to capture the national title.
"We were close this year," Briles said. "We were an 8-to-4 vote getting in from the No. 4 spot. Whether that's public or not, I don't know, but it is now. Unless I'm getting bad information, and I won't give you my source."
If Briles' source is in fact correct, it would defy the playoff committee's selection protocol.
January, 21, 2015
Jan 21
3:00
PM ET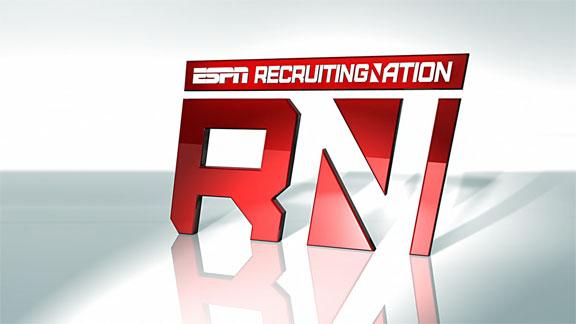 What he brings
: ESPN 300 No. 41 overall
Rasheem Green
is a physical, athletic defensive tackle prospect with the tools to be a well-rounded and disruptive player in the trenches at the college level. He possesses very good size, with a frame that can continue to be developed and support more good mass. An explosive player, he can use his size and strength to take on and at times overpower blockers. The four-star prospect also moves well for his size and can be effective on the move when utilized on slants and twists, and with his agility and motor he can be a factor along the line of scrimmage. Green suffered a knee injury late in his senior season that could hinder his initial impact in college, but in the big picture and with a healthy return, this is a versatile, tough and talented D-line prospect.
To continue reading this article you must be an Insider
January, 21, 2015
Jan 21
11:21
AM ET
A quarterback has won the Heisman Trophy each of the past five years and 13 of the past 14 seasons. However, judging by feedback from coaches during and after the 2014 season, 2015 could very well be the "Year of the Running Back."
Seven Power 5 freshmen running backs surpassed 1,000 yards in '14 -- Oklahoma's
Samaje Perine
(1,713 yards), Georgia's
Nick Chubb
(1,547), Arizona's
Nick Wilson
(1,375), Oregon's
Royce Freeman
(1,365), Northwestern's
Justin Jackson
(1,187), LSU's
Leonard Fournette
(1,034) and FSU's
Dalvin Cook
(1,008).
Any one of those players could certainly find another gear and make a run at the 2015 Heisman. But the belief among coaches I've spoken with the past few weeks is that the best running back -- and player -- in 2015 will be Ohio State rising junior
Ezekiel Elliott
(1,878 yards this season).
[+] Enlarge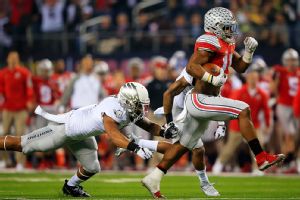 Jamie Squire/Getty ImagesOhio State running back Ezekiel Elliott racked up nearly 700 yards in three postseason games.
Coaches were raving about him at the American Football Coaches Association (AFCA) Convention, and that was before he bulldozed Oregon for 246 yards and four touchdowns in the College Football Playoff National Championship.
To continue reading this article you must be an Insider
Buckeyes Thank The Fans