September, 22, 2014
Sep 22
2:00
PM ET
[+] Enlarge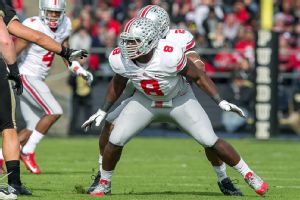 Zach Bolinger/Icon SMIOhio State coach Urban Meyer says suspended defensive end Noah Spence is getting treatment and working out on his own.
COLUMBUS, Ohio -- After briefly returning to the practice field last week, Ohio State defensive end Noah Spence is no longer participating in team activities while awaiting word on an appeal of a second failed drug test that currently has him suspended indefinitely.
While the All-Big Ten performer is facing the permanent loss of his eligibility due to conference rules, Spence isn't facing dismissal from coach Urban Meyer in the meantime.
"He's not going to practice now," Meyer said during his Monday news conference. "That was just last week. He's not practicing, getting full-time treatment and working out just for his well-being.
"What is a zero tolerance [policy] when an addiction has set in or whatever? The decision, when you harm yourself or harm your team, we wrestle with those all the time. I've been criticized for many, many years about how I treat these guys. I treat them like they're my kid, and I'm not a big fan of dismissal. I don't try to do that very often. It's got to be a severe one where you're hurting someone else."
Spence's situation does harm the Buckeyes on the field, leaving them without a pass-rusher who leads the team with eight sacks.
September, 20, 2014
Sep 20
5:58
PM ET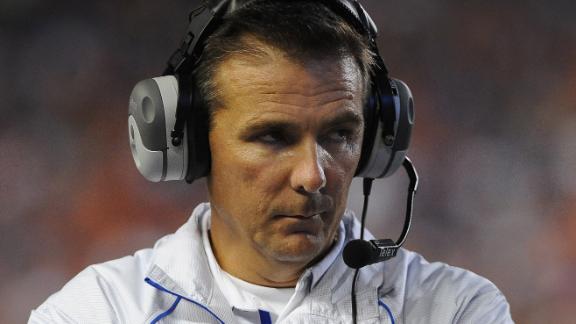 Ohio State coach Urban Meyer told HBO's "Real Sports with Bryant Gumbel" he was depressed while coaching at Florida in 2009, lost 37 pounds and was "mentally broke."
Meyer was suffering from chest pains and self-medicating for his stress.
"Now I'm taking two Ambiens," Meyer told the HBO show. "I would drink a beer on top of it, just to get some sleep. Not many people know that.
"And I go from 217 pounds to 180 pounds. I lose 37 pounds."
That all occurred when the Gators were undefeated in 2009 -- until losing to Alabama in the SEC title game.
After the loss to the Crimson Tide, Meyer was admitted into a hospital with chest pains.
"They said, 'We don't believe it was a heart attack.' " Meyer said. "So, OK, 'Well, what is it?' 'We don't know.'
"And then you start thinking, 'There's something wrong with me mentally, you know? What is going on here?' "
Meyer said he was depressed.
"I thought I was dying," Meyer said. "Mentally, I was broke."
Meyer said after Florida won the national title after the 2008 season he didn't -- and couldn't -- enjoy the victory. He began recruiting literally minutes after the 24-14 win over Oklahoma in the BCS title game in Miami ended.
"I was in a panic situation," Meyer said. "We just won it. We got to do it again. I close the door. And I started just recruiting. One of my friends came and said, 'What are you doing?' He said, 'Enjoy, what's wrong with you, man? Enjoy this.' I tried."
September, 18, 2014
Sep 18
6:54
PM ET
September, 17, 2014
Sep 17
8:52
PM ET
COLUMBUS, Ohio -- Ohio State Buckeyes coach Urban Meyer is standing behind indefinitely suspended defensive end Noah Spence, and that includes allowing him to remain with the team while the junior awaits word on his status moving forward.
Meyer confirmed Wednesday night that the All-Big Ten performer was still practicing with the Buckeyes, though nothing has changed in terms of his ineligibility for games after failing a second drug test last week just as he was due to return from a three-game suspension for his first positive test.
"Yeah, he actually practiced today," Meyer said. "He's doing things to get healthy, but he's also -- you know, we're supporting him."
Spence is entitled to an appeal, and at this point Ohio State has offered no timetable for when a resolution about his availability might be reached.
Coming off a season in which he led the Buckeyes with eight sacks, Spence is facing the possibility of permanent ineligibility for testing positive a second time for a banned substance, according to the Big Ten handbook.
A source told ESPN.com's Adam Rittenberg that it's a "long shot" Spence will be cleared to return to the Buckeyes, but until that becomes official, the program is still allowing him to take part in team activities.
"You know, the only comment I'll make on the whole situation is that it's a tough deal for Noah and his family and we're going to support him the best we can throughout the situation," co-defensive coordinator Chris Ash said Saturday. "If he gets an opportunity to play football again one day, great. But we're here to help him receive the help that he needs."
September, 17, 2014
Sep 17
10:00
AM ET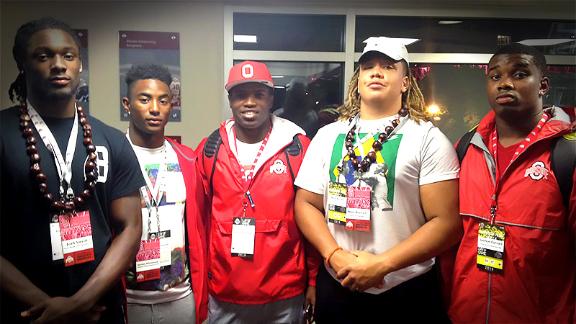 It's a vicious cycle. You have to win to get the right recruits, and you have to get the right recruits to win. That's the merry-go-round the Big Ten conference is currently on, and depending on who you ask, recruits have varying opinions on the conference.
Prospects from the North tend to believe the conference is still in the upper echelon, while a good amount of Southern recruits would say quite the opposite.
The Big Ten has an overall record of 24-14 with only two undefeated teams left, compared to the SEC with eight undefeated teams. The Big Ten also has the lowest winning percentage (63 percent) this season for any Power 5 conference, according to ESPN Stats & Information.
You could argue that there is a direct correlation to those wins and losses when comparing the number of big-name commitments as well. The SEC currently has 87 ESPN 300 prospects committed where the Big Ten has 27.
An ESPN 300 prospect from the South who wished to remain anonymous believes part of the Big Ten's problems on the field and recruiting have to do with geography and coaching.
"The recruiting areas from the North and Midwest aren't really a hotbed for recruiting. Plus, other than Ohio State or maybe Michigan, there's not really any big cities or things you can sell recruits on outside of the university," he said. "Like what does a kid from Florida do at some of those places? Plus, getting a well-known coach like Urban Meyer is a big reason why kids down here like Ohio State.
"They know he can turn things around there and they'll win. They need to get bigger-name coaches where kids can say, 'Yeah, I know him and I know he'll get me ready for the NFL.'"
That isn't the sentiment for every prospect, but plenty of other Southern ESPN 300 recruits agreed with this thinking.
The Northern prospects interviewed did believe the conference is top-heavy with a few teams in the national championship conversation every year, but they had different thoughts on the outlook as a whole.
September, 16, 2014
Sep 16
11:15
AM ET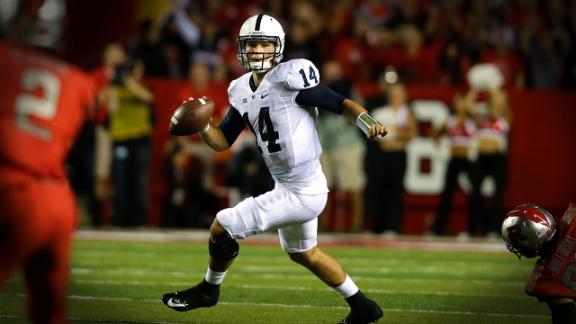 Penn State picked up some good news from the NCAA, which resulted in more positive news on the recruiting trail this weekend. Ohio State solidified its spot in a top target's list, and a few new offers were extended this week.
Here is a look at the latest happenings on the recruiting trail within the Big Ten.
To continue reading this article you must be an Insider
Meyer Depressed At Florida