December, 9, 2013
Dec 9
8:00
AM ET
December, 8, 2013
Dec 8
11:29
PM ET
By
ESPN Stats & Information
| ESPN.com
The final BCS standings were released Sunday along with matchups for all of the remaining bowl games. Here are some tidbits to prepare you for the five BCS games.
Rose Bowl Game presented by Vizio
4
Michigan State Spartans
vs 5
Stanford Cardinal
January 1, 2014, at 5 ET on ESPN
Michigan State
: First Rose Bowl appearance since the 1987 season and its first appearance in a BCS bowl. The Spartans have reached a bowl game in all seven seasons under head coach Mark Dantonio after making no bowl appearances from 2004-06.
Stanford
: Second consecutive appearance in the Rose Bowl (def. Wisconsin 20-14 last season). The Cardinal are making back-to-back Rose Bowl appearances for the first time since 1970-71. Stanford has reached a BCS bowl in four straight seasons after making just one from 1998-2009.
Tostitos Fiesta Bowl
15
UCF Knights
vs 6
Baylor Bears
January 1, 2014, at 8:30 ET on ESPN
UCF
: First BCS bowl berth in school history. Won 11 games this season, tied for the most in school history (also won 11 in 2010).
Baylor
: Like their opponents in the Fiesta Bowl, the Bears receive their first BCS bowl berth in school history. Baylor looks to extend a school-record 11 wins this season to 12 in this game.
Allstate Sugar Bowl
11
Oklahoma Sooners
vs 3
Alabama Crimson Tide
January 2, 2014, at 8:30 ET on ESPN
Oklahoma
: Ninth BCS bowl appearance, second-most all-time. The Sooners are 3-5 in BCS bowl games, snapping a five-game losing streak with a win in the 2011 Fiesta Bowl vs Connecticut.
Alabama
: Third straight BCS bowl appearance and fifth in the last seven seasons under Nick Saban. The Crimson Tide will make their first Sugar Bowl appearance since the 2008 season (lost to Utah in that game).
Discover Orange Bowl
12
Clemson Tigers
vs 7
Ohio State Buckeyes
January 3, 2014, at 8:30 ET on ESPN
Clemson
: First BCS bowl appearance since 2011, when the Tigers played in the Orange Bowl. Those two games mark the only BCS bowls in school history. Speaking of history for the Tigers, they will make a school-record ninth straight appearance in a bowl game.
Ohio State
: Tenth BCS bowl appearance, most all-time. The Buckeyes will make their first Orange Bowl appearance since the 1976 season against Colorado. Their last BCS appearance came in a 2011 Sugar Bowl win over Arkansas.
Vizio BCS National Championship Game
1
Florida State Seminoles
vs 2
Auburn Tigers
January 6, 2014, at 8:30 ET on ESPN
Florida State
: After beating Northern Illinois in last year's Orange Bowl, the Seminoles return to a BCS bowl game. It marks their first back-to-back BCS bowl appearances since 2002-03. This will be their first BCS Championship Game appearance since 2000 and fourth overall.
Auburn
: Second BCS Championship Game appearance, first since winning the national title over Oregon in the 2010 season. This marks the third BCS bowl appearance for the Tigers, who are unbeaten in such games thus far.
December, 8, 2013
Dec 8
11:05
PM ET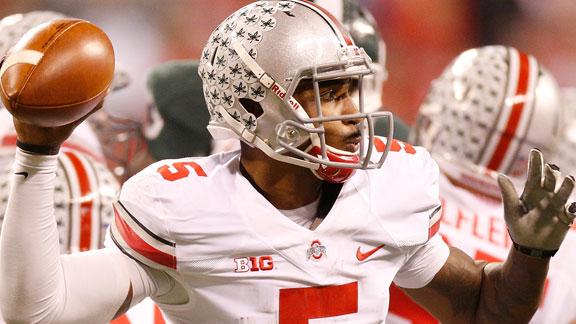 Jan. 3, TBD, Miami (ESPN)
CLEMSON TIGERS BREAKDOWN
Despite its third straight season with at least 10 wins, Clemson ended the regular season by extending its sour streak with a fifth straight losses to rival South Carolina and once again looking up at Florida State in the Atlantic Division standings.
[+] Enlarge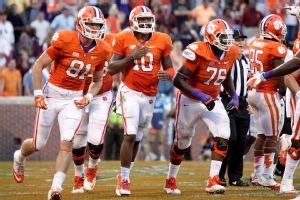 Tyler Smith/Getty ImagesTajh Boyd and the Tigers committed six turnovers in their regular season finale at South Carolina. Can Clemson redeem itself in its bowl game?
The Tigers were picked by the media in July to win the ACC, but they fell flat in their two most important games of the season -- against the Seminoles and against South Carolina. They also happened to be the two worst performances of the season for quarterback
Tajh Boyd
, who has since fallen out of the Heisman conversation.
It wasn't just that the Tigers lost those games; it was the fact that they lost them in embarrassing fashion. Florida State rolled Clemson in Death Valley on Oct. 19, quieting the crowd with a 51-14 romp. In a 31-17 loss to the Gamecocks, Clemson turned it over six times, each gaff seemingly more unbelievable than the last. Clemson's only two losses, though, were to top-10 opponents. Clemson committed 10 turnovers versus FSU and South Carolina and was outscored 45-0 in points off turnovers in those games.
Still, the Tigers will bring one of the country's most productive offenses, led by Boyd and receiver
Sammy Watkins
, who has 224 career receptions and will need nine catches in the bowl game to break Aaron Kelly's school career record of 232. The defense, led by
Vic Beasley
, has also shown significant improvement in the second season under coordinator Brent Venables.
-- Heather Dinich

vs.

OHIO STATE BUCKEYES BREAKDOWN
The flawless, fairytale run wasn't going to last forever, but Ohio State surely wasn't planning on trying to start a new winning streak in its bowl game.
[+] Enlarge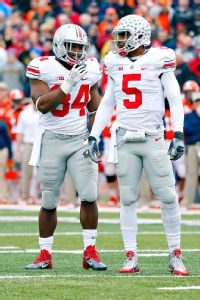 AP Photo/Jeff HaynesCarlos Hyde and Braxton Miller will be a tough duo to handle in the Buckeyes' bowl game.
Undefeated under Urban Meyer until Saturday night's loss in the Big Ten title game against Michigan State, "The Chase" the Buckeyes have been on for a national championship came up one game short. Their defense struggled to get off the field against the Spartans, and their powerful rushing attack was unable to get the yards that counted most.
But the combined star power of Meyer, quarterback
Braxton Miller
, running back
Carlos Hyde
and linebacker
Ryan Shazier
still made Ohio State plenty attractive for a BCS bowl, and it will have a marquee opportunity to post an impressive victory and cap what has still been a record-setting season for the program.
Few teams have been as explosive as the Buckeyes offensively, with both Miller and Hyde rushing for more than 1,000 yards and causing defenses fits with the zone-option attack. And while the passing game has regressed during the final month of the season, Miller has still come a long way as a passer, which has helped receivers
Philly Brown
and
Devin Smith
and tight end
Jeff Heuerman
find the end zone a combined 21 times.
The defense hasn't been quite as consistent, particularly since the loss of stabilizing senior safety
Christian Bryant
in late September to a fractured ankle, but more often than not, it has made the plays needed to rack up wins. Typically, it has been Shazier doing the most damage, as the junior has routinely stuffed the stats sheet while leading the Big Ten in three different individual categories.
Neither side of the ball did quite enough to push the Buckeyes into the bowl they really had their eye on. But there was a nice consolation prize waiting for them, and a big opportunity to start over with, as well.
-- Austin Ward
December, 8, 2013
Dec 8
10:42
PM ET
Associated Press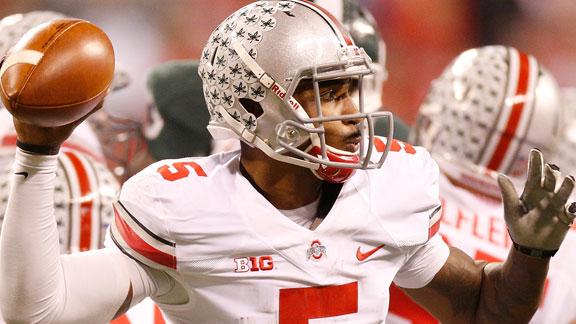 MIAMI LAKES, Fla. -- The Bowl Championship Series came calling once again for Ohio State, albeit not the game the Buckeyes wanted.
A day after seeing their national-title hopes and 24-game winning streak end with a loss in the Big Ten championship game, the seventh-ranked Buckeyes were selected Sunday to play against No. 12 Clemson in the Discover Orange Bowl on Jan. 3.
It's the 10th BCS berth for the Buckeyes, more than any other school, though one of those appearances was later vacated.
"This team, a lot of these players have been through a lot of stuff," Ohio State coach Urban Meyer said. "Last year they went 12-0 and were unable to go play in a bowl game. Now, their first chance to go play in a bowl game, they're in a BCS game against a great team. ... This group of kids wants to go win a bowl game and win their 13th game. That's what we're going to work awful hard to get done."
Since the start of 2012, both the Buckeyes (12-1) and Tigers (10-2) rank in the top 10 nationally in terms of points per game and winning percentage. Combined, they're 45-5 since the start of last season, and although both had bigger aspirations, they still figure to give the Orange Bowl the type of marquee matchup that bowl games covet.
"I definitely want to congratulate Ohio State, another great year," Clemson coach Dabo Swinney said. "They were a couple plays away from playing for the national championship and I've got all the respect in the world for coach Meyer. Looking forward to spending some time with him down in Miami."
Still, going to the Orange Bowl may seem like a bit of a consolation prize for both schools.
December, 8, 2013
Dec 8
9:06
PM ET
Red Smith, the poet laureate of sweat, once wrote that 90 feet between bases is the nearest to perfection that man has yet achieved. The basepath has nothing on the length of college football's regular season, which, with the patience of a kindergarten teacher and the tenacity of Scotland Yard, identified Florida State and Auburn as the two best teams to play for the BCS National Championship.
Tenacity is the lifeblood of a sport that demands physical and mental exertion for 60 minutes. Patience, not so much. Patience in college football is attributed to tailbacks who wait for a hole to appear. But in a sport in which a quarterback may have three seconds to complete a pass without getting his slobber knocked, patience often goes untapped.
Yet patience has never been more important than it has been in 2013, and not just because it was nearly midnight on the final Saturday of the regular season before Michigan State proved that Ohio State didn't have the credentials to play for the crystal football. In a season made predictable only by its unpredictability, patience became the coin of the realm.
Patience rewarded no fans more than at Auburn. It didn't take any patience to appreciate the rapid rise of the Tigers from 3-9 in 2012 to 12-1 this year. But the way that the Tigers waited until the very end to upend Georgia on a Hail Mary tipped pass and defeat archrival No. 1 Alabama on a 109-yard field goal return for a touchdown, focused upon the power of faith no matter what reality promised.
Patience proved critical at Florida State, not because head coach Jimbo Fisher decided to start a redshirt freshman at quarterback. Jameis Winston played with poise and the acumen of an upperclassman as the Seminoles cruised to a 13-0 record (12 wins by at least 27 points). But Florida State fans had to hold their collective garnet-and-gold breath for several weeks before local authorities decided not to charge Winston in a sexual assault case.
Patience paid off at Missouri, which had endured a 5-7, injury-filled debut in the SEC in 2012. Coach Gary Pinkel revamped his training and practice methods, and took advantage of the depth that resulted from playing so many players in 2012. The Tigers won the SEC East and finished 11-2 this season.
To continue reading,
click here
.
December, 8, 2013
Dec 8
8:45
PM ET
The Big Ten bowl lineup is all set. Here it is:
Rose Bowl Game Presented by VIZIO, Jan. 1:
Michigan State vs. Stanford
Discover Orange Bowl, Jan. 3:
Ohio State vs. Clemson
Capital One Bowl, Jan. 1:
Wisconsin vs. South Carolina
Outback Bowl, Jan. 1:
Iowa vs. LSU
Buffalo Wild Wings Bowl, Dec. 28:
Michigan vs. Kansas State
TaxSlayer.com Gator Bowl, Jan. 1:
Nebraska vs. Georgia
Texas Bowl, Dec. 27:
Minnesota vs. Syracuse
Here's a
complete schedule
for all the bowls, along with kickoff times and TV information.
Rapid reaction:
The Big Ten lineup is never easy and will be challenging again this time around. Wisconsin and Iowa in particular will have to play at their best against talented SEC teams.
Nebraska fans can't be too pleased about a rematch with Georgia, the Huskers' opponent in the 2013 Capital One Bowl. Both teams are playing without their quarterbacks and the game represents a chance for Bo Pelini to quiet his critics momentarily. We likely won't see such rematches next year, as the Big Ten takes more control in the bowl pairings. Nebraska goes bowling in Florida for the third consecutive season.
The league matches up well in its two BCS games, although Stanford and Clemson are both outstanding when they bring their 'A' games. Ohio State faces Clemson for the first time since the infamous Woody Hayes punch in the 1978 Gator Bowl.
Minnesota will be favored to beat Syracuse and finish with nine wins as it returns to Houston, and Michigan also could end its season on a positive note if it builds on its performance in The Game against Ohio State.
We'll have much more to come on these bowls.
December, 8, 2013
Dec 8
5:08
PM ET
ESPN.com news services
After weeks of conjecture and debate about strength of schedule, the matchup for the VIZIO BCS National Championship turned out to be an obvious one.
No. 1 Florida State and No. 2 Auburn top the final BCS standings and will play for the national title Jan. 6 in Pasadena, Calif.
The regular season had set up the possibility for a controversial BCS title game with one-loss Auburn on the outside looking in at unbeaten but less-tested Florida State and Ohio State, but Michigan State took the Buckeyes out of the conversation by winning the Big Ten championship game on Saturday.
Meanwhile, Auburn moved up to the second spot in the standings by outscoring Missouri 59-42 in the SEC championship game.
Now the title game is set: Florida State, the nation's only undefeated team, will face 12-1 Auburn, champion of the conference that has won the past seven national championships.
"We all complain about the BCS, but isn't it funny how often they get it right," Florida State coach Jimbo Fisher said.
The Buckeyes fell to No. 7 in the BCS standings but will still have the opportunity to play in a record 10th BCS bowl. Ohio State will face No. 12 Clemson in the Discover Orange Bowl.
December, 8, 2013
Dec 8
3:47
PM ET
Last week, Michigan State coach Mark Dantonio rhetorically asked "Why not us?" about the Spartans' chances of playing for the BCS title should they beat Ohio State. Dantonio clearly was serious.

The final regular season USA Today coaches' poll is out, and with it comes
the public revelation of how the coaches voted
for the first time all season. It's always an intriguing and often comical exercise to review the ballots of a system fraught with inherent conflicts of interest.
Dantonio voted Michigan State No. 2 behind Florida State on his ballot following the Spartans'
34-24 win
over Ohio State in the Big Ten championship game. And while I don't quite agree, his case does have some merit. Michigan State went 12-1, had one loss on the road to Notre Dame by four points and just beat the team that was ranked No. 2.
West Virginia coach Dana Holgorsen apparently agrees. He also voted Michigan State No. 2, the only other coach to do so. Most coaches ranked the Spartans somewhere between No. 3 and No. 5, while Baylor's Art Briles had them No. 8, the lowest ranking for MSU among the coaches in the poll. Briles also ranked Ohio State No. 10.
Here's a quick look at where every Big Ten coach with a vote ranked his league counterparts:
Tim Beckman, Illinois
5. Michigan State
7. Ohio State
19. Wisconsin
Dantonio
2. Michigan State
4. Ohio State
19. Wisconsin
24. Iowa
25. Minnesota
Brady Hoke, Michigan
4. Michigan State
6. Ohio State
18. Wisconsin
21. Iowa
Jerry Kill, Minnesota
3. Michigan State
5. Ohio State
14. Wisconsin
21. Iowa
25. Minnesota
Urban Meyer, Ohio State
4. Michigan State
5. Ohio State
19. Wisconsin
24. Iowa
Bo Pelini, Nebraska
4. Michigan State
5. Ohio State
18. Wisconsin
21. Iowa
25. Nebraska
Big Ten coaches were clearly higher on their own league than most voters and in many cases, had a much stronger opinion of their own teams. That Pelini's ballot has his own Huskers No. 25 tells you most of what you need to know about the silliness of the system. It would have been fascinating to see how the coaches would have voted if Ohio State had won Saturday and forced a debate with the SEC.
Some other notable votes:
Arkansas coach Bret Bielema had Ohio State ranked the lowest of any voters, at No. 12. Is he a strength of schedule proponent? Apparently not, since he had Louisville, which beat no one with a detectable pulse, at No. 6 (nine spots ahead of UCF, who beat the Cardinals on the road and won the American Athletic Conference with a better schedule. So, um, yeah). Bielema had Michigan State No. 4, his former team Wisconsin No. 21 and his alma mater Iowa No. 25.
Alabama's Nick Saban voted his own Crimson Tide No. 3 and his former team, Michigan State, No. 4. Steve Spurrier had the Spartans No. 3, a spot ahead of Alabama. Notre Dame's Brian Kelly, whose team was the only one to beat the Spartans, had Michigan State at No. 4.
Enjoy the goofiness and controversy of the coaches' ballots, and be thankful that this incredibly dumb system for picking a national championship game will be gone shortly.
December, 8, 2013
Dec 8
2:12
PM ET
Associated Press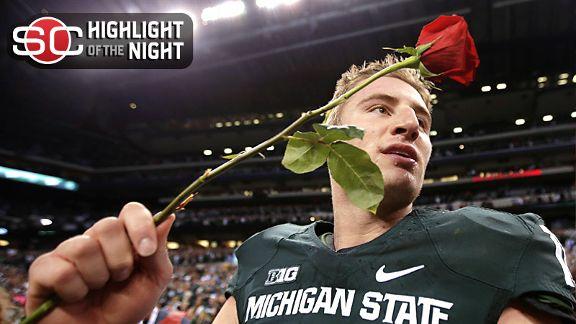 EAST LANSING, Mich. -- Thousands of Michigan State students and fans celebrated the football team's Big Ten title win Saturday night with large, rowdy bonfires.
East Lansing police arrested "multiple people" Saturday night near River and Cedar streets, Capt. Jeff Murphy said in a statement. No injuries were reported in what he called "a large civil disturbance."
The No. 10 Spartans defeated No. 2 Ohio State 34-24 late Saturday, earning its first Rose Bowl appearance in a quarter-century.
Michigan State University president Lou Anna Simon issued a statement Sunday expressing pride at the victory and anger at the disorder, vowing punishment for any students involved.
Murphy declined to release arrest figures Sunday, saying his department would have more details Monday morning. East Lansing police got help from Michigan State University police, state police and the Ingham County sheriff's department, Murphy said.
River and Cedar streets are the traditional spot for Spartans' sports celebrations.
Celebrants threw landscaping trees, a bicycle and fire extinguishers into a bonfire near the Cedar Village apartments and overturned a car outside other apartment, The Detroit News reported.
Erika Gonzalez, 26, of Lansing, said eight people approached a red car near Milford Arms apartments and quickly flipped it on its top.
Officers surrounded another large fire about 2:30 a.m. Sunday and marched slowly down River Street to disperse the crowd.
"The behavior last night on campus and in East Lansing by both students and non-students was disappointing," said Simon. "Unfortunately, the behavior of a small number casts doubt on many.
December, 8, 2013
Dec 8
12:49
PM ET
ESPN.com news services
Florida State finished the regular season as No. 1 in The Associated Press college football poll, and Auburn has reached No. 2.
The Seminoles and Tigers likely wrapped up spots in the BCS championship game by winning their conference title games Saturday night. The BCS bowl matchups will be revealed Sunday night (8:30 p.m. ET, ESPN).
Florida State received 56 first-place votes from the media panel. Auburn received the remaining four first-place votes.
Alabama is No. 3 in the last rankings until after the bowls. Michigan State jumped six spots to No. 4 after beating Ohio State for the Big Ten title.
No. 5 Stanford is the Pac-12 champion for the second straight season.
No. 6 Baylor won the Big 12 and Ohio State slipped to No. 7 after its first loss since the 2011 season.
The AP poll is not used in the formula that determines the BCS standings. The BCS is calculated by combining the averages of three factors: the USA Today coaches' poll, the Harris poll, and an average of six computer ratings. Each factor counts for one-third in the BCS calculations.
The coaches' poll had the same top four as the AP poll, while Baylor was No. 5, Ohio State sixth and Stanford seventh.
Florida State was an unanimous No. 1 selection in the coaches' poll.
Information from The Associated Press was used in this report.
December, 8, 2013
Dec 8
12:31
PM ET
December, 8, 2013
Dec 8
12:00
PM ET
It's all over except for the official bowl selections.

Those will come out Sunday night. But before we know for sure where Big Ten teams are going bowling, we've got one last set of projections.

Michigan State's Big Ten championship game win over Ohio State obviously sends the Spartans to the Rose Bowl. And it all but guarantees two BCS bids for the Big Ten, as someone will snatch up the Buckeyes. We think that the Discover Orange Bowl makes the most sense.

The next two bowls are pretty easy to figure out. Wisconsin will go to the Capital One Bowl, where they should face a strong SEC opponent. Iowa, coming off a nice finish to the year, will enjoy the no-rules, just-right feeling at the Outback Bowl.

The biggest debate involves the Buffalo Wild Wings Bowl selection. From what we're hearing, that game favors Michigan over Nebraska. That could change, but we're going with it for now. That leaves Nebraska to the TaxSlayer.com Gator Bowl. How many Huskers fans would travel to Jacksonville if that's the case?

Minnesota has an argument for a better bowl than Michigan or Nebraska, but the Gophers still lack the brand name or traveling reputation. So it's back to Texas for a second straight year for Jerry Kill's guys.

We'll find out later Sunday night if we were right.

Rose Bowl Game Presented by VIZIO, Jan. 1: Michigan State
Discover Orange Bowl, Jan. 3: Ohio State
Capital One Bowl, Jan. 1: Wisconsin
Outback Bowl, Jan. 1: Iowa
Buffalo Wild Wings Bowl, Dec. 28: Michigan
TaxSlayer.com Gator Bowl, Jan. 1: Nebraska
Texas Bowl, Dec. 27: Minnesota
Heart of Dallas Bowl, Jan. 1: Not filled
Little Caesars Pizza Bowl, Dec. 26: Not filled
December, 8, 2013
Dec 8
11:40
AM ET
Michigan's 2015 defensive back commit
Shaun Crawford
(Lakewood, Ohio/St. Edward) recently said he might visit rival Ohio State.
Michigan coach Brady Hoke has a no visit policy for his commitments so if a visit were to take place, it would cause some controversy.
Crawford was the second defensive back commit for Michigan to say he was going to visit other schools. 2014 commit
Jabrill Peppers
(Paramus, N.J./Paramus Catholic) also said there is a possibility he will take official visits after his season is over.
No visits have been scheduled yet for either prospect so there is still a chance for them to sway their thinking.
To continue reading this article you must be an Insider
Clemson, Ohio St. Looking For Redemption