August, 21, 2014
Aug 21
12:30
PM ET
COLUMBUS, Ohio -- The pressure is real, and Kenny Guiton didn't even try to sugarcoat it.
Playing quarterback at
Ohio State
already comes with high enough expectations. But when a backup has an up-close view of a record-setting, award-winning starter, that pressure to perform has the potential to become an even bigger burden.
The key, at least according to the guy who turned his gig as
Braxton Miller
's understudy into the role of a lifetime, is to channel all that energy into preparation. It's fine to appreciate Miller's speed, his elusiveness outside of the pocket and the deep touchdown bombs he throws when on the sideline. But if and when a time comes where the roles are reversed, Miller's play can't be on the mind of anybody hoping to pick up where the Buckeyes left off.
[+] Enlarge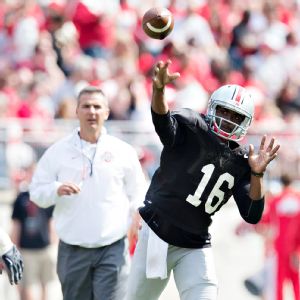 Greg Bartram/USA TODAY SportsJ.T. Barrett will be expected to rise above the pressure and lead the Ohio State offense.
It never was for Guiton during his appearances in relief of Miller, and now it's up to
J.T. Barrett
to fill the shoes of both of those guys as the Buckeyes prepare for Navy on Aug. 30.
"It definitely is more pressure," Guiton, who spent the season playing for the LA Kiss in the Arena Football League, said by phone on Wednesday. "You're backing up a guy who is a Heisman hopeful, a guy that has all the awards and everything, and that's something that you love, you cherish that.
"I felt blessed because I got to go in for a guy that the world looks at as a Heisman guy, a world-class quarterback. There will be pressure, but if you go into the game not thinking about anything else, focused on his offense, his team, his coaching staff, you'll be just fine."
There's nobody more qualified to pass on that advice than Guiton, who made himself a legend at Ohio State by seamlessly taking over the offense when Miller was injured over the last two seasons. Whether it was just to finish off a drive or two or taking over for nearly three weeks last season and setting a few records of his own, Guiton was an invaluable security blanket for the Buckeyes and a model example for the backup position thanks to his study habits, ability to maximize mental reps without many live snaps and his leadership as a team captain.
In that quarterback meeting room and at times under the wing of Guiton last season was Barrett, a freshman quarterback going through a redshirt year and looking to soak up every bit of information he could. His devotion to learning the playbook has drawn comparisons directly to Guiton for Barrett, and if the latter still needs a few tips heading into his first start, the former remains as ready as ever to help out whenever called upon.
"I just always told the backups, we've got to be ready," Guiton said. "We've got to stay ready because you never know when your number is going to be called, and when it is, you want to be ready.
"I actually got a chance to see him yesterday and he looked pretty excited and ready to go, like there's no pressure on his back. There's going to be pressure on him, but if he comes in to those games having prepared well, not really worried about anything else outside of his offense or his team, he'll do just fine."
In some ways, Barrett will actually be thrown into the fire more prepared than Guiton.
According to Ohio State coach Urban Meyer, Barrett's training camp has included around 300 "competitive throws," attempts that come against a full-strength defense and not the scout team. When Guiton first came off the bench to replace Miller in a game two years ago, Meyer pegged his number of competitive throws at six.
It's a tribute to Guiton that he was able to finish off drives in a hard-fought battle with Michigan State and lead a dramatic fourth-quarter comeback against Purdue to keep the Buckeyes on track for a perfect season in 2012 with so few live snaps in practice. And at the same time, it also suggests that Barrett might truly be in better position to thrive than Ohio State's most famous backup.
"I feel like J.T. is in a great situation," Guiton said. "He's a young guy who has a year of college football and now he's actually getting reps. It's not just mental reps, he's getting real reps. He's actually in there, actually seeing himself on film, and he's in there running it with the ones. I think he's actually in a better position.
"With the reps J.T. is getting in practice, he will be ready. He's getting reps, and as a redshirt freshman, I wish I got those kind of reps and the shot he's getting."
With or without the practice time, Guiton always made the most of his chances behind Miller. Now it's Barrett's turn to try to do the same.
August, 21, 2014
Aug 21
9:00
AM ET
There is no official preseason all-conference team in the Big Ten (or official predicted order of finish, etc.). But we here at ESPN.com have got you covered with our preseason all-league picks on offense, defense and special teams.
And here they are:
Offense
QB: Connor Cook, Michigan State
:
Braxton Miller
's injury opened up this spot on the first team. Penn State's
Christian Hackenberg
and Indiana's
Nate Sudfeld
were potential choices here too, but Cook's Big Ten title game and Rose Bowl MVP finish earn him the nod.
RB: Melvin Gordon, Wisconsin
: Well, sure. He could lead the nation in rushing, unless ...
RB: Ameer Abdullah, Nebraska
: ... Abdullah, his good friend, beats him to it. In a league blessed with great running backs, these two stand out the most.
WR: Stefon Diggs, Maryland
: There is a lot of uncertainty in the Big Ten at receiver heading into 2014. This much is certain: If Diggs can stay healthy, he'll be one of the nation's best.
WR: Shane Wynn, Indiana
: Wynn scored more touchdowns than any other Big Ten receiver the past season, and now he steps into a more featured role.
TE: Devin Funchess, Michigan
: Funchess might play wide receiver almost exclusively, in which case this should be viewed as a third wide receiver spot on the team. The matchup nightmare looks poised for a big season.
OT: Brandon Scherff, Iowa
: He might just be the best left tackle in college football in 2014. He's definitely got NFL scouts drooling.
OT: Rob Havenstein, Wisconsin
: An enormous road grader at right tackle. Trying to shed him and catch Melvin Gordon is just not fair.
OG: Kaleb Johnson, Rutgers
: He thought about leaving for the NFL after the past season but instead gave the Scarlet Knights a boost by returning. He has started 37 straight games.
OG: Kyle Costigan, Wisconsin
: He could be the next rising star in Wisconsin's offensive lineman factory.
C: Jack Allen, Michigan State
: A second-team All-Big Ten pick the past season, the former high school wrestling champion has no let up in his game.
Defense
DE: Shilique Calhoun, Michigan State:
He's the returning Big Ten defensive lineman of the year and could become the conference's defensive player of the year in 2014, unless ...
DE: Randy Gregory, Nebraska:
... Gregory edges him out for the honor. The pass-rush specialist outpaced Calhoun in sacks (10.5) the past season, and Bo Pelini said Gregory has "
only scratched the surface
of what he's going to be down the line."
DT: Michael Bennett, Ohio State:
He anchors the best defensive line in the conference and was named to the All-Big Ten's second team last season.
DT: Carl Davis, Iowa:
He still thinks Scherff would get the best of him if they squared off, but Athlon thought highly enough of Davis to make him a fourth-team preseason All-American.
LB: Chi Chi Ariguzo, Northwestern:
The quiet Ariguzo likes to let his play do the talking, and it chatted up a storm this past season -- to the tune of 106 tackles and four interceptions.
LB: Mike Hull, Penn State:
He was a coin-flip from transferring to Pittsburgh during the sanctions, but now he's the leader of this revamped defense.
LB: Jake Ryan, Michigan:
Ryan shocked onlookers last season by taking less than seven months to go from ACL surgery to playing in a Big Ten game. Hopes are higher now for the healthy redshirt senior, as he has registered a stop in the backfield in 25 of his past 30 games.
CB: Trae Waynes, Michigan State:
He's taking over at
Darqueze Dennard
's boundary cornerback position, but he's up for the challenge. He's already on the watch lists for the Bednarik and Thorpe awards.
CB: Blake Countess, Michigan:
He tied for the Big Ten lead in interceptions (6) the past season -- despite
battling lower abdominal pain
most of the year.
S: Kurtis Drummond, Michigan State:
The blue-collar DB started 21 straight games and was a Sports Illustrated All-American the past season.
S: Ibraheim Campbell, Northwestern:
A smart and instinctive player, Campbell has been remarkably consistent for the Wildcats. He's a three-time all-academic B1G player and has eight career interceptions.
Special teams
K: Michael Geiger, Michigan State
: As a freshman in 2013, he made 15 of his 16 field-goal attempts.
P: Mike Sadler, Michigan State
: An ESPN.com All-American in 2013, Sadler combines with Geiger to give the Spartans the best 1-2 kicking tandem in the league.
KR: Kenny Bell, Nebraska
: He led the Big Ten in return yardage the past season (averaging 26.5 yards per kick) and took one 99 yards for a touchdown at Penn State.
PR: Kevonte Martin-Manley, Iowa
: He averaged 15.7 yards per return in 2013 and scored on two punt returns in the same game.
Selections by school:
Michigan State: 7
Iowa: 3
Michigan: 3
Nebraska: 3
Wisconsin: 3
Northwestern: 2
Indiana: 1
Maryland: 1
Ohio State: 1
Penn State: 1
Rutgers: 1
Illinois: 0
Minnesota: 0
Purdue: 0
August, 21, 2014
Aug 21
8:00
AM ET
Could Ohio State have handled Braxton Miller's injury differently? It's a fair question for Buckeyes fans to ask after Tuesday's announcement that the quarterback will miss the season after re-injuring his throwing shoulder.
I'm not a doctor and know Ohio State didn't take Miller's situation lightly, but the whole thing seemed odd. He initially hurt the shoulder in the Orange Bowl but didn't have surgery until late February, as Ohio State hoped the injury would heal on its own. Ohio State called the surgery "minor" and said Miller would be limited in spring practice. He sat out the whole session.
He started throwing in early July and was making good progress. But when camp began, he threw on a limited basis and sat out scrimmages to rest the shoulder. Monday morning, offensive coordinator Tom Herman acknowledged Miller "had a little bit of a setback with some additional soreness that we weren't expecting." Miller, not surprisingly, declared himself 100 percent. But later that day, on a seemingly benign rollout pass, he reinjured the joint. Season over.
Some, like colleague Austin Ward, are
calling it a fluke
. But it's not as if there wasn't concern before he was re-injured. Miller already had been experiencing considerable soreness.
From
Cleveland.com's Doug Lesmerises
:
The Buckeyes will move forward. On the outside, there may be some dwelling though, especially since Miller was calling himself "100 percent" hours before Monday afternoon's practice even though he hadn't been allowed to really let it go on consecutive days in practice.

"Oh, I second-guess everything," Meyer said about what could have been done differently since February.
Here's more:
"When I say second-guess, I just ask the questions, because I'm not a doctor," Meyer said. "And I don't know. But I've been around long enough, things happen and it's unfortunate.

"I have great trust in our medical stuff, but sure, will you second-guess? I wouldn't say second-guess, just make sure in the evaluation we're doing the best we can."

So the Buckeyes tried to limit Miller in the last few weeks. And then it went wrong.
Maybe Miller should have been completely shut down. Maybe the re-injury was just bad luck. Either way, it will be interesting to see how Ohio State handles Miller this time around.
Taking a spin around the league ...
West Division
East Division
.
And, finally ...
August, 20, 2014
Aug 20
11:00
PM ET
The Early Offer is RecruitingNation's regular feature, giving you a daily dose of recruiting news across the country. Today's offerings: Five-star
George Campbell
has committed and decommitted from Michigan and listed Florida and LSU as teams he's really high on. But as he gets closer to his decision, don't be surprised if another team emerges. Plus, ESPN Grade could be a positive recruiting tool for Alabama, UCLA, Ohio State and Stanford, and we continue our tour of the top recruiting happenings on social media.
August, 20, 2014
Aug 20
5:00
PM ET
No surprise, but one topic has dominated the conversation in the Big Ten -- and predictably generated the most questions in the mailbag. But
Braxton Miller
's shoulder injury isn't the only thing worth discussion in the league, particularly with training camps winding down and everybody making the final push ahead of the season openers.
@AWardESPN I have seen some say Miller will be back in 15. Is it crazy 2 think OSU would bench the future for another year w/Braxton next yr

— Craig Flack (@CraigFlack1987) August 20, 2014
Austin Ward: There's no doubt Ohio State could be facing one of the more interesting quarterback situations in recent memory if Miller completely heals and sticks with his pronounced intentions of returning after a redshirt season. First things first, J.T. Barrett (or Cardale Jones) will have plenty to do to prove they are capable of replacing the void left by a two-time Big Ten Offensive Player of the Year. But I don't think the Buckeyes will look at it as putting off the future for another year as much as embracing the window to win a championship and making the most of it that year. A fully healthy Miller is among the most valuable players in college football, and if he elects to return, he would be playing behind a veteran offensive line, handing off to a deep, experienced group of tailbacks and throwing to a crop of receivers that have been among coach Urban Meyer's top priorities in recruiting -- with what could be a nasty defense on the other side of the ball for Ohio State. Titles are hard to win, and it's difficult at this point to envision any scenario where the Buckeyes wouldn't want Miller to chase it.
@AWardESPN 1 opinion may b that Brax loss may b beneficial.More abt him.Barret will use more play makers & not try 2 b the show.Thoughts?

— Matt Pacholski (@Mpachol) August 20, 2014
Austin Ward: There is an element of truth to that, but Ohio State was already trying to shift Miller away from carrying the entire load for the offense and becoming more of a distributor heading into his senior season. Now the Buckeyes just figure to be installing a guy for whom that sort of role comes more naturally. Miller was supposed to be more dangerous this season because of all those weapons around him, and while his ability to elude pressure and scramble for extra yards is invaluable, Barrett may not need to do that as often if he gets the ball out as quickly as the coaching staff has indicated he can. He'll also have the benefit of all that added talent at the skill positions, which could put him in great position to hit the ground running leading the attack for the Buckeyes.
@AWardESPN could a two Qb system really work at Wisconsin or would it be best for them to settle with one and stick with their choice?

— Lucas Capistrant (@LCapistrant1) August 20, 2014
Austin Ward: Hey, why not three? Typically, I still lean toward the school of thought that rolling with one quarterback is the way to go, but there are always exceptions. As Florida proved under Urban Meyer with Chris Leak and Tim Tebow, if the two guys provide different sets of skills and don't let ego get in the way, that approach can work. I don't doubt at all that a former Meyer assistant would be aware of the potential benefits and have an idea how to manage the rotation, and Joel Stave and Tanner McEvoy each do bring something unique to the table for the Badgers. If the two of them are truly as neck-and-neck as it has often sounded, I don't think it's a stretch to see a rotation working at Wisconsin -- particularly since either guy will have Melvin Gordon and Corey Clement around to make their lives easier.
@AWardESPN Will MSU continue to be a defense first team with the emergence of Cook?

— Aaron Bobroff (@asbobroff) August 20, 2014
Austin Ward: As long as Mark Dantonio and Pat Narduzzi are around, it's safe to assume the Spartans will continue to make the defense their top emphasis. They proved a year ago that the scheme, attitude and work ethic of the Michigan State program is more valuable than the individual talent, and there's no reason to think that won't continue even as they replace some valuable veteran contributors. However, it won't hurt them at all to have a more dangerous offense to complement that unit, and it's reasonable to expect big strides will be made now that Connor Cook has nearly a full season of experience and an entire offseason as the No. 1 guy at quarterback under his belt. If already proven running back Jeremy Langford and Michigan State's group of receivers can make similar strides as Cook did even just within last season, the Spartans might start being known as a team that can hurt opponents offensively -- while still wreaking havoc with their defense.
August, 20, 2014
Aug 20
4:30
PM ET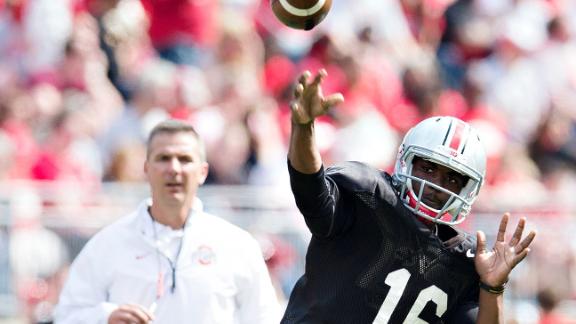 COLUMBUS, Ohio -- Ohio State coach Urban Meyer isn't ruling out that it might take two quarterbacks to fill one spot.
But as the Buckeyes start digging into the game plan for their opener now that
Braxton Miller
officially will miss the coming season, they are planning on redshirt freshman
J.T. Barrett
stepping into the considerable shoes of the two-time defending Big Ten Offensive Player of the Year at the start.
"J.T. has had about 300 competitive throws -- not snaps, throws -- this fall," Meyer said after practice Wednesday. "Where when [former backup] Kenny Guiton went into the game a couple years ago, I think he had six. He's had a bunch, and he's a meticulous guy, and
Cardale [Jones]
has come a long way, as well.
"Quarterback is an important cog, but that's exactly what is -- a cog. It's not the team."
To continue reading,
click here
.
To listen to Meyer on Mike & Mike,
click here
August, 20, 2014
Aug 20
2:11
PM ET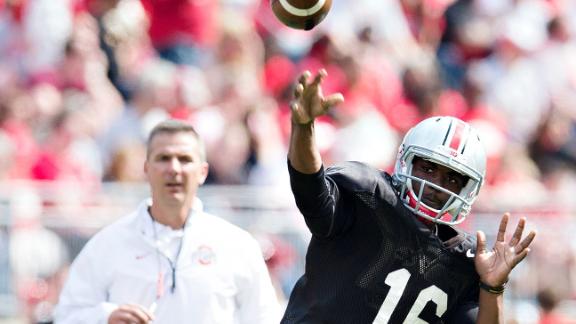 COLUMBUS, Ohio -- Ohio State coach Urban Meyer isn't ruling out that it may eventually take two quarterbacks to fill one spot.
But as the Buckeyes start digging into the game plan for their opener now that Braxton Miller officially will miss the coming season, they are planning on redshirt freshman J.T. Barrett stepping into the considerable shoes of the two-time defending Big Ten Offensive Player of the Year at the start.
"J.T. has had about 300 competitive throws -- not snaps, throws -- this fall," Meyer said after practice Wednesday. "Where when [former backup] Kenny Guiton went into the game a couple years ago, I think he had six. He's had a bunch, and he's a meticulous guy, and Cardale [Jones] has come a long way, as well.
"Quarterback is an important cog, but that's exactly what is -- a cog. It's not the team."
Miller was undoubtedly the centerpiece of a team that was projected as a playoff contender, and replacing his prolific production is no small task. Barrett, though, has been widely praised for his accuracy, his attention to detail off the field and enough athleticism to continue to give the Buckeyes a rushing threat at quarterback even without Miller in the fold.
August, 20, 2014
Aug 20
11:25
AM ET
August, 20, 2014
Aug 20
11:18
AM ET
College Football Minute
BIG TEN SCOREBOARD
Thursday, 8/28
Friday, 8/29
Saturday, 8/30