July, 30, 2014
Jul 30
4:55
PM ET
For all those people fretting that a playoff in college football would somehow water down the regular season, I offer up the blockbuster weekend of Sept. 3. 2016.
Yes, it's still a couple of years away and we're supposed to be focusing on what's right in front of us. But, geez, that Saturday to open the 2016 season could very well provide the most attractive lineup of nonconference games on one day that we've ever seen.
For that, at least in large part, we all have the College Football Playoff to thank.
Some of the matchups were already set or in the process of being set. But the real impetus in beefing up all these nonconference schedules was that a playoff was coming.
And, now, with a selection committee holding the keys to those coveted four playoff spots, we're going to be in store for some terrific nonconference showdowns in the regular season for years to come. Simply, teams that don't play and win those types of games are going to be on the outside looking in, which makes the regular season as important as ever.
My only knock on that weekend to kick off the 2016 season is that there are too many good games. I want to watch them all.
We've all been clamoring for an
Alabama
-
USC
matchup. Well, we're finally going to get it in Arlington, Texas to open that season.
And if you like your football Southern style,
Clemson
at
Auburn
has a nice ring to it. Lewis Grizzard, the late Southern humorist, once said that Clemson was Auburn with a lake. In a lot of ways, they're virtual clones of each other right down to their break-neck style of offense. Even more enticing, this is a home-and-home series with Auburn traveling to Clemson the next year.
There won't be a more unique game that weekend than
LSU
facing
Wisconsin
in historic Lambeau Field. Perhaps we'll get to see Les Miles perform the "Lambeau Leap" if the Tigers win.
Have the remote control ready because we also get
UCLA
at Texas A&M,
Notre Dame
at
Texas
and BYU Cougars at
Arizona
(in Glendale, Ariz.).
That's just the first weekend, too.
A week later,
Tennessee
and
Virginia Tech
will "trade paint" at Bristol Motor Speedway. And two weeks later,
Ohio State
travels to Oklahoma and
Oregon
visits Nebraska.
So much for opening the college football season with a tune-up … or two.
July, 30, 2014
Jul 30
4:00
PM ET
There's more good news for Ohio State and more bad news for Purdue, as Bovada released its
newest odds for the Big Ten title race
.
Unsurprisingly, the Buckeyes are the favorite as an $11 bet will net you just $10 profit. But for a confident Boilermakers fan? Well, a $1 bet will get you $300 if they come away with the championship. Purdue's really not getting much respect here, as newcomers Rutgers (200/1) and Maryland (100/1) both boast the better odds to win the conference.
Penn State is sitting out these odds on account of its postseason ban, but there are definitely some interesting numbers here. And, hey, we want to keep those numbers interesting – so we also decided to match up each team's bookmaker odds for some off-the-wall odds that are relatively similar.
Obviously, sports odds are a little different from regular odds, but we wanted to have some fun comparing and contrasting with this. So, without further ado, here are Bovada's odds complemented with comparable real-life numbers:
Purdue 300/1
– The odds of dating a millionaire (
1 in 225
)
Rutgers 200/1
– The odds of being audited by the IRS (
1 in 175
)
Illinois 200/1
- Sportsbook odds that Uruguay's Luis Suarez would bite someone at the World Cup (
175/1 - and it paid out!
)
Indiana 100/1
– Odds of being on a plane with a drunken pilot (
117 to 1
)
Maryland 100/1
– Odds of being a twin in North America (
1 in 90
)
Minnesota 66/1
– Odds you're in jail if you're an American (
1 in 50
)
Northwestern 40/1
– Odds of rolling "snake eyes" in a game of craps (
1 in 36
)
Iowa 14/1
–Odds that you're colorblind if you're a man (
1 in 12
)
Michigan 9/1
– Odds that you have a tattoo (
1 in 7
)
Nebraska 11/2
– Odds that you're obese if you live in Colorado (
1 in 5
)
Wisconsin 9/2
– Sportsbook odds that Denver Broncos RB
Knowshon Moreno
would cry at Super Bowl 48 (
8/2
)
Michigan State 15/4
– Odds you work at a job where you never get a paid day off (
4 in 16
)
Ohio State 10/11
– Odds you flip a quarter and it lands on heads (1 in 2)
July, 30, 2014
Jul 30
3:00
PM ET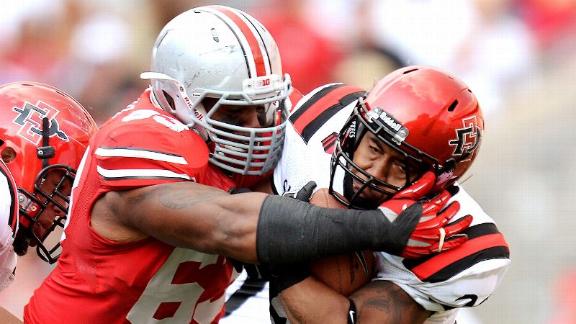 ESPN.com has taken on the herculean task of ranking the top 100 players in college football entering the 2014 season. These are based on expected contributions for the 2014 season, regardless of position.
The list is being released in 20-player increments, and today we reach players ranked Nos. 60-41. Five Big Ten players can be found in this group, and here they are:
No. 44:
Michael Bennett
, DT, Ohio State
No. 46:
Christian Hackenberg
, QB, Penn State
No. 48:
Stefon Diggs
, WR, Maryland
No. 51:
Noah Spence
, DE, Ohio State
No. 56:
Jeremy Langford
, RB, Michigan State
Obviously, there are some very good and quite possibly underrated names in this batch.
All Langford did was run for more than 1,400 yards and a Big Ten-best 18 touchdowns last season. There aren't many more productive running backs in the country than him, although the league is stacked at tailback going into 2014.
Spence is an interesting case. He finished second in the Big Ten with eight sacks a season ago as a first-year starter and is a big time pass-rusher. But he also will miss the first two games of the season because of a suspension. That might hurt his numbers a bit, but he can still make his presence known.
Diggs may make this ranking look silly if he can stay healthy all season. He was in line for a monster year as a sophomore before an injury cut his 2013 short. He could contend for the Biletnikoff Award if he remains on the field for 13 games.
The final two players in this group are also supreme talents. Hackenberg was magnificent as a true freshman and has an unlimited ceiling. He will be adjusting to a new coaching staff and life without
Allen Robinson
, though, so this could be a transition year. Bennett, meanwhile, has already been projected by some as a first-round NFL draft pick next year. He's quicker and more athletic than many defensive tackles and is a leader on Ohio State's defense.
Diggs, Hackenberg and Bennett all have cases to be ranked much higher than this. If there are 40 players better than those three in the country, we're in for a treat this college football season.
July, 30, 2014
Jul 30
2:40
PM ET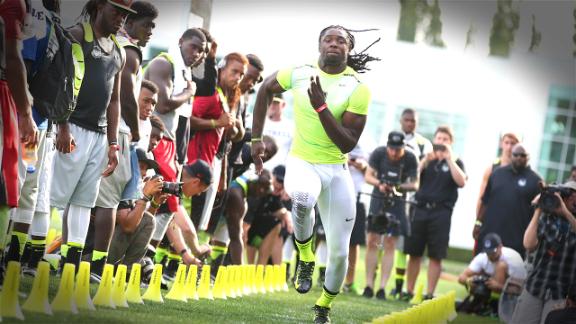 Josh Sweat
, the nation's No. 1 prospect, has lined up all five of his official visits. Sweat said he turned down more than 50 scholarship offers to focus on Florida State, Georgia, Ohio State, Oregon and Virginia Tech. He also said Texas A&M and Auburn are also still under consideration.
July, 30, 2014
Jul 30
12:45
PM ET
By
ESPN.com staff
| ESPN.com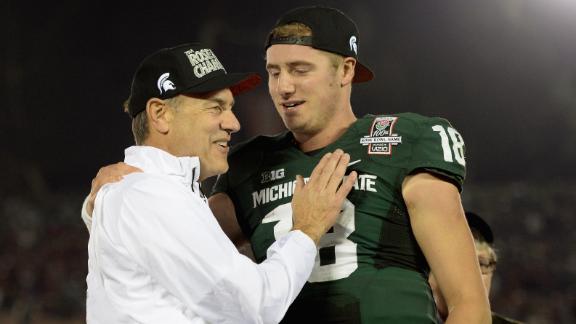 Michigan State Spartans
coach Mark Dantonio talks about the rivalry with Michigan, the play of quarterback
Connor Cook
last season and making up for the loss of talent and leadership on defense.
After winning the Big Ten Championship and the Rose Bowl, you would think the Spartans would get a little respect. However, Ohio State is the overwhelming favorite to win the Big Ten. ESPN's Adam Rittenberg spoke to some Spartans about the lack of respect.
July, 30, 2014
Jul 30
12:00
PM ET
July, 30, 2014
Jul 30
9:30
AM ET
The Big Ten programs have done a nice job filling out their 2015 classes so far. There aren't any teams that have closed out all their available slots though, which means there are still some big targets on the board.
As commitments and decommitments happen, this list could change, but here is a look at a few remaining must-get targets for the conference.
To continue reading this article you must be an Insider
July, 30, 2014
Jul 30
9:00
AM ET
This week, we're counting down the Top 25 players in the Big Ten. Our reporting crew voted to select the list based on past performance and future potential.
The countdown started on
Monday
with the first five players and we climbed up to No. 16 on
Tuesday
, setting the table for our next group of impact performers today.
No. 15: Venric Mark, RB, Northwestern Wildcats:
Mark is healthy and ready to go again for the Wildcats, and if there was a guarantee that he could return to the elite level he was at in 2012, the veteran rusher would surely be higher on the list. Instead he'll have to prove himself all over again this fall, though Mark will do so behind what should be an improved offensive line that could allow him to flash the explosiveness the Wildcats missed dearly last season.
No. 14: Tevin Coleman, RB, Indiana Hoosiers:
In a league loaded with talented tailbacks, Indiana's dangerous, elusive rusher often goes overlooked. But Coleman is one of the most lethal weapons in the league when he's on the field, and despite playing in just nine games last season, he nearly topped 1,000 yards thanks to his eye-popping 7.3 yards per touch. If he can duplicate that again, the Hoosiers will keep racking up points and more attention will surely come his way.
No. 13: Carl Davis, DT, Iowa Hawkeyes:
There may be some uncertainty behind him with Iowa breaking in three new starters at linebacker, but those fresh faces should benefit greatly thanks to the consistent work Davis can provide up front. The 6-foot-5, 315-pound, space-eating lineman doesn't accrue many individual statistics and was credited with just 41 tackles last year, but the job he does occupying blockers is invaluable for the rest of the Hawkeyes around him.
No. 12: Noah Spence, DE, Ohio State Buckeyes:
Even without getting a chance to play the first two games as he wraps up a suspension, Spence still figures to challenge for the league lead in sacks by the time the season ends. The junior's incredible first step off the edge and a stacked group of Buckeyes on the defensive line will allow him to avoid double-teams, and that figures to be bad news for opposing quarterbacks as Spence tries to build on an eight-sack campaign last year.
No. 11: Stefon Diggs, WR, Maryland Terrapins:
The Terps were stung repeatedly by critical injuries last season, but nothing might have hurt as much as seeing Diggs on the ground after breaking his leg against Wake Forest. Without his top-notch speed and ability to break free for big gains at any moment, Maryland's offense wasn't the same minus Diggs on the perimeter. He, too, will have to prove he's back to 100 percent. But Diggs has already suggested he's coming back even faster, which could make life miserable for a few defensive backs in the Big Ten.
Stay tuned as we move into the top 10 on Thursday ...
July, 29, 2014
Jul 29
5:00
PM ET
By
Adam Rittenberg, Josh Moyer, Mitch Sherman
and
Austin Ward
| ESPN.com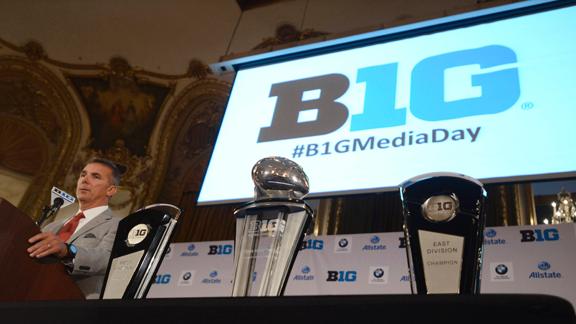 CHICAGO -- Big Ten media days are in the books and the countdown to the 2014 season can officially begin. It was a mostly uneventful session at the Hilton Chicago, despite the presence of stars such as
Braxton Miller
,
Melvin Gordon
,
Ameer Abdullah
and
Shilique Calhoun
.
Our Big Ten reporting crew weighs in on some of the topics from the past two days.
What was the biggest surprise at Big Ten media days?
Austin Ward:
The lack of major headlines coming from the league was a bit of a shock considering some of the star power in Chicago, the storylines around college football right now and the amount of trash talk between leagues that has popped up this month. Not even Ohio State coach Urban Meyer or Penn State coach James Franklin were able to stir the pot much nationally, and typically they are always good for a viral sound bite or hot topic in late July. There's nothing wrong with avoiding controversy, but the Big Ten didn't do much to draw attention to itself over two days.
Mitch Sherman:
Other than the bright-red pants worn by Maryland quarterback
C.J. Brown
on Tuesday to go with his dark jacket and tie, I was surprised most by the lack of bravado we saw out of Michigan State. I know the Spartans are a blue-collar bunch and that this spot atop the Big Ten is new to them. But after a 13-1 season and set to play arguably the most significant nonconference game nationally on Sept. 6 at Oregon, I thought Michigan State would come to Chicago with a little more swagger. If coach Mark Dantonio hadn't worn
his giant championship ring
, I'm not sure I would have remembered that MSU beat Ohio State in December, then Stanford in the Rose Bowl. This is not to suggest it's a bad thing; simply that the Spartans -- even flamboyant defensive end Shilique Calhoun -- are not resting on their accomplishments of 2013.
Josh Moyer:
OK, let's say you pulled aside the top three offensive players in the Big Ten -- Braxton Miller, Melvin Gordon and Ameer Abdullah -- and asked them, in separate interviews, about the most exciting offensive player in the conference. Who do you think they would say? Well, their answer was my biggest surprise this week; they all said the same guy -- Indiana wideout
Shane Wynn
. Maybe they just wanted to put the spotlight on an underrated player, but it was still a shock to hear Wynn's name so often. Heck, I told Wynn about that -- and even he was surprised. It's fun to watch a short guy like Wynn, who is 5-foot-7, run circles around defenders. So while I thought Wynn would be in for a good season, I can't say I would've mentioned him in the same breath as those three.
[+] Enlarge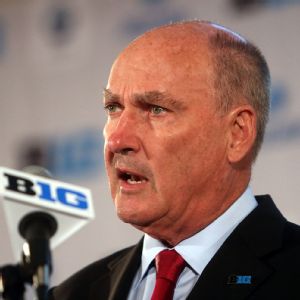 Jerry Lai/USA TODAY SportsCommissioner Jim Delany was "content to lay low" during his address at the 2014 Big Ten media days.
Adam Rittenberg:
In keeping with the understated theme, I was surprised Big Ten commissioner Jim Delany didn't make a bigger splash with his annual media days address Monday. Mike Slive quoted Churchill and Mandela,
Bob Bowlsby talked doomsday
and
Larry Scott spread warm fuzzies
at Pac-12 media days. But
Delany didn't rock the boat at all
. A year after outlining a four-point proposal to reform college football, he seems content to lay low and let the process play out. Delany always seems to be a step ahead, and he has never been one to hold back on his opinions. But I wonder if he felt a need to keep relatively quiet after the Ed O'Bannon-NCAA trial and with the vote on NCAA autonomy coming up next week.
Who had the most memorable interview?
Moyer:
I have to go with Purdue tailback
Raheem Mostert
. He's
the fastest player in the Big Ten
, and he might just be the most charismatic. You couldn't blame Purdue if it came out a little quiet at this media day after the season the Boilermakers had, but Mostert didn't shy away from making some bold statements. He said his offense was capable of scoring 30-some points a game and, while I still think there's zero chance of that happening, it takes some guts to make that statement. Plus, he was hilarious in talking about how far along
Danny Etling
's come. He couldn't say enough good things about Etling now, but said last season he looked like a guy who just lost his dog every time he threw a pick. So my "Most Optimistic" and "Most Well-Spoken" awards go to Mostert.
Sherman:
Northwestern coach Pat Fitzgerald was on fire Tuesday during the group session. Fitzgerald, always an eloquent speaker, had plenty to get off his chest in the wake of an offseason like no other in Evanston, Illinois. He waxed on about problems with the current model of college athletics, in particular criticizing some of the outdated rules that govern recruiting. "I don't want to be basketball," Fitzgerald said in the midst of his monologue. "We're going there." He harped on the disingenuous ways that some college coaches try to attract prospects. All of this after his players voted recently on whether to unionize. The issues of unionization and inequity within the sport are inseparable. Still, Fitzgerald managed keep his own players and former players largely out of the discussion. And the coach made a lot of sense.
Rittenberg:
Well, my favorite moment was Michigan State's
Connor Cook
, midway through an answer Tuesday about how Dantonio had loosened up over time, stared blankly and said, "Sorry, my brain, I just blacked out right there." Must have been a fun Monday night in Chicago. ... I really enjoy Franklin's energy, especially in a league of mostly decaffeinated coaches. Franklin on Tuesday excitedly recalled the night the Penn State staff
watched assistant Herb Hand appear on "Chopped"
while riding a bus between their guest-coaching camp stops in the South. "It was awesome, we were driving and Herb comes walking out [on the show] and the whole bus explodes: 'Herbie! Herbie!'" Franklin said, clapping his hands. "The other guys come out and the whole bus is booing them, 'Boo! Boo!' So Herbie wins the first round and the bus goes crazy, 'That's our boy!' He loses the next round and that bus turned on him in an instant. Everybody's bashing him. His flavors were good but the presentation was awful." Again, something different and refreshing.
Ward:
Calhoun had little interest in a standard question-and-answer interview, instead turning his podium session on Monday into an interactive experience that livened up the event while the Michigan State star was in the spotlight. He spent his 30 minutes joking, laughing and telling reporters how much he enjoyed watching them talk over each other to ask questions and then yelling across the room at Cook to clarify comments the quarterback had supposedly made about him earlier. In one brief session, Calhoun made the kind of memorable impact on the media he's been known to make on opposing quarterbacks.
What's one new thing you learned?
Rittenberg:
Big Ten teams aren't shying away from the playoff talk. Players, coaches and the commissioner all acknowledged that if you don't make the playoff, you're basically irrelevant in college football. And that's the right position for this league to take. The perception is that Big Ten players and coaches only care about the Rose Bowl and don't aim higher. Perhaps some of that is true, but most of the folks I encountered this week seemed to embrace the significance of the new system. I loved what Ohio State defensive lineman
Michael Bennett
said: Anything short of a national title would be disappointing. That's how the Big Ten needs to think.
Moyer:
Nebraska's
Kenny Bell
has
a killer Afro
? Michigan State's
Kurtis Drummond
has
great fashion sense
? Penn State's
Sam Ficken
will never escape questions about the 2012 Virginia game? There were certainly a lot of tidbits. But I was impressed with how even-keeled Maryland coach Randy Edsall was. At one point, during podium interviews, an irate cameraman kept yelling at reporters to move out of his shot. It went on for a few minutes, but Edsall never paused or broke from his calm demeanor. Other coaches might have yelled for some quiet; Edsall just pretended like nothing was wrong. It was an interesting juxtaposition.
Ward:
The Spartans have some really nice bling. Both Cook and Dantonio flashed their championship rings on Monday, and the huge, sparkling accessories were hard to miss. At one point Cook took his off to allow the media a closer look at the prize he helped earn with breakout passing outings against Ohio State in the conference title game and Stanford in the Rose Bowl, but he might have really just needed a break from lugging around the heavy jewelry on his hand.
Sherman:
Even in the age of the College Football Playoff, with more potential for sweeping change in the sport, old habits die hard in the Big Ten. From Michigan coach Brady Hoke's lamenting about the elimination of tradition at the Rose Bowl when Pasadena serves as a semifinal site to Iowa's Kirk Ferentz preaching the values of old-school football, the more things change nationally, the more they stay the same in the Big Ten. This is comforting and disturbing all at once. I heard Nebraska's Bell speak of unity among the league and Ohio State's Miller project confidence that the Buckeyes can make another run at a perfect season. But the league needs a larger dose of more progressive thinking.
July, 29, 2014
Jul 29
2:00
PM ET
CHICAGO -- With some of the Big Ten's best all gathered in one place for media days, it seemed only natural to poll the players about the best and brightest athletes in the conference.
So on Tuesday morning, five offensive players and five defensive players offered their takes regarding those top athletes. We ran the
offensive player results earlier on Tuesday
, and up now are the results from the defense.
The full question: Besides you or players on your team, who's the best -- or most exciting -- defensive player in the Big Ten?
[+] Enlarge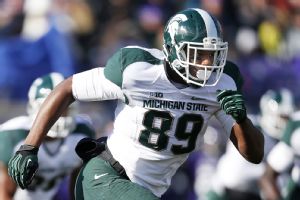 AP Photo/Andrew A. NellesShilique Calhoun is one of the most disruptive forces in the Big Ten.
DT Carl Davis, Iowa:
"Probably
[Shilique] Calhoun
from Michigan State. He's a great competitor, and he got the defensive lineman of the year award. I talked to [Iowa OT
Brandon] Scherff
, and he said that's the best defensive end he went against last year -- and Scherff's a big guy; he can drive guys like 20 yards downfield. And Calhoun is a powerful player; he uses speed and power to his advantage. He's a great player."
S Kurtis Drummond, Michigan State:
"I like watching
Randy Gregory
and the way he can tackle people. We got a lot of good players in this conference, so that's kind of tough to say. But I like his motor, I like the way he gets after people, and I like his excitement. I like guys that are out there having fun, and you can tell he has fun the way he plays."
DT Michael Bennett, Ohio State:
"A lot of them left last year. Hmm ... I'd have to say
Shilique Calhoun
because he's the only other name I really know. He makes plays. Other than that, I watched his film and I wasn't really sure what the hype was -- but then, somehow, in our game he comes out with two forced fumbles and three sacks or something like that. So the guy is a playmaker and he gets the job done."
LB Mike Hull, Penn State:
"That's tough. There's a lot of good players, but I really follow a lot of the linebackers. So I'd say
Jake Ryan
. He's a solid linebacker, makes good plays and has really good fundamentals. Just have respect for Michigan."
S Ibraheim Campbell, Northwestern:
"It's tough to say ... but there's some defenses that stand out. Michigan State's defense
always
stands out. It's more of a concerted effort; their whole unit plays with a good energy that I like. I'll always be watching them during the season, and they'll always stand out to me. If we're watching Illinois' offense and they played Michigan State, they'll just kind of stand out as one of the best teams defensively."
July, 29, 2014
Jul 29
1:30
PM ET
CHICAGO -- With some of the Big Ten's best all gathered in one place for media days, it seemed only natural to poll the players about the best and brightest athletes in the conference.
So, on Tuesday morning, five offensive players and five defensive players offered their takes regarding those top athletes. We'll have the defensive player poll later on Tuesday. Here are the offensive results.
The full question: Besides you or players on your team, who's the best -- or most exciting -- offensive player in the Big Ten?
[+] Enlarge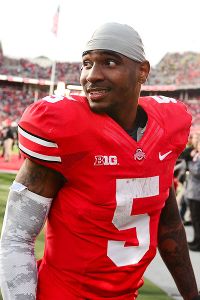 Andrew Weber/USA TODAY SportsWith his speed, Braxton Miller rarely needs to look over his shoulder.
WR Shane Wynn, Indiana:
"
Braxton Miller
. Man, the moves he makes on people. It's hard to do those things. You can make people miss yourself, but his timing is crazy and the getaway speed he has, it's pretty incredible. He got me, man. I got to admit it, he got me. He's got some crazy moves. We both have step-backs, but mine is a little delayed. His is a little quicker, and his face-up moves are a little quicker."
QB Connor Cook, Michigan State:
"
Ameer Abdullah
. When we played them at Nebraska, watching him run around, he made our defense look bad. We had a pretty good defense this past year, and watching him run around, he was like a water bug. You couldn't tackle him."
RB Ameer Abdullah, Nebraska:
"Shane Wynn, that's my boy. He also played in the
Offense-Defense [All-American] Bowl
with me and Melvin. So I've known Shane for a little while just like I've known Melvin. And Shane Wynn, he's electrifying. He gets the ball in his hands, he can stop on a dime, he's really fast, and he's a really crafty route runner. So I like watching him play."
OT Brandon Scherff, Iowa
: "I'd say
Braxton Miller
or
Melvin Gordon
. Braxton makes those dead plays turn into 50-yard touchdowns. All those unreal plays. I remember last year playing him; he did some pretty unreal things. And Melvin Gordon is just a great football player. He's tough and physical, and it's fun to watch him."
QB Braxton Miller, Ohio State:
"I know Shane Wynn, he's here. He's like a little midget over there [laughs]. That's my friend; we're good friends. He's good, he's explosive -- and you see how little he is? He can make a lot of plays, and it's just fun to watch him. And I don't know who else. Melvin Gordon, I've seen a couple highlights of him and he's pretty solid, too. … If I had a chance to pick him or Carlos [Hyde], I don't know. We'll see. Well, Carlos, yeah, Carlos."
July, 29, 2014
Jul 29
12:47
PM ET
By
ESPN.com staff
| ESPN.com
A look at a few of the highlights of Day 2 of Big Ten media days:
Nebraska's Ameer Abdullah preps his Kickoff Luncheon speech
One last read through. #B1GMediaDay pic.twitter.com/NDgdGEPJJ7

— Nebraska Huskers (@Huskers) July 29, 2014
Umm, what else can we ask?
James Franklin was just asked whether playing on natural grass is an advantage. Yep, we're out of questions, media day is over.

— Brian Bennett (@BennettESPN) July 29, 2014
Mascot selfie
Mascot selfie at #B1GKickoff. #NittanyLionforBestDressed pic.twitter.com/lVEnQH35c4

— Penn State Football (@PennStateFball) July 29, 2014
A public service reminder from Nebraska's Bo Pelini
I heard just end of odd exchange that ended when Bo Pelini said: "There is football played outside of the SEC, contrary to popular belief."

— Mitch Sherman (@mitchsherman) July 29, 2014
Huskers' Abdullah a dual threat at media days
In front of the camera, behind the camera, you name it. All around #FearAmeer at #B1GMediaDay. pic.twitter.com/Ysv2nqQdoU

— Nebraska Huskers (@Huskers) July 29, 2014
Force is strong at Penn State
James Franklin just called his strength coach a Jedi. The force is flowing through Penn State.

— Austin Ward (@AWardESPN) July 29, 2014
B1G fashion statements
Today's best #B1GMediaDay fashion statements? Here are some of my favorites. pic.twitter.com/vPEV0HJPXT

— Brent Yarina (@BTNBrentYarina) July 29, 2014
Ohio State's Urban Meyer on LeBron coming home
Urban Meyer fielding questions about LeBron's return this morning. Said it's big in recruiting and he could play H-back or TE for him.

— Austin Ward (@AWardESPN) July 29, 2014
College Football Player Rankings: 41-60
BIG TEN SCOREBOARD
Thursday, 8/28
Friday, 8/29
Saturday, 8/30