March, 30, 2015
Mar 30
1:00
PM ET
COLUMBUS, Ohio -- On one side is a two-year starter, a steady contributor who has also emerged as a likely captain and unofficial team spokesman for Ohio State.
On the other is a guy who only needed one season to mark himself as a future star while rapidly becoming one of the most productive players at his position in the country on the way to a national championship.
In between them, though, is the linebacker whom both of them will be looking to as the leader of the unit. And even with those veterans around him, Raekwon McMillan is already the man in the middle whom the Buckeyes are all looking to this spring and counting on as it prepares to defend its title in the fall.
[+] Enlarge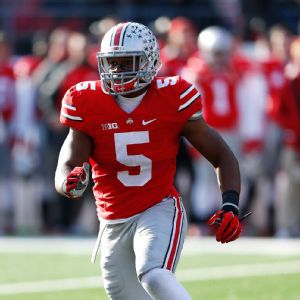 Photo by Joe Robbins/Getty ImagesThe spotlight is on Raekwon McMillan as he makes the transition to being a full-time starter at middle linebacker.
"The guys beside me, they put trust in me all the time," McMillan said. "When we're on the field, I feel like those guys trust me, and anything I say, we're all on the same page and we all work together.
"[Defensive coordinator Luke] Fickell has trust in all three of us to work together on the field."
Ohio State already has evidence of what those other two can do in a full-time role, with both Joshua Perry and Darron Lee shining as part of a defense that improved dramatically and was integral in the victorious run through the postseason.
And while there is no question about McMillan's physical tools and the playmaking ability he showed when given opportunities off the bench as a true freshman, the spotlight and the pressure are both squarely on the middle linebacker now as the Buckeyes plug him in with the first-team unit and hand him the reins as the quarterback of the defense.
That process starts with his presence in leadership meetings, which are mandatory for a starter at his critical position and help set the foundation for his on-field role calling out plays and taking charge of the huddle. But whether it's in the linebacker room, on the practice field during camp or even in class, the Buckeyes have made clear how high the expectations are for McMillan moving forward -- and they fully expect him to meet the challenges they have issued as he replaces Curtis Grant.
"We have to keep pushing," Fickell said. "We need that middle linebacker, and he's got some big shoes to fill. I know he played a bit last year, but that true leadership role, if you're not strong down the middle, you don't have any chance of being good with any defense you've got -- in any sport probably.
"There are big expectations and big things he's got to continue to grow and mature, not just as a football player but as a leader. You can't just rely on it being a natural thing. It's just things where you've got to continue to push guys, and that's one thing we talk about here is that discomfort breeds growth."
McMillan certainly looked comfortable with his role last season, only adding to the hype that accompanied his recruitment by shining when given the chance to share time with Grant in the middle of the defense.
He's definitely not afraid of contact and made 49 tackles in 14 games. He showed impressive instincts while diagnosing plays and slipping into the backfield for 6 tackles for loss, including 2.5 sacks. And if the buzz about his future wasn't already noisy enough, his 24-yard interception return for a touchdown against Maryland helped take the volume to another level and provided the first of what might be many signature moments in his career.
The Buckeyes still have a tackling machine in Perry and a game-breaking, do-it-all weapon in Lee on the outside to fill out the highlight reel. But they're already itching to find out what the new guy in the middle can add to it.
"I want to show that I can be an every-down Mike, not just rotate in," McMillan said. "Joshua, he might not be as flashy as guys think, just makes a lot of tackles and is one of our morale guys. Darron on the other hand is more of a hype guy, always making big plays.
"So we get the best of both worlds, and I have to be the stable guy in the middle."
That spot belongs to McMillan now and all eyes are on him, even from the veterans lined up next to him.
Did Ohio State Cheap Out On Championship Rings?
BIG TEN SCOREBOARD
Thursday, 9/3
Friday, 9/4
Saturday, 9/5
Sunday, 9/6
Monday, 9/7