December, 29, 2014
Dec 29
8:00
AM ET
Welcome back to Morning Links. We hope you survived a week without us. Let's jump right back into a busy final week of 2014 for the Big Ten.
1. All that's left to settle between Michigan and Jim Harbaugh is to dot the I's and cross the T's. Bruce Feldman reported
Harbaugh will be on a plane to Ann Arbor
Monday afternoon. His family and close friends plan to be near campus to celebrate Harbaugh's probable homecoming as the new coach at Michigan. Assuming that nothing goes awry from here, there will be plenty of time in the coming week to sort through what this reunion means for Michigan, the Big Ten and college football in general. For now, it's worth taking a moment to offer kudos to interim athletic director Jim Hackett.
The newcomer spent more than a month developing a plan to land the best option available for the Wolverines. He didn't shy away from taking a big swing, and he knocked the process out of the park. If Hackett decides he wants to stay on in a more permanent position at Michigan, the university ought to do whatever it can to accommodate him. In two months, Hackett has done more to patch the fissures in Michigan's athletic department than Dave Brandon did in five years.
2. Coaching transitions can make for awkward situations during bowl season. That was far from the case for Nebraska this season. Incoming head coach Mike Riley watched the Cornhuskers 45-42 loss in the Holiday Bowl from the stands of San Diego's Qualcomm Stadium.
This column from Dirk Chatelain
about Riley eating hot dogs with his grandson gives Nebraska fans a great look at what to expect from its new leader.
3. The build-up to this week's Sugar Bowl has begun in earnest in New Orleans. The semifinal matchup between Ohio State and Alabama is another chapter in the clash of titan coaches Urban Meyer and Nick Saban. This time around Meyer will have to fight with his third-string quarterback, Cardale Jones. Can Meyer somehow spin that to his advantage? Jones blew Wisconsin away in his one previous start. The Crimson Tide have maybe
one half's worth of competitive game film to study
when prepping for Jones. In reality, the plan to stop him probably isn't much different than what it would be for stopping J.T. Barrett, but Ohio State would be smart to exploit any small edge it can get against Alabama.
East Division
West Division
December, 28, 2014
Dec 28
10:30
PM ET
NEW ORLEANS – The first thing that Tom Herman noticed about Alabama's defensive line wasn't its talent, although the Crimson Tide certainly have plenty of that.
It wasn't the players' size, either, although Alabama's starters along the front line average 6-foot-4 and 302 pounds per man. Nor was it the depth within a group that runs 10 deep.
What made Ohio State's offensive coordinator shake his head while reviewing Alabama film was how much Alabama had of all three attributes.
[+] Enlarge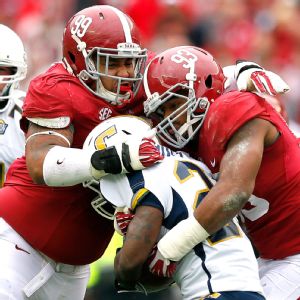 Kevin C. Cox/Getty ImagesBrandon Ivory (left), Jonathan Allen and Alabama's defensive line can swallow up an opposing offense.
"What stood out to me was not only the size of them, but then the fact that they have backups that were just as big and good and they have backups to the backups that were just as big and as good, and they played," said Herman, whose offense faces Alabama in the College Football Playoff semifinal on Jan. 1. "And they didn't really miss a beat when those backups were in."
That's hardly a surprise for a program that has earned a reputation as the most effective recruiting machine in college football. In its past three recruiting classes, Alabama has signed 13 defensive linemen whom ESPN's recruiting analysts awarded with either a four-star or five-star grade.
That volume of talent up front has helped the Crimson Tide typically shut down opposing offenses – they rank 11th nationally in total defense (312.4 yards per game) – with sheer brute force.
"We've had some of this kind of depth before, but we usually lose a guy in the season, have a guy hurt," Alabama defensive coordinator Kirby Smart said. "… Lost guys on the defensive line in years past. This year, haven't really lost guys. Been able to rotate guys and play a lot of guys. That helps us.
"Anytime you've got depth at that position, allows you to play more guys. That's what we like to do is play a bunch of guys."
They've certainly done that. Defensive end
Jonathan Allen
was a first-team All-SEC pick after registering 9.5 tackles for loss and 4.5 sacks. Fellow end
Jarran Reed
and nose guard
A'Shawn Robinson
each earned honorable mention. But every player on the line's two-deep depth chart – a group that also includes ends
Dalvin Tomlinson
and
D.J. Pettway
and nose
Brandon Ivory
– has double-digit tackles, and most have multiple sacks and tackles for loss.
"They're really, really big up front. I mean really big," Herman said. "They've got defensive ends who are 280, 290 pounds. They've got defensive tackles that are 320, 330 pounds and they don't just have one group of them. They play about nine or 10 defensive linemen in what you would call competitive situations."
That will certainly create a challenge for Ohio State's youthful offensive line that has improved since Virginia Tech's defense embarrassed the group in a 35-21 loss on Sept. 6. Herman said Alabama's defense is somewhat reminiscent of the Michigan State defense the Buckeyes faced in a 49-37 victory on Nov. 8, but it's safe to say Herman's team hasn't faced anything quite like what it will see on New Year's Day.
Then again, the Buckeyes have come so far up front since the Virginia Tech game that it's hard to even compare the line's current state to where it was in the second game of the season.
"I watched a little bit of film earlier in the season, but that's not who they are now. So we really can't focus on who they were back then," Allen said. "We're going to look in terms of the most recent games and, like I said, they're a good group, a lot of experience. They work well together."
That is clearly the case, since Ohio State ranks fifth nationally in scoring at 45.2 points per game despite having to play three different quarterbacks because of injuries. But the Buckeyes are going to have difficulty getting anywhere near those kind of numbers on Thursday if they have difficulty moving Alabama's oversized line out of the way.
"We have an idea of what they're going to do," Allen said. "We've got to do what we've been doing all year. It's a little bit challenging because we didn't have a lot of film on them, but I think we'll be able to handle it."
December, 28, 2014
Dec 28
7:40
PM ET
NEW ORLEANS -- Ohio State offensive coordinator Tom Herman describes his sleep pattern over the past two weeks as "irregular and not enough."
As Herman helps the No. 4 Buckeyes prepare for Thursday night's matchup against No. 1 Alabama in the Allstate Sugar Bowl at the Mercedes-Benz Superdome, he's pulling double duty as much as he can.
Herman, who won the Broyles Award as the country's top assistant coach, was named Houston's new head coach on Dec. 16. But as Herman assembles a coaching staff and lays out a recruiting plan for the Cougars, he's mostly focused on helping the Buckeyes beat the Crimson Tide. A victory would put them in the inaugural College Football Playoff Championship Game Presented by AT&T on Jan. 12.
Herman seems so focused on the task at hand that he cut short any questions about his next job during media availability on Sunday.
[+] Enlarge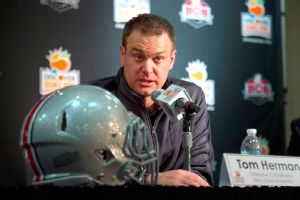 AP Photo/J Pat CarterTom Herman is performing double duty as Ohio State's offensive coordinator and Houston's new head coach. Until at least Thursday, the Buckeyes are still a priority.
"It hasn't been terrible," Herman said of the dual role. "The dead period, extended dead period from the NCAA has kind of alleviated a little bit of the stress from having to worry about getting guys out on the road recruiting and so on. So I've been able to focus most of my energy where it belongs.
"And if it's no disrespect, I'd rather stick to those questions regarding this game and our guys that have earned an opportunity to be here."
During his introductory news conference at Houston earlier this month, Herman joked that Buckeyes coach Urban Meyer gave him a "month's supply of No-Doz and Red Bull."
It's not the first time Meyer has dealt with staff changes going into a national championship game. In 2008, Florida offensive coordinator Dan Mullen was named Mississippi State's coach more than a month before the Gators played Oklahoma in the BCS National Championship. Mullen was absent for about three weeks before returning to Florida after Christmas to help the Gators prepare for the Sooners.
With Mullen calling plays, the Gators defeated the Sooners 24-14 in Miami, giving Meyer his second BCS national title at Florida.
Of course, the Gators were able to rely heavily on quarterback Tim Tebow, who threw 30 passes and ran a season-high 22 times against Oklahoma.
Alabama has been down this road before, too. Former offensive coordinator Jim McElwain took the Colorado State job after the 2011 regular season, but returned to Alabama to call plays in 21-0 victory over LSU in the BCS title game.
Other coaches have pulled double duty while helping prepare their teams for national championship games in the past and had mixed results:
" Georgia hired Florida State offensive coordinator Mark Richt as its new head coach after the 2000 regular season, but he stayed at FSU to call plays against Oklahoma in the 2001 Orange Bowl. The Seminoles managed only 301 yards of offense – 248 below their average – in an ugly, 13-2 loss.
" Nebraska hired LSU defensive coordinator Bo Pelini as its new coach in December 2007, and he coached the Tigers' defense in a 38-24 win over Ohio State in the 2008 BCS National Championship in New Orleans. The Buckeyes went 3-for-13 on third down and turned the ball over three times.
" Florida State offensive coordinator Brad Scott was named South Carolina's new coach in December 1993, but stuck around long enough to help the Seminoles win coach Bobby Bowden his first national championship with an 18-16 victory over Nebraska in the 1994 Orange Bowl.
Herman, who is in his third season as Ohio State's offensive coordinator, is working with his third quarterback this season. After losing Braxton Miller because of a shoulder injury in the preseason, the Buckeyes lost Heisman Trophy candidate J.T. Barrett to a fractured right ankle in a 42-28 victory over Michigan in the regular-season finale.
Herman had a week to get backup Cardale Jones ready to play Wisconsin in the Big Ten championship game on Dec. 6. Jones completed 12 of 17 passes for 257 yards with three touchdowns in a 59-0 rout of the Badgers.
Now, Herman has to get Jones ready to face one of the country's best defenses on Thursday night.
Jones hasn't noticed much of a change, other than a few Ohio State players playfully growling like a Cougar when passing Herman in the hallways.
"There's no difference at all," Jones said. "He's still preparing for the game like he's going to be here next year."
That doesn't mean the past two weeks haven't taken a toll on Herman. He didn't miss any of the Buckeyes' practices before they took a break for the Christmas holidays. The Cougars officially hired him as their new coach on Dec. 16, and he oversaw an Ohio State practice two days later before flying to Houston that night.
Herman met with Houston's players and coaches on Dec. 19 and watched them practice after his introductory news conference. He flew back to Columbus, Ohio, that night and was at Ohio State's practice the next morning.
"It looks like someone hit him with a bat when he's walking around here," Meyer said earlier this month. "A good bat, though. There are bad bats, and a lot goes on with college football and bad bats. … He's handling it well. He loves Ohio State and he's appreciative of Ohio State."
And the Buckeyes seem genuinely appreciative that he's here. Under Herman's direction, Ohio State's offense ranked fifth nationally in scoring (45.2 points), 10th in rushing (260.8 yards) and eighth in total offense (502.6 yards).
"Coach Meyer made a great hire and the guy does an unbelievable job," Alabama defensive coordinator Kirby Smart said. "As good a job as anybody I've seen in all my years of being a coordinator of mixing it up, changing it up and keeping you off balance. No real tendencies, outstanding coach. Houston got them a good one."
Herman admits the past couple of weeks haven't been easy. And if the Buckeyes are fortunate enough to upset the Crimson Tide, he'll have to do it again before the College Football Playoff Championship Game.
"It's why you're in this business," Herman said. "Bankers don't get to do this. For all the hours, the late nights, lack of sleep and hours of pulling your hair out from dealing with 18- and 19-year-old kids, it's a pretty cool job."
December, 28, 2014
Dec 28
7:29
PM ET
NEW ORLEANS --
Evan Spencer
generated headlines last season with strongly worded comments about how his Ohio State team would fare against Alabama and Florida State.
A year later, he and the Buckeyes will get a chance to prove that they can actually "wipe the floor" with the top-ranked Crimson Tide -- and they might even get a shot at both of them.
"I was confident in my team then and confident in them now, and I'm really glad that we get to play them," said Spencer, whose team will face Alabama on Jan. 1 in a College Football Playoff semifinal. "Obviously being a competitor and the type of guy that I am, I want to play the best team in the country, I want to play the best athletes in the country and I want to play the best-coached teams in the country.
"And the fact that we're in the playoffs gave me a chance to play, hypothetically, the best teams in the country. Every athlete, that's all they can wish for. I'm confident in my guys and I think that we'll do well."
Spencer was joking with reporters when he made those comments last November, but the situation blew up in his face a bit. Buckeyes coach Urban Meyer publicly rebuked the receiver and temporarily banned him from speaking to the media.
Spencer later tweeted an apology for showing what Meyer deemed a lack of sportsmanship.
I did not mean to disrespect any FB team today. I am confident in my team, and as is evident in the video, I was having fun ...

— Evan Spencer (@E_Spencer6) November 12, 2013
...with the media answering their questions. I should have chosen my words more wisely. There was no intent to disrespect any other team.

— Evan Spencer (@E_Spencer6) November 12, 2013
"I just felt that it was necessary," Spencer said Sunday. "Maybe some people were taking it differently than the intentions that I meant it. I solely meant it in the purpose of just showing my confidence in the guys that we had and none other than that."
Spencer said he thought back on the controversy over his comments when he learned that the Buckeyes would face Alabama in the playoff. But he has bigger concerns than validating his comments from a year ago -- namely getting a win on New Year's Day in order to play the Florida State-Oregon winner on Jan. 12 with a national title at stake.
"[I thought about it] little bit, but I was more thinking about the fact that we get to play the No. 1 team in the country and we get to show how good a team when we are," Spencer said.
Of course, the Buckeyes never got a shot at Alabama or Florida State last season. They were undefeated at the time of Spencer's comments and riding a winning streak that would stretch to a school-record 24 games before Michigan State upset them in the Big Ten championship game.
Auburn, which knocked Alabama out of the mix with its own upset win, went on to play Florida State in the BCS title game instead. The Buckeyes would close the season with another loss, this time to Clemson in the Orange Bowl, and Spencer learned a valuable lesson in humility.
"We did a lot of great things in that season," Spencer said. "Granted, we didn't finish it the way we needed to and wanted to, but I felt that last year was definitely a really great learning experience for me personally and us as a team."
December, 28, 2014
Dec 28
7:00
PM ET
NEW ORLEANS --
Ezekiel Elliott
swears he's not trying to make any fashion statement with the way he wears his jersey.
The Ohio State running back shows off his stomach during games -- even those, like at Minnesota, that are played in sub-freezing temperatures -- by turning his jersey into a half shirt. The throwback look has brought comparisons to another famous Buckeye back in Eddie George. Or maybe Britney Spears.
But Elliott, who started rocking the midriff last season as a freshman, says there's not much to it.
[+] Enlarge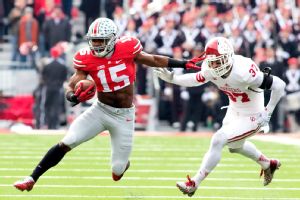 Jason Mowry/Icon SportswireBuckeyes RB Ezekiel Elliott, whose jersey is folded up under his pads, has rushed for three consecutive 100-yard games to end the 2014 regular season.
"I just don't like how long the jersey is," he said. "I don't like to tuck it in, so I like to tuck it up under."
Elliott's game really isn't about style and flashiness, anyway. He likes to block a defensive back almost as much as he enjoys carrying the ball. Yet down the stretch of the season, he started putting up some elite rushing numbers.
In Ohio State's last five games, he averaged 138.6 yards per game and 7.7 yards per carry while scoring seven touchdowns. He put an exclamation point on his sophomore campaign with a huge performance in the
59-0 win
against Wisconsin in the Big Ten championship game, running for a career-high 220 yards on 20 carries.
Elliott has posted numbers that are similar to Heisman Trophy winner George's in each of their first seasons as a full-time starter. George had 1,442 yards and 12 touchdowns as a junior in 13 games; Elliott has 1,402 yards and 12 scores.
But the St. Louis native has done it all somewhat quietly, as the quarterbacks get most of the attention in the Buckeyes' offense. Even during Sunday's media session for the College Football Playoff semifinal at the Allstate Sugar Bowl, the placard for Elliott misspelled his last name, leaving off the second 'T.'
"That happens a lot," he said. "It's something you've got to learn to deal with."
Clearly, though, Elliott has Alabama's attention. The Buckeyes like to run the ball first and foremost, and with
J.T. Barrett
sidelined, Elliott is their primary option on the ground.
"He's tough and he runs behind his shoulder pads," Crimson Tide safety
Landon Collins
said. "He's got great vision, and he hits his hole as hard as he can."
It's more than just Elliott's running that makes him special, however. Coach Urban Meyer has called him one of the best skill players he's ever had without the ball in his hands. Elliott relishes blocking downfield and is a big reason why Ohio State has sprung so many big plays.
"They run those sweeps and plays to the perimeter, and he just mows 'em down," Alabama defensive coordinator Kirby Smart said.
Elliott says he likes contact and tries to "take a very unselfish approach to the game." That has, not surprisingly, made him a popular teammate.
"There will be somebody 50 yards downfield, and Zeke is going to go find him, cut him and take him out of the play," wide receiver
Evan Spencer
said. "He's like our Energizer bunny; he never seems to get tired. I watch film of him and am like, 'Geez, dude, how do you keep doing that?"
Ohio State will need every bit of Elliott's blocking, energy and speed on Thursday against Alabama, which leads the FBS in rushing defense by allowing just 88.7 yards per game and and 2.8 yards per carry. The Tide have given up just three rushing touchdowns all season, due mostly to their standout defensive line, which Buckeyes offensive coordinator Tom Herman said was the deepest and stoutest he's ever seen.
"They're really, really big," Herman said. "I mean, really big."
"You watch them on film," Elliott said, "and offensive lines don't really move them."
Ohio State is confident that its offensive line, which improved so much this season, can handle Alabama's size up front. But at some point, it will be up to Elliott to help counter the Tide's strength, both with his running and his blocking. If so, America may finally learn how to spell his name, while doing some rather unavoidable navel-gazing.
December, 28, 2014
Dec 28
6:47
PM ET
December, 28, 2014
Dec 28
11:30
AM ET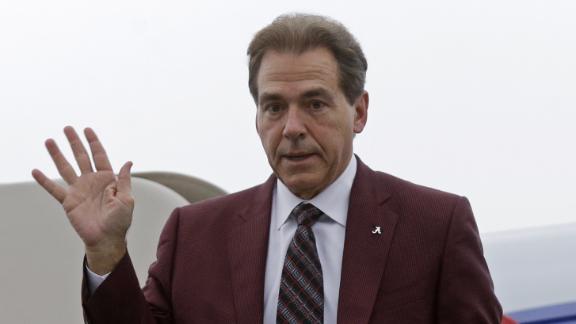 While the Allstate Sugar Bowl (Jan. 1, 8:30 p.m. ET, ESPN) will bring an exciting and much-anticipated coaching matchup between Alabama's Nick Saban and Ohio State's Urban Meyer, it also brings us an intriguing player vs. coaches matchup.
That would be Ohio State quarterback
Cardale Jones
facing a pair of defensive gurus in Saban and his coordinating partner in crime, Kirby Smart. On paper, you have a redshirt sophomore, third-string-quarterback-turned-starter taking on two guys who eat, sleep and breathe defense and preparedness. What you have is Jones making his second start, following a fantastic showing in the Big Ten title game against Wisconsin, battling two brilliant football minds who got nearly a month to prepare for their relatively inexperienced opponent.
But you also have those two X's and O's brainiacs taking on a lumbering yet deceptively agile gunslinger who went from being defined by an infamous tweet to piling up 257 passing yards and three touchdowns in the Buckeyes'
59-0 pounding of Wisconsin
a couple of weeks ago.
While Ohio State trying to perfect the ideal game plan for a new quarterback -- for the second time this season -- against a tag team that feasts off inexperience and relishes the notion of extra time to think and scheme sounds daunting, Alabama has to be ready for a 6-foot-5, 250-pound quarterback who coaches and players really don't know a ton about. The factor of the relative unknown complicates things a little for Alabama as well.
"This guy is very, very capable," Saban said of Jones. "He's a very good passer. Big strong, athletic guy who can do all the things the other guy (
J.T. Barrett
) could do in terms of the quarterback runs. It's just a little different style, that's all. We did see him play almost a game and a half. And he pretty must did what the other guy did. The one thing he did really well was pass the ball. He made some really good throws in the Wisconsin game, big plays down the field. Which the other guy did, too, so we have a tremendous amount of respect what this guy can do."
Saban and Smart have kind of been down this path before. They adjusted on the fly in-game to Garrett Gilbert in the BCS title win over Texas in 2009 and prepared for a completely different quarterback -- and scheme -- against Jordan Jefferson and LSU in their 2011 national championship win.
So for the moment, this battle is a little bit of a chess match. While Saban and Smart, who watched their defense rank third in the SEC (312.4 yards allowed per game) and have combined to win four of their last five bowl games together, pose the threat of unleashing some new and threatening exotic looks to confuse Ohio State's green QB, Jones and his coaches have limited film and a plethora of offensive knowledge working in their favor as well.
See, while Jones is one obstacle Alabama's defensive brain trust must overcome, there's also the issue of preparing for any potential wrinkles from Meyer and Ohio State offensive coordinator Tom Herman, who won this year's Broyles Award as the nation's top assistant. The Buckeyes have been down this path before. After star quarterback
Braxton Miller
was lost for the season with a shoulder injury, Herman helped develop Barrett into one of the nation's elite players.
In his first season of work, Barrett threw for 2,834 yards (more than Miller has in a single season) and a school-record 34 touchdowns while rushing for another 938 yards and 11 more scores. This was all before a season-ending ankle injury in the season finale against Michigan gave way to Jones.
Whether it was Barrett for so long or Jones for so little, Ohio State hasn't had to change much to help its quarterbacks.
"Most of their quarterbacks are kind of similar," Alabama safety
Landon Collins
said. "They run the same scheme offense. We're just gonna have to watch film on what they do because, I mean, they're not gonna change the whole offense for one player."
Ohio State isn't, and it doesn't have to. The Buckeyes arrived in New Orleans leading the Big Ten in total offense (507.6 yards per game) and scoring (45.2) and ranking third in passing (246.8 yards per game). That's all without Miller and mostly thanks to some masterful play calling by Herman to put Barrett in the right situations. Now, it's time for Herman to use a little bit of that magic on Jones to thwart Alabama's suffocating defense.
"We feel philosophically, they are going to run their offense," Saban said. "It's just what part of it they might feature a little different. That's the part we are not sure about."
December, 27, 2014
Dec 27
10:04
PM ET
[+] Enlarge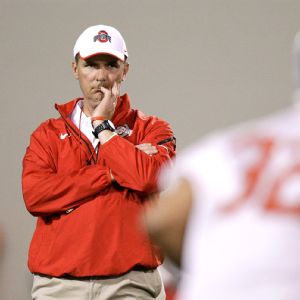 AP Photo/Jay LaPreteUrban Meyer says he looks for assistants who are willing to learn, because he's not likely to change things to fit a new coach.
The first thought that comes to mind upon hearing that Tom Herman is the 12th assistant coach of Urban Meyer to become a Division I head coach is that Meyer is too young for that to be possible. Meyer, who turned 50 last July, has been a head coach for only 13 seasons.
In those 13 seasons, however, Meyer has won 140 games, five conference championships and two national titles. And that, says the latest assistant to leave Meyer's nest and try out his wings, is why Meyer keeps producing head coaches.
"Not many coordinators from 6-6 teams get head coaching jobs," said Herman, former Ohio State offensive coordinator and new Houston head coach.
Meyer has never gone 6-6. In fact, he has never won fewer than eight games in a season (and done that only twice). Among his former assistants who have become head coaches are Charlie Strong of Texas, Kyle Whittingham of Utah, Gary Andersen of Oregon State and Doc Holliday of Marshall, all of whom have won conference championships somewhere in their head coaching careers.
"I think he's the best I've ever been around," Herman said, "and I'd be hard-pressed to believe you if you told me there was better at coaching his coaches."
December, 27, 2014
Dec 27
11:00
AM ET
COLUMBUS, Ohio -- The exact moment
Michael Bennett
's mentality changed is a bit too difficult to pin down more than a month later.
Figuring out what adjustment the Ohio State defensive lineman made on the field is pretty clear cut, though.
Those two tweaks overlapped at some point leading into a huge test on the road against Michigan State. And the combination between truly committing to become a more consistent practice player, being a better leader, adopting an empty-the-tank aggression on game days, along with the No. 4 Buckeyes sticking him at defensive tackle on a full-time basis certainly worked. It finally allowed Bennett to play like the All-American he was expected to be before the season instead of the sluggish player that played the first two months.
[+] Enlarge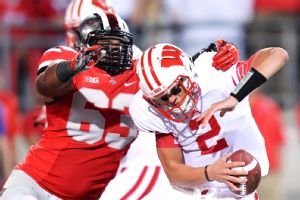 Jamie Sabau/Getty ImagesMichael Bennett was a terror down the stretch for Ohio State, racking up five sacks in the last month of the season.
"I don't really know what caused the change," Bennett said. "I think it was Michigan State week, that was probably when it was the biggest difference. I think I played good football up until Michigan State week, but I think once they moved me to just straight three-technique and said, 'Go do what we know you can do,' I think that made me a lot more comfortable, a lot more confident than playing a new position.
"I don't know, I was able to feed off my teammates and we just started gelling and things started working out."
That's something of an understatement considering the tear Bennett went on for the next five weeks, a binge of big plays and embarrassing moments for opposing blockers that arguably made him one of the most disruptive defenders in the nation down the stretch.
Starting with his breakout performance in the victory over the Spartans that put Ohio State firmly in control of Big Ten East Division, Bennett racked up five sacks, 9.5 tackles for loss and forced three fumbles over the next five weeks. In the process, a program that faded on defense late in the season in 2013 instead appeared to grow stronger as it bullied its way into the College Football Playoff and Thursday's showdown with No. 1 Alabama in the Allstate Sugar Bowl.
Perhaps it's no coincidence that Bennett's emergence coincided with some of the best defense the Buckeyes have played in years, most notably the 59-0 whitewash of Wisconsin that had the senior captain's fingerprints all over it. And while the veteran is quick to deflect attention elsewhere and steadfastly refuses to take credit for Ohio State's recent defensive rise, there is plenty of success that can be directly traced to Bennett.
"Any time that you are playing your best up front, especially right in the heart of your defense in the middle, it's going to help the rest of the defense," co-defensive coordinator Chris Ash said. "Michael Bennett, about six weeks ago, he flipped the switch and something changed. ... Everybody else has fed off of that.
"He's a senior up there, he's one of our most talented players, one of our best playmakers. When people see him doing things the right way, the investment he's made into the game of football to help himself get better has been impressive, everybody else is following his lead."
Obviously the standard Bennett has set as a lead and a competitor has been a boost for the Buckeyes, but he's also not alone on a long list of defenders who have improved during the season.
Darron Lee
has become a game-changer at linebacker, a secondary that was picked apart last season led the Big Ten in interceptions, and
Joey Bosa
has rapidly developed into one of the country's top pass-rushing threats.
But give or take a few days, Ohio State can look back to the week of the Michigan State game and see a pretty definitive turning point -- not only for Bennett, but the rest of the unit as well.
"I think the defense is starting to gel at the right time of the year," Bennett said. "I think everybody is starting to play less selfishly. I just think my success stems from everybody on the field doing better, so I'm more free to go do what I can do. My success comes from the team doing well, and the team doing well comes from my success just like it would coming from anybody else.
"I'm never going to take credit for something like that."
A team-first captain never would anyway. But it wasn't hard to see who was leading the charge for the Buckeyes over the last five games right into the playoff.
December, 27, 2014
Dec 27
12:31
AM ET
[+] Enlarge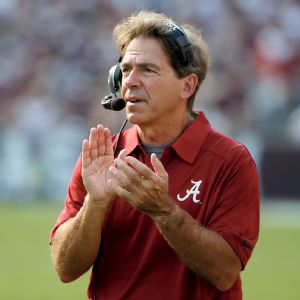 Scott Halleran/Getty ImagesAlabama coach Nick Saban notes that it's still important to be able to stop people at key times, despite the emergence of high-scoring offenses across college football.
A week into the 2014 season, one that would prove memorable on a multitude of fronts, Alabama coach Nick Saban mused that college football had changed more in these past couple of years than he could ever remember since he started coaching.
It was his way of saying the offensive revolution had taken hold of the sport like never before, which was only magnified by 55 FBS teams averaging more than 30 points per game, and hurry-up, spread offenses spitting out the kind of numbers that would make even the most rabid Xbox gamers blush.
Look around. It's an offensive world right now in college football. Even Saban's Crimson Tide spread it out some this season under first-year offensive coordinator Lane Kiffin and dared to join the "fastball" ranks, as Saban was fond of calling the hurry-up offenses in the past.
The four teams in the first-ever College Football Playoff all average more than 34 points per game. Oregon has won eight straight games and scored more than 40 points in all eight contests. Ohio State exploded for 59 points in its 59-0 destruction of Wisconsin in the Big Ten championship game, and like Oregon, is in the top five nationally in scoring offense. Both are averaging more than 45 points per game.
December, 26, 2014
Dec 26
11:00
AM ET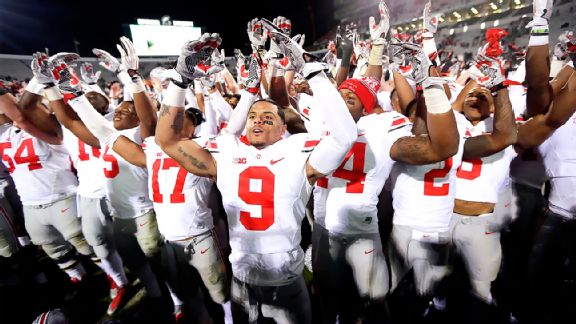 AP Photo/Carlos OsorioOhio State overcame the early loss of two of its star players to win a Big Ten title and a spot in the inaugural College Football Playoff.
COLUMBUS, Ohio -- If Ohio State were counting solely on the brightest stars to light a path to the College Football Playoff, it never would have found it.
The presumptive centerpiece of the offense,
Braxton Miller
, was lost during training camp and never took a snap at quarterback this season. Arguably the most touted returning defender,
Noah Spence
, never played a down, either, because of what turned into a permanent suspension.
Those weren't the only holes the No. 4 Buckeyes would have to fill after losing a handful of significant contributors from last year's roster. Any chance of developing into a contender was always going to include contributions from fresh faces and new leaders. Even without what appeared to be Ohio State's most important players on both sides of the ball, as it stormed to a conference title and into the Allstate Sugar Bowl against No. 1 Alabama, it morphed into the most dangerous kind of team: a complete constellation.
"Incredible year, a year that if you would have told me back in August when I saw our starting quarterback go down that this would happen, I would have said, 'Not yet,'" coach Urban Meyer said. "You just never can devalue the chemistry on a team, the closeness of a team. And then when you deal with tragedy and other things that our team has experienced throughout the year, it was a learning experience.
"I learned more from our players maybe this year than in a long time."
Those lessons were working in both directions between the coaching staff and a roster long on talent but short on experience. The trust that was cultivated clearly helped forge a strong bond among the Buckeyes as they dealt with all kinds of on-the-field adversity and the death of teammate Kosta Karageorge.
From a football perspective, the hits started coming even before the season opened. Losing Miller, a two-time Big Ten Offensive Player of the Year, to a second shoulder injury seemed like enough to knock Ohio State out of the Big Ten running. The loss forced the Buckeyes to reload the entire attack on short notice. They were already breaking in four new offensive linemen and trying to replace their leading rusher and receiver.
On defense, Ohio State was also seeking to replace a pair of first-round draft picks who left early for the NFL. On top of that, the Buckeyes would soon be without another future pro when Spence failed a second drug test and was ruled permanently ineligible. This left them without the piece that was supposed to give them potentially the best overall unit in the country up front.
Difficulty filling these spots became painfully apparent in Week 2, when Virginia Tech stunned the Buckeyes by beating them in the Horseshoe. But it also proved to be an opportunity for Ohio State to rally together, close ranks and establish an us-against-the-world mentality that would fuel its rapid rise.
"I think it's the closeness of our family," running back
Ezekiel Elliott
said. "We're truly a family, we've been through so much together, and I mean, it's going to take a lot to tear us apart.
"We've been underdogs this season; a lot of people haven't believed in us. If it was losing Braxton or losing J.T. [Barrett], a lot of people have lost faith in us. All we have is each other, and we're going to keep this whole brotherhood together, keep grinding and keep pushing."
Singling out any one member as the engine behind Ohio State's success is almost impossible -- which is perhaps the primary reason the team is headed to the semifinal to face the Crimson Tide.
Barrett set a Big Ten record for touchdowns after replacing Miller, but he suffered his own injury. That thrust
Cardale Jones
into the lineup at quarterback, and the offense didn't miss a beat in a 59-0 destruction of Wisconsin.
Joey Bosa
did become a bona fide star in his own right at defensive end as a finalist for a couple of major awards. Bosa had a prolific campaign that included 13.5 sacks and 20 tackles for loss. He more than eased the loss of Spence. But he also wasn't working alone, with tackles
Michael Bennett
and
Adolphus Washington
raising their games as the season progressed, combining for 21.5 tackles for loss and making it increasingly difficult for opponents to focus solely on Bosa.
And whether it was Elliott in the backfield,
Michael Thomas
at wide receiver or sophomore safeties
Tyvis Powell
and
Vonn Bell
taking over and revitalizing the secondary, the list of young Buckeyes who stepped out of the shadows and into critical roles could keep on going.
All of them along the way turned a cliché into a simple fact for Ohio State: The team was the star.
"I think that's why this team has survived and even continued to improve and flourish through the adversity we've had," co-offensive coordinator Ed Warinner said. "It's the high-character people on this team, the leadership of this team and then the leadership of our head coach and our staff.
"We have all those ingredients. That's what makes a team, and that's why we are where we are."
They're on the path to a possible national title, two games away, stepping into the brightest lights the game has to offer -- as a unit.
December, 24, 2014
Dec 24
6:15
PM ET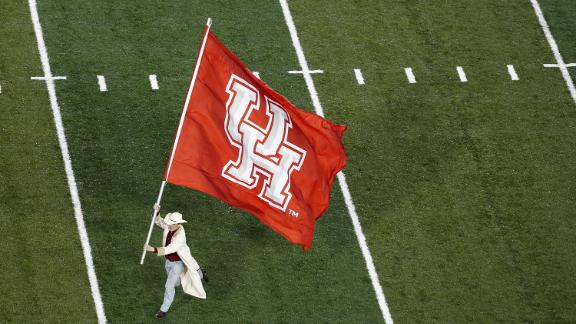 We all do it, if we're being honest.
With the passage of each decade, each time our ages have a zero on the end -- or even begin to creep closer to it -- we take stock.
Where are we? What have we done? Where are we going? Are we where we want to be?
Often, it's a simultaneously rewarding and harrowing exercise. Even in the celebration of accomplishment, there's recognition that the climb is never complete. The mountain continues to rise, and rise, in front of us.
With that in mind, the magic number for the upcoming College Football Playoff is 39.
That's the age of four of the coordinators coaching in the semifinals: Alabama's Lane Kiffin and Kirby Smart, Oregon's Scott Frost and Ohio State's Tom Herman.
Kiffin, Smart, Frost and Herman will turn the Big 4-0 in 2015, and each man finds himself in a different phase of the wild, weird coaching life.
Their varied career stages illustrate hiring trends and the fact that most coordinators, including these four, have thought often of becoming a head coach.
One has already experienced it. And failed.
Kiffin
Clearly, Kiffin has a different perspective than the others, already having been a head coach in the NFL, the SEC and at his "dream job" -- USC.
Prior to 2014, the "stock" taken was that Kiffin won 40 and lost 36 games in those three jobs. He left Tennessee after one season, chapping fans in the process. He was fired in the middle of his second season with the Oakland Raiders and the middle of his fourth season at USC.
Even at four games over .500, arrogance and failure are words often used in coaching circles to describe those Kiffin tenures.
The silver lining: The guy knows offense. Nick Saban was aware of that, telling then-coordinator Doug Nussmeier to seek other employment so that he could open up a spot for Kiffin.
The Unknown Of Cardale Jones
BIG TEN SCOREBOARD
Monday, 12/29
Saturday, 12/20
Monday, 12/22
Tuesday, 12/23
Wednesday, 12/24
Friday, 12/26
Saturday, 12/27
Tuesday, 12/30
Wednesday, 12/31
Thursday, 1/1
Friday, 1/2
Saturday, 1/3
Sunday, 1/4
Monday, 1/12