January, 29, 2015
Jan 29
8:35
PM ET
January, 29, 2015
Jan 29
3:00
PM ET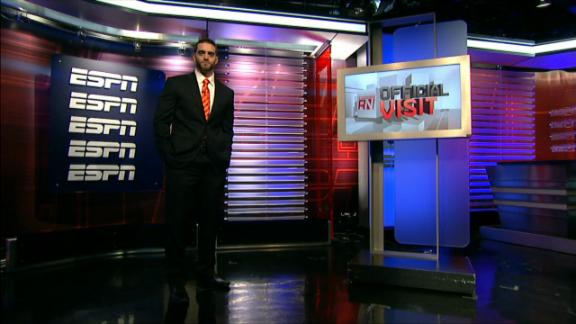 What he brings
:
Martez Ivey
is a long and flexible O-line prospect with tremendous upside. He's tall with almost other-worldly length and possesses a lean, athletic build with a frame that can continue to be developed. His strength at this stage is as a run blocker with the ability to come off with low pads and quickly get into a defenders and drive them back. He is agile and athletic for his size and possesses excellent range as a second-level blocker. He is a little less experienced as a pass blocker but possesses the tools to be outstanding in this area. With his length and ability to quickly set, he can mirror rushers with ease. This is a big man with excellent physical tools. And while he's a good football player at this stage, there is still room to grow and improve.
January, 29, 2015
Jan 29
11:00
AM ET
Looking ahead at potential playmakers in 2015, there should be two divisions: Ohio State, and everyone else.
[+] Enlarge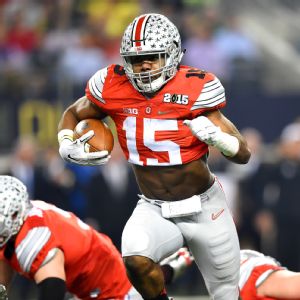 Scott Clarke/ESPN ImagesEzekiel Elliott is among Ohio State's many offensive weapons returning for the 2015 campaign.
Heaven help Big Ten defensive coordinators trying to plan for a team that will have the power element of
Ezekiel Elliott
's running complemented by the ankle-breaking athleticism and versatility of utility types
Jalin Marshall
,
Curtis Samuel
and
Dontre Wilson
. Oh, and there's that
Braxton Miller
fella, should he return to OSU.
Jokes about "Big Ten speed," or lack thereof, are hereby declared dead. They have ceased because of Urban Meyer and his staff's recruiting.
Miller, the Buckeyes' quarterback from 2011-13, will be one of the country's top playmakers regardless of where he plays. Most people in college football believe returning is his best option, even if it means a new, varied role.
Miller's size (6-foot-2, 215 pounds) compares well to NFL running backs such as
Matt Forte
,
Darren McFadden
and
Arian Foster
, according to ESPN Stats and Information. Miller, though, needs to prove to NFL teams that he can play the position without injury. Miller's ability in space is uncanny, but I was surprised to learn that he rushed for 701 yards between the tackles in 2013 (508 outside). One more Stats & Info nugget: His 7.3 yards per carry since 2011 puts him behind only
Melvin Gordon
(minimum 320 carries).So, yeah, it would be highly intriguing to add Miller's skill to the elite-level playmaking talent that's already present.
As a redshirt freshman, Marshall was the team's breakout playmaker in 2014. He scored eight touchdowns (six receiving, one rushing, one punt return). If something happened to
Cardale Jones
in the postseason, Marshall likely would have played QB, too.
Samuel, a freshman this past season, and Wilson, a sophomore, are similarly versatile. They're the team's primary kick returners, averaging 22.8 yards per return last season. They're nowhere near their ceilings, either. You think new co-OC and QBs coach Tim Beck entered into a good situation?
Here are playmaker standouts from the non-Ohio State crop
To continue reading this article you must be an Insider
January, 29, 2015
Jan 29
10:00
AM ET
Grades are past due for the 2014 season, and we're passing out report cards for each Big Ten team, evaluating offense, defense, special teams, coaches and the overall performance.
Up next is an Ohio State team that earned its highest marks after the calendar flipped to 2015.
Offense:
A
It will go down as arguably the most memorable offense in Ohio State history, especially when considering the adversity it overcame. The Buckeyes lost two Heisman Trophy candidates at quarterback --
Braxton Miller
and
J.T. Barrett
-- and still led the Big Ten in scoring (44.8 ppg) and total offense (511.6 ypg). Barrett was brilliant in relief of Miller, finishing fifth in Heisman Trophy voting.
Cardale Jones
picked up the flag after Barrett's ankle injury and sparkled in his first three starts, all in the postseason. So many others stepped up, from running back
Ezekiel Elliott
to wideout
Devin Smith
to a reworked offensive line. Just an incredible performance.
Defense:
A-
The Buckeyes started to look like themselves again after a poor finish to the 2013 season. Big Ten defensive player of the year
Joey Bosa
and All-America tackle
Michael Bennett
triggered a pressuring unit, which led the league in both sacks (45) and tackles for loss (110). A secondary that was Ohio State's biggest weakness the previous year proved to be a strength as the four starters combined for 18 interceptions. Redshirt freshman
Darron Lee
sparked an undermanned linebacking corps in the postseason. After some hiccups in the regular season, especially against elite running backs, Ohio State's defense played its best in the biggest games, blanking Wisconsin in the Big Ten title game and holding both Alabama and Oregon in check during the playoff run.
Special teams:
B+
After a very rocky start in a Week 2 loss to Virginia Tech, Ohio State's kicking game stabilized later in the season.
Cameron Johnston
worked his rugby-style magic, as the Buckeyes led the Big Ten and ranked sixth nationally in net punting (41.8-yard average). Kicker Sean Nuernberger connected on just 13 of 20 field goal attempts and struggled from distance (5-for-10 beyond 40 yards).
Jalin Marshall
sparked Ohio State's punt return unit, finishing second in the Big Ten (11.8 ypr). The Buckeyes excelled on kickoff coverage and were solid on punt coverage.
Coaching:
A
College football historians will be hard pressed to identify a better overall coaching job than the one Ohio State's staff delivered in 2014. The Buckeyes won a national championship with a third-string quarterback and took down the sport's top two teams in fairly dominant fashion (Oregon more so than Alabama). Offensive coordinator Tom Herman showed he's masterful not only at calling plays but developing quarterbacks. Ed Warinner showed again why he's the nation's best offensive line coach, developing a revamped unit into a major strength. Meyer's hiring of defensive assistants Chris Ash and Larry Johnson also paid off as the unit took important steps.
Overall:
A
There's a reason why the final exam counts for such a high percentage of a team's overall grade. Ohio State struggled early but aced every test down the stretch, culminating with a 42-20 win against Oregon at the first College Football Playoff national championship game at AT&T Stadium. The playoff system allowed the Buckeyes to evolve and peak at the right time. They cemented themselves as the nation's best team on the biggest stage, winning their first national championship since 2002.
January, 29, 2015
Jan 29
9:00
AM ET
Less than a week before signing day, recruiting has consumed conversation around college football. So in the spirit of the season, a recruiting-themed version of the links seems well advised.
Basically, at this time of year, you've got a choice:
Buy into the hype and live large next Wednesday, convinced that your team just signed the class that will vault it past Ohio State. (If you support the Buckeyes, well, plenty of reason also exists for optimism.)
Or you can play the role of realist, bursting bubbles everywhere with stories of five-star mistakes and walk-on success stories. As
Randy Peterson
of the Des Moines Register illustrates well, if you buy into enough recruiting hype,
you'll get burned
.
The latter option makes sense. But at this time of year, who wants to make sense when you can picture every prospect as a star?
Big Ten coaches are a bit divided
, as I wrote Wednesday, on the
league-wide recruiting impact
of good publicity in the wake of Ohio State's national championship and the Michigan hiring of Jim Harbaugh.
For some Big Ten programs, it helps to sell the success of rival institutions. To some prospects, it matters to play at the Horseshoe or in the Big House – even as a visitor.
And for other programs, this signifies no change. Michigan State is the best example. As the Spartans build another class like those that have produced four 11-win seasons in the past five years, coach Mark Dantonio cares little about recruiting momentum generated by Ohio State or Michigan.
It's bad enough for Michigan State coaches, players and fans that at every turn, they're inundated with talk of Michigan's new coach; the last thing you'll hear from Dantonio is an acknowledgement that another team in the league might help the Spartans recruit.
"We're selling results," he said. "When we first came here, we were selling hope."
At the same time, Dantonio, entering his ninth year in East Lansing, told me this week he recognizes the tenuous nature of the Spartans' spot near the top of the league.
"I think we're here to stay," he said, "but it's a quick drop back to mediocrity. It's always, 'What have you done for me lately?' I understand that."
As long as Michigan State pays attention to next week and continues to restock its program -- with or without the help of other Big Ten powers -- it's not likely to fall far from its current perch.
What about the impact
of Ohio State's national title on its own recruiting class?
Apparently, it will be
felt more in 2016 and 2017
. The Buckeyes, No. 7 in the ESPN class rankings, completed the bulk of their recruiting for 2015 before the College Football Playoff wins over Alabama and Oregon.
But Urban Meyer has remained busy on the recruiting trail since mid-January, scooping up elite high school sophomores and juniors at a rate that ought to alarm other Big Ten coaches.
Their commitments, of course, are non-binding, but the Buckeyes figure to compete well with programs like Alabama and Florida State in the near future for the best prospects nationally.
Recruiting, by nature, is unpredictable. Meyer, though, in building on the Buckeyes' success, is working to remove that element of unpredictability from the game.
Around the league we go:
And finally, East Lansing and Minneapolis made
this list
of the 10 best American cities for football.
January, 28, 2015
Jan 28
11:45
AM ET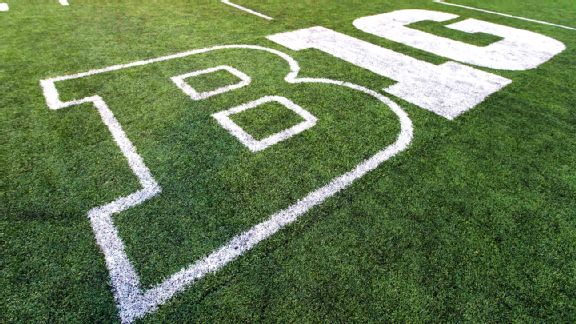 Jeff Hanisch/USA TODAY Sports
About a year ago, long before the first game that factored into the College Football Playoff and before his team played a down of Big Ten football, Rutgers coach Kyle Flood began to offer to recruits his vision of the era ahead.
In particular, Flood told them he found it difficult to believe that a one-loss Big Ten champion would miss the four-team playoff.
A month into last season, as the league sat squarely outside playoff speculation, Flood did not waver, bolstered by his confidence in Big Ten coaches and the respect he believed the league had earned.
"Players want to win championships," Flood said. "They want to know if they're on the right team and have the right season that they have access to a championship."
His assertion proved correct, of course, as Ohio State roared to the finish, securing the fourth spot in the semifinals.
[+] Enlarge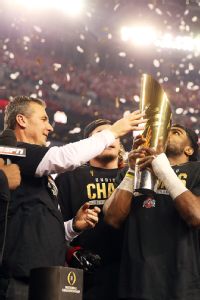 Darren Carroll for ESPNOhio State's national championship capped a strong bowl season for the Big Ten and showed recruits that the league is once again a national player.
What the Buckeyes did next, though, sent ripples through the Big Ten landscape. Ohio State's national title restored positive energy to the league. Packaged with a strong postseason by other conference teams -- the Big Ten won three of four games on New Year's Day and finished 6-5 overall -- and the splash of Jim Harbaugh's hire at Michigan, it shifted perception of the league from a doormat nationally to something of a force again.
In recruiting, dividends pay immediately.
Some Big Ten coaches, back on the recruiting trail for the past two weeks in the push toward signing day a week from Wednesday, have noticed a change in attitude from prospects who had grown accustomed to watching the league struggle on a big stage.
"A part of recruiting is perception," Indiana coach Kevin Wilson said this week as he drove to recruiting stops in Indianapolis. "The perception of the Big Ten is that it's on the rise right now. We enjoy that. We embrace that. We're excited about that."
So does a rising tide lift all boats in Big Ten recruiting? No consensus exists among league coaches. Wilson, whose program has qualified for one bowl game in the past two decades, and others said they welcome the flood of media exposure around Ohio State and Michigan this month as impactful for the entire conference in attracting prospects.
Minnesota defensive backs and special teams coach Jay Sawvel said he has heard the stereotype that Big Ten programs lag in athleticism.
It was justified at times, Sawvel said.
But the narrative can change. This bowl season helped. The Big Ten and SEC split four postseason meetings.
In four years at Minnesota with Jerry Kill, Sawvel said, he has found the Gophers received well by recruits. That reception has improved as Minnesota notched wins in the past 15 months over Penn State, Nebraska twice and Michigan.
"Our conference is known everywhere," Sawvel said, "but it needed a step up in legitimacy. I think Ohio State's run and what happened in other bowl games helped that a little bit. But what has to happen for the conference as a whole is for one through 14 to step up."
Illinois recruiting coordinator Alex Golesh sees a change, too.
"It's raised some eyebrows," said Golesh, an Ohio State graduate who coaches tight ends and running backs for the Illini.
Golesh said he's happy to use talk of a general upswing among the Big Ten as a selling point for Illinois in recruiting. He won't go much further, though.
For instance, he has not talked once about Harbaugh with a recruit. How about Ohio State, which plays at Illinois in November?
"You find out what's going to make the kid tick. You sell your program, your product, your fit and your coaching staff," Golesh said this week while recruiting in Nashville. "I don't think we'd bring up the success of another school unless you absolutely have to."
"

A lot of times schools from the South that come recruiting in our part of the country, part of their pitch is, 'If you want to play great football, you have to come to the South.' That's a tough sell nowadays. After this bowl season, you'd be hard-pressed to make that pitch to a recruit.

"

- Rutgers coach Kyle Flood
It's no different at Michigan State, which claims four 11-win seasons in the past five years -- a record matched in the Big Ten only by the Buckeyes.
"We're selling results," MSU coach Mark Dantonio said Tuesday. "When we first came here, we were selling hope. We're not selling hope now. That's probably as big a difference as anything. The results are there. We're putting a lot of guys in the NFL. It's not a myth. These things are happening."
Hope isn't always a bad thing to sell, though, especially if it's justified. Wilson, entering his fifth year at Indiana, said the Hoosiers have upgraded recruiting significantly since 2011.
The former offensive coordinator at Oklahoma, Wilson watched Oklahoma State, Baylor and Texas Tech elevate their programs in recent years. Some of it came through recruiting success aided by competing every year with Texas and Oklahoma.
The Big Ten East necessitates a similar climb as top programs continue to raise the bar. Wilson said his staff doesn't blink at the rising challenge.
"It enhances recruiting," Wilson said. "Look at what Michigan State has done. At the end of the day, the power of the Big Ten is a positive. We have sold that in recruiting. Great players want a chance to prove themselves against other great players."
Harbaugh's staff, with barely a month to build a recruiting class, fights to finish in this last week as five Big Ten teams rate among the national leaders in ESPN's class rankings. Ohio State is seventh, followed by Penn State (12th), Michigan State (28th), Wisconsin (29th) and Nebraska (32nd).
For Flood at Rutgers, the selling points of the Big Ten are no different. He believed in the league before its recent turnaround.
When he shared his feelings last year about a one-loss league champion, recruits believed him. Still, Flood said, he knows they heard a different message from coaches outside the conference.
"A lot of times," Flood said, "schools from the South that come recruiting in our part of the country, part of their pitch is, 'If you want to play great football, you have to come to the South.'
"That's a tough sell nowadays. After this bowl season, you'd be hard-pressed to make that pitch to a recruit."
January, 28, 2015
Jan 28
11:35
AM ET
By
Ryan Canner-O'Mealy
| ESPN.com
It was another season of record-setting performances, unbelievable finishes and very large men scoring very big touchdowns. And, yes, the Fainting Goat.
Here are our favorite plays of the year:
Hail Marys
Bahamas Bowl miracle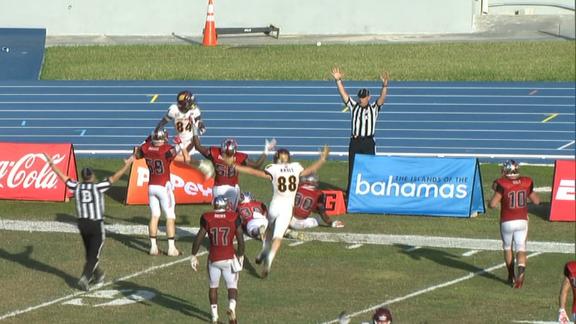 Central Michigan trailed by 35 points entering the fourth quarter. It trailed by seven when it pulled off a 75-yard, three-lateral Hail Mary as the clock struck :00. The Chippewas failed on the two-point conversion, but their comeback and miracle finish was the craziest play of bowl season.
---
Central Florida wins a share of the AAC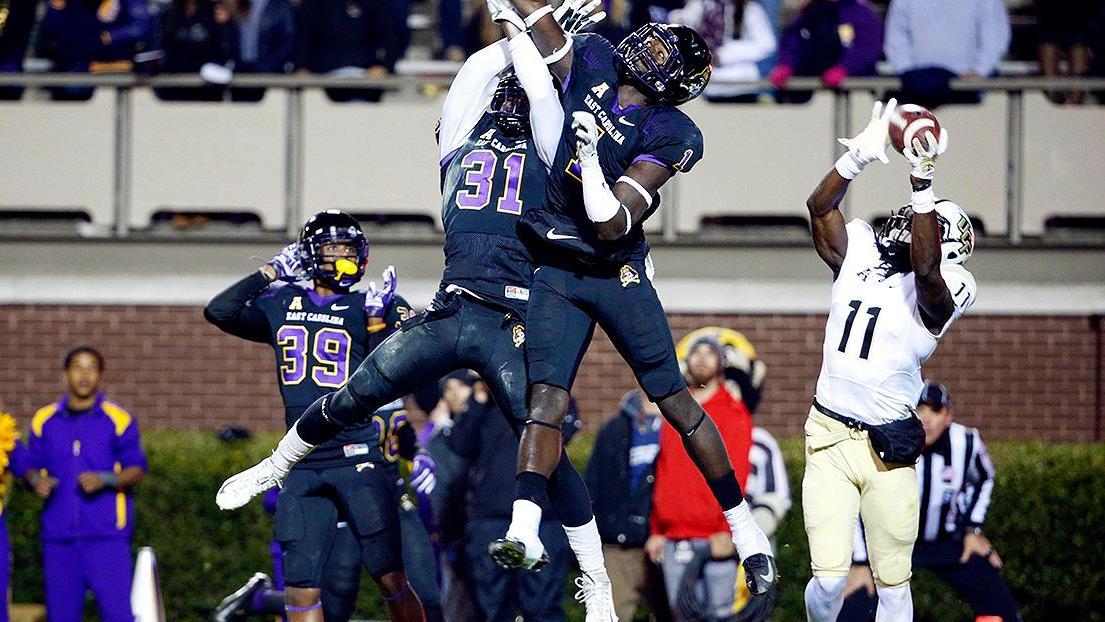 After blowing a 26-9 fourth-quarter lead, it looked as if Central Florida was done. But East Carolina mismanaged the clock -- taking three knees and a sack -- before giving the ball back to the Knights with 10 seconds left. One 51-yard score later, George O'Leary's crew was celebrating a share of a conference championship.
---
Solomon stuns Cal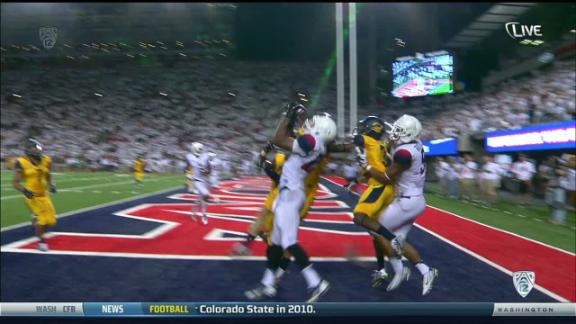 Arizona scored an absurd 36 points in the fourth quarter, capped by
Anu Solomon
hitting
Austin Hill
in the end zone on a 47-yard touchdown that gave the Wildcats a 49-45 win.
---
Big-guy touchdowns
Come to Arkansas, where linemen throw TDs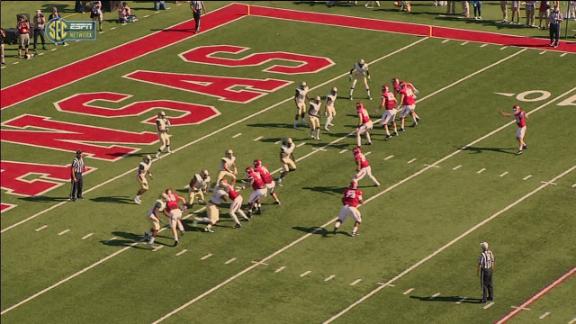 Who said Bret Bielema offenses were old school? Arkansas' coach loves his linemen, and here he lets 350-pound guard
Sebastian Tretola
throw for a score in a 45-17 win over UAB.
---
The biggest of big-guy touchdowns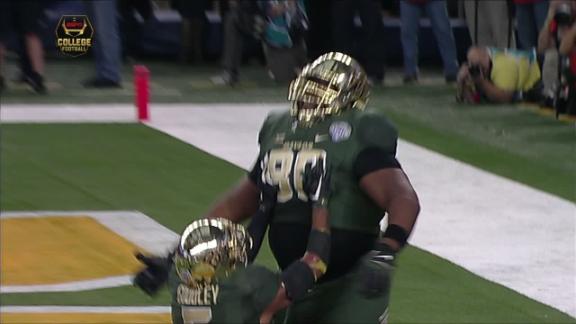 Tretola's pass was nice, but how about seeing a 400-pounder go up the seam for an 18-yard score in a New Year's Six bowl game? That's what Art Briles and Baylor dreamed up, as
Laquon McGowan
scored to give Baylor a 20-point lead before Michigan State stormed back to win 42-41.
---
Boise goes back to the future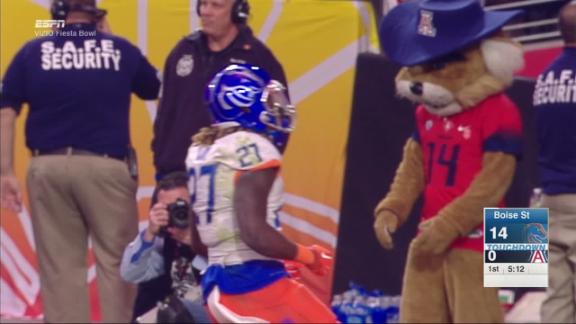 Everyone remembers Boise State's introduction to a national college football audience, upsetting Oklahoma with the Statue of Liberty in the 2007 Fiesta Bowl. Well, the Broncos brought it back for this year's game, as
Jay Ajayi
scored from 16 yards out in a 38-30 Boise win.
---
Fainting Goat gets its own category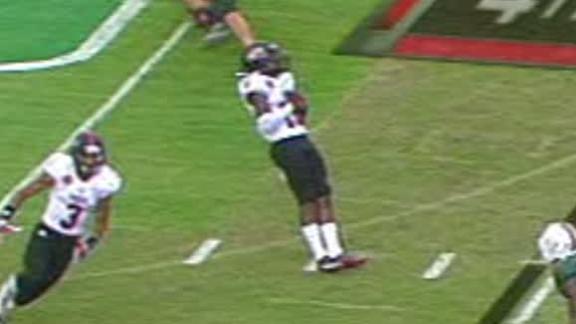 Arkansas State can lay claim to the best worst fake punt ever. In theory, one player falls down, draws the attention of the defense and the Red Wolves get a first down. In reality, he got clobbered and Arkansas State's pass was intercepted. But that only made us love it more.
---
So does this Nebraska false start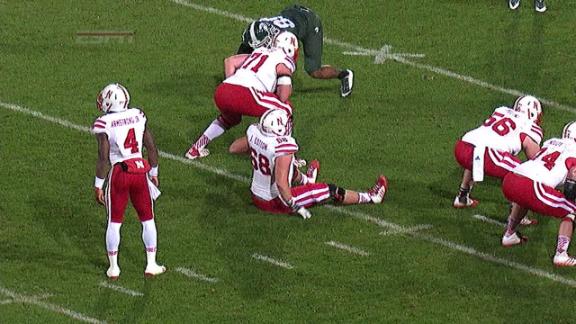 Poor
Jake Cotton
. The Nebraska lineman was just trying to hold his stance, but once all 6-foot-6 and 305 pounds of him starting going backward, there was no turning back.
---
Year of the freshman RB
Leonard Fournette runs over Texas A&M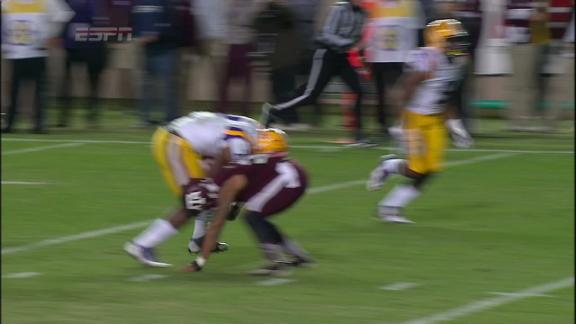 It was an up-and-down year for the heavily hyped Fournette, but he certainly showed signs of why such big things were expected out of him. Just ask Howard Matthews, who got bowled over on Fournette's way to the end zone in LSU's 23-17 win.
---
Dalvin Cook runs past Miami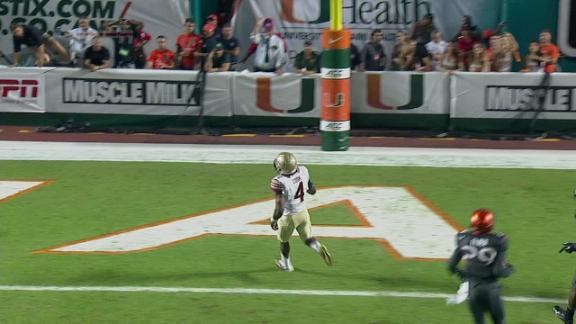 Florida State had fallen behind again. This time, it was 23-10 to rival Miami. But Cook saved the day, with 44- and 26-yard scores to guide the Seminoles to a 30-26 victory.
---
Royce Freeman can do it all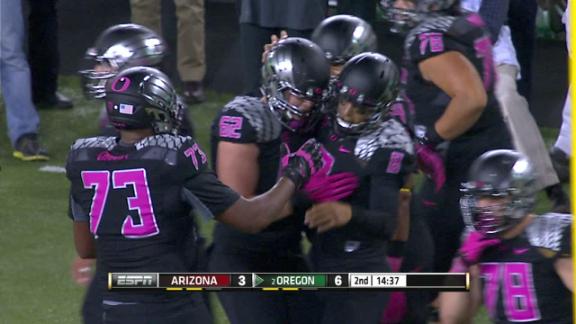 Freeman could be a game-changer for the Ducks, the kind of every-down power back the team hasn't had in the past. And he can throw it too, as he proved with this touchdown toss to Marcus Mariota against Arizona.
---
Samaje Perine an Oklahoma bright spot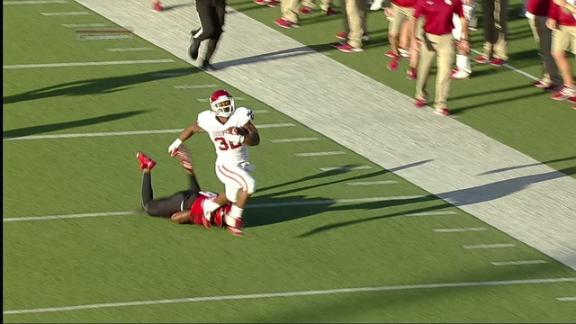 Oklahoma's year certainly ended poorly, but the Sooners have hope for the future following the emergence of Perine. He set the single-game rushing record with 427 yards (and five scores) in a win over Kansas. This 64-yard TD scamper jump-started a comeback win for Oklahoma.
---
Nick Chubb shatters records in Belk Bowl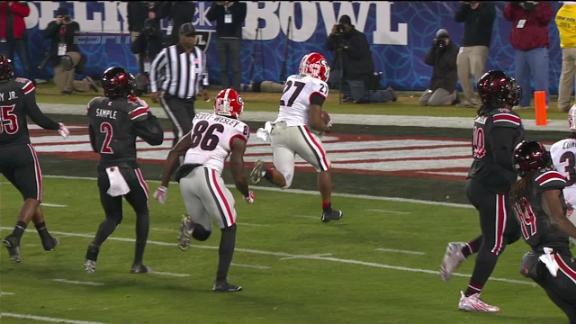 No
Todd Gurley
? No problem for the Bulldogs, who saw Nick Chubb announce himself as perhaps the best of all the freshman runners with a dominant 266-yard performance against a tough Louisville run defense. It was the most rushing yards by a Georgia back in a bowl and also a Belk Bowl mark.
---
More top plays
Nebraska's behind-the-back catch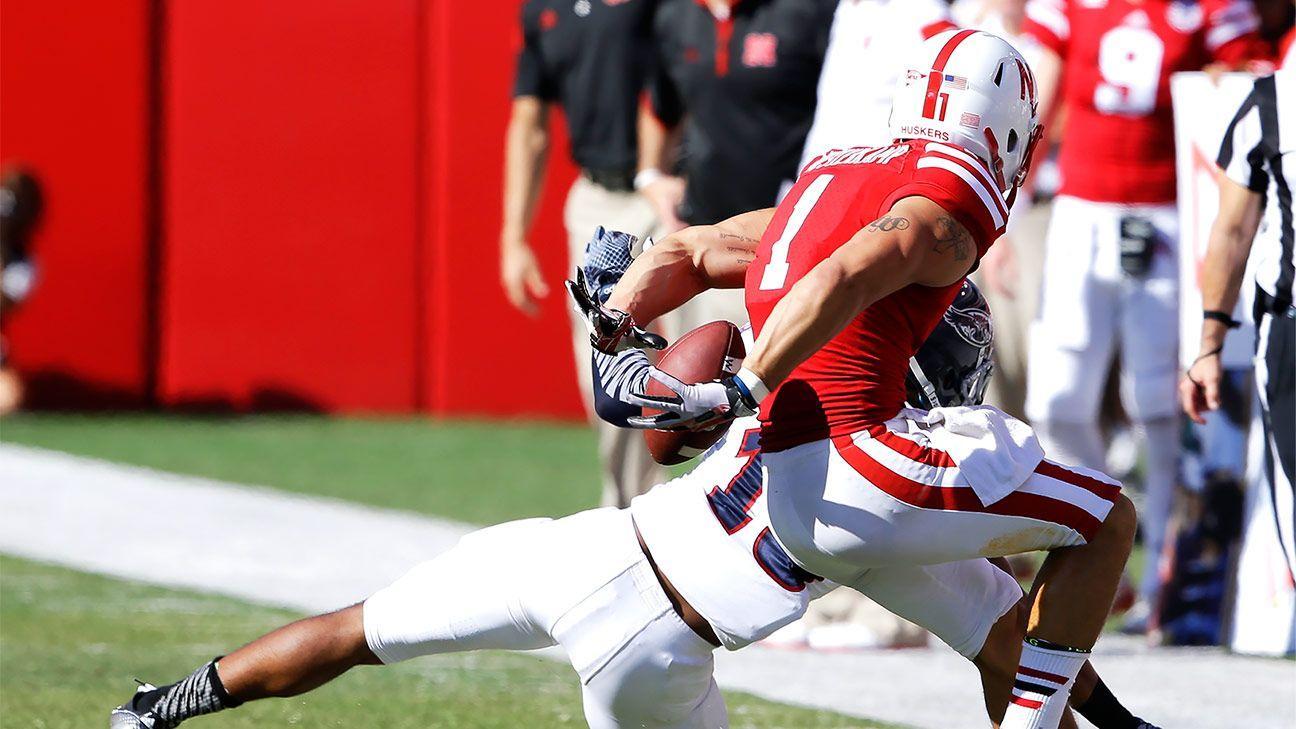 It was all the way back in August, but this held up as one of the best plays of the year. Wide receiver
Jordan Westerkamp
went behind the back to grab a pass during a 55-7 Cornhuskers win over Florida Atlantic.
---
Ohio State DE ends game like a Bosa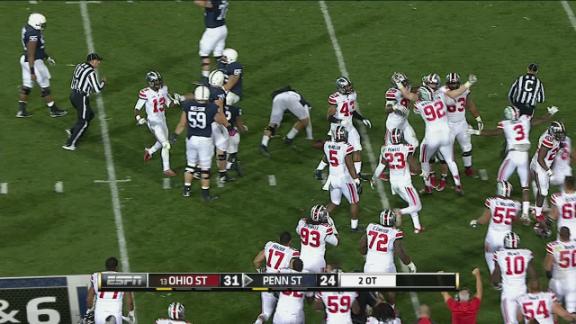 A running back on
Joey Bosa
? Yeah, that's not going to end well. As dominant as Ohio State was down the stretch, it wouldn't have happened had the Buckeyes not taken care of Penn State. Bosa made sure they finally did, with a 31-24 double-overtime win.
---
Mariota strikes a pose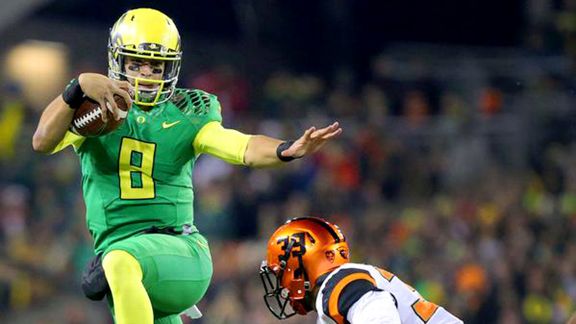 Brian Davies/The Register-Guard Marcus Mariota looked the part of a Heisman Trophy winner in Oregon's win over Oregon State.
---
Ohio State reverse touchdown pass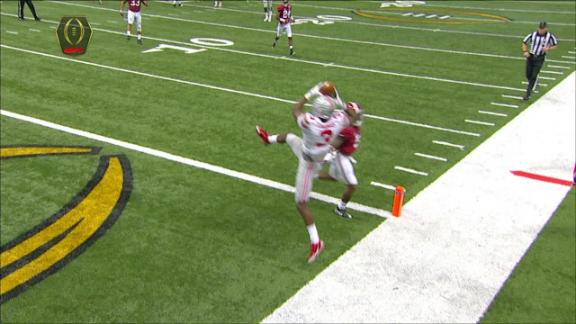 Of all the plays on this list, this is the most important. Trailing Alabama 21-13 in the final seconds of the first half,
Evan Spencer
took a handoff on a reverse and somehow found
Michael Thomas
in the corner of the end zone for a touchdown. The lesson? Even Ohio State's receivers are great quarterbacks.
---
Gordon leaps into record books (briefly)
Melvin Gordon
's stay atop the record book for single-game rushing yards may have lasted only a week, but that does nothing to diminish his magical performance against Nebraska, when he ran for 408 yards and four touchdowns in a 59-24 rout of the Cornhuskers.
---
Air Maxx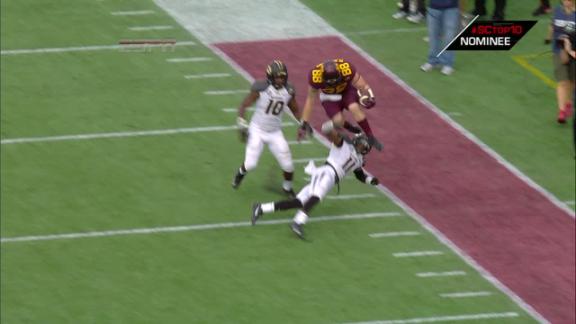 Minnesota may have lost its bowl game, but the Golden Gophers still had the highlight of the game, as tight end Maxx Williams hurdled two defenders en route to a 54-yard touchdown. So it's probably no surprise that Williams declared for the NFL draft after this game.
---
Shaq brings it baq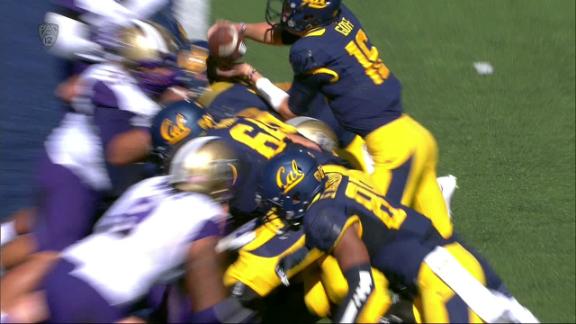 You can't do much more than a 99-yard touchdown return, and that's exactly what Shaq Thompson did for Washington to kick off the scoring in a 31-7 win over Cal.
January, 28, 2015
Jan 28
9:30
AM ET
Michigan and Ohio State couldn't be in more opposite situations both on the field and on the recruiting trail. The Buckeyes are coming off winning the national championship. The Wolverines had a losing season and coaching change, bringing Jim Harbaugh back to Ann Arbor.
To continue reading this article you must be an Insider
January, 28, 2015
Jan 28
9:00
AM ET
National signing day is exactly one week away. For some programs, it will be a sprint between now and next Wednesday. Others have already done most of their heavy lifting and will be focusing on babysitting their committed prospects and laying the groundwork for 2016. One thing's for sure, however: when head coaches talk about their 2015 classes next week, there will be nothing but superlatives.
No one has ever had a bad recruiting class, if you believe what is said at these signing day press conferences. Here are six quotes you are guaranteed not to hear from any Big Ten coach or anywhere in America on Feb. 4:
"This probably ranks as the third- or fourth-best class we've ever signed here."
You'll hear a lot of coaches say their class is "the best" one they've had. Which always makes me wonder what current players recruited by that coach must think.
"With this class, we got a step slower and a little bit smaller."
"Faster, higher, stronger" isn't just the Olympic motto. It's the go-to cliche for coaches on signing day.
"
We got some good players, but we didn't really fill our needs."
You'll hear a lot of talk about classes that filled needs. Of course. Why would you recruit players you didn't need?
"We pay very close attention to star rankings and agree with how the experts ranked our class."
Many coaches will say they completely ignore recruiting service rankings ... unless they can use it to brag about how highly-rated their class is or collect a bonus for a high ranking.
"We missed out on a few kids we really wanted."
The signing day spin will be that teams got everybody they wanted. In this era of decommitments and flipping and prospects embracing the drama of their announcements, that's pretty much impossible.
"This class has some great athletes, but their character is questionable."
Every prospect on signing day is "a high-character kid" who fits the team culture. Except coaches don't really get to spend a lot of time with many of the prospects they sign, and they're hoping that 17-year-old doesn't turn out to be a knucklehead once he lives on his own for the first time.
OK, on to the links:
West Division
January, 27, 2015
Jan 27
10:00
AM ET
By
Tom Van Haaren
| ESPN Insider
We are in the home stretch to signing day with roughly one week to go. This past weekend was a huge part of the Big Ten's recruiting efforts, so here is a look at the most important events of the weekend.
To continue reading this article you must be an Insider
January, 27, 2015
Jan 27
9:00
AM ET
Happy Tuesday, Big Ten fans. We hope all of you in the Northeast are staying safe amid snowmageddon.
1. Well, the
Craig Kuligowski to Illinois buzz
was nice while it lasted. The Missouri defensive line coach, one of the nation's most underrated assistants,
opted to stay with the Tigers
rather than join Illinois in what likely would have been a co-defensive coordinator role.
According to
longtime Missouri beat writer Dave Matter
, Illinois thought it had Coach Kool until Missouri's Gary Pinkel stepped in late and "delivered finishing move."
FINISH HIM!
Kugligowski would have been a nice boost for Illinois, especially with a defensive front that has underperformed during Tim Beckman's tenure. Kugligowski, whose
Twitter handle
says it all, mass-produces elite linemen, including each of the past two SEC defensive players of the year (
Shane Ray
and Michael Sam). He would have been a nice upgrade to Illinois' defensive staff. And it would have been nice for the Illini to swipe a top assistant from their braggin' rights rival.
But he's not the only solution for Illinois, as the Chicago Sun-Times' Steve Greenberg points out during
this Twitter exchange
with yours truly. Greenberg notes that Illinois wants more than a position coach for this role, and there's no guarantee Kugligowski would have succeeded in a broader role.
This remains a critical hire for Beckman, who needs a Bill Cubit-like savior for the defense before a pivotal 2015 season.
2. ACC members North Carolina and Wake Forest took an unusual but necessary step Monday and
scheduled a home-and-home nonconference series
for 2019 and 2021. As
colleague Andrea Adelson writes
, the ACC's recent expansions have limited the league's oldest rivals to just four meetings since 2004. These lengthy lulls are a major downside of bloated leagues with divisions.
Iowa and Illinois went six seasons without a game
until the Hawkeyes visited the Illini this past November.
The schedule-niks among you will recall how
Big Ten teams explored the possibility of adding nonleague games
against one another not too long ago. The introduction of a nine-game league schedule in 2016, plus divisions aligned with geography in mind, shortens the gaps between certain matchups. Still, there will be certain cross-division matchups we would like to see more often, and divisional games that we could do without every year.
Ultimately, I'd like to see leagues ditch divisions and perhaps championship games altogether (especially if it replaces them with playoff quarterfinal games). But the ACC, which opted to follow big brother SEC and stay with eight-game league schedules, could see more "non-league" matchups like Wake-UNC.
Links from around the league, plus an
early Big Ten forecast from Athlon
.
East Division
West Division
January, 26, 2015
Jan 26
10:00
PM ET
1. Phil Steele, my Championship Drive podcast colleague and the guru of college football numbers, already has
posted on his website
the number of returning starters at every FBS school for 2015. The leader is Appalachian State with 20. The leader among Power 5 schools is Notre Dame with 19. The leader among division/conference champions is Baylor with 17. And the leader among the four playoff teams is Ohio State, the national champion, with 15 (that includes only one quarterback). The teams with the fewest returning starters? South Alabama and UTSA, each with five.
2. The Sports Business Journal reported that the NFL is discussing the addition of a wild-card playoff game on the Monday night in January that the College Football Playoff has claimed through the 2025 season. NFL playoff expansion is not a done deal, but the idea that the league would horn in on the college game's biggest night is appalling. The NBA doesn't play on Final Four Monday unless forced to. The Portland-Brooklyn game, postponed Monday night because of the blizzard, will be played April 6, Final Four Monday, at 7 p.m. That means it will end as the college championship tips off. Does anyone seriously think the NFL would play a wild-card game at 5 p.m. on a Monday night in January? Me neither.
3. Vince Dooley retired as Georgia head coach in 1988 and as athletic director of the Dawgs in 2004. But that's not to say that Dooley, 82, has retired. In the Fall 2014 edition of The Georgia Historical Quarterly, Dooley wrote a history of football on the Athens campus during World War II. Not only did the 1942 Bulldogs win a share of the national championship, but they shared the campus with the U.S. Navy Pre-Flight "Skycrackers," one of five such teams established across the country during the war. The Skycrackers included a few professional players, and an assistant coach, 28-year-old Paul "Bear" Bryant, who would go on to bigger and better things, too.
January, 26, 2015
Jan 26
11:12
AM ET
On Friday, we rolled out the top 10 breakout players to watch in 2015. But we have 15 more, including two more Big 12 quarterbacks (for a total of four), the next great defender at Michigan State and, like our No. 1 breakout choice, USC's Adoree Jackson, a return game ace.
Check out the
first 10 players
, then read about the next 15:
11. Baker Mayfield, Oklahoma QB
Trevor Knight
was a buzzy Heisman candidate last spring, yet rival coaches were talking about whether Mayfield, if he were eligible in 2014, would overtake him. It was made moot because the Texas Tech transfer didn't get his waiver to play, but Knight's up-and-down season has certainly opened the door for competition.
With an Air Raid-based offensive coordinator in Lincoln Riley coming in, Mayfield is perfectly suited to take over -- and flourish -- as QB1 in Norman.
To continue reading this article you must be an Insider
Prospects Caught In Recruiting Rivalries
BIG TEN SCOREBOARD
Thursday, 9/3
Saturday, 9/5
Monday, 9/7