August, 30, 2014
Aug 30
6:30
PM ET
BALTIMORE -- The game wasn't supposed to go quite like this.
Ohio State was supposed to pummel Navy for four quarters on Saturday. It was supposed to immediately show life could go on without injured quarterback
Braxton Miller
, that it could look like a Big Ten contender no matter what. It was supposed to resume last season's dominating red zone offense right off the bat.
[+] Enlarge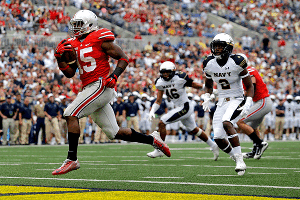 AP Photo/Patrick SemanskyDespite Ezekiel Elliott's touchdown, Ohio State showed its offense has a lot of room for growth.
It wasn't supposed to show up on ESPN's "Upset Alert" midway through the fourth quarter.
"Best thing about it," Ohio State coach Urban Meyer said, "is it's in the rear-view mirror."
Yes, the Buckeyes moved on with the eventual
34-17
win, finishing with a solid fourth quarter. But it was clear from their faces on the sideline that this opener didn't go quite as expected. Navy led at halftime, 7-6, and trailed by just a field goal early in the fourth.
Defensive lineman
Donovan Munger
stood off to the side, staring up at the huge video screen while biting his lower lip throughout the fourth quarter. His teammates didn't crack a smile, even when the Buckeyes broke off a nice run. And there seemed to be no sense of relief, no sense of accomplishment, until that final whistle sounded and bass blared from the locker room.
It's not quite time to hit that shiny, scarlet panic button. But maybe it's time to reassess where this team is right now. Neither Meyer nor offensive line coach Ed Warriner was pleased with the line's performance in the first half -- 19 rushes, 66 yards, 3.5 yards per carry – and it still has a while to go to meet last season's performance.
With nine new starters on offense, four of whom are on the offensive line, the Buckeyes aren't quite sure what their identity is yet.
"I think we're still figuring it out," running back
Ezekiel Elliott
acknowledged. "We got a lot of weapons and we spread the ball around. I think we're going to keep developing."
That wasn't supposed to be how Ohio State's opener transpired. This was supposed to be the easy W, not a dogfight. It was supposed to be a comfortable victory, not one that put the sea of scarlet at M&T Bank Stadium on edge. The good news for Ohio State is that two-touchdown fourth quarter will act as a huge boost to the team's confidence. And it showed this can turn into a good team. But, on Saturday afternoon, did this really look like a squad that's anywhere near as good as Big Ten rival Michigan State?
Even the defense, which boasted the nation's No. 9 run defense last season, showed some cracks. Navy's triple-option is certainly a unique scheme, but 370 yards and 5.9 yards per carry are also some pretty big numbers. That's more than Navy averaged last season (325.4 yards per game, 5.5 ypc). Again, that -- allowing more than Navy's average -- wasn't entirely expected.
"They gained a lot more yards than what we wanted," defensive tackle
Adolphus Washington
said. "But, at the end of the day, the best team won."
There is some good here.
J.T. Barrett
looked much more comfortable in the second half and went 4-of-4 for 130 yards and two scores. He also added 39 yards rushing. But, after that sluggish first half in a conservative scheme, it's clear this offense is still a work in progress.
Big offensive plays were difficult to come by in those first two quarters. But, in the end, those plays saved the Buckeyes.
Devin Smith
took a pass 80 yards for a score in the third to give OSU a lead it wouldn't relinquish. A relieved Ohio State crowd exchanged high-fives, the band played on, and Brutus the Buckeye streaked down the sideline.
Navy's good, but Ohio State was supposed to better. Much better. If not for those big gains -- or finding a handful of plays that worked to perfection in the fourth -- this outcome could've been different.
Without Miller, question marks swirled around this team before the opener. After its performance against Navy, there's one big question remaining: Is the real Ohio State the one that struggled through two or three quarters -- or shined especially in one?
Washington smiled when posed that question. He leaned against the wall, grinned and simply said: "Definitely that last quarter."
We'll see. Win or lose, Week 1 wasn't supposed to go like this. But, with that victory in the rear-view mirror, maybe the Buckeyes can parlay that success and challenge the cream of the Big Ten. Just like they're supposed to.
August, 30, 2014
Aug 30
5:15
PM ET
By
ESPN Stats & Information
| ESPN.com
The first Saturday of the college football season saw a record-setting day in Ireland and an impressive debut in Columbus. Here's a look at what you need to know from Saturday's early games…
J.T. Barrett & Ohio State struggle early, rebound late to win vs Navy
Ohio State trailed Navy late in the 3rd quarter, but outscored the Midshipmen 21-3 down the stretch to secure the win. A big reason was J.T. Barrett who completed all four of his passes in the second half including a pair of touchdowns.
In the first half, Barrett threw no touchdowns and an interception with only 96 passing yards as he posted a 30.4 QBR. His big second half saw him post a QBR of 99.9 which is the highest possible number a quarterback can get.
Christian Hackenburg sets a Penn State record
Last year's Big Ten Freshman of the Year Christian Hackenberg became the first player in Penn State history to throw for at least 400 yards in a single game as he and the Nittany Lions defeated UCF at Croke Park in Dublin, Ireland.
Geno Lewis (173) and DaeSean Hamilton (165) each posted 100-yard receiving games. It was the first time Penn State had multiple receivers with at least 100 yards receiving in the same game since November 22, 2008 vs. Michigan State (Deon Butler and
Jordan Norwood
).
Devin Gardner's big day paces Wolverines revenge
Michigan's Devin Gardner attempted only 14 passes in the win, but he completed 13 of them including three touchdown passes to TE Devin Funchess. Gardner's 92.9% completion percentage was the second-highest in Michigan history by a player with at least 10 attempts. Michigan fans have to hope Gardner's career finishes better than the man who owns that record – Tate Forcier.
All three Funchess touchdowns in Saturday's win came in the first half making him the first Wolverine to do that since
Mario Manningham
at Notre Dame in 2006.
Note to FBS schools – Stop scheduling North Dakota State
North Dakota State – three-time reigning FCS champion and No. 1 in the preseason FCS coaches poll – routed Iowa State in Ames, 34-14. It's the second straight year that Iowa State lost to an FCS opponent (2013 vs N. Iowa) and the fifth straight year NDSU knocked off an FBS foe with all five wins coming on the road.
August, 30, 2014
Aug 30
3:34
PM ET
Associated Press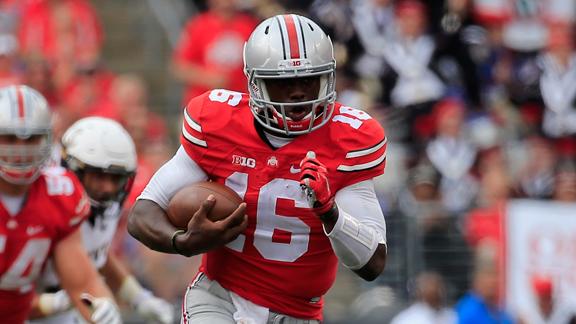 BALTIMORE -- Redshirt freshman J.T. Barrett threw for 226 yards and two touchdowns in his college debut, and No. 5 Ohio State beat Navy 34-17 Saturday for its 25th consecutive regular-season victory.
Elevated into a starting role after senior Braxton Miller injured his right shoulder on Aug. 18, Barrett went 12 for 15 -- including an 80-yard TD pass to Devin Smith that put the Buckeyes up 20-14 with 4:10 left in the third quarter.
Ohio State (1-0) won despite allowing Navy (0-1) to gain 370 yards on the ground, including 118 by Ryan Williams-Jenkins.
August, 30, 2014
Aug 30
8:00
AM ET
Take a deep breath, Big Ten fans. The wait is over. Our first weekend of Big Ten football is finally here. And though we might be lacking in quality this weekend, at least there's quantity.
8:30 a.m. ET
Penn State vs. Central Florida (Dublin, Ireland), ESPN2:
This overseas contest isn't the same without the O'Brien vs. O'Leary headline or the Hackenberg vs. Bortles undercard. But it could still be one of the more interesting games on tap, as it's
James Franklin
's debut as Penn State's head coach. The Nittany Lions are looking to once again shock the conference, and that will have to start with success from an inexperienced offensive line. The Nittany Lions have talent on offense --
Christian Hackenberg
,
Jesse James
,
Donovan Smith
,
Bill Belton
,
Zach Zwinak
-- but a win won't come easy against a loaded Central Florida defense.
Noon ET
Indiana State at Indiana, ESPNews:
If you haven't fallen asleep from waking up early for the Nittany Lions game, this one might cause you to fluff up that pillow. The Hoosiers upended the Sycamores 73-35 the past season and should once again put on an offensive clinic. Will Indiana's new defense be better? We probably won't find out based on this game.
Northern Iowa at Iowa, BTN:
Kirk Ferentz's crew hasn't made quick work of its FCS opponents the past two seasons. Last year, Iowa edged out Missouri State 28-14 and the year before beat Northern Iowa 27-16. Northern Iowa is a middle-of-the-road FCS team this season, but those past two FCS games featured teams that finished below .500. It shouldn't be close, but then again, it shouldn't have been in 2012 or 2013 either.
Appalachian State at Michigan, ESPN2:
Can history possibly repeat itself here? The 2007 game -- Mountaineers 34, Wolverines 32 -- was one of the greatest upsets in college football history. If you're a Big Ten fan, you should probably remember where you were when Julian Rauch nailed the field goal heard 'round the world to give App State a two-point lead with 26 seconds left in the game. No doubt the Wolverines will be more prepared this time around, but you can bet Appalachian State's confidence is pretty high, too.
Western Michigan at Purdue, ESPNU:
Thankfully, it's not our job to tell you why you should watch these games. We're coming up relatively empty on this one. Purdue is just a nine-point favorite, which means this game should technically be closer than most of the others here. But the ratings for this game won't skyrocket based off that fact. Purdue's offense should be better, so if quarterback
Danny Etling
struggles in this game, it might already be time for Boilermakers fans to worry.
No. 5
Ohio State at Navy, CBS Sports Network:
Can Ohio State move on without
Braxton Miller
? Will Navy's triple-option fool this defensive line? How will
J.T. Barrett
fare in his first career start? The Midshipmen aren't a bad team, and plenty of questions are swirling around the Buckeyes' quarterback situation with the season-ending injury to Miller. All eyes will be on Barrett -- and how long a leash Urban Meyer gives him here.
12:05 ET
Youngstown State at Illinois, BTN:
Tim Beckman could be on the hot seat this season, and if he loses to a team with a Penguin mascot, that seat will start heating up in no time.
Wes Lunt
could be in for a big season, but it'll be interesting to see who in the receiving corps can step up. Beckman is also counting on some juco players to plug roster holes, so we'll start to see how that's working out in this opener.
3:30 ET
James Madison at Maryland, BTN:
First, Rutgers comes away with a win in its first game as a Big Ten member. Next, the Terrapins should follow suit. We should see offensive fireworks here, especially though the air, now that quarterback
C.J. Brown
is healthy, along with wideouts
Stefon Diggs
and
Deon Long
. James Madison is an average FCS team, though it nearly knocked off Akron the past season in a 35-33 loss.
Cal at Northwestern, ABC/ESPN2:
No Venric Mark, no
Christian Jones
... no problem? The Golden Bears are lousy, and the reins are now in the hands of Northwestern QB
Trevor Siemian
. The Wildcats are hoping to rebound from the past season with a bowl berth, and it'll have to get off on the right foot -- with a win over Cal -- to make that happen. Northwestern should start off 3-0 after a disappointing 5-7 finish in 2013.
Florida Atlantic at No. 22 Nebraska, BTN:
It won't be the "Battle of the Pelinis" this season, as FAU coach Carl Pelini was fired the past season in the wake of drug allegations against his staff. The move
wasn't without its controversy
. We'll see if Bo Pelini is out to avenge his brother based on how ugly this game gets. If
Ameer Abdullah
wants to be a Heisman contender, he has to post crazy numbers in games like this.
9 ET
No. 14 Wisconsin vs. No. 13 LSU (Houston), ESPN:
Admit it. You're waiting all day for this Big Ten game. This could give the B1G respect on a national scale -- or, if it turns ugly, could give the rest of the Power 5 more ammunition to point a finger and label the conference weak.
Melvin Gordon
might be the best running back in the country, and he'll be facing a slightly above-average run defense. Is that enough to give the Badgers the win? LSU might have the advantage everywhere except at tailback and offensive line. This is
the
game to watch.
Weather
It looks as if the weather is pretty split this week -- nice and sunny in some places with chances of thunderstorms in others. First off, the good news: It'll be nice and clear for Penn State, Indiana, Ohio State, Illinois and Nebraska. Outside of Ireland, where it should be in the 60s, the temperature should vary between the 70s and 80s.
Elsewhere? Teams might not be so lucky. For Maryland and Wisconsin, thunderstorms could strike later in the games. For the other four teams -- Northwestern, Michigan, Purdue, Iowa -- thunderstorms could strike early but could clear up later.
Top Week 1 stories
Season predictions
|
Weekly predictions
|
Fearless predictions
|
Bowl predictions
J.T. Barrett becomes voice of Buckeyes
LSU-Wisconsin primer
Remembering an upset for the ages
Calhoun's dual role: hit 'em, make 'em smile
Terps' Leak, Brown draw from year off
Fast start would mean sunny days for B1G
In playoff era, will Rose stay as sweet?
B1G players in Week 1 spotlight
A B1G youth movement at receiver
Loaded backfields make it B1G's Year of the RB
Twitter: PSU sights & scenes from Ireland
August, 29, 2014
Aug 29
5:00
PM ET
No longer do you need a Friday mailbag to help survive the football-free weekend. Still, we are here to help you digest the results of Thursday in the Big Ten and prepare for Saturday.
@mitchsherman The internet is mixed on this... but I don't see why #MSU wouldn't be in the playoff w/ only one loss to Ore., do you? #B1G

— Andrew Murray (@Coach_AMurray) August 29, 2014
Mitch Sherman: It's complicated, Andrew. In theory, the Spartans should be rewarded for scheduling the Sept. 6 trip to Oregon, win or lose a tight game. But how would the College Football Playoff committee view a defeat? It depends, of course, on Oregon's body of work and the other contenders late in the season for the four coveted spots. A year ago, MSU would have made it in with an early season road loss to Notre Dame, which finished the regular season with eight wins. Michigan State's schedule is not exactly filled with heavyweights after next week. Its top competition (Nebraska, Michigan, Ohio State) comes to East Lansing, presenting the Spartans with the best chance to wow the committee with impressive wins. And if a 10-win team emerged from the West to face the Spartans in Indianapolis, that would obviously help. I'm inclined to say, yes, Michigan State would have a good shot to make it at 12-1.
@mitchsherman @ESPN_BigTen Why are you such a self fulfilling jerk? #selloutstreaktweets #heylookatme!

— Collin Koch (@kochusker) August 29, 2014
Mitch Sherman: I'm glad you asked, Collin, and thanks for being such a big fan. If anyone missed it, I wrote this week that Nebraska and Michigan marketed tickets with unusually aggressive tactics this offseason to combat soft sales, in particular from students. And on Wednesday, I tweeted that the Huskers had achieved their 334th straight sellout, extending an NCAA record, for the Saturday opener against Florida Atlantic. (I know, what a terrible thing to publicize.) If your feelings were hurt that we drew attention to ticket sales at Nebraska or Michigan, in spite of the packed houses expected this weekend at both schools, I say this: It's Nebraska and Michigan. We are talking about two schools that are known as much for their history of selling tickets as producing titles. When they are still working at it days before the opening game -- as rivals Ohio State and Penn State watch demand escalate -- it's interesting.
@mitchsherman @ESPN_BigTen Rutgers had a big win earning some respect last night...will their success transfer to the B1G conf games?

— Lt. Dan (@DJay01406) August 29, 2014
Mitch Sherman: A great start for coach Kyle Flood's team as a member of the Big Ten, beating Washington State 41-38 in non-neutral Seattle. Rutgers accomplished more offensively, even against a suspect defense, than I thought possible. Quarterback Gary Nova's performance, especially in the second half, tells me that he is ready for a bounce-back season under new coordinator Ralph Friedgen. And the Scarlet Knights' defense will have better days; Wazzu is going to put up yardage on most teams. I saw a motivated team in Rutgers that has a chance now to carry big momentum into October. The Penn State game in two weeks, already sold out in Piscataway, is huge for Rutgers. It has a chance to beat the Nittany Lions, but I'm not ready to change my prediction about the second half of this season. That is going to be a little rough. Just look at the schedule. But please, Rutgers, continue to prove us wrong.
@mitchsherman Rutgers and Indiana are the two worst teams in the B1G East. To me, that says the B1G East is a top division in cfb. Agree?

— All Things Husker (@HuskerLegacy) August 29, 2014
Mitch Sherman: The Big Ten East is strong, with two contenders for the College Football Playoff, and a pair of giants in Michigan and Penn State that aren't quite at the top of their games. Indiana remains a borderline bowl team, and I'm not ready to anoint Rutgers or Maryland in their first seasons of league play. Historically, few divisions can compare. Today, the SEC West and the Pac-12 North are better, and the ACC Atlantic might be, too.
@mitchsherman Impressed or not impressed with Minnesota's performance last night? Should I be concerned when my Hawks visit later this year?

— David Fuller (@dafu2) August 29, 2014
Mitch Sherman: I wasn't overly impressed with the Gophers. Their performance against Eastern Illinois was more dominant than the 42-20 score indicated as the FCS Panthers, who went 12-2 last season, scored two touchdowns in the final 30 seconds. But Minnesota looked out of sync at times, and I still wonder if it has enough high-end talent to contend for an upper-division spot in the West. That said, yes, David, be concerned about Iowa's Nov. 8 visit to TCF Bank Stadium. The Hawkeyes can beat every team on their schedule -- and also lose to about six, including Minnesota..

August, 29, 2014
Aug 29
8:00
AM ET
R.U. serious?
In case you missed it -- and you might have since the game ended around 1:30 a.m. -- Rutgers outlasted Washington State,
41-38
, to win its first-ever game as a member of the Big Ten. It was a quality win for the conference and an even bigger one for the underdog Scarlet Knights.
Senior quarterback Gary Nova, who appeared to be wiping tears from his eyes on the sideline, addressed the TV cameras after the final whistle. When asked what this game meant to the program, he simply said: "I don't know. It's just a great win."
He'll have all of Friday to reflect on what it means. But, on the surface, it's pretty clear: That win just earned Rutgers some much needed respect. And it showed that maybe the "pushover" tag was a bit premature.
Granted, the Cougars are just a mediocre Pac-12 team. Their scoring defense last season was among the worst in the nation, while their pass offense was among the best. Rutgers scored 41 points Thursday night but allowed 532 passing yards. So the game didn't stray from the script all that much. Except, of course, where it counted -- the winning team.
No, this doesn't mean the Knights will automatically hang tough against Ohio State or Michigan State. But it does show the Knights were underestimated. By how much? Ask us again after the Penn State game. But none of us five Big Ten bloggers picked Rutgers to win this game. And none of us picked RU to win more than four games on the season.
Kyle Flood's squad was impressive, especially on offense. The line absolutely dominated, and Paul James showed a nice blend of speed and power to the tune of 173 rushing yards and three TDs. Nova tossed a 78-yard TD on the first play, struggled the rest of the first half but then rebounded by going 11-of-17 for 174 yards in just the second half. Wideout Leonte Carroo could even be a popular waiver wire addition when it comes to
our fantasy league
.
The Knights received a lukewarm reception when they accepted an invitation to the conference. But they proved a lot of analysts and experts wrong with their performance against Washington State. Let's see if they can keep doing that; there's no better way to earn respect.
Welcome to the Big Ten, Rutgers.
Postgame wraps
East Division
MSU linebacker Taiwan Jones never showed a "clear indication" he was ready to play middle linebacker this camp, but he also never really had a down day either.
West Division
Extra point
Six Big Ten players made the cut on Mel Kiper's "Big Board," a list of the top 25 NFL prospects, with Nebraska DE Randy Gregory the top B1G player at No. 4 overall.
August, 28, 2014
Aug 28
5:00
PM ET
You saw our predictions on the
conference standings
. And our picks for Big Ten
defensive player of the year
,
offensive player of the year
,
freshman of the year
and
coach of the year
.

But perhaps the most important prediction -- and the one that could cause some more debate -- involves the bowl games. Instead of giving our individual picks for this, we combined our thoughts and butted heads to form a consensus.
We predicted that 10 of the Big Ten's 14 teams will make bowls this season, which isn't too shabby for the conference considering Penn State is still facing a postseason ban. So only Illinois, Purdue and Rutgers were left out in the cold.
Without further ado, here are our Big Ten bowl picks:
College Football Playoff semifinal:
Michigan State
Chick-fil-A Peach/Cotton:
Ohio State
Capital One:
Iowa
Outback:
Nebraska
National University Holiday Bowl:
Wisconsin
TaxSlayer/Franklin American Mortgage Music City Bowl:
Michigan
San Francisco:
Northwestern
New Era Pinstripe:
Maryland
Quick Lane:
Minnesota
Heart of Dallas:
Indiana
August, 28, 2014
Aug 28
2:30
PM ET
By
ESPN.com staff
| ESPN.com
We gave you a round-by-round look and analysis of our Big Ten fantasy draft, so we thought we would also offer an overview on each of our teams.
What were our strategies? And how do we think we fared? Check it all out below, and let us know who you think has the best lineup:
Adam Rittenberg (Trombone Shorties):
I wanted a top-shelf running back and got one in
Ameer Abdullah
. He will produce yards, but I'd really like to see his touchdowns total increase. Both of my wide receivers are tight end types (
Jesse James
is still classified as one,
Devin Funchess
isn't) who create matchup problems for defenses and should have big seasons. You need at least one dual-threat quarterback because of the scoring system, and I like Tommy Armstrong's potential in his second year as the starter.
Connor Cook
doesn't bring much as a runner, but if he builds on how he ended last season, he will put up plenty of points, too.
Paul James
is a dynamic player when healthy and should get plenty of carries as Rutgers' featured back. I wanted a defense I could keep for several weeks, and Minnesota's unit, which should once again be pretty stingy, should have little trouble shutting down Eastern Illinois and Middle Tennessee.
Can you hear that? It's the sweet music of another Trombone Shorties championship, coming your way this fall.
Brian Bennett (Legendary Leaders):
Quarterbacks can dominate this particular scoring system, so I was happy to grab
Devin Gardner
with the fourth overall pick. He put up more total fantasy points than any player in the Big Ten last season, by a pretty wide margin (if only he could play Indiana every week). Speaking of the Hoosiers, I was excited to see
Tevin Coleman
still around for my next pick, as he should be a fantasy stud this season. Not getting
Wes Lunt
was a bummer (and, guys, I should have dibs on him come waiver wire time, right?) but Maryland's
C.J. Brown
should be a fine option, racking up points every time he throws to
Stefon Diggs
and
Deon Long
. If
Ezekiel Elliott
becomes Ohio State's featured back as expected, that could be a gold mine. My receiver spots are a little shakier, but I think that was the one position to punt since there weren't great options after the top couple of guys. It wasn't worth spending an early-round pick on a position that is really hit or miss in this fantasy system. Iowa's defense should be strong all year long with that schedule. I'm feeling good about my team, though injuries and the double-bye weeks can always wreak havoc.
Mitch Sherman (Sherman Tanks):
Yards matter, but touchdowns mean more. My first pick,
Jeremy Langford
, reached the end zone nearly as often as
Melvin Gordon
and Abdullah combined last season. With Michigan State's improved offense and less reliance this fall on the defense, Langford's opportunities figure only to increase. I'm banking heavily on the Penn State offense, with quarterback
Christian Hackenberg
after a 20-touchdown freshman season and running back
Zach Zwinak
, who is good in the red zone. Throw in the PSU kickers, too, for good measure, though I will have to make some roster adjustments in October as the Nittany Lions get two bye weeks. Deon Long, despite facing some criticism from Maryland coach Randy Edsall early in preseason camp, is ready for a big senior season as he returns from a broken leg. I'm expecting similar production from Iowa's
Kevonte Martin-Manley
, who has shown his game-breaking skills in the return game.
Trevor Siemian
, with the job to himself at Northwestern, can accumulate numbers in the passing game. And the Nebraska defense is solid as the strength of Bo Pelini's team.
Josh Moyer (Coal Crackers):
I would have preferred to draft last so I could've picked up a blue-chip running back
and
a top quarterback. But you have to adapt, right? Gordon was an easy decision as the No. 1 overall pick. Since my initial strategy was basically busted right off the bat, I took an advantage as soon as I saw one -- when only one wideout was taken in the first nine spots. I drafted
Shane Wynn
and Stefon Diggs back-to-back, so I now have the best corps of receivers in our league. By far. I'd also argue I have the best defense and kickers by twice choosing Michigan State.
Mark Weisman
isn't a bad RB2, either. What does that leave? Well, admittedly, that leaves my weakest spot: Quarterback. I took
Jake Rudock
late in the draft and
Mitch Leidner
as my last pick. I wasn't getting good value, so I kept holding off. Hopefully those two can produce some running TDs for me, and if one of them can break out, then Adam can start waving good-bye to that championship trophy.
Austin Ward (Massive Attack):
Indiana might not be anybody's favorite to win the Big Ten this fall. But to compete in a Big Ten fantasy league, there had better be at least one player from that team on your roster, so there was no need to wait when the third pick came around. Though grabbing
Nate Sudfeld
there might seem a bit premature, with each team playing two quarterbacks, grabbing the guy most likely to lead the conference in passing while guiding such an explosive attack felt like the smartest play. Complementing him with
J.T. Barrett
in the later rounds was a bonus, because
Braxton Miller
's replacement at Ohio State is also going to be at the controls in a high-octane spread system with plenty of skill players around him. That should allow him to rack up decent passing numbers which he will supplement with his rushing ability. Leading with those two quarterbacks, this team should be poised to consistently put up big numbers.
August, 28, 2014
Aug 28
2:00
PM ET
By
ESPN.com staff
| ESPN.com
Big Ten football kicks off in just a few hours. So you know what that means – the start of tailgates, packed stadiums and unforgettable upsets. And, of course, the start of another season of our Big Ten fantasy league.
The Trombone Shorties (Adam Rittenberg) and the team formerly known as The One Who Knocks (Brian Bennett) won't have it easy anymore. The Big Ten fantasy league is no longer just a head-to-head battle. Now, in Year 4 of the league, there are five of us – and the competition and trash talk are intense. (If you want to play college fantasy football, too, you can do so through
ESPN's College Football Challenge
.)
We held a live eight-round draft earlier this week, and below you'll find our draft results – along with a brief analysis by Josh Moyer on each round:
Round 1:
The No. 2 overall pick is the trickiest in this draft.
Melvin Gordon
is the easy No. 1 – but where do you go from there? On one hand, running back is deep, but the top four at the position could be gone when the pick comes around again. Rittenberg opted to play it safe by picking Nebraska's
Ameer Abdullah
, widely regarded as the second-best offensive player in the B1G. But he might come to regret the pick if Abdullah can't find the end zone more often. Abdullah averaged 19.8 fantasy points a game last season, which was behind
Tevin Coleman
(20.79 points) and just slightly ahead of
Jeremy Langford
(19.42 points), who really took off in Game 6. … Quarterbacks and wideouts were at a premium, so Ward and Bennett focused on quarterback in the first round. There are no point deductions for turnovers, so the
Devin Gardner
pick was a smart one.
[+] Enlarge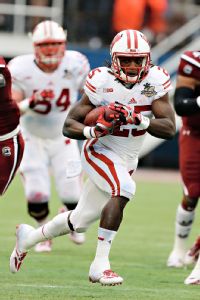 Scott Halleran/Getty ImagesWisconsin's Melvin Gordon was an easy pick as the No. 1 player in the Big Ten blog's fantasy draft.
Round 2:
Let the run on wide receivers begin. If teams didn't spend one of their first two picks on the position, then it was basically impossible to get an elite player. Rittenberg struck first with
Devin Funchess
, stealing my pick. I "settled" on Indiana's
Shane Wynn
. … Everyone knew Bennett's pick before he made it, but it was another great one with Coleman. Bennett probably had the best first two rounds out of any of us. … Ward's pick of
Josh Ferguson
in the second round was mildly surprising since we don't get a point per reception, but the running back picture was more muddled after the first four went off the board.
Round 3:
I started off the third round with
Stefon Diggs
– giving me the top overall receiver combo with Wynn-Diggs – but definitely guaranteeing I'll be in a hole later when it comes to quarterback. Rittenberg didn't want the same to happen so he opted to take his first quarterback in
Connor Cook
. … This is when the draft started getting interesting. Sherman took Maryland's
Deon Long
as the fourth overall receiver. It could certainly pay off in the end, but it certainly wasn't a "safe" pick with Diggs as Maryland's top target and with proven commodities such as Ohio State's
Devin Smith
still on the board. … Poor Bennett got the short end of the stick when he tried to draft Illinois'
Wes Lunt
– but he wasn't in ESPN's draft database for some reason. So we decided as a group to exclude him; Bennett took Maryland's
C.J. Brown
instead. A fantasy downgrade for sure.
Round 4:
Maybe someone should've sent Sherman a memo on Penn State's offensive line because he took
Zach Zwinak
over some other prime options. But Sherman's banking on the goal-line value of Zwinak, who scored 12 TDs last season. Zwinak could be like fantasy football's 2004 version of Jerome Bettis. … With few receivers left, Smith was a solid pick by Ward and definitely his best value of the draft so far.
Round 5:
I took my first quarterback in Iowa's
Jake Rudock
, as I'm banking on some extra value thanks to his penchant for running close to the goal line. (He had five rush TDs last season.) But, in retrospect, that might not have been the best move. Ward got another good value pick in Ohio State QB
J.T. Barrett
– and, while Rudock is the safer pick, Barrett certainly has the higher ceiling. Part of me is regretting my choice already. … Bennett's great draft continued by grabbing the best remaining receiver in
Kenny Bell
. If he can meet his 2012 touchdown production (8), this could be the best-value receiver pick of the draft. … Rittenberg also made a good move with Rutgers' running back
Paul James
, who has a few early games against bad defenses. If he falters when the schedule gets harder, there's always the waiver wire.
Round 6:
Flag on the play, Sherman! The Sherman Tanks initially tried to draft Ohio State's
Dontre Wilson
, a hybrid back, as a receiver – but ESPN's database listed him only as a running back. So Sherman had to pick again and chose Iowa's
Kevonte-Martin Manley
. … Ward was not happy with the remaining receiver selection at all. It showed in his pick; Penn State's
Geno Lewis
could be third in receiving on Penn State by the time the season ends. … Rittenberg made an interesting move by picking Minnesota's defense first, over Michigan State's defense. His reasoning was solid, though. MSU plays Oregon in Week 2 and then has a bye. So he didn't want to work the waiver wire that early. Me? I took the Spartans' D with the next pick, and I'll ride it out.
Rounds 7-8:
It was mostly all kickers and defenses in the final two rounds. Rittenberg took Penn State tight end
Jesse James
to fill his last receiver spot in the sixth round, and it was a good pick for being the 10th receiver/tight end taken. James is 6-foot-7 and could be a nice red-zone target for
Christian Hackenberg
this season. … The only other non-defense/kicker came from me. I needed a quarterback, so this year's Mr. Irrelevant is Minnesota's
Mitch Leidner
. Quarterback is definitely my weakness. But I don't care if Leidner throws 40 percent -- as long he scores a rushing TD every game.
August, 28, 2014
Aug 28
10:00
AM ET
Focus only on the position of choice and the conference looks the same as it ever did.
While quarterbacks across the nation are putting up crazy numbers like pinball machines and spread offenses are letting wide receivers run wild and rack up yardage, that tradition-loving, old-school Big Ten appears downright antiquated with its continued emphasis on running backs carrying the load.
But look closer.
[+] Enlarge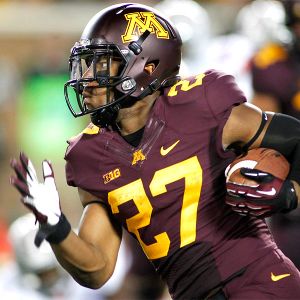 AP Photo/Andy Clayton-KingMinnesota's David Cobb says every team in the Big Ten needs a good running back to win league games.
Sure, the league remains plenty happy to hand the football off and wait for the dirt to start flying. But the days of expecting 3 yards a pop are long gone, replaced with an expectation now that a featured rusher better be close to doubling that. And instead of a cloud of dust, there had better be a trail of it if a Big Ten tailback is going to keep his job for long.
The evolution of offenses may not have done much to change the face of the most productive players in the conference. But when there are so many game-breakers in Big Ten backfields, there's really not much incentive to shift the focus away from them in the first place.
"This a running back-heavy league, and you need a good running back, an every-down back to get through the Big Ten," Minnesota senior
David Cobb
said. "And in this league, there's a good running back on every team."
The conference has never really been in short supply of rushers, but the ground game looks particularly fertile this season with so many talented tailbacks returning as the focal point on offense.
The conversation about the league's best typically revolves around Wisconsin's
Melvin Gordon
and Nebraska's
Ameer Abdullah
, the top two returners in the league and the odds-on favorites to claim offensive player of the year honors while leading teams aiming for the conference title. They're also close friends who admit to some good-natured trash talk that comes from paying attention to the league's yardage leader board, but both know it might not be safe to just measure themselves against each other this fall.
Michigan State's
Jeremy Langford
somehow largely flew under the radar last season despite piling up more than 1,400 yards and leading the Big Ten in rushing touchdowns with 18.
Cobb will be getting no shortage of carries in Minnesota's power rushing attack, and indications out of training camp suggest he's even better than he was while gaining 1,202 yards as a junior.
Despite playing in a spread system, Indiana's
Tevin Coleman
offered a reminder of the importance of balancing out a passing attack with a productive rusher, with his explosiveness in averaging more than 7 yards per carry driving the point home.
Josh Ferguson
does the same for Illinois, complementing his 5.5 yards per carry with 50 receptions for 535 yards and 4 touchdowns as a target in the passing game. Iowa's
Mark Weisman
came up just short of the 1,000-yard milestone last year, but he's playing behind perhaps the best set of blockers in the conference this fall and should be poised to capitalize on those huge holes opened by left tackle
Brandon Scherff
and his buddies.
Even at schools with unsettled depth charts at the top there's little reason to panic. Carlos Hyde is gone at Ohio State, but it has a stable loaded with both veterans like
Rod Smith
and youngsters like presumptive starter
Ezekiel Elliott
poised to take over. Michigan struggled to move the football on the ground a year ago, but
Derrick Green
looks ready to live up to his billing as one of the top recruits in the 2013 class as he moves into a likely starting role.
And if all that depth makes winning the rushing crown a bit tougher this fall for Gordon or Abdullah, they certainly aren't worried about a little competition. In the Big Ten, that's long been a source of pride.
"Definitely, you can look at every team," Abdullah said. "You just go down the line, and the running back position in this league is really deep. It's going to be good competition for this year statistically. I feel like it gets overshadowed a little bit. You throw in
T.J. Yeldon
[at Alabama], [Georgia's
Todd] Gurley
, guys who play for those SEC teams or maybe the Pac-12 guys and we get overshadowed a little bit. But all we can do is show up to work every Saturday and prove our case."
Abdullah and Gordon are expected to build the strongest of them, and they may emerge as the Big Ten's best hopes for a Heisman Trophy now that
Braxton Miller
is out of the picture with a season-ending shoulder surgery.
But even if the Ohio State senior had been around this season, the quarterback might have had a hard time stealing some attention during what's shaping up as a callback to the league's tradition with one more Year of the Running Back.
"The Big Ten, we're known for running the ball, and when you can take pressure off the quarterback by giving the rock to the running back, that's a good feeling," Gordon said. "And we've got a lot of good running backs in the Big Ten -- it's not just me and Ameer.
"I think there are some other guys that need some praise as well. There are some good backs we have in this conference, and they'll be heard sooner or later."
There's still plenty of opportunities to make a little noise as a tailback in the Big Ten. And the league has a long list of guys ready to make some racket.
August, 28, 2014
Aug 28
9:00
AM ET
By
ESPN.com staff
| ESPN.com
Week 1 is finally here. While there aren't many marquee matchups in the opening weekend, there are a few that have our writers talking.
Game of the Week: Wisconsin vs. LSU
Our writers all picked LSU to beat Wisconsin, but some had a harder time with the pick than others.
Brian Bennett:
Wisconsin has a real chance here at the upset. Week 1 is definitely the time to catch LSU this season, as the Tigers will be breaking in a slew of new players and have some major question marks at quarterback. Of course, you could say those same things about the Badgers, who will be counting on basically a brand-new defensive front seven, several unproven receivers and a new starting QB in
Tanner McEvoy
. Wisconsin's running game is the great equalizer, especially if that ground attack shortens the game and springs
Melvin Gordon
and
Corey Clement
for big plays. Asking either side to play mistake-free is a bit much for an opener involving so many fresh faces. In the end, LSU has more explosiveness to overcome its errors and exploit Wisconsin's, so the Tigers win by a touchdown.
Austin Ward:
Openers can be sloppy enough on their own, let alone debuts with uncertainty at quarterback and the expectation that two guys will be needed to fill that critical role. Both teams have some questions under center, but it seems much more dangerous to be unsettled and unproven when taking on a loaded defense such as LSU's. Wisconsin has running backs Gordon and Clement lining up behind a veteran offensive line to provide a rushing attack to lean on, but if it becomes a one-dimensional offense against the Tigers, aggressive defensive coordinator John Chavis will turn his athletic, physical unit loose and there will be no escape in Houston.
Majority opinion: Penn State over UCF
This was the only game our writers disagreed on. Austin Ward, Mitch Sherman and Adam Rittenberg liked the Nittany Lions, while Brian Bennett and Josh Moyer took the Knights.
Josh Moyer:
The Nittany Lions have too many question marks -– and too much that still needs to improve -– to be favored right now. What's Penn State's main weakness? The offensive line. So what's one thing it's going to count on to offset that? The passing game. Well, Central Florida's secondary has a chance to be elite. And overall, UCF might boast the best defense in the AAC. On the other side of the ball, the Knights may be without quarterback Blake Bortles this season, but they still have a loaded receiving corps with
J.J. Worton
,
Rannell Hall
and
Breshad Perriman
. Penn State's secondary, especially the corner spot opposite
Jordan Lucas
, could struggle against this kind of offense. PSU hangs tough but falls in the end 28-20.
Adam Rittenberg:
The oddities surrounding this game favor Penn State, which is tougher to prepare for with a new coaching staff. UCF's veteran defensive line and George O'Leary's play-calling prowess worry me, but I see PSU exploiting some matchup advantages (
Jesse James
vs. anybody) with a superior quarterback and hitting on some big plays. Expect improvement on Penn State's defense, which limits a UCF offense missing Bortles and Storm Johnson.
It's unanimous
Our writers agreed on the following:
Minnesota over Eastern Illinois
Washington State over Rutgers
Michigan State over Jacksonville State
Indiana over Indiana State
Iowa over Northern Iowa
Michigan over Appalachian State
Purdue over Western Michigan
Ohio State over Navy
Illinois over Youngstown State
Maryland over James Madison
Northwestern over Cal
Nebraska over FAU
LSU over Wisconsin
Mitch Sherman:
Not much else of great intrigue on the opening-week schedule, but Ohio State-Navy is worth a look, with the attention swirling around the debut of Buckeyes freshman quarterback
J.T. Barrett
. The Midshipmen are no pushover, but the Buckeyes own enough of an edge in athleticism to take care of business. Because of its strange offseason, Northwestern is interesting, even against Cal, which was dismal last season. And for entertainment value, Rutgers' Big Ten debut Thursday night against Washington State may rank high. The Scarlet Knights need to limit the Cougars' possessions and get off the field on third down -- or watch Wazzu quarterback
Connor Halliday
light them up with 65 to 70 pass attempts.
OSU Pulls Away From Navy
BIG TEN SCOREBOARD
Saturday, 8/30
Thursday, 8/28
Friday, 8/29