December, 8, 2013
Dec 8
12:28
PM ET
December, 8, 2013
Dec 8
12:00
PM ET
It's all over except for the official bowl selections.

Those will come out Sunday night. But before we know for sure where Big Ten teams are going bowling, we've got one last set of projections.

Michigan State's Big Ten championship game win over Ohio State obviously sends the Spartans to the Rose Bowl. And it all but guarantees two BCS bids for the Big Ten, as someone will snatch up the Buckeyes. We think that the Discover Orange Bowl makes the most sense.

The next two bowls are pretty easy to figure out. Wisconsin will go to the Capital One Bowl, where they should face a strong SEC opponent. Iowa, coming off a nice finish to the year, will enjoy the no-rules, just-right feeling at the Outback Bowl.

The biggest debate involves the Buffalo Wild Wings Bowl selection. From what we're hearing, that game favors Michigan over Nebraska. That could change, but we're going with it for now. That leaves Nebraska to the TaxSlayer.com Gator Bowl. How many Huskers fans would travel to Jacksonville if that's the case?

Minnesota has an argument for a better bowl than Michigan or Nebraska, but the Gophers still lack the brand name or traveling reputation. So it's back to Texas for a second straight year for Jerry Kill's guys.

We'll find out later Sunday night if we were right.

Rose Bowl Game Presented by VIZIO, Jan. 1: Michigan State
Discover Orange Bowl, Jan. 3: Ohio State
Capital One Bowl, Jan. 1: Wisconsin
Outback Bowl, Jan. 1: Iowa
Buffalo Wild Wings Bowl, Dec. 28: Michigan
TaxSlayer.com Gator Bowl, Jan. 1: Nebraska
Texas Bowl, Dec. 27: Minnesota
Heart of Dallas Bowl, Jan. 1: Not filled
Little Caesars Pizza Bowl, Dec. 26: Not filled
December, 8, 2013
Dec 8
11:40
AM ET
Michigan's 2015 defensive back commit
Shaun Crawford
(Lakewood, Ohio/St. Edward) recently said he might visit rival Ohio State.
Michigan coach Brady Hoke has a no visit policy for his commitments so if a visit were to take place, it would cause some controversy.
Crawford was the second defensive back commit for Michigan to say he was going to visit other schools. 2014 commit
Jabrill Peppers
(Paramus, N.J./Paramus Catholic) also said there is a possibility he will take official visits after his season is over.
No visits have been scheduled yet for either prospect so there is still a chance for them to sway their thinking.
To continue reading this article you must be an Insider
December, 8, 2013
Dec 8
10:00
AM ET
COLUMBUS, Ohio -- Lessons and developments from No. 2 Ohio State's 34-24 upset loss to No. 10 Michigan State in the Big Ten title game on Saturday night in Indianapolis.

The Spartans had the better plan:
The Ohio State defense has had some rough patches at times, largely early in games, but more often than not it was able to adjust and tighten the screws when it counted. The offense had been starting to look pretty one-dimensional down the stretch, but the Buckeyes didn't seem to mind that, because they were so effective rushing the ball. But against the stout, assignment-sound Spartans, neither side of the ball for Ohio State was able to do what it had made look routine during another perfect run through the regular season. Injuries took a toll on the defense, and
Braxton Miller
at one point dragged the Buckeyes back into the lead, but in the end, Michigan State simply had the better game plan and more successful counters in earning the conference crown.
Miller needs to return:
His physical skills are among the best in the country, and at some point his multipurpose skills are going to make him an appealing option for an NFL team looking for a quarterback. But if Miller was thinking about making the jump after his junior season, his rough passing performance with no weather impacting his accuracy might nudge him back for another year with the Buckeyes. His receivers didn't do him many favors, with a handful of costly drops, and the Spartans didn't make it easy with all the pressure they put on him, but going 8-for-21 for 101 yards and a touchdown on the biggest stage of the season isn't likely to do much for Miller's draft stock.
The season isn't over:
The Buckeyes are still an appealing option for any organizer of a BCS game, and the Orange Bowl is likely going to snap them up in a hurry. That would give Ohio State one more chance at a marquee victory heading into Urban Meyer's third season, and a chance to start a new winning streak after its streak of 24 consecutive wins since he took over the program ended Saturday. It's clear the Buckeyes still need to add some depth in recruiting, particularly at linebacker, and Meyer wasn't hired just to compete for a championship in his second year. All things considered, the Buckeyes still have plenty to feel good about thus far in his tenure, and a win in a BCS game still could add to it.
December, 8, 2013
Dec 8
10:00
AM ET
Three lessons from the Big Ten championship game.
[+] Enlarge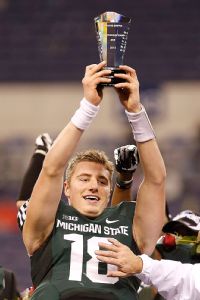 Gregory Shamus/Getty ImagesConnor Cook and the Spartans proved beyond a doubt that Michigan State was the best team in the Big Ten.
1. Michigan State is the Big Ten's best finisher:
Many counted out the Spartans after Ohio State erased a 17-0 lead to take a 24-17 advantage midway through the third quarter at Lucas Oil Stadium. The Buckeyes had finished off opponents throughout the season with their two-headed running attack and powerful line. But Michigan State also had been terrific late in games, outscoring opponents 185-56 in the second half and 91-27 in the fourth quarter. The Spartans made the necessary corrections, scoring 17 unanswered points to outlast Ohio State and secure a league championship. They limited Ohio State to 25 yards in the fourth quarter and mounted touchdown drives of 90 and 61 yards. And like they did in every regular-season Big Ten game, they won by double digits, leaving no doubt about the the league's best and most resilient team in 2013.
2. Ohio State's flaws finally caught up to it:
Sure, it may sound weird to talk about the weaknesses of a team that won 24 straight times. But the Buckeyes never were a perfect team despite their amazing streak of perfection. For a heavyweight power, they were surprisingly light on star power at linebacker outside of Ryan Shazier. Safety Christian Bryant's midseason injury created major vulnerabilities in the secondary. The offense lacked consistent receiving threats other than Philly Brown. "We know what our weaknesses are," center Corey Linsely said. "They're obvious." The Michigan game and, to a lesser extent, the win at Illinois exposed some of those troubles. And when Ohio State finally played a powerhouse on its own level in Michigan State, its Achilles' heels caused it to stumble. The Buckeyes came out flat on the big stage in falling behind 17-0, and they only really played well for about a 20-minute stretch before letting the Spartans score the final 17 points. Ohio State deserves all respect for its winning streak, and this team is fully capable of winning a BCS game. But its flaws proved fatal in the quest for a national championship.
3. Connor Cook is the biggest surprise in the Big Ten and perhaps the country:
If anyone pegged Cook to be the MVP of the Big Ten title game before the season -- his immediate family members excluded -- hop on the first flight to Vegas. Cook exceeded all expectations in guiding the Spartans to a perfect mark in Big Ten play, and he shined in the brightest lights Saturday night, passing for a career-high 304 yards and three touchdowns on 24 of 40 attempts. Quarterbacks coach Brad Salem told ESPN.com that Cook's growth could be seen each week and that Cook's confidence in himself never wavered, even after low moments like a Sept. 21 loss at Notre Dame. Michigan State hasn't simply found a serviceable game manager to complement its defense. It has found a championship quarterback who oozes moxie and doesn't back down from challenges. Cook began championship week by introducing himself on a conference call with reporters. Everyone knows who he is now.
December, 8, 2013
Dec 8
9:00
AM ET
Recognizing the best and the brightest from the Big Ten championship game:

Michigan State QB Connor Cook:
He was the MVP of the title game, and his role can't possibly be understated. When the running game sputtered early, he was there to pick up the offense. And when the Spartans trailed in the second half, he was there once again. Cook finished 24-of-40 for a career-high 304 yards, three touchdowns and one interception. It was the best game of his career, and it couldn't have come at a better time for MSU.
Ohio State's offensive line:
The running game took off for the Buckeyes, something which doesn't happen too often against Michigan State.
Jack Mewhort
and Co. outplayed MSU in the trenches for much of the game, as
Braxton Miller
and
Carlos Hyde
combined for 260 yards on 39 carries. The Spartans entered Saturday allowing fewer than 65 rushing yards per game, but that seemed to be the only thing that really worked for OSU. Despite the loss, this offensive line deserves some recognition.
Michigan State RB Jeremy Langford:
The Buckeyes hadn't allowed a 100-yard rusher all season, but Langford ran harder as the game wore on and finished with 128 yards and a touchdown on 24 carries. His 26-yard touchdown scamper late in the fourth quarter gave Michigan State a double-digit lead and put a damper on any OSU comeback hopes. He even added five catches for 21 yards.
Michigan State CB Darqueze Dennard:
The Spartans' secondary limited Miller to 101 pass yards on 8 of 21 attempts, and Dennard was a big reason why. He recorded two pass breakups and a forced fumble and consistently blanketed Ohio State receivers, showing why he's one of the best cover corners in college football.
December, 8, 2013
Dec 8
9:00
AM ET
COLUMBUS, Ohio -- A closer look at a handful of standout performances in an otherwise disappointing night for No. 2 Ohio State, which dropped a 34-24 game to No. 10 Michigan State in the Big Ten championship.

QB Braxton Miller:
The junior clearly was not at his best throwing the football, and with a chance to come back hanging in the balance in the fourth quarter, he was stopped short on a critical carry on the ground as well. But there would have been no drama at all in Indianapolis if not for Miller's heroics during a prolific stretch in the middle of the game, as he dragged the Buckeyes into the lead on the way to 142 rushing yards and 2 touchdowns. His 8-of-21 passing performance clearly won't do much for his draft stock if he decides to leave early, but Miller also was victimized a few times by drops from his receivers, as the Buckeyes ultimately came up short.
RB Carlos Hyde:
The bulldozing running back couldn't call his own number to get the football more often, but the senior was every bit as effective as usual when he did get the chance to go to work. Hyde's final Big Ten game came against the toughest rush defense in the country, and he was more than up to the challenge, turning his 18 carries into 118 yards. The Buckeyes likely will look back and wonder why that load wasn't far heavier considering how successful Hyde was against the Spartans and his track record of wearing teams down with a large volume of attempts.
LB Ryan Shazier:
After an uncharacteristically bad penalty early on to extend a Michigan State drive, it seemed like Shazier was doing everything in his power to atone for it for the rest of the evening. The star junior blocked a punt, made 12 tackles, including 1½ for a loss, and he also broke up two passes to add to his already impressive resume this season. Injuries clearly have taken a toll on an Ohio State defense that didn't have much depth to begin with this season, but Shazier has done an admirable job holding the unit together. He just needed a bit more help against a Michigan State offense that was balanced and more than capable of exploiting the Buckeyes.
December, 8, 2013
Dec 8
3:01
AM ET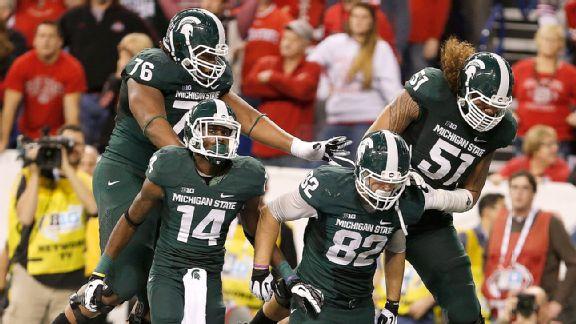 INDIANAPOLIS -- How does a good team become a championship team? It starts with a message from the head coach to the defensive coordinator.
"We need you down here," Michigan State coach Mark Dantonio told Pat Narduzzi.
Narduzzi, the Spartans' defensive coordinator, spends the majority of games in the coaches' booth before joining the team on the sideline for the closing minutes. But after Ohio State scored four times on six possessions to take a 24-17 lead in Saturday night's Big Ten championship game, Dantonio needed his top assistant with the unit, pronto.
Quarterback
Braxton Miller
and the Buckeyes were piling up yards against the nation's top-ranked defense. Ohio State appeared unstoppable, wiping out a 17-0 deficit and building the narrative of a team bound for the national championship.
Instead, Michigan State changed the script. The Spartans were the ones who finished, the ones who took that final step from good to elite, the ones who handed Urban Meyer his first loss at Ohio State. The ones who, as Dantonio had proclaimed at the team banquet following a disappointing 2012 season, became The Ones.
A
34-24 win
secured Michigan State's first outright Big Ten title and its first trip to the Rose Bowl since the 1987 season.
"We just made history today," senior safety
Isaiah Lewis
said on the field afterward. "I never thought in a million years that I'd be a part of something like this. We finally did it.
[+] Enlarge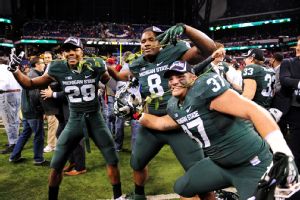 Allen Kee/ESPN ImagesMichigan State celebrated its return to the Rose Bowl after creating a "lifetime moment" Saturday.
"This is a lifetime experience."
The title game felt like a lifetime with several plot twists. Michigan State dominated the first 20 minutes, and Ohio State dominated the middle 20 minutes.
When Narduzzi made his way to the sideline with about four minutes left in the third quarter, linebacker
Denicos Allen
did a double-take.
"I'm like, 'Oh, man, it's getting real. We've gotta step up,'" Allen said.
The Spartan Dawgs finally got a stop, stuffing Miller on third-and-4. After Michigan State reclaimed the lead on a beautifully designed
Connor Cook
touchdown pass to tight end
Josiah Price
, the defense recorded a three-and-out.
But how long could Michigan State keep the nation's No. 3 scoring offense at bay? When Ohio State partially blocked a punt and took possession at the Michigan State 47, a score seemed inevitable. Three plays later, the Buckeyes faced fourth-and-2.
"G Hot Cyclone Gun," Narduzzi said of the play he called. "We had a timeout, and I switched the call right at the last second. It was Denicos coming off of one side, and
Taiwan Jones
coming off the other edge. I figured whichever [way] they came, at least we had two great linebackers coming off the edge."
Meyer sent Miller to the short side, and Allen brought him down shy of the marker. Michigan State allowed just 25 yards in the fourth quarter to a Buckeyes team that consistently had eroded its opponents with Miller's shiftiness and
Carlos Hyde
's power.
"Teams wear down when they play us," Spartans linebacker
Max Bullough
said. "Shoot, we practice faster and harder than a lot of stuff out here today, not in terms of hitting, but speed between plays."
Michigan State's course correction on defense helped secure the win, but so did an offense that completed an incredible turnaround after becoming a national punch line in September. Cook, the quarterback who wondered if the coaches had lost faith in him following the team's Sept. 21 loss at Notre Dame, claimed title-game MVP honors after passing for 304 yards and three touchdowns.
Cook consistently made plays on the move, spreading the ball to eight different receivers, as Ohio State bottled up the run before giving way late.
"I learned to never give up, to keep pushing no matter what the circumstances are," Cook said. "Score, situation, whatever stage you're on. I really didn't learn anything about our team, because this is the way we've been all year."
Perhaps the rest of us are learning that Michigan State is the next force in the Big Ten. Dantonio has guided the Spartans to 11 or more wins in three of the past four seasons. Michigan State has dominated Michigan under his watch and tormented Wisconsin, as well.
But a championship had been fleeting until Saturday night.
"My dad used to always say, 'Complete your circles,'" Dantonio said, referring to his father, Justin, who passed away days before the 2011 season. "I thought we did that. I never get too excited. I don't ever get too down. I live for my players.
"They made a lifetime moment tonight for all of us."
When it ended, players scrambled for roses to place between their teeth. As they've done after every win this season, they danced to rap songs in the locker room.
"We're doing things that haven't been done here in a while," safety
Kurtis Drummond
said. "We're trying to go down as never forgotten."
That much is certain. They'll go down as the group that took the Green and White back to Pasadena.
December, 8, 2013
Dec 8
3:00
AM ET
Auburn fans rolled Toomer's Corner on Saturday night, immediately after the No. 3 Tigers beat No. 5 Missouri 59-42 in the SEC championship game to end the most unforgettable month in their storied history -- and perhaps the most dramatic in college football history.
Hopefully, Auburn fans carried double rolls of tissue to their beloved gathering spot at the corner of College Street and Magnolia Avenue.
The Tigers would have to roll Toomer's Corner again.
Because just before midnight ET on Saturday night, No. 10 Michigan State stunned No. 2 Ohio State 34-24 in the Big Ten championship game at Lucas Oil Stadium in Indianapolis, all but ensuring that Auburn will play No. 1 Florida State in the Jan. 6 Vizio BCS National Championship at Rose Bowl Stadium in Pasadena, Calif.
Florida State, which blasted No. 20 Duke 45-7 in the ACC championship game to finish 13-0, is expected to be No. 1 in the final BCS standings released on Sunday night, followed by Auburn. The top two teams in the final BCS standings will play in the last BCS National Championship. A four-team playoff replaces the much-maligned national championship system next season.
But like in many of the previous 15 seasons of the BCS, weeks of angst and controversy over who were the two most deserving teams to play for a national championship became moot. On the last Saturday of the regular season, everything fell into place again and the BCS delivered us a national title game almost everyone can agree about, just as BCS chairman Bill Hancock promised it would.
December, 8, 2013
Dec 8
2:56
AM ET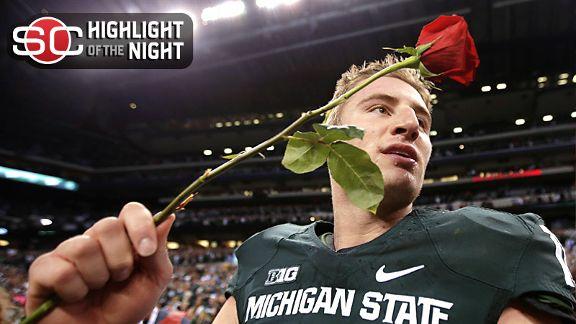 INDIANAPOLIS -- Urban Meyer sat in the passenger seat of a golf cart as his players streamed out of the locker room and toward the team bus.
In between bites of a small, pepperoni pizza from Papa John's and sips of red Gatorade, Meyer placed his head in his hands. His wife, Shelley, occasionally tried to console him. But mostly, Meyer just stared blankly.
It was a look that no one had seen Meyer wear in a long time. Since Nov. 27, 2010, in fact. That's when he suffered his last loss as a head coach, against Florida State when he still led Florida. His current team, Ohio State, hadn't experienced a defeat since Jan. 2, 2012, in the Gator Bowl.
[+] Enlarge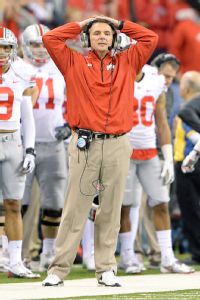 Allen Kee/ESPN ImagesUrban Meyer suffered his first loss as Ohio State coach in the Big Ten championship game.
Several of the Buckeyes' underclassmen had never even known what it was like to lose a college game. Until Saturday, when Michigan State pulled off the 34-24 win in the Big Ten championship game at Lucas Oil Stadium. Ohio State struggled with how to react to such a foreign concept.
"I'm just at a loss for words," linebacker
Ryan Shazier
said. "I haven't lost in a while and it kind of hurts. We worked so hard and it just slipped out of our hands."
Of course, this just wasn't any defeat. It's as if the football gods timed Meyer's first setback just right so as to inflict maximum pain.
Had Ohio State not blown a 24-17 second half lead, had it found a way to pull through as it so often had, then a date with Florida State in the BCS title game almost certainly awaited. The Buckeyes had to sit home and watch the national title game with a 12-0 record last year because of NCAA probation. They'll be watching it from afar again this year and thinking about it long after that. As Meyer put it, losing to the Spartans is "is going to haunt all of us, I imagine, for a little while."
"Man, it hurts," running back
Carlos Hyde
said. "To be that close to going to a national championship my senior year, that hurts."
What stings even more is the Buckeyes' first Big Ten title game appearance served as the inverse of what fueled much of their success. All season long, Ohio State jumped on opponents with early scores then broke their will with physical play in the second half.
On Saturday, Michigan State raced out to a 17-0 lead as Meyer's team failed to score in the first quarter for the first time this year and faced its largest deficit in two seasons. The Buckeyes made uncharacteristic early mistakes, like a mistimed snap, dropped passes and a unforced fumble from
Braxton Miller
that nearly turned disastrous.
Was it a case of buckling under pressure, or perhaps a hangover from the previous week's intense rivalry game win over Michigan? Center
Corey Linsley
offered another explanation.
"I think we hyped [Michigan State] up a little too much," he said. "They're a great team. But we came out like we were playing the Bears or something."
Miller's scrambling ability sparked a comeback, and the Ohio State running game finally revved up in the second half. Hyde and Miller broke off big chunks of yardage versus the nation's best rush defense, and both would finish with over 100 yards. The Buckeyes' offensive line looked like it would wear down Michigan State like it had just about every other Big Ten opponent.
"We started going back to our basic plays," Hyde said. "I felt like I could have gotten any yardage we needed. I felt like we could have run the ball the whole second half."
But Michigan State would own the fourth quarter, with the Buckeyes gaining just 25 total yards in the final 15 minutes. Hyde got only two carries in the fourth and just 18 for the game. On the most critical play of the night, with Ohio State facing fourth-and-2 from the Spartans' 39, Meyer made the call to put the ball in his best player's hands. For the first time since he was a true freshman, Miller couldn't deliver in crunch time, as linebacker
Denicos Allen
stuffed him.
"We actually had practiced that play against that blitz," offensive coordinator Tom Herman said. "He was obviously running with some serious authority, and running the quarterback gets you an extra hat. We just didn't execute."
The Buckeyes' vulnerabilities on pass defense and in sustaining a consistent passing game of their own finally caught up to them against the best team they had faced in 25 outings. But while they may have at long last tasted defeat, all is not lost for this team.
Ohio State should still secure a BCS at-large bid, likely in the Orange Bowl. For a team that hasn't won a bowl game since the 2011 Sugar Bowl, which was later vacated by the NCAA, that's still something.
But first, Meyer and Ohio State must rediscover a lost art: how to rebound from a loss.
"We'll always be disappointed with what could have been," Linsley said. "But whatever happens in the bowl game we go to is going to show what kind of people we are."
December, 8, 2013
Dec 8
12:43
AM ET
The BCS bowl matchups won't be announced until Sunday night, but we can give our best projection now of what those matchups will be.
Here is how we think things will shake out for each of the five BCS games, including a look at what variables are still in play for each.
VIZIO BCS National Championship
Projected matchup: Florida State Seminoles versus Auburn Tigers
To continue reading this article you must be an Insider
December, 8, 2013
Dec 8
12:25
AM ET
INDIANAPOLIS -- Michigan State knew it was probably going to the Rose Bowl whether it won or lost in the Big Ten championship game. But all week long, the Spartans insisted they had no interest in backing their way into Pasadena.


After knocking off No. 2 Ohio State at Lucas Oil Stadium, Michigan State's players could hold their heads high as they clenched roses in their teeth. By building a 17-0 lead early and then mounting a comeback after blowing all of it, the Spartans did Saturday what no one else could do in the past two years: Beat Urban Meyer's Buckeyes.
As a result, Ohio State isn't going to the BCS title game, and the folks in East Lansing, Mich., now have some new friends in Auburn, Ala. Here's a quick look at how the No. 10 Spartans'
34-24
victory went down.
It was over when:
Michigan State's
Denicos Allen
stopped
Braxton Miller
on a fourth-and-2 run from the Spartans' 39-yard line with 5 minutes, 41 seconds to go. Six plays later,
Jeremy Langford
broke free for a 26-yard touchdown run, giving Michigan State a 10-point lead with 2:16 left. Michigan State scored the game's first 17 points and the final 17.
Game ball goes to:
Connor Cook
. Michigan State's sophomore quarterback came into the game with a much lower profile than his Ohio State counterpart. But Cook showed that he's got a bright future, too, along with a poise beyond his years. The offense rested on his right arm most of the game as the Buckeyes shut down the running game for three quarters. Cook completed 10 of his first 13 passes and finished 24-of-40 for 304 yards and three touchdowns. His final score came on a throwback pass to wide-open tight end
Josiah Price
that gave the Spartans the lead for good.
Stat of the game:
We wondered who would win the battle between the nation's top rushing defense and Ohio State's Big Ten-best running attack. The Buckeyes -- and their offensive line -- won that showdown handily, gaining 273 yards on 40 carries against a defense that entered giving up 64.8 yards per game on the ground. Miller and
Carlos Hyde
each ran for more than 100 yards, doubling the number of 100-yard rushers Michigan State had allowed all season. But the Spartans held Ohio State to just 25 rushing yards in the fourth quarter as they kept the Buckeyes scoreless for the final 14:24.
Unsung hero of the game:
Darqueze Dennard
came into the game with a huge reputation as a potential All-America cornerback and the leader of the Spartans' "No-Fly Zone" secondary. He backed it up with a couple of big-time pass breakups, including one in the end zone after he was beaten on a route by
Devin Smith
. Ohio State wasn't able to get much done on Dennard's side of the field.
What it means:
Michigan State is going to the Rose Bowl for the first time since 1988, and it will play Stanford in a battle of two of the hardest-hitting defenses in college football. The Spartans are 12-1, won all nine Big Ten games by at least 10 points and should finally get the respect they deserve. Coach Mark Dantonio got a program-defining victory after leading the team to double-digit victories in three of the past four years.
Ohio State will be bitterly disappointed about its missed chance to play Florida State for the national title, and the 24-game winning streak under Meyer is gone. The Big Ten's national title drought now will reach 12 years. All is not lost for the Buckeyes, however. They should still get chosen for an at-large bid to a BCS bowl, probably in either the Sugar Bowl or Orange Bowl.
Defeated Urban Meyer Eats Post-Loss Pizza In Bowels Of Stadium