Paul Finebaum asks Dennis Dodd who will participate in the next College Football Playoff.
Coveted receiver also loves basketball, but expects to focus on football in college.
The national champion Buckeyes enjoyed some laughs and memorable moments when they were honored at the White House.
President Barack Obama welcomed College Football Playoff champion Ohio State to the White House.
After welcoming national champion Ohio State to the White House, Barack Obama joked about his own arm strength before ultimately picking up a game ball and looking ready for a bit of action.
Coach Urban Meyer said the Ohio State Buckeyes 'did not improve as a team' this spring.
Lineman also considered Ohio State and is an important addition for Irish.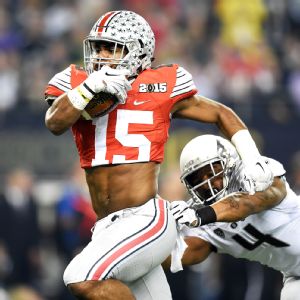 Ohio State running back Ezekiel Elliott won the AAU Sullivan Award on Sunday as the most outstanding U.S. amateur athlete who also demonstrates premier leadership, character and sportsmanship.
Jesse Palmer, Tom Rinaldi and Joey Galloway discuss the Buckeyes' performance in their spring game that set an attendance record by drawing 99,391 fans.
Ohio State is still the biggest draw in spring football, and the continued buzz following a national title gave it a chance to build on its own record for attendance in spring games.
Ohio State set a national record for attendance in a spring game, but Urban Meyer sees a lot for the defending champs to work on.
Running back Ezekiel Elliott discusses life as a Buckeye post national championship and provides a tour of Ohio State's facilities.
Ohio State quarterbacks Cardale Jones and JT Barrett discuss their competition to gain the starting spot for the 2015 season.
Ohio State coach Urban Meyer reflects on winning the inaugural College Football Playoff championship and the Buckeyes' wealth of talent at the quarterback position.
Urban Meyer is eager to see how some younger players perform in front of an expected big crowd at The Horseshoe.
Apr 21, 2015

,

6:16 PM ET
Contenders in 2015 College Football Playoff