September, 19, 2014
Sep 19
8:07
PM ET
Associated Press
[+] Enlarge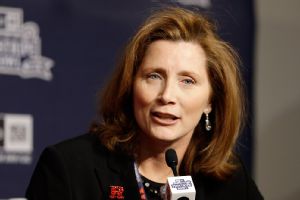 AP Photo/Frank Franklin IIRutgers acknowledged that AD Julie Hermann made a joke about the Jerry Sandusky child sex-abuse scandal during a meeting with staff last fall.
PISCATAWAY, N.J. -- Rutgers athletic director Julie Hermann made an off-the-cuff joke about the Jerry Sandusky child sex-abuse scandal at Penn State during a meeting with staff last fall.
The university acknowledged Friday that Hermann made the impromptu comment in a fundraising meeting but said it was not directed at anyone associated with Penn State.
The comment was first reported by NJ Advance Media, whose story included statements from more than a half-dozen people inside the Rutgers athletic department.
The report said Hermann told staff members to "reach out and touch the donors" of the Rutgers program, and her punchline was to not do it "in a Sandusky way."
"Julie's comment was an off the cuff response to a give-and-take interaction urging the fundraising team to reach out and touch the donors," Pete McDonough, senior vice president for external affairs, said in a statement sent Friday evening to The Associated Press. "There probably isn't a person alive today who hasn't made an impromptu remark in a private meeting that probably shouldn't have been said. Even taken out of context, this single comment was not directed at Penn State, its students, staff or faculty."
September, 18, 2014
Sep 18
8:00
AM ET
Hitting on the hottest topics in the Big Ten before sweeping through the league ahead of another critical non-conference Saturday.
1. Minnesota's QB quandary:
There's not exactly a controversy under center, since the Gophers have made it quite clear that
Mitch Leidner
is the top option to lead the offense. But for the second week in a row, there have been questions about his health, and therein lies the uncertainty that could turn this into a more pressing issue for Jerry Kill. The Minnesota coach pegged Leidner at 100 percent on his injured knee last week, but Saturday something else popped up with his foot -- though Kill shot down reports of a broken bone and seemed puzzled by where they came from. Backup
Chris Streveler
has appeared in all three games and was needed to finish the last two, and at some point if he keeps handling himself well and if Leidner's bumps and bruises remain a weekly topic of conversation, perhaps the Gophers may find themselves in the midst of a real controversy. This week it probably won't matter given the way Minnesota ran the ball all over San Jose State last year. But Michigan is looming next week, and the Gophers would likely be better off if they didn't have to keep answering questions about their starting quarterback.
2. Waiting game for Buckeyes:
From the outside, the case seems pretty open and shut regarding
Noah Spence
's latest failed drug test and what figures to be permanent ineligibility for the All-Big Ten defensive end. But there hasn't yet been an official verdict handed down, so Ohio State coach Urban Meyer confirmed after practice Wednesday night that Spence was still practicing with the team while "doing things to get healthy." Given what would seem to be a long-shot appeal combined with the serious tone from the Spence family when they addressed a "medical illness" to the Columbus Dispatch last week, it is somewhat surprising that the star junior would be back on the field at all right now while each of those separate, but related, issues are sorted out. Meyer stressed that Ohio State was doing what it could to support him, and if Spence is eventually cleared for a return, everybody involved would surely want him ready to play again. So unless or until the Big Ten tells him otherwise, Spence is still working out with the Buckeyes and waiting for the next update on his status.
3. Heat is on Hawkeyes:
The running game is struggling. The kicking game looked like a fire drill even when the field-goal unit hit a clutch attempt last weekend. Kirk Ferentz is under fire with his clock management skills being questioned. And after dealing with all that in the aftermath of the loss to Iowa State, the Hawkeyes have to hit the road to play unbeaten Pittsburgh before diving into conference play. Maybe Iowa could actually use that traveling time to bond and rally against the odds that seem to be stacking up against the program, because it's pretty clear the team needs a spark. The Hawkeyes were a trendy dark horse pick to win the West, and no matter what happens at Pitt it should be fine next week at home to open conference play against Purdue. But it's time for them to show they really have what it takes to contend this fall.
East Division
West Division
September, 16, 2014
Sep 16
8:00
AM ET
Concerns about the new College Football Playoff and its impact on how we watch games have made their way into the national conversation this week. What took so long?
After three weeks of trying to place even the most meaningless wins and losses into the context of how they might affect which four teams will battle for a national championship in January,
some are starting to worry
that the new system might be sucking the joy out of Saturdays in the fall.
Is the cycle of playoff-centric predictions and analysis stripping the magic away from upsets and heroic moments? Will fans lose interest once they're told their team no longer has a title shot? Michigan State coach Mark Dantonio felt it necessary to tell his followers that
not all hope was lost after a Week 2 defeat in Oregon.
While it's probably a good thing that the setters of national storylines are treading cautiously around the long-awaited change to the postseason, it's not time to yearn for the good ole days of the BCS quite yet. Part of the overemphasis on playoff discussion can be blamed on the system still being a new, shiny mystery. No one knows how the 13-person committee will weigh each contender yet. Some of that will fade in future years when the college football court develops a precedent.
Another part of the saturation comes from the heavy slate of inter-conference competition that occurs each September. With only four playoff spots available to five conferences, the battle to establish a positive perception before falling into league play is intense. That posturing is less likely to fade, making the future of college football a more tribal affair. The SEC won't be the only fanbase chanting for its conference after big wins, and that doesn't sound like a bad byproduct of the playoff hype.
Even in our unsettled present state, a crowd of red bandana-wearing Boston College students didn't seem bothered by the fact that they aren't playoff contenders while storming the field to celebrate their upset of USC Saturday night. Iowa's last-second loss to in-state rival Iowa State was neither more nor less gut-wrenching than it would have been in the BCS era. Fear not, the magic isn't gone. There's still plenty to play for without the hope of a College Football Playoff berth.
And speaking of playing for more than a playoff spot, kudos to Penn State quarterback
Christian Hackenberg
and the rest of his Nittany Lions teammates who showed up or stayed in Happy Valley despite having the opportunity to back away penalty-free from a team that wasn't eligible for any bowl games until a week ago.
That's when the NCAA decided it wasn't going to punish current players for the past sins of the program's coaches and administrators. After leading a fourth-quarter comeback against Rutgers Saturday night,
Hackenberg told reporters that the lack of a postseason goal helped bring his team closer together
. Now that Penn State is atop the Big Ten East Division and eligible for bowl games, he says the camaraderie they built "is not going to change for a while."
And now, without further ado, the links:
East Division
West Division
September, 15, 2014
Sep 15
1:14
PM ET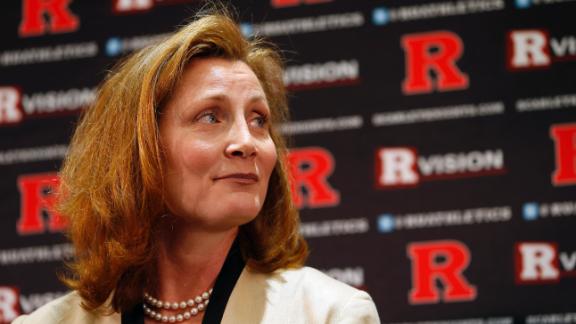 Rutgers athletic director Julie Hermann issued a public apology Monday afternoon for the "classless display" of some fans against Penn State after photos popped up on social media of some Scarlet Knights fans making light of the Jerry Sandusky child sex abuse scandal.
The Scarlet Knights, making their Big Ten debut, hosted the Nittany Lions on Saturday night, and photos began making the rounds on Facebook and Twitter before the game. Several photos showed Rutgers fans wearing red "Beat Ped State!" T-shirts, while another showed an inappropriate banner in Penn State's colors.
"On behalf of Rutgers University and the Athletic Department, we would like to apologize for the regrettable actions of a handful of Rutgers fans on Saturday that do not convey the message of good, competitive spirit that we look forward to having with our new Big Ten rival Penn State University," Hermann wrote in a statement.
Hermann alluded to both the T-shirts and the banner in a news release and said they briefly appeared on Rutgers' Facebook page as part of a 200-picture montage. The photos were immediately removed.
Hermann said she contacted Penn State's athletic director, Sandy Barbour, to offer further apologies.
"I would like to apologize equally to the Penn State University fans, as well as Rutgers fans that were subjected to this classless display that does not represent the ethos of our university, athletic department or fan base."
Rutgers set a school attendance record for the game with a crowd of 53,774 at High Point Solutions Stadium, 37 more fans than the 2009 Cincinnati-Rutgers contest. Rutgers lost to Penn State 13-10 on Saturday night.
September, 15, 2014
Sep 15
1:00
PM ET
The Big Ten is down to its final weekend of widespread nonconference play before mercifully retreating to league games.
The conference followed its flop on the big stage in Week 2 by dropping from eight unbeaten teams to two -- Nebraska and Penn State -- in Week 3. Big Ten teams fell to 1-10 on the season against Power 5 opponents. Saturday night ended with a glimmer of hope thanks to Penn State quarterback
Christian Hackenberg
's fourth-quarter magic in a win over Rutgers. A few teams will have an opportunity to build on that optimism in the coming week.

1. Last chance to save face:
The last two weeks sufficiently bulldozed any Big Ten claims to conference supremacy, or even equality, but a couple programs can scrape a bit of remaining dignity off the pavement with wins this weekend. Indiana and Iowa get a shot to redeem last-minute losses on the road. The Hoosiers are a long shot to beat No. 18 Missouri, and Iowa's run defense will be put to the test at Pitt. Nebraska is the league's best chance at this point. The Cornhuskers(3-0) can provide some relief if they stay unbeaten with a win over Miami in primetime. After that game, the Big Ten has only one nonconference matchup with a Power 5 team remaining in 2014 – Northwestern's trip to Notre Dame in mid-November.

2. Letdown alert:
What a week it was for the Nittany Lions in Happy Valley. It started with the announcement that Penn State's NCAA sanctions were cut short for good behavior and ended with ruining Rutgers' conference welcome party in a 13-10 come-from-behind victory. The Lions, now that they are eligible for the postseason, are suddenly in the mix in the East Division. Penn State gets easy-to-overlook UMass this week. The Minutemen are 0-3 but gave Vanderbilt all it could handle last weekend. Could they catch James Franklin's new team peeking into the future and make this Saturday an interesting game?

3. Is Michigan's defense for real?
The Wolverines enter Week 4 with a top 10 defense despite three of its veteran starters missing time due to injuries. Michigan has shut down the teams it should, allowing an average of 252.7 total yards against Appalachian State, Miami (Ohio) and No. 9 Notre Dame. The Irish hung 31 points on the Wolverines, but turnovers were the bigger culprit in that loss. Michigan held
Everett Golson
and his offense to a respectable 280 yards. Enter Utah, which brings the No. 3 scoring offense in the nation to Ann Arbor. The Utes racked up 1,115 yards of offense in wins over Idaho State and Fresno State. They should provide a good measuring stick for where the Michigan defense stands a month into the season.

4. The Same Old Nova:
Senior quarterback
Gary Nova
threw five interceptions in Rutgers' Big Ten debut, proving he may not have exorcised his past turnover demons just yet. His shot at redemption will come against Navy, which has won two games since sticking with Ohio State for three quarters in its season opener. Consecutive losses for the Scarlet Knights could knock the wind from the sails of a positive start for Kyle Flood's team this season. Rebounding from an emotional week and a tough loss won't be easy.

5. Can Northwestern keep its season from going completely off the rails?
Losers in nine of their last 10 games, the Wildcats host the Leathernecks of Western Illinois (2-1) this weekend. Coach Pat Fitzgerald challenged his team's toughness and pride heading into the bye week and ramped up the intensity at practice. Will the attitude adjustment help Northwestern improve its 115th-ranked rushing attack and 112th-ranked scoring offense? The best case scenario for Fitzgerald's team this weekend would be keeping the jury in deliberation until the start of conference play. Another rough outing against a lowly opponent could spin things out of control in Evanston.
September, 15, 2014
Sep 15
10:00
AM ET
There they go again.
Just when it looked like it was safe to start kicking around some other leagues, the Big Ten tripped all over itself and bumbled away its handful of chances to claim wins over teams from Power 5 conferences.
Minnesota and Illinois were blown out. Purdue fought hard but was ultimately overmatched. A shootout slipped away from Maryland. It's probably best not to mention what happened to Iowa at all.
The conference obviously has nobody else it can blame for the lack of respect nationally when it keeps coming up short in its biggest opportunities to earn it around the nation. There may still be a College Football Playoff contender or two at the top of the league, but if there's a logjam for the third and fourth spots in December, the Big Ten's best may look back at September games it wasn't even involved in as the reason it gets left out of the playoff field.
There were a few bright spots Saturday scattered among the wreckage. Reflect on those and start turning the page to Week 4.
Team of the week:
Struggling mightily to find the end zone for 58 minutes, Penn State didn't look much like the program about to pick up the most valuable win of the weekend. But
Christian Hackenberg
again delivered when it mattered most, calmly leading the game-winning drive in the closing minutes and staking the Nittany Lions to an early lead in the East Division with a rivalry win over Rutgers.
Game of the week:
The game tape won't be sent to the Hall of Fame and the outcome didn't go the Big Ten's way, but the battle for the Cy-Hawk Trophy was still an entertaining affair -- though certainly not because of the offenses. The emotions were high, the score was close from start to finish and the closing minutes leading up to Iowa State's go-ahead field goal also provided a seemingly endless amount of opportunities to question the clock-management skills of Iowa coach Kirk Ferentz. There were high-scoring, competitive games elsewhere, but this was pretty solid theater that will still be worth dissecting all week.
Biggest play:
After the Nittany Lions beat their heads against the wall for more than three quarters, Hackenberg had one final shot at a breakthrough as he took a snap with three minutes left on the clock. His strike to
Geno Lewis
on first down went for 53 yards, instantly flipping the field position and setting the stage for Penn State's breakthrough. Lewis would also grab another 23-yarder on the drive, but it was the initial hookup that generated the momentum that finally carried the Nittany Lions to the end zone.
Big Man on Campus (offense):
The opponent clearly didn't provide much of a challenge, and looking back now, Ohio State surely wishes it could have shuffled around its schedule to get
J.T. Barrett
a chance to tune up against a team like Kent State instead of throwing him into the fire against Navy and Virginia Tech. Who knows if it would have changed anything, but the redshirt freshman quarterback certainly left Saturday's blowout with more confidence after tying a school record with six touchdown passes and throwing for more than 300 yards -- two things
Braxton Miller
has never done with the Buckeyes.
Big Man on Campus (defense):
The Nittany Lions might need to split this award up after that impressive second-half shutout and only allowing one touchdown total on the way to their road win.
Anthony Zettel
was again a fixture in the backfield with three tackles for loss,
C.J. Olaniyan
forced a fumble and tallied a sack, and four different defenders intercepted Rutgers quarterback
Gary Nova
. But
Trevor Williams
doubled down with a pair of picks and finished second on the team with five tackles, giving him the slight nod.
Big Man on Campus (special teams):
The Huskers might have finally found the solution for the problem that has been plaguing them over the last couple seasons on special teams.
De'Mornay Pierson-El
provided a jolt of energy to Nebraska's punt return unit, dazzling with an 86-yard scamper for a touchdown and following that up with a 51-yarder as an encore shortly after to set up another score in the rout of Fresno State.
Biggest face plant:
The Hawkeyes are tempting, but Indiana's loss at Bowling Green figures to be far more damaging to Kevin Wilson's club and its bid to get back to a bowl game. The defense is still a weakness that no amount of production from running back
Tevin Coleman
can consistently overcome, and the Hoosiers will probably be kicking themselves over this loss in November.
Numbers and facts to know:
Nebraska running back
Ameer Abdullah
moved up to No. 5 on the school's all-time rushing list, posting his 19th 100-yard rushing performance to move his career total up to 3,373. ... Officially, Barrett's 300-yard outing through the air was Ohio State's first since Troy Smith in 2006. Terrelle Pryor threw for 334 yards against Indiana in 2010, but those statistics were vacated. ... Michigan held Miami (Ohio) to 33 rushing yards, its lowest rushing total allowed since 2010.
College Football Top Plays Week 4