March, 12, 2014
Mar 12
12:00
PM ET
Happy Patriot League tournament final day.
March, 12, 2014
Mar 12
10:30
AM ET
We're just about at the halfway point of our 2014 ultimate Big Ten road trip, and this is when all those nights in a hotel room and bad eating habits start to take their toll. But we press on -- at least in our minds.
For those just joining in, we're each selecting one Big Ten game to attend each week during the 2014 season. We aren't tied down by a travel budget or nagging editors. If we want to attend a game -- depending on matchup, location, culinary offerings or any other factors -- we can go.
Let's check out the options for Week 7:
Oct. 11
Illinois at Wisconsin
Indiana at Iowa
Michigan State at Purdue
Northwestern at Minnesota
Penn State at Michigan
Open date: Maryland, Nebraska, Ohio State, Rutgers
Adam Rittenberg's pick
: Northwestern at Minnesota


It has been nearly five years since I last witnessed a game at TCF Bank Stadium, one of the nation's more picturesque college football venues. Sure, Penn State and Michigan are bigger names, but I've already seen Michigan twice and Penn State once. I'll be getting my fill of the Gophers after covering them in two of three weeks, but Northwestern is an intriguing team and I'm all about the destination here as Minneapolis offers a lot to do and see.
The game should be a competitive one, if not a good one. Five of the teams' last seven meetings -- and 13 of the past 20 -- have been decided by eight points or fewer. Northwestern has won three straight in Minneapolis, and Minnesota upset the Wildcats last year in Evanston to kick off a nice surge in league play. Northwestern quarterback
Trevor Siemian
had a very rough day against the Gophers last October and looks for a stronger performance on the road. The Wildcats likely will attack a Minnesota secondary led by cornerback
Eric Murray
. Minnesota will pound away with the run game, using a talented group of backs and a big, athletic quarterback in
Mitch Leidner
.
The West Division is wide open, and while both these teams play tougher schedules than both Wisconsin and Iowa -- Minnesota's slate is especially challenging -- they could be in the title mix with certain improvements (Minnesota's passing game, Northwestern's offensive production). Week 7 isn't a great platter of games, but the trip to Minneapolis sounds very appetizing.
Brian Bennett's pick
: Penn State at Michigan


Not exactly the most tantalizing set of games, although if Minnesota and Northwestern get off to hot starts, or teams such as Illinois and Indiana are better than expected, it could be more interesting. Still, it's tough not to choose the Nittany Lions-Wolverines matchup out of this group.
We both agree that Michigan State and Ohio State are the clear-cut East Division favorites in 2014, but Michigan and Penn State should be factors. The winner here will have a major upper hand (remember, Penn State technically can win the division, and it's possible the program could be ruled eligible for the 2014 postseason). I saw the Lions in Week 1 of this ultimate trip, but this would be my first time getting an up-close look at the Wolverines.
Give me a game 75 percent as wild as last year's four-overtime thriller in State College, and I'll be very happy I made this pick. With
Christian Hackenberg
and
Devin Gardner
involved, the potential for fireworks is ample. I always look forward to a trip to Ann Arbor and the Big House, and a game like this on tap would make things even more exciting.
Road trip itinerary
Week 1:
Brian at Penn State-UCF (in Dublin, Ireland); Adam at Wisconsin-LSU (in Houston)
Week 2:
Adam at Michigan-Notre Dame; Brian at Michigan State-Oregon
Week 3:
Brian at Minnesota-TCU; Adam at Penn State-Rutgers
Week 4:
Adam at Miami-Nebraska; Brian at Miami-Nebraska
Week 5:
Brian at Cincinnati-Ohio State; Adam at Minnesota-Michigan
Week 6:
Adam at Nebraska-Michigan State; Brian at Nebraska-Michigan State
March, 12, 2014
Mar 12
9:00
AM ET
STATE COLLEGE, Pa. – We've reached the middle of this week's countdown, which involves five predictions for the spring.
Up Wednesday is an issue that has been talked about a lot but is even more serious than it seems …
OL struggles, surpasses secondary as biggest concern
Forget about the offensive line's three new starters for a moment. Forget about the fact Penn State will likely start two redshirt freshmen,
Andrew Nelson
and
Brendan Mahon
, who have never played in a college game. And forget about the fact they'll all be learning new schemes from a new assistant coach.
That's all been
talked about before
. But take a closer look at this lack of depth; just look at the second-string offensive line. This should be the most this unit struggles since at least the "dark years" of the early 2000s.
[+] Enlarge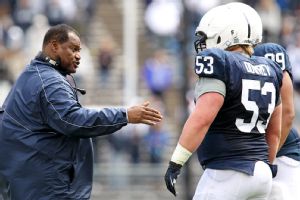 Matthew O'Haren/USA TODAY SportsFormer Penn State assistant Larry Johnson talks with Derek Dowrey during the 2013 spring game. Dowrey might be moving to the offensive line, where there's a big need for players.
Backups
Wendy Laurent
and
Anthony Alosi
have had very limited playing time, playing in 16 combined contests but receiving even less experience than that number suggests. And that's the
strong
part of this backup offensive line. The other three spots this spring will be taken up by an early enrollee (
Chasz Wright
) and two walk-on underclassmen. The defensive line should dominate in the Blue-White Game.
That's not to say the weakness with this unit is just depth; inexperience is the biggest issue among the starters. But that's been pretty well documented. The mess behind them hasn't been.
More position switches are bound to happen – defensive tackle
Derek Dowrey
has already
been linked to a move to the offensive line
, contrary to the updated published roster – and the big problem with this line is that it's one injury away from disaster. It's akin to the linebacker issue last season except this might be even worse. Safety
Stephen Obeng-Agyapong
was able to briefly make up for his size at linebacker with his speed, but there's no hiding a weak link on the offensive line.
If Mahon or Nelson falters, this line falters. If one of the five starters suffers an injury, this line falters. With
Bill Belton
and
Zach Zwinak
returning, this is the best stable of running backs that Penn State has fielded in at least three seasons, and
Christian Hackenberg
has one of the strongest arms in Penn State history. But that won't mean much if this line can't jell by August. And while this staff tries to figure it all out this spring, it's not going to be pretty.
More help will come over the summer in the form of three more signees, but this line will undoubtedly struggle even then. Still, it won't get any worse than it will this spring.
More predictions:
No. 5:
A more public, eager-to-please coach
No. 4:
Blue-White attendance more than doubles from 2013
March, 12, 2014
Mar 12
9:00
AM ET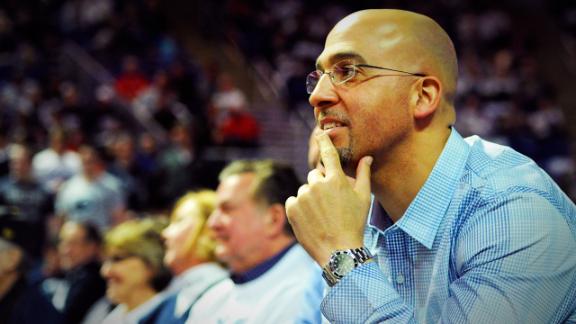 If you live in State College and haven't shaken James Franklin's hand, high-fived the Penn State coach or snapped a picture with the new leading Lion, you're probably a recluse.
Since his
Jan. 11 introduction
, Franklin has been a man about town, at least when he's not feverishly recruiting or
attending the State of the Union address
as a congressman's guest. From speaking to crowds
at THON
and
other Penn State
athletic
events
, to
wearing a wig so he could get his (already bald) head shaved
at a fundraiser, Franklin is everywhere.
But there's a group of Penn Staters with whom he has yet to connect, at least not nearly as much as he'd like to.
"We've had very little time to interact with the players," Franklin told ESPN.com. "The 20-hour rule and all those things are good rules, but when you're a new staff, it makes it challenging. We've got to build relationships, we've got to build trust, and we've got to get our system installed. That's why we've been successful in the past.
[+] Enlarge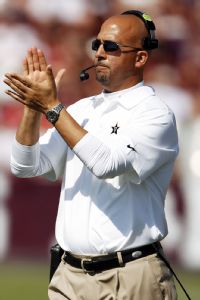 AP Photo/Eric Christian SmithJames Franklin says offensively his system will be similar to that of former coach Bill O'Brien.
"That's what our focus is right now. We've been running since Day 1."
There will be running when Penn State opens spring practice Monday. Blocking and tackling, too. There will be installation in all three phases and position competitions -- all the standard signs of spring ball.
But the most important work will take place away from the field and might have nothing to do with football.
"It starts in the locker room and selling your vision, selling the culture you want to create," offensive line coach Herb Hand said. "You don't know the kids and they don't know you. That's the first challenge coming in, the development of relationships. You're doing that after you've been on the road recruiting for two or three weeks. And then you're in the middle of winter workouts and you're barking and screaming and getting after them and you hardly know them.
"Relationships take time."
The process is under way at Penn State after an intense winter program.
"I haven't had a coaching staff push us this hard as far as conditioning goes, and also as far as competition," senior linebacker
Mike Hull
said. "You can tell Coach Franklin's real passionate about what he does, and he fires us up.
"[The coaches] talk about building relationships, and that's exactly what they've done."
After the recruiting whirlwind concluded, Hand
took the offensive linemen to dinner, wisely selecting a Chinese buffet ("When you walk in with 13 or 14 300-pound people, that'll garner some attention"). Defensive coordinator Bob Shoop, meanwhile, gleaned insight into his new team by spending last weekend reading John Bacon's book, "Fourth and Long: The Fight for the Soul of College Football," which chronicled Penn State's transition and tumult in 2012.
"These guys have been through a lot," Shoop said. "They've have had four [defensive] coordinators in four years. They've seen the good and bad of the profession. I'm just amazed with their approach and their maturity."
The second challenge for Franklin and his staff isn't a new one during the sanctions era. Scholarship reductions had a larger impact on the Lions' depth in Year 2 than Year 1, and as Franklin recently noted, "The longer you're in it, the more effect it has."
There are some potential trouble spots such as the offensive line, which enters the spring with only three scholarship tackles (
Donovan Smith
,
Andrew Nelson
and mid-year enrollee Chasz Wright). Franklin admits PSU has "major depth issues" up front.
Hand's response? Bring it.
"I could sit there and say this is going to be an obstacle for us and we'e going to struggle," he said. "You know what's going to happen? We're probably going to struggle because of our depth. But you go back to Core Value No. 1: have a positive attitude. Let's dwell on the opportunity."
When Shoop watched tape of PSU's defense last year, he saw the same linemen remaining on the field and few personnel combinations. Shoop's Vanderbilt defense used 20-22 players, while Penn State rarely played more than 15.
The hope is this year's defense will have more bodies, although Penn State is thin at tackle and cornerback. Shoop likes the foundation at defensive end with
C.J. Olaniyan
and
Deion Barnes
, and at safety, the position he directly coaches, as
Adrian Amos
returns alongside
Ryan Keiser
.
Linebacker depth surfaced in 2013, but Shoop is willing to get creative. One possibility: a 4-2-5 alignment with a hybrid safety/linebacker.
Amos, who has played both cornerback and safety but will start off at strong safety, provides a building block.
"So big, so strong, so fast," Shoop said. "He can contend for first-team All-Big Ten and be a guy who receivers national recognition if he pushes himself to the next level."
PSU returns an excellent centerpiece on offense in quarterback
Christian Hackenberg
, who will operate a system that, according to Franklin, won't differ dramatically from Bill O'Brien's. Franklin lived on the same street as O'Brien when the two worked at Maryland and is philosophically aligned with his predecessor.
Shoop will pressure more than the Lions did in the past, but the structure of the defense shouldn't change much, either.
"Very, very similar concepts," Franklin said. "The terminology is just a little bit different."
According to Shoop, the players are taking a businesslike approach to their latest transition. Hull came to a program that had been the model for stability in college football. It has been anything but in his time there.
"The first time was real hard," Hull said. "We didn't really know what to expect at all. This time, it's been a lot easier. Whenever a new staff comes in, they want to get in all their policies and values. Some people it frustrates, but it's good to have myself,
Miles Dieffenbach
, some of the older guys tell them it will get better, it just takes time."
Penn State must maximize its time this spring. Installation, development and evaluation are the staff's top three goals, according to Hand.
But there's an even bigger objective.
"How do you prove trust?" Hand said. "Studying them, finding out where's their hometown, what's their family situation like, what's their major.
"Once you win the locker room, everything else will take care of itself."
March, 12, 2014
Mar 12
8:38
AM ET
Associated Press
NEW YORK -- The wife of former Penn State assistant football coach Jerry Sandusky says she "definitely" believes her husband is innocent despite being convicted of sexually abusing 10 boys and that the victims' financial gain was at play.
Dottie Sandusky said in an interview broadcast Wednesday on NBC's "Today" show that "there was nothing that went on because I was here" in the couple's small home in State College, Pa., where some of the victims reported being abused in the basement.
Although one accuser said his muffled screams went unheard by her upstairs, Sandusky heard nothing "because he didn't scream," she said after giving interviewer Matt Lauer a tour of the house. "It's not a dungeon," she noted of the basement.
She denied any suggestion that she was a "weak spouse" who enabled her husband and said she believes his accusers had been manipulated.
"I think it was, they were manipulated, and they saw money," she said. "Once lawyers came into the case, they said there was money."
In October, Penn State announced it was paying nearly $60 million to settle abuse claims by 26 young men. It's not clear how many suits are still pending against the school following those settlements.
Sandusky said in the interview recorded Monday that she believed that her husband showered with children but "that's the generation that Jerry grew up in."
She insisted the inappropriate behavior went no further: "I definitely believe him. Because if I didn't believe him, when I testified at trial, I could have not said what I said. I would have had to tell the truth."
Sandusky, who testified for about 40 minutes during her husband's 2012 trial, also disputed a police investigator's account of a statement by her husband following a 1998 complaint by a mother who said Jerry Sandusky had showered with her son.
He "would not say, `I wish I was dead," Dottie Sandusky said.
March, 11, 2014
Mar 11
5:00
PM ET
First of two this week. Send your Big Ten football questions
here
. And follow us
on Twitter
.
To the inbox ...

AIS from Madison, Wis., writes:
I seem to remember that Minnesota had a returning 1,000-yard rusher last year in
Donnell Kirkwood
, before he was limited by injuries.
David Cobb
put together a great season in his time as the featured back but had to split carries for a while before separating from
Rodrick Williams
. I'm not a Minnesota fan, but I believe that all three of the runners I mentioned will be back in 2014. Is
Jeff Jones
that
good to expect immediate contributions with a healthy stable of more experienced (and to varying degrees, capable) backs?
Adam Rittenberg:
We'll soon find out, AIS, but running back is a position in which freshmen can contribute immediately, and Jones arrives at Minnesota with more fanfare than any of the other backs. You bring up a good point about Kirkwood, who had 926 rushing yards in 2012 but was largely forgotten after his injury and with Cobb's emergence last year. Williams also quietly averaged 5.5 yards per carry last year. Jones clearly won't walk into a major role. He'll have to earn it. But he had a great senior year and has the talent to produce right away and push older players.
---
Todd from The Land of Chief Illiniwek writes:
On Friday, you said "no thanks" to the idea of a standing major nonconference rivalry game between Nebraska and Missouri, but your counterargument raised an alternative that supports the idea. Nebraska shouldn't play Missouri but rather Big 12 Oklahoma every year. Illinois should play SEC Missouri every year (with hopefully better results than during the Zook era). Iowa should play Big 12 Iowa State. Michigan should play Pac-12 USC. Purdue should play Notre Dame. Penn State should play Pitt. Indiana should play a basketball rival like North Carolina or Kansas? Have Ohio State play Alabama. Maryland and Rutgers should play their biggest rivals from their old conferences, or maybe an annual replay of the Rutgers vs. Harvard birth of American football played on a rugby pitch without pads ...
Adam Rittenberg:
Todd, it's not that simple, and you're missing my larger point. First, trying to get all those schools on board with what amounts to an exclusive nonconference scheduling agreement -- few of them would play another marquee nonleague opponent because of minimum home-game requirements -- is very tough. Remember
the ill-fated Big Ten-Pac-12 scheduling alliance
? You would run into similar issues, especially with a school such as USC, which isn't giving up its annual series against Notre Dame for one with Michigan. The larger point is this model prevents variety in scheduling. Wouldn't fans rather see different marquee opponents every few years than the same group (non-con rival, MAC opponent, other small-conference opponent)? I know I would.
---
Dan from Scottsdale, Ariz., writes:
Adam, what's your take on Tress [Jim Tressel] being included or excluded in the Hall of Fame? As a Buckeyes fan, I enjoy whenever Tress is a topic. He was so dominant in his 10 years and I get a kick when all the haters get worked up. (You, Michigan. 9-1. That's right, 9). And, do you think he will be a head coach again?
Adam Rittenberg:
It's interesting to see him on the ballot, Dan, and it's largely because of his accomplishments at Youngstown State. He's actually listed under "divisional coaches" on
the ballot
, and they're highlighting his achievements at YSU more than those at OSU. Tressel's overall achievements in coaching merit a spot in the Hall of Fame, regardless of how things ended in Columbus. Will he coach again?
Many of those close to him think he will
, but he also really enjoys his administrative position at Akron. I think it all depends on what opportunities come his way.
---

Jeff from Cleveland writes:
Dear Abby (Adam), I am a huge Cats fan, and early reports from spring practice suggest that
Trevor Siemian
has pulled ahead in the QB competition. Recent reports also suggest that Siemian's inconsistent play during last season was largely attributable to injury. While I would like to forget last season and look ahead to the fall, I am still haunted by Siemian's unforgivable pick 6s (Ohio State, Nebraska, Minnesota). Should I forgive and forget, or do I have reason to worry about Siemian's ability to consistently deliver top-level Big Ten QB play?
Adam Rittenberg:
You can't completely forget the past when judging a player, Jeff, but the injury, which made an impact on his footwork on throws, along with poor offensive line play, must be factored into the equation. Siemian has been pretty solid when given time to throw and a system that puts him in position to succeed. Northwestern's two-quarterback system worked in 2012, but I think you'll see a more confident Siemian as the clear starter, especially if the offense goes back to what we saw from 2007-10 (pass heavy). Northwestern has veteran receivers, a good tight end and plenty of options at running back. If the offensive line holds up, Siemian should be improved this fall.
---
Scott from Lebanon, Pa., writes:
I'm a Penn State fan and especially like the trophy games (e.g., Paul Bunyan's Ax, Floyd of Rosedale, etc.) that are played in the B1G. Now that Maryland and Rutgers joined the B1G, I have an idea for two trophy games when they play Penn State. The trophy for PSU vs. Maryland would be the Surveyor's Transit (Mason-Dixon Line) and when PSU plays Rutgers, the trophy would be Washington's Tricorn (Washington crossed the Delaware River, The Battle of Trenton). What do you think?
Adam Rittenberg:
Much bigger fan of
Washington's tricorn
than the other one, Scott, mainly because I'm not sure many people know what the
surveyor's transit
actually is (not a bad-looking item, though). Imagine the pictures players would get wearing that headgear after victories. Maybe Penn State and Maryland could just play for the right to own Delaware?
March, 11, 2014
Mar 11
2:30
PM ET
Ohio State defensive line coach Larry Johnson finds himself in an interesting position, even if he doesn't care (which he likely doesn't). Johnson was the overwhelming choice as
the Big Ten's most significant assistant coach departure
for leaving Penn State after 18 seasons.
Well, now it's time to look at the Big Ten's most significant assistant coach
addition
, and Johnson, the
only coach to move within the conference this past offseason
, is among the candidates.
Here's the full list (in alphabetical order):

Chris Ash, co-defensive coordinator/safeties, Ohio State:
The Buckeyes swiped Ash from Arkansas, where he was the sole defensive coordinator, and bring in a coach with past Big Ten coordinator experience at Wisconsin. Ash's defenses at Wisconsin ranked in the top 15 nationally in scoring in both 2011 and 2012. Arkansas' defense went from 113th nationally against the pass in 2012 to 72nd last season.
Ralph Friedgen, offensive coordinator, Rutgers:
Friedgen was Maryland's head coach from 2001-10, guiding the Terrapins to seven bowl games (five victories) and an ACC title in 2001, when he won national coach of the year honors. He also has been an offensive coordinator for 21 seasons at either the college or NFL level, helping Georgia Tech to a co-national title in 1990 and winning the Broyles Award as the nation's top assistant in 1999.
Larry Johnson, defensive line, Ohio State:
Johnson spent the past 18 seasons at Penn State -- the past 14 as the Lions' defensive line coach -- and developed a reputation as both an elite coach and an elite recruiter. He mentored seven first-team All-Americans at Penn State, including Courtney Brown and Tamba Hali, and six of his players were named Big Ten Defensive Player of the Year or Big Ten Defensive Lineman of the Year.
Taver Johnson, defensive backs, Purdue:
Taver Johnson's hiring didn't get as much publicity as the others on this list, but he could turn out to be just as valuable to his new team. Like Ash, Johnson escaped Arkansas and returns to the Big Ten, where he enjoyed success as Ohio State's cornerbacks coach. He mentored Malcolm Jenkins, the 2008 Jim Thorpe Award winner, and had three Buckeyes corners earn first-team All-Big Ten honors.
Doug Nussmeier, offensive coordinator, Michigan:
Nussmeier brings impressive credentials to Ann Arbor, including a national championship ring he won as Alabama's offensive coordinator in 2012, when the Crimson Tide set records for both scoring and total offense. He has mentored quarterbacks such as Alabama's
AJ McCarron
, Washington's
Keith Price
and Jake Locker and the St. Louis Rams' Marc Bulger. Nussmeier also has Big Ten experience as Michigan State's quarterbacks coach from 2003-05.
It's that time again. Cast your vote.
March, 11, 2014
Mar 11
12:00
PM ET
Spring batted an eyelash toward Chicago on Monday. Wednesday:
more snow
. That Mother Nature, such a tease.
March, 11, 2014
Mar 11
9:00
AM ET
STATE COLLEGE, Pa. – The countdown of Penn State spring practice predictions continues. And, between new contributors and a new coaching staff, there will be plenty to watch in Happy Valley this spring. So this prediction really shouldn't come as a surprise ...
Blue-White attendance more than doubles from 2013
A lot was working against Penn State's annual spring game last season. Rain canceled the carnival and activities the night before, the popular autograph session was discontinued, and kickoff began two hours earlier than usual (at noon as opposed to 2 p.m.). Only an estimated 28,000 fans showed up.
[+] Enlarge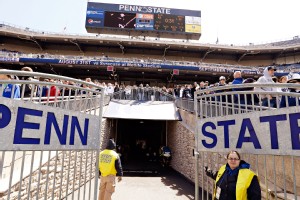 AP Photo/Keith SrakocicThe gates should open wide for a big crowd at Penn State's spring game on April 12.
This season? James Franklin and the university are taking control of everything they can to boost that attendance. The autograph session is back, Bill O'Brien's
odd scoring system
is out, and kickoff is now at 1:30 p.m. on April 12. As a result, this could draw the best crowd in four or five years.
Sanctions or not, there's an air of excitement surrounding this team -- and Franklin has fanned those flames with talk of
dominating the state
and returning Penn State to national prominence. As long as Happy Valley isn't covered in rain clouds, those excited fans should again flock to the annual Blue-White Game.
There was a time not too long ago when the attendance at Beaver Stadium for the spring game outnumbered the best regular-season crowds at Pitt. (In 2009, for example, 76,500 fans watched the Blue-White Game. Pitt's Heinz Field holds just 65,500.)
But, for one reason or another, the crowds at Penn State have since dropped. There were respectable crowds that numbered between 55,000 and 60,000 in 2010 and 2012. But rain and miserable weather put a damper on the 2011 and 2013 games. As a result, it's not a stretch to think that 2014's attendance should reach 56,000 at the very least.
And, if the weather cooperates, there could be another 10,000. Maybe more.
More spring predictions:
No. 5:
A more public, eager-to-please coach
March, 11, 2014
Mar 11
5:30
AM ET
1. Duane Akina became the seventh assistant from Mack Brown's staff at Texas to get another job when Stanford hired him as secondary coach. Co-offensive coordinators Major Applewhite and Darrell Wyatt, the two highest-paid assistants, remain on the market. One interesting note: Most coaching contracts see to it that a fired coach gets the agreed-upon amount. If he is hired elsewhere for less than that amount, the first school makes up the difference. Not Texas. If you take another job, Texas is done.
2. Dr. Joab Thomas, the former president of the University of Alabama and Penn State University, died last week at age 81. While at Alabama, Thomas endured the controversy of hiring Ray Perkins and Bill Curry to replace the legendary Paul Bryant. In 1990, Thomas went to State College, Pa., where the equally legendary Joe Paterno turned 65 the following year. When someone asked him about Paterno retiring, Thomas said, "You can't ask one man to replace both Bear Bryant and Joe Paterno."
3. Jake Trotter's
post Monday
described the desire of West Virginia players to turn the program around after a 4-8 record last season. Injuries contributed a great deal to the Mountaineers' troubles. But the physical and mental burden of traveling to the Big 12 footprint will be an annual drag on West Virginia football. The good news is that in this season's nine-game conference schedule, the 5/4 split tips to Milan Puskar Stadium. The bad news is that the season opens with a neutral-site game against Alabama in Atlanta.
March, 10, 2014
Mar 10
2:30
PM ET
Earlier today, you read about
all the Big Ten coaching changes
from the 2013 season. Now it's time for you to select the most damaging assistant coach departure in the league. As mentioned in the post, most of the exiting coaches did so on their own accord. For the purposes of this poll, I've listed only coaches who voluntarily left their posts.
Here are the candidates (in alphabetical order):

Thomas Hammock, running backs, Wisconsin:
Hammock spent only three seasons with the Badgers but made a significant impact on the team's signature position group. In Hammock's first season on staff, Montee Ball led the nation in rushing and was a Heisman Trophy finalist. Ball won the Doak Walker Award the following year, and last fall
Melvin Gordon
and
James White
set the NCAA record for rushing yards by a pair of teammates (3,053). Hammock, a master at maintaining a competitive environment, oversaw 40 100-yard rushing performances in three years, the most for any team in that span. He also served as Wisconsin's recruiting coordinator. Like his predecessor, John Settle, Hammock leaves Wisconsin for the NFL with the Baltimore Ravens.
Larry Johnson, defensive line, Penn State:
Johnson spent the past 18 seasons at Penn State, taking over the entire defensive line in 2000. But after twice being passed over for the Lions' head-coaching position, he left for the same post at rival Ohio State. He built a reputation as an elite defensive line coach and a top regional recruiter, particularly in the Washington, D.C., area, where he spent 20 years as a high school coach. Johnson mentored seven first-team All-Americans at Penn State, including Tamba Hali, Michael Haynes, Courtney Brown and Devon Still. Six of his players won Big Ten defensive-player of-the-year or Big Ten defensive-lineman-of-the-year honors.
Terry Joseph, Nebraska, secondary:
Like the other coaches on this list, Joseph excelled on the recruiting trail, helping to increase Nebraska's presence in the South and Southeast. In 2012, Joseph's first season on staff, Nebraska led the nation in opponent pass completion percentage (47.1 percent), ranked fourth in pass defense (168.2 yards allowed per game) and ninth in pass efficiency defense (105.32). He developed players such as cornerbacks
Stanley Jean-Baptiste
and
Ciante Evans
, and safety Daimion Stafford, all of whom earned all-Big Ten honors. Nebraska intercepted 27 passes in Joseph's two seasons on staff. He leaves for a the same post at Texas A&M.
Seth Littrell, offensive coordinator/tight ends/fullbacks, Indiana:
Littrell oversaw a Hoosiers offense that finished ninth nationally in total yards, 16th in scoring and 17th in passing. Although head coach Kevin Wilson gets much of the credit for the offense's prowess, Indiana improved significantly in Littrell's two seasons. In 2012, the Hoosiers scored 9.4 more points and racked up 111.8 pass yards per game more than they had the previous year. Indiana in 2012 set team records for passing yardage (3,734), total offense (5,304), completions (331), attempts (540) and total plays (939), and shattered the total offense and touchdowns marks last fall. Tight end
Ted Bolser
blossomed under his watch. He leaves for a similar post on North Carolina's staff.
Mike Vrabel, defensive line, Ohio State:
The former Buckeye star made a seamless transition from playing in the NFL to coaching in college. After working with Ohio State's linebackers during a challenging 2011 campaign, Vrabel transitioned to the defensive line, where he mentored standouts John Simon and Johnathan Hankins in 2012. Simon won Big Ten defensive-player-of-the-year honors that fall. Vrabel in 2013 inherited a group with no returning starters but helped develop players such as
Joey Bosa
,
Michael Bennett
and
Noah Spence
, who combined for 22.5 sacks. Vrabel made his biggest impact in recruiting, earning ESPN.com Big Ten recruiter-of-the-year honors in 2012. He returns to the NFL as Houston Texans linebackers coach.
It's voting time. You're up.
March, 10, 2014
Mar 10
12:00
PM ET
How 'bout Nebrasketball? Impressed with what's happening in Lincoln.
March, 10, 2014
Mar 10
10:30
AM ET
Non-Minnesota fans might have missed Friday's official announcement that Mike Sherels has been promoted to Gophers linebackers coach after serving on the team's recruiting staff. Sherels is the first new assistant Jerry Kill has hired in his Minnesota tenure, but the move likely signified -- likely being the operative word -- something bigger for the Big Ten.
The end of the coaching carousel for 2014.
This post always includes a reminder that additional coaching changes still can happen, even though most of the Big Ten has started spring practice. It's the nature of the business.
Despite two new teams in the Big Ten, the number of overall changes in the league dropped for the second consecutive year, going from 32 in 2013 to 27 this year. There was only one complete staff overhaul, at Penn State, and four programs -- Illinois, Iowa, Michigan State and Northwestern -- kept all of their coaches from last season. After replacing more than half of his staff in the last offseason, Illinois' Tim Beckman hopes continuity pays off in what likely will be a make-or-break 2014 campaign. Iowa is back to its stable self after two years of coaching flux, while Northwestern coach Pat Fitzgerald hasn't made a staff change since after the 2010 season.
Michigan State made a major commitment
to Mark Dantonio and his assistants after the Spartans' Rose Bowl win, but it's still impressive that Dantonio retained the entire staff after such a great season.
Both Rutgers and Maryland have some new faces on staff before their inaugural season of Big Ten play. Rutgers has two new coordinators (one outside hire, one promotion), while Maryland has new assistants overseeing both lines.
[+] Enlarge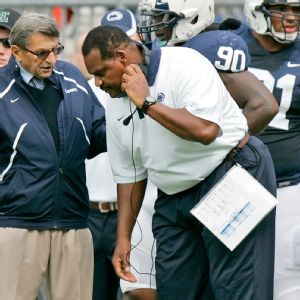 Michael R. Sisak/Icon SMILongtime Penn State defensive line coach Larry Johnson moved to Ohio State this offseason after James Franklin was hired as the Nittany Lions' head coach.
Other than Penn State, Indiana and Rutgers are the only teams featuring two new coordinators in 2014. Although IU assistant Kevin Johns previously held the co-offensive coordinator title, he'll be the main man, as he takes over for Seth Littrell.
For the most part, the coaches leaving Big Ten programs did so voluntarily and for potentially better positions. Penn State head coach Bill O'Brien took the same role with the Houston Texans, while two assistants -- Ohio State's Everett Withers and Maryland's Greg Gattuso -- left to become FCS head coaches at James Madison and Albany, respectively. The Big Ten lost several assistants to the NFL, as O'Brien brought four assistants with him from Penn State (John Butler, Stan Hixon, Charles London and Anthony Midget) and swiped another from Ohio State's staff (Mike Vrabel). Wisconsin also lost running backs coach Thomas Hammock to the Baltimore Ravens.
Arguably the most interesting move took place within the league, as longtime Penn State defensive line coach Larry Johnson replaced Vrabel at Ohio State.
OK, let's get to it already.
Here's the rundown of coaching changes (head coach and full-time assistants only; number of new coaches in parentheses):
INDIANA (3)
Who's gone?
Doug Mallory, defensive coordinator/safeties
Seth Littrell, offensive coordinator/QBs
Jon Fabris, defensive line
Who's in?
Brian Knorr, defensive coordinator/defensive ends/outside linebackers
Larry McDaniel, defensive line
Noah Joseph, safeties
Other moves
Promoted Kevin Johns to main offensive coordinator. Johns also now coaches quarterbacks in addition to wide receivers.
Moved James Patton from assistant defensive line/special teams to tight ends and fullbacks
MARYLAND (3)
Who's gone?
Tom Brattan, offensive line
Lee Hull, wide receivers
Greg Gattuso, defensive line
Who's in?
Greg Studwara, offensive line
Keenan McCardell, wide receivers
Chad Wilt, defensive line
MICHIGAN (1)
Who's gone?
Al Borges, offensive coordinator/quarterbacks
Who's in?
Doug Nussmeier, offensive coordinator/quarterbacks
Other moves
Defensive coordinator Greg Mattison is overseeing linebackers instead of defensive linemen
Mark Smith moves from linebackers to defensive line
Roy Manning moves from outside linebackers to cornerbacks

Curt Mallory will coach only safeties rather than the entire secondary
MINNESOTA (1)
Who's gone?
Bill Miller, linebackers/assistant head coach
Who's in?
Mike Sherels, linebackers (promoted from recruiting staff)
Other moves
Pat Poore moves from wide receivers to running backs
Brian Anderson moves from running backs to wide receivers
NEBRASKA (1)
Who's gone?
Terry Joseph, secondary
Who's in?
Charlton Warren, secondary
OHIO STATE (2)
Who's gone?
Everett Withers, co-defensive coordinator/safeties
Mike Vrabel, defensive line
Who's in?
Chris Ash, co-defensive coordinator/safeties
Larry Johnson, defensive line/assistant head coach
PENN STATE (10)
Who's gone?
Bill O'Brien, head coach/offensive playcaller
John Butler, defensive coordinator/cornerbacks
Charlie Fisher, quarterbacks
Stan Hixon, wide receivers/assistant head coach
Larry Johnson, defensive line
Charles London, running backs
Mac McWhorter, offensive line
Ron Vanderlinden, linebackers
John Strollo, tight ends
Anthony Midget, safeties
Who's in?
James Franklin, head coach
John Donovan, offensive coordinator/tight ends
Bob Shoop, defensive coordinator/safeties
Charles Huff, running backs/special teams
Brett Pry, co-defensive coordinator/linebackers
Josh Gattis, wide receivers/assistant special teams
Herb Hand, offensive line
Ricky Rahne, quarterbacks
Sean Spencer, defensive line
Terry Smith, cornerbacks
PURDUE (1)
Who's gone?
Jon Heacock, defensive backs
Who's in?
Taver Johnson, defensive backs
RUTGERS (4)
Who's gone?
Dave Cohen, defensive coordinator/linebackers
Ron Prince, offensive coordinator
Rob Spence, quarterbacks
Damian Wroblewski, offensive line
Who's in?
Ralph Friedgen, offensive coordinator/quarterbacks
Bob Fraser, linebackers/special teams
Mitch Browning, offensive line
Ben McDaniels, wide receivers
Other moves
Promoted special teams coordinator Joe Rossi to defensive coordinator
Anthony Campanile is coaching only tight ends after overseeing both tight ends and wide receivers
WISCONSIN (1)
Who's gone?
Thomas Hammock, running backs/assistant head coach
Who's in?
Thomas Brown, running backs
March, 10, 2014
Mar 10
9:00
AM ET
STATE COLLEGE, Pa. -- It's a long way until the season kicks off, but there'll be an oasis of relief in just one week when spring practice starts up next Monday morning.
Throughout the offseason, we've had other countdowns --
position battles
,
players to watch
,
impactful recruiting classes
,
positions to improve
-- to help the winter tick by a little faster. And this week's countdown, involving five predictions for the spring, will be the final one.
So let's get started ...
[+] Enlarge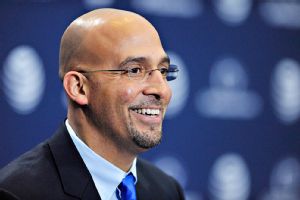 Nabil K. Mark/Getty ImagesJames Franklin is much more public than former Penn State coach Bill O'Brien.
A more public, eager-to-please coach
Ever spot Bill O'Brien at the Creamery? Or maybe just walking around town? It was something he often said he'd like to do more often, but he was a private person who tended to sound like a curmudgeon at certain news conferences -- namely when he professed his dislike for "birthdays, weddings, theme parks, the beach." He was a great coach, but admitted he was no pep-rally coach.
Expect the complete opposite from new coach James Franklin, who boasts the
complete opposite personality
.
Franklin
held a pep rally on signing day
and filled a gym with several thousand fans. On his first day in Happy Valley, he walked off his plane and
introduced himself to two young fans
. And he has already
spoken at THON
and committed to
speak at an upcoming scholar-athlete banquet
. Sure, a lot of what he says and does might just be part of a strategy to garner good will. He's two parts coach and one part politician. But he doesn't shirk from the spotlight, and fans should see more of him this spring than they saw from O'Brien in two years.
Franklin has already become a familiar face at wrestling matches, and it's not unusual to spot him at hockey or basketball games either. Penn State's signing day war room, which was open to some fans and media, literally had trumpets blaring and OL coach Herb Hand rapping for a few listeners. The only thing that was missing was a partridge in a pear tree.
Franklin joked during his introductory news conference that he'd
blow up balloons at kids' backyard birthday parties
if he was asked. Of course, after he received quite a few messages, he publicly admitted that was a bit of a hyperbole. But expect more speaking engagements, more fan interaction (the autograph session for the Blue-White Game is back, for example), and more public appearances. This year's Coaches Caravan tour should be quite the memorable one.
If you don't know much about Franklin yet, you certainly should by the end of the spring.
Challenges Facing Franklin at Penn State
BIG TEN SCOREBOARD
Saturday, 12/21
Monday, 12/23
Tuesday, 12/24
Thursday, 12/26
Friday, 12/27
Saturday, 12/28
Monday, 12/30
Tuesday, 12/31
Wednesday, 1/1
Thursday, 1/2
Friday, 1/3
Saturday, 1/4
Sunday, 1/5
Monday, 1/6