March, 20, 2015
Mar 20
10:00
AM ET
It's time once again to start winding down your week with the last edition of the #B1GFridayFive. Take a few minutes at halftime during the NCAA Tournament to check out this week's post and share your thoughts on our picks with social media. Join the conversation by using the hashtag and giving us your opinions directly by following @BennettESPN, @MitchSherman, @ESPNJoshMoyer, @DanMurphyESPN, @ESPNRittenberg, @AWardESPN, @TomVH and @ESPN_BigTen.
This week has already had its share of memorable buzzer-beaters thanks to the NCAA tourney. In honor of the excitement, we compile a list of five last-second victories in Big Ten football games that are sure to make you fall out of your chair.
Some ground rules: We stuck to games within the last 25 years to make sure we could provide you with video evidence, because what fun is a Hail Mary win without listening to the home team's radio announcer lose his mind when describing it? All games also had to be between conference opponents. So you won't find Iowa's comeback against LSU in the 2005 Capital One Bowl or other classics like this one or this one.
With those qualifications in mind, here are our five favorite dramatic finishes in the Big Ten in chronological order.
1. Ohio State def. Iowa, 27-26, Nov. 10, 1990
Trailing by five, the Buckeyes had less than a minute to go 48 yards and complete a comeback against Hayden Fry's Hawkeyes. Iowa was ranked No. 6 in the nation and had yet to lose a conference game that season. Ohio State quarterback Greg Frey worked his team down to the 3-yard line before connecting with receiver Bobby Olive, who managed to squeeze both feet to the ground in front of the end line for a game-winning score with one second left on the clock.
2. Minnesota def. Penn State, 24-23, Nov. 6, 1999
[+] Enlarge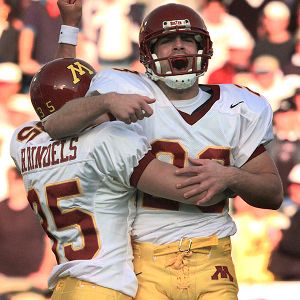 AP Photo/Chris GardnerMinnesota kicker Dan Nystrom, right, celebtrates with holder Ryan Rindels after kicking the game-winning field goal against Penn State with two seconds left.
No. 2 Penn State invited Minnesota to Happy Valley for its homecoming in 1999. The Gophers had not been to a bowl game since 1986. But Dan Nystrom's 32-yard field goal as time expired at Beaver Stadium changed all of that. Minnesota got its sixth win to qualify for the postseason. The Nittany Lions lost the two games that followed and fell to the Alamo Bowl instead of getting a shot at a national title.
3. Iowa def. Penn State, 24-23, Nov. 8, 2008
Nine years later, almost to the day, history repeated itself for Penn State fans. Their Lions were 9-0, ranked No. 3 and hoping to get Joe Paterno a national championship late in his career. A middle-of-the-pack Iowa team derailed those plans. Running back Shonn Greene put the Hawkeyes within striking distance with a fourth-quarter touchdown to make the score 23-21 with nine minutes to play. An interception gave the Hawkeyes a final drive late in the game and Daniel Murray finished the upset with a 31-yard field goal.
4. Michigan State def. Wisconsin, 37-31, Oct. 22, 2011
Kirk Cousins connected with Keith Nichol a true Hail Mary play to upset the Badgers in a meeting between ranked teams. The 44-yard pass ricocheted off one Spartans receiver in the end zone and dropped into Nichols' arms at the 1-yard line. He wrestled his way toward the end zone, but was marked down just shy of the goal line. Referees reviewed the play and saw that Nichols had broken the plane before a pair of Wisconsin defenders threw him backward.
5. Nebraska def. Northwestern, 27-24, Nov. 2, 2013
What a scene in Lincoln, baby! That was the Nebraska radio call when Jordan Westerkamp pulled in a tipped ball on the final play of a 27-24 win over Northwestern in 2013. Ron Kellogg threw a 50-yard pass that skipped off of a pile of players at the goal line and on to Westerkamp who was waiting behind the crowd. The win gave the Huskers a 6-2 record. It was just another week for the Wildcats, who lost seven straight that season including overtime defeats in the week before and after the heartbreaker in Lincoln.
Honorable mention: Michigan State def. Ohio State, 16-13, Nov. 9, 1974
You can't mention Big Ten buzzer-beaters without including one of the more bizarre finishes in conference history. Ohio State, led by eventual Heisman winner Archie Griffin, was undefeated and ranked No. 1 in the country. Michigan State held an improbable field goal lead late in the fourth quarter, but Griffin and the Buckeyes had one final drive. Spartan coach Duffy Daugherty told his players to expect Woody Hayes to go for the win rather than kick a field goal.
The Buckeyes drove down to the 1-yard line with less than 30 seconds remaining. Their first attempt from that distance fell just short. The players scrambled back into position for one final play. It crossed the goal line but referees said time had expired before the snap. Big Ten commissioner Wayne Duke, who was at the game, forced both teams to stay in the stadium while he chased down the referees for an explanation. Forty-six minutes later, without the benefit of instant replay, they decided there was no buzzer-beater. Michigan State held on to win.
BIG TEN SCOREBOARD
Thursday, 9/3
Friday, 9/4
Saturday, 9/5
Sunday, 9/6
Monday, 9/7