April, 18, 2014
Apr 18
4:30
PM ET
Wishing you a great spring weekend (right, Mother Nature?). Join the
Twitter train
.
Sup?
Kevin from Pittsburgh writes:
This might sound like a weird question but do you think Penn State's recruiting success this offseason will have any impact on the NCAA potentially lifting the bowl ban? There was some optimism it could be lifted for this season, if not next. But with James Franklin seemingly overcoming the other intended punishments, would the NCAA be worried about a perception of letting PSU off the hook? Stop me if I'm overthinking here but this certainly wouldn't be the first time the NCAA has made a decision based on it's own perception.
Adam Rittenberg:
No, it certainly would not, Kevin. Trying to get inside the mind of the NCAA is a dangerous and often futile endeavor. My hope is any decision made about the sanctions would have nothing to do with how Franklin is recruiting. Penn State is being assessed for how it conducts itself as a program from a compliance and integrity standpoint, and the success in games or in recruiting really shouldn't matter with potentially reduced penalties. Also, the 2015 recruiting class won't impact the 2014 team, which has some depth problems stemming from the NCAA sanctions.
---
Jim from Albany, N.Y., writes:
As a season-ticket holder who doesn't mind the 200+ mile trip for every home game, I'm wondering what Rutgers (and/or Maryland too) do to be accepted by the average B1G fan? Reading everything from "meh" to "I'm never going to attend a Rutgers/Maryland game in my team's stadium" is tough when the average Rutgers fan is thrilled about being able to take a step up. I've not read this in any of the other realignment moves in any of the conferences (except perhaps WVU in the Big 12 or Mizzou in the SEC), but not so vitriolic as the B1G boards. Comments?

Adam Rittenberg:
Jim, there are a few factors involved here. Many Big Ten fans didn't want the league to expand again. Those who did wanted additions with stronger athletic traditions than Rutgers. Although Scarlet Knights football had a breakthrough under Greg Schiano, Rutgers doesn't match the historic accomplishments of Nebraska and Penn State, the Big Ten's most recent expansion additions. There's just not an obvious reason to get excited. Also, the demographic argument the Big Ten used with adding Rutgers and Maryland, while making sense on several levels, doesn't resonate with the average fan. There are also geographic and cultural differences between the traditional Big Ten footprint and the East Coast. Penn State deals with a similar divide.
---
B1G fan from the Midwest writes:
I know I'm about to ask something blasphemous to some longtime B1G fans, but is there a name change in the conference's future? Myself included, most members of the B1G are proud of tradition and are reluctant to change. I can understand sweeping it under the rug at 11 teams or maybe even 12, but when it's at 14 shouldn't it be considered? Maybe something non number related like the SEC and ACC have.
Adam Rittenberg:
It's not happening, B1G fan. Commissioner Jim Delany actually was open to a change when the Big Ten added Penn State in 1989, but the league presidents and other power players wanted the name to remain. Same thing happened when the league added Nebraska. There's too much meaning and history in that name, and while it's quite mathematically inaccurate, most Big Ten folks can live with it.
Delany and Michigan athletic director Dave Brandon addressed the league name
this week at an event in Detroit. Brandon said, "If you look at the Big Ten Conference, you've got brand equity that's been built over decades and decades. The Big Ten means something." So there you have it.
---
John from Kansas City, Mo., writes:
The B1G has 6 members (Iowa, Nebraska, Indiana, Minnesota, Wisconsin and Purdue) located in what are considered "talent poor" states. That is half of the conference (MD and Rutgers excluded) that has to actively recruit outside of their backyard. Not to mention they all border states that have more than one FBS school. The SEC on the other hand, has 10 schools in the top 15 "talent rich" states, so it seems the recruiting soil is a bit more fertile in the South. Meyer and Franklin are obviously great recruiters but they are also located squarely in the middle of two very saturated regions and are pulling huge numbers from their immediate footprint(s). Location and population are just as big of factors in recruiting as to which coach is running the show. It seems unfair to assume the B1G coaches aren't working hard enough.
Adam Rittenberg:
Some good points here, John. The population deck is undoubtedly stacked in the SEC's favor, no matter which set of recruiting rankings you trust. And you're right that Ohio State and Penn State can recruit locally and regionally more than programs like Iowa, Wisconsin and Nebraska. I wonder if there's an extra gear that both Meyer and Franklin --as well as their assistants -- reach on the recruiting trail. I know a lot of Big Ten coaches that label their programs "developmental" and take pride in that distinction. I wonder if that approach limits how much they can push for the upper-tier recruits.
---
Bruce from Los Angeles writes:
Simple question: If Michigan fails to win 8 games next year, Brady Hoke is fired? Yes or No?
Adam Rittenberg:
A simple question, Bruce, but a not-so simple answer. If Michigan endures a wave of injuries, loses several close games in the final minute and beats one of its rivals on the road -- Michigan State, Ohio State or Notre Dame -- I think Hoke stays. Dave Brandon is firmly in Hoke's corner and doesn't want to make a change. But if Michigan remains relatively healthy, endures the same problems it did in 2013 and gets blown out in rivalry games, the pressure on Brandon could be too great and Hoke would need to go.
April, 18, 2014
Apr 18
12:00
PM ET
April, 18, 2014
Apr 18
10:00
AM ET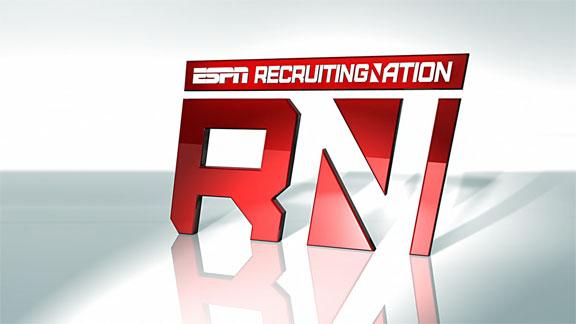 Throughout this recruiting cycle, RecruitingNation will profile a number of ESPN 300 prospects in the 2015 class, including an inside look at the prospect, his recruitment, a scouting report and what college program could benefit when he ultimately makes his decision.
When you attend a school as prestigious as Cretin-Derham Hall, as No. 16-ranked recruit
Jashon Cornell
does, you are bound to have connections. The Minnesota school has produced its share of college and NFL players over the years, including associate dean of students Marcus Freeman, who played for Notre Dame.
To continue reading this article you must be an Insider
April, 18, 2014
Apr 18
9:00
AM ET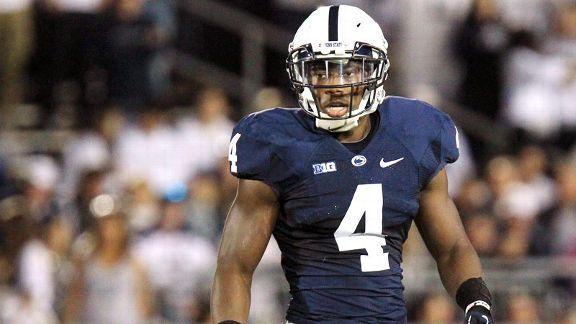 STATE COLLEGE, Pa. -- Penn State has produced a first-team All-Big Ten defender in eight of the past nine seasons, but no Nittany Lions defensive back has made the list since 2008 (safety Anthony Scirrotto). The drought could end this year.
If safety
Adrian Amos
plays to his potential, it will end.
"I don't know if I've ever coached a player with Adrian's skill set before," Lions defensive coordinator Bob Shoop told ESPN.com. "He's so big, so strong, so fast. He can contend for first-team All-Big Ten and be a guy who receives national recognition if he pushes himself to the next level."
[+] Enlarge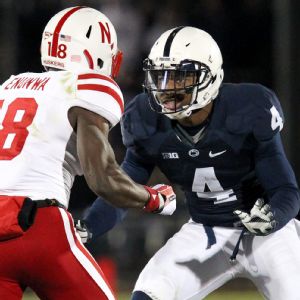 Matthew O'Haren/USA TODAY SportsAdrian Amos' size, speed and versatility make him a key cog in Penn State's secondary.
Shoop has yet to coach Amos in a game, but sees the potential on tape and on the practice field and is setting the bar high for the senior. Amos has the size -- nearly 6-foot-1 and 212 pounds. He has the speed, clocking a 4.43 in the 40-yard dash as a sophomore (unlike 99.9 percent of the population, he actually gets faster as he gains weight). He has the playmaking ability, with four interceptions and 12 pass breakups.
He also has versatility, although where he plays has sparked debate among Penn State fans.
"He's got a lot of things we're all looking for in recruiting, and what people are looking for at the next level in terms of drafting: height, weight, speed," PSU head coach James Franklin said. "He processes information fast as well. There are some guys that will test fast but they don't think fast on the field, so it slows them down.
"He does all those things extremely well."
Whether Amos' unique skills translate at safety remains to be seen. He played predominantly cornerback in high school in Baltimore and had success there early in his Penn State career, earning honorable mention All-Big Ten honors in 2012.
He moved to safety last year to mixed results, as Penn State slipped to 59th nationally in points allowed and 73rd against the pass. Amos moved back to cornerback late in the season and performed well in an
overtime win against Illinois
, deflecting a pass that led to the clinching interception.
"Amos, his natural position, is corner," then-coach
Bill O'Brien said at the time
. "I think he's a good corner."
But he's a strong safety again with the new coaches. Shoop's rationale: it's the position a team's best defensive back should play.
"He's a natural safety," linebacker
Mike Hull
said of Amos.
Amos' take: "I'd say I'm a cornerback but I play well at safety. I can be very, very good at safety. The movements and everything are more natural and they come easily to me."
So which is it: safety or cornerback? Franklin acknowledges that Amos' versatility creates a debate. Amos and
Jordan Lucas
form an effective tandem at cornerback. Then again, having one standout at both secondary spots could be Penn State's best route. And
the Lions coaches seek versatility
, perhaps more than any other trait, on a roster where depth remains in short supply.
The truth is Amos can play well at both spots. But the comfort level he displayed during spring practice didn't come from his position.
"If I'm comfortable in the defense, I'm comfortable at any position," Amos said. "This defense allows me to play fast, so I enjoy playing safety in this defense. It allows me to be aggressive. It allows me to be around the ball a lot more, just making more plays.
"When you're a safety and you understand the defense, you play faster."
Amos calls the new defense a "fresh start," and has spent more time studying himself and his teammates on film. Shoop also shows him tape of his former Vanderbilt defenses and how certain unique players similar to Amos moved from safety to corner to nickel to dime.
This spring, they watched Tampa Bay Buccaneers safety
Mark Barron
, the former Alabama star, shift from covering the slot receiver to being the dime linebacker to working at strong safety and then free safety.
"He's a unique weapon for a defense," Shoop said of Amos. "To use a basketball analogy, you try to get him his touches."
Amos was too banged up to run the 40-yard dash for the new coaches before spring practice, but his goal is to break 4.4 at the next testing session. He believes he can play both secondary positions in the NFL, where bigger cornerbacks are trending and sturdy, physical safeties are still in demand.
But first thing's first. "We want to be the best secondary in the Big Ten," he said.
Elite secondaries have elite players, and Penn State could have one in Amos this fall.
"He has so much athleticism and skill," Hull said. "I haven't seen that out of very many players in the Big Ten. He has the whole package. He just needs to put it all together this year."
April, 17, 2014
Apr 17
2:30
PM ET
The Big Ten's 11-season national championship drought, coinciding with the SEC's ascent to the top of college football, has placed the spotlight on recruiting in both leagues.
[+] Enlarge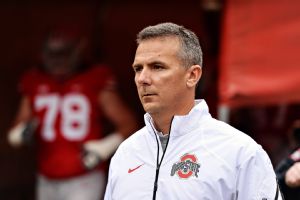 espnWHas Urban Meyer's SEC roots helped him on the Big Ten recruiting trail?
SEC fans point to crystal footballs, surging population and dominance in the national recruiting rankings. Big Ten fans counter with criticisms of SEC oversigning, low academic standards and shady recruiting tactics.
And then we have Urban Meyer and James Franklin.
The two coaches serve as links between the leagues, as both came to the Big Ten from SEC programs. Both coaches also have brought different recruiting approaches to the Big Ten that many label as "SEC-style." Both coaches also have been very successful on the trail early in their Big Ten tenures.
Fans can quarrel all offseason about the recruiting differences between the leagues. But what do top recruits think?
Colleague Tom VanHaaren decided to find out,
interviewing several prospects
about the Big Ten and the SEC. It's a fascinating Insider piece that you should definitely check out.
I won't give too much away, but the comments by top defensive end recruit
Jashon Cornell
are particularly interesting. He attributes Franklin's and Meyer's recruiting success directly to their SEC roots.
"The Big Ten needs to recruit harder. They need to really go after the recruits they really need," Cornell said. "They have to hassle you a little bit, on you every single day. That makes recruits think the coaches really want me and I could go there because the coaches want me so bad. That's what the SEC does."
Cornell is from Big Ten country (St. Paul, Minn.) and has multiple scholarship offers from both Big Ten and SEC programs.
There's no doubt Big Ten coaching staffs devote time to recruiting. But are they working hard enough? Are they making the right sales pitch to bring in top players? Do head coaches have the right type of assistants to get it done on the trail?
Check out VanHaaren's piece and
send me your thoughts
.
April, 17, 2014
Apr 17
12:00
PM ET
Make up your mind, Mother Nature.
April, 17, 2014
Apr 17
9:00
AM ET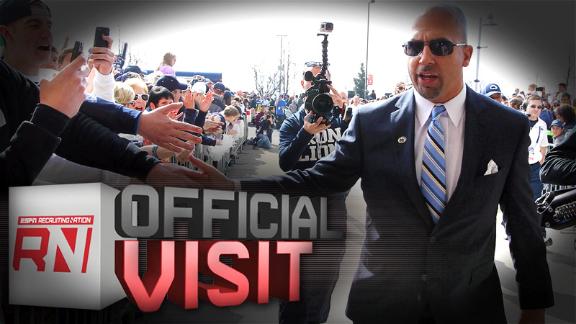 Urban Meyer has come away with the Big Ten's top-ranked recruiting class every year since he was hired at Ohio State. His aggressive style and history of winning have helped put the Buckeyes in a category of their own when it comes to recruiting.
A big part of that, according to a few top-ranked recruits, is because Meyer brought an SEC mentality to the Big Ten. Being relentless, aggressive and surrounding himself with similar coaches has helped bring top talent to Columbus year after year.
To continue reading this article you must be an Insider
April, 16, 2014
Apr 16
5:00
PM ET
It's Wednesday. There's nothing good on TV (except for
this
). It's mailbag business time.

Ed from State of Rutgers writes:
How would you rank B1G head coaches on the hot seat in 2014? Which assistants are in the best position for a head coaching job after this season?
Brian Bennett:
Thanks for the question, Ed, and welcome to Big Ten country. We didn't see a single head coach get fired in the Big Ten last season, which was good news. But the way these things go, odds are the league won't make it two years in a row without any pink slips.
Let's answer your question by looking at this in tiers. Tier 1 includes the coaches who absolutely won't get fired this season unless there's some sort of unforeseen major scandal: Ohio State's Urban Meyer, Michigan State's Mark Dantonio, Penn State's James Franklin, Minnesota's Jerry Kill, Northwestern's Pat Fitzgerald, Wisconsin's Gary Andersen and Iowa's Kirk Ferentz.
[+] Enlarge
AP Photo/John RaouxKyle Flood could face a difficult first season in the Big Ten, but it might not be enough to cost him his job.
Tier 2 would be the guys who are most likely safe but who could feel some rising temperatures if the season goes awry. That would include: Indiana's Kevin Wilson, who seems to have the Hoosiers on an uptick but who needs to get the team to a bowl soon; Purdue's Darrell Hazell, who almost certainly won't get canned after just two years but can't afford another season as awful as last season's 1-11 debacle; and Michigan's Brady Hoke, who isn't on the hot seat now but who would definitely feel the wrath of fans and boosters if the Wolverines have another 7-5 type year and lose to Ohio State.
Tier 3 covers the coaches actually feeling some heat under their chairs. Let's evaluate them individually:
Tim Beckman, Illinois: This should come as no surprise. The Illini showed improvement last season, but Beckman is still just 6-18 and has seen fan support fall off a cliff. Anything less than a bowl game in 2014 could make things really dicey.

Bo Pelini, Nebraska: This is a well-documented situation, and many people were surprised Pelini wasn't fired at the end of last season, though athletics director Shawn Eichorst remains hard to read. The good news is that Pelini could have a very good team in Lincoln this year, and he sure doesn't appear to be sweating things this spring.

Kyle Flood, Rutgers: He went 9-4 his first season as head coach but just 6-7 with a dismal finish last season. He also has a new boss in town, and the Scarlet Knights will face a very difficult schedule in Year 1 in the Big Ten. He's only making $900,000, so a change wouldn't be too financially painful. The question is whether embattled new athletic director Julie Hermann has enough juice right now to make that call.

Randy Edsall, Maryland: This is the toughest call of the tier, as Edsall might have bought himself some time with last season's winning record and has had to deal with injuries to many star players. Yet he's still just 13-24 after three seasons, and life in the Big Ten might not be easy for the Terps. A losing record in 2014 would make things very uncomfortable in College Park.
---


George K. from Pittsburgh:
Brian, I'm disappointed in what you wrote about
Joe Paterno winning [the Big Ten coaches' tournament]
. There was way too much conjecture in what you said. Please think about it. Then issue a factual restatement, please.
Scott R. from Chadron, Neb., writes:
Pretty sure there was voter fraud on that Osborne/Paterno matchup. Am I the only one who noticed there were as many international votes as domestic? And that those international votes were 87% for Paterno? Every other poll on ESPN.com is about 75% domestic, 25% foreign. This one was 50/50, and the international vote was OVERWHELMINGLY for Paterno. Seems a little suspicious.
Brian Bennett:
File this one under "You Can't Please Everybody, Vol. 734." For the past two weeks, my mailbag was full of comments like Scott's, claiming some sort of voter fraud as Paterno got a huge international vote against both Tom Osborne and Woody Hayes. I have neither the technical expertise nor the time to figure out whether there was some sort of computer tomfoolery going on. But you'd have to be really naive not to raise an eyebrow at the fact that more than half the votes (17,000-plus) in the title matchup came from outside the United States and that those votes were wildly in favor of Paterno. Maybe there's a simple explanation why so many non-U.S. residents care about Big Ten football -- Italians for JoePa, perhaps?
The bottom line is that we placed no rules on this tournament, other than the most votes wins. If someone was ingenious enough to rig it, more power to them. Paterno certainly had the résumé and accomplishments that were deserving on their own. I had no personal stake in the outcome, and I found it to be a fun exercise to go along with March Madness. I hope everyone enjoyed it.
---


Andrew from Columbus, Ohio, writes:
While it is still possible that Ohio State-Michigan State could be a night game, what prevented it from being in the first batch of announced games? Since it would feature the two most compelling teams in the league from last year, it seems to me that it would be the marquee matchup the B1G has been looking to highlight.
Brian Bennett:
Andrew, I can't say I understand all the intricacies here at play, either, except that there are apparently some other details to iron out. That game still seems like a natural choice for a prime-time selection. It's still only mid-April. Stay tuned ...
---

Mike K. from Penn State writes:
With Penn State losing
Allen Robinson
and
Brandon Felder
at the WR position, along with some great O-linemen to the draft, do you think the team can still succeed in the Big Ten solely based on defense?
Brian Bennett:
I have great respect for what Bob Shoop and his staff accomplished at Vanderbilt and expect him to do a great job as the Nittany Lions' defensive coordinator. From what I saw last year, however, I don't think there's enough top-shelf talent on that defense for Penn State to pull a Michigan State and simply dominate everyone on defense. At least not at a championship level. I don't worry as much about the receiving group, because I think with
Geno Lewis
, some of the talented freshmen and those tight ends, they can piece together people for
Christian Hackenberg
to target. My biggest concern is the offensive line, which is thin and has some troubling injuries. It's nearly impossible to win at a high level in the Big Ten without a decent offensive line.
---
Tommy from Savannah, Ga., writes:
March Madness is one of the greatest times of the year, most people live for it. Why wouldn't the NCAA FBS decision makers want something like that with those ratings over the course of a few weeks? Definitely not 68 teams, but eight or 16 teams with a selection show, bracket challenge, Cinderellas, and endless coverage and hype. They already do it for FCS.
Brian Bennett:
You'll find no bigger NCAA tournament fan than me, Tommy, and my wife is really happy it's over so she can see me again. Still, it's hard to compare the sports. Football simply is a much more physical game, and so adding more games to the schedule becomes problematic, along with the logistical problems caused by Christmas break and the semester changes. I do believe we will eventually have an eight-team tournament, with the five power conference champions getting an automatic berth along with the top champion of the other leagues plus two wild cards. That's a perfect setup. But it took us decades just to get to a four-team playoff, and that semifinal day on Jan. 1 (most years) will instantly become one of the best days on the sports calendar.
Besides, I could argue college football already has March Madness all fall long, and the ratings reflect that. Before the Final Four began, the NCAA tournament averaged a reported 9.8 million viewers, which was a big increase. By contrast, the Big Ten championship game drew 11.6 million viewers, while the Auburn-Alabama game attracted 13.8 million. The men's basketball final (aired on network TV) between UConn and Kentucky got 21.2 million viewers, compared to 25.6 million for the BCS title game (aired on ESPN) between Florida State and Auburn. We could see record ratings for the inaugural rounds of the College Football Playoff.
April, 16, 2014
Apr 16
12:00
PM ET
Is this heaven? Nope, still Iowa. But happy to be back.
April, 16, 2014
Apr 16
11:45
AM ET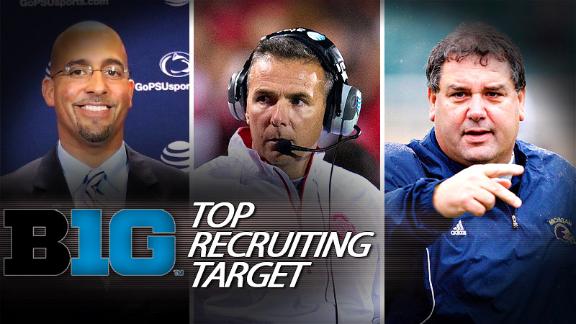 The top-ranked prospects tend to wait out the process, so there are still some huge names at the top of Big Ten recruiting boards. The top targets will be fought over by most teams within the conference, which will make for some interesting recruiting battles.
Here is a look at the top five targets within the Big Ten in the
2015 ESPN 300
.
DE Jashon Cornell
6-4, 270 pounds
ESPN 300 rank: No. 16
To continue reading this article you must be an Insider
April, 15, 2014
Apr 15
5:00
PM ET
It's tax day and you owe me some emails. No refunds granted here, unless you follow us
on Twitter
.
To the inbox ...
Brutus from The Ninth Circle writes:
What's your take on where B1G recruiting stands at the moment, and where do you think it will be, come signing day? I'm not sure which is more surprising, that Penn State is as strong as it is at the moment, or that Ohio State and Michigan aren't that high in the lists. Granted, there is still quite a bit of time to go until signing day, but momentum is important. Do you think this all evens out by signing day and Ohio State takes the No. 1 spot within the B1G?

Adam Rittenberg:
Brutus, although the recruiting cycle is accelerated, it's way too soon to draw conclusions about the
Big Ten recruiting for 2015
. Penn State's early surge is notable because coach James Franklin came in making bold declarations and so far has backed them up. Michigan typically has been a very fast starter and the Wolverines already have five verbals for 2015, led by ESPN 300 cornerback
Garrett Taylor
. Ohio State often makes its push later on, even before signing day, and has the luxury of being patient. There are
pros and cons to racking up a bunch of early commitments
.
It's a good thing for Penn State. As running backs coach Charles Huff recently told me, "We're the new girl in school, so a lot of guys want to date us." But I wouldn't worry about Ohio State and Michigan. They'll both be fine.
---
Brian from Atlanta writes:
Adam, I've often seen you support more weeknight and Saturday night games for the B10. On the other hand, I've seen the presidents and ADs in the P12 complain incessantly about how many weeknight and Saturday night games they have. In 2013, they played 33 night games to our 18 (both split equally between ESPN/FOX and BTN/P12N/FS1). Is this a case of the grass always being greener, or is there a sweet spot in the middle?
Adam Rittenberg:
Another great question, Brian. Keep 'em coming. It really comes down to what's best for each conference. The Big Ten boasts the biggest stadiums and some of the largest fan bases in college football. It still moves the needle even though on-field performance has been down for some time. The Big Ten should be competing for that Saturday night TV window as often as possible. Until recently, the league has been missing out.
The Pac-12, meanwhile, loses a huge audience when its games kick off after 5 p.m. local time. If you start a game at 7:30 p.m. Pacific time, most of the country has tuned out. There are pros and cons to weeknight games, and I understand the concern about an early weeknight kickoff -- like Oregon-Stanford -- as it's hard to fill the stands. But TV is king here, and the Pac-12 needs to showcase its product.
---
Josh C. from Atlantic City, N.J., writes:
Hey Adam, Big Rutgers fan here. Couldn't be more excited for the new season in the B1G. In fact lots of people in NJ are talking about the move and better competition. I've heard a lot of talk about "non-existent" RU fans. Do you think the rest of the B1G is underestimating the volume of fans? Whether it be quantity or quality.
Adam Rittenberg:
I hope so, Josh, and it's good to hear the buzz is building in the Garden State for Rutgers' Big Ten arrival. I sense that there's a portion of Rutgers fans waiting to come out and support the team when things improve on the field. We saw a lot of enthusiasm for the program during the breakout season in 2006 (Who can forget Jeremy Ito?). Rutgers followed up with several solid seasons before taking a step back in 2013. The Big Ten move should generate excitement and support, especially when teams such as Penn State, Michigan and Wisconsin visit Piscataway. But Rutgers needs to perform well to show the Big Ten that its fan base is significant.
---
Austin from Iowa writes:
What are the chances
Jake Rudock
has the best Career of any quarterback in the Ferentz era with two years to go and a stacked offense matched with a decent Iowa defense in a division with no real power team at the moment? Is it possible for Rudock to really make a name for himself nationally and lead Iowa to a couple of division, maybe conference titles?

Adam Rittenberg:
Austin, at first I thought it would be really tough for Rudock to eclipse other Kirk Ferentz-era quarterbacks Ricky Stanzi, Brad Banks or even Drew Tate. Banks had a phenomenal year in 2002 but struggled at times the previous season. Stanzi led Iowa to an 18-4 record as the starter in 2008 and 2009 and had his best statistical season by far in 2010, but the team massively underachieved that fall. Tate had good years in 2004 and 2005 but struggled in his final season in 2006. So yes, Rudock has a chance. I wouldn't say Iowa's offense is stacked, though, and the Hawkeyes must show more explosiveness at the skill positions. A favorable schedule gives Iowa a great chance to reach the Big Ten title game this year, which would put Rudock in the category with the other Hawkeyes QBs mentioned.
---
Tom from Lincoln, Neb., writes:
Adam -- a few months ago a local TV station ran an interview with FauxPelini, but agreed not to show his face or reveal his identity. Turns out he lives in the Chicago area. So I gotta ask: Is it you?
Adam Rittenberg:
I wish I were that funny, Tom. No, it's not me. But if I ever locate Faux in Chicago, I'm buying him a beer for bringing me a lot of laughs over the years. I'm quite happy that
Bo has regained custody of the cat
. I'm allergic to them.
April, 15, 2014
Apr 15
12:00
PM ET
Heading to Hawkeye Country later today. Any recommendations?
April, 15, 2014
Apr 15
11:00
AM ET
The most exciting day of the Big Ten offseason is here. OK, not really, but it's definitely in the top five.

The first portion of the Big Ten's prime-time schedule is out as ABC/ESPN made its six selections for games to be played under the lights. The Big Ten Network will announce its prime-time picks next week. Additional kickoff times could be announced later this spring or early in the summer.
Here's the ABC/ESPN schedule:
Sept. 6
Virginia Tech at Ohio State, 8 p.m. ET, ESPN
Sept. 20
Miami at Nebraska, 8 p.m. ET, ABC or ESPN or ESPN2
Oct. 4
Nebraska at Michigan State, 8 p.m. ET, ABC or ESPN or ESPN2
Oct. 11
Penn State at Michigan, 7 p.m. ET, ESPN or ESPN2*
Oct. 25
Ohio State at Penn State, 8 p.m. ET, ABC or ESPN or ESPN2
Nov. 1
Illinois at Ohio State, 8 p.m. ET, ABC or ESPN or ESPN2
*-previously announced
A few notes, quotes and observations:
November night games
Contrary to popular belief, the Big Ten never had a strict policy against playing prime-time games after Nov. 1, but most of its schools preferred to keep those games in the first two months of the season. League members have shown an increased willingness to schedule more prime-time games, and after discussing November night contests for several years, we finally have one.
[+] Enlarge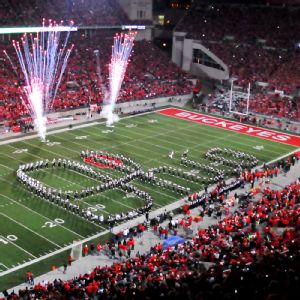 David Dermer/Getty ImagesOhio Stadium will host its first November night game in 2014.
Although the November matchup -- Illinois at Ohio State -- lacks a wow factor, this is still a positive step for the league. Also, this is
not the final list
for November prime-time games, as others will be announced in the future.
"There is a real recognition with our coaches, our athletic directors and our fans that prime-time football is very important," Mark Rudner, the Big Ten's senior associate commissioner for television administration, told ESPN.com. "It's important to the conference, it's important to recruiting, it puts you on a big stage.
"It's a big event whenever you have prime-time football."
Ohio State athletic director Gene Smith and coach Urban Meyer both have vocalized their desire for more night games. The Buckeyes get three of them on ABC/ESPN (two home, one road), and possibly more to come. It's the Urban Effect.
Huskers, Lions back in prime
No two Big Ten fan bases value night football at their home venues more than Penn State and Nebraska. The Nittany Lions and Huskers both host prime-time games on ABC/ESPN in 2014 (Nebraska didn't have an ABC/ESPN prime-time game in 2013) and make multiple appearances.
The Nebraska-Miami game should be a fun one, especially given the history between the two programs in bowl games (their last five meetings took place in major bowl games). Nebraska's visit to Michigan State is one of few must-see division crossover contests, so it makes sense in prime time.
Beaver Stadium will be rocking for the Ohio State game as former longtime Penn State assistant coach Larry Johnson makes his return to Happy Valley wearing scarlet and gray. Although Penn State remains ineligible for postseason play, the Lions' value is reflected here with East Division matchups against both Michigan and Ohio State. The Lions' consecutive winning seasons despite the bowl ban, plus the arrival of coach James Franklin, enhance the program's appeal for top TV slots.
No limits on prime-time appearances
Big Ten teams typically have had no more than three prime-time appearances per season, but like the November night games issue, this was more of a preference than a policy. As schools like Ohio State become increasingly more open to night football, the number of prime-time appearances will increase, and will occasionally exceed three.
Wisconsin played four prime-time games (two home, two road) in the 2011 season.
"That three [limit] was really self-imposed," Rudner said. "You could waive it if you wanted to. I don't know if that will be as hard and fast as it was before. They see the value in these big events, these big games."
Additional games/announcements
Some Big Ten prime-time games were previously announced, such as Michigan's Sept. 6 trip to Notre Dame and Purdue's Sept. 13 neutral-site game against Notre Dame. A game time has not been set for Wisconsin's season-opener against LSU on Aug. 30 in Houston, but the game will kick off in prime time and be televised by an ESPN network.
One thing to remember when predicting or analyzing night-game choices: other games being played in the same window. Prime-time kickoffs offer certain benefits, but teams don't like being overshadowed in the late window.
Penn State 2015 Class Debuts At No. 3
BIG TEN SCOREBOARD
Thursday, 8/28
Saturday, 8/30