December, 29, 2014
Dec 29
8:00
AM ET
Welcome back to Morning Links. We hope you survived a week without us. Let's jump right back into a busy final week of 2014 for the Big Ten.
1. All that's left to settle between Michigan and Jim Harbaugh is to dot the I's and cross the T's. Bruce Feldman reported
Harbaugh will be on a plane to Ann Arbor
Monday afternoon. His family and close friends plan to be near campus to celebrate Harbaugh's probable homecoming as the new coach at Michigan. Assuming that nothing goes awry from here, there will be plenty of time in the coming week to sort through what this reunion means for Michigan, the Big Ten and college football in general. For now, it's worth taking a moment to offer kudos to interim athletic director Jim Hackett.
The newcomer spent more than a month developing a plan to land the best option available for the Wolverines. He didn't shy away from taking a big swing, and he knocked the process out of the park. If Hackett decides he wants to stay on in a more permanent position at Michigan, the university ought to do whatever it can to accommodate him. In two months, Hackett has done more to patch the fissures in Michigan's athletic department than Dave Brandon did in five years.
2. Coaching transitions can make for awkward situations during bowl season. That was far from the case for Nebraska this season. Incoming head coach Mike Riley watched the Cornhuskers 45-42 loss in the Holiday Bowl from the stands of San Diego's Qualcomm Stadium.
This column from Dirk Chatelain
about Riley eating hot dogs with his grandson gives Nebraska fans a great look at what to expect from its new leader.
3. The build-up to this week's Sugar Bowl has begun in earnest in New Orleans. The semifinal matchup between Ohio State and Alabama is another chapter in the clash of titan coaches Urban Meyer and Nick Saban. This time around Meyer will have to fight with his third-string quarterback, Cardale Jones. Can Meyer somehow spin that to his advantage? Jones blew Wisconsin away in his one previous start. The Crimson Tide have maybe
one half's worth of competitive game film to study
when prepping for Jones. In reality, the plan to stop him probably isn't much different than what it would be for stopping J.T. Barrett, but Ohio State would be smart to exploit any small edge it can get against Alabama.
East Division
West Division
December, 27, 2014
Dec 27
11:21
PM ET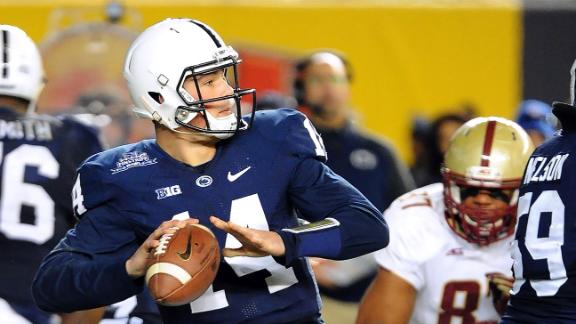 There was a time when even the loyalist Penn State fan discounted
Sam Ficken
. There was a time when even the wisest sports pundit believed the Nittany Lions wouldn't survive past 2014.
Not anymore.
In the midst of unprecedented sanctions, the Nittany Lions (7-6) clinched their third straight winning season with a 31-30 overtime victory against Boston College in the New Era Pinstripe Bowl. After a poor kicking start in 2012 -- so bad it
led to death threats
-- Ficken became all-conference and ended his career with a game-winning kick. The moral of the story? Don't underestimate Penn State or its players.
[+] Enlarge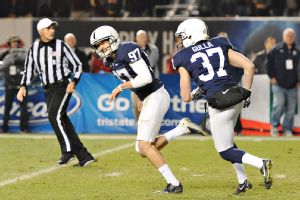 Joe Camporeale/USA TODAY SportsSam Ficken was almost run off the Penn State campus two years ago. He ran off the Yankee Stadium field as a winner by kicking the game-winning extra point of the Pinstripe Bowl.
"I think we've been fractured," Lions coach James Franklin said. "We've been fractured for the past three years. But experiences and games like this have restored the hope."
This game was a microcosm of the past three seasons all rolled into one. Penn State wasn't supposed to win; it trailed 21-7 late in the third quarter. It wasn't supposed to rally; PSU didn't score 20 points in regulation all season against a Power 5 team.
But just as fans might have wanted to turn away, just as the hope of something good clung to its last thread, this team bounced back.
Christian Hackenberg
-- the struggling player whom some PSU fans labeled a bust -- rallied the Lions offense with one of the best games of his career. He threw for 371 yards, four TDs and no interceptions. He marched PSU downfield with two minutes in regulation to tie the game. Then he led PSU to a touchdown in overtime.
This game seemed lost, but Penn State won. The program seemed on the verge of death two years ago, but Penn State survived.
"There's a lot of similarities in this game, compared to our whole careers," senior linebacker
Mike Hull
said. "It's only fitting we get a win in Yankee Stadium in overtime after the roller-coaster career we had. It's pretty crazy how that works. It just goes to show we're never going to give up. That's what this program is all about."
On Sept. 8, 2012, Ficken missed 4-of-5 field goals and a PAT against Virginia in a 17-16 loss. On Saturday night, he knotted the game at 24 in the closing seconds with a 45-yard field goal -- then he nailed the game-winning extra point after the Boston College kicker missed his.
"It's a storybook ending, really," Ficken said. "I couldn't have written a better way to go. This team has worked so hard and fought so hard. And to say we went to a bowl, first of all, and then won that bowl. It's just really incredible."
The Nittany Lions didn't expect to have great moments during the past three seasons, not when the sanctions were initially handed down. Some of those players, such as Hull and Ficken, still remember the eerie silence in the players' lounge while awaiting the sanctions announcement of NCAA President Mark Emmert. Hull nearly transferred to Pittsburgh -- he informed Bill O'Brien
he was moving on
before reconsidering -- and most believed Ficken never deserved a scholarship in the first place.
They endured five different head coaches -- two interim, three full-time -- during their careers. They never thought they'd see the postseason, as Penn State was set to miss four years worth of bowls before the ban was rescinded three months ago.
This team lingered on the field after the game, and it seemed as if most fans clad in blue and white didn't budge from their seats. Franklin took the microphone, thanked the seniors and boomed that
this
was Penn State culture. Fans' screams drowned out the Frank Sinatra tune played through the PA system.
This wasn't just a bowl win for Penn State. It rang in the end of the worst of the sanctions. PSU was the second-youngest team in the FBS this season and had just 64 recruited scholarship players on the roster. It had seven seniors compared to 31 freshmen.
Safety
Malik Golden
tweeted
from the locker room
, "Right back like we never left #NewEra." Running back
Akeel Lynch
told reporters, "The sanction era is definitely over."
Penn State was never supposed to make it to this point. It was never supposed to win this game, and it was never supposed to boast three winning seasons and a bowl victory this early. But Penn State has made it a habit these past three years of proving the prognosticators wrong. Saturday night was just them getting the last word.
"You can't take us away," Lynch said. "They tried to. They tried to talk about culture. But this is Penn State, man. This is what we do."
December, 27, 2014
Dec 27
8:15
PM ET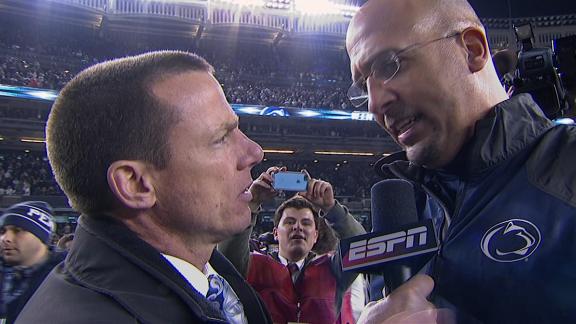 NEW YORK --
Christian Hackenberg
wasn't losing this game.
The sophomore quarterback rallied
Penn State
from
a two-touchdown, second-half deficit Saturday
to narrowly defeat
Boston College
31-30 in overtime in the New Era Pinstripe Bowl.
Hackenberg drove his team downfield with a little over two minutes left in regulation to set up a 45-yard field goal that tied the score. He then found
Kyle Carter
for a 10-yard touchdown in the end zone in the first overtime, which won the game.
Boston College shanked a PAT on its first overtime possession, so Penn State's
Sam Ficken
simply needed to make his to end the game.
Penn State ends the season at 7-6, while Boston College falls to 7-6.
Game ball goes to:
Hackenberg. Just when it looked as if this team were once again set up to lose -- trailing 21-7 late in the third -- Hackenberg turned it up and played his best when the most was on the line. He finished 34-of-50 for 371 yards and four TDs, and he came away with a critical 16-yard scoring pass on second-and-goal to tie the score at 21. Then he drove PSU downfield to tie the score at 24 in the closing seconds of regulation. Then he had the game-winning TD. PSU wouldn't have won without him.
It was over when:
Ficken nailed the extra point in overtime to hand PSU the 31-30 victory. Boston College's kicker shanked the PAT on the Eagles' previous overtime possession. BC led 30-24 after the first possession, but Hackenberg's TD to Carter -- and Ficken's PAT -- ended the game.
Stat of the game:
239. That was Boston College's rushing yardage at the end of the third quarter against the nation's top-ranked rush defense. It was the most PSU allowed to a team all season. Ohio State previously recorded a season-high 219 rushing yards against PSU -- but that took four quarters and two overtimes. Boston College was averaging 7.7 yards per rush.
Best play:
The most impressive touchdown might have been the Nittany Lions' first. On third-and-12, following a false start, Hackenberg dropped back and threw a long pass to true freshman
Chris Godwin
-- who caught the ball in stride, shook off a tackle and sprinted another 35 yards or so to complete the 72-yard touchdown.
It was the second-longest TD pass of Hackenberg's career and the longest career reception of Godwin's.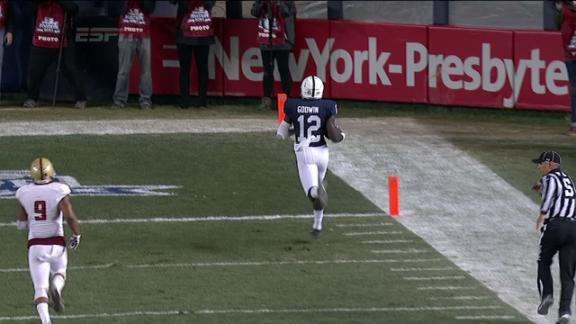 College Football Top Plays: Bowl Season
BIG TEN SCOREBOARD
Monday, 12/29
Saturday, 12/20
Monday, 12/22
Tuesday, 12/23
Wednesday, 12/24
Friday, 12/26
Saturday, 12/27
Tuesday, 12/30
Wednesday, 12/31
Thursday, 1/1
Friday, 1/2
Saturday, 1/3
Sunday, 1/4
Monday, 1/12