November, 25, 2014
Nov 25
3:30
PM ET
By
ESPN.com staff
| ESPN.com
Questions were asked, and coaches had answers. Here are a few of the highlights from this week's Big Ten conference call.
By the way, if you're not following us on Twitter, what are you waiting for? Follow along at
@ESPNRittenberg
,
@BennettESPN
,
@ESPNJoshMoyer
,
@DanMurphyESPN
,
@MitchSherman
and
@AWardESPN
.
Pat Fitzgerald says he would be in favor of the Big Ten giving its teams the week off for Thanksgiving.

— Mitch Sherman (@mitchsherman) November 25, 2014
Brady Hoke asked about the impact of Rutgers and Maryland joining the Big Ten: "Well, for us it hasn't been very good." Mich. lost to both.

— Dan Murphy (@DanMurphyESPN) November 25, 2014
Mark Dantonio says he's been "very impressed" with ability of Rutgers and Maryland to adjust to Big Ten. MSU beat them by a combined 82-18.

— Mitch Sherman (@mitchsherman) November 25, 2014
Brady Hoke on what has stood out watching Ohio State on film: "Both sides of the ball, and their kicking game, too." So, everything.

— Austin Ward (@AWardESPN) November 25, 2014
Kill on a chance to reach B1G title game with a win: "We're probably doing it sooner than I thought we would."

— Dan Murphy (@DanMurphyESPN) November 25, 2014
Franklin says that being in the pocket is Hackenberg's strength -- but having a pocket isn't a strength of the offense.

— Josh Moyer (@ESPNJoshMoyer) November 25, 2014
Jerry Kill on stopping Melvin Gordon: "It's an issue... He's like a missile." Stresses gap control is essential.

— Dan Murphy (@DanMurphyESPN) November 25, 2014
Minnesota coach Jerry Kill on the status of running back David Cobb: "He'll be very questionable."

— Austin Ward (@AWardESPN) November 25, 2014
November, 25, 2014
Nov 25
8:00
AM ET
Good morning, Big Ten fans. Some notes and observations for Thanksgiving week:
1. And then there were two ...:
Bovada released its updated odds Monday on the Heisman Trophy winner, and only two names are left: Oregon's
Marcus Mariota
and Wisconsin's
Melvin Gordon
. Mariota is the favorite with 1-3 odds, while Gordon is at 2-1. All other players/bets are off the board.
I've said this before, but I'm really not sure what else Gordon has to do to pass Mariota here. In a land where there's just
Jesus, girls and Marcus Mariota
, the Oregon quarterback has had an unbelievable season. But Gordon's performance is maybe the best from a running back in the last 25 years. Look at past Heisman-winning running backs -- Mark Ingram, Rashaan Salaam, Ron Dayne, Ricky Williams, Eddie George -- and, with the exception of Williams, Gordon has more rushing yards, more yards per carry and more TDs than all of them. And he's just 15 yards and two TDs shy of tying Williams' production; plus, he's averaging 2.4 yards a carry more than Williams. This isn't just a great season for Gordon; it's historically great. He's having one of the best seasons in NCAA history.
2. Ralph Friedgen returning to Maryland:
The Rutgers' offensive coordinator is not being made available to the media this week ... but it's pretty clear he doesn't like this week's opponent in Maryland. OK, let's be honest: He hates Maryland. He was fired as its coach in 2010, the same year he was named ACC Coach of the Year, which obviously doesn't happen too often. And he
didn't hold back
a few years ago when discussing his alma mater: "I could care less about Maryland, I've burned my diploma. ...Well, they talk about Maryland pride. They didn't show me a whole lot of Maryland pride, either getting the job or getting fired."
Think this game doesn't take on a bit more of added importance? Rutgers players told NJ.com there's
some added motivation this week
. It's a storyline worth following, and it'll be interesting to see how both Friedgen and Maryland fans react to his homecoming.
3. Jerry Kill or Urban Meyer?:
One of them has to wind up as the Big Ten coach of the year -- but which one is it going to be? Minnesota has undoubtedly exceeded expectations this season by picking up the Little Brown Jug and the Floyd of Rosedale ... but Meyer's on the cusp of a playoff berth with a redshirt freshman quarterback who was supposed to spend this season on the sideline. If Kill fails to grab Paul Bunyan's Axe by beating Wisconsin this week, Meyer might have the edge. If the Gophers win and wind up in the Big Ten title game? Well, it'd be hard to pick against Kill. Minnesota hasn't finished first or second in the conference since 1967.
Now, on to the links ...
East Division
West Division
November, 24, 2014
Nov 24
5:00
PM ET
Short week. I've got the mail. Here you go:
@mitchsherman What do you think should happen at Nebraska?

— Shonny Schneider (@sss809) November 24, 2014
@mitchsherman what is the final straw for making changes at NU? Sellout streak?

— Christopher Hawkins (@GoBigRedRev) November 24, 2014
@mitchsherman: Nebraska is a hot topic again late in the season for its failure to win key games. The Huskers' 28-24 loss to Minnesota on Saturday squashed the final strand of hope to play for a Big Ten title, officially extending the drought to 15 years without a conference crown. I think the Nebraska administration needs to ask a different set of questions this year than last, when Athletic Director Shawn Eichorst offered a vague statement in support of coach Bo Pelini at the close of the regular season. Is Nebraska satisfied with its place in the Big Ten? Are the Huskers content to win nine games a year but rarely, if ever, factor in the national conversation? If so, change is unnecessary. But if the Huskers want more, some kind of fix appears in order. Clearly, the formula in place isn't working to improve Nebraska. As for the streak of 340 consecutive sellouts, Nebraska can't afford to wait until it ends before taking action. Apathy is growing as the Huskers slide further down the Big Ten pecking order. And the streak of sellouts should not be taken for granted.
@mitchsherman If Wisconsin wins out & beats Ohio St in #B1G title, where do Mich St, Ohio St, & Wisconsin stand in terms of big six bowls?

— Sam Ensign (@samensign11) November 24, 2014
@mitchsherman: The Badgers, in that scenario, would land in the Cotton, Fiesta or Peach. The College Football Playoff committee would then be tasked to determine if Ohio State or Michigan State belonged in another of the New Year's Six games -- other than the Orange, which will be determined by conference tie-ins. The Orange Bowl gets the Big Ten runner-up only if it ranks ahead of every available SEC team. The Spartans appear in decent shape today for a New Year's Six spot, especially if Ohio State keeps winning. Of course, the Buckeyes, with a close loss to Wisconsin, could remain ahead of Michigan State and steal a New Year's Six spot, knocking MSU to the Buffalo Wild Wings Citrus Bowl. Remember, though, if a Big Ten team lands in the Orange Bowl, another can't go to the Citrus. Got that? In a nutshell, it's complicated.
@mitchsherman assume 10 bowl eligible teams this year. What are chances B1G can win 6-7 with conference setting up matchups with bowls?

— Dave Fitzgerald (@BuckeyeFitzy) November 24, 2014
@mitchsherman: It's a safe assumption that the league will get 10 teams in the postseason. Nine are eligible, with Northwestern or Illinois to get a sixth win on Saturday. For an 11th team to make it, Michigan must upset Ohio State. The Big Ten, as usual, will be matched against the SEC as a likely underdog in the Outback and possibly the Citrus or TaxSlayer (formerly Gator). If Ohio State wins the league and misses the playoff, it figures to go in as a favorite to win a New Year's Six bowl, though the same can't be said for other remaining Big Ten contenders Michigan State, Wisconsin and Minnesota. Moving down the line, Pac-12 foes will likely bring stronger resumes than the Big Ten in San Diego and Santa Clara. By my count, the league will be fortunate to go 3-3 with its top six teams. It looks slightly better for the lower-division teams, matched against the ACC in New York and Conference USA in Dallas, though the SEC could loom in Nashville. The Big Ten's at-large matchups might determine its chance to get above .500 in the postseason. I'd say, expect four to five wins and hope for six..

November, 24, 2014
Nov 24
12:00
PM ET
While the majority of top prospects go to powerhouse programs on an annual basis, there are always a handful of selections that are very surprising. Here are five that stand out in the 2015 class with two being at the most important position in sports.
1. Jarrett Stidham, QB
ESPN 300 ranking
: No. 39
November, 24, 2014
Nov 24
8:00
AM ET
One more weekend to go in the regular season. Some thoughts to begin your Thanksgiving week:
1. Next week, the Big Ten will hand out its individual trophies, as well as reveal the all-conference teams. And the media and coaches are going to have a hard time deciding on the coach of the year award.
On one hand, you have Urban Meyer, who has led a very young Ohio State team to a 10-1 record while developing freshman
J.T. Barrett
into a Heisman Trophy contender on the fly. Eventually, a Buckeyes coach has to win this thing again, right? It hasn't happened since Earle Bruce took home the hardware in 1979, and that's silly.
On the other hand, how do you overlook what Jerry Kill has done at Minnesota? He has the Gophers sitting at 8-3, with a chance to win the West Division by beating Wisconsin this week. It would be nearly impossible to ignore Kill for the award if Minnesota does win that game and forces a rematch with Ohio State in Indianapolis. The Gophers are 16-7 in their last 23 regular-season games and 9-4 in their last 13 Big Ten contests. Remarkable stuff, especially considering a lot of people thought Kill would not return to the sidelines after last year's health issues.
The
28-24 win at Nebraska
may have been Kill's best one yet, and it shows the progress this program has made,
Chip Scoggins writes
.
2. Just think about how much better Minnesota's season would look if its only losses were at TCU and a close one at home vs. Ohio State. But, of course, the
Gophers somehow stumbled at Illinois
. That was undoubtedly the biggest win in the Tim Beckman era. But Beckman just might have a chance to top that.
Beating Penn State these days is no great achievement, considering the dilapidated state of the Nittany Lions' offense. Still,
winning that game in Champaign on Saturday
meant that Beckman has doubled his previous Big Ten win total this season and, more importantly, has the Illini in contention for a bowl. If they beat Northwestern this Saturday, the postseason awaits.
Can athletic director Mike Thomas really fire Beckman if he goes 6-6?
Attendance remains a major issue
, especially considering the embarrassing crowd that showed up to Memorial Stadium on Saturday -- less than 10,000 by most media estimates. But Beckman would have gone from two wins to four wins to six wins in three seasons. It's hard not to call that progress, even if it hasn't been pretty at times.
The ticking clock on Beckman's job has stopped for now,
Mark Tupper writes
.
3. You couldn't talk about Iowa this season without mentioning that dream schedule: No games against Michigan State, Ohio State Michigan or Penn State (though in hindsight, it would have been better to play those last two than Maryland). West Division rivals Wisconsin and Nebraska coming to Iowa City. A very manageable nonconference slate.
That schedule is a major reason why people were predicting as many as 10 or 11 wins for the Hawkeyes, who were a trendy pick to win the West. But Kirk Ferentz's team has been eliminated from the division race already, and if it doesn't beat a reeling Nebraska team on Black Friday, it will finish 7-5. Even an 8-4 record would feel underwhelming, given all the advantages that Iowa squandered.
The Hawkeyes
gave a great effort against Wisconsin
on Saturday, especially in the second half. You wonder if things would have been different had they played like that all season. Instead, there's no way to talk about this Iowa season without using the word disappointing.
Let's hit the links ...
West Division
East Division
And, finally ... "Dilly Bar Dan"
received more attention
and some nice hospitality in Lincoln.
November, 23, 2014
Nov 23
2:00
PM ET
November, 22, 2014
Nov 22
3:29
PM ET
Associated Press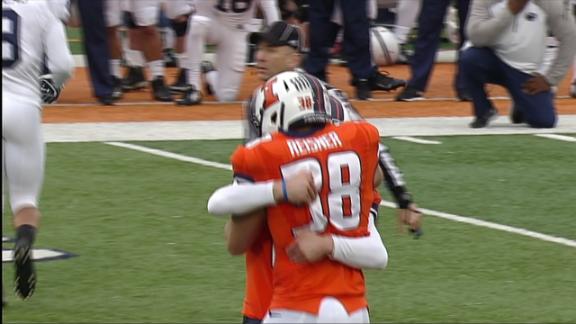 CHAMPAIGN, Ill. -- Backup quarterback Reilly O'Toole led Illinois on a late drive that set up a game-winning David Reisner field goal, delivering a 16-14 win over Penn State on Saturday.
Reisner hit from 36 yards with eight seconds left on the clock. Minutes earlier he missed a 50-yarder that would have put Illinois on top.
O'Toole relieved an ineffective Wes Lunt late in the first half. O'Toole finished 18 of 25 for 157 yards and a touchdown for Illinois (5-6, 2-5 Big Ten).
Christian Hackenberg threw for an 18-yard touchdown pass to Chris Godwin to put Penn State (6-5, 2-5) up early. But struggled the rest of the day. He finished 7-15 for 72 yards and the touchdown.
Mike Dudek had 11 catches for 115 yards for Illinois.
Penn State running back Akeel Lynch carried the ball 28 times for 137 yards and a 47-yard touchdown.
College Football Top Plays: Week 13
BIG TEN SCOREBOARD
Friday, 11/28
Saturday, 11/29