July, 29, 2014
Jul 29
9:30
AM ET
July, 28, 2014
Jul 28
6:00
PM ET
By
Austin Ward, Mitch Sherman
and
Josh Moyer
| ESPN.com
CHICAGO -- The season has unofficially started in the Big Ten.
Coaches are talking about the importance of taking it one game at a time while chasing a conference title. Players have busted out their finest suits and are raving about how difficult the offseason conditioning program was at their schools. And the media grabbed some free food between interviews.
There is one more day to go before the circus leaves Chicago, but before we get to that, the Big Ten blog is handing out some awards to put a bow on the opening day.
Best-dressed player:
Michigan State safety
Kurtis Drummond
. The honors could just as easily have gone to teammates
Shilique Calhoun
or
Connor Cook
, the former for his bow tie and the latter for his accessorizing with his enormous championship ring. But Drummond stole the show as the sharpest of the Spartans, who clearly looked the part of returning conference champs.
I think the Best Dressed award has been locked up today. Kurtis Drummond, folks. pic.twitter.com/XAnHXjJWKP

— Austin Ward (@AWardESPN) July 28, 2014
.
Most fun-loving players:
The bright spotlight and huge crowd around him might have kept Ohio State coach Urban Meyer a bit guarded, but his players certainly welcomed the attention and weren't afraid of being playful with the media. Tight end
Jeff Heuerman
loosened things up by locking quarterback
Braxton Miller
in a headlock, and after that, both decided to moonlight as media members by sneaking over to ask Meyer a few questions toward the end of a session -- a rare glimpse at the personalities off the field of two of the league's best talents on it.
Ohio State's Jeff Heuerman and Braxton Miller decided to join the media today and interview Urban Meyer. pic.twitter.com/scWhYDZRNs

— Austin Ward (@AWardESPN) July 28, 2014
.
Biggest missed opportunity:
The Wisconsin-LSU matchup to open the season is appealing enough at a neutral site. But the Badgers and Tigers could have taken the intrigue to another level by hosting those games at two of the loudest, most hostile stadiums in the country -- if only Gary Andersen had been around a couple of years earlier. The Badgers' coach said he "would have said yes" to a home-and-home series at Camp Randall and in Death Valley, a tantalizing what-might-have-been if the Tigers might have been as willing as Andersen.
Most appropriate Twitter handle:
Nebraska's
Kenny Bell
(@AFRO_THUNDER80). The 6-foot-1 receiver was probably the easiest player to pick out of a crowd, as his puffy afro towered over opposing players. Bell's play didn't earn him an award last season -- he was honorable mention on the All-Big Ten team -- but we just couldn't go one more day without recognizing that 'fro.
The instantly recognizable @AFRO_THUNDER80 pic.twitter.com/OJMwHynz40

— Adam Rittenberg (@ESPNRittenberg) July 28, 2014
.
Best-dressed coach:
Penn State's James Franklin. Every day, the head coach spends 22 minutes to shave his head in every direction and trim that goatee ... so it seems slightly surprising that he is probably the coach who spends the most time on his head, considering he's bald. But, hey, it takes time to pull that look off -- and he was also looking dapper with that Penn State lapel, blue tie and matching pocket square. Franklin often jokes that he doesn't need to sleep, so maybe he uses some of that extra time to pick out the right clothes.
James Franklin and our Josh Moyer are sharing head shaving techniques. Seriously. pic.twitter.com/S7iVnnNvo9

— Brian Bennett (@BennettESPN) July 28, 2014
.
Quote of the day:
Penn State linebacker
Mike Hull
has learned under three head coaches -- Joe Paterno, Bill O'Brien and Franklin -- during his career, and their personalities really couldn't have been any different. Hull laughed while providing their takes on social media as an example.
"Yeah, I've seen the whole evolution," he said. "Joe didn't know what Facebook was, O'Brien called Facebook 'Spacebook' and, now, Coach Franklin probably has every social media there is to have. It's crazy."
Most Big Ten quote:
"How are you going to approach the Rose Bowl?" -- Michigan coach Brady Hoke, lamenting some aspects of the College Football Playoff in years, like this season, when the Granddaddy of Them All is to serve as a national semifinal game. Hoke suggested that some of the pageantry associated with the game -- for instance, the Beef Bowl team competition at Lawry's, a prime rib restaurant in Beverly Hills -- will be eliminated because of the high stakes and need for a regular game-week regimen. Of the traditional Rose Bowl, Hoke added: "It's the greatest experience in America for kids."
Most Iowa quote (maybe ever):
"Sometimes, old school is a good school." -- Hawkeyes coach Kirk Ferentz on his program's resistance to some of the offensive innovation that has swept college football.
Best quote about a player not in attendance:
"I don't like standing too close to him because it seems like the wind is always blowing through his hair. When he smiles, this little thing comes off his tooth like in the toothpaste commercial." -- Penn State coach James Franklin on sophomore quarterback
Christian Hackenberg
.
July, 28, 2014
Jul 28
2:52
PM ET
CHICAGO — Fittingly, the Big Ten put its two most talked about coaches back to back during Day 1 of media days.
First came Urban Meyer and then James Franklin, who addressed a number of topics during his first go-round here in the Windy City:
Franklin's only concern about this place? Each elevator at the Hilton Chicago is plastered with a different Big Ten logo, and the elevator that went to his floor did not have Penn State's logo. So Franklin, never one to shy away from a headline, relayed an anecdote about how he had to take the stairs to his room, lest he ride an elevator that features another league logo painted on it. No word on how many flights of stairs he took. Or which team was, in fact, on that elevator.
In a reflection of just how much turnover there has been at Penn State, Franklin reminded everyone that, having been hired just seven months ago, he is the veteran of the Nittany Lions' public faces, as the school just hired a new athletic director (Sandy Barbour) on Saturday and had hired a new president (Eric Barron) in February.
Franklin said his equipment staff has used Notre Dame and Navy as resources for how to prepare for a season-opening trip to Ireland, as Penn State will open overseas against UCF. The Lions will depart from State College for the trip on Tuesday night of game week.
Asked about Vanderbilt players' disappointment in the way he left the program for Penn State, Franklin said that he has learned that "there's no good way to leave," and that he hopes he tried to do it the right way. He added that he hopes that over time people will look back and see how much he cared about and invested in the Commodores during his time in Nashville, Tennessee.
Franklin let out a brief laugh and smile when asked if Christian Hackenberg is the most talented quarterback in the country. He said the sophomore has a ton of tools, and he admired the way the signal-caller handled everything from his recruitment to expectations to a coaching change.
As for his satellite camp at Georgia State, which drew the ire of former SEC comrades, Franklin said he was not sure why it received all of the attention that it did. He said he and his staff get on the Internet every day to explore what other people are doing, and to see if it makes sense for Penn State. He wants to do everything within his power within the rules to give the Lions a competitive advantage. "Whatever that may be, whether it's recruiting certain parts of the county, we're going to look into all those things." He again added that he cannot speak to the reaction it has drawn.
July, 28, 2014
Jul 28
11:20
AM ET
By
ESPN.com staff
| ESPN.com
The Big Ten's coaches and top players are gathering in Chicago and so are several of ESPN.com's reporters. Keep this page open throughout the day as we bring you all of the latest from the league's media day event.
July, 28, 2014
Jul 28
8:30
AM ET
CHICAGO -- Hello from the Hilton Chicago, where Big Ten media days will officially commence shortly.
We're going to have all kinds of coverage for you, including a live blog throughout the event that will include pictures, notes, quotes, observations and many other goodies. We'll also be taking your questions for players and coaches, which you can send to us via
Twitter
while using the hashtag #AskB1GPplayers. Some of the players who'll be dropping by include:
Illinois TE Jon Davis and DL Austin Teitsma
Indiana QB Nate Sudfeld
Maryland QB C.J. Brown
Iowa DT Carl Davis
Michigan DE Frank Clark and QB Devin Gardner
Michigan State DE Shilique Calhoun and QB Connor Cook
Minnesota QB Mitch Leidner
Nebraska RB Ameer Abdullah and WR Kenny Bell
Northwestern QB Trevor Siemian
Ohio State DT Michael Bennett and QB Braxton Miller
Penn State RB Bill Belton
Purdue RB/KR Raheem Mostert
Rutgers DT Darius Hamilton
Wisconsin RB Melvin Gordon.
Also make sure to follow the individual Twitter handles Adam and I will be using
here
and
here
.
We've done loads of previewing of this event, covering everything you'd need to expect from these two days in the Windy City. If you need a refresher, click
here
to sift through our coverage.
Here's the official schedule of events today (again, all times are ET):
Coaches at the podium
10:30 a.m -- Pat Fitzgerald, Northwestern
10:45 a.m. -- Darrell Hazell, Purdue
11 a.m. -- Gary Andersen, Wisconsin
11:15 a.m. -- Tim Beckman, Illinois
11:30 a.m. -- Brady Hoke, Michigan
12 p.m. -- Kyle Flood, Rutgers
12:15 p.m. -- Jerry Kill, Minnesota
12:30 p.m. -- Mark Dantonio, Michigan State
1 p.m. -- Bo Pelini, Nebraska
1:15 p.m. -- Randy Edsall, Maryland
1:30 p.m. -- Urban Meyer, Ohio State
2 p.m. -- James Franklin, Penn State
2:15 p.m. -- Kevin Wilson, Indiana
2:30 p.m. -- Kirk Ferentz, Iowa
Others at podium
2:45 p.m. -- Mark Silverman, Big Ten Network
3 p.m. -- Michael Kelly, College Football Playoff
3:15 p.m. -- Jim Delany, Big Ten commissioner
Coaches and players will also be available in breakout interview sessions from 11:30 a.m. to 3:30 p.m. Make sure to keep your browsers locked on the blog for all the latest from Big Ten media days.
July, 26, 2014
Jul 26
11:08
AM ET
[+] Enlarge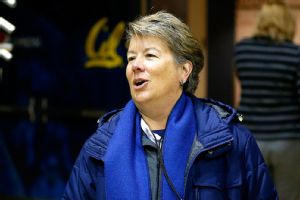 Bob Stanton/USA TODAY SportsPenn State believes Sandy Barbour is the "right person" to lead its athletic department.
STATE COLLEGE, Pa. -- Former Cal athletic director Sandy Barbour was introduced as Penn State's new athletic director Saturday afternoon, making her the first female AD in the university's history.
She resigned from Cal last month after a 10-year stint and will officially begin her Penn State tenure on Aug. 18. She will take over for Penn State's Dave Joyner, who retired in June after taking the reins for two and a half years following the Jerry Sandusky child sex-abuse scandal.
"We found the right person to lead our program," university president Eric Barron said during Saturday's news conference. "And the screening committee that weighed candidate credentials found this person to be the clear choice, the first choice of every single member."
Barbour will earn an annual base salary of $700,000 over the length of her five-year contract -- with a $100,000 retention bonus and incentive compensation that can reach as much as $100,000 annually. Barbour said she had no idea this opportunity would present itself when she stepped down last month at Cal and said the prestige of the position alone initially drew her interest.
July, 25, 2014
Jul 25
5:00
PM ET
Welcome to another weekend, which means just four more remain until the return of college football. Thanks for all of your questions. Keep them coming and enjoy the latest mailbag:
@mitchsherman Mitch, I see UM's 5P RB Derrick Green dropped 20lbs. You think he finally lives up to all that preseason press a season ago?

— BlackFlash41Reverse (@Black41Reverse) July 25, 2014
Mitch Sherman
:
Derrick Green
has battled weight problems
previously
. He entered camp last season at 240 pounds as the No. 5-rated back in the 2013 recruiting class and rushed for just 270 yards as a true freshman, averaging 3.3 yards per attempt. After the spring, he was reportedly down to 220, definitely a better figure.
It'll be interesting to see how he looks when practice opens in Ann Arbor on Aug. 4. If Green shows up in great shape, he's likely the man to beat in the battle for the bulk of the carries. Primary competition comes from fellow sophomore
De'Veon Smith
.
No doubt, Green is talented and dangerous when his body is right. But some of this remains out of his control. No back could have thrived behind Michigan's porous offensive line last season. The Wolverines rushed for 125.7 yards per game, the third lowest average in school history. In back-to-back games against Michigan State and Nebraska, the line contributed to 14 sacks of U-M quarterbacks.
If the line doesn't improve in 2014, Green could open the season in the best shape of his life, and it would matter little.
@mitchsherman What are your thoughts on the Wall Street Journals realignment proposal?

— Mike Newman (@HuskerNewman) July 25, 2014
Mitch Sherman
: Well,
here
it is. In theory, the idea to determine conferences based solely on football and its finances appears intriguing. In practice, it would be a logistical nightmare and destroy many of the sport's natural alliances.
Still, don't dismiss such a scenario as complete fantasy. The coming changes in college athletics could be landscape-altering, from the ramifications of the upcoming vote on major-conference autonomy to the court decision in the antitrust lawsuit against the NCAA and its inevitable appeals.
It's hard to imagine that the conferences will cease to exist as we know them. But then again, 10 years ago, who could have imagined the look of the game as we know it today?
---
Mike in Ashburn, Virginia, writes
: If Rutgers beats Penn State, what would that mean for the future of RU football?
Mitch Sherman
: Fans of the Scarlet Knights have long circled Sept. 13, when the traditional rivals meet in Piscataway, New Jersey. The game was scheduled in 2009 -- when former PSU assistant Greg Schiano coached Rutgers -- as a nonconference matchup, the first in the series since 1995.
Of course, when Rutgers announced plans to join the Big Ten, it was converted to a league game. Penn State and Rutgers last played in 1995, and the Nittany Lions have won 22 of 24 games in the series. So one victory by the Scarlet Knights over a Penn State program still feeling the impact of NCAA sanctions won't reverse the fortunes of the programs. PSU will still carry momentum in recruiting and possess an edge in areas, even New Jersey, that produce recruiting prospects for both schools.
A win by Rutgers, though, would serve notice that it's here to play with the big boys in the Big Ten and won't be pushed aside easily by powers of the league's East Division -- on the field and in recruiting its fertile home state.
July, 25, 2014
Jul 25
12:30
PM ET
The Big Ten, for whatever reason, does not issue an official preseason predicted order of finish like just about every other league. Luckily, we've got Doug Lesmerises of Cleveland.com to pick up the slack.
Lesmerises once again has organized an
unofficial poll of league beat writers
, and the panel of 29 media members have tabbed Ohio State and Wisconsin to win their respective divisions.
Nineteen of the 29 voters picked Ohio State to win the Big Ten title, with nine votes going to Michigan State and one to Nebraska. The West Division breakdown was scattered, as Wisconsin led with 14 votes, but Iowa, Nebraska and Northwestern all received support.
The complete breakdown:
East Division

195 points (23 first-place votes)
180 points (10)
136 points
105.5 points
84 points
78.5 points
33 points

West Division
183.5 points (15 first-place votes)

Iowa,
173 points (11)
157.5 points (5)
112 points (1)
96.5 points
58 points
31.5 points

(Note that there are more than 29 first-place votes in the divisions because of ties)
Some thoughts:
As has been the case in many preseason publications, Ohio State is a pretty heavy favorite despite Michigan State's success last year. It's interesting, given all the youth on the Buckeyes. Definitely motivational material here for the Spartans. ... Wisconsin has also gotten a lot of hype this offseason in spite of heavy personnel losses and questions in the passing game. Voters obviously like the schedules for both the Badgers and Iowa over Nebraska, which has to play in both Madison and Iowa City. ... Some voters likes a dark horse, picking Northwestern to win the West. The Wildcats do pose an outside threat. ... Not a lot is expected of newcomers Maryland and Rutgers, though the voters like the Terps a good bit more as the Scarlet Knights are picked to finish dead last in the East. ... If you don't like these results, take heart: Not a single writer picked Michigan State to win the Big Ten championship in this same poll a year ago.
July, 25, 2014
Jul 25
12:00
PM ET
The Big Ten season unofficially begins Monday with media days. So enjoy the weekend, and then let's get after it.
July, 25, 2014
Jul 25
11:00
AM ET
Our crew of Big Ten reporters will occasionally give their takes on a burning question facing the league. They'll have strong opinions, but not necessarily the same view. We'll let you decide which one is right.
Big Ten media days kick off on Monday at the Hilton Chicago. All the other Power 5 conferences will have wrapped up their own media events by then, and each league does things a little bit differently. So
today's Take Two topic
is: Should the Big Ten change the format of its media days?
Take 1: Brian Bennett
One thing that can be said about Big Ten media days is fans have much more access to it than they do in other leagues. The centerpiece of the two days is Tuesday's Kickoff Luncheon, during which fans can listen to a few minutes from every coach, hear a keynote speech from a current player and get autographs from former players. It's a 40-plus-year tradition, and at $110 a plate, a nice moneymaker for the league (because the Big Ten, you know, is pretty cash poor these days).
[+] Enlarge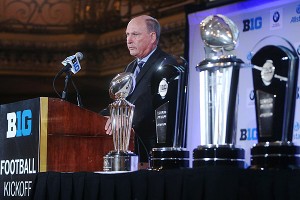 Jerry Lai/USA TODAY SportsJim Delany will speak to the media in Chicago, but not until the end of Big Ten media days.
In part because of that luncheon, and because the conference likes having everybody together, the actual media portion of the event is fairly short. Basically, each coach gets about 15 minutes of podium time on Monday, along with breakout sessions involving them and their players, and then there is a two-hour window on Tuesday morning where everyone is seated at ballroom tables. Compare that to the SEC's mega-media extravaganza that now lasts four days, with a few teams represented each day.
The SEC's format is far too long in my view, but that league certainly monopolizes coverage on those days, and individual teams get more of a spotlight. Now at 14 teams, I'd like to see the Big Ten devote more time to its event. More time to spend with Ohio State, Michigan State, Nebraska, Wisconsin, Michigan, Penn State, etc. More time to get to know some of the personalities. More time with players and programs who aren't in the spotlight. Not that the Big Ten needs more fans, necessarily, but more media coverage equals more exposure and more attention, which could help everybody in the long run.
My preference is for the conference to add an extra day and split the teams up, either by division or by interest level. You could have them all together on the middle day for the luncheon. This is probably all just inside baseball and I'm not sure how much fans really care. But as the Big Ten keeps getting bigger, its media days should probably follow suit.
Take 2: Mitch Sherman
I'm actually stunned you're taking the time to read this, because who cares, really, what the media thinks about the format of a preseason event to promote the conference? We're likely going to cover this thing regardless of how the Big Ten structures it, so our opinion on the setup is probably the least of anyone's concern. That said, I'll offer my two cents.
I agree with Brian that it ought to be longer. Monday's schedule includes 14 coaches and 42 players crammed into five hours. By mid-afternoon, my head might be spinning so fast that I can't differentiate between Pat Fitzgerald and Urban Meyer. OK, it's not that bad, but you get the picture. This thing is nearly over before it starts. And I'd like to see commissioner Jim Delany open the event with his comments, rather than speak during the final 30 minutes on Monday. By late afternoon, some of our brains are fried to the point that it's difficult to formulate intelligent questions. (Who am I kidding? There's no specific time for that.)
If you're still reading, I've got another suggestion: Every team should bring a quarterback. This year, seven are planned to attend, which is actually pretty good in comparison to some other leagues. QB is the premier position in college football; there's no denying it. I understand not every job is completely settled, so Illinois gets a pass here, though
Wes Lunt
could have brought the Illini some attention in Chicago. But if you're going to have an event for the media -- is it really for the media, or is that just the name? -- bring the players to whom the media wants to speak. That means, yes, we'd like to see
Christian Hackenberg
,
Jake Rudock
,
Tommy Armstrong Jr.
, and even
Gary Nova
.
I will now dismount my soapbox. Congratulations, or perhaps condolences, if you made it to the end.
July, 24, 2014
Jul 24
5:00
PM ET
We're taking more of your mailbag questions from Twitter these days, and we now have individual Twitter handles in addition to the
ESPN Big Ten account
. Make sure to follow each of us for all your league news. Here is
mine.
Now to the good stuff, which is your questions and my fair-to-middling answers:
@BennettESPN It's an odd question but who do you think has a better chance of going undefeated this year, OSU or Iowa?

— Samuel Robinson (@samtrobinson) July 24, 2014
.
Brian Bennett:
I haven't thought of it quite like that, but I get your point. Iowa has a definite shot with its advantageous schedule. With the Hawkeyes' toughest two games coming in the final two weeks at home against Wisconsin and Nebraska, they have a chance to be favored in every game. Meanwhile, Ohio State faces many more challenges, including nonconference games against Virginia Tech, Cincinnati and Navy, along with that East Division showdown on the road at Michigan State.
Yet, if I had to pick one team to go undefeated of those two, I'd take the Buckeyes. Iowa's conservative style means that more games are likely to be close -- five of last season's 13 contests were decided by a touchdown or less, while Ohio State had three such games in 14 tries. Looked at another way, the Buckeyes outgained opponents by 137.6 per game in conference play last season, while the Hawkeyes outgained their league foes by 52.5 yards per game. Though past performance shouldn't be our sole guide for looking forward, Ohio State has gone 12-0 in the regular season the past two seasons.
I like Iowa a lot this year and am leaning toward picking Kirk Ferentz's team to win the West Division. But I'd be surprised if it didn't stub its toe a time or two along the way, whereas another Ohio State undefeated season wouldn't be shocking.
---
Hussein from Ann Arbor writes:
I was reading your
DB position preview
and couldn't help but notice that Michigan was absent. I understand why they might not be number 1 in the conference, but they are returning tons of talent and I would be surprised if they weren't in the top 3 this upcoming year.
Blake Countess
is a stud and should compete for All Big-Ten First Team (if not All-American), while
Raymon Taylor
is very solid at the opposite corner position. At least one safety spot should be locked up with
Jarrod Wilson
with the other seemingly up for grabs(?). And that's without even mentioning
Jabrill Peppers
...
Brian Bennett:
I strongly considered Michigan for one of the top two spots, Hussein, and as you can probably tell, those posts are intended to rank every single team. I like the Wolverines' returning experience, and Countess should be one of the top cover guys in the league. Peppers can take the group to the next level if he is the real deal, but I'm a little bit cautious about projecting so much on an incoming true freshman who didn't go through spring ball. I have little doubt Peppers will make an impact this season, but how much? Ultimately, I thought Michigan gave up too many big plays in the passing game last season and wasn't physical enough in the back end. If Peppers helps change that, this crew has a chance to be the best in the Big Ten.
---
Brian from Raleigh, North Carolina, writes:
Hey, Brian, about the
Fitz-calls-Nebraska-boring "controversy
"... maybe I've got my purple-tinted glasses on, but where's the beef? How are there even Nebraska fans angry about this? I grew up in the middle of nowhere in rural Michigan, and we made fun of how empty and boring it was
all the time
. Fitz made a bad joke that almost every American has made at some point in their lives. Is this really such a stinging, controversial comment? Or has cliche coachspeak become so dominant that a coach acting like an actual human being for 10 seconds is news?
Brian Bennett:
I'm glad you put "controversy" in quotes, because this isn't really a big deal. Pat Fitzgerald's comments about Cal coach Sonny Dykes, I thought, were more intriguing. I can see why Nebraska people wouldn't like it, though. For example, f I call my home state "boring" or insult it in some other way, that's OK; if you as a non-Kentuckian do the same, well, them's fightin' words! Still, Fitzgerald was simply yukking it up with some Northwestern boosters after a summertime golf event, so let's not make it into a culture war. If anything, it adds a little spice to a very dull period, and the Big Ten can be far too dry and polite at times.
---
Ed from Michigan writes:
Hey, Brian. It seem like everyone who follows college football has heard of stories of cheating and then the Big 12 Commissioner says the same. My question: Where is the investigative reporting to uncover this cheating?
Brian Bennett:
There is no question about two things, Ed. One, the overwhelming majority of NCAA infractions cases began with a media report, as journalists have been doing the hard legwork for NCAA investigators for years. And two, fewer newspapers and other media outlets are devoting time and resources to investigative journalism these days. Some places still are, for sure. The North Carolina academic scandal is a perfect example of an issue that would have quickly vanished (or never even bubbled up) without the great work of some dogged reporters. What's also true is that uncovering those stories is painstakingly difficult, as it's often nearly impossible to find tangible evidence of cheating and not just accusations. For all the outstanding reporting that went into the
Cam Newton
affair, for instance, that smoking-gun shred of a paper trail never surfaced.
The bigger issue here, to me, is not from the media side but rather how cheating will be policed in the future. Particularly if -- or, more accurately, when -- the Power 5 schools gain autonomy and write many of their own rules, who will be there to enforce them? Certainly not the understaffed NCAA enforcement division, which will have ceded much of its power anyway. It likely will be up to the schools and conferences themselves. There is a good chance, as Bob Bowlsby said, that cheating will continue to pay off. There will just be fewer rules to break.
@BennettESPN Chances @HoosierFootball finally makes another bowl game ? and how good can Tevin Coleman really be ?

— Chris F (@ChrisF3105) July 24, 2014
.
Brian Bennett:
The Hoosiers were close last year. Had they beaten Navy -- or had they given themselves a more manageable nonconference schedule, something athletic director Fred Glass regrets in hindsight -- they would have made their first bowl since 2007. Unfortunately, the schedule is tough again this season, with road trips to Bowling Green (the preseason MAC favorite) and Missouri, a crossover road game at Iowa and the rugged East Division. The good news is that Kevin Wilson had built a standout offense, and the defense has some small reasons for optimism, so IU should at least be within range of bowl eligibility.
As for
Tevin Coleman
, he's probably one of the most underrated players in the league. He's an outstanding athlete whose length and speed reminds me of
Melvin Gordon
. In fact, he scored as many rushing touchdowns (12) as Gordon did in four fewer games last season and averaged 7.3 yards per rush. With Indiana potentially relying on the run game a bit more this season, Coleman could put up monster stats.
July, 24, 2014
Jul 24
12:00
PM ET
Guess who's coming to the Big Ten kickoff luncheon on Tuesday in Chicago?
Former players
.
One Thing To Know: Big Ten Recruiting
BIG TEN SCOREBOARD
Thursday, 8/28
Friday, 8/29
Saturday, 8/30