August, 20, 2014
Aug 20
8:00
AM ET
Tis the season to name starting quarterbacks, not to lose them.
News of
Braxton Miller
's season-ending injury at Ohio State is dominating the headlines. But the Buckeyes won't be the last Big Ten team this year to go in search of an alternate plan at QB. Last year, 10 of the current 14 teams in the league used at least two starters at the position.
Here's a ranking of Big Ten teams most equipped to handle an injury to their top quarterback:
Around the league ...
East Division
West Division
And finally . . .
August, 19, 2014
Aug 19
8:00
AM ET
Apologies to the rest of the league, but there's one story that is going to be dominating the coverage today. And it might for the next couple days after suddenly appearing overnight as word trickled out about
Braxton Miller
's injured shoulder.
If you missed it, the two-time Tribune Silver Football winner, one of the
most decorated individuals
in Big Ten history and the key to Ohio State's bid for a conference title and a potential run to the College Football Playoffs, left the second practice of a two-a-day session on Monday with what appears to be a new injury to his already surgically-repaired shoulder. A source confirmed to ESPN.com late on Monday that trainers attended to Miller on the field after a throw that the Buckeyes expected to be a barometer of progress as he regained strength in the muscles around his shoulder.
There's no word yet on the severity, but obviously the workout didn't go as planned. The program hasn't confirmed the injury or released any information about medical tests at this point, but it has a previously-scheduled media availability slated for this morning. Stay tuned for more information as the story continues to develop.
As for the rest of the conference?
Depth chart shuffling
East Division
West Division
August, 18, 2014
Aug 18
5:00
PM ET
How was everybody's weekend?
OK, enough small talk. Let's dive right into today's Big Ten mailbag.
@ESPN_BigTen @ESPNJoshMoyer other than Gordon & Abdullah, who will/can be a dominant RB in the #B1G ? - Brett May Burn (@B_Mac29) August 18, 2014
Josh Moyer:
Two names immediately spring to mind: Michigan State's
Jeremy Langford
and Indiana's
Tevin Coleman
. Langford did pretty darn well in his first year as a starter in 2013, and he can only get better. He didn't carry the ball more than 20 times until Game 6. And, from that point on, he carried the ball at least 21 times in every contest and set a school record by reaching 100 yards in eight straight games. He's the odds-on favorite to once again lead the Big Ten in rushing TDs and, nationally, only four returning tailbacks gained more yards than him last season. Plus,
Connor Cook
said in the spring that Langford has taken on
a much bigger role in the passing game
. With
Melvin Gordon
and
Ameer Abdullah
taking up most of the spotlight in the B1G, Langford might be one of the most overlooked tailbacks in the nation. Coleman has received a lot of love from the Big Ten blog, but for good reason. He missed the final three games of 2013 with an ankle injury and never received above 20 carries a game -- but still finished with 958 yards. He also averaged 7.3 yards a carry last season and was even able to reel off a 64-yard run against Michigan State. With another offseason and a healthy ankle, the explosive junior has the potential be the Big Ten's surprise tailback this season.
@ESPNJoshMoyer Oregon O vs MSU D is main talking point, but why isn't MSU O vs Oregon D getting more attention? - Colin Dilworth (@Dilworth269) August 17, 2014
Josh Moyer
: Let me answer your question with another question, Colin. What game would you prefer to watch: TCU vs. Louisiana Tech or Alabama vs. Oregon? One features the No. 2 vs. No. 3 team; the other features USA Today's No. 37 team vs. No. 80 team. (Last season the Spartans' offense was ranked No. 80 and Oregon's defense was No. 37). In other words, at its heart, strength on strength is just more entertaining. So, naturally, it's going to draw attention away from the other matchup. Still, the other matchup constitutes half the game, so let's take this time to look a bit closer at that "other" battle. Oregon's defense has a better ranking than the Spartans' offense, but there's still a lot at play here. On the surface, the Ducks boast a great run-defense since they allowed just 3.8 yards a carry last season. But there are some potential issues. For one, the two teams that had the most rushing attempts against the Ducks -- Stanford and Arizona State --both wore them down and ended up with wins. Secondly, only three teams in the nation were
worse against the run on third down
(65.5 percent conversion rate) and only seven teams in the nation were worse at stopping rushing plays at the line of scrimmage (17.8 percent). And, thirdly, Oregon has to replace two good defensive tackles. So you have to think Langford's success inside should have a big impact on the game. In the secondary, Oregon also boasts one of the best defensive players in the Pac-12 in cornerback
Ifo Ekpre-Olomu
. So Cook would be wise to avoid him altogether, especially since the Ducks don't have a proven No. 2 CB. So, sure, the Michigan State offense vs. Oregon defense has its own storylines at play. But count me in with the majority. I'm still more looking forward to the irresistible force vs. the immovable object. Can Michigan State crumble the hopes of a Heisman hopeful? Can Oregon quarterback
Marcus Mariota
deflate the aspirations of Spartan Nation just one week into the season? That's just going to be plain fun to watch.
@ESPNJoshMoyer How many wins to start the season will it take for PSU to be ranked. 5-0 headed into Mich or 6-0 headed into OSU week? - Sean Abbott (@sean_e_abbott) August 17, 2014
Josh Moyer:
Hey, I dig the optimism, but getting a little ahead of ourselves, aren't we, Sean? Anyway, I could definitely see Penn State getting some votes and making an appearance around Nos. 24 or 25 if it knocks off Northwestern to go 5-0. But chances are it'll need another quality win -- or at least one that trumps the likes of Akron and UMass -- to really work its way into the top 25. (A reminder: Polls will have
little to no bearing
on the playoff this season.) A quick start like that is possible, but it won't be easy with three decent opponents. Central Florida has a great secondary and could test
Christian Hackenberg
with his inexperienced wideouts. Rutgers' defensive line could pose problems for PSU's thin offensive line, which will likely feature two converted defensive tackles at offensive guard. And, even without
Venric Mark
, Northwestern boasts enough returning starters to pose a problem. A celebration after a 5-0 start might even be a bit premature for Penn State because the stretch immediately afterward is more important. There are no guarantees there: at Michigan, Ohio State, Maryland, at Indiana. How PSU fares there might be the key to its season.
@ESPNJoshMoyer My friend is getting married on September 6th, one of the biggest weekend of matchups for the B1G all year. Should I go? - Matthew Milko (@B1Gcast) August 17, 2014
Josh Moyer:
Hoo boy, that's a tough one. Important follow-up question: How good of a friend? It's definitely a good week for Big Ten football but mainly due to three matchups: Michigan-Notre Dame, Michigan State-Oregon and Ohio State-Virginia Tech. Also, Northwestern-Northern Illinois might not be bad. But everything else? Hmmm ... how do I put this delicately? Unwatchable garbage (e.g. - Rutgers-Howard, Nebraska-McNeese State, Maryland-USF, etc.). But there might be hope for you, Matthew. The kickoff for the earliest of those three games is 6:30 p.m., so that should at least give you some time to find a TV at the reception. Or, barring a TV (what kind of wedding is this?), give you time to fake the stomach flu. I can only imagine "Dear Abby" would offer the same advice. Or at least she should. Godspeed.
August, 18, 2014
Aug 18
4:27
PM ET
Got your four teams picked for the inaugural College Football Playoff?
Beware before you turn in your final list, because teams always come out of nowhere. For instance, Auburn, Michigan State and Missouri all finished in the top five of the final polls last season -- and weren't even ranked to start the season.
Conversely, the team starting the season ranked No. 1 in The Associated Press preseason poll hasn't finished higher than No. 7 the past four years.
None of us has a crystal ball, but we do have a road map of sorts -- the games that will shape who gets in and who gets left out this season when the selection committee unveils the first football version of the Final Four.
Here are 10 games to mark on your calendar:
LSU vs. Wisconsin, in Houston, Aug. 30

Right out of the gate, we get a game between two teams just outside the top 10 in the preseason polls who are talented enough to state their case come selection time for the College Football Playoff. And check out Wisconsin's schedule. If Melvin Gordon and the Badgers can get past the Tigers in the opener, the only other nationally ranked team (in the preseason) they face is Nebraska at home on Nov. 15. They avoid both Ohio State and Michigan State in the regular season.
Michigan State at Oregon, Sept. 6
August, 18, 2014
Aug 18
10:30
AM ET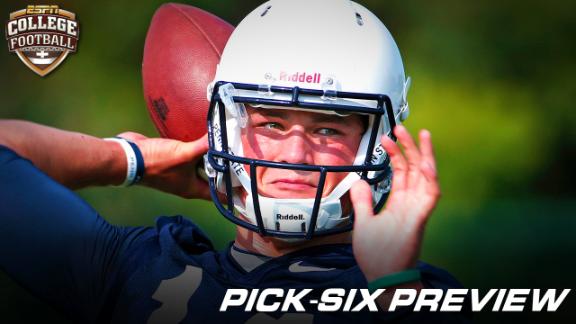 »
More team previews:
ACC
|
Big 12
|
Big Ten
|
Pac-12
|
SEC
Previewing the 2014 season for the
Penn State Nittany Lions
.
2013 overall record:
7-5 (4-4 Big Ten)
Key returnees:
Christian Hackenberg
, QB;
Bill Belton
, RB;
Zach Zwinak
, RB;
Donovan Smith
, OT;
Jesse James
, TE;
Deion Barnes
, DE;
C.J. Olaniyan
, DE;
Mike Hull
, LB;
Adrian Amos
, S;
Jordan Lucas
, CB
Key losses:
Allen Robinson, WR; John Urschel, G; Ty Howle, C; Adam Gress, OT; DaQuan Jones, DT; Glenn Carson, LB; Malcolm Willis, S
Instant impact newcomer:
The easy pick is at wide receiver, where Penn State needs help following the departure of Allen Robinson. The team signed several talented receivers in February, and
Chris Godwin
could be the best of the bunch. The 6-foot-2, 210-pound Godwin has the physical tools to contribute right away for PSU's offense. Also keep an eye on receivers De'Andre Thompkins and
Saeed Blacknall
.
Projected starters
[+] Enlarge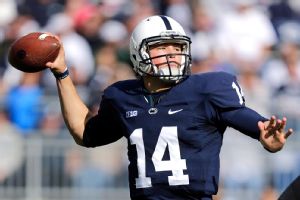 AP Photo/Gene J PuskarQB Christian Hackenberg became the first sophomore ever to be named a captain at Penn State.
Offense:
QB: Christian Hackenberg, Soph., 6-4, 234; RB: Bill Belton, Sr., 5-10, 204; WR:
Geno Lewis
, Soph., 6-1, 199; WR:
DaeSean Hamilton
, Fr., 6-1, 203; TE: Jesse James, Jr., 6-7, 254; TE:
Kyle Carter
, Jr., 6-3, 241; OT: Donovan Smith, Sr., 6-5, 335; OT:
Andrew Nelson
, Fr., 6-5, 305; G:
Derek Dowrey
, Soph., 6-3, 323; G:
Brian Gaia
, Soph., 6-3, 291; C:
Angelo Mangiro
, Jr., 6-3, 309
Defense:
DE:
Deion Barnes
, Jr., 6-4, 255; DE: C.J. Olaniyan, Sr., 6-3, 252; DT:
Austin Johnson
, Soph., 6-4, 313; DT:
Anthony Zettel
, Jr., 6-4, 274; LB:
Brandon Bell
, Soph., 6-1, 222; LB: Mike Hull, Sr., 6-0, 232; LB:
Nyeem Wartman
, Soph., 6-1, 236; CB:
Jordan Lucas
, Jr., 6-0, 198; CB:
Trevor Williams
, Jr., 6-1, 188; S: Adrian Amos, Sr., 6-0, 209; S:
Ryan Keiser
, Sr., 6-1, 208
Specialists:
K:
Sam Ficken
, Sr., 6-2, 186; P:
Chris Gulla
, Fr., 6-0, 193
Biggest question mark:
Can assistant coach Herb Hand work his magic with the offensive line? The Lions likely will start two converted defensive linemen, Brian Gaia and Derek Dowrey, at the guard spots and a redshirt freshman (Andrew Nelson) at right tackle. Left tackle Donovan Smith will anchor the group and should contend for All-Big Ten honors, but Penn State is dangerously thin up front and can't afford to put Hackenberg in harm's way.
Most important game:
Aug. 30 against UCF in Dublin (not the one in Ohio). There has been a lot of positive energy since James Franklin arrived in January, but the team remains somewhat of a mystery. Penn State could be a pleasant surprise or regress after the latest transition. It's important to start off well and build confidence in a setting where it matters. UCF isn't an easy draw as the Knights come off a Fiesta Bowl championship and bring back nine starters on defense. They were picked second in the American in the preseason media poll. This game really sets the tone for PSU.
Upset special:
Nov. 29 against Michigan State. Unless the NCAA changes course on Penn State's ban, this will serve as the Lions' bowl game as they wrap up the season. Penn State has recorded very impressive wins against Wisconsin to finish each of the past two seasons, and Michigan State can expect the Lions' best shot at Beaver Stadium. A lot depends on PSU's health entering the game, but the Lions have a chance here.
Key stat:
Penn State's Christian Hackenberg and Florida State's
Jameis Winston
, the Heisman Trophy winner, were the only FBS freshman to record 14 passes of 40 yards or longer in 2013.
What they're wearing:
A smiling Franklin said last month on ESPN, "I've always been a big fan of what Oregon has done, and my time at Maryland, so I think we're going to do something similar to that. We're not going to do anything gradual. We're just going to go right after it." A complete makeover seems unlikely at Penn State, which cherishes its traditional blue-and-white look but put
players' names on jerseys
in each of the past two seasons.
Stay tuned.
Team's top Twitter follows:
No Big Ten coaching staff embraces social media quite like Franklin (
@coachjfranklin
) and his assistants. Be sure to follow offensive line coach Herb Hand (
@CoachHand
), running backs coach/special teams coordinator Charles Huff (
@CoachHuff
), defensive line coach Sean Spencer (
@SpenceChaos
) and others. Quarterback Christian Hackenberg tweets (
@chackenberg1
), and other good follows include cornerback Jordan Lucas (
@_JLucas9
), offensive lineman Miles Dieffenbach (
@Curiousjorge65
), defensive end Deion Barnes (
@DBarnes_18
) and running back Akeel Lynch (
@ALynch_22
). The official team handle (
@PennStateFball
) tweets some good stuff, and the recruiting staff has an account (
@PSURecruits
).
They said it:
"
Right now we have some challenges and issues that we need to overcome. So guys are going to have an opportunity to come in and impact the roster quickly." -- coach James Franklin
Stats & Info projections:
6.85 wins
Wise guys over/under:
7.5 wins
Big Ten blog projection:
Eight wins. There are so many unknowns here, such as the team's health/depth and whether the postseason ban will be lifted. A few injuries to the wrong players, and Penn State could be staring at a losing season. But I like the starting 22 and think the defense will be improved under Bob Shoop's direction. The Lions don't play the top teams in the West division, and they get both Michigan State and Ohio State at home.
August, 15, 2014
Aug 15
5:00
PM ET
Very soon, college football will occupy your weekends. Until then, here's an extra-large mailbag to help you make it through. Continue to submit questions for our team of reporters.
@mitchsherman I can't decide which is more asinine, winning 8 as a best case, or only winning 3 as a worst case. Awful stuff.

- Joe Chamberlin (@realjchamberlin) August 13, 2014
Mitch Sherman:
Joe took issue with my
analysis of Minnesota
, which included some humor, in our Best case/Worst Case series. We traded a few messages on Twitter. I invited him to submit a question for the mailbag, and he did, with a well-constructed email on the Gophers. Now we're buddies, though he's not convinced me that a best-case scenario for Jerry Kill's team equates to more than nine wins. Joe notes that Minnesota, from its eight-win team a year ago, trades Michigan State, Penn State and Indiana for Ohio State, Illinois and Purdue. I see that as a wash -- 2-1 for 2-1. And though Minnesota may not be more than a slight underdog during a four-game, midseason stretch against Northwestern, Purdue, at Illinois and Iowa, I don't see it as a team with enough talent to run the table against that group. As Joe tells me, the Gophers feature veteran lines and a strong defense overall. Best case, QB
Mitch Leidner
and the receivers make a big jump to support a solid running game. That's a 10-win team, he says. I'm not so sure. I think the cards fell about as perfectly as possible last year. Minnesota won a pair of games by a field goal in 2013, and each of its losses by came by double digits. TCU is an upgrade in the nonconference. The Gophers have to go to Michigan again and also get Nebraska and Wisconsin on the road. Nine wins sounds pretty optimistic. But thanks, Joe, for the conversation.
@mitchsherman @ESPN_BigTen In terms of W-L, what impact do you feel the Venric Mark transfer and Christian Jones injury will have on NU?

— Kevin Vedder (@vedderkj) August 14, 2014
Mitch Sherman:
It's not good. The Wildcats, as expected, are
staying optimistic
about the loss of arguably their two most potent offensive weapons. Yes, Northwestern can handle this from a personnel standpoint, with capable players set to fill the shoes of
Venric Mark
and
Christian Jones
. But this is another blow to the psyche of Pat Fitzgerald's club one year after a season of disappointment followed by a distracting offseason. What happens when more adversity strikes? It threatens to send the Cats more easily into a downward spin. In the end, I think the recent developments could contribute to a season with one or two fewer victories.
@mitchsherman @ESPN_BigTen Looking at not just recruiting but production, OSU, PSU, and MSU look to be the dominant 3 for the near future

— Spencer Leone (@SpencerLeone) August 14, 2014
Mitch Sherman:
In the Big Ten East? Perhaps, though I find it premature to write off Michigan. Despite James Franklin's hot start, the Wolverines will keep up with Penn State and Michigan State in recruiting. And moderate improvement on the field would allow Brady Hoke to beat Ohio State for a fair share of the prospects over which the rival programs go head to head. Penn State needs time to prove that Franklin's early results in recruiting will elevate the program to an elite level. If you're asking about the Big Ten as a whole, the Buckeyes and Spartans stand atop the heap today, but Wisconsin and Nebraska from the West possess the infrastructure to compete long term with any program in the league. Read more from ESPN's
Recruiting Nation
.
@mitchsherman Is NU "relevant" & "stable" or was Wed's interview just SE realizing he needed to say something this year PRIOR to season?

— David (@drhgeronimo) August 14, 2014
Mitch Sherman:
Nebraska athletic director Shawn Eichorst granted a
rare interview
this week, and while he said nothing of great significance, simple statements from Bo Pelini's boss are enough to make news. I'm not sure stability is the goal of Husker football; if so, things have changed more than I realized. And Nebraska's relevance is debatable. Sure, the Huskers are relevant in Nebraska, as always, and regionally. But on a national level, I don't notice much discussion about the program, unless it involves the coach's cat. Still, it's good for Nebraska when Eichorst offers an occasional comment, if just for the sake of appearance, even if he remains guarded in his opinions.
@mitchsherman they gonna put jabril peppers in the hall of fame during the season or you think they'll wait until after the year?

— Nate James (@FortuNateShev) August 15, 2014
Mitch Sherman:
I sense irritation from Nate and fans of many Big Ten programs over the hype that surrounds
Jabrill Peppers
, Michigan's freshman defensive back. Hey, Peppers is good, and he's starting to prove it in practice. But no one in an important position at Michigan is set to award him with anything until he does it consistently on Saturdays. Peppers will get his shot first at nickelback in Greg Mattison's system, though the Wolverines are likely to try the talented rookie in many roles.
August, 15, 2014
Aug 15
8:00
AM ET
We're now a week removed from
"The Season"
and the best performances from the best players in college football history, but I have to get something off my chest, Big Ten nation.
We talked about Illinois' Red Grange and Minnesota's Bronko Nagurski. We even mentioned modern players like Wisconsin's Ron Dayne and Purdue's Drew Brees. But there's one guy I feel we skipped over, one player who has never really gotten the due he deserves.
Michigan running back Willie Heston (1901-1904).
Maybe you've heard of him; maybe not. BTN's Dave Revsine
wrote a piece for the Wall Street Journal
earlier this week and mentioned player compensation and past precedents like "Willie Heston Cigars." Adam Rittenberg recently alluded to the
same anecdote
, as well. But Heston is not exactly a household name.
Sure, you've heard plenty about other old-time legends, like Yale's Walter Camp and Notre Dame's Knute Rockne. But what about Heston? Why should you care? Well, Camp named him to four of his All-American teams (two on his first team). And Heston was so good, give a listen as to what Rockne
had to say about him
:
"Willie Heston gets my vote as the greatest back of all-time. Since those days many wonderful backs have flashed on the gridiron, including Red Grange and my own Four Horsemen of 1924, and my choice is still Heston."
That's right – one of college football's coaching legends just said Heston was better than Grange. That's high praise. But look at the numbers.
In Grange's career
, which spanned from 1923 to 1925, he finished with 2,071 rushing yards, 5.3 yards a carry and 34 total touchdowns. Heston? 2,339 rushing yards, 8.4 yards a carry and 72 touchdowns.
Still not impressed? Well, did I mention most of Heston's rushing stats only came from 17 –
let me emphasize that again, 17
– of Heston's career games, since the NCAA couldn't confirm numbers from them all? Some estimate Heston actually rushed for 5,000 yards in his career; others
go as high as 7,000 yards
.
Heston's on-field exploits read like a comic book hero's. He could reportedly
outrun gold medalist Archie Hahn
in short races, he helped Michigan win four national titles and outscore opponents –
this isn't a typo
– during his career by 2,326 to 40. He went 43-0-1 in four years and was just as tough on defense.
I'll stop listing details before you start accusing me of hyperbole. But I'm sure by now you're wondering why on earth you don't know the Wolverines' Superman. Well, when Heston played, we were still nearly 20 years away from the official start to the NFL. Heston tried his hand at coaching following his U-M career, then went into law and real estate.
In many ways, his football career – at least the most important part of it – lasted just four seasons. That counts for something when it comes to seeping into the national consciousness. If that's incorrect, Penn State linebacker Dennis Onkotz – who played incredible college ball but sparingly in the NFL due to an injury --would still be mentioned in the same breath as Jack Ham.
My point is simply this: There are a lot of great players in the Big Ten, and there are a lot of unsung heroes. None tower above Heston. And he deserves to be remembered.
Who do you think is an unsung hero? List him in the comments. But let's move on to more current football now …
East Division
West Division
And finally ...
August, 14, 2014
Aug 14
1:00
PM ET
The unofficial midpoint of preseason camp is here, with the college football season set to open two weeks from Thursday night. En route to kickoff, we're examining the schedules of every Big Ten team.
The
Penn State Nittany Lions
are up next.
Nonconference schedule (with 2013 records)
Aug. 30: vs. Central Florida (12-1)
Sept 6: Akron (5-7)
Sept. 20: Massachusetts (1-11)
Nov. 15: Temple (2-10)
East Division games
Sept. 13: at Rutgers
Oct. 11: at Michigan
Oct. 25: Ohio State
Nov. 1: Maryland
Nov. 8: at Indiana
Nov. 29: Michigan State
Crossover games
Sept. 27: Northwestern
Nov. 22: at Illinois
No-plays
Nebraska
Iowa
Wisconsin
Purdue
Minnesota
Gut-check game:
With an off week before and after the trip to Michigan and the memory fresh of the Nittany Lions' four-overtime defeat of the Wolverines a year ago, this looks like a game to circle on the schedule as a gauge of progress in James Franklin's initial season. Penn State has won four straight over Michigan, which saves its two most difficult games for the final six weeks and should meet Penn State with a decent amount of momentum. These blue-blood program are new division rivals. The October meeting offers a chance for
Christian Hackenberg
to show just how much he's improved since his last visit to a 100,000-seat road venue after the debacle last year at Ohio State.
Trap game:
Look no further than Rutgers in the Big Ten opener. It's conceivable that the Lions will need at least a week to return to normalcy from the trip overseas. This early start to Big Ten play may fall at just the right time for Rutgers, which can make its season with a win over traditionally superior Penn State, which has regularly beat the Scarlet Knights for recruits in the state of New Jersey. Plus, Rutgers' defensive line matches well against the suspect PSU offensive front.
Snoozer:
After the ultra-interesting opener, the out-of-league games offer little. We'll go with UMass as the foe with the least to offer after a 1-11 run through the MAC a year ago. The Minutemen's schedule is brutal, with games against Boston College, Colorado and Vanderbilt before the trip to Penn State.
Nonconference challenge:
The August trip to Ireland to face Central Florida, which beat PSU last year in State College, jumps off the page. Franklin likes to joke that when he took the job in January and heard about the season opener in Dublin, he thought it was Ohio.
Blake Bortles
is gone for UCF, but the Knights return plenty, especially on defense, from a team that won the Fiesta Bowl last season. Penn State figures to get plenty of support at the 82,000-seat Croke Park, but the whole thing will feel foreign. And nothing would pop the Franklin bubble like an opening-game loss.
Analysis:
After the tricky first three weeks, featuring the trip to Ireland and rekindling the series with Rutgers -- scheduled as a nonleague game before the Scarlet Knights accepted an invite to join the Big Ten -- it gets fairly standard. The Lions don't have to worry about the top three teams in the West, dropping Nebraska from the schedule after three straight losses to the Huskers in crossover play. Considering the sanctions in place, it would be nice to give Franklin a layup in his opener. Instead, the outcome against UCF figures to set a tone that will carry into October. Home games against Ohio State and Michigan State are nice, but are either truly winnable? A bowl ban remains in place, though some hope exists that the NCAA might reduce it from four years to two, allowing Penn State to play this year in the postseason.
August, 14, 2014
Aug 14
8:00
AM ET
The hyperbole hits a high point in February on signing day.
For the early enrollees, some over-the-top praise and projections of early impacts might keep going through April. Around July and media days, the optimism from coaches about their talented, athletic, mature-for-their-age freshmen usually gets a second wind.
But then reality hits when training camp arrives, and with just two weeks until the season starts, by now it's pretty easy to tell if the hype was legitimate and time to start picking out a handful of newcomers truly capable of making a splash right away this fall.
At Ohio State, the indicators were there on the opening day of camp when linebacker
Raekwon McMillan
and versatile offensive weapon
Curtis Samuel
were thrown in with the veterans instead of the rookies during split-squad workouts. A stronger suggestion arrived when they were the first two players to have their black stripes removed to be considered bonafide Buckeyes.
Congrats to Curtis Samuel and Raekwon McMillan for being the first 2 freshmen to get their black stripes removed! pic.twitter.com/OZg6314sZ9

— Urban Meyer (@OSUCoachMeyer) August 10, 2014
At Michigan State, the confirmation comes straight from the head man. When the midway point of camp arrives and Mark Dantonio is still willing to include players such as defensive tackle
Malik McDowell
and linebacker
Chris Frey
in his
two-deep
, it's safe to assume those two will be on the field.
The same is true elsewhere around the league, with Minnesota praising its new
talent at wide receiver
or Maryland
tinkering
with five-star lineman
Damian Prince
's position presumably to ease his transition to the lineup at guard. Sometimes it's not quite as obvious, with Michigan coach Brady Hoke trying to temper expectations about defensive back
Jabrill Peppers
-- although the occasional first-team reps that he's received according to coordinator Greg Mattison might have
spilled the secret
.
Sure, there's still time for the hype machine to dial back up. There are some overmatched opponents to play during the first month of the season, and more than just the surefire impact freshmen will get to see the field and raise expectations for what they are capable of providing.
But by now, coaches have typically seen enough to get a reasonably good idea of who can help their team right away. And if there are names which haven't been mentioned much lately, it's probably safe to hold off on getting to know them until next season.
East Division
West Division
And finally ...
Check out what Ralph Friedgen had been up to before diving back into coaching. Maybe he made the wrong choice.
August, 13, 2014
Aug 13
3:00
PM ET
STATE COLLEGE, Pa. -- Penn State left tackle
Donovan Smith
already knows what this article is going to say.
Clips and columns about Penn State's offensive line have revolved around a central theme the last five months: This unit likely isn't going to be any good. Smith can't escape all that chatter. With every compliment thrown
Christian Hackenberg
's way, there's another question mark tossed at the offensive line.
Hackenberg can be great … but will he have enough time to pass? Penn State returns two experienced tailbacks … but does that matter if this line can't generate any push? A lot of the criticism seems deserved, or at least understandable. Only Smith returns as a starter on the line, and two converted defensive tackles might very well start at guard in time for the opener. That's not exactly cause for a confidence boost.
[+] Enlarge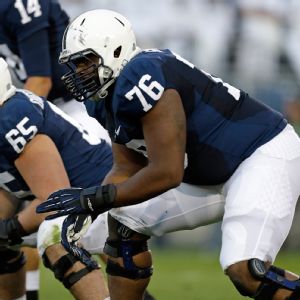 AP Photo/Gene J. PuskarDonovan Smith is the only returning starter on the Penn State offensive line, and he's motivated by that.
"A lot of people hear it, but we use it as motivation," Smith said, adding some of his teammates keep the negative articles taped to their lockers or saved to their phones. "They read them daily or at night, or stuff like that. We're just going to use it as motivation and push on from there."
That doesn't mean players here are scouring ESPN or the local news sites for bulletin-board material. Far from it. But they don't have to go very far to hear those doubts. It's on Facebook and Twitter; it's talked about on campus and in classrooms. It's been an unwanted storyline that's hovered since news broke in March that
Miles Dieffenbach
, the Nittany Lions' most experienced lineman, suffered what
could be a season-ending injury
.
Depth is obviously an ongoing issue during these years under scholarship limits because of NCAA sanctions. It's created a huge concern on an offensive line that returns just three scholarship athletes with OL game experience. And no unit is reminded of it more often.
"It's hard to ignore," said redshirt junior
Angelo Mangiro
, who played in every game last season but never started. "It's sticking in. I don't go digging my nose in it and looking for it. But it's hard to avoid, so you definitely remember it.
"It's sticking with me, and it's sticking with the rest of the guys. So we have something to come out and prove."
Offensive line coach Herb Hand stood near his thinned-out unit last week and wore a permanent smile. He didn't look like a man whose line features just two healthy upperclassmen, four sophomores and 13 freshmen (including redshirts and walk-ons). He insisted he felt no pressure and quoted NFL coaching great Chuck Noll: "Pressure is something you feel when you don't know what you're doing."
Hand, who was a candidate to become Vanderbilt's head coach, does know – and has been a beacon of positivity for these Lions. Often in the spring, he pulled aside the converted defensive tackles --
Derek Dowrey
and
Brian Gaia
– and offered encouragement and advice on pass protection. Gaia still remembers those first few days, of confusion and sometimes blocking no one during an inevitable sack play. But Gaia caught on in about a week and a half; he was then holding his own against pass-rush specialist
Anthony Zettel
. Gaia won an award in the spring as the
offense's most improved player
.
Players have thrown a lot of praise Hand's way. But, then again, if there's one answer to all these question marks, it might come from Hand, since he faced an identical situation in the past. Back in 2007, before his hair shifted to gray, during his first year at Tulsa, Hand's offensive line had just one regular returning starter. He even moved a defensive tackle over to offense. The result?
"We led the nation in offense that year, in 2007," he said. "It's a whole different animal in the Big Ten, obviously, but this is not something new. I've done it before. There's a lot of growth that needs to take place and a lot of learning. But if you have guys that will work hard, that have great attitudes and bring a tremendous work ethic … you can accomplish great things."
The situation at offensive line was never quite this dire before at Penn State, but there is still some precedent at the school as well. The 2006 squad also returned just one starter, left tackle Levi Brown, but still fared OK and helped the team finish 9-4 with an Outback Bowl victory. Four of the linemen on that team – Brown, Gerald Cadogan, Rich Ohrnberger and A.Q. Shipley – went on to earn All-B1G honors during their careers, and three were drafted into the NFL.
But this is a different line, and the future of this unit remains unknown. There are question marks – big question marks -- and, precedents or not, there will undoubtedly be more columns and stories wondering aloud just how this unit will fare. But Smith, Mangiro and the rest of the current linemen already know what the clips are going to say. And they're hoping to prove them all wrong starting Aug. 30.
"It is what it is," Smith said. "They talk about you good, bad – and we're up for the challenge."
August, 13, 2014
Aug 13
11:00
AM ET
STATE COLLEGE, Pa. -- The season hasn't yet started for Penn State, but
Christian Hackenberg
is already making program history.
The second-year quarterback was announced as a team captain Wednesday morning, making him the first sophomore to earn the honor in the team's 128-year history. Injured senior guard
Miles Dieffenbach
joins him as the other offensive captain.
"Christian's got a lot of tools, there's no doubt about it," James Franklin said during Big Ten media days. "The thing that I'm most impressed with is how humble and how hungry and how open he is to coaching."
The captaincy isn't a huge surprise since Hackenberg is widely regarded as the team's top player. It's more surprising he's the first sophomore ever in program history to achieve the feat.
Then again, he became just the third quarterback to ever start a season opener as a true freshman, so the opportunity hasn't often been there in the past. Eugene "Shorty" Miller became the first to start in 1910 and Rob Bolden the second exactly a century later.
Hackenberg is actually only the second-youngest player to earn the honor, though. Tailback Johnny Chuckran became the first and only freshman team captain in 1944, during World War II. According to Penn State historian Lou Prato, Chuckran was named captain in Week 4 after all the Marines -- which included six starters -- left.
Penn State also named the defensive co-captains as linebacker
Mike Hull
and defensive end
C.J. Olaniyan
. Three players – kicker
Sam Ficken
and safeties
Jesse Della Valle
and
Ryan Keiser
– were the special teams co-captains.
August, 13, 2014
Aug 13
9:00
AM ET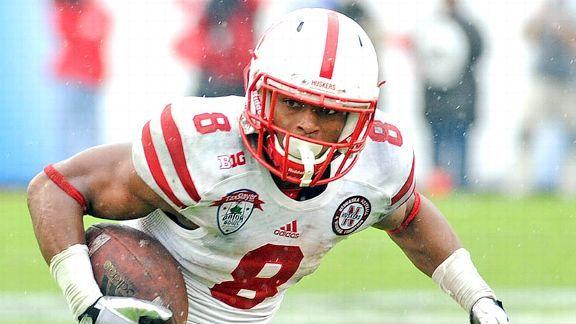 If the College Football Playoff had been in place for the 2006 season, there's very little doubt that two Big Ten teams -- Ohio State and Michigan -- would have reached the four-team field. The conference, which finished the year with three Top 10 teams, could have called itself the nation's best league without anyone snickering.
Fast forward eight years, and everything has changed. The SEC reigns supreme. The Big Ten is the butt of many jokes and, in the eyes of many, ranks fifth among the Power 5 conferences.
"People think the Big Ten is kind of weak," Ohio State defensive tackle
Michael Bennett
said. "I think we have the whole stigma of, 'The Big Ten can't win bowl games.'"
[+] Enlarge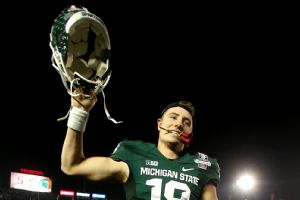 Jeff Gross/Getty ImagesTo change the national perception that it is a weak conference, the Big Ten needs more big victories like Michigan State's against Stanford in the Rose Bowl.
To be sure, the league has brought most of this misery upon itself. The Big Ten is 11-21 in bowl games in the past four seasons and has posted a winning postseason record once (in 2010) since 2002. The league has lost 25 of its past 33 games against ranked, power conference competition and Notre Dame. The Big Ten hasn't played for a national championship since the 2007 season, when Ohio State's second straight double-digit loss to an SEC team did much to create the SEC-rules, Big-Ten-drools paradigm we've been living in ever since.
Yet the perception of the Big Ten's downturn appears to paint a worse picture than the reality. Even when league teams ascend, they often get dragged down by the court of public opinion. Take last season's Big Ten champs, for instance. Michigan State won all of its league games by double digits and went on to beat Stanford in the Rose Bowl. But the Spartans did not crack the Top 12 in either major poll or the BCS standings until Nov. 24, when they were 10-1.
Last season's
Wisconsin Badgers
were 9-2 at one point, with their only losses coming on an all-time officiating hose job at eventual Pac-12 division winner Arizona State and at Ohio State. Still, the Badgers had trouble gaining much affection from pollsters. Or how about this season's Iowa club? Despite winning eight games in 2013 and taking LSU to the wire in the Outback Bowl, and despite having what everyone considers a highly advantageous schedule in 2014, the Hawkeyes were ranked No. 33 in the first preseason USA Today coaches' poll.
"The lack of insight on the Big Ten is an interesting thing," Nebraska receiver
Kenny Bell
said, "because there are stout players and solid teams in the Big Ten. We beat Georgia [in the Gator Bowl], Iowa had LSU on their skates ... and Sparty went and beat Stanford. We're steadily coming back into the frame of major college football."
The Big Ten needs to improve both its track record and its perception problem this season, with the first year of the Playoff looming. The nightmare scenario for the league is to see its champion left out of the field because the conference isn't considered strong enough. There is really only one way to change that.
"You've got to win games," Northwestern coach Pat Fitzgerald said. "One of the positive byproducts of the Playoff is that the preseason doesn't matter. If you want to get yourself in the Playoff and talk about being the best, it's going to come down to winning football games and playing a competitive schedule. If you want to change perception, you've got to win those games. That's the bottom line."
The Big Ten has plenty of opportunities to help itself this season, beginning in Week 1 when Wisconsin plays LSU in Houston.
"It's a new year, and the Big Ten as a whole is trying to make a prominent statement," Badgers running back
Melvin Gordon
said. "It'll set a big statement for the Big Ten if we come out and win that game."
Michigan State goes to Oregon in Week 2 in another major showcase opportunity. Others include Nebraska hosting Miami, Ohio State taking on Virginia Tech and Michigan and Northwestern playing at Notre Dame. Schedules will continue to get more difficult in the near future, as league commissioner Jim Delany instructed his teams to play top nonconference competition to impress the selection committee.
"What we've tried to do is structure ... our scheduling to deliver an opportunity for our teams if they're successful," Delany said. "We make no predictions. We make no excuses."
There is hope for the future. Ohio State's Urban Meyer and Penn State's James Franklin are former SEC coaches who have brought an aggressive, nationwide approach to recruiting. The Buckeyes are 24-2 the past two seasons yet are just now building the type of roster Meyer envisions. Michigan State joined the elite last season and will try to stay there.
"I see a league that's improving," Meyer said. "I just see a lot of positive recruiting going on in our conference, a lot of great coaches, and more importantly, a lot of great players. I think people are watching the Big Ten expecting a bunch of improvement going forward."
The conference still must convince others that improvement is for real. The surest sign of that would be to get a team into the inaugural Playoff.
"This is as good a year as any to show the Big Ten is strong and that we're going to stay strong from here on out," Bennett said. "[But] for us to say that, we have to make it to the Playoff."
August, 13, 2014
Aug 13
8:00
AM ET
Let's talk about your new favorite subject and mine: autonomy.
What, you don't even fully understand the ramifications of
the decision
last week by the NCAA Division I Board of Directors that grants power to the Big Ten, SEC, ACC, Big 12 and Pac-12 to create policy on a wide range of legislative topics designed to enhance the student-athlete experience?
Don't worry, you're not alone. Coaches at many schools in the Power Five conferences appear to remain in the dark about what's to come next year and beyond.
Really, most of us are waiting with curiosity. I talked to several Big Ten coaches about the subject last month in Chicago and came away unsure if they knew what was really afoot, beyond the primary talking points.
We know the cost-of-attendance topic -- basically a stipend for student-athletes at the Power Five schools -- is atop the agenda.
From there, it gets a bit murky. All of it, though, stands to positively impact the Big Ten, with its many rich athletic departments funded by football programs with giant stadiums and fruitful TV contracts.
Predictably, the cries have already begun that autonomy will simply serve as a tool for the power players to push their agenda.
Colleague Jeremy Crabtree
wrote this week
of a Big 12 recruiting coordinator who said he feared that the autonomy vote would open "Pandora's box" for biggest schools to reshape rules in their favor.
Wisconsin coach Gary Andersen told me at Big Ten media days that he hoped autonomy would lead to official recruiting visits in the summer, currently off limits. But Andersen said more.
"Let's just throw it out there," he said. "I'll be the guy to say it, that's fine. Certain people don't want recruiting trips to take place to the Big Ten in the summer -- certain conferences."
Newsflash: He's talking about the SEC. They're all talking about the SEC. If they're not talking about the SEC, they're at least thinking about the SEC.
How long before a coach or administrator flat-out blames the SEC for all that could potentially go wrong with this first go-round of autonomy? It'll happen before Oct. 1, when potential rule changes must be submitted for vote at the NCAA Convention in January.
And what are the chances that coach or administrator resides in the Big Ten?
Look, the SEC can't change college football alone. The rules of autonomy require a 60 percent majority of the 80-member voting panel -- which includes 15 student-athletes -- and approval from three of the Power Five leagues, or a simple majority of the panel and approval from four of the five league.
So what the SEC wants, the SEC can't get without help from other leagues.
Remember that if you hear someone from the Big Ten complain over the next six weeks about who's running football. The vote last week ensures that the Big Ten and others in the Power Five are offered the same opportunity as that league down south to initiate and steer change.
Around the league ...
East Division
West Division
Overtime
Last link . . .
Big Ten Recruiting Report Card
BIG TEN SCOREBOARD
Thursday, 8/28
Friday, 8/29
Saturday, 8/30