September, 19, 2014
Sep 19
8:09
PM ET
Associated Press
[+] Enlarge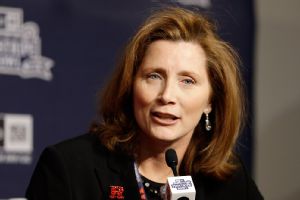 AP Photo/Frank Franklin IIRutgers acknowledged that AD Julie Hermann made a joke about the Jerry Sandusky child sex-abuse scandal during a meeting with staff last fall.
PISCATAWAY, N.J. -- Rutgers athletic director Julie Hermann made an off-the-cuff joke about the Jerry Sandusky child sex-abuse scandal at Penn State during a meeting with staff last fall.
The university acknowledged Friday that Hermann made the impromptu comment in a fundraising meeting but said it was not directed at anyone associated with Penn State.
The comment was first reported by NJ Advance Media, whose story included statements from more than a half-dozen people inside the Rutgers athletic department.
The report said Hermann told staff members to "reach out and touch the donors" of the Rutgers program, and her punchline was to not do it "in a Sandusky way."
"Julie's comment was an off the cuff response to a give-and-take interaction urging the fundraising team to reach out and touch the donors," Pete McDonough, senior vice president for external affairs, said in a statement sent Friday evening to The Associated Press. "There probably isn't a person alive today who hasn't made an impromptu remark in a private meeting that probably shouldn't have been said. Even taken out of context, this single comment was not directed at Penn State, its students, staff or faculty."
September, 19, 2014
Sep 19
5:00
PM ET
Hope still abounds in the mailbag, at least among Nebraska and Penn State fans. Let's get straight to the questions:
@DanMurphyESPN Will Penn State be able to compete for a B1G (or National) Championship with the way Franklin is recruiting? How soon?

— Greg Korslund (@G_Kors) September 18, 2014
Right now Penn State is the only Big Ten team with a unanimous top-10 recruiting class from the ranking services, and Franklin definitely has some positive momentum rolling in Happy Valley. They have some issues to iron out before they can get past Ohio State and Michigan State to reach the conference title game, but there is no reason to think the Nittany Lions won't be a threat in the East Division in the next couple years. There's still a more significant gap, one that might be out of Franklin's control, to close before Penn State fans should be thinking about national championships.
@DanMurphyESPN If Nebraska somehow goes undefeated this season and wins the B1G championship how would we stack up against the other power

— Brandon Williamson (@Husker_bran) September 18, 2014
Nebraska has a very long way to go for an undefeated season.
ESPN's FPI rating
gives the Huskers a 0.8 percent chance of winning out (tied for 29
th
among FBS teams). If they do defy the odds, that will mean beating Michigan State and Wisconsin on the road along with the East Division champ (most likely Michigan State again or Ohio State) at a neutral site. With that resume, it would be almost impossible to leave them out of the College Football Playoff. They would still be a No. 3 or 4 seed, and I don't think they have the individual skill level to compete with the Alabamas and Oregons of the world this season. The consolation prize? If they get that far, you would have to imagine
Ameer Abdullah
would be a Heisman front-runner in December.
@DanMurphyESPN How many non power 5 schools would finish in the top half of the B1G? ND, BYU for sure, but ECU, Marshall, others?

— Mark (@msmeraglinolo) September 18, 2014
Let's start by setting the bar for "the top half of the B1G." Rutgers is currently in sixth place in our weekly power rankings and plays the same newcomer role that any hypothetical additions would assume. Teams that could reasonably expect to compete with or beat the Scarlet Knights will make our cut.
I think that group includes the three major independents (Notre Dame, BYU and Navy), three from the American Athletic Conference (UCF, East Carolina and Cincinnati), Northern Illinois and Boise State. Marshall and maybe one or two others could sneak into that conversation if they continue on an upward trajectory, but at this point I think they would still be underdogs against Rutgers. To be fair to the beloved Big Ten, I'm not sure this list would be much shorter if you asked the same question about the Big 12 or the ACC.
@DanMurphyESPN do you think hoke is done if Michigan loses this weekend and who could possibly replace him?

— andrew busovsky (@andyb1821) September 19, 2014
The boo birds showed up at Michigan Stadium last weekend against Miami (Ohio) and Michigan won that game 34-10. If Utah beats the Wolverines on Saturday, the calls for Brady Hoke's job will get a lot louder, but it's way too early in the year to starting writing anyone off. Even if he has another mediocre season, Hoke can save himself by beating Ohio State in the season finale. Combined with a relatively easy month of November before the rivalry game, a win against the Buckeyes would produce enough optimism for the future to buy a fifth year. There are way too many dominoes still standing upright to predict who could be next in line for the job.
@DanMurphyESPN who are you and what have you done with Rittenberg?

— Eric Shuman (@eshuman34) September 18, 2014
Hello there, I'm Dan. I enjoy chocolate-covered almonds, romantic comedies and the read option. Adam's just fine, I promise. See you all next week.
September, 19, 2014
Sep 19
4:30
PM ET
First it was dominate the state. Now ... dominate the airwaves?
Penn State coach James Franklin found himself in the backyard of Penn State's rival, Pittsburgh, on Friday morning for a recruiting trip and decided to call in to the local sports morning talk show, 93-7 The Fan. It didn't seem like the call was entirely expected -- since the producer hung up when he called the first time.
Here's how the second, successful, call opened:
Let's go to James, who's calling from State College. What's going on, James?

Franklin: What's going on guys?

This voice sounds familiar. Who is this?

Franklin: Well, I tried to call in. I just landed in Pittsburgh this morning to run around and do some work, and I tried to call in and your producer hung up on me.

Wait a second -- is this James Franklin?

Franklin: Yeah, man, good morning.
Franklin remained on the line for several minutes to briefly touch on recruiting, UMass and the sanction reduction. Penn State's head coach also explained how he tried to call in earlier, but the show's producer didn't believe he was actually James Franklin.
"He said, 'How can we verify it's you?'" Franklin told 93-7 The Fan. "I'm like, 'I don't know. I can't give you my license number over the phone.'"
Franklin ended the conversation over the radio by asking if it was OK for him to call in whenever he's in Pittsburgh again. The show's hosts seemed just fine with the prospect.
You can listen to the entire segment
right here.
September, 19, 2014
Sep 19
3:00
PM ET
STATE COLLEGE, Pa. --
Christian Hackenberg
has made just 15 starts, but there is no shortage of hype surrounding the Penn State quarterback: One AFC scout recently called him the
top quarterback in college football
, and The Sporting News asked months ago whether he would go
No. 1 in the 2016 NFL draft
.
So, right now, how does Hackenberg stack up with the top quarterbackss of past years?
To find out, we looked at the first 15 starts of the past five quarterbacks who were taken first at their position in the NFL draft. The lone exception was the 2011 draft, where we skipped over
Cam Newton
since he made starts in junior college and instead went with the second drafted quarterback.
So far, Hackenberg has thrown for more yards than any of those past quarterbacks -- 310-of-519 passing (59.7 percent) for 4,037 yards, 24 TDs and 15 INTs -- although he's also received the least amount of run support.
Here's a closer look at those past quarterbacks:
---
Sam Bradford, Oklahoma, started from 2007 to 2009
No. 1 overall NFL draft pick (2010) by St. Louis Rams
Bradford
The stats (in first 15 starts):
254-of-363 passing (70 percent), 3,304 yards, 38 TDs, 8 INTs; 31 rushes for 7 yards and no TDs
The run-game support (in first 15 starts):
Oklahoma averaged slightly more than 41 carries a game for 190 yards (4.6 ypc). The Sooners ran the ball on about 59 percent of their offensive plays.
The highlights (in first 15 starts):
Bradford didn't come into Oklahoma as a highly touted recruit, but he stepped up in a big way when he won the job as a redshirt freshman. In his first career game, against North Texas, he set a school record for most passing yards in a half by going 20-of-22 for 350 yards. He won the Big 12 championship as a redshirt freshman and broke the NCAA freshman record for passing TDs.
---
Jake Locker, Washington, started from 2007 to 2010
No. 8 overall NFL draft pick (2011) by Tennessee Titans
Locker
The stats (in first 15 starts):
200-of-412 passing (48.5 percent), 2,523 yards, 15 TDs, 15 INTs; 218 rushes for 1,149 yards and 16 TDs.
The run-game support (in first 15 starts):
Washington averaged 40 carries a game for 175 yards (4.4 ypc), but Locker was a big reason for that. Including Locker's runs, this offense ran the ball 56 percent of the time.
The highlights (in first 15 starts):
He went 3-12 in his first 15 games, but he was named the Pac-10 Freshman of the Year in addition to making some freshman All-American teams. His best game, statistically, came against Arizona in 2007 when he passed for 336 yards, rushed for another 157 yards and scored four total TDs. An injury derailed his sophomore season during the 16th game of his career.
---
Andrew Luck, Stanford, started from 2009 to 2011
No. 1 overall NFL draft pick (2012) by Indianapolis Colts
Luck
The stats (in first 15 starts):
207-of-358 passing (57.8 percent), 3,249 yards, 23 TD, 4 INT; 74 rushes for 494 yards and 3 TDs
The run-game support (in first 15 starts):
Stanford averaged 41 carries a game for 228 yards (5.5 ypc), although Stanford aired it out the more Luck progressed. This offense ran the ball 63 percent of the time in Luck's first 15 games.
The highlights (in first 15 starts):
In back-to-back weeks as a redshirt freshman, Luck helped knock off two top-15 teams -- No. 7 Oregon, 51-42, and No. 11 USC, 55-21. He threw four touchdown passes and no interceptions in those two games. But this was a run-first team; Luck threw more than 29 passes just four times in those first 15 games, and it was no coincidence that all four were losses since Stanford was trying to mount a comeback. He led the Pac-10 in pass efficiency as a redshirt freshman, but really made a name for himself in 2010.
---
EJ Manuel, Florida State, started from 2009 to 2012
No. 16 overall NFL draft pick (2013) by Buffalo Bills
Manuel
The stats (in first 15 starts):
260-of-380 passing (68 percent), 3,251 yards, 18 TDs, 14 INTs; 144 rushes for 441 yards and 6 TDs
The run-game support (in first 15 starts):
Florida State averaged 35 carries a game for 150 yards (4.3 ypc). The Seminoles also ran the ball 56 percent of the time.
The highlights (in first 15 starts):
Manuel's first 15 starts came over the span of three seasons, but he always had a high completion percentage. He posted a 3-1 record as a redshirt freshman and was the Gator Bowl MVP. Against Maryland, to keep FSU bowl-eligible, he led a game-winning touchdown drive with 2:31 left. He also started two games as a redshirt sophomore and won the job as a redshirt junior, when he really burst onto the scene.
---
Blake Bortles, Central Florida, started from 2012 to 2013
No. 3 overall NFL draft pick (2014) by Jacksonville Jaguars
Bortles
The stats (in first 15 starts):
269-of-423 passing (63.5 percent), 3,373 yards, 28 TDs, 7 INTs; 93 rushes for 287 yards and 8 TDs
The run-game support (in first 15 starts):
Central Florida averaged 38 carries a game for 180 yards (4.7 ypc). The Knights also ran the ball 56 percent of the time.
The highlights (in first 15 starts):
He redshirted, then played in 10 games as a redshirt freshman -- but didn't start until his redshirt sophomore season. The Knights fell in the Conference USA title game, but Bortles was still named to the all-conference team and earned MVP honors in the Beef O'Brady's Bowl.
September, 18, 2014
Sep 18
9:00
AM ET
By
ESPN.com staff
| ESPN.com
Week 4 features a new voice in the predictions mix as our new Big Ten reporter Dan Murphy jumps into the fray. It also features a handful of games our writers disagree on, including games involving programs that desperately need to rebound with a win this week.
Why Iowa will win:
Call me a contrarian if you'd like (I've been called much worse), but Iowa seems to rise up at the unlikeliest of times. Pitt has looked way better than the Hawkeyes this season. The Panthers can run the ball (
James Conner
has 544 rush yards and eight touchdowns), while Iowa can't (393 rush yards, four touchdowns). Panthers coach Paul Chryst, the former Wisconsin assistant, knows the Hawkeyes well. So of course I'm going with Iowa, which will discover its run game and force two second-half turnovers to rally for the win.
Iowa 21, Pitt 20
-- Adam Rittenberg
Why Pitt will win:
Adam did a pretty good job of making my argument for me. This game hinges on who wins the battle between Iowa's front seven and the Panthers' running game. Conner's 214 rushing yards against Boston College in a 30-20 win look a lot more impressive this week after the Eagles held USC's entire offense to 20 rushing yards. Pitt also has some good experience in the secondary (CB
Lafayette Pitts
and S
Ray Vinopal
) that could put a dent in the strong completion percentage
Jake Rudock
has put together thus far.
Pitt 27, Iowa 17
-- Dan Murphy
Why Syracuse will win:
Beating MAC teams isn't easy, as the Big Ten can attest. Well, Syracuse went on the road last week and crushed Central Michigan, one of the better MAC squads, by 37 points, looking nothing like the team that was extremely fortunate to get by Villanova in its opener. The Orange are a different offense with quarterback
Terrel Hunt
at the helm, and they're stout in defending the run (opponents average just 2.7 yards against them). Maryland makes too many mistakes to get this win on the road.
Syracuse 28, Maryland 24
-- Adam Rittenberg
Why Maryland will win:
Maryland has shown an explosiveness on offense and special teams, but the Terrapins have lacked consistency. They will need to avoid the turnovers and wild mood swings on the road at Syracuse. Former Orange quarterback Randy Edsall's team has enough playmakers to get the job done.
Maryland 31, Syracuse 27
-- Brian Bennett
Why Utah will win:
Unless Brady Hoke's unwillingness to talk about injuries is based around a desire to spring a surprise by unleashing a healthy secondary on the Utes, the Wolverines could have their hands full with
Travis Wilson
, the nation's No. 2 quarterback in terms of passing efficiency. The jury is still out on Michigan's offense as well, particularly since it was shut out at Notre Dame, its only true test so far, and has shown signs that issues protecting the football haven't been solved. That's not a good combination against a program that appears to be on the rebound and actually has prior experience winning at the Big House under Kyle Whittingham.
Utah 34, Michigan 27
-- Austin Ward
Why Michigan will win:
Utah is good, but it's no Notre Dame. The Utes' success so far this season has come against two lowly opponents -- Idaho State and Fresno State -- so they might be getting a little bit more credit than they deserve.
Devin Gardner
is a wild card, but I can't see him committing another four turnovers, at least not in the Big House.
Michigan 31, Utah 28
-- Josh Moyer
Why Rutgers will win:
Rutgers is actually an underdog against Navy, and this game has serious letdown potential after the Scarlet Knights got sky high for Penn State. Yet the Scarlet Knights have been very good against the run and have the defensive front to disrupt the Navy option. That will be enough to pull it out -- provided
Gary Nova
doesn't throw another five interceptions.
Rutgers 24, Navy 21
-- Brian Bennett
Why Navy will win:
The Scarlet Knights said there would be no letdown after the loss last week to Penn State. But Rutgers invested so much energy in the program's first meeting in nearly two decades with the Nittany Lions that, yes, there will be a letdown. And be sure of this, Navy requires Rutgers' full attention. Quarterback
Keenan Reynolds
is expected back from injury on Saturday to lead the nation's No. 1-ranked rushing offense, which averages more than 400 yards. Rutgers looks equipped up front to defend the triple option with
Darius Hamilton
and a solid line, but Navy's offensive efficiency will prove too much to overcome. It has won eight straight true home games dating to 2012. Make it nine.
Navy 31, Rutgers 21
-- Mitch Sherman
Unanimous decisions
Illinois over Texas State, 38-21:
The Illini running game finally emerges and opens things up for
Wes Lunt
to have a big second half in Champaign.
Missouri over Indiana, 42-27:
The Hoosiers couldn't help the Big Ten's nonconference record against the MAC's Bowling Green last week. They aren't likely to turn that around against an undefeated SEC opponent.
Michigan State over Eastern Michigan, 52-3:
Former Penn State quarterback
Rob Bolden
's last crack at the Big Ten doesn't go any better than the first time around. Mark Dantonio calls off his dogs after halftime to keep this one from getting uglier than it could.
Minnesota over San Jose State, 27-13:
David Cobb
and the Gophers show they are still headed in a good direction despite a disappointing showing against TCU last Saturday.
Nebraska over Miami, 34-31:
The Canes have the talent to make it close, but they don't have the quarterback to steal a game from a big-time opponent on the road yet.
Northwestern over Western Illinois, 24-10:
Pat Fitzgerald keeps it simple and forces his team to play the bully role while trying to develop a new toughness in Evanston.
Penn State over UMass, 44-14:
The
Christian Hackenberg
hype machine continues its crescendo toward a primetime matchup in the Big House in early October.
Purdue over Southern Illinois, 28-20:
The Salukis put up a fight, but
Danny Etling
builds on a strong performance against Notre Dame to pull the Boilermakers to 2-2.
Wisconsin over Bowling Green, 33-7:
Bowling Green won't be able to sneak up on a well-rested Badgers team at Camp Randall Stadium.
Our records:
Mitch Sherman: 31-6
Adam Rittenberg: 29-8
Austin Ward: 29-8
Brian Bennett: 28-9
Josh Moyer: 27-10
September, 18, 2014
Sep 18
8:00
AM ET
Hitting on the hottest topics in the Big Ten before sweeping through the league ahead of another critical non-conference Saturday.
1. Minnesota's QB quandary:
There's not exactly a controversy under center, since the Gophers have made it quite clear that
Mitch Leidner
is the top option to lead the offense. But for the second week in a row, there have been questions about his health, and therein lies the uncertainty that could turn this into a more pressing issue for Jerry Kill. The Minnesota coach pegged Leidner at 100 percent on his injured knee last week, but Saturday something else popped up with his foot -- though Kill shot down reports of a broken bone and seemed puzzled by where they came from. Backup
Chris Streveler
has appeared in all three games and was needed to finish the last two, and at some point if he keeps handling himself well and if Leidner's bumps and bruises remain a weekly topic of conversation, perhaps the Gophers may find themselves in the midst of a real controversy. This week it probably won't matter given the way Minnesota ran the ball all over San Jose State last year. But Michigan is looming next week, and the Gophers would likely be better off if they didn't have to keep answering questions about their starting quarterback.
2. Waiting game for Buckeyes:
From the outside, the case seems pretty open and shut regarding
Noah Spence
's latest failed drug test and what figures to be permanent ineligibility for the All-Big Ten defensive end. But there hasn't yet been an official verdict handed down, so Ohio State coach Urban Meyer confirmed after practice Wednesday night that Spence was still practicing with the team while "doing things to get healthy." Given what would seem to be a long-shot appeal combined with the serious tone from the Spence family when they addressed a "medical illness" to the Columbus Dispatch last week, it is somewhat surprising that the star junior would be back on the field at all right now while each of those separate, but related, issues are sorted out. Meyer stressed that Ohio State was doing what it could to support him, and if Spence is eventually cleared for a return, everybody involved would surely want him ready to play again. So unless or until the Big Ten tells him otherwise, Spence is still working out with the Buckeyes and waiting for the next update on his status.
3. Heat is on Hawkeyes:
The running game is struggling. The kicking game looked like a fire drill even when the field-goal unit hit a clutch attempt last weekend. Kirk Ferentz is under fire with his clock management skills being questioned. And after dealing with all that in the aftermath of the loss to Iowa State, the Hawkeyes have to hit the road to play unbeaten Pittsburgh before diving into conference play. Maybe Iowa could actually use that traveling time to bond and rally against the odds that seem to be stacking up against the program, because it's pretty clear the team needs a spark. The Hawkeyes were a trendy dark horse pick to win the West, and no matter what happens at Pitt it should be fine next week at home to open conference play against Purdue. But it's time for them to show they really have what it takes to contend this fall.
East Division
West Division
September, 17, 2014
Sep 17
5:00
PM ET
You've got questions, I've got answers. Let's move along to the Big Ten mailbag ...
@ESPNJoshMoyer what's it gonna take for Nebraska to run the table in the B1G? #GBR

- Josiah Barkley (@JoBark15) September 17, 2014
Josh Moyer:
Let's see here. Heisman-worthy candidate? Check. Two solid wideouts? Check. Best defensive player in the conference when healthy? Check. But there are a few things Nebraska needs to tweak, or sustain, to really put together a solid run. Let me give you my three key points. For one, the Huskers need to find ways to gain more turnovers. They have just one so far -- and it was an interception against McNeese State on a Hail Mary to end the game.
Nebraska
is dead-last in the nation in creating turnovers. So it needs to continue to take care of the ball but find ways to get that ball back, especially when it's on the road. Two, Tommy Armstrong needs to continue to make smart decisions -- but he has to understand he can't rely on the big play as much as before. This team is really living and dying on those big plays, instead of constructing sustained drives, so it'll have to adapt against better defenses. And three, if there's a part of the defense that hast to step up, it's the linebackers. They need to be more active and create more plays. If Nebraska does those things, I think you'll be seeing the Huskers in the B1G title game.
Andy from Brooklyn Center, Minnesota, writes:
My biggest concern is that
Jake Rudock
is one of the leading rushers for Iowa. That's not a good thing! My impression is that he is taking off running on passing plays way too often. Is this a problem of the receivers not getting open or is it Rudock not giving the play enough time to develop?
Josh Moyer:
There are all sorts of problems on
Iowa
's offense, but I don't think quarterback Jake Rudock is even close to being near the top of those concerns. He's completing 68 percent of his passes and has thrown one pick in 117 attempts. The offensive line bears some of the blame, but these issues also have to do with the play-calling. Opponents are loading the box against Iowa and, rather than airing it out or making opponents pay for that, offensive coordinator Greg Davis has opted to stick with a horizontal passing attack. Iowa's offensive gameplan is predictable and conservative, and that seems to be a big reason this offense is so out of whack. Rudock is simply taking off when he sees an opening, and he's done a relatively good job of that. You could argue he's taking off too much, but his unscripted running plays are more effective than the scripted runs: Rudock is averaging 4 yards a carry, more than a yard better than
Mark Weisman
and
Damon Bullock
. So you're right, it is concerning that Rudock is one of the leading rushers. But that's more a product of the concerning offense, rather than a concerning Rudock.
@ESPNJoshMoyer what is the penn state's realistic ceiling for this season?

- Not Famous Jason (@JasonAAV) September 17, 2014
Josh Moyer:
Realistically, I feel as if the most likely
Penn State
outcome is still an eight-win regular season, give or take a victory. But you specifically asked about the ceiling -- about the best-case scenario -- so I'll put that at 10. Yes, the Big Ten is down as a whole. And, yes, outside of Michigan State, there are really no "unwinnable" games. But as James Franklin said Saturday, winning tends to minimize issues while losing magnifies them. And Penn State still has quite a few issues -- namely the young offensive line. If you could substitute Wisconsin's offensive line here, I think PSU could realistically go 11-1 or better. But left tackle
Donovan Smith
appears to be the only above-average lineman, since center
Angelo Mangiro
really struggled Saturday against Rutgers.
Christian Hackenberg
has no time in the pocket, and there's virtually no run game of which to speak. I said this before and I'll say it again: Penn State's ceiling is capped by its offensive line. Ohio State should give PSU plenty of problems, and Michigan's defense is much more aggressive compared to last season. PSU fans should approach this conference season with cautious optimism.
Leland Buss rom Burlington, Wisconsin, writes:
Why is Wisconsin trending downward? I thought the loss to LSU was a good loss. Am I wrong? The win against Western Illinois was solid if not spectacular, so why are they now being dismissed as contenders in the West?
Josh Moyer:
Leland is referring to our
Big Ten power rankings
, where we dropped
Wisconsin
to No. 5 this past week. And it's a good question. But the Badgers' move had less to do with Wisconsin and more to do with how the teams above them performed. Nebraska dominated Fresno State, and Penn State turned in another solid defensive effort. Both teams are undefeated, and they deserve credit for that. Michigan State is the easy No. 1 and the Buckeyes ... well, their loss to Virginia Tech looks worse now than before. But Ohio State's passing game gives me a lot less pause than Wisconsin's. No one's discounting Wisconsin as a division contender. Iowa has looked pretty bad so far, and it sure seems as if the race in the West is between Nebraska and Wisconsin. If the Badgers can shore up their passing game, they'll be back near the top in no time.
September, 17, 2014
Sep 17
2:00
PM ET
Three weeks' worth of games are in the book. That's not enough to decide the individual award races in the Big Ten, but it won't stop us from figuring out where those races stand.
Our Big Ten reporters are voting weekly on the races, with players receiving five points for a first-place vote, four for a second-place nod, etc. Also, we try hard to base these standings on 2014 season results only, not any preconceived notions or a player's previous track records.
Here's how things shake out:
Graham-George Offensive Player of the Year
1. Nebraska RB Ameer Abdullah
(Five first-place votes): Abdullah gets the unanimous nod on offense as he
continues to power up
the Huskers attack.
2. Penn State QB Christian Hackenberg
: He has become the master of the two-minute drive, and he leads the Big Ten in passing.
3. Indiana RB Tevin Coleman
: He leads the Big Ten in rushing yards (437) and rushing touchdowns (five) despite having played just two games. He's averaging 9.3 yards per carry.
4. Michigan State QB Connor Cook
: His completion rate is over 68 percent, and Cook can build on his stats against Eastern Michigan and Wyoming the next two weeks.
5. Illinois QB Wes Lunt
: He wasn't able to summon late-game magic at Washington in Week 3 but still is among the league's top passers.
Also receiving votes
: Michigan RB Derrick Green; Wisconsin RB
Melvin Gordon
; Minnesota RB David Cobb; Nebraska QB Tommy Armstrong Jr.
Nagurski Woodson Defensive Player of the Year
1. Penn State DT Anthony Zettel
(5): Another unanimous pick, Zettel has been a monster in the early going for the Lions. He leads the Big Ten in tackles for loss, with seven, to go along with three sacks.
2. Ohio State DE Joey Bosa
: He's tied for the league lead with two forced fumbles, in addition to 3.5 tackles for loss and 1.5 sacks.
3. Iowa DT Louis Trinca-Pasat
: His strong start to the season continues, as he has four tackles for loss along Iowa's strong defensive front.
4. Wisconsin S Michael Caputo:
He and the Badgers were off last week but should get a test from Bowling Green's fast-paced offense.
Also receiving votes
: Penn State LB
Mike Hull
; Rutgers DE Kemoko Turay; Minnesota LB
Damien Wilson
; Michigan State DE Marcus Rush; Ohio State LB Joshua Perry.
September, 17, 2014
Sep 17
10:00
AM ET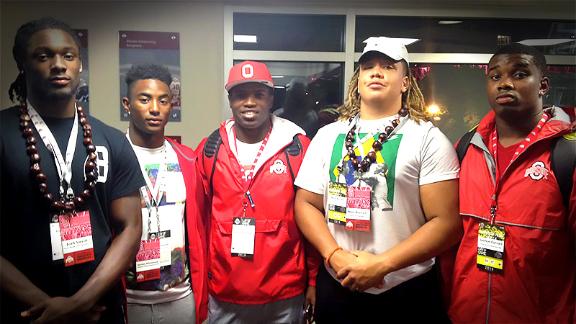 It's a vicious cycle. You have to win to get the right recruits, and you have to get the right recruits to win. That's the merry-go-round the Big Ten conference is currently on, and depending on who you ask, recruits have varying opinions on the conference.
Prospects from the North tend to believe the conference is still in the upper echelon, while a good amount of Southern recruits would say quite the opposite.
The Big Ten has an overall record of 24-14 with only two undefeated teams left, compared to the SEC with eight undefeated teams. The Big Ten also has the lowest winning percentage (63 percent) this season for any Power 5 conference, according to ESPN Stats & Information.
You could argue that there is a direct correlation to those wins and losses when comparing the number of big-name commitments as well. The SEC currently has 87 ESPN 300 prospects committed where the Big Ten has 27.
An ESPN 300 prospect from the South who wished to remain anonymous believes part of the Big Ten's problems on the field and recruiting have to do with geography and coaching.
"The recruiting areas from the North and Midwest aren't really a hotbed for recruiting. Plus, other than Ohio State or maybe Michigan, there's not really any big cities or things you can sell recruits on outside of the university," he said. "Like what does a kid from Florida do at some of those places? Plus, getting a well-known coach like Urban Meyer is a big reason why kids down here like Ohio State.
"They know he can turn things around there and they'll win. They need to get bigger-name coaches where kids can say, 'Yeah, I know him and I know he'll get me ready for the NFL.'"
That isn't the sentiment for every prospect, but plenty of other Southern ESPN 300 recruits agreed with this thinking.
The Northern prospects interviewed did believe the conference is top-heavy with a few teams in the national championship conversation every year, but they had different thoughts on the outlook as a whole.
September, 16, 2014
Sep 16
4:00
PM ET
STATE COLLEGE, Pa. -- Penn State linebacker
Brandon Bell
broke out in a big smile Tuesday afternoon when asked to describe his defensive coordinator. He knew he'd offer the same two-word answer that another teammate used.
"Mad scientist."
"That hits it on the head," Bell said. "He's a guy who knows what he's talking about. And that confidence is instilled in us."
[+] Enlarge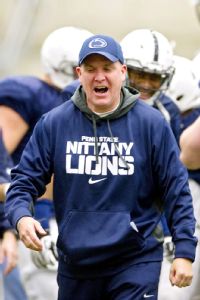 MCT via Getty ImagesBob Shoop's unit ranks among the nation's best in scoring defense.
Call defensive coordinator Bob Shoop what you will. But, by any measure, you'd have to call him a success. Penn State's defense was inconsistent at best, and poor at worst, last season. The Nittany Lions ranked No. 48 in total defense and No. 59 in scoring defense, while PSU fans everywhere were forced to take a deep breath on
third
-and-long with those passes over the middle. Now, despite preseason question marks, the defense is soaring as one of the nation's best.
The Lions are No. 13 in total defense and No. 11 in scoring defense. Sure, there's a lot of time left in this season, but players are noticing a big difference. And a lot of that starts with Shoop and his penchant for calling the right play at the right time.
"I don't know if we're doing that much different," linebacker
Nyeem Wartman
said, comparing this season to 2013. "It just seems like the play-calling and the timing is right. There are no more than two or three plays that seem new."
Said James Franklin: "I've been on the headset on defense where Bob's calling out 75 percent of the plays before they're being run. He's calling out, 'We're going to get an interception here,' and things like that. It's impressive, it really is."
Shoop literally broke out a pack of Icebreaker breath mints last week and told his defense they were going to "break the ice" with some turnovers. It was a silly move, one that drew laughs, but Shoop followed that up by saying this defense would force five turnovers against Rutgers on Saturday.
On Saturday, Penn State wound up with five interceptions against the Scarlet Knights. In several different interviews, within an hour after the game, Penn State's defensive players swore that Shoop called those five picks. He knew the Nittany Lions would have opportunities, and he told his squad five turnovers is what it would take for a win.
"It's crazy," linebacker
Mike Hull
said, half in disbelief. "It's crazy it worked out that way. You never think about that kind of stuff; you just do your job and hope things take care of themselves."
It's premature to call this a defensive renaissance for the Nittany Lions. But it's not too early to call this a dramatic improvement over last season. The secondary in 2013 was the Achilles' heel of the team, and cornerback
Trevor Williams
struggled so mightily that PSU shuffled the lineup to bench him midway through the season. On Monday, Williams was named the Big Ten defensive player of the week after pulling down two picks against Rutgers.
The offseason graduation of defensive tackle DaQuan Jones -- whom NFL.com's Gil Brandt once rated as the top senior DT -- was supposed to prove problematic. But now first-year starter
Anthony Zettel
could be on pace for Big Ten defensive player of the year. These linebackers were also supposed to struggle with their depth and inexperience outside, but they've been just fine.
When problems become strengths, and question marks evolve into exclamations, that's a definite sign of progress. And it has been a mark of Shoop and this staff.
"He's like a mad scientist the way he figures out defenses and tendencies of the offenses," Wartman said. "He's the one who predicted the five turnovers, and he's the one who said we were going to come out and not give up 14 points. He's just phenomenal."
September, 16, 2014
Sep 16
3:00
PM ET
Another week, another Big Ten coaches' teleconference. Here are some of the highlights from today's session featuring all 14 league coaches:
Dantonio on ex-Spartan QBs winning in the NFL: OC Dave Warner "did an outstanding job with those guys ... We attract a high-quality player."

— Mitch Sherman (@mitchsherman) September 16, 2014
Franklin says DaeSean Hamilton didn't start coming on until this summer. Started hearing buzz on him from players after voluntary workouts.

— Brian Bennett (@BennettESPN) September 16, 2014
Edsall: We're scoring points, moving the ball. But we're doing some things to shoot ourselves in the foot.

— Brian Bennett (@BennettESPN) September 16, 2014
Urban Meyer on the bye: "We're really going to get after it" because Cincinnati can cause problems next week.

— Austin Ward (@AWardESPN) September 16, 2014
N'western's Fitz on how his team lost its edge:"We lost two games, that's how it was lost." Well, simple enough.Should get some back vs. FCS

— Josh Moyer (@ESPNJoshMoyer) September 16, 2014
Kirk Ferentz on Iowa's struggles running the ball: "Our opponents have done a good job of trying to take that away from us."

— Mitch Sherman (@mitchsherman) September 16, 2014
Kill expects QB Mitch Leidner to practice today, reports of a broken toe aren't true.

— Dan Murphy (@DanMurphyESPN) September 16, 2014
Flood says Penn State DT Anthony Zettel is "as good as anybody in the country."

— Brian Bennett (@BennettESPN) September 16, 2014
Geronimo Allison's TD catch last week "rates with some of the great ones I've been around," Beckman says.

— Dan Murphy (@DanMurphyESPN) September 16, 2014
September, 16, 2014
Sep 16
11:15
AM ET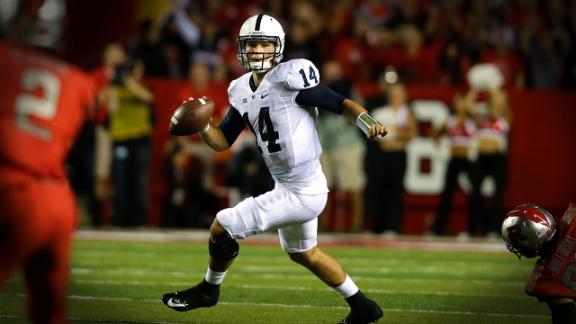 Penn State picked up some good news from the NCAA, which resulted in more positive news on the recruiting trail this weekend. Ohio State solidified its spot in a top target's list, and a few new offers were extended this week.
Here is a look at the latest happenings on the recruiting trail within the Big Ten.
To continue reading this article you must be an Insider
Drive Through: What's Wrong With The Big Ten?