October, 2, 2014
Oct 2
8:00
AM ET
Wake up twice more and Big Ten football is back in action. Why isn't it the weekend already?
1. Michigan Meltdown:
Now the Wolverines are right back where they started, restoring
Devin Gardner
as the starter at quarterback and hoping for different results. Based on his disappearance from the
depth chart
, it's a safe bet that the injuries Shane Morris sustained Saturday forced the swap, but Brady Hoke went right back to highlighting the continued lack of communication both inside and outside Schembechler Hall right now in the press conference announcing the change. Hoke clearly hasn't learned anything from the last few days, falling right back to his policy of not discussion the health of his players at a time when transparency would almost certainly work in his benefit. Pointing out the problems Michigan has had getting players at 100 percent might actually be a useful excuse for some of the on-field issues the program has had during its 2-3 start. Maybe it's too late for that now anyway, but pulling back the curtain and trying to be a bit more open and honest could at least be a start in trying to fight back in the public-relations battle he is badly losing at the moment.
2. Undercard Bout of the Week:
All the attention is focused on the prize fight under the lights between Nebraska and Michigan State, and deservedly so given the standing of those marquee teams and how important the matchup will be for the College Football Playoff selection committee. But there's a battle in the afternoon that could be just as entertaining, and what it might lack in implications for the national title, it makes up for it with intrigue in the East Division. Maryland has the athletes at wide receiver to test the Buckeyes and their suspect secondary. Ohio State is rolling offensively with
J.T. Barrett
at quarterback, and the Terps were gashed in their biggest test of the season against West Virginia. There could be plenty of fireworks, and the winner will establish itself as a contender in the East -- and potentially the favorite depending on what happens with the Spartans.
3. Trophy talk:
The votes have been
unanimous
for a couple weeks now, but
Ameer Abdullah
's standing as the unquestioned Big Ten Offensive Player of the Year at this early stage could be threatened as early as this week given the head-to-head matchup with one of his closest competitors. Obviously the Nebraska tailback isn't directly squaring off with
Connor Cook
on the field, but if the Michigan State quarterback puts up another impressive statistical outing, knocks off the Huskers and keeps his team in line for a potential playoff berth, Abdullah might find himself lower than the No. 1 spot next week despite his gaudy numbers. On the flip side, a road win that keeps the Huskers unbeaten with Abdullah gouging one of the most feared defenses in the nation would only solidify his push for the Heisman Trophy. Of course, there is plenty on the line for both teams, but individual honors are up for grabs on Saturday evening as well.
East Division
West Division
October, 1, 2014
Oct 1
5:00
PM ET
We haven't corresponded in far too long. Let's catch up, shall we?
@BennettESPN Has the Nebraska-MSU game taken over the preseason consensus pick of Ohio State-MSU as the biggest conference game of the year?

— Adam Wilson (@wilsonadamiam) October 1, 2014
Brian Bennett: I'm going to East Lansing this weekend and simply cannot wait. This game should be terrific, especially since Nebraska has had more offensive success against Michigan State's defense than anyone else in the Big Ten. The Huskers have a real shot on Saturday night, and I'm expecting a thriller.
In some ways, it could be the biggest game of the year in the conference, because the loser is basically out of the running for the College Football Playoff. But I always think division games are bigger. Whichever team loses this weekend could still get to Indianapolis (perhaps to force a rematch). The Ohio State game may still loom larger for Michigan State because of the division stakes, just as Wisconsin (and possibly Iowa and Minnesota) will for Nebraska. But there might not be a better Big Ten matchup all year then the one on deck at Spartan Stadium.
@BennettESPN Didn't expect announcement of 2 QB system from Iowa coaches. Should we be nervous? Can't recall last time 2 QBs worked out.

— DamirSD (@dspot23) October 1, 2014
Brian Bennett: Well, you don't have to look too far back to find successful two-QB systems in the Big Ten. Northwestern pulled it off during a 10-win season in 2012, while Indiana successfully juggled Nate Sudfeld and Tre Roberson last year.
So it can work, though in those examples, the two quarterbacks offered different skill sets. C.J. Beathard and Jake Rudock aren't all that dissimilar, though Beathard seems to throw a better deep ball and Rudock is a better scrambler. This will likely be more of a ride-the-hot-hand situation than a strict platoon. That has higher potential to be divisive, but at this point, neither quarterback has really separated himself with consistent play.
@BennettESPN 1yr ago UofM was said to be 'a year away' from title contention. Were there any overlooked signs of what has actually happened?

— Matt Kirwin (@UofMKirwin12) October 1, 2014
Brian Bennett: I'm not sure who said Michigan was a year away, and in fact, I was always skeptical of the Wolverines this year. Still, it's Brady Hoke's fourth year and his roster should be full of his recruits by now. He can make excuses for being young all he wants, and yes, the offensive line is still fairly inexperienced. But look at Ohio State and how many first-year and second-year players are making key contributions.
The biggest knock on Hoke, in my mind, is the lack of player development in Ann Arbor. (Our Tom VanHaaren did a nice job of detailing that here.) The only two players Hoke has recruited who have made an All-Big Ten team are Blake Countess and Devin Funchess, who were both second-team selections in 2013, and outside of Funchess, none would make an All-Big Ten team if the season ended today. That's way too low of a number for Michigan.
---
Disrespected Husker Fan from Lincoln writes: Can you explain the reasoning for everybody keeping Nebraska so low in the polls despite their undefeated record? McNeese State would beat Kansas by two touchdowns.
Brian Bennett: I'm not sure comparing yourself to Kansas is the best way to earn respect. While it would be foolish to get hung up on meaningless polls, I do think Nebraska is ranked curiously low right now at 5-0. That's because, in my opinion, of two factors: 1. People still remember that close call with McNeese State (a team, by the way, that is ranked No. 5 in the FCS); and 2. Voters still have a healthy distrust for the Cornhuskers because of their stumbles in big games the past few years.
There's no reason to fret about it, however. If Nebraska manages to win this weekend, it will make a huge leap in the polls. More importantly, the committee will have to consider a 6-0 Huskers team very seriously. An unbeaten Big Ten champion would almost certainly get into the playoff.
@BennettESPN what will it take for IU to beat Iowa nxt week? are there 3 games remaining after NT that are winnable to get bowl eligible?

— Iago (@_Blake_Jones) October 1, 2014
Brian Bennett: If Indiana's recent pattern continues, the Hoosiers probably will lose to North Texas and then beat Iowa. The win at Missouri stands as the most inexplicable result in the Big Ten thus far. Obviously, beating the Mean Green this week is crucial for Kevin Wilson's team, which then must find three more victories in Big Ten play. Indiana will be favored to beat Purdue at home in the finale, so there's one. The other three best options appear to be at reeling Michigan on Nov. 1, at home against Penn State (whom the Hoosiers beat last year in Bloomington) on Nov. 8 and at Rutgers on Nov. 15.
But until Wilson's team can find some consistency from week to week on both sides of the ball, I'll believe it when I see it.
October, 1, 2014
Oct 1
4:00
PM ET
By
Hallie Grossman
| ESPN.com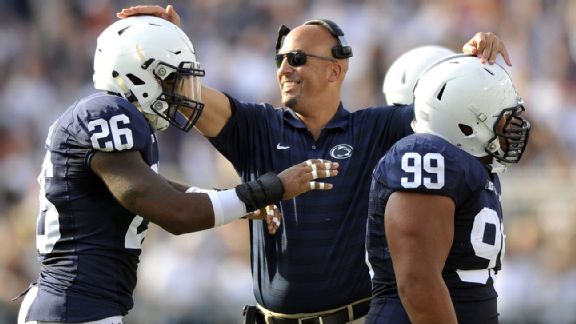 Christopher Weddle/MCT/Zuma PressPenn State coach James Franklin has the Nittany Lions off to a hot start in 2014.
This story appears in ESPN The Magazine's October 13 Cleveland Issue. Subscribe today!
Three head coaches in four years, unprecedented scholarships lost and a postseason ban are not the typical building blocks to success. But with NCAA sanctions suddenly lifted, Penn State is off to a 4-1 start and can make a surprise push for the Big Ten crown. We asked the team's seniors how they've adapted to the constant changing of the guards.
PRACTICE
Under Joe Paterno, practice might as well have been a game: "Hitting every day," says fifth-year senior linebacker Mike Hull. Then Bill O'Brien's NFL-like approach (lower impact equals fresher legs) became a necessity with the loss of scholarships. As for new head man James Franklin, he's only added more levity -- like the water bottle. The 42-year-old squirts senior kicker Sam Ficken while he's taking reps, then makes the team run laps based on the number of Ficken's misses. Sometimes he simply cancels practice in favor of bowling. "People respect that a lot," Hull says.
To continue to read how Penn State weathered NCAA sanctions and three different coaches in four years to become a Big Ten contender again,
click here
.
October, 1, 2014
Oct 1
3:00
PM ET
October has arrived, which means Big Ten conference play is in full swing. And that's when the best players step up.
Expect the races for individual awards to be fully shaped in the next few weeks. But we're keeping track of where they stand on a week-to-week basis. We've been looking at the offensive and defensive player of the year races since the start of the season, and with more data in the books, we'll be adding a bonus category from here on out.
Away we go ...
Graham-George Offensive Player of the Year
[+] Enlarge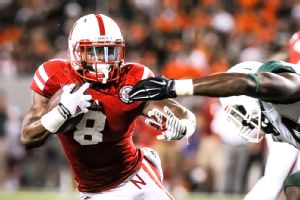 Eric Francis/Getty ImagesNebraska running back Ameer Abdullah has been the best offensive player in the Big Ten so far this season.
1. Nebraska RB Ameer Abdullah
(six first-place votes): Abdullah had another 200-yard day against Illinois as his fantastic season continues. He has run for more than 100 yards in each of the last two years against this week's opponent, Michigan State.
2. Indiana RB Tevin Coleman
: The Hoosiers are incredibly inconsistent, but Coleman is not. He leads the FBS in rushing at 172.8 yards per game.
3. Michigan State QB Connor Cook
: He was able to hit the showers early again against Wyoming, but Cook leads the Big Ten and is No. 3 nationally in pass efficiency while completing better than 69 percent of his throws.
4. Wisconsin RB Melvin Gordon
: After a slow first half against South Florida, Gordon came out firing in the second half for another big performance. He's on pace for more than 1,900 yards this season.
5. Minnesota RB David Cobb
: Our panel all agreed on the top five offensive candidates right now, though in different orders. Cobb has a strong argument for player of the year consideration because he's basically carrying the Gophers' offense. His 124 carries are the most in the FBS, and he's making the most of them.
Nagurski-Woodson Defensive Player of the Year
1. Ohio State DE Joey Bosa
(five first-place votes): Bosa takes over first place this week thanks to his playmaking ways. He has forced three fumbles this season, all of which have led to Buckeyes touchdowns.
2. Maryland CB William Likely
(one first-place vote): Likely may not be very tall, but he makes big plays. He leads the Big Ten in interceptions with three, including a pick-six.
3. Penn State DT Anthony Zettel
: The Nittany Lions interior disruptor drops a couple spots after his team lost to Northwestern. But he's still having a heck of a season, with seven tackles for loss.
4. Nebraska DE Randy Gregory
: Welcome back, Mr. Gregory. He was all over the field against Illinois, and after missing some time with injury he now leads the league in sacks per game.
5. Wisconsin LB Derek Landisch
: He leads the Big Ten in tackles for loss per game, and Badgers coach Gary Andersen said Tuesday that Landisch has been the best player on what is the best statistical defense in the conference right now.
Also receiving votes
: Minnesota LB
Damien Wilson
; Minnesota CB
Briean Boddy-Calhoun
; Penn State LB
Mike Hull
; Iowa DE
Drew Ott
Thompson–Randle El Freshman of the Year
1. Ohio State QB J.T. Barrett
(three first-place votes): Braxton who? OK, let's not go that far. But guess who leads the Big Ten in total offense? It's the Buckeyes redshirt freshman, who just keeps getting better.
2. Penn State WR DaeSean Hamilton
(three first-place votes): There were questions about who would catch the ball for the Nittany Lions this season, and Hamilton has provided a nice answer. The redshirt freshman leads the conference in total receiving yards (502) and receptions (36) and is well on pace for a 1,000-yard season.
3. Rutgers DE Kemoko Turay
: He's basically a pass-rushing specialist, but his specialty sure is, uh, special. Turay has five sacks already this season, tops in the Big Ten and more than all but seven players in the FBS.
October, 1, 2014
Oct 1
10:20
AM ET
It's already October, and some teams will reach the halfway point of their schedules by the end of the weekend. Time flies when you're having fun or protesting to oust your athletic director.
Michigan remains on the front page, rather than the sports page, for the way it handled quarterback Shane Morris' concussion and the hit's aftermath. Students and alumni marched to the university president's house to ask that athletic director Dave Brandon be removed from his post. The biggest authority figures on campus doled out written statements Tuesday, leaving head coach Brady Hoke and his players to answer all the questions that follow. A member of Congress got involved, but the Big Ten said it won't penalize Michigan for failing to follow the conference's head injury protocol. This is growing into a problem that doesn't appear will wash away with the next news cycle.

[+] Enlarge

Eric Francis/Getty ImagesNebraska's Ameer Abdullah is getting plenty of Heisman Trophy consideration already.

Ameer Abdullah sprinted forward in the Heisman Trophy chase this week after churning out another 200-yard performance Saturday against Illinois. The Alabama native is now behind only Oregon quarterback Marcus Mariota and Georgia running back Todd Gurley, according to the oddsmakers in Vegas. Abdullah jumped from a 25-1 candidate to a 9-1 candidate in a week. He could launch himself into the frontrunner spot with another standout performance and a victory over Michigan State in East Lansing this Saturday.

It's been a good start to the week for second-string quarterbacks around the Big Ten. Iowa announced its former backup, C.J. Beathard, will split time with Jake Rudock in a platoon system moving forward. Maryland's Caleb Rowe received a big vote of confidence from his head coach while challenging C.J. Brown for playing time. And lastly, Wisconsin veteran Joel Stave, who began the season with 19 career starts, has battled through the mental block that kept him on the sideline during September.
Read about all those quarterback happenings and more, in this morning's edition of the links:
East Division
West Division
September, 30, 2014
Sep 30
4:00
PM ET
Brady Hoke's call was a focus this week, as he spoke for the first time since the
12:52 a.m. Tuesday news release
regarding student-athlete welfare. We offered a brief overview there but, as always, we included highlights throughout the conference.
By the way, if you're not following us, what are you waiting for? Follow along at
@ESPNRittenberg, @BennettESPN, @ESPNJoshMoyer, @DanMurphyESPN, @MitchSherman and @AWardESPN.
Hoke says he won't add anything to Brandon's statement today. "I feel bad for Shane."

— Dan Murphy (@DanMurphyESPN) September 30, 2014
Hoke says "we'll see" about Morris playing Saturday at Rutgers. At this point, I see no good reason why Michigan would play him.

— Brian Bennett (@BennettESPN) September 30, 2014
Brady Hoke: "The statement is out there, and it is what it is." That really cleared things up. Bizarre teleconference.

— Austin Ward (@AWardESPN) September 30, 2014
Pelini says there's no coach in the B1G who would trot out someone on the field who's "dinged." "Anyone who would imply otherwise is wrong"

— Josh Moyer (@ESPNJoshMoyer) September 30, 2014
Gary Andersen notes there's not a player on Wisconsin roster that has played in Evanston. Calls Northwestern "a new venue" for Badgers.

— Brian Bennett (@BennettESPN) September 30, 2014
"I don't think we have a talent problem. I think we have some young corners that need to play better." Urban Meyer on his secondary

— Austin Ward (@AWardESPN) September 30, 2014
Dantonio notes SR DE Marcus Rush in line to have most career starts in Michigan State history. Still one of most underrated guys in B1G.

— Brian Bennett (@BennettESPN) September 30, 2014
Minnesota's Jerry Kill: "The ceiling for our whole team is that we can get a lot better." If so, Gophers will be a contender in the West.

— Mitch Sherman (@mitchsherman) September 30, 2014
Franklin: "It's not like a whole lot of things popped up on Saturday that we haven't been writing stories about all year long."

— Brian Bennett (@BennettESPN) September 30, 2014
September, 30, 2014
Sep 30
10:00
AM ET
Nebraska and Ohio State had outstanding weekends both on the field and with their recruiting efforts. The Big Ten saw a few commitments, offers and some turmoil over the weekend, so here is the conference recap to get you caught up.


September, 30, 2014
Sep 30
8:00
AM ET
It's Week 6 already, so we have some catching up to do. Here are some notes and observations before we get to the links:
1. Michigan recruiting backlash.
With all the Brady Hoke talk and the loss to Minnesota, you knew it was only a matter of time before something like this happened. Michigan commit and ESPN 300 tight end
Chris Clark
tweeted Sunday -- since deleted -- that if Hoke is fired then
"that changes everything."
He likely just said what other recruits are thinking, and it'd be na´ve to think opposing coaches aren't going to exacerbate the situation by trying to use Hoke's lack of job security against Michigan. Recruiting could wind up being an uphill battle the rest of the season, despite the Wolverines' No. 19 ranking. They currently have 11 commits, and Clark is the highest-rated one.
2. Offensive line woes.
Penn State offensive line coach Herb Hand has taken up the practice this season of tweeting out highlights of his Nittany Lions on Sundays. He doesn't do it every week, but he does it most of the time. Needless to say, he skipped the exercise this weekend -- but it's difficult to blame him. There were few highlights Saturday against Northwestern, and the clip of his linemen that most stuck out involved one of his offensive guards
inadvertently blocking a teammate
. Hand is a good coach, but he doesn't have depth or experience to work with here. He took the blame for Saturday's disastrous performance, but it's clearly not his fault. This is a young offensive line and, quite frankly, it just doesn't have much talent right now.
3. David Cobb's importance cannot be understated.
The Minnesota running back has accounted for slightly more than 47 percent of the Gophers' offense. Not just rushing offense, mind you -- entire offense. That means he's a bigger part of the offense than
Ameer Abdullah
at Nebraska,
Melvin Gordon
at Wisconsin and
Tevin Coleman
at Indiana. Cobb has 722 rushing yards (5.8 ypc) and four TDs so far this season. He's worth watching.
Now, on to the links:
East Division
West Division
September, 29, 2014
Sep 29
10:00
AM ET
Time for some clarity in the Big Ten.
Pretenders and contenders will be more easily defined at the open of October than during the mayhem of the early weeks, when next to nothing went right for the Big Ten. Even just last week, confusion reigned after the league went 12-1 with four wins over Power 5 foes.
Well, Saturday was more down to Earth. Week 5 offered a better look at the Big Ten's true colors than we've seen at any time this season.
The verdict: The talent on display in offensive outbursts on Saturday can take Michigan State and Ohio State far in this league. Wisconsin and Iowa might have to win ugly all year. Penn State is not as good as it looked through four games; Northwestern is better than it appeared through three.
Indiana still isn't consistent enough to pencil into a bowl game. Minnesota and Maryland should not be overlooked.
And Nebraska, the league's lone unbeaten, gets its chance this week to prove it belongs in the national conversation with MSU and OSU. The Huskers visit Spartan Stadium on Saturday.
We'll get to that soon enough. First, let's rewind.
[+] Enlarge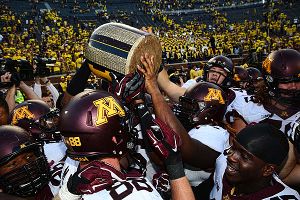 Leon Halip/Getty ImaesMinnesota throttled Michigan in the Big House to claim the Little Brown Jug for just the second time since 1987.
Team of the week:
How can it be any group other than Minnesota? As I was reminded in the wake of the Gophers' 30-14 throttling of Michigan at the Big House, even my
preseason best-case scenario
for Minnesota did not include a win over the Wolverines. Clearly, I forgot to account for the possibility of a full-blown Michigan meltdown. But that's not what led to the Gophers' second win in the past 24 years of this series; Minnesota earned this.
David Cobb
rushed for 183 yards against a defense that entered the game ninth nationally against the run. Minnesota held Michigan to 171 yards. Fans
greeted the Gophers
upon their return to the Twin Cities. Apparently, they all wanted a look at the Little Brown Jug. Enjoy it, Minnesota.
Biggest play:
Down 20-10 to Wisconsin, South Florida QB
Mike White
hit
Kennard Swanson
for a 52-yard gain that looked set to get the Bulls in position for a touchdown that could cut the Badgers' lead to three points. But a lunging hit by Wisconsin freshman
Lubern Figaro
jarred the football loose from Swanson. Linebacker
Vince Biegel
recovered at the 10-yard line, and Wisconsin drove 90 yards in 18 plays for the backbreaking score. Without that turnover, it might have ended differently.
Big Man on Campus (offense):
Rutgers quarterback
Gary Nova
fired four touchdowns in the Scarlet Knights' 31-6 win over Tulane. Nova was notably efficient in the first half, hitting 9 of 9 throws for 195 yards and three scores. In the process, he moved his career total to 61 touchdown passes, passing Mike Teel for the school record.
Big Man on Campus (defense):
Nebraska defensive end
Randy Gregory
is officially back. The intimidating junior, who missed the Huskers' first two games with a knee injury, recorded 2.5 sacks among his seven tackles and three quarterback hurries in a 45-14 Nebraska thumping of Illinois. Gregory looks more dangerous than ever, often lining up at the second level as a linebacker hybrid. He even delivered a devastating block on Nate Gerry's 53-yard interception return.
Big Man on Campus (special teams):
Maryland place-kicker
Brad Craddock
connected on three field goals, including two from 48 yards in the Terrapins' 37-15 win over Indiana, to stay perfect for the season on 10 attempts.
Biggest faceplant:
Aside from Michigan -- no repeat winners -- it's Indiana. What happened to the Hoosiers? They followed the groundbreaking win at Mizzou by failing to show at home as Maryland looked solid in its inaugural league game. So much for the Hoosiers' triple threat on offense. The Terps' quarterback duo of
C.J. Brown
and
Caleb Rowe
teamed with receivers
Stefon Diggs
and
Deon Long
to steal the show.
Facts and numbers to know:
Michigan ranks last nationally in turnover margin at minus-12 and 90th in offensive efficiency, according to ESPN Stats and Info. ... Nebraska I-back
Ameer Abdullah
rushed for 208 yards, moving his nation-leading season total to 833 yards. The Huskers, as a team, rushed for 458 yards against Illinois, totaling 190 on the ground, with no passing yards, in the first quarter. ... Rutgers has recorded 21 sacks in five games. ... Wisconsin remains the only team nationally not to surrender a red-zone touchdown. ... Iowa coach Kirk Ferentz earned his 65th conference victory to tie former Wisconsin coach Barry Alvarez for 10th all time. ... Ohio State's 710 yards of offense against Cincinnati came within 8 yards of the school record and marked its highest output since totaling 715 against Utah in 1986. ... Michigan State has scored 174 points in three home games and 50 in back-to-back games for the first time since 1978. ... Northwestern held Penn State to 18 rushing yards in the first three quarters of its 29-6 win.
September, 29, 2014
Sep 29
8:00
AM ET
Things are bad enough for Brady Hoke and Michigan just given the performance of the team. On top of the Wolverines' struggles, Hoke has faced heavy criticism for how he handled the injury to quarterback
Shane Morris
in Saturday's loss to Minnesota.
[+] Enlarge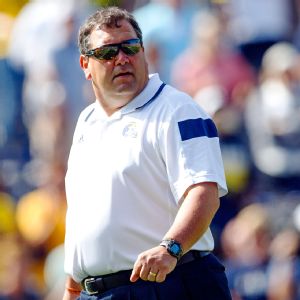 Rick Osentoski/USA TODAY SportsBrady Hoke had no real reason to leave Shane Morris in against Minnesota.
Some fans and pundits called for Hoke to be fired now for leaving an obviously badly limping and potentially seriously injured Morris in the game too long, and then for putting him back in the game for one snap after
Devin Gardner
lost his helmet. MGoBlog
wrote this scathing piece
accusing Hoke of disregarding player safety, especially given his policy of not discussing injuries.
Some of the critics, I thought, went too far in saying that Morris was obviously concussed after he got hit by Minnesota's
Theiren Cockran
. Morris was having trouble standing after that hit, for sure, but I'm not comfortable in making that kind of medical evaluation from afar. No one but the team's medical staff and Morris really know the severity of his injuries. It certainly didn't help appearances that Morris was carted off the field after the game.
On Sunday, Michigan issued a statement from Hoke on the Morris situation. In it, Hoke says his quarterback was removed from the game after "further aggravating an injury to his leg that he sustained earlier in the contest. He was evaluated by our experienced athletic trainers and team physicians, and we're confident proper medical decisions were made." The statement went on to say the team trainers and physicians are solely responsible for determining a player's physical ability to play and that "our coaches have no influence or authority to make determinations if or when an injured player returns to competition."
In no way do I think Hoke would willfully ignore a player's personal safety. But the part in the statement about coaches deciding a player's availability strikes a false note. Any one watching the game could see that Morris was not physically right, and leaving him in the game subjected him to potential further injury. And here's the thing: There was no real reason to have him in there playing hurt. Morris was not effective at all in the game, Michigan had no real chance to mount a meaningful comeback and the veteran Gardner was ready. In fact, Gardner immediately brought a small spark to what had been a listless offense (which only reinforced the notion that the Wolverines' best offensive option is still spreading the ball out and taking advantage of Gardner's mobility.). Surely
Russell Bellomy
could have come in for the handoff after Gardner lost his helmet.
Hoke's vague answers Saturday night about not seeing Morris look wobbly on the field did not help the image many fans already have of a guy who does not wear a headset on the sidelines. Fairly or unfairly (and it's far more likely the latter), Hoke is looking more and more like someone who is not on top of all the details in his program. Add that to the more obvious on-field problems and it's hard to see how he'll remain the head coach in Ann Arbor much longer.
Michigan's problems
all lie at Hoke's feet
, Shawn Windsor writes. It's
time for Hoke to go
, George Schroeder says.
More links ...
East Division
West Division
September, 28, 2014
Sep 28
8:00
PM ET
How far will Michigan fall?
We'll find out during the next two months, but for now, the Wolverines have fallen out of the bowl projections. Brady Hoke's team sits at 2-3, and the offense has shown no signs of a turnaround. It's hard to envision Michigan winning one Big Ten game right now, much less the four it will need in its final seven to qualify for a bowl berth.
Indiana also falls out of the projections after a 37-15 home loss to Maryland. After seemingly turning a corner the week before at Missouri, the Hoosiers struggled to build on the victory as a normally potent offense did next to nothing against the Terrapins. Kevin Wilson's team has the talent to go bowling but must show it can handle success better going forward.
Penn State tumbles a bit in the projections after being exposed in a 29-6 home loss to Northwestern. We're not quite ready to put Northwestern back in the projections, but another big win would change that.
Nebraska and Maryland are among this week's risers. We still have both Michigan State and Ohio State heading to top bowls. Minnesota is another team to watch as the Gophers try to build on a strong performance at the Big House.
Without further ado ...
Chick-fil-A Peach/Cotton/Fiesta/Orange:
Michigan State
Chick-fil-A Peach/Cotton/Fiesta/Orange:
Ohio State
Capital One:
Nebraska
Outback:
Wisconsin
National University Holiday:
Iowa
TaxSlayer/Franklin American Mortgage Music City:
Maryland
San Francisco:
Penn State
New Era Pinstripe:
Rutgers
Quick Lane:
Minnesota
Heart of Dallas:
Indiana
September, 28, 2014
Sep 28
2:00
PM ET
September, 28, 2014
Sep 28
12:56
PM ET
Nebraska and Ohio State have both built momentum on the field and on the recruiting trail as of late. They were two Big Ten programs with big visitors on campus this weekend, and those prospects took to social media to share their experiences.
Cincinnati vs. Ohio State:
The Buckeyes came away with the victory against the Bearcats and the Ohio State coaches are hoping they come away with a win with ESPN 300 linebacker Jerome Baker as well.
Feels good to watch your big cousin play under them bright lights. @RestUpBoog Love you Cuzo! ???? pic.twitter.com/mUaVVp8h5h

— Baker Inc. (@Lastname_Baker) September 28, 2014
Baker is currently committed to Florida, but this visit and potentially another in the future says that the Cleveland native is still interested in Ohio State. Stealing Baker from Florida would be a big win, not only to keep an Ohio prospect at home, but Baker would help to add more depth at linebacker.
The Buckeyes also played host to several other big prospects, including ESPN Jr. 300 running back Elijah Holyfield. The 2016 back is very interested in Ohio State, so it was good to get him on campus for this game.
A few pictures from #ESPNJr300 RB Elijah Holyfield's visit to Ohio State @EH_taught_me pic.twitter.com/vTbZrN8NqY

— Tom VanHaaren (@TomVH) September 28, 2014
Holyfield wasn't the only ESPN Jr. 300 prospect on campus, though, as tight end Luke Farrell was also in attendance for the game.
Illinois vs. Nebraska:
The Cornhuskers also came away with a victory on the field and off it on Saturday. The coaching staff was able to reel in two big 2016 prospects in John Raridon and Bryan Brokop.
After my 2016 season I will be attending the university of Nebraska. #ProudToBeaHusker

— John Raridon (@hines_bittleman) September 28, 2014
Both prospects are huge for Nebraska as Raridon is the No. 69-ranked prospect in his class and Brokop is No. 226 overall.
There is some serious momentum happening right now for Nebraska, and that could continue if the team continues its stellar play on Saturdays.
Minnesota vs. Michigan:
The Wolverines have spiraled out of control and the loss to the Gophers could just be the start. Michigan hasn't lost any commitments yet, but if the play doesn't improve quickly there could be some movement in the near future.
ESPN 300 defensive end commit Darian Roseboro took an official visit to NC State this weekend.
#Michigan commit Darian Roseboro & former #TarHeels commit Emanuel McGirt at #NCStatevsFSU game today. pic.twitter.com/0PIX2uDyPJ

— Gerry Hamilton (@HamiltonESPN) September 28, 2014
While he tweeted that the trip didn't mean anything, there is always something when a recruit takes an official visit. N.C. State was rumored to be in second place when Roseboro made his initial commitment to Michigan as well, so this could be something to watch.
Northwestern vs. Penn State:
The Nittany Lions didn't win the game against the Wildcats, but there was a big opportunity to impress some top prospects.
The main target on campus for the 2015 class was ESPN 300 defensive back Jordan Whitehead, who has Penn State among his favorites.
#ESPN300 DB Jordan Whitehead (@J_whiz_3) on his Penn State visit yesterday: pic.twitter.com/KU7F841Jgl

— Tom VanHaaren (@TomVH) September 28, 2014
This was a big deal because Whitehead plans to announce his decision on Oct. 3 at 2:45pm ET. Whitehead would be a huge addition to the Penn State class and would be another big Pennsylvania prospect for coach James Franklin and his staff.
USF vs. Wisconsin:
The Badgers had one of the biggest weekends in the Big Ten in terms of official visitors.
Wisconsin had running backs Jordan Scarlett and Jordan Stevenson on campus. The weather was perfect to bring up a few southern prospects and the Badgers pulled off the win, too.
Another Jordan, Jordan Griffin, was scheduled to make the trip as well, but tweeted that complications at O'Hare airport in Chicago prevented the trip from happening.
My official to Wisconsin has been rescheduled due to the fire at Chicago O'hare airport

— Jordan Griffin (@HawkStar40) September 27, 2014
September, 28, 2014
Sep 28
9:30
AM ET
There weren't a lot of standout players for Penn State during its 29-6
loss to Northwestern
on Saturday, but we'd still like to hand out some helmet stickers:
Linebacker Mike Hull:
With
Nyeem Wartman
injured, even more was expected out of Hull this game. And he stepped up. It wasn't a pretty contest in the fourth quarter, but that certainly wasn't on the senior linebacker. Hull finished with a game-high 16 tackles and a stop in the backfield. He had at least twice as many stops as every other player on Saturday, Northwestern included.
Wide receiver DaeSean Hamilton:
Another game, another 100-yard effort for Hamilton. This is his third such game this season, as he finished with six catches for exactly 100 yards. Hamilton showed consistency, something redshirt sophomore
Geno Lewis
lacked on Saturday with one or two key drops. Hamilton was the lone bright spot of this offense. No running back gained more than 25 yards, and no other receiver gained more than 35 yards.
Punt returner Jesse Della Valle:
He likely won't win Big Ten special-teams player of the week anytime soon, but Saturday was his best game as a returner. He put this offense in good position with a career-best 41-yard punt return. And, by not calling a fair catch on one play, he helped draw a flag when one Wildcats player ran into him right before receiving the ball. That moved PSU ahead another 15 yards. On a day when few shined, Della Valle stood out.
Are Midseason Firings A Good Idea?