November, 21, 2014
Nov 21
10:10
AM ET
Here are five things I learned in college football this week:
1. Might Georgia Tech end up being the fly in the ointment in the race to the inaugural College Football Playoff?
The No. 18 Yellow Jackets (9-2, 6-2 ACC) have won four games in a row, and they captured the ACC's Coastal Division after Duke lost to North Carolina 45-20 on Thursday night. Georgia Tech will play No. 3 Florida State in the ACC championship game in Charlotte, North Carolina, on Dec. 6, and might end up being the last big obstacle for the Seminoles in their quest to reach the playoff.
[+] Enlarge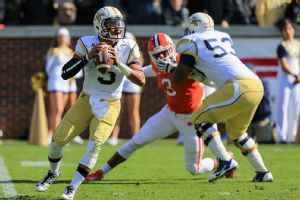 Daniel Shirey/Getty ImagesWith Duke's loss Thursday night, Justin Thomas and the Yellow Jackets won the Coastal and are slated to play FSU in the ACC championship game.
After Duke lost, Georgia Tech coach Paul Johnson wrote on Twitter: "Proud to see hard work our team has put in all year pay off with Coastal title!! Lots of work to do next 2 weeks!!"
Before playing the Seminoles for the ACC title, the Yellow Jackets will play at No. 10 Georgia on Nov. 29. The Bulldogs are still trying to reach the SEC championship game, but need No. 20 Missouri to drop one of its two remaining SEC games (at Tennessee on Saturday or home against Arkansas on Nov. 28) to win the SEC East.
Florida State coach Jimbo Fisher might be happier if his team was playing the Blue Devils instead for the ACC championship. The Seminoles beat Duke 45-7 in the 2013 ACC title game, and Tech's triple-option spread offense isn't much fun to prepare for on short notice. FSU already has won the ACC's Atlantic Division title and hosts Boston College on Saturday and intrastate rival Florida next week.
Tech's triple-option spread offense also can take a toll on an opponent's defensive line because of its use of cut blocks. The Seminoles lost three defensive linemen --
Eddie Goldman
,
Nile Lawrence-Stample
and reserve
Justin Shanks
-- after they suffered lower-leg injuries in the first half of a 37-12 win over The Citadel on Sept. 6. The Citadel also runs the triple-option and uses cut blocks, which are designed to knock down defensive linemen by hitting them at the knees.
"Those guys that cut and chop like this, it's crazy," Fisher said after that game. "I'd rather play more conventional teams. Just because of the chance of injuries that occurred."
Of course, Florida State, assuming it reaches the College Football Playoff, would have about a month to recover from playing Georgia Tech before its semifinal game.
2. FSU quarterback Jameis Winston's student conduct-code hearing is still scheduled for Dec. 2, and his attorney, David Cornwell, continues to plead his case on Twitter.
On Friday morning, Cornwell tweeted four times, apparently in response to the accuser's attorney, John Clune, filing a legal brief to FSU officials. Under the school's student conduct code rules and procedures, Clune and Cornwell will be able to attend the hearing and counsel their clients, but won't be allowed to speak on their clients' behalf.
Winston and the woman who accused him of sexually assaulting her in December 2012 will be required to present evidence, question witnesses, and answer questions posed by retired Florida State Supreme Court Chief Justice Major Harding, who will hear the case.
Under the rules and regulations in place, Winston isn't required to answer any or all of Harding's questions. Winston faces four potential student conduct code violations, including two related to sexual misconduct.
On Friday morning, Cornwell tweeted:
Clune cries 4 a hearing where the students represent themselves, then submits HIS firm's legal brief 2 spin the story because .....

— David Cornwell (@wmdavidcornwell) November 21, 2014
...the first 3 times SHE told her lie, it was rejected by TPD, state attorney and in #fsu CofC hearing. #huckster

— David Cornwell (@wmdavidcornwell) November 21, 2014
Repeats lie that Patricia Carroll did not initiate settlement discussions n demand $7million. He wasn't atty then n Carroll still in hiding

— David Cornwell (@wmdavidcornwell) November 21, 2014
This lie exposes a desparate atty chasing a 33% fee. Can't sue on the present record. Lie rejected 3 times. #4thbiteattheapple

— David Cornwell (@wmdavidcornwell) November 21, 2014
3. There seems to be a possibility that Texas and Texas A&M could meet in a postseason bowl game because of where they currently sit in their respective conference standings.
The rivalry was one of the biggest casualties in college football's realignment, and the best chance for a meeting would be at the Dec. 29 AdvoCare V100 Texas Bowl in Houston.
Earlier this week, Chip Brown of HornsDigest.com reported that the Aggies and the SEC would block a postseason matchup against the Longhorns.
But Texas A&M athletic director Eric Hyman said the SEC will determine the bowl lineup, and he insists the Aggies won't try to duck the Longhorns. Under the SEC's new bowl selection process, schools rank the available bowls, and bowls rank the available teams, in order of preference, and then the league slots its teams.
"Quite frankly, that's a decision made by the conference," Hyman told the Houston Chronicle. "The configuration is so different than it's been in the past.
"It doesn't matter if I speculate about playing this team or that team in a bowl. It's out of our control . . . Wherever they tee us up, we'll play."
4. A Georgia lawmaker has introduced a bill that would make it an aggravated misdemeanor to jeopardize the eligibility of a college student-athlete by providing him or her with illegal benefits.
Under the terms of House Bill 3, anyone who causes a student-athlete to lose his or her eligibility would face a potential $5,000 fine.
State Rep. Barry Fleming told the Athens Banner-Herald that he introduced the bill for consideration next year at the request of House Speaker David Ralston. In October, University of Georgia running back
Todd Gurley
was suspended four games for improperly accepting $3,000 to sign autographs.
"A 20-year-old in college is not a child, but that 20-year-old is [vulnerable], particularly if they are from a humble background, if someone waves hundred-dollar bills in front of his face," Fleming told the Athens Banner-Herald.
The bill, if it passes, wouldn't take effect until next year, so the memorabilia dealers who paid Gurley couldn't be punished.
5. UCLA had to cancel Thursday night's bonfire at a pep rally.
The Bruins play USC on Saturday, but the annual rally was shut down by students protesting a proposed tuition hike at the school.
That didn't stop UCLA coach Jim Mora from, uh,
fanning the flames
. (Warning: His language might not be suitable for all ages.)
Saturday's top plays in the SEC