December, 13, 2013
Dec 13
12:00
PM ET
For the first time since August, we've reached a Friday with no SEC football on tap tomorrow. That's the bad news. The good news is that bowl play starts a week from tomorrow, with the first SEC bowl game set to kick off in barely more than two weeks.
We've still got plenty to discuss in SEC country, however. Here's a sampling of what's going on around the league:
December, 13, 2013
Dec 13
11:40
AM ET
Now that the regular season is over, we're starting to see awards, all-conference teams and All-America teams. On Thursday, the
Walter Camp All-America team was announced
, and six players from the SEC made the first team.

A few obvious choices were Texas A&M offensive lineman
Jake Matthews
and receiver
Mike Evans
, along with Alabama linebacker
C.J. Mosley
and Missouri defensive end
Michael Sam
.
Alabama quarterback
AJ McCarron
was also listed as a first-team member, as was Alabama left tackle
Cyrus Kouandjio
. Even with Florida State quarterback
Jameis Winston
winning the Walter Camp Award and being the overwhelming favorite to win the Heisman Trophy, he was listed as a second-team member behind McCarron.
As for the second team, Mississippi State offensive lineman
Gabe Jackson
and South Carolina defensive end
Jadeveon Clowney
both made the cut.
Interestingly enough, Auburn running back
Tre Mason
, who rushed for more than 1,600 yards and had 23 total touchdowns didn't make either team, despite being a Heisman finalist.
December, 13, 2013
Dec 13
11:00
AM ET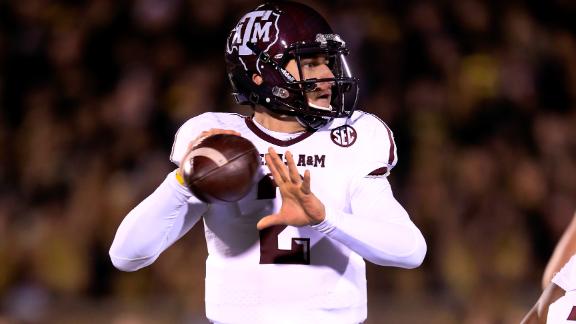 After Texas A&M's
Johnny Manziel
became the first freshman to win the Heisman a year ago, it appears another freshman, Florida State's
Jameis Winston
is poised to take the trophy. But which quarterback had the better freshman campaign?
David Hale and Sam Khan Jr. take the debate to the Interwebs for your reading pleasure:
Take 1: Hale: Winston was consistent, even in biggest games
No matter what Winston accomplishes this season, there's one thing Manziel will always have over him. Only one player can be the first freshman to win a Heisman, and that was Manziel. He was, to be sure, a worthy winner.
But beyond the history, the debate on which quarterback had the better freshman campaign is easy. It's Winston.
[+] Enlarge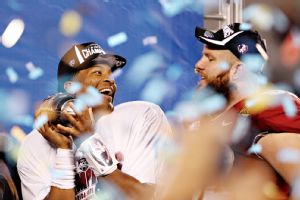 Streeter Lecka/Getty ImagesIf winning matters, Jameis Winston has won a conference title and has his team in the national championship game: two things Manziel has not done.
Compare passing numbers through 13 games and Winston comes out well ahead. He threw for a freshman-record 38 touchdowns, compared with 26 for Manziel. Winston threw for more yards, averaged significantly more yards per attempt (10.9 to 8.5 for Manziel) and had a quarterback rating (190.1) that dwarfs Manziel's (155.3). Winston had seven 300-yard games; Manziel four. Winston accounted for four or more touchdowns six times.
And before anyone makes the strength-of-schedule argument, remember that Winston had a slightly higher adjusted QBR -- which takes into account myriad factors, including competition.
Sure, Manziel came out of nowhere to become a Heisman winner. But wasn't there a lot more pressure on the much-hyped Winston to live up to those immense expectations?
Then let's look at how each player fared in his biggest games.
Manziel played six games against ranked teams, and he won four. He completed 67 percent of his throws -- same as Winston -- but the rest of his stats were utterly pedestrian. He averaged just 7.5 yards per attempt, threw for seven TDs and had five interceptions.
Winston, on the other hand, won all four of his games against ranked teams handily. He averaged 11.8 yards per attempt and threw for 12 touchdowns with five INTs.
Winston wasn't only at his best in big games, he simply never had a bad game. Manziel struggled mightily against Florida and LSU.
And Winston has the edge in the most important statistic: wins. The Seminoles are 13-0 and playing for the BCS national championship next month. Manziel's season was great and the Aggies were a surprising 11-2 last year, but they didn't even get to a BCS bowl. Their season ended in the AT&T Cotton Bowl.
OK, so now we get to the obvious check mark in Manziel's corner: his legs.
Admittedly, there's no comparison here, and Manziel's ability to run is the great equalizer in this debate. But it's hardly fair to penalize Winston for looking to throw before he looks to run.
Winston put together a highlight reel of big throws that followed miraculous escape acts. His numbers when under pressure were by far the best in the nation. He managed to extend plays, completing an absurd 16 of 21 with four touchdowns and 15 first downs on third-and-10 or longer.
Does that make up for Manziel's 21 rushing TDs and 1,400 rushing yards? Probably not, but the primary jobs of a quarterback is to make throws and win games. Winston was head and shoulders ahead of Manziel in both areas.
Take 2: Khan: Manziel did it all, against tougher teams
Winston has lived up to the hype and that's hard to do. In my opinion, he has been college football's most outstanding player in 2013. In every big game, he delivered and led his team to the BCS title game.
But there's no debate here. As terrific as Winston has been this season, Johnny Manziel's freshman campaign was better.
[+] Enlarge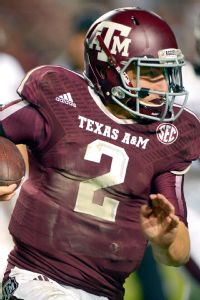 Thomas Campbell/USA TODAY SportsJohnny Manziel is clearly the superior runner.
Manziel was statistically better, had to carry his team more and did it against a tougher schedule. Oh, and as David mentioned, Manziel was the first freshman to do it. Can't beat that.
Yes, Winston's passing numbers are better. However, what Johnny Football did with his legs in 2012 is what set him apart, and it's what made him the toughest player to defend in college football. Winston hasn't run nearly as much because they don't need him to (77 carries for 193 yards and four touchdowns), but that was a signature part of Manziel's game. He was a true dual threat. Manziel exploded for 1,410 yards and 21 touchdowns and led the SEC in rushing a year ago.
Not the leading rusher among quarterbacks. The leading rusher, period.
A&M needed that. Without that element of Manziel's game, they might not have beaten Louisiana Tech. They might not have beaten Alabama. The season would have been different.
Manziel broke Cam Newton's SEC single-season record for total offensive yards in a season, finishing with a whopping 5,116. And while Winston had more touchdown passes, Manziel had more total touchdowns with 47. Winston still has a chance to catch that total if he accounts for five touchdowns against Auburn in January.
And let's not forget A&M's schedule last year. A&M finished third in the country in the NCAA's "toughest schedule" rankings. The Sagarin ratings had the Aggies with the sixth-toughest schedule last year. The NCAA's schedule rankings are unavailable for this season but for comparison's sake, Florida State's schedule is currently ranked 63rd in the Sagarin ratings. That's a huge difference.
Winston didn't have to face an LSU team that put five players from its front seven alone in the NFL draft. And even with that, Manziel and the Aggies still could have won that game (they lost 24-19). The best defenses Winston has faced were Florida (10th) and Clemson (23rd). Manziel faced three that finished in last year's top eight (Alabama, Florida, LSU).
And the best win -- at least to this point in time -- belongs to Manziel. Texas A&M's upset over then-No. 1 and eventual champ Alabama in Tuscaloosa was the epitome of Manziel's freshman campaign. He was virtually unstoppable. He threw for 253 yards and two touchdowns and ran for 92. Gaining 345 yards individually against a Nick Saban-coached defense? Simply amazing.
Winston has a chance at the crystal football. Manziel can't top that and there's no denying it. But that's more of a team accomplishment and there's not a ton Manziel can do about it.
If you were picking a team to go win a football game and both supporting casts were the same, which QB would you pick: 2012 Johnny Manziel or 2013 Jameis Winston? My guess is you're taking Johnny Football. He's done things on a football field that seemingly nobody else can.
December, 13, 2013
Dec 13
10:31
AM ET
By
ESPN Stats & Information
| ESPN.com
Melina Vastola/USA TODAY SportsFlorida State fans have made their pick, but Jameis Winston is just one of six Heisman finalists.
Six Heisman Trophy finalists will head to New York for Saturday's ceremony, the most that have received invites to the ceremony since 1994, when there were also six. The last time there were more was in 1988, with eight.
Although the favorite entering the ceremony is
Florida State
QB
Jameis Winston
, all six have made a solid case for why they are the best player in the country this season.
QB Jordan Lynch, Northern Illinois

Although Northern Illinois' bid to be a BCS buster was ended in the MAC championship game, Lynch's dual-threat ability kept the Huskies in it all season. He had 321 rushing yards against Western Michigan, the most by a quarterback in FBS history, breaking his own record of 316 set earlier in the year against Central Michigan.
Lynch ended the season with 1,881 rushing yards, also an FBS record for a quarterback.
QB Johnny Manziel, Texas A&M
Manziel's bid to join Archie Griffin as the only other multiple Heisman winner saw a transformation of his game. While his 2012 season was built more on his legs, his 2013 campaign saw him develop as a passer.
Manziel added a yard to his yards per attempt (from 8.5 in 2012 to 9.5 in 2013). His touchdown percentage also increased from 6.0 percent in 2012 to 8.4 percent this year. Also in 2013, 63 percent of his completions this season have gone for a first down or a touchdown, compared to 57.6 percent last year.
RB Tre Mason, Auburn
Even after a 1,000-yard rushing season last year, Mason wasn't on the short list of Heisman contenders until he finished the season with five straight 100-yard rushing games, including 304 against Missouri in the SEC championship game, the fifth-highest total all-time in an SEC game.
Mason's 2,137 all-purpose yards this season broke the Auburn school record, previously held by Bo Jackson. Mason's 22 rushing TDs this season also set a school record.
QB AJ McCarron, Alabama
This is McCarron's third season as Alabama's starting quarterback, and he's improved every season. His opponent-adjusted QBR was 76.7 in 2011, 81.5 in 2012 and 83.5 this season.
He was even better against SEC competition. In conference games, McCarron had an 86.4 opponent-adjusted QBR, tied for the best in the conference. Fellow Heisman candidate Manziel was third (85.5).
RB Andre Williams, Boston College

This season, Williams became just the 16th player in FBS history to run for at least 2,000 yards in a season, and the first since Donald Brown did so for Connecticut in 2008.
Williams also showed big-play ability. He had 26 runs of at least 20 yards, the most by an FBS player since Kevin Smith had 26 in 2007. His 11 touchdowns on such runs are the most for any player in the last 10 seasons.
QB Jameis Winston, Florida State
Winston is the clubhouse leader for the Heisman, and as the FBS leader in opponent-adjusted QBR (90.9), he has good reason to be. The leader in opponent-adjusted QBR in three of the last six seasons went on to win the Heisman, including Manziel last year.
Winston has also showed a clutch presence on the field throughout the year. On third downs, Winston has a 98.9 Total QBR, leading all FBS quarterbacks. Over the last 10 seasons, the highest third-down Total QBR in a completed season was also 98.9, by Andrew Luck in 2010.
December, 13, 2013
Dec 13
9:00
AM ET
Johnny Manziel, QB, Texas A&M
Key stats:
3,732 passing yards, 69.1 percent completion rate, 33 touchdown passes; 686 rushing yards, eight rushing touchdowns.
Why he made it to NYC:
Even though Manziel might not have had the best season of everyone in the race, he is still considered by many -- including opposing coaches -- to be the best player in college football. He's the most difficult to game plan for and hardest to defend because of his ability to keep a play alive with his feet, whether he's throwing the ball downfield or tucking it away to run. As a passer, he was better this year than he was last year when he won the Heisman. His passing yardage, completion percentage and touchdown passes were all up. His rushing totals were down; some of that was by design, some of that was his own doing trying to become a more patient passer and some of that had to do with his health, which deteriorated as the season concluded. Sure, Texas A&M was 8-4, which fell below the Aggies' lofty preseason expectations, but who knows what Texas A&M's record would have been this year without Manziel. He's still college football's most valuable player. Look at it this way: If you were building a team for this season and had the chance to choose your players, playground-pickup-basketball-style, it's hard to argue against a healthy Manziel being the first one picked.
Heisman moment:
In all honesty, Manziel had his opportunity for a Heisman moment in the final two games, when the Aggies still had a chance at a BCS bowl. Had he gone into Death Valley and had a great performance against LSU and followed it with another at Missouri in back-to-back road victories to close out the season, he might be neck-and-neck with
Jameis Winston
or possibly even the favorite to win. In the spirit of actually trying to pick one from this season from Manziel, I would say it came in the 49-42 loss to Alabama on Sept. 14. Manziel threw for 464 yards and five touchdowns while rushing for 98 yards against Nick Saban and Kirby Smart's defense. Manziel wasn't mistake-free (he threw two interceptions, including one that was returned for a touchdown) but the Aggies don't stay in the game without Manziel [and
Mike Evans
]. You could make an argument for his performance in the 41-38 road win over Ole Miss, but the Rebels finished 7-5. Hard to have a Heisman moment against a team with that kind of record.
December, 13, 2013
Dec 13
3:00
AM ET
[+] Enlarge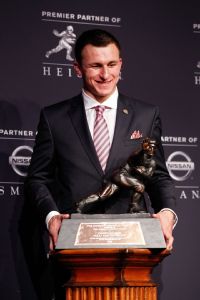 Mike Stobe/Getty ImagesJohnny Manziel brought home the 2012 Heisman Trophy, but will likely be watching the second straight freshman winner.
There is little intrigue leading into the 2013 Heisman Trophy ceremony Saturday in the Best Buy Theater in New York. Florida State quarterback Jameis Winston is the overwhelming favorite to take home the coveted bronze statue.
He's the best player on the nation's top-ranked team and the highest-rated quarterback, according to both the NCAA's efficiency rating and ESPN.com's Total Quarterback Rating.
But, as with this college football season as a whole, Winston's candidacy was not without detours and complications. The redshirt freshman's often brilliant and refreshingly exuberant play on the field was offset to some degree by an off-field incident that cast a dark cloud over him and the Seminoles for weeks. He was accused of but not charged with sexual assault, and the media storm surrounding the incident, as well as the curious way the case was handled by police, still has lingering and discomfiting fumes.
How discomfiting those fumes are to voters across the country will be revealed by how wide Winston's winning margin is among the 938 total ballots cast by 870 media members, 57 previous winners and one vote from the general public.
December, 12, 2013
Dec 12
9:43
PM ET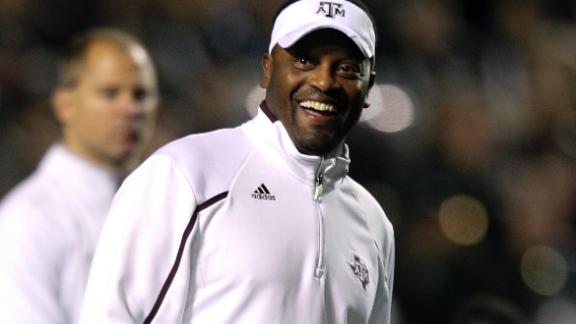 COLLEGE STATION, Texas -- Texas A&M's board of regents approved coach Kevin Sumlin's new six-year contract during a special telephonic meeting Thursday, and the deal includes a handsome raise and a hefty buyout for the sixth-year coach.
The school announced that Sumlin's salary has been elevated to $5 million, up from the $3.1 million annual salary from the contract he signed in January on the heels of the Aggies' 11-2 debut season in the SEC. The deal will pay Sumlin $30 million over the next six years. It also includes a large buyout. If Sumlin leaves before the end of the 2016 season, he'll have to pay $5 million to get out of the deal.
A source told ESPN.com's Brett McMurphy that the buyout on Sumlin's end goes to zero after 2016. The school announced there is also a buyout clause if it terminates the deal without cause, and that clause extends though the length of the contract, which expires Dec. 31, 2019.
Despite an 8-4 season in which the Aggies didn't reach some of the lofty goals they had after entering the year with a preseason top-10 ranking, athletic director Eric Hyman made it clear that he's pleased with the direction of the program and wanted to show a strong long-term commitment to Sumlin.
Sumlin, who is 19-6 in his two seasons since taking over at Texas A&M and is 54-23 in his career, was reported to be a candidate for the USC coaching vacancy, which was eventually taken by Steve Sarkisian. He was also as a potential candidate for NFL openings this offseason before the Aggies announced they agreed in principle to a deal last month.
December, 12, 2013
Dec 12
6:35
PM ET
ESPN.com news services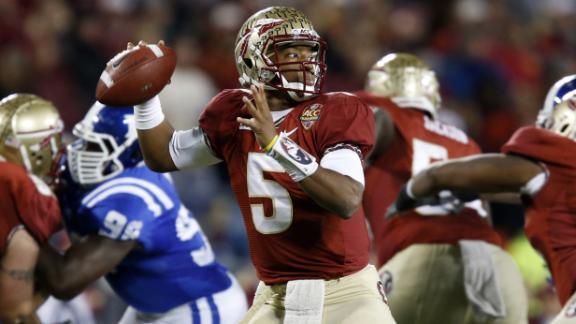 Florida State quarterback Jameis Winston was selected as the Walter Camp player of the year on Thursday, saying he was "overwhelmed" by the honor before later praising his team for the support it gave him during a trying month.
Winston had faced felony charges after being accused of sexually assaulting a female FSU student at an off-campus apartment on Dec. 7, 2012. But last week, state attorney Willie Meggs decided not to charge the Heisman Trophy favorite.
"I know I did nothing wrong," Winston said from the 23rd Home Depot College Football Awards in Lake Buena Vista, Fla.
"People just got to realize that my family, and the coaches, and Coach (Jimbo) Fisher, they just supported me through this whole process, and I just feel so loved by that -- you just don't understand just how much that means to me."
The redshirt freshman is the second player from Florida State to win the Walter Camp award, joining quarterback Charlie Ward in 1993. Former Notre Dame linebacker Manti Te'o won the Walter Camp last year.
The other finalists were Texas A&M quarterback Johnny Manziel, Northern Illinois quarterback Jordan Lynch, Alabama quarterback AJ McCarron and Boston College running back Andre Williams.
McCarron didn't go home empty-handed, beating out Manziel and Winston for the Maxwell Award as the nation's most outstanding player.
December, 12, 2013
Dec 12
5:31
PM ET
Every SEC team has representation on
the SEC All-Freshman team
, which was released on Thursday.
The team was selected by the league's coaches, and coaches could not vote for players on their own team. Arkansas, Ole Miss and South Carolina led the way with four players each on the squad. Here it is in its entirety:
Offense:
TE:
Hunter Henry, Arkansas
OL:
Laremy Tunsil, Ole Miss
OL:
Andrew Jelks, Vanderbilt
OL:
Alex Kozan, Auburn
OL:
Denver Kirkland, Arkansas
C:
Jon Toth, Kentucky
WR:
Laquon Treadwell, Ole Miss
WR:
Marquez North, Tennessee
QB:
Maty Mauk, Missouri
RB:
Alex Collins, Arkansas
RB:
Kelvin Taylor, Florida
AP:
Pharoh Cooper, South Carolina
Defense:
DL:
Chris Jones, Mississippi State
DL:
A'Shawn Robinson, Alabama
DL:
Robert Nkemdiche, Ole Miss
DL:
Darius Philon, Arkansas
LB:
Darian Claiborne, Texas A&M
LB:
Leonard Floyd, Georgia
LB:
Skai Moore, South Carolina
DB:
Vernon Hargreaves, Florida
DB:
Tony Conner, Ole Miss
DB:
Tre'Davious White, LSU
DB:
Cameron Sutton, Tennessee
Special teams:
PK:
Elliott Fry, South Carolina
P:
Johnny Townsend, Florida
RS:
Pharoh Cooper, South Carolina
December, 12, 2013
Dec 12
4:05
PM ET
Many have questioned the Chick-fil-A Bowl's selection of Duke ahead of more established programs such as Miami and Virginia Tech, but bowl president Gary Stokan told the Associated Press that "
there was no doubt in our minds
" about Duke.
"We in our bowl game take great pride in letting teams play themselves into our game or play themselves out of our game," Stokan told the AP. "It's not some cigar smoke-filled room where we're sitting up making these decisions. It's the players that are making the decisions. ... Duke played [its] way into our game and [is] very deserving of being in our game."
The Blue Devils (10-3) will play No. 20 Texas A&M (8-4) on Dec. 31 in the Atlanta-based bowl.
December, 12, 2013
Dec 12
2:00
PM ET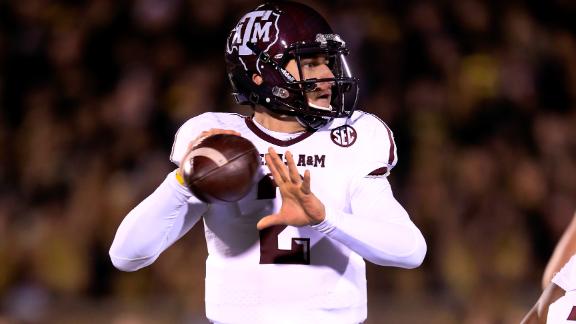 While he maintains he hasn't made a decision about his football-playing future, Texas A&M quarterback Johnny Manziel says he believes he is ready for the next level.
In an interview session with reporters at the Home Depot College Football Awards in Lake Buena Vista, Fla., the 2012 Heisman Trophy winner fielded questions about whether he'll take his talents to the NFL after this season and whether he feels he's ready to compete at that level.
"In my mind, I think I am [ready]," Manziel told reporters.
The redshirt sophomore said he'll take everything into account when making his decision to stay or go, including consulting with Texas A&M coach Kevin Sumlin, quarterbacks coach and co-offensive coordinator Jake Spavital and George Whitfield Jr., the private quarterbacks coach he's worked with the past two summers.
"More than anything, 'Are you ready for the next level?' That's the big thing," Manziel said. "You don't want to go and be unprepared for the National Football League and leave two years [of college football] on the table. It all comes down to making the best decision for you. Whether you're ready. Whether teams are quarterback-needy. You look at all your factors."
Manziel did not specify a timetable for his decision to declare for the 2014 NFL draft or return to Texas A&M for his junior season. He said he is focusing on the Chick-fil-A Bowl, where the No. 21 Aggies will meet No. 24 Duke on Dec. 31 at the Georgia Dome.
December, 12, 2013
Dec 12
12:00
PM ET
December, 12, 2013
Dec 12
12:00
PM ET
Manziel On Being A Heisman Finalist