August, 28, 2014
Aug 28
10:15
PM ET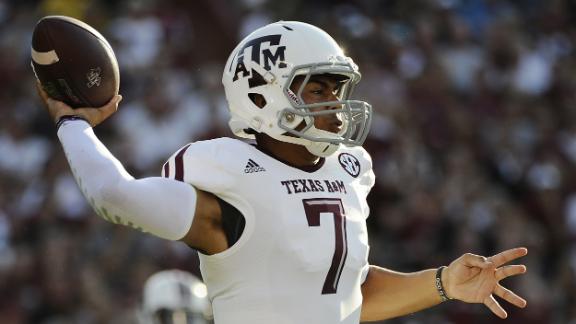 Texas A&M's big 24-point win over South Carolina on Thursday night paid off to the tune of more than $1 million for some Aggies fans.
The Ashley Furniture branch located in College Station, where Texas A&M is based, offered all furniture purchased from Aug. 16 through Aug. 27 for free if the Aggies beat the Gamecocks by at least 10 points.
Mark Wilks, who owns the store, told ESPN.com on Thursday night that more than 600 people bought items during that time period totaling more than $1 million in sales. One customer, Wilks said, bought $20,000 worth of furniture.
"We've wanted to do this for three or four years now," said Wilks, whose store is an official sponsor of Aggies athletics. "This was really good for us."
Wilks said that, thanks to the promotion, his store had its best month of sales in the eight years it has been open.
No, the furniture store is not going out of business thanks to fact that Wilks took out insurance. With the Aggies a 10½-point underdog, Wilks was able to get the insurance relatively cheap. He says he'll pay the insurance company roughly 15 percent of the total that they will reimburse to customers.
Said Wilks: "We're going to have a big check-writing party at the store."
Furniture stores have been popular businesses when it comes to sports giveaways.
August, 28, 2014
Aug 28
10:01
PM ET
Kevin Sumlin was never comfortable talking about all the players he lost. Throughout the offseason, he was peppered with questions about replacing
Johnny Manziel
,
Mike Evans
and
Jake Matthews
. Each time he'd bite his lip, say what he needed to say and move on.
Now we know why. In spite of losing so many stars, Sumlin's offense hasn't missed a beat. On Thursday night, Texas A&M's retooled offense out-dueled Steve Spurrier and South Carolina, rolling up the Gamecocks 52-28 on the road.
1. Welcome to the show, Kenny Hill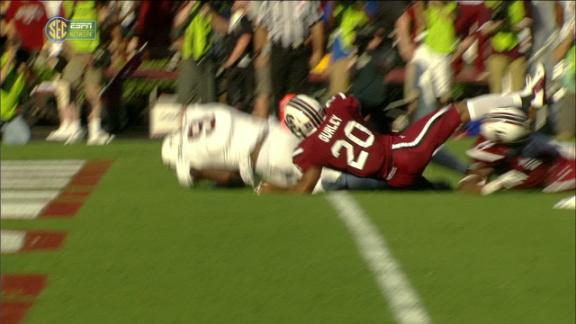 The sophomore didn't appear the least bit worried about living up to the legend of Manziel on Texas A&M's opening drive. He calmly marched the Aggies down the field, spreading the ball around to his receivers. The best of his throws was this 22-yard, third-down strike over the middle to redshirt freshman
Ricky Seals-Jones
that nearly went for a touchdown. Hill stayed calm in a stressful pocket and stepped into the throw beautifully.
Tra Carson
would ultimately go between the tackles for the 1-yard touchdown, giving Texas A&M the first points of the game. But Hill was the star of the drive, announcing himself to the college football world as a quarterback worthy of succeeding Johnny Football.
2. This Seals-Jones fella can play, can't he?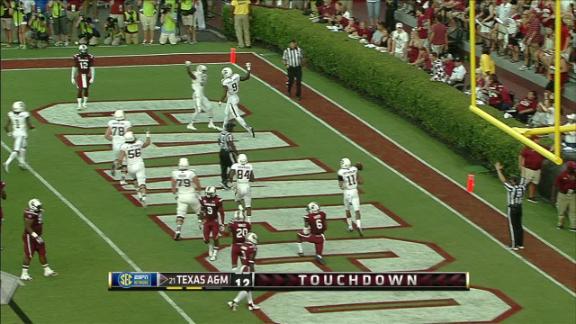 South Carolina's defensive backs were helpless to stop him. He was too big, too fast, way too athletic. Sound familiar? It should. In many ways, he's Mike Evans 2.0. The 6-foot-5, 225-pound redshirt freshman can't be covered. On this 3-yard touchdown grab, he showed off his burst, getting into his break quickly. After getting a step on the DB, all he had to do was hold onto the football, another perfect strike from Hill. On a side note, look at the pocket. The pressure from South Carolina's defensive line was almost non-existent.
3. Hill can run the read-option, too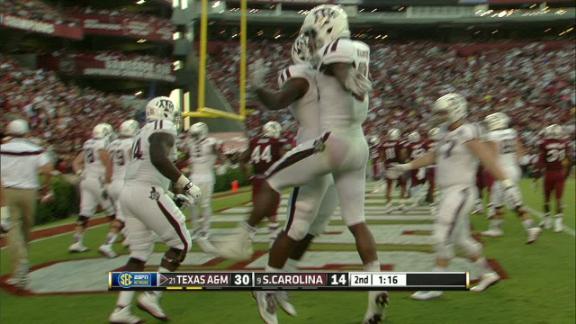 With the game still within reach, South Carolina had the chance to stone Texas A&M on 3rd-and-goal. But Hill was having none of it. Instead of picking apart the Gamecocks secondary with his arm, he used his feet and instincts to get the defense to commit before pitching the ball off to Carson, who had an easy path to the end zone. If Hill can keep executing the Aggies' offense like this, the SEC West is going to be really, really interesting.
4. Spurrier had to roll the dice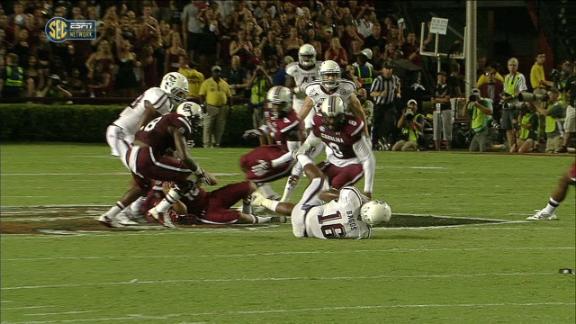 By this point, South Carolina's defense had shown nothing. The defensive line wasn't getting any pressure. The secondary wasn't making any plays, either. So why not try the onside kick? Down 17 points, it was worth a shot. And
Landon Ard
almost executed it perfectly. But Texas A&M secured the kick, and promptly went 42 yards in 2:27 for another touchdown. South Carolina nearly got back in the game again toward the end of the third quarter, but
Dylan Thompson
put too much air a deep throw and watched helplessly as
Armani Watts
came away with the game-sealing interception. What could have been a 10-point game heading into the fourth quarter instead turned into a runaway rout.
August, 28, 2014
Aug 28
9:48
PM ET
Associated Press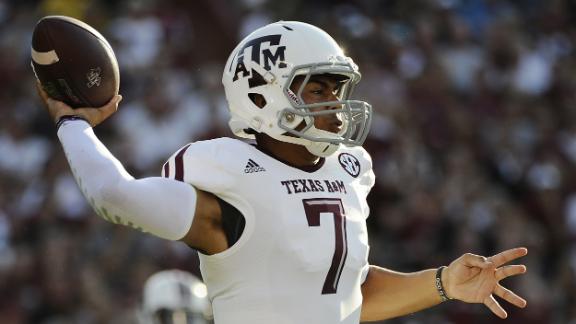 COLUMBIA, S.C. -- Kenny Hill broke Johnny Manziel's single-game passing record with 511 yards and No. 21 Texas A&M beat No. 9 South Carolina 52-28 on Thursday night, ending the Gamecocks' 18-game home win streak.
Hill's performance in his first career start proved there is plenty of life in the Aggies' offense without Manziel, a Heisman Trophy winner and first-round selection in the NFL draft. Hill finished 44 of 60 with three touchdowns.
Hill was steady and confident in the pocket, leading Texas A&M (1-0, 1-0 Southeastern Conference) to a 31-14 halftime lead and finishing up with the most passing yards allowed in Steve Spurrier's 10 seasons with the Gamecocks (0-1, 0-1).
The Gamecocks played their first game since the departure of star defensive end Jadeveon Clowney -- and it showed. South Carolina gave up seven TDs on A&Ms first 11 possessions.
Kenny Hill Leads A&M To Shocking Rout
SEC SCOREBOARD
Thursday, 8/28
Saturday, 8/30
Sunday, 8/31