December, 8, 2013
Dec 8
10:25
PM ET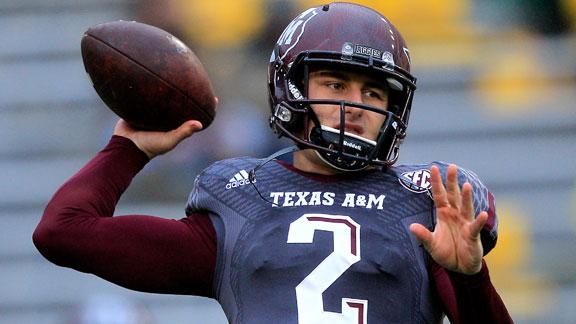 Dec. 31, 8 p.m. ET, Atlanta (ESPN)
DUKE BLUE DEVILS BREAKDOWN
As expected, Duke was overmatched in the ACC championship game and lost convincingly to Florida State, but the loss didn't define the season, which includes a school-record 10 wins.
[+] Enlarge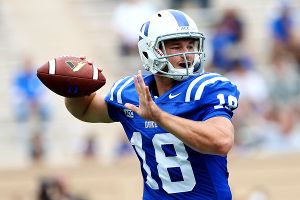 Streeter Lecka/Getty ImagesThe versatile Brandon Connette accounted for 26 total scores for Duke this season.
The Blue Devils still earned the title of Coastal Division champs and now have a chance to end the season on a winning note. Duke had won eight straight games heading into the ACC title game -- the program's longest winning streak since 1941. The program was ranked in the BCS standings for the first time, and it defeated two ranked teams in then-No. 16 Virginia Tech and then-No. 24 Miami.
Although Duke lost to Florida State for the 19th time and remains winless against the Noles, what happened in that game wasn't reminiscent of the "old Duke." Instead, Duke just got a taste of what FSU had been doing to its opponents all season. Duke still has a much-improved defense, which was evident in the first quarter, when it held the Noles scoreless for the first time since they played Florida in 2012. Duke also forced Florida State into three turnovers, including one fumble in the red zone and two interceptions. Duke has now had four takeaways in the red zone this season. Duke's biggest problem was that it couldn't capitalize on Florida State's mistakes or sustain a drive.
That wasn't the case for most of the season, as Duke was able to score more than 20 touchdowns on the ground and in the passing game for the first time in school history. Despite the loss to FSU, it was an unprecedented season for Duke and coach David Cutcliffe, who was named the ACC's Coach of the Year.
-- Heather Dinich

vs.

TEXAS A&M AGGIES BREAKDOWN
This is not quite where Aggies fans thought their team might end up when they were previewing the season.
[+] Enlarge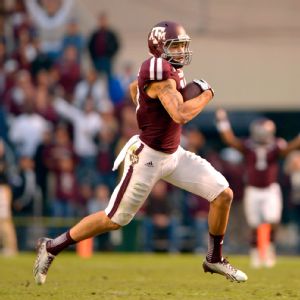 Thomas Campbell/USA TODAY SportsMike Evans and the Aggies hope to finish their season on a high note with a bowl victory.
With 2012 Heisman Trophy winner
Johnny Manziel
, receiver
Mike Evans
and offensive tackle
Jake Matthews
all returning, many in College Station thought the Aggies could achieve a BCS bowl and perhaps even flirt with an SEC title and a BCS title game berth.
But an extremely young defense that was hit hard by graduation (at least in terms of key players) struggled throughout the season, and a beaten-up Manziel lost steam in the final two regular-season games, which led the offense to do the same.
All that being said, 8-4 isn't bad, and the fact that it's a "disappointment" in Aggieland speaks to how much progress the program has made in a short time. This team still has a high-powered offense, ranking sixth in the nation in points per game (43.6) and fourth in yards per game (538.2).
The defense has had its ups and downs but ended the regular season on a solid note on the road against a talented Missouri team, keeping the game within reach for its offense.
And this could be the last hurrah for Manziel, who seems destined to declare for early entry into the 2014 NFL draft. It could also be the final salvo for Evans, a Biletnikoff Award finalist, who is also draft-eligible.
-- Sam Khan Jr.
December, 8, 2013
Dec 8
3:26
PM ET
ESPN.com news services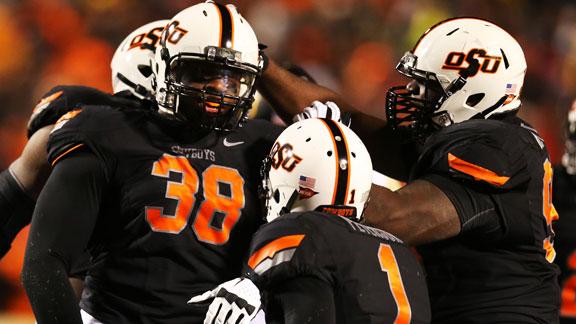 Wisconsin will play South Carolina in the Capital One Bowl on Jan. 1, in Orlando, Fla.
The No. 19 Badgers (9-3) are playing in a non-BCS bowl for the first time in three seasons following three consecutive appearances in the Rose Bowl. Wisconsin lost those games, though, and will be looking for its first bowl win under coach Gary Andersen.
South Carolina (10-2) won its final five games of the season, including a double-overtime victory against then-unbeaten Missouri.
The Gamecocks are making their second Capital One Bowl appearance in three seasons, having beaten Nebraska in 2012.
South Carolina is also the only team to beat Fiesta Bowl-bound UCF, rallying in the final three quarters to claim a three-point victory.
It is the first meeting between the schools.
SEC runner-up Missouri is headed to the Cotton Bowl, where the No. 8 Tigers will play No. 13 Oklahoma State on Jan. 3.
Missouri (11-2) is coming off a 59-42 loss to Auburn in the SEC championship game in only its second season in that league.
Oklahoma State (10-2) was on track for a Big 12 title and a spot in the Bowl Championship Series before a 33-24 loss to Oklahoma on Saturday.
SEC teams have won the last five Cotton Bowls, and nine of the last 10, over Big 12 teams. The lone exception was the 2008 game when Missouri, then in the Big 12, beat Arkansas 38-7.
December, 8, 2013
Dec 8
12:00
PM ET
The dream season continues for Auburn.

Unbelievable isn't it? The Tigers were 3-9 a year ago. Now they're 12-1 and SEC champions, and things broke their way to open the door for them to head back to the VIZIO BCS National Championship Game for the second time in four seasons. What an incredible story. As a result of its 59-42 win over Missouri in the SEC championship game on Saturday at the Georgia Dome and Ohio State's loss to Michigan State in the Big Ten championship game, Auburn is BCS title-game bound.

What does that mean for the rest of the league and those teams' bowl destinations? Alabama is almost certainly headed to the Allstate Sugar Bowl. The next pick belongs to the Capital One Bowl, and South Carolina should be headed to Orlando for that one. As for the AT&T Cotton Bowl, it's looking like Mizzou is the favorite to land that spot.

That leaves an interesting sequence for the next few bowls in the pecking order. The Outback Bowl, Chick-fil-A Bowl and the TaxSlayer.com Gator Bowl are each potential destinations for LSU, Texas A&M and Georgia. The selections could go a couple different ways, but we take a stab at how we think it'll shake out below.

As for the next tier, it appears the AutoZone Liberty Bowl has its sights set on Mississippi State, which would kick Vanderbilt to the BBVA Compass Bowl. Here are our full projections for bowl selection Sunday, and soon enough, we'll find out the fate for each of these squads.

VIZIO BCS National Championship Game, Jan. 6: Auburn
Allstate Sugar Bowl, Jan. 2: Alabama
Capital One Bowl, Jan. 1: South Carolina
AT&T Cotton Bowl, Jan. 3: Missouri
Outback Bowl, Jan. 1: LSU
Chick-fil-A Bowl, Dec. 31: Texas A&M
TaxSlayer.com Gator Bowl, Jan. 1: Georgia
Franklin American Mortgage Music City Bowl, Dec. 30: Ole Miss
AutoZone Liberty Bowl, Dec. 31: Mississippi State
BBVA Compass Bowl, Jan. 4: Vanderbilt
December, 6, 2013
Dec 6
6:00
PM ET
Russell Henderson (@RVHenderson): Will it be Ole Miss or Vanderbilt in the Liberty Bowl?
Actually, it might not be either. There's
a report out there
that Mississippi State could be the pick for the AutoZone Liberty Bowl, which would be interesting, because the Bulldogs are 6-6 while Vanderbilt is 8-4. The Liberty Bowl and the BBVA Compass Bowl share the eighth and ninth selections in the SEC pecking order but don't have a specific order and consult the SEC office on those picks.
To me, location makes Vanderbilt a sensible pick, but it's not just about who the better team is. Bowl games often choose on who's going to sell tickets, and if the Liberty chooses Mississippi State, it's clearly banking on the fact that Bulldogs fans will make the trip in droves.
Brandon Tyler (@BrandonTyler): It is all about the Bowls! Who is going where? Especially Texas A&M. Thanks.
The SEC's automatic bid, the AllState Sugar Bowl, still has to be decided, of course, based on what happens this weekend. As for our full bowl projections for SEC teams through Week 14,
you can find them here
. And a couple of our experts, Brad Edwards and Mark Schlabach,
take a stab at them right here
.
But in the spirit of playing prognosticator, I'll take a guess and say one of the undefeated teams lose, and the Auburn/Missouri winner goes to the BCS title game. That likely would put Alabama in the Sugar Bowl and the Auburn/Missouri loser into the Capital One Bowl. (For the record, I'm predicting a Missouri win over Auburn.)
LSU is probably headed to the AT&T Cotton Bowl, South Carolina to the Outback Bowl and your beloved Aggies likely are bound for the Chick-Fil-A Bowl. I mentioned the Liberty Bowl situation above, which probably kicks Vanderbilt to the BBVA Compass Bowl. The TaxSlayer.com Gator Bowl probably claims Georgia, and the Franklin American Mortgage Music City Bowl probably nabs Ole Miss.
[+] Enlarge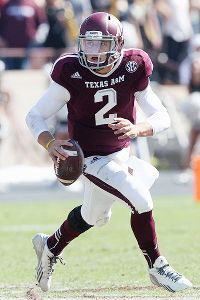 Bob Levey/Getty ImagesIt's hard to imagine Johnny Manziel bypassing the NFL and returning for another season at Texas A&M.
Dave (@davidclarke26): Chances of Johnny Manziel going to NFL and the Texans?
I think the chances of him going to the NFL are high. I tend not to speak in absolutes when it comes to Manziel, because he's unpredictable, but I honestly would be shocked if he returned for another season at Texas A&M, based on all the vibes I get. If the NFL evaluation he receives says he has a good shot to be a first-round pick, he's gone. I guess if he doesn't get rated as highly and scouts are down on him after his final two games, where he played hurt, then who knows? But honestly, I think the bowl game will be his last in the maroon-and-white.
As for him landing in Houston with the Texans, I think he'd have to be around in the second round for him to land there. The Texans are on track for the No. 1 pick in the draft, and I find it unlikely that they would take him first overall (though, they clearly need a quarterback, and I would imagine they'll consider taking one). Let's say they pick someone at another position, like defensive end
Jadeveon Clowney
or perhaps even offensive tackle
Jake Matthews
with their first pick. Then I think you could see them debating choosing Manziel, if -- again if -- he's around when they pick in round two.
All it takes is one team to fall in love with you for you to wind up a first-round pick. It also depends on what head coach the Texans hire, since whoever is in that position is going to have his own specific vision and desires for who his quarterback should be.
Nathan Goldstein (@nathan0223): What's the latest with Jamal Adams?
Adams, the No. 23 player in the ESPN 300 and the nation's No. 3 safety, is definitely an SEC recruit of note, with Florida and LSU among the teams making a play for him. My main man Damon Sayles caught up with Adams recently after he hosted LSU for an in-home visit, so
check that out here
. Florida has been the longtime favorite for Adams (receivers coach Joker Phillips is his godfather); Ole Miss has been considered a contender; Texas A&M once was but isn't anymore. I think Texas is still in the mix, but my guess is he still winds up at Florida.
December, 6, 2013
Dec 6
3:00
PM ET
On Saturday, Auburn and Missouri will meet in the SEC championship game. To preview the game, we spoke with Texas A&M defensive coordinator Mark Snyder, who knows the teams as well as anybody. The Aggies were one of four teams to face both division winners at some point during the season.
Snyder breaks down the game from his vantage point, looks back at Texas A&M's season and explains why he thinks the SEC will be more defensive next year:
It was Texas A&M's second year in the SEC. How'd you feel like it went?
Mark Snyder:
Obviously, we had some big standards going into the season, but we were so young defensively. We had some injuries, like a lot of teams in the SEC, but I thought as the year went, I saw our defense getting better each and every week. We played pretty decent and had our opportunities against Missouri. Give credit to those guys; they're good and they got us.
[+] Enlarge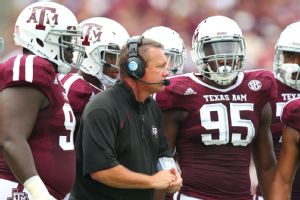 Matthew Emmons/USA TODAY SportsMark Snyder sees better times ahead for Texas A&M's young defense.
What's the mindset now heading into the bowl game?
Snyder:
Just get better. Get our younger guys better on my side of the ball. It's huge getting to a bowl game and having this extra practice time because typically you get into bowl practice and the first week or so you work your young guys to get them ready for next year. For us, those kids are all playing for us. They're starting. We're going to have to be careful about how much we do with them, but we're getting the chance to continue to get better on defense.
Auburn and Missouri will play for the SEC title Saturday. What stands out to you about both of those teams?
Snyder:
They got us at different times. Auburn got us earlier than Missouri did. Both have got really good quarterbacks. Nick's playing well. Obviously, Missouri's quarterback has played a lot. The difference in the teams I think is Missouri, they're a very veteran offense -- veteran offensive line, big, tall wide receivers, a quarterback that's played a lot, a running back that's back. It's a very veteran team where Auburn is very, very athletic. They're just speed across the board from the receiver [
Sammie
]
Coates
to
Nick Marshall
to -- I really like their tailback (
Tre Mason
), I think he's really good. If you look at the teams, one's probably a little bit more experienced, been in the system longer. The other team has tremendous athleticism.
What are your thoughts on Auburn coach Gus Malzahn?
Snyder:
He's done a good job of instilling some beliefs, him and Coach [Gary] Pinkel both. If you look at both of these teams, right now they're playing with a lot of confidence, so they're doing a great job instilling some beliefs in their system. For Coach Pinkel, it was a little easier because those guys had been with him for four years. The trick with Gus is this is his first year with some of these guys, and he's got them to buy in. You need to make a play here or there in those special seasons, and that's what they've done.
Are you surprised with Missouri's run this early in the SEC?
Snyder:
Not really. Coach Pinkel has had a culture of success everywhere he's been. They were pretty beat up last year. You look at a team like Florida, they're going through it this year, Georgia a little bit, us a little bit. You go through those. The teams with those magical seasons are staying healthy. We were able to do that last year. We didn't have much depth, but we stayed healthy. That's half the battle, and that's hard in this league. There's got to be some luck involved in there, especially on our side. If you look at the West, it's every week.
This season was all about the offense in the SEC. A lot of good quarterbacks, a lot of good offenses. Do you see the power shifting back to the defense next season?
Snyder:
I would think so. Things are cyclical, there's no doubt. LSU lost a lot of people on defense. We lost some people, and we were already young, playing with a bunch of freshmen -- Todd [Grantham] was playing with a bunch of freshmen at Georgia -- against some really good quarterbacks. A lot of those guys are moving on now, and it's not just the quarterbacks. There are going to be some tailbacks, some offensive linemen, just offense in general. And then you're going to see some of the teams I just mentioned not lose anybody (on defense) and continue to grow up. I will be surprised if you didn't see better defensive numbers come next year from a bunch of us.
December, 6, 2013
Dec 6
12:00
PM ET
We've almost reached the conclusion of your SEC football season, so buckle up for a whole lotta links.
December, 5, 2013
Dec 5
5:12
PM ET
[+] Enlarge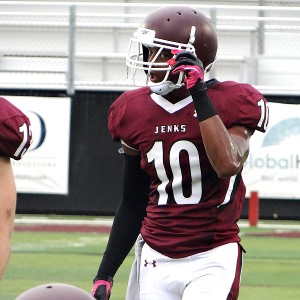 Bob Przybylo/ESPNSteven Parker II could follow in the footsteps of his father at Oklahoma State or his grandfather at Oklahoma.
December, 5, 2013
Dec 5
4:20
PM ET
Texas A&M picked up its 19th commitment of the 2014 recruiting class when Tyler (Texas) Junior College receiver
Joshua Reynolds
committed to the Aggies on Thursday.
The 6-foot-3, 178-pound receiver is the second receiver in the Aggies' 2014 class, joining Lufkin (Texas) High School receiver
Jamal Jeffery
. Tyler Junior College associate head coach Ryan Muhon confirmed the news of Reynolds' commitment to ESPN.com.
To continue reading this article you must be an Insider
December, 5, 2013
Dec 5
1:24
PM ET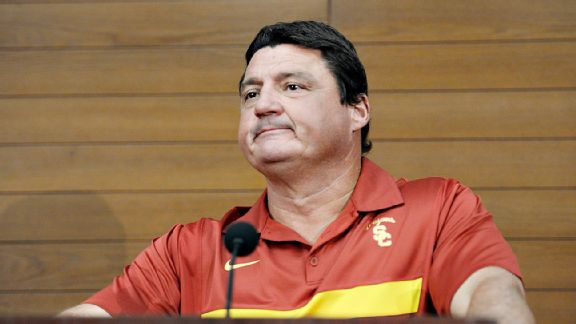 Kelvin Kuo/USA TODAY SportsInterim head coach Ed Orgeron walked out on his USC players, many of whom he recruited, when things didn't go his way.
Once again we're presented with a tale – a parable, really – involving men who demand loyalty, devotion and persistence from others while displaying none themselves.
Steve Sarkisian left his job as coach of Washington on Monday to take the same job at USC. No big deal, right? It's the way the game is played. It's unfortunate but inevitable. It's a business, and this is how business gets done.
Ed Orgeron left his job as interim coach of USC on Monday because Sarkisian was given the permanent job. No big deal, right? Coach O was 6-2 as a head coach. He brought the Trojans back to relevance after the firing of Lane Kiffin. He was bypassed by athletic director Pat Haden despite the vocal support of his players, so it only makes sense that he would go somewhere else to soak his hurt feelings.
This kind of thing happens every December. Why fight it?
But consider this: A hypothetical Washington Huskies' player, recruited by Sarkisian under the assumption that he would get four years of his coaching, might be sitting in his dorm room thinking about transferring to follow his coach. He can do that, of course, providing he's willing and able to sit out the mandatory Pac 12 "academic year-in-residence" -- euphemisms, arise! -- during which he is not eligible to receive an athletic scholarship.
December, 5, 2013
Dec 5
12:00
PM ET
Conference championship Saturday is almost upon us. Catch the fever!
December, 5, 2013
Dec 5
12:00
PM ET
If
Johnny Manziel
's intention was to conquer the college football world in his second season, it didn't work out quite the way he planned.
[+] Enlarge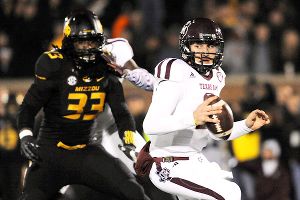 Denny Medley/USA TODAY SportsJohnny Manziel's season didn't go as planned, but he still gave everyone plenty to talk about.
There will be no BCS national championship for Texas A&M. No SEC championship. No BCS bowl game. No second Heisman Trophy for the once-in-a-generation talent at quarterback. All of these things were on the redshirt sophomore's radar.
Even with the lofty goals unmet, Johnny Football still gave the country plenty to talk about this season.
It began with Manziel under a microscope, dealing with a level of scrutiny that perhaps no college football player has ever experienced. Everyone seemed to have an opinion about Manziel, what he did on the field, off the field, whether he was good for the game or bad or what his future held. The questions and comments ranged from valid and insightful to bewildering and off-the-wall.
How long ago that seems now.
Despite the pressure of an NCAA investigation into allegations that he accepted money for autographs (the investigation found no evidence that Manziel accepted money, but he was suspended for a half for an "inadvertent" violation) and the constant spotlight that followed him around from coast to coast, whether it was a talk-show appearance or a fraternity party, Manziel began the season playing at a level even higher than that of his first season. All his passing numbers went up, his interception count -- at least initially -- was down and soon, all anyone was left to talk about was his play on the field.
Perhaps that was Manziel's most astonishing accomplishment this season. He didn't get swallowed by the tidal wave of sudden fame. He was able to cast it all aside, focus on football and raise his level of play.
"The scrutiny he was under in the offseason was probably unlike anybody else in the country, or ever has been in college football," Texas A&M coach Kevin Sumlin said last month. "But he's back to just playing football and doing what he likes to do."
And football was the reason people began talking about him in the first place. His captivating 2012, in which he became the first freshman to win the Heisman Trophy, was the reason everyone was so enthralled with him in the first place.
He also became virtually absent from social media. After his infamous
"why I can't wait to leave college station" tweet in mid-June
(which has since been deleted), Manziel stopped posting on his Twitter page until SEC media days in July. He picked it back up for a couple weeks, but once preseason training camp began, Manziel stopped posting, period. He hasn't tweeted from his account since Aug. 1. He has posted photos to his Instagram account, but it's been sporadic throughout the season.
Back at SEC media days, when asked about his initial month-long absence, he said "No more talking off the field. All the talking's done on the field," and that he'd have a better game plan for his social media participation. He's lived up to both promises.
Which again, brings the conversation back to his play. The adversity he faced this season was mostly of the on-the-field type and in the second half of the season, it became about his health. After a terrific start, Manziel suffered a right shoulder injury against Auburn, a throwing hand injury against Mississippi State, and he seemingly hurt his ankle against Missouri (or perhaps aggravated an earlier injury to it). By season's end, the nation's most electrifying player began to look human.
Still, the numbers are staggering. He ranks in the top 10 in passing yards per game (311), passing touchdowns (33), completion percentage (69.1), yards per pass attempt (9.55), passer rating (170.4), total offensive yards per game (368.2), yards per play and points responsible for per game (3.41). He's the only quarterback in the FBS to rank in the top 10 of all eight of those categories. He also reduced the number of times he ran the football, in order to show that he could be a pocket passer and perhaps minimize the number of hits he took.
He has raised his passing yard total (3,732), and his completion percentage and passing touchdown total are all up. His play gave the Aggies a chance to win virtually every game except the LSU contest, a 34-10 defeat that is A&M's only double-digit setback in the Sumlin era. Even in losses to Alabama and Auburn, Manziel put up eye-popping numbers and made highlight-worthy plays, but as coaches often say, this is a team sport and one man can't do it all.
As the injuries piled up toward the end of the season, the effect it had on his play became evident. Sumlin and Texas A&M don't often go into details about injuries so it's difficult to know how badly he was beat up at season's end. But there's no questioning his toughness; he played whenever he was physically able or found a way to get on the field.
And for all the scrutiny he took this offseason, Manziel's heartfelt side was revealed in a few under-the-radar instances, whether it was
spending time on the sideline with 6-year-old cancer survivor Charlie Dina
, a Houstonian who suffers from rare form of cancer known as Neuroblastoma and who has formed a bond with Manziel, or
making the day of Joel Fitch
, the uncle of Manziel's friend Nate Fitch (known as "Uncle Nate"). According to TexAgs.com, Joel is 43 and has cerebral palsy but was able to share a few moments with the quarterback the day the Aggies lost to Auburn.
With the regular season over, questions about his future abound. Manziel hasn't publicly indicated on whether he's going to declare for early entry into the 2014 NFL draft, though many seem to think he will. If this was his last season in Aggieland, it was quite the ride. He helped Texas A&M make some history and a true splash upon its entry into the SEC.
There might never be another player like him in the sport again.
December, 4, 2013
Dec 4
2:00
PM ET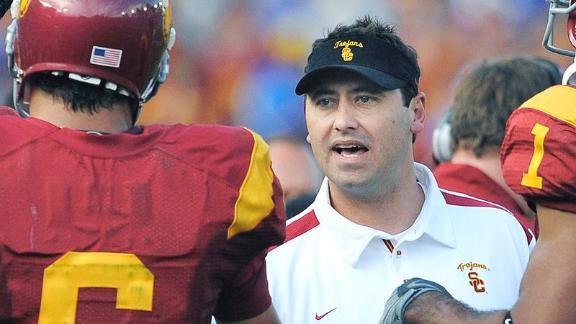 The latest update to the
RecruitingNation class rankings
features a number of moves due in large part to the release of the
ESPN Junior College 50 rankings
. Within the conference, Alabama still has a strong grasp on the top spot with all 14 schools in the top 35 classes nationally. Here's a look at the
conference's rankings

.

Trending up:
Both Texas A&M and Auburn are trending up thanks to the release of the ESPN JC 50. The Aggies jumped from No. 5 to No. 4 and into the top 3 in the conference rankings with junior college offensive linemen
Avery Gennesy
(Southhaven, Miss./East Mississippi Community College) and
Jermaine Eluemunor
(Rockaway, N.J./Lackawanna College) coming in at No. 13 and 15 in the ESPN JC 50. Auburn junior college commitment
D'haquille Williams
(Reserve, La./Mississippi Gulf Coast Community College) and
Dalvon Stuckey
(De Funiak Springs, Fla./Pearl River Community College) came in at No. 1 and 9 in the JC 50. Auburn jumped from No. 14 nationally to No. 12, and the Tigers are in striking position on several other highly-ranked prospects.
To continue reading this article you must be an Insider
December, 4, 2013
Dec 4
12:00
PM ET
Like Georgia QB Aaron Murray before him, it's tough to see a senior like LSU's
Zach Mettenberger get hurt
before he has a chance to play his final bowl game and ride off into the sunset. Here's to good health in the NFL.
December, 3, 2013
Dec 3
6:13
PM ET
Associated Press
COLLEGE STATION, Texas -- A demolition worker has died of injuries received when he fell four stories from Texas A&M's under-renovation football stadium.
A university statement says Angel Garcia was working for Lindamood Demolition when the accident happened about 11:30 a.m. Tuesday at the north end of Kyle Field. The 25-year-old worker died a short time later at St. Joseph's Regional Medical Center in Bryan.
The U.S. Occupational Safety and Health Administration, the Texas A&M University System and university police are investigating the accident.
Kyle Field is undergoing $450 million in upgrades to put in new grass and expand seating from 82,600 to 102,500. That would make it the largest stadium in the Southeastern Conference.
Texas A&M To Face Surprising Duke