October, 1, 2014
Oct 1
4:00
PM ET
ARLINGTON, Texas --
Malcome Kennedy
lay on the turf, trainers tending to his injured left shoulder.
[+] Enlarge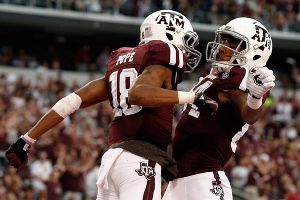 Matthew Emmons/USA TODAY SportsTexas A&M receivers Malcome Kennedy and Edward Pope have combined for 49 receptions and six touchdowns through Week 5 this season.
With 57 seconds left in the fourth quarter, the Aggies trying to march downfield and complete a scoring drive to cap off a come-from-behind win against Arkansas, something was wrong with Texas A&M's senior receiver after he landed squarely on his left side and quickly reached for his shoulder. It was separated.
"I thought he was done," Texas A&M coach Kevin Sumlin said afterward.
Kennedy hadn't come this far -- all the way from Cayuga, a small East Texas high school that played in the state's smallest 11-man classification, Class 1A, when he was there and from being a reserve receiver who waited his turn to become a featured target and a senior leader -- to allow shoulder pain to keep him from finishing.
"I felt like I had to go," Kennedy said. "I popped it out of place and the trainers came over, calmed me down and popped it back in. They asked me if I was all right and if I was done. I said 'No. I've got to go.' I just had a lot of adrenaline so it didn't hurt. I still was ready to go."
Moments later, he proved as much, catching a dart from
Kenny Hill
for the game-winning 25-yard touchdown in Texas A&M's
35-28 overtime win
against the Razorbacks.
In many ways, Saturday was a snapshot of what Kennedy means to the Aggies. He usually isn't the first name outsiders think of when discussing Texas A&M receivers. For the past two seasons, that distinction belonged to Mike Evans, a 2014 first-round NFL draft pick who now plays for the Tampa Bay Buccaneers.
This season, Kennedy is the elder statesman of the Aggies' deep, young receiving corps, but some were more interested in discussing the bigger (sophomore
Ricky Seals-Jones
) or faster (true freshman
Speedy Noil
) young, new toys that the Aggies had to play with.
Meanwhile Kennedy, the dependable "Y" receiver in the Aggies' Air Raid-inspired offense, simply catches footballs -- lots of them -- does his work and speaks up when necessary, leading his group and the offense forward.
"Malcome is the vocal leader of our offense," offensive coordinator Jake Spavital said.
He's also the leading receiver currently. Through five games, he tops the Aggies in catches (33) and receiving yards (378) to go with two scores. His catch total is more than double of the next-best receivers,
Edward Pope
and
Josh Reynolds
, who each have 16.
And those who miss the days of Evans, the freakishly-athletic former basketball player who could seemingly catch everything in his stratosphere? Kennedy even showed he has the ability to do that,
going up and leaping over an SMU defender on a jump ball
on third-and-13 in the first quarter of the
Aggies' win against the Mustangs
last month. It is the kind of catch few associate with Kennedy, who does the majority of his work across the middle of the field. He has been invaluable to the development of Hill, the Aggies' sophomore sensation quarterback.
"He has helped a lot because he is an easy target to find," Hill said. "He's always getting open. That helps a lot. ...On a third down, he's a guy you can lean on and go to."
For a team that starts two freshmen (Noil and Seals-Jones) and a sophomore (Reynolds) alongside him at receiver, Kennedy is the heart of the receiving corps. He displayed as much Saturday when the Aggies' trailed the Razorbacks by 7 points at halftime and he delivered an inspired speech to his teammates in the locker room.
"At halftime, I walked in with something I was going to say," Sumlin said. "When I got to the door, I'm the last guy there, but Malcome Kennedy was standing at the door, talking to everybody as we're going in. And then he looked at me and said 'I have something I've got to say.' So we went back in, I listened to him for about 30 seconds and I said 'Yeah, that's better than anything I can say.' So we started looking at adjustments offensively for the second half."
Kennedy, a member of the team's leadership council, also has a knack for making big catches. His first such one came in one of biggest games in recent Texas A&M history, the 2012 upset of Alabama. With the Aggies clinging to a six-point lead midway through the fourth quarter, Johnny Manziel launched a pass toward the front left corner of the end zone where Kennedy beat Dee Milliner and hauled in the final points the Aggies would score in their
29-24 landmark victory
.
So it's no surprise that when the Aggies need a big catch to move the chains or change the game, he's the one they turn toward.
"When the game's on the line," Spavital said, "Malcome's the guy we're going to."
He knows that. That's why two plays after the shoulder injury, he subbed himself in on third down before the clock expired in regulation. When the Aggies got the ball first in overtime, Spavital called a play that he said he woke up thinking about, one that they called earlier in the game, but didn't work.
Kennedy manned his spot at the "Y" receiver, saw what he liked and the rest is history.
"It was finally the look we wanted," Kennedy said. "The two high safeties; they were playing pretty far off the hash and the linebackers were tucked in the box and they were ready to stop the run so I went in there like I was blocking and I came out full speed and Kenny hit me."
Said Spavital: "I knew that play was going to eventually score for us in this game and it was the perfect opportunity to get it in there to Malcome. ...He made a great misdirection and made a big-time play and won the game for us."
Week 6 Picks