July, 31, 2014
Jul 31
12:00
AM ET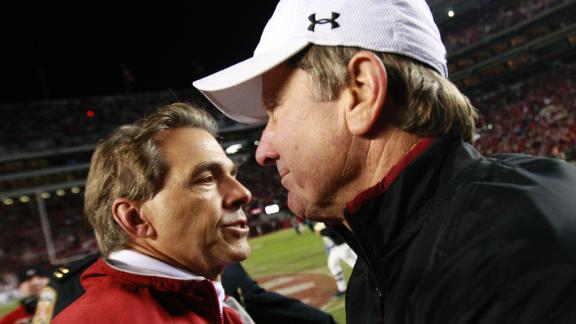 Steve Spurrier calls it the "talking season," the buildup to the real season when everybody's craving a little football and exercising their right to free speech.
Maybe it's the anticipation of the first College Football Playoff, and a little bit of early season campaigning. It's as close as we're ever going to get to coaches turning into fans, wearing their emotions on their sleeves and saying what's really on their minds.
Spurrier, obviously, is a special case. When has he not said precisely what was on his mind, whether it was zinging Tennessee, Florida State, Georgia or anybody else that he deemed fair game?
With the Head Ball Coach, everybody's fair game.
"We're just all talking right now," Spurrier said. "Kacey Musgraves has that song, 'Blowin' Smoke.' I like that song. It goes on about smoking cigarettes ... 'We all say we'll quit someday, but we're just blowing smoke.' That's all we're doing this time of year, just talking."
And you know what? It's pretty darn entertaining. Refreshing, really.
We get enough monotony during the season, stone-faced coaches sounding more like programmed robots and going to painstaking efforts not to provide any bulletin-board material. It's as Belichickian as it gets.
But these last couple of weeks, as coaches have made the rounds at their conference media days and the ESPN car wash, have been as chirpy as anything we might hear on talk radio or read on an Internet message board.
Maybe the planets have aligned just perfectly. We'll see if noted astronomers Dabo Swinney and Spurrier have checked their manuals.
After Swinney told media members that he and Spurrier were from different planets, that he was from Mars and Spurrier was from Pluto, Spurrier had his response loaded and ready.
"Dabo probably thinks there's only, what, nine planets out there," Spurrier said. "I think I read where Pluto may not be considered one now."
Blue Chip Battles: ESPN 300 Update
SEC SCOREBOARD
Thursday, 8/28
Saturday, 8/30
Sunday, 8/31