August, 27, 2014
Aug 27
2:00
PM ET
COLLEGE STATION, Texas -- Perhaps the second-most popular question about this season's edition of Texas A&M -- after the obligatory "What's life without Johnny Manziel going to be like?" -- centers around the Aggies' defense.
Will they be better? And if so, by how much?
After a disastrous 2013, defensive coordinator Mark Snyder is confident that improvement is on the horizon. He might not flatly state it, but witness the bounce in his step at practice, the energy in his voice and it's easy to surmise that Snyder is looking forward to Year 3 in Aggieland.
[+] Enlarge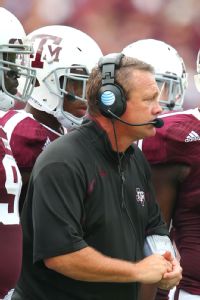 Matthew Emmons/USA TODAY SportsMark Snyder's defense struggled last season, particularly against the run, ranking 110th nationally in rushing yards allowed per game.
"If Coach Snyder's in a good mood, I feel like everyone's in a good mood," middle linebacker
Jordan Mastrogiovanni
said. "He watches [the video], diagnoses it more than anyone else so if he's happy, I feel like we're doing something right."
His unit's first test, which comes against No. 9 South Carolina and a stout running game powered by one of the nation's best running backs,
Mike Davis
, is first on the horizon. Stopping the run was one of the Aggies' biggest challenges last year, as they ranked last in the SEC and 110th nationally in rushing yards allowed per game (222.31).
Snyder isn't interested in talking up expectations or why he might be confident No. 21 Texas A&M can improve in that area.
"Well, we'll see when we get there," Snyder said. "Talk is cheap. We'll all know that night at the end of the game."
Indeed they will.
No matter the measure, the Aggies were bad on defense last year. They were last in the SEC in yards allowed per game (475.8), yards per play (6.36), yards per carry (5.38), first downs allowed per game (23.4) and red zone efficiency (71.4 percent) in addition to the aforementioned run defense. In every one of those categories, they were worse than 100th nationally.
"We weren't playing Snyder defense," senior cornerback
Deshazor Everett
said last month. "He sets us up to make plays. All we have to do is do what he tells us to, and we weren't doing that last year. So if we come back this year and we're doing what we did this spring, we're going to be a good defense."
Youth and inexperience were the heart of the issues for the Aggies. Difficulties the defense had included simply getting lined up correctly, fitting the correct gaps and identifying their correct assignments. Earlier this month linebackers coach Mark Hagen called the difference "night and day" when it comes to the defense's communication and ability to accomplish the basics.
Whether that will translate to the field when the Aggies take on a South Carolina team that averaged 198.4 rushing yards per game last season remains to be seen. The players seem optimistic, though.
"It's been a completely different mentality," junior defensive end
Julien Obioha
said. "Last year was unacceptable. There's just been so much growth in the last year and so much growth in leadership."
Added speed and athleticism are among the sources of optimism for the Aggies. So is increased depth, particularly along the defensive line. The 2014 recruiting class included six defensive linemen, four of whom are on the initial two-deep and will see action early, including highly regarded defensive end recruit
Myles Garrett
, the No. 4 overall player in last year's class.
Snyder is careful not to heap too much praise on Garrett, but the buzz surrounding training camp made it clear that the true freshman will be a factor. Teammates have been more effusive in their praise of Garrett.
"I have never really seen anything like him," Mastrogiovanni said. "In the weight room he's already one of the top three strongest guys as a true freshman. He's fast, he's long, he gets to the quarterback just about every play. I think teams are going to have a very hard time blocking him this year."
There will be plenty of youth on the field this season as well. Snyder estimated that seven true freshmen will see the field on Thursday. Last season the Aggies had a dozen freshman (redshirt or true) in their two deep. But unlike last season, the Aggies are able to be strategic with how and where they are placed.
"We'll try to do our best as we sub and get them in that they're in next to an older guy," Snyder said. "These guys won't go in unless an older guy is beside them. We didn't have that luxury last year, we just had to play them all together."
The questions linger and won't stop until the Aggies take the field. And Snyder's waiting for them to be answered with results instead of words.
August, 27, 2014
Aug 27
8:00
AM ET
1. The college football season is just a day away, and what better way to kick things off then with a premier matchup in the SEC between South Carolina and Texas A&M. In fact, it's just one of many intriguing games during the first weekend. Feel blessed. In 2004, the best SEC game from
the opening weekend
was No. 3 LSU against a mediocre Oregon State team. Matchups like Alabama-Utah State or Georgia-Georgia Southern were more the norm. But let's get back to this season. Athlon Sports previewed
the top five college football games of Week 1
, and four of the five included SEC teams. I tend to agree that LSU-Wisconsin is at the top of my list just because I have no idea what to expect from the Tigers.
2. The other major matchup this weekend takes place between the hedges where Georgia will host Clemson in a clash of Top 25 teams. The two played a shootout last year, but both starting quarterbacks have moved on to the next level. To me, one of the bigger storylines from this game will be if Deshaun Watson takes the field for Clemson, and if so, how much will the talented freshman quarterback play?
Georgia expects to see Watson at some point
even though Cole Stoudt will start for the Tigers. Don't forget that it's somewhat of a homecoming for Watson. The nation's top dual-threat quarterback hails from Gainesville, Georgia, and Mark Richt made a strong push to flip the in-state recruit.
3. We've already seen Greg McElroy take center stage on the SEC Network. How about analysis from another former Alabama quarterback? John Parker Wilson gives his take on the current quarterback battle going on in Tuscaloosa as part of
AL.com's "Film Room" series
. Wilson goes over some plays that might help make like easer for both Blake Sims and Jacob Coker, and if there's anybody who would know, it's him. He played two seasons for Nick Saban. Meanwhile, West Virginia coach Dana Holgorsen isn't amused with the ongoing quarterback competition. Holgorsen said
too much has been made about the position
and that the offense won't change much regardless of who's under center. He's probably right.
Around the SEC
Tweet of the day
If Arkansas beats Auburn, pizza joint will sell pizzas for 1-cent for every point Hogs score h/t @ToddABC3340 pic.twitter.com/LTLLr47h8p

— Brett McMurphy (@McMurphyESPN) August 26, 2014
August, 26, 2014
Aug 26
8:00
AM ET
1. A number of SEC schools
released their depth charts
Monday, giving the media and fans alike something to talk about. But do they really matter? At Alabama,
we learned nothing about the quarterback position
as Blake Sims and Jacob Coker are listed on the same line atop the depth chart. At Mississippi State, Chris Jones is currently
a backup at defensive tackle
. Even if Jones doesn't start the season opener, you can't tell me he won't play the majority of the game. I agree that depth charts are interesting and it's a chance to see who won some of the position battles in fall camp, but at the end of the day, I don't think they matter. Coaches are going to do what they want to do regardless of what they put out on a depth chart. But for those of you keeping track at home, Auburn and Florida will release their depth charts Tuesday.
2. Speaking of Florida, Pat Dooley and Robbie Andreu of the Gainesville Sun debated
five hot topics about the upcoming college football season
on Monday. For example, will the SEC get shut out of first ever College Football Playoff? Or is Jameis Winston a lock to win the Heisman Trophy? The two writers differ on their responses on these and the others. In my opinion, I can't see the SEC getting shut out of the playoff, but I also don't see the league getting two teams in. And no, I don't think Winston is a lock for the Heisman. There's a kid named Marcus Mariota who is getting a lot of hype out in Eugene, Oregon. However,
the SEC's chances of winning are shaky at best
, writes Christopher Smith of Saturday Down South, and I tend to agree. The most likely candidates are Auburn's Nick Marshall and Georgia's Todd Gurley, but it won't be easy for either of them to beat out Mariota or unseat Winston.
3. If you haven't seen Gene Wojciechowski's
"Big Man on Campus" column
from Monday, I encourage you to go give it a read. It's an expansive preview of the upcoming college football season in which he gives his predictions for conference standings, the Heisman Trophy and the first-ever playoff. What caught my eye was a look at who could be this season's Auburn. He mentions Auburn (doing it again), Mississippi State and Florida from the SEC, but to accomplish what the Tigers did a year ago, a team would have to rise up from the bottom of the conference. That leaves Arkansas and Kentucky, which goes to show how improbable Auburn's turnaround really was. I can't see either the Razorbacks or the Wildcats winning the SEC this year, but don't be shocked if Florida turns it around and win the East.
Around the SEC
Tweet of the day
Today is Monday. First Football game is Sunday. The Vol Navy has already started to show up. #VolNation #bestFans pic.twitter.com/dNyJbz1nHt

— Vol Photos (@Vol_Photos) August 25, 2014
August, 25, 2014
Aug 25
11:00
PM ET
The Early Offer is RecruitingNation's regular feature, giving you a daily dose of recruiting news across the country. Today's offerings: Five-star defensive end
Byron Cowart
is closing ranks and instead of focusing on the more than 50 schools that have offered him scholarships, he's zeroing in on four schools leading up to his late September decision. Plus, Oregon fans can rest a little easier knowing the Ducks' star running back recruit didn't suffer major damage in his first game of the season, and we continue our tour of the top recruiting happenings on social media.
August, 25, 2014
Aug 25
1:00
PM ET
Texas A&M hauled in the nation's fourth-ranked recruiting class in February. You don't rank that high in the national recruiting rankings unless you've brought in some big-time freshmen, ones who are poised to make an early impact. As the Aggies' season opener on Thursday approaches, let's look at five true freshmen expected to contribute early and often:
LB Otaro Alaka:
The 6-foot-3, 225-pound Alaka, the 12th-ranked outside linebacker nationally in the 2014 class, isn't listed as the starter at strongside linebacker, but he'll definitely see the field. Alaka pushed senior starter
Donnie Baggs
at the position in camp. When defensive coordinator Mark Snyder wants to get additional speed on the field, look for Alaka to be one of the guys out there.
DE Myles Garrett:
The No. 4 overall prospect in last year's ESPN 300, Garrett has been as advertised through summer workouts and preseason training camp. He arrived in Aggieland with a college-ready body (6-5, 255) and will figure into the rotation immediately at the Aggies' rush end position. This summer, Kevin Sumlin said "I'll just say this: Our players have a lot of respect for Myles Garrett."
DT Zaycoven Henderson:
This late steal from Texas appears to be one of the best finds the Aggies stumbled upon in the class. The East Texas product is strong has good quickness for his 6-1, 315-pound frame and will be a key part of the defensive tackle rotation, an area the Aggies need depth. The four-star prospect enrolled in January thus was able to participate in both spring football and August camp.
WR Speedy Noil:
After a good spring and strong training camp, Noil landed a starting job at two positions -- receiver and punt returner [last year's leading punt returner, De'Vante Harris, is injured]. The five-star prospect and No. 7 player in the ESPN 300 is nicknamed "Speedy" for a reason. He will see the ball in his hands plenty, and the Aggies are expecting him to do big things when that happens.
FS Armani Watts:
After a rough 2013 at the safety positions, the Aggies could use an upgrade. Watts hopes to provide that, earning a starting job by showing impressive range, good tackling and earning the trust of Snyder in training camp. Strong safety and returning starter
Howard Matthews
will help Watts get lined up properly so the ESPN 300 recruit can focus on his job at free safety. Watts is a versatile talent.
August, 22, 2014
Aug 22
6:00
PM ET
Last year was possibly the best in recent memory for SEC quarterbacks. From Johnny Manziel and A.J. McCarron to Aaron Murray and Zach Mettenberger, the conference was loaded with a Heisman Trophy winner, a two-time national champ, school record-holders and NFL draft picks. Things are a little different this year. Outside of Auburn, most schools are dealing with major questions under center. Where do things stand as the season gets ready to kick off? Here's a look at how things went last year, what to watch for this year and a projected grade for how each team's quarterbacks will do in 2014.
The Established Star
Nick Marshall, Auburn Tigers
2013 in review:
Marshall made a huge splash in his first season as the Tigers' starter, rushing for 1,068 yards and 12 touchdowns and passing for another 1,976 yards and 14 scores as Auburn stunned the college football world by reaching the BCS championship game. He also completed one of the most memorable plays in Auburn football history when his tipped pass to Ricardo Louis went for the game-winning, 73-yard touchdown to beat Georgia.
What to watch:
One of the Tigers' big points of emphasis since the end of last season has been improving the passing game. Marshall and the rushing attack are lethal, but there were times Marshall was simply not accurate enough when the Tigers desperately needed a completion. If he shows in the opener against Arkansas that he's more than just a runner who can occasionally pull a rabbit out of his hat with one of his highlight-reel completions, Marshall might actually contend for the Heisman.
Projected 2014 grade:
A
Click here
for 13 more SEC QB breakdowns from David Ching.
August, 22, 2014
Aug 22
10:00
AM ET
The SEC is no stranger to losing underclassmen to the NFL draft each year, making finding true fourth-year stars harder than ever.
In the 2012 draft, the SEC saw 12 underclassmen bolt for the NFL early. That number jumped to a record 32 players -- counting dismissed LSU cornerback
Tyrann Mathieu
-- in 2013. The league then lost 28 underclassmen to this year's draft.
In the past, the SEC hasn't had a problem replacing its young stars, but things might be a little more difficult this time. The SEC didn't just lose a plethora of talent, it lost bona fide star power.
Here's a list of a few underclassmen who no longer suit up for their schools:
That's just a short list, but of the guys listed above, all but Easley, who suffered an ACL injury early last season, were first-team All-SEC members last year, and only Ealy and Mason were left out of the first round of this year's NFL draft.
That's quite the haul for the NFL, and the SEC finds itself in a bind at certain spots because of the mass exodus of experienced seniors and underclassmen. We already knew that the league would likely see its offenses take a couple of steps back with such a great quarterback class gone, but plenty of other positions have been affected.
The SEC lost four of its top five receivers from last year: Evans, Beckham, Ole Miss'
Donte Moncrief
and LSU's
Jarvis Landry
. That's 257 catches, 4,677 yards and 36 touchdowns gone. South Carolina also lost top receiving option
Bruce Ellington
, who led the Gamecocks with 775 yards and eight touchdowns. These losses sting even more for Texas A&M and LSU, who are breaking in new starting quarterbacks this season.
Once again, the team affected the most by the underclassmen migration was LSU. A year after losing 11 underclassmen -- including Mathieu -- to the draft, the Tigers said goodbye to seven more underclassmen, a number that led the conference.
For a team entering the season ranked 13th in the preseason AP poll, LSU has a lot of ground to make up with Beckham and Landry gone, along with beastly running back
Jeremy Hill
, who rushed for 1,401 yards and 16 touchdowns during his redshirt sophomore season in 2013. LSU also parted ways with starting defensive tackles
Ego Ferguson
and
Anthony Johnson
.
Have Alabama pegged as your early SEC champ and in the College Football Playoff? Well, think about the fact that its defense lost a chunk of experience and talent. We already knew that seniors C.J. Mosley,
Ed Stinson
and
Deion Belue
were going to be gone, but add guys like Clinton-Dix,
Jeoffrey Pagan
,
Adrian Hubbard
and
Vinnie Sunseri
, who surely would have been staples in this year's relatively younger defense, and Alabama has some holes that need tending to. And don't forget that All-American
Cyrus Kouandjio
will likely be replaced by true freshman Cam Robinson.
Remember, talent isn't everything. Experience goes a long way in this league.
Think Florida's defense will continue to be elite under Will Muschamp? (It hasn't finished worse than eighth nationally in total defense during Muschamp's three years). Well, Easley was arguably Florida's best player before his season-ending knee injury, and corners
Loucheiz Purifoy
and
Marcus Roberson
are both gone, leaving the Gators with an inexperienced secondary besides star cornerback Vernon Hargreaves III.
The departure of Clowney and
Kelcy Quarles
, who led South Carolina in sacks last year, makes the Gamecocks' defensive line less formidable, and while Texas A&M coach Kevin Sumlin might be a quarterback whiz, asking
Kenny Hill
to duplicate Johnny Football's success is a tall order.
Look, the SEC has gone through this before and come out fine. Last year, Auburn and Alabama finished the regular season ranked in the top four of the BCS standings, and seven league teams were ranked in the final AP Top 25. The loss of so many underclassmen didn't scare voters this year, either, as eight teams will enter the season ranked in the preseason AP poll.
Maybe it isn't anything to worry about, but if you're looking for a problem in the SEC, it's that the underclassmen who bolted manned very important positions for SEC squads.
August, 22, 2014
Aug 22
9:00
AM ET
A year removed from the deepest and one of the most talented quarterback classes in SEC history, the landscape has changed.
Some might say dramatically.
Consider this: The player who has dotted all of the preseason All-SEC teams as the top quarterback, Auburn's
Nick Marshall
, began his college career as a cornerback at Georgia.
What's that really mean?
Well,
Johnny Manziel
was just another unproven redshirt freshman two years ago at this time. Even at Texas A&M, nobody had any idea that Manziel was on the cusp of becoming a cult hero, not to mention a game-changing quarterback.
Now, you can't turn on the television without hearing Johnny Football's name.
[+] Enlarge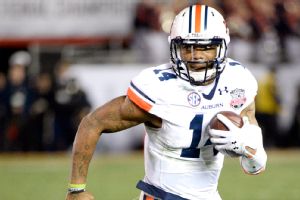 Richard Mackson/USA TODAY SportsLast season Nick Marshall became the fourth QB in SEC history to rush for at least 1,000 yards.
Marshall's rise to the top of the SEC's quarterback pecking order hasn't been that dramatic. Nonetheless, his second life in the SEC proved to be a rousing success last season as he led Auburn within seconds of a national championship. Even with
his trouble off the field this offseason
, a year of seasoning in Gus Malzahn's system should make him even more effective.
He's as explosive as they come as a runner and has become a more polished passer.
"You saw it as last season went on, that he became a much more confident passer," Malzahn said. "You'll see an even bigger jump in his overall game this season because he's much more in tune with what we're asking of him. We should be able to do more, and he should be able to do more."
Marshall, who won't start the opener against Arkansas because of the citation he received this summer for marijuana possession, just missed being a 2,000-yard passer and 1,000-yard rusher last season. He passed for 1,976 yards and rushed for 1,068 yards, becoming just the fourth quarterback in SEC history to rush for 1,000 yards.
His backup at Auburn,
Jeremy Johnson
, vowed this week that Marshall would win the Heisman Trophy this season. That might be a stretch, but whereas there were three SEC quarterbacks legitimately in that conversation entering last season -- Alabama's
AJ McCarron
, Georgia's
Aaron Murray
and Manziel -- it's a lot trickier to tab a big three in the SEC this season.
What's more, when you throw in South Carolina's
Connor Shaw
and LSU's
Zach Mettenberger
, it was really more of a big five a year ago.
All five are currently in NFL camps, meaning the door to join Marshall in the first-class quarterback cabin is wide open.
Two of the most experienced quarterbacks are Ole Miss'
Bo Wallace
and South Carolina's
Dylan Thompson
. Wallace is entering his third season as the starter, and more important, is finally healthy after being plagued with shoulder problems last season.
"I'm throwing it as well as I ever have," Wallace said. "Even the defensive guys are coming up to me and saying, 'Your arm is back.' So not only do I feel it, but guys are seeing a difference on the field."
Wallace passed for 3,346 yards and accounted for 24 touchdowns last season. He also cut his interceptions from 17 to 10. So by any standard, it was a very good season. But Wallace admits that he didn't really have his fastball.
"The way I've always played is that I've sort of been a gambler and not afraid to try and fit a pass in there," Wallace said. "I always thought I could make that throw, whatever throw it was. I had to change the way I played a little bit. Looking back on it now, it probably helped with my timing and anticipating the throw. And now that my shoulder is back to where it was, that's going to get me where I want to be."
Thompson, who like Wallace is a senior, finally gets his shot as the Gamecocks' starter after serving as an ace reliever any time Shaw went down over the past few years.
"Everybody wanted to label Connor as a runner, and he was," Thompson said. "But he did a really good job of managing the game. He didn't take too many risks. He just worked the ball down the field. You looked up and they were in the end zone. That was a credit to coach [G.A.] Mangus and coach [Steve] Spurrier, and that's what I want to do."
With Vanderbilt coach Derek Mason naming
Patton Robinette
as the Commodores' starter Thursday night, that leaves two starting jobs in the league unsettled. Alabama is trying to decide between
Blake Sims
and
Jake Coker
, and LSU is trying to sort it out between
Anthony Jennings
and
Brandon Harris
.
Among those four quarterbacks, they have one career start.
In fact, other than Marshall and Wallace, the only other two quarterbacks in the SEC who have more than 10 career starts are Arkansas'
Brandon Allen
and Florida's
Jeff Driskel
. Both dealt with injuries last season, and a broken leg sidelined Driskel for all but the first three games.
"The SEC is going to be the SEC," Thompson said. "You're going to look up, and you're still probably going to have four teams in the top 10 at the end of the year. Those guys [from 2013] were also nobodies at some point. I guess that's what everybody is making it out to be. It's going to play out the way it's supposed to. That's what we're excited about, not just the quarterbacks, but all the players on this team."
August, 21, 2014
Aug 21
3:00
PM ET
Pick a word, any word.
That's what I asked the 65 coaches from the Power Five conferences and Notre Dame to do. Describe their team in one word.
Some coaches were one-word wonders, but a few insisted they needed two words. That's fine because the descriptions shed some insight into how coaches view their team and/or what they want the public perception of their team to be.
[+] Enlarge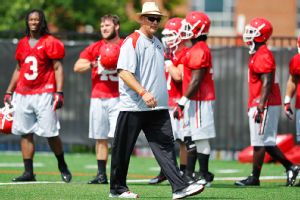 AP Photo/Athens Banner-HeraldGeorgia coach Mark Richt describes his team as 'wow.'
Of the 65 coaches, "hungry" was the most common description. Nine coaches went with it, making a "hungry" team the modern-day equivalent of the "taking it one game at a time" cliché. Four coaches used "unproven," another four "experienced" and three said "young." Two coaches each used "redemption," "committed," "improved" or "youthful."
In all, the 65 coaches used 44 different descriptions.
Well, here's to taking it one "word" at a time. My word: Enjoy.
SEC
Alabama's Nick Saban: Untested
Arkansas' Bret Bielema: Motivated
Auburn's Gus Malzahn: Experienced
Florida's Will Muschamp: Hungry
Georgia's Mark Richt: Wow
Kentucky's Mark Stoops: Improved
LSU's Les Miles: Unknown
Mississippi State's Dan Mullen: Hungry
Missouri's Gary Pinkel: Confident
Ole Miss' Hugh Freeze: Relentless
South Carolina's Steve Spurrier: Decent
Tennessee's Butch Jones: Committed
Texas A&M's Kevin Sumlin: Eager
Vanderbilt's Derek Mason: Audacious
August, 21, 2014
Aug 21
2:31
PM ET
Last year was possibly the best in recent memory for SEC quarterbacks. From Johnny Manziel and A.J. McCarron to Aaron Murray and Zach Mettenberger, the conference was loaded with a Heisman Trophy winner, a two-time national champ, school record-holders and NFL draft picks. Things are a little different this year. Outside of Auburn, most schools are dealing with major questions under center. Where do things stand as the season gets ready to kick off? Here's a look at how things went last year, what to watch for this year and a projected grade for how each team's quarterbacks will do in 2014.
The Established Star
August, 21, 2014
Aug 21
10:00
AM ET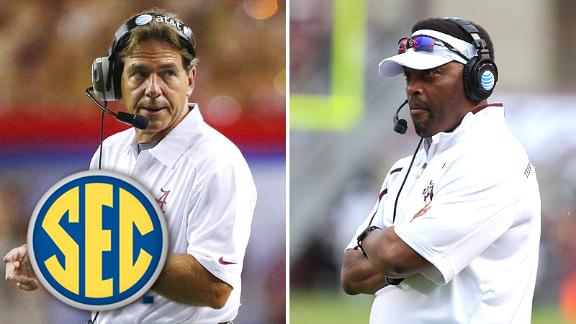 The SEC has a total of 237 verbal commitments. An incredible 82 prospects who are committed to SEC schools are ranked in the ESPN 300. Alabama leads the way with 16 ESPN 300 commits, but all 14 schools in the conference have at least one ESPN 300 commit. To say the SEC is off to a hot start would be quite an understatement. Six schools in the SEC have 20 or more commits as compared to the Big Ten who currently has no teams that have 20 commitments. Six SEC schools -- South Carolina, Georgia, Texas A&M, Auburn, Alabama and LSU -- are ranked in the top 10 of the class rankings. Here is a closer look at how the SEC is doing heading in to the season.
To continue reading this article you must be an Insider
Impact Players In Texas A&M-South Carolina
SEC SCOREBOARD
Thursday, 8/28
Saturday, 8/30
Sunday, 8/31