July, 9, 2014
Jul 9
4:20
PM ET
The annual SEC media days begin Monday, which means we are in for another preseason circus in Hoover, Alabama.
It also means we are that much closer to the start of fall camp
and
the college football season. I wonder if any fan base will dwarf the Alabama fans who'll be lined up inside the lobby of the Wynfrey Hotel. Probably not. That's Tide turf, and everyone knows it.
Media days run from July 14-17. The
SEC's official website
, ESPN, ESPNU and WatchESPN will have continuous coverage of all the festivities.
MONDAY
Session I:
12–3:30 p.m. ET
Commissioner Mike Slive
Auburn
Session II:
3:40–6:40 p.m. ET
Florida
Vanderbilt
TUESDAY
Session I:
10 a.m.-1 p.m. ET
South Carolina
Mississippi State
Session II:
2–5 p.m. ET
Texas A&M
Tennessee
WEDNESDAY
Session I:
10 a.m.-1 p.m. ET
Steve Shaw (SEC coordinator of officials) / Justin Connolly (ESPN Senior Vice President of College Networks)
Missouri
Session II:
2–5 p.m. ET
LSU
Arkansas
THURSDAY
Session I:
10 a.m.-1 p.m. ET
Georgia
Ole Miss
Session II:
1–4 p.m. ET
Alabama
Kentucky
July, 9, 2014
Jul 9
1:00
PM ET
Today's college football award watch lists are
all about the kickers
.
The lists for both the Lou Groza Award, which goes to the nation's top place-kicker, and the Ray Guy Award, which goes to the top punter, were released Wednesday. Players from SEC schools are in the mix for both awards with the conference claiming three of the 30 names on the list for the Groza Award and three of the 25 for the Guy Award.
Texas A&M's
Drew Kaser
is back on the list for the Guy Award after finishing as one of three finalists last season, when he averaged 47.4 yards per punt. Georgia's
Marshall Morgan
was one of 20 semifinalists for the Groza last season after leading SEC kickers in scoring at 10.3 points per game and making 22 of 24 field-goal tries.
Here is a rundown of the SEC names on the lists:
Groza
Colby Delahoussaye
, LSU
Elliott Fry
, South Carolina
Marshall Morgan, Georgia
Guy

Taylor Hudson
, Vanderbilt
Sam Irwin-Hill
, Arkansas
Drew Kaser, Texas A&M
July, 9, 2014
Jul 9
12:00
PM ET
How about that World Cup match yesterday? Germany 7, Brazil 1. As our esteemed colleague Chris Low tweeted yesterday -- he just started his own Twitter account, so
follow him here
-- "And we thought the defenses were down in the SEC last season."
July, 9, 2014
Jul 9
10:06
AM ET
ESPN.com news services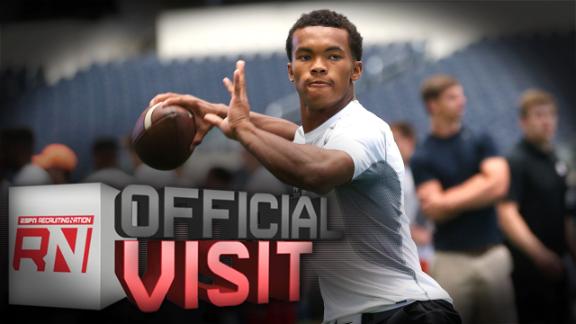 Kyler Murray is ready to be the next big thing at Texas A&M.
And if that means following in the giant footsteps that Johnny Manziel left behind, so be it.
Murray, the No. 1-ranked quarterback in the ESPN 300 who committed to the Aggies in late May, says he feels no pressure being what many call the heir apparent to "Johnny Football" when he arrives in College Station next year.
"If anything, it's all cool," Murray told NFL.com this week at the Elite 11 Finals at Nike headquarters in Beaverton, Oregon. "Johnny is Johnny, and he does his thing. We do play similar, and I can't deny that. But pressure? No, there's none of that going to A&M. Johnny left some big shoes to fill, and they're going to miss him for sure and what he brought to the table."
The comparisons between the two famed Texas high school quarterbacks are expected.
Manziel starred as a multidimensional quarterback at Tivy High in Kerrville.
Murray has done the same for Allen High, leading it to back-to-back state titles and being named the Gatorade Player of the Year as a junior.
The fact that their paths have crossed is no surprise.
The two QBs met at the Elite 11 competition two years ago, and they've been friendly ever since, even crossing paths at this week's event.
And when Murray's recruiting battle came down to Texas A&M and Oregon
July, 9, 2014
Jul 9
10:00
AM ET
Auburn is the favorite to win every game this season except the Iron Bowl, but the Tigers have only the fourth-best odds of winning the SEC title for a second straight season. This according to the preseason projections that ESPN's Stats and Information team released on Tuesday.
Using its preseason Football Power Index as a guide, the Stats and Information group's projections covered a wide range of categories including likelihood of going undefeated, odds of winning conference and division titles, likelihood of winning individual games and projected win totals.
The data showed Florida State as a heavy favorite to repeat as the national champion, with the Seminoles having a 40 percent chance of going undefeated and at least an 87 percent chance of winning each of its games. The next-closest team, Oregon, has a 13 percent chance of going undefeated.
At the other end of the spectrum, Kansas (projection of 3.3 wins), Purdue (3.6), Wake Forest (3.6) and California (3.8) are the teams from the Big Five conferences that are projected to win the fewest games.
The projections covered every FBS program, but we're here to discuss the SEC, where -- surprise, surprise -- Alabama is the favorite to hoist the conference championship trophy in Atlanta. Nick Saban's Crimson Tide has a 23 percent chance to win the conference title according to ESPN's projections, leading South Carolina (17 percent), Georgia (17) and Auburn (16), which was certainly a much bigger underdog at this point a season ago.
Obviously Gus Malzahn's 2013 club proved that things can change a great deal between July and December -- and the Stats and Information group's projections will be updated throughout the season -- but here's where each SEC team sits for now, a little less than a month away from the start of preseason practice.
Alabama:
The Crimson Tide is projected to win 9.9 games and has a 4 percent chance of going undefeated. In addition to its 22.6 percent chance of winning the SEC, Alabama has a 38 percent chance of winning the SEC West. Alabama is the favorite in every game and has at least a 64.5 percent chance of winning all but the LSU (57.5) and Auburn (57.8) games.
Arkansas:
The Razorbacks play the SEC's toughest schedule (No. 4 in the nation) and are projected to win 4.9 games. They have a 0 percent chance to win the conference title and a 0.01 percent chance of winning the West. In individual games, however, Arkansas is favored to win only against UAB (96.8 percent chance of a win), Nicholls State (96.7) and Northern Illinois (71.7).
Auburn:
The only other team in the nation's top 10 in strength of schedule (the Tigers are 10th), Auburn is projected to win 9.2 games. They have a 1 percent chance of going undefeated, a 16.3 percent chance of winning the SEC and a 26.7 percent chance of winning the West. The Tigers have at least a 60 percent chance to win every game except Alabama (42.2) and Georgia (54.4).
Florida:
Projected to win 7.6 games, Florida has a 6.2 percent chance of winning the SEC and a 16.3 percent chance of winning the SEC East. The Gators are favored in seven games and underdogs against LSU (49.9), South Carolina (45.6), Georgia (35.7), Alabama (20.7) and Florida State (8.9).
Georgia:
Oddly enough, while South Carolina has a slightly better chance of winning the SEC according to ESPN's projections, Georgia has a small edge over the Gamecocks with a projection of 9.1 wins. The Bulldogs have a 17.1 percent chance of winning the conference and a 37.5 percent chance of winning the East. They have at least at 63.4 percent chance of beating every opponent except South Carolina (41.1) and Auburn (45.6).
Kentucky:
ESPN's projections have Kentucky making a step forward in Year 2 under Mark Stoops, winning 5.5 games this fall. The Wildcats have a 0.03 percent chance of winning the SEC and a 0.09 percent chance of winning the East. They are favored to beat Tennessee-Martin, Ohio, Vanderbilt and Louisiana-Monroe, but there next-best chance of winning is 37.9 percent against Tennessee.

LSU:
Les Miles' Tigers are projected to win 8.0 games, with a 4.6 percent chance of winning the SEC and a 9.5 percent chance of winning the West. However, the Tigers are favored in nine games -- all but Auburn (26.8), Texas A&M (38.0) and Alabama (42.5).
Mississippi State:
The Bulldogs are projected to win 8.5 games, with a 4.7 percent chance of winning the conference and 9.7 percent chance of winning the West. Mississippi State is favored in eight games -- all but Ole Miss (47.0), Auburn (40.0), LSU (39.7) and Alabama (25.5).
Missouri:
Projected to win 7.0 games, Missouri has a 2.3 percent chance of winning the SEC and a 7.1 percent chance of representing the East in Atlanta for a second straight season. The Tigers are favored in eight games and underdogs against Georgia (36.6), Florida (32.3), Texas A&M (22.2) and South Carolina (21.9).
Ole Miss:
Hugh Freeze's club is projected to win 7.7 games and has a 2.9 percent chance of winning the conference and a 6.5 percent chance of winning the West. The Rebels are favored in eight games and are underdogs against Alabama (35.5), Auburn (35.0), LSU (34.7) and Texas A&M (31.2).
South Carolina:
The Gamecocks are projected to win 8.9 games, have a 17.9 percent chance of winning the SEC and a 37.2 percent chance of winning the East. South Carolina is favored in all games except Clemson (47.5) and Auburn (30.4).

Tennessee:
Projected to win 5.4 games, Butch Jones' Volunteers have a 0.02 percent chance of winning the SEC and a 0.1 percent chance of winning the East. The Vols are favored to win five games: Utah State, Arkansas State, Chattanooga, Kentucky and Vanderbilt.
Texas A&M:
The Aggies are projected to win 8.3 games and have a 4.8 percent chance of winning the SEC and a 9.5 percent chance of winning the West. Texas A&M is favored in eight games and is an underdog against Mississippi State (47.6), South Carolina (41.4), Alabama (30.5) and Auburn (30.1).
Vanderbilt:
The James Franklin-less Commodores are projected to drop to 4.9 wins under first-year coach Derek Mason. They have a 0 percent chance of winning the SEC and a 0.02 percent chance of winning the East. Vandy is favored against UMass, Charleston Southern, Temple and Old Dominion.
July, 8, 2014
Jul 8
1:00
PM ET
Another day, another two college football award watch lists arrive.
Today we have the lists for the
Mackey Award
, which goes to the nation's top tight end, and the
Rimington Trophy
, which goes to the top center.
The SEC well represented on both lists, with seven players on the Mackey list and 11 on the Rimington. Here is a rundown:
Mackey
Rory Anderson
, South Carolina
Evan Engram
, Ole Miss
Hunter Henry
, Arkansas
O.J. Howard
, Alabama
Malcolm Johnson
, Mississippi State
Jay Rome
, Georgia
C.J. Uzomah
, Auburn
Rimington
David Andrews
, Georgia
Evan Boehm
, Missouri
Dillon Day
, Mississippi State
Reese Dismukes
, Auburn
Max Garcia
, Florida
Ryan Kelly
, Alabama
Mike Matthews
, Texas A&M
Elliott Porter
, LSU
Jon Toth
, Kentucky
Joe Townsend
, Vanderbilt
Cody Waldrop
, South Carolina
July, 8, 2014
Jul 8
12:00
PM ET
SEC media days will be in full swing by this time next week. But if baseball and the World Cup won't provide your sports fix until then, check out coverage of The Opening and Elite 11 on ESPNU and ESPN.com. (Like
this story
that features several future SEC quarterbacks.)
" Two more college football award watch lists will debut today: those for the
Mackey Award
(best tight end) and
Rimington Trophy
(best center). Check out the lists as they update on the
National College Football Awards Association website
.
" The NCAA on Monday suggested
new safety guidelines that would limit teams to two full-contact practices per week
during the season.
" Georgia quarterback Hutson Mason considered a transfer when he was stuck behind Aaron Murray on the depth chart. But that was nothing compared to what his coach, Mark Richt, faced as a player at Miami.
Richt discussed that 1982 logjam at quarterback
-- when he was a teammate of Jim Kelly, Vinny Testaverde and Bernie Kosar -- in a story for the Buffalo News.
" Mock-up magazine covers, cereal boxes, movie posters and more. All of those items are included in how
college programs are getting creative with their recruiting pitches
to high school prospects.
" Sean Lester of the Dallas Morning News examines
Texas A&M's depth chart at receiver and tight end
and projects the starters.
" Five more freshman signees
started classes in South Carolina's second summer semester
on Monday, bringing the total of 2014 Gamecock signees who have enrolled to 15.
" Ole Miss safety Anthony Alford is enjoying success in
limited work as a minor league baseball player
. In his five games with the Toronto Blue Jays' Class-A affiliate, the Lansing Lugnuts, he batted .320.
" Among those participating at The Opening in Oregon are
arguably the top prospect in the state of Kentucky
-- running back Damien Harris -- and many other players whom Kentucky's football program is recruiting.
" Athlon Sports polled 15 national college football media members on which programs have the best stadiums and game-day atmospheres.
LSU's Tiger Stadium was the runaway winner
, and five SEC programs ranked in the top 8.
" In its list of the 25 most important figures in Alabama's 2014 season, AL.com turns today to
new Crimson Tide offensive coordinator Lane Kiffin
.
" The Gainesville Sun's Pat Dooley lists his
top 10 nonconference games
of the upcoming season.
July, 8, 2014
Jul 8
11:42
AM ET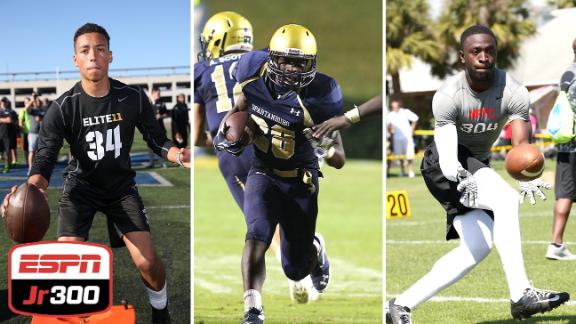 While recruiting remains a marathon and not a sprint, recent trends have shown that it is never too early to look ahead. With the release of the
ESPN Junior 300
it is a perfect time to see which programs are having early success. With roughly 10 percent of the prospects in the ESPN Junior 300 committed well over a year and a half before national signing day for the Class of 2016, plenty is still to be determined. Here are five programs, in alphabetical order, standing out early for the 2016 class:
July, 8, 2014
Jul 8
11:35
AM ET
LAKE OSWEGO, Ore. -- There was plenty of recruiting news that came out of Monday's reporting day for The Opening. One of the prospects who shared the latest was ESPN 300 No. 39
Malik Jefferson
.
To continue reading this article you must be an Insider
July, 8, 2014
Jul 8
3:03
AM ET
July, 7, 2014
Jul 7
3:19
PM ET
It's Insider's second go-round projecting college football's next three years in our Future Power Rankings.
What did we learn from our first edition? For one, teams can make a substantive move in just a year's time. Just look at Auburn, which jumped from 23rd to fifth after a run to the championship game. USC, now with coaching stability, made the biggest leap (25th to sixth). Oklahoma, UCLA, FSU and Baylor were among other risers, and you'll soon read why.
On the other side, we were high a year ago on Florida and Michigan. Oops. The Gators' injury-plagued 4-8 season dropped them from No. 4 to No. 14, while the Wolverines, who lost five of their last six games, fell from fifth to 20th. We know Will Muschamp's job is in danger, but is that an omen for Brady Hoke's future in Ann Arbor?
Alabama is again our No. 1 team, but with two losses to end the season, its lead shrank. Is that a subtle signal that the Tide might have peaked under Nick Saban?
We'll examine those topics and more in the Future Power Rankings.
Here's how we compiled it: Our panel -- myself, Brad Edwards, Brock Huard, Tom Luginbill and Mark Schlabach -- provided 1-10 ratings in five different categories that we found to be comprehensive in determining current positioning, as well as a projection for the 2015 and 2016 seasons.
Here are the top 25 college football teams over the next three years:
---
1

The bar graphs reflect the average points given by the voters for each category. Category averages are weighted by importance to generate overall score.
Coaching: Saban did not receive a perfect 10, as he did a year ago. Maybe the one panelist who gave him a nine dinged him for how he managed the final second of the Iron Bowl.
But seriously, Saban is still well ahead of No. 2 Urban Meyer (9.2) and No. 3 Bill Snyder (9.0). (Have to appreciate that Snyder gets that kind of love, even if K-State didn't break the Top 25.)
Edwards thinks 2014 is a big year for Saban because it will show whether he can adapt his defense to better handle tempo offenses. Look at how Saban's defenses mightily struggled last year against not only Texas A&M, but also Auburn and Oklahoma.
"You put them all together and you realize, 'You know what, Alabama might have an issue with this,'" Edwards said. "I happen to believe Saban and [defensive coordinator] Kirby Smart have done enough to deserve the benefit of the doubt. Let's see what they can come up with this year before I decide the dynasty is over. Saban is now recruiting to find those types of players [to defend tempo offenses]."
As for the best coach in the state?
"I want to see Gus Malzahn beat Nick Saban one more time before I say he's a better coach," Edwards said, "which is a conclusion a lot of people are already making."
Current talent: There are more positional questions than in the past few years, especially the offensive line and cornerback spots. Rival coaches are even rumbling about it. "I don't know about them," one SEC coordinator said. But do not be fooled for an instant into thinking the Tide have suddenly become as barren as a bachelor's refrigerator in terms of talent.
Bama still has the top running back group in the country with T.J. Yeldon, Kenyan Drake and Derrick Henry, who was a bright spot in the otherwise drab Sugar Bowl performance. The time could be now for LB Reuben Foster and FS Landon Collins to shine on defense. MLB Trey DePriest will be the defense's rock.
And what about QB Jake Coker? His old coach at FSU, Jimbo Fisher, believes Coker is capable, which is why Coker nearly beat out last year's Heisman Trophy winner to start at FSU.
Recruiting: This is why Alabama earned association with the word "dynasty" -- it started winning almost every major recruiting battle, and the program became the closest thing there is on the planet to the NFL's minor league system. It has not dipped, and there's no reason to believe it will as long as Saban is around; he will not let it slide.
Title path: It's going to happen, and it could happen this year: The SEC is going to knock itself out of the playoff. The strength of the top half of the league could turn out to be a bad thing in some seasons.
The Tide are regularly part of a kickoff game of some kind, playing the likes of Clemson, Virginia Tech or West Virginia, but the nonconference slate is typically manageable. The conference schedule always works for and against the SEC. For the Tide, Auburn is the new-slash-old menace.
The rating suggests that it isn't the ideal road to the playoff, but it should not be preventive for a power program such as Alabama.
Program power: Like the coaching category, Bama still received four 10s and a nine. The takeaway: It's hard to remain perfect.
"We all know that every dynasty comes to an end, but when you look back on every dynasty, you know where the turning point was," Edwards said. Will we say it was the Iron Bowl and Sugar Bowl, perhaps? "I think what you have is a lot of people trying to be the first one to predict the end of the dynasty," Edwards said. "They want to be the ones to say they didn't miss it. I think they're jumping the gun a little bit."
Which is why Alabama is still No. 1. But one program is making up ground in a hurry ...
To continue reading this article you must be an Insider
July, 7, 2014
Jul 7
12:03
PM ET
It's never easy to overcome the loss of the greatest player in a college football program's history, but the track record of teams rebounding from the loss of their biggest name is far from entirely negative.
The Georgia Bulldogs went 10-1-1 the season after they said goodbye to Herschel Walker. Bear Bryant once called Joe Namath the most talented player he had ever seen. And yet, a year after Namath went pro, the Alabama Crimson Tide won a share of the national championship. Archie Griffin was the only two-time winner of the Heisman Trophy, but in the campaign following his graduation, Woody Hayes was able to lead the Ohio State Buckeyes to a 9-2-1 record and an Orange Bowl win.
These examples offer hope for the Texas A&M Aggies, who will be without Heisman winner Johnny Manziel -- with all due respect to John David Crow, arguably the best player in the storied history of the program -- come this fall.
Indeed, when looking at the entirety of this roster and the circumstances surrounding the SEC, the Aggies seem poised to overcome Manziel's departure and join the club described above.
Here are four reasons:
State of the SEC makes this the perfect time to develop a QB
The Aggies aren't the only program in the SEC who will have a new face under center this coming season. In fact, the majority of the conference is experiencing upheaval at quarterback, with only three passers who started 10 games in 2014 -- Brandon Allen, Nick Marshall and Bo Wallace -- returning this season. If Allen doesn't get the starting job for the Arkansas Razorbacks (a sincere possibility) the list of SEC teams in a state of flux will grow even longer.
As such, whichever teams can develop a strong starter fastest will be positioned for success. Kevin Sumlin's history suggests the Aggies are as good a candidate as any.
To continue reading this article you must be an Insider
July, 7, 2014
Jul 7
9:00
AM ET
If you're just now jumping on board our little road trip, we at the SEC Blog have been getting you ready for the coming season by plotting out our top destinations for each week of the season.
So far we've been to some of the usual spots (Athens, Auburn, College Station, Tuscaloosa), and a few outside of the SEC footprint footprint in locals such as Houston and Norman, Oklahoma.
We've knocked out 10 weeks of trips in all, which means we've got only four more to go. The conference title game in Atlanta is right around the corner.
So without further pause, let's take a look at the best options for Week 10:
Nov. 8
Alabama at LSU
Texas A&M at Auburn
Florida at Vanderbilt
Georgia at Kentucky
Presbyterian at Ole Miss
UT Martin at Mississippi State


Alex Scarborough's pick:
Alabama at LSU
This game sells itself. The fact that it's in Death Valley this year only makes it more appealing.
When you think of the SEC, you think of physical, smash-mouth football. And Alabama-LSU is routinely an exhibition of those principles. It's the one game where offenses truly take a back seat to the defense. It's the one game where big uglies such as Booger McFarland,
Terrence Cody
and
Glenn Dorsey
can steal the show. Sure, the quarterbacks have been good at times, but this is a game for defensive backs such as
Mark Barron
,
Tyrann Mathieu
and
Eric Reid
.
Alabama-LSU has become arguably the most competitive rivalry in all of college football, with only one game decided by double digits since 2007. It's determined perfect seasons, SEC West championships, and even a national title. It's showcased countless future NFL draft picks and two of the most successful coaches in the game.
Les Miles versus Nick Saban. That alone is worth the price of admission.
This year's game has the chance to be another instant classic. The combined talent these two programs have on the defensive line is jaw-dropping. At the same time, the number of gifted running backs on the field will be something to see. And with two first-year starting quarterbacks projected under center, it should be fun to see a heavy dose of the running game for a show of strength versus strength.


Sam Khan's pick:
Texas A&M at Auburn
Let's be honest -- the only right answer here is Alabama vs. LSU. Given how often the two are in SEC title (and national title) contention, the amount of talent the two teams have on their rosters, and the personality of the two head coaches, that's the game everyone has their eyes on.
But in the interest of making this diverse and offering a quality alternative option, I offer up the Aggies and the Tigers.
Remember, last season's battle between these two teams was quite intriguing. Auburn ran the ball up and down the field and Texas A&M was proficient itself offensively, led by the always-entertaining
Johnny Manziel
.
Manziel got injured early in the fourth quarter, adding quite a bit of drama to the proceedings, but was able to re-enter in time to lead a potential game-winning drive. Auburn defense came up with a huge stop though -- capped by a
Dee Ford
sack -- to secure a 45-41 road win, one that proved crucial in the Tigers' ascent from worst-to-first in the SEC West, which eventually netted them the SEC title and a BCS title game appearance.
Ford and Manziel are among the key players that have moved on to greener pastures in the NFL, but there should still be plenty on the line when these two meet on Nov. 8.
Many feel Auburn is poised for another run at the division and conference titles, so should the Tigers live up to those expectations, every game at this late stage in the regular season will carry significant meaning with the coveted spots to the College Football Playoff up for grabs.
The Aggies, who have said goodbye to their three best offensive players via the NFL draft, won't carry the lofty expectations the Tigers will, but they should still be good enough offensively to make this a competitive and compelling game. If you like offense, this is the game for you, with two of the country's brightest offensive head coaching minds -- Auburn's Gus Malzahn and Texas A&M's Kevin Sumlin. Talents such as Auburn's
Nick Marshall
and
Sammie Coates
, Texas A&M's
Ricky Seals-Jones
and a handful of quality running backs between the two teams could equate another high-scoring affair.
And for any players who were on the Auburn roster back in 2012, there could be yet another score to settle. The Aggies came in and embarrassed Auburn 63-21 in their last trip to The Plains on Oct. 27, 2012, in the midst of a forgettable 3-9 season. So if defending home turf and everything else mentioned above isn't motivation enough for Auburn, that's an added bit of incentive for any young Tigers who were part of or witnessed that showing.
July, 6, 2014
Jul 6
9:32
PM ET
By
ESPN.com staff
| ESPN.com
ESPN Junior 300 Released For 2016 Class
SEC SCOREBOARD
Thursday, 8/28
Saturday, 8/30
Sunday, 8/31