September, 20, 2014
Sep 20
8:00
AM ET
Noon ET
Troy at No. 13 Georgia, SEC Network
: Georgia is coming off a 38-35 loss at South Carolina and is looking for a resounding victory here. The last time these teams met (2007), Georgia won 44-34. This Troy team, however, is 0-3 and allowing 40 points per game while averaging only 20.7. Look for the Bulldogs to jump out early in this one.
3:30 p.m. ET
No. 6 Texas A&M at SMU, ABC/ESPN2
: The Aggies come in at 3-0 and they've been rolling so far this season. SMU has been a mess, 0-2 and with a new coach: June Jones resigned last week; Tom Mason is serving as the interim head coach and is making his debut. Perhaps the Mustangs are fired up and have a renewed energy, but even if they do, the Aggies are in position for a convincing victory. These teams' past three meetings, dating to 2011, have resulted in a 35.3-point average margin of victory for A&M.
[+] Enlarge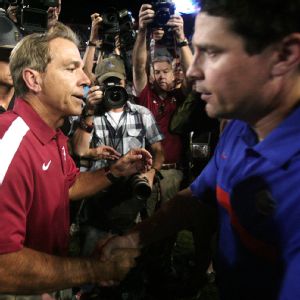 Gary W. Green/Getty ImagesNick Saban and Alabama own a three-game winning streak over Florida. The teams haven't played since 2011, Will Muschamp's first season.
Florida at No. 3 Alabama, CBS
: Few are likely giving the Gators much of a shot here because they were pushed to their limits by Kentucky. How well they operate their no-huddle, up-tempo offense will go a long way in determining how well they fare. Meanwhile, eyes continue to focus on the Alabama quarterback situation with
Blake Sims
and
Jacob Coker
, and it will be worth watching to see what develops. The Crimson Tide own a three-game winning streak over Florida.
4 p.m. ET
Indiana at No. 18 Missouri, SEC Network
: The Tigers are quietly getting it done and look to close out their nonconference schedule 4-0. If they do, it would be the eighth 4-0 start under Gary Pinkel and seventh in nine seasons.
Maty Mauk
is coming off a four-touchdown-pass performance and
Shane Ray
is coming off a two-sack, four-tackles-for-loss performance.
7 p.m. ET
Northern Illinois at Arkansas, ESPNU
: A victory would give the Razorbacks as many wins this season (three) as they had in all of 2013. That would be a big step forward for Bret Bielema's crew. Northern Illinois is a quality road team, having won 17 in a row in opponents' home stadiums, including one at Northwestern on Sept. 6. Arkansas brings in a second-best-in-the-nation 362 rushing yards per game.
Mississippi State at No. 8 LSU, ESPN
: Saturday nights in Death Valley are always fun -- typically for the Tigers. They're 43-2 under Les Miles in Saturday night games at Tiger Stadium. This is a big "prove-it" game for Mississippi State, a team that's 3-0 and trying to take a big step into SEC West contention. Last year's meeting between these two was competitive until a 28-point fourth quarter by LSU.
7:30 p.m. ET
No. 14 South Carolina at Vanderbilt, SEC Network
: The Gamecocks got a huge win versus Georgia and are looking to go to 2-1 in league play with a victory here. South Carolina jumped out to a big lead over Vandy the last time these teams met and it's likely to happen again if the Commodores don't get on track quickly. They've struggled mightily out of the gate and had to rally to beat UMass last week.
Patton Robinette
will start at QB; will coach Derek Mason stick with him this time?
September, 19, 2014
Sep 19
1:00
PM ET
Texas A&M travels to SMU for a nonconference clash on Saturday, which will be the Mustangs' first game under interim head coach Tom Mason after June Jones resigned from the post on Sept. 8.
Last week, Chris Low took a look at
possible candidates that SMU might consider
as it searches for its next head coach. Two potential candidates are on the Aggies' staff: offensive coordinator/quarterbacks coach Jake Spavital and receivers coach/recruiting coordinator David Beaty.
While it's unclear if either Beaty or Spavital would have interest in the job (or how much interest SMU has in either of them) and there's a long way to go in the coaching search, let's look at each of their coaching backgrounds and what kind of fit they could potentially be.
David Beaty
Experience:
Beaty is in his third year as the Aggies' receivers coach and second as their recruiting coordinator. He also spent time at Rice as an offensive coordinator (under Todd Graham) and receivers coach and at Kansas as a co-offensive coordinator and receivers coach. His roots are in Dallas high schools, though -- he got his coaching start in Garland, Texas, at Naaman Forest High School and coached at four different high schools in the Dallas-Fort Worth Metroplex.
Pros/cons:
Beaty has a reputation as a stellar recruiter. Ask the high school coaches in the Dallas area and they'll tell you he's one of the most respected around and he's a big reason the Aggies have had significant success getting top-flight players out of that fertile area. Having experience at Rice, a private school that plays in a Group of 5 conference, would help at a place like SMU, which falls in that category. The one thing Beaty doesn't have is extensive experience as a coordinator, though he does have some.
Analysis:
SMU hasn't recruited its own area well and Beaty would fix that in a hurry. He would be a good fit and would be able to utilize his strong relationships with the local coaches.
Jake Spavital
Experience:
Spavital is in his second year as the quarterbacks coach at Texas A&M and his first as the sole offensive coordinator for the Aggies. He's young (29) but has stops at Tulsa (2008), Houston (2009), Oklahoma State (2010) and West Virginia (2011-12), though the first three were as a graduate assistant or quality control coach. He was the quarterbacks coach at West Virginia.
Pros/cons:
He has worked with great college quarterbacks (Case Keenum, Brandon Weeden, Geno Smith, Johnny Manziel) and has worked under highly-regarded offensive minds (Gus Malzahn, Dana Holgorsen, Kevin Sumlin) and has worked with and maintains a strong relationship with Kliff Kingsbury. He's highly thought of and the early returns on the job he's doing as A&M's offensive coordinator are good. The primary drawback is his youth and inexperience -- he has only been A&M's offensive coordinator for four games.
Analysis:
Sumlin himself said Spavital "no doubt" has qualities of a future head coach but it might serve him best to gain more experience. Texas A&M is on the rise and if the offense continues to roll like it has, other opportunities will come. If Spavital were to end up at SMU, he would likely be able to get the offense on track quickly. He doesn't have the recruiting reputation that Beaty does but Spavital is considered a good recruiter.
September, 19, 2014
Sep 19
12:48
AM ET
The Texas A&M Aggies will have a new grass field when they return for their next home game on Oct. 11 against the Ole Miss Rebels.
School officials confirmed that a new surface will be installed later this month after field conditions became a concern during Texas A&M's 38-10 win over Rice on Saturday.
Texas A&M chancellor John Sharp asked his staff and the Kyle Field redevelopment team to review alternatives and the school reached the decision on Thursday, according to vice chancellor of marketing and communications Steve Moore.
The Bryan-College Station Eagle first reported the story on Thursday.
The current grass field, which was newly installed this summer as part of the ongoing renovation at Kyle Field, suffered last week from torrential rain that fell in College Station, Texas, Friday night.
The field, which didn't appear to be an issue in the Aggies' home opener against Lamar on Sept. 6, suffered large divots that needed regular replacement during the Rice game last week.
"We had a record amount of rainfall in a short period of time, (measured at 7-10 inches) which also caused Midnight Yell practice to be cancelled as well," Moore said in an e-mail. "That was an extraordinary event that damaged the new soil and root system."
Moore called the downpour a "unique event" and the timing of it "especially harmful."
The installation of the new surface, which was purchased from Carolina Green Corporation, an athletic field construction company, for $300,000. Installation of the new surface will begin on Sept. 29 and takes two days to install, giving the Aggies 10 days for the field to be in place before the Aggies host the Rebels.
Moore said the new grass surface has advantages over the current one.
September, 18, 2014
Sep 18
11:00
PM ET
Arkansas needs all the talent it can get at defensive tackle, and the Hogs landed a key defender Thursday. Chris Petersen continues to uncover sleepers at Washington, but can he attract enough talent to win in the Pac-12?


September, 18, 2014
Sep 18
4:45
PM ET
A few years back, Mike Stoops told me being a college football recruiter was more complicated than being a politician trying to solve the Middle East crisis.
Stoops, the former Arizona head coach who is now the defensive coordinator at Oklahoma, wasn't trying to make light of the situation in the Middle East. He was merely trying to express how exciting, frustrating, rewarding and agonizing the life of a recruiter is.
Being a recruiter means you're often doing 25 things at the same time, and you're doing them while dealing with high school juniors and seniors who change their minds more often than Taylor Swift changes genres.
Stoops recalled an hour period at Arizona when he landed a star quarterback; had to try to convince a key defensive tackle commitment not to visit a rival school while also thinking about what he was going to do when that defensive tackle ended up decommitting; and then also visited with a sophomore running back who showed up unexpectedly because he was the next big thing.
Oh yeah, it was also a game week.
Thursday's news that ESPN 300 receiver
DaMarkus Lodge
backed away
from his commitment to Texas A&M
is another perfect example of the ups and downs college coaches face on the recruiting trail.
When Lodge committed to A&M June 19, it was a big, big deal. His decision cemented A&M's claim as one of the
top-five recruiting classes in the country
and proved to Texas high school football observers that it was Kevin Sumlin, not Charlie Strong or Art Briles, who still ruled the roost in the Lone Star State.
But as we often see with recruiting -- too many times, if you ask coaches -- Lodge got cold feet for some reason.
He mentioned wanting to see other schools and that he committed too early. He also talked about concern that A&M has 17 receivers on its roster, that 16 players have caught passes this season and that he would not be a marquee receiver in College Station.
"As far as the receivers at A&M [go], they're all good, and I know all will do good," Lodge said. "Competition will be everywhere, and I am ready for it, but I need to make sure I can fit and be sure that I am happy as a player."
Reading that, the Aggies coaches probably threw their hands up in frustration. Had Lodge not watched A&M under Sumlin? Surely, Lodge knew when he committed that the Aggies like to spread the ball around and have recruited well at the position the last three classes, with young stars like
Speedy Noil
and
Ricky Seals-Jones
already emerging.
None of that matter when Lodge committed to A&M in June.
"You don't want to be the only one who's at your level," Lodge said back then. "You want to play with guys who will take you to that next level."
But competition matters now. Lodge honestly has every right to change his mind because he has not signed anything yet. He is making one of the biggest decisions he will make in his life. However, his reversal will be noticed by other recruits across the country and could continue to pile on to what coaches are calling the "decommitment epidemic."
"As coaches, we can put a lot of heat on young guys," Notre Dame recruiting coordinator Tony Alford said. "We can twist their minds a little bit with how we say things. But I'm also of the opinion, if you want me to sign on the line for you and hold true to that to our commitment to you, then there has to be some reciprocation there.
"I love being a coach, and there are so many wonderful things about recruiting young men that are going to be the foundation of your program's future. But also at the same time, when you have decommitments and kids changing their minds more than they change a pair of shoes, it makes the job an absolute grind."
Stoops would definitely agree.
September, 18, 2014
Sep 18
3:00
PM ET
Want to ask ESPN RecruitingNation senior analyst Tom Luginbill a question about your team? Tweet it to @TomLuginbill using the hashtag #AskLoogs.
@TomLuginbill how comfortable are you with Kyler Murray's size in regards to his status as an elite QB recruit? #AskLoogs

— Jason Showers (@TakeAShowers) September 5, 2014
.
Very. In fact, the evolution of offensive football over the past five years has made ideal measurables in terms of height far more of a luxury than a necessity. Far more attention is being placed on the end result and scheme fits to mask and sometimes eliminate a lack of height. The shotgun, movement of the pocket, quarterback run game and an emphasis on timing and anticipation have provided the ideal environment for productive quarterback play for shorter prospects. With
Kyler Murray
it is all about production, and you could argue, there is no other quarterback in this class as productive as he is on the ground and through the air. He is a precision passer with timing and anticipation within the pocket to get the ball out of his hand, which also lets him see the field better. Keep in mind, when you have knowledge of where to go with the ball pre-snap and are able to quickly process post-snap to get the ball out, it doesn't matter how tall you are. This is where Murray has an edge.
September, 18, 2014
Sep 18
2:00
PM ET
COLUMBIA, S.C. -- South Carolina coach Steve Spurrier beamed when he sprang into his postgame press conference room Saturday evening. He had just watched his Gamecocks shock No. 6 Georgia -- the team picked by many to represent the SEC in the College Football Playoff after just one game -- 38-35 with a gutsy, yet controversial, call to go for it on fourth-and-inches.
[+] Enlarge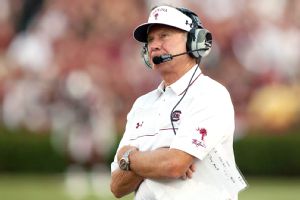 Jeremy Brevard/USA TODAY SportsSteve Spurrier again got the best of Georgia and showed that South Carolina will make noise in the SEC Eastern Division.
The Head Ball Coach, who was labeled "done" by some after an unconvincing 1-1 start that featured an epic beat down from Texas A&M, was smiling once again after besting his favorite SEC pinata -- Georgia.
Spurrier got his 16th win over Georgia -- the most by any coach over the Dawgs -- and his fourth out of the last five meetings. He and his team also showed that what we thought of South Carolina heading into last weekend wasn't exactly true. There are still issues with the Gamecocks, especially on defense, but we were quick to write off the very team picked in the preseason to win the SEC Eastern Division.
"This is a good one," Spurrier said of Saturday's win. "I knew we had a good chance to beat them when I heard [ESPN radio host Paul] Finebaum picked them [Georgia] to win by about 25 points. He picked Alabama to beat Oklahoma by 25 [in last season's Allstate Sugar Bowl] too. I said, 'We gotta chance tonight then.'"
Yeah, all that negativity we showed the Gamecocks last week didn't go unnoticed in Columbia.
"I'm not going to lie and tell you that I wasn't watching TV, seeing people say that Georgia was the No. 1 team, have them winning the playoff," South Carolina running back
Mike Davis
said. "Watching GameDay and seeing all those guys pick UGA, and having [ESPN college football analyst] Kirk [Herbstreit] being the only one who said we were going to win. This is a big confidence booster for our team."
So South Carolina isn't dead, and it's clear that the SEC East is still very much wide open.
What else were we quick to assume about the SEC?
1. Jake Coker isn't ready:
We all thought Coker would be Alabama's starting quarterback. Well, it's Florida week and veteran
Blake Sims
is very much the guy and has a big lead on Coker. Unlike Coker, Sims is limited with his arm, but he's done nothing to lose the starting job, while Coker has done nothing to take it.
2. Arkansas isn't the pushover it has been:
We figured it'd be another ho-hum year for the Razorbacks. Then they challenged Auburn in the first half of their opener and literally ran over Nicholls State and Texas Tech with 933 rushing yards and 13 touchdowns on the ground. Arkansas looks like it can run on
anyone
.
3. Vanderbilt is in trouble:
We thought the talent was still there for Vanderbilt to make another quality run under Derek Mason in his first year with the Commodores. Well, we aren't sure what's up, but the Commodores are lucky to be 1-2 at this point. After getting outscored 78-10 against Temple and Ole Miss, the Dores needed a last-second missed field goal to escape the UMass game.
4. Florida's defense has to climb back to elite status:
We questioned Florida's offense, which still has concerns, but we didn't press the defense. Well, it turns out that there are actually real concerns with this younger unit. Coverage breakdowns fueled 369 Kentucky passing yards and three touchdowns. Also, can anyone besides
Dante Fowler Jr
. rush the passer?
5. Mississippi State's secondary has questions:
It's early, but the Bulldogs have had issues in the back end of their defense. Through three games, the Bulldogs have allowed an average of 311.7 passing yards per game. Corner
Taveze Calhoun
, who garnered tons of preseason praise, and the guys around him at corner and safety have really underperformed to start the season.
6. Texas A&M is still pretty good:
Wasn't this team supposed to take a few steps back without
Johnny Manziel
? Well, the Aggies didn't get the memo. Texas A&M upset South Carolina 52-28 to start the year, the defense looks better and quarterback
Kenny Hill
leads the SEC with 1,094 yards and has 11 touchdowns. I can't believe someone didn't think an A&M quarterback would throw for
3,000 yards this season
...
7. Kentucky can upset someone:
If you watched any part of Florida's triple-overtime win over Kentucky, you'd know the Wildcats are better than they have been in years.
Patrick Towles
threw for almost 400 yards on the Gators with a handful of playmakers to use that this team hasn't had in a while. Also, that defense is much better with
Bud Dupree
and
Za'Darius Smith
battling for the top defensive end duo in the SEC.
8. Tennessee doesn't have a quarterback issue:
We thought there was too much uncertainty surrounding Tennessee's quarterbacks. Well, we were wrong, as
Justin Worley
has been solid, making tremendous throws through the first two games. He struggled against Oklahoma but is averaging 240 yards per game and has six touchdown passes.
9. Missouri isn't ready to take a step back:
We thought there were a lot of questions for Mizzou on both sides of the ball, and there still might be, but this team isn't ready to bow out in the SEC. The competition hasn't been great, but Mizzou has done exactly what's been asked, outscoring teams 125-52.
10. Leonard Fournette isn't Michael Jordan ... yet:
We thought Fournette would have
at least
1,000 rushing yards and, like, 20 touchdowns at this point. What a disappointment! It's a long season folks, but Fournette is still learning and has just 162 yards and two touchdowns. He'll be great, but we actually have to be patient with him.
September, 18, 2014
Sep 18
1:00
PM ET
COLLEGE STATION, Texas --
Ricky Seals-Jones
' introduction to Aggieland was an emphatic one.
In his collegiate debut as a true freshman receiver and a landmark recruit in Texas A&M's 2013 class, the 6-foot-5, 230-pound receiver quickly showed why he was so highly regarded, catching a 71-yard touchdown pass in the Aggies' season-opening win against Rice last August.
It was also the last pass Seals-Jones would catch in 2013. A knee injury he suffered on the play knocked him out of the rest of the game and -- after trying to give it a go two weeks later -- the rest of the season, once he elected to have surgery.
[+] Enlarge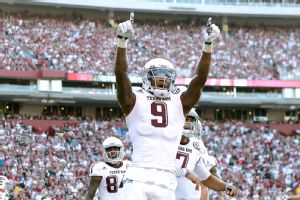 Grant Halverson/Getty ImagesNow healthy, receiver Ricky Seals-Jones is making an impact for Texas A&M.
It has been a waiting game for Seals-Jones and the Aggies for him to truly make his mark.
"The toughest part about it was knowing that the season was over with, really, and it had just started," Seals-Jones said. "I was kind of part of the game. So I had to get surgery and bounce back."
So far, Seals-Jones is proving he was worth the wait.
Now a redshirt freshman (Seals-Jones applied for and was approved for a medical hardship waiver to regain the lost year of eligibility), the Sealy (Texas) High product is carving himself out a significant role in Texas A&M's passing attack.
Seals-Jones has hauled in a touchdown in each of the Aggies' three games, and has 13 receptions for 154 yards so far this season. Receivers coach David Beaty said Seals-Jones has taken the biggest step forward in his route-running.
Blocking is also a big part of Seals-Jones' game. Beaty said Seals-Jones has the most knockdown blocks and most "scoring blocks" among the Aggies receivers.
"Does he affect the game every play?" Beaty said. "Ricky affects it every play. That's what you want out of a guy like that."
It's also the first time in a long time that Seals-Jones is fully healthy. His senior season at Sealy was marred by injuries, including a dislocated kneecap that knocked him out for half the season, and he spent the last year recovering from knee surgery to get ready for Texas A&M's 2014 campaign.
Now injury-free, Seals-Jones has developed a solid chemistry with Aggies' quarterback
Kenny Hill
and become a critical part of the passing game by playing multiple roles: inside receiver, outside receiver and a hybrid tight end/H-back type role after tight end
Cameron Clear
left the season-opening win against South Carolina with an injury.
Clear is likely to suit up against SMU, so Seals-Jones' tight end duties won't be as prominent, but he is showing he can handle whatever the coaches throw at him, making him a valuable weapon.
"He handles it great because he's smart," Beaty said. "He doesn't need a lot of time to learn things. You tell him things one time and he gets it."
September, 18, 2014
Sep 18
12:20
PM ET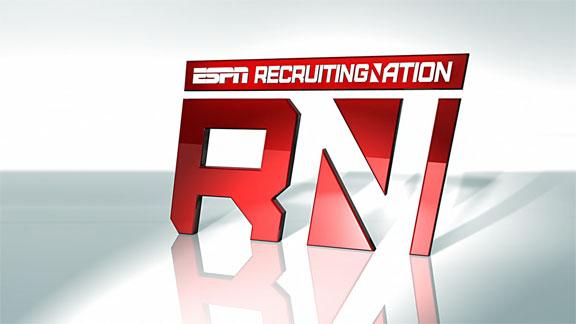 Texas A&M took a rare blow in recruiting Thursday when ESPN 300 wide receiver
DaMarkus Lodge
announced he has decommitted from the Aggies.
Lodge, No. 70 in the ESPN 300 and the nation's No. 9 receiver, verbally committed to the Aggies on June 19.
To continue reading this article you must be an Insider
September, 18, 2014
Sep 18
9:00
AM ET
By
ESPN.com staff
| ESPN.com
Week 3 brought some serious action in the SEC, including Florida surviving triple overtime against Kentucky and Vanderbilt escaping against UMass. (And to think, Alex, everyone laughed when you picked the Minutemen.) With three high-profile games on the docket this week, let's get on with the picks.
Why Auburn wins big:
Kansas State isn't going to be scared by Auburn's breakneck tempo -- the Wildcats see it against Baylor annually. The difference will come in that tempo combined with the strength and athleticism in Auburn's offensive line that powers the Tigers' running game. Look for the game to be close and competitive initially before the Tigers pull away in the fourth quarter as they wear down the Wildcats up front.
Auburn 45, Kansas State 24
-- Sam Khan Jr.
Why Kansas State keeps it close:
When was the last time the SEC ventured into the Midwest to play a Power 5 opponent? Exactly. It's just not done, and with good reason. Expect Kansas State to load the box and dare Auburn to pass.
Nick Marshall
hasn't thrown the ball all that well thus far, completing 56 percent of his passes for just 151 yards.
Auburn 31, Kansas State 24
-- Alex Scarborough
Why LSU wins:
LSU has won 14 in a row in this series, but that won't matter on Saturday. The Tigers will beat Mississippi State again on Saturday because they are the better team -- and it doesn't hurt that they're playing at night at Tiger Stadium, a scenario in which they're 43-3 under Les Miles.
LSU 28, Mississippi State 14
-- David Ching
Why Mississippi State wins:
How good is LSU? I watched the first half against Wisconsin and was less than impressed. I still don't trust
Anthony Jennings
at quarterback. Meanwhile, Mississippi State comes in with a little bit of a chip on its shoulder, having not won in Death Valley since 1991, and
Dak Prescott
, a Louisiana native, gave the LSU defense fits in last year's game.
Mississippi State 24, LSU 21
-- Greg Ostendorf
Why Alabama wins big:
After scoring just three points in the first half and needing triple overtime to beat Kentucky last week, there are some serious concerns for Florida heading into a tough environment at Bryant-Denny Stadium. Alabama's defensive line should create a miserable afternoon for Florida's offense, specifically quarterback
Jeff Driskel
.
Alabama 36, Florida 16
-- Jeff Barlis
Why Florida keeps it close:
After a triple-overtime win against Kentucky, people are down on the Gators. But despite last week's scare, Florida is better than it was last year. I can already hear the silly homer chants, and I'm sure Jeff is snickering at me, but if Florida's communication and pass protection hadn't been so bad last week, I'd be tempted to pick Florida in the upset. Notice that I said "tempted." I think you'll see a defensive struggle, but Alabama's running game will be too much and the Crimson Tide will pull away late.
Alabama 24, Florida 13
-- Edward Aschoff
More unanimous picks:
Georgia over Troy:
Now you can show off that passing game, Georgia. The Bulldogs won't need much of
Todd Gurley
, as the coaches look to get more out of
Hutson Mason
's arm.
Georgia 51, Troy 10
Texas A&M over SMU:
Kenny Trill adds to his flashy numbers and the defense continues to look better in a road rout that will leave Eric Dickerson looking to take a blowtorch to his former program.
Texas A&M 65, SMU 13
Missouri over Indiana:
These Tigers don't need -- or want -- respect, and they'll continue to quietly go about their business with another convincing victory that will just lead to more Mizzou fans yelling at that
@AschoffESPN
Twitter account.
Missouri 45, Indiana 20
Arkansas over Northern Illinois:
Northern Illinois actually has had a respectable run defense through three games, so maybe the Hogs won't rush for 400 yards on Saturday. Maybe.
Arkansas 48, Northern Illinois 21
South Carolina over Vanderbilt:
After a thrilling 38-35 victory over SEC East favorite Georgia, the Gamecocks must get back on the field. Expect a slow start, but no fourth-quarter visor-throwing from the HBC.
South Carolina 34, Vanderbilt 14
Unanimous summaries and scores by Edward Aschoff.
Standings
Chris Low 32-2
Edward Aschoff 31-3
Jeff Barlis 31-3
David Ching 31-3
Sam Khan Jr. 30-4
Greg Ostendorf 29-5
Alex Scarborough 27-7
September, 17, 2014
Sep 17
2:50
PM ET
By
ESPN.com staff
| ESPN.com
ESPN.com reporters Edward Aschoff, David Ching, Greg Ostendorf and Alex Scarborough got together to debate the hottest topics in the SEC as well as preview this weekend's biggest games, including Auburn-Kansas State, Florida-Alabama and Mississippi State-LSU. Get ready for this week's big games by watching now.
September, 17, 2014
Sep 17
2:29
PM ET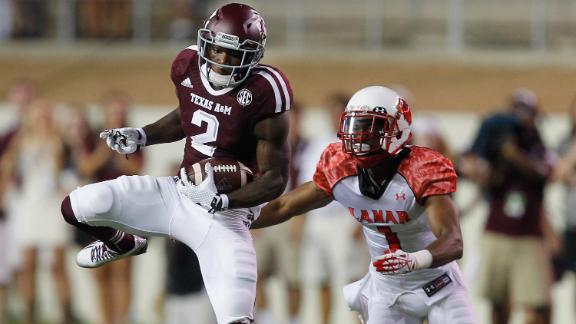 COLLEGE STATION, Texas -- Texas A&M Aggies freshman receiver
Speedy Noil
will not play Saturday against SMU because of an unspecified injury, coach Kevin Sumlin said Tuesday.
"He won't play this weekend," Sumlin said.
Noil, a five-star recruit from New Orleans, limped to the sideline and left in a golf cart during the Aggies' 38-10 win over Rice on Saturday.
Sumlin did not disclose why Noil left the field or what will prevent him from playing this weekend.
"I'll update you next week," Sumlin said.
Noil, who also returns punts and kickoffs, leads the No. 6 Aggies with 324 all-purpose yards and is second with 197 receiving yards on 12 catches. He scored his first career touchdown Saturday.
The 5-foot-11, 185-pound Noil, who enrolled in January, won a starting receiving job during preseason training camp in August. He was ranked as the No. 7 player in the 2014 ESPN 300 and the No. 1 athlete overall.
Sophomore receiver
Edward Pope
is expected to start in Noil's place vs. SMU.
Depth of A&M offense should show at SMU
SEC SCOREBOARD
Saturday, 9/20
Thursday, 9/18