August, 21, 2014
Aug 21
8:00
AM ET
1. Talk to any SEC athletic director about priorities during football season and fans' in-game experience inevitably arises in the conversation. With so many games available now on TV – which you can watch for free, from the comfort of home, in high definition – SEC schools researched the areas of greatest concern to fans. They found that
availability of concessions and restroom conditions were the top issues
, and other concerns include cell service and video production. The SEC reported that 12 schools have upgraded their concessions before this season and at least eight are working on improving restroom and/or cell service. Those changes won't necessarily be the deciding factor in whether most fans attend a game, but in this day and age, schools recognize that they must provide as many fan amenities as possible because there are so many entertainment options available.
2. This might be too much for even the most even-tempered Auburn fan to turn down. Deranged Alabama fan Harvey Updyke, who poisoned the famous Toomer's Oaks in downtown Auburn,
has agreed to appear at a Sept. 29 charity event in Mobile, Alabama
, where fans can dunk him in a dunking booth or throw pies at his face. The event will help raise funds for "Roses From Linda," which helps family members visit terminally ill patients before they die. Updyke's wife, Elva, said he told charity organizers "they can do whatever they want to him if it will raise money for kids." So get your pitching arms warmed up, Auburn fans. You've got about a month.
3. Speaking of the Iron Bowl, hey, whaddya know?
The Auburn-Alabama game is college football's hottest ticket on the secondary market
, according to this story from Forbes. The median price is only $535 a pop. No big deal. Also included in the top 10 are six other games that feature SEC teams (Alabama-LSU, Florida-Alabama, Clemson-Georgia, LSU-Texas A&M, Texas A&M-Alabama and Auburn-Georgia). None of those games hold a candle to the top single-game ticket price from last preseason, however. At this time last year, Alabama-Texas A&M tickets were going for an average of $744 on the secondary market.
More from the SEC
Tweet of the day
How college football's coaches have fared against top-25 teams http://t.co/3njBQGtkoa pic.twitter.com/Yt562LOKtq

— WSJ Sports (@WSJSports) August 20, 2014
August, 20, 2014
Aug 20
8:00
AM ET
1. The ALS Ice Bucket Challenge has been sweeping social media and the SEC along with it. On Tuesday we posted a rundown of
some of the notable challenges accepted by SEC nation
, including Arkansas coach Bret Bielema, LSU coach Les Miles and Kentucky coach Mark Stoops. Later on Tuesday, two of the biggest-named coaches who hadn't yet been doused with the cold stuff took the challenges:
Alabama coach Nick Saban
and
South Carolina coach Steve Spurrier
. Saban challenged Heisman Trophy winner and NFL running back Mark Ingram (an Alabama product), U.S. Senator Joe Manchin (a friend of Saban's from West Virginia), Florida coach Will Muschamp and none other than Paul Finebaum. Spurrier handed his challenges out to Saban, Texas A&M coach Kevin Sumlin, Oklahoma coach Bob Stoops and their respective coaching staffs. Saban had his team do the challenge with him and Spurrier had his coaching staff take the dousings with him. These challenges continue to raise a significant number of funds for the ALS Association and have provided some fun videos to boot.
2. Florida's offense is looking for a huge boost this season after a dismal season in 2013 and new offensive coordinator Kurt Roper is what the doctor ordered. On Tuesday,
Roper reflected on his journey
from his own days as a high school quarterback to being the son of a coach. After the work he did at Duke last season and his extensive time coaching in the SEC, he should be a good fit for the Gators. Making the offense more high-paced and wide-open will allow the Gators to utilize the talents of quarterback
Jeff Driskel
and expect them to take a significant step forward, with Roper orchestrating the attack.
3. Many of us figured that Cleveland Browns fans would want a certain SEC product to be their starting quarterback when the Browns season begins next month, but who knew that that SEC quarterback would be Connor Shaw? In
a poll on Cleveland.com asking readers to vote for who they think should be the starting quarterback
in the season opener against Pittsburgh, Shaw -- a South Carolina product -- is winning in a landslide over first-round pick Johnny Manziel of Texas A&M. Of course, considering the way Manziel (and Brian Hoyer) performed and the timing of the poll, some reactionary votes are to be expected. But by
that
wide a margin? Wow. Give Shaw credit, he was the model of toughness and a winner during his South Carolina days and no doubt there are many happy for him after he performed well on Monday night against Washington.
More from around the SEC:
Tweet of the day
Light casualty in the indoor from a fierce punt off the foot of @drewkaser #Kaser4Heisman @TAMUSpecialists pic.twitter.com/RBUzlGqar1

— Texas A&M Equipment (@TAMUequipment) August 20, 2014
August, 19, 2014
Aug 19
11:00
AM ET
COLLEGE STATION, Texas -- A couple days after Texas A&M named its starting quarterback, offensive coordinator and quarterbacks coach Jake Spavital expanded on the decision to give sophomore Kenny Hill the nod for the Aggies' season opener Aug. 28 at South Carolina.
[+] Enlarge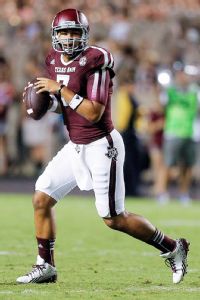 Bob Levey/Getty ImagesAs the Aggies' starting QB, sophomore Kenny Hill can now focus on preparing for South Carolina on Aug. 28.
While there were several reasons for Hill's selection, the biggest one was his experience in the Aggies' offense, after having spent a year in the system already. That gave him an advantage over true freshman
Kyle Allen
, who arrived on campus in January.
"I just kind of went back to my gut feeling and the maturity of [Hill] and being around this system for one year," Spavital said Monday night. "There were a lot of other factors but that was the one that kind of stood out the most to me because he's sat here and watched Johnny for a year and he's going to be put in some situations that he has probably -- hopefully -- seen before and he can get us out of those bad looks."
Hill, a product of Texas high school power Southlake Carroll,
has experience running an no-huddle up-tempo spread system
dating back to his high school days.
Spavital, 29, admitted the decision was tough because both played at a high level throughout training camp. Hill's opportunity to play in four games last season, compete for a job in the Aggies' 2013 training camp, watching
Johnny Manziel
operate the offense and traveling to other venues in the SEC were all plusses in Spavital's book.
"The maturity and the checks that he was doing [at the line of scrimmage are what] separate him the most to me right now, I just like where he was at," Spavital said. "He knows when to run the ball and when to get the ball out on the perimeter and have those kids make some plays."
The commonly used cliché of the backup being "one play away" from getting on the field applies in Allen's case, a highly-regarded recruit in the 2014 class who ranked No. 1 nationally among pocket passers. Spavital said Allen continues to prepare as if he would be running with the first team.
The bottom line for Spavital was choosing the player the Aggies believe give them the best chance to beat South Carolina. Playing well at Williams-Brice Stadium in that nationally-televised showcase could set a positive tone for the Aggies' season, one in which many question marks exist on both sides of the ball considering the plethora of young players in key roles.
"That's the direction we went," Spavital said. "We wanted to get the announcement out now so [Hill] could have at least 12 days before he hits the field for South Carolina and everything could die down and he can get settled in place and get some good reps with the ones.
"He's been great. Probably relieved. There's a burden taken off his shoulders. I think he's happy, ready to move forward and pretty anxious on watching South Carolina and seeing what kind of game plan and how we're going to attack them."
August, 19, 2014
Aug 19
9:30
AM ET
Boston College coach Steve Addazio remembers an era when players wanted to redshirt as true freshmen to better prepare them for the final four years of their college career.
"Now it's 'I want to play,' " Addazio, 55, said. "If you're talking about not playing them early, the majority are like 'What do you mean?'"
So, the ability to play or possibly even start as a true freshman has become a regular sales pitch for coaches from the Power Five to the Group of Five. It's certainly a tool in the belt for Florida State coach Jimbo Fisher. Last week, Fisher alluded to the number of freshmen All-Americans he's coached the last four seasons. Twenty-four hours later, it was on the program's official recruiting Twitter page.
"The last [four] years we've had 14 freshmen All-Americans," said Fisher, condensing multiple outlets' freshmen award teams into one, concise Florida State propaganda poster. "If you come in ready to play, we're willing to put you on the field. It's critical for guys to come in saying 'When I'm the best, I'll play.'"
Fisher has the goods to back up his claims, even if the numbers are obviously skewed to best represent his program. But how does his résumé compare to those coaching some of the country's other top programs?
I tried to come up with a way to accurately discern which schools play the most freshmen and decided true freshmen letterwinners was the simplest and most effective way to crunch the numbers. To earn a letter, a player has to actually play consistently through the season. The disclaimer is each program can use different benchmarks when awarding letters, but there is never going to be a perfect way.
I began with Florida State's, looking back at the 2011-2013 classes. To properly quantify the data from Florida State, I decided I'd look at the five schools ranked highest in the preseason polls that have had its coach in place at least five seasons. Oregon's Mark Helfrich was offered an exemption because he was promoted from within and is in his sixth season with the Ducks. Coaches in place at least five years was the stipulation since an incoming coach might be susceptible to playing the prospects he recruited or having a number of transfers that could open up starting or rotational spots.
The criteria: Each class was looked at and the total number of signees was pared down to just those who enrolled as members of the football team in the fall. Junior college signees were excluded, as were any recruits who were academically or medically disqualified before playing a game. That explains why the total number of freshmen for our purposes might look different than what might be seen on RecruitingNation. Any true freshmen who spent a year at a post-graduate or prep school was also excluded. Redshirt freshmen were disqualified, too.
Bottom line is if the player was not a part of the football team the fall following his high school graduation, he was excluded.
Nearly all of the data was collected after poring through media guides and archives, although the communications departments at some of the schools were also helpful providing numbers and deserve recognition.
So, here is the actual data:
It is hardly a coincidence that Fisher and Alabama's Nick Saban, who mentored Fisher at LSU, have identical percentages of true freshmen earning a letter. Fisher and Saban arguably have been the two best recruiters over the last few cycles, and, the data shows those two are not going to keep young talent off the field simply because of age. Nearly half of the true freshmen at Alabama and Florida State lettered over the last three seasons.
Mark Dantonio has built Michigan State into a national title contender in a different manor, relying on experience. Only 12 percent of true freshmen lettered over the last three seasons. Recruiting to Michigan State is not the easy task it is at some other top-10 programs, and the Spartans are not recruiting as many ESPN 300-level players as the likes of Alabama and Florida State.
It should be noted Michigan State, Oklahoma and Oregon don't have quite the recruiting base Alabama and Florida State do.
Inquiring minds want to see how that 45 percent stacks up to some of the other top programs in the country, so even though they did not fit the criteria I looked at a few other schools with coaches in place at least five seasons and lately in the top half of the rankings. LSU was worth a look considering it's Les Miles' 10th season in Baton Rouge and, like Fisher and Saban, has recruited exceptionally well for a long period of time. Mark Richt is in his 14th season at Georgia and, like Miles, usually has a highly-regarded recruiting class. Steve Spurrier is in his 10th season at South Carolina and has steadily improved the Gamecocks' class to the point that the 2015 class is No. 5 nationally. Dabo Swinney has turned Clemson from a perennial disappointment into a two-time BCS bowl participant. And Ohio State and Texas A&M, mainly because it's worth seeing how third-year Buckeyes coach Urban Meyer fares considering he frequently voices his preference to avoid redshirting. Kevin Sumlin is also in the process of trying to build an SEC power that can compete with Alabama and LSU in the SEC West.
For the Buckeyes, out of the 69 true freshmen to land in Columbus, Ohio, from 2011-2013, 31 lettered -- the same 45 percent. Looking at just Meyer's two seasons, however, he is decimals ahead of Fisher and Saban at 46 percent (21 out of 46), thanks in large part to 14 freshmen letterwinners in his first season.
Georgia's Mark Richt has a percentage of nearly 50 percent, but the Bulldogs' numbers might be the most skewed. Along with South Carolina, the Bulldogs had several recruits that either did not qualify or spent time at a prep school or junior college. Also, Georgia's long list of dismissals and transfers is well documented, and all of the departures has opened up spots for freshmen to earn immediate playing time.
It is Miles, though, who plays a higher percentage of freshmen than all of the others. Twelve true freshmen lettered for LSU in both 2012 and 2013, and another nine earned a letter in 2011. There were a total of 65 applicable freshmen to enter LSU during that span and 33 of them lettered. That's a percentage of 51 percent.
Certainly the numbers will fluctuate year to year, and coaches at every single program are playing freshmen more frequently than ever before. When taking into account the timeline is over three years, LSU averages just one more freshman letterwinner per season than Alabama and Florida State. For our intents and purposes, though, the data shows which top programs consistently play the most freshmen in this new era of freshmen phenoms.
And, uh, FYI, Alabama has 19 ESPN 300 players prepping for their freshmen season this fall. LSU has 16, and Florida State isn't far off with 13 of their own.
August, 18, 2014
Aug 18
1:00
PM ET
COLLEGE STATION, Texas --
Kenny Hill
knows plenty about pressure.
From the time he became a varsity quarterback at Texas high school football power Southlake Carroll to preparing for the unknown as a true freshman at Texas A&M, to engaging in an offseason battle for the right to succeed Johnny Manziel, Hill has met and conquered his fair share of challenges.
Now, his biggest one awaits.
After being officially named the Aggies' starting quarterback by coach Kevin Sumlin on Saturday, Hill prepares to lead Texas A&M into its post-Johnny Football era on Aug. 28 when the Aggies visit South Carolina.
[+] Enlarge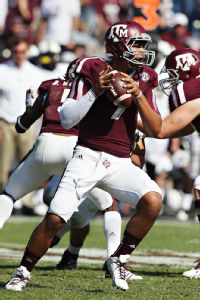 Bob Levey/Getty ImagesKenny Hill was named the Aggies' starting quarterback on Saturday.
It's a moment that Hill has been groomed for.
Hill is no stranger to following a rich legacy. At Southlake, the standards are high -- especially if you're a quarterback. The program owns eight state championships and is a factory for Division I quarterbacks. Chase Wasson, Chase Daniel, Greg McElroy, Riley Dodge, Kyle Padron and David Piland, who all preceded Hill, went on to play college football.
"Is there pressure? Yes," said Southlake Carroll coach Hal Wasson, who coached several of the aforementioned players, including Hill. "Every quarterback since '02 has gone D-I."
But Wasson and those close to Hill never compared him to his assembly line of predecessors. They pressed him to create his own identity -- a concept he embraced.
"Like Kenny would say, he can't be anybody but himself," said Ken Hill Sr., Kenny's father. "He's not trying to be somebody he's not. You have to create your own opportunity and your own legacy."
Kenny Hill did. In 2011, Hill guided the Dragons to a 16-0 record and a state championship as a junior. Whether by air (3,014 passing yards, 25 touchdowns) or on the ground (1,400 yards, 24 touchdowns), Hill was dominant. As a senior, he accounted for 3,196 offensive yards and 42 touchdowns en route to Gatorade Texas Player of the Year honors.
"He handled that well," Hill Sr. said. "Like I always tell him, just go out there and do your deal. ... People can talk all they want but your play on the field will speak [for itself]."
Living up to a high standard comes natural to Hill because of his bloodlines. His father, Ken Hill Sr., had a 14-year Major League Baseball career as a pitcher, one that included an All-Star season in 1994.
Kenny Hill continued Carroll's tradition of Division I quarterbacks by signing with Texas A&M in 2013 and before long, he was thrust into another potential pressure situation. As questions about Manziel's eligibility loomed amid an NCAA investigation into a pay-for-autographs controversy, Sumlin had Hill, then a true freshman, battle for a chance to start in the event Manziel was suspended.
Manziel wound up serving only a two-quarter suspension, but Hill's camp performance earned him playing time later, as he appeared in four games as a freshman. That experience proved invaluable entering yet another training camp quarterback race this month with prized recruit
Kyle Allen
.
Hill's ability to assimilate the Aggies' Air Raid-style offense can also be attributed to his prep days; Southlake Carroll ran similar concepts. Texas A&M quarterbacks coach Jake Spavital immediately noticed Hill's comfort level with the offense.
"You can tell he was raised in a spread, no-huddle system," Spavital said. "That comes pretty much second nature to him."
The journey wasn't without hurdles. Hill missed the final week of spring football practice after an arrest on a public intoxication charge in March.
It was an eye-opener for the 19-year-old. Not only was he suspended from team activities, cell phone photos of Hill passed out in a planter box circulated on social media.
"He was embarrassed," Hill Sr. said. "Not only did he let his family down, he let the university down, coaches down, teammates. It wasn't a good moment. It was an embarrassing moment. Hopefully he'll continue to learn from it."
Once reinstated for summer workouts, Hill bounced back.
"He's a completely different person now," said Texas A&M receiver
Sabian Holmes
, who was also a high school teammate of Hill's. "You can tell he wants it and he takes everything more serious, not just football but off-the-field decisions and he takes the film [study] more serious."
If there's one thing that has carried Hill to this point, it's his toughness. Whether it's from a mental standpoint (dealing with the daily grind or off-field noise) or a physical standpoint (carrying the ball 382 times in his final two seasons at Southlake Carroll or adding muscle to prepare for the rigors of an SEC schedule), Hill has displayed the necessary fortitude.
"I always admired his toughness," Hal Wasson said. "I admired the way he commanded a huddle. ... [I remember a game he] didn't play as well as he wanted to, he walked into my office and said 'Coach, I wasn't at my best, I apologize and it'll never happen again,' and it didn't. He always took ownership in everything he did."
When reporting day for Aggies training camp approached this month, Hill was excited and confident. After a year of spot duty and watching Manziel work his magic, his opportunity called and he grabbed it.
Yes, succeeding Johnny Football is a tough task. But Hill was groomed for it.
"With Kenny, his composure, there's really no situation that's too big for him," Texas A&M sophomore quarterback
Conner McQueen
said. "Pressure doesn't ever seem to faze Kenny."
August, 18, 2014
Aug 18
9:44
AM ET
By
ESPN.com staff
| ESPN.com
With the season less than two weeks away, Phil Steele takes a crack at projecting the final standings for the SEC, along with records for each team.
Click here

for the full rundown of Steele's thoughts on who will finish where and why, but here's a sample: He likes Alabama in the West and Georgia in the East.
August, 18, 2014
Aug 18
8:00
AM ET
1. Another quarterback battle came to a resolution over the weekend as Texas A&M coach Kevin Sumlin tabbed
Kenny Hill
to be the Aggies' starter when they open the season Aug. 28 vs. South Carolina at Williams Brice Stadium. It was
Hill's "body of work" over the course of the competition that won him the job
after he and true freshman
Kyle Allen
received virtually equal practice repetitions with the first and second team throughout the first two weeks of training camp. Sumlin noted that "Kyle needs to keep competing, and Kenny needs to continue competing at the level he's competing to stay where he is," and all indications are that it was a close competition and a tough decision for Sumlin and offensive coordinator/quarterbacks coach Jake Spavital. But don't be fooled -- while Allen will continue to push Hill on the practice field and is only one play away from getting on the field, Sumlin has never been a two-quarterback guy who rotates players. Allen will likely see time when the Aggies take commanding leads in some of their nonconference games but Sumlin wants his quarterbacks to operate from a place of confidence and not looking over their shoulder.
Sumlin has a long list of great college quarterbacks he has been around
that reinforces that belief. The Aggies open with the Gamecocks but games against FCS foe Lamar, Rice and SMU follow so don't expect a quick trigger on Hill. The sophomore will get an opportunity to establish himself. Will the competition continue? Sure. But don't expect a revolving door here. Allen is staying confident,
posting on Twitter "Don't count me out yet."
2. Over in Tuscaloosa, Alabama, the starting quarterback job is not yet situated. After a scrimmage Saturday, Alabama coach Nick Saban said that
Blake Sims
is
"playing a little faster right now"
than transfer
Jacob Coker
. As a fifth-year senior who has been in the Crimson Tide's system compared to Coker, who just arrived this summer, that's understandable. But with the season opener approaching, eyes begin to zero in on every twist and turn of the race. Saban declined to disclose his two quarterbacks' statistics from the scrimmage and made it clear that the coaching staff is not going to make a decision until "someone clearly wins the job." That's the right approach. It's beneficial to establish some kind of deadline so that when game week arrives, your starter is taking the first-team snaps and you're not splitting reps and allow your starter to develop a rhythm, but
if it's still pretty close taking more time makes sense
.
3. Arkansas held an open-to-the-public scrimmage on Saturday and there was plenty to take away, from the performance of quarterback
Brandon Allen
, the establishment of a backup (
Austin Allen
), a big day for
Korliss Marshall
and a glimpse of freshman receiver
Jojo Robinson
's ability. But perhaps the most entertaining bit came before the scrimmage, when
Bielema grabbed the microphone and reminded the crowd not to video record the practice
. "If you see someone videotaping, tell them that ain't right," Bielema said. "Especially if they're wearing an Auburn shirt, knock the s--- out of them." Of course, the Razorbacks open the season against Auburn and Bielema and Auburn coach Gus Malzahn have some differing opinions, but there's nothing wrong with a little good fun in the form of a joke to get your home crowd fired up.
More from around the SEC:
Tweets of the weekend
Some people dream of playing in front of 40,000 fans, at Tennessee we practice in front of 40,000 fans! #Unbelievable

— Butch Jones (@UTCoachJones) August 17, 2014
People rip UT fans. 1 winning season in 6 & this crowd shows up for Sat night practice pic.twitter.com/di7PtMDd3i

— Tony Basilio (@TonyBasilio) August 16, 2014
August, 17, 2014
Aug 17
9:45
PM ET
August, 16, 2014
Aug 16
6:56
PM ET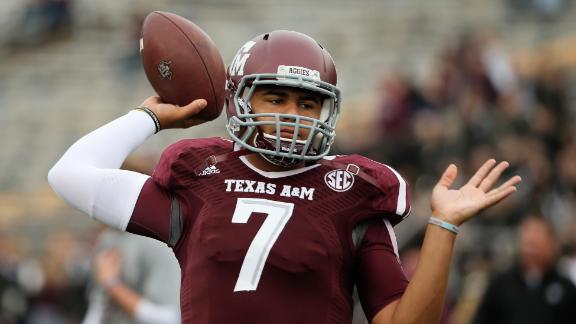 COLLEGE STATION, Texas -- The wait is over. Texas A&M's starting quarterback has been named.
Coach Kevin Sumlin announced Saturday that sophomore Kenny Hill will be the starter when the Aggies take the field at South Carolina on Aug. 28 at Williams Brice Stadium.
Hill beat out true freshman Kyle Allen in an offseason competition to become the heir apparent to Heisman Trophy winner Johnny Manziel. Hill, a product of Southlake (Texas) Carroll High, played four games in a reserve role last season, completing 16-of-22 passes for 183 yards and a touchdown. His start on Aug. 28 will be his first as an Aggie.
"I thought both guys really competed in a great way," Sumlin said. "We put a lot more emphasis on situational football in this camp and put guys in some situations to see how they'd perform and see what their learning curve is and not just playing 7-on-7. There's not really one deciding factor; I think it's a body of work and a feel that you have through practice and with your team."
A three-star recruit who was ESPN RecruitingNation's 21st-ranked dual-threat quarterback in the 2013 class, Hill had a decorated high school career. He was named Gatorade Texas Player of the Year as a senior and led Southlake Carroll to a Texas Class 5A state championship as a junior. Pursued by numerous Power 5 conference programs, Hill chose the Aggies over Baylor and Kansas State, among others.
In his final two seasons at Southlake Carroll, he threw for 5,305 yards and 45 touchdowns and ran for 2,305 yards and 46 touchdowns.
August, 15, 2014
Aug 15
5:28
PM ET
Cornerback
Roney Elam
is the latest ESPN 300 prospect to select Texas A&M. Read on to see what type of impact Elam can make on Kevin Sumlin's defense:
Can Any 2015 Class Catch Alabama?
SEC SCOREBOARD
Thursday, 8/28
Saturday, 8/30
Sunday, 8/31