November, 28, 2014
Nov 28
5:32
PM ET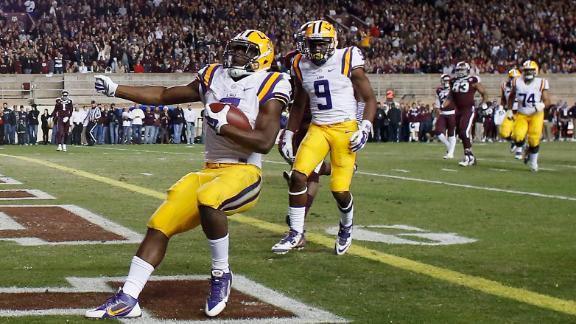 Texas A&M is on the hunt for a new defensive coordinator after Aggies coach Kevin Sumlin announced Friday that Mark Snyder has been relieved of his duties.
The defense struggled mightily throughout the second half of the season for the Aggies, who fell 23-17 to LSU on Thursday night. The Aggies allowed an average of 38.3 points per game and 502.5 yards per game in their final seven games.
For the season, the Aggies rank 103rd nationally in yards allowed per game (449) and 111th in rushing defense (223.5 yards allowed per game). They yielded a season-high 384 rushing yards to LSU on Thursday.
"Mark is an outstanding coach and an even better person, but he understands the production needed to be better on the defensive side of the football," Sumlin said in a statement. "We wish he and his family all of the best moving forward."
Snyder's contract, which paid him an annual salary of $700,000, was scheduled to run through March 31, 2016. He joined Texas A&M's staff prior to the 2012 season, when Sumlin was hired.
"I appreciate the opportunity Kevin Sumlin gave me to come to Texas A&M and to work on his staff," Snyder said in a statement. "I have been in the business a while now and understand it is a production-based business."
The Aggies went 11-2 in Snyder's first season, with the defense ranking 26th nationally in scoring and 16th nationally in third-down conversion rate. In 2013, possessing a defense littered with young and inexperienced talent, the Aggies finished last in the SEC in scoring defense, yards per game, yards per play, rushing yards per game, yards per carry, sack percentage and red-zone efficiency.
November, 27, 2014
Nov 27
11:12
PM ET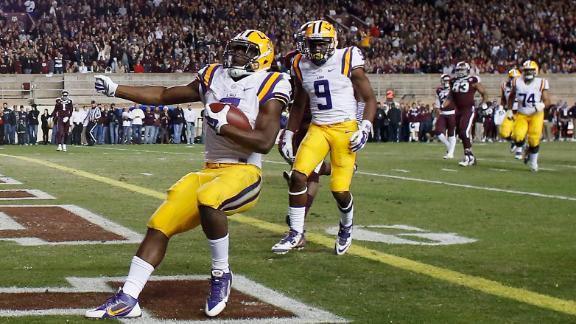 COLLEGE STATION, Texas -- LSU ran, ran and ran some more and survived some missed field goals to hang on to a narrow
23-17
Thanksgiving night win over Texas A&M on Saturday at Kyle Field. There were some highlight-worthy plays, a lot of silliness, and some drama at the end. A look at what transpired:
How the game was won:
LSU ran the ball at will to the tune of 384 yards and had two players who passed the century mark (
Leonard Fournette
and quarterback
Anthony Jennings
). Texas A&M might be known for its offense but it was the Tigers who were dominant in that category, outgaining the Aggies 491-228. The Tigers also survived a late A&M rally when defensive back
Jalen Collins
intercepted a deep pass from
Kyle Allen
after LSU defensive lineman
Sione Teuhema
appeared to be offside. There was no call, however, and the Tigers ran the clock out to secure the victory.
Game ball goes to:
Fournette. The true freshman finished with a season-high 146 yards and a touchdown on 19 carries. He averaged 7.7 yards per carry, broke his fair share of tackles and was consistent in falling forward for extra yardage. He wasn't the only one compiling big yardage against the Texas A&M defense, but he was the best of the bunch Thursday night.
What it means:
The Tigers wrap up their regular season on a positive note, ending their two-game losing streak. They never have lost three games in a row under Les Miles and keep that record intact. More importantly, the Tigers got the kind of offensive performance they needed after getting shut out at Arkansas 17-0 on Nov. 15. Meanwhile, the Aggies finish the regular season with two consecutive losses complete with brutal defensive performances.
Best play:
No doubt it was Fournette's 22-yard touchdown run with 4:33 to go in the second quarter. The true freshman showed off his sheer power and strength by running right through Texas A&M safety
Howard Matthews
on his way to the end zone. I repeat, Fournette is a
true freshman
.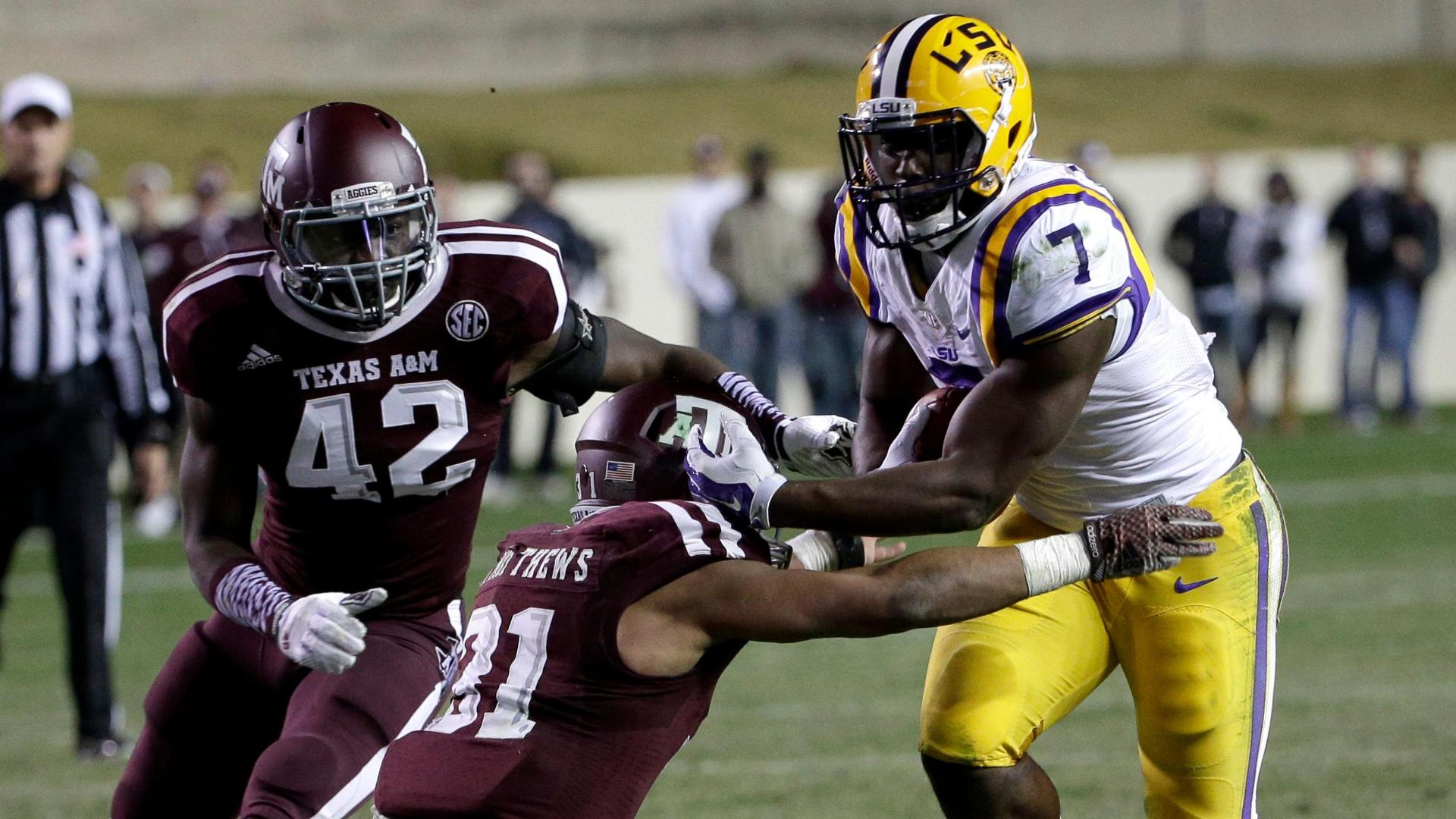 What's next:
The Tigers close out the regular season at 8-4 (4-4 in the SEC) while the Aggies fall to 7-5 (3-5). Both teams now await word on their bowl destinations.
November, 27, 2014
Nov 27
11:12
PM ET
Associated Press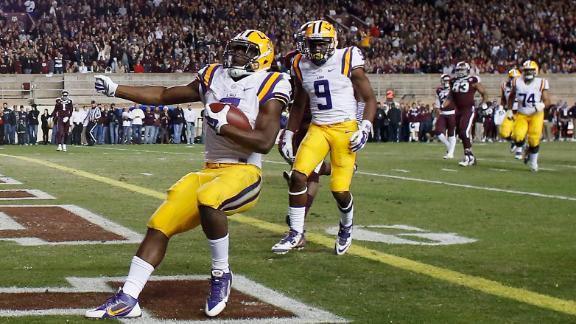 COLLEGE STATION, Texas -- Leonard Fournette ran for a career-high 146 yards and a touchdown, and Jalen Collins had a late interception to seal LSU's 23-17 win over Texas A&M on Thursday night.
Texas A&M was driving late when Kyle Allen threw an ill-advised pass, apparently thinking the Tigers had jumped offside. Collins grabbed the ball, ending the Aggies' last chance.
The victory gave LSU (8-4, 4-4 SEC) eight wins for the 15th straight season, the longest streak in school history. The Tigers have won four in a row over Texas A&M (7-5, 3-5).
The Tigers led by 10 at halftime and added two field goals in the second half.
Anthony Jennings threw for 107 yards and a touchdown for LSU, and the quarterback added a career-best 119 yards rushing.
November, 27, 2014
Nov 27
10:41
PM ET
Fournette Runs Over Aggie On 22-Yd TD
SEC SCOREBOARD
Friday, 11/28
Thursday, 11/27
Saturday, 11/29