July, 30, 2014
Jul 30
9:30
AM ET
July, 30, 2014
Jul 30
12:00
AM ET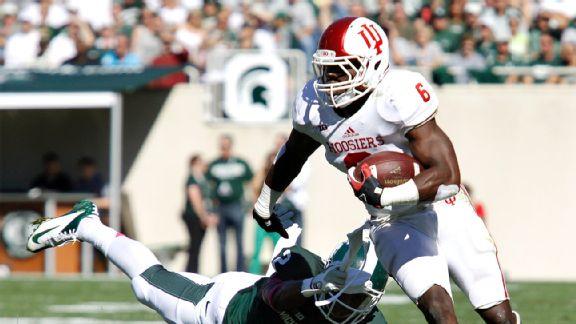 Who believed Florida State quarterback Jameis Winston would win the Heisman Trophy before the start of the 2013 season?
Who had former Missouri defensive end Michael Sam as an All-American?
ESPN.com is counting down the top 100 players in college football this week, but there are plenty of other players who might be poised for breakthrough seasons in 2014. Here are 10 players who might become household names before season's end:
Trenton Brown, OL, Florida
Florida's myriad injuries on the offensive line were a big reason it finished last season with a 4-8 record, its worst finish since a winless campaign in 1979. Among the 15 players who suffered season-ending injuries were offensive tackles D.J. Humphries and Chaz Green and guard/tackle Tyler Moore.
If not for the injuries up front, Brown, a transfer from Georgia Military Academy, might have redshirted in his first season at UF. But he was forced to start at right tackle in the final five games after Moore was hurt in a scooter accident. If Brown plays up to his potential this coming season, the 6-foot-8, 350-pound senior might become one of the SEC's best offensive linemen. He's slated to start at right guard and will be a load for interior defensive linemen to try to move.
Greg Bryant, RB, Notre Dame
July, 29, 2014
Jul 29
9:30
AM ET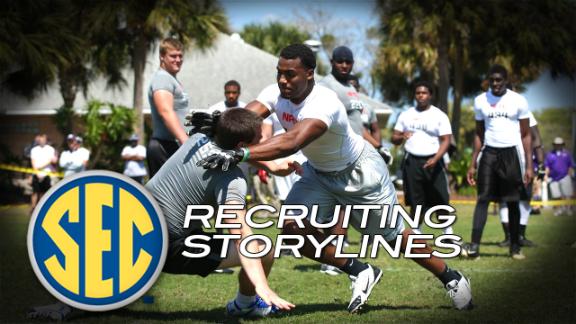 The SEC has 77 committed prospects in the
updated ESPN 300 rankings
. The league continues to dominate on the recruiting front and there are no signs of the momentum slowing down. Here's a closer look at five things to know in the SEC from the new recruiting rankings.
To continue reading this article you must be an Insider
July, 28, 2014
Jul 28
3:27
PM ET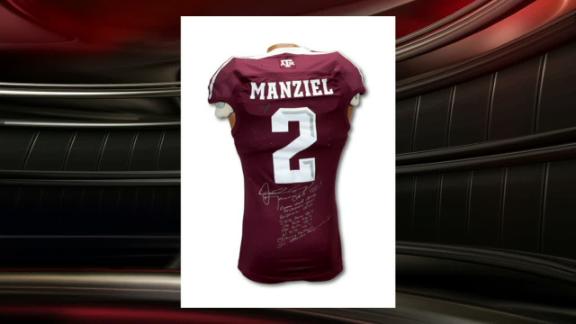 An auction house believes an autographed, game-used Johnny Manziel jersey it is selling will set the record for the highest price ever paid for a college football jersey.
SCP Auctions announced on Monday that it has obtained the Texas A&M jersey that Johnny Manziel wore for all six of his home games at Kyle Field during his 2012 Heisman season.
"This is his only game-used jersey from his college career that has come to market," said Dan Imler, vice president of the company. Imler said that given the interest around Manziel, the auction house estimates a winning bid of about $100,000.
"It has been a long time since we've seen a player as polarizing as Johnny Football," Imler said. "He has got an electrifying personality and everyone is either rooting for or against him."
Imler said not only does he expect well-heeled Aggies fans to bid, but also collectors who want to buy the best and the most interesting items that make it into the hands of the public.
Imler would not say who consigned the item, but said that the auction house has fully vetted the uniform's source and his ownership of the jersey. SCP Auctions also says it has photomatched the jersey with very specific tailoring repairs and wear that can be seen on both photos and on the jersey itself.
Manziel autographed the back of the jersey in metallic silver pen with his stats from his Heisman-winning season.
The auction will take place online from Aug. 6 through Aug. 23, but the jersey will be on display at the National Sports Collectors Convention in Cleveland this week.
This jersey was originally posted on eBay in May with the seller hoping to get $300,000. Last year, a lot that included a pair of cleats that Manziel wore for his iconic win over Alabama during his Heisman season and a jersey he wore on the sidelines for the 2011 season sold at auction for $7,760.
July, 28, 2014
Jul 28
12:00
PM ET
July, 26, 2014
Jul 26
4:15
PM ET
Friday, Texas A&M coach Kevin Sumlin fired back at Oklahoma coach Bob Stoops, who mocked the Aggies' nonconference schedule while at the ESPN car wash this past week.
"They have Lamar, Rice, SMU and Louisiana-Monroe," Stoops said. "Boy, those are all a bunch of toughies, right?"
According to AggieSports.com, Sumlin was asked about Stoops' comments at a fan event in Houston:
Sumlin - "Coach Stoops has the right to say whatever he wants, but if he wants to play us again we'll take him up on that."

— Aggie Sports (@Aggie_Sports) July 26, 2014
Behind Heisman winner Johnny Manziel, the Aggies hammered the Sooners in the 2012 Cotton Bowl 41-13. Sumlin actually coached under Stoops at Oklahoma until 2008.
During his Houston appearance, Sumlin also had this to say:
Sumlin said it's easy to kick a guy off the team. But in the "business of developing men."

— Aggie Sports (@Aggie_Sports) July 26, 2014
It's unclear if that was a veiled jab at the Longhorns. But this week, Texas coach Charlie Strong did dismiss six players from his team. Of course, Sumlin could have been exclusively referencing his own program. Seven Aggies players have been arrested since December.
July, 25, 2014
Jul 25
6:00
PM ET
ENNIS, Texas -- Texas A&M's red-hot recruiting streak continued Friday with the addition of an ESPN 300 player at an always-needed position.
James Lockhart
IV announced in front of family, classmates and educators at Ennis High School that he was going to College Station and joining Kevin Sumlin's growing 2015 class. Lockhart, the top-ranked defensive end in Texas, chose the Texas A&M Aggies over the
Alabama Crimson Tide
.



To continue reading this article you must be an Insider
July, 25, 2014
Jul 25
3:45
PM ET
Another week, another off-field incident. That is the way it has been this offseason in the SEC, and this past week was no different.
Texas A&M suspended cornerback
Victor Davis
after he was arrested and charged with shoplifting, and defensive end Gavin Stansbury, who was arrested in April, left the team for personal reasons.
At Georgia, Mark Richt dismissed yet another player a day after defensive lineman Jonathan Taylor was arrested for aggravated assault.
These incidents are just the latest in what has been a troubling offseason for the SEC. With media days behind us and fall camps about to begin, we want to know which team's offseason issues will present the greatest on-field questions for this season.

In Tuscaloosa, the media's pick to win the SEC has had its fair share of off-field incidents.
Dillon Lee
and
Jarran Reed
were both arrested for driving under the influence,
Altee Tenpenny
was caught with marijuana, and
Kenyan Drake
was arrested for disobeying a police officer. None of the players involved has been dismissed, but this is becoming both a problem and a distraction for Alabama.
Across the state, Auburn is still trying to figure out what to do with quarterback
Nick Marshall
. The potential Heisman Trophy contender was given a citation for possession of marijuana this month, but will he miss any time as punishment? To make matters worse, teammate
Jonathon Mincy
was arrested for the same thing, possession of marijuana, just two weeks prior.
The school that has been in the news the most this offseason is Georgia. Four players were arrested in March for theft by deception. Two of those four, Taylor and
Tray Matthews
, were later dismissed for separate incidents. A third,
Uriah LeMay
, opted to transfer. Back in February, safety
Josh Harvey-Clemons
also was dismissed from the program following multiple violations of team rules.
At Missouri, it was three strikes and you're out for star wide receiver
Dorial Green-Beckham
. The sophomore was arrested for the second time on drug-related charges in January, and after being involved in an altercation with his girlfriend in April, he was dismissed from the team. Green-Beckham has since joined Oklahoma.
Lastly, there is Texas A&M, which has not seen any decline in off-field distractions since quarterback Johnny Manziel left. Quarterback
Kenny Hill
was arrested in March for public intoxication. Two months later, head coach Kevin Sumlin dismissed a pair of key defenders -- Darian Claiborne and Isaiah Golden -- after they were arrested and charged with aggravated robbery. Then the news broke this week with Stansbury's departure and the suspension of Davis.
July, 25, 2014
Jul 25
12:00
PM ET
July, 24, 2014
Jul 24
10:30
AM ET
HOOVER, Ala. -- In 2012, Kevin Sumlin was dealing with being the new guy on the block at SEC media days. Last year, the Texas A&M Aggies head coach arrived in Hoover with a circus surrounding his starting quarterback.
Last week, Sumlin showed up without much of a media tail or the world's most popular college football player. He was just a successful SEC coach in a well-tailored suit.
But while the bright lights seemed a little dimmer and the attention wasn't as smothering inside the Hyatt Regency Wynfrey Hotel, Sumlin and his players did carry a little non-football-related baggage.
This time it dealt with arrests and dismissals for a team looking to build on its early momentum from its two years it's been in the SEC.
Just when
Johnny Manziel
was out the door and headed to Cleveland, Texas A&M had to deal with sophomore quarterback
Kenny Hill
getting arrested on a public intoxication charge back in March and being indefinitely suspended.
Then in early June, Sumlin dismissed two key defenders -- linebacker Darian Claiborne and defensive tackle Isaiah Golden -- after being arrested and charged with aggravated robbery. That leaves more holes for a defense that needs all the help it can get after finishing 12
th
or worse in the four major defensive categories in the SEC last year.
In another offseason involving more distractions, the Aggies held their heads high in Hoover. They smiled, laughed and scoffed at the distractions that could have an impact on their season. Instead of stressing about the past and who won't be on the team in August, the Aggies and their coach strutted through media days.
"I don't really believe in distractions," senior left tackle
Cedric Ogbuehi
said. "If you're a football player, every football team has issues. You're a man. Be a man and just move on and do what you have to do to be a great player. That's all you can control."
Contrary to Ogbuehi's beliefs, distractions are real. But to his credit, he has the right idea. It probably comes from the years of training he has had since he's been in College Station.
"When you're on the field, you're in the zone and you block out everything -- you block out the fans, you block out the noise. That kind of contributes to the off-field [incidents] as well," punter
Drew Kaser
said.
You'd think a team just getting over the distraction of distractions in Johnny Football would be a little frustrated by the thought of having another non-football-related subject to discuss before actually getting to business. But this group just wades through the mess and focuses on the pigskin.
To Sumlin, this team has gotten through the offseason without the arrests and dismissals having much of an effect at all. For players like cornerback
Deshazor Everett
they haven't been distractions because the Aggies have enough bodies to fill those voids so why dwell on the people missing?
"The next step is for the guys that are behind them to step up and play,"Everett said. "It's the SEC. We recruit great players. I believe that they can step in and have as big of an impact as those players who got dismissed did. I have full confidence in our defense this coming season."
Moving ahead hasn't been a problem or the Aggies in the past. They did it two years ago when Manziel went from arrested to Heisman winner, and they did it again last year after Manziel's off-field life overshadowed A&M's actual football team.
Manziel is gone, and while more distractions have sprouted, this team isn't worried. As Ogbuehi puts it, the Aggies already have the pieces they need for 2014.
"We have guys who are stepping up as leaders and [the team knows] that guys who wanna be here are gonna play the first game of the year," he said.
July, 24, 2014
Jul 24
10:00
AM ET
At events like The Opening, prospects get together in a unique environment. RecruitingNation took advantage and asked a few questions.
Of Cam Newton, Johnny Manziel or Jameis Winston, who would you want as your quarterback?
Choosing Newton:
ESPN 300 No. 2 Martez Ivey:
You could pick Manziel, too, but it's what Cam brings. He always has that smile on his face. I remember watching him when Auburn was down to Alabama, he still had a smile on his face and went out there and won the game. He wins.
No. 10 Tim Settle:
He can be locked down and not be able to throw, but he can run. And I'm trying to tell you, he doesn't get just 10 yards -- he can get 15 if you want 10. I also think he was more mature than Johnny and Jameis.
No. 19 Josh Rosen:
Probably, Newton. Just because there are so many things you can do with him. He's just one of those guys if he runs around on the college level he's not as susceptible to injury because of his size and athleticism. I would probably pick someone that can stand in the pocket first, and I think if you put Cam in the right system -- he can do some damage.
No. 35 Calvin Ridley:
I would definitely take Cam Newton because I like him, he can sling the ball, he's a threat to run, defense had to pack the box in college against him and gives guys like me more opportunities one-on-one.
No. 51 Breiden Fehoko:
I think Cam Newton. When you look at overall, playmaker, dual-threat, he has a gun [strong arm], he's just as fast on his feet as others, he stands about 6-foot-6, weighs 250 and he can see the entire field with everything else he has.
*Of the 30 players asked, 22 picked Newton.
Choosing Manziel:
No. 38 Malik Jefferson:
Manziel. He has the go-get-it attitude. He wants it every second. Even though people said he was a dumb butt off the field, he always wanted to play no matter what his circumstance was. He just goes out there and plays, and has fun while he is doing it.
Alabama commitment Blake Barnett:
I would say Johnny Manziel, just because he's a playmaker. He can drop back and throw the ball down the field, then he can beat you up with his feet. I think he's a terrific player.
Choosing Winston:
No. 16 Jashon Cornell:
In college? I'm going to take Jameis. He has the ability to be the best of all. He plays baseball, too, which helps his arm strength, and just the leader he is.
Georgia commit Jackson Harris:
I would probably go with Winston. I know [FSU quarterbacks coach Randy Sanders] pretty well, he recruited me, and he would just tell me the stuff that he can do and does. His stories were unbelievable.
Michigan verbal Alex Malzone:
Winston, just because of his winning mentality. He's going to work, you can tell he is a competitor and will do anything to win. As a quarterback, that is what you want.
Will Winston repeat as the Heisman Trophy winner?
Ivey:
Those receivers made him look really good last year. It's going to be a challenge for him, and there is always a young freshman that steps up from out of nowhere now. I don't really think the off-the-field hurts him. People are always going to hassle him about something. It comes with being a Heisman winner and high profile player.
Settle:
No. He can't stay out of trouble. He's always in trouble, and some of them are the littlest things that end up being big. He has to be hitting on all cylinders to have a chance, because there is some freshman that will pop up. I won't be shocked if he has a great year, but you have to be smart in the decisions you make.
No. 12 Torrance Gibson:
Yeah, I think he can. He has a lot of dedication and determination. He's a great quarterback and a great leader, and I think he can repeat. The off-the-field could hurt a little. The politics too -- people don't like seeing other people on top. If he keeps his head on straight, I think he'll be fine.
No. 28 Damien Harris:
I don't think he will. Not saying he's not a great player, as he was the best player in college football last year, but I actually have Braxton Miller winning the Heisman this year. I think he'll win it, he's a great quarterback. I don't think the off-the-field should hurt Jameis, unless it's something out-of-the-question horrible. I think Braxton will get him though.
Barnett:
I think it's a possibility. He's an excellent athlete and a great quarterback. If he's got a solid team at Florida State again, he will be productive. Almost every player goes through different adversities off the field, but just like Johnny Manziel did -- he's continued to be very successful.
Texas A&M commit Jordan Davis:
No. There is a lot of young talent. And if Johnny [Manziel] didn't do it, I don't think Jameis will. The off-the-field stuff hurt Johnny, so I think the stupid decisions Jameis made will hurt him, too, next year.
July, 23, 2014
Jul 23
5:18
PM ET
By
ESPN.com staff
| ESPN.com
BRISTOL, Conn. --
Texas
and
Texas A&M
have played 118 times, and their in-state rivalry was a longtime holiday tradition in the Lone Star State, with the teams meeting 64 times on Thanksgiving Day.
But one of the sport's most storied rivalries was a victim of conference realignment, as the Longhorns and Aggies stopped playing each other when Texas A&M left the Big 12 for the SEC before the 2012 season.
While Texas and Texas A&M administrators have repeatedly said renewing the rivalry isn't on their front burners, new Longhorns coach Charlie Strong said he wants the rivalry to resume.
To read more,
click here
.
July, 23, 2014
Jul 23
4:27
PM ET
BRISTOL, Conn. - Texas and Texas A&M have played 118 times, and their in-state rivalry was a longtime holiday tradition in the Lone Star State, with the teams meeting 64 times on Thanksgiving Days.
But one of the sport's most storied rivalries was a victim of conference realignment, as the Longhorns and Aggies stopped playing each other when Texas A&M left the Big 12 for the SEC before the 2012 season.
While Texas and Texas A&M administrators have repeatedly said renewing the rivalry isn't on their front burners, new Longhorns coach Charlie Strong said he wants the rivalry to resume.
"You would like to see it happen," Strong told ESPN.com on Wednesday. "At some point it needs to happen. We need to play them."
The Longhorns and Aggies haven't played since Nov. 24, 2011, when Texas' Justin Tucker kicked a game-winning field goal as time expired for a 27-25 victory. Texas leads the all-time series, 76-37-5. The rivalry, which began in 1894, is the third-most played in FBS football.
Texas A&M is facing LSU on Thanksgiving this season. Texas is playing TCU.
Texas defensive coordinator/defensive backs coach Vance Bedford, a former Longhorns cornerback, also has been outspoken about his desire to renew the series. On Jan. 30, Bedford tweeted (since deleted): "UT and the aggies should set up a schedule to play again in the future. What a great game for the state of Texas."
But there doesn't seem to be a major push from either side, at least not from those in charge of scheduling, to play the game again anytime soon. In April, Texas athletics director Steve Patterson told ESPN's Paul Finebaum that renewing the rivalry wasn't among his priorities.
Blue Chip Battles: ESPN 300 Update
SEC SCOREBOARD
Thursday, 8/28
Saturday, 8/30
Sunday, 8/31