December, 28, 2014
Dec 28
6:05
PM ET
ORLANDO, Fla. -- Under Armour All-American running back
Soso Jamabo
is a hot commodity heading into the final stretch of the recruiting process. The nation's No. 28-ranked prospect in the 2015 ESPN 300 has already taken visits to UCLA and Notre Dame but is now contemplating the final few official visits before his decision.
December, 28, 2014
Dec 28
4:00
PM ET
As we get closer to New Year's Day the bowl games become more compelling, and that's certainly the case with Monday's AutoZone Liberty Bowl between Texas A&M and West Virginia. It's a matchup of two head coaches familiar with each other and two similar offenses, and it gives us a dose of Big 12 vs. SEC, which always is good for debate. Let's break it down:
What's at stake:
In the 119-season history of Texas A&M football, the Aggies have never won four consecutive bowl games. They have the opportunity to do so here, seeking a fourth straight bowl win dating back to 2011. West Virginia is appearing in its third bowl game in four seasons under Dana Holgorsen and seeks its second bowl win in that span.
Players to watch:
West Virginia receiver
Kevin White
is worth the price of admission. The senior is one of college football's best receivers, ranking sixth in the nation in receptions (102) and seventh in receiving yards (1,318), with nine touchdowns. He shows a knack for making big-time, highlight-worthy plays. For Texas A&M, true freshman defensive end
Myles Garrett
has lived up to the hype that preceded his arrival in Aggies land. He finished the regular season tied for second in the SEC in sacks (11), which broke Jadeveon Clowney's SEC freshman sack record, Garrett had 12.5 tackles for loss, and he has been a headache for opposing offensive tackles and quarterbacks.
Familiar faces:
These head coaches know each other well. Kevin Sumlin's first offensive coordinator hire as a head coach in Houston was Holgorsen in 2008. The two won 18 games together in two seasons before Holgorsen left for the same position at Oklahoma State. He took then-graduate assistant Jake Spavital with him from Houston to Stillwater and eventually to West Virginia before Sumlin tabbed Spavital to replace Kliff Kingsbury's spot on the Texas A&M staff when Kingsbury left his offensive coordinator post for the head-coaching job at Texas Tech.
Similar attacks:
Both teams operate in a one-back spread attack rooted in Air Raid principles. Each team scores a lot (West Virginia averages 33.2 points, Texas A&M 34.4) and throws quite a bit, too; the Mountaineers average 314.6 passing yards per game, while the Aggies average 306.4.
Trickett out:
West Virginia starting quarterback
Clint Trickett
will miss the game,
announcing last week that he is hanging up his cleats
because of concussions he's suffered. Sophomore
Skyler Howard
will start at quarterback for the Mountaineers. In three games, including a start versus Iowa State, Howard has thrown for 483 yards and five touchdowns.
Record breaker:
Texas A&M sophomore receiver
Josh Reynolds
has emerged as one of quarterback Kyle Allen's favorite receivers, and even when
Kenny Hill
was starting, Reynolds was making things happen. The unheralded junior college recruit tied the single-season school record (held by Mike Evans and Jeff Fuller) with 12 receiving touchdowns. One more would put Reynolds at the top of the list, lofty status for someone who received little buzz when he enrolled at Texas A&M in January.
Coaching attrition:
Texas A&M will be without three coaches that it ended the regular season with: defensive coordinator Mark Snyder, offensive line coach B.J. Anderson and receivers coach David Beaty. Snyder was fired the day after the Aggies' season-ending loss to LSU; linebackers coach Mark Hagen will serve as the interim defensive coordinator for the Liberty Bowl. Beaty accepted the head-coaching position at Kansas, and earlier this month Sumlin announced that Anderson won't return next season or coach in the bowl game. The Aggies will operate with two full-time offensive assistants (Jake Spavital and Clarence McKinney), while graduate assistant Chris Smith assists with the offensive line duties for the game. West Virginia will say goodbye to offensive coordinator and quarterbacks coach Shannon Dawson after the Liberty Bowl, as he will become Kentucky's offensive coordinator, but Dawson will be with the Mountaineers' staff working Monday's game.
December, 28, 2014
Dec 28
9:00
AM ET
Philosophically, Kevin Sumlin prefers to view bowl games as the first game of a new season more than a conclusion to the current one.
"We look at bowl games," Sumlin said, "as a culmination of the year for our seniors, so they can go out in a winning way and as the start of next season."
Sure, there's finality to it, especially involving seniors or draft-eligible underclassmen, and that was the case last season for Johnny Manziel, Mike Evans and Jake Matthews in the Chick-fil-A Bowl victory over Duke.
Each of the last two bowl appearances also marked the first game of a new Texas A&M offensive coordinator (Clarence McKinney in the AT&T Cotton Bowl two years ago, Jake Spavital last year) and there were several players on the field who served in key roles the following season.
No matter how the Aggies' clash against West Virginia in the AutoZone Liberty Bowl on Monday afternoon is viewed, there's no doubt that it's an important one that begins a crucial time in Texas A&M football under Sumlin.
[+] Enlarge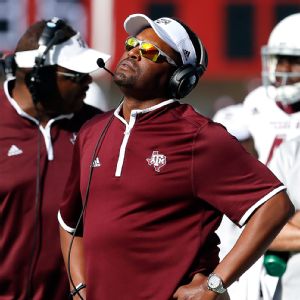 AP Photo/Butch DillWith the investments that Texas A&M has put in its football program, the pressure is on Kevin Sumlin next season, and a bowl win would put the Aggies on a good trajectory.
The 2015 season will be the Aggies' fourth year in the SEC, Sumlin's fourth year in charge, and the honeymoon is over. The Aggies are no longer SEC "newbies," the magic that occurred under Manziel is far into the rearview mirror after this year's up-and-down 7-5 campaign and the investment placed in the program by donors is immense.
Next season will be the first at a renovated Kyle Field, a project that's now projected to cost $485 million. The stadium will seat 102,511, which should pass Tennessee as the most in the conference. The Aggies spent $9 million on a weight room in 2012, then $12 million on a nutrition center and $4 million on a renovation of the Bright Football Complex's lobby in 2013. This year, $16 million was poured into locker rooms, training facilities and the like. After national signing day in February, a renovation of the coaches' offices on the third floor of Bright will begin, targeted for a summer completion.
The school is spending more than half-a-billion to compete with their SEC brethren. Results need to follow soon.
Since joining the SEC, the Aggies have finished tied for second (2012), fourth (2013) and sixth (2014) in the SEC West. The depth of talent needed in certain areas to compete with the SEC elite wasn't there when the current coaching regime arrived, but after consecutive top-10 recruiting classes and a third on the way this February, these Aggies have been adding talent to what they hope is a crescendo in 2015 and 2016.
The facilities will be in place. The talent
should
be in place on the field. All that's left is to make significant, tangible on-field strides, similar to the ones seen by Mississippi State and Ole Miss this season. Texas A&M's 2015 schedule sets itself up for such a run, with the first six games occurring either at Kyle Field or within the state of Texas. There are only four true road games on the docket.
Few in the SEC expected much from the Aggies when they entered the SEC in 2012. As Sumlin often likes to say, there were many who believed the Aggies would get their "brains kicked in." They smashed expectations by going 11-2 in their debut season. They took a step back in 2013, going 9-4. Still, a 20-6 record in two seasons in college football's toughest division was not a disappointment.
This season was different. It started out promising, but questions were raised as the season progressed. A 5-0 start turned out to be fool's gold. Alabama, Mississippi State and Ole Miss decisively defeated the Aggies during a three-game October stretch. Particularly troubling was Texas A&M's 59-0 shellacking at Alabama. While few expected the Aggies to win, nobody could have (or should have) imagined them getting run off the field.
It was a jarring loss for the program that threatened to have long-term consequences, but Sumlin and his staff did well to right the ship, making several personnel changes in time for a date at then-No. 3 Auburn as the Aggies pulled off a stunning, 41-38 upset. It was Gus Malzahn's first home loss as Auburn's head coach and gave credence to optimists looking at 2014 as a transition season with young players in key positions, including two first-time starters at quarterback.
The Aggies were competitive in their final two games, losses to Missouri and LSU, but next season and beyond, those are the types of games the Aggies need to turn into victories. Those with a skeptical eye have been justified of late, as the Aggies lost a key recruiting battle for ESPN 300 linebacker
Malik Jefferson
to Texas, something that's been a rarity in the last three seasons. Five-star defensive tackle
Daylon Mack
decommitted the same day and the Aggies need to finish strong in the coming six weeks to turn in a top-five class.
Sumlin seems to recognize the gravity of the upcoming season. He dismissed defensive coordinator Mark Snyder the day after the Aggies' Thanksgiving Day loss to LSU, one that solidified the defense's place in the SEC cellar in total defense and rushing for the second consecutive season. In recent weeks, he announced that B.J. Anderson, the offensive line coach who has worked under Sumlin since 2009 at Houston, would not return next season.
Sumlin has been deliberate in his process to find a successor to Snyder, saying "It's not about time; it's about getting the right guy." That could never be more true than now, because how well his eventual defensive coordinator performs could have significant bearing on Sumlin's tenure in Aggieland. His salary exists in the range of those coaches who own championship rings, and that's a plateau Sumlin is still striving to reach as a head coach.
The 2015 season (and to some extent, 2016) will go a long way in defining Sumlin's tenure at Texas A&M. Getting a victory over an old colleague and friend, Dana Holgorsen, and the
West Virginia Mountaineers
on Monday would be a nice start to "next season."
December, 24, 2014
Dec 24
12:00
PM ET
One week into the season, expectations soared for Texas A&M after the Aggies destroyed South Carolina on the road. That result, however, proved to be a bit of a mirage, as the Aggies struggled through the heart of their SEC schedule.
In Morgantown, expectations also ballooned after the Mountaineers knocked off fourth-ranked Baylor on Oct. 18. But two weeks later with ESPN "College GameDay" in the house, West Virginia couldn't hold on to a nine-point fourth quarter lead against TCU, which ignited a three-game November losing streak for the Mountaineers.
Still, in the AutoZone Liberty Bowl, both teams have the chance to finish their roller-coaster seasons with an eighth win and on a high note heading into 2015.
Below, SEC reporter Sam Kahn Jr. and Big 12 reporter Jake Trotter break down this Memphis matchup:
[+] Enlarge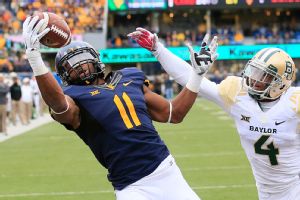 AP Photo/Chris JacksonReceiver Kevin White has been the catalyst for West Virginia's offense this season.
How West Virginia can control the game:
Getting All-American wideout
Kevin White
going early and often is key for the Mountaineers. As White goes, so go the Mountaineers. During White's amazing seven-game 100-yard receiving streak to begin the season, the Mountaineers claimed one of the top offenses in the country. But late in the season, as White cooled off, so did the West Virginia offense, prompting the Mountaineers to drop three of their final four games. The Aggies are hardly effective defending the pass, with the SEC's 12th-ranked pass defense. So West Virginia should be able to get White the ball in the opening quarter. That in turn should open up the rest of the offensive attack.
-- Trotter
How Texas A&M can control the game:
Getting off to a fast start is important for the Aggies. This season, when the Aggies have led after the first quarter, they are 5-1; when they've trailed after a quarter, they are 0-3. A team with young players at many key positions, particularly quarterback, the Aggies feed off the confidence of having a lead. Beyond that, though it's known as a pass-happy offense, getting the running game going is critical for Texas A&M. In the Aggies' seven wins, they averaged 182.8 rushing yards; in their five losses, they averaged only 86.8. Having success in the run game gives the Aggies some semblance of balance offensively and opens things up for quarterback
Kyle Allen
and his group of receivers to attack all areas of the field.
-- Kahn
West Virginia's X factor:
After suffering a concussion against Kansas State on Nov. 18, quarterback
Clint Trickett
is finally expected to play again in the bowl. Still, it remains unclear whether he will start, how much he will play and how effective he can be coming off the head injury. Trickett struggled late in the year before the concussion, but he was also a major reason why the Mountaineers were so successful during the first half of the season. If he can get back to that level when he was among the nation's leaders in completion percentage, West Virginia will be tough to beat. But if Trickett is ineffective or can't reclaim his early-season accuracy, the Mountaineers could be in trouble.
– Trotter
Texas A&M's X factor:
Run defense. The Aggies were been atrocious in this area in their final three games, allowing a whopping 360.6 rushing yards per game. They are 111th nationally and last in the SEC in rush defense, and though West Virginia throws it quite a bit, coach Dana Holgorsen won't hesitate to run the football (the Mountaineers gained 195 or more rushing yards in four of their final five games this season). The Aggies moved true freshmen
Otaro Alaka
and
Josh Walker
into the starting lineup late in the season and saw linebacker play improve, but Walker will miss the Liberty Bowl with an injury, meaning someone like
Shaan Washington
will have to step up. If the Aggies can't stop the run, they won't be able to stop the Mountaineers, period.
-- Kahn
What a win would mean for the Mountaineers:
All in all, the Mountaineers have already exceeded preseason expectations. Given last season's struggles and a brutal schedule, just getting to a bowl game seemed like it would be a stretch for this team. But after the surprisingly fast start to conference play, followed by the disappointing three losses in November, this season has a slight sour taste to it for West Virginia fans. A season-ending win against Texas A&M, however, would remove most of that bitterness while giving the program a boost going into the offseason.
-- Trotter
What a win would mean for the Aggies:
Ending the season on a positive note would be huge for Texas A&M, given how turbulent this season was. The season went sideways after 5-0 start, and there has been plenty of angst from fans in Aggieland as coach Kevin Sumlin has sought out, but has yet to hire, a defensive coordinator and lost out on two key defensive recruits in the process. Sumlin must also find new offensive line and receiver coaches, and next season is shaping up to be a critical one in College Station, as fans are looking for results from three consecutive top-10 recruiting classes as well as the investment of $500 million in football facilities upgrades and $5 million a year to Sumlin. Texas A&M needs to begin taking real, tangible steps toward SEC West and SEC title contention starting next season, and a win in the Liberty Bowl against a good West Virginia team would be a nice springboard into 2015.
-- Kahn
December, 23, 2014
Dec 23
1:30
PM ET
With the Allstate Sugar Bowl rekindling a great coaching rivalry in Nick Saban vs. Urban Meyer, it got me to thinking (shocker, I know): There are some SEC rivalries that I'd love to see take off in the near future.
What Saban and Meyer did -- and what Saban keeps doing -- in the SEC has changed the landscape of the league. And even though they met just three times in the SEC, we all wanted to watch when they did. So why not have a few games that we all get hyped up for when they come around?
I came up with five games that I want to see turn into or turn back into great rivalries to get your popcorn ready for. Of course, scheduling hurts most of these games, but maybe the right people will hear me out ...
Have a few of your own rivalries you want to see in the SEC? List them below!


1. Alabama vs. Florida:
Remember when these two just couldn't stop playing each other in the SEC championship games in the 90s? Remember the Meyer-Saban days? Now, there's another ex-Saban assistant -- Jim McElwain -- coaching the Gators, and a chance of redemption in Gainesville. Saban and Alabama are the class of the SEC, just like Florida was in the 90s. Having these guys good at the same time and playing against each other, more often than not, is good for the league.


2. Arkansas vs. Auburn:
OK, so these two play every year, but, man, amping up the Gus Malzahn-Bret Bielema storyline would be great. They've both exchanged words with each other, there's been controversy, and they are both the antithesis of each other when it comes to offensive philosophies. This game has the chance to be fun for everyone who cares anything concerned with SEC football. The quiet Malzahn vs. the brash Bielema is too good not to be on everyone's radar each year.


3. Georgia vs. LSU:
The Tigers hold a 16-13-1 series lead over Georgia, and that 44-41 Georgia win in 2013 was one for the ages. These two are two of the best in their respective divisions, and should play a lot more than they do, but with the new scheduling format, we have to wait and wait. I mean who wouldn't want to see the laid back Mark Richt in his signature sunglasses taking on the Mad Hatter more? Two very different, yet very successful coaching styles meeting more often just needs to happen.


4. Ole Miss vs. Tennessee:
These two went back-and-forth in the 1970s, but Tennessee has dominated the series. However, with Hugh Freeze at the helm in Oxford, this has the chance to be a fun little rivalry to keep an eye on. Why? Well, Freeze coached in the state of Tennessee for more than a decade and can recruit in Butch Jones' backyard when needed. The two played in a lopsided Ole Miss win this year, but with Tennessee trending up with its young talent, these two could have much more competitive games in the future.


5. Missouri vs. Texas A&M:
I mean, they were together in the Big 12, and it only makes sense that they ignite those old bitter feelings for each other. Honestly, this game should be played every year because of that. You have two very impressive coaching résumés and two schools that entered the SEC poking their own chests out at the SEC elite. It's been great, so let's get them back on the schedule!
Honorable mention
Auburn vs. Florida:
This was one of the great rivalries in the league before it was basically discontinued in 2003. There have been classics in the past and the 2000s brought us some nail-biters in this game, as well. It was sad for both fan bases when this game got cut from both schools' regular schedules, but now Will Muschamp is at Auburn, so hopefully these two can meet while he's still on the Plains.
December, 23, 2014
Dec 23
1:24
PM ET
Of the Power 5 conferences, the only
remaining head-coaching vacancies
are at Michigan and Pitt. But don't underestimate how important coordinator hires can be for the future of a program.
After all, it was a year ago that TCU's Gary Patterson hired Doug Meacham and Sonny Cumbie to run an up-tempo offense in Fort Worth -- and it nearly resulted in a playoff berth. Another: Lane Kiffin's addition to the Alabama staff worked out better than many imagined. The Tide is favored to win the initial playoff.
Here's an update on many of the Power 5 coordinator vacancies. I didn't include Baylor or Ohio State's offensive coordinator positions, since the Bears will likely promote Kendal Briles and OSU will elevate Ed Warinner. That still leaves attractive offensive assistant jobs open at both schools, however.
Florida offensive coordinator
Florida AD Jeremy Foley hired Jim McElwain because of his background as an OC
To continue reading this article you must be an Insider
December, 23, 2014
Dec 23
12:00
PM ET
In the 100 days leading up to signing day 2015, RecruitingNation will looking back at our ESPN recruiting rankings from 2006 to the present and count down the best player of the past 10 years at each ranking position, No. 100 to No. 1.

Michael Goodson, No. 45 in 2006 class

Goodson came out of Klein Collins High in the Houston area as a battle between Oklahoma State, Texas A&M and USC. After being committed to the Cowboys for six months, he backed out on his verbal and came down to the Aggies and Trojans with the close to home Aggies winning out.

Goodson was expected to be an impact player in College Station and was just that as a freshman. In 2006, the speedy back took home Big 12 Freshman of the Year honors after rushing for nearly 850 yards and four touchdowns along with 17 receptions for 113 yards.

Goodson posted another solid, but unspectacular season as a sophomore 2007 finishing with 711 yards for the 7-6 Aggies. He added 36 receptions for 361 yards and four scores.

Goodson's last season at Texas A&M would prove to be his least productive as a runner with 406 yards, but continued to flash his all-around ability to the tune of 37 receptions for 386 yards out of the backfield. The leading receiver that season for the Aggies was future first round quarterback selection Ryan Tannehill.

Goodson entered the NFL draft following his junior season. He was selected in the fourth round, No. 111-overall, byt the Carolina Panthers.

Honorable mention: DeAngelo Tyson, No. 45 in 2008 class, Malcolm Mitchell, No. 45 in 2011 class and O.J. Howard, No. 45 in 2013 class. Tyson played at Georgia and is now in the NFL, while Mitchell is currently at Georgia and has a chance to be drafted following the 2015 season. Howard, a sophomore tight end at Alabama, has the opportunity to be selected high in the NFL draft in the next two seasons.
December, 22, 2014
Dec 22
11:00
PM ET
We asked college football fans what recruits they want under the Christmas tree for their favorite school. Here are the best answers in this special Christmas edition of the Early Offer. The Early Offer will return next week from the Under Armour Game practices in Orlando, Florida.
@jeremycrabtree Ole Miss CeCe Jefferson to add to an already great defense. And DeMarcus Lodge to go along with our other talented WR.

— Joe Turnage (@Joe_T25) December 21, 2014
@jeremycrabtree Florida- Bryon Cowart, CeCe, Ivey, Holland, Jordan Scarlett

— Trenton Stowell (@tstowell24) December 21, 2014
@jeremycrabtree b cowart Cece and dpayne come to auburn to make impact on defense

— Tad tisdale (@TadTisdale) December 21, 2014
@jeremycrabtree Ryan Davis at Kstate

— darren mueller (@milkman2993) December 21, 2014
@jeremycrabtree @ESPNRNFball Daylon Mack to #LSU. He would play from day 1.

— Dustin L. Davis (@DustinLDavis) December 21, 2014
A quarterback. #VirginiaTech MT "@jeremycrabtree: What recruits do you want your school to land for Christmas?"

— Joe Kriz (@joe_kriz) December 21, 2014
@jeremycrabtree @ESPNRNFball Van Jefferson, Roquan Smith, and Keep Bobo #UGA football

— Dx2 (@theReal_DrDave) December 21, 2014
@jeremycrabtree @ESPNRNFball OU-Demarcus Lodge

— RNS (@LTBCEO) December 21, 2014
@jeremycrabtree @ESPNRNFball @tezivey @ByronHawkStar99 @cecejeferson7 @Famousscarlett @thaRD5 @Jalen_Merrick @K72_Phillips @Deondre_3

— Gator_Fan_4Life (@gatorsfan1977) December 21, 2014
@jeremycrabtree @ESPNRNFball a&m get daylon Mack

— Trey Burnett (@rednationrocks2) December 22, 2014
@jeremycrabtree @ESPNRNFball Martez Ivey and Daron Payne would be huge for Auburn. Need depth at those positions and they are both studs.

— jakewright (@jakewright1996) December 22, 2014
@jeremycrabtree @kris23db -DBU.

— Zane Ellis (@ZaneMoneyEllis) December 22, 2014
@jeremycrabtree @ESPNRNFball #EarlyOffer Daylon Mack, Kris Boyd, and Warren for #Texas

— Evan Yarbrough (@evan_yarbrough) December 22, 2014
@jeremycrabtree Kyle Phillips and Ugo Amadi! #Vols

— Jarret Henry (@JarretHenry) December 22, 2014
@jeremycrabtree DL-N Gallimore,G Campbell,D Daniels LB-McGinnis,Wheeler, Josh Smith OL-Wariboko, Teauma WR - Newsome DB-Orr, Dalton #Sooners

— nk boomer (@nk_boomer) December 22, 2014
@jeremycrabtree KSU - Kylan Johnson@shotime_kc

— Wildcat_Jeff (@Snyder_cat) December 22, 2014
December, 21, 2014
Dec 21
11:00
PM ET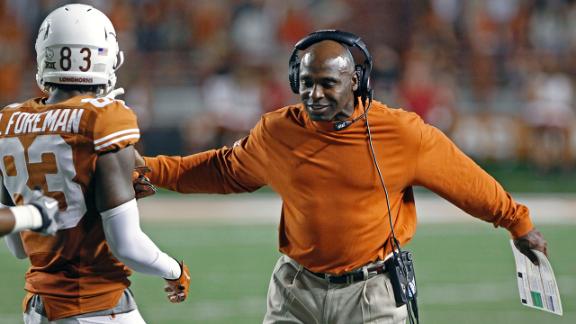 Malik Jefferson
's commitment could alter recruiting landscape in Texas, says one Big 12 coach. Plus, where do the Power 5 conferences stack up when it comes to ESPN 300 commitments.
To continue reading this article you must be an Insider
December, 21, 2014
Dec 21
12:06
PM ET
Associated Press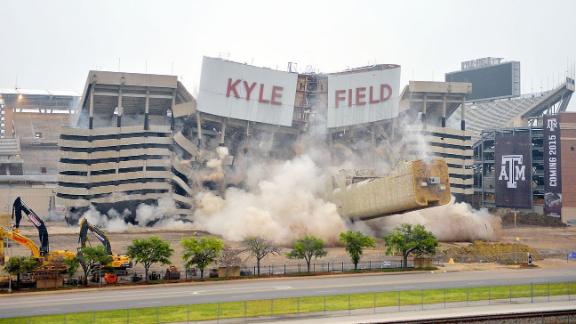 COLLEGE STATION, Texas -- The west side of Texas A&M University's Kyle Field has been imploded as part of football stadium improvements.
The Bryan-College Station Eagle reports that about 5,000 cheering spectators watched the Sunday morning implosion from a nearby parking lot. Police say another 2,000 were scattered across campus.
The updated west side of the Aggie stadium will include new suites and premium areas for fans, the Hall of Champions and upgraded TV broadcast facilities.
Texas A&M University System Chancellor John Sharp said during a ceremony before the implosion that another $35 million in donations have been collected for the project, which now tops $485 million.
The redevelopment is expected to be finished in time for the 2015 football season, pushing Kyle Field seating capacity above 102,500.
December, 20, 2014
Dec 20
2:00
PM ET
On Friday shortly after noon, following the 8 a.m. commitment of ESPN 300 No. 35
Malik Jefferson
to Texas over Texas A&M, No. 15 and five-star defensive tackle
Daylon Mack
sent another shock wave in the Lone Star state decommitting from Texas A&M in what would turn out to be a Friday to forget for Aggie fans.
I have decomitted from Texas A&M and I will be releasing my top two schools around noon Saturday!

— THEE MACK TRUCK (@DaylonMack) December 19, 2014
Just minutes ago, Mack followed through on his Friday tweet, releasing his top two teams.
To continue reading this article you must be an Insider
December, 19, 2014
Dec 19
2:07
PM ET
Hours after the commitment of No. 35-ranked Malik Jefferson to the Texas Longhorns over Texas A&M and UCLA, the Aggies seemingly have lost their top defensive commitment in the class.
Five-star defensive tackle Daylon Mack, No. 15 in the ESPN 300 and a friend of Jefferson's, announced on Twitter that he has decommitted from Texas A&M.
Mack took an official visit to TCU on Oct. 24 and an unofficial one to LSU on Nov. 8, and the Under Armour All-American announced via Twitter on Saturday they are his top two schools.
My top two schools are LSU and TCU #NoOrder #GeauxTigers #GoFrogs

- THEE MACK TRUCK (@DaylonMack) December 20, 2014
Mack has been a dominant performer at Gladewater (Texas) High, racking up 241 tackles, 89 tackles for loss and 20 sacks the past three seasons.
December, 19, 2014
Dec 19
11:30
AM ET
It might be time for Texas A&M to retire -- at least for a few days -- the hashtag Aggies often used on social media this year in relation to recruiting: #WRTS.
"We Run This State"? Not today.
Texas won a critical head-to-head recruiting battle over Texas A&M on Friday morning when a pair of Mesquite (Texas) Poteet High teammates, ESPN 300 linebacker
Malik Jefferson
and four-star athlete
DeAndre McNeal
,
announced that they're Austin-bound
.
[+] Enlarge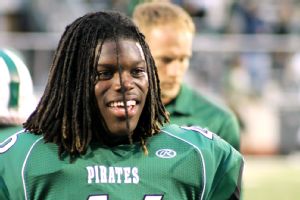 Max Olson/ESPNNot having a defensive coordinator put A&M at a disadvantage is the race to woo Malik Jefferson.
It's impossible to win them all, but this was one Kevin Sumlin and his staff needed to win.
Jefferson, the No. 35 player in the country, was a priority recruit for the Aggies, while landing McNeal -- who would have likely projected to receiver, a talent-rich position at A&M -- would have been a bonus. The 6-foot-3, 220-pound Jefferson was the one that Sumlin and linebackers coach Mark Hagen have spent nearly two years developing a relationship with and pinning their hopes on as a game-changer at a position of need: linebacker.
The Aggies offered Jefferson a scholarship 632 days ago. Over that time, as Texas A&M's defense struggled and Jefferson's profile rose, the need to land him increased. What's worse for A&M is that the Aggies seemed in prime position to do so only to lose momentum in the final days of the recruitment for myriad reasons, but none more glaring than the fact that Sumlin has yet to hire a defensive coordinator to replace Mark Snyder, whom he fired on Nov. 28.
Jefferson stated as much
in talking about the final weeks of his recruitment.
The famed maroon helicopter Sumlin once touted as "undefeated"? No more.
Sumlin took said helicopter to Rockwall, Texas, to watch Jefferson and McNeal on Sept. 25 when they played Rockwall-Heath High. It was that night that he became sold enough on McNeal to later offer the versatile, 6-foot-2, 200-pound prospect and at the time, it seemed to be a safe bet that Jefferson was leaning toward A&M.
The Aggies were quietly confident they'd land Jefferson after his official visit to Texas A&M the weekend of their Nov. 15 loss to Missouri, which Jefferson attended. The nation's third-ranked outside linebacker was wowed during his time there. He also was impressed on visits to Texas and UCLA, but ultimately, Sumlin was confident.
Sumlin's pitch to Jefferson? He's the missing piece the Aggies need on defense to pair with star-in-the-making freshman defensive end
Myles Garrett
. The need for quality linebacker depth was clear when Texas A&M's two true freshmen starters at the position --
Otaro Alaka
and
Josh Walker
-- suffered injuries in that loss. That night, the Aggies promptly saw their run defense go to hell in a handbasket, as the Tigers rolled up 202 rushing yards in the
third quarter alone
with Alaka and Walker sidelined en route to a 34-27 Missouri win. A&M made the decision midseason to move Alaka and Walker into starting linebacker spots after ineffectiveness from their predecessors in the season's first half.
The Aggies struggled getting (or keeping) quality linebackers on campus since Sean Porter and Jonathan Stewart graduated after the 2012 season. In their 2013 recruiting class, they seemed to find a future star in
Darian Claiborne
, but dismissed him from the team after multiple arrests. Injuries affected 2013 recruits
Shaan Washington
and
A.J. Hilliard
this season and other linebacker prospects from that class either played sparingly or haven't been effective.
The 2014 linebacker haul included Alaka and Walker, but ESPN 300 linebacker
Hoza Scott
-- once ranked the No. 1 outside linebacker in the nation -- was a nonqualifier and thus wasn't signed, never made it to campus and the Aggies weren't able to land other ESPN 300 linebackers they targeted in the class like
Kenny Young
or
Zach Whitley Jr
. Add Jefferson to the list of "what ifs" should he stick with Texas until classes begin in January, as he is a midyear enrollee.
Jefferson would have been a key piece to the defensive puzzle, one the Aggies sorely needed. Could a splash defensive coordinator make enough of a difference to flip Jefferson? Possible, but unlikely. Jefferson took great time and care in this decision and it will be difficult to reverse, especially with his family's support in him choosing Texas.
Malik Jefferson's father on A&M trying for flip when they get DC: "A commitment from a Jefferson is final. It's over."

— Max Olson (@max_olson) December 19, 2014
The lack of a defensive coordinator was key here, but regardless of recruiting, Sumlin has to get that hire right. After two seasons of atrocious defense and a sixth-place finish in the SEC West this season, the pressure is on to get someone who will produce elite results and help the Aggies turn into contenders in the nation's most talked-about conference. Sumlin and the Aggies are about to enter Year 4 in the SEC and it's time to see results of the recruiting the Aggies have been talking about producing.
The Aggies still have a top-10 recruiting class (
they're ranked sixth in the ESPN Class Rankings currently
) and there are still big targets on the board that they're strongly in the mix for, like five-star cornerback
Kendall Sheffield
. But with
the news of ESPN 300 defensive tackle Daylon Mack's decommitment
breaking mere hours after Jefferson's decision, it's clear Texas A&M has to finish strong.
No matter the reasoning, two days after
landing the nation's No. 30 player, ESPN 300 receiver
Christian Kirk
and three junior college prospects, Friday goes down as a loss for the Aggies and a win for the Longhorns. Sumlin said Thursday that missing a defensive coordinator or receivers coach hadn't affected recruiting yet.
On Friday, it did.
The Longhorns ran the state on Friday morning. The Aggies have work to do in the final seven weeks of the 2014 recruiting cycle.
Section Of Kyle Field Imploded For Renovations
SEC SCOREBOARD
Saturday, 12/20
Monday, 12/22
Tuesday, 12/23
Wednesday, 12/24
Friday, 12/26
Saturday, 12/27
Monday, 12/29
Tuesday, 12/30
Wednesday, 12/31
Thursday, 1/1
Friday, 1/2
Saturday, 1/3
Sunday, 1/4
Monday, 1/12