Aggies QB Kohl Stewart to pursue baseball
June, 7, 2013
6/07/13
5:22
PM ET
By
ESPN.com staff
| ESPN.com
HOUSTON -- Even though so many who followed the journey of Houston St. Pius X pitcher and 2013 ESPN 150 quarterback
Kohl Stewart
assumed that the flame-throwing righthander already had his mind and heart set on going to pro baseball, Stewart himself planned to be a
Texas A&M Aggie
.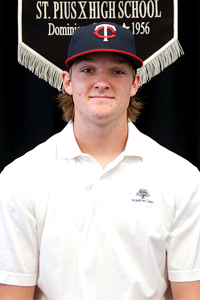 Courtesy of Deanna Werner/St. Pius XKohl Stewart said he wants to sign as quickly as possible so he can join the Twins organization.
It's what he grew up wanting to be. His family -- parents, siblings -- are Aggies and the fact that he had a scholarship to play football there "floored" him.
Until the first round of the 2013 MLB draft on Thursday night, one option was real and the other wasn't. His mother, Lisa, said as much Friday afternoon. Stewart, the No. 6-ranked pocket passer in the country, signed a letter of intent to play football at Texas A&M in February.
On Thursday, baseball became real when the
Minnesota Twins
selected Stewart fourth overall in the draft and on Friday, Stewart stated his desire to pursue professional baseball.
"I'm extremely excited to be a Twin," Stewart said. "I'm fortunate that they took me and I'm excited to help them in any way I can."
Read the rest of the story from Sam Khan Jr.
College Football Minute
Mississippi State's Dillon Day is suspended, a Clemson player receives some threatening messages, and Texas A&M rewards its dog defender. It's all ahead on the "College Football Minute."
College Football Minute
VIDEO PLAYLIST
College Football Minute

College Football Minute

Mississippi State's Dillon Day is suspended, a Clemson player receives some threatening messages, and Texas A&M rewards its dog defender. It's all ahead on the "College Football Minute."

Kirk Herbstreit's Game Plan Breakdown

Kirk Herbstreit's Game Plan Breakdown

Kirk Herbstreit previews Saturday's showdown between an improving Arkansas team and a Texas A&M Aggies squad flying high after their 4-0 start.

SEC West strong in AP top 25

SEC West strong in AP top 25

SEC Now hosts DariNowkhah and Maria Taylor break down the 6 SEC West teams in the AP top 25
TAMU FB RECRUITING SCORECARD
CoachSumlin

Kevin Sumlin


Line of questions tonight at the radio show! Wings N'More! #fullhouse http://t.co/iDefB6eeuo
about 4 hours ago

AggieFootball

Texas A&M Football


.@Nuff_ced70 discusses #ARKvsTAMU at Tuesday's weekly press conference: http://t.co/PGKbn6NLu0 #12thMan #maroongoons
about 6 hours ago

Aggies

Texas A&M Aggies SDS


Roundtable: Arkansas Preparing for Texas A&M http://t.co/lZdEIGEV4a
about 6 hours ago

AggieFootball

Texas A&M Football


.@Boone_saw makes his weekly press conference debut on Tuesday: http://t.co/QKOLw6el1g #12thMan #ARKvsTAMU
about 6 hours ago

TexAgs

TexAgs


Lot of gold from the Aggies' weekly press conference this time around, y'all. http://t.co/2xNYwXEDYd
about 6 hours ago

AggieFootball

Texas A&M Football


Hear from @GermainX1 as he prepares for #ARKvsTAMU: http://t.co/7XuBo4aKpj #12thMan #maroongoons
about 6 hours ago

AggieFootball

Texas A&M Football


Julien Obioha talks #ARKvsTAMU at Tuesday's press conference: http://t.co/MrCvHTRu37 #12thMan
about 6 hours ago

AggieFootball

Texas A&M Football


Malcome Kennedy talks to the media at Tuesday's press conference: http://t.co/6ux6E2jgMR #12thMan #ARKvsTAMU
about 7 hours ago

SEC_Chuck

Chuck Dunlap


Four of 11 FBS Football Good Works Team members from The SEC: http://t.co/Iwejh51Tvl
about 7 hours ago

AggieEquestrian

Texas A&M Equestrian


Join us at the Hildebrand Equine Complex this Thursday at 11 am for our home opener vs. UT Martin. #12thMan http://t.co/Ttsmn9pfYf
about 7 hours ago

Aggies

Texas A&M Aggies SDS


Monitoring explosive plays: Sims, Prescott make mark http://t.co/t83gNXVEXQ
about 8 hours ago

AustinFrey55

Austin Frey


Please pray for UT right now. Nothing happened, but people still go there
about 8 hours ago

ESPN_SEC

ESPN_SEC


Inside South Carolina's defensive struggles http://t.co/vsc4P3OTt0
about 8 hours ago

Aggies

Texas A&M Aggies SDS


List of TV commentators for every SEC game in Week 5 http://t.co/fEfuIe50wD
about 9 hours ago

SEC

SEC Sports


RT @TheSECU: #SECSymposium Poster Awards Announced http://t.co/ZAHKPChQqs
about 9 hours ago

TheSECU

SECU


The 2014 #SECSymposium is in the books! Thanks to everyone who participated and attended this year's event
about 9 hours ago

NCAA

NCAA


Welcome! @AggieSoccer is only new addition to @NSCAA women's #NCAASoccer top 10: http://t.co/oOdTzLEXQB http://t.co/8xadqyUliI
about 9 hours ago

Aggies

Texas A&M Aggies SDS


Weekly Football Press Conference: Arkansas http://t.co/E4vmAB2i2B
about 9 hours ago

AggieFootball

Texas A&M Football


Jordan Mastrogiovanni up next, tied for 8th on team in solo tackles at 7 this season #12thMan #ARKvsTAMU http://t.co/PhrSQ7o28E
about 9 hours ago

PeterBurnsESPN

Peter Burns


Dillon Day has been suspended for the Texas A&M game. Big blow for the Bulldogs. #MSU
about 9 hours ago

TexAgs

TexAgs


RT @PeterBurnsESPN: Dillon Day has been suspended for the Texas A&M game. Big blow for the Bulldogs.
about 9 hours ago

Aggies

Texas A&M Aggies SDS


SEC Wide Receiver Power Rankings: Week 5 http://t.co/VcI1tCfKXj
about 9 hours ago

ESPN_SEC

ESPN_SEC


Leash getting shorter for Florida's Driskel? http://t.co/RAD2ZR0YA2
about 9 hours ago

AggieFootball

Texas A&M Football


Attending #ARKvsTAMU Saturday at @ATTStadium? Pls note NFL bag policy in effect. http://t.co/7lD57DKLWc #12thMan http://t.co/gQzrI5JaL2
about 9 hours ago

AggieFootball

Texas A&M Football


Boone Neiderhofer talks to the swarm, tied for team lead with 6rec against SMU last week #12thMan #ARKvsTAMU http://t.co/bsYnouBaLa
about 9 hours ago

TexAgs

TexAgs


It was actually a pretty comfy landing.17 days. Tickets & info: http://t.co/lduFRCd26l http://t.co/ms0SPGCFWK
about 9 hours ago

TexAgs

TexAgs


It was actually a fairly comfortable landing.17 days.Tickets & info: http://t.co/lduFRCd26l http://t.co/yqSjHNwc4g
about 9 hours ago

ESPN_SEC

ESPN_SEC


Can the SEC get two teams in the playoff? @AschoffESPN provides the road map http://t.co/Li3Ajxh1Lp
about 10 hours ago

AggieFootball

Texas A&M Football


QB Kenny Hill visits with the media, has 1359yds and 13TDs so far this season #12thMan #ARKvsTAMU http://t.co/e6HYpphrPu
about 10 hours ago

Aggies

Texas A&M Aggies SDS


Early opponent analysis: Texas A&M http://t.co/d07HQYi0Lj
about 10 hours ago

Aggies

Texas A&M Aggies SDS


SEC turnover scoreboard: Alabama giving away possessions http://t.co/GnqatuzeY0
about 10 hours ago

Aggies

Texas A&M Aggies SDS


Spurrier, Sumlin's verbal barbs continue http://t.co/04ky0j8Uvh
about 10 hours ago

AggieFootball

Texas A&M Football


Now joining us is Malcome Kennedy, leads team with 30rec and 334yds this year #12thMan #ARKvsTAMU http://t.co/iQZ6srZJz1
about 10 hours ago

AggieFootball

Texas A&M Football


Here's @JakeSpavital from today's press conference: http://t.co/PhVcxFk67V #12thMan #ARKvsTAMU
about 10 hours ago

AggieFootball

Texas A&M Football


Right Tackle Germain Ifedi speaks with the media, leads team with 17 consecutive starts #12thMan #ARKvsTAMU http://t.co/xDvclqJyLn
about 10 hours ago

AggieFootball

Texas A&M Football


Julien Obioha on the stage, tied for 6th on team with 1.5 TFL this year #12thMan #ARKvsTAMU http://t.co/wiYv1JDwOr
about 10 hours ago

AggieFootball

Texas A&M Football


Cedric Ogbuehi stops by to chat, has helped A&M offense to 39 plays of 20+ yards this year #12thMan #ARKvsTAMU http://t.co/vjkrQqxRvR
about 10 hours ago

AggieFootball

Texas A&M Football


.@coachmarksnyder meets the media Tuesday: http://t.co/e3acrZUv6S #12thMan #ARKvsTAMU
about 10 hours ago

AggieFootball

Texas A&M Football


That's all for this week's press conference - full video clips will be up shortly. #ARKvsTAMU #12thMan
about 10 hours ago

AggieFootball

Texas A&M Football


Thought Kyle Allen did well and managed game well. Thought he got better this week. - @JakeSpavital #ARKvsTAMU
about 10 hours ago

AggieFootball

Texas A&M Football


Good to have 10-12 WRs who consistently make catches. Helps keep offense moving and not have to target specific players. - @JakeSpavital
about 10 hours ago

AggieFootball

Texas A&M Football


Will have to build lot of packages this wk. Throw it all out there and whoever is on, will have to lean on that. - @JakeSpavital #ARKvsTAMU
about 10 hours ago

AggieFootball

Texas A&M Football


Malcome Kennedy very important to this team and the direction we're going. -- @JakeSpavital #ARKvsTAMU
about 10 hours ago

AggieFootball

Texas A&M Football


Watch @CoachSumlin's weekly press conference here: http://t.co/Ui2uWfEiLa #ARKvsTAMU #12thMan
about 10 hours ago

ESPN_SEC

ESPN_SEC


LSU lines searching for consistency http://t.co/Qt2H4x0Eax
about 10 hours ago

billyliucci

Billy Liucci


Aggie OC @JakeSpavital says he scripts only the first three plays of the game.
about 10 hours ago

TexAgs

TexAgs


Spavital: Jarvis [Harrison] is going to see the field Saturday. He had a great attitude vs. SMU. Comfortable with him...played in big games.
about 10 hours ago

MSUBillMartin

Bill Martin


More national pub heading to StarkVegas. @ESPNCFB Bus will be here to interview Dak Prescott, @CoachDanMullen Wednesday. #DakAttack
about 10 hours ago

TexAgs

TexAgs


Spavital: I asked [Kliff] about Arkansas and he was very impressed with them. They keep everything in front of them really well.
about 10 hours ago

ESPNTAMU

ESPN Texas A&M


#Aggies OC Jake Spavital said he likes to script the first three plays of every game.
about 10 hours ago

TexAgs

TexAgs


Snyder: [SEC West] reminds me of a playoff situation every week. This side is really good. When has a conference had a [division] this deep?
about 11 hours ago

AggieFootball

Texas A&M Football


That's all from @coachmarksnyder today, up next @JakeSpavital #ARKvsTAMU #12thMan
about 11 hours ago

AggieFootball

Texas A&M Football


We're happy to get De'Vante back on the field. Gets us more experience on the back end -@coachmarksnyder #ARKvsTAMU #12thMan
about 11 hours ago

TexAgs

TexAgs


Snyder: Mastro is a big key against Arkansas but all 11 people are going to have to tackle well. Corners will also have to tackle.
about 11 hours ago

SEC

SEC Sports


Max Garcia of @GatorZoneFB named #SEC Football Community Service Player of the Week: http://t.co/iF5l8UUOrz
about 11 hours ago

TexAgs

TexAgs


Snyder: @JArnoldTAMU85 is interesting. He's a high-energy guy that brings toughness and smarts to the DL. He'll remind you of @SNeals99.
about 11 hours ago

ESPNTAMU

ESPN Texas A&M


Snyder on young D-linemen handling Arkansas front: "It'll be interesting."
about 11 hours ago

TexAgs

TexAgs


Snyder: Shaan Washington is still a work in progress [at WLB]. Saturday's game will be a challenge but Shaan's physical presence is key.
about 11 hours ago

AggieFootball

Texas A&M Football


Shaan coming back was nice, his physical presence will help us this week -@coachmarksnyder #ARKvsTAMU #12thMan
about 11 hours ago

ESPNTAMU

ESPN Texas A&M


#Aggies DC Mark Snyder on Arkansas' o-line. "They're REALLY big."
about 11 hours ago

AggieFootball

Texas A&M Football


It's tough for the DL to play the whole game like last year, it will be nice to have depth -@coachmarksnyder #ARKvsTAMU #12thMan
about 11 hours ago

ESPN_SEC

ESPN_SEC


College football's top 10 QBs http://t.co/VgCzp7TL4o
about 11 hours ago

TexAgs

TexAgs


Snyder: Been working on [Arkansas] for quite a while. Like to run the ball. Awfully good. Bret knows what he's doing.
about 11 hours ago

Aggies

Texas A&M Aggies SDS


Early preview: Texas A&M vs. Arkansas http://t.co/VDppPU9beB
about 11 hours ago

AggieFootball

Texas A&M Football


That's all from @CoachSumlin, up next @coachmarksnyder #ARKvsTAMU #12thMan
about 11 hours ago

TexAgs

TexAgs


Sumlin: For us, the key is going to be third downs and getting off the field. Where we have to improve [on D] is getting turnovers.
about 11 hours ago

TexAgs

TexAgs


Sumlin on Kenny Hill's interception: "Ricky didn't get the signal."
about 11 hours ago

TexAgs

TexAgs


Sumlin: Hear a bunch of talk about how we haven't played anybody. I guess they forgot about the first week. Maybe we did too.
about 11 hours ago

AggieFootball

Texas A&M Football


You earn the right to play at Texas A&M. We just ask our guys to play hard and be unselfish -@CoachSumlin #ARKvsTAMU #12thMan
about 11 hours ago

billyliucci

Billy Liucci


"We're going to have to be at our best Saturday to win this game. I don't think that's going to change the rest of the year." @CoachSumlin
about 11 hours ago

Aggies

Texas A&M Aggies SDS


Week 4: SEC vs. Big Ten http://t.co/A3AQjasAbM
about 11 hours ago

TexAgs

TexAgs


Sumlin: Boone was on scout team and he understands what's going on. He's a guy that can block and we have confidence in him.
about 11 hours ago

AggieFootball

Texas A&M Football


With the depth of the @SEC West, you have to go week to week. Just try to win and stay healthy -@CoachSumlin #ARKvsTAMU #12thMan
about 11 hours ago

TexAgs

TexAgs


Sumlin: You truly have to take one week at a time [in the SEC West]. You try to win first and then stay healthy. So many capable teams.
about 11 hours ago

ESPNTAMU

ESPN Texas A&M


Sumlin on Jake Spavital's playcalling: "He's got a real feel for it." Sumlin called Spavtial's biggest strength his planning during week.
about 11 hours ago

AggieFootball

Texas A&M Football


.@JakeSpavital Hans a great feel for the game, really gets the most of out the players -@CoachSumlin #ARKvsTAMU #12thMan
about 11 hours ago

ESPNTAMU

ESPN Texas A&M


Sumlin on Arkansas DE Trey Flowers: "He's a talented guy. Gifted."
about 11 hours ago

billyliucci

Billy Liucci


Sumlin sends what is probably a not-so-thinly-veiled recruiting message: "If you're scared, this probably isn't the place for you."
about 11 hours ago

AggieFootball

Texas A&M Football


When we play the system we play, WRs are gonna play and get catches. From highly recruited guys to Boone -@CoachSumlin #ARKvsTAMU #12thMan
about 11 hours ago

TexAgs

TexAgs


Sumlin: We've completed balls to like 14, 15 guys...from highly-recruited guys to a guy named Boone Niederhofer that nobody knew until now.
about 11 hours ago

ESPNTAMU

ESPN Texas A&M


Sumlin on Speedy Noil's status: "We'll see." #aggies
about 11 hours ago

TexAgs

TexAgs


Sumlin: Shaan Washington has been overlooked [for his game] last week. The way he played shows that he has the potential to be [great].
about 11 hours ago

AggieFootball

Texas A&M Football


Shaan Washington is a guy that got overlooked, he came back and played really well at SMU -@CoachSumlin #ARKvsTAMU #12thMan
about 11 hours ago

skhanjr

Sam Khan Jr.


Texas A&M coach Kevin Sumlin on Arkansas, the Aggies' opponent this week: "I would argue that they should be a top 25 team."
about 11 hours ago

TexAgs

TexAgs


Sumlin: Cam [Clear] played last week. We'll see about Speedy [Noil]. We'll see.
about 11 hours ago

TexAgs

TexAgs


Sumlin: Arkansas is a much-improved football team over last year. I would argue that they should be ranked.
about 11 hours ago

TexAgs

TexAgs


LIVE transcripts from Arkansas week press conference (Premium): http://t.co/JFTBBC0cv7
about 11 hours ago

AggieFootball

Texas A&M Football


They have a large OL that they run behind, they create a lot of problems for teams -@CoachSumlin #ARKvsTAMU #12thMan
about 11 hours ago

AggieFootball

Texas A&M Football


They are the #1 rushing team in the country, they have 2 fabulous RBs. QB play has really improved -@CoachSumlin #ARKvsTAMU #12thMan
about 11 hours ago

ESPNTAMU

ESPN Texas A&M


Sumlin: Where Arkansas has really improved is quarterback play.
about 11 hours ago

TexAgs

TexAgs


Sumlin: Arkansas is the number one rushing team in the country. They have three fabulous RBs but QB play has really improved.
about 11 hours ago

AggieFootball

Texas A&M Football


Getting experience for a couple guys will prove important as we get down the stretch of this schedule -@CoachSumlin #ARKvsTAMU #12thMan
about 11 hours ago

TexAgs

TexAgs


Sumlin: Justin Manning hadn't done much since he's been here and he played well. Hope it's not because he was in Dallas...or maybe I do.
about 11 hours ago

ESPNTAMU

ESPN Texas A&M


Texas A&M coach Kevin Sumlin beginning his weekly presser now. #Aggies
about 11 hours ago

TexAgs

TexAgs


Sumlin: Last week was great for our team. Able to get through it well [injury-wise]. Great experience for our young players.
about 11 hours ago

Coach_TJoseph

Terry Joseph


Welcome Back! http://t.co/h6QMyi1ZEh
about 11 hours ago

TexAgs

TexAgs


Kevin Sumlin presser starting soon here at Kyle Field. Keep it here for notes.
about 11 hours ago

ESPN_SEC

ESPN_SEC


SEC Heisman watch: Week 4 http://t.co/iN2OZtxhMA
about 11 hours ago

SEC_Sean

Sean Cartell


#SEC announces Cross Country Athletes of the Week: http://t.co/KZp5pcT8EH
about 12 hours ago

AggieFootball

Texas A&M Football


Weekly football press conference starts at 12:00 from Kyle Field. Watch live here: ($) http://t.co/JoyCJm0Nii #ARKvsTAMU #12thMan
about 12 hours ago
BLOG ARCHIVE:
CATEGORIES: